New Age Islam News Bureau
26 Nov 2015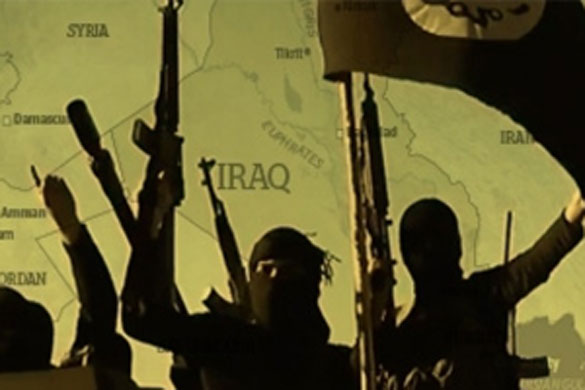 Photo: ISIS in Iraq
---------
Europe
• Muslim Community Speaks Out on Paris Attacks
• UK Imam: Extremists Have 'Hijacked' Islam
• How the twisted ideology of Islamic State came to dominate British universities
• No war with Turkey over jet downing, says Russian FM
• Muslim school in UK found practising gender segregation
• Merkel vows to help France against Daesh
• At least 10 killed as Russian helicopter crashes in Siberia
• Germany pledges to stand with France in fight against IS
• EU calls on Russia to join fight against ISIL
• Schools, metro reopen in Brussels despite terror alert
• Russia turns back Turkish travellers
• Hollande heads to Moscow to press anti-ISIL coalition
---------
Southeast Asia
• From Indonesia, a Muslim Challenge to the Ideology of the Islamic State
• Islamic State leader Adnani issues new order to attack Westerners
• Templeton puts faith in Malaysia with new global Islamic funds
• Indonesia increases security after video calls for attack
• Up to 70 IS supporters returned to Indonesia: Police
---------
Arab World
• Terrorists Fleeing Syria's Lattakia in Hundreds after Army's Large-Scale Operations
• 'KSA leading efforts to dry up Daesh sources'
• Islamic State's Most Chilling Call To Arms Yet Includes Threat To UK And 'Coalition Of Devils'
• Heavy Infighting Erupts between Terrorists Groups in Syria
• Army Clashes with Jaish Al-Islam Terrorists in Damascus Countryside
• Cultural figures and rights groups call for release of poet facing execution
• Russian Air Force Cutting Off Illegal Deliveries of Oil Products From Syria
• Army Recaptures Key Regions in Homs
• Terrorists' Tunnel Destroyed in Damascus Countryside
• Syrian FM: Turkey Violated Syria Sovereignty by Attacking Su-24 in Its Airspace
• Rescued Su-24 Co-Pilot Rules Out Turkish Space Violation 'Even for Second'
• Syrian Forces Complete Full Control over All Areas around Kuweires Airbase
• Syrian Commandos Free Captive Russian Su-24 Pilot from Terrorists' Hands
• Heavy rains flood Doha and bring Qatar to near standstill
• Less than third of voters turn out in Egypt election
• GCC parliaments stress regional security
---------
India
• Mumbai Muslims ready plan to fight back Islamic State
• IS lures new recruits with promises of job, rule of sharia and 'jihadi bride'
• Can Muslims in forces sport beard? SC no to urgent hearing
• • Viral Post against Aamir Khan: Taslima Nasreen clears air, says 'Not my words'
• 7 years after 26/11, face of coastal security: 8 bamboo poles, 2 cops, 1 aluminium roof
• Sarbananda Sonowal on damage control mode; now talks of Hindu-Muslim unity
• Pakistan govt keen to delay trial of LeT operatives?
• Today India is as vulnerable as Mumbai was on 26/11
---------
Africa
• ISIL claims Tunisia bus bombing
• Turkey, Arab world condemn Tunisia attack
• Pope says Christian-Muslim dialogue 'essential' for peace
• Human rights activist recounts journey to Judaism from Islam
• Tunisia shuts border with Libya for 15 days
• Kenyan president fires five graft-tainted ministers
---------
Pakistan
• 293 Punjab seminaries linked to terrorism
• Call for citizens' role in safeguarding human rights
• LJ founding member, three others killed in police action in Lahore
• Double standards
• 'Jewish lobby' behind world terrorism: Khursheed
• One FC man killed, two injured in attack on checkpost in Mohmand Agency
• MQM sees raids, arrests as attempt to influence polls
• Khattak threatens agitation to secure rights of KP on CPEC
• Trust deficit main hurdle in Pak-Afghan relations: Asfand
• COAS first Asian to receive Brazil's Order of Merit
---------
South Asia
• UK hails Hasina's zero-tolerance policy on terrorism
• Suspect held over death threats to secular writers in Bangladesh
• Bangladesh leader Hasina's gains from shock hangings seen short-lived
• 4 ISIS terrorists arrested from capital Kabul
• President Ghani visits Kundoz province
• Senior Taliban commanders killed in Takhar clashes
• IS Presence Shows Signs of Expanding in Bangladesh
• 5 JMB men including Hussaini Dalan blast suspect held
---------
Mideast
• Putin sends S-400 missiles to Syria to deter Turkey
• Turkey made big mistake downing Russian jet, US made bigger mistake backing it: Larijani
• Iran calls for global resolve in anti-terror fight
• President Rouhani urges Russia, Turkey restraint over downing of plane
• UAE sending Colombian mercenaries to fight in Yemen
• Turkish army releases audio of warnings to downed Russian plane
• Palestinian killed by Israel army fire in West Bank
• Iran, Russia in talks over major arms deal
---------
North America
• Muslims Weren't Cheering On 9/11, Mr. Trump. They Were Grieving For Their Loved Ones.
• Canada reviewing role in anti-ISIL fight
• Obama signs bill making Gitmo closure tougher
• US sanctions Syrians, firm facilitating ISIL oil sales
• Canada won't make Syrian refugee target by year's end
Compiled by New Age Islam News Bureau
URL:https://www.newageislam.com/islamic-world-news/new-age-islam-news-bureau/muslim-community-speaks-paris-attacks/d/105430
---------
Europe
Muslim Community Speaks Out on Paris Attacks
By Darlene Powers
Nov 26, 2015
The inference is that we, Americans, have given most Muslims a pass, but the horrific Paris attacks have finally made this fragile politeness impossible to sustain. In Beirut, they boasted a double suicide bombing in which 40 civilians lost their lives at a busy marketplace. Simply being Muslim doesn't mean a person has the capacity to kill a fellow man. The ability to kill requires a lack of conscience. "Now we have governors of the United States refusing to admit Syrian refugees, all of which in my opinion, is rooted in Islamophobia", he said. Right after the Paris attacks, still reeling from the cruelty of it all, I emailed a friend. So what's the solution? French President Hollande spoke of waging a "merciless" fight against the enemy. They died, the statement said, to support the cause of the true religion and in fulfillment of the charges of the Prophet Muhammad to humiliate enemies, rubbing "their noses in the dusty ground". The problem is that there is a lineup of madrassa-trained opportunists waiting to spring to the limelight. Anyhow, the latest newcomer is ISIS leader Abu Bakr al-Baghdadi, who dubs himself as the Caliph, or Khalifa, literally meaning a "successor". Like a hydra, if you sever one head, several more will sprout, and with more venomous campaigns than their predecessor. "Most people don't understand what Islam is and what Muslims believe". Once the so-called moderate Muslims stand up to ISIS, we should support them with arms, supplies, intelligence, airborne firepower and whatever else they need to prevail. But the ISIS is striking out the glorious history of Islamic pluralism and all its universal and egalitarian values. These so-called jihadists, or fundamentalists, they only represent themselves. Not only is ISIS likely to adapt, but there are tens of other radical Islamist groups in Syria, and many other violent extremist groups that could turn even more violent and anti-Western in response to these military strikes and to domestic policies and reforms in the West that are perceived as anti-Muslim. If they see any suspicious activity or any character lurking about or living in their area they should report immediately to the authorities so that appropriate action can be taken. In fact the opposite is true. But unlike what Hirsi Ali would want you to believe, evils like apostasy and blasphemy laws and the ISIS narrative on Jihad are non-existent in the Quran. Where are the million Muslim anti-ISIS protest marches? Every time we conflate ordinary Muslims with ISIS we fall into their trap. Case in point right here in CT. Unfortunately, nothing serves their goal more than the scenes of panic Sunday night near at the Place de la Republique, as people stampeded in the fear that another attack was coming. They disparage Muslims and drive a wedge into American society, which, more than any other nation, is built on the contributions of its minorities and immigrants. This weekend, we will host an open house prayer service to mourn the recent tragedies of extremism. It's reporting a spike in anti-Muslim incidents since the attacks. The reaction from town officials and neighbors has also been heartwarmingly supportive. This will avoid the risky, and frankly artificial, polarization of peoples and will ostracize ISIS from the 1.6 billion Muslims who make up nearly a quarter of the world's population. Be vocal. Call out the extremists. And above all, don't lose hope. Members of the Muslim community in the 18th arrondissement of Paris told The Local people are on edge. Though the video does not appear to be new, the terrorist events that the Muslim man cites in his video occurred in Paris in January of this year, it emerges in the wake of the more recent tragic events that left Paris devastated, with ISIS-affiliated terrorists killing 129 people and leaving at least 352 more injured. In what has become a disturbingly common theme, particularly in the United States, far-right leaders (the Fox News of government, if you will) are doing what they do best: taking the crimes of a few and generalizing them to vilify an entire group.
http://voiceherald.com/2015/11/26/muslim-community-speaks-out-on-paris-attacks.html
---------
UK Imam: Extremists Have 'Hijacked' Islam
25 November 2015
A British imam has countered claims that Islam is incompatible with values in the UK, saying that embracing "difference and pluralism" is "what makes us British".
In this exclusive statement to Sky News, Qari Asim, imam of the Makkah Masjid mosque in Leeds, issued the following call for acceptance and tolerance following a rise in attacks against Muslims in the wake of the Paris attacks.
He says:
The dreadful atrocities committed in Paris have been categorically condemned by Muslim leaders in Britain.
Ordinary British Muslims have also been at pains to emphasise the huge chasm between the true Islam, which teaches peace and tolerance, and the barbaric actions of those who have hijacked the faith to further their own geo-political aims.
Despite repeated calls for communities to unite in the face of the terrorists' attempts to divide them, unfortunately there has been a 300% rise in reports of attacks against Muslims since the devastating events of Paris, according to Tell-Mama, an organisation which records incidents of verbal and physical attacks on Muslims and mosques in the UK.
The rise in anti-Muslim sentiment is of deep concern to future community cohesion.
Various issues have been raised by those seeking to argue that Islamic values are incompatible with British values.
One issue which is repeatedly raised is that British Muslims have failed, or are failing, to fully integrate into British life.
The strength or otherwise of this argument really depends on one's definition of what "British life" or "being British" actually is.
If being British means contributing to social and political life, believing in democracy, tolerance, justice, respect for the rule of law, freedoms and social responsibility then there are countless examples of British Muslims upholding British vales.
One only needs to walk into NHS hospitals up and down the country to see the vast numbers of Muslim doctors and nurses manning the wards.
In recent years Muslim politicians have held roles in the very heart of Government; indeed the current Labour candidate for Mayor of London is a Muslim, Sadiq Khan.
Muslims are represented in all walks of professional life; accountants, lawyers, entrepreneurs, teachers, builders, chefs, taxi drivers etc.
Foreign Secretary Philip Hammond speaks in the House of Commons.
Video: 25 Nov: Hammond On Extremism
The argument that Muslims do not integrate, because of their faith, is a fallacy.
I myself am an imam of one of the largest mosques in Britain and am also a full-time practicing real estate lawyer in a global law firm.
I am proud of my religious and national identities.
There is no contradiction in Islam between one's religious and national identity.
I am proud to be a Muslim and a Brit because Britain is a pluralistic society.
There is much to celebrate in the dynamism and richness that diversity has brought to this country.
What is true is that the manner in which this integration manifests itself may be different to the way in which other faith or race communities integrate, and some behaviours seen in wider society are not seen amongst the large majority of Muslims.
Some Muslims may also look different to what one might perceive a "British" person to look like.
Muslim women might wear a headscarf (hijab), or traditional dress, men might have a beard.
Sky Poll On Muslims and non-Muslims
Video: April: Survey Reveals Common Ground
Many young British Muslim women have, for various reasons, chosen to adopt the headscarf to proclaim their religious identity, despite figures showing rising violence against visibly identifiable Muslims.
As a pluralistic British society, we must respect those women's freedom of choice.
Clearly, where young women are being forced to wear a veil or dress in a particular way, contrary to their wishes, such behaviour is not acceptable in a liberal multi-belief society.
Similarly, it will be against our British values to impose on Muslim women how they should or should not dress, whether they should or should not wear a headscarf.
Wearing a headscarf or growing a beard in any way does not prevent Muslims from becoming active members of society.
British Muslims, who wish to assert their identity through faith and adhere to British values must not feel intimidated, hated or even dehumanised.
Great Britain is by definition diverse and multi-cultural; it is the blending together of four great nations and the peaceful co-existence of these nations.
Within this, there has to be room for pluralism and difference; that's what makes us British and that's the essence of British values.
British Muslims are different in some respects to other communities in Britain but that should not make us any less British or any less able or willing to integrate and make a positive contribution to society.
http://news.sky.com/story/1594190/uk-imam-extremists-have-hijacked-islam
---------
How the twisted ideology of Islamic State came to dominate British universities
25 Nov 2015
Why would Muslims born, raised and educated in the West gravitate towards extremism? This question seems to puzzle many onlookers, and the actions of these nationals seem beyond any rational explanation. What is overlooked is that the Isil propaganda machine cleverly and effectively taps into an already existing theological world view within young Muslim minds.
For the last twenty years I've witnessed the spreading of two toxic elements running amok in the West. One is Wahhabism, heavily pushed by Saudi Arabia via its preachers, sponsorship programs, mosque funding and book stores. Running parallel is a broader ideology of Islamism, a politicised Islam seeking to impose one version of Sharia on its citizens. This was first pushed by Hizb ut-Tahrir and then al-Muhaijiroun and its many different manifestations. Hatred for "decadent" Western society, which is diametrically opposed to their version of Islamic values, and yearning for an Islamic state enabling one to practice an unadulterated pure Islam, has been the stock in trade of those who currently dominate the activist space.
The bulk of this activism exists on university campuses. Often mosques are considered hotbeds for extremism, but this is inaccurate. Mosques are run by a generation who are in most cases out of touch with the youth. It's at universities where the exposure to intolerant and unethical theological ideas happens. I remember while studying at Westminster University, as did the infamous Mohammed Emwazi many years ago, I was introduced to the ideas that I now hope to change. There were two camps: Hizb ut-Tahrir, who ran the Islamic society, pushed their Islamofascistic politicised Islam, and the pro-Saudi Wahhabis, puritanical and amoral. The two camps were deeply critical of one another and were constantly at each other's throats, but both totalitarian. The plus side of their disagreements was that at least there was a degree of critical introspection and dialogue.
Today, however, things are more grim. Due to a growing mindset of victimhood, the two camps have almost merged as one, often cooperating with one another. As a consequence dialogue within extremism is non-existent, let alone engagement with those outside the echo chamber. The sole focus is on the Other, namely the West and non-Muslims. For example, an event in Bedford entitled "Quiz a Muslim" (held, by an unfortunate coincidence, on the day of the Paris attacks) consisted entirely of Wahhabi and Islamist speakers who appear regularly on university campuses.
The founder of Wahabism was vehemently schismatic. Bin Abd al-Wahhab sought to rid Islam of what he deemed "corruptions", opposing mysticism, rationalism and Shiism. If a Muslim wasn't a "true believer" then they were deemed an apostate according to his strict standards; such a judgment meant that they could be killed. Accordingly Wahhabi speakers deem Muslims who differ with Wahhabi thought as "deviants", a euphemism for apostate. When I organised evolution conference to debate the topic of Islam and evolution, there was an obscene backlash. We were labelled as deviants by a prominent Wahhabi preacher for merely having such a debate. One of the guest lecturers was even "excommunicated" for seeking to reconcile the scientific perspective with the faith.
Many hardline Islamists and their sympathisers are no different. In particular they view western society as the domain of disbelief, "Dar al Kufr". Western societies are described with the perjorative word "Jahiliyya". This term is commonly translated as "the age of ignorance". In classical Islam, the term denotes the pre-Islamic situation in Arabia characterised by pagan ignorance of the Word of God (Quran). Syed Qutb, a leading member of the Egyptian Muslim Brotherhood in the 1950s, was the first to apply the concept of Jahiliyya to modern times.
Qutb argued that there are two societies: the Islamic and the jahili. To him, Jahiliyya was not just a fixed moment in history, but a moral condition which recurs whenever society deviates from his utopian Islamist ideal. He deemed all the contemporary world as jahili as they subverted the will of God and had adopted "man-made laws" to regulate their affairs, which was the source of their moral decay. It is also noted by Qutb that Muslim societies are also griped by the call to "secularise" and therefore could aptly be called jahili like their western counterparts. Qutb regarded attempts of "modernists", who agued for Islam's compatibility with modernity, as "moral defeatists" suffering from an inferiority complex.
Today's Islamists echo such rhetoric, The West is seen as a decadent society devoid of any morality and is the root of all aliments of the world. Hizb ut-Tahrir literature speaks volumes: from phone hacking to the Jimmy Savile paedophilia scandal, are all blamed on Western values and the "corrupted, immoral system of liberal democracy" – without a hint of awareness about the fact that they themselves advocate so-called marriage to under-age girls.
In similar vain to Qutb, Islamists see Muslims who do not subscribe to their call for a totalitarian pseudo-Caliphate and support corporal punishments as lapsed Muslims,merely appeasing the West – again, despite the fact that the last Caliphate, that of the Ottomans, abandoned such legislation and progressed towards equal citizenship.
When these views dominate uniersity campuses and shut out other perspectives, it hurts Muslim students who are exploring their faith – sometimes for the first time. They are only exposed to a stark outlook on the world, an austere form of Islamic rules, and limits on their interaction with anyone who disagrees. This has an enormous impact on how some Muslim students interact with other Muslims with non-Muslims. It is the start of an "othering" process which ends with a sense of intolerance towards and disconnection from pluralistic British society. That in turn creates a deep sense of alienation: the West, with its "moral depravity", becomes an alien environment where once it was considered a home.
In summary, the groundwork of extremism, in practise and in thought, was laid many years ago. The notion of the West as the locus of moral vice and the puritannical schism from mainstream Islam I've seen across British universities are all hallmarks of the Isil message. Its propaganda taps into well-established if crude concepts and feelings, amplifying them with recruiting materials that are tremendously visceral in nature. At the same time, it conjures an idyllic vision of a utopian society it can never meet in reality.
In order to stop future recruits, we have to uproot the intellectual landscape that Isil taps into. Some have described what is playing out as the reverberations of a "clash of civilisations". I don't see this, but rather a clash between the civilised and the uncivilised. We need to expose Isil's ideology by presenting it in its true light – a mix of modern totalitarianism and schismatic religion – and in all its ugliness.
http://www.telegraph.co.uk/news/worldnews/islamic-state/12016082/How-the-twisted-ideology-of-Islamic-State-came-to-dominate-British-universities.html
---------
No war with Turkey over jet downing, says Russian FM
Nov 26, 2015
MOSCOW: Russia's foreign minister on Wednesday said the downing of its fighter jet by Turkey appeared to be a "planned provocation" but said the countries would not go to war over the incident.
"We have serious doubts about this being an unpremeditated act, it really looks like a planned provocation," Foreign Minister Sergei Lavrov said at a press conference in Moscow after speaking with Turkish counterpart Mevlut Cavusoglu.
"We do not plan to go to war with Turkey, our attitude toward the Turkish people has not changed," Lavrov added, stressing that Moscow would however "seriously reevaluate" its ties with Ankara.
"Such attacks are absolutely unacceptable," he said.
Russian authorities reacted furiously to the downing of the Russian Su-24 warplane on the Syrian border on Tuesday, with President Vladimir Putin calling it a "stab in the back committed by accomplices of terrorists".
Meanwhile Turkey's military said the fighter was shot down by two of its F-16s after it violated Turkish airspace 10 times within a five-minute period.
The Turkish Ambassador to the United Nations Halit Cevik said in a letter to the Security Council that two Russian planes had flown a little more than a mile into Turkish airspace for 17 seconds.
Ankara and Moscow are already on rival sides in the Syrian civil war that has lasted over four years, with Turkey wanting to see the ouster of Syrian President Bashar al-Assad while Russia remains one of his last remaining allies.
Lavrov on Tuesday cancelled talks planned with his Turkish counterpart in Istanbul on Wednesday which had been scheduled prior to the plane's downing.
Both Putin and Lavrov have warned Russian citizens against travelling to Turkey in the aftermath of the incident, citing terrorist threats in the country.
Russia's top diplomat said Wednesday the country was not planning on hosting any Turkish officials nor contemplating making any official visits to Turkey.
Meanwhile, Turkish President Recep Tayyip Erdogan has also said his country does not wish to escalate tensions with Russia over the downing of the plane.
Speaking at an Organization of Islamic Cooperation economy meeting in Istanbul, Erdogan said on Wednesday that Turkey favors "peace, dialogue and diplomacy."
Erdogan however defended his country's move to shoot down the plane saying "no one should expect Turkey to stay silent to border violations or the violation of its rights."
Turkey changed its rules of engagement a few years ago after Syria shot down a Turkish plane. According to the new rules, Turkey said it would consider all "elements" approaching from Syria an enemy threat and would act accordingly.
Russia backs Hollande's call to close Syria-Turkey border
Russia's Foreign Minister Sergei Lavrov on Wednesday backed a proposal by French leader Francois Hollande to close off the Syria-Turkey border to prevent the flow of fighters crossing the frontier.
Full report at:
http://www.dawn.com/news/1222200/no-war-with-turkey-over-jet-downing-says-russian-fm
---------
Muslim school in UK found practising gender segregation
Nov 25, 2015
LONDON: A Muslim school in the UK was found practising gender segregation after it forced a woman governor to sit in a separate room and talk through an open doorway during official meetings.
The segregation was discovered by Britain's schools inspectorate during a visit to Darul Uloom Islamic high school in Birmingham.
"During the inspection of Darul Uloom Islamic high school [in Birmingham], the actions of governors did not model the promotion of mutual respect for men and women," Michael Wilshaw, chief inspector of Ofsted - which is reviewing the standards at Britain's Christian and Muslim faith schools - wrote to UK education minister Nicky Morgan this week.
"At a meeting with inspectors, the only female governor sat out of sight of the male governors in an adjacent room [and] could only contribute through a doorway," Michael wrote.
Ofsted found another school's library contained literature with extremist and sexist views.
The inspectors of Ofsted had revisited 22 schools previously inspected by Bridge Schools Inspectorate (BSI), an agency which was abolished two months ago.
While one was rated outstanding and four were deemed good, eight required improvement and nine were found to be inadequate.
Full report at:
http://timesofindia.indiatimes.com/world/uk/Muslim-school-in-UK-found-practising-gender-segregation/articleshow/49923907.cms
---------
Merkel vows to help France against Daesh
Nov 26, 2015
German Chancellor Angela Merkel has promised assistance to France in fighting the Takfiri Daesh terrorist group in the wake of the recent deadly attacks in Paris.
In a joint press conference with French President Francois Hollande in Paris on Wednesday, Merkel said she would act "swiftly" to see how Berlin could take up "additional responsibilities" to assist in the fight against terrorism.
"We have a shared enemy: terrorism. The Islamic State (Daesh) will not be convinced with words. It has to be defeated militarily," said Merkel. "We will be stronger than the terror."
The German chancellor stressed that the flow of revenue to Daesh should be cut off as a cornerstone of a joint strategy.
Hollande, for his part, expressed hope that Germany could "engage more" in Iraq and Syria, where Daesh terrorists control swaths of land.
French warplanes have been pounding what are said to be Daesh positions in the northern Syrian city of Raqqa following November 13 terrorist attacks in Paris, which were claimed by Daesh.
Full report at:
http://www.presstv.ir/Detail/2015/11/26/439199/Germany-France-Merkel-Hollande-Daesh
---------
At least 10 killed as Russian helicopter crashes in Siberia
Nov 26, 2015
MOSCOW: A Russian helicopter carrying oil workers has crashed in eastern Siberia, and officials say 10 of the 25 people on board were killed.
Russian news agencies say the Mi-8 helicopter took off from Igarka in the Krasnoyarsk region and crashed 2 kilometres away along the banks of the Yenisei River.
It was transporting workers to the remote Vankor oil and gas field, which can be reached only by helicopter or, in winter, by land along the frozen river.
The news agencies quoted prosecutors as saying 10 were killed and 15 injured in Thursday's crash.
Full report at:
http://www.dawn.com/news/1222435/at-least-10-killed-as-russian-helicopter-crashes-in-siberia
---------
Germany pledges to stand with France in fight against IS
Nov 26, 2015
PARIS: Germany pledged Wednesday to stand beside France in its fight against Islamic State militants, as French President Francois Hollande prepared to visit Moscow as part of his whirlwind diplomatic tour in the wake of the Paris attacks.
Hollande met his closest European Union (EU) partner during a week of intense but so far faltering efforts to build a coalition to crush IS in Iraq and Syria — a campaign that has been further complicated by a diplomatic spat between Russia and Turkey.
The French president said he hoped Germany "can do even more in the fight against Daesh in Syria and Iraq", using another term for IS, which claimed responsibility for the killings in Paris.
Merkel in response pledged to act "swiftly" to see how Germany could take on "additional responsibilities" to help in the fight against terrorism.
"We will be stronger than the terror," she said, pledging to stand "at France's side".
Earlier, the French and German leaders each laid a pink rose among the tributes of flowers and candles in Place de la Republique, the Paris square that has become a rallying point since the bloodshed.
France has invoked a clause requiring EU member states to provide military assistance after the November 13 attacks, in which militants gunmen and suicide bombers killed 130 people in the French capital.
Germany said Wednesday it would send 650 soldiers to Mali to provide some relief to French forces battling militants in the west African nation.
Hollande will now head to Moscow on Thursday to press his case for an anti-IS alliance to President Vladimir Putin, after receiving few firm commitments from President Barack Obama in Washington.
Meanwhile in Britain, Prime Minister Cameron will on Thursday set out the case for his country to extend its air strikes against IS from Iraq into Syria ahead of a vote by MPs next week.
Full report at:
http://www.dawn.com/news/1222424/germany-pledges-to-stand-with-france-in-fight-against-is
---------
EU calls on Russia to join fight against ISIL
25 November 2015
EU foreign policy chief Federica Mogherini told Russian Foreign Minister Sergey Lavrov over the phone on Wednesday that Russia should join Western powers in the fight against ISIL.
In a statement released on Wednesday, Mogherini said she offered her condolences for one of the two pilots who was killed after a warplane was downed by Turkey for violating its airspace on Tuesday.
"Mogherini and Lavrov agreed on the need to safeguard the diplomatic track for the Syria crisis opened in Vienna, and to proceed with the agreed timeline decided at the last meeting of the International Syria Support Group, that would constitute the most effective basis for effectively defeating ISIL on the ground," the statement added.
EU officials and NATO called for calm and de-escalation following the incident on Tuesday, underlining that the common target should be ISIL.
"The common enemy should be ISIL," NATO Secretary General Jens Stoltenberg said on Tuesday after an emergency meeting of the alliance in Brussels.
"What you have seen is most of the attacks by Russia, so far, have been targeted to targets in parts of Syria where ISIL is not present," he said.
On Tuesday, two Turkish F-16 fighter jets on an aerial patrol intercepted a Russian warplane within engagement rules when it intruded into Turkish airspace on the Turkey-Syria border.
The intruding aircraft was warned about the violation 10 times within five minutes before it was shot down.
Full report at:
http://www.worldbulletin.net/europe/166716/eu-calls-on-russia-to-join-fight-against-isil
---------
Schools, metro reopen in Brussels despite terror alert
Nov 26, 2015
BRUSSELS: Brussels struggled to return to normal on Wednesday after four days on maximum terror alert, with schools and the metro reopening despite two suspects from the Paris attacks still being at large.
Troops and police were still patrolling the streets of the Belgian capital and the alert status remained at the highest possible level of four, leading to questions about what had changed since schools had closed on Monday.
"It's not very reassuring, is it?," said Sarah, who runs a private nursery in Brussels. "If it wasn't safe to open on Monday and Tuesday, why is it now?".
For two days parents scrambled to cope with the extraordinary decision to close schools which authorities said was necessary to foil an imminent Paris-style attack by jihadists.
"I had decided to not bring my kids to school this morning, but changed my mind late last night. Life must go on," said a 47-year-old father who drove his two daughters to school.
"Thank goodness we only have a half day today," said Marc, 14, as he boarded a school bus, adding that he fully enjoyed the two extra days off from school.
The Brussels metro system had been closed since Saturday and gradually returned to service, but with many stops still shut to better deploy security staff.
Car traffic was also backed up more than usual in Brussels, already one of Europe's most congested cities.
Full report at:
http://www.dawn.com/news/1222334/schools-metro-reopen-in-brussels-despite-terror-alert
---------
Russia turns back Turkish travellers
26 November 2015
Russian customs reportedly denied dozens of #Turkey travellers of entry into Russia despite a visa waiver regime, citing security reasons
The tension created by the Russian fighter jet shot down in Syrian border has resulted in Turkish passengers being turned back at customs in Russia. According to CNN Turk information received from diplomatic sources has said that 40 passengers have travelled to Russia in the last two days, and have been turned back on the first flight back to Turkey despite the fact that there is a visa exemption policy that exists between the two countries.
Full report at:
http://www.worldbulletin.net/europe/166735/russia-turns-back-turkish-travellers
---------
Hollande heads to Moscow to press anti-ISIL coalition
26 November 2015
French President Francois Hollande on Thursday will hold talks with Russian leader Vladimir Putin, as part of his diplomatic marathon to forge a broader coalition against ISIL extremists in the wake of the Paris attacks.
The French president will meet with Italian Prime Minister Matteo Renzi in Paris in the morning, before heading to Moscow where he will hold talks with the Russian strongman.
Hollande has been on a whirlwind tour seeking to build a coalition to crush ISIL in Iraq and Syria but has seen few concrete pledges so far, and his campaign has been further complicated by a diplomatic spat between Russia and Turkey.
France invoked a clause requiring EU member states to provide military assistance after the November 13 attacks in Paris, when 130 people lost their lives in a wave of killings by suicide bombers and gunmen claimed by ISIL.
German Chancellor Angela Merkel on Wednesday pledged to stand beside France in its fight against the extremist group after talks with Hollande, vowing to act "swiftly" to see how Germany can help in the fight against terrorism.
The French and German leaders each laid a pink rose among the tributes of flowers and candles in Place de la Republique, the Paris square that has become a rallying point since the bloodshed.
Hours earlier, Defence Minister Ursula von der Leyen said Germany would send 650 soldiers to Mali to provide some relief to French forces fighting extremists there.
Meanwhile in Britain, Prime Minister David Cameron will on Thursday set out the case for his country to extend its air strikes against ISIL from Iraq into Syria ahead of a vote by MPs next week.
The British premier has called ISIL a "direct threat to our security at home and abroad" and on Monday offered to let France use the RAF Akrotiri air base in Cyprus when flying missions against the extremists.
Full report at:
http://www.worldbulletin.net/europe/166724/hollande-heads-to-moscow-to-press-anti-isil-coalition
---------
Southeast Asia
From Indonesia, a Muslim Challenge to the Ideology of the Islamic State
By JOE COCHRANENOV
26, 2015
JAKARTA, Indonesia — The scene is horrifyingly familiar. Islamic State soldiers march a line of prisoners to a riverbank, shoot them one by one and dump their bodies over a blood-soaked dock into the water.
But instead of the celebratory music and words of praise expected in a jihadi video, the soundtrack features the former Indonesian president, Abdurrahman Wahid, singing a Javanese mystical poem: "Those who memorize the Quran and Hadith love to condemn others as infidels while ignoring their own infidelity to God, their hearts and minds still mired in filth."
That powerful scene is one of many in a 90-minute film that amounts to a relentless, religious repudiation of the Islamic State and the opening salvo in a global campaign by the world's largest Muslim group to challenge its ideology head-on.
The challenge, perhaps surprisingly, comes from Indonesia, which has the world's largest Muslim population but which lies thousands of miles away from the Islamic State's base in the Middle East.
"The spread of a shallow understanding of Islam renders this situation critical, as highly vocal elements within the Muslim population at large — extremist groups — justify their harsh and often savage behavior by claiming to act in accord with God's commands, although they are grievously mistaken," said A. Mustofa Bisri, the spiritual leader of the group, Nahdlatul Ulama, an Indonesian Muslim organization that claims more than 50 million members.
"According to the Sunni view of Islam," he said, "every aspect and expression of religion should be imbued with love and compassion, and foster the perfection of human nature."
This message of tolerance is at the heart of the group's campaign against jihadism, which will be carried out online, and in hotel conference rooms and convention centers from North America to Europe to Asia. The film was released Thursday at the start of a three-day congress by the organization's youth wing in the Central Java city of Yogyakarta.
As world leaders call for Muslims to take the lead in the ideological battle against a growing and increasingly violent offshoot of their own religion, analysts say the group's campaign is a welcome antidote to jihadism.
"I see the counternarrative as the only way that Western governments can deal with the ISIS propaganda, but there's no strategy right now," said Nico Prucha, a research fellow at King's College London, who analyzes the Islamic State's Arab-language online propaganda.
And Western leaders often lack credibility with those most susceptible to jihad's allure. "They don't speak Arabic or have never lived in the Muslim world," Mr. Prucha said.
The campaign by Nahdlatul Ulama, known as N.U., for a liberal, pluralistic Islam also comes at a time when Islam is at war with itself over central theological questions of how the faith is defined in the modern era.
In a way, it should not be surprising that this message comes from Indonesia, the home of Islam Nusantara, widely seen as one of the most progressive Islamic movements in the world. The movement — its name is Indonesian for "East Indies Islam" — dates back more than 500 years and promotes a spiritual interpretation of Islam that stresses nonviolence, inclusiveness and acceptance of other religions.
Full report at:
http://www.nytimes.com/2015/11/27/world/asia/indonesia-islam-nahdlatul-ulama.html
---------
Islamic State leader Adnani issues new order to attack Westerners
Deborah Cassrels
NOVEMBER 26, 2015
Islamic State spokesman and senior leader Sheikh Abu Muhammad Al Adnani has for the second time ordered followers to viciously attack and kill unbelievers, or infidels, in the West.
Circulated in Indonesia yesterday on an Islamic State social media forum, the threats have been confirmed by the deputy head of enforcement at the national counter-terrorism agency BNPT, Arief Dharmawan.
"Of course, we are taking the threats very seriously," he told The Australian today.
"We are reminding the government to undertake prevention by militants,'' he said, also referring to Bali's intensified security levels.
Badrus Sholeh, head of Jakarta's international relations, social and political sciences at the Syarif Hidayatullah State Islamic University, said Adnani's instructions were issued on the BlackBerry Messenger app used by Islamic State members in Indonesia. "It is a provocative statement from the IS spokesman for IS members all over the world to attack and kill disbelievers," he said.
Adnani, the emir of IS in Syria, delivered similar orders in September last year and the US State Department announced in May a $US5 million reward for his capture or for information leading to his capture.
Abu Muhammad al-Adnani appearing in a 2012 video uploaded to YouTube. Picture: AFP
Fauzan al-Anshori, an Islamic State recruiter and former acolyte of radical cleric Abu Bakar Bashir, circulated the instructions through the IS Indonesia contact group.
They say: "Mujahidin, wherever you are… place obstacles on those who want to harm the brothers and your State, as much as you can. Seek the best thing that you can and kill the infidels, whether they are French, American, or some of their allies.
"O you who believe! Take your precautions, and either go forth (on an expedition) in parties, or go forth all together.' (An-Nisa': 71)
''If you cannot find an IED (improvised explosive device) or a bullet to kill infidel Americans, French or one of their allies then beat their heads with a stone, or slaughter them with a knife, or crash their cars, or throw them from a high place, or choke them, or poison them!
"I would not survive if the worshippers of the cross and defenders of Evil survived.
''If you are unable to do this, then burn their houses or their cars or business or destroy their crops!
''If you are unable to do this, then spit on their face!
''If you refuse to do this, while our brothers are being bombarded and killed, and while their blood and their possessions are destroyed everywhere, then review your religion. Then you are in a dangerous situation.''
The message comes three days after Indonesia's most notorious terrorist used an Islamic State forum on social media to threaten attacks on government officials.
Banten police commander Boy Rafli confirmed that warning by Abu Wardah, aka Santoso, the leader of jihadist group Eastern Indonesia Mujahideen.
The flag used by the Islamic State group.
He said in an audio message: "We are the soldiers of Dawlah Islam (Islamic State), who deliver you reminders.
"Believers or non believers, like it or not, willingly or not, the Black pennant, with the permission of Allah will fly at the Presidential Palace."
Fauzan al-Anshori also circulated that warning via an Islamic State Indonesia group discussion on the BlackBerry Messenger app.
Brigadier General Rafli said security and intelligence were being escalated across the country as a precaution, and the social media posting was being investigated.
Indonesian police yesterday issued a statement on national television saying 100 Indonesians had returned from Syria.
Police already have a list of 40 Syrian returnees and about 700 are known to be in the Middle East aligned to either Islamic State or the al-Qa'ida-affiliated Jabhat al-Nusra.
Bali police have escalated security across the island with bomb squads, military, police dog squads and counter-terror squad Detachment 88 patrolling perceived vulnerable points.
Of highest significance and concentration are Bali's international Ngurah Rai Airport, Padang Bay — the port crossing to the neighbouring island of Lombok — and Gilimanuk harbour, where security patrols are monitoring the heavy traffic between Bali and Java. Security has also been tightened around diplomatic missions.
Despite the alerts, Inspector-General Dharmawan said the high security was a preparatory measure in the event of a Paris or Egypt militant attack. ''They have standard operation procedures to protect the airport, sea ports etc,'' he said.
Full report at:
http://www.theaustralian.com.au/in-depth/paris-terror-attacks/islamic-state-leader-adnani-issues-new-order-to-attack-westerners/story-fnyenpo3-1227624054639?sv=e4e8ae366ad93a0b0829033919b19eef
---------
Templeton puts faith in Malaysia with new global Islamic funds
BY ELFFIE CHEWandLIAU Y-SING
26 November 2015
KUALA LUMPUR: The world's second-largest asset manager by market value plans to lure some of the US$376bil (RM1.58 trillion) parked in Malaysian bank deposits by setting up global Islamic stock and bond funds in Kuala Lumpur next year.
Franklin Templeton Investments, which has more than US$801bil (RM3.37 trillion) in assets, will seek approval from the regulator to start at least two syariah-compliant funds to serve as offshoots from the three it has in Luxembourg, country head Sandeep Singh said in an interview in the Malaysian capital last week.
That would complement similar investment options available from CIMB- Principal Asset Management Bhd and RHB Islamic International Asset Management Bhd.
"People are looking at more international investments because the volatile currency highlighted the merits of diversification," said Sandeep. "As markets get more sophisticated, it's a matter of time before global equity and bond funds get more traction among Malaysian investors."
The San Mateo, California-based fund trails behind BlackRock Inc in terms of assets, according to data compiled by Bloomberg.
Franklin Templeton launched its first syariah-compliant bond fund in Malaysia at a presentation in Kuala Lumpur on Nov 19, targeted at local individual and corporate investors. It currently oversees more than US$4bil (RM16.8bil) of Islamic and conventional assets in the country on behalf of institutions and high net-worth investors, said Sandeep.
The firm's Luxembourg funds have been drawing interest from investors globally, he said. One of those dedicated to sukuk and another to equities have given cumulative net returns of 7.53% and 11.1%, respectively, over the past three years, according to the company's fact sheet.
It's a "healthy trend," given that the availability of Islamic funds is small compared with conventional counterparts, Sandeep said. BIMB Investment Management Bhd, a unit of Malaysia's oldest bank providing services in accordance with Muslim principles, also started a multi-currency global syariah investment option this month.
Key to expanding funds operating along religious guidelines is better education and greater awareness, said Raj Mohamad, managing director at Singapore-based consultancy Five Pillars Pte. Standard & Poor's forecasts growth in the US$2 trillion (RM8.4 trillion) Islamic finance industry will slow to the single digits in 2016 from 10% to 15% over the past decade.
"There are still investors who believe it is for Muslims only," Raj said. "We will most certainly have better acceptance and take-up if the structure, return and risk profile are better explained."
Full report at:
http://www.thestar.com.my/Business/Business-News/2015/11/26/Templeton-puts-faith-in-Malaysia-with-new-global-Islamic-funds/?style=biz
---------
Indonesia increases security after video calls for attack
November 25 2015
Authorities increased security across Indonesia after a video appearing on social media threatened attacks against police and other targets, police and officials said Wednesday.
Security was raised at airports, the presidential palace, foreign embassies, and shopping centers in the capital after a threat was made by an Islamic militant group, said Jakarta police chief Maj. Gen. Tito Karnavian.
"There will be enhanced security," Karnavian told reporters. "But public vigilance and caution on suspicious behavior in their neighborhood is particularly important to ward off terror attacks."
The video calling for attacks on Jakarta police headquarters and the presidential palace appeared on social media, including Facebook this weekend. It was blocked by authorities on Monday.
The 9-minute voice-recorded video purportedly came from the East Indonesia Mujahidin, led by the country's most wanted militant, Abu Wardah Santoso, who has taken responsibility for the killings of several police officers and has pledged allegiance to the Islamic State group in Syria and Iraq.
Santoso faces charges of running a terrorist training camp in Poso, a flashpoint of terrorism in Central Sulawesi where a Muslim-Christian conflict killed at least 1,000 people from 1998 to 2002.
Full report at:
http://www.thejakartapost.com/news/2015/11/25/indonesia-increases-security-after-video-calls-attack.html
---------
Up to 70 IS supporters returned to Indonesia: Police
November 26 2015
Around 60 to 70 Indonesian citizens who joined the Islamic State (IS) group in Syria have returned to Indonesia, National Police chief Gen. Badrodin Haiti said on Thursday.
Previously, National Intelligence Agency (BIN) head Sutiyoso had stated a higher number of up of 100 Indonesian IS returnees.
"Regarding the number [of 100], [you can] ask BIN. According to data [from the National Police] it is not that high; only around 60 to 70 people," said Badrodin as quoted by tribunnews.com.
Full report at:
http://www.thejakartapost.com/news/2015/11/26/up-70-is-supporters-returned-indonesia-police.html
---------
Arab World
Terrorists Fleeing Syria's Lattakia in Hundreds after Army's Large-Scale Operations
Nov 25, 2015
The sources said that the militant groups have not found any safe place to regroup their forces after the Syrian army, popular forces and Hezbollah fighters launched their join massive operations to route out militancy in the costal province.
The sources announced earlier today that the Syrian army alongside the country's National Defense Forces (NDF) continued pushing back the militant groups in Lattakia province and restored full security to at least five more key regions in the Northern part of the coastal province.
The pro-government forces hit hard the militant groups in Por Abdullah region, Ketf al-Hareek , the fifth and sixth hills and Ketf al-Safeh and forced them to retreat the fighting areas after leaving behind scores of dead members.
Full report at:
http://en.farsnews.com/newstext.aspx?nn=13940904000851
---------
'KSA leading efforts to dry up Daesh sources'
26 November 2015
JEDDAH: The White House has praised the efforts of Saudi Arabia to cut off funding for the Daesh terrorist group, local media reported Wednesday.
"We have seen some significant international effort to eliminate funding lines off Daesh. This effort is being led by a number of Saudi officials, and we appreciated their contribution in this regard," White House spokesman Josh Earnest was quoted as saying.
Full report at:
http://www.arabnews.com/saudi-arabia/news/841211
---------
Islamic State's Most Chilling Call To Arms Yet Includes Threat To UK And 'Coalition Of Devils'
25/11/2015
The so-called Islamic State has released its most chilling call to arms yet, threatening the UK for being part of a "coalition of devils" and taunting the West saying "bring it on", in a video that is as Western as a Hollywood-movie.
In a highly-stylised clip from the terrorist group's Al-Hayat Media Centre, the group also taunts the US, claiming Islamic State fighters "haunt the mind of your soldiers and sew fear into their hearts" following the US' failed missions in Afghanistan and Iraq.
The 4.13 minute long video, which features Hollywood-like production values and a booming voiceover in an American accent, begins with Isis bragging about their expanding territory and Khilafah - ruling system - saying it is already greater than Britain, eight times the size of Belgium, and 30 times the size of Qatar.
The video says its khilafah is built on the "prophetic methodology", compared to the West's "secular state built on man-made rules" whose soldiers fight for "the interests of legislators, liars, fornicators and corporations". Pictures of Barack Obama, George Bush, Bill Clinton and Tony Blair overlay the voiceover.
IS fighters in contrast, the video claims, are: "Men honoured with Islam, who climb to its parks to perform jihad, answering the call to unite under one flag."
The voiceover continues: "This is the source of our glory, our obedience to our lord."
The group then boasts of destroying historical monuments like the 2,000-Year-Old Arch Of Triumph In Palmyra, Syria, before saying there is "no honour to be found in nationalism".
Justice, the video says, is served through the Islamic court.
Turning its focus to America, the video says the US claim to have the "greatest army history has ever known", but its soldiers, IS claim, are weak. IS claims they lack the "will and resolve" because they are "still scarred" by their defeats in Afghanistan and Iraq.
As the US, "cooks the facts on airstrikes", the video claims, IS soldiers "continue to haunt the minds of your soldiers and sew fear into their hearts".
US soldiers, IS claims, returned home "dead or suicidal". It says 6,500 US soldiers commit suicide every year. That figure, from 2012, has been widely reported.
IS then talk about the West's trillion-dollar investment in countering them, while their soldiers fire 50 cent bullets on the ground to "send them to hell".
The video talks about the West's "coalition of devils" - which includes Iran, Turkey and Russia - and a global coalition of 60 countries including the UK. The flags of those nations are shown.
The rising tide against IS, "only increase our faith", the video claims, warning the "flames of war will burn you on the hills of Dabiq".
Full report at:
http://www.huffingtonpost.co.uk/2015/11/25/islamic-states-most-chilling-video-yet-threatens-uk_n_8645400.html
---------
Heavy Infighting Erupts between Terrorists Groups in Syria
Nov 26, 2015
A large group of terrorists were killed in exchange of fire between al-Nusra Front and Ahrar al-Sham terrorist groups in al-Rami village in Idlib countryside on Wednesday, according to the Arabic-language al-Mayadeen television.
Earlier this month, fierce clashes also took pace between rival terrorist groups in the province of Dara'a, leaving scores of militants dead and injured as rifts widened between the terrorists after the Syrian army continued advance in more militant-held territories.
Clashes erupted between terrorists of al-Nusra Front and the so-called "Liwa Shuhadaa al-Yarmouk" terrorist group in al-Allan area in the Western countryside of Dara'a after al-Nusra announced on its Twitter account on Sunday that it had killed the chief of Liwa Shuhadaa al-Yarmouk.
Full report at:
http://en.farsnews.com/newstext.aspx?nn=13940905000225
---------
Army Clashes with Jaish Al-Islam Terrorists in Damascus Countryside
Nov 26, 2015
Field sources said on Thursday that the army clashed with terrorists from Jaish al-Islam to the East of Harasta city.
A large group of terrorists were reportedly killed in the clashes. The Syrian forces also seized the building where they were hiding in.
The army also destroyed two vehicles of Jaish al-Islam terrorists in Alya farms to the North of Douma city, killing the terrorists, Aboud Abdoud and Moustafa Dahman.
Also on Wednesday, the Syrian army continued to advance in Eastern Ghouta in Damascus countryside, and regained control of Marj al-Sultan-Housh al-Noula road.
Full report at:
The troops also won back several houses at the entrance to Marj al-Sultan village.
http://en.farsnews.com/newstext.aspx?nn=13940905000181
---------
Cultural figures and rights groups call for release of poet facing executio
25 November 2015
Leading international cultural figures have joined human rights campaigners in calling for the release of Ashraf Fayadh, the Palestinian poet and artist facing execution in Saudi Arabia.
Chris Dercon, the director of Tate Modern, British poet laureate Carol Ann Duffy, historian Simon Schama, playwright David Hare, and Egyptian novelist and commentator Ahdaf Soueif are among the those calling for the death sentence imposed on Fayadh by a Saudi court last week to be overturned.
More than a dozen organisations for artists, writers, musicians and freedom of expression from the UK, North America and Africa – including Index on Censorship, literary association PEN International and the International Association of Art Critics – have also signed a joint statement condemning Fayadh's conviction for renouncing Islam, a charge which he denies.
The statement, which will be delivered to the Saudi embassy in London by English PEN on Friday, says: "We believe that all charges against him should have been dropped entirely, and are appalled that Fayadh has instead been sentenced to death for apostasy, simply for exercising his rights to freedom of expression and freedom of belief."
Amnesty International launched an urgent action on Tuesday to lobby for Fayadh's release, which denounced his lack of legal representation as a violation of international and Saudi law.
Schama said: "Anyone with a conscience should abhor the sentence and shun those responsible as inhuman."
Referring to the Hadith, the sacred text that reports what the prophet Muhammad said or approved, Duffy said: "The world can only remind the Saudi authorities of the words 'My mercy overcomes my wrath' – and where they are said to be written."
Hare called on the Saudi ambassador to the UK, Prince Mohammed bin Nawaf bin Abdulaziz, to "join the now-universal condemnation of the arbitrary death sentence passed on the Palestinian poet, Ashraf Fayadh".
Mona Eltahawy, an award-winning journalist and commentator on Arab and Muslim issues, said: "This is an outrageous violation of freedom of faith which as a Muslim, I hold dear and support unequivocally.
"It is beyond time to hold [Saudi Arabia] accountable for its awful human rights violations."
British artist Peter Kennard said: "Saudi Arabia wants to silence a great humanitarian poet and cultural organiser. We cultural workers must do all in our power in campaigning to free him. We must also demand that David Cameron takes a bit of time off from selling the Saudi regime fighter planes to state his abhorrence at the death sentence meted out to a poet."
In a message to his supporters, Fayadh told Saudi artist Ahmed Mater on Monday: "I am grateful for everyone working on my behalf. To be honest, I was surprised because I felt alone here. I am in good health. I'm struggling to follow all the developments. People should know I am not against anyone here, I am an artist and I am just looking for my freedom."
Fayadh, who co-curated a show at the 2013 Venice Biennale, was originally sentenced to four years in prison and 800 lashes for apostasy by the general court in Abha, a city in the south-west of the ultraconservative kingdom, in May 2014.
He has denied the charges, which stem from a book of his poetry and a complaint lodged by a man who accused him of making blasphemous remarks during an argument in a cafe in the conservative city.
Full report at:
http://www.theguardian.com/world/2015/nov/25/cultural-figures-human-rights-groups-call-release-ashraf-fayadh-poet-facing-execution
---------
Russian Air Force Cutting Off Illegal Deliveries of Oil Products From Syria
Nov 26, 2015
Russia's air group in Syria is severing illegal deliveries of oil products that help finance terrorism, Kremlin spokesman Dmitry Peskov said Wednesday.
"The Russian Air Force operation to support the Syrian army's offensive against extremist groups and organizations is continuing. Russian planes, combat aircraft continue to operate, terrorist infrastructure is being destroyed. Illegal oil and petroleum product flows, which finance terrorism, are being severed," Peskov told reporters.
http://en.farsnews.com/newstext.aspx?nn=13940904001485
---------
Army Recaptures Key Regions in Homs
Nov 26, 2015
The Syrian forces regained control over Tlol Um Kadom, Dahrat al-Said, Jabal al-Ramila and Tolol al-Sood in the Southeastern countryside of Homs on Wednesday.
Earlier on Wednesday, the Syrian airstrikes destryed ISIL positions in Abu Alia, Unq al-Hawa, Masaada and Habra al-Sharqia to the East of Homs city. Terrorists' machinegun-equipped vehicles and other vehicles loaded with weapons and ammunition were also destroyed in the air attacks.
Full report at:
http://en.farsnews.com/newstext.aspx?nn=13940905000133
---------
Terrorists' Tunnel Destroyed in Damascus Countryside
Nov 26, 2015
The army destroyed a tunnel of 250 m length and 9 m depth in the vicinity of the Vehicles' Administration in Harasta city in Damascus countryside on Wednesday.
Also on Wednesday, the Syrian army continued to advance in Eastern Ghouta in Damascus countryside, and regained control of Marj al-Sultan-Housh al-Noula road.
According to the Arabic-language El-Nashra website, the Syrian army retook Marj al-Sultan - Housh al-Noula road in al-Marj area.
Full report at:
http://en.farsnews.com/newstext.aspx?nn=13940905000169
---------
Syrian FM: Turkey Violated Syria Sovereignty by Attacking Su-24 in Its Airspace
Nov 26, 2015
This incident has shown the world that [Turkish President Recep] Erdogan and his government are helping terrorists in Syria," Walid Muallem said after meeting Speaker of the Russian Parliament Sergey Naryshkin.
Muallem expressed his condolences over the death of the Russian pilot and later a marine in the incident.
We express our condolences over the actions of those terrorists, who Erdogan and his government support, who opened fire at the pilot as he was parachuting down. It was no less than a war crime," he said.
"We are glad that the joint Russian-Syrian military operation resulted in a rescue of the second pilot," he added.
Naryshkin said the attack on the Russian plane did not reflect what the Turkish people want from their leadership.
"We believe this act was treason by the Turkish leaders against their own people," he said.
Turkey deliberately attacked the Russian warplane in revenge for the Russian antiterrorist campaign in Syria, according to the Syrian minister.
"The effort to destroy the forces of Islamic State of Iraq and the Levant and other terrorist groups offended Turkey. That is why they aggressively violated Syria's sovereignty and attacked the Su-24 in its airspace," Muallem said.
Full report at:
http://en.farsnews.com/newstext.aspx?nn=13940904001480
---------
Rescued Su-24 Co-Pilot Rules Out Turkish Space Violation 'Even for Second'
Nov 26, 2015
"There were no warnings. Not via the radio, not visually. There was no contact whatsoever. That's why we were keeping our combat course as usual. You have to understand what the cruising speed of a bomber is compared to an F-16. If they wanted to warn us, they could have shown themselves by heading on a parallel course. But there was nothing. And the rocket hit our tail completely unexpectedly. We didn't even see it in time to take evasive maneuvers", Sputnik reported.
He also said the crew of the downed Russian bomber jet knew the area of the operation "like the back of their hands."
"Of course, having carried out numerous flights there we knew the region like the backs of our hands. We were conducting our sorties and returning back to base following the predetermined route. I'm a navigator, I know every latitude there. I can guide the aircraft there blindfolded," co-pilot said.
The co-pilot added that he wants to continue serving in the Russian aviation group in Syria.
"I can't wait until I get the all-clear from the medics, so that I can step back into the ranks. I'm going to ask our command to keep me on this base — I have a debt to repay, for my commander."
Full report at:
http://en.farsnews.com/newstext.aspx?nn=13940904001507
---------
Syrian Forces Complete Full Control over All Areas around Kuweires Airbase
Nov 25, 2015
The pro-government forces' mop-up operations in the Eastern countryside of Aleppo successfully have ended in liberation of all the villages and farms and recapturing of the Aleppo-Raqqa highway near Kuweires airbase.
The Syria forces completely cut off the ISIL supplying route from Raqqa.
The military analyzers underlined that by cutting the international Aleppo-Raqqa highway, army troops have seized back all villages surrounding the Air Force Academy and Kuweires Airport and completely securing their surroundings.
On Tuesday, the Syrian army continued their offensives against the terrorist groups in the province of Aleppo, killing tens of militants in heavy clashes.
Over 100 Takfiri terrorists were killed in the Southern parts of the Aleppo province.
Full report at:
http://en.farsnews.com/newstext.aspx?nn=13940904000223
---------
Syrian Commandos Free Captive Russian Su-24 Pilot from Terrorists' Hands
Nov 25, 2015
According to al-Mayadeen news channel, the Russian pilot was transferred to al-Hmeymim air base near Lattakia city after being released.
"The searching operations lasted 6 hours and the commandos then managed to infiltrate into the terrorists' lines and find the Russian pilot," it added.
A Russian Su-24 was shot down by Turkey over Syria on Tuesday. The two pilots were able to eject from the plane. One of them is said to have been killed by the militants who sprayed bullets at the two pilots after they ejected.
President Vladimir Putin warned on Tuesday that the tragedy with Russian Su-24 downed in Syria would have serious consequences for Moscow-Ankara relations.
The Russian president underscored that "either way, our pilots and our plane were not posing a threat to the Republic of Turkey."
"This tragic event will have serious consequences for Russian-Turkish relations. We have always regarded Turkey not only as a close neighbor, but also as a friendly state. I don't know who needed what was done today, but we didn't in any case," Putin said during a meeting with Jordanian King Abdullah II in Sochi.
Russia will analyze everything that happened with its crashed Su-24 military aircraft in Syria, Russian President Vladimir Putin said.
"We will, of course, carefully analyze everything that happened," Putin said at a meeting with Jordan's King Abdullah II.
"Instead of contacting us immediately Turkey addressed their NATO partners — as if it was us who downed their plane, not vice versa. Do they want to put NATO at the service of ISIL?" Putin said.
Full report at:
http://en.farsnews.com/newstext.aspx?nn=13940904000670
---------
Heavy rains flood Doha and bring Qatar to near standstill
26 November 2015
Qatar was hit by more than a year's worth of rain in a matter of hours on Wednesday, almost bringing the country to a standstill and prompting the country's prime minister to order an inquiry.
The deluge in Doha blocked several roads, making some impassable for commuters and causing huge congestion.
Schools and malls closed, hotels were affected and the rain forced the U.S. embassy in Qatar to shut down.
Worst hit seemed to be the area around Doha's Hamad International Airport, where almost 80 millimeters of rain fell, according to the Qatar Meteorology Department.
Full report at:
http://english.alarabiya.net/en/News/middle-east/2015/11/26/Flooding-brings-Qatar-to-near-standstill-.html
---------
Less than third of voters turn out in Egypt election
26 November 2015
Less than one third of voters cast ballots in the second phase of Egyptian parliamentary elections held across almost half of the country's provinces at the weekend, authorities said on Wednesday.
The 29.9 percent turnout was only marginally higher than the 26.6 percent registered in the first stage of voting last month, which was followed by a run-off that saw 21.7 percent vote.
Experts say the result of the election is a foregone conclusion, with the 596-member parliament expected to rubber-stamp President Abdel Fattah al-Sisi's policies in the absence of any opposition.
The turnout in the second stage of voting held across 13 of the country's 27 provinces was 29.83 percent, said electoral commission chief Ayman Abbas.
Ninety-nine out of 102 constituencies will now hold a run-off vote on December 1-2, he told reporters, adding that of the 222 individual seats that were contested only nine saw candidates winning with a clear majority.
Full report at:
http://english.alarabiya.net/en/News/middle-east/2015/11/26/Less-than-third-of-voters-turn-out-in-Egypt-election.html
---------
GCC parliaments stress regional security
26 November 2015
JEDDAH: The parliaments from the six-nation Gulf Cooperation Council (GCC) are intent on developing plans to tackle several problems in the region, including the Palestinian crisis, and the situation in Iraq, Syria and Yemen.
This is according to Abdullah Al-Asheikh, speaker of the Kingdom's Shoura Council, who was speaking on Wednesday as chairman of the ninth gathering of the parliaments in Riyadh.
He said further steps must be taken to counter the repeated violations by Israel and the chaos in neighboring countries, which were vital for regional and international security.
The representatives from the GCC parliaments earlier met with Custodian of the Two Holy Mosques King Salman at Al-Yamamah palace in Riyadh.
The king wished them well in their deliberations, while the parliamentarians thanked the monarch for hosting the event in the Kingdom.
Full report at:
http://www.arabnews.com/featured/news/841251
---------
India
Mumbai Muslims ready plan to fight back Islamic State
Jyoti Shelar
Nov 26, 2015
MUMBAI: Alarmed by the rapid spread of the Islamic State and its propaganda to attract impressionable youngsters, Mumbai's top maulanas, muftis, and heads of religious organisations are gathering on Thursday at the Mahim Darhah to plan a fight back.
Among a host of measures likely to be discussed will be Friday sermons across all mosques in the city where the imams will call the Islamic State's bluff, and a counteroffensive on Facebook, Twitter, and Instagram. The tag-line for Thursday's meeting is - 'ISIS is our enemy.'
"The fact that IS is using the name of Islam but has nothing to do with Islam in reality needs to be engraved in the minds of the community's youth," said Maulana Khalilur Rehman Noori, general secretary of Tanzeeme Masjid, an organisation of Imams that has over 10,000 members in Mumbai.
Maulana Noori will be among the hundred-odd eminent community leaders present at the Mahim Dargah meeting.
There is a growing concern among the city's Muslims that the Islamic State's activities are bringing a bad name to the community. The fear of radicalisation of Muslim youth because of Islamic State's strong presence online was brought home when four Kalyan youngsters -- Arif Majeed, Fahad Shaikh, Aman Tandel, and Saheen Tanki --joined the Islamic State last year. While Arif has since returned and has been charged with conspiring to commit a terrorist act and waging a war against the nation, there have been reports of Saheen's death in a gun fight. According to a Union Home Ministry report, 23 Indians, including the four boys from Kalyan, joined Islamic State in 2015.
"What ISIS is doing is un-Islamic as well as inhuman. But in all this, it is the Muslim community that is suffering," said Suhail Khandwani, trustee of the Mahim Dargah. He said the sole agenda of Friday's meeting would be to convey that Muslims are against ISIS.
He said that while the community has been discussing the impact of Islamic State's activities on its image for some time now, the Paris attacks have brought a new urgency to this dialogue. Community leaders are now convinced there is a need to counter the Islamic State's propaganda with their own aggressive outreach. "ISIS is using the internet to target the youth. We have to counter them with using the internet to reach out to our youth and spread the real meaning of Islam," said Mufti Manzur Ziyaee of the Raza Academy.
Ziyaee, who is also the Islamic advisor to the Mahim Dargah, said that the Raza Academy's IT department is already active on Facebook, Twitter and Instagram. "They are in the process of maximizing the reach," said Ziyaee, adding that messages like "ISIS will not lead you to jannat" and "a terrorist has no religion" are being spread out in the web space.
Last year in June, London newspaper Daily Mail reported how Islamic State has outlined a fiveyear plan for global domination. The change of name from Islamic State of Syria and Iraq to just Islamic State was a reiteration of this ambition. "In a map widely shared by ISIS supporters on social networks, the Islamist group outlined ambitions to expand their boundaries beyond Muslimmajority countries and spread throughout the Middle East, northern Africa, and large parts of western Asia," the Daily Mail reported.
Full report at:
http://timesofindia.indiatimes.com/india/Mumbai-Muslims-ready-plan-to-fight-back-Islamic-State/articleshow/49930408.cms
---------
IS lures new recruits with promises of job, rule of sharia and 'jihadi bride'
Rahul Tripathi
Nov 26, 2015
NEW DELHI: Nineteen-year-old Mohd Jabeer, a native of Kerala's Malappuram, was attracted by the Islamic State's black flag. The banner (flag) is significant as a saying in 'hadith' (words of Prophet Mohammad), "There will emerge from Khorasan black banners which nothing will repel until they are set up in Aelia (Rome)."
Khorasan is a term for a historical region which includes Iran, Uzbekistan, Tajikistan, Afghanistan and northwestern Pakistan. Jabeer and many other Indian youths are lured into jihad by promise to establish the rule of Sharia (law of Islam). One of the two young men from Chennai deported from Turkey early this month during their interrogation said for them, "ISIS was an opportunity that will provide them jobs and and an opportunity to live with dignity."
Islamic State (IS) headhunters on the internet exhort India's Muslim youth to join the organisation to 'fulfill' the words of the prophet. "You will be honored as 'knights' if you join the IS fight in Syria," recalls one of the Indians an IS recruiter as telling him.
The four youths deported from UAE last September were made to believe that they will get better jobs and a meaningful life in IS ruled territory in Syria. However, all four were engaged in menial job and were disillusioned soon. According to Kalyan youth Areeb Majeed, who was deported last year, Indians were not at the forefront fighting. They were used for administrative work. At times, those who were not qualified were told to do menial jobs while Arab fighters prepared for jihad. Areeb was part of the team that was assigned to build Raqqa as a wi-fi city, he claimed.
Besides radicalisation, IS recruiters provide financial help at times. In case of a youth from Telangana, they radicalised him before arranging funds for his travel to Syria. Another lure for the youth is the promise of a 'jihadi bride.' Foreign fighters are provided women in marriage from those available in Iraq and Syria. Areeb was trapped by a woman recruiter who identified herself as Tahirah Bhatt from Palestine. There are more than 800 women who joined IS and were offered to foreign fighters, say officials.
Full report at:
http://timesofindia.indiatimes.com/india/IS-lures-new-recruits-with-promises-of-job-rule-of-sharia-and-jihadi-bride/articleshow/49930478.cms
---------
Can Muslims in forces sport beard? SC no to urgent hearing
by Utkarsh Anand
New Delhi
Nov 26, 2015
Will the government allow Muslim policemen and defence personnel to sport beards? Asked to decide on the legality of hair flowing from Muslim chins, the Supreme Court virtually left it to the government to take a call on reformulating rules on the matter. On Monday, a Bench headed by Chief Justice H L Dattu declined to urgently examine the legal issue that whether Muslim personnel can assert sporting beard as a facet of their fundamental right to freedom of religion, and seek equality with Sikhs, who are allowed to sport unshorn hair and turban.
"Application for an early hearing is rejected," stated the Bench, also comprising Justice Amitava Roy, after advocate Irshad Hanif urged the court to fix a date of final hearing on a batch of petitions filed by the Muslim personnel, who had either been thrown out of service or faced disciplinary action for sporting beards.
Hanif argued that his client Ansari Aaftab Ahmed had been sacked by Indian Air Force (IAF) and only the court could help him get his job back.
The Bench, however, found no merit in his plea to expedite the matter pending for last seven years and rejected the application summarily.
"Perhaps the court wants the government to decide and that it why the case is getting protracted," Ansari told The Indian Express, revealing his plans to soon make a representation to the government to allow Muslim personnel to sport beards.
Ansari was discharged from service by IAF in October 2008 while his petition was still pending before the top court. The court had issued notices to the government and the IAF in 2008.
In the same year, two more petitions were filed on the issue — one by a fellow IAF personnel and another by a Maharashtra policeman.
In its response, the IAF told the court: "All Muslims do not carry beard. The practice of growing and keeping beard is optional and sporting a beard is not universally recognised in the religion of Islam. Therefore, it cannot be said that Muslim religion prohibits the cutting of hair or shaving of the face of its member."
But later that year, then defence minister A K Antony said the UPA government did not want Muslim personnel to suffer and that his ministry was issuing instructions to armed forces telling them not to act against a Muslim jawan or officer for sporting beard.
In October 2009, the UPA government told the court that it was taking a fresh look at the issue. However, two months later, it backtracked and informed the court that the government and the IAF would "contest the petitions" by Muslim personnel rather than allowing this concession.
In December 2009, the Bench listed the cases for final hearing and ordered expediting the matter. With the matter yet to come up for hearing, Ansari sought an urgent listing of the matter.
Full report at:
http://indianexpress.com/article/india/india-news-india/can-muslims-in-forces-sport-beard-sc-no-to-urgent-hearing/
---------
Viral Post against Aamir Khan: Taslima Nasreen clears air, says 'Not my words'
November 25, 2015
New Delhi, Nov 25: A post has been going viral on social media since Tuesday, Nov 24. The post went viral following Aaamir Khan's controversial statement on increasing intolerance in India. It was projected that the statement in post was written by noted writer Taslima Nasreen.
It was projected that the statement in post was written by noted writer Taslima Nasreen.
The post said, "Taslima Nasreen noted Bangladesh writer commented today- Amir Khan you earned 300 crores by mocking Hindu gods in PK if you would have done this in Pakistan, Bangladesh or on Muslim religion you would have been hanged and still you say India is intolerant."
A photograph of Taslima was also attached along with the viral post.
Though many believed it was Taslima's statement, there was confusion on the authenticity behind the author of the post which was, however, later cleared by the Bangladeshi writer herself.
Full report at:
http://www.oneindia.com/india/viral-post-against-aamir-khan-taslima-nasreen-clears-air-says-not-my-words-1937138.html
---------
7 years after 26/11, face of coastal security: 8 bamboo poles, 2 cops, 1 aluminium roof
by Srinath Raghvendra Rao
Nov 26, 2015
The only blemish on the horizon if you drive southward on the Bandra-Worli Sea Link and look to the left at the open sea is a shack on an outcrop of rock before land gives way to water. Nothing sets it apart from the average Mumbai tenement but for the khaki police shirts suspended on hangars from the low roof.
This is a coastal police outpost, one of the many that watch over Mumbai's shores. The eight bamboo poles that hold the station upright and the aluminium sheets covering it were sourced with help from local fishermen, and the leftovers from the sea link's construction provided stones to reinforce the structure.
And yet, the importance of their presence on this isolated patch of rock is not lost on the rotating daily roster of two policemen who spend 12 hours each here with a single Self-Loading Rifle and 50 bullets between them, their backs to the Arabian Sea.
"We're going to be at the front of the firing line should there be a repeat of the November 2008 terror attack in Mumbai. The government should equip us. In the two years that I have been posted here, I have been hearing every few months that a permanent police station will be built, but nothing has happened. We're doing our best from here," said a policeman who, like his colleagues who have worked there, asked not to be identified.
Click here to read in Hindi
The shack has been there since 2011 but it was only in 2013 that the state government announced its intention to establish a fully operational police station there. But over the last two years, the structure has collapsed on numerous occasions during each monsoon and been rebuilt again.
"In 2013, we were given a cloth tent to set up the station but it would blow away in the fierce wind and we would get drenched in the rain. We needed something permanent to stay in if we were going to secure the premises, so we decided to build the shack," said another policeman.
As for other such outposts, the one at Badhwar park, the landing point for terrorists that day, comprises a lone bench and a few policemen. At Worli and Versova, two similar benches with an overhead shelter act as outposts.
All these are post-26/11 infrastructure for "live policing" away from stations. Police officials say that at vital points, armoured vehicles with policemen posted in shifts provide "first responder" surveillance. In Colaba, for instance, there's a heavy patrol mechanism at the checkpost, strategically positioned near Gateway of India.
Officials say there are proposals to establish five "coastal police chowkies" across Mumbai but admit that the Bandra site is important because the Sea Link is one of the "most sensitive" locations in the city.
Back at the shack, with the nearest habitation half-a-kilometre away, the policemen are completely cut off and carry their own food, water and — for the night shift — mosquito repellent cream. Once sun dips, the only source of light is a solar power-fed bulb. "We need to have night vision binoculars to look out at the sea. Unless we hear it, we won't know that there is a boat coming," said a policeman.
Guidelines published by the Bureau of Police Research and Development in January 2015 recommend that the plinth area of a police station accommodating up to 10 police personnel should measure 135 square-metres.
When contacted, Kiran Kumar Chavan, Deputy Commissioner of Police, Port Zone, said that a proposal to construct a permanent building here is being considered.
"Policemen posted at Bandra built the temporary structure to protect themselves because it is an isolated place and also because it serves as a landing point for our patrol boats," Chavan told The Indian Express.
There are indications that a permanent station may come up here soon, with policemen saying that surveyors have begun measuring sites for a concrete structure.
"In the past two months, they have been coming twice every week. They say that work will begin here in a month's time. Come back here after a month and work will have begun," said a policeman.
Full report at:
http://indianexpress.com/article/india/india-news-india/7-years-after-2611-face-of-coastal-security-8-bamboo-poles-2-cops-1-aluminium-roof/
---------
Sarbananda Sonowal on damage control mode; now talks of Hindu-Muslim unity
26 Nov, 2015
GUWAHATI: With barely five months left for Assembly polls in Assam, newly appointed BJP president Union minister Sarbananda Sonowal is now making attempts to reach out to different communities.
Sonowal is now talking of Hindu-Muslim unity. There is no indication that controversy on beef eating, cracker bursting in Pakistan will not feature in Assam polls, though beef has dominated the state politics for some time now.
Full report at:
http://economictimes.indiatimes.com/news/politics-and-nation/sarbananda-sonowal-on-damage-control-mode-now-talks-of-hindu-muslim-unity/articleshow/49932438.cms
---------
Pakistan govt keen to delay trial of LeT operatives?
Imtiaz Ahmad
Nov 26, 2015
The 26/11 Mumbai attacks trial in Pakistan may conclude in two months, the chief prosecutor said on Tuesday, indicating the protracted court proceedings are finally winding down following a slew of diplomatic protests over the years by India on the halting pace.
Chaudhry Azhar made the remarks in an interview with Hindustan Times.
"The evidence of 50 witnesses has been recorded and we are now almost at the end of the trial," he said.
The lawyer said he was hopeful the court would convict all seven accused on trial and criticised a court decision to release on bail alleged mastermind of the attacks Zakiur Rehman Lakhvi that soured India-Pakistan ties, as he said the move reeked of "foul play".
Azhar, who has been accorded special protection after he received death threats, said the government had provided two more prosecutors to speed up the trial for which hearings are being held at the jail every Wednesday.
Pakistani investigators had earlier said they had "substantial evidence" directly connecting Zakhvi's Lashkar-e-Taiba (LeT) terror group to the Mumbai attacks.
The findings provided the basis for the trial of five LeT operatives.
This is the first time Pakistanis are being tried inside the country for carrying out terrorist attacks on foreign soil.
Full report at:
http://www.hindustantimes.com/india/pakistan-govt-keen-to-delay-trial-of-let-operatives/story-vMX1bPbEEEKcU5s1ag42YP.html
---------
Today India is as vulnerable as Mumbai was on 26/11
Ajai Sahni, Mumbai
Nov 26, 2015
Pakistan-backed Islamist extremist terrorist activities across India have substantially diminished since 2008, the year of the devastating 26/11 attacks which killed 195 people; another 171 people died in other incidents that year, bringing the total to 366, outside Jammu and Kashmir (J-K).
J-K recorded 541 fatalities in 2008. In the seven years since, Islamist terrorist fatalities outside J-K have totalled 120; while cumulative fatalities in J-K amount to 1,579.
Clearly, the incidence of Islamist terrorism has declined dramatically for a variety of reasons that have little to do with state policy in India.
This, however, has no bearing on our vulnerabilities.
A single index is sufficient to understand the magnitude of the latter.
In 2008, the average expenditure per capita population by the states on policing amounted to Rs 235.63 per annum, or less than 65 paisa per capita per diem; by 2014, this amount had risen to Rs 374.45, or just under Rs 1.03 per capita per diem – a difference that would likely be more than wiped out by the rate of inflation. (A cup of tea in the streets costs at least Rs 10 today.)
For all the rhetoric about our determination to fight terrorism, this is the reality of the most critical element of internal security – the first responders – in India today.
There is visible evidence all around of the dismal state of the police across the country, manifested in growing lawlessness and a public experience of rising insecurity.
It is useful, here, to understand that security is indivisible: you cannot have a cutting edge counter-terrorism response in a degraded system of law and order management; if women are not safe in the streets, then terrorists will also have a free run; if containers full of smuggled goods are sold openly in markets across the country, there is no way to prevent the movement of a few kilograms of explosives or some weapons and ammunition; if various identity documents can be purchased for a few hundred or thousand rupees, terrorists can easily hide themselves out in the open and transact their murderous business under multiple identities. Crucially, no political party and no government, at the Centre or in the states, has shown the slightest enthusiasm for comprehensive reform and improvements in the police. This is unsurprising in a country where 182 members of Parliament and nearly 35% of legislators in state assemblies have criminal charges pending against them.
As for the many proposals announced in the wake of the 26/11 attacks, none but a few ineffectual showcase projects, which have little bearing on our preparedness, has been fully implemented.
Full report at:
http://www.hindustantimes.com/india/today-india-is-as-vulnerable-as-mumbai-was-on-26-11/story-pro9TL39zQUvb3WqHO0KWK.html
---------
Africa
ISIL claims Tunisia bus bombing
25 November 2015
The ISIL armed group on Wednesday claimed the deadly bombing of a presidential guard bus in the Tunisian capital in a statement shared on its social media accounts.
It said a Tunisian suicide bomber named "Abou Abdallah al-Tounissi" carried out Tuesday's attack, which killed 12 presidential guards.
Full report at:
http://www.worldbulletin.net/africa/166713/isil-claims-tunisia-bus-bombing
---------
Turkey, Arab world condemn Tunisia attack
25 November 2015
The death toll from Tuesday's suicide bombing attack in Tunisia has risen to 13, with at least another 24 people injured, Tunisian Minister of Health Said al-Aidi said.
The victims, all police officers, were killed when a bomb exploded near a police car belonging to the presidency in capital Tunis.
The Turkish Foreign Ministry condemned the attack and sent condolences to the families of the victims and the Tunisian people.
Egypt's Al-Azhar, the highest seat of learning in the Sunni Muslim world, condemned the attack in a statement and demanded an international strategy to confront terrorism.
Kuwaiti Emir Sabah al-Ahmad al-Jaber al-Sabah sent his condolences to Tunisian President Mohamed Beji Caid Essebsi and condemned the "criminal act."
Full report at:
http://www.worldbulletin.net/africa/166707/isil-claims-tunisia-bus-bombing
---------
Pope says Christian-Muslim dialogue 'essential' for peace
Nov 26, 2015
NAIROBI: Pope Francis is telling Christian and Muslim leaders in Kenya that they have little choice but to engage in dialogue to prevent the "barbarous'' Islamic extremist attacks that have struck Kenya recently.
On his first full day in Africa, Francis insisted Thursday that religion can never be used to justify violence and lamented that ``all too often, young people are being radicalized in the name of religion to sow discord and fear, and to tear at the very fabric of our societies.''
He said interfaith dialogue isn't a luxury or optional, but is simply "essential.''
Full report at:
http://timesofindia.indiatimes.com/world/rest-of-world/Pope-says-Christian-Muslim-dialogue-essential-for-peace/articleshow/49931085.cms
---------
Human rights activist recounts journey to Judaism from Islam
November 25, 2015
International human rights advocate Ayanna Nahmias will describe her remarkable journey from being a Muslim in Africa to becoming an Orthodox Jew in America during a program Sunday, Dec. 6, at Nusach Hari B'nai Zion.
Nahmias will relate the experiences in her life that allowed her to escape a repressive and abusive life in the African home of her Muslim father. After what she describes as "much spiritual, soulful and personal reflection," she converted to Judaism. She now lives in Washington, D.C., with her biracial Jewish son and her mother, a Baptist minister who fully supports her life choice to live as an Orthodox Jewish woman.
Nahmias is editor-in-chief of the online Nahmias Cipher Report (ayannanahmias.com), which features articles written by her and other contributors concerned about international affairs and human rights.
A native of Florida, Nahmias spent her formative childhood in Africa, where her father, who recently died, converted the family to Islam. She endured verbal and physical abuse and her father's attempt to marry her off to a much older man.
She escaped with her mother and siblings but, at the request of her father who ostensibly wanted to see his children, went back to Africa. Instead, he tried to keep them in Africa while forcing Nahmias to live apart from her siblings. She escaped to America a second time, this time with the intervention of the U.S. government. Her determination to transcend her past motivated her to publish the Cipher Report.
The Jewish Light recently caught up with her for an interview.
What motivated you to risk the first escape from your father?
We escaped from Tanzania with my mother in 1978. She risked her life and my life to escape from my father after having endured years of physical and mental abuse.
Subsequently my father returned to Nigeria and began to teach mathematics at the Bayero University Kano, which is situated in Kano State. My father liked this area of Nigeria because, even then, there was a community of radical Islamists. Today, it is an area of the country that suffers repeated attacks by extreme Islamist groups like Boko Haram.
Why did you go back to visit your father?
Since my parents weren't legally separated, my father retained some custodial rights and thus contacted my mother to ask if we could visit him. My mother told us of our father's request and that her only caveat was that if we decided to go, then we had to all go together. My brother and sister decided that they wanted to go, and I knew that if I didn't accompany them, I would never see them again.
Two weeks later, we departed the country to see our dad after being separated from him for three years. Almost immediately upon arrival, it became clear that he was not going to let us return to America.
In Nigeria and in the Muslim faith, the man has complete ownership of his wife and children. So when he made us call our mother to have her send our school transcripts so that he could enroll us, I knew that if we were going to leave, I would have to take drastic measures.
Tell us about your life in Nigeria.
First, my father enrolled my brother and sister in a private school in Jos. He intended to separate us geographically. And for a second time, he was arranging a marriage for me to a much older man. It was as if he was intent on breaking me by any means necessary.
As intent as he was on subjugating me, I was equally determined that we would not remain in Nigeria. My father knew that I wouldn't leave without my brother and thus took him with him every day. My sister and I remained home all day and, shortly before evening, we would begin to prepare dinner in preparation for their return.
Once our departure tickets had expired, and because my father had confiscated our passports and money, he seemed satisfied that we could not escape. Thus, on the last day before we were to depart to Jos. my father left my brother home and went to the university to wrap up the semester. I knew then that this would be the only window of opportunity for us to escape, and I took it.
Full report at:
http://www.stljewishlight.com/news/local/article_e0a21744-9392-11e5-86f0-a77582e69e4e.html
---------
Tunisia shuts border with Libya for 15 days
Nov 26, 2015
TUNIS: Tunisia annou­nced on Wednesday it is closing its land border with war-torn Libya for 15 days after a deadly bus bombing in Tunis claimed by the militant Islamic State group (IS).
The National Security Council, headed by President Beji Caid Essebsi, decided to close the frontier from midnight with "reinforced surveillance of maritime borders and in airports", a statement said.
Thousands of Tunisians have travelled to Libya, as well as to Iraq and Syria, to fight alongside Islamic extremists, according to the authorities.
The council also decided to "step up operations to block (Internet) sites linked to terrorism", the statement said.
And authorities would "take urgent measures regarding people returning from hotbeds of conflict, in line with the antiterrorist law", it added, without elaborating.
Full report at:
Published in Dawn, November 26th, 2015
http://www.dawn.com/news/1222330/tunisia-shuts-border-with-libya-for-15-days
---------
Kenyan president fires five graft-tainted ministers
November 26, 2015
NAIROBI - President Uhuru Kenyatta fired five government ministers embroiled in corruption scandals in a cabinet reshuffle late Tuesday amid growing criticism of runaway graft in Kenya.
The five were suspended - on full pay - since March. Another cabinet minister resigned on Sunday citing health reasons after a parliamentary inquiry alleged massive misspending in her ministry, including the purchase of a $17,600 television and a box of 20 ballpoint pens costing $85 (80 euros) each. Scandals this year alone have included an official audit that could only account for one percent of government spending and a quarter of the entire $16 billion (15 billion euro) budget. There have also been a series of land grabbing and procurement scams, allegations that Kenya's army shares the spoils of a $400 million (376 million euro) sugar smuggling racket with an Al-Qaeda linked group it is supposed to be fighting in Somalia, and the inability to explain how a $2.75 billion (2.6 billion euro) Eurobond raised on international markets last year was spent.
Announcing the reshuffle, Kenyatta said it would "ensure the accountability of public officials".
Full report at:
http://nation.com.pk/international/26-Nov-2015/kenyan-president-fires-five-graft-tainted-ministers
---------
Pakistan
293 Punjab seminaries linked to terrorism
Mubashir Hassan
November 26, 2015
LAHORE - Punjab Apex Committee is meeting here today to take stock of the actions taken so far against terrorism under the National Action Plan (NAP) approved last year.
Punjab Chief Minister Shahbaz Sharif will chair the meeting.
Commander 4 Corps, DG Rangers Punjab and GOC 10 Division would be leading the Army team while Punjab Home Secretary, Home Minister and IGP would also be attending it.
This would be the 7th meeting of the Apex Committee since its inception last year.
The last meeting was held on July 16, 2015.
This high-powered body comprising both civilians and Army men, is mandated to review overall security situation, threat spectrum in the province and suggest strategic direction on concrete response measures security and counter terrorism issues for consideration by the Federal Government.
As per the official data available with this paper, Punjab government has so far arrested 53,151 accused for various offences including hate speech, wall chalking, display of arms and other offences under the newly promulgated laws.
A total number of 48,617 cases have also been registered under the newly promulgated laws in the province.
The new laws include: The Punjab Information of Temporary Residents Act, 2015, The Punjab Security of Vulnerable Establishments Act, 2015, Amended Wall Chalking (Punjab Prohibition on Expressing Matter on Walls) Act, 2015, Amended Arms Act, 2015, Punjab Sound Systems (Regulation) Act, 2015, and Amended Maintenance of Public Order Act, 2015.
The government has so far detained 168 activists of proscribed organisations.
Out of these, 70 activists belong to Lashkar-e-Jhangvi, while 53 to ASWJ, 12 to Sipahe-Muhammad Pakistan, 30 to Tehreek-e-Jafria Pakistan,5 to Jaishe-Muhammad, two each to Sunni Ittehad Council Brailvi and Lashkar-e-Tayba while one each to Harkat-e-Jahad-e-Islami, Tehreek-e-Ghulba Islam and Sunni Tehreek.
There are a total of 13,782 religious seminaries in Punjab.
Out of these, only 293 Madaris have direct or indirect link with terrorist activities.
Students and teachers from only 54 seminaries have been found actively involved in terrorism and sectarian activities, as per governments investigation.
They have been placed in category- A.
Students and teachers from 244 Madrassas are facilitators of terrorism and sectarian activities and they have been placed in category- B
The rest of 13, 476 seminaries are not involved in terrorism and have been placed in category-C.
Over one million (10, 06931) students are getting religious education in these schools, out of which 966 are foreign students.
Among these, 698,600 are day scholars while 31, 7487 are having boarding facilities.
Out of total 13, 782 religious schools, 7, 302 are registered with the government while 6479 are still unregistered.
According to the break –up, the Brailvi sect is running the highest number of seminaries- 6606.
Out of these 3656 are registered and 2950 are unregistered.
The Deobandis have a total of 61,06 schools in Punjab, out of which 3092 are registered and 3014 are unregistered.
The number of Madaris under the control of Ahle Tashe sect is only 230, out of which 147 are registered and 83 unregistered.
Ahle Hadith sect is having a total of 840 such institutions out of which 408 are registered and 432 are unregistered.
Punjab government has so far referred 4 cases for trial in Army courts.
It has verified 52,061 Afghans, 7,516 NGOs and 29,254 place s of worship are under scrutiny.
More than 125 terrorists links have been blocked.
Punjab government is facing the tough challenge of finalisation of proforma for Madaris registration besides the daunting task of introducing reforms in Madrassa curriculum and to settle the issue of equalence of their degrees.
Promulgation of Witness Protection Regime, Promulgation of Charity Regulation Ordinance, biometric verification of Afghan refugees, geo tagging of worship places, deregistration of dysfunctional NGOs, police reforms and forensic reforms are some of the other actions which are yet to be taken under the NAP.
A Punjab govt official said that the government had adopted effective measures to ensure implementation of National Action Plan to curb terrorism, alongwith making necessary arrangements in the relevant laws for making punitive sentences even more stringent for robust implementation.
He further stated that Chief Minister Punjab,Mian Muhammad Shehbaz Sharif, has been holding regular meetings of the Apex Committee and issuing orders for necessary measures, besides continually reviewing law and order situation.
He believed that the measures taken by Punjab Government, under National Action Plan, were yielding highly positive results, which was manifest in the improvement in the law and order situation of the province.
Full report at:
http://nation.com.pk/national/26-Nov-2015/293-punjab-seminaries-linked-to-terrorism
---------
Call for citizens' role in safeguarding human rights
November 26, 2015
Lahore: Participants at a consultative forum stressed the need for greater consultation with stakeholders on improving the representation of women and minorities in elected bodies.
They were speaking at the forum 'Realising Civil and Political Rights of Women, Minorities and Youth', organised by Democracy Reporting International (DRI) in collaboration with Punjab Youth Parliamentary Caucus (PYPC), a press release said yesterday.
Human Rights Commission of Pakistan (HRCP) General Secretary IA Rehman lamented the regressive trend in women's political participation, recalling that two women contested general seats from Muslims Leagues platform in Lahore in 1945.
He called for an end to structural violence against women and for the civil society to revive its efforts to improve the political participation of women.
Punjab Education Minister Rana Mashhood said that the way forward for improving the participation of women, youth and minorities is to have transparent political processes and ensuring that all citizens are treated equally.
Vickas Mokal, Chairperson PYPC, stressed upon citizen to be more vigilant and hold elected representatives to account for protection of human rights.
Panelists also urged for greater political and civic of engagement of youth and promoting platforms for political dialogue among youth as an alternative to banned student unions.
Youth should be seen as partners in the political development of the country, he added.
PML-N MPA Mary Gill said that political parties should give 5% tickets to minority candidates on general seats, adding that at least 5% representation of minorities on reserved seat in all legislative houses, including at local government level, should be required by law.
Full report at:
http://nation.com.pk/lahore/26-Nov-2015/call-for-citizens-role-in-safeguarding-human-rights
---------
LJ founding member, three others killed in police action in Lahore
WASEEM RIAZ
Nov 26, 2015
LAHORE: Haroon Bhatti, one of the founding members of the banned Lashkar-i-Jhangvi (LJ), and three others were killed in a police "encounter" in Lahore's Badami Bagh area late on Wednesday, a spokesman from the Counter Terrorism Department (CTD) said.
The official told journalists that three police constables had also received bullet injuries during the encounter.
Police had brought back Bhatti, along with his four associates, to Pakistan from Dubai with the help of Interpol on October 22 this year.
The key LJ leader was reportedly accompanying the police and CTD personnel to assist them in identifying a house in use of suspected terrorists near Malik park in the Badami Bagh area when the encounter took place.
Know more: Five arrested LJ militants brought from Dubai
The CTD spokesman said the police party raided a house on the tip off to arrest criminals involved in sectarian killings. He added that the terrorists staying in the house offered resistance to the raiding party and opened fire.
Police said the raiding party resorted to retaliatory firing as a result of which the attackers were killed.
Police also claims to have recovered a huge cache of arms and explosives, including Kalashnikovs, rifles and hand grenades from the suspected terrorists' possession.
The three suspects were identified as Omair Nadeem, Omair Hassan and Noman Yasin.
Police officials feared that the men could have conducted massive sectarian-related terrorist attacks. Their bodies were shifted to the Mayo Hospital's morgue for legal formalities.
Who is Haroon Bhatti?
The Punjab government had announced a bounty of Rs2.5 million on the head of Haroon Bhatti, who was accused of being involved in over two dozen terrorist attacks.
Bhatti was considered a close aide of Malik Ishaq, the former chief of LJ who was killed in a similar incident earlier in July this year.
Full report at:
http://www.dawn.com/news/1222374/lj-founding-member-three-others-killed-in-police-action-in-lahore
---------
Double standards
Nov 26, 2015
It was a moment when the adage about people living in glass houses and being circumspect about throwing stones sprang to mind.
The anguished response by the Foreign Office and Interior Minister Nisar Ali Khan to the execution of two opposition politicians in Bangladesh on Sunday referred to their "flawed trials" and the "violation of human rights" that their sentences had constituted.
To anyone not viewing the issue in isolation, the double standard was obvious, and rights activist Asma Jahangir soon called out the government on it.
The former Supreme Court Bar Association president criticised the "disproportionately high passion" that the government had displayed in the matter in comparison with its silence on the unfair trials in which Pakistan's own citizens were being sentenced to death. Here she was referring to the hangings that have been taking place in the country's prisons, to the sentences being handed down by the military courts — unprecedented in the opaqueness of their proceedings — as well as to the Pakistanis who are regularly executed on drug smuggling charges in Saudi Arabia.
Ms Jahangir's stand is a courageous and principled one, particularly given the current hyper-nationalistic environment in which insistence on human rights and due process for all is seen as not only subversive but is perversely projected as collusion with the very militants against whom the state is fighting.
Full report at:
http://www.dawn.com/news/1222276/double-standards
---------
'Jewish lobby' behind world terrorism: Khursheed
FAZAL KHALIQ
Nov 26, 2015
MINGORA: Leader of the opposition in the National Assembly and PPP leader Syed Khursheed Shah on Monday insisted a 'Jewish lobby' disguised as Muslims was behind terrorist activities in the world, while the terrorism-sponsoring states had become superpowers.
"Muslims are not terrorists. The present terrorism is sponsored by a Jewish lobby in the guise of Muslims," he told lawyers during a Swat District Bar Association function in Swat.
Khursheed Shah said it was PPP leader and Prime Minister Zulfikar Ali Bhutto, who strengthened the 'broken and defeated' Pakistan after the fall of Dhaka by getting the 1973 Constitution unanimously passed by parliament.
Opposition leader insists Muslims not terrorists, terrorism-sponsoring states have become superpowers
He said military dictator Ziaul Haq later suspended the Constitution weakening the country by dividing the entire nation in groups along ethnic and religious lines.
The opposition leader said it was the PPP government, which made parliament independent by minimising the president's powers.
"We, the PPP, gave identity to the Pakhtuns and people of Gilgit-Baltistan. Neither a dictator nor his heirs can subdue us," he said.
Khursheed Shah said Prime Minister Nawaz Sharif should address the country's real issues like poverty instead of announcing motorway and metro bus like projects valuing billions of rupees.
"Even the Prime Minister's Kissan Package is meant to deceive poor farmers, who are getting poorer day by day. It's unfortunate that the government has increased fertiliser prices," he said.
Full report at:
http://www.dawn.com/news/1222361/jewish-lobby-behind-world-terrorism-khursheed
---------
One FC man killed, two injured in attack on checkpost in Mohmand Agency
Nov 26, 2015
PESHAWAR: At least one Frontier Corps soldier was killed and two injured Thursday when unknown 'militants' attacked a security checkpost in Mohmand Agency, said security sources .
They said the militants were from Afghanistan and fled after retaliatory fire from law enforcers.
The injured soldiers were shifted to the Combined Military Hospital (CMH) Peshawar through a chopper.
Pakistan Army has been engaged in a grand operation, named "Zarb-i-Azb," against Taliban militants in the country's tribal areas following a Tehreek-i-Taliban Pakistan-claimed attack on Karachi in June last year.
In recent times, forces and the government have claimed that the unrest in border areas is a result of foreign interference, which has been blamed on Afghan and Indian spy agencies.
Afghanistan, on the other hand, blames Pakistan for not doing enough to curb terrorists, and accuses it of nurturing Taliban militants on its soil – a claim Pakistan has vehemently rejected.
Full report at:
http://www.dawn.com/news/1222420/one-fc-man-killed-two-injured-in-attack-on-checkpost-in-mohmand-agency
---------
MQM sees raids, arrests as attempt to influence polls
Nov 26, 2015
KARACHI: The Muttahida Qaumi Movement (MQM) on Wednesday said its 22 workers were mostly busy with the election campaign when they were arrested by the law enforcement agencies in what the party saw as an attempt to curtail the activities of the most favourite contender of the local government elections in Karachi days before polling day.
MQM spokesperson Ameen-ul-Haq said that 10 MQM workers who were busy in election-related activities were arrested in a raid on the party's sector office in Korangi. Then, he said, the party's unit office in Hijrat Colony, which had recently been set up as an election office, was raided to arrest six more workers.
"In other separate actions across the city, our six more workers were arrested.
"Only today [Wednesday] our 22 workers were arrested in different parts of the city. The situation is self-explanatory," he said. There was a consistent attempt to keep MQM activities under attack but despite all hurdles the party's organisational and elections offices were open, with workers in high spirits determined to win majority seats in the elections scheduled to be held on Dec 5.
Full report at:
http://www.dawn.com/news/1222240/mqm-sees-raids-arrests-as-attempt-to-influence-polls
---------
Khattak threatens agitation to secure rights of KP on CPEC
Nov 26, 2015
PESHAWAR: Khyber Pakhtunkhwa Chief Minister Pervez Khattak has threatened widespread protests against the federal government's alleged plan to 'deceive' the province and deprive it of the due rights in the China-Pakistan Economic Corridor project.
An official statement issued here on Wednesday quoted Khattak as saying his government would protest the federal government's 'deceitful act' at every relevant forum to protect the rights of the province.
It said the provincial government had unearthed the federal government's alleged plan to deprive the province of its due rights in the context of the CPEC though the latter had earlier made all announcements and commitments in this respect publicly.
Warns his govt will also withdraw cooperation for project if reservations not addressed
Pervez Khattak said all parliamentary parties in the KP Assembly would be taken on board for the proposed 'unprecedented protest campaign.'
He warned his government would withdraw its cooperation being extended for executing the CPEC project until their reservations were not removed.
The chief minister said the support withdrawal actions by KP government might also be including stoppage of the land acquisition process for the KP portion of the project.
He announced the decision while presiding over a meeting, which was attended by Speaker of the KP Assembly Asad Qaisar and mineral development minister Aneesazeb Tahirkheli, additional chief secretary Dr Hamad Awais Agha, chairman of the Strategic Planning Unit at the CM Secretariat Sahibzada Muhammad Saeed, leader of KP Ulasi Tehrik Dr Said Alam Mahsood and lawyer Tariq Afghan.
Commenting on the alleged designs of the federal government in connection with the CPEC project, the Chief Minister lamented that the federal government betrayal had put the KP government as well as people of the province in grave kind of shock and shattered their trust in the federal authorities.
Criticising the federal government attitude towards CPEC plan with reference to KP rights, Khattak recalled that a national consensus was evolved when KP government had voiced against the usurpation of the province's rights in respect of the CPEC and it was assured publicly by the federal government that all provinces will get equal share in the CPEC project and the western route will not only be included in the project but it would also be built on priority bases.
He regretted that nothing of sort had been found in the Planning Commission documents as well as the federal budgetary allocations.
He said the federal government was hiding everything regarding the CPEC project and kept the smaller provinces including KP in the dark.
Dr Said Alam Mahsood informed the meeting that the federal government had allocated a share of only 1.4 per cent for KP contrary to the Punjab that would be getting 80.4 per cent of the total budget allocation of Rs359 billion for the years 2015-17.
He said the KP's share would be spent on the only hydropower project of Suki Kinari in Mansehra district.
The meeting was informed that the six key components of the CPEC project had also been changed in favour of Punjab and the Dera Ismail Khan–Mianwali-Burhan link of the western route was also missing in the latest map of the CPEC route, which was kept secret by the federal government.
Full report at:
http://www.dawn.com/news/1222366/khattak-threatens-agitation-to-secure-rights-of-kp-on-cpec
---------
Trust deficit main hurdle in Pak-Afghan relations: Asfand
November 26, 2015
ISLAMABAD - Chief of Awami National Party (ANP) Asfandyar Wali Khan called on Prime Minister Nawaz Sharif Awami yesterday before leaving for Kabul, saying trust deficit between Afghanistan and Pakistan was the main hurdle in normalising bilateral relations between the two neighbouring countries.
Speaking at a news conference, Asfand said that Premier Sharif should not engage with Kabul through his powerless Advisor Sartaj Aziz. He said the prime minister needed to engage himself by taking along Chief of Army Staff General Raheel Sharif to dilute the increasing tension between the two countries.
The ANP chief said everybody knew who enjoys power in the country, adding that dealing with Kabul through an advisor will not satisfy Afghan authorities that doubt Islamabad on several issues.
"On the invitation of Afghan government, I will visit the country today (Thursday). Peace in Pakistan is linked with peace in Afghanistan and vise versa," he told reporters. He said that political situation in the country as well as the China Pakistan Economic Corridor (CPEC) was discussed with the prime minister in the meeting.
The ANP head said that Prime Minister Sharif has directed the conversion of single lane highway of western route to motorway, adding that industrial zones will be set up on the western route on which they would be informed after his visit to Paris. He said his party was not opposed to the project of CPEC rather the route alignment has questioned the credibility of government as it will deprive the people of backward areas in their share in the national project.
He said that the problem China faced in Xinjiang, the same is being faced by Pakistan in FATA and the challenges China faced in Tibet, Pakistan is facing in Balochistan. "Therefore one road should be passed through the whole of FATA, which has 80 per cent of mineral resources of the country," he said, adding the prime minister would take all parties on board once the committee finalises recommendations on the CPEC.
About the return of Internally Displaced Persons or IDPs, he criticised the government for making slow progress on rehabilitation of the people who fled their areas for the sake of ensuring law and order in the country. "If the government can give Kisan package to farmers, it needs to give interest-free loans to FATA's people as well. Schools and hospitals are destroyed in the tribal belt," he added.
Flanked by his party MNAs and Senators, the ANP chief expressed reservations over the National Action Plan (NAP), arguing it was not being implemented in letter and spirit.
To a question, he said he was at a loss to understand what kind of change Imran Khan was talking about. He also extended congratulation to former President Asif Ali Zardari on his acquittal in NAB references.
Muslim world must cooperate in areas of trade, commerce: PM
Prime Minister Mohammad Nawaz Sharif has said that there is a lot of scope for the Muslim world to cooperate in the areas of trade and commerce.
Full report at:
http://nation.com.pk/national/26-Nov-2015/trust-deficit-main-hurdle-in-pak-afghan-relations-asfand
---------
COAS first Asian to receive Brazil's Order of Merit
November 26, 2015
Brasilia: Army chief General Raheel Sharif was honoured yesterday with Brazil's coveted 'Order of Merit' award. "COAS was awarded Brazil's coveted award 'Order of Merit' in a special ceremony in recognition of his leadership for successful fight against multiple threats," DG ISPR Lt-Gen Asim Saleem Bajwa said on Twitter. "Gen Raheel is the first Asian to have been honoured with this coveted award," Bajwa added.
"Order of Merit has been given to General Raheel Sharif for displaying remarkable courage to deal with the menace of terrorism, successfully leading the army in the face of multiple threats, giving hope to his nation against dismay and despondency and above all for his great efforts to promote peace and stability in the region," a statement from the Brazilian government read. "Gen Raheel through his undaunting resolve, unflinching sincerity and impeccable professional commitment has become a leading figure in the world. His contribution to promote exemplary ties between Pakistan and Brazil in general and the two armies in particular are enormous and unprecedented," the statement added.
Full report at:
http://nation.com.pk/national/26-Nov-2015/coas-first-asian-to-receive-brazil-s-order-of-merit
---------
South Asia
UK hails Hasina's zero-tolerance policy on terrorism
November 26, 2015
The United Kingdom has hailed Prime Minister Sheikh Hasina's zero-tolerance policy on terrorism, Bangladesh's foreign ministry said in a press release.
UK Foreign Minister Philip Hammond conveyed the appreciation to his Bangladesh counterpart AH Mahmood Ali at the sidelines of Commonwealth Foreign Ministers' Meeting at Malta yesterday.
Drawing reference to the worldwide crisis of Islamic State, Hammond showed concern at rise of violent extremism in various parts of the world, the press release read.
Minister Mahmood assured that the overall security situation in Bangladesh was good and that BNP and its key ally Jamaat-e-Islami carried out a few activities recently to destabilize the country and malign its impression on the international stage.
Full report at:
http://www.thedailystar.net/country/uk-hails-hasinas-zero-tolerance-policy-terrorism-178282
---------
Suspect held over death threats to secular writers in Bangladesh
Nov 26, 2015
DHAKA: Bangladesh police have arrested a suspected militant for sending death threats to prominent secular academics, as the country reels from rising extremist violence, officers said on Wednesday.
Police accuse Abdul Haque, a former teacher at an Islamic seminary, of threatening noted academics and writers in the name of the Militant Islamic State group (IS) and local banned outfit Ansarullah Bangla Team.
"He sent death threats via telephone and text messages using a fake IS identity," police spokesman Monirul Islam said, adding that prominent secular intellectual Anisuzzaman, historian Muntasir Mamun and writer Mohammed Zafar Iqbal were among the targets. Tensions are running high in Bangladesh after a series of killings of secular bloggers and a publisher as well as the murders of two foreigners.
Secular writers, academics and bloggers have received death threats in the wake of the killings, while some have fled overseas fearing for their lives.
Police have stepped up a search for those behind the threats as well as security of those targeted after a hitlist was published on the Internet of 153 names.
Full report at:
http://www.dawn.com/news/1222258/suspect-held-over-death-threats-to-secular-writers-in-bangladesh
---------
Bangladesh leader Hasina's gains from shock hangings seen short-lived
Nov 26, 2015
DHAKA: The execution of two Bangladeshi opposition leaders for war crimes appears to have cowed rivals of Prime Minister Sheikh Hasina, but critics said her success comes at the cost of free discourse and the calm is likely to be short-lived.
Political analysts and opposition leaders warned that the executions sent a signal that violence is the only political tool that works. The shock felt by an opposition which has already suffered mass arrests may be replaced by further bloodshed.
Ali Ahsan Mohammad Mujahid and Salahuddin Quader Chowdhury were hanged on Sunday for crimes against humanity during the 1971 war to break away from Pakistan.
Protests against the hangings were muted. A general strike was called on Monday by Mujahid's Jamaat-e-Islami party, but there were no processions in Dhaka to back the strike and the day was largely peaceful in a country when strikes often turn violent.
Chowdhury was a legislator in former premier Khaleda Zia's Bangladesh Nationalist Party (BNP).
"Hasina's popularity has soared because of the overwhelming support of the people in favour of trials and execution of war criminals," said H.T. Imam, Hasina's political adviser.
"The policy of the government is zero tolerance against terrorism or violence, be it Islamist or any other kind." Badiul Alam Majumdar, secretary of rights group Citizens for Good Governance, said Hasina had been getting stronger because she did not have any visible opposition.
"The absence of democracy only creates room for extremism," he said.
Muslim-majority Bangladesh has seen a rise in Islamist violence in recent months, with two foreigners and four secular writers and a publisher killed this year.
Just a few hours before the Supreme Court rejections of the opposition leaders' appeals on Wednesday last week, an Italian priest and medic was shot and wounded in the latest attack on foreigners in Bangladesh.
The militant Islamic State (IS) group has claimed responsibility for the attacks on the foreigners, but the government has blamed the rising violence on political opponents.
Tensions are high in Dhaka. Foreigners avoid walking in the streets, even in the relatively more secure Gulshan diplomatic area.
The crucial $25 billion garment export sector has been nervous. Last month, executives from global clothing giants H&M, Inditex and Gap cancelled trips to Dhaka after the killings of foreigners.
Full report at:
http://www.dawn.com/news/1222169/bangladesh-leader-hasinas-gains-from-shock-hangings-seen-short-lived
---------
4 ISIS terrorists arrested from capital Kabul
Nov 26 2015
At least four militants belonging to the Islamic State of Iraq and Syria (ISIS) terrorist group have been arrested from Paghman district of Kabul.
The Afghan Intelligence – National Directorate of Security (NDS) said the suspects were arrested during a special military operation conducted by intelligence operatives.
A statement by NDS said the detained militants have been identified as Nisar Ahmad, Nabullah, Obaidullah and Syed Sohail who were recruited by ISIS commander Rafiullah.
The statement further added that Rafiullah is leading a group of 20 militants in Achin district of eastern Nangarhar province.
NDS also added that the group was looking to assassinate police commander Sher Agha by detonating an Improvised Explosive Device (IED) planted under a culvert in Zarashkh area of Paghman.
The detained militants have confessed that they were affiliated with the ISIS terrorist group, NDS said.
Full report at:
http://www.khaama.com/4-isis-terrorists-arrested-from-capital-kabul-1740
---------
President Ghani visits Kundoz province
By ZABIHULLAH MOOSAKHAIL
Nov 26 2015
President Mohammad Ashraf Ghani leading a high level delegation arrived in northern Kundoz province this morning.
According to reports, President Ghani will hold meetings with local security and other government officials and discuss with them the security and administrative operation in this province.
He will also hold meetings with members of the provincial council and local community elders and listen to their recommendations for improvement.
President Ghani is accompanied by ministers for natural disaster management, Hajj and Religious Affairs, Transport and Aviation, other Kabul based officials and journalists.
This is coming after the Fact Finding Team, which was assigned by the Presidential Palace to investigate the fall of Kundoz city to Taliban, completed its investigation.
The investigation revealed that fall of the key northern city was not based on a compromise but negligence of key government officials.
Full report at:
http://www.khaama.com/president-ghani-visits-kundoz-province-4258
---------
Senior Taliban commanders killed in Takhar clashes
Nov 26 2015
At least nine Taliban militants including three senior commanders of the group have been killed during clashes with the Afghan security forces in northeastern Takhar province of Afghanistan.
According to the local government officials, the Taliban militants were killed in Khwaja Bahauddin district during the gun battle which started few days earlier.
Provincial governor spokesman Sanatullah Temor confirmed that three commanders of the Taliban militants were killed and the group's shadow district governor was injured during the clashes.
Meanwhile, a police official in Takhar said the Afghan security forces have started clearing operations to recapture parts of Darqad district which fell to Taliban control earlier.
He said at least four members of the Afghan national police sustained injuries during the operations.
Full report at:
http://www.khaama.com/senior-taliban-commanders-killed-in-takhar-clashes-1737
---------
IS Presence Shows Signs of Expanding in Bangladesh
Zahurul Alam, Matiur Rahman
November 25, 2015
DHAKA, BANGLADESH—
Bangladesh's home minister says two Islamic State militants connected with the killing of a Japanese agricultural scientist near Dhaka have fled and crossed into India.
The revelation by Home Minister Assaduzzaman Khan Kamal came as a Dhaka court indicted a suspected coordinator of the Bangladesh chapter of Islamic State and three other members of the militant group under the Anti-Terrorism Act.
The militant group recently claimed its presence in South Asia, particularly in West Bengal and Bangladesh. The Bangladesh government has been denying an IS presence on its soil and has blamed violence on homegrown terrorists and opposition politicians. But the admission by the home minister and the indictment contradict that stance.
Kamal told the Indian English daily The Hindu on Tuesday that two IS militants were involved in the killing of the Japanese agriculturalist, Kunio Hoshi, 55, on October 3 in northern Bangladesh.
"We have alerted Indian authorities about their presence," he said. "The border area around Bangladesh, especially certain regions in West Bengal, Assam and Meghalaya, have hideouts that are being used by these terrorists as bases."
Bangladeshi authorities have reportedly stepped up their efforts to combat IS and its affiliates in the country.
State detectives arrested a person in Dhaka in recent days for allegedly conducting propaganda supporting IS on the Internet using the pseudonym "Jihadi John."
"This detained person, Nahid Hossain, was using the IS logo in a Facebook page called Dawa al Islamia, introducing himself as so-called Jihadi John," the joint commissioner of detective police, Munirul Islam Islam, told VOA's Bangla service.
One suspect also was arrested for threatening some prominent citizens in Bangladesh in the name of IS, police said.
Full report at:
http://www.voanews.com/content/islamic-state-presence-shows-signs-expanding-bangladesh/3073995.html
---------
5 JMB men including Hussaini Dalan blast suspect held
November 26, 2015
Police said they arrested five members of militant outfit Jama'atul Mujahideen Bangladesh (JMB) over involvement in subversive activities including the bomb attack on Shia Muslim community headquarters, Hussaini Dalan, in Dhaka.
The arrestees -- Kabir Hossain alias Rashed alias Ashik, Chan Mia, Omar Faruque alias Manik, Shahjalal and Ahsanullah Mahmud -- are followers of JMB operational commander Shahdat Mahfuz Al Bani, who was killed in a "gunfight" with detectives in Gabtoli last night, said Dhaka Metropolitan Police Joint Commissioner Monirul Islam.
Of them, Kabir took part in the Hussaini Dalan blast with Al Bani while Chan Mia took part in Ashulia bank robbery and in murder of former PDB chairman Khijir Khan in Badda, Monirul, also the spokesperson of DMP, said at a press briefing at DMP media centre today.
Rest of the arrestees served as collectors of JMB men and conducted motivational training, Monirul said adding: "They took part in assistant sub-inspector murder in Gabtoli."
"Slain Al Bani, Kabir and some others hurled explosives at Shia gathering at Hussaini Dalan. Police obtained three more names but will not disclose for the sake of investigation," the police official told reporters during the briefing.
Full report at:
http://www.thedailystar.net/country/5-including-hussaini-dalan-blast-suspects-held-178273
---------
Mideast
Putin sends S-400 missiles to Syria to deter Turkey
26 November 2015
In a move raising the potential threat of a Russia-NATO conflict, Russia said on Wednesday it will deploy long-range air defense missiles to its base in Syria and destroy any target that may threaten its warplanes following the downing of a Russian military jet by Turkey.
The incident was the first time in half a century that a NATO member shot down a Russian plane. If Russia responds by downing a Turkish plane, NATO member Turkey could proclaim itself under attack and ask the alliance for military assistance.
Most observers believe that a direct military confrontation is unlikely, but that the shooting down of the plane will further fuel the Syrian conflict and complicate international peace efforts.
Full report at:
http://english.alarabiya.net/en/News/middle-east/2015/11/26/Putin-sends-air-defense-missiles-to-Syria-to-deter-Turkey.html
---------
Turkey made big mistake downing Russian jet, US made bigger mistake backing it: Larijani
Nov 25, 2015
Iran's Parliament (Majlis) Speaker Ali Larijani says Turkey made a "big mistake" shooting down a Russian fighter jet near the Syrian border.
Larijani made the comments during a meeting with Luxembourger Foreign Minister Jean Asselborn in Tehran on Wednesday.
He also criticized the stance taken by US President Barack Obama and his administration, saying, "Obama's support of this action is an even bigger mistake that further intensifies the conflicts in the region."
On Tuesday, Obama expressed his country's support for Turkey after it shot down a Russian Su-24M aircraft with two pilots aboard, claiming that the fighter jet had violated the Turkish airspace. "Turkey, like every country, has a right to defend its territory and its airspace," Obama said.
Russia dismisses Ankara's claims and says the fighter jet was downed in the Syrian airspace, where the Russian air force has been carrying out combat sorties against Takfiri terrorists since September 30 upon a request by the Syrian government.
Broaching the subject of Takfiri terrorism in the region, Larijani said that some regional and Western countries support these groups supposing that they can use the conflicts in the region to achieve their own objectives.
In his turn, Asselborn said solving the crises in the Middle East is of utmost importance as any insecurity in the region would endanger the security of European countries.
Full report at:
http://www.presstv.ir/Detail/2015/11/25/439165/Larijani-Turkey-Russia-jet-mistake
---------
Iran calls for global resolve in anti-terror fight
Nov 25, 2015
Iranian President Hassan Rouhani says an all-out fight against terrorism requires global resolve.
"The battle against terrorism needs the determination of all countries [around the globe]," the Iranian president said in a meeting with Kazakhstan's Foreign Minister Erlan Idrissov in Iran's capital, Tehran, on Wednesday.
The international community must work to stem terrorism with attention to the roots of the phenomenon, Rouhani stated.
He further warned against ignoring terrorism as the "main threat" and said cooperation between countries is necessary in overcoming the problems in the region.
Idrissov, for his part, lauded the Islamic Republic's "key role" in providing security in the region and resolving international issues.
The top Kazak diplomat said his country was willing to expand trade ties with Iran.
Full report at:
http://www.presstv.ir/Detail/2015/11/25/439136/Iran-Kazakhstan-Rouhani-Idrissov-terrorism
---------
President Rouhani urges Russia, Turkey restraint over downing of plane
Nov 25, 2015
Iran's President Hassan Rouhani has called for Russia and Turkey to show restraint over the downing of a Russian fighter jet by the Turkish military.
The governments of Russia and Turkey should follow up on the issue of downing of the Russian plane "with insight and prevent the recurrence of such incidents through prudence and patience," President Rouhani said during a cabinet meeting in the Iranian capital, Tehran, on Wednesday.
On Tuesday, a Russian Su-24M Fencer aircraft with two pilots aboard was shot down by the Turkish military, in a move that angered Moscow, which is involved in an aerial campaign against Takfiri terrorists in Syria.
The Iranian president also urged all countries to prepare for the battle against terrorism to establish stability in the region.
He further described actions similar to the downing of the Russian plane as "extremely dangerous" and "provocative" and said the consequences of such measures "legally rest with the initiator."
The Iranian president also called for Turkey to seriously take care of the tense situation in the region.
Full report at:
http://www.presstv.ir/Detail/2015/11/25/439126/Iran-Rouhani-Turkey-Russia-plane-Sukhoi-Su24
---------
UAE sending Colombian mercenaries to fight in Yemen
November 26, 2015
NEW YORK - The United Arab Emirates has secretly dispatched hundreds of Colombian mercenaries to Yemen to fight in that country's raging conflict, a leading American newspaper reported Friday.
Citing 'several people' currently or formerly involved with the project, The New York Times said is the first combat deployment for a foreign army that the Emirates has quietly built in the desert over the past five years. In April, Pakistan's parliament voted to stay out of the conflict in Yemen, rejecting Saudi demands for Islamabad to join its military coalition against Houthi rebels.
Wednesday's Times report said that UAE's move to bring in Colombian fighters would add a volatile new element in a complex proxy war that has drawn in the United States and Iran. The programme was once managed by a private company connected to Erik Prince, the founder of Blackwater Worldwide, but the people involved in the effort said that his role ended several years ago and that it has since been run by the Emirati military.
"The arrival in Yemen of 450 Latin American troops - among them are also Panamanian, Salvadoran and Chilean soldiers - adds to the chaotic stew of government armies, armed tribes, terrorist networks and Yemeni militias currently at war in the country," the Times said. Earlier this year, a coalition of countries led by Saudi Arabia, including the United States, began a military campaign in Yemen against Houthi rebels who have pushed the Yemeni government out of the capital, Sana.
The Times said, "It is also a glimpse into the future of war. Wealthy Arab nations, particularly Saudi Arabia, Qatar and the Emirates, have in recent years embraced a more aggressive military strategy throughout the Middle East, trying to rein in the chaos unleashed by the Arab revolutions that began in late 2010. But these countries wade into the new conflicts - whether in Yemen, Syria or Libya - with militaries that are unused to sustained warfare and populations with generally little interest in military service."
The Colombian troops now in Yemen, handpicked from a brigade of some 1,800 Latin American soldiers training at an Emirati military base, were woken up in the middle of the night for their deployment to Yemen last month, the report said. They were ushered out of their barracks as their bunkmates continued sleeping, and were later issued dog tags and ranks in the Emirati military. Those left behind are now being trained to use grenade launchers and armoured vehicles that Emirati troops are currently using in Yemen.
Emirati officials, it said, have made a point of recruiting Colombian troops over other Latin American soldiers because they consider the Colombians more battle tested in guerrilla warfare, having spent decades battling gunmen of the Revolutionary Armed Forces of Colombia, or FARC, in the jungles of Colombia.
The exact mission of the Colombians in Yemen is unclear, and one person involved in the project told the Times it could be weeks before they saw regular combat. They join hundreds of Sudanese soldiers whom Saudi Arabia has recruited to fight there as part of the coalition. In addition, a recent United Nations report cited claims that some 400 Eritrean troops might be embedded with the Emirati soldiers in Yemen - something that, if true, could violate a United Nations resolution restricting Eritrean military activities. The United States has also been participating in the Saudi-led campaign in Yemen, providing logistical support, including airborne refueling, to the nations conducting the airstrikes. The Pentagon has sent a team to Saudi Arabia to provide targeting intelligence to the coalition militaries that is regularly used for the airstrikes.
The Obama administration has also in recent years approved the sale of billions of dollars' worth of military hardware from American contractors to the Saudi and Emirati militaries, equipment that is being used in the Yemen conflict. This month, the administration authorized a $1.29 billion Saudi request for thousands of bombs to replenish stocks that had been depleted by the campaign in Yemen, although American officials say that the bombs would take months to arrive and were not directly tied to the war in Yemen.
The Saudi air campaign has received widespread criticism from human rights groups as being poorly planned and as having launched strikes that indiscriminately kill Yemeni civilians and aid workers in the country, the newspaper pointed out. Last month, Saudi jets struck a hospital run by Doctors Without Borders in Saada Province in northern Yemen, and in late September the United Nations reported that 2,355 civilians had been killed since the campaign began in March.
Full report at:
http://nation.com.pk/international/26-Nov-2015/uae-sending-colombian-mercenaries-to-fight-in-yemen
---------
Turkish army releases audio of warnings to downed Russian plane
25 November 2015
The Turkish army released a series of audio recordings on Wednesday of what it said were the warnings directed at a Russian jet before it was shot down by Turkish war planes, AFP reported.
"This is Turkish Air Force speaking on guard. You are approaching Turkish airspace. Change your heading south immediately," a voice in one of the recordings can be heard saying.
Earlier on Wednesday, Al Arabiya News obtained the recordings that were made available by a pilot who was flying a commercial carrier in the same airspace where the incident took place.
The surviving pilot of the Su-24 bomber shot down on Tuesday said earlier that no warning had been given and the aircraft did not violate the Turkish air space, although Turkey insists that it gave 10 warnings in five minutes.
Full report at:
http://english.alarabiya.net/en/News/middle-east/2015/11/25/Turkish-army-releases-audio-of-warnings-to-downed-Russian-plane.html
---------
Palestinian killed by Israel army fire in West Bank
26 November 2015
A Palestinian was shot and killed during clashes with Israeli forces in the occupied West Bank on Thursday, the Palestinian health ministry said.
"Yahya Taha, 21, from the village of Qatanna... died after he was shot and wounded in the head during clashes," a ministry statement said, referring to an area northwest of Jerusalem.
The death brings to 95 the number of Palestinians killed in violence since October 1, including an Arab Israeli.
Around half of them have been the alleged perpetrators of a wave of stabbing, shooting and car ramming attacks. Others have died in clashes with security forces.
The violence has also left 17 Israelis, an American and an Eritrean dead.
More than 800 Palestinians have been arrested over the past two months, Israeli Defense Minister Moshe Yaalon told public radio on Thursday.
Full report at:
http://english.alarabiya.net/en/News/middle-east/2015/11/26/Palestinian-killed-by-Israel-army-fire-in-west-bank-ministry-.html
---------
Iran, Russia in talks over major arms deal
Nov 25, 2015
Russia and Iran are in talks over deliveries of the Russian-made weaponry as Tehran is interested in Moscow's entire range to replace its outdated military equipment, Vladimir Kozhin, Russian presidential aide on military-technical cooperation said Wednesday.
"Talks are underway…They [the Iranians] are interested in the entire range of our weaponry, because they have a large army, serious armed forces, but their military equipment has not been overhauled due to sanctions and all the events you know about," Kozhin has been quoted as saying by Sputnik news agency.
"Talks are underway, and more are expected. The Iranian side is very interested in military-technical cooperation," he added.
Iran has already renewed S-300 anti-aircraft missile system deliveries from Russia. On 9 November, Russia signed a new contract to supply Iran with the systems by the end of the year for the first time since the 2010 freeze on supplies under the UN Security Council resolutions.
Full report at:
http://www.presstv.ir/Detail/2015/11/25/439144/Iran-Russia-in-talks-over-major-arms-deal
---------
North America
Muslims Weren't Cheering On 9/11, Mr. Trump. They Were Grieving For Their Loved Ones.
11/24/2015
NEW YORK -- Early in the morning of Sept. 11, 2001, Mehr Tariq asked her husband, Tariq Amanullah, not to go to work. She was worried about him. He'd barely slept the night before, having come home late after volunteering at a Muslim community event at Six Flags.
But Amanullah told his wife he'd take time off later. He left their house in Metuchen, New Jersey -- the couple had bought it just eight months earlier, planning to raise their two young children there -- and made his way to the office on the 88th floor of the south tower of the World Trade Center.
About two hours later, Amanullah called home. A plane had hit the north tower. Tariq asked him to come back, but Amanullah said he was going to stay. He was fine, he insisted, and had work to catch up on.
Tariq turned on the television. Just after 9 a.m., she and her in-laws watched as a plane hit the south tower. Tariq tried calling her husband, but there was no answer.
She brought the kids home from school, and they waited. And waited.
"My mind and emotion[s] were numb," Tariq told The Huffington Post, recalling the next few days, as family and friends frantically searched hospitals and scanned lists of the dead and injured.
Her husband, whom she had met and married in Pakistan almost 15 years prior, whom everyone adored, had to be alive, she thought.
But in November, authorities delivered the sad news: DNA recovered at ground zero matched Amanullah's. Tariq's husband was gone.
"I am still grieving and I don't know if this feeling of helplessness [will] ever go away," Tariq said. "Life is not easy without him."
About 60 Muslims were killed in the 9/11 attacks. Tariq is among hundreds of Muslim-Americans who, for days and months afterwards, desperately tried to find their loved ones to no avail, feeling a mix of fear, grief, hopelessness and horror.
These families' memories of that day offer a stark and sobering rebuttal to leading Republican presidential candidate Donald Trump's reprehensible claim that he saw "thousands" of Muslims in New Jersey "cheering" as the twin towers fell. Even though Trump's story has been thoroughly debunked -- and resembles arguments made on fringe anti-Islam hate sites -- the business mogul is sticking by his controversial comments.
Trump's remarks are an insult to Muslims who lost loved ones in the 9/11 attacks. The candidate has also called for American Muslims to be registered in a database and to carry a special ID card, and for mosques to be shut down. His hateful rhetoric is particularly vile given that many of the people who lost family members also experienced Islamophobia in the wake of the terror attacks.
"Don't worry, I am all right!" Zuhtu Ibis, who worked on the 103rd floor of the north tower, told his wife, Leyla, over the phone the morning of Sept. 11. "I have to go now, the building's being evacuated!"
It was the last time she would ever hear from him. After the towers fell, Ibis' brother, Mehmet, tried make his way into Manhattan from New Jersey, in an attempt to find his brother. But the tunnels and bridges were closed. He even tried to pay a man to row a boat across the Hudson, he recalled to The New Jersey Herald in 2004.
That evening, the scene at Zuhtu's New Jersey home was too much for Mehmet to handle. His parents were inconsolable. So was Leyla. Just five years earlier, Leyla and Zuhtu, high school sweethearts, had gotten married and made the journey together from Turkey to America. Now, their two-year-old son -- whom Zuhtu had kissed goodbye that very morning-- wouldn't stop crying.
Full report at:
http://www.huffingtonpost.com/entry/donald-trump-muslims-911_56539a84e4b0d4093a58f6cc?section=india&adsSiteOverride=in
---------
Canada reviewing role in anti-ISIL fight
26 November 2015
Prime Minister Justin Trudeau said Canada was reviewing its role in the fight against ISIL, during a visit to London Wednesday in which he also bantered with Queen Elizabeth II.
Trudeau has committed to withdrawing Ottawa's six warplanes out of Iraq and Syria following his appointment as Canada's first Liberal prime minister in almost a decade earlier this month.
"The form that our military engagement, which will continue, will take is currently being worked out in close collaboration with our allies," Trudeau told reporters on his first visit to London as prime minister.
"What's most important for Canada... is that we continue to be a strong player within the coalition against ISIL... also in terms of military engagement," Trudeau said.
"I have said from the beginning that we will have a shifted approach from the current bombing mission."
Trudeau earlier went to Buckingham Palace to meet Queen Elizabeth, who is also Canada's monarch.
It was a reunion for the two as they met several times when Trudeau was a child and his father Pierre Trudeau was prime minister.
"You were much taller than me the last time we met," he quipped.
The queen laughed and said: "Yes, it's extraordinary to think of, isn't it?"
Trudeau's new government removed the queen's portrait from its foreign affairs department lobby after the election, hanging two paintings by a Quebec artist in its place.
The ministry said the change, a move away from the monarchist symbolism of the previous Tory government, was intended to "showcase Canada".
Trudeau's father is remembered for being captured doing a pirouette behind the queen by a photographer against palace protocols -- thought to be a spontaneous act by a maverick leader at the time but later revealed to be rehearsed.
The visit to Britain is a stopover on Trudeau's trip to a Commonwealth summit in Malta, before he travels to Paris for the COP21 climate talks aimed at forging a global agreement on climate change.
Full report at:
http://www.worldbulletin.net/america-canada/166731/canada-reviewing-role-in-anti-isil-fight
---------
Obama signs bill making Gitmo closure tougher
26 November 2015
Away from public view, U.S. President Barack Obama signed a defense bill Wednesday barbed with measures designed to undo his bid to close the prison at Guantanamo Bay.
In a terse statement, the White House said Obama has signed the National Defense Authorization Act (NDAA) for Fiscal Year 2016, along with several other pieces of legislation.
Obama's signature significantly lengthens the odds that he will be able to close Guantanamo before leaving office in early 2017.
The $615 billion defense policy bill upholds a ban on transferring prisoners to the United States from the U.S. naval base at Guantanamo Bay, Cuba.
In a separate written statement, Obama said he was "deeply disappointed that the Congress has again failed to take productive action toward closing the detention facility at Guantanamo."
He warned that his administration views some of the curbs on prisoner transfers as potentially unconstitutional.
Along with transfers to foreign countries, moving the most dangerous prisoners to a specialized facility in the United States is at the heart of the White House strategy to close Guantanamo.
Obama came to office in 2009 vowing to shutter the facility, which opened under his predecessor George W. Bush to hold terror suspects after the September 11, 2001 attacks and became notorious for harsh interrogation techniques.
"Maintaining this site, year after year, is not consistent with our interests as a nation and undermines our standing in the world," Obama said.
Obama has seen his efforts repeatedly thwarted by Congress.
In the latest setback, the White House has asked the Pentagon to look again at a master plan to close the facility.
Full report at:
http://english.alarabiya.net/en/News/middle-east/2015/11/26/Obama-signs-bill-making-Gitmo-closure-tougher-.html
---------
US sanctions Syrians, firm facilitating ISIL oil sales
26 November 2015
The U.S. on Wednesday announced new sanctions on 10 Syrian individuals and entities, including what it called a middleman working to facilitate ISIL oil sales to the Syrian government.
The Treasury Department said Syrian businessman George Haswani has been facilitating oil purchases for Damascus through the HESCO Engineering and Construction Company, which the department said he controls.
The company's website lists Michael Heswani and Mounir Heswani as the oil firm's owners.
"HESCO is a Syrian engineering and construction company that operates energy production facilities in Syria, reportedly in areas controlled by ISIL," the department said in a statement.
The EU previously sanctioned George Heswani in March. He and HESCO were sanctioned by the Treasury Department Wednesday.
The department also imposed economic penalties on three individuals and five entities in response to the Syrian government's violence against its citizens.
They include Mudalal Khuri, who "has had a long association with the Assad regime and represents regime business and financial interests in Russia," and Kirsan Ilyumzhinov, a Russian businessman and former president of the World Chess Federation who works with Khuri.
The businessmen own the Russian Financial Alliance Bank, which was also slapped with sanctions.
Full report at:
http://www.worldbulletin.net/america-canada/166734/us-sanctions-syrians-firm-facilitating-isil-oil-sales
---------
Canada won't make Syrian refugee target by year's end
25 November 2015
Canada announced Tuesday that 10,000 of 25,000 Syrian refugees will arrive by Dec. 31, with the rest coming by the end of February from Turkey, Lebanon and Jordan.
The government had originally promised to welcome 25,000 in 2015.
At a televised press conference in the capital of Ottawa, Immigration and Refugees Minister John McCallum said the deadline was pushed back because of the intricacies involved – settlement, housing, medical services, etc.
"There are a lot of moving parts here," he told reporters. "That is why [the deadline is extended]. Canadians have said, yes, do this [but] do it right … take the time."
The government was to have sponsored the 25,000 refugees, but McCallum said the arrivals by the end of February would include private sponsors.
He added that in 2016, the government will bring its refugee intake up to 25,000 and with private sponsorship the figures will total more than 25,000, although he did not put a number on it.
Full report at:
http://www.worldbulletin.net/america-canada/166685/canada-wont-make-syrian-refugee-target-by-years-end
URL:https://www.newageislam.com/islamic-world-news/new-age-islam-news-bureau/muslim-community-speaks-paris-attacks/d/105430
New Age Islam, Middle East, ISIL, ISIS, Syria, Iraq, Islamic World News, African Muslim News, Arab World News, South Asia News, Indian Muslim News, World Muslim News, Islamic Website, Online Islam