New Age Islam News Bureau
28 Sept 2018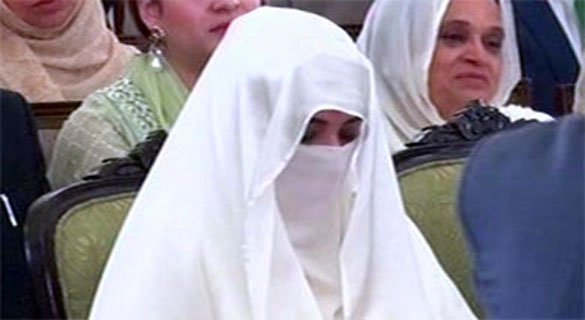 Pakistan First Lady Bushra Imran
-----
• Muslim Clerics: Ram Janmbhoomi - Babri Masjid Case Is a Land Title Dispute Not a Matter of Faith
• Love Jihad: We Will Eliminate You One by One, Say the Goons in UP Policeman's Presence
• All People, Religious Followers Equal before Shariah, Says Saudi Justice Minister
• 'Pakistanis Fortunate to Have Leader Like Imran Khan,' Says First Lady
• Canada Revokes Honorary Citizenship of Aung San Suu Kyi
• Australian Muslim Ban Proposal Receives Enormous Backlash
• Bangladesh Jamaat-e-Islami A Bar To 'Greater National Unity'
India
• Muslim Clerics: Ram Janmbhoomi - Babri Masjid Case Is a Land Title Dispute Not a Matter of Faith
• Love Jihad: We Will Eliminate You One by One, Say the Goons in UP Policeman's Presence
• In Ayodhya Case, AIMPLB Says It Sees 'Some Positive Movement'
• SC declines to refer to larger Bench issue whether mosques are integral to Islam
• Delay in hearing (Babri case) impacted Hindu-Muslim relations: VHP working president
• Ayodhya an important religious place for Hindus, for Muslims it is Mecca: Uma Bharti
• Important to dismantle support infrastructure of terrorist organisations: India
• 3 militants, soldier killed in separate encounters in J&K
--------
Arab World
• All People, Religious Followers Equal before Shariah, Says Saudi Justice Minister
• Jaish al-Islam 'reorganizing and rearming'
• Several US-Backed SDF Forces Killed in Raqqa
• Civilians in Deir Ezzur Hold Protest Rallies against US-Backed SDF
• UN envoy pushed on drafting post-war Syria constitution
• US-led coalition admits another 53 civilian casualties
• Egypt's Sisi urges peace talks restart at meeting with Israel's Netanyahu
• Saudi State Security: Three wanted in terror related activities killed in Qatif
• Riyadh, Islamabad sign three deals on China-Pakistan Economic Corridor
--------
Pakistan
• 'Pakistanis Fortunate to Have Leader Like Imran Khan,' Says First Lady
• Pak-Afghan Religious Scholars to Discuss Joint Stance against Violence
• Four terrorists killed, two troops martyred in Kalat operation
• Pakistan, Kuwait fail to reach accord on lifting visa curbs
• PTI government is being vindictive against us: Justice (r) Iftikhar Chaudhry
• Pakistan, Saudi Arabia have signed three agreements: Fawad
• Army chief calls for comprehensive response to security threats
• Trump only shook hands with FM Qureshi, no informal meeting, says US
• Nawaz Sharif leaves for Lahore after appearing before NAB court
--------
North America
• Canada Revokes Honorary Citizenship of Aung San Suu Kyi
• 7 Nations Urge UN to Draft New Syrian Constitution
• Erdogan: Turkey, US to overcome 'turbulent period'
• Trump thanks Turkey for helping avert Idlib assault
• US launches program to detect terrorists travelling between countries
• Trump's accusations against Iran at UN speech were lies: Analyst
• US stepping up efforts to form Arabic alliance against Iran
--------
Europe
• Australian Muslim Ban Proposal Receives Enormous Backlash
• UN Human Rights Body Creates Team to Document Myanmar Abuses
• UK Labour seeks to stop Israel expansionism with ban on arms sale: Expert
• Two arrested in Denmark on suspicion of attempting to ship drones to Daesh
• UNISSA lecturers, students gain better understanding on Islam in Russia
• Muslims injured as car ploughed into worshippers in 'terror attack'
• Major terrorist attack foiled in the Netherlands
• Refugees detained in Libya are drinking toilet water to survive
• Conservative hopeful for London Mayor embroiled in new Sadiq Khan Islamophobia row
--------
South Asia
• Bangladesh Jamaat-e-Islami A Bar To 'Greater National Unity'
• Sheikh Hasina to OIC: Find Out Reason behind Repression of Muslims in Myanmar
• 35 militants killed, wounded during Qahr Silab operations in Kapisa
• Russia warns Afghanistan risks repeat of Syria scenario
• Abdullah urges regional countries to act against the terror safe havens
• Rockets hit Ghazni during President Ghani's visit
--------
Southeast Asia
• Sharia Is Here to Stay in Indonesia's Aceh
• The Architect of China's Muslim Camps Is a Rising Star under Xi
• Church in Jambi closed over rejection by Muslim residents
• Malaysia calls on UN to act on Rohingya atrocities
--------
Mideast
• In Clear U-turn, Israel Says Ready To Reopen Golan Crossing With Syria
• Nearly 1,000 Israeli Settlers Storm Al-Aqsa Mosque in Occupied Al-Quds
• In UN speech, Netanyahu accuses Iran of having 'secret atomic warehouse'
• Palestinian refugee agency UNRWA gets $118 mln in new funding
• Lebanon detains 'ISIS-linked Palestinian' over poison plots
• Palestine's Islamic Jihad movement selects new leader after 20 years: Official
• Palestine president addresses UN, slams Trump's Quds policy, racist Israeli law
• At UN, Iran, Russia, Turkey FMs exchange views on Syria crisis, Idlib situation
• 'Yemeni ballistic missiles hit targets in Saudi Arabia'
--------
Africa
• Islamic State Shifts from Provinces and Governance to Global Insurgency
• Seven soldiers and one civilian killed in Mali bomb attack
• Nigeria: Beef Up Unity to Protect Islamic Identity, Says Security Expert
• Nigerian troops fight off Boko Haram attack
Compiled by New Age Islam News Bureau
URL: https://www.newageislam.com/islamic-world-news/muslim-clerics-ram-janmbhoomi-babri/d/116514
--------
Muslim Clerics: Ram Janmbhoomi - Babri Masjid Case Is A Land Title Dispute Not A Matter Of Faith
Sep 27, 2018
NEW DELHI: With the Supreme Court hearing daily hearings in the Ram Janmbhoomi-Babri Masjid title dispute case set to start from October 29, the All India Muslim Personal Law Board (AIMPLB) and Muslim clerics from minority organisations are hoping that justice will be delivered on the basis of kanoon" (legal position) and not "aastha" (faith).
The AIMPLB's Babri Masjid Committee was holding onto the hope that the Supreme Court would refer the matter "whether mosque is integral part of Islam" to a five member bench. When the SC decided against it the Board's members admitted they were "not expecting it". However, they do not see this as a "set-back", as the Court has made it clear that the observation about mosque and Islam in the 1994 Ismail Faruqui judgement will have no bearing on the title suit.
Jamiat Ulama -i- Hind president Maulana Arshad Madani said, "I am very hopeful over the Court's assertion that the decision on the title dispute will be on the basis of law and not faith. This is most important to uphold the sanctity of rule of law and justice in India. Whatever will be decided by the Court based on legal position should be accepted by all."
Speaking to TOI, AIMPLB, Babri Masjid, joint convener, SQR Ilyas said, "We were expecting that the Court would refer the matter to the five member bench as it would have been good if once and for all the questions arising out of the observation in the 1994 judgement that mosque is not integral to Islam would have been settled." He pointed that even though the SC has made the position clear that the observations made then were limited to that case and would have no bearing on the title suit yet in the future the observations of 1994 case can be cited to trigger a debate again.
Ilyas made it clear that the SC's decision not to refer the matter to a bench "was not setback as the Court has made it clear that the observations of 1994 have no bearing on the title suit."
"All eyes are now on the hearing which will commence later next month. Over the last year the SC has been repeatedly emphasising that this is a land dispute and we hope when the hearing starts the matter will revolve around the legal aspects alone like the land and revenue records," Ilyas said.
Jamaat -e- Islami Hind President, Maulana Syed Jalaluddin Umari reiterated the need to focus on the legal position. as far as the observations in the 1994 judgement regarding the mosque, Umari held that there should be no ambiguity over the status of a mosque in Islam. "A mosque is part of Islam and there should be no dispute about it," he asserted.
https://timesofindia.indiatimes.com/india/muslim-clerics-ram-janmbhoomi-babri-masjid-case-is-a-land-title-dispute-not-a-matter-of-faith/articleshow/65985536.cms
--------
Love Jihad: We Will Eliminate You One by One, Say the Goons in UP Policeman's Presence
SEPTEMBER 27, 2018
Omar Rashid
After beating and shaming a Hindu medical student in Meerut for being friends with a Muslim boy, the Uttar Pradesh police is once again under the scanner as a new video has emerged showing a group of men thrashing the Muslim youth in the presence of a policeman.
In the video clip, which has gone viral on the social media, the Muslim youth is seen being cornered by a group of unidentified youth while a policeman questions him about his background. The alleged right-wing group members then kick and punch him. They are also heard threatening him with dire consequences.
"Padhai kar raha hai ya love jihad kar raha hai...? Chun-chun ke marenge abhi.... [Are you here to study or for love jihad? We will eliminate you one by one]," says one of the men while others film the incident on their phones.
DGP O.P Singh said it was "an act of gross imprudence" by few errant policemen. "Irresponsible and insensitive behaviour by U.P. cops will not be tolerated. A job of a policeman is to maintain the highest standards of probity which must be upheld at all times. Corrective action is being taken," he said in a statement.
Student manhandled
The female medical student has said
she and the boy were at his house studying on Sunday when members of the Vishwa Hindu Parishad barged in and locked them in.
They asked the girl to show her identity card and upon confirming that she was a Hindu, asked her how she expected to marry a Muslim boy, she said.
In a video that surfaced on Tuesday, four constables were seen on camera beating the female medical student and making offensive communal remarks after the VHP activists handed her over to them.
Case registered
The erring constables, including a woman personnel, were suspended.
Meerut Police said on Thursday said that a case had been registered at the Medical police station against 18 known and 25 unknown persons.
https://www.thehindu.com/news/national/other-states/more-trouble-for-meerut-police-goons-thrash-muslim-man-in-policemans-presence/article25061248.ece
--------
All people, religious followers equal before Shariah, says Saudi justice minister
September 28, 2018
JEDDAH: Saudi Arabia's Justice Minister Waleed Al-Samaani met the delegation of the US Commission on International Religious Freedom in Riyadh on Thursday.
The delegation, led by John Moore, is currently visiting Saudi Arabia to discuss cultural cooperation and joint interests that serve the Kingdom's message on interreligious and intercultural dialogue.
The delegation praised the Kingdom's interaction with international organizations in the field of religious freedoms.
Al-Samaani briefed the delegation on the approach in the Kingdom's judicial hierarchy, derived from Saudi legislation and regulation, founded on Islamic Shariah values that treat all people, social classes and religious followers equally, without discrimination or prejudice.
Al-Saamani talked about the procedural application of these principles, ascertaining that the general, criminal, commercial and labor courts deal with the proofs, acts and arguments of all parties equally, regardless of their religion.
He said that the legislature guarantees personal freedoms to all religious followers in choosing any culture and religion, and the Kingdom has welcomed workers of different religious and denominational backgrounds without imposing any criteria related to religion.
In the context of the positive transformation the Kingdom has witnessed since adopting Vision 2030, the justice minister clarified to the American delegation the developments on rights in the Kingdom.
The delegation showed interest in the reforms in empowering women and young people, and granting women the opportunity to occupy prominent positions in the justice ministry as lawyers, counselors or employees, along with granting them "verification" licenses allowing them to carry out some of the services of notaries for the first time.
Al-Samaani said: "The interreligious dialogue aims to bring a better understanding of how religious differences should not lead to disagreement. Dialogue should not be a means to condemn others and try to change them ... it is very important and vital to establish the culture of respect for the other and acceptance of diversity and plurality. People are different and trying to change that will not lead to peace, the only thing that will is accepting the differences through dialogue."
Al-Samaani said that the Kingdom has always made sure to preserve peace and security and create healthy relations among peoples. It has also made sure to respect human rights and freedoms according to the principles in the Islamic Shariah and international covenants and instruments ratified by the Kingdom, thus enabling the institutional work to protect human rights and freedoms in the country.
The delegation's visit comes in the context of the special cultural and political relations between the Kingdom of Saudi Arabia and the US, and coordination among organizations working in the two countries.
http://www.arabnews.com/node/1379016/saudi-arabia
--------
'Pakistanis Fortunate To Have Leader Like Imran Khan,' Says First Lady
September 27, 2018
First Lady Bushra Imran, in her first interview to a media channel, has said that Pakistanis are fortunate to have a leader like Imran Khan.
The first lady made the remark in a wide-ranging interview conducted by HumTV's Nadeem Malik for his programme Nadeem Malik Live.
"When God wants to change the fate of a nation, He gives them a leader instead of a politician," First Lady Bushra said, adding that the prime minister had the country's best interests at heart.
When asked about how she felt about her transition from spiritual guide (pir) to first lady, Bushra Bibi quipped that: "In my past life, people used to come to me to get close to God and his messenger; now they come to me to get close to Khan sahab."
"It is important to worship and pray, but it is more important to serve humankind," the first lady said. "This is something I've learned from Khan sahab."
She also credited the prime minister for helping her gain a greater appreciation for life. "People say that I have changed him, when the truth is that we have changed each other," she said.
"I taught him that worship brings you closer to God, and he taught me that loving His creation brings us closer to Him."
Speaking of her husband's simple lifestyle, the first lady said that he is not particular about clothes or food.
"He wants nothing," she said.
"He does not get any clothes stitched for himself. When I first married him, I asked one of the housekeepers to take out his summer clothes and was told that he does not have any," she said, narrating an incident from the early days of her marriage.
"The housekeeper told me that he only wears clothes if someone gives them to him. He never gets them stitched," she recalled.
She recalled that, "someone came and gifted him a few stitched sets of shalwar kamiz, which he wore throughout the season."
"I have never seen a simpler person. He is free of any wants or desires," she said.
She also termed her husband a "leader" and "not a politician."
"Quaid-i-Azam was a leader. Khan sahab is a leader, and [in the current era] only [Recep Teyyip] Erdogan is a leader. The rest of these people are just politicians," she said.
Speaking of a shift in PM Khan's temperament post the election, the show's host commented that the firebrand leader seems to have mellowed down in the past few months. To this, the first lady said that this shift can be attributed to his increased religiosity. She mentioned that PM Khan makes it a point to fulfill his religious obligations despite his busy daily routine.
Responding to a question, the first lady rubbished reports published in some sections of the media that she had been divinely inspired to marry Imran Khan.
"I cannot conceive of how or why people choose to circulate such lies," she remarked in exasperation.
Also brushing aside another controversy surrounding her marriage to Imran Khan which was pushed in certain sections of the press, the first lady said she had completed her iddat before she even left her former husband's house.
"I could have married someone the day I left my former husband's home, but I waited some six or seven months before I did so," she said, mentioning that her former husband had been very particular about fulfilling religious obligations.
She also regretted the controversy speculation over the timing of her marriage had stirred, saying it caused her distress.
Speaking of the causes she plans to champion during her time as the first lady, Bushra Imran said that she had been deeply moved when she visited an old people's home in Lahore.
"The pain [I felt] was such that I could not eat or pray for the next few days," she recalled. "Some of the people I met had nothing [...] some asked me for a small stipend, just so that they could spend Rs10 on something on their own. That jolted my soul to the core. I just wanted to leave that place quickly and do something for them."
She spoke in a similar vein about her desire to help orphans and the differently-abled, recalling anecdotes from her visits to various facilities and promising to do something for their welfare as the first lady.
https://www.dawn.com/news/1435346/pakistanis-fortunate-to-have-leader-like-imran-khan-says-first-lady
--------
Canada Revokes Honorary Citizenship of Aung San Suu Kyi
28.09.2018
By Barry Ellsworth
TRENTON, Canada
The Canadian Parliament voted Thursday to revoke the honorary citizenship of Myanmar leader Aung San Suu Kyi.
The move follows a recent Canadian motion to designate the Myanmar military crimes against the Rohingya minority as genocide and to back a UN mission to map out the crimes against humanity committed by the military.
In a report, the UNHCR refugee agency said nearly 170,000 people likely fled Myanmar in 2012 alone.
Since Aug. 25, 2017, nearly 24,000 Rohingya Muslims have been killed by Myanmar's state forces, according to the Ontario International Development Agency (OIDA).
In a recent report, Forced Migration of Rohingya: The Untold Experience, the OIDA raised the estimated number of murdered Rohingya to 23,962 (± 881) from a Doctors Without Borders figure of 9,400.
More than 34,000 Rohingya were also thrown into fires, while over 114,000 others were beaten, the OIDA report said, adding that 17,718 (±780) Rohingya women and girls were raped by Myanmar's army and police. Over 115,000 Rohingya houses were also burned down and 113,000 others vandalized, it added.
According to Amnesty International, more than 750,000 Rohingya refugees, mostly children and women, have fled Myanmar and crossed into Bangladesh after Myanmar forces launched a crackdown on the minority Muslim community.
The Rohingya, described by the UN as the world's most persecuted people, have faced heightened fears of attack since dozens were killed in communal violence in 2012.
The UN has documented mass gang rapes, killings -- including of infants and young children -- brutal beatings, and disappearances committed by Myanmar state forces. In a report, UN investigators said such violations may have constituted crimes against humanity.
Many countries, including Canada, have criticized Suu Kyi for not doing enough to prevent the persecution and bloodshed.
Canada has only bestowed a handful of honorary citizenships in its history, including to Nelson Mandela, the Dalai Lama and to Pakistani schoolgirl Malala Yousafzai in 2014, bringing the number to six.
Suu Kyi, a winner of the Nobel Peace Prize, received the Canadian honor in 2007.
But her silence as the Rohingya were slaughtered despite urging from Canada and others to speak out provoked Canada to take action.
Canadian Prime Minister Justin Trudeau, who was present in the House of Commons when the motion passed, had said Wednesday "Parliament granted her the honorary citizenship" and could certainly revoke it.
https://www.aa.com.tr/en/americas/canada-revokes-honorary-citizenship-of-myanmar-leader/1266906
--------
Australian Muslim Ban Proposal Receives Enormous Backlash
28th Sep 2018
Fathiya Abdillahi
Queensland Senator, Fraser Anning, was heavily criticised for delivering a highly Islamophobic and racist maiden speech to Parliament. He vocalised his plan for a Muslim ban in Australia, claiming that the majority of the Australian population shared his views.
In his speech on August 14, Anning used the phrase "final solution" in proposing a Muslim ban, and an elimination of immigration from developing countries. These words hauntingly echo its previous use by the Nazis on Jewish people during the Holocaust.
Anning's speech also included restoration of the 'White Australia Policy' also known as the Immigration Restriction Act in 1901, which ceased all non-European immigration. This law was passed after the fear of the 'Asianisation' of Australia.
"We as a nation are entitled to insist that those who are allowed to come here predominantly reflect the historic European-Christian composition of Australian society," the Katter's Australian Party Upper House MP said.
Much of the evidence used by Anning to slander Muslims is inaccurate. He claimed that there were "black African Muslim gangs terrorising Melbourne," when in fact these people are Australian-born and South Sudanese. The predominant religions of South Sudan is Christianity and African Traditional Religion.
On a live television interview following his speech, Anning defended his comments about Muslims, saying that "we can't take the risk of bringing people into this country that commit crimes like the Bourke Street massacre." However, this remark is not factually correct as the man convicted for that incident is Australian-born and of Greek descent. He is neither Muslim nor has any connection to terrorism.
It has been made extremely clear that the Senator's views are not reflective of the Australian public. Several politicians have spoken out, publicly condemning Senator Anning's words.
Australian Cricketer and Queensland Bulls Captain, Usman Khawaja, tweeted, 'Technically Aboriginals were here first. There's so much wrong with this statement. I'd have to write 20 tweets.'
Even the leader of the anti-Islam 'One Nation' Party, Paula Hanson, was shocked by Anning's speech, saying that it was "straight from Goebbels' handbook from Nazi Germany".
Prime Minister, Malcolm Turnbull, rejected Anning's "racist, hate speech" and emphasised Australia's reputation for being the "most successful multicultural society in the world".
Muslim Members of Parliament also spoke out on this issue. Anne Aly, the first Muslim MP, gave an emotional speech about her own experience, saying, "I'm tired of having to stand up against hate, against vilification, time and time and time again." The image of Parliament uniting over this matter moved her to tears.
Mehreen Faruqi, the first female Muslim Senator, spoke out about racism in politics in her maiden speech. She revealed how institutionalised racism has made it difficult for people of colour and Muslims to climb up the social ladder.
"We are subject to rules white people will never be. We don't have the luxury of mistakes out of slipping up, because as soon as we do we become a case study to validate existing stereotypes," Faruqi said.
"Some politicians call us cockroaches. Some say we are a disease for which Australia needs vaccination. Some, if they had their way, would ban us from making Australia our home," she said, perhaps in response to Anning.s proposed Muslim ban.
Faruqi said that Senator Anning "has spat in the face of our successful multicultural society", but she maintains her belief that this situation has allowed the nation to become even more united and culturally aware.
According to the Australian Bureau of Statistics 2016 Census Data: since 1945 more than 7.5 million people have migrated to Australia and 49 per cent of Australians were born overseas or have at least one parent who was. Also, apart from English, the most common languages are Mandarin, Arabic, Cantonese, Vietnamese, Italian, Greek, Tagalog, Hindi, Spanish and Punjabi.
http://muslimnews.co.uk/newspaper/islamophobia/australian-muslim-ban-proposal-receives-enormous-backlash/
--------
Bangladesh Jamaat-E-Islami A Bar To 'Greater National Unity'
September 28, 2018
Mohammad Al-Masum Molla
BNP's longstanding ties with Bangladesh Jamaat-e-Islami has emerged as an obstacle to its move to forge a greater unity with other political parties, aimed at realising its demands ahead of the national election, likely in December.
Bikalpadhara Bangladesh (BDB), a potential partner in the unity process, has already made it clear that BNP must cut its ties with the Islamist party before the BDB build any sort of unity with the BNP.
The BDB, led by former president Prof AQM Badruddoza Chowdhury who is a former BNP leader, has also asked other parties not to share the stage with BNP if it does not sever its relations with Jamaat, which opposed the country's independence from Pakistan in 1971.
An alliance of eight left political parties is also against any unity process if Jamaat is directly or indirectly involved.
The issue also came up at a 20-party alliance meeting at BNP Chairperson Khaleda Zia's Gulshan office last night.
In response, Jamaat leader Abdul Halim said they wanted the unity to happen at any cost and that the BNP could make any decision to make that happen.
"If we are an obstacle, keep us aside from the unity process. But we want unity at any cost," a source quoted the Jamaat leader as telling the meeting.
At the meeting, alliance members requested BNP Secretary General Mirza Fakhrul Islam Alamgir to complete the unity process at the soonest.
But Fakhrul did not make any comment at the meeting participated by members from all the alliance partners, according to two sources who spoke on condition of anonymity.
The BNP-led four-party alliance was formed in 1999 where Jamaat was a key partner. Jamaat is with the BNP since then. Jamaat was also in the 2001-2006 government led by the BNP. In 2012, the four-party alliance was expanded to a 20-party alliance.
At a programme at Mahanagar Natyamancha on Saturday, Gonoforum President Dr Kamal Hossain and BDB President Badruddoza Chowdhury announced that they would work together to have the greater unity with other political parties.
Several top leaders of the BNP and its allies (other than Jamaat) also shared the stage along with representatives of some small parties and civil society members.
But in a joint meeting of Juktafront and Jatiya Okiya Prokriya (national unity process) of Dr Kamal on Tuesday, the BDB made its position clear that there cannot be any direct or indirect alliance with any anti-liberation party or individual.
Led by the BDB, Juktafront is a four-party alliance, which was formed late last year. Other members of this alliance are Bangladesh Krishak Sramik Janata League, Jatiya Samajtantrik Dal (JSD) of ASM Abdur Rob and Nagorik Oikya of Mahmudur Rahman Manna, who quit the Awami League in 2009 as its organising secretary.
Talking to The Daily Star, BDB Joint Secretary General Mahi B Chowdhury, who is Badruddoza Chowdhury's son, said they wanted to join force with BNP, but for that to happen the party had to leave the Jamaat.
Communist Party of Bangladesh (CPB) President Mujahidul Islam Selim gave a similar view.
However, Dr Kamal, who quit the AL in the 1980s and formed Gonoforum in 1992, and the other partners in the Juktafront said they had no problem to be in the unity process with the BNP.
"We are now trying to forge a greater unity and Jamaat will not be a barrier to the unity process. The important issue now is the greater unity among the people and also the political parties. This is why we are focusing on it," Dr Kamal, also convener of Jatiya Oikyo Prokriya, told The Daily Star.
Manna, convener of Nagorik Oikyo, echoed this view. "Jamaat is not a big deal at all for our unity process."
Asked, BNP leaders said Jamaat was not a registered political party. So Jamaat does not exist as a party and therefore it cannot contest elections under its banner. As a result, Jamaat is not an issue here.
The 20-party combine is a separate alliance and that the greater unity process, whose objectives are totally different, should be seen as such, they added.
"Our focus is to forge a greater unity and we are working to achieve that goal," Fakhrul told The Daily Star earlier in the day.
Referring to the demands of other political parties for polls under a nonpartisan interim government, Fakhrul said the left leaning political alliance and some other parties have been calling for a greater unity to restore democracy in the country.
"Even civil society members and other social organisations raised the same demands. So we are trying to form a greater unity with all the political parties and in this case Jamaat is not an issue," Fakhrul added.
BNP leaders said they were keeping distance from Jamaat for the moment to make the greater unity a reality.
The party has been criticised at home and aboard for its relations with the Jamaat.
Asked, a Jamaat leader said, "We also want greater unity. We are in the 20-party alliance and we want to keep it intact. If the BNP wants to forge a separate alliance with other parties, they can do it and we welcome it."
Against this backdrop, the BNP is expected to hold a rally in the capital tomorrow. Other leaders in the unity process said they would set their next course of action, including formation of a liaison committee for the unity process, after BNP's programme.
Keeping this in mind, the BNP has decided to hold the programme under its own banner, and not under the banner of the 20-party alliance.
At the rally, the party will place a seven-point demand for the government to meet before the election.
Dr Kamal floated his Jatiya Oikya Prokria on August 2016, about a year after the formation of Juktafront.
Earlier in July this year, eight left leaning political parties formed an alliance styled "Left Democratic Alliance".
They all demand polls under a nonpartisan government, dissolution of parliament before the election schedule is announced and deployment of army during the election, among other things.
Initially, the Awami League, and also party chief and prime minister Sheikh Hasina welcomed the unity process.
However, the ruling party started to come down hard on the leaders of the unity process in recent weeks after they shared stage with the BNP and spoke of forging a "greater national unity" against the AL.
https://www.thedailystar.net/frontpage/news/jamaat-bar-greater-national-unity-1639855
--------
India
In Ayodhya Case, AIMPLB Says It Sees 'Some Positive Movement'
September 28, 2018
NEW DELHI: The All India Muslim Personal Law Board (AIMPLB) said it saw "some positive movement" in the Ayodhya land case after the Supreme Court verdict Thursday in a related matter.
It said the verdict indicated that the hearing in the case will not be done on the basis of faith.
Earlier in the day, the top court had declined to refer to a five-judge constitution bench the issue of reconsideration of its 1994 observation that the mosque is not integral to Islam.
Senior AIMPLB member Zafaryab Jilani said, "We honour the court order and see some positive movement regarding the Ayodhya case."
Another AIMPLB member Khalid Rashid Farangi Mahali said, "We respect the court verdict."
Mr Mahali said the AIMPLB had wanted the Supreme Court's 1994 observation that the mosque is not integral to Islam be put before a constitution bench "so that the matter is resolved permanently."
"Two positive things have come from this verdict," he added. "First, the Ayodhya matter will not be heard on the basis of faith and will be heard as a title suit," he told PTI.
Second, he said, the 1994 observation by court "will not make an impact" on the case.
"We hope that the final hearing of Ayodhya will be completed soon. The Ayodhya hearing should not be linked with the elections," he said, referring to next year's Lok Sabha polls.
The issue whether the mosque is integral to Islam had cropped up when a three-judge bench headed by Chief Justice Dipak Misra was hearing a batch of appeals filed against the Allahabad High Court's 2010 verdict.
In that judgment, the high court had ordered that the disputed Ram Janmabhoomi-Babri Masjid area should be divided among three parties -- the Sunni Waqf Board, the Nirmohi Akhara and Ram Lalla.
https://www.ndtv.com/india-news/in-ayodhya-case-muslim-board-says-it-sees-some-positive-movement-1923468
--------
SC declines to refer to larger Bench issue whether mosques are integral to Islam
SEPTEMBER 27, 2018
A three-judge Bench of the Supreme Court, in a majority opinion of 2:1 on Thursday, declined to refer the question if a "mosque as a place of prayer is an essential part of Islam" in the Ramjanmabhoomi-Babri Masjid appeals to a seven-judge Bench.
The majority view by Chief Justice Dipak Misra and Justice Ashok Bhushan ordered that the hearing in the main Ayodhya title suit appeals should resume in the week commencing from October 29. With Chief Justice Misra retiring on October 2, a new three-judge Bench would be constituted.
On 1994 judgment
The bone of contention here is an observation made by a Constitution Bench of the Supreme Court in the 1994 judgment in the Ismail Faruqui case. It had stated that "a mosque is not an essential part of the practice of the religion of Islam and namaz (prayer) by Muslims can be offered anywhere, even in open".
Justice S. Abdul Nazeer, in a stinging dissent, observed that the question of what is essential or not in a religion cannot be hastily decided. He held that the question raised on the essentiality of offering prayers in mosques should indeed be examined by a seven-judge Bench before the Ayodhya suit appeals are heard.
Justice Nazeer said the questions raised during the Ayodhya appeals' hearing about the comment made in the Ismail Faruqui judgment require a "comprehensive examination" by a seven-judge Bench.
Fundamental rights
What is essential or not in a religion can be decided only after studying tenets, beliefs, and doctrines. Justice Nazeer held that the comment has to be examined in the background of the fundamental right against discrimination under Article 15 and the protection guaranteed to practice, profess and propagate religion in Articles 25 and 26 under the Constitution.
As the hearings progressed in the appeals, the Muslim appellants had pressed that the place of a mosque in Islam and the importance of the practice of offering prayers inside a mosque should be first decided by a five-judge Bench.
'1994 order in context of acquisition'
Speaking for the majority judgement of himself and the Chief Justice on the issue of referring the question "if a "mosque as a place of prayer is an essential part of Islam", in the Ramjanmabhoomi-Babri Masjid appeals, to a seven-judge Bench, Justice Ashok Bhushan said references cannot be made to a larger Bench merely because of "questionable observations" made in an earlier judgment.
Such observations cannot be treated as "governing factors" for a reference, he said.
Justice Bhushan said the statement made in the 1994 Faruqui verdict was in the context of whether the mosque, which was acquired by the Ayodhya Act of 1993, had immunity from acquisition.
The statement meant that no place of worship, be it a temple, church or mosque, is immune from acquisition. It merely wanted to convey that mosques had "no special immunity from acquisition". The context had nothing to do with the essentiality of the practice of offering prayers or namaz in a mosque, he said.
Acquisition, Justice Bhushan observed, is a sovereign power. The power of acquisition is available for a mosque like any other place of worship. Places of worship of all religions are liable to be acquired by the government under the Doctrine of Eminent Domain.
Senior advocate Rajeev Dhavan, for the Muslims appellants, had argued that the observation in the Ismail Farooqui judgment has affected the status of mosques in Islam. The majority view also dismissed Mr Dhavan's exception to the observation made in the Faruqui judgment that Ayodhya, being the place of birth of Lord Rama, has "particular significance".
Full report at:
https://www.thehindu.com/news/national/sc-declines-to-refer-to-five-judge-bench-issue-whether-mosques-are-integral-to-islam/article25057044.ece
--------
Delay in hearing (Babri case) impacted Hindu-Muslim relations: VHP working president
by Lalmani Verma
September 28, 2018
VHP working president Alok Kumar tells Lalmani Verma that the impeachment motion against CJI Dipak Misra was part of a process to delay the Supreme Court's hearing in the Babri Masjid-Ram Janmabhoomi title suit. Excerpts:
What are your expectations from the hearing beginning October 29?
I really do not know. We are very tired of the court process. The appeals were filed in 2010. Therefore, we can only hope and expect that this time they would expeditiously hear it and decide. But I do not know if we can depend on it.
You said there was undue delay in the hearing. What is the impact of that?
This delay impacted Hindu-Muslim relations. I believe if this matter had been resolved, it could have gone a long way in creating amicable relations.
Do you see the delay as a deliberate attempt?
I will not impute deliberateness to the judiciary. But in recent days what has happened in Supreme Court…like a senior counsel openly demanding adjournment of the matter until after the General Election, the impeachment notice (against CJI Dipak Misra) which had no substance, the press conference by certain people (four most senior SC judges)…these were deliberate.
Was the impeachment motion against CJI Misra also part of that delaying process?
Full report at:
https://indianexpress.com/article/india/delay-in-hearing-babri-case-impacted-hindu-muslim-relations-vhp-working-president-5377489/
--------
Ayodhya an important religious place for Hindus, for Muslims it is Mecca: Uma Bharti
Sep 27, 2018
The Supreme Court on Thursday declined to refer to a five-judge Constitution bench the issue of reconsideration of the observations in its 1994 judgement that a mosque was not integral to Islam which had arisen during the hearing of Ayodhya land dispute.
In a majority verdict of 2:1, the apex court bench headed by Chief Justice Dipak Misra said the civil suit has to be decided on the basis of evidence and the previous verdict has no relevance on it.
Justice Ashok Bhushan, who read out the judgement for himself and the CJI, said it has to find out the context in which the five-judge had delivered the 1994 judgement.
Reacting, Union Minister Uma Bharti told ANI: "This isn't a matter of religious dispute, as Ayodhya is an important religious place for Hindus because it is the Ram Janambhoomi but for Muslims, it isn't a religious place, for them it is Mecca. This matter was created and it finally got transformed into a land dispute."
Uttar Pradesh Chief Minister Yogi Adityanath Thursday said it is for the country's benefit that the Ayodhya issue is resolved quickly.
The majority of this nation wants a solution to this at the earliest," he said hours after the Supreme Court delivered a verdict related to the hearing of the Ayodhya land dispute.
The apex court had declined to refer to a five-judge constitution bench the issue of reconsideration of its 1994 observation that the mosque is not integral to Islam.
"We appeal that this matter is resolved as soon as possible," Adityanath told media persons in Varanasi.
The issue whether the mosque is integral to Islam had cropped up when a three-judge bench headed by Chief Justice Dipak Misra was hearing a batch of appeals filed against the Allahabad High Court's 2010 verdict.
Senior Bharatiya Janata Party (BJP) leader Subramanian Swamy on Thursday asserted that after today?s verdict of Supreme Court his appeal for ?fundamental right to pray at Lord Ram?s birthplace will prevail paving way for construction of the temple?.Swamy had filed a separate petition in the Supreme Court stating that he had a fundamental right to offer hassle-free prayer at the birthplace of Lord Ram.
Commenting on the Supreme Court's verdict in which it declined to refer the Ram Mandir- Babri Masjid case to a larger Constitution bench, Swamy told ANI, "I have contested that I have a fundamental right under Article 25 to offer worship at the place where Lord Ram was born.
Supreme Court has now cleared the way for me to press for the fundamental right and that will prevail because now with this Ismail Faruqui judgment being upheld, Sunni Waqf Board has no fundamental right and only ordinary right to appeal for the property, so my superior right will prevail and I hope before Diwali, Ram Mandir construction starts."
The RSS welcomed the Supreme Court ruling on Ayodhya and expressed confidence that a just verdict on the case will be reached at the earliest.
"Today, the Supreme Court has decided to hold hearing on the Shri Rama Janmabhumi case from 29th October by a three member bench. We welcome this decision and are confident that a just verdict will be reached over the case at the earliest," the Sangh said in a statement.
The Supreme Court has declined to refer to a five-judge Constitution bench the issue of reconsideration of the observations in its 1994 judgement that a mosque was not integral to Islam which had arisen during the hearing of the Ayodhya land dispute.
In a majority verdict of 2:1, an apex court bench headed by Chief Justice Dipak Misra said the civil suit has to be decided on the basis of evidence, adding that the previous verdict has no relevance on this issue.
The apex court said now the civil suit on land dispute will be heard by a newly constituted three-judge bench on October 29 as Justice Misra will retire on October 2 as the CJI.
Reacting to the verdict, RSS leader Indresh Kumar said he is confident the judiciary will decide the Ayodhya issue in a speedy manner and alleged that the Congress was against its swift resolution as it wanted to keep "problems alive".
"Like in the case of triple talaq in which India and the world is congratulating the court and the judges for liberating 8.5 crore Muslim women from the clutches of injustice, they will solve this problem and create history in 2018 like they did with triple talaq in 2017," Kumar told Times Now news channel.
He added that he was confident that people's faith in the judicial system will be strengthened.
Asked about Congress leader Kapil Sibal earlier seeking delaying of the verdict till after polls, he said the party wants the "problems to stay alive".
"Congress is working as a 'Pakistan agent'. There have been so many killings, so many atrocities on our soldiers, but Rahul (Gandhi), Sibal, Congress did not condemn Pakistan, did not demand strict action against Pakistan," he claimed.
The Congress should leave the "wrong path" and adopt the path of democracy and patriotism, he said.
Full report at:
https://www.dnaindia.com/india/report-ayodhya-an-important-religious-place-for-hindus-for-muslims-it-is-mecca-uma-bharti-2668669
--------
Important to dismantle support infrastructure of terrorist organisations: India
Sep 27, 2018
NEW DELHI: It is incumbent to dismantle the support infrastructure of terrorist organisations as their access to funds, finances and technology enables them to carry out attacks with "impunity", India has said as it called for making the UN counter-terrorism mechanism efficient in listing terrorists and their outfits.
External Affairs Minister Sushma Swaraj's remarks came at the 9th IBSA (India, Brazil, South Africa) Trilateral Ministerial Commission meeting held Thursday on the sidelines of the 73rd session of the UN General Assembly.
"Terrorism, non-state actors, and illicit financial flows undermine the very cause of development and prosperity. Terrorist organizations use sophisticated equipment, weapons, and ammunitions that are financed through illicit and illegitimate sources," she said.
"Allowing them access to funds, finances, information, weapons, and technology enables them to carry out attacks with impunity. It is incumbent therefore to dismantle their support infrastructure," she said.
The IBSA meeting was convened by Brazilian Minister of Foreign Affairs Aloysio Nunes Ferreira Filho and attended by South Africa's Minister of International Relations and Cooperation Lindiwe Sisulu.
Swaraj said India's proposal on Comprehensive Convention against International Terrorism (CCIT) will fill in the significant vacuum to combat the scourge of terrorism.
"United Nations' counter-terrorism mechanism should be made efficient in listing terrorists and their outfits. Implementation of FATF (Financial Action Task Force) standards, across all jurisdictions, will strengthen international efforts in addressing terrorism," she said.
Referring to Prime Minister Narendra Modi's emphasis on reforming global institutions and his call for "reformed multilateralism", Swaraj said IBSA countries have been at the forefront on initiating reform of global institutions.
"However, above all these, we three have to ensure that our collective voice is heard clearly in BRICS and other groups on UN Security Council reforms, since if we don't speak up for our own interest, no else will," she said.
Swaraj also reiterated India's willingness to contribute more to Africa, both in security and development cooperation.
"We are deeply concerned with continuing tensions on the border between Gaza Strip and Israel. India firmly believes that the dialogue is the only viable option to effectively address the issues in that region," she said.
The ministers reviewed IBSA cooperation over last one year and exchanged views on various issues of global significance, including peace, security, countering terrorism, Development Cooperation and South-South Cooperation.
Swaraj said the values of democracy, pluralism, multiculturalism, tolerance, social-inclusion, rule-based international order, UN reforms, and shared commitment to 2030 agenda are enshrined deeply in IBSA cooperation.
Full report at:
https://timesofindia.indiatimes.com/india/important-to-dismantle-support-infrastructure-of-terrorist-organisations-india/articleshow/65984806.cms
--------
3 militants, soldier killed in separate encounters in J&K
September 27, 2018
Three militants and a soldier were Thursday killed in two gunfights in Anantnag and Budgam districts of Jammu and Kashmir, the Army said.
Security forces launched a cordon and search operation in Qazigund of Anantnag district after receiving information about the presence of militants in the area, an army official said.
The search operation turned into an encounter when the militants opened fire at the security forces, he said.
One militant has been killed so far. A soldier laid down his life fighting the ultras, the official said.
In another operation in the Panzan area of Budgam district, security personnel killed two militants during an encounter, the official said.
Full report at:
https://indianexpress.com/article/india/3-militants-soldier-killed-in-separate-encounters-in-jk-5377340/
--------
Arab World
Jaish al-Islam 'reorganizing and rearming'
Sep. 28, 2018
NEAR AL-BAB, Syria: Syrian rebels forced from their towns when government forces retook eastern Ghouta near Damascus are starting over in the far north, aiming to build hundreds of homes for displaced fighters and civilians on opposition-held land near the Turkish border. Jaish al-Islam, one of Syria's most prominent rebel groups, likens the project to a new town for people from eastern Ghouta who have been living in camps since President Bashar Assad recaptured their area in April.
The project near the city of Al-Bab points to preparations for a long stay in northern Syria, though Jaish al-Islam insists that the people displaced from eastern Ghouta will return. It is part of a wider effort by the group to recover in the north.
Jaish al-Islam commander Issam al-Buwaydani told Reuters in an interview that his group is reorganizing and rearming.
Since arriving in the north, it is operating under the "National Army" umbrella a Turkish-backed effort to unify numerous factions.
But civilian affairs are also a top priority: Buwaydani said a mall, a school, a mosque and a clinic would also be built at the construction site some 15 km from Al-Bab.
"My entire combat group is working today in construction," said Abu Jaafar al-Khouli, 25, one of the Jaish al-Islam fighters working at the construction site. "I took part in many battles in Ghouta against the regime and the Nusra Front. Now, I have returned to my original profession," added Khouli, a carpenter before Syria's civil war.
The site, where the goal is to build around 1,400 homes, is part of an arc of territory in the northwest that forms the last major opposition-held area in Syria.
The eastern Ghouta rebels defended their stronghold on the Damascus outskirts through years of government siege until earlier this year, when Assad took back the area in a ferocious Russian-backed offensive.
When it fell, thousands of people opted to take safe passage to the northwest rather than live under government rule, a pattern seen elsewhere that has left the northwest crammed with anti-Assad fighters and dissidents from all over Syria.
Jaish al-Islam headed to the area north of Aleppo rather than Idlib because of long-standing hostility towards Hay'at Tahrir al-Sham, which has a strong presence there.
The housing project is being built on land that officially belongs to the Syrian state. Permission was granted by the opposition-run council in Al-Bab, Buwaydani said. Financing is being provided by Ghouta merchants with no foreign funding, he said.
He noted that some displaced Syrians had been living under canvas for three or four years, adding: "Our view is that living in tents has a negative impact on society."
The first phase of the project will lay foundations for homes. These will then be handed free of charge to Ghouta residents who will complete the construction with financial support from relatives who live outside of Syria, he said.
But this does not signal any acceptance that they will not return to Ghouta. "We will go back to our towns. We will liberate them and topple the terrorist tyrant," Buwaydani said, referring to Assad.
Buwaydani says his fighters are getting financial aid from Turkey in the form of salaries. He said the group is ready for new battles against the Syrian government or other enemies, including the Syrian Kurdish YPG militia that controls much of northern Syria. Turkey views the YPG as a national security threat, and its intervention in northern Syria has been driven largely by this concern.
Though Assad has crushed many areas of rebellion, Buwaydani still believes he can be toppled. "It is not impossible that Assad falls, especially given that the opposition forces are gathered today in one place," he said. "This is a source of strength."
http://www.dailystar.com.lb/News/Middle-East/2018/Sep-28/464707-jaish-al-islam-reorganizing-and-rearming.ashx
--------
Several US-Backed SDF Forces Killed in Raqqa
Sep 27, 2018
Local sources in Raqqa reported on Thursday that 6 SDF fighters were killed and wounded after several grenades were thrown by unknown attackers at a vehicle carrying them in Mafraq al-Jazrah region in Raqqa city.
The SDF forces surrounded the region after the attack, detaining a number of civilians.
Meantime, a road-side bomb was detonated by unknown parties on the way of a vehicle carrying the SDF forces near al-Adnaniyeh farm in Northwestern Raqqa, killing a number of the US-backed militants.
Attacks against the SDF gunmen have increased in the past few weeks in regions occupied by them in Raqqa.
In a relevant development on Wednesday, the SDF forces and civilians in Raqqa engaged in heavy fighting due to continued suppression by the SDF, media sources reported.
The sources said that tens of residents of al-Rahman Street in Raqqa city's al-Ramileh district revolted against the SDF, while chanting slogans in support of the Syrian army.
They reiterated that the SDF's security forces arrested several protesters after surrounding them.
Full report at:
http://en.farsnews.com/newstext.aspx?nn=13970705000640
--------
Civilians in Deir Ezzur Hold Protest Rallies against US-Backed SDF
Sep 27, 2018
Local sources in Western Deir Ezzur reported on Thursday that residents of the two villages of al-Jai'eh and al-Hessan in Western Deir Ezzur held the rallies to protest at the SDF for killing a young civilian from al-Jai'eh with bullet fire.
According to the report, the Arab forces affiliated to the SDF have also supported the rallies in the two regions.
Meantime, a number of SDF forces were killed after a bomb was detonated in their vehicle near al-Azraq oil field in Southeastern Deir Ezzur.
In a relevant development on Wednesday, two SDF gunmen were killed in a fresh round of fighting with civilians in Northern Deir Ezzur.
The SDF fought with residents of the small town of Abu al-Nital East of Deir Ezzur city that left two SDF gunmen dead and a civilian injured.
The clashes came after the SDF attacked a group of civilians that were protesting against the SDF's arrest operation near the town's pharmacy.
Full report at:
http://en.farsnews.com/newstext.aspx?nn=13970705000484
--------
UN envoy pushed on drafting post-war Syria constitution
28 September 2018
The United States along with several Arab and European countries called on a UN envoy Thursday to urgently set up a committee on drafting a post-war constitution for Syria and report on his progress by October 31.
The foreign ministers of the seven countries met on the sidelines of the UN General Assembly to discuss steps to advance the political process in Syria, now in its eighth year of war.
In a joint statement, they backed the "urgent convening" of the committee by UN envoy Staffan de Mistura that would begin work on drafting a new constitution and lay the groundwork for elections.
The seven countries asked De Mistura to report back to the UN Security Council on his progress no later than October 31, setting a deadline for action, according to a joint statement.
Egypt, Germany, Jordan, Britain joined the United States, France and Saudi Arabia in warning that "those who seek a military solution will only succeed in increasing the risk of a dangerous escalation."
Western diplomats say a recent agreement between Russia and Turkey to avert an all-out military assault on the rebel-held province of Idlib has created an opportunity to jump-start political talks.
De Mistura told the council this month that there were ongoing disputes between the Syrian government and opposition over the composition of the committee, first announced at a summit convened by Russia in January.
But the envoy said he hoped that the committee could begin work in the coming weeks.
Full report at:
https://english.alarabiya.net/en/News/middle-east/2018/09/28/UN-envoy-pushed-on-drafting-post-war-Syria-constitution-.html
--------
US-led coalition admits another 53 civilian casualties
27 September 2018
The US-led coalition fighting the ISIS group in Syria and Iraq has acknowledged the deaths of an additional 53 civilians, bringing the official toll to 1,114.
The coalition said in a statement on Thursday that it had conducted a total of 30,008 strikes between August 2014 and the end of August 2018.
Officials said they had examined 60 civilian casualty reports last month, and found eight of them to be "credible," resulting in the 53 deaths.
"In each of eight incidents, the investigation assessed that although all feasible precautions were taken and the decision to strike complied with the law of armed conflict, unintended civilian casualties regrettably occurred," the coalition said.
In the deadliest of the incidents, in May 2017, a strike on ISIS positions and a bomb factory in Mosul, Iraq, resulted in the unintentional deaths of 20 civilians.
Monitoring group Airwars says the number of civilian deaths acknowledged by the US-led coalition is well below the true toll of the bombing campaign, estimating that at least 6,575 civilians have been killed.
Full report at:
https://english.alarabiya.net/en/News/middle-east/2018/09/27/US-led-coalition-admits-another-53-civilian-casualties-.html
--------
Egypt's Sisi urges peace talks restart at meeting with Israel's Netanyahu
27 September 2018
Egyptian President Abdel Fattah al-Sisi called for a resumption of Israel-Palestinian peace talks when he met Israeli Prime Minister Benjamin Netanyahu on the sidelines of the UN General Assembly in New York, Sisi's office said on Thursday.
Netanyahu, writing on Twitter, said his talks with Sisi late on Wednesday focused on "regional developments". He did not elaborate.
At the meeting at his hotel in New York, Sisi "stressed the importance of resuming the negotiations between the two sides, the Palestinians and the Israelis, to reach a just and a comprehensive solution based on a two-state solution and in accordance with the international treaties," according to a presidential statement.
Egypt has also been working to broker a long-term ceasefire between Israel and the Gaza Strip's dominant Hamas Islamist movement amid frequent violence along the Israel-Gaza border, where Palestinians have been holding weekly protests.
Israeli-Palestinian peace talks have been suspended since 2014 and efforts to revive them have not been successful.
Netanyahu and Sisi convened for their previously announced talks several hours after US President Donald Trump said he wanted a two-state solution to resolve the Israeli-Palestinian conflict, in what had appeared to be the clearest expression yet of his administration's support for such an outcome. Read full story
But later on Wednesday Trump told a news conference he would be open to a one-state solution if that was the preference of the parties themselves, a position he had previously stated.
Netanyahu, a right-wing politician who rarely utters publicly the words "Palestinian state"- a concept he conditionally endorsed in 2009 but which far-right coalition partners oppose- said he was not taken by surprise by Trump's initial remarks.
In a statement, Netanyahu said he was confident a promised US peace plan would back Israel's demand to maintain security control of the West Bank, territory it occupied in a 1967 war and which Palestinians seek as part of a future state.
Palestinians are boycotting Washington's peace efforts after Trump broke with long-standing US policy by recognizing Jerusalem as Israel's capital and moved the American Embassy to the contested city.
Palestinian leaders say that a state, with East Jerusalem as its capital, must be based on the pre-1967 war borders and see any future Israeli military presence as a violation of sovereignty.
Netanyahu and Sisi met in public for the first time in 2017. Israeli media reports last month said they had held a secret summit in Egypt in May to discuss a truce in neighboring Gaza, which is under tight Israeli and Egyptian border restrictions.
Egypt was the first of a handful of Arab countries to recognize Israel under a 1979 peace treaty and the two countries maintain close co-ordination on security as well as energy ties.
Full report at:
https://english.alarabiya.net/en/News/middle-east/2018/09/27/Alleged-Lebanese-terrorist-turns-on-relatives-accused-of-staging-attack-in-Australia.html
--------
Saudi State Security: Three wanted in terror related activities killed in Qatif
27 September 2018
Saudi Arabia state security stated that three wanted in terrorist related activities were killed in Qatif province on Wednesday, after clashes with the security forces.
The Spokesman for the kingdom's State Security said that after a monitoring and surveillance operation, the three wanted in casese linked to terror were detected in a house located in the neighborhood of al-Qouikeb in the center of Qatif province.
The spokesman added that clashes erupted when the terrorists found that they are surrounded by the security forces, refusing to surrender and opening fire which prompted the security forces to retaliate and killing .
The three are Saudi nationals Mohamed Hassa Ahmad al- Zayed, Moufeed Hamza Ali al-Alwan and Khalil Ibrahim Hassan al-Muslim.
Full report at:
https://english.alarabiya.net/en/News/gulf/2018/09/27/Saudi-State-Security-Three-wanted-in-terror-related-activities-killed-in-Qatif.html
--------
Riyadh, Islamabad sign three deals on China-Pakistan Economic Corridor
September 27, 2018
ISLAMABAD: Pakistan Information Minister Fawad Chaudhry announced on Thursday that Islamabad and Saudi Arabia have signed three major investment deals for China-Pakistan Economic Corridor (CPEC) projects.
He told the media: "Pakistan and Saudi Arabia have inked three agreements for grants. The first delegation from Saudi Arabia, comprising the chief of its investment and petroleum ministers, will be arriving in Pakistan on Sunday."
Earlier, Nawaf bin Said Al-Malki, Saudi Ambassador to Pakistan, said that Islamabad and Riyadh have shared grief and joy together, and that the bonds of bilateral ties will be further strengthened through CPEC.
Al-Malki made his remarks as a chief guest at a ceremony organized by the International Islamic University Islamabad (IIUI) to celebrate Saudi Arabia's 88th National Day on Monday.
He thanked the management of IIUI for arranging the ceremony and hoped the university would soon get positive news from Saudi Arabia.
Full report at:
http://www.arabnews.com/node/1378941/saudi-arabia
--------
Pakistan
Pak-Afghan religious scholars to discuss joint stance against violence
Tahir Khan
SEPTEMBER 28, 2018
Pakistani and Afghan religious scholars will hold talks in Islamabad on Friday to discuss a joint stance against the violence in the war-shattered Afghanistan, official and diplomatic sources said on Thursday.
A seven member Afghan delegation led by Atta-ur-Rehman Saleem, deputy of the High Peace Council, will lead the delegation in the talks with Pakistani scholars at the Foreign Office on Friday, they said.
Sources say the "ulema" meeting is part of the bilateral understanding under Afghanistan-Pakistan Action Plan for Peace and Solidarity and both sides are of the view that religious scholars have to play an important role in restoring peace.
Foreign Minister Shah Mahmood Qureshi and Afghan officials had agreed this month on a meeting of scholars and officials in capital Islamabad to discuss agenda for a join conference of the scholars to issue a joint declaration about the violence in Afghanistan.
Afghanistan had long been urging Pakistan to seek help from the Pakistani scholars, who have influence on the Taliban, to reduce violence and encourage them join peace process.
Official sources, aware of the consultations for the conference, told Daily Times that Afghan scholars will suggest names of Pakistani counterparts whom they believe have influence on the Taliban in the meeting.
In May Pakistani scholars joined Afghan and Indonesia scholars at a trilateral conference in Indonesia that declared suicide bombings against Islam and also called for direct talks between the Afghan government and the Taliban. A 15-member Pakistani delegation had forced the Indonesian and Afghan scholars to remove the Taliban name from the declaration.
Kabul wants Pakistani scholars to issue a similar edict against the suicide attacks which nearly 2000 Pakistani scholars had issued in January this year, which had declared suicide bombings in Pakistan against Islamic teachings.
Afghan ambassador in Islamabad Omar Zakhilwal had been active to persuade Pakistani religious leaders to use their influence on the Taliban. He had meetings with chiefs of Islamic parties like Maulana Sami ul Haq, Maulana Fazal ur Rahman, Siraj ul Haq and Fazal ur Rahman Khalil to seek their role in reconciliation with the Taliban.
In July, Saudi Arabia hosted an international conference of Islamic scholars, who declared Taliban war as "forbidden in Islam" in a declaration.
Pakistani clerics had stayed away from the Saudi conference after the Taliban dismissed the conference as an "American plot to justify their invasion of Afghanistan."
Some scholars had earlier told Daily Times that were upset at the language the Saudi authorities had used in the invitation letter in which all groups fighting in Afghanistan were declared terrorists. Saudi embassy had also failed to coordinate with the Pakistani authorities to convince the scholars to attend the conference. Some clerics like Fazal ur Rehman Khalil, who is very close to Saudi Arabia, had also refused to travel to Saudi Arabia for the conference.
The Taliban has sent letters to the Pakistani scholars, urging them to 'avoid participation in such conferences as the U.S. wants to weaken the ongoing holy war through conferences of the scholars'.
The Taliban's letter says the 'US wants to make Afghanistan as its subservient state' and to establish military and intelligence bases to use Afghanistan's strategic location for its objectives and weaken the Muslim world.
"If the U.S. succeeds in this sinister designs there is no doubt it will increase difficulties for Pakistan, India, Central Asia, and Arab countries," the letter reads.
Pakistan ambassador in Kabul Zahid Nasrullah Khan on Thursday hosted dinner in honour of the Afghan delegation, at the embassy.
The ambassador told the delegation that Pakistan fully supports the Afghan-led and Afghan-owned peace process in Afghanistan.
https://dailytimes.com.pk/303712/pak-afghan-religious-scholars-to-discuss-joint-stance-against-violence/
--------
Four terrorists killed, two troops martyred in Kalat operation
SEPTEMBER 28, 2018
Four terrorists killed in Kalat security operation and two soldiers were martyred on Thursday, as security forces conducted an intelligence-based operation in the Mangochar area of Kalat district, said a statement from the Inter-Services Public Relations (ISPR).
Security forces killed four terrorists during the security operation and recovered a cache of arms and ammunition. Two soldiers were also injured in the exchange of fire.
Earlier, on September 13, three soldiers of the Pakistan Army were martyred in an exchange of fire with terrorists in North Waziristan.
"Security forces launched an IBO in North Waziristan against terrorists involved in an attack on security forces on 12 September as well as an ambush on security forces convoy during December 2017, which resulted in the martyrdom of Lieutenant Moeed," announced the army's media wing.
Full report at:
https://dailytimes.com.pk/303598/four-terrorists-killed-two-troops-martyred-in-kalat-operation/
--------
Pakistan, Kuwait fail to reach accord on lifting visa curbs
By Shahbaz Rana
September 28, 2018
ISLAMABAD: Pakistan and Kuwait have ended talks without reaching a major breakthrough in dispute over visa restrictions, which has hampered cordial relations between the two Muslim countries.
The fourth meeting of the Joint Ministerial Commission (JMC) ended in Islamabad on Thursday without signing of an agreement on lifting visa restrictions on Pakistani nationals. The huddle was co-chaired by finance ministers of both the countries.
Sources said the issue of oil supply on deferred payment was not discussed in the JMC. Getting oil on credit from Saudi Arabia and Kuwait are among the options Pakistan is considering in order to tackle external-sector problems.
Pakistani officials revealed that Finance Minister Asad Umar emphasised the need for lifting visa restrictions on Pakistani nationals, which has become a major hurdle in the way of bilateral trade and economic relations.
The Kuwaiti delegation promised to consider some practical measures to lift the embargo only on business visa requests, according to officials in the Ministry of Finance. However, there were no clear commitments to remove the restrictions on all types of visas.
Kuwait promised that it would inform Pakistan about the practical steps by the end of next month. However, similar commitments had also been made during a visit of former prime minister Nawaz Sharif to Kuwait in March last year.
Pakistani side expressed serious concern over the continued visa curbs since 2011. Kuwait was once among the main destinations for expatriate Pakistanis. However, both the sides agreed to form a working group that would look into labour market requirements of Kuwait aimed at receiving skilled workforce from Pakistan.
Pakistan offered Kuwait the benefit of trained workforce in the fields of agriculture, automobile, construction, health and textile, the officials said.
Islamabad urged the oil-rich Gulf Arab nation to give its assent to a memorandum of understanding (MoU) for the recruitment of Pakistani professionals through the public sector. The Kuwaiti delegation promised response to that issue in the next two months.
Both sides also discussed bilateral economic and trade relations, noting that the current level of bilateral trade did not fully reflect the potential. The Kuwaiti side expressed its interest in enhancing shipping service between Gwadar and Kuwaiti ports. Pakistan invited Kuwaiti investors to invest in the Special Economic Zones (SEZs), Gwadar Port Free Zone and establish country-specific free zones to enhance bilateral investment. The JMC stressed the need for early implementation of the agreement for the Encouragement and Protection of Investment, which was signed seven years ago but had not yet been implemented, the sources said.
"Pakistani authorities again expressed the desire to increase agricultural goods and textile exports, but visa restrictions remained the key bottleneck," officials said.
"Pakistan also expressed the desire to sign an agreement with Kuwait's private sector to increase rice exports."
The commission agreed to implement provisions of the Protocol of Cooperation signed 17 years ago to cement relations between chambers of commerce of both the countries. However, no major milestone could be achieved.
Pakistan also proposed the setting up of Pak-Kuwait Joint Business Council and Joint Working Group on trade and investment between the two countries. However, the future roadmap was left to be decided through diplomatic channels.
Sources said Pakistan sought Kuwait's help for early finalisation of a free trade agreement between the Gulf Cooperation Council and Pakistan. Both the sides also discussed the possibility of making joint investments in the fisheries sector of Pakistan.
Full report at:
https://tribune.com.pk/story/1813187/2-pakistan-kuwait-fail-reach-accord-lifting-visa-curbs/
--------
PTI government is being vindictive against us: Justice (r) Iftikhar Chaudhry
Sep 28, 2018
Former chief justice of Pakistan Justice (r) Iftikhar Chaudhry on Thursday rejected reports of alleged involvement of his son-in-law in the Eden Housing or Bahria Housing scams, claiming that his son-in-law was arrested by Interpol, and not by the Federal Investigation Agency (FIA) as the government had earlier said.
"FIA has nothing to do with the case," he said.
Earlier on Wednesday, Justice (r) Iftikhar Chaudhry's son-in-law Murtaza Amjad was arrested from Dubai in a case regarding the multi-billion Eden Housing Society scam, which was termed as a "breakthrough" by the Information Minister Fawad Chaudhry.
Iftikhar Chaudhry insisted that Amjad had nothing to do with the Eden Housing scam as "he holds Canadian citizenship and does not come to Pakistan". He alleged that the PTI government was "spreading propaganda" against him because he had challenged Prime Minister Imran Khan's election in court.
The former chief justice further said that the high courts in Islamabad and Peshawar had already issued notices to PM Khan and he was also considering to file a disqualification case against the premier in an election tribunal.
Full report at:
https://www.pakistantoday.com.pk/2018/09/27/pti-government-is-being-vindictive-against-us-justice-r-iftikhar-chaudhry/
--------
Pakistan, Saudi Arabia have signed three agreements: Fawad
Sep 28, 2018
ISLAMABAD: Information Minister Fawad Chaudhry has said that Pakistan and Saudi Arabia have signed three grant agreements, adding that the country is bringing a major investment in the China-Pakistan Economic Corridor (CPEC) projects.
He was addressing a press conference following the cabinet meeting chaired by Prime Minister Imran Khan on Thursday.
He also said that an important Saudi delegation, comprising energy, petroleum ministers as well as the country's investment chief, will reach Pakistan on Sunday for talks. "Saudi wants to bring a major investment in CPEC and this has begun," he added.
The minister further said that the federal cabinet has decided to devise a comprehensive policy on Afghan refugees before the next extension of their stay in June 2019.
"Prime Minister Imran Khan would be given a comprehensive briefing on the issue."
He said that out of 2.5 million Afghan refugees in the country, two million were registered while as many as 879,198 had citizen cards of Afghanistan but they lived in Pakistan.
Fawad said that the issues related to Financial Action Task Force (FATF) were being looked into and Mansoor Hussain Siddiqui had been appointed as the Financial Monitoring Unit director general. He said the cabinet gave approval for appointment of Justice (r) Abdul Rauf as Wage Board Award chairman, which would finalise the award within 120 days to fulfil the longstanding demand of the journalist community.
"The cabinet was also informed that next week a big operation would be launched against 100 big defaulters of Federal Board of Revenue (FBR)," added the info minister.
The cabinet also decided that tax exemptions for Federally Administered Tribal Areas (FATA) and Provincially Administered Tribal Areas (PATA) would be retained till the year 2023, he said, adding that the prime minister directed all ministers to promote meritocracy and not give or receive recommendations from others.
The prime minister also directed to increase the use of information technology to save precious resources and move towards becoming a paperless government. He said that the prime minister told the cabinet that a vibrant tourism policy would also be introduced and beaches, coastal areas and northern parts of the country would be the main focus of development for tourism.
Replying to questions of media persons, Fawad said that the committee constituted regarding electronic media advertisements was meant to check content and it had nothing to do with the release of advertisements. He said that regarding the issuance of advertisements, he had sought proposals from All Pakistan Newspaper Society (APNS) and Council of Newspaper Editors (CPNE) and a policy would be finalised after receiving their input.
Moreover, he said, details of advertisements released daily were being put on the Press Information Department's (PID) website. "The governments in the past ruined national institutions like Radio Pakistan, PTV, PIA and Pakistan Steel Mills by inducting their cronies," he added.
Full report at:
https://www.pakistantoday.com.pk/2018/09/27/pakistan-saudi-arabia-have-signed-three-agreements-fawad/
--------
Army chief calls for comprehensive response to security threats
Sep 28, 2018
RAWALPINDI: Chief of Army Staff (COAS) General Qamar Javed Bajwa on Thursday said the threats faced by the country demand a comprehensive response from state institutions.
"Full spectrum of threat demands comprehensive national response involving all institutions of the state," said the army chief while delivering a keynote address on 'Security of Pakistan" during a three-day international conference at Air University Islamabad.
Gen Bajwa said that the Pakistan Army will continue to serve the interests of the nation to sustain socio-economic progress and lauded the efforts of the armed forces in the war against terrorism.
"Terrorism has been effectively contained with nation's support but we need to remain vigilant and follow the correct course to move from survival to revival," he said.
On August 6, the army chief addressed internees at ISPR Directorate that the nature and character of war has changed.
Full report at:
https://www.pakistantoday.com.pk/2018/09/27/army-chief-calls-for-comprehensive-response-to-security-threats/
--------
Trump only shook hands with FM Qureshi, no informal meeting, says US
Sep 28, 2018
US President Donald Trump had a handshake with Pakistan Foreign Minister Shah Mehmood Qureshi during a luncheon in New York, the White House claimed, but Qureshi described it as an "informal meeting" when they discussed bilateral ties, according to a report in the Business Standard.
The episode happened on Tuesday at a luncheon on the sidelines of the United Nations General Assembly meeting.
Qureshi in an interview with the official Pakistani media described it as an "informal meeting" with Trump during which, he said, they discussed matters relating to bilateral relations.
"I met with President Trump at the reception where I had the opportunity to discuss Pak-US relations with him. I requested him to rebuild the cordial relations that we have enjoyed in the past," Qureshi told a private news channel.
Several Pakistani media outlets reported the "informal meeting" citing the PTV report.
According to official news agency Associated Press of Pakistan, Qureshi received a "positive response" from Trump, who said they intend to "rebuild" the bilateral relations.
However, the White House said only a handshake happened between the two at the luncheon.
"It was a handshake at a luncheon with other world leaders," a National Security Council spokesperson told Indian news agency PTI.
Informed sources in New York tracking Trump's engagement confirmed to PTI that Trump had no meeting with Qureshi and that it was never planned.
The pool of reporters who follow Trump and report about his meetings with the world leaders did not mention the US president's meeting with Qureshi either.
The White House pool, which covered the luncheon, also did not mention Trump having a long chat with Qureshi, which would have had come to the attention of the reporters.
"Spotted: Canadian Prime Minister Justin Trudeau briefly approached Trump and shook his hand as Trump stayed seated at the head table just before lunch started," a White House pool report said.
"He (Trump) is shaking hands and mingling," it said.
The luncheon was hosted by the UN secretary general in honour of the heads of state and government.
The lunch kicked off at 1:27 pm (local time), with the secretary general offering the introductory remarks, according to a White House pool report of the luncheon.
"Trump sat with his arms crossed and occasionally nodded. Secretary general offered a toast and Trump took a sip of what appeared to be a glass of red wine after the toast. Trump began his remarks at 1:31 pm," the report stated.
"I've long said the United Nations has great potential…," Trump said according to the report.
Full report at:
https://www.pakistantoday.com.pk/2018/09/27/trump-only-shook-hands-with-fm-qureshi-no-informal-meeting-us/
--------
Nawaz Sharif leaves for Lahore after appearing before NAB court
SEPTEMBER 28, 2018
Former prime minister Nawaz Sharif left for Lahore on Thursday after appearing before accountability court, which resumed hearing the remaining corruption references against him and his family.
Accountability court II Judge Arshad Malik was hearing the Al-Azizia Steel Mills and Flagship Investment corruption references against the former premier.
During the hearing today, Nawaz's counsel, Khawaja Haris continued to cross-examine investigation officer Mehboob Alam.
On Tuesday, Haris completed the cross-examination of Panamagate joint investigation team (JIT) head and National Accountability Bureau (NAB) star witness Wajid Zia. The ex-premier was also exempted from appearing in court for two days on account of Begum Kulsoom Nawaz's death and directed to appear today.
Earlier, on July 6, after four extensions in the original six-month deadline to conclude all three cases, the court announced its verdict in the Avenfield reference.
Nawaz and his sons; Hussain and Hasan are accused in all three references, whereas, Maryam and Safdar were accused in the Avenfield reference only.
The two brothers, based abroad, have been absconding since the proceedings began last year and were declared proclaimed offenders by the court.
Full report at:
https://dailytimes.com.pk/303576/nawaz-sharif-leaves-for-lahore-after-appearing-before-nab-court/
--------
North America
7 nations urge UN to draft new Syrian constitution
28.09.2018
By Betul Yuruk
UNITED NATIONS
The U.S. and six other nations called on the United Nations Thursday to convene a committee "as quickly as possible" to begin drafting a new constitution for Syria.
In a joint statement, the foreign ministers of the U.S., France, Germany, Egypt, Saudi Arabia, Jordan and the UK urged UN Special Envoy for Syria Staffan de Mistura to convene a "credible" and "inclusive" committee to pave the way for UN-supervised free and fair elections.
The group asked de Mistura to submit a progress report on the formation of the constitutional committee to the UN Security Council by Oct. 31.
https://www.aa.com.tr/en/americas/7-nations-urge-un-to-draft-new-syrian-constitution/1266944
--------
Erdogan: Turkey, US to overcome 'turbulent period'
27.09.2018
By Diyar Guldogan
Turkey and the U.S. will overcome the current "turbulent period" in their relations through their strategic partnership, Turkish President Recep Tayyip Erdogan said late Wednesday.
"Our strategic partnership, which has gone through difficulties so many times, will overcome this turbulent period," Erdogan said during his address at the Ninth Turkey Investment Conference held by the Turkey-U.S. Business Council (TAIK) in New York.
Erdogan said disagreements with the administration of U.S. President Donald Trump on issues such as the Fetullah Terrorist Organization (FETO), the fight against terrorism, Jerusalem, Syria and sanctions "test Turkish-American relations".
He said he believes that Turkey and the U.S. need to come a long way in their relations, especially with regards to the FETO and PYD/PKK terrorist organizations.
Erdogan said some circles in the Trump administration assume they can resolve differences with Turkey through threats, pressure and blackmail.
He questioned why the U.S. is protecting FETO leader Fetullah Gulen, adding: "Are we not strategic partners?"
Erdogan said FETO is active in 27 U.S. states and has charter schools there.
FETO and its U.S.-based leader Fetullah Gulen are accused of orchestrating the defeated coup of July 15, 2016 which left 251 people martyred and nearly 2,200 injured.
Ankara also accuses FETO of being behind a long-running campaign to overthrow the state through the infiltration of Turkish institutions, particularly the military, police and judiciary.
Investments in US exceed $4.6 billion
Erdogan said the bilateral trade volume between Turkey and the U.S. was above $20 billion in 2017. He said Turkey's exports to the U.S. totaled $8.7 billion and imports totaled $12 billion.
"As of today, Turkish firms' investments in the U.S. exceed $4.6 billion," he added.
The president said Turkey views the future of political and economic relations with the U.S. with hope despite Washington imposing sanctions and doubling tariffs on Turkish aluminum and steel imports.
He said there are no winners in trade wars and each unilateral decision will be met with retaliation.
Erdogan said Turkey will continue to strengthen the investment environment without compromising the rules of the free market economy.
Full report at:
https://www.aa.com.tr/en/americas/erdogan-turkey-us-to-overcome-turbulent-period-/1266036
--------
Trump thanks Turkey for helping avert Idlib assault
27.09.2018
By Umar Farooq
WASHINGTON
U.S. President Donald Trump praised Turkey Wednesday for its "big help" in preventing a military conflict in Syria's Idlib province.
Speaking at a press conference at UN headquarters in New York, Trump credited himself with averting a bloodbath in Idlib but also commended Turkey's efforts in preventing further escalations in the region.
"Turkey has been a big help. Turkey has been great. Turkey has helped us very much with that whole situation," Trump told reporters.
In his address to the UN General Assembly on Tuesday, Turkish President Recep Tayyip Erdogan said Turkey prevented the Bashar al-Assad regime from carrying out "bloody assaults" against the de-escalation area in Idlib with the Sochi agreement signed with Russia.
The agreement stipulated the establishment of a 15 to 20-kilometer (9.3-12.4 mile) disarmament zone in Idlib, Syria's last opposition stronghold.
Trump also noted during his press conference that he would present his peace plan for the Middle East before the end of the year and that he backs a two-state solution.
"I think the two-state [resolution] will happen," he said.
"I think in one way, it's more difficult because it's a real estate deal. It's a little tougher deal. But in another way, it works better because you have people governing themselves."
Trump also used the same rhetoric early Wednesday when he met with Israeli Prime Minister Benjamin Netanyahu on the sidelines of the UN General Assembly meetings.
Full report at:
https://www.aa.com.tr/en/americas/trump-thanks-turkey-for-helping-avert-idlib-assault/1266031
--------
US launches program to detect terrorists travelling between countries
September 28, 2018
WASHINGTON - The United States has launched a global program to catch terrorists who are transiting between countries by coordinating exchanges of data such as biometric markers, the Department of State announced in a press release on Thursday.
"The Terrorist Travel Initiative will bring together national and local governments, law enforcement and border screening practitioners, and international organizations to share expertise on how to develop and implement effective counterterrorism watchlisting and screening tools," the release said.
The initiative was announced on the sidelines of a United Nations General Assembly meeting in New York, the release added. One of the most effective ways to counter terrorist travel is by accessing data bases such as Advanced Passenger Information (API), Passenger Name Record (PNR), as well as biometric markers, the release said. The program will be run by the Global Counterterrorism Forum (GCTF), a multilateral organization founded in 2011 by the European Union and 29 nations, including the United States and Russia.
The initiative will convene a series of four regional workshops in 2018 and 2019 to develop recommendations, to be endorsed by a GCTF ministerial in 2019, according to the release.
Meanwhile, nearly 500 US Army close combat tactical simulators will be modernized under a $356 million contract, defence contractor Lockheed Martin announced in a press release on Thursday.
"The Close Combat Tactical Training (CCTT) Manned Module Modernization (M3) contract, worth up to $356 million, modernizes training while increasing sustainability in support of emerging Army training requirements and systems," the release said.
The CCTT system is designed to immerse soldiers, who operate equipment such as Abrams tanks and Bradley troop transport vehicles, in real-world battle scenarios through computer-based simulations, the release explained.
Full report at:
https://nation.com.pk/28-Sep-2018/us-launches-program-to-detect-terrorists-travelling-between-countries
--------
Trump's accusations against Iran at UN speech were lies: Analyst
Sep 27, 2018
US President Donald Trump's hostile comments against the Iranian nation during his speech at the UN General Assembly on Tuesday were lies that underscored the US leader's "ignorance" about the Islamic Republic, says an American political analyst.
Trump's accusations against Iran "really shows an ignorance of facts and ignorance of history,' said Scott Bennett, a former US military psychological warfare officer.
"The president was speaking the same lies and corrupt half-truths that his people [aides] have told him and it very sad because he is dangerously positioning the United States with a confict against Russia and Iran," Bennett told Press TV on Wednesday.
Trump launched a scathing attack against Iran on Tuesday at his speech to the UN General Assembly, accusing Tehran of sowing "chaos, death and destruction" across the Middle East.
He also alleged once again that Iran was "the world's leading sponsor of terrorism" and promised hard-hitting sanctions against Tehran while urging the world to isolate the Islamic Republic.
On Wednesday, Trump chaired the UN Security Council meeting which focused on the non-proliferation of weapons of mass destruction.
During the Security Council meeting, Trump threatened that any individuals or entities that fail to comply with Iran sanctions will "face server consequences" and stressed that the US will ensure Iran will never get a nuclear bomb.
He also said that the US will pursue tougher Iran sanctions, "tougher than ever before," and defended re-imposing sanctions on Iran, citing its "malign conduct."
Trump withdrew from the 2015 nuclear deal that Iran signed with six world powers, including the US.
Also speaking at the meeting was French President Emmanuel Macron who said that sanctions and containment were not solutions to the Iranian issue.
He said that Iran has lived up to its commitments under the 2015 nuclear deal, known as the Joint Comprehensive Plan of Action (JCPOA), and so should other signatories to the deal.
Full report at:
https://www.presstv.com/Detail/2018/09/27/575406/US-Trump-Iran-Scott-Bennett
--------
US stepping up efforts to form Arabic alliance against Iran
Sep 27, 2018
The United States is planning a high-level meeting with Arab leaders in January to speed up forging an alliance that is mainly aimed at confronting Iran, a senior US official has confirmed.
US Deputy Assistant Secretary of State for Persian Gulf Affairs Tim Lenderking has been touring the region over the past weeks in a bid to muster enough support to form the Middle East Strategic Alliance (MESA), a concept similar to an Arab NATO.
The idea of forming an alliance that comprised the (Persian) Gulf Cooperation Council-- Saudi Arabia, United Arab Emirates, Kuwait, Bahrain, Qatar and Oman—along with the US, Egypt and Jordan, and addressed security, economic and political issues was first floated during US President Donald Trump's visit to Saudi Arabia last year, Lenderking said.
"The more we have coordinated efforts, the more effective in enhancing stability," he told Emirati website The National on Wednesday, calling Iran the "number one threat" on the MESA list.
MESA's other concerns included cyber concerns, attacks on infrastructure, and coordinating conflict management from Syria to Yemen, according to the US official.
Lenderking noted that US Secretary of State Mike Pompeo would host meeting with officials from these countries on the sidelines of the United Nations General Assembly on Friday.
He said Washington wanted the groundwork laid by January, when the US would host a summit to launch the alliance.
"We [US] would like to agree on the concept of MESA by the January summit," Lenderking said, adding that the US was "flexible" on the date given the talks were still in the early stages.
One problem hindering the process, Lenderking acknowledged, was the ongoing rift within the (P)GCC, where Saudi Arabia, Bahrain, the UAE and Egypt had cut ties with Qatar over a range of reasons and refused to resolve their difference.
"In the long term, with the Mesa that we envision, it would be hard to have two or three countries in this alliance in this kind of confrontation," he explained. "We can continue to develop the concept and work on some of the pillars but ultimately you have to see the rift de-escalated."
The Saudi-led war on Yemen was another key issue that Washington had set its eyes on, according to the official.
"It's a forbidding climate to make progress," Lenderking said of the military aggression that Saudi Arabia and its allies, including the UAE, launched in March 2015.
The war has killed thousands of Yemeni people and put the US and several other Western nations in hot water for ignoring Riyadh's atrocities and continuing controversial arms deals with the Saudi regime.
Lenderking repeated US claims that Iran has been providing Yemen's Ansarullah Movement, which has been the main target of the Saudi aggression, with missiles and other forms of support.
"It's incumbent on all of us to raise the cost to Iran, and part of our Iran strategy includes a Yemen element where we see the Iranians playing in this theatre of operations with relative impunity."
He said that MESA would allow the US to increase its naval presence off Yemen's coast to better intercept what he called weapons shipments to the country.
Full report at:
https://www.presstv.com/Detail/2018/09/27/575365/US-Iran-Mesa-Arab-NATO-saudi-UAE-Qatar-Lenderking
--------
Europe
UN human rights body creates team to document Myanmar abuses
September 27, 2018
GENEVA (AP) — The U.N.'s top human rights body agreed Thursday to set up a team to collect evidence of alleged crimes committed in Myanmar against Rohingya Muslims and others since 2011, information that one day could be used to prosecute suspected perpetrators.
The 47-member Human Rights Council voted 35-3 to create an "independent mechanism" — in essence, an accountability body — to complement a fact-finding mission the council previously authorized to help document alleged rights violations in Myanmar.
Unlike the fact-finding mission, the mechanism has securing evidence that could be used in pursuing criminal indictments as its main purpose.
The resolution establishing the new team was presented jointly by the European Union, led by Austria, and the Organization of Islamic Cooperation, led by Pakistan. China, Burundi and the Philippines opposed the measure. Seven countries abstained from the vote.
The accountability body's work, which could begin in coming months, is expected to cover a massive security crackdown that began in August 2017. Human rights group say it left at least 10,000 people dead and caused hundreds of thousands of Rohingya Muslims to flee to Bangladesh.
Myanmar's ambassador in Geneva, Kyaw Moe Tun, criticized the resolution, saying it was based on a report issued by the fact-finding mission last month that was "replete with unverified information."
Thursday's move paves the way for millions of dollars in U.N. funds to go toward collecting evidence of alleged wrongdoing in Myanmar that U.N.-backed investigators said could amount to genocide and other war crimes.
Passage of the resolution is likely to raise pressure on military chiefs and others who might come under investigation for alleged war crimes — making them think twice before contemplating travel outside Myanmar and their possible arrest.
While the Human Rights Council's decision raises the level of scrutiny faced by security forces and other perpetrators, its potential effect on war crime prosecutions is uncertain. Possible venues for any such cases include the International Criminal Court, though some experts view that setting as unlikely because it would require support from the U.N. Security Council, where China holds a veto.
Other options might be an "ad hoc" international court or a national court that could claim "universal jurisdiction" to prosecute international crimes.
Human rights groups applauded the resolution.
"Today's resolution is an important step forward in the fight for accountability in Myanmar, making the prospect of justice possible for the Rohingya and other ethnic minorities who have suffered atrocities at the hands of the country's security forces," said Tirana Hassan, crisis response director for Amnesty International. "It sends a clear message of solidarity to the victims and survivors, as well as a stark warning to Myanmar's military that their crimes will be punished."
Hassan upbraided the Chinese government for its opposition, alleging it "comes at a time when China is committing serious human rights violations against Uighurs and other Muslim minorities."
R. Iniyan Ilango, the United Nations advocacy program manager at Forum-Asia, noted that the resolution called on the U.N. to look into its own involvement in Myanmar since 2011. The fact-finding mission reported last month that the U.N. had favored "quiet diplomacy" over human rights concerns.
"U.N. Secretary-General Antonio Guterres' silence on this observation is deafening," Ilango said.
https://www.tampabay.com/ap/entertainment/un-human-rights-body-creates-team-to-document-myanmar-abuses-ap_entertainment7aa3abc5fc8a414a8e73264e5f09e630
--------
UK Labour seeks to stop Israel expansionism with ban on arms sale: Expert
Sep 27, 2018
The UK Labour Party's recent move to boycott any British arms sale to Israel was meant to stop the regime's illegal expansion into occupied Palestinian territories, a political analyst in London says.
"This is a historic move, as a result of the Boycott, Divestment and Sanction (BDS) movement which is aimed at stopping the Zionist expansion into other lands, at last a major UK political party, the labor party has agreed to stop supplying arms to Israel," Rodney Shakespeare, an author and academic from London, said in a phone interview with the Press TV on Wednesday.
Shakespeare said the significance of the Labour Part's new move was much greater than the mere ban on supplying of arms because Israel receives the bulk of its weapons from the United States.
He said Labour, which is expected to form the next UK government, clearly "realizes that Israel has no intention at all of going for a two-state solution" to the Israeli-Palestinian conflict.
"I would remind you that Israel is in effective annexation of the West Bank with all its settlements, effective annexation of part of Lebanon, actual annexation and effective annexation of the Golan Heights and of course effective annexation of Jerusalem (al-Quds)," said Shakespeare in reference to Israel's continued expansion into other territories which is in breach of United Nations resolutions.
The expert hailed Labour and its leader Jeremy Corbyn for their brave stances against Zionism and Israeli expansionism, saying pro-Israeli lawmakers in the party like Margaret Hodge who accuse Corbyn of anti-Semitism are deliberately leading a smear campaign against him.
"Out in there we are beginning to see that this is about stopping Zionism," said Shakespeare, adding, "I congratulate Jeremy Corbyn, I congratulate British Labour Party, long last!"
Corbyn promised on Wednesday to recognize a Palestinian state as soon as his party takes office in case of winning upcoming elections.
"In order to help make the two-state settlement a reality we will recognize a Palestinian state as soon as we take office," Corbyn said at the Labour Party conference in Liverpool, northwest England.
Corbyn received a standing ovation when he made the announcement, and people waved Palestinian flags from the audience.
Full report at:
https://www.presstv.com/Detail/2018/09/27/575376/UK-Labour-arms-ban-Israel-expert-view
--------
Two arrested in Denmark on suspicion of attempting to ship drones to Daesh
Sep 27, 2018
Danish police say two people have been detained in the capital, Copenhagen, on suspicion of purchasing drones bound for the Daesh terror group mainly active in the Middle East.
The arrests were made on Wednesday during raids by police in cooperation with security and intelligence forces in the Danish capital and its vicinity, according to a police statement.
The detainees are believed to be members of a broader Daesh-linked network in the Scandinavian country, which ships drones and other military supplies to the world's most notorious terror group.
Police said the pair faces charges of seeking to collaborate with terrorists abroad and will appear in court later on Thursday, without giving information on their identities.
Prosecutors want the hearing to take place behind closed doors as the investigation is still underway.
Local Danish media have described both suspects as being 29 and residents of Copenhagen.
Last year, a man was arrested in Denmark for allegedly shipping drones, drone components and infrared cameras to Daesh through Turkey.
Daesh began to recruit hundreds of European nationals in 2014, when it unleashed a campaign of death and destruction in Iraq and Syria and captured swathes of land there.
There have been growing concerns in European countries over the return of their radicalized citizens now that Daesh has lost its territorial rule in the two Middle Eastern states.
Full report at:
https://www.presstv.com/Detail/2018/09/27/575339/Denmark-Daesh-Arrest
--------
UNISSA lecturers, students gain better understanding on Islam in Russia
September 28, 2018
Izah Azahari
UNIVERSITI Islam Sultan Sharif Ali (UNISSA) lecturers and students yesterday had the opportunity to listen to an Arabic public lecture, held in conjunction First Deputy Chairman of the Russian Muftis Council (RMC) Rushan Abbyasov's visit to the university.
UNISSA Rector Dr Haji Norarfan bin Haji Zainal, Ambassador of the Russian Federation to Brunei Darussalam Vladlen Semivolos, principal officers, faculty deans and centre directors of UNISSA were also present at the talk titled 'Islam in Russia.'
According to Rushan Abbyasov, the indigenous Russian Muslims are concentrated in two main areas – between the Black Sea and Caspian Sea, and the middle of the Volga basin. Other areas with notable Muslim population include Moscow, St Petersburg and cosmopolitan cities in Siberia, with a majority of Russian Muslims practising Sunni of the Hanafi School, and most Muslims of the North Caucasus are Shafi'e.
"In the mid-7th Century, Islam penetrated the Caucasus region, parts of which were later incorporated by Russia. The first people converted to Islam were people of the city of Derbent. Forty companions of the Prophet (pbuh) who entered the territory of the Northern Caucasus together with the Arab conquerors were buried in Derbent," he explained.
Rushan Abbyasov also noted that one of the oldest mosques in Russia and CIS is the Juma Mosque, built in 733. It has withstood the ravages of time, and has been included in the UNESCO World Heritage list.
The talk also discussed Islam in Russia during the 13th to 16th centuries. In 1788 the Orenburg Muslim Spiritual Assembly (OMSA) was established to supervise Muslims who resided within the Russian Empire.
After the October revolution of 1917, the life of the Muslim community of Russia changed. By 1937, out of 12,000 mosques functioning before the revolution, over 10,000 were closed. Between 90 and 97 per cent of imams and muezzins were deprived of the opportunity to perform religious rites and ceremonies.
In 1943-1944 in the USSR, four spiritual administrations of Muslims were created – the European part and Siberia (Ufa), Central Asia and Kazakhstan (Tashkent), the North Caucasus (Buinaksk), and Transcaucasia (Baku). They lasted until the collapse of the Soviet Union.
"Since the mid-60s, the authorities began to encourage participation of the clergy in the public life of the country. International conferences for peace were held, and official imams began to visit friendly Muslim countries," Rushan Abbyasov said.
"The democratic reforms of the 1990s led to an increase of religious activity. Numerous Muslim communities started to operate legally. Since that time, new communities have been registered, many new mosques have been built."
Now, there are several recognised Islamic universities and schools, proving that the classical Islamic education system is gradually being restored. Islamic merchandise and religious books are distributed everywhere. Academic, study and theological books about Islam are published in large numbers. Russia has traditionally been one of the centres of global academic Islamic studies.
The Russian Muftis Council is a centralised religious organisation of Russian Muslims that unites religious boards of Muslims and various religious Muslim organisations in the Russian Federation.
Since its foundation in 1996, the RMC is headed by Mufti Sheikh Ravil Gaynutdin.
Full report at:
https://borneobulletin.com.bn/unissa-lecturers-students-gain-better-understanding-on-islam-in-russia/
--------
Muslims injured as car ploughed into worshippers in 'terror attack'
28th Sep 2018
Ahmed J Versi
Three Muslims were injured after a car ploughed into the worshippers near an Islamic centre in north-west London on September 19. The police refused to treat it as a terrorist attack instead said it was a hate attack. Head of Operations of the Hussaini Association Islamic centre, Muhammad Al-Bayati, disagreed with the police. "I believe it was a terrorist attack. They wanted to cause terror. According to the stewards, the attack was premeditated," he said.
Founder of the Association, Mustafa Al-Balaghi, said he was "shocked" at the attacks. "It was as though we were watching a movie. It was catastrophic. It was a cowardly attack. We thank Allah that there were not many casualties."
Al-Balaghi told the congregation to "have patience and tolerance."
"I extend our prayers to the victims and their family."
According to the Hussaini Association Islamic centre spokesperson, three white men and a woman, in a car, screaming Islamophobic abuse, "dirty Muslims", ploughed into worshippers on the pavement, injuring three. One young boy, who might have suffered severe injuries if it was not for quick thinking by a former police officer who threw him from the path of the attacking car.
A man in his fifties remains in hospital and is being treated for a serious leg injury. Two men in their 20s suffered minor injuries.
The occupants of the car, all aged in their mid-twenties, who were drinking and allegedly using drugs, were asked to leave the mosque's car park.
Al-Bayati told The Muslim News that the attackers tried to run down the stewards at the car park and then drove to Oxgate Lane to target the worshippers who were leaving the Centre.
"The attackers knew there was a Muslim event taking place, where the cars were parked. The attacks were not by chance. It was planned from before," said Al-Bayati.
The attackers were blocking cars at the private car park. One of the patrons of the Centre asked them to leave but the attackers refused to budge. The driver was standing near their car and got aggressive and "began his Islamophobic rhetoric. He threatened to kill all Muslims."
He asked the steward whether he was Shia or Sunni. "It seems they had knowledge about the different schools of thoughts in Islam."
"It shows the attacks were premeditated with the intent to cause harm," Al-Bayati said.
The driver tried to run over the steward twice. The stewards managed to get out of the car park. They went to the Oxgate Lane and shouted at the worshippers to take cover behind parked cars. Two young boys managed to hide behind the cars.
However, the attacker struck the steward and threw him down. The steward managed to get up, took a brick and threw at the car to stop it from attacking the worshippers. The steward was injured on his right side of the body.
A former police officer, Ali Mashkour, was standing with a group of people who were hit. He saw the car approaching. He saw an eight-year-old boy in the path of the speeding car. Mashkour quickly threw the boy away from the car and he too moved away. However, an old man behind him took the full force of the car attack. He was seriously injured and is still in hospital.
"There were around 1,500 people on the street. If the cars weren't parked on both sides there could have been a large number of people killed," said Al-Bayati.
Al-Bayati said no one expected such an attack. "Everyone was shocked and terrified. The following day people were contacting them whether to come or not. They were traumatised. It really impacted the community," he said.
Al-Bayati said the response by the neighbours and people of other faith was "amazing." Leaders of the two Synagogues nearby visited them. They also had visits from other mosques to show "solidarity with us."
"The attack was sad but it brought us all together."
"This incident is not being treated as terror related but the hate crime aspect of the collision is being looked at by detectives as an aggravating factor," said police spokesperson.
Full report at:
http://muslimnews.co.uk/newspaper/top-stories/33652-2/
--------
Major terrorist attack foiled in the Netherlands
September 27, 2018
Seven men were arrested on Thursday in the Netherlands on suspicion of plotting a large-scale extremist attack that Dutch prosecutors said they think was foiled following a months-long investigation.
The national prosecutor's office said in a statement that heavily armed police arrested the men in the towns of Arnhem, about 100 kilometres (62 miles) south of Amsterdam, and Weert in the southern Netherlands close to the borders of Germany and Belgium.
The investigation was launched by intelligence suggesting the alleged ring leader, a 34-year-old man of Iraqi heritage, wanted to carry out an attack at the site of a large event and cause multiple casualties, according to the statement.
The suspects allegedly wanted to use bomb vests and assault rifles to do harm at the event, and planned to detonate a car bomb at another location, prosecutors said. An investigation of potential targets is continuing.
Prosecutors said the suspects ranged in age from 21 to 34. Three of them, including the 34-year-old Iraqi, were previously convicted of attempting to travel overseas to join extremist networks.
The men were attempting to obtain AK47 assault rifles, handguns, bomb vests, grenades and raw materials for bombs and were looking for opportunities to train with such weapons, according to the statement.
Prosecutors said that the investigation sped up this month because of the suspects' "advanced preparations."
The men were to be brought before an investigating judge on Friday at a behind-closed-doors hearing.
The Dutch anti-terror coordinator's office said in a tweet that the alleged plot fit the current threat profile for the Netherlands, which is at four on a scale that tops out at five. The office did not raise the level following the arrests.
Full report at:
https://www.thenational.ae/world/europe/major-terrorist-attack-foiled-in-the-netherlands-1.774814
--------
Refugees detained in Libya are drinking toilet water to survive
September 27, 2018
The EU's migration policy has left hundreds of refugees returned to Libya locked in detention centres close to frontlines drinking toilet water to stay alive or being forced to move and pack weapons for armed groups amid a new outbreak of the conflict, according to firsthand accounts given to The National.
Over the past month, Tripoli has experienced the worst fighting in years, as rival militias vied for control of the city. Though a ceasefire was announced on Wednesday, it is uncertain how long it will hold. A previous accord, signed on September 4, lasted only a few days.
Meanwhile, the United Nations Refugee Agency (UNHCR) deputy high commissioner Kelly Clements said the organisation has evacuated most of its own staff and so can't offer assistance to migrants and refugees still trapped in the city.
An estimated 8,000 men, women and children were being held in Tripoli detention centres run by the Libyan Department for Combatting Illegal Migration (DCIM) before the fighting broke out on August 26. Already the conditions were criticised by aid and human rights groups for being inhumane. Most were returned to Libya earlier this year by the EU-backed Libyan coastguard after trying to reach Italy.
Some have since been moved to other parts of the city or country while some were "released" from the centres. Several of those let go accidentally ran into gunfire because they had no idea which way to head, according to witnesses who were present.
Refugees and migrants in three separate centres have told The National they're desperate for aid and evacuation and say that fighting meant they had to go up to five days straight without food over the past month.
"We are in the middle area of the clash," one Eritrean man said in a WhatsApp message. "To tell you the truth we did not even sleep for about six days. Heavy weapons and gunfire pass over us."
Another Eritrean national being held in Abu Salim detention centre in southwest Tripoli told The National that more than 400 detainees were woken early on Monday morning to the sound of rockets landing close by. "Everybody was woken from sleep because we hear the sound of heavy weapons near to us, so the women and children are crying," he said.
On Tuesday, 10 Eritrean and Ethiopian nationals were taken from Abu Salim centre and forced to spend hours moving weapons for militias. "They make them work like putting heavy weapons in a car but they [didn't] touch them," the man told The National explaining they were unharmed. Detainees kept elsewhere in Tripoli said they had been forced to pack bullets in the early days of the fighting.
Doctors Without Borders (MSF), which provides medical care to migrants and refugees in Libya, has been calling for urgent evacuations since September 7. "Several detention centres in Tripoli are on front lines and thousands of desperate people are still trapped inside. There is a real risk of mass casualties as a result of indiscriminate shelling and artillery fire," said Ibrahim Younis, MSF's head of mission in Libya.
Apart from urgent medical, food and water needs, refugees and migrants from countries including Sudan, Ethiopia, Somalia and Eritrea, have been pleading to be registered with UNHCR.
In three detention centres where detainees were reached by The National, only between a quarter and a half of people from seven recognised refugee-producing countries were registered before the fighting broke out. Some say they've waited up to eight months, and worry they won't be considered for evacuation and could be kidnapped by traffickers because there is no official record of their detention.
UNHCR said the dangerous security situation means access is difficult. "Unless we're able to expand our reach inside the country it's going to be hard for us to continue to evacuate those in need of international protection", Ms Clements said from the UN General Assembly in New York.
"To the extent that we can access them, we're trying to evacuate them as quickly as we can, but with the current fighting we're also conscious that we don't want to lose our team members lives, so we have to wait for a lull in the current conflict in order to recommence", she said.
This week, the last private rescue ship operating in the Central Mediterranean, the Aquarius, had its registration revoked, meaning dwindling escape routes are closing down. "This decision condemns hundreds of men, women, and children to death," MSF, which operated the boat, said in response. Already, one person was dying at sea for every 18 that successfully make it to Europe from Libya, according to a report released by UNHCR earlier this month. The survival rate is expected to deteriorate.
Libya has become the main Mediterranean departure point for migrants and refugees trying to reach Europe. Since February 2017, the EU has been funding the Libyan coastguard to intercept people trying to make the crossing and return them to Libya. Many are locked in indefinite detention where human rights groups have documented abuses including rape, forced labour, torture and extortion.
Among those locked up are women and children. In Abu Salim detention centre, one woman gave birth two weeks ago and several other pregnant women are close to term.
Around 640 children are currently being held in "official" detention centres, according to Unicef. "Given human rights violations reported in official immigration detention centres, this is particularly alarming, with children exposed to physical and mental abuse, sexual exploitation and forced separation from their families and loved ones," said Unicef special representative in Libya, Abdel-Rahman Ghandour.
Full report at:
https://www.thenational.ae/world/mena/refugees-detained-in-libya-are-drinking-toilet-water-to-survive-1.774714
--------
Conservative hopeful for London Mayor embroiled in new Sadiq Khan Islamophobia row
September 27, 2018
The frontrunner to be Conservative candidate for London Mayor is at the centre of an Islamophobia row, after he shared a tweet that meant thousands of his followers saw a message referring to Labour's Sadiq Khan as "mad mullah Khan of Londonistan".
Shaun Bailey retweeted a post last year which had shared a picture of Mr Khan and a racist caption which also branded Labour as "anti-British".
The Conservative Party told The Independent there is "no way" Mr Bailey would have seen the offensive caption on the picture before sharing the post, as to do so one must click to open it.
But a London Labour MP branded the picture sent to more than 10,000 of Mr Bailey's followers as "absolutely disgraceful" and accused the Tory politician of seeking to wage an Islamophobic campaign against Mr Khan.
On Friday the Tories will announce which of three candidates will go head-to-head with the mayor in the 2020 election, with London assembly member Mr Bailey best placed.
The new row harks back to the 2016 battle, which saw Tory MP Zac Goldsmith wage what even some other Conservatives described as a "disgusting" campaign that sought to paint Mr Khan as closely linked to extremists.
It comes on the eve of the Conservative conference in Birmingham and amid wider concern over Islamophobia in the party, which flared up in the wake of Boris Johnson's recent articles suggesting Muslim women in burqas and niqabs look like "bank robbers" and "letter boxes".
In this latest incident, screenshots from Twitter show that the original offensive content was posted by one user and then shared in another post by a supporter of Mr Bailey, who then retweeted his supporter's post.
He did so in the summer of 2017 amid a row over the cancellation of a bus contract signed off by Mr Khan's Conservative predecessor, though the original post containing the content has now been deleted.
The offensive message in the initial tweet showed an image of Mr Khan, a Routemaster bus and the caption "mad mullah Khan of Londonistan has cancelled production of British built Routemaster bus and handed the contract to Germans".
Then lower down it reads: "Yet another example of the anti-British Labour party putting the British worker last".
A spokesman for Shaun Bailey said: "As The Independent's screenshot shows, these grossly offensive words were in no way visible in the chain that was retweeted.
"Shaun was completely unaware of their existence, and as someone who has suffered racial abuse himself, there is no way on earth Shaun would ever knowingly have shared something so offensive."
The row sets the scene for what is likely to be a long and gritty fight for City Hall, with Conservative deputy chair James Cleverly reminding Twitter users on Thursday that Mr Bailey himself had once been slurred by London Labour MP Emma Dent Coad as a "token ghetto boy".
But Labour's Ilford North MP Wes Streeting warned Mr Bailey against repeating "Zac Goldsmith's Islamophobic campaign for London Mayor".
He added: "The picture he shared on Twitter is absolutely disgraceful."
A source at London Labour told The Independent: "Sadiq hopes this mayoral election will be a clean race based on what the candidates can offer Londoners – unlike the last.
"He's looking forward to running on his record of delivering social housing in record numbers, cleaning up London's filthy air and making transport more affordable for all Londoners, as well as standing up for our city in the Brexit negotiations."
Following the 2016 mayoral campaign, chair of the Conservative Muslim Forum Mohammed Amin joined other senior Tory figures in condemning the attacks on Mr Khan by Mr Goldsmith.
Writing for the ConservativeHome website, Mr Amin said it had risked leading to the radicalisation of young Muslims in the UK.
Anger over the campaign persists today, with one of the three current individuals running to be the Tory candidate, Andrew Boff, admitting that the attacks had been a "mistaken tactic".
Mr Bailey, a youth worker who became an adviser to David Cameron before being elected to the London Assembly is yet to go further than a joint statement issued by himself, Mr Boff and the other hopeful Joy Morrissey, which said that they "support all efforts to keep our capital open and integrated between all our communities". He has also campaigned for, and received political backing from, Mr Goldsmith.
Former co-chair of the Conservatives Baroness Warsi has said that Islamophobia is "very widespread" in the Conservative party and complained that it has been "ignored" by leaders.
She later joined others including the Conservative Muslim Forum, and the Muslim Council of Great Britain in calling for an inquiry into the problem.
Full report at:
https://www.independent.co.uk/news/uk/politics/shaun-bailey-islamophobia-sadiq-khan-london-mayor-tory-party-conservatives-a8558521.html
--------
South Asia
Sheikh Hasina to OIC: Find Out Reason behind Repression of Muslims in Myanmar
September 28th, 2018
'Over a year has passed by since the Rohingya Muslims from the Rakhine state of Myanmar started crossing the border into Bangladesh as victims of 'genocide' in their centuries-old homeland'
Prime Minister Sheikh Hasina has insisted on the member states of Organisation of Islamic Cooperation (OIC) to play a role in mitigating the plight of the Muslims across the world and to find the reason behind their eviction, repression and torture.
She on Thursday urged the OIC member states to resolve the problems and discontent over the issue through bilateral or regional dialogue.
Her remarks came during a high-level side meeting on the situation of Rohingya minority in Myanmar, organized by the Permanent Mission of Saudi Arabia and the OIC Secretariat at the United Nations (UN) Headquarters in New York, US, reports UNB.
OIC Secretary General Dr Yousef bin Ahmed Al-Othaimeen was present at the program.
"Over a year has passed by since the Rohingya Muslims from the Rakhine state of Myanmar started crossing the border into Bangladesh as victims of 'genocide' in their centuries-old homeland," Hasina said.
"We can't just ignore the plight of the forcibly evicted Rohingyas in one of the largest displacements in human history. Currently, we're hosting over 1.1 million Rohingyas in Bangladesh."
She said the tragic fate of the Rohingya Muslims was nothing new, and their current exodus from Myanmar to Bangladesh was the biggest one as it had been in three phases – 1978, 1991-92 and 2017-18.
Mentioning that the repatriation of the Rohingyas to their homeland was not a sustainable solution, she underscored the need for collective responsibility and accountability to ensure the rights and privileges of the Rohingyas by Myanmar.
"It is the people of Bangladesh who are bearing the brunt of the Rohingya crisis time and again."
The prime minister said that her government had stood by the Rohingyas by opening the border and providing emergency support on humanitarian grounds. "Our resolution to humanity should not be penalised. The prolonged presence of the Rohingyas in Bangladesh poses serious challenges to our economy, environment and security," she added.
She reiterated that Bangladesh had been engaged with Myanmar in finding a peaceful solution from the very beginning and signed two instruments for repatriation of the Rohingyas.
"Persistent international pressure can only complement the bilateral front to change the well-planned political position of Myanmar for annihilating an entire race," she said.
She also urged the Muslim Ummah to lead the campaign of mounting pressure on Myanmar for creating conducive environment for sustainable repatriation of the Rohingyas and ensuring accountability of the atrocities committed against them.
Hasina stressed the importance of the OIC member states' continuation to remain engaged in the UN system, including in the UN General Assembly and the Human Rights Council with other relevant international organizations to address the massive human rights violations against the Rohingya Muslims.
"Above all, we need to solve the issue at the earliest," she added.
Pointing towards the five-point action plan proposed by her in last September to resolve the Rohingya crisis peacefully, she said: "It's a matter of great regret that the repatriation process is yet to start."
She also thanked the OIC member states for taking concrete steps on the issue over the year.
"I would like to reiterate that the Rohingya crisis is a political one and is deeply rooted in Myanmar. Thus, its solution has to be found in Myanmar," the prime minister said.
https://www.dhakatribune.com/bangladesh/foreign-affairs/2018/09/28/pm-to-oic-find-out-reason-behind-repression-of-muslims
--------
35 militants killed, wounded during Qahr Silab operations in Kapisa
Sep 27 2018
At least thirty five militants were killed or wounded during Qahr Silab operations in eastern Kapisa province of Afghanistan, the Afghan Military said Thursday.
According to a statement released by 201st Silab Corps of the Afghan Military, the Afghan army, national police, army special forces, Afghan Local Police, public order police, intelligence forces, and the local uprising forces conducted operations as part of Qahar Silab (3/11) in Tagab district.
The statement further added that the operations were conducted with the support of artillery and air forces and as a result at least 21 militants were killed and at least 14 others sustained injuries.
Three Taliban commanders identified as Ijaz Ul Haq also famous as Osama, Qari Hashmat, and Abdul Rahman were among those killed, the 201st Silab Corps said, adding that the shadow district chief of Taliban for Tagab Qari Nezafatullah also been killed during the operations.
The 201st Silab Corps also added in its statement that one Taliban militant was arrested and 7 landmines were discovered and defused while several areas, including Badrab, Ghairat Khel, Almas Khel, Akhund Sahib, Gul Zara, Aka Khel, Mullah Khel, Sheik u Islam, Loi Jamat, and Laghmani village.
The Afghan forces also confiscated a rifle, a hand grenade, a camera, and some munitions and other equipment during the search operation, the 201st Silab Corps added.
Full report at:
https://www.khaama.com/35-militants-killed-wounded-during-qahr-silab-operations-in-kapisa-06046/
--------
Russia warns Afghanistan risks repeat of Syria scenario
September 28, 2018
MOSCOW - International terrorism is a force that causes security in Afghanistan to deteriorate and should not be written off, as was the case in Syria four years ago, the secretary of Russia's Security Council has warned.
Afghanistan has been gripped by a decades-long war. Today its internationally-recognized government controls only a portion of land, with the rest infested by the Taliban and Islamic State, a terror group that gained prominence in Syria and Iraq in 2014 (both banned in Russia).
REPEAT OF SYRIAN SCENARIO
Russian Security Council Secretary Nikolai Patrushev, who attended Wednesday consultations on Afghan peace in Iran's Tehran together with counterparts from Afghanistan, Iran, India and China, cautioned about a repeat of the Syrian scenario in the war-torn Central Asian country.
Patrushev said national security chiefs had "the same or similar views of international terrorist activities in Afghanistan." He said the IS had not been considered a serious threat when it emerged in Syria and Iraq four years ago.
"Militants have leashed a full-scale terrorist war against authorities and civilian population. This year has already broken the record of bloody terror attacks, with thousands of Afghan civilians killed," he said.
A UN Security Council meeting on September 18 confirmed a hike in violence in Afghanistan, with rising IS insurgency in the country's north risking a spillover across the border.
RISE IN TALIBAN VIOLENCE
Patrushev said clashes were reported almost daily across Afghanistan, with police, military, national security officers and civilians being killed indiscriminately.
He pointed to a rise in Taliban might, which is estimated to have a 60,000-strong presence in the country. The Russian official cited a report by the General Staff of the Afghan National Army that put Taliban presence in border areas alone at 15,000 fighters. "It is necessary to note the increased military potential of the Taliban, particularly, its ability to stage massive and well-prepared attacks on administrative centers of the Afghan provinces," he added.
DIPLOMACY AND COOPERATION
Only internationally-backed nationwide political process can yield a lasting peace in Afghanistan, the Russian official emphasized, adding there was no military solution.
"Taliban's gains are a sign that forcing the traditional Afghan opposition to talks is not a way forward … One can surely say that this is happening despite more than 17-year-long US presence in Afghanistan," Patrushev said.
He reaffirmed Russia's readiness to step up police cooperation with Afghanistan in the fight against drug smuggling and international terrorism. "We are interested in a continued cooperation. We are ready to conduct a dialogue in all kinds of formats," Patrushev said.
MOSCOW TALKS
Last year Russia created a Moscow-based mechanism for Afghan security talks based on a consultation group of special envoys from Afghanistan, China, Pakistan, Iran, and India. Russia repeatedly said it wanted to see the United States at the negotiating table.
A meeting in Moscow was set for September 4, 2018 but was called off at Kabul's request. The Russian Foreign Ministry is in talks with Afghan diplomats on a new date and modality of the future gathering. Shabaz Naseri, the chairman of the defense and security committee in Afghan parliament, told Sputnik earlier the decision to postpone Kabul's participation in the talks was made under pressure from Washington.
Gross miscalculations by US
NATO's "erroneous" strikes in Afghanistan are the result of gross miscalculations by the US leadership and the White House's stake on military solutions, the Russian Foreign Ministry said in a statement Thursday.
"The increasing number of civilian deaths as a result of coalition forces' air strikes in Afghanistan cause serious concern. Three such incidents were registered in the past week alone," the ministry said.
Full report at:
https://nation.com.pk/28-Sep-2018/russia-warns-afghanistan-risks-repeat-of-syria-scenario
--------
Abdullah urges regional countries to act against the terror safe havens
Sep 27 2018
The Chief Executive of the National Unity Government of Afghanistan has urged the regional countries to assist Afghanistan in the fight against terrorism and take decisive actions against the safe havens of the terror groups in their soil.
He made the remarks during his speech at the 73rd General Assembly of the United Nations in New York on Wednesday night.
"All stakeholders need to agree to treat all shades of terrorism as one, shut down the breeding grounds and sanctuaries and to prosecute or repatriate the violators," Abdullah said.
He also added that the response thus far has been sparse and insufficient, emphasizing that "We are working with all countries near and far to bring about better results."
Abdullah also added that "We have asked our neighboring states, especially Pakistan, to help targeted societies – including their own – deal with this menace. We are looking forward to the timely and elective implementation of the recently agreed Afghanistan-Pakistan Action Plan for Peace and Solidarity (APPAPS)."
This comes as the Afghan and U.S. officials have long been claiming that the militant and terrorist groups, particularly the Taliban and the notorious Haqqani terrorist network, use their safe havens in Pakistan to plan and coordinate attacks in Afghanistan.
Full report at:
https://www.khaama.com/abdullah-urges-regional-countries-to-act-against-the-terror-safe-havens-06045/
--------
Rockets hit Ghazni during President Ghani's visit
Sep 27, 2018
Three rockets have hit the Afghan city of Ghazni during a visit by President Ashraf Ghani as Taliban militants ramp up attacks across various parts of the country.
At least two rockets landed within 300 meters of the governor's compound while a third struck farther off, Ghazni police spokesman Ahmad Khan Sirat said on Thursday.
The attacks took place as President Ghani was holding meetings with security officials, religious leaders and members of civil society in the building.
Provincial deputy police chief Ramazan Ali Mohseni said no one was killed or wounded in the attack which was claimed by the Taliban.
Presidential spokesman Haroon Chakhansuri played down the incident, saying it was far from the governor's office.
Ghazni is still struggling to return to normal after it was overrun by militants last month. It bears the scars of days of heavy combat in August when thousands of militants stormed the city.
More than 200 civilians were killed and hundreds more wounded during the five-day assault which also left at least 100 members of Afghan security forces dead.
The attackers were eventually driven out with heavy losses, but the assault underlined Taliban's ability to mount large-scale attacks on major cities.
Many areas of Ghazni Province have been heavily contested by the Taliban in recent years. The militants had earlier seized the control of the Khawaja Omari district north of Ghazni and Ajrestan in the west of the province.
However, this was the first serious attempt by the Taliban to take the provincial capital, which is located on the main highway linking Kabul with Afghanistan's south.
The attack on the strategic city was the most serious blow to the Kabul government since the militants came close to overrunning the western city of Farah in May.
Despite the presence of thousands of foreign boots on the ground, Afghanistan has been rocked by a surge in terrorist attacks, some of them carried out by Daesh terrorists mainly active in Nangarhar Province.
Full report at:
https://www.presstv.com/Detail/2018/09/27/575385/Afghanistan-Ghazni-Taliban-US-NATO-Kabul
--------
Southeast Asia
Sharia Is Here to Stay in Indonesia's Aceh
By Ana Salvá
September 27, 2018
In Indonesia's conservative province of Aceh, a long-awaited promise to stop caning criminals in public places lasted only a few months. In April, the governor of the province, Irwandi Yusuf, had pledged that punishments would be held inside prisons instead of in front of mosques, as a response to the international criticism to this practice.
However, only one caning was carried out away from the eyes of the large crowds that used to witness the events and take photos of the punishment. In July, Yusuf was arrested for corruption and, with him, the promise also fell. Public caning resumed a few days later, on July 13, when two men accused of having gay sex received 87 lashes outside the Baiturrahim Mosque in the provincial capital, Banda Aceh. Another nine people were caned for spending time together in a private space without being married, while one woman was flogged for selling alcohol, and three other men for consuming it.
Aceh is not the only conservative province in Indonesia, but it is the only place where Sharia or Islamic law has been implemented. This development stemmed from the reforms that took place in the country after the era of President Suharto, when more power was granted to local governments to approve some regulations.
Enjoying this article? Click here to subscribe for full access. Just $5 a month.
Aceh, in addition, is a special region, a condition granted in order to end the armed separatist conflict that raged in the region for almost 30 years, starting in 1976. When the tsunami struck in 2004, the province was in a dire situation. The need for help to rebuild the area led to a peace agreement in 2005.
In Aceh, movies and karaoke are banned. Some posters on the streets remind young people that they cannot spend time together alone. In early September, authorities in an Aceh district also banned men and women from dining together unless they were married or shared a family relationship, arguing that this would help women be "more well behaved."
Hardline Islamic leaders in Indonesia, inspired by what is allowed in Aceh, are pushing to implement similar regulations in other parts of the country. In Indonesia around 88 percent of the population declares themselves moderate Muslim, although more and more women are modestly dressed and the LGBT community feels increasingly threatened. The persecution of religious minorities in Indonesia has also been keenly felt in recent years. In 2017, the Christian governor of Jakarta was sentenced to two years in prison for blasphemy against Islam.
Many politicians and academics in Aceh have spoken in defense of the strict implementation of Sharia in the province. They have pointed to the tsunami on many occasions, arguing that it arrived as "a punishment from God" due the lack of faith. In the same vein, many have warned that a second and bigger disaster will come if the Acehnese do not follow Sharia.
Some small civic organizations, such as the Society Network for Islamic Law Care, have been urging the government to review Islamic laws since 2009. Academic Fuad Mardhotillah, who is on the board of advisers for that organization, argues that public punishments are the result of a "misinterpretation of Islam."
In April, Yusuf promised that canings would be carried out inside prisons, where adults can still witness the punishment but recording wouldn't be allowed. But according to local photographer Hotli Simanjuntak, who documents canings for the European Pressphoto Agency (EPA), four collective punishments have been carried out to date.
Moch Nur Ichwan, senior lecturer and vice director of the School of Graduate Studies of Sunan Kalijaga State Islamic University in Yogyakarta, explained that the gubernatorial regulation on meting out caning punishments at prison was not effective for two reasons.
First, he said, "legally [the regulation] has not yet been followed with implementation guidance and technical guidance." On the other hand, politically, the regulation "has been considered by many, if not most, local legislators, regents, mayors, and ulamas, as contradicting Sharia itself." Ichwan argued that this opposition "is political and not purely religious," but this reflects the conservative views of most politicians in Aceh.
Yusuf gained his position based on a commitment to develop infrastructure and ensure that residents of the province can benefit from their natural resources, which include some of the largest oil reserves in Indonesia. After being re-elected at the beginning of 2017, he received a lot of pressure from the central government to maintain investment. The tension increased in May of the same year, when for the first time two men were publicly caned for having gay sex.
Yusuf's promise to conduct future canings in prison provoked the wrath of some religious figures. Critics consider it important to keep such punishment in the eyes of the people, as it serves as an cautionary tale. The most visible hardline Islamist group in Indonesia, the Islamic Defenders Front (FPI), organized protests in front of the government office asking the governor "not to ruin Sharia in Aceh."
Ichwan explains the logic of Sharia implementation in Aceh is that "it is to be implemented totally but in a gradual way." Therefore, Sharia moves toward totality, and not the other way around. The same month of Yusuf's announcement, the provincial government also asked his office to research beheading as a punishment for murder, even though activists believe this is not going to happen.
"Moving the canings to prison could actually be the first step to end this practice, if it is accompanied with proper democratization and dominance of progressive Islamic thought," Ichwan said. "But, because ending the canings should start with revising the qanuns [laws of Muslim sovereigns], it is far from not an easy task in the near or long term."
Marzi Afriko, a researcher and analyst of Islamic politics and governance, shares the same idea as Ichwan. He argues that the announcement of Yusuf's decree has caused a major change in the discourse of some ulemas and intellectuals. For example, a few of them expressed to the press the negative impact of public punishments among society.
For Afriko, "it could be easy to change the canings for a more rational punishment if the leader wants and does not seek to politicize the Sharia because of his personal or group political interest." But he says, for now, he does not see "that kind of leadership in Aceh."
https://thediplomat.com/2018/09/shariah-is-here-to-stay-in-indonesias-aceh/
--------
The architect of China's Muslim camps is a rising star under Xi
Sep 28, 2018
BEIJING (BLOOMBERG) - If one individual sums up the values gap between a rising China and the West, it may well be Mr Chen Quanguo.
The most senior Communist Party official in the far western region of Xinjiang is the architect behind a crackdown against Muslim minority Uighurs.
The United Nations says the campaign has placed as many as one million of them - roughly a tenth of the territory's population - in "re-education camps".
The European Union has condemned the mass detentions and US lawmakers have called for sanctions on Mr Chen and other top Chinese officials, threatening to exacerbate tensions already roiled by an escalating trade war.
US Senator Marco Rubio described the reports out of Xinjiang as "like a horrible movie". But in China, Mr Chen has been a rising star.
His actions in Xinjiang, along with demonstrations of loyalty to President Xi Jinping, won him a promotion last year to the Communist Party's powerful Politburo - making him one of China's 25 most powerful officials.
In 2023, the 62-year-old Chen may be considered for a spot on its supreme Standing Committee, which has seven members.
Mr Chen's ascendance is bigger than one man. It's fuelling concern among Western governments about whether Xinjiang is being used to test a new model of authoritarian rule that could transform the way the country is governed, and potentially be exported around the region.
It risks a new front to growing US-China tensions that already span trade, cyber security, and a battle for influence across much of Asia-Pacific as Mr Xi seeks to make his nation a global superpower by 2050.
Any US move to sanction Mr Chen would stoke fears in China of a foreign plot to undercut its sovereignty in a region it has struggled to control, a sensitive subject for a party persistently worried about independence movements in Hong Kong, Taiwan and Tibet.
More than any of China's top leaders currently in power, Mr Chen has been at the forefront of China's efforts to subdue those restive regions.
"What we have is a clash of values," said Dr James Leibold, a senior lecturer at La Trobe University in Melbourne.
"The policies that have been enacted under his watch in Xinjiang are the leading edge of a far more heavy-handed coercive form of Chinese governance that some in the West are starting to realise could have big consequences for China's position in the world, as well as China's relationship with the liberal West."
Within the Communist Party, Mr Chen amounts to a self-made man. Unlike Mr Xi, whose father was a senior revolutionary under Mao Zedong and Deng Xiaoping, Mr Chen had no known family connections to help him climb through the ranks.
Relatively little has been written about him compared with China's other top leaders, with only scraps of information appearing on party websites in Hebei, Tibet and Xinjiang.
Mr Chen grew up in the inland province of Henan around the time of Mao's Great Leap Forward, which saw almost one in eight adults in his prefecture die of starvation, beatings or suicide.
He joined the military after turning 18, eventually became a Communist Party member, and attended college.
Though Mr Chen graduated when China was opening up to the world, his first job saw him join a rural commune in Henan, beginning a nearly four-decade journey from lowly apparatchik to Politburo member.
While rising through the ranks, he served at one point under Mr Li Keqiang, China's current Premier.
Mr Chen received his big break in 2011, when he was appointed as the party's top official in Tibet - one of the only places in China where foreign diplomats and journalists need permission to travel.
It was a prestigious appointment: Mr Hu Jintao headed the region about a decade before he became president.
At the time, Tibet was still reeling from an outbreak of violence against Beijing's rule.
Mr Chen gave speeches celebrating the Communist Party's "peaceful liberation" of Tibet, saying its leadership had taken the region "from darkness to light".
Mr Chen then rolled out a set of policies that would establish him as Beijing's point man for quelling ethnic unrest.
He told the cadres that social stability was their "first responsibility", instructed them to live in Tibetan villages and assigned party officials to Buddhist temples.
Buddhism in Tibet, Mr Chen said, should be adapted to "socialist civilisation". Temples were ordered to display Chinese flags and images of Communist Party leaders.
By 2015, Mr Chen stationed some 100,000 cadres in Tibetan villages and more than 1,700 temples had established party organisations, according to state media.
Between 2011 and 2016, the Tibetan government advertised for 12,313 police-related positions - more than four times as many positions as the preceding five years combined, according to research by Dr Leibold and scholar Adrian Zenz.
Mr Meng Jianzhu, the head of China's security apparatus during Mr Chen's time in Tibet, described it as a "leading example for the whole country" in "stability maintenance".
Mr Chen also kept a close eye on power shifts in Beijing. In February 2016, he publicly hailed Mr Xi as China's "core" leader months before his title was made official, and has described Mr Xi as a "wise leader" with a "magnificent plan" for China.
Members of Mr Chen's delegation to China's national legislative sessions that year wore lapel pins emblazoned with Mr Xi's portrait - the type of adulation common during Mao's reign of personality.
As Mr Chen clamped down on dissent in Tibet, Mr Xi had a problem in Xinjiang - a region with some 10 million Turkic-speaking Uighurs where Beijing has long struggled to enforce its rule.
They have chafed under Chinese authority, seen by a rise in terrorist attacks and ethnic violence beginning in 2009.
Xinjiang also sits at the centre of Mr Xi's signature Belt and Road infrastructure initiative, which has promised more than US$100 billion (S$136.7 billion) to reconstruct ancient trading routes from China to Eurasia.
Mr Xi needed it under firm control, and in August 2016, he put Mr Chen in charge of the region to implement a policy to "strike first" against domestic terrorism and unrest.
Mr Chen immediately set about replicating the system that brought him success in Tibet.
He sent Communist Party officials to Uighur villages, created a network of checkpoints and facial-recognition cameras, and shuttered mosques in an effort to "Sinify" Islam in the region.
According to one Chinese-language profile, Mr Chen drilled Xinjiang's security forces using a technique perfected in Tibet: timing police to the second on responding to emergency calls.
Most controversially, Mr Chen set up the mass re-education camps that have sparked an outcry in the US and Europe, as well as barbs from US Secretary of State Michael Pompeo.
A fax to Xinjiang's publicity department asking about the camps wasn't immediately answered.
Mr Chen is the only person ever to have served as both party boss of both Xinjiang and Tibet, according to domestic media reports.
His dual strategy of tough security measures and re-education are designed to "take the ethnicity out of the people and lock them down", said Professor James Millward of Georgetown University's School of Foreign Service.
Full report at:
https://www.straitstimes.com/asia/east-asia/the-architect-of-chinas-muslim-camps-is-a-rising-star-under-xi
--------
Church in Jambi closed over rejection by Muslim residents
Jon Afrizal
September 27, 2018
Several members of a church congregation in Jambi city burst into tears on Thursday upon seeing their house of worship sealed by Public Order Agency personnel.
"We have been worshiping here for 18 years. Suddenly [the church] is closed. We are shocked," Sinaga, one of the leaders of the Kanaan Methodist church on Jl. Lingkar Barat Tiga in Kota Baru district, told reporters.
Sinaga said the church leaders had applied for a permit from the city administration for years but had never been granted one.
He said up until now there had been no conflict with followers of other religions around the location of the church, and congregation members were often involved in communal activities.
Jambi National Unity and Politics Office head Liphan Pasaribu said the sealing had been conducted because of local residents' rejection of churches without permits.
"Based on negotiations between the administration and residents, it was agreed to seal the church," Pasaribu said, without divulging details on the parties involved.
The administration had reportedly planned to seal three churches in the area but postponed the move on two of them amid opposition from their congregation members.
Full report at:
http://www.thejakartapost.com/news/2018/09/27/church-in-jambi-closed-over-rejection-by-muslim-residents.html
--------
Malaysia calls on UN to act on Rohingya atrocities
27.09.2018
By Munira Abdelmenan
Malaysia called on the United Nations Security Council to establish an international judicial mechanism to try those responsible for crimes against Rohingya and other minorities in Myanmar, local media reported.
Kennedy Jawan, Malaysian Foreign Ministry multilateral affairs deputy secretary-general, has voiced his concern to the international community over the atrocities against Rohingya in Myanmar, local daily Malay Mail said in a report.
Referring to the international laws, Jawan noted that the Myanmar government has a basic responsibility to act against crimes committed on minorities in the country.
"All of us should, therefore, use our leverage to urge Myanmar's Independent Commission on Enquiry on Rakhine State to bring all perpetrators of gross human rights violations to justice," said Jawan, quoted in the daily.
"To that end, the international community cannot, and should not, stand idle as we witness the human catastrophe which has besieged the Rohingya unfold before our very own eyes," he added.
Rohingya Persecution
Since Aug. 25, 2017, nearly 24,000 Rohingya Muslims have been killed by Myanmar's state forces, according to a report by the Ontario International Development Agency (OIDA).
More than 34,000 Rohingya were also thrown into fires, while over 114,000 others were beaten, said the OIDA report, entitled "Forced Migration of Rohingya: The Untold Experience".
Some 18,000 Rohingya women and girls were raped by Myanmar's army and police, and over 115,000 Rohingya houses were burned down and 113,000 others vandalized, it added.
According to Amnesty International, more than 750,000 Rohingya refugees, mostly children and women, fled Myanmar and crossed into Bangladesh after Myanmar forces launched a crackdown on the minority Muslim community in August 2017.
The Rohingya, described by the UN as the world's most persecuted people, have faced heightened fears of attack since dozens were killed in communal violence in 2012.
Full report at:
https://www.aa.com.tr/en/asia-pacific/malaysia-calls-on-un-to-act-on-rohingya-atrocities/1266421
--------
Mideast
In clear U-turn, Israel says ready to reopen Golan crossing with Syria
Sep 27, 2018
In a surprising change of tone, Israel has expressed readiness to reopen the Quneitra border crossing with Syria in the Golan Heights, now that the Arab country's armed forces have purged militant groups from there.
"We are ready to open the crossing as it was before, and now the ball is in the Syrian court," Israeli minister for military affairs Avigdor Lieberman told reporters as he toured the border area on Thursday.
Lieberman, who has a long history of hurling threats of doom and destruction against Syria and President Bashar al-Assad, added that Israel never wanted conflict with Syria and was ready to ensure a 1974 armistice agreement between the two sides is strictly observed.
"We said from the beginning that we have no interest in meddling in the … war within Syria and we have never intervened. What interests us is ensuring the security" of Israelis, Lieberman said.
The Golan Heights is a Syrian territory, which Tel Aviv has been occupying since 1967 and claims as its own territory despite international criticism.
In August, the United Nations Disengagement Observer Force (UNDOF) returned to the border between Syria and the occupied territories, four years after it was shuttered due to militant attacks.
"Once the crossing is opened from the other side, we will consider everything in accordance with the security circumstances," Lieberman said.
Eating the humble pie?
Syria has been struggling with foreign-backed militancy since 2011 in a battle that has left large parts of the country in ruins, destroyed most of its infrastructure and killed hundreds of thousands of people.
While the US and certain governments in the region have been cited as supporters of Daesh and other anti-Assad militant groups, it is common knowledge today that Israel has also had its fair share in helping the terror outfits survive.
Throughout their battles, Syrian army forces have time and again discovered Israeli weapons and equipment in large volumes from terrorist hideouts. Israeli hospitals have also taken in some of the militants injured in Golan areas.
The Israeli air force has carried out regular airstrikes against the Syrian army and government targets across the country, a trend that Israeli Prime Minister Benjamin Netanyahu claims are aimed at pushing Iranian military advisors helping Damascus in its anti-terror fight out of the country.
Moshe Ya'alon, Lieberman's predecessor, admitted last year that Tel Aviv had formed a tacit alliance with Daesh, saying the group had "immediately apologized" to Tel Aviv after firing "once" into Israel.
The most telling evidence of Israel's support, however, came earlier this month, after the Syrian ministry for military affairs revealed that, since 2016, Tel Aviv had been providing militants in Syria with light weapons and substantial amounts of cash—all part of the so-called Operation Good Neighbor.
Lieberman's comments come against the backdrop of Syria's major victories against terrorists, drawing an outlook for the country that is far more different than what Tel Aviv and its allies had hoped for over the past years.
The apparent call for de-escalation could also be a product of strained relations with Russia.
Ties between Israel and Russia spiraled down to historic lows last week, after Israeli fighter jets pounding Syrian government targets misled the Syrian air defenses into shooting down a Russian surveillance plane by using it as a shield.
Keith Preston, a political analyst in Virginia, said Israel didn't want to lose its strategic ties with Russia and get caught in the ongoing geopolitical standoff between Moscow and Washington in the region.
"Instead, I think, Israel is thinking to play the two sides off against one another," Preston told Press TV.
All in all, the sudden about-face more than anything else shows how the Syrian government, with the help of its allies, has been able to turn the tide and convince even the most optimistic Israeli officials that it is here to stay.
https://www.presstv.com/Detail/2018/09/27/575393/Israel-Liberman-Golan-Quneitra-border-Daesh
--------
Nearly 1,000 Israeli settlers storm al-Aqsa Mosque in occupied al-Quds
Sep 27, 2018
Nearly a thousand Israeli settlers have stormed the al-Aqsa Mosque compound in the Israeli-occupied Old City of East Jerusalem al-Quds amid an escalation of acts of violence by Israeli forces and settlers against the Palestinian people.
Firas al-Dibs, spokesperson of the Islamic Waqf (Endowment) organization, which manages the compound's affairs, told the Palestinian Safa news agency that 924 Israeli settlers forced their way into the holy site through the Bab al-Magharibah and Bab al-Silsilah under tight protection of several groups of Israeli soldiers and special police forces.
The settlers performed acts deemed provocative by Palestinians at the mosque's courtyard in commemoration of the biblical Jewish holiday of Sukkot (Feast of Tabernacles).
Heavily armed Israeli police forces set up iron barriers on the doors and confiscated identity cards of Palestinians before allowing them to enter the compound.
The occupied Palestinian territories have witnessed new tensions ever since US President Donald Trump announced his decision on December 6 last year to recognize Jerusalem al-Quds as Israel's capital and relocate the US embassy in Israel from Tel Aviv to the occupied city.
The dramatic shift in Washington's policy vis-à-vis the city triggered demonstrations in the occupied Palestinian territories, Iran, Turkey, Egypt, Jordan, Tunisia, Algeria, Iraq, Morocco and other Muslim countries.
On December 21 last year, the United Nations General Assembly overwhelmingly voted in favor of a resolution that calls on the US to withdraw its controversial recognition of Jerusalem al-Quds as Israeli "capital."
In an attempt to prevent the passing of the resolution, Trump threatened reprisals against countries that backed the measure, which had earlier faced a US veto at the UN Security Council.
Israel, however, rejected the world body's resolution while thanking Trump for his decision to move the US embassy to Jerusalem al-Quds.
On January 18, the United States reneged on a pledge to contribute $45 million to the United Nations Relief and Works Agency for Palestine Refugees (UNRWA), which supports more than five million registered Palestinian refugees and their descendants.
The announcement to cut aid to Palestinian refugees came after the US president made a threat to cut off aid to UNRWA.
Full report at:
https://www.presstv.com/Detail/2018/09/27/575368/Nearly-1000-Israeli-settlers-storm-alAqsa-Mosque-in-occupied-alQuds
--------
In UN speech, Netanyahu accuses Iran of having 'secret atomic warehouse'
28 September 2018
Israeli Prime Minister Benjamin Netanyahu accused Iran on Thursday of keeping a "secret atomic warehouse" just outside its capital, despite the 2015 deal with world powers that was meant to keep it from obtaining nuclear weapons. Hours later, Iran dismissed the allegation.
Holding up a poster-board map of an area near Tehran as he spoke at the UN General Assembly, Netanyahu told world leaders that Iranian officials have been keeping up to 300 tons of nuclear equipment and material in a walled, unremarkable-looking property near a rug-cleaning operation.
Netanyahu's disclosure - which he presented as a big reveal on the international community's biggest stage - came four months after Israel announced the existence of what it said was a "half-ton" of Iranian nuclear documents obtained by Israeli intelligence in the Shourabad neighborhood near Tehran. Israel said the cache proved that Iranian leaders covered up their nuclear weapons program before signing the nuclear agreement. Iran hasn't acknowledged the alleged seizure.
"You have to ask yourself a question: Why did Iran keep a secret atomic archive and a secret atomic warehouse?" Netanyahu asked. "What Iran hides, Israel will find."
Netanyahu didn't specify what the material and equipment was, and it was not immediately clear whether it proved to be a violation of the nuclear deal. The International Atomic Energy Agency, which has been monitoring Iran's compliance with the agreement, had no immediate comment.
The evidence
However, the Israeli Defense Forces shared a video on their official Twitter account to follow up on the prime minister's speech, showing satellite images and maps that they said prove that Hezbollah have been "trying to establish infrastructure to convert surface-to-surface rockets to accurate missiles" in Beirut.
They added that this is another example of Iranian influence in the region as they support the extremist group.
Netanyahu also said Iranian officials had been clearing some radioactive material out of the site, which sits a short distance from Shourabad, and "spread it around Tehran." He then suggested that residents of the capital might want to buy Geiger counters.
Netanyahu said the site contained some 15 kg (33 pounds) of radioactive material that has since been moved, and called on the U.N. atomic agency to inspect the location immediately with Geiger counters.
"I am disclosing for the first time that Iran has another secret facility in Tehran, a secret atomic warehouse for storing massive amounts of equipment and materiel from Iran's secret nuclear program," Netanyahu said.
Iran's Foreign Minister Mohammad Javad Zarif said that there should be more scrutiny on Israel's nuclear program.
"No arts & craft show will ever obfuscate that Israel is only regime in our region with a *secret* and *undeclared* nuclear weapons program - including an *actual atomic arsenal*. Time for Israel to fess up and open its illegal nuclear weapons program to international inspectors," Zarif tweeted.
"Since we raided the atomic archive, they've been busy cleaning out the atomic warehouse. Just last month they removed 15 kilograms of radioactive material. You know what they did with it?" Netanyahu said. "They took it out and they spread it around Tehran in an effort to hide the evidence."
Netanyahu added that Iranian officials still had a lot of work to do because there were some 15 shipping containers full of nuclear-related equipment and materials stored at the second site.
"This site contained as much as 300 tonnes - 300 tonnes - of nuclear-related equipment and materiel," he said.
Full report at:
https://english.alarabiya.net/en/News/middle-east/2018/09/28/In-UN-speech-Netanyahu-accuses-Iran-of-having-secret-atomic-warehouse-.html
--------
Palestinian refugee agency UNRWA gets $118 mln in new funding
27 September 2018
The Palestinian refugee agency UNRWA on Thursday received pledges of $118 million from donor countries to help it overcome a crisis triggered by US funding cuts, Jordan's foreign minister said.
Germany, Sweden, the European Union, Turkey and Japan were among the countries that came forward with extra funds for UNRWA during a meeting held on the sidelines of the UN General Assembly, Ayman Safadi, who co-hosted the meeting on UNRWA's funding crisis, told a news conference.
Kuwait and the European Union were among the biggest contributors along with Germany, Ireland and Norway, UNRWA chief Pierre Kraehenbuehl told a news conference. France said it would contribute next year.
The United States, which was by far the biggest contributor to the UN Relief and Works Agency (UNRWA), announced in August that it would no longer fund the agency.
Kraehenbuehl said the new funds were "a significant step in the direction of overcoming UNRWA's greatest and gravest financial crisis ever", adding that the shortfall in the annual budget now stood at $68 million.
The administration of President Donald Trump has backed Israel in accusing UNRWA of perpetuating the Middle East conflict by maintaining the idea that millions of Palestinians are refugees with a right to return to homes in what is now Israel.
Created in 1949, the agency supplies aid to more than three million of the five million registered Palestinian refugees in Jordan, Lebanon, Syria and the Palestinian territories.
Jordan's Foreign Minister Safadi said discussions were under way on ensuring long-term financing for the agency.
Safadi said the international community had a "firm, unwavering" commitment to keep UNRWA alive and ensure it continues to provide health and education services to Palestinian refugees.
Aside from cutting funds to UNRWA, the Trump administration has also cut $200 million in bilateral aid to the Palestinians for projects in the West Bank and the Gaza Strip.
Full report at:
https://english.alarabiya.net/en/News/middle-east/2018/09/27/Palestinian-refugee-agency-UNRWA-gets-118-mln-in-new-funding-.html
--------
Lebanon detains 'ISIS-linked Palestinian' over poison plots
27 September 2018
Lebanon's security forces said Thursday they had detained a Palestinian refugee allegedly linked to ISIS extremist group over two poisoning plots, one of Lebanese army water and another of food in a foreign country.
The refugee, born in 1991, admitted to links with an ISIS member in Syria "who tasked him with making explosives and concocting poison", the General Security force said in a statement.
He prepared to "concoct a quantity of deadly poison along with someone living in a foreign country" for two planned poisonings.
The first was to "poison one of the water tanks from which the Lebanese army's trucks fill up on water every day to take it to the army barracks".
The second was to "carry out a mass poisoning in a foreign country" through "poisoning food during a public holiday", the statement said, without specifying the location.
The Palestinian has been referred to the relevant judicial authority, the security forces said, and the authorities are looking for other people involved.
Lebanon has been heavily impacted by the civil war in neighboring Syria since it erupted in March 2011.
Security forces have on several occasions arrested suspected ISIS members.
They are usually tried by military courts, but their trials have dragged on due to the amount of cases.
Lebanon has been rocked by several suicide bombings since 2013, some of them claimed by ISIS.
Full report at:
https://english.alarabiya.net/en/News/middle-east/2018/09/27/Lebanon-detains-ISIS-linked-Palestinian-over-poison-plots-.html
--------
Palestine's Islamic Jihad movement selects new leader after 20 years: Official
Sep 27, 2018
The Palestinian Islamic Jihad resistance movement, which is based in the besieged Gaza Strip, has selected a new leader for the first time in over 20 years.
Syria-based Ziad al-Nakhala would replace Ramadan Abdullah Shalah as the movement's secretary general, an unnamed senior official told AFP on Thursday, claiming that the latter had been suffering from serious health issues for months.
Sixty-year-old Shalah, who has led the Islamic Jihad since 1995, is reported to be in a coma following an unknown illness.
Nakhala, 65, has been serving as Shalah's deputy since the 1990s.
The movement, which was founded in 1981 to realize the Palestinian cause in establishing an independent Palestinian state, has not publically confirmed the report yet.
Alongside the Palestinian Hamas resistance movement, a Gaza-based ally, the Islamic Jihad has defended Gazans against the Israeli regime during three deadly imposed wars since 2008.
The Gaza Strip has been under a crippling Israeli siege since 2007, which has prevented some two million Palestinians from having free access to the remainder of Palestine and the outside world. The blockade has also undermined living conditions in the coastal enclave and fragmented its economic and social fabric.
The Tel Aviv regime carries out regular attacks on its inhabitants under the pretext of hitting positions belonging to Hamas, which governs the territory.
The coastal sliver has also witnessed a fresh wave of deadly tensions since March 30, which marked the start of a series of protests demanding the right to return for the Palestinians driven out of their homeland.
Full report at:
https://www.presstv.com/Detail/2018/09/27/575399/Palestine-Islamic-Jihad-Israel-Ziad-alNakhala
--------
Palestine president addresses UN, slams Trump's Quds policy, racist Israeli law
Sep 27, 2018
Palestine's president has taken the podium at the UN to harshly condemn the US administration's policy shift on Jerusalem al-Quds, saying there will be no peace with Israel without the eastern part of the occupied city as the capital of the future Palestinian state.
Mahmoud Abbas opened his speech to the 73rd Session of the UN General Assembly with the sentence "Jerusalem (al-Quds) is not for sale," drawing the applause of the audience.
The Palestinian leader slammed the US's growing pro-Israel bias under President Donald Trump, which has seen Washington recognize Jerusalem al-Quds as the "capital" of Israel, cut aid to Palestinians and close the diplomatic office of the Palestine Liberation Organization (PLO) on US soil.
"With all of these decisions, this administration has reneged on all previous US commitments and has undermined the two-state solution," Abbas said, adding, "I renew my call to President Trump to rescind his decisions and decrees regarding Jerusalem, refugees and settlements."
Trump's action, he added, has "shocked" the Palestinian nation, stressing that no peace will come about with Israel as long as the regime fails to end its occupation of East Jerusalem al-Quds, which the Palestinians want as the capital of their future state.
The Trump administration waged a diplomatic war against Palestine in December 2017, when it first announced that the US would recognize Jerusalem al-Quds as the "capital" of Israel.
Months later, Washington moved its embassy from Tel Aviv to the occupied city in defiance of international criticisms.
The move angered Palestinians, who said they would no longer accept Washington's mediation role in their conflict with Israel.
The Trump administration has also cut aid to Palestinians and slashed its contributions to UNRWA – the UN agency that supports more than five million Palestinian refugees across the Middle East.
Trump also closed the Palestinian Liberation Organization's office in Washington last month.
Abbas further said there will be no peace without "an independent Palestinian state, with East Jerusalem (al-Quds) as its capital, and not some place in East Jerusalem (al-Quds) as its capital, and with all of its holy sites."
The Palestinian president also stressed that Palestinians will not recognize Israel unless the entity recognizes the Palestinian state based on the 1967 borders.
He once again rejected the US as the sole mediator in any future Israeli-Palestinian talks, stressing that Washington can play a part in the so-called peace process in the format of the Quartet on the Middle East -- the EU, Russia, UN and the US itself.
"We will not accept sole American mediation in the peace process because the US has lost its eligibility -- they are too biased toward Israel," he stated.
'Israel's racist law crossed all red lines'
Elsewhere in his speech, the Palestinian president blasted Israel for adopting the so-called "Jewish nation-state" law, saying the racist law "legalizes discrimination" against the Arab population in Israel.
The law, he added, "crossed all the red line," and will lead to a single "racist, apartheid state."
Full report at:
https://www.presstv.com/Detail/2018/09/27/575398/Abbas-UN-Israel-US-alQuds
--------
At UN, Iran, Russia, Turkey FMs exchange views on Syria crisis, Idlib situation
Sep 27, 2018
Top diplomats of Iran, Russia and Turkey – which serve as guarantors of the Syria peace process – have sat down for talks in New York on the latest developments in the country's Idlib Province, amid efforts to peacefully rid the area of terrorists.
Iranian Foreign Minister Mohammad Javad Zarif and his Russian and Turkish counterparts, Sergei Lavrov and Mevlut Cavusoglu, held a trilateral meeting on the sidelines of the 73rd session of the UN General Assembly in New York on Wednesday.
The Russian Foreign Ministry said the trio had hailed a recent Moscow-Ankara agreement to set up a buffer zone in Idlib, the last major terrorist-held bastion in Syria.
"The sides discussed in detail the situation on the ground, first of all in the Idlib de-escalation zone, and prospects for the launch of a really sustainable process of political settlement of the Syrian crisis," the ministry said in a statement.
"Participants in the meeting highly assessed the agreements on the stabilization of the situation in Idlib that were reached in Sochi on September 17. These agreements make it possible to protect civilian populations while continuing uncompromised fight against terrorists," it added.
Earlier this month, Turkish President Recep Tayyib Erdogan and his Russian counterpart Vladimir Putin met in the Black Sea resort of Sochi and announced an agreement on Idlib.
The deal stipulates a demilitarized zone of 15-20 kilometers in Idlib along the contact line between the armed opposition and Syrian government troops by October 15. It also involves the withdrawal of "radically-minded" militants, including the al-Nusra Front, from the region.
Elsewhere in its statement, the Russian Foreign Ministry said Zarif, Lavrov and Cavusoglu had, during the meeting, reiterated their commitment to the formation of a constitutional committee aimed at enabling "Syrians to decide about the future of their country by themselves."
Iran, Russia and Turkey are operating as guarantors of the Astana process, a track of negotiations which have resulted in the return of a succession of militant strongholds to the government fold and movement of civilians to safe zones.
The latest Turkey-Russia deal has suspended a Syrian military operation to liberate the city.
Tehran and Damascus have both welcomed the agreement.
Takfiris 'unlikely to resist buffer zone withdrawal'
On Thursday, militant sources in Syria expressed confidence that their Takfiri rivals would leave the Idlib demilitarized zone, Reuters reported.
A senior militant official said Tahrir al-Sham, the most powerful Takfiri terrorist group in Idlib, had sent secret feelers to the Turkish army in the last few days signaling they would comply with the buffer zone deal.
"Matters are moving well and Tahrir al-Sham has pledged it is going to implement but without announcing its agreement," the source added.
Ahmed Toma, another militant figure, said that he expected Tahrir al-Sham to honor the Idlib deal and dismissed risks of a showdown.
"I foresee it will be implemented within the time set," he said.
Moreover, Abdul Salam Abdul Razzak, a leading figure in the so-called National Liberation Front (NLF), an alliance of militant factions supported by Ankara, stressed that he did not expected "any hurdles in implementation" of the Idlib agreement.
Iran will remain in Syria: Rouhani
Observers say any potential Syrian military operation in Idlib would be Syria's "final battle" against terrorists.
Thanks to Iranian and Russian help, Syrian government forces have liberated most of the areas captured by foreign-backed militants across the Arab country.
During his meetings in New York, Iranian President Hassan Rouhani emphasized that Iran would maintain its military advisory role in Syria for as long as the Damascus government wanted it there.
"Our presence in Syria will continue for such time that the Syrian government requests our presence," Rouhani said at a press conference in New York on Wednesday.
He further noted that Iran was not seeking conflict with the US in the Middle East and questioned American forces' presence in the region.
"We do not wish to go to war with American forces anywhere in the region," Rouhani said. "But we ask the United States to adhere to laws and to respect national sovereignty of nations."
Tehran has been offering military advisory assistance to the Syrian army at the request of Damascus, enabling pro-government forces to speed up their advances against terrorist groups.
Full report at:
https://www.presstv.com/Detail/2018/09/27/575343/Iran-Russia-Turkey-Syria-Idlib
--------
'Yemeni ballistic missiles hit targets in Saudi Arabia'
Sep 27, 2018
Yemeni armed forces have reportedly fired domestically-designed and -developed ballistic missiles at military targets in Saudi Arabia's southwestern border regions of Jizan and Asir, in retaliation for strikes by a Saudi-led military coalition waging war on Yemen.
Yemen's Arabic-language al-Masirah television network, citing an unnamed military official from the missile unit of the Yemeni army, reported that a gathering of Saudi-led mercenaries in the east of the mountainous area of al-Doud had been hit with two short-range Zelzal-1 (Earthquake-1) missiles in early hours of Thursday, without giving the number of potential casualties of the strikes.
It added that the Yemeni troops had earlier pounded that same area with artillery and rocket fire.
Meanwhile, Yemen's official Saba news agency, citing an unnamed military official, reported that Yemeni army forces had hit another gathering of Saudi-led mercenaries in the Majaza border area of Asir with the same type of ballistic missile on Wednesday night.
The official added that another Zelzal-1 missile had also struck a group of Saudi-led military hardware and equipment in the Midi Desert in Yemen's northwestern Hajjah Province earlier on Wednesday, inflicting damage.
Saudi Arabia and some of its allies, including the United Arab Emirates, Morocco, and Sudan, launched a brutal war against Yemen in March 2015 in an attempt to reinstall Yemen's former president Abd Rabbuh Mansur Hadi.
The aggression initially consisted of a bombing campaign but was later coupled with a naval blockade and the deployment of ground forces to Yemen. Some 15,000 Yemenis have so far been killed and thousands more injured.
The Saudi-led war has also taken a heavy toll on the country's infrastructure, destroying hospitals, schools, and factories. The United Nations (UN) has said that a record 22.2 million Yemenis are in dire need of food, including 8.4 million threatened by severe hunger.
Full report at:
https://www.presstv.com/Detail/2018/09/27/575336/Yemen-Saudi-Arabia-Zelzal1-missile-Jizan-Asir-Midi
--------
Africa
Islamic State Shifts from Provinces and Governance to Global Insurgency
AYMENN JAWAD AL-TAMIMI
SEPTEMBER 26, 2018
At a time when it still controlled large swathes of territory in Syria and Iraq, the Islamic State (IS) released a video entitled "Structure of the Caliphate," which detailed the structure of administration and the geographic organization of its state project. In that video, IS claimed the existence of 35 wilayas ("provinces"): 19 inside Syria and Iraq, and 16 elsewhere.
Today, the number of wilayas claimed in propaganda appears to have reduced dramatically in number. For example, IS propaganda portrays Syria and Iraq as consisting of just two provinces: a Wilayat al-Sham and Wilayat al-Iraq respectively, with each province consisting of a number of regions. In Libya, three provinces seem to have been similarly condensed: there now appears to be just one province in the country that covers three regions.
Other wilayas still exist as they were when they were first announced in 2014 and 2015:
West Africa, Sinai, Algeria, Khorasan (Afghanistan and Pakistan), and Yemen, which still exists as multiple provinces for now. Meanwhile, two areas where IS has been claiming military operations have now been elevated to the status of provinces: Somalia and East Asia.
These apparent shifts reflect in part the overall collapse of IS as a state project, which was previously its central claim to fame, and the evolution of a global IS insurgency. In places where IS propaganda displays a seemingly simplified provincial structure, the common thread is that they were areas in which IS once exercised significant control of territory with regular photo series and videos advertising governance implementation.
Viewed in this light, IS is mostly a failure as a state project in Iraq, Syria, and elsewhere. Yet how successful one views IS as a global insurgency and terrorist force depends on the criteria one sets. For example, in the Sinai area, IS is the most powerful insurgent force fighting Egypt's security forces and easily eclipses any al-Qaeda-aligned rivals such as Jamaat Jund al-Islam. And yet, years of insurgency have not given rise to formal control of territory in the Sinai to implement governance, rather it has proven only to be a continual headache for the Egyptian government.
Similarly, the Khorasan province can be viewed as a mixed bag in terms of results, depending on the angles one explores. IS has managed to carve out a small enclave of territory in the east of Afghanistan, siphon off some disillusioned elements of the Taliban, and carry out many deadly suicide bombings targeting the Afghan capital of Kabul. Even so, its overall position in Afghanistan still does not compare with that of its "nationalist" rival.
In other areas, IS activity seems to be almost completely dormant, most notably in Algeria and Saudi Arabia. Previously, IS was particularly keen to make its mark in the latter considering that it is home to the two holiest sites in Islam of Mecca and Medina (hence the name of "Bilad al-Haramain"). Saudi Arabia's security services, then, have proven largely successful in clamping down on an IS terrorist threat.
Despite the portrayed simplification of the provincial structure in Iraq and Syria and shift in IS' overall image, one should still remember that there is a central leadership for IS and that this leadership is based in Iraq and Syria. Thus, there is a command-and-control structure between "IS central" and the provinces outside of Syria and Iraq.
As is the case with al-Qaeda and its affiliates though, there are issues surrounding how effective that command-and-control really is. The clearest case-in-point is the IS West Africa province. Previously Jamaat Ahl al-Sunnah lil-Dawa wa al-Jihad (also known as Boko Haram) under Abubakar Shekau, an allegiance pledge was given to IS in March 2015, creating a West Africa province with Shekau as its governor. The move seemed to be an apt propaganda victory for IS at the time, as Shekau's group controlled some territory in Nigeria. By August 2016 though, that territorial control had gone and Shekau was removed as governor. The result is that while one still has the IS West Africa affiliate, which has been waging an insurgency in northeast Nigeria and the Lake Chad area, there is also the rival movement led by Shekau and his followers, with whom the IS West Africa affiliate has clashed multiple times.
Only recently has the story of the inside trouble in the West Africa affiliate come to light as the affiliate's leaders released a long book giving a self-history of the movement and a lengthy critique of Shekau, who was removed from his position as governor on account of his disobedience towards the central leadership. In general, the book is useful for understanding what is seen as "too extreme" even for IS: for instance, the idea that Muslims who reside in the "abode of kufr" become non-Muslims simply for residing in such an area. To be sure, Shekau had espoused such ideas well before he gave allegiance to IS, something the book portrays as a step he took out of fear that his leadership position was threatened. In any case, it is clear that the pledge of allegiance to IS had failed to rein in Shekau's extreme tendencies.
The bigger picture is that IS is far from being "defeated" on the global level despite the general collapse of the state project, something that should come as no surprise. Even if IS can never rise again to the level of success it had in 2014-2015, it will be around as a global terrorist threat and insurgency problem for decades to come.
Aymenn Jawad al-Tamimi is a researcher on violent non-state Islamic and Middle Eastern groups for the Middle East Forum. He has been widely cited in international media outlets including the New York Times, AFP and AP, and the Washington Post. He tweets @ajaltamimi.
https://www.meforum.org/articles/2018/islamic-state-s-collapsed-caliphate-shifts-focus-t
--------
Seven soldiers and one civilian killed in Mali bomb attack
Sep 27, 2018
Seven soldiers and one civilian driver have been killed after two Malian military vehicles were hit by improvised explosive devices while on an escort mission.
The Malian Defense Ministry denounced it as a "cowardly terrorist attack" in a statement on Thursday as it offered condolences to the families of the deceased.
The fatal ambush happened as the French military parachuted 120 soldiers in the north-eastern region of Menaka near the Niger border, French military spokesman Colonel Patrik Steiger said.
France's bolstered military presence in Menaka comes after Malian security sources claimed that unknown gunmen had executed more than 12 civilians in the region on Tuesday.
Mali has been in turmoil since Tuareg rebels and loosely-allied militants took over the northern desert regions from the Malian military control in 2012. The ensuing power vacuum allowed extremists linked to al-Qaeda to dominate the territory.
French forces intervened in 2013 to allegedly fight back the militants, but extremist forces have since regrouped and now regularly attack Malian and international forces.
Full report at:
https://www.presstv.com/Detail/2018/09/27/575401/Mali-escort-ambush
--------
Nigeria: Beef Up Unity to Protect Islamic Identity, Says Security Expert
28 SEPTEMBER 2018
Well-orchestrated attempts are being made globally to erode Islamic identity but these can be foiled if Muslim countries strengthen their unity, according to a Turkish security expert.
Murat Aslan, who teaches at Turkey's Hasan Kalyoncu University, talked about Turkey's growing relations with Asian countries, rising global cultural clashes and how countries such as Malaysia and Indonesia can help in developing mechanisms to promote Islamic unity.
Touching on Islamophobia in certain parts of the world, he said these are organised attempts to target Muslims in "high-value" geographies, which include Malaysia's neighbourhood as well as the energy-rich Middle East and Africa.
"Indonesia and Malaysia are located in a strategic region. The Middle East has energy resources. Others are trying to divide Islamic societies, so we must have a coordinated strategy to use our geopolitical advantage. We have to mobilise our resources so that we do not suffer erosion in our identity," Aslan said.
Full report at:
https://allafrica.com/stories/201809280089.html
--------
Nigerian troops fight off Boko Haram attack
2018-09-27
Nigerian troops have repelled an attack on a military base by Boko Haram jihadists in the country's northeast, the army and security sources said on Thursday.
The attack, in the town of Gashigar, in the Mobbar district of Borno state, is believed to have been carried out by a Boko Haram faction backed by the Islamic State group.
It was the latest in a series of strikes against military bases that have raised questions about the group's strength, despite repeated official claims they were on the verge of defeat.
The Nigerian army confirmed the attack in a post on its Twitter account late on Wednesday.
"BHT (Boko Haram terrorists) met their Waterloo this evening when they attempted to infiltrate 145 (Battalion) location at Gashigar," it said.
"They were completely routed by the troops and they fled in disarray due to superior firepower by the gallant troops of 145 Bn."
There were no indications of casualties on either side.
A senior military source in the Borno state capital, Maiduguri, told AFP the jihadists arrived on nine pick-up trucks mounted with anti-aircraft guns and tried to get into the base.
"Troops engaged them in a fierce battle and prevented them from getting into the base," he said, adding that the jihadists withdrew after air support was called in.
The attack follows a pattern that has seen at least nine military bases attacked since July, mostly in the northern part of Borno state, near the shores of Lake Chad.
The military has strongly denied reports of heavy troop casualties.
More than 27 000 people are thought to have been killed in the nine-year Islamist insurgency that has triggered a humanitarian crisis and left 1.8 million people still without homes.
In a separate incident on Wednesday, jihadists ambushed a civilian convoy under military escort heading to the town of Dikwa, 90km from Maiduguri.
The convoy came under fire near Kaltaram village, 15km from Dikwa, at about 1200 GMT, resulting in a shootout with the military escorts before the militants withdrew.
Full report at:
https://www.news24.com/Africa/News/nigerian-troops-fight-off-boko-haram-attack-20180927
--------
URL: https://www.newageislam.com/islamic-world-news/muslim-clerics-ram-janmbhoomi-babri/d/116514
New Age Islam, Islam Online, Islamic Website, African Muslim News, Arab World News, South Asia News, Indian Muslim News, World Muslim News, Women in Islam, Islamic Feminism, Arab Women, Women In Arab, Islamophobia in America, Muslim Women in West, Islam Women and Feminism