New Age Islam News Bureau
13 Jun 2019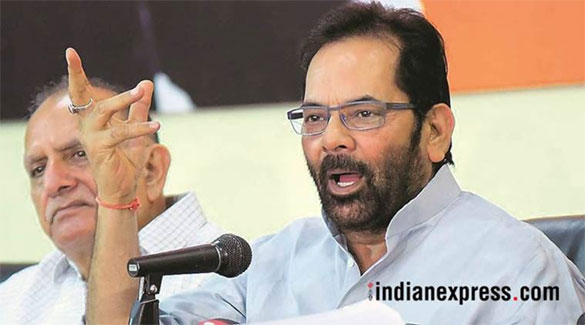 A programme on war footing has been launched for 100 per cent geo-tagging and digitalisation of waqf properties across the country to ensure these properties can be utilised for the welfare of society, Naqvi said. (Express photo by Rohit Jain Paras/File)
------------
India
• Tamil Nadu Islamic State module 'mastermind' held by NIA
• 5cr minority students to get scholarships in 5 years: Govt
• Islamic State group claims involvement in Kashmir gunbattle
• J&K: Five CRPF personnel killed in Anantnag terror attack
• India to continue to pursue Zakir Naik's extradition request with Malaysia, judicial system is fair: MEA
--------
Mideast
• Iraq joins Lebanon, Palestinians in boycotting US-led confab in Bahrain
• Saudi arrested, tortured over 150 Palestinians over charitable activities: Rights group
• Turkey Acquits ISIS Militant Who Recruited Fighters in Syria, Iraq
• 3 soldiers killed in roadside bomb explosion in southern Yemen
• Arab Coalition: Houthi rocket targets Saudi Abha airport, 26 injured
• UN confirms Yemen's Ansarullah fully abiding by peace deal
• International condemnation of Houthi attack on Saudi Arabia's Abha airport
--------
North America
• Despite Trump's Guantánamo Threats, Americans Who Joined ISIS Are Quietly Returning Home
• Washington D.C. Man Facing Drug Charges Allegedly Showed Strong Interest in ISIS
• A Victim of Terrorism Faces Deportation for Helping Terrorists
• US sanctions on Assad ally seen as message to Syrian regime and Iran
--------
Europe
• Austria to shut Saudi-funded center over human rights violations
• France's Marine Le Pen to go on trial over her ISIS tweets
• French Probes Ultra-Right Plot to Attack Religious Venue
• Muslim couple deny terror-related charges in Madrid re-trial
• Counter-terrorism squad set up to protect South Australians from extremist attacks
• Muslim comedian awarded $4.1 million in defamation lawsuit against neo-Nazi site
• Police investigating Islamophobic graffiti outside London Muslim Mosque
• UAE, Germany call on Iran to refrain from escalating tension
• UN: Terrorist attack on Abha Airport poses threat to regional security
• Belgian court penalizes sexagenarian for Islamophobia
• Germany: 3 mosques suffer assaults in 2 days
--------
South Asia
• Myanmar Accused of 'Misinformation Campaign' Over Repatriation Of Rohingya
• Over 13,000 Afghans forced to flee Taliban, Daesh battle
• Airstrikes kill 10 militants including Taliban commander in E. Afghanistan
• Afghanistan and Iran to expand cooperation in nuclear field
• Taliban militants suffer heavy casualties in North of Afghanistan
• More than 30 Taliban prisoners released from Nangarhar prison
• 16 Taliban militants killed, wounded in Kapisa, Wardak and Herat provinces
• 1 terrorist hailing from Punjab of Pakistan killed, 2 others arrested in Herat
• Unknown gunmen kill religious cleric in Nangarhar province
--------
Southeast Asia
• IndonesiaʹS Islamic Defenders Front Gaining Grassroots Support
• Is Indonesia ready for halal certification obligation?
• Haziq could be charged in civil or Shariah court, says lawyer
• PAS calls for Islamic court action against man who confessed to gay sex in video
• Umno Leaders Call Sex Clip Implicating Minister Vile, a Grave Sin
• An Indonesian Governor Confronts His Illuminati Accusers
--------
Pakistan
• Human Rights Ministry Asked To Simplify Zainab Alert Bill
• London Terror Police Arrest Man in Probe of Pakistan Group
• Pakistan army fully capable and ready to respond to any threat: General Bajwa
• Shehbaz appears in accountability court after return from London
• Altaf released on bail, but probe will continue
• Democratic leaders in custody while terrorists roam free: Bilawal
• Imran's address has won people's hearts: Firdous
• COAS Hails 'Befitting Response' To India during Standoff after Pulwama Attack
• Pakistan to continue playing role in Afghan peace process: FM
--------
Arab World
• In Syria's Breadbasket, Kurds and Regime Battle For Wheat
• Jeddah Season Takes Music Lovers on Magical Journey with Vivaldi Light Show
• Lebanese Man Freed by Iran Says He Shared Cell Space with American
• Intelligence agents arrest Islamic State logistics provider in Diyala
• Iraq denies deal to commute French ISIS members' death sentences
• New wave of civilian arrests in Mosul with claims of ISIS affiliation raises concerns
• Iraqi police kill three Islamic State terrorists in Kirkuk
• IDF general warns Lebanon will pay 'heavy price' for working with Hezbollah
• Tahrir Al-Sham's Ringleader Al-Jolani Trying Hard to Save Strategic Base in Lattakia
• Israel Launches Fresh Attacks on Army's Military Positions in Southern Syria
• Ankara Orders Militants in Idlib to Resist against Syrian Army until G20 Summit
• French-Dutch Delegations Arrive in Raqqa to Support US-Backed Separatist Objectives
• Syrian air defense downs Israeli missiles: State media
--------
Africa
• West Africa: Institute Blames West Africa Terror Spread on Rivalries
• US Names Veteran Envoy Booth to Find 'Peaceful Political Solution' In Sudan
• Cameroon: Death Toll from Boko Haram Attack Rises To 37
• Mali massacre victims included 24 children: PM
• UN hears calls to enforce Libya arms embargo
• Rights experts urge UN inquiry into Sudan 'abyss'
• UN Security Council extends arms embargo on Libya for another year
• Somalia: AFRICOM affirms US support against al-Shabaab
Compiled by New Age Islam News Bureau
URL: https://www.newageislam.com/islamic-world-news/muslim-clerics-back-modis-madrasa/d/118875
--------
Muslim Clerics Back Modi's Madrasa Modernisation Push: In Past the Muslims Were Deprived of Good Education Facilities, Now They Will Also Be Able to Equally Contribute to the Development of the Country
June 12, 2019
The government's plan to train madrasa teachers will be launched next month. It has also announced various scholarships for 5 crore minority students, which will include 50% girl students, over the next five years.
The Centre's decision to connect madrasas to mainstream education has come in for appreciation from Muslim clerics who have welcomed the move as a much-needed step for the upliftment of minorities. On Tuesday, Minority Affairs minister Mukhtar Abbas Naqvi said that madrasas across the country will be connected with formal education and mainstream education so that children in madrasas can also contribute to the development of the society.
"Madrasa teachers across the country will be given training from various institutions in mainstream subjects such as Hindi, English, Maths, Science, Computer etc. so that they can impart mainstream education to the Madrasa students," he said in a statement. The move is in line with the vision outlined by Prime Minister Narendra Modi twice since he assumed charge as Prime Minister in 2014. The same year, Modi said he envisions a Muslim child holding a Quran in one hand and a computer in the other. After returning to power a few weeks ago, Modi harked back to his promise and stressed on Sabka Saath Sabka Vikas and Sabka Vishwas.
While the Centre's plan is winning laurels from across sections, Samajwadi Party leader Azam Khan has objected to the move saying if the government really wants to help madrasas, they should improve their standards. Speaking on the issue, Khan defended the current pattern of education being imparted in madrasas and said that besides religious teachings, subjects like English, Hindi, and Maths are already being taught at madrasas.
"This has always been done. If you (the government) want to help, improve their standard. Build buildings for madrasas, provide them furniture and midday meal facility," Khan added. He further politicised the issue by saying Madrasas don't breed personalities like Nathuram Godse or Pragya Thakur. "…announce that those propagating thoughts of Nathuram Godse will be declared enemies of democracy, those convicted for terror activities won't be rewarded," he said while speaking to ANI.
Azam Khan is probably the only Muslim leader who has criticised the move that even Muslim clerics have welcomed. Jamiat Ulema-e-Hind General Secretary Moulana Mahmood Madani welcomed the initiative saying, "All the sections of the society should be provided with equal opportunities especially in education for the benefit of the country. We will always welcome such initiatives."
He further said that Muslims should have a part in nation building and it will only be possible through the capacity building which isn't possible without education. "If this isn't just an announcement and will be turned into actions, it's Sabka Saath, Sabka Vikas in the true sense," Madani added.
Another Muslim cleric Umer Ilyasi thanked PM Modi and Mukhtar Abbas Naqvi for the initiative and claimed that Muslims who were deprived of good education facilities will now be able to equally contribute to the nation's development. "The slogan Prime Minister Modi gave "Sabka Sath, Sabka Vikas aur ab Sabka Vishwas" has managed to gain the trust of Muslims for the government. Now the time has changed, it's not about any religion, caste or creed. We all will work together for the development of the country and will soon make it a 'vishwa guru'."
Rehan Akhtar Qasmi, another cleric from Aligarh, thanked the central government and hoped it is implemented. "Mukhtar Abbas Naqvi has said that there should be computer education in Muslim madrasa. PM had earlier made it clear that he is planning to bring the minority to the mainstream of education. On the occasion of Eid, the government provided scholarship to five crore Muslim students. We want to thank the government for this step. We hope it gets implemented. It is important to monitor the educational system of the Muslim community," Qasmi told ANI.
The government's plan to train madrasa teachers will be launched next month. It has also announced various scholarships for 5 crore minority students, which will include 50% girl students, over the next five years.
https://www.financialexpress.com/india-news/muslim-clerics-back-modis-madrasa-modernisation-push-but-azam-khan-has-a-problem/1605453/
--------
Indian Govt To Provide 100 Percent Funding To Develop Schools, Hospitals On Waqf Properties
June 12, 2019
All waqf properties across India will be geo-tagged and digitised and the government will provide 100 per cent funding to develop educational institutions and hospitals on such properties for the welfare of society, Union minster Mukhtar Abbas Naqvi said Wednesday.
Naqvi, while chairing the 80th meeting of the Central Waqf Council here, said there are around 5.77 lakh registered waqf properties across the country and their geo-tagging and digitalisation will ensure transparency and safety of records.
The Centre has decided to start a programme on a war footing to utilise waqf properties across the country for educational empowerment and employment-oriented skill development of the needy, especially economically backward girls in those areas which were deprived of these facilities since Independence, the minority affairs minister said.
Prime Minister Narendra Modi-led government has decided to provide 100 per cent funding to develop schools, colleges, ITIs, polytechnics, hospitals, multi-purpose community halls "Sadbhav Mandap" on waqf land under Pradhanmantri Jan Vikas Karykram (PMJVK), he said.
A programme on war footing has been launched for 100 per cent geo-tagging and digitalisation of waqf properties across the country to ensure these properties can be utilised for the welfare of society, Naqvi said.
Naqvi said that while only 90 districts of the country had been identified for minority communities' development during the earlier government, the Modi government has expanded development programmes for minorities in 308 districts of the country.
A report of a five-member committee, constituted to review waqf properties lease rule, headed by Justice (Retd) Zakiullah Khan, has been submitted, Naqvi told reporters.
The recommendations of the committee will ensure that waqf rules are made easy and effective for better utilisation of waqf properties and to free these properties, several of which are entangled in disputes for several decades, from disputes, he said.
The Central government is taking necessary action on the recommendations of the committee.
The Central Waqf Council is providing financial help to state waqf boards for digitalisation of waqf records so that state waqf boards can complete digitalisation work within the decided time frame.
"GIS/GPS mapping of the waqf properties has been initiated with the help of IIT Roorki and Aligarh Muslim University. The Central Waqf Council has provided video conferencing facilities to 20 state waqf boards and it would be provided in the remaining state waqf boards by the end of this year," he said.
Naqvi's announcement of geo-tagging of waqf properties comes a day after he spelt out the government's plan to empower the minorities.
Several scholarships such as pre-matric, post-matric and merit-cum-means will be provided to 5 crore students from minority communities, including 50 per cent girls, over the next five years, he had said on Tuesday.
Naqvi had also said girls from minority communities who have dropped out of school will be linked to education and employment through "bridge courses" from reputed educational institutions of the country.
https://indianexpress.com/article/india/govt-to-provide-100-funding-to-develop-schools-hospitals-on-waqf-properties-mukhtar-abbas-naqvi-5777155/
--------
Islamic Jihad mulls military action to foil US peace plan
Entsar Abu Jahal
June 12, 2019
GAZA CITY, Gaza Strip — Armed Palestinian factions in the Gaza Strip are determined to stop the US administration's proposed peace plan for the Middle East and have the means to do so, according to Ziad al-Nakhla, secretary general of the Palestinian Islamic Jihad movement.
Several times recently, Nakhla has alluded to escalation and the use of military force to stop the plan, which is expected to be unveiled soon by the administration of US President Donald Trump. Nakhla's statements come as his movement's military wing, Al-Quds Brigades, has shown significantly developed military potential, especially in the round of escalation between Israel and the Gaza Strip last month.
He said May 30 on Lebanese Al-Manar TV that many leaders in the region want to close the Palestinian cause dossier, and this could play out in favor of the US plan. Nakhla pointed out, however, that despite the disparity in the balance of power, the Palestinian people have the ability to thwart the plan, which the United States has dubbed the "deal of the century."
"If Palestinians are not part of the deal, then the deal is born dead. The Palestinians have the right to reject any deal that does not respect their historical rights," he added.
On May 24, he had stressed that the armed Palestinian factions have enough strong cards to derail the plan. His movement is ready to defend Palestine, he added.
The United States is expected to reveal details of the plan at the Peace to Prosperity conference aimed at encouraging investment in Palestinian areas. The conference is set for June 25-26 in Manama, Bahrain, and while Palestinians have voiced their rejection of the conference, some Arab states such as Saudi Arabia and the United Arab Emirates have said they will be attending. Others, such as Egypt and Jordan, had yet to RSVP as of June 10.
Khader Habib, an Islamic Jihad leader, told Al-Monitor the movement and its supporters are determined to keep the deal from being implemented. He said the peace plan aims to liquidate the Palestinian cause and deny Palestinians their historical and permanent rights. Palestinians across the spectrum reject the deal.
He did say that the movement might resort to diplomatic and political steps, but should such steps fail, then the military option would be a must. He stressed that the Islamic Jihad is developing a national plan against the US proposal. The plan will involve all Palestinians and will be submitted to the Palestinian forces for approval.
"The movement is ready to foil the deal by force if necessary. The resistance has the strength to put an end to the US and Israeli hegemony," he said. "The resistance is developing its capabilities to liberate Palestine, and it will spare no effort to defend our cause."
Habib said the deal can't be allowed to come to pass, as it would allow Israel to impose sovereignty over the Palestinian territories in cooperation with the US administration, which he said seeks to colonize the Arab and Islamic region to plunder its resources and blackmail its people.
Habib said the Islamic Jihad isn't the only movement willing to confront the deal militarily, as the group has armed partners such as Hamas, Iran and Hezbollah.
"As long as Israel is sitting on our land, the chances of escalation remain possible, and the choices of resistance and development of combat tools remain the most appropriate," he said.
Ibrahim Habib, a security expert and lecturer at Ribat University College, told Al-Monitor the Islamic Jihad and the other armed factions are sparing no effort to close ranks, unite positions and confront the US proposal. However, he added, the situation on the ground is different, as the deal is not a local issue, but a regional one. He said the threats from the Islamic Jihad "are blowing things out of proportion."
He stressed that the deal can be shut down through Palestinian unity, without military force, and explained that if Palestinians refuse the deal then it would only be natural for it not to proceed in its entirety.
Military action could pose a great political and field risk for Gaza, especially considering Israel's obvious power advantage over the Palestinian factions. He said he doesn't expect an escalation in the near future, especially with tensions so high in Syria and Iran.
Palestinian forces have to diversify their options when confronting the deal, Ibrahim Habib said. That some Arab countries have agreed to attend the Manama conference, he said, is a sign that the Palestinian leadership is politically helpless and running out of cards to impede the conference. He called for a diplomatic approach and for mobilizing the international and Arab communities.
Political analyst Hani Habib told Al-Monitor that the Islamic Jihad's threat indicates that mounting tension with Israel will make it difficult to implement the US peace plan, especially with regard to the partial annexation of the West Bank.
He said the United States has put off revealing the details of the plan to minimize opposition by saying it's not yet official. But he said the world is aware that the most significant items of the deal have already been implemented: US backing for Israel's annexation of the Syrian Golan Heights, the relocation of the US Embassy in Israel from Tel Aviv to Jerusalem and the suspension of US funding to the UN Relief and Works Agency for Palestine Refugees.
The Manama conference will only amount to simple financial compensation for Palestinians, Hani Habib said.
He added that neither the Israeli nor Palestinian sides want a war scenario. Israel wants to preserve the Palestinian division, but a war would unite all Palestinians, he added.
"The Palestinian political movement may play a role in disrupting, [but] not foiling, the plan. An alternative must be found, especially in light of US arrogance," he said.
https://www.al-monitor.com/pulse/originals/2019/06/islami-jihad-hamas-deal-century-us-manama-conference-uae.html
--------
Sick Gaza child caught in Israeli permit regime dies alone
12 June 2019
When Palestinian preschooler Aisha a-Lulu came out of brain surgery in a strange Jerusalem hospital room, she called out for her mother and father. She repeated the cry over and over, but her parents never came.
Instead of a family member, Israeli authorities had approved a stranger to escort Aisha from the blockaded Gaza Strip to the east Jerusalem hospital. As her condition deteriorated, the child was returned to Gaza unconscious. One week later, she was dead.
A photo of Aisha smiling softly in her hospital bed, brown curls swaddled in bandages, drew an outpouring on social media. The wrenching details of her last days have shined a light on Israel's vastly complex and stringent system for issuing Gaza exit permits.'
It is a bureaucracy that has Israeli and Palestinian authorities blaming each other for its shortfalls while inflicting a heavy toll on Gaza's sick children and their parents.
"The most difficult thing is to leave your child in the unknown," said Waseem a-Lulu, Aisha's father. "Jerusalem is just an hour away, but it feels as though it is another planet."
So far this year, roughly half of applications for patient companion permits were rejected or left unanswered by Israel, according to the World Health Organization.
That has forced over 600 patients, including some dozen children under 18, to make the trek out of the territory alone or without close family by their side.
Living in poverty
The system stems from the Hamas militant group's takeover of Gaza in 2007, when it violently ousted the Western-backed Palestinian Authority. Israel and Egypt responded by imposing a blockade that tightly restricted movement in and out of Gaza.
The blockade, which Israel says is necessary to prevent Hamas from arming, has precipitated a financial and humanitarian crisis in the enclave. For years, Gaza's two million residents have endured rising poverty and unemployment, undrinkable groundwater and frequent electricity outages.
Public hospitals wrestle with chronic shortages of drugs and basic medical equipment. Israel blames Hamas, which it considers a terrorist group, for the crisis.
In what it portrays as a humanitarian gesture to help Gaza's civilians, Israel permits Palestinian patients to seek medical treatment at hospitals in Israel and the West Bank once they pass a series of bureaucratic hurdles.
COGAT, the Israeli defense body that issues the permits, says it insists that all patients cross with an escort, usually a close relative, unless they wish to go alone or require immediate treatment that doesn't allow time for security screening.
In order to get a permit, patients must first submit a diagnosis to the West Bank-based Palestinian Health Ministry, proving that their treatment isn't available in Gaza. Then a Palestinian liaison requests exit permits from COGAT, which reviews the applications and passes them to Israel's Shin Bet security agency for background checks.
According to WHO, the approval rate has plummeted in recent years.
It said that in 2012, Israel allowed in 93 percent of patients and 83 percent of their companions for treatment. For the month of April 2019, the figure stands at just 65 percent of patients and 52 percent of their companions.
A COGAT official disputed the figures, saying they don't take into account that the number of permit applications has grown as Gaza's health care system deteriorates and that Israel has started issuing permits less regularly but for prolonged stays.
The official, speaking on condition of anonymity under agency rules, said COGAT is working to ease restrictions by designating a permit specifically for parents of child patients.
After being diagnosed with brain cancer, Aisha received immediate approval to get out of Gaza for what was hoped to be life-saving surgery. But when her parents approached the Palestinian Civil Affairs Commission for escort permits, their process ground to a halt.
To their bewilderment, Palestinian officials told them not to apply, saying it was too risky. At 37, Waseem is below the age that Israel deems acceptable for swift entry on security grounds. Today, all men under 55 require extra screening, which means waiting, usually for months, according to Mor Efrat, the Gaza and West Bank director for Physicians for Human Rights Israel.
As for Aisha's mother, Muna, a quirk of her upbringing in Egypt left her without an official Israeli-issued ID card required to receive a permit.
"We tell families to find a companion that won't give Israel any reason to refuse," said Osama Najar, spokesman for the Palestinian Health Ministry. "We want to save the child and, yes, that can mean sending them alone."
In this sense, the Palestinian Authority "acts as a subcontractor for Israel," said Efrat, forcing parents to make a difficult choice: delay their child's urgent care, or search for someone else that Israel would be more likely to let cross.
Aisha's parents said they scoured for alternatives, applying for an aunt and her 75-year-old grandmother, but Israel rejected both.
The girl's only remaining hope, the Palestinian office told them, was to apply for as many older women as possible from their extended social network. A permit for Halima al-Ades, a remote family acquaintance whom Aisha had never met, was approved.
Muna said she had no choice but to sign COGAT's consent form and whisk her daughter out of Gaza for immediate treatment. She said the frustration of the sprawling bureaucracy, and the painful memory of her 5-year-old daughter crying for her on the phone during her last days, haunts her.
"It was the hardest time of my life," she said. "My heart was being ripped out every day and every hour."
The Shin Bet declined to comment on the case. But in a statement, it emphasized Israel's security concerns about Gaza patients and their companions.
"The terrorist organizations in the Gaza Strip, headed by Hamas, are working tirelessly to cynically exploit the humanitarian and medical assistance provided by Israel," it said. This means that Palestinians are often turned down without explanation or for reasons out of their control.
"I feel confident telling you that most of these rejections are arbitrary," said Efrat, of Physicians for Human Rights Israel. Israel denies any official change in policy.
Alon Eviatar, a former high-ranking official with COGAT, said the goal remains the same. "On the ground, this means to make daily life as difficult as possible for Hamas, without crossing the red line to a humanitarian disaster," he said.
Eviatar acknowledged that the Israeli permit system was ineffective, inefficient and overburdened. "We are desperate for an alternative, to get Gaza to take care of itself and stop relying on Israel," he said.
Aisha's doctor in Jerusalem, Ahmad Khandaqji, said he has treated countless lone patients from Gaza over the past year, but that Aisha's story stuck with him. "She felt abandoned and betrayed," he said. "We saw how that directly impacted her recovery."
https://english.alarabiya.net/en/features/2019/06/12/Gaza-parents-leave-sick-children-to-the-unknown-in-Israel-s-hospitals.html
--------
Trump created 'phony' emergency to approve $8bn arms sale to Saudi Arabia
Jun 13, 2019
US President Donald Trump has been accused of creating a "phony" emergency to bypass Congress to approve an $8 billion arms sale to Saudi Arabia.
The White House said last month it was making an emergency provision within the country's arms control law to enable the billions of dollars of arms sales to the Saudi kingdom and the United Arab Emirates, the US's strongest allies in the Persian Gulf. The recourse helps the president spare congressional review for the exports.
The Trump administration had cited "alleged threats from Iran" to justify resorting to the provision.
R. Clarke Cooper, the State Department's assistant secretary of state for political-military affairs, appeared before the House Foreign Affairs Committee on Wednesday where he was grilled over the $8 billion "'emergency" arms sale to Saudis.
Democratic members of the House committee said the president's action violated the law because there was no actual emergency.
They also said Trump's action shows that the United States is tolerating worst human rights abuses by Saudi Arabia in its war on Yemen.
"There is no emergency. It's phony. It's made up. And it's an abuse of the law," said Representative Eliot Engel, chairman of the House Foreign Affairs Committee.
The US has been supporting a 2015-present Saudi-led war against Yemen that seeks to bring back the impoverished country's former Riyadh-backed officials. The American patronage has featured aerial refueling, which the US only stopped earlier in the year after the Saudi-led coalition grew independent of it, as well as logistical and commando support.
Tens of thousands have died since the onset of the war, and the entire Yemen has been pushed close to the edge of outright famine.
A year after the war was launched, Trump made his maiden foreign visit to Saudi Arabia, announcing more than $100 billion in arms sales to the kingdom.
Senate Majority Leader Mitch McConnell told reporters on Tuesday that four Republicans will join Democrats to oppose the arms sale to Saudi Arabia next week in the Senate.
Cooper, however, said the arms sales and US military buildup in the Persian Gulf were needed to counter what he called increasing threats from Iran to Saudi Arabia and the United Arab Emirates.
"These malign - even provocative actions mark a new evolution of the threat Iran poses to the security of hundreds of thousands of Americans who live and work in the [Persian] Gulf states, and to the security of the region and our partners," Cooper said.
Democrats denounced Trump's bypassing of Congress on the arms sale to Saudi Arabia and US support for Saudi war in Yemen.
Representative Brad Sherman, a Democrat, said, "You tell us that you want to send a message with this to our adversaries. It appears that your adversary is Congress and the message is loud and clear: 'We will stretch every statute beyond the breaking point in order to make the Congress irrelevant to the decision-making process.'"
"The arms sales you're talking about are controversial. There is significant opposition in Congress. And rather than confront that, you go around it," Sherman added.
"In what ways is the United States holding Saudi Arabia accountable for war crimes it has committed by murdering civilians on multiple, multiple occasions in Yemen and causing a famine in Yemen?" asked Democratic Representative Andy Levin.
US-Saudi relationship is 'immoral': Omar
Representative Ilhan Omar said the US relationship with Saudi Arabia "in its current form is immoral."
"But it is not only immoral, it is counterproductive to our national security," Omar added.
Lawmakers had been holding up the sales amid concerns about civilian casualties in the war and fury at Saudi Arabia over its killing of US-based journalist Jamal Khashoggi in Turkey last year. Khashoggi, a Washington Post columnist and outspoken critic of Saudi Crown Prince Mohammed bin Salman was killed and dismembered last May after entering the Saudi Consulate in Istanbul, but the US administration refused to let the murder adversely affect its Saudi ties.
https://www.presstv.com/Detail/2019/06/13/598397/Trump-created-phony-emergency-for-arms-sale-to-Saudi
--------
Prominent white supremacists are still on YouTube in wake of ban
By Kaya Yurieff
June 11, 2019
New York (CNN Business)Six days after YouTube said it would ban supremacist content and remove videos that deny well-documented atrocities like the Holocaust, accounts belonging to some of the most prominent purveyors of hate in the US, such as white supremacist Richard Spencer and former KKK leader David Duke, are still on the platform.
YouTube has taken some action against Duke's account, which he uses to, among other things, rail against what he calls the "Zio" media — "Zio" is a code word he uses for "Jewish" — and post bizarre fitness videos with advice on how to avoid shrunken testicles. Features like comments and sharing have been removed from the channel, and YouTube has added a warning that his videos contain "inappropriate" or "offensive" content. But a YouTube spokesperson told CNN Business that those actions predated the company's announcement last week.
The majority of videos on the account for the National Policy Institute, a white supremacist group that Spencer runs, do not contain any content warnings and most of the videos can still be shared and commented on. Spencer, who helped found the alt-right movement, was one of the leaders of the Unite the Right rally in Charlottesville, Virginia, in August 2017. Violence at that rally led to dozens of injuries and the death of counterprotester Heather Heyer.
One video that has a content warning and other restrictions shows Spencer interviewing Maram Susli, a YouTube creator known as "Syrian Girl," who has contributed to conspiracy site InfoWars.
In its blog post on Wednesday, YouTube said it was prohibiting "videos alleging that a group is superior in order to justify discrimination, segregation or exclusion based on qualities like age, gender, race, caste, religion, sexual orientation or veteran status." YouTube also said it would remove hundreds of thousands of videos that it had not previously considered to be in violation of its policies.
A YouTube spokesperson declined to comment on specific accounts, but said that enforcement of the updated policy will take time and that the company will expand its coverage of the new rules over the next several months. The spokesperson also said accounts are removed after they have repeatedly violated YouTube's "Community Guidelines" or if the channel is dedicated to violating YouTube's policies.
How effectively YouTube will enforce its new policy is an open question. CNN Business found on Thursday that one Nazi channel that YouTube has twice before deleted was back up, and making no attempt to hide itself or its connection to the two previously banned accounts.
The channel was first taken down in April 2018 in wake of a CNN investigation which found that ads from over 300 companies and organizations ran on YouTube channels promoting white nationalists, Nazis, pedophilia, conspiracy theories and North Korean propaganda. Run by Brian Ruhe, who had emphasized to CNN in 2018 that he did not want to be referred to as a "neo-Nazi," because he thinks of himself as a "real, genuine and sincere Nazi," the account deleted on Wednesday had over 3,300 subscribers when it was taken down. Earlier this year, Ruhe had posted to the channel a video of himself and friends celebrating Adolf Hitler's birthday, complete with a cake featuring a Swastika made out of icing and "Heil Hitler!" salutes.
Even though that account was deleted, a new Brian Ruhe account was already up on the site and posting videos on Wednesday, only hours after YouTube's policy announcement.
After CNN Business asked YouTube about the new account, the company took it down. Ruhe confirmed to CNN Business that both accounts belonged to him. He said YouTube told him the accounts were taken down for "severe or frequent violations" of YouTube's policy prohibiting hate speech. But Ruhe claimed: "I deny that I have hate or that I use hate speech."
YouTube's policies and its enforcement of them can be vague and inconsistent.
The company says its rules are based on content, and not the person behind the content.
But CNN Business' attempts to get answers as to YouTube's actions and thinking regarding several channels apparently owned by Ruhe were met with vague answers and new actions by YouTube that contradicted its previous positions.
In addition to the new account Ruhe started Wednesday, CNN Business found two other accounts belonging to him. One focused on his brand of Buddhism; the other, which was dedicated to him livestreaming, contained only two lengthy videos, one of which included mentions of Adolf Hitler and Nazi ideology.
After CNN Business asked YouTube about the accounts, it removed the livestreaming account and the account that Ruhe had started after the new policy was announced last week, though not the account about Buddhism.
A cursory review of the account Ruhe started last week, though, did not reveal any content in obvious violation of YouTube's policies. When CNN Business asked YouTube why it was removed, since both it and the Buddhism account did not immediately seem to be in violation, YouTube responded by removing the Buddhism account. A YouTube spokesperson declined to provide any further explanation about these decisions.
Asked why YouTube hadn't caught an account that had been banned twice before and was making no effort to hide what it was, the YouTube spokesperson said the platform relies on a combination of machine learning and user flags to address banned users making new accounts. The spokesperson also said YouTube removes reuploads of videos when flagged by its systems or users. The spokesperson declined to provide more details about how YouTube will address this issue in the future or how Ruhe was able to create multiple accounts.
The company has long faced criticism for letting misinformation, conspiracy theories and extremist views spread on its platform.
The company takes action on videos that violate its policies in several ways. It says it has four "pillars" for protecting users from harmful content, including deleting videos, restricting features on "borderline content," promoting authoritative voices, and rewarding trusted creators with the ability to make money from their channel, while demonetizing those who violate its hate speech policies.
YouTube deletes videos for violating its guidelines, including uploading pornography, copyrighted material or content whose primary purpose is inciting hatred.
For videos that are what the company calls "borderline content," it can opt to restrict certain features, such as removing the sidebar that appears to the right of most videos that recommends other content, or restricting the questionable videos from appearing on the "recommended" tab on the YouTube homepage. It can also add a content warning or disable comments.
While YouTube's community guidelines forbid "racial, ethnic, religious, or other slurs where the primary purpose is to promote hatred," it has resisted removing Duke's page, which includes among other things, a video in which he rails against the "Zionist Matrix of Power" that he falsely claims "controls Media, Politics and Banking." Instead, YouTube has chosen to strip away several features from his videos, such as disabling comments, removing the sidebar next to the video that recommends videos and adding a content warning filter.
YouTube can also take action on a channel by cutting off its ability to make money, such as through ads running on its videos. It's unclear whether Duke and Spencer have the ability to monetize their channels, but neither channel appears to have ads running on them.
YouTube's new policies come after Facebook (FB) said in March it was banning white supremacist content from its platforms. Facebook's ban came after the suspect in the terror attack at two New Zealand mosques live streamed part of the massacre on its platform.
https://edition.cnn.com/2019/06/11/tech/youtube-nazi-ban-update/index.html
--------
Anti-Muslim, anti-migrant hate moved mainstream in 2018, Council of Europe warns
12.06.2019
Hate speech and xenophobia became major concerns no longer relegated to the margins of European politics in 2018, according to an expert commission of the Council of Europe.
An annual report published Tuesday by the European Commission against Racism and Intolerance (ECRI) warned that public anxieties about global political and economic changes were increasingly being "exploited by those scapegoating migrants and minorities." "The growing public anxiety about economic, geopolitical and technological changes was exploited by those scapegoating migrants and minorities, in particular populist politicians aiming at dividing societies along national ethnic or religious lines," the report said.
The commission warned against populist initiatives that are aimed at "dividing societies," as well as ideologies that presume an "incompatibility" between different ethnic, national or religious groups in society.
"Not only were such views expressed by fringe politicians, but they increasingly gained footing within mainstream political parties and national governments," the ECRI said in a statement.
The report emphasized that anti-Muslim and anti-immigrant sentiment were still prevalent in most member states in 2018. "Muslim women were frequently the targets of violence, which often involved pulling off face veils and headscarves or being spat at," it said. Also, Jewish people in Europe continue to be confronted with anti-Semitic hatred, including violence, the report added.
Anti-Muslim hatred has significantly risen in Europe. Far-right extremism and xenophobia have fueled anti-Muslim hatred in Western countries, where terror attacks by Daesh and al-Qaida are used as an excuse to legitimize those views. Although enmity toward Muslims is not a new phenomenon, it intensified after 2001 when airplanes crashed into the World Trade Center in New York City. Since then, for almost two decades, Islam has been unjustly tarnished with labels that have negative connotations and portrayed as a religion of hate and violence with anti-Western sentiment and women's oppression. This trend of intolerance has triggered deadly attacks against Muslims and immigrants since then.
With growing racism emerging as a serious problem in almost all EU states, citizens of foreign origin are more vulnerable in some countries. For example, in Germany, Muslims have become targets of countless attacks in recent years. According to a report by the Leipzig-based Competence Center for Right-Wing Extremism and Democracy Research published last November, the country has been showing increasingly hostile attitudes toward immigrants, the Muslim community and other minorities such as the Roma, with one-in-three Germans thinking foreigners come only to exploit the welfare of the state.
The ECRI has also raised alarms about the increasing spread of "fake news" that often produces distorted images of vulnerable groups, and called on politicians, religious and community leaders to not only avoid using hate speech, but to proactively counter it.
The Council of Europe is based in Strasbourg and has a mandate to monitor human rights in its 47 member states. The ECRI is one of a number of committees that examine different aspects of human rights as part of the council's mandate.
https://www.dailysabah.com/islamophobia/2019/06/12/xenophobia-hate-speech-moved-mainstream-in-2018-council-of-europe-warns
--------
Easter bombings inside job: Muslim leader
Jun 13, 2019
The extremists behind Sri Lanka's deadly Easter bombings received funding from state intelligence services, a top Muslim leader told a parliamentary investigation.
The comments by Azath Salley, who quit last week as governor of Western Province, added to evidence of massive security failings before the April 21 attacks that killed 258 people.
The bombings were led by Zahran Hashim, a radical who broke from the Sri Lanka Thowheeth Jama'ath (SLTJ) to form an extremist group, the National Thowheeth Jama'ath (NTJ).
Salley told the Parliamentary Select Committee (PSC) that he repeatedly told President Maithripala Sirisena to take action against the group.
"The defence ministry paid the Thowheeth Jama'ath. The police worked closely with the Thowheeth Jama'ath," Salley said, according to a transcript of his remarks.
Salley said the former government of Mahinda Rajapakse in office until 2015 funded Thowheeth Jama'ath through military intelligence, a practice continued by the new administration.
Salley said that the funding was to spy on other groups.
Salley also said that a week before the attacks, he met with top defence officials to warn them about the activities of the radicals and impending dangers.
"If the police had taken action on the information I provided at the time, we would have been able to avoid this disaster," he said.
The PSC has already heard from several top defence and police officials that the authorities failed to implement an effective security plan even after receiving precise warnings of an impending attack.
Sirisena sacked his national intelligence chief Sisira Mendis after he told the PSC that the attacks could have been averted.
Mendis also said the president had failed to hold regular security meetings to assess the threat from such radicals.
His defence secretary and police chief have suggested that the president, who is also defence minister, did not follow proper protocols in dealing with intelligence warnings about the bombings.
Sirisena has refused to cooperate with the PSC and told his senior officers not to testify.
However, parliament warned civil servants that they risked up to 10 years in jail if they ignored summons.
Broadcasts of proceedings have however been halted.
Sirisena has repeatedly denied he was aware of an impending threat.
He suspended police chief Pujith Jayasundara and dismissed his top defence official Hemasiri Fernando after the bombings.
https://www.pakistantoday.com.pk/2019/06/12/easter-bombings-inside-job-muslim-leader/
--------
Hadi: Country facing 'moral crisis', practise clean, dignified politics
12 June 2019
KUALA LUMPUR, June 12 — PAS President Datuk Seri Abdul Hadi Awang has called on the public to practise honest, clean and dignified politics, in a statement issued following a gay sex video scandal allegedly involving a federal minister.
In a statement, Abdul Hadi claimed Malaysia is currently facing an integrity and moral crisis, and reminded others that Islam teaches its adherents to be wary when a news report arrives with unproven authenticity.
"PAS encourages all parties to uphold the true teachings of Islam and practise politics in an honest, clean and dignified manner for the betterment of the people and our beloved country," the Marang MP said.
"Islam also teaches us to uphold our own dignity as well as our kin's, which is included in the five maqasid shariah," Abdul Hadi said, using the Arabic term referring to the five higher objectives of the Shariah code.
Earlier today, his deputy Datuk Tuan Ibrahim Tuan Man said Muslims should not bear false witness, but those who admit to sin should be punished, following the video purportedly implicating a Pakatan Harapan leader.
He reminded PAS members of Islamic laws that advise against defamation and told them not to share the sex video of the two men, one said to be a federal minister.
https://www.malaymail.com/news/malaysia/2019/06/12/hadi-country-facing-moral-crisis-practise-clean-dignified-politics/1761491
--------
India
Tamil Nadu Islamic State module 'mastermind' held by NIA
Jun 12, 2019
The National Investigation Agency (NIA) on Wednesday arrested the alleged mastermind of so-called Islamic State (IS)'s Tamil Nadu module, news agency Press Trust of India (PTI) reported.
Mohammed Azarudeen, the alleged mastermind, was arrested after the NIA carried out searches at seven locations in Coimbatore.
He was a Facebook friend of Zahran Hashim, the suspected ringleader of the Easter Sunday bombings in Sri Lanka that killed over 250 people in churches and luxury hotels on April 21.
PTI cited an NIA statement and said the agency seized 14 mobile phones, 29 SIM cards, 10 pen drives, three laptops, six memory cards, four hard disc drives, an internet dongle and 13 CDs/DVDs, besides one dagger, an electric baton, 300 air-gun pellets and a large number of incriminating documents during the searches.
It reported a few pamphlets of Popular Front of India and Social Democratic Party of India, which are under the scanner of security agencies, were also seized.
Based on the recoveries, the agency has started questioning the accused about the material, it added.
A case was registered on May 30 against the module, which included 32-year-old Azarudeen of Coimbatore and five other residents of the city.
The agency had received information that the accused and their associates were allegedly propagating the IS's ideology on social media with the intention of recruiting youths into the group for carrying out terrorist attacks in south India, especially in Kerala and Tamil Nadu, the NIA said.
It said that Azarudeen maintained a Facebook page named "KhilafahGFX" through which he had been propagating the IS's ideology.
The other suspects in the case include Akram Sindhaa, 26, Y Shiek Hidayathullah, 38, Abubacker M, 29, Sadham Hussain, 26, and Ibrahim alias Shahin Shah, 28.
NIA said Ibrahim has been a close associate of arrested accused Riyas Abubacker in the IS's Kasaragod module case.
The NIA arrested Abubacker on April 29. He is believed to have told his interrogators that he has been following Hasim for over a year and wanted to carry out a suicide attack in Kerala.
NIA investigations have found that as many 14 people from Kasaragod had left India or their workplaces in the Middle East between May and July 2016 and travelled to Afghanistan or Syria, where they had come in contact with the IS.
https://www.hindustantimes.com/india-news/tamil-nadu-islamic-state-module-mastermind-held-by-nia/story-kdtctOThUDwNJWIGEWXZGP.html
--------
5cr minority students to get scholarships in 5 years: Govt
Jun 12, 2019
NEW DELHI: The Centre has announced scholarships for five crore
students from minority communities in the next five years. Minister for
minority affairs Mukhtar Abbas Naqvi said the government is targeting to
provide scholarships to one crore students from the minority communities
annually. The ministry is also stepping up work on narrowing the gap
between mainstream school education and the madrasa school system,
he said.
Naqvi said girls who have dropped out of madrasas and mainstream
schools will be linked to education and employment by providing them
"bridge courses" from reputed educational institutions of the country.
"Madrassa teachers from across the country will be given training from various institutions in mainstream subjects such as
Hindi, English, Maths, Science, Computer etc. so that they can impart mainstream education to the students in madrasas too.
This programme will be launched next month," Naqvi added.
In keeping with the key indicators set out in the Niti Aayog strategy paper where the government's vision for India at 75 years
in 2022 was laid out, the ministry has set its focus on socio-economic-educational empowerment of minorities, especially girls.
The target also includes the plan to identify 10 lakh recipients for the Begum Hazrat Mahal Girls Scholarship from the
economically weaker sections among minorities over the next five years.
Though Sachar Committee said only 4% of Muslim children attend madrassas, these students are critical because they grow up
to become maulvis, preachers and imams at mosques. If these students are enabled to clear the 10th and 12th board exams,
they can join the mainstream education and qualify for jobs in open market.
The Centre's plans evoked mixed reactions from across states. In Mumbai, madrassas, Muslim intellectuals and commentators
welcomed Naqvi's statement on training programmes for madrasas. Darul Uloom Deoband vice-chancellor Abul Qasim Nomani
said, "We welcome this decision and look forward to being the beneficiaries of this scheme. It has to be seen how effectively it
is implemented on the ground."
All India Muslim Personal Law Board secretary and spokesperson, Maulana Khalid Saifullah Rahmani said, "Good steps by
government...the process of applying for these scholarships should be made easy."
"There is no problem in accepting the government's assistance to teach Science, Maths, English and other modern subjects
provided the government doesn't meddle in the basic curriculum of the madrassas. We don't want the madrassas to lose their
basic character of imparting Quran and other Islamic subjects in the name of modernisation," said Mufti Abdul Batin Noamani,
Shahar-e-Qazi or chief mufti of Benares who also teaches at Jamia Mazharul Uloom, a 125-year-old madrassa in Benares.
Many doubted the government's "sincerity" to modernise the madrassas. Delhi minority commission chairman Dr Zafrul Islam
Khan, who was part of a high-level panel which evaluated the madrassa modernisation plan three years ago, said that the
government must show seriousness in upgrading the madrassa education. About the 5 crore scholarships announced for
minority students, Khan said that, due to lack of awareness among Muslim students, a huge chunk of these scholarships get
cornered by other minorities.
Senior Urdu commentator Hasan Kamal, while welcoming the move, said that the Modi government could win the trust of the
madrassas and the Muslim masses at large provided it "walked the talk." In UP, opposition parties questioned the intent of Modi
government. "Scholarships are welcome but what is interesting is that when we did the same, it was labelled as appeasement,"
said UP Congress vice-president, Omkar Nath Singh.
Samajwadi Party termed the scholarship announcement as a politically motivated step that exposes BJP's double standards on
minority welfare. https://timesofindia.indiatimes.com/india/5cr-minority-students-to-get-scholarships-in-5-years-govt/articleshow/69748292.cms
--------
Islamic State group claims involvement in Kashmir gunbattle
Jun 13, 2019
NEW DELHI – The Islamic State group has claimed involvement in a gunbattle in Kashmir, the disputed Himalayan territory where militants have fought Indian rule for decades.
The group released a statement on an IS website Tuesday saying that "soldiers of the caliphate" had been wounded in a clash in the Kashmiri town of Zainapora.
A statement from police headquarters in Srinagar, the region's largest city, says two militants killed in the gunbattle were "inspired by IS ideology" and were wanted in connection with "terror crimes."
Police say they came under fire while searching for the suspects.
The Islamic State group occasionally claims responsibility for deadly clashes with authorities but its hardline ideology has not attained mainstream acceptance in Kashmir, where militants complain it is trying to hijack their independence movement.
https://www.foxnews.com/world/islamic-state-group-claims-involvement-in-kashmir-gunbattle
--------
J&K: Five CRPF personnel killed in Anantnag terror attack
Jun 12, 2019
SRINAGAR: Five CRPF personnel, including two officers, who were
deployed on picket duty were killed in south Kashmir's Anantnag district
on Friday afternoon when terrorists attacked them while they were
checking vehicles. IG CRPF Ravideep Sahi told TOI that this was the first
attack on CRPF after the February 14 suicide bombing in Pulwama in
which the paramilitary force has suffered casualties.
A Pakistani terrorist was also killed as CRPF and police personnel
retaliated. Five persons, including the SHO of Anantnag Sadar police
station, three CRPF jawans and a woman pedestrian, were injured in the
attack, which comes less than three weeks before the annual Amarnath
yatra to the cave shrine located in south Kashmir begins.
A lesser known terror outfit, Al Umar Mujahedeen, has claimed responsibility for the attack. However, police believe that Jaishe-Muhammad - which owned up the Pulwama suicide bombing in which 40 CRPF personnel were killed – is behind the attack.
Police sources said the material recovered from the slain militant, including an AK47 rifle, pointed at Jaish's involvement.
Official sources said a joint team of the Bravo company of CRPF's 116th battalion and Jammu & Kashmir police was checking
vehicles at a barricade they had put up near the Oxford Presentation School at Khanabal-Pahalgam road when two terrorists
came in a car around 4.50 pm. While one of the terrorists wielding AK-47 rifle got down and started firing indiscriminately, the
other one remained in the car, eyewitnesses said. He later managed to escape, an official spokesman said.
SHO Arshid Khan, who reached the spot moments after he received information about the attack, sustained a bullet injury on
his chest as soon as he alighted from his vehicle, eyewitnesses said. Khan has been admitted to Army's base hospital in
Srinagar where his condition is critical.
Medical superintendent of district hospital in Anantnag said five injured CRPF personnel were brought to the hospital. Three of
them died during treatment.
The deceased CRPF personnel have been identified as ASIs Nirod Sarma and Ramesh Kumar and constables Satendra Kumar,
Mahesh Kushwaha and Sandeep Yadav. While the ASIs are from Assam and Haryana, respectively, the constables are from
Madhya Pradesh and Uttar Pradesh.
The pedestrian, identified as Snobar, has also been hospitalised.
https://timesofindia.indiatimes.com/india/jk-five-crpf-personnel-killed-in-anantnag-terror-attack/articleshow/69762756.cms
--------
India to continue to pursue Zakir Naik's extradition request with Malaysia, judicial system is fair: MEA
Jun 12, 2019
NEW DELHI: India on Wednesday said it would continue to pursue with
Malaysia its request for extradition of Zakir Naik, two days after the
Malaysian Prime Minister had said that his country has the right to not
extradite Naik as the fugitive evangelist claims he will not get a fair trial
back home.
Spokesperson of the external affairs ministry Raveesh Kumar also
asserted that the fairness of the Indian justice system has never been in
question.
"India has extradition arrangements with many nations. In the past, there
are numerous cases of successful extradition to India. The fairness of the Indian justice system has never been in question,"
Kumar said.
"India has made a formal request for the extradition of Zakir Naik. We would continue to pursue the matter with Malaysia," he
added, in response to queries on the status of Naik's extradition from Malaysia.
Naik, a 53-year-old radical television preacher, left India in 2016 and subsequently moved to Malaysia, which has reportedly
granted permanent residency to him.
Asserting that Malaysia has a right to not extradite Naik, Malaysian Prime Minister Mahathir Mohamad was quoted as saying by
'The Star' newspaper on Monday that "Zakir in general feels that he is not going to get a fair trial (in India)."
The Malaysian leader also compared the situation to Australia refusing to extradite former police commando Sirul Azhar Umar,
who was sentenced to death in Malaysia in 2015 for killing a Mongolian model.
Naik was booked by the Enforcement Directorate (ED) in 2016 based on a National Investigation Agency FIR that was
registered under the Unlawful Activities Prevention Act.
The ED last month said Naik received funds worth crores in his and his trusts' bank accounts from unidentified "well wishers"
over the years for his speeches that spread "hatred and incited Muslim youths" to take up terrorism.
https://timesofindia.indiatimes.com/india/india-to-continue-to-pursue-zakir-naiks-extradition-request-with-malaysia-judicial-system-is-fair-mea/articleshow/69760442.cms
--------
Mideast
Iraq joins Lebanon, Palestinians in boycotting US-led confab in Bahrain
Jun 13, 2019
Iraq says it will not attend an upcoming conference in Bahrain that is set to launch US President Donald Trump's so-called Middle East peace plan, also known as the "deal of the century."
"We are not interested in this conference and we will not participate in it," Iraqi Foreign Ministry spokesman Ahmad al-Sahaf told Turkey's Anadolu news agency on Wednesday.
"Iraq is sticking by its firm and principled position regarding the Palestinian issue and the rights of the Palestinian people," he noted.
Iraq is the second Arab country of the Middle East after Lebanon to boycott the conference in support of the Palestinian people.
This come as countries such as Egypt, Jordan and Morocco have informed Washington of their plans to send representatives to the June 25-26 conference, which seeks to unveil the economic aspects of the US scheme on the Israeli-Palestinian conflict.
Washington has withheld details about its plan, but various leaks have revealed that it seriously compromises Palestinians' rights and grievances.
Meanwhile, Palestinians have accused regional Arab states, including Saudi Arabia, the United Arab Emirates and Qatar — which have similarly announced plans to participate at the conference — of betraying the Palestinian cause of ending the Israeli occupation.
All Palestinian factions, whether in the Gaza Strip or in the occupied West Bank, have unanimously boycotted the conference.
Speaking in the occupied West Bank city of Ramallah on April 16, Palestinian Prime Minister Mohammad Shtayyeh lashed out at the initiative, asserting it was "born dead."
Palestinians also have urged Egypt and Jordan to reconsider, arguing that the move would weaken any Arab opposition to the US plan.
https://www.presstv.com/Detail/2019/06/13/598375/Iraq-Bahrain-conference-deal-of-the-century-Palestine-Israel-Donald-Trump
--------
Saudi arrested, tortured over 150 Palestinians over charitable activities: Rights group
Jun 12, 2019
An independent human rights group says Saudi authorities have arrested and tortured scores of Palestinian expatriates living in the conservative kingdom over their involvement in charitable activities and sending money back home.
Prisoners of Conscience, which is an independent non-governmental organization seeking to promote human rights in Saudi Arabia, announced in a series of posts on its official Twitter page on Tuesday evening that more than 150 Palestinians are currently languishing in Saudi detention centers. Some 40 Palestinians were arrested in the Red Sea port city of Jeddah alone.
The rights group added that Saudi intelligence agents have committed rights abuses against Palestinians during and after their arrest.
The tweets noted that Saudi security forces stormed the houses of the Palestinians at night, locked women and children in one room and confiscated electronic devices before arresting those they were looking for.
"All of the detainees, including businessmen Osama Filali, Hisham Filali, Mohammed bin Mahfouz, Rees bin Mahfouz and Saleh Abu Ghosh, are completely barred from contacting their families. Some are entering their second year in detention. Families of some prisoners do not know anything about them even during (the holy Muslim fasting month of) Ramadan and Eid al-Fitr (which marks the end of the month)," the group said.
Earlier this month, Arabic-language al-Khaleej Online news website reported that Saudi officials have blocked money transfers between the kingdom and the Gaza Strip.
The report described residents of the besieged and impoverished Gaza Strip as the main victims of the move. Most of the bank transfers that used to be carried out normally in the past, were frozen just a few days before the start of the Eid holiday.
Remittance transactions are taking much longer time than usual – something that used to be done in a matter of few hours.
Many Palestinians have complained of the move, and termed it as "unprecedented." They argue that the process of transferring money between Saudi Arabia and the Gaza Strip has become extraordinarily difficult.
Over the past two years, Saudi authorities have deported more than 100 Palestinians from the kingdom, mostly on charges of supporting Hamas resistance movement financially, politically or through social networking sites.
The Riyadh regime has imposed strict control over Palestinian funds in Saudi Arabia since the end of 2017.
All remittances of Palestinian expatriates are being tightly controlled, fearing that these funds could be diverted indirectly and through other countries to Hamas.
Money transfer offices are asking the Palestinians to bring forward strong arguments for conversion, and do not allow the ceiling of one's money transfer to exceed $3,000.
https://www.presstv.com/Detail/2019/06/12/598362/Palestinians-Saudi-Arabia-tortured-arrested-
--------
Turkey Acquits ISIS Militant Who Recruited Fighters in Syria, Iraq
11 June, 2019
A Turkish court acquitted an ISIS militant who was twice accused of belonging to the terror organization.
Coskun Demir, aka Abu Hanzala, a 27-year-old resident of Turkey's eastern province of Erzurum, is part of a radical cell and has helped many Turks to join al-Qaeda and ISIS organizations and other extremist armed groups in Iraq and Syria.
According to security sources, Demir is currently in pre-trial detention.
According to investigations, Demir had been in contact with another Turkish terrorist, Abu Bakr, who Turkish authorities say was the mastermind of ISIS attacks inside Turkey.
Evidence also showed that Demir was in contact with a Turkish man known as Mohammed Selev, who is wanted on charges of belonging to ISIS.
In his testimony before the court on May 30, 2018, Demir admitted to supporting ISIS through social media sites and defended his position in seeking to overthrow the secular regime in Turkey.
Turkish authorities arrested him in November 2017 for his activities with ISIS, and he was charged on December 21 but was later released pending trial.
He was arrested again in May 2018 on similar charges, and a second indictment was filed against him on June 13, 2018. Police found dozens of extremist books while searching his home.
During the trial, which ended on November 22, 2018, the new prosecutor, Mustafa Savaş, who took over the case asked the court to acquit Demir of all charges.
The Supreme Criminal Court of Erzurum unanimously decided to acquit Demir, saying he had the right to exercise freedom of expression.
According to reports based on official statistics, the majority of suspects officially arrested on charges of association with al-Qaeda and ISIS in Turkey were quickly released by court proceedings, and the number of successful convictions remained very low in the Turkish criminal justice system due to the political environment lax.
The number of foreign fighters arrested in Turkey, among those passing from its borders to reach Syria and Iraq, has reportedly risen from only eight in 2014 to 499 in 2015.
https://aawsat.com/english/home/article/1762566/turkey-acquits-isis-militant-who-recruited-fighters-syria-iraq
--------
3 soldiers killed in roadside bomb explosion in southern Yemen
2019-06-11
ADEN, Yemen, June 11 (Xinhua) -- An explosion caused by a roadside bomb hit a security vehicle in Yemen's southern province of Abyan on Tuesday, killing at least three soldiers and wounding four others, a government official told Xinhua.
A roadside bomb blast struck a security vehicle in the entrance of Mahfed town of Abyan province, causing a huge explosion in the area, said the local government official, who asked to remain anonymous.
He said the explosion killed at least three members of the newly-recruited security forces backed by the Saudi-led coalition and injured four others at the scene.
The injured security members were immediately evacuated by an ambulance to a nearby hospital for medical care, he added.
Security reinforcements backed by armored vehicles were sent to the area from Abyan's capital of Zinjibar city, according to local residents.
It is unclear which faction of the militant groups, such as al-Qaida or the Islamic State, was responsible for the attack. However, security sources blamed the Yemen-based al-Qaida branch that more frequently uses roadside bombs.
The Yemen-based al-Qaida in the Arabian Peninsula (AQAP), which mostly operates in eastern and southern provinces, has been responsible for many high-profile attacks against security forces in the country.
The provinces of Abyan and Shabwa, former main strongholds of AQAP, have also been the scene of sporadic attacks or heavy clashes between Yemeni security forces and al-Qaida militants from time to time.
The AQAP, seen by the United States as the global terror network's most dangerous branch, has exploited years of deadly conflicts between Yemen's government and Houthi rebels to expand its presence, especially in the southern and southeastern provinces.
http://www.xinhuanet.com/english/2019-06/11/c_138134437.htm
--------
Arab Coalition: Houthi rocket targets Saudi Abha airport, 26 injured
12 June 2019
A Houthi cruise missile fell on the arrivals hall of Saudi Arabia's Abha International Airport, injuring 26 civilians, the Arab Coalition said on Wednesday.
Eight of those wounded at Abha airport were admitted to hospital, coalition spokesman Turki al-Malki said in a statement. He stated that the injured are of different nationalities, among them three women who are Yemeni, Saudi and Indian, and two Saudi children. All the injured have been treated and left the hospital.
Saudi Arabia's General Authority of Civil Aviation said that Abha airport traffic is operating as normal.
Earlier on Wednesday, Houthi-run Masirah TV reported that the militias targeted the airport with a cruise missile.
Al Malki concluded by saying that coalition forces will take urgent and timely measures to deter the militias from carrying out further attacks.
International condemnation
Following the attack, Bahrain called for a clear and firm international stance on "Houthi terrorism and Iranian support for it".
Bahrain's Minister of Foreign Affairs, Khalid bin Ahmed Al Khalifa, said that the attack is "a serious escalation using Iranian weapons".
The Yemeni government said that the Houthi militia does not understand dialogue and diplomacy, and that it only understands violence.
"The Arab Coalition and the legitimate government have no other option but the military one to end the Houthis' terrorism," the Yemeni government added.
The Palestinian President, Mahmoud Abbas, also condemned the attack, demanding that "everyone condemns it too".
In a statement by the foreign ministry, Egypt condemned the attack and said that it stands with Saudi Arabia against any targeting of its security and stability.
The statement added that targeting airports is a violation of international laws.
The GCC's Kuwait considered the attack a "dangerous escalation" and a "criminal attack on innocent people".
The Jordanian Foreign Ministry and Lebanese Prime Minister Saad al-Hariri also condemned the attack.
The UAE has also said that it stands with Saudi Arabia against the Houthis' "extremism and terrorism".
The US embassy in Saudi Arabia said that it condemns the Houthi attack, adding that it targeted innocent civilians, with the Pentagon saying the attack shows new evidence on the Iranian role in the region.
https://english.alarabiya.net/en/News/gulf/2019/06/12/Arab-Coalition-Houthi-rocket-targets-Saudi-Abha-airport-26-injured.html
--------
UN confirms Yemen's Ansarullah fully abiding by peace deal
Jun 13, 2019
A UN mission monitoring a peace deal between warring parties in Yemen's Hudaydah says the Houthi Ansarullah movement has fully withdrawn its forces from three key ports in the region based on the truce agreement.
Lieutenant General Michael Lollesgaard, who heads the UN monitoring mission in Hudaydah, said in a statement that regular UN patrols had not detected a Houthi military presence in the three Red Sea ports of Hudaydah, Salif and Ras Isa since May 14.
Lollesgaard said Houthi military installations and equipment had been removed from Salif and Ras Isa but largely remained in Hudaydah.
He called on the Houthis to "expeditiously complete the removal of all military manifestations, including trenches, as part of their commitment to the process."
The Houthi Ansarullah movement's unilateral pullout from the ports in early May was the most significant advance yet for efforts to end the four-year-old waged by the Saudi-led coalition against the movement
In December, Yemen's government and the Houthis met in Sweden and agreed to a ceasefire and troop withdrawal deal for Hudaydah. Under phase one, the Ansarullah pulled out of the Red Sea ports of Hudaydah, Salif and Ras Isa last month.
Hudaydah is Yemen's main port and a lifeline for millions of Yemenis on the brink of starvation, a situation exacerbated by restricted imports of food and other supplies due to the war.
The move by the Houthis is due to be met by a retreat of Saudi-led coalition forces from the eastern outskirts of Hudaydah, facilitating humanitarian access to grain stores at the Red Sea Mills.
Lollesgaard said last month that a phase one withdrawal by government and coalition forces would not take place until the warring parties had worked out details for a broader phase two redeployment.
More than 70 percent of Yemen's imports used to pass through the docks of Hudaydah, a lifeline for the war-ravaged country's crippled economy. Salif was used for unloading all main types of grain, and Ras Isa, a vital oil terminal, was used for exporting Ma'rib's light crude oil.
The lengthy siege has pushed tens of thousands of people in Yemen to the verge of starvation and crippled the country's economy. In an effort to prevent the humanitarian situation from further deteriorating and to avert a larger assault by the Saudi-led coalition on the ports, the Houthis signed a UN-brokered agreement with the ex-government in Sweden last December.
https://www.presstv.com/Detail/2019/06/13/598377/Yemen-houthi-ansarullah-hudaydah-peace-deal-withdraw-forces
--------
International condemnation of Houthi attack on Saudi Arabia's Abha airport
June 12, 2019
RIYADH: Leaders from around the Arab world have condemned a Houthi missile attack on Saudi Arabia's Abha International Airport.
In the early hours of Wednesday, the Iranian-backed Houthi militia targeted the airport in southern Saudi Arabia, which injured 26 civilians, an Arab coalition spokesman said.
The UAE, in its condemnation of the attack, said the act was proof of the Houthi militia's attempts to "undermine regional security."
In a statement, the Emirati foreign ministry renewed its "full solidarity" with Saudi Arabia and said it "stands with Riyadh against any threat to the Kingdom's security and stability."
The UAE also renewed its support for all measures taken to combat extremism and Houthi terrorism to preserve the Kingdom's security and the safety of its citizens and residents on its territory.
The ministry also wished the injured a speedy recovery.
Bahrain also said on Wednesday that it "strongly condemned" the attack, calling it a "terrorist and cowardly criminal act against innocent civilians."
Bahrain's Foreign Ministry expressed support with "the brotherly Kingdom of Saudi Arabia" and affirmed "the need for a strong-willed international stand against Iran to stop it supporting these recurrent terrorist acts."
Kuwait echoed Bahrain's condemnation of the targeting, saying that the targeting was a "criminal attack" on innocent people.
The Amir of Kuwait Sheikh Sabah Al-Ahmed expressed his and his country's condemnation of the sinful terrorist act that targeted innocent lives and destabilized security and stability.
In a cable sent to King Salman, the amir reiterated Kuwait's support for all measures taken by the Kingdom to confront terrorism and preserve its security.
The US Embassy in Saudi Arabia condemned in the strongest terms the Houthi militia attack which "targeted innocent civilians."
The US Mission in the Kingdom also issued a security alert and said the Embassy in Riyadh and the Consulates General in Jeddah and Dhahran are monitoring the situation.
Meanwhile, the Pentagon said the attack showed "new evidence" of Iran's malicious role in the region.
Palestinian President Mahmoud Abbas has also condemned the Houthi criminal act and called on all to similarly condemn the attack, Al-Arabiya TV reported.
Saudi Arabia's foreign ministry said the attack on the Kingdom's territory represented a "serious escalation."
Egypt said it stands by Saudi Arabia following the attack, calling for an immediate halt to all attacks on Saudi territory, saying it will "defy any attempt to target" the Kingdom.
The Jordanian Foreign Ministry also condemned the "terrorist attack" on the airport, and that Jordan supports Saudi Arabia in all measures taken to preserve its security.
Speaker of the Arab Parliament Mishal bin Fahm Al-Salami denounced the attack. In a statement Al-Salami called on the UN Security Council to adopt a firm position to classify the Houthi militia as a terrorist group for its flagrant violation of international law.
He affirmed the Arab Parliament's support for the Kingdom and the measures taken to address all threats to its security and stability and the safety of its citizens.
Pakistan also condemned the attack. "Pakistan reiterates its full support and solidarity with the brotherly Kingdom of Saudi Arabia against any threats to its security and territorial integrity," a statement from the Foreign Office in Islamabad said.
Ambassador of Djibouti to Saudi Arabia Dya-Eddin Said Bamakhrama said that his country condemned the aggression, which was a serious escalation of the conflict, and declared its solidarity with Saudi Arabia.
The legitimate Yemeni government said that the Houthis did not understand dialogue and diplomacy, and only understood the language of weapons and force. The Arab Coalition and the legitimate government had no choice but to resort to military options to end Houthi terrorism, the government's spokesman Rajeh Badi said.
The attack follows an armed drone strike last month on two oil-pumping stations in Saudi Arabia. The Houthis have claimed responsibility for the attack.
Since the beginning of the four-year conflict, the Houthis have fired dozens of missiles into the Kingdom with most intercepted by the Saudi military. In recent weeks, tensions between warring parties have risen after the stalling of a UN-led peace deal.
http://www.arabnews.com/node/1509916/saudi-arabia
--------
North America
Despite Trump's Guantánamo Threats, Americans Who Joined ISIS Are Quietly Returning Home
By Robin Wright
June 11, 2019
On June 5th, eight Americans were quietly flown home from the former isis caliphate in Syria. The two women and six minors, whose identities were not disclosed, are now being resettled at unnamed locations with help from the U.S. government. They are not the first citizens of the Islamic State to return. Four other Americans—three men and a woman—await trials on various charges of aiding or abetting the world's most notorious terrorist group. Three more agreed to plea deals; one has already served time and been released. A lone American opted for a trial and was sentenced to twenty years, although his case is under appeal.
They won't be the last returnees, either. For months, the F.B.I. has been searching for Americans among the two thousand foreign fighters who surrendered or were captured on the battlefield. (After five years of war, the Islamic State finally collapsed on March 23th.) Another twenty or so Americans, including half a dozen fighters, have been identified, U.S. officials told me. Most were in prisons run by the Kurdish-led militia that defeated isis or detention camps for women and children. The U.S. intention is to bring them all home—eventually.
So far, the handling of returnees has been far different from what Donald Trump promised during the Presidential campaign. In 2016, Trump vowed to use Guantánamo Bay—the prison camp opened in Cuba to house enemy combatants from the Afghanistan war—for captured isis fighters. "We're going to load it up with bad dudes," he said. In his first State of the Union speech, in 2018, he announced a new executive order to keep Gitmo open, reversing President Barack Obama's policy. "Terrorists who do things like place bombs in civilian hospitals are evil," Trump said. "When possible, we have no choice but to annihilate them. When necessary, we must be able to detain and question them. But we must be clear: terrorists are not merely criminals, they are unlawful enemy combatants."
Instead, the Justice Department has opted to try isis returnees in U.S. courts and even to release or resettle some of them. But the process is still in its early stages. "The United States is committed to taking responsibility for its citizens who attempt to travel or did travel to support isis," Marc Raimondi, the Justice Department spokesman, told me last week, in an e-mail. "We have prosecuted over 100 cases against individuals who tried to travel to support isis and have brought charges against several who have returned, including as recently as earlier this year."
Other Americans may still be underground with isis cells in Syria or Iraq, U.S. officials concede. Just identifying U.S. citizens has been tricky. Most foreigners took noms de guerre. Some assumed names denoting nationality—such as al-Amriki, or "the American"—as new surnames. Those could be misleading, however. One sixteen-year-old fighter—Soulay Noah Su, who took the name Abu Souleiman al-Amriki—turned out to be from Trinidad and Tobago. An unknown number of Americans—possibly even the majority—may have been killed on the battlefield.
The Americans who travelled to the Islamic State fit no single type. So far, the returnees have included a substitute teacher from Texas, a Baptist mother of four from Indiana, a former student from Columbia University, and an F.B.I. translator who married the terrorist she was spying on. Most were born in the United States; they were not immigrants. They're geographically diverse—from Texas, California, Michigan, Virginia, New York, and Indiana. The adults have ranged in age from mid-twenties to mid-fifties, according to George Washington University's Program on Extremism. The children of American isis members include teen-agers who accompanied their parents when they left the United States and toddlers who were born in the Islamic State, according to U.S. officials and lawyers defending isis returnees.
Deciding the fate of the Islamic State's former citizens is a legal and moral minefield. National-security interests can conflict with individual rights. Their cases raise unanswered questions about the government's authority to invoke wartime powers against the Islamic State without congressional authorization. The timing of returns so far suggests that the Justice Department may not want to repatriate isis members until it has sufficient evidence to indict them immediately upon arrival. American citizens cannot be jailed indefinitely at home without violating their constitutional rights. Yet simply figuring out what each individual did in the caliphate—a "state" that no longer physically exists—is a time-consuming challenge. The main witnesses may be other citizens of the Islamic State.
Last year, the United States opted to release a suspected isis member after holding him, without trial, for thirteen months. He had been captured by the U.S.-backed Syrian Democratic Forces, in 2017, turned over to U.S. forces, and detained at a U.S. base in Iraq. He was cited in court filings only as "John Doe." The Times identified him as Abdulrahman Ahmad Alsheikh, a dual U.S.-Saudi citizen born in the U.S. and last resident in Louisiana. In October, with a legal challenge to his open-ended detention still pending, the U.S. opted to free him; he was turned over to Bahrain. His U.S. passport was revoked, but his lawyer claimed he bargained to keep his citizenship.
The recent return of eight Americans has generated new questions about U.S. metrics for judging affiliation with a terrorist group, notably by female returnees. The U.S. is helping resettle the two women repatriated last week. But, last year, Samantha Elhassani (née Sally), a Baptist mother from Elkhart, Indiana, who was married to a Muslim American, was charged when she was repatriated. The first indictment alleged that she had provided "material support and resources" for Islamic State personnel, namely her husband and his brother, by transferring money out of the United States and obtaining rifle scopes and binoculars. A subsequent indictment charged her with conspiring to aid isis personnel with the full knowledge that the group was a designated terrorist organization. The charges carry prison sentences of up to forty years. She has pleaded not guilty.
The Elhassani case is full of bizarre twists and disputed facts. In 2015, she went with her second husband, Moussa, and two children to Syria. They had two more children in Raqqa, the capital of the Islamic State. Moussa was killed in a drone strike, in 2017. She and her four children fled Raqqa as it fell, the same year; they were detained by a U.S.-backed militia. She was questioned by the F.B.I. and asked to be repatriated. She was flown home, charged, and jailed, and her children placed with Indiana social services.
At her bond hearing, in December, her defense counsel, Thomas Durkin, disclosed that that Elhassani had been a paid F.B.I. informant for two years before she went to Syria. (She had provided serial numbers of cell phones being shipped to Yemen by a company owned by her husband's family.) "I find it incredibly ironic that somebody who coöperated with the F.B.I. for two years, the F.B.I. took under their wing, and, I assume, believed everything she said, all of a sudden now turns the tables, was now unreliable," Durkin told the court. He also claimed that Elhassani acted "under the direction of her husband, who is unquestionably crazy and unquestionably an abuser." She had believed the family was going to Morocco; he duped her after they arrived in Istanbul. Durkin said she had not known her husband's intent when she carried tens of thousands of dollars to Hong Kong and picked up the small amount of equipment purchased by her husband before he took them to Syria.
One of the most damning pieces of evidence is an isis propaganda video that prosecutors say Elhassani filmed of her ten-year-old son, Matthew, renamed Yusuf in the caliphate. "My message to President Trump, the puppet of the Jews: Allah has promised us victory and he's promised you defeat," the child said in the video. "It's not going to end in Raqqa or Mosul. It's going to end in your lands. So get ready. The fighting has just begun." The boy then loaded a rifle and peered through its scope.
Elhassani's defense lawyer claimed that her husband forced her to make the film and that he coached the boy throughout. He also said that Elhassani had been detained for months in an isis prison camp as a suspected U.S. spy; she claimed to have been raped and tortured. Today, she suffers from P.T.S.D., for which she gets medication, her lawyer said.
The prosecution rebutted the defense's appeal by painting Elhassani as an unrepentant liar who had navigated a war zone, helped her husband buy three Yazidi slaves, and was creating a tale of woe after the fact. "We don't often charge the family members of the people who are seeking to go fight isis," the prosecutor, Abizer Zanzi, told the court. "The charges here do not require her to be a member of isis. She was charged with aiding and abetting and conspiracy."
In his ruling, Judge Philip P. Simon described the evidence as a "mixed bag"—with the defense proffering "a compelling case" but the prosecution providing sufficient questions about Elhassani's credibility to refuse her bail. "It sounds to me like we're going to have a really interesting and hotly contested trial," he said. Elhassani is now undergoing psychological testing. Her trial is tentatively scheduled for early 2020.
Other cases have varied widely. The first known isis returnee was Mohimanul Alam Bhuiya, a former Columbia student from Brooklyn, who asked to leave the caliphate three months after arriving there. "I am an American who's trying to get back home from Syria," he e-mailed the F.B.I., from Syria, in 2014, according to federal court documents. "I am fed up with this evil." isis had confiscated his passport, so he wanted help once he crossed the border with Turkey. "Please help me get home," he wrote. Bhuiya smuggled out isis documents and, upon his return, pleaded guilty to providing material support to isis. For the next four years, he coöperated with U.S. intelligence and law enforcement, and, in June, 2018, federal prosecutors recommended that he be free on supervised release rather than serve prison time. His sentence could have been up to twenty-five years.
In January, Warren Christopher Clark, a former substitute teacher from Sugar Land, Texas, was charged with providing material support for isis upon his return. "I wanted to go see exactly what the group was about, and what they were doing," he told NBC News in January, while being held by the U.S.-backed militia that defeated isis. "I wanted to learn more about the ideology. I'm a political-science major, global-business minor. I like politics. I like travel, world events." He acknowledged the Islamic State's brutality but said that Texas executed people as well. "So I really don't see any difference. They might do it off camera, but it's the same." He has pleaded not guilty, but, if convicted, he faces a sentence of up to twenty years in prison and a quarter-million-dollar fine.
For isis returnees, the judicial process heavily favors the prosecution, according to Jessica Carmichael, who represented Mohamad Jamal Khweis, of Alexandria, Virginia. An indictment, in 2016, claimed that Khweis volunteered to be a suicide bomber, took religious training, and gave money to the Islamic State. He was captured after only ten weeks with isis, when he was forward deployed in Iraq. In 2017, he was sentenced to twenty years. His appeal is pending.
"The Government often has a significant advantage in these types of cases, as the only entity that can bring this person home," Carmichael told me in an e-mail. Americans who want to leave "are primarily, if not entirely, at the mercy of U.S. Government officials for relief. Such a grasp on one's fate presents profound leverage when it comes to extracting confessions to be used in a criminal prosecution."
The majority of the nine thousand isis fighters captured in Syria have yet to be dealt with, by any nation, as do the more than seventy thousand family members of fighters who are being detained separately. They come from some eighty nations. In February, as the Islamic State was losing ground, President Trump called on the world to take back foreign citizens.
The United States has not disclosed the number of Americans who joined isis, but it was small, proportionately, when compared with the numbers from Russia, China, European allies, or even nations with small populations. Tunisia, with only eleven million people, had more than three thousand of its citizens join the extremist movement. Some three hundred Americans, by comparison, tried to travel to the Islamic State, but dozens were arrested before leaving U.S. shores, according to George Washington University's Program on Extremism.
"Managing the aftermath of the fall of isis's so-called caliphate is a historic challenge," a State Department official told me last week. "This is a global problem, and the entire international community must now work to identify appropriate pathways for affected groups; this includes durable solutions for displaced civilians, the repatriation and prosecution of foreign terrorist fighters, and the return, reintegration, and de-radicalization of family members."
So far, however, the United States has taken back only about a third of the known Americans who survived the caliphate. For disparate reasons, many of the eighty nations whose citizens joined isis have balked at dealing with the messy aftermath of the Islamic State.
https://www.newyorker.com/news/news-desk/americas-isis-members-are-coming-home
--------
Washington D.C. Man Facing Drug Charges Allegedly Showed Strong Interest in ISIS
Jun 11, 2019
A Washington, D.C., man charged last week with selling methamphetamine to an undercover police officer allegedly had a strong support for ISIS, according to prosecutors who opposed bail for the defendant.
According to court documents, Jeremy Stevenson first came under FBI scrutiny on Jan. 19, 2017, after he had donned a mask and taunting patrons at a Washington, D.C., bar by displaying ISIS propaganda from his cell phone, including photographs of the ISIS flag and a video depicting a beheading at the hands of an ISIS militant. The incident occurred during the week of the presidential inauguration, and the FBI identified Stevenson as the perpetrator later that year.
The FBI spoke with Stevenson twice in 2017. According to court documents, the suspect defended ISIS beheadings during these interviews, comparing such acts to death sentences handed down by the U.S. criminal justice system.
Stevenson explained he searched the internet for ISIS videos, including beheading videos and videos where ISIS leadership explained its mission and purpose. He also said he had communicated via Facebook with ISIS-connected individuals who had attempted to recruit him to join ISIS.
According to court documents, a Facebook user had asked Stevenson if he wanted to join ISIS and urged him to take Arabic language classes. The defendant reported to the FBI that he did not actually intend to join ISIS, but that he told the recruiter that he wanted to join in order to learn more information. The defendant also said that the ISIS recruiter had asked whether the defendant wanted to carry out a mission in Washington, D.C.
Court documents also say during Stevenson's initial court appearance he disobeyed an instruction to raise his right hand, instead lifting a single index finger invoking a symbol of support for ISIS.
https://www.nbcwashington.com/news/local/DC-Man-Facing-Drug-Charges-Allegedly-Showed-Strong-Interest-in-ISIS-511138511.html
--------
A Victim of Terrorism Faces Deportation for Helping Terrorists
By Jenna Krajeski
June 12, 2019
When Ana first met Ruby, a sergeant in the Salvadoran Army, in the late nineteen-eighties, she liked him so much that she didn't want to consider what his job would mean for her own safety. At twenty, Ana was small and soft-spoken. She had two young daughters whose fathers were so absent that their names weren't even on the girls' birth certificates, and she longed for a stable romance. Ruby visited Ana's village, in rural El Salvador, while he was on military leave, and on his first day there he walked up to her in the crowded town square and asked for her name. They began dating, and he treated her daughters as if they were his own. The couple soon moved into a house near Ana's mother; Ana wanted to be close to her family so that she wouldn't feel lonely when Ruby was away on duty.
El Salvador was in the midst of a brutal civil war between the government, which was backed by the United States, and leftist guerrillas. Ruby was deployed for a month at a time. While he was gone, Ana tried to distract herself with chores and her children, but it wasn't always possible to ignore the war. A group of guerrillas was camped out in the surrounding mountains, and, one day, they drove into town, took the mayor out of his office, and shot him in the street; soon after, they killed his son. During such raids, Ana hid with her mother and her children until the rebels left. When Ruby returned from duty, he approached their house, shouting, "My doll! My treasure!" and waited for Ana to come outside to greet him. Many people in town were as frightened of the Army as they were of the guerrillas—tens of thousands of people had been killed in the fighting, most by the military—but Ruby told Ana that he was trying to end the war. "He was a good man," she said. "And a patriot." After two years together, the couple had a baby boy, born on Christmas Eve.
A few months later, the guerrillas came for Ruby. Local men on guard duty flashed their truck lights as the fighters approached, warning townspeople to hide, but Ruby was arriving on a military bus. Ana watched from her window as the rebels surrounded the bus and took him away. A few days later, the rebels came back for her. They brought her to their mountain camp—a collection of large tents that housed weapons, stockpiles of canned food, and what looked to be hundreds of fighters. The rebels let Ana visit Ruby in his tent; he was bruised but looked strong, and she was, briefly, relieved. A few days later, they took her to see him again. This time, he was standing in a clearing, battered, surrounded by guerrillas with guns, and digging a large hole. "You are going to see him die," a rebel told her. Then he offered her his gun and said, "If you shoot him, you can go home to your children."
Ana refused. "I couldn't speak," she told me. "I shook my head." The rebels shot Ruby, and his body fell sideways into the hole. Then they turned to her. She was sure that they were going to kill her, too, and tried to picture her children's faces before she died. Instead, they told her that they were hungry. "Do you know how to make tortillas?" one asked.
That evening, she prepared food for the rebels with a group of other women. She was afraid that if she refused, they would murder her. At one point, they wanted to train her to shoot a gun, but she became so scared that she got sick and refused to touch the weapon, and they gave up. Several days later, a guerrilla fighter came across her as she was preparing to wash laundry in a river and noticed that her breasts were leaking milk. "Do you have a baby at home?" he asked, and, when she nodded, he took pity on her. He walked her to the river and told her to run north toward the nearest village; he would chop wood to cover the sound of her footsteps. "You have thirty minutes," he told her. "Then we will have to come looking for you."
She arrived at the village that night, and, for the next month, she trekked through El Salvador, Guatemala, and Mexico. "I ran when it was dark and hid when it was light," she told me. The guerrillas searched for her, broadcasting her name on the radio and threatening anyone who helped her escape. It was too dangerous for her to go back for her children, and she prayed that her mother would keep them safe. In the spring of 1991, she reached the southern border of the United States. She moved to Long Island, where she worked legally at a plastics-manufacturing plant and earned extra money cleaning houses while applying for asylum. Since then, she has told her story dozens of times, to judges, officers with the Department of Homeland Security, and other Salvadoran immigrants at her church. Sometimes her lawyers help to summarize the tale so that she doesn't have to relive it; other times, she has to think back on her captivity to recall additional details, which still make her cry. Although the asylum-application process is long and arduous, it seemed straightforward to Ana: if she went back to El Salvador, the guerrillas, or whatever they had since become, would kill her.
But in June, 2018, the Board of Immigration Appeals, which reviews rulings made in immigration court, issued a two-to-one decision denying Ana's most recent request to stay in the U.S. The judges, considering Ana's captivity, decided that, because she had worked for the guerrillas, even under duress, she was not their victim but functionally a member of their group. "While the respondent's assistance may have been relatively minimal, if she had not provided the cooking and cleaning services she was forced to perform, another person would have needed to do so," they wrote, in an opinion called Matter of A–C–M–. Ana was ineligible for asylum, under a law called the material-support statute, because she had aided terrorists.
The material-support statute makes it illegal to give assistance to any group that the U.S. government considers a foreign terrorist organization. The statute, which appears in the Patriot Act, from 2001, is purposefully broad: it does not define what "material" means; the person who has given support, citizen or noncitizen, does not need to have contributed to a violent act or, in many cases, to have known that the group she supported was a terrorist organization. Her support can even have come before the group was formally designated as a terrorist organization, and the group can at one time have been an ally of the U.S. military or supported by the U.S. government. (The law does not apply to domestic terrorist groups, such as white-supremacist organizations, despite data showing that these groups pose a greater threat of violence in the U.S.) Defenders of the statute argue that it allows prosecutors to adapt to changing threats and that it has the unique ability to catch would-be terrorists before they stage an attack.
Most of the current version of the statute first appeared in the Immigration and Nationality Act, in 1990. At the time, David Cole, who is now the legal director of the American Civil Liberties Union, was defending eight young immigrants who were arrested by the F.B.I. for distributing literature in support of the Popular Front for the Liberation of Palestine, a Marxist-Leninist branch of the Palestine Liberation Organization. Prosecutors leaned on nineteen-fifties-era legislation that allowed for the deportation of immigrants who "advocated the doctrines of world Communism." Cole and his team argued that the law violated the immigrants' First Amendment rights, and won. Congress repealed the anti-Communist law and, in its place, passed the material-support statute. "The government wanted to hold our clients responsible not for their own conduct but for the conduct of this group," Cole, who wrote about the case in his book "Enemy Aliens," told me. "That's what we did in the Communist era. And, essentially, the material-support statute was a way of updating the outdated legislation."
The law was rarely invoked until shortly after 9/11, when Congress adopted it as part of the Patriot Act. In the eight years that followed, it was used in almost three-quarters of the nearly six hundred terrorism indictments in the U.S. "It's the net that most terrorism suspects are brought in on," Karen J. Greenberg, the director of the Center on National Security at Fordham's law school, told me. The statute has been used to prosecute high-profile defendants: John Walker Lindh, an American who was accused, in 2002, of fighting for the Taliban; Iyman Faris, a truck driver from Ohio who attempted to bring down the Brooklyn Bridge, in 2003; Sulaiman Abu Ghaith, one of Osama bin Laden's sons-in-law; Colleen LaRose, a woman from Pennsylvania who was convicted, in 2014, of planning to murder a Swedish cartoonist who had depicted the Prophet Muhammad. Last year it was used to convict Akayed Ullah, a Bangladeshi immigrant who detonated a pipe bomb in a New York City subway station, in 2017. Nearly all of the American citizens who have been indicted for joining isis were charged under the statute. From the beginning, critics worried about the law's potential for overreach, but both Democratic and Republican Administrations found it useful. "It's become a critical tool in the terrorist prosecutor's tool kit," Joshua Geltzer, who served on Obama's National Security Council as the senior director for counterterrorism, told me. "It allows criminal charges to be brought against a range of activity that supports and facilitates terrorism but that may not be actually killing someone or blowing up a building."
During the Bush and Obama Administrations, the government pursued criminal cases that expanded the use of the statute, often penalizing people for their intentions rather than their actions. In 2004, Tarek Mehanna, a twenty-two-year-old Egyptian-American with a Ph.D. in pharmacology, spent two weeks in Yemen. American prosecutors believed that he had tried to enlist in a terrorist training camp while he was there, with the hope of eventually staging attacks against American troops in Iraq, but they lacked evidence tying him to a violent crime. Mehanna claimed that he had gone to Yemen to study classical Arabic, but when he returned to the U.S. he began translating and posting Al Qaeda literature on social media. In 2009, prosecutors charged him for these writings, arguing that they were a form of material support. Mehanna was convicted and sentenced to seventeen and a half years in prison. The prosecutors were lauded for finding a way to lock up a potential terrorist before he caused harm, but critics argued that Mehanna was being punished for publishing unpopular ideas, in violation of his First Amendment rights. "The statute has allowed prosecutors to put people behind bars for long periods of time without having to prove that they sought to further any actual act of violence," Cole said.
The government also makes use of the statute in immigration court, where decisions are typically not made public and therefore face less scrutiny. In 2004, an Indian asylum seeker named Charangeet Singh-Kaur was put into immigration proceedings because, on a few occasions, he provided a tent and food for meetings attended by members of a Sikh separatist group. Singh-Kaur claimed that the meetings were for religious purposes, but the court determined that this was irrelevant and ordered him deported. Four years later, Saman Kareem Ahmad, who was among the first wave of Iraqis to be granted special visas for their work as translators for the U.S. military, was denied a green card because he was a member of the Kurdish Democratic Party, a political party in Iraqi Kurdistan. The Party had recently been categorized as an "undesignated terrorist group"—a distinction created by the Patriot Act that allows officials to blackball organizations, even if they're not on the official list of F.T.O.s. Thomas Ragland, one of Ahmad's lawyers, called the decision "absolutely untethered to common sense." At the time, Ragland regularly attended discussions of the statute with officials from U.S. Citizenship and Immigration Services, which he felt followed logical threads to startling conclusions. "One of the officials said, 'Let's say your father is a terrorist and he asked you to mow the grass. That's an hour that you have freed up for your father the terrorist to engage in activities he otherwise wouldn't have, so you mowing the grass is material support,' " Ragland said. "We were dumbfounded that this was the line they were taking, but now it's not surprising anymore."
The controversial immigration cases piled up: a Sri Lankan fisherman who bought his release from his Liberation Tigers of Tamil Eelam kidnappers; a Pakistani shop owner whose fruit was stolen by the Taliban; a Colombian woman who was forced under threat of violence to provide food to rebels with the farc. Last year, a court in Virginia ordered the deportation of the Syrian academic and activist Radwan Ziadeh. The first seven pages of the government's Notice of Intent to Deny read like a recommendation letter for Ziadeh. After he escaped Syria, ten years earlier, he had studied at Georgetown, lectured on the Syrian conflict at Harvard, published a handful of books, testified before Congress on the state of human rights in Syria, and consulted for the State Department. But just after the start of the Syrian Civil War, Ziadeh had paid some travel expenses for the leaders of two Syrian opposition groups, the Free Syrian Army and the Syrian Muslim Brotherhood, to meet in Turkey and discuss resolving their conflict. "Although you have established that you are a refugee, you are subject to a mandatory bar to a grant of asylum as someone who has engaged in terrorist activity," the notice read. Being labelled a terrorist cost Ziadeh teaching opportunities at universities, although he remained optimistic. "Everyone knows the U.S. used to be a beacon of human rights and democracy," he said. "Maybe what's happening today will teach us, teach every American, that these issues cannot be taken for granted."
I first met Ana in June, 2018, at the office of her lawyer Dawn Guidone, on Long Island. Ana wore bluejeans and a bright top, and clutched a jewelled purse in her lap so that she would hear when her children called, which they often did. Ruby's birthday had just passed, and she teared up as she talked about him. She told me that, when she first arrived on Long Island, in 1991, she settled in a cramped apartment in a seedy neighborhood that made her miss home. She thought often of her kidnapping and Ruby's murder, but she soon made friends with some Salvadoran women at her church who urged her to stop dwelling on her past and focus instead on helping her children get out of El Salvador, where the war was still raging. She arranged for her middle daughter to join her on Long Island—her other two children came a decade later—and the family moved into their current house, in a nicer part of town, with a backyard and friendly neighbors. "Everyone knows each other," Ana said. "They take care of each other."
But Ana's asylum case didn't proceed as planned. In 1993, she met with D.H.S. officers and read aloud from a summary of her story that her lawyer had written in Spanish. She was unable to adequately answer their follow-up questions in English—a language that Ana still does not feel comfortable speaking—and her application was denied. Ana doesn't blame her lawyer, who was working under an immense caseload; as with every misstep, she blames herself—for not articulating her story clearly enough, and for going to the meeting alone. Eventually, along with many Salvadorans fleeing the war, she was given a Cancellation of Removal, which temporarily halted her deportation.
In 1995, Ana started dating a Salvadoran man who "said everything a woman would want to hear." She got pregnant, and the couple moved in together and had a baby boy. "I was lonely," she said. "I wanted to be with somebody." But her partner became abusive; at one point, he sliced her hand open with a knife so deeply that she had to get twenty-five stitches. At the hospital, he stayed nearby so that Ana would have no opportunity to turn him in. "I told the doctor I hurt myself cutting onions," she said. To demonstrate his control, her partner forced her to shoplift things that they could afford, like diapers. One day, seeing no other way out of the relationship, Ana approached a security guard at a Marshalls department store and opened a bag in her shopping cart to show him a pair of men's shoes that her partner had demanded she steal. They were both arrested. Her partner was convicted of the theft and, soon after, an unrelated assault; he was then deported. Ana pleaded guilty to two charges of attempted petty larceny (one relating to a previous incident) for which she received a year of probation and a fine. Her convictions felt like a small price to pay for freedom from her partner. "I knew that if I stayed with him, he would kill me," she said.
For the next decade, Ana tried to create a loving home for her youngest son. Her immigration case wasn't settled, but she hoped that she would soon be granted asylum and eventually allowed to apply for citizenship. In 2004, Ana's mother died, and she decided to return to El Salvador for the funeral. When she went to a D.H.S. office to apply for permission to travel, the officer told her that if she left, there was no guarantee that she would be allowed to return. She went anyway—"It was a risk I had to take," she said—and, on the flight back to New York, she prayed. But at the airport, D.H.S. officers told her that, because of her shoplifting convictions, she had been put into deportation proceedings; they let her go on the condition that she attend her court dates. "Fight for your green card," an officer told her.
When she got back to Long Island, her Salvadoran friends told her that she should move to a new address to elude authorities. Instead, she retained Guidone, and, years later, another lawyer, named Nicholas Mundy. I met with them in July, at Mundy's office in Brooklyn, and they struck me as the kind of dogged lawyers more common in movies than in real life. They often work on cases involving people fleeing conflict in Central America who have experienced horrors. "We're always worried when somebody brings in an envelope of photographs," Guidone told me. "On more than one occasion, I've opened an envelope and nearly passed out." When Ana first came to Guidone's office and told her about her past, she recalled, Ana was detached when discussing her kidnapping but emotional when describing Ruby's death and the beatings that she endured from her partner in the U.S. "It took her a while to tell the story of her abuse," Guidone said. "She had experienced years of trauma on so many levels."
Ana's case will have broad implications for immigrants seeking asylum in the U.S., but it may also have dire consequences for those abroad who depend on American aid. One of the material-support statute's central aims is cutting off financing for terrorism—of preventing, for example, isis from fund-raising online or making money from oil fields. But it has also been wielded against organizations and individuals whose terrorist connections are more tenuous. In December, 2001, soon after the statute became part of the Patriot Act, the Treasury Department seized the assets of several major U.S.-based Islamic philanthropies on the grounds that some of their money, which was intended for aid in the Middle East, had ended up in the hands of terrorist organizations. Members of the Holy Land Foundation, a nonprofit based in Texas, eventually received up to sixty-five years in prison, based on accusations that some of the group's funds, which they said were intended to build schools and hospitals in Palestinian territories, had instead been used by Hamas—a prosecution that the Department of Justice, in a report from 2014, called "one of the great success stories" of the statute. Members of Muslim communities, however, were left wondering whether practicing zakat—charitable donation, which is one of the five pillars of Islam—might land them in jail.
Since the statute was written, aid workers around the world have faced the dual pressure of carrying out their mission while not running afoul of America's counterterrorism objectives. In 1998, workers at the Humanitarian Law Project, a U.S.-based organization that was providing training in conflict resolution to the Tamil Tigers, in Sri Lanka, and the Kurdistan Workers' Party (P.K.K.), in Kurdistan, began worrying that they were putting themselves in legal jeopardy. "They came to me and said, 'We've been supporting Kurds in Turkey for years to promote peace and human rights,' " Cole told me. " 'Now the Secretary of State has designated the P.K.K. a terrorist organization. Can we continue to do what we did before?' " They were indicted, and retained Cole, who stalled the prosecution for twelve years by arguing that it violated the First Amendment. But in 2010, in a decision called Holder v. Humanitarian Law Project, the Supreme Court ruled against the organization. The effect was immediate. "There was a chill factor," Greenberg, of the Center on National Security, told me. "You had attorneys saying, 'Well, wait, am I providing material support by being a lawyer for terrorism suspects or somebody who's been indicted for related crimes?' "
The next year, the Famine Early Warning Systems Network, a U.S.A.I.D.-funded nonprofit, reported a crisis in Somalia. The U.S. government, the largest donor to the country, had recently cut off aid to parts of Somalia to avoid its donations falling into the hands of Al Shabaab, a jihadi group that controlled large swaths of Somali territory. N.G.O. workers in conflict zones are accustomed to negotiating with armed groups, and sometimes paying tolls at their checkpoints to gain access to civilians. But the consequences of these interactions weighed more heavily, and, as the famine worsened, many groups avoided working in Somalia for fear of prosecution. "Part of the problem for the aid agencies was it was really murky to understand what would and would not constitute material support," Jeremy Konyndyk, who was then the policy director at Mercy Corps and, later, an official at U.S.A.I.D. under Obama, told me. "One of the many weird things during all of this was the Administration saying, 'Don't worry, go in, we've never prosecuted someone for something like this.' We were thinking, O.K., but who comes after Obama?"
Months later, the Administration released the aid. "By then it was far, far, far too late," Konyndyk said. An estimated two hundred and sixty thousand people were dead, more than half of them young children. Mark Bartolini, the director of U.S.A.I.D.'s Office of U.S. Foreign Disaster Assistance, told me that, during one of his first overseas visits in that role, he sensed a change in attitudes toward America. "I met with a very senior official of a world-renowned humanitarian organization," he told me. "His first comment to me was, 'How does it feel to work for a government that's criminalizing humanitarian aid?' "
Cutting off aid can be counterproductive, because aid groups are often the only institutions in terrorist-controlled areas providing a significant alternative to militancy. In 2017, an American pro-Israel activist brought a case in U.S. court against Norwegian People's Aid, accusing it of using U.S.A.I.D.-funded grants to work on mine removal in Iran, violating U.S. sanctions, and offering job and conflict-resolution training to members of Hamas in Palestine, violating the material-support statute. The fourteen-page complaint included photos from a workshop in Gaza—where Trump has cut off aid in part because of terrorist activity. "It was hinting that we provided material support by giving people water and a nice place to meet," Per Nergaard, the deputy secretary general of the N.P.A., told me. To Nergaard, the suit seemed unreasonable: How could the group be supporting terrorism when the point of its workshops was to convince people to give up violence? But last year, when the court seemed to be turning against the N.P.A., the group settled the case and paid two million dollars. "At first, we were concerned with maintaining a good relationship with American donors," he told me. "So much of what we do is funded by the Americans." The group is now pushing ahead on its projects without U.S.A.I.D. funding, and Nergaard says that other European organizations are following suit. "The whole definition of material support affects our ability to work in conflict zones," he told me. "It will be a devastating development for humanitarian aid worldwide."
Six years after Ana started working with Guidone, one of her shoplifting charges was vacated, because her previous lawyer hadn't informed her that pleading guilty could lead to her deportation. Guidone felt that they were making progress: if they got the other charge vacated, it would be easier for Ana to receive asylum. Ana tried to lead a normal life, but the possibility of deportation shadowed her. In 2014, one of her sisters died in El Salvador and another was diagnosed with cancer, but going back was out of the question. "It would be self-deportation," Mundy told me.
One day, around 6 a.m., immigration officers came to Ana's home. She had installed a security camera, and she watched them approach her doorstep. "They were wearing blue vests with white letters on the back that said ice," she told me. Guidone had advised her not to let agents in if they arrived unannounced, but she was late for work, so she met them on the stoop. "I talked to them outside," she said. "I told them that they cannot come in." They asked for her name and the names of everyone who lived in the house. They didn't sound angry, like Ana had expected; they were patient, even nice. But Ana relaxed only when she realized that they were looking for the house's previous owner.
Meanwhile, the term "material support" was introduced in Ana's case for the first time, quietly, and without anyone taking much note. In 2011, D.H.S. rejected a recent request from Ana for a Cancellation of Removal, flagging something from her file: in her first statement to D.H.S., from the nineties, her lawyer had highlighted the work she had been forced to perform for the guerrillas, including their single attempt to train her with a gun. Before the Patriot Act, details establishing this kind of trauma could help secure asylum. Now D.H.S. argued that this constituted support for the group. (D.H.S. did not respond to requests for comment for this piece, and the Executive Office for Immigration Review, which oversees immigration cases for the Department of Justice, declined to comment.) In August, 2016, after some back and forth, Noel Brennan, the judge in the case, issued Ana a deferral of removal under the Convention Against Torture, because Ana had been brutalized while in the guerrillas' custody. Brennan noted that she wished she could give Ana asylum but felt bound by the recent case law on material support. "But for the material-support bar I would have granted the Respondent's asylum application," she later wrote, about her decision.
D.H.S. again challenged Ana's deferral of removal, sending the case to the B.I.A. Her lawyers didn't focus on the material-support argument in their preparations; it seemed far-fetched, and there were other, more pressing concerns. But in June, 2018, after months of hearings, the B.I.A. ruled against Ana in the Matter of A–C–M–, on the basis of material support. An assistant from Guidone's office called Ana to read her the ruling in Spanish. Ana hadn't heard the term "material support" before, and she was confused. She had always put a lot of faith in the U.S. justice system. It was difficult and time-consuming to navigate, but, compared with what she remembered of the Salvadoran legal system, American judges were fair, she thought. Ana had felt sure that if they truly understood what had happened to her they would make the right decision. So when she heard the ruling her first thought was, Maybe I am a terrorist.
Ana's case put the excesses of the material-support statute on display. The precedent it set—that even people who are kidnapped and forced to work for terrorist groups should be treated as terrorists—seemed to many both inhumane and unproductive. "Are we really so fearful that we can no longer distinguish between terrorists and their victims?" Paul Rosenzweig, an expert on homeland security, and Jennifer Daskal, a law professor focussing on terrorism, wrote, in an article for Lawfare. "What little moral standing we have left is squandered if we engage in this kind of category collapse—expecting the world to follow us in our fight against terrorism, only to treat the killing of civilians and the enslaved victims of those who kill civilians as one and the same." To many critics who had tracked the gradual expansion of the statute, a case like Ana's was inevitable. "For over ten years, people on all sides agree this is affecting people it shouldn't," Anwen Hughes, a deputy legal director at Human Rights First, told me. "This decision takes all meaning out of the term 'material support.' "
One of the reasons that critics have struggled to change the law is that its broad premise—that the government should be able to imprison terrorists, deport them, and stop them from getting aid money—is easy to defend. "I think material support can be very useful for investigations," Greenberg, of the Center on National Security, told me. "And being strict about material support for terrorism, of course we understand this is important, if applied carefully." Supporters are inclined to see most applications of the law as positive and to dismiss cases like Ana's as outliers. "The way that it was used in this case, I think, was problematic," David Inserra, a policy analyst at the Heritage Foundation, told me. But, he added, "I don't think you can do anything that will perfectly solve this problem and also allow us to prosecute all the people we need to prosecute."
The statute has also been hard to change because of the piecemeal measures that judges, lawmakers, and politicians have put in place over the years to quell its misuse. The State Department and other agencies have exempted certain groups, such as Iraqi Kurdish political parties, and a few high-profile cases have been adjudicated in the media; Saman Ahmad, the Iraqi translator, was granted a green card after the Washington Post reported on his case. Most people who feel that they have been wrongly accused must apply for a waiver (the wording of Judge Brennan's initial ruling in Ana's case—"but for the material support bar"—was seen by some as a sly judicial plea for a waiver), but the exemption system pushes the burden of proof onto defendants, and it operates inconsistently, at the discretion of whoever sits in the White House. "Congress wrote the material-support bar to give power to the executive-branch officials," Cox, the N.Y.U. professor, told me. "For a lot of people, it returned our system of refugee protection to an earlier era, when questions about a particular person were mostly a matter of executive grace."
After Ana's case was made public, even longtime supporters of the statute expressed concern. In 2007, Rosenzweig, who was then a deputy assistant secretary for policy in George W. Bush's D.H.S., defended the statute in front of the Senate Judiciary Committee, arguing that the government could prevent the admission of terrorists while still honoring its commitment to resettle refugees. Recently, he has begun to worry. "Over the course of the last five to seven years, I've become increasingly skeptical of the discretion that we give the executive branch," he told me. "It's true in material support, true in surveillance, true in law enforcement, true in counterintelligence, and the undergirding assumption behind that is that the executive branch is generally well-meaning, generally rational, sometimes in error, sometimes venal, but rarely, if ever, malicious."
Trump campaigned on a promise to make broad use of the material-support statute. While terrorism convictions have not increased during his term so far, he has threatened to target support for terrorism abroad more aggressively. "The current Administration has been very vocal about expanding the use of the statute, and has been strongly encouraging partner countries to develop similarly broad statutes to the U.S. in their terrorism cases," Eric Rosand, the director of the Prevention Project and a former official in Obama's State Department, said. In April, Trump declared the Islamic Revolutionary Guard Corps in Iran a terrorist organization—the first time the allegation has been made against a government entity. Soon after, Nathan A. Sales, the U.S. Ambassador-at-Large and coördinator for counterterrorism, was asked by reporters about the potential legal consequences for American diplomats in Iran and government officials in Iraq who have regular contact with the I.R.G.C. (The government has suggested that it may give some groups waivers.) "The law provides that it is a federal criminal offense punishable by up to twenty years in prison for any person who provides material support," he responded, though he refused to specify who would face penalties. "We simply don't want to get into hypothetical situations."
Throughout his term, Trump has willfully conflated immigration with terrorism, in an apparent effort to whip up anti-immigrant sentiment. He has asserted, incorrectly, that most terrorists convicted in the U.S. are foreign-born; transferred a judge from Guantánamo Bay to immigration court; and suggested that a so-called "caravan" of migrants walking through Mexico to the U.S. border had been infiltrated by Muslim extremists. "They are deliberately misusing terrorism-related statistics to push anti-immigration policies," Geltzer, the former Obama aide, said. In 2017, Trump used the material-support statute to justify his travel ban against visitors from majority-Muslim countries and his reduction in the number of refugees who are permitted to enter the country each year. (In the same executive order, he also considered restricting the program that gives waivers for people charged with violating the statute.) Immigration cases are sealed, so it's impossible to know if the government has used the statute more frequently during deportation proceedings. But experts worry that the Administration could designate certain Central American gangs as terrorist groups, giving it wide latitude to reject asylum seekers. It may already be expanding the use of the statute by withholding waivers that would have been granted under previous Administrations, allowing even absurd cases to proceed. Guidone believes that, under the Obama Administration, Ana would have received an exemption. "I don't know if the waiver would be available now," she said.
In her dissent on Ana's case, one of the B.I.A. judges wrote that the decision was "without effective limits" and "would lead to absurd results," and experts have continued to worry about its consequences. Some think that aid organizations will have more difficulty helping victims of terrorism, such as the Chibok girls who were kidnapped by Boko Haram, in Nigeria, or young Iraqi men who were forced to work for isis. "Material-support prohibitions are not weighed against other policy priorities," Konyndyk said. "Once triggered, they just steamroll everything else." Greenberg said that the expansion of the material-support statute could lay the groundwork for a more general expansion of law-enforcement authority. "What they need is the attitude that they can use any law in a vague and overly broad sense," she told me. "That's what material support was. That's the whole point of it." Cole, from the A.C.L.U., cautioned all Americans about the decision. "What we do to immigrants in the name of national security or in terms of undermining their civil liberties is often the first step, and the second step is to extend it to U.S. citizens," he said. "The argument is made that you don't have to sacrifice your liberty for greater security, we'll sacrifice their liberty for your security, so it's a win-win for citizens. Bush made that argument for antiterrorism legislation after 9/11. The first anti-Communist measures were against foreign nationals, in the nineteen-twenties, and then extended to millions of Americans in the nineteen-fifties. There is a real connection between what is done to immigrants and what is ultimately done to the rest of us."
In September, I visited Ana at her home on Long Island. Her red-tinted hair was brushed to gleaming, and her long nails were coated in bright polish. She sat at her broad kitchen table, catching up with Guidone and Mundy. Her small living room was full of keepsakes from El Salvador—family photos, a hammock from her home town, a colorful blanket over the couch—and the everyday objects of her American life, now nearly three decades in. A fluorescent-yellow parrot sat in a cage.
"Does he speak?" Mundy asked.
"He says hello," Ana replied. "And he laughs when you laugh."
Her two grown daughters wandered past the kitchen. They were aware of the B.I.A. decision but were reluctant to discuss it. "They are confused," Ana said. "They know my story, they know what actually happened." Guidone and Mundy were in the process of appealing, which could take years, but they were in good spirits. Other lawyers had reached out to offer help. "I was amazed," Guidone told me. "Attorneys who have no connection to immigration called me and were, like, 'What is this? What can we do?' " The lawyers working with Saman Ahmad and Radwan Ziadeh had called to discuss sharing resources and the distant possibility of bringing the issue back to the Supreme Court. Brennan, the immigration judge in Ana's original case, had recently issued a statement in response to the decision, which took the rare step of admonishing the B.I.A. "Undoubtedly, being targeted and then kidnapped on account of her relationship with her husband, forced into slave labor, persistently threatened by the guerrillas, and in constant fear of her life constitutes torture," she wrote. Her statement didn't overturn the decision, but the lawyers were heartened by how angry she had seemed.
Two of Ana's employers, whose houses she cleaned, had fired her after the decision. The word "terrorist," she felt, carried a stigma not unlike that of the word "illegal." The factory, though, kept her on, and she supplemented her income by selling mail-order goods, like pillows and blankets, to friends from church. She had discussed the B.I.A.'s decision with an American family that lived in a house next door with a white picket fence, and they were appalled. They told her that if ice came to deport her, they would hide her in their home. Ana teared up telling me about the conversation. "They said no way would they let them come and take me away," she said.
When Ana first arrived in America, she had recurring nightmares about immigration agents dragging her out of her house and putting her on a plane back to El Salvador. She imagined that her abusive partner would be waiting for her there, or that, if he didn't get her, the former guerrillas would track her down. Recently, those nightmares have been supplanted by a more pleasant dream in which she wakes up in the morning and opens her mailbox to find a green card, left there like a present. When Ana told me this, she laughed, and, from the living room, so did the parrot. "Sometimes I also dream about meeting the B.I.A. judges," she said. She thought that if they saw her in person, they would understand that she was not a terrorist. "I would tell them I had to escape," she said. "I would have died if I hadn't done what I did. I would tell them I'm a good person."
https://www.newyorker.com/news/news-desk/a-victim-of-terrorism-faces-deportation-for-helping-terrorists
--------
US sanctions on Assad ally seen as message to Syrian regime and Iran
Joyce Karam
June 11, 2019
The Trump administration's decision to impose sanctions on Syrian mogul Samer Foz is a warning to others who are considering doing business with the Assad regime or Iran, US officials say.
Mr Foz, a well-known Syrian businessman in luxury developments, was designated by the US on Tuesday along two of his sons, and 13 people and entities associated with him.
The entities include the Four Seasons hotel in Damascus and the Orient Club.
Members of the UN have been staying at the Four Seasons as their base during the conflict.
But a US official said that the UN's general licence should allow its staff to remain at the hotel, and that the holding company had cut its ties with the Damascus branch.
The US is also accusing Mr Foz of war-profiteering.
"This Syrian oligarch is directly supporting the murderous Assad regime and building luxury developments on land stolen from those fleeing his brutality," said Sigal Mandelker, undersecretary of the Treasury for Terrorism and Financial Intelligence.
The US envoy to Syria, James Jeffrey, said that the designation showed the "US is not taking its eye of the ball in Syria, be it Idlib, or engagements from Sochi to Jerusalem".
Analysts familiar with Mr Foz's background regard it as a message to the Syrian regime, Iran and regional stakeholders.
Michael Weiss, author of ISIS: Inside the Army of Terror, read two messages in the designation.
"The first is that the pro-regime argument that sanctions are hurting Syria and should be lifted is even more irrelevant now," Weiss said.
"And the US is beginning to confront Iranian hegemony in Syria."
The Treasury implicated Mr Foz in providing oil shipments to Iran through companies in Lebanon.
Weiss said that Mr Foz was an accomplice to Iran's Revolutionary Guard Corps' oil smuggling, so a flow of revenue to the force has been cut.
But Randa Slim, director at the Middle East Institute, said the designation was a warning shot to regional bodies to think twice before doing business with the regime of Syrian President Bashar Al Assad.
"This is a deterrent message to any Syrian and/or regional businessmen or business entities contemplating investments in Syria, and an affirmation of the Trump administration message that reconstruction money will not be forthcoming until the regime changes its behaviour," Ms Slim said.
She said it was significant that the US aimed at the inner circle of the Assad regime.
"These sanctioned individuals and entities are also involved in almost every sector of the Syrian economy," Ms Slim told The National.
By highlighting Mr Foz's ties to Iran, the US could be drawing a line between "Russian and Iranian business involvement in Syrian affairs, sanctioning the latter but not the former", she said.
Others see challenges in implementing the sanctions. Mr Foz was sanctioned in January by the EU and many in the Assad circle are on US blacklists.
"The major challenge in implementing those sanctions is that Mr Foz can still limit his exposure by being the silent partner in deals cut in land development that are not exposed to the international banking system," said Nicholas Heras, a senior fellow at the Centre for New American Security.
"He is a lynchpin of the regime's new structure and Mr Al Assad owes him a lot for his support and efforts to keep him in power."
Another challenge with US sanctions in Syria, Mr Heras said, was "that the regime has established an entire internal ecosystem of economic activities that are domestic in Syria, and which are not easily combated through the international financial system".
https://www.thenational.ae/world/the-americas/us-sanctions-on-assad-ally-seen-as-message-to-syrian-regime-and-iran-1.873317
--------
Europe
Austria to shut Saudi-funded center over human rights violations
Jun 12, 2019
The Austrian government has announced plans to shut a Saudi-funded center in Vienna over the possible execution of a teenager arrested in Saudi Arabia for participation in an anti-regime protest.
The decision comes after the members of the far-right Freedom Party, the liberal Neos and Social Democrats passed a motion in Austria's parliament to stop the activities of King Abdullah bin Abdulaziz International Center for Interreligious and Intercultural Dialogue (KAICIID).
"This is a signal for human rights in Saudi Arabia, which hopefully will be copied by many, not just in Europe," lawmaker Peter Pilz, a critic of Saudi Arabia, wrote on Twitter.
The motion also called on the government and the Foreign Ministry to "use all political and diplomatic means available" in a bid to prevent the execution of Murtaja Qureiris, who was arrested in 2014.
"A fundamental human right, namely taking part in a demonstration, is enough for the Saudi Arabian government to execute a juvenile," Pilz said in a separate statement.
Qureiris was 10 years old when he was filmed taking part in a bike protest in Saudi Arabia's Eastern Province. In the film, he is seen lifting a megaphone and pressing it against his lips. "The people demand human rights!" he shouts.
He was shortly afterwards charged with accompanying his activist brother, Ali Qureris, on a motorcycle ride to a police station in the eastern Saudi city of Awamiya. Ali allegedly threw Molotov cocktails at the police station there.
Murtaja was 11 when his brother died while taking part in protests, which Saudi officials described as violent.
He was 13 years old, when Saudi authorities arrested him as he was traveling with his family to Bahrain. At the time, Qureris was considered by lawyers and activists to be the youngest known political prisoner in Saudi Arabia.
According to reports, the public prosecutor is now seeking the death penalty against him over several charges ranging from joining the terrorist organizations to throwing Molotov cocktails at a police station and marching at his brother's funeral.
Saudi Arabia executed 37 people just in a single day in April, at least three of whom were minors, according to rights groups. It is one the countries that routinely applies the death penalty, often by beheading.
KAICIID is a shared project launched in 2012 based on a treaty signed by Austria, Spain and Saudi Arabia.
The Vatican is a founding observer of KAICIID and has representation on its board, which by treaty must include three Christians, three Muslims, a Jew, a Hindu and a Buddhist.
https://www.presstv.com/Detail/2019/06/12/598365/Austria-Saudi-Arabia-Murtaja-Qureiris-The-King-Abdullah-bin-Abdulaziz-International-Centre-for-Interreligious-and-Intercultural-Dialogue-KAICIID
--------
France's Marine Le Pen to go on trial over her ISIS tweets
12 June 2019
French far-right leader Marine Le Pen has been ordered to stand trial over three Twitter posts from 2015 showing ISIS atrocities, a judicial source told AFP on Wednesday.
A judge in Nanterre, just west of Paris, issued the ruling after Le Pen was charged last year with circulating "violent messages that incite terrorism or pornography or seriously harm human dignity" and that can be viewed by a minor.
https://english.alarabiya.net/en/News/world/2019/06/12/France-s-Marine-Le-Pen-to-go-on-trial-over-her-ISIS-tweets.html
--------
French probes ultra-right plot to attack religious venue
June 13, 2019
PARIS – French judicial authorities are investigating five people after uncovering an ultra-right plot to attack a religious venue.
A judicial official said Tuesday that two people, one a minor, were arrested and placed under investigation in May for criminal terrorist association. Three others were arrested in the probe that was opened in September in Grenoble, southeast France. The anti-terrorism prosecutor's office took over the case.
The official said only one of the four was being held.
He was confirming portions of a BFMTV report saying that targets were Muslim or Jewish. The official, who requested anonymity because he wasn't authorized to speak publicly, didn't say at what stage the plot was or what the target was.
There was no link with a 2017 ultra-right plot against mosques and migrants.
https://www.foxnews.com/world/french-probes-ultra-right-plot-to-attack-religious-venue
--------
Muslim couple deny terror-related charges in Madrid re-trial
June 13, 2019
MADRID – A Moroccan-born Spaniard and his Mexican wife are denying charges in their retrial that they helped recruit militants for the Islamic State group in Madrid.
Aziz Zaghanane initially received a six-year prison sentence at last year's trial and his wife Ana Marilú Reyna was sent to prison for one year.
The couple, both Muslims, testified again Tuesday after the National Court ruled that evidence given in the original trial should have included testimony from three others accused in the case, who admitted terror-related crimes and therefore did not take the stand.
They argue that their social media activity discussed issues related to the Islamic State group and the war in Syria but rejected violence.
The court's verdict is expected later this week.
https://www.foxnews.com/world/muslim-couple-deny-terror-related-charges-in-madrid-re-trial
--------
Counter-terrorism squad set up to protect South Australians from extremist attacks
2019-06-12
CANBERRA, June 12 (Xinhua) -- South Australia (SA) has established its first-ever high-level counter-terrorism police unit to protect citizens from large-scale attacks.
SA's Minister for Police Corey Wingard on Wednesday announced 3 million Australian dollars (2.08 million U.S. dollars) in funding over four years for the initiative, which came after similar teams were established in New South Wales, Victoria and Queensland.
The new squad will be based at a new specially-built headquarters, the Fixated Threat Assessment Centre, at a secret location so it does not become a target for a terror attack.
News Corp Australia reported on Tuesday that students at seven public schools in SA were identified as being at-risk of religious or political radicalization in 2018.
Wingard said on Wednesday that the new squad would significantly boost SA's defences against extremist events such as New Zealand's Christchurch mosque shootings on March, which were allegedly carried out by a radicalized Australian.
"Tragically, horrific incidents, such as what we saw in Christchurch earlier this year, have become a threat and South Australia is not immune to that," Wingard told News Corp on Wednesday.
"That is why the government is building a formidable defence against such behavior. This new squad will proactively act to stop such a threat from arising and, if needed, provide an important tool to our security teams if an incident occurs."
The squad will be made up of members of the SA police force (SAPOL) and SA Health specialists, including mental health workers, a psychiatrist and a psychologist.
"Outposting SA Health employees to SAPOL will enable a more immediate response to a risk, as SA Health workers have access to mental health information systems," SA's Health Minister Stephen Wade said.
"It will also allow health and law and order issues to be dealt with simultaneously."
http://www.xinhuanet.com/english/2019-06/12/c_138136102.htm
--------
Muslim comedian awarded $4.1 million in defamation lawsuit against neo-Nazi site
Aysha Khan
June 13, 2019
(RNS) — A federal judge has ordered the publishers of a prominent white supremacist website, the Daily Stormer, to pay $4.1 million in damages to Muslim comedian Dean Obeidallah for publishing false statements accusing him of terrorism.
In 2017, Obeidallah filed a civil suit in Ohio federal court against the Daily Stormer's founder, Andrew Anglin, over the neo-Nazi site's false claims that Obeidallah was part of ISIS and was the "mastermind" behind the bombing of an Ariana Grande concert that killed 22 people that year in Manchester, England.
"American Muslims should be able to take part in public life without being threatened or attacked," Obeidallah said in a statement after the award was announced Wednesday morning (June 12). "This ruling sends a clear message that Muslim voices will not be silenced by threats and hate."
Obeidallah is the host of SiriusXM's daily "The Dean Obeidallah Show," billed as the first national radio show hosted by a Muslim American, and the podcast "I Want to Be Your Muslim Friend." The New Jersey-born lawyer-turned-comic also co-founded the New York Arab-American Comedy Festival and co-directed the documentary "The Muslims Are Coming!"
Obeidallah said he plans to give the money to organizations working against bigotry.
"If I collect a penny from the Nazis, I'm not going to keep their money," he told the Daily Beast. "I'm going to give it to organizations that fight hate and bigotry, the very groups Nazis despise."
A week after the concert attack in 2017, and shortly after Obeidallah published an op-ed about President Trump and white supremacist terrorism, the Daily Stormer posted an article titled "Dean Obeidallah, Mastermind Behind Manchester Bombing, Calls on Trump to Declare Whites the Real Terrorists."
On Wednesday, U.S. District Judge Edmund Sargus Jr. ruled that Anglin's statements about Obeidallah were not protected speech under the First Amendment and ordered Anglin to remove the post.
The post, which was still live as of this writing, said Obeidallah is a "confessed terrorist wanted by Europol, the British security service MI-5, Interpol and a litany of other international authorities." It accused him of escaping to ISIS for safety "after being sought for questioning by MI-5 in connection to the bombing," then "bragging" about the attack and encouraging others to carry out similar attacks.
The post also included several fabricated images of tweets purportedly showing Obeidallah claiming responsibility for the attack and voicing support for other terrorist attacks. The post suggested readers "go confront him" online.
One faked tweet reads: "All glory is to Allah, the magnificent and merciful, for it is only by his grace I was successfully able to execute the manchester bombing." It appears to be based on an actual message from Obeidallah that said, "Thanks to Trump our allies don't trust us and our enemies don't fear us. Is this what Trump meant by Making America Great?!"
When the article was posted, Obeidallah asked the Daily Stormer to remove it. Two months later, when the post was still there and he had begun receiving death threats and other violent messages, the comedian sued Anglin for libel.
In a ruling issued May 2, the U.S. District Court for the Southern District of Ohio entered a default judgment against Anglin, who had not responded to Obeidallah's lawsuit, and his company, Moonbase Holdings LLC.
On Wednesday, citing Anglin's failure to respond, the judge granted Obeidallah the full award of $4.1 million.
"The message this victory sends is unmistakable: the contemptible lies that Anglin and his ilk disseminate to sow hate among us crumble before the rule of law," Subodh Chandra, co-counsel for Obeidallah, said after the May ruling. "The fact that Anglin didn't even try to defend his misconduct shows how much contempt he has for real American values like equality, decency, honesty, integrity, and justice."
Sirine Shebaya, interim legal director of Muslim Advocates, which filed the lawsuit with Obeidallah and Chandra, said the judgment "vindicates Mr. Obeidallah for the ordeal he has suffered because of the shameless smears against him" and "compensated for the threats, emotional stress, and reputational damage he has suffered."
Anglin's website denies the existence of the Holocaust, includes sections called "Jewish Problem" and "Race War," and regularly orchestrates online trolling campaigns. The site's name is a nod to Der Stürmer, a German tabloid that published Nazi propaganda until the end of World War II. The
Anglin, whose whereabouts are unknown, did not respond to a request for comment after Wednesday's ruling was announced.
"The goal of Anglin and the Daily Stormer's smear campaign was not just to silence me but all others who dare to speak out about the evils of white supremacy," said Obeidallah. "The hope is that this lawsuit sends a message that white supremacists and neo-Nazis will never bully us into silence and we will continue to wage our fight against hate."
Anglin, the Daily Stormer and Moonbase Holdings LLC are facing other legal troubles, too.
A group of Charlottesville, Va., residents is suing Anglin and other organizers of the Unite the Right rally, arguing that the 2017 white supremacist gathering was "a direct conspiracy to commit violence."
A former American University student is seeking $1.5 million in damages from Anglin for allegedly inciting a harassment campaign against her after she became the student government's first black female president.
Last year, a federal judge in Montana ruled that a Jewish Realtor's lawsuit accusing the Daily Stormer of coordinating a "terror campaign" of online harassment cannot be dismissed on First Amendment grounds. The site published her contact information along with that of her husband and 12-year-old son, which she says led to their receiving more than 700 "disparaging and/or threatening messages" filled with "ethnic slurs and misogynistic rants."
https://religionnews.com/2019/06/12/muslim-comedian-awarded-4-1-million-in-defamation-lawsuit-against-neo-nazi-site/
--------
Police investigating Islamophobic graffiti outside London Muslim Mosque
June 12, 2019
London police are investigating after Islamophobic graffiti was found scrawled on the sidewalk outside the London Muslim Mosque over the weekend.
The message, which read "FOR THE TEMPLE MOUHAMED (sic.) RAPES KIDS," was discovered by a community member on Saturday and was passed along to mosque leadership, said Ali Chahbar, the facility's outreach coordinator.
Officers were later notified about the message, and are investigating the incident, police told 980 CFPL.
"We have to be ever so vigilant. The message is a hate message, and we have to call the authorities, we have to make sure our community is protected," Chahbar said. Doing so while keeping the community from living in a state of fear is a tough balancing act, he said. "Unfortunately it's the new normal."
"We can't do much about that but we can do something about being positive and making lemonade out of lemons, which means doing the best that we can do stand our peaceful and loving ground, and try to have these ignorant people… maybe the light will go on in their heads, or take their blinders off to see that Muslims and the Muslim community is not a threat. To the contrary, they're an asset."
In a statement posted to Twitter, London Mayor Ed Holder described the graffiti as "disgusting and vile."
Despite the incident, Chahbar said mosque members felt safe in London and leadership would remain positive.
"London is a safe community, a loving community," he said.
"Again, you have to stay alert because of the obvious.. what could potentially happen. We're balancing that," Chahdar added. "But our message is one of positivity and one of being quite optimistic about what the future holds."
The graffiti comes amid a rise in hate crime incidents across the country in recent years. According to the latest figures from Statistics Canada, 2,073 hate crimes were reported to police agencies across Canada in 2017, an increase of more than 600 from the year before.
Religiously-motivated hate crimes saw the largest increase, from 460 in 2016 to 842 in 2017. Hate crimes reported toward Muslims rose from 139 in 2016 to 349 in 2017, the largest increase seen among religion-motivated hate incidents.
It also comes three months after the deadly mosque attacks in New Zealand that left 51 people dead.
https://globalnews.ca/news/5383187/police-islamophobic-graffiti-london-muslim-mosque/
--------
UAE, Germany call on Iran to refrain from escalating tension
13 June 2019
The United Arab Emirates and Germany expressed concern over growing tensions in the Gulf region, calling on Iran to refrain from steps that escalate the tension, a joint statement on UAE's state news agency (WAM) said on Wednesday.
The statement comes after Abu Dhabi's Crown Prince Sheikh Mohamed bin Zayed Al Nahyan official visit to Germany where he met with Chancellor Angela Merkel in Berlin.
The statement said both countries reaffirmed "the urgency for all actors in the region to refrain from any actions that could escalate existing tensions."
On Sunday, Germany's foreign minister Heiko Maas stressed - during a news conference with his Emirati counterpart, Sheikh Abdullah bin Zayed Al Nahyan in Abu Dhabi - the importance of stability in the Gulf region amid heightened tensions with Iran.
https://english.alarabiya.net/en/News/gulf/2019/06/13/UAE-Germany-call-on-Iran-to-refrain-from-escalating-tension-.html
--------
UN: Terrorist attack on Abha Airport poses threat to regional security
13 June 2019
The United Nations has expressed its concern over the terrorist attack carried out by the Iran-backed Houthi militia on Abha International Airport.
In a press conference, UN spokesman Farhan Haq described the attack as a serious threat to regional security and undermining the political process in Yemen led by the United Nations.
The United Nations is deeply concerned about the attack, deputy Haq told reporters in New York.
"We urge all parties to prevent any such further incidents, which risk escalating the current situation, pose a serious threat to national and regional security and undermine the UN-led political process," Haq said.
There has been widespread reaction condemnation of Wednesday's attack across the Gulf, Middle East, and internationally.
Senior European Union diplomat Helga Schmid told Reuters in Abu Dhabi that Wednesday's attack was a "provocation that is unacceptable" and risked undermining the UN efforts.
The UAE strongly condemned the Houthi terrorist attack against the airport, which resulted in injuries to civilians.
In a statement, the UAE's Ministry of Foreign Affairs and International Cooperation, said the UAE strongly condemned this terrorist act, and deemed it as new evidence of the Houthi's hostile and terrorist tendencies that seek to undermine security and stability in the region.
"The UAE renews its solidarity with the Kingdom of Saudi Arabia and its stand with Riyadh in a unified step against any threat to the security and stability of the Kingdom and supports all measures taken by Saudi Arabia in the face of extremism and terrorism to maintain its security of its citizens and expatriate residents," the statement continued.
UAE strongly condemns Houthi attack on Abha Airport in Saudi Arabia. Blatant attack on civilians & one of many attacks in the 6 months since Stockholm. Houthi militias undermining the UNs political work & sending a message of continuing violence & hostility.
"The security of the UAE and of the Kingdom of Saudi Arabia is indivisible," it noted, adding, "any threat or danger to the Kingdom's security is considered a threat to UAE's security and stability."
The Ministry wished a quick recovery to the injured.
The Swiss embassy in the Kingdom said in a tweet on its Twitter account that Switzerland condemned the terrorist act against Abha International Airport that targeted infrastructure in Saudi Arabia, resulting in injuries of citizens and residents of Saudi Arabia.
Switzerland condemned the attacks and urged their immediate cessation.
The General Secretariat of the Council of Senior Scholars expressed its strong condemnation of the Houthi criminal act of launching a projectile on the Abha International Airport that targeted civilians of different nationalities.
It stated that the firing of projectiles at the civilian facility underlines the criminal nature of the terrorist group supported by the Iranian regime, and its threat to regional security and international peace.
The statement added that the Houthi terrorist group is no different from ISIS and al-Qaeda in targeting civilians, killing innocent people, recruiting children and taking cover in civilian localities.
https://english.alarabiya.net/en/News/gulf/2019/06/13/UN-Terrorist-attack-on-Abha-Airport-poses-threat-to-regional-security.html
--------
Belgian court penalizes sexagenarian for Islamophobia
Can Erözden
11.06.2019
A Belgian court penalized a 65-year-old man for his hateful and racist expressions against Muslims on social media.
According to Le Soir, a Belgian daily, the criminal court in Antwerp handed a suspended sentence of 10 months in prison to sexagenarian and imposed a fine of €800 ($904) for his hate speech on Twitter.
The 65-year-old internet user -- nicknamed Fidelio -- was convicted for posting explicit violence content against Muslims, which "hurts the social order in Belgium based on tolerance and equal right principle".
It said the convict is from northern Flemish city of Antwerp, didn't have any criminal record.
https://www.aa.com.tr/en/europe/belgian-court-penalizes-sexagenarian-for-islamophobia/1501367
--------
Germany: 3 mosques suffer assaults in 2 days
Mesut Zeyrek
11.06.2019
Three mosques in Germany have suffered assaults over the past two days, a local Turkish Muslim community leader said on Tuesday.
At the Eyup Sultan Mosque in Kamen, North Rhine-Westphalia, a right-wing group desecrated the mosque walls with hateful graffiti such as "get out," said Mustafa Kose, the top official in Kamen from the Turkish-Islamic Union for Religious Affairs (DITIB).
In the city of Hessen, central Germany, vandals threw rocks at the Kassel Central Mosque.
Finally, at a mosque in Bremen, northwestern Germany, a copy of the holy Quran was set on fire.
"There is a fear in our congregations, and religious officials, they're considering locking the doors of the mosque during prayer time," Kose said.
Saying that police are investigating the attacks, he added that the attackers should be arrested as soon as possible.
The attacks take place amid Islamophobic groups gaining more political power in Europe, as well as deadly assaults on mosques in Western countries, including the New Zealand attack this March which took 51 lives.
https://www.aa.com.tr/en/europe/germany-3-mosques-suffer-assaults-in-2-days-/1501194
--------
South Asia
Myanmar accused of 'misinformation campaign' over repatriation of Rohingya
June 12, 2019
DHAKA: Bangladesh has accused Myanmar of launching a "misinformation campaign" over the repatriation of Rohingya refugees.
The claim was made on Wednesday by Bangladeshi Minister of Foreign Affairs Dr. A.K. Abdul Momen following a high-level meeting in Dhaka to discuss the issue.
During the Future of Asia conference held in Japan at the end of May, Myanmar claimed that Bangladesh was solely responsible for not starting the repatriation process of the Rohingya people.
However, Momen hit back on Wednesday, telling reporters that Myanmar had recently presented a report on two "showcase villages" in Rakhine, which it said proved the situation in the state was now conducive for a return. But the minister said the study, produced through ASEAN, a regional body of Southeast Asian nations of which Myanmar was a member nation, could not be representative of all 800 villages in the state.
More than 740,000 Rohingyas have fled to Bangladesh since Aug. 25, 2017, following a so-called "clearance operation" by the Myanmar army described by the UN as a "textbook example of ethnic cleansing" and "intent of genocide."
Bangladesh signed a bilateral instrument with Myanmar in the same year, which was supposed to have triggered the start of a two-year repatriation process in January 2018. A later agreed date of mid-November to begin the return was also missed.
"Myanmar didn't keep their promises. They were supposed to create a conducive environment in the Rakhine province. But they did nothing in this regard," Momen said.
Briefing ambassadors and high commissioners at the meeting in the Bangladeshi capital, Momen urged them to put more international pressure on Myanmar to create appropriate conditions for repatriation. He added that Rohingya issue would be the "topmost priority" during Bangladeshi Prime Minister Sheikh Hasina's visit to China next month.
China, a close ally of Myanmar, had advocated that Bangladesh and Myanmar should solve the Rohingya crisis bilaterally and played a key role in the repatriation instrument between the countries.
"China has also agreed with us that these Myanmar people should be taken back home. We hope that after the visit of the prime minister, the process (repatriation) will start," Momen added.
He noted that oppression was widespread in all communities in Rakhine.
Bangladesh has launched a campaign to put more effective international pressure on Myanmar to repatriate more than 1.1 million Rohingyas to their homeland.
On Sunday, Momen sent a letter to all 80 consul-generals of Bangladesh in different countries and those of foreign nations in Bangladesh, requesting they engage foreign governments and civil societies in helping to create a safe environment for Rohingyas in Myanmar and oversee the process of repatriating the refugees from Bangladesh.
"The delay of repatriation of Rohingyas, who have been deprived of basic rights for decades, may threaten regional security and stability," Momen wrote.
Delowar Hossain, director-general Southeast Asia, of the Bangladesh Foreign Ministry, told Arab News: "We want more direct engagement in different international forums from our friends. This is one of the most important issues at this moment and we all want a solution at the soonest possible time."
Akramul Qader, former Bangladeshi ambassador to the US, told Arab News: "In every meeting, Myanmar promises that they will work soon for creating a conducive environment for the repatriation but in reality, there is not a single person who has repatriated so far."
He said that Bangladesh's efforts to engage the world and civil societies of different countries was a very timely approach.
Prof. Amena Mohsin of Dhaka University, an international relations expert, said China was the most important mover in helping to resolve the issue.
"If China wants to be a regional power it should recognize the problems and unease of Bangladesh. Moreover, there are some ethical issues also which a superpower like China can't ignore," Mohsin told Arab News.
Another former Bangladeshi ambassador to the US, Humayun Kabir said that Bangladesh had the support of the whole world in its efforts to resolve the Rohingya crisis, except for China, Russia and India.
"The existing geopolitical situation of this region is actually working as a big obstacle in resolving the Rohingya crisis," Kabir told Arab News.
Although almost half of the year has passed, only 22 percent of the annual $920 million appeal for the Joint Response Plan (JRP) to the Rohingya humanitarian crisis has been met. This has created concern among aid agencies. According to the financial tracking system of the UN Office for the Coordination of Humanitarian Affairs (OCHA), only $202.3 million has been disbursed by the donor community.
"We keep reminding the donor community that they need to fund the JRP and stand with Bangladesh. With the upcoming two-year anniversary of the 2017 influx this will become even more important as the JRP is only just over 20 percent funded," said Stephen Pattison, communication officer for the UN High Commissioner for Refugees at Cox's Bazar.
"However, we will keep working here in this response, but funding shortages will, obviously, limit the scope of what we are able to do for the Rohingya refugees here," he told Arab News.
http://www.arabnews.com/node/1510106/world
--------
Over 13,000 Afghans forced to flee Taliban, Daesh battle
SAYED SALAHUDDIN
June 12, 2019
KABUL: Hundreds of Afghan families have been forced to leave their villages because of fighting between the Taliban and affiliates of Daesh in eastern Nangarhar province in recent weeks, officials said on Wednesday.
The fighting concentrated in the Shinwari and Khoghani districts of the province, which borders Pakistan, and has served as a bastion for Daesh loyalists since the group emerged in Afghanistan in late 2014.
Most of the displaced, including children and the elderly, have ended up in the desert, where they face soaring heat, lack of water, shelter and food, Aryan Youn, a local delegate, told Arab News.
"These people have suffered casualties and now live in miserable conditions. It is nearly 50 degrees there. A few families have received aid from locals and traders, but the government has not provided any aid for them yet because of bureaucracy," she said.
Fighting in Nangarhar broke out days before the holy month of Ramadan after Daesh tried to take control of Taliban territory.
Najibullah Qayoumi, head of the provincial department for refugees, said the government has provided aid to some of those displaced and confirmed that families have settled in the desert.
He told Arab News the number of displaced was over 13,000.
"The fighting erupted in one area and then spread to other parts, so like many other people we had to flee," Tawakal Shah, a displaced resident, said.
Shah Mahmood Miakhel, governor of Nangarhar, told Arab News both Daesh and the Taliban were enemies of the government and that it has used airstrikes against both groups. He added that Daesh had filled the vacuum created after a government airstrike wiped out a number of Taliban leaders in April.
The governor's spokesman, Attaullah Khogyani, refused to be drawn on whether Afghan forces would be deployed against the two groups. He also refused to answer questions on how the organizations had gained such a foothold in the region, after a series of prolonged operations against them by the US and Afghan soldiers. Washington famously dropped the world's largest bomb, nicknamed the "Mother of all Bombs" (MOAB) on militants in 2017.
Daesh has frequently been met with resistance from locals, due to its extremist conduct, including forcefully marrying young girls and killing community elders in brutal ways.
Waheed Mozhdah, an analyst, said the spread of Daesh's activities in Afghanistan had "raised lots of questions and suspicions not only among ordinary Afghans, but the Taliban too.
"One reason why the Taliban are hesitant about talks (with the US) is that they think America is bringing Daesh to Afghanistan. The Taliban have openly said that America is aiding Daesh here," he said.
US officials have repeatedly rejected as baseless accusations raised by Iran, Russia and former Afghan President Hamid Karzai that Washington is helping Daesh in Afghanistan to destabilize the region.
Some 1.4 million Afghans have been internally displaced due to the conflict, as well as natural disasters, in the last 18 years.
http://www.arabnews.com/node/1510111/world
--------
Airstrikes kill 10 militants including Taliban commander in E. Afghanistan
2019-06-11
MAIDAN SHAR, Afghanistan, June 11 (Xinhua) -- Ten militants including a Taliban commander Mullah Majid alias Kuchi were killed in airstrikes on Taliban hideout in Jalriz district of eastern Afghanistan's Wardak province on Monday night, said an army statement released Tuesday.
Acting upon intelligence report, the airstrikes were conducted on Tandara village of Jalriz district, killing 10 insurgents including Kuchi on the spot, the statement said.
Neither civilians nor security personnel were injured during the strikes, said the statement.
Taliban militants have yet to make comment.
http://www.xinhuanet.com/english/2019-06/11/c_138134245.htm
--------
Afghanistan and Iran to expand cooperation in nuclear field
12 Jun 2019
Afghanistan and Iran will expand bilateral cooperation in the field of peaceful nuclear energy.
The Iranian authorities said that Tuesday that the two nations will cooperate on application of atomic energy in healthcare and agriculture.
The officials of the two countries on Monday signed a Memorandum of Understanding in this regard.
A delegation of Afghanistan Atomic Energy High Commission recently visited Iran to sign the MoU with the Atomic Energy Organization of Iran.
The delegation visited Iran after coordinating with the International Atomic Energy Agency (IAEI).
The two countries will mainly focus on human resources capacity building and application of atomic energy in healthcare and agriculture.
https://www.khaama.com/afghanistan-and-iran-to-expand-cooperation-in-nuclear-field-03599/
--------
Taliban militants suffer heavy casualties in North of Afghanistan
12 Jun 2019
The Afghan security forces have inflicted heavy casualties on Taliban militants in North of Afghanistan.
The informed military sources said Wednesday the Afghan Special Forces killed 16 Taliban fighters in Pashtun Kot district of Faryab.
The Special Forces also wounded 3 Taliban fighters and destroyed some military equipment during the operation.
Furthermore, the Special Forces killed 3 Taliban fighters and detained 8 others in Bagram district of Parwan province.
The sources also added that the Special Forces killed 1 Taliban fighter in Sayad district of Sar-e-Pul province.
The Special Forces also arrested one Taliban fighter during the same operation, the sources said.
This comes as the security situation in some districts of Faryab, Parwan and Sar-e-Pul provinces has deteriorated during the recent years.
Taliban militants are active in districts of the three provinces where they often conduct terrorist related activities.
Meanwhile, the Afghan forces are busy conducting counter-terrorism operations against the anti-government armed groups in the three province.
Similarly, the U.S. forces also conduct regular airstrikes in restive parts of the country to suppress Taliban and other anti-government militants.
https://www.khaama.com/taliban-militants-suffer-heavy-casualties-in-north-of-afghanistan-03596/
--------
More than 30 Taliban prisoners released from Nangarhar prison
12 Jun 2019
The authorities have released more than 30 Taliban prisoners from the central prison of Nangarhar province.
The Nangarhar governor's office in a statement said the authorities released the Taliban prisoners in accordance with a presidential decree.
The statement further added that 32 Taliban prisoners were set free from the central prison of Nangarhar.
The governor's office also added that 2,300 people including women are currently serving in Nangarhar central prison.
The statement also added that President Mohammad Ashraf Ghani had ordered the release of 887 Taliban prisoners on the eve of Eid Al-Fitr.
The release of Taliban prisoners has attracted mixed reactions from the people as some believe that released Taliban group members would return to battlefield.
However, the authorities are saying that they release the prisoners after proper security screening.
https://www.khaama.com/more-than-30-taliban-prisoners-released-from-nangarhar-prison-03602/
--------
16 Taliban militants killed, wounded in Kapisa, Wardak and Herat provinces
12 Jun 2019
The security forces conducted separate operations in three provinces killing or wounding at least 16 Taliban militants.
The informed military sources said Wednesday that the Afghan Special Forces killed 3 Taliban fighters during an operation in Tagab district of Kapisa.
The sources further added that the security forces also conducted an airstrike in Nerkh district of Wardak and killed 3 Taliban fighters.
Furthermore, the Special Forces killed 4 Taliban during an operation in Chisht-e Sharif district of Herat.
The military officials also added that the Special Forces wounded 6 Taliban fighters and destroyed 5 improvised explosives devices during the same operation.
The anti-government armed militants including Taliban have not commented regarding the operations so far.
https://www.khaama.com/16-taliban-militants-killed-wounded-in-kapisa-wardak-and-herat-provinces-03601/
--------
1 terrorist hailing from Punjab of Pakistan killed, 2 others arrested in Herat
12 Jun 2019
The NDS Special Forces killed one terrorist and detained two others during an operation in Herat province.
The National Directorate of Security (NDS) in a statement said the terrorists originally hail from Punjab province of Pakistan.
The statement further added that the three terrorists, Mohamad Hakim alias Bilal son of Obaidullah, Rafiullah and Rauzuddin, were fighting for the Taliban leader Mullah Wakil Ahmad Osmani.
NDS also added that Mullah Osmani is actively involved in terrorist related activities in Kerkh district of Herat and bordering regions between Herat and Badghis.
The National Directorate of Security (NDS) also released a video confession of one of the detained terrorists.
The militant briefs the intelligence operatives regarding his recruitment to Taliban ranks and travel to Afghanistan.
The Taliban group has not commented regarding the killing and detention of the Pakistani militants so far.
https://www.khaama.com/1-terrorist-hailing-from-punjab-of-pakistan-killed-2-others-arrested-in-herat-03603/
--------
Unknown gunmen kill religious cleric in Nangarhar province
12 Jun 2019
Unidentified gunmen have assassinated a religious cleric and teacher in eastern Nangarhar province of Afghanistan.
The Nangarhar governor's office in a statement said Wednesday that unknown gunmen killed Mawlavi Saifullah in Koz Kunar district earlier today.
The statement further added that the gunmen shot dead Mawlavi Safiullah at around 5 am local time as he was on his way home from the mosque.
The governor's office also added that the gunmen used a gun with a silencer to assassinate Mawlavi Saifullah.
No individual or group has so far claimed responsibility for the attack.
This comes as unknown gunmen killed a religious cleric in Kabul late last month days after an explosion killed a cleric in the capital city.
https://www.khaama.com/unknown-gunmen-kill-religious-cleric-in-nangarhar-province-03605/
--------
Southeast Asia
Indonesiaʹs Islamic Defenders Front gaining grassroots support
12.06.2019
The flags hanging outside Anwar Ragaua's house have drawn warnings from police, but the wiry 50-year-old vows he's not taking them down.
After all, the police weren't there to help when he was the sole fisherman in his village to survive the tsunami that inundated the Indonesian city of Palu at dusk on 28 September. Nor was the government. Nor were the aid organisations that swept into the stricken region in remote central Sulawesi.
Instead, the first people to offer him hope – and a new boat – were deployed by a hardline Islamic group notorious for vigilante violence, such as storming the offices of Playboy magazine, smashing up stores selling alcohol and attacking minority Muslim sects.
When the wind picks up, it's the Islamic Defenders Front's white-and-green flag that flutters outside Ragaua's house, alongside a much bigger black flag with white Arabic script. The words are a well-known declaration of Muslim faith; similar flags have become associated with violent extremists.
Since its inception two decades ago, the front has pushed for Islamic law to govern the lives of Indonesia's 230 million Muslims, aiming to correct what it sees as the errors of Indonesia's 1945 constitution that established a secular state and religious freedom.
Though often dismissed as a fringe group, it has recently scored unexpected and stunning political victories - only partly due to the growth of orthodox Middle Eastern Islam in Indonesia. The group's success also can be traced to an effort over more than 10 years to re-purpose its militia into a force that's as adept at helping the poor and searching for victims buried under earthquake rubble as it is at inspiring fear.
The front was formed in Jakarta, researchers say, by elements of Indonesia's military after the fall of dictator Suharto in 1998 as a tool for confronting pro-democracy activists and liberalism. Able to act with impunity, it became infamous for running protection rackets and violent vigilantism. It now has chapters in 23 of Indonesia's 34 provinces and a military-like command structure cascading down to village levels.
Maman Suryadi Abdurrahman, the head of the front's Islamic Defender Troops militia, said the organisation has a million members. Researchers have said its membership is much smaller, estimating that it numbers in the tens of thousands.
Walking a fine line, the front doesn't propose that Indonesia become a caliphate, which would put it in direct confrontation with Indonesia's civil law-based constitution. Rather it says it wants Islamic law to apply to the 9 out of 10 citizens who are Muslim. Senior figures display the red-and-white Indonesian flag on their uniforms and often ally with ultra-nationalistic causes.
"Our goal is to make Indonesia, in which Islam is the majority religion of the people, to be religious and clean from immorality," said Abdurrahman. "We want an Islamist country, not an Islamic state, because a religious country will prevent the nation from suffering social injustice."
The group says it has moderated its methods but it still aggressively takes on what it calls "community diseases" such as prostitution, homosexuality and celebration of Western holidays. It does so, it says, at the request of local communities.
"We've tried to improve our image," Abdurrahman said. "We've changed the ways of our demonstrations to be more persuasive and peaceful."
In so doing, it has followed the same path as other deeply conservative groups in Indonesia, including Hizbut Tahrir, which seeks a caliphate and was banned last year. All have embraced charitable work, filling a void left by the government and mainstream Muslim organisations.
Alexander Arifianto, an Indonesian politics expert at the S. Rajaratnam School of International Studies in Singapore, said Indonesian groups copied Egypt's Muslim Brotherhood which pioneered Islamic charities in the 1970s and '80s and became immensely popular. Hamas (in Palestine) and Hezbollah (in Lebanon) have also emphasised social services as a way of winning hearts and minds.
The turning point for the Islamic Defenders Front was its response to the 2004 Indian Ocean tsunami, which killed more than 100,000 people in Indonesia's Aceh, Abdurrahman said.
Even in Aceh, one of Indonesia's most conservative provinces, they weren't welcome, Abdurrahman said, but they persisted and won over Acehnese by setting up their command posts at mass graves and recovering and burying thousands of bodies.
The front, he said, "is now increasingly accepted by people."
The front's humanitarian arm – known as Red Crescent Indonesia, but not part of the International Federation of Red Cross and Red Crescent Societies – was very busy last year. Besides the Palu earthquake and tsunami that claimed more than 4,000 lives, earthquakes killed hundreds and destroyed thousands of homes on Lombok. A tsunami wreaked havoc on the Sunda Strait coastlines of Java and Sumatra.
The front was right there at each disaster, searching for victims, distributing aid and building temporary housing and new mosques. Its regular social services such as free health care have become a lifeline for urban poor.
Indonesia is a far-flung archipelago of 17,000 islands; its central government has often been accused of neglecting remote regions far from the centre of political and economic power in Java. In places such as Central Sulawesi, which has a history of sectarian violence, those failings have provided an opening for hard-liners and their message that religion, not government, is the answer.
While the 350 tonnes of aid the Islamic Defenders Front says it provided in Palu is a fraction of what eventually poured into the region, its delivery was rapid and grassroots. As officials struggled to get a handle on what had happened, truckloads of rice and other aid had already been dispatched by the front's chapter in Poso to the southeast of Palu.
The militia's search-and-rescue team scoured two neighbourhoods swallowed by the quake, recovering bodies before the government's National Search and Rescue Agency turned up. When the agency did arrive, grieving family members turned on them angrily, demanding to know why they hadn't come sooner. Part of the reason: official search efforts first focused on hotels.
"The eighth day was the worst; the rotten bodies were very smelly and the soil had begun to harden," said Mahmud Khaemudin, secretary of the front's chapter in Central Sulawesi.
The government's response to images of the front at work was ham-handed - the Information Ministry called them a hoax. It was apparently unaware that the search-and-rescue agency has provided training to front members. The front did not curtail its efforts in Palu after the catastrophe's first days.
Anwar Ragaua was sceptical when, three months after the disaster, two men from the front arrived at his house and offered new fishing boats to him and two others.
"All this time I had often been offered similar assistance from various organisations, government and non-government, but they only made promises," he said. A day later, the men came back and ordered several boats from a boat maker, paying in cash. "I almost cried," Ragaua said. "I wanted to bow down in gratitude."
Police have visited his house several times, suspicious he may be spreading radicalism, but Ragaua was unfazed. He flies the front's flag, proudly.
The front's rising political clout was evident in 2016-17, when it mobilised hundreds of thousands to protest the Christian governor of the capital, Jakarta. The governor, an ally of President Joko Widodo, was defeated and imprisoned for blasphemy.
In April's presidential election, the front backed former general Prabowo Subianto. He overwhelmingly won in religiously conservative provinces. Widodo, however, was re-elected by winning over a coalition of moderate and minority voters.
There have been other setbacks. Front leader Rizieq Shihab fled to Saudi Arabia in 2017 to avoid arrest on what he said were fabricated pornography charges. An online petition calling for the government to deny legal status to the front has half a million signatures.
Interior Ministry spokesman Bahtiar, who uses a single name, described the front as being involved in "dirty practices". Under law, organisations involved in social or humanitarian work should not be a guise for political activities, he said.
"Indonesians are now smart," he said. "There is no more room to hide in this era of openness." (AP)
https://en.qantara.de/content/indonesias-islamic-defenders-front-gaining-grassroots-support
--------
Is Indonesia ready for halal certification obligation?
Iffah Karimah
June 12, 2019
Almost five years have passed since the issuance of Indonesia's Halal Product Assurance (HPA) Law in October 2014. Recently, President Joko "Jokowi" Widodo signed the Government Regulation for the implementation of HPA Law. Article 4 in HPA Law states that all products that enter, are circulated, and are traded Indonesia must be halal-certified. The regulation stated it would be effectively implemented five years after its issuance. Therefore, as per Oct. 17 2019, all products which enter, are circulated and traded in Indonesia must be halal certified.
The question is: is Indonesia ready for this halal obligation?
The halal certification issue has sparked several debates in Indonesian society. From the producer's perspective, the obligation for halal certification will increase production costs. Most manufacturers in Indonesia are still reluctant to certify their product because they perceive the cost of halal certification as a burden. In addition, many entrepreneurs have little knowledge on both the procedure and the urgency of halal certification itself.
For the customer there are several issues in the halal label. Since the definition of products that should be halal-certified in the Law is very extensive, basically all products and services can be halal-certified. Consequently, this clause may lead to the commodification of Islam.
In halal commodification, religion is exploited and used as a marketing instrument. According to Faegheh Shirazi in his book Brand Islam: the marketing and commodification of piety, the commodification of Islam is created by labelling goods and services as "Islamic" with the intention to increase market share. In the halal industry several companies join the halal certification trends for the sake of profit without real concern for Islamic values and philosophy, thus creating "pseudo-Islamic" products. For example, some brands of hijab, refrigerators and detergents are marketed as halal-certified products.
On the other side, the obligation of halal certification provides opportunities for halal industry development. The Pew Research Center in 2017 reported that the global Muslim society is the world's fastest growing consumer. The demand from Muslim consumers develops the market-driven halal products and services which are sharia-compliant. Thomson Reuters reported that in 2017, Muslims spent US$1.303 billion on food and beverages alone.
Having the largest Muslim population in the world, Indonesia has the potential to become a key player in the halal industry. Thomson Reuters in 2018 reported that Muslim consumers in Indonesia were the biggest spenders for food among the Organization of Islamic Cooperation countries. However, Indonesia is not listed in the top 10 countries in the Halal Food Indicator of Thomson Reuters, defeated by minority-Muslim countries such as Brazil and Australia. This shows that Indonesia is a target market for halal products, instead of becoming the key player in the halal industry.
Indonesia's halal industry is underdeveloped because the local and domestic players have not significantly seized the opportunity. Indonesia's halal market is still dominated by firms from non-Muslim countries. Companies from Muslim nations have not developed halal product efficiently due to lack of capacity. Therefore, the mandatory halal certification can be a much-needed booster.
However, the lack of implementation and campaigning of this regulation impedes the development of the halal industry. Although gradually increasing each year, the halal-certified products in Indonesia do not even reach half of the existing food and beverage products.
The mandatory halal certification could trigger international brands to certify their product. Given Indonesia's vast market, manufacturers most likely will follow the requirement. In the future, the law will apply the reciprocal clause, where the country who wants to distribute their halal product in Indonesia must accept the halal products from Indonesia to be exported to their countries.
Therefore one major challenge to the halal certification is lack of awareness about halal status. Generally Indonesian Muslims do not depend on halal logo but assume that all food in their community is automatically halal. Although this assumption may have been true in the past, various imported food products today are not halal.
Lack of awareness among producers is also an obstacle. For the manufacturer, halal certification is perceived as an overhead cost. While in fact, halal label and halal certification can increase quality and give value-added to the product, thus attracting Muslim customers worldwide.
The clock is ticking; the new era of halal certification in Indonesia will start this October. Therefore, to overcome the challenge from the halal regulation implementation, all stakeholders need several strategies.
First, halal awareness in society needs to be improved. Changing Muslims' mindset can be conducted through education and marketing for both entrepreneurs and consumers. Raising halal awareness such as advertising, campaigns and training could be be conducted by government and halal agencies.
To gain customers' trust, the government needs to clarify the definition of the product that needs to be halal certified. Besides, the obligation for halal certification is supposed to be limited to specific product categories to avoid commodification. The government should focus first on halal certification in food and beverages, medicine, and pharmaceutical products before moving on to other items.
Furthermore, the government should provide incentives to attract the halal certification applicants, such as tax exemption policy as in Malaysia. Last but not least, the government should ease procedures to obtain halal certification, and provide financial support, especially for small and micro enterprises seeking such certification.
Hopefully, by the end of October, Indonesia is ready to be a key player in the halal industry.
https://www.thejakartapost.com/academia/2019/06/12/is-indonesia-ready-for-halal-certification-obligation.html
--------
Haziq could be charged in civil or Shariah court, says lawyer
12 Jun 2019
PETALING JAYA: The individual who confessed to being the man in the viral sex videos could be charged for a criminal offence under Shariah or civil law, says Malaysian Muslim Lawyers Association (PPMM) president Datuk Zainul Rijal Abu Bakar.
He said the video confession by Muhammad Haziq Abdul Aziz, the senior private aide to Deputy Primary Industries and Commodities Minister Datuk Seri Shamsul Iskandar, points towards the commission of two offences.
"Under Shariah law, the offence is one of sodomy, while it is considered an unnatural sexual act against the order of nature under civil criminal law.
"However, under the double jeopardy principle in law, the person cannot be charged for the same offence in two separate courts," he told reporters at a press conference here on Wednesday (June 12).
powered by Rubicon Project
"If the person is charged in the civil courts, then he cannot be charged in the Shariah courts, and vice-versa," he said.
For criminal charges to be initiated, Zainul said, there must be reports lodged against the individual with Islamic religious authorities in Sabah and the police.
Under Section 377A of the Penal Code, an accused could face a maximum sentence of 20 years in jail and whipping upon conviction.
Under Section 82 of the Sabah's Criminal Shariah Enactment 1995, an accused can face a maximum fine of RM5,000 or three years' jail or both upon conviction.
Zainul was asked to comment on Muhammad Haziq's confession made in a 30-second clip posted on Facebook at 2.30am on Wednesday (June 12).
In the video, Muhammad Haziq, who named the minister, said the recording of the alleged sex act was done without his consent on May 11 at the Four Points Hotel during the recent Sandakan parliamentary by-election.
https://www.thestar.com.my/news/nation/2019/06/12/haziq-could-be-charged-in-civil-or-Shariah-court-says-lawyer/
--------
PAS calls for Islamic court action against man who confessed to gay sex in video
12 June 2019
BY DEBRA CHONG
KUALA LUMPUR, June 12 — Muslims should not bear false witness, but those who admit to sin should be punished, PAS deputy president Datuk Tuan Ibrahim Tuan Man said today in response to a viral homosexual video purportedly implicating a Pakatan Harapan leader.
He reminded PAS members of Islamic laws that advise against defamation and told them not to share the sex video of the two men, one said to be a federal minister,
"As a Muslim our attitude remains consistent with syarak to not make accusations (qazaf) unless we saw it," he said in a Facebook post.
However, he said the person who made the confession should face legal action.
"In line with that certain individual's confession, PAS urges the Sabah Shariah Court to punish the individual for his self-admitted act," the Kubang Kerian MP said.
He then advised Muslims to focus on matters that will benefit their community.
He said PAS members should step forward and be agents who can improve the social economic conditions of the people rather than waste time on defamatory social media gossip that he said is increasingly uncivilised.
The PAS leader's response follows similar calls from Umno leaders and several other Muslims to ignore the latest episode of gutter politics to emerge just after the Hari Raya Puasa celebration.
Earlier this morning, a man who said his name is Haziq Aziz admitted to being the person in a sex video that went viral yesterday and which purported to involve a federal Pakatan Harapan minister.
In a 30-second clip posted on Facebook at 2.30am, Haziq named the alleged politician and claimed the video was taken without his consent on May 11 during the Sandakan parliamentary by-election at the local Four Points Hotel.
He also urged the Malaysian Anti-Corruption Commission to probe the alleged minister whom he claimed "is not an individual qualified to be a leader".
The Haziq in the video shares the same name and resemblance to a deputy minister's aide.
Malay Mail is trying to reach all parties involved for comment.
Prime Minister Tun Dr Mahathir Mohamad had weighed in on the matter when asked at a news conference in Putrajaya yesterday, but said he did not know anything about a homosexual video clip circulating on social media that allegedly features one of his Cabinet members.
https://www.malaymail.com/news/malaysia/2019/06/12/pas-calls-for-islamic-court-action-against-man-who-confessed-to-gay-sex-in/1761310
--------
Umno leaders call sex clip implicating minister vile, a grave sin
12 June 2019
BY SYED JAYMAL ZAHIID
KUALA LUMPUR, June 12 — Umno Youth chief Datuk Asyraf Wajdi Dusuki urged the public not to spread or share a homosexual video clip that allegedly features a minister, saying the act is akin to defamation which is a grave sin in Islam.
He added that the penalty in the afterlife would be heavier if the video clip was made intentionally to defame the purported minister.
"My view is that we should stick to the principles in Islam to prevent ourselves from spreading such videos as to not incur Allah's wrath, which will see our own shames exposed in this and the next world," he said in a Facebook post last night.
"What is more worrying is if the video is fake. Surely, it will be a big sin, and a heavier punishment from Allah to befall on us," he added.
Asyraf's immediate predecessor, Khairy Jamaluddin, also condemned those responsible for the clip, calling it "vile filth" and urged the public to "look away", saying the politics of character assassination should not be given space or attention.
"Seriously, we are already a nation traumatised by slanders of the past. Do we really want to expose another generation to despicable allegations with the sole intent of destroying someone's character?" the former minister wrote.
"If you come across sordid news today involving our politics, look away. Vile filth thrives when it's given attention."
A series of short videos lasting roughly 1.34-minutes have been making the rounds on social media. The clips show two men, one who resembles a minister in the current administration, in acts of intimacy with one another.
Earlier this morning, a man who called himself Haziq Abdul Aziz appeared in another 30-second video confessing to be one of the two people in the sexual clip.
The confessor shares the same name and resembles the senior private secretary to a deputy minister in the current Pakatan Harapan administration.
Across the political divide, a former secretary to Youth and Sports Minister Syed Saddiq Syed Abdul Rahman criticised the issue as an attempt to invoke hate by conjuring social stigma on homosexuality.
Numan Afifi, who was said to have been pressured to resign from his post because he was supportive of LGBTQ+ rights, said the politics surrounding the clip was meant to paint homosexuals in a bad light.
"It is so insulting to see these sex scandals being associated with vague mention of corruption. As if you are a corrupted politician, then you must be 'sexually deviant' somehow," he wrote on Twitter.
"Fact is most of suffering of our people — the workers, the Orang Asli, women, LGBTQ folk, people with disability — are caused by straight, self-claimed religious men in power and their cronies who decided upon themselves that they could dictate how others live their lives."
https://www.malaymail.com/news/malaysia/2019/06/12/umno-leaders-call-sex-clip-implicating-minister-vile-a-grave-sin/1761301
--------
An Indonesian Governor Confronts His Illuminati Accusers
BY : NUR YASMIN
JUNE 11, 2019
Jakarta. West Java Governor Ridwan Kamil is fighting back accusations that his design for the Al Safar mosque, located in a rest area on the Purbaleunyi Toll Road in West Java, reportedly features "Illuminati" signs, commonly linked to signs of the devil by local conspiracy theorists.
The accusations started with a tweet from Islamic preacher Ustad Rahmat Baequni, which argued that the mosque's main praying area was shaped like a triangle and decorated with a round clock that resembles an Illuminati "all seeing eye" – a triangle with an eye in the middle.
"This is the entrance, see all these triangles. Almost all triangles. Even when you go inside, a triangle, an eye. So when we pray, who are we facing? God or this one-eyed triangle?" the man said in a video included in the tweet.
Among local conspiracy theorists, the Illuminati's symbol of an eye inside a triangle is commonly linked to Dajjal, a one-eyed devil in Islamic mythology.
Illuminati is an elite, secret organization that controls the world order, conspiracy theorists claim.
The myth started with the Bavarian Illuminati, an Enlightenment-era secret society founded in 1776, which saw as its goals an end to superstition, religious influence over public life and abuse of state power.
The church claimed then that the organization was the devil's way to influence people.
After Rahmat's tweet went viral, Governor Ridwan, who has a degree in architecture from Bandung Institute of Technology and a master's degree in urban design from the University of California, Berkeley, posted a passionate defense of his mosque design on Instagram on May 31.
He said, "I do not need to be angered by these interpretations. The important thing [for me] is to show that the accusations that the Al Safar mosque incorporates Illuminati symbols are WRONG."
To further appease the doubting public, Ridwan even addressed the issue during a public discussion at Bale Asri Pusdai Jabar in Bandung on Monday. The event was streamed live on his Instagram account.
Accompanied by the head of the West Java branch of the Indonesian Ulema Council and his accuser Rahmat Baequni, the governor said he had never intended to build a mosque with symbols that contravene Islamic teachings. Any similarity was a coincidence.
Rahmat denied that his criticism was a personal attack on the West Java governor. He also said he had accepted the governor's explanation.
"I understood his position as an architect, very clearly," Rahmat said.
Unique Design
At the inauguration of the mosque two years ago, toll road operator Jasa Marga outlined the design of the mosque, which can accommodate up to 1,200 worshipers.
The toll operator said the mosque adopted the shape of a traditional Sundanese hat.
Ridwan himself said on Instagram: "I want to contribute to the progress of Islamic art and architecture. Islamic aesthetics are very strong in geometry. Every mosque design always tries a new, different geometry."
In the discussion in Bandung, the governor said the Al Safar mosque was built using an irregular concept and a nature-integrated design.
The irregular concept used many triangular shapes inspired by multiple folds in Japanese origami.
"The triangles embrace all irregular shapes," Ridwan said as quoted by BBC Indonesia.
Ridwan pointed out that many other mosques in Indonesia also feature triangular symbols and circles, such as the Jakarta Great Mosque and the Al Ukhuwah mosque in Bandung. Even the Nabawi Mosque in Saudi Arabia makes liberal use of the patterns.
"Why criticize [only] Al Safar? There are so many triangular and circular symbols around us. [When you enter the] Jakarta Grand Mosque, your are welcomed by triangles and circles. Are these Illuminati signs?" he said.
The Al Safar mosque has been nominated for the Abdullatif Al Fozan Award 2019 for best architecture, competing with 26 other mosques in the world.
"This means our intention to advance Islamic architecture has been acknowledged by the world, not just locally," Ridwan said.
The Al Irsyad mosque in Kota Baru Parahyangan, also designed by the governor, has also been nominated for the same award.
https://jakartaglobe.id/context/an-indonesian-governor-confronts-his-illuminati-accusers
--------
Pakistan
Human rights ministry asked to simplify Zainab alert bill
Shahid Kamal
June 13, 2019
ISLAMABAD: Describing the Zainab Alert, Response and Recovery Bill 2019 as vague, a parliamentary body on Wednesday asked the Ministry of Human Rights to make the bill simple.
The committee also asked the ministry to incorporate its recommendations in the bill.
Once the bill is passed by the parliament, it will pave the way for setting up Zainab Alert, Response and Recovery Agency (ZARRA), where child missing case will be reported and it will generate an automatic alert.
The bill will also introduce response and recovery mechanism of missing children to prevent incidents like murder of Zainab, a nine-year old from Kasur.
The Subcommittee of the National Assembly on Human Rights, which met here to discuss the draft bill, was informed that although the subject of minors had been transferred to the provinces after the 18th Amendment, the federal government had taken a number of steps for the protection of minors at the federal level such as drafting the bill.
However, during the meeting members felt that the draft bill needed more clarity.
"We do not want to name the bill specifically after one child and it should simply be titled child alert bill. Then there is also a problem with the definition of the word 'alert', which is not clearly defined. Besides, missing child is not properly addressed, even rape is not properly defined," said chairperson of the subcommittee MNA Dr Mahreen Razzaq Bhutto, who asked the ministry to make the bill simple.
The committee also recommended that instead of reporting a missing child to five or six different departments, the government should introduce a one-window facility where a missing child case can be reported.
"A person in distress cannot go to different offices to report a missing child," the chairperson asserted.
The committee also took up 'The ICT Rights of Persons with Disabilities Bill' and invited opinions from the stakeholders.
Zulqarnain Asghar, representing the 15.4pc of the challenged persons, sought not only right to vote but also the right to candidature in the electoral process.
"We also want quota in jobs and implementation of our rights," Zulqarnain Asghar said.
Atif Sheikh, also speaking on behalf of challenged persons, said that such persons should be exempted from providing a disability certificate for Computerised National Identity Cards (CNICs).
"Persons with disabilities do not need a certificate and this condition should be done away with," Atif Sheikh said.
The meeting was also asked that the word disabilities was derogatory and should not be used in legal documents, as directed by the Lahore High Court.
Members agreed to some of the recommendations from the stakeholders and decided to take up the matter again on Thursday when it meets.
https://www.dawn.com/news/1487871/human-rights-ministry-asked-to-simplify-zainab-alert-bill
--------
London Terror Police Arrest Man in Probe of Pakistan Group
By Chris Elser
June 11, 2019
London terror police arrested a man Tuesday as part of a probe into speeches that encouraged criminal activity.
The man, who is in his 60s, was arrested in northwest London on suspicion of intentionally encouraging or assisting offenses, police said in an emailed statement. Their probe is looking at speeches made by an individual associated with the Muttahida Qaumi Movement (MQM) in Pakistan.
He was taken to a south London police station, where he currently remains in custody.
As part of the investigation, officers searched a home and a business. The investigation is being led by officers from the Met's Counter Terrorism Command, and is looking at a speech broadcast in August 2016 by an individual associated with the MQM movement in Pakistan as well as other speeches previously broadcast by the same person.
The MQM was once Pakistan's fourth-largest political party, holding 17 of Karachi's 20 seats in the National Assembly. But a split in the party -- which saw the Pakistan faction distance itself from the London movement -- has left it with just seven seats following the 2018 election.
As of 2009, the MQM controlled an armed wing of about 10,000 active members and 25,000 reserves known as the "Good Friends," that detractors said were responsible for extortion, assassinations of political rivals and murder of people from other ethnic communities, then-U.S. Consul General Stephen Fakan wrote in a classified cable released by WikiLeaks that year.
https://www.bloomberg.com/news/articles/2019-06-11/london-terror-police-arrest-man-in-relation-to-pakistan-group
--------
Pakistan army fully capable and ready to respond to any threat: General Bajwa
Jun 12, 2019
ISLAMABAD: Pakistan's army chief General Qamar Javed Bajwa said Wednesday that the army is "fully capable" and ready to
respond to any threat to the country.
He was addressing the Annual Formation Commanders' Conference held at general headquarters in Rawalpindi.
General Bajwa hailed "befitting response" during February stand-off with India".
Tensions between India and Pakistan worsened after the Pulwama terror attack and both the countries were almost on the
brink of a war after India's military planes struck a terrorist training camp in Pakistan's Balakot on February 26 and Pakistan
carried out a counter-offensive the next day.
The forum reviewed geo-strategic and national security environment. Internal security landscape of the country, challenges
being confronted and responses were discussed in details.
https://timesofindia.indiatimes.com/world/pakistan/pakistan-army-fully-capable-and-ready-to-respond-to-any-threat-general-bajwa/articleshow/69762723.cms
--------
Shehbaz appears in accountability court after return from London
Rana Bilal
June 13, 2019
Following his return after two months in London, Leader of the Opposition in the National Assembly Shehbaz Sharif appeared before an accountability court in Lahore on Thursday in the Ashiana-i-Iqbal Housing Scheme and Ramzan Sugar Mills cases.
Admin Judge Jawad ul Hassan presided over the court proceedings during which Shehbaz was present at the rostrum.
In February, the LHC had accepted Shehbaz's request for bail in the two cases. On June 9, the PML-N leader returned to Pakistan following a trip to London. Shehbaz had announced a "quick visit" to London on April 9 after his name was removed from the no-fly list on Lahore High Court (LHC) orders.
During today's court proceedings, Judge Hassan asked why Leader of the Opposition in the Punjab Assembly Hamza Shehbaz had not been presented in the court, to which National Accountability Bureau (NAB) special prosecutor Waris Ali Janjua responded that Hamza was in NAB custody on physical remand in the Ramzan Sugar Mills case.
NAB on Tuesday arrested Hamza after the LHC dismissed as withdrawn his bail petitions in two inquiries — pertaining to money laundering/assets beyond means and the Ramzan Sugar Mills.
While adjourning the Ramzan Sugar Mills case, the court ordered the accountability bureau to present Hamza in court during the next hearing on June 26.
During the proceedings, the court asked Shehbaz if he wanted to say anything. The opposition leader said that NAB had made a "fraud case".
"I have served the country," he said, adding that: "Ashiana [-i-Iqbal Housing Scheme] is based on lies. NAB is wasting the country and the court's time."
"The entire case is based on lies," he said. Shehbaz was permitted to leave the court after marking his attendance.
Additionally, the court summoned witnesses in the Ashiana [-i-Iqbal] Housing Scheme. The case was adjourned till June 29.
https://www.dawn.com/news/1487953/shehbaz-appears-in-accountability-court-after-return-from-london
--------
Altaf released on bail, but probe will continue
Azfar-ul-Ashfaque
June 13, 2019
KARACHI: A day after his arrest in London, Muttahida Qaumi Movement (MQM) founder Altaf Hussain was released on Wednesday evening by the British authorities on bail without filing charges relating to a probe into his alleged hate speeches relayed from the United Kingdom to his followers in Pakistan.
The Metropolitan Police of London had raided Mr Hussain's residence on Tuesday morning, taken him into custody and shifted him to the Southwark police station, where he was questioned in the presence of his lawyers in connection with the probe that the police said was focused on a speech broadcast in August 2016 as well as other speeches.
Read: MQM founder Altaf Hussain arrested in London over incendiary 2016 speech
On Wednesday, he was released on bail "to return to a police station in mid-July", said a police statement released in London. The statement did not name Mr Hussain.
"As part of the investigation, officers carried out a search at a northwest London address and at a separate commercial address in northwest London. Both these searches are now complete," it added.
A source in MQM-London told Dawn that the authorities decided not to file charges but will continue with their investigation to get sufficient evidence or otherwise.
Mr Hussain was arrested on suspicion of intentionally encouraging or assisting offences contrary to Section 44 (intentionally encouraging or assisting an offence) of the Serious Crime Act, 2007.
The Met police made it clear that action at this stage was procedural in nature, as "he was detained under PACE (Police and Criminal Evidence Order, 1989)", which sets out codes of practices in relation to searches of premises by police officers and seizure of property found by police on persons and premises and detention, treatment and questioning of persons by police officers.
London-based Hussain has been a subject of various inquiries while living in self-exile for the past 27 years. He was first arrested on June 3, 2014, in connection with a money laundering probe and was released on bail after a couple of days.
In October 2016, the British authorities dropped the money laundering probe and returned a huge sum of cash recovered from Mr Hussain's home and office during separate raids in 2014.
Mr Hussain was also interviewed by investigators probing the murder of Dr Imran Farooq, who was stabbed to death in London in 2010.
While a court had imposed a ban on the media coverage of Mr Hussain, his own party in Pakistan parted ways with him after he made an incendiary speech over phone on Aug 22, 2016. Since then, he has been facing an unannounced ban and his loyalists are not allowed to take part in political activities, or to even gather at the Nine Zero headquarters in Azizabad which has been sealed off since 2016.
Pakistani authorities had complained to their British counterparts about Mr Hussain's incendiary speeches that according to them aimed at inciting his followers to violence.
https://www.dawn.com/news/1487892/altaf-released-on-bail-but-probe-will-continue
--------
Democratic leaders in custody while terrorists roam free: Bilawal
JUNE 13, 2019
Pakistan People's Party (PPP) Chairperson Bilawal Bhutto Zardari on Wednesday said that most of the democratic leadership was behind bars, but terrorists roamed free.
In a tweet, he said: "Priority of the state is to crush democratic civilian voices while continuing to coddle and harbor terrorists and extremists."
On June 11, Bilawal had stated that the government was trying to distract the masses from rising inflation by arresting political opponents under the garb of accountability.
During a joint meeting of opposition parties in the Parliament, Bilawal stated: "The question is where is the country heading to? The question is whether decisions will be made by the Parliament or other institutions."
Pakistan Muslim League-Nawaz (PML-N) leader Shehbaz Sharif was also at the meeting and stated that the government was trying to distract the public by raising the issue of accountability.
"The incompetent and incapable government has made the common man's life miserable. Investment is decreasing, there is no national development and the dollar is at a sky-high price," Shehbaz Sharif said. "We have united not for ourselves, but for Pakistan and the people. People have expectations from the opposition," said the PML-N leader.
On Wednesday, PPP leader Qamar Zaman Kaira said that the actual target during the address of Prime Minister Imran Khan was the opposition. He said PM wanted to distract people from the 2019-20 budget.
While addressing a press conference along with other party leaders, he said that the tone of PM Imran Khan during his address to the nation did not suit him. He questioned whether the PM was justified in using such language.
"Every time a PM addresses the nation, some kind of special message is given. However, we do not understand what was so special in this particular address," he said.
"When someone questions PM Imran Khan, he gets angry. If the PM wants to make a commission, he should go ahead and fulfill his desire. He is misleading the public and everyone is worried about his policies. Everything has been taxed by the government," he said.
On Tuesday, Prime Minister Imran Khan had announced to form a high-powered inquiry commission to investigate corruption during the last 10 years.
In his address to the nation, he said that the commission would comprise officials from the Inter-Services Intelligence (ISI), the Intelligence Bureau (IB), the Federal Investigation Authority (FIA), the Security and Exchange Commission of Pakistan (SECP) and other departments.
https://dailytimes.com.pk/410938/democratic-leaders-in-custody-while-terrorists-roam-free-bilawal/
--------
Imran's address has won people's hearts: Firdous
JUNE 13, 2019
Special Assistant to PM on Information and Broadcasting Dr Firdous Ashiq Awan said on Wednesday that Prime Minister Imran Khan had won the hearts of the people by his frank address. In a tweet, she said that address of the prime minister was the voice of the nation and its essence was feeling pain for hardships faced by the people of Pakistan. She said that ending the exploitative two-family rule from the county was Imran Khan's big achievement and real democratic change in the country. She said that the government had presented a balanced budget which would help stabilise the economy and open new avenues of progress and prosperity. She said that proposed policy of tax collection would prove effective while improvement in health and education sector were praise worthy. She said that increase in the salaries of government employees and reduction of federal cabinet members' salaries were historic steps.
https://dailytimes.com.pk/410908/imrans-address-has-won-peoples-hearts-firdous/
--------
COAS hails 'befitting response' to India during standoff after Pulwama attack
JUNE 13, 2019
Chief of Army Staff (COAS) General Qamar Javed Bajwa on Wednesday hailed the 'befitting response' Pakistan's military gave during the February standoff with India and said the armed forces remain fully capable and ready to respond to any threat for defence of the motherland, according to a statement issued by the Inter-Services Public Relations (ISPR) here.
"COAS hailed befitting response during the February standoff with India and said that Pakistan Army remains fully capable and ready to respond to any threat for defence of motherland," the ISPR statement said, following a two-day Annual Formation Commanders' Conference presided by Chief of Army Staff General Qamar Javed Bajwa at the GHQ.
All general officers of Pakistan Army attended. The forum reviewed geo-strategic and national security environment. Internal security landscape of the country, challenges being confronted and responses were also discussed in detail.
The COAS appreciated the successes being achieved in ongoing operation Radd ul Fasaad to carry forward the gains made so far towards enduring peace and stability. The forum also pledged to continue all its efforts to serve the country.
https://dailytimes.com.pk/410944/coas-hails-befitting-response-to-india-during-standoff-after-pulwama-attack/
--------
Pakistan to continue playing role in Afghan peace process: FM
JUNE 13, 2019
Foreign Minister Shah Mahmood Qureshi on Wednesday said Pakistan would continue to play its reconciliatory role in Afghan peace process for peace and stability in the region.
Chairing the sixth session of Consultative Council on Foreign Relations, Qureshi reaffirmed Pakistan's commitment to hold peaceful relations with all neighbouring countries on the basis of equality.
"We are adopting an effective strategy to achieve economic stability and making our diplomacy more persuasive," he said.
The meeting dilated upon Prime Minister's participation in the OIC summit, recent visit of the Chinese vice president to Pakistan and other regional and global issues of significance.
The foreign minister informed the participants about the contents of PM's address at the OIC meeting and the agreements signed during the Chinese vice president's visit to the country.
The participants paid glowing tributes to the prime minister's for his address at the OIC summit in which he effectively highlighted the issues of Kashmir and Palestine at the global level and adopted a clear stance on blasphemy.
https://dailytimes.com.pk/410905/pakistan-to-continue-playing-role-in-afghan-peace-process-fm/
--------
Arab World
In Syria's breadbasket, Kurds and regime battle for wheat
11/06/2019
Gazing over his wheat field in northeastern Syria, farmer Adel Othman expects a bumper crop this year, but two rival authorities squabbling over his harvest have dashed his enthusiasm.
After successive droughts and eight years of civil war, both the local Kurdish authorities and the Damascus regime are desperate to buy up his region's produce to feed their people and maintain the peace.
In a country where millions depend on bread as a staple food to survive, both want the wheat grown in the country's northeastern breadbasket region of Hasakeh.
Farmers in the Kurdish-held region like Othman have been caught up in the middle, with only two potential sellers, neither offering a satisfactory price.
Our "livelihood should not be transformed into a political bargaining chip," said the 55-year-old, his sky-blue shirt streaked in places with dry earth.
The regime is offering a better price, but the Kurds have said no wheat can leave the region under their control.
"We'll sell our crop to the highest bidder," Othman said in Kurdish by his field in the area of Amuda.
"In the end, a farmer needs to make a profit," he said, his short black hair slightly unruly above a thick moustache.
Farmers are especially eager to sell their crop to make up for poor harvests in previous years, but also to save them from fires -- some claimed by the Islamic State group -- that have ravaged fields in the region.
- 'Food crisis' -
Long marginalised, Syria's Kurds have largely stayed out of the eight-year civil war, instead setting up their own institutions in areas under their control.
But they did lead the US-backed fight against IS in Syria, and are now hoping that will give them leverage in retaining a degree of autonomy in the northeast.
"The Kurds do not want to let wheat out because the production is barely enough to feed the local population," Syria expert Fabrice Balanche said.
"If the wheat went off to Damascus because of the higher price, it would cause a food crisis," he added.
According to the World Food Programme, 6.5 million people in Syria are "food insecure", or do not know where their next meal is coming from.
This year Syria is anticipating an ample crop yield after abundant rain, following a wheat harvest last year that was the worst since 1989.
The Syrian government is expecting 850,000 tonnes of wheat from Hasakeh.
The head of the Damascus government's agriculture office in Hasakeh, Amer Sello, told AFP he expected to snap up most of the province's harvest.
"Government cereal reception centres will see growers flock because of the attractive prices," he said.
The Kurds last month increased their buying price for a kilo of wheat from 150 to 160 Syrian pounds ($0.37), but that is still not enough to compete with the regime's offered 185.
The Kurdish grain authority chief, Salman Bardo, accused the regime of announcing its higher price "to sow discord between the people and the autonomous administration".
The Kurds would not permit the regime to ferry the cereal to other parts of Syria, he said.
"We will not allow it to leave northeast Syria," he added, without providing further details on how this would be achieved.
- 'Wheat weapon' -
Syria's war has killed more than 370,000 people since it started in 2011 with the brutal repression of anti-government protests.
After successive Russia-backed victories against rebels and jihadists since 2015, President Bashar al-Assad's regime today controls some 60 percent of the country.
But Syrians in these areas are struggling to get by in an economy ravaged by war, as well as facing fuel shortages the regime blames on international sanctions.
"Assad needs access to cereal crops in northeast Syria to prevent a bread crisis in the areas of western Syria that he controls," Syria analyst Nicholas Heras said.
But in the almost 30 percent of the country they control, the Kurds and their US ally also need to cling on to the wheat as a trump card in ongoing negotiations.
Damascus and the Kurds have started talks to discuss the future of the northeast, but so far without success.
At a national level, endless rounds of UN-brokered peace talks have also failed to end the war.
"Wheat is a weapon of great power in this next phase of the Syrian conflict," Heras said.
And the Kurds and their US ally "have a significant stockpile of this wheat weapon", Heras said.
"It can be used to apply pressure on the Assad regime, and through the regime on Russia, to force concessions in the UN-led diplomatic process."
https://www.france24.com/en/20190611-syrias-breadbasket-kurds-regime-battle-wheat
--------
Jeddah Season takes music lovers on magical journey with Vivaldi light show
June 13, 2019
JEDDAH: Visitors to the Jeddah Season of festivities were taken on a magical musical journey during a spectacular light show about the turbulent life of Italian composer Antonio Vivaldi.
The Vivaldianno production put a twist on the story of one of the greatest Baroque composers with the use of 3-D projections and lasers to narrate the highs and lows of the music genius.
The show was a collection of some of Vivaldi's best works including his "Four Seasons," in which he gave musical representation to each season of the year played on a group of four violin concerti.
The story started with a narration of the day Vivaldi was born in 1678 in Venice, when it was said that an earthquake shook the city. The infant Vivaldi almost died at birth but as the show revealed was given the breath of life by a mirror with a black frame.
Narrators in Venetian masks went on to depict Vivaldi as a young musician, playing instruments to professional standards from the age of seven.
His career properly kick-started when he was 25 years old, and there were mentions of him finding the mirror and devoting his life to writing and composing music.
He was seen as an isolated and lonely man who spent all of his time working after the love of his life leaves him. At the end of the show the boy who sold him the mirror told Vivaldi that he would be remembered for centuries to come.
Throughout the show the talented musicians interacted with the audience.
Nagham Hashim, 18, a show organizer, said: "When I found out that I would be participating in this event it was the best day of my life.
"Now after listening to this music, I feel more open to the world. I can now enjoy more types of music than ever before because I never really thought I would enjoy this type of music," she told Arab News.
The Jeddah Season was launched on Saturday in five main destinations across the region, with more than 150 events and expectations that visitor numbers could reach 4 million.
Jeddah Season will provide a wide array of seasonal job opportunities and volunteer opportunities for young people, through an integral team of 20,000 people, gaining expertise and qualifications.
The objectives also shed light on development opportunities, presenting the Kingdom as one of the most popular tourist destinations.
The Saudi Seasons are a combined initiative from the Saudi Commission for Tourism and National Heritage, the General Entertainment Authority, the General Culture Authority and the General Sports Authority.
There are 11 seasons this year covering, all regions of the Kingdom: The Eastern Province (Sharqiah) Season, Ramadan Season, Eid Al-Fitr Season, Jeddah Season, Taif Season, Eid Al-Adha Season, National Day Season, Riyadh Season, Diriyah Season, Al-Ula Season and Hail Season.
http://www.arabnews.com/node/1510226/saudi-arabia
--------
Lebanese Man Freed by Iran Says He Shared Cell Space With American
By Vivian Yee
June 11, 2019
BEIRUT, Lebanon — For the nearly four years Nizar Zakka was held prisoner in Iran, an ordeal that lasted until he was released this week, the knowledge that he was little more than a political pawn made a bad situation almost unbearable.
"It's just trading of human beings — they just trade us," Mr. Zakka, a Lebanese citizen who had lived in the United States for much of his life, and who arrived in Beirut from Tehran on Tuesday, said in an interview after his release. "Every evening, you feel like you want to leave this life. You are an innocent person. You never hurt anything."
Mr. Zakka, an information technology professional, was held for about three years and nine months after being seized without warning in September 2015 on his way out of Iran, where he had been officially invited to attend a conference. Accused of being an American spy, he was sentenced to 10 years in prison and ordered to pay a fine of $4.2 million. Despite the apparent gravity of the charges, however, the Iranian authorities agreed a few weeks ago to turn him over to Lebanese officials, who had been formally asking Tehran for his freedom for months.
The timing — in the middle of a period of inflamed tensions between the United States and Iran that have led to fears of war — caused some to question whether Mr. Zakka was, once again, the object of geopolitical maneuvering. Though Iranian and Lebanese officials said his release was simply a matter of diplomacy and good relations between their two countries during the holy month of Ramadan, Mr. Zakka said he interpreted his freedom as a conciliatory signal from Iran toward the United States.
But, he cautioned, it appeared to him and the advocates working on his behalf that Lebanon had initiated the move, and he emphasized that he knew of no talks between the United States and Iran concerning his imprisonment.
Iran's semiofficial Fars news agency credited Hassan Nasrallah, the leader of Hezbollah, the Iran-allied Lebanese military and political group, with securing his release, while Lebanon said that President Michel Aoun of Lebanon, and Gebran Bassil, the foreign minister, had reached out to Iran. The head of Lebanese internal security, Abbas Ibrahim, who went to Tehran to collect Mr. Zakka, also acknowledged that Mr. Nasrallah had played a role.
"It was a good move by the Iranians, because they will look like they're doing a favor for Lebanon as a friendly country, without giving concessions to the U.S.," Mr. Zakka said. "The Iranians are using it to benefit by de-escalating the tensions."
Iran still holds at least four American prisoners, including Michael R. White, a Navy veteran imprisoned since last July; Siamak and Baquer Namazi, an Iranian-American father and son; and Xiyue Wang, a Chinese-American graduate student at Princeton University who was arrested in 2016 on suspicion of spying while doing historical research for his dissertation. (Another American, Robert Levinson, a former F.B.I. agent, has been missing in the country since 2007.)
Mr. Zakka said he had been held for the last two years alongside Mr. Wang, in a cell he said they shared with dozens of other prisoners. It was so crowded that the space each man had to himself amounted to a narrow rectangle "little bigger than a coffin," he said, where the two of them spent as many as 20 hours a day lying down, with short breaks for food or fresh air.
"You will never see anyplace so horrible, and Xiyue is left behind," Mr. Zakka said, describing Mr. Wang's condition as mentally sharp and strong, but physically "tired."
Before he left, Mr. Zakka said, Mr. Wang asked him to promise him to help him get out, and gave him a letter to be delivered to someone on the outside. (He declined to identify the recipient, saying it might jeopardize Mr. Wang's safety.)
"I told him that I will not leave him behind. I promised him that I will not rest until he's freed," he said. "He's a student, he was doing his research. Nothing justifies him being left behind."
Mr. Wang's wife, Hua Qu, an outspoken advocate for his release who has been raising their young son alone in Princeton, said in an email that she was happy Mr. Zakka had been freed, but "disappointed that Xiyue is still behind the bars of Evin Prison after nearly three long years."
"I welcome any help to free my husband who was also sentenced to 10 years, like Nizar," she said. " I plead for mercy to be granted to my husband."
Mr. Zakka said the two men were allowed writing material, and Mr. Wang was eventually allowed access to some books. They had 15 minutes a day to talk on the phone. Medical care was available, but slow to reach them. Guards had interrogated each of them at first, he said, but later left them alone.
As their hopes for freedom flagged, he said, their innocence both weighed on and fortified them.
"All the hostages should go home," he said. "They haven't done anything. They haven't done anything."
Hwaida Saad contributed reporting.
https://www.nytimes.com/2019/06/11/world/middleeast/iran-zakka-prisoner.html
--------
Intelligence agents arrest Islamic State logistics provider in Diyala
by Mohammed Ebraheem
Jun 12, 2019
Diyala (IraqiNews.com) – Iraqi intelligence forces arrested on Wednesday an Islamic State logistics provider during a security operation in Diyala province.
"Troops of the 20th division of the Military Intelligence Directorate have arrested an Islamic State militant on charges of supplying the terrorist group with logistical support in al-Nada district in Diyala," the privately-owned Baghdad Today website quoted the directorate as saying in a statement.
"The terrorist was wanted on terror-related charges pursuant to article no. 4 of the anti-terrorism law," the statement added.
In January 2015, Iraqi forces announced liberation of Diyala province from Islamic State extremist militants who proclaimed an "Islamic Caliphate" in Iraq and Syria in 2014.
The province has seen months of fighting between Iraqi troops and IS militants especially in the Jalawla and Saadiyah areas in the province's north and areas near the town of Muqdadiyah.
https://www.iraqinews.com/iraq-war/intelligence-agents-arrest-islamic-state-logistics-provider-in-diyala/
--------
Iraq denies deal to commute French ISIS members' death sentences
June 13, 2019
BAGHDAD, Iraq — Iraq's judiciary on Tuesday denied it had struck a deal with Paris to commute the death sentences of French nationals convicted in Baghdad for belonging to the Islamic State group.
A Baghdad court issued death sentences in recent weeks for 11 Frenchmen transferred to Iraqi custody from neighboring Syria, where they were caught fighting for the Islamic State (ISIS).
Only an appeals court — not a bilateral agreement — can change their sentences, according to Abdalsattar Bayraqdar, spokesperson for Iraq's Supreme Judicial Council.
"The sentences issued by Iraqi courts can only be reviewed by the court of cassation — which has the prerogative under the law to reaffirm the sentence or alter it depending on the circumstances of each crime — and not through deals between countries," he said on Tuesday.
His statement comes after reports that Iraq's government had struck a deal with Paris to commute the French citizens' death sentences in exchange for money.
The 11 sentences are still not final.
According to Iraqi law, defendants have 30 days to appeal any sentence and for those facing the gallows, the appeal is automatically referred to the cassation court.
There, it will be reviewed by 12 judges, according to Mudhaffar Jaryan, a lawyer for one of the convicted men.
"The prerogatives of the cassation court are to either confirm the sentence, which becomes obligatory, or to lighten it -- or to order a retrial if it found insufficient evidence," he told AFP.
Jaryan said he was preparing an appeal for a retrial on behalf of his client Bilel Kabaoui, 32, who was sentenced on June 3.
He argues that Kabaoui had not fought in Iraq and therefore should not be tried there, and that the taped confessions used by prosecutors included many contradictions.
Iraqi courts have convicted more than 500 foreign nationals for IS membership since 2018, most of them captured on Iraqi territory.
They are now trying accused foreign IS members who were captured in neighboring Syria by the US-backed Syrian Democratic Forces, and transferred to Iraqi custody by the coalition fighting the jihadists.
Iraqi government sources have told AFP that Baghdad would be willing to try hundreds more foreign fighters in exchange for $2 million USD for each defendant.
Iraq argues its courts can try jihadists captured outside its territory because they provided material support to ISIS operations inside Iraq.
Its judiciary has issued dozens of death sentences for foreigners convicted of ISIS membership but has not carried them out.
One of them, a German woman, saw her death penalty commuted to a life sentence on appeal.
http://www.rudaw.net/english/middleeast/iraq/11062019
--------
New wave of civilian arrests in Mosul with claims of ISIS affiliation raises concerns
Hiwa Shilani
June 11-2019
ERBIL (Kurdistan 24) – A high rate of civilians is being arrested with charges of belonging to the self-proclaimed Islamic State, especially in areas liberated from the terrorist group's rule.
"So far, 6,000 individuals have been arrested based on unreliable intelligence by the Iraqi Security Forces (ISF) and Hashd al-Shaabi militias," Ahmed al-Jubouri, an Iraqi parliament member, previously said.
According to Jabouri, the majority of suspects detained "have no correlation whatsoever with the so-called Islamic State."
"The Iraqi security forces do not have complete information regarding the identity of the ISIS members in Nineveh; as a result, they treat every citizen as suspects who belong to the terrorist organization," the Sunni parliamentarian added.
Sunni Muslims in Mosul and other parts of Nineveh have often faced baseless charges of affiliation to the Islamic State, which have even led to their arrests.
An Iraqi military official also told local news agencies that many people "fall victim to un-authenticated information of being high profile ISIS members," citing regular cases of ethnic discrimination among Iraqi security forces in liberated areas.
Nineveh is the second most populated province in Iraq, after Baghdad, with three million residents. Most of its people were displaced in 2014 after the Islamic State's emergence in Iraq's north.
Over the past two years, many displaced people have returned to Nineveh, but others are hesitant to go back due to security concerns and the lack of essential services in the area.
https://www.kurdistan24.net/en/news/780da1e8-190f-42b8-a797-63e9708d640a
--------
Iraqi police kill three Islamic State terrorists in Kirkuk
by Mohammed Ebraheem
Jun 11, 2019
Kirkuk (IraqiNews.com) – Iraqi police forces killed on Tuesday three Islamic State terrorists and destroyed their hotbeds during a security campaign in Kirkuk province.
"A police force stormed on Tuesday morning several terrorist hotbeds of the Islamic State group in Alaf village in Kirkuk after receiving intelligence information on the presence of IS militants there," Almaalomah website quoted the Federal Police Command as saying in a press statement.
The operation resulted in killing three IS militants and destroying their terrorist hotbeds, the statement read.
The troops also found a large cache of weapons and ammunition at the scene, the statement added.
Iraq declared the collapse of Islamic State's territorial influence in November 2017 with the recapture of Rawa, a city on Anbar's western borders with Syria, which was the group's last bastion in Iraq.
IS declared a self-styled "caliphate" in a third of Iraq and neighboring Syria in 2014. A government campaign, backed by a U.S.-led international coalition and paramilitary forces, was launched in 2016 to retake IS-held regions, managing to retake all havens, most notably the city of Mosul, the group's previously proclaimed capital.
https://www.iraqinews.com/iraq-war/iraqi-police-kill-three-islamic-state-terrorists-in-kirkuk/
--------
IDF general warns Lebanon will pay 'heavy price' for working with Hezbollah
By JUDAH ARI GROSS
11 June 2019
The head of the IDF Northern Command on Tuesday threatened overt and covert action against the Hezbollah terror group and its home country of Lebanon, in response to its efforts to build up terrorist infrastructure along the border, in the latest of increasingly bellicose statements by senior military officers against the Iran-backed Lebanese militia.
Maj. Gen. Amir Baram accused Hezbollah of violating United Nations resolution 1701, which ended the 2006 Second Lebanon War, by "building infrastructure in the villages right here across [the border] and trying to threaten us with attack forces."
The Northern Command chief said that in a future war against the terror group the country of Lebanon was likely to "pay a heavy price" for allowing Hezbollah to take root there.
"Hezbollah's loyalty was and remains to the supreme leader of Iran, not to the citizens of Lebanon. As a direct result of this, the nation of Lebanon will pay a heavy price in the next campaign for cooperating with Shiite terror," Baram said, referring to the sect of Islam practiced by Hezbollah and Iran.
Baram made his remarks at a memorial ceremony commemorating the 13th anniversary of the 2006 Second Lebanon War. His comments come days after the head of Military Intelligence boasted that Israel knew more about Hezbollah's rocket program than its leader, Hassan Nasrallah, did.
"The 13 years that have passed since the Second Lebanon War and the security stability that it brought to the region are the best evidence of the deterrence created by the war," he said.
UN resolution 1701 called for all armed groups besides the Lebanese military to remain above the country's Litani River. Israel maintains that Hezbollah is in constant violation of this, keeping a significant percentage of its 100,000-strong arsenal of rockets and mortar shells in southern Lebanon, as well as conducting patrols and other military activities along the border.
In late 2018 and early 2019, Israel uncovered at least six cross-border attack tunnels dug by Hezbollah from southern Lebanon into Israel. According to the army, Hezbollah had planned to use the tunnels to kidnap or kill civilians or soldiers, and to seize a slice of Israeli territory in the event of any hostilities. The peacekeeping force UNIFIL confirmed these to be a violation of resolution 1701, but did not identify Hezbollah as the group responsible for their excavation.
"Israel will not allow [Hezbollah] to fulfill its plans and the destructive ambitions that it and its patron Iran have," Baram said.
"We will continue to thwart Hezbollah's efforts to threaten our security both overtly and covertly, as necessary. And if a war is forced upon, we will exact a heavy price from this organization and from those who provide it cover — wherever is necessary," he said.
The Israeli military considers the Iran-backed Hezbollah terror group to be one of its most significant foes, with a rocket arsenal larger than many countries' and ample combat experience from its years fighting in the Syrian civil war on behalf of dictator Bashar Assad.
Analysts anticipate that a future war with Hezbollah would be devastating for both Israel and Lebanon. Hezbollah's massive arsenal of rockets and mortar shells could overwhelm the Israeli military's air defenses, likely leading to large numbers of Israeli casualties, and the terror group's practice of fighting from within heavily populated areas would also likely result in massive Lebanese civilian casualties.
Israel has fought two wars in Lebanon, one in 1982 against Palestinian terrorist groups, and another in 2006 against Hezbollah, as well as a number of smaller operations.
Though seen as volatile, the border has not seen significant fighting since the end of the 2006 war.
https://www.timesofisrael.com/idf-general-warns-lebanon-will-pay-heavy-price-for-working-with-hezbollah/
--------
Tahrir Al-Sham's Ringleader Al-Jolani Trying Hard to Save Strategic Base in Lattakia
Jun 12, 2019
The Syrian Army backed by the heavy artillery and missile units attacked Tahrir al-Sham's main military base and engaged in very fierce clashes with the terrorists in Jabal Zawikat region where Kabani is located in Northeastern Lattakia after it made advances in several axes.
Meantime, battlefield sources pointed to the collapse of defense lines of Tahrir al-Sham and Turkistani Party South of Kabani, and said the Syrian Army has made advances there.
Meantime, several battlefield sources confirmed that al-Jolani has arrived in Northern Lattakia to take charge of commanding terrorists in battle against the Syrian Army and prevent the army's further advances.
The Syrian Army plans to seize vast areas from the towns of Jabal al-Akrad in Northern Lattakia and Sahl al-Ghab region in Northern Hama as well as Jisr al-Shoghour and also Lattakia-Aleppo Highway up to Ariha in the suburbs of Idlib after taking control of Kabani.
In a relevant development in late April, Al-Jolani threatened other terrorist groups to avoid handing over Syria's occupied territories to the Damascus Army.
Al-Jolani held a meeting with eight senior commanders of other terrorist groups, including Islamic Turkistani Party, Harasuddin and Jeish al-Izza, in Atmaeh town near the border with Turkey, the Arabic-language service of the Russian Sputnik News Agency quoted local sources in Idlib province as saying.
Tahrir al-Sham's ringleader who attended the meeting under tight security measures strongly warned commanders of other terrorist groups that they would be regarded as traitors if they hand over any region under any agreement to the Syrian Army, warning of Tahrir al-Sham's revenge and lethal blow.
Meantime, al-Jolani also asked other terrorist commanders to put their militants on a state of full alert and keep their bomb-laden suicide vehicles prepared for operation.
Al-Jolani, who was attending his first meeting after two months, was accompanied by three Turkish-speaking militants in the meeting with other notorious terrorist commanders.
Al-Jolani was critically wounded in twin explosions in the Center of Idlib city in late February and went into a state of coma.
"One of those injured in Idlib blasts was severely suffering from brain injury and he was transferred to a government hospital in Antakia City in Hatay region," Sputnik quoted a medical source in Turkey as saying.
The medical source said that the injured person is Abu Mohammed al-Jolani who had shrapnel head injury and he is now in a state of coma.
http://en.farsnews.com/newstext.aspx?nn=13980322000574
--------
Israel Launches Fresh Attacks on Army's Military Positions in Southern Syria
Jun 12, 2019
The Israeli forces targeted the Syrian Army's military positions in Tal al-Harreh in the Southern part of Syria at around 2am local time, the state-run SANA news agency reported.
It noted that the Syrian Army downed several Israeli missiles, and said that the Israeli Army targeted the Syrian Army's radar systems with electronic warfare and jamming after its missile attacks.
The Arabic-language website of the Russian Sputnik news agency pointed to the Israeli missile attacks from inside the occupied territories, specially from the West of Jbal al-Sheikh on areas under the control of the Syrian Army.
It said that before this attack Israel's spying drones flew over the occupied Jbal al-Sheikh.
Israel's new aggression on the Syrian Army's military positions takes place as the army is fighting with terrorist groups in Northwestern Syria.
In a relevant development earlier in June, Israel launched fresh airstrikes on the Syrian Army positions near Damascus and Quneitra in Southern Syria.
The Syrian Army's air defense system shot down several Israeli missiles, the Arabic-language SANA news agency reported.
It noted that Israel's invaders launched two waves of missile attacks from the side of the Occupied Golan, hitting several military positions of the Syrian Army to the Southwest of Damascus and East of Quneitra.
The SANA news agency reported that the Syrian Army's air defense systems were activated right after these attacks and shot down a number of Israeli missiles.
Meantime, the Arabic-language website of the Russian Sputnik News Agency quoted a military source as saying that Israeli warplanes fired six rockets at the Syrian Army's military positions near Damascus, but most of them were destroyed by the Syrian air defense systems.
The Syrian Army's air defense shield also destroyed most of the missiles fired at Tal al-Sha'ar region in the surrounding area of Quneitra. Three Syrian Army soldiers were killed and seven others were wounded in the Israeli aggression.
Meantime, the Israeli Army in a statement claimed that the Israeli helicopters and fighter jets had pounded the Syrian Army's military positions in response to two missiles fired from Syria.
The Israeli Army's new aggression against Syrian Army's military positions in Quneitra province came as the US and Turkish sides are trying to bring to a halt the Syrian Army battle against Tahrir al-Sham al-Hay'at in Idlib province.
http://en.farsnews.com/newstext.aspx?nn=13980322000377
--------
Ankara Orders Militants in Idlib to Resist against Syrian Army until G20 Summit
Jun 12, 2019
The Arabic-language al-Watan newspaper quoted dissident sources close to the Ankara-backed terrorists in Idlib as saying on Wednesday that the Turkish officers deployed in regions under the supervision of Ankara in Idlib province have ordered the terrorist commanders in Northern Hama, Southern Idlib and Northeastern Lattakia to launch preemptive attacks against the army-controlled areas and prevent the Syrian army forces' advance.
They added that Turkey insists on improvement of battlefield and military conditions of the so-called National Liberation Front, Jeish al-Izza and Tahrir al-Sham al-Hay'at (the Levant Liberation Board or the Al-Nusra Front) terrorists in Hama, Idlib and Lattakia, noting that Ankara seeks to use the G20 summit in Osaka to meet his Russian and US counterparts and pressure them to prevent the Syrian army's military operations.
The sources said that Turkish President Recep Tayyip Erdogan wants to return to the de-escalation zone agreement with Russia through talks (after non-commitment) to it and following Moscow's repeated opposition to Ankara's demands for a ceasefire in Idlib and the adjacent areas.
Relevant reports said last Monday that Turkey had ordered Tahrir al-Sham to reinforce strategic military positions in Jabal al-Zawiyeh in Idlib province after it turned down Russia's demand for withdrawing militants from the region, the Arabic-language media outlets said.
The Arabic-language al-Watan newspaper wrote that with an aim to confront the Syrian Army in Northern Hama, Tahrir al-Sham has sent large volumes of its military equipment to al-Jolmeh to North of Mahradeh.
"Turkey's intelligence body has asked Tahrir al-Sham and other terrorist groups in Northern Syria to reinforce its defense lines, including 50 towns and villages up to the city of Ariha in Aleppo-Lattakia international highway as clean-up operation by the Syrian and Russian armies in Jabal al-Zawiyeh in Idlib is imminent," al-Watan quoted local and opposition sources in Idlib as saying.
The sources reiterated that Turkey's operations room in Shir Mughar region in Jabal Shahshabou in Northern Hama where terrorists are constantly supported in terms of weapons, ammunition and intelligence has warned terrorists that the Syrian army might soon capture Jbal Shahshabou which overlooks Sahl al-Ghab in Northwestern Hama and towns to the South of Idlib and then advance towards Jabal al-Zawiyeh.
The al-Watan newspaper also further quoted the sources as saying that Russia had recently asked Turkey to make terrorists retreat from Jbal Shahshabou region in Northwestern Hama and Kabani town in Northeastern Lattakia which are regarded as the Southern and Western gates of Idlib, but Ankara has strongly turned down the demand.
Meantime, the Arabic-language al-Youm news website quoted media activists in Idlib province as saying that after supplying advanced weapons to terrorists, Ankara has ordered them to launch new attacks in Northern Hama to recapture the town of al-Saqilbieh.
http://en.farsnews.com/newstext.aspx?nn=13980322000979
--------
French-Dutch Delegations Arrive in Raqqa to Support US-Backed Separatist Objectives
Jun 12, 2019
The Arabic-language al-Watan newspaper quoted Syrian opposition sources as saying that a joint delegation from French and Dutch foreign ministries have recently met with People's Protection Units (YPG) commanders in Raqqa Province.
The newspaper noted that the meeting was held in line with supports from separatist objectives of the Kurdish fighters in Northeastern Syria, and said that the French delegation has declared its full preparedness to provide military, diplomatic and political support for these forces in Northeastern Syria.
Meantime, the Dutch-French delegation is to hold two meetings in Paris on June 25 and June 27 to review the manner of support for these forces with cooperation of France, Holland, the US and the UK as well as other countries.
In a relevant development in May, tens of trucks carrying the US military and logistical aids had been dispatched to the areas under the control of the Syrian Democratic Forces (SDF) in Eastern Euphrates despite declaring the end of the ISIL by Washington, media sources said.
The Syrian Observatory for Human Rights (SOHR) reported that a convoy comprising 60 trucks containing logistic and military consignments as well as prefabricated houses was sent to Eastern Euphrates via Simalka crossing in Northern Iraq.
The SOHR also reiterated that about 20 trucks have also been sent to Kobani Airport and Kharab Ashk military base in Northern Aleppo, and said that the remaining of military aid was also sent to the areas under SDF control in al-Jazira region in Deir Ezzur province.
Also in May, media reports said that the Kurdish forces backed by the US-led coalition have prepared to launch military offensive against the Syrian Army and resistance forces in Deir Ezzur Province.
The Turkish-language Anatoly news agency quoted local sources as saying that after taking control of Eastern Euphrates region, the Kurdish fighters are preparing to launch an attack on Damascus-backed forces in Eastern Euphrates in Deir Ezzur.
It noted that the US-led coalition forces are training the Kurdish fighters in Ain Issa bases in Raqqa province and al-Amr oil region in Eastern Deir Ezzur, adding that the trainings include passing through mobile bridges and rivers.
The US-led coalition forces and Kurdish fighters are looking for winning the support of regional tribes for launching the attack after residents of the region called for holding massive protests in Eastern Euphrates and called for expulsion of US-backed Kurdish fighters.
Meantime, the US-led Kurdish militants have held meetings with tribal leasers in al-Amr oil zone.
http://en.farsnews.com/newstext.aspx?nn=13980322000474
--------
Syrian air defense downs Israeli missiles: State media
12 June 2019
Syrian air defense shot down Israeli missiles targeting the south of the country Wednesday, state media said, as a monitor reported positions of the regime's Lebanese ally Hezbollah had been hit.
The attack was launched in the early hours of the morning against the Tall al-Hara sector near the Golan Heights, according to official news agency SANA, which said there had been no casualties.
It did not specify what had been targeted.
SANA also accused Israel of conducting an "electronic war" and "jamming" Syrian radar.
The Syrian Observatory for Human Rights, a Britain-based war monitor, said the strikes had targeted positions of the Hezbollah Shiite movement in two locations, but without causing any casualties.
"All the positions hit had the Lebanese Hezbollah there," Observatory head Rami Abdel Rahman said.
The missiles targeted Tall al-Hara, a hill in the southern province of Daraa where Hezbollah has radars and the regime has air defense batteries, said the Observatory, which relies on sources inside Syria for its information.
It also targeted barracks for the Lebanese fighters in the abandoned town of Quneitra on the Syrian-controlled side of a demilitarized zone between both countries in the Golan.
The town has been largely in ruins for over four decades since it was razed by Israeli forces before they withdrew under a 1974 United Nations agreement.
Israel has carried out hundreds of air strikes in Syria since the beginning of the conflict in 2011, targeting forces loyal to President Bashar al-Assad and the regime's allies Iran and Hezbollah.
Earlier this month, Israel struck multiple positions held by regime forces over a period of 24 hours, killing 15 combatants according to the Observatory.
In January, it targeted Iranian positions in Syria in what it said was a response to an Iranian missile strike from inside the country.
Israel says it is determined to prevent Iran from entrenching itself militarily in Syria, where Tehran backs Assad in the country's eight-year war, which has left more than 370,000 people dead and displaced millions.
Israel and Hezbollah have fought several wars, the latest in 2006.
https://english.alarabiya.net/en/News/middle-east/2019/06/12/Syrian-air-defense-downs-Israeli-missiles-State-media.html
--------
Africa
West Africa: Institute Blames West Africa Terror Spread On Rivalries
10 JUNE 2019
Attacks on villages in three west Africa countries left more than 150 people dead over the weekend, raising suspicions of copy-cat attacks by marauding gangs.
The mayhem started on Saturday night in Nigeria where gunmen on motorbikes killed 43 people in waves of attacks on villages.
The gangs are reported to have ride out from forest hideouts, spur into villages, kill and take off with livestock.
The same night across in Mali, gunmen attacked a village in the middle of the country killing 95 people, almost a third of the community's 300 people.
The attack was attributed to a predominantly Fulani jihadist group led by preacher Amadou Koufa which has been targeting the Bambara and Dogon ethnic groups in central Mali.
Koufa in March 2017 joined the newly-formed Group to Support Islam and Muslims (GSIM), the leading jihadist alliance in the Sahel region, with links to Al-Qaeda. Its leader is Iyad Ag Ghaly.
The weekend of blood letting continued on Sunday night in Burkina Faso, which borders Mali, where dozens of armed men attacked a village leaving 19 dead.
In the Nigeria incident, eye-witnesses said the attackers "opened fire on the village indiscriminately" almost echoing the account in Mali that the raiders "started shooting, pillaging and burning."
While there is nothing to suggest the attacks were co-ordinated, their style of execution backs growing expert warnings that terrorists and militants who were for some time confined to the Sahelian states of Mali, Niger, Burkina Faso, Mauritania and Chad are now spreading towards the coastal states of Benin, Ghana, Togo and Ivory Coast.
According to a report released by the Institute of Security Studies in Pretoria, South Africa on Wednesday, tackling extremists in the region will require regional cooperation and an end to institutional rivalry between United Nations, AU, ECOWAS and the G5 Sahel.
"Violent extremist groups often infiltrate spaces where the social contract between the state and citizens is weak or non-existent. They cooperate with other criminal groups such as illegal gold miners, poachers or traffickers, who also have an interest in maintaining state absence or weakening state presence," wrote Lori-Anne Théroux-Benoni, the ISS regional director for West Africa, Sahel and Chad.
She also said dialogue with some extremist groups that are causing displacement in the region should not be ruled out.
In addition, political will will be required in countries like Cameroon where hardening of positions between Paul Biya's government and separatists have left a schism for exploitation by other armed groups.
In the Nigeria case, four people were arrested in connection to those attacks.
A police officer said they included "a female informant of the gangs, who was disguised as a mad woman."
The gangs torment rural communities in northern Nigeria, raiding villages, stealing cattle, burning homes, looting food, and kidnapping for ransom.
The communities have taken in turn formed vigilantes which are also accused of extrajudicial killings of suspected bandits.
"Perpetrators and sponsors of such dastardly acts (will) be held accountable," Nigeria President Muhammadu Buhari in a condolence message.
However, the government is accused of standing by as banditry, kidnapping, and killings in the northwestern states of Kaduna, Katsina, Sokoto and Zamfara run amok.
"Security forces have failed to respond effectively to threats to people's lives and security," Human Rights Watch said.
Islamist fighters from Boko Haram in northeastern regions and resources wars between herders and farmers also pose a security challenge in Nigeria leaving state forces stretched.
The latter is playing out in central Mali, a cultural beehive, where the pastoralist Fulani are in constant warfare with the Bambara and Dogon who are farmers.
Over the past 18 months, the UN mission in Mali (MINUSMA) said there had been 551 deaths from the three communities in the attacks.
https://allafrica.com/stories/201906110357.html
--------
US names veteran envoy Booth to find 'peaceful political solution' in Sudan
12 June 2019
The US State Department nominated experienced Africa hand Donald Booth as a special envoy to Sudan on Wednesday, hoping he can help craft a "peaceful political solution" between the military rulers and groups seeking civilian rule.
The nomination comes nine days after government troops and paramilitaries cracked down on protesters outside army headquarters in Khartoum, killing more than 110 and wounding hundreds over several days.
Booth, 65, knows the country well, having served as the Obama administration's special envoy to Sudan and South Sudan over 2013-2017.
State Department spokesperson Morgan Ortagus said Booth is already at work, traveling with Assistant Secretary of State for African Affairs Tibor Nagy to Sudan "to engage with the parties."
Meanwhile from Khartoum, Reuters reported that Tibor Nagy, the US Assistant Secretary of State for Africa, will meet with the military council and the opposition to call for an end to violence against civilians and push for the resumption of talks, according to the State Department.
Nagy was due in Khartoum on Wednesday to join an international push to salvage a deal between Sudan's military rulers and opposition groups two months after the overthrow of former President Omar al-Bashir.
The visit comes after an Ethiopian envoy said the ruling Transitional Military Council and an alliance of protest and opposition groups had agreed to resume talks and the alliance suspended a three-day strike.
Stalled talks over who should control a three-year transition towards elections collapsed after a June 3 raid on a protest sit-in that left dozens dead.
The bloodshed in Sudan has prompted concern from world powers including the United States, which sanctioned Sudan under Bashir over its alleged support for militant groups and the civil war in Darfur.
Trade sanctions were lifted in 2017 but Sudan is still on the US list of state sponsors of terrorism, which prevents it from accessing badly needed funding from international lenders. Washington previously said it will not take Sudan off the list while the military remains in power.
Stability in the nation of 40 million is crucial for a volatile region struggling with conflict and insurgencies from the Horn of Africa to Egypt and Libya.
The crackdown from June 3 led to at least 118 deaths, according to opposition-linked medics. The government has confirmed 61 deaths, including three security personnel.
Talks were already deadlocked before the crackdown as the two sides struggled to agree on the make-up of a sovereign council that will oversee the transition.
In Khartoum, employees returned to work on Wednesday and store owners opened their shops, after the alliance of protesters and opposition groups suspended a three-day campaign of strikes and civil disobedience.
Many people lined up outside ATMs and banks that had closed first for the Eid holiday at the start of June and then because of the strike.
Sudan is still suffering an internet outage. Some side streets that had been closed by protesters were still partially blocked by remnants of barricades. Rubbish bins not emptied for days were overflowing.
https://english.alarabiya.net/en/News/middle-east/2019/06/12/US-names-veteran-envoy-Booth-to-find-peaceful-political-solution-in-Sudan.html
--------
Cameroon: Death toll from Boko Haram attack rises to 37
Adam Abu Bashal
12.06.2019
The death from Monday's attack by Boko Haram in Cameroon climbed to 37, local media reported.
According to local reports, 21 soldiers and 16 civilians were killed in the armed clashes between militants and Cameroonian army in Darak, a town in Cameroon's Far North region bordering Lake Chad.
The local authorities arrested 15 terrorists and "neutralized" some.
Since 2009, Boko Haram insurgency has killed tens of thousands and displaced millions in the Lake Chad region.
https://www.aa.com.tr/en/africa/cameroon-death-toll-from-boko-haram-attack-rises-to-37/1502202
--------
Mali massacre victims included 24 children: PM
JUNE 12, 2019
BAMAKO (Reuters) - Bodies recovered from a massacre of almost 100 people by a Malian ethnic militia included at least 24 children, many of them shot in the back, the prime minister said during a visit to the crime scene on Tuesday.
Attackers believed to belong to the Fulani ethnic group raided the rival Dogon village of Sobane Da, in central Mali, between Sunday and Monday.
They killed at least 95 people and burned houses to the ground in an escalation of the tit-for-tat ethnic slaughter that has engulfed the mostly Saharan nation this year.
"All these victims of horror and barbarity remind us of our responsibility as leaders to reinforce and accelerate security," said Boubou Cisse, who became prime minister in April after his predecessor stepped down following an earlier massacre by Dogon gunmen on a Fulani village in March.
"May the soul of these innocent victims of discord and hatred rest in peace."
Violence between Dogon hunters and Fulani herders has killed hundreds since January, including an attack in March in which gunmen killed more than 150 Fulani, one of the worst acts of bloodshed in Mali's recent history that forced a resignation by its then-prime minister and government.
President Ibraham Boubacar Keita announced that he would cut short a trip to Switzerland "to be by my people's side in their pain," according to a statement from his office.
Keita is expected to visit the site of the massacre on Wednesday. Malians have grown increasingly frustrated by failures of the government to protect them from both jihadist onslaughts and ethnic reprisals.
Islamist militants have long exploited tensions between ethnic groups in the Sahara and Sahel to boost recruitment and sow chaos, efforts which now appear to be bearing fruit.
Figures from the Armed Conflict Location & Event Data Project (ACLED) show intercommunal violence overtaking jihad as a leading cause of violent death in Mali for the first time this year.
Malian authorities have launched a criminal investigation into the latest atrocity, and local officials say 35 bodies have so far been identified at the massacre site.
Despite a 4,500-strong French force in the Sahel region, jihadist attacks have multiplied since they first intervened in 2013 in an effort to push back Islamists and allied Tuareg rebels who had taken over the northern half of the country, while ethnic conflicts have turned bloodier than ever.
Unidentified assailants killed 19 people and wounded 13 in an attack on Sunday in and around the town of Arbinda, in northern Burkina Faso, where a mix of Malian and Burkinabe jihadists and allied criminal gangs have stepped up attacks since December.
https://www.reuters.com/article/us-mali-security/mali-massacre-victims-included-24-children-pm-idUSKCN1TC2JW
--------
UN hears calls to enforce Libya arms embargo
10 June 2019
The UN Security Council on Monday renewed its authorization of a European Union mission to combat arms smuggling off Libya's coast amid calls for tougher action to cut the flow of weapons.
The council voted unanimously to extend the work of Operation Sophia until June 2020. It was meeting more than two months after the forces of Khalifa Haftar launched an offensive to seize Tripoli, the seat of the UN-recognized government.
Germany told the council that arms supplies delivered in violation of a UN embargo were the main obstacle to ending the fighting in Tripoli and resuming political talks.
"A seemingly unlimited arms supply fuels the erroneous belief in the military solution to the conflict and contributes to the unwillingness of actors on the ground to agree on a ceasefire and resume a political process," said Germany's Deputy UN Ambassador Juergen Schulz.
"It is time to redouble our efforts, to assume our responsibility and ... find ways to finally implement the arms embargo effectively," he told the council.
France said upholding the embargo was a priority "now more than ever," while Britain warned that the weapons flow is harming prospects for a ceasefire. Belgium and South Africa expressed similar concerns.
The UN resolution allows EU vessels to inspect ships in the Mediterranean suspected of carrying weapons. The EU, however, suspended naval patrols in March – a month before Haftar's offensive – leaving it to air missions to keep track of suspicious ships.
EU foreign policy chief Federica Mogherini has urged European countries to send warships back to the Mediterranean to help enforce the embargo.
UN envoy Ghassan Salame last month called for immediate steps to cut off arms flows to Libya, warning that without quick action, the country would descend into a civil war that could lead to its partition.
https://english.alarabiya.net/en/News/north-africa/2019/06/10/UN-hears-calls-to-enforce-Libya-arms-embargo.html
--------
Rights experts urge UN inquiry into Sudan 'abyss'
Jun 12, 2019
A group of five United Nations rights experts has urged the Human Rights Council to launch an investigation into possible violations committed by Sudanese security forces against "peaceful protesters."
Sudan is "sliding into a human rights abyss," a group of five UN experts said in a joint statement on Wednesday.
The Sudanese military overthrew 75-year-old president Omar al-Bashir after some four months of widespread protests against him over dire economic conditions and the soaring prices of basic commodities on April 11.
Following Bashir's ouster, the coup leaders established the so-called Transitional Military Council (TMC), presumably to run state affairs in the post-Bashir era. But the generals also moved to consolidate power and faced popular protests themselves.
Protesters camped outside the military headquarters in Khartoum for weeks to demand the ruling military council hand over power to a civilian government, before security and paramilitary forces dispersed them in a June 3 crackdown that killed tens of people.
The umbrella protest movement Alliance for Freedom and Change says 113 people were killed in the crackdown. The government puts the death toll at 61 people, including three security personnel.
The experts, who are independent and do not speak for the UN, urged an "independent investigation" to be set up by the UN Human Rights Council, whose new session will take place in Geneva on June 24.
Aristide Nononsi, who focuses on human rights in Sudan, as well as the special rapporteur on the right to peaceful assembly, Clement Nyaletsossi Voule, and Agnes Callamard, the rapporteur on extrajudicial or summary executions, are among the signatories of the statement.
Launching such a probe requires a resolution that gains majority support in the council.
https://www.presstv.com/Detail/2019/06/12/598341/Rights-experts-UN-inquiry-Sudan-abyss
--------
UN Security Council extends arms embargo on Libya for another year
Jun 10, 2019
The United Nations (UN) Security Council has once again authorized a European Union mission to combat illegal arms transfers to Libya and implement an arms embargo on the conflict-ridden North African country.
The Council on Monday voted unanimously to extend authorization of Operation Sophia for another year until June 2020, amid calls for action to curb the flow of weapons to Libya.
The European Union's Operation Sophia has been the only regional naval operation carrying out inspections of vessels on the high seas headed to or from Libya.
Germany told the Council that arms supplies delivered in violation of a UN embargo were the main hurdle in the way of an end to the fighting between rival factions in Tripoli and a return to political talks.
"A seemingly unlimited arms supply fuel the erroneous belief in the military solution to the conflict and contributes to the unwillingness of actors on the ground to agree on a ceasefire and resume a political process," said Germany's Deputy UN Ambassador Juergen Schulz.
"It is time to redouble our efforts, to assume our responsibility and ... find ways to finally implement the arms embargo effectively," he told the Council.
Belgium and South Africa also expressed concerns about arms flows to Libya.
In June 2016, the Council adopted Resolution 2292 to authorize inspection of vessels in the Mediterranean suspected of carrying weapons. The authorizations have been extended several times.
The latest authorization came more than two months after the forces of renegade general Khalifa Haftar launched an offensive to seize Tripoli, seat of the UN-recognized government.
Libya has been divided between two rival governments, the House of Representatives based in the eastern city of Tobruk and the internationally-recognized Government of National Accord (GNA) in Tripoli. Haftar, 75, who enjoys the loyalty of a group of armed militia and backing from Saudi Arabia, the United Arab Emirates and Egypt, has taken upon himself to protect the government in Tobruk. Armed forces and militia loyal to the GNA have been fighting back.
Forces loyal to Haftar launched an offensive on April 4 to seize control of the capital Tripoli, engaging in an all-out clash with GNA troops.
Since April, fighting has killed at least 432 people, wounded 2,069 and displaced more than 50,000, according to the UN.
Libya has been the scene of increasing violence since 2011, when former dictator Muammar Gaddafi was toppled from power after an uprising and a NATO military intervention.
His ouster created a huge power vacuum, leading to chaos and the emergence of numerous militant outfits, including the Daesh terrorist group.
https://www.presstv.com/Detail/2019/06/10/598203/United-Nations-arms-embargo-Libya
--------
Somalia: AFRICOM affirms US support against al-Shabaab
12.06.2019
The U.S. has affirmed on Wednesday that it will offer to back Somalia in the decades-long war against the al-Qaeda affiliated al-Shabaab terror group.
According to a statement by the U.S. Africa Command (AFRICOM), Ambassador Donald Yamamoto and Marine Corps General Thomas Waldhauser met with senior Somali defense officials during a visit to Mogadishu on Tuesday.
The statement notes that Yamamoto and Waldhauser met with Prime Minister Hassan Ali Khaire on putting an end to the activities of al-Shabaab in Somalia and the Horn of Africa region.
"Groups such as al-Shabaab and ISIS-Somalia seek to create a bankrupt future for the Somali people, creating a more secure environment enables the Somali people and government to advance economic and development opportunities in Somalia," said Waldhauser, who is the top commander in AFRICOM.
He added that efforts in the eastern African country helped "contain a potentially broader regional security threat" through an integrated approach involving defense, diplomacy and development
For his part, Yamamoto said: "U.S. security assistance to Somalia is an important part of our efforts to work with the people and government of Somalia for peace and stability."
Underlining that the entire region would benefit from peace and stability in Somalia, he added that it would allow Somalians to "better focus on building a prosperous future."
The al-Shabaab militant group operating in Somalia has carried out numerous terror attacks in the country, with their worst being the Oct. 14 Mogadishu truck bombing which killed at least 587 people and injured 316.
In January 2019, the militants attacked the DusitD2 hotel complex in Nairobi, Kenya killing more than 20 people. Previously attacks have also taken place against a shopping mall in the country, killing 67, as well as Garissa University in Northern Kenya which led to the deaths of more than 140 students.
https://www.aa.com.tr/en/africa/somalia-africom-affirms-us-support-against-al-shabaab-/1502217
--------
URL: https://www.newageislam.com/islamic-world-news/muslim-clerics-back-modis-madrasa/d/118875
New Age Islam, Islam Online, Islamic Website, African Muslim News, Arab World News, South Asia News, Indian Muslim News, World Muslim News, Women in Islam, Islamic Feminism, Arab Women, Women In Arab, Islamophobia in America, Muslim Women in West, Islam Women and Feminism