New Age Islam News Bureau
25 October 2021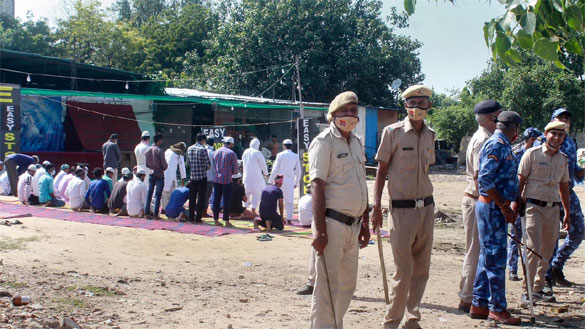 Jai Shri Ram' Slogans Allegedly Raised (Photo: The Quint)
----
• Bengaluru-Based Man Arrested By the NIA for Allegedly Radicalising and Recruiting Gullible Muslim Youth and Sending Them to Syria to Join ISIS
• Afghan Sikhs and Hindus, As Well As Muslims Have Appealed To Not Spread Canards With Regards To Their Relations with the New Taliban Government
• Pakistan Agreed To Drop Charges against Saad Rizvi, Head of the Islamist Tehreek-e-Labbaik Pakistan
• Union Rejects Amanah Call for Restrictions on Muslims in Alcohol Sale
• US Should Have Pushed Ex-Afghan President Ghani Harder, Says Khalilzad
India
• Indigenous Muslims feel heat of eviction drive in Assam
• Poonch encounter: Jailed Pak terrorist taken to site killed in militant firing
• Farooq pitches for Indo-Pak dialogue for lasting peace in Jammu and Kashmir
• Karnataka: Hindu man killed for having relationship with Muslim woman
--------
South Asia
• EU To Reopen Diplomatic Office In Kabul Within A Month
• Taliban welcomes Putin's remarks over removing them from blacklist
• US chose to negotiate with Taliban to prevent its defeat in war: Khalilzad
• Taliban offers jobs for wheat to tackle hunger and unemployment
• Taliban kill three 'Daesh kidnappers' in shootout
--------
Pakistan
• Minorities Free To Practice Their Religion: Chief Justice of Pakistan
• Jam Kamal Khan Alyani Bows Out, Draws Curtain on Crisis In Balochistan
• Fawad announces special visas for Sikhs planning Kartarpur visit
• Bajwa lauds UN, recalls Pakistan's peacekeeping efforts on anniversary
--------
Southeast Asia
• Whiskey, Transgender Entrepreneur Trigger Outcry among Malaysia's Conservatives
• High Court grants Malaysian citizenship for child born to Chinese mum in Ipoh
• China strengthens land border protection with new law
--------
North America
• US meets Sudanese leaders to reaffirm support for democracy
--------
Europe
• Moscow Islamic Centre's Chief Highlights Challenges on Path of Achieving Islamic Unity
• German court releases teens behind arson attack on Turkish family's flat
• London police investigating 'offensive banner' protesting Saudi takeover of Newcastle
--------
Arab World
• Egyptian Preacher Abdullah Rushdy's Fatwa against Bodybuilding Stirs Controversy
• Saudi Arabia eyes personal status law with main focus on family and strengthening of bonds
• Lebanon's negotiations with IMF likely to start in November
• UN chief receives Muslim World League secretary-general in NY
• Saudi Arabia's King Salman to lead Kingdom's G20 Leaders' Summit delegation virtually
• Arab coalition says more than 260 Houthis killed in Yemen
--------
Mideast
• Supreme Leader: Unity among Muslims Definite Quranic Responsibility
• Top Security Official Cautions Israel of Huge Damages of Attacking Iran
• Iran's Top Security Official Blasts Erdogan for Exaggeration of Israel's "Fake" Power
• Israel to build 1,300 new settler homes in West Bank
• Israeli minister says reopening of US Palestinian mission in Jerusalem may not happen
• Iran's Khamenei pardons, commutes sentences for 3,450 prisoners
• Dozens of Yemenis feared dead in botched Houthi missile launch
• Houthi's boat attacks pose threat to global trade lines at Red Sea
--------
Africa
• Pope Pleads Not To Send Migrants Back To Libya and 'Inhumane' Camps
• Sudanese military arrests prime minister, members of gov't
• Children among 25 killed in blast at illegal oil refinery in Nigeria
• Nigerian military carries out air operation against Boko Haram
• Blast in Uganda's capital 'domestic terror' act: Police
• 2023: Yoruba Muslims will not vote for Christian presidential candidates – MURIC
• At least 12 killed in clashes in central Somalia
Compiled by New Age Islam News Bureau
URL: https://www.newageislam.com/islamic-world-news/muslim-cleric-friday-namz-jai-shri-ram-gurgaon/d/125641
--------
Muslim Cleric Allegedly Heckled Over Leading Friday Namaz, Forced to Chant Jai Shri Ram in Gurgaon, 2 Held
ESHWAR RANJANA
25 Oct 2021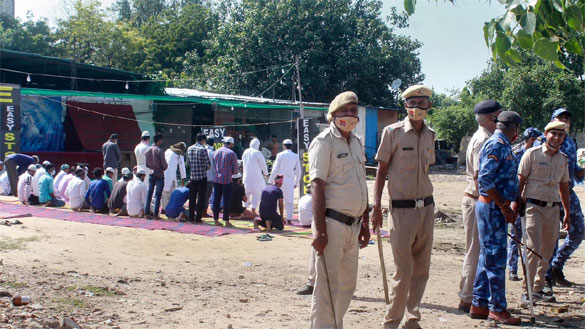 Jai Shri Ram' Slogans Allegedly Raised (Photo: The Quint)
----
A Muslim cleric was allegedly forced to chant 'Jai Shri Ram' and threatened in Gurugram on 22 October over leading Friday Namaz at a nearby locality every week.
The attack comes while Friday prayers by Muslims have been facing disruptions and interruptions at several location in Gurugram for the past few weeks by locals and right-wing groups.
The alleged attack on the 40-year-old Imam Abdul Hasib Misbah took place around 11 pm in Sector 39 of Gurugram, the same day as Friday prayers were disrupted by protesters in the Sector 12 area against namaz being offered at an open space.
The Alleged Attack
According to the FIR filed, which was accessed by The Quint, Misbah was threatened by one Deepak Saini and his associates against conducting Friday prayers in Sector 40.
Misbah, in the FIR, also stated that he fears for his family and that the accused followed him to his house even after they let him go.
Misbah stated that "in case anything untoward happens, the people responsible for the act will be Deepak Saini and his associates."
Saini, along with one more person, were arrested by the police on Sunday.
The accused have been booked under Indian Penal Code (IPC) Sections 153A (promoting enmity between different groups on grounds of religion), 295A (deliberate and malicious acts, intended to outrage reli­gious feelings), 341 (punishment for wrongful restraint ), 506 (punishment for criminal intimidation), and 34 (furtherance of common intention).
Protests Against Namaz in Open Spaces
The attack comes even as Friday prayers have been facing disruptions and interruptions at several location in Gurugram for the past few weeks.
Locals have been protesting against prayers being held in Sector 47, alleging safety concerns and several offering prayers being 'outsiders.' On 15 October, the locals also sang bhajans to disrupt the prayers in the area.
On 22 October, several protesters, allegedly including members of the Bajrang Dal, Vishwa Hindu Parishad (VHP) and Durga Vahini interrupted prayers in Sector 12 of Gurugram and also chanted 'Jai Shri Ram' slogans. The protesters claimed that the prayers were being offered on a private land.
While the administration has deferred protests in Sector 47 till Diwali after assuring locals of a 'solution', the police said that it will try to resolve the matter of Sector 12 by this week.
The Haryana government in 2018 had designated 37 locations across Gurugram for Muslims to offer Friday prayers, after similar protests in several areas.
Source: The Quint
Please click the following URL to read the text of the original story:
https://www.thequint.com/news/india/muslim-cleric-attacked-in-gurgaon-gurugram-jai-shri-ram-friday-namaz-protests-prayers#read-more
--------
Bengaluru-Based Man Arrested By the NIA for Allegedly Radicalising and Recruiting Gullible Muslim Youth and Sending Them to Syria to Join ISIS
Kamaljit Kaur Sandhu Sunil Bhat Jitendra Bahadur Singh
New Delhi | Jammu
October 24, 2021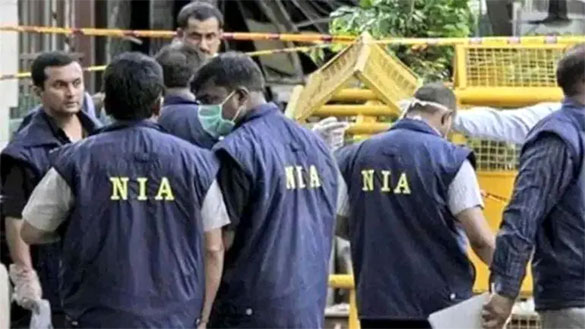 NIA officials arrested Muhammad Tauqir Mahmood on Sunday. (Representational Image/File)
-----
The National Investigation Agency (NIA) has arrested a Bengaluru-based man for allegedly radicalising and recruiting gullible Muslim youth and illegally sending them to Syria to join the terror group ISIS.
Muhammad Tauqir Mahmood, 33, a resident of Bengaluru was arrested on Saturday by the NIA. A case was registered under sections of the IPC, the UA(P) Act against Mahmood, Zuhab Hameed, Irfan Nasir and Mohd Shihab for having affiliation with the banned terrorist organisations ISIS/ISIL/Daesh, the NIA said.
The NIA had earlier arrested two accused -- Ahamed Abdul Cader and Irfan Nasir in the case. A chargesheet was filed against the duo in April this year.
According to the NIA, Muhammad Tauqir Mahmood, in association with co-accused persons, had raised funds, radicalised and recruited gullible Muslim youth of a Quran Circle group and illegally sent them to Syria to join ISIS.
In 2013, Mahmood along with his associates also visited Syria illegally to liaise with the ISIS leadership and offered support from Indian Muslims, the NIA said.
Further investigation in the case continues, the NIA said.
Source: India Today
Please click the following URL to read the text of the original story:
https://www.indiatoday.in/india/story/nia-arrests-bengaluru-man-in-islamic-state-conspiracy-case-1868857-2021-10-24
--------
Afghan Sikhs and Hindus, As Well As Muslims Have Appealed To Not Spread Canards With Regards To Their Relations with the New Taliban Government
Yudhvir Rana
Oct 24, 2021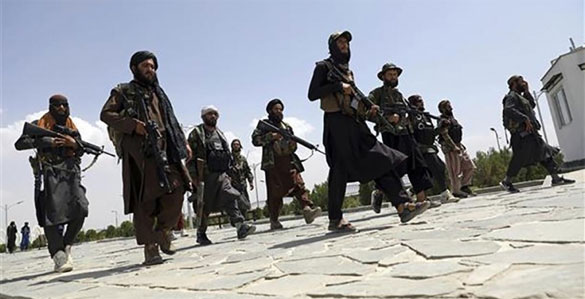 Under the new Taliban regime, Sikhs and Hindus fear a return to an era where these minorities were forced to wear yellow tags to denote their non-Muslim status. (Photo courtesy: Outlook)
----
AMRITSAR: The minuscule Afghan Sikhs and Hindus, as well as Muslims, divided between India and Afghanistan, have appealed to not spread canards with regards to their relations with the new Taliban government. They have instead urged the fellow community leaders spread across the world to arrange for their evacuation and rehabilitation.
While talking to TOI on Sunday evening, an Afghan Muslim national married to an Indian women said, "There are some organizations and the leaders with vested interests who are spreading false news of atrocities being committed on Afghan Hindus, Sikhs as well as Indian Muslims currently stranded there, these are totally false reports and will do us more harm than doing any good to us."
There are reports that they (Taliban) have warned Afghan Hindus and Sikhs to convert to Sunni Islam or leave the county.
The Afghan national who didn't wish to give his name said they kept on waiting outside Kabul airport for their evacuation on October 15 but they couldn't enter the airport for want of certain travel formalities.
"We waited to enter the airport for almost a full day, the Taliban government knew about it, if they wanted to do any harm to us then they could have done but it is not so," he said, adding that no doubt there was a security issue in Afghanistan but not the kind it was being rumored.
Another Afghan Hindu who runs a shop in Kabul said a few people were allegedly brokering their freedom by spreading fake news about them.
In the recent past, the chief commercial officer of a travel and logistics company had written to JP Singh, joint secretary, ministry of external affairs urging to arrange permission of landing in Delhi by the central government.
Source: Times of India
Please click the following URL to read the text of the original story:
https://timesofindia.indiatimes.com/world/south-asia/dont-spread-fake-news-about-us-afghan-hindus-and-sikhs/articleshow/87242929.cms
--------
Pakistan Agreed To Drop Charges against Saad Rizvi, Head of the Islamist Tehreek-E-Labbaik Pakistan
October 24, 2021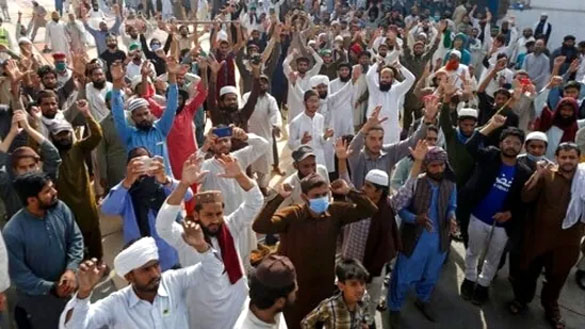 Hundreds of TLP workers took to the streets across the country to exert pressure on the government for the release of Rizvi. (AP File Photo)
------
A radical Islamist party agreed Sunday to suspend for three days its march of thousands toward the capital Islamabad after Pakistan agreed to drop pending charges against the party's leader.
Party supporters Saturday departed the eastern city of Lahore, clashing for a second straight day with police who lobbed tear gas into the crowd. The group began its journey a day earlier with the goal of reaching Islamabad to pressure the government to release Saad Rizvi, head of the Islamist Tehreek-e-Labiak Pakistan party. Rizvi was arrested last year amid demonstrations against France over the publication of caricatures of Islam's Prophet Muhammad.
Raja Basharat, provincial law minister, told The Associated Press that under the agreement Punjab will withdraw charges against Rizvi and release all those detained during the protest march by Tuesday.
Rizvi had been detained pre-emptively on a charge of inciting people to assemble unlawfully. It was unclear when he would be released.
Basharat also said the agreement stipulates that the federal government will honor a previous agreement with the TLP to address diplomatic ties with France over the publication of the caricatures.
Sajid Saifi, spokesman for Rizvi's party, confirmed the minister's account and said thousands of party supporters will stay in the town of Mureedke waiting for the release of party leaders and members who have been detained.
Pakistan Interior Minister Shaikh Rashid Ahmed told reporters that the TLP's demand that the French ambassador to Pakistan be expelled over the caricatures would be taken to a parliamentary committee in the coming days.
Basharat, Ahmed and Religious Affairs Minister Noorul Haq Qadri took part in the talks with the TLP executive council.
Violent clashes erupted between security forces and the Islamists in Lahore killing at least two police and injuring about a dozen, police said. Saifi claimed four party supporters were killed by police fire and "many" others were injured. Police said the demonstrators torched several police vehicles there.
Ahmed said the government was unaware of any deaths of TLP supporters.
Rizvi's party gained prominence in Pakistan's 2018 elections, campaigning on the single issue of defending the country's blasphemy law, which calls for the death penalty for anyone who insults Islam. It has a history of staging violent protests to pressure the government to accept its demands.
Source: Indian Express
Please click the following URL to read the text of the original story:
https://indianexpress.com/article/world/islamists-suspend-march-under-agreement-with-pakistan-govt-7588504/
--------
Union Rejects Amanah Call For Restrictions On Muslims In Alcohol Sale
Samuel Chua
October 25, 2021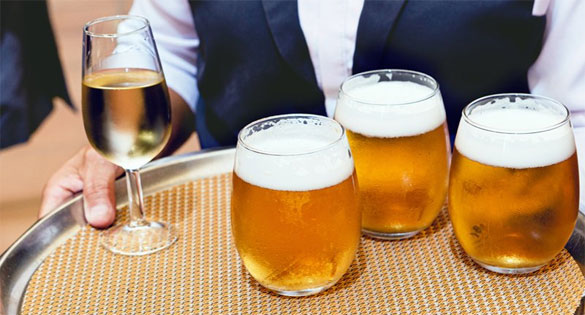 Amanah vice-president Mujahid Yusof Rawa said Muslims should not be involved in serving, distributing or selling alcoholic drinks. (Freepik pic)
-----
PETALING JAYA: A proposal for a "liquor policy" to restrict the involvement of Muslims in the manufacturing or sale of alcoholic drinks has been rejected by the union representing hotel, bar and restaurant workers.
The union's secretary-general, Rosli Affandi, said the majority of the people in the food industry were Malays, and the introduction of a new "liquor policy" would affect their livelihoods.
"I totally disagree with any such policy. Businesses will be affected as Muslims will not be able to work at places serving alcohol. At present, they are just doing their jobs and not consuming any alcohol.
"Also, with the current Covid-19 situation, a lot of people from the B40 low-income group are already struggling to find a decent living. On top of that, every industry is struggling to build up their finances. This policy is definitely not a good idea for the economy or workers," he told FMT.
The proposal for the new policy was made by Amanah vice-president Mujahid Yusof Rawa following a war of words over an award-winning Malaysian-made whisky with the name "Timah".
Mujahid said the liquor policy should including a ban on Muslims from being involved in the processing, sale, transport or serving of alcoholic drinks, and other related activities, as well as a ban on any promotion of alcohol.
Rosli added such a policy would open the floodgates to an influx of foreigners taking over these jobs.
An international business chamber has also warned against the introduction of such a policy.
Malaysian International Chamber of Commerce and Industry executive director Shaun Cheah said it would have a negative impact on foreign investment, and that conservative policies would scare away potential investors.
He said the policy would affect freight forwarders if the government moved ahead with its proposal for 51% Bumiputera ownership of freight forwarding companies.
Freight forwarders would also be the ones importing alcoholic beverages. "With this liquor policy in place, Muslims will not be able to transport any alcohol. This will definitely impact many businesses," he said.
Cheah also said the majority of delivery workers were Muslim.
He also said there was no need for the government to intervene in their livelihoods as Muslims were just earning their salary and income legitimately.
Source: Free Malaysia Today
Please click the following URL to read the text of the original story:
https://www.freemalaysiatoday.com/category/nation/2021/10/25/union-rejects-amanah-call-for-restrictions-on-muslims-in-alcohol-sale/
--------
US Should Have Pushed Ex-Afghan President Ghani Harder, Says Khalilzad
October 25, 2021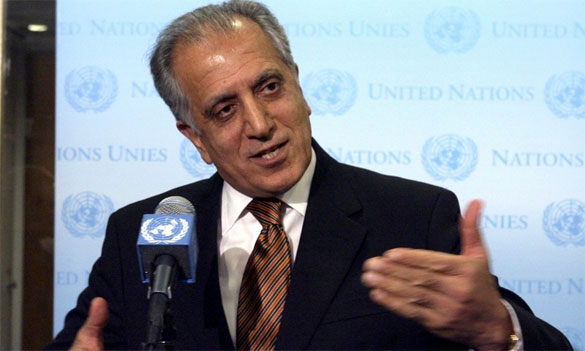 In this file photo, then-US Ambassador to the UN Zalmay Khalilzad, speaks to reporters at the United Nations headquarters. — AP/File
-----
WASHINGTON: The United States did not put enough pressure on former Afghan president Ashraf Ghani to share power with the Taliban, Zalmay Khalilzad, who recently resigned as US envoy to Afghanistan, said in an interview broadcast on Sunday on CBS.
The Afghan-born Khalilzad, speaking for the first time since his resignation was announced on Oct 18, also expressed reservations about the decision by the Biden administration to lift conditions on the withdrawal deal he had negotiated with the Islamist insurgents during the administration of President Donald Trump.
The agreement signed on Feb 29, 2020 between Washington and the Taliban — which excluded Ghani's government in Kabul — paved the way for the US to end its longest war.
But it was "a conditions-based package" that included negotiations between the insurgents and Kabul, as well as a permanent, comprehensive ceasefire, Khalilzad said.
Once in the White House, however, President Joe Biden decided "to do a calendar-based withdrawal," without regard to those conditions, he said. "That was a decision made way above my pay grade," he added.
Talks between the insurgents and Kabul had begun but were dragging, and Washington feared the Taliban would resume attacks on US forces if they stayed in the country much longer — a situation Khalilzad acknowledged as he admitted things did not work out the way he had wanted.
He placed most of the blame on Ghani, who Khalilzad said never agreed to share power with the Taliban.
"They preferred the status quo to a political settlement," he said of the Kabul government.
"And then when it became clear that the US was leaving, then they — they miscalculated the effects of the continuing war. They were not serious about the political settlement.
"It's my judgment that we didn't press him hard enough. We were gentle with President Ghani. We used diplomacy. We encouraged him."
He said that under the original conditional withdrawal agreement, the Taliban would have eventually agreed to power-sharing, though his evidence for that was unclear.
Biden had set a departure date of August 31 for the final withdrawal.
Source: Dawn
Please click the following URL to read the text of the original story:
https://www.dawn.com/news/1653896/us-should-have-pushed-ex-afghan-president-ghani-harder-says-khalilzad
--------
India
Indigenous Muslims feel heat of eviction drive in Assam
OCTOBER 24, 2021
Rahul Karmakar
They fear losing grazing land to Government farm project for which migrant Bengali Muslims were evicted in September
Indigenous Muslims in northern Assam's Darrang district are now feeling the heat of an eviction drive that was ostensibly aimed at migrant Bengali Muslim settlers on the banks of the Brahmaputra.
Between June 7 and September 23, the district authorities evicted more than 1,000 migrant Muslim families from Dhalpur area to make way for the Government-run Garukhuti farm project. The eviction was paused after two persons, including a minor, were killed in police firing.
A month on, the indigenous Gorias — a category of Assamese Muslims who played a part in bringing the 'encroachment' issue to the fore six years ago — have found themselves staring down the barrel of the Government's gun.
They are worried about losing access to the land they had been using through generations for seasonal farming and grazing their livestock.
Hardly anything to subsist on
"We have nothing against the Government's Garukhuti project and the eviction of the encroachers. We also gave up about 700 bighas for the project but sought to retain about 300 bighas closer to our village. But they took that too, leaving us with hardly anything to subsist on," Sanowa resident Abed Ali told The Hindu.
Mr. Ali is the son of Kobad Ali, president of the local milk producers' association and one of four who had filed a case in 2015 under the Assam Land Grabbing (Prohibition) Act, 2010, seeking the eviction of encroachers from village grazing reserve and professional grazing reserve south of Sanowa and the adjoining Rajapukhuri inhabited by Assamese Hindus.
This case was among the reasons the BJP-led Assam government undertook the eviction drive to free 77,420 bighas (25,595 acres). The land is irregularly divided by a channel of the Brahmaputra into the part the Bengali Muslims had settled on and an expansive stretch 'owned' by the indigenous Assamese where their cows and buffaloes grazed.
The entire stretch is south of an embankment protecting Rajapukhuri and Sanowa, two villages known for supplying the bulk of milk to the district and beyond.
"We had a discussion with the local authorities and those in charge of the Garukhuti farm project. We were told that our land would be taken temporarily, but now they have ordered us not to till our land because we have no documents though our forefathers have been using this land for farming and grazing our livestock since the 1800s," said Julhas Ali, a village leader.
He said the villagers had been paying land tax to the Government from 1974 to 2014 when the authorities stopped collecting revenue. "Little did we realise that they had planned to take away the land," he said, reminding the BJP Government of the promise to grant land allotment certificates to the indigenous people.
Source: The Hindu
Please click the following URL to read the full text of the original story:
https://www.thehindu.com/news/national/indigenous-muslims-feel-heat-of-eviction-drive-in-assam/article37151983.ece
--------
Poonch encounter: Jailed Pak terrorist taken to site killed in militant firing
Sanjay Khajuria
Oct 25, 2021
JAMMU: A jailed Pakistani terrorist who was taken for identification of a hideout during the ongoing counter-terror operation in Bhatha Durrian in Poonch district of Jammu and Kashmir was killed and three security personnel were injured on Sunday when terrorists hiding in the area opened fire on a joint search party of the Army and police.
The Lashkar-e-Taiba terrorist, Zia Mustafa, a resident of Rawalakot in Pakistan-occupied Kashmir, was lodged in Kot Bhalwal jail in Jammu for the past 14 years and was shifted to Mendhar on police remand after investigation revealed his link with the hiding terrorists. Mustafa was taken to Bhatha Durrian near Mendhar forest area for identification of terrorist hideout during the ongoing operation, which entered the 14th day on Sunday. Security officials said Mustafa had sneaked into J&K using the same route before he was arrested from south Kashmir in 2007.
Police sources said, "When the Army and police team approached the hideout, terrorists again opened fire, in which two policemen and an Army jawan sustained injuries. Zia Mustafa also sustained injuries and could not be evacuated and later died." His body was later retrieved from the encounter site.
A police spokesperson said, "A fresh attempt will be made with reinforcements. Operation at the site is still going on."
This is one of the longest counter-terrorism operation in which nine Army personnel have died in separate ambushes in Surankote and Mendhar on October 11 and 14. Drones and helicopters have been pressed into service to assist the marching troops in the jungle spread over nearly 8km by 2km area at a distance of 4km from the Line of Control.
Officials said, "At least 10 persons, including two women, were detained for questioning after it came to light that they provided logistic support, including food and shelter, to the terrorists."
Source: Times of India
Please click the following URL to read the full text of the original story:
https://timesofindia.indiatimes.com/india/poonch-encounter-jailed-pak-terrorist-taken-to-site-killed-in-militant-firing/articleshow/87244239.cms
--------
Farooq pitches for Indo-Pak dialogue for lasting peace in Jammu and Kashmir
Sanjay Khajuria
Oct 25, 2021
JAMMU: Pitching for Indo-Pak dialogue, National Conference (NC) president Farooq Abdullah on Sunday reiterated that peace in the region will remain elusive unless a conducive atmosphere is made for talks between the two neighbouring countries.
"India and Pakistan should work towards this objective', Abdullah said while addressing a public meeting at the border township of Mendhar in Poonch district on the second leg of his two-day visit to the Jammu.
Earlier on July 25, NC president and MP Farooq Abdullah had called for a sustained and result-oriented Indo-Pak dialogue process for durable peace in the region.
While addressing party functionaries at two separate meetings in Laamad and Devsar areas of Kulgam district in South Kashmir, he had asked both the countries to be consistent, coherent and serious in their nascent engagement and ensure people of Jammu and Kashmir, and Ladakh live a life free from unending miseries.
On Sunday, addressing a public rally in Poonch, NC president recalled the sagacious and apt statement of former Prime Minister Atal Bihari Vajpayee about "friends can be changed but the neighbours cannot be changed" and hoped that this spirit will help both the nations to work for peace.
Referring to the prevailing political scenario, Abdullah expressed surprise over the logic being advanced by the present central leadership that statehood will be restored to Jammu and Kashmir after completion of the delimitation of constituencies and holding elections.
Source: Times of India
Please click the following URL to read the full text of the original story:
https://timesofindia.indiatimes.com/india/farooq-pitches-for-indo-pak-dialogue-for-lasting-peace-in-jammu-and-kashmir/articleshow/87244181.cms
--------
Karnataka: Hindu man killed for having relationship with Muslim woman
Oct 24, 2021
VIJAYAPURA: A Muslim family allegedly bludgeoned a Hindu man to death in Karnataka and threw his body into a well in an agriculture field in a village for having a relationship with their daughter, police said on Sunday.
According to the police, Ravi Nimbargi (34) was reported missing since October 21. His family lodged a complaint the next day expressing apprehension that he might have been killed by the relatives of the Muslim woman.
Subsequently, three police teams were constituted to probe into the matter. This morning, the body was found in a well in Balaganur village in the district.
Police arrested the brother and uncle of the woman on charges of murder, criminal conspiracy and destroying evidence.
Source: Times of India
Please click the following URL to read the full text of the original story:
https://timesofindia.indiatimes.com/city/bengaluru/karnataka-hindu-man-killed-for-having-relationship-with-muslim-woman/articleshow/87242210.cms
--------
South Asia
EU to reopen diplomatic office in Kabul within a month
25 Oct 2021
European Union has decided to open an office for its diplomatic mission in the Afghan capital in the next one month, Financial Times reported on Sunday, October 24.
The EU has said that they want to resume their limited interaction with the Taliban but acknowledged that the interaction and opening the office does not mean recognizing the Taliban.
European Union has said that it is vital to have a diplomatic mission led by the Taliban in Kabul to make sure the Taliban are committed not to allowing Afghanistan to turn into a safe haven of terrorists, human rights are protected, and to prevent the looming humanitarian crisis in Afghanistan.
Source: Khaama Press
Please click the following URL to read the full text of the original story:
https://www.khaama.com/eu-to-open-diplomatic-office-in-kabul-in-a-month-457457/
--------
Taliban welcomes Putin's remarks over removing them from blacklist
25 Oct 2021
Spokesperson of Afghanistan's ministry of foreign affairs Abdul Qahar Balkhi in a series of Twitter posts said that the Taliban welcomed the Russian President Vladimir Putin's remarks over removing the name of the Taliban from their list of terror organizations.
Abdul Qahar Balkhi wrote that the chapter of war has come to end in Afghanistan and added that the world must bring positive changes in their relations and approaches with Afghanistan.
"We seek positive relations with the international community based on the principle of reciprocity." Reads a Twitter post.
Source: Khaama Press
Please click the following URL to read the full text of the original story:
https://www.khaama.com/taliban-welcomes-putins-remarks-over-removing-them-from-blacklist-85865/
--------
US chose to negotiate with Taliban to prevent its defeat in war: Khalilzad
25 Oct 2021
US's former special representative to Afghanistan's reconciliation Zalmay Khalilzad said that the US was losing the war in the country so the United States chose to negotiate with the Taliban.
Zalmay Khalilzad said that the US military tried many times to strengthen its position in war but could not do it, thus the negotiations with the Taliban were chosen as an alternative.
He added that the US did not want what happened on August 15-Taliban entered Kabul and captured the entire country but Panjshir province-, instead Afghanistan was expected to be led by an inclusive government in which power is shared.
The special representative also blamed former Afghan President Ashraf Ghani for the disintegration of the security sector saying that his escape caused all the chaos in Kabul.
"Ghani's rationale that he prevented bloodshed by fleeing Afghanistan is not true. If he wanted to step down, why did not he do it earlier? It could have led to an inclusive and all accepted government in Afghanistan." Said, Khalilzad.
Source: Khaama Press
Please click the following URL to read the full text of the original story:
https://www.khaama.com/us-chose-to-negotiate-with-taliban-to-prevent-its-defeat-in-war-khalilzad-457457/
--------
Taliban offers jobs for wheat to tackle hunger and unemployment
24 October ,2021
Afghanistan's Taliban government launched a program to tackle hunger on Sunday, offering thousands of people wheat in exchange for labor.
The scheme will be rolled out around Afghanistan's major towns and cities and employ 40,000 men in the capital alone, the Taliban's chief spokesman said at a press conference in southern Kabul.
"This is an important step for fighting unemployment," Zabihullah Mujahid said, adding the laborers must "work hard".
Afghanistan -- which is already suffering from poverty, drought, electricity blackouts and a failing economic system -- is now facing the onset of what may be a harsh winter.
The Taliban's food-for-work scheme will not pay laborers, targeting those who are currently unemployed and most at risk of starvation during the winter.
The two-month program will see 11,600 tons of wheat distributed in the capital, with about 55,000 tons for elsewhere in the country, including Herat, Jalalabad, Kandahar, Mazar-i-Sharif and Pol-i-Khomri.
Source: Al Arabiya
Please click the following URL to read the full text of the original story:
https://english.alarabiya.net/News/world/2021/10/24/Taliban-offers-jobs-for-wheat-to-tackle-hunger-and-unemployment
--------
Taliban kill three 'Daesh kidnappers' in shootout
October 24, 2021
HERAT: Taliban forces fought a three-hour gun battle with a group of alleged Daesh kidnappers on Sunday, killing three of them, officials said.
The clash erupted in the western Afghan city of Herat when the new Taliban government's fighters cornered the gang in a high-rise building, Herat Police Command said in a statement.
Local residents said they heard light and heavier weapons used in the fighting. Police said three Daesh members were killed and two Taliban were wounded in the clash.
Videos circulating on social media appeared to show that at least one suspect was shot dead after he had been detained and disarmed, during a scuffle with his captors.
The footage also showed victorious Taliban forces driving through town with three corpses exposed on the back of a pick-up truck, as cheering supporters followed on scooters.
Interior ministry spokesman Qari Sayed Khosti tweeted the three Daesh-Khorasan members were involved in major kidnappings across Herat province.
"Special forces surrounded them, and they started firing. The men were killed in a shootout with security forces."
Source: Arab News
Please click the following URL to read the full text of the original story:
https://www.arabnews.com/node/1954346/world
--------
Pakistan
Minorities Free To Practice Their Religion: Chief Justice of Pakistan
October 25, 2021
HYDERABAD:
The Chief Justice of Pakistan (CJP) Justice Gulzar Ahmed has said all citizens of Pakistan, including minorities, are free to practice their religion.
He expressed these views while speaking as a chief guest at the Navratri festival of the Hindu community at Durga Shiv Mandir inside the Circuit House here the other day where the community presented traditional gifts to him.
The CJP said the rights of all the citizens were guaranteed in the constitution which would be abided by while the issues of several temples had come before him for justice. He added that all the temples which were under illegal occupation would be vacated and returned to the community.
The CJP observed that Quaid-e-Azam had categorically stated that the religious freedom of all the people would be ensured in Pakistan. Just as other Pakistanis, Hindus also enjoy constitutional protection, he added.
Last week, on the celebration of Holy Prophet's (Peace Be Upon Him) birth, Prime Minister Imran Khan said Prophet Muhammad (PBUH) laid the foundation of Riyasat-e-Madina which rose before the world as an example for others in terms of humanity, justice, and rule of law.
Read Senate panel 'turns down' bill on minorities rights
In this state system, minorities were protected, poor and needy were taken care of and rights and obligations of the state and citizens were determined, the PM added.
Forced conversion bill rejected
Earlier this month, a parliamentary committee rejected the anti-forced conversion bill, prompting protest from the lawmakers belonging to the minority communities. Minister for Religious Affairs and Interfaith Harmony Sahibzada Noorul Haq Qadri had said that the environment was "unfavourable" for formulating such a law.
The proposed law stipulated punishment between five to 10 years and a fine to any person who uses criminal force to convert a person to another religion.
Senator Mushtaq Ahmed from Jamaat-e-Islami denied that the problem of forced conversions existed in Pakistan. "This bill is anti-Islam," he claimed. Blaming the government for proposing the bill, the JI senator said that due to the incumbent government's wrong policies and negligence, the minorities were facing issues.
Source: The Tribune Pakistan
Please click the following URL to read the full text of the original story:
https://tribune.com.pk/story/2326262/minorities-free-to-practice-their-religion-cj-gulzar
--------
Jam Kamal Khan Alyani bows out, draws curtain on crisis in Balochistan
Saleem Shahid
October 25, 2021
QUETTA: The two-month-long political crisis being faced by Balochistan came to end on Sunday evening when Chief Minister Jam Kamal Khan Alyani of the Balochistan Awami Party (BAP) tendered his resignation.
Governor Syed Zahoor Ahemd Agha accepted the resignation soon after Mr Alyani sent it to him.
Consequently, the provincial cabinet stands dissolved.
The former CM in his written resignation said: "I, Jam Kamal Khan, under Article 130 (8) of the Constitution of the Islamic Republic of Pakistan, hereby resign from the office of the Chief Minister of Balochistan today the 24th October."
The late-evening development came after two marathon sessions of negotiations that Mr Alyani held with Senate Chairman Mir Sadiq Sanjrani and Defence Minister Pervez Khattak.
Bizenjo likely to become new leader of house
According to sources, Mr Sanjrani and Mr Khattak informed Mr Alyani about the number of MPAs who supported the rival group. Mr Alyani, however, agreed to step down only after he got assurance over some conditions, which include adjusting some ministers of his cabinet in the next government. They also contacted the leaders of the angry MPAs during the marathon meetings.
A session of the Balochistan Assembly had been convened for Monday (today) for voting on the no-trust motion against the then chief minister Alyani. The motion, which was tabled in the 65-member house on Oct 20 by the angry group of BAP lawmakers, was supported by 34 members including those belonging to the opposition.
The members while speaking on the motion had asked then CM Alyani to resign for it was the only honourable way to avoid the no-confidence motion. However, Mr Alyani had turned down the request of the opponents and announced that he would face the no-trust motion and would not resign even if two members remained with him.
Mr Alyani is the fourth chief minister who has resigned to avoid a no-trust motion.
Earlier, Mir Taj Mohammad Khan Jamali, Sardar Akhtar Jan Mengal and Nawab Sanaullah Zehri had resigned when no-trust motions were tabled against them in the house.
The late Jam Yousaf, the father of Mr Alyani, was the only chief minister who had completed his five-year term in office. Before and after him, no chief minister could complete his five years term in Balochistan.
The Balochistan Assembly session would be held according to the schedule on Monday (today) at 11am in which the members who had tabled the no-trust motion against the chief minister would withdraw their resolution.
Source: Dawn
Please click the following URL to read the full text of the original story:
https://www.dawn.com/news/1653858/jam-kamal-khan-alyani-bows-out-draws-curtain-on-crisis-in-balochistan
--------
Fawad announces special visas for Sikhs planning Kartarpur visit
October 24, 2021
DUBAI: Information Minister Fawad Chaudhry has said that the government will offer special visas and hotel packages to Sikh pilgrims in the United Arab Emirates (UAE) and other countries who are eager to visit Kartarpur to mark the birth anniversary of the founder of their faith.
"For the Sikh community here, I especially want to say that we will hold a special three-day festival this year on the birth anniversary of Guru Nanak. We will arrange three-day visas for our Sikh brothers here who wish to come to Pakistan and felicitate them. Hotels are also giving special packages," Fawad said during a media talk in Dubai, adding that Pakistan plans to commemorate the event starting November 18.
"A special film focusing on Baba Nanak's travels will also be released next month," he said.
Furthermore, Chaudhry applauded overseas Pakistanis for making substantial contributions to the country's economy, saying they have sent the highest remittances to Pakistan in history during the last fiscal year.
"If the economy is surviving at this point, it is because of the contribution of overseas Pakistanis," he said.
The information minister continued the government has made it a priority to address the issues of Pakistanis living abroad, adding that nearly 20,000 prisoners involved in petty crimes in the Gulf region had been brought back to their country.
He maintained the current administration in Islamabad was also keen to install an electronic voting system for overseas Pakistanis ahead of the next elections. "We want our nationals living abroad to cast their votes as well," he added.
Source: Pakistan Today
Please click the following URL to read the full text of the original story:
https://www.pakistantoday.com.pk/2021/10/24/fawad-announces-special-visas-for-sikhs-planning-kartarpur-visit/
--------
Bajwa lauds UN, recalls Pakistan's peacekeeping efforts on anniversary
October 24, 2021
ISLAMABAD: While extending his best wishes to the United Nations on its 76th anniversary, Chief of Army Staff Gen Qamar Javed Bajwa recalled Pakistan Army has got an illustrious history of serving humanity for maintaining peace and sacrifices of our troops speak volumes of their unwavering resolve for global peace.
"Pakistan Armed Forces extend best wishes to the UN on its 76th anniversary," the Inter-Services Public Relations tweeted on Sunday.
The tweet further quoted Gen Bajwa as saying: "Pakistan Army has distinguished history of serving humanity for peace. Sacrifices by our men bear testimony to our unwavering resolve for global peace in line with our Founding Father's vision."
The anniversary of the founding of the world body is observed on October 24 every year.
The UN officially came into existence on October 24, 1945, when its Charter, agreed on four months earlier, came into force.
The United Nations Day was first observed on October 24, 1948, celebrates the ratification of the charter about three years earlier.
Source: Pakistan Today
Please click the following URL to read the full text of the original story:
https://www.pakistantoday.com.pk/2021/10/24/bajwa-lauds-un-recalls-pakistans-peacekeeping-efforts-on-anniversary/
--------
Southeast Asia
Whiskey, transgender entrepreneur trigger outcry among Malaysia's conservatives
Nadirah H. Rodzi
OCT 24, 2021
KUALA LUMPUR - Malaysia's conservative Muslims are up in arms over a transgender social media star and local whiskey brand, claiming the two have trod on religious sensitivities and insulted Islam.
Cosmetics entrepreneur and successful influencer Nur Sajat first landed in hot water in January after she was charged with insulting Islam by wearing women's clothing while hosting a religious event.
Online vitriol soon followed. The Selangor Shariah Court issued an arrest warrant for her when she skipped the court hearing and went on the run.
In September, she was back in the limelight after local media, quoting unnamed sources, reported that she had been arrested by Thai immigration authorities in Bangkok. She was bailed out by a friend. Last Monday (Oct 18), Sajat announced that she had escaped to Australia and was seeking asylum there.
Islamist politicians and clerics have insisted that being transgender or gay violates Islamic law - which is applicable to the majority Malay-Muslims in the country - and actions taken to pursue Sajat are justified.
Activists say these actions amount to human rights violations and harassment.
Meanwhile, Sajat has alleged that while she was in custody in January, she was kicked, restrained and groped by several officers from the Islamic religious authority Jais.
Labelling the alleged incident as "appalling", LGBT activist Numan Afifi said the government should have investigated the religious officers who supposedly harassed Sajat.
"Continuous persecution against Sajat is a reflection of the climate of repression against the LGBTI+ community. She has experienced harassment, bullying and doxing by online users over the years," he told The Straits Times.
"Malaysia remains unsafe for Sajat... The state has a duty to protect all its citizens, and it failed to do so with Sajat. In her case, it was the agent of violence," he added.
Recent weeks have thrown up another religious controversy - over a locally produced, award-winning whiskey brand called Timah.
Muslim groups are in uproar over the name, which they say is short for "Fatimah", the name of Prophet Muhammad's daughter and completely inappropriate as alcohol is not permitted in Islam.
"Timah", however, means "tin" in Malay, and Timah Whiskey says its name harks back to the tin-mining era when Malaysia was under British colonial rule.
Still, several groups have urged the Home Ministry and state governments to be stricter in regulating and controlling the alcohol industry as alcoholic drinks are against Islamic teaching and can cause harm to the social system.
According to local news site The Star, Penang Mufti Wan Salim Wan Noor had called for the government to order a name change for the whiskey.
"We don't object to alcohol being consumed by non-Muslims, but we are requesting the government to order the manufacturer to immediately change its brand as well as the picture on the bottle to a name and picture that do not trigger the sensitivity of Muslims in the country," he was quoted as saying last Monday.
Deputy Finance Minister Yamani Hafez Musa clarified the labelling for Timah hard liquor was approved by the Health Ministry, adding that the firm behind the whiskey has been an existing excise licence holder since 2003.
Source: Straits Times
Please click the following URL to read the full text of the original story:
https://www.straitstimes.com/asia/se-asia/whiskey-transgender-entrepreneur-trigger-outcry-among-malaysias-conservatives
--------
High Court grants Malaysian citizenship for child born to Chinese mum in Ipoh
25 Oct 2021
BY JOHN BUNYAN
IPOH, October 25 — A five-old-year girl, who was previously stateless, can proudly call herself a Malaysian after the High Court here granted her citizenship and ordered the National Registration Department (NRD) to issue her an identification card.
The government previously refused to recognise the child as a citizen as she was born to a Malaysian father, Ong Chin Hock and Chinese national mother who was not married at that time and was considered illegitimate.
The child can't be named and can only be identified as OXT.
In his decision today, Judge Datuk Abdul Wahab Mohamed said that the child deserves to be a Malaysian citizen as she fulfills two conditions under Article 14(1)(b) of the Federal Constitution.
"It is undisputed that the child was born in the country after Malaysia day.
"Secondly, the child also fulfils two qualifications in Part II of the Second Schedule which is Section (1)(a) and Section (1)(e)," he said.
Section (1)(a) refers to every person born within the Federation of whose parents one at least is at the time of the birth either a citizen or permanent resident in the Federation while Section (1)(e) refers to every person born within the Federation who is not born a citizen of any country otherwise than by virtue of this paragraph.
Abdul Wahab also noted that there is no evidence that the child has other citizenship or passport of any other country or leave the country since the day she was born.
OXT was born on June 24, 2016, in a private hospital in Ipoh but was not granted citizenship as her parents had not been married at the time.
The couple in their late 30s registered their marriage legally at the National Registration Department in Putrajaya three months after the child was born and has been applying for her citizenship since 2017.
In September 2019, the High Court here declared OXT to be the legitimate child of her parents as Malaysian law allows non-Muslim couples to legitimise child by marrying later.
The parents also obtained DNA results proving that OXT was their biological child two months later. Subsequently, the parents filed the lawsuit through the originating summons in December 2019.
OXT was the only person declared stateless in the family, as her younger brother who was born on September 19, 2018 to the same parents was Malaysian.
The parents were represented by lawyers Ong Yu Shin, Datuk Nicholas Kow, Andy Ooi Keng Liang.
Ong, when met outside the court told reporters that they are happy that the whole family can now be together.
"It's a very long judgment with a total of 51 pages. In gist, I could say that the judge found that whether the parents legitimately married or not when the child was born was not really relevant in this case.
Source: Malay Mail
Please click the following URL to read the full text of the original story:
https://www.malaymail.com/news/malaysia/2021/10/25/high-court-grants-malaysian-citizenship-for-child-born-to-chinese-mum-in-ip/2015825
--------
China strengthens land border protection with new law
October 24, 2021
BEIJING: China passed a law yesterday to strengthen border protection amid a protracted standoff with India, worries about spill over effects from Taliban-controlled Afghanistan and the spread of Covid-19 from Southeast Asia.
The Land Borders Law will not necessarily change how border security is handled when the measure takes effect on Jan 1, but it reflects China's growing confidence in its capability to manage its frontiers.
China has been closely watching neighbouring Afghanistan, where the Taliban returned to power in August, to guard against a possible inflow of refugees or Islamic extremists crossing over to link up with the Muslim Uighurs in China's Xinjiang region.
At its Himalayan frontier, Chinese soldiers have been in a standoff with Indian troops since April 2020.
China has also taken great pains to keep the Covid-19 virus outside of its borders, after illegal crossings from Myanmar and Vietnam contributed this year to a surge in cases in its southern provinces of Yunnan and Guangxi respectively.
This is the first time that the People's Republic of China, founded 72 years ago, has a dedicated law specifying how it governs and guards its 22,000km (14,000 mile) land border shared with 14 countries, including former superpower Russia and nuclear-capable North Korea.
Source: Free Malaysia Today
Please click the following URL to read the full text of the original story:
https://www.freemalaysiatoday.com/category/world/2021/10/24/china-strengthens-land-border-protection-with-new-law/
--------
North America
US meets Sudanese leaders to reaffirm support for democracy
23 October ,2021
A US envoy underlined Washington's support for a democratic transition to civilian rule in Sudan on Saturday during talks with the head of its ruling council and the prime minister, the US embassy in Khartoum said.
It tweeted that Jeffrey Feltman, special envoy for the Horn of Africa, had also urged all sides to recommit to working together to implement Sudan's constitutional declaration, signed after a 2018-2019 uprising that resulted in the removal of president Omar al-Bashir.
Feltman met with Prime Minister Abdalla Hamdok, General Abdel Fattah al-Burhan, head of the Sovereign Council, and his deputy General Mohamed Hamdan Dagalo.
Tensions between the civilian and military leaders who now share power have soared in the wake of an attempted military coup in September, which the army said it had foiled.
As an economic crisis deepens, a coalition of rebel groups and political parties have aligned themselves with the military, which has accused the civilian governing parties of mismanagement and monopolizing power, and are seeking to dissolve the cabinet.
In response, hundreds of thousands demonstrated in several parts of the Khartoum and other cities on Thursday against the prospect of military rule. Several cabinet ministers took part.
Source: Al Arabiya
Please click the following URL to read the full text of the original story:
https://english.alarabiya.net/News/north-africa/2021/10/24/US-meets-Sudanese-leaders-to-reaffirm-support-for-democracy-
--------
Europe
Moscow Islamic Centre's Chief Highlights Challenges on Path of Achieving Islamic Unity
October 24, 2021
Head of the Islamic Center of Moscow Hojat-ol-Islam Saber Akbari Jeddi referred to baseless biases and superstitions as some of the challenges on the path of achieving Islamic unity.
On the occasion of the Islamic Unity Week, the cleric underlined the importance of unity among different schools of thought and said it is a component of the power of the Islamic Ummah (community).
Anyone who seeks power and capabilities in this world should seek its means and the means for the Islamic Ummah to get power is unity, he said.
The cleric highlighted the large number of Muslims in the world and its strategic significance.
If such a great number of people get united to achieve a goal, they would create a huge power, he stated.
Hojat-ol-Islam Akbari Jeddi added that, on the other hand, discord and disunity among Muslims will lead to the weakening of the Islamic Ummah.
"Therefore, unity is an inevitable necessity," he went on to say.
The cleric said Muslims share views on all of the principles of Islam, including the fundamental one such as oneness of God, the Holy Prophet (PBUH), the Quran and the Qibla (direction towards the Kaaba in Mecca).
The minor differences on some Fiqhi (jurisprudential) or theological issues do no harm to the principles and can be ignored, he noted.
Asked about the main challenges on the way to unity, the cleric referred to unfounded biases and superstition as well as existence of ill-informed scholars as some of these challenges.
He added that the hostilities of the enemies of Islam and seditions and plots hatched by them are also obstacles in this path.
In order to surmount these obstacles, awareness among Muslims should grow and they should return to their Islamic identity, Hojat-ol-Islam Akbari Jeddi stated.
He noted that the Muslim world's media, especially religious media outlets, play a very major role in this regard.
Source: ABNA24
Please click the following URL to read the full text of the original story:
https://en.abna24.com/news/moscow-islamic-center%e2%80%99s-chief-highlights-challenges-on-path-of-achieving-islamic-unity_1191656.html?__cf_chl_jschl_tk__=pmd_pKCi4c30he8uD8BtDZvyI2rbaLIPbYSZ9bVaM4ieb_E-1635145705-0-gqNtZGzNAqWjcnBszQkR
--------
German court releases teens behind arson attack on Turkish family's flat
Mesut Zeyrek
25.10.2021
SOLINGEN, Germany
A court in Germany released three teenagers behind an arson attack last week on a Turkish family's apartment in the city of Solingen because they are "children," one of the victims said Sunday.
The family suffered light injuries last Wednesday after a bottle containing a flammable liquid was thrown onto the balcony of their apartment on Schwert Street around 2:00 a.m. (0000GMT).
A written statement by the prosecutor's office and the police said an investigation was launched for attempted murder.
Sibel Isini, a mother of three and a victim of the attack, which injured her hand, told Anadolu Agency she has not slept well since the night of the attack because she is afraid it will happen again and has been keeping watch on the balcony to protect her children.
Noting that a mask with a swastika drawn on it was found near their apartment following the attack, Isini said she thought it was related to the attack and that there might have been an arson attempt against them.
"A bottle containing a flammable substance was thrown onto the balcony. Suddenly, there was a fireball, and I threw myself to the floor. I shouted and woke up the children. My hand was injured while putting out the fire with my son. It could have been worse. I was on the balcony half an hour before," she said.
Isini said she learned that the 14-year-old attacker and the two 13-year-old children who helped him were caught but were released two hours later by a court.
"I've been sleepless since the night of the incident. I've been depressed. I'm constantly checking how my children are. These attackers did not throw stones at the glass. They threw a Molotov cocktail. An attempt was made to kill us. The attack took place even though my light was on, and now it is called 'a coincidence.' Does a coincidence always find Turks here? I don't understand that."
She went on to say that although they live in Germany, many Turkish officials came to visit them after the incident, but no German officials have visited them yet.
Isini's children -- Kubilay, Selim, and Dilara -- said they have psychological problems due to the attack and difficulty sleeping at night.
Source: Anadolu Agency
Please click the following URL to read the full text of the original story:
https://www.aa.com.tr/en/europe/german-court-releases-teens-behind-arson-attack-on-turkish-family-s-flat/2401640
--------
London police investigating 'offensive banner' protesting Saudi takeover of Newcastle
24.10.2021
LONDON
London police are investigating an "offensive banner" unfurled by Crystal Palace fans at the football match against New Castle on Saturday, protesting the recent Saudi-led takeover of the Tyneside club.
"Police received a report of an offensive banner displayed by Crystal Palace fans," Croydon Metropolitan Police said in a tweet.
"Officers are assessing the information and carrying out enquiries. Any allegations of racist abuse will be taken very seriously."
The banner was displayed at Selhurst Park, Crystal Palace's home stadium. It showed a man in traditional Gulf Arab clothing with a bloody sword about to behead a magpie, which is the symbol of Newcastle club.
Next to the image, the banner listed multiple human rights abuses Saudi Arabia is accused of: terrorism, beheading, civil rights abuses, murder, censorship, and persecution.
Each line was ticked off, and the list was placed on a clipboard titled "Premier League Owners Test."
Premier League chief executive Richard Masers was also on the banner, shown to be giving a thumbs-up to a bag of money while standing in a pool of blood.
Holmesdale Fanatics, Crystal Palace supporters' group, in a statement said the Saudi-led takeover of Newcastle has "received widespread condemnation and anger."
"To give the thumbs up to this deal at a time when the Premier League is promoting the women's game and inclusive initiatives such as rainbow armbands, shows the total hypocrisy at play and demonstrates the league's soulless agenda where profits trump all," it said.
Source: Anadolu Agency
Please click the following URL to read the full text of the original story:
https://www.aa.com.tr/en/europe/london-police-investigating-offensive-banner-protesting-saudi-takeover-of-newcastle/2401543
--------
Arab World
Egyptian Preacher Abdullah Rushdy's Fatwa against Bodybuilding Stirs Controversy
Ibrahim Ayyad
October 24, 2021
CAIRO — Egyptian preacher Abdullah Rushdy has issued a fatwa prohibiting men from participating in bodybuilding competitions and showing "awrah," the intimate parts of the human body as defined in Islam.
The fatwa came after Egyptian bodybuilder Mamdouh "Big Ramy" Elssbiay won the Mr. Olympia 2021 bodybuilding championship held in Orlando, Florida, on Oct. 10. This was Big Ramy's second win in a row at the most prominent bodybuilding championship in the world.
Rushdy, who identifies himself as a researcher in the affairs of religions and sects at Al-Azhar Al-Sharif, tweeted on Oct. 11, "Men are prohibited from participating in bodybuilding championships and showing intimate parts, which should be covered according to the Sharia." He called for practicing sports without violating the rules of the Sharia.
In a Facebook video on Oct. 12, Rushdy attempted to justify his position, saying, "I am not saying no to sports, but the rules of the Sharia ought to be respected when doing so. … Awrah for men includes the body parts between their navel and knees, and it's the entire body for women, except for their face and hands."
He added, "I advise young men not to practice bodybuilding because of this and women should not participate in any competition that requires them to show parts of their bodies."
Ahmed Karima, a professor of comparative jurisprudence at Al-Azhar University, rejected Rushdy's fatwa. "God did not make men's bodies a means to sedition," he said, adding that the rule only applies to worship.
In a television interview on Oct. 14, Karima further explained the difference. "Farmers raise their pants above their knees while watering the land or feeding animals. This happens to be common in some industries as well." Sportswear, he said, "is a custom and not a form of worship, so men will not end up in Hell for wearing them. Custom is a support for Islamic Sharia."
"Rushdy is so narrow-minded that he chose to speak about awrah and ignored the fact that [Big Ramy] won a world championship, as well as he left out the importance of sports and a healthy body," Egyptian writer Bahey Eldin Morsi told Al-Monitor. "The Egyptian people were so happy for Big Ramy for winning Mr. Olympia 2021; his achievement has brought them pride."
Morsi refused to "invoke lust in all parts and situations of life," calling for "disregarding such fatwas that disturb Egyptian achievements."
Upon his arrival at Cairo Airport on Oct. 19, Big Ramy was welcomed by a delegation from the Egyptian Ministry of Youth and Sports, in addition to many people from his hometown.
Rushdy's past controversial statements have included linking sexual harassment to women's outfits, which prompted some to accuse him of justifying harassment, defending harassers, and blaming women.
According to Egyptian media reports, Al-Azhar stressed that Rushdy does not represent it, and he has not previously worked within the Sheikhdom of Al-Azhar or any of its research centers.
Source: Al Monitor
Please click the following URL to read the full text of the original story:
https://www.al-monitor.com/originals/2021/10/egyptian-preachers-fatwa-against-bodybuilding-stirs-controversy?C79361E1-E230-0348-AC50-1912C9FC85F2_kav_cup_C6FA3ED5_6D17_47D1_B6E2_F4B02CC905E0_
--------
Saudi Arabia eyes personal status law with main focus on family and strengthening of bonds
October 25, 2021
RIYADH: Saudi Arabia's Ministry of Justice is set to release the personal status draft law with the main focus on family and strengthening of bonds.
Speaking at the Saudi Family Forum 2021 on Sunday, Justice Minister Walid Al-Samaani said that the personal status draft law announced by Crown Prince Mohammed bin Salman within the system of specialized legislation was based on several goals. The most important of these was a focus on family status, strengthening the family bond wherever possible and reducing the negative impact of separation.
Al-Samaani said that the project focused mainly on stressing a woman's agreement to marriage, preserving her and her children's financial and alimony rights, as well as other issues related to divorce requests.
During his participation at the forum, Al-Samaani said that many public policies, including the basic law of governance, had focused on empowering the family to achieve sustainable social development and overcome any challenges.
Saudi Vision 2030 also stipulates, in many of its programs and articles, strengthening the status of the family and striving to overcome all obstacles facing its members, he said.
The minister explained that one of the decisions that contributed to enhancing the sustainability and stability of the family was the amendment made in the executive regulations of the legal pleading system by adding a legal text that refers all personal status disputes to the reconciliation center to try to reconcile spouses.
Al-Samaani stressed that by applying this amendment, personal status disputes related to divorce, alimony and other issues decreased by more than 20 percent, and said he hoped this would drop further. On the development of procedural aspects in personal status disputes, he said that the establishment of the cases audit center contributed to a decrease in the duration of judicial sessions in personal status cases by more than 30 percent.
Source: Arab News
Please click the following URL to read the full text of the original story:
https://www.arabnews.com/node/1954491/saudi-arabia
--------
Lebanon's negotiations with IMF likely to start in November
25 October ,2021
The Lebanese foreign minister said on Sunday that negotiations with the International Monetary Fund would likely start in November, Lebanon's Al Jadeed TV reported.
Economy Minister Amin Salam had said on Friday in an interview with Reuters that the new government aimed to make progress towards starting full negotiations for an IMF deal by the end of this year or early next but was not expecting funds to be dispersed before elections in March.
Lebanon is experiencing its worst-ever financial crisis and an IMF deal is widely seen as the only way for it to secure aid.
Foreign Minister Abdallah Bou Habib also spoke about the maritime border dispute between Lebanon and Israel, telling Al Jadeed that he was "optimistic about reaching an agreement".
Source: Al Arabiya
Please click the following URL to read the full text of the original story:
https://english.alarabiya.net/business/economy/2021/10/25/Lebanon-s-negotiations-with-IMF-likely-to-start-in-November-FM
--------
UN chief receives Muslim World League secretary-general in NY
25 October ,2021
The Secretary-General of the United Nations Antonio Guterres on Sunday received Dr. Mohammed al-Issa, the Secretary-General of the Muslim World League (MWL), at the UN headquarters in New York City, the official Saudi Press Agency (SPA) reported.
"The two sides held an expanded meeting that dealt with the initiative presented by Dr. al-Issa to strengthen international efforts to confront hatred and protect places of worship around the world through diverse and effective programs," SPA reported.
Al-Issa extended his thanks and appreciation to Guterres for the "great support he showed for the initiative," according to SPA.
MWL is an international non-governmental Islamic organization based in the Holy City of Mecca in Saudi Arabia.
According to the organization, it "aims to present the true Islam and its tolerant principles, provide humanitarian aid, extend bridges of dialogue and cooperation with all, engage in positive openness to all cultures and civilizations, follow the path of centrism and moderation to realize the message of Islam and ward off movements calling for extremism, violence and exclusion for a world full of peace, justice and coexistence."
Interfaith efforts
Al-Issa, the organization's secretary-general, is a leading global voice on moderate Islam. He is committed to "bringing global awareness to the religion's true message of empathy, understanding and cooperation among all people," according to his website.
Al-Issa visited Auschwitz in January 2020 for the 75th anniversary of the liberation of the death camp. The Auschwitz Museum declared it the most senior Islamic delegation ever to visit.
Source: Al Arabiya
Please click the following URL to read the full text of the original story:
https://english.alarabiya.net/News/gulf/2021/10/25/UN-chief-receives-Muslim-World-League-secretary-general-in-NY
--------
Saudi Arabia's King Salman to lead Kingdom's G20 Leaders' Summit delegation virtually
25 October ,2021
Saudi Arabia's King Salman bin Abdulaziz will lead the Kingdom's delegation at the Group of Twenty (G20) Leaders' Summit virtually, the official Saudi Press Agency (SPA) reported on Sunday.
The upcoming G20 summit will take place in Italy's capital Rome on October 30 and 31. It is the sixteenth meeting of the group.
"In response to a kind invitation from Prime Minister of the Italian Republic Mario Draghi to the Custodian of the Two Holy Mosques King Salman bin Abdulaziz Al Saud to attend the G20 Leaders Summit," King Salman will "lead the Saudi Arabia's delegation to the summit and participate virtually," a statement by the Royal Court and carried by SPA read.
SPA added that the Kingdom expresses its appreciation for efforts exerted by to make the works of the G20 Presidency successful this year, through the collective action as the Kingdom is a member of the Troika of the group (having hosted last year's summit), and affirms its keenness to continue the efforts exerted to make the works of the summit a success.
The Kingdom of Saudi Arabia expresses its appreciation for Italy's efforts as it holds the G20 presidency this year.
Last year, the G20 summit was held in Saudi Arabia's capital Riyadh as the Kingdom held the 2020 presidency. It was held virtually due to the COVID-19 pandemic on November 21 and 22, 2020.
Source: Al Arabiya
Please click the following URL to read the full text of the original story:
https://english.alarabiya.net/News/gulf/2021/10/25/Saudi-Arabia-s-King-Salman-to-lead-Kingdom-s-G20-Leaders-Summit-delegation-virtually
--------
Arab coalition says more than 260 Houthis killed in Yemen
24 October ,2021
The Arab coalition fighting in Yemen said Sunday more than 260 Houthi fighters were killed in Yemen in the past three days near the strategic city of Marib.
"Thirty-six military vehicles were destroyed and more than 264" Houthi fighters were killed in strikes in the past 72 hours in al-Jawba, some 50 kilometers (30 miles) south of Marib, and al-Kassara, 30 kilometers to the northwest, the coalition said, quoted by the Saudi Press Agency.
The Iran-backed Houthis rarely comment on losses, and AFP could not independently verify the toll.
The coalition has for the past two weeks reported almost daily strikes around Marib, the internationally recognized government's last bastion in oil-rich northern Yemen.
It say hundreds of Houthis have been killed in the fighting.
The Houthis began a major push to seize Marib in February, and have renewed their offensive since September after a lull.
Source: Al Arabiya
Please click the following URL to read the full text of the original story:
https://english.alarabiya.net/News/gulf/2021/10/24/Arab-coalition-says-killed-more-than-260-Houthis-in-Yemen
--------
Mideast
Supreme Leader: Unity among Muslims Definite Quranic Responsibility
2021-October-24
"Unity among Muslims is not a tactical matter in order for some to think that they [should] stand united with each other because of special circumstances. No, it is a fundamental matter. Synergy among Muslims is a necessity. If Muslims are united, they will create synergy, they will all grow strong. Muslim unity is a definitive Qur'anic duty," Ayatollah Khamenei said on Sunday, addressing the Iranian officials and guests of the 35th International Islamic Unity Conference in Tehran on the occasion of the birthday anniversary of the Prophet Muhammad (PBUH) and the sixth Shiite Imam, Imam Ja'afar Sadiq (AS).
He said the birth of Prophet Muhammad (PBUH) "marks the beginning of a new era in human life. It heralds the start of a new era of divine will and divine grace for humanity".
The Leader said the reason why the Islamic Republic laid emphasis on Muslim unity is that "there are constant attempts today to drive a wedge between Muslim sects, between Shias and Sunnis".
"You see that the issue of being a Sunni or a Shiite has entered the American political rhetoric for several years. Although they are against Islam itself and are enemies, they do not abandon the issue of Shiites and Sunnis," he added.
"You also see that American puppets create sedition anywhere in the Islamic world that they can," said the Leader, citing the recent bloody attacks on mosques in Afghanistan as an example.
"Who blows up [mosques]? The ISIL. Who is the ISIL? The ISIL is the same outfit that the Americans - the same Democratic group of the United States - explicitly said we created. However, they are not saying such a thing now and deny it."
The Leader also stressed that the main index of Muslim unity is the issue of Palestine.
"If Muslim unity is realized, the Palestinian issue will definitely be resolved in the best way possible. The more serious we are about the Palestinian issue in order to uphold the rights of the Palestinian nation, the closer we are to the unity of the Muslims," he said.
Ayatollah Khamenei pointed to the recent normalization of relations between Israel and certain Arab countries, and said, "Unfortunately, some governments made a mistake — a big mistake and a sin — and normalized [ties] with the usurping and oppressive Zionist regime. This is a movement against Islamic unity. They must return from this way. They have to make up for this big mistake."
Ayatollah Khamenei said Islam was a "comprehensive religion. Justice should be done to this comprehensiveness".
Source: Fars News Agency
Please click the following URL to read the full text of the original story:
https://www.farsnews.ir/en/news/14000802000282/Spreme-Leader-Uniy-amng-Mslims-Definie-Qranic-Respnsibiliy?0E8B90AA-E63F-2145-B85C-6E111002EF90_kav_cup_C6FA3ED5_6D17_47D1_B6E2_F4B02CC905E0_
--------
Top Security Official Cautions Israel of Huge Damages of Attacking Iran
2021-October-24
"Instead of allocating 1.5 billion dollars budget for atrocities against Iran, the Zionist regime should focus on supplying tens of thousands of billion dollars in fund to repair the damage that will be caused by Iran's shocking response," Shamkhani wrote on his twitter page on Sunday.
His comments came after Israeli media reported that Israel has approved a budget of some 5 billion shekels ($1.5 billion) to be used to prepare the military for a potential strike against Iran's nuclear program.
The NIS 5 billion budget is made up of NIS 3 billion from the previous budget and an additional NIS 2 billion from the next budget slated to be approved by the government in November, Israel's Channel 12 reported Monday.
It includes funds for various types of aircraft, intelligence-gathering drones and unique armaments needed for such an attack, which would have to target heavily fortified underground sites, the unsourced report said.
Earlier this week, Iran's Ambassador and Permanent Representative to the United Nations Majid Takht Ravanchi called on the UN Security Council (UNSC) to confront the Zionist regime for its covert operations against Iran's nuclear program.
"I am writing to inform you of yet another explicit threat made by the Israeli regime against the Islamic Republic of Iran and its peaceful nuclear program," Takht Ravanchi wrote in a letter to the UNSC session.
He said that during the past months, the number and intensity of such provocative and adventuristic threats have consistently grown and reached an alarming level.
"The latest of such threats has been made by the Chief of General Staff of the Israel Defense Forces, who has recently stated, "The operational plans against Iran's nuclear program will continue to evolve and improve and operations to destroy Iranian capabilities will continue — in various arenas and at any time," Takht Ravanchi added.
He reiterated that such systematic explicit and public threats by the Israeli regime against a founding member of the United Nations constitute flagrant violations of international law, particularly Article 2(4) of the United Nations Charter.
Source: Fars News Agency
Please click the following URL to read the full text of the original story:
https://www.farsnews.ir/en/news/14000802000240/Tp-Secriy-Official-Cains-Israel-f-Hge-Damages-f-Aacking-Iran
--------
Iran's Top Security Official Blasts Erdogan for Exaggeration of Israel's "Fake" Power
2021-October-24
In remarks published on Thursday, Erdogan said that Iran will not target its Northwestern neighbor Azerbaijan for Baku's relations with the Israeli regime because of its noticeable Azeri population.
Responding to a reporter's question on whether recent Iranian military drills would "escalate into a hot crisis" in the Caucasus, he said he had "no such expectation".
Over "Israel's relations with Azerbaijan, Iran will not be hostile to Azerbaijan or put Azerbaijan on the target list because the Azerbaijani population in Iran is noticeable today", the Turkish president said.
"This, of course, gets them to contemplate the situation. It is not that simple. What has been done thus far is inappropriate, and I believe that Iran's new administration will not repeat this misstep," he added.
In response, Shamkhani wrote on his twitter page on Saturday that "fear of tribes belongs to a government that confronts them with sword and discrimination, not Iran which is the paradise of tribes".
He also said exaggerating the Israeli regime's fake grandeur raises doubts about Erdogan's power and his adherence to Islamic teachings, as a ruler who has claims on leading the Islamic world.
"Is the magnification of the Zionist regime's fake power, by a ruler who claims to lead the Islamic world, a sign of power or Islam?!" he wrote.
Iran has been suspicious of Azerbaijan's links to the Israeli regime, whose supply of drones and other weapons helped Baku gain the upper hand in the war with Armenia last year.
Early this month, Iran's Army held military drills on its northwestern border, which Tehran described as part of its routine exercises, about which it notified neighbors beforehand.
At the same time, Iran's Foreign Minister Hossein Amir-Abdollahian, among other Iranian officials, warned that Tehran does not tolerate the Israeli regime's movements near its borders.
Source: Fars News Agency
Please click the following URL to read the full text of the original story:
https://www.farsnews.ir/en/news/14000802000068/Iran's-Tp-Secriy-Official-Blass-Erdgan-fr-Exaggerain-f-Israel%E2%80%99s-%E2%80%9CFake%E2%80%9D
--------
Israel to build 1,300 new settler homes in West Bank
24 October ,2021
Israel plans to build more residences for Jewish settlers in the occupied West Bank, a government ministry said on Sunday, adding to those announced in August by the new ruling coalition.
"Tenders for 1,355 homes in Judea and Samaria have been published," a construction ministry statement said, referencing the biblical names used widely in Israel for the West Bank.
The new accommodation adds to the more than 2,000 residences which defense sources said in August would be authorised for settlers in the West Bank.
Final approval is expected from the defense ministry this week for those homes.
About 475,000 Israeli Jews live in settlements in the West Bank, which are considered illegal under international law, on land Palestinians claim as part of their future state.
Israel has occupied the West Bank since the Six-Day War of 1967 and exercises full administrative control across much of the territory, where more than two million Palestinians live.
Prime Minister Naftali Bennett, the former head of a settler lobby group, opposes Palestinian statehood and has ruled out formal peace talks with the Palestinian Authority during his tenure, saying he prefers to focus on economic improvements.
The tenders come after Israel last week gave approval for 4,000 Palestinians to register as residents of the West Bank, the first such move in the Israeli-occupied territory in 12 years.
The new Jewish homes are to be built in seven settlements, according to the ministry statement.
Israeli colonization of the West Bank and annexed East Jerusalem has continued under every Israeli government since 1967.
Source: Al Arabiya
Please click the following URL to read the full text of the original story:
https://english.alarabiya.net/News/middle-east/2021/10/24/Israel-to-build-1-300-new-settler-homes-in-West-Bank-
--------
Israeli minister says reopening of US Palestinian mission in Jerusalem may not happen
24 October ,2021
Israel's deputy foreign minister said on Sunday that the Biden administration may shelve its plan to reopen a US diplomatic mission for Palestinians in Jerusalem after Israel voiced opposition to such a move.
The Jerusalem consulate was subsumed into the US Embassy that was moved to the contested city from Tel Aviv in 2018 by the administration of former President Donald Trump -- a reversal of US policy hailed by Israel and condemned by Palestinians.
US Secretary of State Antony Blinken this month reiterated Washington's plan to reopen the consulate as part of efforts to repair Palestinian ties. He did not give timelines.
"I believe that I have good reason to think this will not happen," Deputy Foreign Minister Idan Roll told Israel's Ynet TV.
"The Americans understand the political complexity," Roll said. "We have very good relations ... We don't believe in surprising them. I don't think they will try to surprise us."
US Embassy spokespeople could not immediately be reached for comment
Israel deems all Jerusalem its undivided capital and says it would not consent to reopening the consulate. The Palestinians want the city's east for their own future, hoped-for state.
Source: Al Arabiya
Please click the following URL to read the full text of the original story:
https://english.alarabiya.net/News/middle-east/2021/10/24/Israeli-minister-says-reopening-of-US-Palestinian-mission-in-Jerusalem-may-not-happen
--------
Iran's Khamenei pardons, commutes sentences for 3,450 prisoners
23 October ,2021
Iran's Supreme Leader Ali Khamenei has granted pardons or commuted the sentences of more than 3,450 prisoners, his website reported Saturday.
Khamenei "has approved... pardons and sentence reductions for 3,458 people convicted" by various Iranian courts, a statement said.
The measure, at the suggestion of the head of the judiciary, coincides with the anniversary of the Prophet Mohammed's birth, and that of Imam Sadegh, one of the most holy figures in Shia history.
Iran marks the birth of both on Sunday.
Source: Al Arabiya
Please click the following URL to read the full text of the original story:
https://english.alarabiya.net/News/middle-east/2021/10/23/Iran-s-Khamenei-pardons-commutes-sentences-for-3-450-prisoners
--------
Dozens of Yemenis feared dead in botched Houthi missile launch
October 25, 2021
AL-MUKALLA: Dozens of civilians were reportedly killed or wounded in Yemen's northern province of Dhamar on Saturday when a ballistic missile fired by the Iran-backed Houthis failed to reach its target and ripped through a residential area, residents and local media said.
Launched by the Houthis from a military base under their control in Dhamar city, the missile landed in a densely populated area close to the base, triggering a huge explosion that rocked the city.
The Houthis quickly sealed off the streets and banned people from entering or leaving the area.
Al-Sharae newspaper reported that the missile "destroyed many houses" in the Al-Najeda neighborhood as ambulances with blaring sirens were seen rushing to the area.
Images seen on social media showed a large fireball and smoke billowing from the site.
The Houthis have intensified drone and missile strikes on the central city of Marib as their ground forces have aggressively pushed to seize control of the strategic city since February.
During the last several days, Arab coalition jets targeted military sites in Houthi-held Hodeidah and Sanaa, where ballistic missiles, explosive drones and bomb boats are manufactured and stored.
In the southern city of Aden, the interim capital, Yemeni Prime Minister Maeen Abdul Malik Saeed on Saturday urged factions to forge unified ranks for war against the Houthis and to end the Iranian regime's strategy in the country.
During a virtual meeting with representatives of political parties included in the government, the prime minister warned that the Houthis are "seeking to seize control of Yemen and would target all opponents who challenged their rule," urging Yemenis to "come together" to defeat the Houthis.
"The Houthi danger and the Iranian project in Yemen will not exclude anyone, and no party is immune. If we don't fight it together today, no party will find the time and ground to fight this Iranian-led criminal project in the region," Saeed said, according to the official news agency.
Yemeni political analysts and officials argue that ongoing infighting among the anti-Houthi camp has weakened it politically and militarily, and enabled the militia to expand across Yemen.
Najeeb Ghallab, undersecretary at Yemen's information ministry and a political analyst, urged Yemeni parties to "positively respond" to the prime minister's call, adding that unifying splintered groups and factions would lead to defeat of the Houthis and push them into accepting peace initiatives.
Source: Arab News
Please click the following URL to read the full text of the original story:
https://www.arabnews.com/node/1954446/middle-east
--------
Houthi's boat attacks pose threat to global trade lines at Red Sea
October 25, 2021
DUBAI: The Houthi militia's planned attacks using explosive-rigged boats in the Red Sea pose a threat to global maritime trade lines in the area, Yemen's information, culture and tourism minister Moammar Al-Eryani warned.
The Arab coalition earlier said it destroyed four Houthi boats loaded with explosives during an airstrike in Yemen's western province of Hodeidah.
The vessels were being prepared to attack ships sailing through the Red Sea.
"The coalition efforts have contributed to protecting shipping lanes and international trade in the Bab Al-Mandab Strait and south of (the) Red Sea," the coalition said in a statement.
Al-Eryani also called on the international community as well as the UN and US envoys to Yemen to condemn the Houthis' terroristic actions, which were aimed to destabilize regional and international security and maritime navigation.
Meanwhile, the KSrelief Center's Demining Project in Yemen (MASAM) has defused 1,500 landmines and unexploded ordnances in the past week.
Source: Arab News
Please click the following URL to read the full text of the original story:
https://www.arabnews.com/node/1954616/middle-east
--------
Africa
Pope pleads not to send migrants back to Libya and 'inhumane' camps
24 October ,2021
Pope Francis on Sunday made an impassioned plea to end the practice of returning migrants rescued at sea to Libya and other unsafe countries where they suffer "inhumane violence," and he called on the international community to find concrete ways to manage migratory flows in the Mediterranean Sea.
"I express my closeness to the thousands of migrants, refugees and others in need of protection in Libya,'' Francis said in remarks to the public in St. Peter's Square. "I never forget you, I hear your cry and I pray for you."
"So many of these men, women and children are subject to inhumane violence,'' he added. "Yet again again I ask the international community to keep the promises to search for common solutions that are concrete and lasting to manage the migratory flows in Libya and all the Mediterranean."
"How they suffer, those who are sent back" after rescue at sea, the pope said. Detention facilities in Libya, he said "are true concentration camps."
"We need to stop sending back (migrants) to unsafe countries and to give priority to the saving of human lives at sea with regular protocols of rescue and disembarking, to guarantee them dignified conditions of life, alternatives to detention, regular paths of migration and access to asylum procedures," Francis said.
Source: Al Arabiya
Please click the following URL to read the full text of the original story:
https://english.alarabiya.net/News/world/2021/10/24/Pope-pleads-not-to-send-migrants-back-to-Libya-and-inhumane-camps
--------
Sudanese military arrests prime minister, members of gov't
Mohammed Amin
25.10.2021
KHARTOUM, Sudan
Sudan's military arrested the country's prime minister and members of the civilian government, officials in the capital Khartoum announced early Monday.
The Ministry of Culture and Information's official account said a military force arrested Prime Minister Abdalla Hamdok after he refused to support what it described as a "coup".
Sudanese officials, who declined to be named, confirmed earlier that military forces surrounded Hamdok's residence and placed him under house arrest.
While there was no comment from the Sudanese army on the development, the ministry said Hamdok was taken to an unknown location.
According to local media outlets, Industry Minister Ibrahim al-Sheikh and Information Minister Hamza Balloul are among the arrested ministers.
The Sudanese Professionals Association (SPA) has called for protests against what it described as a "military coup against the civilian government."
The Sudanese foreign minister, for her part, rejected the military takeover of the government and vowed to resist "the coup with all civilian means."
In televised remarks, Mariam al-Sadiq al-Mahdi described Hamdok's detention as "dangerous" and "unacceptable."
She noted that there were no contacts between government ministers given "the communication cuts and the closure of bridges."
Political parties in the North African nation, including Arab Socialist Ba'ath Party and Sudanese Communist Party, called for civil disobedience in protest of the "coup."
In a press release, they urged people to resist attempts by the army to seize power.
Eyewitnesses said there were protests in some neighborhoods of Khartoum against the "coup."
According to an Anadolu Agency reporter on the ground, electricity and internet have been cut across large areas of Khartoum.
After a failed military coup last month, deep tensions between the military and civilian administration erupted in Sudan.
On Friday, thousands of pro-military supporters organized a protest against Hamdok's transitional government in Khartoum, further escalating political tensions between the civilian administration and the army.
The protest came a day after thousands of pro-civilian government supporters held protests across the country, while pro-military protestors had been holding a sit-in outside the presidential palace for the last seven days.
Source: Anadolu Agency
Please click the following URL to read the full text of the original story:
https://www.aa.com.tr/en/africa/sudanese-military-arrests-prime-minister-members-of-govt/2401646
--------
Children among 25 killed in blast at illegal oil refinery in Nigeria
Adam Abu-bashal
24.10.2021
ABUJA, Nigeria
At least 25 people, including children, were killed in an explosion at an illegal oil refinery in southern Nigeria on Sunday.
Dozens of houses near the refinery in the Rumuekpe area of Rivers State were also destroyed, according to an official.
Several more people were injured and moved to a nearby hospital.
The official, who requested anonymity, said the area has several such illegal oil refineries that pose a threat to people's lives, calling for immediate government action on the issue.
Source: Anadolu Agency
Please click the following URL to read the full text of the original story:
https://www.aa.com.tr/en/africa/children-among-25-killed-in-blast-at-illegal-oil-refinery-in-nigeria/2401441
--------
Nigerian military carries out air operation against Boko Haram
Adam Abu-bashal
25.10.2021
ABUJA, Nigeria
The Nigerian military carried out an air operation against the Boko Haram terrorist group in the northeastern part of the country, an official said Sunday.
A camp of the terrorist organization was destroyed and many terrorists were killed in the operation in the Lake Chad Basin, Nigerian Air Force spokesman Air Commodore Edward Gabkwet said in a statement.
Boko Haram poses a serious security problem in Nigeria, Africa's most populous country.
More than 20,000 people have been killed in acts of violence organized by the terrorist group since 2009.
Since 2015, the organization has also carried out attacks in neighboring Cameroon, Chad and Niger.
Source: Anadolu Agency
Please click the following URL to read the full text of the original story:
https://www.aa.com.tr/en/africa/nigerian-military-carries-out-air-operation-against-boko-haram/2401671
--------
Blast in Uganda's capital 'domestic terror' act: Police
Godfrey Olukya
25.10.2021
KAMPALA, Uganda
Authorities in Uganda said Sunday that a fatal blast overnight at a roadside eatery on the outskirts of the capital was an act of domestic terrorism.
The incident came a few days after the UK warned that an act of terror would take place in Uganda soon.
''Following the explosion in [the] Komamboga [suburb] in Kampala district, joint security task teams of experts from counterterrorism, intelligence and investigations have confirmed that the incident was an intentional act of domestic terror," said a press statement issued by police Sunday evening.
It said a joint team of bomb experts has established that the explosion was caused by a crude device assembled using nails and metallic fragments.
It said that facts gathered clearly indicate that three men disguised as customers arrived at the restaurant around 8.30 p.m. One of them was carrying a polythene bag containing unknown items that he placed under a table. The suspects reportedly appeared friendly as they interacted with other customers. They later disappeared, leaving behind their package, from which an explosion took place.
"I have been briefed on the bomb incident in Kwata zone, Komamboga. The Information I have is that 3 people came and left a package in kaveera [plastic bag] which later on exploded, killing 1 person and injuring 5 others," President Yoweri Museveni said on Twitter.
Source: Anadolu Agency
Please click the following URL to read the full text of the original story:
https://www.aa.com.tr/en/africa/blast-in-uganda-s-capital-domestic-terror-act-police/2401642
--------
2023: Yoruba Muslims will not vote for Christian presidential candidates – MURIC
October 25, 2021
By Wale Odunsi
The Muslim Rights Concern (MURIC) has reaffirmed its preference for a presidential candidate from the Yoruba Muslim stock.
The group warned that any party that picks a Yoruba Christian as its 2023 candidate should forget Muslim votes.
"No political party should tell us that they cannot find competent Yoruba Muslims", Professor Ishaq Akintola said on Monday.
A statement by the Director said no Yoruba Muslim ever occupied the State House either as president or vice president since 1960.
MURIC advised presidential aspirants and parties mapping out strategies for the next general elections to heed its call.
Akintola condemned the "stigmatisation galore" for Yoruba Muslims in Nigeria since independence.
The organization claimed they are denied almost all civil liberties, including admission into schools.
Akintola alleged many cannot get international passports, driving licences and voter registration cards because they are asked to remove their hijab for capturing.
He said schools humiliate hijab-wearing female Muslim students while the courts in the South-West are littered with litigations "on this ignoble stereotyping".
Source: Daily Post
Please click the following URL to read the full text of the original story:
https://dailypost.ng/2021/10/25/2023-yoruba-muslims-will-not-vote-for-christian-presidential-candidates-muric/
--------
At least 12 killed in clashes in central Somalia
23 October ,2021
At least 12 people were killed on Saturday in central Somalia as pro-government forces recaptured a strategic town from Sufi militants seeking greater regional control, security officials and witnesses said.
Fighters loyal to Ahlu Sunna Wal Jamaa (ASWJ) were driven out of Guricel by national forces and paramilitaries in Galmudug, a region that has long faced an armed struggle by the Sufi militia.
"We have so far confirmed that 12 people, four of them civilians, were killed during heavy fighting in Guricel this morning," Mohamed Bile, a military commander in Galmudug, told AFP by phone.
"That toll could rise, but the situation is now calm and government forces are in control of most neighborhoods."
ASWJ fighters occupied Guricel earlier this month, taking control of Galmudug's second-largest town after a brief skirmish with local forces.
The Sufi group has controlled many of the major cities in Galmudug over the past decade, and efforts to broker a military and political settlement to their feud with regional authorities have not succeeded.
Galmudug information minister Ahmed Shire blamed ASWJ for provoking the latest clashes.
"Government forces kept their positions for a month, and called on the invading parties to vacate the town peacefully, to avoid armed confrontation and inflicting civilian casualties," he told reporters.
"Unfortunately, they... attacked military bases belonging to government forces, who fiercely repelled their advance. The government has taken back control of their positions, and driven the remnants of the militia into the bush."
Witnesses reported seeing casualties on both sides.
"There is still sporadic gunfire in pockets of town, but I can see military vehicles belonging to the national government in the streets," said Abdirahman Ali, a local resident.
The Sufi group's recent military advances in Galmudug coincide with upper house elections in the region, which is the last of Somalia's five federal member states to complete the long-overdue process.
Elections in Somalia follow a complex indirect model, whereby state legislatures and clan delegates pick lawmakers for the upper and lower houses of parliament, who in turn choose the president.
Source: Al Arabiya
Please click the following URL to read the full text of the original story:
https://english.alarabiya.net/News/africa/2021/10/23/At-least-12-killed-in-clashes-in-central-Somalia
--------
URL: https://www.newageislam.com/islamic-world-news/muslim-cleric-friday-namz-jai-shri-ram-gurgaon/d/125641
New Age Islam, Islam Online, Islamic Website, African Muslim News, Arab World News, South Asia News, Indian Muslim News, World Muslim News, Women in Islam, Islamic Feminism, Arab Women, Women In Arab, Islamophobia in America, Muslim Women in West, Islam Women and Feminism