New Age Islam News Bureau
2 Nov 2019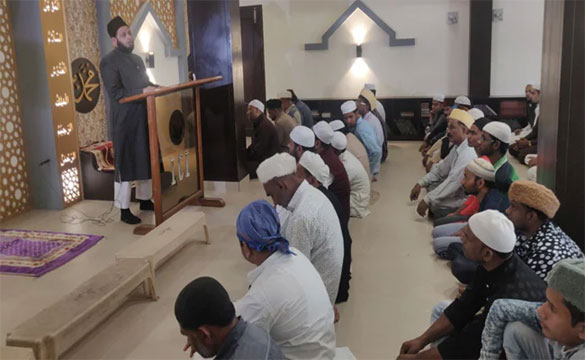 Muslim Clerics Appeal For Peace After Ayodhya Verdict
-------
• 'Ganga-Jamuni Tehzeeb': Hindu-Muslim Calls For Peace Before Ayodhya Order
• Lack of Islamic Literacy A Hurdle in Giving Zakat to Non-Muslims, Says Ebrahim Moosa of Notre Dame University
• Pakistani Islamists Converge On Islamabad, Urge PM To Resign
• Supporters Begin Flocking to New Islamic State Leader
• Al-Baghdadi's Death Won't Staunch Terrorist Moves in Africa
• Pakistan Failed To "Limit" Funding, Recruitment, Training by Lashkar-e-Taiba, Jaish-e-Mohammed: US Report
• Right-Wing Commentator Slated Over Anti-Muslim Comments
• Iranian Generals in Iraq, Hezbollah Thugs in Lebanon: Tehran Demonstrates How to Snuff Out Dissent
India
• Muslim Clergy Roped In To Refute and Counter ISIS Online Propaganda; PMO Directs IB, NIA and All the Police Chiefs across the Country
• 'Ganga-Jamuni Tehzeeb': Hindu-Muslim Calls For Peace Before Ayodhya Order
• Ahead of Ayodhya verdict, All India Muslim Personal Law Board asks Muslims to repose faith in Constitution
• Muslim dressed as Hanuman booked for impersonation in Bareilly
• 2 Pakistanis among 6 convicted for '08 CRPF camp attack
• India works to get Capitol Hill's support on Kashmir
• Terrorists hurl petrol bomb at school in Shopian
• Govt has no dealings with Israel firm behind WhatsApp snoopgate, says official: Report
• Mufti's daughter Iltija reacts to PM's meeting with mother
• Kalbe Sadiq appeals to Muslims to gift disputed land to Hindus
--------
Southeast Asia
• Lack of Islamic Literacy A Hurdle in Giving Zakat to Non-Muslims, Says Ebrahim Moosa of Notre Dame University
• Indonesia's halal tourism bid faces pushback from non-Muslims
• New National Police Chief Warned of Daunting Tasks Ahead
--------
Pakistan
• Pakistani Islamists Converge On Islamabad, Urge PM To Resign
• London court extends Altaf Hussain's bail in 2016 hate speech case
• Fazlur Rehman gives two-day deadline to Imran Khan to quit
• PM Imran says will give protesters food supplies but not NRO
• Qalab-e-Hassan of Asma Jahangir group wins SCBA polls
• Attachment of Musharraf's assets ordered in Benazir murder case
• China supports Pakistan's efforts to curb terror-financing
• Pakistan honoured its commitment, ICJ tells UN
• No force can stop Kashmiris from attaining freedom, says PM Imran
• Hundreds of Pakistanis freed from Saudi Arabia jails
--------
Arab World
• Supporters Begin Flocking to New Islamic State Leader
• Popular anger in the Arab world is creating an opening for ISIS — again
• Iraq's top Shia cleric urges end of bloodshed, warns of civil war
• Iraqis throng streets in biggest protest since Saddam's fall
• US envoy: Iran has spent $16 billion on militias in Iraq, Syria
• Baghdad to Prosecute Iraqis who Committed Terror Crimes in Iraq
• Lebanon: Eyes on Hezbollah, allies after Hariri resignation
• Hezbollah leader calls for dialogue between political parties and protesters
• Hunger striking Bahraini anti-regime activist thrown into solitary
• Lebanese banks open to customers again as life returns to normalcy
• Assad: Liberating northern Syria from Kurds 'ultimate goal'
--------
Africa
• Al-Baghdadi's Death Won't Staunch Terrorist Moves in Africa
• Nigeria lifts ban on groups it accused of feeding Boko Haram terrorists
• Nigeria Asks U.S. to Help Fund Infrastructure, Terror Fight
• Algerians protest election plan, mark independence war
• Attack on Mali military post kills 35 soldiers
• Algerian protest movement calls for 'new revolution' on anniversary
• Despite other rich resources, South Sudan's oil may fuel war
• Somalia's biggest telco in 'forced' alliance with Shabaab, study says
• Somali army kills 7 al-Shabab militants in southern regions
--------
North America
• Pakistan Failed To "Limit" Funding, Recruitment, Training by Lashkar-e-Taiba, Jaish-e-Mohammed: US Report
• No Peace Unless Taliban Fighters Reintegrated In Afghan Society, Warns US Report
• US Says Iran Remains 'World's Worst State Sponsor Of Terrorism'
• US Knows New ISIS Leader, Says Trump
• FBI Scrutinizes Over 2,000 Cases Tied to Foreign Terrorist Organizations
• U.S. Troop Withdrawal Creates Opening for Revitalized Syrian Regime
• Trump Invites 'Hero' Dog from Al-Baghdadi Raid To White House, Declassifies Name As 'Conan'
• Armenian Assembly: Omar's Refusal to Acknowledge Armenian Genocide Doesn't Represent 'Muslim Values'
• US treasury secretary to hold talks in India as pressure builds on Iran
• Turkey 'active member' in anti-Daesh/ISIS effort: US
--------
Europe
• Right-Wing Commentator Slated Over Anti-Muslim Comments
• Bayonne Mosque Attack Was Terrorism, Says Survivors' Lawyer
• Court orders Belgium to take back ISIS militant's wife and children from Syria
• Muslims condemn Rod Liddle's 'blatantly racist and Islamophobic remarks'
• German Muslims feel unsafe amid mounting Islamophobia
• Italy bans flights by Iran's Mahan Air after US pressure
--------
Mideast
• Iranian Generals in Iraq, Hezbollah Thugs in Lebanon: Tehran Demonstrates How to Snuff Out Dissent
• U.S. imposes new Iran sanctions, but waives others
• Iran and Hezbollah financers listed by Gulf anti-terrorism coalition
• Tighter US sanctions are weakening Iran's grip on Yemen, Lebanon and Iraq: Hook
• Iran first VP warns of Daesh relocation to Afghanistan
• Demolished Palestinian home becomes conflict symbol
• Israeli retaliatory airstrikes kill Palestinian, wounds 2
--------
South Asia
• Airstrike Kills 13 Taliban Militants In Provincial Capital Of Baghlan
• 11 militants killed, several villages liberated during cleanup operation in S. Afghanistan
• Bangladesh: Fake news on Facebook fuels communal violence
• Special Forces kill, detain 4 Taliban militants; destroy weapons cache in Herat
Compiled by New Age Islam News Bureau
URL: https://www.newageislam.com/islamic-world-news/muslim-clergy-roped-refute-counter/d/120160
--------
Muslim Clergy Roped In To Refute and Counter ISIS Online Propaganda; PMO Directs IB, NIA and All the Police Chiefs across the Country
01 NOVEMBER 2019
New Delhi, Nov 1 (IANS) To counter terror organisation ISIS''s literature of jihad and crimes against humanity, India has started creating an internet-based "non-official channel of religious leaders" to stop Muslim youths from falling into their trap, sources said on Friday.
The Muslim clergy will be trained to create YouTube channels, podcast, accounts on social media and websites to counter ISIS narrative. Further, the clergy has been directed to highlight the atrocities carried on women and children by ISIS chief Abu Bakr al-Baghdadi.
Al-Baghdadi, who was the highest-ranking terrorist leader since al-Qaeda leader Osama bin Laden, was killed on October 27 in a US Special Forces raid at a sleepy village of Barisha, in Idlib province of northwestern Syria.
The Centre has stated that ISIS has exploited the internet in a very organized way for its every terror-related activity such as radicalisation, training, recruitment, planning and execution. "This needs to be countered in a similar way," said a senior IPS officer posted with Ministry of Home Affairs (MHA), adding that merely arresting the Muslim youths is not going to solve the imminent threat.
He said the Prime Minister Office (PMO) has directed Intelligence Bureau, National Investigation Agency and all the police chiefs across the country to expedite the process of setting up of non-official channel of religious leaders.
Intelligence and law enforcement agencies have found that the arrested ISIS members and sympathizer were radicalized online. They also stated that it was common in all the modules busted in Hyderabad, Kerala, Tamil Nadu, Uttar Pradesh or Delhi so far that the leader of the local outfit was in contact with a "foreign handler" who was channelizing the module through "online preaching".
"That needs to be countered," the officer said.
The PMO directives also stated: "Mainstream forces from the Muslim community should be utilized in countering any instance of radicalistion in any corner of the country."
It further stressed: "Creation of an internet-based non-official channel of religious leaders to provide right kind of advice and guidance to the Muslim youth who are misled by illogical information which they come across."
Sources said it is found that Zakir Naik, who fled India in the wake of Bangladesh''s Dhaka cafe blast of July 2016, has done a lot of damage by spreading hatred and funding terror. He is now in Malaysia, which has given him permanent residency.
Last month NIA chief Y.C. Modi had said that a total 127 ISIS sympathizers were arrested from across India in 28 cases since 2014 and they were radicalized online. "A majority of 127 arrested ISIS sympathizers were following speeches of controversial Islamic preacher Zakir Naik," NIA Inspector General Alok Mittal had stated.
The numbers are not so alarming, but Indian authorities are taking various initiatives to bring it down.
Directing the law enforcement agencies, the PMO has suggested publicising and highlighting the counter narrative. "The negligible participation of Indian Muslims in international terrorist theatres, despite a large number of Muslim population, needs to be adequately published to help nip radicalization in the bud," it stated.
https://www.outlookindia.com/newsscroll/now-muslim-clergy-roped-in-to-counter-isis-online-propaganda/1653326
--------
'Ganga-Jamuni Tehzeeb': Hindu-Muslim Calls For Peace Before Ayodhya Order
November 02, 2019
LUCKNOW: With days to go before the much-anticipated Supreme Court verdict in the Ayodhya temple-mosque dispute case, religious leaders and organisations from both Hindu and Muslim communities have made appeals for calm.
Top Muslim clerics across Uttar Pradesh on Friday led appeals for peace in mosques just before Friday prayers, asking people from the community to maintain communal harmony at all costs. In Lucknow, appeals were led by Khalid Rasheed Firangi Mahali, the Shahi Imam of Lucknow, president of the Islamic Centre of India and member of the All India Muslim Personal Law Board.
"Whatever the Supreme Court says, it has to be respected. There should be no celebration or any public opposition. Nothing should be said to hurt the sentiments of any other community. We have to maintain peace at all costs," Mr Rasheed told a crowd of about 500 people at Lucknow's Eidgah.
"The fabric of communal bonhomie and Ganga-Jamuni tehzeeb should not be allowed to be damaged," he said in a statement.
The appeal from the Muslim side comes a day after the ruling BJP's ideological mentor Rashtriya Swayamsevak Sangh or RSS tweeted from its official handle, "Whatever be the verdict, everyone should accept it with an open mind. After the judgment, it is everyone's responsibility that the atmosphere of the country should remain cordial."
The right-wing group Vishwa Hindu Parishad, that runs a workshop in Ayodhya where carved stone pillars that will be used in any future Ram Temple in Ayodhya are storied, has also announced the suspension of all its November programmes in anticipation of the Supreme Court verdict.
"It's very heartening to see that organisations of all communities are making appeals for peace. We are all trying our best to ensure communal harmony is maintained," Lucknow's Shahi Imam Mr Rasheed told NDTV.
Meanwhile, a top Uttar Pradesh police officer visited Ayodhya on Friday afternoon, to review security arrangements ahead of the verdict that is expected within the fortnight.
The UP Police say they are already holding meetings at the village-level in Ayodhya and elsewhere in the state with members of both communities and urging restraint. Sources in the police say a plan is already in place to put in a large number of forces - both state and paramilitary - in Ayodhya in the next few days.
"Even normally, all 365 days, there is a security alert here. In the next few days, we will send more forces here and train them better. I think we will be able to secure this place better and ensure there is not even a one per cent deviation," said P V Rama Sastry, Additional Director General, Law and Order, Uttar Pradesh Police, who carried out the inspection in Ayodhya.
https://www.ndtv.com/india-news/hindu-muslim-groups-appeal-for-calm-ahead-of-ayodhya-verdict-2125855
--------
Lack of Islamic Literacy A Hurdle in Giving Zakat to Non-Muslims, Says Ebrahim Moosa of Notre Dame University
Nicholas Chung
November 2, 2019
PETALING JAYA: A US-based professor of Islamic studies expects resistance from some Islamic scholars to the idea of extending zakat distributions to non-Muslim recipients.
Such scholars would need to improve their Islamic literacy, said Ebrahim Moosa of Notre Dame University in a comment on PKR president Anwar Ibrahim's proposal of the idea.
They could be unaware of opinions that poor non-Muslims could legitimately receive zakat, he said. "So it's a matter of developing advanced Islamic literacy among them."
He spoke of "changing norms" that some religious scholars had not been acclimatised to and said education was the key to addressing this.
But he told FMT the giving of zakat to non-Muslims was a practice going back to classical times.
Zakat is a religious obligation for Muslims who meet several criteria of wealth. A Muslim owning wealth above a minimum amount is obliged to pay an annual rate of 2.5%.
Anwar made his proposal recently when he called for reforms to Malaysia's zakat institutions.
He said Islam encouraged the distribution of zakat funds to non-Muslims in a multi-religious society although he spoke of the need to ensure that needy non-Muslims were not sidelined.
Moosa said he was in support of including non-Muslims as zakat recipients because it would help in improving the lives of the poor of all religions and promote unity across all faiths.
"Several fatwas have already confirmed the benefits of this move," he said. "All it requires is the proper political will and a sound moral sensibility."
He said the challenge was in ensuring that zakat funds were effectively distributed in a way which would stimulate "social improvement, human development and the advancement of human dignity".
Penang mufti Wan Salim Wan Mohd Noor agreed with Anwar's proposal, but he said the distribution to non-Muslims should come after the Muslim community had been taken care of.
"First, zakat is a type of worship in Islam," he said. "Second, it is collected only from the Muslims.
"For non-Muslims who need aid, the government can make use of other resources. If the zakat earnings exceed the needs of the Muslim community at the time, there should be no problem in distributing them to non-Muslims who require aid."
He also said the decision to include non-Muslims should be made by state religious authorities and rulers.
Perlis mufti Mohd Asri Zainul Abidin told FMT his office approved the giving of zakat to non-Muslims in his state with the release of a fatwa in March 2017.
A statement from his office said zakat could be given to non-Muslims who are harmonious in their attitude towards Islam and their perception of the religion.
Prophet Muhammad approved the distribution of zakat funds to heathens and tribal leaders, the statement added.
https://www.freemalaysiatoday.com/category/nation/2019/11/02/lack-of-islamic-literacy-a-hurdle-in-giving-zakat-to-non-muslims-says-don/
--------
Pakistani Islamists Converge On Islamabad, Urge PM To Resign
November 01, 2019
Hundreds of thousands of opposition supporters have gathered in Pakistan's capital, Islamabad, calling for Prime Minister Imran Khan's resignation over economic hardships.
"I'm giving a two-day deadline for the resignation," Maulana Fazlur Rehman, the leader of the Islamist Jamiat Ulema-e-Islam party, told the rally on November 1.
"Don't test our patience," Rehman said, without saying what would happen after the expiration of the two-day deadline.
In a veiled reference to Pakistan's army, he called on the country's "establishment" not to support Khan's government.
Rehman was joined by leaders of Pakistan's main political parties in anti-government speeches, as Khan remained defiant, accusing his opponents of using religion against his government.
"They have disjointed thoughts and don't have any agenda," he told a rally in northern Pakistan.
The opposition claim the prime minister is incompetent and his government was illegitimately installed by Pakistan's military after a rigged general election in 2018. The army denies meddling in politics.
Rehman brought his supporters on a five-day journey, dubbed the Azadi (Freedom) March -- to Islamabad from the southern city of Karachi.
Demonstrators traveled on buses, bikes, and in private cars to gather in the capital by late evening on October 31 for the anti-government protest.
Authorities have deployed police and paramilitary forces and placed shipping containers on key roads in the capital to prevent the massive march from reaching the Red Zone, where government offices, parliament, and foreign embassies are located.
Mobile phone and Internet signals have been reportedly blocked within a 3-kilometer radius around the area where the rally is taking place.
Highways leading into Islamabad that are usually clogged by traffic were deserted on the morning of November 1.
All schools were closed in the capital and in the nearby city of Rawalpindi on November 1.
Before the start of the march, the ruling party and opposition parties reached an agreement to allow the anti-government march as long as they protesters do not cross the Red Zone.
Khan came to power last year promising to end corruption, help middle-class families, and get the country's faltering economy on track.
But his government was forced to turn to the International Monetary Fund for a $6 billion bailout in July.
The military has ruled Pakistan for almost half of its existence since the country's independence from Britain in 1947.
No Pakistani prime minister has completed a full term in office in 70 years.
https://www.rferl.org/a/pakistani-islamists-converge-on-islamabad-urge-pm-to-resign/30247613.html
--------
Supporters Begin Flocking to New Islamic State Leader
By Jeff Seldin
October 31, 2019
WASHINGTON - Some Islamic State supporters are starting to rally around the terror group's new leader, using social media to pledge their allegiance to a man whose true identity may not be known for some time.
IS announced the selection of Abu Ibrahim al-Hashimi al-Qurashi as its new leader Thursday in an audio message issued by its Amaq news agency and read by the group's new spokesman.
"He is a flag of the flags of jihad, and a scholar of its scholars, and an emir of the emirs of war," the voice said, according to a translation by SITE Intelligence, which monitors jihadist communications.
Qurashi "has attacked the protector of the Cross America, and made it taste bad," the voice added.
The announcement, which also confirmed the deaths of IS's self-declared caliph, Abu Bakr al-Baghdadi, and his spokesman, Abu Hassan al-Muhajir, caused what some analysts described as a ripple of excitement on social media and online messaging boards frequented by IS supporters.
"We give bay'ah [allegiance] to Amir al-Muminin, the Khalifah of the Muslims, Abu Ibrahim al-Hashimi al-Qurashi, pledging to listen and obey," read one message being posted by IS-affiliated channels.
New leader chosen
Word that IS had chosen a new leader came less than 24 hours after U.S. military officials released the first video of the special forces raid this past Saturday that killed al-Baghdadi as he sought refuge in a compound in Syria's Idlib province, just a few kilometers from the Turkish border.
"I can tell you this. He crawled into a hole with two small children and blew himself up," U.S. General Kenneth McKenzie, who oversaw the operation, told reporters of Baghdadi's last moments.
Until now, IS officials had said nothing about the raid that killed five other IS members, or about a follow-on operation in the Syrian town of Jarablus that killed Baghdadi's spokesman.
But in Thursday's announcement, new IS spokesman Abu Hamza al-Qurashi cautioned the U.S. against rejoicing.
"You have become the joke of the nations," he said. "Your fate [is] controlled by a stupid old man who goes to sleep with one opinion and wakes up with another. Do not be too happy or arrogant. Do you not realize, O America, that the Islamic State today stands at the threshold of Europe and Central Africa? It is expanding and remaining."
The insults and threats came as little surprise to U.S. military and intelligence officials, who said they expected IS to seek revenge. Nor did they minimize the terror group's potential to wreak havoc in the Middle East and beyond.
"This is a bureaucracy that's pretty good at doing succession-planning," U.S. National Counterterrorism Center acting director Russell Travers told lawmakers in Washington on Wednesday, noting the terror group still commanded at least 14,000 fighters as part of a potent insurgency across Syria and Iraq.
For U.S. intelligence and security officials, a key question now becomes how effective Qurashi will be when it comes to making good on the latest threats, and in keeping IS affiliates and followers from splintering or being poached by rival terror groups like al-Qaida.
Answering it will be difficult.
Who is Abu Ibrahim al-Hashimi al-Qurashi?
Other than his kunya, or nom de guerre, and references in Thursday's announcement to his religious and military credentials, little is known for certain about Qurashi.
Some officials and analysts have speculated that he may be Hajji Abdallah, one of IS's most senior ideologues.
Also known by other aliases, including Amir Muhammad Said Abdal-Rahman al-Mawla, he is a religious scholar who rose through the group's ranks and is thought to have been one of the architects of the slaughter and abduction of the Yazidi religious minority.
Another name that has come up is Abdullah Qardesh, said to be a former Iraqi military officer who spent time with Baghdadi at Camp Bucca, the U.S.-run prison in Iraq that housed jihadists following the Iraq War. Scholars disagree over whether Qardesh is a separate person or just another alias for Abdallah.
"We might never have 100% confirmation, in the near term, at least," said Aaron Zelin, a fellow at the Washington Institute for Near East Policy. "There was not actual 100% confirmation of who Abu Bakr al-Baghdadi was until he actually went up the stairs of the minbar [preaching platform] in Mosul in 2014. For the first four years of his rule, he [Baghdadi] never showed his face."
That ability to remain so secretive most likely helped play to Baghdadi's advantage, allowing him to lead IS for nearly a decade, despite being the target of an ongoing manhunt by U.S. and allied forces.
For that reason, analysts argue, it is unlikely Qurashi will be any more of a public figure than his predecessor.
Challenges ahead
In the meantime, some analysts see Thursday's announcement as a sign that IS will not be crippled by Baghdadi's death.
"Despite its leadership decapitation, by announcing this new leader was chosen by a Shura council, it's showing that bureaucracy is still in place," said Devorah Margolin, a senior research fellow with the Program on Extremism at George Washington University. "It's not about the person. It's about the group."
Still, there will be challenges for Qurashi as he begins to lead.
"Establish a proto-state, military success and victories on the battlefield," said Colin Clarke, a senior research fellow at the Soufan Center. "ISIS doesn't have any of that working in its favor right now."
But until this past Saturday, it did have Baghdadi.
"He was a big part of the brand," Clarke said. "There's this cult of personality that served to really motivate individuals and inspire recruits to travel to come join the caliphate."
https://www.voanews.com/middle-east/supporters-begin-flocking-new-islamic-state-leader
--------
Al-Baghdadi's Death Won't Staunch Terrorist Moves in Africa
By Glen Carey
November 1, 2019
Islamic State leader Abu Bakr Al-Baghdadi is dead, but the militant's followers are still regrouping and spreading their ideology across remote patches of Africa.
In the Sahel region, the arid band on the southern fringe of the Sahara Desert that stretches through some of Africa's poorest and least-governed countries, Islamic State followers are launching attacks against government forces. U.S. officials point to the Sahel as one of the biggest concerns in their counterterrorism campaign.
"Terrorist threats in the Sahel are very real -- as seen in the sharp increase in the number of attacks in Mali, Niger and Burkina Faso," Nathan Sales, the State Department's coordinator for counterterrorism, said in response to e-mailed questions. "The security of countries across the region is closely linked, and terrorists aspire to create territorial safe havens from which to plan attacks."
The threat from Islamic State persists even as President Donald Trump boasts of the defeat of the terrorist group's "caliphate," which once stretched across a swath of Syria and Iraq. Pentagon officials said Wednesday that the organization will remain a threat wherever local forces are unable to control it. "We don't see a bloodless future," General Kenneth McKenzie, the head of U.S. Central Command, told reporters.
Sales met with Senegalese officials on Wednesday in Dakar, where he reaffirmed the "strong U.S. commitment" to supporting that nation's counterterrorism efforts, according to the State Department. His agenda included talks about terrorism in the Sahel as well as U.S. counterterrorism support for the coastal region of West Africa, the State Department said.
Earlier: Niger Urges More U.S. Involvement in War on Jihadists
As the U.S. maintained pressure on Islamic State in Syria and Iraq, militants fled across the Mediterranean to Libya. A breakdown in security in the country once ruled by Moammar Qaddafi has allowed both extremists and run-of-the-mill criminals to smuggle people, weapons and ideology. They traverse a string of oases and routes in the region that were once used by the Roman empire to move goods, animals and slaves for gladiator games in Rome.
Libya is the target of increasing U.S. military strikes. An American attack killed seven suspected Islamic State members on Sept. 29, the fourth that month, according to a tally of casualties from statements released by the U.S. military's Africa Command. The death of al-Baghdadi, following a strike late Saturday by U.S. forces in northern Syria, may have little impact on Islamic State's ability to expand its reach.
'New Caliph'
Al-Baghdadi was the highest-ranking terrorist leader targeted by U.S. forces since al-Daedalus leader Osama bin Laden was killed in 2011 in a raid in Pakistan during the Obama administration. Trump said on Monday that U.S. troops later killed the "No. 1" replacement for al-Baghdadi, a spokesman for the terrorist group. Islamic State said Thursday that it has named a "new caliph," identifying him as Abu Ibrahim al Hashimi al Qurashi.
While analysts said the successor's identify wasn't clear because he was given a new name to reflect his ascension, Trump said in a tweet on Friday that "we know exactly who he is!"
Much like bin Laden, who was viewed as a "symbol and source of ideological inspiration" before U.S. special forces killed him in Pakistan, al- Baghdadi may have been exercising little influence over the militant group before his death, according to Paul Pillar, a former U.S. Central Intelligence Agency officer.
"The impact of Baghdadi's death probably lessens the farther away one goes from Iraq and Syria," said Pillar, a non-resident senior fellow at Georgetown University in Washington. "In the Sahel and elsewhere in Africa, the role of ISIS is more one of an ideology being injected into conflicts that have local roots, rather than of a central headquarters asserting control and organizational discipline."
Western intelligence officials say that since late 2017 Islamic State has devolved more responsibility to local offshoots, which had previously been managed centrally. That's empowered affiliates outside the Middle East, particularly in weakened states in north and central Africa.
As a result, the Sahel region is experiencing unprecedented levels of violence.
Mali has been engulfed in conflict since a loose alliance of ethnic Tuareg separatists and Islamist fighters with ties to Algeria and Libya seized large swaths of the north in 2012. A 15,000-strong United Nations peacekeeping mission is struggling to cope and is often treated with hostility by the population.
Earlier: Worst Jihadist Attack in Years Stokes Anger Over Mali's Response
The violence is also spreading farther south and west.
The U.S. is "increasingly concerned about the spread of terrorism into coastal West Africa, as evidenced in the kidnapping earlier this year of French tourists in Benin and the killing of their Beninese guide," Sales said.
To counter the threat in Africa, the U.S. is working with local partners to improve policing. The U.S. State Department's Anti-Terrorism Assistance program is training, equipping and mentoring foreign law enforcement agencies to deter and disrupt terrorists. The global reach of the program has provided training to more than 150,000 law enforcement officials and first responders from 154 countries, according to the State Department.
"We also support targeted community policing programs to build trust between security forces and the populations they protect," Sales said. "This trust is vital to thwarting terrorists' efforts to exploit local tensions to weaken communities and radicalize individuals."
Ultimately, al-Baghdadi's death will have little impact on Islamic State's capacity to expand its global brand without a greater effort to confront the ideology spawned by religious extremism, according to Sheikh Mohammed al-Issa, the secretary general of the Mecca-based Muslim World League.
"We are all grateful to the American efforts but it is way too early to announce and state that we defeated ISIS," al-Issa said on Thursday at an interfaith event in Washington. "ISIS is wounded now, but it is not the end of them. We have to beat them ideologically."
https://www.bloomberg.com/news/articles/2019-11-01/al-baghdadi-s-death-won-t-staunch-terrorist-expansion-in-africa?utm_source=google&utm_medium=bd&cmpId=google
--------
Pakistan Failed To "Limit" Funding, Recruitment, Training By Lashkar-e-Taiba, Jaish-e-Mohammed: US Report
November 02, 2019
WASHINGTON: Pakistan has failed to "significantly limit" major terror outfits like Lashkar-e-Taiba (LeT) and Jaish-e-Mohammed (JeM) from funding, recruiting and training terrorists on its soil and has allowed some "overtly" affiliated with their front organisations to contest the general elections in July last year, according to a report released by the US State Department.
According to the 'Country Reports on Terrorism 2018', Pakistan has failed to restrict the Afghan Taliban and the Haqqani Network from operating in safe havens on its soil, despite Islamabad's open support for a political reconciliation between the Afghan Taliban and Afghan government.
While the report noted Pakistan's efforts in connection to the implementation of conditions laid down by Financial Action Task Force or FATF, it slammed the country for failing to uniformly implement UN sanctions against terror groups like LeT and its affiliates.
"Although the Pakistani government voiced support for political reconciliation between the Afghan government and the Afghan Taliban, it did not restrict the Afghan Taliban and the Haqqani Network (HQN) from operating in Pakistan-based safe havens and threatening the US and Afghan forces in Afghanistan," it said.
"The government failed to significantly limit Lashkar-e-Taiba (LeT) and Jaish-e-Mohammed (JeM) from raising money, recruiting, and training in Pakistan - and allowed candidates overtly affiliated with LeT front organisations to contest the July general elections," the report said, referring to the Milli Muslim League (MML) founded by global terrorist Hafiz Saeed, which fielded candidates in the 2018 general election in Pakistan.
The document highlighted significant terror attacks in Pakistan in 2018, which was conducted by several outfits like Tehrik-e-Taliban Pakistan (TTP), Jamaat-ul-Ahrar (JuA), ISIS's Khorasan Province (ISIS-K), and the sectarian group Lashkar-e-Jhangvi al-Alami (LJA).
"Pakistan experienced significant terrorist threats in 2018, although the number of attacks and casualties has continued to decrease from previous years. The major terrorist groups that focused on conducting attacks in Pakistan included Tehrik-e-Taliban Pakistan (TTP), Jamaat-ul-Ahrar (JuA), Islamic State's Khorasan Province (ISIS-K), and the sectarian group Lashkar-e-Jhangvi al-Alami (LJA). ISIS-K claimed several major attacks against Pakistani targets, some of which may have been conducted in collaboration with other terrorist groups," the report said.
Terror groups conducted attacks against governmental, non-governmental, and diplomatic targets in Balochistan and Sindh provinces, it continued.
"Groups located in Pakistan, but focused on conducting attacks outside the country, included the Afghan Taliban, HQN, LeT and its affiliated front organisations, and JeM. Terrorists used a range of tactics to attack individuals, schools, markets, government institutions, and places of worship, including IEDs, VBIEDs, suicide bombings, targeted assassinations, and rocket-propelled grenades," the report underlined.
The terror outfits targetted civilians, journalists, community leaders, security forces, law enforcement agents, and schools killing and injuring hundreds in 2018, the report noted adding, that religious minorities faced significant threats from the terror groups.
The report said that Pakistan, being a member of the Asia/Pacific Group on Money Laundering (APG), an FATF-style regional body, agreed to implement international standards to combat money laundering, terrorism finance, and proliferation finance. While the country "criminalises terrorist financing through the Anti-terrorism Act, the implementation remains uneven".
"In June 2018, the FATF placed Pakistan on its 'grey list' for deficiencies across its AML/CFT regimes, specifically citing concerns over Pakistan''s failure to fully implement the UN Security Council ISIL (Daesh) and al-Qaeda sanctions regime. FATF noted that UN-listed entities, including LeT and its affiliates, were not effectively prohibited from raising funds in Pakistan, or being denied financial services," it said.
"Although Pakistan's laws technically comply with international AML/CFT standards, authorities failed to uniformly implement UN sanctions related to designated entities and individuals such as LeT and its affiliates, which continued to make use of economic resources and raise funds," the report noted.
https://www.ndtv.com/world-news/pakistan-failed-to-limit-funding-recruitment-training-by-lashkar-e-taiba-jaish-e-mohammed-us-report-2126096
--------
Right-wing commentator slated over anti-Muslim comments
Paul Peachey
Nov 1, 2019
The UK's finance minister criticised a right-wing magazine on Friday after one of its highest-profile contributors suggested that Muslims should be stopped from voting in national elections.
The column by Rod Liddle in the Spectator Magazine suggested that a date for the election be chosen when "Muslims are forbidden to do anything on pain of hell, or something".
He suggested that preventing Muslims from voting at the elections, now slated for December 12, would give the ruling Conservative party, which is backed by the Spectator, an extra 40 seats.
Mr Liddle claimed that the column was "light-hearted" but was criticised by Sajid Javid, the UK's most prominent Muslim minister, campaigners and from within the magazine itself.
In a tweet, Mr Javid said: "Not clear if the Rod Liddle comment is supposed to be a joke - but it's not funny and not acceptable. No community in our country should be put down that way."
Former Conservative Party MP Nick Boles described Mr Liddle as a "repulsive man" in a tweet. "Rod Liddle once said I was never a 'proper Tory'," he wrote. "Presumably because, in his view, 'proper Tories' are out and out racists who hate British Muslims. Repulsive man."
Nick Boles MP
✔
@NickBoles
Rod Liddle once said I was never a 'proper Tory'. Presumably because, in his view, 'proper Tories' are out and out racists who hate British Muslims. Repulsive man. https://twitter.com/tellmamauk/status/1189981638878531584 …
TellMAMAUK
✔
@TellMamaUK
This is appalling in the @spectator by Rod Liddle.
His suggestions are that Muslims should be unable to vote. What do we call that - Outright prejudice.
This in 2019, when 3 Muslims have been murdered since 2013 for being - British Muslims.
Despicable.
View image on Twitter
2,883
2:05 PM - Nov 1, 2019
Twitter Ads info and privacy
727 people are talking about this
The magazine's assistant editor, Isabel Hardman, said she profoundly disagreed with the article and said she was not involved in its publication.
In his response to the outcry, Mr Liddle – a former editor of the BBC's flagship radio news programme – claimed there was "no hate speech or Islamophobia whatsoever" in his piece. "It was patently a joke," he said.
The article is just the latest by Mr Liddle in the Spectator to cause upset. The 190-year-old magazine was fined £3,000 and forced to issue a grovelling apology after Mr Liddle wrote a column that nearly brought to a halt a notorious race-hate murder trial in 2012.
The magazine said that article was published because of an "unprecedented and bitterly regretted failure". The magazine could not be reached for comment on Friday.
https://www.thenational.ae/world/europe/right-wing-commentator-slated-over-anti-muslim-comments-1.931927
--------
Iranian Generals in Iraq, Hezbollah Thugs in Lebanon: Tehran Demonstrates How to Snuff Out Dissent
Amos Harel
Nov 01, 2019
A month ago, a little after the mass protests began in Iraq against the government, Iranian general Qasem Soleimani arrived on a night flight at the Baghdad airport. Soleimani continued on in a helicopter from the airport to the heart of the Green Zone in Baghdad, the area where the Iraqi government ministries and defense establishment are located – alongside the American Embassy, according to a report from The Associated Press.
Soleimani, commander of the Quds Force of the Iranian Revolutionary Guards, surprised a group of senior officials in the Iraqi security forces when he showed up to run a meeting supposed to be led by Iraqi Prime Minister Adil Abdul-Mahdi.
AP journalists managed to speak with two Iraqi senior officials who took part in the meeting, or received a report later on what happened. The officials said Soleimani told the Iraqi participants in the meeting: "We in Iran know how to deal with protests." The Iraqis got to work over the next few days: Snipers, it seems members of the Shi'ite militias, opened fire on protesters. About 150 demonstrators were killed. The protests resumed a week ago, after a pause of a few weeks – and dozens were once again killed across Iraq.
Similar to the protests that began in mid-October in Lebanon, the Iraqi protests expressed discontent with the internal political scene – the government's failure in economic matters, corruption and spending money on powerful sectors and groups, such as the pro-Iranian Shi'ite militias in Iraq and Hezbollah in Lebanon. A certain amount of anti-Iranian sentiment was lurking in the background: Protesters in both countries called on Tehran to stop intervening in their internal affairs. In Iraq they even burned Iranian flags and protested in front of the Iranian consulate in Karbala, a holy city for Shi'ites.
In Lebanon, too, Hezbollah is working to repress the protests, but so far it has not used firearms to do so. Hezbollah sent its thugs on motorcycles, armed with truncheons, to battle protesters and scare them off. For now, they have failed. In the middle of the week, Lebanese Prime Minister Saad al-Hariri, the senior partner with Hezbollah in the government coalition, announced his resignation in the face of the protests.
Soleimani was right. The Iranians do have experience in putting down wide-scale public protests. In 2009, about a year and a half before the Arab Spring broke out, the authorities in Tehran harshly put down mass demonstrations that began in the wake of claims of vote fraud in the presidential election. The Green Revolution failed. But so far the Iranians have found it hard to pass on this professional knowhow to their allies in Baghdad and Beirut.
The protests are continuing, and in Iraq they have led to quite a lot of bloodshed. The fall of the government in Beirut seems to worry Tehran and its man in Beirut, Hezbollah secretary general Hassan Nasrallah. In his most recent speeches, Nasrallah accused the United States and Israel of supporting the protests from behind the scenes. On Wednesday, the website of Iran's "supreme leader," Ali Khamenei, repeated these claims.
It is hard to believe these claims from Iran and Hezbollah. From the Israeli perspective, for now there are no signs of immediate implications from the tensions in Beirut. The Israeli security establishment is carefully following the events, but for now they are not worried. Continued protests in the two countries could very well shake the confidence of the Iranian leadership, which has looked in recent months like it has racked up a string of successes – in light of the lack of an American response to its military actions in the Gulf, and the capitulation of the Trump administration, which has abandoned the Kurds in northern Syria.
Looking on from Israel, the protests damage the legitimacy that Hezbollah has accumulated thanks to the participation of its ministers in the government. It was very convenient for Nasrallah to hide behind Hariri. The division of the spoils in government seems to have enabled Hezbollah to provide a living for its activists by allowing them to join the bureaucracy of the government ministries under Hezbollah's control. This was pure profit during a period in which the organization has been suffering from a cut in Iranian financial support, which is the result of harsher American sanctions.
In the past, Hezbollah has taken more violent steps. It happened in 2008, when the organization threatened a direct confrontation with the government, after it asked Hezbollah to remove its men from part of the Beirut airport complex and to stop operating its own national infrastructure. In the long run, an ongoing internal confrontation in Lebanon could also endanger Israel: In 2006, Nasrallah approved the kidnapping of IDF soldiers – which in retrospect turned out to be the opening act of the Second Lebanon War – because of internal tensions inside Lebanon.
Hezbollah was then in a different type of trouble. Hariri and his supporters accused Nasrallah – it seems justifiably – of the murder of Hariri senior, Rafiq, Saad's father and also a former prime minister of Lebanon. The calls grew in Lebanon at the time to disarm Hezbollah, a promise that was never carried out – even though it was included in the Taif Agreement from 1989 to end the country's civil war. The escalation with Israel was intended to enable Nasrallah to once again present himself as the defender of Lebanon. But in the end, it led to the exact opposite. The provocation spun out of control, and many in Lebanon blamed Nasrallah and Hezbollah for sparking the widespread destruction caused by the Israeli bombings during the war.
The unrest in Lebanon and Iraq indirectly reflects what is going on in a different arena too, the Palestinian one. What is showing signs of becoming the second wave of the events of the Arab Spring is reawakening the unfulfilled calls to strengthen the democratic processes in many Arab countries. The two Palestinian regimes, the Palestinian Authority in the West Bank and Hamas in the Gaza Strip, are suffering from a lack of legitimacy in the eyes of their publics – because the last elections were held in the Palestinian territories back in 2006. The chairman of the Palestinian Authority, Mahmoud Abbas, is aware of the growing criticism of him in the West Bank, as well as the tempting model of the protests set by the protesters in Beirut for their brothers in Ramallah and Nablus: youthful, secular by nature and nonviolent. This too is lurking in the background of the public dialogue Abbas is conducting with Hamas concerning the possibility of holding new elections for the Palestinian parliament and presidency.
What began as a game of accusations between Abbas and Hamas could very well end differently. As Michael Milshtein of the Moshe Dayan Center for Middle Eastern and African Studies at Tel Aviv University notes, a rolling dynamic often develops in the Palestinian territories that is stronger that the basic interests of the parties involved. A situation could well develop in which the rival camps will be afraid to be seen as the side that opposes the democratic process, and so they will express willingness to make progress toward elections. These developments could influence Israel, too, Milshtein told Haaretz.
Similar to 2006, the Palestinians might demand elections in East Jerusalem too. At the time, Ariel Sharon's government gave in to the pressure from the Bush administration. Given present political circumstances, it's hard to believe an Israeli government – headed by Benjamin Netanyahu or even Benny Gantz – would allow itself to make such a concession.
https://www.haaretz.com/middle-east-news/.premium-iran-qasem-soleimani-iraq-hezbollah-lebanon-tehran-protest-1.8063427
--------
India
Ahead of Ayodhya verdict, All India Muslim Personal Law Board asks Muslims to repose faith in Constitution
Nov 01, 2019
Lucknow: Ahead of the Ayodhya case verdict, senior member of the All India Muslim Personal Law Board Maulana Khalid Rasheed Firangi Mahali on Friday said imams should advice Muslims to repose faith in the Constitution and judiciary and maintain communal harmony. Chief Justice of India Ranjan Gogoi is expected to deliver verdict in the Ayodhya case before his retirement on 17 November.
In a statement Maulana Khalid said, "As media reports suggest the Supreme Court's judgment on Ayodhya is going to come soon. You are aware of the fact that the Ayodhya case is the biggest and most sensitive case of independent India. The entire country and global community is looking towards the judgment. Hence, it is the responsibility of every citizen to honour the judgment of the court and maintain peace."
"My appeal is to every imam of various mosques to make appeal that Muslims need not to feel afraid, but they should repose faith in country's Constitution and judiciary, and whatever the judgment comes, we should honour it," he said. Maulana Khalid also appealed to people not to indulge in any type of celebration after the judgment is out, not to indulge in sloganeering nor undertake protests.
"No issue should be raised which may hurt religious sentiments. The fabric of communal bonhomie and Ganga-Jamuni tehzeeb should not be allowed to be damaged," he said. A 5-judge Constitution bench headed by the CJI had reserved the verdict on October 16 after concluding the 40-day-long hearing in the politically sensitive case. Fourteen appeals have been filed in the apex court against the 2010 Allahabad High Court judgment, delivered in four civil suits, that the 2.77-acre land in Ayodhya be partitioned equally among three parties: the Sunni Waqf Board, the Nirmohi Akhara and Ram Lalla.
https://www.firstpost.com/india/ahead-of-ayodhya-verdict-all-india-muslim-personal-law-board-asks-muslims-to-repose-faith-in-constitution-7587521.html
--------
Muslim dressed as Hanuman booked for impersonation in Bareilly
Nov 2, 2019
BAREILLY: Police have charged a Muslim youth with cheating on the complaint of the members of Bajrang Dal after he was caught dressed up as Hanuman from near a temple in Subhash Nagar locality of Bareilly on Thursday evening. The man was charged under IPC's section 419 (cheating by personation) and sent to jail by police on Friday.
Subhash Nagar station house officer Harishchandra Joshi said, "We have filed an FIR for cheating as the accused is a Muslim and took the guise of Lord Hanuman to cheat people of the community and hurt their sentiments. We have sent the accused to jail after it was found that he is a member of a nomadic group and failed to provide accurate details about himself."
Mohammed Naseem, 19, was caught by the members of Bajrang Dal while he begging outside a temple after they found his act to be "an insult to the dignity of the god". During questioning, they identified that man in the guise of Hanuman was actually a Muslim. They later handed him over to police along with a written complaint.
During questioning, Naseem told police that he is an artist and changes his guise frequently for earning money.
Full report at:
https://timesofindia.indiatimes.com/city/bareilly/muslim-dressed-as-hanuman-booked-for-impersonation-in-bareilly/articleshow/71860838.cms
--------
2 Pakistanis among 6 convicted for '08 CRPF camp attack
Nov 2, 2019
RAMPUR: A local court on Friday convicted six accused, including two Pakistani nationals, for the attack on a CRPF camp in Rampur in 2008 in which seven jawans of the force and a civilian were killed.
The court of the additional district judge held them guilty under various sections and will pronounce the quantum of sentence on Saturday. It, however, acquitted Muhammad Kausar and Gulab Khan, who were accused of hiding the weapons used in the attack, which took place on the intervening night of December 31, 2007 and January 1, 2008.
Those found guilty include two Pakistanis — Imran Shahzad and Mohammad Farooq. The four others are Sharif, Sabauddin, Baba, and Faheem Arshad Ansari. The convicted include two men who were earlier acquitted in the 26/11 attacks.
Full report at:
https://timesofindia.indiatimes.com/india/2-pakistanis-among-6-convicted-for-08-crpf-camp-attack/articleshow/71860510.cms
--------
India works to get Capitol Hill's support on Kashmir
Nov 2, 2019
NEW DELHI: Taken aback at the sharp anti-India sentiments that manifested itself in the US Congress recently, both India and the US are taking corrective steps to restore the balance.
George Holding (R) from South Carolina made the most spirited defence of the Modi government's Kashmir policy in the House of Representatives on Thursday.
Describing Article 370 as an "outdated provision of law that the Indian Constitution recognised as "temporary", he said the steps that Prime Minister Modi and Indian Parliament have taken "are needed, they're good for the long-term stability of the region, and they should be applauded".
Criticising Pakistan's continued policy of cross-border terrorism, Holding, the co-chair of the India Caucus, said, "Pakistan-based terror groups have recently floated posters warning common citizens against venturing out, going to work, and visiting public places. The groups have continued to engage in cross-border terrorism and have attacked civilians and children. These militant groups have also attacked migrant workers and those who are involved in the apple business which is the chief crop of Kashmir."
The Modi government, he said, was right to address a situation which was being used by forces to foment terrorism and separatism. "The Modi government had to make a decision on whether to continue with the old policy or pursue progress by changing the region's legal status."
For its part, the Indian government is improving its own Congressional outreach processes, putting together what officials called a comprehensive strategy. This comes after it was concluded that many of the officials in the mission have been less than outgoing, coming late for meetings and refusing to take questions from their interlocutors etc leading to several complaints about their efforts.
The strategy includes focused outreach with key Congress leaders by Indian ambassador Harsh Shringla. Indian officials are increasing the frequency and intensity of their briefings of Congressional staffers and aides, most of whom are very powerful and hold a strong influence with the lawmakers.
Over the next few weeks, Indian officials from the mission are expected to meet a large number of Congress leaders in their constituencies, particularly those having large number of Indian community members.
Engaging the Capitol Hill is a full time effort, but the Indian mission has traditionally put in a few political officers on the job. Sources said this would be intensified over the coming weeks. For instance, ambassador Shringla met Democrat Congressman Brad Sherman on Thursday to address the differences.
Sherman used to be more positive about India, but at a recent foreign relations committee hearing, he seemed hostile to India. Both sides were working to restore the relationship, sources said.
Full report at:
https://timesofindia.indiatimes.com/india/india-works-to-get-capitol-hills-support-on-kashmir/articleshow/71860414.cms
--------
Terrorists hurl petrol bomb at school in Shopian
Nov 1, 2019
SRINAGAR: Suspected terrorists on Friday evening hurled petrol bomb at a school building in South Kashmir's Shopian district.
Police said militants hurled petrol bomb at a school building in Kundalan village in Shopian district on Friday.
The school is designated as an examination centre for the ongoing 10th board exam.
Full report at:
https://timesofindia.indiatimes.com/india/terrorists-hurl-petrol-bomb-at-school-in-shopian/articleshow/71857423.cms
--------
Govt has no dealings with Israel firm behind WhatsApp snoopgate, says official: Report
Nov 02, 2019
Indian government has no dealings with Israeli company NSO that is said to be behind a software used to snoop on activists and journalists around the world, a top government source said on Friday.
The source, who requested anonymity, said WhatsApp had not disclosed the alleged spying incident in its conversations with the Indian government that it has had since the attack in May this year.
India, the source said, will continue to insist on WhatsApp bringing in traceability and will also want the Facebook-owned company to respond to the latest incident in full details.
WhatsApp has been given time till November 4 to respond, and the government will decide on the future course of action once it receives a reply from the company. A WhatsApp spokesperson said that in May, the company had "quickly resolved a security issue and notified relevant Indian and international government authorities".
"Since then we've worked to identify targeted users to ask the courts to hold the international spyware firm known as the NSO Group accountable", the spokesperson said in a statement.
WhatsApp emphasised that it accords the highest priority to the privacy and security of its users. "We agree with the government of India it's critical that together we do all we can to protect users from hackers attempting to weaken security." NSO has so far maintained that it only sold its "technology to licensed government intelligence and law enforcement agencies to help them fight terrorism and serious crime" and is not "designed or licensed for use against human rights activists and journalists." It was not clear to whom the company has sold its software to in India and at whose behest journalists and activists were targeted.
The source said there has been no dealing between the government and the NSO, and that the fight is between NSO and WhatsApp. The Indian government is concerned only because Indian names are involved, the source said.
The source said WhatsApp Global Head Will Catchcart (in July) and Facebook Global VP Global Affairs and Communications Nick Clegg (September) had met IT Ministry officials and that the government, in these meetings, had insisted on disclosure of malicious source under compelling reason that did not require any decryption. Even at that point in time, WhatsApp did not disclose this incident, the source pointed out, adding that any hacking incident pertaining to the country has to be reported to the authorities. WhatsApp has over 1.5 billion users globally, of which India alone accounts for about 400 million. In the past too, WhatsApp has drawn flak from the Indian government on the platform being misused for spreading misinformation that led to incidents of mob lynching.
The government has categorically told WhatsApp that it wants the platform to bring in a mechanism to enable tracing of the originator of messages, a demand that WhatsApp has resisted citing privacy issues. The source raised questions on whether the disclosure by WhatsApp was a rearguard action to prevent the government from bringing measures on traceability and accountability.
Drawing parallels with a letter in an envelope, the source said the government was not interested in the contents of the letter but the address of the sender. The person said it was not acceptable that WhatsApp resist demands for message traceability when in fact people are being snooped on, and that challenges around end-to-end encryption technology can be certainly solved with technology.
WhatsApp on Tuesday filed a lawsuit in a California federal court against NSO Group, which allegedly developed the spyware, saying an attempt was made to infect approximately 1,400 "target devices" globally with malicious software to steal valuable information from those using the messaging app.
These attacks allegedly targeted civil society members like journalists and human rights activists across the world, including India. On Thursday, WhatsApp had said Indian journalists and human rights activists were among those globally spied upon by unnamed entities using an Israeli spyware Pegasus. Following the disclosure, the government asked WhatsApp to explain the matter and list out the measures that have been taken by it to safeguard privacy of millions of Indians. WhatsApp on Friday said it has taken a "strong action" in the incident and that it supports the Indian government's stand on the need to safeguard the privacy of all citizens.
"We agree with the government of India's strong statement about the need to safeguard the privacy of all Indian citizens. That is why we've taken this strong action to hold cyber attackers accountable and why WhatsApp is so committed to the protection of all user messages through the product we provide," a WhatsApp spokesperson told PTI.
The spokesperson, however, did not comment on whether WhatsApp has submitted its response to the government's query. The government is also questioning the timing of the disclosure of the hacking incident, particularly against the backdrop of Supreme Court allowing the Centre three months to come up with rules to curb misuse of social media in the country, the source added.
Full report at:
https://www.hindustantimes.com/india-news/government-has-no-dealings-with-israel-firm-says-source/story-EVvdOCVBCRa7TfhmO000lN.html
--------
Mufti's daughter Iltija reacts to PM's meeting with mother
by Younus
November 01, 2019
New Delhi: Former Jammu and Kashmir CM Mehbooba Mufti's daughter Iltija Mufti in her tweet addressed to PM Modi today asked for how long does he intend to keep sons away from their mothers.
Ms Iltija was responding to recently clicked photographs of Modi meeting his mother that a news agency shared, Indian Express reports.
Ms Iltija calling the photographs heartwarming asked PM Modi about her mother and thousands of politicians including members, minor boys held in detention for the past three months.
"How much longer will you separate those mothers from their sons," Ms Mufti asked indicating about J&K people held in detention by the state authorities.
Earlier in September, Ms Iltija after meeting her mother, sent an email to Home Secretary of Government of India seeking information on number of detentions, arrests carried out in the state.
"I, Iltija emailed the Home Secretary of GOI & Home Secretary of J&K on 18th September seeking certain information for my mother, Ms Mufti. I am still awaiting a response," she said.
Recalling her meeting with Ms Mufti in September, Iltija said over the past three months in detention, her mother was neither briefed by any member of her political party nor had any access to newspapers.
"In my meeting with her, my mother expressed concern at the number of detentions and arrests (and in particular the reports of detention of children) that have taken place in the state," she wrote.
Ms Iltija was allowed to travel to Srinagar to meet her mother after the Apex Court allowed her plea on September 5.
She pleaded before the court that she is concerned about her mother's health as she has not met her in a month.
Full report at:
https://www.siasat.com/muftis-daughter-iltija-reacts-pms-meeting-mother-1715024/
--------
Kalbe Sadiq appeals to Muslims to gift disputed land to Hindus
by Rasia Hashmi
November 01, 2019
Lucknow: Ahead of Ayodhya verdict, politicians and clerics are appealing to the people to maintain harmony. They are asking people to maintain peace and accept the judgement.
Meanwhile, Shia cleric and vice-president of the All India Muslim Personal Law Board (AIMPLB) Maulana Dr Kalbe Sadiq has appealed to the community to gift the disputed land to the Hindus, if the Supreme Court gives its judgement in their favour. UNI reported.
Dr Sadiq issued a statement saying that 'it would be a good gesture by the Muslims to their Hindu brothers to gift the disputed land for the construction of Ram temple at Ayodhya if the apex court gives its verdict in their favour.'
He asserted that such an act would strengthen the relationship between the Muslims and the Hindus in the country. He said winning the heart of the people is more important than winning the case.
Full report at:
https://www.siasat.com/kalbe-sadiq-appeals-muslims-gift-disputed-land-hindus-1714526/
--------
Southeast Asia
Indonesia's halal tourism bid faces pushback from non-Muslims
NOV 1, 2019
MUARA (AFP) - Indonesia's bid to lure more visitors by spreading halal tourism across the archipelago is facing a backlash, with a Christian celebration of pigs - forbidden for Muslims - the latest act of dissent.
The weekend festival-cum-protest in Sumatra, featuring pig racing, chubbiest hog contests and a porcine fashion show, comes as holiday hot spot Bali pushes back against rolling out more Muslim-friendly services on the Hindu island.
https://www.straitstimes.com/asia/se-asia/indonesias-halal-tourism-bid-faces-pushback-from-non-muslims
--------
New National Police Chief Warned of Daunting Tasks Ahead
BY CARLOS K.Y. PAATH
NOVEMBER 01, 2019
Jakarta. Idham Azis rose to become a police general after being sworn in as the new National Police chief on Friday, with predecessor Tito Karnavian warning him of tough days ahead.
"Being a National Police chief is never easy. You have to manage 450,000 personnel, 34 provincial forces, more than 500 district forces and almost 5,000 sub-district forces," Tito said after the inauguration ceremony at the State Palace in Central Jakarta.
"Not to mention the main tasks of keeping national security in order while also improving services to the public," he said.
Among Idham's immediate challenges are the gubernatorial and district head elections across multiple regions next year.
"Law enforcement in a very pluralistic country and free democracy is not an easy task. Many ideological and political problems will arise during next year's 270-region elections," Tito, now the home affairs minister, said.
In 2016, Tito faced a series of mass demonstrations involving hundreds of thousands of Islamic protesters calling for the then Jakarta Governor Basuki "Ahok" Tjahaja Purnama to be tried for blasphemy.
The furor led to a very heated Jakarta gubernatorial election the following year, marred by sectarian conflicts and ended with Ahok's loss to Anies Baswedan and his blasphemy conviction.
That was followed by national political contests heading to last April's legislative and presidential elections.
"I endured very hard times during the three years and three months [of my tenure]," Tito said.
Full report at:
https://jakartaglobe.id/news/new-national-police-chief-warned-of-daunting-tasks-ahead
--------
Pakistan
London court extends Altaf Hussain's bail in 2016 hate speech case
Nov 2, 2019
LONDON: A London court on Friday extended the bail of Muttahida Qaumi Movement (MQM) founder Altaf Hussain in connection with a 2016 hate speech case where he had allegedly urged his supporters to take the law into their hands.
Hussain appeared before Justice Nigel Sweeney at the Central Criminal Court where it ruled that a preliminary hearing in the case will be held on March 20, 2020, and the trial will begin on June 1, The Dawn reported.
The development comes after the Westminster Magistrates' Court on October 10 passed the matter to the criminal court for trial.
On October 11, the MQM chief was charged with a terrorism offence in connection with the case. If convicted, he could face a jail term of 15 years along with a fine.
During that hearing, he pleaded not guilty, following which Judge Emma Arbuthnot granted him conditional bail.
Sixty six-year-old Hussain is barred from addressing crowds for fear of instigating them and is bound to stay at the designated address under curfew conditions from morning to evening. Hussain cannot leave the UK without police permission either.
Since the 1990s, Hussain has been living in the UK in a self-imposed exile following a crackdown on his party in Pakistan. He later gained British citizenship.
Hussain regularly makes television addresses or telephone speeches to his supporters, where he criticises the Pakistan Army and ISI for alleged military oppression of Muhajirs.
He has been accused by his opponents of encouraging his party workers to indulge in violence.
Pakistan authorities have repeatedly sought the MQM chief's return to Pakistan to face trial in a number of murder and violence cases lodged against him.
https://timesofindia.indiatimes.com/world/uk/london-court-extends-altaf-hussains-bail-in-2016-hate-speech-case/articleshow/71861936.cms
--------
Fazlur Rehman gives two-day deadline to Imran Khan to quit
Nov 1, 2019
ISLAMABAD: Jamiat Ulema Islam-Fazl (JUI-F) chief Maulana Fazlur Rehman, leading the Azadi march demanding the resignation of Prime Minister Imran Khan, has given him a two-day deadline to resign.
Addressing the march at Metro Ground in Islamabad on Friday, Rehman said that we are giving two days' time to Prime Minister Imran Khan to resign and other 'National Organisations' to withdraw support to the incumbent government. Several opposition leaders are also participating in the march.
Rehman said that he doesn't want any conflict with the 'National Organisations', rather he wants them to be stable and neutral.
He said, "If we feel that the organisations continue to back and protect the illegitimate government, then they have two days' time. After that we shouldn't be stopped from forming our perspective about them. Prime Minister Imran Khan has two days to resign. If he doesn't resign in two days, then the people of Pakistan are capable of entering the PM House forcefully and arrest the prime minister."
He slammed the government for failing to live up to its promises. He said that the government had promised to build five million homes for the poor but they have demolished more than five million homes instead.
Full report at:
https://timesofindia.indiatimes.com/world/pakistan/fazlur-rehman-gives-two-day-deadline-to-imran-khan-to-quit/articleshow/71856954.cms
--------
PM Imran says will give protesters food supplies but not NRO
Nov 01 2019
GILGIT: Prime Minister Imran Khan, in an indirect message to the opposition-led Azadi March protesters, said on Friday that he will even send food and other supplies to the participants, but will not grant any concession under the National Reconciliation Ordinance (NRO).
Addressing the Azadi Parade on the occasion of 72nd Independence Day of Gilgit, the prime minister reiterated that he will not step down from his post by resigning.
The prime minister, who had set up a seven-member government committee to hold talks with opposition ahead of the march, targeted Pakistan Muslim League-Nawaz, Pakistan Peoples Party, Maulana Fazlur Rehman and Mehmood Khan Achakzai in his speech at a gathering.
The prime minister used the occasion to highlight the Indian atrocities in occupied Kashmir where Narendra Modi government had imposed a curfew for three months now.
He reiterated his support for people of Kashmir and said no one can stop occupied Kashmir from becoming independent.
"I will not leave Kashmiris alone, I fill fight their case", he said. "Nobody can stop Kashmir from becoming independent."
The prime minister added he would continue to raise the issue of Kahsmir across the world as the ambassador of Kashmiris.
Paying tribute to people of Gilgit-Baltistan, he said they fought a war to win their freedom.
"The people of Gilgit-Baltistan would have also become victims of Modi's oppression if they had not fought the war for their independence," he said.
The prime minister further said, "A Muslim does not bow before anyone but Allah," he said adding that two superpowers came to their knees before Muslims within a decade.
"Pakistan is the only country which came in to being in the name of Islam," he said adding that the country would become a Madina like state.
"We have to follow the principles of state of Madina," PM Imran said.
Speaking about the natural beauty of Gilgit-Baltistan, he said the region was matchless in the world.
Full report at:
https://www.geo.tv/latest/254031-no-one-can-stop-kashmir-from-becoming-independent-pm-imran
--------
Qalab-e-Hassan of Asma Jahangir group wins SCBA polls
November 02, 2019
LAHORE: Asma Jahangir group's Syed Qalab-e-Hassan has been elected by a wide margin as the Supreme Court Bar Association (SCBA) president at the SCBA annual election 2019-20.
Hassan belongs to Islamabad and has worked as a judge of the Islamabad High Court (IHC) from February 15, 2008 till July 31, 2009. Currently, he is a member of Pakistan Bar Council's (PBC) enrollment committee.
He bagged 400 votes more than the runner-up Shoaib Shaheen of the Hamid Khan Group. Shaheen's defeat is a setback for the federal government as Law Minister Dr Farogh Naseem and Attorney General for Pakistan Anwar Mansoor Khan were actively involved in his election campaign.
Lawyer wings of the Pakistan Muslim League-Nawaz (PML-N), Pakistan People's Party (PPP) and Pakistan Muslim League Quaid (PML-Q) backed the Asma Group's candidate.
However, the SCBA secretary's seat was won by Malik Shamim – a candidate belonging to the Hamid Khan Group – by a small margin.
Talking to reporters late on Thursday, Hassan demanded the resignation of Law Minister Naseem, who, according to him, was involved in pre-poll rigging by giving different offers to lawyers for gaining support for the opponent candidate.
Full report at:
https://www.pakistantoday.com.pk/2019/11/01/qalab-e-hassan-of-asma-jahangir-group-wins-scba-polls/
--------
Attachment of Musharraf's assets ordered in Benazir murder case
Malik Asad
November 02, 2019
RAWALPINDI: An anti-terrorism court (ATC) on Friday ordered attachment of the properties owned by former military ruler Pervez Musharraf for being a fugitive in the Benazir Bhutto murder case.
Judge Shaukat Kamal Dar of the Rawalpindi ATC issued the order after the prosecution completed the process required to declare the former military dictator 'fugitive' and 'absconder' in the murder case of the former prime minister and then chairperson of the Pakistan Peoples Party.
According to the prosecution, Musharraf has eight bank accounts, besides immovable properties in Islamabad and Gwadar. He was declared an absconder in the PPP chairperson's murder case after he left the country in 2016.
In the Aug 31, 2017, verdict, the ATC convicted CPO Saud Aziz and SSP Khurram Shehzad for criminal negligence and acquitted five others suspected to be affiliated with the banned Tehreek-i-Taliban Pakistan. Both police officers later filed an appeal in the Lahore High Court, which suspended their sentences.
As Musharraf had been declared a proclaimed offender, the ATC then initiated a process for attachment of his movable and immovable properties.
The trial of the Benazir murder suspects had commenced in January 2008. However, the government in 2009 ordered a fresh probe into the assassination. Subsequently, a Joint Investigation Team (JIT) of the Federal Investigation Agency (FIA) implicated the ex-military ruler Musharraf, then city police officer Aziz and SSP Shehzad as accused.
The prosecution submitted eight challans to the ATC that separated Musharraf's trial after he left the country in March 2016.
While the Rawalpindi ATC on Friday ordered attachment of his properties for being fugitive in the Benazir Bhutto murder case, a special court had earlier also initiated similar proceeding because of absconding of the ex-dictator in the high treason case.
In the high treason case, the properties could not be attached because the spouse, daughter and a close relative of Musharraf claimed the ownership of the properties in question.
According to the documents submitted by the interior ministry in the special court, the former military dictator owned seven immovable properties and nine bank accounts.
The immovable properties included a farmhouse in Islamabad's Chak Shahzad, land in the Army Housing Scheme in Karachi, Khayaban-i-Faisal, Defence Housing Authority (DHA), Karachi, Beach Street, DHA Islamabad, and DHA Lahore.
The former military ruler also had accounts in Bank Alfalah, Standard Chartered Bank, Askari Bank, Habib Metropolitan Bank and the National Bank of Pakistan.
The farmhouse mentioned in the interior ministry's details, however, was disputed as the matter was sub judice. His wife claims ownership of the house that she said he had gifted to her in 2008.
The interior ministry informed the special court seized with high treason trial that it was difficult to attach even local properties of the absconding dictator as some of the properties were disputed, his spouse, daughter and a relative claiming to have share in the property.
Full report at:
https://www.dawn.com/news/1514350/attachment-of-musharrafs-assets-ordered-in-benazir-murder-case
--------
China supports Pakistan's efforts to curb terror-financing
November 02, 2019
BEIJING/ISLAMABAD: Chinese Foreign Ministry said that it supports Pakistan's efforts to improve the country's system for countering terror-financing.
The ministry also said that FATF's purpose is assisting countries to combat illegal activities such as money laundering and terror-financing in a better way, rather than sanctioning them.
Chinese Foreign Ministry Spokesperson Geng Shuang issued the statement while responding to a question on the comments of a senior Chinese official who said that Beijing is opposed to blacklisting of Pakistan by FATF.
The official also mentioned the FATF plenary's appreciation of Islamabad's progress.
"Not long ago, the FATF plenary meeting decided to keep Pakistan's rating unchanged. It shows the FATF membership's recognition of Pakistan's progress in improving the system of countering the financing of terrorism, as well as encouragement for Pakistan's efforts," he said.
Geng said that the decision was in line with the FATF purpose of fighting terror-financing and upholding the security of the international financial system.
Full report at:
https://www.pakistantoday.com.pk/2019/11/01/china-supports-pakistans-efforts-to-curb-terror-financing/
--------
Pakistan honoured its commitment, ICJ tells UN
November 02, 2019
The International Court of Justice (ICJ) President Judge Abdulqawi Ahmed Yusuf has submitted a report to United Nations (UN) Secretary General Antonio Guterres, wherein he said that Pakistan honoured its commitment of granting consular access to Indian spy Kulbhushan Jadhav.
The ICJ president said that on August 1, Pakistan had notified the international court about its commitment to implement the July 17 verdict as it had informed the Indian spy of his rights under the Vienna Convention, and had invited Indian officials to visit him.
"In particular, Pakistan stated that Mr Jadhav had been immediately informed of his rights under the Vienna Convention and that the consular post of the High Commission of India in Islamabad had been invited to visit him on 2 August 2019," the report stated.
Writing about the reparation and remedies in line with the court's ruling, the ICJ president said that an appropriate remedy was effective review and reconsideration of Jadhav's conviction and sentence.
"The Court moreover clarified what it considered to be the requirements of effective review and reconsideration. It stressed that Pakistan must ensure that full weight is given to the effect of the violation of the rights set forth in the Vienna Convention and guarantee that the violation and the possible prejudice caused by the violation are fully examined," the report stated.
"While the Court left the choice of means to provide effective review and reconsideration to Pakistan, it noted that effective review and reconsideration presupposes the existence of a procedure that is suitable for this purpose and observed that it is normally the judicial process that is suited to this task," the report added.
On July 17, the ICJ rejected had India's plea for Jadhav's acquittal, ruling that the convicted Indian spy be allowed consular access immediately and asking Pakistan to ensure "effective review and reconsideration of his conviction and sentences".
Judge Abdulqawi Ahmed Yusuf had announced the verdict in the presence of both Pakistani and Indian delegations.
The ICJ had rejected all other remedies sought by India, which included the annulment of the military court decision convicting Jadhav, restricting Pakistani from executing the sentence, securing Jadhav's release and ordering his return to India.
The ICJ had said that even though it had found Pakistan in violation of Article 36 the Vienna Convention on Consular Relations (VCCR), "it is not the conviction and sentence of Mr. Jadhav which are to be regarded as a violation of Article 36 of the Vienna Convention."
The most the ICJ had said it could do was to order Pakistan to cease violation of Article 36 and review the case in light of how that violation may have affected the case's outcome.
"The Court notes that Pakistan acknowledges that the appropriate remedy in the present case would be effective review and reconsideration of the conviction and sentence," it had observed.
To this end, Pakistan was directed to immediately inform Jadhav of his rights under Article 36, grant him consular access, and then review the case while considering, under the laws of Pakistan, how not doing so earlier may have impacted the case.
On September 2, Pakistan granted consular access to Jadhav and allowed Indian officials to meet the convicted Indian spy.
Full report at:
https://www.pakistantoday.com.pk/2019/11/01/pakistan-honoured-its-commitment-icj-tells-un/
--------
No force can stop Kashmiris from attaining freedom, says PM Imran
November 02, 2019
GILGIT: Prime Minister Imran Khan on Friday paid tribute to the martyrs of Gilgit-Baltistan and said no force can stop the people of Indian Occupied Kashmir (IOK) from attaining their freedom.
Addressing the 72nd independence day celebrations in Gilgit-Baltistan, the premier reiterated Pakistan's support for the people of the occupied region, adding that he is the ambassador and spokesperson for the Kashmiris and will plead their case at every forum.
Criticising Indian Prime Minister Narendra Modi, the premier said his counterpart in New Delhi has played his "last card" by revoking special status of occupied Kashmir, adding that once the draconian curfew is lifted, the people would take to streets in protest against the Indian government.
Paying tribute to the struggle of thousands who sacrificed their lives for the country, the premier noted that if Gilgit had not fought the war against the Dogra regime, they too would be suffering Indian oppression today.
"I congratulate the people on this Independence Day as they fought a war to win their freedom," said the premier who earlier visited the graveyard of the martyrs of the war of independence.
The premier also appreciated the beauty of Gilgit, adding "I've seen the whole world but the beauty in Gilgit-Baltistan I've never seen anywhere".
Referring to the steps taken by the government to promote tourism in the country, he said visa requirements for the citizens of seventy countries have been abolished and expressed confidence that tourism in the country will flourish.
Full report at:
https://www.pakistantoday.com.pk/2019/11/01/pm-imran-pays-tribute-to-national-heroes-on-gb-independence-day/
--------
Hundreds of Pakistanis freed from Saudi Arabia jails
SAIMA SHABBIR
November 02, 2019
ISLAMABAD: Saudi Arabia released 1,245 Pakistani prisoners from its jails this year, while Pakistani representatives were in touch with the Saudi government for the release of many others, the prime minister's special assistant on overseas Pakistanis said on Thursday.
In February, Pakistan's Information Ministry announced that Saudi Crown Prince Mohammed bin Salman had ordered the release of about 2,100 Pakistani prisoners from the Kingdom's jails during a high-profile visit to Islamabad.
"Along with 1,245 prisoners released from Saudi jails, approximately 3,400 deported from Makkah, Riyadh, Dammam, Tabuk and other Saudi cities have also been released from deportation camps since the visit of Crown Prince Mohammed bin Salman," Sayed Zulfikar Bukhari told Arab News.
More than 3,300 Pakistani prisoners are currently jailed in Saudi Arabia. Bukhari said in the last year, the government had succeeded in getting 2,559 Pakistani prisoners freed out of a total of 6,880 imprisoned in Gulf countries, including 1,200 in the UAE, 55 from Oman, 18 from Kuwait, 17 from Bahrain, 14 from Qatar and 10 in Iraq.
Most Pakistanis are in detention in the Gulf for forgery, drug trafficking, illegal border crossing, theft and bribery. Most of those released had been sentenced to between one and five years in prison.
Bukhari said the Saudi government was fulfilling its promise for the speedy recovery of prisoners but there was a problem devising the correct mechanism: "They (Pakistanis imprisoned in Saudi Arabia) include deportees, while our prime minister asked for those prisoners jailed for different crimes.
"We are thankful to the Saudi government for the release of such a number, approximately 38 percent of the total," Bukhari added. "We hope that the ongoing process will result in the release of more prisoners in the remaining two months of the year."
Full report at:
https://www.arabnews.com/node/1577791/world
--------
Arab World
Popular anger in the Arab world is creating an opening for ISIS — again
By Danielle Pletka
October 31, 2019
Danielle Pletka is senior vice president for foreign and defense policy studies at the American Enterprise Institute.
President Trump's desire to dance on the grave of Islamic State leader Abu Bakr al-Baghdadi, who was killed on Saturday by U.S. Special Operations forces, is entirely understandable. But his time would be better spent reflecting on the circumstances that facilitated Baghdadi's rise in the first place — circumstances that are now driving a surge of protests around the Middle East.
Around the region, dictators and kleptocrats continue to preside over young and restive societies. Most of these leaders are better at filling prisons than delivering basic services or providing opportunity. As a result, protests are now roiling Lebanon, Iraq and Egypt, and they are threatening to spread further. Without a strategy to address this unrest, the region risks a repeat of the cycle of chaos that brought the Islamic State to power in the aftermath of the 2011 Arab Spring.
In Lebanon, the public anger that led to this week's resignation of Prime Minister Saad Hariri has been mounting for years. Popular rage has been simmering since a garbage collection scandal in 2015 left the streets teeming with trash. There are daily power cuts in most Lebanese cities, and word on the street is that the electricity contracts are lining the pockets of the prime minister and his foreign minister — who is, not coincidentally, the son-in-law of the president. Youth unemployment hovers close to 20 percent; more than a million Syrian refugees also strain the national system. But the main culprit is the sectarian political spoils system that has dominated Lebanon since its founding. Political patronage and corruption dominate everything from employment to education to access to light and heat. The Lebanese rank their country as one of the most corrupt in the Middle East.
In Iraq, a fragile democracy has struggled — and for the most part failed — to contend with a decade and a half of turmoil since the fall of Saddam Hussein. With a spoils and sectarian spoils system much like Lebanon's — allocating the presidency, premiership and speakership of parliament based on religion, sect or ethnicity — Iraqis have become accustomed to patronage abuses, power shortages and nonexistent municipal services. In September, the government suspended the license of U.S.-government funded broadcaster Al Hurra after an exposé of graft in the country's religious endowments. "Ghost employees," outright theft and pay-to-play have stifled job creation. And as in Lebanon, crowds protesting the government's corruption have been joined by others angered by Iranian efforts to dominate every aspect of Iraqi political and military life.
In both countries, Iranian proxies have sought to quell protests with little success. In Beirut, Hezbollah leader Hasan Nasrallah called for an end to demonstrations, sending thugs into the street to beat anti-government protesters. But neither Hezbollah's weapons nor Hariri's resignation — perceived by many as little more than a stunt — will satisfy. More than 250 have died in Iraq at the hands of security forces and Iranian proxy militias, yet protests continue.
In Egypt, more than 2,000 protesters, opposition members, lawyers and some unlucky random individuals were recently arrested and stuffed into overflowing prisons and police stations in an attempt to nip public rallies in the bud. The spark, allegations from a now-exiled businessman of corruption and waste involving top government figures, will sound familiar to anyone watching other protests across the region. Demonstrations have taken place despite a harsh climate of oppression that has already landed tens of thousands in prison.
Since the fall of Hosni Mubarak in 2011, and the 2013 military-led crackdown on the Islamist government that followed, President Abdel Fatah al-Sissi has managed to re-create conditions that earned his predecessor the contempt of the nation. The economy has slowly begun to grow, but the benefits are largely invisible to the estimated 60 percent of Egyptians living in poverty, and foreign investors who might generate jobs remain uneasy about the country's direction and long-term stability.
In the face of this unrest, Western governments caught off guard by the Arab Spring appear just as flummoxed. Many seem to have decided that the predictable dictator-imposed stability of the pre-Arab Spring era is preferable to the turmoil ushered by the revolutions. And looking at Syria, Libya or Yemen, it's understandable that the devil we know — even Bashar al-Assad — is better than the alternative. But that's not how these stories end.
The way such dictatorships and kleptocracies end is conflict, violence, civil war and death. All of this is catnip to jihadists like the late Baghdadi.
It's time to recognize that tyranny only exacerbates a tendency to violence in repressed societies. The Arab Spring taught us that every tyrant has a shelf life, and that failing to manage a transition to more transparent, accountable government results in disaster. Perhaps the time has come to step in with the soft power that should be the antidote to last-ditch military interventions. Perhaps it's time to tie assistance and recognition (not to speak of presidential phone calls and visits) to real economic reform and measures of accountability. Perhaps the time has come for Western governments to demand collectively that the region's leaders be answerable to their own people before we face another wave of refugees, the next iteration of the Islamic State and Baghdadi's successor.
https://www.washingtonpost.com/opinions/2019/10/31/popular-anger-arab-world-is-creating-an-opening-isis-again/
--------
Iraq's top Shia cleric urges end of bloodshed, warns of civil war
Nov 1, 2019
Iraq's top Shia cleric Ayatollah Ali al-Sistani has urged the end of bloodshed in the Arab country, warning of a civil war and chaos after dozens of deaths during the recent wave of protest rallies across Iraq.
In a statement on Friday, Ayatollah Sistani expressed regret over the continued clashes between demonstrators and security forces, which have resulted in the deaths and injuries of many innocent people from both sides and damages to public and private properties.
"The innocent blood shed during the past few weeks is very valuable to us, and measures must be taken to prevent further bloodshed," the top cleric said.
"The country must be kept from slipping toward the edge of the precipice of a civil war, chaos, and destruction," Ayatollah Sistani urged.
This is only possible if all parties join hands to resolve the current crisis in the country with good faith, he added.
The top cleric once again condemned any assault on the peaceful protesters and any unjustifiable violence, calling for investigation into those who use violence.
Ayatollah Sistani also warned any individuals and groups inside Iraq as well as regional and world countries against attempting to exploit the Iraqi people's protests.
Hashd al-Shaabi says won't interfere in rallies
Meanwhile, Iraq's Popular Mobilization Units, also known as Hashd al-Sha'abi, announced that it will support the legitimate demands of protesters without interfering in the country's political situation.
In a statement on Thursday, the PMU stressed that it is not going to meddle in the public demonstrations as it is a force tasked with ensuring the security and integrity of Iraq and defending the country against terrorism.
The statement further dismissed rumors circulating on social media against Hashd al-Sha'abi, the latest of which was about the deployment of military vehicles from the house of PMU commander Abu Mahdi al-Muhandis in Baghdad's Jadriyah neighborhood.
Muhandis, it said, has no base or house in Jadriyah and his office is the Hashd al-Sha'abi headquarters in the Green Zone of Baghdad.
The PMU played a decisive role in Iraq's uphill 2014-2017 battle against the Daesh terrorist group. The Iraqi parliament on November 26, 2016 approved a law giving full legal status to Hashd al-Sha'abi fighters.
The ongoing demonstrations in Iraq follow a previous bout of anti-government protests in early October over corruption, unemployment and lack of basic services.
More than 200 have been killed and thousands of others wounded since the protests erupted, with security forces using tear gas and rubber bullets against those taking to the streets.
As part of efforts to meet the anti-corruption demands, the Iraqi Supreme Anti-Corruption Council announced on Friday that it has issued arrest warrants for a minister, a provincial council chief, five lawmakers, two former ministers, and 60 local officials for corruption.
Also in Thursday remarks, Iraqi President Barham Salih said the country's embattled Prime Minister Adel Abdul-Mahdi is ready to step down if a replacement is found, emphasizing that a snap parliamentary election will be held once a new electoral law is passed.
Early elections cannot be held until a new electoral law is passed, Salih said, adding that he expected a bill to be introduced in parliament by next week.
Full report at:
https://www.presstv.com/Detail/2019/11/01/610094/Iraq-protests-hashd-shlkk
--------
Iraqis throng streets in biggest protest since Saddam's fall
November 2, 2019
BAGHDAD: Tens of thousands of Iraqis thronged central Baghdad on Friday demanding the root-and-branch downfall of the political elite in the biggest day of mass anti-government demonstrations since the fall of Saddam Hussein.
One woman died after she was struck in the head by a tear gas canister, Iraq's Human Rights Commission said, and at least 155 people were wounded on Friday as security forces used tear gas and rubber bullets on protesters camped out in the capital's Tahrir Square.
Five people died on Thursday night from similar injuries.
Protests have accelerated dramatically in recent days, drawing huge crowds from across Iraq's sectarian and ethnic divides to reject the political parties in power since 2003.
Friday, the Muslim main day of prayer, drew the biggest crowds yet, with many taking to the streets after worship.
By the afternoon tens of thousands had packed the square, condemning elites they see as deeply corrupt, beholden to foreign powers and responsible for daily privations.
Protests have been comparatively peaceful by day, becoming more violent after dark as police use tear gas and rubber bullets to battle self-proclaimed "revolutionary" youths.
At least 250 people have been killed over the past month.
Clashes have focused on the ramparts to the Republic Bridge leading across the Tigris to the heavily fortified Green Zone of government buildings, where the protesters say out-of-touch leaders are holed up in a walled-off bastion of privilege.
"Every time we smell death from your smoke, we yearn more to cross your republic's bridge," someone wrote on a nearby wall.
Amnesty International said on Thursday security forces were using "previously unseen" tear gas canisters modelled on military grenades that are 10 times as heavy as standard ones.
"We are peaceful yet they fire on us. What are we, Islamic State militants? I saw a man die. I took a tear gas canister to the face," said Barah, 21, whose face was wrapped in bandages.
US Secretary of State Mike Pompeo on Friday urged all sides to reject violence, adding that Iraq's official inquiry into the early October violence "lacked sufficient credibility".
"The Iraqi people deserve genuine accountability and justice," Pompeo said in a statement. "The Government of Iraq should listen to the legitimate demands made by the Iraqi people."
'Mini-state'
In Baghdad, protesters had set up checkpoints in the streets leading into and surrounding Tahrir Square, redirecting traffic.
Young people swept the streets, many sang about the sit-in. Helmets and gas masks were now a common sight.
A woman pushed her baby in a stroller draped with an Iraqi flag while representatives from several Iraqi tribes waved banners pledging support for the protesters.
Mohammed Najm, a jobless engineering graduate, said the square had become a model for the country he and his comrades hope to build: "We are cleaning streets, others bring us water, they bring us electricity, they wired it up.
"A mini-state. Health for free, tuk-tuks transporting for free," he said. "The state has been around for 16 years and what it failed to do we did in seven days in Tahrir."
Despite Iraq's oil wealth, many live in poverty with limited access to clean water, electricity, health care or education. The government of Prime Minister Adel Abdul Mahdi, in office for a year, has found no response to the protests.
'Evil bunch'
In his weekly sermon, top Shi'ite cleric Grand Ayatollah Ali al-Sistani warned of "civil conflict, chaos and destruction" if the security forces or paramilitary groups crack down on the protests.
And he gave an apparent nod to protesters who say the government is being manipulated from abroad, above all by Iran.
"No one person or group or side with an agenda, or any regional or international party, can infringe upon the will of Iraqis or force an opinion upon them," Sistani's representative said during a sermon in the holy city of Kerbala.
Reuters reported this week that a powerful Iran-backed faction had considered abandoning Abdul Mahdi, but decided to keep him in office after a secret meeting attended by a general from Iran's Revolutionary Guards.
An Iranian security official confirmed the general, Qassem Soleimani, had attended Wednesday's meeting, to "give advice".
Many see the political class as subservient to one or another of Baghdad's main allies, the United States and Iran, who use Iraq as a proxy in a struggle for regional influence.
"Iraqis have suffered at the hands of this evil bunch who came atop American tanks, and from Iran. Qassem Soleimani's people are now firing on the Iraqi people in cold blood," said protester Qassam al-Sikeeni.
President Barham Salih said on Thursday that Abdul Mahdi would resign if parliament's main blocs agreed on a replacement.
Protesters say that wouldn't be enough; they want to undo the entire post-Saddam political system which distributes power among sectarian parties.
"So what if Adel Abdul Mahdi resigns? What will happen? They will get someone worse," said barber Amir, 26.
There were protests in other provinces, with the unrest having spread across much of the southern Shi'ite heartland.
In the southern city of Diwaniya, roughly 3,000 people including many families with small children were out.
Full report at:
https://www.freemalaysiatoday.com/category/world/2019/11/02/iraqis-throng-streets-in-biggest-protest-since-saddams-fall/
--------
US envoy: Iran has spent $16 billion on militias in Iraq, Syria
31 October 2019
The US envoy for Iran said Thursday that Tehran has funded militia groups in Syria and Iraq to the tune of $16 billion.
US State Department Special Representative for Iran Brian Hook, who made the comments in an interview with Saudi broadcaster Al Arabiya, did not specify over what time period the money was sent.
Iran has longstanding ties to a number of armed Shiite groups in Iraq and was a key backer of the Popular Mobilization Forces, a paramilitary group that fought against the Islamic State jihadist organization.
In Syria, Iran supports militias fighting on behalf of its ally Syrian President Bashar Assad in that country's civil war.
Tehran also backs other armed factions such as Lebanon's Hezbollah terror group and the Houthis in Yemen.
Israel has accused Iran of seeking to place advanced weaponry in Iraq and Syria that could be used to target the Jewish state. On Monday, Prime Minister Benjamin Netanyahu said Iran was trying to launch precision-guided missiles at Israel from Yemen and elsewhere in the region.
On Wednesday, Israeli Air Force chief Amikam Norkin said the military's multi-tiered network of air defense systems was "on alert" amid a general threat of attack by Iran.
In recent weeks, the military has begun to believe that Tehran intends to eventually retaliate against Israel's regular airstrikes against its forces and proxies in the region.
Iran appears to have been building up its drone activities and attacks in recent months. In August, Israeli fighter jets carried out airstrikes in Syria to thwart a planned attack on Israel by Iran-backed fighters using armed drones, the Israel Defense Forces said. The Israeli military said its strike targeted operatives from Iran's Islamic Revolutionary Guard Corps' Quds Force as well as Shiite militias who had been planning on sending "kamikaze" attack drones into Israel armed with explosives.
Full report at:
https://www.timesofisrael.com/us-envoy-iran-has-spent-16-billion-on-militias-in-iraq-syria/
--------
Baghdad to Prosecute Iraqis who Committed Terror Crimes in Iraq
1 November, 2019
Foreign Minister Mohammed al-Hakim said on Thursday that Iraq's judiciary is committed to prosecuting Iraqi terrorists and foreigners who committed crimes in the country.
However, he said Baghdad is not prepared to put foreign militants who fought with ISIS in Syria on trial for crimes committed against non-Iraqis.
"We take responsibility for our own citizens, their wives and children," the minister said in a television interview with the Dutch Media Network and the NRC newspaper.
"European countries such as the Netherlands should take responsibility for their own nationals. That is what we advise these countries," Hakim explained.
He also pointed out that Iraq is not allowed to take to trial people for offenses committed in countries other than Iraq.
Several European countries including France, the UK, Belgium, the Netherlands, Denmark, Sweden and Norway have been working on having their nationals, convinced on terror charges, put to trial in Iraq without taking them back into Europe.
However, Hakim said: "Iraqi justice does not allow this."
The minister stressed the importance of continuing international efforts in fighting terrorism, cutting off its funding, holding terrorists accountable for their crimes, and reaffirming Iraq's keenness to bring to justice victims of terrorism.
Hakim said the Iraqi government values the relationship with Netherlands pointing out that the main directions of Iraq's foreign policy aims to build the best relations with the countries of the world.
Hakim was in the Netherlands for two days of talks on Dutch-Iraq relations. The minister's comments came a few days after US President Donald Trump announced that ISIS leader Abu Bakr al-Baghdadi had died as a result of a US raid in northern Syria.
Full report at:
https://aawsat.com/english/home/article/1971266/baghdad-prosecute-iraqis-who-committed-terror-crimes-iraq
--------
Lebanon: Eyes on Hezbollah, allies after Hariri resignation
by Timour Azhari
November 02, 2019
Beirut, Lebanon - With the recent resignation of now-caretaker Prime Minister Saad Hariri amid unprecedented protests, Lebanon is entering a phase of political wrangling in which Hezbollah and its allies will be decisive.
Hariri resigned on Tuesday, saying he was responding to the will of the Lebanese people who for 13 days had taken to the streets in massive protests calling for the end of the country's confessional political system and for corrupt politicians to be held accountable.
Protesters want the caretaker government to be replaced with a cabinet of independent experts who can lead Lebanon out of a deepening financial crisis, secure basic services such as electricity and water, and create a new, non-sectarian electoral law.
Hariri the frontrunner
Though most who have taken to the streets do not want to see a return of Hariri, the 49-year-old remains the most likely candidate to lead the next government due to support among a number of political groups and much of the international community.
And while he saw the size of his parliamentary bloc reduced by about a third in last year's polls, Hariri is still the single most-popular politician among Lebanon's Sunnis - important in a country where the prime minister must be Sunni, the speaker of parliament Shia and the president a Maronite Christian.
"I think it's clear Hariri should head the next government, but it can't be the same kind of government - it must be cleaner, lighter politically and more professional," veteran politician Marwan Hamadeh told Al Jazeera.
Hamadeh, a longtime Hariri ally, is currently an MP in the bloc of the Progressive Socialist Party (PSP), which is headed by Druze leader Walid Joumblatt.
"Every group should put a bit of water in their wine, starting with Hezbollah and [Lebanese President Michel] Aoun, so that we reach consensus and shelter Lebanon from … the impending financial crisis and start the reforms process that would satisfy the masses who have been demonstrating," he said.
Hariri's resignation came after he said he had reached a "dead end" in negotiations with parties on the shape of a new government.
Hassan Nasrallah, the leader of the Shia group Hezbollah, flat-out opposed any change in government, while Aoun insisted that his son-in-law, Foreign Minister Gebran Bassil - a controversial figure who has been the prime target of protesters - remain part of it.
The Reuters news agency reported that a political adviser to Nasrallah advised Hariri against giving in to the protesters, telling him "we are next to you, steel yourself".
By resigning without any agreement in place, Hariri defied both Aoun and Hezbollah - a fact which may complicate the formation of a new government.
The path forward
For a new government to be formed, the president must set a date for binding consultations with MPs. At that point, MPs head up to the presidential palace in Baabda, just outside the capital, Beirut, and inform Aoun who they would like to see as prime minister.
Based on who the majority of MPs support for the post, the president then designates the prime minister to form a new government.
But while he can count on the votes of his 20 MPs, as well as the nine MPs of his allies in the PSP and the 15 in the Lebanese Forces, Hariri will need some backing from political rivals who control more than half of the 128-seat legislature.
This means he will need to get the votes of the groups he defied with his resignation. Hezbollah and its allies, including the Amal Movement and Aoun's Free Patriotic Movement, together control at least 67 seats.
To get the ball rolling, Aoun must call for consultations - but he has so far not done so. On Thursday, he said he was making "necessary efforts" to facilitate the process before setting a date.
Three main scenarios
There are three main scenarios being floated for the shape a new government could take on. The first and most likely is one headed by Hariri, with independent figures and experts thrown in, in order to satisfy the street.
"I think that if we see the president call for consultation in the next 48 to 72 hours, it is likely to be Hariri," Sami Atallah, the director of the Lebanese Center for Policy Studies, told Al Jazeera.
"The prospect of it not being Hariri is I think something that everyone will be thinking very carefully about," he said, alluding to the caretaker prime minister's international standing.
Hariri inherited strong ties with Western nations - particularly France - from his father, former Prime Minister Rafik Hariri, who was assassinated in 2005.
It was France that organised an international conference known as CEDRE in April 2018, bringing together many mainly European nations as well as the World Bank to pledge $11bn in soft loans to Lebanon for infrastructural projects.
These funds have been viewed in Lebanon as a lifeline for a country nearing economic and financial collapse, and Hariri has been the main link with the nations who pledged the sum.
Hariri's resignation on its own had made accessing the CEDRE funds "a very remote dream", Hamadeh said. Appointing someone other than him could be the nail on the coffin.
Additionally, the presence of a pro-Western figure such as Hariri at the head of a government has also shielded Lebanon from collectively paying the price of increasing United Stations sanctions on Hezbollah, which is backed by Iran.
This is why the second scenario, a government appointed by Hezbollah and its allies, could spell doom for Lebanon, according to some. "At this delicate financial moment, that might be very messy for us," Atallah said.
The third scenario - the formation of an independent government of experts, headed by an independent - is the one that would most satisfy protesters. Yet, it is perhaps the least likely due to the fact that it would exclude established political parties.
Time is of the essence
While the shape of the new government is important, the time it takes to form it is equally of essence. Hariri's now-caretaker cabinet took just under nine months to form due to political wrangling between parties. It lasted just about as long, nine months, minus a few days.
Lebanon no longer has that kind of time. High debt, stagnant economic growth and decreasing inflows of remittances - a vital lifeline - have put the country's finances under increasing strain.
Full report at:
https://www.aljazeera.com/news/2019/10/lebanon-eyes-hezbollah-allies-hariri-resignation-191031171809685.html
--------
Hezbollah leader calls for dialogue between political parties and protesters
1 November 2019
Leader of Lebanese Hezbollah Hassan Nasrallah called on Friday for dialogue between Lebanon's political parties and the representatives of the protesters.
Nasrallah addressed Saad Hariri's resignation as prime minister, saying his stepping down has frozen the reform package. His remarks echo statements made by Hezbollah's parliamentary bloc on Thursday that Hariri's resignation wasted time needed to enact reforms.
Full report at:
https://english.alarabiya.net/en/News/middle-east/2019/11/01/Hezbollah-leader-calls-for-dialogue-between-political-parties-and-protestors.html
--------
Hunger striking Bahraini anti-regime activist thrown into solitary
Nov 1, 2019
Bahraini prison officials have reportedly placed an imprisoned anti-regime dissident into solitary confinement, as the ruling Al Khalifah regime presses ahead with its heavy-handed clampdown on political dissidents in the Persian Gulf kingdom.
Social media activists said authorities at the notorious Jau Prison decided to throw hunger striking Moqdad al-Jaziri into solitary confinement after he revealed a T-shirt on which he had written "We demand the removal of [visitation] barriers" in an act of protest, the Arabic-language Lualua television network reported.
Earlier this week, the London-based Bahrain Institute for Rights and Democracy (BIRD) reported that Jaziri is among at least 15 prisoners, who have been on hunger strike for the past 20 days, demanding unobstructed family visitation.
Jaziri was arrested in 2012 and later sentenced to 14 years in prison over what human rights campaigners describe as politically motivated charges.
Activists also accuse authorities in Jau Prison of repeatedly denying the Bahraini detainee access to medical care.
Bahraini court sentences five dissidents to life in prison
Separately, a court in Bahrain has sentenced five anti-regime protesters to life imprisonment and handed down prison sentences to two more.
The court sentenced the quintet to life in prison on Thursday after finding them guilty of "planning terrorist attacks during the Formula 1 2019 Bahrain Grand Prix" motor race that took place on March 31.
The other two defendants in the case received 7-year prison sentences for allegedly aiding the other five.
Thousands of anti-regime protesters have held demonstrations in Bahrain on an almost daily basis ever since a popular uprising began in the country in mid-February 2011.
They are demanding that the Al Khalifah regime relinquish power and allow a just system representing all Bahrainis to be established.
Manama has gone to great lengths to clamp down on any sign of dissent. On March 14, 2011, troops from Saudi Arabia and the United Arab Emirates were deployed to assist Bahrain in its crackdown.
Scores of people have lost their lives and hundreds of others sustained injuries or got arrested as a result of the Al Khalifah regime's crackdown.
On March 5, 2017, Bahrain's parliament approved the trial of civilians at military tribunals in a measure blasted by human rights campaigners as being tantamount to imposition of an undeclared martial law countrywide.
Full report at:
https://www.presstv.com/Detail/2019/11/01/610137/Hunger-striking-Bahraini
--------
Lebanese banks open to customers again as life returns to normalcy
Nov 1, 2019
Lebanese banks on Friday reopened their doors to customers for the first time in two weeks as the people's lives start to get back to normal after an unprecedented wave of protests that made Prime Minister Saad Hariri resign.
Despite the two-week hiatus, the number of customers entering major banks was relatively small, according to Reuters' witnesses.
Life is returning to normalcy in Lebanon after almost two weeks of huge protests against the ruling elite, which finally forced Hariri to resign on Tuesday.
The resignation has somehow eased the protests, but has not been enough to send demonstrators back home, as people have continued their rallies mainly in major squares of the Lebanese cities.
In Thursday demonstrations in Riad al-Solh Square in the heart of downtown Beirut, protesters set fire on the Israeli flag and chanted 'Death to Israel'.
A few days ago, Saudi-owned Al-Hadath TV claimed that the Lebanese people had been chanting slogans against the Islamic Republic of Iran as well, but facts on the ground reveal it's just another piece of fake news.
On its Twitter account, the Saudi channel posted a photo of a Lebanese protester with the country's flag on which a slogan reads "Lebanon, Iraq and Yemen are Arabs, not Iranians; Get out, Iranian mercenaries."
However, the original photo shows no such slogan and reveals the Saudi network has manipulated the image in a bid to provoke anti-Iran sentiments.
US withholding $105mn in aid for Lebanon
Meanwhile, US President Donald Trump's administration has reportedly decided to withhold $105 million in aid for Lebanon despite the ongoing unrest and the ailing economy of the Arab country.
The State Department told Congress on Thursday that the White House budget office and National Security Council had decided to withhold the foreign military assistance, two US officials said, speaking on condition of anonymity.
The officials did not say why the aid was blocked. One of the sources said the State Department did not give Congress a reason for the decision.
The decision comes as the US administration had earlier described the aid as crucial for Lebanon to protect its borders.
One US official told Reuters he believed the security assistance was necessary for Lebanon, as it struggles with instability not just within its own government but in a turbulent region and houses thousands of refugees from war in neighboring Syria.
Washington has repeatedly expressed concern over the growing role in the Beirut government of the Hezbollah resistance movement, a key party in the Lebanese parliament and government.
Fully aware of Hezbollah's key role in the Lebanese economy, however, Washington has imposed sanctions against a number of lawmakers, officials, and bodies linked to the movement.
Some 50 Hezbollah individuals and entities have been blacklisted by the Treasury since 2017.
Full report at:
https://www.presstv.com/Detail/2019/11/01/610108/Lebanon-banks-life-normal-hezbollah-us-aid
--------
Assad: Liberating northern Syria from Kurds 'ultimate goal'
Nov 1, 2019
Syrian President Bashar al-Assad says his country's ultimate goal is to restore state authority over Kurdish-controlled northeastern regions in the wake of an abrupt US troop withdrawal and a Turkish offensive against the Kurds there.
In an interview with state TV on Thursday, the Syrian president also said an agreement last week between Turkey and Russia to drive out Kurdish-led People's Protection Units (YPG) militants from a 30-kilometer "safe zone" along the border was a step that would help Damascus in regaining control, though gradually, over the northeastern areas.
The Turkey-Russia deal, which would halt the weeks-long Turkish invasion, calls for the withdrawal of Syrian Kurdish militants from areas along the Turkish border with the aim of establishing a "safe zone" that Ankara claims will be used to repatriate some of the three-million-plus Syrian refugees it currently hosts.
Assad said during the interview that agreement is "temporary."
"We have to distinguish between ultimate or strategic goals... and tactical approaches," he said, stressing that his forces will eventually reclaim territory taken by Ankara's latest offensive.
The Kurdish YPG militia had reached a deal with Damascus to take up positions near the border after US President Donald Trump's announcement of pullout of US troops in northeastern Syria left them feeling abandoned.
Assad, however, added that Damascus will not demand that armed groups there hand over weapons immediately when the army enters those areas in a final deal with the Kurds that restores state control.
'Erdogan Syria's enemy'
The Syrian head of state said he did not intend to call Turkey an "enemy"و but Turkish President Recep Tayyip Erdogan and many Turkish political elite were enemies of Syria because of their hostility towards the Arab neighbor.
"We must ensure that we don't turn Turkey into an enemy and here comes the role of friends" such as Russia and Iran, he said.
"Erdogan and his group are enemies, because he leads these policies, but until now most of the political forces in Turkey are against Erdogan's policies," he argued.
Assad noted that Iran and Russia, as state-guarantors of Syrian peace efforts, have been negotiating with Turkey over the past year.
Both Tehran and Moscow, along with Lebanon's Hezbollah resistance movement have helped Syria with its war against foreign-backed militancy over the recent years.
The Syrian president asserted that Turkey had agreed as part of the Astana peace talks to end its presence in Idlib province. However, he said, the Syrian forces decided to liberate the province.
"The Turks did not abide by this agreement, but we are liberating Idlib," he said.
Full report at:
https://www.presstv.com/Detail/2019/11/01/610077/Assad-Syria-interview-Turkey-erdogan
--------
Africa
Nigeria lifts ban on groups it accused of feeding Boko Haram terrorists
November 02, 2019
The federal government of Nigeria has lifted a ban on the operations of two prominent international aid groups.
The aid groups are Action Against Hunger and Mercy Corps, who have been dispensing humanitarian support to displaced persons in Nigeria's restive northeast region.
The government had accused the groups of providing food and medicines to members of the Boko Haram terrorist sect.
The shutdown
On Wednesday, September 25, 2019, Mercy Corps announced that it was suspending its operations in Nigeria because the Army had shut down its offices in Borno and Yobe states without an official explanation.
"Mercy Corps is suspending operations in Borno and Yobe States, Nigeria, following the closure of four of our field offices by the Nigerian military.
"We have not yet received an official reason from the Nigerian authorities for the closure and we are seeking to work with them to resolve this as soon as possible," the agency had said.
A week before, the Army announced a similar ban on Action Against Hunger, stating that credible intelligence revealed that the Paris-based agency had been supplying food and medication to Boko Haram terrorists.
"AAH has been declared persona non grata for aiding Boko Haram Terrorists/Islamic State West Africa by supplying them food and drugs despite warning from the TC – OPLD," the Army announced.
The aid groups had denied the allegations.
A lifting of the ban and relieved aid groups
On Wednesday, October 30, 2019, the government lifted the ban on the aid groups but said all non-governmental groups must be vetted and registered before they can offer humanitarian aid.
The government will also screen all vendors working with aid groups, the government added.
The United Nations says humanitarian groups in Nigeria are relieved after the government lifted the ban on the operations of the two prominent international aid groups.
The U.N. humanitarian office in Nigeria says that with the lifting of the ban, more than 350,000 people will receive the food assistance they have waited for.
The Boko Haram insurgency in Nigeria's northeast has resulted in a humanitarian crisis in the region. Millions have been displaced, more than 50,000 have been killed and hundreds have been abducted since Boko Haram commenced its war against the Nigerian state in 2009.
https://www.pulse.ng/news/local/ban-on-groups-accused-of-aiding-boko-haram-lifted/2p38n4p
--------
Nigeria Asks U.S. to Help Fund Infrastructure, Terror Fight
By Ruth Olurounbi
October 31, 2019
Nigeria asked the U.S. to help fund power and other infrastructure projects and the fight against an Islamist insurgency, the West African nation's presidency said.
Nigerian President Muhammadu Buhari met U.S. Treasury Secretary Steven Mnuchin at a conference in Riyadh Wednesday and discussed increased funding, the presidency said in a statement emailed Thursday from the capital, Abuja.
Nigeria has struggled with crippling electricity shortages for decades despite its potential to generate 12,522 megawatts of power from existing plants, but only generates a third of that.
The funding will help the West African nation of nearly 200 million people "address current challenges confronting her power sector as well as general upgrade of infrastructure," presidency spokesman Garba Shehu said in the statement.
Full report at:
https://www.bloomberg.com/news/articles/2019-10-31/nigeria-asks-u-s-to-help-fund-infrastructure-terror-fight
--------
Algerians protest election plan, mark independence war
1 November 2019
Algerians are demonstrating against plans for upcoming elections they fear will be manipulated by a long-despised power structure.
Friday's protest coincides with celebrations marking 65 years since the beginning of Algeria's war for independence from France.
Thousands of people converged on the capital for Friday's protest, the 37th since their pro-democracy movement began in February.
Some demonstrated peacefully in the streets overnight, while others banged on pots and pans in their homes to show support.
Crowds re-convened Friday morning for a march through Algiers.
The protesters' anger focuses on the Dec. 12 presidential election, to replace longtime leader Abdelaziz Bouteflika after he was pushed out in April.
Full report at:
https://english.alarabiya.net/en/News/north-africa/2019/11/01/Algerians-protest-election-plan-mark-independence-war.html
--------
Attack on Mali military post kills 35 soldiers
2 November 2019
Thirty-five soldiers were killed Friday in a "terrorist attack" on a Mali military post in the northeast of the country, the army said.
"The provisional death toll has risen to 35 deaths," it said on Facebook late Friday, adding that the situation is "under control".
An investigation into the attack on the outpost in Indelimane in the Menaka region is ongoing, it said.
The attack came a month after two assaults killed 40 soldiers near the border with Burkina Faso, one of the deadliest strikes against Mali's military in recent militant violence.
No group immediately claimed responsibility for Friday's assault.
The Malian government earlier condemned the "terrorist attack," saying it had left numerous dead or wounded but without giving a precise toll.
It said reinforcements had been rushed to the area to boost security and track down the attackers.
Northern Mali came under the control of al-Qaeda linked extremists after Mali's army failed to quash a rebellion there in 2012. A French-led military campaign was launched against the extremists, pushing them back a year later.
But the extremists have regrouped and widened their hit-and-run raids and landmine attacks to central and southern Mali.
Full report at:
https://english.alarabiya.net/en/News/world/2019/11/02/Attack-on-Mali-military-post-kills-35-soldiers.html
--------
Algerian protest movement calls for 'new revolution' on anniversary
Nov 1, 2019
Demonstrators converge on Algiers for a mass rally called by protest leaders to coincide with official celebrations of the anniversary of the war that won Algeria's independence from France.
https://www.presstv.com/Detail/2019/11/01/610149/Algerian-protest-movement-calls-new-revolution-anniversary
--------
Despite other rich resources, South Sudan's oil may fuel war
Benjamin Takpiny
01.11.2019
JUBA, South Sudan
South Sudan oil has been fueling conflict in the country as oil revenues have been used to fund war, according to one of the country's top political analysts.
"The government use oil money to buy arms," James Okuk of Juba University told Anadolu Agency in the country's capital, Juba.
"If you're buying arms using oil money, then oil is contributing to war. If it's a time of peace then the oil money is not contributing, but people are fighting in the country, which means that oil is contributing seriously."
He said that if the government is buying arms and military supplies using oil revenues, then oil left its fingerprints on the crisis in the country.
"If you're recruiting soldiers and the payment is coming from oil money than oil is contributing, unless there are no fighting soldiers. If there are fighting soldiers, then oil is contributing. The supplies you give to the military fueled the war and that makes oil the cause of the instability."
"Oil revenues and income from other natural resources have continued to fund the [South Sudan civil] war, enabling its continuation and the resulting human rights violations," according to The Sentry, a website focused on "dirty money connected to African war criminals and transnational war profiteers."
The Petroleum Ministry funded food, fuel, and satellite phone airtime and sent money to militias accused of attacking civilians, the website added.
"They have used the country's oil to buy weapons, fund deadly militias, and hire companies owned by political insiders to support military operations that have resulted in horrific atrocities and war crimes," J.R. Mailey, who leads special investigations at The Sentry, said in a statement.
The government dismissed the accusations as a fabrication designed to damage its image.
Oil
In addition to being the world's youngest country, South Sudan is also the one most dependent on oil, and Dar Petroleum is one of the country's most important entities.
Dar includes China's state-owned China National Petroleum Corporation, Malaysia's state-owned Petronas, Chinese state-owned Sinopec, the private Egyptian-based firm SSTO, and South Sudan's state-owned Nile Petroleum.
While most of the country's oil rigs were shut down or destroyed during the long civil war, the oil consortium continued operating.
Oil revenues constitute more than 98% of the government of South Sudan's budget, according to government data.
Since negotiators from the U.S., U.K., and Norway coaxed President Salva Kiir's forces and rebel groups into a truce and power-sharing accord 13 months ago, oil production has almost doubled to 200,000 barrels a day -- still far less than the 350,000 barrels before the conflict. But the two sides remain at odds over regional boundaries and security arrangements, and prospects are bleak that they will meet a Nov. 12 deadline -- already delayed by six months -- to establish a unity government.
South Sudan slid into crisis when Kiir sacked Riek Machar as vice president in Dec. 2013 on suspicion of plotting a coup.
The country plunged into a civil war that has claimed tens of thousands lives and forced four million people to migrate from their homes.
Both the leaders finally struck a peace deal in 2018, which remains to be implemented.
Oil production from the Unity oilfields, operated by China National Petroleum Corp., Malaysia's Petroliam Nasional Bhd and India's Oil & Natural Gas Corp., has resumed after being halted by the war. And output from the Paloch oilfields, operated by a consortium made up of CNPC, Petronas, Nile Petroleum Corp., Sinopec Corp., and Tri-Ocean Energy Co., which continued operating through the conflict, has been scaled up.
The government is targeting daily output of 250,000 barrels by the end of next year, and ultimately 350,000 barrels from existing fields.
The economy of South Sudan is one of the world's weakest and most underdeveloped. South Sudan has little existing infrastructure and has the highest maternal mortality and female illiteracy rates in the world.
Agriculture
South Sudan is rich in agricultural land and has one of the largest populations of pastoralists in the world. However, since 1999, when Sudan first started exporting oil, agricultural production in the country has fallen. According to the World Bank, the average annual growth rate of the agricultural sector between 2000 and 2008 was only 3.6%, a mere shadow of the 10.8% growth rate of the previous decade.
An extensive satellite land survey done by the UN Food and Agriculture Agency (FAO) showed that just 4.5% of the available land was under cultivation when South Sudan became independent.
South Sudan relies on food imports from neighboring countries, such as Uganda, Kenya, and Sudan. These come at a high transportation cost which, coupled with inflation, have caused food prices to rise dramatically.
The declining agricultural production and reliance on expensive foreign food supplies have contributed to a severe food shortage in South Sudan.
Other natural resources
There are several marble deposits in the southeastern Kapoeta region, the largest just about 4 kilometers (2.5 miles) from the town of the same name. In 1978, a German cement company discovered about 8 million tons of marble in the area.
South Sudan has a few aluminum deposits, with at least three of the areas containing the mineral at a value above 4.5%. The amount of aluminum reserves in the country is not known but the government estimates it at approximately 10 million tons.
Although South Sudan has several deposits of iron ore, the mineral remains largely unexploited due to the ongoing civil war and lack of proper infrastructure. Many foreign companies have also been scared away by the violence.
Full report at:
https://www.aa.com.tr/en/africa/despite-other-rich-resources-south-sudans-oil-may-fuel-war/1632911
--------
Somalia's biggest telco in 'forced' alliance with Shabaab, study says
November 02, 2019
Somalia's largest telecom has been "forced" into an unholy alliance with Al-Shabaab, and this is paradoxically enabling the firm to grow.
A new report lays blame on a symbiotic relationship between Hormuud Telecom and Al-Shabaab for the resurgence of raids in Kenya and Somalia.
The think-tank International Policy Group says in its report that the telco has been threatened and forced into working with the terrorist group, but from which it receives protection in return.
The think-tank is not related to the consultancy firm IPG.
"Al-Shabaab has used extreme force to get Hormuud to kowtow to its guidelines, pay taxes and allow its agents access to the company's technology for counter-intelligence operations," the report titled Reaping the Whirlwind says.
The company has been a victim of terror attacks in the past.
SURVIVAL
According to the report, some of those attacks were because of rivalry between Al-Shabaab factions. It says telco may have learnt survival skills in Al-Shabaab strongholds, and now takes part in facilitating raids which ultimately scares off rivals.
"In certain regions, Hormuud has enjoyed monopoly of mobile communication services … but this love affair with Al-Shabaab has its downside. It has dented Hormuud's reputation," it says.
"It is using Al-Shabaab as part of its strategy to gain monopoly in Somalia and shut out Kenyan telecommunication firms 50 kilometres into north eastern Kenya."
Hormuud spokesman Abdulahi Mohamud dismissed the report, saying the company has been the link channel for Somalia's resilience in the face of insecurity.
"To suggest that a business with an international reputation … would be engaging with terrorist groups is outrageous," he told the Nation on Thursday.
"We pride ourselves in providing Somali people with the much-needed telecommunications infrastructure to fuel … growth, conducting our operations to the highest standard."
Mohamud said Hormuud would continue to seek dialogue with stakeholders but added that the company would not answer questions on "baseless" claims by the Policy Group.
The report comes in the wake of frequent attacks on Kenya's towns in Mandera, Wajir and Garissa counties where police stations, communication masts and kidnappings have happened.
On Tuesday, Al-Shabaab fighters raided a camp in Wajir and killed two people arrested in connection with the October 12 attack in which 11 police officers were killed.
"These kinds of attacks are supported by Hormuud technology which ensures merchants are paid through mobile money, or communication is disrupted so Somali security agents can't track the movement of attackers," the report says.
Hormuud operates mainly in central and southern Somalia.
According to the UN Panel of Experts on Somalia, it controls about 45 per cent of the market with four million subscribers. It has about 6,000 employees, sustains 15,000 indirect jobs and has 12,000 shareholders.
INVESTORS
Hormuud is not the only Somali entity criticised for kowtowing to Al-Shabaab. Other companies forced into extortion include Som Tel, Golis Telecom Puntland, Telecom Somaliland, Dahabshiil, Salaam Somali Bank, Taaj Express, Iftin Express, al-Buruj Construction Company, Becco Power and logistical firms at Mogadishu port.
"The company is caught between a rock a hard place with its investors and managers torn between adherence to business norms and ethos and goals of political Islam," the report says.
Hormuud's founder Ali Ahmed Nur Jim'ale was once listed by the UN and the United States as a sponsor of terrorism. Jim'ale, a former member of the Islamic Courts Union, which preceded al-Shabaab, was later dropped from the sanctions list in 2012 following lobbying by the Federal Government of Somalia.
SANCTIONS
Hormuud had also been was sanctioned in 2012 by the US Office of Foreign Assets Control. The sanctions were lifted in 2014.
In 2016, the then UN Monitoring Group on Somalia and Eritrea (now known as the UN Panel of Experts on Somalia) said al-Shabaab operatives were being paid mainly through Hormuud's EVC-PLUS money transfer service and that the firm was not cooperating with authorities in sharing records of the transactions.
"There are performance-based rewards. Every surviving participant of the El-Adde campaign received a $200-$400 bonus," the report adds.
Full report at:
https://mobile.nation.co.ke/news/africa/Somali-telco-forced-alliance-Al-Shabaab/3126394-5333206-5orkbb/index.html
--------
Somali army kills 7 al-Shabab militants in southern regions
2019-10-31
MOGADISHU, Oct. 31 (Xinhua) -- Somali national forces backed by the Jubaland state army on Wednesday killed seven al-Shabab extremists and injured eight others in an operation in Lower Juba region in southern Somalia, an official said on Thursday.
Shirwa Omar Barush, a senior officer in Somali National Army who was one of the commanders leading the operation told journalists that the joint operation was conducted in areas bordering Jamame town.
"We started the offensive in Koban village passing through Bangeni, Arare and Mana Mufo villages and there was stiff resistance from the militants, but our forces finally drove them out of those villages and we killed seven of them and injured eight others," Barush said.
He added that among the dead was the militants' commander of the battle. Residents said there was confrontation in the town.
"Al-Shabab militants in the town were attacked by the government army, both sides exchanged heavy artilleries, but the forces are now in the town and the militants are outside of it," Hawa Elmi, a resident told Xinhua by phone.
On Oct. 19, the Somali army killed 20 al-Shabab militants in an operation in the central region of Hiran.
Full report at:
http://www.xinhuanet.com/english/2019-10/31/c_138518495.htm
--------
North America
No peace unless Taliban fighters reintegrated in Afghan society, warns US report
Anwar Iqbal
November 02, 2019
WASHINGTON: None of the US-backed reintegration programmes enabled any significant number of ex-combatants to socially and economically rejoin the Afghan society, says an official US report sent to Congress this week.
The Office of the Special Inspector General for Afghanistan Reconstruction (SIGAR), which compiled the report, also pointed out that programmes targeting Taliban insurgents did not substantially weaken the insurgency or contribute meaningfully to parallel reconciliation efforts.
"If there is ever to be a true, sustainable peace in Afghanistan, reintegration of the Taliban and other combatants will be a necessary component of that process, whether that process begins days or years from now," warned Inspector General John Sopko.
The SIGAR report, which was released to the public on Friday, also reviews efforts to revive the Afghan peace process, which seeks to end the 18-year-old war.
In September, the Taliban and the Trump administration appeared on the verge of a breakthrough deal. But Mr Trump abruptly declared the peace talks "dead" after a Taliban attack in Kabul killed an American soldier. He made the announcement hours before Afghan President Ashraf Ghani and senior Taliban leaders was set to arrive at a US presidential resort to sign the deal.
The SIGAR report notes that since October 2018, US and Taliban representatives have been meeting in Doha, Qatar, to find a peaceful end to the Afghan conflict. The Kabul government, however, did not participate in talks as the Taliban does not recognise it.
The reports notes that the topics discussed in Doha included conditions for withdrawal of foreign forces from Afghanistan and for preventing terrorists from again using Afghanistan as a platform for planning and launching attacks.
Despite the suspension, both sides appear keen to start the talk process while the United Nations is calling for direct talks between the Taliban and the Kabul government "as soon as possible," the report adds.
But the SIGAR report warns that "even if intra-Afghan talks produce an agreement, and even if reintegration programs are undertaken, other complications can arise." Such as, some Taliban fighters may decide they want no part of a peace agreement.
The report also warns that even if a peace agreement covering all insurgents in Afghanistan were reached, "failure to reintegrate former fighters may simply produce an interval between bouts of violence."
That's why SIGAR believes that the "reintegration of ex-combatants is going to remain highly relevant if and when we get a peace process."
Underlining the enormity of the reintegration program, SIGAR points out that an estimated 60,000 full-time Taliban fighters, as well as numerous other non-Taliban combatants will have to be reintegrated if, and when, the Afghan government and the Taliban reach a political settlement.
"Any major reintegration effort is very likely to fail in the absence of an agreement between the Afghan government and the Taliban on terms for the reintegration of former fighters," Mr Sopko warned,
Otherwise, former fighters and their families "face enormous risks of retribution" with likely little protection from the government, he added.
https://www.dawn.com/news/1514381/no-peace-unless-taliban-fighters-reintegrated-in-afghan-society-warns-us-report
--------
US says Iran remains 'world's worst state sponsor of terrorism'
1 November 2019
Iran remains the world's worst state sponsor of terrorism, according to a report released on Saturday by the US State Department.
"The regime has spent nearly one billion dollars per year to support terrorist groups that serve as its proxies and expand its malign influence across the globe," the State Department said in its annual release of the "Country Reports on Terrorism" for 2018.
"Tehran has funded international terrorist groups such as Hezbollah, Hamas, and Palestinian Islamic Jihad. It also has engaged in its own terrorist plotting around the world, particularly in Europe," the report added.
It cited an incident in January 2018 when German authorities investigated 10 suspected Islamic Revolutionary Guard Corps – Quds Force (IRGC – QF) operatives. During summer last year, Belgian, French and German authorities thwarted an Iranian plot to bomb a political opposition rally near Paris.
Speaking to Al Arabiya, US Special Representative for Iran Brian Hook said that Washington has made it harder for Iran to conduct foreign interference operations as "Iran doesn't have the money that it used to."
Full report at:
https://english.alarabiya.net/en/News/middle-east/2019/11/01/US-says-Iran-remains-world-s-worst-state-sponsor-of-terrorism-.html
--------
US Knows New ISIS Leader, Says Trump
Michael Hernandez
01.11.2019
WASHINGTON
The U.S. has identifying information on the man who succeeded former Daesh/ISIS leader Abu Bakr al-Baghdadi after he was killed by U.S. forces, President Donald Trump said Friday.
"ISIS has a new leader. We know exactly who he is!" Trump said on Twitter using another name for the Daesh terrorist organization.
Daesh/ISIS confirmed al-Baghdadi's death on Thursday, naming Abu Ibrahim al-Hashimi al-Qurayshi as its new leader, according to a statement distributed by al-Furqan, the group's media wing.
Little information is publicly available on al-Qurayshi, and the name itself appears to be a kunya, or nom de guerre.
Under Baghdadi, Daesh spread over wide segments of Iraq and Syria beginning in 2013, eventually claiming the formation of a "caliphate" in the region as it plotted and carried out gruesome attacks that reached far beyond its main territorial bastion. It further set up local affiliates in other regions as it released heinous execution videos on to the internet.
Baghdadi had been a top target for both the Trump and Obama administrations, and had a $25 million bounty placed on his head.
Full report at:
https://www.aa.com.tr/en/americas/us-knows-new-daesh-isis-leader-says-trump/1633106
--------
FBI Scrutinizes Over 2,000 Cases Tied to Foreign Terrorist Organizations
By Masood Farivar
October 31, 2019
WASHINGTON - The FBI says it is investigating more than 2,000 cases tied to groups designated by the United States as foreign terrorist organizations, a figure that reflects the persistent threat posed by outfits such as al-Qaida and Hezbollah.
There are currently 68 individual groups on the U.S. State Department's list of foreign terrorist organizations, the vast majority jihadi outfits such as al-Qaida. The designation allows the U.S. to freeze the groups' and their members' assets and investigate their activities.
The FBI's renewed focus on foreign terrorist organizations and their members partly reflects the quiet resurgence in recent years of al-Qaida, said Seamus Hughes, deputy director of the Program on Extremism at George Washington University.
"While the primary focus was ISIS the last few years, al-Qaida used that time to bide their time and build up a network," Hughes said. "And so, these cases are still out there, and they're going to have to look at them. It's not just ISIS — there are al-Qaida, its affiliates, and then you have groups like Hezbollah."
Out of about 5,000 terrorism cases under investigation, approximately 850 are focused on domestic terrorism such as far-right violence, while the rest have a nexus to international terrorism, the FBI said in response to a query from Voice of America.
The international terrorism investigations are in turn divided into about 1,000 cases each of so-called homegrown violent extremism and Islamic State. The rest are made up of "thousands of other cases associated with foreign terrorist organizations like al-Qaida and Hezbollah," the FBI said.
FBI Director Christopher Wray first disclosed the top-line number of terrorism cases last October when he testified before the House of Representatives Committee on Homeland Security.
The FBI provided a breakdown of the figure after Wray appeared before the same panel on Wednesday to discuss the threat of international terrorism to the U.S.
The terror threat, he said, has morphed from sophisticated plots directed by foreign terrorist organizations to individual attacks carried out by lone actors inspired by these organizations, Wray said.
"We remain concerned that groups such as the Islamic State of Iraq and ash-Sham (ISIS) and al-Qaida have the intent to carry out large-scale attacks in the U.S.," Wray said in prepared remarks.
While the FBI recently elevated domestic terrorism to a "national threat priority," Wray said homegrown violent extremists, or so-called "lone wolf actors," pose "the greatest, most immediate terrorism threat to the homeland."
"These individuals are FTO-inspired individuals who are in the U.S., have been radicalized primarily in the U.S., and are not receiving individualized direction from FTOs," Wray said, using an initialism for foreign terrorist organizations.
The FBI conducts several types of investigations: a 30-day assessment, a six-month preliminary investigation and a full investigation based on a national security threat or criminal activity. All 5,000 open cases are full investigations, the FBI said.
"The 5,000 is not just the total number of cases they're dealing with," Hughes said. "They're probably dealing with orders of magnitude larger than that."
The FBI did not provide historical data on terrorism investigations, making it difficult to assess the aggregate figure. However, the number in several categories, including homegrown violent extremism and domestic terrorism, has hovered around 1,000 cases in recent years, according to FBI officials.
In the post-9/11 era "they're obligated to open and investigate every plausible threat," said David Gomez, a former FBI special agent and terrorism investigator.
The vast majority of the investigations do not lead to prosecution, Gomez noted, adding that the FBI opens investigations for both intelligence-gathering and prosecution purposes.
Full report at:
https://www.voanews.com/usa/fbi-scrutinizes-over-2000-cases-tied-foreign-terrorist-organizations
--------
U.S. Troop Withdrawal Creates Opening for Revitalized Syrian Regime
By Raja Abdulrahim
Nov. 1, 2019
Syrian President Bashar al-Assad clawed back control over much of his country with the help of Russia and Iran. Now he is poised to take back much of the rest—in large part because of the U.S.
Full report at:
https://www.wsj.com/articles/u-s-troop-withdrawal-creates-opening-for-revitalized-syrian-regime-11572600630?mod=hp_lead_pos5
--------
Trump invites 'hero' dog from al-Baghdadi raid to White House, declassifies name as 'Conan'
ByBEN GITTLESON
Oct 31, 2019
President Donald Trump on Thursday tweeted that a dog used by United States special operations forces in a raid that led to the death of Islamic State leader Abu Bakr al-Baghdadi in Syria would leave the Middle East to come to the White House next week -- and then he declassified the dog's name.
After sharing a fake image from the conservative news website The Daily Wire that showed Trump putting a medal with a paw print around the dog's neck, the president tweeted that the "recreation" was "Very cute" but that the "'live' version of Conan will be leaving the Middle East for the White House sometime next week!"
Donald J. Trump
✔
@realDonaldTrump
Thank you Daily Wire. Very cute recreation, but the "live" version of Conan will be leaving the Middle East for the White House sometime next week! https://twitter.com/realdonaldtrump/status/1189601417469841409 …
Donald J. Trump
✔
@realDonaldTrump
AMERICAN HERO!
View image on Twitter
98.2K
10:06 AM - Oct 31, 2019
Twitter Ads info and privacy
27.8K people are talking about this
It was the first time any U.S. official had confirmed the name of the dog -- a Belgian Malinois named Conan -- something military officials had declined to do in recent days, citing security reasons.
Gen. Mark Milley, chairman of the Joint Chiefs of Staff, told reporters at a Pentagon briefing Monday that the dog was "slightly wounded and fully recovering." Milley said that because the dog was returned to duty as part of a classified military unit, he would not be disclosing its identity.
At a press briefing at the Pentagon on Wednesday, two more details about the dog were released: It has served for four years and has participated in 50 combat missions.
Full report at:
https://abcnews.go.com/Politics/trump-invites-hero-dog-isis-leader-raid-white/story?id=66661806
--------
Armenian Assembly: Omar's Refusal to Acknowledge Armenian Genocide Doesn't Represent 'Muslim Values'
BY ROBERT SPENCER
NOVEMBER 1, 2019
In reporting on the refusal of Rep. Ilhan Omar (D-Ankara) to vote for a House resolution condemning the Armenian Genocide, NBC News quoted Van Krikorian, the co-chair of the Armenian Assembly of America, saying that Omar's "votes and actions...do not represent the best of American or Muslim values. Innocent people were and are being slaughtered, and there is a universal need to defend the victims of genocide and ethnic cleansing, not to stand with or defer to the murderers."
Although his statement reflects the dominant view in the United States and all over the West about how Islam is really a cuddly religion of peace if you just get to know it, Van Krikorian is wrong. The Armenian Genocide was carried out in accord with "Muslim values," and that may be why Ilhan Omar, who makes a public show of her devoutness in Islam by wearing the Sharia-mandated hijab, would not vote to condemn it. The History of Jihad from Muhammad to ISIS reveals the shocking truth about 1,400 years of jihad activity, including the genocide of Anatolia's Christians.
In 1894, the Ottoman sultanate began massacring Armenians ruthlessly, committing mass rapes, killing even children, and burning Armenian villages. The chief dragoman (Turkish interpreter) of the British Embassy wrote that those who committed these atrocities were "guided in their general action by the prescriptions of Sheri [Sharia] Law. That law prescribes that if the 'rayah' [subject] Christian attempts, by having recourse to foreign powers, to overstep the limits of privileges allowed to them by their Mussulman masters, and free themselves from their bondage, their lives and property are to be forfeited, and are at the mercy of the Mussulmans. To the Turkish mind, the Armenians had tried to overstep these limits by appealing to foreign powers, especially England. They, therefore, considered it their religious duty and a righteous thing to destroy and seize the lives and property of the Armenians."
The jihad against the Armenians went on even in Constantinople, after Armenian revolutionaries seized the Bank Ottoman in 1894. In retaliation, Muslim mobs for two days bludgeoned Armenians to death with cudgels wherever they found them. The British chargé in Constantinople wrote that the "Turkish mob" was aided by "a large number of softas [student of Islamic theology] and other fanatics...individuals wearing turbans and long linen robes rarely seen in this part of the town. They mostly carried clubs which had evidently been carefully shaped after a uniform pattern; some had, instead of these, iron bars...there is nothing improbable in the stories current that the clubs and bars...were furnished by the municipal authorities."
At Urfa in December 1895, the Armenians gathered in their cathedral and requested Ottoman government protection, which the officer in charge granted, surrounding the cathedral with troops. Then other Ottoman troops, along with local Muslim civilians, rampaged through the city, slaughtering Armenians and plundering their houses. A large group of young Armenians was taken to the local imam, who ordered them to be held down. An eyewitness said that the sheik then recited some verses of the Qur'an and "cut their throats after the Mecca rite of sacrificing sheep."
The German historian Johannes Lepsius visited the devastated areas at the time and chronicled the atrocities. He referred to the cover-up of these horrific events that had already begun: "Are we then simply forbidden to speak of the Armenians as persecuted on account of their religious belief? If so, there have never been any religious persecutions in the world... We have lists before us of 559 villages whose surviving inhabitants were converted to Islam with fire and sword; of 568 churches thoroughly pillaged, destroyed and razed to the ground; of 282 Christian churches transformed into mosques; of 21 Protestant preachers and 170 Gregorian [Armenian] priests who were, after enduring unspeakable tortures, murdered on their refusal to accept Islam. We repeat, however, that those figures express only the extent of our information, and do not by a long way reach to the extent of the reality. Is this a religious persecution or is it not?"
Lepsius also reported that the Muslims had destroyed 2,500 Christian villages and 645 churches and monasteries, and that the number of those who had been forced to convert to Islam was fifteen thousand. Three hundred twenty-eight churches were converted into mosques, and 508 more were plundered.
There is much more of this in The History of Jihad, as well as a huge mass of evidence to show that for all its savagery, the Armenian Genocide was no outlier, but was a manifestation of a will to violence that has played out all too often in Islamic history. If we had any actual journalists in America today, they would be asking Omar hard questions about what she thinks of that bloody history. But we don't.
Full report at:
https://pjmedia.com/homeland-security/armenian-assembly-of-america-says-omars-refusal-to-acknowledge-armenian-genocide-doesnt-represent-muslim-values/
--------
US treasury secretary to hold talks in India as pressure builds on Iran
1 November 2019
US Treasury Secretary Steven Mnuchin will hold talks with Indian leaders in New Delhi on Friday, Indian official said, as part of a tour to build support against Iran over its nuclear program and its ties to militant networks.
On Wednesday, the United States and six Gulf countries agreed to jointly impose sanctions on 25 corporations, banks and individuals linked to Iran's support for militant networks including Hezbollah, the US Treasury Department said.
Mnuchin, accompanied by Donald Trump's senior advisor and son-in-law Jared Kushner, began a regional tour from Oct. 25 through Saudi Arabia, Israel, United Arab Emirates, India and Qatar.
In New Delhi he will hold talks with Finance Minister Nirmala Sitharaman, an Indian government official said.
No details were provided.
Other members of the US delegation include under secretary for international affairs Brent McIntosh and assistant secretary for terrorist financing and financial crimes Marshall Billingslea.
India, a long-time buyer of Iranian oil, halted purchases in May in the wake of renewed US sanctions, and its refiners are now buying more crude from some suppliers, including Mexico, and signed new contracts with US firms.
Sanctions were re-imposed on Tehran by President Donald Trump after he withdrew the United States from Iran's 2015 nuclear pact with world powers.
Aside from throttling Iran's oil exports, the sanctions also cut Iranian banks' ties to the financial world.
Full report at:
https://english.alarabiya.net/en/News/world/2019/11/01/US-treasury-secretary-to-hold-talks-in-India-as-pressure-builds-on-Iran.html
--------
Turkey 'active member' in anti-Daesh/ISIS effort: US
Michael Hernandez
01.11.2019
WASHINGTON
Turkey is an "active member" in efforts to secure the lasting defeat of the Daesh/ISIS terrorist organization, the U.S. State Department said in a report issued Friday.
The department said in its annual, congressionally-mandated Country Reports on Terrorism, that in 2018 Ankara "continued its efforts to defeat terrorist organizations both inside and outside its borders," including by taking anti-PKK and anti-Daesh/ISIS measures.
It further noted that Turkey has been an "active contributor" in international anti-terror organizations, including the Global Counterterrorism Forum (GCTF) and the U.S.-led anti-Daesh coalition.
"Turkey is an active member of the Global Coalition to Defeat ISIS, co-chairs the Defeat-ISIS Coalition FTF Working Group, and continued to provide access to its airspace and facilities for operations in Iraq and Syria," it said using another name for Daesh.
"Turkey also contributes to the International Institute for Justice and the Rule of Law, a GCTF-inspired institution, and provides expert support to assist training for judges and prosecutors handling terrorism cases," it added.
The department further said the PKK, a U.S. and Turkey-designated terrorist group, espouses "a range of extremist and nationalist ideologies," and continued "to plot against police and military targets in Turkey and raise funds throughout the rest of Europe" last year.
It added that Ankara "continued to receive U.S. assistance to address the terrorist threat posed by the PKK in 2018," including the listing of three senior PKK leaders on the U.S.'s Rewards for Justice program in November 2018. In all, the U.S. offered $12 million for information on the individuals.
Full report at:
https://www.aa.com.tr/en/americas/turkey-active-member-in-anti-daesh-isis-effort-us/1633360
--------
Europe
Bayonne mosque attack was terrorism, says survivors' lawyer
31 Oct 2019
A lawyer for two men who were injured in an attack on a mosque in south-west France this week has said the case should be treated as terrorism.
Méhana Mouhou, who represents two men aged 74 and 78 who were shot when they disturbed the suspect trying to set fire to the mosque in Bayonne, said: "This was a terrorist act."
Claude Sinke, 84, a former far-right supporter, has been charged with attempted murder, arson and gun violence but not terrorism offences.
Mouhou said the charges were a "masquerade" and a result of "judiciary ineptitude", and he has sought a meeting with the state prosecutor to push for the case to be reclassified.
He said: "There were preparatory acts in which he observed the mosque. His motives were clear. Everyone in his entourage says he was Islamophobic and racist. There was a gas canister, arms and targeting. So he was perfectly aware of what he was doing."
Sinke, who once stood as a local election candidate for Marine Le Pen's far-right party Front National (now renamed National Rally), was arrested at his home shortly after the attack on Monday.
He was accused of shooting the two men – one in the neck and the other in the chest – and setting fire to a car near the mosque before he fled in his own car. Police said he had admitted the crimes.
Investigators said Sinke wanted to set fire to the mosque to avenge the fire that tore through the roof of Notre-Dame Cathedral in Paris in April, which he blamed on Muslims. Paris police are treating the Notre-Dame fire as accidental and there has been no suggestion of arson or any connection to Muslims.
Sinke was put through two days of psychological tests to determine whether he understood what he had done. The state prosecutor in Bayonne had suggested there were questions about Sinke's mental health, but it was decided he could be held criminally responsible. He has been detainedand if convicted he could face life imprisonment.
Sinke left Front National in 2015 when his local federation removed him for comments found to be "against the spirit and political line" of the party. Mike Bresson, the deputy mayor of Sinke's home village, Saint-Martin-de-Seignanx, said Sinke was known for his "verbal excesses".
The French president, Emmanuel Macron, described the mosque attack as "heinous". France has been grappling with calls by some on the right to ban Muslim mothers in headscarves from volunteering on school trips.
This month 90 personalities, including actors and writers, signed an open letter in Le Monde calling on Macron "to say with force that Muslim women, whether they wear a headscarf or not, and Muslims in general have a place in our society – and to refuse our fellow Muslim citizens being monitored, stigmatised or denounced for the practice of their religion".
https://www.theguardian.com/world/2019/oct/31/bayonne-mosque-attack-was-terrorism-says-survivors-lawyer
--------
Court orders Belgium to take back ISIS militant's wife and children from Syria
NOV 1, 2019,
BRUSSELS (REUTERS) - A Brussels court has ordered Belgium to repatriate from Syria within 75 days a woman whose husband fought for Islamic State in Iraq and Syria (ISIS) and her children.
The 23-year old woman and her two children are awaiting the chance to return to Belgium from the Al-Roj refugee camp in an area of northeastern Syria that is under Kurdish control.
The Brussels Court of First Instance said Belgium would start facing a daily fine if the woman was not repatriated in the time it set.
The European Union created a common counter-terrorism register in September, hoping to facilitate prosecutions and convictions of suspected militants and people returning home from fighting with ISIS in Iraq and Syria.
The move was partly aimed at addressing concerns about the fate of hundreds of EU citizens who fought for ISIS and are now detained in Iraq and Syria.
Many of them could return to Europe and not face trial because of a lack of evidence against them, a factor that has contributed to unease in several EU countries over returning fighters.
The EU security commissioner, Julian King, told Reuters last month that at least 1,300 EU citizens, more than half children, were held in Syria and Iraq.
Full report at:
https://www.straitstimes.com/world/europe/court-orders-belgium-to-take-back-isis-militants-wife-and-children-from-syria
--------
Muslims condemn Rod Liddle's 'blatantly racist and Islamophobic remarks'
Basit Mahmood
1 Nov 2019
Leading Muslim groups have condemned Spectator columnist Rod Liddle for 'blatant Islamophobia and racism' after he suggested planning elections for a time when Muslims cannot vote. In an article headlined 'If you do one thing this election, stop your kids voting', Mr Liddle wrote: 'My own choice of election date would be a day when universities are closed and Muslims are forbidden to do anything on pain of hell, or something. 'There must be at least one day like that in the Muslim calendar, surely? That would deliver at least 40 seats to the Tories, I reckon.' Home Secretary Sajid Javid, who is of Muslim heritage, said Mr Liddle's words were 'not funny and not acceptable'. He Tweeted: 'Not clear if the Rod Liddle comment is supposed to be a joke – but it's not funny and not acceptable. 'No community in our country should be put down that way.'
Wes Streeting MP who is Co-Chair of the APPG on British Muslims said Mr Liddle's comments were 'blatantly Islamophobic and the Spectator should be ashamed of publishing them.' He told Metro.co.uk: 'The comments made by Rod Liddle in the Spectator are truly reprehensible. 'British Muslims are part and parcel of our democracy like all other groups. Minority communities' right to vote should not be attacked by preachers of hate but celebrated, promoted and encouraged. 'British Muslim communities in the UK won't stand alone against such attacks. There will be many others, including me, who will stand up to defend their rights. 'Mr Liddle and The Spectator should apologise immediately.' The Muslim Council of Britain (MCB) accused Mr Liddle of 'denying Muslims their democratic rights' and of 'discrimination against Muslims'.
An MCB spokesperson said: 'Mr Liddle's hate is not new and is in fact the usual bigotry that Muslims have become accustomed to. 'Here he calls for the discrimination against Muslims and a denial of their democratic rights, particularly when the far-right are on the rise. 'Outlets such as the Spectator regularly give racists a platform to share their anti-Muslim propaganda and feed into far-right narratives that thrive on Islamophobia.' Meanwhile the Spectator's assistant editor Isabel Hardman also said she 'profoundly disagrees' with Mr Liddle's piece and was 'hugely upset' by it.
Another section in Mr Liddle's column appeared to mock Labour MP Rosie Duffield, who last month spoke out about a previous abusive relationship she had while discussing the Domestic Abuse Bill. Mr Liddle described Ms Duffield as 'the sobbing and oppressed Rosie '#MeToo' Duffield'. In response Ms Hardman said: 'I know personally how strong and brave survivors of domestic abuse are and Rosie Duffield is one of the finest among us.' Anti-Racism campaigner Shaista Aziz said: 'To minimise the experiences of courageous Rosie Duffield MP, who spoke about her painful experiences of cohesive control and domestic abuse and to then go on to target Muslims is exactly the type of bigotry and disgrace Rod Liddle has become known for and paid very well to produce. 'A few days into a general election campaign and it's already open season for islamophobic and sexist views to be given prominence.'
Rehana Faisal, founder and chair of Lantern, a charity that seeks to increase social and political representation among Muslim women said: 'Rod Liddle's words are deeply misogynistic, racist and Islamophobic. 'Whilst as a nation we value free speech, we must recognise that he is peddling a narrative of hate that seeks to strip Muslim citizens of their basic rights. Liddle is advocating for discrimination in a very direct sense. 'This dehumanising language has a direct impact on the physical and mental well-being of my community.' In response Mr Liddle said: 'There was no hate speech or Islamophobia whatsoever. 'It was a very light-hearted series of suggestions about when to hold an election, based upon the dispute over the proposed dates for the election.
Full report at:
https://metro.co.uk/2019/11/01/muslims-condemn-rod-liddles-blatantly-racist-islamophobic-remarks-11027560/
--------
German Muslims feel unsafe amid mounting Islamophobia
Oliver Towfigh Nia
01.11.2019
BERLIN
Germany's Muslim community is "not feeling safe enough" amid the country's growing Islamophobia, a German Muslim leader told Anadolu Agency in Berlin on Friday.
"This year we had more than 80 attacks on mosque communities in Germany. The security situation is very tense. Muslims are not feeling safe enough. Talks with security authorities have shown that no sufficient concept exists and, above all, it is so that we as Muslims are not being sufficiently advised," said Burhan Kesici, the chairman of the Berlin-based Islam Council.
"Security authorities need to definitely work closer with the communities, develop concepts and provide advice [to them]. Otherwise, Muslims lose confidence in the security agencies, because protection is simply being blurred," he added.
Kesici's remarks came only a day after police were forced to evacuate a mosque in the western German city of Cologne on Thursday following a bomb threat.
Asked by Anadolu Agency about a reaction to the latest bomb threat against the mosque, Interior Ministry Spokesman Steve Alter said: "The minister has repeatedly expressed concern about attacks on religious institutions in recent weeks."
Following a thorough search at the Cologne Central Mosque complex with special teams and bomb-sniffing dogs, police found no bomb and determined the threat was a hoax.
It was the second time in four months that the Turkish-Muslim umbrella group DITIB, which runs the mosque, had been threatened with a bomb attack.
The mosque complex in Cologne also houses the headquarters of DITIB.
In June, a bomb threat, apparently emailed by a far-right organization, had also forced the evacuation of visitors and staff at the mosque complex, however it also turned out to be hoax.
Germany has witnessed growing Islamophobia in recent years sparked by hate propaganda of far-right parties.
More than 100 mosques and religious institutions were attacked by by far-right extremists in 2018.
Police recorded 813 hate crimes against Muslims last year, including verbal insults, threatening letters and physical attacks which led to the injury of at least 54 Muslims.
A country of over 81 million people, Germany is home to the second-largest Muslim population in Western Europe after France.
Full report at:
https://www.aa.com.tr/en/europe/german-muslims-feel-unsafe-amid-mounting-islamophobia/1633209
--------
Italy bans flights by Iran's Mahan Air after US pressure
Callum Paton
Nov 1, 2019
The Italian government will cease all flights into the country by the Iran-based airline Mahan Air, submitting to US diplomatic pressure.
Italy has followed France and Germany in banning flights by Mahan Air after US Secretary of State Mike Pompeo visited Rome at the beginning of October. The Italian newspaper La Stampa reported the cessation of flights by the Iranian carrier to Italy was high on Mr Pompeo's agenda.
Mahan Air, which the US has said has clear links to the Iranian Revolutionary Guard Corps (IRGC) and its shadowy international wing the Quds Force, had operated regular flights to both Rome's Fiumicino Airport and Milan's Malpensa.
The move by the Italian government comes as the administration of US President Donald Trump in Washington seeks to place a stranglehold on the Iranian economy through a campaign of "maximum pressure".
The Italian economy, along with other European economies, had opened itself up to Iran during the period of rapprochement that followed the 2015 nuclear agreement known as the Joint Comprehensive Plan of Action (JCPOA).
Under the deal struck between Iran and China, France, Germany, Russia, Britain and the US, curbed Tehran's nuclear powers in exchange for relief from economic sanctions.
In January 2016, six months after the landmark deal was achieved in Vienna, the Iranian President Hassan Rouhani visited Rome.
The trip was not just remarkable because of his declaration that Italy would be Iran's "gateway" to Rome but also because the city's naked statues were covered as a mark of respect for the Iranian leader.
However, since Washington withdrew from the JCPOA in May 2018, European nations in particular have been under pressure from their US allies to sever economic links with Tehran.
France moved to deny Mahan Air landing rights in March 2019 following a similar move by Germany in January. The United States has said Mahan is not just financially linked to the IRGC but its aircraft have also been used to transport weapons and fighters across the Middle East.
The three European signatories to the 2015 deal, France, Britain and Germany, have all sought to mitigate the financial pressure exerted on Iran through the renewed US sanctions.
In June, the three nations announced that INSTEX, the Instrument in Support of Trade Exchanges mechanism, which allows a European route to trade around US sanctions, was operational. The mechanism has been a point of friction between the United States and its European allies.
However, Sanam Vakil, a senior research fellow for the Middle East and North Africa Programme at Chatham House, told The National the INSTEX had been blocked by a number of obstacles including fresh US sanctions on Iran's central bank.
"INSTEX remains a big challenge going forward, really because of the sanctioning policy coming from the Trump administration," Ms Vakil said at the Chatham House launch of a research paper on the prospect of a new peace deal with Iran.
"This recent designation of Iran's central bank, as I understand, is causing problems to facilitate INSTEX. Any time there is progress on the European side there is an obstruction and this recent designation is a problem," she added.
In September, the United States imposed another round of sanctions on Iran's central bank and a development fund. The imposition of the sanctions came a week after attacks on oil facilities in Saudi Arabia which the US and its allies have blamed on Iran.
Full report at:
https://www.thenational.ae/world/europe/italy-bans-flights-by-iran-s-mahan-air-after-us-pressure-1.931930
--------
Mideast
U.S. imposes new Iran sanctions, but waives others
Arshad Mohammed
NOVEMBER 1, 2019
WASHINGTON (Reuters) - The United States said on Thursday it had imposed sanctions on the Iranian construction sector and trade in four materials used in its military or nuclear programs, even as it waived sanctions to let foreign firms continue non-proliferation work in Iran.
The decisions announced by the U.S. State Department reflect an effort to increase pressure on Iran by putting wider swaths of its economy under sanctions, while leaving a door open to diplomacy by allowing work to proceed at Iranian nuclear facilities that makes it harder for Iran to develop a nuclear bomb.
President Donald Trump's administration last year pulled out of the 2015 nuclear deal in which Iran agreed to limit its nuclear program in return for the lifting of sanctions that crippled its economy.
The administration has since restored and tightened U.S. sanctions to try to force Iran to negotiate a broader deal that would also limit its ballistic missile program and regional activities.
The State Department said Secretary of State Mike Pompeo had determined Iran's construction sector was controlled directly or indirectly by Iran's Islamic Revolutionary Guard Corps (IRGC), which Washington regards as a foreign terrorist organization.
As a result, the sale of raw and semi-finished metals, graphite, coal, and software for integrating industrial purposes will be sanctionable if the materials are to be used in Iran's construction sector, the department said in a fact sheet.
In a second determination, Pompeo identified four "strategic materials" as being used in connection with nuclear, military, or ballistic missile programs, making trade in them subject to sanctions.
The fact sheet identified the materials as: "stainless steel 304L tubes; MN40 manganese brazing foil; MN70 manganese brazing foil; and stainless steel CrNi60WTi ESR + VAR (chromium, nickel, 60 percent tungsten, titanium, electro-slag remelting, vacuum arc remelting)."
In a separate statement, State Department spokeswoman Morgan Ortagus said the determinations gave Washington the ability "to prevent Iran from acquiring strategic materials for the IRGC, its construction sector, and its proliferation programs."
WAIVER RENEWAL
Reuters reported on Wednesday that the United States planned to allow Russian, Chinese and European companies to continue work at Iranian nuclear facilities to make it harder for Iran to develop a nuclear weapon.
The Trump administration would let the work go forward by issuing waivers to sanctions that bar non-U.S. firms from dealing with the Atomic Energy Organization of Iran (AEOI).
A source familiar with the matter said on Thursday that the State Department had indeed renewed the waivers for 90 days.
The work to continue includes redesigning Iran's heavy water Arak research reactor to render it unable to make bomb-grade plutonium under normal operation and modification of centrifuges at Iran's Fordow fuel enrichment plant, the source said.
The waivers also cover support for Iran's existing nuclear reactor at Bushehr, the provision of enriched uranium for the Tehran Research Reactor and the transfer of spent and scrap nuclear fuel out of Iran, the source added.
Chinese state-owned China National Nuclear Corp has done non-proliferation work at Arak, and Russia's Rosatom has done it at Fordow as well as provided uranium fuel to Iran.
Responding to Reuters' story that the waivers were to be renewed, a China National Nuclear Corp spokesman said by email that it was "starting to cooperate with the Iranian side under guidance from Beijing on seeking a positive solution to the Iran nuclear problem." It did not give further details.
When Trump abandoned the 2015 nuclear deal last year, he began a "maximum pressure" campaign designed to force Iran to return to the negotiating table.
Iran has demanded the United States first resume complying with the 2015 deal.
France has sought to bring the two into talks but has so far failed, suggesting neither is willing to abandon core elements of policy - the U.S. belief that pressure will bring Iran to its knees, and Iran's refusal to capitulate to U.S. duress.
https://www.reuters.com/article/us-usa-iran-sanctions/us-imposes-new-iran-sanctions-but-waives-others-idUSKBN1XA2S3
--------
Iran and Hezbollah financers listed by Gulf anti-terrorism coalition
Oct 31, 2019
The seven-member Terrorist Financing Targeting Centre in Riyadh on Wednesday designated 25 targets affiliated with Iran and Hezbollah, in the largest single designation to date.
The body, which brings together the UAE, Saudi Arabia, Bahrain, Kuwait, Oman, Qatar and the US, listed targets affiliated with "the Iranian regime's terror-support networks in the region".
The entities sanctioned on Wednesday support Iran's Islamic Revolutionary Guard Corps and Tehran's regional proxy Hezbollah.
The commission said that several of the businesses targeted provided financial support to the Basij Resistance Force.
The force is "a paramilitary force subordinate to the IRGC that has long been used as shock troops by the regime to oppress domestic opposition with brutal displays of violence, while also recruiting, training and deploying fighters in IRGC-fuelled conflicts across the region".
"The TFTC's co-ordinated disruption of the financial networks used by the Iranian regime to fund terrorism is a powerful demonstration of Gulf unity," US Treasury Secretary Steve Mnuchin said.
"This action demonstrates the unified position of the Gulf nations and the United States that Iran will not be allowed to escalate its malign activity in the region.
"We are proud to join forces with our TFTC partners to expose and condemn the Iranian regime's gross and repeated violations of international norms, from attacking critical oil infrastructure in Saudi Arabia to fomenting strife in neighbouring countries through regional proxies such as Hezbollah.
"This co-ordinated action is a concrete step towards denying the Iranian regime the ability to undermine the stability of the region."
US Secretary of State Mike Pompeo welcomed the taskforce's move to reimpose measures on Iran for its "failure to uphold international anti-money laundering and countering the financing of terrorism standards".
"Iran deliberately ensures there is no transparency in its economy so it can continue to export terrorism," Mr Pompeo said.
"The Islamic Revolutionary Guard Corps continues to engage in large-scale, illicit, financing schemes to fund its malign activities."
He said the international community made it clear that Iran must live up to its commitments to behave "like a normal nation".
Twenty-one of the 25 entities fund the Basij, using a network of shell companies and other measures to mask their control of "multibillion-dollar business interests in Iran's automotive, mining, metals and banking industries, many of which have significant international dealings across the Middle East and Europe."
The entities were listed as specially designated global terrorists by the Office of Financial Asset Control on October 16, 2018.
The Terrorist Financing Targeting Centre was established in 2017 to bring together regional countries in an effort to stop the funding of militants and proxies.
The body was formed after a visit to Saudi Arabia by US President Donald Trump shortly after he took office.
Four of the designates were Hezbollah-affiliated people who lead and co-ordinate the group's operational, intelligence and financial activities in Iraq, the US Treasury said.
The move "highlights the degree to which Hezbollah operates as a clandestine, terrorist arm of the Iranian regime by smuggling oil for Iran, raising funds for Hezbollah, and sending fighters to Syria for the IRGC-Quds Force on behalf of Qassem Soleimani.
Soleimani is the head of the IRGC's Quds Force, its foreign operations arm.
Full report at:
https://www.thenational.ae/world/gcc/iran-and-hezbollah-financers-listed-by-gulf-anti-terrorism-coalition-1.931240
--------
Tighter US sanctions are weakening Iran's grip on Yemen, Lebanon and Iraq: Hook
1 November 2019
The recent tightening of US sanctions on Iran has weakened the regime's grip on Iraq, Lebanon and Yemen, raising the prospect of reform and peace across the region, America's top Iran advisor told Al Arabiya in an exclusive interview.
The Trump administration has imposed a "maximum pressure" campaign - increasing targeted sanctions on the Iranian regime since leaving the Obama-era nuclear deal in 2018, which has succeeded in decimating its industrial sector, reduced its funding of conflict across the Middle East and offers hope for resolution of some of the region's most long-standing conflicts, US Special Representative for Iran Brian Hook said in an interview in Saudi Arabia.
"We are sanctioning Iran on an almost weekly basis and there is still plenty left for us to do. And, unfortunately for the Iranian regime, this is the price that they are paying for an expansionist and revolutionary and violent foreign policy that has caused so much suffering," said Hook, mentioning September's attack on Saudi Arabian oil facilities, which the US has attributed to Iran, and attacks on Saudi Arabia by the Iranian-backed Houthis.
Hook said the US administration is making it harder for Iran to conduct foreign interference operations as "Iran doesn't have the money that it used to."
"This is money that the regime spends in places like Lebanon, Syria, Iraq, Yemen," said Hook.
The Trump administration's oil sanctions on Iran, which Hook described as unprecedented, have led to "a complete collapse of Iran's oil sector." Hook said US sanctions have collapsed Iran's petrochemical, industrial metal, and precious metals sectors, as well. Meanwhile the administration announced Thursday that it imposed sanctions on Iran's construction sector.
US President Donald Trump's decision in May 2018 to withdraw from the Iran nuclear deal, known as the Joint Comprehensive Plan of Action (JCPOA), has given "enormous leverage" to sanction Tehran, according to Hook.
"We're going to keep imposing sanctions on Iran until we're able to get a new and better deal to replace the Iran nuclear deal that we left," said Hook.
Saudi Arabia, the first country to support Trump's decision to withdraw from the JCPOA, has borne the brunt of Iran having the largest missile inventory of any state in the Middle East, according to Hook. He said the US has responded to Iranian attacks by providing its ally with military assistance.
"These [Iranian] missiles find their way…into Saudi Arabia…After getting Iran's oil exports to zero, there have been a number of attacks here in Saudi. We [The US administration] have increased the number of troops in this region by 14,000 since May and in October, we announced another 3,000 forces to Saudi Arabia alone," said Hook.
Hook said the maximum pressure campaign isn't limited to Iran, but countries like Russia and China.
"We have sanctioned Russia for its complicity in helping to illegally move Iranian oil to Syria. Some of [China's] private companies started to import Iranian crude oil and they did not have a waiver to import that oil. And so we sanctioned them. This is a message to any country in the world, if their companies are considering importing Iranian crude oil, it's not worth the risk," said Hook.
Besides economic pressure, Hook said the US' diplomatic isolation of Iran is spreading internationally.
"We have seen a number of Iranian diplomats expelled from Europe for conducting terror operations or terrorist attempted attacks. Morocco has severed diplomatic relations with Iran. We have seen a number of countries, especially the UK, France and Germany, identify Iran by name as responsible for attacking Saudi Arabia on September 14," said Hook, adding that more countries need to identify Iran as the country behind the Saudi Aramco attacks.
While Yemen's Houthis claimed responsibility for the attacks, the international community largely rejected the claim.
"When Iran asked the Houthis to claim responsibility for the attacks…It was a mistake for the Houthis to do that. I think they recognized it. They were embarrassed by it," said Hook.
Hook said Iran's strategy in Yemen is to do "what they accomplished 40 years ago in Lebanon with Hezbollah."
"Iran has no legitimate interests in Yemen. And yet here, here they are in the middle of the civil war using this proxy to attack Saudi Arabia. They would like to turn the Houthis into their proxy right on Saudi's southern border so that they're able to attack at will - through the Houthis - Saudi Arabia, Israel, UAE," said Hook.
Hook blasted Tehran's leadership as being "a corrupt religious regime that robs its own people blind" to pay for their proxies in Iraq and Lebanon, where recent demonstrations have called for Iranian presence to leave the countries.
"It's no surprise that these same proxies [in Lebanon and Iraq] are as corrupt as the Iranian regime…We're seeing these protests against corruption and a lot of the frustration and anger that we're seeing and protesters is directed at Iran and its proxies," said Hook.
Iran has accused the US and Arab states of stoking unrest in Lebanon and Iraq, as demonstrators in the countries call for reforms and the end of corruption.
Full report at:
https://english.alarabiya.net/en/features/2019/11/01/Tighter-US-sanctions-are-weakening-Iran-s-grip-on-Yemen-Lebanon-and-Iraq-Hook.html
--------
Iran first VP warns of Daesh relocation to Afghanistan
Nov 1, 2019
Iran's First Vice President Es'haq Jahangiri has warned that the Daesh Takfiri group may seek to transfer its terrorists to Afghanistan against the backdrop of its consecutive defeats in Iraq and Syria, urging the Afghan government to remain vigilant in the face of such a plot.
Jahangiri, who is in Uzbekistan to attend the 18th meeting of the Council of Heads of Government of Member States of the Shanghai Cooperation Organization (SCO), made the remarks in a meeting with Afghanistan's chief executive Abdullah Abdullah on Friday. "Afghanistan's government should show great sensitivity in this regard and prevent efforts by Daesh terrorist group to increase insecurity along the borders," he added.
On October 27, US President Donald Trump announced that Abu Bakr al-Baghdadi, the leader of Daesh, had blown himself up after American forces trapped him inside a dead-end tunnel in a village in Syria.
Leader of the Islamic Revolution Ayatollah Seyyed Ali Khamenei in January last year expressed regret over the deaths of Afghan civilians in terrorist attacks by Daesh, saying the United States has been relocating the terror group from the Middle East to the South Asian country to rationalize its military presence in the region.
By transferring the Daesh terror group from Iraq and Syria to Afghanistan, the US seeks "to justify the continuation of its presence in the region and to create security for the Zionist regime," Ayatollah Khamenei said.
Elsewhere in the meeting, the Iranian vice president pointed to recent presidential election in Afghanistan and expressed hope that the country would witness more development after the establishment of the legal and popular government.
He added that the election was an "important step towards democracy" and expressed hope that ongoing problems would be solved in Afghanistan as soon as possible and security would be restored to the country through vigilance of Afghan authorities.
"The Islamic Republic of Iran, like in the past, will support the government elected by the Afghan nation," Jahangiri said.
Pointing to an agreement signed among Iran, Afghanistan and India in 2016 to boost trade and economic cooperation in Iran's Chabahar Port, Jahangiri said, "Both state sector and private sector are ready to make investment and carry out necessary measures in this regard."
He urged Kabul and New Delhi to play a more active role in implementing the agreement. "Chabahar can pave the way for India's connection and interaction with Central Asia and be a gate for Afghanistan to connect to important countries in the world."
In May 2016, Iran, India and Afghanistan signed a key trilateral deal, known as the Chabahar agreement, to establish a strategic transit and transport route connecting the three countries.
The agreement was signed in the presence of Iranian President Hassan Rouhani, Indian Prime Minister Narendra Modi and Afghan President Ashraf Ghani in the Iranian capital of Tehran.
The Afghan chief executive, for his part, said the Daesh terrorist group seeks to expand its activities in east Afghanistan and stressed the importance of thwarting such a plot through collective cooperation.
Full report at:
https://www.presstv.com/Detail/2019/11/01/610120/Jahangiri-Abdullah-Abdullah-Shanghai-Uzbekistan-Daesh
--------
Demolished Palestinian home becomes conflict symbol
November 01, 2019
PALESTINE: The pile of rubble that Latifa Naji used to call home has become an unlikely symbol in the Israeli-Palestinian conflict.
The two-story cement house in the Al-Amari refugee camp in the occupied West Bank has been demolished by the Israeli army four times, most recently this month, as punishment for attacks carried out by the widowed 71-year-old's sons.
For Palestinians, the desire to keep rebuilding symbolizes an ability to withstand Israeli collective punishment and a refusal to be forced from their homes.
For Israelis, it is evidence of the widespread support among Palestinians for attacks like those in which Naji's sons were implicated.
The Palestinian Authority led by president Mahmud Abbas paid for the Najis' home to be rebuilt each time it was razed, one of a raft of benefits it provides to the families of Palestinian prisoners in Israeli jails.
Naji, more often called Umm Yusef Abu Hamid, currently has six of her 10 sons behind bars over attacks on Israelis, while a seventh was killed.
The 71-year-old says she doesn't regret her children's choices.
"There is no mother alive who wants her sons so far away from her but this is their path and they chose it," she said.
"Every (Palestinian) house has a prisoner, every house has a martyr," she said. "But we are suffering a little more."
Israel has controlled the West Bank since seizing it in the Six-Day War of 1967, with nearly three million Palestinian residents living alongside roughly 400,000 Israelis residing in settlements considered illegal under international law.
Israel routinely demolishes the homes of Palestinians who carry out attacks against Israelis.
Israeli Prime Minister Benjamin Netanyahu has argued that the tactic is a tool to prevent suicide attacks.
"Suicides by their nature, they do not particularly care if they die, but they care if, in some cases and often many cases, if their homes are demolished afterwards or sealed," he said in 2014.
Human rights groups say the tactic amounts to collective punishment and doesn't actually deter attacks.
Israel has demolished six Palestinian homes this year in reprisal for attacks, Palestinian human rights group Al-Haq said.
"The demolition of the Abu Hamid family home comes in the context of a systematic Israeli policy, in which all arms of the Israeli state take part... so that Palestinians are forced to leave their place of residence to be replaced by settlers," said Al-Haq's Tahsin Alian.
Umm Yusef says every demolition makes her more determined to stay.
"The collective punishments only make families stronger and more steadfast," she told AFP in a temporary home, surrounded by pictures of her 10 sons and late husband.
Four of her offspring were sentenced to life in prison in the early 2000s after admitting carrying out attacks against Israelis.
Another is being held without trial, while a sixth, a Hamas militant, was killed in the 1990s — prompting the Israeli army to first demolish the house.
In May 2018, a seventh son, Islam, threw a concrete block from the roof of his building onto soldiers as they carried out a raid inside the camp.
Ronen Lubarsky, a 20-year-old soldier, was killed and in July an Israeli military court sentenced Islam to life in prison for murder.
In theory the camp is in a part of the West Bank under full Palestinian control but the Israeli army routinely carries out raids there.
In December 2018, troops entered the camp to demolish the house and the Israeli army later released a video showing Islam re-enacting the attack for investigators.
The Palestinian government pledged to rebuild and work started until the Israeli army again returned on October 24.
Umm Yusef said an Israeli officer called her days before the latest demolition telling her the land technically belonged to Israel.
The army confirmed that the demolition was carried out in accordance with a regulation that means that the "rights of the home and the real estate are transferred to the military command and that use of this land or construction on it is prohibited."
"Construction began on the building, despite the order being in place, and the re-demolition took place under the same order," the army said.
Umm Yusef says the home will again be rebuilt with the support of the Palestinian Authority.
Full report at:
https://www.arabnews.com/node/1577611/middle-east
--------
Israeli retaliatory airstrikes kill Palestinian, wounds 2
November 02, 2019
JERUSALEM: A Palestinian was killed by Israeli airstrikes on Saturday, the health ministry in the Hamas-run Gaza Strip said, in an attack launched in response to rocket fire.
Dozens of strikes hit the Palestinian enclave in the early hours, targeting bases of the strip's Islamist rulers and allied groups, a security source in Gaza said.
The Israeli army said the strikes targeted "a wide range of Hamas terror targets," including a Hamas naval site, a military compound and a weapons manufacturing site.
Gaza health officials said the 27-year-old killed was among three men wounded in an air strike on a militant training camp and that he had died in hospital. It was not immediately clear whether he was a civilian or a gunman.
The sound of explosions could be heard up and down the impoverished territory, an AFP correspondent said.
A Hamas source said they had fired at the Israeli aircraft carrying out the raids and the Israeli army confirmed fresh "incoming fire" from Gaza.
The strikes came in response to at least 10 rockets fired from Gaza late Friday at southern Israel.
The Israeli army said the country's Iron Dome anti-missile defense system intercepted eight of the rockets.
The rockets were fired in waves, the army said, with air raid sirens sounding.
One house was hit and damaged, without any casualties, the army said, posting a picture of the damage on Twitter.
It was the second consecutive evening that the army reported rocket fire from the Palestinian enclave, which is ruled by Hamas.
Prior to Thursday, there had been no such reported rocket fire from Gaza since September 12.
In August, a series of rocket attacks from Gaza and Israeli retaliations, as well as border clashes, raised fears of an escalation between Hamas and Israel, as elections approached in the Jewish state.
Those polls — Israel's second elections this year — took place on September 17, but have yet to yield a new government.
Full report at:
Analysts say a fourth round remains likely.
https://www.arabnews.com/node/1577866/middle-east
--------
South Asia
Airstrike kills 13 Taliban militants in provincial capital of Baghlan
01 Nov 2019
An airstrike killed at least 13 Taliban militants in Pul-e Khumri, the provincial capital of Baghlan province.
The military officials said Friday the security forces conducted the airstrike in the past 24 hours as part of the ongoing offensive to suppress the anti-government armed militants.
The security situation in Baghlan province has deteriorated during the recent years.
Taliban militants are active in some districts of the province and often conduct terrorist related activities.
Meanwhile, the Afghan forces routinely conduct counter-terrorism operations against the anti-government armed groups in this province.
The U.S. forces also conduct regular airstrikes in restive parts of the country to suppress Taliban and other anti-government militants.
https://www.khaama.com/airstrike-kill-13-taliban-militants-in-provincial-capital-of-baghlan-04302/
--------
11 militants killed, several villages liberated during cleanup operation in S. Afghanistan
2019-10-31
TIRIN KOT, Afghanistan, Oct. 31 (Xinhua) -- A total of 11 militants have been killed in Gizab district of Afghanistan's southern Uruzgan province as cleanup operation has been continuing in the restive area, said an army statement released here on Thursday.
Several villages including Taliban main bastion Gharchino have been liberated from the Taliban clutches during the operations, the statement added.
Without providing more details, the statement said that the crackdown on the armed insurgents would continue in Gizab district and its vicinity to ensure lasting peace there.
Full report at:
http://www.xinhuanet.com/english/2019-10/31/c_138518627.htm
--------
Bangladesh: Fake news on Facebook fuels communal violence
01.11.2019
Rahat Rafe
Bangladesh is one of the fastest-growing countries of internet users in Asia, with government data showing more than 50% of its population actively use the medium.
Among internet users, Facebook is the most popular social networking platform, with some 50 million subscribers — almost one-third of the country's population. In 2017, a study by We Are Social and Hootsuite found that Bangladesh's capital Dhaka was the city with the second largest number of active Facebook users.
But while the platform does contribute largely to making the voices of marginal communities heard, in recent years it has sparked some significant social and communal conflicts in the country.
Fake news sparks violence
A number of violent clashes in Bangladesh following rumors and fake news spread through Facebook have resulted in deaths.
On October 20, hundreds of Muslims took to the streets in the town of Borhanuddin in Bangladesh's Bohla district, 195 kilometers (120 miles) from the capital, Dhaka, to protest a derogatory Facebook post about Islam's Prophet Muhammad that was allegedly written by a Hindu man.
Clashes between protesters and police ensued and four people were killed. Police said the Facebook account of the alleged youth had been hacked and that the hackers had been orchestrating a clash between the two communities.
Earlier, in June, a rumor spread on Facebook that a bridge under-construction required human sacrifices as offerings and consequently people were looking for children to kidnap. Agitated mobs in Bangladesh beat several people on the street to death after suspecting them of being kidnappers.
Facebook's efforts not enough
A spokesperson from Facebook told DW that the company is equipped with proactive tools to detect hate speech, rumors, and related content. It has a team of 15,000 people who speak 50 different languages and are employed to review content from around the world.
The company also said it is working to develop effective artificial intelligence (AI) to proactively detect violent content.
But experts say the steps Facebook has taken are not enough to tackle the millions of texts and images uploaded by almost 2 billion users every day.
In September 2018, the United Nations Fact Finding Mission in Myanmar released its full report on potential genocide, human rights abuses and war crimes against the Rohingya ethnic minority.
The report stated that, "Facebook has been a useful instrument for those seeking to spread hate, in a context where, for most users, Facebook is the internet."
The Mission noted that "the response of Facebook has been slow and ineffective" and that "Facebook is unable to provide country-specific data about the spread of hate speech on its platform, which is imperative to assess the adequacy of its response."
Bangladesh has expressed similar concerns regarding Facebook's steps on reviewing content.
Parallels drawn between Myanmar and Bangladesh
Bangladesh's Post and Telecommunication Minister Mustafa Jabbar criticized Facebook "for its inability to come up with immediate measures to identify content spreading hate speech and disinformation in Bangladesh."
"It seems to me, Facebook is either unable or not paying necessary attention in this regard,'' Jabbar, who is also an IT expert, told DW.
Jabbar noted that Facebook's automatic system often fails to identify Bengali language, and questioned how a system would be able to review content if it cannot detect the language properly.
Facebook told DW that in light of the incident in Bhola, Bangladesh, it was closely monitoring the situation and was in touch with local authorities and their partners on the ground.
"We will take any action necessary to remove content that violates our policies or poses a risk to people's safety," Facebook said. "We also urge everyone to use our reporting tools if they see any behavior that puts people's safety at risk."
Culture-specific measures needed
Atiqur Rahman, a media expert and PhD researcher at Australia's Queensland University of Technology, said that Bangladesh's collective social structure meant it does not take much time for information to be spread widely.
Atiqur, who is also an associate professor of Bangladesh's state-run Chittagong University, said Facebook would only be able to tackle such a situation if they set up a monitoring team that considered the nature of Bangladesh's society.
Minister Jabbar echoed Atiqar's sentiment, saying that instead of looking at Bangladesh's culture from the perspective of Europe, Facebook should focus on understanding the local context.
Media literacy lacking
Analysts have said the responsibility for checking hate speech and rumors rests not only with Facebook authorities but also the subscribers using the platform.
Facebook has urged the Bangladeshi government to develop Facebook users' media literacy to help them use social media in a responsible manner.
It requires a high level of awareness among the users, said Atiqur, adding thatsocial and political awareness among the people and good governance should be in place for checking such unwanted content.
The Bangladeshi government has initiated a number of awareness-raising programs related to social media education, according to Minister Jabbar.
Full report at:
https://www.dw.com/en/bangladesh-fake-news-on-facebook-fuels-communal-violence/a-51083787
--------
Special Forces kill, detain 4 Taliban militants; destroy weapons cache in Herat
02 Nov 2019
The Afghan Special Forces killed 3 Taliban militants during a raid in western Herat province of Afghanistan.
The military officials said Saturday the Special Forces conducted the raid in Shindand district of Herat.
The officials further added that the Special Forces also arrested a Taliban militant and destroyed a cache of weapons during the same raid.
The security situation in some districts of Herat has deteriorated during the recent years.
Taliban militants are active in parts of the province and often conduct terrorist related activities.
Full report at:
https://www.khaama.com/special-forces-kill-detain-4-taliban-militants-destroy-weapons-cache-in-herat-04303/
--------
URL: https://www.newageislam.com/islamic-world-news/muslim-clergy-roped-refute-counter/d/120160
New Age Islam, Islam Online, Islamic Website, African Muslim News, Arab World News, South Asia News, Indian Muslim News, World Muslim News, Women in Islam, Islamic Feminism, Arab Women, Women In Arab, Islamophobia in America, Muslim Women in West, Islam Women and Feminism