New Age Islam News Bureau
9 Oct 2018
• Pakistan's Mithi, an oasis of Muslim-Hindu tolerance
• UN made to wait on plan for sustainable return of Rohingyas
• Egyptian court sentences four jihadists to death
India
• Muslim body accuses Centre of sponsoring interventions in personal laws
• Minorities Commission objects to school circular to recite 'Gayatri mantra'
• Patna Peace Mission promotes communal harmony through street plays
• India lauds Tajikistan's fight against radicalisation
• Shia Waqf Board chief booked in Uttar Pradesh for hurting sentiments of Muslims
• No decision yet on Zakir Naik's extradition, matter may end up in court: Malaysia minister
• Pakistan-based JeM chief Masood Azhar bed-ridden for months with life-threatening ailment
• Concerns raised as India deports Rohingya Muslims to Myanmar
--------
Pakistan
• Pakistan's Mithi, an oasis of Muslim-Hindu tolerance
• Pak cleric held under blasphemy for claiming to be '11th Imam of Islam'
• Pakistan Christian in last appeal on blasphemy death sentence
• Sharif appears in court for admitting Pak terrorists were allowed to carry out Mumbai attacks
• Minister warns against fanning differences among Muslims
• JIT gave 'incorrect' information to Saudi govt about Al-Azizia Mills, court told
• US envoy on Afghan peace arrives in Pakistan
• MMA warns against amending blasphemy law
• Maulana Ataur Rehman declares Shehbaz's arrest an attempt to subdue sanctity of Parliament
--------
South Asia
• UN made to wait on plan for sustainable return of Rohingyas
• Terror in Central Asia: Is ISIS safe haven moving from Syria to Afghanistan?
• Taliban threatens to carry out attacks against election targets
• Bangladesh enacts digital law despite protests
• Suu Kyi vows 'transparency' over Rohingya atrocities
• Bangladesh upholds death sentence against Saudi diplomat's killer
• Development of Rakhine crucial to convince Rohingyas to return: Bangladesh
• Airstrikes inflict casualties on militants, destroy captured Humvees
• Former ALP Commander of Achin Bilal Pacha jailed over misuse of authority
--------
Arab World
• Egyptian court sentences four jihadists to death
• Nobel laureate Nadia Murad wants Daesh extremists to face trial
• Egyptian forces kill 52 militants in restive Sinai
• Report Blasts Turkey for Deploying 7,000 Turkistani Terrorists in Syria
• Syrian Sources: More Russian Forces Deployed Near US-Backed Militia in Deir Ezzur
• 400 Arab ISIL Terrorists Flee from Iraq to Syria
• Terrorists Suffer Heavy Defeats in Clashes with Syrian Army in Hama
• Non-Syrian Terrorist Commander Killed in Bomb Attack in Northwestern Syria
• US-Backed SDF Commander Killed in Deir Ezzur
• Kurdish Militia Dig More Tunnels, Trenches in Northern Syria after Turkish Military Threats
• Syria in Last 24 Hours: Army Gives Crushing Response to Terrorists' Recent Attack in Hama
--------
Southeast Asia
• 'Help change the negative image of Islam'
• Jemaah Islamiyah: Still Southeast Asia's Greatest Terrorist Threat
• Indonesian Islamic scholars council declares FETÖ activities haram; calls on • • Muslims to unite against Gülen
• Did China arrest Interpol chief for letting go Uyghur Muslim leader?
• Malaysia: Islamic Affairs Minister Urges Sharia Courts to Strike Merciful Balance
• Khalid Samad sues activist over 'organising' gay festival claim
• DPM meets FT mufti for consultation on religious matters
• Deputy minister: Dr M believes Palestine is key to ending radicalism
• After cashier 'shamed' for refusing alcohol sale, Malaysian mufti warns of rising anti-Muslim sentiment
--------
Mideast
• 40pc Iranians believe US linked to Ahvaz terror attack
• Saudi airstrikes leave five more civilians dead in southern Yemen
• Several Palestinians detained during Israeli raid on West Bank village
• US rejects Iran's legal claim to recover $1.75 bln in frozen assets
• Al-Maliki: Houthis deliberately hinder delivery of aid, oil to Yemen's Sanaa
• Iran has 'unclean hands' in world court battle, US says
• Turkey detains 90 for alleged links to Kurdish militants
• 11 Palestinians wounded during Gaza fishing boat protest
• Turkey's Erdogan says Saudis 'must prove' Khashoggi's exit from consulate
--------
North America
• For Black Muslim Americans, the War on Terror began in 1492
• Trump Senate ally warns on ties if Saudis killed journalist
• US special envoy to Afghanistan arrives in Kabul as Taliban launch fresh attacks
• The long and forgotten history of Muslims in Canada
• Washington under pressure to save Iran financial access: Report
• Trump unlikely to take action against Saudis for journalist murder: Analyst
--------
Europe
• UK authorities feared US backlash in Daesh suspects case: Lawyer
• Iraq, Afghan wars caused PTDC to increase among UK soldiers: Study
• Cyprus picks up 21 Syrians from drifting boat
--------
Africa
• Libyan forces capture Egypt's most wanted militant
• Muslim bodies seek arrest, trial of Plateau attacks' masterminds
• Mozambique: Nampula - Frelimo Asks Religious Leaders for Votes
Compiled by New Age Islam News Bureau
URL: https://www.newageislam.com/islamic-world-news/muslim-body-accuses-centre-sponsoring/d/116590
--------
Muslim body accuses Centre of sponsoring interventions in personal laws
Oct 8, 2018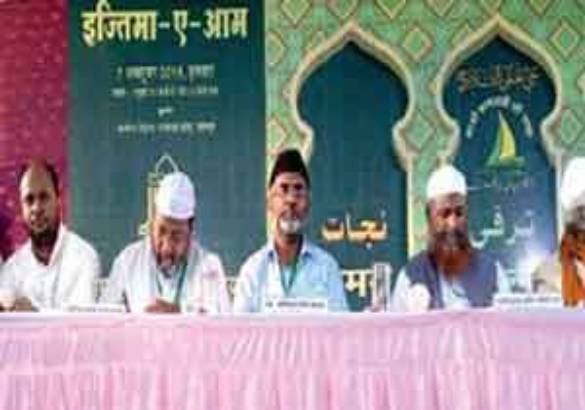 Photo: Leaders of the community at a public gathering in Karbala Maidan
---------
JAIPUR: Jamaat-E-Islami Hind (JIH), a frontal body of Muslims, has asked the community to vote against leaders/political parties who pose a threat to their beliefs and personal laws. The JIH passed a resolution on Sunday evening after a daylong 'ijtema' (public gathering) at Karbala Maidan in Jaipur and accused the central government of sponsoring interventions in the Muslim personal laws. The speakers during their address didn't name anyone but held the silence of 'Hukumrans' (rulers) on mob lynching and hate speeches against minorities and Dalits as their endorsements to these acts.
The 'ijtema' was attended by over 10,000 Muslims, mostly clerics and influential ones from across the state have set the tone for elections in the state. The speakers criticised Raje government over spate in communal incidences. The local office bearers of JIH claimed that they made several attempts to reach out to CM Vasundhara Raje but were never allowed. "In the last five years, she (Raje) has never bothered to meet a delegation of Muslims.
It speaks volumes about the attitude of the state government towards Muslims which should be kept in mind till we have those who actually believe in 'Sabka Saath Sabka Vikas'," said Engineer Khurshid, state president of JIH.
Expressing concern on the declining number of Muslims in the state assembly of Rajasthan, general secretary of JIH Salim Engineer said, "The absence of political voice has resulted in laws like Triple Talaq without any debate and implemented by the state governments which subscribe to the views of the central government. In such a situation it is the duty of the Muslims to participate in the elections by supporting candidates with secular credentials."
Muslims constitute about 9.08% of the population in Rajasthan as per Census 2011. The present Raje government has two Muslim MLAs which is lowest representation of the community in the assembly. The MLAs are Yunus Khan and Habibur Rehman.
Syed Qasim Rasool Ilyas, an Islamic scholar said that community respects the Supreme Court judgement on decriminalization of homosexuality and adultery but will advise the community to stay away from the vices. "Our view is that both the orders are threatening the institution of marriage and natural laws," said Ilyas.
https://timesofindia.indiatimes.com/city/jaipur/muslim-body-accuses-centre-of-sponsoring-interventions-in-personal-laws/articleshow/66112095.cms
--------
Pakistan's Mithi, an oasis of Muslim-Hindu tolerance
09 October 2018
Cows roam freely in the Pakistani city of Mithi, as in neighbouring India. Considered sacred animals among Hindus, they embody the religious tolerance of this community in conservative Muslim Pakistan, where minorities face heavy discrimination.
Here, "Muslims respect the beliefs of Hindus," said Sham Das, a 72-year-old pensioner. "They do not kill cows, or only in remote places, but not in Hindu neighbourhoods."
Unlike in the rest of Pakistan, cattle in Mithi live very well. They eat as they please, often from rubbish bins, and fall asleep on the roads.
At times tuk-tuks and motorcycles navigate a weaving path around the animals. At others the traffic waits patiently for them to wake.
Mithi is a mostly Hindu city of 60,000 people, a rarity in a country where some 95 percent of the population is Muslim.
As they enter Shri Krishna temple, the Hindu faithful ring a bell, the sound of which mingles with the azan, the call to prayer for Muslims sounded just a few streets away.
A relaxed group of young Hindus talk outside the colourful, intricately carved exterior, where not a single guard is employed.
It is a sharp contrast to the Hindu neighbourhoods in the megacity of Karachi, some 300 kilometres (around 200 miles) away, which are under armed surveillance.
Vijay Kumar Gir, a Hindu priest in Karachi, said that of the 360 temples in the city, merely a dozen are still functioning.
"The rest of them have been shut down and their land is being encroached," he said.
It is a bleak situation that is far more representative of the stigmatisation Hindus face across Pakistan, where they are often assumed to be "pro-India because of their religion", according to Marvi Sirmed, of the Pakistan Human Rights Commission (HRCP). "So they are always looked at with suspicion to be anti-Pakistan," she added, referring to the tense relationship between the two countries, which have fought three wars since partition in 1947.
The HRCP describes Pakistani Hindus as feeling "uneasy" in their country, saying in its annual report that "the migration of Hindus to India may soon turn into an exodus if the discrimination against them continues".
According to the HRCP, which cites religious leaders, the biggest problem facing the community is the "forced conversion" to Islam of women and girls, many of whom are abducted before being married off to Muslim men.
But none of this appears to affect Mithi, where Muslims and Hindus say they live together in harmony, even sending one another gifts and sweets to mark their religious holidays, residents say.
"Since I was old enough to reason, I have witnessed fraternity, love and harmony between Hindus and Muslims," ??said Sunil Kumar, a 35-year-old businessman.
"That has been going on for generations of our forefathers... it shall go on forever."
- End of unity? -
The origins of Mithi's peaceful existence are rooted in the geographical location of the city, which rose out of the sand dunes in the majestic Tharparkar desert that borders the Indian state of Rajasthan.
Local researchers claim a group of peace-loving Hindus founded the town in the early 16th century, as war and looting raged all around.
The soil was not fertile and it was difficult to access water, so the city attracted only those of little means who had few other options.
"We are the descendants of the original residents of this region, as positive and peace-loving as they were," said Allah Jurio, a 53-year-old imam in Mithi, which is also renowned for its low crime rate.
"Non-violence is inherently our second nature."
But as religious extremism and hate speech flourish in Pakistan, and "faith-based violence in the name of religion continues unabated", according to the HRCP, the fear that this oasis of tolerance may disappear is palpable.
Although Chandar Kumar, a 24-year-old Hindu computer scientist, sees no problems in the long-term among Mithi's residents, he said "there are elements from outside who aspire to spread discrimination", declining to elaborate.
Extremist groups, such as the Jamaat-ud-Dawa, labelled a terrorist organisation by the UN, are accused of being active in the area.
"They want to end the unity," said Kumar.
https://www.france24.com/en/20181009-pakistans-mithi-oasis-muslim-hindu-tolerance-0
--------
UN made to wait on plan for sustainable return of Rohingyas
October 8th, 2018
Myanmar is yet to undertake steps required to create a favourable environment for the safe and dignified return of the displaced Rohingya community in Bangladesh, to the Rakhine state, a UN assessment says.
UNHCR and UNDP have pledged to remain committed to the Myanmar government's efforts to find a comprehensive solution to the Rohingya crisis, including the implementation of MoU signed by the heads of the two governments, reports UNB.
UNHCR spokesperson Andrej Mahecic said the Myanmar government's leadership is critical to implement the agreement that guarantees the safe, dignified and sustainable repatriation of Rohingyas. UN refugee agency UNHCR and UN development agency UNDP carried out initial assessments in 23 villages and three village tracts in Myanmar's Rakhine State in September.
It had been more than a year since UNHCR had been able to engage with the affected communities in the northern areas of Rakhine State, after more than 720,000 Rohingya refugees fled to Bangladesh in 2017.
The assessments noted a few attempts by the authorities to facilitate these first steps, limited in scope and in the locations visited.
On October 5, the UNHCR spokesperson said although the field visits by UNHCR and UNDP did not allow for broader conclusions, they provided an initial understanding of the challenges faced by those living there.
"Our teams assessed immediate community needs and priorities for our short-term actions," Mahecic said. "The rapid assessments also helped to identify community initiatives that could support government's efforts to improve the lives of all affected populations, build trust and promote social cohesion among all communities."
The teams also observed serious effects over the past weeks, including diminishing livelihoods which significantly increased the vulnerabilities of all communities remaining in Rakhine.
Communities spoke of the cumulative effect of restrictions on movement that further shrunk their access to livelihoods and basic services, according to the assessment.
The Muslim community, especially, are not allowed to freely move inside their communities.
Fear and mistrust made an impact on access to education, health and other basic services, and limited interactions between communities that could other build confidence and social cohesion, the UNHCR spokesperson said.
The communities visited by the team members often spoke of challenges faced while availing health services, as well as restrictions on the Muslim population in accessing education.
Fear of neighbouring communities and a sense of insecurity were seen prevalent in many areas.
These reasons force communities to live in isolation which lowered the prospects for contacts, mutual understanding and inter-communal cohesion; the assessment report says adding that this is especially notable for relations between the Muslim community and other communities in Rakhine.
Assessment teams also observed that some communities, particularly those living in close proximity to each other, have maintained or restarted interactions.
"Encouragingly, most of those we spoke to expressed hope for peace in Rakhine, and a number of them indicated willingness to incrementally strengthen or restore relations," said Andrej Mahecic.
Initiatives such as building confidence and improving conditions among the remaining communities will be essential in bringing people together- to alleviate poverty and to address health and educational disparities, said the spokesperson.
The assessment teams were welcomed by all the communities, and they showed eagerness when attempted to engage with them. There were no signs of animosity.
As of Friday morning, UNHCR and UNDP teams have started a second phase of assessments in the townships of Maungdaw, Buthidaung and Rathedaung based on travel authorisations received in the past 24 hours.
https://www.dhakatribune.com/bangladesh/foreign-affairs/2018/10/08/un-made-to-wait-on-plan-for-sustainable-return-of-rohingyas
--------
Egyptian court sentences four jihadists to death
October 08, 2018
An Egyptian military court has sentenced four jihadists to death over attacks which killed 20 police officers, a judicial source said Monday.
They were found by the court to be members of the Province of Giza, a branch of the Islamic State group, and involved in a series of deadly attacks last year, the source said.
Sixteen others received life sentences of 25 years, while 15 were jailed for five to 15 years.
"The defendants used arms, explosives and bombs" in the attacks, the head of the military court said, quoted in the government newspaper Akhbar al-Youm.
Those convicted have the right to appeal their sentences at the military supreme court, an army official told AFP on the condition of anonymity, confirming the convictions reported in state media.
Seventeen defendants were acquitted in the military trial.
Since the ousting of Islamist president Mohamed Morsi in 2013, hundreds of police officers, soldiers and civilians have been killed in jihadist attacks.
The Egyptian army launched a large-scale "Sinai 2018" operation in February, at the request of President Abdel Fattah al-Sisi, aimed at ridding the peninsula of IS militants.
https://nation.com.pk/08-Oct-2018/egyptian-court-sentences-four-jihadists-to-death
--------
India
Minorities Commission objects to school circular to recite 'Gayatri mantra'
Oct 9, 2018
New Delhi, Oct 8, 2018: The Delhi Minorities Commission has issued a notice to the North civic body over a circular issued by it for recital of 'Gayatri Mantra' in schools run by its education department. Chairman of Delhi Minorities Commission(DMC) Zafarul Islam Khan said the notice was recently issued to the education department of North Delhi Municipal Corporation (NDMC).
The education department of NDMC has been asked to explain "why a circular has been issued to its schools to make students recite Gayatri Mantra in morning assemblies.
"Is this not against our secular policy and will this not cause division in the ranks of students and teachers as many belong to minority communities who may not like to recite mantras of religious nature," the notice asks.
NDMC authorities have defended the move, saying recital of 'Gayatri Mantra' at schools run by the civic body was not mandatory.
The civic body runs 765 primary schools where around 2.2 lakh students are enrolled.
Chairman of Education committee of the BJP-ruled municipal corporation, Ritu Goel said she had no information about the notice issued by the minorities panel on 'Gayatri Mantra' but added its recital was not mandatory.
"We have already clarified its not mandatory in our schools," she said.
Goel said the circular issued by the education department was not a stand-alone direction for the recital of 'Gayatri Mantra' and contained general directions to ensure personal hygiene and well-being of students.
The circular issued on September 6 by education department provided for the recital of the national anthem, prayer, Gayatri Mantra besides patriotic slogans in morning assemblies in schools.
It also had directions on personal hygiene, moral education, general awareness and physical exercise to be conducted in morning assemblies of schools.
'Gayatri Mantra' is a Rigveda hymn dedicated to Sun deity 'Savitr'.
http://mattersindia.com/2018/10/students-in-delhi-schools-asked-to-recite-gayatri-mantra-minorities-panel-takes-strong-objection/
--------
Patna Peace Mission promotes communal harmony through street plays
Oct 9, 2018
Patna: Oct 6, 2018: Student cultural activists of Patna Peace Mission staged the fifth round of street plays in four shows, Sept 24, at St. Karen's School, Gola Road, Patna, to promote communal harmony. Some 3200 students participated in the show.
The plays highlighted the multi-religious heritage of India. India's religious heritage is unique as four major religions in the world were founded or evolved in India and currently eight major religions of the world exist here.
Though respect for each others' religions and traditions has been a characteristic of Indian society, violence in the name of religion has erupted more frequently in the last three years due to religious nationalism under some Hindu fundamentalist forces, said Hasan Imam, cultural activist and playwright.
The nukkad natak (street play), Ek saadhe, sab sadhe (If one is controlled, all can be controlled) was written and directed by Imam, director of Prerana (inspiration) Janwadi Sanskritik Morcha (People's Cultural Front). It was staged by seven members of Prerana, all college students.
The play highlighted that the freedom of India was won with the united efforts of men and women who belonged to different religions, cultures and languages. Today that hard won freedom is being destroyed by some politicians and fundamentalists who polarize people based on their religious identity, to promote only the majority religion, said Imam.
Introducing the theme, sarva dharma sama bhav (Equal respect to all religions), the ideal given by Mahatma Gandhi, the Father of India, Jesuit Father Jose Kalapura, organizer of the program and coordinator of Patna Peace Mission, quoted media reports that 822 communal riots occurred in India in 2017, an increase from the earlier years. He urged the students to hold on to this ideal to maintain the unity and integrity of India.
The students took a pledge to uphold the religious diversity and harmony of India, to celebrate the festivals of different religions, to respect each other's religion in order to build a strong India.
The audience
Ranjan Raj, a ninth grader of Karen's School, appreciated the play saying, we learned how fundamentalists create communal riots among innocent children.
Mrs. Anjana Prakash, the Vice-Principal said the shows were eye-openers for our students as they now perceive how the poison of hatred is being spread by some anti-social elements among young minds.
Mr. Sebastian, the discipline-in-charge said our students belong to different religions and so we must foster respect for all religions and even celebrate each others' festivals to achieve inter-religious harmony.
Mr. Jay Prakash, local coordinator at Karen's appreciated the play and pledged to foster communal harmony, peace and brotherhood among students.
Mrs. Seema, the Principal was all happy to encourage such "positive activities" in her school.
The Patna Peace Mission, a forum for promoting communal harmony among students, is a project of the Jesuit Mission for Inter-religious Dialogue, said Father Kalapura.
Full report at:
http://mattersindia.com/2018/10/patna-peace-mission-promotes-communal-harmony-through-street-plays-2/
--------
India lauds Tajikistan's fight against radicalisation
October 8, 2018
President Ram Nath Kovind on Monday lauded the Central Asian nation of Tajikistan for its fight against the global scourge of terrorism and radicalisation and said that the world should recognise it.
Delivering a speech on 'Countering Radicalization: Challenges before Modern Society' at the Tajik National University here, Kovind said he chose the topic for two reasons.
"First, your country has done commendable work to tackle this global menace and foster peace for one and all. And the world must recognise it," he said.
"Second, the battle against terrorism, extremism and radicalism must be fought, first and foremost, in the minds of people, between those who believe in peace, love and humanity and those who feed on hatred, death and destruction."
Describing it as a battle of opposing ideas, of humanity on one hand and a make-belief world on the other, Kovind said that "talking to the youth, our future; and scholars, our guide and path-finders, therefore, becomes essential".
He said that all religions and thoughts have prospered and blossomed in the land of the Pamir and the Himalayas.
"Today, we are confronted with those who wish to burn and destroy the fabric of our faiths, the embrace of our togetherness," the President stated.
"The people of this country have made enormous sacrifice to stop the surge of bigotry and faith-based regressive ideas from capturing centre-stage," he said.
"This not only saved your budding Republic in the 1990s, but also fire-walled your neighbouring Central Asian Republics. They too, were then, struggling with challenges that young nations face. We sincerely hope there is deeper understanding of the geo-political significance of the Tajik civil war."
Pointing out that there are renewed attempts to impose obscurantist thoughts on peaceful societies, Kovind said that this is threatening the very foundation of human civilisation.
"Their targets are people and societies, who value progressive life and respect diversity of faiths and cultures," he said.
"Notwithstanding your historic struggle and subsequent victory in the civil war, the long-drawn war is far from over."
Emphasising that no religion, whether Hinduism, Islam, Buddhism, Christianity, Sikhism or Judaism, justifies violence and killing one human being by the other, he said all religions "talk in one language and that is the language of peace, harmony, compassion and kindness".
"The war on terror and radicalisation is not against any religion, and should never be," he stated.
"Quite on the contrary, it is against those who believe in destroying the creation of the Almighty."
Kovind lauded the leadership of Tajik President Eamoli Rahmon in fighting terrorism and countering radicalisation.
Full report at:
https://www.business-standard.com/article/news-ians/india-lauds-tajikistan-s-fight-against-radicalisation-118100800970_1.html
--------
Shia Waqf Board chief booked in Uttar Pradesh for hurting sentiments of Muslims
09th October 2018
LUCKNOW: An FIR was lodged against UP Shia Waqf Board chairman Waseem Rizvi for hurting religious sentiments after he allegedly made some statements against the Caliphs of the Muslim community.
The case was lodged against Rizvi on the basis of a complaint of the Sahaba Action Committee at Lucknow 's Chowk Police station on late Sunday evening.
In the complaint, the Sahaba Action Committee claimed that Rizvi had offended the members of Sunni sect of Islam by his remarks over their Caliphs.
"Waseem Rizvi has been making derogatory remarks about Sunni community and Caliphs for quite some time. So, after proper consultation, we decided to file a complaint against him. Thousands of people have gathered to protest and are demanding that National Security Act be slapped on Rizvi," Sahaba Action Committee president Maulana Abdul Wahid Farooqui said.
Following the FIR against Rizvi, thousands of Sunnis took out a protest march in old city areas of Lucknow demanding his arrest within 24 hours.
Meanwhile, reacting to the FIR filed against him, Rizvi called it the desperation and frustration of Muslim litigants in the vexed Ayodhya case.
"I have just called spade a spade. Those who have field FIR consider the extremist forces their Caliphs, they should migrate to Afghanistan and Syria," he said, adding that he would not succumb to Wahabi forces and took vow to continue his struggle for Ram temple.
Rizvi said he had already got his grave dug as sections of Muslims were out to eliminate him. He lamented that the level of security he had demanded was not provided to him.
"I may be killed through mob lynching, or by the bullets of extremist forces in Islam, or I may be sent to jail, but I shall not stop favouring a Ram temple in Ayodhya as it is the right of majority Hindus," he maintained.
The Shia Waqf Board chairman alleged that his words were being twisted to malign his image.
Full report at:
http://www.newindianexpress.com/nation/2018/oct/09/shia-waqf-board-chief-booked-in-uttar-pradesh-for-hurting-sentiments-of-muslims-1882899.html
--------
No decision yet on Zakir Naik's extradition, matter may end up in court: Malaysia minister
October 8, 2018
Malaysia is yet to take a call on extraditing controversial preacher Zakir Naik to India and the matter could end up being decided by the country's courts, a senior Malaysian minister told External Affairs Minister Sushma Swaraj on Monday when she raised the issue during a meeting in New Delhi.
Naik, who left India in July 2016, is wanted on terror and money laundering charges. In January, the Ministry of External Affairs (MEA) made a formal request to Malaysia to deport Naik. Malaysia's Minister of Human Resources M Kula Segaran, who is on an India visit, said Swaraj sought Naik's early extradition during the meeting.
"She was asking for the latest on Zakir Naik, whether he will be deported from Malaysia, I did say that no final decision has been taken by the Malaysian government," he said. He also told Swaraj that the Malaysian government could also leave it to the courts to decide.
Asked how the extradition request could progress according to Malaysia's laws, he said, "If the government decides to deport him, that is end of the matter for us, but Zakir Naik can still challenge (it). If the government decides not to deport, we can refer it to the court and ask the court to decide the matter."
Malaysia will ensure necessary "justice and fairplay" in the matter, he asserted. Asked if that means the court could end up deciding on his deportation, the Malaysian minister answered in the affirmative. He added that first the cabinet led by Prime Minister Mahathir Mohamad will decide.
Naik, who is in Malaysia, in a statement published in Malaysian newspapers in July, had thanked Malaysia's Prime Minister Mahathir Mohamad for examining his case from an "unbiased perspective". Mahathir, who had met the radical Indian cleric in July, had said that Malaysia will not deport Naik to India as long as he does not create problems in the country. The previous Malaysian government had granted Naik permanent resident status.
India's National Investigation Agency (NIA), that probes terror cases, had last year filed a charge sheet in a court against Naik for allegedly inciting youth to take up terror activities, giving hate speeches and promoting enmity between communities. It had first registered a case against Naik under anti-terror laws in 2016.
Naik is also under investigation for issuing hate speeches that reportedly inspired a deadly terror attack on a popular cafe in Dhaka in 2016. Naik's Mumbai-based non-government organisation, Islamic Research Foundation (IRF), has been declared an unlawful association by the Union Home Ministry.
Full report at:
https://indianexpress.com/article/india/zakir-naik-extradition-malaysia-5392603/
--------
Pakistan-based JeM chief Masood Azhar bed-ridden for months with life-threatening ailment
Oct 09, 2018
Masood Azhar, the chief of the Pakistan-based terrorist organisation Jaish-e-Mohammed (JeM), has been confined to bed with a life-threatening condition, Indian intelligence officials said, and the proscribed Deobandi outfit is now operationally divided between his two younger brothers, Rauf Asghar and Athar Ibrahim, who continue to carry out jihadist attacks on India and Afghanistan.
Azhar, 50, is suffering ailments that have affected his spinal cord and kidney, the officials added, declining to elaborate.
Intelligence officials, who asked not to be identified, said Azhar is believed to have been treated for his spinal cord and renal condition at the Combined Military Hospital in Rawalpindi, and that the jihadist leader has been bedridden for at least a year and a half.
Indian diplomats Hindustan Times spoke to could not confirm Azhar's illness but said the terrorist leader, whose designation by UN as global terrorist (a move sponsored by India) was blocked by China, had not been sighted in public either in his home town Bhawalpur or anywhere else in Pakistan.
That makes India's job easier, one expert added. "There is no need to India to give concessions to Beijing over designation of Azhar as global terrorist as the terrorist has been struck with debilitating illness," said a senior counter-terrorism official based in the Capital.
A dreaded Islamist, Indian officials hold Azhar responsible for a string of suicide terror attacks on Indian soil including the 2001 attack on Parliament, the 2005 attack in Ayodhya and the 2016 attack on Pathankot airbase. Though these attacks were partially successful, they were aimed to either force India to initiate armed hostilities against Pakistan or cause communal conflagration in India.
Azhar was freed by India and transported to Kandahar in exchange for hijacked passengers of IC-814 in 1999; that hijacking was supported by the then Taliban and al- Qaeda chiefs and the ISI.
The 814 hijacking was carried out by Athar Ibrahim, who is now handling terror strikes in Afghanistan and Baluchistan from the Khyber Pakhtunkhwa region, according to officials. The Jaish operation in Afghanistan has joined hands with Taliban, with whom it shares Deobandi ideology, for attacks against the Ashraf Ghani government in Ghazni province in August.
Full report at:
https://www.hindustantimes.com/india-news/india-s-most-wanted-jem-chief-masood-azhar-bed-ridden-for-months-with-life-threatening-ailment/story-aKD6HXfqvPgRN7JtiQ5mRN.html
--------
Concerns raised as India deports Rohingya Muslims to Myanmar
By S. N. M. Abdi
8 October 2018
The deportation of seven Rohingya Muslims to Myanmar by the Indian Government has outraged the United Nations and human rights activists who are accusing New Delhi of deliberately pushing the refugees into the jaws of death.
A last ditch attempt by prominent lawyer Prashant Bhushan to save the seven Rohingyas failed in the Supreme Court where newly-appointed Chief Justice Ranjan Gogoi upheld Prime Minister Narendra Modi's government's contention that the "repatriation" is "as per law" as "they are illegal immigrants and the country of origin has accepted them".
Even as Gogoi's order on his second day in office rattled India's civil society, E. Tendayi Achiumi, United Nation Special Rapporteur on racism, slammed New Delhi for violating the principle of "non-refoulment" which forbids "forcibly deporting people to a place where they could be persecuted".
India's ruling Hindu nationalist Bharatiya Janata Party (BJP) is opposed to any inflow of Muslims who it paints as "grave security threat" to consolidate its right-wing vote-bank ahead of assembly polls in five states and next year's general elections. The sectarian BJP government is bent upon somehow throwing out 40,000 Rohinyas who have escaped to India over the years.
India's External Affairs Ministry insists that the seven Rohingya "repatriated" on Thursday were imprisoned in Assam since 2012 – implying that they are not victims of last year's ethnic cleansing in Rakhine state which the whole world is exercised over – had gone back to Myanmar "voluntarily" after "the Myanmar government issued them documents to return to their country".
Echoing the sentiments of liberals, The Indian Express newspaper said in an editorial: "All the window dressing by the Ministry of External Affairs, that the men were 'repatriated', does not conceal the fact the fact that Myanmar does not consider Rohinya as citizens.
Indeed, only citizens can be repatriated or even deported. The national verification card, which is what the Myanmar government is prepared to give the Rohingya, is not a grant of citizenship."
Forcibly held
"The seven men were detained immediately after they were pushed back into Myanmar, and even if released, they will likely be interred in one of the several camps in which more than 1,00,000 Rohingya displaced during the 2012 violence are still being forcibly held."
"Whichever way you cut this, describing these men, who were fleeing ethnic and communal violence, as 'illegal immigrants', and pushing them back into the same unsafe cauldron, simply does not square with the values of Vasudhaiva Kutumbkam, which means the entire world is one family, which Narendra Modi likes to espouse at international gatherings like the World Economic Forum in Davos."
New Delhi brands all Rohingya as terrorists and wants to deport them to appease the BJP's Hindutva, or hardline politicized Hindu constituency. It also wants to be in the good books of Myanmar where it is competing with China for influence, and doesn't want Myanmar to offer sanctuaries to India's north-eastern rebel groups fighting for independence from Indian rule.
But poorer and smaller Bangladesh, India's most dependable strategic ally in South Asia, is hosting nearly a million Rohingya refugees stretching its meager resources to breaking point.
India's policy of welcoming only Hindu refugees outrages many in Bangladesh, including probably Prime Minister Sheikh Hasina who has stood by displaced Rohingya and speaks up for them at international forums without mincing her words.
While Hasina has refrained from speaking against the Modi regime, others like Syed Munir Khasru, Chairman of Dhaka's Institute for Policy, Advocacy, and Governance (IPAG), have criticized India's stand.
Full report at:
https://english.alarabiya.net/en/features/2018/10/08/Concerns-raised-as-India-deports-Rohingya-Muslims-to-Myanmar.html
--------
Pakistan
Pak cleric held under blasphemy for claiming to be '11th Imam of Islam'
Oct 8, 2018
Police in Pakistan's Punjab province on Monday arrested a cleric, who claimed himself to be the 11th Imam of Islam, and booked him under blasphemy laws.
Police booked Farhan Ahmed, who is in his late 40s, on the charges of blasphemy after a video in which he claimed himself to be the 11th Imam of Islam went viral on social media.
Ahmed is a resident of Sahiwal, some 200-km from Lahore, the provincial capital.
According to police, an FIR has been registered against
Ahmed under section 295-A of the Pakistan Penal Code and section 16 of the Maintenance of Public Order.
Police said Ahmed told his followers that Sufi saints had already foretold about his "appearance".
"The prime minister and the army chief should swear their allegiance to me," said Ahmed, who was flanked by his disciples in the video.
He also claimed that he was the guardian of the appearance of Imam Mahdi. He invited the youth of Pakistan to join him, urging them to take oath of allegiance to him.
Police are also investigating whether he made this claim because of any mental impairment. Police also recorded the statements of some of his followers.
An imam is the head or leader of an imamate. Imam Mahdi, according to the Islamic belief, will appear on Earth before the Day of Judgment. - PTI
https://www.tribuneindia.com/news/world/pak-cleric-held-under-blasphemy-for-claiming-to-be-11th-imam-of-islam/665148.html
--------
Pakistan Christian in last appeal on blasphemy death sentence
Oct 8, 2018
ISLAMABAD: Pakistan's Supreme Court said it had reached a judgement Monday after hearing the final appeal of a Christian mother on death row for blasphemy, but that it will announce its ruling later in the notorious case, which has gone all the way to the Vatican.
Chief Justice Saqib Nisar did not say when the three-member bench would reveal the fate of Asia Bibi — a mother-of-five who has been on death row since 2010 and could become the first person in Pakistan to be executed under the controversial blasphemy laws.
He said the delay was "for reasons to be recorded later", and told media they could not publish comments on the inflammatory case.
Bibi's is the most high-profile blasphemy case in deeply conservative Muslim Pakistan, where the accusation is so explosive that anyone even accused of insulting Islam risks a violent and bloody death at the hands of vigilantes.
Her plight has drawn attention from international rights groups. Pope Benedict XVI joined in calls for her release in 2010, while in 2015 her daughter met with Pope Francis, who as the head of the Catholic Church offered prayers for her mother.
If the court upholds Bibi's sentence, her only recourse will be a direct appeal to the president for clemency.
President Arif Alvi is a close ally of Prime Minister Imran Khan, who launched a wholehearted defence of the blasphemy laws during his election campaign earlier this year, vowing his party "fully" supports the legislation and "will defend it".
Rights activists have warned that carrying the sentence out would be appeasement of populist extremists and a huge blow for minorities, who already face pervasive discrimination.
Freedom in Pakistan, however, means a life under threat by vigilantes and hardliners, who regularly hold demonstrations calling for Bibi's execution. Many took to Twitter and other social media Monday to repeat the call.
The allegations against Bibi date back to 2009, when she was working in a field and was asked to fetch water. Muslim women she was labouring with allegedly objected, saying that as a non-Muslim she was unfit to touch the water bowl.
The women went to a local cleric and accused Bibi of blasphemy against the Prophet Mohammed, a charge punishable by death under the colonial-era legislation.
On Monday the justices appeared to question the case against her, with Justice Asif Saeed Khan Khosa, a renowned expert in criminal law, listing flaws in the proceedings.
"I don't see any derogatory remarks vis a vis the holy Koran as per the FIR," added Chief Justice Nisar, referring to the initial complaint filed in the case.
Approximately 40 people are believed to be on death row or serving a life sentence in Pakistan for blasphemy, according to a 2018 report by the United States Commission on International Religious Freedom.
International rights groups have long criticized the legislation, saying it is routinely abused to settle personal vendettas.
The European Union parliament in 2010 warned it has been used to justify censorship, persecution, and even murder of minorities. In recent years, it has also been weaponized to smear dissenters and politicians.
Mere calls to reform the law have provoked violence, most notably the assassination of Salmaan Taseer, the governor of Pakistan's most populous province, by his own bodyguard in 2011.
Taseer had also called for Bibi's release. His sons Shaan and Shahbaz, who himself was held prisoner by the Taliban for nearly five years, were among those tweeting their support for her Monday.
But Taseer's assassin, Mumtaz Qadri, executed in 2016, was feted as a hero by hardliners, with his hanging provoking Islamist fury.
Full report at:
https://timesofindia.indiatimes.com/world/pakistan/pakistan-christian-in-last-appeal-on-blasphemy-death-sentence/articleshow/66124807.cms
--------
Sharif appears in court for admitting Pak terrorists were allowed to carry out Mumbai attacks
Oct 8, 2018
ISLAMABAD: Former Pakistan prime ministers Nawaz Sharif and Shahid Khaqan Abbasi and Dawn journalist Cyril Almeida appeared before the Lahore high court on Monday in a high treason case related to Sharif's interview in which he had claimed that Pakistani terrorists were allowed to cross the border to carry out the 26/11 Mumbai carnage.
The petition, lodged by advocate Azhar Siddiqui, alleges that Abbasi had shared crucial details of the National Security Council (NSC) meeting which was held after Sharif's statements on the 26/11 Mumbai attacks. "By leaking details of the NSC Abbasi committed high treason," the petitioner said, adding that the interview to Dawn had dented the country's image and sovereignty. The petitioner pleaded for the court to order a treason trial against the three respondents.
During the last hearing, in which Sharif had not appeared, the court had issued a non-bailable arrest warrant against Almeida, who had interviewed the former PM, and had ordered the government to stop him from leaving the country due to his absence from court proceedings.
As Monday's hearing commenced, the court ordered the removal of the journalist's name from the exit control list (ECL) and withdrawal of his arrest warrants.
Sharif, Abbasi and Almeida were ordered to submit written replies to the court which adjourned the hearing till October 22.
Full report at:
https://timesofindia.indiatimes.com/world/pakistan/sharif-appears-in-court-for-admitting-pak-terrorists-were-allowed-to-carry-out-mumbai-attacks/articleshow/66125855.cms
--------
Minister warns against fanning differences among Muslims
October 9, 2018
LAHORE: Federal Religious Affairs Minister Noorul Haq Qadri has warned against the enemy's conspiracies for fanning differences among Muslims on the basis of schools of thought to further damage the Ummah unity. Islam is the religion of peace and justice, and it promotes respect and brotherhood among all human beings and among all Muslims irrespective of the differences of their schools of thought, he said while addressing as chief guest at an ulema and mashaikh convention under the aegis of All Sects Ulema Board (ASUB) Monday. The ASUB's Maulana Asim Makhdoom chaired the function which was addressed by scholars from different schools of thought. They called for supporting the government's austerity drive and Prime Minister Imran Khan's vision to transform the country into Madina welfare state. They promised to back PM's mission for purging the society of corrupt elements. Qadri said all Muslims must remain united under the guidance of Holy Prophet (PBUH) who had taught religious tolerance for non-Muslims by allowing them complete freedom and protection inside Muslim state. He urged the scholars to shun differences and preach religious harmony in the larger interest of the country. Religious scholars must make efforts for promotion of education, health, cleanliness, tree plantation and moral values besides eradicating corruption from the society. He said Prime Minister Imran Khan repeatedly vowed to establish Madina model state. He said the PM was trying to revamp madrassas. Meanwhile, the minister visited Tehrik Minhajul Quran and PAT offices in Model Town and held meeting with their chief Dr Tahirul Qadri. He appreciated Tehrik Minhajul Quran services for religion and education. He praised Dr Qadri's efforts in promoting religious harmony in the country.
https://www.thenews.com.pk/print/378586-minister-warns-against-fanning-differences-among-muslims
--------
JIT gave 'incorrect' information to Saudi govt about Al-Azizia Mills, court told
Malik Asad
October 09, 2018
ISLAMABAD: The last prosecution witness in the Al-Azizia reference admitted before the accountability court on Monday that the Joint Investigation Team (JIT) provided 'incorrect' information to the Saudi government about Al-Azizia/Hill Metal Establishment (HME) owned by Hussain Nawaz, son of former prime minister Nawaz Sharif.
During the cross-examination, the ex-premier's lead counsel Khawaja Haris asked investigation officer Mehboob Alam about a letter of credit related to transport of scrap of machinery of Ahli Steel Mills from Sharjah to Jeddah that was submitted by Hussain Nawaz before the Supreme Court.
The JIT, in its request seeking mutual legal assistance from the Saudi government, mentioned the wrong place of origin as instead of Sharjah, the investigators sought information about the machinery transported from Dubai.
Moreover, he admitted that the description of goods as given in the exhibited document was different from description of goods transported from Ahli Steel Mills as given in the letter of credit.
Mr Alam said that he had neither recorded the statement of any witness nor issued notice to any witness to ascertain the cost at which Al-Azizia Steel Company and HME had been set up. "It did not come to my notice during investigation that Hill Metals Establishment was not established in one go rather it was established gradually over a period from 2006 to 2014," he admitted.
He accepted before the court that he had gone through the statement of Hussain Nawaz recorded by the JIT which probed the Panama Papers scandal.
"Even after going through that statement it had not come to my notice that accused Hussain Nawaz Sharif had stated that the Steel Mill was not established all at once rather initially HME was set up as a Scrap Processing Plant," said the witness.
During the cross-examination, Mr Alam admitted that no witness who had appeared before him stated that any money was sent by accused Nawaz Sharif to accused Hussain and Hassan Nawaz to fund their expenses while they were studying in the UK.
He said: "No witness had stated before me that accused Nawaz Sharif had been sending money to accused Hussain Nawaz and Hassan Nawaz for meeting their day-to-day expenditure from the year 1995 to 1999 or thereafter."
He added that during investigation he had not come across any bank account of Nawaz Sharif through which any money was sent by him to his sons for any of the aforesaid purposes.
Mr Alam revealed that he had recorded the statement of a witness — Jahangir Ahmed — who had produced Mr Sharif's tax record, adding that the witness had not produced the tax record of any company wherein Mr Sharif was a shareholder.
Full report at:
https://www.dawn.com/news/1437766/jit-gave-incorrect-information-to-saudi-govt-about-al-azizia-mills-court-told
--------
US envoy on Afghan peace arrives in Pakistan
Oct 9, 2018
ISLAMABAD: The new American diplomat tasked with finding a peaceful end to Afghanistan's 17- year war is in Pakistan to seek the new government's help pushing the Taliban to the table.
A former US ambassador to Afghanistan, Zalmay Khalilzad arrived in Pakistan on a tour of the region that will also include Middle Eastern stops in the United Arab Emirates, Qatar and Saudi Arabia. The trip was announced in a US Embassy statement Tuesday.
The State Department had earlier announced that Khalilzad's mission is to coordinate and lead US efforts to bring the Taliban to the negotiating table. He began his tour October 4.
Full report at:
https://www.pakistantoday.com.pk/2018/10/09/us-envoy-on-afghan-peace-arrives-in-pakistan/
--------
MMA warns against amending blasphemy law
Oct 9, 2018
The Muttahida Majlis-e-Amal (MMA) on Monday warned the government from making any changes to the country's blasphemy laws, a local media outlet reported.
MMA chief Maulana Fazlur Rehman said that there was a conspiracy to change the country into a secular state.
Rehman said that the federal government since 1994 had made a mockery of religious seminaries in negotiations to modernise them.
"There should not be any talks on the matter anymore," he said.
https://www.pakistantoday.com.pk/2018/10/09/mma-warns-against-amending-blasphemy-law/
--------
Maulana Ataur Rehman declares Shehbaz's arrest an attempt to subdue sanctity of Parliament
OCTOBER 8, 2018
Islamabad: The treasury benches on Monday protested during the Senate session over the speech of opposition member Maulana Ataur Rehman against Prime Minister (PM) Imran Khan's comments over Shehbaz Sharif's arrest.
The Jamiat Ulema-e-Islam (Fazl) leader declared the National Assembly Opposition Leader's arrest an attempt to subdue the sanctity of the house.
"The prime minister doesn't understand where the country is heading," he said.
The ministers and the members of the treasury benches protested against Rehman's remarks. And Senate Chairman demanded an apology from the opposition member.
Meanwhile, the JUI-F leader refused to apologise for his remarks.
Full report at:
https://dailytimes.com.pk/307777/maulana-ataur-rehman-declares-shehbazs-arrest-an-attempt-to-subdue-sanctity-of-parliament/
--------
South Asia
Terror in Central Asia: Is ISIS safe haven moving from Syria to Afghanistan?
8 October 2018
There are nearly 3,000 Central Asian militants that have been trained to fight in Syria and Iraq, according to the International Centre for Political Violence and Terrorism Research.
These militants went fighting either as ISIS affiliated (mainly Tajik and Kazakh fighters) or of the Qaedist al-Nusra Front (mainly Uzbek and Kyrgyz fighters).
The return of Takfiri Central Asian fighters from the Middle East contributed to worsening the regional security situation. This region is very vulnerable to terrorism and extremism, which has a history there. The Islamic Movement of Uzbekistan and Jamaat Ansarullah terrorist groups were both established by Central Asian citizens.
"If ISIS breaks down in Syria, the new safe haven for it could be within Afghanistan or some could return to their homes", argues Uguloy Mukhtorova, researcher from Tajikistan at the Research Division at NATO Defense College, in his report titled Central Asia and NATO against a backdrop of changing geopolitical realities.
How can that be avoided?
"We need a joint strategy. That's the counter-terrorism strategy that would work in Afghanistan", said Shukria Barakzai, Ambassador of Afghanistan to Oslo.
"Every country comes with its own project and its own agenda, instead we need a joint strategy" Barakzai explained to Al Arabiya English, talking on the sideline of NATO Defense College Foundation conference Afghanistan and Central Asia, Looming priorities and regional un-balances held in Rome on October 4.
Central Asia is maybe the most crowded region when it comes to counting the number of foreign influencers. NATO forces spent over 15 years in Afghanistan, while Russia's influence over its former Soviet partners is obvious.
China is moving from a non-interference policy to a constructive intervention strategy in Afghanistan, according to Zhongying Pang, executive chair of the Academic Committee at the Grandview Institute in Beijing, aiming at playing as a normative power in a country that is a geographic hub for railway links and other infrastructure projects.
And then Iran, Pakistan, India...the list of countries overlooking that strategic area between the Middle East and Asia is quite long and they all try to exercise their influence. This makes it complicated to move effectively in one way when every player is pulling in a different direction.
Generalizing is anyway dangerous because we are talking about a vast region with huge countries with different political regimes and historic backgrounds. That's also why we can find Central Asian countries from the top to the bottom of the Global Terrorism Index 2017.
Afghanistan for example is the world second country with the highest impact of terrorism, but Central Asian countries like Turkmenistan and Uzbekistan are between those with no impact of terrorism, according to the chart elaborated by the Institute for Economics and Peace.
According to Martin O'Donnel, public affairs officer and spokesman of NATO's Resolute Support Mission in Kabul, the answer is only through prevention by training the local forces.
"Training local forces is one of the best weapons we have in fighting terrorism because prevention is better than intervention" said O'Donnel who served six times in Afghanistan as part of both the International Security Assistance Force (ISAF) and Resolute Support.
https://english.alarabiya.net/en/features/2018/10/08/Terror-in-Central-Asia-Is-ISIS-safe-heaven-moving-from-Syria-to-Afghanistan-.html
--------
Taliban threatens to carry out attacks against election targets
Oct 08 2018
The Taliban militants group in Afghanistan has threatened to carry out attacks against the election targets during the upcoming parliamentary and district council elections.
Claiming that the elections are conspiracies of the West and the United States, the group in a statement said "The Islamic Emirate instructs all its Mujahidin to halt this American led process throughout the country by creating severe obstacles for it, while taking extensive and intensive care of civilian Afghan lives and their properties."
"Those people who are trying to help in holding this process successfully by providing security should be targeted and no stone should be left unturned for the prevention and failure of this malicious American conspiracy," the statement added.
The parliamentary and district council elections are scheduled to be organized on 20th of October.
This comes as the security officials had earlier assured that necessary precautions are in place to ensure the safety and security of the elections.
Deputy spokesman for the Ministry of Interior, Nusrat Rahimi, told reporters last week that "54 thousand defense and security forces are assigned to secure 5,100 polling centers which included 21,000 polling stations on Election Day."
Full report at:
https://www.khaama.com/taliban-threatens-to-carry-out-attacks-against-election-targets-06112/
--------
Bangladesh enacts digital law despite protests
October 09, 2018
DHAKA - Bangladesh's president signed on Monday a digital security act into law on Monday despite protests by journalists and rights groups that it will severely curb media freedom.
"The digital security bill has been signed by the president today," President Abdul Hamid's spokesman Joynal Abedin told AFP.
Top editors and journalists had a last-minute meeting with government ministers demanding that some sections of the legislation be changed.
The law minister promised that he would discuss the issues but the president went ahead and signed the act into law without waiting.
The law, which carries heavy jail sentences for secretly recording government officials or spreading "negative propaganda" using a smartphone or computer, already had parliamentary approval.
Berlin-based corruption watchdog Transparency International's (TI) Bangladesh chapter slammed the move in an immediate reaction.
"We are very disappointed," TI Bangladesh spokesman Sheikh Manjur E Alam told AFP.
"But we firmly want to believe it won't be used or abused before the government has a discussion as was promised about the amendment of the law," he said.
Hundreds of journalists have staged demonstrations against the law in recent days and editors have said the law poses serious threats to freedom of expression and media in the country.
Sampadak Parishad, a council of top editors, urged authorities not to pass the law, saying it would seriously curtail democracy in the south Asian country.
Prime Minister Sheikh Hasina in a press briefing last week backed the law. She told journalists that "if there is no criminal mind, there is no reason to worry".
According to the Digital Security Act 2018, a journalist could be convicted of espionage for entering a government office and gathering information secretly using an electronic device, an offence that would carry a 14-year jail sentence.
It also provides for similar sentences for spreading "negative propaganda" about the country's war of independence or its founding leader Sheikh Mujibur Rahman using a digital device.
Media rights groups in Bangladesh and the International Federation of Journalists (IFJ) have already condemned the bill.
The law was enacted months after top Bangladeshi journalist and activist Shahidul Alam was arrested during massive student protests in the capital Dhaka for making "false" and "provocative" statements on Al Jazeera and Facebook Live.
He is being investigated for allegedly violating Bangladesh's already stringent internet laws enacted in 2006.
Full report at:
https://nation.com.pk/09-Oct-2018/bangladesh-enacts-digital-law-despite-protests
--------
Suu Kyi vows 'transparency' over Rohingya atrocities
October 09, 2018
TOKYO - Embattled leader Aung San Suu Kyi vowed Monday to increase transparency over her government's handling of the Rohingya crisis while pitching for foreign investment in Myanmar ahead of a regional summit in Tokyo.
Suu Kyi , once garlanded as a global rights champion, has seen a sharp fall from grace due to her failure to speak up following a brutal military crackdown on Myanmar's Rohingya minority.
"I'm ready to acknowledge that we have challenges to face particularly with regard to the Rakhine and with the struggles we have on the peace front," Suu Kyi said in a speech before Japanese businessmen, referring to Myanmar's westernmost state where the minority dwelled.
"We are not hiding this fact from our friends," she said.
In the speech ahead of the summit in Tokyo, Suu Kyi said she was aware that peace and stability in her country were necessary for attracting foreign investment.
"We understand that peace, reconciliation, harmony, stability, rule of law, human rights - all these have to be taken into consideration when we are looking for more investment, for greater economic opportunities," she said.
"We wish to be very open and transparent to our friends," she said. "If you have concerns, if you have worries, please discuss this openly with us."
A brutal military campaign that started last year drove more than 700,000 Rohingya Muslims from Myanmar into neighbouring Bangladesh, where they now live in cramped refugee camps - fearful of returning despite a repatriation deal.
Suu Kyi 's supporters say her hands are tied by a still powerful military, which controls a quarter of parliament's seats and three ministries.
Full report at:
https://nation.com.pk/09-Oct-2018/suu-kyi-vows-transparency-over-rohingya-atrocities
--------
Bangladesh upholds death sentence against Saudi diplomat's killer
October 08, 2018
DUBAI: Bangladesh Supreme Court upheld the death penalty for the murder of a Saudi embassy official Khalaf Al Ali, according to UAE daily Gulf News.
Saiful Islam Mamun had appealed the High Court's decision, but the Appellate Division scrapped it.
"Now, there is no bar towards executing the verdict against convict Saiful Islam Mamum," Attorney General Mahbubey Alam said.
Al Ali had been an official of the consular section of the Saudi embassy in Dhaka for two years when he was killed in front of his apartment in a top security compound at about 1 p.m. on March 5, 2012.
Five suspects were immediately identified and were sentenced to death in December of the same year.
Full report at:
http://www.arabnews.com/node/1384416/world
--------
Development of Rakhine crucial to convince Rohingyas to return: Bangladesh
October 9, 2018
With Bangladesh and Myanmar still to repatriate even one refugee, infrastructure development in devastated Rakhine villages is seen as crucial to convince the Rohingya to return – with the construction of 250 pre-fab houses being a key piece in the puzzle, top Bangladeshi officials indicated.
While India has been pushing both Myanmar and Bangladesh to begin the repatriation process at the earliest, Dhaka still believes that New Delhi could do more to put pressure on Nay Pyi Taw to ensure a conducive environment for the start of the repatriation process.
But senior Bangladeshi officials believe that China still holds the card to "settle" the Rohingya crisis between Bangladesh and Myanmar.
Around 1.2 million Rohingya refugees – classified in Bangladesh as 'forcibly displaced Myanmar nationals' – have fled their homes and crossed the border since August 2017, following a major security crackdown after a terror attack on border forces.
During his visit to India last week, United Nations secretary general Antonio Guterres had said that India should support Bangladesh in mitigating the "huge humanitarian crisis" by putting pressure on Myanmar government and military to take back the refugees to a safe and secure environment.
Bangladesh also took note of the secretary general's remarks and reiterated that "more solid support" would be much appreciated.
Speaking to a group of foreign journalists recently, Bangladesh prime minister's political advisor H T Imam said that India had been providing "significant assistance" for the Rohingya refugees.
"But, on the question of return of the Rohingya, we would like much more solid support from India and moral pressure on Myanmar," he said.
Imam pointed out that Bangladesh government had also requested Beijing "not to use its security council veto against the resolutions" condemning the role of Myanmar in the refugee crisis.
"China has important leverage on Myanmar. If they come forward, I think the issue can be settled," he said.
However, China has not been responsive on Dhaka's request with regard to ramping up pressure on Myanmar. "They are non-committal," admitted Imam.
Meanwhile, efforts to begin repatriation remain stalled nine months after a bilateral memorandum of understanding between Myanmar and Bangladesh.
Bangladeshi foreign minister A H Mahmood Ali said that around 6,000 people have been given "clearance" to return to Myanmar.
"We have now asked Myanmar to match the names of the people with their villages," said Mahmood Ali, adding that the bilateral joint working group would be meeting on October 28.
He noted that one of the components inspected during his August visit to villages in Rakhine province was the status of the new dwellings for returnees. "We were taken in a helicopter from one village to another… I had also wanted to see the actual building of the houses being constructed by the Indian government," he said.
India had entered an agreement with Rakhine State development Programme for grant assistance of $25 million over five years. A part of this grant is to build 250 pre-fabricated homes as a pilot project in northern Rakhine for "displaced members of the Rakhine Buddhist, Hindu and Muslim communities".
Mahmood Ali said that when he visited Rakhine, the foundations for the pre-fab houses were "still being constructed". "They had completed one house, which was shown to us," he added.
Since his visit, the foreign minister said that the houses were ready. "India has told us that 250 houses have been constructed," he said
Newly-built accommodations are an essential element – along with general safety and security – to convince Rohingya refugees to voluntarily return to their villages that they left a year ago after their homes were destroyed during security 'clearance operations' by Myanmar security forces.
"The refugees are living in shacks here in the camps…human beings should not live like this," he added.
After India began the construction of the houses, Chinese foreign minister Wang Yi also offered to build 1,000 houses. "They should build the houses only where the refugees come from," he said.
According to diplomatic observers, the key reason for not even one refugee being repatriated is the "deep mistrust" between Bangladesh and Myanmar. The latest spat over the depiction of St Martin's island as part of Myanmar is a manifestation of this inherent suspicion.
In a speech in August, Myanmar State counsellor Aung San Suu Kyi claimed that Dhaka controlled the reins. "Myanmar has been ready to receive Rohingya returnees since 23 January as agreed in the memorandum of understanding… Bangladesh would also have to decide how quickly they want the process to be completed," she added.
Dhaka, however, believes that Myanmar has to first create the right atmosphere. "There must be an environment congenial for the Rohingya to go back to Myanmar…There must be physical facilities for them to go back. Their properties must be returned to them. Their houses, ponds, fields.. all of them have been taken over," said Imam.
While Bangladeshi diplomats are more muted in their criticism, Sheikh Hasina' political advisor was forthright.
"On paper, Myanmar repeatedly says that they have met all these conditions and they are trying their best. But in action, when it comes to taking them back, they want a list of refugees to go back. We gave them a list. After they got the list, said that they will take them back, but never took them back. That is a very tricky situation".
Accusing Myanmar of not adhering to its commitment, Imam asserted, "Why have they expelled their own citizens and why can't they take them back in spite of repeated open international promises? Why did they enter into agreement to take them back and now breaking those promises?".
An initial assessment of 23 villages in Rakhine by two United Nations agencies shows that are continuing "serious effects", with limited interaction between communities and restrictions on movements of the Muslim community.
International pressure, Bangladesh asserted, continues to be vital to force Myanmar to create the conditions necessary for the return.
In September, the International Criminal Court started a preliminary inquiry into the Rohingya crisis, in order to determine if there was enough evidence to start a full probe. While Myanmar is not a member of the court, Bangladesh's membership has been the argument used by ICC to justify its jurisdiction to investigate the Rohingya refugee exodus.
Asked if Bangladesh supported the ICC's actions, Mahmood Ali replied, "…Prime Minister in her UNGA speech spoke about accountability… So yes, we do support it".
Meanwhile, India has been quietly advising both countries to begin the process of repatriation at the earliest. "Only if they start, even with a small number, can both sides actually test the ground conditions," said an Indian government official.
New Delhi's traditional position on the long-standing Rohingya issue had been to maintain that it was an internal issue for Myanmar and refusing to join international chorus of condemnation. In deference to Myanmar's sensitivity, India does not use the term 'Rohingya' in any official statements.
However, India was forced to temper its position under pressure from Sheikh Hasina government and rising public discontent in Bangladesh over New Delhi's overt alignment with Myanmar on the Rohingya issue.
Over 10 million Rohingya are currently living in 30 camps across 6,000 acres in two sub-districts of Cox's Bazar. Ukhia sub-district alone hosts over 80 per cent of Rohingya refugees in camps built between and on top of hills that were dense forests just a year ago.
Senior Awami League leaders assert that if the Rohingya issue finds traction in the upcoming campaign for parliamentary polls, it will be to the advantage for the ruling party due to Sheikh Hasina's image of providing shelter to fleeing Myanmar citizens.
However, the Bangladesh government is under political pressure from local residents, who had welcomed the Rohingya with initial generosity, to expedite their return.
Full report at:
https://www.business-standard.com/article/international/development-of-rakhine-crucial-to-convince-rohingyas-to-return-bangladesh-118100900162_1.html
--------
Airstrikes inflict casualties on militants, destroy captured Humvees
Oct 08 2018
Several militants were killed or wounded and two Humvee armored personnel carriers were destroyed in a series of airstrikes conducted in southeastern Ghazni province of Afghanistan.
The provincial police commandment in a statement said Sunday that the airstrikes were carried out by the Afghan and U.S. forces based in Afghanistan.
The statement further added that five militants were killed and three others were wounded in the airstrikes conducted in Jamjama area of Moqor district.
A Ford Ranger type vehicle and a heavy machine gun were also destroyed during the same airstrikes, the provincial police commandment said.
The U.S. forces also carried out airstrikes in Qarabagh district on Saturday, leaving at least seven militants dead and five others wounded.
The statement by the provincial commandment added that two Humvee armored personnel carriers captured by the Taliban militants were destroyed in an airstrike of the U.S. forces in Waghez district.
Full report at:
https://www.khaama.com/airstrikes-inflict-casualties-on-militants-destroy-captured-humvees-06110/
--------
Former ALP Commander of Achin Bilal Pacha jailed over misuse of authority
Oct 08 2018
The former Commander of the Afghan Local Police (ALP) forces in Achin district Bilal Pacha has been jailed for six years after he was found guilty of misuse of authority during the period of his service.
The provincial government media office in a statement said the Appellate cout of Nangarhar led by Zia-ul-Haq Zia reviewed the case of Pacha together with the Military Bureau Chief Gen. Gulbuddin Nasratyar.
The statement further added that the reviewed the case of Pacha during an open court hearing and the six year jail term was awarded reviewing the documents and hearing the statements of victims.
The two brothers of Pacha were acquitted by the court due to the lack of evidence and satisfactory reasons to prove their involvement in the crimes committed by the former ALP commander.
Full report at:
https://www.khaama.com/former-alp-commander-of-achin-bilal-pacha-jailed-over-misuse-of-authority-06113/
--------
Arab World
Nobel laureate Nadia Murad wants Daesh extremists to face trial
October 09, 2018
Nobel peace prize winner Nadia Murad wants to see members of Daesh face justice — not death but a trial in a courtroom, she said on Monday.
Murad was one of the thousands of young women from a religious minority who were kidnapped by Daesh in Iraq four years ago and held in sexual slavery but was able to escape.
Older women and men faced summary execution during the Daesh assault, which the United Nations has described as a genocide.
"For me, justice doesn't mean killing all of the Daesh members who committed these crimes against us," she said at the National Press Club in Washington.
"Justice for me is taking Daesh members to a court of law and seeing them in court admitting to the crimes they committed against Yazidis and being punished for those crimes specifically," she said.
Many Daesh members have been killed on battlefields of Iraq and Syria, while those who do make it to court in Iraq are usually tried on terrorism charges.
Murad was jointly awarded the Nobel peace prize on Friday along with Congolese doctor Denis Mukwege "for their efforts to end the use of sexual violence as a weapon of war and armed conflict".
She said she aims to defend persecuted peoples and victims of sexual violence in the Middle East and around the world, but that she cannot do it alone.
"A single prize and a single person cannot accomplish these goals. We need an international effort," she said.
"I call on all governments to fight genocide and sexual violence. The world should bear its moral and legal responsibility and ensure proper and fair accountability."
Speaking about her home country, Murad said she hopes Iraq will soon have a new government after months of political deadlock.
"Our hope is that the new government of Iraq will be established soon and we can work with them to make sure that the areas that have suffered the most like Sinjar are being rebuilt and people can go back to their homes," she said, referring to the ancestral hub of the Yazidis in the country's north.
Responding to a question about the #MeToo movement and its potential to bring change, Murad said she hopes all survivors of sexual assault will be heard.
"My hope is that all women who speak about their experience of sexual violence are heard and accepted ... and they feel safe to share their stories and feel safe to speak about their experiences."
https://nation.com.pk/09-Oct-2018/nobel-laureate-nadia-murad-wants-daesh-extremists-to-face-trial
--------
Egyptian forces kill 52 militants in restive Sinai
October 09, 2018
CAIRO - The Egyptian security forces killed at least 52 militants in restive North Sinai Province northeast of the capital Cairo, the armed forces said in a statement on Monday. A total of seven terrorist hideouts in northern and central Sinai were destroyed as part of the Comprehensive Operation Sinai 2018, the statement said. The army killed 26 militants, and seized a number of automatic rifles, ammunition, hand grenades, explosive belts, wireless communication devices, and electric circuits. The remaining half were killed by the police in a preemptive operation in Arish, capital of North Sinai Province. The police seized 10 automatic rifles, four machine guns and two explosive devices, while destroying 26 vehicles and 52 unlicensed motorbikes used for transporting militants. The statement also said 28 terrorist vehicles were destroyed during their attempt to sneak into the western desert of Egypt from its borders with Libya.
, while 102 illegal immigrants were caught and 31 vehicles seized on Egypt's southern borders.
The Sinai-based terrorist activities gained strength after the 2013 military ouster of Egyptian former Islamist President Mohammed Morsi in response to massive protests against his one-year rule.
Full report at:
https://nation.com.pk/09-Oct-2018/egyptian-forces-kill-52-militants-in-restive-sinai
--------
Report Blasts Turkey for Deploying 7,000 Turkistani Terrorists in Syria
Oct 08, 2018
The Arabic-language al-Watan newspaper referred to Turkey's all-out support for the Turkistani terrorist group, claiming that Ankara has provided the ground for the militants' deployment in Syria.
It added that the Turkistani terrorists entered Syria late in 2013 along with their family members and were stationed at the bordering areas with Turkey in the Northern mountains of Syria and Western Idlib.
Al-Watan said that the number of Turkistani militants surged to 7,000 in early 2016, adding that other terrorist groups, including Jund al-Aqsa, also joined the group later.
According to the report, the Turkistani terrorists are in possession of a large number of heavy weapons in the newly-formed demilitarized zone and in areas 10km away from the Syrian Army positions in al-Tabibat, al-Shaqar base, Kafr Yadin, al-Najiyeh, Northern Lattakia and Sahl al-Qab.
It also launches attacks on Syrian army positions in Northeastern Lattakia and Sahl al-Qab in Hama in collaboration with other terrorist groups, the report added.
Relevant reports said last Saturday that Turkey had played a role in delaying the implementation of a Russian-US agreement to evacuate the militants from al-Tanf region at the borders between Iraq and Syria.
The Arabic-language website of Sputnik news agency quoted an informed source as saying that Turkey was behind the delay in transferring all terrorist groups from al-Tanf region and al-Rakban camp to Northern Syria to pave the ground for civilians' return to their villages and towns.
He added that the Turkish side had not yet fully accepted to transfer the US-backed terrorist groups, including al-Qoryatayn, Maqawir al-Thawra and Ahmad al-Abdou, stationed in al-Tanf to regions in Northern Syria.
Based on the report, Turkey wanted to shelter the foreign terrorist groups, including Turkistani, Turkaman, and other militants who consider themselves as remnants of the Ottoman government in Northern Syria, and prevent the Syrian militants from residing in that region.
Full report at:
http://en.farsnews.com/newstext.aspx?nn=13970716000967
--------
Syrian Sources: More Russian Forces Deployed Near US-Backed Militia in Deir Ezzur
Oct 08, 2018
Syria's state-run al-Watan daily reported that the Russian military stationed more troops in the town of al-Mayadeen and in the small town of Mahkan in Southeastern Deir Ezzur.
In the meantime, militant-affiliated sources said that a large volume of Russian army equipment has been sent to al-Mayadeen and Mahkan and Russian soldiers have deployed in different positions near SDF's strongholds.
Also, al-Watan said that deployment of more Russian troops in Deir Ezzur came after tensions between Moscow and Washington over the Deir Ezzur region went high.
Russia has on many occasions criticized occupation of oil and gas fields in Deir Ezzur by the US and its militant allies and called several times for expulsion of the occupiers from the Eastern Banks of the Euphrates River, it added.
Militants' media outlets claimed on Saturday that a military convoy of tens of Russian forces and military vehicles was dispatched to Albu Kamal region in Southeastern Deir Ezzur as the Syrian army continues cleansing operations against the ISIL in the region.
The Arabic-language al-Baladi news channel affiliated to the militants in Syria reported on Saturday that the Russian forces were deployed in regions near the SDF and US forces' positions in Southeastern Deir Ezzur.
It added that the Russian forces were for the first time deployed in the region after the Syrian army regained control of the Western banks of the Euphrates river.
Meantime, the Syrian army troops started military operations against the ISIL in Badiyeh (desert areas) of Deir Ezzur.
Full report at:
http://en.farsnews.com/newstext.aspx?nn=13970716000567
--------
400 Arab ISIL Terrorists Flee from Iraq to Syria
Oct 08, 2018
"The ISIL's repeated failures, growing differences among its ringleaders and infightings among the militants have made the Arab members of the ISIL leave Iraq for Syria in groups," Jabbar al-Amouri told the Arabic-language Baghdad al-Youm newspaper on Monday.
He added that based on intelligence, over 400 Arab members of ISIL, most of them with Saudi origins, have been transferred to Syria, warning that they are still considered as a threat to Iraq as they have deployed near Iraq's borders in Syria.
Relevant reports said in August that the US army was trying hard to push back the Iraqi popular forces of Hashd al-Shaabi from Northern and Western Iraq to redeploy the ISIL terrorists at the border with Syria.
The Arabic-language al-Malouma news quoted Tariq al-Asal, one of the commanders of Hashd al-Shaabi in Anbar province, as reporting that the US army had embarked on driving his forces from Anbar and other Northern provinces of Iraq.
It went on to say that the US was not satisfied with the presence of Hashd al-Shaabi in Northern and Western Iraq, specially at the border with Syria and Jordan, adding that the American forces intend to activate the ISIL once more in border regions.
Full report at:
http://en.farsnews.com/newstext.aspx?nn=13970716000385
--------
Terrorists Suffer Heavy Defeats in Clashes with Syrian Army in Hama
Oct 08, 2018
The army's artillery and missile units pounded the movements of a group of al-Turkistani Islamic Party near the village of al-Mansourah and Tal Waset North of al-Ghaab Plain in Northern Hama, killing and wounding a number of terrorists and forcing their remaining pockets to retreat.
In the meantime, the Arabic-language al-Watan daily reported that Tahrir al-Sham terrorists, deployed in Southeastern Idlib, launched missile attacks on army positions in the village of Jorin in Western al-Ghaab Plain.
It further said that the army's artillery and missile units retaliated and shelled Tahrir al-Sham's positions in the region, inflicting major losses on them.
The Arabic-language al-Watan daily reported on Sunday that Tahrir al-Sham conducted mortar attack on army's positions in the small town of Zalin in Northern Hama on Saturday.
It further said that army's artillery and missile units, in response, pounded Tahrir al-Sham's strongholds in the villages and towns of Wadi al-Dorat, al-Zakat, Albueizah, al-Latamina and a region between al-Latamina and Lahaya in Northern Hama and in the village of Jisr Beit al-Raas in al-Ghaab Plain, inflicting heavy casualties on the terrorists and major damage on their equipment.
http://en.farsnews.com/newstext.aspx?nn=13970716000408
--------
Non-Syrian Terrorist Commander Killed in Bomb Attack in Northwestern Syria
Oct 08, 2018
Abu Mojahid, a senior Chechen security commander of Tahrir al-Sham, was killed in a bomb attack near the small town of Darkoush in Northwestern Idlib.
In the meantime, a number of Chechen and Turkistani terrorists of Tahrir al-Sham were killed after a bomb went off in their vehicle in the small town of Zarzour in Jisr al-Shughour in Western Idlib.
Other sources in Northern Idlib reported that clashes are also underway between Tahrir al-Sham and other terrorists of Soqour al-Sham affiliated to the National Liberation Front in the town of Hazanou.
One of the commanders of Soqour al-Sham and 3 members of Tahrir al-Sham have been captured by the rival group.
The London-based Syrian Observatory for Human Rights (SOHR) reported on Sunday that Khattab al-Homawi, a senior official of Tahrir al-Sham, was killed after a bomb was detonated in al-Iqab prison in Saraqib region of Eastern Idlib.
Also, in Northern Idlib, Tahrir al-Sham terrorists attacked an ISIL stronghold in the town of Ma'arat Misrin, killing at least 6 ISIL militants.
Tahrir al-Sham also arrested two ISIL commanders in the town of Armanaz in Northwestern Idlib.
Full report at:
http://en.farsnews.com/newstext.aspx?nn=13970716000810
--------
US-Backed SDF Commander Killed in Deir Ezzur
Oct 08, 2018
The Arabic-language Baladi news website affiliated to the militants reported on Monday that SDF Commander Hamzeh Zabiyan was killed in a bomb blast near al-Omar oil field in Eastern Deir Ezzur.
It added that the bomb also killed and wounded 5 other militants who accompanied Zabiyan.
Also, other reports from Raqqa said that the SDF has erected new checkpoints inside Raqqa city and put its forces on alert.
A number of SDF forces were also killed and wounded after a bomb went off in areas near the village of al-Jarniyeh in Northwestern Raqqa.
Popular uprisings against the Washington-backed SDF have been reported in Deir Ezzur and Raqqa provinces in the past few weeks.
The SDF forces in Raqqa were put on alert last Wednesday after unknown assailants increased their attacks against them.
Media activists reported that unknown gunmen attacked an SDF checkpoint in the village of Ayed near al-Tabaqah in Western Raqqa, killing and severely wounding 5 of them.
They added that the SDF forces were immediately put on alert after the attack and detained several people as suspects.
Also, one of the SDF forces was injured after an unknown assailant fired at a vehicle carrying the SDF militia in Tal Abyadh street in Raqqa city.
Full report at:
http://en.farsnews.com/newstext.aspx?nn=13970716001059
--------
Kurdish Militia Dig More Tunnels, Trenches in Northern Syria after Turkish Military Threats
Oct 08, 2018
The daily went on to say that the Kurds have dug long tunnels and trenches from East of Tal Abyadh up to a Power Plant Southwest of the town, adding that the Kurds also have dug long tunnels and tranches between al-Toweihanah region and the village of al-Mantabah near the border with Turkey and also between al-Mantabah and the Old Gate in al-Sakhani neighborhood.
The daily further said that the Kurdish move came after the Turkish army boosted its military presence in Ankara-occupied region, adding that the Kurds also are worried about a plan of the US forces to leave them alone in the war against the Ankara forces.
The Turkish army had announced that it was mulling to kick off a large-scale operation on the Eastern bank of the Euphrates River in Northeastern Syria.
In a relevant development on Saturday, the Kurdish-led People's Protection Units (YPG) were preparing for a major showdown with the Turkish military in Northeastern Aleppo.
According to local activists, the YPG was seen raising trenches and building new positions in Western Manbij amid reports of a possible military operation by the Turkish Army.
Furthermore, the YPG brought in reinforcements in order to strengthen their forces around Manbij.
The Turkey's recent comments about the presence of Kurdish fighters inside Manbij raised a lot of red flags for the YPG, as it appears Ankara was preparing to launch a new operation to expel the group from the city.
Full report at:
http://en.farsnews.com/newstext.aspx?nn=13970716000469
--------
Syria in Last 24 Hours: Army Gives Crushing Response to Terrorists' Recent Attack in Hama
Oct 08, 2018
The Syrian army's attacks reportedly came in retaliation to the terrorists' mortar attacks on the government forces' military positions.
"Tahrir al-Sham conducted mortar attack on army's positions in the small town of Zalin in Northern Hama on Saturday," the Arabic-language al-Watan daily reported.
Meantime, the Syrian army continued its military advances in other parts of Syria over the past 24 hours.
Tens of terrorists were killed and dozens more were injured during the Syrian army's operations in provinces across Syria.
Hama
The Syrian Army's artillery and missile units opened heavy fire at the positions and movements of Tahrir al-Sham Hay'at in Northern Hama on Sunday and inflicted major losses on the terrorists, retaliating the terrorists' mortar attacks.
The Arabic-language al-Watan daily reported that Tahrir al-Sham conducted mortar attack on army's positions in the small town of Zalin in Northern Hama on Saturday.
It further said that army's artillery and missile units, in response, pounded Tahrir al-Sham's strongholds in the villages and towns of Wadi al-Dorat, al-Zakat, Albueizah, al-Latamina and a region between al-Latamina and Lahaya in Northern Hama and in the village of Jisr Beit al-Raas in al-Ghaab Plain, inflicting heavy casualties on the terrorists and major damage on their equipment.
On Thursday, the army's artillery units targeted a group of Kata'eb al-Izzah terrorists who intended to gain control of the military regions near the town of Morek in Northern Hama, killing and wounding several militants and destroying their military equipment.
The remaining terrorists fled to their positions inside Morek, field sources said.
In recent days, the terrorist groups have sent more gunmen and military equipment to contact lines with Syrian army, launching more missile attacks on government forces' positions in Hama province.
Lattakia
The Turkey-backed terrorists who had claimed that they have started transfer of heavy weapons from the demilitarized zone in Northern Syria are hiding their arms in Northern Lattakia, pro-opposition media sources reported on Sunday.
The London-based Syrian Observatory for Human Rights (SOHR) reported that there has been no clear indication of a retreat by militant groups from the weapons-free zone after the Sochi agreement between Russia and Turkey, adding that 70% of the demilitarized region is still under the occupation of militants.
It said that Ahrar al-Sham, Faylaq al-Sham and the Coastal Regiments 1 and 2, affiliated to the National Liberation Front (NFL), have not retreated from Northern and Northeastern Lattakia, noting that they have only concealed their heavy weapons in tunnels.
Idlib
A senior security commander of Tahrir al-Sham was killed in Idlib province as internal clashes and assassination operations increased among the terrorist groups.
The London-based Syrian Observatory for Human Rights (SOHR) reported on Sunday that Khattab al-Homawi, a senior official of Tahrir al-Sham, was killed after a bomb was detonated in al-Iqab prison in Saraqib region of Eastern Idlib.
Also, in Northern Idlib, Tahrir al-Sham terrorists attacked an ISIL stronghold in the town of Ma'arat Misrin, killing at least 6 ISIL militants.
Tahrir al-Sham also arrested two ISIL commanders in the town of Armanaz in Northwestern Idlib.
Infighting among the terrorist groups has increased in Idlib and Aleppo provinces days ahead of the implementation of the first phase of the Sochi Agreement in Northern Syria.
Raqqa
The US Army dispatched another large military convoy to its base in Raqqa province on Sunday amid intensified tensions in regions that are controlled by the Washington-backed Syrian Democratic Forces (SDF).
The US army forwarded a military convoy from its base in the town of Tal Issa to Tabaqa military airport in Western Raqqa.
The convoy included ten military vehicles, a field source said, adding that the fresh troops are to resume patrolling around military positions in Western Raqqa, including positions of the SDF training camp for especial forces West of Tabaqa.
In the meantime, local sources reported that a number of SDF militias were injured after unknown raiders targeted their positon near the village of al-Sahbiyah Qarbi in Raqqa province.
The sources further said that a number of civilians were arrested in the small town of al-Mansourah amid a new round of SDF's forced recruitment in Western Raqqa.
Sweida
The Syrian Army troops repelled a heavy offensive of the ISIL terrorist group that was aimed at lifting siege on trapped terrorists in Toloul al-Safa in the Eastern desert of Sweida on Sunday.
The army men engaged in fierce clashes with the ISIL in the Northwestern part of the Eastern desert of Sweida and fended off the terrorists' attack to break the army's siege on Toloul al-Safa.
The army killed a number of terrorists, including their snipers and forced their remaining pockets to retreat.
In the meantime, the army's artillery and missile units pounded the ISIL's strongholds and movements in the desert, destroying a number of positons and inflicting heavy casualties on the terrorists.
Full report at:
http://en.farsnews.com/newstext.aspx?nn=13970716000257
--------
Southeast Asia
'Help change the negative image of Islam'
8 Oct 2018
KUALA LUMPUR: The country's ulama, Syariah judges and intellectuals have been urged to help change the negative image of Islam as a religion which is seen by some as being all about punishment.
Prof Mohammad Hashim Kamali (pic), the CEO of the International Institute of Advanced Islamic Studies Malaysia (IAIS), said cases such as last month's caning of two women who pleaded guilty to attempting same-sex relations in Terengganu have put Islam in the limelight of public scrutiny.
"It is as if Islam is concerned with punishment more than anything else. But that is not really what Islam is all about.
"When you look at the Quran, the most prominent aspects of our belief are so closely associated with rahmah (compassion)," Mohammad Hashim said in his welcoming remarks at the roundtable discussion here titled: 'Philosophy and procedures of Syariah criminal punishments towards achieving the aim of Compassion For All (Rahmatan Lil Alamin).'
He said that rahmah animates the value structure of Islam.
"Of course Islam stands for justice but it is rahmah that moves the value structure of Islam.
"When you apply justice without compassion it is dry literalism, and I am very happy, it is heartening that we now see a fresh focus on the compassionate voice of Islam.
"This is what has been missing not just in Malaysia but internationally," he said.
Mohammad Hashim said that while Islam is known by some in the general public as if it is all about punishment, he was encouraged that there was now an opportunity to correct the wrong perception.
"I hope the ulama and the judges and the intellectuals of Malaysia will consider this as part of their new struggle for Islam, to make Islam known for what it stands, to change the negative image of Islam," he said.
The roundtable discussion was officiated by Minister in the Prime Minister's Department Datuk Dr Mujahid Yusof Rawa.
Mujahid is scheduled to hold a media conference at 12.45pm after the end of the roundtable discussion.
https://www.thestar.com.my/news/nation/2018/10/08/help-change-the-negative-image-of-islam/
--------
Jemaah Islamiyah: Still Southeast Asia's Greatest Terrorist Threat
By Bilveer Singh
October 07, 2018
Sixteen years after carrying out the Bali bombings, which killed over 200 people, al-Qaeda affiliate Jemaah Islamiyah (JI) remains the key terrorist group in Southeast Asia today. Despite being pushed back since 2009 by the death of its key leaders and arrest of its members, JI has deep political and ideological roots in the region. The rise of the so-called Islamic State (ISIS) since 2014 has been a God-send for JI, as it has absorbed the security apparatus' attention, permitting JI to expand and be in a position to pose a threat to states in the region, especially Indonesia. Its key leaders believe that JI is in a state of heightened preparedness today.
Explaining JI Resilience
Today, JI's key geographical area of focus is Indonesia. This is despite JI's links with groups and individuals in the Philippines (such as the Moro Islamic Liberation Front, or MILF, and the Abu Sayyaf Group), Thailand (Gerakan Mujahidin Islam Pattani) and Malaysia (Kumpulan Mujahidin Malaysia) through a JI regional network. The Southeast Asian region was subdivided into three mantiqis or zones for the specific purpose of training (Philippines), funds (Malaysia and Singapore) and operations (Indonesia). The shrinking of JI's area of focus is due to the success of Southeast Asia's security apparatus in dismantling the network through the arrest (Abu Bakar Basyir, Abu Rusydan, Zarkasih, Adung, Umar Patek, Abu Tholut, etc.) and decimation (Noordin Top, Azahari, Dulmatin, etc.) of its leaders as well as the largescale killing and detention of its members between 2002 and 2009. More than 150 and 1,500 JI members have been killed and detained, respectively, since 2002 in Indonesia alone.
Enjoying this article? Click here to subscribe for full access. Just $5 a month.
Still, JI succeeded in revitalizing and remaining relevant for a number of reasons. First is the continued existence of al-Qaeda (AQ) and JI leaders. Despite Osama bin Laden's death, Ayman Zawahiri has continued AQ's mantle of leadership, just as in the post-Abdullah Sungkar era, JI leaders such as Abu Bakar Bashir, Abu Rusydan, Zarkasih, and Adung continue to operate. Only Abu Bakar Bashir joined ISIS and remains in detention today.
Despite JI's low profile nationally and internationally, most JI members have remained loyal to AQ and many have developed close ties with the pro-AQ Jabhat al-Nusra (JaN) or its successors, the Jabhat Fatah al-Sham (JFaS) (July 2016-January 2017) and Tahrir al-Sham (TaS) (since January 2017). Indonesian JI members are known to have fought alongside JaN, JFaS, and TaS as, according to Nasir Abbas and Sofyan Tsauri, whom the author met recently, JI continues to believe in undertaking violent jihad abroad but not yet in Indonesia. (Sofyan, a former member of the Indonesian police force, was jailed in March 2010 for 10 years for his part in the Aceh incident. However, he was released in October 2015, leading to accusations that he is a police spy tasked with infiltrating into terrorist groups, something Sofyan has publicly denied.)
The JI "System"
However, it is the continued presence of the JI "system" that is the key and has acted as a conveyor belt for JI and its causes in Indonesia today. This is evident from a number of activities. First, JI leaders continue to meet on a regular basis and the PUPJI (JI's constitution) remains the key guide to JI activities. The JI's Shura (governing) Council meets regularly even though, according to Nasir Abbas and Sofyan Tsauri, this is undertaken clandestinely.
JI continues to have an emir, the unquestioned leader. What is an anomaly today is the presence of two JI emirs, the de facto emir and another who is publicly touted as the JI leader. While the leader of JI's military wing was believed to be Muhammad Khoirul Aman or Ustad Batar, who was arrested in 2017, since 2009, the JI emir is believed to be Para Wiyanto, a senior figure with close ties to leaders such as Hambali, Azahari, Dulmatin and Umar Patek. Originating from Kudus and trained in Mindanao, south Philippines, Para Wiyanto is assumed to be JI's emir today, something confirmed by analysts such as Sidney Jones and Rakyan Brata.
However, key JI leaders on the ground today have another opinion about who is the real JI emir. The primus inter pares leader of JI is believed to be Abu Rusydan, who took over as emir in October 2002 following Abu Bakar Bashir's arrest. Rusydan was arrested in 2003 and released from detention in late 2005.
According to Sofyan Tsauri, who played a key role in the JI military training camp in Aceh in 2010 and was a key lieutenants for arms supplies for the trainees, Abu Rusydan is the de facto JI emir today.
Sofyan argued that Para Wijanto is the "emir bitona" or the emergency emir. This position is necessitated by the fact that the JI is a proscribed group in Indonesia — anyone associated with it can be arrested and funds associated with it can be frozen. In view of this, tactically it is good to have an emir bitona who has remained underground but Abu Rusydan, who remains publicly active as a religious teacher with no clear association with JI, is seen as the real leader. According to Sofyan, whenever there is a disagreement in the Shura Council, Abu Rusydan's word is final, clearly showing his authority in JI today. Also, if ever Para Wijanto is arrested, JI will be able to continue without a true leadership vacuum.
Spread of JI's Ideology
JI also remains active in spreading its ideas and ideology through pesantrens (religious boarding schools), mosques, educational institutions, and its publishing houses. JI is also supported by various educational and research institutions.
According to Sofyan Tsauri, JI has taken the late Osama bin Laden's advice to heart. The former AQ leader is believed to have said that where jihadists are fighting in Muslim countries, they should continue the struggle to the end. However, in Muslim countries where there is no "jihad front" being opened yet, research institutes should educate the Ummah about jihad and become key advocates of this approach to struggle, including in Indonesia today.
JI also runs many publishing houses and media outlets, including those associated with Majelis Mujahidin Indonesia. Two of the key publications include Risalah Mujahideen and Symina, which are produced on a regular basis in Jogjakarta and Kudus respectively. Ar-Rahmah.com is also a key JI-linked online website with pro-AQ and JI-oriented perspectives published on a regular basis.
JI is also active on the humanitarian front, supporting like-minded institutions and Muslims who are in need of assistance. One such institution is Hilal Ahmar Society Indonesia, which has been active in the Middle East. The United States has proscribed it as being linked to AQ and JI. JI has also sent humanitarian assistance to support people fighting in areas where the JaN had been active. Another JI-linked active humanitarian group is the Lembaga Kemanusian One Care, which operates along the same lines as HASI.
The JI has always had a military wing, with many of its members involved in various bombings in Indonesia between 2000 and 2009. Following the crackdown by the Indonesian security forces, Sofyan Tsauri argued that the military elements have been not demobilized but merely made "non-active." They are "parked" until ordered to re-surface.
Since 2009, JI's military members have only been involved in combat outside Indonesia, mostly in the Philippines, but also in Iraq and Syria. With the arrest of Khoirul Aman in 2017, Abu Husna and Abdul Manap from Solo are its key military leaders. However, JI leaders such as Abu Rusydan have repeatedly stated that the time has not come for it to strike. Claiming that JI is mainly focused on education and training, not violence, Rusydan has also warned that JI would only be peaceful "up to a point" and should not be provoked.
Benefiting from Islamic State's Backlash
Finally, a key factor that has accounted for JI's rise and relevance is the backlash against ISIS and its violence in the Middle East, Southeast Asia in general, and Indonesia in particular. Even though there are ISIS supporters in Indonesia, the Philippines is seen as the epicenter of ISIS activities in Southeast Asia, best evident in the Marawi Siege from May to October 2017 that consumed more than 1,000 lives and inflicted massive damage to the city. The East Asia Wilayah or Wilayat Sharq Asiyya has been based in the Philippines since mid-2017, formerly under Isnilon Hapilon, who died in the Marawi Siege and is believed to be led by an emir bitona today.
As ISIS is foremost on the global and regional radar of security planners, JI has effectively been given a green light to operate freely. Some Indonesian security agencies also believe in using the JI to counter ISIS, as part of the balance of power and divide and rule game. As JI continues to have the largest number of terrorist detainees in jail or those who have been released, as well am sthe largest number of trained and ideologically fortified fighters with combat and bomb-making experience, it remains the key threat to Indonesian security. Analysts such as Sidney Jones and Rakyan estimate the strength of hardcore JI members today to be between 2,000-3,000, with many more thousands as supporters and sympathizers.
Most JI members also believe that ISIS is a proxy of the West and has to be countered as it has brought disrepute to jihad and the struggle of Muslims worldwide. By promoting inter-jihadi infighting, as has happened in the Middle East and Africa, and lately in the Philippines, ISIS is believed to be the long arm of the West, aimed at encouraging jihadists to congregate in a conflict zone — Afghanistan, Iraq, and Syria in the past, and the Philippines at present — and where regional governments, with the support of the West, can decimate the jihadists altogether. JI aims to prevent entering into this trap, according to Sofyan Tsauri.
Full report at:
https://thediplomat.com/2018/10/jemaah-islamiyah-still-southeast-asias-greatest-terrorist-threat/
--------
Indonesian Islamic scholars council declares FETÖ activities haram; calls on Muslims to unite against Gülen
Oct 9, 2018
It is forbidden (haram) to be involved in all the movements and activities of the Gülenist Terror Group (FETÖ) leader Fetullah Gülen and his followers around the world, the Council of Ulema Tariqas of Indonesia said in a fatwa on Friday, calling on all Muslims and heads of state of Islamic countries to unite against them.
"We invite and urge Fetullah Gülen and his followers to repent to Allah SWT and account for their actions towards Muslims in the world, especially what has happened in Turkey on July 15, 2016," the fatwa said in reference to the bloody coup attempt perpetrated by the group.
Stating that Gülen, who has lived in the U.S. since 1999 in self-imposed exile, has distorted the meanings of Quranic verses and the teachings of Prophet Mohammed (Peace Be Upon Him), the country's top Muslim clerical body said that the FETÖ leader also deviated from Republican era scholar Said Nursi's teachings.
"Fetullah Gülen has deviated a lot in interpreting the verses of the Qur'an, and his teachings and thoughts can damage the Islamic Aqedah based on the Qur'an and the Sunnah of the Prophet Muhammad," the fatwa said, adding "Early in spreading his teachings, Fetullah Gülen taught in the name of Bediuzzaman Said Nursi, but after being researched and studied in the past few years, it turned out to have deviated from Bediuzzaman Said Nursi's teachings themselves."
Regarding Gülen's use of Said Nursi's legacy, the council said that the terrorist leader only tried to "attract the sympathy of Muslims especially among the youth and campus activists."
"Fetullah Gülen with all his actions and thoughts on Islam, especially about Sufis, is a heresy that will damage the Sufi values themselves."
Underscoring that the FETÖ is not just a movement or a socio-religious organization, the council further reiterated that it is indeed "more directed to the form of terrorist organizations hiding behind a mask of social and religious movements that have closeness to the Zionists."
In the verdict of the fatwa, the council voiced the call on Gülen and his followers to "repent to Allah SWT and account for their actions towards Muslims in the world."
Recommending to the President of Indonesia, all heads of state in Islamic countries and Muslim scholars in every country in the world "to be able to unite and jointly stop all forms of Fetullah Gülen activities in their respective countries, including by prohibiting the circulation of books by Fetullah Gülen," the body said these measures were important to protect the people from Gülen's distortion of Islamic teachings.
The FETÖ, a criminal enterprise founded by fugitive Fetullah Gülen, has been directly implicated in the December 2013 judicial coup attempt and the July 15, 2016 military coup attempt against the democratically elected government of Turkey.
With its media and business arms, the terrorist group created significant public clout, which was augmented by infiltration in state institutions, principally the judiciary, police and military. Many of its most senior members fled abroad on the eve or soon after the coup attempt in 2016.
Dating back to the 1960s, the FETÖ was the brainchild of Gülen who served as a primary school educated imam before founding the group, which has always acted as a secretive cult.
The 1970s and 1980s were spent consolidating the group, creating the necessary education and financial structure, while slowly infiltrating state institutions. Its schools and prep schools served as the main recruiting ground for the group, which assigned particular degrees and vocations to its members.
Its leadership hierarchy was hidden from the public, apart from Gülen himself. The FETÖ, like many terrorist groups, created a structure based on individual cells within various state organizations, like the judiciary, police and military.
Cells of various sizes were each organized around an imam, often an academic or police officer. It was normal practice for FETÖ member generals, prosecutors and judges to receive orders from an academic or teacher. Group hierarchy always trumped civilian hierarchy.
Full report at:
https://www.dailysabah.com/religion/2018/10/08/indonesian-islamic-scholars-council-declares-feto-activities-haram-calls-on-muslims-to-unite-against-gulen
--------
Did China arrest Interpol chief for letting go Uyghur Muslim leader?
Oct 9, 2018
The mist covering the sudden disappearance of Interpol chief Meng Wonghei has cleared now. Meng Hongwei has been taken in by China, officially for violating the law. For a whole week, Meng Wonghei was missing from the global network of security agencies. No one knew the whereabouts of Meng Hongwei, except the Chinese, who were silent. Now, his resignation has come and he has been replaced by Kim Jong Yang of South Korea at Interpol.
Meng Hongwei was not only the head of Interpol but also held a vice-minister rank in the public security department in China. He was appointed as the Interpol chief in 2016 at a time when China's President Xi Jinping was tightening the noose on dissenters in what was presented as a massive anti-corruption campaign. Many human-rights activists had then raised concerns over Meng Hongwei's appointment as the Interpol chief.
So, Meng Hongwei going missing on his way home in China left scores surprised. He had left his Lyon residence in France on September 29. But a closer look on China's frustration with Interpol under Meng Hongwei would make it clear why it took the chief of the organisation that connects police officials of 192 member states in custody.
The story goes back to February this year, when a prominent Uyghur leader was given relief by Interpol. He is Dolkun Isa, the president of Munich, Germany-based World Uyghur Congress. Dolkun Isa was born in Xinjiang, the autonomous and restive province in western China. He had come to the notice of the Chinese authorities during his student activism days.
Xinjiang province of China shares borders with Central Asian countries and faces the problem of separatism, which China deals with iron-handed suppression. Before communist China took control of Xinjiang, the Uyghurs had established an independent rule in this western province of the country.
Uyghurs are Muslims and have resented and resisted Chinese control of Xinjiang since 1950. There are about 1 crore Uyghur Muslims in China. Most of them live in Xinjiang. China considers Xinjiang strategically important as it falls on the ancient silk route. From 1980s, China started changing the demography of Xinjiang by settling ethnic Han people in order to counter the separatist movement by Uyghur Muslims.
China calls Uyghur movement terrorism, sponsored by Islamic fundamentalists, and a threat to the security of China. It has imposed a series of curbs on Uyghur Muslims in recent years. In 2014, China put a ban on Ramzan fast undertaken by Muslims in Xinjiang province.
There is a ban on Uyghur Muslims on keeping abnormally long beard and China regulates what Uyghur Muslims could watch on TV in Xinjang province. Public offering of namaz is regulated. Wearing niqab in public is banned. The Uyghur Muslims were asked to surrender articles related to Islamic belief including Quran to Chinese authorities.
Dolkun Isa has opposed the Chinese method to deal with the Uyghur Muslim issue in Xinjiang. The province has seen many clashes between Uyghur Muslims and Han people with police often being seen on the side of Hans.
In 2008, more than 200 Uyghurs were killed in clashes when Beijing Olympic Games were conducted. Dolkun Isa had fled China by then anticipating arrest. He is a German citizen since 2006.
China has branded Dolkun Isa as a terrorist. A red-corner notice had been issued against Dolkun Isa by Interpol. Curiously, India also buckled under Chinese pressure. It made a U-turn on allowing Dokun Isa to visit the country in 2016. This happened despite China's continued blocking of India's attempt to get Jaish-e-Mohammad chief Masood Azhar designated as a global terrorist.
In February this year, Interpol withdrew the red-corner notice against Dolkun Isa. China responded angrily. Chinese foreign ministry issued a statement saying, China expresses its dissatisfaction at Interpol revoking the notice for Dolkun Isa. Dolkun Isa is a terrorist as determined by the Chinese government.
Meng Hongwei is said to have been on the radar of Xi Jinping administration of China for allowing withdrawal of the red-corner notice against Dolkun Isa. The Chinese intelligence personnel were keeping an eye on the movements of Meng Hongwei.
He was not removed from the post of vice-minister in China for that would have alarmed and alerted him. And, as he left France in September, China was ready to pounce on him.
Full report at:
https://www.indiatoday.in/world/story/interpol-meng-hongwei-arrest-china-uyghur-muslims-xinjiang-1358357-2018-10-08
--------
Malaysia: Islamic Affairs Minister Urges Sharia Courts to Strike Merciful Balance
2018-10-08
Malaysia's Islamic Affairs minister called Monday on the Sharia court system to seek a balance during sentencings by not focusing on mere punishment but striving to be more in line with the principle of Islam as a merciful religion.
The philosophy of "Rahmatan Lil Alamin" (mercy to the world) as introduced in the Quran is necessary to counter the growing negative perception of the Sharia court system, Minister Mujahid Yusof Rawa said during a roundtable forum in Kuala Lumpur of the nation's top Sharia court judges, Islamic law enforcers and NGOs.
"There must be a balance between retribution and rehabilitation in the implementation of the punishments under Sharia law," Mujahid said. "The philosophy of the judiciary must shift away from punishing for its own sake, to a philosophy of restorative punishment that is more reformative in nature."
Following Monday's roundtable discussion on the "philosophy and procedures of Sharia criminal punishments toward achieving the aim of being a mercy to the world," the minister said participants had agreed with this new direction.
Mujahid said such support was essential because under Malaysia's system, the federal government has limited power in matters pertaining to Islam including the Sharia courts, which are overseen by the nation's 13 states.
"This will eventually affect the method of the punishment being meted out, with the possible introduction of community work, bonds for good behavior, as well as others that fall into the restorative and reformative criteria," he said.
While the Sharia court will retain its ability to order canings, Mujahid said he expected the exact method of carrying out the punishment to be reviewed.
"We will be looking into how the whipping is done, where it will be done as well as who gets to observe the punishment," said Mujahid.
A second meeting was planned for Thursday at the Sultan Mizan Mosque in Putrajaya.
Judge: Caning of woman 'like a fiesta'
Interest runs high among Muslims to witness canings, said Terengganu state chief Sharia judge Wan Mohd Zakri, who attended the roundtable.
He said more than 800 people swarmed the courthouse in Kuala Terengganu earlier this month demanding that they be able to witness the punishment against a woman who had confessed to engaging in prostitution.
"It was like a fiesta with people selling food and drinks just outside the courtroom, prompting us to postpone the punishment and angering a lot of the people there," the judge told BenarNews.
In early September, two other women were caned together in Terengganu after pleading guilty to charges linked to allegedly attempting to have sex in a parked car. Later, Malaysian Prime Minister Mahathir Mohamad criticized their caning witnessed by more than 100 people, saying it tarnished Islam's image as the nation's new leader called for lighter sentences under Sharia law.
Monday's roundtable and a press briefing by Minister Mujahid followed a weekend report in The Star that it has since clarified about comments he made regarding intrusion into the private lives of Muslims.
The Star's report began with: No more knocks on the door in the middle of the night and no more breaking down of doors by the religious authorities investigating reports of khalwat (an unmarried couple being alone in a secluded place) or other alleged wrongdoings.
The clarification showed that while Mujahid said that the khalwat had been exploited or misused, the federal government could not outlaw the practice because it fell under state courts.
Reacting to the Star's original reporting, Riduan Mohd, who sits on the central committee of the conservative Pan-Malaysian Islamic Party (PAS), said the federal government was more concerned with upholding human rights rather than the moral requirements as dictated by the religion.
"Now comes fake scholars and leaders who are bringing this new narrative of a personal sin and a public sin," Riduan told The Star. "This is a strategic effort by the enemies of Islam to make Muslims feel that sinning is not a serious matter."
Mujahid addressed those concerns during a press conference following Monday's roundtable.
He said officials must proceed cautiously in investigating khalwat and similar complaints.
"You must have very solid information because we do not want to be a peeping tom," he said. "When you want to enforce something on moral values, you have to be very wary and concerned."
Mujahid said he was speaking in his role as a government official while offering a message to the community.
Full report at:
https://www.benarnews.org/english/news/malaysian/sharia-roundtable-10082018142747.html
--------
Khalid Samad sues activist over 'organising' gay festival claim
Ho Kit Yen
October 9, 2018
KUALA LUMPUR: Federal Territories Minister Khalid Samad has filed a lawsuit against a Muslim rights group activist for claiming he "organised" a gay festival in the city centre.
This lawsuit was filed despite activist Wan Asshima Kamaruddin removing her alleged statement on a Facebook video and apologising to Khalid.
The minister, in his defamation suit dated Sept 13, claimed Asshima had issued her statement without verifying the facts.
"In her Facebook statement on Aug 18, she said I had violated the rights of Muslims when I called and approved the gay festival, and it implied that I am a person who acknowledges LGBT rights in Malaysia.
"Her statement was done in bad faith, with the intention to cause the public, especially the Muslim community, to hate me," Khalid said.
He is seeking an apology from Asshima and damages in the lawsuit.
Asshima, in her deleted video, had alleged that Khalid had approved the gay festival in August, where the LGBT community "will gather to celebrate the victory" as the festival had been given the green light.
"YB (Khalid) may be proud with the LGBT group but to me and Gerakan Muslimah Islam Malaysia, we will continue our fight against them," she had said.
Previously, Khalid's officer Zulhazmi Shariff had lodged a police report against Asshima.
Full report at:
https://www.freemalaysiatoday.com/category/nation/2018/10/09/khalid-samad-sues-activist-over-organising-gay-festival-claim/
--------
DPM meets FT mufti for consultation on religious matters
08 October 2018
KUALA LUMPUR, Oct 8 — Deputy Prime Minister Datuk Seri Dr Wan Azizah Wan Ismail paid an 'istisyari" (consultation) visit to the Federal Territories (FT) Mufti Datuk Seri Zulkifli Mohamad Al-Bakri at his office at the Putrajaya Islamic Complex for the first time today.
It is to seek his advice on Islamic jurisprudence and several issues under her portfolio as women, family and community development minister.
Dr Wan Azizah via a Facebook posting said the Pakatan Harapan government would always prioritise Islamic views on issues of national administration and viewed the advice of muftis and Muslim scholars in high regard.
"Hopefully, this first 'istisyari' visit will be followed by more visits," she said. — Bernama
https://www.malaymail.com/s/1680592/dpm-meets-ft-mufti-for-consultation-on-religious-matters
--------
Deputy minister: Dr M believes Palestine is key to ending radicalism
09 October 2018
KUALA LUMPUR, Oct 9 — Prime Minister Tun Dr Mahathir Mohamad advocates the Palestinian cause in order to curb radicalisation, Deputy Minister Liew Chin Tong has suggested.
In his keynote address at the recent 2018 South-east Asia Counter Terrorism Symposium, the deputy defence minister also advocated a "collective, whole-of-society approach" to counterterrorism, recommending winning the hearts and minds of citizens.
"The causes of radicalisation today are global. We see that in the case of the Daesh as well as the global interest in the long-standing Palestinian issue," he said, using the Arabic name for the Islamic State jihadist group.
"In the case of the latter, the Malaysian government, in particular under Prime Minister Mahathir Mohamad during his earlier premiership, worked hard to champion the grievances of the Palestinians on the international stage."
An adaptation of his speech in the October 4 event organised by Singapore's S. Rajaratnam School of International Studies was published by Hong Kong-based South China Morning Post today.
In his address to the 73rd United Nations General Assembly last month, Dr Mahathir claimed that global terrorism can end if Palestine is recognised and Israel is stopped.
Similar to Liew, Dr Mahathir also touted Malaysia's victory of hearts and minds in addition to the military aspect, when fighting insurgents and terrorists during the battle for independence.
In his address, Liew also pointed out the importance of democracy towards thwarting terrorism, referencing Pakatan Harapan's victory in the 14th general election.
"The New Malaysia sees itself as a properly functioning democracy now, and I believe that a healthy and inclusive democracy is the ultimate check on radicalisation," said the senator.
"An inclusive democratic society provides space for the political participation of all citizens, ensures fundamental rights such as the freedom of speech and expression of all, and reduces the size of the disenfranchised to a minimum."
He also said that democracy would address the socio-economic gap that would lead to the radicalisation of those who were left disenchanted and feeling hopeless from their economic disadvantage, but delivering well-being for all.
Full report at:
https://www.malaymail.com/s/1680792/deputy-minister-dr-m-believes-palestine-is-key-to-ending-radicalism
--------
After cashier 'shamed' for refusing alcohol sale, Malaysian mufti warns of rising anti-Muslim sentiment
08 OCTOBER, 2018
KUALA LUMPUR — Perlis Mufti Datuk Mohd Asri Zainul Abidin has warned on Monday (Oct 8) of allegedly growing anti-Muslim attitude in Malaysia, following an incident where a cashier was "shamed" for refusing to handle sales of alcohol in a convenience store.
The mufti has accused the perpetrator of being rude, and symptomatic of those who are similarly antagonising Muslims here.
"This attitude is growing day by day. Muslims should be aware of this bad development," he said in a post on his Facebook page on Sunday night.
In response, he urged for "a special conference" to be held to discuss this alleged phenomenon to ensure a peaceful nation for all.
Mr Asri admitted that the man has a right to complain to the manager if he was dissatisfied with the cashier's service, he did not need to 'insult' the 7-Eleven employee by recording the incident in a disrespectful manner.
"The girl was responding in a good manner. Such a person is not fit to live in a multi-religious and multi-faith country. What more a Muslim-majority country like Malaysia," he said, comparing it to the treatment of non-Hindus in India.
Mr Asri also urged that Muslims not be made to work in stores that sell alcohol.
"This is because Islam regards alcohol as destructive to the body and soul, so it is irrational for a good Muslim to serve something destructive to others as well," he said.
He also suggested that the cashier was trying to find an excuse so she would not be involved with the sale, saying that it is a sin in Islam.
"Her mistake was working in a premise that sells alcohol. However, we do not know the real situation of the girl's life. She must have tried everything she could to avoid the prohibited thing," he said.
The mufti also urged Muslims to offer another job to the girl, so she could avoid sinning.
Full report at:
https://www.todayonline.com/world/after-cashier-shamed-refusing-alcohol-sale-malaysian-mufti-warns-rising-anti-muslim-sentiment
--------
Mideast
40pc Iranians believe US linked to Ahvaz terror attack
October 09, 2018
MOSCOW - Almost 40 percent of Iranians believe that the United States was involved in the organization of the September terrorist attack in the southwestern Iranian city of Ahvaz, local media reported on Monday, citing a recent poll.
According to the Islamic Republic News Agency, the poll, conducted by the Iranian Students Polling Agency, showed that 38.9 percent of those surveyed believed that the United States supported the Ahvaz attack, while 28.4 percent of the respondents held the Islamic State terrorist organization (banned in Russia) responsible. A total of 26.5 percent of those interviewed tend to blame Saudi Arabia and its allies, while 23 percent believe that Israel is behind the attack, and 13 percent feel that separatist groups were involved.
A total of 1,281 people aged 18 and above were interviewed from September 24 to September 25. They could pick more than just one option.
On September 22, armed gunmen opened fire at a military parade, commemorating the 38th anniversary of the start of the Iran-Iraq war, in Ahvaz, killing at least 29 people and injuring at least 70 others. While the Iranian government holds "regional terror sponsors and their US masters" accountable for the attack, the anti-government organization Ahvaz National Resistance and the Islamic State have both claimed responsibility.
https://nation.com.pk/09-Oct-2018/40pc-iranians-believe-us-linked-to-ahvaz-terror-attack
--------
Saudi airstrikes leave five more civilians dead in southern Yemen
Oct 8, 2018
At least five civilians have been killed when Saudi military aircraft carried out airstrikes against a residential area in Yemen's strategic western province of Hudaydah as the Riyadh regime presses ahead with its atrocious bombardment campaign against its southern neighbor.
Saudi fighter jets conducted aerial assaults against bee farms in Jobaneh area of the al-Hali district on Monday morning, an unnamed local source told Yemen's Arabic-language al-Masirah television network.
Later in the day, Yemeni army soldiers and allied fighters from Popular Committees targeted and destroyed a military vehicle belonging to Saudi troops in the Hawamra area of Yemen's southwestern province of Lahij, leaving a number of them dead and injured.
Elsewhere in the northern Yemeni province of Jawf, army soldiers and their allies lobbed a salvo of artillery rounds at the positions of Saudi-backed militiamen loyal to Yemen's former president Abd Rabbuh Mansur Hadi in the al-Ghayl district, killing and injured some of them.
Moreover, a civilian suffered injuries and a car went up in flames when Saudi border guards fired shots at al-Raqou area in the Monabbih district of Yemen's mountainous northwestern province of Sa'ada.
Activists rally in New York to protest Saudi-led aggression on Yemen
Meanwhile, scores of activists have staged a demonstration in the United States to express their resentment against the Saudi-led military aggression on Yemen, and the crippling blockade against the conflict-plagued Arab country.
The demonstrators carried the pictures of the victims of the Saudi-led war during a protest rally, organized by the United Yemeni American Organization in addition to a number of American civil and human rights organizations, in the downtown of New York, and shouted "Stop Killing Children of Yemen."
The participants also held up signs in condemnation of crimes being committed by the Saudi-led alliance against the Yemeni nation, calling on the United Nations and the international community to intervene immediately and stop such atrocities.
The protesters urged the UN Security Council and the Human Rights Council to shoulder their responsibilities, and bring those responsible for war crimes and human rights violations in Yemen to account.
Saudi Arabia and a number of its regional allies launched a devastating military campaign against Yemen in March 2015, with the aim of bringing the government of Hadi back to power and crushing the country's popular Ansarullah movement.
Some 15,000 Yemenis have been killed and thousands more injured since the onset of the Saudi-led aggression.
Full report at:
https://www.presstv.com/Detail/2018/10/08/576445/Saudi-airstrikes-leave-five-more-civilians-dead-in-southern-Yemen
--------
Several Palestinians detained during Israeli raid on West Bank village
Oct 8, 2018
Israeli forces have raided a village in the northern part of the occupied West Bank, arresting several Palestinians, following an alleged shooting that left two Israelis dead.
Israeli soldiers, police forces and officers from the internal spy agency Shin Bet broke into Palestinian houses in the village of Shuwaykah, north of Tulkarm, the Israeli military said on Monday.
The Israeli military confirmed in a statement that soldiers had "arrested" an unspecified number of people while a manhunt for the suspected gunman behind the alleged incident was still underway.
The raid came after a Palestinian man allegedly shot dead two Israelis and wounded a third one in the Barkan Industrial Park, located about 25 kilometers east of Tel Aviv on Sunday.
Ashraf Naalwa, 23, has been named by the Israeli army as the Palestinian behind the Sunday attack.
A spokesman for the Shin Bet said they had arrested Naalwa's brother, while his sister was "detained, questioned and released."
Meanwhile, angry Palestinian protesters engaged in clashes with Israeli forces in Shuwaykah village, throwing stones and Molotov cocktails at them. They said Israeli soldiers looted the houses at gunpoint.
Palestinians say the raid has nothing to do with the Sunday incident and Israel is just looking for an excuse to intensify its crackdown on Palestinians.
In recent months, Israeli forces have frequently raided the houses of Palestinians in the West Bank, arresting dozens of people, who are then transferred to Israeli prisons, where they are kept without any charges.
The occupied Palestinian territories have been the scene of heightened tensions since August 2015. The tensions were triggered by an Israeli move to imposed restrictions on the entry of Palestinian worshipers into the al-Aqsa Mosque compound in East Jerusalem al-Quds.
Palestinians say the Tel Aviv regime seeks to change the status quo of the sacred site.
Full report at:
https://www.presstv.com/Detail/2018/10/08/576436/Israel-Palestine-West-Bank-Shuweika-Barkan-Industrial-Park
--------
US rejects Iran's legal claim to recover $1.75 bln in frozen assets
8 October 2018
The United States on Monday asked judges at the International Court of Justice to throw out a claim by Iran to recover $1.75 billion in national bank assets seized by US courts.
The US Supreme Court ruled in 2016 that the assets must be turned over to American families of victims of the 1983 bombing of a US Marine Corps barracks in Beirut, among others. The hearings at the tribunal were separate from Iran's claim relating to current US sanctions against Teheran.
Iran's claim in both cases is based on a 1955 Amity Treaty, which was signed 24 years before Iran's Islamic Revolution that turned the two countries into arch enemies.
Support for terror
"The actions at the root of this case center on Iran's support for international terrorism," Richard Visek, legal advisor to the US Department of State, said on Monday, calling on the court to reject Iran's suit.
Washington announced last week it would withdraw from the Amity Treaty after the tribunal ordered the US to ensure that sanctions against Iran do not affect humanitarian aid or civil aviation safety.
Full report at:
https://english.alarabiya.net/en/News/middle-east/2018/10/08/US-rejects-Iran-s-legal-claim-to-recover-1-75-bln-in-frozen-assets.html
--------
Al-Maliki: Houthis deliberately hinder delivery of aid, oil to Yemen's Sanaa
8 October 2018
The Houthi militias are deliberately hindering the delivery of food and oil from Hodeidah to Sanaa and several other Yemeni governorates, the spokesman for the Arab Coalition supporting legitimacy in Yemen, Colonel Turki al-Maliki, said on Monday.
Maliki added that the previously announced safe passages between Hodeidah and Sanaa aim to facilitate the movement of food, citizens and international organizations' staff.
During a press conference, Maliki added that the coalition targeted a ballistic missiles launcher in Saada, and also bombed a ballistic missile storage tunnel in Sanaa in Jabal Annahdayn, as well as targeting another strategic Houthi weapons storage unit in Sanaa.
https://english.alarabiya.net/en/News/gulf/2018/10/08/Al-Maliki-Houthis-deliberately-hinder-delivery-of-aid-oil-to-Yemen-s-Sanaa.html
--------
Iran has 'unclean hands' in world court battle, US says
October 08, 2018
THE HAGUE: The United States accused Tehran Monday of having "unclean hands" as it fought an Iranian court bid to unfreeze billions of dollars earmarked by Washington for terror victims.
Washington said Iran's "support for international terrorism," including bombings and airline hijackings, should rule out its case at the International Court of Justice (ICJ) in The Hague.
Iran dragged Washington to the UN's top court in 2016 over a US Supreme Court ruling that the $2 billion should go to victims of attacks blamed on the Islamic republic.
Iran said the case breached a 1955 "Treaty of Amity" between Washington and Tehran signed before Iran's Islamic revolution.
Washington tore up that treaty last week after the ICJ in a separate case ordered the United States to ease sanctions reimposed on Iran by US President Donald Trump after he pulled out of Iran's 2015 international nuclear deal.
"Iran comes to the court with unclean hands. Indeed, it is a remarkable show of bad faith," Richard Visek, a US State Department legal official, told the court.
"The actions at the root of this case center on Iran's support for international terrorism... Iran's bad acts include supports for terrorist bombings, assassinations, kidnappings, and airline hijackings," he said.
Visek also accused Iran's "most senior leaders" of the "encouragement and promotion of terrorism" and "violation of nuclear non-proliferation, ballistic missile and arms trafficking obligations."
Iran's use of the 1955 treaty to lodge the case was an "abuse of process," he added.
The ICJ was set up after World War II to rule on disputes between United Nations member states. Its rulings are binding but it has no power to enforce them.
At Monday's hearing, a 15-judge bench is listening to US arguments over whether the ICJ can take up the case under its strict rules governing its procedure.
The US Supreme Court ruled in April 2016 that $2 billion in Iran's frozen assets must go to American victims of terror attacks.
These included the 1983 bombing of a US Marine barracks in Beirut, in which 241 soldiers were killed, and the 1996 Khobar Towers bombing in Saudi Arabia. In total, the decision affects more than 1,000 Americans.
Iran angrily accused Washington of breaking the 1955 treaty — even though it was signed at the time with the pro-US regime of the Shah — and called for the US "to make full reparations to Iran for the violation of its international legal obligations."
A decision by the ICJ's judges could take weeks or even months before being made public.
But Monday's showdown risks deepening the Trump administration's rift with international justice.
Last Wednesday, Trump's national security adviser John Bolton announced the US was not only leaving the amity treaty but also quitting the international accord relating to the UN top court's jurisdiction.
That followed Iran's shock victory last week when the ICJ ruled that the US must lift sanctions against Tehran targeting humanitarian goods like food and medicine.
The step also came after the Palestinians went to the ICJ to challenge the US move of its Israel embassy to Jerusalem.
Full report at:
http://www.arabnews.com/node/1384436/middle-east
--------
Turkey detains 90 for alleged links to Kurdish militants
October 09, 2018
ANKARA: Turkish authorities detained 90 people on Tuesday over suspected links to the outlawed Kurdistan Workers Party (PKK) militant group, the Interior Ministry said.
The operation across eight provinces was carried out to prevent the activities of PKK members and the operation was ongoing, the ministry said in a statement.
The identity of those detained in Tuesday's operation was not immediately clear.
The pro-Kurdish Peoples' Democratic Party (HDP) had said on Sunday that 140 of its members had been detained over the previous three days, and that the detentions were politically motivated.
Turkey's government accuses the HDP of links to the PKK, which is designated a terrorist organization by the United States, Turkey and the European Union. The HDP denies such links.
The PKK has waged an insurgency against the Turkish state since 1984. Violence in the largely Kurdish southeast escalated after the collapse of a cease-fire in 2015.
Full report at:
http://www.arabnews.com/node/1384836/middle-east
--------
11 Palestinians wounded during Gaza fishing boat protest
Oct 8, 2018
Eleven Palestinian protesters were wounded by Israeli fire during a protest along Gaza's coast on Monday, according to the Gaza Health Ministry.
Protesters were marking the 12 years since Israel imposed a blocked on the Gaza Strip. Several boats joined the protest, as those on land burned tires and threw stones over the border with Israel. Israeli forces responded with teargas and live fire.
https://www.presstv.com/Detail/2018/10/08/576465/11-Palestinians-wounded-during-Gaza-fishing-boat-protest
--------
Turkey's Erdogan says Saudis 'must prove' Khashoggi's exit from consulate
Oct 8, 2018
Turkish President Recep Tayyip Erdogan says Saudi Arabia's consulate must "prove" that Saudi journalist Jamal Khashoggi made exit from the mission, a week after the ill-fated journo was reported as missing a few hours after entering the Arab kingdom's consulate in Istanbul.
"The Saudi Consulate officials in Istanbul can't get away with [simply] saying 'he left the building.' The claimants are obligated to prove their claims. If he left the building, then you need to prove it," the Turkish leader said during a joint press conference with Hungarian Prime Minister Victor Orban in Budapest on Monday, refereeing to the Saudi version of the event.
In a Bloomberg interview conducted on Wednesday and published on Friday, Saudi Crown Prince Mohammed bin Salman claimed that Khashoggi "entered" the consulate and "got out after a few minutes or one hour."
"If he left, you have to prove it with footage. Those who ask Turkish authorities where he is, should ask what happened," Erdogan said.
Khashoggi, 59, an outspoken critic of the Saudi government, had been living in self-imposed exile in the United States since 2017, when Saudi authorities launched a massive crackdown on the dissent. He was seeking to secure documentation for his forthcoming marriage when he entered the Saudi consulate in Istanbul on Tuesday.
His fiancée waited outside the consulate for hours without hearing from him, prompting her to report his disappearance to Istanbul police. Ankara says there is no proof he left the diplomatic mission.
"There are some people that came from Saudi Arabia [that day]. The public prosecutor's office is looking into the issue," Erdogan further said, adding that footage from airports is also being closely studied.
"It is our humanitarian and political duty to closely follow the issue," he also noted.
On Sunday, Yasin Aktay, who advises Erdogan in his ruling Justice and Development (AK) Party, said he believed Washington Post contributor Khashoggi had been killed at the Saudi consulate in Istanbul, adding that Turkish authorities further believed that a group of 15 Saudi nationals were "most certainly involved" in the matter.
In a separate interview with broadcaster CNN Turk on Sunday, Aktay, who is also a deputy chairman of the ruling party, said Ankara had "concrete information" on the disappearance of Khashoggi, and that he had not left the Saudi consulate. "The case would not go unsolved," he added.
Furthermore, a Turkish official, speaking on condition of anonymity, told the Associated Press on Monday that "The initial assessment of the Turkish police is that Mr. Khashoggi has been killed at the consulate of Saudi Arabia in Istanbul."
However, Riyadh vehemently denies the murder claims, stressing that Khashoggi had left the consulate alive.
Turkey asks to search Saudi consulate
Media reports on Monday also said that Ankara sought permission from Riyadh to search Saudi consulate in Istanbul.
Ankara's search request was made after the foreign ministry summoned the Saudi ambassador for a second time Sunday over the Khashoggi's disappearance.
"Deputy Foreign Minister Sedat Onal invited Saudi Arabian Ambassador to the Ministry yesterday. Our expectation of full cooperation during the investigation process [on missing journalist] was conveyed to him," Turkey's state-run Anadolu news agency quoted a statement by the Turkish foreign ministry as saying on Monday.
Full report at:
https://www.presstv.com/Detail/2018/10/08/576458/Turkey-Erdogan-Saudi-Arabia-Khashoggi-consulate
--------
North America
For Black Muslim Americans, the War on Terror began in 1492
8 October, 2018
This week marks the 17th anniversary of the US-led war on Afghanistan, and the launch of the so-called "War on Terror".
In the days following 9/11, the US government began pushing its narrative, weeks ahead of its military operation dubbed "Enduring Freedom".
US officials claimed that international laws did not apply to those (Muslims) detained on the battlefield of the War on Terror, since they were "terrorists" - not fighting under any nation-state flag. International laws regarding rights of prisoners of war were ignored, too, as the US introduced the term "enemy combatants" into modern discourse.
These battlelines ran contrary to the Geneva Convention, and the circumventing of international law as it applied to Afghans. But Muslims worldwide were also implicated in US sponsored abductions, extraordinary rendition, arbitrary and indefinite detentions and torture, in some cases leading to death. Afghan homes were raided, and civilians brutalised or taken into arbitrary custody.
This disregard for human rights was also extended to Muslims in the US. According to the ACLU, between November 2001 and March of 2002, attorney General John Ashcroft, the Department of Justice and FBI detained or questioned more than 8,000 Arab or South Asian Muslim immigrants and visiting students.
Many of those detained were deported without reason, trial or access to legal representation - a basic fundamental right, and one of the conditions for democratic practice.
It was the largest roundup since WWII, when the US placed between an estimated 110,000 to 120,000 Japanese into internment camps.
Today, almost two decades after American troops invaded Afghanistan with the stated aim of wiping out the Taliban, violence in the country is deadlier than ever and peace talks have stalled. This weekend alone, over 50 were killed in three separate attacks.
And domestically, in the 17 years from 9/11 to today, we have seen the US police go from using disposable cameras, to now using high tech surveillance equipment and 'fusion centres', apparently in an effort to aid domestic intelligence sharing.
Similar to the drones that were tested in Afghanistan, only to come home to surveil US cities, high tech weaponry and and anti-riot equipment have made it into the hands of nearly every police department in the country, regardless of need. It is now become unusual to not see MRAP tanks patrolling the streets during protests and riots.
What arguably began with the neo-con rhetoric around Ronald Reagan, George HW Bush, and continued by his son George W Bush, Dick Cheney, Donald Rumsfeld and others, provoked outrage from the political left in the early 2000s, but disappeared almost entirely with the election of Obama in 2008.
But the rhetoric of the War on Terror and blanket use of illegal surveillance in total disregard for privacy laws continued, and expanded into full blown militarisation and creation of a hyper-security state under Obama, which is now in the hands of white supremacist Trump, and his administration.
Although the George W Bush administration's domestic War on Terror was specific with its target foreign Muslims in the US, the crackdown on Muslims had already began for Black Muslim Americans.
War on Terrorism started in 1492
"It's especially important to this next generation of young Muslim activists to understand how the history of Islam in the United States is directly tied to racial oppression," said former political prisoner of 17 years, member of the Black Panther Party and co-founder of the Black Liberation Army, Dhoruba al-Mujahid bin Wahad.
"Black Muslims in the US were treated as anathema long before 9/11. Prior to what you're seeing today against Arab Muslims, the majority of these FBI entrapments were happening against Black Muslims" says Wahad.
The War on Terror should be understood as having a much longer history that encompasses the repression faced by Black radicals in the US, especially Black Muslims but is essentially a war focused on the annihilation of resistance to white supremacist colonisation that started on this date back in 1492 with the conquest of Indigenous lands and the start of a "New" world.
"The United States has completely absolved itself of the narrative of being a terrorist organisation, perpetuating any acts of terrorism despite the very nature of its founding and how it operates as an oppressive colonial state," says one Sqilx'w (British Columbia) indigenous anarchist organiser, who goes by the twitter persona BadSalishGirl, and who is engaged in anti-colonial and anti-capitalist resistance on her ancestral lands.
"The very act of settler colonialism, in this case the acts of violence against indigenous peoples in the northern and southern hemispheres by colonial actors such as United States and other acting imperialist and colonialist entities, were acts of terrorism by definition", says BadSalishGirl.
"The United States was only able to establish itself as a colonial power because of the acts of terrorist violence. This was all done through genocide and slavery that has been perpetrated since 1492, which makes this the 526th year of an ongoing "War on Terror" and connects indigenous and Muslim struggles globally", she writes.
War on Terror, but from the Left
The rhetoric that opened the door to the demonisation of Muslims across the globe and domestically as a "barbaric and backwards" other - irreconcilable with modernity and "western values", has now infected the political spectrum. No longer confined to nation states such as China, India and Myanmar, where abuses against Muslims are widespread and taking place with virtual impunity, it can now be found on the political left, too.
Today, it's commonplace for well-known leftists to abandon any meaningful engagement in favour of slanders and threats; "Al Qaeda", "terrorist", "jihadi" and "Islamist" are all weaponised and in an effort to silence their Muslim opponents, often journalists and activists themselves.
When it's not apologia for Russian or Chinese crimes, the left's War on Terror is being waged online, and no mind is given to the threat that comes along with being labeled an extremist for a Muslim.
Afghans, immigrants and Muslims have no true ally to speak of in their struggle against Islamophobia and the War on Terror. The destruction of the US Muslim community that took place after 9/11 has left Muslims with practically no Islamic organisations involved in protests movements in any meaningful way.
Since Muslims do not have strong ongoing movements of their own, it is crucial they align themselves with the indigenous sovereignty movements while in the Americas, and commit to the cause of Black liberation both in the masjid and on the streets.
The role of Muslims in struggle, as clearly stated in Quran and Sunnah, must be in support of all struggles against oppression and injustice wherever we see it; "first with our hands" - meaning direct intervention," and if we can not do that then with our tongues" - meaning in protest.
And if we can not do that, then it must be in our hearts, though that is the lowest form of faith" - meaning if we have the capacity to, we must act.
https://www.alaraby.co.uk/english/comment/2018/10/8/the-war-on-terror-began-in-1492
--------
Trump Senate ally warns on ties if Saudis killed journalist
October 08, 2018
A top Senate ally of President Donald Trump warned Monday of a "devastating" impact on the US alliance with Saudi Arabia if allegations are confirmed that the kingdom killed a prominent journalist.
Republican Senator Lindsey Graham said Riyadh must provide "honest answers" after a Turkish government source said that the Saudis killed Washington Post opinion contributor Jamal Khashoggi when he visited the kingdom's consulate in Istanbul.
Graham said his position was shared by Bob Corker, the chairman of the Senate Foreign Relations Committee, and Ben Cardin, a senior Democrat on the panel.
"We agree that if there was any truth to the allegations of wrongdoing by the Saudi government it would be devastating to the US-Saudi relationship and there will be a heavy price to be paid -- economically and otherwise," Graham tweeted.
"Our country's values should be and must be a cornerstone of our foreign policy with foes and allies alike," he said.
Trump and his administration have not commented on the fate of Khashoggi, whom Saudi Arabia insists left the consulate.
Graham has developed a close relationship with Trump, especially on defense policy.
Full report at:
https://nation.com.pk/08-Oct-2018/trump-senate-ally-warns-on-ties-if-saudis-killed-journalist
--------
US special envoy to Afghanistan arrives in Kabul as Taliban launch fresh attacks
8 October 2018
US advisor on Afghanistan Zalmay Khalilzad arrived in Kabul to hold the first round of talks with Afghan leaders since being appointed an envoy to lead peace efforts with the Taliban and end the 17-year war, Afghan officials said on Sunday.
Last month Khalilzad, 67, an Afghan-born former US ambassador to Kabul and Iraq, joined the US State Department team to lead the reconciliation effort and peace talks with the Taliban.
A spokesman for Afghan President Ashraf Ghani said Khalilzad met with Ghani on Sunday and he is expected to meet senior ministers and top diplomats in Kabul on Monday.
Khalilzad's appointment last month highlighted the US administration's fresh efforts to convince the Taliban leadership to participate in the Afghan peace process, despite a surge in attacks by the militant group.
Khalilzad's knowledge of Afghanistan's main languages, culture and politics could help him engage with all the stakeholders in the peace process in addition to his experience advising or working for four US administrations.
But his visit comes as the Taliban and ISIS extremist group ramp up attacks across the country two weeks before the country is set to hold long-delayed parliamentary polls.
Full report at:
https://english.alarabiya.net/en/News/world/2018/10/08/Pakistan-PM-promises-whistleblower-law-to-fight-corruption-.html
--------
The long and forgotten history of Muslims in Canada
Oct 9, 2018
Many people believe the first Muslim people came to Canada in the 1950s, but this is not true.
The community's real history in this country actually begins 150 years ago, said Hassam Munir, an Islamic history researcher and founder of iHistory.
Munir recounted this "forgotten chapter of history" during a talk at Hamilton City Hall Saturday, an inaugural event marking the start of Islamic Heritage Month. He wove together stories of the first settlers, many from Lebanon and Syria, who came to Canada at the turn of the century.
Some of the stories showcased remarkable triumphs and others harsh discrimination.
"Think about how they must have felt?" Munir told the crowd.
First Munir told the story of Mahommah Baquaqua, a Muslim man from West Africa, enslaved as a young man in Brazil and shipped to the United States. As a free man Baquaqua eventually made his way to Chatham, where in 1854 a local man helped him document his life in a biography.
Munir said Baquaqua's journeys also saw him move to Haiti and eventually the United Kingdom. It's not known if he ever made it home.
The first known Muslim (or Mohonadens at the census at the time called them) to arrive in Canada came in 1851. James and Agnes Love were believed to have converted to the religion in Scotland before emigrating.
According to records there were four Muslims in Canada in 1854. By 1871 that grew to 13, then 47 in 1901 and 478 in 1921.
During those years many of the migrants came from the collapsing Ottoman Empire looking for work with many heading west where land was cheaper and labour needed. Lac La Biche, Alta., became a community where Muslims would settle. In Ontario the oldest community was in London, Munir said.
Ali Abouchadi came as a teenager with his uncle from Lebanon in 1905. He worked as a pedlar and fur trader, before opening a general store in Lac La Biche.
Munir said many of the first Muslim immigrants who came out west developed good relationships with the Indigenous peoples, often putting them at odds with the Hudson Bay Company. Abouchadi married a Cree woman and traded along the Mackenzie River.
Another man from Lebanon, named Bedouin Ferran but who was known in Canada as Peter Baker, came in 1910 and became a successful fur trader, despite facing discrimination.
Under pressure from the Hudson Bay Company the interior minister made it law that they couldn't go into Indigenous communities to trade, but had to stay in cities. He fought this and eventually became a politician himself.
Munir recounted the story of Hilwi Hamdon, a Muslim woman who led the call to see the first mosque built in Canada, in Edmonton.
Munir also pointed to darker chapters in history, including during the First World War where Muslims were sent to an internment camp in Kapuskasing. Despite this, there are a recorded 22 Muslims who fought for Canada in that war.
Over the years the population continued to grow with 645 Muslims recorded in Canada in 1931. After 1965 there was a "boom" that saw the population grow to 33,000 by 1971. Today there are more than one million.
Outgoing Coun. Matthew Green, who was recently appointed interim executive director of the Hamilton Centre for Civic Inclusion (HCCI), remarked how much of what Munir shared he had never heard before and said he would like to see this history taught in schools.
Munir replied that absence of this history in his own education — he grew up in Scarborough — propelled him to study Islamic history.
By understanding the long history of Muslims in Canada it shows: "yes, we are just as Canadian as someone else," he said.
Munir said the work for Muslims in Canada is not done. Just two weeks ago the first mosque opened in Whitehorse, Yukon. Marking the first time there has been a Muslim place of worship in every province and territory in Canada.
"We have to have the same spirit, the same vision as those who came before us," he said.
The event also included remarks and messages of welcome from community members, and a song from local children who waved flags from around the world as they spoke. There are many other events and talks happening at venues across the city to mark Islamic Heritage Month.
Imam Hosam Helal, who gave a welcoming address to the crowd where he spoke about the Pillars of Islam and its values of peace and submission to God. He also spoke about the power of learning from the experiences of others.
"Muslims can learn from other people, in the same way many people can learn from Muslims," he said.
Full report at:
https://www.thespec.com/news-story/8951963-the-long-and-forgotten-history-of-muslims-in-canada/
--------
Washington under pressure to save Iran financial access: Report
Oct 9, 2018
Top officials in the US Treasury Department are reportedly pushing for Iran to remain connected to the SWIFT global payment network ahead of the implementation of new economic sanctions against the Islamic Republic in November.
Multiple American officials, who spoke to the Washington Free Beacon news website on Monday, said an internal battle was being fought inside the US administration in Washington to save Iran's access to international financial markets and provide Tehran with a critical lifeline in advance of the looming sanctions.
Leaders of the SWIFT banking system held meetings with US officials last week to make sure Tehran retained its access to the international banking system after Washington's unilateral withdrawal from Iran nuclear deal in May.
US President Donald Trump and some other officials have, however, made clear that SWIFT and European countries should end their business with Tehran in a bid to put maximum pressure on the Islamic Republic.
"President Trump instructed the administration to restore all of the sanctions from the Obama era and then some, because that's what maximum pressure means," said one US official who works extensively on Iran policy.
"During the Obama era, SWIFT disconnected Iran due to sanctions threats," the official added. "There are people inside the administration who think they can convince the president to be weaker on Iran than Obama was. That's a bold strategy. Let's see if it pays off for them."
Senators Ted Cruz of Texas and Tom Cotton of Arkansas – both outspoken anti-Iran lawmakers – told the Washington Free Beacon that the Congress would not go along with efforts to protect Iran's financial access despite pressure from some inside the Trump administration.
"Ultimately, SWIFT and the Europeans must choose between doing business with the United States or Iran," a Cotton spokesman said. "Those attempting to use a creative backchannel to facilitate commerce with Iran would do well to remember that the $19 trillion US economy dwarfs Iran's."
Cruz warned European allies and SWIFT leaders – which includes US-based banks JPMorgan and Citibank – that Congress would not hesitate to sanction any institution or government that violated the new US sanctions on Tehran.
"In July, Senator Cruz and nine fellow senators sent a letter to European ambassadors emphasizing that sanctions like the ones regarding SWIFT are the result of congressional statutes, and Congress expects our allies will comply with them," a Cruz spokesman told the news website.
"In August, he and 15 fellow senators sent a letter to the Treasury Department emphasizing the importance of enforcing SWIFT-related restrictions, because otherwise the President's maximum pressure campaign will fail," the spokesman said. "Everything that's happened since then has confirmed those positions."
The US Treasury Department has yet to comment on the matter.
Trump announced in May that Washington was pulling out of the nuclear agreement, officially known as the Joint Comprehensive Plan of Action (JCPOA), which lifted nuclear-related sanctions against Tehran in exchange for restrictions on Tehran's nuclear program. The deal had been signed between Iran and the five permanent members of the UN Security Council -- the United States, Britain, France, Russia and China -- plus Germany in 2015.
A first round of American sanctions took effect in August, targeting Iran's access to the US dollar, metals trading, coal, industrial software, and auto sector. A second round, forthcoming on November 4, will be targeting Iran's oil sales and its Central Bank.
The Trump administration is pushing on all buyers of Iranian oil to cut imports to zero. But Iran, OPEC's third-largest producer, has repeatedly announced that its oil exports cannot be reduced to zero because of high demand levels in the market.
Iran has vowed full-throttle oil production despite US sanctions, with Vice President Es'haq Jahangiri saying earlier this month, "Notwithstanding all the pressures that the Americans are creating on the oil issue, Iran has its own oil customers, and the work is going on in a way that no problems will arise."
Full report at:
https://www.presstv.com/Detail/2018/10/09/576467/US-Treasury-Department-
--------
Trump unlikely to take action against Saudis for journalist murder: Analyst
Oct 8, 2018
The administration of US President Donald Trump is unlikely to take action against Saudi Arabia for the disappearance and alleged murder of a US-based Saudi dissident journalist in Turkey, a political analyst and radio host in Washington says.
Jamal Khashoggi, a prominent commentator on Saudi affairs who wrote for The Washington Post's Global Opinions section, lived in self-imposed exile in the US since September 2017, when he left Saudi Arabia amid a crackdown on critical voices.
Khashoggi, 60, an outspoken critic of the Saudi government who has also slammed Riyadh's aggression on Yemen, went missing on Tuesday after entering the Saudi consulate in Istanbul to obtain a marriage license.
An adviser to Turkish President Recep Tayyip Erdogan said on Sunday that he believed Khashoggi was killed at the Saudi Arabian consulate.
"I do not see Donald Trump taking any substantive action," Wilmer Leon told Press TV on Monday.
"He'll probably come out and say: 'Well we're probably looking into it; this is a rumor; we're having conversations about this'; but I'll be very surprised if you see any tangible reaction and action taken by the Trump administration on this issue," Leon said.
Members of the US Congress from both parties are demanding answers of Saudi Arabia's government regarding the disappearance of Khashoggi.
"Jamal Khashoggi, a Saudi journalist and dissident, was called to the Saudi embassy in Istanbul on Tuesday, and has not been seen or heard from since," US Representative Adam Schiff, the top Democrat of the House of Representatives Intelligence Committee, said in a tweet on Sunday. "Tragically, he is now feared dead. We must demand immediate answers from the Saudi government."
Senator Bob Corker, a Republican from Tennessee and chairman of the Senate Foreign Relations Committee, has personally discussed the issue with the Saudi ambassador to the US and asked the consulate in Istanbul to disclose video footage, according to a statement from his office.
Democratic Senators Chris Coons and Chris Murphy, who are also of the Senate's Foreign Relations Committee, sent tweets directed at the Saudi government demanding to know what happened to Khashoggi.
The Trump administration has established a close relationship with the Saudi regime to pressure Iran and forge an Israeli-Arab alliance.
But US lawmakers on both sides of the aisle, long suspicious of Saudi extremism and historic ties to terrorism, more recently have been highly critical of Saudi actions in Yemen and at home.
Full report at:
https://www.presstv.com/Detail/2018/10/08/576449/US-Saudi-journalist-Wilmer-Leon
--------
Europe
UK authorities feared US backlash in Daesh suspects case: Lawyer
Oct 8, 2018
The United Kingdom's Home Department (interior ministry) dropped its objections to a potential death penalty for two British recruits of Daesh in the United States out of fear that the request might cause outrage in the American government, a lawyer has told Britain's high court.
Edward Fitzgerald QC, representing the mother of El Shafee Elsheikh, who is accused of involvement in Daesh atrocities against Westerners in Syria, said Monday that Home Secretary Sajid Javid was clearly fearful of "political outrage" in the government of US President Donald Trump when he decided in May to cooperate with US authorities in the prosecution of the suspect and his comrade Alexanda Kotey.
Fitzgerald said Javid defied calls from the Foreign Office and senior civil servants recommending him to seek assurances from the US that the two men would not face the death penalty.
He told the high court that the decision, which has sparked fierce controversy in Britain, a country that is proud of abolishing capital punishment, was "in large part because of anticipated outrage among political appointments in the Trump administration."
The lawyer said the decision was also a violation of general procedure in such cases in the Home Office, where previous secretaries, Theresa May and Amber Rudd, had sought such assurances in the cases of both suspects.
Elsheikh and Kotey are believed to have been members of the "the Beatles", a Daesh terrorism cell largely comprised of Western recruits that allegedly carried out 27 beheadings of US and UK citizens in Syria in 2014.
Many have criticized the British government for kowtowing to US demands for allowing the prosecution of the two in America.
Fitzgerald reiterated during the court hearing that Elsheikh's mother, Maha El Gizouli, had no intention of excusing "the appalling acts" of her son by lodging the complaint against the Home Office. He added that the mother feared that his son would suffer a "gruesome and painful" death through lethal injection if slapped with the death sentence in the US.
"It's relevant that the families of the victims have said they want justice but not the death penalty," said the lawyer.
https://www.presstv.com/Detail/2018/10/08/576456/UK-Home-Office-Daesh-suspects-US
--------
Iraq, Afghan wars caused PTDC to increase among UK soldiers: Study
Oct 8, 2018
Higher rates of mental disorders have been reported in British soldiers who were deployed to wars in Iraq and Afghanistan, a new study has revealed.
Results of the King's College London study, published on Monday, said rates of post-traumatic stress disorder (PTSD) have increased among the British soldiers over the past years, mainly due to repercussions of deployments to Iraq (2003-2011) and in Afghanistan (2001-2014).
The study said rates of probable PTSD among current and former serving military personnel increased from four percent in 2004-2006 to six percent in 2014-16.
The research, published in the British Journal of Psychiatry, also showed that frontline soldiers in Iraq and Afghanistan were most affected, but those who have since left the military have also been grappling with higher rates of PTSD.
The PTSD rates among ex-military personnel who had combat roles in the two wars was about 17 percent while six percent of those who were deployed in support roles, such as logistics, also reported symptoms suggesting the disorder.
The rate was reported to be about nine percent among veterans of the Iraq and Afghan wars compared to five percent of those who did not deploy to those conflicts.
The wars in fact caused the rates of probable PTSD to significantly jump among the British army personnel as for the first time veterans deployed in conflicts reported substantially higher rates of the disorder than those still serving.
The study showed that the rate of probable PTSD among currently serving personnel was close to the rate among the general population, around five percent.
Britain contributed to the wars in Iraq and Afghanistan mainly at the request of the US government, which had claimed it was fighting terrorism.
However, the then ruling Labour Party government has repeatedly been criticized for relying on false intelligence to launch the attack on Iraq, a country which was believed at the tome to be possessing weapons of mass destruction. Britain's contribution to the Afghan war has also met a backlash with many saying the military endeavor has caused the security situation in the country to deteriorate.
The rate was reported to be about nine percent among veterans of the Iraq and Afghan wars compared to five percent of those who did not deploy to those conflicts.
The wars in fact caused the rates of probable PTSD to significantly jump among the British army personnel as for the first time veterans deployed in conflicts reported substantially higher rates of the disorder than those still serving.
The study showed that the rate of probable PTSD among currently serving personnel was close to the rate among the general population, around five percent.
Britain contributed to the wars in Iraq and Afghanistan mainly at the request of the US government, which had claimed it was fighting terrorism.
Full report at:
https://www.presstv.com/Detail/2018/10/08/576428/UK-military-PTSD-wars-Iraq-Afghanistan
--------
Cyprus picks up 21 Syrians from drifting boat
October 08, 2018
THESSALONIKI, Greece: Cyprus authorities say 21 Syrian migrants were picked up from a boat that was drifting off the Mediterranean island's southeastern tip.
Police said a merchant vessel spotted the smaller boat south of Cape Greco on Monday morning and notified Cypriot authorities.
A police patrol boat was dispatched to pick up the people on the drifting boat and to take them to the port in Larnaca for processing.
Cyprus has appealed for the European Union's help in handling an increasing number of arriving migrants. Cypriot officials say they can barely keep up with asylum applications.
http://www.arabnews.com/node/1384631/world
--------
Africa
Libyan forces capture Egypt's most wanted militant
By Sudarsan Raghavan
Oct 8, 2018
CAIRO — Libyan forces have captured one of the region's most dangerous Islamist militants, a former Egyptian special forces officer with ties to al-Qaeda who authorities say made it his mission to target Egypt's security forces and destabilize the country.
Hisham al-Ashmawy, described by some security officials as Egypt's most wanted man, was taken into custody Friday in the eastern Libyan city of Derna, a spokesman for the self-proclaimed Libyan National Army said in a statement posted on Facebook. The LNA also posted a photo of a bloodied Ashmawy, apparently taken after his arrest.
LNA forces, led by an eastern-based strongman opposed to the U.N.-backed government in Tripoli, have been fighting Islamist militants in Derna for months. Ashmawy had been using Derna, about 165 miles west of the Egyptian border, as a springboard to cross into Egypt and launch attacks.
Egyptian security officials on Monday confirmed the capture of Ashmawy and called for his extradition, according to local media reports.
"This would be a very big deal if true," H.A. Hellyer, a senior nonresident fellow at the Atlantic Council, wrote in a tweet. "Al-Ashmawy's profile in both Libya and Egypt has been substantial."
Egyptian security officials consider Ashmawy the leader of Ansar al-Islam and another ­militant group, al-Mourabitoun. Both groups have ties to al-Qaeda in the Islamic Maghreb, the terrorist network's North and West African affiliate.
A year ago, Ansar al-Islam asserted responsibility for an ambush in Egypt's Western Desert that killed at least 16 security-force members. Egypt also blames the group for an assassination attempt against the then-interior minister in 2013 and the killing of Cairo's top public prosecutor in 2015, among other attacks.
Ashmawy, a former Egyptian special forces commando, was fired from the military after he became radicalized. He joined a militant group in Egypt's northern Sinai that emerged after the 2013 coup that ousted President Mohamed Morsi and the subsequent crackdown on his Muslim Brotherhood party.
But when the Sinai group pledged allegiance to the Islamic State, Ashmawy split off and formed his own outfits that would later link with al-Qaeda. His network recruited many disillusioned Egyptian troops, analysts said.
Ashmawy and his cohorts also were competing against the Islamic State in Libya and Egypt for influence; in Libya, both sides have battled each other.
His arrest, analysts said, offers a much needed boost to Egypt's counterterrorism campaign. Militant attacks are a key reason the country's tourism industry, the main source of foreign currency, has declined since the 2011 Arab Spring revolution that ousted longtime leader Hosni Mubarak.
But few analysts expect Ashmawy's arrest to have a huge effect on militancy in Egypt. His group, while still considered a threat, has not staged any large-scale attacks this year. President Abdel Fatah al-Sissi has more pressing problems with the Islamic State's Sinai affiliate, which asserted responsibility for downing a Russian passenger plane in 2015 as it left the resort town of Sharm el-Sheikh, killing all 224 people aboard.
In February, Sissi launched a major offensive against the Islamic State in northern Sinai. Since then, hundreds of militants have been reported killed, including 52 on Monday.
Still, most analysts say Egypt's military continues to face steep obstacles against the Islamic State, also known as ISIS, in Sinai.
"Certainly, this could be seen as a morale boost for Egypt, after blaming Ashmawy for major attacks — especially against security force and government officials — for over five years," said Zack Gold, a Middle East analyst. "However, it's unlikely to have any impact in the short term on Egypt's counterterrorism fight. Egypt still faces its biggest threat from ISIS, which itself was battling Ashmawy in Libya."
https://www.washingtonpost.com/world/middle_east/libyan-forces-capture-egypts-most-wanted-militant/2018/10/08/80c0f830-caf9-11e8-ad0a-0e01efba3cc1_story.html?noredirect=on&utm_term=.f25f30189782
--------
Muslim bodies seek arrest, trial of Plateau attacks' masterminds
09 October 2018
JAMA'ATU Nasirl Islam (JNI) and the Supreme Council for Sharia in Nigeria have condemned the killings in parts of Plateau.Consequently, they asked the Federal Government and the military to arrest and prosecute the perpetrators as well investigate the recent disappearance of the former Chief of Administration, Army Headquarters, Major-General Idris Alkali, and other Muslim passersby in Du axis of the state.
At separate press conferences yesterday in Kaduna, the Muslim bodies maintained that the killings must stop forthwith, adding: "It is sad that the atrocities have been allowed to go on for so long until an Army General was murdered that the authorities woke up to take action."
The council regretted that Plateau had become the "most spectacular theatre of mass killings, especially of Muslims and Hausa Fulani people." JNI's Secretary-General, Dr. Khalid Abubakar Aliyu, said government must go beyond mere condemnation of the mayhem by swiftly restoring law and order in the troubled areas.
The body also called on government to, as a matter of reconciliation and fairness, set up a commission of inquiry to unravel the remote cause(s), proffer far-reaching solutions and implement same to check reoccurrences in future.
It further urged the government to be more proactive in saving lives and property of innocent Nigerians as well as uncovering criminal hideouts.Calling on Muslims in Plateau to be fervent with prayers, Aliyu sought the involvement of experts in demobilisation, disarmament and reintegration (DDR) to mop up arms from all and sundry.
According to AbdulRahman Hassan, who addressed newsmen alongside other members of the Sharia council, government must urgently drain the Du pond where vehicles, including that of the missing general, were found for more possible discoveries. He alleged: "A conservative estimate of the cases of genocide and ethnic cleansing of Muslims across the country, especially the Middle Belt, is over 200,000 innocent souls, with properties worth billions of naira destroyed.
Full report at:
https://guardian.ng/news/muslim-bodies-seek-arrest-trial-of-plateau-attacks-masterminds/
--------
Mozambique: Nampula - Frelimo Asks Religious Leaders for Votes
7 OCTOBER 2018
Maputo — The mayoral candidate for the northern city of Nampula of Mozambique's ruling Frelimo Party, Amisse Cololo, on Saturday asked for votes from the main religious communities of the city.
He held separate meetings with muslim and with Christian leaders, asking them to cast their votes for Frelimo in the municipal elections scheduled for next Wednesday. He urged them to use their influence among religious believers to persuade them to support Frelimo
At both meetings he promised that, in the event of a Frelimo victory, he would fight against corruption and would set up a specific department in the Municipal Council to deal with religious matters.
Cololo urged that "the mistakes of the past be forgotten" and that a new stage should open in relations between all citizens of Nampula.
"I ask you to give me more courage to go forward", he said. "With the strength of Allah I shall work so that together we may solve the problems that weaken our religious organisations and our city".
Cololo also promised both the Christians and the muslims that he wished to form "an inclusive, transparent government, free of corruption".
The Mozambique Democratic Movement (MDM) closed its campaign on Saturday with a well-attended march through central Nampula, culminating in a rally at the Waresta wholesale market, where its mayoral candidate, Fernando Bismarque, promised to modernise the city.
He promised that, if the MDM wins, the Municipal Council will build low cost houses for young people and for women. Bismarque said he already has partners for this project, but did not name them.
"We are here to take up our historic responsibility as children of this land", he declared. "Here we are announcing the end of despair and we are programming a new era".
Like Cololo, Bismarque promised to form an "inclusive and participatory" government.
He called on young people in particular to give the MDM their votes, stressing that he too is young. Bismarque pledged that he and his will serve the city and not expect the city to serve them.
At one point in the March, Bismarque told reporters that the current government of Nampula is "a fraud", citing in particular the mounds of rubbish in the streets. He thus forgot that, for most of the past five years, it is his party, the MDM, which has been in power in Nampula.
The current mayor, Paulo Vahanle, of the largest opposition party, the former rebel movement Renamo, has only been in office since a by-election in March. In the previous municipal elections, in 2013. MDM candidate Mahamudo Amurane became mayor, and after his assassination on October 2017, both men appointed as interim mayors were MDM members. The MDM also enjoyed an absolute majority on the Nampula Municipal Assembly.
Full report at:
https://allafrica.com/stories/201810080597.html
--------
URL: https://www.newageislam.com/islamic-world-news/muslim-body-accuses-centre-sponsoring/d/116590
New Age Islam, Islam Online, Islamic Website, African Muslim News, Arab World News, South Asia News, Indian Muslim News, World Muslim News, Women in Islam, Islamic Feminism, Arab Women, Women In Arab, Islamophobia in America, Muslim Women in West, Islam Women and Feminism