New Age Islam News Bureau
3 Nov 2015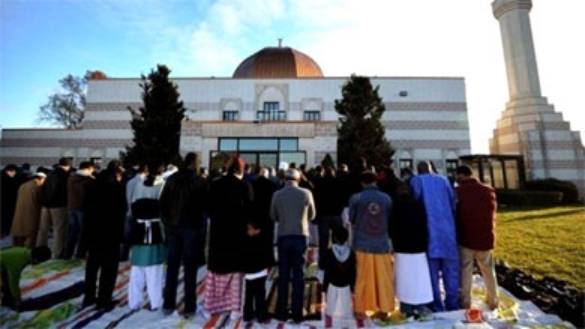 US Muslims on Making Mosque Spaces for All (Source: Onislam)
--------
North America
• Muslim Activists Slam FBI's Programme to Identify Extremists
• US Muslims on Making Mosque Spaces for All
• Muslim advocates welcome Bernie Sanders' support but want visible action
• Obama says Syria deployment doesn't break no 'boots on ground'
----
Arab World
• Lebanon Charges Saudi Prince in Record Drug Bust
• ISIL Defense Lines in Hama Countryside Pounded by Syrian Warplanes
• Tens of Terrorists Perished in Daraa
• Syrian Forces, Hezbollah Hit ISIL Hard on Khanasser-Ithriya Road
• Terrorists Acknowledge Heavy Casualties in Damascus Countryside
• Syrian Army Pushes Back Militants in Parts of Dara'a al-Mahata
• Syrian Forces Push Line of Engagement to Gates of Palmyra
• Rights group slams Syria rebels for 'human shields'
• 125,000 Myanmar expats get ID cards
------
South Asia
• Slain Bangladeshi Blogger's Widow Urges Safe Houses for Writers on Death Lists
• No Vote, No Candidates: Myanmar's Muslims Barred From Their Own Election
• Bangladesh: Hundreds Protest Islamist Attacks on Secular Writers
• China signs three important accords with Afghanistan
• Pakistan reveals plan on repatriation of Afghan refugees
------
Mideast
• Erdogan, Eyeing Greater Powers, Says Turks Voted For Stability
• Turkey Detains 44 People Linked To U.S.-Based Muslim Cleric
• Saudi Jets Mistakenly Bomb Allied Forces in Yemen
• Tehran starts taking nuclear centrifuges offline
• Iran arrests two journalists as crackdown gathers pace
• 4 Israelis stabbed, Palestinian attacker dead
• Netanyahu's peace efforts all talk, says Peres
• White House hits Turkey over vote 'intimidation'
• US, Iran's main enemy: Ayatollah Khamenei
------
Europe
• Russia Jails Man for 17 Years for Fighting With IS
• Refugee Crisis Is 'Global Problem': Council of Europe
• Russian airline blames Egypt crash on 'external' factors
• Four refugees drown, 6 missing off Greece
------
Pakistan
• Crackdown on Terror: Pakistan Bans Media Coverage of JuD, LeT
• Time Not Right To Work for Revival Of Afghan Talks: Aziz
• Pro-government tribal elder killed in Bajaur agency
• Report Paints Bleak Picture of Anti-Media Violence
• Raheel praises army shooters' marksmanship
• JUI-F suspends Maulana Wasey's membership
• Shooters, snipers decisive in terror war: COAS
• Qatari commander desires to enhance naval relations
---------
Africa
• Nigeria troops kill 4 Boko Haram Takfiris
• Ugandan Muslim Leaders Live in Fear
• U.N. pushes for final Libyan unity agreement
• 13 U.N. hostages freed in South Sudan
• Bangui residents witness more violence
---------
India
• @WikiLeaks4India Using Our Name to Stir up Hindu - Muslim Tensions: WikiLeaks
• Ram Not Born in Present-Day Ayodhya, Claims AIMPLB Leader's Book
• Kerala Mosque Celebrates 18th Century Hindu Martyr
• Ajmal opposes RSS stand on rise of Muslims in states bordering Bangladesh
• 18 Indian fishermen jailed for fishing in Pak waters
• Cops Smell Patidar Outfits Role in Qaida, IM 'Bomb Threats'
• Pakistani Artistes Cannot Be Stopped From Working in India: Salman Khan
• Article in RSS monthly: 'Deendayal Upadhyaya was against Hindu-Muslim unity'
• Kolkata food fest to serve unity broth with beef, pork and veg
---------
Southeast Asia
• ASEAN to Do 'Whatever It Takes' To Counter IS Threat
• Demand for Islamic Finance Grew After 2008 Economic Crisis, PM Says
• Groom-to-be sent to jail for possession of mobile phone containing IS material
• More Malaysian parents rejecting children's immunisation over pig DNA fears
• Syed Ali vilifies UN for urging Anwar's release
• Being a transgender is against Islamic law in Malaysia
Compiled by New Age Islam News Bureau
URL: https://www.newageislam.com/islamic-world-news/new-age-islam-news-bureau/muslim-activists-slam-fbi's-programme-to-identify-extremists/d/105147
---------
North America
Muslim Activists Slam FBI's Programme to Identify Extremists
November 03, 2015
WASHINGTON - An interactive programme designed by the Federal Bureau of Investigation (FBI) to help teachers and students identify warning signs of violent extremism has drawn strong criticism Muslims and civil rights leaders, according to US media reports.
The programme, called "Don't Be a Puppet," predominately focuses on Islamic extremism, even though that has not been a factor in school shootings and attacks,.
Muslim and Arab advocacy groups who were briefed by FBI on the programme say it will foment discrimination against Muslims, The Washington Post said in a dispatch published on Monday.
"We were all on the same page in terms of being concerned," Hoda Hawa, director of policy and advocacy for the Muslim Public Affairs Council (MPAC), was quoted as saying. "It seems like they're asking teachers to be extensions of law enforcement and to police thought, and students as well. That was very concerning to us all."
The FBI declined to confirm details of the programme or why it was put on hold or when it is expected to go online, the Post said. After initially declining comment altogether, it said, the agency Sunday night issued a statement.
"The FBI is developing a Web site designed to provide awareness about the dangers of violent extremist predators on the Internet, with input from students, educators and community leaders," the statement read.
The community groups said they learned about the site last month when the FBI called several people to a meeting.
Also at the meeting, the FBI described its plan for "Shared Responsibility Committees," which the Muslim and Arab participants said are proposed groups of community leaders and FBI representatives who could discuss cases of specific youth.
The participants said they were also very concerned about the concept and complained to the Department of Justice. That programme was put on hold last week, participants said.
Abed Ayoub, the legal and policy director for the American-Arab Anti-Discrimination Committee, recalled, according to The New York Times, "They were getting blowback from everybody. It was a very tense meeting."
"They wanted teachers in social studies, civics and government classes to show this to their students," Ms. Hawa said. "But the website will be accessible by anyone."
She and others interviewed were particularly troubled by a question that she said asked the user to identify which of four or five posts on social media should raise alarm. Among the choices was a person posting about a plan to attend a political event, or someone with an Arabic name posting about going on "a mission" overseas. The correct answer was the posting with the Arabic name.
"What kind of mission? It could have been humanitarian. It could have been religious," Ms. Hawa said.
Ayoub said, "If this is shown to middle and high school students, it's going to result in the bullying of these children."
While group participants and experts on such efforts said they believed this would be the first such programme in schools, law enforcement agencies have for a decade been debating and creating efforts called counter-radicalization or countering violent extremism, or CVE, the Post said. Some involved improving communication and partnerships between Muslim organizations and law enforcement, it was pointed out. Some are run by local police or sheriffs' departments, others by Homeland Security or the FBI or the Justice Department. Some Muslim leaders are skeptical of efforts they see as disproportionately focused on Muslims and wrongly leaning on Muslims to connect law enforcement to people who may simply be criticizing U.S. foreign policy or have mental health issues, among other scenarios.
"The most controversial part of CVE is that there is no consensus as to what is a pre-terrorism indicator," said Faiza Patel, a Pakistani who is co-director of the Liberty and National Security Program at the Brennan Center for Justice at New York University's law school.
(ENDS)/ia
http://nation.com.pk/national/03-Nov-2015/muslim-activists-slam-fbi-s-programme-to-identify-extremists
---------
US Muslims on Making Mosque Spaces for All
02 November 2015
CHICAGO – For years, Muslims in the United States have focused on building mosques, community centers, schools, and halal grocery stores.
Today, the needs of Muslim communities have evolved and the next step is to build facilities that better address the needs of women and children, the sick, elderly, disabled, minorities, and new Muslim reverts, advocates say.
"Our grandparents and parents lived in this country in a much simpler time," said Joohi Tahir, executive director of Muslim Student Association National and MUHSEN (Muslims Understanding & Helping Special Education Needs).
Tahir made this statement during a session held weeks ago at ISNA's 52nd annual Convention, attended by OnIslam correspondent, which discussed promoting and building inclusive and welcoming mosques for all Muslims.
"Never did we really take the time to look into our own community issues. Our focus was all about how we could live, function, and thrive within this country, while maintaining our Islamic principles," Tahir added.
Accommodating the generation of "unmosqued" Muslims, including new reverts who often can feel like they don't fit in within traditional mosque communities, is the challenge many mosques are facing.
"We as humans have a need to be part of something," Tahir said. "No one really welcomes new Muslims beyond saying salaam."
MUHSEN's aim is to improve the lives of people with disabilities, which affects all ages, Tahir said.
"Anyone, anywhere can be affected by this and their lives can change in the blink of an eye," she added.
ISNA is the largest Muslim umbrella organization in North America.
Held from September 4-7 at the Donald E. Stephens Convention Center, in Rosemont, Illinois, the theme of this year's event is: "Stories of Resilience: Strengthening the American Muslim Narrative."
Concurrent to the ISNA Convention, parallel conferences were held by the ISNA affiliated organizations - the Islamic Medical Association of North America (IMANA), Association of Muslim Scientists, Engineers and Technology Professionals (AMSET), Muslim Students Association (MSA) and Muslim Youth of North America (MYNA).
Friendly Mosques
MSA National also has been working to get more Muslims involved in disability causes, such as autism walks, said Omar Suleiman, an Islamic scholar who founded MUHSEN and a current MSA advisor.
"The masjid [mosque] is the home of every believer," said Suleiman quoting the Prophet Muhammad (peace be upon him).
He added, students are taught in Islamic school to respect the house of God by keeping it clean. "It needs to be a place that truly reflects that it is the house of Allah SWT."
Suleiman said the prophet's companions were not neglectful people.
"They revered the prophet and the masjid. The masjid of the prophet was truly a center for the entire community," he said.
"It was a place no matter how physically or spiritually disabled you were, you found it a place of enrichment, acceptance. It was a place where your needs would be fulfilled."
Suleiman said one of the prophet's companions, Abdullah ibn Umm-Maktum, was blind and would give the Adhan (call to prayer), and the first mufti of Makkah was also blind and paralyzed.
"The masjid has become a place of a set of rituals; a place of motions," Suleiman said.
"It has become a place that does not accept sick people. You are further disabled. We are talking about people that have done absolutely nothing to be turned away from the house of Allah."
Suleiman urged mosque leaders to follow the Prophet's model of inclusion.
"The masjid means more to us, the Muslim community, than any other place of worship means to any other religious community," he said.
"It's a more frequented house of worship. It is more central in our religion. If that place is not accommodating to the special needs community as those other places of worship, what does that say about us?"
Preserving Unity
Mufti Hussain Kamani said the Prophet, at each of the stages of his prophethood, established community centers to unite people and to combat the racism that was pervasive in Arab society at the time.
Today, people name mosques after the mothers of the believers and prominent companions, such as Aisha and Bilal (may Allah be pleased with him), yet how many mosques have women or blacks on their boards, he exclaimed.
"This is the state of our community," Kamani said.
"We recall these famous people in history, but how many of us are comfortable marrying our daughters to someone from Abyssinia?"
Mosques that are open to men or women only, or prohibit children also are not following the model and teachings of the prophet and his companions, he added.
"The more people are attached to the masjid, the stronger their bonds will be with Allah SWT," Kamani said.
People are often afraid to accommodate those different from themselves because they don't want to be made uncomfortable. Yet, helping the disadvantaged is one of the core values of Islam, he added.
"They are a blessing for you," Kamani said.
"It's our job to raise a voice in support of them. As a community, we haven't given these people the support they need. We think these issues only affect a small portion of the community. We as a people also need to open up our hearts. It's possible that if we did this, Allah SWT will shower His mercy upon us. We are a team that we don't leave anyone behind."
Suleiman said the attitude with which some people treat those with disabilities is more of thankfulness that they themselves are not afflicted with such illnesses.
"What a terrible way to address this issue as a whole," said Suleiman, adding that the focus should rather be on changing the conversation about disabilities on social media and elsewhere.
"Those that are vulnerable amongst you, physically, emotionally, spiritually … if you want the rizq (sustenance) of Allah SWT, then look at how you treat the most vulnerable," Suleiman said.
http://www.onislam.net/english/news/americas/496081-us-muslims-on-making-mosque-spaces-for-all.html
---------
Muslim advocates welcome Bernie Sanders' support but want visible action
2 November 2015
A Muslim-American student pushed the issue of Islamophobia in the US into the spotlight last week, when she asked Democratic presidential candidate Bernie Sanders to address the subject before an audience of hundreds at George Mason University.
Related: Texas teen arrested over homemade clock gets it back days before leaving US
Remaz Abdelgader, a senior at GMU, in Virginia, wanted to know more about Sanders' stance on what she called "the growing Islamophobia in this country".
"If you look at all the Republican candidates," she said, "in order to feed into their constituents, they're talking about Islamophobia and they're constantly bashing Muslims in the media ... Ben Carson, Donald Trump, the biggest bigots."
Abdelgader was interrupted by thunderous cheers. Sanders waved her on to the stage and embraced her, before she continued.
"As an American Muslim student who aspires to change this world," she said, "hearing the rhetoric that's going on in the media makes me sick … I'm constantly trying to raise awareness and make sure that everyone is treated equally in this country. So to the next president of the United States, what do you think about that?"
Sanders' response lasted several minutes.
"Our job is to build a nation in which we all stand together as one people," he said. "And you are right. There is a lot of anger being generated, hatred being generated against Muslims in this country … There is hatred being generated against immigrants in this country.
"And if we stand for anything, we have got to stand together and end all forms of racism and I will lead that effort as president of the United States."
Sanders' comments about marijuana at the event made headlines, but the video of Abdelgader's question struck a chord on social media. A video of the exchange on Sanders' Facebook page has been viewed nearly 300,000 times; a video posted by AJ+ has been shared by more than 8,000 users.
"This wasn't just a question that I had, this spoke to the reality of so many Muslims across America," Abdelgader said. "I'm taking back my story, our story, for hundreds and thousands of Muslims in America. I'm speaking to create this change."
The issue of Islamophobia in the US did make headlines in September, after the arrest of Ahmed Mohamed, a 14-year-old high school student in Texas whose homemade clock was mistaken for a bomb by teachers. Democratic presidential candidates were quick to express support.
"Assumptions and fear don't keep us safe – they hold us back. Ahmed, stay curious and keep building," Hillary Clinton tweeted.
"Ahmed, you will be a fine engineer one day. Please do not let this incident hold you back," Martin O'Malley responded to one of the boy's own tweets.
Ben Carson, however, set the tone among Republicans when around the same time he said a Muslim could not be president of the US. A week later, under pressure for his remarks, he said a theoretical Muslim president would have to "subjugate" his or her beliefs in order to hold the job.
Donald Trump, meanwhile, drew ire after failing to correct a questioner at a town hall who said: "We have a problem in this country, it's called Muslims. We know our current president is one." Trump refused to apologize.
Abdelgader, who came to the US from Sudan when she was six, said she spoke up because she felt it was necessary to push back against such rhetoric.
"At what point are you going to consider me American enough?" she said. "And why should I feel as an American citizen that I must always try to get another person to validate my identity? Why can't I just be me, and be accepted, for the identity I claim?" She said she was thrilled with Sanders' condemnation of bigotry, saying the Vermont senator was now her "hero".
Sanders' remarks received approval from Muslim advocates in the US.
"I think that in putting Islamophobia in the context of racism, because he pledged to eliminate racism and bigotry, that yes, he had a good response," said Robert McCaw, government affairs manager at the Council on American-Islamic Relations.
"A lot of points to Bernie Sanders. It shouldn't be such a courageous act, but it is."
Mohammad Khan, secretary for the Muslim Democratic Club of New York, said: "We welcome Bernie's comments. We appreciate the show of solidarity.
"However, we do feel he could have said a little more, gone a little further. He mentioned broadly standing against racism, against bigotry; that's something we applaud and appreciate.
"He didn't specifically address Islamophobia. He didn't directly address the comments by Trump and Carson. That's something we would have liked to hear."
Related: Ben Carson says no Muslim should ever become US president
In September, Sanders did address Islamophobia and Trump directly, after Mohammed's arrest made headlines.
Using Twitter, he said: "The ridiculous arrest of Ahmed and awful comments at @realDonaldTrump's rally show us we must stand strong against anti-Muslim bigotry."
Yet like Khan, McCaw said words were not enough. He hoped Sanders' words would be backed up with action by him and other candidates.
"It's great that the candidate fielded a question from a Muslim woman and invited one up on stage," McCaw said. "What would be better is if candidates would embrace Muslims, meet them at their houses of worship and Islamic community centers, sit down with Muslim leaders and hear what their issues are. And do so in a public fashion."
Khan said: "Condemning racism and bigotry should be the floor for all candidates. It shouldn't be the ceiling."
http://www.theguardian.com/us-news/2015/nov/02/muslim-american-groups-bernie-sanders-islamophobia
---------
Obama says Syria deployment doesn't break no 'boots on ground'
Nov 03, 2015
WASHINGTON: President Barack Obama said on Monday the planned deployment of dozens of United States (US) special forces to Syria to advise opposition forces fighting self-styled Islamic State (IS) did not break his promise not to put "boots on the ground" in the Syrian conflict.
"Keep in mind that we have run special ops already and really this is just an extension of what we are continuing to do," Obama said in an interview on "NBC Nightly News" in his first public comments on the deployment since it was announced on Friday.
Examine: Obama to send ground troops to Syria
"We are not putting US troops on the front lines fighting firefights with ISIL," Obama said, using another acronym for IS.
"I have been consistent throughout that we are not going to be fighting like we did in Iraq with battalions and occupations. That doesn't solve the problem."
In announcing the measure, the White House said the troops would be on a mission to "train, advise and assist" and would number fewer than 50.
The introduction of US forces on the ground marks a shift after more than a year of limiting the Syria mission to air strikes against IS.
Before last year, Obama, who has been averse to committing troops to Middle East wars, had ruled out an American presence on the ground in Syria.
In a nationally televised address in September 2013, Obama said: "I will not put American boots on the ground in Syria." Over the past year, however, he has emphasized that he would not send US "combat" troops there.
The Obama administration is under pressure to ramp up the US effort against IS, particularly after the militant group captured the Iraqi city of Ramadi in May and following the failure of a US military program to train and arm thousands of Syrian rebels.
Russia and Iran have increased their military support for Syrian President Bashar al-Assad's fight against rebels in the 4-1/2-year-old civil war.
http://www.dawn.com/news/1217203/obama-says-syria-deployment-doesnt-break-no-boots-on-ground
---------
Arab World
Lebanon charges Saudi prince in record drug bust
November 03, 2015
BEIRUT : Lebanese authorities on Monday charged a Saudi prince and nine others with drug trafficking, a week after they were caught in a record drug bust, a judicial source told AFP.
Saudi prince Abdel Mohsen Bin Walid Bin Abdulaziz and four others were detained by airport security on October 26 after nearly two tons of Captagon capsules and cocaine were found waiting to be loaded onto their private plane at Beirut airport.
A public prosecutor "has charged 10 people, including five arrested individuals - a Saudi prince and Saudi nationals.
.
.
with smuggling and selling the drug Captagon," the judicial source said.
Five individuals still at large were included in the charges, including three Lebanese and two Saudi nationals, the source added.
Full Report at:
http://nation.com.pk/international/03-Nov-2015/lebanon-charges-saudi-prince-in-record-drug-bust
---------
ISIL Defense Lines in Hama Countryside Pounded by Syrian Warplanes
Nov 03, 2015
Ali Muaeeb said that scores of the ISIL militants were killed or wounded and their military hardware were destroyed in the Syrian air attacks in the abovementioned locations.
The spokesman further added that the army troops repelled the terrorists' infiltration attempts into the government forces' defense lines' in Atshan and Tal Sheik and killed a large number of them in their counter-attacks.
Field sources said on Monday that the Syrian Army, popular forces and Hezbollah fighters, in a joint massive operation, pushed back the militant groups from Aleppo-Hama border and seized full control over Ahad mountainous region.
Full Report at:
http://english.farsnews.com/newstext.aspx?nn=13940812000487
---------
Tens of Terrorists Perished in Daraa
Nov 03, 2015
The army killed 5 terrorists near Kherbat Ghazala area in the Northeastern countryside of Daraa, 20 km from the city of Daraa, on Monday.
Meanwhile, the army also killed and injured scores of terrorists in several areas in Daraa al-Balad area.
Full Report at:
http://english.farsnews.com/newstext.aspx?nn=13940812000360
---------
Syrian Forces, Hezbollah Hit ISIL Hard on Khanasser-Ithriya Road
Nov 03, 2015
The Syrian Army and Hezbollah forces launched the large-scale attack on ISIL positions along the strategic Khanasser-Ithriya highway, and killed and wounded at least 15 Takfiri terrorists.
On Saturday, the Syrian army seized control over a 10-kilometer segment of the highway after heavy clashes with ISIL in the region.
The Syrian army launched a military operation against the ISIL terrorists earlier on Saturday, and regained control of 4 checkpoints and a 10-kilometer segment of Khanasser-Ithriya Highway, a field commander told FNA.
Earlier on Saturday the Army had informed that its forces alongside the Lebanese Hezbollah fighters were only one kilometer away from the strategic road, reminding that control over the strategic road would cut off the terrorists' supply line in Aleppo province.
The source said that the army troops and Hezbollah forces, backed by the Russian fighter jets, stormed the Takfiri militants' positons near the road in Khanasser countryside and killed scores of them.
Full Report at:
http://english.farsnews.com/newstext.aspx?nn=13940812000405
---------
Terrorists Acknowledge Heavy Casualties in Damascus Countryside
Nov 03, 2015
The terrorist group of Jeish al-Islam said on Monday that 45 of its members were killed in Harasta's Northern farms in the past few days.
On Sunday, at least 33 terrorists were killed and injured in Syrian airstrikes on the Takfiri militants' positions in Damascus countryside.
Syrian warplanes conducted pinpoint airstrikes on militant positions and gathering centers in Jobar in Damascus countryside, and killed and injured at least 33 terrorists, sources said, adding that the terrorists' vehicles and weapons were also destroyed in the air attacks.
Provincial sources also announced on Sunday that scores of militants were killed or wounded in a joint offensive operation of the Syrian Army and popular forces on their positions in Eastern Ghouta.
Full Report at:
http://english.farsnews.com/newstext.aspx?nn=13940812000276
---------
Syrian Army Pushes Back Militants in Parts of Dara'a al-Mahata
Nov 03, 2015
The army said that the much more building blocks towards the Southern part of the national hospital in Dara'a al-Mahata are now under the Syrian soldiers' control.
The sources further added that two key command centers of the militants were also destroyed by the army troops in Dara'a al-Balad.
The government forces also stormed the ISIL positions in Tal Ashheb, Busra al-Cham and Atman in Dara'a countryside, and killed scores of the terrorists.
The army also said that the ISIL military equipment and vehicles also sustained heavy damage in the army attacks on the abovementioned locations.
Full Report at:
http://english.farsnews.com/newstext.aspx?nn=13940812000306
---------
Syrian Forces Push Line of Engagement to Gates of Palmyra
Nov 02, 2015
The army reported heavy clashes in Dora district in Palmyra between the government forces and the ISIL terrorists, saying that scores of militants have been killed or wounded.
They army also said that the ISIL terrorists staged such a fast retreat that they have left their casualties and military hardware in the battlefield.
The military vehicles of the terrorist group also sustained heavy damage in the army attack on ISIL positions in Dora.
Also on Monday, two large convoys of ISIL militants' vehicles carrying weapons, ammunition and fresh forces were traced and targeted by the Syrian Army in two roads in the Eastern territories of Homs province, provincial officials announced.
The sources said that one of convoys was targeted on Palmyra-al Bayarat road and another one was hit on Ein Hassein road.
Full Report at:
http://english.farsnews.com/newstext.aspx?nn=13940811000853
---------
Rights group slams Syria rebels for 'human shields'
3 November 2015
Human Rights Watch has accused Syrian rebel groups outside Damascus of war crimes after they placed hostages including civilians in cages for use as "human shields" to deter government strikes.
Video posted over the weekend showed dozens of captives, among them soldiers and civilians, in cages being transported to different parts of the Eastern Ghouta region outside Damascus.
The Syrian Observatory for Human Rights said the powerful Jaish al-Islam group had placed the caged captives in public squares to deter government bombing.
Human Rights Watch said the practice "constitutes hostage-taking and an outrage against their personal dignity, which are both war crimes."
"Nothing can justify caging people and intentionally putting them in harm's way, even if the purpose is to stop indiscriminate government attacks," said HRW deputy Middle East director Nadim Houry.
"Ending Syria's downward spiral requires international backers of armed groups as well as the government to make protecting civilians a top priority."
The rights group noted that a similar practice was reported in September, in two government-held Shiite towns under rebel siege in Idlib province.
Full Report at:
http://english.alarabiya.net/en/News/middle-east/2015/11/03/Rights-group-slams-Syria-rebels-for-human-shields-.html
---------
125,000 Myanmar expats get ID cards
3 November 2015
JEDDAH: The passport department in Makkah has corrected the status of more than 125,000 of 250,000 Myanmar nationals by giving them residency cards without fees for four years.
The correction process, which started following instructions from Makkah Gov. Prince Khaled Al-Faisal in 2014, has received appreciation from a delegation of the United Nations.
The process has been described as a pioneering experiment because it has been done according to humanitarian specifications, without taking ethnicity or race into consideration, local media reported on Monday.
The residency card enables free treatment, education and employment to the holder.
Local media toured the passport department accompanied by Col. Mohammad Maqboul Al-Jahni, chairman of the correction committee, and Col. Mohammad bin Abdullah Al-Hussein, official spokesman for the passport department in Makkah. Al-Hussein explained about the correction mechanism.
The procedure starts by ensuring that there are no security notices or previous criminal records.
Full Report at:
http://www.arabnews.com/saudi-arabia/news/829826
---------
South Asia
Slain Bangladeshi blogger's widow urges safe houses for writers on death lists
Nov 03, 2015
UNITED NATIONS: The widow of a Bangladeshi-American atheist blogger killed earlier this year decried the Bangladesh government's failure to prosecute the perpetrators of deadly attacks on writers Monday and urged countries to provide safe houses for dozens more on death lists.
Rafida Ahmed, who was hacked four times in the head and had her thumb sliced off in the Feb 26 attack in Dhaka that killed her husband Avijit Roy, was the surprise speaker at a panel Monday to mark the second International Day to End Impunity for Crimes Against Journalists.
They lived in Atlanta and were visiting Bangladesh where he spoke at a book fair just before the attack.
Ahmed, who helped her husband with his writings, said there is a death list of 84 bloggers given to the government by "Islamic terrorists", adding that they are also killing people outside the list and she has also been threatened.
Since the beginning of the year, she said, five writers, bloggers and publishers have been killed and many more wounded for promoting "free thoughts, secularism and freedom of speech".
The latest attacks on Saturday killed one publisher, Faisal Arefin Deepan who published two of her husband's books, and critically injured another, Ahmed Rahim Tutul, whose wife and children fear for their lives, she said.
"Before they used to attack in the dark," Ahmed said. "Now the extent of impunity is so great that they attack us in broad daylight, in front of thousands of people, or even inside the residences or the offices of the writers and the publishers."
She called the situation "dire" and said hunting down and "hacking people with a voice" who wanted to make a difference in their country has become a monthly activity for the "Islamic terrorists" ─ because they know "the Bangladeshi government will stay silent, no matter what they do".
"We are living in a country right now where the bloggers, writers, journalists do not feel safe to express their views anymore," Ahmed said.
See: Third secular blogger hacked to death in Bangladesh
Ahmed urged safe countries "to build safe houses so that our writers can get to safety until the situation gets better".
She said she and other bloggers living outside Bangladesh have gone from embassy to embassy and talked to "humanist organisations" to try to find a way to get threatened writers out of the country.
Full Report at:
http://www.dawn.com/news/1217200/slain-bangladeshi-bloggers-widow-urges-safe-houses-for-writers-on-death-lists
---------
No vote, no candidates: Myanmar's Muslims barred from their own election
3 November 2015
Win Mya Mya has given everything for Aung San Suu Kyi and her party – including the use of her left hand.
Drawing back the thin sleeve of her purple silk shirt, she reveals a disfigured appendage that gives her near-constant pain.
"She can't even use it in the bathroom," her sister says.
The wound dates back to 2003 when Win Mya Mya was part of a Suu Kyi convoy attacked by a mob sponsored by the former ruling military junta. Scores of people were killed. She spent years in jail and her family's shop was seized.
"I would die for the NLD," she says, speaking of Suu Kyi's National League for Democracy party.
But despite this devotion, Win Mya Mya cannot stand for them in an election.
The upcoming poll on 8 November has been been touted as the freest and fairest in decades but, with religion an increasingly sensitive issue in Myanmar, many Muslims – from ordinary voters to experienced politicians – are coming up against barriers to participation.
The vice-president of the NLD in Mandalay, a hotbed of religious tension, Win Mya Mya is one of dozens of Muslims who applied to run for parliament but were rejected on the basis of their faith.
"Our leader Daw Aung San Suu Kyi said I have to go to the country and persuade the Islamic people [to vote for the party] for the election but she doesn't want me to apply as a candidate," says Win Mya Mya.
Although they make up at least 5% of the 51 million population, no Muslims will appear on ballots for either the ruling party or the opposition. The NLD admits it struck them off following pressure from the increasingly powerful ultranationalist Buddhist movement.
Meanwhile, more than one million members of the Rohingya Muslim minority, a persecuted ethnic group from Western Myanmar, have been rendered stateless and are ineligible to vote.
Among the wider Burmese Muslim community there is alienation and disenfranchisement compounded by disputes over identity documents.
"Burmese Muslims have told us that they always thought of themselves as Burmese but now suddenly they are being treated as foreigners," Mark Farmaner, director of Burma Campaign UK, tells the Guardian.
"It is creating a feeling of alienation and there is a definite move away from integration and towards more concentrated areas in towns and cities where Muslims choose to live."
Recently, Muslims have been told to register their race as Indian or Pakistani (irrespective of whether they have relatives there) in order to obtain national registration cards, a senior immigration official told the Guardian.
The cards are needed to vote and travel abroad.
"He or she is Muslim so we write 'India'," says U Thaung Zaw, the head of Mandalay's immigration department.
Haj Yan Aung, a shop owner whose family has lived in Mandalay for generations, says he refused to identify himself as Indian or Pakistani, and was denied the document. As a result, he is unable to vote.
"They denied that I was Burmese," he says, his eyes filling with tears. "I said race has nothing to do with religion. They said: if your religion is Islam, you are automatically mixed blood, according to their new immigration policy.
"Insane! Do you know how old the mosques are in Mandalay? Some of them are over 200 years and the youngest one is over 150 years. We've been living here a long time. If I have to write my race as Indian, I won't take that card."
Some of his community bribed the authorities to list them as pure Burmese, he says. "Before, they had to pay $40 or $50. Now the price is $150."
In Mandalay, Myanmar's former royal capital, Buddhists and Muslims have lived together peacefully for hundreds of years. But amid countrywide tension, anti-Muslim riots in July last year left two people dead.
Full Report at:
http://www.theguardian.com/world/2015/nov/03/no-vote-no-candidates-myanmars-muslims-barred-from-their-own-election
---------
Bangladesh: Hundreds Protest Islamist Attacks on Secular Writers
2 Nov 2015
Publishers, writers, and bloggers in Bangladesh have had enough of their colleagues being executed simply for expressing secular beliefs and critiquing Islam.
Hundreds stormed into the capital city of Dhaka on Monday to show dissatisfaction with the government over its failure to protect its citizens. Many burned books as a symbol of their discontent, others closed their businesses in a show of solidarity with the slain innocents.
On Saturday, Faisal Abedin Deepan, a secular publisher, was "hacked to death" by Islamic extremists in Dhaka, according to reports.
Deepan had published books by Avijit Roy, a Bangladeshi-American secular writer who was known to critique Islam. The Ansarullah Bangla Team (ABT), an al-Qaeda-inspired terrorist organization, claimed responsibility for killing Deepan.
In a separate attack on the same day, two secular bloggers and a publisher were injured in an attack claimed by al-Qaeda in the Indian Subcontinent (AQIS). In a statement, the jihadi group called the victims "atheists and blasphemers," the Times of India reported.
"This is not an isolated incident. They first started killing authors, then the bloggers and now they've targeted the publishers," Mustafa Selim, who leads the Bangladesh Creative Publishers Society, said at the protest.
Full Report at:
http://www.breitbart.com/national-security/2015/11/02/bangladesh-hundreds-protest-islamist-attacks-secular-writers/
---------
China signs three important accords with Afghanistan
By ZABIHULLAH MOOSAKHAIL
Nov 03 2015
Leading a high ranking government delegation, Chinese Vice-President Li Yuanchao arrived for an official visit in Kabul on Tuesday.
The delegation signed three important agreements–Memorandum of Understanding (MoU)–with Afghanistan in the areas of security and education.
China had already promised delivering four security scanners and building 10,000 apartments in Kabul but the formal MoUs were signed during today's press conference.
President Mohammad Ashraf Ghani who appeared in front of reporters with Li Yuanchao in Presidential Palace said that the security scanners would be used by police and NDS personnel to scan people and vehicles in Kabul.
President Ghani added that the apartments China is building would be distributed to the families of martyrs and government officials.
The 10,000 apartments would cost China 500,000,000 Yuan (about $78897330.90).
China had promised 3,000 scholarships last year, they pledged 50 more scholarships for every year, President Ghani said.
Full Report at:
http://www.khaama.com/china-signs-three-important-accords-with-afghanistan-4079
---------
Pakistan reveals plan on repatriation of Afghan refugees
By ZABIHULLAH MOOSAKHAIL
Nov 03 2015
Pakistani authorities say they have a plan to begin a phased repatriation of 1.5 million Afghan refugees within the next two years reports Voice of America (VOA).
Tariq Hayat who is cited as a Pakistani spokesman by the news agency says that the repatriation plan is Okayed by all stakeholders and will go to cabinet for approval this week.
Hayat has told VOA that the proposed plan does not seek "extension or settlement" of the Afghan population in Pakistan beyond the December 31 deadline.
"There is no decision to extend their stay. However, we cannot send them overnight and we will be sending them in a phased program, which is likely to take something under two years. But at the end of that period they will all be out of here (Pakistan)," he said, adding that the plan ensures Afghan refugees return to country with "dignity" in an organized manner.
Full Report at:
http://www.khaama.com/pakistan-plans-to-expel-afghan-refugees-in-next-two-years-4077
---------
Mideast
Erdogan, eyeing greater powers, says Turks voted for stability
November 03, 2015
ANKARA - A jubilant President Tayyip Erdogan on Monday cast the return of Turkey's Islamist-rooted AK Party to single-party rule as a vote for stability that the world must respect, but opponents fear it heralds growing authoritarianism and deeper polarisation.
The AKP defied pollsters and even the expectations of its own strategists in a general election on Sunday, consolidating support from the right to claw back a parliamentary majority that will bolster Erdogan's grip on power.
It was a personal triumph for the combative leader, who despite being constitutionally above party politics as head of state had shaped the AKP's executive committee and its parliamentary candidates in the run-up to the vote.
Meanwhile, a left-leaning Turkish news magazine said on Monday its offices were raided by police and two editors detained over a cover suggesting election results would deepen divisions and trigger conflict in the country.
The latest edition of Nokta carried the cover headline "the beginning of civil war", after Sunday's election saw the ruling AK Party regain its parliamentary majority in a major victory for President Tayyip Erdogan.
Rights groups and opponents have accused Erdogan and the government of trying to silence opposition media.
Authorities seized two opposition newspapers and took two TV channels off air in the days ahead of the election in what they said was a crackdown on one of Erdogan's arch enemies.
The result handed the AKP 317 of the 550 seats in parliament, only 13 short of the number Erdogan would need for a national referendum on constitutional changes he wants to forge a presidential system granting him full executive powers.
"The national will manifested itself on Nov.
1 in favour of stability," Erdogan said in comments to reporters after praying at a mosque in Istanbul.
"Let's be as one, be brothers and all be Turkey together.
"
The vote came at a critical time for Turkey on the global stage, with the United States dependent on Turkish air bases in the fight against Islamic State in Syria, and the European Union desperate for Turkish help with its growing migration crisis.
Erdogan's victory, two weeks ahead of a G20 leaders' summit in the Mediterranean city of Antalya, leaves Western allies dealing with an emboldened leader they may already know, but whose cooperation has not always been easy to secure.
Financial markets rallied on the outcome, with the lira currency on track for its biggest one-day gain in seven years and stocks up 5 percent, relieved that uncertainty from an election cycle stretching back almost two years had finally ended.
But the result left the 50 percent of Turks who did not vote AKP in shock: from liberal secularists suspicious of Erdogan's Islamist ideals to left-leaning Kurds who blame the government for resurgent violence in the largely Kurdish southeast.
Since nationwide anti-government protests and a corruption scandal around Erdogan's inner circle in 2013, his opponents had lived in the hope that the power of modern Turkey's most divisive leader was finally on the wane.
Full Report at:
http://nation.com.pk/international/03-Nov-2015/erdogan-eyeing-greater-powers-says-turks-voted-for-stability
---------
Turkey detains 44 people linked to U.S.-based Muslim cleric
November 3, 2015
Turkey's state-run news agency says police have carried out raids in 18 provinces, detaining 44 people linked to a moderate Islamic movement that has turned into President Recep Tayyip Erdogan's Number 1 foe.
The Anadolu Agency says those detained in Tuesday's raids include regional administrators and former police chiefs suspected of acting "beyond their legal authority."
The raids come two days after the ruling party, which Mr. Erdogan founded, won a resounding victory in an election Sunday that restored its single-party rule.
Full Report at:
http://www.thehindu.com/news/international/turkey-detains-44-people-linked-to-usbased-muslim-cleric/article7837493.ece
---------
Saudi jets mistakenly bomb allied forces in Yemen
Nov 3, 2015
Saudi warplanes have caused dozens of casualties by mistakenly targeting the Riyadh-allied militants who fight on the side of fugitive former Yemeni President Abd Rabbuh Mansour Hadi in west-central Yemen.
The offensive, which took place in Ma'rib Province on Tuesday, was the second time in the space of a week to that Saudi aircraft targeted the allied forces by mistake, Yemen's official Saba Net news agency reported.
The previous attacks came on Thursday, when Saudi warplanes carried out airstrikes on Ma'rib's provincial capital city of the same name, killing an unknown number of militants loyal to Hadi.
Saudi aircraft also killed three civilians and injured five others in attacks against Ta'izz Province in southwestern Yemen.
Yemen has been witnessing ceaseless attacks by Saudi Arabia since March 26. The amiltiary strikes are supposedly meant to undermine the Houthi Ansarullah movement and bring Hadi back to power.
Full Report at:
http://www.presstv.ir/Detail/2015/11/03/436089/Saudi-Arabia-Yemen-Hadi-allies
---------
Tehran starts taking nuclear centrifuges offline
November 03, 2015
DUBAI/TOKYO : Iran has begun shutting down uranium enrichment centrifuges under the terms of a deal struck with six world powers in July on limiting its nuclear programme, Tehran's atomic energy chief said on Monday during a visit to Tokyo.
"We have already started to take our measures vis-a-vis the removal of the centrifuge machines - the extra centrifuge machines.
We hope in two months time we are able to exhaust our commitment," Ali Akbar Salehi told public broadcaster NHK.
NHK's website also quoted Salehi as saying it was important that there be "balance" in implementing the deal, signalling Tehran's stance that all sanctions against Iran should be lifted promptly in step with its dismantling of nuclear infrastructure.
Under the July 14 agreement, Iran is to curb its nuclear programme under United Nations supervision to ensure it cannot be used to make a nuclear weapon, in exchange for the removal of sanctions that have isolated Tehran and hobbled its economy.
In a separate development that appeared to confirm that Iran had begun implementing its side of the deal, 20 hardline conservative members of Iran's parliament wrote to President Hassan Rouhani to complain about the deactivation of centrifuges in two enrichment plants at Natanz and Fordow.
Full Report at:
http://nation.com.pk/international/03-Nov-2015/tehran-starts-taking-nuclear-centrifuges-offline
---------
Iran arrests two journalists as crackdown gathers pace
November 03, 2015
DUBAI : Iranian authorities arrested two prominent journalists on Monday as the head of the judiciary dismissed international condemnation of what appears to be a crackdown on writers and artists.
Isa Saharkhiz, a well-known independent journalist, was arrested by the Islamic Revolutionary Guards Corps (IRGC) on charges of "insulting the Supreme Leader, Ayatollah Ali Khamenei, and propaganda against the regime", his son Mehdi said in a telephone interview from the United States.
Ehsan Mazandarani, managing director of the Farikhtegan newspaper, was arrested on security charges, the Tasnim news agency, which is linked to the IRGC, said.
Staff at the paper confirmed the arrest to Reuters.
The IRGC answers directly to Khamenei and is not accountable to the government.
It works with the conservative judiciary to counter perceived internal threats to the Islamic Republic.
The arrests came after two Iranian poets and a film-maker were sentenced to long prison terms and lashes last month on charges including "insulting sanctities and propaganda against the state".
Film maker Keywan Karimi was sentenced to six years in prison and 223 lashes, and poets Fatemeh Ekhtesari and Mehdi Mousavi were handed 11.
5 years and nine years in prison respectively, and 99 lashes each.
On Sunday, the PEN American Center, an organization advocating on behalf of writers persecuted because of their work, wrote to Khamenei asking him to nullify the sentences against the poets.
"We are deeply concerned by the inhumane sentences .
.
.
for the simple act of expressing themselves by creating art.
The act of writing poetry is no crime," read the petition, signed by 116 poets and writers, on PEN's website.
Ayatollah Sadeq Larijani, the head of Iran's judiciary, dismissed allegations of human rights abuses in the Islamic Republic on Monday, and was quoted by state news agency IRNA as saying that "Tehran will never surrender to the human rights as interpreted by the West".
IRGC forces arrested Saharkhiz in his home early in the morning and confiscated his electronic equipment, his son said, adding that he had already begun a hunger strike.
Full Report at:
http://nation.com.pk/international/03-Nov-2015/iran-arrests-two-journalists-as-crackdown-gathers-pace
---------
4 Israelis stabbed, Palestinian attacker dead
November 03, 2015
JERUSALEM : Four Israelis were stabbed in separate attacks Monday, the first outside Jerusalem and the West Bank in 10 days, while a Palestinian teenager who tried to knife a soldier was shot dead.
Israeli border police also stormed a Palestinian university in the occupied West Bank, following more than a month of violence that has raised fears of a third Palestinian intifada, or uprising.
An Israeli in his seventies was left in serious condition after he was stabbed by a Palestinian in Netanya, 30 kilometres (18 miles) north of Tel Aviv.
The attacker was "neutralised", police said.
Earlier, three Israelis were stabbed in attacks near the central bus station in Rishon LeZion, about 10 kilometres (six miles) south of Tel Aviv, a police statement said.
The attacker, a 19-year-old Palestinian from Hebron in the West Bank, stabbed two people on the pavement and a third in a clothes store, the statement added.
The foreign ministry said one of the victims was an 80-year-old woman, while the country's medical service said two of the three Israelis stabbed were in severe condition.
The attacker was arrested by security forces after he was locked in the shop, police said.
The attacks were the first outside of the West Bank and Jerusalem since October 22, according to the Israeli authorities.
Nine Israelis, 68 Palestinians - around half of them alleged attackers - and an Arab Israeli have been killed in a wave of violence since the start of October.
The foreign ministry has reported 57 stabbing attempts, six car rammings and five shootings since the beginning of October.
The violence was originally focused in and around Jerusalem but the epicentre moved to Hebron over the past week.
The random nature of the attacks, and the fact that most of the assailants were apparently acting alone, has made it harder for Israeli security forces to react.
Police also said they uncovered an explosive device when they searched a car on Monday near Hebron.
Full Report at:
http://nation.com.pk/international/03-Nov-2015/4-israelis-stabbed-palestinian-attacker-dead
---------
Netanyahu's peace efforts all talk, says Peres
3 November 2015
Over a seven-decade career in politics, Shimon Peres has helped guide Israel through wars and existential threats. But now, with the country embroiled in a new wave of violence, the 92-year-old elder statesman worries that if its leaders do not get serious about pursuing peace with the Palestinians, it will be in an eternal state of war and risk losing its Jewish majority.
In an interview with The Associated Press on Monday, the former president stopped short of directly criticizing Prime Minister Benjamin Netanyahu. But he also made no secret that the values he and the assassinated Prime Minister Yitzhak Rabin inherited from Israel's founding father, David Ben-Gurion, were in jeopardy.
"Better to have a Jewish state on part of the land than have the whole land without the Jewish state," he said. "Israel should implement the two-state solution for her own sake because if we should lose our majority, and today we are almost equal, we cannot remain a Jewish state or a democratic state.
"That's the main issue, and to my regret they (the government) do the opposite."
Peres negotiated the first interim peace accord with the Palestinians in 1993, known as the Oslo Accords, which set into motion a partition plan that gave the Palestinians limited self-rule. But after a fateful six-month period in 1995-96 that included Rabin's assassination, a spate of Palestinian suicide bombings and Peres' own election loss to Netanyahu, the prospects for peace began to evaporate.
Today, senior members of Netanyahu's hard-line government have declared Oslo dead, Palestinian leader Mahmoud Abbas irrelevant and a Palestinian state nothing but a dangerous fantasy.
Netanyahu only begrudgingly accepted the concept of a Palestinian state in 2009. But he never appeared to fully embrace it and has since distanced himself from the comments.
Netanyahu accuses Abbas of inciting a current six-week wave of Palestinian attacks and just recently said Israel had to accept that peace is unlikely and continue living "by the sword."
Those comments clearly rankled Peres, who had previously negotiated on Netanyahu's behalf with Abbas and still considers the Palestinian leader Israel's best potential partner for peace.
"The alternative to two states is a continued war and nobody can maintain a war forever. If you say we should live on our sword don't forget that there are other swords as well," he said.
Peres said that Netanyahu's peace overtures have never "escaped the domain of talking."
"A politician and a government should be judged by one way only, on the record of what you do or did, not on what you say," he said.
Full Report at:
http://english.alarabiya.net/en/News/middle-east/2015/11/03/Peres-Netanyahu-s-peace-efforts-are-all-talk.html
---------
White House hits Turkey over vote 'intimidation'
2 November 2015
The White House on Monday voiced displeasure at the "intimidation" of Turkish journalists during an election that bolstered the already strong hand of its longtime President Recep Tayyip Erdogan.
Just weeks before President Barack Obama meets Erdogan in Turkey, spokesman Josh Earnest said the White House was "deeply concerned that media outlets and individual journalists critical of the government were subject to pressure and intimidation during the campaign."
Sunday's election delivered a clear victory to Erdogan's Justice and Development Party (AKP), a dramatic turnaround after it lost its parliamentary majority in June.
"We have both publicly and privately raised our concerns about freedom of the press, freedom of speech and freedom of assembly in Turkey," said Earnest.
"We continue to urge Turkish authorities to uphold universal democratic values."
Earlier Monday the Organization for Security and Cooperation in Europe (OSCE) issued a damning report on the vote, which it described as marred by a media crackdown, violence and other security issues.
Full Report at:
http://english.alarabiya.net/en/News/middle-east/2015/11/02/White-House-says-it-urges-Turkish-authorities-to-protect-press-freedom.html
---------
US, Iran's main enemy: Ayatollah Khamenei
Nov 3, 2015
Leader of the Islamic Revolution Ayatollah Seyyed Ali Khamenei says the United States is the main enemy of Iran.
Ayatollah Khamenei made the remarks in a Tuesday meeting with Iranian students in the capital, Tehran.
According to the Iranian calendar, Wednesday, Aban 13, marks the day when Iranian students took over the US embassy in Tehran, dubbed the "den of espionage," back in 1979. It has been named the National Day of Fighting Global Arrogance.
In his Tuesday remarks, Ayatollah Khamenei referred to the 1953 coup d'état against former Iranian Prime Minister Mohammad Mosaddeq, and noted the then-premier made a mistake by putting his trust in the US after the Iranian oil industry was nationalized.
The Leader said the US has in recent years been involved in having certain individuals conceal its hostile intentions against Iran; the objective is to hide the real intention of the enemy from Iran so foes can harm the country, Ayatollah Khamenei said.
Some people do that with evil motives, some others out of folly, the Leader said.
Ayatollah Khamenei urged Iranian students to learn lessons from the US embassy takeover, noting that those students who seized the embassy found out that it was a "den of espionage."
"This shows that the Americans, at the height of the [revolutionary] movement and the victory of the Revolution, were conspiring against the Islamic Republic; that is what America is," the Leader said.
The Leader pointed to the nuclear negotiations between Iran and the P5+1 group of countries and said it was the strength of the Iranian nation that forced the countries that claim a world power status to join each other and rise up to the Iranian nation and employ the hostile measures that they did in the hope that the Iranian nation would no more be able to stand on its feet. "That is the power of the Iranian nation," Ayatollah Khamenei said.
Iran and the P5+1 – the US, Russia, China, France and Germany, finalized the text of a nuclear agreement, dubbed as the Joint Comprehensive Plan of Action (JCPOA) on July 14.
Under the JCPOA, limits will be put on Iran's nuclear activities in exchange for, among other things, the removal of all economic and financial bans against the Islamic Republic related to its nuclear program.
Full Report at:
http://www.presstv.ir/Detail/2015/11/03/436100/Iran-Leader-Ayatollah-Khamenei-global-arrogance
---------
Europe
Russia jails man for 17 years for fighting with IS
November 03, 2015
ROSTOV-ON-DON, Russia:- A Russian military court on Monday jailed a man for 17 years for allegedly fighting with the Islamic State group in Syria.
Gadzhi Magomedov was sentenced to 17 years in a strict-regime prison camp by the North Caucasus military court in the southern city of Rostov-on-Don.
The court ruling said that Magomedov illegally went to Syria and "after undergoing training decided to join in fighting against government troops on the side of armed groups and Islamic State".
Full Report at:
http://nation.com.pk/international/03-Nov-2015/russia-jails-man-for-17-years-for-fighting-with-is
---------
Refugee crisis is 'global problem': Council of Europe
02 November 2015
President of the Parliamentary Assembly of the Council of Europe (PACE) Anne Brasseur has described the continent's migrant crisis as a global problem.
Speaking after a conference in the Bosnian capital of Sarajevo, Brasseur said that "more than 60 million people… should know, they are coming into a society that respects human right".
Meanwhile, the Croatian authorities said Monday that since the beginning of the migrant crisis, Sept. 16, 307,133 migrants had entered the country.
Croatia transports the migrants by trains and busses to its Slovenian border after completing the registration process.
Full Report at:
http://www.worldbulletin.net/europe/165926/refugee-crisis-is-global-problem-council-of-europe
---------
Russian airline blames Egypt crash on 'external' factors
02 November 2015
The Russian passenger jet that crashed in Egypt killing all 224 people on board came down due to "external" factors, the airline said Monday, as relatives began identifying their loved ones in Saint Petersburg.
Senior Kogalymavia executive Alexander Smirnov said that "no technical failures" could account for why the Airbus 321 would have broken up in mid-air, as investigators have said happened.
"The only explanation is some kind of external action," Smirnov told a news conference in Moscow, without elaborating, adding that the doomed jet was in "excellent technical condition".
Both Cairo and Moscow have played down the claim from Egypt's ISIL branch that it brought down the aircraft flown by Kogalymavia between holiday destination Sharm el-Sheikh and Russia's second largest city on Saturday.
Investigators are examining all possible causes as they comb the remote crash site in the Sinai peninsula as part of an Egyptian-led probe into the disaster that also involves experts from Russia, Airbus, and Ireland, where the aircraft was registered.
President Vladimir Putin described the crash, Russia's worst air disaster, as a "huge tragedy" in his first comment since Saturday's catastrophe at a meeting with the country's transport minister Monday.
"Without any doubt everything must be done to create an objective picture of events so that we know what happened and can react accordingly," Putin said.
The Kremlin said the Russian president did not intend to visit the relatives for the time being.
The head of Russia's aviation authority Alexander Neradko slammed the airline's claims that external factors were to blame as "premature and not based on any real facts" in televised comments.
Kremlin spokesman Dmitry Peskov said Moscow "cannot exclude any version" of what caused the crash as investigations were still ongoing, but warned against "guessing" at the reason.
Russia has a dismal air safety record, and while larger carriers have begun upgrading ageing fleets, the crash is likely to raise concerns about smaller airlines such as Kogalymavia.
The company's executive Smirnov said the firm ruled out a technical fault or human error and said the plane had sustained "significant damage to its construction that did not allow it to continue the flight."
"The crew totally lost control and for that reason there was not one attempt to get in contact and report on the accident situation on board," Smirnov said.
The plane was "flying out of control -- that is, it wasn't flying, it was falling," he said.
- 'Meticulous work' -
The claims by the airline came as relatives of those who died in the crash began the painful process of identifying their loved ones after a first plane delivered the remains of 140 victims to Saint Petersburg.
"The process of identification has begun. It is complex, meticulous work," Saint Petersburg deputy governor Igor Albin told journalists outside the crematorium where the remains are being stored.
Cars meanwhile ferried relatives of the dead -- overwhelmingly Russian holidaymakers from the Saint Petersburg area -- to the facility.
Family members had already been providing DNA samples at a crisis centre set up close to Saint Petersburg's Pulkovo airport, now the site of an impromptu memorial where people have brought flowers and cuddly toys to commemorate the victims, many of them children.
Russian officials said that a second plane was set to repatriate more bodies later Monday evening, but did not say how many.
Saint Petersburg was observing a second day of mourning for those who were lost in the crash.
Full Report at:
http://www.worldbulletin.net/europe/165924/refugee-crisis-is-global-problem-council-of-europe
---------
Four refugees drown, 6 missing off Greece
November 03, 2015
ATHENS/GENEVA - Four refugees drowned and another six were missing off the Greek island of Farmakonisi after their boat sank, the Greek coastguard said on Monday.
Four people were rescued, the coastguard said in a statement.
The vessel the migrants were travelling on sank in an unknown location north of the island, it said.
Eleven people, including six infants, drowned on Sunday when their boat capsized off the island of Samos, trapping them in the cabin.
The toll from drowning among thousands of refugees making the short but dangerous crossing from Turkey to Greece's outlying eastern islands has risen in recent weeks from the onset of colder weather.
There were near-gale force winds blowing in the Aegean at the weekend.
Meanwhile, more than 218,000 migrants and refugees crossed the Mediterranean to Europe in October - a monthly record and more than during the whole of 2014, the United Nations said Monday.
"Last month was a record month for arrivals," UN refugee agency spokesman Adrian Edwards told AFP, pointing out that "arrivals in October parallelled the entire 2014.
In October, 218,394 people made the perilous crossing - all but 8,000 of them landing in Greece - compared to 216,054 Mediterranean arrivals during all of last year, UN figures show.
The soaring numbers of arrivals last month brought to over 744,000 the number of people who have made the journey so far this year.
The October figures show that despite the increasingly harrowing conditions at sea at the onset of winter, refugees from Syria and other trouble spots continue to pile into boats heading west, fearing that Europe is about to close its borders.
Among the more than 600,000 migrants and refugees who have crossed to Greece since the beginning of the year, 94 percent come from the world's top 10 refugee-producing countries.
The ballooning number of crossings has had dire consequences, with the numbers of deaths piling up by the day.
Full Report at:
http://nation.com.pk/international/03-Nov-2015/four-refugees-drown-6-missing-off-greece
---------
Pakistan
Crackdown On Terror: Pakistan Bans Media Coverage Of JuD, LeT
November 3, 2015
Pakistan on Monday banned media coverage of militant groups like the Jamaat-ud-Dawa as part of a crackdown on terror, acknowledging for the first time that the Mumbai attack mastermind Hafiz Saeed-led outfit was a wing of the LeT.
The Pakistan Electronic Media Regulatory Authority (PEMRA) issued a notification banning all satellite TV channels and FM radio from coverage of Lashkar-e-Taiba (LeT), Jamaat-ud-Dawa (JuD) and Falah-e-Insaniat Foundation (FIF) under UN restriction.
"The Jamaat-ud-Dawa and Falah-e-Insaniat Foundation are the other wings of Lashkar-e-Taiba," the PEMRA notification said.
This is for the first time a Pakistan government department has admitted that JuD and FIF are "other wings of Lashkar-e-Taiba (LeT)".
According to the PEMRA notification, 60 proscribed organisations and 12 others have been placed under a watch list. The notification said the action has been taken against these organisations as part of the National Action Plan. "The Pakistani satellite TV channels and FM radios should strictly follow the direction and in case of breach of code of conduct fine may be imposed or license be revoked," the PEMRA warned. The authority has also banned electronic media from running any advertisement of these three organisations for collection of funds "in the name of social work". Meanwhile, some local channels quoting PEMRA officials said the interior ministry had not directed them to ban these three outfits. It was not clear whether the move of banning coverage was linked to Prime Minister Nawaz Sharif's assurance to US President Barack Obama last month to take "effective action" against UN-designated terrorist individuals and entities, including LeT and its affiliates, as per its international commitments and obligations under UN Security Council resolutions.
Full Report at:
http://indianexpress.com/article/world/world-news/crackdown-on-terror-pakistan-bans-media-coverage-of-jud-let/
---------
Time not right to work for revival of Afghan talks: Aziz
BAQIR SAJJAD SYED
Nov 03, 2015
ISLAMABAD: Adviser on Foreign Affairs Sartaj Aziz believes that it is not the right time for Pakistan to work for the revival of Afghan reconciliation process.
"Right now I don't think the time is opportune," Mr Aziz said on Monday while speaking to journalists at the Institute of Strategic Studies Islamabad (ISSI). He was replying to a question about prospects of the Afghan government agreeing to restart the process which got derailed after the disclosure of Mullah Omar's death in July.
Pakistan, which facilitated and hosted the first round of peace process in Murree, has offered the Afghan government its help in resuming the process. But the Afghan government has not responded to the Pakistani suggestion.
Anti-Pakistan rhetoric in Afghanistan is at an all time high with Afghan Interior Minister Noorulhaq Uloomi telling the parliament in Kabul on Monday that "Pakistan continues to support terrorist groups (here) as in the past".
In his press talk, Mr Aziz explained that for revival of peace talks both warring sides needed to be convinced about the usefulness of the process and should create the right atmosphere for it.
"Pre-conditions for a successful outcome are required, and that requires consensus on both sides. The Afghanistan government is one of the sides and the Taliban are the other, and they have to come to the situation which they think that useful discussions can take place," he said.
Mr Aziz insisted that reconciliation was the surest way to peace in Afghanistan.
"Obviously, anything that will reduce the level of insurgency and infighting would be welcomed by Pakistan. Reconciliation is in our view, as the Washington statement also says, one of the best (options)," the adviser said.
Pakistan had last week called on Iran to help promote dialogue in Afghanistan.
"We would welcome any contribution which Iran can make also in talking to the groups, which are involved in this decision making and ultimately then promoting a more broad-based dialogue process to achieve peace and stability in Afghanistan," Mr Aziz had said on Wednesday after his meeting with visiting Iranian Secretary of Supreme National Security Council Ali Shamkhani.
Full Report at:
http://www.dawn.com/news/1217116/time-not-right-to-work-for-revival-of-afghan-talks-aziz
---------
Pro-government tribal elder killed in Bajaur agency
ALI AKBAR
Nov 03, 2015
BAJAUR: A pro-government tribal elder was killed while three of his companions were injured in in an Improvised Explosive Device (IED) blast in Bajaur Agency on Tuesday.
According to Assistant Political Agent (APA) of Bajaur, Muhammad Ali Khar, the tribal elder Malik Younus was killed while three of his companions were injured in the roadside blast in Gulu Shah Area in Salarzai tehsil of Bajaur tribal agency.
Security forces reached the spot and cordoned off the area. The injured were shifted to a nearby hospital.
Malik Younus was an active pro-government leader and was heading the peace committee in Salarzai tehsil of agency.
Firing at girls school in Nowshehra
At least three armed men opened aerial firing outside a girls school in Misri Banda area of Khyber Pakhtunkhwa province's Nowshehra district.
Station House Officer (SHO) Akora Khattak police station told DawnNews that three unidentified gunmen opened fire near Government Girls Middle School in Misri Banda area of the district,
Full Report at:
http://www.dawn.com/news/1217201/pro-government-tribal-elder-killed-in-bajaur-agency
---------
Report Paints Bleak Picture of Anti-Media Violence
November 03, 2015
SIALKOT
A report on safety of Pakistani media professionals painted a bleak picture of insecurity they face, and demanded that the government should make concerted efforts for their security and welfare.
The Report on Safety of Media Workers released by Pakistan Press Foundation (PPF) revealed that since 2001, 47 media workers have been murdered, 164 injured, 88 assaulted, 21 abducted and 40 detained. In addition, 24 media professionals died while covering dangerous assignments.
There have been convictions in only two cases out of 384 cases of violence against the media persons. In Pakistan, journalists are killed, unjustly detained, abducted, beaten and threatened by law enforcement and intelligence agencies, militants, tribal and feudal lords, as well as by religious groups and political parties that claim to promote democracy and the rule of law, it said.
Adding to the gravity of the situation is the fact that the perpetrators of violence against journalists and media workers enjoy almost absolute impunity from prosecution, it added.
"Because of conflicts and insurgencies, the number of murders and killings is the higher in Balochistan, Khyber Pakhtunkhwa and FATA. Since 2001, 21 journalists and media workers were killed in Balochistan, 19 in Khyber Pakhtunkhwa, 9 in FATA, 15 in Sindh, 4 in Punjab and 3 in Islamabad," it detailed. "Threats and violence have forced many journalists to move from these dangerous zones - the media profession - or to resort to self-censorship, particularly in the conflict areas. As a consequence, news reports from conflict areas are based on press releases, not on observations by independent journalists. Thus, new reports that are published or broadcast lack credibility and do not inform the public in an objective manner."
The two convictions by courts were in Sindh for the murder of Daniel Pearl of Wall Street Journal and Wali Babar of Geo Television. In both the cases, the federal and provincial governments seriously perused the cases because of pressure from the media organizations of the murdered journalists.
The report, thus, recommends that criminal cases should not only be registered but also should be properly investigated and prosecuted against the perpetrators of violence. The report also called the media itself to take the lead in ensuring safety of media practitioners and ensure long-term follow up of cases of assault on media organisations and workers.
Apart from murders and killings, most of the cases of violence against media occurred in the province of Sindh. Out of a total of 164 journalists and media workers injured and assaulted since 2001, 91 were in Sindh. Surprisingly, the second place in these categories with 70 assaults was Islamabad by the supporters of Pakistan Tehrik-i-Insaf (PTI) during the sit-in in 2014.
Full Report at:
http://nation.com.pk/national/03-Nov-2015/report-paints-bleak-picture-of-anti-media-violence
---------
Raheel praises army shooters' marksmanship
Nov 03, 2015
RAWALPINDI: Chief of Army Staff (COAS) Gen Raheel Sharif has praised the standard of marksmanship of shooters of Pakistan Army.
He was talking to participants of 36th Pakistan Army Rifle Association Central Meet, the biggest shooting competition in the country, held at the Army Marks­manship Firing Ranges near Jhelum on Monday after a gap of five years, says a press release.
He praised the trainers for optimum utilisation of the newly created facility which had not only provided an opportunity to the young talent but also trained marksmen and snipers proving decisive in the fight against terrorism.
The army chief said that training was an important part of every soldier's professional development and "must remain our hallmark to accomplish the assigned mission".
He called for organising more competitions with increased civilian participation to encourage and prepare the youth for national and international shooting sport competitions.
About 800 people, including 33 civilians of 28 teams and personnel of Pakistan Navy, Pakistan Air force, Frontier Corps, Pakistan Rangers, Coast Guards, Gilgit-Baltistan Scouts and police, participated in 22 events held over the four weeks. Pakistan Army emerged champion in the inter-services firing competition.
Full Report at:
http://www.dawn.com/news/1217138/raheel-praises-army-shooters-marksmanship
---------
JUI-F suspends Maulana Wasey's membership
SALEEM SHAHID
Nov 03, 2015
QUETTA: Serious differences have emerged in the ranks of Jamiat Ulema-i-Islam (JUI-F) in Balochistan on the issue of joining the proposed provincial set-up under the Murree accord.
The party's provincial leadership has suspended the basic membership of Maulana Abdul Wasey, who is leader of the opposition in the Balochistan Assembly.
"The basic membership of Maulana Wasey has been suspended for violating party discipline," JUI-F sources said.
Full Report at:
http://www.dawn.com/news/1217118/jui-f-suspends-maulana-waseys-membership
---------
Shooters, snipers decisive in terror war: COAS
November 03, 2015
ISLAMABAD - Chief of Army Staff (COAS) General Raheel Sharif has appreciated the shooters on their excellent standard of marksmanship, saying trained marksmen and snipers were also proving decisive in fight against terror.
During interaction with shooters at Army marksmanship Firing Ranges near Jhelum on Monday, the Army Chief especially appreciated the trainers for optimum utilisation of newly created facility which has not only afforded opportunity to bring forward young talent but also helped train marksmen and snipers who are proving decisive in fight against terror.
The COAS said that training is a vital part of every soldier's professional development and must remain a hallmark to accomplish the assigned mission. He directed to conduct more competitions with an increase in civilian participation to encourage and prepare the youth for national and international shooting sports competitions.
A total of 800 shooters including 33 civilians of 28 teams from across the country including Pakistan Navy, Pakistan Air Force, Frontier Corps, Pakistan Rangers, Coast Guards, Gilgit Baltistan Scouts and Police participated in 22 events during the four-week PARA meet. The Pakistan Army won to become champion in the Inter Services Firing Competition.
Later, the COAS awarded trophies and medals to the winners and runners up in each category of shooting.
Full Report at:
http://nation.com.pk/national/03-Nov-2015/shooters-snipers-decisive-in-terror-war-coas
---------
Qatari commander desires to enhance naval relations
November 03, 2015
ISLAMABAD - Commander Qatar Emiri Naval Forces (QENF) Major General Mohammed Nasser Mubarak Al-Mohannadi called on Federal Defence Minister Khawaja Muhammad Asif here on Monday and expressed his country's desire to further enhance naval relations with Pakistan.
"Naval relations between the two countries are growing satisfactorily.
This time, two Pakistan-made missile craft boats will be participating in (Nava)l Exercise in Qatar.
Even last year Pakistan had biggest participation at the Naval Exercise," he said.
"We want this relation to grow further.
"
On desire of Qatari Naval Commander for assistance in security matters, Khawaja Asif said, "We have well trained armed forces.
We can not only protect personnel but are optimum in protecting installations.
We fully understand that terrorists are friends to nobody.
Full Report at:
http://nation.com.pk/islamabad/03-Nov-2015/qatari-commander-desires-to-enhance-naval-relations
---------
Africa
Nigeria troops kill 4 Boko Haram Takfiris
Nov 2, 2015
Nigerian government troops have clashed with terrorists from Boko Haram Takfiri group in northeastern part of the African country, killing four militants.
The army said in a Monday statement that the troops managed to drive Boko Haram extremists out of an abandoned primary school in the area in a shootout a day earlier.
The terrorists had been using the school as a transit camp, the statement added.
Boko Haram, whose name means "Western education is forbidden," has so far attacked many schools in northeastern Borno state. The schools have closed, been burned to the ground or abandoned.
According to the United Nations International Children's Fund (UNICEF), over 300 schools have been demolished in an area in the state where less than 30 percent of children receive education.
In April 2014, Boko Haram militants kidnapped 276 female students from their secondary school in the northeastern town of Chibok. Two days later, 57 of the girls managed to escape but 219 remained in captivity, reportedly in the Sambisa Forest.
Nigeria's new President Muhammadu Buhari has recently said talks to free the schoolgirls have stalled since authorities could not identify "credible" Boko Haram leaders to talk to.
He said in October that the group that the authorities have been negotiating with wants the release of a top bomb expert in exchange for some of the girls.
The UNICEF says Nigeria has the highest number of children out of school in the world as 10.5 million kids do not go to school in the oil-rich country.
Full Report at:
http://www.presstv.ir/Detail/2015/11/02/436013/Nigeria-Boko-Haram-Borno-UNICEF
---------
Ugandan Muslim Leaders Live in Fear
02 November 2015
KAMPALA – Fearing increasing number of assassinations targeting Muslim imams in Uganda, leaders of the religious minority in Uganda are still scratching their heads to find who is baying for their blood.
"I was informed by the Officer in Charge of the Parliamentary Police that the commandant of the Parliamentary Police had written to the officer in charge of VIP asking for my protection," Ugandan legislator Al-Hajji Latif Ssebagala told OnIslam.net.
Ssebagala was away on Ummrah in Makkah when he first got information that the police were looking for him.
Al-Hajji Latif adds, "When I asked them what kind of protection and why, they told me that they had got security information that there are people trailing me for unknown reasons."
In a letter to the director of parliament police, from Uganda Police Force VIP Protection Unit commandant Elias Kassirabo, the legislator was offered two police constables to protect him.
In his instructions, to the Director of Parliament Police Kassirabo stated, "I hereby deploy the officers to take up his security with immediate effect."
However the Police did not indicate if Al-Hajji Latif was on the list of the ongoing assassination of Muslim leaders.
He says the Parliamentary Police insisted that, "This is the information we have got and we won't take it lightly due to the fact of what's going on."
Not used to having body guards around him, the legislator who is also the Parliamentary Mosque Imam tells OnIslam.net that, "I asked them whether I had an option of saying no because am not under threat and I have never been under threat, they said no you have no option."
Still perturbed by the developments, he says, "I don't know whether these threats are real and where the information is coming from, If they are real, are they political or religious, I still have many questions."
Some of the prominent Muslim Scholars were assassinated and several others escaped assassination attempts throughout the nation over the past two years.
Relating the Muslim killings in Uganda to those in Kenya, Al-Hajji Latif doubts, "I don't think they are because of the conflicts we have, we always have had wrangles and none of them have ended up in killings and assassinations."
Full Report at:
http://www.onislam.net/english/news/africa/496021-ugandan-muslim-leaders-live-in-fear.html
---------
U.N. pushes for final Libyan unity agreement
3 November 2015
The United Nations on Monday urged Libya's warring factions to agree on a unity government after they were offered proposals to ease concerns over regional distribution in a U.N.-backed power-sharing deal.
The U.N. said in a statement after consultations with both sides that a proposed presidential council would be expanded from six to nine members, including a prime minister, five deputy premiers and three senior ministers.
Members of Libya's two rival parliaments were scheduled to meet separately to discuss the U.N. proposal on Tuesday.
The product of months of negotiations, the U.N. proposal for a national government includes members of both factions and attempts to reflect Libya's traditional regional balance. Hardliners have resisted the deal.
Four years after the fall of Muammar Qaddafi, the North African state is mired in a conflict between two rival governments and loose coalitions of armed factions that back them in a struggle for control.
Full Report at:
http://english.alarabiya.net/en/News/middle-east/2015/11/03/U-N-pushes-for-final-Libyan-unity-agreement.html
---------
13 U.N. hostages freed in South Sudan
2 November 2015
Thirteen United Nations workers in South Sudan kidnapped by rebels have been safely freed a week after their abduction, the U.N.said on Monday.
Around 100 rebel fighters, who have been battling the government for almost two years, seized 31 members of the U.N. peacekeeping mission in South Sudan (UNMISS) last week.
While 18 Bangladeshi peacekeepers were freed soon after they were held, the 13 remaining U.N. workers - all South Sudanese nationals - were released by the rebels on Sunday, UNMISS said Monday.
The U.N. had last week said only 12 were still being held. However, it said 13 were released on Sunday.
All were on a river barge carrying fuel for the U.N. mission. While the barge was also released, the U.N. said that rebels had stolen the 55 000 litres of fuel it was carrying, as well as communications equipment, an inflatable boat, and seven weapons.
War crime
The U.N. chief in South Sudan Ellen Margrethe Loj said she was "relieved by the safe release of all U.N. personnel."
She had previously warned that the kidnap "may constitute a war crime".
The U.N. had last week said only 12 hostages were still being held. However, it said 13 were released on Sunday.
Full Report at:
http://english.alarabiya.net/en/News/africa/2015/11/02/13-U-N-hostages-freed-in-south-Sudan-U-N-.html
---------
Bangui residents witness more violence
Nov 2, 2015
Tensions remain high in the capital of the Central African Republic, Bangui, as a cycle of violence continues that could further delay already postponed elections, and prevent a visit this month by the leader of the Catholic Church, Pope Francis.
Eyewitnesses said hundreds of people were fleeing from their homes in Bangui on Monday as sporadic gunfire could still be heard around the PK5 Muslim neighborhood in the capital after a weekend rife with violence left more than a dozen casualties.
At least three people were killed and over a hundred houses burned in Bangui on Sunday.
On Saturday, at least two people were killed and several injured during the clashes provoked by the assassination last Thursday of four Muslims in the southern districts.
The latest clashes have been taking place around the PK5 Muslim neighborhood, which has been besieged by Christian Anti-Balaka militias, assisted by elements of the Central African Armed Forces (FACA), AFP reported.
The violence is part of a pattern in which at least 90 people have been killed since late September, when a Muslim man was murdered.
The violence in CAR first began after Seleka rebels seized power in a coup in 2013, prompting brutal reprisal attacks by the Christian militias.
Nearly 400,000 people have fled to refugee camps during the conflict, and an additional 440,000 have sought peace in neighboring countries, according to an October report from the UN Office for the Coordination of Humanitarian Affairs.
UN peacekeepers have been stationed in Bangui's PK5 since last year to restore law and order after tens of thousands of Muslims were driven out of their homes in the capital by anti-Balaka militias.
Full Report at:
http://www.presstv.ir/Detail/2015/11/02/436034/CAR-Bangui-Pope-Seleka-antiBalaka-PK5
---------
India
@WikiLeaks4India Using Our Name to Stir up Hindu - Muslim Tensions: WikiLeaks
03rd November 2015
CHENNAI: International whistle-blower organisation WikiLeaks has stated that self claimed publication and media organisation WikiLeaks4India has been misusing the former's name without permission to stir up tension between Hindus and Muslims in the country.
WikiLeaks, which took to Twitter to make the statement, said - "We confirm that "@WikiLeaks4India" is using our name without permission to stir up tensions between #Hindus and #Muslims #India #Modi" The Tweet was made mid-Tuesday morning.
Full Report at:
http://www.newindianexpress.com/nation/WikiLeaks4India-Using-Our-Name-to-Stir-up-Hindu---Muslim-Tensions-WikiLeaks/2015/11/03/article3111649.ece
---------
Ram Not Born In Present-Day Ayodhya, Claims AIMPLB Leader's Book
By Abantika Ghosh
November 3, 2015
A book by a senior functionary of the All India Muslim Personal Law Board (AIMPLB) has claimed that the Ram Janamabhoomi dispute is a relic of the British-era and that Ram was not born in present-day Ayodhya, but somewhere in northwestern India or Pakistan.
The AIMPLB, which is a party to the Ram Janamabhoomi-Babri Masjid dispute pending in the Supreme Court, now plans to organise meetings all across the country with Hindu leaders to "spread awareness" about the book's "findings".
In his book "Facts of Ayodhya Episode (Myth of Ram Janmabhoomi)", Abdul Rahim Quraishi — assistant general secretary and spokesperson of the board — argues that nowhere in the Vedas or the Puranas is the Gangetic plain mentioned as the birthplace or the kingdom of Ram. He adds that Ram's domain — the Sapta Sindhu — was actually the land extending from Haryana and Punjab, through Pakistan and up to the eastern fringes of Afghanistan. He also questions the Hindu belief of Ram being born in the Treta Yug.
Full Report at:
http://indianexpress.com/article/india/india-news-india/ram-not-born-in-present-day-ayodhya-claims-muslim-leaders-book/
---------
Kerala mosque celebrates 18th century Hindu martyr
T P Nijeesh
Nov 3, 2015
MALAPPURAM: At a time when the country witnesses cases of religious intolerance, this mosque in Malappuram continues to be as an epitome of communal harmony. Kunhelu, a Hindu martyr was buried at Valiyangadi Jumammasjid here centuries ago. The mosque continues the tradition of offering special prayers at his grave even today.
Kunhelu, locally revered as a legendary figure, is believed to have lost his life along with 43 Muslim warriors in a battle against the erstwhile Zamorin (ruler) of Kozhikode 290 years ago. As per historical evidence and Malappuram Kissa Mala written by poet Moyinkutty Vaidyar, 44 'shuhadakkal' (martyrs) died fighting the army led by Varakkal Para Nambi, the minister of Zamorin over an issue of tax collection.
Kunhelu, who belonged to thattan (goldsmith) community, joined his Muslim friends under the leadership of Alimarakkar. Muslims were forced to flee the region when the mosque was set ablaze by Nambi. Later, the issue was resolved and Nambi himself took the effort of rebuilding the mosque and brought many Muslim families back to Malappuram. The mosque evolved over the years to become a major religious centre in Malappuram Town.
Descendants of Kunhelu are invited during prayer meetings and annual aadu nercha (goat sacrifice) held in memory of the martyrs at the mosque. "The family members are invited to prayer meetings. During the nercha held in the Arabic month of Sha'ban, cheerni (sweet) is prepared and distributed among the public," said Manukuttan, a teacher, who belongs to the family of Kunhelu.
Full Report at:
http://timesofindia.indiatimes.com/india/Kerala-mosque-celebrates-18th-century-Hindu-martyr/articleshow/49637188.cms
---------
Ajmal opposes RSS stand on rise of Muslims in states bordering Bangladesh
Naresh Mitra
Nov 2, 2015
GUWAHATI: Close on the heels of RSS expressing concern over the rise in Muslim population in border districts of Assam, All India United Democratic Front (AIUDF) chief Badruddin Ajmal criticized that the organization wanted to create an issue out of illegal migration ahead of 2016 assembly polls after it failed to polarize the state on religious lines.
The RSS at its Akhil Bharatiya Karyakari Mandal (ABKM) Baithak in Ranchi recently passed a resolution highlighting that growth rate of Muslims has been higher than national average in the border districts of Assam, West Bengal and Bihar because of unabated infiltration from Bangladesh. The RSS has also demanded reformulation of national population policy to address the demographic imbalance.
The resolution also pointed out differences in growth rates of different religious groups, infiltration and conversion resulting in religious imbalance of the population-ratio, especially in border areas may emerge as a threat to the unity, integrity and cultural identity of the country.
Full Report at:
http://timesofindia.indiatimes.com/india/Ajmal-opposes-RSS-stand-on-rise-of-Muslims-in-states-bordering-Bangladesh/articleshow/49632210.cms
---------
18 Indian fishermen jailed for fishing in Pak waters
Nov 3, 2015
KARACHI: 18 Indian fishermen have been remanded in judicial custody by a Pakistan judicial magistrate for illegally fishing inside country's territorial waters.
Earlier, Pakistan Maritime Security Agency (PMSA) detained these fishermen along with their three boats after they were caught fishing inside the Pakistani waters. They were then handed over to police for further legal action, the Dawn reported.
However, secretary of Indian National Fishworkers' Forum (NFF) has stated that PMSA has allegedly abducted the fishermen from a location close to the International Maritime Boundary off Jakhau coast in Gujarat.
Full Report at:
http://timesofindia.indiatimes.com/india/18-Indian-fishermen-jailed-for-fishing-in-Pak-waters/articleshow/49641151.cms
---------
Cops Smell Patidar Outfits Role In Qaida, IM 'Bomb Threats'
Sarfaraz Shaikh & Tushar Tere
Nov 3, 2015
AHMEDABAD/VADODARA: The Gujarat police are now probing the possible involvement of Patidar outfits in the series of letters warning of bomb explosions across the state since a month.
The bomb disposal squads, especially in Vadodara, are running from one place to another almost daily, after getting letter threatening blasts at schools, temples, trains, colleges, bus depots and railway stations. All have been hoaxes. What's more, letters have been sent in the names of terror outfits like Indian Mujahideen, al-Qaida and Jehad Atankavad, leaving the cops rattled.
Of the 35 letters sent in over a month, Vadodara police received an unprecedented 31 since September 14. On Monday too, three letters warned of blasts in three prominent schools and Ajwa Fun World, an amusement park.
The menace has assumed such serious proportion that the Anti-Terrorist Squad (ATS) has been forced to step in. "On possibility we are probing is the involvement of Patidars involved in the reservation stir," an ATS official told TOI. "The motive behind sending threat letters is not only to create fear among people but also to harass the police," a senior police officer said.
Vadodara police commissioner E Radhakrishana said, "The cases are being probed from all angles including the involvement of Patidar agitators."
Full Report at:
http://timesofindia.indiatimes.com/india/Cops-smell-Patidar-role-in-Qaida-IM-bomb-threats/articleshow/49638305.cms
---------
Pakistani Artistes Cannot Be Stopped From Working in India: Salman Khan
Nov 03, 2015
Hopping on to the bandwagon of Bollywood actors standing up against Shiv Sena's call to ban Pakistani artistes, Salman Khan has reiterated the point that art and entertainment transcends boundaries by pointing to the mass appeal of Pakistani dramas in India, reported *Hindustan Times*
He said that art and politics shouldn't be mixed together: "Now that everything is digital, Indians love to watch each and every entertainment show, including popular Pakistani shows . So, art and entertainment have no boundaries. Entertainment is evaluated by what common people want to watch."
Salman added that no one could put restrictions on the performers: "Politics and art should not be mixed. This is not what common people want."
He also pointed out innumerable Bollywood fans in Pakistan: "If someone wants a Pakistani actor who can portray a role better, nobody can put a constraint. Bollywood has a huge number of fans in Pakistan and earns a good share of income from the neighbouring country."
Only yesterday Bollywood megastar Shahrukh Khan spoke about the rising intolerance in India preceded by Sidharth Malhotra who spoke for Fawad Khan's skill and acting.
Full Report at:
http://images.dawn.com/news/1174166/pakistani-artistes-cannot-be-stopped-from-working-in-india-salman-khan
---------
Article in RSS monthly: 'Deendayal Upadhyaya was against Hindu-Muslim unity'
By Lalmani Verma | Lucknow
November 3, 2015
In the middle of a raging debate over the 'climate of intolerance' in the country, an article in RSS mouthpiece Rashtra Dharma has claimed that Sangh ideologue Deendayal Upadhyaya was against 'Hindu-Muslim unity' and believed that issue of 'unity' was 'irrelevant' and appeasement of the Muslims.
Titled "Muslim Samasya: Deendayal Ji Ki Drishti Mein", the write-up appeared in a special edition of the Rashtra Dharma, which was released by Union Minister Kalraj Mishra in Lucknow on Sunday. This special issue of the monthly magazine is dedicated to Upadhyaya and carries articles about him and his views.
Written by Dr Mahesh Chandra Sharma, the article even claimed that Upadhyaya said that "a person turns an enemy of the nation after becoming a Muslim".
According to the article, Upadhyaya also believed that while a Muslim may be good individually, he in "bad in a group", and further a Hindu – who may be bad individually — is "good as part of a group". The author said that the difference in the nature of the groups must be understood. When contacted, Rashtra Dharma editor Anand Mishra 'Abhay' said that special issue on Upadhyaya was compiled at a very short notice. About the article on Muslims, Mishra said, "I agree with the facts given in the article. This is true that the Muslims could not unite with the Hindus. Muslims even fight among themselves and with other communities like the Sikhs and the Parsis. Ram Manohar Lohia also agreed with Upadhyaya's views. It is necessary to learn from history to improve our present and future." In the article, the author further claimed that Muslims still dreamt about restoring the Mughal rule and that Pakistan was a medium to achieve that target. Talking about Upadhyaya views on Muslims and Hindus, the write-up added: "Hindus are rich in religious tolerance. In one family, people of different faiths can reside. But, when a person becomes a Muslim, he adopts a new nature to convert people to Islam. A Muslim calls non-Muslims 'Kaafir' and does not tolerate them." Advocating political defeat of the Muslims, the article claimed that changing the mentality of Muslims in India would be difficult till Pakistan was defeated "politically". "Political defeat will end his aggressive attitude and he will return to his original Hindu nature," read the article.
Full Report at:
http://indianexpress.com/article/cities/lucknow/article-in-rss-monthly-deendayal-upadhyaya-was-against-hindu-muslim-unity/
---------
Kolkata food fest to serve unity broth with beef, pork and veg
Snigdhendu Bhattacharya
Nov 03, 2015
The menu has beef, pork, fish and vegetarian dishes too — an eclectic choice of culinary spread representing the nation's food diversity.
It's not a restaurant but a food festival at College Square in north Kolkata on Friday where one can sit down to taste all these and more in a show of unity and protest rising incidents of intolerance in the country.
A group of Left-leaning students and youth will organise the event and it is already campaigning through social media, although the programme is being organised under no specific banner. While some are associated with Left student organisations, many are into independent filmmaking, poetry and other creative endeavours.
The event comes at a time of rising polarisation over people's choice of food, especially Hindu radicals aggressively pushing for a nationwide ban on cow slaughter and beef while Muslim hardliners demanding similar curbs on pork.
The programme on November 6 is seen as a response to criticism from the right-wing camp that wanted to know why the beef festival in Kolkata's Esplanade last Friday did not feature pork —indirectly mocking at the organisers of being pro-Muslim.
The Esplanade programme saw CPI(M) face and former Kolkata mayor Bikash Ranjan Bhattacharyya and pro-Trinamool poet Subodh Sarkar offering beef to each another.
"The primary reason for organising this festival is to protest beef ban in different parts of the country and incidents like the Dadri lynching (where a Muslim man was killed by a mob on the suspicion of cow slaughter). But it is not just about beef. We want to say people should be free to consume any food of their choice, be it beef, pork, fish or vegetarian," said Jul Mukherjee, an organiser.
Full Report at:
http://www.hindustantimes.com/india/kolkata-food-fest-to-serve-unity-broth-with-beef-pork-and-veg/story-5nbCYiCuRqYIt2efZCY6IN.html
---------
Southeast Asia
ASEAN to Do 'Whatever It Takes' To Counter IS Threat
November 3, 2015
SUBANG: ASEAN is set to do "whatever it takes" to counter the Islamic State (IS) threat, says Defence Minister Hishamuddin Hussein.
In a report in The Star Online, he said that ASEAN's united stance and strong condemnation of terrorist organisations like IS "demonstrate the gravity and urgency of this problem."
"It sends a clear signal that we take the issue of terrorism seriously and will do whatever it takes to counter these threats together, as a resolute front," he said in his opening remarks at the ASEAN Defence Ministers Meeting (ADMM) retreat today.
Among the key issues to be discussed at the meetings would be efforts to forge closer cooperation in fighting the IS and improving security along the Straits of Malacca.
The ASEAN ministers will also take part in a Special Defence Ministerial Meeting Regarding Defence Cooperation in the Straits of Malacca today. On Wednesday, the ministers will sign the Kuala Lumpur Joint Declaration of the third ASEAN Defence Ministers Meeting-Plus.
All 18 defence ministers will make a courtesy call on Prime Minister Najib Razak on Wednesday.
Full Report at:
http://www.freemalaysiatoday.com/category/nation/2015/11/03/ASEAN -to-do-whatever-it-takes-to-counter-is-threat/
---------
Demand for Islamic finance grew after 2008 economic crisis, PM says
BY MAYURI MEI LIN
November 3, 2015
KUALA LUMPUR, Nov 3 — Prime Minister Datuk Seri Najib Razak credited today the 2008 global economic crisis, reportedly the worst since the Great Depression, for paving the way towards the growth of Islamic finance.
He said the 2008 financial crisis, which was triggered by the bursting of a housing bubble in the United States and later contributed to the European sovereign-debt crisis, made alternative financial systems more sought after.
"Ever since the global economic crisis in 2007, 2008, I think there's been a sharp demand for alternative economic and business models, specifically financial models that reduces the level of speculation.
Full Report at:
http://www.themalaymailonline.com/malaysia/article/demand-for-islamic-finance-grew-after-2008-economic-crisis-pm-says
---------
Groom-to-be sent to jail for possession of mobile phone containing IS material
November 3, 2015
KUALA LUMPUR, 3 Nov — A man, who had to skip his wedding ceremony when he was detained for having a mobile phone containing an image of the Islamic State terrorist group's flag, was today sentenced to nine months' jail for the offence.
High Court judge Datuk Mohd Azman Husin handed down the sentence on Azlee Md Salleh, 30, from Kangar, Perlis, who pleaded guilty to the charge.
He was ordered to serve the sentence from the date of arrest, which was Aug 19 this year.
Azlee, who owns an interior decorating company, was supposed to marry his fiancee last Oct 19, but the ceremony had to be cancelled when he was detained for the offence.
His fiancee and family members were at the court today.
Azlee was charged with having the phone containing the IS terrorist group's flag at a house in Taman Ira, Kangar, at 8.30 am last Aug 19.
The charge, under Section 130JB (1) (a) of the Penal Code, carries an imprisonment for up to seven years or fine, and forfeits his right over any of the affected material.
Full Report at:
http://www.themalaymailonline.com/malaysia/article/groom-to-be-sent-to-jail-for-possession-of-mobile-phone-containing-is-mater
---------
More Malaysian parents rejecting children's immunisation over pig DNA fears
02 Nov 2015
KUALA LUMPUR: Malaysia says the number of parents rejecting immunisation for their children are increasing, and some Muslim parents are doing so out of fear the vaccines contain pig DNA.
Based on data gathered from government clinics, the health ministry discovered that the number of parents rejecting vaccinations for their children almost tripled from 470 cases in 2013 to more than 12,000 in 2014.
Like the growing anti-vaccination movement in the West, some Malaysian parents cited fears of side effects and links to autism.
But among Muslim parents, there is also a belief that vaccines contain DNA from pigs, making the vaccines forbidden, or haram, to them as the consumption of pork is not allowed in Islam.
However, the Malaysian government says this belief is misguided as none of the vaccines in its immunisation programmes contain any traces of pork.
"By and large as a government, and as a policy of the Ministry of Health, we will try our level best to avoid vaccines where there is any element of porcine DNA products, and that is enforced to a great extent," said Malaysian Health Minister S Subramaniam.
The rumours could have started as some vaccines on the global market are cultivated using the trypsin enzyme from pigs.
But even in these cases, scholars argue that the porcine elements are so negligible that Islam allows for it if it means saving a life.
"The oral polio vaccine was a big issue because it uses trypsin from porcine sources," said Dr Musa Mohd Nordin, consultant paediatrician and neonatologist at Damansara Specialist Hospital.
"But the European Council of Fatwa and Research made it very clear that the vaccine is permissible because, one, it is not the animal we are talking about, it is the enzyme. Two, the amounts that is used is very miniscule. Three, whatever porcine sources is filtered so the end product does not contain any porcine sources."
WINDOW OF OPPORTUNITY
The anti-vaccination trend may be worrying but it has led to a window of opportunity for Muslim-majority Malaysia to tap into the global halal pharmaceuticals market - a market estimated to be worth a whopping US$82 billion.
The country's Halal Industry Development Corporation is set to begin developing the world's first halal-certified vaccines by 2017 in collaboration with a Saudi Arabian company, AJ Pharma Holding.
Full Report at:
http://www.channelnewsasia.com/news/asiapacific/more-malaysian-parents/2233628.html
---------
Syed Ali vilifies UN for urging Anwar's release
November 3, 2015
PETALING JAYA: Cheras Umno chief Syed Ali Alhabshee has reacted to the United Nation's call for Anwar Ibrahim's release from prison with a bitter criticism of the world body as hypocritical and helpless against the United States and other big powers.
"The only thing that gives the United Nations a bit of a bite in terms of the global agenda is its peacekeeping force," he says in a blog posting. "Other than that, the United Nations is a toothless tiger. In fact it lacks the spine to make hard hitting decisions in the face of events that have unfolded in the world and threatened global stability."
Syed Ali mocks PKR vice-presidents N Surendran and Nurul Izzah Anwar for saying that the Malaysian government risks jeopardising its international reputation if it does not heed the call made by the UN Working Group on Arbitrary Detention.
"Ignoring the UN's call to release Anwar will not jeopardise Malaysia's reputation," he says. "But you both singing praises of a world body which has failed to do its duty certainly would mar your image on a global platform."
Full Report at:
http://www.freemalaysiatoday.com/category/nation/2015/11/03/syed-ali-vilifies-un-for-urging-anwars-release/
---------
Being a transgender is against Islamic law in Malaysia
Fa Abdul
November 3, 2015
A Muslim who is a transgender can be arrested, abused, assaulted, and violated for wearing women's clothing.
While some 200 cities and countries around the world not only ban gender identity discrimination but also offer protection for transgender people through ordinances and provisions, officials in Malaysia continue to criminalise them.
According to Human Rights Watch, Malaysia is one of the world's worst countries to be a transgender in. As one transgender woman explains: "I was detained by Religious Department officials who stripped and sexually assaulted me. They were rough. My breast (implants) were squeezed. One of them took a baton and poked my genitals. Everyone – male and female officials – took photos of my naked body."
There have been hundreds of incidents in which transgenders were paraded before the media and made to suffer other forms of humiliation. Many have been arrested over and over again, some up to twenty times or more. They are imprisoned with male inmates where they face daily sexual abuse. And when reporting this abuse to the authorities, they face further assaults.
According to the Federal Constitution, everyone has the right to live the life he or she chooses. But in Malaysia, even our constitution and basic human rights are put aside when faced with Islamic law.
60% of our population are Muslims who are bound by Syariah law. This law governs how Muslims should live their life publicly and privately. And within these walls, some 10,000 transgender are trapped.
As a Muslim, I find this appalling.
If cross-dressing is prohibited by Islamic law, why are only Muslim men dressed as women detained? What about Muslim women dressed as men?
And I wonder why we cherry pick which law to enforce and which to put aside. Let me give some examples.
Dressing modestly is a requirement in Islam – according to both the Quran and Hadith – but do we enforce it in our so-called Islamic country? Do our religious officers go about detaining Muslims who are in bikinis or mini shorts?
Try walking into a mall on a Friday afternoon. Why are the loads of Muslim men walking around not detained when the Friday congregational prayer is obligatory to adult male Muslims? As a matter of fact, the five daily prayers are also obligatory, but they are not enforced by our Islamic authorities.
Full Report at:
http://www.freemalaysiatoday.com/category/highlight/2015/11/03/when-being-yourself-is-against-the-law/
---------
URL: https://www.newageislam.com/islamic-world-news/new-age-islam-news-bureau/muslim-activists-slam-fbi's-programme-to-identify-extremists/d/105147