New Age Islam News Bureau
13 May 2020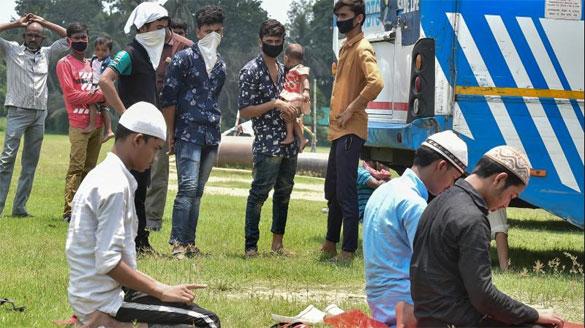 A group of migrants offers prayers before boarding a bus for home, amid ongoing COVID-19 lockdown, in Kolkata. PTI Phot
--------
• Mumbai: Muslim Neighbours Perform Last Rites of Their 72-Year-Old Hindu Neighbour Amid Lockdown
• Jamia Nizamia, One of The Oldest Islamic Seminaries in India Issues Fatwa on Eid Prayers
• SARS Cov-2 Is the Coronavirus That Causes Covid-19; Bangladeshi Scientists Complete Genome Sequencing of Virus Causing Covid-19
• Facebook Apologises For 'Misuse of Platform' That Led To Sri Lanka's Deadly Anti-Muslims Riots In 2018
• Punjab Assembly Resolution for Conditional Inclusion of Ahmadis In Minorities Commission
• Muslim Leaders Tell Samaria Council Head: 'Many of Us Pray for Israeli Sovereignty'
• 'Allah Protect Us from Devilish Acts of Nigerian Army' – Boko Haram Leader, Abubakar Shekau Cries Out
• With Limited Access to Birth Control, Indonesia Set to See A COVID-19 Baby Boom
• Saudi Arabia: Continuing to Apply All Precautionary Measures Until the End of Ramadan, and a Complete Curfew from 30 Ramadan until 4 Shawwal
• Conservative Party Discrimination Probe Is A 'Facade' And an Attempt to Distract from Islamophobia, Muslim Council of Britain Says
• Why Mike Pompeo Is an Immediate Threat to the Middle East
-------
India
• Mumbai: Muslim Neighbours Perform Last Rites of Their 72-Year-Old Hindu Neighbour Amid Lockdown
• Jamia Nizamia, One of The Oldest Islamic Seminaries in India Issues Fatwa on Eid Prayers
• Nagpur: Orthopaedic Surgeon Arrested for Calling for Genocide of Muslims, Later Released on Bail
-------
South Asia
• SARS Cov-2 Is the Coronavirus That Causes Covid-19; Bangladeshi Scientists Complete Genome Sequencing of Virus Causing Covid-19
• Facebook Apologises For 'Misuse of Platform' That Led To Sri Lanka's Deadly Anti-Muslims Riots In 2018
• Taliban strongly reacts to Ghani's order to Afghan forces to revive offensive operations
• Coronavirus: Ansar member dies, 166 others infected so far
• Airstrikes kill, wound 36 Taliban militants in Balkh
• Death toll from Kabul maternity ward attack rises to 24: MoPH
------
Pakistan
• Punjab Assembly Resolution for Conditional Inclusion of Ahmadis In Minorities Commission
• Dirilis: The Glorified Idea of the Muslim World to mitigate Islamophobia, Imran Khan's Recommendation as A Must-Watch for The Youth of The Country
• No plan to scrap 18th Amendment, FM Qureshi assures Senate
• Sindh govt spends about Rs1bn on procuring ventilators, other equipment
• Two suspects killed in 'encounter' on Karachi's outskirts
• Another judge refuses to hear Chaudhrys' pleas
------
Mideast
• Muslim Leaders Tell Samaria Council Head: 'Many of Us Pray for Israeli Sovereignty'
• HRW slams Israel's 'discriminatory' land policies against Palestinians
• Turkey's TIKA delivers Ramadan aid in Somalia and Djibouti
• Iranians hold first 'Laylat al-Qadr' ceremony in Ramadan
• Pompeo: Iran trying to 'foment terror' during pandemic
• Turkey: UAE bringing chaos to Mideast through interventions in Libya, Yemen
• Coronavirus rages through more provinces in war-ravaged Yemen
-------
Africa
• 'Allah Protect Us from Devilish Acts of Nigerian Army' – Boko Haram Leader, Abubakar Shekau Cries Out
• Stop Depending Entirely on Mosques, Imams Told
• COVID-19 LOCKDOWN: Miyetti Allah asks members to stay away from Oyo
• Senegalese Govt Reopens Churches, Mosques Amid Rising Cases Of COVID-19
-------
Southeast Asia
• With Limited Access to Birth Control, Indonesia Set to See A COVID-19 Baby Boom
• 187-year-old Jardine faces pain in Indonesia after expansion
• Health DG: Malaysia concerned about possible emergence of Covid-19 second wave
• Star Media CEO Andreas Vogiatzakis resigns after nine months
• Covid-19: KFC denies viral claim that its poultry supply comes from a Pedas processing plant • where staff have allegedly tested positive
------
Arab world
• Saudi Arabia: Continuing to Apply All Precautionary Measures Until the End of Ramadan, and a Complete Curfew from 30 Ramadan until 4 Shawwal
• Zamzam water available via online platform during Ramadan
• Coronavirus UAE: How Muslim medical workers fast and answer call of duty
• Middle East prepares further lockdowns as Ramadan nears end
• Ooredoo delivers Ramadan gifts to Ehsan Centre
• Enjoying Ramadan like never before
-----
Europe
• Conservative Party Discrimination Probe Is A 'Facade' And an Attempt to Distract from Islamophobia, Muslim Council of Britain Says
• How Britain Muslim Athletes Are Coping with Ramadan In the Middle of Coronavirus Lockdown
• Fasting volunteers delivering lockdown food packs to vulnerable people in Leeds during Ramadan
• Big Iftaar at Home keeps Bradford Ramadan tradition alive
• Federal hate crime charge in Missouri Islamic centre fire
• People in Wolverhampton urged to celebrate Ramadan and Eid safely amid coronavirus
-----
North America
• Why Mike Pompeo Is an Immediate Threat to the Middle East
• How National Black Muslim COVID Coalition serves communities during the pandemic
• Analysis on Impact of COVID-19 - Global Islamic Banking Software Market 2020-2024
• CAIR Welcomes Mosque Arsonist's Federal Indictment for Hate Crime
• World's Best Islamic Financial Institutions 2020: Fair Winds Before the Storm
Compiled by New Age Islam News Bureau
URL; https://www.newageislam.com/islamic-world-news/mumbai-muslim-neighbours-perform-last/d/121836
------
Mumbai: Muslim Neighbours Perform Last Rites Of Their 72-Year-Old Hindu Neighbour Amid Lockdown
May 13, 2020
Mumbai: Members of the Muslim community helped in performing the last rites of their 72-year-old Hindu neighbour in Sewri area here after the deceased's relatives could not reach for his funeral due to the lockdown.
Pandurang Ubale, who was paralysed since the last few months, died at his residence in Zakaria Bunder area of Sewri on Monday. He had been staying in the Muslim-dominated locality along with his wife and son since some decades.
After his death on Monday, his relatives staying in suburban Mulund, Belapur in adjoining Navi Mumbai and Alibaug in neighbouring Raigad district could not come over to his place in the wake of the coronavirus-induced lockdown.
As Ubale's wife and son were unable to make all arrangements for the funeral, they informed their neighbours, who came forward to help and even prepared the bier.
A neighbour, Asif Sheikh, who attended the funeral, said, We knew Ubale uncle since a long time. He always participated in our festivals and we used to be a part of their festivities. We all came forward to bid him a farewell and helped in performing his last rites."
Last month also,some Muslim men carried the body of a Hindu neighbour in suburban Bandra on their shoulders to the cremation ground after the deceased's relatives were unable to attend the last rites due to the lockdown.
https://www.deccanchronicle.com/nation/in-other-news/130520/mumbai-muslim-neighbours-perform-last-rites-of-hindu-man-amid-lockdow.html
-----
Jamia Nizamia, One of The Oldest Islamic Seminaries in India Issues Fatwa on Eid Prayers
May 12, 2020
Hyderabad: The Jamia Nizamia, one of the oldest Islamic seminaries in India, has issued a fatwa on Itikaf (secluding oneself in a mosque for a long period of time in order to pray) and Eid-ul-Fitr prayers in view of the lockdown. The fatwa suggests that one person from the locality should perform the Itikaf in the local mosque should be enough. However, doing it at home is not permissible, the fatwa said.
One of the standout rituals of the last 10 days of Ramzan is the Sunnah of Itikaf. It is a practice of secluding oneself in a mosque doing continual prayer during the month of Ramzan. It starts from the 21st night of the month of Ramzan and continues till the sighting of the Eid moon.
The fatwa issued with the signature of Jamia Nizamia chief mufti Moulana Mufti Mohammed Azeemuddin says that there must be at least a few people in every community who perform Itikaf in every masjid every year to keep the tradition alive. For men, the Itikaf must be in a mosque but for women, the place where they normally pray is acceptable.
The fatwa contended that doing Itikaf during Ramzan is a Sunnat-e-muakkada Kifaya. This means that if one person living in a particular area in which a masjid is situated performs Itikaf, then the Sunnah is fulfilled on behalf of all the people of that area. However, if nobody performs the Itikaf, then all the members of the area will be liable for not doing so.
As there is no prohibition in staying in mosques, if one faithful is secluded in a mosque, then the Sunnah need not be performed by other Muslims. However, men can't do Itikaf at home.
According to rituals, it is necessary to have a congregation for saying an Eid prayer and this condition will not be fulfilled if the prayer is performed at home. Hence, if it is possible to arrange Eid prayers with this condition – that one person from each area performs the Eid prayer in a neighbourhood mosque – then the prayer is deemed to have been performed, otherwise they have to pray two 'rakats' of thanksgiving at home.
https://www.deccanchronicle.com/nation/current-affairs/120520/jamia-nizamia-issues-fatwa-on-id-prayers.html
------
SARS Cov-2 Is the Coronavirus That Causes Covid-19; Bangladeshi Scientists Complete Genome Sequencing of Virus Causing Covid-19
May 13, 2020
Zyma Islam
A team from Child Health Research Foundation (CHRF) has successfully completed the genome sequencing of the SARS Cov-2 virus in Bangladesh.
The announcement came late last evening in a press release provided by CHRF. SARS Cov-2 is the coronavirus that causes Covid-19.
"We completed genome sequencing of the virus a few hours ago," confirmed Dr Senjuti Saha, the scientist who led the team of three. Other members of the team are: Roly Malaker and Md Saiful Islam Shajib. Dr Senjuti's father, eminent microbiologist and executive director of the organisation Dr Samir Kumar Saha, also gave leadership to the team.
Genome sequencing is the process of identifying what nucleotides -- the basic building block of DNA and RNA -- are present in a certain cell and in what order.
"The SARS Cov-2 virus cells contains RNA. RNA is made of four bases or 'letters' -- A (adenine), U (uracil), G (guanine), and C (cytosine). The virus is made up of about 29,000 letters and we had to figure out what the sequence was," explained Dr Senjuti.
"We have been working on this for over a month, but the actual work of sequencing was done over 4 days," said an excited Dr Senjuti.
"In addition, the biologists working on the genome sequencing also had a full 8-hour shift, testing samples from patients. We did not want patients to suffer while we tried to do genome sequencing. So all the work was done after hours," she said, speaking to this correspondent from Cambridge in England in the early hours of today, where she has been stuck because of the closing of borders.
"To make things harder, because I had come to Cambridge in mid-March and got stuck here, the collaboration had to be remote. My team in CHRF literally had to set up a camera in the space where they were doing the sequencing, so that I could see what was happening," described Dr Senjuti.
While scientists in Bangladesh have done genome sequencing of jute and hilsa (both of which have DNA), genome sequencing of cells containing RNA is a rare feat.
"Up until now, we usually had to send our samples abroad for sequencing and analysis. But with help with the Bill and Melinda Gates Foundation, we were able to purchase a sequencer and since before the pandemic hit, we had been practising and teaching our staff to sequence influenza viruses," said Dr Senjuti.
Doing genome sequencing of the virus means that scientists can begin to understand which strain it is, which country it came from, and when it came to Bangladesh.
"This will help us make predictions for the future -- when will we hit the peak?" explained Dr Senjuti. There are around 16,000 genome sequencing of this virus already done worldwide, that Bangladesh can compare against, she explained.
In addition, this means that vaccines can be explored. "Vaccines are being developed in other countries, but how do we know they will work for Bangladesh unless we know what the strain of the virus we have?" she said.
"We have also uploaded the results on an open-access database and hope that vaccine-makers will be able to see it and incorporate that into their vaccines," said Dr Senjuti.
The scientist has also made the sequencing protocol public and hopes that other laboratories around the country can train themselves and start sequencing samples.
"We assume that each month two 'letters' in the RNA mutate, which means this virus is constantly mutating. Therefore sequencing too, needs to be a constant process," she said.
Dr Senjuti said that this would not have been possible if Directorate General of Health Services ( DGHS) had not given them samples to test.
https://www.thedailystar.net/bangladeshi-scientists-complete-genome-sequencing-coronavirus-1902190
------
Facebook apologises for 'misuse of platform' that led to Sri Lanka's deadly anti-Muslims riots in 2018
13 May, 2020
Facebook's lack of a serious response to signs of abuse on its platform in Sri Lanka may have helped stoke deadly violence in the country in 2018, according to an investigation of the social network's operations there.
The company has released a summary of the findings, along with other independent assessments of the service's impact on human rights in Indonesia and Cambodia.
"We deplore this misuse of our platform," the company said in a response to the Sri Lanka report. "We recognise, and apologise for, the very real human rights impacts that resulted."
Facebook also highlighted actions it has taken to address the problems, including hiring content moderators with local language skills, implementing technology that automatically detects signs of hate speech and keeps abusive content from spreading, and trying to deepen relationships with local civil society groups.
The report on Sri Lanka details Facebook's failure to respond to almost a decade of warnings about misuse of its platform from groups within the country. In 2018, a viral video falsely purporting to show a Muslim restaurateur admitting to mixing "sterilisation pills" into the food of Sinhala-Buddhist men may have contributed to unrest and physical harm.
Facebook's poor track record on human rights in international markets has been a black mark on the company for years. As it expanded rapidly, it staffed local operations in far-off countries with skeleton crews or not at all, making it unresponsive to the specific forms of local manipulation, according to the reports.
Facebook's decision to design algorithms that encourage more engagement also made it vulnerable to disinformation and incitement to violence. Human rights advocates have pushed the company to release assessments like the ones it shared on Tuesday.
This is not the first Facebook apology. A 2018 assessment of its operations in Myanmar found it partly to blame for violence in that country. One response was to hire activist Miranda Sissons as the first Facebook director of human rights, last year.
According to Sissons, Facebook has begun to conduct more country-by-country reviews of its performance on human rights, and will begin releasing reports regularly. She did not lay out a timeline, and declined to say which countries the company was studying.
The recently released reports, which cover a similar time period as the Myanmar assessment, describe Facebook's impact as complicated. Having access to the social network often increased freedom of speech and gave marginalised communities a new way to communicate. But governments also used Facebook to identify dissidents and spread misinformation. Groups looking to stoke communal violence found the social network to be fertile ground for recruitment and incitement.
Article One Advisors LLC, the consultant that conducted the assessments into Sri Lanka and Indonesia, found significant improvement at Facebook.
"There has been a very big cultural shift – a very welcome cultural shift," said Chloe Poynton, a co-founder and principal at the firm.
Facebook has implemented many of the group's suggestions related to content moderation and slowing the spread of abusive messaging. It is still considering some others, like Article One's call for the company to appoint a member of its board of directors to be specifically responsible for human rights, according to Sissons.
The company's products may still pose a challenge going forward – particularly end-to-end encryption on WhatsApp. Viral misinformation on the messaging service has already stoked violence and deaths in India, and while Facebook has started to fight this by limiting some message forwarding, the company's inability to read encrypted messages makes it difficult to spot potentially dangerous activity.
The assessment of Cambodia was conducted by Business for Social Responsibility, a non-profit consulting firm. It found no significant failures, but highlighted challenges Facebook faced engaging with a repressive political system. It urged Facebook to push the country's government to pass more humane regulations for social media, and to call out issues such as surveillance.
Sissons said Facebook was grappling with its responsibilities in such situations. "These are among the most difficult questions companies face," she said. "We are prepared to engage with this question, but we don't have answers to signal yet."
https://www.scmp.com/print/news/asia/south-asia/article/3084148/facebook-apologises-misuse-platform-led-sri-lankas-deadly-anti
-----
Punjab Assembly resolution for conditional inclusion of Ahmadis in minorities commission
May 13, 2020
Amjad Mahmood
LAHORE: Lauding the federal cabinet for not including Ahmadis in the Minorities Commission, the Punjab Assembly demanded through a resolution on Tuesday that the minority should be included into the body only after their top leader submits in writing that the community accepts the Constitution of Pakistan and their status as non-Muslims.
Tabled by Mines and Minerals Minister Hafiz Ammar Yasir, the resolution adopted unanimously said: "….This august House appreciates the federal cabinet for not including Qadianis in the Minorities Commission because neither the Qadianis recognise the Constitution of Pakistan nor they proclaim themselves as non-Muslims.
"This House reiterates [its concern] that the issue of finality of Prophethood is raised every other day. Sometimes Hajj form is amended and at others the word of Khatamu al-Nabiyyan (SAW) is omitted from books. But no action was ever taken against these conspiracies. Pakistan is an Islamic country but we have to beg for the protection of sanctity of Namoos-i-Risalat. It's a matter of shame for all of us.
"This House demands from the federal government to put an end to this practice and expose and strictly penalize the elements involved in the conspiracy.
"Moreover, Hindus, Sikhs and Christians are represented at the Minorities Commission and we have never objected to any of them because they don't declare themselves as Muslims. We raise a voice for the rights of the minorities as enshrined in the Constitution.
"This House demands that if the chief of Qadianis submits in writing declaring that they accept the Constitution of Pakistan and accept their status as non-Muslims then we will have no objection to their inclusion into the Commission.
"The issue of Khatm-e-Nabuwwat is a red line for us. Nothing is dearer to us than protection of Khatm-e-Nabuwwat, protection of Namoos-i-Risalat (SAW), protection of Namoos-i-Ashab-e-Rasool, protection of Namoos-i-Ahle Baet, and protection of Namoos-i-Ummahat al-Momineen (Rizwanullah Ajmaeen). We're ready to sacrifice everything for it and none must have any qualms about it," concludes the resolution.
Speaking to the participants, Speaker Chaudhry Pervaiz Elahi said they all are the protectors of the honour of Holy Prophet (Peace be upon him) and it is an integral part of the faith of every Muslim.
https://www.dawn.com/news/1556677/punjab-assembly-resolution-for-conditional-inclusion-of-ahmadis-in-minorities-commission
-----
Muslim leaders tell Samaria Council head: 'Many of us pray for Israeli sovereignty'
12/05/20
Arab and Muslim leaders yesterday arrived at the offices of the Samaria Regional Council to celebrate Iftar and Lag Ba'omer together with Council head Yossi Dagan.
Among those in attendance were Sheikh Abu Khalil Tamimi of Ramallah, Mohammed Massad of Jenin, Sara Zoabi as well as other leaders who preferred to hide their identities for fear of their lives.
Dagan and the Muslims discussed the Deal of the Century's impact on the region, eradicating terror and incitement to violence, and discussed with them ways to maintain peace and economic and social cooperation.
Terror is the result of Palestinian Authority incitement," Dagan said. "We work with local leaders and Sheikhs who oppose the PA and oppose the path of terror. We have disagreements and there are many things where we see eye to eye. First and foremost, it's important to have shared dialogue with those who are ready and willing to consider partnering.
"There's an alternative to the murderous Palestinian Authority, leaders who are interested in quiet and in coexistence and they are sitting here with us. The Trump program largely relies on the economic models developed in our industrial areas, and these are our natural partners for co-living here."
Sheikh Abu Khalil Tamimi addressed the expected sovereignty and the Arab attitude to the issue: "I believe that sovereignty exists in the 1967 region and I think the situation must be dealt with through dialogue and promotion of coexistence. To stop the spread of hatred. For the average Palestinian, sovereignty is meaningless because Israel has been in control of Area C since 1967, so there's nothing new here.
"Most Palestinians also want to live in peace, and to reach good political agreements and solutions as quickly as possible. This is what the average Palestinian thinks about the Deal of the Century and sovereignty. We want to get ready for the regional changes, to concentrate on economic cooperation also with the settlers, led by Yossi Dagan, we need to think together what our common future will look like."
Muhammad Masad, who heads the Palestinian Workers' Union of 40,000, said: "I came to think together with the head of the Samarian Council on how to maintain the rights of Palestinian workers even after applying sovereignty. The Palestinian workers are against terror, and against the corruption of the Palestinian Authority. If the Israeli worker and the Palestinian worker work together caring for each other, together in joy and together in difficult moments, then our children will be ashamed of the fight. Peace negotiations will not be necessary because there is peace."
Sara Zoabi said at the event: "Thanks to Mr. Yossi Dagan for this initiative, which is important for cooperation between Palestinian and Israeli Arabs. I think the Deal of the Century is the right thing for Arabs and Israelis and I know that a large percentage of Palestinians are interested in the program and applying sovereignty, and even pray for it."
http://www.israelnationalnews.com/News/News.aspx/280109
-----
'Allah protect us from devilish acts of Nigerian Army' – Boko Haram leader, Abubakar Shekau cries out
May 13, 2020
By Seun Opejobi
Shekau, in his latest audio, asked "Allah" to protect him and his followers against the intensive fire power of Nigerian troops.
The terrorist leader lamented that the "devilish act" of Nigerian military has made the Holy month of Ramadan difficult for him and his followers to observe.
He explained that his followers abandoned the popular Islamic religious acts to practice the true worship of Allah, hence they would get victory.
According to the sect leader: "If it is the devilish act and wickedness [of the Nigerian military], may Allah protect us from their evil. Oh Allah, keep us firm on your religion. We are poor things who know nothing, oh our Lord, Allah.
"We deserted Izala people to practice Your true religion; we abandoned Tijjaniyya people to practice your true religion; we deserted the Shiites to practice your true religion; we forsook our parents, uncles and aunties to practice Your true religion.
"It is because of your religion that we placed a knife on Your servants' necks; but today, they are trying to change us from one thing to another. Oh Lord, have mercy upon us during Ramadan; Oh Lord, have mercy on under the blessings of Ramadan.
"Oh Allah, give us victory over our enemies. Oh brothers, for Allah's sake, obey Allah and help me with prayers. This does not mean I am angry."
https://dailypost.ng/2020/05/13/allah-protect-us-from-devilish-acts-of-nigerian-army-boko-haram-leader-abubakar-shekau-cries-out-audio/
-----
With limited access to birth control, Indonesia set to see a COVID-19 baby boom
Linda Yulisman
May 13, 2020
Stay home and make babies? As condoms and other forms of birth control are unavailable to a growing number of Indonesians during the COVID-19 pandemic, the world's fourth-most populous nation may see a baby boom.
The National Population and Family Planning Board (BKKBN), the authority overseeing the country's family planning programs, found that in March, about 10 percent more of its acceptors face difficulty in accessing birth control, based on reports it received from 34 provinces. BKKBN has 28 million acceptors of its family planning methods nationwide.
The one-month decline in contraceptive use alone could push up pregnancies by 15 per cent, or around 420,000 pregnancies, within a month to three months, according to its estimate. A further drop within three months will increase pregnancies by up to 30 per cent, or above 800,000, within another few months.
The decrease in the contraceptive use occurred across all kinds of methods, including contraceptive implant, injection and vasectomy, the board's chief, Mr Hasto Wardoyo, said. Implants were down by 40 per cent, for instance, while vasectomies plunged by 90 per cent.
"With the pandemic, the access to contraception has shrunk. Many clinics have shut, while those that remain open have limited the number of people they serve," he told The Straits Times.
The absence of contraception, Mr Hasto noted, may cause unwanted pregnancies, which could take a psychological toll on women and have longer-term repercussions, such as stunted development in children of poor families that cannot afford proper nutrition.
The pandemic is "bad timing" for women to get pregnant as many are unable to obtain proper healthcare services, said Mr Hasto, who added: "It's better for couples to use contraceptive methods now."
This appears to be the sentiment among Italians, as over 80 per cent surveyed by University of Florence researchers said they did not plan to conceive during the pandemic, with a third of them abandoning previous plans to have a child.
Indonesia is among a number of countries, however, anticipating a baby boom as a result of measures encouraging people to stay home to curb COVID-19 transmission.
Dr Augustina Situmorang, a demography expert at the Indonesian Institute of Sciences (LIPI), predicts a jump in the number of pregnancies in Indonesia as people have limited access to contraception.
She also underlined that the rise in pregnancies will likely occur among women from low-income families who largely depend on free contraception provided by the BKKBN, and young women who lost their jobs in cities, returned to home towns and were forced into marriage by social norms.
"The family planning field officers must change the strategy now. They must reach out to people and deliver contraceptive tools at home and they can cooperate with health community centers to get the data," said the researcher on family and health issues.
Mr Hasto said that BKKBN is deploying its family field officers to give out free condoms and contraceptive pills while distributing food aids to poor families. It will also kick off a campaign to recruit one-million new family-planning acceptors in June.
https://www.thejakartapost.com/news/2020/05/13/with-limited-access-to-birth-control-indonesia-set-to-see-a-covid-19-baby-boom.html
------
Saudi Arabia: Continuing to Apply All Precautionary Measures Until the End of Ramadan, and a Complete Curfew from 30 Ramadan until 4 Shawwal
2020/05/13
Riyadh, May 12, 2020, SPA -- An official source at the Ministry of Interior stated that, in implementation of the directive of the Custodian of the Two Holy Mosques, King Salman bin Abdulaziz Al Saud for the Ministry of Interior in coordination with other relevant authorities to undertake any amendments to the procedures related to the curfew, required by health developments. And based on what the competent health authorities have raised regarding the measures taken by the Kingdom of Saudi Arabia to confront the novel coronavirus (COVID-19), the following was decided:
Regarding the period from the beginning of Thursday, 21 Ramadan 1441AH, corresponding to May 14, 2020, until the end of Friday 29 Ramadan 1441AH corresponding to May 22, 2020:
1. Continuing to allow commercial and economic activities that were excluded from previous decisions and referred to in the royal order issued on 2 Ramadan 1441AH corresponding to April 25, 2020, while stressing the need to implement the adopted precautionary measures.
2. Continuing to allow the movement freely during the day for 8 hours, starting from 9 A.M and ending at 5 P.M, in all cities and regions of the Kingdom of Saudi Arabia, except for Makkah city, emphasizing the necessity of the commitment of citizens and residents to apply the adopted precautionary measures.
3. Continuing the 24-hour curfew in Makkah city.
4. Continuing to prevent entry and exit from the areas, cities, and neighborhoods for which isolation decisions were issued.
Regarding the period from the beginning of Saturday 30 Ramadan 1441AH corresponding to May 23, 2020, until the end of Wednesday 4 Shawwal 1441AH corresponding to May 27, 2020:
1. Continuing the complete curfew throughout the day in all cities and regions of the Kingdom.
2. Emphasizing the necessity to continue adhering to the measures of social distancing, including preventing gatherings of five or more people, according to Regulation to Limit Gatherings, issued by the Ministry of Interior on 14 Ramadan 1441AH corresponding to May 7, 2020, and classification of violations and penalties imposed against them.
The Ministry of Interior calls on all individuals and entities to fully comply with the approved instructions related to health safety requirements to prevent the spread of Coronavirus, and social distancing and avoid any gatherings.
https://www.spa.gov.sa/viewfullstory.php?lang=en&newsid=2085746
-----
Conservative party discrimination probe is a 'facade' and an attempt to distract from Islamophobia, Muslim Council of Britain says
12 hours ago
Kate Devlin
The Muslim Council of Britain has branded a probe into discrimination within the Conservatives a 'facade' and an attempt to distract from the party's problems with Islamophobia.
The council said the Tories were attempting to "hide" hundreds of instances of abuse, after the party published the terms of reference of the investigation.
Harun Khan, Secretary General of the Muslim Council of Britain said: "We have previously described the Conservative Party's attitude to Islamophobia as one of denial, dismissal and deceit. The publication of the terms of reference for its inquiry reflects that regrettable attitude. They are a façade to hide the hundreds of incidences of Islamophobic bigotry we have identified in its ranks. In sum, it seems even today, the Conservative Party refuses to acknowledge that there can be bigotry and prejudice directed at Muslims."
Sajid Javid, the former chancellor, first called for the investigation last year when he was standing in the Conservative leadership contest.
The MCB has submitted complaints detailing what it says are more than 450 cases of Islamophobia from within the party's ranks to the Equality and Human Rights Commission.
In a statement, the EHRC said that in light of the Conservative probe it would not be "proportionate" to initiate its own investigation at this stage.
But it added: "We will be monitoring the review and requiring the party to provide regular updates on progress."
https://www.independent.co.uk/news/uk/politics/conservative-party-boris-johnson-islamophobia-muslim-council-discrimination-a9511241.html
-----
Why Mike Pompeo Is an Immediate Threat to the Middle East
May 13, 2020
U.S. Secretary of State Mike Pompeo arrived in Israel Wednesday with Iran, COVID-19 and the Israeli annexation of Palestinian settlements on the public agenda - and one large looming unspoken item likely to shape the conversation. Much like Marisa Tomei's character Mona Lisa Vito in the movie "My Cousin Vinny," all the participants will be able to hear the ticking of a clock that means time is running out for any big plans they may have had together.
If political polls and the state of deepening crisis in the United States are any indication, the Trump crazy train is likely to be leaving the station next January and with it, the opportunity for Benjamin Netanyahu, his new partner, Benny Gantz, and the Israeli right, to cut a deal with American leaders who share their extreme views.
Donald Trump's rival, Joe Biden, who has steadily lead Trump in national polls and is leading him in polls in key swing states, and his Democratic Party colleagues are likely to usher in a return to an Obama era-like chill in U.S. relations with Israel's ruling coalition.
Or to put it in terms that the evangelical Pompeo might prefer, the participants in the meetings this week, are going to be grappling with the possibility to that the Trump Rapture is coming and that soon the President, his evangelical side-kicks like Vice President Mike Pence and Pompeo, and his advisors who support the Israeli hard right like son-in-law Jared Kushner, U.S. Ambassador to Israel David Friedman and megadonor Sheldon Adelson, will all disappear from American political life.
They will not, it seems, likely be lifted to political heaven, and for some - like Trump and Kushner - the world to which they are transported may look more like a courthouse, but they will be done, nonetheless.
The consequences of such a transformation must be crystal clear to Netanyahu, who suffered mightily from political frostbite during the Democrats' last time in office.
Trump, of course, could win re-election. But with American facing its worst public health crisis since the 1918 flu pandemic and its worst economic crisis since the Great Depression - with the chances of a recovery from either before November looking remote, Bibi, Benny and Mike are all going to know that it's quite possible a big change is coming.
That change will almost immediately result in a reversal of Trump policy on Iran and an effort to return to something like the détente of the Obama's Iran nuclear deal. It will result in an outright rejection of Israeli annexation plans by the U.S. and a much more active push for Palestinian rights and a two-state solution from the U.S.
And of course, the whole fantasy of the Kushner "Middle East Peace Plan" is likely to end up filed with Kushner's pandemic-fighting initiatives among the most egregious failures of the Trump Era. (Although thankfully, the cost in human life so far of the non-peace non-plan "peace plan" has been much lower than his COVID-related "expert" advice to his father-in-law.)
The fact that we may be entering the End Times for the alliance between extremist political actors and actions in the U.S. and in Israel may be a source of optimism to some. But as with all apocalyptic story twists, it is best to proceed with caution and perhaps even a healthy dose of apprehension.
If Bibi knows that there are only six months left to act with impunity on annexing settlements or in blasting Iranian positions in Syria or those of their proxies or in turning up the pressure on the Tehran regime, it is likely that they will push to achieve as much as they can on these agendas in the months ahead.
If Trump wins, fine. No downside. But if Biden is in office in January, which is a possibility they can't dismiss, actions thereafter will come with more significant pushback, potential repudiation and even penalties from the U.S.
Pompeo knows this, too, and as a politician who has big ambitions with or without Trump in office, striking out at Iran and expanding the land controlled by the Israeli government would both accrue to his lasting credit with both evangelicals and the right wing of the Republican Party.
The COVID discussions are, of course, purely window-dressing. As anyone who can read a statistical table can see, no one in their right mind would take advice from the Trump Administration on how to manage this or any other pandemic. (Indeed, the fact that Pompeo would make this trip in the first place, in the midst of this crisis, despite the State Department's own travel advisories, is yet another sign from Trump & Co. that they recklessly wish to declare victory over the virus even as it rages on, and that they continue to utterly disrespect science, medicine, math and history as they mis-manage their way into infamy during this disaster.)
For Israel, for the Palestinian people, for the Middle East and for the world therefore, it is clear that even at a time of a virulent pandemic taking a horrific toll and an economic collapse that has sent the world into recession and will take years from which to recover, those are not the only threats we face.
A desperate Trump, his cynical and opportunistic enablers like Pompeo, and an Israeli leader who is in an equally precarious position, may use the distractions of this grim moment in history…to make it even grimmer. So too does the fact that Pompeo, though pompous, arrogant and sycophantic, is also smart and more capable than many in Trumpland.
It is at moments like this that one can only hope that the profound incompetence of the rest of the Trump administration limits what damage he and his Israeli interlocutors can actually do. It is a fragile hope, however, as doing damage turns out to be the one thing that both Trump and Netanyahu are really good at.
https://www.haaretz.com/us-news/.premium-pompeo-trump-israel-netanyahu-middle-east-1.8839539
-----
India
Nagpur: Orthopaedic surgeon arrested for calling for genocide of Muslims, later released on bail
Yesterday · 10:29 pm
The Nagpur Police in Maharashtra on Tuesday arrested an orthopaedic surgeon for calling for the genocide of Muslims. Dr Satish B Sonar was arrested for a tweet he had made on April 23.
"Now, since radical, Islamist and anarchist journos and illegitimate citizens are talking about so called Islamophobia and Genocide...So let's begin it, prove them right," Sonar tweeted. "Wipe out the [expletive] from the map."
The Nagpur Police booked Sonar for "hurting religious sentiments", following a complaint by a person named Shahbaz Siddique, The Times of India reported. Gittikhadan Police Station Senior Inspector Sunil Gangurde said that Sonar was produced before a local court, which released him on bail.
Muslims have been the target of hate crimes ever since a meeting of a group known as the Tablighi Jamaat in New Delhi in March resulted in a huge number of coronavirus cases around the country. On April 22, Indian embassies in the Gulf had urged citizens to remain vigilant against a spate of derogatory posts on social media linking the coronavirus pandemic to the Muslim community in India. Several Indians are facing legal action in the United Arab Emirates.
Fake videos on social media platforms have claimed to show Muslim men spitting on food, licking plates and sneezing in unison to spread the virus. Even the Bharatiya Janata Party's IT Cell and some television channels have blamed Muslims for spreading the pandemic.
In several places, this has resulted in violence. On April 7, rumours about Muslim men intentionally spitting to spread the virus reportedly led to group clashes in Jharkhand's Gumla district. A youth was beaten to death and two others were injured in the incident.
Media Scanner, a fact-checking platform, compiled a list of at least 69 fake videos against Muslims and listed at least 28 attacks prompted by online abuse, until April 21.
https://scroll.in/latest/961780/nagpur-orthopaedic-surgeon-arrested-for-calling-for-genocide-of-muslims-later-released-on-bail
https://scroll.in/latest/961780/nagpur-orthopaedic-surgeon-arrested-for-calling-for-genocide-of-muslims-later-released-on-bail
------
South Asia
Taliban strongly reacts to Ghani's order to Afghan forces to revive offensive operations
13 May 2020
The Taliban group strongly reacted to President Mohammad Ashraf Ghani's order to Afghan forces to revive offensive operations agains the group.
Zabiullah Mujahid, a spokesperson of the group, in a statement said the declaration of war by Ghani demonstrates that he (Ghani) is looking to preserve his authority under the shadow of war.
He went on to claim that the group only carried out attacks in the areas where the Afghan forces carried out offensives and established security posts and bases.
President Ghani on Tuesday ordered the Afghan forces to go offensive against the Taliban militants while reacting to the recent deadly attacks which killed dozens of people.
In a televised speech, Ghani said the Taliban militants have increased their attacks despite the repeated calls by the Afghan people, the Afghan governemnt and international community to reduce violence and declare a ceasefire.
Ghani further added that Kabul and Nangarhar once again witnessed attacks by Taliban and ISIS, which killed or wounded many civilians, children and security personnel.
https://www.khaama.com/taliban-strongly-reacts-to-ghanis-order-to-afghan-forces-to-revive-offensive-operations-07812/
------
Coronavirus: Ansar member dies, 166 others infected so far
May 13, 2020
A member of Bangladesh Ansar and Village Defence Party (BAVDP) has died with Covid-19 infection and at least 166 others have tested positive so far, a deputy director of the force confirmed today.
Among the infected, 58 members contracted coronavirus while discharging duty at the National Parliament, 65 while working with Dhaka Metropolitan Police (DMP) and 43 were infected while on duty at Ansar Headquarters and different districts, Mehnaz Tabassum Rabin, deputy director of BAVDP, told The Daily Star.
Ansar member Abdul Mazid, who was discharging duty with Bhatara Police Station under DMP, died with Covid-19 infection on May 11.
Besides, 435 Ansar members are in 14-day quarantine at homes, institutes and hotels as they either came in contact with infected members or were showing Covid-19 symptoms, she said.
Talking to The Daily Star, Mehnaz Tabassum said Ansar members are being infected as they are exposed while discharging their duties with other forces and doctors in hospital.
"It is the Ansar member, who first receives a patient at a hospital and prepares a trolley for them. Besides, our officials are distributing leaflets, working at different hospitals and creating awareness among people," she said.
Asked about protection equipments, she said they have managed protective gears under their own arrangements and distributed those among the members working in the field.
https://www.thedailystar.net/coronavirus-update-ansar-member-dies-166-others-infected-so-far-1902202
-----
Airstrikes kill, wound 36 Taliban militants in Balkh
13 May 2020
A series of airstrikes killed or wounded at least 36 Taliban militants in two districts of Balkh province, the Afghan military said.
The 209th Shaheen Corps in a statement an airstrike targeted a gathering of Taliban militants in Chahal Bolak district of Balkh at around 7:30 am today.
In a separate statement, the 209th Shaheen Corps said an airstrike in Balkh district at around 1:30 pm local time which killed at least 17 Taliban militants.
The statement also added that the airstrike wounded another 13 Taliban militants who had gathered in Palas Posh area.
This comes as the unconfirmed reports suggest that the airstrike in Balkh district also killed a number of civilians.
However, the 209th Shaheen Corps rejected the claims and said only militants were killed in the raid who were busy destroying a road.
https://www.khaama.com/video-airstrikes-kill-wound-36-taliban-militants-in-balkh-07814/
-----
Death toll from Kabul maternity ward attack rises to 24: MoPH
13 May 2020
The death toll from a coordinated attack on a maternity ward in West of Kabul city has climbed to at least 24, the public health officials said.
Wahid Majroh, a spokesperson for the Ministry of Public Health, confirmed Wednesday that the death toll from yesterday's attack has risen to 24 people.
A group of armed men attacked the maternity ward of a 100-bed hospital in Dasht-e Barchi area in West of Kabul city early on Tuesday.
No individual or group has so far claimed responsibility for the attack although reports indicate the offshoot of ISIS terrorist group has claimed responsibility.
The Taliban had earlier rejected the involvement of the group's fighter in the attack.
https://www.khaama.com/death-toll-from-kabul-maternity-ward-attack-rises-to-24-moph-07813/
------
Pakistan
Dirilis: The Glorified Idea of the Muslim World to mitigate Islamophobia, Imran Khan's Recommendation as A Must-Watch for The Youth Of The Country
Fazila Amber
MAY 13, 2020
Recently, Pakistan Television Network (PTV) launched the first episode of the famous Turkish drama series, Dirili?: Ertugrul, in its Urdu-dubbed version, on Prime Minister (PM) Imran Khan's recommendation as a must-watch for the youth of the country. In a video message PM commented on learning about a culture of romance and history that is filled with Islamic values, and condemned the content from Bollywood, full of vulgarity aired in past three or four decades and it is badly affecting our children; while schools and drug culture were flourishing while sex and crimes that directly impacts our family system.
"… remember, the family system collapses when immorality rises in the society."
The director of the digital for Turkish Radio & Television (TRT), Riyaad Minty, expressed his gratitude for the success and trending with more than 30 million views and over 600,000 subscribers on YouTube channel from Pakistan. PTV management thanked viewers for making it the Top Trend on Twitter Pakistan!
The remarkable popularity of the show being an instant hit can be subjected to the strategic launch on the first day of Ramadan. To gauge to masses, it is the prime season as families usually feast on their iftar meals, especially in COVID times lockdown and social distancing.
Islamophobia: To combat the rising global trend of Islamophobia, the trio of Turkey, Pakistan, and Malaysia, decided to launch an initiative focused on creating counternarrative against anti-Islamic manipulations and hateful stereotypes in the sphere of media posed by Islamophobia by producing content on Muslim heroes.
Through this drama, the nation is exploring the traumatic history, religious violence, tribal wars and nomads' culture, and the power of Tawakul in our religious heroes
If promoting this show is the strategy to deal with Islamophobia, then why does it promote religious differences, hatred expressed as passion glorified by stunningly catchy Turkish OST? I am sure with such a busy schedule; PM must not have watched all the episodes of the show.
In that case, making such a strong statement is not very strategically well put. Is it? Considering Pakistan's low digital literacy and unfair access to non-biased literature, not everyone can intellectually and mindfully watch it as a mindless entertainment. Evident by the posts and praises of the show on Social media, let alone the bashing on the Instagram accounts of lead actors.
Neutrality: National content must keep a neutral stance. With such endorsements during COVID lockdown, limited mobility, perhaps this is a way of specifying the masses by PM. Almost like the band on Titanic playing the violin while everyone prepares for death and drowning, but with religious rhetoric to it. Such tactics have been used by politicians and proven to be very influential in the contemporary world of politics that aims at convincing people to adore the sacred power in their life undertakings.
Linguistically, anti-Muslim bigotry is a more accurate term for racist discrimination that Muslims face in their daily lives. It is an ancient phenomenon, keeping prejudice at the heart of it. It has been happening for centuries, and this time it is termed as Islamophobia. If nothing else, this national cheerleading leads to the idea of collective catharsis at a societal level. PM has unknowingly handed over an outlet to the nation through which the negative forces accumulated in the form of aggression, hatred, and degrading the minorities can be released. Shaan Shahid's stance around patriotism and national narratives on social media, highlights the intrinsic gaps and concerns with promotion of national and not the borrowed content, lack of funding and support, government policy, infrastructure, and rating driven content by local media.
Conquest to Conquer: Religious fights and achieving religious reform is about making changes in the given socio-cultural conditions and political interests at hand. We tend to believe that many of the conflicts in the history were religious in nature.
The disputes in Anatolia between Muslim Oghuz Turks, fighting invading Mongols, Christian Byzantines, Knights Templar Crusaders or the cycle of conspiracies within Kayis tribe while dealing with external enemies plotting Ertugruls annihilation – are conveniently framed in the language of religion, they are misunderstood as religious conflicts. But if we look closely at the religion as involving questions of identity, then only we can understand these conflicts appearing to be less heroic, faith-based war and more political or economic disputes which can be resolved.
Similarly, the on-going battle portrayed in these series between Shamanism, Christianity, and Islam is more rhetorical than real. There is, of course, a genuine and ideological struggle of Muslims in this series. The problem with ideological war is that it boosts the collective self-esteem of masses viciously to the level where they have the purpose of living in their lives.
However, for the sake of argument, can we see the Muslim engagement with Christianity and Shamanism as a remarkable impact in Central Asia? Was it a clash of civilization? Or was it just well-crafted strategy to win over the geographical power?
Stories of Origin: Stories of origin are as predictive and constraining as they are explanatory. The narrative becomes a paradigm, and just as often, the stories we tell, determine what happens. Stories drawing the map of where we came from become the ones restrictive in nature in deciding where we can go from here. If yours is a story of victimization, you will live out your days a victim. If it's a tale in which your race is superior to all others, evidence of your superiority will be visible. Persian author Juwayni had quoted a fugitive regarding the Mongol operations in 1219-22:
There is undoubtedly irrefutable evidence of widespread massacre during Chinggis Khan's campaigns of conquest. But many cities surrendered promptly, and their populations were spared, while some Muslim rulers, notably in southern Iran, accepted tributary status and thus ensured that entire regions and their inhabitants remained unharmed. Mongol efforts to rehabilitate devastated Muslim territories too began, in some instances, strikingly early; here, the means sometimes involved bringing in settlers from the Far East.
To revive Islamic Identity: Faith is a form of identity that is as vital as ethnicity, nationality, or race, resting on the understanding of religion as a human response to an existential imperative. This instinctual and visceral response is shaped not just by the sacred religious texts but also by the current socio-cultural contexts and stories in which people grapple with daily life. Religious stories, in this light, mean more than mere historical truths.
What really matters is the narrative we embrace and what stories we choose to tell shape our sense of the world and our generations.
Reviling in its biased portrayal of Ertugrul and Islamic history, the show has painted a considerable bullseye on Ertugrul's character. A metaphorical hero now inevitably overtaken the real heroes who have human attributes, has a realistic estimation of situation, is less driven by the emotions, and more intellectual in his war tactics and political strategies. The heroic image and story of Ertugrul, however, need the bad guy; otherwise, there would be no story to tell.
But this is the logic of stories, not of real life. The confrontation between good and evil is never as absolute as it is re narrating the story. In hindsight, the story adapts bit by bit, expanding and contracting to accommodate the glorifies version of characters as it simplifies overtime. With Ertugrul, we have taken our cues from religious rhetoric, mixed in a blend of pop culture and drawing parallels with GOT, and spun an image that now has little resemblance to the person or figure who actually existed and more of an immortal god who helps us live our esteem vigorously.
Halal John Snow: Commonly labelled as the Turkish Game of Thrones, woven around 13th century Anatolia tells the story before the establishment of the Ottoman Empire and illustrates the struggle of Ertugrul Gazi, father of the empire's first leader. I intend to draw this analogy that drawing parallel of Ertugrual as a Halal John Snow, a person who is neither a strategist nor emotionally intelligent. Uses emotions as instincts in a war and believes in Tawakul and almost nothing harms the character.
Through this drama, the nation is exploring the traumatic history, religious violence, tribal wars and nomads' culture, and the power of Tawakul in our religious heroes.
When your story is written by those in passionate opposition to everything you believe in, it will be, put it mildly, twisted. Every action, gesture, strategy becomes not only a suspect but is turned on its head. The wildest rumours are passed off as facts. Inconvenient facts are ignored or edited out, relegated to oblivion until all we are left with is not a real person but an image. A morality tale character, which is how Mongols will become the kind of Evil spirits if their times.
Is Ertugrul telling a story that arcs toward hatred, intolerant nation, or away from kindness, mutual respect, and tolerance? A tale of intractable foes locked in a power struggle is not going to end in the greater nation.
https://dailytimes.com.pk/611414/dirilis-the-glorified-idea-of-the-muslim-world-to-mitigate-islamophobia/
-------
No plan to scrap 18th Amendment, FM Qureshi assures Senate
May 13, 2020
Iftikhar A. Khan
ISLAMABAD: Foreign Minister Shah Mehmood Qureshi on Tuesday assured the opposition in the Senate that the government had no plans to scrap the 18th Constitution Amendment.
"It is not our strategy and politics to bury the 18th Amendment," he said while responding to the points raised by the opposition during a discussion on coronavirus and related issues in the Senate.
He said all the 'positive' features of the constitutional amendment were acceptable to the government, but highlighted the need to revisit the 'weak' parts. He said as the ruling Pakistan Tehreek-i-Insaf alone did not enjoy a two-thirds majority in the parliament, this could not be done. "The opposition therefore need not worry," he remarked.
Rejecting the allegation of discrimination against Sindh in the federal government's drive to contain coronavirus, the foreign minister said the disbursements made to the province refuted the claim. "Will Sindh not benefit from the Rs50 billion subsidy for the Utility Stores?" he asked.
Mr Qureshi, who had accused the Pakistan Peoples Party of using the Sindh card in the National Assembly a day earlier as well, reiterated the statement. He added that the PPP ideology in the past was enriched with the fragrance of federalism, but regretted that it was now stinky with bias.
Apparently in response to the opposition remarks about the missing national leadership and confusion over policy, the foreign minister said there was no 'confusion' over lockdown in the country, as a clear policy was in place that also had an input from the PPP.
Lockdown was not the only solution to the pandemic, he believed, explaining that it was an element of the overall strategy of the government to contain coronavirus. He denied that Prime Minister Imran Khan said the elite had got the lockdown enforced. The PM just said the elite class had the capacity to sustain lockdown but it was otherwise for the have-nots who were feared to die from hunger, he insisted.
In response to questions regarding PM Khan's absence from the parliament, the foreign minister said that the premier was in Islamabad and chaired a meeting on virus-related issues daily.
The decision to ease lockdown had been taken in view of expert opinions. He said 18.6 million workers would have become jobless and 21 to 27 million people would have slipped below the poverty line if "complete" lockdown had been enforced.
He said the decision had been taken after analysing the Covid-19 data of two and a half months. "The curve is increasing and will take time to flatten," he admitted.
The PPP Parliamentary Leader in the Senate, Senator Sherry Rehman, while taking part in discussion said: "This is the first time in Pakistan's history that we are fighting a pandemic of this nature, but PM's words of unity and healing are missing along with his presence in the Parliament. What is keeping him so busy that he cannot attend the sessions? Is the Parliament irrelevant, because this is the message he is giving? Who is running the country if he is missing? Why has the CCI not met yet? Like the missing person, there is a missing policy. He needs to be here sharing his plan of action because what is more important than forging unity for your people".
She said: "Provinces have been told to fend for themselves. Even though they are self-sufficient, they are not the state. The need of the hour is to come together and form a uniform strategy to tackle this situation as it is not possible for a province alone to tackle an issue of this magnitude alone. Provinces should not be feeling isolated and left on their own. Eighteenth Amendment is being used to hide federal government's incompetency and provinces are being told to do their own thing, but 18th Amendment has nothing to do with this. We can all sit down and discuss this matter but now is not the time to create such distractions. Everyday there is a tirade of abuse against Sindh which we are ignoring because we do not want to get into dirty politics, especially at this time when the country is fighting a national emergency. This is the time for national unity where all provinces must be on the same page."
"The lives versus livelihoods debate is irrelevant right now. Lives come first and there should be no confusion about it. We don't need to cite other countries and their decaying economies of the west as our priorities need to be shifted. We need to learn from their mistakes and not repeat them. This is an unprecedented situation, why should we experiment on our people's lives? A major chunk of the 1.2 trillion relief package has been allocated to big businesses and construction sector but now our budget needs to reflect human security. We need to realise that capitalism has failed us," she added.
Ms Rehman said: "This situation is worse than war. Our healthcare system is collapsing. We have six beds per 10,000 people. Healthcare professionals are constantly saying that our resources will exhaust. Since there is no policy, there is a chance of losing one million people to this virus. Is that acceptable to us? There must be a single message and policy".
Criticising the ambiguity in government policy regarding the lockdown, the PPP parliamentary leader in the Senate concluded by saying that the federal government's "mixed messages" had led to serious confusion amongst the various segments of society.
Opposition Leader in the Senate Raja Zafar-ul-Haq said the government should have taken a lead in summoning an in-person session, but the opposition had to requisition it. "During such times, opinion is sought from the institutions such as the parliament," he said. He lamented that the government, instead of consulting the opposition to find solutions against the pandemic, did not bother to even approach them.
https://www.dawn.com/news/1556720/no-plan-to-scrap-18th-amendment-fm-qureshi-assures-senate
------
Sindh govt spends about Rs1bn on procuring ventilators, other equipment
May 13, 2020
Imran Ayub
KARACHI: The Sindh government has spent around $6 million, or nearly Rs1 billion, mainly for imports and procurement of key medical equipment, including ventilators, to build capacity of its healthcare system to meet coronavirus challenges and enhance its treatments facilities, which have been under serious criticism from its political opponents and experts, officials and sources said on Tuesday.
An official said that an amount of $4m had already been spent for placing orders to import different equipment and healthcare machinery while the spending pertaining to remaining $2m had also been approved by the authorities.
The orders placed included a number of testing kits from different countries to build the testing capacity, which is considered as a key exercise in the fight against Covid-19.
"The procurement plan includes import of 100 ventilators," said another official. "Other key items included more than 1,500 ICU beds, PCR machines, insulators and a number of other important healthcare products."
He said that the consignment of ventilators had already started arriving and the process was expected to continue for another month. "Most of the imported ventilators would be provided to public hospitals in Karachi for critically ill patients requiring life support after contracting the coronavirus."
Currently, there are only 321 isolation beds at seven public and private hospitals in the city which are treating Covid-19 patients with mild to moderate symptoms.
However, the steps taken so far by the provincial government failed to impress the political opponents of the Pakistan Peoples Party, who question its planning and transparency so far.
Pakistan Tehreek-i-Insaf leader MPA Khurram Sher Zaman had already raised questions over the government's performance and demanded a transparent audit into the huge spending of the Sindh government in the name of coronavirus pandemic.
On the other hand, medical experts and managements of private hospitals suggest to the provincial government to prepare critical care units (CCUs) at its field isolation centres.
"We have recently suggested to the government to reserve some public hospitals with hundreds of beds for patients and equip them with machinery and human resources," said a senior executive at one of the largest private hospitals in the city while referring to a meeting last month with Chief Minister Syed Murad Ali Shah in which he sought private hospitals' cooperation in the fight against the coronavirus pandemic and discussed possible solutions to tackle the emerging challenges.
The executive said that Sindh needed at least 5,000 more ventilators to deal with any emergency and the provincial government should pick up its effort for enhancing the number of life-support equipment and healthcare products at its hospitals and field isolation centres.
https://www.dawn.com/news/1556660/sindh-govt-spends-about-rs1bn-on-procuring-ventilators-other-equipment
------
Two suspects killed in 'encounter' on Karachi's outskirts
May 13, 2020
KARACHI: Two suspected criminals were killed in an alleged encounter with police in Wazeer Brohi Goth off Superhighway on Tuesday, as a pre-dawn raid on the city's outskirt turned into a deadly gun battle, officials said.
A senior official said that acting on intelligence reports about the presence of some criminals belonging to an organised gang a team of Counter-Terrorism Department (CTD) raided their hideout within the remit of the SITE-Superhighway police station where an encounter ensued.
"The personnel of law-enforcement agencies cordoned off the area," said Raja Umar Khattab of the CTD. "The armed men in the hideout attacked our team when they were busy taking positions. The attack led to retaliation from our side, which triggered an exchange of gunfire. After an encounter, two armed men were killed. Later, we searched the hideout and found arms from their possession."
He said the deceased were identified as Ali Dost and Liaquat and investigators had found out that both were involved in the killing of an on-duty intelligence official in February this year.
"The bodies have been moved to the Edhi morgue after completing medico-legal formalities at a hospital. We are sending the arms recovered from them for a forensic examination to ascertain the possibility of their use in any other criminal activities," said CTD official Khattab.
Meanwhile, the law enforcement agencies at a high-level meeting on Tuesday devised a strategy for imposition of lockdown, countering street crimes and to avert any untoward incident.
A statement issued by the Pakistan Rangers, Sindh, said that the meeting was presided over by Rangers director general Major General Omar Ahmed Bukhari at the headquarters of the paramilitary force.
The meeting also reviewed and discussed security situation of the province particularly of Karachi. The participants agreed to take every possible measure to ensure maintenance of law and order during Ramazan.
https://www.dawn.com/news/1556657/two-suspects-killed-in-encounter-on-karachis-outskirts
------
Another judge refuses to hear Chaudhrys' pleas
May 13, 2020
LAHORE: Another judge of the Lahore High Court on Tuesday recused himself, for personal reasons, from petitions filed by PML-Q leaders – Chaudhry Shujaat Hussain and Punjab Assembly Speaker Chaudhry Pervaiz Elahi – against the actions of the National Accountability Bureau (NAB).
Chief Justice Muhammad Qasim Khan had referred the petitions to a two-member bench comprising Justice Syed Shahbaz Ali Rizvi and Justice Asjad Javed Ghural after a judge of a division bench recused himself from the matter.
The legal team of the petitioners had pointed out that Justice Farooq Haider, a member of the initial bench, had been a counsel of the Chaudhry brothers in a number of cases before his elevation. It was argued that it would not be appropriate for the judge to hear the petitions. Justice Sardar Ahmad Naeem headed the bench.
On Tuesday, the subsequent bench was supposed to take up the petitions, however, hearing could not be held due to the recusal by Justice Ghural.
A bar member told Dawn that Justice Ghural was also likely to recuse himself from the case since his family had political affiliations with the Chaudhrys.
The petitions by the Chaudhry brothers said that then chairman of the respondent bureau in 2000 authorised investigation against them on the allegations of misuse of authority, assets beyond means and wilful default under National Accountability Ordinance 1999.
They said all the three investigations were recommended for closure by the investigating officers and regional board of the NAB during 2017 and 2018 when the regime of political arch rivals was in place.
However, they said, the NAB chairman approved in 2019 reinvestigation and bifurcation of the inquiries against them after an investigation spreading over a period of 19 years since authorisation of investigation in 2000.
https://www.dawn.com/news/1556678/another-judge-refuses-to-hear-chaudhrys-pleas
------
Mideast
HRW slams Israel's 'discriminatory' land policies against Palestinians
12 May 2020
Human Right Watch (HRW) has condemned the Israeli regime's discriminatory land policies against Palestinians in the West Bank, besieged Gaza Strip, and elsewhere in the occupied territories, saying while Palestinian communities are squeezed and their residents' access to land is being sharply restricted, Israeli-inhabited towns are growing.
The New York-based body, in a report published on Tuesday, said a great proportion of the Palestinian population has been confined to densely-populated towns and villages as a result of the Tel Aviv regime's decades-long discriminatory policies of land expropriation.
It noted that even though Palestinian neighborhoods have little room to expand, Israeli authorities nurture the growth and expansion of nearby predominantly Israeli communities — most of which have been constructed on Palestinian-owned lands.
France is pressing its EU partners to consider a tough response to Israel if Tel Aviv goes ahead with its plot to annex parts of the occupied West Bank.
The HRW went on to say that the Israeli regime directly controls 93 percent of the land in the occupied territories, including East Jerusalem al-Quds, and the so-called Israel Land Authority (ILA) manages and allocates such pieces of land.
Almost half the members of ILA's governing body apparently belong to an Israeli fund whose explicit mandate is to develop and lease land for Israeli Jews and not any other segment of the population.
Palestinian citizens of Israel constitute 21 percent of the population, but Israeli and Palestinian rights groups estimated in 2017 that less than 3 percent of all land there falls under the jurisdiction of Palestinian municipalities.
Mike Pompeo's meeting with Benjamin Netanyahu is like the gathering of two "mobsters" plotting to eradicate Palestinians from their indigenous homeland, says an American political analyst.
Human Rights Watch noted that Israeli authorities have seized hundreds of thousands of dunams of land (10 dunams equals 1 hectare) from Palestinians since 1948, and much of the confiscation took place the following year, when the Tel Aviv regime imposed military rule on most Palestinians in the occupied territories.
During this period, Israeli authorities confined Palestinians to dozens of enclaves and severely restricted their movement. They also used various military regulations and new laws to seize land belonging to internally-displaced Palestinians.
The HRW then underlined that the Israeli regime's policies in recent years have not only failed to overturn earlier land grabs, but have actually further restricted land available for the residential growth of Palestinians.
The group then cited the findings of a 2003 report that "many Arab towns and villages were surrounded by land designated for purposes" such as so-called security zones, regional councils, parks and nature reserves or highways, which "prevent or impede the possibility of their expansion in the future."
Additionally, the Arab Center for Alternative Planning told the HRW that it estimates that 15 to 20 percent of homes in Palestinian towns and villages lack permits, because their owners' applications have either been rejected or because they did not apply knowing that Israeli officials would reject their requests.
The group then warned that between 60,000 and 70,000 homes in the occupied territories, excluding Jerusalem al-Quds, are estimated to be at risk of full demolition.
By contrast, in the cases reviewed by Human Rights Watch, Israeli planning authorities have offered sufficient land and zoning permissions to similarly-situated, predominantly Israeli communities to help their growth.
Eric Goldstein, acting Middle East executive director at the HRW, said, "These practices are well-known when it comes to the occupied West Bank, but Israeli authorities are also enforcing discriminatory land practices inside Israel."
https://www.presstv.com/Detail/2020/05/12/625177/-Israel-HRW-Palestinian-land-
------
Turkey's TIKA delivers Ramadan aid in Somalia and Djibouti
MAY 13, 2020
The Turkish Cooperation and Coordination Agency (TIKA) has helped 500 families who had to leave their homes behind in Somalia's capital Mogadishu to live in camps in the Garasbaaley region to the west.
TIKA distributed food packages including rice, flour, pasta, sugar and oil to the families as part of its 2020 Ramadan Program, which refers to the Muslim holy fasting month.
During the distribution, TIKA personnel in the city, District Governor Abdurrahman Ahmad Ali, Deputy Governor Abdirahim Ali and regional commander Ali Ahmad were present.
In Somalia, which is largely affected by the novel coronavirus outbreak, most of the people are working for daily wages. This makes it harder to apply restrictions in the country to stem the spread of the virus.
As of Sunday, the country had confirmed 57 new coronavirus cases, bringing the tally to 1,054. The death toll in Somalia stood at 51, with a total of 118 recoveries.
The agency also supported the Red Crescent Society of Djibouti with protective equipment and hygiene kits against the outbreak, which has claimed thousands of lives worldwide.
Speaking at the delivery ceremony for the materials, TIKA Program Coordinator Kutluhan Yucel said "Turkey is determined to stand with Djibouti through these challenging days."
Noting that the project is part of the aid program of TIKA which it carries out all around the world, Yucel added that the "Red Crescent Society of Djibouti is absolutely not alone in its fight against the COVID-19 outbreak."
Abdi Ibrahim Farah, head of the Red Crescent Society of Djibouti, thanked TIKA and Turkey for the meaningful aid that came during the crisis.
"Last April, we received some aid from Turkey. This second aid from TIKA is a large contribution to the needs of the Red Crescent," he said, adding such aid further strengthens bilateral ties.
https://www.dailysabah.com/politics/turkeys-tika-delivers-ramadan-aid-in-somalia-and-djibouti/news
-----
Iranians hold first 'Laylat al-Qadr' ceremony in Ramadan
13 May 2020
Tehran (ISNA) – Iranians held the first 'Laylat al-Qadr' ceremony of Ramadan Month on Tuesday night May 12 in different cities of Iran while following social distancing guidelines.
Muslims believe that on this night the blessings and mercy of God are abundant, sins are forgiven, supplications are accepted, and that the annual decree is revealed to the angels who also descend to earth for performing every and any errand decreed by God.
https://en.isna.ir/photo/99022417344/Iranians-hold-first-Laylat-al-Qadr-ceremony-in-Ramadan
-----
Pompeo: Iran trying to 'foment terror' during pandemic
May 13, 2020
JERUSALEM: US Secretary of State Mike Pompeo accused Iran on Wednesday of using its resources to "foment terror" even as its people face the Middle East's deadliest coronavirus outbreak.
"Even during this pandemic the Iranians are using the ayatollah regime's resources to foment terror across the world, even when the people of Iran are struggling so mightily," Pompeo said in Jerusalem ahead of talks with Israeli Prime Minister Benjamin Netanyahu.
The US top diplomat wore a red, white and blue mask as he descended from his plane in Tel Aviv, but he and Netanyahu were without masks when they met at the premier's office.
He also praised Washington's continuing pressure on Iran, a country he claimed was persisting with its "aggressive designs and its aggressive actions against Americans, Israelis and everyone else in the region."
Pompeo and Netanyahu were also expected to discuss US blessing for Israeli plans to annex Jewish settlements and other territory in the occupied West Bank.
West Bank annexations were detailed in President Donald Trump's controversial Middle East peace plan, which was categorically rejected by the Palestinians.
For other major powers, Israeli annexations in the West Bank would amount to a grave violation of international law.
https://www.arabnews.com/node/1674006/middle-east
-----
Turkey: UAE bringing chaos to Mideast through interventions in Libya, Yemen
13 May 2020
Amid rising frictions between Ankara and Abu Dhabi, Turkish Foreign Minister Mevlut Cavusoglu has hit out at the United Arab Emirates (UAE) for "bringing chaos" to the already-troubled Middle East region through its interventions in Libya and Yemen.
Speaking to Turkish broadcaster Akit TV on Tuesday, the top Turkish diplomat said the UAE along with Egypt and other countries were "trying to destabilize the whole region."
Especially singling out Abu Dhabi, Cavusoglu added, "If you are asking who is destabilizing this region, who is bringing chaos, then we would say Abu Dhabi without any hesitation."
The remarks came one day after the UAE issued a joint statement with Egypt, Greece, Cyprus and France condemning Turkey's "military interference in Libya."
Turkey's Foreign Ministry denounced the statement by the five countries and said France was "attempting to be the patron of this axis of malice."
Turkey and the UAE have been supporting opposing sides of the Libya conflict. Ankara has deployed military personnel and helped send militants from Syria to Libya in support of the internationally-recognized Libyan government headed by Prime Minister Fayez al-Sarraj in Tripoli.
Abu Dhabi, however, supports forces loyal to renegade General Khalifa Haftar, who have been trying to storm Tripoli and unseat the government. The UN says Abu Dhabi has supplied aircraft and military vehicles to Haftar.
Turkey threatens to target Haftar's rebel forces if they persisted in attacking Turkey's interests and diplomatic missions in Libya.
In Yemen, the UAE is a key party to a Saudi-led military coalition that has been waging a bloody war on the impoverished country since early 2015.
Turkey has also been increasing its presence in Yemen's southern coastal areas in a bid to expand its foothold in the Bab el-Mandeb Strait, according to latest reports.
Turkey is increasing its presence in Yemen's southern coastal areas in a bid to expand its foothold in the Bab el-Mandeb Strait, raising security concerns among Persian Gulf Arab countries.
Turkey has a military base in Somalia and is training the East African country's troops. The UAE had also military presence in Somalia under what was called a military training program until 2018, when Somalia disbanded the program.
Ties between Ankara and Abu Dhabi have been strained since 2017, when Turkey rushed to Qatar's help after the UAE, Egypt and Bahrain led by Saudi Arabia suddenly cut ties with Qatar and imposed an embargo on the kingdom.
https://www.presstv.com/Detail/2020/05/13/625219/Turkey-Cavusoglu-UAE-chaos-Libya-Yemen
-----
Coronavirus rages through more provinces in war-ravaged Yemen
13 May 2020
The new coronavirus outbreak continues to claim more lives in Yemen as the impoverished country is already grappling with deteriorating humanitarian crisis in the wake of years-long Saudi aggression.
The viral pandemic spread in three more southern Yemeni provinces on Tuesday, according to official reports, and took the total number of infections across the war-ravaged country to 65, with the number of fatalities standing at 10.
The World Health Organization has warned that the outbreak could rip through the war-torn country as the population has some of the lowest level of immunity to disease.
The UN Development Program says a Saudi-led military campaign underway against Yemen has pushed back the country's development 21 years.
Saudi Arabia and a number of its regional allies launched the devastating war on Yemen in March 2015 in order to bring former president Abd Rabbuh Mansur Hadi back to power and crush the Houthi Ansarullah movement.
The US-based Armed Conflict Location and Event Data Project (ACLED), a nonprofit conflict-research organization, estimates that the war has claimed more than 100,000 lives over the past five years.
On April 8, the Saudi-led coalition claimed it was halting military attacks and suspending hostilities in support of the United Nations' peace efforts, and to avoid further spread of the new coronavirus in Yemen.
However, shortly after the announcement, the coalition's warplanes struck positions at several Yemeni regions and the onslaught still goes on.
More than half of Yemen's hospitals and clinics have been destroyed or closed during the war by the Saudi-led coalition, which is supported militarily by the UK, US and other Western nations.
At least 80 percent of the 28 million-strong population is also reliant on aid to survive in what the United Nations has called the world's worst humanitarian crisis.
https://www.presstv.com/Detail/2020/05/13/625213/Yemen-coronavirus-outbreak-humanitarian-crisis-Saudi-aggression
-----
Africa
Stop depending entirely on mosques, Imams told
MAY 13 2020
By FELIX AINEBYOONA
The Ankole-Kigezi regional Kadhi, Sheikh Abdulkarim Katamba, has advised Imams in the country to start investing in other businesses other than hoping to survive only on what they get by leading prayers at mosques.
While receiving five tons of maize flour donated to the Imams in the region by businessman Hassan Basajjabalaba at his home in Bushenyi District on Monday, Sheikh Katamba said most Imams in the region spend much of their time at mosques which makes them to entirely depend on mosques which has made them vulnerable during this period.
"We have 5000 mosques in the region which means we have 10,000 Imams and their deputies, so if you do not plan early and think beyond the mosque, you should get ready for tough times ahead," Sheikh Katamba said.
He said the Muslim supreme council recently received a letter from the office of the Prime Minister (OPM) allowing them to collect and distribute food to the fasting Muslims so that they can have something to break their fast with.
"Imams of different mosques have been earning their food and breaking the fast from the mosques because that is their work, but at this time all the mosques are closed, schools are closed so they are earning nothing during this lockdown," Sheikh Katamba said.
Hassan Basajjabalaba also donated three tons of maize flour to Muslims in Bushenyi District to help them during this lockdown and fasting.
https://www.monitor.co.ug/News/National/Stop-depending-entirely-on-mosques--Imams-told/688334-5551328-ucns20/index.html
-----
COVID-19 LOCKDOWN: Miyetti Allah asks members to stay away from Oyo
May 12, 2020
By Ripples Nigeria
The Miyetti Allah on Tuesday ordered its members to stay away from Oyo State till the Federal Government lifted the ban on interstate travel.
The call followed reports of illegal entry of people from other states to the state despite the ban on interstate travel by the government.
The former Chairman of Oyo State Chapter of Miyetti Allah, Alhaji Yakubu Bello, who disclosed this to journalists in Iseyin, said the warning was to secure the lives of the people from COVID-19 infection.
He said the state chapter of Miyetti Allah had sent strong warnings to its members from northern part of the country and other states of the federation to heed the government's ban on interstate travel.
Bello said: "We have heard of cases of people that were arrested for defying interstate lockdown order, whether they were coming from the North or anywhere from Nigeria, but I can tell you that nothing of such has happened here.
"The moment government announced the lockdown order, we have sent a strong warning to our people in all the states of the federation not to come to Oyo State for business or visit till this trying period is over.
"It is really a difficult period for my people as they have never experienced such restriction before and in this business, I can tell you that we have lost over N5 billion to the effects of the rampaging COVID-19.
"You know how this place used to be a beehive of commercial activities, people will come from all over the country and beyond to buy and sell. People sell not just cows and other livestock, but personal items and household materials here. It is now like a ghost town."
https://www.ripplesnigeria.com/covid-19-lockdown-miyetti-allah-asks-members-to-stay-away-from-oyo/
-----
Senegalese govt reopens churches, mosques amid rising cases of COVID-19
May 12, 2020
By Seun Opejobi
The President of Senegal, Macky Sall, has announced the reopening of mosques and churches.
Sally made the announcement while easing restrictions imposed on the country to tackle the spread of COVID-19, Reuters reports.
The Senegalese president had placed restriction on religious gathering in March, following the outbreak of COVID-19.
Senegal has recorded 1,886 coronavirus cases in total, including 19 deaths.
However, Sall said the 8 pm to 6 am curfew would be shortened by one hour in the morning and one hour in the evening.
In a nationwide address on Monday, Sally said: "In the best of cases, COVID-19 will continue to circulate in the country until the month of August, or even September.
"In this new phase that will last not a few weeks but three or four months, we need to learn to live in the presence of the virus."
https://dailypost.ng/2020/05/12/senegalese-govt-reopens-churches-mosques-amid-rising-cases-of-covid-19/
-----
Southeast Asia
187-year-old Jardine faces pain in Indonesia after expansion
Shirley Zhao
May 13, 2020
After political protests and the coronavirus crisis walloped its businesses in Greater China, Jardine Matheson Holdings Ltd., one of Hong Kong's last remaining British trading houses, is facing a new challenge -- in Indonesia.
The pandemic has hobbled the Southeast Asian nation's US$1 trillion economy, weighing on Jardine's local automotive distribution unit and the second-biggest profit contributor, PT Astra International. The conglomerate, whose operations span property, retail, hotels and motor vehicles, has warned investors of "increasingly difficult conditions" in Indonesia, where the fatality rate from COVID-19 is the highest in the region.
Indonesia's auto industry association almost halved its 2020 vehicle sales forecast, dimming the outlook for Astra, which sells cars and trucks from Toyota Motor Corp. to Isuzu Motors Ltd. With Indonesia's economic growth set to cool to the slowest in almost two decades this year, Astra's other businesses including heavy machineries and palm oil are also feeling the hardship.
"The weakness has really been a result of COVID-19 heavily impacting Southeast Asia, where Jardine has fairly meaningful exposure, most notably in Indonesia," said Jonathan Galligan, group deputy head of research at CLSA Ltd.
For the 187-year-old "hong," as foreign trading houses are known in Hong Kong, Indonesia marks a new front in its battle to revive growth at businesses ranging from its Mandarin Oriental hotels to Dairy Farm supermarkets. While the pandemic has also pummeled Jardine's Hong Kong-based peers such as Swire Pacific Ltd., the continuing surge in infections in Indonesia points to unforeseeable risks in Southeast Asia, a region that accounts for about 42 percent of Jardine's underlying profit.
Shares of Jardine plunged 12 percent last month in Singapore, their steepest since 2011, and are trading near an almost nine-year low, according to data compiled by Bloomberg. They have tumbled 33 percent since a controversial extradition bill introduced and later withdrawn by the Hong Kong government sparked social unrest in the semi-autonomous Chinese territory. Astra has dropped 45 percent in Jakarta this year, compared with a 27 percent drop in the local benchmark index.
Founded in July 1832 in Canton as a tea and opium trader, Jardine's fortunes have been closely linked to China's. In 1994, Jardine moved its Hong Kong listing to Singapore, three years before Britain returned the city to China. The group's unit Jardine Cycle & Carriage Ltd. gradually took control of Astra starting 2000, after the firm's owners faced headwinds during the Asian financial crisis. Jardine has continued to diversify across Southeast Asia from Vietnam to Malaysia and Thailand ever since.
The group now includes engineering and construction company Jardine Pacific Ltd., automotive businesses Jardine International Motors Group and Astra, retail group Dairy Farm International Holdings Ltd., investment holding company Cycle & Carriage, property firm Hongkong Land Holdings Ltd. and hotel chain Mandarin Oriental International Ltd. Astra took a minority stake in Indonesia's ride-hailing giant Gojek in 2018 and invested further in the company last year.
Swire Pacific, on the other hand, has been focused principally in Greater China, according to its annual report last year. For example, almost 90 percent of its real estate portfolio is in Hong Kong and mainland China. These two regions also contributed to 68 percent of its beverages division's profit last year. The group's shares have plunged 50 percent since the protests started mid-last year, while the outbreak slammed tourism and travel, paralyzing operations at its unit Cathay Pacific Airways Ltd.
In Indonesia, infected cases have grown almost 10-fold since end-March to 14,749 on Tuesday, with deaths topping 1,000, the most after China and India in Asia. President Joko Widodo has extended a partial lockdown in capital Jakarta and several cities nearby to contain the disease. The government has said the economy could contract this year in a worst-case scenario.
Last month, Jakarta-listed Astra, which brings 29 percent of Jardine's underlying profit, said the pandemic has adversely impacted its April performance and warned the difficult conditions are likely to persist "for some time." The company reported an 8 percent drop in net income for the first quarter from a year earlier.
The group's underlying profit is estimated to drop an average 12 percent this year, according to five analysts' forecasts compiled by Bloomberg. A weakening rupiah is another challenge the group is facing, CLSA's Galligan said. The local currency has depreciated about 7 percent against the dollar this year.
Despite the headwinds, Jardine has a strong balance sheet, giving it financial power to reinvest when opportunities arise, Galligan said. The group had $7.2 billion in cash and equivalents as of end-December, compared with $6.6 billion in short-term debt.
In early March, announcing a 4 percent decline in its underlying profit for 2019, Jardine Executive Chairman Ben Keswick said the company's performance for the rest of this year will depend on "the duration, geographic extent and impact of the outbreak and the measures taken to control it."
In its home base of Hong Kong, as the government grapples with a deep recession and starts to relax restrictions imposed earlier to contain the spread of the virus, a revival of pro-democracy protests is threatening to add to Jardine's risks.
"They have survived the World Wars and opium wars," said Nicolas Van Broekhoven, a Singapore-based analyst at researcher Smartkarma. "You name it, they've come through it. They will survive this one."
https://www.thejakartapost.com/news/2020/05/13/187-year-old-jardine-faces-pain-in-indonesia-after-expansion.html
-------
Health DG: Malaysia concerned about possible emergence of Covid-19 second wave
12 May 2020
By JOSEPH KAOS Jr
PUTRAJAYA: The emergence of new clusters in countries that have recovered from Covid-19 is a cause for concern for Malaysia, says the Health Ministry.
Health director-general Datuk Dr Noor Hisham Abdullah has called again for Malaysians to "come together" and observe social discipline strictly in order to break the chain of Covid-19 in the country.
"Indeed, many countries are worried about the possible emergence of a Covid-19 second wave. We are equally worried, " said Dr Noor Hisham at the ministry's daily Covid-19 press briefing here Tuesday (May 12).
He said Malaysia has done well to reduce the number of cases in the country during the first phases of the movement control order (MCO).
"The onus is not on the government but on each individual. Social compliance and discipline is important. If we can all comply with the SOPs (standard operating procedures) introduced by the Health Ministry, we can bring down the graph further.
"Whether we have a second wave or not is not up to the ministry alone. The onus is on the public as well, " said Dr Noor Hisham.
He was asked about the emergence of new Covid-19 clusters in China and South Korea, which have sparked global concern about the possibility of a second wave of the coronavirus outbreak.
"If our industries, our supermarkets comply with the SOPs given by the MOH (Health Ministry), I am sure we can bring down the cases further.
"We have to make history. If we want to be successful, if we want to break the chain of infection, we have to come together as one. If all of us put in our effort, I am sure we can do it. Malaysia Boleh, " said Dr Noor Hisham.
The city of Wuhan - the epicentre of the Covid-19 pandemic in China - has reported its first cluster of infections since lifting its lockdown a month ago.
In South Korea, a new cluster traced to Seoul's nightlife district has resulted in the country's highest spike of cases in recent days.
https://www.thestar.com.my/news/nation/2020/05/12/health-dg-malaysia-concerned-about-possible-emergence-of-covid-19-second-wave
------
Star Media CEO Andreas Vogiatzakis resigns after nine months
May 13, 2020
KUALA LUMPUR: Star Media Group Bhd chief executive officer (CEO) Andreas Vogiatzakis has resigned after nine months on the job.
In its filing with Bursa Malaysia today, the publisher of The Star daily said Vogiatzakis was leaving to pursue his interest.
Star Media said Vogiatzakis had taken over the CEO position on August 13 last year, nearly eight months after the top job was left vacant by Datuk Seri Wong Chun Wai.
Born and raised in rural Crete in Greece, Vogiatzakis began his career at DMB&B in New York after graduating from the University of Florida.
"After his tenure in the USA, he joined JWT in Athens, Greece before heading to Asia. In 1997, Andreas launched and ran MediaVest Japan, later merging it with Starcom, with a short stint in-between as the Wieden & Kennedy's media director."
In 2003, Vogiatzakis had moved to Taiwan as CEO of MindShare Group until 2006 when he made Malaysia his home, Star Media said.
https://www.nst.com.my/business/2020/05/592183/star-media-ceo-andreas-vogiatzakis-resigns-after-nine-months
-----
Covid-19: KFC denies viral claim that its poultry supply comes from a Pedas processing plant where staff have allegedly tested positive
13 May 2020
By Angelin Yeoh
KFC Malaysia has denied an unverified report claiming that the company's poultry supply comes from a chicken processing plant in Pedas, Negeri Sembilan, where staff have allegedly tested positive for Covid-19.
"We would like to assure our customers that KFC Malaysia is not associated with the plant and that it does not supply any poultry to KFC Malaysia," the company said in a statement posted on its official Facebook page.
The company reassured that "every aspect of its food manufacturing process follows strict controls and accepts only certificates recognised by the Department of Islamic Development Malaysia (JAKIM) and strictly adheres to MS1500:2009 (Malaysian Standard on Halal Food)".
"We work closely with our existing poultry suppliers to ensure the food we serve complies with the highest food safety and hygiene standards," the statement reiterated.
When contacted by Lifestyle Tech, KFC Management said the statement was issued after it discovered an unverified report in PDF format that has been circulating among users on messaging services like WhatsApp.
The report claimed that KFC is one of many companies that gets its supply from a poultry processing plant in Pedas where up to 60 workers have tested positive for Covid-19 and was purportedly prepared by the Veterinary Service Department in Putrajaya, dated May 9, 2020.
Users who shared the message warned others not to purchase or consume chicken for the time being out of fear that it may carry traces of Covid-19.
However, the World Health Organisation (WHO) in a report stated that it is "highly unlikely that people can contract Covid-19 from food or food packaging".
"Covid-19 is a respiratory illness and the primary transmission route is through person-to person contact and through direct contact with respiratory droplets generated when an infected person coughs or sneezes. There is no evidence to date of viruses that cause respiratory illnesses being transmitted via food or food packaging. Coronaviruses cannot multiply in food; they need an animal or human host to multiply," WHO said in a 'Food And Safety: Guidance For Food Businesses' report.
Health director-general Datuk Dr Noor Hisham Abdullah has also stated that there is no indication that Covid-19 can spread through food.
"We have not heard of the virus spreading through food, but most importantly if one of the workers is tested positive, we have to screen the close contacts in the restaurant," he said in a press conference on April 5.
Fake news related to Covid-19 has become major issue in Malaysia that is prompted authorities to step up efforts to combat misinformation. The Royal Malaysia Police (PDRM) and Malaysian Communications and Multimedia Commission has opened up 262 investigations papers related to Covid-19 fake news, according to the Ministry of Defence via Twitter on May 12.
It added that 179 reports are still under investigation, 29 cases have been charged in court, 11 were issued warning notices and 18 have pleaded guilty.
https://www.thestar.com.my/tech/tech-news/2020/05/13/covid-19-kfc-denies-viral-claim-that-its-poultry-supply-comes-from-a-pedas-processing-plant-where-staff-have-allegedly-tested-positive
-------
Arab world
Zamzam water available via online platform during Ramadan
May 13, 2020
JEDDAH: Zamzam water is being distributed during Ramadan via the Saudi electronic business platform HNAK, said the General Presidency for the Affairs of the Two Holy Mosques.
Online purchase of Zamzam water is part of a project undertaken with the National Water Co. (NWC) following the suspension of sales at distribution points as a precaution during the coronavirus disease (COVID-19) pandemic.
"The distribution will be available mainly in Makkah city. The service will be expanded gradually to all regions and cities of the Kingdom," NWC said on Twitter.
Online customers will be allowed to buy a maximum of four bottles (5 liters each). A second order can be placed 30 days after the first purchase.
The King Abdullah bin Abdul Aziz Zamzam Water Project is reviewing the quantities allowed and the distribution period in accordance with production conditions.
The retail firm Panda also signed an agreement to distribute Zamzam water in its branches from April 27. Customers can buy only two bottles (SR5) each.
In addition to selling international brands, HNAK is one of the growing Saudi e-business platforms supporting Saudi firms, and helping entrepreneurs and designers showcase their products to the world. Categories featured on the platform include fashion, electronics and groceries.
https://www.arabnews.com/node/1673811/saudi-arabia
------
Coronavirus UAE: How Muslim medical workers fast and answer call of duty
May 13, 2020
Samihah Zaman
Abu Dhabi: Ramadan is a spiritually demanding month every year, and worshippers gear up to spend days in abstinence and nights in prayer. But this year, medical professionals across the UAE are having to deal with the stresses of combatting the coronavirus on the frontlines as they complete their acts of worship.
Juggling between family and patients, these Muslim nurses and doctors are doing their best in the line of duty while also tending to the increasing number of patients.
"Every year, Iftar is normally a family affair, but now I sometimes make it home on the stroke of iftar, sometimes later. There are just too many patients we have to check up on everyday, in addition to outpatient appointments. So instead of the six-hour Ramadan workday, we regularly end up working for more than eight hours a day," Dr Faisal Dalvi, internal medicine specialist at Burjeel Hospital Abu Dhabi told Gulf News.
Rana Al Sayed, a nurse at Medcare Hospital Sharjah's Neonatal Intensive Care Unit who hails from Jordan, said time is the biggest constraint this Ramadan.
"With 12-hour workdays and Ramadan-related chores, we are always rushing from one chore or duty to another. And to make sure I am able to serve up meals, I spend my two off days a week preparing food that we can have during the week," Al Sayed said.
This year, amid the coronavirus pandemic, fasting medical professionals must abstain from food and drink for more than 14 hours. Most of these hours are on the job, and there is the added pressure of prepping healthy meals when one gets home.
"My sons are aged 12 and 10, and they are both fasting this year. And because of the movement restrictions, my parents who were visiting are also staying with us. I feel that it is my duty to give them the delicacies they enjoy during Ramadan despite the coronavirus restrictions, so I spend time every night preparing sambusek and meat that can be eaten the next day," said Dr Maha Osman, family medicine specialist at Medcare Medical Centre – Mirdiff Uptown.
The doctor and mother-of-three finishes what is normally a nine-hour shift in the late afternoon, and has to fit in a quick trip to the grocery store. Like all healthcare workers, she rushes into the shower as soon as she gets home, shrugging away the embraces of her five-year-old daughter.
Dr Naveed Ahmed, interventional cardiologist at Aster Hospital Mankhool, said both he and his dermatologist wife have to follow the same sanitisation procedures when they get home in order to keep their daughters safe. This includes leaving shoes outside the door, a shower, and putting clothes in for washing.
Not all healthcare workers are able to get home though, including nurses like Alsayed, who said she often finds herself scarfing down some food on her way home.
"I have some dates and water from the meals we are provided at the time of iftar, and usually wait to have a full meal when I get home. Sometimes, this can be as late as 10pm," Kakki said.
The nurse, who is also expecting her first child, said the demands of fasting are her smallest concern when working in a hospital during this current pandemic.
"During these rounds, I also have to put on gloves, gowns and shoe covers, and change them every time I see a new patient. It is hot and uncomfortable, and definitely makes the fast more tiring," he explained.
The strife to protect family members from contracting the coronavirus is also real, and often interferes with Ramadan family time and interactions.
"I maintain adequate distancing from them even at home. And for their part, they are so worried that they always ask me to take some leave and stay home," the doctor said.
Despite these challenges, the dedication and motivation of healthcare professionals towards their jobs and spiritual commitments is undeniable.
"We miss the Ramadan trips to the masjid and the communal iftars. And work is difficult. But we believe that Allah will reward us for all of this," Dr Ahmed said.
"In my nine years of being a nurse, I've never had to fast and work through a pandemic. So it is tough, but it is what is required," she said.
"It may be a big risk, but I took an oath to serve people as a doctor, just as I am duty-bound to fast as a Muslim. Allah will surely bless us for these sacrifices," he said.
Prior to the start of Ramadan, the UAE's Fatwa Council, which issues directives on matters of Islamic jurisprudence, ruled that frontline medical workers are permitted not to fast.
According to Islamic rulings, those who are unwell are exempted from fasting, and the Council explained that this applies to those who have contracted the coronavirus. In addition, it said that frontline medical workers are also permitted not to fast while on duty if they fear that fasting could weaken their immunity or cause them to provide inadequate care to patients.
In spite of this, Gulf News found that the majority of Muslim frontliners are braving the fast even as they discharge their medical duties. Many said they could not pass up on the opportunity to fulfill this exalted act of worship during the holy month.
https://gulfnews.com/uae/coronavirus-uae-how-muslim-medical-workers-fast-and-answer-call-of-duty-1.71337623
-----
Middle East prepares further lockdowns as Ramadan nears end
May 13, 2020
Saudi Arabia announced on Tuesday a 24-hour curfew will be imposed across the Kingdom during the five-day Eid Al-Fitr holiday (May 23 to 27).
Meanwhile Lebanon's government ordered the "full closure" of the country for four days, starting Wednesday night, as it seeks to ward off a coronavirus resurgence after easing some restrictions.
The rise in new infections follows a drop in cases to zero last week. "This achievement is at risk of collapsing" because some people have not complied with the guidelines, Prime Minister Hassan Diab was quoted as saying during a Cabinet meeting.
However, Dubai announced its decision to allow hotels to open private beaches, but only for their guests, state news agency WAM reported.
Dubai's Supreme Committee of Crisis and Disaster Management approved a number of new initiatives to ease restrictions on people's movement in the emirate including the reopening of public parks.
06:57 - A northeastern Chinese city has partially shut its borders and cut off transport links after the emergence of a local coronavirus cluster that has fueled growing fears of a second wave of infections in China.
06:45 - South Korea says it has no immediate plans to revive strict social distancing rules despite a spike in coronavirus cases linked to nightclubs in Seoul.
06:38 - Australians need to stay on guard against new outbreaks of the coronavirus as mobility restrictions are eased this week, authorities said, as the death toll rose to 98 on Wednesday.
06:24 – Abu Dhabi airline Etihad says it will conduct a special flight on May 15 to New York.
06:17 - Thailand on Wednesday reported no new coronavirus cases for the first time since March 9. The country has a total of 3,017 cases and 56 deaths since the outbreak escalated in January.
06:11 - The UN Security Council is trying again to reach agreement on its first resolution since the coronavirus pandemic started circling the globe over two months ago, but a dispute between the UsS and China over mentioning the World Health Organization remains unresolved.
https://www.arabnews.com/node/1673966/middle-east
-------
Ooredoo delivers Ramadan gifts to Ehsan Centre
13 May 2020
Doha: Qatar's leading telecommunications operator announced yesterday that it has delivered Ramadan gifts to the Ehsan Centre as part of its CSR programme, in spite of the logistical challenges presented by the ongoing COVID-19 outbreak.
Ooredoo arranged delivery of the gifts to the Ehsan Centre, the Centre for Elderly empowerment and Care, in order to continue its longstanding tradition of carrying out CSR activities in the community during Ramadan. All necessary precautions were taken to ensure the safety of delivery staff and gift recipients.
Sabah Rabiah Al Kuwari, Director PR at Ooredoo, said of the event: "This visit was the ideal way for us to show our gratitude to, and appreciation and respect for, our elders. We would also like to thank all Ehsan Centre staff for their hard work, not just during Ramadan, but also throughout the year. We are proud to do what we can to continue our CSR programme in these difficult times. Our corporate social responsibility strategy is at the heart of our operations, and we are determined to continue to support our local communities during the Holy Month of Ramadan in any way we can."
https://thepeninsulaqatar.com/article/13/05/2020/Ooredoo-delivers-Ramadan-gifts-to-Ehsan-Centre
------
Enjoying Ramadan like never before
Ameera Fouad
12 May 2020
"When the day of the flood came nearer, the animals started coming in one by one. They were in pairs of males and females, and the prophet and the believers boarded and sailed in the ship," read Alexandria resident Khadija Ismail to her six-year-old son Mazen as he listened impatiently to the story of the Prophet Noah.
Ismail had made a promise to her son that she would tell him a different story every day when the lockdown was introduced as part of measures to combat the coronavirus some months ago. She seized the chance of the Holy Month of Ramadan to tell her son religious stories of the prophets' lives, families and friends.
Mazen has learned to pray and can read verses from the Holy Quran. "He is a fast learner when no one pushes him around all day, and he has plenty of time to do everything he wants during the lockdown," Ismail said.
Mazen has also managed to find the time to train every day, as he is practising through an online virtual gymnastics class offered by the Alexandria Sporting Club (ASC). He is a promising young football player who used to play football five times a week before the lockdown as part of his ambition to become the next Mo Salah. "I used to play as many as three hours per day after returning home from school. Even on weekends, I played with my father in a neighbouring park," he said.
However, Hussein, like many kids his age, has had his life turned upside down because of the spread of the Covid-19 virus. Although he found it difficult at first to cope with the lockdown, he has now adapted to his new form of life. "I am doing online fitness training as scheduled by my coach. My parents encourage me to learn new football skills at home, like dribbling the ball and improving my control," he said.
"The club misses its family and all its members," commented Ahmed Warda, president of the Alexandria Sporting Club, in an interview with Al-Ahram Weekly. However, it is offering many online activities to suit members during the lockdown. "The moment the virus appeared, we made plans for all activities to continue in the cultural, sporting and religious sectors," he added.
The ASC has been renowned for the religious atmosphere it has been used to create for all its members during Ramadan. This year, because of the changed circumstances, it is organising the online streaming of religious programmes by different sheikhs, Quran reciters and preachers every day. "We are keen to provide our members with prayers, advice and seminars during Ramadan to help them feel the religious atmosphere they used to feel at the club," Warda said.
It has designed different competitions for different ages and different interests. For example, its cultural committee has designed tourist competitions to find out more about landmark places in Egypt and a fine art competition to help people to discover their talents.
"We designed a 'Who is the Figure?' competition addressed to young people to help them become more aware of Egyptian figures who have changed history," he added.
In addition to the cultural online activities, the ASC has also been keen to provide fitness courses for players online. "It is very important to keep fit while staying at home for such a long period, and this is why we offer a variety of online fitness courses running throughout the day for all sports and all ages," Warda said.
Besides keeping fit, children need to feel they are learning life skills during Ramadan like caring for the elderly, helping the needy, feeling for others and other skills. This is what Shaimaa Ali, an educational and parenting consultant, stresses this Ramadan.
All parents should make time for their kids to teach them the life skills they may not have found the time for earlier, she said. "We are all so busy and hurrying from one place to another all day long. Now when we have the chance to sit with children and read them stories, for example, we may see that we were just racing about thinking of no one but ourselves," she added.
"I have set aside a room in my house for praying and reciting the Quran. When my three-year-old son sees me, he copies whatever I am doing and knows that this time is the time to feel close to God," she said.
Children can be among those affected the most during the present lockdown. They have lost their schools, clubs, friends and playing areas to the need to observe social-distancing during the pandemic. Parents should explain to them why they can not go out, Ali said, adding that it is important not to "shut their world for children without giving a reason."
"This is why creating a diverse range of human activities is a good idea for both adults and kids. Create all kinds of arts, read stories, learn new things, dance, practise yoga, reshuffle your home and move things around – make room to enjoy yourselves," Ali added. "You can go for online virtual tours offered by museums before iftar, for example, and this can be particularly valuable for kids."
"We may never return to our old hectic lives whenever normal life comes back," she said, commenting that she had made a promise to herself to make the best of the experience for her family and herself during this locked-down Ramadan.
A popular online activity, especially in Ramadan, is online cooking. People love eating when they have completed their daily fast, and they enjoy creating new dishes and preparing kahk biscuits for the Eid. The Baking House is a pioneer baking manufacturer based in Alexandria with branches in Cairo and Siwa that started 20 years ago as a manufacturer of biscuits and a subsidiary of a larger company called Shahd founded by the late Dorreya Abdel-Salam.
It has been helping people to enjoy this Ramadan. "We decided to establish Baking House as the first online baking store in Egypt. We started mainly with biscuits but the enterprise grew bigger to include all kinds of cookies," said Ahmed Kamal, the owner of Shahd and Baking House.
"We think physical stores will be out of fashion in ten years, which is why we offer convenient prices for our customers at our online store. Instead of paying for electricity and all the costs of renting a physical store, we are investing in the quality of our products, and more importantly we are trying to make the whole buying journey as convenient as possible for customers," he said.
"The fundamental value we have is to keep our cultural and family heritage. So, the kahk biscuits are just as they have always been – tiny crumbly cookies stuffed with sweet surprises and buried under powdered sugar."
The Baking House has surprised its customers this year by creating colourful kahk biscuits in red, blue, purple, crimson, strawberry, cherry and many more. "During Ramadan, the process of baking becomes even more enjoyable as we are imagining, originating, recreating tastes and satisfying our five senses," said chef Khaled Ahmed.
He highlighted the importance of feedback and the recommendations he gets from online customers. "The feedback we get guides improvements to the customer experience, and empowers positive change in any kind of cooking or baking," he said.
http://english.ahram.org.eg/NewsContent/50/1210/369182/AlAhram-Weekly/Living/Enjoying-Ramadan-like-never-before.aspx
------
How Britain Muslim Athletes Are Coping with Ramadan In the Middle of Coronavirus Lockdown
MALIK OUZIA
25 minutes ago
It's one o'clock in the morning and while rivals, team-mates and most of the nation's casual plodders sleep, Mahamed Mahamed is heading out to train.
One of Britain's brightest distance running talents, Mahamed is a devout Muslim and, in the midst of the Islamic holy month of Ramadan, is observing its daily dawn-until-sunset fast.
If he's lucky, on nights like these, his path around the deserted parks and streets is lit by a willing pacemaker on a bicycle, its rear light flashing away, a target and a friend. More often, he is alone.
On other days, 22-year-old Mahamed hits the track in the early evening, making the most of the last of his energy and the day's light, with his dinner packed in his rucksack, ready to take at the earliest possible moment.
This is what Ramadan can look like for Muslim athletes, as they balance faith with ambition and, sometimes, livelihood. But not this year.
The coronavirus pandemic has provided an unexpected opportunity to do things differently. Tracks are locked, gyms are closed and coaches, like everyone else, exist as Zoom-talking heads, rather than stopwatch-wielding foghorns. The Olympic Games are off, the Diamond League circuit is in tatters and the domestic track season will not begin until July at the earliest.
For Muslim athletes at all levels, the pressure is off. Dalilah Muhammad, the 400metre world record-holder, is using the enforced break as a chance to complete a full month of fasting for the first time in her career. "I'm never able to do the full 30 days," she told CNN. "This time, I made a promise to myself to really do it."
Closer to home, Mo Hashi, a club runner with Ealing, Southall and Middlesex AC, says that after years of training, fasting, working and studying through Ramadan, it's nice to be able to tailor his schedule. "If there wasn't lockdown, I'd be training with my group at 10 in the morning," he says. "That's been one of the key benefits. I can go and do my run late, at six or seven in the evening."
"It's been a blessing," Mahamed agrees, with a sense of reluctant relief that any practising Muslim due to run the London Marathon on what turned out to be an unseasonably warm Sunday last month might relate to.
The exact toll that Ramadan takes on athletic performance is difficult to ascertain - if, indeed, there is one at all. Professor Karim Chamari, a former Tunisian Olympic windsurfer, works as one of the world's leading researchers into the subject at Aspetar, the Fifa-accredited medical centre in Qatar. He explains that the month has such a significant impact on so many areas of individuals' lives, from sleeping patterns to working habits, that it becomes difficult from a scientific perspective to establish causal links.
"Ramadan is not only about stopping eating and drinking," he says. "If it was only that and everything else would stay the same, we could say that 'this' comes from 'that'."
Naturally, studies need to control certain variables in order to properly analyse others, but in this field guinea pigs are, unsurprisingly, hard to come by. "We cannot say, 'You're a football player, but I'm going to deprive you from sleeping for a month'," Chamari says. "You can perhaps do it with sub-elite players, but you cannot do it with Mo Farah (below) in athletics or Mo Salah in football. [Salah] cannot experiment and damage himself and Liverpool [to aid] your research."
While there is no one-size consensus to fit across all of track and field's wide-ranging disciplines, logic figures that endurance athletes are likely to find Ramadan particularly taxing, even more so when it falls during the summer in countries at higher latitude, when daylight hours are long and the window for refuelling and rehydration narrower.
It is no coincidence, then, that Mahamed's landmark successes in recent years have come in the winter, over cross-country, with the British Inter-Counties title the latest to find its way into a collection that includes multiple national championships.
Hashi is one of those who attempts to race on, with mixed results. "I've often run PBs while fasting," he says. "But I remember there was a year when I had the South of England Championships, I made the final after the heats and I had literally no energy. It was really hot and after I finished the race, I collapsed on the floor."
British athletes also experience Ramadan in a different cultural setting to those in the Arab world. "If you're in a Muslim-majority country, it's easier," Chamari says. "Everybody trains at night, there are religious prayers, family gatherings, and then before dawn you eat, you pray, you go to sleep. Your entire life is switched."
Living in lockdown might appear to give western athletes scope to replicate that environment, but it is not quite so simple, with many believing that to sleep through the fast defeats the whole point of the endeavour.
During major competitions, Muslim-majority nations will occasionally issue orders exempting sports stars from fasting, but most individuals decide on their own plans. Some, like Farah, delay their fast until later in the year, while others, depending on their specific beliefs, make amends with significant charitable contributions to feed the hungry.
For Mahamed, neither has been, nor ever will be, an option. "For athletics, I have 11 months of the year," he says. "One month is for my religion. This month is special. Whether I'm a professional or not, whatever level I am, I'm definitely committed to fasting."
Chamari, too, is keen to stress that Ramadan takes thousands of different forms for Muslims around the world, but insists that beliefs play a key role from a sporting standpoint as well as a religious one, with athletes requiring a certain psychological capacity to overcome what is, on the face of it, a physiological challenge.
He picks out a 2012 study as evidence, a survey of Muslim footballers ahead of the Olympics that found the vast majority already semi-consigned to their fate, anticipating a drop-off in their own performance levels even if science did not necessarily predict one.
"People think that Ramadan is bad with respect to sport and sporting performance," he says. "This is widely-spread thinking." The result is a kind of reverse placebo, known as the 'nocebo effect', a cyclical, self-fulfilling prophecy which has a detrimental impact on performance one year and thus reinforces negative expectations ahead of the next.
For now, though, the mental challenge remains an altogether different one. What should be a time of great celebration is proving especially trying for those who, like Mahamed, live alone; the sense of solitude usually confined to nocturnal runs now spreading to every facet of life.
"Most important this month is worshipping, going to the mosque even during night-time to pray," he adds. "But now we can't do that. At the end of the month is our celebration where we go to see family and celebrate together, but it looks like that is not going to happen again.
https://www.standard.co.uk/sport/muslim-athletes-coping-ramadan-middle-coronavirus-lockdown-a4439231.html
------
Fasting volunteers delivering lockdown food packs to vulnerable people in Leeds during Ramadan
By Mark Lavery
13th May 2020
Give a Gift is set to help more than 900 people with food packs and vouchers after the charity was given more than £21,000 by Islamic Relief UK.
Give a Gift has started distributing food packs door to door to some of the most vulnerable people in Harehills, Beeston, Armley, Burley Hyde Park, Gipton and Seacroft.
As the holy Islamic month of Ramadan continues, many of the Muslim volunteers at Give a Gift are fasting as they work non-stop to help others.
The family, which included the mother who is 26-weeks pregnant and three children aged under seven, was referred to Give a Gift by a health visitor.
The food packs contain essential items such oil, teabags, sugar, rice, flour, pasta, red lentils, tinned chickpeas, tinned tomatoes, meat and dates.
Although some of the families are receiving food packs from other agencies, the parcels are generically packed and can contain non-halal items.
Give a Gift is ensuring the food packs are culturally appropriate and has seen demand increase considerably during the Ramadan period.
Rifhat Malik MBE, project manager at Give a Gift said: "The demand for help during the lockdown is unprecedented and we are doing everything we can to help some of the most vulnerable communities including asylum seekers.
"We are also trusted by the Muslim communities to ensure that we follow their dietary requirements of Halal food. With support from local supermarkets and partners such as the Barakah team and the Muslim Kitchen, the families feel reassured knowing they will receive a weekly food supply.
Tufail Hussain, Director of Islamic Relief UK said: "I've witnessed Give a Gift's efforts on the ground, supporting the most vulnerable refugee families; we are honoured to be supporting such a vital charity doing amazing work to help people in this extremely difficult time.
"The Give a Gift team are extremely dedicated and work long hours with huge demands to bring much needed relief to some of the most vulnerable communities. We are truly humbled by their efforts, especially as many will be fasting during the holy month of Ramadan."
https://www.yorkshireeveningpost.co.uk/health/coronavirus/fasting-volunteers-delivering-lockdown-food-packs-vulnerable-people-leeds-during-ramadan-2850152
------
Big Iftaar at Home keeps Bradford Ramadan tradition alive
5 hrs ago
'The Big Iftaar' has become an annual tradition at Central Mosque in Bradford and would normally see hundreds of locals sharing food together in their place of worship.
But due to the covid-19 pandemic, organisers had to think differently and created the 'Big Iftaar at Home' - Iftaar meaning the breaking of fast.
The mosque provided hot meals for 60 asylum seeker and refugee families living across the district, reaching communities from Sudan, Somalia, Rohingya and Syria as well as British elders living alone.
To undertake the massive task, the Khidmat Centre partnered up with the Council For Mosques, Inspire Futures Foundation, Mary Magdalene, The Syrian Refuge Association and the Sudanese community in the city.
Liaqat Hussain Noashahi, trustee of Central Mosque, said: "'The Big Iftaar' has become an annual tradition at the Central Mosque , something that symbolises the spirit of Ramadhan and an occasion that we look forward to.
"We are saddened that this has not possible this year due to Covid and social distancing. However, we are very proud that our Khidmat Centres team and partners have worked with creativity and commitment and kept the tradition alive through 'The Big Iftaar At Home'.
Sofia Buncy, national coordinator for the Khidmat Centre, said the Ramadan period had been tough on the soul for many Muslims, who are unable to spend time and pray with loved ones.
Cooking got underway at 12pm the day before with well-known faces like former PC Fiz Ahmed getting involved by cutting vegetables up.
They contained treats such as homemade pakoras, samosas, biryani rice, a traditional serving of dates for breaking the fast and a box of fresh, mixed fruit.
"People are trying their upmost to fast during lockdown and we're trying to get them the support they need and a sense of community and a sense of care."
https://www.thetelegraphandargus.co.uk/news/18443839.big-iftaar-home-keeps-bradford-ramadan-tradition-alive/
-----
Federal hate crime charge in Missouri Islamic center fire
13 May 2020
O'FALLON, Mo. (AP) - A man accused of setting a fire that destroyed an Islamic center in southeast Missouri has been charged with a federal hate crime, the U.S. Attorney´s office in St. Louis said Tuesday.
A federal grand jury indicted 42-year-old Nicholas J. Proffitt in the April fire that destroyed the Cape Girardeau Islamic Center, the office said in a statement. Proffitt is charged with damaging religious property because of the property's religious character, using fire to commit a federal felony, and damaging a building used in interstate commerce through use of fire.
Proffitt, of Cape Girardeau, was earlier charged with state counts that included first-degree burglary, first-degree arson and first-degree property damage motivated by discrimination - a state hate crime.
A Muslim advocacy group, which had called for a hate crime investigation after the fire, on Tuesday praised authorities for charging Proffitt with a hate crime.
"This hate crime charge is a clear signal to Muslims in Cape Girardeau and beyond that U.S. Attorney Jeff Jensen stands ready to protect the Muslim community and will deploy the resources necessary to do so," said Yasir Ali, board chairman for the Missouri chapter of the Council on American-Islamic relations.
Proffitt spent time in prison for defacing the same Islamic center more than a decade ago. In 2009, he pleaded guilty to state charges for throwing rocks that damaged the mosque and a vehicle in the parking lot. He was sentenced to three years in prison.
The latest fire was discovered shortly before 5 a.m. on April 24, at the outset of the Muslim holy month Ramadan. Federal prosecutors said the center´s video security system showed Proffitt throwing several objects through a window, then throwing two containers into the center through the broken glass.
According to federal prosecutors, Proffitt stepped into the building through the broken window, picked up the containers and began pouring an apparent liquid accelerant before he lit a fire that began immediately.
https://www.dailymail.co.uk/wires/ap/article-8312873/Federal-hate-crime-charge-Missouri-Islamic-center-fire.html
------
People in Wolverhampton urged to celebrate Ramadan and Eid safely amid coronavirus
17 hours ago
By Thomas Parkes
Muslisms celebrate the Islamic holy month with fasting and observations of spiritual reflection until it ends on May 23.
It will be followed by Eid – the festival of breaking the fast – where family and friends traditionally get together to celebrate.
Councillor Jasbir Jaspal, Wolverhampton Council's cabinet member for public health and wellbeing, said: "Anyone can spread coronavirus, even if they don't show symptoms.
"Reducing our day-to-day contact with other people is the best way that we can to stop the spread of coronavirus, and to help save lives, and so we all need to follow the social distancing guidance – which includes avoiding social gatherings – for the safety of everyone.
"We know how difficult this is for families who want to get together with others to celebrate Ramadan, but it is incredibly important that everyone continues to adhere to the measures which remain in place.
"Places of worship remain closed, and organising gatherings in parks or open spaces to pray or celebrate faith, however well intentioned, must be discouraged at the current time.
"We are aware of and support the huge efforts of mosques across in Wolverhampton who have made the best use of technology to ensure their congregations are kept informed and able to share in the celebrations."
https://www.expressandstar.com/news/local-hubs/wolverhampton/2020/05/12/people-in-wolverhampton-urged-to-celebrate-ramadan-and-eid-safely-amid-coronavirus/
-------
North America
How National Black Muslim COVID Coalition serves communities during the pandemic
56 minutes ago
The experts on the Zoom call were there to discuss the five before five. That's a belief that goes back to Muhammad, who said: "Take advantage of five before five: your youth before your old age, your health before your illness, your riches before your poverty, your free time before your work, and your life before your death." Margari Hill, co-director of National Black Muslim COVID Coalition, which hosted this talk Saturday afternoon, explained that at a time like this, it can be hard to plan for one's wellness.
They'd cover physical, emotional, financial, and spiritual wellness during the 90-minute talk, spiritual wellness the first topic, as panelist Imam Johari Abdul-Malik, of Washington, D.C., spoke on the significance of spending this month of Ramadan in isolation.
"I would invite us, while we are in [this] kind of self-quarantine seclusion to take that time to ask Allah to give us the things that we need," the imam shared on the Zoom call. "So that when we come out of this cave, and we will, it's with something that will be able to benefit us in our society."
The National Black Muslim COVID Coalition hosts conversations like this at least weekly. Through digital organizing, the coalition steers and supports myriad initiatives looking for the concerns and experiences of black Muslim experiences during the pandemic. The coalition, which has multiple key organizers in Philadelphia, is leading a survey, a cultural preservation project that collects the oral histories of their elders, and producing a series of digital panels raising issues regarding medical racism, communal grief, and the need to provide culturally sensitive, faith-sensitive care as the community faces distressing racial disparities in the pandemic's death toll. Through its national scope, the coalition serves black Muslim communities that not only have regional differences, but roots around the diaspora.
"Which means that when we're talking about seemingly discrete issues, either around immigration, detention, incarceration, education, jobs, or economic insecurity, our community encompasses some of the disadvantages that occur because of the inequalities in those areas," said Kameelah Rashad, a key coalition organizer, psychologist, and founder of the Muslim Wellness Foundation, a nonprofit based in West Oak Lane.
"We are vulnerable and marginalized in many ways," Rashad said. "But I want people to remember that we have always resisted; we have always organized; we have always thought about the least fortunate even among us — as inspiration. And so we can do it. I've always felt, rooted in my faith, that God has already given us everything we need. So it's up to us to really think about how do we effectively leverage, organize, mobilize, network in order to use the strengths and gifts that we already possess."
Black Philadelphians are overrepresented in the city's COVID-19 deaths, making up 53% of losses but 44% of the population. The coalition is working to cull information on families that have been impacted by both race and faith. They've backed two such research efforts: first, leading a survey for American Muslims on coronavirus losses, and second, supporting an academic study on how the virus is impacting black Americans from researchers at the Muslim Wellness Foundation and the University of Maryland.
Many spaces that offer resources to black folk may not be as mindful of religious diversity, organizers say; many Muslim groups don't always consider black members of the faith. Margari Hill, cofounder of the Muslim Anti-Racism Collaborative, has observed that media reports on Muslim American experiences often show people of Arab ancestry, while media depictions of black Americans often center on Christians.
There are long-standing suspicions among Muslims that population estimates undercount their community in the United States. The Council on American-Islamic Relations (CAIR) says some 200,000 Philadelphians are Muslim, 80% of whom are black. CAIR says 400,000 Muslims live in the Philadelphia region outside of the city. According to Pew's Religious Landscape Study in 2014, 1% of Philadelphia area residents are Muslim.
Hill, a Trenton native who has been organizing from her home in San Bernardino County, Calif., recalls working with Rashad in March with Muslim advocacy groups. A couple calls in, Rashad reached out with an idea.
"She hadn't seen a national response from black Muslims. And I said, I haven't seen anything either from any of the large organizations as far as coming together," Hill said.
The women started texting around. Within days, they developed a survey to gauge if there was a need. Seeing the results, they launched March 19.
Imam Tariq El-Amin, who is director of Civic Engagement and Interfaith Services at Council of Islamic Organizations of Greater Chicago and who serves Masjid Al-Taqwa in that city, got involved because relatives had contracted the virus. His mosque's COVID response in Chicago, a city that deals with persistent segregation, has had to address income and food insecurity. Currently, his mosque is hosting giveaways for both food and protective gear.
"Beyond the personal, what this has really shown [are] the fractures in the system and how the disproportionate impact on black folk in general, black Muslims, as a subset, is really due to systemic, structural institutional factors that have not been addressed," El-Amin said.
Coalition member Safiyya Shabazz, a family physician and owner of Mount Airy's Fountain Medical Associates, has been working to gain licenses outside of Pennsylvania. She's concerned that due to mistrust of the health-care system, not all black Muslims may seek care. Those who do, she added, may encounter physicians who wouldn't give fair assessments of, say, whether a patient is fit to fast this Ramadan. She wants to be more available, and digital talks without contact aren't the same, she explained. Still, working with the coalition provides a means to at least disseminate more professional advice, she said.
"I don't have the type of practice where I'm seeing 30 patients per day," said Shabazz. "But I might be able to reach 100 people in a day with information that gets shared."
The coalition has set its long-terms sights on maintaining a network that could respond to other crises in the future. That preparedness is motivation for Oumy Thioune, a senior at West Chester University from Upper Darby who is balancing finals with her work for the coalition.
"I wanted us to have some type of infrastructure that was ours," Thioune said. "God forbid, but if we have another [pandemic], if that occurs, we already have a system in place, and it's a solid system. And it works."
https://www.inquirer.com/news/coronavirus-national-black-muslim-covid-coalition-ramadan-faith-resources-20200513.html
------
Analysis on Impact of COVID-19 - Global Islamic Banking Software Market 2020-2024
May 12, 2020
The global Islamic banking software market size is expected to grow by USD 461.83 million during 2020-2024. The report also provides the market impact and new opportunities created due to the COVID-19 pandemic. The impact can be expected to be significant in the first quarter but gradually lessen in subsequent quarters – with a limited impact on the full-year economic growth, according to the latest market research report by Technavio. Request a free sample report
With the growing transaction volumes and the introduction of new digital payment solutions, the banking sector is facing challenges in controlling fraudulent activities without compromising on the convenience of customers. Thus, banks are increasingly issuing smart cards instead of traditional magnetic-based debit and credit cards, due to their tamper-free nature. Banks are taking initiatives to promote the use of smart cards as they enable them to track the activities of customers easily. This helps in better customer management and enables the implementation of customer loyalty programs. Smart cards protect against security threats that range from misuse of user passwords to sophisticated system hacks. Thus, the distribution of smart cards will drive the Islamic banking software market growth during the forecast period.
To learn more about the global trends impacting the future of market research, download a free sample: https://www.technavio.com/talk-to-us?report=IRTNTR43088.
As per Technavio, the growing prominence of social media in banking sector will have a positive impact on the market and contribute to its growth significantly over the forecast period. This research report also analyzes other significant trends and market drivers that will influence market growth over 2020-2024.
Banking firms across the world are leveraging the social media as a powerful business tool. With increased online professional and social networking, providing a value proposition to the customers has become a major criterion for vendors. Facebook, YouTube, Pinterest, Google+, and Twitter are among the most common media for targeting customers worldwide. The use of social media has gained prominence in activities related to both front and back-end office operations. Several areas, such as posting frequently asked questions and getting customer feedback from discussion forums, have become quite popular in the banking sector as it helps firms to strengthen their relationship with customers. Thus, the growing prominence of social media is one of the key Islamic banking software market trends that will drive the growth of the market.
"Factors such as the increasing mobility in the banking sector, and the rising adoption of cloud-based solutions will have a significant impact on the growth of the Islamic banking software market value during the forecast period," says a senior analyst at Technavio.
This market research report segments the Islamic banking software market by Application (Retail, corporate, and others) and Region (APAC, Europe, MEA, North America, and South America).
The MEA region led the Islamic banking software market share in 2019, followed by APAC, Europe, North America, and South America respectively. During the forecast period, the MEA region is expected to register the highest incremental growth due to factors such as the high concentration of Muslim population, and a high penetration of vendors offering Islamic banking software solutions in the region.
Technavio's sample reports are free of charge and contain multiple sections of the report, such as the market size and forecast, drivers, challenges, trends, and more. Request a free sample report
Technavio is a leading global technology research and advisory company. Their research and analysis focus on emerging market trends and provides actionable insights to help businesses identify market opportunities and develop effective strategies to optimize their market positions.
With over 500 specialized analysts, Technavio's report library consists of more than 17,000 reports and counting, covering 800 technologies, spanning across 50 countries. Their client base consists of enterprises of all sizes, including more than 100 Fortune 500 companies. This growing client base relies on Technavio's comprehensive coverage, extensive research, and actionable market insights to identify opportunities in existing and potential markets and assess their competitive positions within changing market scenarios.
https://www.businesswire.com/news/home/20200512005710/en
-----
CAIR Welcomes Mosque Arsonist's Federal Indictment for Hate Crime
Ibrahim Hooper
May 12, 2020
(WASHINGTON, D.C., 5/12/20) — The Council on American-Islamic Relations (CAIR), the nation's largest Muslim civil rights and advocacy organization, today welcomed the federal indictment on hate crime charges of a man for allegedly setting fire to the Cape Girardeau Islamic Center.
On April 24th, the first day of Ramadan, Nicholas Proffitt, 42, of Cape Girardeau, Mo., allegedly set fire to the Cape Girardeau Islamic Center. He was arrested shortly after and charged with arson.
"This hate crime charge is a clear signal to Muslims in Cape Girardeau and beyond that US Attorney Jeff Jensen stands ready to protect the Muslim community and will deploy the resources necessary to do so," said CAIR-MO Board Chair Yasir Ali. SEE: https://cair-mo.org/
"Bigotry must be rejected, and this indictment reflects the gravity of the damage Proffitt has allegedly done to the community," said CAIR Senior Litigation Attorney Gadeir Abbas.
The Washington-based civil rights organization has reported an unprecedented spike in bigotry targeting American Muslims, immigrants, and members of other minority groups since the election of Donald Trump as president.
In 2009, Proffitt was charged with first-degree property damage for throwing rocks at the same mosque and second-degree property damage for damaging a vehicle in the facility's parking lot.
In 2005, Proffitt (known by a different name, Nicholas Stearns) was reportedly arrested for vandalizing a mosque in Dearborn, Mich.
CAIR is America's largest Muslim civil liberties and advocacy organization. Its mission is to enhance understanding of Islam, protect civil rights, promote justice, and empower American Muslims.
La misión de CAIR es proteger las libertades civiles, mejorar la comprensión del Islam, promover la justicia, y empoderar a los musulmanes en los Estados Unidos.
https://www.cair.com/press_releases/cair-welcomes-mosque-arsonists-federal-indictment-for-hate-crime/
-----
World's Best Islamic Financial Institutions 2020: Fair Winds Before The Storm
MAY 12, 2020
Islamic financial institutions (IFIs) enjoyed good earnings results in 2019 across the main geographical regions of the Middle East, Africa and Asia. Primarily enlarged asset bases drove increased net profit with good demand for financing.
Winners of Global Finance's 2020 Islamic Finance Awards achieved improved financial performance together with a widened product portfolio, enhanced service, technology investment and growth in their banking and market reach. As a group, the leading Islamic banks recorded increased net profit of 20% in 2019; and their average return on assets was a healthy 1.9%. Margins remain wider than at conventional banks, supported by a low-cost deposit-funding base. IFIs' expense bases are efficient, with sound cost-to-income ratios.
Consolidation and mergers within the Islamic financing industry remain a key theme. Early this year, Global Finance's winner as Best Islamic Project Finance Provider, Dubai Islamic Bank, acquired Noor Bank. It is expected that consolidation between Islamic banks will continue over the next few years as institutions seek to maintain a competitive position and further rationalize their operating cost base.
The Islamic sukuk (bond) market was stronger in 2019, with global issuance rising 26%; key markets in the Gulf Cooperation Council area and Malaysia were strong. Standard Chartered Saadiq, our winner as Best Sukuk Bank, was a leading player on many prominent issues. Along with numerous large sovereign sukuk issues, first-time flotation of green sukuks was successful; and this bond type is now widely forecast to establish a niche for itself.
However, the outbreak of Covid-19 is expected to have a major impact on Islamic institutions, just as it has on conventional banks. Lower financing demand, reduced fee income and additional subsidized financing will hit revenues. Nonperforming facilities are forecast to rise, although they may not be booked this financial year. Impairments will rise as well.
Regional market analysts at EFG Hermes and MUFG Bank, Dubai, predict that deal flow will fall, remittances will decrease and key sectors such as tourism will be hit. Global Finance's Best Islamic Financial Institutions can claim some insulation from the crisis, with sound capital positions, adequate liquidity and good buffers in place.
https://www.gfmag.com/magazine/may-2020/worlds-best-islamic-financial-institutions-2020?utm_source=feedburner&utm_medium=feed&utm_campaign=Feed%3A+gfmag%2FBestBanksAndFinancialRankings+%28Best+Banks+and+Financial+Rankings%29
------
URL: https://www.newageislam.com/islamic-world-news/mumbai-muslim-neighbours-perform-last/d/121836
New Age Islam, Islam Online, Islamic Website, African Muslim News, Arab World News, South Asia News, Indian Muslim News, World Muslim News, Women in Islam, Islamic Feminism, Arab Women, Women In Arab, Islamophobia in America, Muslim Women in West, Islam Women and Feminism