New Age Islam News Bureau
27 Jul 2015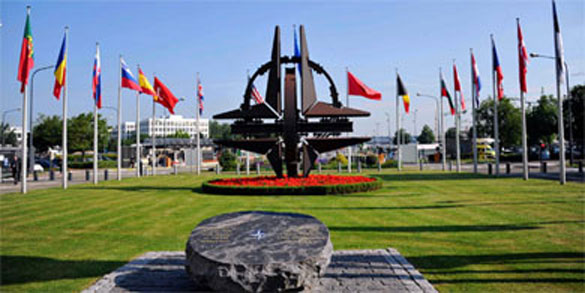 NATO headquarters in Brussels, Belgium (Photo: AP)
--------
South Asia
• Mullah Omar's Eldest Son Might Be Selected as Future Taliban Leader If Father's Death Confirmed
• 38 militants killed in Afghanistan military operations
• Gunmen attack Afghan wedding party, killing 21, wounding 8
-------
North America
• US, Turkey Seek to Establish Islamic State-Free Zone
• US, allies conduct 20 airstrikes in Iraq: US army
• Obama, in Ethiopia, Plans to Address South Sudan Conflict
• How terror messages spread on Twitter?
------
Europe
• Bomb-proof lining prevents bomb explosion in airplanes
• Surveillance of IS followers to cost UK £25 million a week
------
Mideast
• Turkey's 'anti-ISIS, PKK campaign' could be 'game changer': PM Davutoglu
• NATO calls emergency meeting after Turkish request
• Discriminatory language used in Turkish media against Syrian refugees
• Fear of ISIL attack sparks panic, locals flee Karkamis
• Turkish police arrest over 800 suspects in counter-terrorism raids
• Yemen conflict: Shelling reported despite 'truce'
• Israeli police enter Jerusalem's Al Aqsa mosque to drive out Palestinian rioters
• Palestinian Suspect Killed During Israeli Arrest Raid
-------
Africa
• Nigeria Boko Haram crisis: Child bomber hits Damaturu
• Somalia blast: Mogadishu hotel rocked by bomb
-------
Arab World
• Syrian Army, Hezbollah Regain Control of Strategic Neighborhood in Zabadani
• Syrian Kurds capture town from Islamic State in north-monitor
• Iraqi Forces Kill 7 ISIL Terrorists in Anbar
• Strikes on Kurd Militias Elevate Tensions in Turkey
• Iraqi forces attack Islamic State base in Ramadi
• Turkish PM: No plans to send ground troops into Syria
• Syria: Militants Suffer Heavy Losses in Quneitra
• Syrian Troops Advance in Hasaka
• Iraqi Forces Win Back Al-Anbar University
• Aide to ISIL Self-Declared Governor of Karmah Escapes with Militants' Money
• Turkey arrests 15 over suspected Islamic State link
----------
Pakistan
• Pakistan resumes capital punishment after one month break: officials
• Pakistan court stays hanging of 'mentally ill' prisoner
• US embassy employee killed in Pakistan
• ATC issues Shafqat Hussain's death warrants for fifth time
--------
India
• 'Befitting Reply' If We're Hit, Says Government After Gurdaspur Attack
• Gurdaspur attack: Centre and states must jointly deal with terror, says Omar Abdullah
• Pakistan violates ceasefire along IB in Jammu
-----
Australia
• Australian man pleads guilty to Anzac Day terror plot
Compiled by New Age Islam News Bureau
URL: https://newageislam.com/islamic-world-news/mullah-omar's-eldest-son-be/d/104047
-------
South Asia
Mullah Omar's eldest son might be selected as future Taliban leader if father's death confirmed
By KHAAMA PRESS - Mon Jul 27 2015
Omar's eldest son is standing against Mullah Akhtar Mohammad Mansoor to lead Afghan Taliban if his father's death is confirmed.
Pakistan's The News media reports that sources close to Taliban are saying Mullah Mohammad Yaqoub, 26, who is the eldest son of Taliban's supreme leader Mullah Mohammad Omar and a graduate of a well-known Karachi Madrasa (Seminary) is being discussed by the Taliban Shura to take over the command of the Taliban if Omar's death is confirmed.
Although questions have been raised about Mullah Omar's fate for years but most recently it became hot when a break-away group of the Taliban known as Fidayee Mahaz issued a statement stating that Mullah Omar died 24 months before.
Fidayee Mahaz claimed that there are strong evidences to proof the death of Mullah Mohammad Omar, the supreme leader of Taliban.
The News that has published this story under the name of Rahimullah Yousufzai, a renowned Pakistani journalist who has been reporting on Afghanistan for more than 20 years and on Taliban since its establishment, further states that Mullah Mansoor desire to lead the Taliban but he is facing criticism from several other Taliban leaders.
According to The News, those who oppose Mullah Mansoor back the selection of Mullah Mohammad Yaqoub and consider him as a legitimate and worthy successor to his father, Mullah Mohammad Omar.
The News further quotes its sources that a conclave was organized among senior Taliban leaders in which Mullah Omar's younger brother Abdul Manan also took part.
It reports that the meeting decided to give the leadership of Taliban to Mullah Mohammad Yaqoub if his father's death is confirmed.
The News also states that such meetings are taking place in parts of Afghanistan and Pakistan and more are planned to build a strong coalition against Mullah Mansoor and promote the cause of Mullah Yaqoub as the future leader of Afghan Taliban.
This comes as second round of peace talks between Afghan government and Taliban is scheduled to take place in Pakistan in days. A seize fire is expected to be discussed before reaching an agreement to end the 13-year-long war in the country.
In the first round of peace talks that took place close to Islamabad, both sides exchanged list of their demands and agreed to continue the discussions.
http://www.khaama.com/reports-mullah-omars-eldest-son-may-lead-taliban-if-fathers-death-confirmed-3672
-------
38 militants killed in Afghanistan military operations
By KHAAMA PRESS - Jul 27 2015
Afghan forces38 militants have been killed and 42 wounded in newest military operations across the country, the Ministry of Interior announced on Monday morning.
According to a statement issued by the ministry, the insurgents were killed in Faryab, Urozgan, Logar, Ghazni, Paktia, Heart and Helmand provinces in past 24 hours.
The statement further states that the operations were undertaken jointly by Afghan National Police, Afghan National Army and personnel from the National Directorate of Security (NDS) – Afghanistan's intelligence where five Improvised Explosive Devices (IEDs) were also discovered and defused.
In the meantime, a statement issued by the Ministry of Defense states that five soldiers from The Afghan National Army embraced martyrdom due to landmine explosion and insurgent fire in past 24 hours.
The statement does not specify the exact location of the incidents.
http://www.khaama.com/38-militants-killed-in-newest-military-operations-3674
---------
Gunmen attack Afghan wedding party, killing 21, wounding 8
Reuters, 27 July, 2015
KABUL (Reuters) - Armed men opened fire at a wedding ceremony in northern Afghanistan, killing at least 21 guests and wounding eight, provincial officials said on Monday.
Violence has increased sharply this year in most parts of Afghanistan, after U.S.-led forces formally ended their combat mission at the end of 2014, leaving a small contingent of about 12,000 NATO troops to train Afghan forces.
It was not immediately clear what prompted the attack in the northern province of Baghlan, but insurgent activity has increased in the province over the past year and private militias have proliferated.
"There was a wedding party, which turned to a tragedy, after some armed men entered and opened fire on male guests," Baghlan police Chief General Abdul Jabar Pordeli told Reuters by telephone.
"An investigation is ongoing and police will arrest all perpetrators," added the police chief.
Around 2,500 armed members of illegal groups operate in Deh Salah district, where the attack took place, said district police chief Color Gulestan.
Last year was the deadliest on record for non-combatants in Afghanistan, the United Nations has said, with at least 3,188 Afghan civilians killed in the intensifying war with Taliban insurgents.
Weddings in rural Afghanistan start in the evening and parties follow a custom of keeping men and women guests apart.
(Reporting by Mirwais Harooni; Writing by Jessica Donati; Editing by Clarence Fernandez)
https://in.news.yahoo.com/gunmen-attack-afghan-wedding-party-killing-21-wounding-072853908.html
------
North America
US, Turkey Seek to Establish Islamic State-Free Zone
ADDIS ABABA, Ethiopia — Jul 27, 2015
By JULIE PACE AP White House Correspondent
The United States and Turkey are finalizing plans for a military campaign to push the Islamic State out of a strip of land along the Syrian border, deepening efforts to halt the extremists' advances.
A U.S. official said the creation of an "Islamic State-free zone" would ensure greater security and stability in the Turkish-Syrian border region. However, the official said any joint military efforts with Turkey would not include the imposition of a no-fly zone, a step Washington has long resisted despite Turkish requests.
The discussions come amid a major tactical shift in Turkey's approach to the Islamic State. After months of reluctance, Turkish warplanes started striking militant targets in Syria last week, following a long-awaited agreement allowing the U.S. to launch its own strikes from the strategically located Incirlik Air Base.
The official insisted on anonymity because this person was not authorized to publicly discuss the talks with Turkey.
Despite the U.S. and Turkey's shared interests in fighting the Islamic State, the Turks have also prioritized defeating Syrian President Bashar Assad. While the U.S. says Assad has lost legitimacy, it has not taken direct military action to try to remove him from office.
Turkey's new airstrike campaign also includes a second front targeting the Kurdistan Workers' Party, or PKK. The U.S. has relied on Syrian Kurdish fighters affiliated with the PKK to help make gains against the Islamic State.
Turkey accuses the PKK of not keeping pledges to withdraw armed fighters from its territory and disarm. The Turks are also concerned that gains made by Kurds in Iraq and in Syria could encourage its own minority to seek independence.
http://abcnews.go.com/Politics/wireStory/us-turkey-seek-establish-islamic-state-free-zone-32705329
------
US, allies conduct 20 airstrikes in Iraq: US army
Reuters | Jul 26, 201
WASHINGTON: The United States and its allies made 20 air strikes against Islamic State in Iraq on Saturday, with targets near Ramadi bearing the brunt of the attacks, the military said on Sunday.
Five strikes near Ramadi hit tactical units, tanks and an armoured personnel carrier for the militant group while also destroying an Islamic State road block, building, two structures, a mortar position and another armoured personnel carrier, according to the combined joint task force. Four strikes hit Islamic state staging areas near Tuz as well.
The coalition also launched 13 air strikes in Syria, with five near Kobani hitting Islamic State tactical units and destroying fighting positions, the statement said.
http://timesofindia.indiatimes.com/world/us/US-allies-conduct-20-airstrikes-in-Iraq-US-army/articleshow/48228390.cms
--------
Obama, in Ethiopia, Plans to Address South Sudan Conflict
By PETER BAKER and MARC SANTORA\
JULY 27, 2015
ADDIS ABABA, Ethiopia — For President Obama, the birth of South Sudan four years ago was the capstone of his Africa policy. He sent his United Nations ambassador, Susan E. Rice, for the independence celebration and she took her 13-year-old son to stand in the joyous crowds of the new capital, Juba.
Four years later, that triumph has degenerated into tragedy amid a ruthless ethnic conflagration that has killed tens of thousands of people, displaced more than 2 million others and dashed Mr. Obama's hopes of forging a brighter future for that corner of Africa. "It breaks my heart to see what South Sudan has become today," Ms. Rice said earlier this month.
Mr. Obama, accompanied by Ms. Rice, now his national security adviser, will convene a meeting on Monday to try to forge a peace in South Sudan, in his most direct personal intervention since the violence broke out more than 18 months ago. During a visit here to the Ethiopian capital, he will meet with regional leaders to try to build a consensus behind a peace proposal, and to come up with a backup plan in case that fails involving increased sanctions and possibly an arms embargo.
The situation is so grim that White House officials hold out little hope of success. Presidents rarely get involved in a diplomatic meeting without a reasonably guaranteed outcome and Mr. Obama's aides do not usually talk about a Plan B before a Plan A has failed. But Mr. Obama and his advisers say he had no choice but to try since he was coming to the region anyway to visit Kenya, his father's home country, and to Ethiopia, where the executive branch of the African Union has its headquarters.
The frustration of Mr. Obama's staff members, who invested so much in the creation of South Sudan, was palpable as Air Force One arrived here.
"This is a classic case of venal leaders squandering a huge opportunity that they themselves earned, that we all in the international community supported them to obtain," a senior administration official told reporters on the plane during a briefing with ground rules that required anonymity. "So we can't undo this for them. They've got to fix this."
The session on South Sudan will follow separate meetings with Ethiopia's leaders as Mr. Obama becomes the first American president to visit the second-biggest country by population in sub-Saharan Africa. While Ethiopia has been growing quickly, the governing party and its allies have smothered political opposition and the independent news media, arresting journalists and claiming 100 percent of the seats in Parliament in widely criticized elections in May.
Mr. Obama met on Monday with President Mulatu Teshome and Prime Minister Hailemariam Desalegn, and was due to hold a joint news conference later with Mr. Desalegn. On Tuesday, Mr. Obama will address the African Union, the first American president to do so, at a time when he is encouraging Africans to do more to fight the Shabab terrorist group and to resolve other regional conflicts.
The meeting on South Sudan will include Mr. Obama and Mr. Desalegn as well as President Yoweri Museveni of Uganda, President Uhuru Kenyatta of Kenya, Foreign Minister Ibrahim Ghandour of Sudan and Nkosazana Dlamini-Zuma, chairwoman of the African Union. The challenge will be to get regional players that are supporting different sides in the conflict to agree on a unified approach. Uganda, for instance, has been backing the South Sudanese government, while Sudan has been tacitly supporting the rebels.
The conflict in South Sudan, which has become a deadly confrontation between the nation's largest ethnic groups and tribes, began in a power struggle between two men with a bitter rivalry who had come together to fight a common enemy and form an alliance to forge a new nation. One of them, Salva Kiir, became president of the fledgling country and the other, Riek Machar, was named vice president.
The two come from South Sudan's main tribes, the Dinka and Nuer, which have fought over land and resources for years. The fragile détente unravelled in December 2013 when Mr. Kiir, a Dinka, accused Mr. Machar, a Nuer, of planning a coup. Their respective security details engaged in a gun battle and within days the nation was consumed by war.
In May 2014, Secretary of State John Kerry travelled to the region to broker a peace deal but the cease-fire he negotiated lasted just days. More than half a dozen other peace plans have fallen apart since then. Mr. Obama's special envoy, Donald E. Booth, and Ms. Rice have also been involved in trying to broker a resolution.
Fighting has been fiercest in the Upper Nile and Unity States, where the nation's two major oil fields are found. With the onset of the rainy season, an already dire situation has grown worse.
"Tens of thousands of people are cut off from aid and medical care as fighting intensifies in South Sudan's Upper Nile State," Doctors without Borders, the international humanitarian organization, said in a statement last week.
In Unity State, the devastation resulting from a recent government offensive into the town of Leer, Mr. Machar's hometown is just starting to come into focus. Human Rights Watch released a report last week detailing war crimes in chilling detail.
A woman from Koch County described how her two daughters had been raped and then one was tortured. "One man put a gun to the back of my head and said, 'Watch how we will rape your daughter,' " the woman told the Human Rights Watch researcher. She said they had beaten her with a stick, and, after the rapes, had held her older daughter in flames until she caught fire. "She was too injured from her burns so we had to leave her in the bush when we fled," the woman said, according to the rights group.
The fighting does not appear to be coming to a halt with the rainy season, as it has in the past. On a recent trip to South Sudan, a reporter from The New York Times saw what looked like amphibious assault vehicles being moved out of Juba on trailers. Since then, there have been reports of government forces using "tank like" vehicles to hunt down and kill rebels and civilians as they have fled into the swamps.
The humanitarian disaster has only worsened. "I am deeply shocked by what I have seen," Stephen O'Brien, the United Nations under secretary general for humanitarian affairs, said as he concluded a four-day visit recently. The fighting has made South Sudan one of the deadliest conflicts in the world for aid workers, 27 of whom have been killed since the start of the war.
The United Nations' head of peacekeeping, Hervé Ladsous, urged the Security Council this month to impose an arms embargo "because it is really completely questionable that the very meagre resources that the country has go into buying more weapons."
American officials said they had supported the threat of an arms embargo and might embrace such a measure if the current peace plan was not accepted. "But the thing is we have to find tools that affect the two parties equally," the senior administration official said, "and the arms embargo is more one-sided than two-sided."
Peter Baker reported from Addis Ababa, and Marc Santora from Nairobi, Kenya.
http://www.nytimes.com/2015/07/28/world/africa/obama-ethiopia-south-sudan.html
------
How terror messages spread on Twitter?
IANS India Private Limited/Yahoo India News By Indo Asian News Service | IANS India Private Limited/Yahoo India News – 15 minutes ago
Washington, July 27 (IANS) Researchers are studying issues such as what type of information and propaganda from terror organisations go viral on the social media, how that information spreads and what kind of people/ groups participate in its spread.
The study in this regard is being undertaken by researchers at Arizona State University in order to "develop better tools to detect extremist networks promoting violence and block their online content", nationaldefensemagazine.org reported.
"Terror groups like ISIS target those who feel alienated and marginalised within the society they live in. They rarely are able to recruit entire groups, especially in Western countries," study leader Hasan Davulcu was quoted as saying.
Research shows that alienated individuals are more likely to fall prey to images than traditional forms of propaganda.
The study will focus primarily on information cascades, "wherein large numbers of individuals participate to spread information and opinions across the globe, often times producing significant changes in attitudes and behaviours", Davulcu said.
"Understanding how these cascades happen is important to understanding the methods used by terror organisations for recruiting individuals through social media," Davulcu added.
Co-researcher Paulo Shakarian was reported as saying that when looking at tweets that reached 50 recipients, less than two percent of those tweets end up going on to reach another 500 recipients.
"The community structure matters in terms of the proliferation of information on social media. If a tweet can reach 50 individuals with diverse backgrounds, then it is more likely to spread," he added.
"We're trying to understand the relationship between the online and the offline world," he said.
"The researchers have algorithms to track political online discourse in Malaysia, Indonesia and Britain, and are working on one for Libya," Davulcu said.
https://in.news.yahoo.com/terror-messages-spread-twitter-095403364.html
--------
Europe
Bomb-proof lining prevents bomb explosion in airplanes
IANS India Private Limited
London, July 27 (IANS) A bomb-proof lining developed has successfully contained blasts in a series of controlled explosions in the luggage hold of a Boeing 747 and an Airbus 321.
Researchers, including the team from University of Sheffield, demonstrated that a plane's luggage hold can contain the force of an explosion should a device concealed within a passenger's luggage be detonated during a flight.
The bomb-proof lining will mitigate damage to the plane and help keep passengers safe. The technology called Fly-Bag lines an aircraft's luggage hold with multiple layers of novel fabrics and composites.
It was tested under increasing explosive charges on disused planes at Cotswolds Airport near Cirencester recently. The bomb-proof lining developed by an international team of scientists including researchers from University of Sheffield in Britain successfully contained blasts in a series of controlled explosions in the luggage hold of a Boeing 747 and an Airbus 321.
"The key to the concept is that the lining is flexible and this adds to its resilience when containing the explosive force and any fragments produced," said Andy Tyas from the department of civil and structural engineering from the University of Sheffield in a statement.
This helps to ensure that the Fly-Bag acts as a membrane rather than as a rigid-walled container which might shatter on impact. Hardened luggage containers (HULD) have been developed to deal with bombs hidden in passenger luggage but these containers are heavier and more costly than conventional equivalents.
The technology has also been adapted for use in cabin holds within the plane if the airline crew spot something they think might be a threat and could be a risk to passengers, scientists said.
After the tests, explosives were placed in the aircraft without the lining to show the damage that could be caused.
Disasters such as the Lockerbie bombing in 1988 drove the need for this kind of invention, as well as the incident in which a printer cartridge bomb was found on-board a cargo plane at East Midlands Airport in 2010.
Fundamental to the design of the bag is a combination of fabrics which have high strength and impact and heat resistance.
The fabrics include Aramid, which is used in ballistic body armour.
http://www.daijiworld.com/news/news_disp.asp?n_id=339219
--------
Surveillance of IS followers to cost UK £25 million a week
PTI | Jul 26, 2015
LONDON: The UK will have to shell out a whopping 25 million pounds a week to keep a watch on its 350 radicalized citizens who have returned from Syria and Iraq and are followers of the dreaded IS terror outfit.
According to a security expert, round-the-clock surveillance of the radicalized Britons would require a team of at least 10 people to monitor each one at a hefty cost of 10,000 pounds a day.
"To track one person effectively takes at least 10, or more probably 15 people, which would cost at least 10,000 pound a day, not including other measures such as the monitoring of mobile phones and email traffic," said colonel Richard Kemp, former head of counter terrorism at the cabinet office.
"Then you have to observe the people they speak to, so the network expands," Kemp was quoted as saying by the Daily Express.
UK's police and intelligence services are already keeping a watch on more than 2,000 terrorist suspects as last year's 385 terror-related arrests has already been exceeded this year.
"My view is that they should not be allowed to come back. Can you imagine us letting people going out to fight with the Nazis during the Second World War back into Britain? It's ridiculous. Those people who return from Syria and Iraq are far more dangerous," Kemp said.
At least half of the 700 Britons known to have travelled to areas controlled by the IS have come back to the UK potentially "more trained, more angry and more radicalized", Scotland Yard counter-terror Chief Mark Rowley said.
Under the UK's anti-radicalization process, psychologists are used to determine their state of mind and weekly meetings are held to determine the level of risk.
The government is also using family courts to prevent children travelling to Syria and Iraq, the report said.
"There are 2,000 individuals known to the police for terrorist activities and this excludes the 350 foreign fighters. It is a big problem," said Simon Palombi, counter-terrorism expert of the Chatham House think tank.
Earlier, Prime Minister David Cameron made a fervent speech about the threat of extremism.
Speaking to the youth of the country getting attracted to the IS ideology, Cameron said, "You won't be some valued member of a movement. You are cannon fodder for them. They will use you. If you are a boy, they will brainwash you, strap bombs to your body and blow you up".
"If you are a girl, they will enslave and abuse you. That is the sick and brutal reality of ISIL. We must also de-glamorize the extremist cause, especially ISIL," he said.
"This is a group that throws people off buildings, burns them alive and its men rape underage girls, and stone innocent women to death. This isn't a pioneering movement - it is vicious, brutal, fundamentally abhorrent," he added.
http://timesofindia.indiatimes.com/world/uk/Surveillance-of-IS-followers-to-cost-UK-25-million-a-week/articleshow/48227618.cms
------
Mideast
Turkey's 'anti-ISIS, PKK campaign' could be 'game changer': PM Davutoğlu
By ANI | ANI
London, July 27 (ANI): Turkey's campaign against the Islamic State of Iraq and Syria (ISIS) and the Partiya Karkeren Kurdistan (PKK) separatists could 'change the regional game,' Prime Minister Ahmet Davutoğlu has said.
Prime Minister Davutoğlu said that the presence of a Turkey that could use its force effectively could lead to 'consequences,' which could change the game in Syria, Iraq and the entire region and "everyone should see that," reported the BBC.
He, however, asserted that there were no plans to send ground troops into Syria, adding that air strikes were meant to support the moderate forces battling the ISIS, reported the BBC.
He also said that Turkey was prepared to work with the Syrian Kurdish PYD group, which has links to the PKK, provided they did not pose a threat to the country and severed tied with Syrian President Bashar al-Assad.
The premier stressed that other states would have to 'assess and review' their own positions accordingly. (ANI)
https://in.news.yahoo.com/turkeys-anti-isis-pkk-campaign-could-game-changer-063351208.html
-----
NATO calls emergency meeting after Turkish request
July 26, 2015
NATO Security General Jens Stoltenberg called an emergency meeting on Tuesday to discuss security at the request of Turkey after last week's suicide bombing there and Turkish security operations against Islamic State of Iraq and the Levant (ISIL) and the outlawed Kurdistan Workers' Party (PKK).
NATO said in a statement on Sunday that the North Atlantic Council, which includes the ambassadors of all 28 NATO allies, would meet following a request by Turkey to hold consultations under Article 4 of NATO's founding Washington Treaty.
"Turkey requested the meeting in view of the seriousness of the situation after the heinous terrorist attacks in recent days, and also to inform allies of the measures it is taking," NATO said.
"NATO allies follow developments very closely and stand in solidarity with Turkey."
In Article 4, members are encouraged to bring subjects to the table for discussion for political consultation. Since the alliance's creation in 1949, it has been invoked several times, such as by Turkey in 2003 and in 2012, and Poland in 2014.
Germany, the Netherlands and the United States each sent two Patriot anti-missile batteries and soldiers to operate them at the start of 2013 after Turkey asked for NATO help in increasing border security due to the civil war in Syria.
The article reads: "The parties will consult together whenever, in the opinion of any of them, the territorial integrity, political independence or security of any of the parties is threatened."
It is less potent than Article 5, which recognises an attack against one or more members as an attack against all.
http://www.todayszaman.com/latest-news_nato-calls-emergency-meeting-after-turkish-request_394684.html
--------
Discriminatory language used in Turkish media against Syrian refugees
July 27, 2015
A Syrian refugee reacts as he waits behind border fences to cross into Turkey at Akçakale border gate in Sanliurfa province on June 15. (Photo: Reuters)
A report recently prepared by the Istanbul-based Hrant dink foundation has revealed that news reports and columns covering Syrian refugees in Turkey use discriminatory, exclusionary and alienating language towards the refugees.
The Hrank Dink Foundation was established after the founding editor-in-chief of Agos, Hrant Dink, was slain outside the newspaper's building on Jan. 19, 2007.
As part of its study, the Hrant Dink Foundation examined news report and columns published in both local and national newspapers in 2014. The foundation focused on the south-eastern province of Gaziantep because this province has the highest number of Syrian refugees compared to other provinces. The reports published in local newspapers in Gaziantep -- Olay, Gaziantep Günes and Gaziantep 27 -- and two national newspapers -- Hürriyet and Sabah -- were examined by the foundation.
The foundation stated in its report, titled "Hate Speech and Discriminatory Language in the Media," that it focused on the one-week period after a group of Syrians allegedly murdered Hidir Çalan, the owner of an apartment where Syrian refugees reside in Gaziantep, on Aug. 12 of last year.
Tension had erupted in Gaziantep when a large group of locals in the south-eastern province attempted to attack Syrian refugees upon hearing about the death of 65-year-old Çalan. Tension in the province lasted for about a week.
The foundation revealed in its study that both local and national newspapers use a discriminatory tone against the Syrian refugees. Stating that three basic findings came out in the study, the report firstly states that news reports and columns are prone to have a viewpoint that does not see the refugees as "holders of rights." In terms of human rights, a total of 11 columns and news reports were examined, and none of these reports approached the Syrian refugee issue in terms of human rights. Also, reports are prone to be unjust to the refugees compared to locals who are involved in any dispute with Syrian refugees.
Secondly, the report states that a security-based perspective dominates almost all of the reports or columns covering the issue of Syrian refugees in Turkey. The Hrant Dink Foundation report states that reports or columns on Syrian refugees focus on security risks that the refugees might pose in Turkey, instead of focusing on social and economic problems -- such as accommodation, work, education and health problems -- being suffered by the refugees in Turkey. "Thus, the Syrian refugees are seen as a source of insecurity and they are being alienated in the media," the report states.
As its third finding, the foundation highlights in its report that almost all of the reports or columns do not include the personal views of the Syrian refugees or what the refugees experience directly in the reports. According to the report, only three reports examined were found to have included the personal views of the refugees while covering news about the refugees, while the other reports or columns included the views of various politicians and businessmen on the Syrian refugees.
A Prime Ministry Disaster and Emergency Management Authority (AFAD) report released in early May indicates that the number of Syrian refugees in Turkey is 1.6 million, but the actual figure is thought to be around 2 million.
In addition to the discriminatory attitude in the media, some Syrian refugees are also exposed to physical attacks from time to time.
A series of violent confrontations involving Syrian refugees and local residents took place in Gaziantep in August. Similarly, angry residents took to the streets on July 15, shouting, "We don't want Syrians" in the southern province of Kahramanmaras, home to a sizable Syrian refugee population, on July 15 of last year. Some locals attending the march later attacked cars and homes belonging to Syrians in the province, injuring some Syrians.
In a separate incident on Aug. 5, angry residents in Gaziantep stopped and attacked cars with Syrian license plates after a vehicle with a Syrian plate hit a family of four pedestrians, injuring a woman and her daughter. Angered by the incident, a group of Turkish citizens assaulted the driver and later attacked nearby vehicles with Syrian license plates.
In a similar case on Aug. 9, 15 cars with Syrian license plates were attacked by unidentified people in Kilis province.
http://www.todayszaman.com/blog/turkish-media-watch/report-discriminatory-language-used-in-turkish-media-against-syrian-refugees_392714.html
------
Fear of ISIL attack sparks panic, locals flee Karkamis
July 26, 2015
When news of a group of militants linked with the Islamic State in Iraq and the Levant (ISIL) gathering in a village on the Syrian side of the border with the intent of launching an attack on the Turkish border town of Karkamis reached town residents, it sparked panic and prompted the immediate flight of a significant number of residents on Saturday night, a local witness said.
Many headed to provincial capital of Gaziantep, while others were bound for rural cites and faraway villages, to be hosted by their relatives.
A district governor and local military commander was soon dispatched to the border to inspect the authenticity of the rumours and, if they proved true, to take necessary measures against the militant group, including seeking approval from Ankara for a pre-emptive strike.
A brief late-night tour revealed that the rumors that sent ripples of anxiety through locals in Karkamis were baseless and unfounded.
Governor and military commander visited Karkamis streets packed with jolted citizens to soothe them, called on locals to return home.
"Turkish military and police does and will never let such thing happen, to attack you. We are here to protect you. Now, go home officials told people.
It was too late for those who had already left the town to be assured by officials, but for those who remained, the sense of bewilderment faded away.
Ali Yilmaz, a resident of Karkamis, told Today's Zaman that they left the town at night upon a warning from their relatives in Syria. He was back at home in the morning after things settled in the town.
"We have confidence in our military but these militants know no bounds when they attack. Given that the distance is so close, like 100 meters, between them and us, we always feel on edge," he said.
This recent event is a textbook case of ISIL's psychological overreach, as mere rumours have the potential to displace a large number of people from the border town of Turkey, a country which has the second-largest army in NATO and unmatched military resources to combat ISIL. Regardless of the reputation the militant group has earned for its resilience on battlefield in Syria and Iraq, it has few chances against such military might.
But this is ISIL, which has built its reputation, and entire structure, on speed, surprise, ferocious fighting and brutality. However, what has most disturbed locals in border areas of Turkey is not what has made ISIL what it is in Syria and elsewhere.
Locals concerned about sleeper ISIL cells
As Turkish Air Forces struck ISIL positions in northern Syria for two consecutive days, beginning early on Friday, what locals in border towns and cities most feared was another Suruç-like attack by an ISIL sleeper cell in Turkey.
Anxiety over possible ISIL sleeper cells dogged the streets in the southern city of Kilis, only kilometres away from Syrian border, with locals feeling psychological spill over effects of the Suruç attack in their daily lives: They try to avoid public gatherings, staying away from crowds in bazaars and urban centres.
M.Y.K, a shop-owner in Kilis, says he heads straight home after closing down his shop. "I tell my kids to stay away from crowded areas as a precaution."
Turkey's first outright clash with ISIL came only after the militant group was believed to have carried out the bomb attack in Suruç, killing 32 people, and had also fatally shot a soldier at a border post after its members were prevented from crossing into Turkey.
The violence proved to be a turning point or a wakeup call for Turkey, which, for a long time, ignored calls to take a more robust stance against the militant group that controls the Syrian side of the border in the area of Kilis.
On Friday, Turkey arrested nearly 300 suspects thought to be linked with ISIL and the outlawed Kurdistan Workers' Party (PKK) during raids in 22 provinces. The sudden shift in policy, however, may fall short of producing the desired effect of cracking down on networks of the radical group in Turkey.
Turkish authorities claim the police raids blunted the operational capability of the militant group in the country. But security experts, political observers and citizens on the street believe it is too early to distinguish the net positive effects of the bold new policy directed against ISIL.
"We need to see the strong face of the state these days. Fighting among political actors, among parties, the nation-wide purge within the security bureaucracy, and especially within the police department, has paralyzed the state," a public servant in Gaziantep told Today's Zaman.
He declined to be named, but added that he fears the occurrence of an ISIL attack in Gaziantep, a city that once had a burgeoning economy with flourishing trade. The economy, however, has been dismally affected by the prolonged war in Syria, especially by the destruction of Aleppo, a city thought to be the twin of Gaziantep before the war.
The public servant is sceptical about the effectiveness of government action against ISIL, citing considerable support for the militant group in Southeast Turkey. He most fears, he explained with tense voice, a civil war in the country between nationalist and Islamist Kurds
http://www.todayszaman.com/diplomacy_fear-of-isil-attack-sparks-panic-locals-flee-karkamis_394683.html
--------
Turkish police arrest over 800 suspects in counter-terrorism raids
By ZABIHULLAH MOOSAKHAIL - Mon Jul 27 2015
The operations started on Friday after a wave of deadly attacks that left at least 33 people killed.
32 civilians were killed and more than 100 others wounded in a single attack that took place near the town of Suruc, located in the south-eastern part of Turkey on July 20.
The explosion targeted a cultural centre where around 300 people had gathered for a conference a day after a police officer was shot dead by unknown gunman in Istanbul.
Officials say the operations are aimed to find those having links with Daesh, Kurdistan Workers Party (PKK) and doing other anti-state activities including attacking security forces and staging illegal demonstrations.
Police say over 100 people including a Daesh suspect who goes by its nickname 'Abu Hanzala' and 37 foreigners were arrested from Istanbul and others were arrested from other parts of the country.
Turkey is an ally of the US coalition formed against Islamic State that is bombing the militant positions in neighbouring Syria and Iraq.
http://www.khaama.com/turkish-police-arrest-over-800-suspects-in-counter-terrorism-raids-3673
---------
Yemen conflict: Shelling reported despite 'truce'
26 July 2015
Shelling has been reported in southern Yemen just as a humanitarian truce between rebels and Saudi-backed pro-government forces came into force.
Houthi rebel artillery pounded residential areas near the city of Taiz, witnesses said.
However, the capital Sanaa and central Yemen are understood to be quiet.
Before the truce was due to begin, clashes were reported at a major air base north of Aden after government allies took the nearby town of Sabr.
The Saudi-led coalition said it would halt air raids at midnight (20:59 GMT) to let much-needed humanitarian aid in.
But a Houthi spokesman said the rebels would not adopt a position on the move until they were officially informed.
Earlier reports suggested that the Houthi leader, Abdel-Malek al-Houthi, had pledged to continue the fight.
A correspondent with AFP news agency also reported sporadic gunfire in the northern outskirts of Aden barely an hour after the unilateral truce came into force. Rebels there are trying to halt the advance of loyalist forces who have retaken the port city.
http://www.bbc.com/news/world-middle-east-33668923
------
Israeli police enter Jerusalem's Al Aqsa mosque to drive out Palestinian rioters
By ANI | ANI
London, July 26 (ANI): Palestinian youths have reportedly clashed with Israeli police inside the Al Aqsa mosque complex in East Jerusalem.
The 'masked rioters' are said to have barricaded themselves inside the mosque and hurled stones, blocks and fireworks at police, who moved in to stop them, reported the BBC.
According to Israeli media reports, the Palestinians intended to disrupt visits by observant Jews to the mosque, which is one of Islam's holiest sites and is also revered by Jews.
The police said that a number of officers were injured. There were no reports of any Palestinian casualties. (ANI)
https://in.news.yahoo.com/israeli-police-enter-jerusalems-al-aqsa-mosque-drive-121247949.html
-------
Palestinian Suspect Killed During Israeli Arrest Raid
JERUSALEM — Jul 27, 2015
Associated Press
Israeli police say a Palestinian suspected of plotting an attack in Israel was killed during an arrest raid in the Qalandia refugee camp in the Jerusalem area.
He is the third Palestinian to be killed over the past week during a confrontation with Israeli forces. Relatives identified him as 20-year-old Mohammed Lafi Abu Latifeh.
Israeli paramilitary border police entered the refugee camp early Monday to arrest two Palestinians suspected of plotting an attack in Israel. Police say one surrendered, but the second ran to the roof of a building.
Police ordered him to stop, and then shot him in the lower part of his body. He tried to jump to a nearby roof but fell. A police paramedic treated him but he died of his wounds.
http://abcnews.go.com/International/wireStory/palestinian-suspect-killed-israeli-arrest-raid-32703235
------
Africa
Nigeria Boko Haram crisis: Child bomber hits Damaturu
26 July 2015
A girl aged about 10 has carried out a suicide bombing in north-eastern Nigeria, killing at least 16 people, police say.
The attack took place near a crowded market in the city of Damaturu in Yobe state. About 50 people were wounded.
No group has said it was behind the attack but Islamists Boko Haram have been blamed for similar bombings in recent months.
Two female suicide bombers killed nine people in the city earlier in July.
Yobe police spokesman Toyin Gbadegesin said that the latest attack happened on Sunday morning.
He said the child detonated her explosives in a crowd of people being screened by security services before they were let into the market.
In the previous attack on 17 July, two female bombers - one also aged about 10 - killed people waiting to say prayers for the Muslim festival of Eid.
The army said the blasts targeted a venue where volunteers were waiting to screen worshippers.
Boko Haram has recently stepped up its campaign of violence after being pushed back by Nigerian forces backed by troops from several neighbouring countries.
http://www.bbc.com/news/world-africa-33671203
------
Somalia blast: Mogadishu hotel rocked by bomb
26 July 2015
At least 13 people have been killed and more than 40 others injured in a huge bomb explosion at a hotel in the Somali capital Mogadishu.
A BBC correspondent in the city says a lorry was used to attack the Jazeera Palace Hotel near the airport.
He said it was one of the worst scenes of destruction he has witnessed in Mogadishu.
Somali militant Islamist group al-Shabab has claimed responsibility for the attack.
The al-Qaeda linked group said it was responding to assaults by an African Union force and the Somali government.
The blasts came as US President Barack Obama was leaving Kenya for Ethiopia, at the end of a trip during which he had discussions about dealing with the threat from al-Shabab.
The US condemned the "abhorrent" attack which "purposefully and cruelly targeted innocent civilians," a National Security Council statement said.
The scene of the blast at the Jazeera Palace Hotel in Mogadishu 26/07/2015
International diplomats often stay at Jazeera Palace Hotel, which has been targeted in the past. It also accommodates several embassies including those of China, Qatar and Egypt.
A Chinese embassy worker was among the dead as well as three members of the hotel staff, the BBC's Mohamed Moalimu reports.
Al-Shabab is battling Somalia's government for control of the country. While security in Somalia has improved, the group still attacks Mogadishu regularly.
On Saturday, a member of the Somali parliament and an official from the prime minister's office were killed in separate attacks in the capital claimed by al-Shabab.
In recent days the group has lost two of its remaining strongholds - the south-western town of Bardere and the south-eastern town of Dinsor. Both had been under al-Shabab control since 2008.
The militants have also targeted neighbouring countries, killing almost 150 people in an assault on Garissa University College in Kenya in April.
http://www.bbc.com/news/world-africa-33669610
------
Arab World
Syrian Army, Hezbollah Regain Control of Strategic Neighbourhood in Zabadani
Jul 26, 2015
TEHRAN (FNA)- The Syrian army and the Lebanese Hezbollah resistance fighters retook a strategic neighborhood in al-Zabadani from the Takfiri militants.
Sources said that the allied forces advanced towards al-Mehrajan square, South of Zabadani, noting that they are raiding positions of the Takfiri militants in the city.
This advance was preceded by seizing control of al-Kahhala neighbourhood, the sources said.
The strongholds of the Takfiri militants are in the reach of the Syrian army and Hezbollah fighters, the sources stressed, noting that several hilltops are in the hand of the allied forces.
Heavy losses have been inflicted upon the terrorists, according to the sources.
Earlier on Thursday, the allied forces blew up two tunnels used by the militants to transfer supplies.
The Syrian army and Hezbollah have been since July 4 engaged in the battle of Zabadani, the last city under the control of terrorists in the Qalamoun region on the Lebanese border.
The ongoing battle is part of a wider operation launched by the Syrian forces and the resistance movement's fighters on May 4, which has reportedly driven militants out of more than 90 percent of the territory in the mountainous region.
Syria has been battling foreign-sponsored militancy since March 2011. Estimates by the United Nations show that the violence fueled by Takfiri terrorist groups has so far left over 230,000 people dead and another seven million displaced.
http://english.farsnews.com/newstext.aspx?nn=13940504000341
--------
Syrian Kurds capture town from Islamic State in north-monitor
Reuters 27, 07 2015
BEIRUT (Reuters) - The Kurdish YPG militia on Monday captured a town from Islamic State fighters in northern Syria after a month-long offensive against the ultra hardline militants in the area to cut their supply lines, the Syrian Observatory for Human Rights said.
The Observatory said the town near the Euphrates River was a launchpad for Islamic State to wage raids on the Kurdish-held town of Kobani further north at the border with Turkey.
U.S.-led air strikes assisted the Kurds in the assault, said Rami Abdulrahman, who runs the Observatory.
The YPG, backed by small Syrian rebel groups, has made significant gains against Islamic State in Raqqa province, seizing Tel Abyad at the Turkish border on June 15 before advancing south and capturing the town of Ain Issa, 50 km north of the militants' Syria stronghold of Raqqa city.
In July the U.S.-led coalition has conducted some of the most sustained raids in northern Syria against the militants since the campaign began nearly a year ago.
The raids were aimed at curbing the militants' ability to operate out of Raqqa and prevent them from fighting back against Kurdish advances, according to U.S. officials.
(Reporting by Suleiman Al-Khalidi; Editing by Tom Perry and Dominic Evans)
https://in.news.yahoo.com/syrian-kurds-capture-town-islamic-state-north-monitor-091315028.html
------
Iraqi Forces Kill 7 ISIL Terrorists in Anbar
Jul 26, 2015
TEHRAN (FNA)- The Iraqi security forces targeted positions of the ISIL Takfiri militants in Anbar province, and killed 7 terrorists.
The Joint Operations Command said on Saturday that the Iraqi Forces killed seven ISIL terrorists and destroyed two of their shelters near Fallujah city.
The ISIL Takfiri terrorists currently control a shrinking part of Syria and Iraq. They have threatened all communities, including Shiites, Sunnis, Kurds, Christians, Ezadi Kurds and others, as they continue their atrocities in Iraq.
Senior Iraqi officials have blamed Saudi Arabia, Qatar, and some Persian Gulf Arab states for the growing terrorism in their country.
The ISIL has links with Saudi intelligence and is believed to be indirectly supported by the Israeli regime.
http://english.farsnews.com/newstext.aspx?nn=13940504000525
------
Strikes on Kurd Militias Elevate Tensions in Turkey
By CEYLAN YEGINSU JULY 26, 2015
ISTANBUL — As Turkish fighter jets pounded Kurdish militia targets in northern Iraq late Friday, the implications of the attack weighed heavily on Turks and Kurds across the border in Turkey, as they faced the prospect of being drawn back into a bloody civil conflict after years of relative peace.
The offensive in Iraq was carried out as part of a double-pronged counterterrorism operation that simultaneously attacked Islamic State targets inside Syria. In a major tactical shift last week, Turkey assumed an active role in the United States-led campaign against the Islamic State, plunging into its first direct cross-border confrontations with the militants and granting the Americans access to air bases for carrying out sorties in Syria.
Until now, Turkey, a NATO member and long-time ally of the United States, had resisted intense pressure, and some criticism, from Western allies to assume a more formidable role in the fight against the Islamic State, also known as ISIS or ISIL.
Ankara, however, did not want to embolden Syrian Kurdish militias, which have made significant territorial gains through increased cooperation with the American operations against the Islamic State.
The leading Kurdish militia in Syria, known as the People's Protection Unit, is an affiliate of the P.K.K. and considered a national security threat by the Turks.
Although Turkish officials said that large-scale counterterrorism operations had been planned for some time, the measures put into place last week were prompted by a suicide bombing at a cultural centre in the border town of Suruc last Monday that killed 32 people and wounded more than 100.
Full report at:
http://www.nytimes.com/2015/07/27/world/europe/heightened-tensions-in-turkey-after-strikes-on-kurdish-militants-in-iraq.html
-----
Iraqi forces attack Islamic State base in Ramadi
26 July 2015
Iraqi forces have launched an attack against the Islamic State-controlled University of Anbar complex in the city of Ramadi, US officials said.
IS militants have been using the sprawling site as a command base since taking control of the city in May.
Some reports suggested Iraqi forces had retaken control of the complex.
The Iraqi military launched an operation this month to push IS out of Anbar province, large swathes of which are controlled by the militants.
The operation to retake the university complex was supported by US air strikes against IS positions around Ramadi.
A number of buildings in and around the complex were badly damaged or destroyed, Athal al-Fahdawi, a provincial councilman, told Associated Press.
The university is 5km (3 miles) south of Ramadi, which is the capital of Anbar province.
Recapturing the complex from IS would be a significant boost to the Iraqi forces' efforts to reclaim the city.
Sabah al-Noamani, a spokesman for Iraq's counter-terrorism forces, said the university was a "significant stronghold and a key command base" used by IS to co-ordinate attacks around Ramadi.
He said government forces were attempting to separate the university from nearby districts to cut supply routes for retreating militants.
IS seized parts of Ramadi, which is only 100km (60 miles) west of the capital Baghdad, along with the nearby city of Falluja and much of Anbar in January 2014.
Iraqi Prime Minister Haider al-Abadi told the BBC in May that the city could be retaken from IS "in days" but the militants still control most of it.
Anbar province, which is predominantly Sunni, covers a vast stretch of the country west from Baghdad to the Syrian border, and contains key roads that link Iraq to both Syria and Jordan.
A US-led coalition has been carrying out air strikes in Iraq and neighbouring Syria since August 2014 in an attempt to push back IS.
http://www.bbc.com/news/world-middle-east-33669345
------
Turkish PM: No plans to send ground troops into Syria
27 July, 2015
Turkey has no plans to send ground troops into Syria to fight the Islamic State group, the prime minister says.
But Ahmet Davutoglu said air strikes on IS positions close to the Syria/Turkey border and on Kurdish PKK separatists in Iraq could "change the game".
Turkey's actions are in response to violent attacks last week in Turkey itself, including the death of 32 activists in a bombing in Suruc.
Nato is to hold an emergency meeting on Tuesday to discuss the situation.
The Kurdish People's Protection Units (YPG), the armed wing of the main Syrian Kurdish party, on Monday urged Turkey to stop its attacks on Kurdish units inside Syria.
'Turmoil and instability'
Mr Davutoglu told a meeting of Turkish newspaper editors that, following Turkey's military action, there were now "new conditions" in the regional conflict.
"The presence of a Turkey that can use its force effectively can lead to consequences which can change the game in Syria, Iraq and the entire region; everyone should see that," the Hurriyet Daily News quoted him as saying.
Turkey - a Nato member - has requested Tuesday's meeting based on Article 4 of the organisation's founding treaty, which allows members to request such a meeting if their territorial integrity or security is threatened.
"When Turkey requests for such a meeting I think it's very right and very timely to have a meeting where we address the turmoil and the instability we see in Syria, Iraq and surrounding and close to Nato borders of Turkey," Nato Secretary General Jens Stoltenberg told the BBC.
Mr Davutoglu said Turkey was prepared to work with the Syrian Kurdish PYD group - which has links to the PKK (Kurdistan Workers' Party) - provided it did not pose a threat to Turkey and severed relations with Syrian President Bashar al-Assad.
However, the raids against the PKK in northern Iraq effectively ended a two-year ceasefire.
http://www.bbc.com/news/world-europe-33671436
-------
Syria: Militants Suffer Heavy Losses in Quneitra
Jul 26, 2015
TEHRAN (FNA)- A large group of Takfiri militants were killed and injured in Syrian military operations in the countryside of Quneitra.
A number of terrorists were killed and several others were injured during an army operation against their hideouts and concentration centers in Tranja and Jabata al-Khashab villages in the Northern countryside of Quneitra on Saturday.
Meanwhile, media reports said that Housam Laila and Mohammad Alaa Eddin, the two commanders of al-Nusra Front, were identified among the dead terrorists.
A large group of terrorists were killed and injured in a military operation near the junction between Sahita and al-Samadaniyeh al-Gharbiyeh in the Eastern countryside of Quneitra.
Syria has been battling foreign-sponsored militancy since March 2011. Estimates by the United Nations show that the violence fueled by Takfiri terrorist groups has so far left over 230,000 people dead and another seven million displaced.
http://english.farsnews.com/newstext.aspx?nn=13940504000505
-----
Syrian Troops Advance in Hasaka
Jul 26, 2015
TEHRAN (FNA)- Syrian army troops inflicted heavy losses on the foreign-backed militants, and regained control over many areas in Hasaka.
On Saturday, the army has made great advances against the Takfiri militants in the neighbourhoods of al-Nashwa al-Sharqiyeh and al-Nashwa al-Gharbiye in the city of Hasaka.
Field sources said on Saturday that army advanced further towards more building blocks in al-Nashwah al-Sharqiyeh, and regained control of more areas there.
The sources further said that the ISIL terrorists were driven out of large swathes on the axis linking al-Bassel roundabout and Banorama roundabout in the Eastern side of the neighbourhood.
In al-Nashwa al-Gharbiyeh neighbourhood, the volunteer forces regained control over al-Sharia roundabout, a number of building blocks and the roundabout near the Electricity Company, and have continued to advance towards the Children Hospital and the Faculty of Literature and Human Sciences. The forces killed scores of terrorists and destroyed their hideouts in the operation.
http://english.farsnews.com/newstext.aspx?nn=13940504000470
-------
Iraqi Forces Win Back Al-Anbar University
Jul 26, 2015
TEHRAN (FNA)- The Iraqi volunteer forces and army managed to seize back several strategic regions in the city of Ramadi, including Al-Anbar University, from Takfiri terrorists' control.
Iraq's counter-terrorism units announced that the Iraqi flags have been hoisted now over Al-Anbar University's buildings.
Tens of ISIL terrorists have been killed and dozens more injured in heavy clashes with Iraqi troops.
On Saturday, the Iraqi volunteer forces made new gains in Al-Anbar, and purged a strategic road in the province of Takfiri terrorists.
In a seven-hour-long military operation, the Iraqi forces pushed back the ISIL terrorists from Bouathia-Ramadi road on Friday night, and killed tens of Takfiri militants in heavy clashes.
Meantime, the Iraqi army and the volunteer forces won back control over strategic hilltops in the Eastern parts of the city of al-Ramadi.
The ISIL Takfiri terrorists currently control shrinking swathes of Syria and Iraq. They have threatened all communities, including Shiites, Sunnis, Kurds, Christians, Ezadi Kurds and others, as they continue their atrocities in Iraq.
Senior Iraqi officials have blamed Saudi Arabia, Qatar, and some Persian Gulf Arab states for the growing terrorism in their country.
The ISIL has links with Saudi intelligence and is believed to be indirectly supported by the Israeli regime.
http://english.farsnews.com/newstext.aspx?nn=13940504000615
------
Aide to ISIL Self-Declared Governor of Karmah Escapes with Militants' Money
Jul 26, 2015
TEHRAN (FNA)- An aide to the ISIL self-proclaimed governor of the Iraqi town of al-Karmah escaped with the money of the terrorists.
Commander of the Third Brigade of the Iraqi Army Colonel Mahmoud al-Jumaili said that Hamid al-Atra escaped from al-Karmah to Kirkuk province with the money of the ISIL terrorists.
The Iraqi security forces and the Popular Mobilization Units inflicted heavy losses to the Takfiri militants in al-Karmah.
http://english.farsnews.com/newstext.aspx?nn=13940504000592
------
Turkey arrests 15 over suspected Islamic State link
Mon, Jul 27, 2015
At least 15 people suspected of links to the Islamic State group have been detained after Turkish police raided homes in Ankara in a major security sweep.
The Anadolu news agency said the suspects, including a number of foreign nationals, were held during an operation in Ankara's Haci Bayram neighbourhood. It did not give details of the foreigners' home countries.
Since Friday, Turkey has been carrying out air strikes against IS targets in Syria and Kurdish rebel positions in northern Iraq, in a campaign that could end its peace process with the Kurdistan Workers Party (PKK).
Protesters clashed with Turkish riot police in Istanbul after the death of an activist during raids against militants by government forces. Attacks on police officers, soldiers and installations have also occurred in the country's predominantly Kurdish southeast. Photograph: EPATurkey calls Nato talks over PKK Kurdish separatists
Protesters demonstrate during a Reclaim Australia Rally at Martin Place in Sydney, Australia, on July 19th.
On Sunday, it called for a meeting of its Nato allies to discuss threats to its security, as well as its air strikes and said two soldiers were killed and four wounded in an earlier attack by PKK militants.
Long a reluctant member of the US-led coalition against IS, Turkey made a dramatic turnaround this week by granting the alliance access to its air bases and launching air raids against both the jihadist movement and the PKK.
It has no plans to send ground troops into Syria and the air strikes there are meant to give support to moderate Syrian rebels fighting Islamic State, Prime Minister Ahmet Davutoglu was quoted as saying by the Hurriyet newspaper.
He said the Syrian Kurdish PYD, which has links to the PKK, could "have a place in the new Syria" if it did not disturb Turkey, cut all relations with President Bashar al-Assad's administration and cooperated with opposition forces.
But the relapse into serious conflict between Turkey and the PKK has raised doubts about the future of NATO member Turkey's peace efforts with its own Kurdish foes that started in 2012, after 28 years of bloodshed, but have recently stalled.
Four Turkish F-16 fighter jets deployed from the Diyarbakir air base in the country's mainly Kurdish southeast hit PKK targets in Hakurk in northern Iraq, the sources told Reuters.
The strike came after a car bomb and roadside explosives hit a passing military vehicle on a highway near Diyarbakir overnight on Sunday, the army said. Kurdish militants then opened fire on the vehicle with rifle fire, it said. Two soldiers were killed and four were wounded.
At least six people had been detained in connection with the attack, Dogan news agency reported.
The renewed conflict has sparked protests in parts of Istanbul as well as the southeast. A police officer was killed in clashes in the city's volatile Gazi district on Sunday, the third day of violence there following the death of a leftist activist during police raids on suspected militants.
The PKK, which Ankara and Washington deem a terrorist group, has also targeted police officers in the southeast and elsewhere, accusing the Islamist-rooted central government of covertly helping Islamic State to the detriment of Syrian Kurds.
The outlawed PKK has waged an insurgency against Ankara for Kurdish autonomy since 1984. Opposition politicians and critics accuse President Tayyip Erdogan of taking up the campaign against Islamic State as political cover to clamp down on Kurds.
Davutoglu, who has said the operations will continue as long as Turkey faces a threat, discussed security with U.N. Secretary-General Ban Ki-moon in a telephone call overnight.
NATO said ambassadors will meet on Tuesday to discuss security at Turkey's request. Reuters
http://www.irishtimes.com/news/world/europe/turkey-arrests-15-over-suspected-islamic-state-link-1.2298438
-------
Pakistan
Pakistan resumes capital punishment after one month break: officials
AFP, 27, 7, 2015
Multan (Pakistan) (AFP) - Pakistan on Monday resumed executions by hanging two murder convicts following a one-month break during the Muslim holy month of Ramadan that ended last week.
The hangings, which took place in the central city of Multan early in the morning, brought to 176 the total number of people executed since December when the country ended a six-year moratorium on the death penalty, according to the independent Human Rights Commission of Pakistan.
"Two prisoners, Farooq alias Farooqa and Karim Nawaz, who had been awarded capital punishment, have been hanged in central jail in Multan today," Chaudhry Arshad Saeed, a senior government advisor for prisons in the Punjab province told AFP.
"Both of these convicts were awaiting the death penalty for murdering people in separate cases. They have been executed today after resumption of hangings following a temporary moratorium because of Ramadan," he said.
Another senior official of the prisons department who is responsible for all operations confirmed the hangings.
Pakistan ended its 2008 - 2013 moratorium on the death penalty following a Taliban attack on a school in Peshawar that killed more than 150 people -- mostly children -- in the country's deadliest ever terror attack.
Critics say the country's criminal justice system is marred by police torture and poor legal representation, meaning many of those now facing the gallows have not had a fair trial.
Among those currently on death row are murder convict Shafqat Hussain, whose case has drawn international criticism because his family and lawyers say he was under 18 at the time of the killing and claim he was tortured into confessing.
The European Union, the United Nations and human rights campaigners have all urged Pakistan to reinstate the moratorium.
Amnesty International estimates that Pakistan has more than 8,000 prisoners on death row, most of whom have exhausted their appeals.
http://news.yahoo.com/pakistan-resumes-capital-punishment-one-month-break-officials-064453647.html
------
Pakistan court stays hanging of 'mentally ill' prisoner
PTI | Jul 26, 2015
LAHORE: A Pakistani court has stayed the execution of a former policeman, convicted for killing his colleague, as it sought a report from jail authorities over his family's claims that he is "mentally ill".
The district and sessions judge here had earlier issued death warrant for the convict, Khizar Hayat, for July 28.
However, the prisoner's mother filed a stay application through Justice Project Pakistan (JPP), a non-government organisation working for prisoners' rights, in the district court, which yesterday stayed the hanging.
JPP's counsel Sara Belal had told the judge that the jail authorities in 2008 diagnosed that Hayat, 41, had been suffering from paranoid schizophrenia.
Arguing that national and international laws did not permit hanging of insane persons, the lawyer requested the court to set aside death warrant and stop the execution of Hayat.
Hayat, who was a police constable, was arrested in 2001 for killing a fellow policeman. A trial court awarded him death sentence in 2003.
The Lahore high court division had earlier decided the matter of Hayat's mental health and allowed the execution after the jail officials told the court that at the time of filing mercy petition before the president, the medical examination of the condemned prisoner was conducted and he was found fit.
The medical officer concerned had also told the court that the prisoner was having symptoms of depression for which anti-psychotic medication was provided to him and he was a fit person.
Executions in Pakistan resumed in December last year, ending a six-year moratorium, after Taliban fighters gunned down 154 people, most of them children, at a school at Peshawar.
Hangings were initially reinstated only for those convicted of terrorism offences, but in March they were extended to all capital offences.
More than 8,000 prisoners are on death row in Pakistan and about 160 convicts have been executed since the Nawaz Sharif government lifted moratorium on death penalty.
The Pakistani government had halted the executions during the month of Ramadan that ended last week.
http://timesofindia.indiatimes.com/world/pakistan/Pakistan-court-stays-hanging-of-mentally-ill-prisoner/articleshow/48226214.cms
-----
US embassy employee killed in Pakistan
PTI | Jul 26, 2015
ISLAMABAD: A Pakistani employee of the US embassy here was on Sunday shot and killed by unknown gunmen, police said.
The victim was identified as Iqbal Baig who worked for the US Drug Enforcement Agency (DEA).
Police said Baig was shot at his home this morning. He belonged to the minority Shia Ismaili community.
Security agencies have launched investigations though the motive of the killing is not known as yet.
At least 43 Ismailis on a bus were shot dead by militants in Karachi in May.
http://timesofindia.indiatimes.com/world/pakistan/US-embassy-employee-killed-in-Pakistan/articleshow/48225528.cms
------
ATC issues Shafqat Hussain's death warrants for fifth time
By Zubair Ashraf: July 27, 2015
KARACHI: An anti-terrorism court (ATC) on Monday once again issued death warrants for murder convict Shafqat Hussain for August 4.
This is the fifth time the ATC has issued death warrants for the convict whose execution was stayed earlier following confusion over his age at the time he committed the crime.
The ATC has directed Shafqat's hanging under the supervision of a judicial magistrate after completion of all legal and medical formalities.
Last month, the ATC had issued death warrants for Shafqat for June 9 but his execution was postponed for the fourth time – not by the Supreme Court or the federal government, and certainly not by the president. His unlikely saviour was the superintendent of the Central Jail Karachi, Kazi Nazir Ahmed.
"There was reasonable doubt. And there was the Supreme Court hearing scheduled the same morning is why I decided to stay the hanging," the superintendent had told The Express Tribune.
Hussain was arrested and sentenced to death in 2004 for kidnapping and killing a seven-year-old boy from an apartment building in Karachi where he was working as a security guard.
On May 21, the Islamabad High Court dismissed Shafqat's intra court appeal challenging a May 11 IHC judgment, maintaining that the petition calling for the formation of a judicial commission to determine his age was not maintainable.
On May 11, Justice Athar Minallah had dismissed Hussain's plea for his age to be verified by a judicial forum
Pakistan has resumed the execution of death row prisoners a little over a month after it suspended the practice out of respect for the month of Ramazan and after Prime Minister Nawaz Sharif instructed authorities to respect "the sanctity of the holy month", by observing a moratorium on capital punishment.
http://tribune.com.pk/story/927237/atc-issues-shafqat-hussains-death-warrants-for-fifth-time/
-------
India
'Befitting Reply' If We're Hit, Says Government after Gurdaspur Attack
By Sudhi Ranjan Sen (With inputs from agencies) | Updated: July 27, 2015
GURDASPUR, PUNJAB: A major terror attack in Punjab has killed six people in Gurdaspur near the border with Pakistan. Intelligence sources have told NDTV that they suspect the four terrorists could belong to the Pakistan-based Lashkar-e-Taiba or Jaish-e-Mohammad.
Here are the 10 latest developments in this story:
Home Minister Rajnath Singh has issued a firm warning to Pakistan. "I can't understand why time and again cross border terror incidents are taking place when we want good relations with our neighbour," he said, according to news agency PTI.
"We want peace with Pakistan, but not at the cost of national honour," said the Home Minister, adding, "We will not be the first to strike, but if we are hit, we will give a befitting reply."
The attack comes weeks after Prime Minister Narendra Modi met Pakistani premier Nawaz Sharif in Ufa in Russia, resulting in an agreement to resume dialogue between the two countries.
This morning's attack in Gurdaspur involved at least four terrorists, said sources, adding that one had been killed and another seriously injured by 2 pm. Five bombs were found on train tracks nearby.
The terrorists, who were in army uniforms, carjacked a Maruti 800, opened fire on a bus, then stormed into a police station in the town of Dinanagar where they were holed up for several hours.
Three civilians were killed along with two home guards and senior police officer Baljit Singh, who died in the counter-terror operation.
Punjab Chief Minister Parkash Singh Badal appeared to blame the union government. "The terrorists didn't come from Punjab, they came from the border. It's the Centre's job to seal the border," he said.
The Prime Minister met with top ministers this morning to discuss the attack; the Congress has alleged a major intelligence failure.
"There should be no politics for a case like this... especially by a senior party like the Congress," said Parliamentary Affairs Minister Venkaiah Naidu.
Home Minister Singh said he will make a statement on the attack in Parliament tomorrow.
http://www.ndtv.com/cheat-sheet/gunmen-in-army-uniform-attack-police-station-in-punjab-1-dead-1200850?pfrom=home-lateststories
-------
Gurdaspur attack: Centre and states must jointly deal with terror, says Omar Abdullah
By ANI | ANI –27 July, 2015
Srinagar, July 27(ANI): Former Jammu and Kashmir Chief Minister and National Conference leader Omar Abdullah on Monday said that better coordination and joint efforts between the Centre and state governments' was required to deal with the terror attacks such as what has happened in Gurdaspur, Punjab.
Abdullah further said that amalgamation of BJP- PDP could be the reason for these kinds of attacks
"There are repeated attacks like this, especially near borders. We don't know who has done this. But wanted to know who is involved in this attack and who is responsible for it. A new front has been tried to open with Jammu and Kashmir. I think we have become used to deal with such kind of attacks. It's been 10 years since Punjab has been dealing with these kinds of issues. This should be also dealt at state level not only at central level so that these kinds of attacks can be avoided," Abdullah told media here
"The last time we saw this kind of radicalization was on the coming together of the National Conference under Congress after the 1987 accord .Quiet possibly seeing the completely disparate forces like BJP-PDP coming together could also be one of the causes but I can't speculate beyond that," he added
Omar Abdullah tweeted today, "The timing of the attack, methodology & location are all eerily similar to attacks in the border belt of Jammu."
https://in.news.yahoo.com/gurdaspur-attack-centre-states-must-jointly-deal-terror-093808413.html
------
Pakistan violates ceasefire along IB in Jammu
PTI | Jul 27, 2015
JAMMU: In fresh ceasefire violation, Pakistan Rangers today targeted border outposts in Jammu district of J&K. Pakistan Rangers resorted to small arms firing on BoPs along IB in Arnia sector of Jammu district, a BSF officer said.
There was no loss of life or injury to anyone in the firing, he said.
BSF troops exercised restraint and did not reply to the firing, he said.
There have been over 13 ceasefire violations by Pakistan along Indo-Pak border in July this year in which one woman was killed and 12 people were injured.
http://timesofindia.indiatimes.com/india/Pakistan-violates-ceasefire-along-IB-in-Jammu/articleshow/48234238.cms
------
Australia
Australian man pleads guilty to Anzac Day terror plot
27 July, 2015
A statue of a solider in Martin Place, Sydney, Australia
The terror plot targeting this year's Melbourne Anzac Day parade never took place
A man has pleaded guilty to supplying weapons for a foiled terror plot at an Anzac Day remembrance parade in Australia.
Mehran Azami on Monday appeared in the Melbourne Magistrates Court on multiple charges connected to the plot.
Azami pleaded guilty to 19 charges of importing restricted goods, including knives and stun guns, local media said.
A teenager from the UK has also admitted involvement in the plan which was targeting police at the parade.
Police say they prevented the attack, planned for Melbourne, when Azami and others were arrested in anti-terrorism raids.
A UK court has heard that several of the alleged plotters were supporters of the Islamic State militant group.
Anzac Day, held on 25 April each year, commemorates the Australian and New Zealand Army Corps' World War One battle in Gallipoli, with this year marking its centenary.
Azami was remanded in custody until October, said the Australian Broadcasting Corp. (ABC).
Mental illness
He was 19 when he was arrested after police launched counter-terrorism raids in April.
The Melbourne Magistrates Court had previously heard Azami had given some weapons to Harun Causevic and Sevdet Besim, who are charged with conspiring to plan the attack, reported The Australian.
Defence lawyer Charles Atlas has previously said Azami was suffering from a mental illness and was being kept at a psychiatric facility.
A teenager from Blackburn in the UK earlier this month pleaded guilty to one count of inciting terrorism by encouraging the murder of police officers during the parade.
Court sketch of teenage boy held over Australia terror plot
A UK boy had appeared at Westminster Magistrates' Court earlier this year
The 15-year-old appeared at the Old Bailey via video link from Manchester Crown Court, speaking only to enter his plea.
He could not be named for legal reasons.
The Old Bailey heard the boy, who was 14 at the time, sent thousands of instant messages to 18-year-old Besim in Australia over a 10-day period in March.
The boy sent a message to the older teenager suggesting he got his "first taste of beheading," prosecutor Paul Greaney QC said, to which Besim replied that this seemed "risky".
According to the Australia government, at least 100 Australians are fighting with terror groups in the Middle East, and another 150 people in Australia are known to be supporting such groups.
http://www.bbc.com/news/world-australia-33671471
-----
URL: https://newageislam.com/islamic-world-news/mullah-omar's-eldest-son-be/d/104047