New Age Islam News Bureau
7 Jan 2015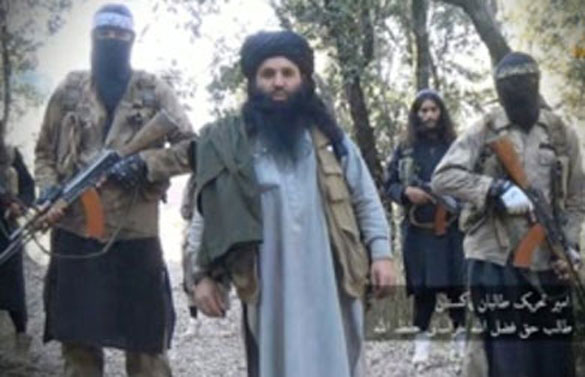 Mullah Fazlullah threatens a 'spectacular' terror attack
---------
Pakistan
• Mullah Fazlullah Says Next Attack Will Make Peshawar Attack Forgotten
• JUI-F Angry Over 'Linking Religion with Terrorism'
• Malala Attacker Ehsanullah Ehsan Lists 'Jihad' As Skill on Linkedin
• Two Sipah-e-Sahaba Militants Executed In Multan
• Four killed in Quetta clash between drug smugglers
• It's difficult to trace fund transactions to seminaries, says Nisar
• Setting up of military courts: President Mamnoon signs bills into law
• Military courts will help stamp out terrorism from country: PM
• India trying to distract Pak from counter-terror drive: FO
• Two peace volunteers killed in Tirah Valley
• Parliament gives legal cover to military courts
• Imran gives govt Jan 18 deadline to establish judicial commission
• Over 200 suspects including Afghan nationals arrested in Quetta
Mideast
• Around 80 Killed, Injured In Blast near Yemen Police College
• Time to Crack Down On 'Islamophobia', Turkey's Erdogan Tells EU
• Iran Reiterates Strong Support for Iraq's Territorial Integrity
• Study: anti-Semitism most common prejudice in Turkish media
• Israeli military divided over Gaza blitzkrieg probe
• Banned Marxist group claims Istanbul suicide attack
Arab World
• Egypt Religious Scholars Reject ISIL Fatwas as Anti-Islam
• Dozens of Islamist Fighters Killed As Battle of Kobani Rages On
• 11 Dead after Suspected ISIL Attack in Western Iraq
• Takfiri Militants Sustain Heavy Toll in Hasaka, Deir Ezzur
• Beheading the beheaders: Senior ISIS police official found decapitated
• IS decree denies education to Lakhs
• Saudi Citizens slam terror attack
• 'Iran saved Baghdad from falling to ISIS,' says Iraqi MP
• How ISIS administers twisted justice in Syria and Iraq: Thief's hand cut off and a man whipped for watching porn
Africa
• Islamic Scholars from West Africa and the Middle East Join Fight against Extremism
• Somalia's Shebab Militants 'Execute Informers'
• Mali appeals for international intervention in Libya
• Libya pays heavy economic price as fighting takes toll
• Fears over latest Boko Haram town, military base seizure
• Foreign fighters among jihadist ranks, Libya says
Europe
I• S Militants Asked Baghdadi for Permission to Fight 'Infidels' In Tajikistan
• Bosnia under Threat from Radical Salafi Movements
• France warns Palestinians over escalating crisis with UN bid
• Few options for fixing Libya, a major jihadist threat to West
• Tabloid, prominent Germans condemn anti-Muslim rallies
• U.N. chief confirms Palestine will join ICC
• Syrians largest refugee group after Palestinians: UN
• Amnesty Urges Immediate Release of Bahraini Cleric
India
• We Like to Change Hearts not the Religion –Jamaat-e-Islami Hind
• VHP Rushes to Prevent Dalits Embracing Islam in Meerut
• Gurjars offer marriage, land to displaced Pak Hindus
• Existing laws enough to take care of forceful conversions
• India lauds Bangladesh security forces for acting against militants
South Asia
• BNP Vice-Chairman's Speech Banned in Bangladesh Media
• Insurgent Attacks across Afghanistan Kill 7, Including Judge
• Operation 'Dhoro' netting top BNP-Jamaat leaders
• Six Maldivians reported as latest to travel for jihad, taking one-year-old infant
• Hefazat day was the most challenging, says outgoing DMP boss
• Are you a 'Halal foodie?' Singapore firm launches app for that
• China seeks to build Arabic language centres
North America
• Leaked Calls Give a Look at How the US Military Is Trying to Understand the IS
• US-Led Coalition Helping ISIL to Survive in Iraq
• US training of Syrian rebels could begin in spring: Pentagon
• US not to abandon Afghanistan, says White House
• U.S. condemns deadly Libyan strike on tanker
Southeast Asia
• Malaysia's Moderate Image Takes a Beating with Rising Islamic Fundamentalism
• Indonesia Tightens Security after US and Australia Warning
• Research and Tech Minister Says Nuclear Is the Way of the Future for Indonesia
Compiled by New Age Islam News Bureau
URL: https://newageislam.com/islamic-world-news/mullah-fazlullah-says-next-attack/d/100898
-----------
Pakistan
Mullah Fazlullah says next attack will make Peshawar attack forgotten
7 January 2015
Tehreek-Taliban Pakistan (TTP) leader Mullah Fazlullah says the next attack they are planning will make Peshawar attack forgotten.
Story published at "www.mirror.co.uk" states that TTP leader Mullah Fazlullah says if Army knows their locations then they know Army areas.
Mullah Fazlullah according to MIRROR has said that they will target the military in streets, markets and everywhere.
Justifying the Peshawar school attack Fazlullah has said according to MIRROR that the school attacked was a military training center where they were raising soldiers.
Mullah Fazlullah According to MIRROR says they will continue to target places like this.
He has further justified the attack according to MIRROR that their kids who got killed by the Pakistani Army were also children.
Peshawar attack took place on December 16, 2014 where a group of 6-7 gunmen attack an Army-run school in Warsak Road area of Peshawar and sprayed bullets on school children.
Around 140 school children were killed and over 130 more injured.
The responsibility of which was taken by TTP.
http://www.khaama.com/43988-2686
-----------
JUI-F Angry Over 'Linking Religion with Terrorism'
7 January 2015
ISLAMABAD: Jamiat Ulema-e-Islam (JUI-F) chief Maulana Fazlur Rehman, on Tuesday showed concern over linking terrorism to religion, saying terrorism is condemnable in all manifestations.
JUI-F chief, whose party boycotted the assembly session to pass 21st constitutional amendment and amended Army Act also expressed his reservations over the new legislation for establishment military courts in the county. "The government has demonstrated non-seriousness by presenting the constitutional amendments in assembly at times when its team members were holding negotiating with us," he said. He complained his party was not taken into confidence over both the amendments, which he dubbed as an attempt to make Pakistan a secular country. "Pakistan is an Islamic state and we won't allow anybody to turn it into a secular state," he said.
He said the nation is united against terrorism, militancy and religious extremism, but some quarters are linking religion with terrorism. "Terrorism is terrorism and it can't be bracketed in religious or non-religious way," he said. JUI-F along with Jamaat-e-Islami boycotted assembly session that passed the 21stConstitutional Amendment over the wording that acts of terrorism carried out only in name of religion or sect would be dealt by these military courts.
http://www.dailytimes.com.pk/islamabad/07-Jan-2015/fazl-angry-over-linking-religion-with-terrorism
-----------
Malala attacker Ehsanullah Ehsan lists 'jihad' as skill on LinkedIn
7 January 2015
A senior Taliban commander, wanted in connection with an assassination bid on Malala Yousufzai's life, has been found using LinkedIn, listing his skills as "jihad and journalism".
Ehsanullah Ehsan has 69 connections on LinkedIn, indicating a sizable network.
Ehsan does not hide his associations and openly promotes himself on LinkedIn as spokesman for the Jammat-ul-Ahrar, a splinter group of the Taliban, The Telegraph reported.
He describes himself as "self-employed" and says he has been a spokesman since January 2010. Ehsan even lists his skills as "jihad and journalism" and provides details of his school, employment history and language skills. He also includes his photograph.
After being approached by the British daily, LinkedIn took down Ehsan's account on Friday night.
A spokesman said the company's security team had decided to "restrict it", meaning it was no longer in operation. But she said it was not clear if the account belonged to Ehsan or was a fake account, established by another party.
She said the IP address of the account suggested it was fake. She said the "lack of Taliban recruiting messages" was another clue.
http://www.thehindu.com/news/international/world/malala-attacker-ehsanullah-ehsan-lists-jihad-as-skill-on-linkedin/article6753855.ece
--------
Two Sipah-e-Sahaba militants executed in Multan
7 January 2015
MULTAN: Two convicts, belonging to the banned Sipah-e-Sahaba Sunni sectarian group, were hanged till death at the New Central Jail Multan on Wednesday early morning, DawnNews reported.
The latest executions have brought the number of those hanged until death to nine. The executions started as Prime Minister Nawaz Sharif lifted the moratorium on capital punishment in the country in the aftermath of the Peshawar carnage that left some 150 people, most of them children, dead.
Prison officials had already received the death warrants for the two men a couple of days ago. The warrants were issued by anti-terrorism courts as mercy petitions of the convicts had been rejected by the president.
Ahmed Ali, a resident of Shorkot, Jhang district, was handed capital punishment for killing three men: Altaf Hussain, Mohammad Nasir and Mohammad Fiaz and injuring Mohammad Pervez and Mohammad Siddique on the Railway Road in 1998.
Ghulam Shabbir, a resident of Talamba area of Khanewal district had killed Deputy Superintendent of Police Anwar Khan and his driver Ghulam Murtaza on the Bohar Gate Road on Aug 4, 2000. Charges of sectarian violence were also proved against him.
He was sentenced to death by a special anti-terrorism court on June 21, 2002, and the conviction was later upheld by the Supreme Court.
Both convicted men were hanged at 6am. Both were involved in murder cases and both belonged to Sipah-e-Sahaba," said Saeed Ullah Gondal, an official at the central jail in the city of Multan.
Earlier, strict security measures were taken around the jail precincts and the adjoining areas. Army personnel were deployed outside the jail, while elite force personnel were positioned inside the prison premises.
Following the removal of moratorium, President Mamnoon Hussain has turned town mercy appeals of 17 convicts for death penalty. Since then, nine prisoners have been executed.
After the moratorium was lifted, the first executions took place on Dec 20, 2014. Aqeel alias Dr Usman and Arshad Mehmood were executed in Faisalabad on that day.
Usman was a former soldier of the army's medical corps. He was executed in relation to an attack on the headquarters of the Pakistan Army in 2009 in Rawalpindi, while Arshad Mehmood was executed for an assassination attempt on former military ruler, General (retd.) Pervez Musharraf.
A couple of days later, on Dec 22, 2014, four more convicts: Zubair Ahmed alias Tauseef, Ikhlas Ahmed alias Roosi, Ghulam Sarwar and Rashid Mehmood alias Teepu were also hanged at district jail in Faisalabad. All four militants were convicted of their involvement in an attack on former president Pervez Musharraf.
Later, on Dec 31, 2014, Niaz Mohammad, a former Pakistan Air Force junior technician who was also convicted in the Pervez Musharraf assassination attempt case was executed at the Peshawar Central Prison.
Even now though, 7791 prisoners are on death row in the country.
http://www.dawn.com/news/1155433/two-sipah-e-sahaba-militants-executed-in-multan
-----------
Four killed in Quetta clash between drug smugglers
7 January 2015
QUETTA: At least four people were killed during an exchange of fire between two groups of drug-smugglers in Quetta, the capital of Balochistan on Wednesday, whereas a body each was recovered from Quetta and Killa Saifullah.
The four were killed when two groups of narcotics smugglers exchanged fire in Quetta's Qambrani road area.
Superintendent of Police Sariab Police Station Imran Qureshi told Dawn that the exchange of fire took place over a narcotics transaction dispute.
He said initially three people were killed whereas the fourth one succumbed to injuries while receiving treatment at a nearby hospital.
Police and Frontier Corps personnel reached the spot and cordoned off the area as a probe into the incident went under way.
Full report at:
http://www.dawn.com/news/1155479/four-killed-in-quetta-clash-between-drug-smugglers
-----------
It's difficult to trace fund transactions to seminaries, says Nisar
7 January 2015
ISLAMABAD: The government has admitted that despite the presence of laws monitoring the working of religious seminaries, it often becomes difficult to trace the money transacted to madressahs from abroad.
"Some madressahs are receiving financial support from Muslim countries. However, it is often difficult to trace the transaction of such money," Interior Minister Chaudhry Nisar Ali Khan said in a written reply to a question asked by PPP's Sughra Imam in the Senate on Tuesday.
The questioner did not get the opportunity to ask any supplementary question as the chairman suspended the question hour to take up the 21st Constitution Amendment Bill.
The Senate's library staff removed the annexures containing details of seminaries from the table immediately after the suspension of the question hour.
Full report at:
http://www.dawn.com/news/1155431/its-difficult-to-trace-fund-transactions-to-seminaries-says-nisar
-----------
Setting up of military courts: President Mamnoon signs bills into law
7 January 2015
ISLAMABAD: President Mamnoon Hussain on Wednesday signed the 21st Constitutional Amendment Bill of 2015 as well as the Pakistan Army Act 1952 Amendment into law at the Presidency.
Both bills were approved in the Parliament yesterday.
The Parliament had adopted the 21st Constitutional Amendment Bill and the The Pakistan Army amendment Bill 2015 unopposed after 247 Members of National Assembly along with the Senate voted in favour of the laws aimed to set up constitutionally protected military courts to try civilian terror suspects.
Speaking in the Senate yesterday, Prime Minister Nawaz Sharif had spoken as to why it was necessary to pass the amendment bill.
"This bill is about military courts trying hardcore terrorists who kill Pakistanis...this is an important day for Pakistan when the nation decided that terrorists will be taken out from the roots," he had said.
The Presidency received literature of the bills last night from the Parliament's secretariat and these were tabled at the Presidency this morning. After the president's signatures, the Law Ministry notified the official gazette of Pakistan.
http://www.dawn.com/news/1155486/setting-up-of-military-courts-president-mamnoon-signs-bills-into-law
-----------
Military courts will help stamp out terrorism from country: PM
7 January 2015
ISLAMABAD: Prime Minister Nawaz Sharif said that the military courts would help eliminate terrorism from the country.
Speaking after the passage of 21st Constitutional Amendment, Nawaz Sharif thanked all political parties for extending their support to the bill, allowing the trial of terrorists through special courts headed by army officers. He vowed to wipe out terrorism from the country with the combined effort of all political parties. The PM said passage of the legislation is vital to bringing peace back in the country. He said the legislation does not belong to any specific party rather it is backed by all political parties. He said the move will help to curb terrorism in the country.
Quoting leader of the opposition in the Senate, Aitzaz Ahsan, the prime minister said, "He (Aitzaz Ahsan) has better understanding of legislation than me and he knows that constitutional amendment and amendment in Army Act will be effective in trying the hardcore terrorists." Nawaz also expressed confidence that the 20-point National Plan of Action against terrorism would help restore durable peace in the country. The PM said "this is an important day for Pakistan when the nation has decided that terrorists will be taken out from the roots".
Full report at:
http://www.dailytimes.com.pk/national/07-Jan-2015/military-courts-will-help-stamp-out-terrorism-from-country-pm
-----------
India trying to distract Pak from counter-terror drive: FO
7 January 2015
ISLAMABAD: Pakistan accused New Delhi of trying to sabotage its counterterrorism drive in the north-western tribal region. "The people of Pakistan see the escalation of tension by India on the Line of Control and Working Boundary, through continuous unprovoked firing and targeting of civilians, as an attempt to distract our armed forces from their valiant mission against all terrorists," Foreign Office said in a press release. "The baseless and preposterous Indian allegations regarding the so-called 'terror boat' from Pakistan are also in the same vein," it added. "India is reminded to refrain from attempts to create misunderstanding between Pakistan and Afghanistan, the two brotherly nations bound by common destiny, shared culture, history and religion. These efforts are also in violation of all international norms." Foreign Office spokesperson Tasnim Aslam, while strongly responding to the comments by the spokesperson of Indian External Affairs, said that Pakistan was opposed to terrorism in all its forms and manifestations and it had been the biggest victim of terrorism. Full report at:
http://www.dailytimes.com.pk/national/07-Jan-2015/india-trying-to-distract-pak-from-counter-terror-drive-fo
-----------
Two peace volunteers killed in Tirah Valley
7 January 2015
KHYBER AGENCY: At least two peace volunteers were killed and a number of militants wounded in an exchange of fire between extremists and peace volunteers in Tirah Valley of Khyber Agency, on Tuesday. According to reports, a shootout between peace volunteers and militants took place early Tuesday morning which resulted in killings of as many as two peace volunteers. Facing a strong response from the peace volunteers, the militants later retreated and carried with them their injured fellows. Meanwhile, the security forces destroyed five hideouts of a banned militant outfit in Damadola area of Bajaur Agency.
http://www.dailytimes.com.pk/national/07-Jan-2015/two-peace-volunteers-killed-in-tirah-valley
-----------
Parliament gives legal cover to military courts
7 January 2015
SLAMABAD: Amidst a boycott by the JUI-F and Jamaat-e-Islami (JI), National Assembly on Tuesday passed the 21st Constitutional Amendment by two thirds majority for the establishment of military courts specifically to deal with the acts of terrorism in the name of religion or sect.
The bill received strong objection from the religious political parties. Lawmaker also passed with majority vote The Pakistan Army (Amendment) Bill 2015 for speedy trial of offences relating to terrorism, waging of war or insurrection against Pakistan and prevention of acts threatening the security of Pakistan any terrorist group using the names of religion or sect in a house, which also witnessed the absence of Pakistan Tehreek-e-Insaf (PTI) despite its agreement to these anti-terrorism measures in APC along with Sheikh Rasheed Ahmed of Awami Muslim League.
Full report at:
http://www.dailytimes.com.pk/national/07-Jan-2015/parliament-gives-legal-cover-to-military-courts
-----------
Imran gives govt Jan 18 deadline to establish judicial commission
7 January 2015
SLAMABAD: Pakistan Tehreek-e-Insaf (PTI) Chairman Imran Khan has warned the federal government of yet another spate of protests should his party's demand on setting up judicial commission is not entertained by January 18.
He has also announced to come up with a "good news" within a week on his marriage. Addressing a press briefing at his residence after chairing the PTI Core Committee's meeting on Tuesday, Imran Khan again hurled a volley of accusations pertaining to May 2013 general polls rigging on the Pakistan Muslim League-Nawaz (PML-N)-led federal government while referring to what he termed "concrete documentary evidence" of foul play in four National Assembly constituencies – NA-118, NA-122, NA-125, NA-154 where PTI's Hamid Zaman, Imran Khan, Hamid Khan and Jehangir Tareen lost to PML-N's Riaz Malik, Sardar Ayaz Sadiq, Khawaja Saad Rafique and Siddique Khan Baloch, respectively.
Full report at:
http://www.dailytimes.com.pk/national/07-Jan-2015/imran-gives-govt-jan-18-deadline-to-establish-judicial-commission
-----------
Over 200 suspects including Afghan nationals arrested in Quetta
7 January 2015
QUETTA - More than 200 suspects were arrested in a joint search operation of Police and Frontier Corps (FC) in various parts of Quetta on Wednesday.
According to Police sources, the police and FC conducted joint search operation in the areas of Hazar Ganji, Goharabad, Zehri Town and adjoining areas where more than 200 suspected people were arrested. Arms and ammunition were also recovered from the possession of the arrested suspects. Most of the arrested suspects were Afghan nationals and were transferred to undisclosed place for investigation.
http://www.dailytimes.com.pk/national/07-Jan-2015/over-200-suspects-including-afghan-nationals-arrested-in-quetta
----------
Mideast
Around 80 Killed, Injured In Blast near Yemen Police College
7 January 2015
A car bomb exploded outside a police college in Yemen's capital Sanaa early on Wednesday, killing around 30 people and wounding more than 50 others, police sources and residents said.
Security in Yemen has diminished since a 2011 popular uprising that led to a change of government and splits in the army. Al-Qaeda in the Arabian Peninsula (AQAP), one of the movement's most active wings, has staged a growing number of bombings and shootings across the country.
The victims from Wednesday's blast included students at the college and people waiting in line to enrol with the police, the police sources said, as well as passersby.
Ambulances were transporting casualties away from the scene of the blast, and bodies were seen lying in the street, witnesses said.
The explosion was heard across the city and a large plume of smoke was visible in the area of the college.
Full report at:
http://www.themalaysianinsider.com/world/article/dozens-killed-wounded-in-blast-near-yemen-police-college#sthash.I4w8yxX6.dpuf
-----------
Time to crack down on 'Islamophobia', Turkey's Erdogan tells EU
7 January 2015
Turkish President Recep Tayyip Erdogan warned the European Union it should crack down on "Islamophobia" amid rising anti-Muslim protests instead of trying to teach Turkey lessons about democracy.
Erdogan told Turkey's ambassadors posted abroad in a speech in Ankara that they should pursue an assertive foreign policy to represent strong and self-confident "new Turkey" under his rule.
In a new attack on the EU, Erdogan called on the 28-member bloc to "revisit its Turkey policy", accusing Europe of dragging its feet on Ankara's decade-old membership bid.
"Believe me it is regrettable that the EU is trying teach a lesson to Turkey instead of trying to tackle very serious threats it is facing," he said.
Erdogan said racist, discriminatory activities and Islamophobia were on the rise in Europe, complaining that racist organisations won sympathy in some Western societies with "each passing day".
Full report at:
http://english.ahram.org.eg/NewsContent/2/8/119652/World/Region/Time-to-crack-down-on-Islamophobia,-Turkeys-Erdoga.aspx
-----------
Study: anti-Semitism most common prejudice in Turkish media
7 January 2015
Anti-Semitism is the most common racial or religious prejudice in the Turkish media, according to a recent study by the Hrant Dink Foundation.
The study, which tracked derogatory coverage of over 30 different groups in media reports between May and August, found that Jews and Armenians were the subjects of just over half of the recorded incidents in a media landscape filled with "biased and discriminatory language use."
Jews led the pack with 130 incidents, followed by Armenians (60), Christians (25), Greeks (21), Kurds (18) and Syrian refugees (10).
The report further noted that during coverage of last summer's Operation Protective Edge in Gaza, some in the Turkish media did not differentiate among Jews, Israelis and Zionists, using words like "Jew" to refer to all of them indiscriminately.
One example of the conflation of Diaspora Jews and Israelis during the war was an article by journalist Faruk Köse in Yeni Akit, a pro-government newspaper in Istanbul, calling on Turkish Jews to issue a communal apology on behalf of Israel.
Full report at:
http://www.jpost.com/Diaspora/Study-anti-Semitism-most-common-prejudice-in-Turkish-media-386882
-----------
Iran Reiterates Strong Support for Iraq's Territorial Integrity
7 January 2015
Iranian First Vice-President Eshaq Jahangiri in a meeting with Iraqi Health Minister Adilla Hamoud Hussein in Tehran on Tuesday said continued support for the legal government of Iraq and its territorial integrity stands atop Tehran's foreign policy agenda.
"The Islamic Republic of Iran has and will always support the territorial integrity and promotion of democracy in Iraq according to the mechanisms enshrined in Iraq's constitution," Jahangiri said during the meeting.
"Given my familiarity with the Iraqi people, elites and religious authorities, I am assured that they will leave behind the existing problems and also overcome future challenges," he added.
The Iraqi health minister, for her part, said the ISIL could not have penetrated into Iraq if there had not been the financial and logistical back-ups of certain countries, and added, "The ISIL is looking for creating a rift among Iraqi political parties, but Iraq's incumbent government is trying to forge unity among all political groups and parties."
Last month, Iranian Parliament Speaker Ali Larijani in a meeting with Iraqi Defense Minister Khalid al-Obeidi in Tehran underlined that Tehran will continue helping Baghdad in its fight against Takfiri terrorists.
Full report at:
http://english.farsnews.com/newstext.aspx?nn=13931016001305
-----------
Israeli military divided over Gaza blitzkrieg probe
7 January 2015
OCCUPIED JERUSALEM — A fierce debate is raging within Israel's military over the extent to which soldiers should be held legally accountable for their actions during last year's Gaza war, with commanders increasingly at odds with military lawyers.
The dispute has set off a firestorm in Israel, where many say the legal threat would shackle soldiers in any future battle, lower their morale and shatter a sacred trust on which Israel's compulsory military service relies.
But with the Palestinians announcing their application last week to the International Criminal Court, the decision to investigate becomes all the more pressing: A robust Israeli inquiry into its military's actions could be essential in thwarting an embarrassing and potentially incriminating outside probe.
Full report at:
http://www.saudigazette.com.sa/index.cfm?method=home.regcon&contentid=20150107229666
-----------
Banned Marxist group claims Istanbul suicide attack
7 January 2015
An outlawed Turkish Marxist group on Wednesday said one of its members carried out the deadly suicide bombing at the heart of Istanbul's tourist district that killed the female bomber and a policeman.
The Marxist Revolutionary People's Liberation Party-Front (DHKP-C) said in a statement on its website "our sacrificial fighter... carried out the sacrificial action on the tourist police department in Sultanahmet."
The suicide bombing early evening Tuesday killed one policeman and lightly injured another in Sultanahmet, the heart of Istanbul's tourist district which is home to the Aga Sophia museum and the Blue Mosque.
The DHKP-C -- a radical Marxist organization considered a terrorist group by Turkey, the European Union and the United States -- had also last week claimed a January 1 attempted grenade attack on police guarding the the Dolmabahce palace in Istanbul that caused no serious casualties.
It said that Tuesday's bombing was aimed at "bringing to account" the ruling Justice and Development Party (AKP) co-founded by President Recep Tayyip Erdogan over corruption following a ruling the day earlier that four former ministers accused of graft will not stand trial.
Full report at:
http://english.alarabiya.net/en/News/middle-east/2015/01/07/Banned-Marxist-group-claims-Istanbul-suicide-attack.html
----------
Arab World
Egypt religious scholars reject ISIL fatwas as anti-Islam
7 January 2015
Fatwas issued by the "Islamic State of Iraq and the Levant" (ISIL) in 2014 to justify acts of violence it is committing in Syria and Iraq have drawn sharp condemnation from Islamic religious institutions in Egypt, led by Al-Azhar and Dar al-Iftaa.
Over the past year, the Takfiri Fatwa Observatory -- a department established by Dar al-Iftaa early in 2014 -- issued several detailed reports denouncing such fatwas and responding to them in a scholarly manner with jurisprudence rooted in the Qur'an and the sunnah, Observatory officials said.
In 2014, ISIL issued numerous erroneous fatwas that have nothing to do with true Islam, in an attempt to use jurisprudential pretexts to justify its crimes, said Sheikh Ibrahim Negm, advisor to the Grand Mufti of Egypt and an Observatory official.
"ISIL used these fatwas to lure youth, both men and women, to join those ideologically deviant and conventionally and humanly aberrant organisations in order to extend their influence over a patch of land, and to claim the establishment of an Islamic state and install themselves as guardians for all Muslims of the world, using ways and means that violate Islamic sharia and are against the rules and principles of Islam," Negm told Al-Shorfa.
The fatwas ISIL issued in 2014 include some that "aimed to cover its crimes against women , which violated all the provisions and principles of Islam concerning the treatment of women in wartime", he said.
Full report at:
http://al-shorfa.com/en_GB/articles/meii/features/2015/01/05/feature-01
----------
Dozens of Islamist fighters killed as battle of Kobani rages on
7 January 2015
BEIRUT (Reuters) - Forty-one Islamic State militants were killed in the Syrian border town of Kobani as U.S.-led air strikes helped local forces push the group to the city's edges, a monitoring group said.
The predominantly Kurdish town, known as Ayn al-Arab in Arabic, close to the Turkish border, has become a symbol in the international fight against the hardline Islamist group that broke away from al Qaeda.
The U.S. military said it or its coalition partners had conducted 10 air strikes against Islamic State in Syria, mostly on Kobani, since Monday.
As well as the 41 members of Islamic State, seven Kurdish fighters and two civilians were killed in the fighting, according to the Britain-based Syrian Observatory for Human Rights, which tracks the war that has dragged on for four years.
Full report at:
http://news.yahoo.com/dozens-islamist-fighters-killed-battle-kobani-rages-185908566.html
-----------
11 Dead after Suspected ISIL Attack in Western Iraq
7 January 2015
Dozens of militants, believed to be ISIL members, attacked several Iraqi security posts and checkpoints in Western Iraq's Anbar province on Tuesday morning, leaving at least 11 people dead and 18 others wounded, security officials in Iraq said.
The attack, involving a suicide bomber, rocket-propelled grenades and machine guns, happened in the town of Jubbat al Shamiya, about 150 miles (240 kilometers) Northwest of Baghdad, security officials in the Anbar city of Ramadi said, CNN reported.
Most of those killed and wounded in the attacks were Iraqi security force and local Awakening Council members, the officials said.
Awakening Councils, also known as the Sons of Iraq and Sahawat, are made up of Sunni Muslim fighters who turned against Al-Qaeda and have been active in Iraq since 2006. A few years ago, the councils were credited as being a major factor in a drop in violence across Iraq, but council members have also become targets for Takfiri terrorists.
http://english.farsnews.com/newstext.aspx?nn=13931016001327
-----------
Takfiri Militants Sustain Heavy Toll in Hasaka, Deir Ezzur
7 January 2015
Foreign-backed militants suffered major losses in Hasaka and Deir Ezzur provinces, as the Syrian Army intensified its offensive against the armed group operating in the Arab country.
The army troopers inflicted heavy losses on the rebels in the areas of Tal Ahmadi and Qamishli, killing and injuring a large number of them.
Also, the Syrian forces stormed the hideouts of the ISIL terrorists in the areas of al-Jbeleh, al-Rishdiya, al-Hweka, al-Rasafa, and al-Sinaa in Deir Ezzur, leaving scores of them dead and injured.
The Syrian Army and government have defended their country against insurgents since 2011 when a huge number of foreign terrorists flocked to the Middle-Eastern country.
In spite of certain western states' military and financial supports for militants, the Syrian troops have been able to push them back from many areas across the country, and based on military observers the fall of militancy in Syria is not far.
http://english.farsnews.com/newstext.aspx?nn=13931016001128
-----------
Beheading the beheaders: Senior ISIS police official found decapitated
7 January 2015
BEIRUT - A senior figure in Islamic State's self-declared police force in Syria, which has carried out beheadings, was himself found decapitated in the eastern province of Deir al-Zor, the Syrian Observatory for Human Rights said on Tuesday.
The man was an Egyptian national and was known as the deputy "emir" of the al-Hesbah force in the province, the British-based Observatory said. His body, which showed signs of torture, was found near a power plant in al-Mayadeen city, it said.
Islamic State, an offshoot of al-Qaida, has seized land in Syria and neighbouring Iraq and has been the target of US-led air strikes in both countries since September.
The Observatory, which gathers information from a network of sources on the ground, said the message "This is evil, you Sheikh" was also found written on the corpse, which had a cigarette in its mouth.
Full report at:
http://www.jpost.com/Middle-East/Beheading-the-beheaders-Senior-ISIS-police-official-found-decapitated-386819
-----------
IS decree denies education to lakhs
January 7, 2015
An estimated 670,000 children in Syria are being deprived of education after Islamic State forces ordered schools closed to change the curriculum, UNICEF said on Tuesday. In November, IS shut schools in areas it controls in eastern Syria pending a religious revision of the curriculum.
"In December there was a decree of the Islamic State ordering the stoppage of education in areas under its control," UNICEF spokesman Christophe Boulierac told a news briefing.
http://www.thehindu.com/news/international/is-decree-denies-education-to-lakhs/article6760925.ece
-----------
Saudi Citizens slam terror attack
7 January 2015
A cross-section of Saudi society denounced the deadly terror attack on the Saudi-Iraq border in the northern Arar region and asserted that terrorism is contrary to Islam, a peace-loving religion promoting humanism.
Sadaka Yehia Fadil, a member of the Shoura Council, condemned the terror attack and asserted that the terrorists will have to pay the price for their inhuman act as concerted efforts will go on to deter terrorists and ensure full public safety and security.
He said the Border Guard personnel were performing their duties when suicide bombers attacked and now we can see the extent of the brutality of the perpetrators of terrorism.
"They say they are fighting for Islam, but actually they indulge in anti-Islamic activities and stand exposed now," he added.
Slamming the rare terror attack, Mohammed N. Al-Saeed, a former Shoura Council member said: "We have been fighting to combat terrorism for a long time and being a concerned citizen it is our duty to stand with the government and our brave soldiers in their fight against terrorism."
Full report at:
http://www.arabnews.com/saudi-arabia/news/685781
-----------
'Iran saved Baghdad from falling to ISIS,' says Iraqi MP
7 January 2015
An Iraqi Shiite militia leader and lawmaker has credited Tehran and a powerful Iranian general with saving the Baghdad government during last summer's offensive by ISIS militants.
Hadi al-Ameri, a former minister who commands the Badr militia, said support from Iran and General Qassem Suleimani had been crucial after Iraqi government forces collapsed in the face of the ISIS assault.
"If it were not for the cooperation of the Islamic republic of Iran and General Suleimani, we would not today have a government headed by Haider al-Abadi in Baghdad," Ameri told a memorial service south of Tehran Monday for an Iranian officer killed in Iraq last month.
"It would not have existed," he said of the Iraqi government, according to the Isna and Fars news agencies.
The memorial was for Iranian Revolutionary Guards Major General Hamid Taghavi, killed by IS fighters in the Iraqi city of Samarra last month.
Suleimani, the commander of Iran's Quds Force -- the foreign wing of the Revolutionary Guards -- was also present at the memorial.
Full report at:
http://english.alarabiya.net/en/perspective/features/2015/01/06/-Iran-saved-Baghdad-from-falling-to-ISIS-says-Iraqi-MP.html
-----------
How ISIS administers twisted justice in Syria and Iraq: Thief's hand cut off and a man whipped for watching porn
7 January 2015
Islamic State fighters have released new photos of a man having his hand chopped off for theft and another man being whipped for watching porn.
The graphic images, which were posted online, give the first indication of how the shocking amputation punishment is being carried out as ISIS delivers its own twisted form of justice.
The horrific sentence was carried out in the Iraqi border town of Qa'im, in Euphrates province.
In front of a large crowd of men, the victim was blindfolded with a large patterned scarf and forced to place his arm on a table.
One masked Islamic State fighter, wearing surgical gloves and a grey and pink striped jumper underneath his camouflage military vest, is shown trying to keep the victim's arm steady.
On the table, the victim's arm has been stretched out on top of a wooden plank, covered with a white cloth. A large bottle of antiseptic is also positioned on the edge of the table.
A rope is tied around the victim's wrist, allowing another Islamic State fighter to yank the severed hand away from the arm after it has been hacked off with a cleaver.
Full report at:
http://www.dailymail.co.uk/news/article-2898623/Thief-hand-cut-baying-crowd-man-whipped-caught-watching-porn-ISIS-administering-twisted-justice-Syria-Iraq.html#ixzz3O5jCXVBZ
------------
Africa
Islamic Scholars from West Africa and the Middle East Join Fight against Extremism
7 January 2015
Some 1,500 Islamic scholars from West Africa and the Middle East marked the Mouled with a call to defeat religious extremists.
During a 4-day conference that wrapped up Friday (January 2nd) in Nouakchott, they encouraged Muslim youth to follow the example of the Prophet Mohammed (PBUH) by embracing tolerance and rejecting extremism.
As Mauritanian Islamic Affairs Minister Ahmed Ould Ahel Daoud said in his opening address, "Ideological deviation is still one of the most dangerous diseases threatening society."
"Defeating those who embrace extremist ideology will be made only by walking in the path of Prophet Mohammed (PBUH), because religious extremists are ignorant and illiterate," the minister told attendees of the 27th international symposium, organised by Mauritania's Islamic cultural organisation.
"What we're now seeing, in terms of the unprecedented rise of extremism and terrorism, is because of the wrong interpretation of the concepts of Islamic sharia, which is characterised by tolerance, opening and recognition of the other," Ould Ahel Daoud added.
The killings, wars and tragedies taking place in the name of Islam were mainly due to misinterpretation of the religion, agreed Cheikh Mohamed El Hafedh Ennahoui, who heads the conference organising group in Mauritania.
Full report at:
http://magharebia.com/en_GB/articles/awi/features/2015/01/05/feature-02
-----------
Somalia's Shebab militants 'execute informers'
7 January 2015
Somalia's Shebab militants have executed four people accused of spying for the United States, Ethiopia and the country's internationally-backed government, officials and witnesses said.
The executions by firing squad took place at a square in the town of Bardhere, a Shebab stronghold in Somalia's southwestern region of Gedo, late Tuesday, and came a week after the US said it had killed the al-Qaeda-affiliated militants' intelligence chief in an air strike.
"One of the spies worked with the CIA and facilitated the killing of an Al-Shebab commander," a Shebab judge in the town said before the four were shot dead.
According to the judge, another one of those executed had been aiding US operations in Barawe, a port town and former Shebab stronghold that was captured last year by Somali and African Union forces, while the other two worked for Ethiopian intelligence and Somalia's security agency.
Full report at:
http://www.themalaysianinsider.com/world/article/somalias-shebab-militants-execute-informers#sthash.Dcn5u7BQ.dpuf
---------
Libya pays heavy economic price as fighting takes toll
7 January 2015
The central bank is burning through its foreign reserves and many government services are being cut as Libya reels under the effects of a collapse in oil revenues caused by factional fighting that threatens to tear the country apart.
With the oil price plunging and no sign of an end to hostilities, economic options are few. Experts say the bank, which is struggling to remain neutral amid the fighting, might have to devalue the currency sharply to meet the public payroll.
As the fighting has knocked out most oilfields and ports, oil exports have fallen below 300,000 barrels a day, less than one fifth of the 1.6 million barrels Libya was pumping before Muammar Gaddafi fell in 2011.
Since then, the country has been in turmoil as the rebel brigades that helped overthrow Gaddafi are now fighting each other for power and are backing two competing governments.
Neither side -- the internationally-recognized government in the east and a rival outfit which seized Tripoli in summer -- has prepared a budget for 2015. Both seem determined to defeat each other on the battlefield, with oil facilities, ports and steel plants their targets.
The turmoil has cut the value of Libya's currency by 30 percent against the dollar on the black market as oil exports are the only means of funding the budget and an annual import bill of $30 billion. An employee at a state bank in Tripoli said the central bank had stopped making dollars available months ago.
Full report at:
http://english.ahram.org.eg/NewsContent/3/12/119650/Business/Economy/Libya-pays-heavy-economic-price-as-fighting-takes-.aspx
-----------
Fears over latest Boko Haram town, military base seizure
7 January 2015
Boko Haram's seizure of a key town and military base in Nigeria's far northeast has tightened its grip on the region, undermining efforts to tackle the insurgency, experts said.
The capture of Baga and the headquarters of the Multinational Joint Task Force (MNJTF) now means the Islamists control all three of Borno state's borders with Niger, Chad and Cameroon.
Analysts said that as a result, the militants were in a better position to launch fresh attacks both within Nigeria, including against the key city of Maiduguri, and across borders.
"The capture of Baga is of enormous significance," Abdullahi Bawa Wase, a Nigerian security analyst who tracks the Boko Haram conflict, told AFP.
"It has put a lie to the Nigerian government claim that it is on top of the situation. It is a serious symptom of defeat on the side of the government."
Boko Haram has had Baga in its sights for months, as it was said to be one of the last towns in northern Borno under federal government control.
Full report at:
http://english.ahram.org.eg/NewsContent/2/9/119618/World/International/Fears-over-latest-Boko-Haram-town,-military-base-s.aspx
-----------
Foreign fighters among jihadist ranks, Libya says
7 January 2015
Local Libyan TV stations recently aired pictures and videos of Islamic State (ISIS) fighters arrested or killed in battles with the Libyan army in Benghazi.
The terrorists are reportedly from Syria, Algeria, Tunisia and Egypt.
An Algerian ISIS fighter called Abu Younis Djilali Mansour was killed last month in the al-Hawari area of Benghazi, authorities said. His death was reported by Libya Herald December 15th.
Two days later, the spokesman for Libya's House of Representatives told al-Arabiya that 20% of the fighters with local terror groups were foreigners.
Benghazi Medical Centre has already turned over to the Libyan army an official report with 40 passports of Ansar al-Sharia fighters holding various Arab nationalities killed in fighting.
"It has been reported that non-Libyan groups and elements are fighting alongside extremist groups in Libya, and that army forces led by General Haftar have already arrested and killed some of them," said 43-year-old journalist Mahmoud Abdelmoula.
Full report at:
http://magharebia.com/en_GB/articles/awi/features/2015/01/06/feature-02
-----------
Mali appeals for international intervention in Libya
January 7, 2015
Mali's foreign minister appealed Tuesday for international intervention in Libya to combat the spread of terrorism in the Sahel region of Africa and restore a central government.
Abdoulaye Diop told the U.N. Security Council that "as long as a solution is not found to the Libyan crisis almost everything that we are doing in Mali and throughout the Sahel more broadly speaking will continue to be threatened."
Widespread militia violence has plunged Libya into chaos less than four years after a NATO-backed uprising toppled and killed longtime dictator Moammar Gadhafi. The internationally recognized government was forced to move to the eastern city of Tobruk after Islamist-allied militias seized the capital Tripoli over the summer and set up a rival government.
Diop reiterated an appeal from leaders of the Sahel for the Security Council and the African Union to set up an international force "to neutralize the armed groups," but also to promote national reconciliation and set up stable democratic institutions for Libya.
He stressed the link between the onset of the crisis in Mali in 2012 and the civil war in Libya which resulted in many Malians that were part of the Libyan army returning home with arms and ammunition which destabilized the country.
Full report at:
http://indianexpress.com/article/world/middle-east-africa/mali-appeals-for-international-intervention-in-libya/99/#sthash.9wCmgfL9.dpuf
-----------
Europe
IS Militants Asked Baghdadi For Permission To Fight 'Infidels' In Tajikistan
7 January 2015
Militants from the Islamic State (IS) group in Iraq have published a video saying that they have asked permission from the group's senior leadership to wage jihad in Tajikistan, RFE/RL's Tajik service has reported.
A bearded ethnic Tajik who appears in the video and who claims he is fighting with IS in Iraq says that Tajik militants in Islamic State approached the group's leader, Abu Bakr al-Baghdadi, with a proposal that they return home to "fight infidels" in Tajikistan.
The militant, who gives his nom de guerre as Abu Umariyon and looks to be around 30 years old, has appeared in a number of other videos, according to RFE/RL's Tajik Service. Abu Umariyon says he is from the small town of Samsolik in the Nurobod district of Tajikistan's Rasht Valley.
'We Want To Return To Tajikistan And Fight Infidels There'
Abu Umariyon says that he and his fellow Tajik militants asked Baghadi and Islamic State leaders for permission to go back to Tajikistan and fight with the extremist group Jamaat Ansarullah.
However, Baghdadi did not give his permission.
"The emirs [militant leaders] who passed on their message to Baghdadi told them that right now they have to wait," the Tajik militant explains.
Jamaat Ansarullah, Tajikistan, And Syria
Jamaat Ansarullah is a banned religious extremist group in Tajikistan. It is not known exactly when it was formed, but it first became known in September 2010 after the group claimed responsibility for a suicide attack in Khujand. Since then the group has issued several videos calling for Tajiks to join it in jihad against "infidels," according to local media. The group's leader is purported to be Amriddin Tabarov, also known as Dumullo Amriddin, who is believed to be from the Nurobod district.
Full report at:
http://www.rferl.org/content/isis-tajikistan-syria-jihad-fighters-repatriated/26777220.html
----------
Bosnia under threat from radical Salafi movements
7 January 2015
The Associated Press on Tuesday reported that a Bosnian imam, Selvedin Beganovic, was attacked in Trnovi by a long-bearded man who burst into the mosque's courtyard and pinned him down. Shouting, "Now I will slaughter you!" he stabbed Beganovic in the chest three times and fled.
This was not a random attack, as Beganovic has been the victim of seven assaults blamed on Salafis in the past year, with three just last month. Salafis were reportedly attacking him because he told people who come to the mosque that the war in Syria is not theirs; their war is to fight unemployment and poverty.
"That is not our war," he told the AP in his small northwestern town. "Our jihad in Bosnia is the fight against unemployment and for the care for our parents who have small pensions. The care for the socially jeopardized," he said. "When did Muhammad ever behead anyone?" he said. "When did he take a knife and slaughter an innocent journalist?"
Of Islam's 99 names for God, including "the Mighty" and "the Avenger," the ones Beganovic likes most are "the Exceedingly Merciful" and "the Exceedingly Gracious." "That is what we teach our children here," he said. Husein Kavazovic agreed with Beganovic and said: "Our job is to keep repeating, to keep warning that this is evil and cannot be justified. [Salafis] are dangerous people. Their place is in a mental institution."
Full report at:
http://www.dailysabah.com/balkans/2015/01/06/bosnia-under-threat-of-radical-salafi-movements
----------
France warns Palestinians over escalating crisis with UN bid
7 January 2015
PARIS - France warned the Palestinians on Tuesday against escalating a diplomatic battle with Israel after Palestinian Authority President Mahmoud Abbas said he would resubmit to the UN Security Council a resolution calling for the creation of a Palestinian state.
The United States helped defeat the resolution, which also demands an Israeli withdrawal from the West Bank, in a Security Council vote on Dec. 30. Abbas said on Sunday he hoped to resubmit the resolution "perhaps after a week".
France, one of the Council's five permanent members, backed the resolution despite some reservations. France's parliament also backed Palestinian independence in a symbolic vote on Dec. 2 that underlined Europe's impatience with a stalled Middle East peace process.
But Paris signaled concern that Abbas' diplomatic offensive -- he has also signed up to 20 international conventions including the Rome Statute of the International Criminal Court -- could harm chances for peace by antagonizing Israel.
Full report at:
http://www.jpost.com/Arab-Israeli-Conflict/France-warns-Palestinians-over-escalating-crisis-with-UN-bid-386879
----------
Tabloid, prominent Germans condemn anti-Muslim rallies
7 January 2015
DRESDEN, Germany — Top-selling German tabloid Bild and 50 prominent Germans called for an end to what they see as rising xenophobia, a day after thousands of protesters in several German cities rallied against Muslim immigration.
Monday's rallies, organized by a new grassroots movement called PEGIDA, or Patriotic Europeans Against the Islamization of the West, have become a weekly event in the eastern city of Dresden.
Some 18,000 people, the biggest number so far, turned out in Dresden but similar rallies in Berlin and the western city of Cologne were heavily outnumbered by counter-protesters who accuse PEGIDA of fanning racism and intolerance.
Bild published a 'No to PEGIDA' appeal on Tuesday, covering the front page and a double page spread on page 2 and 3 with quotes from the 50 politicians and celebrities.
"(They) are saying 'no' to xenophobia and 'yes' to diversity and tolerance," Bild's deputy editor, Bela Anda, wrote in a commentary. "We should not hand over our streets to hollow rallying cries."
Full report at:
http://www.saudigazette.com.sa/index.cfm?method=home.regcon&contentid=20150107229738
-----------
Few options for fixing Libya, a major jihadist threat to West
7 January 2015
Paris (AFP) - Verging on full-blown civil war, Libya may pose an even greater threat to Europe than jihadists in Iraq and Syria, yet the international community has few tools to help resolve the crisis.
Three years after NATO intervened to help overthrow Moamer Kadhafi's regime, two rival governments claim his mantle and a rash of heavily armed militias fight for territory and oilfields.
Hopes for a diplomatic solution are fading, say analysts, but the stakes are extremely high, particularly for southern Europe.
Most of the 200,000 migrants who braved the Mediterranean crossing to Europe last year came from Libya, the UN said last month, and security risks are multiplying.
"The West is distracted with Syria and Iraq, but arguably Libya is the greatest threat," said Richard Cochrane, a senior analyst at IHS Country Risk in London.
"The jihadists -- who are in the same mould as the Islamic State -- have got a firm foothold and we're only expecting that to grow.
Full report at:
http://news.yahoo.com/few-options-fixing-libya-major-jihadist-threat-west-065828682.html
------------
U.N. chief confirms Palestine will join ICC
7 January 2015
Secretary-General Ban Ki-moon said the state of Palestine will join the International Criminal Court on April 1, a high-stakes move that will enable the Palestinians to pursue war-crimes charges against Israel.
The Palestinians submitted the documents ratifying the Rome Statute that established the court last Friday, the last formal step to becoming a member of the world's permanent war crimes tribunal.
In a statement posted on the U.N.'s treaty website Tuesday night, the secretary-general said "the statute will enter into force for the State of Palestine on April 1, 2015." He said he was acting as the "depositary" for the documents of ratification.
The Palestinian move has drawn threats of retaliation from Israel and is strongly opposed by the U.S. as an obstacle to reaching an Israeli-Palestinian peace deal.
Palestinian authorities formally recognized the ICC's jurisdiction to investigate crimes allegedly committed during last summer's Gaza war, the court confirmed on Monday.
"On 1 January 2015, the Registrar of the International Criminal Court (ICC), Herman von Hebel, received a document... by the Palestinian government declaring Palestine's acceptance of the jurisdiction of the ICC since 13 June 2014," the ICC said in a statement.
Earlier, a Ramallah-based rights group said the 50-day Gaza war will be part of the first case the Palestinians plan on referring to the court.
Full report at:
http://english.alarabiya.net/en/News/middle-east/2015/01/07/U-N-chief-confirms-Palestine-will-join-ICC-.html
-----------
Syrians largest refugee group after Palestinians: UN
7 January 2015
Syrians have overtaken Afghans as the largest refugee population aside from Palestinians, fleeing to more than 100 countries to escape war in their homeland, the United Nations said on Jan. 7.
At more than 3 million as of mid-2014, Syrians accounted for nearly one in four of the 13 million refugees worldwide being assisted by the U.N. refugee agency, the highest figure since 1996, it said in a report. Some 5 million Palestinians refugees are cared for by a separate agency, UNRWA.
"As long as the international community continues to fail to find political solutions to existing conflicts and to prevent new ones from starting, we will continue to have to deal with the dramatic humanitarian consequences," U.N. High Commissioner for Refugees Antonio Guterres said in a statement.
At least 200,000 people have died and half the Syrian population has been displaced since the conflict began in March 2011 with protests that spiralled into civil war.
Full report at:
http://www.hurriyetdailynews.com/syrians-largest-refugee-group-after-palestinians-un.aspx?pageID=238&nID=76587&NewsCatID=352
-----------
Amnesty Urges Immediate Release of Bahraini Cleric
7 January 2015
Amnesty International has called for the immediate release of jailed Bahraini opposition leader Sheikh Ali Salman amid continued protests in the Persian Gulf kingdom, media report said.
The London-based rights group said in a Tuesday statement that the Al Khalifa regime should drop the charges against the secretary general of al-Wefaq, Bahrain's largest opposition, and release him without delay, press tv reported.
It described the detention of Salman as "a flagrant violation of his right to freedom of expression."
The cleric has been in jail since December 28 last year on several counts of charges.
Since mid-February 2011, thousands of protesters have held numerous rallies in the streets of Bahrain, calling for the Al Khalifa royal family to relinquish power. Scores of people have been killed and thousands more wounded during the anti-regime demonstrations.
http://english.farsnews.com/newstext.aspx?nn=13931017000422
-----------
India
We Like to Change Hearts not the Religion –Jamaat-e-Islami Hind
7 January 2015
Mumbai: Amid the controversial 'Ghar Wapsi' programme and clamour for anti conversion debate Jamaat-e-Islami Hind, Maharashtra chapter launched a campaign Islam for all on Saturday in Mumbai.
Explaining the objective of the campaign Engineer Taufiq Aslam Khan said, "Hum Man Parivartan Chahte Hain Dharm Parivartan Nahi" (We like to win hearts of our countrymen and not the conversion).
The problems like female feticide, corruption, Terrorism, sexual harassment, inequality and farmer's suicide will be addressed. "We like to present the solutions of the problem our state and country is facing in the light of the teaching of Islam" Mr. Khan.
Keeping pace with the times, three free android mobile applications in multiple vernacular languages- Qur'an for All, Islam for All and Muhammad for All were also launched by the Vice President of Jamaat-e-Islami Hind, Mohammed Jafar on the occasion to acquaint our fellow countrymen with the beautiful message of Islam.
Mr. Arun Gadve Patil shared his thoughts on women's status in Islam. Mr. Patil, a former President of Maratha Seva Sangh said that he was deeply inspired with the holistic guidance offered in the Qur'an for a morally upright life and earnestly appealed to the Muslims to spread its message to one and all. He emphasized that just as Islam was successful in purging Arab society from all its social evils 1400 years back, so also Islam is the only solution to all our problems today, provided it is implemented in letter and spirit.
Full report at:
http://beyondheadlines.in/2015/01/we-like-to-change-hearts-not-the-religion-jamaat-e-islami-hind/
-----------
VHP Rushes to Prevent Dalits Embracing Islam in Meerut
MOHAMMAD ALI
The Vishwa Hindu Parishad has rushed to the "rescue" of about 60 members of a Dalit community who had threatened to embrace Islam after they were not allowed to worship at the Balmiki Ashram in Baghpat.
The Dalits who are residents of Jamaalpur village in Meerut alleged they were not allowed to celebrate Balmiki Jayanti, birth anniversary of Saint Balmiki on October 8, 2014 at the Balmiki Ashram. They alleged that an upper caste priest of the Ashram had been discriminating against the Dalits.
The U.P. unit of the VHP approached the families and assured that action will be taken against the priest if their allegations were found to be true.
Shyam Sundar Singh, a member of the Dalit community told The Hindu that an upper caste priest had put a ban on their entry in the Ashram which he claimed belonged to Balmiki community.
Full report at:
http://www.thehindu.com/news/national/other-states/vhp-rushes-to-prevent-dalits-embracing-islam-in-meerut/article6760371.ece
-----------
Existing laws enough to take care of forceful conversions
January 7, 2015
Taking a different stand from the BJP and the government, key NDA ally and Union minister Ram Vilas Paswan has said existing laws and constitutional provisions are enough to take care of the problem of allegedly forceful religious conversions.
"Existing laws on this are sufficient. This is the view of Lok Janashakti Party," Paswan said when asked to spell out his stand on the issue on which the government and the BJP has said they were in favour of bringing in a new law against such practices. When pointed out that his views are different from that of the government, Paswan said the government would not bring a new law on this without a consensus. "As long as there is no consensus, the government will not bring it (anti-conversion law)," he told reporters.
Later, Paswan told The Indian Express that there is nothing wrong with religious conversion if it happens as per constitutional norms. "Take the example of Babasaheb Ambedkar, who had converted to Buddhism. Since it was as per the law, no one had a problem. But yes, if there is force, there are provisions in both the Constitution and the IPC to counter that. These provisions are sufficient," he said. Asked if he means that a new law on this is not needed, Paswan said he merely means that existing laws are enough.
When asked about the government's as well as the BJP's "offer" to the Opposition about the introduction of a new law on this subject, Paswan said the Opposition is dithering in the face of the offer. "All that is being pointed out is that if they (Opposition) are so against forceful conversions, why should they be scared of a new law?" he said.
http://indianexpress.com/article/india/india-others/existing-laws-enough-to-take-care-of-forceful-conversions-paswan/#sthash.deQNj0tS.dpuf
-----------
Gurjars offer marriage, land to displaced Pak Hindus
January 7, 2015
Offering to help Pakistani Hindus who have taken refuge in the country, Gurjar community in UP's Saharanpur district has drawn up plans to facilitate their rehabilitation and is encouraging marriages between local youths and girls from the displaced families.
The campaign is backed by local BJP leaders including MP Raghav Lakhanpal.
"We have come to know from media reports the pathetic condition of Hindu girls in Pakistan. We have appealed to our youths, who are ready to marry them," BJP leader Vashisth Gaur, who is leading the campaign, said, while referring to allegations of harassment and forced conversions of the community members in that country.
He said a delegation of local Gurjar leaders will visit refugee camps in Delhi on January 9 with the proposal.
"Senior members of our community have already spoken to them (Pakistani Hindu families). Gurjars have also offered free land and houses to Pakistani Hindus living in such camps," Vashisth said.
Full report at:
http://indianexpress.com/article/india/india-others/gurjars-offer-marriage-land-to-displaced-pak-hindus/#sthash.aDwqU7l2.dpuf
-----------
India lauds Bangladesh security forces for acting against militants
7 January 2015
Agartala (ANI): A top police official in Tripura lauded the efforts of Bangladesh security forces in cracking down on militants operating in the country's northeastern region. Most of the rebels battling Indian security forces in the northeast have set up bases in neighbouring Bangladesh. Director General of Police (DGP) of Tripura, K Nagraj, said the state succeeded in neutralising several militant outfits due to cooperation from Bangladesh. Nagraj said Bangladeshi security forces have destroyed several camps of the banned National Liberation Front of Tripura (NLFT) and seized a huge cache of arms and ammunition. Nagraj also claimed that the crime rate in the state has come down significantly.
http://www.ibtimes.co.in/tv/india-lauds-bangladesh-security-forces-for-acting-against-militants-30078
-------
South Asia
BNP Vice-Chairman's Speech Banned in Bangladesh Media
7 January 2015
The High Court has banned publishing, broadcasting or reproducing speeches, statements of BNP's senior vice-chairman Tarique Rahman in print, electronic and social media as long he is absconding.
Justice Kazi Reza-Ul Hoque and Justice Abu Taher Md Saifur Rahman passed the order on Wednesday morning.
The bench instructed the Information Secretary and Home Secretary to carry out the order within two weeks.
The court also pressed a rule asking the respondents why the publishing and broadcasting Tarique's speeches, statements would not be banned.
The directive came following a writ petition filled by lawyer Nasrin Siddique Lina on Tuesday seeking HC's directive upon the media for not publishing or broadcasting speeches of BNP's senior vice-chairman Tarique Rahman and other fugitives.
Tarique Rahman, information ministry and people concerned were made respondents to the writ.
Full report at:
http://www.dhakatribune.com/law-rights/2015/jan/07/publishing-tariques-speech-banned#sthash.Swm0gfa6.dpuf
-----------
Insurgent attacks across Afghanistan kill 7, including judge
7 January 2015
KABUL: Authorities say insurgent attacks across Afghanistan have killed seven people, including a provincial judge.
Police spokesman Hazrat Hussain Mashreqiwal in Nangarhar province said a bomb blast Wednesday killed Judge Mohammad-ul Hassan and wounded two of his daughters in the city of Jalalabad.
The judge served in neighboring Laghman province.
In another attack, police spokesman Jawed Basharat said insurgents killed six people working on a road project, including the head of a construction company, in northern Baghlan province.
Basharat said the attack also wounded one person and two remain missing.
Taliban insurgents have stepped up their attacks on Afghan soldiers and police as US and Nato forces concluded their combat mission at the end of last year.
http://www.dawn.com/news/1155474/insurgent-attacks-across-afghanistan-kill-7-including-judge
-----------
Operation 'Dhoro' netting top BNP-Jamaat leaders
7 January 2015
In the face of rising political turmoil, the Dhaka Metropolitan Police has adopted a new technique to keep under control the law and order in the capital – arresting the leaders and activists of the opposition parties.
The specialised operation titled "Dhoro" (catch) was initiated on Saturday so that the members of the opposition parties, especially the BNP and its key ally Jamaat-e-Islami, cannot take control over the city streets.
The government had instructed the police to remain on high alert while asked the party supporters to remain on the streets to foil any move by the opposition activists centring the January 5 rally, sources in the DMP said.
As part of the special security measure, the officials of 49 police stations and the Detective Branch are making lists of BNP-Jamaat leaders, mainly those who are already accused in different cases but remain fugitive, under their police station area and conducting drives to arrest them.
Full report at:
http://www.dhakatribune.com/politics/2015/jan/07/operation-%E2%80%98dhoro%E2%80%99-netting-top-bnp-jamaat-leaders#sthash.B6f4jrtg.dpuf
-----------
Six Maldivians reported as latest to travel for jihad, taking one-year-old infant
7 January 2015
A group of six Maldivians have travelled to Turkey to join the Syrian civil war, local media have reported.
The six Maldivians include three men, two women and a one-year-old infant, Haveeru, Sun, Vaguthu and CNM have reported. The six reportedly left the Maldives in December.
A police spokesperson said the case is under investigation.
Last month, Home Minister Umar Naseer reported that there are more than seven Maldivians fighting in foreign civil wars.
In November, a jihadist media group called Bilad Al Sham Media – which describes itself as 'Maldivians in Syria' – revealed that a fifth Maldivian had died in Syria.
Earlier that month, Sri Lankan police detained three Maldivians who were allegedly preparing to travel to Syria through Turkey.
The three – two men aged 23 and 25, and a woman aged 18 – were from the island of Madduvari in Raa Atoll and were released from custody upon being brought back to the Maldives.
Full report at:
http://minivannews.com/politics/six-maldivians-reported-as-latest-to-travel-for-jihad-taking-one-year-old-infant-91988
-----------
Hefazat day was the most challenging, says outgoing DMP boss
7 January 2015
Tackling the Hefazat-e-Islam's rampage in the capital on May 5, 2013, was the most challenging and memorable task during the four years of service as the Dhaka city police chief, the outgoing DMP commissioner has said.
"While serving as a commissioner of Dhaka Metropolitan Police (DMP) for four years, two months and 27 days, the most challenging task was tackling the day of Hefazat-e-Islam violence," said Benazir Ahmed on his final day in a DMP uniform before moving on to become the new RAB chief.
Exchanging greetings with journalists at the DMP community centre, Benazir also claimed that the years 2012 and 2013 had been particularly challenging for him as the city's police chief.
Benazir said many journalists were injured on the day of Hefazat's violence, and rescuing them safely was one of the most challenging tasks for the police. "However, the good news is we had overcome all the barriers and achieved success," he said.
Full report at:
http://www.dhakatribune.com/politics/2015/jan/07/hefazat-day-was-most-challenging-says-outgoing-dmp-boss#sthash.tKKJ0dOd.dpuf
-----------
Are you a 'Halal foodie?' Singapore firm launches app for that
7 January 2015
A Singapore-based company on Wednesday launched a mobile application that enables Muslim foodies and travelers to share halal restaurant discoveries around the world.
The free "HalalTrip" app, available for Apple iOS and Android devices, enables users to take and upload photos of halal dishes, write comments and share them through social media.
Clicking on a photo gives details about the dish as well as the location of the restaurant. The app, which has English and Arabic interfaces, also uses a traveler's location to display photos of halal dishes served in nearby restaurants.
The term halal is used for food, products and services that comply with Islamic requirements.
"Halal food is one of the biggest drivers of tourism for the Muslim market," said Fazal Bahardeen, chief executive of HalalTrip, part of a Muslim-oriented business group called CrescentRating.
"When travelling, one of the main concerns of Muslims is halal food. What we did is to bring in a social media element into discovering halal food and making it more fun and more intuitive," he told AFP.
Fazal predicted the Muslim travel market would be worth $192 billion a year globally by 2020, up from $140 billion in 2013.
http://english.alarabiya.net/en/media/digital/2015/01/07/Are-you-a-Halal-foodie-Singapore-firm-launches-app-for-that.html
-----------
China seeks to build Arabic language centers
7 January 2015
The Chinese government is seeking Arabic speaking specialists from the Kingdom to teach the Arabic language in Chinese universities in response to an increasing interest in learning the Arabic language in China.
Former Lt. Gen. Talal bin Mohsen Angawi, representative and a member of the Alliance of Education and Training Limited, Saudi Arabia, which specializes in distance education and training, said that some 44 Chinese universities have requested for Arabic language experts and specialists to develop the language in its Arabic departments.
He said that the Chinese government has expressed its intention to achieve regular investments in human capital through the development of their knowledge, qualifications and skills in the Arabic language.
Angawi said that he believes that the Saudi-Chinese partnership is the result of the contribution of the private sector toward the development of the Arabic language outside the Arab world.
Angawi said that their contribution for the Arabic language will play an active role in building knowledge, improve education and training at the international level and in establishing the infrastructure for the development of this kind of education and training in the Arab and Muslim world.
Full report at:
http://www.arabnews.com/saudi-arabia/news/685696
---------
North America
Leaked Calls Give a Look at How the US Military Is Trying to Understand the Islamic State
7 January 2015
Confidential conference calls in which the head of US Special Ops forces in the Middle East asked academics and business leaders for help in understanding the Islamic State has revealed how the US military is grappling to understand and fight its newest enemy.
Maj. Gen. Michael K. Nagata hosted the conference calls this summer and fall with nearly 40 experts in industry, academics, and policy, according to notes and minutes on the calls that were leaked to the New York Times and published today. Nagata seemed most interested in understanding what makes the Islamic State (IS) so attractive to young Muslims that thousands would leave their homes to join the fight. The experts told him that the IS "capacity to control" a population was particularly significant.
"What makes IS so magnetic, inspirational?" he asked, according to the Times. "There is a magnetic attraction to IS that is bringing in resources, talent, weapons, etc., to thicken, harden, embolden IS in ways that are very alarming."
The call offered a glimpse into how the military is struggling to catch up with the new threat. Patrick Skinner, director of special projects for the Soufan Group, told VICE News that it's heartening to see the US military asking these types of questions and trying to understand what might lead to success and failure in a battle with a new foe.
Full report at:
http://www.globalterrorwatch.ch/index.php/leaked-calls-give-a-look-at-how-the-us-military-is-trying-to-understand-the-islamic-state/
-----------
US-Led Coalition Helping ISIL to Survive in Iraq
7 January 2015
A senior Iraqi legislator lashed out at the western countries and their regional allies for supporting Takfiri terrorists in Iraq, complaining that the coalition is the main cause of ISIL's survival in Iraq.
"The international coalition is only an excuse for protecting the ISIL and helping the terrorist group with equipment and weapons," Jome Divan, who is member of the al-Sadr bloc in the Iraqi parliament, said on Tuesday.
He said the coalition's support for the ISIL is now evident to everyone, and continued, "The coalition has not targeted ISIL's main positions in Iraq."
On Monday, Commander of Iran's Basij (volunteer) Force Brigadier General Mohammad Reza Naqdi also described the US embassy in Baghdad as the command center of ISIL.
"The US directly supports the ISIL in Iraq and the US planes drop the needed aids and weapons for ISIL in Iraq …," General Naqdi said, addressing a group of Basij forces in Tehran.
He added that the Iraqi forces have even retrieved some of the aids dropped by the US planes for the ISIL terrorists.
Full report at:
http://english.farsnews.com/newstext.aspx?nn=13931016000378
-----------
U.S. condemns deadly Libyan strike on tanker
7 January 2015
The United States Tuesday condemned a strike by Libyan aircraft that bombed an oil tanker off the Islamist-held port of Derna, killing two crew members.
The crewmen -- a Greek and a Romanian -- were killed on the Liberian-registered vessel, the Araevo.
The tanker was hit Sunday after it raised suspicions by refusing to stop for checks on its cargo, according to armed forces under the internationally recognized Libyan government.
"We strongly condemn the January 4 bombing of a Greek-operated oil tanker near Derna," State Department spokeswoman Jen Psaki said in a statement.
"The ongoing escalation of violence in Libya against civilian commercial interests further widens a conflict that is fundamentally political," she said.
More than three years after dictator Moamer Kadhafi was toppled and killed, the country remains awash in weapons and powerful militias, and has rival governments and parliaments.
An internationally recognized government has taken refuge in the country's remote east.
The continuous violence "threatens the integrity, unity, neutrality, and independence of Libya's critical institutions, including the National Oil Company," Psaki said.
"The United States remains committed to working with the international community to help the Libyan people establish an inclusive system of government," the spokeswoman added.
http://english.alarabiya.net/en/News/africa/2015/01/07/U-S-condemns-deadly-Libyan-strike-on-tanker-.html
-----------
US training of Syrian rebels could begin in spring: Pentagon
7 January 2015
The U.S. military has made progress in its effort to identify moderate Syrian rebels to train for the fight against Islamic State militants and a U.S. training mission could begin this spring, the Pentagon said on Jan. 7.
Rear Admiral John Kirby, the Pentagon press secretary, welcomed statements from Ankara indicating Turkey and the United States plan to conclude a deal this month on training and equipping moderate Syrian rebels, part of a U.S.-led campaign to counter Islamic State forces in Iraq and Syria.
Kirby said Major General Michael Nagata, commander of U.S. special operations forces in the Middle East, was in the process of talking with Syrian opposition groups in an effort to identify individual recruits to train and equip.
"I think if we continue to make the progress that we're making now, that we believe that we could start conducting some training of moderate opposition by early spring," Kirby told a news conference.
The United States began conducting air strikes against Islamic State militants in Iraq and Syria last year after the group overran part of northwestern Iraq and Baghdad asked for Washington's assistance.
Full report at:
http://www.hurriyetdailynews.com/us-training-of-syrian-rebels-could-begin-in-spring-pentagon.aspx?pageID=238&nID=76590&NewsCatID=359
-----------
US not to abandon Afghanistan, says White House
7 January 2015
WASHINGTON: The White House has assured Afghanistan that the United States and its allies would continue to invest in political and economic success of the Afghan people but did not respond to a request for extending US military presence in the country.
In an interview to a US television network on Sunday, Afghan President Ashraf Ghani urged the US administration to consider re-examining its timetable for withdrawing its troops from Afghanistan.
But at a White House news briefing, Press Secretary Josh Earnest said the United States had a very clear strategy about the deployment of its troops in Afghanistan.
"After the end of the year, we are now in a situation where the combat mission in Afghanistan for US military personnel has ended," he said. "The Afghans are now solely responsible for the security of their country."
But he also noted that there would be an enduring US and Nato military presence in Afghanistan after 2014 as well. And this military will have two clear missions: countering terrorists and training and assisting Afghan security forces.
As part of its counter-terrorism mission, this force "will continue to see" remnants of Al Qaeda that do have designs on destabilising the region and US interests.
For the second mission, US military personnel will continue to play an important role in training and equipping
Full report at:
http://www.dawn.com/news/1155384/us-not-to-abandon-afghanistan-says-white-house
-----------
Southeast Asia
Malaysia's moderate image takes a beating with rising Islamic fundamentalism
7 January 2015
Malaysia's image as a modern developing Muslim country has taken a further beating in the eyes of the Western world, this time in an American news report on rising Islamic fundamentalism amid a slew of fatwas.
The American news site Global Post painted an image of a Malaysia as a nation of contrast, where citizens embraced social media and thronged the numerous shopping malls, and at the same time, state-backed Islamic religious authorities were "embarking on a spree of fatwas".
It cited death metal, puppies and Valentine's Day as examples of ulama's dire warnings of dangers to Muslims' faith.
"Malaysia is a bastion of Islam in tropical Southeast Asia. It's also a nation of mall-goers and Instagram addicts. Many in Malaysia see themselves as both devout and cosmopolitan. Their ethos extols mosques and skyscrapers alike.
"But as Malaysia modernises, its state-backed religious authorities are embarking on a spree of fatwas," the report said.
Global Post said there was even an "e-fatwa" site to help keep track of the more than 1,500 fatwas, and the increasing number was a sign of a siege mentality among the conservative Muslims.
"Malaysia's conservative Muslims appear panicked by the corrosive influence of Western modernity," it said.
Among the fatwas cited by Global Post include decrees against celebrating Halloween and Valentine's Day, eating Wagyu beef, listening or being part of black metal and practising yoga.
It also cited the furore over the ban on non-Muslims using the word "Allah" to describe God, describing it as a "pet obsession of fatwa-issuing clerics".
"Many small-time fatwas aren't enforced. No Malaysians have been prosecuted for doing yoga or listening to Black Sabbath. But authorities will actively confiscate Bibles that use the word 'Allah'.
Full report at:
http://www.themalaysianinsider.com/malaysia/article/malaysias-moderate-image-takes-beating-over-rising-islamic-fundamentalism
-----------
Indonesia Tightens Security After US and Australia Warning
7 January 2015
Jakarta. Indonesian authorities are on heightened alert following a security warning from the United States and a travel advice message from Australia — despite maintaining there is no imminent threat to safety.
Tedjo Edhy Pudjianto, Indonesia's Coordinating Minister of Politics, Legal and Security Affairs, said he had instructed all security forces to increase alertness in anticipation of a possible terrorist threat. However, he said Indonesia was not aware of a specific threat.
"There have been no reports from the National Intelligence Agency (BIN) or the National Police, but that doesn't mean we ignore it, we need to be more alert," Tedjo said on Wednesday.
The Australian travel warning was issued just days after the United States embassy in Jakarta issued a security warning for US-affiliated hotels, banks and businesses in Surabaya, East Java.
Full report at:
http://thejakartaglobe.beritasatu.com/news/indonesia-tightens-security-us-australia-warning/
-----------
Research and Tech Minister Says Nuclear Is the Way of the Future for Indonesia
7 January 2015
Jakarta. Muhammad Nasir, the research and technology minister, says construction is ongoing for an experimental nuclear power reactor on the outskirts of Jakarta, to pave the way for Indonesia's first nuclear power plant.
Nasir said the experimental reactor in Serpong, Tangerang, was aimed partly to show the public that nuclear power was safe.
He said fear and resistance against nuclear power in Indonesia had lingered because the public had only little knowledge of the technology, and that it was limited to the nuclear disasters in Chernobyl, Ukraine, and Fukushima, Japan.
"Why have we always made a big deal out of nuclear power? It's because we haven't seen for ourselves [how it works], so we're not convinced," Nasir said during a visit to the Jakarta Globe newsroom on Tuesday. "That is why we're currently trying to build a nuclear energy laboratory in Serpong. We need to educate and explain to the children of the nation that nuclear is safe."
Full report at:
http://thejakartaglobe.beritasatu.com/news/research-tech-minister-says-nuclear-way-future-indonesia/
-----------
URL: https://newageislam.com/islamic-world-news/mullah-fazlullah-says-next-attack/d/100898