New Age Islam News Bureau
7 Nov 2013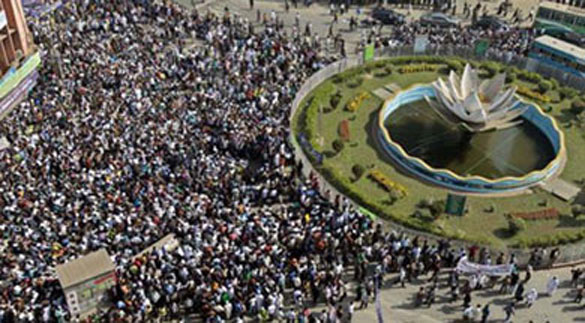 Bangladesh's largest Islamic party Jamaat-e-Islami leaders and activists participate in a demonstration in Dhaka in this Feb. 4, 2013 photo. Photo: AP
----------
Pakistan
• Mullah Fazlullah Named New Head Of Pak Taliban
• Pakistan ready to give Saudi Arabia nuclear bombs, say experts
• PTI, JI urge govt to shoot down drones
• Three people killed in Balochistan violence
• Paying respects: Ahle Sunnat Wal Jamaat demands holiday on Muharram 1
• 9000 criminals arrested in Karachi: Nisar
• No pause in Karachi killings; 10 more dead
• Gulf widens between Sindhi nationalists, Centre
India
• Not Just Patna, Gujarat Riots A Refrain In Many Other Blast Probes
• 26/11: Witness quizzed in Pak jail
• Wagah's custom of friendship now at Indo-Bangla border
• Helped out 14 lakh Indians in Saudi Arabia: MEA
Arab World
• Al Qaeda begin to establish Islamist rule in Syria
• Syria army retakes key rebel enclave near Damascus
• Egyptian armed forces kill three Sinai militants
• Assad compares Syria war to Algeria conflict
• Syrian opposition figure describes proposed talks as 'impossible'
• Families make contact with kin at Gitmo via Skype
• Truck full of heavy weapons seized near Syrian border in Adana
• Syria: Al-Qaeda affiliate targeting citizens, journalists at Raqa
South Asia
• Jamaat-e-Islami ineligible for next polls: Bangladesh EC
• World wants "no further artificial impediments" to Maldives polls, Swire tells UK parliament
• Invitation to Khaleda still valid: Hasina
• Islamist groups Hefazat-e-Islam, Tariqat Federation call rallies in Dhaka Nov 15
Mideast
• Iran, Syria to launch joint anti-Wahhabism TV channel
• Mixed-student apartments home to terrorist and illegal organizations, Turkish Minister
• Israeli court convicts Aqusa Mosque imam on charges of "inciting violence
• Sunni rebels claims Iran prosecutor assassination
• Iranian Nobel laureate questions Rouhani's rights record
• Arafat was murdered with polonium: widow
Europe
• NATO's top commander questions Turkish missile deal with China
• Russia 'ready to host' Syria regime, opposition for talks
• NATO war games worry Moscow
• Powers seek 'first-step' nuclear deal with Iran in Geneva talks
• UN to reinforce DR Congo borders after defeat of M23 rebels
• Maldives protestors hijack Twitter hashtag: Telegraph
North America
• Islamophobia surging in Quebec since charter, group says
• Muslim workers say they were fired for praying
• US trashes, sells its unwanted gear in Afghanistan
• Obama and Rouhani squeezed by hawks and hardliners
Africa
• Nigerian president confronting Islamic uprising
• Libya to stop paying armed groups from 2011 uprising
• Tunisia old guard shuts out youths behind revolt
Southeast Asia
• People free to discuss 'Allah', limits placed only to preserve harmony, minister says
• More interfaith dialogue on 'Allah' issue needed, say Suhakam chairman
• Man, 61, Dies in Saudi Crackdown on Undocumented Migrant Workers
Australia
• Religious leaders will gather, talk tolerance in Melbourne
Compiled by New Age Islam News Bureau
URL: https://www.newageislam.com/islamic-world-news/new-age-islam-news-bureau/mullah-fazlullah-named-new-head-of-pak-taliban/d/14340
------------
Pakistan
Mullah Fazlullah Named New Head Of Pak Taliban
AFP
November 07, 2013
Mullah Fazlullah, the militant commander who ordered the assassination of teenage activist Malala Yusufzai, was on Thursday named by the Pakistani Taliban as its new chief to replace Hakimullah Mehsud, killed in a US drone strike last week.
The outlawed Tehrik-e-Taliban Pakistan elected Fazlullah as its new chief, commander Asmatullah Shaheen was quoted as saying by Pakistani news channels. The move came almost a week after Mehsud was killed in the drone attack in North Waziristan on Friday.
Fazlullah, nicknamed "Mullah Radio" for his fiery sermons on an illegal FM station, led a parallel administration in the northwestern Swat Vally till the Pakistan Army sent troops into the region to flush out militants in early 2009.
He fled with hundreds of his fighters to Afghanistan, from where he ordered the attempt on the life of Malala Yusufzai. The teenager survived despite being shot in the head by a Taliban fighter and was taken to Britain for treatment.
Fazlullah came to prominence as a leader of the Tehrik-e-Nifaz-e-Shariah-e-Mohammadi and later became the head of the Taliban in Swat Valley, located 160 km from Islamabad.
He led a brutal rule in the region during 2007-09 and was accused of personally ordering the killing of scores of people, including women. He often announced his fatwas and orders for executing people on his radio broadcasts.
The Taliban Shura or council had initially agreed on Khan Syed alias Sajna as the new chief during a meeting in South Waziristan but later withheld the decision due to opposition from commanders belonging to Nuristan.
The Taliban then named Shehryar Mehsud and Asmatullah Shaheen as caretaker chiefs before Fazlullah was named the new head of the TTP.
http://www.hindustantimes.com/world-news/mullah-fazlullah-named-new-head-of-pak-taliban/article1-1148339.aspx
---------
Pakistan ready to give Saudi Arabia nuclear bombs, say experts
7 November 2013
Saudi Arabia helped finance the Pakistani nuclear weapons program and is confident Islamabad will give it atomic bombs – which could trigger a Middle Eastern nuclear arms race, the BBC reported on Wednesday. According to a NATO source, Pakistan actually has made bombs for Saudi Arabia and they are ready to go, the report said.
Experts say the kingdom has long aspired to achieve nuclear capacity of its own, in order to counter Iran's atomic ambitions. Getting the bomb merely by tapping Pakistan for it could bring the unnerved kingdom, which is openly anxious about Washington's warming ties with Iran, into the nuclear age even before its Muslim neighbor, they now suggest.
"They [Saudis] already paid for the bomb, they will go to Pakistan and bring what they need to bring," former Israeli Military Intelligence chief Amos Yadlin said, according to the BBC.
Saudi Arabia hasn't hidden its ambition, openly stating to the U.S. as early as 2009 that it would also seek capacity if "Iran crossed the threshold," the BBC reported, adding that Saudi Arabia has had the missile technology to deliver warheads since the late 1980s. In May 2012, former senior U.S. diplomat Dennis Ross confirmed for the first time that Saudi Arabia's King Abdullah explicitly warned that if Iran obtains nuclear weapons, Saudi Arabia would seek to do so as well.
Iran may not be the only target: Jane's reported last summer that Saudi Arabia has missile launchers aimed at Israel too.
The state of Iran's nuclear project is far from clear. Some sources, including the U.S.-base Institution for Science and International Security, thinks Tehran could be just weeks away from stockpiling enough enriched uranium to produce its first nuclear weapon, based on the amounts of enriched uranium that the Iranians have accumulated so far and on the number of fast centrifuges that have been installed recently.
The ISIS did not postulate on how long it would actually take to build a working bomb from that stockpile.
As for the perceived changes in Iran's attitude towards the West, spearheaded by the newly-elected president Hassan Rohani, Israeli military sources do not believe they change Tehran's nuclear ambitionsl.
Washington meanwhile recently suggested that it believes building the bomb could take at least a year. In late October the White House urged Senate committee leaders to hold off on new sanctions, in order to give negotiation a chance.
http://www.haaretz.com/news/middle-east/1.556742
------------
PTI, JI urge govt to shoot down drones
November 7, 2013
ISLAMABAD: Opposition lawmakers have said that the government should shoot down remotely piloted aircraft if the United States continues to violate Pakistan's sovereignty.
Speaking on the floor of the National Assembly, Dr Shireen Mazari of the Pakistan Tehreek-e-Insaf (PTI) said that "the government, as a last resort, should target drones — as we're capable of [shooting down these pilotless aircraft]."
"It's a defining movement for the government to convey a louder message to the United States that drones are counterproductive and not acceptable to us," she added.
Jamat-e-Islami MNA Tariqullah endorsed Dr Mazari's views. "We should shoot down drones. We're capable of doing this," he said, recalling that a top military official once said that the military has the capability to shoot down drones, if the government orders so.
However, lawmakers from all political parties advised the government to avoid confrontation with the US and pursue the proposed peace plan with the Taliban.
Pakistan Protection Ordinance
The Pakistan Protection Ordinance could not be tabled in the National Assembly on Wednesday and is now likely to be tabled on Thursday. Under the ordinance, law-enforcers will be able to enter and search any premises without warrants and the detained suspects will not be entitled to bail.
http://tribune.com.pk/story/628388/national-assembly-proceedings-pti-ji-urge-govt-to-shoot-down-drones/
------------
Three people killed in Balochistan violence
2013-11-07
QUETTA: At least three people were killed in two separate firing incidents in the southwestern province of Balochistan on Thursday, DawnNews reported.
According to the police, unknown motorcyclists opened indiscriminate fire in Pasni Bazaar, 720 kilometres (447 miles) southwest of the provincial capital Quetta. Subsequently, one person was killed and another sustained severe injuries.
The injured person died on his way to the hospital.
Meanwhile, another person was killed due to firing in Panjgur bazaar.
Balochistan has been under the grip of sectarian violence and attacks of Baloch separatists and unknown elements since more than a decade.
Scores of people have lost their lives in sectarian suicide bombings and target killings.
The provincial government appears to be helpless in tackling the growing threat of terrorist incidents.
http://www.dawn.com/news/1054751/three-people-killed-in-balochistan-violence
------------
Paying respects: Ahle Sunnat Wal Jamaat demands holiday on Muharram 1
November 7, 2013
KARACHI: The Ahle Sunnat Wal Jamaat (ASWJ) has demanded of the Sindh government announce a holiday every year on the first of Muharram to commemorate Youm-e-Hazrat Omar Farooq (RA).
The party organised a rally to commemorate the day on Wednesday, when hundreds of ASWJ activists and supporters, sporting flags and banners, made their way through different areas of the metropolis and gathered at Regal Chowk to stage a sit-in. ASWJ Karachi chief, Maulana Aurangzaib Farooqui addressed the participants.
Full report at:
http://tribune.com.pk/story/628128/paying-respects-aswj-demands-holiday-on-muharram-1/
------------
9000 criminals arrested in Karachi: Nisar
November 07, 2013
Interior Minister Chaudhry Nisar Ali Khan told the Senate Thursday that around nine thousand criminals were arrested in six hundred seventy-seven targeted raids in Karachi since 5th September in order to control the killings of citizens, extortions and kidnapping.
The Interior Minister during question hour said that main reasons of target killings in Karachi are ethnic' sectarian' fighting among various politico-religious groups' land grabbing under the umbrella of political parties and turf war among different groups also believed to be backed by major political parties. He said after the decision made by the Federal Cabinet on 4th September in Karachi' government has successfully carried out targeted operations. He said so far 36293 ammunition and 1252 other weapons have been recovered.
Full report at:
http://www.nation.com.pk/pakistan-news-newspaper-daily-english-online/national/07-Nov-2013/9000-criminals-arrested-in-karachi-nisar
------------
No pause in Karachi killings; 10 more dead
November 07, 2013
KARACHI - As many as 10 people were gunned down in various violent incidents here on Wednesday.
The brother-in-law of notorious Lyari gangster Noor Muhammad alias Baba Ladla was found dead from Lyari.
Gul Hassan, 32, was found dead from Tenary Road in Chakiwara area of Lyari. The body was shifted to Civil Hospital for autopsy. Police officials said the victim was the brother-in-law of Baba Ladla and was killed after kidnapping. He was the resident of Phool Patti Lane area of Lyari's Baghdadi locality from where he was kidnapped allegedly by the notorious gangster Faisal Pathan. Faisal is associated with the outlawed Peoples Amn Committee chief Uzair Baloch. DSP Shakeel Ahmed confirmed Hassan's killing.
Full report at:
http://www.nation.com.pk/pakistan-news-newspaper-daily-english-online/karachi/07-Nov-2013/no-pause-in-karachi-killings-10-more-dead
------------
Gulf widens between Sindhi nationalists, Centre
November 07, 2013
KARACHI - The gulf in the relations between the ruling PML-N and Sindhi nationalist parties has been emerged, diminishing the chances of electoral alliance between them in the upcoming local bodies' polls in the province.
The Sindhi nationalist parties are not happy with the steps of the PML-N visible soft corner towards the MQM in Sindh.
According to the chat with the insiders from both sides, it is hinted that there are very little chances of indulging the nationalists in alliance against the PPP in upcoming LB polls.
The Sindhi nationalist leaders have openly opposed Prime Minister Nawaz Sharif and Federal Minister Chaudhry Nisar Ali Khan over their alleged closeness with the MQM.
Full report at:
http://www.nation.com.pk/pakistan-news-newspaper-daily-english-online/karachi/07-Nov-2013/gulf-widens-between-sindhi-nationalists-centre
------------
India
Not Just Patna, Gujarat Riots A Refrain In Many Other Blast Probes
Nov 07 2013
New Delhi: The recovery of a CD of the Gujarat riots from the Patna blast suspects' hideout matches what security agencies have called a pattern: the 2002 violence recurring as a refrain in interrogation reports related to almost every terror attack since then.
A scrutiny of the reports, accessed by The Indian Express, reveals that investigators and police officials in several states, including Gujarat, have mentioned the riots — and the subsequent sense of "grievance and injustice" — as a "motive." Consider the following key cases:
* The chargesheet filed by National Investigation Agency (NIA) on July 17, 2013, against 12 alleged Indian Mujahideen (IM) accused linked the alleged IM's genesis to "Babri Masjid demolition (1992) and the riots in Gujarat after the Godhra incident (2002)."
Full report at:
http://www.indianexpress.com/news/not-just-patna-gujarat-riots-a-refrain-in-many-other-blast-probes/1191707/
------------
26/11: Witness quizzed in Pak jail
Nov 07 2013
The trial in the Mumbai terror attacks case continued on Wednesday with the defence counsels cross examining a witness in Adyala jail in Rawalpindi for the entire day.
Special public prosecutor Chaudhury Mohammed Azhar told The Hindu that the witness was the person from whom life jackets, the boat engine, air pump and other articles were bought. The cross examination began by defence council Riaz Cheema and others and was completed by 3.30 pm. As a result no other witness could be taken up for examination.
Full report at:
http://www.thehindu.com/news/international/south-asia/2611-witness-quizzed-in-pak-jail/article5322269.ece
------------
Wagah's custom of friendship now at Indo-Bangla border
Nov 07 2013
Petrapole, Kolkata : Beginning Thursday, a 13-minute border closing retreat ceremony will be part of a new engagement between BSF personnel and their counterparts of the Border Guards Bangladesh (BGB). The ceremony was officially inaugurated Wednesday at the Petrapole-Benapole border checkpost in North 24 Paragana, about 120 km form Kolkata. It has been modelled on the one at Wagah-Attari Indo-Pak border.
Full report at:
http://www.indianexpress.com/news/east-emulates-west-wagahs-custom-of-friendship-now-at-indobangla-border/1191714/?india_top
------------
Helped out 14 lakh Indians in Saudi Arabia: MEA
SANDEEP DIKSHIT
Nov 07 2013
Proactive campaign among Indian expats helped impress upon them the need to have proper visa and work documents
The government on Wednesday claimed that its proactive policy in Saudi Arabia helped avoid the deportation of 14 lakh Indians who managed to get their work documents regularised before the second deadline ended on November 3.
"We used the available time very effectively. Our embassy in Riyadh and the consulate in Jeddah launched a major scheme to sensitise Indian nationals. This is an untold success story for India," Joint Secretary (Gulf) in the Ministry of External Affairs, Mridul Kumar, told newspersons here.
Full report at:
http://www.thehindu.com/news/national/helped-out-14-lakh-indians-in-saudi-arabia-mea/article5323133.ece
----------
Arab World
Al Qaeda begin to establish Islamist rule in Syria
7 November 2013
In the Syrian town of Raqqa, Bashar al-Assad's hated regime has been replaced by something many regard as being even worse – an al-Qaeda-linked group that is torturing people for writing graffiti and abolishing women's rights.
Raqqa used to be one of the most liberal towns in Syria, but chillingly, the extremist Islamic State of Iraq and Syria (ISIS) is using violence to impose their rule on the locals and stamp out the freedoms rebels fought for.
One man showed a TV news channel how he was left with horrific bruises and burns after jihadists beat him and tortured him with an electrical current for spraying graffiti.
This punishment for graffiti was also meted out by the Assad authorities ousted by the revolution, leaving many wondering what it's all been for.
He told CNN: 'Every 15 minutes, someone poured water on me, electrocuted me, kicked me, then walked out.'
He went on to describe the anguish he suffered listening to others being tortured.
He added: 'When a person is tortured in front of you, you feel responsible. That's the hardest. One guy still inside used to call me Dad as I taught him about democracy.'
Rebels who have voiced their opposition to ISIS have found themselves arrested and thrown in jail without trial.
Full report at:
http://www.dailymail.co.uk/news/article-2488380/Al-Qaeda-begin-establish-Islamist-rule-Syria.html#ixzz2k0OEYsn7
------------
Syria army retakes key rebel enclave near Damascus
7 November 2013
Syrian troops have retaken a key rebel-held town south of Damascus, state media and activists say.
State TV said the army had full control of Sbeineh and that "terrorists" had been driven out.
UK-based activist group the Syrian Observatory for Human Rights said Sbeineh was one of the most important rebel positions near Damascus.
Meanwhile, inspectors say they have verified one of Syria's two remaining chemical weapons production sites.
Inspectors had already verified 21 out of 23 sites declared by Syria but two sites were too dangerous to reach.
Full report at:
http://www.bbc.co.uk/news/world-middle-east-24849809
------------
Egyptian armed forces kill three Sinai militants
7 November 2013
The Egyptian armed forces killed three Islamist militants in a security operative in Sinai on Wednesday, Al-Ahram Arabic website reported.
A military spokesman stated that it had also seized a number of weapons, including machine guns, RPGs and homemade grenades.
The armed forces, supported by police personnel, also torched four cars that did not have licence plates or registration papers, army spokesman Ahmed Ali stated on Thursday via his official Facebook page.
Full report at:
http://english.ahram.org.eg/NewsContent/1/64/85813/Egypt/Politics-/Egyptian-armed-forces-kill-three-Sinai-militants.aspx
------------
Assad compares Syria war to Algeria conflict
7 November 2013
Syria's President Bashar al-Assad on Wednesday compared his country's war against rebels, whom he describes as "terrorists", to the conflict that devastated Algeria for an entire decade.
"The Algerian people's position on the Syrian conflict is not surprising, considering they had to undergo a challenge that was similar to the Syrian people's, which is currently facing terrorism," Assad said during a visit by an Algerian delegation to Damascus.
When an anti-Assad revolt broke out in March 2011, Damascus branded opponents as "terrorists", even before the movement took up arms.
Full report at:
http://english.ahram.org.eg/NewsContent/2/8/85811/World/Region/Assad-compares-Syria-war-to-Algeria-conflict.aspx
------------
Syrian opposition figure describes proposed talks as 'impossible'
7 November 2013
The proposed conference in Geneva to end the 32-month Syrian conflict has become an "impossible mission," Monzer Makhous, the opposition Syrian National Council's ambassador to Paris, told Al Arabiya on Thursday.
"While the international community is seeking to bring Syrian opposition groups and the government on the negotiation table, the Syrian people are demanding President Bashar al-Assad's regime to step down, Makhous said.
He added: "The only solution to end the Syrian conflict is for Bashar al -Assad and his regime to leave power and forever."
His statement came after Syria's key opposition National Coalition urged the U.N.-Arab League envoy Lakhdar Brahimi to remain neutral, after he cited opposition divisions over new delays to peace talks.
Full report at:
http://english.alarabiya.net/en/News/middle-east/2013/11/07/Syrian-opposition-urges-U-N-envoy-Brahimi-to-remain-neutral-.html
------------
Families make contact with kin at Gitmo via Skype
Nov 7, 2013
The Saudi Red Crescent has enabled more than 50 people from eight families to communicate with their children in Guantánamo Bay prison through Skype.
Abdullah Al-Ghamdi, spokesman for the Red Crescent in Makkah, said the families each spoke with their sons for one hour.
Al-Ghamdi said calls over Skype were made in the presence of Rabab Suleiman, representative of the International Red Cross, and Fahad Al-Mutairi, Saeed Al-Yahya and Zulfa Abdullah, representatives of the Saudi Red Crescent. The calls were monitored by Prince Bandar bin Faisal, deputy director general for International Affairs and supervisor of the program for reinstating family ties at the Saudi Red Crescent.
Full report at:
http://www.arabnews.com/news/473611
-----------
Truck full of heavy weapons seized near Syrian border in Adana
7 November 2013
A cargo truck full of rocket heads, bazookas, missiles, bombs and guns has been seized in the southern province of Adana, which is not far from the Syrian border.
A total of 1,200 rocket warheads were seized, according to Gov. Hüseyin Avni Coş.
Adana police teams discovered the weapons in the early hours of Nov. 7, after pursuing the truck initially on suspicions that it was carrying drugs.
Full report at:
http://www.hurriyetdailynews.com/truck-full-of-heavy-weapons-seized-near-syrian-border-in-adana.aspx?pageID=238&nID=57518&NewsCatID=341
------------
Syria: Al-Qaeda affiliate targeting citizens, journalists at Raqa
November 7, 2013
BEIRUT: Al Qaeda is targeting citizen journalists in Syria's Raqa with a wave of kidnappings, beatings and assassinations aimed at silencing them, in what activists call a reign of terror.
"Is your head still attached to your body? I swear to God your head will be cut off, and that we'll give you a visa to hell," read the threat sent last week to photographer Abd Hakawati.
It came from the al Qaeda-affiliated Islamic State of Iraq and the Levant (ISIL).
Originally from the central province of Hama, Hakawati had worked on and off in the northern city of Raqa in recent months.
The regime has detained him twice and he has been wounded three times since the uprising against President Bashar al-Assad began in March 2011.
Full report at:
http://tribune.com.pk/story/628498/qaeda-goes-all-out-to-silence-activists-in-syrias-raqa/
------------
South Asia
Jamaat-e-Islami ineligible for next polls: Bangladesh EC
7 November 2013
Election Commissioner Shah Nawaz said the Jamaat would not be able to participate in the polls as the High Court had declared its registration illegal.
In a major blow to the fundamentalist Jamaat-e-Islami ahead of polls in Bangladesh, the Election Commission on Thursday said the party cannot participate in the general election in line with a court order.
Election Commissioner Shah Nawaz said the Jamaat would not be able to participate in the polls as the High Court had declared its registration illegal.
In August, a three-judge special bench of the High Court declared illegal the registration of Jamaat, a key ally of the main opposition BNP, as a political party with the poll panel.
Full report at:
http://www.thehindu.com/news/international/south-asia/jamaateislami-ineligible-for-next-polls-bangladesh-ec/article5325546.ece
-----------
World wants "no further artificial impediments" to Maldives polls, Swire tells UK parliament
By JJ Robinson | November 6th, 2013
The Maldivian people's commitment to democracy has not been respected by some of their politicians, the UK's Minister of State for the Foreign and Commonwealth Office, Hugo Swire, has told British parliament.
The Westminster Hall debate on the situation in the Maldives was called on Tuesday ahead of Saturday's scheduled election by UK Conservative Party MP for Redditch, Karen Lumley.
Lumley was a political consultant with the Westminster Foundation for Democracy in 2008, and helped train Nasheed's Maldivian Democratic Party in political campaigning.
Full report at:
http://minivannews.com/politics/world-wants-no-further-artificial-impediments-to-polls-swire-tells-uk-parliament-70974
------------
Invitation to Khaleda still valid: Hasina
7 November 2013
Prime Minister Sheikh Hasina said today her invitation to BNP Chairperson Khaleda Zia for a dialogue is still valid.
"My invitation to the opposition chief still stands," she told a delegation of the Bangladesh Chambers of Commerce and Industry (FBCCI).
The FBCCI delegation meet with the premier at her office today as part of top business leader's efforts to break the country's prolonged political deadlock through a peaceful way.
FBCCI President Kazi Akram Uddin Ahmed led the business delegation at the meeting. Former FBCCI presidents and other trade body leaders were also present at the meeting.
Full report at:
http://www.thedailystar.net/beta2/news/invitation-to-khaleda-still-valid-hasina/
------------
Islamist groups Hefazat-e-Islam, Tariqat Federation call rallies in Dhaka Nov 15
7 November 2013
Hefazat declared the rally to realise its 13-point demands, release of its leaders and activists detained cancelling the Qawmi Madrasa Education Authority Bill, 2013.
Islamist groups Hefazat-e-Islam and Bangladesh Tariqat Federation have chosen Shapla Chattar of Motijheel in the capital to hold rallies on November 15.
Nearly six months after holding a rally at the city's busiest financial hub, radical Islamist group Hefazat declared the rally on November 2 to realise its 13-point demands, release of its leaders and activists detained over the May 5-6 mayhem and cancelling the Qawmi Madrasa Education Authority Bill, 2013.
Full report at:
http://www.dhakatribune.com/politics/2013/nov/07/hefazat-tariqat-call-rallies-dhaka-nov-15#sthash.guSa6CpG.dpuf
------------
Mideast
Iran, Syria to launch joint anti-Wahhabism TV channel
Nov 7, 2013
Tehran and Damascus are after launching a joint TV channel, a move Iran's culture minister Ali Jannati says is in line with the long-term objectives of the two countries to fight Wahhabism and to promote solidarity and unity among Muslim nations, According to Iranian Tasnim News Agency.
"We are trying to launch a joint television channel and pursue the two countries' long-term goals in the unity of Islamic countries via that channel," Jannati said in a meeting with Syria's Minister of Religious Endowments Muhammad Abd al-Sattar al-Sayyid, here in Tehran on Saturday.
Full report at:
http://tehrantimes.com/politics/111881-iran-syria-to-launch-joint-anti-wahhabism-tv-channel-
---------
Mixed-student apartments home to terrorist and illegal organizations, Turkish Minister
7 November 2013
Interior Minister Muammer Güler brought another dimension to the debate on mixed-student housing, arguing that many of these apartments harboured terror and other illegal activities, such as prostitution.
"We are considering the issue from the viewpoint of a fight against terrorism. Particularly apartments, student residences and lodging houses where university students are living are places that terror groups and other illegal groups are seeing as a resource for gaining support and finding new members," Güler said during a press conference on Nov. 6 in Ankara.
Full report at:
http://www.hurriyetdailynews.com/mixed-student-apartments-home-to-terrorist-and-illegal-organizations-interior-minister-says.aspx?pageID=238&nID=57508&NewsCatID=338
------------
Israeli court convicts Aqusa Mosque imam on charges of "inciting violence
World Bulletin / News Desk
Nov 07 2013
An Israeli court on Thursday convicted Sheikh Raed Salah, leader of the Islamic movement inside Israel, on charges of "inciting violence."
Salah was acquitted, however, of "incitement to racism" charges by the Jerusalem Magistrate's Court.
The charges relate to a sermon Salah gave in 2007 in which he vowed to give his life in defense of the Aqusa Mosque, Islam's third holiest shrine.
Full report at:
http://www.worldbulletin.net/?aType=haber&ArticleID=122344
-----------
Sunni rebels claims Iran prosecutor assassination
7 November 2013
The Sunni extremist group Jaish-ul Adl has claimed responsibility for the assassination of a public prosecutor in Iran's restive southeast, media reports said Thursday.
The reports came a day after Mousa Nouri, prosecutor of the city of Zabol which lies near the Afghan border in Sistan-Baluchestan province, was gunned down in a "terrorist attack," according to officials.
Jaish-ul Adl, the rebel group formed last year whose name means Army of Justice in Arabic, said in a statement Wednesday night that the assassination was carried out in retaliation for a mass hanging last week.
Full report at:
http://english.ahram.org.eg/NewsContent/2/8/85838/World/Region/Sunni-rebels-claims-Iran-prosecutor-assassination.aspx
------------
Iranian Nobel laureate questions Rouhani's rights record
2013-11-07
NEW YORK: Iranian Nobel Peace laureate Shirin Ebadi strongly criticised the human rights record of President Hassan Rouhani, citing a dramatic increase in executions since he took office this year and accusing the government of lying about the release of political prisoners.
She also pointed to spreading support for a hunger strike by human rights lawyer Abdolfattah Soltani and three others in a Tehran prison to protest inadequate medical care, which was joined Monday by about 80 prisoners at another prison west of the capital.
Ebadi, a US-based human rights lawyer who since 2009 has lived outside Iran in self-exile, said in an interview Tuesday with The Associated Press that Rouhani may have the reputation of a moderate reformer, but so far "we get bad signals" from the new government when it comes to human rights.
Full report at:
http://www.dawn.com/news/1054602/iranian-nobel-laureate-questions-rouhanis-rights-record
------------
Arafat was murdered with polonium: widow
November 07, 2013
PARIS - Palestinian leader Yasser Arafat was poisoned to death in 2004 with radioactive polonium, his widow Suha said on Wednesday after receiving the results of Swiss forensic tests on her husband's corpse.
"We are revealing a real crime, a political assassination," she told Reuters in Paris.
A team of experts, including from Lausanne University Hospital's Institute of Radiation Physics, opened Arafat's grave in the West Bank city of Ramallah last November, and took samples from his body to seek evidence of alleged poisoning.
Full report at:
http://www.nation.com.pk/pakistan-news-newspaper-daily-english-online/international/07-Nov-2013/arafat-was-murdered-with-polonium-widow
------------
Europe
NATO's top commander questions Turkish missile deal with China
7 November 2013
NATO's top military commander urged Turkey Nov. 7 to buy a missile defense system that is compatible with other NATO systems, questioning whether the $3.4 billion Chinese system that Ankara is leaning towards is suitable.
The comments by U.S. Air Force General Philip Breedlove, NATO's Supreme Allied Commander Europe, add to pressure on Ankara to rethink its decision to build a missile defense system with a Chinese firm.
Turkey said in September it had chosen the FD-2000 missile defense system from China Precision Machinery Import and Export Corp, or CPMIEC, over systems from Russian, U.S. and European firms.
Full report at:
http://www.hurriyetdailynews.com/natos-top-commander-questions-turkish-missile-deal-with-china.aspx?pageID=238&nID=57511&NewsCatID=359
------------
Russia 'ready to host' Syria regime, opposition for talks
Nov 07 2013
Russia is ready to host informal talks between Syrian President Bashar al-Assad's government and the opposition, a media report quoted deputy foreign minister Mikhail Bogdanov as saying on Wednesday.
The ITAR-TASS news agency quoted Bogdanov, who represented Russia at
talks in Geneva yesterday with US officials and UN-Arab League envoy Lakhdar Brahimi, as saying that the consultations "do not necessarily have to end in some sort of agreement."
It was most important to "create an atmosphere for (future) talks," the news agency quoted Bogdanov as saying in Geneva.
Full report at:
http://www.hindustantimes.com/world-news/russia-ready-to-host-syria-regime-opposition-for-talks/article1-1147903.aspx
-----------
NATO war games worry Moscow
Reuters | Nov 7, 2013
ADAZI, Latvia: Nato is staging its biggest military exercise in seven years this week in the Baltic countries and Poland but its insistence that the drills are not aimed at sharpening defenses against a resurgent Russia have not convinced Moscow.
Nato says the exercise, involving 6,000 soldiers from the alliance as well as non-members Sweden, Finland and Ukraine, is based on a fictional scenario in which troops from the imaginary state of Bothnia invade Estonia in a crisis sparked by competition for energy resources and economic collapse.
Full report at:
http://timesofindia.indiatimes.com/world/europe/NATO-war-games-worry-Moscow/articleshow/25373725.cms
-----------
Powers seek 'first-step' nuclear deal with Iran in Geneva talks
Reuters | Nov 7, 2013
GENEVA: World powers will seek to hammer out a breakthrough deal with Iran to start resolving a decade-old dispute over its nuclear program in two-day talks that begin on Thursday, although both sides say an agreement is far from certain.
The United States and its allies say they are encouraged by Tehran's shift to friendlier rhetoric after years of hostility since the June election of President Hassan Rouhani, who has pledged to repair ties with the West and win sanctions relief.
Full report at:
http://timesofindia.indiatimes.com/world/europe/Powers-seek-first-step-nuclear-deal-with-Iran-in-Geneva-talks/articleshow/25353686.cms
-----------
UN to reinforce DR Congo borders after defeat of M23 rebels
AFP | Nov 7, 2013
UNITED NATIONS: UN troops will help reinforce Democratic Republic of Congo's borders to stop rebels and arms crossing into Rwanda after the defeat of M23 mutineers, a UN envoy said on Wednesday.
France, the United States and other leading UN security council members widely welcomed the rout of M23 at talks on the conflict-stricken country.
But Rwanda, a temporary security council member closely implicated in the conflict across its border, called for a new focus on rebels which oppose its government.
Full report at:
http://timesofindia.indiatimes.com/world/rest-of-world/UN-to-reinforce-DR-Congo-borders-after-defeat-of-M23-rebels/articleshow/25347782.cms
----------
Maldives protestors hijack Twitter hashtag: Telegraph
7 November 2013
"More than 50 Maldivian companies are attending this week's event at London's ExCel convention centre, where they hope to promote the Indian Ocean archipelago as an idyllic holiday destination," writes Oliver Smith for the UK's Telegraph.
Instead they may be asked to explain to visitors why the event's official Twitter hashtag has been inundated with photos of the victims of alleged police brutality and tweets claiming democracy has been destroyed in the country.
Full report at:
http://minivannews.com/category/news-in-brief
------------
North America
Islamophobia surging in Quebec since charter, group says
Nov 7, 2013
MONTREAL — Islamophobia has surged in Quebec since the introduction of the proposed Charter of Quebec Values, Muslim organizations warned Tuesday, with an alarming rise in verbal and even physical attacks against Muslim women.
Muslims made 117 complaints of verbal or physical abuse to a local anti-Islamophobia group between Sept. 15 and Oct. 15, compared to a total of 25 complaints (or 3.5 complaints per month on average) in the seven-month period of January to July 2013.
Salam Elmenyawi, president of the Muslim Council of Montreal, told a news conference the spike in attacks is a by-product of the debate over the Parti Québécois government's proposed Charter of Values, which would prevent public servants from wearing "ostentatious" religious symbols such as the Hijab (Muslim head scarf) or kippah (Jewish skullcap).
Abusing Muslims "is becoming mainstream," Elmenyawi said, accusing the government of fanning the flames of intolerance rather calming the social climate.
Full report at:
http://www.montrealgazette.com/life/Islamophobia+surging+since+Charter+proposed+Muslim+Council/9127608/story.html
-----------
Muslim workers say they were fired for praying
Nov 7, 2013
CINCINNATI -- For more than three years, Mohamed Maow worked at DHL Global Mail in Hebron, Ky. He said he earned $11.57 an hour to sort mail and was paid time-and-a-half for overtime.
Maow, 27, a refugee from Somalia who came to the U.S. in 2007, said he never received any negative comments about his performance.
Yet on Oct. 9, after he said DHL supervisors reversed a policy of flexible break times that allowed Maow and fellow Somalis time to pray, he was among two dozen Muslims fired for stopping to say five-minute evening prayers required by their religious beliefs.
"It was a good job," said Maow, of Florence, who is now unemployed, struggling to pay bills and unable to send money to relatives in Africa, including two children living as refugees with their mother in Ethiopia.
Full report at:
http://www.usatoday.com/story/news/nation/2013/11/06/muslim-workers-say-they-were-fired-for-praying/3462061/
http://www.jpost.com/International/US-Muslim-workers-fired-over-prayer-breaks
-----------
US trashes, sells its unwanted gear in Afghanistan
2013-11-07
KANDAHAR: The withdrawing US military is destroying most of the equipment it is leaving behind in Afghanistan after 13 years of war, selling the scrap for millions of dollars to those willing to buy it.
The policy stands in stark contrast to the Americans' withdrawal from Iraq, when they donated or sold still-usable items worth about $100 million.
The equipment is being trashed, US officials say, because of fears that anything left behind in Afghanistan could fall into the hands of insurgents and used to make bombs.
Leaving it behind also saves the US billions of dollars in transportation costs.
Afghans are angry at the policy, arguing that even furniture and appliances that could improve their lives is being turned into useless junk.
Full report at:
http://www.dawn.com/news/1054734/us-trashes-sells-its-unwanted-gear-in-afghanistan
------------
Obama and Rouhani squeezed by hawks and hardliners
November 7, 2013
WASHINGTON: Their nations are estranged by decades of distrust – but Barack Obama and Hassan Rouhani share a common political problem.
Hawks and hardliners in Washington and Tehran are putting the squeeze on the US and Iranian presidents as they grasp for a landmark nuclear deal.
As new international talks on Iran's nuclear program open in Geneva, deep mutual suspicion leaves American and Iranian negotiators little time or political space to act.
In Washington, national security conservatives who view Iran's diplomatic charm offensive through the same skeptical lens as Israeli Prime Minister Benjamin Netanyahu, want the White House to swear off inducements for Iranian concessions and threaten to toughen sanctions.
Full report at:
http://tribune.com.pk/story/628495/obama-and-rouhani-squeezed-by-hawks-and-hardliners/
---------
Africa
Nigerian president confronting Islamic uprising asks to extend emergency rule for 6 months
November 07, 2013
Associated Press
ABUJA, NIGERIA – The official News Agency of Nigeria says President Goodluck Jonathan is asking legislators to extend for another six months the state of emergency in three northeastern states battling an Islamic uprising.
The agency says Jonathan made the request Wednesday to the House of Representatives.
Jonathan declared a state of emergency May 14 that was approved by Parliament to cover the states of Yobe, Adamawa and Borno, the birthplace of the Boko Haram terrorist network whose fighters have killed hundreds of civilians and security forces in recent weeks.
Full report at:
http://www.foxnews.com/world/2013/11/06/nigerian-president-confronting-islamic-uprising-asks-to-extend-emergency-rule/
------------
Libya to stop paying armed groups from 2011 uprising
7 November 2013
The Libyan government said Wednesday it will stop paying armed groups from the 2011 uprising unless they sign up to join the security forces by the end of the year.
The government will "stop paying any premium or reward after" 31 December, a deadline for the "dissolution of the armed groups and their integration into the army or the police", said a statement.
It called for former rebels who fought to topple Moamer Qaddafi's regime to "resolve their situation" so they can be taken into account for the 2014 budget.
Full report at:
http://english.ahram.org.eg/NewsContent/2/8/85802/World/Region/Libya-to-stop-paying-armed-groups-from--uprising.aspx
------------
Tunisia old guard shuts out youths behind revolt
7 November 2013
Three years after Tunisia's revolution, youths who formed the vanguard of protests find themselves sidelined from the political arena by veteran leaders determined to hold on to power.
Sparked on 17 December, 2010 by the self-immolation of a 26-year-old street vendor angry with corruption and police harassment, the uprising toppled autocratic president Zine El Abidine Ben Ali a month later.
But since then, "the revolution of the youths has been confiscated by the old who were hiding at home or abroad during the popular uprising," said Naima Charmiti.
"Our dinosaurs haven't stopped telling us that we have a political future, but in reality they haven't done anything concrete," lamented the 32-year-old who runs the arabesque.tn news website.
Full report at:
http://english.ahram.org.eg/NewsContent/2/8/85780/World/Region/Tunisia-old-guard-shuts-out-youths-behind-revolt.aspx
------------
Southeast Asia
People free to discuss 'Allah', limits placed only to preserve harmony, deputy minister says
November 7, 2013
KUALA LUMPUR, Nov 7 — Malaysians are free to discuss the 'Allah' word controversy intellectually, with the ban on certain groups using the Arabic word solely meant to preserve the country's harmony, Deputy Foreign Minister Datuk Hamzah Zainudin said today.
He said Malaysians have freedom of speech, pointing out that the government does not block discussions of the word "Allah".
"As I mentioned just now, freedom of speech, when you want to use the word Kalimah Allah, government did not stop you from using the word Kalimah Allah.
Full report at:
http://www.themalaymailonline.com/malaysia/article/people-free-to-discuss-allah-limits-placed-only-to-preserve-harmony-deputy#sthash.FnCTorCw.dpuf
------------
More interfaith dialogue on 'Allah' issue needed, say Suhakam chairman
November 7, 2013
KUALA LUMPUR, Nov 7 — There should be more interfaith dialogue on the debate over the use of the word "Allah" so that there will be greater understanding between Muslims and non-Muslims, Human Rights Commission of Malaysia (Suhakam) chairman Tan Sri Hasmy Agam said today.
Hasmy noted that the right to use the Arabic word was a "sensitive" topic in Malaysia, particularly in Peninsular Malaysia.
"It's a sensitive issue in the context of Malaysia, especially Peninsular," he told reporters after a session of roundtable talks organised by the Global Movement of Moderates Foundation.
Full report at:
http://www.themalaymailonline.com/malaysia/article/suhakam-chairman-more-interfaith-dialogue-on-allah-issue-needed#sthash.uuGeCrZz.dpuf
------------
Man, 61, Dies in Saudi Crackdown on Undocumented Migrant Workers
7 November 2013
Indonesian consular officials in Saudi Arabia scrambled on Thursday to secure return flights for migrant workers detained in this week's country-wide crackdown on undocumented immigrants after a 61-year-old man died in a Riyadh detention center.
"We agreed in a meeting between officials from the two countries on Nov. 5 at 10:30 a.m. Jeddah time that we will prioritize old people, pregnant women, toddlers and people with illnesses," said Jumhur Hidayat, head of the National Agency for the Placement and Protection of Indonesian Workers (BNP2TKI).
Full report at:
http://www.thejakartaglobe.com/news/man-61-dies-in-saudi-crackdown-on-undocumented-migrant-workers/
------------
Australia
Religious leaders will gather, talk tolerance in Melbourne
Nov 7, 2013
In a bid to foster more communication between faiths, Space Coast religious leaders will gather for a discussion in Melbourne this week on the importance of faith and tolerance.
The forum includes a rabbi, a local Muslim spokesman and others, and follows recent controversy over a Brevard Public Schools textbook for ninth-graders that drew complaints over the summer because of what critics called a chapter biased in favor on Islam.
It also comes several months after the August visit of University of Central Florida professor John Matusitz, a lecturer who spoke in Viera about what he calls the creeping threat of Islamic religious law.
Full report at:
http://www.floridatoday.com/article/20131106/NEWS01/311060013/Religious-leaders-will-gather-talk-tolerance-Melbourne
---------------
URL: https://www.newageislam.com/islamic-world-news/new-age-islam-news-bureau/mullah-fazlullah-named-new-head-of-pak-taliban/d/14340