New Age Islam News Bureau
24 Jan 2019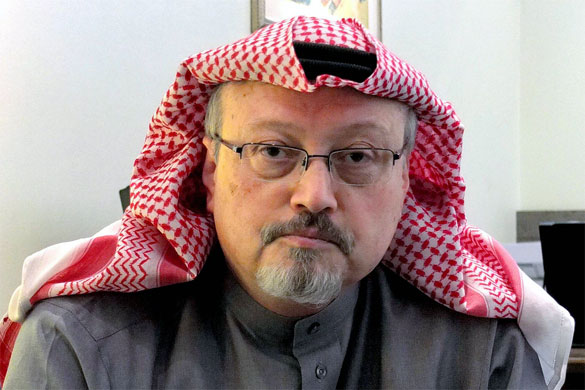 A demonstrator holding a picture of Saudi journalist Jamal Khashoggi during a protest in front of Saudi Arabia's consulate in Istanbul, Turkey, on October 5, 2018. (Photo: Reuters)
------
• Move On From Jamal Khashoggi, Let Us Do Business: Saudis to Davos
• Bangladesh's Ruling Party 'Disowns' Islamist Group
• New Association Aspires To Reorganise Islam in France
• In Letter, Palestinian Authority Asks US to Drop All Remaining Aid
• Pakistan's Deafening Silence Over China's Persecution Of Uighur Muslims
• Voters Are Deciding Extent of Muslim Autonomy in Philippines
Arab World
• Move On From Jamal Khashoggi, Let Us Do Business: Saudis to Davos
• Lebanese FM: We can teach Washington, London how to run a country without budget
• Majid Al Futtaim Boss: 'We'll Be Everywhere' In Saudi Cinema Expansion
• Tahrir Al-Sham's Second in Command Killed in Failed Attack on Syrian Army in Idlib
• US Sends More Military Convoys to Eastern Syria to Reinforce Military Bases despite Trump's Pullout Call
• More Civilians Killed in US Airstrikes on Residential Areas in Deir Ezzur
• Terrorists Receive Severe Blow in Failed Attacks in Idlib
• Car bomb kills soldier near Iraq's Kirkuk
• Syria warns of attack on Tel Aviv airport if UN fails to halt Israeli aggression
--------
South Asia
• Bangladesh's Ruling Party 'Disowns' Islamist Group
• U.N. Ramps Up Education Efforts in Rohingya Refugee Camps
• Scores of militants killed in Afghan, Coalition Forces operations
• Who runs Bangladesh Awami Ulama League?
• 5 senior Taliban leaders killed in Faryab operations
--------
Europe
• New Association Aspires To Reorganise Islam in France
• UK Reviews Counter-Terror Strategy to Alleviate British Muslims
• Italian convert to Islam held on inciting terror charge
• Britain copycatting US on Syria pullout: Analyst
• Russia snubs US 'counterproductive' anti-Iran summit in Poland
• Russia says 'arbitrary' Israeli airstrikes on Syria must stop
• British bankers 'lied' to hide Qatar payments
--------
Mideast
• In Letter, Palestinian Authority Asks US to Drop All Remaining Aid
• Netanyahu pledges 'lethal' response to Gaza violence after blocking aid
• Muslim groups condemn detention of Iranian broadcaster
• Israel kills Hamas militant, delays Qatari cash after Gaza flare-up
• Prince Khalid: Stockholm Agreement between Yemeni parties being violated
• Yemen prisoner swap terms expected in coming days, govt delegate says
• Coalition jets launch 13 strikes targeting Houthi training camp near Dhamar
--------
Pakistan
• Pakistan's Deafening Silence Over China's Persecution Of Uighur Muslims
• Pakistani court temporarily halts Mumbai attack case hearing
• PM seeks economic assistance package from Doha
• Opposition takes united stance on military courts
• Court reserves order in defamation suit against PM
• Saudi CGS General Faiyad acknowledges Pakistan Army's professionalism
• PM ready to form judicial commission to probe Sahiwal killings
--------
Southeast Asia
• Voters Are Deciding Extent of Muslim Autonomy in Philippines
• UGM to promote NU, Muhammadiyah for Nobel Peace Prize
• Ba'asyir's sons, followers disappointed over cancelled release
• We back BN because it served us well, say some Cameron Highlands voters
• 'Minister of Najib Affairs' Kit Siang denies tabling removal of Malay, Islam from Constitution
--------
India
• UP Muslim Cop Plays Cupid, Helps Hindu Couple Tie Knot inside Police Outpost
• Nine including 17-year-old arrested by Maharashtra ATS for 'ISIS links'
• NIA raids 8 places across 5 states over terror funding
• ATS arrests: Mosque staff, families shocked
• Minority Panel Members Want Madrasa Docs To Be Recorded In Hindi Too, Write To Yogi Adityanath
• Lance Naik Nazir Ahmad Wani to be posthumously conferred with Ashoka Chakra
--------
Africa
• No escape: Hunted down by Al-Shabaab in Nairobi attack
• Gaidam town under attack by Boko Haram
• US warns Sudan to free protesters, probe deaths
• Jordan officials hold talks in Syria on resuming flights
• In meeting with Bashir, Qatari Emir says supports unity in Sudan
--------
North America
• Syria bill to sanction regime backers passes US House of Representatives
• US in reverse gear on anti-Iran summit as international boycott widens: Report
• US Expresses Concern for 'Arbitrary' Force In Sudan
Compiled by New Age Islam News Bureau
URL: https://www.newageislam.com/islamic-world-news/move-jamal-khashoggi-let-business/d/117551
--------
Move on from Jamal Khashoggi, let us do business: Saudis to Davos
January 24, 2019
If you somehow missed the news about the killing of journalist Jamal Khashoggi by Saudi agents and the global outcry that ensued, you might think Saudi Arabia is the darling of the World Economic Forum in Davos.
The kingdom has sent one of its strongest delegations ever to the Swiss mountain resort and packed its top executives' agendas with meetings with international peers.
It has even managed to secure top Western businessmen for a panel debate on 'Next Steps for Saudi Arabia', where French oil major Total's chief executive Patrick Pouyanne and Morgan Stanley's boss James Gorman will be sitting next to the Saudi finance and economy ministers.
The Davos gathering in the Swiss Alps is a chance for the Saudis to try to put behind them months of intense criticism over the murder of Khashoggi, a critic of Crown Prince Mohammed bin Salman, inside the Saudi consulate in Istanbul in October.
His killing by a team of Saudi operatives provoked widespread revulsion and tarnished the image of the crown prince, previously admired in the West for pushing deep changes including tax reform, infrastructure projects and allowing women to drive.
At Davos, the signs are that the damage control is working.
Swiss President Ueli Maurer said on Wednesday his country has moved on, and wanted to build strong relations with Riyadh, a rich, oil-producing kingdom that is itself a major global investor.
"We have long since dealt with the Khashoggi case...We have agreed to continue the financial dialogue and normalise relations again," Maurer told Swiss news agency SDA.
'Listen to investors'
Western allies including some US politicians have called on Riyadh to hold those responsible for the Khashoggi murder accountable. The Saudi public prosecutor is seeking the death penalty for five suspects, as the kingdom tries to contain its biggest political crisis for a generation.
So there had been doubts about Saudi Arabia's status at Davos. After all, a number of A-list global investors stayed away from the Crown Prince's annual Future Investment Initiative conference in October, overshadowed by the Saudi journalist's death.
Then, at a summit of the G20 big economies in Buenos Aires, leaders appeared to ignore Prince Mohammed on stage during the "family photo," even if many went on to have closed-door bilateral meetings with him afterwards.
But at Davos, the Saudi delegation had dozens of meetings and no Western investor pulled out, Saudi economy minister Mohammad Al Tuwaijri told Reuters on Wednesday.
"On a day-to-day basis in Saudi Arabia it is business as usual. Our job as government is to make sure infrastructure, legal in particular, is stable. This transformation journey hopefully will attract investors," Tuwaijri said.
He said the probe into the killing needed time. The message he would take back to the crown prince was to "listen to the investors' feedback".
Finance minister Mohammed al-Jadaan told CNBC it was "very unfortunate, what happened to Jamal" but also suggested to wait for the probe's results and the trial. He also said the fact that a $7.5 billion Saudi bond was heavily oversubscribed earlier this month showed investors were regaining confidence.
New deals
Latest Saudi data will show new foreign direct investment licences doubled last year from 377 in 2017, a Saudi government source said. The World Economic Forum has chosen two state Saudi companies Aramco and Sabic - to be among its 100 strategic partners in 2019.
Oil giant Aramco also plans to issue a mega bond this year and is looking to acquire gas assets in the United States, its chief executive told Reuters.
In the future, Aramco still plans to list its stock sometime in 2021 in what could become the world's largest initial public offering.
One panel on press freedom in Davos discussed the murder of Khashoggi but no Saudi officials were seen attending it.
Bill Browder, a critic of Vladimir Putin, who successfully pushed through some of the harshest U.S. sanctions against Russia for the killing of his lawyer, known as the Magnitsky Act, said the same sanctions should be applied to Saudi Arabia.
"Until Mohammed bin Salman bears responsibility for this crime, there cannot be business as usual with Saudi Arabia," Browder told Reuters.
https://www.indiatoday.in/world/story/saudi-arabia-jamal-khashoggi-davos-wef-summit-1438195-2019-01-24
--------
Bangladesh's ruling party 'disowns' Islamist group
January 23, 2019
Bangladesh's ruling Awami League (AL) is denying any association with a radical Islamist group that has made a series of controversial demands recently, including calls to ban NGOs targeting child marriages.
In a statement issued to the media on Jan. 21, AL office secretary Abdus Sobhan Golap said the party was disturbed to read reports of the Awami Ulema League's called-for reforms.
It singled out the group's calls to ban local and international NGOs and cancel the ongoing Bangladesh Premier League (BPL), one of the most popular T20 (20 overs) cricket leagues in the country.
"We want to clearly state that the Awami League does not have any associated body called the Awami Ulema League, or any committee at any level, and there is no relationship between the reports published and the Awami League," the statement read, as reported by the Dhaka Tribune on Jan. 21.
Golap said the Awami Ulema League's activities were both unethical and illegal, and threatened legal action against it for conducting such activities, which he said are in no way aligned with AL policy.
On Jan. 21, the Islamist group and 13-like minded organizations held a rally in Dhaka calling to oust NGOs fighting against child marriage, a practice still widespread in the country.
They also insisted on the repeal of the Child Marriage Restraint Act 2017, which makes marrying a minor a punishable offense.
The group of demonstrators said the activities of agencies such as UNICEF, UK-based Save the Children, and Switzerland-based Terre dos homes were "anti-Muslim" and "anti-Islam."
Bangladesh has made notable progress in curbing child marriages in recent decades but it still ranks fourth in the world among countries that sanction this.
In 2015, roughly six in 10 weddings involved a bride under the age of 15. However within two years this had dropped to two in 10 marriages, according to figures supplied by UNICEF.
Meanwhile, the percentage of marriages featuring women under 18 fell from 66 percent to 59 percent over the same period, the statistics show.
The Awami Ulema League also branded Bangladesh's child marriage law as kufri (disgraceful) in a Muslim country.
It has also taken issue with cricket, demanding the BPL be axed immediately as it is "a den of gamblers and fixers."
While kabbadi is the national sport, cricket and football are the country's most popular.
The Islamist group also warned the government against drafting new laws or commissions to protect minorities, which it said could sow "the seeds of communalism" in the country and promote allegiance to religious and ethnic minority groups.
Maolana Fariduddin Masoud, president of Bangladesh Jamiatul Ulama (Council of Clerics), said the group's demands were not realistic.
"This group does not have a good base or following in the country, and it does not represent the majority of Muslims," Masoud told ucanews.com.
"Their demands are totally unacceptable. It's time to find out how they have gathered the courage to put forward these demands, and who is backing them," he said.
Father Anthony Sen, a member of the Catholic Bishops' Justice and Peace Commission, also criticized the group for its extremism.
"This group has made ridiculous demands in the past and now their voice is growing stronger," he said.
"They oppose the culture and further development of Bangladesh, and their demands go against people's constitutional rights," he added.
"The government needs to take action against the group and its backers."
Nur Khan, a Dhaka-based rights activist, had one word to describe the group's policies and ideology: "medieval."
"A sane person in this modern world cannot tolerate the absurd demands of such a group," Khan told ucanews.com.
"Sadly, we have seen a shaking-up of politics and religion in the country in recent times, and the rise of groups like this poses a threat to our longstanding culture of peace and harmony."
The Awami Ulema League was formed in 1996. It courted controversy in 2016 by trying to ban celebrations of the Bangla New Year, popularly known as Pohela Boishakh, and rallying to stop broadcasts of Indian television channels. The group considers the celebrations "un-Islamic" based on the argument they derive from Hindu traditions, and holds Indian TV responsible for "polluting Muslim culture" with Hindu ideology and culture.
In 2017, the organization teamed up with other Islamist groups to demand the removal of the Lady Justice statue from the Supreme Court compound. It said having a Greek statue in front of the country's top judicial body was also "un-Islamic" and tantamount to worshipping false idols.
https://www.ucanews.com/news/bangladeshs-ruling-party-disowns-islamist-group/84343
--------
New Association Aspires To Reorganise Islam In France
Federica Marsi
January 23, 2019
As President Emmanuel Macron sets himself the challenge of reforming the relationship between the state and the country's Muslims, a grassroots initiative has been launched in response to his vision of an "French Islam".
The organisation launched this week by prominent intellectual Hakim El Karoui is part of a set of proposals from the Franco-Tunisian author to Mr Macron that aims to inspire Muslims unite to together in a new direction.
According to the banker turned author, the Muslim Association for a French Islam (AMIF) has the objective of fostering a "serene integration of Islam in France" and countering the discourse propagated by "salafists and the Muslim Brotherhood."
By acting as a middle man between the government and the worshippers, AMIF intends to cast itself as a trusted interlocutor for both parties and hence promote transparency and accountability.
By offering a gateway for services for Muslim citizens, the organisation could bolster confidence within the wider society. "There are different aspects to this, for example the issue of the pilgrimage [to Mecca]," Mr El Karoui, who is senior fellow at the French think-tank Institut Montaigne, told The National. "It has to become compulsory for example that a travel agency offering the pilgrimage to obtain an authorisation by an organisation like AMIF. If this is unavoidable, then you have the chance to regulate the market and put an end to all unsuitable behaviours."
By vetting specialist agencies and enterprises that are devoted to aspects of Muslim life – from travel agencies to halal meat suppliers and Imams – Mr El Karoui said he believed an organisation like his would be able to improve transparency and channel the worshippers' donations and investments towards institutions that commit to transparency.
The French state remains heavily dependent on grassroots organisations like AMIF to come up with solutions to the problem of murky foreign funding and the extremist threat. Given its secular constitution, the state cannot regulate Muslim religious activities or build mosques or employ Imams to compete with foreign countries using these practices to expand their influence in the continent.
Mr Macron called for reform of Islam in France multiple times since becoming President in May 2017 and committed to giving Islam "a framework and rules" to discourage insular Muslim communities and combating extremist strands. A reform package was promised last year but put off until 2019 after encountering institutional resistance. Reports in the country's media suggest it may include a proposal to amend the 1905 law separating church and state. The clear dividing line is a distinction cherished in the country's secular republican tradition.
A number of French presidents have unsuccessfully tried to reform France's relationship with Islam. Former President Nicolas Sarkozy tried, as interior minister, to establish a representative council for French Muslims. But divisions between Muslim groups from different countries sunk the initiative.
As Mr El Karoui himself admitted, the success of his proposal is hinged on the participation of the Muslim community and the adherence of Muslim organizations. "We don't have a coercive power, we cannot be an mandatory conduit," he said.
But similarly to universities who voluntary seek accreditation that attest the quality of their services, Mr El Karoui believes AMIF will push a broad front of Islamic organisations to develop "best practices" as well as promote the voices of that silent majority of Muslim believers who share an inclusive interpretation of Islam.
"Today we see some trying to spread the idea that there is only one interpretation of Islam, which is the political and reactionary one" he said. "[Countering this narrative] requires organisation and institutionalisation."
AMIF is one of many similar initiatives calling for an umbrella organisation uniting the moderate factions. One survey by group that also seeks to make the voices of moderate Muslims heard, found that a large majority among the 24 thousand respondents to an online questionnaire is favourable to a national organisation leading and representing the Muslim community.
"The objective is to give voice to the Muslim community which is often silenced ether on the media by people who do not represent us, or by politicians who don't know anything about the realities of Muslim communities in this country, " Naziha Mayoufi, founding members of L.E.S. Musulmans, told The National.
Whether Mr Macron will concede official backing to any of these initiatives, however, is still unclear. It is also unclear if Mr El Karoui, who was an adviser to the regime of ousted Tunisian president Zine El Abidine Ben Ali can reach across political and social divides to rally the support he needs from the Muslim community.
Mr Macron – whose popularity has fallen since the beginning of a series of violent street protests in November – is preparing for the European Parliament election, where he faces his strongest challenge from conservative and hard-right groups urging or tougher policies to oversee Muslim clerics, mosques and schools. Embracing a grassroots initiative could be one way to silence those who criticise his inability to effectively address the roots of Islamic fundamentalism.
https://www.thenational.ae/world/europe/new-association-aspires-to-reorganise-islam-in-france-1.817221
--------
In letter, Palestinian Authority asks US to drop all remaining aid
Jan 23, 2019
The Palestinian Authority (PA) says it will refuse American aid in its entirety after Washington cut humanitarian funds to Palestinians, adding that accepting such help could carry unwelcome legal consequences for the Ramallah-based administration.
The Authority "sent an official letter to the US administration requesting it stop all aid to the PA, including assistance to the Palestinian security services," senior negotiator Saeb Erekat said on Tuesday.
US President Donald Trump has already pledged to cut almost all humanitarian aid to Palestinians. American-funded projects are being phased out gradually.
Erekat further said the decision was made due to concerns over the so-called Anti-Terrorism Clarification Act (ATCA), approved by President Trump in October 2018, which makes it possible for US citizens to sue foreign entities that receive US aid.
This may prompt US families to start exposing the PA to "costly" lawsuits over alleged "past Palestinian attacks," AFP said.
American authorities have, in the past, blamed Palestinians for "political violence" targeting American interests inside and outside the occupied territories. This is while Washington provides an annual military aid of around $3 billion to Israel, which engages in routine deadly acts of aggression against Palestinians.
PA Prime Minister Rami Hamdallah wrote in the letter sent to US Secretary of State Mike Pompeo back on December 26, 2018 that "as of January 31st, 2019, it fully disclaims and no longer wishes to accept any form of assistance referenced in ATCA."
The US aid features roughly $50 million in annual support for Palestinian security services, including support for security coordination with the regime in Tel Aviv. Israel claims that the coordination is "crucial" for maintaining calm in the occupied West Bank, where Israeli acts of aggression are a daily occurrence.
Relations between the PA and the US, already strained due to Washington's unwavering support for Israel, took an unprecedented dip in late 2017, when Washington recognized Jerusalem al-Quds as Israel's "capital" in the face of the Palestinians' internationally-recognized claims to the occupied city.
The PA, in response, stopped recognizing any mediation role by Washington in the decades-long conflict with the Israeli regime.
https://www.presstv.com/Detail/2019/01/23/586543/Palestine-United-States-aid-Israel
--------
Pakistan's deafening silence over China's persecution of Uighur Muslims
23 January, 2019
In a recent interview with Turkey's state-run TRT World, Pakistani prime minister Imran Khan, when asked about China's deplorable treatment of Muslim minorities, chose instead to focus on Beijing's economic benevolence.
Sounding almost reverential, Mr Khan called China's growing economic support for Pakistan "a breath of fresh air" amid the "doom and gloom".
In recent years, China's crackdown on those who practice, or even identify with Islam, has reached horrifying levels. Under the guise of preemptive measures against terrorism, in the far northwestern region of Xinjiang, up to a million Muslims, mostly ethnic Uighurs, remain in detention inside what the Communist Party propaganda maintains are "education and training centres".
The testimonies of detainees who have passed through these centres, that Amnesty International claims are being run like wartime concentration camps, are replete with reports of torture including waterboarding and force-feeding. According to eyewitnesses, the situation is so horrific that some of the detainees have even committed suicide.
The Chinese state has incarcerated everyone from professors, journalists, comedians, editors and poets to nursing mothers, children, the elderly and even the terminally ill inside these detention centres.
Also, Muslims are being subject to invasive surveillance, with Communist Party workers being placed inside Muslim households to observe and report on their daily activities. Mosques have been demolished and restaurants serving halal meat forcibly shut down.
Only this month, the government announced a five-year plan aimed at "Sinicising" Islam to make it "compatible with socialism". Activists however warned that this campaign would gradually lead to a total eradication of the religion - with which 23 million Chinese identify - in the country.
While some experts have called Beijing's ferocious anti-Muslim scourge the "country's most intense campaign of coercive social reengineering since the end of the Cultural Revolution", others maintain that it amounts to outright ethnic cleansing.
Moreover, this repugnant campaign is set to expand, as the regional governments with sizeable Muslim populations across the country are dispatching officials to detention centres in Xinjiang with the explicit aim of learning to and adopt the same measures.
Given this grim situation, the premier of a neighbouring Muslim-majority country and a professed "Islamic Republic" appearing to give a free pass to Beijing, should raise a few eyebrows.
In addition to Mr Khan, Pakistan's President Arif Alvi went a step further and in a recent interview, expressed full support for Chinese actions vis-a-vis its Muslims while calling the increasing concerns about country's crackdown on Islam a false "bogey" to "pressure China".
This comes as no surprise, as China, now Islamabad's largest trading partner, has pledged to invest around $US62 billion in the China-Pakistan Economic Corridor (CPEC), a vital project in its ambitious One Belt One Road initiative.
The project, already riven with accusations of arbitrary land-confiscation from local communities in Pakistan, is now implicitly buying Islamabad's silence in the face of grave human rights abuses against the Chinese Muslims.
And Beijing has chosen to extend its repression of Uighur Muslims beyond its borders into Pakistan. According to some reports, in an effort to appease its powerful neighbour, Pakistani security agencies have shut down Uighur businesses, repeatedly detained Uighur activists residing in the country and closed down schools teaching Uighur language.
Also, dozens of Uighur women married to Pakistani citizens have been separated from their children and held in Xinjiang's detention centres.
Viewing Beijing as its strategic regional ally against arch rival India, and a vital partner that could play a central role in reviving the country's fledgling economy, Islamabad has conveniently chosen to remain silent on China's extensive abuses. This is in stark contrast to its vocal positions on human rights abuses in places such as Palestine, Myanmar and Indian-controlled Kashmir.
Pakistan's ruling class remains convinced that even the slightest criticism could prove to be disruptive for its special relationship with Beijing, and possibly even derail the flagship CPEC project. The reality, however, presents a far more complex picture.
A staggering 85 per cent of China's oil imports pass through the Strait of Malacca, a narrow shipping corridor connecting the Indian and Pacific oceans. Experts point out that Beijing's crippling dependence on the corridor, policed jointly by Indonesia, Malaysia and Singapore, is set to be substantially alleviated by the CPEC.
While the countries policing the Strait largely enjoy warm relations with China, both Malaysia and Indonesia are parties, at varying degrees, in the hotly-disputed South China sea.
Considering the fact that India has recently made serious overtures towards exerting control over it, the necessity of ending its over-dependence on this corridor becomes even more pressing for Beijing.
In this scenario, rather than viewing the project as an inhibition, Pakistan has the potential to see it as a point of strategic leverage, and encourage Beijing into compliance with international human-rights norms. That said, as long as Islamabad faces a hostile administration in Washington, the country is hardly in a position to bargain on its standing with China.
For now, Beijing appears to have the upper hand and will likely even get away with its awful treatment of Muslims, but a concerted effort by the international community, and particularly Pakistan, could force China to change tack and alleviate the continued suffering of its Muslim minorities.
https://www.alaraby.co.uk/english/comment/2019/1/23/pakistans-deafening-silence-over-chinas-persecution-of-uighur-muslims
--------
Voters Are Deciding Extent of Muslim Autonomy in Philippines
January 23, 2019
TAIPEI —
More than 50 years of Muslim rebel violence, which has killed 121,000 and attracted the terrorist group Islamic State, came down to the ballot box this week. Voters in two cities and three other regions of the southern island Mindanao combined on Monday to ratify a law that creates the country's strongest ever semi-autonomous Muslim region.
Another province and seven more towns will cast votes February 6 to finalize ratification and help set the region's boundaries.
Though the region of roughly 4.3 million people won't keep its own army or restrict entry by other Filipinos, the government is expected to give it enough local control so that Muslims get a sense of the autonomy they have fought for since the 1960s. Proponents of the move hope the sense of self-rule might in turn stop fighting between armed rebels and government troops, battles that sometimes catch civilians in their net, and let the population develop economically.
"It will help our lives, for as long as the leaders are committed to peace and development, I think this is a major stepping stone for peace and tranquility," said Monara Maruhom, assistant dean of the King Faisal Center for Islamic, Arabic and Asian Studies at Mindanao State University. "At least we will give peace a chance for our future generation."
Final stage for new region
The voting so far has effectively upheld the law approved in July by Congress and signed by President Rodrigo Duterte to form the Bangsamoro Autonomous Region of Muslim Mindanao. Vote counts will also determine which cities and provinces will join the region. In one surprise turn, the hub city of Cotabato voted 59-41 percent to join the region.
Bangsamoro will replace an existing 12,536 square-kilometer tract carved out for Muslim groups in Mindanao 29 years ago, but widely considered ineffective at offering autonomy.
"The outcome of the plebiscite is crucial not only to the establishment of the future political structure of Bangsamoro Autonomous Region of Muslim Mindanao, but more so it would determine how people in the defined areas think about themselves as a group belonging to a new political structure," said Henelito Sevilla, assistant international relations professor at University of the Philippines.
Money, resources and control
The half-year-old Bangsamoro Organic Law, which authorizes the new region, calls for the central government to give its local leadership grants equal to 5 percent of national tax and customs revenue. Leaders of the old region had to apply for funding. The central government also will pay $95 million annually over 10 years for the rehabilitation of conflict areas.
Revenue from locally extracted coal, gas, oil and uranium will be equally shared with the Philippine government.
Muslims have lived in Mindanao's west and its outlying islands for more than 500 years. Many resent the Christian majority's control of minerals and fossil fuels from their resource-rich part of the archipelago. The last large-scale violence erupted in 2017 as troops battled Islamic State-backed rebels in the city of Marawi, which would be in the new region.
Duterte told a 7,000-person assembly in Cotabato last week that ratification would "pave the way for fair and just distribution of land and resources," on the surrounding, largely impoverished island of Mindanao, the presidential office website says.
The Bangsamoro Organic Law will "lead to better governance, inclusive political empowerment, and enhanced systems for transparency and accountability," Duterte said.
Win-win, for now
Duterte wins from the polling victories Monday, said Maria Ela Atienza, a University of the Philippines political science professor. The president had campaigned for change in Mindanao before his 2016 election. The Mindanao native also advocates a federal system of government giving provinces around the country more local decision-making power.
"I personally would also see this as an opportunity to test whether a semi-federal setup can work, because the power given to the (Bangsamoro Organic Law) is vast," said Antonio Contreras, political scientist at De La Salle University in the Philippines.
Mindanao's once heavily armed rebel group, the Moro Islamic Liberation Front, will find the vote "beneficial" in the short term, Atienza said, because it had advocated setting up the region since signing a peace deal with the government in 2014. The front is expected to take a lead role in governing the region.
Long-term pitfall potential
"No" voters may fear the Bangsamoro region will further divide rival Muslim groups or split Muslims from Christians who now co-exist, Philippine media reports say. In the offshore province of Sulu, where the violent Abu Sayyaf kidnapping outfit has a stronghold, voters rejected ratification.
About 20 Muslim rebel groups still operate in Mindanao. One splintered off from the front and another has competed with the front in the past for influence in Mindanao. Those excluded from Bangsamoro leadership might turn to Islamic State, scholars said last year.
"It's also a challenge for the government and the MILF (Moro Islamic Liberation Front) because they have to prove that they represent not just the MILF, they can work with different sectors, because even if this gets approved, there are also significant political elites both Muslims and Christians as well as other groups who disagree with this law," Atienza said.
https://www.voanews.com/a/filipino-muslims-vote-for-independence/4755082.html
--------
Arab World
Lebanese FM: We can teach Washington, London how to run a country without budget
23 January 2019
Lebanon's Foreign Minister Gebran Bassil said on Tuesday that Washington and London should maybe learn from Lebanon how to run the country without a budget.
"We should maybe teach them how to run the country without a budget because Lebanon gets adapted to every difficult situation," Bassil told CNN's Becky Anderson on the sidelines of the World Economic Forum at Davos.
"I think we will be able soon to form a government and get out of this situation," he added.
The Lebanese parliamentary elections were held in May last year but Prime Minister-designate Saad Hariri has not been able to finalize a cabinet formation since then.
The country, which has the world's third-highest ratio of debt to GDP, has also been suffering from low economic growth.
In June, the International Monetary Fund urged Lebanon to make "immediate and substantial" fiscal adjustments to improve the sustainability of public debt.
In the past few months, there have been several warnings of the deteriorating economy, as well as calls to speed up cabinet formation to help improve the country's financial situation. On December 30, Finance Minister Ali Hassan Khalil warned that the economic crisis has begun to turn into a financial crisis, and voiced hope that it does not transform into a monetary crisis.
However, when asked about the economy and reports that it was on the "brink of ruin," Bassil told CNN: "I can't describe it as such that our economy is so bad. It's a small economy, (and) the Lebanese people have great initiative."
He noted that despite the current economic situation, Lebanon "is resourceful."
"We have countries that still believe in Lebanon and people who still believe in the need of the Lebanese model to counter all what we are facing," he said, adding that a collapsed model of Lebanon would result in more terrorism, extremism and violence.
On Qatar's pledges of large cash injections for Lebanon, Bassil said the Qataris are "good investors."
Bassil's statements come after the Arab Economic Summit was held in Beirut on Sunday. Most Arab states dispatched lower-ranking officials to represent them and Mauritania's president and Qatar's Emir Tamim were the only heads of state to attend.
Praising Qatar's Emir Tamim, Bassil had wrote on Twitter: "Qatar's Emir broke the siege on Qatar in a move to break the siege on the Arab (Economic and Social) Development Summit."
"(They are) in the process of buying Lebanese bonds and I invite others to do the same because it is safe and with good return," he said during the CNN interview, adding that Riyadh was welcome to invest.
He said that Lebanon encourages the Saudis and other countries to help Lebanon stay stable as the "world cannot allow a Lebanon that is collapsing."
Commenting on Moody's cut of the country's credit rating to Caa1, Bassil said: "Knowing Lebanon, we went through worse situations, and we get out of them."
https://english.alarabiya.net/en/News/middle-east/2019/01/23/Lebanese-FM-We-can-teach-Washington-London-how-to-run-a-country-without-budget.html
--------
Majid Al Futtaim Boss: 'We'll Be Everywhere' In Saudi Cinema Expansion
January 23, 2019
DAVOS: A leading foreign investor in Saudi Arabia signalled his confidence in the Kingdom's economy and investment prospects with a multibillion-dollar expansion program and a rollout of innovations in leisure and retail.
Speaking on the sidelines of the annual World Economic Forum in Davos, Alain Bejjani, chief executive of Dubai-based Majid Al Futtaim (MAF), unveiled the latest stages of a $4 billion investment plan.
This includes the first Vox cinema in Jeddah — part of a rollout that will see 300 new screens in the Kingdom within 18 months — and a plan to introduce Saudi-only workforces in the Carrefour chain of supermarkets that MAF operates in the country.
"What Saudi Arabia has gone through in the past three years is unparalleled. It has a great story to tell. It's a country dealing with its issues, and these won't derail what's happening," Beijani said.
The Vox cinema will open in the Red Sea Mall later this month with 12 screens, of which three will be "gold" luxury venues, complementing existing Vox screens in the capital's Riyadh Park. A further three locations will be opened elsewhere in the Kingdom in March.
"We promised we'd be everywhere in Saudi Arabia, and we're keeping our promise," Bejjani said.
MAF has been at the forefront of opening leisure facilities in the Kingdom, in support of the aims of the Vision 2030 strategy to reform the economic and social environment.
"The Saudi government and its people will see fast that the reforms have a reality in their everyday lives," Bejjani added.
He also revealed that MAF, as the leading cinema operator in the Kingdom, is considering plans to get more involved in the film-production side of the movie industry, and is in discussions with Saudi producers.
"What's important is that people come up with great ideas. We're helping lay the ground for a viable movie industry," he said.
Another part of Vision 2030 is to increase employment opportunities for Saudis in the private sector, and MAF's plan to increase the proportion of Saudis employed in its Carrefour chain is a further example.
Stores in Madinah and Al-Jouf in the northwest already have 100 percent Saudi workforces, and Bejjani said the scheme will be rolled out across the rest of its 18-strong chain.
"It requires a big commitment in training, but Carrefour believes in a culture of merit. It will take more effort and it will have a cost, but you have to be serious about the plans to make any difference," he added.
Bejjani was at Davos for bilateral meetings, and to take part in panel discussions on subjects ranging from the strategic outlook for the Middle East to the "experience economy," in which consumers pay for unique leisure experiences rather than physical goods.
He backed calls by Saudi policymakers for closer integration and trade relations between the UAE and the Kingdom, a structure that he hoped could spread to the rest of the Middle East.
"I believe the region needs more frictionless trade — more harmonization of norms in business," he said.
"Trade flows, mobility, payments and free movement of people are all areas where we could benefit from closer integration."
But he stopped short of calling for a common currency, partly because the fact that many regional currencies are pegged to the US dollar means they are already closely connected.
"Maybe ideally we'd have a common currency, but that's quite a sophisticated thing and there are complications to that," he said.
The Middle East would benefit greatly from greater economic integration, and could rival big trading blocs such as the EU, he added.
"If we want to really drive growth in the Arab world, we have to have scale. The total market of the region is 500 million people, but the individual economies are comparatively small," he said.
"The reason American startups are so successful, for example, is that they can do business across the whole country."
Bejjani called for a reduction in regulation in the Middle East, both within and between economies.
"The Arab market can do better by doing less. There are historic reasons for the regulation and some legacy issues, but the relationship between Saudi Arabia and the UAE is a fantastic model," he said.
MAF is behind some of the biggest retail, leisure and tourism ventures in the UAE, and Bejjani said the Emirati economy is "very strong."
Full report at:
http://www.arabnews.com/node/1440811/business-economy
--------
Tahrir Al-Sham's Second in Command Killed in Failed Attack on Syrian Army in Idlib
Jan 23, 2019
"During an attack by Tahrir al-Sham and their allied militants on the Syrian Army's military positions near Abu Dhuhour Military Airport in Southeastern Idlib, senior commander of Ajnad al-Kavkaz, nom de guerre Abu al-Bara Qafqazi, was killed," the Arabic-language service of the Russian Sputnik news agency quoted local sources in Idlib province as saying.
The report noted Qafqazi's proximity with Abu Mohammad Jolani and that he was second-in-command of Tahrir al-Sham who had taken part in worst possible crimes in Northern Syria.
The sources were also quoted by Sputnik as saying that al-Qafqazi also in cooperation with Jolani played an important role in facilitating passage of terrorists from Central Asia and Caucasus via borders with Turkey.
In a relevant development earlier on Wednesday, the Damascus army fended off new offensives by Tahrir al-Sham al-Hay'at (the Levant Liberation Board or the Al-Nusra Front) and other allied terrorist groups in the demilitarized zone in Southeastern Idlib and near Abu Dhuhour military airport, inflicting heavy damage and tolls on them.
The Syrian Army units engaged in heavy clashes with the terrorists of Tahrir al-Sham and militants of Haras al-Din and Ajnad al-Kavkaz who attacked the Syrian Army's military positions to the West of Idlib military airport in Southeastern Idlib from the two directions of al-Katibeh al-Mahjoureh and the town of Tavil al-Halib, killing and wounding several militants.
Battlefield sources pointed to the dispatch of massive military convoys by terrorist groups to Southeastern Idlib, and said that the Syrian Army pounded the supply lines of the terrorists with missiles and heavy artillery shells, killing and wounding tens of terrorists as well as destroying a large number of their military vehicles and equipment.
Also, the Syrian army units in Northern Hama launched heavy artillery and missile attacks on military positions and movements of Tahrir al-Sham terrorists and their allied militants in the towns of al-Boyezeh, Lahaya, Mourek, Kafar Zita, al-Latamanieh and Kafar Naboudeh as well as Zizoun and Bab al-Taqeh in Northwestern Hama, destroying several military positions of terrorists, inflicting heavy losses on them.
In a relevant development on Thursday, the Syrian army warded off new offensives by Tahrir al-Sham al-Hay'at and other allied terrorists in the demilitarized zone against their positions in Northern Hama and Southern Idlib, inflicting heavy damages and tolls on them.
The Syrian army units in Northern Hama launched heavy artillery and missile attacks on Jeish al-Izza terrorists in regions near the town of Hasraya who intended to infiltrate into the army-controlled regions, destroying militants' strongholds and killing and wounding several of them.
Also, the army troops stationed in areas near the village of Zalin in Northern Hama targeted terrorists' positions in the town of al-Latamineh in response to their attacks, inflicting heavy damages and casualties on them.
The Syrian army forces also repelled an offensive by Tahrir al-Sham from al-Katibeh al-Mahjoureh region against military points in Eastern Idlib, killing and wounding several militants.
Full report at:
http://en.farsnews.com/newstext.aspx?nn=13971103000698
--------
US Sends More Military Convoys to Eastern Syria to Reinforce Military Bases Despite Trump's Pullout Call
Jan 23, 2019
The Arabic-language Al-Watan newspaper quoted informed sources as saying that new US military convoys comprising military vehicles and equipment have entered Syria via the Iraqi Kurdistan Region.
The daily noted that the US forces are planning to set up a new military base in al-Sabheh region in Eastern Deir Ezzur overlooking the Euphrates River.
Meantime, local sources said that several massive US military convoys have arrived in Hasaka province from Iraq's Northern regions via areas under the control of the Syrian Democratic Forces (SDF).
They noted that the US military convoys also contained military and logistics equipment sent to the US-led coalition bases in Eastern Euphrates region.
The sources reiterated that fortification of the US military bases in Eastern Syria is still underway even after Trump's decision to pull out forces from Syria.
In a relevant development earlier this month, the SOHR said the US had dispatched hundreds of military trucks comprising weapons and military equipment to Deir Ezzur province in Eastern Syria since President Donald Trump declared his decision to withdraw troops from the country.
The SOHR said that a military convoy comprising a sum of 150 trucks carrying cars and logistic military equipment has been dispatched to the regions under the control of the Syrian Democratic Forces specially on Eastern Euphrates from the Iraqi Kurdistan Region.
The SOHR noted that it was the third US military convoy sent to Syria after Trump's decision on exit of the American troops from Syria, and said that a total number of 500 trucks containing weapons and military equipment have been dispatched to Eastern Syria so far.
Meantime, the SOHR reported that withdrawal of the US heavy military vehicles from Eastern Euphrates towards Iraq has not yet been monitored officially.
The SOHR reported that the Turkish media reports sating that the US has withdrawn its forces from a base at the Syrian-Iraqi-Turkish border were related to the US forces' traffic between Syria and Iraq.
The SOHR had also reported on Sunday that a long convoy of almost 200 US army trucks, carrying weapons, munitions and logistical equipment, left the US bases in Iraq on Saturday and arrived in coalition bases in Raqqa, Manbij and Ein Issa in Northeastern Syria.
In the meantime, the Kurdish militia reported that the trucks arrived in the town of Amouda and left then for the US-run bases in Northeastern Syria, adding that the arms and ammunition cargo is to be delivered to the SDF.
Full report at:
http://en.farsnews.com/newstext.aspx?nn=13971103000563
--------
More Civilians Killed in US Airstrikes on Residential Areas in Deir Ezzur
Jan 23, 2019
"The US-led fighter jets targeted and hit a convoy of civilians who were trying to move from the ISIL-controlled region in the town of Baghouz in Southeastern Deir Ezzur," local sources in Eastern Syria were quoted as saying on Wednesday.
The sources noted that most of the vehicles of the convoy were destroyed in the air raid, adding that the attack has also left several casualties mostly women and children.
In a relevant air raid on Sunday, the US-led airstrikes killed at least 31 civilians in the village of al-Baghouz Foqani.
"The number of civilians killed in the US airstrikes on people's houses in the village of al-Baghouz Foqani has reached 31 so far," the Arabic-language al-Watan newspaper quoted local sources as saying.
The daily noted that the victims belonged to three families who came under the US air raids as they were fleeing the ISIL-controlled areas in the region.
In a relevant development on Saturday, the Syrian government called on the United Nations Security Council to put an end to airstrikes being carried out by the US-led coalition purportedly fighting the Daesh (ISIL) Takfiri terrorist group, saying the aerial assaults are targeting civilian and critical infrastructure in the Arab country.
The Syrian Ministry of Foreign Affairs and Expatriates, in two separate letters addressed to UN Secretary General Antonio Guterres and the rotating president of the Security Council, Francisco Antonio Cortorreal, on Saturday, censured the latest US-led coalition strikes against al-Baghuz al-Tahtani village in the eastern province of Dayr al-Zawr, saying the US-led warplanes had targeted dozens of families, who were fleeing from areas controlled by Daesh.
The ministry then condemned in the strongest terms the US-led coalition's continued attacks against Syrian people and the conflict-plagued country's critical infrastructure, energy facilities and public and private property.
Full report at:
http://en.farsnews.com/newstext.aspx?nn=13971103000456
--------
Terrorists Receive Severe Blow in Failed Attacks in Idlib
Jan 23, 2019
The Syrian Army units engaged in heavy clashes with the terrorists of Tahrir al-Sham and militants of Haras al-Din and Ajnad al-Kavkaz who attacked the Syrian Army's military positions to the West of Idlib military airport in Southeastern Idlib from the two directions of al-Katibeh al-Mahjoureh and the town of Tavil al-Halib, killing and wounding several militants.
Battlefield sources pointed to the dispatch of massive military convoys by terrorist groups to Southeastern Idlib, and said that the Syrian Army pounded the supply lines of the terrorists with missiles and heavy artillery shells, killing and wounding tens of terrorists as well as destroying a large number of their military vehicles and equipment.
Also, the Syrian army units in Northern Hama launched heavy artillery and missile attacks on military positions and movements of Tahrir al-Sham terrorists and their allied militants in the towns of al-Boyezeh, Lahaya, Mourek, Kafar Zita, al-Latamanieh and Kafar Naboudeh as well as Zizoun and Bab al-Taqeh in Northwestern Hama, destroying several military positions of terrorists, inflicting heavy losses on them.
In a relevant development on Thursday, the Syrian army warded off new offensives by Tahrir al-Sham al-Hay'at and other allied terrorists in the demilitarized zone against their positions in Northern Hama and Southern Idlib, inflicting heavy damages and tolls on them.
The Syrian army units in Northern Hama launched heavy artillery and missile attacks on Jeish al-Izza terrorists in regions near the town of Hasraya who intended to infiltrate into the army-controlled regions, destroying militants' strongholds and killing and wounding several of them.
Also, the army troops stationed in areas near the village of Zalin in Northern Hama targeted terrorists' positions in the town of al-Latamineh in response to their attacks, inflicting heavy damages and casualties on them.
The Syrian army forces also repelled an offensive by Tahrir al-Sham from al-Katibeh al-Mahjoureh region against military points in Eastern Idlib, killing and wounding several militants.
Full report at:
http://en.farsnews.com/newstext.aspx?nn=13971103000618
--------
Car bomb kills soldier near Iraq's Kirkuk
23 January 2019
A car bomb killed one soldier and injured at least two in a northern Iraqi town near the oil-rich city of Kirkuk on Wednesday, the military and a security source said.
The military said in a statement that a member of the security forces was killed. A security source told Reuters that at least two others were wounded.
A suicide bomber drove the rigged car into a security checkpoint at the entrance of the town of Riyadh, 40 kilometers southwest of Kirkuk, the military said.
There was no immediate claim of responsibility for the attack, but ISIS extremists are active in the area.
Iraq declared victory over ISIS in December 2017 after two years of fighting. However, the group has continued to carry out insurgent-style attacks on security forces across the country.
Full report at:
https://english.alarabiya.net/en/News/middle-east/2019/01/23/Car-bomb-kills-soldier-near-Iraq-s-Kirkuk.html
--------
Syria warns of attack on Tel Aviv airport if UN fails to halt Israeli aggression
Jan 23, 2019
Syria has warned that it could use its right to respond in self defense to recent Israeli air raids against a civilian airport near Damascus by striking Tel Aviv's Ben Gurion airport if the UN Security Council fails to shoulder its responsibilities and act against the regime's aggression.
Syria's UN Ambassador Bashar al-Ja'afari said on Tuesday that "the unlimited support" provided by some permanent members of the Security Council, namely France, Britain and the US, has encouraged Israel to continue its air raids on Syria, preventing the entire UN body from assuming its responsibilities.
Speaking at a UN Security Council meeting on the Middle East, Ja'afari said that if the 15-member body fails to adopt measures to stop Israel, Syria would practice its "legitimate right of self-defense" and retaliate against the regime's attacks.
"Isn't time now for the UN Security council to stop the Israeli repeated aggressions on the Syrian Arab Republic territories?" he asked.
"Or is it required to draw the attention of the war-makers in this Council by exercising our legitimate right to defend ourself and respond to the Israeli aggression on Damascus International Civil Airport in the same way on Tel Aviv Airport?" he continued.
Earlier this week, Syria wrote protest letters to the United Nations, urging the world body to take a decisive step against Israel after the regime launched fresh air raids against targets near Damascus, including an airport.
Israel frequently attacks targets inside Syria in what is considered as an attempt to prop up Takfiri terrorist groups that have been suffering heavy defeats at the hands of Syrian government forces.
In a recent interview with The New York Times, Lieutenant General Gadi Eisenkot, the Israeli army's outgoing chief of staff, said that the regime had carried out "thousands" of aerial assaults in Syria in recent years.
In a separate interview with The Sunday Times, he also confirmed long-running reports of Israel's collaboration with anti-Damascus militants, admitting that it had provided weapons to them.
Elsewhere in his remarks, Syria's UN envoy stressed his country's firm and non-negotiable right to wrest control over the occupied Golan Heights, urging Israel to completely withdraw from the region.
Full report at:
https://www.presstv.com/Detail/2019/01/23/586552/Syria-Israel-Tel-Aviv-airport
--------
South Asia
U.N. Ramps Up Education Efforts in Rohingya Refugee Camps
By FELIZ SOLOMON
The U.N. children's agency says it is making gains in the effort to provide education for hundreds of thousands of Rohingya children who fled violence in Myanmar, but much work remains to provide adequate services in the world's largest refugee camp.
UNICEF said Thursday that more than 145,000 Rohingya children living in refugee camps in Bangladesh are now attending "learning centers" supported by the agency as a new school year gets under way. Humanitarian workers have so far built around 1,600 such centers throughout the camps.
"The scale of the Rohingya refugee crisis demanded a rapid response," Edouard Beigbeder, UNICEF's representative to Bangladesh, said in a statement. "This year we are scaling up services to reach more children than ever before, while focusing on improving the quality of education each child receives."
More than 920,000 Rohingya, a mostly stateless Muslim minority from western Myanmar, currently live in camps and host communities scattered across Cox's Bazar, a district of southeast Bangladesh. Most of them — upwards of 700,000 — arrived since August 2017, when the Myanmar military launched a brutal crackdown on the group in response to insurgent attacks.
The U.S. has labeled the ensuing violence "ethnic cleansing," while U.N. investigators have called for Myanmar military leaders to face charges of genocide. Myanmar denies committing atrocities despite widespread allegations of arson, sexual violence and killing of civilians. The International Criminal Court has launched a preliminary examination into Myanmar's "deportation" of the Rohingya, considered a crime against humanity.
Humanitarian workers estimate that about 60% of the refugees who fled in recent years are children, while more are born each day in the squalid encampments.
"Many children have suffered trauma injuries from gunshot wounds and extreme violence, restricting their mobility and access to services," said Iffat Farhana, an education officer for UNICEF based in Cox's Bazar, adding that physical and learning disabilities further hinder education efforts.
UNICEF aims to reach 260,000 children with education services this year by extending its network of learning centers to about 2,500. The agency is also increasing efforts to provide vocational and other training to adolescents, as there is currently no secondary education available. According to UNICEF, 97% of Rohingya refugees aged 15-24 receive no education at all.
"I've been coming to class for almost a month now," said Minara, an 11-year-old refugee who stopped studying after arriving in Bangladesh because the conditions in makeshift educational centers were dirty and hot, according to UNICEF. "It's nice here," she said of the new facilities, with approval. "It doesn't have a muddy floor."
http://time.com/5511598/unicef-rohigya-refugee-education/
--------
Scores of militants killed in Afghan, Coalition Forces operations
24 Jan 2019
Scores of anti-government armed militants have been killed during separate operations conducted by the Afghan and Coalition Forces in the past 24 hours.
According to the informed military sources, a coalition air strike in support of Afghan Special Forces killed 4 Taliban fighters in Qaisar district of Faryab province.
The sources further added that Afghan Special Forces conducted a raid in Baraki Barak district of Logar province while a coalition air strike, in defense of soldiers on the ground, targeted and killed 4 Taliban fighters.
Afghan Special Forces conducted a raid in Jaji district of Paktia province killing 2 Taliban fighters, the sources said, adding that Afghan Special Forces conducted a separate raid in Sangin district of Helmand province killing 20 Taliban fighters and destroying 23 IEDs, 1 mortar round and a large amount of home-made explosives. During the raid, 4 pressure plates, 3 remote control initiators and over 1,000 pounds of ammonium nitrate were destroyed.
Full report at:
https://www.khaama.com/scores-of-militants-killed-in-afghan-coalition-forces-operations-03174/
--------
Who runs Bangladesh Awami Ulama League?
January 23rd, 2019
The Bangladesh Awami Ulama League, allegedly an associate organization of the ruling Awami League, is recently getting a lot of attention due to its reportedly controversial statements and demands.
To get a more detailed view of this organization, the correspondent visited Ulama League General Secretary Maulana Md Abul Hassan Sheikh Shariatpuri at his office in Topkhana Road in Dhaka on Tuesday.
Besides politics, Abul Hassan also serves as a kazi (marriage registrar), evident on a signboard outside his political office. The kazi office also acts as the central office for Ulama League.
Along with Abul Hasan, party President Maulana Akhter Hossain Bokhari, Office Secretary Md Shawkat Ali Sheikh and International Affairs Secretary Maulana Tajul Islam were present at the office.
When asked about more details about the Ulama League, Abul Hassan handed over a number of posters, leaflets and other documents featuring party activities.
Showing a photo of a milad-mahfil (prayer gathering), he said: "Senior Awami League leaders were present in these programs. The then Awami League general secretary Abdul Jalil and incumbent General Secretary Obaidul Quader is present in this photo."
Also Read- AL rejects any connection with Ulama League
"We have a solid foundation. Otherwise, why would the ruling party leaders attend our programs, and why would we get invited to their events? Many such events have been held, but we did not take photos of all of them," he said.
Abul Hassan stated that he never thought a day would come when the Ulama League would have to prove its validity as an organization.
'I was a freedom fighter'
Ulama League President Maulana Akhter Hossain Bokhari, who hails from Tangail, said: "I was a freedom fighter who participated in the Liberation War of Bangladesh in 1971. I became severely ill back in 2014, and Prime Minister Sheikh Hasina donated Tk1 lakh for my treatment.
"On the check, I was addressed as the president of Ulama League. Sheikh Hasina gave me the position in 2001, and we follow her leadership and directives. We also have committees all over Bangladesh."
Showing a poster, Maulana Bokhari continued: "These are the images of a strike held in 2001. Ulama League leaders are seen with central Awami League leaders like Mohammad Nasim."
"During that movement, many Awami League and Ulama League leaders suffered torture and unlawful detention at the hands of police," he said.
General Secretary of the party Abul Hassan also added that the prime minister had made arrangements for him to perform Hajj under government management in 2014.
He further said: "Many notable personalities have attended our events, including Obaidul Quader, Hasan Mahmud and former vice-chancellor of Dhaka University AAMS Arefin Siddique.
Also Read- Ulama League: Ban NGOs working to curb child marriage
"The central committee of our party is comprised of 101 members."
When asked, Abul Hassan could not provide a list of the names of central committee members, nor could he say when the most recent council was held.
Abul Hassan also claimed the Ulama League office was previously located on the third floor of Awami League Central Office in 23 Bangabandhu Avenue.
Inside the Ulama League
According to sources, Ulama League is not listed as an affiliate organization of Awami League. The organization is run by alims (Islamic scholars) supported by the ruling party.
There are also allegations that the Ulama League is suffering from internal tensions caused by leadership disputes among the senior members.
Up until 2017, there were two major factions inside the party, one headed by Maulana Bokhari and Abul Hassan, while the other led by Ilias Hossain Bin Helali and Md Delowar Hossain.
Following the death of Helali in 2018, his supporters have become almost inactive.
Responding to queries about Helali, Abul Hassan said: "He was with us since the inception of this organization. However, Helali declared himself the president of Ulama League back in 2008."
Discussing the origin of the party, Office Secretary Shawkat Ali Sheikh claimed Bangabandhu Sheikh Mujibur Rahman formed Bangladesh Ulama Party in 1969, with Maulana Abdur Rashid as the leader.
Later, the party was renamed the Bangladesh Awami Ulama League in 1996, with Maulana Habibullah as the leader.
Commenting on the controversial demands and statements recently made by the Ulama League, Abul Hassan said: "Everything we say is based on the Islamic point of view. We are not making up anything."
"We were there even when the Awami League was not in power. We participated in their movements and demonstrations. We uphold the ideology of Bangabandhu," he said.
On Monday, the Ulama League demanded a ban on the operation of non-government organizations (NGOs) and international NGOs that are working to curb child marriage in Bangladesh. It also demanded a ban on the Bangladesh Premier League (BPL).
Full report at:
https://www.dhakatribune.com/bangladesh/politics/2019/01/23/who-runs-bangladesh-awami-olama-league
--------
5 senior Taliban leaders killed in Faryab operations
24 Jan 2019
Five senior Taliban leaders including the shadow judge of the group were killed during the operations of the Afghan Special Forces in northern Faryab province of Afghanistan.
The 209th Shaheen Corps of the Afghan Military in the North in a statement said the Taliban leaders were killed along with 56 other militnts during the operations which were conducted with the help of coalition air support.
The statement further added that the operations were conducted in Chinar Shakh, Ghoraha, Khwajah Ziaratgah, and Syedabad Turkmenha areas of Qaisar district.
The senior Taliban leaders killed during the operations have been identified as Mawlavi Khan Agha the shadow deputy district chief of Taliban for Qaisar, Mawlavi Gandom Ali the shadow finance chief of the group for 5 provinces in the North, Mawlavi Hafizullah the shadow judge ofthe group for Qaisar, and Mawlavi Nasir alias Faryabi the local leader of the Taliban in Faryab, the 209th Shaheen Corps said.
Full report at:
https://www.khaama.com/5-senior-taliban-leaders-killed-in-faryab-operations-03173/
--------
Europe
UK Reviews Counter-Terror Strategy to Alleviate British Muslims
January 23rd, 2019
The government's counter-terrorism strategy, Prevent, is to undergo an independent review after ministers agreed to address concerns about its impact on British Muslim communities across the U.K., Ben Wallace, the securities minister, announced Tuesday.
His announcement came after the government accepted an amendment to its counter-terrorism and border security bill.
"I have decided that the time is now right to initiate a review of Prevent. Communities across the country have got behind the policy and are contributing to it because they want, as we do, their own young people to be protected from grooming and exploitation by terrorists," Wallace told Guardian newspaper.
"Over the last two years the Home Office has built on the solid work of Prevent by releasing annual statistics. They clearly show that Prevent is not about singling out any particular group or ideology but is similar to other forms of safeguarding carried out every day by social workers, teachers and police," he added.
Wallace, however, queried critics of the strategy to "produce solid evidence of their allegations" while at the same time accusing them of using "distortion and spin" to change the meaning of Prevent.
Under the strategy institutions -- from schools to hospitals and prisons -- are to report those who they deem to be at risk of radicalization to authorities.
Human rights groups such as Amnesty International have long demanded an independent review, accusing Prevent of erroneously discriminating against Muslim communities and those who express legitimate criticism of the state.
Civil liberties and faith groups argue Prevent is an affront to the legitimate use of freedom of speech and expression and endangers vulnerable Muslim communities that are already exposed to a wide range of social and institutional discrimination.
The Muslim Council of Britain, the umbrella organization representing British Muslims and institutions, has been one such group that has consistently called out the strategy.
"The Muslim Council of Britain today welcomed the acceptance by government to launch an inquiry into the controversial Prevent strategy, which is part of the government's counter-terrorism strategy," the group said in a statement.
"For far too long, the Prevent strategy has affected the lives of innocent families, been criticized for mainstreaming discrimination and lost the trust of communities around the UK," said Secretary-General Harun khan.
"This latest step is crucial for all those who have campaigned for an Independent Review of Prevent. Everyone committed to developing a truly effective strategy for tackling terrorism understands that it must be transparent, accountable and hold the trust of communities," he added.
https://www.albawaba.com/news/uk-reviews-counter-terror-strategy-alleviate-british-muslims-1242608
--------
Italian convert to Islam held on inciting terror charge
JANUARY 23, 2019
MILAN — Police in Sicily have arrested a 32-year-old Italian convert to Islam on terrorism charges for allegedly inciting contacts to participate in a holy war.
The news agency ANSA reported Wednesday that the suspect, identified as Giuseppe D'Ignoti, converted in 2011 while in jail and after his release identified himself as Moroccan and used Yussuf as his first name.
ANSA says investigators allege he tried to manifest his hatred of the West by calling for more than 100 contacts on Whatsapp to join the Islamic State group and to carry out attacks in Italy.
Full report at:
http://www.startribune.com/italian-convert-to-islam-held-on-inciting-terror-charge/504752672/
--------
Britain copycatting US on Syria pullout: Analyst
Jan 23, 2019
An American political analyst believes that Britain's decision to withdraw some of its air forces from Syria is in line with a similar move in the United States, where President Donald Trump has been pushing for a total pullout of US military forces from the Arab country.
James Jatras, a former US Senate foreign policy analyst, told Press TV in an interview on Wednesday that the UK is totally dependent on the US when it comes to the military strategy.
"It (UK) really is totally dependent on the United States with any kind of substantial military operation and it looks like where we are leading they are not going to stick around," said Jatras.
'Just a shadow' of an imperial superpower
The expert said Britain has become "just a shadow" of what it was in the old times as an imperial military superpower, saying the decision to pull out British fighter jets from Syria, where they have been contributing to an "illegal" military operation against terrorism, is directly inspired by Washington's imminent move to withdraw troops from the Arab country.
"It's not a surprise at all that the British would start withdrawing some of their air assets from operations over Syria with the impending American withdrawal from Syria," said Jatras.
On the controversies that have been raised over Trump's planned pullout from Syria, Jatras said the US president would finally implement his policy in the Arab country regardless of the criticism that has been going around.
Full report at:
https://www.presstv.com/Detail/2019/01/23/586610/UK-military-pullout-Syria-US-Trump
--------
Russia snubs US 'counterproductive' anti-Iran summit in Poland
Jan 23, 2019
Russia has opposed an anti-Iran summit due to be organized by the United States in Poland as "unacceptable" and "counterproductive," saying Moscow will not attend the so-called Middle East security forum, which is merely meant to "shift the international focus" from the real crises gripping the region.
In a statement released on Tuesday, the Russian Foreign Ministry denounced the event, slated for February 13-14 in Warsaw, as Washington's latest attempt to "promote its unilateral geopolitical interests."
"Following a thorough analysis of the provisional agenda and program of this conference provided by the organizers, Russia has decided not to attend it for the following reasons," it said.
The ministry complained that the Warsaw conference will not cover basic problems in the Middle East, particularly the Arab-Israeli conflict and its core element, the Palestinian issue.
The meeting, it added, has been arranged "hastily and behind closed doors," without due regard for the opinions of influential states in the region and beyond in a bid to weaken the 2015 Iran nuclear agreement.
"It is an obvious attempt to bring together as many countries as possible on an anti-Iran platform, to create conditions for the ultimate erosion of the Joint Comprehensive Plan of Action known as the Iran nuclear deal, and to shift the international focus from Syria and Yemen to anti-Iran efforts," it noted.
Last year, President Donald Trump unilaterally withdrew the US from the JCPOA and re-imposed "toughest ever" sanctions against Iran.
The remaining parties – France, the UK, Germany, Russia and China -- have stressed their commitment to the accord and pledged to defend the deal in the face of US pressure and compensate for Washington's absence.
"In light of the above, we once again point out that the current US policy of fostering anti-Iran sentiments and creating new dividing lines in the Middle East is unacceptable," the Russian Foreign Ministry pointed out.
Moscow further underlined the need to find compromise solutions to problems with the help of the UN and based on international law instead of promoting unilateral approaches.
US Secretary of State Mike Pompeo announced the summit during his tour of the Middle East earlier this month.
He claimed the meeting would focus on stability and security in the Middle East, including the "important element of making sure that Iran is not a destabilizing influence."
EU foreign policy chief Mogherini has announced that she will not be attending the conference.
A mere attempt to sideline Palestine issue
Separately on Tuesday, Russia's ambassador to the UN condemned the upcoming anti-Iran forum, emphasizing the Warsaw meeting would fail to bolster security in the Middle East due to its "one-country aspect" and disregard for the decades-long Israeli-Palestinian conflict.
Addressing the UN Security Council debate on the Middle East, Vasily Nebenzya said, "Attempts to create some kind of military alliances in the region by holding conferences and focusing on having a simplified unilateral approach that is clearly linked just to Iran are counterproductive."
"Why has that conference not invited Iran, which is one of the most significant and large countries in the region?" he asked.
Iran's Foreign Minister Mohammad Javad Zarif has already criticized the event as a "desperate anti-Iran circus."
His deputy Abbas Araqchi has also said that the Islamic Republic does not allow any country to build a coalition against its interests during a meeting with his Polish counterpart, who was in Tehran earlier this week to explain hosting the event.
Full report at:
https://www.presstv.com/Detail/2019/01/23/586544/Russia-Iran-summit-Poland
--------
Russia says 'arbitrary' Israeli airstrikes on Syria must stop
January 23, 2019
MOSCOW: Russia said on Wednesday that Israel should stop carrying out what Moscow called arbitrary airstrikes on Syria, days after the Israeli air force targeted what Israel said were Iranian forces there.
Israel has repeatedly attacked what it describes as Iranian targets in Syria and those of allied militia, including Lebanon's Hezbollah. Prime Minister Benjamin Netanyahu describes the effort as an open-ended campaign to push back arch-foe Tehran.
The strikes have long caused friction between Israel and Russia, which apart from Iran is Bashar Assad's other major foreign backer.
Israeli officials have spoken in the past of an agreement with Moscow under which they have made clear their strikes on Syria would not threaten Assad, while Russia has promised to help limit Iranian influence near the Israeli frontier. A hotline set up since 2015 is aimed at ensuring Russian forces in Syria are not surprised by Israeli attacks.
"The practice of arbitrary strikes on the territory of a sovereign state, in this case, we are talking about Syria, should be ruled out," Russian Foreign Ministry spokeswoman Maria Zakharova said, in answer to a question from Russian news agency TASS about recent Israeli airstrikes on Syria.
She said such strikes added to tensions in the region, which she said was not in the long-term interests of any country there, including Israel.
"We should never allow Syria, which has suffered years of armed conflict, to be turned into an arena where geopolitical scores are settled," TASS cited her as saying.
Her comments follow Israeli strikes in Syria on Monday. Israel did not immediately respond.
Earlier on Wednesday, Netanyahu signaled that the Syria sorties would continue.
Full report at:
http://www.arabnews.com/node/1440756/middle-east
--------
British bankers 'lied' to hide Qatar payments
Paul Peachey
January 23, 2019
Senior executives at British banking group Barclays lied about handing £322 million in secret payments to Qatar and its ruling family in return for investments to keep the bank afloat during the 2008 global financial crisis, a court heard on Wednesday.
Executives including former chief executive John Varley allegedly cooked up a fraudulent plan to pay higher-than-usual fees to Qatar in return for nearly £4 billion of funding – and then lied about the payments in official documents.
The four men – the most senior bankers to face criminal charges in Britain over conduct during the global financial crisis - hid details of the payments of £42 million and £280 million in "untrue and misleading" financial statements, a central London court was told.
The fees were paid to the Qatar Investment Authority and an investment vehicle controlled by former Prime Minister Sheikh Hamad bin Jassim bin Jaber Al Thani, a jury was told.
The court heard that the payments came after Barclays was "unavoidably" caught up in the 2008 global financial crisis that had sent British bank Northern Rock to the wall the previous year.
The executives turned to foreign investors to avoid the bank falling into government hands and potentially costing them "very large bonuses", Southwark Crown Court was told.
It heard that one of the most significant investors was Qatar, which drove a hard bargain before agreeing to lend two tranches of £1.9 billion and £2.05 billion during 2008.
The deal saw Qatar Holding – part of the sovereign wealth fund – secure fees based on 3.25 per cent of their investment.
The fees were more than double the 1.5 per cent handed to other major investors including the China Development Bank, Singapore's sovereign wealth fund and Japanese corporation Sumitomo, the court heard.
"Paying the Qataris more than the others was a problem," said Edward Brown QC, prosecuting for the Serious Fraud Office.
The executives, however, accepted the higher Qatari fees as they were desperate to avoid the same fate for Barclays as rival UK lenders the Royal Bank of Scotland and Lloyds, which were bailed out by the British government.
The move would have taken Barclays – which can trace its origins back to 1690 – out of private hands.
The executives sought to disguise the scale of the capitulation to avoid the bank being shown to be "weak and vulnerable".
The bank published a prospectus and other documents which failed to show the extent of the fees, the court heard. If the documents had shown the true position, they would have been forced to pay other investors similar amounts, a jury was told.
The reality of the position may have led to the complete failure of the entire capital raising operation designed to stave off financial crisis and the prospect of government control, the jury was told.
"It is no exaggeration to say that Barclays' future as an independent bank was in jeopardy in September and October of 2008," said Mr Brown.
"The Qatari money was essential and those within the bank at the time commented that without it the consequences would be dire – for the bank and personally," he said.
The successful fundraising saw Barclays secure more than £11 billion emergency funds from international investors in 2008.
"The position presented was that that the Qataris were being paid at the same commission rate as every other investor… that was not true, say the Crown, and the conspirators all knew it to be a lie."
The court was told that the Barclays board published two agreements that sought to provide cover for the payments which suggested they were for "advisory services" to be provided by Qatar rather than commission payments.
Prosecutors said the documents were designed as a "smokescreen" to hide the true nature of the fees. The conspirators recognised that it would be "inappropriate" for the Prime Minister of Qatar to be providing advisory services.
"They were simply a mechanism of paying the Qataris what they wanted," said Mr Brown. "Whilst also hiding that fee from the wider world."
Four former executives, including Mr Varley, went on trial on Wednesday accused of conspiracy to commit fraud by false deception
Mr Varley, 62, from west London, was joined in the dock by Roger Jenkins, 63, of Malibu, California, a former head of investment banking for Barclays in the Middle East.
Two other senior executives, Thomas Kalaris, 63, the former head of its wealth management division, and Roger Boath, 60, a former European divisional head, are also accused of conspiracy to defraud.
Full report at:
https://www.thenational.ae/world/europe/british-bankers-lied-to-hide-qatar-payments-1.817083
--------
Mideast
Netanyahu pledges 'lethal' response to Gaza violence after blocking aid
January 23, 2019
GAZA CITY, Palestinian Territories: Israel's Prime Minister Benjamin Netanyahu warned Palestinian group Hamas on Wednesday of a "lethal" reaction to any renewed Palestinian violence on the Gaza border, after blocking aid to the strip in response to the wounding of an Israeli soldier.
Weeks of relative calm in the Gaza Strip ended Tuesday when Israeli soldiers came under fire along the border with the enclave in two separate incidents.
An officer was lightly wounded when a bullet hit his helmet.
Israeli tanks in response struck two Hamas positions in Gaza, killing a Hamas fighter, while overnight Israeli warplanes struck what the army said was a Hamas military camp in northern Gaza.
Netanyahu blocked $15 million of Qatari aid that was expected to be transferred to Gaza, and told Israeli soldiers he would respond with force to any further hostilities.
"Maybe there is someone in Gaza who thinks he can stick his head up; I suggest that they understand that the response will be lethal and very painful," Netanyahu said.
"We are ready for any scenario and escalation," he said at a military exercise in southern Israel, quoted by his office.
Israel and Hamas have fought three wars since 2008 and fears of a fourth round remain, although violence has abated since November under an informal truce.
Gaza had seen weekly Hamas-backed demonstrations along the border since March 2018, with demonstrators calling for Palestinian refugees in Gaza to be able to return to their former lands now inside Israel.
Israel accuses Hamas of using the protests as cover to carry out violence.
At least 244 Palestinians have been killed by Israeli fire since March, mostly during border clashes but also by tank fire and air strikes.
Two Israeli soldiers have been killed.
http://www.arabnews.com/node/1440701/middle-east
--------
Muslim groups condemn detention of Iranian broadcaster
January 23, 2019
Muslim civil rights organizations have joined press freedom and other human rights groups in questioning the FBI's detention of an American-born journalist based in Iran.
Marzieh Hashemi, a U.S. citizen who works as an anchor for Iran's state-run English-language Press TV, was detained on Jan. 13 at St. Louis Lambert International Airport, according to federal court documents made public on Friday (Jan. 18). Hashemi had been in the U.S. filming a documentary on Black Lives Matter and visiting some relatives.
Hashemi has not accused been accused of a crime. According to court documents, she was taken to Washington, D.C., and is being held as a material witness until her grand jury testimony for an unspecified case is done.
"We join her family and others in asking that Marzieh Hashemi be released immediately," Darakshan Raja, co-director of the D.C. Justice for Muslims Collective, told Religion News Service. "She has been detained under material witness laws, which have been used post-9/11 to detain Muslims without being charged for a crime, and represent a clear form of due process and civil rights violations."
Federal law does permit the government to compel testimony in certain circumstances by arresting and detaining witnesses. The government must be able to prove that the testimony is considered "material" to a criminal proceeding and that the witness will likely flee if subpoenaed.
Civil rights watchdogs have noted, however, that the U.S. has misused material witness warrants in the past to evade the requirement of probable cause of criminal conduct, particularly in cases related to Muslims.
Since Sept. 11, the Department of Justice has "deliberately used the law … to secure the indefinite incarceration of those it has wanted to investigate as possible terrorist suspects" and has left the law "twisted beyond recognition," according to a 2005 report from Human Rights Watch. Last year, a federal appeals court ruled that misusing material witness warrants is unconstitutional.
Hashemi's family has also said that she is being denied the right to wear her hijab and is being denied pork-free meals, in violation of her religious rights.
"Law enforcement officials must clarify why they are holding Ms. Hashemi without formal charges and why they have allegedly denied her religious rights while in custody," Nihad Awad, national executive director of the Council on American-Islamic Relations, said in a statement. "There can be no justification for denying an American citizen, or any other person, their basic civil and religious rights."
Born in New Orleans as Melanie Franklin, Hashemi changed her name after converting to Islam. The Iranian government, which also considers her a citizen of Iran due to her marriage to an Iranian man, has called for Hashemi's "unconditional" release.
Prominent press freedom groups have also denounced the detention.
"The US judicial authorities must announce the charges they plan to bring against this journalist," said Reza Moini, who heads the Iran desk at Reporters Without Borders. "The opaqueness surrounding her detention is unacceptable. Marzieh Hashemi's fundamental rights must be guaranteed."
Full report at:
https://religionnews.com/2019/01/23/muslim-groups-condemn-detention-of-iranian-broadcaster/
--------
Israel kills Hamas militant, delays Qatari cash after Gaza flare-up
23 January 2019
An Israeli tank fired into the Gaza Strip on Tuesday, killing a Hamas militant in what the army described as retaliation for the wounding of a soldier and a brief incursion during a violent Palestinian border protest.
An Israeli official said Prime Minister Benjamin Netanyahu also cancelled a Qatari donation of $15 million that had been due on Wednesday.
The Gaza border has simmered since Palestinians launched weekly demonstrations last March to press for the lifting of an Israeli-led blockade on the territory and rights to family lands lost to Israel in the 1948 war of its foundation.
Palestinian medics in Gaza said a Hamas militant died and two others were wounded in the Israeli shelling of a lookout post near the fortified frontier in the central sector of the enclave ruled by the extremist group.
Hamas confirmed the three casualties as its members.
Earlier on Tuesday, the army said in a statement, one of its officers was shot at as he faced Palestinian rock-throwers at the fence. The bullet struck his helmet, lightly injuring him, the army said, adding that during the incident two Palestinians also crossed into Israel before returning to Gaza.
Gaza's health ministry says more than 220 Palestinians have been killed by Israeli forces in 10 months of protests. Israel says it troops resort to lethal force to prevent border breaches by Hamas, against which it has fought three wars since 2008.
Worried about a potential flare-up into full conflict, Egypt and the United Nations have sought to calm Gaza, while Qatar in November pledged $150 million in donations, to be transferred via Israel over six months.
Full report at:
https://english.alarabiya.net/en/News/middle-east/2019/01/23/Israel-kills-Hamas-militant-delays-Qatari-cash-after-Gaza-flare-up.html
--------
Prince Khalid: Stockholm Agreement between Yemeni parties being violated
24 January 2019
Saudi Arabia's Ambassador to the United States, Prince Khalid bin Salman, has said that the Stockholm Agreement between Yemeni parties is being violated repeatedly by the Houthis.
In a series of tweets posted late Wednesday evening, he said that the international community must take necessary action to ensure its full implementation.
"The agreement is an important first step for sustainable peace and offers hope for millions of Yemenis," Prince Khalid said.
He said that the Coalition led by Saudi Arabia and the Yemeni government has been committed to implementing the agreement.
The Iran backed militia displayed its contempt for peace by attempting to target a UN convoy, this is a reminder that we are dealing with a lawless militia that does not care about peace or the fate of millions of Yemenis.
— Khalid bin Salman خالد بن سلمان (@kbsalsaud) January 23, 2019
"It takes two sides to make it work, so far, the Iran backed Houthi militia seems determined to uphold the misery and suffering of the brotherly Yemeni people," said Prince Khalid.
According to him not only did the Houthis refuse to implement the Stockholm agreement, which they signed to, but they also went beyond that and continued their armed assault including drone attacks, the shelling of residential neighborhoods & launching a ballistic missile towards Saudi Arabia.
"The Iran backed militia displayed its contempt for peace by attempting to target a UN convoy, this is a reminder that we are dealing with a lawless militia that does not care about peace or the fate of millions of Yemenis," he said in the tweets.
UN monitor
Prince Khalid said that it is crucial that the United Nations name the party that failed to uphold basic confidence building measures leading up to the Stockholm agreement, and clearly identify who is responsible for the attack on the armored vehicle that was carrying chief UN monitor Patrick Cammaert.
Full report at:
https://english.alarabiya.net/en/News/gulf/2019/01/24/Prince-Khalid-Stockholm-Agreement-between-Yemeni-parties-being-violated.html
--------
Yemen prisoner swap terms expected in coming days, govt delegate says
24 January 2019
Yemen's warring parties are expected to agree the terms of a prisoner swap in about 10 days, a representative of the internationally recognized government said on Wednesday, as part of efforts to build confidence in slow-moving peace talks.
The United Nations is pushing for the exchange and a peace deal in the main port city of Hodeidah to pave the way for a second round of discussions.
The prisoner swap was discussed by the Iran-aligned Houthi militias and the Yemeni government in technical meetings in Jordan last week. Both parties need to agree on lists of prisoners to be swapped.
"We expect that in 10 days' time the final signing will have happened," the head of the government delegation to the prisoner-exchange talks, Hadi Haig, told Reuters by telephone.
Full report at:
https://english.alarabiya.net/en/News/gulf/2019/01/24/Yemen-prisoner-swap-terms-expected-in-coming-days-govt-delegate-says.html
--------
Coalition jets launch 13 strikes targeting Houthi training camp near Dhamar
23 January 2019
Around 13 air strikes were launched on Wednesday by Arab coalition fighter jets targeting a Houthi training camp near Dhamar province, 100 kilometers south of the capital Sanaa.
Local sources said that the coalition supporting Yemeni legitimacy targeted the training camp in Qaa al-Hoql near the Bani Hatim region, west of the Dhoran Aans district.
The sources added that the Houthi militia training camp in Qaa al-Hoql was located at a large field. Recruits were trained at this camp before being sent to the frontlines.
Yemeni Popular Resistance forces, meanwhile, claimed the operation that targeted missiles and weapons cache site near Taiz Street south of the capital early on Wednesday.
https://english.alarabiya.net/en/News/gulf/2019/01/23/Coalition-jets-launch-13-strikes-targeting-Houthi-training-camp-near-Dhamar.html
--------
Pakistan
Pakistani court temporarily halts Mumbai attack case hearing
Jan 23, 2019
ISLAMABAD: A Pakistani court has temporarily halted the hearing of the 2008 Mumbai attack case to let the prosecutor produce more witnesses.
Ten Lashkar-e-Taiba (LeT) terrorists had sailed into Mumbai from Karachi and carried out coordinated attacks, killing 166 people and injuring over 300 in November 2008.
The trial, underway in an anti-terrorism court in Pakistan against seven activists, has made little headway in more than 10 years as the Pakistani establishment has been claiming lack of enough evidence against them.
A divisional bench of Islamabad High Court, comprising Justice Aamer Farooq and Justice Mohsin Akhter Kiyani, on Tuesday conducted hearing on a petition by the Federal Investigation Agency (FIA) seeking stay on anti-terrorism court proceedings.
The Express Tribune reported that the court initially granted one week stay in trial of the Mumbai attack case to let the prosecutor to summon some of the 19 witnesses for testimony.
During the hearing, FIA prosecutor Akram Qureshi appeared in the court.
Justice Kiyani remarked several witnesses were not appearing due to fear and the whereabouts of some others were unknown.
The FIA prosecutor told the bench that many witnesses had been traced out. Justice Kiyani inquired if those witnesses will appear in the court to which Qureshi said some of the witnesses have been traced and they are ready to appear before court.
Justice Amir Farooq inquired about the next date of hearing in the trial court. The FIA prosecutor replied the case is set for hearing on Wednesday (January 23) in the anti-terrorism court (ATC), while requesting for a stay on the hearing.
The court accepted the request and suspended proceedings of the ATC till the next week. The court directed the registrar to set the hearing of the case in the next week.
Seven LeT suspects -- Zakiur Rehman Lakhvi, Abdul Wajid, Mazhar Iqbal, Hamad Amin Sadiq, Shahid Jamil Riaz, Jamil Ahmed and Younis Anjum -- are facing charges of abetment to murder, attempted murder, planning and executing the Mumbai attack since 2009.
Except Lakhvi, the other six are kept in the high-security Adiala Jail in Rawalpindi
https://timesofindia.indiatimes.com/world/pakistan/pakistani-court-temporarily-halts-mumbai-attack-case-hearing/articleshow/67655137.cms
--------
PM seeks economic assistance package from Doha
January 23, 2019
ISLAMABAD: Seeking another bailout package, this time from Qatar, Prime Minister Imran Khan on Tuesday assured overseas Pakistanis in Doha that he would turn the motherland into a developed and economically strong country.
During his two-day official visit to Qatar that began on Monday, the prime minister met Qatari Emir Sheikh Tamim bin Hamad Al-Thani and Prime Minister Abdullah bin Nasser bin Khalifa Al-Thani, business community of Qatar and overseas Pakistanis, according to the Prime Minister Office.
The red carpet was rolled out to welcome Prime Minister Khan at the Diwan-i-Amiri where a formal ceremony was held in his honour. He was presented a guard of honour by a smartly turned-out contingent of the Qatari Amiri Guards, and the national anthems of both countries were played.
A one-to-one meeting was held between Prime Minister Khan and Qatari Emir Sheikh Tamim. They discussed the entire spectrum of bilateral ties and regional and international matters of mutual interest. The two sides also held delegation-level talks.
The Pakistani side asked the Qatari government to reduce the price of liquefied natural gas (LNG) and make its supplies on deferred payments under the existing 15-year supply contract. Presently Pakistan's LNG import bill is said to be $4 billion per year.
The Pakistan Tehreek-i-Insaf led government has been criticising the contracts signed by the previous Pakistan Muslim League-Nawaz (PML-N) government for LNG import from Qatar at a price equivalent to 13.39 per cent of the international benchmark crude oil price, and two terminals set up by the private sector for re-gasifying imported LNG.
Before this, Prime Minister Khan obtained economic bailout packages from Saudi Arabia and the United Arab Emirates.
According to the PM Office, during the PM's visit to Qatar, all issues of bilateral nature were discussed, particularly the strengthened economic and trade relations between the two countries.
The emir of Qatar hosted a lunch for the prime minister and the members of his delegation.
Prime Minister Khan also met Chairman of the Qatar Businessmen Association (QBA) Sheikh Faisal bin Qassim bin Faisal Al-Thani and Hussain Alfardan, one of the Middle East's leading businessmen.
The QBA chairman conveyed interest of Qatari businessmen in investing in Pakistan. The investment areas include hospitality, large-scale manufacturing, transportation and food production.
The meeting was followed by another meeting with Hassan Al-Thawadi, secretary general of the Supreme Committee of Delivery and Legacy, who briefed the prime minister on FIFA 2022 World Cup preparations. He promised to focus on encouraging skilled manpower import from Pakistan.
Sheikh Nawaf Bin Nasser Bin Khaled Al-Thani, a representative of the NBK group, also called on the prime minister.
The prime minister also met a delegation of the Qatar Chamber of Commerce led by Sheikh Khalifa Bin Jassim Bin Mohammed Al-Thani and including leading importers of the Gulf state.
The meeting concluded with a resolve to increase imports from Pakistan and providing a bilateral framework of trade which will enhance Pakistani exports to Qatar.
Representatives of the Sikh community in Qatar also called on the prime minister and thanked him for the groundbreaking of Kartarpur Corridor which was the longstanding desire of the community globally.
PM addresses public meeting
Speaking at a public meeting at Al Wakara Stadium in Doha that was organised by the Qatari government, Prime Minister Khan said his government would boost tourism to such an extent that it would help stable the crippling economy of Pakistan. "We will generate so much money through tourism that we will have no need to get dollars from abroad," he added.
"I am happy to address overseas Pakistanis in my first public gathering after become prime minister," the prime minister said.
He said Pakistan had the potential of four types of tourism — historical, beach, religious and mountains — even then the country was lagging behind in this field as compared to other countries which had only one type of tourism. "Malaysia has only beach tourism while Turkey has beach and historical tourism but their annual income from it is $20bn and $40bn, respectively," he added.
The prime minister did not miss an opportunity to criticise previous rulers of the country saying they had looted the country with both hands. "The way Pakistan was looted with both hands no other country could survive if it would have happened there."
Reacting to the remarks of Imran Khan, PML-N leader Ahsan Iqbal said the prime minister was introducing Pakistan as a "corrupt" state before the world.
The prime minister said he had met a number of foreign investors and heads of renowned firms who had wanted to invest in Pakistan but could not do so due to "corruption" and "complicated" tax regime. "Now we have reduced number of taxes from 36 to 16 and as far as corruption is concerned, you should not be worried about it. Not a single scandal of the incumbent government has come to fore in its first five months."
Full report at:
https://www.dawn.com/news/1459236
--------
Opposition takes united stance on military courts
Syed Irfan Raza
January 24, 2019
ISLAMABAD: The opposition has taken the unanimous stance that Prime Minister Imran Khan will have to talk directly to the leadership of the two main opposition parties — the PML-N and the PPP — for extending the tenure of military courts in the country.
However, the government's spokesperson, Infor­mation Minister Fawad Chaudhry, rejected the demand and said that the prime minister would never engage in dialogue with the leadership of these two parties.
The PPP, which had initially decided in its recently held central executive committee meeting that it would not support the extension of the tenure of military courts, changed its decision and agreed to hold talks with the government on the issue.
Senior party leader Syed Khursheed Shah demanded on Wednesday that Prime Minister Khan should directly hold talks with the PPP leadership, otherwise it would be difficult for the government to have passed any Constitutional amendment in parliament in this regard.
Talking to reporters at Parliament House, Mr Shah said that the issue of military courts was quite important and sensitive, and therefore it could not be resolved at the level of a committee.
"The issue of the extension of [the tenure of] military courts cannot be resolved at the level of a committee, but at the level of the top leadership of the opposition and ruling parties," he said. "The prime minister should hold leadership to leadership talks on the matter." This, he pointed out, would be no new phenomenon.
Meanwhile, PML-N president and leader of the opposition in the National Assembly, Shahbaz Sharif, and PPP leaders Khursheed Shah and Naveed Qamar, also met on Tuesday to discuss the issue, deciding that the opposition will come up with a unanimous stance on all matters.
Mr Qamar told Dawn that his party must work with the PML-N on the issue of military courts and will review its earlier decision to oppose such tribunals.
"If the PPP remains stuck to its stance, it will weaken the opposition," he commented, endorsing the opposition's demand that Prime Minister Khan should himself hold talks with the opposition parties' leaderships "But now Imran Khan seems to be quite rigid on the issue," he added.
PML-N spokesperson and former information minister Marriyum Aurangzeb also demanded that the prime minister hold talks with the opposition on military courts.
"I am quite astonished at why Imran Khan is silent on such an important issue," she said.
On the other hand, the PTI government's spokesperson, Mr Chaudhry, said that the prime minister had no need to talk directly with the leaderships of the parties in opposition. He explained that there was laid-down procedure in the Constitution to resolve such sensitive matters, and that was why a parliamentary committee headed by Defence Minister Pervez Khattak had been formed.
"In the presence of the parliamentary body, there is no need for Imran Khan to talk to opposition leaders," he added.
The minister criticised the opposition for creating pandemonium in the National Assembly during Finance Minister Asad Umar's mini-budget speech, and said: "The opposition always goes against what it commits to and therefore the prime minister will never sit with their leaders on the issue of military courts."
The two-year term of military courts will end on March 23, but the government wants their tenure extended further in order to try hardened terrorists at these fora. Military courts were allowed to try civilians accused of terrorism in January 2015, soon after the Peshawar Army Public School attack in December 2014, in which 144 people, mostly children, were killed by militants of the banned Tehreek-i-Taliban Pakistan. Both houses of parliament passed the 21st Constitutional amendment regarding military courts, with the inclusion of a sunset clause, despite fears amongst lawmakers that the tribunals would not be able to ensure due process, and might undermine democracy.
Full report at:
https://www.dawn.com/news/1459457/opposition-takes-united-stance-on-military-courts
--------
Court reserves order in defamation suit against PM
January 24, 2019
PESHAWAR: A local court here on Wednesday reserved its order over an application filed by Prime Minister Imran Khan's counsel, requesting it to return a defamation suit filed by former MPA Fauzia Bibi against him as the court lacks jurisdiction in this regard.
Additional District and Sessions Judge Shah Waliullah Hamid Hashmi fixed Jan 30 for pronouncing the order after completion of arguments by both the parties.
Senior advocate Babar Awan, representing the prime minister, had filed the application under Order 7 Rule 10 of Code of Civil Procedure stating that the press conference in question addressed by his client was held in Islamabad and not in Khyber Pakhtunkhwa.
Advocate Syed Gufranullah Shah, representing the plaintiff, requested the court to dismiss the application of the prime minister as the court had jurisdiction to hear the plaint.
The former MPA, who was elected on reserved seats for women on PTI's ticket, has filed the suit for recovery of damages to the tune of Rs500 million for defaming her through levelling "baseless" allegations against her by Mr Khan in a press conference accusing her of selling her vote in the Senate elections.
The suit was filed in June last year under the Defamation Ordinance 2002. The only defendant in the suit is PTI chief Imran Khan, who subsequently became prime minister.
Mr Awan contended that the said press conference was addressed in Islamabad, whereas the committee for taking action against the plaintiff was also constituted there.
He added that as the cause of action arose there, therefore, it was not in the jurisdiction of the present court to deal with the case.
Mr Awan cited several judgments of the superior courts in support of his contentions and requested the court to return the plaint.
Syed Ghufranullah Shah argued that his client was member of Khyber Pakhtunkhwa Assembly and the statement of Mr Khan was related to her stint as member of the assembly.
He added that the allegations against her were levelled in connection of Senate elections for which she had cast vote at KP Assembly.
He said that the Defamation Ordinance 2002 was a special law and it had overriding effect over other laws.
He stated that under the said law the Peshawar district court was the relevant forum for hearing the defamation suit.
He contended that in the Senate polls held on March 3, 2018, Ms Bibi had followed the direction with effect to cast vote in favour of all the candidates of her party nominated against general and reserved seats for women and technocrats.
Mr Shah said that after the Senate polls, defendant Imran Khan Niazi started uttering, spreading and resorting to publication, communication and circulation of maliciously false, baseless and unfounded oral statements and representation against the plaintiff.
He said that the defendant accused the plaintiff for horse-trading by way of selling her vote for money, through all electronic, print and social media, which was broadcast on all TV and radio channels, uploaded and posted on social media and published in all leading newspapers including those in Peshawar.
Full report at:
https://www.dawn.com/news/1459404/court-reserves-order-in-defamation-suit-against-pm
--------
Saudi CGS General Faiyad acknowledges Pakistan Army's professionalism
Jan 24, 2019
RAWALPINDI: A delegation of Royal Saudi Army led by Chief of General Staff (CGS), Saudi Armed Forces, General Faiyad Bin Hamed Al Rowali met Chief of Army Staff, General Qamar Javed Bajwa.
Inter-Services Public Relations, the media wing of the military, said in a statement that "Geostrategic environment and matters related to bilateral defence cooperation were discussed in the meeting".
The Saudi CGS thanked Pakistan Army for assistance provided by Pakistan Army especially towards the training of Royal Saudi Army both at Pakistan as well as at KSA through bilateral training cooperation.
He acknowledged high standards of professionalism of the Pakistan Army.
General Bajwa thanked visiting CGS for his expression of acknowledgment and reiterated that Pakistan Army takes it as a responsibility to extend full assistance to Royal Saudi Army for their capacity building.
Full report at:
https://www.pakistantoday.com.pk/2019/01/23/saudi-cgs-general-faiyad-acknowledges-pakistan-armys-professionalism/
--------
PM ready to form judicial commission to probe Sahiwal killings
Jan 24, 2019
ISLAMABAD: Prime Minister Imran Khan on Wednesday said that the government is ready to form a judicial commission to probe the Sahiwal shootout in which three of a family, including minor, and one suspected terrorist was killed in a Counter Terrorism Department (CTD) operation.
"If opposition demands to form a judicial commission to investigate the Sahiwal incident, the government is ready for it," the premier said while speaking during the Pakistan Tehreek-e-Insaf (PTI) parliamentary meeting.
"The opposition can also suggest the names for the members of judicial commission, the incident was a human tragedy and we will set an example out of this," he added.
Last Saturday, four people – including two women – were killed in an alleged encounter involving Punjab's counter-terror police on a highway near Sahiwal.
PM Imran said that he kept getting updates about the incident while he was on his official trip to Qatar, adding that, he had advised the Punjab government to formulate policies to reform the police department at the earliest.
"Those who are responsible for the incident will be brought to justice," he said.
Earlier in the day, the Punjab government presented the JIT report of the Sahiwal tragedy to the prime minister.
The report, which includes the earlier prepared joint investigation team (JIT) report, held the CTD officers responsible for the death of the family.
Full report at:
https://www.pakistantoday.com.pk/2019/01/23/pm-ready-to-form-judicial-commission-to-probe-sahiwal-killings/
--------
Southeast Asia
UGM to promote NU, Muhammadiyah for Nobel Peace Prize
Bambang Muryanto
January 24, 2019
Gadjah Mada University (UGM) plans to nominate Indonesia's two biggest Muslim organizations, Muhammadiyah and Nahdlatul Ulama (NU), to share the Nobel Peace Prize, citing their contributions to democratic developments in the country with the world's largest Muslim population.
The plan was revealed recently by UGM's Center for Security and Peace Studies (PSKP) director M. Najib Azca during last week's launch of the book Dua Menyemai Damai, Peran dan Konstribusi Muhammadiyah dan Nahdlatul Ulama dalam Perdamaian dan Demokrasi (Two Peacemakers, the Role and Contributions of Muhammadiyah and Nahdlatul Ulama in Peace and Democracy), which was written by the PSKP's researcher team.
"The PSKP UGM is studying the plan. UGM is to make the decision and send the nomination to the Nobel Peace Prize committee in Norway," he said.
Despite gloomy media reports about the growing clout of hardline Islam in the country, the university believed mainstream Muslims in Indonesia were, like Muhammadiyah and NU, tolerant and democratic.
UGM, Najib said, wanted to spotlight the profile of Indonesian Islam on the international stage. "Islam in Indonesia is democratic, civilized and peaceful. It's different from Islam in other countries such as Iraq or Afghanistan that are continuously marred by conflicts," he said.
Muhammadiyah was established by Ahmad Dahlan in Yogyakarta in 1912, while NU was created in Surabaya, Central Java, in 1926 by Hasyim Asy'ari.
Anthropologist Robert W. Hefner of Boston University, who has conducted extensive research on Islam in Indonesia, said he had sent a letter to the Nobel Peace Prize committee in Norway to nominate the two organizations.
"I sent the letter on Jan. 4 and it has been received," he said.
He added that there had been intensive and extensive discussions on the global level about the role of Muhammadiyah and NU in creating a democratic and peaceful Muslim community in Indonesia.
Speaking in a discussion about the book, Najib said Muhammadiyah and NU deserved to share the Nobel Peace Prize because of their important role in the democratic transition since 1998.
"Muhammadiyah and NU are the pillars of democracy in seeding positive peace through various activities such as in the fields of education, empowerment of the economy, philanthropy, disaster and health," Najib said.
Muhammadiyah, he added, was also active in facilitating peaceful reconciliation in the aftermath of conflicts in Poso and Ambon. It provides education facilities in the eastern parts of Indonesia, whose majority populations are not Muslim.
Meanwhile NU, through then-president Abdurrahman Wahid, played a big role in creating peace in Aceh and Papua. NU has many thoughts about gender equality, the prevention of radicalism and Islam Nusantara (Islam that is Indonesia specific).
NU's Barisan Serba Guna paramilitary arm is also active in protecting minority groups.
Hefner said Muhammadiyah and NU played a crucial role in educating people so that the idea of democracy and Indonesian nationality would be accepted by all parties.
"Democracy cannot work only by depending on a formal approach. It needs socialization and to plant norms," Hefner said.
Hefner claimed that Muhammadiyah and NU have succeeded in educating Muslims to consider democracy acceptable.
"Islamic education reform that other Islamic countries are dreaming of has been conducted in Indonesia since a long time ago, especially by Muhammadiyah," he said.
Meanwhile, UGM professor and political expert Mochtar Mas'oed said Muhammadiyah and NU were more appropriately called "gentle civilizers" rather than "peace builders".
"If they are called peace builders, it would be difficult for the readers to find the empirical data," Mochtar said, expressing agreement with Hefner who emphasized the success of the two Muslim organizations in creating a public sense of ethics.
However, Mochtar questioned the ability of the two organizations to deal with the rightwing populism that has fostered a violent politicization of Islam in Indonesia.
"The perpetrators are a minority, but a well-organized minority can always outmaneuver an unorganized majority," he said.
https://www.thejakartapost.com/news/2019/01/24/ugm-to-promote-nu-muhammadiyah-for-nobel-peace-prize.html
--------
Ba'asyir's sons, followers disappointed over cancelled release
January 24, 2019
The sons of Abu Bakar Ba'asyir, the radical Muslim cleric who was convicted of masterminding the Bali bombings, said they were disappointed over the canceled release of their father and expressed hope that President Joko "Jokowi" Widodo had not changed his mind.
Ba'asyir, who has been a notorious firebrand cleric since the Soeharto era, has been in prison since 2011 for funding a military camp to train terrorists in Jantho, Aceh.
Jokowi, who is campaigning for reelection, made a controversial move on Friday by announcing the plan for the unconditional release of the 80-year-old cleric because of his ailing health and advanced age. The President's lawyer and campaign adviser, Yusril Ihza Mahendra, visited the cleric at Gunung Sindur prison in Bogor, West Java, and conveyed that the President had approved his freedom and exempted him from declaring his loyalty to the country and state ideology Pancasila.
The plan was later canceled after protests from the victims and family of victims of the 2002 Bali bombings, as well as objections from Australia, which lost 88 citizens in the attack.
Muhammad Rosyid, the first son of Ba'asyir, said he had forgiven the government that had complicated his father's release, but expressed hope that government officials would change their minds.
"The family prayed that God could open the hearts of those who have complicated his release," said Rosyid on Wednesday.
Ba'asyir's family, clerics and students of Al Mukmin pesantren (Islamic boarding school) in Ngruki, Central Java, had prepared a celebration to welcome Ba'asyir. A big tent had been set up on Tuesday as they were expecting Ba'asyir to arrive on Wednesday afternoon. They had sent out invitations.
"All of the santri [students] had been upbeat, but it was suddenly canceled. We are very, very disappointed. [The government] has given false hope," said pesantren director Ibnu Hanifah.
Ba'asyir's youngest son, Abdul Rohim, who was waiting at Gunung Sindur, expressed hope that the President would speak about the cancelation.
Rohim had been sent by the family ahead of the planned release. It was promised that the cleric would be released on Tuesday.
"It's not the ministers or subordinates who are at fault because the first one to talk about the release was the President," he said as quoted by Antara.
He added that what the family knew so far was that Ba'asyir would be released on Tuesday, but there had been no more information from Yusril that day.
"I am communicating with the prison officers, not him. But there has not been any information [from Yusril]," he said.
Gunung Sindur prison warden Sopiana said he was waiting for the government's confirmation and therefore he was still unsure about the release.
"I'm still waiting for it," Sopiana said on Wednesday.
On Tuesday, the State Palace confirmed that the government had decided to call off the plan because of Ba'asyir's resistance to pledging loyalty to Pancasila and the Republic of Indonesia – a special requirement for all terror convicts who seek parole as stipulated in Government Regulation No. 99/2012.
"Yes [the plan has been canceled], because the requirements could not be fulfilled," Presidential Chief of Staff Moeldoko said.
Ba'asyir was sentenced to 15 years in prison and has received treatment for chronic venous insufficiency, blood clots and varicose veins in his leg since 2017.
Full report at:
https://www.thejakartapost.com/news/2019/01/23/baasyirs-sons-followers-disappointed-over-canceled-release.html
--------
We back BN because it served us well, say some Cameron Highlands voters
24 January 2019
TANAH RATA, Jan 23 — Some Orang Asli and Malay voters here said they will continue to support Barisan Nasional (BN) because of its past track record in the constituency.
They denied that their backing of the coalition was racially motivated, pointing out that past BN Cameron Highlands MPs were Indian.
Mohamed Idris Mat Intan, 38, from Kampung Tanjung Gahai in Lipis here, told Malay Mail that he supported BN not because they fielded a Muslim candidate.
"Race or religion has never been a consideration for me in supporting a candidate. If people accuse the Malays of being racist, that we don't want to vote for PH (Pakatan Harapan) because they fielded an Indian candidate, then they are wrong.
"All this while BN fielded Indian candidates for the parliamentary seat and we have voted for them. Our support is not based on racial or religious background, it is because of our loyalty to the party," he said.
Mohamed also said he voted for the coalition in the last three general elections and added that all its promises had been fulfilled.
"We are aware that BN is no longer the government and it might not be able to help us like before, but our support never changes. We will vote for BN as we appreciate the help they have extended to us," he said.
Echoing Mohamed Idris's sentiments, Ahmad Mohd Salleh, 59, said that race and religion are not an issue as BN has had diverse leaders for the past six decades.
"When BN was the government back then, we had MPs and assemblymen who were from different races and religion. And they won because of the Malay vote too.
"Yes, we are aware the state government doesn't have federal backup, but that doesn't matter. The Mentri Besar Datuk Seri Wan Rosdy Wan Ismail has contributed a lot to the constituency and this is why we choose to remain with BN," said the pensioner, referring to the Pahang Mentri Besar.
Pahang, where Cameron Highlands is located, is one of two states still under BN control. The other is Perlis.
Sita Bahari, 25, from Kampung Orang Asli Sungai Habuk, said that as long as a party is willing to help the community, they don't mind voting for the candidate, regardless of the person's race or religion.
"Of course, we were happy when BN announced that an Orang Asli will be contesting the seat, but that was not the reason why we support BN.
"We know no matter who the candidate is, the party will definitely help us. They provided electricity to the village and if the villagers can't pay the utility fees, they will help us," she said.
Piona Ibrahim, 22, said that she would support BN because it is the only coalition that has helped the community there.
"I don't know about other Orang Asli villages, but here BN is the only party who visits us often.
"They provide education material for the children, fix the houses and roads, and offer medical assistance too," she said.
"It's not that we don't want to support the PH candidate because he is not from among us, but we are confident that BN can help us even without being in government," she said.
Another Orang Asli, Ayan, 80, from Perkampungan Orang Asli Pos Menson, said he would vote for the PH candidate, if he is better than the BN candidate.
"I'm voting for BN not because of PH candidate is an Indian, but BN candidate Ramli Mohd Noor is a former policeman and a local who understands our issues and problems well," he said.
Full report at:
https://www.malaymail.com/news/malaysia/2019/01/24/we-back-bn-because-it-served-us-well-say-some-cameron-highlands-voters/1715812
--------
'Minister of Najib Affairs' Kit Siang denies tabling removal of Malay, Islam from Constitution
24 January 2019
By John Bunyan
TANAH RATA, Jan 24 — DAP adviser Lim Kit Siang vehemently rejected as "slander" today a viral post alleging he sought the removal of the words "Malay" and "Islam" from the Federal Constitution in a parliamentary motion.
The Iskandar Puteri MP also showed reporters the message that has been shared on social media platforms on his smartphone after a walkabout in Brinchang with Pakatan Harapan (PH) candidate for the Pahang parliamentary seat, M. Manogaran.
"I never tabled in Parliament to drop the Malay and Islam words from the Constitution.
"These are slander and lies made by the Opposition to win votes in the Cameron Highlands by-election. They portray us to the voters as though we are anti-Malay and anti-Islam," he said.
He then held up his smartphone to show the defamatory post written in Malay. The message read: "Lim Kit Siang tabled a motion in the Dewan Rakyat for the words 'Islam' and 'Malay' to be dropped from the constitution."
Lim said he expects such smear tactics to increase ahead of Saturday's vote and accused the Opposition of employing slander to gain the upper hand.
He advised the public to check the veracity of such claims before sharing them with others.
"Please don't share the messages or postings you receive in social media without checking the facts. These are the tactics used by the Opposition to instil hatred towards PH," he said.
He claimed the Opposition had no other issues to rely on for support except for racial and religious controversies.
"In Malay areas, the Opposition via Umno said that DAP is a threat to Malays, and in the Chinese areas, they said that we are a threat to the Chinese by using MCA. How can DAP be anti these two races at the same time? Then what are we?" he asked.
Full report at:
https://www.malaymail.com/news/malaysia/2019/01/24/minister-of-najib-affairs-kit-siang-denies-tabling-removal-of-malay-islam-f/1716013
--------
India
UP Muslim Cop Plays Cupid, Helps Hindu Couple Tie Knot Inside Police Outpost
Jan 23, 2019
AGRA: A police outpost in Uttar Pradesh's Firozabad district turned into a wedding venue, after a love-couple was married off with great pomp and show, even as their parents turned against it.
The incident took place inside Ramnagar police outpost under Linepar police jurisdiction on Tuesday late night.
The couple - identified as Luvkush Verma (22) and Sonia Verma (20) – of Chharbagh locality of the town were in a relationship for more than a year.
The two neighbours wanted to tie knot, but Sonia's parents disapproved her relationship with Luvkush and fixed her marriage with other man.
On Tuesday afternoon, the girl escaped from her house and rushed to the local police outpost for help and met sub-inspector Umar Farooq, the in-charge of Ramnagar police.
Speaking to TOI, SI Umar Farooq said, "The girl narrated her story and threatened to commit suicide if she was not allowed to marry her beloved. After which I called her parents and her beloved Luvkush along with his parents to my office in order to better understand the real situation."
After listening to all the concern parties, we found that girl's parents were not ready to wed their daughter with Luvkush, but since the girl was adult and had legal rights to choose her life-partner, we counselled parents with the help of their community men including senior citizens and social leaders. Finally, by evening with mutual consent from both parents of the couple, a wedding ceremony was organised inside our police outpost premises with Hindu rituals," he added.
For the marriage, a music band, a priest and wedding dress for the bride was arranged with the help of Ramnagar police. Since the police outpost had a temple inside its premises, it was chosen as the venue for marriage with mutual consent of couple.
Several video clips of the wedding shot by local residents showed the couple taking oath and accepting each other as husband and wife in front of scores of men and women from their community and cops.
Premi Savita, BJP general secretary of Firozabad district, said, "We are extremely happy the way a Muslim cop took care of Hindu community sentiments and arranged wedding as per our rituals and traditions. The cop also avoided tragedy, as the couple had threatened to commit suicide if not allowed to live together."
According to police, both Luvkush and Sonia family are in bangle making business.
https://timesofindia.indiatimes.com/city/agra/up-muslim-cop-plays-cupid-helps-hindu-couple-tie-knot-inside-police-outpost/articleshow/67657582.cms
--------
Nine including 17-year-old arrested by Maharashtra ATS for 'ISIS links'
January 23, 2019
The Maharashtra Anti-Terrorism Squad (ATS) Wednesday arrested nine persons including a 17-year-old boy and two brothers for alleged ISIS links. The ATS, which was keeping a close watch on the nine suspects, carried out search operations following a tip-off. Raids were conducted at five places including Mumbra, Thane and Aurangabad.
While four suspects were picked up from Aurangabad, five were caught in Mumbra.
According to ATS officials, "certain chemicals, mobile phones, hard drives, acid bottles, sharp knives and SIM cards were recovered from the nine arrested."
The accused have been booked under Indian Penal Code's Section 120 (B) (criminal conspiracy) and relevant provisions of the Unlawful Activities (Prevention) Act (UAPA) and the Bombay Police Act, the official said.
The ATS is now investigating if the youths were working in the sleeper cells. A neighbour of one of those picked up said, "His mother had to be hospitalised after he was picked up around 3 am today." Neighbours of the siblings picked up by the ATS said, "The brothers had returned from Bangalore on Sunday after attending a friend's wedding."
Last week, the National Investigation Agency (NIA) arrested a 24-year-old man in the case of ISIS-inspired Harkut-ul-Harb-e-Islam module. On January 5, the NIA arrested a 21-year-old man for supplying weapons to the module.
On December 26, the agency conducted raids after carrying out searches in 17 locations, wherein it claimed to have seized a huge cache of arms and explosives. The recovered items included 25 kg explosive material, 150 rounds of live ammunition, 12 pistols, 112 alarm clocks, mobile phone circuits, remote control car triggering switch, electric wires, 91 mobile phones, three laptops, knife, 134 SIM cards, and Rs 7.5 lakh as cash.
Full report at:
https://indianexpress.com/article/india/nine-including-17-year-old-arrested-by-maharashtra-ats-for-isis-links-5551646/
--------
NIA raids 8 places across 5 states over terror funding
Jan 24, 2019, 0
NEW DELHI: As part of its investigation into the terror funding case involving Lashker-e-Toiba affiliate Falah-i-Insaniyat (FIF), NIA carried out searches on Wednesday at 8 locations across five states. The raids in Gonda (UP), Sikar & Jaipur (Rajasthan), Delhi, Valsad & Surat (Gujarat) and Kasargod (Kerala) came two days after accused Mohammad Hussain Molani was arrested from Jaipur airport on arrival from Dubai.
FIF terror funding case was registered by NIA on July 2, 2018. As per the FIR, some Delhi-based individuals were receiving funds from FIF operatives based abroad and were using the same to promote terror activities.
Full report at:
https://timesofindia.indiatimes.com/india/nia-raids-8-places-across-5-states-over-terror-funding/articleshow/67664820.cms
--------
ATS arrests: Mosque staff, families shocked
by Mohamed Thaver, Atikh Rashid
January 24, 2019
After an accused in an alleged terror plot to assassinate a state leader was arrested from there in 1997, the staff at the mosque in Mumbra's Almas Colony had taken several measures to make sure the premises were not used for any wrongful activity. On Wednesday, however, they were disappointed to learn that some of the accused arrested by the Maharashtra Anti-Terrorism Squad (ATS) allegedly met each other on the mosque premises.
Cleric Amir Hamza (55), who leads the prayers at the mosque, where at least two of the accused came to pray, told The Indian Express, "In the 90s, there was an incident where a person was arrested from here by the police. Ever since, we have been vigilant to ensure our premises are not used for any wrongful activity."
"These days with the internet the threat of youngsters being wrongly influenced has gone up. Hence, we especially keep an eye to ensure youngsters do not watch or discuss things that could lead them astray," he added.
The ATS on Wednesday arrested eight men and detained a 17-year-old youth for their alleged links with the Islamic State (IS). Four of them were picked up from Mumbra and five from Aurangabad.
Two of them, Fahad Ansari and Salman Khan, the eldest of three siblings arrested in the case, came in touch with each other nearly two years back when they did "itikaf" — staying in the mosque for a certain number of days devoted to prayer — in the mosque together during Ramzan. After that, they became friends. "It has come as a shock to us since they were never heard discussing or behaving in a way that would arouse any suspicion in and around the mosque," Hamza said.
On Mohsin Khan, the second of the arrested siblings, a local resident said, "Nearly two years back he married a woman from Aurangabad and moved there. He recently started a shoe shop there for which he would pick up the stock from Mumbra and come here often."
The youngest sibling Taqi was studying in college, local residents said. The residence of the siblings was locked since Wednesday morning.
Some distance from their residence is Sagar Apartment from where the ATS arrested Mazhar Shaikh. His family members, comprising elder brother Azhar and mother Zohra, are in disbelief. Zohra said her son, who was pursuing a correspondence course in Commerce from Mumbai University and working at a shop in Bhiwandi, had been framed.
"I got my son (Mazhar) married more than a year ago. He has a one-year-old son. He would leave for work in the morning and return late evening. He would then go to pray in the local mosque. During weekends, he barely ventured out. He has been framed," Zohra said.
Azhar said his brother was going to Aurangabad on Monday night when he was picked up by the ATS. "He and his wife have been to Aurangabad before as he has friends there. This time, he had told us he might go there as his friend's wife was unwell," Azhar said. "It's true he would watch (religious) sermons in online videos on his mobile phone but what is wrong with that," asked Azhar Shaikh, elder brother of Mazhar Shaikh (21), who was arrested by the ATS from Mumbra.
The fifth accused arrested from Mumbra is Fahad. "Fahad kept to his work and you won't find anyone who has anything bad to say about him. His arrest is shocking," a local resident said.
Family members of Mushahid-Ul-Islam rejected the allegations made by the ATS, saying the youth was "100 per cent opposite of what has been portrayed by ATS and media". Mushahid-ul-Islam (23), who stayed with her 65-year-old mother in their Qaisar Colony residence — four brothers live in Saudi Arabia — freelanced as a graphic designer while pursuing graduation.
Mukhtar Ahmed, his brother-in-law, said, "I have seen him since birth… He is pursuing graduation and simultaneously worked as a graphic designer from his small house office. He mostly designed marriage invitation cards, visiting cards… His father had a small printing business so he knew the craft since he was very young. He also used to get some freelance designing work from abroad. He was quite busy in that," he said.
As per him, on Tuesday ATS officers landed at Mushahid-ul-Islam's house at 3 am. "Only Mushahid-ul-Islam and his mother stay there. The officers started banging the outer gate. After some time they broke it open and also broke the door of the house," said Mukhtar, who stays a few kilometres away.
Full report at:
https://indianexpress.com/article/india/maharashtra-ats-arrests-mosque-staff-families-shocked-5553122/
--------
Minority panel members want madrasa docs to be recorded in Hindi too, write to Yogi Adityanath
by AVANEESH MISHRA
January 24, 2019
Three members of the State Minority Commission on Tuesday wrote to Chief Minister Yogi Adityanath requesting him to instruct all recognised madrasas to record all educational details in Hindi apart from Urdu.
In the letter, the commission members — Rumana Siddiqui, Sardar Parvinder Singh and Kunwar Iqbal Haider— claimed that during their recent visits to madrasas in different districts, they found "several anomalies" in the registers.
Rumana Siddiqui, who was the president of state BJP's minority wing, said, "Urdu translators are there in the commission, but they do not accompany us when we go somewhere."
The letter (in Hindi) read, "This is regarding seeking your cognisance that we members had visited recognised and aided madrasas in different districts and found several anomalies in them. We found the names of teachers and students in the attendance registers were in Urdu and not in the national language Hindi. In such conditions, we members are facing problems understanding the actual situation. Because of the details being in Urdu we neither understood the names of the teachers nor the details of the students. In such a condition, possibility of names of majority of students and the teachers being fake is high. We find ourselves unable to take cognizance of the anomalies and resolve them."
The letter further reads, "Given that Hindi is our national language, it would be better if, in order to bring transparency, all the details in all the madrasas are available in Hindi also. Therefore, the Uttar Pradesh Minority Commission requests you to give orders to officers concerned that educational details of all madrasas are submitted in Hindi besides Urdu."
However, a senior office bearer at the commission said, "It is the responsibility of the Madrasa Board to check this information (in recognised madrasas). For unrecognised madrasas, there is the Waqf Board."
Chairman of the commission Tanveer Haider Usmani denied having knowledge of the letter.
Full report at:
https://indianexpress.com/article/india/minority-panel-members-want-madrasa-docs-to-be-recorded-in-hindi-too-write-to-yogi-adityanath-5553210/
--------
Lance Naik Nazir Ahmad Wani to be posthumously conferred with Ashoka Chakra
January 23, 2019
India's highest peacetime gallantry medal, the Ashoka Chakra, will be awarded posthumously to Lance Naik Nazir Ahmad Wani, who laid down his life during an anti-terror operation at Batagund village in J&K's Shopian in November last year.
"Lance Naik Nazir Ahmad Wani exhibited the most conspicuous gallantry in personality eliminating two terrorists and assisting in the evacuation of his wounded colleagues and made supreme sacrifice in the highest traditions of the Indian Army," a press release from the President's Secretariat said.
The two-time winner of the Sena Medal was once an Ikhwan (a terrorist who surrenders and becomes involved in counter-insurgency operations) and surrendered before the Army and went onto become a highly decorated soldier.
Wani was operating with the 34 Rashtriya Rifles on November 23 when intelligence was received regarding the presence of six heavily armed Hizbul and Lashkar terrorists at Batagund village.
A resident of Kulgam, Wani and his team was tasked to block the likely escape route of the terrorists.
"Sensing danger, the terrorists attempted breaching the inner cordon, firing indiscriminately and lobbing grenades. Undeterred by the situation, Wani held ground and eliminated one terrorist in a fierce exchange at close range," the statement said.
The 38-year-old next closed in on a house where another terrorist was hiding. As the terrorist tried to flee, Wani encountered him in a hand to hand combat situation. Despite being wounded, he eliminated the terrorist. However, he succumbed to his injuries later in a hospital.
Full report at:
https://indianexpress.com/article/india/ashoka-chakra-lance-naik-nazir-ahmad-wani-5552977/
--------
Africa
No escape: Hunted down by Al-Shabaab in Nairobi attack
2019-01-23
"I think we are going to have to fight these guys", Ashford Maina told his colleagues, as Al-Shabaab gunmen closed in after chasing them through their office building.
A moment later a gunman flung open the door to the group's hiding place - a men's toilet - and pulled Maina out.
"They've taken Ashford and we heard gunshots," one of the employees wrote in a message to colleagues at telecoms firm Cellulant.
Maina, 36, head of product development at the firm, had been killed.
He was one of six staff to be murdered in the attack at the Dusit hotel and office complex in Nairobi last week.
The harrowing tale of Cellulant employees fleeing in terror was recounted by their chief executive Ken Njoroge at a memorial service in Nairobi on Tuesday.
Njoroge pieced together the events from staff present that day at the Cellulant offices, spread over the fifth and sixth floors of one of five office buildings in the complex.
"I think sometime about three o'clock the teams heard the first explosion," Njoroge said, as a suicide bomber blew himself up outside the Secret Garden restaurant, where at least five of the 21 victims were killed.
A second explosion followed shortly thereafter, accompanied by gunfire. Police have established there were four gunmen along with the suicide bomber.
Shooting as they fled
Njoroge said scores of employees made it out through two exits before the gunmen entered the building.
"I think one of the gunmen... realised there were people (going) out of the exit... he took an elevated position and started to shoot at people leaving the building."
At this time 17 staff members were still stuck inside.
A group of six sought refuge on the first floor, hiding in a small room under the stairs.
"The rest of the group ran upstairs to the fifth floor and could feel someone shooting at them as they crossed from the exit back into the office," said Njoroge.
He said that in the offices, "all glass and very open", the only place of refuge was the washrooms.
"I think one of the gunmen, maybe two, followed them up, they... broke the glass door into the office and went into the washrooms, flung open the men's room (door) and our colleague Ashford was there and they grabbed him and pulled him out."
After shooting Maina, the gunmen tried to force their way into the ladies room, where those inside strained against the door.
Njoroge said the women had recounted that one of the gunmen kept saying: "We know you are in there, open up".
"For some strange reason they left," after a while, he said.
Playing dead
Meanwhile from the small room under the stairs, the six hiding inside sent messages pleading for help as gunshots came closer.
"They could feel the gunman walking the stairs, and described it as if this guy was walking on their heads, he was running his gun along the metal railing of the stairs," said Njoroge.
Inside, the five men had formed a wall around a female colleague and "tucked" her at the back "so nobody could see her", he said.
The gunman "opened the door, introduced himself as Al-Shabaab, and shot into the colleagues."
The women, who survived, said she had smeared blood on herself to play dead, as she lay among her five dead colleagues waiting for rescue.
Cellulant was one of the hardest hit companies in the attack, with the Dusit hotel itself also losing six staff.
https://www.news24.com/Africa/News/no-escape-hunted-down-by-al-shabaab-in-nairobi-attack-20190122
--------
Gaidam town under attack by Boko Haram
January 23, 2019
By Fikayo Olowolagba
Gaidam town in Yobe State is currently under attack by suspected Boko Haram insurgents.
According to Daily Trust, residents in the town said that the attackers stormed the town around 5:30pm, and started shooting sporadically.
A resident said "The insurgents took advantage of the Market Day to infiltrate the town."
"Although they forewarned residents of their coming days back so the military were not taken unaware," he said.
He added that two Nigerian Air Force jets have arrived the town to support the military strength.
It was learnt shootings was still ongoing as of the time of filing this report.
Details later…
http://dailypost.ng/2019/01/23/breaking-gaidam-town-attack-boko-haram/
--------
US warns Sudan to free protesters, probe deaths
23 January 2019
The United States on Wednesday urged Sudan to release activists detained in a wave of protests and to allow peaceful expression, warning that better ties with Washington were on the line.
The statement was the first by Washington after a month of mushrooming protests in what is widely seen as the biggest threat to President Omar al-Bashir's 30-year rule.
The United States said it was "concerned about the increasing number of arrests and detentions" and urged the government to free "all journalists, activists and peaceful protesters who have been arbitrarily detained."
Meanwhile, Sudan's Information Minister Bishara Jumaa said on Wednesday, in an interview with Arabiya, that the government has "taken steps" to end the economic crisis and that "by March, God willing, matters will be completely resolved".
The minister, however, said that foreign agendas were at play and that non-state actors were exploiting the young protesters.
Full report at:
https://english.alarabiya.net/en/News/middle-east/2019/01/23/US-warns-Sudan-to-free-protesters-probe-deaths-.html
--------
Jordan officials hold talks in Syria on resuming flights
23 January 2019
Civil aviation officials from Jordan visited Damascus on Wednesday to discuss plans to reopen Syrian airspace to its commercial flights, Jordanian state media reported, in another sign that the country's war is winding down.
Their mission was "to examine technical issues around the possibility of Jordanian commercial flights resuming their use of Syrian airspace," said Haitham Mistu, the head of Jordan's civil aviation authority.
Before the conflict broke out in 2011, national carrier Royal Jordanian operated two flights a day to Syria – one to Damascus and one to the northern city of Aleppo.
In July 2012, it suspended the services as an anti-government uprising escalated into full-blown war, placing air traffic at risk.
But Mistu told Jordan's official Petra news agency that Wednesday's meetings were part of a risk assessment program, to be followed by a technical evaluation.
"Based on that evaluation, the appropriate technical decision will be taken," he said, without giving any timeframe.
Rebuilding ties
The meeting was the latest in a series of moves by Arab states to rebuild ties with the Syrian regime as the country's devastating civil war draws to a close.
Jordan reopened its key Jaber/Nassib border crossing with Syria in October.
On Tuesday, the foreign ministry announced it had decided to appoint a chargé d'affaires at the Jordanian embassy in Damascus.
Last month, Sudanese President Omar al-Bashir became the first Arab leader to visit Damascus since the start of the war and the UAE became the first Gulf state to reopen its embassy in Damascus.
Meanwhile, Syria remains suspended from the Arab League.
The war has killed more than 360,000 people and displaced millions since it started in 2011 with the brutal repression of anti-government demonstrations.
Full report at:
https://english.alarabiya.net/en/News/middle-east/2019/01/23/Jordan-officials-hold-talks-in-Syria-on-resuming-flights.html
--------
In meeting with Bashir, Qatari Emir says supports unity in Sudan
Jan 23, 2019
Sudan's President Omar al-Bashir has visited Qatar, where Emir Sheikh Tamim bin Hamad Al Thani offered support for the restive African country, which is grappling with anti-government protests.
Bashir arrived in Qatar on Tuesday as protests triggered by rising prices and shortages of food and fuel have intensified at home. The public display of anger has now escalated into calls for Bashir to step down.
"President Bashir briefed the Emir on the latest updates regarding the situation and challenges facing the country," the court of Sheikh Tamim said in a statement on Wednesday.
"The Emir affirmed Qatar's firm stance on Sudan's unity and stability, and they discussed the latest developments in the Darfur peace process," the statement added.
However, no new financial assistance was declared on Wednesday.
According to official figures, 26 people, including two security agents, have lost their lives since the onset of the unrest on December 19. Some rights groups say at least 40 people have died so far.
Scores of arrests were also reported at many of the protests held in the past month.
Bashir has blamed the protest movement on foreign "agents" and rebels from the western region of Darfur. The violence-hit region is considered as a stronghold of the rebel Sudan Liberation Army (SLA-AW), which has been battling the government in Khartoum since 2003.
Qatar has long played a mediating role in Darfur crisis and was among the first countries to express support after protests erupted last month, with Qatar's emir calling Bashir to offer "all that was necessary", according to Sudan.
Sudan has maintained good ties with both sides of the rift between Qatar and other Persian Gulf countries.
In June 2017, Saudi Arabia, Egypt, Bahrain, and the United Arab Emirates severed their diplomatic ties with Qatar, accusing Doha of supporting terrorism but widely seen to have actually been angered by its independent foreign policy. The four countries also imposed a land, sea, and air blockade on import-dependent Qatar.
Bashir has contributed troops to the Saudi-led coalition that has invaded Yemen.
"For Omar al-Bashir to make his first visit since the protests to Qatar and not to other traditional allies is big," Ibrahim Fraihat, a professor of international conflict resolution at the Doha Institute for Graduate Studies, said.
"He obviously needs help and they (other allies) haven't been able to provide it," he added.
Full report at:
https://www.presstv.com/Detail/2019/01/23/586613/Qatar-emir-Sudan-Bashir
--------
North America
Syria bill to sanction regime backers passes US House of Representatives
Joyce Karam
January 23, 2019
Even as the United States plans its military withdrawal from Syria, it has taken a step towards increasing political and economic pressure on the regime of Bashar Al Assad.
The US House of Representatives unanimously passed a bill late on Tuesday night that will allow the White House to sanction foreign persons and entities that engage with the Assad regime or its supporters.
The legislation also requires the Treasury Department to decide within 180 days whether "reasonable grounds exist for concluding that the Central Bank of Syria is a financial institution of primary money laundering concern".
The bill HR 31, officially called the Caesar Syria Civilian Protection Act, was introduced by Chairman of the Foreign Affairs Committee in the House, Eliott Engel. The bill was named after Cesar, the pseudonym for a photographer with the Syrian military police who documented those killed by the regime in prisons and detention centres for death certificates before defecting to the West in 2013 with a trove of 53,275 images showing the scale of the Assad regime's brutality.
HR 31 gives US President Donald Trump the green light to go after foreign entities and persons that engage in prohibited business with, provide support for or carry out a significant transaction with the Assad regime or senior political figures. The bill also targets companies that work with foreign military contractors, mercenaries or paramilitary organisations "knowingly operating in a military capacity inside Syria for or on behalf of the Government of Syria, the Government of the Russian Federation, or the Government of Iran".
It requests the US president to impose sanctions on violators within six months that include freezing US assets, blocking or revoking visas and barring entry for those engaged in prohibited transactions.
The sanctions also target anyone who is selling or enabling the sale of Syrian oil and gas, aircraft parts or providing construction and engineering services for the regime.
Coming at a time when some Arab governments are considering resuming economic relations with the Syrian government, HR 31 could give pause for thought.
On a recent call with reporters, a senior US official said "our position [is] that political isolation and political pressure is the appropriate approach to take to try to press the Syrian regime to make the kind of meaningful changes necessary both to settle the Syrian conflict in a peaceful way and also to try to achieve the other US objectives in Syria".
Mr Engel, commenting on the passage of the bill, struck an emotional tone, saying that "nothing can undo the horrors they have had to endure for nearly eight years. Nothing can bring back those who have been lost. But the world owes it to the living and the dead to try to bring this crisis to an end."
He said the US's role was to "to push for a political solution that allows the Syrian people to choose their own future… we simply cannot look the other way and allow Assad, Russia and Iran to steamroll over Syria."
The Republican congressman Michael McCaul called for a "strategy that moves beyond Assad's debilitating stronghold to encourage negotiations and pursue a political solution to end this conflict.
"This legislation provides the administration much-needed leverage," he said.
If the Senate approves the same bill, it will be sent to the president's desk to be signed into law.
https://www.thenational.ae/world/the-americas/syria-bill-to-sanction-regime-backers-passes-us-house-of-representatives-1.816846
--------
US in reverse gear on anti-Iran summit as international boycott widens: Report
Jan 23, 2019
The Unites States may call off a controversial anti-Iran summit in Poland scheduled for next month as Washington is facing a setback due to a widening international boycott of the gathering, a report says.
Jonathan Cohen, the acting US ambassador to the United Nations, told the UN Security Council on Tuesday that the upcoming meeting in the Polish capital of Warsaw, jointly hosted by the US State Department, wasn't a "venue to demonize or attack Iran."
Some European diplomats said US Secretary of State Mike Pompeo may be forced to cancel the conference at the last minute due to "low attendance" or US allies' refusal to send high-level officials, The Wall Street Journal reported.
Cohen went as far as calling the meeting a "global brainstorming session" with an agenda that revolved around cybersecurity, extremism and humanitarian aid to people trapped in conflicts in Syria and Yemen.
The American envoy insisted that Washington had no plans to use the event as an opportunity to reopen arguments about the 2015 Iran nuclear deal either.
Upon announcing the summit earlier this month, Pompeo said the conference would focus on issues concerning stability and security in the Middle East, including the "important element of making sure that Iran is not a destabilizing influence."
However, the push to form an international front against Iran was met with cold shoulders.
Ministers from several European Union countries and EU foreign policy chief Federica Mogherini have indicated that they would skip the summit, which will be held on February 13-14.
Russia also declined the invitation to the Warsaw meeting on Tuesday, with Russian UN Ambassador Vassily Nebenzia calling the event "counterproductive."
Inviting Iran
Nebenzia said Washington should explain why Iran, as a regional power, wasn't invited if the conference was really aimed at improving regional stability.
"Attempts to create some kind of military alliances in the region by holding conferences and focusing on having a simplified, unilateral approach that is clearly linked just to Iran are counterproductive," Nebenzia told the Security Council.
Cohen tried to offer reassurances in response to the international criticism, saying while Iran's ballistic missile program and regional influence would be discussed, "the scope of the discussion will be much broader than any one country or set of issues."
According to some diplomats, the Polish foreign minister discussed the meeting with European foreign ministers and reassured them that Warsaw supported Iran's nuclear agreement and that it planned to give a readout of the meeting to Iran.
Iran's foreign minister, Mohammad Javad Zarif, has denounced the conference as an "anti-Iran circus" and slammed Poland for co-hosting the event with the US State department.
Full report at:
https://www.presstv.com/Detail/2019/01/23/586617/US-Iran-summit-Poland-Cohen-Russia-EU
--------
US expresses concern for 'arbitrary' force in Sudan
24.01.2019
By Safvan Allahverdi
WASHINGTON
The U.S. concern Wednesday about the growing number of arrests, detentions and escalating number of those injured and killed following almost month-long protests in Sudan.
The State Department's deputy spokesman Robert Palladino said the U.S. backs the right of people of Sudan to gather peaceably to voice their demands for political and economic reform, and "a more peaceful and inclusive Sudan."
"We condemn the use of violence, including the use of live fire, and the excessive use of tear gas by the Sudanese security forces," Palladino said.
The "more positive" relationship between the two countries requires significant political reform and "clear, sustained progress" on respect for human rights, he added.
Palladino urged the Sudanese government to release all journalists, activists and peaceful protesters who have been "arbitrarily" detained, as well as urged the government to allow those facing charges full access to legal representation.
Calling on the government to allow for a "credible and independent" investigation into the deaths and injuries of protesters, Palladino urged that: "To address the legitimate grievances of the population, the government must create a safe and secure environment for public expression and dialogue with the opposition and civil society in a more inclusive political process."
Since mid-December, Sudan has been rocked by mass demonstrations in several parts of the country.
Protesters blame President Omar al-Bashir and his ruling National Congress Party for their apparent failure to remedy the country's economic woes and are calling for his resignation.
According to government statements, more than 20 people have been killed in clashes between demonstrators and security forces since the protests began.
Opposition groups put the death toll at closer to 40.
In power since 1989, al-Bashir has pledged to carry out urgent economic reforms amid ongoing calls by the opposition to continue demonstrating.
Full report at:
https://www.aa.com.tr/en/africa/us-expresses-concern-for-arbitrary-force-in-sudan/1373151
--------
URL: https://www.newageislam.com/islamic-world-news/move-jamal-khashoggi-let-business/d/117551
New Age Islam, Islam Online, Islamic Website, African Muslim News, Arab World News, South Asia News, Indian Muslim News, World Muslim News, Women in Islam, Islamic Feminism, Arab Women, Women In Arab, Islamophobia in America, Muslim Women in West, Islam Women and Feminism