New Age Islam News Bureau
27 Sept 2019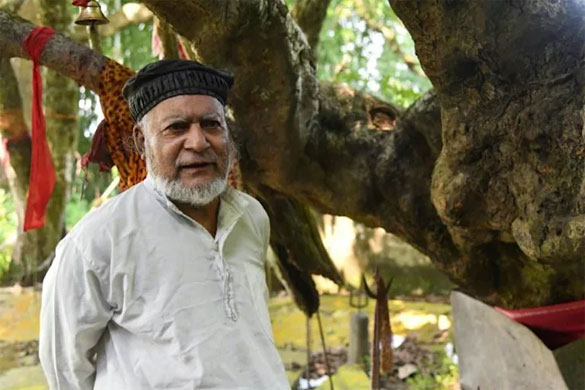 Like his forefathers, Motibar Rahman, 73, sweeps the Burha Gosair Than shrine every morning and lights candles for Shiva, one of Hinduism's foremost deities
------
• Ayodhya Dispute: Muslim Side Sorry For Doubting Archaeological Survey of India Report
• Islamic Research Institute, IIUI Launched A Unique Initiative for Promotion Of Inclusiveness Among Youth In Pakistan
• Pakistan Overturns Man's Blasphemy Conviction after 17 Years on Death Row
• 'Afraid We Will Become the Next Xinjiang': China's Hui Muslims Face Crackdown
• "Opening Saudi Arabia to International Tourists Is A Historic Moment for Our Country," Tourism Chief
• Mahatma Gandhi's 80-Year-Old Letter Wishing Jews 'Era of Peace' Unveiled In Israel
• Sudan Calls On Jewish Community To Return To The 'Pluralistic' Nation
• U.N. Head Warns World Faces 'Unprecedented Threat' From Violent Extremism and Terrorism
• European Parliament May Force Online Firms to Remove Terrorism Content
India
• Motibar Rahman Stands Out As a Muslim Looking After a Hindu Shrine As His Family Has Done For Centuries -- On the Orders of Lord Shiva Himself
• Ayodhya Dispute: Muslim Side Sorry For Doubting Archaeological Survey of India Report
• Lt Gen. (retd) Zameer Uddin Shah, M.M. Ansari and Nawab Zafar Hameed Jung , 3 Muslim • Signatories Disagree With Statement On Article 370 Day After Release
• Kashmir issue: Rescind action on Article 370, Organisation of Islamic Cooperation tells India
• PM Modi reaffirms India's support to diplomacy, dialogue for maintaining peace in Persian Gulf
• Babri Masjid demolition case: Kalyan Singh to appear before court today
• India blames 'vote-bank interests' for Labour Party's remark on J&K
• 'Fellas, work it out,' Trump tells India, Pakistan
• Indian Muslims say J&K will always be an integral part of India
• In J&K, NSA Ajit Doval cautions forces against infiltration
• 2002 Akshardham temple attack: Ahmedabad court grants bail to 'prime conspirator' Yasin Bhat
--------
Pakistan
• Islamic Research Institute, IIUI Launched A Unique Initiative for Promotion Of Inclusiveness Among Youth In Pakistan
• Pakistan Overturns Man's Blasphemy Conviction after 17 Years on Death Row
• Saudi Arabia and Pakistan should play effective role for unity of Muslim Ummah
• Attempts to Equate Islam with Terrorism Should Be Eschewed: Pak PM
• When he can't solve village issues...: How can Imran resolve Iran issue, asks Fazl
• Illicit financial flows devastating developing countries, PM Imran tells UN event
• Indian actions putting regional peace, security at risk, Imran tells Russian FM
• Pak-China relations growing with each passing day: ambassador
--------
Southeast Asia
• 'Afraid We Will Become the Next Xinjiang': China's Hui Muslims Face Crackdown
• Malaysia Arrests 16 Suspected Islamic State-linked Militants, Mostly Indonesians
• Report: Malaysian envoy expressed concerns about China's treatment of Uighurs in leaked report
• Naik a step away from being labelled 'fugitive'
• House Puts Sexual Violence Bill on Hold Until Next Term
• Indonesian students demonstrate against repression of civil liberties
--------
Arab World
• "Opening Saudi Arabia to International Tourists Is A Historic Moment for Our Country," Tourism Chief
• Saudi crown prince bars princes from foreign travels: Paper
• Latest attacks have exposed 'vile and cowardly' Iranian regime before the entire world, Saudi FM tells UN General Assembly
• Historical Saudi drama 'Born a King' opens in cinemas to rave reviews
• Saudi aid agency KSRelief appeals to resolve Rohingya crisis
• Security forces kill eight IS terrorists in Iraq's Anbar
• US confirms Syria's Assad used chemical weapons in May: Pompeo
• Iran commits new breach of nuclear deal, expands enrichment: IAEA report
• Aleppo filmmaker vows to continue showing reality of Syria
--------
Mideast
• Mahatma Gandhi's 80-Year-Old Letter Wishing Jews 'Era of Peace' Unveiled In Israel
• Hezbollah Leader Photographed In Iran With Ayatollah Khamenei And Quds Forces Commander
• Yemen's Houthi rebels force children out of school with fees
• New indictment piles on evidence of Hezbollah terrorist activity in US
• President Rouhani: History to Remember UN Silence on US Economic Terrorism against Iran
• Palestinian president condemns Netanyahu's pledge to annex West Bank territory
• UN Human Rights Council condemns Houthi abuses in Yemen
• President Abbas urges intl. action against Israel arrogance towards Palestinians
• Yemeni forces hit gathering of Saudi-led mercenaries in Hajjah with missile
• Israel grabs more Palestinian land in south of occupied West Bank
--------
Africa
• Sudan Calls On Jewish Community To Return To The 'Pluralistic' Nation
• U.S. Targets Islamic State in Libya with Second Airstrike in Week
• Nigeria: Boko Haram Kills Abducted Humanitarian Worker
• Islamic State says it killed 14 Nigerian soldiers in northeast Borno state - Amaq
• Somali military kills 30 al-Shabab militants in southern region
• 12 killed in jihadist attacks in Mozambique
• Libya's Khalifa Haftar says he is 'open to dialogue'
• Sudan shuts border with Libya, C. Africa over security concerns
• Libya's PM says rebel general 'not a partner for peace'
• Daesh kills 14 soldiers, aid worker in northeast Nigeria
--------
North America
• U.N. Head Warns World Faces 'Unprecedented Threat' From Violent Extremism and Terrorism
• Trump's travel ban really was a Muslim ban, data suggests
• US wants 'rapid' Indian easing of Kashmir restrictions
• O.K. Hand Sign Is a Hate Symbol, Anti-Defamation League Says
• Army Service Members Warned About Extremist Violence At 'Joker' Screenings
• During first two years of 'Muslim ban,' Trump administration granted few waivers
• Trump admin threatens Duke, UNC funding over alleged pro-Islam, anti-Israel bias
• Pak called out by US for staying mum over China's treatment of Muslims
• Kashmiri activists protest outside BBC, CNN offices in London
• US sending Patriot battery, radars to Saudi after oil attack
• US issues security alert for its citizens in Myanmar
--------
Europe
• European Parliament May Force Online Firms to Remove Terrorism Content
• Muslim Media Moot In Russia Condemns Mainstream Media 'Lies'
• Austria's far-right politicians target Muslim institutions with new law
• UK tanker held in Iran leaves Bandar Abbas port: Refinitiv data
• Iran has committed 'serious' breaches of international law, says UK foreign secretary Raab
• French bank accused of enabling Sudan war crimes
• International halal fair kicks off in Bosnian capital
--------
South Asia
• Afghan Air Raids Kill More Than 110 Insurgents in Northern Region
• Taliban Lifts Ban on WHO Vaccine Operations in Occupied Afghan Territories
• Rohingya crisis is a 'formidable challenge' for Bangladesh, says Hasina
• Rohingya face genocide in Myanmar: Malaysian PM
• OIC to Myanmar: Keep your commitments over Rohingya repatriation
• Afghan forces kill 17 Taliban militants in Kandahar, Zabul and Uruzgan
• UK Embassy in Kabul reacts to Hekmatyar and Taliban threats ahead of elections
Compiled by New Age Islam News Bureau
URL: https://www.newageislam.com/islamic-world-news/motibar-rahman-stands-muslim-looking/d/119852
--------
Motibar Rahman Stands Out As a Muslim Looking After a Hindu Shrine As His Family Has Done For Centuries -- On the Orders of Lord Shiva Himself
September 27, 2019
Even in the topsy-turvy world of Indian religion, Motibar Rahman stands out as a Muslim looking after a Hindu shrine, as his family has done for centuries -- on the orders of Lord Shiva himself.
Like his forefathers, Rahman, 73, sweeps the Burha Gosair Than shrine every morning and lights candles for Shiva, one of Hinduism's foremost deities, who many believe resides inside.
"Before me, my father used to do this work and his father before him. Our family has been the keepers of this holy place for the past 500 years," the 73-year old told AFP.
"The first man in our family is Borhansa. Lord Shiva came to Borhansa and told him, 'I want to live in this place. From now on it will be the responsibility of your family to keep this place. I shall accept service from your family only and no one else'," Rahman explained.
The shrine is in Assam state, part of India's far-flung northeast, long a melting pot of ethnic groups and religions sandwiched between Muslim-majority Bangladesh and mostly Buddhist Myanmar.
Tensions have been stoked by a recent citizens' register in the state of 33 million that its proponents hope will weed out "non-indigenous" people, many of them Muslims.
According to the 2011 census, 61 percent of Assamese are Hindu and 34 percent Muslim. The remainder are Christian, Buddhist, Sikh or of other religions.
Rahman says that his name was included in the citizens' register -- unlike some 1.9 million people who now face the possibility of being made stateless, put in detention camps and even deported.
"Apart from the Hindus, lots of Muslim people also come here and offer prayers. People including the Hindus and Muslims say that their prayers are often fulfilled," he said.
https://news.yahoo.com/muslim-looking-hindu-shrine-india-042935967.html
--------
Ayodhya Dispute: Muslim side sorry for doubting Archaeological Survey of India report
Abraham Thomas
Sep 27, 2019
The Muslim side to the Ayodhya title suit case cut a sorry face on Thursday as it apologised to the Supreme Court for doubting the authenticity of the Archaeological Survey of India (ASI). The excavation report by ASI submitted in 2003 to Allahabad High Court hearing had indicated evidence of a Hindu structure akin to a massive temple underneath the disputed site. The report contradicted the Muslim claim of the Babri Masjid being built in 1528.
On Wednesday, senior counsel Meenakshi Arora representing the Muslim parties showed the summary of the report that lacked signatures, no mention of authors, all which pointed to the inadmissibility of the report. Court found a letter signed by one of the authors Hari Manjhi presented with the report before the HC.
Opening arguments for the Muslim side on Thursday, senior advocate Rajeev Dhavan told the Court that he wished to states that the argument yesterday on the report lacking signature or author was a "futile discussion." He said, "On behalf of the entire Muslim side, its our stand that the authorship of the ASI report cannot be questioned as this discussion goes to the authenticity of the document. We apologise for wasting the Court's time." The Court told the Muslim side that it was open for them to summon the author of the report as witness to be cross examined before the HC. Having failed to do so, the report had since become part of case record, rendering Muslim side's arguments infructuous.
Taking back what Arora submitted, Dhavan said, "The questioning of remanding this case back to the High Court does not arise at this stage, neither does rejection of the report nor summoning the experts as witnesses." The bench of Chief Justice Ranjan Gogoi, Justices SA Bobde, DY Chandrachud, Ashok Bhushan and S Abdul Nazeer agreed to hear Arora on the aspect of whether the report achieved or failed to achieve the purpose for which it was appointed, and if there were contradictions in report.
Arora representing the Muslim parties began by explaining that pillar bases located during excavation belonged to four time periods, hence a massive temple, could not be part of a single time period.
Arora doubted the existence of an Islamic structure underneath due to presence of glazed blue pottery, characteristic of Islamic art, as one of the period relating to the ASI study related to medieval Sultanate period. Using these points, Arora attacked the authenticity of the report terming it "weak" evidence.
But the bench reiterated, "The only person you could have elicited a response from was the author of the report whom you did not cross examine. Should we not draw an adverse inference against you?" Arora also wondered how the lotus, sculptures of a couple in embrace, could be inferred as "divine".
Senior counsel Meenakshi Arora representing the Muslim parties began by explaining that pillar bases located during excavation belonged to four time periods, hence a massive temple, could not be part of a single time period
https://www.dnaindia.com/india/report-ayodhya-dispute-muslim-side-sorry-for-doubting-archaeological-survey-of-india-report-2792648
--------
Islamic Research Institute, IIUI Launched A Unique Initiative For Promotion Of Inclusiveness Among Youth In Pakistan
SEPTEMBER 27, 2019
The Islamic Research Institute (IRI), International Islamic University Islamabad (IIUI), has launched a unique initiative for promotion of inclusiveness among youth through education and training.
The launching ceremony of the initiative was held at the University of Lahore (UoL). The two-day workshop was facilitated by Paigham-e-Pakistan initiative of the government of Pakistan which is centered on building and promoting peace in the society.
Over 500 trainers will be trained as part of the initiative, who will then impart training to 10,000 young people from all over the country for promotion of unity and harmony in the society.
Over 150 students, who are receiving training for future leadership roles under a special program called 'Young Leader Program' attended the workshop, which covered essential topics like 'Youth as Peace Builders: Achievements and Challenges'; 'Role of Youth in Development of Pakistan'; 'Empowerment of Youth Through National Narrative'; 'National Integration and Pakistani Youth' and 'Youth and Social Media'.
Minister for Agricultural Noman Langrial was chief guest on the occasion. Addressing the participants, he eulogised the initiative and the efforts made in organizing such an important session.
He maintained that the role of teachers and ulema is of vital importance in character building of students at educational institutions and madaris to achieve lasting peace and tranquility through elimination of extremism, sectarianism and terrorism from the society. He said Pakistan is facing multiple political, ethnic, social, religious and sectarian conflicts at present, which require immediate attention and prompt redressal, adding that peace and conflict resolution are vital preconditions for a sustainable economic growth, democracy and development.
University of Lahore Rector Dr Mujahid Kamran congratulated the organisers for their effort in developing such a useful and essential initiative. He stressed the need to educate the youth in different cultures and languages prevalent in Pakistan, adding that the diversity of climatic conditions, traditions and way of life of the people add to the enrichment of the society as does the diversity of faults.
The rector said the young people hold tremendous potential, and, if given a chance, can help build more equitable societies and actively counter violence and extremism, adding that solution to violent extremism and other threats to safety and stability of the country can be found in working with the young people and tapping into their talents and potentials to reform and rebuild the society.
In the end, certificates were distributed among the participants of the workshop.
https://dailytimes.com.pk/473694/initiative-launched-to-promote-inclusiveness-among-youth/
--------
Pakistan overturns man's blasphemy conviction after 17 years on death row
September 26, 2019
A man sentenced to death in 2002 for blasphemy and who spent 17 years awaiting execution has had his conviction overturned by Pakistan's Supreme Court, his lawyer told AFP on Thursday.
Wajih-ul-Hassan, a Muslim, also spent a year in jail before his conviction. He is expected to be released in the coming days after the decision was handed down by Pakistan's highest court on Wednesday, said the lawyer, Nadeem Anthony.
"Everyone was crying with happiness," he told AFP, adding that it had been a "long journey".
Blasphemy is a hugely sensitive issue in Pakistan, where even unproven allegations of insulting Islam can lead to assassinations and lynchings.
About 40 people convicted of blasphemy are currently on death row in Pakistan, according to a 2018 estimate by the US Commission on International Religious Freedom.
"Pakistan's blasphemy laws are overly broad, vague and coercive. They have been used to target religious minorities, pursue personal vendettas and carry out vigilante violence," Amnesty International said in a statement Wednesday.
The rights organisation also demanded Pakistani authorities release another blasphemy accused, university professor Junaid Hafeez, who has spent more than five years in solitary confinement.
There have been "severe delays" in his trial, with eight judges succeeding each other in the case without deciding his fate, according to Amnesty.
In May 2014, three gunmen murdered Hafeez's lawyer.
The acquittal last October of Asia Bibi, a Christian who had spent more than eight years on death row for blasphemy, provoked violent protests across Pakistan.
Bibi now lives in Canada with her family.
Most blasphemy cases involve Muslims in Pakistan, experts say.
https://news.yahoo.com/pakistan-overturns-mans-blasphemy-conviction-17-years-death-142219571.html
--------
'Afraid We Will Become The Next Xinjiang': China's Hui Muslims Face Crackdown
September 26, 2019
Gold-domed mosques and gleaming minarets once broke the monotony of the Ningxia region's vast scrubland every few miles. This countryside here is home to some of China's 10.5 million Hui Muslims, who have practiced Sunni or Sufi forms of Islam within tight-knit communities for centuries, mainly in the northwest and central plains. Concentrated in the Ningxia region, the Hui are China's third-largest ethnic minority.
Now, though, virtually every mosque in Ningxia's countryside has been denuded of its domes, part of a sweeping crackdown on China's Muslim minorities that has reached Hui strongholds in Ningxia, in central China, and as far inland as Henan province in the east. (Up to now, Gansu province in central China has been able to keep most of its mosques intact.)
The crackdown on Muslims has been most extreme in the northwestern region of Xinjiang, where scholars estimate that up to 1.5 million Muslim Uighurs, a Turkic-speaking group, and other ethnic minorities have been detained since 2016, in one of the most sophisticated surveillance states in the world.
The same restrictions that preceded the Xinjiang crackdown on Uighur Muslims are now appearing in Hui-dominated regions. NPR has learned that since April 2018, Hui mosques have been forcibly renovated or shuttered, schools demolished, and religious community leaders imprisoned. Hui who have traveled internationally are increasingly detained or sent to reeducation facilities in Xinjiang.
In August 2018, in Ningxia's Tongxin county, authorities attempted to demolish the Weizhou Grand Mosque, claiming it lacked the right building permits. Hundreds of furious residents staged a sit-in, sharing videos of their protest through popular Chinese social media platforms like WeChat and Kuaishou, a livestreaming app, faster than censors could take them down.
Taken aback, officials called off the demolition. But the victory was short-lived. In November, local government work units began visiting every household in Weizhou, pressuring residents to sign letters stating their acquiescence to "renovate" the mosque by removing its main dome and domed minarets. In some cases, Weizhou officials threatened to fire state employees if they did not sign the letter, according to multiple residents.
This month, an NPR reporter drove through Weizhou, which is now guarded by checkpoints on the only road leading in and out of town. The mosque is closed, its main dome and minarets replaced with tiled Buddhist-style pagodas, and its entrances blocked by scaffolding.
"Of course we are afraid we will become the next Xinjiang," one Hui man told NPR. He did not provide his name for fear that authorities in Xinjiang would find him. Three years ago, he abandoned his family's property in Xinjiang in order to transfer his residency to Tongxin county. "But what can an individual do? We can only take it year by year."
"We say what we have to say"
Descendants of Arab traders who entered China some 1,500 years ago, the Hui pride themselves on having thoroughly assimilated into Chinese society. Unlike the Uighurs, the Hui have no distinct language, speaking Mandarin and often some Arabic. Save for the occasional white cap customarily worn by Hui men or hair coverings among women, they are often visually indistinguishable from China's ethnic majority, the Han.
Their exemption from the harshest of religious restrictions changed in April 2018, when the Chinese Communist Party's United Front Work Department formally took control of the State Bureau of Religious Affairs — meaning that the party now directly oversees policy for religious affairs, not the government.
"The day-to-day responsibility for managing religious activities and organizations shifted to the UFWD, and its atheist party apparatchiks, whose overarching mission is the protection of party power," James Leibold, an associate professor at Australia's La Trobe University and an expert on China's ethnic minority policy, tells NPR via email.
That same April, a mass dome-removal campaign began in Zhengzhou, the capital of Henan province, and resumed in Ningxia as part of the official effort known as chu shahua, fan ahua, to "expel Saudi and Arabic influence."
All Hui-run nursery schools, child care centers and religious schools were forcibly closed in Ningxia and across Yunnan and Henan provinces, which are also home to a large number of Hui Muslims.
The United Front's new control over Chinese ethnic and religious policy marks a substantial change, says Leibold. While the State Bureau of Religious Affairs was sometimes restrictive, it at least "saw the protection, if not promotion, of 'normal religious activities' as part of their mission and mandate, and many of its officials were religious practitioners themselves," he says in his email to NPR.
Abroad, the United Front is the party body that liaises with international nonstate individuals and organizations. Domestically, the United Front has emerged as one of the most aggressive proponents of stripping away foreign influences within religious practices and bringing them under state control — making them more Chinese, a process known as "Sinification."
"Sinification of religion in China is an important discourse of Party General Secretary Xi Jinping on the problem of religion and religious work," Ma Jin, a United Front official, told the Islamic Association of China, a state-backed organization, in January.
"This recent crackdown on the Muslim activities is really a part of a national campaign of China today to correct what they believe are the excesses in permitting Arab-style mosques ... and influence by the Middle East. The Salafi and Wahhabi groups have been pouring money in China," says Dru Gladney, an anthropologist at Pomona College and an expert on Hui Muslims. "These restrictions through UFWD are part and parcel of government efforts to control Islamic practices, to make them more Chinese."
In Xinjiang, Uighur-language books and films have been expunged, Uighur intellectuals imprisoned, and Uighur children sent to state-run schools to be taught Mandarin Chinese and culture.
For the Hui across China, mosques have become the major vehicle for Sinification. In April 2018, authorities began revoking the state-issued licenses given to imams who have residency outside the province in which they practice and from those who have studied abroad. In Ningxia, smaller mosques without licensed imams have been closed outright.
Ningxia sent senior leadership delegations to visit Xinjiang's detention camps last November and signed a counterterrorism cooperation agreement with Xinjiang a month later.
Imams in Henan and Ningxia must now attend monthly training sessions that can last for days. There, imams told NPR, they are taught Communist ideology and state ethnic policy and discuss Xi Jinping's speeches. Imams must then pass an exam testing their ideological knowledge in order to renew their license each year, mirroring how the government issues licenses to imams in the Xinjiang region.
"We go along with it. We say what we have to say, because it is just words and it lets us continue to work in the mosque," said one of the few imams still based in Henan, requesting his name be kept anonymous because of fears of political reprisal.
Fears of Saudi influence
Mosque employees say orders to demolish mosque domes and minarets are transmitted orally from local officials citing the United Front, with no written notice. The demolitions are swiftly executed at night, to avoid protests and video documentation.
"We ourselves do not even have the documents. [The United Front] takes them back at the end of each meeting," a local Henan official says in a recording NPR listened to of a meeting between local officials and employees at a mosque whose domes were removed after the meeting.
"Party organs like the UFWD work outside the state legal system and thus have far greater power than the state bureaucracy and are not required to report back to the State Council," the equivalent of China's cabinet, says Leibold.
Others say officials are looking to avoid the attention that mass mosque demolitions and detentions of Muslims in Xinjiang have attracted.
"Local officials learned from Xinjiang. They know that by aggressively restricting people in obvious ways, like constructing detention centers and leaving written evidence, they might create resistance," Tianfang, the pen name of a prominent blogger critical of China's religious policies, told NPR.
The crackdown on China's Hui Muslims is in part driven by the government's fears that fundamentalist strains of Islam like Salafism and Wahhabism are filtering into China by way of Hui students who study in Saudi Arabia and Pakistan and through private religious foundations on the Arabian Peninsula that have funded some Hui social enterprises and mosques.
Signs of Saudi influence, including Arabic script, are being removed across China. Hui women in Henan and Ningxia provinces say they are no longer allowed to wear the head-to-toe black abaya customary to Saudi women, and Hui shops say they no longer stock Saudi-style clothes for men or women.
Imams suspected of preaching Salafism are also promptly removed. One of them, Han Daoliang, was the imam at Huayuanjie Mosque in Zhengzhou, Henan province's capital, according to mosque attendees. Han raised his hands three times during prayer instead of just once, they said, marking him to Zhengzhou officials as a Salafi adherent.
Forced by local officials to resign this year, Han is now living in Malaysia, according to acquaintances. His former mosque has been given a state-appointed imam. According to a new plaque and mosque employees, the house of worship is now run by a new committee appointed by the state, with a board including two non-Muslim government officials.
"Sweep away the black and root out evil"
The crackdown on Hui Muslims is backed by a national anti-corruption effort launched by the government in 2018 to "sweep away the black and root out evil." Posters exhorting residents to "sweep away the black" are now ubiquitous in Chinese cities and such slogans have been scrawled in graffiti on village walls.
Among the crimes the campaign targets is using "religious connections at villages and townships to form mobs," according to implementation guidelines published late last year. State media reports say 6,885 "black and evil" criminal organizations were taken down under the campaign as of January.
The "sweep away the black" campaign has also decimated power bases outside the Communist Party structure, including among religious communities. Hui communities are now told that unauthorized religious events or proselytizing are considered gatherings of "black" forces or "underworld forces."
Those unauthorized gatherings include Islamic schools run by Hui mosques, nearly all of which have been closed across China, particularly in Henan and Ningxia, according to residents in Henan, Ningxia, Yunnan and Gansu provinces. NPR visited multiple former Islamic schools in September, several of which looked as if they had been cleared in a hurry — with dusty bedding piled on dormitory beds and chipped dishes and other kitchenware stacked haphazardly in corners.
All had taught Arabic language and some Islamic doctrine, but some were run more like vocational schools or social welfare schools for students who might be otherwise ineligible or unable to afford an education.
"We barely taught any Islamic doctrine. It was about making sure these children were educated and would not become criminals or radicalized," said a former teacher surnamed Ma, who did not want her full name used for fear of political reprisal.
She had taught at an Islamic school in China's southwestern Yunnan province, which closed in April 2018. The school had stayed open despite orders in 2014 to expel all non-local students, particularly those having residency status in Xinjiang.
Ma was interrogated by police about the school's curriculum and whether the school was distributing drugs. A common stereotype about ethnic minorities in China is that they sell drugs. One of her colleagues was held incommunicado for three days and subjected to "thought work," or ideological training, Ma says.
Rewards for reporting suspicious behavior
In Ningxia's Tongxin county, a rare female-only Islamic school once renowned across China's north-central and west is being readied for demolition after it was shut down last year to make way for residential development.
"It is the government's policies. Who knows if they will change and when?" one of the school employees told NPR in hushed tones. She withheld her name because of the sensitivity of the matter.
Hui residents of Tongxin say local officials are offering rewards between $700 and $2,820 to those who report suspicious religious behavior, such as proselytizing Islam or secretly teaching Islamic texts. Some male mosque attendees have begun wearing cloth masks covering the lower half of their faces when attending daily prayers to avoid identification.
Hui who have performed the Hajj, the Islamic pilgrimage to Mecca, fall under particular suspicion. Last year, a group of about 20 pilgrims was detained in Saudi Arabia for having the wrong visas before being sent back to China, according to two people with friends in the group. Two Hui pilgrims with residency in Xinjiang were promptly sent to low-security Xinjiang detention facilities, according to the two people with friends in the group.
"Unbearable" pressure
NPR found evidence of significant pushback from Hui seeking to delay or avoid implementing religious restrictions. Hui say they drag out orders to demolish mosque domes, and some students continue to secretly attend religious classes, despite shuttered schools.
In Henan, NPR came across one mosque in the process of "renovating" its dome by building a cover to shield it from view, a compromise between local officials who demanded its removal and nearby Hui residents who refused to do so. Mosque employees were also installing translucent plastic Arabic calligraphic inscriptions on the mosque walls – nearly invisible to all but true believers – to satisfy demands that they remove all Islamic symbols and Arabic script.
"The Hui people have been through one storm after another, and this is a storm that will pass," the mosque's imam told NPR. "Who knows how the political environment may change? We do not want to spend money to tear our dome down, only to have to pay to build it up again next year."
Fearing the worst, some younger Hui Muslims are looking to leave China and have emigrated to Malaysia and Dubai in the past few years.
"The pressure on not just one's religious behavior, but how one lives one's daily life, is unbearable," said a young Hui man from Ningxia surnamed Tian, who did not want to use his full name for fear of being punished for talking to a foreign journalist. "It weighs on your chest."
Ma Ju, a leader in a Sufi sect of Hui Muslims, left China for the United Arab Emirates in 2009 because of his outspoken criticism of religious restrictions in Xinjiang. This year, he fled to the United States, because the UAE has an extradition agreement with China.
"The oppression I saw inflicted on Tibetans 20 years ago and the Uighurs 10 years ago has finally reached my people," he says.
Ma Ju worries for his community back in China, especially now that technological tools like facial recognition make evading restrictions in China nearly impossible.
"You have legs, but you can't run away," he says. "You have money, but it's of no use. You have a heart, but you cannot lift yourself up. This is a new kind of repression."
https://www.npr.org/2019/09/26/763356996/afraid-we-will-become-the-next-xinjiang-chinas-hui-muslims-face-crackdown
--------
"Opening Saudi Arabia To International Tourists Is A Historic Moment For Our Country," Tourism Chief
Sep 27, 2019
RIYADH: Saudi Arabia said Friday it will offer tourist visas for the first time, opening up the ultra-conservative kingdom to holidaymakers as part of a push to diversify its economy away from oil. Kickstarting tourism is one of the centrepieces of Crown Prince Mohammed bin Salman's Vision 2030 reform programme to prepare the biggest Arab economy for a post-oil era.
The announcement comes just two weeks after devastating attacks on Saudi Arabia's oil infrastructure -- blamed by Washington on Iran -- which roiled global energy markets.
"Opening Saudi Arabia to international tourists is a historic moment for our country," tourism chief Ahmed al-Khateeb said in a statement.
"Visitors will be surprised... by the treasures we have to share -- five UNESCO World Heritage Sites, a vibrant local culture and breathtaking natural beauty." Saudi Arabia will open applications for online tourist visas to citizens of 49 countries on Saturday, Bloomberg News quoted Khateeb as saying.
Khateeb said the kingdom will also ease its strict dress code for foreign women, allowing them to go without the body-shrouding abaya robe that is still mandatory public wear for Saudi women.
The austere kingdom, which forbids alcohol and has a strict social code, is seen by many as a hard sell for tourists.
Prince Mohammed is seeking to change that through a sweeping liberalisation drive that has brought new cinemas, mixed-gender concerts and sporting extravaganzas to Saudi Arabia.
International criticism of the kingdom's human rights record, including the gruesome murder last year of critic Jamal Khashoggi and a crackdown on female activists, could further put off foreign visitors, observers say.
Fears of a regional conflict after the September 14 attacks on state oil giant Aramco may also dampen the kingdom's appeal to holidaymakers.
Visas are currently restricted to expat workers, their dependents and Muslim pilgrims travelling to holy sites in Mecca and Medina.
Saudi Arabia last year began issuing visas to visitors to attend sporting and cultural events in a bid to kickstart tourism.
The government, reeling from low oil prices, says it hopes tourism will contribute up to 10 percent of the gross domestic product by 2030, compared to three percent currently. It says by 2030 it aims to attract up to 100 million annual visits by both domestic and foreign tourists.
The sector is expected to create up to one million tourism jobs, the government says, as the kingdom battles high youth unemployment.
Saudi Arabia has splurged billions in an attempt to build a tourism industry from scratch.
In 2017, the kingdom announced a multi-billion dollar project to turn 50 islands and other pristine sites on the Red Sea into luxury resorts.
The country is also developing historic sites such as the centuries-old Mada'in Saleh, home to sandstone tombs of the same civilisation which built the Jordanian city of Petra.
https://timesofindia.indiatimes.com/world/middle-east/saudi-arabia-to-offer-tourist-visas-for-first-time/articleshow/71321912.cms
--------
Mahatma Gandhi's 80-year-old letter wishing Jews 'era of peace' unveiled in Israel
Sep 27, 2019
JERUSALEM: A short handwritten letter by Mahatma Gandhi 80-years-ago on the same day the World War II broke out, wishing the "afflicted (Jewish) people" an "era of peace", has been unveiled for the first time by the National Library of Israel.
Gandhi wrote the letter to Head of the Bombay Zionist Association (BZA) A E Shohet, who was trying to enlist support of Indian leaders in favour of the movement to establish a national home for the Jewish people.
Written on the occasion of Rosh Hashana (Jewish new year) on September 1, 1939, the letter also marked the beginning of the World War II when Germany invaded Poland, setting the stage for the despicable atrocities of the Holocaust.
"The timing of the greeting reflects the extent to which Nazi persecution of Jews was of concern to global citizenry at the time. In hindsight, it also presents a chilling portent of the horrors to come," said Zach Rothbart, incharge of communications at National Library of Israel (NLI).
Gandhi's greetings came to light as part of a major initiative launched by the NLI, with support from the Leir Foundation, to review and describe millions of items in its archival collections, including personal papers, photographs and documents from many of the 20th century's most prominent cultural figures.
The letter, for the first time, has been posted online by the NLI.
"Dear Shohet, You have my good wishes for your new year. How I wish the new year may mean an era of peace for your afflicted people. Yours sincerely, M K Gandhi," the letter reads.
Shohet was an Indian Jew from the Baghdadi community in Bombay. He headed BZA and served as the editor of 'The Jewish Advocate'.
A firm believer in the Zionist cause, the Indian-Jewish community leader saw the movement as the only way to unify the diverse Jewish population of Bombay, which included the long-established wealthy Baghdadi Jewish community, the Bene Israel Indian Jewish community and the local European Jewish community.
Perturbed by Gandhi's perceived silence on the question of persecution of the German Jewry and the Indian National Congress' neutral attitude on the matter, Shohet had been pursuing Indian leader to win him over on his side.
Gandhi, who often came under criticism for his reluctance to declare his views on the Arab-Jewish question in Palestine and the persecution of German Jews, in an article 'The Jews' published on November 26, 1938 in the 'Harijan' newspaper suggested "satyagraha" or non-violent resistance as his solution to both the problems.
He suggested that the Jews in Mandatory Palestine ought to "offer satyagraha in front of the Arabs and offer themselves to be shot or thrown into the Dead Sea without raising a little finger against them," Rothbart quoted him as saying in a press release. Regarding German Jewry, he implored resisting Nazism solely through non-confrontational means, the release said.
"My sympathies are all with the Jews... If there ever could be a justifiable war, in the name of and for humanity, war against Germany to prevent the wanton persecution of a whole race would be completely justified. But I do not believe in any war...," Gandhi is quoted as saying.
The article in the Harijan was harshly criticised by leading intellectuals of the time including Martin Buber and Judah Magnes, who viewed Gandhi's statements as unfavourable to Zionism and not satisfactory vis-a-vis the situation of the German Jewry.
Shohet in his response to the Harijan article in 'The Jewish Advocate' pointed out that there was one fundamental difference between the Jews in Europe and the Harijans in India, the former had no home.
He also argued that Jews had practised non-violence for two millennia, and yet their persecution persisted.
The Jewish community in India is also said to have been disturbed by the attitude of the Indian National Congress leaders.
Shohet is said to have reached out to Hermann Kallenbach, a wealthy Jewish Zionist architect and carpenter who Gandhi referred to as his "soulmate".
A recently published book by Shimon Lev titled 'Soulmates: The Story of Mahatma Gandhi and Hermann Kallenbach' brings out the close association between the two friends.
Kallenbach had funded the establishment of Tolstoy Farm, the South African prototype for the Gandhian ashram, where he and Gandhi lived together sharing a kitchen and seemingly endless conversations about the proper path and meaning of life.
"Your portrait (the only one) stands on the mantelpiece in my room... even if I wanted to dismiss you from my thoughts, I could not do it," Gandhi once wrote to Kallenbach as per the book.
In March 1939, Kallenbach arranged for Shohet to interview Gandhi, which he did over the course of four days at Gandhi's ashram in Wardha.
According to a letter Shohet wrote to Eliahu Epstein (who later became known as Eliahu Elath and served as Israel's first Ambassador to the United States), the "interview was discouraging because although Gandhi to a certain extent understood the idealism of the Jews' wish to return to Palestine, he still saw the Palestine question from the Muslim point of view".
Kallenbach and Shohet never convinced Gandhi to become an active defender of European Jewry nor a Zionist, and he remained steadfast in his belief that non-violence and passivity could solve all problems.
https://timesofindia.indiatimes.com/india/mahatma-gandhis-80-year-old-letter-wishing-jews-era-of-peace-unveiled-in-israel/articleshow/71322713.cms
--------
Sudan calls on Jewish community to return to the 'pluralistic' nation
26 September 2019
Judaism has a long history in Sudan. While the majority of Jewish families left the country following its independence in 1956 as anti-Semitic rhetoric grew amid tensions with Israel, the Sudanese government is now calling on Jewish people previously living in Sudan to return.
"Sudan is pluralistic in its thought, pluralistic in its culture, in its ideologies and Islamic religious sects, and even religions.There is Islam, Christianity, and a minority that follow the Jewish faith," Sudan's Minister of Religious Affairs Nasr-Eddin Mofarah in an interview with Al Arabiya earlier this month.
Mofarah acknowledged that the Jewish minority may have left the country, but invited them to come back to Sudan "through their right of citizenship and nationality."
"As long as there is a civilian government [in Sudan], the basis of nationality is rights and obligations," explained Mofarah.
Sudan's civilian government was reestablished following the ousting of Omar al-Bashir after months of protests against his three-decade-long authoritarian rule.
The history of Jewish families in Sudan has been documented by Daisy Abboudi, the founder of the website Tales of Jewish Sudan, a collection of "stories and recipes from the old Jewish community in Sudan."
Abboudi told Al Arabiya that her family had migrated to the UK after Sudan gained its independence. Since migrating, she has collected the stories of Jewish families in diaspora to produce Tales of Jewish Sudan.
"Generally, people are very fond of their time in Sudan. They look back at it. They see it as quite a happy period. Mostly they talk about the community, the fact that they were friends with so many different people," said Abboudi.
She presents a picture of a multicultural and tolerant Sudan, telling Al Arabiya that "there was so many different people living in Sudan. And the fact that they were also close and they had all that family and all their friends."
A melting pot
Tales of Jewish Sudan traces this history. Sudan was a melting pot of Jewish families who arrived from all over the Middle East and North Africa, and settled along the Nile in the Sudanese towns of Khartoum, Khartoum North, Omdurman, and Wad Madani in the 1900s, according to the website.
The community grew to no more than a thousand people, as a synagogue, recreational club, and a cemetery opened to accommodate the small community.
When the State of Israel was established in 1948, the relationship between Sudan's Jewish community and its Muslim and Christian population became more strained, describes the website.
After gaining its independence in 1956, Sudan joined the Arab League and hostility towards the Jewish community in the country reached its peak.
Tales of Jewish Sudan recounts stories of how anti-Semitism pushed the majority of Jewish families to either leave Sudan or practice their faith within the confines of their homes.
The 1967 Arab-Israeli war, also known as the Six-Day War, pushed Sudanese Jews further away, describes Tales of Jewish Sudan.
On January 3, 2019, former Sudanese President Omar al-Bashir said in a meeting with the Sudanese Trade Union Federation in Khartoum that he was advised to normalize relations with Israel. However, al-Bashir did not specify at the time whether the country would act accordingly and the two countries still lack formal relations.
But Abboudi considers the religious minister's call for Jews to return to the country a step in the right direction.
"I think it is a really good for a step. I think it shows that there is obviously a change in the way the government is running, and the way the government is thinking," she told Al Arabiya.
https://english.alarabiya.net/en/features/2019/09/26/Sudan-calls-on-Jewish-community-to-return-to-the-pluralistic-nation.html
--------
U.N. Head Warns World Faces 'Unprecedented Threat' From Violent Extremism and Terrorism
BY EDITH M. LEDERER
SEPTEMBER 25, 2019
(UNITED NATIONS) — Secretary-General Antonio Guterres warned Wednesday that the world is facing "an unprecedented threat from intolerance, violent extremism and terrorism" that affects every country, exacerbating conflicts and destabilizing entire regions.
The U.N. chief told a Security Council ministerial meeting on the sidelines of the annual gathering of world leaders that "the new frontier is cyber-terrorism — the use of social media and the dark web to coordinate attacks, spread propaganda and recruit new followers."
He stressed that the response to the unprecedented terrorist threat "must complement security measures with prevention efforts that identify and address root causes, while always respecting human rights."
Russia, which holds the council presidency this month, organized the meeting on cooperation between the U.N. and three Eurasian organizations in countering terrorism — the Shanghai Cooperation Organization, Collective Security Treaty Organization, and Commonwealth of Independent States.
The United States and its Western allies echoed the secretary-general, stressing the importance of respecting human rights in counter-terrorism operations.
"Efforts to counter terrorism that do not respect human rights ultimately breed resentment and violent extremism," U.S. deputy ambassador Jonathan Cohen said. "When member states or regional organizations conflate terrorism with non-violent political dissent, they do a disservice not only to the protection of human rights and fundamental freedoms, but to our global effort to defeat terrorism."
He said the world is witnessing this "dangerous approach" in Syria, where the government and its Russian allies "justify as legitimate counter-terrorist operations airstrikes on civilians, schools, ambulances and hospitals that have killed over a thousand people since April and wounded over 2,000."
The United States is also "deeply concerned" by the plight of more than one million ethnic minority Muslims in China's Xinjiang province who have been arbitrarily detained "under the guise of counter-terrorism."
"China, like all nations, has every right to respond to actual terrorist threats, but counter-terrorism cannot be used as an excuse to repress the peaceful religious practices of Chinese Muslims and an entire minority group," the Uighurs, Cohen said.
Russia's Foreign Minister Sergey Lavrov warned that the "terrorist threat" coming from Syria and Iraq is very rapidly spreading through Africa, including Libya, "and central, southern and southeast Asia are also becoming areas where savage acts of terrorism are perpetrated."
Alluding to Western criticism, he said, "the double-standards used by some countries make it more difficult to react to the challenges today, including the terrorist challenges."
"It is unacceptable — I underscore that — using terrorist entities for political purposes," Lavrov said. "There can be no justification for this."
Vladimir Norov, secretary-general of the eight-nation Shanghai Cooperation Organization, said the fight against terrorism and related threats is one of its main activities and called Wednesday's meeting "extremely timely" because of increasing instability in the world due to the terrorist threat and its emerging link to transnational crime.
He said fighters that supported the Islamic State extremist group in Syria and Iraq "are striving to create new strongholds, including in the Eurasian space." And he warned that "the threat of their access to radioactive and toxic substances is growing, and their possible use of new types of financing and weapons."
The organization — which includes Russia, China, India and Pakistan — has half the world's population and is regarded as the primary security pillar in the region, but Norov stressed that "it's not a military organization aimed at other states."
Valery Semerikov, secretary-general of the Collective Security Treaty Organization, told the council "the world is under threat of global terrorism" and joint work to combat it is needed today.
He said the organization — a six-nation military alliance of Russia, Armenia, Kazakhstan, Kyrgyzstan, Tajikistan and Belarus — made an open appeal to the North Atlantic Treaty Organization in May "on increasing trust and developing cooperation" in countering global threats and challenges.
"I would like to address the foreign ministers of NATO and ask them to consider and react to the open appeal lodged by the ministers of foreign affairs of the CSTO," Semerikov said.
https://time.com/5686705/u-n-secretary-general-antonio-guterres-terrorism-threat/
--------
European Parliament may force online firms to remove terrorism content
By Greg Russell
Sep 27, 2019
NEW rules could force internet companies to remove content that promotes terrorism within an hour of them being informed.
The European Parliament's civil liberties committee has already backed the parliament's position and MEPs could start negotiations shortly with EU member states on the regulations.
Under them, EU countries would have to designate a competent authority and tell the European Commission, which would then publish a list with all the relevant bodies.
When these authorities flag terrorist content, a removal order would be sent to the internet platforms, which would have one hour to delete it or disable access to it in all EU member states.
There are also proposals to help smaller platforms – companies which have never received a removal order would be contacted 12 hours before their first order, when they would be given information on procedures and deadlines.
MEPs have also insisted that internet companies hosting content uploaded by users, such as Facebook or YouTube, should not be obliged to proactively identify terrorist content, something that these platforms claim would be a heavy burden for them.
Monitoring the information or actively seeking facts indicating illegal activity should be the responsibility of the competent national authority, they say.
While they want to to boost public security, they say they are also keen to protect free speech and press freedom.
Under the measures, which were backed by the parliament in April, internet companies could face penalties of up to 4% of their turnover if there are persistent breaches .
The Parliament's rapporteur for the proposal, Daniel Dalton, said then: "There is clearly a problem with terrorist material circulating unchecked on the internet for too long.
"This propaganda can be linked to actual terrorist incidents and national authorities must be able to act decisively.
"Any new legislation must be practical and proportionate if we are to safeguard free speech.
"Without a fair process, there is a risk that too much content would be removed, as businesses would understandably take a 'safety first' approach to defend themselves.
"It also absolutely cannot lead to a general monitoring of content by the back door."
https://www.thenational.scot/news/17927483.european-parliament-may-force-online-firms-remove-terrorism-content/
--------
India
Lt Gen. (retd) Zameer Uddin Shah, M.M. Ansari and Nawab Zafar Hameed Jung , 3 Muslim Signatories Disagree With Statement On Article 370 Day After Release
FATIMA KHAN
26 September, 2019
New Delhi: A day after a group of Muslims conducted a press conference in support of Modi government's revocation of Article 370 and released a statement, three signatories have said that they do not agree with the show of support.
Lt Gen. (retd) Zameer Uddin Shah, M.M. Ansari and Nawab Zafar Hameed Jung told ThePrint they disapprove of the way Article 370 was revoked and do not advocate the comments made during the release of the statement.
Ansari told ThePrint that the final letter was not even showed to him before its release.
The press conference
In a press conference Wednesday by a group called 'India First – A group of Muslim Intellectuals', Khwaja Iftikhar Ahmed, the convener, said the scrapping of Article 370 was passed by Parliament and cannot be opposed.
"The abrogation of Article 370 is a move taken by the Parliament of the country. The Parliament has elected representatives of the country, which makes them the people's voice," he said, and refuted the claim that the move was unconstitutional.
Shah, Ansari and Jung have now challenged the remarks made by Khwaja Ahmed.
"This was Khwaja Iftikhar Ahmed's position alone. He single-handedly decided to say all those things in the press conference. I do not ascribe to what he said — not even for a second," Jung, former chairman of the Delhi Waqf Board, told ThePrint.
While there were four people present at the press conference from the group of signatories, including Jung, it was only Ahmed who spoke.
"I am 77 years of age, I have done a lot of work in my life. I have no political ambitions and I am not looking for a seat in the Rajya sabha. Khwaja sahab can say whatever he wants to, but I don't ascribe to his views," Jung said.
Shah, former vice-chancellor of Aligarh Muslim University (AMU), said the primary agenda of the document was to appeal that peace in Kashmir be restored.
"It's true that anything passed by Parliament can't be fought, but I disapprove of the manner it was done. Khwaja Iftikhar Ahmed had said he would go strictly by the document we signed, so we believed him," Shah told ThePrint.
Author of the book The Sarkari Mussalman: Life and travails of a soldier educationist, Shah also led the command of the army contingent deployed in Gujarat during the 2002 riots.
Document wasn't shared before releasing
Jung and Shah said they disapproved of the statements made by Ahmed during the press briefing but Ansari, former interlocutor on Jammu and Kashmir, said the letter was not shared with him before its release and he was also not informed about the press conference.
"What we had agreed on was that the process of abrogation was very unilateral and undemocratic given how it didn't take the consent of Kashmiris. But now that the Supreme Court is looking into the petitions challenging the abrogation, at least the government should restore communication in Kashmir. This is the spirit of the letter that we had decided on," said Ansari.
While the letter does not mention these points, it does say that the curbs and restrictions are "causing immense hardship to the people" and calls for normalcy in Kashmir.
However, the letter also states that the, "Prime Minister's call in a public rally to embrace all Kashmiris in order to make a naya Kashmir — a new Kashmir — is a statement of substance".
"I was shown a draft, in response to which I gave a bunch of suggestions. But I was told not all suggestions can be incorporated from all the 39 people. The matter was discussed about 10 days ago, but there wasn't even a meeting of all the signatories," said Ansari.
Ahmed, however, refuted this claim and said, "All 39 had read the statement and all of them were on board."
Regarding the remarks made in the press conference, he said he was speaking as the representative of the group.
"I was representing the group, and when you represent a group, nothing is spoken in a personal capacity. When you come together as a group, you say things as a group," he told ThePrint.
Ahmed added that it was decided prior to the press conference itself that he will be leading it, but there were no restrictions and the other members could respond to questions.
https://theprint.in/india/3-muslim-signatories-disagree-with-statement-on-article-370-day-after-release/297326/
--------
Kashmir issue: Rescind action on Article 370, Organisation of Islamic Cooperation tells India
Suhasini Haidar
SEPTEMBER 26, 2019
Criticism about India's Kashmir move has been muted at the UN.
Calling on India to "rescind" its actions revoking Article 370 in Jammu and Kashmir, Saudi Arabia joined Pakistan, Azerbaijan, Turkey, Niger to issue a statement on behalf of the Organisation of Islamic Cooperation (OIC) Kashmir contact group, criticising the government's actions there.
In the statement issued on September 25 after a ministerial meeting on the sidelines of the UNGA, the group asked the government to "rescind its unilateral illegal actions and reiterate its commitment to abide by the relevant UN Security Council Resolutions, provide assurances that it will not change the occupied territory's demographic composition and not allow non-Kashmiris to acquire property or residency in [J&K]… halt its human rights violations… repeal its draconian emergency laws, and withdraw its heavy military presence".
The statement from the contact group, which has issued statements against India on the J&K dispute in the past, is not the first from the group since India decided to attend the OIC earlier in 2019, and follows a statement by the OIC on August 14.
The MEA did not respond to the statement from the organisation that represents 57 member states, but has routinely dismissed any comments on what it considers India's "internal matter". Speaking at the Council on Foreign Relations on September 25, External Affairs Minister S. Jaishankar also pointed to the fact that several major Muslim community groups including the Jamaat ulema-e-Hind had backed the government's moves in Kashmir.
"I would not agree that the Kashmir issue should be seen through a communal lens," Mr. Jaishankar said in response to a question. "In terms of how the State and the (BJP) approaches this issue….today, if there is one area we have visibly good relations, particularly in the last five years, it would be in the Gulf….and you know what the dominant faith in the Gulf is," he added.
In fact, the OIC group's statement is one of very few at the United Nations that have been critical of India's actions, even though Pakistan Prime Minister Imran Khan and Foreign Minister Shah Mehmood Qureshi made the situation in Kashmir their single talking point at dozens of bilateral and multilateral meetings.
At a press conference on Tuesday, Mr. Khan told journalists that he was "disappointed by the international community," as they have not accepted Pakistan's concerns. "There is no pressure on Narendra Modi to lift the siege," Mr. Khan added at a press conference where most of his comments were restricted to events in Jammu and Kashmir.
Mr. Khan's speech at the UNGA on Friday, which will follow shortly after Prime Minister Narendra Modi's speech is also expected to focus mainly on the Kashmir issue.
In contrast, Bangladesh Prime Minister Sheikh Hasina refused to make any comment on Kashmir, indicating her support for the government's actions. When confronted with a direct question from an audience member at the Council on Foreign Relations on why the Islamic world had not raised the issues of Kashmir and the Rohingya refugees more forcefully as a collective, Ms. Hasina said it was because the OIC is "not united" and there are differences between countries that have "more resources" and those who have less. "All these issues must be resolved by dialogue," she said.
Full report at:
https://www.thehindu.com/news/national/kashmir-issue-rescind-action-on-article-370-organisation-of-islamic-cooperation-tells-india/article29522112.ece
--------
PM Modi reaffirms India's support to diplomacy, dialogue for maintaining peace in Persian Gulf
Sep 27, 2019
NEW YORK: Prime Minister Narendra Modi has reaffirmed India's support for giving priority to diplomacy, dialogue and confidence building for maintaining peace and security in the Persian Gulf amidst tensions in the region, as he held wide-ranging talks with Iranian President Hassan Rouhani on regional and global developments of mutual interest.
Modi met Rouhani on the sidelines of the high-level 74th Session of the General Assembly on Thursday amidst fresh tensions between Iran and the United States.
The two leaders discussed bilateral relations and exchanged views on regional and global developments of mutual interest.
According to an official press release, the prime minister reiterated India's support for giving priority to diplomacy, dialogue and confidence building in the interest of maintaining peace, security and stability in the Gulf region, which is of vital importance for India.
The meeting was keenly awaited as it comes amid escalating face-off between Iran and the US on Tehran's nuclear programme. Iran is also accused by the US and its allies of attacking two key oil facilities in Saudi Arabia, triggering a new phase of tensions in the region.
The September 14 attacks caused oil prices to spike by the biggest percentage since the 1991 Gulf War.
Noting that India and Iran shared old and civilisational ties, the two leaders assessed the progress in bilateral relations since their first meeting in Russian city of Ufa in 2015.
They especially mentioned overcapitalisation of Chabahar Port and noted its importance as gateway to and for the landlocked Afghanistan and the Central Asian region.
During the meeting, it was agreed to mark the 70th anniversary of the establishment of diplomatic relations next year.
The two leaders "discussed bilateral cooperation and exchanged views on the situation in the region," External Affairs Ministry Spokesperson Raveesh Kumar said.
The two leaders could not hold a planned meeting on the sidelines of the Shanghai Cooperation Organisation summit in Bishkek, Kyrgyzstan, in June this year due to scheduling issues.
India, the world's third biggest oil consumer, meets more than 80 per cent of its oil needs through imports. Iran was its third-largest supplier after Iraq and Saudi Arabia till recently.
The six-month-long exemptions from US sanctions to India and seven other countries to buy oil from Iran expired on May 2 as Washington did not extend it.
Indo-Iran ties have been on an upswing in the past few years.
Modi visited Tehran in May 2016 with an aim to craft a strategic relationship with Iran and expand India's ties with the West Asia.
During the visit, India and Iran signed nearly a dozen agreements, centrepiece of which was a deal on development of the strategic Chabahar port.
Full report at:
https://timesofindia.indiatimes.com/india/pm-modi-reaffirms-indias-support-to-diplomacy-dialogue-for-maintaining-peace-in-persian-gulf/articleshow/71323753.cms
--------
Babri Masjid demolition case: Kalyan Singh to appear before court today
Sep 27, 2019
LUCKNOW: BJP leader and former Uttar Pradesh chief minister Kalyan Singh is scheduled to appear before a CBI court in Lucknow on Friday in connection with a criminal case related to the Babri Masjid demolition.
He is scheduled to appear before the court at around 12 pm.
The court had, last week, directed the Central Bureau of Investigation (CBI) to produce Singh before the court on September 27.
"We have been informed that a new Governor has been appointed in the state of Rajasthan and Kalyan Singh has been relieved from the duties of his position. Taking suo motu cognizance of this, the court directs CBI to issue a summon for Kalyan Singh's presence in the court on September 27," the court order read.
The court had earlier asked the CBI to submit a report stating that BJP leader Singh is no longer on an incumbent constitutional position. This comes after the CBI filed an application in the court seeking an order to produce the former Governor in the court in the Babri Masjid demolition case.
On September 9, Singh had rejoined the Bharatiya Janata Party (BJP) after completing his term as the Governor of Rajasthan, a post which had accorded him immunity.
Full report at:
https://timesofindia.indiatimes.com/india/babri-masjid-demolition-case-kalyan-singh-to-appear-before-court-today/articleshow/71323710.cms
--------
India blames 'vote-bank interests' for Labour Party's remark on J&K
Sep 27, 2019
NEW DELHI: In a rare rebuke to the British Labour Party, the government blamed "vote-bank interests" for the critical comments on J&K issued by the UK's opposition party. In a sharply worded reproach, India said, "We regret the uninformed and unfounded positions taken at this event. Clearly, this is an attempt at pandering to vote-bank interests. There is no question of engaging with the Labour Party or its representatives on this issue."
In a week when the Modi-Trump joint rally in Houston appeared to pitch Indian preference towards the Republicans, from the traditional Democrats, this marked an interesting trend in Indian diplomacy which has the potential of polarising India's interests in key countries like the UK and the US. There are about 1.6 million people of Indian origin in the UK who have a vote, as compared to about 1.2 million of Pakistani origin.
Both Indian and Pakistanis started out as supporters of the Labour Party, which, unlike the Conservatives, was much more welcoming of immigrants, much like the Democrats in the US. However, over the years, as Indians moved up the socio-economic ladder in the UK, their political preferences became a little more eclectic, with more and more moving across the aisle to become Tory supporters.
In addition, Indians are spread across cities, integrating much more fully, they proliferate different professions and are generally wealthier and more educated. Therefore, it is difficult to get Indian-origin Britons to march in protest against Pakistan on a weekday afternoon when even the most committed are out at work. Pakistani Muslims or Mirpuris stayed with the Labour Party.
They also prefer to live in closed neighbourhoods, and vote en bloc, particularly because they work in different trades, are less educated and have stronger connects with their home countries through the mosque networks. In some crucial constituencies like Luton, Ealing, Bradford and parts of Birmingham, sources said, Muslims can swing elections, which makes them a potent political voice with Labour politicians.
A more recent phenomenon has been noticed by Indians. Pakistanis, and other Muslim communities, are being persuaded to join the Labour Party, which gives them a bigger voice. When they have to weigh in on issues that they regard as "Islamic", they can enlist the support of Nigerians and Bangladeshis as well. Indians are more in number but they are less organised as a political force and more diffused to be a voting bloc.
Full report at:
https://timesofindia.indiatimes.com/india/india-blames-vote-bank-interests-for-labour-partys-remark-on-jk/articleshow/71320759.cms
--------
'Fellas, work it out,' Trump tells India, Pakistan
Sep 27, 2019
WASHINGTON: Mired in his own scandal involving allegedly using foreign nations for domestic political gains, US President Donald Trump on Wednesday cavalierly asked India and Pakistan to "work it out, fellas," even as both countries made contrasting cases before a global audience about developments in the Indian subcontinent.
Having met both India's Prime Minister Narendra Modi and his Pakistani number Imran Khan and having exuded totally different vibes during each encounter, Trump chose his wrap-up press conference at the UN to repeat that he has offered arbitration or mediation, but in the face of Indian rejection of his role, he hoped they would sort it out themselves given "they are at serious odds right now".
"With respect to Pakistan and India, we talked about Kashmir. And whatever help I can be, I said — I offered, whether it's arbitration or mediation, or whatever it has to be, I'll do whatever I can. Because they're at very serious odds right now, and hopefully that'll get better."
"You look at the two gentlemen heading those two countries — two good friends of mine — I said, 'Fellas, work it out. Just work it out.' Those are two nuclear countries. They've got to work it out," he added.
India's response to Trump's repeated offer has been a measured rebuff of third-party mediation in an issue Pakistan committed by treaty to resolving bilaterally, while reiterating that it will only talk to Islamabad when Pakistan has fully abjured the use of terrorism, not just in Kashmir, but in all of India. New Delhi repeated that it will never negotiate at gunpoint, which it says is essentially what Pakistan has been trying to force India to do.
Taking the floor at the Center on Foreign Relations where Imran Khan warned in an overwrought presentation on Tuesday of massacres, genocide, and nuclear war flowing from India's moves in Kashmir, India's foreign minister S. Jaishankar calmly told an audience of foreign policy experts that Pakistan's issues with India went far beyond Kashmir, arguing that it is essentially a failing state that is bent on preventing India from forging a better union.
The difficulties in Kashmir did not begin on August 5 when India scrapped special status for Jammu and Kashmir, Jaishankar explained; it was the day India began addressing long-festering problems because Pakistan-sponsored terrorism and intimidation had reached a height where senior police officers were lynched on the streets of Srinagar, journalists who wrote against separatism were assassinated, military personnel returning home for Eid were kidnapped and killed.
Asked why India and Pakistan had stopped playing cricket, Jaishankar said the government had to take public sentiments into account in a democracy and one "cannot have terror by night and cricket by day".
The Indian establishment in New York has made it clear to the US and other interlocutors that it is not averse to talking to Pakistan if it abjured terrorism in all its forms against it neighbours.
"Issue is not whether to talk or not, everybody wants to talk to their neighbour. The issue is how do I talk to a country that is conducting terrorism and follows a policy of implausible deniability," Jaishankar said. "You have terrorism in different parts of the world, but there is no part of the world where a country uses it consciously and deliberately as a large-scale industry against its neighbor," he added.
While India remains steadfast in the demand that Pakistan roll back its terror infrastructure before any talks, Islamabad's efforts to convince the world that it is doing so suffered multiple setbacks this week. First up, Prime Minister Imran Khan publicly, and perhaps unwittingly, confirmed that the Pakistani military and its intelligence agency ISI trained Al Qaeda and maintained contacts even after the Soviet Union withdrew from Afghanistan. Embarrassed Pakistani officials tried to finesse and roll back the admission with help from a compliant media, but it remained on record on video.
Compounding the gaffe came the disclosure on Wednesday that Pakistan had pleaded with the UN in August to allow designated terrorist Hafiz Saeed to access Rs 1.5 lakh from his bank account for "personal expenses". Saeed's assets had been frozen after the UNSC sanctioned him under Resolution 1267 for links with the Al Qaeda and Islamic State (IS).
Absent any objection from other countries, the UN reportedly approved Pakistan's request. It was not immediately clear why other member countries did not object to funding a designated terrorist, but the episode illustrated that Islamabad remained concerned about the well-being of terrorists it has nurtured.
Full report at:
https://timesofindia.indiatimes.com/india/fellas-work-it-out-trump-tells-india-pakistan/articleshow/71320394.cms
--------
Indian Muslims say J&K will always be an integral part of India
September 26, 2019
Geneva: Members of the European Parliament (MEPs), South Asian scholars, and esteemed leaders from the Indian Muslim community gathered at the Press Club of Geneva on Sunday afternoon to hold a critical dialogue on the current situation in the disputed territories of Jammu and Kashmir (J&K).
The conference was chaired by Paulo Casaca, Executive Director of the South Asia Democratic Forum (SADF), who explored a range of topics related to the image of unrest in the region that has been presented since the beginning of August this year.
Maulana Mehmood Madani, former member of the Indian Parliament and General Secretary of the Muslim organisation Jamiat Ulema-e-Hind, opened the speeches telling the assembled media that his own organisation had held a conference earlier this month. He explained, "Two thousand clerics produced a resolution on behalf of all Indian Muslims calling for the state of affairs in Kashmir to remain an internal issue, one that is not for interference from outside." There is no question of ownership in his opinion. "Kashmir," he asserted, "is an integral part of India, with no compromises." Speaking as an Indian Muslim, Madani asserted, "Pakistan is using the name of Islam to show support to Kashmiris, but on the contrary, it has nothing to do with Islam."
Former MEP Charles Tannock commended the "secular democracy" of such a vast and diverse country as India. Tannock, who led an MEP delegation to Kashmir in 2007, said: "Twelve years on, I am not at all surprised by the attempt internationally to attack India over the revocation of Article 370." Personally, he said, "I am fully behind the position of Prime Minister Narendra Modi. India is a democracy. We need to respect that. This has all been done with due process."
Syed Salman Chisty, 26th Generation Custodian of Holy Key of Ajmer Sharif Dargah, strongly condemned the false claims made by Pakistan of disruption and mayhem in the Kashmir valley after revocation of Article 370 on 5 August. He also said that Indian Muslims have welcomed this decision and believes that Jammu &Kashmir was, is and will always be an integral part of India. He urged all the people in India and abroad to understand the situation of Jammu & Kashmir and respect the fact that "it is our internal Indian matter to revoke Article 370".
Fulvio Martusciello, MEP clearly stated that "it is India and only India who has rightful legal claim over the entire Jammu & Kashmir."
The other two Members of the European Parliament, Thierry Mariani and Guiseppe Ferrandino blamed Pakistan for cross-border terrorism and said that Article 370 had become an obstacle in closely integrating Jammu & Kashmir state with the rest of India. It was a tool which Pakistan has used to promote alienation, separatism and militancy in the region, with the consequent loss of around 40,000 Indian citizens, including security forces.
Dr Mario Silva, Former Member of Canadian Parliament & Chairman, International Forum for Rights & Security added, "The full integration of Kashmir into India needs to be encouraged by the international community. Additionally, the integration of Gilgit and Baltistan as the 30th and 31st states of the Republic of India must also be supported."
Full report at:
https://www.sundayguardianlive.com/news/indian-muslims-say-jk-will-always-integral-part-india
--------
In J&K, NSA Ajit Doval cautions forces against infiltration
Mir Ehsan
Sep 27, 2019
National Security Advisor (NSA) Ajit Doval on Thursday cautioned the security establishment against large-scale infiltration attempts in Kashmir and stressed the need to put troopers on high alert to foil any such move by terrorists.
Doval was in Kashmir and chaired two high-level meetings with officials in Srinagar as part of his two-day visit to the Valley that concluded a day ahead of the much-anticipated speeches by the prime ministers of both India and Pakistan at the United Nations General Assembly in New York.
Doval's appeal came at a time forces in the border state are on high alert after the central government's August 5 move to nullify Article 370, which gave special status to Jammu and Kashmir.
"While interacting with the Army and BSF [Border Security Force], the NSA stressed that in view of the reports of large-scale infiltration attempts, anti-infiltration grid along the border be kept at high alert and wherever attempts of infiltration are reported, strong action must be taken,'' said a spokesperson of Jammu and Kashmir government.
His appeal coincided with a massive operation along the 180-km International Border (IB) with Pakistan to detect underground, cross-border tunnels in view of possible infiltration attempts by armed terrorists into Jammu and Kashmir, officials told news agency PTI.
Doval also asked the Jammu and Kashmir administration to take steps to improve the life of common people and directed police and paramilitary forces to intensify anti-militancy operations.
Adding a note of caution while chairing a series of high-level meetings, Doval, who reached the valley on Wednesday and left for New Delhi on Thursday afternoon, also asked officials to ensure there is no collateral damage to civilians or their property, according to news agency PTI.
At the meetings, officials briefed him about the security situation in the Valley.
There have been reports that close to 60 militants have entered Kashmir and another 200 were waiting at the Pakistan army run launch pads across LoC. Since August 5, only two militants were killed in separate operations --- one in old town Baramulla last month and another in Sopore this month.
The spokesperson said, "He (Doval) appreciated that no complaints regarding the human rights violations were reported from any part of Kashmir Valley during the past over one and half month. He urged the security forces to maintain the good conduct and peace in the state.''
He said the NSA was apprised that Pakistan-sponsored militant outfits were indulging in various atrocities on the people, killing shopkeepers, threatening and intimidating fruit-growers.
Full report at:
https://www.hindustantimes.com/india-news/in-j-k-nsa-ajit-doval-cautions-forces-against-infiltration/story-boXXAUxz0Iz3sKQqG9kjhN.html
--------
2002 Akshardham temple attack: Ahmedabad court grants bail to 'prime conspirator' Yasin Bhat
September 27, 2019
A special POTA court in Ahmedabad on Wednesday granted bail to the alleged prime conspirator of the 2002 Akshardham Temple attack, Yasin Bhat. He had been arrested by the Gujarat Anti-Terrorism Squad (ATS) on July 26 from Jammu and Kashmir. Bhat's lawyer told the court of special designated Judge MK Dave that the accused was arrested at a belated stage and much later to the Supreme Court's judgment acquitting six accused persons in May 2014.
The special POTA court had acquitted two more accused subsequent to the acquittal by the Supreme Court.
Bhat made a case to be granted relief on the grounds of parity. His lawyer ID Pathan told the court that similarly situated co-accused persons in the case — Abdulrashid Sulemanbhai Ajmeri and Mohammad Farooq Mohammad Hanif Shaikh – both of whom were also belatedly arrested, were granted bail in December 2017 and in January this year by the special POTA judge.
Another ground given was that consequent to Bhat's arrest, there has been no discovery or recovery of any incriminating material, thereby not necessitating a pre- trial detention of Bhat.
The public prosecutor conceded that the principal perpetrators of the offence were given a clean chit by the apex court and did not oppose the submissions made by Bhat.
To this effect, the court granted Bhat bail and directed him to not leave Ahmedabad city limits without the permission of the court.
Bhat has been lodged at Sabarmati Central jail here in judicial custody since July 27, based on the 2002 FIR that charged him conspiracy and murder, among other charges under sections of the Indian Penal Code, Arms Act, Explosive Substances Act, Prevention of Terrorism Act (POTA) and Bombay Police Act.
Bhat had moved the court for bail under provisions of the Criminal Procedure Code (CrPC) and POTA.
Two armed terrorists attacked Akshardham Temple in Gandhinagar on September 24, 2002, killing 33 people, including a National Security Guard (NSG) commando and two Gujarat police officers, and injuring 80 persons.
Full report at:
https://indianexpress.com/article/india/2002-akshardham-temple-attack-ahmedabad-court-grants-bail-to-prime-conspirator-yasin-bhat/
--------
Pakistan
Saudi Arabia and Pakistan should play effective role for unity of Muslim Ummah
Hafiz Muhammad Tahir Mehmood Ashrafi
SEPTEMBER 27, 2019
Al-e-Saud established their governance in Harmain Al-Sharifain 89 years ago and different areas of Harmain Al-Sharifain, which were recognized having identity of different tribes and regions came into being as Kingdom of Saudi Arabia. Shah Abdul Aziz being head of the Kingdom of Saudi Arabia despite confronting economic challenges announced for implementation of 'Hudood Ullah'. As a result blessings of Allah Almighty poured at Kingdom of Saudi Arabia and petroleum explorations start in abundance in the Kingdom along with exploration of other precious minerals and metals. With blessings of Allah Almighty, if any state in the world has served humanity more than any country of the world, it is Kingdom of Saudi Arabia, which served humanity to a larger extent since its inception in 1930. Since last 89 years, leadership of the Kingdom of Saudi Arabia made it their objective and mission to serve the Muslims and Islam on priority and Al-e-Saud pursuing this mission since the very first day of their governance in Kingdom of Saudi Arabia. During last one year, as per report of United Nations (UN) Saudi Arabia remained on first slot for initiating different welfare projects for humanity. Leadership of the Kingdom of Saudi Arabia has always opened its doors to serve the Muslims and in every thick and thin, Kingdom of Saudi Arabia remains on forefront to serve the Muslim countries in face of any crisis, calamity and challenge. Saudi Arabia always played a role of elder brother for all the Muslim countries and served them wholeheartedly with all available support. Saudi Arabia remains vigilant to serve oppressed Muslims either from Myanmar, Kashmir, Palestine, Bosnia and Chechnya with all available resources.
At a time, when Muslims in Russian Republics have very limited numbers of Quran and there were no arrangements in newly republics of Russia to translate Quran in their native languages. Amidst that scenario, Kingdom of Saudi Arabia's head Shah Fahad bin Abdul Aziz constituted Quran-Complex in Medina, which started publications of Quran in different languages of the world. The publication of Quran in different languages of the world is still continued from the very Quran-Complex. Muslims all over the world are getting benefits to read Quran in their native languages with translated versions. Shah Fahad Quran Complex since its inception has been contributing Muslims all over the world by providing facility to read Quran with translation in their native languages, which has become a permanent source of piety for departed soul of Shah Fahad bin Abdul Aziz.
In the same perspective, Kingdom of Saudi Arabia has been serving the devotees and pilgrims of Hajj & Umrah to their best. During last couple of years, the strength of visiting pilgrims to Saudi Arabia has increased manifold, but leadership of Saudi Arabia is committed to serve the pilgrims with best available services. The leadership of Harmain Al-Sharifain has been ensuring state of the art facilities for pilgrims of Hajj & Umrah across the year. Extension of the limits of Harmain Al-Sharifain is one of major achievements of Al-e-Saud and this sequel is still in progress since last one hundred years according to the rising numbers of pilgrims.
As per information of this scribe, Crown Prince of the Kingdom of Saudi Arabia Amir Muhammad bin Salman has ordered to ensure completion of the extension projects of Harmain Al-Sharifain on priority grounds. Saudi Crown Prince Amir Muhammad bin Salman is personally overseeing all the projects relating to facilitate the pilgrims.
During Hajj days, all the arrangements are being arranged by Saudi Interior Minister Amir Abdul Aziz bin Saud bin Nayef in supervision of Saudi Crown Prince Amir Muhammad bin Salman. It is also worth mentioning here that during stay of pilgrims at Mana during Hajj days, Khadim-e-Harmain Al-Sharifain Shah Salman bin Abdul Aziz also resides in Mana to look after the arrangements for pilgrims. Few years back, pilgrims and devotees use to complain about traffic mess and cold drinking water in 'Mana' but now, an effective systematic apparatus has been arranged with subsequent traffic flow arrangements.
As Saudi Arabia is recognized being center of the holy places of Muslims, therefore scores of enmities use to surface and different conspiracies were also reported during different eras to make anarchy and instability in Kingdom of Saudi Arabia. To contain such conspiring elements and conspiracies, Kingdom of Saudi Arabia always proved stable and steadfast to foil all such conspiracies. The Kingdom always ensures necessary measures for its security and defense to keep check and contain all the conspiracies and conspiring elements. With each passing day, Saudi youths getting emotionally attached with defense, security and sanctity of the holy places in the Kingdom. Elements who were aiming to make anarchy and instability in Kingdom of Saudi Arabia by imposing war at the Kingdom through Houthi rebels of Yemen foiled miserably as Law Enforcement Agencies and security institutions of Saudi Arabia foiled the attacks and conspiracies of all these elements.
Today's Saudi Arabia in the leadership of Khadim-e-Harmain Al-Sharifain Shah Salman bin Abdul Aziz and Crown Prince Amir Muhammad bin Salman is changing towards stability; however no one should get mire and develop any misunderstanding and misconceived.
Saudi Arabia was founded on the founding principles of Islam and this Kingdom, which came into being on the teachings of Quran-o-Sunnah can not deviate from its founding principles. During all this course of time, if any step or stance is reported against the basic teachings of Quran-o-Sunnah, steps should be taken for its necessary correction and guidance. With blessings of Almighty Allah, incumbent leadership of the Kingdom of Saudi Arabia has put forward the moderate message of Islam before the world and made it explicit that Islam and teachings of Islam and Quran-o-Sunnah, has nothing to do with the menace of extremism and terrorism.
A misleading poisonous propaganda and campaigning is being made against the leadership of the Kingdom of Saudi Arabia nowadays. Anti-Islamic forces are of the view that to make anarchy and instability in Kingdom of Saudi Arabia, conspiracies should be fanned to make mistrust within Muslim Ummah for leadership of Harmain Al-Sharifain, which is impossible. The incumbent leadership of Saudi Arabia has annulled this conception that Kingdom of Saudi Arabia is not limited to any specific individual, group or organization's thinking and mindset. Khadim-e-Harmain Al-Sharifain Shah Salman bin Abdul Aziz once talking to this scribe has commented that Kingdom of Saudi Arabia belongs to every Muslim as Islam belongs to every Muslim irrespective of his region and country. This rhetoric has become torchbearer for leadership of Saudi Arabia and for the entire Muslim Ummah.
Crown Prince of Saudi Arabia Amir Muhammad bin Salman in numbers of his interviews has also stated that followers of 'Aima Arba'ah are present in Saudi Arabia; therefore Kingdom of Saudi Arabia cannot be limited to any particular religion and religious sect. On the other side, oil facilities in Saudi Arabia are being targeted, which has caused economic challenges for the entire region. On recent drone strikes at oil facilities in Saudi Arabia, leadership of Saudi Arabia has commented that necessary action will be taken against the perpetrators after thorough investigations. The leadership of Saudi Arabia has made a right decision for not taking any action in haste.
In this perspective, responsibility also rests on Iranian leadership to make clarity of stance to absolve the region from any possible crisis. The elements, which are responsible for making drone strikes at oil facilities in Saudi Arabia aims at sabotaging world peace and economic stability of the region.
In connection of Palestine issue, leadership of Saudi Arabia has put forward an explicit stance that any solution for Palestine will not be accepted without consent of Palestinians. Similarly, Saudi leadership has stated that Kashmir issue should be settled in accordance of the resolutions of UNO. Human rights situation for Kashmiris should be restored. Blockade of Kashmir should come to an end and Kashmir issue should be settled with peaceful talks and negotiations in accordance of the UN resolutions. Saudi leadership has also signaled to support for his effective role to resolve Kashmir issue for peaceful talks. The alarming state of affairs is that we are not even ready to acknowledge out mistakes and use to criticize friendly states.
Friendship of Pakistan and Saudi Arabia is eternal and no one could spoil the brotherly relations of Pakistan and Saudi Arabia. Incumbent Saudi Ambassador to Pakistan Nawaf Saeed bin Al-Maliky is real representative of Saudi Arabia to Pakistan and vise-versa Pakistan's Ambassador to Pakistan. Affection and respect of Saudi King Shah Salman bin Abdul Aziz and Crown Prince Amir Muhammad bin Salman for Pakistan is beyond any doubt.
Few years back, when some misunderstanding was reported between Pakistan and Saudi Arabia, Saudi Arabia's King Shah Salman bin Abdul Aziz gave this message to the entire world that if ruling leadership of Pakistan has committed any mistake, it does not mean that Saudi Arabia will distance itself from its friend and brotherly Muslim country. With grace and blessings of Allah Almighty and continued efforts of Chief of Army Staff General Qamar Javed Bajwa Pakistan's relations with Arab countries specifically with Saudi Arabia are more stable and strengthened compare to last 10 years. It is also responsibility of the ruling government to play their role and efforts for strengthened brotherly relations between Pakistan and Saudi Arabia keeping aside all interests and reconciliations. Since inception of Pakistan, Saudi Arabia is the sole country in the world, which stood beside Pakistan in face of any crisis. Saudi Arabia always responds positively on call of Pakistan and supported Pakistan in face of any challenge.
Amidst prevailing scenario in Muslim world, conspiracies are being made to sabotage Muslim Ummah's unity and Saudi Arabia and Pakistan with bilateral unity should foil all these conspiring elements. Saudi Arabia being custodian of Harmain Al-Sharifain is center of Muslim unity and unity of Muslim Ummah is direly needed to resolve confronting challenges of Muslim world as all the outstanding challenges of Muslim Ummah pertaining to Kashmir and Palestine could be settled with unity of Muslim Ummah.
https://dailytimes.com.pk/473725/saudi-arabia-and-pakistan-should-play-effective-role-for-unity-of-muslim-ummah/
--------
Attempts to equate Islam with terrorism should be eschewed: Pak PM
Sep 26, 2019
NEW YORK: Rejecting attempts to equate Islam with terrorism, Pakistan Prime Minister Imran Khan said that such "self-serving approaches were dangerous and should be eschewed."
Noting the growing incidence of discrimination and violence based on religion and belief, Khan underscored the importance of addressing both the drivers and consequences of these phenomena, his office said in a statement.
Khan made the remarks while speaking at a high-level roundtable conference on Countering Hate Speech here on the sidelines of the UN General Assembly session on Wednesday.
Highlighting that before the 9/11 attacks on the US, 75 per cent of suicide attacks were carried by the Tamil Tigers who were Hindus and Japanese suicide bombers attacked American ships during the World War II, Khan said that no one blamed their religion, the Dawn newspaper reported.
"Because religion has nothing to do with [...] no religion has anything to do with terrorism," he said at the conference co-hosted by Turkish President Recep Tayyip Erdogan.
"Almost all terrorism is connected to politics. It is politically perceived injustices that produce desperate people. But now we keep hearing about radical Islam. There is only one Islam. The Islam of Prophet Muhammad which we follow. There is no other Islam," he said.
Khan's comments came days after US President Donald Trump vowed to protect innocent civilians from the threat of radical Islamic terrorism at the "Howdy Modi" event in Houston.
"The Prime Minister rejected attempts to equate Islam with terrorism, noting that such self-serving approaches were dangerous and therefore should be eschewed," his office said.
Noting that there is growing discrimination and violence based on faith and belief, Khan said that religion has no link to terrorism and instead "marginalisation of communities leads to radicalisation," Dawn reported.
Khan also cautioned against the denigration of revered Muslim personalities under the guise of "freedom of expression and opinion," the paper reported.
"The world must understand Muslim sensitivities for Islam and the reverence for Prophet Muhammad," he said, apparently referring to the competition for cartoons in Europe depicting revered Muslim figures.
The prime minister also called the need to promote greater understanding and tolerance between various communities across the globe.
Turkish President Erdogan said that hate speech "emerges before worst crimes against humanity" and observed that Muslims remain the most vulnerable community to hate speech in the world.
Full report at:
https://timesofindia.indiatimes.com/world/pakistan/attempts-to-equate-islam-with-terrorism-should-be-eschewed-pak-pm/articleshow/71312611.cms
--------
When he can't solve village issues...: How can Imran resolve Iran issue, asks Fazl
Zia Ur Rehman
September 27, 2019
KARACHI: Accusing the Pakistan Tehreek-e-Insaf's federal government of selling out the Kashhmir issue, Jamiat-e-Ulema Islam-Fazl chief Maulana Fazlur Rehman on Thursday categorically said his party is not withdrawing its decision to lock down the capital to send the 'selected' government back home.
On Thursday, Rehman participated in the party's provincial meeting held at Jamia Anwarul Uloom, a seminary in Korangi, and later, spoke to a press conference. Referring to his upcoming move to lock down Islamabad, Rehman said a sea of people would storm Islamabad from across the country on his call. Rehman said that the country's two largest opposition parties – Pakistan Muslim League-Nawaz and the Pakistan People's Party – have reached a consensus with the JUI-F to send the prime minister and the government home." He added that when Prime Minister Imran Khan cannot resolve village issues, how can he help resolve the Iran issue? He said the final date of Islamabad lock down will be announced following the PML-N's central executive meeting while the PPP has also contacted the opposition's Rahbar Committee. "We are hopeful that a joint consensus for anti-government protest would be made in the upcoming few days," he said. The JUI-F chief said Prime Minister Imran Khan has become an 'approver' against Pakistan in the world. "Khan has been alleging that the Pakistan Army trained al-Qaeda. Such statement shows he is working on a foreign agenda."
He said the entire nation knows that Kashmir issue has been sold. "It was known that changing the Kashmir's constitutional status was a part of the Modi government's electoral manifesto and despite knowing it, the Pakistani government did not work to counter it. In fact, the federal government's actions helped Modi to win the polls," he said. The religious party's chief said the current rulers have discouraged and disappointed the Kashmiris by terming their jihad as enmity with Pakistan and Kashmir. "We have lost Kashmir and now people instead of waving Pakistani flags in Srinagar are talking about saving Muzaffarabad. And it is because of PM Khan's incompetence." Rehman said the situation is that instead of talking about self-determination of Kashmiris, the focus is on talks of human rights abuses. He said most of the political parties, including PPP and the PML-N, had rejected the 2018 general polls and termed it a stolen election. "Now we all are demanding to conduct a election." He said the federal government is victimizing the opposition parties by arresting their leaders. "The government is setting the worst example of lawlessness and political victimization and the prime minister is using the state institutions against his political rivals," he alleged.
Full report at:
https://www.thenews.com.pk/print/532777-when-he-can-t-solve-village-issues-how-can-imran-resolve-iran-issue-asks-fazl
--------
Illicit financial flows devastating developing countries, PM Imran tells UN event
Amel Ghani
September 26, 2019
Prime Minister Imran Khan on Thursday said that while it is true that illicit financial flows adversely affect wealthy countries, such movement of ill-gotten money is "devastating the developing countries" across the world.
The premier was addressing an event called 'High-Level Dialogue on Financing for Development' at the United Nations in New York, on the sidelines of the 74th session of the UN General Assembly.
"I do not think people fully realise the impact it (illicit financial flows) is having in causing poverty, death and destruction in human development in the developing world," said Prime Minister Imran, who was welcomed to the dialogue with a huge round of applause from the audience.
He said in the last decade Pakistan had a corrupt leadership which took the national debt accumulated over 60 years up by four times in the last 10 years. "Most of the money that was made out of corruption was sent outside," the premier said, adding that the funds that could have been spent on human development in the country ended up in offshore bank accounts and western capitals.
"We have been trying our best to retrieve that money," he said, conceding that even when his government locates properties made from illegal money by Pakistanis abroad, it faces a number of legal lacunas and difficulties in trying to bring that money back.
He called upon developed countries to do better as far as the return of illicit wealth is concerned, saying "There is a lack of political will in the rich countries because they gain from it."
The poorer countries on the other hand do not have the resources to retrieve the laundered money, he added.
Prime Minister Imran said the aid given by the richer countries to the poor countries is "miniscule" when compared to the money stolen from the latter and taken abroad.
"I do not understand why in this day and age you have these offshore safe tax havens," he said, wondering why rich countries continue to protect tax evaders.
He stressed upon the need to treat money laundered from poor countries to rich nations in the same way as "drug money" and terror financing "because it kills far more people".
Addressing the same event earlier, UN Secretary General Antonio Guterres stressed upon cooperation between countries to curb corruption and the flow of illegal funds.
"Collaboration is crucial in cracking down on tax avoidance, tax evasion, corruption and illicit financial flows that deprive developing countries of tens of billions of dollars of potential resources for their development every year," he said.
"Cooperation will also be necessary in addressing the new challenge of taxing the digital economy."
The discussion also saw other leaders and experts stressing on the importance of clamping down on illicit financial flows.
Sneha Shah, a financial analyst with Thomson Reuters' Refinitiv, shared alarming figures with the forum including that 86 per cent of the ill-gotten money is flowing through the global banking system.
Full report at:
https://www.dawn.com/news/1507494/illicit-financial-flows-devastating-developing-countries-pm-imran-tells-un-event
--------
Indian actions putting regional peace, security at risk, Imran tells Russian FM
Sep 27, 2019
NEW YORK: Prime Minister Imran Khan in a meeting with Russian Foreign Minister Sergei Lavrov on Thursday highlighted the human rights abuses in India-occupied Kashmir and underscored that these actions and India's belligerent rhetoric and aggressive posture continued to pose a grave risk to regional peace and security.
The Russian foreign minister had called on the premier on the sidelines of the 74th session of the United Nations General Assembly (UNGA). During the meeting, the prime minister said that the international community should take serious cognisance of the situation in occupied Kashmir as well as the region.
According to a press release issued by the Foreign Office (FO), Prime Minister Imran stressed the importance attached in Pakistan's foreign policy to "a qualitatively new relationship" with Russia.
The premier noted that Pakistan and Russia had maintained close contact following India's unilateral and illegal action to revoke occupied Kashmir's special autonomy on August 5.
He emphasised that the Kashmiri population under Indian occupation had been locked down for over 53 days and the international community must urge India to lift curfew and other restrictions and also play its role in the just resolution of the Kashmir dispute.
Russia is the president of the UN Security Council for the current month.
The two sides also exchanged views on the Afghan peace process, with Prime Minister Imran reiterating that there is no military solution to the conflict in Afghanistan. He emphasised that the stalled peace process must be resumed at the earliest to advance the objectives of a peaceful and stable Afghanistan.
The premier expressed satisfaction at the steady growth of bilateral cooperation in diverse areas including political, trade, energy, investment, security and defence fields.
Full report at:
https://www.pakistantoday.com.pk/2019/09/26/indian-actions-putting-regional-peace-security-at-risk-imran-tells-russian-fm/
--------
Pak-China relations growing with each passing day: ambassador
SEPTEMBER 27, 2019
Ambassador of China Yao Jing has said that 68-year-old Pak-China diplomatic relations are getting stronger with every passing day.
Addressing a ceremony held here to celebrate the 70th anniversary of the founding of People's Republic of China and 68 years of diplomatic relations between both countries, he said that Pak-China diplomatic ties are unique as there is no conflict on any issue between the two countries during the period of their diplomatic history.
The ambassador said that both the countries are enjoying cordial diplomatic relations and have unanimous stance on host of issues in international forums.
He informed that China had started the journey of economic prosperity and social development with international assistance, adding that the country had transformed itself into a developed industrial country.
He said that the people of China wanted to share their prosperity with the world and its President had presented the concept of One-Belt One Road (OBOR) for sharing the benefits of the prosperity with rest of the world.
He termed the China-Pakistan Economic Corridor (CPEC) Project as an example of trade relations and mutual confidence between Pakistan and China, adding that energy and infrastructure development projects have been completed so far.
He said that now CPEC was entering into second phase, having focus on industrial cooperation, agriculture development, infrastructure development and trade protection.
He said that the common goal of both the countries was economic development and social prosperity of their people.
Speaking on the occasion Senator Mushahid Hussain Seyad highlighted diplomatic, economic and cultural relations of both the countries.
He said that transformation of China into developed industrial country was remarkable adding that the three factors that contributed in this regard included course of correction and lesson learning from mistakes, ability to listen and learn from others and china was the first country which had established special economic zone.
Mushahid said that peaceful foreign policy was the other major factor which had contributed in Chinese transformation.
He said CPEC was a vote of confidence for Pakistan because when no country was ready to invest in Pakistan, China initiated multi-billion Dollar projects.
Addressing the event Senator Rahaman Malik said that CPEC was a road to friendship and road to shared prosperity.
He said that it was heart to heart link project which connects the people of both the countries.
Senator Malik also called upon the diplomatic community for raising their voice against Indian atrocities in occupied Kashmir.
Full report at:
https://dailytimes.com.pk/473786/pak-china-relations-growing-with-each-passing-day-ambassador/
--------
Southeast Asia
Malaysia Arrests 16 Suspected Islamic State-linked Militants, Mostly Indonesians
2019-09-26
Police in Malaysia said Thursday they had arrested 16 suspected militants, mostly Indonesian nationals, for allegedly planning terrorist attacks in the country and in neighboring Indonesia.
Twelve of the suspects are believed to be members of a newly established Islamic State (IS) cell in Malaysia, said Ayob Khan Mydin Pitchay, the national police's counter-terrorism chief.
"The group planned to launch attacks in Malaysia and Indonesia," Ayob told reporters in Kuala Lumpur.
Counter-terrorism officers arrested three Malaysians, a dozen Indonesians and an Indian national during a 12-day operation in six states that ended on Wednesday, he said.
The suspects – between 22 and 36 years old – had been actively promoting IS and recruiting new members via social media, Ayob said, adding that all the Indonesians who were arrested worked as laborers and plantation workers.
"Some of them hold proper travel documents, there were also those who entered Malaysia using fake passports and without valid travel documents," Ayob told BenarNews after the news conference.
The suspects were trying to recruit enough followers to carry out an attack, he said.
"They had yet to discuss the exact location, but were planning to conduct lone-wolf and group attacks using firearms," he said.
In Sabah, a state in Malaysian Borneo, two Malaysians were arrested on suspicion of spreading IS propaganda and managing the movements of eventual suicide bombers, Ayob said.
The duo also arranged for funds to be channeled to the Maute band, a pro-IS group in the nearby southern Philippines.
"Both of them had helped arrange the path for a couple … who carried out suicide bombing attacks at a church in Jolo," Ayob told reporters. A married Indonesian couple carried out those twin bombings in the southern Philippines on Jan. 27, killing 23 people and wounding about 100 others, according to Indonesian and Filipino officials.
In Jakarta, the Ministry of Foreign Affairs said it could only confirm that three Indonesians had been arrested in Malaysia.
"We only received information about three people [being arrested] from Kuala Lumpur. The rest may not have been communicated," ministry spokesman Teuku Faizasyah told BenarNews.
He said Jakarta was awaiting further information from the Malaysian government.
"Usually there is a judicial process there and then we'll see what the decisions are," he said.
Brig. Gen. Dedi Prasetyo, the spokesman for Indonesia's national police, said he had not received detailed information about the arrests in the neighboring country.
Malaysia becomes transit point
For years, Malaysia has been a transit point for Indonesian militants seeking to travel to the Muslim areas of the southern Philippines, according to Taufik Andre, a terrorism analyst at the Prasasti Perdamaian Foundation, a Jakarta-based NGO dedicated to rehabilitating former militants.
"They are likely to be new recruits who have been radicalized through social media, because ISIS is currently more active in recruiting and indoctrinating people through social media," he told BenarNews, using another acronym for IS.
Indonesian militants are more likely to carry out attacks in the Philippines than in Malaysia, according to Al Chaidar, a lecturer on terrorism at Malikussaleh University in Indonesia's Aceh province.
"In the Philippines they can build networks to get recognition from ISIS leaders in Syria," Al Chaidar told BenarNews. "I think Malaysia is just their place to transit or hide."
Another arrest in Indonesia
Elsewhere, Indonesian counter-terrorism police arrested two suspected militants during a raid on a house in Cimahi, West Java province on Thursday, Dedi said.
Authorities said the suspects were believed to be members of Jamaah Ansharut Daulah (JAD), a local IS affiliate, who were arrested on suspicion that they were assembling bombs to attack police targets, the Indonesian police spokesman said.
Police seized four plastic bags with bomb-making materials from the two.
The duo is believed to be connected to nine JAD suspects who were arrested in West Java and Jakarta on Monday on suspicion of planning attacks on police targets, West Java police spokesman Trunoyudo Wisnu Andiko told BenarNews.
On Monday, police confiscated 500 grams of explosives at the home of one of the nine suspects in Jakarta.
North Jakarta Police Chief Budhi Herdi Susianto said officers found what they described as a "goodbye letter" written by the suspect, who allegedly planned a suicide attack using explosives at a police station.
In January 2016, authorities blamed JAD for a gun and bomb attack that killed eight people, including the four attackers, in Jakarta's central business district. It was the first terrorist attack claimed by IS in Southeast Asia.
JAD was also blamed for coordinated attacks in the Indonesian city of Surabaya in May 2018, when two families carried out suicide bombings on three churches and a police station. Twenty-four people were killed, including the attackers who used their children as young as 9 in the bombings.
An Indonesian court outlawed JAD in a July 2018 verdict that was seen as making it easier for law enforcement officials to arrest suspected members.
https://www.benarnews.org/english/news/malaysian/malaysia-terrorism-09262019171832.html
--------
Report: Malaysian envoy expressed concerns about China's treatment of Uighurs in leaked report
26 September 2019
BY AZRIL ANNUAR
KUALA LUMPUR, Sept 26 — An unnamed diplomat reported his misgivings about China's "re-education" centres for its Uighur Muslim minority to Putrajaya but the findings were allegedly buried to preserve ties with the superpower, the New York Times asserted today.
In an article titled "China Wants the World to Stay Silent on Muslim Camps. It's Succeeding", the US newspaper claimed to have reviewed the Malaysian envoy's unpublished report and said it contradicted China's insistence that attendance at these camps were voluntary.
It alleged the Malaysian envoy to be one of two diplomats whose unfavourable findings have emerged to challenge China's narrative of its Uighur issue.
"Delegates could actually sense fear and frustration from the students," the NYT quoted from the report that the envoy allegedly wrote after his December visit with a dozen other diplomats from mostly Muslim nations.
"China may have legitimate reasons to implement policies intended to eliminate the threat of terrorism, especially in Xinjiang. However, judging by its approach, it is addressing the issue wrongly and illegitimately, eg preventing Muslim minors from learning the Quran."
The NYT asserted in its article that the report was never published due to Malaysia's desire at the time to repair ties with China that became strained after Putrajaya cancelled two pipeline projects and had been renegotiating the East Coast Rail Link (ECRL).
The ECRL was eventually resumed after China agreed to lower the project's price and take on half the operation costs once the line is active.
The paper also purported that Putrajaya was banking on the Asian economic giant to increase its uptake of Malaysia palm exports amid a global slowdown and depressed commodity prices.
China is also consistently one of Malaysia's main investors and trading partners.
"The US$100 billion in annual bilateral trade is enough to focus the minds of Malaysian policymakers," Shahriman Lockman, a senior analyst at the Institute of Strategic and International Studies in Kuala Lumpur, told the NYT.
"China is too big a market to lose."
Full report at:
https://www.malaymail.com/news/malaysia/2019/09/26/report-malaysian-envoy-expressed-concerns-about-chinas-treatment-of-uighurs/1794404
--------
Naik a step away from being labelled 'fugitive'
September 24, 2019
PETALING JAYA: India's Enforcement Directorate (ED) has filed an application to declare controversial preacher Dr Zakir Naik, currently based in Malaysia, a "fugitive" offender.
The latest development will help India in the extradition process of Naik, officials said.
According to India Today, the directorate filed its application yesterday before the designated court in Mumbai to declare Naik a fugitive under the Economic Offenders Act.
Under the Fugitive Economic Offenders Act 2018, the officials said effective action can be taken against economic offenders who have fled Indian jurisdiction.
It provides for attachment and confiscation of property of fugitive economic offenders and disqualifies them from defending any civil claim.
The news portal said that if Naik is declared a fugitive, the ED will also have the power to attach his overseas properties.
A Mumbai court had already issued a fresh non-bailable warrant (NBW) last week against Naik in an alleged money laundering case in 2016.
Last week, Naik had moved a plea through his lawyer seeking two months to appear before the court, but it was rejected, the portal said.
It said the ED had claimed to have identified 193.06 crore rupees (RM113.4 million) as the proceeds of crime in the 2016 case.
Naik, who was recently barred from delivering any religious speech in Malaysia, is facing charges of promoting terrorism and disrupting communal peace in society.
The investigative agencies have also alleged that he was involved in forceful conversions of people from different religions to Islam, India Today said.
Full report at:
https://www.freemalaysiatoday.com/category/nation/2019/09/24/naik-a-step-away-from-being-labelled-fugitive/
--------
House Puts Sexual Violence Bill on Hold Until Next Term
BY YUSTINUS PAAT & NUR YASMIN
SEPTEMBER 26, 2019
Jakarta. The House of Representatives has decided to postpone a vote on the elimination of sexual violence bill and leave it to the new national legislature that will be sworn in next month.
"I have coordinated with the head of the bill task force. Due to the limited time left and the many other issues that have yet to be discussed, we decided to halt the bill," House Speaker Bambang Soesatyo said on Thursday.
The bill has been a source of controversy among conservative religious groups in Indonesia, which see it as a pathway to normalizing promiscuity and same-sex relationships in the country.
On the other hand, women's rights activists see the bill as critical to improving the protection of women across the country. For example, Indonesia's current law only recognizes forcible penile penetration of a vagina as rape. The law also does not recognize verbal sexual abuse, of which the public only recently became aware, following the high-profile case early this year involving Baiq Nuril Maknun – a victim of sexual harassment who was convicted of slander for shaming her abuser.
Bambang said the House could carry over the unfinished bill to the next term, instead of starting over with a blank slate, because it has revised the 2011 Law on Law Formation.
The House and the government have formed a team to formulate the sexual violence bill and start working on it in the next term, Bambang said.
The bill recognizes nine types of sexual violence: sexual abuse, sexual exploitation, contraception coercion, abortion coercion, rape, forced marriage, forced prostitution, sexual slavery and sexual torture.
The bill defines sexual abuse as "any physical and non-physical activity related to someone's body parts or related to sexual desire, that intimidates, insults, degrades, or humiliates someone."
Thus, should the bill become law, it would be a criminal offence to touch someone else's genitalia or any body part associated with sex or sexuality, including the chest, breasts, buttocks and hair.
Non-physical activity includes, but is not limited to whistling or winking at someone, showing pornographic material to them, taking a photograph of them without their consent, or peeping at them, catcalling or making a sexually suggestive remark, or making a gesture that simulates genitalia.
The bill is a response to the ever-increasing rate of sexual violence in Indonesia. According to data compiled by the National Commission on Violence Against Women (Komnas Perempuan), at least 35 women and girls were sexually abused every day between 2001 and 2011.
The bill entered the national legislative program in 2012, but has yet to be approved. The House promised to pass it after the 2019 legislative election, after several activists pushed for its approval last year.
However, several parties, including the Islam-based Prosperous Justice Party (PKS), regard the bill as contrary to religious values because they believe it would provide a loophole for sexual intercourse outside of marriage.
Jazuli Juwaini, who heads the PKS faction in the House, expressed his party's relief that the bill had been put on hold.
Full report at:
https://jakartaglobe.id/context/house-puts-sexual-violence-bill-on-hold-until-next-term
--------
Indonesian students demonstrate against repression of civil liberties
September 27, 2019
JAKARTA: Thousands of young people demonstrating for the past few days in Indonesia's capital and other major cities have evoked a sense of deja vu in those who remember the 1998 student protests in the country that brought an end to authoritarian rule. But this time it is about something else.
"The students' movement back then was for political rights, while now it is for civil liberties," said Saidiman Ahmad, who two decades ago participated in the mass protests that forced President Suharto to resign after 32 years in power.
"I see the demonstrations as an overflow of anger caused by repression by the state and religious orthodoxy against civil liberties. It is not a new thing. This resistance has already been visible in social media and online. Now it has taken to the streets," the researcher at Saiful Mujani Research and Consulting (SMRC) told Arab News.
The trigger of the demonstrations have been revisions to the law that governs the country's antigraft body and planned revisions to the Criminal Code.
As the current House of Representatives (DPR) is ending its term this month, lawmakers have rushed to pass controversial legislation, which according to the Jakarta Legal Aid Institute (LBH Jakarta) head of advocacy, Nelson Nikodemus Simamora, "contradicts the public will, public reason."
He said the revisions have greatly weakened the authority of the Corruption Eradication Commission (KPK), "contradicting the public will for having Indonesia free from corruption."
"People are already fed up with the corruption of state officials, as it affects their lives. The (recent) appointment of the KPK's new leaders, which was also flawed ethically and with regard to their track records, has also added to public anger," he said.
Lighter sentencing for graft convicts is one of the main problems that would come with revisions to the Criminal Code.
But there are many more clauses that would result in an illiberal change in the country's democratic environment.
"Now there would be these clauses that will allow to imprison or penalize those who are critical of the government, state institutions, president or vice president," Simamora said.
Numerous problematic stipulations have been hastily inserted by lawmakers into the new code without public consultation. While media reports have reduced some of the issues raised during the protests as opposition to the criminalization of extramarital sex, the protesters themselves see the main danger posed by the revisions as an unprecedented interference by the state into the private space of people's lives.
In the current Criminal Code, many clauses already work to public disadvantage, argues one of the protesters, Cania Citta Irlanie, who is also the head of content at political education media at Geolive.id, yet while they have not been removed, new ones are causing further disquiet.
"What's the urgency of having adultery expanded to single, unmarried people engaging in consensual sex?" Irlanie said, referring to a controversial clause that expands the scope of adultery.
Under current laws it is an offense that has to be reported either by the wife or husband, but with the new Criminal Code also parents will be encouraged to file reports against their adult children if they engage in premarital or extramarital sexual relations.
Besides serving to "accommodate intervention by others into the choices of individuals," as Irlanie put it, the new Criminal Code according to her would also threaten critical thinking, "criminalize science and logic" through the strengthening of blasphemy laws.
"Even talking about evolution could bring blasphemy charges," she said, citing the new provision of four years' imprisonment for those who "incite others to negate anyone's religious beliefs."
Full report at:
https://www.arabnews.com/node/1560396/world
--------
Arab World
Saudi crown prince bars princes from foreign travels: Paper
Sep 26, 2019
Saudi Crown Prince Mohammed bin Salman has banned dissident princes with questionable loyalties from travelling abroad and restricted their access to financial services, an Arabic media report says.
The London-based newspaper al-Quds al-Arabi, citing sources, reported on Thursday that the new measures restrict mobility to dissident princes, including the right to obtain a passport and travel abroad without certain guarantees or a special permission of bin Salman, the de facto ruler of the kingdom.
The Saudi princes, who previously enjoyed diplomatic privileges and were frequent travelers to Western countries, are now also barred from conducting foreign exchange transactions and cannot send or receive foreign currency remittances, it added.
"The number of Saudi princes who sold their precious properties abroad in the wake of travel restrictions and banking problems has increased. On the other hand, Saudi princes' stay at luxury European hotels in summer 2018 and 2019 as compared to previous years has declined," the report said.
In recent years, dozens of princes, ministers and former ministers have been detained on the order of Saudi Arabia's so-called Anti-Corruption Committee headed by the crown prince in a crackdown which is widely believed to be aimed at consolidating his power.
The detained individuals have faced allegations of money laundering, bribery, extorting officials and misappropriation of public funds for personal benefits.
In late 2017, Saudi authorities started negotiating settlements with individuals held over allegations of corruption at the Ritz-Carlton Hotel in Riyadh.
Prince al-Waleed bin Talal bin Abdulaziz, the chairman of investment firm Kingdom Holding Company, Nasser bin Aqeel al-Tayyar, the founder of Al Tayyar Travel Group, and Amr al-Dabbagh, the chairman of builder Red Sea International, were among the top business executives detained during the purge.
The settlements came at a time when Saudi King Salman planned to relinquish power in favor of his son who is pursuing a self-promotion campaign under the cover of tackling high-level corruption.
Pundits believe the targeting of Saudi Arabia's long-standing elite represents a shift from family rule to a more authoritarian style of governance based on a single man.
Saudi's ongoing deadly military campaign against neighboring Yemen and Jamal Khashoggi's murder, a columnist for The Washington Post and an outspoken critic of Saudi Arabia's ruling family, have shattered the dreams of bin Salman for building a modern and economically vibrant country.
Many also see Riyadh's policies as a major cause of the crises unfolding in the region.
In a separate development on Thursday, bin Salman attempted to portray himself as not having been involved in the murder of Khashoggi, who is unequivocally believed to have been killed on bin Salman's order.
According to a PBS documentary to be broadcast next week, the 34-year-old Saudi crown prince, also known as MBS, has claimed that government agents — including one of his bodyguards — sent by private government jets to kill Khashoggi at the Saudi consulate in Istanbul in October last year acted on their own.
The Washington Post, for which Khashoggi was a columnist, reported in November last year that the CIA had concluded that bin Salman ordered the killing.
https://www.presstv.com/Detail/2019/09/26/607200/Saudis-Bin-Salman-alQuds-alArabi-RitzCarlton-Hotel--Khashoggi
--------
Latest attacks have exposed 'vile and cowardly' Iranian regime before the entire world, Saudi FM tells UN General Assembly
September 27, 2019
NEW YORK: Saudi Arabia on Thursday called for a concerted world effort to stop Iran's aggression as it officially identified Iran as the culprit behind the Sept. 14 drone and missile attacks on the Kingdom's oil facilities.
"The latest attacks and aggression have exposed the Iranian regime before the entire world; we are dealing with a rogue and terrorist system that continues to threaten the international peace and security," Saudi Foreign Minister Ibrahim Abdulaziz Al-Assaf told the United Nations General Assembly in New York.
The attacks on the Abqaiq and Khurais oil installations in eastern Saudi Arabia jolted global oil prices and temporarily knocked out nearly six per cent of daily global crude production.
"We know very well who stood behind this aggression," said Al-Assaf, who called the strikes a "flagrant violation of international laws and a threat to international peace and security," he said.
"We have known that regime for 40 years. It is good at nothing but masterminding explosions, destruction and assassinations, not only in our region but also throughout the world."
He urged the world to apply "utmost pressure with every tool available", saying that the most effective way to control Tehran is to cut off its financial resources.
"It is necessary for the international community to realize that cutting off sources of finance is the best way to compel the regime to renounce its militias, prevent it from developing ballistic missiles and put an end to its destabilizing activities in the region and the world," he said.
Al-Assaf said Iranian aggression also "jeopardizes energy supplies and the world economy, hence the recent attacks are a real test for the international community."
Iran has denied responsibility for the attacks, pointing to a statement by Houthi militias in Yemen claiming responsibility for the attack.
But Saudi Arabia insists Iranian weapons were used and has invited UN investigators to assess where the strikes were launched. The United States, France, Britain and Germany also blame Iran, which has been under US sanctions since 2018.
A defiant Iranian President Hassan Rouhani stressed at a news conference on the sidelines of the General Assembly on Thursday that the Tehran regime will not bow to pressure.
"Cease this policy of maximum pressure and pursue a policy of dialogue and logic and reason," he said.
US President Donald Trump has deferred, at least for now, any immediate military strike on Iran. But he approved a broader effort to beef up security in Saudi Arabia and the region. He told reporters that showing restraint "shows far more strength" than launching retaliatory strikes now.
The US said Thursday it was sending one Patriot missile battery and four ground-based radar systems to Saudi Arabia, in what officials describe as the first steps to help the kingdom protect itself against Iranian attacks. Two more Patriot batteries and a THAAD missile defense system will be prepared to go later if needed, and the deployment will involve about 200 troops.
Tensions between Iran and the West have risen since Trump withdrew the US from Iran's 2015 nuclear deal with several world powers, saying the agreement was woefully inadequate.
Full report at:
https://www.arabnews.com/node/1560431/saudi-arabia
--------
Historical Saudi drama 'Born a King' opens in cinemas to rave reviews
September 27, 2019
JEDDAH: Saudi film fans were on Thursday left thirsting for more after the long-awaited release of the historical drama "Born a King" finally hit the Kingdom's cinema screens.
"I felt proud to be from Saudi Arabia," said moviegoer Asayl Al-Zahrani after watching the remarkable true story of a 13-year-old Saudi prince dispatched to Britain on a high-stakes diplomatic mission to secure the formation of his country.
Jeddah's Vox Cinema was packed with viewers of all ages eager to see Saudi history brought to life on the silver screen.
Set in 1919, the film was partly shot in Riyadh and Diriyah, and sees a teenage Faisal, later to become king of Saudi Arabia, as the young hero sent by his father to lead negotiations in London with the fate of his nation resting on his shoulders.
The theater audience watched in amazement as the movie recounted how Prince Faisal (played by Abdullah Ali) negotiated with some of the pre-eminent figures of the age, including Lord Curzon (Kenneth Cranham) and Winston Churchill (Celyn Jones), while forming a friendship with Princess Mary (Hermione Corfield) who helped guide him through the corridors of power.
Enamored with the character of Prince Faisal, viewers laughed and even shouted out in anger in reaction to the prince's clever responses to those ridiculing Arabs or one scene when his attaché was kicked out of their hotel.
The film's cast included hundreds of Saudis, and Al-Zahrani, 23, told Arab News she was impressed by the scale of the production.
"The movie was amazing. I never expected it to be that good. There were clips where I felt extremely proud of my country and the kings of Saudi Arabia."
She said that the scenes portraying Prince Faisal's wisdom were the ones she liked the most and added: "Another part that I enjoyed was when Prince Faisal returned to Najd and his father, then Prince Abdul Aziz, expressed how proud he was of his son. The movie affected me so much that whenever the British looked down on the prince or his acquaintances, I felt angry."
Another cinema fan, Abdullah Al-Halawani, also lauded director Agusti Villaronga's flick. "The production of the movie was better than expected. The scenery they chose, and the locations painted a picture of how the environment must have been in the past. "I would love to watch more movies about the history of our country, because when my mother and grandmother tell me stories about events that happened in their past, films like 'Born a King' will aid my imagination and help me picture things better," said Al-Halawani.
He added that big-screen versions of such tales were better than reading about them in a book.
Full report at:
https://www.arabnews.com/node/1560426/saudi-arabia
--------
Saudi aid agency KSRelief appeals to resolve Rohingya crisis
September 27, 2019
NEW YORK: Dr. Abdullah Al-Rabeeah, general supervisor of the King Salman Humanitarian Aid and Relief Center (KSRelief), participated in the donors' conference to support the Rohingya refugees held at the UN headquarters in New York.
Al-Rabeeah said the Rohingya minority have been subjected to systematic violations against human rights, resulting in the displacement of hundreds of thousands of them outside the borders of their state. Since August 2017, more than 1.2 million Rohingya have been displaced outside Myanmar.
He also stressed the Kingdom's leading role in receiving over the last 40 years nearly 250,000 Rohingya, providing them and their families with health care services, free education and job opportunities at a cost of nearly $2 billion during the past five years.
Al-Rabeeah added that KSRelief worked with five partners through which it was able to implement 20 projects in various fields and provide educational services for children of Rohingya refugees.
Full report at:
https://www.arabnews.com/node/1560416/saudi-arabia
--------
Security forces kill eight IS terrorists in Iraq's Anbar
by Mohammed Ebraheem
Sep 25, 2019
Anbar (IraqiNews.com) – Eight Islamic State (IS) militants were killed Wednesday during a security operation in the western province of Anbar, a military commander said.
"The Jazeera Operations Command, backed by tribal mobilization fighters and army warplanes, carried out a preemptive security operation in the northern parts of Rawa, leaving eight IS terrorists dead," Leader of al-Hashd al-Shaabi in Anbar Province, Qatari al-Obeidi told Alsumaria News.
The operation is still ongoing, he added.
The Islamic State group appeared on the international scene in 2014 when it seized large swathes of territory in Iraq and Syria, declaring the establishment of an Islamic "caliphate" from Mosul city. Later on, the group has become notorious for its brutality, including mass killings, abductions and beheadings, prompting the U.S. to lead an international coalition to destroy it.
Full report at:
https://www.iraqinews.com/iraq-war/security-forces-kill-eight-is-terrorists-in-iraqs-anbar/
--------
US confirms Syria's Assad used chemical weapons in May: Pompeo
26 September 2019
The United States has confirmed that Syrian President Bashar al-Assad's forces used chemical weapons in May, Secretary of State Mike Pompeo said Thursday, vowing a response.
"The United States has concluded that the Assad regime used chlorine as a chemical weapon," Pompeo told reporters, saying the attack will "not go unchallenged."
Full report at:
https://english.alarabiya.net/en/News/middle-east/2019/09/26/US-confirms-Syria-s-Assad-used-chemical-weapons-in-May-Pompeo.html
--------
Iran commits new breach of nuclear deal, expands enrichment: IAEA report
26 September 2019
Iran has committed a further breach of its nuclear deal with major powers by enriching uranium with advanced centrifuges, and plans to install more of those advanced machines than previously announced, a UN nuclear watchdog report showed on Thursday.
"On 25 September 2019, the Agency verified that all of the (centrifuge) cascades already installed in R&D lines 2 and 3 ... were accumulating, or had been prepared to accumulate, enriched uranium," the International Atomic Energy Agency said in the report to member states obtained by Reuters.
Full report at:
https://english.alarabiya.net/en/News/middle-east/2019/09/26/Iran-commits-new-breach-of-nuclear-deal-expands-enrichment-IAEA-report.html
--------
Aleppo filmmaker vows to continue showing reality of Syria
September 26, 2019
LONDON: A Syrian filmmaker whose documentary on the siege of Aleppo brought a Cannes audience to tears has said she wants to show the world the reality of her country.
Waad Al-Kateab's powerful and intimate film "For Sama" is a love letter to her infant daughter, documenting the desperate conditions she and her husband were living through, in case they didn't survive.
Charting five years of her life from student protester to wife and young mother in Syria's battle-ravaged second city, it won an emotional standing ovation at the Cannes film festival in May.
For Kateab, the film is more than the story of one family's struggle.
"It's a realistic depiction of everything that's happening now in the country," she told AFP on Wednesday in London, where the documentary is touring.
"Unfortunately, the world is deaf and blind to what is happening, but as Syrians, our goal is to continue to tell and share Syria's story."
Kateab was just 20 when pro-democracy protests broke out, triggering a bloody crackdown by loyalists of President Bashar Assad that has killed 370,000 people and displaced millions.
The northern city of Aleppo suffered some of the heaviest fighting after oppositionrebels seized its eastern sector in 2012.
The young filmmaker's goal was to document the desperate conditions of life in the city as regime forces closed in — along with the joy of falling in love and the excitement of becoming a mother.
When she and her husband Hamza, on a trip to Turkey to see his sick father, heard regime forces were poised to cut off the city's east completely, they decided to return.
Within an hour, they had packed and were on a treacherous journey, dodging shells and sneaking past regime troops into the now-besieged part of the city.
Hamza, a medic, threw himself into work at a hospital which at one point hosted 300 casualties in a single day — before itself being hit by an airstrike.
Kataeb dedicated herself to filming the situation, while wrestling with the question of whether or not to flee the city to protect her daughter.
After six months, Aleppo was overrun and they were forced into exile, leaving the city as part of a huge civilian evacuation.
Kataeb then set about bringing her footage together into a feature-length production that would capture the imagination of audiences "tired of war films or films on Syria."
"So our challenge was to come up with a film that was different," she said.
The result is a brutally honest, moving portrayal of life under siege: The absurdity of laughter as missiles crash down overhead, the snowball fights, the aching grief of two boys grieving over their brother.
Kataeb said her aim was "to continue to describe in a way that is true and real what is happening in Syria."
Full report at:
https://www.arabnews.com/node/1560326/middle-east
--------
Mideast
Hezbollah leader photographed in Iran with Ayatollah Khamenei and Quds Forces commander
2019-09-26
BEIRUT, LEBANON (9:00 A.M.) – The Secretary-General of Hezbollah Sayyed Hassan Nasrallah posed next to Iran's Ayatollah Ali Khameni and the Quds Force commander Major General Qassem Suleimani in an undated photo that was posted on the Islamic Republic's Supreme Leader's official website.
While the photo's date is unknown, it is believed that the Hezbollah leader visited Iran in the past three months.
https://www.almasdarnews.com/article/hezbollah-leader-photographed-in-iran-with-ayatollah-khamenei-and-quds-forces-commander/
--------
Yemen's Houthi rebels force children out of school with fees
Mina Aldroubi
Sep 25, 2019
Yemen's Houthi rebels have started charging school fees in areas under their control, depriving children of an education and putting them at greater risk of exploitation and violence, according to government officials.
In Sanaa, the Houthis are demanding up to 1,150 Yemeni rials [Dh17] in registration fees and a monthly charge of 1,000 rials, said Hooria Mashhour, Yemen's former minister of human rights.
Education in Yemen is free and open to all children from the ages of 6 to 15 in government-funded schools.
"According to my sources in Sanaa, the Houthis are justifying their demands for these fees by stating that it will be paid towards the transport and allowance for volunteer teachers," Ms Mashhour told The National.
The charges are the "main reasons why children drop out of schools", because their families cannot afford to pay them, she said.
"A Yemeni family consists of at least seven to eight members," Ms Masshour said. "These fees are too high to allow them an education."
The quality of education in Yemen has deteriorated dramatically throughout the country and especially in Houthi-held areas, she said.
In other Houthi-controlled areas, such as the southern province of Ibb, the rebels are demanding that "well off" families pay 1,000 rials a month, Saeed Al Batati, a Yemeni journalist, told The National.
The school fees could go up to 5,000 rials for every student enrolled, according to Afrah Nasser, another Yemeni journalist.
"Sources say that Houthi rebels are charging 1,500 riyals for registration fees and the 5,000 riyals can be paid in instalments," Nasser told The National.
More than half of Yemen's teachers have not received their salaries for years, affecting 10,000 schools, a source at the Norwegian Refugee Council told The National.
"Support for teacher salaries is the most critical and urgent need for the coming school year," the source said.
About 2,000 schools have been damaged, destroyed, inhabited by displaced families or occupied by armed groups since the start of the war, she said.
Further delays in paying teachers will probably lead to the collapse of the education sector and affect millions of children in Yemen.
It will leave them vulnerable to child labour, recruitment, trafficking, abuse and early marriage, the council said.
It said almost 4.7 million boys and girls needed educational assistance across Yemen.
The UN children's agency on Wednesday said that two million children were out of school in the country.
The education of a further 3.7 million children was at risk as teachers' salaries have not been paid in more than two years, Unicef said.
"Violence, displacement and attacks on schools are preventing many children from accessing school," said Sara Nyanti, Unicef's Yemen representative.
The agency said one in five schools in the country could no longer be used as a result of the Houthi insurgency.
"Children out of school face increased risks of all forms of exploitation, including being forced to join the fighting, child labour and early marriage," Ms Nyanti said.
"They lose the opportunity to develop and grow in a caring and stimulating environment, ultimately becoming trapped in a life of poverty and hardship."
Full report at:
https://www.thenational.ae/world/mena/yemen-s-houthi-rebels-force-children-out-of-school-with-fees-1.915156
--------
New indictment piles on evidence of Hezbollah terrorist activity in US
by Ellie Bufkin
September 25, 2019
An indictment filed in the Southern District of New York last week against a New Jersey man on terror-related charges revealed strong evidence of organized Hezbollah activity in the United States.
Ali Hassan Saab, known also as Alexei Saab, a resident of New Jersey and a U.S. citizen, was charged with nine felony counts based on Hezbollah activity spanning from "at least" 1996 until his capture in 2019. His charges included conspiracy to provide and subsequent provision of support to the Iranian terrorist organization, receiving military training from Hezbollah, immigration fraud to perpetuate international terrorism, and marriage fraud, among others.
Hezbollah is a Lebanon-based Shi'ite Islamic group supported by Iran that has been active since the 1980s. The U.S. designated them as a Foreign Terrorist Organization in 1997, and the State Department described Hezbollah as the "most technically capable terrorist group in the world" in 2010.
Saab's alleged Hezbollah activities over the last two decades reportedly began in Lebanon, doing reconnaissance in Lebanon on Israeli and Lebanese soldiers. After receiving weapons training in Hezbollah camps, he joined the Islamic Jihad Organization, the branch of Hezbollah responsible for outside operations. He is said to have emigrated to the U.S., where he became naturalized in 2008 after falsely claiming that he had never been part of a terrorist organization. Since that time, according to the U.S. attorney, Saab has conducted surveillance on several structures, bridges, and landmarks in New York City, searching them for weaknesses as possible locations for terrorist attacks.
The indictment also claims that Saab continued traveling internationally and continued to train with Hezbollah in Lebanon. He is also accused of two incidents of attempted murder while abroad, including one of a man he suspected of being Israeli.
U.S. Attorney for the Southern District of New York Geoffrey S. Berman, who signed the indictment, minced no words about the severity of Saab's indictment. "As a member of the Hizballah component that coordinates external terrorist attack planning, Alexei Saab allegedly used his training to scout possible targets throughout the U.S. Even though Saab was a naturalized American citizen, his true allegiance was to Hizballah, the terrorist organization responsible for decades of terrorist attacks that have killed hundreds, including U.S. citizens and military personnel. Thankfully, Saab is now in federal custody, and faces significant prison time for his alleged crimes," Berman said.
Evidence against Saab in the indictment supports the suspected modus operandi of Hezbollah, which includes achieving dual citizenship for their operatives to gain greater access to target nations. U.S. authorities arrested two men in 2017 suspected of being members of Hezbollah's External Security Organization, which is responsible for coordinating terrorist attacks abroad. The two men, Ali Kourani and Samer El Debek, had also acquired U.S. citizenship before their capture.
Full report at:
https://www.washingtonexaminer.com/news/new-indictment-piles-on-evidence-of-hezbollah-terrorist-activity-in-us
--------
President Rouhani: History to Remember UN Silence on US Economic Terrorism against Iran
Sep 26, 2019
During the meeting on the sidelines of the 74th session of the General Assembly in New York on Wednesday, President Rouhani criticized the UN silence and inaction on the US crimes against the people of Iran, as well as the Zionist Regime's crimes in the region.
"The Iranian nation will overcome these problems one way or another, but the sigma of an aggressive government committing all these crimes against a nation using economic terrorism and the United Nations staying silent will be remembered in history," he said.
On the fragile conditions of the region, the Iranian president said, "Today, Palestine is going through tough times and the Zionist Regime is committing acts of aggression against Palestine, Syria, Lebanon and Iraq on a daily basis, and the United Nations is silent on these crimes."
Rouhani further said Iran stands ready to continue its constructive cooperation with the UN regarding the crises in Syria and Yemen.
"This approach needs to be changed and this important international organization must carry out its responsibilities," he said.
Rouhani also highlighted the Hormuz Peace Endeavor (HOPE) – an Iranian initiative aimed at ensuring security in the Persian Gulf region in cooperation with neighbors – and said the "new serious measure" needs the UN's contribution.
Guterres, for his part, praised Iran's HOPE initiative and its efforts to help solve the Yemen conflict, create Syria's constitutional committee and advance the Astana peace process.
He also voiced the UN's full support for the 2015 nuclear deal, officially named the Joint Comprehensive Plan of Action (JCPOA), saying it is more than just an agreement as the international document has been endorsed by a UN Security Council resolution.
Addressing the UNGA on Wednesday, President Rouhani unveiled Iran's new initiative for the establishment of peace and security in the Persian Gulf and the Strait of Hormuz, and said, " The goal of the Coalition for Hope is to promote peace, stability, progress and welfare for all the residents of the Strait of Hormuz region, and to enhance mutual understanding and peaceful and friendly relations amongst them."
"This initiative includes various venues for cooperation, such as the collective supply of energy security, freedom of navigation and free transfer of oil and other resources to and from the Strait of Hormuz and beyond," he added.
Full report at:
https://en.farsnews.com/newstext.aspx?nn=13980704000286
--------
Palestinian president condemns Netanyahu's pledge to annex West Bank territory
26 September 2019
Palestinian President Mahmoud Abbas on Thursday reiterated his condemnation of Israeli Prime Minister Benjamin Netanyahu's pledge to annex the Jordan Valley and Israeli settlements located in occupied Palestinian territory.
"If any Israeli government is to proceed with this plan, all signed agreements…and any obligations therein will be terminated," said Abbas in a speech to the UN General Assembly.
Abbas said that the international law has been severely endangered as a result of the policies and practices of Israel in the West Bank, mentioning that specifically in Jerusalem, Israel is waging a war on anything there that is Palestinian.
"From the confiscation and demolition of homes, to assaults on clergymen, to the eviction of our citizens from their homes, to attempts to violate the sanctity of the holy al-Aqsa mosque and the Church of the Holy Sepulchre," said Abbas.
Abbas said the state of Israel is restricting the freedom of Palestinians to worship at their holy sites in Jerusalem, referring to the permit system that requires Palestinians living in the West Bank to request permission from the Israeli government to visit Jerusalem.
Abbas affirmed his support for the two-state solution and said the Trump administration has "jeopardized" the two-state solution with its policies including the US recognition of Jerusalem as the capital of Israel in 2017.
"Jerusalem will remain the eternal capital of Palestine," said Abbas.
The UN position is that Jerusalem should be placed under a special international regime.
Abbas expressed his gratitude to the UN for granting the West Bank "non-member observer state status" in 2012 and called on the intergovernmental organization to now grant it full member status.
"Give me one reason why we do not deserve to be a full member of the United Nations," Abbas said.
Abbas' speech comes more than seventy years after the United Nations voted in 1947 to partition the territory of Palestine into a state of Israel and an Arab state of Palestine.
Following the 1948 Arab-Israeli War, the West Bank was captured by Jordan. Israel then occupied the West Bank in 1967, a move never recognized by the international community.
Under a series of agreements known as the Oslo Accords, signed between 1994 and 1999, Israel transferred to the newly created Palestinian Authority (PA) security and civilian responsibility for many Palestinian-populated areas of the West Bank as well as the Gaza Strip.
Full report at:
https://english.alarabiya.net/en/News/middle-east/2019/09/26/Palestinian-president-condemns-Netanyahu-s-pledge-to-annex-West-Bank-territory.html
--------
UN Human Rights Council condemns Houthi abuses in Yemen
27 September 2019
The United Nations Human Rights Council adopted a resolution condemning the abuses committed by the Houthi militia in its widespread recruitment and use of children, arbitrary arrests and detentions, denial of humanitarian access, and attacks on civilians.
"The resolution also called for an end to any starvation of civilians as a means of war, and appealed to UN member states to conduct a full, prompt, impartial and effective investigations independently within their jurisdiction of violations of international humanitarian law related to the use of starvation of civilians as a means of warfare," according to a statement.
The resolution also called on the Houthis to end the recruitment of children as child soldiers and called for their immediate release. detention, and an end to the harassment and judicial persecution they face. By the Houthis.
On Thursday, Yemen's legitimate government said it had rejected another resolution by the UN Human Rights Council to extend the mandate of war crimes investigators in Yemen for another year.
"In a speech before the council, Yemeni Minister of Human Rights Dr. Mohammed Askar affirmed Yemen's rejection of the resolution, citing several negative positions of the experience of experts in Yemen," according to a statement on the Saudi Press Agency. Britain's UN ambassador Julian Braithwaite praised the "fair and balanced" work of the investigators but also urged them to focus on "the conduct of those who back the protagonists."
Full report at:
https://english.alarabiya.net/en/News/gulf/2019/09/27/UN-Human-Rights-Council-condemns-Houthi-abuses-in-Yemen.html
--------
President Abbas urges intl. action against Israel arrogance towards Palestinians
Sep 26, 2019
Palestinian President Mahmoud Abbas has called on the international community to assume its responsibilities and take an appropriate action aimed at putting an end to the Israeli regime's continued acts of aggression against Palestinians.
"It is time for the international community to uphold its responsibilities to bring an end to this Israeli aggression and arrogance. I had hoped to come to you this year to proclaim together the end of this occupation, the Israeli occupation of my homeland, Palestine. But, regrettably, I stand before you today bearing the same miseries and pain that have been endured for so long by my people, who, despite all that they have suffered, … still hold on to the hope of achieving their freedom and independence, like all other nations of the world," Abbas said at the 74th session of the United Nations General Assembly in New York on Thursday.
He added, "I ask you once again: Hasn't the time come for the emancipation of the Palestinian people and their freedom from this injustice, oppression and occupation?"
The Palestinian president then denounced Israeli Prime Minister Benjamin Netanyahu's controversial pledge to annex the Jordan Valley and the adjacent northern Dead Sea in the occupied West Bank as illegal, underlining that the Palestinian Authority will terminate all its agreements with the Tel Aviv regime in case the latter proceeds with such a plan.
"A week before the recent Israeli elections, Israel's Prime Minister (Benjamin) Netanyahu came out to arrogantly announce that should he prevail in the election, he will annex and apply Israeli sovereignty to the Jordan Valley, northern Dead Sea, and Israel's colonial settlements despite the fact that all these areas are occupied Palestinian territories. We reject entirely and completely this illegal plan," Abbas said.
Abbas also slammed the United States' support for Israel while denying Palestinians' rights, noting that Washington has destroyed any possibility of peace and has jeopardized the so-called two-state solution with President Donald Trump's controversial proposal for "peace" between the Israeli regime and Palestinians, dubbed "the deal of the century."
The Palestinian president stressed that he will not accept any American mediation anymore due to Washington's biased policies.
He also demanded the cessation of the US role as the key player in the so-called Middle East peace process.
Full report at:
https://www.presstv.com/Detail/2019/09/26/607217/President-Abbas-urges-intl-action-against-Israel-arrogance-towards-Palestinians
--------
Yemeni forces hit gathering of Saudi-led mercenaries in Hajjah with missile
Sep 26, 2019
Yemeni forces have targeted a gathering of Saudi mercenaries in Yemen's northwestern province of Hajjah with a domestically-manufactured missile.
Citing an unnamed military source, Yemen's Arabic-language al-Masirah television network reported that Yemeni missile defense units successfully hit a gathering of Saudi mercenaries south of Heyran district with a Zelzal-1 (Earthquake-1) missile on Thursday.
The report said the missile successfully hit its designated target and killed or wounded a number of mercenaries.
The retaliatory missile attack came a day after the Yemeni army targeted the same area with six missiles of the same type, killing or wounding an unspecified number of Saudi mercenaries, the report further said.
Yemeni forces regularly target positions inside Saudi Arabia in retaliation for the Saudi war, which began in March 2015 in an attempt to reinstall the country's Riyadh-allied former regime and crush the popular Houthi Ansarullah movement.
On September 14, Yemeni combat drones struck Saudi Arabia's oil facilities in Abqaiq and Khurais, cutting the kingdom's output by 5.7 million barrels a day.
The attacks led to a halt in about 50 percent of the kingdom's crude and gas production, causing a record surge in oil prices.
The US-based Armed Conflict Location and Event Data Project (ACLED), a nonprofit conflict-research organization, estimates that the Saudi war has claimed more than 91,000 lives over the past four and a half years.
Full report at:
https://www.presstv.com/Detail/2019/09/26/607215/Yemen-Zelzal1-Hajjah-Saudi-Arabia
--------
Israel grabs more Palestinian land in south of occupied West Bank
Sep 26, 2019
Israeli authorities have announced the seizure of hundreds of acres of private Palestinian land in the southern part of the occupied West Bank, as the Tel Aviv regime goes ahead with land expropriation and settlement construction policies in violation of international law and UN Security Council resolutions.
Palestine's official Wafa news agency reported that Israeli officials confiscated some 1,500 dunams (more than 370 acres) of land in the city of Dura, located eleven kilometers southwest of al-Khalil, on Thursday, enforcing a decision issued in 1987 to seize three plots of land there under the pretext that they belong to the Israeli regime.
The report added that the seized plots are inhabited by hundreds of Palestinian families, and several agricultural structures are built on them. Part of the land is also planted with olive and almond trees and is located within the boundaries of Dura Municipality.
Salah Shalaldeh, member of the legal department at the Anti-Wall, Anti-Settlements Commission, told Wafa that the land was considered Israeli-owned by a military order, and Israeli military authorities decided to enforce its confiscation on July 31.
He said his commission met with the owners of the land to discuss what was required to file a complaint against the seizure order.
Shalaldeh added that part of the land falls within Area B, which makes up 22 percent of the occupied West Bank and is under the joint civilian control of the Palestinian Authority and Israeli security control, and owners have deeds proving their ownership of the land in question.
More than 600,000 Israelis live in over 230 settlements built since the 1967 Israeli occupation of the Palestinian territories of the West Bank and East Jerusalem al-Quds.
The UN Security Council has condemned Israel's settlement activities in the occupied territories in several resolutions.
Less than a month before US President Donald Trump took office, the United Nations Security Council in December 2016 adopted Resolution 2334, calling on Israel to "immediately and completely cease all settlement activities in the occupied Palestinian territories, including East Jerusalem" al-Quds.
Palestinians want the West Bank as part of a future independent Palestinian state with East Jerusalem al-Quds as its capital.
Full report at:
https://www.presstv.com/Detail/2019/09/26/607183/Israel-grabs-more-Palestinian-land-in-occupied-West-Bank
--------
Africa
U.S. Targets Islamic State in Libya With Second Airstrike in Week
By Mohammed Abdusamee
September 25, 2019
A U.S. airstrike killed 11 suspected Islamic State militants in southern Libya, U.S. Africa Command said, its second reported raid in a week against the extremist group that once controlled a key coastal city.
Tuesday's strike was carried out around the town of Murzuq, the same location where a Sept. 19 attack was assessed to have left eight militants dead, according to statements.
Islamic State took root in Libya after the ouster of Moammar Al Qaddafi, seizing the central city of Sirte in 2015 and threatening to use it as a launchpad for attacks in the OPEC member and neighboring countries. It was driven out after a year by a coalition of Libyan armed groups.
https://www.bloomberg.com/news/articles/2019-09-25/us-targets-islamic-state-in-libya-with-second-airstrike-in-week
--------
Nigeria: Boko Haram Kills Abducted Humanitarian Worker
25 SEPTEMBER 2019
By Abdulkareem Haruna
One of the six workers of Action Against Hunger, an international humanitarian organisation, who was abducted by Boko Haram two months ago, has been killed.
The insurgents uploaded a video online showing how the humanitarian worker was beheaded.
Nigerian journalist, Ahmed Salkida, broke the sad news via his Twitter handle with a blurred photograph of a masked man beheading one of the abductees.
The headquarters of the Action Against Hunger in France has confirmed the development to PREMIUM TIMES.
The Action Against Hunger was on September 18 forced by the Nigeria military to close its operations on allegations that the NGO was aiding and abetting operations of the Boko Haram.
"#ISWAP has executed one of the six aid workers, working with the Action Against Hunger that was abducted two months ago in Borno," Mr Salkida's tweet reads.
"One of the male aid workers was executed at close range in a short video clip seen by this reporter.
"The group, in a horrific video of the execution, said it took the action because "the government deceived them" following months of what is now known as secret negotiations between a team of intermediaries and unnamed officials.
"ISWAP has also threatened to execute the other remaining staff of the International Non Governmental organization (ACF/AAH).
"Recall, the INGO was declared persona non grata last week by the @HQNigerianArmy for aiding terrorism in the region, an allegation the INGO denied."
NGO Reacts
Action Against Hunger's Country Director, Shashwat Saraf, declined comments on the latest development when contacted by PREMIUM TIMES. He, however, referred our reporter to the headquarters of the organization in France. Action Against Hunger's Communication & Campaign Officer, Lea Voile, who spoke to PREMIUM TIMES from Paris said the INGO has put out a press release on the organization's website.
statement:
ACTION AGAINST HUNGER DENOUNCES THE EXECUTION OF ONE OF SIX HOSTAGES KIDNAPPED ON 18 JULY 25 SEPTEMBER 2019 THE ARMED GROUP HOLDING CAPTIVE AN EMPLOYEE OF ACTION AGAINST HUNGER, TWO DRIVERS AND THREE HEALTH MINISTRY PERSONNEL, HAVE EXECUTED A HOSTAGE.
"Action Against Hunger condemns in the strongest terms this assassination and urgently calls for the release of the hostages, reminding them that they were present in the north-east of the country only to help the most vulnerable.
"Action Against Hunger is extremely concerned and is fully mobilized to ensure that the remaining hostages can be quickly and safely reunited with their families.
Full report at:
https://allafrica.com/stories/201909250584.html
--------
Islamic State says it killed 14 Nigerian soldiers in northeast Borno state - Amaq
SEPTEMBER 26, 2019
ABUJA (Reuters) - Islamic State said via its Amaq news agency that it killed 14 Nigerian soldiers in the northeast state of Borno in attacks on Wednesday.
There were clashes in the state after the insurgents ambushed soldiers, a military source told Reuters.
A Nigerian army spokesman did not immediately respond to phone calls requesting comment.
https://uk.reuters.com/article/uk-nigeria-security/islamic-state-says-it-killed-14-nigerian-soldiers-in-northeast-borno-state-amaq-idUKKBN1WA2Y9
--------
Somali military kills 30 al-Shabab militants in southern region
SEP 26, 2019
MOGADISHU (XINHUA) - The Somali military confirmed on Thursday (Sept 26) its forces have killed 30 al-Shabab militants and injured 40 others in an offensive in the country's Lower Shabelle region on Wednesday.
Hassan Aden Hashi, deputy commander of the April 12 Unit of the Somali army, told journalists that the forces carried out a planned operation on a base used by the militants in an area between El Salini and Dhanane villages in Lower Shabelle.
"Our forces inflicted heavy casualties on the militants during the operation. We killed 30 of them and injured 40 others," Hashi said, adding that the forces also seized three battle vehicles and detained some members of the terrorist group during the offensive.
Local inhabitants said there was an intensive gun battle in the town which lasted for several hours.
The latest military offensive came four days after government forces killed 13 al-Shabab militants in a gun battle in the same area.
Full report at:
https://www.straitstimes.com/world/africa/somali-military-kills-30-al-shabab-militants-in-southern-region
--------
12 killed in jihadist attacks in Mozambique
2019-09-25
Twelve people were killed late on Monday in fresh attacks by suspected jihadists in northern Mozambique ahead of elections next month, officials said.
Ten people were murdered in the village of Mbau, in Mocimbao da Praia district, and half of the homes in the locality were burned down, along with the offices of the ruling Frelimo party, a local official said on Tuesday.
"They entered the village and came across a group of young people who were drinking alcohol. Many were killed," the official, Assane Issa, told AFP.
"The villagers then fled into the forest."
Police then intervened, forcing the assailants out after a gun battle that finished at around 01:00, Issa said.
Earlier on Monday, suspected jihadists attacked the village of Mindumbe, a few dozen kilometres to the south.
"The rebels came across two men in their fields - they killed them and then decapitated them," a villager told AFP.
Northern Mozambique has borne the brunt of a nearly two-year-old wave of attacks by a shadowy jihadist organisation, defying attempts by the government to secure the region.
At least 300 civilians have been killed and tens of thousands of people have fled their homes.
The so-called Islamic State group has recently claimed responsibility for several attacks, but this assertion is doubted by experts.
Presidential, legislative and provincial elections are due to take place on October 15. President Filipe Nyusi's Frelimo party, which has been in power since 1975, is the front runner.
In a speech on Tuesday evening, Nyusi acknowledged that the return to order in the region had been "delayed".
"I hereby repeat my utter rejection of these attacks and the climate of fear spreading in our country and threatening our successes," he told generals.
Full report at:
https://www.news24.com/Africa/News/12-killed-in-jihadist-attacks-in-mozambique-20190925
--------
Libya's Khalifa Haftar says he is 'open to dialogue'
26 September 2019
The commander of the Libyan National Army (LNA) Khalifa Haftar said on Wednesday that he is "open to dialogue."
The LNA has been in conflict with the UN-recognized Government of National Accord (GNA), with clashes since April.
"When all is said and done, we need dialogue and we need to sit down" at the negotiating table, Haftar said in a statement issued on Wednesday night on the eve of a special session on Libya on the sidelines of the UN General Assembly in New York.
Full report at:
https://english.alarabiya.net/en/News/north-africa/2019/09/26/Libya-s-Khalifa-Haftar-says-he-is-open-to-dialogue-.html
--------
Sudan shuts border with Libya, C. Africa over security concerns
26 September 2019
Sudan on Thursday ordered the closure of its border with Libya and Central African Republic over security concerns, the country's ruling body announced, the first such decision since the fall of Omar al-Bashir.
The decision was taken by the civilian-military sovereign council at a meeting in Niyala, the capital of South Darfur state, a statement released by the ruling body said.
Full report at:
https://english.alarabiya.net/en/News/world/2019/09/26/Sudan-shuts-border-with-Libya-C-Africa-over-security-concerns-.html
--------
Libya's PM says rebel general 'not a partner for peace'
Sep 26, 2019
Libya's Prime Minister Fayez al-Serraj has ruled out any more peace talks with renegade general Khalifa Haftar, who is commanding an offensive on the capital, denouncing him as a "war criminal."
Serraj made the remarks while addressing the 74th session of the United Nations General Assembly in New York on Wednesday.
"We repeat that we will not sit once again with the war criminal Haftar. He is not a partner for peace," Serraj said, adding that Haftar and his allied forces were "coup plotters" responsible for the continued instability in Libya.
"Haftar is trying to promote a war between east and west Libya. This is false. There are no differences in Libya, neither religious nor social. The truth is it's between a military state and a civilian state," he said.
Serraj's internationally recognized government is based in western Libya, and a rival camp also laying claim to power is in the east. The eastern-based body is supported by an array of militia under Haftar's command.
The 75-year-old renegade general ordered his militia groups to invade the Libyan capital of Tripoli in a hitherto unsuccessful attempt to seize it on April 4. Almost five months after launching the offensive, Haftar's forces remain locked in a stalemate against groups defending the government on Tripoli's southern outskirts.
Haftar has defied a truce call by the UN, ordering his militia not to relent in their offensive. He is supported by the UAE, Saudi Arabia, and Egypt. France also offers him some political support.
According to the latest figures by the World Health Organization (WHO), the fighting around Tripoli has killed at least 1,093 people and wounded 5,752 other, while some 120,000 people have been displaced.
Full report at:
https://www.presstv.com/Detail/2019/09/26/607171/Libya-prime-minister-Serraj-peace-talks-Haftar
--------
Daesh kills 14 soldiers, aid worker in northeast Nigeria
Sep 26, 2019
The Takfiri Daesh terrorist group has killed more than a dozen Nigerian people, including military forces and an aid worker, in the country's volatile northeastern region.
The terrorists killed 14 Nigerian soldiers in attacks in the northeast state of Borno on Wednesday.
The fatalities took place when the Takfiris ambushed soldiers in the state following heavy clashes, according to a Nigerian military source speaking to Reuters.
Also on Wednesday, members of the terrorist group executed one of the six aid workers of the charity group Action against Hunger whom they had kidnapped in northeast Nigeria.
"The armed group holding captive an employee of Action against Hunger, two drivers, and three health ministry personnel, have executed a hostage," the Paris-based organization said in a statement.
The aid workers were abducted in the restive northeastern city of Maiduguri in July.
The Nigerian army has closed the offices of the humanitarian group Action against Hunger n Maiduguri with no explanation, as tensions simmer with aid organizations in the region.
The Boko Haram terrorist group and its ISWAP splinter group — which is also affiliated with Daesh — have intensified attacks on civilian and military targets in recent months, despite the Nigerian government's insistence that the terrorists have been defeated.
Around 27,000 people have been killed in the decade-long terrorism in Nigeria, which has spilled over into neighboring Chad, Niger, and Cameroon and has forced more than two million people to flee their homes.
Full report at:
https://www.presstv.com/Detail/2019/09/26/607152/Daesh-Nigeria
--------
North America
Trump's travel ban really was a Muslim ban, data suggests
By Vahid Niayesh
September 26, 2019
On Tuesday, House Judiciary and Foreign Affairs subcommittees held a hearing on President Trump's effort to ban travel to the United States from mostly Muslim-majority countries. Commonly known as the Muslim ban, the policy went into full effect on Dec. 4, 2017, after the U.S. Supreme Court lifted temporary injunctions imposed by federal courts. The policy involved seven countries: five Muslim-majority countries (Iran, Syria, Libya, Yemen and Somalia) and North Korea and Venezuela.
How much has this policy mattered? Based on data from the U.S. Department of State's Bureau of Consular Affairs, which regularly provides the number of visas issued for all countries, the effect is dramatic.
How deporting people from the U.S. increases immigration to the U.S.
Below is a graph that tabulates the number of immigrant visas issued each month since March 2017. The graph excludes nonimmigrant visas, which a tourist or a student would receive, for example, and separates into two categories the seven affected countries: the Muslim-majority countries and North Korea and Venezuela.
As the chart makes clear, the number of immigrant visas issued to citizens of these Muslim-majority countries dropped sharply — from 1,419 in October 2017 to 69 in January 2018. The monthly number has ticked up since then, but it remains much lower than it was. Take Iran as an example. Only 537 immigrant visas were issued in 2018 to people born in Iran for the 12 months after the travel ban went into effect. In 2017, 6,643 immigrant visas were issued to people born in Iran.
By contrast, North Korea and Venezuela did not experience a drop in visas issued — contradicting any notion that the travel ban wasn't a "Muslim ban" because it included two non-Muslim countries.
But the effect of the Muslim ban could be even larger than this graph suggests. State Department data indicates only the "country of chargeability," where the applicant was born, rather than where they reside. An immigrant could have been born in Iran but lived in Canada for 30 years. If so, they would be marked as an immigrant from Iran, based on their country of chargeability.
Muslims are the least popular religious group in the U.S. They're even more disliked than atheists.
The final issue involves what's called the "waiver" process. The U.S. government can grant an immigrant a waiver while his or her case undergoes an in-depth review. A waiver is not an immediate rejection, but the immigrant still will not receive a formal visa until the government determines that he or she won't pose a threat and that the person's entry is in the national interest. The Trump administration argued before the Supreme Court that the waiver process simply allows for "enhanced vetting."
Since the ban went into effect, 98 percent of people from affected countries who applied for a visa were rejected, and the other 2 percent received a waiver. However, State Department information does not indicate how many of those 2 percent have received a visa for entry into the United States to date, and there have been lawsuits from potential immigrants who say they have been under waiver for at least 16 months without any resolution.
Without any way to know how many people who received a waiver ultimately got a visa, we cannot fully assess the impact of the ban. If these people are denied a visa, then the effect of the travel ban will be even larger than what the data shows. The only way to know is for the State Department to release this information or for members of Congress to demand it.
Correction: An earlier version of this article attributed the State Department's visa information to a different agency. We regret the error.
Don't miss anything! Sign up to get TMC's smart analysis in your inbox, three days a week.
Vahid Niayesh is a lecturer in the department of political science at California State University at Long Beach.
https://www.washingtonpost.com/politics/2019/09/26/trumps-muslim-ban-really-was-muslim-ban-thats-what-data-suggest/
--------
US wants 'rapid' Indian easing of Kashmir restrictions
27 September 2019
The United States wants New Delhi to quickly ease restrictions imposed in Kashmir, a senior official said Thursday after President Donald Trump met the leaders of India and Pakistan.
"We hope to see rapid action -- the lifting of the restrictions and the release of those who have been detained," Alice Wells, the top State Department official for South Asia, told reporters.
She also said that Trump "is willing to mediate if asked by both parties" – although she noted that India has long rejected any outside role.
"The United States is concerned by widespread detentions, including those of politicians and business leaders, and the restrictions on the residents of Jammu and Kashmir," she said.
"We look forward to the Indian government's resumption of political engagement with local leaders and the scheduling of the promised elections at the earliest opportunity," she said.
Prime Minister Narendra Modi in August revoked the autonomous status of Jammu and Kashmir, which had been India's only Muslim-majority state, fulfilling a long-held goal of his Hindu nationalist movement.
Indian authorities detained a wide range of political leaders and snapped off cellular and internet service for ordinary people in much of the Himalayan region.
Wells said the United States has raised concerns on Kashmir "at the highest levels," without saying if Trump brought up Kashmir with Modi.
Trump on Sunday joined Modi in a joint rally of more than 50,000 Indian-Americans in Houston, with the two heaping praise on each other.
Full report at:
https://english.alarabiya.net/en/News/world/2019/09/27/US-wants-rapid-Indian-easing-of-Kashmir-restrictions.html
--------
O.K. Hand Sign Is a Hate Symbol, Anti-Defamation League Says
By Neil MacFarquhar
Sept. 26, 2019
The bowl-shaped haircut worn by the white supremacist who killed nine black worshipers in Charleston, S.C., stands among the most disturbing and distinctive images that extremists have shared online. Others include letters drawn from the ancient runic alphabet — a particular favorite among neo-Nazis — or slogans like "Diversity=White genocide."
They are among the many symbols, slogans and memes that white supremacists are deploying as propaganda and which are drawing more scrutiny amid a broader effort to curtail extremist violence in the United States.
On Thursday, the Anti-Defamation League is adding 36 entries to its longstanding online catalog of extremist symbols, many of which are built around racist stereotypes that have been spread about African Americans and Jews.
About 10 of them are the logos of extremist organizations. Several others are numeric codes that can carry hidden messages, like the numbers 109 or 110, anti-Semitic shorthand that claims that Jews have been expelled from 109 countries and that the United States should become the 110th.
Hate symbols have long historical roots, including the white hoods and the cross burnings of the Ku Klux Klan that were meant to convey both menace and power. As with most aspects of the internet age, however, these insignia now emerge at an accelerated pace and reach a far wider audience, according to experts.
"This stuff has been going on for a long time, but what you are seeing now is more of it, a more rapid evolution," said Cynthia Miller-Idriss, a professor of education and sociology at American University who focuses on cultural aspects of far-right youth extremism.
The uptick in propaganda is part of the overall spread of far-right ideology and its more public face in recent years. Experts and nongovernmental organizations say that people should be more aware of symbols possibly floating in their midst, whether on the web or in real life on protest posters or T-shirts.
At the same time, they caution that such symbols serve as an imperfect indicator that someone might be drawn to violence. "It is part of the story of the rise of white extremists, but you cannot say that every person who shares one of those memes is going to end up a violent white extremist," Dr. Miller-Idriss said.
PEPE THE FROGAn internet meme also made the A.D.L.'s list of hate symbols.
The federal government, which has been criticized for playing down the threat from domestic white extremists, has seemed to alter its course in the wake of several recent mass shootings perpetrated by white extremists that have left dozens dead and many more wounded.
Kevin K. McAleenan, acting secretary of the Department of Homeland Security, said on Friday that the attacks in El Paso and Poway, Calif., as well as earlier ones in Pittsburgh and Charleston, among others, demonstrated that a growing number of actors seek to harm society and to incite more disaffected youth to violence.
"White supremacist extremism is one of the most potent ideologies driving acts of targeted violence in this country," he said in a keynote address. Confronting it will be a new priority, he said — although critics are waiting to see how much money the government allocates to the effort.
American communities need better tools to understand such threats and to respond, Mr. McAleenan said, noting government statistics indicating that family members, friends or even bystanders had some inkling about a brewing attack in most cases.
One tool is recognizing symbols used by far-right groups.
Educating the public about them constitutes part of a broader effort needed to encourage people to report indications of a potential attack, said John D. Cohen, a former counterterrorism coordinator at homeland security, who now teaches security studies at Georgetown University. It also helps law enforcement understand with whom they are dealing.
"It's all about assessing the risk of people who come to the attention of law enforcement," he said, "and if a person is using extremist symbols or consuming or communicating extremist ideological material, those may be important indicators to consider."
Some of them appear innocuous. The O.K. symbol created by touching the forefinger to the thumb, for example, is seen by extremists as forming the letters "WP," or "white power."
The bowl haircut of Dylann Roof, the Charleston gunman, who is often revered by extremists, is sometimes depicted by itself, mounted on a shield, and has engendered a distinct vocabulary. Admirers use screen names like "Bowltrash" or refer to "The Final Bowlution."
In the United States, using such symbols is protected by free speech laws, but in countries with tougher laws, like Germany, the police regularly visit schools or otherwise brief the public on the latest symbols, Dr. Miller-Idriss said.
Sometimes the symbols engender private efforts to undermine them. One anti-extremist group handed out free T-shirts bearing Nazi insignia at far-right rock concerts in Germany. The first washing removed the insignia, revealing a telephone hotline for anyone wanting to escape an extremist organization.
The convention of drawing on letters from the ancient runic alphabet harks back to German nationalists and particularly Nazi Germany, where it inspired the double lightning bolt logo of the SS, among other organizations. (Some such symbols are used by modern pagans and have no extremist intent.)
Kathleen Belew, a historian of white power movements with the University of Chicago, said the more fluid use of symbols had accelerated since the 1980s. Groups seeking to become more mainstream have burned giant versions of runic letters, attempting to escape the negative public image of cross burnings long revered by the K.K.K.
"There is a constant attempt to make this more palatable," Dr. Belew said, "to try to figure out a way to create entry points to something that someone might otherwise find objectionable."
One reason that experts consider such symbols an imperfect indicator of support for extremism is that not everyone who spreads them, especially young men, might be aware of the history or the potent symbolism behind them.
The use of crude humor or in-your-face materials is sometimes just a tool to attract young people, a kind of first step to drawing them into the movement. Young men trying to be offensive or provocative might share a meme because they think it is funny or cool, not because they are looking to be radicalized, Dr. Miller-Idriss said.
"They mean to provoke or offend, and the meaning can come later," she said.
Full report at:
https://www.nytimes.com/2019/09/26/us/white-supremacy-symbols.html
--------
Army Service Members Warned About Extremist Violence At 'Joker' Screenings
By Josie Harvey
26/09/2019
Army personnel have been cautioned on the risk of mass shooters when attending screenings of the movie "Joker."
The Army confirmed Wednesday that a security notice was distributed internally after an FBI investigation unearthed social media posts associated with extremists classified as misogynistic "incels" that suggested replicating the 2012 movie theater shooting in Aurora, Colorado, during the Batman film "The Dark Knight Rises," Gizmodo reported.
The notice, obtained by Gizmodo, said:
Team,
Posts on social media have made reference to involuntary celibate ("incel") extremists replicating the 2012 theatre shooting in Aurora, Colorado, at screenings of the Joker movie at nationwide theatres. This presents a potential risk to DOD personnel and family members, though there are no known specific credible threats to the opening of the Joker on 4 October.
Incels are individuals who express frustration from perceived disadvantages to starting intimate relationships. Incel extremists idolize violent individuals like the Aurora movie theatre shooter. They also idolize the Joker character, the violent clown from the Batman series, admiring his depiction as a man who must pretend to be happy, but eventually fights back against his bullies.
When entering theatres, identify two escape routes, remain aware of your surroundings, and remember the phrase "run, hide, fight." Run if you can. If you're stuck, hide (also referred to as "sheltering in place"), and stay quiet. If a shooter finds you, fight with whatever you can.
** this is a condensed version of an HQ Army Materiel Command, G-3, Protection Division Security message **
An Army spokesperson from the Criminal Investigation Command field office confirmed to HuffPost that a memorandum was sent out to a select internal group on Monday from the Fort Sill field office in Oklahoma after the information was obtained from the Joint Crime Information Center at the Texas Department of Public Safety.
The spokesperson said the CIC field office did so "out of an abundance of caution to help keep our soldiers and their families safe."
The field office said it was not aware of any information indicating a specific, credible threat to a particular location or venue.
An FBI spokesperson told HuffPost that, although "our standard practice is to not comment on specific intelligence products, the FBI is in touch with our law enforcement and private sector partners about the online posts."
"As always, we encourage the public to remain vigilant and to promptly report suspicious activity to law enforcement."
The Oct. 4 release of the Warner Bros. film prompted family members of several Aurora shooting victims to write a letter to Warner Bros. CEO Ann Sarnoff expressing concerns about the Joker character being portrayed as a "protagonist with a sympathetic origin story" and asking the studio to donate to charities that aid victims of gun violence.
They described the shooter who killed their family members at the midnight screening of "The Dark Knight Rises" as a "socially isolated individual who felt 'wronged' by society."
"Joker" writer-director Todd Phillips said in an interview with The Associated Press that it was unfair to link the movie to real-world violence, saying "it's a fictional character in a fictional world that's been around for 80 years."
Full report at:
https://www.huffingtonpost.in/entry/army-mass-shooting-risk-joker-screenings_n_5d8bed8be4b0019647a2b35f?ri18n=true
--------
During first two years of 'Muslim ban,' Trump administration granted few waivers
By Abigail Hauslohner
September 25, 2019
Ailing grandmothers, spouses and the toddlers of U.S. citizens are still being blocked from entering the United States under a travel ban that President Trump first imposed within days of taking office, his administration continuing to argue that people from five predominantly Muslim countries pose a national security threat.
Since the initial rollout, in early 2017, of what critics and federal judges have branded a "Muslim ban," the Trump administration has fielded approximately 72,000 visa applications from the citizens of Iran, Somalia, Yemen, Libya and Syria, a U.S. State Department official told members of Congress on Tuesday. Approximately 10 percent of those applicants — 7,679 — have received waivers to enter the United States, according to Edward Ramotowski, deputy assistant secretary for visa services at the department's Bureau of Consular Affairs, who testified during a House judiciary and foreign affairs subcommittee hearing.
The hearing, the first before Congress on the subject of the travel restrictions since they were implemented, came as Trump spoke before the 74th session of the U.N. General Assembly in New York, condemning "globalists" and hailing the "cherished history, culture and heritage" that he said makes the United States great. He said that is something "the free world . . . must not attempt to erase."
Trump condemns globalism, touts nationalistic view of foreign affairs at U.N.
The ban on U.S. entry by the citizens of several majority-Muslim countries hit repeated legal roadblocks during Trump's first year in office, as federal judges found that the ban, which followed his campaign pledge to enact a "total and complete shutdown of Muslims entering the United States" violated core principles of U.S. law.
But after the White House tweaked and revised its approach, the U.S. Supreme Court upheld the third iteration of the policy last year, ruling 5-to-4 that it fell within the president's executive purview. The court accepted the administration's claim that the ban served a national security interest, in part because of its inclusion of a "waiver program" that would allow certain humanitarian exceptions to the ban. Such examples include those seeking urgent medical care or trying to live with close family members who already are in the United States.
Rep. Andy Biggs (R-Ariz.) pointed out that the countries Trump targeted derived from a list of nations the Obama administration had chosen for added scrutiny after the 2015 terrorist attacks in Paris.
Trump's claim that Obama first 'identified' the 7 countries in his travel ban
"The Trump administration didn't just pull these names out of a hat," Biggs said. "It was using the same countries as the previous administration."
Ramotowski said the administration has granted "roughly half" of the 7,600 waivers within the past two months, largely because of a shift to an automated processing system. He said security reviews were part of a "time-consuming manual process" that led to a backlog of cases.
He and two officials from the Department of Homeland Security were unable to describe the specific national security rationale behind the inclusion of some countries on the list — and the exclusion of others — and Democratic lawmakers provided anecdotes of those affected by the restrictions, including a 2-year-old Libyan girl kept apart from her American mother, and a congressional staffer whose "85-year-old Iranian grandmother" has been prohibited from visiting.
The policy applies to nearly all citizens of majority-Muslim Iran, Somalia, Yemen, Libya and Syria, as well as to nearly all citizens of North Korea and some Venezuelan government officials. But the State Department received no applications from Venezuelans who would have been subject to the restrictions, and just 115 North Koreans sought entry, 72 percent of whom were allowed into the country through waivers or exceptions.
"I find it hard to fathom that that 2-year-old didn't face undue hardship," Rep. Ami Bera (D-Calif.) said of the Libyan girl, Omnia, during the hearing. "I find it hard to fathom that that 2-year-old presented a national security risk."
Democrats also posed questions about countries not on the list.
"The people who attacked us on 9/11 — they were from Saudi Arabia. They're not on the list," said Rep. Zoe Lofgren (D-Calif.), chair of the House Judiciary Committee's subcommittee on immigration and citizenship. "Russia attacked us in the last election — they're not on the list."
Elizabeth Neumann, a DHS assistant secretary for threat prevention and security policy, said that she would be able to address country-specific questions only in a closed session.
Abdollah Dehzangi, a computer science professor at Morgan State University in Baltimore, testified that the travel restrictions had prevented his wife, an Iranian scientist who had been offered a postdoctoral research position at the University of Maryland, from moving to be with him in the United States. Ismail Alghazali, who works in a Brooklyn bodega, said his Yemeni wife had delivered both of their children in the time they have spent waiting — now three years — for a visa to join him.
Ramotowski said he expects visa applications to be handled more quickly; each application includes automatic consideration of a possible waiver. There is no separate process through which to apply for a waiver after a visa application has been denied.
Full report at:
https://www.washingtonpost.com/immigration/during-first-two-years-of-muslim-ban-trump-administration-granted-few-waivers/2019/09/24/44519d02-deec-11e9-8dc8-498eabc129a0_story.html
--------
Trump admin threatens Duke, UNC funding over alleged pro-Islam, anti-Israel bias
Sep 27, 2019
The Trump administration is threatening to remove taxpayer funds from Duke University and University of North Carolina's jointly-run Middle East studies program, which the government says is misusing federal funds to advance anti-Israel biases and unfairly promote "positive aspects of Islam" while ignoring Christianity and Judaism.
The Department of Education sent an Aug. 29 letter to the Duke-UNC Consortium for Middle East Studies giving the program until Sept. 22 to revise the curriculum or lose future funding. The program, accused of failing to meet the program's stated goal to "support the development of foreign language and international expertise for the benefit of U.S. national security and economic stability," received $235,000 from the grant last year.
Education Secretary Betsy DeVos launched the investigation in June after Rep. George Holding, R-N.C., complained that the Duke-UNC CMES hosted a taxpayer-funded conference with "severe anti-Israeli bias and anti-Semitic rhetoric." DeVos said she was "troubled" by the incident.
"There is a considerable emphasis placed on understanding the positive aspects of Islam, while there is an absolute absence of any similar focus on the positive aspects of Christianity, Judaism, or any other religion or belief system in the Middle East," the investigation stated.
Th Department of Education pointed out academic papers associated with the program didn't seem to line up with its stated purpose, including "Performance, Gender-Bending and Subversion in the Early Modern Ottoman Intellectual History" and "Radical Love: Teaching from Islamic Mystical Tradition."
According to the data, only 960 of the 6,800 students in the program were actually enrolled in Middle East language classes.
Department officials instructed the Duke-UNC consortium, which was founded in 2005 and received the grant nearly a decade ago, to provide a "revised schedule of activities" for the next academic year and explain how each offering promotes foreign language learning and advances national security interest.
UNC-Chapel Hill says the consortium "deeply values its partnership with the Department of Education" and is "committed to working with the department to provide more information about its programs," in a statement.
Jay Smith, a history professor at UNC and vice president of its chapter of the American Association of University Professors, told the Associated Press the Education Department official who signed the letter, Robert King, "should stay in his lane and allow the experts to determine what constitutes a 'full understanding' of the Middle East."
Terry Magnuson, the school's vice chancellor for research, pushed back against the letter's claims and said the school will establish an advisory board to review the consortium's activities and keep records detailing how all expenses relate to the goal of the federal grant.
Henry Reichman, chairman of a committee on academic freedom for the American Association of University Professors, blasted the investigation as "right-wing political correctness."
The probe is part of a broader effort by the Trump administration to root out anti-Semitism in universities across the nation.
Full report at:
https://www.foxnews.com/us/trump-duke-unc-islam-israel-funding-bias
--------
Pak called out by US for staying mum over China's treatment of Muslims
Sep 27, 2019
NEW YORK: Exposing the double standards of Pakistan, the United States has asked Pakistan to express "same level" of concern about Muslims detentions in Western China as they do for Kashmir.
"...I would like to see the same level of concern expressed also about Muslims who are being detained in Western China, literally in concentration-like conditions. And so being concerned about the human rights of Muslims does extend more broadly than Kashmir, and you've seen the administration very involved here during the UN General Assembly and trying to shine a light on the horrific conditions that continue to exist for Muslims throughout China," said Alice Wells, US Acting Assistant Secretary for South and Central Asia on Thursday while replying to a question about Pakistan PM's alleged concerns about Kashmir.
Wells reaction came as Pakistan has ramped up its rhetoric against India over the abrogation of the special status of Jammu and Kashmir and expressing concern over the situation of Muslims in the region. Pakistan Prime Minister Imran Khan even had called himself an ambassador of Kashmiri people.
However, when it comes to China's treatment of Muslims, Pakistan has been mum and when asked to comment on it, the Pakistan PM has tried to brush it aside saying that there is a lot going on in its own country.
China has been condemned internationally for cracking down on the minorities living in their countries. China has been accused of oppressing the Uighur by sending them to mass detention camps, interfering in their religious activities and sending the community to undergo some form of forceful re-education or indoctrination.
In an exclusive interview to Al Jazeera that was aired on August 14, Imran Khan talked in length about his version of conditions of Kashmiris and how BJP-led government is "racist" and "fascist" while shockingly expressing complete ignorance on the issues being faced by Uighur Muslims.
Full report at:
https://timesofindia.indiatimes.com/world/us/pak-called-out-by-us-for-staying-mum-over-chinas-treatment-of-muslims/articleshow/71323216.cms
--------
Kashmiri activists protest outside BBC, CNN offices in London
Atika Rehman
September 27, 2019
LONDON: Scores of activists gathered outside the headquarters of the British Broadcasting Corporation (BBC) here on Thursday, demanding coverage of the ongoing crisis in India-held Kashmir. A similar demonstration was held outside the London office of the Cable News Network (CNN).
Protesters held aloft posters and chanted slogans like "BBC, wake up", "CNN, wake up" and "we want freedom" as they assembled outside the offices of the two media organisations.
Several protesters said their tax money, which funds the BBC, is being used but human rights abuses in the occupied valley are not being highlighted.
"We are taxpayers, we have the right to know what's happening to our loved ones in occupied Kashmir. The BBC is ignoring the issue, as is the CNN," said Mahboob Chaudhry of the Jammu Kashmir Liberation Front.
One protester said that by failing to cover the human rights abuse in occupied Kashmir, the media is not fulfilling its responsibility to hold India accountable to its actions.
"They are not reporting on the Kashmir situation. They have a duty to highlight this abuse," said Javaid Rashid, who lives in Ilford.
"Our voices should be loud enough so they are heard by those inside these offices," another protester was overheard saying.
A spokesperson for the BBC said: "The BBC has provided extensive coverage of the situation in Kashmir. Like other broadcasters, we have been operating under severe restrictions but we will continue to report what is happening impartially and accurately."
Occupied Kashmir has been under a communications blackout for nearly two months since the Narendra Modi-led Indian government revoked Article 370, stripping the disputed region of its special status.
Full report at:
https://www.dawn.com/news/1507588/kashmiri-activists-protest-outside-bbc-cnn-offices-in-london
--------
US sending Patriot battery, radars to Saudi after oil attack
Sep 27, 2019
The United States is pressing ahead with plans to deploy a battery of Patriot missile systems as well as a series of advanced radars to Saudi Arabia, a move that officials say is a first step in helping the kingdom protect itself against the kind of attacks that recently destroyed its oil facilities.
The administration of US President Donald Trump also has two more Patriot batteries and a Terminal High Altitude Area Defense (THAAD) missile system ready for deployment should they become necessary, Reuters reported Thursday, citing administration officials.
Some 200 troops are also slated to be deployed to Saudi Arabia alongside the air defenses.
The four Sentinel radar systems and the Patriot battery are supposed to secure northern Saudi Arabia. Currently, most of the Riyadh regime's air defenses are closer to the southern border with Yemen.
Yemen's Houthi Ansarullah movement has been launching missile and drone attacks against targets deep inside Saudi Arabia over the past months in retaliation for the kingdom's years-long aggression.
The attacks reached their peak on September 14, when the Houthis said they had sent 10 drones to pound major oil facilities of the Saudi state company Aramco in Khurais and Abqaiq.
The drone attack took out the facilities and cut Saudi Arabia's oil output by more than half, or around 5.7 million barrels a day.
American officials have admitted that Saudi Arabia's mostly US-made defenses failed to intercept any of the drones, or as they claim, cruise missiles that carried out the precision attacks even though they flew hundreds of kilometers over Saudi territories.
The United States and Saudi Arabia have both blamed Iran for the attacks, ignoring the Houthi claims.
Military commanders and defense leaders from both countries have been working together over the past weeks in order to determine what kind of military is needed to be sent to the region in response to the attack.
Despite having quickly pointed the finger at Iran, Trump during a White House meeting last Friday rejected speculations about an upcoming military strike on Iran. However, he approved a broader effort to beef up military measures in Saudi Arabia and the region.
US Defense Secretary Mark Esper said that such deployments were a first step and the plan might be expanded to include other things down the road.
Meanwhile, US officials are saying that Washington is in talks with its allies onboard with a plan that allegedly seeks to maintain security in the region.
The Trump administration claims that Iran is behind the Aramco attacks as well as previous acts of sabotage against international oil tankers passing through the Strait of Hormuz near Iranian territorial waters.
Full report at:
https://www.presstv.com/Detail/2019/09/27/607227/US-Saudi-Arabia-Patriot-missile-Sentinel-radar-Yemen-Aramco-attack
--------
US issues security alert for its citizens in Myanmar
Riyaz ul Khaliq
26.09.2019
The U.S. on Thursday issued a security alert warning of "potential attacks" in three major cities in Myanmar.
"Increase your security awareness, especially while interacting with security forces and at government facilities," the U.S. Embassy in Myanmar advised its citizens in a statement posted on its website.
"Myanmar security forces are investigating reports of potential attacks in Nay Pyi Taw on September 26, October 16, and October 26, and in Nay Pyi Taw, Yangon, and Mandalay in the coming months," the U.S. alert added.
Full report at:
https://www.aa.com.tr/en/americas/us-issues-security-alert-for-its-citizens-in-myanmar/1594616
--------
Europe
Muslim media moot in Russia condemns mainstream media 'lies'
Salim Bokhari
September 27, 2019
Use of fake news and false pretexts has led to disastrous consequences for the world peace, culminating in the death of around a million Muslims across the world.
This was underscored by the speakers at the inaugural session of the 5th International Forum of Muslim Journalists and Bloggers on Thursday.
Being held at a beautifully located 5-star hotel here, the moot is being represented by delegates drawn from 40 Muslim countries. A large number of Russian Government officials, intellectuals and media personalities are also attending the event.
The speakers noted that media in the West has been misleading not just the world but also their own citizens to wage devastating wars for economic interests and other ulterior motives.
For example, fake news paved the way to launch a war against Iraq on the false claims of Saddam Hussein having developed weapons of mass destruction, noted the speakers.
Their lies were exposed only after thousands of inhabitants of that country were either killed or maimed. Millions of Iraqis continue to suffer because of the destruction of infrastructure and disruption of their social and political system.
Through deceit and half-truths, similar wars were then imposed on Afghanistan, Syria and Libya, while several other African countries also suffered because of unjustified interference into the internal affairs of those states.
The participants of the conference also expressed deep concern over Israeli brutalities against innocent and unarmed people of Palestine, and Tel Aviv's blatant violation of the resolutions of the United Nations Security Council and provisions of Human Rights Geneva Convention.
They strongly criticised Israeli Prime Minister Benjamin Netanyahu for claiming his government to be democratic while it continues to violate the basic human rights of the Palestinian people.
Many of the speakers also accused Indian Prime Minister Narendra Modi of following in the footsteps of fascist Nazi leader Hitler by not only depriving the innocent Kashmiri people of their right to self determination but also ruthlessly killing unarmed innocent Kashmiris and blinding the youth with pellet-guns.
Veniamin Popov, Chief Advisor of Russia-Islamic World in his inaugural address said Russia was against militarisation of the Middle East.
His statement was in an apparent reference to President Donald Trump's announcement indicating that the US could send troops to the Middle East on the pretext of teaching Iran a lesson, in the aftermath of attacks on Saudi oil installations that Washington has blamed on Tehran.
Syrian delegate, Ahmad Dawa, Deputy Minister for Information said his country was fighting terrorism and extremism for the past nine years.
This war was a result of spreading fake news and nefarious propaganda that Bashar Al-Asad had used chemical weapons against rebels, he said, adding that through such tactics, aspersions were being cast on Russian support and their "brave resistance against enemies of humanity".
Ahmad Dawa said positive developments like President Bashar Al-Asad passing legislation to grant amnesty to those who fled the county believing Western propaganda were also rendered useless through spreading lies.
These refugee living in camps were asked by the Syrian Government to return to their motherland, but fake news stopped them from leaving the refugee camps and join their families, he added.
The Syrian minister said a lot of fake reports and poisonous material is loaded on social media. There was a dire need to develop an effective tool to counter such negative tactics, he added.
The Russian delegates spoke with one voice that Moscow wanted Middle East and Gulf region to be free of nuclear weapons. In their opinion, policies of the Western countries particularly the United States were adding to existing tensions and promoting terrorism in an already troubled region.
They said that despite provocations of all kinds, Russia has not sent its troops to Middle East because it believed that it was the prerogative of the regional states to decide if they need any foreign assistance or not. "We want Islam (to) control" in that part of the world, "and not gun-control", they said.
Kozhin Artyom, Deputy Director of Information and Press Department of Russian Ministry of Foreign Affairs in his address said using fake news as a tool to achieve nefarious goals was an old practice but the scale at which it was being used in the modern world was alarming.
"The use as well as spread of fake news is fast becoming a dangerous phenomenon. The spread of fake news is a real big challenge and need a close monitoring to save the world from new armed conflicts and stop dictatorial powers from suppressing innocent people."
Highlighting the role of social media, he said that experts believe that social media would soon claim 75 percent space in the global media.
Ahmad Moslemany, an Egyptian delegate said fake news can lead to bloody wars. Western media used false premise of weapons of mass destruction to topple the Saddam regime, killing hundreds of thousands of people in the process.
He said Facebook and other such social media platforms have tremendous influence in formulating international public opinion.
Shuprova Tasneem, a delegate from Bangladesh spoke at length about the use of fake news and false pretexts that lead to human miseries. She cited the glaring example of Maynamar government's genocide of Rohingya Muslims who had been forced to leave their homeland and were suffering in the camps and under the open sky.
Tasneem cited another example of fake news claiming that a Buddhist temple was attacked in some area of Bangladesh that led to rioting.
Veniamin Popov in his concluding remarks of the inaugural session said Russian relationship with Islam dates back to over 1,000 years and President Vladimir Putin wanted to further develop these historic ties. It was for this purpose that Journalist Forum was founded and plans were at hand to expand the existing cooperation to the benefit of Muslims across the world, he added.
https://nation.com.pk/27-Sep-2019/muslim-media-moot-in-russia-condemns-mainstream-media-lies
--------
Austria's far-right politicians target Muslim institutions with new law
27.09.2019
The Austrian parliament accepted Wednesday a resolution that proposes shutting down "Islamist associations" if they were found to be involved in "unlawful practices."
Interestingly the same parliament had earlier rejected a resolution against the neo-Nazi Identitarian Movement.
The assembly discussed various resolutions to fight extremism as it gathered for the last time before Sunday's elections.
The resolution, submitted by a small opposition party Jetzt (Now), was backed by the center-right Austrian People's Party (OVP) and the far-right, populist Freedom Party (FPO).
The parliament also discussed the closure of the neo-Nazi Identitarian Movement. The radical organization has carried out several racist attacks against Islamic institutions and was found to have links to the Australian terrorist who killed 51 Muslims in Christchurch, New Zealand. That resolution, however, did not pass.
This is not the first time the Austrian government has drawn attention with its anti-Islamic acts. It previously banned the hijab in primary schools and shut down mosques.
Chancellor Sebastian Kurz's far-right government shut down last year seven mosques and expelled the imams.
Kurz said an investigation by the culture and interior ministries had found the activities of seven mosques, including one run by the Turkish-Islamic Cultural Associations (ATIB), to be unlawful.
Full report at:
https://www.dailysabah.com/islamophobia/2019/09/27/austrias-far-right-politicians-target-muslim-institutions-with-new-law
--------
UK tanker held in Iran leaves Bandar Abbas port: Refinitiv data
27 September 2019
The British-flagged Stena Impero tanker, detained by Iran in July, has started moving and exited the Bandar Abbas port on Friday, according to Refinitiv ship-tracking data.
The Stena Impero was detained by Iran's Revolutionary Guards in the Strait of Hormuz waterway for alleged marine violations two weeks after Britain seized an Iranian tanker off the territory of Gibraltar. That vessel was released in August.
The Stena has set a new destination for Port Rashid in Dubai in the United Arab Emirates, about 250 km away, the tracking data showed. At normal tanker speed, it would reach within half a day.
Iran's foreign ministry had said on Wednesday that a lifting of the detention order had been finalized, but that an investigation into the vessel was ongoing.
The ship's owner, Stena Bulk of Sweden, later said it was not in negotiations with Iran and was not aware of any formal charges against the crew or the company.
Iran had earlier freed seven of the ship's 23 crew members.
Iran's seizure of the Stena Impero on July 19 had ratcheted up tensions in the region following attacks in May and June on other merchant vessels in Gulf waters which Washington blamed on Tehran. Iran has denied responsibility.
Full report at:
https://english.alarabiya.net/en/News/world/2019/09/27/UK-flagged-tanker-detained-by-Iran-exits-Bandar-Abbas-port.html
--------
Iran has committed 'serious' breaches of international law, says UK foreign secretary Raab
September 26, 2019
LONDON: Iran has undertaken "serious and systemic" breaches of international law, the UK's foreign secretary Dominic Raab said on Thursday.

Raab said he hoped Britain could still work with Iran, but that could only happen if Iran "showed the respect required for the basic principles of the rules-based international system."
The foreign secretary cited the recent attacks on Saudi Aramco facilities to highlight how Iran's behavior destabilizes the region.
"Iran's violations are not mere technical breaches of international rules. They are serious and systemic, destabilising actions, which undermine the international rule of law. And those actions must have consequences," he said.
"Iran's record of respect for the basic rules of international law is woeful and it is getting worse," he told UK's parliament.
"Take the recent attacks on the Aramco facilities in Saudi Arabia, eighteen drones and seven cruise missiles hit an oil field and a processing facility.
"As the UK government, we took our time to assess the facts carefully and independently. We are now confident that Iran was responsible. The evidence is clear, and there is no plausible alternative explanation.
"We have condemned the attacks in coordination not just with Saudi Arabia and the US but also with our European partners," he added.
Addressing the UK's House of Commons, Raab said the attack on Aramco also reiterated the need to prevent Iran gaining nuclear weapons.
"Iran's attacks on the Aramco facilities are a reminder of the importance of ensuring that Iran never gains access to nuclear weapons," he said.
The foreign secretary also mentioned the Maritime Security Construct (IMSC), and the UK's work with the US, Saudi Arabia and Bahrain to ensure freedom of navigation in the region.
"And, as the attack on Aramco demonstrates, we must also bring into scope Iran's wider destabilising activities. That includes putting an end to Iran's violations of the freedom of navigation, which are disrupting shipping in the Strait of Hormuz, and undermining the international law of the sea," he said.
Raab used his speech to urge an end to Iranian interference in Yemen, which he said has led to the greatest humanitarian crisis in the world and which has stoked further conflict through support for the Houthi militia.
"A political solution is the only viable way to bring peace to that terrible conflict. Iran must start to play a constructive instead of a destructive role in that conflict," he said.
Raab also made reference to the number of UK dual-nationals imprisoned in Iran, confirming that prime minister Boris Johnson raised the issue with Iranian president Rouhani on the sidelines of the UN General Assembly.
"Today, there are a range of UK dual-nationals languishing in jail in Iran, typically arrested on spurious charges, denied due process and subject to mistreatment contrary to the basic tenets of international human rights law. This practice causes great anguish and suffering not just to those detained, but also to their families.
"Iran's behavior is unlawful, cruel and it is totally unacceptable. I have raised all of these cases, along with Iran's wider conduct with Foreign Minister Zarif," he said.
Full report at:
https://www.arabnews.com/node/1560181/middle-east
--------
French bank accused of enabling Sudan war crimes
Yusuf Ozcan
27.09.2019
PARIS
The International Federation of Human Rights (FIDH) and Project Expedite Justice on Thursday accused French bank BNP Paribas of complicity in crimes against humanity, torture and genocide during the conflict in Sudan's Darfur region.
According to a report published in the Le Monde newspaper, the institutions filed a complaint against the bank at a Paris court for allegedly giving Sudanese authorities access to global money markets between 2002 and 2008 despite Sudan being subjected to sanctions.
The International Criminal Court (ICC) has issued a warrant for the arrest of former President Omar al-Bashir on the grounds of genocide linked to the Darfur conflict.
A similar charge has been filed and an investigation has been initiated into BNP Paribas.
The Paris prosecutor's office launched an investigation in September 2017 to determine whether BNP Paribas played a role in the Rwandan genocide.
The bank is accused of involvement in financing illegal weapons supply to genocide perpetrators in Rwanda.
Through the bank's alleged financing, it was claimed that despite a United Nations embargo, 80 tons of weapons were provided to those who committed genocide.
Full report at:
https://www.aa.com.tr/en/europe/french-bank-accused-of-enabling-sudan-war-crimes/1595503
--------
International halal fair kicks off in Bosnian capital
Talha Ozturk
26.09.2019
A three-day international halal industry opened its doors in the Bosnian capital on Thursday.
Anadolu Agency is the global communication partner for the Sarajevo Halal Fair (SHF) organized by Bosna Bank International.
The SHF -- the second-ever halal fair in Sarajevo -- hosts around 100 exhibitors from 36 countries.
Delivering a speech via video conference, Malaysian Prime Minister Mahathir Bin Mohamad voiced hope that the fair would become a traditional meeting point of the halal industry.
"In recent years, the investment potential of the halal industry has been proven. Halal is far beyond being a Muslim-oriented industry. Halal production has now moved to the universal level," said Mohamad.
Among the participants, Israfil Kuralay, the Vice President of the Istanbul Chamber of Commerce, said that the halal product market in recent years has become a very remarkable market.
Kuralay said that Turkey in the halal food industry grew by nearly 100% each year.
"We are aware of the importance of Bosnia and Herzegovina in this sector. I have the belief that joint investments and projects would be very beneficial," said Kuralay.
The fair will enable the participants from the Balkan countries, including Serbia, Slovenia and Albania, as well as from Turkey, Saudi Arabia, the United Arab Emirates, Malaysia and the EU countries to introduce halal food products.
Full report at:
https://www.aa.com.tr/en/europe/international-halal-fair-kicks-off-in-bosnian-capital/1595018
--------
South Asia
Afghan air raids kill more than 110 insurgents in northern region
2019-09-25
KABUL, Sept. 25 (Xinhua) -- More than 110 militants have been killed and over four dozen others sustained injuries as fighting planes struck Taliban hideouts in Afghanistan's northern Sari Pul, Jawzjan and Faryab provinces Tuesday night, army spokesman in the northern region Mohammad Hanif Rezai said Wednesday.
The sorties struck Taliban hideouts in Sari Pul's Qashqari area, parts of Qaramqul district in Faryab and Gardan village of Darzab district in Jawzjan province, the official said, adding more than 50 armed militants have been wounded in the raids.
No security personnel or civilians were wounded in the air raids, the official asserted.
Aimed at stabilizing security ahead of the voting day, Rezai said that crackdowns on militants would continue.
Afghanistan's presidential elections are slated for Saturday and more than 9.4 million eligible voters are expected to cast their vote amid tight security.
Taliban outfit has termed the coming elections in Afghanistan as a sham practice and vowed to disrupt the voting process.
http://www.xinhuanet.com/english/2019-09/25/c_138422041.htm
--------
Taliban Lifts Ban On WHO Vaccine Operations In Occupied Afghan Territories
September 25, 2019
Taliban militants in Afghanistan have lifted a ban on World Health Organization (WHO) activities in areas they control, another apparent move by the extremist group to improve their image following the collapse of peace talks with the United States.
The move announced on September 25 reversed a decision made in April when the extremist group barred the WHO and the International Committee of the Red Cross (ICRC) from operating in its occupied territories, accusing the groups of carrying out "suspicious" activities associated with polio-vaccination campaigns.
"After realizing its shortcomings and following constant contact and meetings with our representatives, the WHO received permission for their activities," Zabihullah Mujahid, a spokesman for the Taliban, said in a statement.
The ban had threatened to intensify a major humanitarian crisis in Afghanistan, one of three countries in the world where the disease is endemic.
A WHO representative for Afghanistan, Richard Peeperkorn, said on September 26 that the Geneva-based organization welcomed the Taliban's announcement, but expressed concern "that following this long pause in vaccination, more children have become vulnerable to poliovirus, and we will see more Afghan children paralyzed."
The Taliban on September 15 revoked its ban on the ICRC and restored its guarantee for the security of Red Cross staff doing humanitarian work in Afghanistan, but it did not mention the WHO.
At the time, Schaerer Juan-Pedro, who leads the ICRC delegation in Afghanistan, wrote on Twitter that "we welcome the acknowledgment of our humanitarian principles and renewal of security guarantees to enable us [to] work in Afghanistan."
In its September 25 statement, the Taliban offered a guarantee of safety for WHO staff. But the group also insisted that the WHO conduct only health-related work, get the extremists' permission before hiring workers, and carry out vaccine campaigns only in health centers.
The UN health agency did not immediately respond to an e-mailed request for comment.
The Taliban controls or is active in more than half of Afghanistan's 410 districts.
The Western-backed central government in Kabul is battling the resurgent Taliban for control of the country.
Zalmay Khalilzad, the U.S. special envoy to Afghanistan, has conducted at least nine rounds of talks in Qatar with the Taliban, which has so far refused to negotiate directly with the government in Kabul, calling them "puppets."
Khalilzad reported that he had reached an agreement in principle with the Taliban in which Washington would pull out troops and the militants would promise to break with Al-Qaeda and prevent Afghanistan from becoming a haven for terrorists.
However, the peace talks collapsed in early September after President Donald Trump cited an attack that killed an American soldier as his reason for calling off negotiations.
Trump proclaimed the negotiations "dead" and he scrapped planned secret talks with the group at Camp David.
The Taliban on September 18 said "doors are open" to resuming talks with the United States despite continuing violence ahead of a presidential election on September 28.
Full report at:
https://www.rferl.org/a/taliban-lifts-ban-who-red-cross-polio-operations-afghanistan/30183907.html
--------
Rohingya crisis is a 'formidable challenge' for Bangladesh, says Hasina
26 Sep 2019
The Rohingya crisis poses a "formidable challenge" to the development of Bangladesh, Prime Minister Sheikh Hasina has said.
She made the remarks during a dialogue titled 'A conversation with Prime Minister Sheikh Hasina' organised by the US think-tank Council on Foreign Relations in New York on Wednesday.
Reiterating neighbouring Myanmar's role in creating and, in turn, resolving the issue, Hasina said, "We want a peaceful and immediate resolution of the crisis."
The Bangladesh leader reflected on her last dialogue with the Council on Foreign Relations 19 years ago and noted that Bangladesh has made progress in several aspects since then.
Hasina highlighted the country's economic success in recent years while underscoring the challenges that her country faces from the adverse effects of climate change terrorism and violent extremism.
"The Rohingya crisis is a formidable challenge for us. Through a planned atrocity, the government of Myanmar cleansed its Northern Rakhine State of the Rohingya minority. They fled violence and atrocities and we opened our border to shelter them on humanitarian ground," said Sheikh Hasina.
Bangladesh is currently hosting more than 1.1 million Rohingyas. Over 700,000 Rohingyas entered Bangladesh following August 2017 military crackdown in the Rakhine State that the UN termed "ethnic cleansing".
Despite attempts to repatriate the refugees, no-one returned to their homeland citing Myanmar's failure to create conditions conducive to their "voluntary, safe and dignified" return.
The prime minister urged the international community to take all necessary measures to compel Myanmar to facilitate the Rohingyas' safe, dignified and voluntary return to their ancestral homes.
Hasina recalled the 10 million people of Bangladesh taking refuge in India during the country's Liberation War as she described the plight of the Rohingya refugees.
She also mentioned her own experience of living in exile with her younger sister following the assassination of their father Bangabandhu Sheikh Mujibur Rahman and family on Aug 15, 1975.
The decision to open the border to the forcibly displaced Rohingyas came from that experience, explained Hasina, adding that Bangladesh is providing humanitarian support to the best of its ability while acknowledging the international community, particularly the EU, China and USA, for their assistance in dealing with the crisis.
The international community should visit the Rohingya camps in Cox's Bazar to comprehend the severity of the crisis, said Hasina.
"We also urge you all to visit the Rohingya camps at Cox's Bazar in Bangladesh. We believe, while in those camps, you will be shaken by their horrifying stories of atrocities at the hands of the Myanmar security forces and local vigilantes. I believe seeing their plight would wring your heart and you would want to see the end of their painful predicament the soonest," she said.
Apart from the Rohingya crisis, the prime minister highlighted her government's "Zero Tolerance" policy on terrorism and violent extremism while outlining her government's initiatives to confront the risk of climate change.
Terrorists do not belong to any religion or boundaries, said the prime minister as she proposed a four-point plan to fight terrorism and violent extremism.
The source of financing, supply of arms to the terrorists must be cut and the divisions within societies removed, she noted in her proposal.
Lastly, the authorities must pursue the principle of peaceful settlement of international disputes through dialogue for a win-win situation, according to Hasina.
The frequency and intensity of cyclones, floods and droughts have increased over the years due to the climate change, she observed.
"My government has, therefore, adopted the Bangladesh Climate Change Strategy and Action Plan in 2009," she explained, "Under this plan, Bangladesh Climate Change Trust Fund was set up with our own resources."
"Since then nearly 450 million US dollars have been spent on several hundred projects, mostly on adaptation and a few on mitigation."
Bangladesh is moving forward and confronting the challenges, said the prime minister while highlighting the country's rise to becoming the 30th largest economy in the world in PPP terms.
This year, Bangladesh's GDP growth rate has hit a record high 8.13% and it is not very far from achieving double-digit growth, said Hasina.
According to the Spectator Index, Bangladesh achieved the highest GDP growth in the world during the last ten years.
Later, the premier took part in a question answer session and responded to questions on different issues, including the unity of Muslim community, the readymade garment sector in Bangladesh, food and social security and women's empowerment.
Bangladesh is continuing to have talks with Myanmar with the support of the international community, Hasina said during the session.
"The problem is that the Rohingyas are unwilling to return due safety concerns,"said Sheikh Hasina.
Full report at:
https://bdnews24.com/bangladesh/2019/09/26/rohingya-crisis-is-a-formidable-challenge-for-bangladesh-says-hasina
--------
Rohingya face genocide in Myanmar: Malaysian PM
Omer Faruk Yildiz
25.09.2019
Malaysian Prime Minister Mahathir Mohamad slammed Myanmar for failing to resolve the Rohingya crisis.
Mahathir spoke at the high-level side event "Rohingya Crisis - A Way Forward" at the UN headquarters on Tuesday.
"What happened in [Myanmar's northern ]Rakhine state is genocide. What took place were mass killings, systematic rape and other gross violations of human rights," he said.
He stressed that the Myanmar government was unwilling to take any action to resolve the crisis.
Mahathir said this resulted in the Rohingya fleeing the country en masse, with most of them ending up in refugee camps in Cox's Bazar district of Bangladesh.
"We commend Bangladesh for all it has done in hosting more than 1.2 million Rohingya refugees," he said.
Underlining that Malaysia also tried to do its best, he called on other states to make efforts to put an end to the crisis.
He said Malaysia will continue to insist that repatriation be done in "a safe, voluntary and dignified manner".
"However, the Myanmar authorities have manipulated the Rohingya issue to incite fear, hatred and violence. Thus, merely considering the idea of granting citizenship is unacceptable," he said.
Bangladesh to demand trial for crimes against Rohingya in UN
Speaking at the same event, Bangladeshi Prime Minister Sheikh Hasina said she will raise the issue at the UN General Assembly during her speech scheduled on Friday.
"International community must ensure that the root causes of Rohingya problem are addressed and atrocity crimes committed against the Rohingya are accounted for", state-run Bangladesh Sangbad Sangstha news agency reported her words.
She will place a four-point proposal for peace repatriation of the Rohingya refugees and sustainable solution to the crisis.
Hasina urged Myanmar to show clear political will through concrete actions for sustainable return of Rohingya to Myanmar, as she has been facing mounting pressure in home for sending the refugees back to their own lands in Rakhine state.
Rohingya repeatedly rejected joint effort by Bangladesh and Myanmar for their return, as they demand peaceful environment in the Rakhine state along with dignified citizenship and safety.
"Myanmar must build trust among the Rohingya by discarding discriminatory laws and allow frequent visits to northern Rakhine by the Rohingya representatives and guarantee safety and dignity of the Rohingya," Hasina added.
Referring to the delay of Rohingya repatriation as "regrettable," she said: "they [Rohingya] must be able to return to their homes where they lived for centuries".
Persecuted people
The Rohingya, described by the UN as the world's most persecuted people, have faced heightened fears of attack since dozens were killed in communal violence in 2012.
According to Amnesty International, more than 750,000 Rohingya refugees, mostly women and children, have fled Myanmar and crossed into Bangladesh after Myanmar forces launched a crackdown on the minority Muslim community in August 2017, pushing the number of persecuted people in Bangladesh above 1.2 million.
Since Aug. 25, 2017, nearly 24,000 Rohingya Muslims have been killed by Myanmar's state forces, according to a report by the Ontario International Development Agency (OIDA).
More than 34,000 Rohingya were also thrown into fires, while over 114,000 others were beaten, said the OIDA report, titled "Forced Migration of Rohingya: The Untold Experience."
Full report at:
https://www.aa.com.tr/en/asia-pacific/rohingya-face-genocide-in-myanmar-malaysian-pm/1594049
--------
OIC to Myanmar: Keep your commitments over Rohingya repatriation
September 26th, 2019
It also urged Myanmar to shoulder its responsibility in providing indiscriminate protection to all citizens
Organization of Islamic Cooperation (OIC) Secretary General Dr Yousef A Al Othaimeen has urged Myanmar to honor its commitments as to its pledged full cooperation with Bangladesh regarding the repatriation of the Rohingyas to their place of origin in Rakhine State.
He called upon the international community to keep up its support to Bangladesh over Rohingya issue as Bangladesh is hosting over 1.1 million Rohingyas.
The OIC secretary general also urged Myanmar to shoulder its responsibility in providing indiscriminate protection to all citizens as well as full observance of all international human rights agreements, according to OIC headquarters on Thursday.
Secretary General Othaimeen and Prime Minister Sheikh Hasina attended a meeting on the sidelines of the United Nations General Assembly in New York and discussed the Rohingya issue.
Othaimeen paid tribute to the efforts made by the Prime Minister Hasina and the people of Bangladesh in their generous hospitality to over one million Rohingyas, offering them shelter and care, in addition to Bangladesh's firm commitment to the cause of the Rohingya.
The OIC secretary general has commended Saudi Arabia's efforts for the Rohingyas and advocated support for Bangladesh.
Othaimeen expressed the OIC's deep appreciation and gratitude to the Kingdom of Saudi Arabia, represented by the King Salman Centre for Relief and Humanitarian Action which has been "diligently" keeping a watch on humanitarian developments pertaining to the mass exodus of the Rohingya Muslim minority and extending its much needed support to them.
He also paid tribute to the Kingdom for the announcement made by its Foreign Minister Dr Ibrahim Al Assaf relevant to its US$10 million donation to meet the needs of the Rohingyas, according to OIC.
On the occasion of the event organized by the Kingdom of Saudi Arabia on the sidelines of the UN General Assembly's 74th Session in New York, the OIC Secretary General said they gathered there to discuss the "heartbreaking tragedy" endured by the Rohingya Muslim minority in Myanmar.
Myanmar forced a large number of them to flee for their lives from their homes to neighboring countries or to other distant places, he said.
Othaimeen also reviewed the efforts put in by the OIC in this regard, with its several campaigns to raise awareness about this issue and to offer humanitarian aids to the Rohingya people.
Full report at:
https://www.dhakatribune.com/bangladesh/rohingya-crisis/2019/09/26/oic-to-myanmar-keep-your-commitments-over-rohingya-repatriation
--------
Afghan forces kill 17 Taliban militants in Kandahar, Zabul and Uruzgan
26 Sep 2019
The Afghan forces killed at least 17 Taliban militants during the operation in Kandahar, Zabul and Uruzgan provinces.
The 205th Atal Corps said in a statement the Afghan Air Force conducted an airstrike in Maiwand district of Kandahar, killing at least 12 Taliban militants.
The statement further added that the Afghan forces killed 3 Taliban militants and destroyed 4 motorcycles during an operation in Shah Joy district of Zabul.
Furthermore, an airstrike killed 2 Taliban militants including their commander Mullah Nasim in Khanqa area of Tarinkot city in Uruzgan.
Full report at:
https://www.khaama.com/afghan-forces-kill-17-taliban-militants-in-kandahar-zabul-and-uruzgan-04134/
--------
UK Embassy in Kabul reacts to Hekmatyar and Taliban threats ahead of elections
26 Sep 2019
The British Embassy in Kabul reacted to Gulbuddin Hekmatyar and Taliban threats ahead of presidential elections.
The Embassy of the United Kingdom said in a Twitter post "We condemn the Taliban & Presidential candidate Hekmatyar's threat to resort to violence."
It also added "UK urges all groups to follow due process & respect the rule of law. These kind of comments should be consigned to Afghanistan's past."
Speaking during an election rally in Kabul earlier on Wednesday, the leader of Hezb-e Islami Gulbuddin Hekmatyar said he would stand against fraud and foreign meddling in the elections.
Hekmatyar further added 'Do not make us feel regret about return and going towards elections. Do not force us to adopt other routes, since we can and have its experience.'
Hekmatyar was apparently pointing towards adoption of insurgency in the event he would be disappointed with the democratic process of elections.
Meanwhile, the military commission of the Taliban group issued a statement earlier today, urging the Afghans to boycott the elections.
Full report at:
https://www.khaama.com/uk-embassy-in-kabul-reacts-to-hekmatyar-and-taliban-threats-ahead-of-elections-04133/
--------
URL: https://www.newageislam.com/islamic-world-news/motibar-rahman-stands-muslim-looking/d/119852
New Age Islam, Islam Online, Islamic Website, African Muslim News, Arab World News, South Asia News, Indian Muslim News, World Muslim News, Women in Islam, Islamic Feminism, Arab Women, Women In Arab, Islamophobia in America, Muslim Women in West, Islam Women and Feminism