New Age Islam News Bureau
30 Jul 2014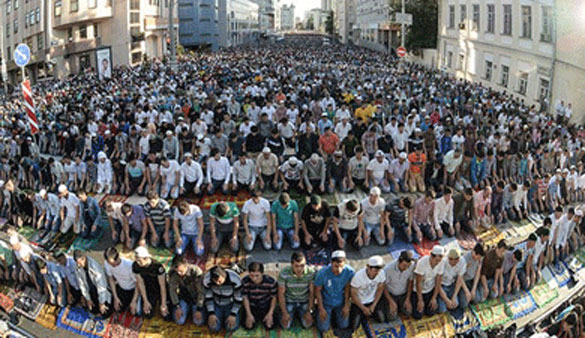 Muslims on a street near the Cathedral Mosque before a prayer on Uraza Bayram, a major Muslim holiday (RIA Novosti / Ramil Sitdikov)
-----------
Arab World
• Mosul Residents To Islamic Radicals: Stop Destroying Our Heritage
• 40 ISIL terrorists killed, 10 vehicles destroyed southern Samara
• Sukhoi fighters kill 35 ISIL terrorists northern Hilla
• 3 militants die in car bomb accident in Giza
• ISIS video wages psychological war on Iraqi soldiers
• Arrest warrants for Australian militants suspected of joining IS
• More than 50 ISIL terrorists escape from Mansoriya al-Jabal area in Diyala
• 'Syrian government still using barrel bombs'
Europe
• Russian Muftis: Moscow Needs More Mosques
• Europe is Breeding Jihadists, Warns Syrian Kurdish Leader
• Germany's Biggest Paper under Fire for Attacking Islam
• Paying ransoms, Europe bankrolls al-Qaida terror
• EU increases Syria humanitarian aid by 50 million Euros
• Poll: American opinion of Arabs, Muslims is getting worse
Mideast
• At least 43 Palestinians killed as Israel maintains pressure on Gaza
• Hamas invites Hezbollah to join in fighting against Israel
• Deadly shelling hits UN school as Hamas mulls truce
• Bahçeli urges his nationalist party to're-conquer' Istanbul
• Iran: We'll send arms for West Bank war
• Israel launches new media campaign: 'Hamas sacrifices Gaza for its extremism'
• Zionist Entity Commits New Massacres in Gaza as Death Toll Passes 1280
Africa
• New Benghazi clashes kill 30; Tripoli's fuel depot fire rages
• Nigerians blame politics, unemployment for terrorism attacks – NOI polls
• Multiple blasts kill 13 in north-eastern Nigeria
• Chibok girls: Muslim Group urges FG to negotiate with Boko Haram
South Asia
• Senior Taliban leaders among 20 killed in Helmand operations
• Clashes end in Nangarhar, nearly 60 Taliban militants killed
• Maldives' Islamic ideology under attack, says Islamic Minister
• Uighur group says nearly 100 casualties in China clash
Pakistan
• 7 militants killed as Pak army check post targeted in Lower Dir
• Four killed in Karachi violence; seven arrested in operation
• Only democracy can bring revolution in Pakistan: Pak PM
• Pakistan has never had rigging-free elections: Sharjeel Memon
• Imran should air his grievances in parliament: Khurshid Shah
North America
• U.S. plans largest ever sale of hellfire missiles to Iraq
• Gaza massacre is generating crisis in American Zionists- report
• Israeli PM has asked for US help on Gaza truce: Kerry
• U.S. nuclear negotiator will not guarantee end to Iran extensions
India
• Muslims Cash In On Quota, Politically
• India-Pakistan border guards exchange sweets on Eid
• Differences between Nodwatut Tamir and Ahle Sunnat separate Eid prayers
Southeast Asia
• "Syria is not a final battle": Malaysian mufti
• Thai Muslim Mosque in Azusa Is a Work of Faith
• Isma's Jewish jibe about rights groups poorly thought-out, targets say
• I will not be a 'puppet MB', says Dr Wan Azizah
Compiled by New Age Islam News Bureau
URL: https://www.newageislam.com/islamic-world-news/new-age-islam-news-bureau/mosul-residents-to-islamic-radicals--stop-destroying-our-heritage/d/98351
-----------
Arab World
Mosul residents to Islamic radicals: Stop destroying our heritage
July 30, 2014
BAGHDAD — Residents of Mosul have watched helplessly as extremists ruling the northern Iraqi city blew up some of their most beloved landmarks and shrines to impose a stark vision of Islam. Next up for destruction, they feared: the Crooked Minaret, a more than 840-year-old tower that leans like Italy's Tower of Pisa.
But over the weekend, residents pushed back.
When fighters from the Islamic State group loaded with heavy explosives converged on the site, Mosulis living nearby rushed to the courtyard below the minaret, sat on the ground and linked arms to form a human chain to protect it, two residents who witnessed the event told The Associated Press on Monday.
They told the fighters, If you blow up the minaret, you'll have to kill us too, the witnesses said.
The militants backed down and left, said the witnesses, who spoke on condition of anonymity for fear of retaliation from the militants.
But residents are certain the militants will try again. Over the past two weeks, the extremists ruling Iraq's second largest city have shrugged off previous restraint and embarked on a brutal campaign to purge Mosul of anything that challenges their radical interpretation of Islam. The militants — though Sunnis — target shrines revered by other Sunni Muslims because the sites are dedicated to popular religious figures. In the radicals' eyes, that commits one of the worst violations of Islam: encouraging worship of others besides God.
The scene on Saturday was a startling show of bravery against a group that has shown little compunction against killing anyone who resists it. It reflects the horror among some residents over what has become of their beloved city.
"The bombing of shrines ... has nothing to do with Islam," Abu Abaida, 44, a government employee, told the AP by phone from the city. "They are erasing the culture and history of Mosul." Like other residents, he spoke to the AP on condition he be identified by a nickname or first name for fear of retaliation.
When militants from the Islamic State group first swept into in Mosul in June, they proclaimed themselves the mainly Sunni city's savior from the Shiite-led Iraqi government in Baghdad. Their first priority was to rebuild infrastructure and provide services like garbage collection that the government had neglected. They held off from implementing their strict version of Islamic law, urging modesty for women but doing little to enforce it and generally leaving alone the Christian population that had not already fled.
The aim, it seemed, was to avoid alienating a Sunni community whose support they needed.
Now, the honeymoon is over. In recent weeks, they have purged the city of nearly its entire Christian population, moved to restrict women and began the systematic destruction of city landmarks.
"No place is safe," said Dia, an engineering professor in Mosul. "If I say one wrong thing, I am dead."
The Crooked Minaret — al-Manara al-Hadba in Arabic — was built in 1172 as part of the Great al-Nour Mosque, and it leans about 8 feet off perpendicular. It's so well known it is pictured on Iraq's 10,000-dinar note.
Its national symbolism appears to be one reason why the militants despise it — since they see nationalism as another anathema. Moreover, local legends surround the minaret, and extremists generally see such stories as un-Islamic inventions that mislead the faithful and must be purged.
Local lore, for example, has it that the minaret tilts because it bowed in reverence to the Prophet Muhammad as he made an ascent to heaven.
Nearly daily, the militants have been destroying some of the city's most famed sites.
On Thursday, they lay a wall of explosives around the Mosque of the Prophet Younis — or Jonah, the prophet who in both the Bible and Quran was swallowed by a whale. They ordered everyone out of the shrine, which is said to contain the prophet's tomb, and blew it up.
The next day, it was the turn of the Mosque of Sheeth, or Seth, said to be the burial site of the third son of Adam and Eve. On Saturday, they reduced to rubble the Mosque of the Prophet Jirjis.
Last week, they removed the crosses on the domes and brick walls of the 1,800-year old Mar Behnam monastery, then stormed it, forcing the monks and priest to flee or face death. The move came days after jihadists proclaimed over loudspeakers from mosques that Christians must convert to Islam, pay a tax or die, prompting the flight of almost all the Christians who remained in the city.
Women's rights are now being abruptly restricted. The militants hung banners at on the wall of the Heibat Khatoun mosque before Friday prayers instructing women to wear loose clothing and cover their faces. No bright colors. No patterns.
They then distributed a statement to tailors and shops that sell women's clothes informing them of their newly imposed dress code, shopkeepers told the AP. An Associated Press reporter saw several female mannequins in shops with their faces covered.
"Even at the time of Prophet Muhammad, there was no face veil," said Um Farouq, 55, a Mosul resident. "These people with Daesh are just making up ideas that do not exist in Islamic Shariah," she said, using the Arabic acronym for the Islamic State group.
he group had already shown its true colors in Syria, where it holds a large swath of the east and north. There, its fighters have banned music, imposed full veils, imposed taxes on Christians and killed people in main squares for defying their Shariah rules. Earlier this month, for the first time, they stoned to death two women accused of adultery.
Iraq's Mosul was once famed for its religious and ethnic diversity, and it is one of few cities in Iraq where a significant number of Christians remained after the U.S.-led invasion. It was a traditional stronghold both for Islamic conservatives and more secular pan-Arab nationalists.
Mosulis who cannot bear the extremists' rule have joined more than a million other Iraqis who have fled their homes in areas under the group's control.
"The situation is becoming really miserable for us," said Abdul-Rahman Odai, a 25-year-old from Mosul who fled to the Kurdish province of Dohuk with his family. He said militants have seized government buildings and the homes of local officials. "They will not stop until they take everything."
Associated Press reporter Sameer N. Yacoub in Baghdad contributed to this report.
http://www.stripes.com/news/middle-east/mosul-residents-to-islamic-radicals-stop-destroying-our-heritage-1.295628
---------
40 ISIL terrorists killed, 10 vehicles destroyed southern Samara
July 30, 2014
Salah il-Din (IraqiNews.com) The security forces killed 40 ISIL terrorists and burnt 10 of their vehicles of southern Samara.
Colonel, Qindeel al-Jobouri stated to IraqiNews.com "The Iraqi Air Force bombarded the ISIL terrorists to kill 40 of them and burn 10 of their vehicles in Dhilo'aya district of southern Samara." /End/
http://www.iraqinews.com/iraq-war/0-isil-terrorists-killed-10-vehicles-destroyed-southern-samara/
---------
Sukhoi fighters kill 35 ISIL terrorists northern Hilla
July 30, 2014
Babel (IraqiNews.com) Security source assured that the Sukhoi fighters bombarded 12 ISIL shelters to kill 35 of the terrorists of northern Hilla.
The source added to IraqiNews.com "The Sukhoi fighters bombarded 12 shelters in Jurf al-Sakhar district of northern Hilla to kill 35 of the terrorists including their leader and four snipers." /End/
http://www.iraqinews.com/iraq-war/sukhoi-fighters-kill-isil-terrorists-northern-hilla/
---------
3 militants die in car bomb accident in Giza
July 30, 2014
A bomb-laden car has exploded in Giza, killing three suspected militants, a security source told state news agency MENA.
The source said the bomb probably detonated accidently while the car was driving in Al-Saf town in Giza. Investigations are ongoing to identify the bodies.
Egypt has witnessed aa upsurge in attacks, mainly targeting security forces and installations, since the ouster of Islamist president Mohamed Morsi last year.
http://english.ahram.org.eg/NewsContent/1/64/107361/Egypt/Politics-/-militants-die-in-car-bomb-accident-in-Giza.aspx
---------
ISIS video wages psychological war on Iraqi soldiers
30 July 2014
The Islamic State of Iraq and Syria (ISIS), a breakaway Al-Qaeda group that seized large swathes of Iraq almost unopposed last month, has released a video warning Iraqi soldiers who may still have some fight in them that they risk being rounded up en masse and executed, Reuters news agency reported Tuesday.
The 30-minute video clip, which circulated during Eid al-Fitr, the holiday that marks the end of the Muslim fasting month of Ramadan, sheds light on the tactics ISIS is likely to employ as it presses ahead with its campaign.
The video begins with an ISIS commander firing up militants with promises that paradise in heaven awaits them if they take the city of Samarra, which is 100 kilometers north of Baghdad and would be their next target in a southward push.
He tells them that God "made us proud when he permitted us to go to jihad."
It was not clear where or when the video was filmed.
Full report at:
http://english.alarabiya.net/en/News/middle-east/2014/07/30/ISIS-video-wages-psychological-war-on-Iraqi-soldiers.html
---------
Arrest warrants for Australian militants suspected of joining IS
July 30, 2014
SYDNEY: Australia has issued arrest warrants for two men suspected of fighting alongside militants in Iraq and Syria, police said Wednesday, including one who reportedly posed with severed heads.
The Australian Federal Police said warrants had been issued for two former Sydney men, Mohamed Elomar and Khaled Sharrouf, who have reportedly joined the Islamic State (IS) jihadist group fighters.
"The warrants relate to alleged terrorism related activity," a police spokeswoman said.
"Should Sharrouf or Elomar return to Australia, these warrants authorise law enforcement to arrest them immediately."
The federal police said they were unable to comment further, given the matter was yet to be tested in court.
Full report at:
http://www.dawn.com/news/1122351/arrest-warrants-for-australian-militants-suspected-of-joining-is
-------
More than 50 ISIL terrorists escape from Mansoriya al-Jabal area in Diyala
July 30, 2014
Diyala (IraqiNews.com) The security forces assured the escape of more than 50 ISIL terrorists from Mansouriya al-Jabal area in Diyala.
Security source stated to IraqiNews.com "The security forces stormed into Mansouriya al-Jabal area in Diyala where about 50 ISIL terrorists escaped." /End/
http://www.iraqinews.com/iraq-war/more-than-0-isil-terrorists-escape-from-mansoriya-al-jabal-area-in-diyala/
---------
'Syrian government still using barrel bombs'
July 30, 2014
The Human Rights Watch (HRW) on Wednesday said the Syrian government is still indiscriminately bombing civilians with high explosive barrel bombs in defiance of a UN Security Council resolution.
February's resolution demanded a halt to all attacks against civilians and indiscriminate shelling and aerial bombardment, including the use of barrel bombs, in populated areas.
"Month after month, the Security Council has sat idly by as the government defied its demands with new barrel bomb attacks on Syrian civilians," said Sarah Leah Whitson, Middle East director at Human Rights Watch.
"Russia and China need to allow the Security Council to show the same resolve and unanimity it brought to the issue of humanitarian aid to call a halt to these deadly attacks on civilians."
Activists said barrels bombs on Aleppo have killed more than 2,000 people in 2014.
http://www.thehindu.com/news/international/world/syria-defies-unsc-resolution-still-using-barrel-bombs-human-rights-watch/article6264100.ece
---------
Europe
Russian Muftis: Moscow Needs More Mosques
July 30, 2014
The Russian capital Moscow requires more mosques due to overcrowding at existing ones, the country's Council of Muftis said, Russia Today reported.
"Believers deserve more mosques in Moscow," said¬ council spokesperson Gulnur Gaziyeva.
"We are suggesting 10 mosques for the whole of Moscow, one for each administrative district."
Worshippers flock to the capital's four mosques during religious celebrations, where they often pray on the street due to overcrowding, prompting authorities to block major roads to traffic.
More mosques would prevent these problems, said Gaziyeva.
"No one would have to stop the traffic if the mosques were evenly distributed throughout the city."
Muslim officials have repeatedly called for more mosques in recent years as the capital's Muslim population grows.
Moscow's mayor, Sergey Sobyanin, has repeatedly blocked such requests, saying last year that "only migrant workers" needed them.
Most Muslim worshippers are not permanent residents of the city and must leave once their contracts are over, he said.
Full report at:
http://english.alarabiya.net/en/News/world/2014/07/29/Moscow-needs-more-mosques-Russian-cleric-.html
---------
Europe is Breeding Jihadists, Warns Syrian Kurdish Leader
July 30, 2014
BARCELONA, Spain – The leader of the Syrian Kurds Salih Muslim warned in Spain that Europe is breeding jihadists who are fighting in their thousands in Syria. In a meeting with Catalan MPs in Barcelona on Tuesday, he accused Turkey of allowing jihadi fighters across its borders into Syria.
Muslim is in Europe to try to persuade Western countries that if they want to fight Islamic militancy at home they must help his Democratic Union Party (PYD) -- the dominant force in Syrian Kurdistan (Rovaja) -- in its fight against militants of the Islamic State (IS/ISIS).
On Monday, he warned at a gathering of civil society movements in Barcelona that, "European democracy shouldn't finish at the borders of Europe. If you don't have democracy in the Middle East you are not saved in Europe."
"We have 4,000 people from Europe joining the fighting against us. There is something wrong in Europe which is producing people with this mentality," Muslim said. "The Europeans should sit and think about what they should do."
Full report at:
http://rudaw.net/english/middleeast/290720141
--------
Germany's Biggest Paper under Fire for Attacking Islam
July 30, 2014
Germany's biggest newspaper was forced into a climb down after it criticised Islam's "criminality," "murderous contempt" and "honour killings."
"I don't believe in God, but at the same time Christianity, Judaism or Buddhism don't bother me. Only Islam bothers me more and more," wrote Nicolaus Fest, vice editor-in-chief of the Bild am Sonntag newspaper in an opinion piece published on Sunday, according to The Local.
"I'm bothered by the considerably disproportionate criminality of youths from Muslim backgrounds. I'm bothered by Islam's murderous contempt for women and homosexuals. I'm bothered by forced marriages, 'justices of the peace,' 'honour killings,'" he wrote.
These cultural manifestations were making Islam "a barrier to integration."
He also called for more deliberate policies when dealing with claims for asylum and visa applications to Germany. According to RT.com, Fest concluded by saying: "I don't need any imported racism and I don't need anything else Islam stands for."
Full report at:
http://www.breitbart.com/Breitbart-London/2014/07/29/Germany-s-top-tabloid-attacks-Islam-s-murderous-contempt-and-criminality
---------
Paying ransoms, Europe bankrolls al-Qaida terror
Rukmini Callimachi,NYT News Service | Jul 30, 2014
BAMAKO, Mali: The cash filled three suitcases: 5 million euros.
The German official charged with delivering this cargo arrived here aboard a nearly empty military plane and was whisked away to a secret meeting with the president of Mali, who had offered Europe a face-saving solution to a vexing problem.
Officially, Germany had budgeted the money as humanitarian aid for the poor, landlocked nation of Mali.
In truth, all sides understood that the cash was bound for an obscure group of Islamic extremists who were holding 32 European hostages, according to six senior diplomats directly involved in the exchange.
Full report at:
http://timesofindia.indiatimes.com/world/europe/Paying-ransoms-Europe-bankrolls-al-Qaida-terror/articleshow/39277800.cms
---------
EU increases Syria humanitarian aid by 50 million euros
July 30, 2014
The European Commission said Tuesday it would release a further 50 million euros ($67 million) in humanitarian aid for Syria as the crisis there deepens.
This brings the total amount of aid this year to 150 million euros, which the EU says is aimed at helping the most vulnerable people in a conflict that has so far cost more than 170,000 lives and displaced half the population of 23 million.
The Commission, the European Union's executive arm, said it also approved proposals to increase assistance for neighbouring countries dealing with an "unprecedented flow of refugees."
Full report at:
http://www.hurriyetdailynews.com/eu-increases-syria-humanitarian-aid-by-50-million-euros.aspx?pageID=238&nID=69764&NewsCatID=359
---------
Poll: American opinion of Arabs, Muslims is getting worse
30 July 2014
How Americans view Arabs and Muslims has gotten worse in recent years, with negative feelings strongest among Republicans and senior citizens, according to a poll released on Tuesday.
Only 27 percent of Americans have a favorable opinion of Muslims, down from 35 percent in 2010, according to the Zogby poll, commissioned by the non-profit Arab American Institute. Favorable attitudes toward Arabs dropped to 32 percent from 43 percent in 2010.
The poll also found that 42 percent of respondents believe an American Muslim's religion would influence his or her decision making in an important government job. The same percentage believe it is justified for law enforcement to profile Arab Americans or American Muslims.
Full report at:
http://english.alarabiya.net/en/perspective/analysis/2014/07/30/Poll-American-opinion-of-Arabs-Muslims-is-getting-worse.html
---------
Mideast
At least 43 Palestinians killed as Israel maintains pressure on Gaza
Reuters | Jul 30, 2014
GAZA/JERUSALEM: Israeli fire killed at least 43 Palestinians in the Gaza Strip early on Wednesday as the Jewish state said it targeted Islamist militants at dozens of sites across the coastal enclave, while Egyptian mediators prepared a revised ceasefire proposal.
Israel's Channel Two TV said progress was being made to achieve a deal in Cairo, where a Palestinian delegation was expected to arrive for discussions.
Israeli tank shells and air strikes on houses and a school in Jebalya in northern Gaza killed at least 43 people and wounded many others, including 20 in a UN school, health ministry spokesman Ashraf Al-Qidra said. Among the dead were a medic and an infant.
An Israeli army spokeswoman said she was checking for details.
Eight people, including five members of the same family in Jebalya, were killed in other strikes, Gaza officials said.
Full report at:
http://timesofindia.indiatimes.com/World/Middle-East/At-least-43-Palestinians-killed-as-Israel-maintains-pressure-on-Gaza/articleshow/39282777.cms
---------
Hamas invites Hezbollah to join in fighting against Israel
July 30, 2014
Hamas wants Hezbollah to join the now three-week-old conflict with Israel, the deputy political bureau chief of the Palestinian Islamist organization reportedly said on Wednesday.
Moussa Abu Marzouk, who serves as Khaled Mashaal's top deputy and who is currently based in Cairo, told the Russian news agency RIA Novosti on Wednesday that the organization hoped that the Lebanese Shi'ite group would engage Israel from the north.
"We hope the Lebanese front will open and together we will fight against this formation [Israel]," Abu Marzouk told RIA Novosti.
"There's no arguing that Lebanese resistance could mean a lot," Abu Marzouk said.
Last week, Hezbollah leader Hassan Nasrallah vowed to support "the resistance in Gaza in any way necessary" in its fight against the IDF.
Full report at:
http://www.jpost.com/Operation-Protective-Edge/Hamas-invites-Hezbollah-to-join-in-fighting-against-Israel-369379
---------
Deadly shelling hits UN school as Hamas mulls truce
July 30, 2014
Israeli shells struck a U.N. school in Gaza early July 30, killing 16, as ground troops made a signficant push into the territory despite Palestinian efforts to broker a 24-hour truce.
It was the second time in a week that a U.N. school sheltering hundreds of homeless Palestinians had been hit, with the latest violence pushing the Gaza death toll over 1,260.
The bloodshed came as a top-level Palestinian delegation including Hamas and Islamic Jihad leaders was preparing to head to Cairo to discuss a new proposal for a temporary humanitarian ceasefire, a top PLO official said.
But there was no word on whether Israel would respond to the initiative, with the military striking 75 targets in Gaza overnight as ground troops made a "significant advance" inside the narrow coastal enclave, army radio reported.
Violence in Gaza claimed at least 28 lives early July 29, with the worst strike taking place at the school in Jabaliya refugee camp in the north where hundreds had been seeking shelter after the army warned them to flee their homes.
Full report at:
http://www.hurriyetdailynews.com/deadly-shelling-hits-un-school-as-hamas-mulls-truce.aspx?pageID=238&nID=69772&NewsCatID=352
---------
Bahçeli urges his nationalist party to 're-conquer' Istanbul
July 30, 2014
The Nationalist Movement Party (MHP) leader Devlet Bahçeli has told his party's Istanbul branch that they need to "re-conquer" the Turkish metropolitan.
Speaking in an event to mark Eid al-Fitr on July 29, Bahçeli said his party should reign in Turkey's most populated city, which is currently held by the ruling Justice and Development Party (AKP).
"It is not a fate that Istanbul is in bad hands [under the AKP]," Bahçeli said to his fellow party members during a ceremony at the Abdi İpekçi Sports Arena. "We need to re-conquer Istanbul. Take Istanbul. I believe you will wave the flag of three crescents over Istanbul again."
Full report at:
http://www.hurriyetdailynews.com/bahceli-urges-his-nationalist-party-to-re-conquer-istanbul-.aspx?pageID=238&nID=69767&NewsCatID=338
---------
Iran: We'll send arms for West Bank war
July 30, 2014
Tehran is going to provide missiles to Palestinians in the West Bank, Amir Mousavi, a former adviser to the Iranian defense minister, says.
"A new front must be opened from the West Bank, after it has been armed – especially with missiles, because we know very well that the distance between the West Bank and Tel Aviv, Haifa and other areas is much shorter than the distance from Gaza," Mousavi said on Lebanese Al-Mayadeen TV on Friday, MEMRI (the Middle East Media Research Institute) reported.
"Therefore, simple means are required. There is no need for long-range missiles."
Mousavi said that the "resistance camp," made up of Iran, Hezbollah, Iraq and Syria, has "established very important channels via Jordan, the Golan Heights, and other areas."
"Everybody will see that new and significant fronts will be opened all of a sudden to support the Palestinian cause in the West Bank and in Gaza," he asserted.
Full report at:
http://www.jpost.com/Middle-East/Former-advisor-to-Iranian-Minister-of-Defense-Iran-to-provide-missiles-to-West-Bank-369307
---------
Israel launches new media campaign: 'Hamas sacrifices Gaza for its extremism'
July 30, 2014
Faced with nonstop pictures of death and destruction in Gaza, the country's National Information Directorate launched a social media campaign on Tuesday showing pictures of Gaza misery above quotes by Hamas heads admitting the value and importance of human shields.
"The Palestinian blood that is spilled is precious, but the goals for which this blood is spilled are even more precious," Khalil al-Hayya, the deputy chairman of the Palestinian Legislative Council, was quoted as saying on July 21, over a picture of a crying woman.
The name of the campaign is "Hamas sacrifices Gaza for its extremism."
Another picture quotes Hamas Gaza leader Ismail Haniyeh as saying on July 21 that "the resistance protects its people who are paying with their pure blood." And another picture quotes Hamas spokesman Mushir al-Masri as saying on July 9, "The blood of the 'shahids' (martyrs) killed in this campaign is the fuel of our victory."
Full report at:
http://www.jpost.com/Operation-Protective-Edge/Israel-launches-new-media-campaign-Hamas-sacrifices-Gaza-for-its-extremism-369374
---------
Zionist Entity Commits New Massacres in Gaza as Death Toll Passes 1280
Local Editor
At least 54 people were martyred in Israeli strikes across Gaza Wednesday, including 16 in shelling that hit a UN school, taking the Palestinian toll from 24 days of brutal offensive to more than 1,280.
The latest attacks saw six members of the same family, three of them children, martyred when an Israeli shell hit the Tuffah neighborhood in northeastern Gaza City, emergency services spokesman Ashraf al-Qudra said.Palestinian children martyred during Israel's brutal offensive on Gaza
The deadliest strike was at a UN-run school in Jabaliya refugee camp in northern Gaza, with two shells hitting classrooms where dozens of Palestinians were sheltering, UN officials said.
An official from the UN agency for Palestinian refugees put the toll at 16 dead.
Furthermore, at least six children were martyred during the morning, among them an 11-year-old disabled girl who died in a shelling in Gaza City, and a 16-year-old girl killed in a strike on central Gaza.
Full report at:
http://www.almanar.com.lb/english/adetails.php?eid=163249&cid=23&fromval=1&frid=23&seccatid=23&s1=1
---------
Africa
New Benghazi clashes kill 30; Tripoli's fuel depot fire rages
July 30, 2014
TRIPOLI — At least 30 people were killed overnight and morning in Libya's eastern city of Benghazi during heavy clashes involving war planes and rockets between government special forces and militants, medical sources said.
Fierce fighting in Benghazi, Libya's second city, and battles between rival militias in Tripoli, have pushed Libya deeper into chaos, in two weeks of the worst violence since the 2011 civil war ousted Muammar Gaddafi.
"We have received 30 corpses so far," a medical source told Reuters at Benghazi's main hospital.
The blaze engulfing oil depots started in the crossfire of fighting over Tripoli's international airport, a week's long battle between rivals mirroring the militia violence that's plagued the rest of Libya since the downfall of Muammar Gaddafi.
A ceasefire deal mediated by Tripoli's City Council fell apart hours after they declared it, leaving council members pleading with the militias to withdraw from at least a 3-km (1.86 mile) radius to allow firefighters to fight the blaze. The government ordered firefighters to withdraw amid new clashes.
Full report at:
http://www.saudigazette.com.sa/index.cfm?method=home.regcon&contentid=20140730213047
----------
Nigerians blame politics, unemployment for terrorism attacks – NOI polls
July 30, 2014
Nigerians consider political interests related with election issues and unemployment to be the major cause of terrorism in the country, NOI Polls released today, Tuesday, reveals.
Meanwhile, slightly more than half of individuals polled said the Nigerian Government/Security agencies are doing enough to rescue the "Chibok school girls" kidnapped in April this year; 46% were of the opinion that government/security agencies are not doing enough in this regard.
Q4 NOIAsked, "In your opinion, what is the major cause of terrorism in Nigeria?" 26 percent said "Election/political interest" while 21 percent of respondents answered "unemployment". Meanwhile 10 percent, 8 percent and 6 percent of individuals polled respectively said bad government/leadership, high level of poverty and corruption is the major cause of terrorism in the country.
Full report at:
http://businessdayonline.com/2014/07/nigerians-blame-politics-unemployment-for-terrorism-attacks-says-noi-polls/#.U9iVTeNdU4U
---------
Multiple blasts kill 13 in northeastern Nigeria
World Bulletin/News Desk
July 30, 2014
At least 13 people have reportedly been killed in multiple explosions in the northeastern Nigerian city of Potiskum in Yobe State.
"The explosions resulted from two suicide bombers within ten minutes from each other, both inside mosques after Maghreb (dusk prayer) on Tuesday," a hospital source told Anadolu Agency on Wednesday.
"Up to 13 dead victims and 35 injured persons have been brought to hospital with many others injured," the source said.
Nigeria's defense headquarters confirmed one of the attacks on its Twitter page but did not give details.
Full report at:
http://www.worldbulletin.net/todays-news/141618/multiple-blasts-kill-13-in-northeastern-nigeria
------------
Chibok girls: Muslim Group urges FG to negotiate with Boko Haram
July 30, 2014
The Muslim Media Watch Group of Nigeria (MMWG) has urged the Federal Government to negotiate with the Boko Haram sect to secure the release of the abducted schoolgirls in Chibok, Borno State.
The MMWG, in its Eid-el-Fitr message by its Coordinator, Alhaji Ibrahim AbdullahiIn, charged security agencies in the country to use advanced intelligence-gathering mechanism to locate the sponsors and perpetrators of insurgency in the country.
"The release of the Chibok girls is taking too long a time. As tension, anxiety and uncertainty pervade the nation, the ruling class should know that their utterances, actions and general conducts are responsible for the current state of the nation.
Full report at:
http://dailypost.ng/2014/07/29/chibok-girls-muslim-group-urges-fg-negotiate-boko-haram/
---------
South Asia
Senior Taliban leaders among 20 killed in Helmand operations
July 30, 2014
At least 20 Taliban militants were killed following military operations by Afghan national security forces in southern Helmand province of Afghanistan.
According to local government officials, a senior Taliban commander recognized as Shahwali and Taliban's shadow governor for Sangin district were among 20 militants killed during the operations.
Provincial governor spokesman, Omar Zwak, said the militants were killed during the operations in Sangin district, which were launched during the recent days.
Zwak further added that Afghan security forces also confiscated various types of weapons during the operations.
He said Afghan security forces are currently engaged in improised explosive device (IED) clearing operations in Sangin district.
Full report at:
http://www.khaama.com/senior-taliban-leaders-among-20-killed-in-helmand-operations-6496
---------
Clashes end in Nangarhar, nearly 60 Taliban militants killed
July 30, 2014
Nearly 60 Taliban militants and 6 members of the Afghan security forces were killed during clashes in eastern Nangarhar province of Afghanistan.
Provincial governor spokesman, Ahmad Zia Abdulzai, said clashes continued until Tuesday afternoon in Hesarak district.
Abdulzai further added that Taliban militants launched attacks on security check posts early Tuesday morning.
He said six Afghan police forces were killed and eight othrs were injured during the clashes.
Hesarak district chief, Haji Abdul Khaliq, said nearly one thousand Taliban militants had taken part in the offensive on Afghan security forces check posts.
Full report at:
http://www.khaama.com/clashes-end-in-nangarhar-nearly-60-taliban-militants-killed-6493
---------
Maldives' Islamic ideology under attack, says Islamic Minister
July 30, 2014
Elements from inside and outside the country are trying to destroy the religious ideology of the country using various psychological tactics and methods, Islamic Minister Dr. Mohamed Shaheem Ali Saeed said.
Delivering the sermon at the Eid prayers held at Maafannu Stadium, Shaheem said that Islam dictates the protection of one's faith. He advised the people in many contexts to continue the ideal behaviour that had passed during Ramadan.
"Do not break your parents' hearts and dreams for you by losing yourself in the addiction of intoxicants. Become true patriots for your country and devoted Muslims", he said.
Full report at:
http://www.haveeru.com.mv/news/55908
---------
Uighur group says nearly 100 casualties in China clash
July 30, 2014
A clash in China's far western region of Xinjiang, home to the country's mostly Muslim Uighur minority, left nearly 100 people dead and wounded, an exile group said July 30.
Chinese state media reported on the late hours of July 29 that dozens of civilians and assailants were killed and injured in what it described as a "terrorist attack" in the region, saying a gang armed with knives and axes had attacked a police station and government offices, before moving on to a township.
"Police officers at the scene shot dead dozens of members of the mob," the official news agency Xinhua said of the violence, said to have occurred on the early hours of July 28.
Xinhua did not give a precise breakdown of the casualties, and information in Xinjiang is often difficult to verify independently.
Full report at:
http://www.hurriyetdailynews.com/uighur-group-says-nearly-100-casualties-in-china-clash.aspx?pageID=238&nID=69780&NewsCatID=356
---------
Pakistan
7 militants killed as Pak army check post targeted in Lower Dir
July 30, 2014
LOWER DIR: At least seven militants were killed and nine others were injured as a Pakistan Army check post was attacked in Lower Dir, military sources said on Wednesday, Express News reported.
According to the sources, 70 to 80 militants attacked the check post in the cross-border attack at the Pakistan-Afghanistan border.
The check post is located between the Ankalsar and Tarpaman areas of Lower Dir.
Militants were forced to flee after the Pakistan Army retaliated, military sources said.
No group claimed responsibility for the attack till the filing of this report.
http://tribune.com.pk/story/742517/cross-border-attack-6-militants-killed-as-pak-army-check-post-targeted-in-lower-dir/
---------
Four killed in Karachi violence; seven arrested in operation
July 30, 2014
KARACHI: At least four people were killed in different incidents of violence in Karachi, whereas seven people were arrested during a targeted operation in the city, DawnNews reported on Wednesday.
Two people were gunned down in Lyari's Bihar Colony and Shah Faisal Colony. Meanwhile, one person was shot dead in Liaquatabad's Sheesh Mahal area. The victim's attacker was later arrested and weapons were seized from his possession.
Separately, a body was found near Korangi's Polytechnic Institute. The victim was tortured before being shot dead.
Full report at:
http://www.dawn.com/news/1122349/four-killed-in-karachi-violence-seven-arrested-in-operation
---------
Only democracy can bring revolution in Pakistan: Pak PM
July 30, 2014
JEDDAH: Prime Minister Muhammad Nawaz Sharif said Tuesday that the history of Pakistan has witnessed many revolutions but only democracy could bring a revolution in Pakistan, DawnNews reported.
Speaking to reporters in Jeddah, the prime minister said that a few thousands could not make the mandate of millions of people hostage.
He said all the political and religious forces in Pakistan were in favour of democracy with no one opposing it.
Underscoring the importance of democracy, the premier said it was the only way forward, adding that those who want change should pursue talks as opposed to taking to the streets.
The premier said if there were some misled elements, the doors of dialogue were open for them. He added that the government was ready to hold dialogue with everyone.
Full report at:
http://www.dawn.com/news/1122346/only-democracy-can-bring-revolution-in-pakistan-pm
---------
Pakistan has never had rigging-free elections: Sharjeel Memon
July 30, 2014
HYDERABAD: Sindh Information Minister Sharjeel Inam Memon said on Wednesday that not a single election held in Pakistan was free of rigging, DawnNews reported.
Speaking to media representatives in Hyderabad, the Pakistan Peoples Party (PPP) leader also claimed that no political party would accept the government's move to invoke Article 245 of the Constitution and added that if Prime Minister Nawaz Sharif revokes its enforcement, it would go down well with the people.
Memon's statement comes days after the Pakistan Muslim League - Nawaz (PML-N) government announced that it was invoking Article 245 of the Constitution and summoning the army to aid civilian law-enforcement agencies in securing the capital for the coming three months.
The government's move has been termed as dangerous by the Pakistan Tehreek-i-Insaf and has been vehemently criticised by the PPP and other political groups.
Full report at:
http://www.dawn.com/news/1122363/pakistan-has-never-had-rigging-free-elections-sharjeel-memon
---------
Imran should air his grievances in parliament: Khurshid Shah
July 30, 2014
SUKKUR: Oppostion Leader in the National Assembly Syed Khurshid Ahmed Shah has said that Pakistan Tehrik-i-Insaf's chief Imran Khan should play his constitutional role in the parliament and should use the avenue to air his grievances.
Speaking to media representatives at his residence on Tuesday, the Pakistan Peoples Party (PPP) leader urged the PTI chairman to come to sessions of the National Assembly and put forth his proposals for improvement in the electoral system.
Earlier, Shah had told reporters in Jacobabad that every political party had the right to protest against the government within the perimeters set by the Constitution.
Shah's statements come as Imran Khan continues to make calls for the so-called "Azadi March" on August 14 in opposition to what he calls the Pakistan Muslim League – Nawaz's rigging of the May 2013 general elections.
Full report at:
http://www.dawn.com/news/1122354/imran-should-air-his-grievances-in-parliament-khurshid-shah
----------
North America
U.S. plans largest ever sale of hellfire missiles to Iraq
30 July 2014
The United States plans to sell 5,000 Hellfire missiles to Iraq in a $700 million deal, officials said Tuesday, as Washington tries to help Baghdad retake ground captured by Sunni militants.
The U.S. government, which has been reluctant so far to take military action in support of Baghdad, has rushed hundreds of the missiles to Iraq to help the Shiite-led government counter jihadists, who have seized areas north and west of the capital.
The proposed sale is the largest yet of the lethal missiles, which the Iraqis fire from AC-208 Cessna Caravan planes and other aircraft.
The deal calls for 5,000 AGM-114K/N/R Hellfire missiles and related equipment, parts, training and logistical support worth a total of $700 million, the Defense Security Cooperation Agency said in a statement Tuesday.
"Iraq will use the Hellfire missiles to help improve the Iraq Security Forces' capability to support current on-going ground operations," the agency said.
The State Department has approved the deal and US law requires the government to inform members of Congress of a possible weapons sale. Lawmakers are not expected to try to block the sale.
Full report at:
http://english.alarabiya.net/en/business/economy/2014/07/30/U-S-plans-largest-ever-sale-of-hellfire-missiles-to-Iraq-.html
---------
Gaza massacre is generating crisis in American Zionists- report
World Bulletin/News Desk
July 30, 2014
One effect of the Gaza massacre is that American Zionists have entered a bunker, Philip Weiss from Mondoweiss stated, as U.S mainstream media conveys overwhelming images of civilian deaths
According to the Weiss, the crisis is particularly acute for liberal Zionists:
"While many liberal Zionists have moved rightward, supporting Israel, others are clearly panicked by Israel's behavior. M.J. Rosenberg has said that Israel's image is "destroyed" in the U.S., and J.J. Goldberg has described the onslaught as a "massacre."
Hardliners like Bill Kristol snubbed Obama administration's call for a cease-fire in Gaza and John Kerry's trip to the Middle East. Michael Bloomberg, the chairman of a leading media company, flew to Israel on El Al to support Israel's call for an end to the Federal Aviation Administration's ban on flights to the country.
Full report at:
http://www.worldbulletin.net/headlines/141571/gaza-massacre-is-generating-crisis-in-american-zionists-report
----------
Israeli PM has asked for US help on Gaza truce: Kerry
July 30, 2014
Israeli Prime Minister Benjamin Netanyahu has asked for fresh US help in trying to broker a ceasefire in Gaza, top US diplomat John Kerry said Tuesday.
"Last night we talked, and the prime minister talked to me about an idea and a possibility of a ceasefire. He raised it with me, as he has consistently," Kerry said, adding Netanyahu had said he "would embrace a ceasefire that permits Israel to protect itself against the tunnels and obviously not be disadvantaged for the great sacrifice they have made thus far."
http://english.ahram.org.eg/NewsContent/2/8/107342/World/Region/Israeli-PM-has-asked-for-US-help-on-Gaza-truce-Ker.aspx
---------
U.S. nuclear negotiator will not guarantee end to Iran extensions
July 30, 2014
The lead U.S. nuclear negotiator on Tuesday declined to guarantee that there would be no further extensions of an interim nuclear agreement with Iran, but said participants intend to finish the international talks at the end of the current four-month extension.
"Our intent is absolutely to end this on Nov. 24 in one direction or the other," Wendy Sherman, the under secretary of State for political affairs, said at a Senate hearing.
Iran and six world powers agreed to extend nuclear talks, and the temporary agreement, by four months after they failed to reach a July 20 deadline for a long-term deal. The deal would gradually lift sanctions, which have crippled Iran's economy, in exchange for curbs on Tehran's atomic program.
Full report at:
http://english.alarabiya.net/en/News/middle-east/2014/07/29/U-S-nuclear-negotiator-will-not-guarantee-end-to-Iran-extensions.html
---------
India
Muslims Cash In On Quota, Politically
Written by Janyala Sreenivas | Hyderabad | July 30, 201
In the recently held elections to municipal corporations, municipalities, Zilla Parishad Territorial Constituencies (ZPTC) and Mandal Parishad Territorial Constituencies (MPTC), more than 900 Muslims have been elected in both Telangana and residuary Andhra Pradesh to different posts under the BC (E) category reservation, which extends to economically and socially poor Muslims the same benefits given to Backward Classes (BC).
The BC (E) category reservation was introduced in undivided AP in July 2007 to provide to poor Muslims benefits such as reservation in admissions and government jobs. However, since elections to local bodies got delayed and were held in April, this is the first time reservation has given political empowerment to the intended recipients.
Full report at:
http://indianexpress.com/article/india/india-others/muslims-cash-in-on-quota-politically/
-------
India-Pakistan border guards exchange sweets on Eid
July 30, 2014
The border guards of India and Pakistan on Tuesday greeted each other and exchanged sweets at the border checkpost at Attari-Wagah, 30 km from Amritsar, on the occasion of Eid.
Officers and troopers of Pakistan Rangers offered sweets to their Indian counterparts. Indians and Pakistanis embraced one another at the border gates, 300 km from here.
In Chandigarh, hundreds of Muslims converged at the Sector 20 Jama Masjid and other mosques.
Elsewhere in Punjab, Haryana and Chandigarh, Muslims prayed at mosques in various cities and towns.
Full report at:
http://www.hindustantimes.com/punjab/chandigarh/india-pakistan-border-guards-exchange-sweets-on-eid/article1-1245989.aspx
---------
Differences between Nodwatut Tamir and Ahle Sunnat separate Eid prayers
TNN | Jul 30, 2014
SILCHAR: A quarrel between people belonging to two sects of Islam on Tuesday resulted in separate Eid prayers at the Town Eidgah, Karimganj.
While followers of Nodwat ut Tamir, an Islamic sect, offered Namaz under the leadership of Amire Sariat of North East India and Nodwatut Tamir chief Maulana Taibur Rahman Barbhuiyan at 9 am, another prayer meet was held at 10.30 am on the same ground which was organized by Ahle Sunnat Wal Jamaat, another Islamic sect.
The district administration made elaborate security arrangements at the venue in view of the differences that cropped up among the members of the Eidgah committee. Sources said separate Eid prayers have been held for the first time in the history of the Town Eidgah
Sources said followers of Ahle Sunnat Wal Jamaat were not ready to offer Namaz during the day under the leadership of Nodwatut Tamir chief Maulana Barbhuiyan as they do not agree with his views on the Quran, the Hadith and Islam. While Barbhuiyan presided over the first prayer, the second one was presided over by Mufti Rashid Ahmed Chowdhury, a senior leader of Ahle Sunnat Wal Jamaat.
Full report at:
http://timesofindia.indiatimes.com/City/Guwahati/Differences-separate-prayers-in-Karimganj/articleshow/39278037.cms
---------
Southeast Asia
"Syria is not a final battle": Malaysian mufti
July 30, 2014
A religious leader calls on Islam's followers to reconsider the concept of jihad.
On the subject of increasing numbers of his countrymen waging jihad in Syria and Iraq, one prominent Malaysian cleric voicing concern is clear: all Muslims should avoid killing.
"This is a time for Muslims to rethink their decision before they depart for Syria," Kelantan Mufti Mohamad Shukri told Khabar Southeast Asia. "The conflict in Syria occurred among Muslims . It is not fair to call the movement a jihad.
"It is wrong to use Syria as a final battle. Syria is not a final battle. As good Muslims, we should help women and children and not add more suffering by supporting the war in the region," he added.
Malaysian intelligence officials estimate at least 30 Malaysians are currently fighting in the Middle East.
"It is a growing concern, not only for Malaysia but also other countries," Deputy Home Minister Wan Junaidi told reporters last month. "We are still continuing our investigation on the number of Malaysians killed in Syria , but also tightening security in our country as well.
Malaysian authorities arrested "a number of militants" before they could go to the Middle East, noting many of these suspects signed up for the militant cause through social media, he said.
Full report at:
http://khabarsoutheastasia.com/en_GB/articles/apwi/articles/features/2014/07/29/feature-02
---------
Thai Muslim Mosque in Azusa Is a Work of Faith
July 30, 2014
It is near midnight. The Ramadan prayers have just been said, the congregants have paid respect to Allah and headed home. Only the gray-haired imam and his wife remain at the little house of faith they have devoted their lives to.
They walk to their car, looking at the stars, reminiscing about a journey that began 50 years ago and a world away from a low-slung neighborhood up against the Los Angeles foothills.
"This has been quite something, all we have gone through leading us here," says Rahmat Phyakul. With his wife, Sukatee, at his side, he points proudly to a tall green-and-white sign.
Masjid Al-Fatiha.
Full report at:
http://www.latimes.com/local/great-reads/la-me-c1-thai-muslims-20140728-story.html#page=2
---------
Isma's Jewish jibe about rights groups poorly thought-out, targets say
July 30, 2014
Human rights groups branded "Jewish Capitalists" by an increasingly shrill right-wing Malay organisation said the label is both ill-judged and ill-defined, serving only to spread fear of a random bogeyman.
Ikatan Muslimin Malaysia (Isma), in its fervour to protect and promote an ethnic Malay and Islamic agenda, has consistently painted rights-based groups as enemies of the race and their religion. It also stands against any form of liberalism.
In its latest tirade, issued on the eve of Hari Raya, Isma urged Malaysia's majority race to safeguard their constitutional rights and uphold the sovereignty of the Malay rulers, claiming that both have come under threat from agents pursuing a "Jewish capitalist agenda".
"Isma seems bent on fear-mongering among Malaysians by stringing together random buzz words, like 'Jewish' and liberalism' and 'capitalism'," Suri Kempe of the women's rights group, Sisters in Islam, told Malay Mail Online via text message.
Sisters in Islam is one of the groups targeted. Others in the long list include Lawyers for Liberty, Seksualiti Merdeka, the Malaysian Bar and news portal Malaysiakini .
Full report at:
http://www.themalaymailonline.com/malaysia/article/ismas-jewish-jibe-about-rights-groups-poorly-thought-out-targets-say#sthash.LDyDTw2U.dpuf
---------
I will not be a 'puppet MB', says Dr Wan Azizah
By LOOI SUE-CHERN
30 July 2014
Breaking her silence on the Selangor menteri besar issue, Datuk Seri Dr Wan Azizah Wan Ismail (pic) today dismissed talk that she will be a "puppet MB" if she assumes the position.
She said her detractors can criticise all they want.
"He (her husband PKR de facto leader Datuk Seri Anwar Ibrahim) was in jail when I became the party president.
"They can criticise whatever they want but we have a team and teamwork is what we emphasise on," she said at a Hari Raya event in Permatang Nibong, Penang, today.
But to her, positions are responsibilities entrusted to those who hold them.
"It is all about serving the people. Whatever we do is all a test," the soft-spoken politician said.
Full report at:
http://www.themalaysianinsider.com/malaysia/article/i-will-not-be-a-puppet-mb-says-dr-wan-azizah#sthash.VOueyaoT.dpuf
---------
URL: https://www.newageislam.com/islamic-world-news/new-age-islam-news-bureau/mosul-residents-to-islamic-radicals--stop-destroying-our-heritage/d/98351