New Age Islam News Bureau
14 Nov 2017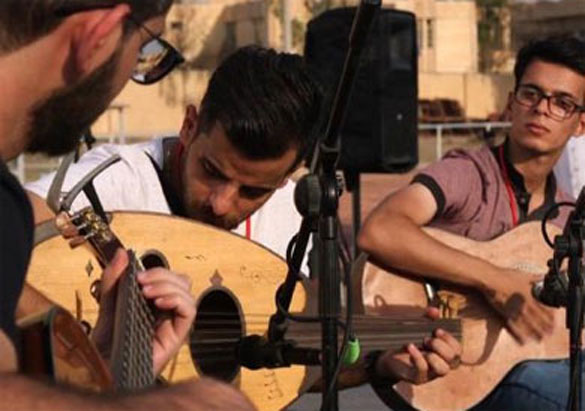 Music was illegal for years, but musicians used to get around that by hiding their instruments in bags of washing before going to private homes to practice. Picture: Dateline
-----
• Mosul Is Rebuilding with Music after the fall of Islamic State
• Air Raids on Market Kill 53 in North Syria Town
• Mega Quake Kills over 400 near Iran-Iraq Border
• No Muslim Can Compromise On Finality of Prophethood: Interior Minister
• Bangladeshi Village Burned Down After 'Prophet Mohammed Insulted' In Resident's Facebook Post
Arab World
• Mosul Is Rebuilding with Music after the fall of Islamic State
• Air Raids on Market Kill 53 in North Syria Town
• Dozens of Syrians Dead As Jets Bomb Western Aleppo Village
• No future for political Islam in Middle East, experts say
• Syria: Suicide Attackers in Russian Soldiers' Uniform Raid Deir Ezzur Airbase
• Russia, US stalemate over Syria chemical weapons inquiry
• Twenty Five Terrorists Surrender to Gov't Forces in Northern Syria
• UAE and Egypt discuss Lebanon crisis, aggression against Saudi Arabia
• Hezbollah prepared to face any military scenario: Official
--------
Mideast
• Mega Quake Kills over 400 near Iran-Iraq Border
• Suicide Car Bomb Targets Police Building in Yemen's Aden
• UAE minister: Iranian missiles fired at Saudi a 'dangerous escalation'
• Israel deploys missiles weeks after bombing Gaza lifeline tunnel
• Iran FM urges more effective, resolute intl. action on Yemen war
--------
Pakistan
• No Muslim Can Compromise On Finality of Prophethood: Interior Minister
• PPP, PML-N, PTI Averse To Revival of MMA
• US Bill Delinks Let from Haqqani Network
• KP CM Khattak, ex-ISI officer meet Maulana Sami
• Pakistan paying price for 'security vacuum' on Afghan side: DG ISPR
• 2 soldiers killed in militant attack on Pak-Afghan border checkpost: ISPR
• Terrorism in Pakistan: Islamabad shares evidence against New Delhi with Washington
--------
South Asia
• Bangladeshi Village Burned Down After 'Prophet Mohammed Insulted' In Resident's Facebook Post
• Rohingya Repatriation after Singing MoU with Bangladesh, Suu Kyi Assures ASEAN Leaders
• Asia Summit skirts human rights as Trump ends tour
• TIB says NCTB changed textbook contents under communal pressure
• Supporters of ex-Taliban chief Mullah Mansoor are shielded: Pak Senator
• Suicide attack rocks Kandahar in South of Afghanistan
--------
India
• Alwar: Police Hint Self-Styled Cow Vigilantes Killed Muslim Cattle Trader
• Any Sabotage in Updation of Citizen List in Assam Will Result In Myanmar-Like Situation: Muslim Body Chief
• Barelvi Clerics Endorsed Peace Process for Kashmir
• Sri Sri to visit Ayodhya in November to resolve Ram Janmabhoomi-Babri Masjid dispute
--------
Southeast Asia
• Indonesian Muslims, Catholics Pledge To Combat Extremism
• Jakarta Gov't Provides Religious Teachers for Hindu Students
• Wear Your Tudung, No Problem, Says Penang Hotel Body
• Rohingyas in Malaysia funding Myanmar insurgent group, says source
• Malaysia's call for solution to Rohingya crisis begins to bear fruit, says Najib
• Indonesia Remains Committed to Help Rebuild Marawi: FM
--------
Europe
• German Islamic Associations Denied Religious Lessons in School
• Irish Live Aid Founder Returns Award in Suu Kyi Protest
• Small Czech Muslim community faces bigotry
• Syrian refugees in Athens hunger strike for relocation
• How The Isis Attacks In Paris Changed Europe and Fuelled A New Nationalism
• UN chief meets Myanmar's Suu Kyi on Rohingya crisis
--------
Africa
• Bin Laden's Machiavellian Plan and His Coordination with Iran and Qatar in Libya
• Why Did A Million Muslims Just Go On Pilgrimage To Senegal?
• Somalia: Somaliland Votes despite Lack of Recognition
• Nigeria: El Zakzaky's Continued Detention Exposes Buhari's Regime to Ridicule - Falana
--------
North America
• U.S. to Fight Islamic State in Syria 'As Long as They Want to Fight': Mattis
• Tillerson to Deliver Warning in Myanmar
• US envoy assures Israel that US will move embassy to Jerusalem
• Muslim Scholar Starts Crowd-funding For First 'Pesantren' In US
• US Congress decides against including action against LeT as condition for funds to Pakistan
• Appeals Court Partly Reinstates Trump's New Travel Ban
Compiled by New Age Islam News Bureau
URL: https://www.newageislam.com/islamic-world-news/mosul-rebuilding-with-music-after/d/113221
--------
Mosul is rebuilding with music after the fall of Islamic State
Nov 14, 2017
IT was in Mosul that I got a taste of what life as a celebrity would be like.
People kept coming at me from every direction — boys and men of all ages, polite but persistent, seeking a selfie with the red-headed foreigner.
More than 25,000 people had gathered at the Mosul's university stadium for the city's first-ever peace festival — with live music, dancing and street art displays. On the campus next door were the shattered remains of several large buildings that IS fighters had used as a base — they were targeted by coalition air strikes last year.
The liberation of Mosul from IS was complete in July this year, leaving large parts of the city in ruins and many of its residents in refugee camps. But peace is always fragile in Iraq. Two months later at the peace festival, amid fears that IS sleeper cells may be poised to strike, the university stadium's entrance was guarded by dozens of police and soldiers with armoured vehicles.
Inside, families who had survived the city's darkest days paraded in their most colourful clothes. What had recently been considered serious crimes, such as smoking, were now just pleasurable vices. Otherwise conservatively dressed women flaunted their bare hands and faces in the 45-degree heat — an offence that would have earned them a flogging a few months ago. Everybody at the festival had friends and neighbours who had been jailed, beaten, mutilated and even killed for tiny infringements of the tyrannical rules administered by IS, but the atmosphere was joyful and jubilant.
No one had seen a crowd like this in many years. There were no festivals or football matches, no concerts or even cafes under IS. Just prayers, and public executions — which were cunningly stage-managed to appear as if they were well attended.
For many, the real novelty at Mosul's peace festival wasn't the crowd — it was the Australian cameraman. Most of my fans just wanted to snap a selfie with me, although a few started live streaming as though I was a breaking news story. Others were just curious and wanted to converse.
There's something you should know about Mosul; something that's not apparent from IS propaganda videos, or the pictures you've seen of desperate civilians fleeing the fighting.
Long before it became a byword for terror and destruction, Iraq's second-largest city was famous for its learning and its culture. It was one of the historic centres of the Assyrians, and its medieval artists and metal workers were envied and emulated throughout the Islamic world. The University of Mosul used to be one of the largest educational and research centres in the Middle East. I made friends who were equally at home chatting about the latest series of Game of Thrones as they were reciting poetry and playing the oud — a lute-like instrument popular in the Middle East.
So I wasn't surprised by the number of people who wanted to speak to me in English, and even in French — photographers, engineers, poets and scholars. But what I was struck by was their hunger for contact with the outside world. Mosul had been cut off for so long, and they were eager to rejoin society.
Compounding the isolation that came with being ruled by IS was a self-imposed isolation — a retreat from the danger, madness and brutality that lurked in the streets. It was safer to stay at home. That's what the deputy dean of the university's English department told me he did, despite threats of what would happen if he didn't return to teach the IS curriculum.
I spoke to a woman who hadn't left her house for 944 days. In that time she'd taught herself to speak English, French, Russian, Spanish and Turkish! She refused to meet me, though — she said her mental state was still too fragile for interviews.
I was at the peace festival to film a brilliant group of young musicians who'd taught themselves to play music in a city where music was banned. They were brave (or perhaps foolish) enough to take risks, much to the horror of their parents. They would carry their guitars, violin and oud to secret rehearsals in black plastic garbage bags, stuffed with clothes to mask the instrument's shape.
But while guitarist Hakam Zarari was defying IS, his younger sister had been homebound since being threatened for going out without wearing gloves. His father, a lawyer, also retreated behind the domestic front — devoting himself to his spectacular garden, which flourished even as his city withered.
My fans at the peace festival were still thrilled by their new-found freedom, but their curiosity about me suggested that maybe liberation wasn't enough. I met many well-educated, cultured Mosulis who were desperate to travel, but who knew that most foreign doors don't open for an Iraqi passport.
Inside Mosul, there's freedom of movement and freedom of speech. But outside the city, there's nowhere to go. It's encircled with checkpoints manned by the federal police, the Iraqi army, Shi'a militia and the Kurdish army. The nearest airport is at Erbil, in Iraqi Kurdistan, which is effectively another country and out of reach to most.
Mosul's problems predate IS; in fact, the jihadists were just a symptom of problems going back to the invasion of Iraq. Despite a military victory against IS, and the longing of my new friends to engage with the world, it's very hard to imagine Iraq becoming a normal country any time soon.
I wasn't even able to stay and watch Hakam and his friends perform at the peace festival. Mosul still isn't considered safe enough for me to spend the night — so I had to leave for my hotel in Erbil before the checkpoints closed.
As I walked back to our car, fireworks lit up the sky over the stadium. Half an hour later, waiting to cross a militia checkpoint, I flinched as a trigger-happy soldier fired his gun into the sky.
http://www.news.com.au/lifestyle/real-life/true-stories/mosul-is-rebuilding-with-music-after-the-fall-of-islamic-state/news-story/45060d547786d639f6df99863f27e20a
--------
Air Raids on Market Kill 53 in North Syria Town
Nov 14, 2017
A photographer contributing to AFP saw massive destruction at the scene, with rubble from damaged buildings covering the street and panicked civilians carrying away the injured.
Three men helped one of those hit in the attack, his face drenched in blood and his features almost completely obscured.
Nearby, the body of a man in a blue shirt and dark trousers lay where he had died.
Civil defence workers rushed alongside civilians to evacuate the injured, with one man in a thick beanie hat carrying a wailing child in a pink sweater away from the scene.
Elsewhere, the bodies of at least three children were laid out on the ground, partly covered by thick bolts of fabric.
Atareb is in the west of Aleppo province, in an area that is part of a "de-escalation zone" agreed under a deal earlier this year between Syria's allies Russia and Iran, and rebel backer Turkey.
The zone mostly covers neighbouring Idlib province, which is largely held by opposition forces and a extremist group formerly affiliated with Al-Qaeda.
Despite the government's recapture of Aleppo city late last year, rebel groups maintain a presence in the west of the province.
Russia, a key ally of Syria's President Bashar al-Assad, began a bombing campaign in support of his government in 2015.
Since then, with Moscow's support the government has recaptured large swathes of territory from opposition forces.
Moscow has steered the so-called Astana process that in May led to a deal to create four so-called "de-escalation zones" across Syria.
The zones have produced a drop in violence, but sporadic fighting and bombardment has continued, and promised humanitarian access has not materialized.
More than 330,000 people have been killed in Syria since the conflict began in March 2011 with anti-government protests.
https://english.alarabiya.net/en/News/middle-east/2017/11/14/Air-raids-on-market-kill-53-in-north-Syria-town.html
--------
Mega quake kills over 400 near Iran-Iraq border
November 14, 2017
TEHRAN/Islamabad - Teams of Iranian rescuers dug through rubble in a hunt for survivors Monday after a major earthquake struck the Iran-Iraq border , killing at least 421 people and injuring thousands.
The 7.3-magnitude quake rocked a border area 30 kilometres (20 miles) southwest of Halabja in Iraqi Kurdistan at around 9:20pm (1820 GMT) on Sunday, the US Geological Survey said.
Many people would have been at home when the quake hit in Iran's western province of Kermanshah, where authorities said it killed at least 407 people and injured 6,700.
Across the border in more sparsely populated areas of Iraq , the health ministry said eight people had died and several hundred were injured.
Iraq's Red Crescent reported nine dead and more than 400 injured.
Pakistan extended condolence and sympathies on the loss of human lives and injuries.
"Our thoughts and prayers are with the Iranian and Iraqi brothers who lost their lives in this tragic calamity and we pray for the speedy recovery of the injured," Foreign Minister Khawaja Mohammed Asif said in a message.
"At this hour of their anguish and pain, the people and government of Pakistan firmly stand by our Iranian and Iraqi brethren," he added.
Former president Asif Ali Zardari, Pakistan People's Party chief Bilawal Bhutto Zardari, Punjab Chief Minister Shehbaz Sharif and other leaders also expressed their deep grief and sorrow over the loss.
As dusk approached on Monday, tens of thousands of Iranians were forced to sleep outside in the cold for a second night as authorities scrambled to provide them with aid.
Some had spent Sunday night outdoors after fleeing their homes in the mountainous cross-border region, huddling around fires at dawn as authorities sent in help.
"People's immediate needs are firstly tents, water and food," said the head of Iran's elite Revolutionary Guards, Major General Mohammad Ali Jafari.
"Newly constructed buildings... held up well, but the old houses built with earth were totally destroyed," he told state television during a visit to the affected region.
Hundreds of ambulances and dozens of army helicopters reportedly joined the rescue effort after Iranian supreme leader Ayatollah Ali Khamenei ordered the government and armed forces to mobilise "all their means".
Like other foreign media organisations, AFP had not received authorisation to visit the scene of the disaster on Monday.
Relief camps
Officials said they were setting up relief camps for the displaced.
Iran's emergency services chief Pir Hossein Koolivand said landslides had cut off roads to affected villages, impeding the access of rescue workers.
But by late afternoon, officials said all the roads in Kermanshah province had been re-opened, although the worst-affected town of Sar-e Pol-e Zahab remained without electricity, said state television.
Officials said 22,000 tents, 52,000 blankets and tonnes of food and water had been distributed.
The official IRNA news agency said 30 Red Crescent teams had been sent to the quake zone.
http://nation.com.pk/14-Nov-2017/mega-quake-kills-over-400-near-iran-iraq-border
--------
No Muslim Can Compromise On Finality Of Prophethood: Interior Minister
November 13, 2017
ISLAMABAD: Interior Minister Ahsan Iqbal has said that no Muslim can compromise on the finality of Prophethood (Khatm-e-Nabuwat) and the entire nation is united in this regard.
The minister, in a statement here on Monday, said, "Pakistani nation loves the Prophet (Peace Be Upon Him).
" Making the lives of patients, students and the general public miserable, he said, was not love for the Prophet Muhammad (PBUH).
"Even, the teachings of the Holy Prophet (PBUH) tell us to respect the rights of every human being," he added.
The minister said the Tehreek-e-Labaik Ya Rasool Allah (TLR) and their leaders were constitutionally allowed to register a peaceful protest and he warned them not to take the law into their hands.
Iqbal also condemned the kidnapping of police personnel and termed it a severe crime.
He said that maintenance of peace in the country was obligation of all the citizens.
Anti-Pakistan forces were utilising picture of the protesters and speeches to defame Pakistan at the international level, he added.
He said the government was making efforts to avoid violence and also aware of inconvenience that was being caused to the general public.
http://thenews.com.pk/latest/243989-No-Muslim-can-compromise-on-finality-of-Prophethood-Iqbal
--------
Bangladeshi Village Burned Down After 'Prophet Mohammed Insulted' In Resident's Facebook Post
Rachael Revesz
Nov 14, 2017
A Hindu village in Bangladesh was burnt down after a rumour spread that a local youth had insulted the Prophet Mohammed in a Facebook post.
More than 30 houses were set alight in the Rangpur Sadar upazila (district) following the man's alleged defamation of the religious figure on social media.
The mob reportedly emerged from a crowd of 20,000 people who had gathered from six or seven neighbouring Muslim villages. Anger started to grow after a local Muslim businessman lodged a complaint with the police about the alleged Facebook post.
One person was killed and five others received serious injuries as the police tried to stop the arson and looting attack in the village of Thakurpara, as reported by the Dhaka Tribune, by firing tear gas and rubber bullets into the crowd.
In response to the police violence, the group blocked the local Rangpur-Dinajpur highway in protest, blocking traffic for about four hours.
Indian Express reported that more than 50 people were arrested.
The attack and police crackdown was spurred by rumour that local man Titu Roy defamed the Prophet on Facebook several days previously.
Jagadish Roy, a local Hindu community leader, told New Age said that the man accused of defamation was involved in a local dispute over a piece of land, and that he likely had not made any derogatory posts as he was "well-behaved and always respectful".
Local reports say police have accused Bangladesh's largest Islamist party, Jamaat-e-Islami, of deliberately attacking Hindus before the elections. The party is reportedly an ally of the Bangladesh Nationalist Party, led by former Prime Minister Khaleda Zia.
Local authorities have launched an investigation of the incident and relief for affected families.
The alleged targeting of ethnic minorities in a Muslim-majority country using what some people have described as fake propaganda comes as Bangladeshi authorities are trying to deal with more than 300,000 Rohingya Muslim refugees who are fleeing from violence by Buddhists in neighbouring Burma.
http://www.independent.co.uk/news/world/asia/bangladesh-village-prophet-mohammed-insulted-facebook-post-islam-muslim-south-asia-a8051841.html
--------
Arab World
Dozens of Syrians dead as jets bomb western Aleppo village
Nov 13, 2017
Over 53 civilians have lost their lives and several others sustained injuries when unidentified fighter jets carried out a series of airstrikes against a residential area in Syria's northwestern province of Aleppo.
The so-called Syrian Observatory for Human Rights reported that at least 53 civilians, including five children and three women, were killed on Monday, when the military aircraft launched three aerial raids against an outdoor market in the town of al-Atarib, located 25 kilometers west of the provincial capital city of Aleppo.
The Britain-based observatory added that the overall death toll is expected to rise because dozens of people have been wounded or are still missing after the airstrikes.
The development came a day after more than a dozen civilians were killed and several others injured when the US-led coalition purportedly fighting the Daesh Takfiri terrorist group conducted separate aerial attacks in Syria's eastern province of Dayr al-Zawr as well as the northeastern province of Hasakah.
Syria's official news agency, SANA, reported that 10 civilians lost their lives when US-led military aircraft bombarded al-Duwaiji village in the Tal Shaer district of Dayr al-Zawr Province near the border with Iraq.
Separately, six people lost their lives when a residential area of al-Da'ij village in the Hasakah Province was hit by US-led fighter jets.
On October 11, Syrian Foreign Minister Walid al-Muallem said the US-led coalition was trying to destroy the Arab country and prolong the armed conflict there.
Muallem stated that Damascus would demand the dissolution of the military contingent, stressing that thousands of Syrian women and children had been killed by coalition airstrikes in the troubled northern province of Raqqah and Dayr al-Zawr province.
The US-led coalition has been conducting airstrikes against what are said to be Daesh targets inside Syria since September 2014 without any authorization from the Damascus government or a UN mandate.
The military alliance has repeatedly been accused of targeting and killing civilians. It has also been largely incapable of achieving its declared goal of destroying Daesh.
On Sunday, Syria's Ministry of Foreign Affairs and Expatriates criticized the so-called human rights advocates for turning a blind eye to the atrocities that the US-led coalition is perpetrating in the provinces of Raqqah and Dayr al-Zawr.
It also called on the United Nations Security Council to "shoulder its main responsibility of preserving international peace and security and take immediate action to stop the brutal crimes committed by the illegal coalition against the innocent civilians and prevent more crimes from happening."
http://www.presstv.com/Detail/2017/11/13/542078/Nearly-two-dozen-Syrians-dead-as-jets-bomb-western-Aleppo-village
--------
No future for political Islam in Middle East, experts say
Caline Malek
November 13, 2017
Political Islam has no future in the region and religion should be kept separate to politics, experts said on Monday on the closing day of the Abu Dhabi Strategic Debate.
"Over the past year, Daesh has dominated large areas of Iraq and Syria," said Dr Abdullah Abah, professor of philosophy and social studies at the University of Nouakchott. "But we are now seeing its military defeat so political Islam has entered into a dilemma.
"It was a destructive power in the civil society of many Arab countries, we saw a lot of sectarianism and divisions in the political arena but there is an end of the embracing of political Islam movements."
Political Islam came to fill a vacuum in the region, caused by failed secular ideologies which dominated a large part of the Arab world, including pan-Arabism and socialism. "It was used to fight communism in the region and the Soviets in Afghanistan," said Dr Ebtisam Al Ketbi, president of the Emirates Policy Centre, an Abu Dhabi-based think tank which organised the event.
"Policies have been limited to uprooting the phenomenon so far but we must look into the future of political Islam through more effective ways and discussing the roles of countries like Qatar and Iran in feeding it."
Islam is the only religion in the world which includes a military dimension such as jihad and martyrdom. "So they have awoken this giant and we are suffering from this issue," said Dr Mustafa Alani, senior adviser and director of security and terrorism at the Gulf Research Centre.
"We cannot defeat it completely in the future – it can only be fought by moderate Islam, not by secular thinking. But without dealing with this phenomenon, we won't get rid of extremism."
Studies have shown that Europe has been the main fuel for Daesh, from countries such as the United Kingdom and Germany. "It's strange," Dr Abah said. "[Some] are of Islamic origin but a third of these terrorists are not Muslim – they are of European origin."
They called on keeping religion separate from politics to ensure stability in countries such as Syria, Yemen and Libya. "I hope we can keep Islam away from politics because Western countries developed after dividing religion from the state," Dr Alani said. "The reality on the ground is completely different [here].
"Daesh was a product that came out of a lack of justice so they are a product of political situations."
Al Qaeda was established after the Soviet invasion of Afghanistan and Daesh was born after the US invasion of Iraq.
"Militias supporting these terrorist groups are another issue," he added. "From Hezbollah in Lebanon to the Houthis in Yemen, the environment has to change. We cannot destroy these terrorist groups without destroying the militias that are backed by Iran." They were said to exploit Islam to reach power.
It is being manipulated," said Dr Ridwan Al Sayyid, visiting professor of Islamic studies at The American University of Beirut.
"If you want Islam to be a unifying factor, let us not involve it in politics because then it will be harmful to the religion. Iranians are sabotaging surrounding countries in the name of religion and I don't think there is a future for it."
He said using religion in politics has created divisions in Islam. "Muslims have learned very tough lessons over the past 40 years when we used religion," he said. "It turns us into divided societies and it is a way to mislead us. The Quran was used selectively to disseminate violence around the world so now we need to find out how to regain peacefulness to Islam."
Full report at:
https://www.thenational.ae/uae/government/no-future-for-political-islam-in-middle-east-experts-say-1.675445
--------
Syria: Suicide Attackers in Russian Soldiers' Uniform Raid Deir Ezzur Airbase
Nov 13, 2017
The Arabic-language al-Hadath quoted Syrian media activists as saying that two Chechen ISIL terrorists carried out separate suicide attacks on the army strongholds in Deir Ezzur airbase.
The al-Hadath further reported that one of attackers drove into the airbase in a bomb-laden vehicle and the other one detonated his explosive-belt at the military airport.
Both suicide attackers were from Chechnya and used Russian soldiers' uniform to penetrate into the base.
There are yet no reports on the number of casualties or damage to the base in the two attacks.
Reports said earlier today that the army men engaged in fierce clashes with ISIL South of the town of al-Mayadeen and imposed control over Bir (well) Daham and the strategic Malham hill West of the small town of al-Salehiyeh.
The army units further captured several hills and mountains in a large region up to the key al-Qofran hill Southwest of Zebyan region.
Full report at:
http://en.farsnews.com/newstext.aspx?nn=13960822001629
--------
Russia, US stalemate over Syria chemical weapons inquiry
November 14, 2017
Russia said on Monday it was talking to the United States about the U.N. Security Council renewing an international inquiry into chemical weapons attacks in Syria , but Washington countered that Moscow had refused to engage on a U.S.-drafted resolution.
The mandate for the joint inquiry by the U.N. and the Organization for the Prohibition of Chemical Weapons (OPCW), which has found the Syrian government used the banned nerve agent sarin in an April 4 attack, expires on Friday.
Russia vetoed an initial U.S. bid to renew the joint investigation on Oct. 24, saying it wanted to wait for the release of the latest investigation's report two days later. It has since proposed its own rival draft resolution.
"We are talking to the U.S., it's not over yet," Russian U.N. Ambassador Vassily Nebenzia told reporters on Monday.
The inquiry's report found the Syrian government was responsible for the April 4 attack using sarin in the opposition-held town of Khan Sheikhoun, killing dozens of people. The Syrian government has denied using chemical weapons .
"Russia has refused to engage on our draft resolution – which the vast majority of council members agree is the most viable text – in spite of our multiple attempts to consider Russian concerns," a spokesman for the U.S. mission to the United Nations said on Monday.
A resolution needs nine votes in favor and no vetoes by Russia , China, the United States, Britain and France to pass. The council unanimously created the inquiry, known as the Joint Investigative Mechanism (JIM), in 2015 and renewed it in 2016.
"It is important that the JIM is renewed but on an updated mandate because the systemic errors that we saw with the recent report should be corrected and that's the aim of our resolution," Nebenzia said.
He added that if the mandate of the inquiry was not renewed, "It may send a bad signal, but the way the investigation has been conducted sends an even worse signal."
The JIM previously found that Syrian government forces were responsible for three chlorine gas attacks in 2014 and 2015 and that Islamic State militants used mustard gas.
"The draft text Russia put forward without any negotiation is unhelpful, has no support, and cannot be taken seriously," said the spokesman for the U.S. mission.
Full report at:
http://nation.com.pk/14-Nov-2017/russia-us-stalemate-over-syria-chemical-weapons-inquiry
--------
Twenty Five Terrorists Surrender to Gov't Forces in Northern Syria
Nov 13, 2017
Spokesman for the Russian Center Alexander Butyanhin announced that 25 terrorists in Sheikh Taha region in Northern Aleppo ended fight against the army and turned themselves in to the government forces.
He further said that the army men and military police accompanied the gunmen while leaving the battlefield, adding that rapid advances of the army men, backed up by the heavy air raids of the Russian warplanes, have caused the terrorists to escape the battlefields in groups.
The Arabic-language service of the Russia-based RT news channel reported last month that 30 militants that laid down arms and applied for amnesty in Northeastern Aleppo were pardoned by the Damascus government after mediation by the Russian forces at the Russian Reconciliation Center for Syria.
Full report at:
http://en.farsnews.com/newstext.aspx?nn=13960822001268
--------
UAE and Egypt discuss Lebanon crisis, aggression against Saudi Arabia
13 November 2017
Crown Prince of Abu Dhabi Sheikh Mohammed bin Zayed Al Nahyan, met with Egyptian Foreign Minister Sameh Shokry on Monday in Abu Dhabi.
The latest developments in the region, especially the situation in Lebanon and the missile targeting of Saudi Arabia by Houthi militias, and the explosion of the oil pipeline inBahrain, were among the issues addressed.
The meeting was also attended by UAE Foreign Minister Sheikh Abdullah bin Zayed Al Nahyan.
The Egyptian minister stressed the importance of strengthening Arab solidarity in the face of the current challenges and the need to confront attempts to interfere in the affairs of Arab countries and destabilize their security, according to advisor Ahmed Abu Zeid, spokesman for the Egyptian Foreign Ministry.
Shokry communicated to the Crown Prince of Abu Dhabi Egypt's vision and assessment of the current situation, stressing Cairo's firm position and support of joint Arab action and its steadfast policy of defending Arab national security as an integral and political solution to avoid more calamities in the Arab region.
Full report at:
https://english.alarabiya.net/en/News/middle-east/2017/11/13/UAE-and-Egypt-discuss-Lebanon-crisis-aggression-against-Saudi-Arabia.html
--------
Hezbollah prepared to face any military scenario: Official
Nov 13, 2017
A senior official of the Lebanese Hezbollah resistance movement says his group is ready for any military scenario amid indications that Saudi Arabia is pushing the Israeli regime to launch a new military onslaught against Lebanon.
"The Israeli enemy understands very well the repercussions of any act of aggression against Lebanon. It cannot withstand those consequences," Deputy Chairman of Hezbollah's Executive Council Sheikh Nabil Qaouq said on Monday.
He added, "Nothing can undermine Hezbollah's capabilities as its positions are deep-seated and unwavering. The resistance movement is prepared to confront anything. It is fully capable of securing victories and repelling any aggressor."
Addressing his supporters via a speech broadcast live from the Lebanese capital city of Beirut on November 10 and on the occasion of Arba'een and Hezbollah Martyr Day, Hezbollah's Secretary General Sayyed Hassan Nasrallah stated that Saudi Arabia has appealed to the Tel Aviv regime for a military campaign against Lebanon in the name of fighting Hezbollah, and is ready to spend billions of dollars to attain this objective.
"Saudi wants to destroy Lebanon under the pretext of combating Hezbollah. It was the main architect of Israel's war on Lebanon in the summer of 2006," he pointed out.
"Israel may push Takfiri militants to start a war against Lebanon. I don't think Israelis would choose to get into a war with Lebanon following an act of cool calculation," Nasrallah said.
"Saudi Arabia is afraid of facing Iran, and wants to take revenge of Hezbollah instead," he commented.
About 1,200 Lebanese, most of them civilians, lost their lives during Israel's 33-day war on Lebanon back in the summer of 2006.
According to the 629-page Winograd Report by the Israeli regime itself, Hezbollah fighters involved in defending Lebanon against the Israeli war defeated the enemy and Tel Aviv was compelled to withdraw without having achieved any of its objectives.
UN Security Council Resolution 1701, which brokered a ceasefire in the 2006 war, calls on Israel to respect Lebanon's sovereignty and territorial integrity.
Speaking in an exclusive interview with Lebanon-based Arabic-language al-Manar television network on July 14, Head of Hezbollah's Executive Council Sayyed Hashem Safieddine stated that the resistance movement will "surprise" Israel in any future war, relying on its enhanced military capabilities.
Full report at:
http://www.presstv.com/Detail/2017/11/13/542048/Hezbollah-prepared-to-face-any-military-scenario-Official
--------
Mideast
Suicide car bomb targets police building in Yemen's Aden
14 November 2017
A suicide car bomb targeted a police building in the al-Mansoura district in Yemen's port city of Aden on Tuesday, an Al Arabiya correspondent reported.
https://english.alarabiya.net/en/News/gulf/2017/11/14/Suicide-car-bomb-targets-police-building-in-Yemen-s-Aden.html
--------
UAE minister: Iranian missiles fired at Saudi a 'dangerous escalation'
13 November 2017
Speaking at the Abu Dhabi Strategic Debate on Sunday, the UAE Minister of State for Foreign Affairs Dr. Anwar Gargash described Iranian-made missiles fired from Yemen at the Saudi capital earlier this month as a "dangerous escalation."
Gargash said that the UAE will not stand idle amid the rising threats. He also stressed that the UAE will continue to stand with the Saudi-led Arab coalition to restore legitimacy in Yemen.
The minister noted that the emergence of a new Hezbollah in Yemen, now among Houthi militia, cannot be ignored.
Full report at:
https://english.alarabiya.net/en/News/gulf/2017/11/13/UAE-minister-Iranian-missiles-fired-at-Saudi-is-a-dangerous-escalation-.html
--------
Israel deploys missiles weeks after bombing Gaza lifeline tunnel
Nov 14, 2017
Israel has deployed missile systems to the center of occupied territories for fear of a possible retaliatory attack, two weeks after the regime's warplanes bombed Gaza and killed a dozen members of Palestinian resistance movements there.
The Israeli made the announcement on Monday, but did not elaborate on where the so-called Iron Dome batteries had exactly been installed.
This is the first time such a war-like posture has been adopted by the Tel Aviv regime since 2014, when Israeli launched a bloody 50-day war on the blockaded Gaza Strip.
In late October, Israeli fighter jets destroyed a lifeline tunnel in the southern part of the besieged Gaza Strip, killing 10 members of the Gaza-based Islamic Jihad resistance movement and two other fighters with the fellow Hamas resistance group.
In a video posted on YouTube on Saturday, Israeli Major General Yoav Mordechai warned Islamic Jihad that any retaliatory attack by the group "will be met with a powerful and determined Israeli response, not only against the Jihad, but also against Hamas." A day later, the resistance movement said in a statement on Sunday that it would not back down on its "right to respond to any aggression, including our right to respond to the crime of aggression on the resistance tunnel."
The Israeli "threats to target the movement's leadership is a declaration of war, which we will confront," the statement read.
In yet another measure against Islamic Jihad, Israel arrested one of its senior leaders, identified as Tareq Qadaan, near the city of Jenin in the northern part of the occupied West Bank on Monday.
Israel claims that resistance fighters use the Gaza underground tunnels to stockpile weapons and infiltrate into the occupied lands.
They, however, say the tunnels are needed to transfer essential supplies, including food and fuel, into the Palestinian territory, which has been under a crippling Israeli siege for over a decade.
The blockade has caused a decline in living standards as well as unprecedented unemployment and poverty.
Full report at:
http://www.presstv.com/Detail/2017/11/14/542121/Israel-Gaza-Islamic-Jihad-Iron-Dome
--------
Iran FM urges more effective, resolute intl. action on Yemen war
Nov 13, 2017
Iranian Foreign Minister Mohammad Javad Zarif has warned about the deteriorating and worrisome situation in Yemen, urging the international community to play a more effective and decisive role to end the "senseless" Saudi war on the impoverished country.
"It is the duty of the international community to get more responsibly and effectively engaged in ending the senseless war and establishing a ceasefire, ensuring delivery of humanitarian assistance and eventually restoring permanent peace in this country through dialogue and national reconciliation without preconditions," Zarif said in a letter to Secretary General of the United Nations António Guterres on Monday.
He added that "over 30 months of aggression against an already impoverished Yemen has claimed thousands of lives of civilians, in particular women and children, and brought about the destruction of Yemen's civilian infrastructure including hospitals, schools, roads, food factories and power plants, thus depriving civilians of their most basic necessities."
The top Iranian diplomat emphasized that blocking of humanitarian access to an already famine-stricken Yemen and the decision to "close all Yemeni air, sea and land ports," have further deteriorated the humanitarian nightmare in Yemen.
"The Islamic Republic of Iran has emphasized from the beginning of this crisis that the only way to restore peace and stability is to allow all Yemeni parties to establish, without any foreign interference, their own inclusive national unity government," Zarif said.
In another part of his letter, Zarif said, "I believe that it is long overdue to consider and implement the four-point plan that I proposed -- in my letter of 17 April 2015 addressed to your predecessor contained in document S/2015/263 -- right after the Saudi-led coalition initiated war on Yemen. Today, the same plan, which includes the following, remains to be applicable and indeed imperative in order to end this nightmare:
1. Ceasefire and immediate end to all military operations;
2. Unimpeded urgent humanitarian and medical assistance to the people of Yemen;
3. Resumption of Yemeni-led and Yemeni-owned national dialogue, with the participation of the representatives of all political parties and social groups;
4. Establishment of an inclusive national unity government."
Since March 2015, the Saudi regime has been heavily bombarding Yemen as part of a brutal campaign against its impoverished southern neighbor in an attempt to reinstall Yemen's former president, Abd Rabbuh Mansur Hadi, a staunch ally of Riyadh, and crush the Houthi movement, which is in control of large parts of Yemen, including the capital Sana'a. The Saudi campaign, however, has failed to achieve its goals.
Full report at:
http://www.presstv.com/Detail/2017/11/13/542092/Iran-Yemen-UN-Foreign-Minister-Mohammad-Javad-Zarif-Secretary-General-Antnio-Guterres-letter
--------
Pakistan
PPP, PML-N, PTI averse to revival of MMA
Nov 14, 2017
ISLAMABAD: Over the revival of six-party MMA after the lapse of 10 years, various political parties have given their reaction.
Pakistan People's Party (PPP) has described the restoration of MMA as a feat of the establishment. It has expressed fear about the MMA and said that it is an alliance of outlawed parties under the patronage of the establishment.
PPP Secretary General Senator Farhatullah Babar said that restoration of MMA is a part of the plan to covertly exploit Taliban. He added that restoration of MMA and taking part in the general elections by Defence of Pakistan Council (DPC) will give a push to the plan for bringing Taliban into the mainstream.
He informed that MMA had its inception in 2002 during General (Retd) Pervez Musharraf's rule, and questioned who was behind the plan this time.
The PPP senator said that the present scenario endorses these incidents. He added that the new political party of Jamaatud Dawa, called Milli Muslim League (MML), despite the rejection of registration exists and Maulana Samiul Haq is the head of this party.
Pakistan Tehreek-e-Insaf (PTI) and Pakistan Muslim League Nawaz (PML-N) said that it will not pose any big threat to provincial level moderates and enlightened parties. PML (N) and PTI said that religious parties are making an attempt to enhance and strengthen their vote bank before the general elections.
They said that they have no apprehensions from this alliance.
Interior Minister Ahsan Iqbal said that it seems that religious parties are working hard to save themselves. He added that their party has secured its place in the country through their developmental projects.
PTI Information Secretary Shafqat Mahmood said that their party has no witness to the backing of establishment for such parties. He added that the scenario is changing in the country and that his party has support in Khyber Pakhtunkhwa (KP).
https://www.pakistantoday.com.pk/2017/11/13/ppp-pml-n-pti-averse-to-revival-of-mma/
--------
US bill delinks LeT from Haqqani network
Anwar Iqbal
November 14, 2017
WASHINGTON: The US Congress has removed a provision from the National Defence Authorisation Act 2018 that would have required the US Secretary of Defence to certify that Pakistan has taken steps to "significantly disrupt" the activities of both Lashkar-e-Taiba (LeT) and the Haqqani network.
The new version has confined this requirement to the Haqqani network only, indicating a desire in Washington to focus entirely on Afghanistan as long as it takes to subdue the Taliban insurgency there.
While the United States considers LeT a terrorist organisation, it also realises that the group's main focus is Kashmir, not Afghanistan. Linking LeT to the Haqqani network, however, creates an impression that the US not only wants Pakistan to help it win the war against the Taliban but also wants it to change Islamabad's position on Kashmir.
Since it already considers LeT a terrorist organisation, Washington will continue to ask Islamabad to stop the group from carrying out attacks inside India. But by delinking it from the Haqqani network, US policymakers are sending a message to Islamabad, that fighting the Haqqani network is their first priority.
This distinction is clearly underlined in a congressional document, the `conference' version of the National Defence Act 2018. As part of the US legislative process, the House of Representatives and the Senate present their separate versions of a bill and then they go into a`conference' to remove the differences between the two versions.
This joint version places the following additional limitation on reimbursements to Pakistan from the US Coalition Support Fund (CSF): Of the total amount of $700 million of reimbursements and support authorised for Pakistan during fiscal year 2018, $350m shall not be available unless the Secretary of Defence issues a certificate to the congressional defence committees.
His certificate should say that Pakistan continues to conduct military operations that are contributing to significantly disrupting the safe havens, fundraising and recruiting efforts, and freedom of movement of the Haqqani network in Pakistan.
Pakistan has taken steps to demonstrate its commitment to prevent the Haqqani network from using any Pakistan territory as a safe haven and for fundraising and recruiting efforts.
Pakistan is making an attempt to actively coordinate with Afghanistan to restrict the movement of militants, such as the Haqqani network, along the Afghanistan-Pakistan border; and Pakistan has shown progress in arresting and prosecuting senior leaders and mid-level operatives of the Haqqani network.
The House receded with an amendment that would have required the Secretary of Defence to issue a similar certification about LeT.
The conferees, however, expressed concern about the alleged persecution of groups seeking political or religious freedom in Pakistan, including the Baloch, Sindhi, and Hazara ethnic groups, as well as religious groups, including Christian, Hindu, and Ahmadi.
The conferees urged the Secretary of Defence to ensure that Pakistan is not using any assistance provided by the US to persecute minority groups.
In addition, the conferees authorised reimbursement of Pakistan for security activities along the Pakistan-Afghanistan border, including providing training and equipment for the Frontier Corps, Khyber Pakhtunkhwa.
However, the conferees expressed concern that Pakistan continues to delay or deny visas for US personnel that could assist with the provision of such training.
Given this situation, the conferees recommended that the US Department of Defence condition reimbursements for training and equipment with appropriate access by the US personnel.
The House bill contained a provision that would state that it is the sense of Congress that Dr Shakil Afridi is an international hero and that the government of Pakistan should release him immediately from prison.
The Senate amendment contained no similar provision and the House recedes.
Full report at:
https://www.dawn.com/news/1370332/us-bill-delinks-let-from-haqqani-network
--------
KP CM Khattak, ex-ISI officer meet Maulana Sami
Zulfiqar Ali
November 14, 2017
PESHAWAR: Darul Uloom Haqqania in Nowshera has become a hub of political activities with the expected revival of Muttahida Majlis-i-Amal, as political figures, including Khyber Pakhtunkhwa Chief Minister Pervez Khattak, went there to meet chief of his own faction of the Jamiat Ulema-i-Islam Maulana Samiul Haq.
According to an official statement issued here on Monday, CM Khattak visited the seminary at Akora Khattak and held a one-on-one meeting with Maulana Sami. It said the chief minister thanked the JUI-S chief for supporting the Pakistan Tehreek Insaf candidate in the NA-4 (Peshawar) by-election and his contribution towards removal of mistakes from textbooks.
Earlier, former officer of the Inter-Services Intelligence retired Major Mohammad Aamir called on Maulana Sami and held discussion on various issues, including electoral alliance among religious parties ahead of the next general election.
"During all these meetings and discussions we reviewed the current political situation, including restoration of the MMA," Maulana Sami told Dawn by phone from Akora Khattak.
"My party wants a broader alliance of all religious parties and groups and that they contest the next elections from a joint platform," he said, adding that the MMA should not be confined only to six parties.
He was of the opinion that other religious groups and alliances, including Difa-i-Pakistan Council and Milli Yakjehti Council, should also be included in the MMA — a defunct six-party religio-political alliance that is likely to be formally restored next month.
The alliance's leaders, including Mau­lana Fazlur Rehman of the JUI-F and Sirajul Haq of the Jamaat-i-Islami, have agreed in principle to restore the MMA and a formal announcement in this regard would be made in December. The alliance, which was formed in 2002, fell apart in 2007.
Maulana Sami said the executive council of JUI-S met at Akora Khattak on Monday and deliberated on joining of the six-party alliance, adding that a meeting of the party's general council would be held in Lahore on Nov 28 to decide whether or not to join the MMA.
"We believe that the JUI-F and Jamaat-i-Islami should quit coalition governments at the Centre and in Khyber Pakhtunkhwa, respectively, otherwise revival of the MMA would be useless," he said, adding: "Political parties always form alliances against sitting governments. It looks strange that on the one hand they (JUI-F and JI) are in the federal and provincial governments and, on the other, they are cobbling an alliance against the very parties with which they are sharing the governments."
Responding to a question, Maulana Sami said he and the KP chief minister also discussed cooperation between the PTI and JUI-S in the next elections.
He said Major Aamir was also in favour of a broader alliance of religious parties.
Pervez Khattak also belongs to Nowshera and his government had allocated Rs300 million in the 2016-17 budget for the construction of new buildings and upgrade of Darul Uloom Haqqania.
Our Correspondent in Swabi adds: Maj Aamir told the media that he would meet Senator Sirajul Haq soon to pave the way for restoration of the MMA and contesting the next elections from a joint platform.
Full report at:
https://www.dawn.com/news/1370351/kp-cm-khattak-ex-isi-officer-meet-maulana-sami
--------
Pakistan paying price for 'security vacuum' on Afghan side: DG ISPR
NOVEMBER 13, 2017
LAHORE: Director General Inter-Services Public Relations (DG ISPR) Maj Gen Asif Ghafoor said on Monday that Pakistan is paying a price for security vacuum on afghan side of the border.
He further added that Pakistan has done effects to enhance the security of bordering area by clearing the area from terrorists, border fencing, establishment of crossing points, building new check posts and enhancing presence on the Pak-Afghan border.
However, he asserted that a serious effort is needed on the Afghan side of the border to eliminate the possibilities of unpleasant incidents.
He added that an effective afghan border security can help eliminate terrorist sanctuaries in Afghanistan.
https://dailytimes.com.pk/138966/pakistan-paying-price-for-security-vacuum-on-afghan-side-dg-ispr/
--------
2 soldiers killed in militant attack on Pak-Afghan border checkpost: ISPR
NOVEMBER 13, 2017
LAHORE: According to a statement issued by Inter-Services Public Relations (ISPR), two soldiers killed and four others injured as a result of militant attack on a checkpost near the Pak-Afghan border in Bajaur Agency on Monday.
The martyred soldiers were identified as Capt. Junaid Hafeez and Sepoy Rehman.
An attack by terrorists was initiated from Afghanistan side on Pakistani checkpost. However, the attempt was heavily responded which resulted in death of eight to ten fleeing terrorists.
In August this year, Khayber-4 Operation concluded in Khyber Agency that effectively cleared areas on the Pakistani side of the border.
"The lack of Afghan state writ on the Afghan side of the border, like several other areas, facilitate terrorists to undertake such attempts," ISPR further added.
https://dailytimes.com.pk/138944/2-soldiers-killed-militant-attack-pak-afghan-border-checkpost-ispr/
--------
Terrorism in Pakistan: Islamabad shares evidence against New Delhi with Washington
November 14, 2017
ISLAMABAD - India is denying any chance for dialogue as it continues to support terrorism inside Pakistan and sponsor militants across the country, Islamabad has told Washington .
Senior officials at the foreign ministry told The Nation that Pakistan had shared the evidence of India's involvement in creating instability in Pakistan with the United States.
"We have asked Washington to play its role to stop India. Interestingly, India is accusing us for not ensuring a conducive environment for talks. They are themselves denying any chance for talks all through the years," said one official.
He added: "We are ready for talks in all circumstances but India should at least stop sponsoring terrorism in Pakistan."
This week, India accused Pakistan of supporting terrorists and spoiling chances of talks between the nuclear armed neighbours. Indian external affairs ministry spokesperson Raveesh Kumar said: "For the talks to go ahead, there should be a conducive environment and atmosphere. And that environment has to be created which is free of terrorism and free of terrorists getting support from Pakistan."
Pakistan and India had announced to resume talks under the comprehensive bilateral dialogue after Indian external affairs minister Sushma Swaraj's visit to Islamabad in December 2015. However, India called off the plan after the Pathankot terror attack in 2016.
Another official at the foreign ministry said India itself was not interested in talks and has been leveling allegations against Pakistan. "We have told both Washington and New Delhi that Pakistan was aware of the Indian involvement in Pakistan and had evidence . We have shared the evidence with both the US and India," he maintained.
The official said Pakistan had conveyed to the US and India that Pakistan was ready for talks but India needed to show seriousness for the talk process.
Foreign office spokesperson Dr Mohammed Faisal said it will better serve the interests of both the countries to engage in a meaningful dialogue aimed at agreeing on measures of restraint and military doctrines, which were defensive in nature rather than seeking to create space for war.
"India should respond positively to Pakistan's proposal for a Strategic Restraint Regime that can serve as the basis for enduring peace and stability in the region," he said at his last news briefing.
Pak-India relations have been far from normal in the recent months. In July 2016 a Kashmiri freedom fighter – Burhan Wani - was killed by the Indian forces. This was followed by protests in held Kashmir and use of power by India to crush the demonstrators – dozens were killed. In September last year, 19 Indian soldiers were killed in an attack in Uri, held Kashmir. India blamed Pakistan for supporting the strikers. Islamabad denied any role.
Since partition of British India in 1947, Pakistan and India have been involved in four wars - including one undeclared war. All of them except the 1971 war were fought on Kashmir. The 1971 resulted in Dhaka fall.
India has intensified violations along the Line of Control after the US promised a greater role for New Delhi for the resolution of the Afghanistan issue. Pakistan claims India's engagement in Afghanistan will aggravate the situation instead of resolving the issue. Islamabad also blames India of using Afghanistan soil against Pakistan.
Former ambassador Abida Hussain said Pakistan had been making efforts to hold talks with India but every time New Delhi comes up with one excuse or the other. "India is trying to discredit Pakistan before the world. Their attempts to isolate Pakistan will fail," she said.
Abida Hussain said instead of blaming Pakistan, India should review its own past. "They have never been sincere in talks," she added.
Full report at:
http://nation.com.pk/14-Nov-2017/terrorism-in-pakistan-islamabad-shares-evidence-against-new-delhi-with-washington
--------
South Asia
Rohingya repatriation after singing MoU with Bangladesh, Suu Kyi assures Asean leaders
November 14, 2017
Widely criticised for her stance over Rohingya refugee crisis, Myanmar leader Aung San Suu Kyi now said her fellow Southeast Asian leaders that her country will take back Rohingya refugees after it signs an agreement with its neighbour Bangladesh.
Suu Kyi gave the assurance after two of the unnamed Association of Southeast Asian Nations (Asean) leaders raised the issue during a plenary session of the Asean summit in Manila yesterday.
Myanmar was already taking steps to address the plight of the Rohingya people, she said.
"The process of repatriation of IDPs (internally displaced persons) will conclude within three weeks after a signing of a memorandum of agreement for understanding with Bangladesh," Philippines Presidential Spokesperson Harry Roque Roque said quoting the de facto leader of Myanmar.
He said Suu Kyi also told her fellow Asean leaders that Rohingyas who had fled to Bangladesh could return to Mynamar after the two countries sign a memorandum of understanding.
"I can confirm that the Rohingya issue was discussed. It was specifically brought up by two member states," Roque said in a press briefing.
He did not identify the two Asean leaders who raised the issue of the Rohingyas during the plenary session at the Philippine International Convention Center in Manila.
"Myanmar specifically addressed the Rohingya issue. Myanmar specifically said… they are in the process of attending the Kofi Annan report (and that) they welcome humanitarian assistance," Roque said.
A commission headed by former United Nations chief Kofi Anan in August released a report that called on Myanmar to scrap the restrictions on the movement of citizenship of persecuted Muslim Rohingya.
The report was release before the violence broke out in Myanmar's Rakhine state which led over 600,000 Rohingyas to flee to Bangladesh.
"Myanmar agreed that they welcome humanitarian assistance but there was no specific mention about which country will provide," Roque said.
http://www.thedailystar.net/rohingya-crisis/rohingya-refugee-repatriation-after-singing-mou-bangladesh-myanmar-suu-kyi-assures-asean-leaders-manila-1491055
--------
Asia Summit skirts human rights as Trump ends tour
Nov. 14, 2017
MANILA: Leaders of Asian nations meeting in Manila Monday skirted around the mass exodus of Rohingya Muslims triggered by Myanmar's military crackdown, disappointing human rights groups who were hoping for a tough stand on the humanitarian crisis. There was no pressure either from U.S. President Donald Trump over the Philippines' bloody war on drugs during a meeting on the sidelines of the summit with President Rodrigo Duterte.
Trump told reporters that he had a "great relationship" with the Philippines leader who, a year ago, had branded then-President Barack Obama "a son of a bitch" for questioning his ruthless campaign.
"They really hit it off," Duterte's Communications Secretary Martin Andanar told reporters after the meeting with Trump.
A draft of the statement made no mention of the flight of Rohingya from military operations in Myanmar's Rakhine state that the U.N. has described as ethnic cleansing.
One paragraph mentioned fleetingly the importance of humanitarian relief for "affected communities" in Rakhine state.
The statement was drawn up by the Philippines, current chair of the 10-member Association of Southeast Asian Nations, which includes Myanmar. It did not use the term Rohingya for the persecuted Muslim minority, which Myanmar leader Aung San Suu Kyi has asked foreign leaders to avoid. The government in mostly Buddhist Myanmar regards the Rohingya as illegal immigrants from Bangladesh and does not recognize the term.
Over 600,000 Rohingya have fled to refugee camps in Bangladesh since military clearance operations were launched in response to attacks by Rohingya militants on Aug. 25.
The plight of the Rohingya has brought outrage from around the world and there have been calls for democracy champion Suu Kyi to be stripped of the Nobel peace prize she won in 1991 because she has not condemned the military's actions.
Some ASEAN countries, particularly Muslim-majority Malaysia, have voiced strong concern over the issue recently.
However, in keeping with ASEAN's principle of noninterference in each others' internal affairs, it appeared to have been put aside at the summit.
"With Myanmar having ethnically cleansed 600,000 Rohingya Muslims in just two months, it's time for ASEAN to transcend its do-nothing approach to atrocities among its members," Kenneth Roth, executive director of Human Rights Watch, said in a Twitter message.
The ASEAN leaders did agree that they should not take a lull in the dispute over the South China Sea for granted. "While the situation is calmer now, we cannot take the current progress for granted," they said in a statement. "It is in our collective interest to avoid miscalculations that could lead to escalation of tensions."
China claims almost all of the sea, one of the world's busiest waterways. Taiwan and four ASEAN nations – Malaysia, Vietnam, the Philippines and Brunei – have competing claims.
Duterte suggested ahead of the summit that, despite their differences, the leaders should not discuss the South China Sea. "We have to be friends. The other hotheads would like us to confront China and the rest of the world on so many issues," he said Sunday. "The South China Sea is better left untouched."
At the meeting's formal opening Monday, he pointed to other triggers for a threat of violence in the region, including terrorism, violent extremism, and piracy on the seas.
"The menace of illegal drug trade continues to endanger the very fabric of our society," he said.
More than 3,900 people have been killed in the war on drugs that Duterte declared when he took office last year. His government says the police act in self-defense, but critics say executions are taking place with no accountability.
The United States and the Philippines, a former U.S. colony, have been strategic allies since World War II. But their relations have been strained by anti-U.S. outbursts from Duterte and his enthusiasm for better ties with Russia and China.
However, the animosity of the past appears to have been all-but forgotten, and Duterte – who has been called the "Trump of the East" for his brash style and coarse language – said to the U.S. president: "We are your ally. We are an important ally."
Trump was criticized earlier this year after he praised Duterte during a phone call for the "great job" he was doing to counter illegal narcotics.
The two leaders seem to have warmed to each other after meeting for the first time Saturday at a meeting of Pacific Rim leaders in Vietnam.
Duterte Sunday crooned hit Filipino love song "Ikaw" (You) at a gala dinner in Manila, saying it was on "the orders" of Trump.
On the last leg of a marathon Asia tour that has taken him to Japan, South Korea, China and Vietnam, the U.S. president told reporters that he had made significant progress on trade issues.
Full report at:
http://www.dailystar.com.lb/News/World/2017/Nov-14/426328-asia-summit-skirts-human-rights-as-trump-ends-tour.ashx
--------
TIB says NCTB changed textbook contents under communal pressure
November 13, 2017
The corruption watchdog says the national body for formulating textbooks has no policy guiding its work and decisions
The National Curriculum and Textbook Board (NCTB) has altered the contents of several textbooks under pressure from fundamentalist groups, a transparency watchdog has said.
The NCTB faced much criticism over changing the contents and illustrations in textbooks for the primary and secondary levels, allegedly in line with demands from fundamentalist religious groups.
Transparency International Bangladesh (TIB) said on Monday that it had found that the textbook authority had no clear policy or guideline for formulating curricula and textbooks and has been operating for decades without any rules.
There were 16 changes in the contents of textbooks at primary and secondary levels in 2016. Political and ideological influence of a certain group was visible in the contents of textbooks, the study revealed. Of them, 11 omitted poems were the ones that a fundamentalist group wanted removed.
TIB found that poems had been edited, there were numerous misspellings and mismatched illustrations.
In 2012, two poems were removed from textbooks for class 9 and 10, because a high ranking government employee wanted to add his own poem. For this he held up the printing of the textbook for a month.
In madrasa textbooks the changes were more severe.
Dialogues between boys and girls and pictures of girls without headscarves were deleted. Names that sounded like they could belong to non-Muslims were removed and replaced with 'Islamic' names.
The Bangla word for menstruation was removed from a girls' health chapter.
The name of the NCTB chairman, who is of the Hindu faith, was omitted.
The findings of the study titled 'National Curriculum and Textbook Board (NCTB): Challenges of Good Governance and a Way-out in its Manuscript Formulation and Publication Management' were revealed at a press conference at TIB head office in the capital on Monday.
TIB Deputy Programme Manager Morsheda Akter presented the study findings.
Speaking at the press conference, TIB Executive Director Dr Iftekharuzzaman said the authorities concerned were compelled to bring changes in textbooks and included such words, which go against the spirit of the Bangladesh's independence, after it faced the demands of a communal group.
If the anti-liberation issues make their way into textbooks and get institutionalised, he said, the new generation will turn out to be communal, which is a matter of concern.
The anti-graft watchdog also found irregularities and corruption in the formulation of textbooks. There are no policies for preserving manuscripts, nepotism is rampant in the recruitment of proof readers, publication and distribution.
The study says corruption and irregularities were found in the process of textbook publication and giving work orders, and the NCTB lacks capacity and professional skill in inspecting and monitoring its activities, which hampers the supply of textbooks across the country.
The TIB in its study recommended establishing the NCTB as an independent commission so that it can independently formulate policies regarding textbook formulation and publication.
Full report at:
http://www.dhakatribune.com/bangladesh/corruption/2017/11/13/tib-finds-nctb-changed-textbook-contents-communal-pressure/
--------
Supporters of ex-Taliban chief Mullah Mansoor are shielded: Pak Senator
Nov 13 2017
A Pakistani Senator Farhatullah Babar has said the supporters of the ex-Taliban chief Mullah Akhtar Mansoor have been shielded by certain circles in the government.
Babar who is also the secretary general of the People's Party of Pakistan (PPP) has told Dawn News "Those who aided Afghan Taliban leader Mullah Akhtar Mansour secure a Pakistani identity card and passport are shielded as is obvious from the replies given to questions asked in the Senate recently."
Senator Babar made the remarks amid reports suggesting that efforts are underway to mainstream the Islamist groups including the Taliban into the politics with the revival of the defunct six-party religio-political alliance Muttahida Majlis-i-Amal (MMA). The alliance will also include Maulana Fazal-ur-Rehman who is well recognized for his support to the Afghan Taliban.
This comes as reports emerged last week suggesting that the minister of interior of Pakistan in his letter to the Senate had said that contrary to media reports that Afghan Taliban leader Mullah Mansoor had been carrying a Pakistan passport and National Identity Card (NIC) — it had emerged that the card had actually been issued to a man named Muhammad Wali, son of Shah Muhammad.
Full report at:
http://www.khaama.com/supporters-of-ex-taliban-chief-mullah-mansoor-are-shielded-pak-senator-03837
--------
Suicide attack rocks Kandahar in South of Afghanistan
Nov 13 2017
An explosion rocked southern Kandahar province in West of Afghanistan later this afternoon.
Preliminary reports indicate a suicide bomber has detonated his explosives close to a convoy of the foreign forces in Dand district.
Provincial governor's spokesman Qudratullah Khoshbakht confirmed that a heavy explosion has taken place in Dand district but did not disclose further information regarding the type of the blast and the possible casualties.
A security official in Dand district confirmed that a suicide bomber detonated a vehicle packed with explosives close to a convoy of the foreign forces.
He said there are no reports available regarding the casualties as a result of the explosion.
Full report at:
http://www.khaama.com/suicide-attack-rocks-kandahar-in-south-of-afghanistan-03836
--------
India
Alwar: Police hint self-styled cow vigilantes killed Muslim cattle trader
Nov 13, 2017
A 35-year-old man found dead on railway tracks in Rajasthan's Alwar was killed by "anti-social elements" trying to stop cow smuggling, police said on Monday, possibly a rerun of the murder of Muslim trader Pehlu Khan earlier this year that triggered nationwide protests.
Until now, the police had denied any connection between the killing of Umar Mohammed, whose body was found on railway tracks in Alwar's Ramgarh on early Friday, and the recovery of a badly-damaged pickup van with cows found about 15 km away the same day.
But after two days of investigations, Alwar SP Rahul Prakash made a volte-face, saying said the two incidents were linked and that the killers of Umar Mohammed were "anti-social elements". But he refused to use the so-called term cow vigilantes, who have over the past year become synonymous with a string of attacks on cattle traders across India.
Prakash said an FIR for murder had been lodged on the basis of a statement by Ilyas Khan, Umar's uncle. Police have taken in a suspect, who has allegedly named five other attackers. Umar's autopsy is held up because of objections from the family.
"The attackers were basically anti-social elements who attacked Umar and two other passengers of the pickup as they were smuggling cows. They later asked somebody else to dump Umar's body on the railway track," said Prakash.
Umar Mohammed's pickup had three passengers, including him. Tahir Khan, one of the passengers, was found with a bullet wound and taken to a hospital in Ferozepur in Haryana. He was later allowed to go home. It wasn't clear how he was wounded.
The third occupant, Javed Khan alias Jabba, escaped unhurt and reached their native village Ghatmika in Rajasthan on Friday evening.
Umar Mohammed's killing is reminiscent of the murder of cattle trader Pehlu Khan who was waylaid and lynched by cow vigilantes near Alwar on April 1. Khan had documents to prove he wasn't smuggling cows.
Focus on cow protection, especially by vigilante groups, has risen since the BJP-led government took power three years ago, and several states ruled by the party made laws to punish cow slaughter.
So-called cow protectors have targeted cattle and meat traders, transporters and even farmers walking their animals – violence that has killed several people, mostly in BJP-ruled states. Critics accuse the vigilantes of using cows as a pretext to target Muslims and Dalits.
Cow vigilantes are known to patrol the roads in Alwar and neighbouring districts at night and waylay bovine transporters, mostly smugglers from Muslim-dominated Meo region. These mobs also reportedly extort money from cattle transporters. There have been instances of transporters firing at them, or even police, and fleeing.
Recounting Friday's incident, Tahir Khan told Hindustan Times at his home in Bharatpur that they had gone to Dausa to buy cows for dairy farming.
"When we were returning, a group of 6-7 men opened fire on us near Govind Garh. One of them was wearing a belt of bullets around his shoulder," he said.
"I sustained bullet injuries on my shoulder while Jabba (who was driving the van) managed to escape. I was lying in the field when one of the men hit me with the end of a gun while the other said, 'Rakesh, he is dead'. Following that they left me," Khan said.
He added the men shot Umar Mohammed dead. However, Umar Mohammed's family is unwilling to buy this story.
"We feel that Tahir Khan and (Javed Khan) Jabba are not telling us the complete truth as there are several discrepancies in their statements. When they returned to the village, they didn't give us any satisfactory answer about my brother's whereabouts," said Khurshid, a brother of Umar Mohammed, told Hindustan Times.
"They only said he will return home soon. They are constantly changing their statements."
In Jaipur, Ilyas Khan, Umar Mohammed's uncle, refused to give permission for post-mortem. He, along with representatives of Rajasthan Muslim outfits, met the Rajasthan police chief to demand a fair investigation.
http://www.hindustantimes.com/india-news/anti-socials-killed-muslim-cattle-trader-in-alwar-to-stop-cow-smuggling-police-say/story-ONLJdBmxx95PGxg7PqeNLM.html
--------
Any sabotage in updation of citizen list in Assam will result in Myanmar-like situation: Muslim body chief
November 13, 2017
The biggest Muslim organisation of the country, Jamiat Ulama I Hind, has warned that any attempt to sabotage the ongoing updation of National Register of Citizens in Assam will create a situation like Myanmar.
National President of Jamiat Ulama I Hind Maulana Arshad Madni was addressing the media during a seminar organised by the Assam Action Committee fighting for the citizenship rights of the Muslims in the state.
He said that,"There is an attempt to remove 48 lakh married Muslim women from the voting registry in Assam, they will lose all rights, their children will have no education and these people will be thrown out of the country, this is going to create a situation Myanmar is going through."
The Assam Action Committee has said that the decision of Guwahati High Court to strike down validity of the certificate issued by village panchayat secretary as a supporting document which indicates the residential status of a married woman has put a question mark on the nationality of some 48 lakh married women of Assam.
Jamiat chief said that it is necessary for the Government to respect the Assam Accord and strictly follow its terms and conditions. He has challenged Guwahati HC decision in the Supreme Court.
Professor Hiren Gohain, one of the delegate said that, "Assam is the only state where updation of National Register of Citizens is going on, but certain political forces are trying to disrupt updation. An intelligence report has said that updation may lead to law and order situation in some areas."
"The rise in Muslim population can be attributed to poverty, illiteracy and their aversion to birth control measures but to claim that most have been pushed into Assam from Bangladesh for political gains is certainly a figment of imagination," he added.
Full report at:
http://indiatoday.intoday.in/story/sabotage-updation-national-register-citizens-assam-myanmar-situation-warns-muslim-body-chief/1/1088653.html
--------
Barelvi Clerics Endorsed Peace Process for Kashmir
14 November 2017
Barelvi clerics on Monday endorsed the peace process for Kashmir initiated by Prime Minister Narendra Modi and maintained that the vexed problem could only be settled through peaceful means such as talks. The Ulema (clerics) had gathered in Bareilly, the birth place of the founder of Barelvi sect, Ala Hazrat, on Monday.
Barelvi Muslim outfits, which met in Bareilly, were All-India Jamat-e-Raja Mustafa, Tanzeem Ulema-e-Islam and Raza Academy and the meet was presided over by Chairman of Raza Academy (Mumbai) Maulana Sayeed Nori.
Stressing that Jammu and Kashmir and Arunachal Pradesh were integral parts of India, the clerics also said that they would run a campaign against violence and terrorism in Kashmir.
It may be mentioned that the Union Home Ministry has appointed former director of Intelligence Bureau Dineshwar Sharma as an interlocutor in Kashmir and he enjoys the rank of a cabinet secretary.
On the 99th Urs of Ala Hazrat on Monday, the Barelvi sect also adopted a resolution and issued an eight-point agenda for Muslims. They said that interference in Muslim personal laws from any quarter was unacceptable to them. A copy of the agenda will also be sent to the President of India.
The agenda suggested that the government must take effective action to curb violence against Muslims in the name of cow vigilantism and 'love jihad'. They demanded setting up of Central Madrasa Board comorising Muslims for control and administration of madrasas. It was demanded that there be an end to "false allegations" against madrasas. They pointed out that administrators and managers of madrasas in UP were living in a state of constant fear following a series of new measures announced by the present government to control the institutions. "The UP government should refrain from imposing its policies on madarsas and the institutions be exempted from mandatory registration on government portal as the decision has given the opportunity to officials to extort money from these schools,'' the resolution noted. The Barelvi clerics demanded that a ban on grant of recognition of madarsas imposed in UP and Bihar be lifted. The Bihar government has not recognised any madrasa in the last ten years and the UP government has not given recognition to madarsas for the last two years. The clerics said that the Imams of mosques should be given monthly salary by Waqf boards on the lines of those in West Bengal, Delhi and Haryana. The clerics also demanded representation of Barelvi Sunni Muslims in Central Haj Committee, Central Waqf Council, Haj Committees and Urdu Akademis in various states.
http://www.dailypioneer.com/state-editions/lucknow/barelvi-clerics-endorsed-peace-process-for-kashmir.html
--------
Sri Sri to visit Ayodhya in November to resolve Ram Janmabhoomi-Babri Masjid dispute
Mohammad Ibrar
Nov 14, 2017
NEW DELHI: Art of Living founder Sri Sri Ravi Shankar will visit Ayodhya on November 16 and hold meetings with "all stakeholders" to find a peaceful resolution of the vexed Ram Janmabhoomi-Babri Masjid dispute.
Speaking at the 13th Nehru Memorial Lecture on Inner Peace, Outer Dynamism in Jawaharlal Nehru University on Monday, he announced that he would be mediating in Ayodhya dispute for a peaceful solution.
"I have no personal agenda, so I will be talking to all stakeholders. I will also meet UP CM Aditya Nath Yogi," he said.
He also spoke on a range of issues — from tolerance to ideological battles in the campus, from Delhi's air pollution to violence streak in children. He termed Delhi's air pollution "scary".
"There is dynamism in the university. Dynamism is a sign of youthfulness and it should be supported by peace and not agitation and rebellion."
Referring to student politics in JNU, the spiritual leader said, "Students can associate with any ideology, but theideology should not be without humanism." He said the AOL Foundation would teach JNU students tools and techniques so that they can focus on their studies and handle stress better.
Full report at:
https://timesofindia.indiatimes.com/india/sri-sri-to-visit-ayodhya-in-november-to-resolve-ram-janmabhoomi-babri-masjid-dispute/articleshow/61636035.cms
--------
Southeast Asia
Indonesian Muslims, Catholics pledge to combat extremism
November 14, 2017
Indonesia's second largest Islamic organization, Muhammadiyah, and the Community of Sant'Egidio have declared a joint commitment to promote tolerance amid a rising tide of radicalism in the predominantly Muslim country and also worldwide.
A memorandum of understanding on interfaith and intercultural peace building was signed on Nov. 10 in Jakarta by Muhammadiyah chairman Haedar Nashir and Sant'Egidio president Marco Impagliazzo.
It was the second MoU between the organizations. The first was signed in April 2012 and was aimed at promoting peace through interfaith dialogue between Muslims and Christians.
Both parties have agreed to work together in education, to build a global network, and create a bridge of peace.
"The second MoU indicates our strong commitment to spread moderate religious values, to tear down boundaries of religion, ethnicity and race," Nashir told ucanews.com.
Impagliazzo said both organizations have carried out several activities together since the first MoU was signed.
"We became involved in interfaith dialogue as conflicts and radicalism emerged in the world. We took part in the peace process in Mindanao, in the Philippines, and in distributing aid to Rohingya refugees in Bangladesh," he said.
Both organizations, he said, have developed a strong relationship of dialogue and cooperation with full respect for diversity.
"We are convinced that dialogue and cooperation are fundamental in building peace," he said.
https://www.ucanews.com/news/indonesian-muslims-catholics-pledge-to-combat-extremism/80771
--------
Jakarta Gov't Provides Religious Teachers for Hindu Students
Nov 14, 2017
Jakarta. The Jakarta administration will soon provide weekend religious teachers for Hindu students in the nation's capital, newly sworn-in Governor Anies Baswedan said on Monday (13/11).
During a gathering of journalists at City Hall on Monday, Anies said Jakarta is home to around 105,000 Hindu followers.
According to the governor, the local Hindu community expressed the need for their children to receive religious education, which was previously impossible due to a lack of Hindu teachers in the city.
"The Jakarta government has provided [Hindu] teachers on Saturdays and Sundays," Anies said.
Aside from providing religious teachers, the city administration will also purchase cremation equipment for local Hindus, the governor said.
Full report at:
http://jakartaglobe.id/news/jakarta-govt-provides-religious-teachers-hindu-students/
--------
Wear your tudung, no problem, says Penang hotel body
Predeep Nambiar
November 13, 2017
GEORGE TOWN: The Penang chapter of a national hotel association has chosen to support Muslim women who choose to wear the tudung (hijab) at work, saying they can wear the hijab if they wish.
Malaysian Association of Hotels (MAH) Penang chapter chairman Khoo Boo Lim said no hotels in the state barred their staff from wearing the hijab and would continue to support diversity in the workplace.
"On behalf of the Penang MAH chapter, I would like to stress that there is no such policy barring women working in hotels from wearing the tudung.
"We share the concerns of Chief Minister Lim Guan Eng that Muslim women should be allowed to wear the tudung and should be judged strictly on their performance."
Khoo's comment comes after a report claiming that international chain hotels do not allow Muslim women staff to wear the hijab, especially when they are involved in front desk-related duties.
This follows a report by the Union Network International-Malaysia Labour Centre, which had received complaints from Muslim women working in the hospitality industry in Malaysia.
The report was highlighted by The Star Online, which later carried a comment by MAH president Samuel Cheah Swee Hee, who regarded this policy as being "not discriminatory".
He explained it was normal for international hotel chains to have requirements for uniforms at all their branches.
He said those who wanted to wear the hijab can work in less frontline roles and "in the backhouse" or hotels that allowed them to do so.
"This policy is practised in international hotel chains that use the same global standard operating procedure on uniforms in all their hotels globally.
"The problem is everyone wants to join the 5-star global hotel brand, but they do not want to follow the uniform policy that is their worldwide standard," he was reported as saying by The Star Online.
Meanwhile, Khoo said he was contacted by the chief minister over the report. The CM was "dismayed" by what he regarded as a discriminatory policy and abuse of basic human rights of Muslim women.
"The Penang chief minister also considers such a ban as being discriminatory because it has nothing to do with a person's work performance.
Full report at:
http://www.freemalaysiatoday.com/category/nation/2017/11/13/wear-your-tudung-no-problem-says-penang-hotel-body/
--------
Rohingyas in Malaysia funding Myanmar insurgent group, says source
Zam Yusa
November 14, 2017
PETALING JAYA: Some Rohingyas in Malaysia have been providing financial support to insurgent group Arakan Rohingya Salvation Army (Arsa) in Myanmar to buy firearms and ammunition, FMT has learned.
"Arsa has been asking for and getting financial support from the Rohingya community in Malaysia," a source well placed within the Rohingya community in Kuala Lumpur told FMT.
"If they need money to buy weapons and ammunition, they will ask their compatriots in Malaysia for help in a WhatsApp group."
Other sources say some Malaysians may already be in Myanmar to join the insurgents but Malaysian police say they have yet to detect this.
Arsa is active in northern Rakhine state fighting Myanmar security forces. The Myanmar government has declared Arsa a terrorist organisation, but the group denies the allegation, claiming that its purpose is to defend the rights of Rohingyas.
Zachary Abuza, a professor at the US-based National War College who focuses on Southeast Asian security issues, said apart from Malaysia, Saudi Arabia also hosted a WhatsApp support channel for Arsa.
"Arsa has a sophisticated online information campaign – using Facebook briefly, Twitter, Blogspot and several video-hosting websites – through which it distributes video and audio material in Rohingya, Bengali, Arabic, Urdu, English, and Burmese," Abuza said in a publication this month by the Jamestown Foundation.
"For its own followers, Arsa's leadership relies on closed WhatsApp channels to communicate and recruit.
"Its so-called 'ARSA.G1' channel is run out of Saudi Arabia. Another channel is run out of Malaysia."
In August, Asia Times reported that "given the large size of the Rohingya diaspora of several hundred thousand in the Gulf, Pakistan and Malaysia, and the wave of international publicity focused on Myanmar's brutal military crackdown late last year, the channeling of external assistance to the incipient insurgency is hardly surprising".
Arsa is said to have a leadership council based in Saudi Arabia and local leaders with connections in Pakistan.
"It's a support network that will almost certainly translate into donations from established businessmen in both countries," said Asia Times.
It also quoted a senior regional intelligence official as saying that a "group of senior Rohingya clerics based in Saudi Arabia has already played an important role in fundraising and facilitating money transfers".
According to the same official, Malaysia has emerged as both a major clearing house for Arsa funding and a transit point for the movement of militants because of its Muslim-friendly visa system.
Swedish journalist Bertil Lintner in September told FMT, citing sources, that some Malaysians might already be in Myanmar to join the insurgency.
However, Malaysian Inspector-General of Police Mohamad Fuzi Harun last week told FMT no Malaysian had been detected fighting security forces in Myanmar.
Although Arsa had announced that foreign fighters, especially those from international terror groups, were not welcome as their struggle was an internal issue, the source in Kuala Lumpur told FMT that Arsa did, in reality, welcome foreign fighters.
"Arsa does welcome and accept foreign fighters. The more the better," said the source. "If 30,000 to 40,000 foreign fighters can come, that would help greatly."
The Jakarta-based Institute of Policy Analysis for Conflict (Ipac), in a report, said thousands of Indonesians and Malaysians were gunning to wage 'jihad' in Myanmar for the Rohingya but the lack of a machinery to facilitate their travels was hampering them.
But help was available from Rohingya refugees in Bangladesh who smuggled potential foreign fighters into Myanmar, said the source in Kuala Lumpur.
"If Malaysians want to come and fight in Myanmar, five or six Rohingya refugees in Bangladesh, not Rohingyas in Malaysia because their UNHCR refugee passports don't let them to leave Malaysia, can help them enter the country and join Arsa."
There are as many as 130,000 Rohingya refugees and migrant labourers in Malaysia with some 58,000 of them documented by the UNHCR.
Security agencies have expressed concern that the armed conflict in Rakhine could attract militants from terror groups.
The UN has described the action of the Myanmar security forces as "a classic textbook example of ethnic cleansing".
More than 600,000 Rohingyas have fled from the state to neighbouring Bangladesh to escape religious and military persecutions in the country.
The Islamic State group has urged followers to wage jihad in Myanmar while Al-Qaeda has warned "punishment" over the plight of the Rohingyas.
Full report at:
http://www.freemalaysiatoday.com/category/nation/2017/11/14/rohingyas-in-malaysia-funding-myanmar-insurgent-group-says-source/
--------
Malaysia's call for solution to Rohingya crisis begins to bear fruit, says Najib
November 14, 2017
MANILA, Nov 14 — Myanmar has announced its initial commitment and the efforts being taken to resolve the Rohingya crisis in Rakhine State at the 31st Asean Summit here yesterday, according to Datuk Seri Najib Razak.
The prime minister said Myanmar State Counselor Aung San Suu Kyi, who led the country's delegation to the summit, said this in her response when he raised the issue at the plenary session.
"When I raised the issue of Rohingya in Rakhine State, Aung San Suu Kyi in her response announced that several efforts are being done in Myanmar... this is important because she did not say anything about this at the last Asean Summit in Manila last April," he told the Malaysian media covering the Summit.
Najib said Myanmar was currently in talks with Bangladesh, which has received more than 600,000 Rohingya refugees since the violence erupted in Rakhine in August, to have a memorandum of understanding (MoU) on the deportation of the refugees from the border of both countries.
"She said the MoU will be signed soon and I accepted her response, but we want to see the MoU and the conditions for the deportation, to see whether it is reasonable or too strict," he said.
Najib said if the conditions were too strict and did not actually allow the refugees to return to Rakhine, it might not give the solution to the crisis as expected by Malaysia and other Asean member countries.
Apart from voicing out the issue of Rohingya crisis at international level and sending humanitarian aid, Malaysia would also provide a field hospital for the Rohingya refugees in Bangladesh.
Najib said during the plenary session, Suu Kyi had also expressed her government's willingness to cooperate with humanitarian aid missions for the Rohingyas who were still in Rakhine.
He said the Nobel Prize winner also stated that there was a need to have a long-term solution based on trust and harmony, but stressed that it could not happen overnight.
It will take into account and will be based on former United Nations secretary-general Kofi Annan's final report on Rakhine State, where Rohingya Muslims faced widespread abuses, which he had submitted to the Myanmar government.
"This is indeed a very significant development...she gives a commitment, as well as a clear and positive assurance here compared to the previous Asean forum," he said.
Najib said he also told other Asean leaders that Malaysia and Asean, as an organisation, could no longer keep silent on the crisis as it had humiliated the regional bloc and had become an international issue to the extent of seeing the UN Security Council issued a presidential statement.
"I say that as an organisation, we cannot keep silent, we should not keep silent. What is Asean's response to the crisis involving the Rohingyas in Rakhine," he reiterated.
He said the crisis was not just Myanmar's problem because the affected residents had been seeking refuge in other countries, including in Malaysia and Bangladesh.
Full report at:
http://www.themalaymailonline.com/malaysia/article/malaysias-call-for-solution-to-rohingya-crisis-begins-to-bear-fruit-says-na#QfgELLlquoyliWux.97
--------
Indonesia Remains Committed to Help Rebuild Marawi: FM
Nov 14, 2017
Jakarta. Foreign Minister Retno Marsudi has reaffirmed Indonesia's commitment to support the reconstruction and rehabilitation of Marawi City in the Southern Philippines, which was devastated in a five-month-long armed conflict between government forces and Islamic militants.
"Indonesia is still waiting for the Philippine government to identify what is required in the reconstruction and rehabilitation efforts," Retno said during a trilateral meeting between Indonesia, Malaysia and the Philippines in Manila on Sunday (12/11).
The Philippine government wrapped up combat operations in Marawi on Oct. 23, following the conflict that left more than 1,100 people dead and drove hundreds of thousands from their homes.
The conflict raised concern in both Indonesia and Malaysia, who feared that militants could flee the fighting to nearby North Maluku in Indonesia and Sabah in Malaysia.
During the previous trilateral meeting in June as a subregional response to the conflict, the three countries agreed to cooperate on the joint development and implementation of counterterrorism measures and strategies.
"The Philippines' success in freeing Marawi City is important for our region, because it sends a strong message about our power to tackle terrorism and extremism through cooperation," Retno said.
She emphasized the importance of the reconstruction and rehabilitation process to also be carried out through cooperation, including through the trilateral mechanism.
Retno also expressed Indonesia's readiness to support the education and deradicalization process in Marawi, including by providing scholarships to students from the city and supporting the development of a religious education curriculum.
Sunday's meeting also saw Indonesia present a draft plan of action, along with a road map that includes short-, medium- and long-term activities for future trilateral cooperation between Indonesia, Malaysia and the Philippines.
Full report at:
http://jakartaglobe.id/news/indonesia-remains-committed-to-help-rebuild-marawi-fm/
--------
Europe
German Islamic associations denied religious lessons in school
13.11.2017
Two of Germany's biggest Muslim federations, the Central Council of Muslims in Germany (ZMD) and the Islamrat ("Islam council"), have failed in their bid to get schools in the western state of North Rhine-Westphalia (NRW) to adopt Islamic religious lessons.
The higher administrative court in Münster turned down the federations' suit last week on the grounds that they did not fulfill all the criteria of a religious association as defined by the German constitution, and so could not claim the same privileges that the Protestant and Catholic churches have in Germany.
The court said that the two associations do not possess the necessary authority over Germany's Muslim community to claim the status. While the state's Education Minister Yvonne Gebauer welcomed the decision, both the associations issued statements expressing their disappointment.
"We regret the decision … because first and foremost it does not offer the undisputed needs of Muslim children in schools in North Rhine-Westphalia any secure prospect for the future," the ZMD said. "Once again an important opportunity to jointly create a constitutionally stable model other than the NRW council model, which expires in 2019, has been lost."
State-sanctioned Islam lessons
In 2012, NRW introduced temporary Islam lessons under state supervision. The content and form of the program, which runs out in 2019, are determined by an eight-person council made up of representatives of various Islamic organizations as well as the NRW Education Ministry. The council also issues the teaching certificates to applicants.
The Islamrat said the court had missed a chance to send an "important signal to the Muslims in the country and an important step towards providing them a home in Germany." The association also criticized what it saw as the state government's failure to hear official assessments of its status, and added that it would continue to "work constructively on the permanent establishment of an Islamic religious class."
But – apart from notes of approval from members of the anti-Islam party the Alternative for Germany (AfD) – liberal Muslim voices also welcomed the decision. Lamya Kaddor, Islam scholar and one of the religious education teachers approved by the NRW council under the experimental scheme, wrote that the judgment was right, though "less from a legal standpoint than a social and political one."
In an editorial written for the T-online media portal, Kaddor argued that the Muslim federations represented on the council represented more conservative Islamic views, and that none represented liberal interpretations of Islam. Not only that, Kaddor argued that none of the Islamic federations should be recognized as legitimate religious institutions, since that "would only institutionalize a splintering of Islam that no one can get a handle on anymore."
"Every neutral observer of the Muslim community will confirm that the big Muslim associations do represent a significant, but still only a single, faction of Muslims," she wrote.
Skeptical of integration
Hans Michael Heinig, a professor of church law at the University of Göttingen, thought that the public discussion about the issue was "bordering on the non-serious." "There's a lot of politics and very little understanding in these debates," he said. But the decision itself left plenty of legal questions hanging, he argued.
Last week's decision is the culmination of a 20-year legal battle that appeared to have been set aside by the temporary program solution – but Heinig thinks that the argument the court used did not cover all the Islam associations. Had Germany's largest association, the Turkish-led DITIB, which is partly controlled by the Turkish government, brought in a similar suit, "the court couldn't have made the same arguments. There's no doubt that it has the relevant authority," he said.
The crux is whether the ZMD and the Islamrat can speak for Germany's Muslims. The two associations together only represent about 45,000 people. "It can only be about the members – the Protestant church in Germany can only speak for members of its church and not for free Protestant communities," said Heinig. "And the Catholic Church can't speak for everyone who was baptized."
Michael Wrase, public law professor at the University of Hildesheim and research fellow at the Berlin Social Science Center, suggested that the criteria that the court used was incompatible with Islam's non-hierarchical structure – in particular the assertion that the associations need to have authority over points of doctrine.
"It's difficult for these organizations because it's not like the structures of Christian churches; these are associations of mosques that don't have central representation – that just doesn't exist in the Muslim faith," he said. "There is no single Muslim 'church' – and, apart from the imams, there is no hierarchy with certain authorities who can decide certain questions of faith."
Wrase also noted that the exact same court delivered another verdict against a Muslim boy who did not want to attend Catholic mass in a state school last year. Last week, a suit brought by the boy's family was turned down by the Constitutional Court.
"It's certainly noticeable that in two cases directly following each other there were two decisions that ran contrary to the integration of Muslims into the German school system," he said.
http://www.dw.com/en/german-islamic-associations-denied-religious-lessons-in-school/a-41362629
--------
Irish Live Aid founder returns award in Suu Kyi protest
13 November 2017
Irish singer and humanitarian Bob Geldof is due on Monday to return a civic award he shares with Myanmar's leader Aung San Suu Kyi.
The gesture is in protest at Suu Kyi's response to the Rohingya Muslim crisis in her country, where, since Aug. 25, over 611,000 people have fled the western state of Rakhine into Bangladesh.
The refugees are fleeing a military operation in which security forces and Buddhist mobs have killed men, women and children, looted homes and torched Rohingya villages.
Geldof, 66, is the man behind 1985's Live Aid -- which saw international music stars come together for a massive televised fundraising concert in London against the backdrop of a cataclysmic famine in Ethiopia.
In a statement, Geldof said he would return the Freedom of the City of Dublin -- his hometown -- claiming Suu Kyi's "association with our city shames us all and we should have no truck with it, even by default. We honored her, now she appalls and shames us.
"In short, I do not wish to be associated in any way with an individual currently engaged in the mass ethnic cleansing of the Rohingya people of north-west Burma [Myanmar]".
He is due to return the award -- often given to prominent humanitarians or those involved in conflict resolution -- at City Hall in Dublin later today.
Suu Kyi has faced a growing international backlash to her response to the emergency in Myanmar. Leader of the National League for Democracy, the diplomat and human rights activist had been repeatedly honored for her opposition to Myanmar's military rulers, even being award the Nobel Peace Prize in 1990.
Full report at:
http://www.worldbulletin.net/europe/195881/irish-live-aid-founder-returns-award-in-suu-kyi-protest
--------
Small Czech Muslim community faces bigotry
November 14, 2017
The small Muslim community in the Czech Republic is often subject to hate attacks despite only constituting less than 0.002 per cent of the country's population.
The discrimination faced by several thousand members of the Czech Republic's Muslim community, enabled by recent political developments, which have equipped a politician whose only policy is "No to Islam. No to terrorism" to become a kingmaker in the state's hung parliament, reported Al Jazeera.
The Freedom and Direct Democracy Party (SPD), led by the Czech-Japanese entrepreneur Tomio Okamura, emerged at the national parliament's third largest party after the October elections, only campaigning on a stated agenda of ridding the Czech republic of Islam. This agenda was enough for the young party to gain a considerable number of votes in it's first ever elections.
With ties to Europe's other far-right movements such as the National Front in France, Okamura intends to succeed in entering the government after talks with the leader of the Action of Dissatisfied Citizens Party (ANO), Andrej Babis. Despite winning the most votes in the elections, the ANO finds itself short of willing partners to form a majority government – primarily due to the fraud allegations levelled at it's billionaire leader.
Okamura has placed his own condition on giving Babis his party's support. The SPD wants the ANO to agree to a ban on 'Sharia' and restrict providing asylum to Muslims and Okamura told local media that Babis' party had pledged to consider these proposals. An alliance between the ANO and SPD is quite plausible, especially considering their similar views on Islam.
"We have to fight for what our ancestors built here. If there will be more Muslims than Belgians in Brussels, that's their problem. I don't want that here. They won't be telling us who should live here," Babis told journalists in June. Such language has brought Islamophobia to the forefront of discourse in the central European country, which has been identified as having the greatest racial bias in Europe.
However, such decisions as banning Islam may not hold in the country's legal system. The chief of the Constitutional Court, Pavel Rychetsky, told local media: "Nobody can forbid freedom of religion and belief."
'Czech Trump' clinches wide lead in election
While Islam is an officially recognised religion in the Czech republic, Muslims do not have the full range of freedoms available to followers of other beliefs. For example, they can not establish schools and conduct religious ceremonies in public spaces.
Full report at:
https://tribune.com.pk/story/1557943/9-small-czech-muslim-community-faces-bigotry/
--------
Syrian refugees in Athens hunger strike for relocation
By Patrick Strickland
Nov 14, 2017
Athens, Greece - After fleeing war-ravaged Syria, waiting in Turkey, passing through a Greek island and traversing the mainland last year, Fahd al-Mekki and his family reached the Idomeni, a crossing into Macedonia, only to be turned back.
Macedonian border guards denied the family passage, telling the 53-year-old father that Jobar, his hometown near Damascus, was a safe area and denied them passage.
Jobar has been the site of many battles and more than five years on since the start of the Syrian war, it is unrecognisable in a state of ruin.
Mekki's wife and three children eventually made it to Germany with the help of smugglers more than a year ago, but he remains stranded in Athens, the Greek capital.
"My house was one of the first homes destroyed in Jobar," he remembered, his eyes welling up with tears as he recalled his flight from the civil war that has engulfed Syria for more than six years.
Mekki, who owned a shawarma restaurant in Syria, is now camped out and on hunger strike with 13 other Syrian refugees who are protesting the sluggish family reunification process.
They say they have each waited more than six months to be reunited with their families, and are calling for expedited relocation to Germany.
Of the hunger strikers, half are women who have been separated from their spouses.
The group first announced their open-ended fast on November 1, when they set up tents and signs on a busy pavement near Syntagma Square in central Athens, across the street from Greece's parliament.
'Sitting in the camp is like being in an open-air prison'
A group of children drew in chalk on the pavement, while a handful of young men sat in a circle and sang.
Sitting on a plastic lawn chair in front of his threadbare tent, Mekki said the group launched the hunger strike after months of protesting outside the Greek asylum services office and the German embassy.
"Nobody has come to speak to us yet," he told Al Jazeera, explaining that he could no longer wait idly in a congested refugee camp. "The food [in the camp] isn't edible, and we're not allowed to work."
Life on the 90-euro monthly stipend provided to asylum seekers is not sustainable, he said, adding: "Sitting in the camp is like being in an open-air prison."
Behind him, a sign plastered on railing read: "Dreamin' to fly." Scrawled on a piece of cardboard hanging from a nearby tent is another message: "I want my family."
Another banner that stretches several metres declares in both English and Greek: "Hunger strike! Reunite our families."
'Humanitarian priority'
More than 4,000 refugees and migrants in Greece are in the same situation, separated from their loved ones and lacking clarity about when they will be reunited, according to aid organisations and watchdogs.
According to the EU's Dublin III Agreement, refugees are entitled to relocation and reunification with their families.
With winter approaching and the borders closed since March 2016, following an agreement between the European Union and Turkey to stem the flow of refugees, conditions in the refugee camps have worsened by the day.
That agreement left more than 60,000 refugees and migrants stuck in Greece, unable to move on save for with the help of smugglers and relocation programmes that often stretch lengthy periods.
The hardships of daily life in many refugee camps have been amplified by a recent surge in arrivals from Turkey, according to humanitarian organisations.
The United Nations refugee agency (UNHCR) says that more than 25,000 refugees and migrants have taken dinghies and flimsy boats across the Aegean Sea from Turkey to the Greek islands this year.
More than a third of the arrivals were children, according to the agency's statistics.
"Refugee families often become separated in their flight from violence and persecution," Boris Cheshirkov, an associate communications officer for UNHCR, told Al Jazeera, explaining that more than 9,300 applications family reunification applications have been filed in Greece this year.
Of that total, some 5,000 applications have been accepted thus far.
"Helping them reunite as soon as possible must be a humanitarian priority," Cheshirkov added, noting that there have been delays due to the "high number of cases".
'We are doing this for everyone'
Speaking to reporters earlier this month, Greek Migration Minister Yiannis Mouzalas described the situation on Lesbos Island as "very bad" and on Chios Island as "bad", referring to overcrowding in the camps on those islands.
Mouzalas said that returning asylum seekers who arrived after the March 2016 agreement to Turkey was "decisive for the future of Greece".
"We would like to see more returns because that will restore the order of things," he said.
Al Jazeera was unable to reach the Greek Ministry of Migration for comment.
Eva Cosse, a Greece researcher for Human Rights Watch, argued that the EU-Turkey deal has "been violating asylum seekers' rights" by turning Greek islands into "huge detention centres where people are forced to suffer grave human rights violations".
"The European Union and Greek government should work to restore the dignity and humanity of people seeking protection, not foster conditions that are unlawful under international and European human rights law," she told Al Jazeera.
Back at their protest camp in Athens, Mekki said he and his fellow hunger strikers are committed to fasting until they are reunited with their loved ones.
Full report at:
http://www.aljazeera.com/news/2017/11/syrian-refugees-athens-hunger-strike-relocation-171113112516541.html
--------
How The Isis Attacks In Paris Changed Europe and Fuelled A New Nationalism
By Jack Moore
11/13/17
Everybody in Paris remembers where they were the night of November 13, 2015. It took just 33 minutes for eight jihadi attacks—suicide bombings and shootings—to turn the French capital into a war zone. The death toll climbed and climbed, eventually stopping at 130 people, with hundreds more injured.
As the Stade de France shook underfoot from three explosions, the Bataclan concert hall's innards rattled from bullets and bombs, and gunmen laid siege to Le Petit Cambodge, a restaurant, and Le Carillon, a bar.
If 9/11 was known as the "day that everything changed," this was the day of reckoning for both the political bloc known as the European Union and Europe as a whole. It was the deadliest attack in France since World War II and in Europe since the 2005 Al-Qaeda bombings in Madrid.
Europe had seen nothing like it before. Three mini-squads loyal to the Islamic State militant group (ISIS) struck at the heart of Paris, the most popular tourist hot spot in Europe, a beacon of democracy, freedom and Western life. It was coordinated, and it had succeeded. The message was clear: The victims could have been anyone.
"I think it woke everyone up to the fact that mass terrorism could happen on European soil," says Raffaello Pantucci, director of international security studies at London-based think tank RUSI. "That and the threat from ISIS."
The impact of the events of November 13 was unlike other attacks in Europe, such as the dual assaults in Paris just 11 months earlier, which targeted the offices of satirical magazine Charlie Hebdo and a Jewish supermarket. The scale of casualties made it different—and, two years on, Europe looks and feels different. On Monday, France will remember that night. Here are four ways in which it changed Europe.
Militarizing Cities
Troops have become a common sight on Western Europe's streets. France has only recently ended nearly two years under a state of emergency that handed authorities greater powers but also deployed soldiers across France's cities.
In its place is a new anti-terror law signed off by President Emmanuel Macron, one that gives powers to authorities to raid, search, surveil and detain extremist suspects. It is a bill decried as draconian and a move that undermines civil liberties.
Before the new bill took effect on November 1, armed troops were no longer confined to the train stations and airports of Paris, but tourist sites, synagogues and other areas.
Belgium, where many of the Paris attackers were born, has followed suit after the assault and the March 2016 triple suicide bombing in Brussels. Both Germany and Austria are debating whether to deploy military patrols for the first time since World War II. Britain briefly deployed its military earlier this year following the London Bridge attack inspired by ISIS, which killed eight people.
Jihadis have taken inspiration from the Paris attacks and the propaganda calls of top ISIS leaders, conducting stabbing assaults and vehicle attacks across Europe. Governments have increased their focus on domestic security measures, not least the installation of barriers at some of the continent's most famous sites, such as Westminster Bridge, and even anti-terror flower pots at the Quirinal Palace, the Italian president's residence in Rome.
The result is that some of Europe's most historic cities no longer look the same.
Lost Tourist Pennies
The impact on the economies of Europe because of the threat of not only low-level attacks, but mass-planned assaults from within Europe, has been drastic. Such attacks rarely cost more than $10,000 to plan and carry out, but the economic damage they can cause is far greater.
According to the International Air Transport Association, or IATA, European airlines lost as much as $2.5 billion from 2015 to 2016 because of the Paris attacks and other jihadi assaults, such as Brussels and the truck-ramming attack in the southern French city of Nice.
Paris was hit the hardest by lost profits, as visitors to the French capital dropped by some 30 percent after the attack. A boost came from the Euro 2016 tournament as soccer fans flocked to the capital and other French cities to watch their countries play amid heightened security. But officials conceded that the city and wider Paris region had lost $874 million in revenues.
It was an "industrial disaster" as the Paris tourist board chief put it, and Europe felt the shock waves, with London hotel occupancy rates falling off and travel agency bookings down from previous years.
Air traffic and tourism is only beginning to pick up two years on, but the scars left by the Paris attacks remain.
Shaky Schengen
The Paris attacks were carried out by a cell that included multiple homegrown jihadis from Belgium, and were masterminded by a Belgian of Moroccan heritage, Abdelhamid Abaaoud, a man who had bragged about traveling to Syria and back to Europe without detection. Police eventually killed him in a raid on a Paris apartment days after the attacks. At least one of the attackers had traveled through Greece with a fake document and made his way across the European Union.
One of the surviving members of the Paris cell, Salah Abdeslam, was able to cross into Belgium and remain uncaptured for four months. The wider cell laid low in Brussels, activating just months after the Paris attacks to kill 33 people at a subway station and airport in Brussels. France had to close its border with Belgium temporarily, damaging the fundamental idea of the Schengen area and European security going hand in hand.
The ease with which these men traveled into France, through the European Union's open border system and got hold of Kalashnikov rifles—likely trafficked from the Balkans—raised questions about the continent and its open borders. Commentators lamented the "jihadi hydra" and how it reared its many heads in different parts of Europe.
The refugee crisis earlier in 2015 sparked the debate about Schengen, but the Paris attacks amplified this debate. The attacks continued to harden opinion on migration, giving right-wing politicians the fuel for their fires.
Marching Populism
The role of Paris can be seen not only across the mainland, but offshore in Britain, too. As political leaders in Europe continue to resist a turn inward, many have gone the other way, and the European Union is more divided than at any time in its 21st-century existence.
After Paris and Brussels, the self-anointed architect of Brexit, British right-winger Nigel Farage, tweeted that he was "depressed for the future" of Europe. He argued for Britain to leave the bloc, for not only economic reasons but for security reasons. Pro-leave campaigners argued that the European Union was failing to keep its people safe, that it no longer worked in the interest of Europeans, but that the project actually threatened to harm them.
The attacks and this notion helped to give rising anti-Muslim sentiment a platform in the form of right-wing populist candidates across the continent and, even though the Paris attackers were homegrown jihadists, appeared to give the right wing a justification to the faulty and borderline racist theory that immigrants were likely extremists. Vitriol was especially directed at German Chancellor Angela Merkel, who allowed a million refugees to enter the country in 2015, a record number.
President Donald Trump capitalized on the populist rhetoric, regularly referring to the Paris attacks as an example of the dangers of European immigration policies. "Paris is no longer Paris," he said. Merkel, Trump said, had made "one very catastrophic mistake" by "taking all of these illegals."
The majority of Europe's populists have failed to gain any sort of monumental power in their respective countries, but they are now on the map. Since Paris, the isolationist right wing of Britain achieved Brexit, and National Front leader Marine Le Pen made it to the run-off of the French presidential election against independent centrist Emmanuel Macron, leaving mainstream parties and the ruling Socialist Party—which presided over a failure to prevent seven radical Islamist attacks—in the dust.
The Netherlands' most prominent anti-immigration politician Geert Wilders used the attacks for his own agenda, calling on Dutch leaders to close the country's borders. The far right has since risen in Germany and Austria, with the AfD gaining a seat in the German parliament, drawing comparisons to the Nazi era, and Austria's Freedom Party, or FPO, set to enter the country's next government.
Full report at:
http://www.newsweek.com/how-paris-attacks-changed-europe-nationalism-709210
--------
UN chief meets Myanmar's Suu Kyi on Rohingya crisis
November 14, 2017
More than 600,000 Rohingya have fled to neighbouring Bangladesh in two and a half months
UN chief Antonio Guterres urged Myanmar leader Aung San Suu Kyi to allow Rohingya refugees in Bangladesh to return, when they met Tuesday at a summit in the Philippines, his office said.
The meeting added to global pressure on Suu Kyi to take action to end the crisis for the Muslim minority, with US Secretary of State Rex Tillerson due Tuesday also to hold talks with her in Manila then travel to Myanmar.
"The Secretary-General highlighted that strengthened efforts to ensure humanitarian access, safe, dignified, voluntary and sustained returns, as well as true reconciliation between communities, would be essential," a UN statement said, summarising comments to Suu Kyi.
More than 600,000 Rohingya have fled to neighbouring Bangladesh in two and a half months.
The crisis erupted after Rohingya rebels attacked police posts in Myanmar's Rakhine state, triggering a military crackdown that saw hundreds of villages reduced to ashes and sparked a massive exodus.
Authorities have blocked independent access to northern Rakhine.
But journalists and UN officials have collected reams of testimony from Rohingya refugees in Bangladesh describing soldiers and Buddhist mobs committing murder, rape and mass arson.
Following its first official investigation into the crisis, the army published a report this week in which it cleared itself of any abuses.
Nobel laureate Suu Kyi, a former democracy activist, has been lambasted by rights groups for failing to speak up for the Rohingya or condemn festering anti-Muslim sentiment in the country.
But she lacks control over the powerful military, which ruled the country for decades until her party came to power following 2015 elections.
The United States has been careful not to place blame on her and has focused instead on the army's role in the conflict.
Guterres and Suu Kyi met in the early hours of Tuesday morning, according to his office.
In a summit on Monday night with leaders of the 10-member Association of Southeast Asian Nations, of which Myanmar is a member, Guterres also voiced concern about the Rohingya.
He said the displacement of hundreds of thousands of Rohingya was a "worrying escalation in a protracted tragedy," according to the UN statement.
Full report at:
http://www.dhakatribune.com/world/2017/11/14/un-chief-meets-myanmars-suu-kyi-rohingya-crisis/
--------
Africa
Bin Laden's Machiavellian plan and his coordination with Iran and Qatar in Libya
13 November 2017
Al Qaeda leader Osama bin Laden did not perceive the Arab uprisings of 2011 as a young democratic spring born on Facebook and Twitter; he rather saw it as an opportunity and a major breakthrough for extremists.
In his recently published diary, Bin Laden asserts that the uprisings will not stop at its centers, but will expand to include the entire region and the fall of all its regimes. He asserts that he and Al Qaeda and its offshoots, especially the Libyan Islamic Fighting Group, must create alliances and coordinate with whoever has the best interest in witnessing the fall of these regimes, especially Iran and Qatar.
Bin Laden was following the news of the revolution against Gaddafi with great passion, and saw it as a great opportunity for him and his organization in particular.
Focus on Libya
In the first pages of his diary, he talked about Libya saying: "The revolution is still under construction in Libya but it appears that Gaddafi has certain help, because he has ordered operations to restore some areas. Today there has been an attack on Misurata, the fighters shot down two planes and took the pilots captive."
Shortly after, the pages read: "For Libya, international public opinion is putting more pressure on Gaddafi, except for Russia which refuses to impose any."
Bin Laden well understood the opportunity in Libya, being the only revolution led by the hardliners, mainly al-Qaeda, represented in the elements of the Libyan Islamic Fighting Group.
It is rather weird that Bin Laden was happy that NATO and the West was targeting the regime of Muammar Gaddafi, which he did not deny in his diary, especially since he refuses the involvement of "repressive infidels" as he usually underlined.
In these pages, we see a completely different side of Bin Laden's views particularly in comparison with the war to liberate Kuwait in 1990 or elsewhere.
Bin Laden was aware of all this. In his recently published diary, he insists on a greater role in Libya and the need to coordinate with everyone who influences the Libyan movement, from the Qatari preacher Yusuf al-Qaradawi to Al-Jazeera, which he characterizes as the nest for revolution from Tunisia to Egypt to others, calling for coordination with the channel and the formulation of a rhetoric that does not upset the audiences.
Qatar's prominent role
One of the documents published by the CIA revealed Qatar's prominent role in financing terrorism, embracing the ideologues of bloody doctrines, and its main task in implementing the organization's plans to dismantle the Gulf States.
Another paper revealed Qatar's support to the Union of Muslim Scholars in an effort to create a government in the future.
In the paper, the leader of Al Qaeda leader suggested that the Union should involve certain names who are wanted for financing and supporting terrorism such as Hamid Al-Ali, who is wanted in Saudi Arabia.
In his widely circulated script, the Al Qaeda leader reiterated his confidence in Qatar and that it can succeed in its mission, suggesting that the council should be outside Qatar, while the latter pays for the costs, preparation and consultation.
Full report at:
https://english.alarabiya.net/en/features/2017/11/13/REVEALED-Bin-Laden-s-Machiavellian-plan-and-his-coordination-with-Iran-and-Qatar-in-Libya.html
--------
Why Did A Million Muslims Just Go On Pilgrimage To Senegal?
By Conor Gaffey
11/13/17
The sight of a million Muslims on pilgrimage usually brings to mind images of the Saudi holy city of Mecca, where the annual hajj brings followers of Islam together from around the world.
But last week on Africa's west coast, up to 1 million people are thought to have traveled to Senegal for a pilgrimage to venerate a mysterious 19th-century Sufi religious leader who was exiled by French colonial authorities and is spoken of in saintly terms by his followers.
The Grand Magal of Touba—as it is known in the local Wolof language—is one of the biggest religious events in Islam and takes place in Touba, Senegal's second-most populous city. It celebrates the life and teachings of Amadou Bamba, the founder of the Mouride Brotherhood, a major sect within Sufi Islam.
What Is Sufi Islam?
Islam is usually thought of in terms of one of its two main variants. The vast majority of the world's Muslims follow Sunni Islam—which is dominant in the Persian Gulf, across Africa and many parts of Asia—while a minority follow Shiite Islam, most notably citizens of Iran.
Sufism is not a third sect of Islam but rather a mystical aspect of the religion that is practiced across Sunni and Shiite Islam. Sufis often focus on the ascetic elements of religion—disavowing material wealth and possessions—and have distinctive types of prayer, including the recitation of the names of Allah, sometimes to music. Sufis belong to orders, known as tariqas, with a master, or murshid, who acts as a spiritual director.
Who was Amadou Bamba?
Bamba was born in Senegal in the mid-19th century to a father who was a religious teacher in the Qadiriyya sect, Senegal's oldest tariqa. But as a young man, he founded his own religious order, known as the Mouride Brotherhood, with an emphasis on the value of hard work and submission to authority.
Even though Bamba was an avowed pacifist, he was viewed as a rabble-rouser by French colonial authorities in Senegal, which gained its independence only in 1960. The authorities exiled Bamba to Gabon and later Mauritania, but the dismissal only contributed to the stories bubbling up around him. In one particular tale, after being forbidden from praying on the boat to Gabon, Bamba leapt into the sea and prayed on a prayer mat that miraculously appeared on the surface of the water.
In the early 20th century, Bamba was allowed to return to his native Senegal. The French authorities even awarded him the Legion of Honor, the highest French military accolade, after he enlisted his followers to fight in World War I. Bamba died in 1927 and is buried near the Great Mosque of Touba, about 120 miles from the capital city of Dakar.
What is the Mouride Brotherhood and what do they believe?
More than 95 percent of Senegal's population is Muslim, and most belong to one of the four main Sufi brotherhoods, of which the Mouride is one. There are thought to be between 3 million to 5 million Mourides in Senegal, according to the BBC. Since Bamba's death, the Mouride Brotherhood has been headed up by his sons and grandsons. The current leader of the group, Sidi Al Moukhtar Mbacke, is Bamba's grandson.
Following the example of its founder, Mouridism emphasizes hard work, and many Mourides are entrepreneurs. The Mouride Brotherhood is also nonviolent: Bamba encouraged a greater or intellectual jihad —the Arabic term for "struggle"—over negativity, ignorance and physical combat.
Some of the order's most famous members include Abdoulaye Wade—Senegal's former president, who was voted out in 2012—and Youssou N'Dour, one of Africa's best-known musicians.
What does the pilgrimage entail?
The annual pilgrimage to Touba has Mourides from around Senegal and the world descend on the city on the 18th of Safar, the second month of the Islamic calendar—which this year corresponds to approximately November 7. Mourides visit the Touba Grand Mosque and pay their respects at Bamba's mausoleum, which they believe to be infused with his spiritual power.
Pilgrims will also listen to talks from religious leaders, sing poems written by Bamba and meet with their own personal religious guides. (This year's pilgrimage was hit by tragedy after two buses collided, killing 25 people and injuring at least 12. One of the buses was reportedly heading to Touba for the pilgrimage.)
Full report at:
http://www.newsweek.com/islam-pilgrimage-hajj-senegal-amadou-bamba-709516
--------
Somalia: Somaliland Votes Despite Lack of Recognition
By Sella Oneko
Nov 14, 2017
Voters in Somalia's semi autonomous state of Somaliland went to the polls on Monday in a presidential election. The state has been seeking international recognition for 26 years without success.
For incumbent President Ahmed Mohamud Silaanyo, this was his last term in office. The president of the state that is internationally still treated as an autonomous region of Somalia, plans to hand over power to one of three fresh presidential candidates: Muse Bihi of Silaanyo's Kulmiye party, Abdirahman Iro and Fasyal Ali Warabe from the opposition. All are seasoned politicians.
There is no clear favorite, analysts say, which makes it an unusually interesting election for the region. "Very often, the winner is known before the election day," said Laura Hammond, a regional expert from the London-based institution SOAS.
While the self-proclaimed state has to date not received recognition as an independent state from any African or non-African country, the elections in Somaliland bear both domestic and international significance.
"Whatever the state of Somaliland is, the people of Somaliland are still here and still have the right to determine how they are governed," argued Michael Walls, chief observer of the International Election Observer Mission (EOM) to Somaliland. His team of 60 observers is made up of members of 27 countries and has taken on the task of observing both the campaigns and the polling exercise, as well as the legal procedures that may precede it.
Plans to deepen the port in Berbera with the help of the United Arab Emirates (UAE), is one of the main points of discussion around the elections. "This is a potential boon for Somaliland if the resources are managed in a transparent and responsible way and a real opportunity for Ethiopia which is landlocked and largely relies on the port in Djibouti," explained Hammond. Similarly, Kuwait financed the renovation of the main airport in the capital Hargeisa.
A second deal with the UAE to build a military base in Berbera is more controversial. "A lot of people feel that this was done without proper consultation and not everyone is fully in support of a military base by a foreign nation," said Hammond.
The relationship to Somalia
While domestic politics may determine the outcome of the polls, the debate about the recognition of Somaliland as an independent state is rife in the minds of everyone. Somaliland broke away from Somalia in 1991, when Somalia descended into a civil war. It has since tried to attain international recognition without success.
For the last 26 years, both African and western nations maintained that independence needs to come through negotiations with Somalia's government in Mogadishu. "That's frustrating for Somaliland because they say there's not really a responsible government in the south to interact with," said Hammond. "And why should Somaliland, which has generally had peace and security in the last 26 years be held back by a country in the south that has not been able to manage its own affairs, from a Somaliland perspective." On the other hand, Hammond says, many there are still southerners who live in Somaliland and vice versa. These people of course still hope for national unity.
Hope for fair elections
"Somaliland has a pretty impressive record in constructing peace in an area that is quite difficult and also in holding elections on a number of occasions to date," said Walls from EOM. With continued presence of Islamist militants in Somalia, the political crisis in Yemen and firm grip of power of Ethiopia's ruling party, free elections are a rare occurrence in the Horn of Africa. Even in Somaliland the elections were delayed for two years, after the end of the five year term in 2015.
For these elections over 700,000 voters - that's about 20 percent of the population - were the first in the world to register with biometric eye scanners. Political allegiances are very often determined through clan politics, which have in the past cast doubt over the electoral process. "There's a faith in the voter register that it's no longer rigged as it was in the past with multiple registrations and so on. So in that sense, the introduction of the new voter register has been very helpful in enhancing the integrity of the elections," said Walls.
Human rights groups criticized the government over a planned shutdown of social media services at the end of polling day. The government argued that it made this decision in an attempt to curb the spread of false information. Parliamentary elections are due to be held in April next year.
A geopolitical stake
What is also at stake for both the people of Somaliland and its neighbors is its handling of trade and diplomatic relationships. "For the youth, they need a leader who can develop the economy and bring jobs so that everybody can stay in their country to enjoy their lives," a university student, Ismail Mohamed, told the news agency AFP.
With a port in the Gulf of Aden, a sea route previously plagued by piracy that is key in connecting Asia to the Suez Canal and then to Europe, the international community sees Somaliland's stability as important.
Twenty-five years and counting
Since its establishment in 1991, the international community has stopped short of recognizing Somaliland as an independent state. But this quasi country continues to survive. Its isolation means little is known about it. Somaliland has 850 kilometers of unspoilt beaches. But Somaliland isn't entirely forgotten, not regionally, hence potentially crucial ties with Ethiopia continue to strengthen.
Creeping conservatism
Poverty and unemployment in Somaliland remain stubbornly high. Some locals already express concern about a steady drift toward Islamic conservatism in Hargeisa: music no longer blares out from tea-shops and more women are adopting black Muslim 'abayas' rather than colorful Somali robes. Others, however, say religious conservatism co-exists in harmony with a liberal free market society.
Long road ahead
Somaliland officials hope that their country will benefit from their ties to neighboring Ethiopia and that some of Ethiopia's economic growth will rub off. But much investment is needed at Berbera Port before more ships can arrive. The smart asphalt road Ethiopia built to the shared border becomes less suited to heavy traffic on the Somaliland side.
Hargeisa phoenix
Somaliland's tenacity finds its clearest demonstration in the capital, Hargeisa. "In 1991 it had been totally destroyed. It was rubble and waste," says Saeed Mohamoud, director of Horizon Institute, a Somaliland consultancy firm helping communities move towards development and stability. "Vital life was brought back by local entrepreneurs who took local 'dhow' boats to get supplies in Dubai."
Somali vigour
Nowadays, arrivals to the sun-blasted city of 800,000 people encounter a mish-mash of chaotic local market commerce alongside diaspora-funded construction. Amidst the market stalls, Hargeisa boasts glass-fronted office buildings, Wi-Fi enabled cafes and air-conditioned gyms, all suffused with characteristic Somali energy and dynamism.
Lifeline from diaspora and livestock
Somaliland depends on money sent by its diaspora--more than $400 million (352 million euros) annually--and livestock sales to Arab countries generating 65 percent of national income. Its government has a tiny budget and relies on the support of local clans. It is hard for any government to prove its efficacy to international organizations, local NGOs and the private sector.
Financial seclusion
Non-statehood deprives Somaliland of direct large-scale international support from institutions like the World Bank and International Monetary Fund. For these members of the Somaliland Seaman's Union at Berbera Port's docks, it means they are not paid the same wages--they earn about $250 (220 euros) a month--as foreign workers as they do not belong to an internationally recognized organization.
Stability, for now
Peace and security hold in Somaliland, so effectively that money-changers can safely stash bundles of cash on the street. But the country's economic potential remains untapped, trapping its people in endless cycles of dependence. Patience may be running out, although locals do their best to welcome foreign visitors: "Thank you for coming," they often say. "Please tell people about our country."
Build and acknowledged
Berbera's modern port is now on the brink of a major expansion. Somaliland and Ethiopia signed a trade agreement March 31, 2016 on using the port. Such developments could transform and return Berbera to operating as a regional transportation hub, help develop Somaliland, while funding its nation-building ambitions.
Berbera Corridor
Full report at:
http://allafrica.com/stories/201711140001.html
--------
Nigeria: El Zakzaky's Continued Detention Exposes Buhari's Regime to Ridicule - Falana
13 NOVEMBER 2017
By Kayode Mathew
The leader of the Islamic Movement in Nigeria, Sheik Ibraheem Elzakzaky and his wife, Hajia Zainab Elzakzaky have been languishing in detention for about two years now. They were arrested on December 14 2015 after the supporters of the Shi'ite movement had a violent encounter with the convoy of the Chief of Army Staff along Zaria road which led to the invasion of the cleric's home by security forces where over 300 IMN members were reportedly killed.
El Zakzaky lost his left eye during the invasion and has expressed fear that he could lose the remaining one while some of the bullets lodged in his wife's body during the attack on December 14 2015 have not been extracted.
On December 2 2016, the Abuja Division of the Federal High Court however ordered the release of Zakzaky and his wife from detention The court also awarded them reparation of N50million and directed the Federal Government to provide a temporary accommodation for the couple since it was established that the Nigerian Army and the Kaduna state government had burnt and demolished their private residence located at Zaria. The government has however refused to comply with the order claiming that they were put under protective custody.
Counsel to the detained couple, Mr Femi Falana, SAN, has therefore made a fresh request for their release in a letter to President Muhammadu Buhari dated November 7 2017.
In a further interview with Saturday Vanguard, Mr Falana lambasted the Buhari regime for treating the orders of court with disdain.
In his letter, Mr Falana told president Buhari that "in your New Year message of January 1, 2017, you urged members of the Shiite Community to embrace peace and obey the laws of the land. At the same time you directed all law enforcement agencies in the country "to treat them humanely and according to the rule of law." But in utter contempt of the orders of the Federal High Court and in total disregard of your directive, the State Security Service has refused to release the couple from illegal custody. Thus, the dangerous impression has been created by the State Security Service that the federal government does not operate under the Rule of Law.
In case the Federal Government is not prepared to direct the State Security Service to comply with the orders of the Federal High Court we are compelled to urge you to order the release of the couple on health grounds. Although Sheik Elzakzaky lost his left eye while he is on the verge of losing the right eye sequel to the brutal treatment meted out to him by the armed soldiers, the State Security Service has denied him foreign medical treatment recommended by the local specialists who had attended to him. Even the alternative arrangement put in place by the family of the Sheik to bring eye specialists from abroad to treat him in custody has equally been rejected without any legal justification.
"It may interest you to know that the medical condition of Mrs Zainab Elzakzaky is by far worse than that of her husband. For reasons best known to the State Security Service, some of the bullets lodged in her body during the brutal attack of December 14, 2015 have not been extracted up till now. In the circumstances, she has been subjected to excruciating pain and agony, on a daily basis. Her life which is currently in danger may be saved and prolonged if she is allowed to receive adequate medical attention without any further delay".
Mr Falana further said that the Judicial Commission of Enquiry which was set up by the Kaduna State government to investigate the remote and immediate causes of the violent attack unleashed on the Shiites in December 2015 did not recommend the indefinite incarceration or prosecution of Sheik Elzakzaky and his wife for any criminal offence whatsoever. Therefore, they should be allowed to regain their fundamental right to personal liberty guaranteed by Section 35 of the Constitution and Article 6 of the African Charter on Human and People Rights (Ratification and Enforcement) Act (CAP A10) Laws of the Federation of Nigeria, 2004.
Mr Falana also defended his decision to defend the Islamic cleric who has been accused of being an extremist.
He said "I have heard the argument that Elzakzaky is a Muslim fundamentalist. I was not engaged to defend any allegation of religious extremism. I know some members of the Islamic Movement in Nigeria serving at the highest level of the federal government. I do not want to get engaged in the feud between the Shiites and Sunnis in Nigeria. Even though President Buhari is not a Shiite he has been alleged to be a Muslim fundamentalist. I don't want to get engaged in such sterile and diversionary debates to cover up or justify the reckless brutalisation of the Shiites by the Nigerian Army.
"As far as I am concerned a citizen can only be said to be lawless in a failed State. But in any country where the rule of law operates no citizen is above the law. I always insist that any citizen who runs foul of the law should be prosecuted. That is why I am strenuously opposed to impunity in all its ramifications. Since December 2015 when the Sheik Ibraheem Elzakzaky and his wife were arrested and detained I have challenged the federal government to charge them to court. Neither the federal government nor the army has come up with any charge against them. Governor Nasir El Rufai of Kaduna state set up a Judicial Commission of Inquiry to probe the military invasion of the worshipping centre of the Shiites in Zaria in December 2015. The panel did not recommend the trial of Elzakzaky as he was not found to have committed any criminal offence. On the contrary the judicial panel recommended the prosecution of the armed soldiers who massacred 347 Shiites and buried them secretly in an unmarked grave. Governor El Rufai has refused to allow the prosecution of the murderers. Can you believe that the Kaduna state government charged some of the survivors of the massacre with culpable homicide? Just two days ago, the high court upheld the no case submission of my colleague, Mr. Maxwell Kyon and dismissed the spurious charge.
"Before then we had sued the federal government to justify the indefinite detention of Elzakzaky and his wife without trial. What was the defence of the federal government? The Federal High Court was told that they were in protective custody. No allegation that they committed any specific offence. The presiding judge, Justice Kolawole concurred with us and held that the detention of the Elzakzakys was illegal and unconstitutional. Consequently, the judge ordered the release of the couple. That was on December 2, 2016. By the way, the judge is a Christian. I am not a Muslim. My colleagues, Festus Okoye, Maxwell Kyon, Deji Morakinyo and Samuel Ogaka who are handling the cases with me are Christians. For us in the human rights community the religion or ethnic origin of a victim of human rights abuse is totally irrelevant.
While many Nigerians have swallowed the propaganda of the aggressors hook, line and sinker the human rights community has insisted that no citizen should be detained without trial. Hence, the human rights community has demanded the release of Elzakzaky and his wife as well as Col Sambo Dasuki on the grounds that the courts have ordered their release from illegal custody".
Lambasting the Buhari regime for its flagrant disobedience of court order, Mr Falana said "the Buhari regime is struggling to operate under the rule of law. Hence, court orders are treated with disdain. Under the defunct military dictatorship a citizen could not be detained outside the State Security (Detention of Persons) Decree No 2 of 1984 signed by General Buhari. Under the current political dispensation a citizen cannot be detained beyond 24 or 48 hours without a remand order issued by a magistrate court pursuant to section 293 of the Administration of Criminal Justice Act. No court has authorised the detention of the Elzakzakys. On the contrary a court of competent jurisdiction has annulled their detention.
There are 12 lawyers in the federal cabinet including the Vice President, Attorney-General, Secretary to the Federal Government, Minister of Communication, Minister of Information etc. Regrettably, they have not been able to convince President Buhari to call the State Security Service to order. By failing to insist that the federal government be run under the rule of law they have allowed the State Security Service to expose the federal government to ridicule through arrogant disobedience to court orders.
"In my letter, I reminded President Buhari that he was once detained by the Babangida military junta. Notwithstanding that the Buhari/Idiagbon military regime had detained me, I convinced my colleagues to demand the release of both Generals Buhari and Idiagbon when they were detained by General Babangida. When the Abacha junta convicted General Olusegun Obasanjo and other serving and retired military officers and sentenced them to death we mounted a campaign for their release. So, if my law firm had not been directly engaged by the Elzakzakys I would still have led the campaign for their release. In making a fresh demand for the release of the couple I am challenging the inexplicable impunity of the State Security Service in defying the valid and subsisting orders of the federal high court.
"For tactical reasons I cannot disclose our options and strategies for now. But I can assure you that we are going to enforce the orders of the federal high court very soon. This is the first time since 1914 that a government, be it alien or indigenous, military or civilian, dictatorial or democratic, has detained a couple for almost two years without trial. I expect the President to order our clients' release without any further delay".
He also confirmed that the panel set up by the Kaduna State Government met the couple in custody with a view to taking their evidence but they declined to give evidence before the panel. According to Mr Falana, "The Sheik revealed to the panel the extent of the brutalisation of his person and his wife, the killing of his sister and three of his children in his presence, the loss of one of his eyes, the fear of losing the remaining one and the refusal of the federal government to extract some bullets from his wife's body. But when the army counsel wanted to cross examine the Sheik he declined on the ground that he could only be cross examined in the open and not in camera. As counsel we could not fault his principled stand.
Full report at:
http://allafrica.com/stories/201711140009.html
--------
North America
U.S. to Fight Islamic State in Syria 'As Long as They Want to Fight': Mattis
Nov. 13, 2017
WASHINGTON (Reuters) - The U.S. military will fight Islamic State in Syria "as long as they want to fight," Defense Secretary Jim Mattis said on Monday, describing a longer-term role for U.S. troops long after the insurgents lose all of the territory they control.
As U.S.-backed and Russian-backed forces battle to retake the remaining pockets of Islamic State-held terrain, Mattis said the U.S. military's longer-term objective would be to prevent the return of an "ISIS 2.0."
"The enemy hasn't declared that they're done with the area yet, so we'll keep fighting as long as they want to fight," Mattis said, speaking to reporters at the Pentagon about the future of U.S. operations in Syria.
He also stressed the importance of longer-term peace efforts, suggesting U.S. forces aimed to help set the conditions of a diplomatic solution in Syria, now in its seventh year of civil war.
"We're not just going to walk away right now before the Geneva process has traction," he added.
U.S. President Donald Trump and Russian President Vladimir Putin affirmed joint efforts to stabilize Syria as its civil war wanes, including with the expansion of a July 7 truce in the southwestern triangle bordering Israel and Jordan.
Mattis said he believed the southwestern zone was working, and spoke hopefully about additional areas in the future that might allow for more refugees to return home.
"You keep broadening them. Try to (demilitarize) one area then (demilitarize) another and just keep it going, try to do the things that will allow people to return to their homes," he told reporters at the Pentagon.
He declined to enter into specifics about any future zones.
Russia, which has a long-term military garrison in Syria, has said it wants foreign forces to quit the country eventually.
Turkey said on Monday the United States had 13 bases in Syria and Russia had five. The U.S-backed Syrian YPG Kurdish militia has said Washington has established seven military bases in areas of northern Syria.
The U.S.-led coalition says it does not discuss the location of its forces.
One key aim for Washington is to limit Iranian influence in Syria and Iraq, which expanded during the war with Islamic State.
https://www.usnews.com/news/world/articles/2017-11-13/us-to-fight-islamic-state-in-syria-as-long-as-they-want-to-fight-mattis
--------
Tillerson to deliver warning in Myanmar
November 14, 2017
WASHINGTON - In the face of widespread "atrocities" against ethnic Rohingya people in Myanmar , the United States has been cautiously stepping up pressure on that country's army, while taking care to avoid endangering the civilian government of Aung San Suu Kyi.
As the US takes a more active role in the region - several American delegations have passed through in recent weeks - Secretary of State Rex Tillerson plans to travel to Myanmar on Wednesday to meet Suu Kyi, the nation's leader, as well as army chief General Min Aung Hlaing. Myanmar is the country formerly known as Burma.
Tillerson is expected to adopt a firm tone with military leaders there, whom he has deemed "responsible" for the crisis facing the Rohingya, an embattled Muslim minority that has seen more than 600,000 of its members flee to neighboring Bangladesh in two and a half months. In the name of putting down a supposed Rohingya rebellion, the army has since late August waged a sweeping military campaign in the western state of Rakhine, burning villages and sending thousands into what has become the largest exodus in today's world.
The United Nations has denounced the campaign, including allegations of killings and mass rape, as "ethnic cleansing."
Recently returned from Myanmar and the overflowing refugee camps in Bangladesh, Simon Henshaw, the State Department official responsible for refugee and migration issues, said the scene in the camps was "shocking."
"The scale of the refugee crisis is immense," he said, adding: "The conditions are tough. People are suffering."
"Many refugees told us, through tears, accounts of seeing their villages burned, their relatives killed in front of them," Henshaw said.
"The world can't just stand by and be witness to the atrocities that are being reported in that area," Tillerson said last month.
But it is unclear what steps the United States might take. Up to now, the State Department has merely strengthened a few punitive measures aimed at Myanmar 's army. The initial condemnations were "important," Sarah Margon of the organization Human Rights Watch told AFP, "but they stopped and there has been very little concrete action since then." She called for targeted economic sanctions meant to bring an end to "some of the most brutal and horrific atrocities that have been seen in years."
In the absence of more determined action from the White House or State Department, several members of the US Congress are calling for sanctions to limit military cooperation with Myanmar and ban its army members from US soil. A draft bill would also ban the importation of rubies or jade from the country.
"The bill is an important, although belated, first step in pushing the Myanmar military to end the violence in Rakhine state," said Joshua Kurlantzick of the New York-based Council on Foreign Relations.
Now, he said, other parts of the government "should take action as well."
The State Department has not ruled out supporting further sanctions. But the United States has been careful not to place blame on Aung San Suu Kyi, drawing a line between the military and the civilian government led by the Nobel Peace Prize laureate.
While Suu Kyi has faced considerable criticism abroad for her apparent lack of empathy for the Rohingya, Washington has reaffirmed its support for her, saluting her commitment to allow the peaceful return of refugees.
The US ambassador to the United Nations, Nikki Haley, did however take a side swipe at Suu Kyi, saying the situation in her country "should shame senior Burmese leaders who have sacrificed so much for an open, democratic Burma."
The United States wants to support "the transition to a civilian government (but) make sure there's no backsliding," said a senior State Department official, speaking on background while emphasizing that Suu Kyi, once a dissident, has to deal with an army that ruled unchallenged for nearly a half-century.
And new sanctions could be taken badly in Myanmar , said historian Thant Myint-U. In the past, he told AFP, sanctions "made any transition to democracy less likely to succeed, and entrenched the isolation that is at the heart of all of Burma's problems."
Margon of Human Rights Watch acknowledged that Myanmar is in "really a difficult, delicate balance," and added that the civilian government had been "very disappointing" in its handling of the refugee crisis.
Still, she added, "they are not the ones committing the atrocities, they are not the ones responsible for the ethnic cleansing."
But Margon and, separately, Kurlantzick said the United States could privately deliver a stern message to Suu Kyi on the urgent need to do more.
Full report at:
http://nation.com.pk/14-Nov-2017/tillerson-to-deliver-warning-in-myanmar
--------
US envoy assures Israel that US will move embassy to Jerusalem
Nov 13, 2017
US Ambassador to Israel David Friedman says President Donald Trump will keep his promise to move the American embassy from Tel Aviv to Jerusalem al-Quds, indicating that Washington recognizes the city as the capital of Israel.
The American envoy made the comments Sunday evening at the Zionist Organization of America's annual gathering in New York City.
"The president has also made clear that he intends to move the United States embassy from Tel Aviv to Jerusalem. It is not a question of if, it is a question of when. And I take the president at his word, and I'm personally committed to do all that I can to advocate for this move," he said.
During his 2016 campaign, Trump came up with the controversial proposal that caused a lot of discussions.
"The United States government treats Israel as it deserves to be treated - as a critical, strategic, and trusted ally in one of the world's toughest neighborhoods," Friedman said.
Obama committed 'greatest betrayal of Israel'
Palestinians oppose the move and have repeatedly warned Trump against such an action.
"I hope you agree with me that we have turned a page since the dark days of last December. Gone are the days when the United Nations bashes Israel with impunity," Friedman said.
He was referencing the US refusal to veto a Security Council resolution under former President Barack Obama, reversing Washington's longstanding policy of shielding the Israeli regime from condemnatory resolutions at the world body.
"We came into office on the heels of perhaps the greatest betrayal of Israel by a sitting president in American history," said Friedman, citing Resolution 2334.
The current US envoy, who once served as the president of American Friends of Bet El Institutions, an institution supporting the illegal settlement of Bet El, also backed the US envoy to the United Nations, another pro-Israel figure in the US politics.
"In Ambassador Nikki Haley, there is truly a new sheriff in town down the block in Turtle Bay," said the US ambassador to Israel.
Hailed as a "great friend to the Jewish people" by Israeli Prime Minister Benjamin Netanyahu, President Trump has mended ties with Israel that had gone sour under Obama, in part due to his resolve to participate in nuclear negotiations with Tehran, which yielded a nuclear deal not welcomed by US regional allies, namely Israel and Saudi Arabia.
Full report at:
http://www.presstv.com/Detail/2017/11/13/542099/US-to-move-embassy-to-Jerusalem-alQuds
--------
Muslim Scholar Starts Crowd-funding For First 'Pesantren' In US
November 14, 2017
Shamsi Ali, an Indonesian national and respected Muslim scholar who lives in New York, has started an online crowdfunding campaign to build the first ever Indonesian pesantren, or Islamic boarding school, in the United States.
Shamsi plans to name the school Pondok Nusantara Madani USA. In order to realize his plan, the Bulukumba, South Sulawesi native is calling upon his fellow Indonesian Muslims to donate through his Nusantara Foundation or the Indonesian crowdfunding platform, Kitabisa.com.
The prominent religious figure, who served as imam from 2001-2011 of The Islamic Cultural Center of New York, the largest mosque in New York City, and who is known for promoting moderate Islam and interfaith dialog, stressed that it was important to gather support to establish an Islamic school founded on Indonesia's moderate Islam in the US.
"There is still no Islamic education center in the US that is managed by Indonesian Muslims, when we actually have a more unique ways of dakwah [religious proselytizing] than Muslim communities from Pakistan or Middle Eastern countries," Shamsi said in a written statement published on Monday on Kitabisa.com.
He has found a location for the planned boarding school, on a 7.4-hectare plot of land in the East Coast state of Connecticut. However, he said, as he had very limited time to pay for the land, he hoped Indonesian people would be willing to donate.
"I have spoken to the landlord, and I have until the end of November to give them full payment. Otherwise, he will give the land to another party," Shamsi said.
The total funds needed to establish the school is around US$1 million, of which $750,000 will be used to pay for the land and the rest for land clearing and development.
Full report at:
http://www.thejakartapost.com/news/2017/11/14/muslim-scholar-starts-crowdfunding-for-first-pesantren-in-us.html
--------
US Congress decides against including action against LeT as condition for funds to Pakistan
Nov 14, 2017
Shailaja Neelakantan
NEW DELHI: It appears the US Congress has decided against including action against terror group Lashkar-e-Taiba (LeT) as a condition to reimburse Pakistan for its cooperation in the ' war on terror+ ', reported Pakistan's Dawn newspaper.
A new version of the US bill authorising such payments to Pakistan from the Coalition Support Fund, retains action against the Haqqani Network but has no mention of the LeT, Dawn said citing the 'National Defense Authorization Act (NDAA 2018) for Fiscal Year 2018 Conference Report.'
The Haqqani Network, a deadly offshoot of the Taliban, focusses its terror activities on Afghanistan. The LeT - which is banned - carries out its terror acts in India; its founder Hafiz Saeed masterminded the 2008 Mumbai terror attacks.
In September, the version of NDAA 2018 passed by the US Senate said Pakistan must show "it has taken steps to demonstrate its commitment to prevent the Haqqani Network and Lashkar-e- Taiba from using any Pakistan territory as a haven and for fundraising and recruiting efforts", reported PTI in September.
Now, the `conference' version of the NDAA 2018 - which is the bill that removes the differences between the Senate's version and that of the House of Representatives - focusses entirely on the Haqqani Network.
Full report at:
https://timesofindia.indiatimes.com/india/us-congress-decides-against-including-action-against-let-as-condition-for-funds-to-pakistan/articleshow/61639258.cms
--------
Appeals Court Partly Reinstates Trump's New Travel Ban
By MIRIAM JORDAN
NOV. 13, 2017
LOS ANGELES — A federal appeals court in California on Monday allowed President Trump's latest travel restrictions to partly take effect, ruling that the government can bar entry to people who come from six majority-Muslim countries and who lack ties to the United States, thus handing the administration a momentary victory.
In a two-paragraph order, a panel of three judges from the United States Court of Appeals for the Ninth Circuit in San Francisco ruled on the administration's request to block a lower court's decision, from a federal judge in Hawaii, that prevented the latest travel policy from being implemented.
The appeals panel on Monday upheld that ruling for people with a "bona fide relationship" with close family or an entity in the United States, like a university or company. But the court blocked the lower court's decision for people from the six countries without such ties, meaning they can now be kept from entering the United States.
The restrictions will apply to travelers from Chad, Iran, Libya, Somalia, Syria and Yemen. The latest ban also blocks travel by certain Venezuelan government officials and most North Koreans; courts have not stopped the administration from enacting the restrictions on those countries.
Lauren Ehrsam, a spokeswoman for the Justice Department, said on Monday: "We are reviewing the court's order, and the government will begin enforcing the travel proclamation consistent with the partial stay." She added that the administration, which continues to appeal the lower court's ruling, believes that the ban "should be allowed to take effect in its entirety," regardless of whether someone has a tie to the United States.
It is unclear how many people who enter the United States have ties to the country. In general, people who come with an immigrant visa have a familial relation that enabled them to qualify for a green card, or legal permanent residency. Students and people with job offers would most likely be considered to have a tie to a United States organization, but those who come for vacation or medical care would not.
In unveiling the third iteration of the travel ban in late September, the administration said that the eight countries did not share with the United States information to enable proper screening of their nationals.
The administration crafted the latest policy after judges ruled that the previous two versions were unconstitutional attempts to bar Muslims from the country and violated the Constitution.
A day before the newest ban was to go into effect, Judge Derrick K. Watson of Federal District Court in Honolulu issued a nationwide order that froze most of it. A day later, a federal judge in Maryland issued a similar but narrower order, which halted the ban only for people with bona fide ties to the United States.
Both judges deemed the ban to be discriminatory against Muslims and similar to the previous ones.
In Maryland, Judge Theodore D. Chuang of the Federal District Court in Greenbelt cited the president's statements and Twitter messages criticizing Muslims to justify his ruling.
"To extent that the government might have provided additional evidence to establish that national security is now the primary purpose for the travel ban, it has not done so," he wrote.
In Hawaii, Judge Watson wrote that the latest ban "suffers from precisely the same maladies as its predecessor."
The Trump administration appealed both decisions, citing national security concerns. It said that it is not trying to bar Muslims from entering the United States, but rather to exercise control over who enters from some of the world's most menacing countries.
The Ninth Circuit's decision on Monday limits the scope of the Hawaii injunction and brings it in line with the one issued in Maryland.
"This is certainly good for the administration," conceded Betsy Fisher, policy director for the International Refugee Assistance Project, the lead plaintiff in the Maryland case. Ms. Fisher added that for travelers from the six countries, however, "everyone can expect longer processing times to allow for proving bona fide relationships."
The Supreme Court was scheduled to review the second version of the ban when Mr. Trump issued the third, and legal experts believe the latest version will reach the top court.
Last month, Mr. Trump signed an executive order to resume the refugee resettlement program, which had virtually ground to a halt in June. But that order also imposed new restrictions on 11 countries until the government has completed a 90-day review of security measures. Nearly half of all refugees that arrived in the United States last year were nationals of one of the countries.
Full report at:
https://www.nytimes.com/2017/11/13/us/travel-ban-reinstated-appeal.html?mtrref=www.google.co.in&gwh=9386089190B0EF3CB83FCE9CCB133466&gwt=pay
--------
URL: https://www.newageislam.com/islamic-world-news/mosul-rebuilding-with-music-after/d/113221
New Age Islam, Islam Online, Islamic Website, African Muslim News, Arab World News, South Asia News, Indian Muslim News, World Muslim News, Women in Islam, Islamic Feminism, Arab Women, Women In Arab, Islamophobia in America, Muslim Women in West, Islam Women and Feminism