New Age Islam News Bureau
10 Feb 2019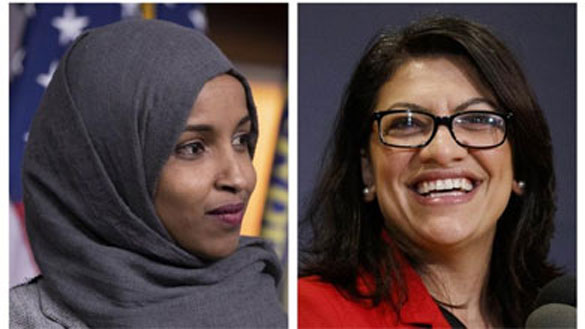 FILE - This combination of 2018 photos shows then-Representatives-elect Ilhan Omar, Democrat-Minnesota, left, and Rashida Tlaib, Democrat-Michigan, in Washington.
------
• Mosques Losing Sway over Youth Because Of Online Sermons, Study Shows
• Pope to Visit Moroccan Imam School to Boost Moderate Islam
• Extremism 'Weakening Arab States,' Arab Parliament Forum Told
• Where From Pro-Caliphate Hefazat e Islam Kingpin Ahmad Shafi Gets The Courage Of Making Audacious Statement Against Ahmadiyyas?
• Muslim Lawmakers' Criticism of Israel Pressures US Democrats
• Saudi Investments To Aid Cash-Strapped Pakistan
• Peace among OIC Muslim States 'Easily Achievable'
• Trends in the Spread of Radical Islam in Africa: The Case of the Democratic Republic of the Congo
Southeast Asia
• Mosques Losing Sway over Youth Because Of Online Sermons, Study Shows
• Turkey Urges China to Respect Uighur Rights, Close Camps
• Want Free Water? Help Build Our Caliphate, Hizbut Tahrir Tells Muslims
• Indonesia sees US$1.6 billion windfall from halal labelling rule
• Ahok joins Indonesia's ruling party PDI-P
--------
Europe
• Pope to Visit Moroccan Imam School to Boost Moderate Islam
• Macron may ease strict secularism laws to tackle radical Islam
• Wary hope for French families awaiting returns from Syria
--------
Arab World
• Extremism 'Weakening Arab States,' Arab Parliament Forum Told
• Kushner to visit Middle East to brief on economic component of peace plan
• Lattakia: Syrian Army Ready for Imminent Operation Against Terrorists
• US-backed Syrian force launches 'final battle' against ISIS
• Qatar strongly protests airspace violation by Bahrain
• US behaviour could trigger new Israel-Lebanon conflict: Russian envoy
• US-led airstrikes claim 3 more civilian lives in Syria's Dayr al-Zawr
• Caught in Syria, foreign terrorist suspects may face trial in Iraq
--------
South Asia
• Where From Pro-Caliphate Hefazat e Islam Kingpin Ahmad Shafi Gets The Courage Of Making Audacious Statement Against Ahmadiyyas?
• Afghan, Coalition Forces Kill 30 Taliban, ISIS-K Militants in Past 24 Hours
• Afghan Special Forces rescue 7 civilians from a Taliban prison in Helmand
• Afghan intelligence arrest 3 HQN members in connection to deadly Kabul bombings
• Afghan forces repulse Taliban attack in Sar-e-Pul province
• Dozens of militants killed as Afghan, coalition forces ramp up operations
• Afghan lawmaker says airstrikes kill 21 civilians
• Taliban warned against peace deal without Kabul's consent
• US steps up airstrikes on Taliban to gain leverage in peace talks: Reports
• Foolproof security measures sketched for Bishwa Ijtema
• Taliban's military commission chief killed in Ghazni airstrike
--------
North America
• Muslim Lawmakers' Criticism of Israel Pressures US Democrats
• Israel, US hold small-scale joint war game
• Canadian receives life sentence for Quebec mosque shooting
• Taliban, US form joint working groups on troop withdrawal from Afghanistan
• Trump ignores Senate deadline on Khashoggi killing
--------
Pakistan
• Saudi Investments To Aid Cash-Strapped Pakistan
• PM Khan, IMF chief meet today in Dubai to speed up bailout talks
• PML-N, PPP react sharply to Imran's latest diatribe
• Bilawal alerts Pakistan as US hopes to reach Afghan peace deal in July
• PTM activists arrested for protesting released on bail in Quetta
--------
Mideast
• Peace among OIC Muslim States 'Easily Achievable'
• Israel to confiscate Palestinian land for sewage network in central West Bank
• Palestinians bury 14-year-old killed during Gaza protest
• Arab coalition denies supplying US weapons to Iran-backed Houthis
• Israel arrests Palestinian suspect in teenager's killing
• Iran opposition group calls for regime change in Paris march
• Israeli gunfire kills Gaza teens during border protests
--------
Africa
• Trends in the Spread of Radical Islam in Africa: The Case of the Democratic Republic of the Congo
• Air strikes target al-Feel oilfield in southern Libya
• Tunisian court sentences seven terrorists to life for deadly 2015 attacks
• Boko Haram: from Islamist sect to armed threat
• Five killed in fire at camp for Boko Haram displaced
--------
India
• Maulana Arshad Madani Addresses Inter-Religious Symposium In Austria
• Maharashtra ATS: 10 held with 'IS links' planned big attack to seem 'credible recruits'
• Another JMB terrorist in cop net
• Pakistan PM Imran Khan's statement on minorities an 'insult to Indian citizens': MEA
• Kashmir: Shutdown in Valley on Afzal Guru's death anniversary
Compiled by New Age Islam News Bureau
URL: https://www.newageislam.com/islamic-world-news/mosques-losing-sway-youth-online/d/117705
--------
Mosques Losing Sway over Youth Because Of Online Sermons, Study Shows
Ivany Atina Arbi
February 10, 2019
For centuries, mosques have served as places where Muslims deepen their knowledge of Islamic teachings. The influence of mosques, however, is waning as a result of social media-based preaching.
A 2018 study by the Center for the Study of Religion and Culture (CSRC) at Syarif Hidayatullah Islamic State University (UIN) Jakarta has revealed that young Muslims are losing interest in studying religion in mosques.
The study, which surveyed Muslims aged between 17 and 24 in 18 regencies and cities across the country, also found that social media-based sermons had reduced the influence of religious education in family, organizations or other formal educational institutions.
Twenty-five-year-old Muslim Fitria Jamal, 25, said she was more likely to use YouTube to learn about Islam than go to a mosque to join a kajian (learning forum).
"On YouTube, I can choose topics and preachers that I want to learn and listen to," said the bank staffer, who said social-media savvy preacher Abdul Somad, dubbed the preacher with 1 million viewers, was one of her favorites.
Fitria said it was challenging to find a forum that catered to her preference of discussing fitrah (original nature) of women in Islam.
Another curious Muslim, Faridah Zahra, 25, said she liked to watch Abdul Somad and other famous young preachers like Adi Hidayat and Hanan Attaki on YouTube and Instagram because they provided her with "interesting sermons", such as the relationship between Islam and science.
"Once I was exposed to such scientific knowledge, I became increasingly curious," said the account manager who lives in Bandung, West Java.
Faridah said she liked the idea of visiting mosques more but maintained she would only do it if the mosques presented engaging topics.
Scholars and Muslims gathered in Jakarta recently to discuss how to attract the youth to mosques amid the increasing influence of social media in the proliferation of Islamic teachings.
A lecturer at UIN Jakarta, Masdar F. Mas'udi, said abandoned mosques were prone to being used by radical groups to disseminate their views.
"At least that's what's happening in some mosques in Bogor, West Java, where I studied the phenomenon some years ago," he said recently.
He said mosques needed to enliven themselves to stop the spread of radicalism. Recent reports disclosed that a number of mosques in the country had been infiltrated by groups affiliated with the Islamic State (IS) movement to recruit members for the terrorist network.
"We don't want this to happen again so we need to empower our mosques," Masdar said.
Meanwhile, CSRC UIN Jakarta director Irfan Abubakar said millennials needed to go to mosques to get a thorough understanding of Islam.
Often times, Irfan said, low religious literacy leads to absolutism, which he defined as an attitude of regarding one's own beliefs as the absolute truth.
"Absolutism is a threat to the country's pluralistic society," he said, adding that Muslims with good religious literacy were likely to be open-minded, tolerant and have a positive perception of diversity.
Irfan Amalee, a founder of Peace Generation and activist, said a transformation at mosques was needed to attract millennials. Changes, he said, could take place through fresh and relatable sermon topics, the retraining of mosques' takmir (managers) and preachers and the renovation of mosque buildings to create a fresh ambiance and inspire ideas.
"We shall use new and innovative approaches to create a magnet effect at our mosques," he said, citing several mosques in Bandung that found success in bringing in worshipers by providing free Wi-Fi and developing Instagrammable spots.
https://www.thejakartapost.com/news/2019/02/10/mosques-losing-sway-over-youth-because-of-online-sermons-study-shows.html
--------
Pope to visit Moroccan imam school to boost moderate Islam
By Nicole Winfield?
February 9, 2019
VATICAN CITY — Pope Francis will meet with migrants in Morocco and visit a training institute for imams that seeks to be a bulwark against Islamic extremism during his March 30-31 visit to the North African nation.
The Vatican on Saturday released the schedule for the pope's trip to Rabat, the capital of Morocco.
It comes on the heels of Francis' recent visit to the United Arab Emirates, where he signed a landmark "fraternity" document with a leading Sunni imam and sought to encourage moderate Islam and interfaith ties.
During his visit, Francis will meet with King Mohammed VI as well as the country's priests and religious sisters and celebrate Mass for the Catholic community. His meeting with migrants will take place at the Vatican's Caritas charity. Francis is also planning a visit to a social center outside Rabat.
Morocco has long considered itself a key ally in the fight against Islamic extremism and the king routinely criticizes jihadism and the discourses of radical Islam.
The imam training institute, named for the king, draws Moroccan, sub-Saharan and European preachers. Opened in 2015, it now receives over 700 students a year and is part of government efforts that began in 2004 to counter terrorism and fundamentalist Islam.
Still, Moroccans have made up an unusually large number of Islamic State fighters. The government for decades has sought to supervise the religious teachings of its communities abroad, where some of the Moroccan-born foreign fighters were radicalized.
___
Amira El-Masaiti reported from Rabat, Morocco.
https://www.washingtonpost.com/national/religion/pope-to-visit-moroccan-imam-school-to-boost-moderate-islam/2019/02/09/38b46648-2c70-11e9-906e-9d55b6451eb4_story.html?utm_term=.d8cd748ac2d6
--------
Extremism 'weakening Arab states,' Arab Parliament forum told
February 09, 2019
JEDDAH: Extremism and terrorism have led to a "weakening of the social fabric" in Arab states, an Arab Parliament conference in Cairo has been warned. The Parliament's speaker, Dr. Mishaal bin Fahm Al-Salami, told the high-level forum that political militancy and terrorist activity had paved the way for external interference in some states, particularly by neighboring countries.
"Some of these countries have been able to establish groups within Arab states that owe them allegiance ... and benefit from inter-Arab conflicts," he said.
Al-Salami made his remarks while presiding over the "Achieving Peace and Stability" conference at the Arab League's headquarters on Saturday.
The forum was attended by former and current Arab heads of government and ministers, including Saudi Prince Turki Al-Faisal, chairman of the King Faisal Center for Research and Islamic Studies.
In his opening statement, Al-Salami praised Saudi Arabia for its "pivotal role in maintaining Arab security" and called for greater solidarity among Arab states to deal with external interference.
"This should be based on a thorough and comprehensive vision that strengthens the Arab states and protects their sanctities," he said.
"By holding this conference, the Arab Parliament is acknowledging the great challenges facing our region today. This move is in line with our people's will."
Al-Salami urged Arab leaders to reject conflict, saying: "This will enable us to thwart (those) targeting us and our Arab national security."
The conference promotes "Arab solidarity and cooperation, allowing Arab states to confront current and future challenges and threats," he said.
Al-Salami welcomed the Kingdom's support for the Yemeni people and the establishment of the Arab coalition to support the legitimacy of Yemen.
The coalition will "restore the institutions of the Yemeni state, which were seized by the Iranian Houthi group by force," Al-Salami said.
He also praised King Salman's efforts to achieve peace and historic reconciliation between Ethiopia and Eritrea and between Djibouti and Eritrea to improve security in the Red Sea and Horn of Africa.
Al-Salami highlighted the Kingdom's Neom project, launched with Egypt and Jordan, as an example of Arab economic integration that will also strengthen national security.
http://www.arabnews.com/node/1449601/saudi-arabia
--------
Where from pro-Caliphate Hefazat e Islam kingpin Ahmad Shafi gets the courage of making audacious statement against Ahmadiyyas?
February 9, 2019
Salah Uddin Shoaib Choudhury
The February 8, 2019 issue of Dhaka's front-ranking Bangla daily Jugantor has a most disturbing report. According to it, Ahmadiyya community in Bangladesh has decided to hold an Izteema (religious congregation) in Panchagarh district, which has already come under extreme opposition from the pro-Caliphate group named Hefazat e Islam (HeI) which consists of thousands of madrassa teachers and students. Executive editor of madrassa mouthpiece named monthly Moinul, Sarwar Kamal has circulated a statement from HeI kingpin Ahmad Shafi stating, "Deniers of Khatmey Nabuwat (last prophecy), feet-licking slave of the British, nefarious enemy of the Muslim ummah, Golam Mohammad Kadiani had denied acknowledging Prophet Mohammad (PBUH) as the last prophet. He [Golam Mohammad Kadiani] proclaimed false prophethood with the agenda of deceiving Muslims, being a lapdog of the British. Golam Mohammad was the agent of those British imperialist traders who had ruled Indian subcontinent for 190 years, and had falsely proclaimed himself as the prophet and had participated in anti-Islam propaganda".
Ahmad Shafi has also called upon Bangladesh government to "immediately declare Ahmadiyyas" as "non-Muslims" and has asked the government to stop the Ahmadiyya religious congregation in Panchagarh district [in Bangladesh].
He said, "Despite the fact of being non-Muslims, Qadiyanis are claiming themselves as Ahmadiyya Muslim Jamaat and has been booting the world's prophet [prophet of Islam]. If such things are not stopped forthwith, Hefazat e Islam by joining 'Khatmey Nabuwat Movement' will go into massive anti-Ahmadiyya movement in Bangladesh. Ahmadiyyas should be declared non-Muslims and their naked exposition of audacity [against Islam] should be immediately stopped. Otherwise, any conspiracy will be foiled by the hundreds of millions of towheedi janata [masses of faith]".
Reading this extremely disturbing news in Jugantor, I personally tried to reach the Ahmadiyya Muslim Jamat in Bangladesh. But most possibly they were non-responsive out of fear of any extreme consequence and further hostility by pro-Caliphate Hefazat e Islam and the radical Muslims in Bangladesh. Then I tried to check with an website named Persecution of Ahmadis to get further details of this latest threat by HeI. Unfortunately, there also is nothing, save some old contents of November 2018.
Then I contacted Muzaffar Ahmad Noori Bajwa, editor-in-chief of The Eastern Herald in India and drawing his attention to the latest threat by HeI in Bangladesh, sought his comment, as I have been observing him to be extremely outspoken and a genuine defender of Ahmadiyya rights. In a voice mixed with extreme grief and anger, Muzaffar Ahmad said, "What Mr. Ahmad Shafi of Hefazat e Islam has said is unacceptable, unfortunate and certainly a matter of grave concern. He clearly has attempted to incite fresher persecution on the Ahmadiyyas in Bangladesh. What I want to say here is – we are a peaceful community who always promote peace and harmony admixed with spirituality that denounces religious hatred and extremism. With extreme worries, I am further worried seeing this pro-Caliphate Hefazat e Islam now picking up Ahmadiyya issue taking full advantage of its recent romance with the Bangladesh's ruling party. There is no doubt about Hefazat e Islam enjoying silent patronization from the ruling elites in Bangladesh and a possible cruelty, persecution and violence on the Ahmadiyyas can only be stopped for good through international intervention. I am calling upon the international community, particularly the US President Donald Trump and his administration to this extremely disturbing issue".
Mr. Ahmad further said, "We Ahmadis believe in Khatmey Nabuwat as perceived by Imam Mahdi who is claimed to be the same promised Messiah of later days. We definitely are true Muslims and we believe in Islam of our holy prophet Mohammad (PBUH)".
HeI trying to take revenge of 2013 actions:
In my personal opinion, Hefazat e Islam, taking undue advantage of its recent relations with the ruling Awami Leage is not only trying to implement their pro-Caliphate agenda in Bangladesh but it also is trying to put Prime Minister Sheikh Hasina into an extreme odds. Whatever may the Bangladeshi Prime Minister has been briefed by her advisers and aides about HeI, she needs to remember, this notorious group denounces democracy and aspires of establishing Caliphate. Ideologically, there is no difference between Hefazat e Islam and Islamic State (ISIS). Ahmad Shafi is clearly a clone copy of ISIS kingpin Abu Bakr al Baghdadi. But the most disturbing fact here is – Hefazat's 'human force' is many fold more than that of ISIS. While Islamic State might have some hundred thousand members and supporters till date, the number of pro-HeI people stands at few millions.
While Hei kingpin Ahmad Shafi openly has threatened of joining hands with Khatmey Nabuwat Andolan (KNA), the fact is – KNA already is affiliated with HeI as KNA too mainly consists of madrassa teachers and students. Now the question is – should Bangladesh ban Hefazat e Islam? The reply is – YES, and it should be done right now, before it grows into an unstoppable monster.
The persecuted Ahmadiyya community:
Ahmadiyyas are not only facing persecution in Muslim-dominated Pakistan or Bangladesh but very surprisingly, they also are facing continuous threats, intimidations and persecutions in India as well. Almost on a regular basis, we get news of persecution and injustice on the Ahmadiyyas in India. Very unfortunately, the secularist or even radical Hinduist government in India feel extremely shy in taking any steps in saving Ahmadiyyas from such notoriety. Instead, in some cases, the state machinery play the role of an abettor.
Past record of the persecution of Ahmadiyyas in Bangladesh:
According to the Human Rights Watch website: "The Ahmadiyya Muslim Community (the official name of the community) is a contemporary messianic movement founded in 1889 by Mirza Ghulam Ahmad (1839–1908), who was born in the small village of Qadian in Punjab, India. The Ahmadiyya community is also referred to derogatorily by some as the "Qadiani" (or "Kadiyani") community, a term derived from the birthplace of the founder of the movement. In 1889, Ahmad declared that he had received divine revelation authorizing him to accept the baya'ah, or allegiance of the faithful. In 1891, he claimed to be the expected mahdi or messiah of the latter days, the "Awaited One" of the monotheist community of religions, and the messiah foretold by the Prophet Mohammed. Ahmad described his teachings, incorporating both Sufic and orthodox Islamic, Hindu, and Christian elements, as an attempt to revitalize Islam in the face of the British Raj, proselytizing Protestant Christianity, and resurgent Hinduism. Thus, the Ahmadiyya community believes that Ahmad conceived the community as a revivalist movement within Islam and not as a new religion.
"Members of the Ahmadiyya community ("Ahmadis") profess to be Muslims. They contend that Ahmad meant to revive the true spirit and message of Islam that the Prophet Mohammed introduced and preached. Virtually all mainstream Muslim sects believe that Ahmad proclaimed himself as a prophet, thereby rejecting a fundamental tenet of Islam: Khatme Nabuwat (literally, the belief in the "finality of prophethood"— that the Prophet Mohammed was the last of the line of prophets leading back through Jesus, Moses, and Abraham). Ahmadis respond that Mirza Ghulam Ahmad was a non-law-bearing prophet subordinate in status to Prophet Mohammed; he came to illuminate and reform Islam, as predicted by Prophet Mohammed. For Ahmad and his followers, the Arabic Khatme Nabuwat does not refer to the finality of prophethood in a literal sense—that is, to prophethood's chronological cessation—but rather to its culmination and exemplification in the Prophet Mohammed. Ahmadis believe that "finality" in a chronological sense is a worldly concept, whereas "finality" in a metaphoric sense carries much more spiritual significance.
"The exact size of the Ahmadiyya community worldwide is unclear, though there are concentrations of Ahmadis in India, Pakistan, Ghana, Burkina Faso, and Gambia.
"Ahmadis have lived in what is present-day Bangladesh since the early 1900s. Roughly 100,000 Ahmadis live in Bangladesh today. Violence towards the Ahmadiyya community in Bangladesh has occurred for almost two decades. The recent upsurge in the persecution of the Ahmadis can be understood as part of a gradual trend in Bangladesh away from the country's secular roots toward more blending of religion and politics. This Islamization of government can be explained partially by examining the history of Bangladesh.
"In 1971, Bangladesh, then East Pakistan, fought a liberation war to secede from its union with Pakistan, in order to protect its own Bengali language and culture. After a brutal nine-month war, the newly independent Bangladeshis created a constitution founded upon four guiding principles: nationalism, socialism, democracy, and secularism.
"Starting with Prime Minister [Sheikh] Mujibur Rahman in 1972, however, the role of Islam slowly began to increase in Bangladesh's civil society and state apparatus. In 1977, the government replaced Article 12 of the founding constitution, which provided that the principle of secularism should be realized by the elimination of communalism in all its forms, with the assertion that the Muslim faith would be one of the nation's guiding principles. In 1988, Bangladesh moved a step further away from its secular heritage when Islam officially became the state religion through an amendment to the constitution, Article 2-A, which reads: "The state religion of the Republic is Islam, but other religions may be practiced in peace and harmony in the Republic."
"While these constitutional amendments have set the tone for Bangladeshi society, the reversal of the constitutional prohibition on religious parties allowed for the reemergence of the Jama'at-e-Islami and for the formation of extreme religious parties, such as the Islamic Okye Jyote (IOJ). The religious parties were able to return to power despite arguing that nationalism is un-Islamic and the secession from Pakistan was unwarranted.
"Sporadic attacks and threats against Ahmadis became more systematic in the early 1990s as Bangladesh returned to parliamentary government. The attacks began in earnest during the BNP government (1991-96), continued through the period of Awami League rule (1996-2001), and acquired renewed vigor as the BNP returned to power in 2001, this time in coalition with the J.I. and OJI.
"Between December 27-29, 1991, the Khatme Nabuwat (K.N.), an Islamist organization dedicated to safeguarding the sanctity of the finality of the Prophet Mohammed, held a conference to organize activities aimed at banning Ahmadi religious practice and identity in Bangladesh. As one Bangladeshi Ahmadi explained to Human Rights Watch, "the K.N. want the Ahmadis to leave Bangladesh. They have threatened that they would attack us if we do not surrender, if we continued to be Ahmadis." On February 5, 1992, Mahfuzur Rahman, the president of the Khilafat ("Caliphate") Student Movement – an Islamist student group—led a public protest in the Noakhali district demanding that the Ahmadi community be declared non-Muslim.
The anti-Ahmadi conferences held by Khatme Nabuwwat and the Khilafat Student Movement sparked fresh attacks on Ahmadis. On February 29, 1992, several hundred people under the leadership of the Imam Council, a group of Imams from the Helatala and Niral mosques in Khulna, attacked an Ahmadi mosque and mission house on the Nirala Housing Estate in the city. The group attempted to set fire to the buildings, stole and destroyed Ahmadi books, including Ahmadi copies of the Qur'an, and inflicted property damage on a charitable medical dispensary nearby. The police near Khulna arrested eight of the group's members, who had also planned to disrupt an Ahmadi congregation under the direction of a local imam. The imam and members of the Jama'at-e-Islami Bangladesh condemned the arrests.
On October 30, 1992, a procession of more than 1,200 people launched a massive attack on the main Bahshkibazar Ahmadiyya complex in Dhaka. After ransacking rooms, burning hundreds of books, including many copies of the Qur'an, and looting the building of all valuables, the attackers detonated some thirty-five crude bombs in the building and set it on fire. At least twenty Ahmadis were injured in the attacks and a total of twelve people were admitted to the Dhaka Medical College Hospital with serious wounds. Police lobbed at least twenty-five tear gas canisters to drive the mob away from the burning complex. The Dhaka police held the student wing of Jama'at-e-Islami Bangladesh, Islami Chhatra Shibir, responsible for the attack. On November 27, 1992, a group of anti-Ahmadi protestors attacked and demolished an Ahmadi mosque under construction in Rajshani. The mob looted all construction materials, including sand and bricks. No police relief was provided for the Ahmadiyya community in Rajshani.
"On December 24, 1993, K.N. Bangladesh held a conference in Dhaka to pressure the government officially to declare Ahmadis non-Muslims, to ban Ahmadi publications, and to remove Ahmadis from high-ranking government posts. Prior to the conference, Maulana Ubaidul Haq, spokesperson for the organization, informed media outlets of the forthcoming visit of several prominent Ulema (religious leaders) from Pakistan, Saudi Arabia, and India. He also indicated that Abdur Rahman Biswas, President of Bangladesh, would inaugurate the conference formally. Professor Golam Azam and Maulana Matiur Rahman Nizami (the incumbent State Minister for Industries), the President and the Secretary General of J.I. in Bangladesh at the time, formally expressed their support for the conference, stating their hope that the government would declare Ahmadis non-Muslims in order to show respect for the sentiments of the Muslim populations of Bangladesh.
The conference was held in two sessions with imams from Saudi Arabia, Pakistan, and India presiding over each session as scheduled, and representatives from J.I., the BNP, participating in the sessions. Leaders at the conference announced that January 1, 1994 would be "demand day" in Bangladesh whereby all conference participants would press the government to declare Ahmadis non-Muslim.
"New anti-Ahmadi organizations emerged on the scene in 1994-95. On March 30, 1994, The Bangladesh Times reported that the Bangladesh Khilafat Andolen and Islami Shasantantra Andolen, two extremist Islamist organizations, had joined J.I. in supporting a four-hour sit-in demonstration organized by K.N. to take place in Dhaka. The demonstrators, many of them carrying placards and sticks, raised slogans against the Ahmadis, calling them "kafirs" (disbelievers).
"In March 1995, a group of demonstrators attacked a central Ahmadi mosque in Dhaka. This time, secular activists and members of civil society strongly condemned the attacks.
"While on tour in Bangladesh from Saudi Arabia, on February 28, 1997, the Chief Imam of the Masjid-e-Nabawi (the Prophet's Mosque) in Medina, Saudi Arabia, Allama Dr. Shaikh Ali Bin Abdur Rahman Al Huzaifi, condemned Mirza Ghulam Ahmad and his followers as "traitors…misleading others by their self-made and false Quranic commentary." On May 22, 1997, the K.N. once again held a large-scale public meeting, this one at Children's Park in Dhaka. Participants reiterated their demand to declare Ahmadis non-Muslims. The meeting ended with a collective resolution making fresh demands on the government, including a ban on all uses of Qur'anic passages and Islamic terminology on Ahmadi mosques, a ban on the burial of Ahmadis in Muslim graveyards, and, for the first time, a ban on and confiscation of all Ahmadi publications, including Ahmadi copies of the Qur'an. On July 7, 1997, members of Khatme Nabuwwat marched to the Parliament House in Dhaka to submit a formal memorandum of these demands.
"Violence against Ahmadis in major cities outside of Dhaka began to appear in the late 1990s. On July 23, 1998, members of Touhid Jonota, another anti-Ahmadi group, attacked and destroyed a new Ahmadi office building inaugurated by the local government in Zhinaigati. Three police officers were injured in the attacks. On January 7, 1999, the first day of the Muslim holy month of Ramadan, members of the Jama'at-e-Islami attacked an Ahmadi mosque in the Koldiar-Majdiar village of the Khushtia District. Over fifty Ahmadis were injured in the raid, eleven of them critically. Nearly a month after the Khushtia mosque attack, over a hundred Ahmadi families were forced to leave the surrounding villages after they were not allowed to pray in their mosque. The families did not return to their village in Kushtia for six months. The U.S. State Department reported that an Ahmadiyya mosque in Kushtia was forcibly occupied by Sunni extremists in 1999 and remained under police control for about three years, preventing Ahmadis from praying in it. In August 2002, the Ahmadiyya community regained control of the mosque.
"On October 8, 1999, a bomb killed six Ahmadis and injured severely several others who were attending Friday prayers at their mosque in Khulna. In November 1999, Sunni Muslims ransacked an Ahmadiyya mosque near Natore, in western Bangladesh. In subsequent clashes between Ahmadis and Sunni, thirty-five people were injured. Ahmadis regained control of their mosque and filed a criminal case against thirtypeople allegedly responsible for the conflict.The case, however, was not pursued by local authorities.
On April 15, 2000, villagers at Kodda and Basudev, spurred by the twin attacks in Kushtia and Kulna, threatened to attack all Ahmadi homes in the area. Over fifty Ahmadis evacuated their homes and took refuge in the nearby Akhaura district after some thirty five Ahmadi homes were looted and vandalized. On April 25, 2000, anti-Ahmadi activists burned down several Ahmadi homes, destroyed crops of Ahmadi farmers, and threatened the lives of the remaining Ahmadis in the village. They also took over the Ahmadi mosque in the area, burning furniture and books, demolishing the structure, and flooding it with water as a symbolic gesture to "clean out the Ahmadis" from the village.
On June 24, 2001, members of K.N. attacked an Ahmadi mosque under construction in Jamalpur. The mob destroyed the mosque's walls and foundation as well as the house of an Ahmadi next door. It then proceeded to attack the person who had sold the property upon which the Ahmadiyya mosque was being constructed. Police arrested three members of the mob. On October 15, 2002, a brawl broke out outside the Upazila Parishod courthouse in Gajipur where a case was being filed against members of the Ahmadiyya community. Twelve Ahmadis were arrested and questioned in the incident for allegedly distorting verses of the Qur'an and certain Hadith (sayings of the Prophet Mohammed) in the translation of their texts. Shortly after the arrest of the Ahmadis, a mob destroyed an Ahmadi house in the area.
On January 2, 2003, the K.N., led by its president, Maulana Ubaidul Haq, held another international conference in Dhaka. Prominent speakers from Egypt, India, Pakistan, and the United Kingdom introduced new fatwas calling for the excommunication of the Ahmadis in Bangladesh. Leaders of K.N. vowed to introduce a bill in Parliament to declare Ahmadis non-Muslims. One Libyan leader at the event, Dr. Abdur Razzak, accused Ahmadis of being part of a British colonial conspiracy.
Shortly after the conference, Bangladesh Khilafat Andolen (Bangladesh Caliphate Movement) organized a protest procession led by Maulana Jafrullah Khan, who demanded that Parliament declare Ahmadis to be non-Muslim or risk future litigation and disturbance. On February 1, 2003, the newspaper daily Inqilab reported that, at a gathering in Cumilla, Member of Parliament Maulana Delawar H. Saidee [Delwar Hussain Saidee is a leader of Jamaat e Islami Bangladesh and is now a convicted war criminal serving imprisonment until death in Bangladesh] declared Ahmadis non-Muslims and called for a complete halt on all Ahmadi activities, describing the Ahmadiyya community as "satanic."
"The recent ban on Ahmadiyya publications also has a lineage: since at least the 1970s, Bangladeshi governments have frequently banned publications deemed offensive to Muslims. Such determinations have usually been made to appease extremist groups. For instance, in 1985 [during the rule of military dictator Hussain Muhammad Ershad], the government issued an order banning a book published by the Ahmadiyya community on the basis that it contained passages highly offensive to Muslims, who believe that the Prophet Mohammed is the last prophet of Allah. The order was unsuccessfully challenged before the High Court in 1993".
An appeal to the international community:
The latest case of threats on the Ahmadiyyas in Bangladesh is a matter of grave concern and it needs to be immediately attended. With my past experience, I know, the so-called mainstream media in the world are not sensible or responsible enough in covering such crucial issue, for reasons best known to them. Under such realities, unless the United States in particular initiates some tougher steps in forcing Muslim and non-Muslim nations in ensuring rights of religious freedom to the Ahmadiyyas, sooner or later, members of this small community may face a similar fate of those Kurdis in Iraq or Rohingyas in Myanmar.
https://www.weeklyblitz.net/news/where-from-pro-calipahe-hefazat-e-islam-kingpin-ahmad-shafi-gets-the-courage-of-making-audacious-statement-against-ahmadiyyas/
--------
Muslim Lawmakers' Criticism of Israel Pressures US Democrats
February 09, 2019
WASHINGTON —
The support for a boycott of Israel by the first two Muslim women in the U.S. Congress has opened a breach in the Democratic Party and threatens to create a fissure in the ironclad U.S.-Israeli alliance.
Ilhan Omar and Rashida Tlaib made their debut in the House of Representatives in January openly declaring their support for the Palestinian-led Boycott, Divestment, Sanctions movement, or BDS.
What is BDS?
The movement, launched more than a decade ago and modeled on the 1960s movement to pressure South Africa over apartheid, calls for people and groups to sever economic, cultural and academic ties to Israel, and to support sanctions against the Jewish state.
But for Israel partisans, including many Democrats and Republicans in Congress, BDS smacks of anti-Semitism and poses a threat to Israel.
Tlaib, 42, has Palestinian roots and represents a district of suburban Detroit, Michigan, that is home to thousands of Muslims.
She argues that BDS can draw a focus on "issues like the racism and the international human rights violations by Israel right now."
Omar, 37, is the daughter of Somali refugees who was elected to represent a Minneapolis, Minnesota, district with a large Somali population.
She accuses Israel of discrimination against Palestinians akin to apartheid, but denies that she is anti-Semitic.
Pro-Israel anger
Her remarks in January to Yahoo News however sparked anger among the large pro-Israel contingent in Congress, the powerful, largely Democratic U.S. Jewish community, and Israel itself, where BDS is seen as a national threat.
"When I see Israeli institute laws that recognize it as a Jewish state and does not recognize the other religions that are living in it, and we still hold it as a democracy in the Middle East, I almost chuckle," Omar told Yahoo News.
"Because I know that if we see that in another society we would criticize it — we do that to Iran, any other place that sort of upholds its religion."
Fissure among Democrats
Omar and Tlaib sparked the BDS controversy during a period when Donald Trump's administration has strengthened relations with Israel and slashed aid to the Palestinians.
But Republicans saw their support for BDS as both a threat to Jews and an exploitable rift among Democrats.
"Democrats have made it clear that hateful, bigoted rhetoric toward Israel is not confined to a few freshman members. This is the mainstream position of today's Democratic Party and their leadership is enabling it," Republicans said in a statement Jan. 29.
Bids to legislate
The worry about the small but growing support for BDS in the United States predates Tlaib's and Omar's political rise.
A number of states have passed or proposed constitutionally questionable legislation and policies that would penalize supporters of the boycott movement.
But the arrival of Tlaib and Omar in Congress was greeted with the first proposed federal law to fight to that end, in the Senate.
Senator Marco Rubio argues that BDS aims to eliminate the state of Israel, and said his legislation would protect states' rights to exclude from public contracts any supporters of BDS.
Republicans, the majority in the Senate, along with more than half of the Democrats approved the legislation.
But a significant number of Democrats opposed it, because, they said, it violates constitutional guarantees of freedom of expression.
'Political football'
That has left Democrats vulnerable to charges of anti-Semitism.
To fight that, in January prominent party members formed the Democratic Majority for Israel, touting themselves as "The Voice of Pro-Israel Democrats," which for some came across as a rebuke of Omar and Tlaib.
After Omar joined the influential House Foreign Affairs Committee, according to The New York Times, Jewish committee Chairman Eliot Engel privately made it clear that he would not ignore any "particularly hurtful" remarks she might make.
"You hope that when people are elected to Congress, they continue to grow," he reportedly told her.
"There is obviously a serious fight going on within the Democratic Party with respect to how to deal with BDS and some within their party who advocate for it," said Alvin Rosenfeld, who directs the Institute for the Study of Contemporary Anti-Semitism at Indiana University.
"Should the party swing to the far left and appear to be way out of line with America's traditional ties to one of its strongest allies, Israel, the party will surely suffer at the polls," he told AFP.
Amy Elman, a political science professor at Kalamazoo College, said anti-Semitism should not be used as a "political football by any party."
"Democrats should care less where the charges of anti-Semitism come from. What matters is if the accusations are valid," she said.
https://www.voanews.com/a/muslim-lawmakers-criticism-of-israel-pressures-us-democrats/4780366.html
--------
Saudi investments to aid cash-strapped Pakistan
Feb 10, 2019
DUBAI: A record investment package being prepared by Saudi Arabia for Pakistan will likely provide welcome relief for its cash-strapped Muslim ally, while also addressing regional geopolitical challenges, analysts say.
At the heart of the investment is a reported $10 billion refinery and oil complex in the strategic Gwadar Port on the Arabian Sea, the ultimate destination for the massive multi-billion dollar China Pakistan Economic Corridor, which lies not far from the Indo-Iranian port of Chabahar.
Two Saudi sources have confirmed to AFP that heir apparent to the Gulf kingdom's throne, Crown Prince Mohammed bin Salman, will visit Islamabad shortly, without giving a date.
And a number of major investment deals are expected to be signed during a visit, officials from both countries have told AFP.
Riyadh and Islamabad, decades-old allies, have been involved for months in talks to hammer out details of the deals in time for the high-profile visit.
"The outcome of the talks so far has been very positive and this is going to be one of the biggest-ever Saudi investments in
Pakistan," a Pakistani senior finance ministry official told AFP.
"We hope that an agreement to this effect will be signed during the upcoming visit of the Saudi crown prince to Pakistan," said the official, requesting anonymity.
The Wall Street Journal reported last month that both Saudi Arabia and the United Arab Emirates, Islamabad's biggest trading partner in the Middle East, have offered Pakistani Prime Minister Imran Khan some $30 billion in investment and loans.
Riyadh investments are expected to provide a lifeline for Pakistan's slumping economy which was downgraded in early February by S&P ratings agency from a B to a B- Saudi economist Fadhl al-Bouenain said.
"Saudi investment to Pakistan comes within an economic aid package aimed at relieving the stress of external debt and a shortage of foreign currency, besides boosting the sluggish economy," Bouenain told AFP.
The OPEC heavyweight also aims to achieve strategic and commercial goals with investments in infrastructure and refinery projects, he said.
Saudi Arabia and its Gulf partner, the UAE, have already deposited $3 billion each in Pakistan's central bank to help resolve a balance of payments crisis and shore up its declining rupee.
They have also reportedly deferred some $6 billion in oil imports payments as Islamabad has so far failed to secure fresh loans from the International Monetary Fund.
Khan has already visited Riyadh twice since taking office in July and in October attended a prestigious investment conference widely boycotted by other political and economic figures after the murder of journalist Jamal Khashoggi.
Khan also visited Saudi rivals Qatar and Turkey, as well as China seeking investments.
"One of the goals for Saudi Arabia expanding investments in refining worldwide is to secure market share and sustainable exports in the face of international competition," Bouenain said.
Saudi Energy Minister Khalid al-Falih visited Gwadar in January and inspected the site for the proposed oil refinery at the deep sea port, just 70 kilometres (45 miles) away from its Iranian competitor, Chabahar.
He was quoted by local media as saying the kingdom was studying plans to construct a $10 billion refinery and petrochemicals complex in Gwadar.
Like most oil suppliers, the world's top crude exporter has been investing heavily in refinery and petrochemicals projects across the globe to secure long-term buyers of its oil.
A pipeline from Gwadar to China would cut the supply time from the current 40 days to just seven, experts say.
Developed as part of China's Belt and Road Initiative with investments worth some $60 billion, Gwadar is being billed as a regional industrial hub of the future, easily accessible for Central Asia, Afghanistan, the Middle East and Africa.
"Pakistan needs a rich partner to enter as a third party besides China, capable of injecting needed cash," Bouenain said.
But so far China has rejected other partners for the corridor that seeks to connect its western province Xinjiang with Gwadar, including Saudi Arabia and UAE, said James M. Dorsey, a senior fellow at Singapore's S. Rajaratnam School of International Studies.
This is despite calls by Khan "for the Chinese investments to be restructured to include agriculture and job-creation sectors and not only in infrastructure", Dorsey told AFP.
Any Saudi investment in Gwadar will also have geopolitical dimensions, Dorsey said.
Iran late last year inaugurated Chabahar which provides a key supply route to landlocked Afghanistan and allows India to bypass its historic enemy Pakistan.
India has seen Chabahar as a key way both to send supplies to Afghanistan and to step up trade with Central Asia as well as Africa.
But Riyadh is not expected to get involved in any Indo-Pakistani rivalry and the kingdom also has major strategic energy deals with New Delhi, where demand for oil is growing fast.
Indeed in April, the Saudis signed a $44 billion deal to build a huge refinery and petrochemicals complex in western India.
https://timesofindia.indiatimes.com/world/pakistan/saudi-investments-to-aid-cash-strapped-pakistan/articleshow/67925263.cms
--------
Peace among OIC Muslim States 'Easily Achievable'
09.02.2019
Peace between members of the Jeddah-based Organization of Islamic Cooperation (OIC) is "easily achievable", according to commentators who spoke at an Ankara-hosted forum on Friday.
Held under the slogan "Achieving Peace and Security in a World of Turmoil", the forum was organized by the Statistical, Economic and Social Research and Training Center for Islamic Countries (SESRIC), an Ankara-based subsidiary of the OIC.
The event attracted dozens of participants, including politicians, academics and university students.
One of the speakers, Ambassador Askar Mussinov, head of the OIC's Peace, Security and Conflict Resolution Unit, discussed the OIC's role in finding solutions to the challenges now facing the Muslim world.
Mussinov hailed SESRIC's many research papers on peace and security, which, he said, "are of great value, as they include practical recommendations along with analysis".
He urged Muslim countries to promote their traditional values while also raising awareness on "how much Islamic civilization has contributed to the world".
"This way," he said, "we can also refute the many dangerous misperceptions about Islam."
Mussinov pointed to the forum itself as an example of "how cooperation and collaboration are easily achievable among OIC member-states".
Another speaker, Dr. Ahmet Uysal, president of the Center for Middle Eastern Studies (an independent Ankara-based think-tank), stressed the peaceful nature of the Muslim faith.
"Islam is a religion of peace," he said, noting that the word "Islam" itself was closely related to the word for peace ("salaam") in Arabic.
Uysal went on to point out how Islamic traditions had served to build trust between Muslims and the adherents of other religions.
"In the past, especially during the Ottoman era, there was trust among different religious communities living inside the empire," he added.
According to Uysal, the Ottoman model should serve as an example of how trust might be maintained among the OIC's current member-states.
When asked about mechanisms for promoting peace among OIC members, he said: "We must build a viable civil society in the region and empower marginalized groups suffering from unemployment and poverty."
"We must also encourage national dialogue and trust between states of the region," he added. "Democratic values and the rule of law should also be heavily promoted."
Fadi Farasin, for his part, a SESRIC researcher, noted that "almost sixty percent" of the world's ongoing conflicts seemed to involve OIC member-states.
"Conflicts are becoming increasingly frequent in the Muslim world, most of which are largely internal in nature," he said.
These internal conflicts, Farasin added, "are often characterized by popular opposition to the political, economic or ideological policies of the states involved".
"Today, almost 76 percent of all terrorist incidents [worldwide] take place in OIC member-states," he lamented. "This is a tragedy."
What's more, Farasin said, millions of people worldwide had become the victims of displacement.
"Today," he asserted, "almost two thirds of the world's refugee population hail from OIC countries."
He added: "Not only are OIC member-states the main source of refugees, but they also host vast numbers of refugees themselves."
https://www.aa.com.tr/en/middle-east/peace-among-muslim-states-easily-achievable/1387846
--------
Trends in the Spread of Radical Islam in Africa: The Case of the Democratic Republic of the Congo
February 9, 2019 B
By Galina Sidorova
Islamic radicalism and extremism are perceived around the world as a major threat to international security. The Islamists started developing terrorism and took it to a global level. Today, perhaps, there is no continent where this problem would not be acute. This is the standpoint of scientist D. V. Trenin who presents his reasoning in the article Traditional and New Security Challenges in International Relations [Trenin 2015: 138]. Indeed, one could easily agree with him.
In recent times, intrusion and spread of radical Islam has become evident in African countries, where, as it is, the problems of national and continental security have not been solved due to the never-ending armed conflicts. The most prevalent Islamic groups in sub-Saharan Africa are the Wahhabis and the Muslim Brotherhood. Other widespread groups are the Sheikh Balala sect in Kenya with an active subdivision in Zimbabwe, the Sunni Muslim Association in Cote d'Ivoire, the People against Gangsterism and Drugs, and the Islamic Jihad in the Republic of South Africa (the RSA). In Nigeria, the greatest danger is posed by the Boko Haram extremist organization imposing the Shariah laws and extirpation of the Western lifestyle; in Senegal — the Al-Falah Movement for Salafi Islamic culture; in Burkina Faso, there is Jama'at Ahl al-Sunnah al-Muhammad; in Somalia — Al-Shabaab and Jihad al-Islamiyya, the radical wing of the Movement for Unity and Jihad in West Africa (headed by Oumar Ould Hamaha); Al-Qaeda in the Islamic Maghreb, that seized control over the northern territories of Mali and, in October 2012, was holding 9 European citizens as hostages, 6 of whom were French [Kemal 2015: 156].
The revivalists' backbone is not only Islam coming from Arab countries of the East and the Maghreb. The African reality has seen some examples of religious extremism conceiving in the depths of the African society itself. These are various sects and groups primarily calling attention of disadvantaged population of the country, striving for a better life. They all differ in terms of dogmatic principles. Although the majority of them are constituted by Sunni Muslims, in a number of countries there is also the Shia minority (notable for bravery in combat, no fear of death, belief in afterlife), which is also influential due to the financial, organizational and moral support of Iran. The influence of Shia revivalists is apparent in Nigeria, Senegal, Kenya, Cote d'Ivoire, Mali, and the RSA.
It should be noted that the term "Islamic revivalists," which is most often associated with terrorism did not always bear this negative connotation. If we look back in history, we will see that it entered the political lexicon in the late 1970's/early 1980's, after rise of the anti-Shah regime in Iran. Russian diplomat and orientalist A. I. Vavilov asserts that "it is not always justifiable that Islamic revivalism is applied to fairly broad, vague and, in many respects, motley religious-political movement standing for return to the "original, radical values of Islam" (not incidentally, the Arabic word for "revivalists" means "radicalists") [Vavilov 2009: 229]. Another scientist, Africanist A. D. Savateyev, maintains the position that Islamic revivalism is far from the national spirit, although it "incorporates a range of diverse outlooks from the spiritual and religious point of view, and reflects the interests of various social strata and sentiments of many categories of Muslims" [Savateyev 2006: 201]. He mentions the following classification of Islamists. The first category is focused on the intrinsic values of eternal order — justice, equality, and fair work in accordance with Koranic precepts. The second category does not follow the rules and regulations of the "true" Islam and appeals to the brothers of the religion with proposals to follow the prophetic directives. The third one goes beyond the "brothers" circle and seeks to impose its standards of behavior upon adherents of other confessions. The fourth category of the Muslims includes representatives of secular intellectuals, merchants; it stands for connecting Islam to the government, and, in fact, for the re-establishment of a theocratic state. Although, the views of the adherents are far from being identical in this case. The fifth category of the revivalists is the armed jihad, manifested as achieving the goal (creation of a unified Islamic religious and political entity) by any means including the fight against "expansion" of Christians and reprisal against infidels. The basic features of the moral portrait of the revivalists' extremist wing are cynicism and resentment aimed at breach of native African values. According to the ideology of Islamic extremism, a Muslim is merely obliged to fight the non-Muslims, that is, to conduct armed jihad. [Savateyev 2006: 230].
Study of penetration of Islam and its implications to one of the Central African countries — the DROC — provides a visual representation of the topic addressed. In the DROC, Islam has been recognized relatively recently, though islamization of the country, advancing from the east of the DROC, had been known as early as before the arrival of the Portuguese to the continent (1482). In March 1972, the President of Zaire Mobutu Sese Seko issued Decree 72/194 on the foundation of the Islamic Community of the Republic of Zaire (COMIZA), which later transformed into the Islamic Community of the DROC (COMICO) [Cheik Ali Mwinyi…La Référence plus. Kinshasa 2014: P. 2]. This organization is officially recognized and unites only a part of the Muslim community in the DROC. Besides COMICO, there are other Islamic organizations acting "on a private basis". In March 2014, from among 12 contenders for the post of the Head of the Islamic community Mufti Sheikh Ali Mwini Mkuu was elected to a 5-year term — a politically literate, well-educated person maintaining an active position in the subregional, continental and international organizations [Les musulmans de la RDC…L'Observateur. Kinshasa 2014: P.11]. Wide connections and communications with regional and international colleagues enable the Mufti to collect information, "keep his finger on the pulse", and control the situation in the country.
In 2012, the Islamic Community of the DROC launched the programme "Peaceful Settlement of Conflicts, Administration and Efficient Governance," with the view to train representatives in the provinces of the country. The initiative involved 48 regional committees and 288 Islamic centres, which employ about three thousand activists. According to the Deputy Chairman of the Islamic Community of the DROC M. Seto-Bagoni, who is in charge of legal issues, trained specialists will provide indispensable support to the DROC Government in establishing peace and supremacy of the statute law across the country. In the provinces, Congolese people are also provided with the necessary legal, expert, and advisory assistance to settle the internal political situation in the Republic. With the assistance of local, regional and international sponsors, about USD 130,000 were allocated for the implementation of the Islamic Community's project.
It should be kept in mind that the role of religious denominations in the social and political life of the DROC, taking into account the deep piety inherent in the Africans, is extremely high. The dominant position is held by Catholicism, which is practiced here by more than 50% of the 80 million population, and by Protestantism as its branch — 20%. This data identifies the DROC as the largest Catholic country in Africa and draw special attention to Kinshasa from the Vatican. The National Episcopal Conference, declaring its position on key issues of domestic and foreign policy on a regular basis, demonstrates significant interest in this region. Catholic structures, traditionally involved in political processes, occupy senior positions in the government. For example, Abbot Apollinaire Malumalu has been elected as the Chairman of the Independent National Electoral Commission twice — in 2006 and in 2013. Religious leaders mediate the processes of settlement of the Eastern crisis, coordinate the provision of humanitarian assistance, and offer a wide network of higher and secondary educational institutions.
Afro-Christian syncretic sects (especially Kimbanguism) also have numerous congregations in a number of provinces, and, according to their postulates (chosenness of the Africans and etc.), are characterized by considerable political engagement, often of separatist or anti-European orientation (about 10%). There are many various religious sects. As a rule, they are fee-paying, but due to the preachers' rhetoric skills and their ability to attract attention, the sects are very popular among the local population. Orthodox Christianity is represented thinly (five parishes). It is professed by about 3% of the population. According to 2015 estimates, 10% of the Congolese are Muslims.
The largest number of adherents of Islam is concentrated in the east of the country, in the Provinces of Orientale, Maniema, and in the north of Katanga. In the DROC, along with Christian buildings for public worship, there are 70 mosques belonging to different Muslim communities: Pakistani, Iranian, Lebanese, Indian and others.
Year by year, the percentage of the Congolese people professing Islam is growing. This is partly promoted by the presence of Muslim peacemakers in the country, who serve with the UN Stabilization Mission in the DROC, and by numerous Pakistani military units that provide financial support for the Islamic communities, in particular in construction of mosques. The severe internal political, economic and social situation in the country fosters the spread of the radical wing of Islam.
In one of the author's conversations that took place in Kinshasa in 2013, Sheikh Abdalah Mangal told that the Islamic Community in the DROC has nothing to do with so-called radical, aggressive Islamists. The Community is thoroughly monitoring manifestations of proselytism with the purpose of nipping it in the bud; it aims at reconciling hostile ethnic groups, at settlement of conflict situations including those in the east of the country, and stands for consolidation of the peoples of various religious confessions. Muslims try to spread and introduce their culture, open schools and provide humanitarian assistance to the poverty-ridden Congolese population. However, according to the Mufti, in spite of the attractiveness of Islam, the Congolese authorities inhibit the spread of this religion in the "Catholic country". He gave the following example. On April 18, 2013, the Minister of Justice and Human Rights of the DROC signed a decree on suspension of the activities of the Islamic Community for three months (the reasons are not disclosed). The decree was abolished after the Mufti had argued against it and appealed to the Congolese authorities.
As Congolese analysts assert, although within the period of 2011–2014 no radical Islamists' organizations were detected in the country, still there are certain fears about penetration of jihadist ideas. According to the experts, the Muslim influence is, albeit slowly, but moving to the DROC. In the west the "Muslim wave" is coming from Mali and Nigeria; in the east — from Kenya through Uganda and Rwanda; in the south — from Tanzania and Zambia; and in the north — from the Central African Republic (the CAR), subsequent to the coup in March 2013.
It is Mali — the "citadel" of Islamism in Africa — which is often named by the experts an "epicenter of the spread" of radical Islam. They do not exclude that the conflict between Salafists, who differ dogmatically, ideologically, politically and culturally, can be brought to the Republic Congo, similar to the conflict between Tutsis and Hutus in Rwanda in 1994, which was brought to the DROC from outside. In this regard, a large Malian community in the DROC, living by its own laws and having its own mosque, raises certain concerns. Another threat originates in Nigeria, where ethnic antagonisms between the "Christian south" and the "Muslim north" pose a real danger, up to division of the country into two states. Consequences of the conflict may well have an effect on the central region of Africa where the refugees of different faiths will rush into. As a result, "foreign" problems will affect the already existing ethnic and religious contradictions. A serious danger is also posed by crossing the "unconsolidated" border by militants-illegal aliens from South Sudan, who partially "settled down" in the DROC. This makes the Congolese society extremely vulnerable in the face of the permanent terrorist threat.
Another source of threat of the spread of Islam in the DROC is the neighboring Central African Republic (CAR) where, as already noted, a coup took place. According to MONUSCO Russian military observers, on December 5, 2013, near the residential community of Zongo in the Province of Équateur (the DROC), bordering the residential community of Bangun (the CAR), armed clashes broke out between the Muslim Seleka and the Christian Antibalaka organization. By the experts' assumption, the ethnic conflict escalated as a result of mass activity of French troops, which deployed the "Sangaris" (which means "red butterfly" in Swahili) operation in the CAR. It was also reported that about 10 militaries of the Seleka movement oppositional to the CAR government entered the DROC territory. Streams of refugees from the CAR were crossing the border and "dissolving" in the forests of the DROC since they did not want to stay in the refugee camps because of the unstable situation in the region. The Congolese people, who lived in the areas bordering the CAR, also responded to the situation and fled from the country. Generally, the situation complicated because the civilian population of the DROC was extremely irritated by the aliens from the neighboring country who provoked conflicts and worsened the already disastrous conditions in the state. The incomers were not only "pressing" the local population in the Province of Équateur, but were also bringing with them Islamic culture alien to the Congolese Christians and to those, who adhere to the local faiths. According to the UNHCR, in May 2014 in the DROC, there were about 70 thousand refugees from the CAR and six thousand Congolese returnees. In addition to the arriving refugees, another problem arose in the country. The CAR militants started seizing the DROC territory. The risks of migration processes and the destabilization associated with them are addressed in details in analytical notes by Russian researchers K. Borishpolets and A. Babadzhanov [Borishpolets K., Babadzhanov A. 2007: 3-7].
The threat of radical Islam in the DROC and other African countries comes not only from the East and the Maghreb. After the investigations of the terrorist attack that was carried out in Nairobi on September 21, 2013 (67 people died), the non-governmental organization Red Cross came to the conclusion that the militants had also been recruited in Europe. Germans, Scandinavians, Americans were among them. According to the European Union Counter-Terrorism Coordinator Gilles de Kerchove, "it is necessary to find out how people get there". In Belgium, for example, there exists an organization for recruiting mercenaries, the so-called Sharia4Belgium Organization (L'Organisation de la Chariat pour la Belgique). European mercenaries were seen in Syria and Kenya [Les Shebabs…L'Observateur 2013: P. 11].
The eastern regions of the DROC are the most vulnerable and susceptible to jihadist influence. Considerable length and "unconsolidated" nature of borders with 9 neighbour countries, geological and climatic characteristics (mountainous terrain, multilayer equatorial forest, rainfall seasons) along with the absence of roads and traffic infrastructure precondition the inefficiency of the border safety system and create a "back door" not only for cross-border criminality, but also Islamic revivalists.
The growth of terrorism spread by armed groups on the African continent as a whole is the additional risk factor for the destabilization of situation. For more than a decade illegal armed groups, the members of which profess Islam, have been acting in the eastern part of the DROC (North Kivu and South Kivu provinces, Orientale and the northern part of Katanga) uncontrolled by central authorities. These were primarily the Uganda Lord's Resistance Army (LRA) and the Allied Democratic Forces (ADF) groups. Consequently, flashpoints of conflict emerge and create opportunities for terrorist attacks. As a rule, the criminal activity of illegal armed groups is connected with illegal exploitation of valuable natural resources, being smuggled abroad, and with uncontrolled cash flow. Leaders of illegal armed groups quite often control the process of valuable minerals and metals extraction and selling on the black market, using locals as free labour in the mines. In remote areas civilians often become victims of robbery, lawlessness and violence inflicted by various military forces. Local population is tortured and humiliated, often killed, robbed of cattle; their houses are burned and their crops are destroyed. There are numerous cases of people being kidnapped into slavery. Some of them are used for service support of gunmen in the rear, others are forced to participate in combat operations. Recruiting of child soldiers deprived of education and prone to psychological traumas remains a painful problem. Gunmen use underage children as labour force under the threat of bodily harm. It provokes mass exodus of population into the frontier zones where new centres of tension emerge.
Authorities of the Republic are gravely concerned by such actions of militants as ransom kidnappings, including those of foreigners. Thus, in April 2010, in the province of Équateur the illegal armed group of Enyele rebels took a number of foreign citizens hostage to draw attention of the international community to their activity. At the same time they occupied the airport and municipal buildings of the provincial capital of Mbandaka.
The situation is aggravated by the catastrophic condition of social sphere, extreme poverty of population, non-payment of monetary allowances to the members of national army. Destitute population, largely comprised of young people, is the most susceptible to Islamist influence, which promises to improve their living conditions. They are the people who join armed groups and unwillingly become carriers of the ideas of Islam.
Virtually all the neighbouring counties are involved in extraction and sales of valuable raw materials on foreign markets. According to experts, over 80% of the DROC economy remains shadow, and so far nobody sees the way out of this dramatic situation. Experts state that there are mafia formations in this field having direct access to offshore centres. Customs Administration of the Democratic Republic of the Congo intends to fight money laundering, illicit trade and cross-border criminality at large. On November 21, 2013, they signed the Memorandum of Understanding with the Judicial Police of the Public Prosecution Office. This document proposes a programme for enforcement of customs officers' authority, which is aimed at criminal investigations. Article 2 of the Memorandum states that "the Judicial Police of Public Prosecution Office is obliged to provide education for customs officers within the prescribed time limits and create, with assistance of Interpol, the database of the Customs Administration aimed at combating theft"[ Lutte contre la criminalité transfrontalière…Le Potentiel. Kinshasa 2013: P. 10]. In their reports, based on facts and investigations, human rights nongovernmental organizations like Human Rights Watch draw special attention to correlation between income from sales of contraband goods on world market and illegal arms traffic in the eastern regions of the DROC. Considerable amounts of arms and uncontrolled cash flow enter combat operation zones. In the context of armed groups activity there arises a problem of illicit trade in small arms acquired in exchange for the so called "conflict diamonds" (compact and convenient form of mutual payments). Strengthening of control over illicit trade in small arms, which is detrimental to relations between the DROC, Rwanda and Uganda, is still one of the sensitive issues for the whole region.
Militants from illegal armed groups commit terrorist acts not only overland. From time to time, the mass media reports on piracy on Lake Tanganyika. According to witnesses, it is highly unadvisable for cargo vessels to appear on the lake after 6 PM (i. e. at nightfall). Thus, on the night of July 1, 2014, Mai-Mai Yakutumba rebels attacked a merchant vessel near the City of Uvira (South Kivu Province). Pirates forced the captain to give them two thousand dollars, defueled the vessel and stole the board instrument. According to the report, militants were well armed and trained [Des miliciens Maï-Maï arraisonnent…Le Potentiel 2014: P. 9]. A similar incident took place in 2011, when armed combatants hijacked "Maman Wundja" vessel (about 100 passengers and 40 tonnes of cargo were on board) sailing across Lake Tanganyika from Uvira (South Kivu Province) to Moba (Katanga Province), and made the captain change the course, virtually taking him hostage [Les Maï-Maï Yakutumba prennent…APA. Kinshasa 2011: P. 8].
National separatists fuel terrorism in the DROC. According to estimates by authorities, over the last decade the most active was the religious and political movement Bundu dia Kongo. During the transition period (from 2003 to 2005), this organization controlled the largest part of the Lower Congo Province, advocating its complete independence as historical successor of the Great Kingdom of Kongo. Although after conflicts between the followers of movement and law enforcement forces in spring of 2008 the activity of Bundu dia Kongo was officially banned, it has not lost its "audience" and continues to influence its followers. Formally, the slogans of Bundu dia Kongo seem quite democratic. For example, in the proclamation of October 8, 2012, representatives of this organization call for protection of the Bakongo people [Document de l'organisation réligieuse de la RD Congo «Bundu dia Kongo»…Kinshasa 2012: P. 3].
Bursts of separatist sentiment fostering national differences are constantly observed in the Katanga Province. In the middle of 2014, Kata Katanga illegal armed group militants announced that on June 11, on the anniversary of proclamation of the Republic of Katanga, which existed from 1960 to 1963 but was not recognized by the world community, they intended to seize its provincial capital, the City of Lubumbashi. The purpose of seizing the second most important city after the capital was to proclaim independence of Katanga once again and plant their flag at the strategic sites of the city. They considered the monument to Moise Tshombe, "the President" of the Republic of Katanga, as one of such sites. Although the announcement of Kata Katanga was not implemented and only frightened the civilians with gunfire, security agencies including military and police forces were prepared to meet the attack with a massive array of military equipment [Tensions à Lubumbashi…Agence Presse Associée. Kinshasa 2014: P. 1].
One of the ways for Islam to penetrate the DROC is trading with neighbouring countries. "Trust relations in business", a Congolese diplomat said in a conversation, "create a fertile ground for discussing, among all, religious topics". Besides, long distance drivers, for example, from Tanzania and Zambia, as bearers of Islamic culture are considered here to be spreading Islam in the eastern and western parts of Congo. As the diplomat emphasized, the National Committee for the Coordination of Anti-International Terrorism cooperates with regional and international organizations in this field, and "uses analytical potential of the CIA". According to him, this organization traced the activity of Somalian radical Salafi Ash-Shabaab movement, which was founded in the DROC. It was created in 2000 (translated from Arabic as "youth") and is the part of Al-Qaeda, which seeks to establish strong relations within the DROC. In 2011 Ash-Shabaab emissaries tried to contact Islamic organizations in the eastern regions of the country, primarily in South Kivu Province, where Pakistani subunits of MONUSCO were quartered. The Islamic group Ash-Shabaab claimed responsibility for a terrorist attack in the capital of neighbouring Uganda, the City of Kampala, on July 11, 2010. The Ugandan authorities stated that terrorists supposedly entered the country from the territory of the DROC. Military command of Uganda put forward a public assumption of Ash-Shabaab connection with Uganda rebel anti-government ADF group, based in the western regions of the DROC.
Ash-Shabaab counts 7 to 9 thousand militants from various illegal armed groups [Kongo 2013: P. 12]. The prospect of its penetrating the DROC poses an additional grave threat to both national security of the country and improvement of conditions in the central region of Africa as a whole. In the interview to the Potentiel magazine Congolese researcher of the problems of Islam Valentina Soria mentioned that Ash-Shabaab aims to adapt to the local African cultures, thus capturing political and economic space and establishing stable relations [Cinq questions…Le Potentiel. 10.10.2013: P. 4].
One of the documents, which was ostensibly left in the car of Fazul Abdullah Mohammed from Ash-Shabaab and later got into the Canadian newspaper The Toronto Star, contains information about special operation performed in Bombay in 2008, in Nairobi in 2013, and in The Ritz Hotel in London. In the same document it is also said that such countries as Uganda, Ethiopia and Burundi are considered to be "the enemies of Islam" and are to be fought against by all means. Arming of the adherents of Islam is also mentioned. They consider Kalashnikov rifle to be "a bulky weapon" and prefer to arm themselves with guns and hunting knives! [Cinq questions…Le Potentiel. 10.10.2013: P. 4].
Radical Islam and terrorism are constantly in the focus of Congolese authorities' attention. Article 52 of the Constitution serves as a ground for banning terrorist activities. It states: "No individual or group of individuals may use part of the national territory as a basis for subversive or terrorist activities against the Congolese State or any other state" [La Constitution de la Republique Démocratique du Congo 2006: P. 23]. The issues of antiterrorist and anti-criminal activities as well as of spreading revivalism are among priorities in the work of the DROC security agencies, as in the eastern regions of the country there constantly emerge flash points of military conflict, which are fertile ground for serious terrorist attacks. The National Committee for the Coordination of Anti-International Terrorism investigates these issues. This body was established by the Presidential Decree No. 070/2001 as of 26 December 2001. This regulatory act is, in fact, the only internal document regulating interdepartmental cooperation in this field.
The activity of the Committee is controlled directly by the Head of State, while the Special Adviser to the Head of State on Security is responsible for coordination. In accordance with the Decree, the tasks of the Committee include executive decision-making on all the issues in the field of fighting terrorism, coordination of application of the field-specific international conventions, development and conduct of national activities, provision of corresponding cooperation with foreign countries and international organizations. Among the members of the Committee there are Ministers of Foreign Affairs and International Cooperation (the post is currently divided in two), Minister of National Security (the post was abolished), Minister of Defence, Minister of the Interior, Minister of Justice, military, political and diplomatic advisers to the Head of State, and Special Adviser to the Head of State on security. The latter acts as the permanent Secretary of the Committee and controls the work of its technical secretariat.
Kinshasa is the member of several international and regional conventions in the field of antiterrorist protection, including the African Union. It supports similar initiatives in the network of subregional organizations. In May 2008, under the auspices of the African Centre for the Study and Research on Terrorism the decision was made about cooperation in the field within the Economic Community of Western African States (ECOWAS), brought back to life by efforts of the DROC.
As the present study has shown, the prospect of radical Islam spreading in the DROC poses a certain threat to both national security and improvement of conditions on the African continent as a whole. As of now, Congo still has not reached the so-called "red mark," signifying the reign of terrorists. However, it may happen that tomorrow terrorists' hegemonic ambitions will spread to this central African country as well [Des terrorists menacent…Le Phare.Kinshasa 2012. P.2]. "Vacuum" of governmental authorities in the provinces of the country creates favourable conditions for spread of terrorist attacks. Being weak, security agencies currently cannot ensure safety in these regions. Congolese politicians state that if the territory of the country is not controlled by the authorities, army and the republican police (taking into account geostrategic situation of the DROC on the African continent), nothing can constrain the surge of terrorists, who have already set foot in Libya, Mali, Niger, Nigeria, Chad, Somalia, Kenya, Sudan and South Sudan. It may happen that the ideas of revivalists from the "Islamic State" (ISIL) group, formed in 2014, will also be promoted in the African countries. It will cause new flash points of religion-based conflicts, which, combined with the "traditional" conflicts, such as, for example, ethnic ones, will further complicate political and military situation in some African countries and will lead to armed conflicts.
Taking into consideration the important role of religious denominations in political life and shaping of public opinion in African countries, spread of Orthodoxy and its cultural values can act as a counter-force to aggressive Islam in Africa, as well as religious extremism at large. Greek communities, which, in addition to religious worship use religious institutes and local congregation to address their own political and economic issues, should play an important role in developing and supporting Orthodox culture.
*Natalia Zerlitsina, Institute of International Relations and Social and Political Sciences, Moscow State Linguistic University
References
Borishpolets K., Babadzhanov A. Migration risks of the Central Asian countries. Analytical note [Migracionnye riski stran Central'noj Azii. Analiticheskaja zapiska. Moscow: Institute of International Research (MGIMO), 2007. 32 pp.
Cheik Ali Mwinyi, un nouveau représentant à la tête de la communauté islamique du Congo [Sheikh Ali Mwinyi, a new leader of the Islamic community in Congo] La Référence plus, Kinshasa. 19.03.2014. P. 2.
Des miliciens Maï-Maï arraisonnent un bateau sur le lac Tanganyika ["Mai-Mai" insurgents inspect the ship on the Lake Tanganyika]. Le Potentiel. 11.07.2014. P. 9.
Des terrorists menacent les Grands Lacs [Fight against trans-border crimes: prosecuting police joins the debates]. Le Phare. Kinshasa. 03.07.2012. P. 2.
Document de l'organisation réligieuse de la RD Congo «Bundu dia Kongo» – Message du Grand Maître. Le signal fort de la bonne volonté [The Document of the DROC religious organization Bundu dia Congo. The letter of the Master. The Powerful Sign of Good Will]. Kinshasa. 8.10. 2012. P. 4.
Kemal A. ISIL. The Ominous Shadow of Caliphate [IGIL. Zloveshhaja ten' halifata]. Moscow: Algorithm, 2015. P. 156.
Kongo R. Terrorisme : Les Shebab préparaient des attaques à Londres [Terrorism. Ash-Shabaab prepares attacks in London] Le Potentiel. 01.10.2013. P. 12.
La Constitution de la Republique Democratiquee du Congo [The Constitution of the Democratic Republic of Congo]. Kinshasa. 18.02.2006. P. 23.
Les Maï-Maï Yakutumba prennent en otage un bateau sur le lac Tanganyika ["Mai-Mai" Yakutumba insurgents attack the ship on the Lake Tanganyika] APA. Kinshasa. 28.09.2011. P. 8.
Les musulmans de la RDC ont un nouveau représentent légal [Newly elected representative of Muslims in the Democratic Republic of Congo]. L'Observateur. Kinshasa. 14-16.03.2014. P.11.
Les Shebabs recrutent-ils en Europe? [Does the radical Islamic group "Ash-Shabaab" recruit people from Europe?] L'Observateur. 03.10.2013. P. 11.
Lutte contre la criminalité transfrontalière : la Police juridiciaire des parquets associé au débat [Fight against trans-border crimes: prosecuting police joins the debates]. Le Potentiel. Kinshasa. 22.10.2013. P. 10.
Trenin D.I. Traditional and New Security Challenges in International Relations [Tradicionnye i novye vyzovy bezopasnosti v mezhdunarodnyh otnoshenijah]. Modern Science on International Relations Abroad. Vol. 2. Moscow: NP RIAC, 2015. pp. 136-141.
Savateev A.D. The Islamic Civilization in Sub-Saharan Africa [Islamskaja civilizacija v Tropicheskoj Afrike]. Moscow: Institut Afriki RAN, 2006. pp. 190-270.
Tensions à Lubumbashi pour l'aniversaire de la secession katangaise [Tensions in Lubumbashi during the anniversary of Katanga separation]. Agence Presse Associée. Kinshasa. 14.07.2014. P. 1.
Cinq questions à Valentina Soria [5 questions to Valentina Soria]. Le Potentiel. 10.10.2013. P. 4.
Vavilov A.I. The US Policy in the Muslim World on the Example of Arab countries [Politika SShA v musul'manskom mire na primere arabskih stran. M.: Biblos konsalting]. Moscow: Biblos Consulting, 2009. P. 229.
https://moderndiplomacy.eu/2019/02/09/trends-in-the-spread-of-radical-islam-in-africa-the-case-of-the-democratic-republic-of-the-congo/
--------
Southeast Asia
Turkey urges China to respect Uighur rights, close camps
February 10, 2019
ISTANBUL: Turkey has called China's treatment of its minority Uighurs "a great cause of shame for humanity."
In a statement Saturday, Foreign Ministry spokesman Hami Aksoy said it's "no longer a secret" that China has arbitrarily detained more than a million Uighurs in "concentration camps." He said the Turkic Muslim population faced pressure and "systematic assimilation" in western China.
Aksoy said Turkey has shared with China its position on "all levels" and urged authorities to close the detention facilities and respect human rights.
The minister said Turkey had also learned of the death in prison of famed Uighur musician and poet Abdurehim Heyit, who had been sentenced to eight years over one of his songs.
"This tragedy has further reinforced the reaction of the Turkish public opinion toward serious human rights violations committed in the Xinjiang region," Aksoy said.
"We expect this legitimate response to be taken into account by the Chinese authorities. We respectfully commemorate Abdurehim Heyit and all our kinsmen who lost their lives defending their Turkish and Muslim identity," Aksoy said.
Heyit was a master of the dutar, a type of two-stringed instrument with a long neck that is found in Iran and throughout Central Asia. His detention was considered indicative of China's determination to crack down on Uighur intellectuals and cultural figures in an effort some say to eradicate a separate Uighur language and identity.
Heyit's death could not be independently confirmed. China had no immediate response to the minister's remarks.
Beijing has intensified a security clampdown on Uighurs in the northwestern region of Xinjiang that was put in place after a bloody 2009 riot. Droves of Uighurs have fled, many traveling to Turkey, where the language and culture are similar to that in Xinjiang.
After months of denying their existence, Chinese authorities under increasing outside pressure acknowledged the system of camps, terming them vocational training centers. They have provided little or no information on how many are interned within them and how long they are being held.
Turkish President Recep Tayyip Erdogan had once accused China of "genocide" but has since established closer diplomatic and economic relations with Beijing.
http://www.arabnews.com/node/1449771/middle-east
--------
Want free water? Help build our caliphate, Hizbut Tahrir tells Muslims
07 February 2019
By Syed Jaymal Zahiid
KUALA LUMPUR, Feb 7 — The Malaysian chapter of hardline Islamist group Hizbut Tahrir said today it will provide all natural resources like water for free should Malaysian Muslims back its push for an Islamic caliphate, amid reports that Putrajaya could raise tariffs soon.
Its spokesman Abdul Hakim Othman said the planned increase in water tariffs was a form of capitalist oppression on the people, and that government ownership of the utility was unlawful under Islam.
The group said Islam dictates that water is among public properties that cannot be appropriated by the state or any individuals, and that state ownership of natural resources was an extension of a system that "is renowned for sucking the blood of the people for the interest of the capitalists".
"It is crystal clear that both the current and previous governments are just conveyors of the capitalist system which was bequeathed by the infidelic colonialist to this country," Hizbut Tahrir Malaysia (HTM) said in a statement.
"Mischief will continue to overwhelm the country and the Muslim community if capitalism is not replaced with the Islamic system.
"Therefore, Hizbut Tahrir has never given up in calling upon all Muslims to join our works in re-establishing the entire Islamic law under the shade of the 'righteous caliphate' upon the method of the prophethood."
The public will earn their right to enjoy free and quality water facility under the caliphate, the group added.
Last month, Water, Land and Natural Resources Minister Dr Xavier Jeyakumar said the water tariff may be increased in stages this year as the government seeks to restructure the water supply services industry.
While discussions about the rate are still ongoing, there is speculation that it could be capped at 20 per cent.
The announcement immediately sparked backlash as voters accuse Pakatan Harapan of reneging on its promise to bring the cost of living down.
Jeyakumar in response said the increase is unlikely to burden consumers despite public scepticism.
HTM said the government may only act as the guardian of water but Islam prohibits it from possessing it, arguing that imposing tariffs on water for profit was a sin.
Full report at:
https://www.malaymail.com/news/malaysia/2019/02/07/want-free-water-help-build-our-caliphate-hizbut-tahrir-tells-muslims/1720638
--------
Indonesia sees US$1.6 billion windfall from halal labelling rule
February 10, 2019
JAKARTA: Indonesia is set to make halal labelling mandatory for consumer products and services this year with the government assuming greater control of the certifying process from the Muslim-majority nation's Islamic cleric council.
Issuing halal certificates to consumer goods from shampoos to toothpaste and cosmetics may net the government about 22.5 trillion rupiah (US$1.6 billion) in annual revenue, said Sukoso, head of the Halal Product Guarantee Agency, known as BPJPH. The draft regulation on mandatory halal labelling is awaiting President Joko Widodo's approval, he said.
Indonesia is overhauling the halal certification rules as the country's Shariah economy is set to swell to US$427 billion by 2022, with halal food alone accounting for more than 50%, according to Bank Indonesia estimates. Under a law passed in 2014, the country will need to implement compulsory halal labelling latest by Oct. 17. Halal products and services cater to Muslims by complying with the religion's tenets.
Indonesia wants to be world's halal goods hub as demand soars
The new rules also aim to usher in greater transparency in the certification process and guarantee a steady stream of revenue for the government, Sukoso said. The rules require certification for all goods and services related to food, beverage, drugs, cosmetics, chemical, biological and genetically engineered products as well as all consumer goods, he said.
Religious edicts
Once the regulation comes into force, the BPJPH will start managing halal certification requests in partnerships with the Indonesian Ulema Council — the issuer of religious edicts — and auditors under a so-called halal inspection agency, Sukoso said.
Thelabellingg requirement will be gradually implemented and it may take three to five years before covering most food and beverage products and five to seven years for health products, Sukoso said.
"We will first focus on food and beverage. If some products are still unable to meet the halal requirements, there is a period of as long as five years for the producers to fix the issues," Sukoso said.
Full report at:
https://www.freemalaysiatoday.com/category/business/2019/02/10/indonesia-sees-us1-6-billion-windfall-from-halal-labelling-rule/
--------
Ahok joins Indonesia's ruling party PDI-P
Feb 10, 2019
Former Jakarta governor Basuki Tjahaja Purnama, who was recently released from jail, has joined the political party of President Joko Widodo, just two months before the elections.
Mr Basuki said in Bali on Friday that he has joined the Indonesian Democratic Party of Struggle (PDI-P), the biggest party in Parliament, raising speculation over whether he would be campaigning for Mr Joko, his close ally who is seeking re-election in the April 17 polls.
Active campaigning by Mr Basuki could hamper, not help, the President's campaign. This is because Mr Basuki, a Chinese-Christian politician, is an easy target for Islamic conservatives and hardliners, a group largely seen as being against the re-election of Mr Joko.
Mr Basuki lost in the 2017 gubernatorial election after his opponent played the religion card, triggering massive street rallies involving tens of thousands of Muslims protesting against him. Mr Basuki was later convicted of blasphemy against Islam. He was sentenced to a two-year jail term and released on Jan 24 after getting remission.
A senior PDI-P official said yesterday that Mr Basuki, widely known by his Chinese nickname Ahok, will not be involved in the ongoing presidential campaign because of personal matters. PDI-P secretary-general Hasto Kristiyanto told The Sunday Times: "He will not take part in the campaign as he has his own agenda abroad for 21/2 months."
Mr Basuki, 52, had indicated that he would soon marry his girlfriend Puput Nastiti Devi, 21.
Mr Hasto said that as an ordinary party member, Mr Basuki will be given assignments and undergo processes such as political training.
Mr Basuki's political career is closely watched because of his meteoric rise before his downfall.
He began his political career by becoming a member of the regional legislative council in his native East Belitung regency in Bangka Belitung Islands province in 2004, through the New Indonesia Alliance Party. He was also a member of Indonesia's major parties Golkar and Gerindra. The latter's leader Prabowo Subianto is challenging Mr Joko in the presidential polls.
In the run-up to the 2017 gubernatorial election, Mr Basuki was poised to make history as the first elected governor of Jakarta who was not only Chinese but also Christian. But his straight-talking manner and championing of pluralism, which endeared him to many, also saw his opponents turning that against him.
Experts have pointed out that since his release from prison, Mr Basuki has refrained from speaking about politics so as not to jeopardise the re-election bid of Mr Joko.
The incumbent is leading in the presidential campaign against Mr Prabowo, but with three more televised debates in the next few weeks, the campaign dynamics could change quickly over the next two months. The debates feature both the presidential candidates and their respective running mates, senior cleric Ma'ruf Amin and former businessman Sandiaga Uno.
Mr Arya Fernandes, a political expert from the Centre for Strategic and International Studies, said that Mr Basuki's role in PDI-P and in politics will not materialise soon.
The party has to assess what will be an appropriate position for Mr Basuki and the impact he will bring to the party. He also needs to adapt to its political culture, which is different from that of his previous parties.
Full report at:
https://www.straitstimes.com/asia/se-asia/ahok-joins-indonesias-ruling-party-pdi-p
--------
Europe
Macron may ease strict secularism laws to tackle radical Islam
February 10 2019
Strasbourg's grand mosque is an extraordinary sight. Covered by a 40ft wide copper dome and flanked by soaring wings, it has become a cultural landmark in the city since its completion in 2012, attracting not just worshippers but also a steady stream of school groups and tourists.
Equally extraordinary in France, a country where the separation of the state from religion is rigorously enforced under a law dating back to 1905, public authorities provided the mosque with a prime riverside plot and put up a third of the €8.7m budget (£7.6m) to build it.
Different rules apply here, because the Alsace-Moselle border region where Strasbourg lies was temporarily part of neighbouring Germany in 1905, and the French laicité (secularism) law was not applied after it…
https://www.thetimes.co.uk/edition/world/macron-may-ease-strict-secularism-laws-to-tackle-radicai-islam-nk7ld8plf
--------
Wary hope for French families awaiting returns from Syria
February 10, 2019
Labastide-Rouairoux, FRANCE: After years of waiting for his son to come home from Syria, Jacques Le Brun is cautiously hoping that day may be nearing — along with the chance to meet three grandchildren who have never seen France.
"He'll certainly go to prison, and he knows that. He probably even deserves it a little," Le Brun says at the family home in Labastide-Rouairoux, a village tucked in a forested valley of southern France.
The important thing, he says, is that Quentin makes it home alive after taking his wife and infant daughter in 2014 to join the Daesh group in Syria — where he later appeared in a chilling Deash propaganda video burning his passport.
About six weeks ago Le Brun learned that his son, now 30, was stranded near the Euphrates river in the last pocket of Daesh-held territory, besieged by Kurdish forces and targeted by coalition airstrikes.
Then last month reporters from the magazine Paris Match found Quentin and his family as they were surrendering, raising the possibility they could be among the roughly 130 French nationals who may soon be repatriated to France from Kurd-controlled prison camps in northern Syria.
The government is weighing the move after President Donald Trump announced in December that he would withdraw US troops from the war-torn country.
That prompted fears of a security vacuum in the north of Syria, in particular if Kurdish forces abandoned their surveillance of the captured fighters to defend against a potential assault by Turkey, which considers the Kurds a terrorist threat.
For Quentin's family, along with dozens of others across France, it's a chance to be reunited after years of anxiety over his fate.
"Our life has changed," said his sister, asking not to be identified by name. "Before we woke up each morning wondering if they were alive. It was hell."
French government sources say 70 to 80 children are among the citizens being held by Kurdish forces, and around 15 women — half of whom are considered "dangerous."
An additional 250 men, as well as accompanying wives and children, are thought to be elsewhere in Syria. An estimated 300 French extremists are thought to have been killed during the years-long coalition fight to eradicate Daesh's self-proclaimed caliphate.
France had long insisted that captured French fighters must be tried locally, either in Syria or Iraq, a hard-line stance which nodded to fears that returned fighters could stage attacks on French soil upon their release from prison.
"We, their families, just want them to be able to return to France and be judged fairly, sentenced only for what each of them has done — and not have to pay for all the Daesh crimes," said the mother of a 30-year-old woman now in Syria with her four children, aged 10 months to nine years old.
While calling their potential return "a glimmer in the night," she worries they could be killed before any decision is made to bring them back.
"We've heard of at least four French women killed in the past few months, along with their husbands and 18 children in total" during the coalition bombings, the woman said.
Like several family members who spoke with AFP, she asked that her name be withheld, fearing harassment or ostracization in a country deeply scarred by the wave of deadly extremist attacks since the Charlie Hebdo and Bataclan massacres of 2015.
Despite reports that repatriations could begin in the coming days, Jacques Le Brun says he has had "no information, no official contact" from French authorities.
The 58-year-old retired truck driver says he is still trying to understand how his son, who later took the name Abou Osama Al-Faransi, became caught up in extremist ideology.
Quentin began attending a local mosque before falling in with the "Artigat" network, named for a village near the southwestern city of Toulouse.
The village was the home Olivier Corel, a Syrian-born Salafist imam suspected of mentoring several extremists including Mohamed Merah, who was shot dead by police after he murdered seven people, among them a rabbi and three Jewish children, in Toulouse in a 2012 killing spree.
Albert Chennouf-Meyer, father of one of Merah's seven victims, has called on President Emmanuel Macron to keep the extremists out.
"Mr President, you will in the coming weeks (...) bring back 130 French extremists, some of whom have the blood of our children on their hands," he said in an open letter seen by AFP on Saturday.
"I intend to use all my strength against this criminal decision," he added.
Le Brun wants to believe his son wasn't involved in any violence or killings, but the release of the Daesh propaganda video has been a heavy burden on his family.
Quentin's mother finds it hard to hold down a job, and his youngest brother has been hounded by high school classmates.
Many in the village make no secret of their hostility to Quentin's return.
"It's not necessarily a good idea to bring back these extremists, they might start again," said Laurent Montagon, a 53-year-old pizzeria owner in Labastide-Rouairoux.
Full report at:
http://www.arabnews.com/node/1449761/world
--------
Arab World
Kushner to visit Middle East to brief on economic component of peace plan
9 February 2019
White House senior adviser Jared Kushner will travel to at least five Arab countries in late February to brief diplomats on the economic portion of a long-awaited US peace proposal for the Middle East and seek their support, officials said on Thursday.
Kushner and Trump's Middle East envoy, Jason Greenblatt, plan stops in Oman, Bahrain, Saudi Arabia, the United Arab Emirates and Qatar on their week-long trip, two senior White House officials said. They may add two other countries to their itinerary.
Kushner and Greenblatt, joined by State Department envoy Brian Hook and Kushner aide Avi Berkowitz, will not brief the diplomats on the "political component" of the peace plan, which covers all core issues of the decades-old conflict between Israel and the Palestinians, the officials said.
Instead, they will gauge the level of support for the economic part of the plan, which is expected to include a combination of aid and investment to help the Palestinian people, the officials said.
"Jared is going to share elements of the economic plan to the region. The economic plan only works if the region supports it," said one official who briefed a small group of reporters.
"This is a very important part of the overall equation."
Seeking regional support for the economic plan is a step on the way to the eventual unveiling of Trump's sweeping proposals to resolve the Israeli-Palestinian conflict. The economic plan is widely expected to include international funding proposals for the impoverished Gaza Strip.
Officials said they realized that the Arab diplomats Kushner meets will want to know elements of the political component before rendering a judgment on the economic plan.
"They're not going to support the economic plan without making sure they also support the political plan, and we recognize that. So the support, I'm sure in some manner, will be conditioned on whether they are comfortable with the political plan," one official said.
https://english.alarabiya.net/en/News/middle-east/2019/02/09/Trump-adviser-Kushner-to-visit-Middle-East-on-peace-plan-s-economic-part.html
--------
Lattakia: Syrian Army Ready for Imminent Operation Against Terrorists
Feb 09, 2019
The Syrian Army units stationed in the heights of Eastern Lattakia are waiting for a final order to kick off the assault on the Islamic Turkistani Party terrorist group in the Western battlefronts of Idlib, the Arabic-language service of the Russian Sputnik news agency quoted a Syrian Army commander as saying.
The source pointed to the dispatch of massive military equipment to Eastern Lattakia and reinforcing the Syrian Army's military positions there which is one of the most important battlefronts of Idlib, and said, "The Syrian Army troops are at the highest level of their military preparedness to conduct the operations."
The Lattakia battlefront is stretched in parallel to the fronts in Hama and Idlib from Sahl al-Ghab to the town of Kabani which is the main gate to the positions of Tahrir al-Sham in Badama and Najieh town as well as Jisr al-Shoghour as main center of Turkistani and Central Asian militants.
Other Syrian Army artillery and missile units pounded Tahrir al-Sham's military positions in the outskirts of town of Talmans, killing a large number of militants and destroying their military equipment.
The Syrian Army attacks came in response to Tahrir al-Sham's attacks on the government forces' positions in Southern Idlib.
In Northern Hama, Syrian Army's artillery units targeted and destroyed the terrorists' military positions in Tal-e al-Sayyad, destroying several of their hideouts and military positions.
In a relevant development on Thursday, the Syrian army's units pounded the terrorists' military convoys in Northern Hama and Southern Idlib as the latter attempted to strengthen its positions in the demilitarized zone.
A Syrian field source reported on Thursday that the terrorists are strenuously bolstering their positions in the demilitarized zone in Northern Hama and Southern Idlib and sending new convoys to the contact lines with the Syrian army.
He added that the army launched heavy artillery and missile attacks on a military convoy of Horras al-Din militants in al-Tamane'ah in Southeastern Idlib, destroying a large number of their military equipment and killing several terrorists.
The army forces also targeted a gathering of military vehicles and terrorists in the town of Jorjanaz in Southern Idlib, inflicting heavy losses on them.
Meantime, the army troops launched artillery attacks against the military vehicles of Turkistani terrorists who were separating and stealing parts and equipment of Zizon power plant in Southwestern Idlib, destroying their military equipment.
Also, in Northern Hama, the Syrian army forces repelled an offensive by terrorists from the town of Ma'arkabeh towards the military points in al-Zalaqiyat and Zalin.
Also late last week, the Syrian army had heavily pounded the military positions and movements of the terrorists in Northern Hama and Southern Idlib after warding off their offensive.
The Syrian Army attacks came in response to the Turkistani Islamic Party attacks on their positions in Northern Hama and Southern Idlib.
The Syrian Army heavily pounded the terrorists' movements and military positions in the villages of al-Sarmanieh, Havash, al-Hoveijeh to North and Northwest of Hama, inflicting heavy losses on them.
In Southern Idlib, the Syrian Army also fended off an attack by Tahrir al-Sham al-Hay'at (the Levant Liberation Board or the Al-Nusra Front) on their positions from al-Hobait and al-Kasik.
The terrorists sustained heavy losses in the failed attacks on the Syrian Army military positions.
The Syrian Army units also pounded the terrorists' military positions in the village of Safouhen in Jabal al-Zawiyeh in Southern Idlib, destroying one of their arms depot and military equipment.
Full report at:
http://en.farsnews.com/newstext.aspx?nn=13971120000243
--------
US-backed Syrian force launches 'final battle' against ISIS
9 February 2019
The US-backed Syrian Democratic Forces (SDF) began an assault against the final ISIS extremist group enclave in eastern Syria on Saturday, aiming to wipe out the last vestige of the extremist group's "caliphate" in the SDF's area of operations.
President Donald Trump, who is planning to pull US forces out of Syria, said on Wednesday he expected an announcement as early as next week that the US-led coalition operating in support of the SDF had reclaimed all the territory previously held by the extremist group.
The enclave, close to the Iraqi border, comprises two villages. ISIS also still has territory in the part of Syria that is mostly under the control of the Russian- and Iranian-backed Syrian government.
Mustafa Bali, head of the SDF media office, told Reuters the aim of the assault was to "eliminate the last remnants of the terrorist organization" and called it the "last battle".
He later wrote on Twitter that the battle had started and the enclave would "be cleared soon".
Bali told Reuters that in the last 10 days SDF fighters had handled the battle "patiently" as more than 20,000 civilians were evacuated from the besieged enclave.
The SDF, spearheaded by the Kurdish YPG militia, has driven ISIS out of a swathe of territory in northern and eastern Syria over the last four years.
ISIS leader Abu Bakr al-Baghdadi declared the group's "caliphate" in 2014 in territory stretching across Iraq and Syria. But the group lost its two main prizes - the Syrian city of Raqqa and Iraq's Mosul - in 2017.
After capturing Raqqa, the SDF advanced southwards into Deir al-Zor province, attacking the extremists in territory on the eastern bank of the Euphrates River.
The remaining ISIS territory in Syria is west of the Euphrates.
Trump said in December he was pulling all 2,000 U.S. troops out of Syria, saying the battle against ISIS there was almost won.
But a top US general said on Tuesday the group would pose an enduring threat following the US withdrawal, as it retained leaders, fighters, facilitators and resources that would fuel a menacing insurgency.
The Wall Street Journal reported on Friday that the US military was preparing to withdraw from Syria by the end of April.
Full report at:
https://english.alarabiya.net/en/News/middle-east/2019/02/09/SDF-will-attack-ISIS-Syria-enclave-once-civilians-out.html
--------
Qatar strongly protests airspace violation by Bahrain
Feb 10, 2019
The Qatari government has accused Bahrain of violating its airspace in a rare such reaction since relations were severed two years ago over a diplomatic standoff between Arab states in the Persian Gulf region.
Qatar's news agency said on Saturday the country's envoy to the United Nations Sheikha Alya Ahmed bin Saif al-Thani had submitted a letter to the UN Secretary-General informing the authority about a violation of Qatari airspace by a Bahrain Air Force aircraft late last year.
It said Sheikha Alya had strongly protested in the letter Bahrain's act of violation which took place on December 27, 2018, saying the alleged breach had come "without the prior authorization of the competent Qatari authorities".
The ambassador also called on the UN to take the necessary measures to put an end to the "tendentious Bahraini violations" which she said had been repeated in recent times.
The alleged violation and the subsequent protest is the latest to come from a diplomatic stand-off between Qatar and Persian Gulf Arab countries allied to Saudi Arabia. The two sides severed diplomatic ties in June 2017 when Saudis came up with accusations of Qatar's support for terrorism.
Qatar has repeatedly denied the allegations, saying it has been deliberately isolated by the Arab alliance because Doha wants to maintain an independent line of foreign policy.
The Qatari government has also rejected a series of Riyadh's conditions for restoring diplomatic ties, including one that demands the country to reduce relations with Iran.
Full report at:
https://www.presstv.com/Detail/2019/02/10/588150/Qatar-airspace-violation-Bahrain-UN-protest
--------
US behaviour could trigger new Israel-Lebanon conflict: Russian envoy
Feb 9, 2019
The Russian envoy to Beirut says US actions in the Middle East are aimed at sowing discord in the region and can trigger a new conflict between Israel and Lebanon.
In an interview with Russia's Sputnik news agency on Saturday, Alexander Zasypkin accused the United States of inciting "new conflicts" that could draw in countries and actors throughout the already volatile region.
"As for a conflict between Israel and Lebanon, nothing can be predicted with certainty because the region is at a crossroads. Peoples are demanding the settlement of existing crises, the return to a peaceful life, the development of cooperation," he said. "A negative alternative to this is the incitement of new conflicts by the Americans, which could involve many countries as well as ethnic and religious forces."
Zasypkin also said Washington's policies toward Iran and the Lebanese resistance movement Hezbollah were further destabilizing the region, hailing Hezbollah for playing an important role in crushing terrorists in Syria.
"When events started unfolding in Syria, Hezbollah sided with its lawful authorities, seeing the fight against terrorists in the region as its duty."
"Hezbollah became directly involved in military operations at Syria's request, alongside Russia and Iran. The party took a responsible approach to what was happening in Syria and the region as a whole and contributed significantly to terrorists' defeat," Zasypkin said.
Iran has been offering military advisory support to Syria at the request of the Damascus government, enabling its army to speed up its gains on various fronts against the terror groups. Hezbollah forces have also been aiding the Syrian government clear areas bordering Lebanon of terrorist groups.
The Tel Aviv regime launches frequent attacks against targets inside Syria in what is widely viewed as an attempt to prop up the terrorist groups that have been suffering heavy defeats at the hands of Syrian soldiers.
There has been a hike in Israeli strikes since the collapse late last year of the Daesh Takfiri terrorist group, which significantly demoralized other militant groups operating against Damascus.
Israel has also provided weapons to anti-Damascus militants as well as medical treatment to Takfiri elements wounded in Syria.
US forces maintain significant presence in northern Syria, where they back Kurdish militants operating against the Syrian government.
Zasypkin further described the resistance movement as a powerful political party that is actively involved in the work of Lebanon's parliament and government, saying Hezbollah Secretary General Sayyed Hassan Nasrallah was acting as a force of restraint.
Full report at:
https://www.presstv.com/Detail/2019/02/09/588141/Alexander-Zasypkin-Russia-Lebanon-envoy-Hezbollah-Syria-US
--------
US-led airstrikes claim 3 more civilian lives in Syria's Dayr al-Zawr
Feb 9, 2019
At least three civilians have lost their lives and several others sustained injuries when the US-led coalition purportedly fighting the Daesh Takfiri terrorist group conducted a series of airstrikes in Syria's embattled eastern province of Dayr al-Zawr.
Local sources told Syria's official news agency SANA that the aerial attacks hit al-Tayyaneh town in the province on Saturday.
The US-led coalition has been conducting airstrikes and operations against what are said to be Daesh targets inside Syria since September 2014 without any authorization from the Damascus government or a UN mandate.
The military alliance has repeatedly been accused of targeting and killing civilians. It has also been largely incapable of achieving its declared goal of destroying Daesh.
Syria has on numerous occasions condemned airstrikes by the US-led coalition, asking the UN to force Washington and its allies to put an end to their military intervention in the Arab country.
On January 19, the Syrian Ministry of Foreign Affairs and Expatriates, in two separate letters addressed to UN Secretary General Antonio Guterres and the former rotating president of the Security Council, Francisco Antonio Cortorreal, censured US-led coalition strikes conducted against al-Baghuz al-Tahtani village in Dayr al-Zawr province a day earlier, saying the US-led warplanes had targeted dozens of families fleeing from areas controlled by Daesh.
Local sources, requesting anonymity, told SANA that 20 people were killed in the raid when US-led warplanes bombarded residential buildings in al-Baghuz al-Tahtani.
"This new crime is in line with the criminal acts that the US-led coalition is perpetrating systematically and on a daily basis against Syrian people, and in flagrant violation of Syria's sovereignty and territorial integrity," said the letters.
"The activities of this alliance are illegal as it has been formed outside the UN framework. Such acts have only contributed to the expansion of extremist terrorist organizations, especially Daesh. Cooperation and coordination between these terrorist groups and this alliance has been documented in numerous letters that [the] Syrian Arab Republic has sent to the Security Council," added the letters.
The ministry also called on the UN Security Council to shoulder its responsibilities as regards to the establishment of international peace and security, and put an immediate halt to crimes against humanity that were being carried out by this "rogue" coalition against Syrian civilians and infrastructure.
It also demanded that the Council take necessary measures to set up an international mechanism to punish the perpetrators of such crimes.
Syrians protest presence of US, French troops in their country
Meanwhile, hundreds of people have staged rallies in Syria's northern and eastern cities of Raqqah and Dayr al-Zawr in protest against the presence of American and French military forces there.
The demonstrators set US and French flags on fire, and demanded the deployment of Syrian government troops in areas liberated from the clutches of foreign-sponsored Takfiri terrorists.
They also reaffirmed their strong objection to the presence of US soldiers and all foreign troops in the Arab country.
Full report at:
https://www.presstv.com/Detail/2019/02/09/588125/USled-airstrikes-claim-3-more-civilian-lives-in-Syrias-Dayr-alZawr
--------
Caught in Syria, foreign terrorist suspects may face trial in Iraq
February 10, 2019
BAGHDAD: Their home countries don't want them and holding trials in Syria isn't an option: now suspected foreign terrorists could end up facing tough justice over the border in Iraq.
Both countries have suffered for years at the hands of the Daesh group and Iraqi courts have already meted out hefty sentences to hundreds of foreigners detained on its soil, often after lighting-quick trials.
As the final shred of the once-sprawling terrorists "caliphate" crumbles in eastern Syria, Kurdish-led forces backed by the US have captured hundreds more diehard foreign fighters.
The American military — which spearheads an international coalition fighting Daesh — has in the past shown itself willing to hand those captured in Syria to the authorities in Iraq.
In August AFP attended the Baghdad trial of 58-year-old French citizen Lahcene Gueboudj, who said he had been spirited from Syria to Iraq by US troops.
Belkis Wille of Human Rights Watch said the organization knows of at least five instances in which US forces handed foreign detainees over to Iraq's Counter Terrorism Service.
They include Australian and Lebanese citizens transported out of Kurdish-controlled areas, at least one of whom was eventually sentenced to death in Iraq.
Iraqi justice can be harsh and its courts have doled out death or life sentences to hundreds of foreigners accused of being Daesh members, including some 100 women.
Others who come from Syria can expect similar treatment.
"They are at risk of torture and unfair trials in Iraq," Wille warned.
The fate of foreign fighters in Syria has come into sharper focus since President Donald Trump's announcement in December that the US will withdraw its troops from the war-torn country.
Washington has stepped up pressure on its reluctant allies to bring home hundreds of terrorists, but the issue is politically sensitive in countries like Britain and France.
Governments have been grappling for weeks with the question of foreign fighters detained by the Kurdish-led Syrian Democratic Forces, who have warned that they may not be able to guard their jails once US troops leave.
France, hit by repeated deadly Daesh attacks, has so far opposed returning terrorists. But since Trump's announcement, Paris has said it is studying "all options."
On a visit to Iraq this week, French Defense Minister Florence Parly warned of the need "to avoid some terrorists ending up in the wild and dispersing."
Hisham Al-Hashimi, a researcher on terrorists movements, told AFP that a deal appears to have been struck with Iraq "at the very highest level and in secret" to tackle the issue.
Such a pact allows foreign fighters' countries of origin to avoid politically fraught repatriations; in exchange, Iraq will receive "ultra modern arms and crucial military equipment," Hashimi said.
"Iraq can put anyone on trial who passed through its territory, even if they didn't fight there and just headed to Syria," he said.
But while such a deal might solve a headache for politicians, it has raised serious concerns among relatives and representatives of those detained.
French lawyer Vincent Brengarth, who is handling the cases of some of those detained, questioned "how it could be justified that Iraqi courts would have jurisdiction" over crimes committed in Syria.
French officials say Kurdish forces in Syria are currently detaining some 60 adult French citizens.
Veronique Roy, a member of a group of around 70 French families with relatives who went to Daesh territory, said it would be "tragic" if captives were handed over to Baghdad.
Iraqi law means that anyone found guilty of joining a "terrorist group" can face the death penalty and its justice system has been accused of providing scant chance for a fair trial.
A number of foreign fighters have already been sentenced to death in Iraq, although three French terrorists tried so far have been handed life terms that equate to 20 years in prison.
Full report at:
http://www.arabnews.com/node/1449746/middle-east
--------
South Asia
Afghan, coalition forces kill 30 Taliban, ISIS-K militants in past 24 hours
10 Feb 2019
The Afghan and coalition forces have killed at least 30 Taliban and ISIS Khurasan (ISIS-K) militants during their latest operations which were conducted in the past 24 hours.
According to the informed military sources, a coalition air strike in Khugyani district of Nangarhar province killed 2 ISIS-K fighters while 7 more militants were killed during similar airstrikes conducted in Washer of Helmand and Chimtal district of Balkh province.
The sources further added that a coalition air strike in Qarah Bagh district of Ghazni killed 4 Taliban fighters.
The Afghan Special Forces conducted a clearance operation in Tarin Kot city of Uruzgan, killing 13 Taliban fighters and destroying 2 roadside bombs.
According to the informed sources, the Afghan Special Forces conducted a raid in Marawarah district of Kunar, killing 3 Taliban fighters while 1 Taliban fighter was killed during a similar operation in Zurmat district of Paktia province.
The anti-government armed militants including Taliban have not commented regarding the operation and killings of their militants so far.
https://www.khaama.com/afghan-coalition-forces-kill-30-taliban-isis-k-militants-in-past-24-hours-03279/
--------
Afghan Special Forces rescue 7 civilians from a Taliban prison in Helmand
10 Feb 2019
The Afghan Special Forces have rescued seven civilians during an operation in southern Helmand province of Afghanistan, the Afghan Military said Sunday.
According to a statement released by the Special Operations Corps, the Afghan Special Forces stormed a Taliban prison in Washir district of Helmand on Saturday which resulted into the killing of Taliban fighter.
The statement further added that seven civilians who were kept as prisoners in the cell were also rescued during the operation.
The detention cell was destroyed together with a vehicle during the operation, the Special Operations Corps added in its statement.
The anti-government armed militant groups including Taliban have not commented regarding the operation so far.
Full report at:
https://www.khaama.com/afghan-special-forces-rescue-7-civilians-from-a-taliban-prison-in-helmand-03278/
--------
Afghan intelligence arrest 3 HQN members in connection to deadly Kabul bombings
10 Feb 2019
The Afghan Intelligence operatives have arrested three members of the notorious Haqqani terrorist network in connection to two deadly bombings in Kabul city which left scores of people dead.
The National Directorate of Security (NDS) in a statement said three Haqqani Network members have been arrested in connection to the bombings near the German Embassy and G4S Camp in the city.
The statement further added that the three individuals identified as Eng. Sharif, and Ghulam Mustafa who are originally residents of Syedabad district of Maidan Wardak province, have confessed their role in planning and facilitating the two attacks based on their Masters' orders who are based outside the country.
The National Directorate of Security also added that the investigations once again prove the previous information of the agency that the attacks were planned by Taliban leadership with coordination of the neighboring intelligence and were implemented by Haqqani Network cell located in Maidan Wardak province.
Full report at:
https://www.khaama.com/afghan-intelligence-arrest-3-hqn-members-in-connection-to-deadly-kabul-bombings-03277/
--------
Afghan forces repulse Taliban attack in Sar-e-Pul province
09 Feb 2019
The Afghan National Defense and Security Forces repulsed a coordinated attack by the Taliban militants in northern Sar-e-Pul province of Afghanistan.
The 209th Shaheen Corps of the Afghan Military in the North in a statement said at least 7 Taliban militants were killed and 9 others were wounded after the Afghan armed forces repulsed an attack by Taliban in Sar-e-Pul province.
Teh statement further added that the Taliban militants launched attacks against the security posts in the central parts of Sar-e-Pul province in the early hours of Saturday morning which continued for one hour.
At least 7 Taliban militants were killed and 9 others were wounded during the hour long clash, the 209th Shaheen Corps said, adding that 3 security personnel also lost their lives and 4 others sustained injuries.
Full report at:
https://www.khaama.com/afghan-forces-repulse-taliban-attack-in-sar-e-pul-province-03276/
--------
Dozens of militants killed as Afghan, coalition forces ramp up operations
09 Feb 2019
The military sources are saying that the Afghan Special Operations Forces remain on the offensive across the country against foreign terrorists and those Taliban who insist on continuing to commit violent acts against their own people.
According to the informed officials, a partnered operation killed 31 Taliban and destroyed their explosives and weapons supplies in Sangin district of Helmand province while 11 Taliban militants were killed during a partnered helicopter raid led by Afghan Special Forces in Sayyidabad district of Wardak.
The sources further added that Afghan Special Forces conducted a partnered helicopter assault against the Taliban in Charkh district of Logar, killing 2 enemy fighters.
Afghan Special Forces also conducted a partnered helicopter raid in the Jaji district of Paktia and captured three men linked to foreign terrorists who carry out suicide bombings and car bomb attacks, the sources said, adding that Afghan Special forces conducted a helicopter assault to disrupt Taliban operations in Suki district of Kunar, killing 1 enemy fighter.
In the meantime, the coalition forces struck a Taliban attack planning center in Tarinkot city of Uruzgan, killing 7 fighters.
Full report at:
https://www.khaama.com/dozens-of-militants-killed-as-afghan-coalition-forces-ramp-up-operations-03275/
--------
Afghan lawmaker says airstrikes kill 21 civilians
February 10, 2019
KABUL: Airstrikes in Afghanistan's southern Helmand province have killed 21 civilians, including women and children, a lawmaker from the region said Sunday.
Mohammad Hashim Alkozai said 13 civilians were killed in one strike and eight in another. Both were carried out late Friday in the Sangin district, where heavy fighting is underway between NATO-backed Afghan forces and the Taliban. Alkozai said at least five other people were wounded in the airstrikes.
"Innocent people, women and children, are the only victims of the airstrikes," he said, adding that the military operations have stoked public anger.
Omer Zwak, the provincial governor's spokesman, said insurgents fired on Afghan forces from a civilian area. He confirmed that airstrikes had killed civilians but could not provide further information. He says an investigation has been launched.
Alkozai said he has raised concerns about civilian casualties in parliament and with government officials, but that they have taken no action.
Afghan forces are struggling to combat the Taliban, who hold sway over nearly half the country and carry out daily attacks on security forces.
In a separate development, the Afghan intelligence service said it had arrested three members of the Haqqani group, a Taliban faction believed to be based in Pakistan, in connection with two bombings in Kabul that killed and wounded dozens of people.
The National Directorate of Security said the three suspects confessed to taking part in a truck bombing near the German Embassy in May 2017 that killed at least 90 people, and a November 2018 attack that killed five security contractors, including a British national.
Full report at:
http://www.arabnews.com/node/1449796/world
--------
Taliban warned against peace deal without Kabul's consent
February 09, 2019
KABUL: There can be no peace deal for Afghanistan without Kabul's consent, a spokesman for President Ashraf Ghani told Arab News on Saturday, as talks continued between the US and the Taliban to end the years-long war.
Harun Chakhansur said the government was willing to negotiate with the armed group, which has refused to engage directly with Kabul and calls Ghani's administration a puppet of the West.
Ghani has insisted that the peace process must be Afghan-led and Afghan-owned, but his officials have been excluded from key meetings in Doha and Moscow.
"The government of Afghanistan is ready at any moment to engage in negotiations and strike a peace deal with the Taliban based on our constitutional framework and the road map presented by the president," Chakhansur told Arab News, adding that the sooner a peace deal was agreed upon, the better it would be for the nation.
"Nothing regarding the peace process is executable unless agreed upon with the Afghan government. All prospects that lead to sustainable and lasting peace is the goal. Any possibility that undermines the main objective of sustainable peace will not be acceptable by the people and government of Afghanistan.
"But on the Taliban side there are some sticking points that need to be addressed ... if they are sincere about peace negotiations. Hurdles could only be discovered during the direct negotiation process between the Afghan government and Taliban."
A Taliban spokesman said the group refused to comment on the matter when contacted by Arab News.
The Taliban has said it will hold talks with the government once the US fulfills its promise to withdraw troops from the country.
US Special Envoy for Afghanistan Zalmay Khalilzad and Taliban representatives are expected to meet for further talks in Doha on Feb. 25.
The planned meeting follows last week's talks between the Taliban and Afghan delegates in Moscow, where the two sides agreed on a total pullout of foreign forces from the country.
On Friday, Khalilzad said Washington hoped to reach a peace agreement with the insurgents before the Afghan elections in July. The already-delayed polls would be held as scheduled if the talks failed to make any headway, he added.
There is speculation that, instead of the polls going ahead, an interim government will be formed with the Taliban's participation. Ghani, who is standing for re-election, has objected to the the idea.
US President Donald Trump has not hidden his impatience to withdraw troops from Afghanistan and bring the costly war to an end.
Washington has also sought assurances that Afghanistan will not be used as a base by terrorists to carry out attacks.
No obstacle
Waheed Mozhdah, an analyst familiar with the workings of Taliban leaders and who was at the Moscow meeting, said the insurgents and Khalilzad may strike a peace deal in Doha on Feb. 25.
"The Taliban told me (in Moscow) they have no obstacle and that America has accepted their main demand, which is the pullout of the troops," he told Arab News.
He said all participants at the Moscow meeting believed there would be no elections in July and that Ghani would have to give up his seat.
"Those who have earned wealth and power fear the repercussion of any peace deal. They fear the Taliban may go after them," the analyst said.
"At the Moscow meeting the Taliban clearly told the commanders and leaders that 'we have to forget the past and move forward because we can't wash blood with blood'," Mozdah pointed out.
Another analyst, Harris Wadan, explained why there were doubts over the election and Ghani's future.
Full report at:
http://www.arabnews.com/node/1449556/world
--------
US steps up airstrikes on Taliban to gain leverage in peace talks: Reports
February 10, 2019
MOSCOW - Washington has stepped up its airstrikes and raids targeting the Taliban* leadership and militants in Afghanistan in a bid to obtain leverage in peace talks with the movement, The New York Times newspaper reported, citing unnamed sources from the US Department of Defence.
The New York Times specified that the number of US attacks on the Taliban had reached the highest level since 2014, with the surge having started in fall. The Taliban has reportedly complained about the increased number of airstrikes.
The United States dropped over 7,000 bombs, missiles, and other munitions on Afghanistan in 2018 — a dramatic increase compared to 2,365 in 2014, The New York Times said, citing military data. Since September alone, the Pentagon has reportedly carried out over 2,000 air and artillery strikes in Afghanistan.
The number of joint US-Afghan anti-Taliban raids has more than doubled from September to February, compared to the same period a year ago, according to reports.
The reports come after representative of the Taliban movement Mullah Abdul Salam Hanafi stated on 6 February that the United States had pledged to withdraw half of the country's troops, which have been fighting against the Taliban and other terror groups in Afghanistan since 2001, by the end of April. However, on the same day, a State Department spokesperson denied this, telling Sputnik that Washington and Kabul had not agreed to any timeline for a possible reduction of US troop levels.
Full report at:
https://nation.com.pk/10-Feb-2019/us-steps-up-airstrikes-on-taliban-to-gain-leverage-in-peace-talks-reports
--------
Foolproof security measures sketched for Bishwa Ijtema
February 9th, 2019
Foolproof security measures have been chalked out for in and around the Ijtema grounds to ensure the security of foreign devotees arriving at the Ijtema
The government has planned stringent security measures ahead of Bishwa Ijtema, the second largest congregation of the Muslim community after Hajj, scheduled to be held from February 15 to 18 on the banks of the Turag River.
Fool-proof security measures have been chalked out for in and around the Ijtema grounds to ensure the security of foreign devotees arriving at the Ijtema.
Various law enforcement agencies including Police, RAB, BGB, and Ansar, will remain deployed at the venue," State Minister for Religious Affairs, Advocate Sheikh Md Abdullah, said this after holding a meeting with Tabligh Jamaat at his office on Saturday. Regarding the conflict between two factions of the Tabligh Jamaat, the state minister said: "Necessary measures will be taken to avoid any untoward incident between the two Tabligh Jamaat factions."
To ensure a peaceful and congenial atmosphere at the Ijtema grounds, the government has taken all-out measures, he added.
This time, the work on the ground for smooth holding of the congregation will be done under the supervision of Gazipur City Corporation Mayor, Mohammad Jahangir Alam, and State Minister for Youth and Sports, Zahid Ahsan Russell, Abdullah said.
Maulana Zubair Hassan, who leads one of the factions, will supervise the first two days of the Ijtema, and Syed Wasiful Islam, who leads the other group that follows Indian preacher Maulana Saad Kandhalvi, will lead the last two days.
This year's Bishwa Ijtema will be held over four days in a single phase from February 15 to 18 — instead of three days each in two phases.
In the last few years, the Ijtema was organized in two phases, dividing attendees from northern and southern districts, for the sake of maintaining discipline due to the sheer numbers.
Full report at:
https://www.dhakatribune.com/bangladesh/dhaka/2019/02/09/full-proof-security-measures-sketched-for-biswa-ijtema
--------
Taliban's military commission chief killed in Ghazni airstrike
09 Feb 2019
At least ten Taliban militants including one of their military commission chiefs were killed during separate operations in southeastern Ghazni province of Afghanistan.
The provincial police commandment in a statement said the coalition forces carried out an airstrike targeting two vehicles at around 5:40pm on Friday.
The statement further added that the airstrike was carried out in Qarabagh district, leaving eight militants dead including one of their military commission identified as Mawlavi Sahar.
The Afghan forces also ambushed militants in Khamari area of Moqor district at 11:00pm last night leaving two militants dead, the provincial police commandment added.
Full report at:
https://www.khaama.com/talibans-military-commission-chief-killed-in-ghazni-airstrike-03272/
--------
North America
Israel, US hold small-scale joint war game
Feb 10, 2019
The Israeli regime has been conducting a joint war game with the United States, simulating a scenario in which Israel needs aerial defense by the US.
The so-called Juniper Falcon drill began on Thursday and will continue until February 15, according to Israeli media.
The war game involves 300 American and 400 Israeli forces from various units.
Israeli media reports said the exercise is part of an agreement between Washington and Tel Aviv to hold training drills on a regular basis.
The Israeli air force said that the maneuver included "operational orders which may be utilized in the future."
Last March, a similar exercise was held with the participation of more than 2,500 forces from the US European Command and 2,000 Israeli soldiers.
Israel simulates war on Lebanon
Separately, on Thursday, Israel completed a week-long military drill in the mountainous areas of the Jordan Valley in the occupied West Bank, simulating war on Lebanon.
Israeli Army spokesman Avichay Adraee said the regime's forces drilled occupying and burning areas while evacuating casualties under fire.
Israel waged two all-out wars against Lebanon — in 2000 and 2006 — but fell short of its military objectives in both cases in the face of strong resistance by the Hezbollah resistance movement and the Lebanese Army.
Ever since the latest military confrontation, the Tel Aviv regime has been apparently practicing for a future war. Hezbollah says, however, that Israel is in no position militarily to wage and endure another war.
In late January, Sayyed Hassan Nasrallah, Hezbollah's leader, mocked Israeli military activities. In December last year, Nasrallah's deputy, Sheikh Naim Qassem, said there was no spot across Israel that would fall outside the range of the Lebanese resistance movement's missiles. And Lebanese Prime Minister Saad Hariri said at a think tank in London also in December 2018 that previous Israeli wars on Lebanon had weakened neither Hezbollah nor Lebanon as a whole.
https://www.presstv.com/Detail/2019/02/10/588166/Israel-US-smallscale-joint-military-drill
--------
Canadian receives life sentence for Quebec mosque shooting
Feb 9, 2019
A Canadian man, who fatally shot six people in a terrorist attack on Quebec City's grand mosque in 2017, has been sentenced to life in prison.
Quebec Superior Court Justice Francois Huot handed down the life sentence to Alexandre Bissonnette on Friday, however, announcing that the convict could be eligible for parole after serving between 35 and 42 years.
Bissonnette opened fire on worshipers inside Quebec's Islamic Cultural Center in late January 2017, leaving six people dead and several others injured during evening prayers.
The 29-year-old French-Canadian pleaded guilty last March to six counts of first-degree murder and six counts of attempted murder for the attack, described as one of Canada's rare mass shootings.
The shooting, which Canadian Prime Minister Justin Trudeau denounced as "an act of terrorism against Muslims," sparked dispute over the treatment of new arrivals at a time when a growing number of refugees and asylum seekers crossed from the United States into the province of Quebec.
The judge said while making the ruling on Friday that the day of the murders "will forever be written in blood in the history of this city, this province, this country."
Justice Huot also rejected calls by prosecutors to impose six consecutive life sentences, which would have prevented Bissonnette from seeking parole for 150 years, saying that the request was "unreasonable."
A 2011 legal change has allowed Canadian judges to hand down consecutive sentences in the case of multiple murders since Canada abolished the death penalty in 1976.
'Regretted not shooting more'
The Quebec Superior Court judge said Bissonnette had previously considered attacking other targets including feminists, shopping centers and airports.
The judge recounted Bissonnette's remarks to a prison social worker in September 2017, when he expressed a desire for "glory" in shooting worshipers at the Islamic center and that he "regretted not shooting more."
According to a refugee advocacy group, Bissonnette had been known for his "far-right" views and had reportedly espoused support for the French far-right party of Marine Le Pen at that time.
Muslims in Quebec have witnessed several Islamophobic threats and anti-Muslim hate crimes in recent years.
Between 2012 and 2015, hate crimes targeting Muslims increased by 253 percent, according to Statistics Canada data.
Full report at:
https://www.presstv.com/Detail/2019/02/09/588100/Alexandre-Bissonnette-Quebec-mosque-shooter-life-sentence
--------
Taliban, US form joint working groups on troop withdrawal from Afghanistan
TAHIR KHAN
February 09, 2019
ISLAMABAD: The Taliban and the US have formed joint working groups to finalize details of a draft agreement, including the withdrawal of foreign troops from Afghanistan and a guarantee that Afghanistan will not be used as a base for terror attacks against the US and its allies, a senior Taliban official told Arab News on Saturday.
Peace negotiations between the US and the Taliban in Qatar last month ended with signs of progress toward the withdrawal of thousands of foreign troops from Afghanistan and an end to more than 17 years of war.
Russia hosted peace talks in Moscow between the Taliban and opposition Afghan politicians.
Suhail Shaheen, the spokesman for the Taliban's political office in Qatar, told Arab News that the working groups would meet in a week or two to prepare reports for the next round of talks in Doha, to be held later this month. The outgoing head of the Taliban political office, Sher Abbas Stanikzai, said the next meeting was scheduled for Feb. 25.
"We have been demanding complete withdrawal of all foreign forces, which was an important issue for us," he told Arab News. "The second issue was related to American concerns that Afghan soil should not be used for terrorism against them in the future.
"Both sides agreed to form joint working groups. So we are satisfied about the outcome of the talks in the sense as we will be working on the two issues – troops withdrawal and to counter the terrorism threat in the future – and the committees will draft the agreement and explore ways for implementation of the agreements."
The Taliban ruled most of Afghanistan from 1996 until late 2001 but were ousted by US-backed Afghan forces for harboring Al-Qaeda leader Osama bin Laden.
The group has since been fighting to drive out foreign forces and defeat what it considers a foreign-backed government in Kabul.
But the fighting has spread to most Afghan regions, with thousands of people killed every year.
Shaheen was asked why the Taliban was not yielding to calls for a cease-fire, and replied that other matters needed to be resolved first.
"We are now discussing withdrawal of foreign troops. We have not yet reached any understanding on this issue. Other issues will be discussed after we reached agreement on the withdrawal of the foreign troops. When we decide the external aspect of the problem, then we will focus on other issues."
The Taliban last week rejected a suggestion from US President Donald Trump of a US focus on counter-terrorism after the troop drawdown.
"We have clearly stated in our meetings that all troops, which means all categories and under any name, stationed in Afghanistan, will leave," Shaheen said.
The Taliban spokesman also clarified remarks by senior Taliban negotiator Abdul Salam Hanafi that the US had agreed to call back half of its 14,000 troops by the end of April, saying there was no agreed time frame.
He said Hanafi had been referring to US media reports which suggested that half of the troops would be gone by May.
"There is no agreed timetable for the withdrawal of the American forces. It depends on the US side whether it withdraws or not ... we are working on options to agree on a timetable. We will work on it in the near future and we will determine a timetable." Shaheen also said the Taliban did not intend to abolish Afghan security forces, like the national army or police, but would reform them so they could defend and protect the nation.
When asked about the remarks by the Taliban chief negotiator to abolish the constitution, Shaheen said: "Our opinion is that the constitution was drafted and approved under the shadow of the American B-52 bomber planes. So we want a constitution drafted in an environment of freedom. All Afghan ulema and scholars should debate and finalize a draft and the constitution should be Islamic as we are 100 percent Muslim in Afghanistan, so we will keep in mind its Islamic and Afghan values which reflect the values of our society.
"We do not say that we do not accept the constitution. Our opinion is that the constitution is a necessity for the society and we accept its importance and it should be [drafted] in an environment of freedom."
He said all participants in Moscow had unanimously called for the withdrawal of foreign forces and agreed the system in Afghanistan should be Islamic.
Full report at:
http://www.arabnews.com/node/1449551/world
--------
Trump ignores Senate deadline on Khashoggi killing
09.02.2019
By Michael Hernandez
WASHINGTON
U.S. President Donald Trump will not respond to a legally-required Senate request to determine whether sanctions are warranted against Saudi Crown Prince Mohammed bin Salman for the murder of Washington Post columnist Jamal Khashoggi, a senior administration official said Friday.
The president has until midnight to formally respond to a letter from former Senate Foreign Relations Chairman Bob Corker and Ranking Member Bob Menendez which asked Trump to make the determination under the Global Magnitsky Act within 120 days.
Juan Pachon, a Menendez spokesman, was unwavering, insisting that the deadline is not up for debate.
"The law is clear," Pachon said in a statement emailed to Anadolu Agency. "The President has no discretion here. He's either complying with the law or breaking it."
The administration official, who spoke on condition of anonymity, however, told Anadolu Agency that Trump "maintains his discretion to decline to act on congressional committee requests when appropriate".
"The State Department updates Congress regularly on the status of actions related to the killing of Jamal Khashoggi," the official added, pointing to actions the administration took to pull the visas of 21 Saudis and sanction another 17 accused of being tied to his murder.
But those actions have been called insufficient by many in Congress who insist the journalist's slaying could not have been carried out without bin Salman's explicit approval.
Under the Global Magnitsky Act, a president has 120 days to respond to a request from the Senate Foreign Relations chair and ranking member to determine if sanctions are warranted against a person who has been accused of rights violations.
Khashoggi was brutally murdered inside the Saudi consulate in Istanbul shortly after he entered the diplomatic facility on Oct. 2. Riyadh initially denied any role in the killing but has since sought to blame his death on a botched rendition operation being carried out by rogue agents.
Saudi Arabia has sought to distance the crown prince from Khashoggi's murder, as has Trump.
Menendez, the Senate Foreign Relation Committee's top Democrat, introduced legislation Thursday alongside a bipartisan group of lawmakers to halt U.S. support for the Saudi-led coalition's war in Yemen, and which would require the U.S. to institute sanctions on those responsible for Khashoggi's murder.
Menendez said the legislation is needed because the Trump administration "has no intention of insisting on full accountability for Mr. Khashoggi's murderers".
Full report at:
https://www.aa.com.tr/en/americas/trump-ignores-senate-deadline-on-khashoggi-killing/1387633
--------
Pakistan
PM Khan, IMF chief meet today in Dubai to speed up bailout talks
Mubarak Zeb Khan
February 10, 2019
ISLAMABAD: Pakistan and the International Monetary Fund (IMF) have narrowed their positions on the scale of adjustments over the past few weeks of continuous engagements, a senior official involved in the negotiations told Dawn on Saturday.
Prime Minister Imran Khan will also meet IMF Chief Christine Lagarde in Dubai on Sunday to discuss the conditionalities that have held up the accession to the programme.
Information Minister Fawad Chaudhry told Dawn that the premier will meet Ms Lagarde on the sidelines of the World Government Summit in Dubai.
The IMF is asking for an adjustment of around Rs1,600-2,000 billion over three to four years. Besides, it also wants some corrective measures to put Pakistan's economy on the right track after witnessing the highest-ever current account deficit.
But the stumbling issue in the talks is the pace of adjustments in the current expenditure. The emphasis on current expenditures comes as a result of a focus on what is known as a 'primary balance' in the parlance of public finance.
According to the official, there is some space for cut in certain expenditures where Pakistan is in a comfortable position. "This agreement in cut will pave way for accession to the programme," the official claimed, adding it will be a politically difficult decision.
A cut in the current expenditures still seems to put the government in awkward position by making adjustments in subsidies and other special grants.
The IMF has been demanding that the burden of any expenditure cuts should fall on current expenditures that include debt service, defence and subsidies. Previous governments decreased development expenditures when undertaking the Fund's adjustment and usually left current expenditures alone (other than subsidies).
But the official said there is certain non-development spending which cannot be discontinued or reduced.
The primary balance of a government's budget is the difference between revenues and expenditures after removing interest payments. It tests whether the path of debt accumulation of any country is sustainable or not.
If this is in deficit then it means that at least some of the interest payments due in the given year will have to be made through borrowing.
Cutting the primary deficit requires a cut in current expenditures, and usually becomes necessary when reducing debt-to-GDP ratio is a priority.
Finance Division's Spokes­person Dr Khaqan Najeeb told Dawn that productive dialogue continues with IMF on all areas including fiscal, energy, structural reforms and monetary policy.
The two sides continue to exchange views on data and a reform framework to move forward. Discussions are part of regular ongoing interaction between government and IMF and will continue in coming weeks as well, Najeeb said.
"In addition, technical level subject-specific discussions also support the process of overall dialogue," he further said.
According to the Finance Division official, on the issues of policy measures, the government has already taken several, including increase in interest rate, gas and electricity tariffs along with revenue measures.
The Ministry of Finance recently announced that the Federal Board of Revenue's (FBR) target will not be revised downward following a revenue shortfall of Rs191bn in the first seven months.
The FBR has been asked to take administrative measures including revival of tax on mobile phone cards to cover up the shortfall in reaching the budgetary target.
The Fund has also asked for further monetary tightening as well as a complete free float of the exchange rate.
We are already towards target in these areas," the official said, adding the IMF has acknowledged these measures.
According to the official, Finance Minister Asad Umar has already conveyed to the IMF during the recent parleys that only those measures will be taken which are favourable for country's economic growth.
Although government has secured a breathing space from Saudi Arabian and United Arab Emirates loans, an IMF programme is essential to unlock access to resources from other multilateral lenders like the World Bank and the Asian Development Bank, as well as the global capital markets.
https://www.dawn.com/news/1462937/pm-khan-imf-chief-meet-today-in-dubai-to-speed-up-bailout-talks
--------
PML-N, PPP react sharply to Imran's latest diatribe
February 10, 2019
ISLAMABAD: Reacting sharply to the latest speech of Prime Minister Imran Khan, the opposition Pakistan Muslim League-Nawaz (PML-N) and Pakistan Peoples Party (PPP) on Saturday declared that they could not be "bullied into silence by fascist threats" and would continue to highlight what they called the government's failures.
In a statement, PML-N spokesperson Marriyum Aurangzeb said a meeting of the leaders of all the opposition parties had been called on Feb 18 in Islamabad to deliberate on the "fascist and dictatorial actions of the incapable, incompetent, liar and selected PTI government".
She alleged that the government was intentionally running carefully crafted propaganda machine to make the Public Accounts Committee controversial so that the massive theft by Pakistan Tehreek-i-Insaf (PTI) leaders and the losses by their incompetence would remain hidden from people.
"Let the prime minister beware, the opposition will neither take dictation from him nor will it be intimidated by his bullying. The autocratic-minded prime minister believes that the parliament is answerable to him. Imran Khan needs to read the constitution to understand that the prime minister is answerable to the parliament which represents the people of Pakistan," she said while responding to Mr Khan's onslaught on the PML-N in his speech at a ceremony in Balloki (Nankana Sahib).
Ms Aurangzeb said the PTI was the first political party in the history of the country which attacked the parliament from outside and now it was attacking the parliament from inside.
Responding to the prime minister's statement regarding the opposition striving for a deal, she said Imran Khan should know that a "selected prime minister does not have any authority to commit or grant a deal". Moreover, she alleged that the mother of all the deals had already been granted by the PM to his sister Aleema Khanum, who is allegedly 'Benamidar' of Mr Khan's illegal wealth and assets.
She said if the prime minister believed that his bullying tactics would silence the opposition, he was severely mistaken. The opposition, she said, would continue to ask for the money trail for the billions worth of illegal offshore assets of Aleema Khanum.
She asked Imran Khan to stop his "hypocritical rant" of accountability because he was demolishing people's livelihood in the name of an anti-encroachment drive while he used his position to legalise his own encroached Banigala property. She asked Mr Khan to step down and face the inquiry in the helicopter case, before asking others to do the same.
She said that former prime minister Nawaz Sharif should be admitted to a hospital with cardiac facilities as soon as possible in the light of recommendations of the medical board. "God forbid, if anything happens to Nawaz Sharif, Imran Khan will be responsible for it," she warned.
In her separate statement, PPP's information secretary Nafisa Shah said the current government could not mislead the nation by telling tall tales. She said whosoever had attempted to tarnish Asif Zardari's reputation had always faced embarrassment and defeat. She said no case had been proved against Mr Zardari in the courts of London and Switzerland "whereas PM-select Imran Khan has inherited the art of corruption from his father who was dismissed from government employment on corruption charges".
Full report at:
https://www.dawn.com/news/1462896/pml-n-ppp-react-sharply-to-imrans-latest-diatribe
--------
Bilawal alerts Pakistan as US hopes to reach Afghan peace deal in July
Anwar Iqbal
February 10, 2019
WASHINGTON: As the United States hopes to reach a peace agreement with the Taliban before the Afghan elections in July, PPP chairman Bilawal Bhutto-Zardari has urged Pakistan to be ready to protect its interests in the region.
In his speech at the US Institute for Peace (USIP) on Friday afternoon, Mr Bhutto-Zardari noted that President Donald Trump's recent tweets and statements on Afghanistan indicated Washington's desire to leave the war-torn country. He also quoted from a recent New York Times editorial which interpreted the ongoing US-Taliban talks as "negotiated capitulation by the international forces".
The possibility of a unilateral US withdrawal from Afghanistan has created a new wave of uncertainty in the region, "which poses yet another challenge to Pakistan," he warned. "It is not difficult to visualise the consequences of capitulation."
Mr Bhutto-Zardari addressed this issue at a meeting with Washington-based Pakistani journalists as well, urging Islamabad to be ready to deal with both positive and negative consequences of a US withdrawal.
Minutes after his press talk, US Special Representative for Afghanistan Reconciliation Zalmay Khalilzad, also spoke at USIP where he declared that the United States was hoping to reach a peace agreement with various factions, including the Taliban, before the Afghan presidential elections in July this year.
"It will be better for Afghanistan if we could get a peace agreement before the election, which is scheduled in July," Mr Khalilzad said, adding that there remained "a lot of work" to do.
"We are after a peace agreement, not a withdrawal agreement. A peace agreement can allow withdrawal," he said. But he also admitted that the "elections make the peace agreement more complicated".
Mr Khalilzad, who acknowledged that Pakistan had released a senior Taliban leader Mullah Baradar on his request to facilitate the peace talks, said that Pakistan could play a very crucial in the reconciliation process with the Taliban.
Noting that Mullah Baradar, now based in Doha, was already facilitating the US-Taliban talks, the US envoy said that his role had also been recognised by former Afghanistan president Hamid Karzai and his successor President Ashraf Ghani.
"There has been a positive change" in Pakistan's attitude in recent times, he said. "The release of Mullah Baradar, which was my request...they (Pakistan) accommodated that, because Mullah Baradar has a reputation of being more open, more pro-peace," said the top American envoy who is leading the Trump Administration's efforts to have peace talks with the Taliban.
"Pakistan favours inter-Afghan dialogue including between the Taliban and the government. So, the release of Baradar is a very positive thing," he said.
"We always would like Pakistan, like other countries to do more, but we appreciate what they have done so far and I have indicated (as did) Secretary (of State), (Mike) Pompeo and the president that we want to have good relations with Pakistan, better relations with Pakistan," he said.
Mr Bhutto-Zardari said that statements emphasising Pakistan's role in the Afghan reconciliation process indicated a change in Washington's attitude towards Islamabad.
But he stressed the need for Pakistan to mark the difference between "reconciliation and appeasement" and "reconciliation and capitulation".
He said that Pakistan should avoid both, appeasing the Taliban or capitulating its stance on Afghanistan under external pressure.
Full report at:
https://www.dawn.com/news/1462915/bilawal-alerts-pakistan-as-us-hopes-to-reach-afghan-peace-deal-in-july
--------
PTM activists arrested for protesting released on bail in Quetta
Feb 10, 2019
QUETTA: A sessions court in Quetta on Saturday passed orders for the release six activists of Pashtun Tahaffuz Movement (PTM) on bail, a local media outlet reported.
The bail application of the PTM activists was accepted by Additional District and Sessions Judge Najeebullah Khan, who ordered their release against a surety of Rs0.1 million each.
Earlier on January 31, police had arrested the activists from outside the Quetta Press Club for protesting against a bombing in Loralai which had claimed the lives of nine people including five civilian employees, three policemen and a candidate.
Further, tear gas was used to disperse the activists.
Full report at:
https://www.pakistantoday.com.pk/2019/02/09/ptm-activists-arrested-for-protesting-released-on-bail-in-quetta/
--------
Mideast
Israel to confiscate Palestinian land for sewage network in central West Bank
Feb 9, 2019
Israeli authorities plan to confiscate thousands of square meters of private Palestinian land in the central West Bank to construct a sewage network for settlements in violation of international law and UN Security Council resolutions condemning the Tel Aviv regime's land expropriation policies in the occupied territories.
Palestinian sources, requesting not to be named, said authorities in Kifl Haris village in Salfit district were handed on Saturday the blueprint of the sewage network, which is 2,800 kilometers long and has a width of 8 meters and is planned to be built on privately-owned Palestinian land.
The Israeli sewage network will reportedly destroy thousands of square meters of farming land in addition to dozens of olive trees, and will distort the valleys running in the targeted area.
Palestinian activists warn that the villages and towns of Haris, Kifl Haris, Qirah, Dayr Istiya, Bruqin, Kafr al-Dik, Sartah, Bidya and al-Zawiyah will be bulldozed for the construction of the sewage network.
About 600,000 Israelis live in over 230 illegal settlements built since the 1967 Israeli occupation of the Palestinian territories of the West Bank and East Jerusalem al-Quds.
The UN Security Council has condemned Israel's settlement activities in the occupied territories in several resolutions.
Less than a month before US President Donald Trump took office, the United Nations Security Council in December 2016 adopted Resolution 2334, calling on Israel to "immediately and completely cease all settlement activities in the occupied Palestinian territories, including East Jerusalem" al-Quds.
Palestinians want the West Bank as part of a future independent Palestinian state with East Jerusalem al-Quds as its capital.
The last round of Israeli-Palestinian talks collapsed in 2014. Among the major sticking points in those negotiations was Israel's continued settlement expansion on Palestinian territories.
Trump backtracked on Washington's support for a "two-state solution" in 2017, saying he would support any solution favored by both sides.
"Looking at two-state or one-state, I like the one that both parties like. I'm very happy with the one both parties like. I can live with either one," the US president said during a joint press conference with Israeli Prime Minister Benjamin Netanyahu in Washington on February 15, 2017.
https://www.presstv.com/Detail/2019/02/09/588118/Israel-to-confiscate-Palestinian-land-for-sewage-network-in-central-West-Bank
--------
Palestinians bury 14-year-old killed during Gaza protest
Feb 9, 2019
Palestinians took to the streets on Saturday for the funeral of a 14-year-old boy killed by Israeli troops during Gaza protests a day earlier.
The boy was identified as Hassan Shalabi by Gaza's health ministry. Israel's military said it had opened fire in response to explosives and rocks hurled at the border fence. Gaza health officials said an 18-year-old was also shot dead during the protests. Palestinians have been staging weekly protests since last March at the fence separating the Gaza Strip from the Israeli-occupied territories. The enclave's health ministry says more than 220 Palestinians have been killed by Israeli troops during the protests.
https://www.presstv.com/Detail/2019/02/09/588113/Palestine-funeral-protest-Gaza
--------
Arab coalition denies supplying US weapons to Iran-backed Houthis
February 09, 2019
JEDDAH: The Arab coalition has denied media reports alleging involvement in the transfer of US weapons to Iranian-backed Houthi militias and Al-Qaeda in the Arabian Peninsula (AQAP) in Yemen.
Coalition spokesman Col. Turki Al-Maliki stressed the coalition's commitment to confronting and defeating the Houthi insurgency, as well as Daesh and AQAP.
He said that several media outlets had wrongly published and broadcast images of coalition vehicles damaged in combat that were set to be evacuated as being in the hands of the Houthis.
He added: "155 damaged coalition vehicles had so far been evacuated from Yemen," but that "another 55 had yet to be moved."
Though a recent UN-brokered cease-fire agreement, between the Houthis and the coalition around the port of Hodeidah, has repeatedly been breached, AQAP no longer holds any territory in Yemen as a result of the coalition's campaign.
Military operation
The Arab coalition has targeted Houthi drone capabilities in a military operation in Sanaa on Friday.
Al-Maliki said that the forces carried out a military operation to destroy a legitimate target, a location used by the Houthi militia to store and prepare the launch of drones for terrorist attacks in the capital, the SPA said.
Al-Maliki affirmed the commitment of the Arab coalition to preventing access by the Houthi militia, and other terrorist organizations, to such capabilities, and taking all necessary measures to protect civilians and vital areas from the threat of terrorist drone attacks in accordance with the customary international law.
Houthi violations
The Yemeni army recorded 1,062 violations committed by the Houthis, including attacks on civilian quarters and Yemeni army positions, in addition to targeting the International Mission to implement the Stockholm Agreement.
More than 72 Yemeni civilians were killed in Hodeidah until Feb. 6, another 469 were injured, many with critical injuries, a source in the Yemeni army said.
Full report at:
http://www.arabnews.com/node/1449606/saudi-arabia
--------
Israel arrests Palestinian suspect in teenager's killing
February 09, 2019
JERUSALEM: Israeli police said Saturday they arrested a Palestinian suspect in the killing of an Israeli teenager, as thousands of people in Gaza buried two Palestinian teenagers killed a day earlier in protests along the perimeter fence.
The police said the suspect was arrested in Ramallah, the seat of the Palestinian Authority, but originally comes from the southern West Bank city of Hebron. The police did not say when the arrest took place.
The body of Ori Ansbaher, 19, was found in the woods near Jerusalem on Thursday with stabbing wounds. She was buried Friday in the Israeli settlement of Tekoa amid calls by hard-line Jews for revenge.
All other details of the woman's killing remain the subject of an Israeli gag order.
Previous Israeli statements about her murder came only from top diplomats and politicians.
Over 400,000 settlers live in the Israeli-occupied West Bank, which the Palestinians want — along with east Jerusalem — as part of their future state.
In the Hamas-ruled Gaza Strip, meanwhile, thousands of Palestinians attended the funerals of the teenagers.
The mother of 14-year-old Hassan Shalabi wailed as mourners brought his body on a stretcher for a final farewell at their home in the Nusseirat refugee camp.
"He was everything beautiful at home; his voice, his happiness fills the house. There is laughter and play when he is home," said the mother, Fatma, soon after the body was carried away, wrapped in a Palestinian flag.
The two teenagers were standing 50-60 meters (160-200 feet) from the fence at separate protests when they were shot, according to rights group Al-Mezan.
In Gaza City, mourners buried Hamza Ishtiwi. The Health Ministry put his age at 18, but Mezan said he was 17. Footage of Hamza lying on his back the moment after a bullet struck him in the neck spread on social media.
Gaza's Hamas rulers have organized mass demonstrations along the frontier every Friday since March, in part to protest against the Israeli and Egyptian blockade on the territory, which was imposed when Hamas seized power in 2007. Dozens of Palestinians have been killed and thousands have been wounded.
The protesters frequently hurl rocks and firebombs, and Israeli soldiers respond with tear gas and live fire. Israel, which has been accused of using excessive force, says it does what it must to protect its borders.
The UN children's agency condemned the killing of the two Palestinians, warning of the "significant violence" Palestinian children endure.
Full report at:
http://www.arabnews.com/node/1449331/middle-east
--------
Iran opposition group calls for regime change in Paris march
9 February 2019
Several thousand supporters of an exiled Iranian opposition group marched through Paris on Friday, calling for an end to Iran's clerical regime 40 years after the Islamic revolution toppled Iran's monarchy.
The Mujahedeen-e-Khalq, widely referred to in the West as the MEK, were joined at the rally by an array of speakers before the march, from former and current French politicians to a one-time Algerian prime minister and a Syrian opposition figure.
Crowds waved posters of group leader Maryam Rajavi and founder Massoud Rajavi - not seen since 2003 in Iraq, where the MEK once had a camp and waged war against Iran before being disarmed by invading US troops.
The group bases its headquarters outside Paris with several thousand members in Albania, extracted in a UN-brokered effort from Iraq. Supporters are scattered elsewhere in the West as part of the Iranian diaspora.
Security was tight during the rally and march through Paris' Left Bank. The group's annual rally last year was the target of an alleged bomb plot, which was thwarted by arrests. An Austrian-based Iranian diplomat is being held in Belgium, where police found bomb material in the car of a couple of Iranian origin.
"As long as we're dealing with the main state sponsor of terrorism, there is a concern ... But that will never stop us," MEK spokesman Shahin Gobadi said. The MEK hones to US President Donald Trump's hard line on Iran, and supports US sanctions on Iran.
One speaker, former French Sen. Jean-Pierre Michel, said in an interview that "I'm not a fanatic of Mr. Trump ... but I think the United States is right about Iran." He chastised Europeans for what he views as their softer approach to Tehran.
Michel, 80, is a long-time supporter of the Mujahedeen, which has drawn around it numerous US and European parliamentarians and former officials who disagree with critics' portrayal of the organization as cult-like.
Full report at:
https://english.alarabiya.net/en/News/middle-east/2019/02/09/Iran-opposition-group-calls-for-regime-change-in-Paris-march.html
--------
Israeli gunfire kills Gaza teens during border protests
9 February 2019
Israeli troops shot dead two Palestinian teenagers during Gaza border protests on Friday, Palestinian health officials said.
Israel's military said it had opened fire in response to explosives and rocks hurled at the border fence.
Palestinians have been staging weekly protests since last March at the border of Gaza, an enclave controlled by Hamas. The enclave's health ministry says more than 220 Palestinians have been killed by Israeli troops at the protests. One Israeli soldier has died.
Gaza health officials said one of the youths shot dead on Friday was 18 and the other 14.
Israel says it has no choice but to use deadly force at the protests to defend the frontier from militants trying to destroy the barrier and infiltrate.
An Israeli military spokesman said troops had faced off on Friday with more than 6,000 Palestinians, some of whom threw rocks and "a number of explosive devices, which exploded on the Gaza side of the fence."
The spokesman said soldiers used riot dispersal equipment and opened fired "in accordance with standard operating procedures."
Gaza is home to two million Palestinians, nearly all of them the stateless descendants of people who fled or were driven out of Israel on its founding in 1948.
Israel and Egypt imposed a security blockade on the enclave after Hamas seized control of it in 2007, which the World Bank says has reduced the local economy to a state of collapse.
Israel has fought three wars against Hamas in the past decade.
Full report at:
https://english.alarabiya.net/en/News/middle-east/2019/02/09/Israeli-gunfire-kills-Gaza-teens-during-border-protests.html
--------
Africa
Air strikes target al-Feel oilfield in southern Libya
9 February 2019
Sources confirmed that four air strikes targeted an airport runaway of al-Feel oilfield in southern Libya on Saturday, Reuters reported.
But Libya's Government of National Accord (GNA), backed by the United Nations, said in a statement that the strike targeted a civilian plane that was trying to evacuate a number of wounded people from the oilfield to Tripoli.
The strikes damaged the oilfield's infrastructure and its airport runway and "put civilian lives at risk", the statement added, without adding details of any casualties.
According to Reuters who quoted a field engineer, the strikes were carried out by Eastern Libyan forces loyal to commander Khalifa Haftar and were considered as warnings directed at rival commander Ali Kennah who was inside the compound at the time of the strikes.
Haftar is a dominant figure in eastern Libya where his Libyan National Army group seized the second-largest city of Benghazi in 2017 by expelling extremists and other fighters.
Last month, his forces started an offensive in the south to fight militants and secure its oilfields, and on Wednesday made good on the promise by moving on the closed al-Sharara field.
Kennah, the commander of the Sabha military zone who served under former dictator Muammar Gaddafi, was appointed by Prime Minister Fayez Seraj last week. Seraj leads the internationally-recognized government based in Tripoli.
Libya's oil industry has faced disruption since unrest began, with rival power centers in the west and east.
Al-Feel, which usually pumps around 70,000 barrels per day, was shut down when the larger al-Sharara oilfield was seized and closed by tribesmen and state security guards in December.
https://english.alarabiya.net/en/News/north-africa/2019/02/09/Air-strikes-target-al-Feel-oilfield-in-southern-Libya.html
--------
Tunisian court sentences seven terrorists to life for deadly 2015 attacks
February 09, 2019
TUNIS: A Tunisian court has sentenced seven extremists to life in prison over attacks at a museum and on a beach in 2015 that killed 60 people, many of them British tourists, prosecutors said on Saturday.
Dozens of defendants faced two separate trials over the closely linked shootings, which occurred just months apart in Tunis and Sousse, but many were acquitted.
Four were sentenced to life in prison for the shooting rampage at a Sousse tourist resort in June 2015, which killed 38 people, mostly British tourists.
Five other defendants in the Sousse case were handed jail terms ranging from six months to six years, while 17 were acquitted, prosecution spokesman Sofiene Sliti said.
Three were given life sentences for the earlier attack in March 2015 at the capital's Bardo National Museum, in which two gunmen killed 21 foreign tourists and a Tunisian security guard.
Others found guilty of links to the Bardo attack were sentenced to prison terms ranging from one to 16 years, and a dozen defendants were acquitted, Sliti said.
The prosecution will appeal, he added.
One of the lawyers for relatives of French victims in the Bardo attack, Gerard Chemla, expressed "enormous bitterness" that the families had not been given more input into the proceedings.
He said a live feed of Friday's hearing had brought some degree of comfort but lamented that the relatives of those killed had not been compensated.
Geraldine Berger-Stenger, another of the lawyers, said the hearings had not revealed the full truth of what took place.
"A page has turned, but this isn't a trial that can satisfy the victims," she said. "There is a taste of unfinished business."
Tunisia retains the death penalty for terrorism offenses despite carrying out no executions since the 1990s.
The court heard that the two attacks, both claimed by Daesh, were closely linked.
Several defendants pointed to the fugitive Chamseddine Sandi as mastermind of both.
According to Tunisian media, Sandi was killed in a US air strike in neighboring Libya in February 2016, although there has been no confirmation.
Among those who were facing trial were six security personnel accused of failing to provide assistance to people in danger during the Sousse attack.
That shooting was carried out by Seifeddine Rezgui, who opened fire on a beach before rampaging into a high-end hotel, where he continued to fire a kalashnikov and throw grenades until being shot dead by police.
Four French nationals, four Italians, three Japanese and two Spaniards were among those killed in the Bardo attack, before the two gunmen, armed with Kalashnikov assault rifles, were themselves shot dead.
Investigations showed one of the gunmen, Yassine Laabidi — who was born in 1990 and was from a poor district near Tunis — had amphetamines in his body.
His fellow attacker Jaber Khachnaoui, born in 1994 and from Tunisia's deprived Kasserine region, had traveled to Syria in December 2014 via Libya.
One suspect questioned in court, Tunis laborer Mahmoud Kechouri, said he had helped plan the Bardo attack, including preparing mobile phones for Sandi, a neighbor and longtime friend.
Kechouri, 33, said he was driven by a "duty to participate in the emergence of the caliphate," that Daesh supremo Abu Bakr Al-Baghdadi proclaimed in June 2014 across swathes of territory the militants controlled in Iraq and neighboring Syria.
Other defendants accused of helping prepare the attack said they had only discussed ideas with friends. Several alleged they were tortured in detention.
Survivors and relatives in France and Belgium, who watched the live feed of Friday's hearing, said it had helped them to turn the page.
"It was important for us to see, and especially to hear — to try to understand the role" of each defendant, said one French survivor.
"Arriving at the end of the process will help us to turn the page, even if we can never forget."
The Sousse attack, which killed 30 Britons, is also the subject of proceedings in front of the Royal Courts of Justice in London, which is seeking to establish what happened.
After holding inquests into the British deaths in January and February 2017, judge Nicholas Loraine-Smith concluded that the response of Tunisian police was "at best shambolic, at worst cowardly."
There have been significant improvements in security at Tunisian tourist resorts since the massacre and, in July 2017, Britain lifted its warning against "all but essential travel" to the North African country.
The attacks and resulting travel warnings dealt a devastating blow to Tunisia's vital tourism sector from which it has taken time to recover.
Full report at:
http://www.arabnews.com/node/1449316/middle-east
--------
Boko Haram: from Islamist sect to armed threat
2019-02-09
Nigeria's Boko Haram started out as an Islamic anti-corruption group but mutated into an ISIS affiliate waging a lethal insurgency.
Here is some background about the jihadists, whom Muhammadu Buhari vowed to defeat when he became president in 2015 but remain a threat as he seeks a second term.
Hardline
Boko Haram aims to create a hardline Islamic state in northeastern Nigeria. Its campaign has cost at least 27 000 lives since 2009 and displaced 1.8 million people.
The name loosely translates from the Hausa language as "Western education is forbidden".
Its founder and spiritual leader Muhammad Yusuf pinned the blame for Nigeria's ills on Western values left by colonial master, Britain.
He also accused the country's secular leaders of corruption and neglecting development in Muslim regions.
Yusuf came to the attention of authorities in 2002 when he began to build a following among disaffected youths in Maiduguri, the Borno state capital in northeast Nigeria.
Yusuf was killed in police custody in 2009 after an uprising in Maiduguri that prompted a military assault. Some 800 people died in the action, and Boko Haram's mosque and headquarters were left in ruins.
Many of its supporters fled the country.
Violent turn
Boko Haram was broadly peaceful before Yusuf's death.
But his successor, his right-hand man Abubakar Shekau, undertook a violent campaign of deadly attacks on schools, churches, mosques, state entities and security forces.
Some Boko Haram members are thought to have trained with Al-Qaeda in the Islamic Maghreb (AQIM) in northern Mali in 2012 and 2013.
Among the group's most notorious acts was the April 2014 kidnapping of 276 schoolgirls from the remote northern town of Chibok in Borno state.
Fifty-seven fled in the immediate aftermath, and more than 100 of the 219 who spent years in captivity have since been released, found or escaped.
The mass abduction brought world attention to the insurgency at a time when Boko Haram was seizing territory across the northeast, which became a largely no-go area, with the violence spilling over into Cameroon, Chad and Niger.
In August 2014 Shekau proclaimed a "caliphate" in the Borno town of Gwoza, and in March 2015 pledged allegiance to the Islamic State group in Iraq and Syria.
Fight back
The violence has destroyed property and farmland in the mainly rural northeast and sparked a humanitarian crisis and acute food shortages.
An offensive since 2015 by regional armies - troops from Nigeria and backed by others from Cameroon, Chad and Niger - drove jihadists from most of the areas they had seized.
But regular bloody raids and suicide bomb attacks continue.
Mass court action for people suspected of being members of Boko Haram started in October 2017. Most were released, largely due to lack of evidence, and more than 100 convicted of belonging to the group and taking part in attacks.
Split
A faction led by the son of Muhammad Yusuf, Abu Mus'ab al-Barnawi, broke away in opposition to Shekau's indiscriminate targeting of civilians.
Barnawi's faction, which has the backing of ISIS, targets the armed forces and has since July 2018 carried out numerous attacks on military bases.
Full report at:
https://www.news24.com/Africa/News/boko-haram-from-islamist-sect-to-armed-threat-20190209
--------
Five killed in fire at camp for Boko Haram displaced
2019-02-08
Five people were killed in a fire at a camp for those displaced by Boko Haram violence in northeast Nigeria, an eyewitness and a humanitarian source said on Friday.
The blaze broke out on Thursday at the camp housing some 7 500 internally displaced persons in the garrison town of Monguno, in Borno state.
The displaced people were preparing breakfast when the fire broke out, gutting makeshift tents.
"Five people were killed in the fire - three children and two women," an aid worker with a humanitarian agency in the town told AFP.
"The fire started from the kitchen around 11:30 am (1030 GMT) and spread all over the camp," added the worker, who did not want to be identified.
Witness Adam Sheriff said firefighters tried in vain to put out the inferno which gutted the camp in 40 minutes.
Monguno is some 140km northeast of the Borno state capital, Maiduguri, and houses tens of thousands of displaced people in sprawling camps.
Most of them had fled their homes in northern Borno and moved to Monguno to protect themselves against Boko Haram attacks.
The town has seen an influx of internally displaced people from the fishing town of Baga on the shores of Lake Chad 60 km away, following attacks last December against a naval base and another for regional forces.
Last month, the UN said more than 30 000 people fled to seek refuge around Maiduguri.
Boko Haram's decade-long insurgency has killed 27 000 people and displaced some 1.8 million in northeast Nigeria alone.
Full report at:
https://www.news24.com/Africa/News/five-killed-in-fire-at-camp-for-boko-haram-displaced-20190208
--------
India
Maulana Arshad Madani addresses inter-religious symposium in Austria
by Rasia Hashmi
Feb 09, 2019
Vienna: President Jamiat Ulama-i-Hind, Maulana Arshad Madani called for a collective effort to end hate and religious extremism from the world. He claimed that no religion teaches killing, extremism, violence and hate. He was addressing a symposium at Austria's capital Vienna.
King Abdullah bin Abdul Aziz International Center for Interreligious and Intercultural Dialogue (KAICIID) is holding the Global Dialogue Symposium on Neighbors' Rights in Vienna. Witnesses to violent conflict in Syria and Iraq shared their experiences at the global forum.
The Global Dialogue Symposium on Neighbors' Rights was held to celebrate the UN's World Interfaith Harmony Week.
The forum urged people to perform their neighbourly duties, practice respect and compassion, build bridges for peaceful communication, and celebrate human values.
Maulana Madani is the only religious leader from the Indo-Pak subcontinent to be invited for the symposium.
https://www.siasat.com/news/maulana-arshad-madani-addresses-inter-religious-symposium-austria-1465754/
--------
Maharashtra ATS: 10 held with 'IS links' planned big attack to seem 'credible recruits'
By Sagar Rajput
February 10, 2019
The Maharashtra Anti-Terrorism Squad (ATS), which had picked up 10 youths for alleged links with the banned Islamic State (IS), has said that the accused, including a 17-year-old, had allegedly planned to cause "mass casualties" in India before travelling to Syria in order to be received as credible recruits by the terror organisation.
The lawyers of the accused denied their clients were involved in any such plans. In an indication that the accused were greenhorns, ATS officers probing the case have alleged that they explored harebrained ideas to carry out attacks, such as "burning a mixture of hydrogen peroxide and black pepper", hoping it would cause an explosion.
According to the statements of the accused recorded by ATS, the nine men and one minor would reportedly hold meetings in Mumbra, on Mumbai's suburbs, every night around 9 for the past few months. They allegedly planned to mix a toxic chemical in the 'prasad' at a temple and also in the food at a hospital in Nagpada, Mumbai.
The ATS also said they discussed setting off an explosion at the office of an Indian right-wing organisation. "They were still learning. They would surf the Internet and with the help of online tutorials, they were trying to make bombs and toxic chemicals," said an investigator.
Khizer Patel, lawyer of six of the 10 accused, denied the charge. "The ATS is making several claims… Recently in court, it claimed that one accused had preserved a dead lizard in a bottle of oil because it becomes poisonous…"
He said ATS has little evidence of any attack being planned by the youths. "They have recovered phenyl, vinegar and rat poison from their houses. Poisonous substances are readily available in the market, why would anyone make so much effort to make some toxic chemicals," Patel asked.
Among those arrested is Mohsin Sirajuddin Khan, accused of radicalising the others. The ATS claimed that he had even set the others a target of raising Rs 2 lakh each to meet travel and living expenses in Syria. "They planned to collect the sum by selling their house or withdrawing money from fixed deposits. They would exercise together and were learning hunting methods in preparation for a stay in a jungle in Syria," said an officer.
The ATS has alleged that Mohsin started radicalising the youths from Mumbra and Aurangabad, starting with his brothers Salman and Taqi, then scouting for recruits in mosques and in the vicinity of Muslim organisations.
Mohsin formed three groups on messaging app Telegram, adding his brothers, brother-in-law Mohammed Sarfaraz, relative Mohamed Mushahid-Ul-Islam, Mazhar Shaikh from Mumbra (son of gangster Rashid Marbari), Fahad Ansari (Mumbra), Jaman Khuteupad (Mumbra), Talha Pudrik (Mumbra) and a 17-year-old teen (Mumbra).
Officials said Mohsin was keen to recruit others with technical know-how, and thus selected Khuteupad, a medical representative with a laboratory in Nagpada, and Mazhar, the son of a gangster, Marbari. Khuteupad reportedly floated the idea of mixing chemicals in food served at a hospital.
Mazhar then reportedly came in contact online with an IS sympathiser, claiming to be from Afghanistan. He identified himself as 'Keep Safe Distance'. He reportedly added Mazhar in a Telegram group where extremist material was posted. While the ATS has sent cellphones from all 10 youngsters for forensic examination, and are hopeful of extracting the contents, they conceded that the extremist material the accused are alleged to have viewed is not available on their phones. "They deleted it," claimed an officer.
The ATS, having monitored the group's conversation on cyber platforms for several weeks, laid a trap and arrested Mohsin, Taqi, Mazhar and Sarfaraz from Aurangabad on January 23. Their interrogation led to one more arrest, Mushahid-Ul-Islam, a freelance graphic designer who was pursuing graduation.
Full report at:
https://indianexpress.com/article/cities/mumbai/maharashtra-anti-terrorism-squad-ten-held-with-islamic-state-links-planned-big-attack-5576811/
--------
Another JMB terrorist in cop net
Feb 10, 2019
KOLKATA: Another member of the banned Jamaat-ul-Mujahideen Bangladesh (JMB) was arrested by the Kolkata Police's Special Task Force (STF) near Sealdah railway station late on Friday.
The STF claimed that Monirul Islam (42) was an associate of JMB top terrorist Jahidul Islam alias Bomaru Mizan alias Kausar. Monirul was involved in the Bodh Gaya blasts on January 19, 2018. He hails from Raghunathgunj in Murshidabad and had joined JMB in 2010.
Monirul's arrest comes days after the STF arrested JMB terrorist Abdul Sattar from Mallapuram in Kerala. Sattar was allegedly involved in the Khagragarh blast in West Bengal's Burdwan district on October 2, 2014.
Full report at:
https://timesofindia.indiatimes.com/city/kolkata/another-jmb-terrorist-in-cop-net/articleshow/67923557.cms
--------
Pakistan PM Imran Khan's statement on minorities an 'insult to Indian citizens': MEA
by Shubhajit Roy
February 10, 2019
HOURS AFTER Pakistan's Prime Minister Imran Khan on Saturday said that India treated minorities as 'second-class citizens', the Indian government replied saying that Khan's remarks are an "egregious insult to all citizens of India."
The Ministry of External Affairs (MEA) on Saturday responded sharply to the remarks made by the Pakistani PM.
"The Pakistan Prime Minister's remarks are an egregious insult to all citizens of India. Pakistan prime minister has demonstrated his lack of understanding about India's secular polity and ethos," the MEA's official spokesperson Raveesh Kumar said.
"India has leaders of all faiths who occupy its highest Constitutional and official positions. Pakistani citizens of non-Islamic faith are barred from occupying high Constitutional offices. Minorities are often turned away from government bodies like their PMEAC, even in naya Pakistan," Kumar said.
This was in reference to how Atif Mian, a noted economist in Pakistan, was removed from Pakistan PM's Economic Advisory Council since he was from minority Ahmadiyya sect after pressure from the right-wing groups.
"Pakistan would do well to focus on its domestic challenges and improve conditions of its citizens rather than try and divert attention. The Pakistan Prime Minister's latest attempts to play with minority sentiment in India will be rejected by the people of India," the MEA spokesperson said.
This is the second instance when Khan has spoken about the condition of minorities in India.
Full report at:
https://indianexpress.com/article/india/pakistan-pm-imran-khans-statement-on-minorities-an-insult-to-indian-citizens-mea-5576829/
--------
Kashmir: Shutdown in Valley on Afzal Guru's death anniversary
by Adil Akhzer
February 10, 2019
Kashmir valley on Saturday observed a complete shutdown on the sixth death anniversary of the hanging of Parliament attack convict Afzal Guru. The Joint Resistance Leadership (JRL) comprising Syed Ali Geelani, Mirwaiz Umar Farooq and Muhammad Yasin Malik had called for a complete shutdown on February 9 and 11 to mark the hanging anniversaries of Afzal Guru and Maqbool Butt, respectively.
On Saturday, while business units and shops remained shut in almost all districts of the Valley, public transport also remained off the road. A senior police official said that they had deployed security forces in Srinagar and Baramulla districts.
"No untoward incident was reported from any part of valley. We are hopeful that Monday will also pass peacefully," said a senior police official.
Officials said that restrictions were imposed in parts of Srinagar, as a precautionary measure and to maintain law and order situation.
Ahead of Afzal's anniversary, Hurriyat Chairman Mirwaiz Umar Farooq was put under house arrest on Friday. "As Martyrdom anniversaries of #ShaheedAfzalGuru and #ShaheedMaqboolBhat are being observed on 9th and 11 Feb. authorities have started crackdown on resistance leaders and activists, I have been just put placed under #HouseArrest," Umar said on Friday.
Afzal was hanged on Februray 9, 2013 in New Delhi's Tihar Jail.
Full report at:
https://indianexpress.com/article/india/kashmir-shutdown-in-valley-on-afzal-gurus-death-anniversary-5576782/
--------
URL: https://www.newageislam.com/islamic-world-news/mosques-losing-sway-youth-online/d/117705
New Age Islam, Islam Online, Islamic Website, African Muslim News, Arab World News, South Asia News, Indian Muslim News, World Muslim News, Women in Islam, Islamic Feminism, Arab Women, Women In Arab, Islamophobia in America, Muslim Women in West, Islam Women and Feminism