New Age Islam News Bureau
1 Jun 2017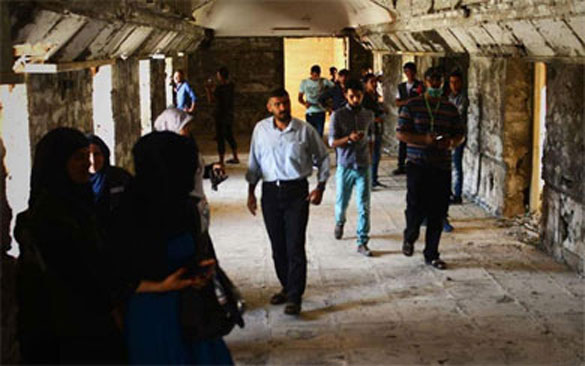 People reported to be Muslim volunteers at the St George's Monastery This is Christian Iraq/Mohammed al-Zakaria
----
• Mosques in Manchester Refuse to Deal with Bomber Salman Abedi's Body
• Muslim Volunteers Repair Catholic Monastery Because 'Mosul Is Yours As It Is Ours'
• China Trying To Stop Muslims Observing Holy Month in Restive Xinjiang Region
• Pakistan May Leave Anti-Terror Alliance If It Becomes Sectarian
• Russian Envoy Assassin Visits Terrorist-Backed Turkish Mufti Several Times
Europe
• Mosques in Manchester Refuse to Deal with Bomber Salman Abedi's Body
• Britain's May In Saudi Arabia Seeking Deals
• Russian warship, sub fire cruise missiles at ISIS in Syria: Moscow
• Russia fires missiles at Daesh positions outside Syria's Palmyra
• Russia: US-led coalition strikes in Syria increasing civilian death toll
--------
Arab World
• Muslim Volunteers Repair Catholic Monastery Because 'Mosul Is Yours As It Is Ours'
• Shah Salman Gifts Items to Trump Worth $1.2 Billion
• S. Arabia, Qatar Engaged in War of Cartoons, Reciprocal Insults
• ISIS militants seal off Mosul's Nuri mosque preparing for last stand
• US-led coalition strike kills founder of Daesh media outlet
• Two dead in Saudi school shooting: security source
• Three army officers and a soldier killed in western Egypt
• ISIL on Verge of Full Collapse in Hama Province
• Syrian Army Utilizing 2nd Most Powerful Missile Launcher in World
• Tens of Prisoners Escape Al-Nusra Terrorists' Jail in Northwestern Syria
• Long Chunk of Iraq-Syria Borderline Fully Cleaned up of Terrorists
• Kurdish leader: SDF will counter Iraq's PMU if it enters its areas in Syria
• Syrian rebels say Russian jets halt advance on desert outpost
• Abu Dhabi court sentences Pakistani to life for attempted murder of foreigners
--------
Southeast Asia
• China Trying To Stop Muslims Observing Holy Month in Restive Xinjiang Region
• Zahid Urges Muslims to Overlook Small Differences to Stay United
• Islamic State makes inroads into Malaysia, Indonesia
• Is anti-Chinese sentiment coming back in Indonesia?
• Ten government soldiers killed in Philippines military air strike: minister
• 89 gunmen killed in Philippine urban battle
• Malaysian flight forced to land over bomb scare
• No Malaysian affected by Kabul suicide car bombing
--------
Pakistan
• Pakistan May Leave Anti-Terror Alliance If It Becomes Sectarian
• Govt to Address Grievances Faced By Minorities
• Top national security body reviews CPEC projects
• Activist held in first case about 'maligning forces' on social media
• PM won't tolerate disgrace of institutions: Marriyum
• Pakistan aims to placate Afghanistan at peace moot
--------
Mideast
• Russian Envoy Assassin Visits Terrorist-Backed Turkish Mufti Several Times
• Prominent Main Opposition MP Faces Terrorism Charges
• Saudi Arabia blatantly subservient to US: Yemeni Houthi leader
• Yemeni army readies plans to liberate cities under Houthi control
• Neither peace nor war possible in Mideast without Turkey
• Iran's defence minister slams neighbouring countries as 'threat' to security
• UN envoy slams Houthis for shelling civilian areas
--------
India
• Bhopal Communal Clashes: A Heritage Gate Is What Caused Hindu-Muslim Tensions
• Adityanath to Help If Hindu, Muslims Agree To Resolve Ram Temple Issue
• India, Spain call for 'zero tolerance' on terrorism
• J&K: Pakistan violates ceasefire in Poonch; India retaliates
• Two terrorists killed in Kashmir's Sopore
• Babri demolition: Court seeks statements of prosecution witnesses
• RSS Muslim Wing in MP Serves Cow Milk at Iftar, Says it's Healthier Than Beef
--------
South Asia
• Massive Truck Bomb Kills 90 in Kabul
• 10 JMB Men Indicted For IS-Claimed Hussaini Dalan Blasts
• Pakistan-based Haqqani network behind Kabul attack: NDS
• Militants involved in destructive activities arrested in Nangarhar
• Nowhere to go for Rohingya refugees in BD after cyclone
• Upholding secularism in Bangladesh
• Trump speaks with President Ghani after deadly Kabul explosion
--------
Africa
• Alleged Hijackers Targeting Muslims at Mosques during Ramadan
• Al Shabaab Overtook Boko Haram As Africa's Most Deadly Terror Group In 2016
• Sultan slams NYSC for opening orientation camps during Ramadan
• Kenya: 8 killed in IED attack
--------
North America
• A New Jersey Town Denied Muslims a Mosque, Now It Must Pay Them $3.25 Million
• U.S. Air Force veteran gets 35 years for trying to join Islamic State
• Trump condemns Kabul attack in call with Ghani
Compiled by New Age Islam News Bureau
URL: https://www.newageislam.com/islamic-world-news/mosques-manchester-refuse-deal-with/d/111374
--------
Mosques in Manchester refuse to deal with bomber Salman Abedi's body
31 May 2017
Mosques, Islamic centers and municipal councils in the city of Manchester, north of England, have refused to perform funeral prayers for suicide bomber Salman Abedi or burry his body inside the city.
British newspaper the Metro reported that the remains of the suicide bomber were still being held outside the city and that no one has agreed to receive it.
Abedi blew himself up at Ariana Grande's concert at the Manchester Arena last week, killing 22 people, including a number of children, and injuring 60 others. The terrorist operation was recorded as the worst in Britain since the July 7, 2005 bombings.
he final decisions about Abedi's remains will be down to a coroner.
Abedi's family will not be able to receive the remains of his body as his father Ramadan, his mother Samia and his younger brother Hashim are all in Libya.
His father and brother are still being held by the authorities in Libya. Investigators said Hashim, 20, was also involved in planning a major terrorist attack in the Libyan capital Tripoli, and that he had links to ISIS.
The bomber's older brother Ismail, aged 24, is also in police custody in Manchester.
The preliminary findings of the British police investigation indicate that Abedi may have acted alone, and was not part of a large terrorist network.
Investigators found that he bought all the raw materials used to make the bomb during the first five days he spent in Manchester since coming from Libya and that it is highly likely that he manufactured the explosive device alone.
https://english.alarabiya.net/en/News/world/2017/05/31/Mosques-in-Manchester-refuse-to-deal-with-bomber-Salman-Abedi-s-body-.html
--------
Muslim volunteers repair Catholic monastery because 'Mosul is yours as it is ours'
Jon Sharman
Jun 1, 2017
Muslim volunteers pitched in to help repair a Christian monastery near the Iraqi city of Mosul, it has been claimed.
Young residents of the al-Arabi neighbourhood, which had been occupied by Isis until earlier this year, helped to restore the damaged St George's Monastery.
The building, belonging to the Chaldean Catholic tradition, had been vandalised by Isis militants.
According to a Facebook post by the "This is Christian Iraq" page, the youths' aim was to demonstrate that "Mosul is yours as it is ours" and that "our differences are our strength".
Isis had damaged the monastery's dome, smashed the windows and removed a cross, according to various reports.
However, The Irish Times reported earlier this year that Christians had celebrated Easter there for the first time since 2014.
http://www.independent.co.uk/news/world/middle-east/muslim-volunteers-repair-catholic-monastery-mosul-iraq-isis-al-arabi-terrorism-st-georges-a7765111.html
--------
China Trying To Stop Muslims Observing Holy Month In Restive Xinjiang Region
Jun 1, 2017
China is trying to prevent people from fasting during Ramadan in the predominantly Muslim province of Xinjiang.
According to the World Uyghur Congress (WUC), officials in the region ordered all restaurants to remain open and a series of measures have been put in place seemingly designed to prevent people observing the holy month.
The region is dominated by the ethnically distinct Uyghur people, a group who have suffered years of repression as Beijing has tried to wipe out religious expression and all forms of allegiance to institutions other than the Communist party.
The party also fears religious extremism as the region borders several Muslim-majority countries where Islamist violence is becoming an increasing problem. Isis is also known to be trying to recruit there.
A notice issued by the Industrial and Commercial Bureau of Aksu (in Chinese, Akesu) prefecture's Bay (Baicheng) county in the region said the move was to ensure "stability maintenance".
The bureau said it will "strengthen leadership" and "inspection" of the county during Ramadan.
It is forcing party activists to do marathon 24-hour shifts on guard in public buildings which make forgoing food and drink almost impossible.
Separately, in neighbouring Hotan (Hetian) county, students have been told they must gather on Fridays to "collectively study, watch red (communist) films, and conduct sports activities" to "enrich their social life during the summer vacation".
Friday is Islam's holy day and many customarily start the day at the mosque. In addition, many Muslims will have little energy to take part in sport while they are fasting.
A Han Chinese official in Hotan province refused to clarify whether the measures were explicitly designed to stop Uyghurs from fasting and praying during Ramadan when questioned by Radio Free Asia.
Speaking on the condition of anonymity, he said: "I cannot give you any details on this matter. You'd better inquire about it with the public security sectors."
Another Han official working for the Zawa township in the province said public servants had been banned from fasting and if found out they would be "dealt with".
The WUC notes that the restrictions on observing Ramadan do not seem to apply to the rest of China.
The authorities have tried to curtail observation of Ramadan, which runs from 26 May to 24 June this year, for several years but this time it coincides with the government's increasingly draconian measures to crack down on religious expression.
In March it banned burqas and "abnormal" beards, and a month later banned Islamic baby names.
Earlier this month it was revealed that police in the region had purchased $8.7m (£6.7m) worth of equipment to analyse DNA from its citizens.
Last year, Uyghurs reported that officials were asking for DNA samples, fingerprints and voice records when they applied for a passport or to go abroad.
http://www.independent.co.uk/news/world/asia/ramadan-2017-china-xiniang-uyghur-muslim-holy-month-islam-fasting-a7765836.html
--------
Pakistan may leave anti-terror alliance if it becomes sectarian
May 31, 2017
Pakistan may be reconsidering its role in the Saudi-led Islamic Military Alliance against Terrorism (IMAT) as there is growing opposition over the sectarian nature of the alliance.
Foreign office officials have privately said that one of the reasons why Prime Minister Nawaz Sharif was not allowed to speak at the recent gathering of leaders from Muslim countries to meet US President Donald Trump was because his speech contained comments about reconciliation with Iran.
The government already gave a public commitment that it would not become part of any initiative whose aim is to target any other Islamic country, including Iran. Defence Minister Khawaja Asif has assured on the floor of National Assembly that Pakistan would withdraw if the Saudi alliance turns out to be sectarian in nature.
The government has been avoiding discussion on the matter but now Sartaj Aziz, advisor to Prime Minister on foreign affairs, had agreed to brief the Senate on the matter after the chamber's chairman Raza Rabbani served notices on ministers and secretaries of defence and foreign affairs to appear before its members.
The issue came to light when the house took up notice from opposition MP Farhatullah Babar who was asking for the government's response on reported statements from the Saudi authorities that the military alliance would not only be restricted to terrorist organisations like Islamic State and al Qaeda but would also act against any rebel groups posing threat to any member country.
Pakistani MPs have said that they do not want their country to be part of any sectarian alliance as it also goes against the country's constitution.
In the middle of this is the case of former army chief Raheel Sharif, who is supposed to lead the 41-nation anti-terrorism alliance.
It was thought that the government had already joined the alliance when in April it granted permission to Gen Sharif, who is now in Saudi Arabia, to lead the alliance.
Officials, however, clarified that the final decision is yet to be taken.
"What compelled Pakistan to have a second thought was the recent Arab Islamic-US summit in Riyadh where statements from Saudi authorities suggested that the alliance was meant to counter Iran as well as fighting terrorism," said a report in the Express Tribune newspaper on Wednesday.
The government in principle agreed to be part of the Saudi initiative if its sole purpose was to fight terrorism and extremism, officials insisted.
The final decision, however, will be taken once the terms of reference of the alliance are finalised during the meeting of defence ministers of the participating countries, officials added.
"What we need to understand is that the terms of reference of the alliance are yet to be finalised. The defence ministers of the participating countries will meet and discuss the modalities of the coalition. We must wait until we have all the information to comment on its outcome. We shouldn't indulge in speculations," foreign office spokesperson Mohammed Nafees Zakaria clarified at his last weekly briefing.
http://www.hindustantimes.com/world-news/pakistan-may-leave-anti-terror-alliance-if-it-becomes-sectarian/story-V75fR5IZiNq5e42rXgIGpL.html
--------
Russian Envoy Assassin Visits Terrorist-Backed Turkish Mufti Several Times
Jun 1, 2017
Al-Muhaysini had on many occasions urged his followers to study the works of Turkish Mufti Nouralddeen Idlidiz.
Al-Muhaysini, in a video, had called on his Turkish followers that had gone to Syria to fight against the Syrian Army to study Rasa'el Ramadhaniyeh written by Nouralddeen Idlidiz.
Well-informed sources have recently claimed that the assassin of the Russian ambassador to Turkey had very good relations with Nouralddeen Idlidiz in Ankara.
Russia's Ambassador to Turkey Andrei Karlov was gunned down on December 2016, while he was delivering a speech at the opening ceremony of a photo exhibition. According to Turkey's authorities, the attacker, named Mevlut Mert Altintas, was immediately neutralized by security forces.
According to reports, 22-year-old Altintas, who was a member of the riot police in Ankara, yelled "Don't forget Aleppo. Don't forget Syria" over the fallen Russian ambassador at the Museum of Modern Art in Turkey.
Russia has begun an aerial campaign against the terrorist groups, including ISIL and Al-Nusra Front, in Syria since September 2015 at Syrian President Bashar al-Assad's request
Numerous rumors have also linked the assassination of Moscow's envoy to Russia's role in Syria and the country's support of Damascus government.
The Turkish Security Service announced January 2017 that its investigations proved that assassination of Russian Ambassador to Ankara was planned by Altintas from months ago.
Crime inspectors disclosed January 2017 that Altintas was not alone in conducting the crime as the inspectors discovered that he had several partners when planning terror operations of Karlov.
The paper wrote that the Altintas' partners entered his mail box and deleted all his emails, while media sources disclosed that only two hours after Karlov's assassination, the entire emails of Altintas were deleted, proving that Altintas had some partners.
http://en.farsnews.com/newstext.aspx?nn=13960310001539
--------
Europe
Britain's May in Saudi Arabia seeking deals
Jun 1, 2017
Riyadh - British Prime Minister Theresa May held talks with Saudi officials on Tuesday, hoping to tap the oil-rich kingdom's "immense potential" as she looks to secure post-Brexit investment and trade.
May has come under harsh criticism over her Saudi visit, facing calls at home to raise rights issues with local leaders.
The visit also comes less than a week after Britain officially started a two-year countdown for quitting the European Union.
May has said that economic issues were a priority on her trip, but maintains she will not shy away from addressing "hard issues" on foreign visits. The British premier on Tuesday met Crown Prince Mohammed bin Nayef, the country's interior minister and first in line to the throne, and discussed "joint cooperation in combating extremism and fighting terrorism", state news agency SPA said.
She is scheduled to meet King Salman on Wednesday. May began her three-day Middle East tour on Monday in Amman, where she touted cooperation in the fight against the Islamic State jihadist group.
Jordan and Britain are part of the US-led coalition that has been carrying out air strikes and supporting local forces against IS in Syria and Iraq since mid-2014.
May has said she would be looking to use the "immense potential for Saudi investment to provide a boost to the British economy" during her trip to the region. Britain is looking to strike new trade deals as it prepares to leave the EU, with a major focus on longtime partners such as the energy-rich Gulf states.
Qatar, a longtime investor in Britain, announced plans last month to invest £5 billion ($6.23 billion/5.8 billion euros) within five years. Saudi Arabia is Britain's largest trading partner in the Middle East, with exports of more than £6.5 billion in British goods and services to the country in 2015.
Riyadh is also looking at boosting its foreign investments as part of a long-term plan known as "Vision 2030", which aims to diversify the economy and reduce dependence on oil revenues. May came under fire ahead of the visit, with opposition Labour Party leader Jeremy Corbyn demanding she raise concerns about "the dictatorial Saudi monarchy's shocking human rights record".
He called on Britain to halt arms sales to Riyadh immediately and to push for a ceasefire in Yemen, where Saudi Arabia has for two years led a Gulf military campaign against Iran-backed Huthi rebels. More than 7,700 civilians have been killed and a further 42,500 wounded since the start of the campaign, according to the United Nations. Seven million Yemenis face starvation. Rights groups including Amnesty International and Human Rights Watch have called for an end to arms sales from Britain and the United States to Saudi Arabia over the coalition's actions in the Arabian Peninsula state. Saudi Arabia has bought more than $5 billion (4.7 billion euros) worth of arms from the US and Britain, according to the Stockholm International Peace Research Institute think tank.
- 'Woman's role in society' -
May, who eschewed the local custom of women wearing headscarves in public upon arriving in Riyadh, has also faced questions around her stance on women's rights in ultra-conservative Saudi Arabia - the only country where women are not allowed to drive.
She has said she hopes to be an example of the role women could play in any society.
"I hope that people see me as a woman leader, will see what women can achieve and how women can be in significant positions," May told the BBC ahead of her trip.
May on Tuesday met Sarah al-Suhaimi, head of the Saudi stock exchange Tadawul. Suhaimi, also CEO of NCB Capital, is the first women to head a Saudi investment bank.
On Wednesday, May is slated to meet Princess Reema bint Bandar, head of the women's section at the General Authority for Sports.
Saudi Arabia recently announced it planned to increase women's participation in the workforce from 22 to 28 percent by 2020.
Local media outlets have also reported that the kingdom will open women-only gyms
http://nation.com.pk/international/01-Jun-2017/britain-s-may-in-saudi-arabia-seeking-deals
--------
Russian warship, sub fire cruise missiles at ISIS in Syria: Moscow
Jun 1, 2017
A Russian warship and submarine have fired cruise missiles at Islamic State group targets around Palmyra in Syria from the Mediterranean, Moscow said Wednesday, the first such strikes announced in months.
The frigate Admiral Essen and submarine Krasnodar carried out four strikes against military hardware and fighters from the jihadist group who had left its de-facto capital Raqa, the Russian military said in a statement.
"All the targets were hit," the statement said, without specifying when the strikes happened.
Moscow said that the US, Turkish and Israeli military "were informed in a timely manner of the missile launches through existing communication channels."
President Vladimir Putin was briefed on the successful strikes by Defence Minister Sergei Shoigu, the Kremlin said.
Russia has been conducting a bombing campaign since 2015 in support of President Bashar al-Assad and has a naval contingent deployed to the eastern Mediterranean to bolster its firepower.
Full report at:
http://nation.com.pk/international/31-May-2017/russian-warship-sub-fire-cruise-missiles-at-isis-in-syria-moscow
--------
Russia fires missiles at Daesh positions outside Syria's Palmyra
May 31, 2017
The Russian military says it has fired cruise missiles from its warships in the Mediterranean towards Daesh positions outside the ancient Syrian city of Palmyra, inflicting losses on the Takfiri terror group.
In a Wednesday statement, the Defense Ministry said four Kalibr cruise missiles were fired and successfully hit Daesh combat vehicles and terrorists outside Palmyra.
The warships "targeted an area east of Palmyra, where the militants' heavy weaponry and manpower were located. All targets have been destroyed."
The statement added that the missile strikes killed the Daesh militants deployed to the area from Raqqah, the terror group's main bastion in Syria, without giving a specified number.
Russian Defense Minister Sergei Shoigu also briefed President Vladimir Putin on the successful launch of missiles.
The US, Turkey and Israel had received warnings in advance of the missile launches, said the statement.
On May 25, the Russian Air Force spotted a large Daesh convoy, comprising 39 vehicles and 120 militants, outside Raqqah and destroyed it before reaching Palmyra.
Palmyra, a UNESCO world heritage, is of strategic importance to Daesh as it is located in the central Homs Province around 225 kilometers from Raqqah.
The control of Palmyra has passed from Syrian government forces to Daesh terrorists and back again a number of times since the Takfiri terror group first captured it in 2015.
In March, Syrian forces, backed by Russian air cover, regained control of the city from Daesh, killing around 1,000 Daesh terrorists in the offensive.
Full report at:
http://www.presstv.ir/Detail/2017/05/31/523732/Russia-Syria-Israel-Daesh-Mediterranean-US-Turkey
--------
Russia: US-led coalition strikes in Syria increasing civilian death toll
May 31, 2017
Russia says airstrikes conducted by the US-led coalition purportedly fighting terrorists in Syria "have been exacerbating the situation" in the Arab country and increased the "civilian death toll."
Russian Foreign Ministry Spokeswoman Maria Zakharova said on Wednesday that the airstrikes were "ill-conceived" as they kill more civilians than terrorists.
"In fact, these air raids have been exacerbating the situation in Syria, increasing the civilian death toll and spreading chaos and destruction which benefit militants of the Islamic State (Daesh) and Jabhat al-Nusra terror groups, as well as their affiliated units," said Zakharova in a statement, referring to two major terror groups in Syria.
"We are concerned over a series of the coalition's airstrikes in Syria," Zakharova said, adding, "We condemn these ill-conceived attacks as they have nothing to do with the fight against terrorism."
The Russian official made reference to some of such air raids, including one carried out on May 25 in al-Mayadin, where 35 civilians were killed, and another targeting an area in the south of the city of Raqqah on May 27, which left 20 civilians killed.
The official also reiterated Russia's previous calls on the United States and other Western governments involved in the conflict in Syria to do more to combat terrorism.
"We once again call on our counterparts to join efforts in the fight against terrorism, so that all interested parties could close ranks in order to eliminate this global scourge," she said.
Full report at:
http://www.presstv.ir/Detail/2017/05/31/523779/Russia-USled-coalition-Syria-civilian-death-toll
--------
Arab World
Shah Salman gifts items to Trump worth $1.2 billion
28-May-2017
During his first visit to kingdom, US President Donald Trump received gifts from Saudi King Shah Salman worth of $ 1.2 billion, reported Nawa-e-Waqt.
According to details, the gifts given by Saudi King included a precious diamond, armband made of pure gold with King Salman's photo imprinted on it and 25 kilogram heavy sword made of pure gold with different diamonds and stones on it.
The sword is worth of $ 200 million.
Furthermore, gold and diamond made watches, worth of $ 200 million, were also gifted to Trump and his family.
A small replica of Statue of Liberty but made with gold, diamond and precious stones will also be sent to White House soon.
Meanwhile, one of the major roads in Riyadh has also been named after Trump.
A 125 meter long yacht, which is world's tallest personal yacht as it has 80 rooms with 20 royal suits, will also be sent through US navy to America.
No US President has received these kinds of gifts before by Saudi Kingdom.
http://nation.com.pk/international/28-May-2017/shah-salman-gifts-items-to-trump-worth-12-billion
--------
S. Arabia, Qatar Engaged in War of Cartoons, Reciprocal Insults
May 31, 2017
Seven days after the remarks by the Qatari emir, the Saudi media are still releasing different insulting editorials and cartoons which have made the Qatari media respond by releasing cartoons of Saudi King Salman who considers himself as Khadim Al-Haramain Al-Sharifain (the Servant of Muslims' two holy places in Saudi Arabia).
Last Thursday, an article appeared on Qatar's state-run news agency, quoting the emir as criticizing the United States, Saudi Arabia, and its client states for their attempt to stir up tensions with "Islamic power" Iran.
A post also appeared on the agency's Twitter page, quoting the Qatari foreign minister as saying that his country was withdrawing its ambassadors from Kuwait, Bahrain, Egypt, Saudi Arabia, and the UAE amid tensions.
The Qatari government soon said that the state agency had been hacked and that the remarks attributed to the emir and the foreign minister had never been made.
The official denial, which was offered several more times, too, nevertheless failed to stop a widening rift from emerging between the Arab countries of the Persian Gulf. Saudi media viciously attacked Qatar, accusing it of having "betrayed" the other Arab countries particularly at a time when they had attempted to stage a show of "unity" against Iran in a much-publicized and extravagant series of events in Riyadh.
Saudi Arabia and the United Arab Emirates also blocked Qatari websites and broadcasters.
Qatari Foreign Minister Mohammed bin Abdulrahman Al Thani later said the country was being targeted in a "hostile media campaign, which we will confront." He was referring to the media blackout.
The Qatari media, including Middle-East Eye, Arabi 21, al-Arab al-Jadid and al-Jazeera couldn't bear the situation and they also took reciprocal moves by releasing a cartoon of King Salman in a meeting with US President Donald Trump and Egyptian President Abdel Fattah el-Sisi as they were inaugurating a center for fighting terrorism and extremism.
In this cartoon, King Salman along with Trump and Sisi have put their hands on an orb. The caption below the cartoon quotes the evil forces as saying: we have been recalled.
One of the evils says: More chaos in the Middle-East. Another says: More children will be killed; and the third says: Oh… kill more people.
The Saudi al-Eqtisadiah newspaper showed angry reactions to the cartoon, saying that the Middle-East Eye has insulted the Khadim Al-Haramain Al-Sharifain.
Two days before this cartoon, Qatar's al-Jazeera news channel had released a cartoon which showed two people resembling King Salman and Sisi who release fake news on al-Arabiya news channel.
Full report at:
http://en.farsnews.com/newstext.aspx?nn=13960310000493
--------
ISIS militants seal off Mosul's Nuri mosque preparing for last stand
1 June 2017
ISIS militants have closed the streets around Mosul's Grand al-Nuri Mosque, residents said, apparently in preparation for a final showdown in the battle over their last major stronghold in Iraq.
Dozens of fighters were seen by residents taking up positions in the past 48 hours around the medieval mosque, the site where ISIS leader Abu Bakr al-Baghdadi declared an Islamist caliphate in July 2014.
ISIS's black flag has been flying from the mosque since the militants captured Mosul and seized swathes of Iraq and Syria in the summer of 2014.
US-backed Iraqi government forces retook eastern Mosul in January and began a new push on Saturday to capture the group's remaining enclave in western Mosul, comprising of the Old City center where the mosque is located, and three adjacent districts alongside the western bank of the River Tigris.
The fall of the city would, in effect, mark the end of the Iraqi half of ISIS. Meanwhile in Syria, Kurdish forces backed by U.S.-air strikes are beseiging ISIS forces in the city of Raqqa, the militants' de facto
capital in that country.
Symbolic focus
Up to 200,000 people still live in harrowing conditions behind ISIS lines in Mosul, running low on food, water and medicine, and with difficult access to hospitals, the United Nations said on Sunday.
The Grand al-Nuri Mosque has become a symbolic focus of the campaign, with Iraqi commanders privately saying they hope to capture it during Ramadan. "Daesh's (ISIS) fighters know that the mosque is the most important target and they are preparing for a major battle there," said Hisham al-Hashemi, who advises several Middle East government including Iraq's on ISIS affairs.
But a battle in or near the mosque would put the building and its famed leaning minaret at risk, experts have said. The minaret, several feet off the perpendicular and standing on humid soil, is particularly vulnerable as it has not been renovated since 1970. Its tilt gave the landmark its popular name - al-Hadba, or the hunchback.
The Mosul offensive, now in its eighth month, has taken much more time than expected as Islamic State is fighting in the middle of civilians and using them as human shields. Over the past few days, the militants ordered dozens of families living in the Zanjili district to move into the Old City to prevent them from escaping toward the Iraqi forces trying to advance from the northern side, a resident said.
Full report at:
https://english.alarabiya.net/en/News/middle-east/2017/06/01/ISIS-militants-seal-off-Mosul-s-Nuri-mosque-preparing-for-last-stand.html
--------
US-led coalition strike kills founder of Daesh media outlet
1 June 2017
BEIRUT: An air strike by the US-led coalition has killed the founder of the Daesh propaganda media outlet Amaq in the eastern Syrian province of Deir Al-Zor, his brother said in a Facebook post on Wednesday.
Reuters could not independently confirm whether he had been killed. There was no immediate comment from the United States-led coalition against Daesh.
The post said the strike killed Rayan Meshaal and his daughter in their home in the city of Al-Mayadin. Syrian opposition activists had been sharing news of Meshaal's death on social media.
"I'm pleased to announce the martyrdom of my older brother Baraa Kadek, known as Rayan Meshaal...in an air strike by the coalition," the Facebook post reportedly by his brother said.
Daesh often claims responsibility for attacks worldwide through Amaq channels on social media.
Rita Katz, director of the the US-based SITE monitoring service, said on Twitter that a coalition strike allegedly killed Meshaal in Deir Al-Zor.
Katz added Amaq had "shown itself as ISIS' state media agency" since its founding in 2014 and had issued claims for at least two dozen attacks around the world.
Daesh militants control swathes of Syria's vast eastern deserts and most of Deir Al-Zor province bordering Iraq, but they have been on the back foot over the past year.
With air strikes and special forces on the ground, the US-led coalition is supporting an alliance of Kurdish and Arab militias in a campaign to capture Raqqa city.
The Syrian Democratic Forces are advancing on Raqqa, Daesh's urban base of operations in Syria, and have seized tracts of territory in northern Syria from the jihadist group.
The SDF, which includes the powerful Kurdish YPG militia, expect to storm Raqqa in early summer with the help of new weapons from the coalition.
Daesh is losing ground in both Syria and Iraq under assault from an array of sometimes rival forces in both countries. Many of its fighters who have retreated from other fronts are believed to be massing in Deir Al-Zor.
The Syrian Observatory for Human Rights said air strikes in Al-Mayadin last week killed more than 100 people including children and other family members of Daesh fighters.
Full report at:
http://www.arabnews.com/node/1108246/middle-east
--------
Two dead in Saudi school shooting: security source
Jun 1, 2017
A gunman killed two staff at a private school owned by a prominent Saudi billionaire in Riyadh on Wednesday, a security source told AFP.
The school was closed and no children were there at the time, said the US embassy in Riyadh.
Police were hunting a suspect of Iraqi origin who worked at the school, the security source said, after the rare shooting.
"A teacher took a gun and then he went to the school room and he killed the assistant school principal and one of the employees," said the source who asked not to be identified because a formal statement would come later from Riyadh police.
Investigators are treating the case as a criminal matter and "not a terrorist incident," the source said.
Saudi media spoke of "disagreements" between the suspect and victims.
"There has been a shooting at Kingdom School in Riyadh," the US mission said on its Twitter account.
"School (is) closed, no children present. Please avoid area," the Twitter post said, without elaborating on casualties or motives behind the shooting.
By late afternoon an AFP photographer observed only one police car entering the school grounds, which were quiet, and nobody answered the school's main phone line.
Most schools in Saudi Arabia are on holiday.
Kingdom School is part of a group owned by Prince Alwaleed bin Talal, chairman of Kingdom Holding Co whose diversified investments include Citigroup and Time Warner.
The school, located in central Riyadh, opened in 2000 and offers boys' and girls' education from kindergarten to high school, according to its website.
The school has both a Saudi curriculum and an international programme leading to an American diploma.
Full report at:
http://nation.com.pk/international/31-May-2017/shooting-at-saudi-school-no-children-present-us-mission
--------
Three army officers and a soldier killed in western Egypt
Jun 1, 2017
Three army officers and a soldier were killed in Egypt's Western Desert on Wednesday when an explosive belt seized from Islamist militants went off, the military said in a statement.
The Egyptian Air Force was conducting reconnaissance over the Bahariya Oasis area when it discovered and fired on two four-wheel drive vehicles transporting militants.
As the Egyptian Army was clearing the area and dealing with the weapons and equipment the militants left behind, an explosive belt went off, killing three officers and a soldier.
Egyptian security forces have been battling Islamic State, which killed hundreds from the military and police.
Full report at:
http://nation.com.pk/international/01-Jun-2017/three-army-officers-and-a-soldier-killed-in-western-egypt
--------
ISIL on Verge of Full Collapse in Hama Province
May 31, 2017
The sources said that the Syrian and Russian fighter jets have been pounding ISIL's positions and movements East of the town of al-Salamiyah, destroying a large number of their positions.
In the meantime, the army units stormed ISIL's gathering centers in the village of al-Baqousiyeh East of al-Salamiyah, inflicting major casualties on the militants, the sources added.
They went on to say that the ISIL has suffered heavy casualties and its military hardware has sustained major damage, adding that the terrorist front is rapidly breaking up.
Field sources also reported that the ISIL terrorists are fleeing the battlefield in large numbers.
Reports said earlier today that the Syrian and Russian bombers carried out a number of combat sorties over ISIL's positions and movements in Eastern Hama, inflicting major losses on the Takfiri terrorists.
The Syrian fighter jets carried out several combat flights over ISIL's movements and supply lines in the village of Akash and near Wadi (desert) al-Azib in countryside of the town of al-Salamiyah, killing and wounding a number of terrorists and destroying their equipment.
Full report at:
http://en.farsnews.com/newstext.aspx?nn=13960310001454
--------
Syrian Army Utilizing 2nd Most Powerful Missile Launcher in World
May 31, 2017
The Arabic-language website of Sputnik reported that the Syrian army has 36 Russia-made heavy missile launchers BM-27 Uragan (Tornado) that stands second to another Russian missile launcher, BM-30 Smerch, in the world.
The Uragan missile launcher's main mission is destroying enemy formation, including armored vehicles and ground forces within the range of 35km.
The missile launcher is capable of destroying enemy bases and fortified positions.
Field sources said in early March the Syrian Army was using Russian T-72 tanks in Eastern Ghouta battles that were similar to the battles in Stalingrad in the World War II.
The sources said that the army troops were utilizing Russian T-72 tanks in their operation against terrorist groups in al-Qaboun district, adding that the al-Qaboun operation was similar to Stalingrad operation of the Russian army against the Germen occupiers that was one of the longest and most important battles in the World War II.
In the meantime, a large number of images were released in social networks showing a number of Russian commandoes in one of the Syrian Army operations.
Meantime, some reports said the Russian commandoes formerly operated in Central Asia and the Caucuses set up an anti-terrorism battalion known as Touran in Syria.
In the meantime, media reports disclosed that the Syrian army optimized its T-72 battlefield tanks to resist against an anti-tank missiles.
According to the Arabic-language al-Hadath news website, an optimized T-72 tank was hit by an anti-tank missile in a test field in Damascus province, but the tank remained unharmed and continued operations.
Diyana Mikhailov, a military expert, said that the T-72 tank merely sustained some small damage during the test, adding that the optimization process was successful.
The Syrian army had deployed the Russian T-90 tanks against the terrorists in Aleppo Front in Northern Syria in February 2016 after the T-72 tanks failed to resist against the terrorists' anti-tank missiles.
The T-90 and its outstanding capability to destroy incoming TOW and M79 missiles appears to be perfect for a theater of war like the one in Syria.
Full report at:
http://en.farsnews.com/newstext.aspx?nn=13960310001100
--------
Tens of Prisoners Escape Al-Nusra Terrorists' Jail in Northwestern Syria
May 31, 2017
The sources said that over fifty prisoners managed to escape Al-Nusra Jail in Abu al-Dhuhour region in Eastern Idlib.
The fugitive prisoners were jailed on criminal charges.
According to another source, one of the prisoners in the jail had seized a gun during forced labor, adding that the armed prisoner used his gun and forced the guards to free him and over 49 others.
The prisoners left the jail before Al-Nusra patrols could arrive at the scene.
Local sources said on Monday that several members of Tahrir al-Sham Hay'at (the Levant Liberation Board) were killed and several more have been wounded in a fresh round of clashes with the Ahrar al-Sham rival terrorist group in Southern Idlib.
Full report at:
http://en.farsnews.com/newstext.aspx?nn=13960310001185
--------
Long Chunk of Iraq-Syria Borderline Fully Cleaned up of Terrorists
May 31, 2017
The statement said that the Iraqi forces managed to advance against ISIL along the country's border with Syria from the entrance of the village of Um Jaris towards the village of Jayr Qalfas and the town of al-Qa'em, restoring security to 17km of borderline.
The statement added that Jayer Qalfas is now under the Iraqi forces' siege and terrorists' supply lines to the village have been cut off, adding that the cleansing operation in the village will kick off soon.
The statement went on to say that 13 terrorists, including four suicide attackers, were killed and their bomb-laden vehicles were destroyed in the attack.
Reports said that Commander of the Quds Force of the Islamic Revolution Guards Corps (IRGC) Major General Qassem Soleimani was pictured with Hashd Al-Shaabi in Northwestern Iraq on Monday.
The AMN reported that the prominent Iranian general was advising the high command of the Popular Mobilization Units during their important operation along the Syrian border-crossing.
With the capture of ISIL's last crossing in Nineveh province, the Popular Mobilization Units will now turn their attention South towards the Takfiri terrorist group's final stronghold on the Syrian border.
On Monday, Secretary General of Hashd al-Shaabi Hadi al-Ameri announced that his forces deployed at the country's borders with Syria, adding that the popular forces would soon launch an anti-ISIL cleansing operation along the border.
Al-Ameri said that Hashd al-Shaabi fighters opened their way to Iraq's border with Syria, adding that the forces deployed in the border village of Um Jaris.
Full report at:
http://en.farsnews.com/newstext.aspx?nn=13960310000886
--------
Kurdish leader: SDF will counter Iraq's PMU if it enters its areas in Syria
31 May 2017
The US-backed Syrian Democratic Forces (SDF) will counter Iraq's mostly Iran-backed Shiite paramilitary forces if the latter enters areas under its control, a Kurdish leader told the London-based Asharq Al-Awsat in an interview.
The Syrian Democratic Forces, which groups Kurdish and Arab fighters, said they will never accept the presence of Iran and they will never under any circumstances act as a bridge between PMU and the Syrian regime.
Full report at:
https://english.alarabiya.net/en/News/middle-east/2017/05/31/Kurdish-leader-SDF-will-counter-Iraq-s-PMU-if-it-enters-its-areas-in-Syria.html
--------
Syrian rebels say Russian jets halt advance on desert outpost
31 May 2017
Western-backed Syrian rebels said on Wednesday that Russian jets attacked them as they tried to advance against Iran-backed militias in a region of Syria's southeastern desert.
They said six jets bombed their positions as they moved towards Zaza checkpoint near Sabaa Biyar, a small town near the Damascus-Baghdad highway and the borders with Iraq and Jordan.
They identified them as Russian because they flew in formation and at higher altitude than Syrian jets.
"A sortie of Russian jets bombed us to repel our advance after we broke the first lines of defense of the Iranian militia and took over advanced positions near the Zaza checkpoint," Saad al Haj, a spokesman for Jaish Osoud al-Sharqiya, one of the main groups in the area told Reuters.
The southeast of the Syrian desert, known as the Badia, has become an important front in Syria's civil war between President Bashar al-Assad, backed by Iran and militias, and rebels seeking to oust him.
They are competing to capture land held by ISIS, which is retreating as it comes under intense attack in Iraq and along Syria's Euphrates basin.
Haj said none of their fighters were killed. Another FSA official, Said Seif from the Ahmed Abdo Martyrs group, also said Russian planes hit the rebels when they began storming militia defenses.
The army and allied militias captured Zaza checkpoint and Sabaa Biyar this month to stop Western backed Free Syria Army groups taking strategic ground vacated by ISIS.
Jets from a US-led coalition against ISIS hit pro-government Iran-backed militias on May 18 as they tried to advance south of Zaza towards Tanf, a base on the Syria-Jordan border where US troops are training FSA rebels.
US officials said the forces, which it described as being directed by Iran, posed a threat to US troops and Syrian fighters it backs in the area.
The militias retreated to the area around Zaza checkpoint and the coalition has since warned them to stay about 50 km from the base.
US-backed rebels took Tanf from ISIS last year and intelligence sources say they mean to use it as a launchpad to capture Bukamal, a town on Syria's border with Iraq and an important extremist supply route.
The coalition's presence in Tanf, on the Damascus-Baghdad highway, was also meant to stop Iran-backed groups from opening an overland route between Iraq and Syria, intelligence sources say.
Full report at:
https://english.alarabiya.net/en/News/middle-east/2017/05/31/Syrian-rebels-say-Russian-jets-halt-advance-on-desert-outpost.html
--------
Abu Dhabi court sentences Pakistani to life for attempted murder of foreigners
31 May 2017
The Abu Dhabi Federal Court of Appeal sentenced a Pakistani man to life imprisonment and deportation for attempting to murder foreigners with a fishing rifle, UAE news site AlIttihad reported.
He was also sentenced to 15 years in prison for burning a villa and a car for terrorist purposes.
Full report at:
https://english.alarabiya.net/en/News/gulf/2017/05/31/Abu-Dhabi-court-sentences-Pakistani-to-life-for-attempted-murder-of-foreigners.html
--------
Southeast Asia
Zahid urges Muslims to overlook small differences to stay united
June 1, 2017
PETALING JAYA, June 1 — Deputy Prime Minister Datuk Seri Ahmad Zahid Hamidi has urged Muslims to avoid trivial differences in opinion, especially when they were in the mosque which could lead to a split among them.
On the other hand, he said the Muslim community should hold to three principles of unifying the mind, heart and action which could translate into better individual Muslims.
"In unifying the mind, I understand even though there are various colours that interest us, but for Islam and the race, we have to set aside the differences.
"The second principle is unifying our hearts, if we think as one but our hearts are not, there will be pressure among us.
"The third principle must be unity in action which could translate into our thinking to establish a peaceful country,'' he said after terawih prayers at the Kota Damansara Mosque here yesterday night.
Also present were Urban Wellbeing, Housing and Local Government Minister Tan Sri Noh Omar, FAMA chairman Tan Sri Badruddin Amiruldin and Selangor police chief Datuk Seri Abdul Samah Mat.
Full report at:
http://www.themalaymailonline.com/malaysia/article/zahid-urges-muslims-to-overlook-small-differences-to-stay-united
--------
Islamic State makes inroads into Malaysia, Indonesia
May 31, 2017
KUALA LUMPUR: The Philippines imposed martial law in Mindanao province on May 24 to fight the Maute Islamist group who have pledged allegiance to the so-called Islamic State (IS).The move came a day after IS, in a statement via its Amaq News agency, claimed responsibility for a deadly bomb attack at a pop concert in the British city of Manchester where 22 people, including children, were killed and dozens injured in what is Britain's deadliest terror attack in 12 years.The Manchester terror bombing and the Philippines situation put the spotlight again on the growing threat of the Islamic State in Europe, South Asia and Southeast Asia.
The Philippines A Catholic priest was feared kidnapped and Christian churches set on fire in the restive Philippine region of Mindanao as President Rodrigo Duterte imposed martial law across the entire Muslim majority region last night.Duterte declared martial law after a group linked with the so-called Islamic State attacked a major city. The president placed all of Mindanao's 27 provinces and 33 cities, roughly a third of the country, under martial law for a period of 60 days. The martial law announcement came after dozens of fighters from the Maute terror group entered Marawi, a predominantly Muslim city of about 200,000 people, earlier on May 23.The group, which has vowed allegiance to the Islamic State and has been clashing with security forces in recent months, took over a hospital, a Catholic cathedral, and a Christian school.However, Joseph Franco, a research fellow at the Center of Excellence for National Security, described the fighting in Marawi as a "propaganda move" of the Maute group."This is a group trying to get the attention of [the so-called Islamic State] in the Middle East," said Franco.The security expert said even the Islamic State knows that "these guys [the Mautes] do not have the capability.""They do not control parts of the country so it really [does] not fit into the IS model," said Franco.
IndonesiaIn Indonesia, terrorism expert Sidney Jones of the Institute of Policy Analysis and Conflict said that even though the Maute terror group has a considerable influence in the Philippines it is not big in Indonesia. However, Jones was concerned Islamic State could still carry out attacks there.According to Jones, ten days before Maute stepped up their campaign in Mindanao, there was a call by Indonesian IS leaders — allegedly close to Bahrun Naim, a former terror convict who fled Indonesia to join IS — to attack the Philippine Embassy in Jakarta.But it never eventuated."It's not impossible that there will be attacks here [in Jakarta] but the capacity of this group is low here," she said.
Jones also criticized the military approach by Filipino President Rodrigo Duterte, saying it will not solve anything. "The military approach will not solve the [Islamic State] problem in the Philippines or any other countries," she said.With regards to Islamic State in Indonesia, Jones said "Everything seems quiet but the element of surprise is typical of terrorism, it is unpredictable."Solahudin, a researcher at the Study Center on Terrorism and Social Conflict at the University of Indonesia, said that from 2000 to 2015 more than 260 terrorist acts occurred in Indonesia and more than 1,000 terrorists were arrested.Indonesian anti-terror squad Densus 88 reported that 550-600 Indonesians have joined IS, of which 100 have returned home and another 100 have died during fighting Syrian troops since March 2015. Densus 88 arrested 82 terrorists in 2015, 170 in 2016 and dozens more this year, many of whom were linked to IS.
Full report at:
http://www.heraldmalaysia.com/news/islamic-state-makes-inroads-into-malaysia-indonesia/36543/1
--------
Is anti-Chinese sentiment coming back in Indonesia?
Simon Shen
Jun 1, 2017
In the mayoral election in the Indonesian capital Jakarta last month, the incumbent Basuki Tjahaja Purnama, better known as "Ahok", a baptized Christian of Chinese descent and a close political ally of President Joko Widodo, failed to get reelected.
Shortly after the election, Ahok was found guilty of blasphemy against Islam and sentenced to two years in prison. As the political climate in Indonesia has continued to intensify, there are growing concerns among the Indonesian-Chinese community that another wave of large-scale and nationwide violence against them could be looming on the horizon. And their concerns are not unfounded.
Even though many believe Ahok could have been just a scapegoat as the entire saga over his alleged blasphemy was in fact a carefully masterminded political onslaught against President Widodo mounted by radical Islamic groups, the fact that Ahok is Chinese and the first ever non-Islamic governor of Jakarta did cause a substantial amount of dismay among many Islamic Indonesians.
And their hate against Ahok might reignite anti-Chinese sentiment across the country, something which has persisted in Indonesia since the Dutch East Indies era.
Besides, there are increasingly worrying signs that the religious right, after having eliminated Ahok, is planning to escalate their action.
As Bachtiar Nasir, leader of the National Movement to Safeguard the Fatwas of the Indonesian Ulema Council who facilitated the downfall of Ahok, recently declared, the next target they are after would be affluent Chinese in the country, whom he said have been able to get rich at the expense of local interests.
If Nasir really meant what he said, then it is not entirely impossible that the political onslaught against Ahok, which might have been initially aimed at undermining President Widodo, might continue to snowball into an even more widespread and violent movement against all non-Muslims in Indonesia, and eventually, ethnic Chinese.
In fact, major Islamic countries around the world such as Indonesia, Malaysia, Turkey and even the tiny state of Brunei have witnessed Islamic radicalization in recent years, with the political influence of Islamic fundamentalist groups continuing to grow.
In particular, the growing popularity of radical Islamic groups in Indonesia is already casting a shadow over secular rule in the country, which is the most populous Islamic state in the world.
Full report at:
http://www.ejinsight.com/20170601-is-anti-chinese-sentiment-coming-back-in-indonesia/
--------
Ten government soldiers killed in Philippines military air strike: minister
Jun 1, 2017
Ten Philippines soldiers were killed and eight wounded by friendly fire in a military air strike during efforts to take back a city occupied by Islamist militants, the defense minister said on Thursday.
"A group of our military army men were hit by our own airstrikes ... 10 killed and 8 wounded," Defense Secretary Delfin Lorenzana said in a text message to reporters.
"Sometimes the fog of war ... The coordination was not properly done so we hit our own people."
He did not say when the incident took place.
Full report at:
http://nation.com.pk/international/01-Jun-2017/ten-government-soldiers-killed-in-philippines-military-air-strike-minister
--------
89 gunmen killed in Philippine urban battle
Jun 1, 2017
Marawi - Philippine troops have killed 89 Islamist militants during more than a week of urban battles but a final showdown is expected to be fierce as the gunmen protect their leaders and hold hostages, authorities said Wednesday. Attack helicopters fired rockets on Wednesday morning into parts of Marawi, a Muslim city in the south of the mainly Catholic Philippines, that were still controlled by the militants fighting under the black flag of the Islamic State (IS) group.
President Rodrigo Duterte declared martial law across the entire southern region of Mindanao in response to the crisis, which he described as the start of a major campaign by IS to establish a foothold in the Philippines.
Eighty-nine militants had been killed in the fighting and the amount of territory in the city that the remaining gunmen controlled had been cut to just 10 percent, military spokesman Brigadier-General Restituto Padilla said Wednesday.
However Padilla warned of more intense battles ahead, with the military believing three of the militants' main leaders were likely still in the city.
"That 10 percent is most likely the area that is heavily guarded and defended by any armed men if they are protecting any individual of high value," Padilla said.
The militants are also holding an unknown number of civilians hostage, according to Padilla and other authorities.
They initially took a priest and up to 14 other people hostage at the start of the crisis.
A video of the priest appeared on social media on Tuesday, in which he repeated the militants' demands to withdraw and said his captors were holding 240 people hostage.
Padilla said the number of people cited in the video as being held hostage could not be verified.
He insisted the release of the footage showed the militants were becoming increasingly desperate and said security forces would not back down.
"They are trapped, they are contained, they are in areas that they will never come up alive unless they surrender," Padilla said.
Another major complicating factor was the safety of about 2,000 residents who the local government said remained trapped in the militant-controlled areas.
The International Committee of the Red Cross called Wednesday for a humanitarian ceasefire to save them.
"I think it's horrific for the civilian people who are in there and we really hope that both sides can agree that the civilians should be given the opportunity to come out," the deputy head of the ICRC's Philippine delegation, Martin Thalmann, told AFP in Marawi.
Jenita Abanilla, 47, a laundrywoman, arrived exhausted and hungry at an evacuation centre in Marawi on Wednesday afternoon after heavily armed police rescued her on Wednesday.
"We covered the mouths of our children. We were afraid the gunmen would come in and kill us," Abanilla said, adding that she also feared being hit by the military's bombs.
Padilla said Wednesday the militants had murdered 19 civilians but insisted that the military's airstrikes had not killed any of the trapped residents.
Twenty-one members of the security forces had also died, Padilla said, bringing the combined death toll to 129.
The clashes erupted when security forces raided a house to arrest Isnilon Hapilon, a veteran Filipino militant regarded as IS's leader in the Philippines. He is on the US government's list of most-wanted terrorists.
Authorities said they were taken by surprise when dozens of gunmen emerged to protect Hapilon and then went on a rampage through Marawi, the Philippines' main Islamic city with a population of 200,000.
Hapilon was being protected by members of the local Maute group, a small band of militants that has declared allegiance to IS, according to the government.
Malaysians, Singaporean, Indonesian and other fighters had been involved in the unrest, according to the military.
Full report at:
http://nation.com.pk/international/01-Jun-2017/89-gunmen-killed-in-philippine-urban-battle
--------
Malaysian flight forced to land over bomb scare
Jun 1, 2017
KUALA LUMPUR - A Malaysia Airlines flight was forced to return to Melbourne to land late Wednesday after a "disruptive" passenger on board the Kuala Lumpur bound flight claimed he was carrying a bomb, Malaysia's deputy transport minister said.
"It is not a hijack. One disruptive passenger tried to enter the plane's cockpit," Deputy Transport Minister Abdul Aziz Kaprawi told AFP. The passenger, a Sri Lankan national who was apparently drunk, was overpowered by the plane's crew and later arrested at Melbourne's airport, he said. "The passenger... claimed to have a bomb. But it was not a bomb but a powerbank," Aziz added. The passenger was later arrested by Australian authorities in Melboure. "Everyone on board is safe," Aziz added. "He was taken out of the plane handcuffed by Australian security officers."
Full report at:
http://nation.com.pk/international/01-Jun-2017/malaysian-flight-forced-to-land-over-bomb-scare
--------
No Malaysian affected by Kabul suicide car bombing
May 31, 2017
KUALA LUMPUR: The foreign affairs ministry has confirmed that no Malaysian was affected in a suicide car bomb explosion in Kabul, Afganistan, this morning, which left many people dead and injured.
In a statement today, it said the authorities would monitor the situation via the Malaysian High Commission in New Delhi, India.
"Malaysia strongly condemns the heinous attack and is deeply saddened by the senseless act of violence and hopes the perpetrators will be expeditiously brought to justice.
"Malaysia also extends its deepest condolences and sympathies to the Government of the Islamic Republic of Afghanistan and to the bereaved families," it said in the statement.
At least, 80 people were killed and 350 others wounded in Wednesday morning's suicide car bomb explosion in a diplomatic district in the Afghan capital of Kabul, China's Xinhua news agency reported the Afghan public health ministry as saying.
The attack was the second massive bombing in Kabul this month.
Full report at:
http://www.freemalaysiatoday.com/category/nation/2017/05/31/no-malaysian-affected-by-kabul-suicide-car-bombing/
--------
Pakistan
Govt to address grievances faced by minorities
Jun 1, 2017
KARACHI: It is vital for any Muslim state to treat its minorities justly and in accordance with Islamic teachings.
These views were expressed by Sindh Governor Muhammad Zubair said on Wednesday.
Talking to Sindh's minority wing Pakistan Muslim League-Nawaz (PML-N) General Secretary Khaildas Kohistani at the Governor House, he said founders of Pakistan were also absolutely committed to protecting the rights of non-Muslim citizens of the country.
"In fact, they firmly believed in equal rights for all citizens of Pakistan, including religious freedom without any distinction," the Sindh governor added.
He said, "It was because of their steadfast approach and strength of character that our leaders laid the foundation of a society where religious minorities achieved indisputable success in all fields of life."
Responding to the complaints registered by the PML-N's minority wing, in particular, the dearth of development work in their respective areas of residence, the governor said that the federal government accorded top priority to development.
"The constitution of the country extends special concessions to minority communities," he said.
Elaborating his stance, he said a significant quota had been reserved for non-Muslim Pakistanis in policy making bodies, government departments, educational and professional training institutions etc.
"This is beside the fact that minority members can also contest or apply for open seats on the sheer basis of merit," he said.
The Sindh governor said that the provincial government was also conscious of problems faced by people in general and this particularly include those representing minority communities.
He assured that laws adopted at the provincial and national assemblies for social rights of non-Muslim communities would be implemented through close coordination among government functionaries, community leaders and public representative of concerned areas.
Khaildas Kohistani appreciated the interest shown by the government towards the issues specific to non-Muslim citizens of the province and hoped that efforts would be made to expedite enforcement of laws adopted for the protection of the rights of minorities.
https://www.pakistantoday.com.pk/2017/05/31/govt-to-address-grievances-faced-by-minorities/
--------
Top national security body reviews CPEC projects
Baqir Sajjad Syed
Jun 1, 2017
ISLAMABAD: Amid Beijing's growing concerns about the safety of two of its abducted nationals, the National Security Committee (NSC) on Wednesday reviewed the security of China-Pakistan Economic Corridor projects and Chinese nationals based in the country. meeting of the NSC presided over by Prime Minister Nawaz Sharif was briefed about the efforts being made for the recovery of two Chinese-language instructors, who were kidnapped from Quetta's Jinnah Town last week (May 24).
A press statement issued by the PM Office on the committee's meeting did not give the details except for noting that "security for CPEC projects also came under discussion".
The NSC is the highest civil-military coordination forum on matters of national security and defence.
Army chief calls on PM ahead of NSC meeting
The committee, which besides the prime minister as its head has foreign, defence, interior and finance ministers, National Security Adviser and services chiefs and Chairman Joint Chiefs of Staff as its members, was specially attended by Minister for Planning and Development Ahsan Iqbal and Director General FWO Lt Gen Muhammad Afzal, both of whom are related to CPEC projects.
"The Chinese government atta­ches great importance to the safety of overseas Chinese citizens and condemns the abduction of personnel in any form," Chinese Foreign Ministry spokesman Lu Kang had said after the abduction incident last week.
The Chinese diplomatic mission in Pakistan had soon after the incident activated its "emergency response mechanism" — an internal response mechanism. The Chinese embassy in Islamabad and the Consulate General in Karachi are working with Pakistani authorities for rescuing the kidnap victims.
Security has been a major concern for the Chinese ever since the CPEC was launched. The establishment of the Special Security Division to a certain extent assuaged the concern. However, those have been renewed after the latest kidnapping episode. The fears have been further reinforced by killing of 10 labourers in Gwadar in a terrorist attack claimed by the Balochistan Liberation Army. The labourers were, however, employed with a non-CPEC project.
Full report at:
https://www.dawn.com/news/1336674/top-national-security-body-reviews-cpec-projects
--------
Activist held in first case about 'maligning forces' on social media
Zulqernain Tahir
Jun 1, 2017
LAHORE: The Federal Investigation Agency (FIA) arrested an activist in the first case in its campaign to crack down on social media users criticising the country's armed forces on different digital platforms.
The FIA's cybercrime wing arrested Adnan Afzal Qureshi in the Defence Housing Authority on Tuesday and charged him under Sections 20 and 24 of the Prevention of Electronic Crimes Act (harming the reputation of a person and cyber stalking), and Sections 419 and 500 of the Pakistan Penal Code (impersonation and defamation).
"We arrested the activist for [posting] a series of anti-military tweets and running a Facebook page containing such content. The suspect used abusive language against some military personnel and political leaders. We are interrogating him to know whether he is part of a group that has launched an anti-military campaign or whether he is doing it on his own," FIA investigator Rizwan Arshad told Dawn.
To a question about further arrests in this regard, he said: "We have identified more suspects and will take them into custody in the coming days," he said.
Earlier, the FIA had interrogated over a dozen people suspected of running an anti-military campaign. They were released after the FIA could not establish anything serious against them. "This is the first FIR in a crackdown on the anti-military campaign on social media networks," Mr Arshad said.
The crackdown was launched two weeks ago on the orders of Interior Minister Chaudhry Nisar Ali Khan, who took notice of criticism against the armed forces following a tweet by the Inter-Services Public Relations rejecting a government notification in connection with a story published in Dawn. Since then, forensic teams of the FIA's cybercrime wing have been combing Facebook accounts, various WhatsApp groups, blogs and websites suspected of carrying such material.
Major opposition parties have vowed to resist the attempt to place curbs on social media.
Full report at:
https://www.dawn.com/news/1336440/activist-held-in-first-case-about-maligning-forces-on-social-media
--------
PM won't tolerate disgrace of institutions: Marriyum
June 01, 2017
ISLAMABAD - Minister of State for Information, Broadcasting and National Heritage Marriyum Aurangzeb talking to news channels on Thursday, said that Prime Minister Nawaz Sharif had zero tolerance for undignified rhetoric against constitutional institutions and had taken action against Senator Nehal Hashmi for his statement which was not only inappropriate but also unfortunate.
She said that the government had invariably shown its commitment to across the board accountability and the prime minister himself wrote a letter to the Supreme Court for the formation of the judicial commission on the Panama Papers issue, which was manifestation of the fact that he had unflinching trust in the superior judiciary.
Moreover, she said, the prime minister and his family members were fully cooperating in the investigation of the case as they believed in the supremacy of law and the constitution.
Creation of misunderstanding among the institutions would not be in the national interest, she added.
Responding to a question, she reiterated that every member of the Sharif family would appear before the joint investigation team if summoned.
She said that the PML-N would not take any step that could hinder the process of investigation by the JIT.
Explaining the turn of events, she said that Hussain Nawaz had filed an application before the Supreme Court regarding his reservations about two members of the JIT as during the course of questioning of Tariq Shafi, their attitude was not appropriate.
The behaviour of Amer Aziz, a member of JIT, was also not impartial, she added.
To a question, she said, no reaction was coming against the JIT, adding, Hussain Nawaz had said that he would appear before the JIT whenever he was called.
The minister of state said that prime minister could claim immunity, but he did not opt for it. She strongly repudiated the notion about the PML-N boycotting the JIT.
Full report at:
http://nation.com.pk/national/01-Jun-2017/pm-won-t-tolerate-disgrace-of-institutions-marriyum
--------
Pakistan aims to placate Afghanistan at peace moot
June 01, 2017
ISLAMABAD - Pakistan aims to placate Afghanistan at the multilateral Kabul peace conference next week amid tensions between the Muslim-majority neighbours, officials said.
Senior officials at the foreign ministry told The Nation that the main objective was to present Pakistan's case before the participants - including the United States, China, Russia, India and Iran.
"Afghanistan has been accusing us of protecting the militants. We will try to negate this view and point out the truth. We will try to convince Afghanistan that we are sincere in defeating terrorism with the help of the neighbours including Afghanistan," an official said.
Afghan President Ashraf Ghani had proposed the peace conference, which is largely seen as an initiative of the US.
At the June 6 conference – to be participated by the US, India, Saudi Arabia, Japan, the United Kingdom, Russia, the United Arab Emirates, Qatar, Turkey, Germany, France, China, the European Union and the representatives of the United Nations – Pakistan will get a chance to speak its mind and hold meetings on the sidelines.
President Ghani aims to discuss the increased violence by the Taliban and terrorism in general.
Earlier, deputy head of the mission at the Afghan Embassy in Islamabad Zardasht Shams said the conference was being held on the instructions of President Ghani to exchange views on growing terrorism.
The Kabul peace conference is significant as Russia had hosted a similar summit in April, which was attended by 11 countries.
The US had skipped that meeting.
Another official at the foreign ministry said that Pakistan had decided to attend the conference to make it clear, "we are committed to eliminate[ing] terrorism."
He said that Pakistan valued ties with Afghanistan, and Islamabad had been telling Kabul not to fall in India's trap.
"We are hopeful of winning Afghanistan's confidence. Our efforts against terrorism speak volumes about our claims. Afghanistan is being misguided by India and we will try to bring them back," the official added.
He said that the Foreign Office had completed preparation to highlight Pakistan's case in the conference.
"The crux is that peace in Afghanistan means peace in Pakistan. We cannot compromise on this," the official said.
Additional Foreign Secretary Tasneem Aslam and Director General of Pakistan's Ministry of Foreign Affairs Mansoor Ahmad Khan are expected to represent Pakistan in Kabul.
This month, Foreign Secretary Tehmina Janjua had said that Afghanistan had become a hub of militants and terrorists.
Speaking at an international conference on Afghan peace in Islamabad, she said the rise of Daesh in Afghanistan was a threat to regional peace.
Janjua said that Pakistan supported all efforts for Afghanistan peace.
She maintained Jamaatul Ahrar and Tehreek-e-Taliban Pakistan had safe havens in Afghanistan.
Last month, Pakistan and Afghanistan entered a new phase of tension after Afghan forces violated the border, killing and wounding several Pakistanis.
Amid the Afghan attack, Pakistan warned that it reserved the right to respond to "preserve its sovereignty and protect its civilians."
To respond to any further aggression by the Afghan forces, Pakistan army was on high alert.
Tanks and heavy artillery were moved forward.
To accommodate the displaced persons, camps were installed five kilometres away from the border.
Authorities said as many as 2,000 families had been affected by Afghan shelling at the civilian areas.
On Wednesday, at least 80 people were killed and hundreds were wounded as a massive truck bomb ripped through Kabul's diplomatic quarter.
The attack exposed the level of security in Afghanistan.
After the blast, Pentagon chief Jim Mattis warned of "another tough year" for the foreign troops based in Afghanistan and the local forces.
Immediately afterwards, Pakistan condemned the terror blast.
"Pakistan being a victim of terrorism understands the pain and agony that such incidents inflict upon the people and the society. The people and government of Pakistan extend their heartfelt sympathies and deepest condolences to the government and the people of Afghanistan and the bereaved families," a statement issued by the foreign ministry said.
It said, Pakistan reiterates condemnation of terrorism in all its forms and manifestations.
"We pray for early recovery of the injured. We firmly stand with our Afghan brothers in this hour of grief and anguish," the statement added.
Defence expert and former Brigadier Harris Nawaz said that Pakistan should work to drag Afghanistan out of India's influence.
"Pakistan and Afghanistan should join hands against terrorism. The allegations from Kabul will not help anybody. Peace should be our goal and we should work together," he said.
Full report at:
http://nation.com.pk/national/01-Jun-2017/pakistan-aims-to-placate-afghanistan-at-peace-moot
--------
Mideast
Prominent main opposition MP faces terrorism charges
Jun 1, 2017
A public prosecutor in Diyarbakır has submitted a summary of proceeding for a main opposition lawmaker on terror charges, further increasing the number of Republican People's Party (CHP) deputies facing legal action.
"A public prosecutor in Diyarbakır has prepared a summary of proceeding about me on charges of 'being a member of a terrorist organization' and sent it to the parliament," CHP Istanbul deputy Sezgin Tanrıkulu said in a parliamentary speech on May 30.
Stating that the CHP has defended the principle of immunity for speeches under the roof of parliament, Tanrıkulu said no lawmakers could be prosecuted for what they say in parliament.
"There cannot be any cases or investigations in accordance with this principle of immunity. However, there are some hidden prosecutors who have given themselves a task," he said criticizing the ruling Justice and Development Party (AKP) for exerting influence over judicial bodies.
"I have been a lawyer in Diyarbakır for 25 years. I have presided over the Diyarbakır Bar. I am a founding member of the Human Rights Association, Human Rights Foundation and Amnesty International and have not been a member of a terrorist organization. However, during the five years of my lawmaker position … I have [allegedly] become a member of a [terrorist] organization during AKP rule," he said.
The legislative immunity of lawmakers was lifted by a constitutional amendment approved on May 20, 2016, with majority votes from the CHP, AKP and Nationalist Movement Party (MHP).
The amendment ruled that lawmakers who have a file at Justice Ministry, Prime Ministry and Parliamentary Speaker's Office for alleged crimes dated prior to May 20, 2016, would be exempt from constitutional article number 83, which stipulates legislative immunity.
The article says that "a lawmaker who is alleged to have committed a crime before or after the election cannot be held, questioned, arrested or prosecuted without a decision of the parliament."
The prosecutors have filed a summary of prosecution on several CHP lawmakers including party leader Kemal Kılıçdaroğlu and lawmakers including Tanrıkulu, Özgür Özel, Veli Ağbaba, Eren Erdem, Gürsel Tekin, Şafak Pavey and Mahmut Tanal within the month May. In order to lift the immunity, a public prosecutor or related bodies must file a summary of proceedings about a lawmaker to the Prime Ministry's Office. The summary is then assessed by the Justice Ministry and conveyed to a parliamentary commission. If the commission rules to lift the immunity, the file is then sent to the general assembly to be voted upon.
http://www.hurriyetdailynews.com/prominent-main-opposition-mp-faces-terrorism-charges.aspx?pageID=238&nID=113764&NewsCatID=338
--------
Saudi Arabia blatantly subservient to US: Yemeni Houthi leader
Jun 1, 2017
Leader of Yemen's Houthi Ansarullah movement has slammed Saudi Arabia for doing the bidding of the United States, saying the Riyadh regime has become absolutely subservient to Washington's policies.
Speaking on the occasion of the holy month of Ramadan on Wednesday, Abdul-Malik Badreddin al-Houthi said US President Donald Trump's recent visit to Saudi Arabia further exposed Riyadh's blind "subservience" to Washington, adding, "Not only the Saudi rulers do not deny this issue, but they even take pride in it and openly announce it."
In March 2015, the Saudi regime and its allies, backed by the US, began a military campaign against Yemen to reinstall its former government, a close Riyadh ally. The war has killed over 12,000 civilians since then.
During his visit to Saudi Arabia last week, Trump signed a new $110-billion arms deal with the kingdom, a move severely criticized by international rights groups, including Amnesty International and Human Rights Watch.
Houthi further described Saudi Arabia as "the leader of Wahhabism" in different parts of the world, expressing regret that leaders of some Muslim countries are following the policies of "the enemies of Islam."
Wahhabism is a radical ideology dominant in Saudi Arabia and freely preached by clerics supported by the regime in Riyadh. The ideology has been a source of inspiration for terrorists worldwide.
Daesh and other Takfiri terrorist groups take advantage of Wahhabism to declare people of other faiths "infidels." The idea provides a justification for the terrorists to kill those individuals.
Unfortunately, the Islamic world is currently facing myriads of problems due to a lack of prudence, said Houthi, adding that the existing divisions in Muslim societies have made it easier for the US and Israel to advance their agendas.
The brutal Saudi campaign has been met with stiff resistance by the Houthi Ansarullah movement, which has the support of the Yemeni army and popular forces.
In the latest wave of their retaliatory attacks, the Yemeni army and Ansarullah fighters targeted the Bahtet and Taba military bases in the Saudi border city of Jizan, killing several soldiers and injuring a number of others, according to Yemeni media.
The Yemeni army also shot down a Saudi reconnaissance aircraft in Midi desert on Tuesday, the reports said.
The latest UN Security Council session was partly dedicated to Yemen.
Speaking at the Tuesday session, UN Under-Secretary-General for Humanitarian Affairs and Emergency Relief Coordinator Stephen O'Brien told the Security Council that the impoverished Yemen is on the brink of total collapse, as the country is facing an emerging famine and an outbreak of cholera amid the war.
Full report at:
http://www.presstv.ir/Detail/2017/06/01/523823/Yemen-Saudi-Arabia-Ansarullah-US-Trump
--------
Yemeni army readies plans to liberate cities under Houthi control
31 May 2017
Maj. Gen. Mohammed al-Maqdashi, Chief of Staff of the Yemeni armed forces, has said that his forces are waiting for a nod from the Yemeni prime minister to carry out new military campaigns in areas controlled by Houthi militias.
In an interview with pan-Arab newspaper Asharq al-Awsat, Maqdashi said Yemeni armed forces had drawn up plans to free the remaining militia-controlled cities, including the city of al-Hudaydah.
These plans depend on the vigilance of individuals, and the ability of military units to carry out combat actions during the next stage, he said.
Maqdashi added that the rebels are going through a period of disintegration and weakness, and will not endure upcoming battles. "We have seen them flee their positions."
Maqdashi said that the army is progressing significantly on all fronts, especially in Taiz and Nahm, imposing a siege on the militias in some areas, while progressing as well on the coastal strip.
He also added that these moves will open the path in the event of a political decision to move quickly towards the city of Hudaydah as soon as possible.
Full report at:
https://english.alarabiya.net/en/News/middle-east/2017/05/31/Chief-of-Staff-Plans-to-liberate-the-cities-of-Yemen-from-coupists-ready.html
--------
Neither peace nor war possible in Mideast without Turkey
MELIH ALTINOK
Jun 1, 2017
U.S. President Donald Trump, who said that it was not the Iraqis that knocked down the World Trade Center, but the Saudis, during his election campaign last February, paid his first foreign visit to Saudi Arabia. Even if Trump did not make a splash with Muslims, he pleased the Saudis and won a $380 billion arms agreement.
Following Saudi Arabia, he visited Israel where he wore a yarmulke, put his face on the Western Wall and made harsh statements about Iran, a mortal enemy of Zionism.
Where could the U.S. president go after the centers of Islam and Judaism? Yes, although Trump could not hold his wife, Melania's hand, he managed to catch the Pope's arm in the Vatican.
So, why will all these weapons be sold, the defense modernizations agreed on and the messages given through religions, and even sects, be used in the medium and short term?
Certainly, they will be used for war and boosting arms sales once again.
Robert Fisk, a senior Middle East correspondent of The Independent, summarizes this scenario that can be seen by all rational people who are interested in the Middle East as follows, "The aim, however, is simple: to prepare the Sunni Muslims of the Middle East for war against Shiite Muslims. With help from Israel, of course."
In short, this is a win-win situation. Saudi Arabia is happy. Israel is happy. So, the Jewish lobby in the U.S. is happy. And of course, Trump is the happiest of them all.
However, the political players in the Middle East are not predictable elements as the Pentagon thinks. Ironically, these actors left the region to the hands of the Pentagon not to the Trump administration or the American state
For instance, Iran, which Trump intimidated amid the cheers of Saudi Arabia and Israel, claims that Riyadh supports Daesh, the latest enemy of the U.S.
Also, the outlawed PKK and its Syrian branch, the People's Protection Units (YPG), which are both secular terrorist structures that the U.S. supports against Daesh, is the henchman of the Damascus regime that Washington is trying to overthrow.
Moreover, the U.S. president's plan to garner Saudi support in the Palestine question, which Israel considers an internal matter, is nothing short of a dream. This is because Saudi Arabia is less trustworthy than Egypt in the eyes of many Palestinians.
Coupled with Trump's unpredictability, all of this leads to a more complicated deadlock.
We will all see how much noise Trump will be able to make against Iran, another ogre that he listed after North Korea. What is certain, though, is that, although Washington decides on a de facto state of peace that is based on open wars, low-intensity conflicts and a balance of terror, it needs Turkey not matter what the circumstances are.
In fact, Ankara is the only basis between the strength and resistance points of a pair of scales that Trump is trying to balance in his own way. Moreover, it is the only Sunni Muslim power in the region that has the potential to establish relations with Iran, just like in the uranium barter agreement in 2011. Also, it is the sole laic state which the Palestinian administration will follow without any doubt about Israel.
I think I do not need to remind people once again that Ankara has been the most important strategic partner of the U.S. against Russia and the most important power in the region, since the Cold War.
Full report at:
https://www.dailysabah.com/columns/melih-altinok/2017/06/01/neither-peace-nor-war-possible-in-mideast-without-turkey
--------
Iran's defence minister slams neighbouring countries as 'threat' to security
1 June 2017
Iran's Defense Minister Hossein Dehghan said that neighboring countries and the United States are threatening his country's security.
The defense minister said his country is determined to use the Popular Mobilization Forces to respond to anyone who tries to stand with the Arab-Islamic coalition against Iran.
Iran's foreign policy has not changed despite international pressure and the re-election of President Hassan Ruhani who is considered "moderate".
The hostile statements of Dehghan came during a speech he gave in the city of Dezful and was quoted by several Iranian news sites.
Dehghan challenged the United States by his country's commitment to the missile program, claiming that Iran has developed ballistic missiles with a range of 3,000 km.
However, the most prominent statement was his warning that Iran could use the Iraqi popular mobilization forces to confront any regional party that stands in the ranks of Saudi Arabia's Arab-led coalition against them.
Full report at:
https://english.alarabiya.net/en/News/middle-east/2017/06/01/Iran-s-defense-minister-slams-neighboring-countries-as-threat-to-security-.html
--------
UN envoy slams Houthis for shelling civilian areas
1 June 2017
JEDDAH: A "significant escalation of violence" in Taiz, including "intensified shelling" by Houthi militias and troops loyal to ousted Yemeni President Ali Abdullah Saleh, has led to the deaths and injury of scores of civilians and "significant damage to civilian infrastructure," said the UN special envoy to Yemen, Ismail Ould Cheikh Ahmed.
Briefing participants in an open session of the UN Security Council on Wednesday, the envoy said violence continues on numerous fronts, deepening the suffering of the Yemeni people.
"An assessment mission carried out by humanitarian agencies in early April found that Al-Dhubab town was largely empty due to widespread destruction of infrastructure and contamination by unexploded ordnance and landmines. In Al-Mokha town, the fighting has damaged an estimated 40 percent of houses and infrastructure," he said.
"The shelling of civilian areas and civilian infrastructure is a serious violation of international humanitarian law," he said, adding that "ballistic missiles were fired into Saudi territory."
The envoy lamented that "we are not close to a comprehensive agreement," expressing "regret" that on his last trip to Yemen, the rebel delegation in Sanaa "did not meet me to discuss the framework for such an agreement."
He expressed deep concern about recent reports from Yemen of efforts to suppress and undermine the work of journalists, human rights activists and civil society, including harassment, beatings, arbitrary detention and trials without due process.
"I am particularly worried by the sentencing to death of Yahya Al-Jubayhi, a prominent Yemeni journalist by a court run by the Houthis and (Saleh's) General People's Congress on April 12.
"I am also concerned by the arbitrary arrest and threats to the safety of members of the Baha'i community," he said.
The envoy added that 7 million Yemenis are at risk of starvation unless the conflict ends, a quarter of Yemenis cannot afford food at the local market, and half of the population lacks access to clean water and sanitation services, which increases the risk of the spread of infectious diseases.
"The latest outbreak of cholera led to more than 500 deaths; over 60,000 suspected cases have been reported in 19 governorates. The rapid spread of the disease was worsened by the inadequate health care system. Less than 45 percent of medical facilities are functioning, and medicines for diabetes, hypertension, cancer and other chronic diseases are in short supply," he said.
Full report at:
http://www.arabnews.com/node/1108211/middle-east
--------
India
Bhopal communal clashes: A heritage gate is what caused Hindu-Muslim tensions
May 31, 2017
A structure inside Bhopal's Hamidia hospital that sparked communal tensions in the heart of the city isn't a mosque as claimed by Muslim groups but a "heritage entrance gate", archaeologists said on Wednesday evening.
Dr Ahmed Ali from the state archeology and archives department termed the two-storeyed structure as a "heritage entrance gate structure over 200 years old" on which later a memorial plaque for the World War I martyrs was put. He said it was not a mosque at all.
"I have communicated my findings to the government so that there is no doubt in anybody's mind on this issue now on", he said.
This came after hours of stone pelting and arson in old Bhopal where Hindus and Muslims clashed over the right to pray inside the structure found during excavations recently. Muslims called the structure a mosque and wanted to pray inside but were denied permission.
On Tuesday evening, large Muslim crowds came face-to-face with men from the Vishwa Hindu Parishad who wanted to pray next to the minarets but weren't allowed. Stone pelting ensued for hours and police were forced to cane the mobs.
Hundreds of police personnel have fanned out across the old city and most roads were sealed to ward off clashes.
Dr Ali said the structure was the entrance gate to the Fatehgarh fort that led to the old walled city of Bhopal. He said Fatehgarh fort was constructed by Dost Mohammad Khan (1657–1728), the founder of the erstwhile Bhopal State and the fort was later expanded to encircle Bhopal.
HT visited the historic structure at Hamidia. The marble memorial on the left side of the gate reads "Bhopal State… From this state, 994 men went to the great war 1914 -1919. Of these, 36 gave up these lives."
A senior government official, requesting anonymity, said, "Such memorial plaques are not found on the gates of mosques". He said it was a major proof that it was not a mosque.
Dr Ali said soldiers from erstwhile principalities participated in World War I. "As this was a very important gate in the heart of Bhopal, the soldiers left from this very gate. This is why after 1919, a memorial plaque was set up on the left side of the gate", he said.
Nilamber Mishra, sub-divisional magistrate (SDM) Bhopal told HT that the no excavation was done at the historic structure site inside the Hamidia hospital premises. "Nearby, a 2000-bed hospital is being constructed due to which some people felt concerned about the fate of this heritage structure. We sought help of archeologists who made it clear that it was a not a mosque", he said.
During the visit to the heavily guarded heritage structure, HT found that it had a big gate on one side while on the other side, the gate opening had been closed with a brick wall. On the front side of the historic gate, few rooms had been constructed by the hospital authorities, where drugs were stored.
The city has many historical gates (darwazas) such as Lal Darwaza near Model Ground, the Military (Regiment) Gate that is the entrance to the Sultania Infantry settlement, the Islami Gate at Shahjehanabad, the Dakhil Darwaza of the Taj Mahal and the Gate of Bagh Farhat Afza.
The first three gates were the entrances to the walled Shahjehabad area constructed by erstwhile Bhopal ruler Shahjehan Begum (reigned 1868-1901). Jumerati Gate, considered the oldest surviving gate of Bhopal was built by the founder of Bhopal Nawab dynasty Dost Mohammad Khan about 300 years ago.
http://www.hindustantimes.com/bhopal/bhopal-communal-clashes-a-heritage-gate-is-what-caused-hindu-muslim-tensions/story-L3mnuzoaH7n0NrrfFAVCoJ.html
--------
Adityanath to help if Hindu, Muslims agree to resolve Ram Temple issue
May 31, 2017
Ayodhya: Uttar Pradesh Chief Minister Yogi Adityanath on Wednesday said that his government will provide complete support, if both the Hindus and Muslims communities agree to resolve the controversial Ram Temple issue.
"If both the communities can find a solution on the Ram Temple issue, then the government is with them and will provide complete support. It was very nice to see that some Muslim community in Lucknow favoured the Ram Temple," Adityanath said while addressing a rally here on the occasion of 79th birth anniversary of Mahant Nritya Gopal Das.
He further said that time has come to discuss the issue of Ram Temple and should try to find a permanent solution as appealed by the Supreme Court.
He even emphasised on the celebration of Ram Leela in the city.
Training guns on the previous Samajwadi Party government in the state, he said, "The previous government didn't focus on Ayodhya."
Apart from this, Adityanath vowed to provide LED streets light throughout Ayodhya and said that the ruling Bharatiya Janata Party (BJP) Government has decided to spend Rs. 350 crore for the development of the area.
Earlier in the day, the Chief Minister offered prayers at Hunumangarhi Temple and even visited the bank of the Saryu River to offer prayers, after spending around 30 minutes at a makeshift Ram Janambhoomi-Babri Masjid complex.
Adityanath's visit comes a day after the crucial Babri Masjid hearing in which senior BJP leaders were slapped with charges of criminal conspiracy.
This is Adityanath's first visit, post taking charge as the state's Chief Minister.
On Tuesday, he had paid a visit to BJP veterans Lal Krishna Advani, Murli Manohar Joshi and Uma Bharti, who had come to Lucknow to appear before a special Central Bureau of Investigation (CBI) court in the Babri Masjid demolition case.
In a major setback to Advani, Joshi and Uma, the court on Tuesday rejected their discharge application, framing charges against them and the other nine accused in the Babri Masjid demolition case.
Full report at:
http://www.deccanchronicle.com/nation/current-affairs/310517/adityanath-to-help-if-hindu-muslims-agree-to-resolve-ram-temple-issue.html
--------
India, Spain call for 'zero tolerance' on terrorism
May 31, 2017
MADRID: India and Spain on Wednesday stressed that there should be "zero tolerance" to terrorism and called on the international community to end "selective or partial" approaches in combating the menace which poses the gravest threat to international peace and stability.
Prime Minister Narendra Modi, the first Indian prime minister to visit Spain since 1992, met the European country's top leaders and they stressed that states and entities which encourage, support, finance terrorism, provide sanctuary to terrorists and glorify terrorism should be subjected to international laws including restrictive measures.
The prime minister held wide-ranging talks with President of the Spanish government Mariano Rajoy at the Moncloa Palace and invited Spanish firms to invest in India which offers "many opportunities" for them in various fields.
After the talks, the two sides signed seven agreements, including pacts on transfer of sentenced persons and visa waiver for holders of diplomatic passports.
Five MoUs were signed between the two countries on cooperation in organ transplantation, cyber security, renewable energy, civil aviation and one between India's Foreign Service Institute and Diplomatic Academy of Spain.
The two sides also issued a joint statement in which the two leaders welcomed the recent positive developments in bilateral trade and investment partnership, buoyed by the positive economic outlook in both countries and called for stronger ties between the businesses of the two countries.
Spain is the 12th largest investor in India and the seventh largest trading partner in the EU. There are more than 200 Spanish companies in India that are actively involved in road construction projects, railways, wind power, water desalination, defense and smart cities.
There are more than 40 Indian companies in Spain, in the fields of technology, pharmaceuticals, automotive and energy.
Two-way trade totalled $5.27 billion in 2016.
Rajoy welcomed the efforts of India to provide a positive business environment for foreign companies and to further international investment, for which, adequate protection of investments and legal certainty are instrumental.
He also emphasized the importance that Spain attaches in the coming months to solid progress on the India-EU Broad-based Trade and Investment Agreement (BITA), which may facilitate further Spanish and European investments in India.
"President Rajoy and Prime Minister Modi recognized that terrorism poses the gravest threat to international peace and stability and expressed their strong commitment to combat terrorism in all its forms and manifestations," it said.
Both leaders condemned the recent terrorist attack in Manchester and stressed that there should be zero tolerance to terrorism and that there can be no justification whatsoever for any act of terror, the joint statement said.
"The fight against terrorism is conceived to disrupt and defeat terror organizations and networks. States and entities which encourage, support, finance terrorism, provide sanctuary to terrorists and glorify terrorism should be subjected to international laws including restrictive measures and strong condemnation by all law abiding members of the international community," it added.
The two leaders called on the international community to end selective or partial approaches to combating terrorism and in this regard jointly called for the early finalization and adoption of a Comprehensive Convention on International Terrorism by the UNGA, the statement added.
Modi encouraged Spanish infrastructure, tourism, energy and defense companies to invest in priority sectors in India, saying "it's a great time for Spanish companies to invest in India."
Spain, the summer holiday destination of Europe, in a recent government report said that the Islamic State group "has been publishing in Spanish, which means an increase in the risk of its influence on radicals living in our country".
In "today's global context", Modi said, the focus of his discussion in Spain will be on the international developments.
The prime minister praised the Spanish president saying under Rajoy's leadership the country has undergone economic reforms "which is also the biggest priority of my government."
He said railways, smart cities and infrastructure sectors were the priority areas for India and Spain has "enough skills and mastery" to contribute to India's requirements.
Modi said he is confident that his visit to Spain will give a new momentum to bilateral ties.
Later, he paid a courtesy call to Spanish King Felipe VI at Palacio de la Zarzuela palace on the outskirts of Madrid.
Prime Minister Modi also met top CEOs of leading Spanish companies and invited them to participate in initiatives like 'Make in India', saying immense potential awaits them in the fast-growing nation.
In a roundtable interaction with leading Spanish business leaders, he said that there is immense potential for further growth of Spanish investments in India.
He mentioned sectors such as infrastructure, renewable energy, food processing, auto, chemicals and textiles and invited Spanish participation in the Smart Cities initiative.
Modi also gave a broad overview of the economic reforms undertaken in India, including the GST.
He said he was personally committed to helping foreign companies set up operations in India.
Full report at:
http://timesofindia.indiatimes.com/india/india-spain-call-for-zero-tolerance-on-terrorism/articleshow/58930735.cms
--------
J&K: Pakistan violates ceasefire in Poonch; India retaliates
Jun 1, 2017
NEW DELHI: Pakistan on Thursday again resorted to unprovoked ceasefire violation along the LoC in Krishna Ghati sector of Poonch district and Nowshera sector of Rajouri district in Jammu and Kashmir, Army said.
"Today Pakistan army carried out unprovoked ceasefire violation in Poonch's KG sector and Rajouri's Nowshera sector. Befitting reply is being given," Army spokesman Lieutenant Colonel Manish Mehta said.
"They (Pak troops) are using heavy shelling and mortars to target outposts," he said, adding, "Our soldiers are responding with same power. No loss of life has been reported so far."
The violation comes just three days after Army shot dead an intruder along the LoC in Poonch's Krishna Ghati sector.
The Pakistan army had shelled forward areas and civilian belts along the LoC in Rajouri district on May 15 and 16.
The firing and shelling by the Pakistan army in May this year has affected over 12,000 people.
Full report at:
http://timesofindia.indiatimes.com/india/jk-pakistan-violates-ceasefire-in-poonch-india-retaliates/articleshow/58938424.cms
--------
Two terrorists killed in Kashmir's Sopore
Jun 1, 2017
NEW DELHI: Two terrorists were killed in a brief encounter with security forces in Sopore town of north Kashmir's Baramulla district on Thursday, police said. The gunfight took place around 3: 30 am.
Officials said that a joint party of police and Army's 21 Rashtriya Rifles launched a search operation after inputs about presence of terrorists in Nathipora village of Sopore, some 70 km from Srinagar.
"The terrorists who were holed up in a house, opened fire on the security forces who then retaliated,"officials said.
"Two terrorists were killed in the operation," a senior police official said, adding, "identity of the terrorists is yet to be ascertained."
Meanwhile, Army's Northern Command said that the encounter is over and two AK-47, five magazines, 107 live rounds, 2 pouches, Rs 2000 in cash, 2 rubber stamps and paraphernalia recovered from the two terrorists
Terrorists yesterday hurled grenade at a Police party near Jammu and Kashmir Bank in Sopore.
As many as four police personnel were injured in the incident.
Since the end of October 2016, armed robbers have struck at various branches of banks in Jammu and Kashmir, looting nearly Rs. 92 lakh in 13 separate attacks.
There have been four incidents in four days this month, beginning with the bloody attack on a cash van on May 1 during which militants shot dead five policemen and two bank security guards, and including two attacks in two hours in adjacent villages in Pulwama.
Full report at:
http://timesofindia.indiatimes.com/india/two-terrorists-killed-in-kashmirs-sopore/articleshow/58937617.cms
--------
Babri demolition: Court seeks statements of prosecution witnesses
May 31, 2017
LUCKNOW: A special court hearing Babri mosque demolition case directed the CBI on Wednesday to make available copies of statements of as many as 253 prosecution witnesses to the lawyers of the former deputy prime minister LK Advani and 11 others in order to enable them to peruse the evidence which is to be read against these newly-added accused.
Filing an application, the accused had demanded the list of the witnesses examined by the CBI so far. The CBI provided the list of 253 witnesses already examined. Out of them, 196 were examined by the Lucknow court while 57 were examined before the Rae Bareli court. Now, the Supreme Court by its order passed on April 19, 2017 has clubbed the Lucknow and Rae Bareli trials and directed the Special Lucknow court to continue trial proceedings from the present stage.
The SC's order also revived conspiracy charges against 12 accused, including former deputy PM LK Advani, MM Joshi and cabinet minister Uma Bharati.The court had framed charges against them on Tuesday.
Full report at:
http://timesofindia.indiatimes.com/india/babri-demolition-court-seeks-statements-of-prosecution-witnesses/articleshow/58933923.cms
--------
RSS Muslim Wing in MP Serves Cow Milk at Iftar, Says it's Healthier Than Beef
May 31, 2017
Muslim Rashtriya Manch (MRM), the Muslim wing of the RSS, on Wednesday said it is serving cow milk at Iftar during the ongoing Ramzan considering the "health benefits it has over beef".
Manch's co-convenor SK Muddin said cow milk has multiple benefits over beef whose "unhealthy and harmful" effects of were "endorsed" even by Muslim scriptures.
Muddin, MRM's Madhya Pradesh and Chhattisgarh incharge, said they served cow milk to fasting Muslims in Betul and Jabalpur districts in the last two days and the response they got was "highly encouraging".
He said cow milk is being served to Muslims after Roza Iftars.
"We have plans to serve milk in each district of Madhya Pradesh during the Ramzan," he added.
MRM is also serving cow milk to the fasting Muslims in Uttar Pradesh, he said.
"Our initiative to serve cow milk is getting a good response from among the Muslims who are observing fast during Ramzan," he told PTI.
Cow milk digests easily and that is why it is given to the infants too, he said.
Full report at:
http://www.hindustantimes.com/india-news/rss-muslim-wing-in-mp-serves-cow-milk-at-iftar-says-it-s-healthier-than-beef/story-zji9pp4rIAC63iiMFiiM2K.html
--------
South Asia
Massive truck bomb kills 90 in Kabul
Jun 1, 2017
Kabul - At least 90 people were killed and hundreds wounded Wednesday when a massive truck bomb ripped through Kabul's diplomatic quarter, bringing carnage to the streets of the Afghan capital just days into Ramazan.
Bodies littered the scene and a towering plume of smoke rose from the highly-fortified area, which houses foreign embassies, after the powerful blast in the morning rush-hour blew out the windows of missions and residences.
A Western diplomatic source told AFP the vehicle was a water tanker stuffed with more than 1,500 kilograms of explosives and left a seven-metre deep crater at the scene.
Rescue workers were digging bodies from the rubble hours after the explosion. Dozens of damaged cars choked the roads as wounded survivors and panicked schoolgirls sought safety. Men and women struggled to get through security checkpoints to search for loved ones.
It was not immediately clear what the target was. But the attack underscores spiralling insecurity in Afghanistan, where a military beset by soaring casualties and desertions is struggling to beat back insurgents. Over a third of the country is outside government control.
"Unfortunately the toll has reached 90 martyred (killed) and over 300 wounded, including many women and children," said health ministry spokesman Waheed Majroh, adding the figures would continue to climb as more bodies are pulled from the debris.
There was no immediate claim of responsibility for the attack, slammed by President Ashraf Ghani as a "war crime". The Taliban - currently in the midst of their annual "spring offensive" - tweeted that they were not involved and "strongly condemn" the blast.
The insurgent group rarely claims responsibility for attacks that kill large numbers of civilians.
The Islamic State group has claimed responsibility for several recent bombings in the Afghan capital, including a powerful blast targeting a NATO convoy that killed eight people earlier this month.
NATO said the bomb was a VBIED, or vehicle-borne improvised explosive device, which detonated near Kabul's Zanbaq Square at 8.22am.
"The vigilance and courage of Afghan security forces prevented the VBIED from gaining entry to the Green Zone, but the explosion caused civilian casualties," the alliance's Resolute Support mission in Afghanistan said in a statement.
The explosion damaged a number of embassies in the area, which houses diplomatic and government buildings and is a maze of concrete blast walls, vehicle barriers and armed security guards.
German Foreign Minister Sigmar Gabriel said the "despicable" attack killed an Afghan guard from the German embassy, and added that some employees had been injured, though he did not give further details.
He said the bomb had detonated "in the immediate vicinity" of the German embassy.
Basir Mujahid, a spokesman for city police, said the explosives were hidden in a sewage truck. He also suggested that the German embassy might not have been the target of the blast, which sent towering clouds of black smoke into the sky near the presidential palace.
"There are several other important compounds and offices near there too," he told Reuters.
Pakistani diplomats and embassy staffers were injured in the heavy blast. According to reports, home of Pakistan's Defence Attaché was also damaged in the blast.
The BBC said its Afghan driver Mohammed Nazir was killed and four of their journalists wounded. Local TV channel Tolo TV also tweeted that its staff member Aziz Navin was killed.
Manpreet Vohra, India's envoy to Afghanistan, told media the bomb went off around 100 metres from India's embassy. All staff were safe, he said, though the blast left "considerable damage", including shattered windows.
The explosion also blew in windows at the Japanese embassy, leaving two staffers with mild injuries, a foreign ministry official in Tokyo told AFP.
France, Turkey, the United Arab Emirates and Bulgaria similarly reported damage to their embassies.
The NATO statement, which praised the "courage" of Afghan forces, slammed the attack as "barbaric". "It ... highlights the hypocrisy of the enemy who claim that they only target Afghan security forces and foreign forces, yet continue to cause death and suffering amongst innocent Afghans," it said.
US Ambassador to Afghanistan Hugo Llorens issued a scathing statement condemning the "complete disregard for human life", saying those behind the attack deserved our "utter scorn".
Amnesty International warned that it "shows that the conflict in Afghanistan is not winding down but dangerously widening, in a way that should alarm the international community".
Wednesday's blast was the latest in a long line of attacks in Kabul. The province surrounding the capital had the highest number of casualties in the country in the first three months of 2017 due to multiple attacks in the city, with civilians bearing the brunt of the violence.
Pentagon chief Jim Mattis has warned of "another tough year" for both foreign troops and local forces in Afghanistan.
Afghan troops are backed by US and NATO forces, and the Pentagon has reportedly asked the White House to send thousands more soldiers to break the deadlock in the battle against the Taliban. US troops in Afghanistan number about 8,400 now, and there are another 5,000 from NATO allies. They mainly serve in an advisory capacity - a far cry from the US presence of more than 100,000 six years ago.
http://nation.com.pk/international/01-Jun-2017/massive-truck-bomb-kills-90-in-kabul
--------
10 JMB men indicted for IS-claimed Hussaini Dalan blasts
May 31, 2017
Two people were killed and 100 others injured in the bomb explosions in 2015
A Dhaka court has framed charges against 10 members of banned militant outfit Jama'atul Mujahideen Bangladesh (JMB) in a case filed over the bomb blasts at Old Dhaka's Hussaini Dalan in 2015.
Dhaka's Metropolitan Sessions Judge Md Kamrul Hossain Mollah passed the order on Wednesday and fixed June 15 to start deposition of prosecution witnesses.
The case has also been transferred to the Eighth Additional Metropolitan Sessions Judge's Court for quick trial.
Five of the accused gave confessional statements before magistrates. Three accused were killed in alleged gunfights with the police.
The 10 accused are Kabir Hossain alias Rashed, Masud Rana, Abu Sayeed Solaiman alias Salman, Shahjalal, Omar Faruk, Hafiz Ahsanullah Mahmud, Chan Miah, Rubel Islam alias Sajib, Arman and Jahid Hasan alias Rana.
Charges in the case were pressed in April last year, but the indictment hearing was delayed as the government took time to approve the charge sheet filed under the Anti-Terrorism Act 2009. After the government's green signal, the IO pressed charges again on October 18 last year.
On October 23, 2015, two people, including a school boy named Sanju, 15, were killed and over 100 others injured when the accused carried out grenade attacks on Hussaini Dalan premises targeting the Muslims gathered for the traditional Tazia procession marking the Ashura.
Islamic State group claimed responsibility for the attack. According to the detectives, a new faction of JMB has expressed allegiance to the IS and taken credit for 29 attacks since September 2015.
Three leaders of the group were killed in two separate gunfights with the law enforcers in December 2015 and January 2016. Police claimed that the trio had been involved in the Hussaini Dalan attack. They are Al-Bani alias Hozza Bhai alias Member Bhai alias Shahadat alias Mahfuz, Abdullah Al Noman alias Abdullah and Kamal alias Hiron.
Full report at:
http://www.dhakatribune.com/bangladesh/court/2017/05/31/10-jmb-men-indicted-old-dhaka-tajia-procession-blast/
--------
Pakistan-based Haqqani network behind Kabul attack: NDS
Jun 01 2017
The Haqqani terrorist network based in Pakistan was behind the deadly attack in capital Kabul which left at least 80 people dead, the Afghan intelligence said.
According to a statement by NDS, credible intelligence information confirms the attack was carried out by the network on direct instructions and with the support of the Pakistani military intelligence, Inter Services Intelligence.
The incident in the diplomatic area of Kabul took place around 8:30 am local time after a vehicle packed with explosives was detonated.
The ministry of public health officials said at least 80 people were killed and over 350 others were wounded in the attack.
The Taliban group, having close links with the Haqqani terrorist network, rejected the group was behind the attack.
aliban spokesman Zabiullah Mujahid in a statement said the group has no role in the attack and the Taliban fighters were also not involved in it as they are not allowed to carry out attacks in areas where there are no targets.
Mujahid also added that the group strongly condemns today's attack in the city.
The Ministry of Interior spokesman Najib Danish said the attack was likely carried out using a truck full of explosives which was detonated close to Zambaq square, place to several diplomatic missions, including some embassies.
Full report at:
http://www.khaama.com/pakistan-based-haqqani-network-behind-kabul-attack-nds-02837
--------
Militants involved in destructive activities arrested in Nangarhar
May 31 2017
Two militants involved in destructive insurgency activities were apprehended by the Afghan security forces in eastern Nangarhar province of Afghanistan.
The provincial government media office in a statement said the two militants were arrested in separate operations conducted by the security forces.
The statement further added that the insurgents were arrested in the intelligence operatives operations in Jalalabad city, the provincial capital of Nangarhar.
One of the militants detained during the operations has been identified as Matiullah who was involved in insurgency activities under the direct leadership of Taliban commander Khadem in Shirzad district, the statement said.
Mati was arrested from the vicinity of the 7th police district of Jalalabad and he was also involved in collecting Zakat from Sherzad district residents.
The provincial government also added that the intelligence operatives arrested the other militant from the vicinity of the 6th police district of the city.
The detained militant has been identified as Hokomran, the statement said, adding that the militant was attempting to smuggle 7 weapons to the insurgency when he was arrested.
Full report at:
http://www.khaama.com/militants-involved-in-destructive-activities-arrested-in-nangarhar-02835
--------
Nowhere to go for Rohingya refugees in BD after cyclone
Jun 1, 2017
COX'S BAZAR, Bangladesh - Left drenched and near destitute by a cyclone that hit Bangladesh a day earlier, thousands of Rohingya refugees hunkered down in the ruins of their camps on Wednesday, waiting for help after a night in the rain.
At least seven people were killed and 50 injured by Cyclone Mora, according to Mohammad Ali Hussain, the chief administrator of Cox's Bazar district, a sliver of land in southeast Bangladesh bordering Myanmar. The border area that bore the brunt of the storm is home to refugee camps for Muslim Rohingyas who have fled from their homes in northwest Myanmar to escape communal violence and Myanmar army crackdowns. "Initial reports suggest damage to shelter in camps sheltering Rohingya refugees, is severe," the Office of the UN Resident Coordinator for Bangladesh said.
The Bangladeshi government has estimated that in all, there are about 350,000 Rohingyas in Bangladesh following a new influx last October, when the Myanmar army launched an offensive in response to insurgent attacks.
Authorities in Cox's Bazar and neighbouring Chittagong district evacuated 350,000 people from low-lying areas before the storm roared in from the Bay of Bengal on Tuesday.
But most Rohingyas remained in their flimsy shelters in the camps when the storm struck, with priority given to evacuating only the most vulnerable, like heavily pregnant women.
Omar Farukh, a community leader in Kutupalong camp - one of several camps for Rohingyas in Cox's Bazar - described the misery of those left behind.
"We have passed a difficult time. We had no tin or plastic sheets above our heads and almost all of us passed the night in the rain," Farukh told Reuters by telephone.
"We tried to save our belongings, whatever we have, with pieces of plastic sheet."
A senior UN official working in Cox's Bazar said there had been no reports of deaths in the camps, only some injuries.
The cyclone formed after monsoon rains triggered floods and landslides in Sri Lanka, off India's southern tip, killing 202 people in recent days, authorities said, adding 96 people were missing.
An Indian navy boat rescued 33 Bangladeshis at sea off Chittagong, and recovered one body, the Indian mission in Dhaka said. It was not clear if the people had been on a boat that sank or were washed into the sea by a storm surge.
Transport and communications were in chaos in northwest Myanmar, state media there said.
Camps for internally displaced Rohingya in Myanmar suffered extensive damage, and there were pockets of damage in the broader community, but no reports of casualties, the UN Office for the Coordination of Humanitarian Affairs said.
When the storm hit Bangladesh it brought wind gusting up to 135 kph (85 mph) and heavy rain.
By daybreak on Wednesday the storm had died down with only a steady rain falling. Airports and ports reopened.
Rohingya community leader Farukh said aid agency officials had visited the Kutupalong camp to see what was needed.
A relief worker who had visited the Balukhali camp estimated that one in four huts there had been damaged but there were no serious injuries and people had begun repairs.
Beyond the camps, officials were also assessing the damage elsewhere in Cox's Bazar. The chief administrator said 17,500 houses had been completely destroyed and 35,000 partially damaged in the district.
"Almost all rickety houses in the district were completely or partially destroyed by the cyclone. Not only Rohingya houses," Hussain said.
The cyclone lost some of its force as it moved inland and across the eastern border into India.
Full report at:
http://nation.com.pk/international/01-Jun-2017/nowhere-to-go-for-rohingya-refugees-in-bd-after-cyclone
--------
Upholding secularism in Bangladesh
Jun 1, 2017
There is a puzzling hide-and-seek going on at the Supreme Court in Dhaka. Last week, workers carefully dismantled a statue of a blindfolded woman in a sari, holding a sword in one arm and the scales of justice in another. She was meant to represent Themis, the Greek deity of fairness and law.
Her removal was not on aesthetic grounds, nor had the Greeks protested because their deity was dressed in a sari. It was because the fundamentalist organization Hefazat-e-Islam objected to its presence.
The Hefazat's main argument was religious—Islam prohibits idolatry, so how could Bangladesh, a majority Muslim country, have an idol, and that too Greek, on the premises of its courts? That the "idol" was a woman may have irritated the Hefazat too: It has demanded that the government should cancel Bangladesh's women's development policies (one of Bangladesh's major achievements has been female empowerment). If the Hefazat men can't bear looking at a woman dispensing justice, surely they can avert their eyes. But they'd like to make women invisible in public life.
When some students protested the statue's removal, they were charged with "attempt to murder", and tear gas and water cannons were used against them (they are now out on bail). The Hefazat warmly praised Prime Minister Sheikh Hasina Wazed, who had mildly criticized the statue when it was erected in 2016. Emboldened Hefazat leaders demanded that all statues be removed from the country.
There is never a dull moment in Bangladesh politics. The statue returned soon to the court's annexe building, as if to reinforce the idea that justice ultimately prevails. Hefazat has now threatened a full-scale agitation. Tempers will get tested this Ramzan.
Behind this tragicomic saga is the deeper, older debate: Is Bangladesh Bengali or Muslim? Many Bangladeshis from all sections of society fast during Ramzan but also celebrate Pujo; they visit the mosque and sing Rabindrasangeet, seeing no contradiction between the two activities, and indeed, there need not be any. It is an outlook which Pakistan simply could not understand during the 24 years that Bangladesh was its eastern wing. Pakistan wouldn't allow Bengali to be a national language. It crushed dissent, shot students, jailed opponents, nullified elections when it didn't like the results, and unleashed the martial law after which hundreds of thousands died in the massacres, many women were raped, and after the war, Bangladesh gained independence.
The Bangladeshi-American poet Tarfia Faizullah captures the tragedy well:
Each week I pull hard
The water from the well
Bathe in my sari, wring
It out, beat it against
The flattest rocks—Are you
Muslim or Bengali, they
Asked again and again.
Both, I said, both—then
Rocks were broken along
My spine, my hair a black
Fist in their hands, pulled
Down into the river again
And again.
Each day, each
Night: river, rock, fist
The "both" identities that Tarfia Faizullah's poem embraces are a spiritual commitment to Islam and a cultural affiliation to being Bengali. When I was writing a book about Bangladesh's war of independence and its aftermath, Mahfuz Anam, the editor of The Daily Star, told me that during India's freedom struggle, the perception among Muslims in Bengal was that "the structure of the state of Pakistan will give my religious heritage some security, and so we rushed into it. But very soon we realized that while the structure ensured Islamic heritage, it also threatened Bengali identity. My language and my culture were affected. I couldn't sing or dance; my Tagore was being taken away from me. So the Bengali Muslim wanted to break that structure."
The founding fathers of Bangladesh did not see the spiritual and the cultural as mutually exclusive; they preferred coexistence. The original constitution was secular. But after Bangladesh's leader Sheikh Mujibur Rahman was assassinated in 1975, successive governments chipped away the secular edifice, to make the country more Islamic. Soon after taking power in 1977, General Ziaur Rahman removed "secularism" from the constitution, and in the late 1980s, General H.M. Ershad made Islam the state religion. It was only in 2010 (after Sheikh Hasina returned to power) that the Supreme Court reinstated the principle of secularism, and in 2015, the 15th amendment was passed, making Bangladesh a secular country with Islam as the state religion, letting confusion persist.
Full report at:
http://www.livemint.com/Opinion/hgKkN8MILAJWZbXINTnMHK/Upholding-secularism-in-Bangladesh.html
--------
Trump speaks with President Ghani after deadly Kabul explosion
Jun 01 2017
The US President Donald Trump spoke with President Mohammad Ashraf Ghani after the deadly explosion in capital Kabul which left at least 80 people dead.
The Office of the President, ARG Palace, said President Trump spoke with his Afghan counterpart over the phone and called the incident in capital Kabul a terrorist act.
Condemning the attack in strongest words, President Trump reaffirmed the support of the United States to the Afghan nation and government.
He also hailed the Afghan security forces for quickly responding to the incident and providing on time support to the victims of the attack.
The White House in a statement also said "President Donald J. Trump called President Ashraf Ghani of Afghanistan to convey his deepest condolences to the families and friends of those killed and injured in the murderous attack that took place this morning near the diplomatic zone in Kabul."
The statement by the White House further added "He condemned the attack, which occurred during the holy month of Ramadan, underscoring the barbaric nature of the terrorists who are enemies of all civilized peoples. President Trump commended the bravery of Afghan first responders, who worked quickly to support the wounded."
Full report at:
http://www.khaama.com/trump-speaks-with-president-ghani-after-deadly-kabul-explosion-02839
--------
Africa
Alleged Hijackers Targeting Muslims at Mosques during Ramadann
31 May 2017
The drama unfolded outside the Waterloo Road Masjid on the corner of Waterloo Road and Blanken Street in Kenwyn, just after 8:30pm on Monday.
Neighbours and worshippers who asked not to be identified say the victim had been making taraweeg salaah, but left the mosque before it ended to attend to a private matter when he was ambushed by three gunmen.
A member of Waterloo mosque explains: "It was around 8.30pm and we were still inside the mosque and heard a commotion outside.
"We also heard screaming. The man attends our mosque regularly."
The alleged hijackers took his silver Hyundai Tucson SUV and wallet with an undisclosed amount of money in it.
The alleged hijackers' joyride came to an end along Joanne and Wetton Road when community members cornered them.
They abandoned the car but one of them was caught by residents who assaulted him before cops arrived on the scene.
On Tuesday images of the bruised and handcuffed man in the back of a police van went viral on social media.
It is believed his accomplices made a run for Hanover Park after jumping over the wall of a business.
They also opened fire on a neighbourhood watch member but he was not injured.
A magazine from the alleged hijackers' firearm was found in the hijacked car.
A neighbourhood watch member who was at the scene says the victim was armed but the alleged hijackers did not take his gun.
He said the men were dressed in tops and fezzes.
"The man's wallet was taken with an undisclosed amount of money in it," he says.
"They were dressed in robes, in Muslim attire."
"Neighbourhood watch, police and the dog unit were on the scene."
"They fired two shots at the neighbourhood watch, the magazines were recovered."
He says they received information that the alleged hijackers had earlier tried to steal another car at a nearby mosque in Taronga Road, Crawford, but failed.
He says it now appears the alleged hijackers were targeting Muslims at mosques during Ramadaan.
"There should be an alert out sent out to people."
"We urge residents to support their neighbourhood watch, we help to keep the streets safe."
Full report at:
http://www.iol.co.za/news/south-africa/western-cape/alleged-hijackers-targeting-muslims-at-mosques-during-ramadaan-9442664
--------
Al Shabaab overtook Boko Haram as Africa's most deadly terror group in 2016
Jun 1, 2017
Waging war from a corner in the Horn of Africa, Al Shabaab has grown to become the most deadly terror group on the continent.
Last year, the group killed more people than any other terrorist sect on the continent, including the deadly Boko Haram. Data collected by Africa Center for Strategic Studies shows Al Shabaab attacks resulted in over 4,00o deaths in 2016.
The Somali terrorist group has become deadly in its operations, relentlessly attacking both civilian and military outposts. In its attempt to topple the weak Somali government, Al Shabaab has specifically carried out deadly attacks in the capital Mogadishu, targeting the presidential palace, the parliament, and supreme court offices. And as the country revives from a two-decade war, the group has staged numerous attacks on hotels, parks, and beachside restaurants—symbols of hope in a country bedeviled by scars of its civil war.
The militant group has also attacked African Union military bases, in one instance overrunning the El Adde camp near the border with Kenya and killing more than 100 Kenyan soldiers. Beyond Somalia, Al Shabaab has also carried out a string of brutal attacks in neighboring Kenya and has set up a recruiting network around the port city of Mombasa, which has a large Muslim population.
Al Shabaab's rise is directly linked to Boko Haram's fall. Under the president Buhari-led administration, over the past 18 months, Nigeria's military has recorded gains in the fight against Boko Haram, recovering swathes of territory, rescuing abductees and pushing the sect out of its strongholds. Weakened, Boko Haram has resorted to sporadic suicide bombings rather than its previous preferred mode of attack: raiding and destroying villages. In fact, Boko Haram is no longer Nigeria's biggest internal security threat.
Elsewhere, a rivalry between groups such as Al Qaeda in the Islamic Maghreb (AQIM) and ISIS resulted in attacks across West and North Africa. In March 2016, a prominent attack by AQIM at an Ivory Coast resort left 22 dead and more than 30 injured. An earlier attack at a Bamako hotel in November 2015, also by AQIM, left 21 dead. In total, AQIM and ISIS have been responsible for over 7,000 deaths since 2010.
Yet that figure pales in comparison to Boko Haram's fatality count. Despite being upstaged as the continent's most deadly group last year, Boko Haram has accounted for nearly half of the total fatalities by terror groups in Africa since 2010
Full report at:
https://qz.com/995127/al-shabaab-overtook-boko-haram-as-the-most-deadly-terror-group-in-africa-in-2016/
--------
Sultan slams NYSC for opening orientation camps during Ramadan
May 31, 2017
The Jama'atu Nasril Islam, JNI, a foremost Islamic body in Nigeria, has "condemned in strongest terms", the decision of the National Youth Service Corps, NYSC, to continue running its orientation camps for fresh graduates across the country, despite the Ramadan fast.
The body, led by Abubakar Sa'ad, the Sultan of Sokoto, also called on the Nigerian Army to immediately postpone its planned recruitment exercise until Muslims have concluded their fasting period for 2017.
The decision was part of many resolutions, which included fervent prayers for ailing President Muhammadu Buhari, reached by JNI at its recently-concluded annual central council meeting in Kaduna.
The two-day event was held between May 21 and 22.
The organisation said NYSC admitting new entrants into orientation camps and the Nigerian Army conducting recruitment exercise during Ramadan would put Muslim faithful, especially those observing fasting and prayers, at a disadvantage.
"This is because the prospective corps members would be at disadvantage to their faith and other camp activities.
"In the same vein, the council calls on the authority of the Nigerian Army to postpone the intended recruitment exercise until after Ramadan to avoid putting prospective candidates at disadvantage," it said.
The JNI called on the NYSC to honour a previous agreement entered by the two parties for camp activities to be placed on hold during Ramadan.
The spokesperson for the Nigerian Army and NYSC did not immediately return calls and text messages to their respective lines for comments Wednesday afternoon.
Full report at:
http://www.premiumtimesng.com/news/more-news/232672-sultan-slams-nysc-for-opening-orientation-camps-during-ramadan.html
--------
Kenya: 8 killed in IED attack
01 June 2017
Eight people, including seven police officers, were killed Wednesday when their vehicle ran over an improvized explosive device in Kenya.
The police officers from the Mangai Rapid Border Patrol Unit were patrolling the Kenya-Somalia border.
A senior police officer from the area, who spoke on condition of anonymity, confirmed the attack to Anadolu Agency, saying the Kenya Defense Forces had found the slain policemen in the Baure area in the Lamu County.
"The Kenya Defense Forces engaged the militants in a fierce gunfight which led to them fleeing the area, the vehicle ferrying the policemen was totally destroyed by the bomb explosion," the officer said.
The attack comes barely a week after five police officers were killed in a similar manner in Garissa County.
The recent deaths bring the total number of police officers killed by IEDs in Kenya this month to 28.
Full report at:
http://www.worldbulletin.net/africa/190277/kenya-8-killed-in-ied-attack
--------
North America
A New Jersey Town Denied Muslims A Mosque, Now It Must Pay Them $3.25 Million
By Katie Mettler
Jun 1, 2017
The worshipers waited four years and 39 public hearings for the official denial: Muslims in their small New Jersey town would not be allowed to build a mosque.
The 2015 decision made by the planning board in Bernards Township, N.J., a majority-white suburb of 26,000 people, came after significant public opposition to the mosque that thrust the community into the national spotlight and spurred religious discrimination lawsuits from the Islamic Society of Basking Ridge and the Department of Justice.
On Tuesday, the township learned the cost of its six-year-old decision: $3.25 million.
As part of a settlement of the suits, the township must allow construction of the mosque to begin at its original proposed location, according to the Justice Department. Bernards Township will pay the Islamic Society $1.5 million in damages and $1.75 million in attorney fees and require town officials to submit to diversity and inclusion training.
"Municipalities around the country should pay close attention to what happened in Bernards Township," Adeel A. Mangi, lead counsel for the mosque, told My Central Jersey. "The American Muslim community has the legal resources, the allies and the determination to stand up for its constitutional rights in court and will do so."
The board hadn't denied a building application for a house of worship in at least 20 years. It defended its 2015 decision by citing code changes created after the Islamic Society filed its application.
In 2011, the organization purchased a four-acre plot on Church Street for the mosque. It was in a residential zoning district that allowed places of worship, as long as they were built on properties with three or more acres.
Then in 2013, the township enacted a new ordinance that changed raised the minimum acreage to six. The township also said the mosque needed more parking spaces than churches or synagogues because of worship schedules.
In 2016, the Islamic Society sued the town in federal court and a Department of Justice complaint followed, alleging that the town discriminated based on religion.
A federal judge ruled on New Year's Eve that the parking spaces decision violated anti-discrimination laws, and last week the town agreed to end the legal battle and settled.
"If the township had continued litigation, there was significant risk of exceeding insurance coverage and the possibility of denial of coverage under certain exclusions," the township said in a statement to My Central Jersey. "With Judge Shipp as the presiding judge, and his honor's decision on parking, as well as his prior ruling on similar matters, the township believes settlement was the best option."
The town still "vehemently disagrees" with the judge's ruling, though, according to the statement, but said that Bernards remains a "united township where all are welcome."
"Opinions may still be varied, but it is in the best interest of the township to settle the litigation," the statement said.
In the settlement, the Islamic Society agreed to reduce the number of parking spots, limit occupancy to 150 people and install no external speakers on the building. The Muslim call for prayer cannot be played outside and the mosque's minarets may have only ornamental lighting, reported My Central Jersey.
"Federal law requires towns to treat religious land use applications like any other land use application," Acting U.S. attorney William E. Fitzpatrick said in a statement. "Bernards Township made decisions that treated the Islamic Society of Basking Ridge differently than other houses of worship. The settlement announced [Tuesday] corrects those decisions and ensures that members of this religious community have the same ability to practice their faith as all other religions."
https://www.washingtonpost.com/news/morning-mix/wp/2017/05/31/a-new-jersey-town-denied-muslims-a-mosque-now-it-must-pay-them-3-25m/?utm_term=.f6ea73cd8472
--------
U.S. Air Force veteran gets 35 years for trying to join Islamic State
May 31, 2017
Tairod Pugh, a U.S. Air Force veteran convicted of attempting to join Islamic State, was sentenced to 35 years in prison on Wednesday after delivering an impassioned speech in which he maintained his innocence and decried what he called the United States' racism and Islamophobia.
"I am a black man. I am a military man. I am a Muslim man," Pugh said at his sentencing hearing in Brooklyn federal court. "I protected this country and the Constitution. And my service was repaid by dishonoring my name."
Pugh, who spoke for about half an hour before U.S. District Judge Nicholas Garaufis cut him off, said he had done nothing wrong, and was treated unjustly because of his race and religion.
"My only regret is that it's taken me so long to recognize how frightened and racist my country has become," he said.
But Garaufis said jurors had ample evidence to convict Pugh last March, including Islamic State propaganda videos found on his laptop and posts he wrote on Facebook supporting the extremist organization.
"This isn't about whether you're Muslim or Christian or Jewish," the judge said. "This is about whether you're going to stand up for your country, or betray your country, which has done so much for you."
"You've made your choice, sir," Garaufis continued, immediately before imposing the sentence. "I have no sympathy."
Pugh's attorney, Susan Kellman, said after the hearing that Pugh would appeal his conviction and sentence.
Pugh, 49, was found guilty after a week-long trial of attempting to provide material support to a designated terrorist organization, and obstruction for destroying four portable electronic storage devices after his detention in Turkey.
Prosecutors said Pugh bought a one-way plane ticket from his home in Egypt to Turkey in 2015 planning to cross the Syrian border into territory controlled by the Islamic State. He was detained in an Istanbul airport by Turkish authorities, found carrying maps of Islamic State territory and border crossings into Syria.
Prosecutors also pointed to a letter addressed to his wife, found on his laptop, in which he vowed to fight for Islam.
Full report at:
https://www.reuters.com/article/us-new-york-islamic-state-idUSKBN18R37Y
--------
Trump condemns Kabul attack in call with Ghani
01 June 2017
President Donald Trump on Wednesday conveyed "his deepest condolences" to Afghan President Ashraf Ghani, hours after what the White House called a "barbaric" attack that rocked the Afghan capital.
Trump "condemned the attack, which occurred during the holy month of Ramadan, underscoring the barbaric nature of the terrorists who are enemies of all civilized peoples," the White House said in a readout of the call.
At least 80 people were killed and more than 300 others wounded -- most of them civilians -- following a massive truck bombing in the heart of Kabul on Wednesday morning.
Trump lauded the "bravery of Afghan first responders, who worked quickly to support the wounded", the White House said.
"He also commended Afghan security forces for their steadfast efforts to defend the Afghan people from enemies who would seek to deny them the security and prosperity they so richly deserve," the executive mansion added.
The explosion, close to the city's diplomatic enclave and the Presidential Palace, was so intense that it shook the ground and shattered glass in various parts of the city.
The blast comes as Afghanistan is set to host an international "Kabul Initiative" conference aimed at streamlining all efforts for peaceful resolution of the conflict in the country.
Full report at:
http://www.worldbulletin.net/america-canada/190276/trump-condemns-kabul-attack-in-call-with-ghani
--------
URL: https://www.newageislam.com/islamic-world-news/mosques-manchester-refuse-deal-with/d/111374
New Age Islam, Islam Online, Islamic Website, African Muslim News, Arab World News, South Asia News, Indian Muslim News, World Muslim News, Women in Islam, Islamic Feminism, Arab Women, Women In Arab, Islamophobia in America, Muslim Women in West, Islam Women and Feminism