New Age Islam News Bureau
17 Aug 2019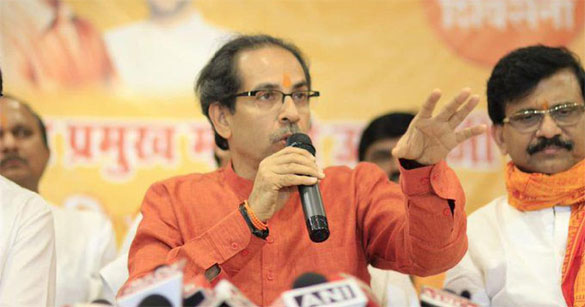 A file photo of Shiv Sena chief Uddhav Thackeray. | Shiv Sena/Twitter
--------
• Mosque Shifts Friday Prayers To Ensure Uninterrupted Autopsies Of Landslide Victims Of Malappuram Kerala
• Shiv Sena Asks If Muslim Community Will Pay Heed to Modi's Message on Population
• Explosion
• UNSC Meeting Reaffirmation Of Kashmiris' Right To Self-Determination: PM Imran
'• UNSC, OIC Have Responded Positively To Pakistan's Call,' Says Pak Foreign Minister
• Kashmir Issue Is One of Muslim World's Tragedies: Friday Prayer Leader of Tehran
• Nigerian Shia Leader, Wife Reject Treatment In India, Return Home
• Sudan Was Poised Saturday To Celebrate A Historic Deal Between Generals And Protest Leaders For A Transition To Civilian Rule
• Muslim Insurgent Group in Southern Thailand Says It Has Opened A Dialogue With The Government
• Muslims Raise over $100,000 in Bail Funds to Free Detained Migrant Parents
• Taliban Militants Use Mosques, Residential Houses As Fighting Positions: Thunder Corps
Compiled By New Age Islam News Bureau
----------
India
• Pehlu Murder: Acquittals Shocks India's Muslims, Threatens To Weaken Community's Faith in Judiciary
--------
Pakistan
• Voice of Kashmiri people heard at the United Nations today': Maleeha Lodhi
• India's statement regarding 'no first use' policy on nuclear weapons is irresponsible: Pak foreign minister
• Kashmir issue linked with Pakistan's security: DG ISPR
• Brother of Afghan Taliban leader killed in Quetta mosque blast
--------
Mideast
• No, Israel Didn't Just Adopt Trump's Muslim Ban
• Syrian regime bombed a mosque in Kansafra village in Idlib, on August 16
• Islamic countries constitute majority of the world's battlefields: CHP leader
• Mnar Muhawesh: Trump Making Racism Norm in America
--------
Southeast Asia
• Malaysia Bars Zakir Naik from Addressing Event after 'Racist Statements'
• Zakir Naik Could End Up Losing PR Status in Malaysia
--------
North America
• Bergenfield's first Muslim police chief says he's living the 'American dream'
• Austria: Muslim Cab Drivers Refusing Service to Blind with Guide Dogs
• US: Two sentenced to prison for foiled terrorist plot on Muslims
• Mexico detains US 'Islamist' at migrant center
• Muslim detective can pursue $7M discrimination suit against city: judge
• Norway mosque terror, murder suspect 'admits' crimes: police
--------
South Asia
• Car bomb destroyed; 15 Taliban militants killed in Balkh operations
• Second attempt planned to return Rohingya Muslims
• Taliban's notorious commander killed in Ghazni
-----
Europe
• Mexico to Deport US Citizen Suspected of Supporting Islamic Extremism - Prosecutors
• 'Woke' News Platform Aimed At Young Muslims Is Actually A Secret UK Counter-Terror Program
--------
Arab World
• 6500 Pilgrims of Custodian of the Two Holy Mosques Guests Program Perform Friday
• Prayers, at Prophet's Mosque
• 3500 guests of Custodian of Two Holy Mosques program for Hajj, Umrah and Visit leave Al-
Madinah
• French Imams Forum's Vice President Thanks Custodian of the Two Holy Mosques and
• Values Services and Facilities Provided for Pilgrims
• Grand Mufti of New Zealand Values Custodian of the Two Holy Mosques' Program to Host
• Pilgrims
--------
Compiled by New Age Islam News Bureau
URL: https://www.newageislam.com/islamic-world-news/mosque-shifts-friday-prayers-ensure/d/119493
Mosque Shifts Friday Prayers To Ensure Uninterrupted Autopsies Of Landslide Victims Of Malappuram Kerala
G. Ragesh
AUGUST 17, 2019
Muslim devotees at Pothukallu village in Kerala's Malappuram district did not go to the Jamiyyathul Mujahideen Mosque – their regular place of worship – on Friday. Instead, they assembled under a tarpaulin roofed makeshift structure a few kilometres away to offer Jumu'ah, the congregational prayers on Friday
The mosque has been hogging national limelight ever since its administrators converted a portion of the prayer hall into a mortuary to facilitate the postmortem of people killed in the Kavalappara landslides. The arrangement has not affected the regular prayers at the mosque.
The administrators, however, decided to shift the Friday prayers to a public place to ensure uninterrupted autopsies.
"Friday prayers attract a large number of devotees," said K Abdul Kareem, the mosque's president. "We feared that presence of too many people inside the mosque would affect the autopsies. So we shifted the prayer venue," he said.
till Friday. Combing operation continues to locate 25 remaining people. The mosque lies four kilometres from Kavalappara.
Rich legacy of social service
Social service has been the hallmark of Jamiyyathul Mujahideen Mosque. It never discriminated against people on the basis of their religion. "We believe that all people are God's off-springs," said Kareem, while recounting a 19-year-old incident. "It happened after the mosque got a new cofn. The rst body we carried on it was a Hindu woman," he said.
"Sharada, who lived on the other side of the river, died a week after we got the cofn. Her body was brought to Pothukallu from the Government Hospital in Nilambur. It was raining heavily. They hired a country boat to take the body home. But they needed a cofn with a lid," Kareem reminisced. Sharada's family approached the mosque committee. The rest, as they say, is history. "The mosque committee always respected the dead," Kareem said.
He said the mosque donated one acre of land for free to the
government to set up a Primary Health Centre in Pothukallu. "Now thousands of people are reaping the benets of the health centre," he said.
Prayer hall to autopsy centre
The mosque was converted into an autopsy centre after bodies rescuers began to retrieve bodies from landslide-hit Kavalappara.
the dismembered and mutilated body to Nilambur, which lies 45km away, and bring them back. So they approached the mosque committee with a request to set up a mortuary at its premises. "We gave our permission immediately," said Abdul Rahman, the president of the mosque committee.
"We converted the women's prayer hall into an autopsy centre on August 10. It will continue till the search operation concludes," he said.
The noble gesture came to light through a social media post by Parameswaran, an employee at the Government Medical College in Manjeri, also in Malappuram district. "The bodies of Mohammed, Chandran, Saraswati, Chacko and all are brought inside this mosque for autopsy. You won't nd a better example for humanism. The whole world should appreciate this," Parameswaran was heard saying in the video, which showed the prayer hall and the makeshift autopsy facility.
The mosque has won appreciation from many quarters, including Chief Minister Pinarayi Vijayan. He termed it as 'a great example of Kerala's communal harmony and secularism.'
But the mosque administration remains nonchalant. "We have not done anything great. We just followed what Islam taught us. We understood the sufferings of the people and are helping them in their difficult time," said Kareem.
https://english.manoramaonline.com/news/kerala/2019/08/16/pothukallu-mosque-prayer-autopsies-malappuram-landslide.html
--------
Shiv Sena asks if Muslim community will pay heed to Modi's message on population explosion
The Shiv Sena on Friday referred to Prime Minister Narendra Modi's Independence Day speech to attack the Muslim community. In an editorial in the party's mouthpiece Saamana, it asked when will the community understand how a "small family and national interest are beneficial?"
On Thursday, Modi spoke of the problem posed by "population explosion" for coming generations, and said the Centre and states should take measures to deal with it. "There is a need to have greater discussion and awareness on population explosion," he had said. "Before a child is born in our home, we must ask if we have prepared ourselves to fulfil the child's needs, or are we going to leave the child to its fate?"
The Shiv Sena asked if the Muslim community will pay heed to the prime minister's message. "The pace of growth and development will expedite with smaller families, the Prime Minister said," said the party. "What he says is correct, but there is a big section of the society that is not concerned about the size of the family and population explosion, and its ill-effects. Here, some fanatical Muslims are not ready to come out of the mindset of 'Hum Do, Humare Pachhis'."
This is not the first time the Bharatiya Janata Party ally has espoused such opinions. In December 2018, it called for immediate and stringent measures, including compulsory sterilisation, to control the Muslim population. In 2015, the party had claimed that the increasing population of Muslims in the country will cause language and geographical imbalance.
https://scroll.in/latest/934152/shiv-sena-asks-if-muslim-community-will-pay-heed-to-modis-message-on-population-explosion
--------
UNSC meeting reaffirmation of Kashmiris' right to self-determination: PM Imran
By News DeskPublished: August 17, 2019
A day after the United Nations Security Council's (UNSC) meeting, Prime Minister Imran Khan welcomed the initiative by the world body regarding the situation in occupied Jammu and Kashmir.
In a two-part tweet, the premier stated that this was the first-ever meeting over the Kashmir issue in over 50 years by the highest diplomatic forum.
He said there are 11 UNSC resolutions reiterating Kashmiri's right to self-determination and the meeting reaffirmed those resolutions.
The prime minister also added that the world body recognised the suffering of the Kashmiri people at the hands of Indian occupying forces.
The PM Imran added that it is the responsibility of the Security Council to resolve the dispute.
India's envoy to the UN Syed Akbaruddin on Friday admitted that Indian-Occupied Jammu and Kashmir was a disputed territory and New Delhi was conditionally ready to engage with Islamabad over the matter.
India has regularly blocked discussion on Occupied Kashmir at the UN because it considers the matter an 'internal affair'.
After coming into power last year, Prime Minister Imran Khan had extended an olive branch to his Indian counterpart Narendra Modi on multiple occasions, however, India never responded positively.
Foreign Minister Shah Mahmood said India endeavoured to block the UNSC meet but to no avail, adding that the international community had rejected India's stance on Kashmir being its "internal matter". Rather, he added, it had been recognised as an international conflict.
https://tribune.com.pk/story/2035951/1-unsc-meeting-reaffirmation-kashmiris-right-self-determination-pm-imran/
-------
'UNSC, OIC have responded positively to Pakistan's call,' says Pak Foreign Minister
Dawn.comUpdated August 17, 2019
Foreign Minister Shah Mahmood Qureshi, while addressing a joint press conference with Director General of Inter-Services Public Relations (ISPR) Maj Gen Asif Ghafoor on Saturday, stated that the Organisation of Islamic Cooperation (OIC) and the United Nations Security Council (UNSC) have both responded positively to Pakistan's calls to take notice of India's recent actions in occupied Kashmir.
"The OIC and UNSC have both responded positively to Pakistan's call for the Kashmir issue to be taken up. The OIC has called for an immediate end to the curfew in occupied Kashmir," he said.
"The issue was raised in the UNSC after five decades and a discussion took place on the matter — that is a major development, especially since India tried its utmost to keep it from happening," Qureshi said
Yesterday, for the first time in 50 years, the UNSC held a meeting exclusively on occupied Jammu and Kashmir. Although the council did not agree on a statement, China's UN Ambassador Zhang Jun summed up the discussions and expressed serious concern over the situation.
Qureshi today stressed that the UNSC should consider itself responsible for helping resolve the Kashmir dispute.
The foreign minister said that it had been decided in a meeting of the Special Committee on Kashmir — which concluded right before the press conference — that a Kashmir Cell will be created at Pakistan's Foreign Office. Furthermore, Kashmir desks will also be established at Pakistani embassies all over the world, "in order to carry out effective communication on the matter."
"The Special Committee on Kashmir has members from all concerned parties, including members of the opposition," Qureshi noted. "This sends out the message that Pakistan is on the same page when it comes to the issue of occupied Kashmir and India's actions there."
"All members of the meeting gave viable suggestions on the situation in Kashmir."
Answering a question regarding Pakistan's stance on Article 370 of India's constitution, Qureshi said: "Pakistan does not recognise Article 370 of the Indian constitution. It is not our concern. Our concern is with the forceful change in Kashmir's demographics and the violation of the rights of the people of Kashmir.
Regarding the possibility of going to the International Court of Justice, Qureshi said that the matter was discussed with the law ministry and the attorney general and the pros and cons are being weighed before a decision is taken on the matter.
"Today voices are being raised there [in India] and they are saying that Indian Prime Minister Narendra Modi has buried Jawaharlal Nehru's India. Voices are being raised within India and they are calling for returning the special status to Kashmir.
"India is functioning on a dual doctrine. The three people carrying this doctrine out are Modi, Indian Interior Minister Amit Shah and Indian National Security Advisor Ajit Doval."
Answering a question regarding Shah's statement regarding the use of nuclear weapons, Qureshi said: "When there's a problem in the brain, then decisions like the one taken on August 5 come into being. When someone loses their mind they give the kind of statement the Indian interior minister gave."
The foreign minister expressed the concern that India could carry out some sort of a misadventure against Pakistan but said, "Pakistan's people are ready for any action and will give a befitting response to it."
Qureshi also thanked the media for its role in the coverage of the developments in occupied Kashmir, said that the media should have a "unified stance on matters of national security."
He further said that this is the first time that international media has openly come out in occupied Kashmir's support and asked critical questions regarding India's recent actions.
'Pakistani troops are ready for any misadventures from India'
Addressing the press conference, DG ISPR Maj Gen Asif Ghafoor said Pakistan's armed forces are "ready for any misadventure that India might initiate."
"The situation in India and occupied Kashmir can be judged by the kind of statements their commanders have been giving for the past few days," he said. "We believe that Kashmir's reaction on India's actions may come out soon and we are prepared for that too."
"The atrocities being carried out by India in Kashmir are now out in the open for the whole world to see. This is not the matter of a piece of land, it is the matter of the rights of the people living in Kashmir.
The army spokesperson also made it clear that Pakistan would not take any action that may result in international opinion turning against Islamabad.
"With the number of Indian troops present in the Kashmir region at the moment, even if a single person enters there [without them knowing] it would be a huge failure on India's part," he said, seemingly in preemption of a future accusation that Pakistan is helping militants infiltrate the disputed territory.
"Pakistan cannot carry out any action [in Kashmir] and rejects the notion that militants are being sent to Kashmir from here," he clarified.
During the press conference, Maj Gen Ghafoor also pointed out that a number of Pakistani Twitter accounts posting in the favour of Kashmir have been blocked.
https://www.dawn.com/news/1500013/unsc-oic-have-responded-positively-to-pakistans-call-says-fm-qureshi
-------
Kashmir Issue Is One Of Muslim World's Tragedies: Friday Prayer Leader Of Tehran
Politics
August 16, 2019
TEHRAN – Hojjatoleslam Kazem Seddiqi, the interim Friday prayer leader of Tehran, has said the issue of Kashmir is one of the tragedies of the Muslim world.
Addressing worshippers on Friday, Seddiqi said the Indian government was expected to abide by international law.
"Their action is contrary to human conscience, fairness and even the domestic laws of that country," the cleric remarked.
He was making a reference to the Indian government's recent decision to strip autonomy of the Kashmir region and its crackdown on the Muslim majority region.
The cleric further advised India to reconsider their decision and "know that oppression would not end [well]."
Seddiqi also criticized mistreatment of the top Nigerian Shia cleric Sheikh El-Zakzaky in India, where he went to receive medical treatment but had to return to Nigeria after Indian medical authorities refused to provide him with adequate treatment.
He said that the actions against Sheikh Zakzaky were contrary to human rights.
Elsewhere in his sermon, the cleric referred to the situation in Yemen, offering condolences on the martyrdom of the brother of the Yemeni leader al-Houthi.
He added that the Yemenis will emerge victorious in the end as the Leader of the Islamic Revolution Ayatollah Ali Khamenei predicted in a meeting with a Yemeni delegation earlier this week in Tehran.
https://www.tehrantimes.com/news/439301/Kashmir-issue-is-one-of-Muslim-world-s-tragedies-cleric
--------
Nigerian Shia Leader, Wife Reject Treatment In India, Return Home
16 August 2019
Nigerian Shia leader Ibrahim El Zakzaky and his wife have made a dramatic return to the country, three days after arriving in India to receive medical treatment, according to aviation officials and his lawyer.
The detained leader of the Islamic Movement in Nigeria (IMN) and Zeenat Ibrahim on Friday landed in Abuja's international airport from New Delhi on an Ethiopian Airlines flight, according to supporters and lawyers.
They were received by security operatives and taken back into custody.
"He is in custody of the State Security Service and no one is allowed access to him," Mahdi Garba, a supporter of El Zakzaky, told Al Jazeera.
The detained couple had flown out of the country on Monday after a court in the northern state of Kaduna granted them bail in order to seek treatment abroad.
El Zakzaky reportedly refused treatment at an Indian hospital when his preferred medical team was changed, and he requested to be sent back to Nigeria.
In a video circulated on social media, the controversial IMN leader complained of unfair treatment and tough restrictions by security operatives deployed to the medical facility.
"He lost all hope in the hospital," his lawyer, Harun Magashi, told Al Jazeera.
"They were trying to sneak in some doctors to treat him against his wishes, and they treated him like a criminal, placing armed Indian police even inside his room," Magashi said.
El Zakzaky has been held in detention since December 2015 when the army killed almost 350 of his followers at his compound, and a nearby mosque and burial ground in Kaduna state.
A court in 2016 said El Zakzaky should be released but authorities refused.
He faces charges of murder, culpable homicide, unlawful assembly, disruption of public peace and other offences following the 2015 violence. He has pleaded not guilty.
After the Kaduna court ruling, the Nigerian State Security Service immediately pledged to obey the ruling.
In recent weeks, Shia members had launched a series of demonstrations in the capital, Abuja, and Lagos to demand the release of their leader and his wife from prison to seek medical treatment.
Several people were killed and more than 50 IMN members were arrested in clashes with police that also saw the killing of a journalist and a police officer, as well as the closure of the parliament building in Abuja.
The group, which represents Nigeria's minority Shia Muslims, says it will continue protesting until it secures the release of El Zakzaky, who founded IMN in the late 1970s.
The Nigerian government recently banned the Shia group following a court decision allowing authorities to call it a "terrorist" organisation.
The office of President Muhammadu Buhari said the government "had to act" against the group before the situation got out of control.
https://www.aljazeera.com/news/2019/08/nigerian-shia-leader-wife-reject-treatment-india-return-home-190816112411487.html
--------
Sudan Was Poised Saturday To Celebrate A Historic Deal Between Generals And Protest Leaders For A Transition To Civilian Rule
August 17, 2019
Members of the Transitional Military Council and protest leaders are expected to sign the documents that will govern the 39-month transition
Saudi Minister of State for Foreign Affairs Adel Al-Jubeir is leading Saudi Arabia's delegation at the ceremony
KHARTOUM: Sudan was poised Saturday to celebrate a historic deal between generals and protest leaders for a transition to civilian rule, which many hope will bring increased freedom and prosperity.
During a ceremony to be held at a hall by the Nile in the capital Khartoum, members of the Transitional Military Council and protest leaders are expected to sign the documents that will govern the 39-month transition.
"Today, the country begins its historic transition to democracy," read the front page of the Tayar newspaper, a headline echoed by most other dailies.
But the road to democracy remains fraught with obstacles, even if the mood was celebratory as foreign dignitaries as well as thousands of citizens from all over Sudan converged for the occasion.
The deal reached on August 4 — the Constitutional Declaration — brought an end to nearly eight months of upheaval that saw masses mobilize against president Omar Al-Bashir, who was ousted in April after 30 years in power.
The agreement brokered by the African Union and Ethiopia was welcomed with relief by both sides — protesters celebrated what they see as the victory of their "revolution," while the generals took credit for averting civil war.
Hundreds of people boarded a train from the town of Atbara — the birthplace of the protests back in December — on Friday night, dancing and singing on their way to the celebrations in Khartoum, videos shared on social media showed.
"Civilian rule, civilian rule," they chanted, promising to avenge the estimated 250 allegedly killed by security forces during the protests.
The Saudi Minister of State for Foreign Affairs Adel Al-Jubeir is leading Saudi Arabia's delegation at the ceremony in Khartoum, Saudi Press Agency reported.
Al-Jubeir is being accompanied by the Saudi Minister of State for African affairs Ahmed Abdul Aziz Kattan and the Saudi ambassador to Sudan Ali bin Hassan Jafar.
After Saturday's signing, Sudan kicks off a process that includes important first steps.
The composition of the civilian-majority transition ruling council is to be announced on Sunday.
On Thursday, former senior UN official Abdalla Hamdok, a veteran economist, was designated as transitional prime minister.
He is expected to focus on attempting to stabilize Sudan's economy, which went into a tailspin when the oil-rich south seceded in 2011 and was the trigger that sparked the initial protests.
At Khartoum's central market early Saturday, shoppers and stallholders interviewed by AFP all said they hoped a civilian government would help them put food on the table.
"Everybody is happy now," said Ali Yusef, a 19-year-old university student who works in the market to get by.
"We were under the control of the military for 30 years but today we are leaving this behind us and moving toward civilian rule," he said, sitting next to tomatoes piled directly on the ground.
"All these vegetables around are very expensive but now I'm sure they will become cheaper."
While it remains to be seen what changes the transition can bring to people's daily lives, residents old and young were eager to exercise a newfound freedom of expression.
"I'm 72 and for 30 years under Bashir, I had nothing to feel good about. Now, thanks to God, I am starting to breathe," said Ali Issa Abdel Momen, sitting in front of his modest selection of vegetables at the market.
But many Sudanese are already questioning the ability of the transitional institutions to rein in the military elite's powers during the three-year period leading to planned elections.
The country of 40 million people will be ruled by an 11-member sovereign council and a government, which will — the deal makes clear — be dominated by civilians.
However, the interior and defense ministers are to be chosen by military members of the council.
Observers have warned that the transitional government will have little leverage to counter any attempt by the military to roll back the uprising's achievements and seize back power.
Saturday's official ceremony is to be attended by Ethiopian Prime Minister Abiy Ahmed and several other regional leaders.
Security forces deployed across the city for the biggest international event to be held in a long time in Sudan, which had become something of a pariah country under Bashir's rule.
One of the most immediate diplomatic consequences of the compromise reached this month could be the lifting of a suspension slapped on Sudan by the African Union in June.
Bashir, who took power in a 1989 coup and is wanted by the International Criminal Court on charges of genocide in the Darfur region, had been slated to appear in court Saturday on corruption charges.
But his trial has been postponed to an as yet undetermined date.
http://www.arabnews.com/node/1541266/middle-east
-----
Muslim Insurgent Group In Southern Thailand Says It Has Opened A Dialogue With The Government
17 Aug, 2019
A major group fighting an insurgency in Thailand [1]'s largely Muslim south said it had held its first meeting with officials from the new Thai government and had set out demands as a condition for any formal peace talks.
The insurgency in the Malay-speaking region of the predominantly Buddhist country has killed some 7,000 people over the past 15 years and has flared on and off for decades.
Officials of the Barisan Revolusi Nasional (BRN) said they met a Thai delegation at a location in Southeast Asia [3] on Friday and demanded the release of all people detained over suspected links to the insurgency and a transparent investigation into abuses by security forces.
That could be a step towards formal talks, the officials said, while emphasising that it was very early in the process.
"If the official peace talks are a feast then these secret meetings are like bringing the cow into the kitchen, but the cow is not even slaughtered yet," said 70-year-old Pak Fakir, a senior BRN member. "The Thai state is like an oiled, slippery eel."
General Udomchai Thamsarorat, the head of peace dialogue with southern insurgent groups for the Thai government, declined to comment on whether a meeting had taken place.
The BRN has not been in formal talks with the government although contacts did take place at least twice with the former military junta of Prayuth Chan-ocha, who has remained as prime minister after an election earlier this year that his opponents said was flawed.
Past contacts with the BRN never led to talks and it has continued a guerilla war to demand independence for Yala, Pattani and Narathiwat provinces, which were part of an independent Malay sultanate before the kingdom of Siam annexed them in 1909.
A number of less militarily active southern factions have been in talks with the government.
"The root cause of our problem is colonisation, and this has never been touched upon in past talks," Fakir said.
Although the BRN usually neither confirms nor denies responsibility for specific attacks, Fakir said that the group was not behind a series of small bombings that shook Bangkok on August 2.
The bombs wounded four people and embarrassed the government during a regional security summit. Two suspects from the south have been arrested in connection with the attacks.
"We will not attack beyond the three southernmost provinces because we do not want to be perceived as terrorists," Fakir said. "We have our territory. Why should we venture out of it? … Someone else must be behind it."
Despite the arrest of the southerners, the government has also suggested that it could be its political opponents that were behind the attacks – although political parties have condemned it and no group has claimed responsibility.
Tension has been rising in the south over allegations that a southern man, 32-year-old Abdullah Isamusa, was beaten so badly during military interrogation last month that he fell into a coma. The army has said there is no proof of torture.
Mara Patani, an umbrella group representing some factions that unlike the BRN have been in formal talks with the Thai military, has called for international intervention after the Abdullah case – a request rejected by Thailand's army.
Source URL: https://scmp.com/news/asia/southeast-asia/article/3023237/muslim-insurgent-group-thailand-says-it-has-opened
Links
[1] https://www.scmp.com/topics/thailand
[2] https://cdn.i-scmp.com/sites/default/files/d8/images/methode/2019/08/17/502acb7e-c0b7-11e9-8f25-9b5536624008_image_hires_143900.JPG
[3] https://www.scmp.com/news/asia/southeast-asia
[4] https://www.scmp.com/news/asia/southeast-asia/article/3016165/thailand-causes-uproar-muslim-majority-south-ordering
[5] https://www.scmp.com/news/asia/southeast-asia/article/2004253/thailands-forgotten-war-recent-blasts-force-southern
https://www.scmp.com/print/news/asia/southeast-asia/article/3023237/muslim-insurgent-group-thailand-says-it-has-opened
--------
Muslims Raise Over $100,000 In Bail Funds To Free Detained Migrant Parents
By Carol Kuruvilla, HuffPost US
American Muslims have raised over $100,000 this month to help migrant parents detained by the U.S. government post bail and reunite with their kids.
The "Muslims for Migrants" campaign has already helped secure the release of six parents ― five fathers and one mother ― according to CelebrateMercy, the faith-based organization managing the campaign.
"By reuniting these families, we wish to respond to hardship with hope, as our faith instructs us, and send a message of compassion through action," the organization wrote on the campaign's fundraising page, which launched Aug. 5.
The six parents, whose names are not being released for their safety, are from countries in Central America, the Caribbean and West Africa, according to CelebrateMercy. The parents had been living in the U.S. for several years before being held in detention centers for periods ranging from two months to four years.
One migrant father, whose own parents allegedly died from gang violence in his Central American homeland, was reunited with his pregnant wife and five-year-old child on Aug. 9, the nonprofit said.
A father of two from a West African country was granted bond in May 2019, CelebrateMercy said, but he remained in detention because his family couldn't afford bond. His wife became the sole provider for the family and was facing eviction from their home, but with funds raised through the campaign, the father was freed on Thursday, according to the nonprofit.
Another father, from Liberia, was detained four years ago while his partner was still pregnant with their son, CelebrateMercy said. He is scheduled to be released from York County Prison on Monday and is looking forward to holding his son for the first time, according to the group.
Tarek El-Messidi, CelebrateMercy's founding director, said he hopes the fundraised bonds serve as an apology to these migrant families "on behalf of all Americans."
"We're sorry they had to endure this, sorry that we as a country have not treated them with mercy," El-Messidi said. "We failed them. Many of these migrants are coming here, wanting stability and safety and escaping very harsh circumstances."
"We hope they won't have to suffer anymore going forward," he added.
President Donald Trump's administration has faced heated criticism recently over U.S. Customs and Border Protection's treatment of migrants at the U.S.-Mexico border. In July, the Department of Homeland Security's independent watchdog reported severe overcrowding and unsanitary conditions at migrant holding facilities.
Over 50,000 migrants were being held by U.S. Immigration and Customs Enforcement in May ― a record-breaking number for the agency.
Bonds for detained migrants have reportedly increased under Trump. Bond amounts can range from $7,500 to $30,000, according to Pilar Weiss, executive director of the National Bail Fund Network, a network of local community bail funds.
Not being able to post bond can be financially and emotionally devastating for detained parents, Weiss told HuffPost. In families where the detained parent is the primary breadwinner, detention causes significant financial strain. The parents also risk losing custody of their children.
Being in detention also results in people not having legal representation, Weiss said. Unlike in criminal cases, the government is not required to secure a lawyer for detained migrants who can't afford one.
Posting bond means that detained parents can be with their families, care for their children and work with their lawyers on immigration cases, she said.
"It is well documented that dealing with one's immigration application from a place of freedom, with family and legal support, results in much better outcomes," Weiss said.
CelebrateMercy is distributing its fundraising proceeds to the National Bail Fund Network, which is helping coordinate the bailout process. Weiss estimates the funds that have been raised to date will free at least another five parents.
Two prominent American imams, Imam Zaid Shakir and Imam Omar Suleiman, have signed on to promote the campaign. In a joint letter, the religious leaders used numerous scriptural references to outline exactly why their faith supports protecting individuals' "God-given rights to migration and asylum."
"When we view the sickening conditions those migrating to our southern borders are exposed to, we should be touched and moved to action knowing that our religion grants those fleeing persecution, oppression, or ecological devastation, the right to migrate and to be duly considered for asylum," the imams wrote. "We should further vigorously defend the dignity our Lord has afforded to all human beings, and our obligation to assist those who are suffering from recognized forms of oppression."
Imam Zaid Shakir appears in a video about the "Muslims for Migrants" campaign below.
The Prophet Muhammad, Islam's founder, was himself a migrant, fleeing from Mecca to Medina to escape religious persecution. The Islamic calendar is calculated from the year of this important journey in the prophet's life ― demonstrating the pivotal role migration has played in the religion's history.
Many American Muslims have been alarmed by the blatantly anti-immigrant policies and rhetoric of the Trump administration, El-Messidi said, and were already looking for tangible ways to help migrants at the border. The launch of the fundraising campaign, which coincided with a period in the Islamic calendar when Muslims give more to charity, gave people a way to put their faith into action.
El-Messidi said his dream is for the campaign to raise enough money to reunite 100 migrant families.
"Everyone deserves a chance to sit with lawyers and be able to work on their case from a place of freedom, and that's really what we're trying to do here," he said. "To give them a fair shot at their trial ― and hopefully, they'll get that."
https://www.huffingtonpost.in/entry/muslims-bail-detained-parents_n_5d56e130e4b056fafd0b6ae8
--------
Taliban militants use mosques, residential houses as fighting positions: Thunder Corps
Friday, 16 Aug 2019
The Taliban militants are using the mosques and residential houses as fighting positions, IED making facilities and command and control centers.
The 203rd Thunder Corps said in a statement that the group claims civilians are harmed when their fighters are targeted in such places.
The Thunder Corps released the statement in reaction to the latest claims of Taliban that civilians were targeted in Jahangir Bazar area of Gilan district in Ghazni.
However, the 203rd Thunder Corps said the group is lying and the latest claim is Taliban part of the Taliban's failed campaign to defame the security forces and government.
The 203rd Thunder Corps also added that the fighters of Taliban are also disguising themselves in women's dress in a bid to safeguard themselves but they can never remain hidden from the eyes of the security forces.
https://www.khaama.com/taliban-militants-use-mosques-residential-houses-as-fighting-positions-thunder-corps-03675/
--------
India
Pehlu murder: Acquittals shocks India's Muslims, threatens to weaken community's faith in judiciary
Aijaz Ashraf
August 17, 2019
The acquittal of six persons accused of lynching Pehlu Khan, the dairy farmer whom they waylaid near Alwar, in Rajasthan, while he was ferrying cattle from Jaipur on 1 April, 2017, has been ascribed to the shoddy police investigation in the case. It prompted Additional District Judge Sarita Swami, who heard the case, to give the accused the benefit of doubt. This doesn't come as a surprise — ham-handed police probes, or witnesses turning hostile, or trials dragging on for years have always dogged the judicial process.
Yet the acquittal of those accused of beating Pehlu Khan to death can't but demoralise the Muslims of India. The grisly episode involving Pehlu Khan wasn't a local affair. It had sparked national outrage and dominated media headlines because the video recording of his lynching had gone viral. For the Muslim public, the case of Pehlu Khan had seemed a close-and-shut one. It has turned out otherwise.
The judgement in the Pehlu Khan case was preceded by the withdrawal of dozens of cases against those accused of fomenting or participating in the 2013 Muzaffarnagar riots. A variety of factors has been speculated upon behind the turn in the Muzaffarnagar riot cases.
It is said that pressure was brought upon Muslim witnesses to retract their statements made earlier to the police in court. They, in turn, were monetarily compensated for their U-turn. It is also claimed that tired of waiting for the justice they wished to forget the past and bridge the chasm between communities. Dependent for their livelihood on the dominant Hindu landholding class, the Muslims of Muzaffarnagar perhaps thought it was pragmatic to secure their future instead of waiting for years for justice, which could well prove elusive or even ineffectual, as has been true of most communal riots in India since 1947.
However, Muslims will find it hard to invoke the flawed judicial process to rationalise the verdict in Pehlu Khan and the withdrawal of Muzaffarnagar riot cases. They will likely think the tripod on which India's governance rests – the political, administrative and judicial systems – are prejudiced against them.
This is because members of a social group generally have four options to resolve their grievances. They can appeal to the political party in power to provide them respite. Or they can take to the streets to express their displeasure, believing their numbers will persuade the ruling party to address their problems or risk losing their support. Or they can hope their protests will inspire the Opposition to take up their cause for securing their votes. Or they can knock on the doors of the judiciary in the hope that justice will be meted out to them.
Judiciary is vital for Muslims because of the limitations inherent in the other three courses of action available to them.
The appeal of Muslims to the ruling dispensation is unlikely to be heeded. This is because the Bharatiya Janata Party and the Rashtriya Swayamsevak Sangh are ideologically opposed to Muslims. This has inspired a large contingent of Hindu radicals, including those belonging to the affiliates of the RSS, to physically and rhetorically target Muslims.
Muslims have been lynched in the name of the cow, at times even for their Muslimness, targeted for masquerading love for Hindu girls only to convert them to Islam, and threatened with "re-conversion" to Hinduism, benignly termed as ghar wapsi. The RSS-BJP's propaganda against Muslims has created a culture of impunity around the country. It has made Hindutva hotheads believe they have the licence to pummel, humiliate and insult Muslims.
This is evident from what transpired as soon as Additional District Judge Swami acquitted the six accused in the Pehlu Khan case. They trooped out of the courtroom chanting Jai Sri Ram, Bharat Mata Ki Jai and Vande Mataram. Their chants sought to transmute their alleged action against Pehlu Khan into an honourable one. Likewise, Tabrez Ansari, a resident of Jharkhand, was compelled to chant Jai Sri Ram as he was pulverised to death. The assailants of Tabrez sought to legitimise their violence by invoking ideology, even hoping their criminal deed will secure them political patronage.
Muslims know their periodic appeals to the ruling dispensation are, at best, pro forma. They know the BJP is heavily invested in polarising the electorate to win elections. It is for this reason, they feel, the party has focused on triple talaq and turned the exercise to update the National Register of Citizens for Assam into an instrument to scare the community. Though Muslims in the Hindi heartland has, until now, not identified with Kashmir, they were stunned that the government could choose to read down Article 370 and abrogate Article 35A so close to the Bakrid festival. They perceived it as the BJP's disdain for the religious sensitivities of Muslims. Then there is the ongoing hearing in the Supreme Court on the Babri Masjid-Ram Janmabhoomi case, which the Muslims fear the BJP will milk to its advantage.
The second option available to Muslims – of taking to the streets to protest against hate crimes targetting them – is also likely to be ineffectual. For one, the levers of the administration are with the BJP. The community's fear is that their protests could be suppressed. Or their protests could fuel polarisation, again, to the BJP's advantage.
It is also true that the BJP, unlike other parties, doesn't risk losing the support of Muslims on account of their disenchantment. Muslims don't vote for the BJP, which does not seek their support. Over the last two Lok Sabha elections and several state Assembly polls, the BJP has demonstrated that it can win without the votes of Muslims. In fact, the party has proved that its strategy of demonising Muslims facilitates its endeavour to consolidate the Hindu vote bank.
Until 2019, Muslims fervently believed in the efficacy of the third option – that their alienation and disenchantment will inspire the Opposition parties to take up their cause and intercede on their behalf. In fact, the reverse seems to happening: The Opposition parties believe they are the only electoral option available to Muslims, who cannot vote for the BJP. They don't wish to focus on the Muslim issues lest their Hindu voters are alienated.
It won't be wrong to say that the Opposition is scared of being perceived anti-Hindu and anti-national, the two terms increasingly becoming synonymous in our political parlance. This factor prompted a clutch of Opposition parties to either walk out or vote for the Bills, including the one changing the status of Jammu and Kashmir, in the recent session of Parliament.
Muslims, like any minority community in all democratic countries, look upon the judiciary as their best bet to protect their interests. After all, the institution of judiciary enjoys majesty and grandeur that no institution commands. It is regarded as ideologically neutral and impartial. Unlike political parties, the judiciary is not susceptible to the game of numbers; its powers do not flow from winning elections. The verdict in the Pehlu Khan case will demoralise Muslims because they are prone to think, rightly or wrongly, that the fourth option – of knocking on the doors of justice – is closed to them.
https://www.dawn.com/news/1500008/pehlu-murder-acquittals-shocks-indias-muslims-threatens-to-weaken-communitys-faith-in-judiciary
--------
Pakistan
'Voice of Kashmiri people heard at the United Nations today': Maleeha Lodhi
Dawn.comUpdated August 16, 2019
Pakistan's Ambassador to the United Nations Maleeha Lodhi on Friday said that the people of Jammu and Kashmir may be locked up and their voices not heard in their own homes and their own land, but their voices were heard today at the meeting of the United Nations Security Council (UNSC).
The UNSC held a consultative meeting on Friday to discuss the Kashmir issue as Pakistan urged the world body to implement its own resolutions on this 70-year-old dispute.
The meeting had been called by China on Pakistan's request to discuss the prevailing situation in occupied Kashmir. In the closed door meeting, briefings were given on the situation and consultations will take place to decide how to proceed further.
In a media briefing following the conclusion of the meeting, Ambassador Lodhi said that the meeting had been called within 72 hours after Foreign Minister Shah Mahmood Qureshi had written a letter requesting the same.
"We are grateful to China in also joining us in calling this meeting," she added.
"The voice of the Kashmiri people, the voice of the people of occupied Kashmir has been heard today in the highest diplomatic forum of the world.
"They are not alone, their voices have been heard, their plight, their hardship, their pain, their suffering, their occupation and the consequences of that occupation have been heard in the UNSC," she said.
Lodhi said that the very fact this meeting had taken place is "testimony to the fact that this is an internationally recognised dispute".
The UN Ambassador said that there was "an effort to stop this meeting from convening" but thanked all 15 members for agreeing to hold it.
"This meeting has reaffirmed the validity of the UNSC resolutions on the occupied state of Jammu and Kashmir," she said.
Lodhi underscored the fact that Pakistan "stands ready for a peaceful settlement of the dispute of Jammu and Kashmir".
She further emphasised that India's claim that the issue was an "internal matter" stood nullified following today's meeting.
"Today the whole world is discussing the occupied state and the situation there," she said, also referring to the Chinese ambassador's remarks on the human rights situation in Kashmir.
"It is an abysmal situation, with violence carried out with impunity by India. That, too, has been discussed by the Security Council today," she disclosed.
She said she had contacted FM Qureshi who had conveyed that this is the first step that Pakistan has taken on behalf of the people of Jammu and Kashmir.
"This is the first and not the last step. It will not end here. It will only end when justice is done to the people of Jammu and Kashmir," she stressed.
She went on to reiterate that the voices of the people of Kashmir will always be heard. "Pakistan will always stand by them, extending full diplomatic and political support."
The UN ambassador concluded by thanking the Security Council for taking up the issue for the first time in 50 years.
Prior to Lodhi's briefing, Chinese Ambassador to the United Nations Zhang Jun held a conference to discuss with the media China's stance on the issue.
He said that the Security Council members "have expressed their serious concern" regarding the current situation in occupied Jammu and Kashmir.
"They are also concerned about the human rights situation there and also, it is the general view of the members that parties concerned should refrain from taking any unilateral action which might further aggravate the tension there," he said.
Presenting China's standpoint, the ambassador said, "China holds the view that the issue of Kashmir is an issue that is left from history between India and Pakistan. According to the relevant Security Council resolutions, the status of Kashmir is undecided and it is an internationally recognised dispute."
"The Kashmir issue should be resolved properly through peaceful means in accordance with the UN charter, the relevant Security Council resolutions, and bilateral agreements. This represents the international community's consensus," he emphasised.
"It's obvious that the constitutional amendment by India has changed the status quo in Kashmir causing tensions in the region.
"China is deeply concerned about the current situation and opposes any unilateral action that complicates the situation and we call upon the relevant parties to exercise restraint and act prudently and in particular, [we oppose] actions that will aggravate the tensions," said the Chinese ambassador.
'Interest renewed'
The foreign minister, in a parallel briefing in Islamabad, underscored the big diplomatic victory for Pakistan as for the first time after 1965, the issue of Kashmir had been brought to the Security Council. He congratulated the nation as new life had been breathed into an issue which was "thought of as dead".
FM Qureshi said that the participants of the meeting discussed the human rights violations in Indian-occupied Kashmir and expressed serious concern over the situation of human rights in the region.
The foreign minister said that the meeting itself was an achievement for Pakistan as it negated the Indian claim that Kashmir was its internal matter. He said that once again the global community had recognised Kashmir as a disputed region.
He invited international human rights bodies to visit the portion of Kashmir within Pakistan. "We will not stand as an obstacle in the path of such organisations. We will give them full access," he said.
He questioned whether India has enough confidence to allow such bodies to enter occupied Jammu and Kashmir.
"Pakistan will remain standing with Kashmiris and extend its political, moral and diplomatic support until they receive their right of self-determination," he vowed.
He further questioned as to how long the curfew imposed by India will last in occupied Kashmir.
Qureshi said that whether his voice reaches the Kashmiris today or later, it is the voice of Pakistan and the voice must have reached loud and clear to them on August 14 when every city of Pakistan united to show their Kashmiri brethren sympathy and unity.
"And they must have seen and will see (ultimately) the resolve and respect with which Black Day was observed throughout the world."
The minister said that the Foreign Office would further assess today's achievement in a meeting tomorrow and deliberate the next steps to take.
He vowed that Pakistan will continue to stand by the Kashmiri people "to every extent".
The foreign minister also thanked various human rights organisations for continuing to highlight the issue as well as the UNSC.
PM Imran takes Trump into confidence
Ahead of the meeting, Prime Minister Imran Khan had a telephonic conversation with US President Donald Trump to brief him about Pakistan's stance on the issue.
"The prime minister conveyed Pakistan's position to him [President Trump] and took him into confidence," Foreign Minister Shah Mahmood Qureshi had said in a video statement broadcast on television moments before the meeting started.
"Pakistan, like always, is committed to the peace process. The role we have played is for the betterment of the region and the steps we have taken are for the mutual benefit of Pakistan and Afghanistan and for peace and stability. We will continue to take such steps," he had said.
He had also said that direct contact had been established with four out of five permanent members of the Security Council and they were "aware of Pakistan's viewpoint".
https://www.dawn.com/news/1499832/voice-of-kashmiri-people-heard-at-the-united-nations-today-maleeha-lodhi
------
India's statement regarding 'no first use' policy on nuclear weapons is irresponsible: Pak foreign minister
Reuters | Dawn.comUpdated August 16, 2019
Foreign Minister Shah Mahmood Qureshi on Friday termed the Indian defence minister's statement on a possible change in its 'no first use' policy of nuclear weapons as "shocking and irresponsible" .
Earlier in the day, the Indian defence minister had announced that despite the fact India has stuck to its commitment of 'no first use' of nuclear weapons, the future policy will depend on the situation, which analysts said introduced a level of ambiguity in a core national security doctrine.
In a press conference held in Islamabad, Foreign Minister Qureshi said that the Foreign Office had held deliberations on the statement by the Indian defence minister and formed a position on the matter.
He then proceeded to read out a response by the FO, which he said he was doing so that no verbal statement of his own can be misconstrued.
"The substance and timing of the Indian defence minister's statement is highly unfortunate and reflective of India's irresponsible and belligerent behaviour. It further exposes the pretense of their no first use policy to which we have never accorded any credence," he said.
"'No first use' pledge is non verfiable and cannot be taken at face value. Especially when development of offensive capabilities and force postures belie such claims.
"Pakistan has always proposed measures relating to nuclear restraint in South Asia and has eschewed measures that are offensive in nature. Pakistan will continue to maintain a credible minimum deterrence posture," he said in conclusion.
India had declared itself a nuclear power after conducting underground tests in 1998 and Pakistan responded with its own tests shortly afterwards. Since then, nuclear experts say the rivals have been developing nuclear weapons and the missiles to deliver them.
On Friday, in a visit to Pokhran in western India, the site of the nuclear tests, Indian Defence Minister Rajnath Singh paid tribute to late former prime minister and revered leader of the ruling Hindu nationalists, Atal Behari Vajpayee, for making India into a nuclear power.
"Pokhran is the area which witnessed Atal Ji's firm resolve to make India a nuclear power and yet remain firmly committed to the doctrine of No First Use," said Singh.
"India has strictly adhered to this doctrine. What happens in future depends on the circumstances."
At the time of the tests, India said it needed a deterrent against nuclear-armed China but it has also long been concerned about Pakistan's nuclear capabilities.
Comments aimed at Pakistan?
Shekhar Gupta, a political commentator and defence expert, said the government appeared to have an open mind on the issue of 'no first use' of nuclear arms and the comments could be aimed at Pakistan, which has said previously it needed to develop small nuclear weapons to deter a sudden attack by India.
"Rajnath Singh is measured and not given to loose talk or bluster. He isn't signalling a shift, but an open mind on the NFU (No First Use) inherited from Vajpayees Nuclear Doctrine," he said on Twitter.
Tensions between the two countries have increased following India's move to revoke autonomy in the disputed region of Kashmir, the cause of two of their three wars. In February, Indian and Pakistani fighter jets clashed over the territory.
Vipin Narang, a nuclear affairs expert at MIT in the United States, said that Singh's comments were a sign the policy on 'no first use' could change in the future.
"Make no mistake: this is by far the highest official statement from the Raksha Mantri's (Defence Minister) mouth directly that India may not be forever bound by No First Use," Narang said on Twitter.
https://www.dawn.com/news/1499826/indias-statement-regarding-no-first-use-policy-on-nuclear-weapons-is-irresponsible-foreign-minister
-----
Kashmir issue linked with Pakistan's security: DG ISPR
By Our CorrespondentPublished: August 17, 2019
ISLAMABAD: The Director-General of Inter-Services Public Relations (DG ISPR) Major General Asif Ghafoor on Saturday linked the issue of Kashmir with Pakistan's security and asked world leaders to take a note of the irresponsible statement made by the Indian defence minister.
The army spokesperson was holding a joint press conference in Islamabad along with Foreign Minister Shah Mahmood Qureshi after a meeting of the special committee on Kashmir.
Speaking during the press conference, DG ISPR reiterated that Pakistan Army was ready to defend the country from any misadventure from India.
"Pakistan is a responsible state but India has always threatened us. Responsible states do not make statements like Rajnath Singh's," said DG ISPR and added that more troops were being sent to the Line of Control (LoC) as a deterrence.
Rejecting Indian propaganda that Pakistan was supporting infiltration inside occupied Kashmir, the military spokesperson said, "Indian-occupied Kashmir has been turned into a prison by the occupying forces."
"India is resorting to such propaganda to carry out a false flag operation. Pakistan's armed forces would be ready to give a telling response to any act of misadventure by India in the wake of the UN meeting."
The DG ISPR also thanked the nation for being united on social media for a national cause.
Speaking during the same press conference, Foreign Minister Shah Mehmood Qureshi said, "The historic meeting at the UN on Kashmir took place after more than 50 years. This was an important step for the entire world because it not just highlighted the importance of the issue, but also shed light on the things Pakistan can do."
"Pakistan has decided to intensify its lobbying efforts to effectively highlight the prevailing situation in occupied Kashmir."
Giving details of the decisions taken in today's meeting, the foreign minister said, "It has been decided to establish a Kashmir cell in the Foreign Office to give impetus to the ongoing efforts and pursue a focused approach on Kashmir."
"Kashmir cells will also be established in Pakistan's embassies across key capitals."
Qureshi warned the international community that India could carry out any false flag operation near the Line of Control (LoC) to divert world attention from its illegal actions and human rights violations in IoK.
"The UN Security Council meeting on Kashmir is a big diplomatic victory of Pakistan and defeat of India. Today's India is not that of Nehru but of Modi and there is a clear difference between the two."
UNSC meeting nullifies India's claims IOK is its 'internal matter': Lodhi
Responding to a question about the UN Security Council meeting on Kashmir, FM Qureshi said, "The meeting could not be held if all the members did not have consensus. India made efforts to prevent the meeting, but its viewpoint was rejected."
He said voices were being raised even within India against its act of abolishing the special status of occupied Kashmir and about 200 prominent people filed a petition demanding that the act should be undone.
Special Assistant to the Prime Minister on Information and Broadcasting Dr Firdous Ashiq Awan and Chairman Kashmir Committee Syed Fakhar Imam were also present at the press conference.
https://tribune.com.pk/story/2035997/1-kashmir-issue-linked-pakistans-security-dg-ispr/
--------
Brother of Afghan Taliban leader killed in Quetta mosque blast
AUGUST 17, 2019
The brother of leader of the Afghan Taliban was among at least four people killed in a bomb blast at a mosque in Quetta on Friday, two Taliban sources said.
Police said more than 20 people were wounded and the death toll could rise. The imam of the mosque was among those killed, police said.
Taliban leader Haibatullah Akhundzada was not in the mosque when the bomb went off but his younger brother, Hafiz Ahmadullah, was among those killed. The Taliban leader's son was wounded, one of the sources said.
Twenty-two others were also wounded in the blast that took place after Friday prayers, Inspector General of Balochistan Police Mohsin Hassan Butt said. They were shifted to the Civil Hospital Quetta.
Police did not confirm the identity of any of the victims.
"It was a timed device planted under the wooden chair of the prayer leader," said Abdul Razzaq Cheema, chief of police in Quetta.
"The death toll could increase as some of the victims were seriously injured," Shafqat Janjua, a police official, said.
TV footage showed the blast caused extensive damage to the walls and ceiling of the seminary. One of the sources, who visited the site after the blast, said security at the mosque was always very tight.
The mosque, located in Kuchlak area on the outskirts of Quetta, was known to be visited by members of the Afghan Taliban, the sources said.
Prime Minister Imran Khan strongly condemned the terrorist attack. Praying for the martyred, the prime minister offered condolences to the bereaved families. He advised that the wounded people be provided the best medical care.
There was no immediate claim of responsibility for the blast which comes as the Taliban and the United States are in the final stages of negotiations on an agreement letting America end its longest war and withdraw its troops from neighbouring Afghanistan. Pakistan has promised to help the United States end the Afghan war and both US and Taliban negotiators have recently reported significant progress in their talks in Qatar. The Taliban, in exchange for a US troop withdrawal, are expected to guarantee that Afghanistan will not be used for international terrorism. The militants, fighting to expel foreign forces and set up an Islamic state, are also expected to make a commitment to power-sharing talks with the US-backed government and a ceasefire.
US President Donald Trump is keen to bring the troops home but many Afghans fear a US troop withdrawal will leave the government battling the Taliban alone. The United States has about 14,000 troops in Afghanistan, with a focus on training Afghan forces and counter-terrorism. The Taliban roam through more territory now than they have since their 2001 ouster and fighting between government forces and the insurgents has been heavy.
https://dailytimes.com.pk/448935/brother-of-afghan-taliban-leader-killed-in-quetta-mosque-blast/
--------
Mideast
No, Israel Didn't Just Adopt Trump's Muslim Ban
August 16, 2019
Seffi Kogen
On Thursday, the Israeli government made a bad decision. Under pressure from President Trump, Prime Minister Benjamin Netanyahu and Interior Minister Aryeh Deri decided not to grant an exemption from Israel's anti-boycott law to Representatives Omar and Tlaib. As a result, the two members of Congress won't be able to enter Israel.
We should be very clear about what this is: It is a wrongheaded decision. It forced Congressional Democrats, who seemed to have run out of patience for Reps. Omar and Tlaib, to circle the wagons around the two legislators-provocateurs. It was a poor pronouncement that was rightly panned by virtually all mainstream American Jewish organizations. And it is a round of CPR for the movement to boycott, divest from and sanction the State of Israel, which had largely slipped into a comatose state.
We must also be clear, however, about what it was not. On Thursday night, Senator Tim Kaine tweeted, "PM Netanyahu – Drop your Muslim ban." Former Obama administration official Ben Rhodes, Representatives Betty McCollum and Alexandria Ocasio-Cortez, and, unsurprisingly, Rep. Omar herself all referred to this decision as a "Muslim ban."
The problem with their statements should be obvious to all who have a realistic picture of Israel, and don't see Prime Minister Netanyahu as a cartoonishly evil mustache-twirler: Israel has no Muslim ban.
It's true that Palestinians who are not citizens of Israel face restrictions on their movement, and are often barred from entering Israel. And yet, this is far from a ban on Muslims. Roughly 1.5 million Muslim citizens of Israel enjoy equal rights and play crucial roles in Israeli government and civil society.
Furthermore, every year, tens of thousands of tourists from Muslim countries visit Israel, including countries that refuse to recognize Israel. In 2018, the number was 72,109 citizens of Algeria, Egypt, Indonesia, Jordan, Kuwait, Malaysia, Morocco, Oman, Qatar, Tunisia, Saudi Arabia, and the United Arab Emirates. That's not even counting the tens of thousands more Muslims who visit from the United States, Europe, and elsewhere. The vast majority of these people visit Israel utterly without incident.
Incidentally, this also could have included Rep. Tlaib, who it was announced Friday would be permitted to enter Israel and the West Bank to visit her grandmother, who is 90. Tlaib made this request in writing, saying that the trip could be her "last opportunity to see her," and that she would "respect any restrictions and will not promote boycotts against Israel during my visit." After Israel approved Tlaib's family visit, she made a quick about face and said that she would not travel after all.
So why were these two women banned if there is no Muslim ban? In 2017, Israel passed a law saying, in effect, that the country was going to boycott the boycotters. The legislation gave notice that if you were actively engaged in a boycott of the Jewish state, then the state was not interested in granting you entry. As it happens, neither Omar nor Tlaib had yet admitted that they supported BDS—they both denied doing so until after they were elected in 2018. (In fact, it was almost exactly one year ago, in August 2018, that Omar said in a Democratic-Farmer-Labor primary debate that she considered BDS "not helpful" and "counteractive" to her then-preferred goal of a two-state solution.) Last month, Israel's ambassador to the U.S., Ron Dermer, said that the two Congresswomen would be granted a waiver to the anti-BDS law "out of respect for the U.S. Congress and the great alliance between Israel and America."
Then, apparently, President Trump turned on the pressure behind the scenes, culminating in his tweet Thursday morning that "It would show great weakness if Israel allowed Rep. Omar and Rep. Tlaib to visit." At that point, when President Trump had weighed in publicly, it seemed obvious to observers that the fate of the trip was sealed.
There's a tendency in contemporary society to say "X is in opposition to Y; I disagree with X; therefore I give Y my full support." Today, "X" is Prime Minister Netanyahu. But just because Netanyahu was wrong to have banned the representatives, and Trump was wrong to urge him to do so, doesn't mean that the two Congresswomen are right, or good, or blameless. Support for the BDS movement is grounds under Israeli law to ban foreign nationals from entry. Religion, race, ethnicity, or gender played no role in the decision.
In short, contrary to what Tim Kaine would have you believe, Omar and Tlaib were not banned for who they are, they were banned for things they have done and might have done had they been allowed entry. You might not think that that is much better. But it at least has the benefit of being true.
Seffi Kogen is the Global Director of Young Leadership of the American Jewish Committee (AJC).
The views and opinions expressed in this article are the author's own and do not necessarily reflect those of the Forward.
https://forward.com/opinion/429711/no-israel-didnt-just-adopt-trumps-muslim-ban/?utm_source=rss&utm_medium=feed&utm_campaign=Main
--------
Syrian regime bombed a mosque in Kansafra village in Idlib, on August 16
SNHR: Syrian regime forces helicopters dropped a barrel bomb near al Kabir Mosque in the middle of Kansafra village in the southern suburbs of Idlib governorate, partially damaging its building and furniture, on August 16, 2019.
http://sn4hr.org/sites/news/2019/08/16/syrian-regime-bombed-mosque-kansafra-village-idlib-august-16/
--------
Islamic countries constitute majority of the world's battlefields: CHP leader
Islamic countries constitute the majority of the world's battlefields, with most of them also suffering from hunger and poverty, main opposition Republican People's Party (CHP) leader Kemal Kılıçdaroğlu has said.
"According to Hacı Bektaş Veli, one should compete in goodness, resist injustice, not deviate from justice and never despair, but there are bitter truths in the world today, and that is that Islamic countries constitute the majority of the world's battlefields," the CHP leader said on Aug. 16, speaking at an event commemorating Hacı Bektaş Veli, an Alevi mystic, in the Central Anatolian province of Nevşehir's Hacıbektaş district.
"I regret to say that statistics show that most of the children suffering from war and hunger are Muslims. We wish the pain and bloodshed ends," Kılıçdaroğlu added.
In Iraq, Syria, Yemen and Libya, Muslims kill each other in the name of Islam, he said, adding: "It is Muslims who have to migrate from their countries, too."
Also speaking at the ceremony, Culture and Tourism Minister Mehmet Nuri Ersoy said Muslim people were suffering the most pain in the world.
Hacıbektaş is home to the tomb of Hacı Bektaş Veli. Alevis, who are described as the followers of the Caliph Ali, the nephew and son-in-law of the Prophet Muhammad, display religious practices distinct from Turkey's Sunni majority.
The order founded on the teachings of Hacı Bektaş Veli is called "Bektaşi" and has many followers among Anatolian Alevis.
http://www.hurriyetdailynews.com/islamic-countries-constitute-majority-of-the-worlds-battlefields-chp-leader-145826
--------
Mnar Muhawesh: Trump Making Racism Norm in America
Sat Aug 17, 2019
TEHRAN (FNA)- Mnar Muhawesh, American journalist, says the president of the United States, who is literally the role model of Americans, is promoting racism in the US.
Speaking in an exclusive interview with FNA, she said Trump has a racist character, which attracts other racists and extremists, "…and give them a weapon to use to exert their anger at the lack of jobs and failing economy. This also emboldens groups like the KKK".
"[Racial divide] is an unfortunate technique used by the two party systems (both Democrats and Republicans) to keep the nation divided and distracted while the 1% exploit we the people", she added.
Trump made several postings on his Twitter page, urging four non-white female Democratic members of Congress to "go back to the countries they came from", which in all but one case was the US. The firestorm tweets are banded as racist by many political analysts.
Mnar Muhawesh is the founder and Editor-in-Chief of MintPress News, and is also a regular speaker on responsible journalism, sexism, neo-conservativism within the media and journalism start-ups. Also, she produces and hosts TV programs covering Midwest and national politics while focusing on civil liberties and social justice issues.
Below is the full text of the interview:
Q: Why has Trump initiated such a racist tirade against four Congresswomen who are elected officials?
A: It's a type of character assassination against these Congresswomen to dismiss the real social justice concerns they are bringing to the forefront of the political conversation, which are root issues that have historically not made it to mainstream American politics including: income inequality, racial injustice, the right to boycott Israeli apartheid, and the influence of foreign nations on our elected officials like Israel and Saudi Arabia, getting money out of politics and ending war. These were once considered fringe issues by the establishment, but are in fact issues that have destroyed our democracy and turned our nation into an oligarchy.
Q: Do you think Trump's rhetoric gives a green light to racism and racist acts by others?
A: The role of the president is to lead the nation whether through action or character. If the commander in chief is normalizing racism, then it will only empower others to act in that way. Unfortunately, his racist character will attract those whom are frustrated in society and give them a weapon to use to exert their anger at the lack of jobs and failing economy. This also emboldens groups like the KKK.
Q: Is it Trump, or is it "divide" which is dominating today's United States politics?
A: The racial divide in the United States has exacerbated in recent years; but. it did not start with Trump. Trump is just the wolf without the sheep's clothing. Racism and division is not unique to the Republican party. It is an unfortunate technique used by the two party systems (both Democrats and Republicans) to keep the nation divided and distracted while the 1% exploit 'we the people'.
https://en.farsnews.com/newstext.aspx?nn=13980520000934
--------
Southeast Asia
Malaysia bars Zakir Naik from addressing event after 'racist statements'
Aug 16, 2019
Controversial preacher Zakir Naik has been barred by Malaysian police from addressing an Islamic event being held during August 16-18 even as a minister said he would be summoned for questioning over "racist statements" made last week.
Naik, who has lived in Malaysia for about three years after he was granted permanent residency, has been at the centre of a storm since videos emerged of an August 8 event where he said Malaysian Hindus were more loyal to the Indian prime minister. Three ministers have demanded he should be expelled.
After Naik's case figured at a cabinet meeting on Wednesday, home minister Muhyiddin Yassin said the following day that some elements were spreading "fake news" and making "racist statements...without considering the sensitivities of Malaysians".
Also read | Malaysian ministers say Zakir Naik should be expelled
Yassin said in a statement police "will be taking stern action on this matter" and calling in Naik and two others for questioning. "I wish to remind everyone, including non-Malaysian citizens, that enforcement agencies under my ministry will not hesitate to take legal action against anyone who threatens the harmony and public order of the country," he added.
On Friday, reports in the Malaysian media quoted a senior police official as saying that Naik wouldn't be allowed to speak at the Malaysia Reverts Camp 2019 being held in Perlis during August 16-18. Billed as one of the largest gatherings of Muslim converts in Malaysia, the event was to feature speeches by Naik and his son Fariq and events with his wife and two daughters.
Perlis police chief Noor Mushar Mohamad told a news conference that 150 police reports had been lodged against Naik.
"Zakir can come to Perlis, but he can't talk and action will be taken against him if he does so," he said.
Federal territories minister Khalid Abdul Samad too called on Naik to respect Malaysia's right to peaceful race relations. Malaysia has thrived socially and economically because of the respect accorded to everyone regardless of race or religion, he said.
Malaysia is able to have Zakir as a "guest" because of the country's harmonious and safe political climate, Samad said. "Out of respect for his safety, he was allowed residency in our country. It is our hope that he too, can respect our rights for safe and peaceful racial relations," he added.
Meanwhile, Naik on Friday demanded an apology within 48 hours from human resources minister M Kulasegaran, who first raised the issue of the preacher's controversial remarks and demanded action against him. Kulasegaran has often criticised Naik in the past.
A letter drafted by Naik's lawyers said the preacher was also expecting a "reasonable sum" as settlement for damage, embarrassment and dishonour caused by Kulasegaran's statement against Naik. The letter said legal proceedings would be initiated if the demands are not met.
Naik described all the charges levelled by Kulasegaran as untrue. The preacher also filed a police report against Kulasegaran, four other politicians and a former diplomat in which he contended they had defamed him with their statements and articles.
The preacher faces charges of money laundering and hate speech in India, which is yet to hear from Malaysia on a request for his extradition. Race and religion are sensitive issues in Malaysia, where Muslims make up about 60% of the population of 32 million. The rest are mostly ethnic Chinese and Indians.
State-run news agency Bernama quoted prime minister Mahathir Mohamad as saying this week Naik cannot be sent back to India because of fears for his safety. "If any (other) country wants to have him, they are welcome," Mahathir added.
--------
Zakir Naik could end up losing PR status in Malaysia
By Vikash Aiyappa
Saturday, August 17, 2019
Kuala Lumpur, Aug 17: Malaysia has hinted that the Permanent Resident status of controversial Islamic preacher, Zakir Naik could be revoked. Prime Minister, Dr. Mahatir Mohammad said that the PR status could be revoked, if it is proven that his actions have harmed the country's well being.
In another development, Malaysia barred Naik form addressing an Islamic event that is being held between August 16-18. The move comes in the wake of Malaysian authorities stating that he would be summoned for questioning.
Authorities in Malaysia have summoned Naik after he made a sensitive comment. Several ministers in Malaysia have now been demanding the expulsion of Naik after he said that Hindus in Malaysia have 100 times more rights than the Muslim majority India.
Malaysia ups the heat: Is it game up for radical Islamic preacher, Zakir Naik
He has PR status and we can take that away, if he does something detrimental to the well-being of the nation. At this moment, the police are investigating if he is doing that or not, Dr. Mahatir said.
Naik is under the scanner of the Indian agencies for changes ranging from radicalisation to money laundering.
The police will question Naik and several others for making racially charged statements and for spreading false news, Home Minister Muhyiddin Yassin had said. The enforcement agencies under my ministry will not hesitate to take legal action against anyone who attempts to threaten public harmony and peace, he also said.
Summoned at first, now Malaysia bars Zakir Naik from addressing Islamic event
India and several other countries have pointed out that Naik is a centric figure when it comes to radicalisation.
https://www.oneindia.com/international/zakir-naik-could-end-up-losing-pr-status-in-malaysia-2935088.html
--------
North America
Bergenfield's first Muslim police chief says he's living the 'American dream'
Ricardo Kaulessar, North Jersey Record
Aug. 16, 2019
BERGENFIELD — When police Capt. Mustafa Rabboh is promoted to chief on Tuesday, he will have an extra source of pride, beyond rising to the top of the police ranks.
"I would be the first Muslim police chief here in Bergen County, let alone Bergenfield," Rabboh said. "And the first Arab-Palestinian police chief. ... Something that is unheard of. A lot of people don't know my background."
Rabboh, 46, is slated to be sworn in during the borough's council meeting on Tuesday. He will start officially Wednesday.
Rabboh would also be only the second Muslim police chief in the state, with the first being Ahmed Naga of the Long Hill Township Police Department, who will be at Rabboh's swearing in.
The Bergenfield Police Department announced Rabboh as the next police chief on Thursday.
Then-Bergenfield Captain Mustafa Rabboh, left, shakes hands with U.S. Senators Cory Booker, center, as Bob Menendez, right, looks on, in Bergenfield on Friday, April 29, 2016. Rabboh will become the borough's police chief officially on August 20.
Then-Bergenfield Captain Mustafa Rabboh, left, shakes hands with U.S. Senators Cory Booker, center, as Bob Menendez, right, looks on, in Bergenfield on Friday, April 29, 2016. Rabboh will become the borough's police chief officially on August 20. (Photo: DANIELLE PARHIZKARAN/STAFF PHOTOGRAPHER)
Rabboh will be stepping into the shoes of another trailblazer, his former boss Cathy Madalone, who was Bergen County's first female police chief when named in 2015. She was head of the department until May.
"Madalone made history before, and I'm looking to make history as well," Rabboh said.
Rabboh and his colleague, Deputy Chief Christopher Massey, were interviewed for the job by council members in a closed-door session on August 6. Rabboh said Massey will continue as deputy chief.
When asked about becoming Bergen County's first Muslim police chief at a time of rising anti-Muslim sentiment and rhetoric in this country, Rabboh said it was a "touchy subject," and preferred to focus on the positive.
"Let's just say I am honored to be in the position to show everybody it doesn't matter where you come from, your background, anyone can make it," Rabboh said. "I always considered myself the American dream."
https://www.northjersey.com/story/news/local/2019/08/16/bergenfield-nj-muslim-police-chief-says-hes-living-american-dream/2024776001/
--------
Austria: Muslim Cab Drivers Refusing Service to Blind with Guide Dogs
Blind people with guide dogs are being refused service by Muslim cab drivers in Innsbruck, Austria, because they regard the animals as "ritually unclean".
Some 80 per cent of cab drivers in the Tyrolean capital now have a migration background, the Tiroler Tageszeitung reports, with many having their roots in the Islamic world.
Anton Eberl and Harald Flecker, the managing directors of the radio control centre for cabs in Innsbruck, admitted that such incidents were a growing problem, but complained that they "are not the owners of the taxis. we only mediate [between riders and drivers]" and could do little to put a stop to it.
"We try to make it clear to the drivers again and again… that these trips have to be carried out exactly like any other job. Unfortunately, at the moment we are not in a position to solve this problem satisfactorily," said Flecker.
He explained that the roughly 400 drivers are constantly changing, they "have to inform them again and again and give them the rules."
According to the head of a Swedish animal protection group, behaviour in "immigrant-dense areas" is responsible for an increase in cruelty.
Gabriele Jandrasits, who works for the Association of the Blind is is registered blind herself, commented that "If there were clear guidelines — for example, that certain dog breeds should not be transported in the passenger compartment, that the dogs must be leashed and muzzled or carried in a transport box — I would understand that, but the whole thing is simply arbitrary" after running into issues while trying to take a taxi to the airport herself.
However, according to Gabriel Klammer of the Tyrolean Economic Chamber, carrying guide dogs and other assistance dogs is already "explicitly stated as a duty of the driver" in new state works regulations.
Italy: Muslim Migrants Under Investigation for Slaughtering Sheep in Car Park
Tunisian migrants are under investigation by Italian authorities for animal cruelty after allegedly slaughtering sheep in a parking lot.
Culture clashes centred on dogs are not unique to Austria, with the United Kingdom having experienced a growing number of incidents going back years.
In 2008, for example, a blind pensioner with cancer was asked to get off a bus after a passenger became "hysterical" when he boarded with his guide dog and began berating him in a foreign language.
The same year, Tayside Police force in Scotland — now rolled into the Police Scotland super-force — actually apologised for producing postcards advertising a new non-emergency number which featured a guide dog puppy sitting in a policeman's hat, because it "offended" Muslim shopkeers who were asked if they could display it in their windows.
"[W]e did not seek advice from the force's diversity adviser prior to publishing and distributing the postcards," a force spokesman grovelled.
"That was an oversight and we apologise for any offence caused."
https://www.breitbart.com/europe/2019/08/16/austria-muslim-cab-drivers-refusing-service-blind-guide-dogs/
--------
US: Two sentenced to prison for foiled terrorist plot on Muslims
Two men were sentenced to between four and 12 years in prison on Friday after threatening to bomb a Muslim community in the United States.
Defendants Brian Colaneri, 20, and Andrew Crysel, 19, had both entered guilty pleas. Monroe County Court Judge Samuel Valleriani told the pair: "Your terrorist threat was not only an invidious threat to the way of life of your victims, but also a threat to everyone in our democratic society."
Both defendants expressed remorse, including for conversations they conducted between themselves via an online chat room as part of the plot. The two men had previously pleaded guilty to terrorism conspiracy in June.
"I never wanted it to go that far," Colaneri said, according to local media outlet WHEC.
They and two others from the Rochester area were accused of planning to attack Islamberg, a rural religious community in the area of Tompkins, 150 miles (240 kilometers) to the north of New York City. Authorities arrested the individuals in January and said they had access to 23 rifles and shotguns, as well as three homemade explosives.
Concerned citizens alerted authorities
The individuals were exposed after other members of the community raised suspicions regarding their behavior, in addition to their online conversations.
"This horrible incident shows the importance of coming forward if you believe there is any chance of violence against another," Assistant District Attorney Matthew Schwartz said. "Thank you to the members of the community who voiced their concerns and the Greece Police Department for investigating the matter."
Prosecutors said that for several months towards the end of 2018, the accused made plans to acquire weapons and discussed strategies and methods for an attack and were exposed after a student reported a suspicious comment in a lunchroom. They planned to carry out the attacks in the small Muslim-majority community.
Monroe County District Attorney Sandra Doorley said: "These defendants targeted the inhabitants of Islamberg solely because of their religious beliefs and will have years in the New York State Department of Corrections to reflect on the severity of their actions."
Islamberg resident Tahirah Clark, the community's general counsel, said the plot has altered the lives of many of the inhabitants.
"Our children are afraid but yet resilient and strong and attempting to make the best of our new normal," she said, according to the Democrat & Chronicle, which reported that more than a dozen members of the local community attended the sentencing.
A third defendant in the case, Vincent Vetromile, 20, is expected to receive a similar sentence on August 29 after pleading guilty to weapons possession.
A 16-year-old from Rochester pleaded guilty in a youth criminal court last month to possession of a weapon as a crime of terrorism. He is expected to be sentenced to seven years in prison, of which the first two will be in a juvenile detention center.
https://www.dw.com/en/us-two-sentenced-to-prison-for-foiled-terrorist-plot-on-muslims/a-50059972
--------
Mexico detains US 'Islamist' at migrant center
16 August 2019
Mexico said Friday it arrested a US citizen suspected of backing jihadist groups who was being housed at a migrant detention center and deported him to the United States.
The Mexican prosecutor general's office said the man was the target of an Interpol "blue notice," issued because the US Federal Bureau of Investigation (FBI) suspects him of "publishing support for violent jihad and radical Islam" online.
Interpol blue notices are issued "to collect additional information about a person's identity, location or activities in relation to a crime," according to the international police organization.
Mexican media reports named the man as Mohammed Azharuddin Chhipa.
He was arrested at a migrant detention center in the town of Huehuetan, in the southern state of Chiapas, near the Mexican-Guatemalan border, the federal prosecutor's office said in a statement.
Such centers are used to temporarily house undocumented migrants as Mexican immigration authorities process their cases.
The man was subjected to a hearing at the detention center and deported by plane to Washington on Friday, the prosecutor's office said.
https://www.dailymail.co.uk/wires/afp/article-7365675/Mexico-detains-US-Islamist-migrant-center.html
--------
Muslim detective can pursue $7M discrimination suit against city: judge
By Julia Marsh and Emily Saul
August 16, 2019
A Manhattan federal judge has ruled that a Muslim former member of Mayor Bill de Blasio's protective detail can continue his lawsuit against the city for failing to promote him, according to documents obtained by The Post.
Detective Abdelim "Abe" Azab filed a $7 million suit against the city last year, claiming he was repeatedly passed over for promotions — and later transferred — because of his faith and because he was born in Egypt.
"Despite receiving consistently high-performance ratings, the plaintiff has not received a promotion since being promoted to second grade detective in 2008; whereas 26 of the 30 EPU detectives, all of whom are non-Muslim and non-Egyptian, have been promoted," Judge John Koeltl said on Aug. 8, before ruling that part of the suit could go forward.
"The plaintiff alleges four specific instances when non-Muslim and non-Egyptian detectives were promoted ahead of him, even though each had between three and six years of less time in rank than the plaintiff had when they were promoted."
Azab's attorney Marshall Bellovin lauded the decision.
"The judge got it right," said Bellovin, who is representing other ex-EPU detectives who have filed similar suits against the city. "He denied the City's attempt to prematurely dismiss this case, and permitted us to go forward, as did three other federal judges who agreed that each of my other clients, who are all former EPU detectives, should have their day in court."
"Judge Koeltl was on-target when he pointed out that Detective Azab's 'complaint is really about failure to promote,'" he added.
While he ruled partially in Azab's favor, Koeltl also tossed part of the lawsuit, throwing out claims of a hostile work environment.
The city Law Department did not immediately respond to a request for comment.
https://nypost.com/2019/08/16/muslim-detective-can-pursue-7m-discrimination-suit-against-city-judge/
--------
Norway mosque terror, murder suspect 'admits' crimes: police
Sat Aug 17, 2019
A Norwegian man suspected of killing his stepsister and opening fire in a mosque near Oslo last weekend has admitted to the crimes though he has not officially entered a plea, police said Friday.
Philip Manshaus, 21, was remanded in custody Monday, suspected of murder and a "terrorist act" that police say he filmed himself committing.
Answering police questions on Friday, "the suspect admits the facts but has not taken a formal position as to the charges," Oslo police official Pal-Fredrik Hjort Kraby said in a statement.
Manshaus is suspected of murdering his 17-year-old step sister Johanne Zhangjia Ihle-Hansen, before entering the Al-Noor mosque in an affluent Oslo suburb and opening fire before he was overpowered by a 65-year-old man.
Flowers and police cordon are pictured in front of the Al-Noor Islamic Centre Mosque in Baerum near Oslo, Norway on August 12, 2019. (Photo by AFP)
Just three worshipers were in the mosque at the time, and there were no serious injuries.
Manshaus appeared in court this week with two black eyes and scrapes and bruises to his face, neck and hands.
Police have said he has "extreme right views" and "xenophobic positions" and that he had filmed the mosque attack with a camera mounted on a helmet.
He had initially denied the accusations.
The incident came amid a rise in white supremacy attacks around the world, including the recent El Paso massacre in the United States.
Norway witnessed one of the worst-ever attacks by a right-wing extremist in July 2011, when Anders Behring Breivik, who said he feared a "Muslim invasion", killed 77 people in a truck bomb blast near government offices in Oslo and a shooting spree at a Labor Party youth camp on the island of Utoya.
https://www.presstv.com/Detail/2019/08/17/603736/Norway-Oslo-mosque-terror-suspect-police-official-PalFredrik-Hjort-Kraby-Philip-Manshaus
--------
South Asia
Car bomb destroyed; 15 Taliban militants killed in Balkh operations
Saturday, 17 Aug 2019
The security forces destroyed a car bomb and killed 15 Taliban militants during the operations in northern Balkh province.
The informed military sources said Saturday that the security forces killed 15 Taliban by conducting an airstrike in Sholgrah district of Balkh.
The sources further added that the Special Forces destroyed a Taliban car bomb during a separate operation in Chimtal district of Balkh.
The Taliban group has not commented regarding the operations so far.
https://www.khaama.com/car-bomb-destroyed-15-taliban-militants-killed-in-balkh-operations-03678/
--------
Second attempt planned to return Rohingya Muslims
VNA FRIDAY, AUGUST 16, 2019
Myanmar and Bangladesh are making a second attempt to start repatriating Rohingya Muslims after more than 700,000 of them fled Myanmar almost two years ago. (Source: AFP/VNA)
Hanoi (VNA) - Myanmar and Bangladesh are making a second attempt to start repatriating Rohingya Muslims after more than 700,000 of them fled Myanmar almost two years ago, the UN Refugee Agency (UNHCR) said on August 16.
Caroline Gluck, a UNHCR spokesperson, said the Bangladesh Government has asked for its help in verifying 3,450 people who signed up for a voluntary repatriation.
She said the list was whittled from 22,000 names that Bangladesh had sent to Myanmar for verification.
Gluck said it is unclear when any repatriation might begin, given the need to find and check all the individuals and the fact that there is a major holiday at the moment in Bangladesh.
According to the World Food Programme, up to 80 percent of the Rohingya refugees are entirely dependent on WFP food assistance.
UN programmes feed close to 900,000 Rohingya refugees in Bangladesh at a cost of around 24 million USD per month.-VNA
https://en.vietnamplus.vn/second-attempt-planned-to-return-rohingya-muslims/157979.vnp
--------
Taliban's notorious commander killed in Ghazni
Saturday, 17 Aug 2019
The security forces killed a notorious commander of the Taliban group during an operation in south-eastern Ghazni province.
The 209th Shaheen Corps citing informed local sources reported that the notorious commander who was in charge of the Red Unit of Taliban was killed in one of the provinces of Ghazni on Friday.
The sources further added that the security forces also killed 34 other militants during the operation.
Meanwhile, the provincial government said in a statement that the security forces killed 18 Taliban militants and wounded 9 others during the operations in this province.
The statement further added that the security forces killed 12 militants and wounded 6 others in Qarabagh district.
Furthermore, the provincial government said the U.S. forces conducted an airstrike in Deh Yak district on Friday night which killed 6 Taliban militants and wounded 4 others.
The Taliban group has not commented regarding the operations so far.
https://www.khaama.com/talibans-notorious-commander-killed-in-ghazni-03679/
--------
Europe
Mexico to Deport US Citizen Suspected of Supporting Islamic Extremism - Prosecutors
17.08.2019
MEXICO CITY (Sputnik) - Mexico has detained a US national suspected of supporting Islamic extremist groups, the Latin American country's Prosecutor General's Office said, adding that the individual would be deported.
The US citizen wanted by Interpol was captured at a migrant facility in Mexico's Chiapas state.
The man, identified by the Mexican Prosecutor General's office as Mohammed A., is suspected by the US Federal Bureau of Investigation of expressing support to violent jihad and radical Islam on online platforms.
Later on Friday, the suspect would be flown to Washington, DC. The Mexican branch of Interpol has informed the United States about the details of the deportation.
Caravans of migrants from Central American countries seeking asylum began moving toward the United States through Mexico last fall. US President Donald Trump has called the surge of arrivals a crisis and declared a national emergency in February to secure funds for constructing a border wall.
Trump has also suggested that there were criminals and "unknown Middle Easterners" in the caravan and pledged to send as many troops as necessary to the US southern border.
Mexico has agreed to tighten border controls after the Trump administration threatened to steadily hike import tariffs if it did not stop thousands of migrants from marching to the US southern border.
Trump said on Thursday that Mexico is doing a great job on its southern border curbing the flow of migration to the United States while congressional Democrats refuse to act.
https://sputniknews.com/latam/201908171076570398-mexico-to-deport-us-citizen-suspected-of-supporting-islamic-extremism---prosecutors/
--------
'Woke' news platform aimed at young Muslims is actually a secret UK counter-terror program
Fri August 16, 2019
London (CNN)The Facebook page of "Woke" looks like any other millennial-focused online news platform, pumping out slick videos of young British Muslims tackling hot button issues like Islamophobia, bullying, depression and workplace diversity.
Similar content populates the Instagram posts of an account by the same name.
But according to a company source familiar with the project, Woke is in fact part of a counter-terror program funded by the British government -- raising ethical questions about transparency in such online initiatives.
Woke describes itself on Facebook as a "media/news company," and its name derives from US slang describing a state of social and historical awareness, with progressive connotations.
Middle East Eye, the news site that first investigated the network, said it was created by a communications agency as part of a UK government counter-terror program known as "Prevent," run from the British interior ministry, the Home Office.
Facebook fights fake news using more African languages
Facebook fights fake news using more African languages
Prevent aims to educate the public about the risks of extremism and to identify individuals who seem "at risk" of becoming terrorists, through a variety of public sector work.
The Home Office did not contest Middle East Eye's characterization of "This is Woke" when questioned by CNN. "We are committed to using all of the tools available to counter the threat from terrorism in the UK," a ministry spokesperson said in a statement, adding that they could not comment on commercial contracts.
Woke's aim, according to its Facebook page, is to engage "in critical discussions around Muslim identity, tradition and reform to provide a positive vision of what it means to be Muslim today."
The network's content includes inspirational memes, including images of late South African President Nelson Mandela, and panel discussions on veganism, fake news and modern dating.
In the fake news discussion, four young panelists discuss how to "train ourselves against what's going on out there."
Middle East Eye reported that Breakthrough Media was responsible for creating the content on the network.
Middle East Eye reported that Breakthrough Media was responsible for creating the content on the network.
One of its videos, on Muslim women describing the first time they wore "the hijab," received more than 250 thousand views.
Middle East Eye reported that Breakthrough Media was responsible for creating the content on the network.
The source CNN spoke to said that Breakthrough Media, which has been renamed Zinc Network, stopped working on the Home Office account four months ago and it is now in the hands of advertising agency M&C Saatchi.
CNN has reached out to M&C Saatchi for comment.
When asked if it had created Woke content for the Home Office, Zinc Network told CNN only that it is "enormously proud of the work we undertake for our clients. "Providing support to communities, brands and governments to promote positive social change and tackle some of the most complex issues in the world today is the driving force of our agency," it added.
Controversial program
The Home Office says that Prevent does not target any specific demographics and deals with "all forms of terrorism, including Islamist and extreme right wing." However, over the years, it has been accused of fostering discrimination against Muslims and creating an atmosphere of distrust in the Muslim community.
When asked about Woke, the Home Office spokesperson also said that "the Prevent program continues to play a vital role in this fight against radicalization and has had a significant impact in stopping people being drawn into terrorism," the spokesperson added.
Prevent's aim is to stop people becoming terrorists or supporting terrorism. Its objectives include preventing people from being drawn into terrorism and working with key sectors and institutions "where there are risks of radicalization which we need to address," according to a 2011 Prevent Strategy document written by the Home Office.
"We will also work to tackle the challenge of radicalization on the internet," it added.
Beyond educational outreach, Prevent also requires public-sector workers in schools and hospitals to report individuals who are believed to be "at risk" of radicalization. Once someone has been reported, the police or local authority decide whether they should be referred to Prevent's anti-radicalization program -- known as Channel -- where they receive mentoring and counseling.
Livvy Doherty contributed to this report.
https://us.cnn.com/2019/08/16/uk/woke-counter-terrorism-facebook-intl-gbr/index.html
--------
Arab World
6500 Pilgrims of Custodian of the Two Holy Mosques Guests Program Perform Friday Prayers, at Prophet's Mosque
2019/08/16
Madinah, Aug 16, 2019, SPA -- As many as 6500 pilgrims within the Custodian of the Two Holy Mosques Guests Program for Hajj, Umrah and Visit, which is supervised and implemented by the Ministry of Islamic Affairs, Call and Guidance, performed here today Friday prayers, at the Prophet's Mosque.
The guests, coming from 79 countries, stressed the importance of the Custodian of the Two Holy Mosques Guests Program for Hajj, Umrah and Visit, in achieving continuous communication among all Muslims, praising the Kingdom of Saudi Arabia's care for Islam and Muslims.
https://www.spa.gov.sa/viewfullstory.php?lang=en&newsid=1959089
--------
3500 guests of Custodian of Two Holy Mosques program for Hajj, Umrah and Visit leave Al-Madinah
2019/08/16
Al-Madinah Al-Munawarah, Saudi Arabia, Aug. 16, 2019, SPA -- As many as 3500 guests of Custodian of Two Holy Mosques program for Hajj, Umrah and Visit left this Muslims' second holiest city today after having performed prayers at the prophet's mosque, greeted the prophet and his companions and visited some historical sites in Al-Madinah.
They expressed thanks to the Custodian of Two Holy Mosques King Salman bin Abdulaziz Al Saud and HRH the Crown Prince for hosting them to perform this year's Hajj which they described as successful as should be.
https://www.spa.gov.sa/viewfullstory.php?lang=en&newsid=1959114
--------
French Imams Forum's Vice President Thanks Custodian of the Two Holy Mosques and Values Services and Facilities Provided for Pilgrims
2019/08/16
Al-Madinah Al-Munawarah, Saudi Arabia, Aug. 16, 2019, SPA -- Vice President of French Imams Forum Sheikh Noureddine Mohammed Tawil, who is also Imam of the Islamic Cultural Center in France, expressed thanks to and appreciation of the Custodian of the Two Holy Mosques King Salman bin Abdulaziz Al Saud, for providing this valuable opportunity to perform Hajj this year within the Custodian of the Two Holy Mosques Guests Program for Hajj, Umrah and Visit, which is supervised and implemented by the Ministry of Islamic Affairs, Call and Guidance.
In a statement to the Saudi Press Agency (SPA), Sheikh Tawil, a graduate of Al-Madinah Al-Munawarah-based Islamic University, said that the Custodian of the Two Holy Mosques Guests Program for Hajj, Umrah and Visit is one of the important programs in our Islamic world at the present time achieved by the Kingdom of Saudi Arabia under its wise leadership.
He expressed happiness of being one of the participants in this program, asking Allah the Almighty to bless the Custodian of the Two Holy Mosques; His Royal Highness the Crown Prince and all employees of the Ministry of Islamic Affairs, Call and Guidance for their efforts in Makkah, Al-Madinah Al-Munawarah and the holy sites.
https://www.spa.gov.sa/viewfullstory.php?lang=en&newsid=1959113
--------
Grand Mufti of New Zealand Values Custodian of the Two Holy Mosques' Program to Host Pilgrims
2019/08/16
Madinah, Aug 16, 2019, SPA -- Grand Mufti and Chairman of the Council of New Zealand Scholars Sheikh Mohammed Amer Faizur Rahman thanked the Custodian of the Two Holy Mosques King Salman bin Abdulaziz Al Saud and HRH Crown Prince for the great services accorded to Islam and Muslims, calling the Kingdom of Saudi Arabia's stand by the families of the martyrs and the injured of the terrorist attack, in Christchurch, a bright image of the Kingdom of Saudi Arabia.
He added that the Custodian of the Two Holy Mosques flooded the families of the martyrs with kindness and generosity, asking Allah the Almighty to grant the Kingdom of Saudi Arabia blessing of security and safety and accept the Custodian of the Two Holy Mosques' life and work.
https://www.spa.gov.sa/viewfullstory.php?lang=en&newsid=1959097
--------
URL: https://www.newageislam.com/islamic-world-news/mosque-shifts-friday-prayers-ensure/d/119493
New Age Islam, Islam Online, Islamic Website, African Muslim News, Arab World News, South Asia News, Indian Muslim News, World Muslim News, Women in Islam, Islamic Feminism, Arab Women, Women In Arab, Islamophobia in America, Muslim Women in West, Islam Women and Feminism