New Age Islam News Bureau
8 Jul 2012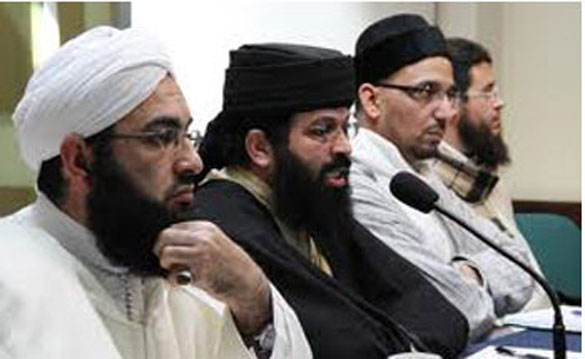 Africa
• Morocco Salafi Clerics Back Death for Journalist for Supporting Greater Sexual Freedom
• Libya election: Count under way after historic vote
• Liberal coalition claims lead in polls across Libya
• Sudan constitution to be "100 percent Islamic": Bashir
• West African bloc urges 'war crimes' probe in north Mali
• High turnout for Libyan election
• Ecowas urges 'war crimes' probe in North Mali
India
• Indian Muslims' Mushawarat deliberates on National and International issues
• Embrace education for progress, Muslims told
• Minority institutions cry foul
• Indian FM provides evidence to Khar on anti-India terror activities
• Schisms appear in Cong's minority department
• Hand over terrorists to build trust, Veteran BJP leader urges Pakistan
Pakistan
• Pakistan drone attack kills 12 suspected militants
• Pakistani parties begin long-march against reopening of NATO supply line
• Brutal Sectarian Violence against Shias in Pakistan
• Pakistan smugglers caught with ancient Buddhist artefacts
• Pakistan Islamists march against NATO supply routes
• 14 killed as vehicle hits landmine in southwest Pakistan
• US envoy concerned over Pak-Iran pipeline
• US urged to grant duty-free access to Pakistani merchandise
• U.S., Pakistan ties still raise tough questions - Clinton
• KSE increases 509 points on resumption of NATO supply
South Asia
• Afghan donors offer $16B in development aid
Southeast Asia
• Muslim countries cannot remain as consumers – Mahathir
North America
• Islam teaches followers to stand up for what's right
• Obama invites Egypt's Islamist leader to US
• Islam is SD's fastest growing religion
Europe
• Oasis Crescent opens for Islamic funds business in London
• BA pilot, Jamaluddin sacked after 'terror' arrest loses appeal, Arrested
Arab World
• Syria armed forces hold 'large-scale' exercises
Mideast Asia
• Israeli PM Netanyahu's party backs conscription law
Compiled by New Age Islam News Bureau
Photo: Morocco Salafi Clerics Back Death for Journalist for Supporting Greater Sexual Freedom
URL: https://newageislam.com/islamic-world-news/new-age-islam-news-bureau/morocco-salafi-clerics-back-death-for-journalist-for-supporting-greater-sexual-freedom/d/7859
---------
Africa
Morocco Salafi Clerics Back Death for Journalist for Supporting Greater Sexual Freedom
By renee609
RABAT, Morocco (AP), 2012/7/6,Three of Morocco's most prominent conservative clerics have publicly backed a demand that a journalist be put to death for supporting greater sexual freedom in the North African kingdom.
Mokhtar el-Ghzioui, the editor of the daily al-Ahdath al-Maghribia, publicly supported a call by a Moroccan human rights activist to decriminalize sex outside of marriage. He said in a TV interview last week he would be fine with his mother or sister having consensual sexual relations outside of wedlock.
A preacher in the far eastern city of Oujda near the Algeria border then made a YouTube video on June 28 condemning el-Ghzioui as a "dyouth" a religious term for someone who willingly lets his wife commit adultery, and called for his death.
The preacher, Abdullah Nahari, was then summoned by the local prosecutor to answer to the charge of inciting a crime.
Abou Hafs, Omar el-Heddouchi and Hassan al-Kettani, the three most prominent clerics of the ultraconservative Salafi strand of Islam in Morocco, all spoke out in support of Nahari on their Facebook pages late Thursday.
"The arrogance of the secularists has become intolerable," Kettani said. "A dyouth tells the world he would let his family sin and is then denounced by a sheikh and then it is the latter who is threatened with prison?"
The three men were imprisoned in 2003 and later implicated for inspiring a string of bombings by Islamist militants in Casablanca that killed 45 people. They were pardoned by the king in February.
On Thursday, journalists demonstrated outside the offices of the newspaper in support of el-Ghizioui.
Khadija Riyadi, the head of the Moroccan Association for Human Rights, called for the canceling of article 490 of the penal code criminalizing sex outside of marriage in an interview June 18, sparking an unexpected debate in the normally conservative state-run media.
She described the controversy as a part of the battle between the monarchy and the newly elected Islamist government that came to power in November elections, pointing out that her organization has often taken such stands and been ignored by the establishment media, which is dominated by the powerful royal court.
Opposition political parties with close ties to the palace often try to make the Islamist government look bad by portraying them as overly conservative on social issues.
"We know that the Islamist government is not universally liked by the higher levels of power, and I realize that many political actors, especially those connected with the palace, have exploited my statements to settle their scores with the elected government," she told The Associated Press.
Still, that doesn't mean that it isn't necessary to have more debate on these subjects," she added.
A new constitution adopted under the pressure of Arab Spring demonstrations gives Morocco's elected politicians more powers, but ultimate authority still lies with the king and his powerful courtiers.
Morocco, a favored destination for European tourists, is overwhelmingly Muslim and both drinking alcohol and sex outside marriage are prohibited by law. The laws are not strictly enforced, however.
http://www.usdl.info/modules/news_english/item.php?itemid=170
-------
Libya election: Count under way after historic vote
8 July 2012
Vote-counting is under way in Libya, after the country held its first free national election for 60 years.
Partial results are expected later in the week, with some unofficial exit polls suggesting a liberal alliance was leading Islamist parties. Officials said turnout on Saturday was about 60%.
Voting continued in some areas where technical difficulties caused delays.
The 200-member assembly will choose the first elected government since Col Gaddafi came to power in 1969.
The last fully free parliamentary election was held soon after independence in 1952. The last national vote was held in 1965, when no political parties were allowed.
On voting day there were pockets of unrest in the east, where there are fears the region will be under-represented in the new temporary assembly being elected.
US President Barack Obama said the election was "another milestone" in Libya's political transformation. Italy, the former colonial power, also hailed the vote.
More than 100 parties are competing in the poll, many of them formed only in recent months.
The most prominent party to emerge so far is the Justice and Construction Party, made up mostly of Muslim Brotherhood members.
Security issue
Ian Martin, head of the UN's mission in Libya, told the BBC that there were no indications of major concerns with the vote.
"Good news is there's been no problem in retrieving election materials from polling stations; most are on course in completing counting," he said.
He said several small towns in the east near Sirte were continuing to vote on Sunday because election materials had been delivered too late to complete the process on Saturday.
In the capital Tripoli there were jubilant scenes late on Saturday, with fireworks lighting the sky as polling stations closed.
"The priorities for the coming period are security and justice for the Libyan people and rebuilding Libya on a secure basis," Mehmet Hawaz, a doctor, told the Associated Press television news.
Another voter Mohammed Eid, a former political prisoner, said Libyans now have high expectations for the future.
"The Libyan people want to rebuild their country on solid ground with a good constitution, one that expresses the aspirations of the people and gives strong laws that will help build the country with strong institutions," he said.
Ballot boxes are being sent to counting centres around the country - and expectations are high, correspondents say.
The liberal National Forces Alliance led by former Prime Minister Mahmoud Jibril was in the lead in many constituencies in the capital as well as the eastern city of Benghazi, unofficial exit polls taken by the Libya Herald suggested.
"Early reports show that the coalition is leading the polls in the majority of constituencies," the secretary general of the alliance, Faisal Krekshi, told AFP news agency.
AFP quoted the leader of one of Libya's main Islamist parties, Mohammed Sawan of the Justice and Construction party, acknowledging this early trend.
"The National Forces Alliance achieved good results in some large cities except Misrata. They have a net lead in Tripoli and in Benghazi," he said.
Peaceful
Voting began late in some cities where gunmen disrupted voting in several locations, including in Ras Lanuf, Brega and Ajdabiya - all in eastern Libya. One person was killed in a shooting near a polling station in Ajdabiya.
Despite the unrest, officials said voting had taken place in more than 98% of polling stations at some point on Saturday.
Many people in eastern Libya are concerned that the oil-rich area will be under-represented in the assembly and marginalised, as it was under Muammar Gaddafi's 42-year rule.
The region has been allotted only 60 seats in the 200-seat assembly, while the west will have 100 seats and the south 40, under the system devised by the outgoing National Transitional Council (NTC).
Some former rebels tried to derail the vote by targeting the oil industry, large parts of which are located in the east.
They have shut down several oil terminals, including those at Brega, Ras Lanuf and Sidra, and a significant part of Libya's oil exporting capacity has been disrupted.
In an attempt to defuse the situation, the NTC has said the new parliament will no longer be responsible for naming the panel that will draft Libya's new constitution.
The 60-member committee will be elected in a separate vote at a later date.
http://www.bbc.co.uk/news/world-africa-18758389
--------
Liberal coalition claims lead in polls across Libya
AFP
TRIPOLI: Jul 8, 2012, Libya's main liberal coalition said on Sunday that its party candidates were leading the polls in most constituencies after the first elections since the ouster of Muammar Gaddafi.
"Early reports show that the coalition is leading the polls in the majority of constituencies," Faisal Krekshi, secretary general of the National Forces Alliance, said.
The leader of one of Libya's main Islamist parties, Justice and Construction, also said that the alliance had a solid advantage in the polls.
The alliance is led by Mahmud Jibril who played a prominent role as rebel prime minister during the popular revolt that toppled Gaddafi last year.
http://timesofindia.indiatimes.com/world/middle-east/Liberal-coalition-claims-lead-in-polls-across-Libya/articleshow/14744553.cms
-------
Sudan constitution to be "100 percent Islamic": Bashir
KHARTOUM (Reuters) Jul 7, 2012 , President Omar Hassan al-Bashir said on Saturday Sudan's next constitution would be "100 percent Islamic" to set an example for neighbouring countries, some of which have seen religious parties gain power after popular uprisings.
The secession of mostly non-Muslim South Sudan a year ago sparked predictions that Sudan, which hosted former al Qaeda leader Osama bin Laden in the 1990s, would start implementing Islamic law more strictly.
In a speech to leaders of the mystical Islamic Sufi tradition in Khartoum, Bashir suggested Sudan's new, post-secession constitution could help guide the region's political transformation.
"We want to present a constitution that serves as a template to those around us. And our template is clear, a 100 percent Islamic constitution, without communism or secularism or Western (influences)," said Bashir.
"And we tell non-Muslims, nothing will preserve your rights except for Islamic sharia because it is just," he said.
Bashir, facing small-scale protests calling for him to step down, said a committee made up of "all parties, religious sects and Sufis" would be set up to draft a constitution.
That appeared to be a move to assuage resentment by other opposition parties - many of which are still dominated by Islamist figures - over Bashir's reluctance to loosen the grip of the ruling National Congress Party.
He did not give a date for the new constitution.
Following the 1989 coup that brought Bashir to power, Sudan introduced laws that took sharia as their main source.
Already, floggings are a common punishment in Sudan for crimes like drinking alcohol and adultery.
Sentences of stoning are rare, although in May a Sudanese woman was sentenced to death by stoning for adultery, sparking condemnation from human rights lawyers. Similar sentences in the past have not been carried out.
Bashir has been in power for the last 23 years and is one of Africa's longest-serving leaders. He is wanted by the International Criminal Court for war crimes in Darfur, charges the government says are politically motivated and baseless.
Sudan's opposition parties have called for strikes, sit-ins and demonstrations to topple Bashir's government, throwing their weight behind recent anti-austerity protests, which have also involved calls for greater freedoms.
However, they have not yet sent their supporters out to the streets. (Reporting by Khalid Abdelaziz; Writing by Yara Bayoumy; Editing by Ralph Gowling)
http://www.swissinfo.ch/eng/news/international/Sudan_constitution_to_be_100_percent_Islamic:_Bashir.html?cid=33065086
---------
West African bloc urges 'war crimes' probe in north Mali
By: Romaric Ollo Hien
Office: OUAGADOUGOU
07/07/2012
West African presidents said at a crisis summit on Mali Saturday that the international war crimes...
West African presidents said at a crisis summit on Mali Saturday that the international war crimes court should probe abuses committed in the country's Islamist-held desert north.
The six leaders also urged Malian civil leaders to secure a national unity government that could address the crisis that has hit their country since a March 22 military coup accelerated a northern rebel advance.
At a conference in the Burkina Faso capital, the leaders also asked for an end to hostilities between all parties in Mali before the Ramadan Muslim month of fasting starts on July 20.
However, Mali's president and prime minister were not at the summit, northern representatives walked out, and supporters of the military coup that threw Mali into turmoil staged a counter demonstration in Bamako.
Mali, once a beacon of stability in west Africa, was thrown into chaos by the March 22 coup, which allowed ethnic Tuareg separatists and Al-Qaeda-linked Islamists to sweep across the north in a rapid offensive.
The Islamists have since chased the Tuareg out of key towns, imposed sharia law, and last week destroyed ancient Muslim shrines they deemed un-Islamic in the UN world heritage-listed desert city of Timbuktu.
The Economic Community of West African States regional body has sought to help restore political stability in Mali and offered to send an intervention force of 3,300 troops into the northern conflict zone.
The top ECOWAS mediator, Burkina Faso's President Blaise Compaore, told the meeting of politicians, religious and trade union leaders that a new government must "confront the terrorist peril in the north".
ECOWAS chairman Alassane Ouattara, the president of Ivory Coast, told the meeting -- also attended by leaders of Niger, Togo, Benin and Nigeria -- that "we cannot tolerate the partition of a brother country".
At the end of the summit, the leaders called for the International Criminal Court to investigate "war crimes" in northern Mali.
"They are asking the International Criminal Court to proceed with necessary investigations to identify those responsible for war crimes and to take the necessary action against them," a statement said.
Full Report at:
http://www.starafrica.com/en/news/detail-news/view/west-african-bloc-seeks-unity-government-241585.html
-----------
High turnout for Libyan election
By Borzou Daragahi in Tripoli
July 7, 2012
High quality global journalism requires investment. Please share this article with others using the link below, do not cut & paste the article. See our Ts&Cs and Copyright Policy for more detail. Email ftsales.support@ft.com to buy additional rights. http://www.ft.com/cms/s/0/b92fcd1e-c82f-11e1-b900-00144feabdc0.html#ixzz201jfTS3G
As polls closed in historic elections on Saturday, cheering Libyans flooded the capital's Martyrs' Square and fireworks lit up the night sky in a celebration of the country's transition from decades of dictatorial rule toward democracy.
Earlier, throngs of enthusiastic voters swarmed polling centres around Libya to take part in the country's first nationwide election since the downfall last year of Muammer Gaddafi. Counting of the votes began immediately, with preliminary results expected to trickle in an as early as Sunday.
International observers praised the transparency of the vote; one television station installed live webcams inside polling centres around the country and streamed the video in real time on air.
But, the voting was marred by violence and alleged voter intimidation in the country's south and east, where militants have tried to enforce a boycott campaign by opening fire on election workers, fire bombing polling centers and damaging election material.
In the capital, the mood was celebratory, ecstatic, as voters waiting patiently in long queues under a blistering north African summer sun for a chance to vote in the oil- and gas-rich country's poll for an elected parliament in 47 years.
Election centre volunteers cheerfully passed out bottled water and fruit juice boxes to waiting voters. Residents waved flags along streets, blared car horns, handed out sweets and sprayed rosewater on passers-by.
In historic Martyrs' Square, Tripoli residents gathered to sing the national anthem and recite the Fatiha, the opening passage of the Koran. The mood resembled a street party more than an major political event to elect a 200-seat General National Congress that will oversee the nation's affairs and possibly appoint a constituent assembly.
"This is a big holiday for Libya," said 20-year-old Ekram Abdullah, a student waiting in a long line of voters in the capital's Souk Joumeh district. "It's the first time we are able to determine our destiny."
Inside the courtyard of a central Tripoli voting centre, voters greeted each other joyfully as they sipped bottled water and sought shade. "Before we were suffocating because our only choice was the regime," said Hussein Tawfik, a 49-year-old businessman. "It's now an opportunity to have a say."
The mood in the east was somewhat grimmer. A day earlier, unknown gunmen shot at a helicopter carrying election workers near the eastern city of Benghazi, killing one employee of the nation's election commission. Militants enforced a 48-hour strike at eastern oil terminals, cutting Libya's oil exports by about 300,000 barrels a day, Reuters reported
On election day, there were reports of gunfire near polling stations in Benghazi and election centers being attacked. There were also reports of voter intimidation in the country's south, especially among Tabu tribesmen who were long victims of discrimination by the Gaddafi regime.
Full Report at:
http://www.ft.com/intl/cms/s/0/b92fcd1e-c82f-11e1-b900-00144feabdc0.html?ftcamp=published_links%2Frss%2Fworld%2Ffeed%2F%2Fproduct#axzz201iGmPnq
-----------
Ecowas urges 'war crimes' probe in North Mali
08 JUL 2012
West African presidents said at a crisis summit on Mali on Saturday that the international war crimes court should probe abuses committed in the country's Islamist-held desert north.
The six leaders also urged Malian civil leaders to secure a national unity government that could address the crisis that has hit their country since a March 22 military coup accelerated a northern rebel advance.
At a conference in the Burkina Faso capital, the leaders also asked for an end to hostilities between all parties in Mali before the Ramadan Muslim month of fasting starts on July 20.
However, Mali's president and prime minister were not at the summit, northern representatives walked out, and supporters of the military coup that threw Mali into turmoil staged a counter demonstration in Bamako.
Mali, once a beacon of stability in West Africa, was thrown into chaos by the March 22 coup, which allowed ethnic Tuareg separatists and al-Qaeda-linked Islamists to sweep across the north in a rapid offensive.
The Islamists have since chased the Tuareg out of key towns, imposed sharia law, and last week destroyed ancient Muslim shrines they deemed un-Islamic in the UN world heritage-listed desert city of Timbuktu.
The Economic Community of West African States regional body has sought to help restore political stability in Mali and offered to send an intervention force of 3 300 troops into the northern conflict zone.
'Terrorist peril'
The top Ecowas mediator, Burkina Faso's President Blaise Compaore, told the meeting of politicians, religious and trade union leaders that a new government must "confront the terrorist peril in the north".
Full Report at:
http://mg.co.za/article/2012-07-08-ecowas-urges-war-crimes-probe-in-north-mali
--------
India
Indian Muslims' Mushawarat delibrates on National and International issues
The meeting discussed a wide range of organisational, community, national and international issues: Haj Subsidy, Resettlement of Pandits in J&K, Militancy in J&K, Muslims in jails, Terrorism, Muslims of Gujarat, Communal Riots, 4.5% fiasco, Mishra and Article 341, Egypt
New Delhi, 7 July 2012: The Working Committee of the All India Muslim Majlis-e Mushawarat held its meeting here today. Chaired by the President, Dr Zafarul-Islam Khan, it was attended by Janab Muhammad Jaafar (Vice President), Janab Hafiz R.A. Chaudhary (Vice President), Janab Mohammad Sulaiman (General Secretary), Janab Ejaz Ahmed Aslam (General Secretary), Dr. Arshi Khan (General Secretary), Prof. Hakim Syed Zillur Rahman, Prof. Mateen Ahmad Siddiqui, Prof. S.M. Yahya, Janab Abdul Khaliq, Janab Syed Shahabuddin, Mrs. Nusrat Shervani, Janab Aaris Mohammad, Janab A.R. Shervani and Janab Shafi Madni (special invitee).
The meeting discussed a wide range of organisational, community, national and international issues. Particular attention was paid to the issue of random arrests to Muslim youths in the name of fighting terrorism. It was resolved to face this issue head on — on political and legal levels. The meeting okayed the preparation of a white paper on terrorism in order to put things in perspective and present a documented dossier to the authorities, media and human rights organisations at home and abroad about how Muslim youths are implicated and defamed in the name of fighting terror.
The meeting paid tributes and prayed for the souls of important personalities of the community which passed away recently, especially: HAFIZ MUHAMMAD Siddiq, an active member of Jamiatul Ulama-e Hind, former Congress M.P. and a former minster of U.P. died 13 March 2012; HASAN GAFOOR, former Police Commissioner of Mumbai, died 12 March; SYED SHAH JA'FAR MOHIUDDIN QADIRI, a religious scholar of Hyderabad, died in Florida (USA) on 22 March; IZHAR WANI, noted journalist of Kashmir, died in Srinagar on 5 April; MUHAMMAD ZAKIR ALI KHAN, originally of Rampur, noted litterateur, general secretary of AMU Old Boys Association, founder of Sir Syed University of Engineering & Technology, Karachi – died at Karachi on 8 February; AIMMM Vice President and President of West Bengal Unit of AIMMM, Maulana MUHAMMAD IRFANUL HASAINI, noted religious scholar and Unani physician of Kolkata died at Kolkata on 16 April at the age of 76 years (condolence meeting was held at the AIMMM central office on 26 April); SYED GHULAM AKBAR, former finance secretary of Jamat-e Islami Hind and member of the Jamaat's Markazi Majlis-e Shoora, died on 29 April at the age of 76; Justice MURTAZA HUSAIN, former judge of Allahabad High Court and former Lok Ayukt of U.P., died on 26 April at Lucknow; AHSAN RAZA KHAN, noted historian and a member of the Indian Council of Historical Research died at Shimla on 26 April at the age of 72 years; Prof. ABDUL HAQ SHUJA'AT ALI AZHARI, retired professor of JNU's Centre for Arabic Language & Studies, died at Gurgaon on 7 May; Dr. NAJMUS SALAM JALALI, physician, social worker and secretary of Zakat Foundation of India, died at Delhi on 26 May at the age of 58 years; Justice M.A. KHAN, former judge of Lucknow bench of Allahabad High Court and first Chief Information Commissioner of U.P. died on 14 June; Maulana MUHAMMAD YUSUF QASMI, noted religious scholar and calligrapher who took the art of calligraphy to soaring heights, died in Delhi on 10 June at the age of 83 years; Maulana AMINUDDIN SHUJAUDDIN, writer, journalist and teacher of English at Nadwatul Ulama, died at Lucknow on 7 June; ALLAMA SHAKIR
Full Report at:
http://www.milligazette.com/news/3910-Indian-Muslims-mushawarat-delibrates-on-national-and-international-issues
--------
Embrace education for progress, Muslims told
New Delhi, New Delhi,08 Jul 2012, (IANS) Muslim students and youths should go for higher education and develop character to face life's challenges, a senior Muslim religious leader said Sunday.
"The Muslim community is facing huge challenges. It is the duty of Muslim students and youths to equip themselves through various kinds of education and morality," Mufti Mohammad Mukarram Ahmad said.
The Shahi Imam of the 17th-century Fatehpuri Masjid in Old Delhi was addressing a gathering of Muslim student bodies.
The student organisations held a seminar here under the banner of the Federation of Islamic Youth Organisations.
The delegations from across the country discussed ways to empower Muslim youths in various fields and to develop leadership qualities.
"We have to show to the people through our words and deeds that we are a progressive, educated and peaceful community and can lead the nation," the Mufti said.
The convener of FIYO, Abidur Rahman, asked Muslim students and youths to battle illiteracy and immorality.
http://www.newstrackindia.com/newsdetails/2012/07/08/223--Embrace-education-for-progress-Muslims-told-.html
--------
Minority institutions cry foul
BANGALORE: TNN Jul 7, 2012, Minority institutions are not too happy with the Karnataka government's definition of a minority institution: it must have at least 75% students from that particular community to claim exemption from implementing 25% quota for the poor under the RTE Act.
"This violates Article 29, which says that there should be no denial of admission on the basis of caste and creed. The Supreme Court has empowered the government to implement RTE. They should focus on that rather than come up with new rules," said CR Mohammed Imtiaz, chairman, Minorities Educational Institutions' Management Federation.
Said Mansoor Ali Khan, member, board of directors, Delhi Public School: "This is an anti-minority definition and worth being challenged. Such a definition will discourage the minority communities from setting up institutions.''
Karnataka Unaided Schools Management Association (Kusma) secretary A Mariyappa said: "How do we establish which community is a minority? You can buy the minority status. We have received complaints about schools faking minority status to duck the RTE Act. Besides, the government is not clear on the schools which secured the minority status in the past 3-4 months." Other issues, like fee refund, remain unresolved.
The Karnataka State Private Schools Management Federation said the July 16 strike will turn the spotlight on many other drawbacks of the RTE Act. "We welcome the government's move to define minority institutions. We will meet the minister to decide the next course of action," its state organizing secretary T Shashi Kumar said.
http://articles.timesofindia.indiatimes.com/2012-07-07/bangalore/32577090_1_minority-institutions-minority-status-rte-act
--------
Indian FM provides evidence to Khar on anti-India terror activities
Sachin Parashar, TNN
NEW DELHI: Jul 8, 2012, India on Sunday provided more evidence to Pakistan about terrorist activities currently taking place on Pakistani soil against India.
Foreign minister S M Krishna gave this evidence, based mostly on disclosures made by Mumbai attacks accused Abu Jundal, to his counterpart Hina Rabbani Khar in a bilateral meeting in Tokyo on the sidelines of the Tokyo Conference on Afghanistan.
Krishna conveyed to Khar that India had now even more reasons to believe that forces inimical to India's interests were being encouraged by certain Pakistan state agencies.
Khar said Pakistan did not believe that its agencies were involved in perpetrating terror strikes against India, something which her foreign secretary Jalil Jilani too had stated in India last week.
"India has provided additional concrete evidence about anti-India activities being carried out on Pakistani soil and about Hafiz Saeed. Krishna told Khar that Pakistan must cooperate with India on such criminal matters," said a source.
Krishna asked his Pakistani counterpart Hina Rabbani Khar to ensure early release and repatriation of Sarabjit Singh, who is serving death sentence in Pakistan, on humanitarian grounds. This is the second time in less than a week that India has taken up the issue with Pakistan.
Earlier this week, foreign secretary Ranjan Mathai made the same appeal before his Pakistan counterpart Jalil Jilani in the delegation level talks in Delhi.
In his meeting with Khar in Tokyo, on the sidelines of the Tokyo Conference on Afghanistan, Krishna also thanked Pakistan for releasing another prisoner Surjeet Singh who had served his sentence.
The pending visa agreement to facilitate trade between the 2 countries was also taken up.
http://timesofindia.indiatimes.com/india/Krishna-provides-evidence-to-Khar-on-anti-India-terror-activities/articleshow/14744525.cms?
---------
Schisms appear in Cong's minority department
Sachin Sharma, TNN
VADODARA: Jul 6, 2012, Congress might be seeing the ensuing assembly polls as an opportunity to loosen the stranglehold of BJP in the state, but schisms seem to have clearly emerged among leaders of the minority community that is a key to the party's success following the minority convention at Ahmedabad on Sunday. The differences have their roots in the fact that veteran party leader Irshad Baig Mirza and his supporters were overlooked at the event.
The convention was organised to propagate the steps taken by the UPA for the minorities and also discuss issues pertaining to them. But it was clearly aimed at galvanising cadres for the ensuing polls. It seems to have ended up doing something quite contrary to the plans.
Mirza's name was not included in the card and it also came to light that some of his supporters too were not invited for the event. The issue is now being widely discussed amongst a section of minority leaders from the party across the state who have allegiance to Mirza, an All India Congress Committee secretary and a former Gujarat Pradesh Congress Committee (GPCC) general secretary.
On Tuesday night, Mirza was in Godhra and leaders of the minority community from the town close to him huddled into a meeting. Sources in the Congress at Godhra said that Mirza's supporters wanted to start a campaign against the injustice meted out to him. Mirza, however, denied that he was there for the meeting and said that he had gone there for work related to a mango plantation at his farm.
Prominent minority leader from Godhra Rafiq Tijoriwala, who is close to Mirza, said that a section of leaders were clearly unhappy as Mirza and those who sympathise him were ignored. He added that some minority leaders in Godhra were also planning to hold a minority convention and invite Mirza there.
When asked about the matter, Mirza said that it was an internal issue and he had raised it within the party. "I have informed the GPCC officials about what transpired and am awaiting a reply," he said.
http://articles.timesofindia.indiatimes.com/2012-07-06/vadodara/32565093_1_minority-leaders-minority-community-gpcc
--------
Hand over terrorists to build trust, Veteran BJP leader urges Pakistan
IANS
NEW DELHI:Jul 8, 2012, Veteran BJP leader LK Advani said Sunday Pakistan's handing over wanted terrorists and outlaws will drastically improve relations with India.
In the latest post on his blog, Advani mentioned his meeting with Pakistan foreign secretary Jalil Abbas Jilani and said Pakistan's providing a safe haven to terrorists was the biggest deterrent in the bilateral relations.
"...An even more distressing aspect of continuing Indo-Pak tension on the issue of terrorism is the safe haven Pakistan still provides to declared terrorists and absconders like Dawood Ibrahim," he said.
Citing the example of Saudi Arabia handing over Abu Jundal to India, Advani said: "If taking a cue from Saudi Arabia, Pakistan can hand over Dawood Ibrahim to India, it can overnight change public perception in India about Pakistan."
On his meeting with Jilani, Advani said he had told the visiting Pakistani diplomat that there "are numerous terrorist outfits active in Pakistan. There is no denying that lately more people are dying in Pakistan at the hands of terrorists than they are dying in India".
http://timesofindia.indiatimes.com/india/Hand-over-terrorists-to-build-trust-Advani-urges-Pakistan/articleshow/14747365.cms
--------
Pakistan
Pakistan drone attack kills 12 suspected militants
Islamabad - 7/8/12,A US drone attack has killed at least 12 suspected militants in Pakistan's north-western tribal area, Pakistani security officials say.
They say drones fired five missiles at a village east of Miranshah, the main town in North Waziristan.
The CIA is reported to have stepped up drone attacks in the area recently.
Meanwhile, in an attack in the south-east of the country, gunmen on motorcycles opened fire on a bus, killing 18 people.
According to AFP news agency, the drones targeted the village of Datta Khel, which is considered to be a stronghold of Taliban commander Hafiz Gul Bahadur.
Six people died in an attack in the same area on Sunday, the news agency reports.
It is the first drone attack since Islamabad and Washington reached a deal to re-open transit routes into Afghanistan, ending a seven-month long dispute.
Lorries crossed the border on Thursday after an apology by the US for air strikes that killed 24 Pakistani troops in November.
Drone attacks are a continuing point of contention between the US and the Pakistani government, which says they kill civilians and violate its sovereignty.
In a separate attack, 18 people were killed when armed men attacked a bus in a remote town in Baluchistan province.
The attack took place when the bus, which was travelling to Iran, stopped at a shop in the Kech area, police told Reuters news agency.
Several armed groups operate in the province, one of the poorest in the country.
http://www.portalangop.co.ao/motix/en_us/noticias/internacional/2012/6/27/Pakistan-drone-attack-kills-suspected-militants,52ed6062-5a1d-425c-acaa-fd77b20fe27d.html
--------
Pakistani parties begin long-march against reopening of NATO supply line
English.news.cn
ISLAMABAD, 2012-07-08, (Xinhua) -- An alliance of dozens of religio- political parties on Sunday started a long-march against the government's decision to restore supply routes for NATO forces in Afghanistan.
Hundreds of activities of major Islamic groups and some political parties are taking part in the march that will end in Islamabad on Monday after passing through several major cities in eastern Punjab province.
Central leaders of Defence of Pakistan Council (DPC), the amalgamation of religious and political groups, are leading a long motorcade.
The march started from a mosque in Lahore, the capital of Punjab province after several leaders spoke to the supporters. They said the DPC will continue the protest against the decision of reopening NATO supply line.
Pakistan announced the reopening of NATO supply line after a nearly seven-month closure over the killing of 24 soldiers in a NATO airstrike in November. The supply line was unblocked following apology by the U.S. Secretary of State Hillary Clinton over the loss of Pakistani security personnel.
Interior Advisor Rehman Malik said the government will not intervene if the marchers remain peaceful, but warned that violators of law will be dealt with according to the law.
The marchers will stay in the city of Gujrat on the main road between Lahore and Islamabad and resume journey on Monday morning. They would reach Islamabad Monday evening, organizers said.
Central leaders of the DPC will address gatherings on the main road between Lahore and Islamabad, which extends for about 280 kilometers in length.
Chief of the DPC Maulana Samiul Haq told the marchers that the event will be a peaceful demonstration to oppose the reopening of NATO supply line. He renewed appeal to the people to join the protest.
Leader of Jamaat-e-Islami party, Munawar Hasan, criticized the government's decision to allow its routes for NATO trucks, saying that it will involve the country in Afghan war.
He said the government violated the parliamentary recommendations which had called for imposition of tax on NATO trucks but the government opened the line without levying any transit fee on NATO containers.
Another leader of the alliance, Hafiz Saeed, regretted that the parliament in new guidelines for relationship with the United States in April had demanded the latter to halt drone strikes but the American attacks are still continuing.
He recalled that the U.S. spy aircraft again rained missiles into North Waziristan tribal region on Friday and killed 21 people.
The government has put in place security measures for the march in view of the current wave of terrorism in Pakistan. Over a thousand policemen have been deployed along the road of the march in Lahore, reported local media.
http://news.xinhuanet.com/english/world/2012-07/08/c_131702121.htm
---------
Brutal Sectarian Violence against Shias in Pakistan
Karachi: July 7, 2012. (PCP) The Chairman Pakistan Secular Forum Dilshad Bhutto has strongly condemned the massacre of Shia in Pakistan and said federal, provincial Govt and Police is often failing to protect the members of religious minorities including Ahmadias, Shias, Christians and Hindus.
In his press statement Dilshad Bhutto said Extremist Militant groups are carrying out suicide bombings and targeted killings across the country. The Taliban and affiliated groups are increasingly targeting civilians and public spaces, including Buses marketplaces, hospitals and religious processions on the way. It is a recognized fact that a state's police and law enforcement agencies play a critical role as the first line of defense against the threats of terrorism and insurgencies.
Although Shias are a minority in the country, Pakistan holds the second largest Shia community after Iran in terms of numbers. The total Shia population in Pakistan is approximately 50 million and may be as high as 60 million.
Globally, Shia Islam represents 10-20% of the total Muslims population, while the remaining 90% or nine-tenths practice Sunni Islam.
Attacks in Hazara, Karachi, Peshawar, Quetta and the north-west seem to be manifestations of the bitter split between Sunnis and Shias.
In most cases, no-one claims responsibility for such attacks. The PSF Chairman said Pakistan's ISI-backed Punjabi judiciary once again demonstrated its institutional hatred of Shia Muslims today by releasing the notorious leader of the Jihadi-sectarian organization Malik Ishaq, the Lashkar-e-Jhangvi (also known as the Punjabi Taliban or Sipah-e-Sahaba).
Punjabi judges, backed by Punjabi generals, released a Punjabi terrorist to enable further massacres of Shias, Ahmadis, Christians and other targeted communities and they all banned organizations founded Diffa-e- Council Pakistan, Chief Patron is Notorious Former Intelligence Chief Retd Gen Hameed Gul.
The Chairman PSF Dilshad Bhutto has demanded from Govt Pakistan to take strict action against such Religious Militant organizations which are involve in genocide of Shias and are also involve in all kind of Sectarian Violence in Pakistan
http://www.pakistanchristianpost.com/headlinenewsd.php?hnewsid=3611
---------
Pakistan smugglers caught with ancient Buddhist artefacts
AFP
July 08, 2012
POLICE in Karachi have seized dozens more stolen ancient artefacts dating from the Gandhara civilisation.
The catch came thanks to leads obtained from those arrested in a similar raid the day before, officials said.
The antiquities had been illegally dug from the country's restive northwest where Pakistan's army is battling against Islamist militants.
The latest raid on a warehouse in the eastern Ibrahim Hyderi neighbourhood unearthed two large boxes stuffed with ancient Gandhara art.
The haul included statues of Buddha, life-sized idols, bronze artefacts, pottery and decorative plaques, Qasim Ali Qasim, director of Sindh province archaeology department, said.
On Friday, the police intercepted a flatbed truck in Karachi and found similar antiquities from the 2000-year-old civilisation hidden under plastic and wooden items.
Senior police official Latif Siddiqui said the driver and cleaner of the truck who were arrested on Friday gave a lead to the warehouse which helped recover more artefacts.
"We have inventorised the antiquities that we had found from the truck on Friday, which are more than 300," Mr Siddiqui said.
"We have yet to inventorise the antiquities we have seized today, which will make the number even more staggering."
Another senior police official, Shahid Hayat, said, "The artefacts include two large statues which we are so heavy that we are having problems moving them with a lifter."
"We are investigating whether the smuggling of the artefacts is part of an international ring of smugglers," he said.
Mr Qasim said it was one of the biggest seizure of such precious antiquities in the country's history.
Mr Qasim had earlier said he believed the items had been dug up in Taliban-infested northwest Pakistan and brought to Karachi a piece or two at a time, ready for dispatch to Europe overland via Afghanistan and Central Asia.
"The thieves and mafias involved in this business dig in the northwest, which is filled with Gandhara sites with little control by the authorities," Mr Qasim had said.
"They dug up ancient pieces, accumulated them in Karachi and then wanted to send them to Afghanistan in the garb of a NATO vehicle when they saw Pakistan has reopened the route."
A security official said the seizure showed an organised mafia was at work to deplete the country of its rich past.
"They must be very influential and well-organised criminals and we need to launch a thorough search to catch them," he said.
Gandhara was a Buddhist civilisation that flourished around the modern-day city of Peshawar and in parts of eastern Afghanistan.
http://www.couriermail.com.au/news/world/smugglers-lead-police-to-ancient-loot/story-fnd12peo-1226420097121
-------
Pakistan Islamists march against NATO supply routes
(AFP)
LAHORE, Pakistan, July 8, 2012 — Pakistani Islamists who oppose their country's anti-terror alliance with Washington began Sunday a "long march" to Islamabad to protest over the reopening of NATO supply routes to Afghanistan.
Thousands of people joined a convoy of buses, trucks and cars, many carrying the black and white striped flags of the Defence of Pakistan coalition, on the 275-kilometre (170-mile) journey from the eastern city of Lahore to Islamabad.
Pakistan reopened overland routes to NATO convoys on Tuesday after closing them in protest at a US air raid that killed 24 Pakistani soldiers in November.
"Some 25,000 people have joined us at the start of (the) long march and many more would join on the way, while we have 3,000 people with us who are performing security duties," the organisers' spokesman Yahya Mujahid told AFP.
Police, however, estimated up to 8,000 people were taking part.
Full Report at:
http://www.google.com/hostednews/afp/article/ALeqM5hR0KNLzFN__EaW9HpEoJbWDGrsFg?docId=CNG.b1cf3689ff33faf1e42d872b98d5a8c3.771
--------
14 killed as vehicle hits landmine in southwest Pakistan
TNN
ISLAMABAD: Jul 8, 2012, Fourteen people were killed and seven others injured when a vehicle hit a landmine in a remote area of Balochistan province in southwest Pakistan on Sunday, officials said.
The incident occurred at Toba Achakzai area of Chaman, a town near the border with Afghanistan, security officials told state-run media.
Three women and two children were among the dead. The injured were taken to the Civil Hospital in Chaman.
No group claimed responsibility for the incident. President Asif Ali Zardari and Prime Minister Raja Pervez Ashraf condemned the incident.
Ashraf directed provincial authorities to take steps to prevent such incidents in future.
http://timesofindia.indiatimes.com/world/pakistan/14-killed-as-vehicle-hits-landmine-in-southwest-Pakistan/articleshow/14745562.cms
--------
US envoy concerned over Pak-Iran pipeline
QUETTA: July 08, 2012,US Ambassador Cameron Munter has reiterated that Washington is concerned over the Pakistan-Iran gas pipeline deal.
He expressed these views during his farewell visit to Balochistan, while briefly chatting with the media in Gadani, a tiny coastal township, on Saturday. He also assured that the US would help Pakistan to meet its energy crisis.
Munter defended the CIA drone attacks in the tribal belt saying that they helped eliminate terrorists, who were the common enemy of the US and Pakistan.
He said the US was committed to obliterating safe sanctuaries of militants, who attacked both Pakistanis and Afghan people.
US drones fired at least 10 missiles in North Waziristan Agency on Friday night that killed at least 21 people. The incident took place a couple of days after the NATO supplies had reopened.
Munter claimed that the drone strikes only targeted militant safe havens in the Pak-Afghan border area. However, independent sources have reported that these strikes often kill civilians and prove to be counter-productive as they provide the militants with an opportunity to recruit local people.
He said that Pakistan conveyed a "positive" message by restoring the NATO supply Route, a decision lauded by the entire world.
Pakistan remains silent over the latest strikes despite that its parliament had categorically demanded an end to the US attacks earlier.
Munter, who was accompanied by his wife Dr Marilyn Wyatt and US Consul General in Karachi William Martin, met with fishermen at the jetty in Gadani and later visited the ship breaking yards where he was briefed on the ship breaking industry.
The ambassador also spoke with the labourers, who briefed him on their working conditions. staff report/online
http://www.dailytimes.com.pk/default.asp?page=2012%5C07%5C08%5Cstory_8-7-2012_pg7_22
----------
US urged to grant duty-free access to Pakistani merchandise
Staff Report
LAHORE:July 08, 2012, US administration has been urged to take urgent and immediate measures to grant duty-free access to Pakistani merchandise that would ultimately help overcome its economic woes.
Lahore Chamber of Commerce and Industry (LCCI), President Irfan Qaiser Sheikh on Saturday said Pakistan needs extra-ordinary cooperation from the United States as it was a frontline ally with the United States while facing the brunt of war on terror even today when the rest of the world is on the path to progress and prosperity.
"Economic stability of Pakistan through prompt direct market access to US is must economic viability of this country." Market access will help rehabilitate and reconstruct the totally damaged basic industrial infrastructure besides generating jobs of millions of jobless people.
Besides this there exists a vast scope for US investors to make investment in several sectors including power, textile, food, livestock, diary and petroleum etc.
The US administration should convince the potential investors to put their money in joint ventures with Pakistanis.
If the United States comes forward at this point in time when the country is passing through unprecedented challenging times, the trade, economic and cultural ties between the two countries would flourish further, he added.
LCCI was putting in its best efforts for promotion of trade and resultant economic prosperity. It goes without saying that America tops among the major trading partners of Pakistan and there are many areas including political, social, economic, defence and etc, in which both countries collaborate and cooperate with each other.
A significant volume of Pakistan's exports finds their way to US markets and likewise Pakistan imports fairly large amount of goods from America. He called for US help on energy issue that has contributed to the extent in aggravating the economic situation in Pakistan.
He said hundreds and thousands of industrial workers were without jobs in because of ongoing energy crisis.
http://www.dailytimes.com.pk/default.asp?page=2012%5C07%5C08%5Cstory_8-7-2012_pg5_10
---------
U.S., Pakistan ties still raise tough questions - Clinton
By Arshad Mohammed
TOKYO | Jul 8, 2012
(Reuters) - The U.S.-Pakistani relationship remains challenging for both despite the reopening of Pakistani land routes to resupply U.S. troops in Afghanistan, U.S. Secretary of State Hillary Clinton said on Sunday.
Clinton last week apologised for a November NATO air strike that killed 24 Pakistani soldiers and Islamabad responded by reopening the overland supply routes that are crucial to the U.S.-led war in Afghanistan.
The supply route deal removed one headache, but ties are likely to remain strained by other differences. These include Pakistan's opposition to U.S. drone strikes aimed at militants on its territory and Washington's allegations that Islamabad condones, or even assists, anti-American militants.
Speaking after she met Pakistan Foreign Minister Hina Rabbani Khar, Clinton said both were encouraged they had "put the recent difficulties behind us" but she acknowledged the difficulties in the relationship in blunt terms.
"I have said many times that this is a challenging but essential relationship. It remains so. And I have no reason to believe it will not continue to raise hard questions for us both," Clinton told a news conference in Tokyo, where both officials attended an Afghan donors' conference.
Full Report at:
http://in.reuters.com/article/2012/07/08/pakistan-usa-idINDEE86703H20120708
-------
KSE increases 509 points on resumption of NATO supply
Staff Report
KARACHI, July 08, 2012, The Karachi stock market witnessed a bullish trading week with a gain of 3.70 percent as breakthrough in Pakistan and US deadlock on NATO supply issue and lower-than-expected inflation numbers propelled investors to go for scrips across-the-board.
Analysts said other reasons included robust cement despatches and higher international oil prices.
The Karachi Stock Exchange (KSE) 100-share index gained 509 points or 3.70 percent to close at 14,310.18 points as against 13,801.41 points of the previous week.
"Breakthrough in Pakistan and US deadlock and lower-than-expected inflation numbers provided impetus to the market," said JS Sec analyst Furqan Ayub. "Moreover, foreigners were net buyers of $9.40 million during the week."
US Secretary of State Hillary Clinton's issued a statement, which was accepted as an apology by Pakistan for the Salala tragedy, he said and added that consequently, the Defence Committee of the Cabinet reopened the NATO supply routes. This 'newly found' understanding between the two countries is also expected to lead to the release of the Coalition Support Fund.
According to Pakistan Bureau of Statistics (PBS), consumer price index (CPI) clocked in at 11.30 percent for the month of June 2012 as against 12.30 percent last month. The cumulative CPI figure for FY 2012 stood at 11 percent versus the projected target of 11-12 percent.
All Pakistan Cement Manufacturer Association (APCMA) reported cement volumes in June 2012 stood at 3.03 million tonnes, rising by 10 percent on yearly basis and 5.0 percent on monthly basis. For FY 2012 cement sales have posted a growth of 4.0 percent on yearly basis to 32.5 million tonnes.
Higher-than-expected cement numbers in June 2012 triggered a rally in Dera Ghazi Khan Cement, as the stock outperformed the market by 4.8 percent. The rise in international oil prices also stirred interest in the E&P sector leading to an outperformance of Oil and Gas Development Authority and Pakistan Oilfields Ltd by 2.0 percent and 0.3 percent, respectively.
The turnover increased 27.84 percent and traded 94.66 million shares as compared to the previous week's 74.04 million shares
"On the back of ease in tensions between Pakistan and US relationship and resumption of NATO supplies, the market increased by 508 points during the outgoing week," said Topline Sec Equity Dealer Sales Mohammad Rizwan. "Moreover, rebound in the international market and foreign inflow of $9.3 million during the week also contributed to this upsurge in the market."
http://www.dailytimes.com.pk/default.asp?page=2012%5C07%5C08%5Cstory_8-7-2012_pg5_15
----------
South Asia
Afghan donors offer $16B in development aid
By ERIC TALMADGE
Associated Press
International donors offered $16 billion in development aid for Afghanistan on Sunday to show there will not be a mass exodus from the country after most foreign troops pull out in two years. They stressed the aid will be closely monitored to assure it is not squandered through corruption or mismanagement.
TOKYO — July 7, 2012 , International donors offered $16 billion in development aid for Afghanistan on Sunday to show there will not be a mass exodus from the country after most foreign troops pull out in two years. They stressed the aid will be closely monitored to assure it is not squandered through corruption or mismanagement.
Donors from about 70 countries and organizations, at a one-day conference in Tokyo, set a baseline for aid in the crucial period through and beyond 2014, when most NATO-led foreign combat troops will leave and the country will assume responsibility for most of its own security.
Afghan President Hamid Karzai said the country faces a hard road ahead, but vowed to improve security and fight corruption as it moves toward a more self-reliant future.
The $16 billion through 2015 is near what the World Bank believes Afghanistan needs to close the gap between how much money it can afford and how much it needs to sustain its transition. The Japanese hosts had said before the conference that they hoped to get pledges of nearly $4 billion per year, so the result was roughly what they had expected.
A follow-up meeting is to be held in Britain in 2014.
"I am encouraged that the member states are willing to mobilize $16 billion," said U.N. Secretary-General Ban Ki-moon. "Afghanistan has made important progress, but the gains are fragile."
Full Report at:
http://seattletimes.nwsource.com/html/nationworld/2018628194_apasafghanistanaid.html
----------
Southeast Asia
Muslim countries cannot remain as consumers – Mahathir
LANGKAWI (July 8, 2012): Muslim countries should not remain as consumers but should involve in real business such as production of goods and then sell the products to the world market.
Former prime minister Tun Dr Mahathir Mohamad said over the years, Muslim countries had become users and buying products from others such as the western countries.
He said producing goods and providing services such as hotels and consultations were the real business which could contribute more profits to Muslim countries.
"Selling money and buying shares are not real business. We should go into real business, producing things to sell to the market."
Dr Mahathir said this in his keynote address at the opening of the First Convention of the World Association of Business Schools in Islamic Countries (WAiBS) and The Fifth Foundation of Islamic Finance Conference (FIFC) 2012.
He said business schools in Muslim countries needed to teach new ways in doing business to their students and encourage them to go for goods production.
He said they must also acquire and learn how to utilise high technology in order to do profitable business.
"Today, we are in global world; everything is easy. (If) we do not have the technology, we can copy first, then improve and develop the products...we can learn over time and we can become like Japan.
"Japan in the beginning copied technology from the west to produce their own products but over the years, the Japanese learned and improved and have become producers of their own technology and sell them to the world.
"It will be unfortunate if Muslims do not take advantage of technological advances...there are ways and means of communication that are available to us," he said.
Representatives from 32 countries are participating in the WAiBS and FIFC. WAiBS is held from today until tomorrow and FIFC from tomorrow until Wednesday. – Bernama
http://www.thesundaily.my/news/428257
--------
North America
Islam teaches followers to stand up for what's right
Jul. 7, 2012
Should our love for country blind us to what's right and what's wrong?
In the primary election for the Republican presidential candidate, the loyalty of Muslims was a big topic. Every candidate was trying to outrun others regarding the patriotism of Muslims living in the U.S. -- whether we Muslims can be trusted, whether we are loyal to this country or whether our loyalties lie elsewhere. We are always viewed with suspicion, and this is not acceptable. We have a duty set out clearly by what Islam has to say about patriotism, so we can remove unfounded fears and phobias about our presence here in the United States.
But first we must question those who question our patriotism. There's always a reason why people frame such questions. What is their agenda? Before we give a hasty answer, we must understand why the question is being asked.
The English poet, Ben Johnson, wrote: "Patriotism is the last refuge of the scoundrel." By this he meant that when leaders no longer command any moral authority, when they can no longer justify their views by rational argument, by moral and ethical criteria, they resort to rousing calls for patriotism. It is sometimes a last desperate attempt to justify immoral and unethical actions by making a crude appeal to the emotions of the public.
The Holy Quran urges Muslims to "enjoin what is right and forbid what is wrong" and it describes the Believers as "...the best of people, those who enjoin what is right and forbid what is wrong, and who have faith in Allah." (Quran 3:110)
This has nothing to do with emotions, nationality, race, political party or whether you are rich or poor, Christian, Jewish or Muslim. It's a simple matter of right and wrong. Which side are you on, the side of good or evil? Do you work for God or against God? In the U.S. there is a motto: "One Nation under God."
Full Report at:
Arshad Ahmad is president of the Islamic Society of Mansfield.
http://www.mansfieldnewsjournal.com/article/20120707/LIFESTYLE/207070321
--------
Obama invites Egypt's Islamist leader to US
Reuters
CAIRO: Jul 8, 2012, President Barack Obama has invited Egypt's newly elected Islamist president, Mohamed Morsi, to visit the United States in September, an Egyptian official said on Sunday, reflecting the new ties Washington is cultivating with the region's Islamists.
"President Obama extended an invitation to President Morsi to visit the United States when he attends the UN General Assembly in September," Egyptian aide, Yasser Ali, said after Morsi met US Deputy Secretary of State William Burns.
Burns did not mention the invitation at a news conference earlier.
Washington, long wary of Islamists and an ally of ousted President Hosni Mubarak, shifted policy last year to open formal contacts with the Muslim Brotherhood, the group behind Morsi's win. Morsi formally resigned from the group when he won the presidency.
http://timesofindia.indiatimes.com/world/us/Obama-invites-Egypts-Islamist-leader-to-US/articleshow/14748325.cms
-------
Islam is SD's fastest growing religion
By Malt Clark, July 7, 2012
Number of Muslims in county grew 179 percent during 2000s
Islam was the fastest growing religious group in San Diego County between 2000 and 2010, according to the recently released 2010 U.S. Religion Census.
During the decade, the county's Muslim population grew by 179 percent from 7,878 adherents to 21,994, according to estimates from the survey of the Association of Statisticians of American Religious Bodies. Islam is now the seventh-largest religion in the county, the survey found.
Only one other group grew more here, in overall numbers. The county's Mormon community grew by 25,227 followers, an increase of 55 percent, making it the third largest church in the county.
About one quarter of the county's population is Catholic, making it the most popular religion despite the loss of 28,083 followers or 3.4 percent of its fellowship during the decade. The county had 801,850 Catholics in 2010, ahead of a religious group reported by the survey for the first time this year, a grouping of 148,930 non-denominational Christians which ranked second.
The growth of Islam here is unique among California's largest counties, according to the report. Both as a percentage and overall number, San Diego County's Muslim population increase was nearly double that of any of the state's 10 largest counties, according to the survey.
Islamic Centre of San Diego Imam AbdelJalil Mezgouri attributed the growth of the county's Muslim population to immigration, especially among Somalian, Iraqi, Afghani and Bosnian refugees, and to an increase in births and Muslim conversions. He said the growth, which mirrors a national trend, has brought new challenges to the county's Muslim community, but has also brought more understanding of Islam to the county as a whole.
"Of course, as we say there is no gain without pain," Mezgouri said. "The culture is becoming very, very diverse and also some of them have the challenge of adapting with the new place and the language, especially."
Cabdriver Mohammed Abdi came to the U.S. from Kenya in 2005, following his brothers and other relatives who came earlier seeking economic opportunities. He said becoming an American Muslim was a challenge at first, as he struggled to attend Friday prayers regularly. To avoid missing out three weeks in a row, which is shunned by Islam, he would sneak out of work to attend Mosque. He said being in America has ultimately strengthened his faith in Islam.
Full Report at:
http://www.utsandiego.com/news/2012/jul/07/islam-san-diego-county-fastest-growing-religion/?page=2#article
---------
Europe
Oasis Crescent opens for Islamic funds business in London
By Robin Amlôt, 08, July 2012
Oasis Crescent United Kingdom, a subsidiary of South African firm Oasis Crescent Global Group Holdings opened for business in London on 30 June 2012. The company had taken offices in Knightsbridge in March and its unit Oasis Crescent Advisory Services (UK) Ltd had obtained its license to provide financial services advice from Financial Services Authority in May.
Adam Ebrahim, founder, Chief Executive Officer/Chief Investment Officer, Oasis Crescent
The company will advise on both retail and institutional investment products through Oasis Crescent Advisory Services UK. Oasis Crescent UK will provide Shari'ah-compliant investment products and services.
Adam Ebrahim, Founder and CEO/CIO of Oasis Crescent, said, "We are delighted to finally launch our UK business and make our funds and products available to the UK's Muslim investors. This represents an exciting time for us and the UK Muslims.
"We genuinely feel the current needs are being undersupplied and Oasis Crescent sees great potential in offering tailored products and services for this market.
"The current size of the Islamic investment market in the UK is under GBP 1 billion and has the potential to be between GBP 120-160 billion. There is massive demand and Oasis Crescent sees the opportunity to meet this demand through providing its products directly to the UK Muslims."
Oasis Crescent's Shari'ah Supervisory Committee consists of Shaykh Nizam Yaqoobi, Professor Daud Bakar and Shaykh Yusuf De Lorenzo.
http://www.cpifinancial.net/news/post/14781/oasis-crescent-opens-for-islamic-funds-business-in-london
----------
BA pilot, Jamaluddin sacked after 'terror' arrest loses appeal, Arrested
By MARTIN DELGADO
7 July 2012
A British Airways pilot sacked after he was arrested over an alleged terrorist plot involving an aircraft has lost his employment tribunal case against the airline.
Samir Jamaluddin, who flew Boeing 747s, was judged a security risk after he was questioned by Scotland Yard counter-terrorism officers in 2007.
No charges were brought and the matter was eventually dropped.
His airside pass was withdrawn, effectively ending his ten-year career as a pilot, and he was later dismissed.
Mr Jamaluddin, who was born in Surrey and is a practising Muslim of Indian descent, accused BA of racial and religious discrimination, victimisation and unfair dismissal.
In a judgment last week, the tribunal at Havant, Hampshire, ruled that BA had neither discriminated against him nor acted unlawfully.
But it also said there was no evidence of wrongdoing or misconduct by Mr Jamaluddin, who had done his job with 'passion and pride', and said BA's actions had had a 'catastrophic effect' on his career.
The pilot was arrested after police allegedly uncovered links between him and two businessmen who had come to the attention of the security services when they booked flying lessons.
None of the arrests resulted in convictions, but after conducting two inquiries, BA concluded that Mr Jamaluddin was in a 'position to cause considerable harm' and should not be allowed to fly again.
But Mr Jamaluddin claimed that the decision was taken against a background of post-9/11 paranoia.
BA said: 'We are pleased that the tribunal has found that we did not discriminate or act unlawfully in any way.'
Mr Jamaluddin's lawyers did not respond to a request for comment.
http://www.dailymail.co.uk/news/article-2170314/BA-pilot-sacked-terror-arrest-loses-appeal-claimed-discrimination-unfair-dismissal.html?ito=feeds-newsxml
-------
Arab World
Syria armed forces hold 'large-scale' exercises
8 July 2012
The Syrian armed forces have been conducting "large-scale" manoeuvres to test their "combat capability and readiness", Syrian state media report.
The exercises showed Syria was able "to defend [its] shores against any possible aggression", according to state-run news agency Sana.
Tensions along the border with Turkey have been raised after Syria shot down a Turkish fighter jet last month.
Meanwhile, UN envoy to Syria Kofi Annan is expected in Damascus on Monday.
On Saturday Mr Annan said his six-point peace plan for Syria had so far "failed", in comments to French newspaper Le Monde.
Live ammunition
Syrian Defence Minister Gen Dawoud Rajha was one of several high-ranking officers attending the manoeuvres, according to a report on Syrian TV.
"Our Navy forces started to conduct an operational tactical manoeuvre with live ammunition, during which naval and coastal rockets were fired," the report added.
The exercises were part of a training plan which involves manoeuvres "carried out over several days", Sana said.
Some in the Syrian opposition have called for foreign military intervention to unseat the government of President Bashar al-Assad.
Last week Turkey scrambled six F-16 fighter jets near its border with Syria after Syrian helicopters came close to the border.
Also last week, Turkey said it had begun deploying rocket launchers and anti-aircraft guns along the border in response to the downing of its F-4 Phantom jet on 22 June.
Syria said the Turkish F-4 was shot down by air defence fire inside its airspace.
Meanwhile, violence continued in Syria on Sunday with 11 people reported dead, according to the Local Co-ordination Committees (LCC), a network of activists inside Syria.
Three of the dead were defected soldiers, the LCC said.
http://www.bbc.co.uk/news/world-middle-east-18761264
--------
Mideast Asia
Israeli PM Netanyahu's party backs conscription law
8 July 2012
Israeli PM Benjamin Netanyahu's party has unanimously approved a plan to end exemptions from conscription for ultra-Orthodox Jews and Arab Israelis.
The move by the Likud party means the coalition government can now move towards drafting a new law.
Thousands of people rallied in Tel Aviv on Saturday, saying all Israelis must share the burden of military service.
But some of Mr Netanyahu's coalition partners threatened to pull out if the exemptions ended.
Military service is compulsory for most Israelis over the age of 18, with men serving three years and women two.
'Positive incentives'
Ultra-Orthodox Jews say military service is against their beliefs
The Likud party backed the plan during its meeting in Jerusalem on Sunday.
Mr Netanyahu earlier urged the party to approve the proposal, saying that "everyone must bear the burden".
"We will provide positive incentives to those who serve and negative incentives to draft dodgers," the prime minister said.
Mr Netanyahu's main coalition partner, Kadima, earlier threatened to leave the coalition unless the changes were approved.
But other coalition partners representing ultra-Orthodox Jews made opposite threats, squeezing Mr Netanyahu into a tight political corner.
After Sunday's vote, the prime minister is reported to have agreed with the Kadima leader, Shaul Mofaz, to form a panel to draft the new law.
In February, Israel's Supreme Court ruled that the so-called Tal Law was unconstitutional and set an ultimatum for a revised law to be brought in by August.
One of the proposals on the table envisages cutting the exemptions from 50,000 to 1,500 by 2016. It would also triple the number of Arab Israelis who would be conscripted.
But Sunday's decision by Likud will not solve Mr Netanyahu's dilemma or calm the increasingly raucous divide between ultra-Orthodox Jews and many of their fellow citizens, the BBC's Sebastian Usher says.
http://www.bbc.co.uk/news/world-middle-east-18759819
------
URL: https://newageislam.com/islamic-world-news/new-age-islam-news-bureau/morocco-salafi-clerics-back-death-for-journalist-for-supporting-greater-sexual-freedom/d/7859