New Age Islam News Bureau
10 Apr 2012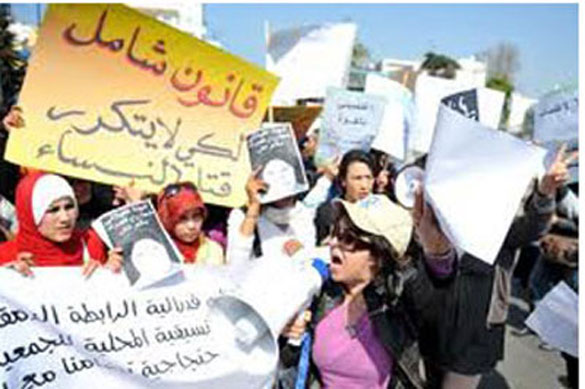 • Saudi brothers beheaded for murder
• Deoband Fatwa Effect: Now Women Running their Beauty Parlours from their Homes
• Anti-India tirades no longer garner votes in Pak: Retd judge
• Death toll in Yemeni clashes rises to 127
• Work more to win love, India told Pak president'
• Pakistan temple panel chief abducted in Balochistan
• Refineries in India are terror targets
• China working hard to improve Indo-Pak ties: Chinese media
• Al Qaeda warns UK against handing over cleric to Jordan
• Karachi bloodshed continues, policeman dead among six
• Suicide bomber kills 14 in western Afghanistan
• Jeddah municipal politician: I expect more women leaders to step forward
• 234kg heroin seized in container exported from Pakistan to UK
• Killing of Bangladeshi Labor Organizer Signals an Escalation in Violence
• Balochistan CM sacks seven officials over killing of six Shias
• Sunni Barelvi Sect Demand their Rightful Representation
• Mullah Politics: Maulana Arshad Madni and Asjad Madni Harmful for Jamiat ul Ulema e Hind
• Shahi Imam of Delhi and ulema of Deoband are responsible for Muslims' plight: SP Leader
• India ready with an 'updated' Saeed file
• Iran can withstand several years of oil blockade: Ahmadinejad
• Tunisia Cracks Down Again on Protesters Defying a Ban
• UK Can Extradite 5 Terror Suspects to U.S.: Court
• Six Soldiers Killed on Syria Deadline Day
• Two Punjabis gunned down in Mand
• Market bombing kills 11 in key Somali town
• Rahul, Bilawal contact important, says Pakistani daily
• Pakistan seeks more proof to try Hafiz Saeed
• Why are Pakistanis in jail if their sentence over? asks SC
• Pakistan's glamorous foreign minister Hina Rabbani Khar may be axed: Reports
• Pak govt shut NATO supply routes for more money: Imran
• Years After Acid Horror, Suicide Stirs Pakistan
• Kin of Indian prisoners in Pak hail SC move
• With Rs 5 crore Zardari tops Ajmer dargah 'gifts' list
• India, Pakistan take step forward to normalize ties
• Delhi to host Pakistan lifestyle show
• No more hearing opportunity to Musharraf: Pak SC
• With $10 mn bounty on head, Hafiz Saeed refuses to go underground
• Istanbul is the venue: Iran
• UK "approved'' rendition of ex-Libyan dissident
• Ahead of N-talks, Iran floats compromise offer
• Syrian troops on offensive on deadline day
• RIYADH: Shoura raises employment age to 18
• Qur'an bedrock of security: Prince Sultan bin Salman
• Egypt court suspends constitutional assembly
• Minister Raps West's Propaganda Campaign against Iran
• Malaysia moves to end detentions without trial
• Mali coup leader rejects possible Ecowas intervention
• Mubarak's veep says he won't 'reinvent' old regime
• Syria forces fires over borders with Lebanon, Turkey
• If Shahi Imam of Delhi wins mayor election, I will quit politics: SP Sr. Leader
• Iraq parliament approves rights commission
• Afghan Security Forces Worry Over Fratricidal Brothers-In-Arms
• Gujarat riots: No offence established against Narendra Modi in SIT report, says court
• PCI Chairman appeals to Zardari for Sarabjit's release
• India: Court verdict on Zakia Jaffery's plea seeking SIT report likely today
Owner of Dilip Kumar's house awaits payment from Khyber Pakhtunkhwa govt
Complied by New Age Islam News Bureau
Photo: Moroccan 'Rape Marriage Law' Highlights Worldwide Problem
URL: https://newageislam.com/islamic-world-news/new-age-islam-news-bureau/moroccan-rape-marriage-law-highlights-worldwide-problem/d/7027
-----------
Moroccan 'Rape Marriage Law' Highlights Worldwide Problem
Apr 10, 2012
A 15 year old Moroccan teenager, Amina Filali was raped and subsequently forced to marry her rapist, despairing of justice Filali committed suicide.
Rape victims being forced to marry their rapists is an ancient practice that existed in many cultures throughout history, and is a real problem all over the world today, especially in Africa, Asia and Latin America.
What compounded the crime was that not only was Filali forced to marry her rapist but Moroccan law was not on her side. The legal system in Morocco integrated this abhorrent cultural phenomenon in the 1950's.
Islamophobes were quick at the time to misattribute the practice to Islam. For instance hate-monger Robert Spencer wrote:
This is done because the focus in Islam is not on the rape at all, but on the shame the woman has brought to her family by her sexual immorality, even if she was forced. That shame is erased if the rapist marries her.
Not to be outdone, the looniest blogger ever, Pamela Geller wrote:
More female empowerment under the sharia (Islamic law).
These were just two of the most prominent Islamophobes commenting on Filali's death, hundreds of hate-blogs and sites in the Islamophobic looniverse echoed such commentary, sprinkling in their own anti-Muslim spin.
The misattribution of such cases and issues to Sharia' and Islam is of course part of the well-worn demonization war that Spencer, Geller and their cohorts have been waging for years now. Facts are unimportant in this war, any crime or heinous action committed by a Muslim must be assigned to Islam goes their thinking. Lying to prove their point is not an impediment.
What they and their drone like blind followers will conveniently overlook for instance is that,
"…in 12 Latin American countries…rapist can be exonerated if he offers to marry the victim and she accepts…In Costa Rica, he can be exonerated even if she refuses his offer…" (UNICEF)
The majority of these nations are Catholic Christian, are we then going to blame Christianity for these laws?
If one wished to play a tit for tat it could easily be pointed out to the Islamophobes that it is in fact the Bible which commands a raped woman to marry her rapist, not the Qur'an,
"If a man happens to meet a virgin who is not pledged to be married and rapes her and they are discovered, he shall pay the girl's father fifty shekels of silver. He must marry the girl, for he has violated her. He can never divorce her as long as he lives." (Deuteronomy 22: 28-29)
Sadly, what is obfuscated and lost when the hate-mongers resort to racist tropes and Orientalist misattributions are the intrepid activists, the Muslim and Arab feminists who are fighting to change laws that can lead to such tragic results in their countries:
http://www.loonwatch.com/2012/04/amina-filali-moroccan-rape-marriage-law-highlights-worldwide-problem/?utm_source=feedburner&utm_medium=feed&utm_campaign=Feed%3A+loonwatch+%28loonwatch.com%29&utm_content=FeedBurner+user+view
-----------
Saudi brothers beheaded for murder
Apr 10, 2012
RIYADH: Two brothers sentenced to death for murdering a fellow Saudi were decapitated by the sword in the city of Jeddah on Monday, the interior ministry said.
Mohammed and Selim al-Madhiribi al-Shamali were convicted of hitting Saad al-Madhiribi on the head with a hammer and then stabbing him to death in a business dispute, it said in a statement carried by the state news agency SPA.
Their beheadings took to 19 the total number of executions in the ultra-conservative kingdom so far this year, according to a tally based on official reports.
Under the AFP count, at least 76 people sentenced to death were beheaded in 2011, while rights group Amnesty International put the number of executions last year at 79.
The death penalty is handed down in Saudi Arabia, which applies strict Sharia (Islamic) law, for a wide range of offences including rape, apostasy, armed robbery and drug trafficking as well as murder.
http://timesofindia.indiatimes.com/world/south-asia/Saudi-brothers-beheaded-for-murder/articleshow/12598114.cms
-----------
Deoband Fatwa Effect: Now Women Running their Beauty Parlours from their Homes
New Age Islam News Bureau
Deoband, April 10, 2012: Although running a Beauty Parlour has been declared un-Islamic, Muslim women are not only running their beauty parlours but they have even adopted it as their business.
In Deoband there are more than 50 Beauty Parlours and not less than 20 are being run and managed by Muslim women. They say respecting the Fatwa delivered by Deoband Dar ul Uloom they are running their businesses from their respective homes. Delhi's Fatehpuri Masjid's Shahi Imam went one step further and said, 'not only running of beauty parlours but even going in them is haram (prohibited)'. This is being discussed hotly here in Deoband. Ladies engaged in this business say that they fully respect Deoband's Fatwa hence they are running it from their house premises. Shama says, beauty parlour is a great craze among the Muslim women and that she strictly keeps the arrangement of purdah in her parlour.
Mufti Mohammad Aarif of Dar ul Uloom Waqf says, chemicals are used on the face while bleaching and other acts and use of chemicals on face is also un-Islamic. He says this business, be it in houses or in the market place, is not good.
---------
Anti-India tirades no longer garner votes in Pak: Retd judge
Apr 10 2012
Chandigarh : Asserting that people-to-people contact should be encouraged to further normalise Indo-Pak relations, a former Judge from the neighbouring country today said politicians in his nation are no longer able to garner votes for their anti-India tirade.
"Ten years back, there was a scenario that a politician got votes for his anti-India tirade. But today, things have changed, now one who talks of building better relations (with India) is favoured, which indicates a change," Chaudhry Mohammed Ramzan, former Judge of the Islamabad High Court and a member of the Pakistan Bar Council, said here.
He said people-to-people contact should be encouraged to further normalise the relations between India and Pakistan. There are numerous families who have relatives and friends living on both sides of the border.
"Visas should be simplified. Any genuine person who wants to come should be given a visa. There should be no restriction," said Ramzan, who is in India on the invitation of the Bar Councils of different states, including Punjab and Haryana.
He said that his parents hailed from Tehshil Ajnala in Amritsar district.
"After the partition when our family settled in Pakistan, my mother used to yearn for visiting her hometown but could not do so because of visa restrictions those days...She died with this unfulfilled desire of not being able to visit her native place," Ramzan said.
"Whatever positions the establishments of the two nations may hold towards each other but people on the two sides of the border have only love to share...the two countries had looked at each other with hatred in the past but this bitterness should not be transferred to our next generation," he said.
He said people from both sides want better relations.
"We can be good friends. Let trade be encouraged. We give you dry fruits and other things and you give us at reasonable rates what we lack. Why should we import such things from other countries," Ramzan said favouring better trade ties.
On the last week's visit of Pakistan President Asif Ali Zardari to India and inviting Prime Minister Manmohan Singh to visit his country, he said, "It's a good thing and a step forward...Dialogue is the only way forward to resolve all outstanding issues."
http://www.indianexpress.com/story-print/934990/
----------
Death toll in Yemeni clashes rises to 127
Apr 10, 2012
SANAA, Yemen (AP) – Yemeni army officials say heavy clashes overnight between the military and al-Qaeda-linked militants in the south have killed 63 people, bringing the two-day death toll in the fighting to 127.
The officials say the fighting that broke out in the town of Lawder early Monday spilled over into Tuesday, with the army shelling militant hideouts in an effort to prevent them from sending reinforcements.
The officials say 56 militants, four soldiers and three tribal fighters were killed overnight and early Tuesday.
They say militants also attacked an army post Tuesday along the border of Shabwa and Marib provinces, killing 11 people.
Al-Qaeda's Yemeni branch has exploited the country's political turmoil to seize territory in the south of the impoverished Arab nation.
http://www.usatoday.com/news/world/story/2012-04-10/yemen-clashes/54141236/1
----------
'Work more to win love, India told president'
Apr 10, 2012
Pakistani media has welcomed president Asif Ali Zardari's India visit, hoping it would improve India-Pakistan ties amid murmurs of protest over dilution of Islamabad's stand on Kashmir and the extravagance of what was billed as a private visit with public money.
The Express Tribune said it was "yet another indicator that the two countries are moving towards lasting peace''. It praised the ruling Pakistan People's Party (PPP) for improving ties with India "from the nadir of the 26/11 Mumbai attacks''. The News took a swipe at the private visit. "... taking along 25 members of his own family, the chairman of the Pakistan People's Party, interior minister Rehman Malik, foreign secretary Jalil Abbas Jilani and his personal and security staff - all at public expense - does not constitute private. It does however constitute a misuse of public funds - a detail overlooked by day-tripping dynasts,'' it said. The Nation noted it was futile to expect anything of substance to come out of "such a hurriedly planned encounter''. But it said the meeting could serve "as an icebreaker''.
The Dawn reported that Zardari's visit "ended with a tame nudge from the hosts who effectively asked him in a departure from a recent Hollywood script 'Eat, Pray and Love' to work more to win their love''. It likened the visit of Zardari's son and heir apparent, Bilawal Bhutto Zardari, to his mother's visit with her father, Zulfikar Ali Bhutto, to sign the historic Shimla agreement. The Express Tribune noted that issues like Hafiz Saeed remain unsolved, but said the two countries have at least decided to promote trade with Pakistan set to grant India the MFN status.
http://timesofindia.indiatimes.com/world/pakistan/Work-more-to-win-love-India-told-president/articleshow/12604627.cms
-----------
Pakistan temple panel chief abducted in Balochistan
Apr 10, 2012
ISLAMABAD: The chairman of the committee that manages the famous Hinglaj Mata temple in Balochistan province of southwest Pakistan has been kidnapped just two days before the beginning of the shrine's annual pilgrimage, according to a media report on Monday. Maharaj Ganga Ram Motiyani was abducted at Lasbela in Balochistan by two men in police uniform. His followers organized a protest outside the Karachi Press Club on Monday and demanded that the government take steps for his recovery.
"Motiyani's kidnapping appears to be a conspiracy against Hindus since he was kidnapped two days before the gathering. He has not been kidnapped for ransom because he is a poor man," Ramesh Kumar Vankwani, patron of Pakistan Hindu Council and a former member of the Sindh assembly, was quoted as saying by The Express Tribune daily.
Thousands of Hindus, including yatris from India, travel to the cave temple of Hinglaj Mata for a pilgrimage in April. According to Hindu beliefs, Lord Vishnu cut the body of Sati with his flaming disc into 50 pieces, which fell to the earth. Sati's head fell at Hinglaj. The Hindus of Sindh and Balochistan provinces have recently complained of forced conversions.
Hindus protest girls' abduction
Some political parties and Hindu groups in Pakistan are furious over the kidnap ping and alleged conversion of Hindu girls in Sindh province. They alleged that a Hindu girl, Rinkal Kumari was abducted and forcibly converted to Islam. IANS
http://timesofindia.indiatimes.com/world/pakistan/Pakistan-temple-panel-chief-abducted-in-Balochistan/articleshow/12604559.cms
-----------
Refineries in India are terror targets
Apr 10, 2012
By Aman Sharma, Hakeem Irfan, Dipanjan Roy Chaudhury and SPS Pannu
Jamnagar and Bathinda facilities in Lashkar crosshairs
Intelligence Bureau alerts government with terror inputs
THE PETROLEUM industry, which oils the wheels of the country's economy, is in the crosshairs of terrorists.
A recent input provided by the Intelligence Bureau ( IB) pinpoints a terror threat from Pakistan- based group Lashkar- e- Tayyeba ( LeT) to two of the biggest oil refineries in India — the Reliance Industries Limited plant at Jamnagar in Gujarat, and the Bathinda- based newly commissioned unit in Punjab which is a joint venture between Mittal Energy Limited and Hindustan Petroleum Corporation Limited ( HPCL).
While general intelligence alerts about likely terror strikes on such installations have emanated on several occasions in the past, this is the first threat that specifically mentions the impending targets by name. Security agencies confirmed to MAIL TODAY on Monday that the IB had written to petroleum minister Jaipal Reddy in this regard.
The confidential communication, to which MAIL TODAY has access, stated: " Oil industries ( including refineries and pipelines) in India continue to be high on the agenda of LeT. Their operatives are learnt to be collecting information on installations in the oil sector, including the RIL refinery in Jamnagar and installations in the vicinity of Amritsar, Bathinda and other places." Asserting that this was a precise piece of information, a top Central Industrial Security Force ( CISF) official disclosed to M AIL T ODAY that a nearly 250- member commando unit of the outfit posted at the Jamnagar refinery had been put on high alert. The state police forces of Gujarat and Punjab have also been instructed to step up vigil at both sites.
Full report at: Mail Today
-----------
China working hard to improve Indo-Pak ties: Chinese media
Apr 10 2012
Beijing : China is "working hard" to improve ties between India and close-ally Pakistan, despite facing heavy criticism from within and its expression of happiness over President Asif Ali Zardari's visit to India is "no hollow diplomatic gesture", a state-run daily said today.
"China has been committed to peaceful development, including efforts at fostering peace between long-term rivals," an article in Global Times, a ruling Communist Party run daily said. Significantly it said China is pursuing this policy despite internal criticism.
"China has been working hard to help better the relationship between India and Pakistan, a move that has even been lambasted by some of its own nationals", it said.
China's expression of happiness over the meeting between Prime Minister Manmohan Singh and Pakistan President Asif Ali Zardari in New Delhi last week is "no hollow diplomatic gesture", it added.
Full report at:
http://www.indianexpress.com/story-print/934901/
-----------
Al Qaeda warns UK against handing over cleric to Jordan
Apr 10, 2012
DUBAI: Al Qaeda has warned Britain against handing over a radical Islamic cleric to Jordan after his release from prison, saying such a move will open the "door of evil" for the British government and its people, according to an Islamist website.
Britain freed Abu Qatada from prison in February to live under virtual house arrest after a court ruled that his detention without trial was unlawful.
"It has come to our attention that the British government intends to hand over the honorable Sheikh Abu Qatada al-Filistini to the agent Jordanian government, claiming it had secured assurances and covenants not to torture him," the group said in a statement posted on an Islamist site late on Monday.
"Based on all that, we in Qaedat al-Jihad (al Qaeda) place the responsibility on the British government of handing over Sheikh Abu Qatada to the Jordanian government, and let it be known that by doing so, under any pretext, it will open the door of evil for it and its citizens, which it can do without."
It was not immediately possible to verify the authenticity of the statement in Arabic.
Full report at:
http://dawn.com/2012/04/10/qaeda-warns-uk-against-handing-over-cleric-to-jordan/
-----------
Karachi bloodshed continues, policeman dead among six
Apr 10, 2012
KARACHI: The series of target killings and bloodshed continued in Karachi as six people including a policeman were killed in the port city, DawnNews reported.
Sindh home minister sought a report on the Gulistan-e-Jauhar incident, where a government officer was burnt alive.
One person was killed by firing in Korangi, Sector 51-C.
Policeman Taj Mohammad died as a result of firing near Lyari football ground.
Whereas, a political party worker identified as Syed Mukhtar Jan was shot dead by unknown men in Saeedabad.
Political activist Younus lost his life where as another was injured in Metroville, within the remits of Mubina Town Police station, when their car came under attack by unknown gunmen.
Firing claimed the life of 14-year-old Shariq in Manghopir, where as four people were injured in firing incidents nearHassan Squarewhere as one person each was injured in Lee market and Kharadar area.
Jamshed Quarters police found the remains of a dead body in a shopping bag lying at a garbage dump at Jehangir road No 1.
A deputy director of a government organisation, Abdul Hayee was burnt to death by brutal assailants in Gulistan-e-Jauhar block 16 area ofKarachi.
Sindh Interior Minister Manzoor Wassan took notice of the incident and sought a report from the IG of Sindh police.
http://dawn.com/2012/04/10/karachi-bloodshed-continues-policeman-dead-among-six/
-----------
Suicide bomber kills 14 in western Afghanistan
Apr 10, 2012
A suicide bomber in a four-wheel-drive vehicle blew up his cache of explosives on Tuesday morning in Herat province in western Afghanistan, killing fourteen people and wounding 21, authorities said.
The attacker struck as people were gathered outside a district headquarters building, waiting to go inside to see government officials about various business matters, said Nasar Ahmad Popul, the chief of the province's Guzara district.
"When a suicide bomber tried to enter the district headquarters, he was stopped by the police but then he detonated his explosives right at the gate," said Popul, who was inside the building at the time of the blast. "The explosion was so strong, there are casualties among police and civilians."
Noor Khan Nekzad, a spokesman for the provincial police chief, said nine people were killed, three Afghan police and six civilians. Another 21 people were wounded, most of them civilians, he said.
The responsibility for nearly all of Herat province has been transferred, or is in the process of being transferred, from NATO troops to Afghan forces.
http://www.thehindu.com/news/international/article3299436.ece
-----------
Jeddah municipal politician: I expect more women leaders to step forward
Apr 10, 2012
JEDDAH: With an experience of more than 19 years in IT, coupled with a strong educational background in computing, Arwa Al-Aama's goal is to participate in Saudi Arabia's technological advancement. As vice mayor at Jeddah municipality's IT department, she is the first woman to hold a leadership role in IT in a Saudi governmental agency.
Her work has resulted in the municipality winning 8 prestigious awards in IT. She also holds the position of vice mayor for women's affairs, in which she pursues her second personal goal - empowering Saudi women. In this role, Al-Aama opened up new job opportunities to women in municipal services in the Kingdom and is responsible for improving the quality of municipal services provided to women.
Al-Aama is also a member of the executive committee for the Saudi National eGovernment Plan and the Saudi National Science and Technology Plan. Al-Aama spoke to Arab News about her views on the Kingdom's development in the next few years.
Full report at:
http://arabnews.com/economy/article609017.ece
-----------
234kg heroin seized in container exported from Pakistan to UK
April 10, 2012
A textile goods container exported from Faisalabad to United Kingdom, containing approximately 234kg heroin was seized by authorities in Yorkshire on Tuesday, Express News reported.
The British police arrested two suspected dealers and took them to an undisclosed location where initial investigations led to the arrest of seven other suspects from different parts of Faisalabad.
Further investigations are underway.
Authorities were puzzled over how the smuggling was taking place.
Involvement of government officials is suspected by authorities who were baffled by the smuggling due to its immense quantity.
The container was sent from a small industrial estate, but the name of the firm is yet to be disclosed by authorities as they suspect that those involved will go into hiding.
http://tribune.com.pk/story/362396/234kg-heroin-seized-in-container-exported-from-pakistan-to-uk/
-----------
Killing of Bangladeshi Labor Organizer Signals an Escalation in Violence
By JULFIKAR ALI MANIK and VIKAS BAJAJ
Apr 10, 2012
DHAKA, Bangladesh — A labor activist who was arrested two years ago for his role in protests against low wages in Bangladesh's garment industry was found murdered outside this city last week, labor rights advocates and the police said on Monday.
The killing of the activist, Aminul Islam, marks a morbid turn in the often tense relations between labor groups, on one side, and Bangladesh's extensive garment industry, which makes clothes for Western companies like Walmart, Tommy Hilfiger and H&M. In 2010, Mr. Islam, a former textile factory worker, was arrested and, he and other labor activists said, was tortured by the police and intelligence services.
Mr. Islam, 40, was last seen alive on Wednesday near Ashulia, a garment-industry hub outside Dhaka. His tortured body was found on Thursday on the side of a road near a police station in Ghatail, 61 miles to the north, according to the police and labor activists.
Local police officials in Ghatail were unable to identify the body, so they photographed it and buried it. Later, Mr. Islam's brother Rafiqul saw pictures of the body in a national newspaper and identified him. The body was exhumed Monday afternoon and reburied later in the day in Mr. Islam's native village, Kaliakoir. He is survived by his wife, two sons and a daughter.
Full report at:
http://www.nytimes.com/2012/04/10/world/asia/bangladeshi-labor-organizer-is-found-killed.html?ref=global-home&gwh=EDFFD3FBF6A8A4889C4F3522EB0A1C61
-----------
Balochistan CM sacks seven officials over killing of six Shias
Apr 10, 2012
QUETTA: Chief Minister Nawab Aslam Raisani on Monday sacked seven police officials on duty when unidentified gunmen shot dead six Shia Muslims in Quetta, Dawn News reported.
According to police sources, 17 suspects have also been arrested in connection with killing of Hazara community earlier today.
The drive-by shooting took place at the busy Prince Road in the Balochistan capital.
"Two gunmen riding a motorbike opened fire on a shoe store killing four Shia Muslims and wounding three others," senior police official Muhammad Tariq told AFP.
"It was most probably a sectarian incident but the police are investigating," he said.
Another police official, Jehangir Shah, also confirmed the incident and the four casualties.
Later, two out of three injured succumbed to their injuries in a hospital.
There was no immediate claim of responsibility, but Balochistan is rife with religious militancy and sectarian violence between majority Sunnis and minority Shia Muslims, and a regional separatist insurgency.
Hundreds of civilians have been killed since Baloch rebels rose up in 2004 against the federal government, demanding political autonomy and a greater share of profits from the oil, gas and mineral resources in the region.
http://dawn.com/2012/04/10/raisani-sacks-seven-officials-over-killing-of-six-shias/
-----------
Sunni Barelvi Sect Demand their Rightful Representation
New Age Islam News Bureau
Lucknow-April, 10 12: Hazrat Allama Tasleem Reza Khan and other Bareilwi leaders expressed their unhappiness and distress on being over looked by the central government as well as the state government of Uttar Pradesh. Allama Tasleem Reza Khan is an adored and highly respected chief of Bareilwi Sharief, seat of Sunni sect. He was accompanied by a number of others leaders, specially Mufti Mohammad Saleem Naeemi, Maulana Saabit Ali Misbahi, Quari Najmuddin Chishti, Quari Jahangir Goundwi and Mumtaz Hasan Khan. All the speakers dittoed the claim of Tasleem Reza that Muslims in India means Sunnis.
Maulana Tasleem Reza Khan blamed the concerned governments of being hijacked by other sects in the name of Muslims of India. They are in the good books of the governments because they know the art of flattering these leaders which Sunnis do not believe in. Hazrat Allama Tasleem said, "Democracy is based on the views of the majority but the saddest part of the biggest democracy of the world is that it is based on the representation of a few parasites who claim to be the representatives of the majority. These parasite Muslims are misleading the governments and are doing their business in the name of Muslims. They have nothing to do with the problems of the masses. "
Tasleem Reza Khan further stated, "Muslims problem is totally weird. The whole world knows that the majority of Muslims in the world is the follower of Sufism whose followers are called Sunnis. In the Indian and Pakistani sub-continent they are known as Sunni Barelvis. But because they are people of self-respect and do not know the art of flattery, they are always misrepresented and never get their rights. But now time has come that we announce and let the central government know that if we are not given our rights. This will neither be good for the country nor the ruling party.
Talking of UP Chief Minister Akhilesh Yadav, he said, "Mr Yadav is an educated and suave person and it seems from his statements that he intends to do something for the Muslims of the state. The Muslim majority also has lots of expectations from him." He advised Mr Yadav not to come under the influence of such leaders who are not recognised even in their own communities and remember that it is Sunni Muslim vote which has given the rein of the state in his hands. And that he must respect Sunni emotions or he can see what happened to them who ignored this community."
-----------
Mullah Politics: Maulana Arshad Madni and Asjad Madni Harmful for Jamiat ul Ulema e Hind
New Age Islam News Bureau
Saharanpur, March 10: Muslims of Saharanpur, UP, India are at loss for words at Maulana Arshad Madni being surrounded by criminals. They say his tantrums against Maulana Badruddin Ajmal are incomprehensible. Maulana Arshad Madni is alleged to have distributed pamphlets against Maulana Badruddin Ajmal. Maulana Arshad Madni is giving bad name to Jamiat Ul Ulema e Hind by speaking against other Maulanas of the organisation. Muslims are bewildered, "What message will go to the common man if a Maulana will speak against a Maulana?
Maulana Arshad Madni is under the influence and control of Maulana Asjad Madni and he dittos everything being said to him. He is hell-bent on destroying Jamiat Ul Ulema e Hind for the sake of power and money. Muslims demand from Maulana Arshad Madni to come out of the influence of criminals and do not damage the reputation of Jamiat Ul Ulema e Hind. Muslims say Jamiat Ul Ulema e Hind's quarrels are in the open for long now and they must be settled as soon as possible. They demand the scholars to come in front of common masses and stop the quarrel and struggle for power in Jamiat Ul Ulema e Hind. And not let it get a bad name all over the world.
----------
Shahi Imam of Delhi and ulema of Deoband are responsible for Muslims' plight: SP Leader
New Age Islam News Bureau
Deoband, April 10, 2012, SP leader Firoz Bakht advised all the Deoband Dar ul Uloom scholars and Shahi Imam of Jama Masjid, Delhi, to first vacate their prestigious seats of Imamat and then join politics or try to be under their limits while issuing their statements. He says it is they who are responsible for the pathetic condition of Muslims. First they do all kind of deals and go with the party which makes the best offers and then ask Muslims to vote for them. Ahmad Bukhari would have seen what happened to his son in law who failed to win a seat, said Firoz Bakht.
Shahi Imam can imagine his position even in Delhi's Jama Masjid area where no one votes on his recommendation. He alleged that Ahmad Bukhari was appointed patron of Adam Sena run by the Muslims of the area. He further said the accounts were rigged under his patronship and all the members of the organisation lost their money.
Firoz Bakht said, Shahi Imam has joined BJP also for his advantage and hence he has not respect in the political circle. Now he may have joined hands with someone else to discredit Samajwadi Party.
----------
India ready with an 'updated' Saeed file
By Aman Sharma
Apr 10, 2012
HOME secretary R. K. Singh will carry an " updated" dossier on the Lashkar- e- Tayyeba chief Hafiz Saeed and six other Pakistani masterminds of the 26/ 11 plot when he visits Pakistan in May.
Government sources said the dossier will carry fresh details that emerged out of a chargesheet submitted by the National Investigation Agency ( NIA) in December last year to a local court in Mumbai.
Though the NIA had last month sent a Letter Rogatory to Pakistan with information on the involvement of Saeed and six others in the 26/ 11 plot and subsequent plans to target India, the home ministry wants to formalise this information in the updated dossier.
This move is also expected to counter the Pakistani argument that India's earlier dossiers on Saeed had no evidence but only information.
After Pakistan President Asif Ali Zardari's visit to India on Sunday, Prime Minister Yousaf Raza Gilani said his country was serious about acting on Saeed but wanted solid proof.
Full report at: Mail Today
-----------
Iran can withstand several years of oil blockade: Ahmadinejad
Apr 10, 2012
DUBAI: Iranian President Mahmoud Ahmadinejad said Iran has enough funds to withstand a total embargo on its oil sales for several years, Iranian media reported on Tuesday.
"They (western powers) want to impose sanctions on our oil and we must say to them that we have that much saved that even if we didn't sell oil for two to three years, the country would manage easily," Ahmadinejad said during a visit to Hormuzgan province.
http://timesofindia.indiatimes.com/world/middle-east/Iran-can-withstand-several-years-of-oil-blockade-Ahmadinejad/articleshow/12609499.cms
-----------
Tunisia Cracks Down Again on Protesters Defying a Ban
By DAVID D. KIRKPATRICK
Apr 10, 2012
CAIRO — The six-month-old government of Tunisia cracked down with tear gas and batons Monday on thousands of protesters who filled a central artery of the capital in defiance of a new ban on demonstrations there.
The confrontation, at the site of the protests that ousted former President Zine el Abidine Ben Ali and kicked off the Arab Spring last year, was another manifestation of a role reversal now playing out across North Africa in the aftermath of the revolts in neighboring Egypt and Libya as well. In each, former exiles and political prisoners who spent careers under police state rule find themselves struggling to impose a new order on the bedlam left after the old regime's collapse.
"There is a difference between a revolution and chaos," said Said Ferjani, a torture victim and former exile who is now a spokesman for the moderate Islamist party that leads Tunisia's constituent assembly.
In both Egypt and Tunisia, the Islamist parties leading the new legislatures — outlawed as radicals under their former governments — take a conservative, business-friendly approach to matters of law and order that is at odds with more left-leaning forces in the revolts.
Full report at:
http://www.nytimes.com/2012/04/10/world/africa/tunisia-cracks-down-again-on-protesters-defying-a-ban.html?ref=world&gwh=33067ED59C91EEE94A7F17BFD24298EC
-----------
UK Can Extradite 5 Terror Suspects to U.S.: Court
Apr 10, 2012
STRASBOURG, France (Reuters) - The European Court of Human Rights ruled on Tuesday that Britain had the right to extradite five suspected terrorists to the United States but only after all court procedures had been exhausted.
The court, based in the French city of Strasbourg, had been considering the cases of six people indicted in the United States between 1999 and 2006 on terrorism charges related to hostage taking in Yemen and attacks on U.S. embassies in Africa.
One of the five suspects whose extradition was approved is Abu Hamza, a militant cleric who faces 11 charges relating to the taking of 16 hostages in Yemen in 1998, advocating a Jihad (Islamic holy war) uprising in Afghanistan and trying to set up a jihad training camp in the United States in 2000-2001.
The court said it did not rule on the case of the sixth suspect for mental health reasons.
http://www.nytimes.com/reuters/2012/04/10/world/europe/10reuters-britain-usa-extradition.html?ref=world
-----------
Six Soldiers Killed on Syria Deadline Day
Apr 10, 2012
BEIRUT (Reuters) - Syrian tank and mortar fire hit the cities of Homs and Hama and insurgents killed six soldiers on Tuesday, opposition activists said, on the day President Bashar al-Assad was to withdraw his forces 48 hours ahead of a planned ceasefire.
The anti-Assad Syrian Observatory for Human Rights said the soldiers were killed in attacks on two checkpoints on the highway running through the remote eastern desert town of Marqada, south of the Turkish border.
There was no report of the attacks from the official Syrian news agency, SANA. Syria says it has already pulled back some of its troops from the cities in keeping with its undertaking to United Nations and Arab League peace envoy Kofi Annan.
His peace plan calls for rebel forces to stop shooting as the army withdraws so that all forms of violence cease at dawn on Thursday.
The Observatory, a British-based activist information centre that has collated reports on the violence in Syria for the past year, said there was no clear sign of troop withdrawals.
Full report at:
http://www.nytimes.com/reuters/2012/04/10/world/middleeast/10reuters-syria.html?ref=middleeast
-----------
Two Punjabis gunned down in Mand
Apr 10, 2012
QUETTA: Two men from Punjab were shot dead in the Mand district of Balochistan on Monday. According to police, unidentified men ridding a motorbike opened fire on the two men in the Mand area of Turbat. Both passengers, who were identified as Qasir and Asif Javed, were killed on the spot. Police say it could be a case of target killing as the victims belonged to Lahore and Sargodha. They said both men were waiting for a Karachi-bound bus when they were attacked.
http://www.dailytimes.com.pk/default.asp?page=2012\04\10\story_10-4-2012_pg7_7
-----------
Market bombing kills 11 in key Somali town
Apr 10, 2012
MOGADISHU: A bomb blast in a market in the strategic Somali town of Baidoa on Monday killed at least 11 people and wounded many more in the latest in a string of attacks in the war-torn nation, an official said.
"At least 11 people — most of them women and children — were killed by a bomb placed in a busy market," said lawmaker Mohamed Ibrahim Habsade. The attack was the worst in Baidoa since the southern town was wrested from Al-Qaeda allied Shabab insurgents by Ethiopian-backed Somali forces in February.
"Many more were injured in the explosion, which was biggest since we took control of the town," Habsade said. Witnesses said the bomb was detonated after Somali government troops entered the market, but that the majority of those killed were civilians. "This was a disaster," said Adan Hassan, a witness. "I saw several dead bodies of at least nine civilians, most of them women — the explosion occurred as people were shopping."
"Around 35 people were injured, some of the seriously," said Abdirahman Waney, another witness.
Full report at:
http://www.dailytimes.com.pk/default.asp?page=2012\04\10\story_10-4-2012_pg4_4
-----------
Rahul, Bilawal contact important, says Pakistani daily
Apr 10, 2012
ISLAMABAD: The contact between Rahul Gandhi, general secretary of ruling Congress party, and Bilawal Zardari Bhutto, who heads the Pakistan Peoples Party, is "important given that both might lead their respective countries one day and determine the future course of events", said a daily.
Rahul and Bilawal met on Sunday during a day-long trip by President Asif Ali Zardari to India. Zardari interacted with Prime Minister Manmohan Singh and later paid obeisance at the dargah of a Sufi saint in Ajmer.
An editorial in the News International on Tuesday said that the general tone of friendship between the two leaders also "passed on to the torch-bearers of the future".
"Rahul Gandhi, 40, accepted an invitation from Bilawal Bhutto Zardari 23, to visit Pakistan.
"This initial contact between the two young men, who share some similarities as far as family history goes, is also important given that both might lead their respective countries one day and determine the future course of events," it added.
The daily said that private or otherwise, "any contact between Pakistan and India is important".
Full report at:
http://timesofindia.indiatimes.com/india/Rahul-Bilawal-contact-important-says-Pakistani-daily/articleshow/12607125.cms
-----------
Pakistan seeks more proof to try Hafiz Saeed
Apr 10, 2012
ISLAMABAD: Pakistan PM Yousaf Raza Gilani has acknowledged that the case of Jamaat-ud-Dawa chief Hafiz Saeed was an "issue" between Pakistan and India but said Islamabad needs "substantial" evidence against him to try him in a court of law. "We are serious on the issue of Saeed but the question is how to proceed against him without evidence. Courts here are independent and we need substantial evidence against him", Gilani said while interacting with a group of reporters at his residence Lahore.
Gilani further said it had been agreed that the interior and home secretaries of the two countries would discuss the issue when they meet on April 16. He said that former premier Nawaz Sharif too had asked him about the government's stance on the issue of Saeed. Saeed, the founder of the Lashkar-e-Taiba, has been in focus after the US offered a $10 million bounty for him last week. Responding to a question about groups like JuD fanning extremism in Pakistan , Gilani said: "I have ordered action against all proscribed organizations".
He said there should be peace between India and Pakistan and it was in interest of both countries as well as the region.
"Manmohan Singh and I are committed to bringing stability to the region. We will take every possible step towards peace," he said.
http://timesofindia.indiatimes.com/world/pakistan/Pakistan-seeks-more-proof-to-try-Hafiz-Saeed/articleshow/12604535.cms
-----------
Why are Pakistanis in jail if their sentence over? asks Indian SC
Apr 10, 2012
NEW DELHI: The Supreme Court on Tuesday expressed its anguish at mentally challenged and deaf-mute foreign nationals, mostly Pakistanis, who continued to languish in Indian jails long after completing their sentence and asked why the issue could "not be taken up at the highest level".
An apex court bench headed by Justice RM Lodha said that "such cases pains us" and wanted to know "what is the hitch, problem and impediment" in the cases of these 16 people.
The issue of 16 foreign nationals believed to Pakistani citizens, 14 of them mentally challenged and two deaf-mute, still in jail despite completing their sentences had come up before the court.
Pointing to the meeting between Pakistan President Asif Ali Zardari and Prime Minister Manmohan Singh on Sunday, Justice Lodha asked: "Why can't the problem of these prisoners be taken up at the highest level?"
As additional solicitor general PP Malhota sought more time so that he could sit with the petitioner, senior counsel Bhim Singh, the court adjourned the hearing till May 2.
http://timesofindia.indiatimes.com/india/Why-are-Pakistanis-in-jail-if-their-sentence-over-asks-SC/articleshow/12607564.cms
-----------
Pakistan's glamorous foreign minister Hina Rabbani Khar may be axed: Reports
Apr 10, 2012
ISLAMABAD: Days after foreign minister Hina Rabbani Khar contradicted President Asif Ali Zardari during a meeting with a visiting US diplomat, speculation is rife that her portfolio may be changed.
The speculation of the change was sparked by remarks of Prime Minister Yousuf Raza Gilani four days after the meeting.
Gilani took the top brass in the foreign ministry by surprise by saying during an interaction with reporters at his home in Lahore that a "fresh team" would carry forward talks with India to resolve outstanding issues like the Kashmir.
Reporters who attended the interaction did not make much of the remarks and Gilani did not explain what he meant by the term "fresh team".
The US delegation led by deputy secretary of state Thomas Nides was taken by surprise when Khar publicly contradicted the President during a meeting held at the governor's house in Lahore on April 4, diplomatic sources said.
Zardari was then camping in the capital of Punjab province to interact with workers of his Pakistan People's Party. Nides raised the crucial issue of Pakistan's participation in a conference on Afghanistan to be held at Chicago in May, and Zardari said his government was amenable to discussing the matter if Washington extended a formal invitation, the sources said.
At this point, Khar intervened and said the issue could not be taken up till a joint session of parliament completed an ongoing review of Pakistan-US relations, the sources said.
Full report at:
http://timesofindia.indiatimes.com/world/pakistan/Pakistans-glamorous-foreign-minister-Hina-Rabbani-Khar-may-be-axed-Reports/articleshow/12609297.cms
-----------
Pak govt shut NATO supply routes for more money: Imran
Apr 10 2012
Islamabad : Pakistan Tehreek-e-Insaf (PTI) chairperson Imran Khan has claimed that the Pakistan government has sealed the NATO supply routes for reaping better financial returns.
"All the political forces have double standards on the issue of resumption of NATO supply routes, while the government just wants better returns in terms of finance," The Nation quoted Khan, as saying.
He said that Jammat-ud Dawa chief Hafiz Saeed could not be held guilty until charges against him are proved in the court of law.
"If someone has solid proofs against Hafiz, he/she should go to court. The manner in which the US announced him as most wanted is totally wrong. He is innocent unless proven guilty," Khan said.
Full report at:
http://www.indianexpress.com/story-print/934972/
-----------
Years After Acid Horror, Suicide Stirs Pakistan
By DECLAN WALSH
Apr 10, 2012
KARACHI, Pakistan — Fakhra Younas went under the surgeon's knife 38 times, hoping to repair the gruesome damage inflicted by a vengeful Pakistani man who had doused her face in acid a decade earlier, virtually melting her mouth, nose and ears.
The painful medical marathon took place in Rome, a distant city that offered Ms. Younas refuge, the generosity of strangers and a modicum of healing. She found an outlet in writing a memoir and making fearless public appearances.
But while Italian doctors worked on her facial scars, some wounds refused to close.
On March 17, after a decade of pining for Pakistan, a country she loved even though its justice system had failed her terribly, Ms. Younas climbed to the sixth-floor balcony of her apartment building in the southern suburbs of Rome and jumped. She was reported to be 33 years old.
News of her death filtered back to her home city, Karachi. And by the time her coffin arrived for burial, a storm of outrage had been whipped up — one framed by a glittering Hollywood success.
Full report at:
http://www.nytimes.com/2012/04/10/world/asia/hope-in-pakistan-for-curbing-acid-attacks.html?ref=global-home&gwh=6BD90BFE9FBB24F798493C2DB570B7B8
-----------
Kin of Indian prisoners in Pak hail SC move
Apr 10, 2012
AMRITSAR: The Supreme Court's decision to grant bail to 80-year-old Khalil Chishti has rekindled the hopes of families of Sarabjit Singh and Kirpal Singh, who are on a death row in Pakistan's Kot Lakhpat jail since 1990 and 1992, respectively.
While talking to TOI on Monday, Dalbir Kaur, sister of Sarabjit Singh, who had gone to Ajmer to meet Pakistan president Asif Ali Zardari to plead for release of his brother, said that the SC decision could not have come at a better time.
"Last year in June when I had gone to Pakistan to meet my brother in jail everyone was of the view that Sarabjit could go home if India released Chishti," said Dalbir Kaur, who was not allowed to meet Zardari.
"I hope Sarabjit will be released now," added Kaur.
Dalbir Kaur along with Swapandeep Kaur, the elder daughter of Sarabjit Singh, had gone to Ajmer recently. Dalbir said, "I was not allowed to meet Zardari but at least district officials conveyed my message to his accompanying staff."
According to Jagir Kaur, sister of Kirpal Singh, the chances of the release of Indian prisoners were quite high now as the Indo-Pak relations were looking up once again.
Full report at:
http://timesofindia.indiatimes.com/india/Kin-of-Indian-prisoners-in-Pak-hail-SC-move/articleshow/12603798.cms
-----------
With Rs 5 crore Zardari tops Ajmer dargah 'gifts' list
Apr 10, 2012
AJMER: President Asif Ali Zardari's 'gift' of Rs 5 crore to the Ajmer dargah topped all such previous offerings by visiting Pakistani dignitaries. While Benazir Bhutto in 2005, travelling with her husband Zardari upon his release from jail, had made a 'nazrana' of $3,000 (Rs1,50,000 at today's rate), former president Pervez Musharraf made a more modest contribution of Rs 10,000.
The Dargah committee, flummoxed by Zardari's huge donation, is looking for directions from the Pakistani high commission on how to utilize the funds.
According to dargah sources, Zardari left instructions with the high commission about how the 'nazrana' should be distributed and utilised. Traditionally, guests, which include past Pakistani leaders, contribute directly to khadims (priests).
However, since the money wasn't given to khadims, there are three claimants to Rs 5 crore: the Anjuman, the Dargah committee, and the khadims who prayed for the Zardaris.
Full report at:
http://timesofindia.indiatimes.com/india/With-Rs-5-crore-Zardari-tops-Ajmer-dargah-gifts-list/articleshow/12603460.cms
-----------
India, Pakistan take step forward to normalize ties
Apr 10, 2012
NEW DELHI: India-Pakistan home secretary-level talks may take place in Islamabad late next month, amid indications that the engagement may have acquired a bigger dimension than it seemed to have and will be crucial for progress in normalization of ties.
Although both sides are likely to focus on a new visa agreement, making it easier for businessmen to get one-year multiple-entry non-reporting visas, the meeting will also display Pakistan's readiness to punish perpetrators of 26/11 attack on Mumbai: India's pre-condition for restoration of normalcy.
The linkage between whether Islamabad is ready to take concrete and verifiable measures against the attackers of Mumbai, including Lashkar chief Hafiz Saeed, was publicly stressed by India during Pakistani President Asif Ali Zardari's Sunday visit, rebutting any estimate that it was ready to move beyond Mumbai attack. In fact, the occasion saw India publicly shedding any ambiguity about what Prime Minister Manmohan Singh meant when he said in Seoul last month that solid progress needed to be achieved before he availed of Pakistan's standing invitation.
Full report at:
http://timesofindia.indiatimes.com/india/India-Pakistan-take-step-forward-to-normalize-ties/articleshow/12602618.cms
-----------
Delhi to host Pakistan lifestyle show
Apr 10, 2012
Pakistan is holding a mega lifestyle show at Pragati Maidan in New Delhi from April 12 to 15 to showcase its cultural and lifestyle strengths and provide insight into its huge trade potential.
The show is expected to explore the potential areas of partnership between them.
Pakistan Trade and Commerce Minister Makhdoom Mohammed Amin Fahim will be in New Delhi to inaugurate the event. Nearly 100 Pakistani firms, including the country's top brands and fashion outlets, are taking part in the four-day event.
The event, being jointly organised by the Trade Development Authority of Pakistan (TDAP) and the Federation of Indian Chambers of Commerce and Industry (FICCI), is to reciprocate the India Show held in Lahore in February in which nearly 125-odd Indian companies participated. The show was a huge hit, prompting the organisers to hold a similar event in India.
Full report at:
http://www.thehindu.com/news/national/article3297021.ece
-----------
No more hearing opportunity to Musharraf: Pak SC
Apr 10 2012
Islamabad : Pakistan Chief Justice Iftikhar Chaudhry on Monday said former military ruler Pervez Musharraf, a "proclaimed offender" in the Benazir Bhutto assassination case, could not be given another opportunity for further hearing as he failed to appear before the court and surrender.
Chaudhry made the remarks when a three-judge bench led by him resumed hearing a petitioned filed by slain former premier Bhutto's ex-protocol officer Chaudhry Muhammad Aslam, who has sought the registration of a second FIR in connection with her 2007 assassination.
A prosecutor from the Federal Investigation Agency informed the bench that an anti-terrorism court in Rawalpindi had issued a warrant for Musharraf and declared him a proclaimed offender in a case related to the assassination.
The FIA has accused Musharraf, who has been living outside Pakistan in self-exile since early 2009, of failing to cooperate with investigators probing the assassination.
Full report at:
http://www.indianexpress.com/story-print/934879/
-----------
With $10 mn bounty on head, Hafiz Saeed refuses to go underground
Apr 10 2012
Lahore : After apparent initial jitters on US slapping a USD 10 million bounty on his head, Pakistan's JuD chief and an alleged 26/11 Mumbai attack mastermind, Hafiz Mohammad Saeed had decided not to go into hiding.
Saeed's "friends in certain quarters" had initially advised him to go underground for some time after the US announced the bounty on him last week, sources said.
A JuD leader, who spoke on condition of anonymity, said the outfit felt it would reflect badly on Saeed and JuD if he went underground.
The support from almost all political and religious parties of Pakistan, also may have weighed with the Lashkar-e-Toiba founder not to go underground.
The JuD leader claimed apart from the leaders of the DPC, Saeed had the support of mainstream parties like PML-N, PML-Q, Pakistan Tehrik-e-Insaf and Jamiat Ulema-e-Islam.
Full report at:
http://www.indianexpress.com/story-print/934904/
-----------
Istanbul is the venue: Iran
Apr 10, 2012
Iran on Monday confirmed that nuclear talks this week with world powers would take place in Istanbul, dropping reservations over that city as venue following a sharp-worded row with Turkey.
If the Istanbul negotiations with the P5+1 group — the five permanent U.N. Security Council members and Germany — on Saturday prove fruitful, another round of talks could be held in Baghdad, said the office of Iran's chief nuclear negotiator, Saeed Jalili, in a statement.
The confirmation appeared to put an end to Iran's vacillation on Istanbul that cast a cloud of doubt over the talks in recent days.
Tehran had at first enthusiastically embraced the Turkish city as the ideal venue. U.S. Secretary of State Hillary Clinton even went as far as to declare that city as the host of the talks.
But last week Iranian officials and politicians suddenly went cold on it, saying Turkey's support of the opposition in Syria — Iran's chief ally — excluded Istanbul as a venue. They proposed Baghdad instead, or possibly Damascus or Beijing.
That earned an unexpectedly strong protest from Turkish Prime Minister Recep Tayyip Erdogan, who had visited Tehran just days earlier to discuss the talks with Iran's leaders.
Full report at:
http://www.thehindu.com/news/international/article3297442.ece
-----------
UK "approved'' rendition of ex-Libyan dissident
HASAN SUROOR
Apr 10, 2012
Before it fell out with him and helped topple his government last year, Britain enjoyed such a cosy relationship with the slain Libyan leader Muammar Qadhafi that at his request it tracked down and "rendered'' a prominent dissident to Libyan security agencies exposing him to the risk of being ill-treated, it emerged on Monday after the BBC claimed that the British Government "approved'' the rendition of Abdel Hakim Belhaj's rendition to Tripoli in 2004.
Mr Belhaj, now head of the Tripoli Military Council, is suing MI6 and the British Government accusing them of complicity in his illegal rendition and alleged torture.
His allegations are being investigated by Scotland Yard.
Labour Party, which was in power at the time, has consistently denied any role in "unlawful'' rendition.
Jack Straw, the then Foreign Secretary, said: "We were opposed to unlawful rendition. We were opposed to any use of torture or similar methods. Not only did we not agree with it, we were not complicit in it and nor did we turn a blind eye to it."
Full report at:
http://www.thehindu.com/news/international/article3297307.ece
-----------
Ahead of N-talks, Iran floats compromise offer
10 APRIL 2012
Iran's nuclear chief signaled Tehran's envoys may bring a compromise offer to the talks this week with world powers: Promising to eventually stop producing its most highly enriched uranium, while not totally abandoning its ability to make nuclear fuel.
The proposal outlined late Sunday seeks to directly address one of the potential main issues in the talks scheduled to begin Friday between Iran and the five permanent Security Council members plus Germany.
The US and others have raised serious concerns about Iran's production and stockpile of uranium enriched to 20 per cent, which could be turned into weapons-grade strength in a matter of months.
But the proposal described by Iran's nuclear chief, Fereidoun Abbasi, may not go far enough to satisfy the West because it would leave the higher enriched uranium still in Tehran's hands rather than transferred outside the country.
Abbasi said Tehran could stop its production of 20 per cent enriched uranium needed for a research reactor, and continue enriching uranium to lower levels for power generation.
Full report at:
http://www.dailypioneer.com/world/56524-ahead-of-n-talks-iran-floats-compromise-offer.html
-----------
Syrian troops on offensive on deadline day
Apr 10 2012
Beirut : Syrian troops shelled villages, fired across frontiers and were accused of massacres in the hours before a deadline on Tuesday that many doubt can usher in a U.N.-brokered ceasefire and halt a 13-month slide into all-out civil war.
Diplomats trying to contain a crisis that has inflamed the Middle East and pitched old Cold War rivals into opposing camps will not wish to abandon their most comprehensive peace plan yet. The plan's author, international envoy Kofi Annan, visits Turkey and Iran on Tuesday, while Russia hosts the Syrian foreign minister.
In Damascus, President Bashar al-Assad said nothing on Monday about whether he would honour his undertaking to Annan to start withdrawing government forces from urban areas on April 10 -- a deadline that diplomats say appears to give him until midnight Syrian time, or 2100 GMT, on Tuesday to comply.
Assad's demand on Sunday for written guarantees of good faith from the rebels - which their leaders rejected out of hand - as well as the hostile actions of Syrian troops on the ground, fueled doubts that Annan's schedule for the full truce to start by 6 am (0300 GMT) on Thursday, April 12, would be respected.
Syria was to have started pulling troops out of towns and cities by Tuesday to pave the way for a ceasefire to start 48 hours later.
April 10 has become void, concluded Turkish Deputy Foreign Minister Naci Koru. Ankara, Assad's former ally and now a foe, deplored shooting that wounded five people in a refugee camp inside Turkey - in the border area which Annan, the former U.N. secretary-general, is expected to visit on Tuesday.
Another neighbour, Lebanon, condemned the killing of a local journalist by Syrian soldiers firing over the border.
Full report at:
http://www.indianexpress.com/story-print/934869/
-----------
RIYADH: Shoura raises employment age to 18
Apr 10, 2012
The Shoura Council yesterday moved several amendments to the existing civil services regulations that included raising the age limit to join the civil service in the Kingdom from 17 to 18 years.
The 21st regular session of the council was held under the chairmanship of Abdullah Al-Asheikh, chairman of the Shoura Council.
The house also agreed to create an operational mechanism and mode for the implementation of best practices and international experiences to combat commercial fraud.
Shoura Council Secretary General Dr. Muhammed Al-Ghamdi told reporters yesterday that the house amended nine articles of the Civil Service Law.
He said the highlights of the amendments include raising the age limit to enter the civil service and annulling the existing power of ministers to authorize civil servants to work in other public sectors simultaneously. The house felt a public servant should not be involved in two functions in separate ministry departments.
Another major decision taken by the council, Al-Ghamdi said, was to allow ministries to advertise their vacancies in their relevant media publications. Ministry vacancies were advertised through the Ministry of Civil Service before.
At present, civil servants who go to jail for various offenses can apply for public sector positions only three years after completion of their jail terms.
Full report at:
http://arabnews.com/saudiarabia/article608997.ece]
-----------
Qur'an bedrock of security: Prince Sultan bin Salman
Apr 10, 2012
Prince Sultan bin Salman, chairman of the Saudi Commission for Tourism and Antiquities and chairman of the Disabled Children's Association, attended the concluding ceremony for the Qur'an memorization contest for handicapped children here yesterday.
Addressing the ceremony, Prince Sultan highlighted the importance of Qur'an and attributed the security and stability in the Kingdom to its adherence to the Qur'anic teachings and values. He commended the efforts of Saudi leadership in the service of Qur'an. "I am born and brought up in the house of Prince Salman where Qur'an recitation has been a regular event," he said.
Prince Sultan urged Muslims not to show any negligence toward taking care of the Qur'an and spreading its message all over the world.
Sheikh Saud bin Ibrahim Al-Shuraim, imam and khateeb of the Grand Mosque in Makkah, explained the benefits of learning and memorizing the Qur'an. "It's the best way to become closer to God," he added.
Al-Shuraim praised Prince Sultan for organizing the Qur'an contest in which 78 children took part. Prince Sultan distributed prizes among the winners of the contest, which was named after him.
http://arabnews.com/saudiarabia/article609030.ece
-----------
Egypt court suspends constitutional assembly
10 April 2012
A court in Egypt has suspended the 100-member assembly appointed last month to draft the country's new constitution.
Several lawsuits had demanded Cairo's Administrative Court block the decision to form the panel as it did not reflect the diversity of Egyptian society.
They said women, young people and minorities were under-represented.
Islamists from the Muslim Brotherhood's Freedom and Justice Party and the Salafist Nour party, which dominate parliament, have a near-majority.
Liberals and secularists fear some of them would like to amend the constitution so that it follows the principles of Islamic law more strictly.
The new document will also determine the rights of Egypt's religious and ethnic minority groups and the balance of power between the president - previously the supreme authority - and parliament.
Once the panel has produced a draft, it will be put to a referendum. It had been hoped that would take place before the presidential election in May.
http://www.bbc.co.uk/news/world-middle-east-17665048
-----------
Minister Raps West's Propaganda Campaign against Iran
10 April 2012
TEHRAN (FNA)- Iranian Minister of Culture and Islamic Guidance Seyed Mohammad Hosseini lashed out at the West for its propaganda campaign against Iran, and voiced Tehran's willingness to interact with Western artists in a bid to present a true and real image of Iran.
Addressing a meeting on the 'Role and Status of Cultural Elites and Outputs of Modern Islamic Civilization' on Monday, Hosseini pointed to the history of cultural interaction between Iran and the other nations, Hosseini said that numerous nations have appreciated Iranian culture and sentiments of solidarity and arts.
Hosseini criticized the western governments for propaganda campaign against Iran adding that they do not like to see an active Iran in cultural arena.
"Iran has historically been famous with science, culture, knowledge and art, but after Islamic revolution, the western governments, especially the US tried to depict Iran differently and introduce it with wars, violence, weapons of mass destruction and prone to military encounter with world, while history proves Iran has always cherished the humanitarian values such as love, passion, friendship, sincerity, kindness, and affection," the minister stated.
Full report at:
http://english.farsnews.com/newstext.php?nn=9101141123
-----------
Malaysia moves to end detentions without trial
10 April 2012
Malaysia has announced a new security law that will end the government's power to detain people indefinitely without trial.
The new bill, expected to be passed by parliament, limits the detention period to 28 days and offers more legal protection to those accused.
Prime Minister Najib Razak described it as a historic day for Malaysia.
But opposition groups say the new law is draconian and that the 28-day time limit is still unacceptable.
They have accused the government of using the old security act to stifle political debate and lock up critics.
Syed Ibrahim Syed Noh - a prominent critic of the new law - called for it to be abolished entirely without being replaced.
He said that there were no proper consultations with human rights groups before the draft law was tabled and that the 28-day limit was "excessive".
"It is still a form of detention without trial. It is unacceptable," he said.
But Mr Najib says that the move will give more freedom to Malaysians because people cannot be detained on the basis of their political ideology.
'Major step forward'
Full report at:
http://www.bbc.co.uk/news/world-asia-17664116
-----------
Mali coup leader rejects possible Ecowas intervention
10 April 2012
Mali's coup leader has rejected the intervention of foreign troops in the rebel-held north - and hinted at his continuing role in ruling the country.
The comments come just days after a deal was brokered that is supposed to return the West African state to constitutional rule.
The parliamentary speaker is to be sworn in this week as interim president and the junta hand over power.
Mali was plunged into crisis after a separatist uprising that led to a coup.
The putsch, led by Capt Amadou Sanogo, took place nearly three weeks ago amid accusations from the army that the government had not done enough to suppress the insurrection in the north that began in January.
Since the coup, key towns in northern Mali have fallen to Tuareg separatist rebels and their Islamist allies.
'Slap in the face'
The West African regional bloc Ecowas has said it is preparing a force of up to 3,000 soldiers, which could be deployed to wrest back control of the north.
Last week, Capt Sanogo formally asked for Ecowas's help in defeating the rebels, but in televised remarks on Monday night he said he was only asking for equipment and logistical support.
Full report at:
http://www.bbc.co.uk/news/world-africa-17662913
-----------
Mubarak's veep says he won't 'reinvent' old regime
10 APRIL 2012
Hosni Mubarak's former vice president and spy chief said in comments published Monday that he would not attempt to "reinvent" the regime of his longtime mentor if he is elected president of Egypt.
Omar Suleiman, who is running in the presidential elections slated for May 23-24, told state-owned Al-Akhbar daily that restoring security would be his top priority as president. Next on his list would be to revive the country's faltering economy, social justice and reinforcing freedom and democracy.
He also sought to distance himself from the old regime and said the uprising that forced Mubarak to step down nearly 14 months ago has created a "new reality" that cannot be reversed.
Full report at:
http://www.dailypioneer.com/world/56538-mubaraks-veep-says-he-wont-reinvent-old-regime-.html
-----------
Syria forces fires over borders with Lebanon, Turkey
Apr 10, 2012
BEIRUT: Syrian forces opened fire across two tense borders Monday, killing a TV journalist in Lebanon and at least two people in a refugee camp in Turkey on the eve of a deadline for a cease-fire plan that seems all but certain to fail.
Across Syria, activists reported particularly heavy violence with more than 125 people killed in the past two days.
The Obama administration expressed outrage at the violence spilling over the frontiers, saying the Syrian government appeared to have little commitment to the peace plan that was negotiated by former U.N. chief Kofi Annan.
The latest bloodshed was a sign of how easily Syria's neighbors could be drawn into a regional conflagration as President Bashar Assad's crackdown on a year-old uprising becomes increasingly militarized, despite desperate diplomatic efforts.
Annan brokered a deal that was supposed to begin with Syria pulling its troops out of population centers by Tuesday morning, with a full cease-fire by both sides within 48 hours. But hopes for the plan collapsed after a fresh wave of violence and new demands by the regime for written guarantees that the opposition will lay down arms first.
Naci Koru, Turkey's deputy foreign minister, said Tuesday's deadline for the withdrawal has become "void at this stage," state-run TRT television reported.
The U.N. estimates some 9,000 people have been killed in Syria since March 2011, when the uprising began with mostly peaceful protests against Assad. But a government crackdown led many Syrians take up weapons, transforming the conflict into an insurgency.
Full report at:
http://timesofindia.indiatimes.com/world/middle-east/Syria-forces-fires-over-borders-with-Lebanon-Turkey/articleshow/12604726.cms
-----------
If Imam wins mayor election, I will quit politics: Azam
Apr 10 2012
Lucknow : Apparently, irked that Samajwadi Party leaders were going soft on Shahi Imam Syed Ahmed Bukhari, party general secretary Azam Khan today claimed that he was a party in himself and did not need anyone's support.
Khan also challenged Bukhari to run for Moradabad mayor to prove his support. "Moradabad is not alien to him as his first wife and a son lives there. If he is able to save his deposit, I will resign from politics," he said.
SP chief Mulayam Singh Yadav has held several rounds of talks with Bukhari to placate him after he rejected the party's offer of a Legislative Council seat to his son-in-law. If this — and the fact the leadership had not sided with him in his showdown with Bukhari barely a month after the party returned to power — was not enough to rankle Khan, the Imam's Delhi office today claimed 13 SP MLAs had come to meet him in the morning.
Full report at:
http://www.indianexpress.com/story-print/934817/
-----------
Iraq parliament approves rights commission
Apr 10, 2012
BAGHDAD: Iraqi MPs have approved the first independent human rights commission in the country's history, which is to track rights violations here, lawmaker Ashwaq al-Jaff said on Tuesday.
"The main role of this commission is to monitor all violations of human rights in all fields and in all governmental and non-governmental institutions," Jaff said of the High Commission for Human Rights, which was approved by parliament on Monday.
"Any citizen will have the right to file a complaint directly to the commission," said Jaff, a member of the Iraqi parliament's human rights committee.
Jaff said the commission will take "independent decisions," and "will issue annual reports to the parliament and to the international organisations."
"We are a country that lived for 35 years in which human rights were violated, and even after 2003, there were some violations of human rights. The role of this commission is to show the citizens what human rights are," she said.
All its members, she said, signed a commitment to not belong to political parties while working on the commission.
At the latest, the commission will replace the Human Rights Ministry after 2014 elections, she said.
Full report at:
http://dawn.com/2012/04/10/iraq-parliament-approves-rights-commission-fm/
------------
Afghan Security Forces Worry Over Fratricidal Brothers-In-Arms
Apr 10 2012
KABUL (Reuters) - While NATO soldiers worry whether an Afghan partner might turn from an ally to a lethal foe, Afghan soldier Sayed Rahim says he's afraid his own comrades at a small outpost in eastern Paktika province will kill him.
"There are some soldiers who have Taliban war songs on their cellphones," Rahim said. "Do we do our duty, or should we watch out for these guys who will kill us one day?"
While successive attacks by rogue Afghan security forces against NATO allies worry Western commanders, less-known incidents of Afghan-on-Afghan violence within the security forces point to Taliban infiltration nearer to home.
More than a decade since coalition forces toppled the Taliban, NATO forces and the Western-backed government are scrambling to build up local security forces ahead of the withdrawal of most foreign combat troops by the end of 2014.
The surge in attacks by lone Afghan security force members on NATO troops has raised concern over the ability of Afghan soldiers and police to take primary responsibility against the tenacious insurgency in the two-and-a-half years still left.
Insider attacks have killed 17 NATO soldiers this year, forcing the coalition to take new steps to safeguard troops working with Afghans, including "guardian angel" protectors.
Full report at:
http://www.nytimes.com/reuters/2012/04/10/world/asia/10reuters-afghanistan-killings.html?ref=global-home&gwh=DF12781C11EFE384EB411C8E8ED3733D
------------
Gujarat riots: No offence established against Narendra Modi in SIT report, says court
Apr 10, 2012
AHMEDABAD: The Supreme Court-appointed Special Investigation Team (SIT) has found no evidence against chief minister Narendra Modi and 57 others in the complaint filed against them by Zakia Jafri in the 2002 Gujarat riots, a magisterial court said on Tuesday.
The court asked the SIT to provide its final report, on the alleged involvement of Narendra Modi and others in the 2002 Gujarat riots, within 30 days to complainant Zakia Jafri.
Zakia Jafri is the widow of ex-parliamentarian and Congress party leader Ehsan Jafri, who was burnt to death in 2002 in his own home by a group of rioters during the 2002 riots. Zakia had asked for a copy of the bulky SIT report.
The court mentioned in its order that the SIT has filed a closure report against the accused for their alleged role in the 2002 riots.
Meanwhile, the Gujarat high court disposed of a contempt petition against the state government that was filed for not complying with the court orders to give compensation to the 2002 riots affected victims for damage to their properties in Rakhial area of Ahmedabad. The HC has permitted the petitioner to approach appropriate authority in this regard.
http://timesofindia.indiatimes.com/city/ahmedabad/Gujarat-riots-No-offence-established-against-Narendra-Modi-in-SIT-report-says-court/articleshow/12609210.cms
-----------
PCI Chairman appeals to Zardari for Sarabjit's release
Apr 10, 2012
Press Council of India (PCI) Chairman Justice Markandey Katju today appealed to Pakistan President Asif Ali Zardari to release Indian national Sarabjit Singh, who is languishing in a Pakistani jail.
In a letter addressed to Mr. Zardari through the Pakistan High Commissioner to India, Justice Katju said that Mr. Zardari's visit to India and Ajmer Sharif had created a climate for good relations between the two countries.
"I am appealing to you to order release of Sarabjit Singh and his return to India as a humanitarian gesture, exercising your power of pardon as the Pakistan President," Justice Katju wrote in his letter.
"By doing so you will add to the excellent impression among Indians created by your recent visit to Delhi and Ajmer Sharif," he added.
Justice Katju also mentioned the fact that Mr. Zardari had earlier honoured an appeal made by the bench of the Indian Supreme Court (consisting of Justice Gyan Sudha Mishra and Justice Katju) to release Gopal Das, an Indian who had spent 27 years in Pakistani jails.
Justice Katju reminded Mr. Zardari that the Supreme Court had quoted the famous couplet of Pakistani Urdu poet Faiz Ahmed Faiz: "Qafas udaas hai yaaron saba se kuch to kaho Kaheen to behar-e-khuda aaj zikr-e-yaar chale" in that judgement.
Thanking Mr. Zardari for releasing Gopal Das, Justice Katju appealed for similar generosity in the case of Sarabjit Singh, an Indian national, who has been on death row in a Pakistani jail for over 20 years.
http://www.thehindu.com/news/national/article3299799.ece
-----------
Court verdict on Zakia Jaffery's plea seeking SIT report likely today
Apr 10, 2012
AHMEDABAD: A local court may on Tuesday pronounce its order on Zakia Jaffery's plea seeking copy of Special Investigation Team's (SIT) report on her complaint against Gujarat chief minister Narendra Modi and others in conenction with the 2002 post-Godhra riots.
Metropolitan Magistrate M S Bhatt had on March 27 reserved his ruling after hearing Zakia, wife of former Congress MP Eshan Jaffery who was killed during the riots, and the Supreme Court- appointed agency.
He was hearing a bunch of applications seeking copies of the SIT finding, and demanding the report submitted in February in a sealed envelope be treated as a public document and read out in court.
SIT Counsel R S Jamuar, in a reply to Zakia's plea, submitted that she was entitled to the copy of the report but at "a proper stage", which has not yet come.
Zakia should be given the copy only after the court decides whether to prosecute those named in her complaint or close the case against them. Otherwise, it will be against the order of the Supreme Court, he said.
At this stage Zakia's application has no merits and deserves to be dismissed, Jamuar maintained.
Full report at:
http://timesofindia.indiatimes.com/india/Court-verdict-on-Zakia-Jafferys-plea-seeking-SIT-report-likely-today/articleshow/12606766.cms
-----------
Owner of Dilip Kumar's house awaits payment from Khyber Pakhtunkhwa govt
Apr 10, 2012
PESHAWAR: The Khyber Pakhtunkhwa government is yet to pay the owner of the house of legendary Indian actor Dilip Kumar, the owner told reporters on Monday.
The house, where Kumar lived before migrating to India, was bought by the provincial government early this year on pretext of turning it into a 'national heritage' site.
Akramullah, who sold the house to KP government for Rs.30 million, claims to have not received any payment by the authorities.
Speaking at a press conference in the provincial capital, he told reporters that he bought the six-room house in 2005 for Rs.5 million. He planned to turn the house into a market.
The house is located in Mohallah Khudadad in the city's famous Qissa Khwani bazaar.
The iconic Indian actor, whose real name is Mohammad Yusuf Khan, left his house in 1942 before migrating to India, where he launched his acting career in 1942. His relatives later sold the house for Rs5.6 million.
http://dawn.com/2012/04/09/owner-of-dilip-kumars-house-awaits-payment-from-kp-govt/
-----------
URL: https://newageislam.com/islamic-world-news/new-age-islam-news-bureau/moroccan-rape-marriage-law-highlights-worldwide-problem/d/7027