New Age Islam News Bureau
4 Feb 2017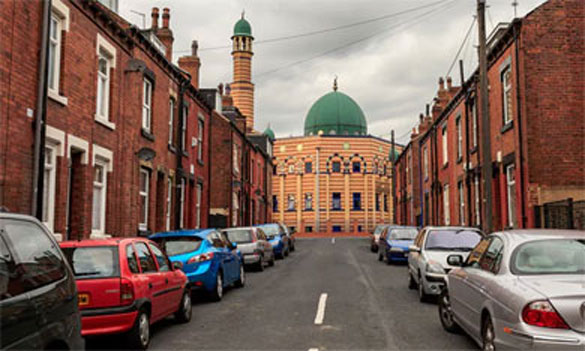 Leeds Makkah Masjid. Photograph: kelvinjay/Getty Images
---
• More Than 150 UK Mosques Hold Open Day for Non-Muslims
• Practicing Muslims Wary Of Hate-Filled Friday Sermons in Indonesia
• Social Media Led To 'Strange' Practices: Saudi Cleric
• In Shift, Trump Says Israeli Settlements 'Not Helpful' For Peace
• US Federal Judge Issues Temporary Halt Of Donald Trump's 'Muslim Ban'
Europe
• More Than 150 UK Mosques Hold Open Day for Non-Muslims
• Latinos Visit Mosques, Pray and More to Show Support for Muslims
• Louvre knife attack sparks fresh warnings of French terror threat
• Donald Trump thinks Islam is incompatible with the West. Britain's mosques prove otherwise
• European populists seek 'Trump boost' for anti-Islam stances
• Jews hand Muslims keys to synagogue after Texas mosque burns
• In Marseille, police disguise themselves as Muslims to arrest drug dealer
-------
Southeast Asia
• Practicing Muslims Wary Of Hate-Filled Friday Sermons in Indonesia
• Allow Opposing Views on Islamic Laws, G25 Tells Putrajaya
• Muslim Countries Hope for More Visitors after US Travel Restrictions
• Malaysian PM sends aid for Muslim Rohingyas in Myanmar
• Pakatan leaders protest 'Muslim ban' at US embassy
• Malaysians protest Trump's immigration ban
-------
Arab World
• Social Media Led To 'Strange' Practices: Saudi Cleric
• Syria: ISIL Executes Own Members on Charges of Escaping Battlefield
• Over 40 FSA-Linked Terrorists Killed in ISIL's Ambush in Dara'a
• Syria: 7 Turkish Soldiers, Allied Militants Killed in ISIL's Attack near Al-Bab
• UN sees Mosul assault driving out 250,000 civilians
• Warplanes kill 12 fighters in Syria's Idlib
• Nusra Centers in Western Damascus Hit Hard by Syrian Army
• ISIL's Arms Depot, Oil Tanker Destroyed in Syrian Air Raid in Sweida
• Syrian Army Scores More Victories against Terrorists in Eastern Damascus
• Syrian Army Continues to Advance against ISIL in Eastern Homs
• Syrian Army, Hezbollah Fighters Strom ISIL's Positions in Eastern Homs
-------
Mideast
• In Shift, Trump Says Israeli Settlements 'Not Helpful' For Peace
• Singapore to Cane Saudi Diplomat over Molestation
• Former Norwegian PM held in US over Iran visa
• US Navy sends destroyer to Yemen amid Iran tensions
• Al-Qaeda enters three Yemen towns' days after US raid
• US: 'Iran is biggest state sponsor of terrorism'
• US sanctions strike Iran's missiles, Guards
• Iran to impose legal restrictions on some US entities, individuals
• Yemen: al-Qaeda spreads again in three towns of Abyan province
• Saudi heavy setbacks in Yemen behind anti-Iran claims: Qassemi
-------
North America
• US Federal Judge Issues Temporary Halt Of Donald Trump's 'Muslim Ban'
• Bannon Film Outline Warned U.S. Could Turn Into 'Islamic States of America'
• Trump adviser Conway cites fake terror attack to defend 'Muslim visa ban'
• Trump asks US to 'get smart' after 'radical Islamic terrorist' attack in Paris
• Angelina Jolie slams Donald Trump's travel ban
• US imposes fresh sanctions on Iran
• More than 100,000 visas revoked amid Trump travel ban
• Ohio State Course Suggests Muslims Helped Build America
• Dozens Form Human Chain To Support Muslims In America
• For Canadian Muslims, recent disturbing events part of 'familiar narrative'
-------
Pakistan
• Pakistan Senator Urges World Leaders to Not Use Term 'Islamic Terrorism'
• NA Passes Bill Giving Constitutional Cover to Jirga, Panchayat Systems
• A US travel ban on Pakistan to be counterproductive: minister
• Chinese, Pakistani businesses build ties as Beijing splurges on 'Silk Road'
• 'Countrywide' demonstrations for Jamaatud Dawa chief
• Pakistan denies identity cards to family of doctor who helped trace bin Laden
-------
India
• Rajya Sabha Discusses Bill Seeking To Declare Pakistan a Terror Sponsor
• Pakistan Blames India for Slow Pace of 26/11 Mumbai Attacks Trial
• Terror Undertrial out on Bail Picks up The Pieces, Starts Practice as Lawyer in Mumbai
• India further liberalises visa policy for Afghan nationals
-------
South Asia
• New UN Report Chronicles Abuse against Rohinyga in Myanmar
• Arakan State Advisory Commission Member Describes Inhumane Conditions For Refugees In Bangladesh
• Malaysia sends off aid ship bound for Rohingyas in Myanmar
• Afghan forces and Taliban suffer casualties in new Helmand clashes
• Hekmatyar's name removed from UN Security Council sanctions list
-------
Africa
• How My Administration Stopped Religious Killings – Goodluck Jonathan
• Trump's Order on Muslim Countries Will Not Effect Nigerians – US Envoy
• East Africa: Somali Refugees Stranded in Kenya after Trump Ban
• Sudan 'To Demolish At Least 25 Christian Churches' in Khartoum
Compiled by New Age Islam News Bureau
URL: https://www.newageislam.com/islamic-world-news/new-age-islam-news-bureau/more-than-150-uk-mosques-hold-open-day-for-non-muslims/d/109958
-------
More Than 150 UK Mosques Hold Open Day for Non-Muslims
3 February 2017
Harriet Sherwood
More than 150 mosques around the UK will open their doors to non-Muslim visitors this weekend to offer people a better understanding of Islam and the chance to ask questions about the faith.
Thousands of people are expected to take part in the third annual Visit My Mosque day on Sunday, visiting mosques from Inverness to Plymouth. Most are in cities with large Muslim populations, but there are also smaller mosques, for example in Craven Arms in Shropshire, Bangor in north Wales, Belfast, and Maidenhead, the constituency of the Prime Minister, Theresa May.
As well as explaining the basic tenets of Islam, prayer rituals and the influence of faith on everyday lives, the mosques will showcase social action projects they are involved with that tackle food distribution, homelessness and refugees. Giving to charity is one of the five pillars of Islam, and last year British Muslims gave an estimated £100m to charitable causes during the holy month of Ramadan.
This year's open day comes soon after Donald Trump banned people from seven Muslim-majority countries and all Syrian refugees from entering the US, and the shooting at a mosque in Québec. Mosques have expressed hope that non-Muslims will take the opportunity to show solidarity in the face of rising Islamophobia.
"As the world recoils at President Trump's so called 'Muslim Ban' and the mass killing at a mosque in Canada, [Visit My Mosque day] is a much needed antidote to the poisonous atmosphere we find ourselves in," said Harun Khan, secretary general of the Muslim Council of Britain. "The British public, Muslim and non-Muslim, have an opportunity to come together and renew bonds of friendship."
He added: "Visit My Mosque Day is our chance to welcome fellow Britons to our diverse community. In previous years we were moved by how the great British public has taken part in the day, some travelling dozens of miles to find their local mosques, and the level of enthusiasm in the number of mosques who have invited their neighbours to share in the experience has increased each year."
A spokesperson for Leeds Grand Mosque said: "We are concerned with the increasing number of hate crimes against Muslims and Islam in the UK."
The open day was "an opportunity to understand the Islamic faith from our perspective. For most non-Muslims, the only Islamic education they receive is through the media alone."
The mosque hoped "to attract people from all walks of life, young and old, black and white, male and female … so that they are equipped with the true knowledge and values of Islam," he told the Yorkshire Evening Post.
Clive Gregory, the bishop of Wolverhampton, said he would visit two local mosques. He said: "In the current political climate, building bridges rather than walls between communities is more important than ever.
"Visit My Mosque Day is a fantastic opportunity to do this and I'd urge local Christians to get involved as we seek to strengthen our relations with local Muslims."
Said Hansdot, of the Gloucestershire Islamic Trust mosque, said: "We want to invite people in to show that we are not any way different. We are not aliens; this is just the place where we do our prayers."
He said many non-Muslims had never seen inside a mosque. "We don't say no to anyone and we want to come together with these people," he told Gloucestershire Live.
In May's constituency, the Maidenhead mosque said it hoped to receive hundreds of visitors on Sunday. The prime minister had visited the mosque during Ramadan last June, said Zia Mahiudin.
Guests would be offered a tour of the building, which was designed by a Jewish architect, and talks on Islamic practice.
"Whenever we post out events on social media, it's usually 90% positive, but there are some people who say we're evil and the rest of it," Mahiudin told the Maidenhead Advertiser.
"With the current political climate in the media, people become more aware of the situation, people want to know more. Events like this help break down barriers and bring people together."
The number of mosques participating in the event is almost double last year's tally of 80.
https://www.theguardian.com/world/2017/feb/03/visit-my-mosque-day-open-day-non-muslims
-------
Practicing Muslims Wary Of Hate-Filled Friday Sermons in Indonesia
February 4, 2017
Heickel Alkatiri, an assistant manager at a tobacco firm, said he was now reluctant to attend Friday prayers at the mosque near his house in Duren Tiga, South Jakarta. He said he looked for soothing sermons about Islamic values, but what he got was nothing more than hate speech.
"I've heard preachers spread inaccurate teachings about jihad, saying that non-believers of Islam can be killed because they are all infidels," Heickel said on Friday.
Muhammad Hafiizh Riyadi has a similar problem. When he attended a mosque in Pondok Pinang, South Jakarta, recently, a preacher said that voting for non-Muslim leaders would be a sin and those who did so could be regarded as infidels.
"Such sermons can be misleading, especially for some people who just accept them without filtering what they hear. In my view, sermons should spread greater love, instead of telling us what's right or wrong about other religions," the freelance photographer said.
Heickel and Muhammad are two of many practicing Muslims who have complained about the content of Friday sermons and are now looking for mosques with preachers who refrain from talking politics and spreading hate.
The government is aware of the problem and is now looking for ways to resolve it.
"Many people have told us that occasionally in several mosques, the preachers forget to provide religious advice, and instead disparage other groups, which are the opposite of providing advice," Religious Affairs Minister Lukman Hakim Saifuddin said recently.
The minister said he wanted to ensure that preachers giving Friday sermons were competent and stuck to their roles as clerics. The ministry, he said, was planning to cooperate with Islamic organizations to "standardize" preachers to ensure they have full understanding about spreading positive messages during Friday prayers.
The plan, however, immediately sparked controversy, forcing Lukman to clarify his intentions.
"This is not government intervention," Lukman said, adding that it was up to Islamic organizations to decide whether standardization, including certification and more comprehensive training, development, coaching and supervision for preachers, needed to be implemented.
"It's the domain of the ulemas to determine the standards of competency for preachers as it is not within the government's remit. We are not going to take it over from them," he said.
Lukman said he would talk with the Indonesian Ulema Council (MUI), Nahdlatul Ulama (NU), Muhammadiyah, and other Islamic organizations about the plan. "The government only facilitates public aspirations [...] This is not solely our idea as we only respond to those who want more regulation and improvements in the matter," he added.
The proposal has received a mixed response from Islamic organizations.
Muhammadiyah, the secondlargest Islamic organization, is skeptical about it. The organization's central board secretary, Abdul Mu'ti, said the government should not single out Islam as radical teachings also existed in other religions.
He also questioned whether it was even possible to determine the criteria for standardization as Muslims had different views, much less supervise its implementation.
NU, the country's largest Islamic organization, welcomed the proposal, highlighting the importance of preachers spreading peaceful Islamic values and encouraging Muslims to be kind and tolerant in a pluralist country.
"However, it should be kept in mind that standardization would not limit the spread of Islamic preaching or bring back uniformity like in the New Order era, but would instead be an effort to educate preachers," NU deputy secretary-general Imam Pituduh said.
Indonesian Mosque Council (DMI) executive Natsir Zubaidi said while standardization would be for ulemas to decide, the council would encourage mosque managers to actively engage with congregations in the selection of preachers so they could promote Islamic values that fit properly with the situation of the local community.
http://www.thejakartapost.com/news/2017/02/04/practicing-muslims-wary-of-hate-filled-friday-sermons.html
-------
Social media led to 'strange' practices: Saudi cleric
February 4, 2017
RIYADH : Social media have led to "strange practices" such as the use of "fingertips instead of minds" to think, a Saudi religious leader said Friday in the Islamic kingdom where online platforms are used widely.
"The nature of social media has given rise to strange practices contradicting morals, customs and norms," Sheikh Saud al-Shiraim said during weekly prayers at Makkah's Grand Mosque, the official Saudi Press Agency reported.
"People are using their fingertips to think instead of their minds and tongues," he said, adding that the ease of online communication has detracted from the "grandeur and importance" of the spoken word.
"This has removed a lot of the reservations or barriers of the spoken word that would normally not be uttered in front of people," he said.
The country bans alcohol, public cinemas and theatres, and men and women not from the same family are segregated in public.
But there are pressures for social change.
As part of wide-ranging social and economic reforms to diversify the country's oil-dependent economy, a new entertainment authority has begun to slowly introduce foreign shows, music and other events seen by limited audiences.
Saudi Arabia's highest-ranking cleric, Grand Mufti Abdulaziz al-Sheikh, warned in early January of the "depravity" of cinemas and music concerts, saying they corrupted morals.
http://nation.com.pk/international/04-Feb-2017/social-media-led-to-strange-practices-saudi-cleric
-------
In shift, Trump says Israeli settlements 'not helpful' for peace
February 4, 2017
WASHINGTON - US President Donald Trump has warned Israel that constructing new settlements "may not be helpful" to Middle East peace efforts despite-before taking office- criticizing the Obama administration for not vetoing a United Nations Security Council measure condemning settlements.
"While we don't believe the existence of settlements is an impediment to peace, the construction of new settlements or the expansion of existing settlements beyond their current borders may not be helpful," White House spokesman Sean Spicer said in a statement on Thursday.
The statement was a departure from Trump's full-throated defence of the Israeli settlement constructions on the occupied Palestinian territories, which are considered illegal under international law. Before taking office, Trump slammed the administration of former president Barack Obama for not vetoing a United Nations Security Council resolution condemning Israeli settlements.
Trump's first foreign call as president was to Israeli Prime Minister Benjamin Netanyahu, who is expected to visit the White House on February 15. "The Trump administration has not taken an official position on settlement activity and looks forward to continuing discussions, including with Prime Minister Netanyahu when he visits with President Trump later this month," Spicer said. Since Trump took the oath of office on January 20, Israel has approved a slew of new settlements, in a move that some US officials said would further jeopardize the prospect of a "two-state solution."
On Tuesday, Israel announced plans for 3,000 new settler units in the occupied West Bank, the fourth such announcement in the less than two weeks.
The Obama administration had steadily grown more frustrated with Israeli settlement constructions, culminating in a decision in December to abstain, and not veto, Security Council Resolution 2334, which demanded Israel "immediately and completely cease all settlement activities in the occupied Palestinian territory."
The resolution also stated that settlement building by Israel has "no legal validity and constitutes a flagrant violation under international law."
Trump was quick to denounce the UN measure, and vowed to be a better partner for Israel than Obama, whom he characterized as weak on the Middle East ally. "As the president has expressed many times, he hopes to achieve peace throughout the Middle East region," Spicer said. The statement came hours after Netanyahu vowed to establish a new settlement in the West Bank "as soon as possible," following the court-ordered demolition of the Amona outpost.
Over half a million Israelis live in more than 230 illegal settlements built since the 1967 Israeli occupation of the Palestinian territories of the West Bank, including East Jerusalem al-Quds.
Meanwhile, the White House insisted that the first ground raid personally approved by President Donald Trump against al Qaeda targets in Yemen was a "successful operation," despite the death of a US Navy commando and the Pentagon's conclusion that civilians, including children, were "likely" killed in the operation.
"This was a very, very well thought out and executed effort," White House Press Secretary Sean Spicer claimed at the daily briefing. He called it "a successful operation by all standards."
Casualties may include children, according to media reports, citing US Central Command statement.
Spicer stressed that while the operation the first counterterrorism raid approved by Trump, planning had occurred on President Barack Obama's watch. He said the Defence Department had approved the raid on Dec. 19 and set it to proceed on the next moonless night, which did not happen until after Trump's inauguration. But some US military officials reportedly were disputing the Trump administration's claims, saying that "almost everything went wrong" in a botched covert mission that President Trump gave the green light to without sufficient intelligence or ground support.
According to Reuters, US military officials said that the operation was approved without sufficient intelligence, ground support or adequate backup operations. Former Vice President Joe Biden's national security adviser Colin Kahl tweeted on Thursday that the Trump administration's claim that Obama cleared the operation was "false," adding that it was "deferred to Trump so he could run a deliberate process."
The Pentagon says the January 28 operation in Yemen's Baida province against Al Qaeda in the Arabian Peninsula (AQAP) killed 14 militants and seized "valuable and actionable intelligence," including documents and computers.
But what was supposed to be a lightning raid led to the death of a Navy SEAL, identified as 36-year-old William "Ryan" Owens, in a nearly hour-long firefight. Three more service members were injured when an MV-22 Osprey, sent in to evacuate the wounded, crash-landed after losing power. The damaged $70 million aircraft was later destroyed by a US airstrike so it would not fall into the hands of the militants, according to the Pentagon.
Late on Wednesday, the US Central Command said in a statement that it had concluded that civilians "were likely killed" in the midst of the "ferocious firefight," and that "casualties may include children." The statement said the military was looking into whether there "were any still-undetected civilian casualties."
Medics in the region and local media reported 30 casualties, including at least 10 women and children. The London-based human rights group Reprieve, which monitors civilian casualties of drone strikes, on Thursday said it had obtained evidence of 23 civilian casualties, including a newborn and 10 children.
One of the civilian casualties was the 8-year-old daughter of Anwar al-Awlaki, a senior US-born al Qaida leader who was killed by a US drone strike in 2011, according to posts by her family on social media. Nawar al-Awlaki, who was known as Nora, also was a US citizen. Her brother, 16-year-old Abdulrahman al-Awlaki, also died in a drone strike authorized by Obama.
The Pentagon initially denied that there had been civilian casualties. Later, Pentagon spokesman Jeff Davis acknowledged that unspecified number of women could have been killed because "there were a lot of female combatants who were part of this."
International monitoring groups have expressed concern that the death of civilians, especially children, is likely to be used for propaganda, with photos spread on social media in the aftermath of a raid.
"The first military actions by the Trump administration in Yemen bode poorly for the prospect of smartly and effectively countering AQAP," the International Crisis Group, an independent Brussels-based crisis research center, said in a report on Thursday.
"The use of US soldiers, high civilian casualties and disregard for local tribal and political dynamics . . . plays into AQAP's narrative of defending Muslims against the West and could increase anti-US sentiment and with it AQAP's pool of recruits," the group said.
When he was running for president, Trump said he backed killing family members of terrorist suspects.
"The other thing with the terrorists is you have to take out their families, when you get these terrorists, you have to take out their families," the presidential candidate said on Fox News in 2015.
The operation was the first US-led ground raid in Yemen since 2014, although US forces have conducted airstrikes against al Qaeda in the country. Since a Saudi-led coalition launched air strikes in Yemen in 2015, more than 10,000 people have died and 40,000 have been wounded, according to the United Nations.
Human Rights Watch said the United States should compensate the families of those "wrongfully" killed or wounded in the raid.
The New York Times and Reuters reported Thursday that the Navy SEALs learned that their mission had been compromised after intercepting a transmission that showed the militants were preparing for their arrival.
AQAP has taken advantage of the chaos and breakdown of security in Yemen to tighten its grip on the southern and southeastern parts of the Arab country.
The US carries out drone attacks in Yemen and several other countries, claiming to be targeting al-Qaeda elements; but, local sources say civilians have been the main victims of the attacks.
The drone strikes in Yemen continue alongside the Saudi military aggression against the impoverished conflict-ridden country.
http://nation.com.pk/international/04-Feb-2017/in-shift-trump-says-israeli-settlements-not-helpful-for-peace
-------
US Federal judge issues temporary halt of Donald Trump's 'Muslim ban'
February 4, 2017
Donald Trump's so-called "Muslim ban" received its largest blow to date, when a federal judge issued an emergency order against his bar on citizens from seven predominantly Islamic countries from entering the US.
Los Angeles district judge Andre Birotte's temporary ruling states that immigrants who had already been cleared for legal residency in the US should be allowed into the country - a direct contravention to Mr Trump's executive order which also suspended refugee resettlement in the US for 120 days and barred Syrian refugees indefinitely.
Judge Birotte also ruled that validly obtained immigrant visas could not be cancelled, including those issued anyone from the seven barred countries - Syria, Iran, Iraq, Yemen, Libya, Sudan and Somalia - trying to enter the US.
His ruling came after at least four other US states moved to limit Mr Trump's executive order which he issued last week.
Judge Birotte ordered US officials to refrain from "removing, detaining or blocking the entry of complainants or any other person […] with a valid immigrant visa" or "cancelling validly obtained and issued immigrant visas" of anyone who arrives from one of the seven nations barred from entering the US by Mr Trump's order.
It followed a lawsuit filed on behalf of 28 Yemeni-born people, consisting of US citizens who lived in America and their family members who remained in Yemen but had received immigrant visas to come to the country, the Los Angeles Times reported.
Finding that the plaintiffs were "likely to suffer irreparable harm" if he didn't act, Mr Birotte instructed that they should be allowed entry in the country.
He added that his ruling be applied to anyone trying to enter the US on a valid immigrant visa from the seven countries included in the ban.
The strength and impact of Mr Birotte's ruling is yet to be known. Several federal judges elsewhere in the country have already issued rulings blocking aspects of the executive order, but it is unclear whether they have been followed.
Despite three other judges ruling against the order over the course of the weekend, there were concerns that border officers were not complying with their instructions and had continued to detain people.
In one ruling, a New York judge ordered a halt to deportations of travellers who arrived at airports with valid visas to enter the US, but reports later surfaced of people being turned back.
The state of Virginia also filed a lawsuit accusing Mr Trump of ignoring a court order to halt the travel ban and asked judges to demand the President show why he should not be held in contempt.
The US Department of Homeland Security (DHS) also announced that the travel ban would be reviewed. It said it would look actions taken after the US President issued the controversial order after several people alleged they were unlawfully detained by US Customs and Border officers, who began enforcing the travel ban as soon as it was announced.
http://www.independent.co.uk/news/world/americas/us-federal-judge-muslim-ban-temporary-halt-la-donald-trump-travel-andre-birotte-jr-california-los-a7560836.html
-------
Europe
Latinos Visit Mosques, Pray and More to Show Support for Muslims
by MARISSA ARMAS
FEB 3 2017
Several Latino organizations and community members across the country came together on Friday to stand in solidarity with Muslims around the world.
Civil rights groups, faith groups, immigrant rights leaders, and activists from New York to Chicago to California showed unity for the Muslim community through prayer, vigils, human chains, and more.
Organizers said the #WeAreAllAmerica campaign came together in response to President Donald Trump's executive order blocking Syrian refugees from entering the U.S. and suspending admissions of citizens of seven Muslim countries.
"We stand in solidarity with Muslims because they are our brothers and sisters ... Angelenos, our friends," said Polo Morales the political director of the Coalition for Humane Immigrant Rights of Los Angeles (CHIRLA). "They come to work, they contribute to the value of this country. When they are attacked we stand up with them."
CHIRLA participated in the #WeAreAllAmerica movement by attending a mosque with members of the Muslim community and by hosting a meeting for the community. CHRILA is just one of the dozens of organizations that participated in California. "An attack on one group is an attack on all of us… and we stand in solidarity," Morales told NBC Latino.
Latino allies in Arizona shared a similar sentiment. Promise Arizona held their local event in conjunction with the Islamic Community Center. Promise Arizona's communications director James Garcia said that in Arizona, immigrants of any background were a target of one of the country's most draconian anti-immigrant bills, Arizona Senate Bill 1070, which caused for thousands of Mexican immigrants to flee the state for fear of mass arrests and deportation.
"Latino groups, like Promise, which work to engage the community in civic activism, including registering to vote and getting involved in public policy issues, have a great stake in the protection of civil and human rights, which includes religious freedoms," said Promise Arizona's communication director James García.
"Standing with Muslim Americans, Muslim immigrants and the rights of people of color around the world not to be discriminated against is our way of showing solidarity with these groups and showing the Trump administration that we stand side by side against his bigoted policies."
The organizers said explained that involving Latinos and non-Muslims in the activities is meant to show that the executive order impacts them as well.
"There executive orders are a gateway to something worse down the line. If we don't stand with them worse things can start to happen to all of us," Morales said.
"The ban announced last week affects all refugees around the world, including refugees from Latin American countries. Such a ban, including the Muslim ban, also delivers a message around the world that the U.S. is now willing to turn its back on those who for centuries have made their way to the United States in hopes of a better life, or to escape persecution and poverty," Garcia concluded.
http://www.nbcnews.com/news/us-news/lawyers-el-chapo-argue-jail-conditions-too-restrictive-n716476
-------
Louvre knife attack sparks fresh warnings of French terror threat
3 February 2017
A man who attempted a knife attack on soldiers guarding the Louvre Museum in Paris was shot and injured on Friday, highlighting France's security and terror threat just three months before the French presidential election.
Hundreds of tourists were held in secure areas of the Louvre, one of the world's most visited museums, after the man was shot five times by soldiers on patrol outside. Believed to be in his 30s, he struck at around 10am on a stairway in the Carrousel du Louvre, an underground shopping centre near the entrance to the museum. Wielding a knife, he ran at a group of soldiers on patrol shouting "Allahu Akbar", or "God is greatest".
The incident, in which one soldier was slightly injured, was described by the French prime minister, Bernard Cazeneuve, as "terrorist in nature".
The suspect has not been formally identified but French police had established that the man was a 29-year-old Egyptian who arrived in France on 26 January after obtaining a tourist visa in Dubai, the Paris prosecutor said.
Police searched an apartment the man had rented in Paris and are now working to establish whether he acted alone, on impulse, or on orders from someone, prosecutor François Molins told a news conference. The man was wearing a black T-shirt with a death's head emblem when he attacked soldiers checking bags near the museum's shopping mall "with a machete in each hand", Molins said.
He struck one soldier and knocked another one to the ground. When he continued his attacks the soldier on the ground shot him in the abdomen, Molins said.
Two rucksacks carried by the suspected attacker were checked by bomb disposal specialists at the scene and were found not to contain explosives.
Michel Cadot, the Paris police prefect, said the man had headed towards soldiers "armed with a machete" and shouting threats and "Allahu Akbar". Soldiers opened fire and he was injured by gunshots, including to the stomach, and was being treated in hospital.
Cadot told reporters: "We are dealing with an attack from an individual who was clearly aggressive and represented a direct threat and whose comments lead us to believe that he wished to carry out a terrorist incident.
"There was also a second individual who was behaving suspiciously, who has also been detained, but for now there does not appear to be a link between that individual and the attack."
About 1,250 visitors in the Louvre were ushered to safe areas inside the museum for a time after the incident.
"There were announcements, then the security guards started running all over the place and, after a short period, they started gathering everybody up and getting them to one side of the building," Lance Manus, 73, from Albany, New York, told Associated Press. "They pulled the shades. They didn't want anybody to sit by the windows."
Manus, in Paris with his wife, Wendy, to mark their 50th wedding anniversary, added: "I guess they were concerned that something would be coming from outside." He said people in the museum were calm, but some young children were crying.
A woman who worked in a restaurant nearby told AFP: "We saw death coming for us, with everything that's happening at the moment. We were very, very scared."
The incident sparked fresh warnings from politicians about the terrorist and security threat, with France still reeling from a string of terrorist attacks that have killed more than 200 people over the past two years. France remains under a state of emergency following the Paris attacks of November 2015, which killed 130 people.
The French president, François Hollande, praised the soldiers, saying: "This operation undoubtedly prevented an attack whose terrorist nature leaves little doubt."
Donald Trump responded to the incident in a tweet that described the suspected attacker as "a new radical Islamic terrorist". "Tourists were locked down. France on edge again. GET SMART US," the US president wrote.
The economy, immigration and security are major issues for voters in the two-round French presidential election in April and May. The country has shifted politically to the right after five years of the Socialist Hollande.
Polls show that Marine Le Pen, of the anti-immigration, far-right Front National, can reach the final round runoff. The rightwing candidate François Fillon, who has run a hardline campaign on security, immigration and Islam's place in France, was once a favourite but is struggling for his political survival amid a scandal over whether he paid his wife and children out of public funds for allegedly fake jobs as parliamentary assistants.
The maverick independent Emmanuel Macron, who is running on a centrist ticket, is rising in the polls, and Benoît Hamon has seen a boost in support since he won the Socialist party primary last week.
Full report at:
https://www.theguardian.com/world/2017/feb/03/french-soldier-shoots-man-outside-louvre-paris
-------
Donald Trump thinks Islam is incompatible with the West. Britain's mosques prove otherwise
3 FEBRUARY 2017
Prince Charles spoke earlier this week warning of how the horrific lessons of the Second World War "seem to be in increasing danger of being forgotten". It resonated in a week where the US president's "Muslim Ban" has caused so much division, where turning vulnerable people away has rightly elicited protests worldwide.
Prince Charles highlighted the importance of reaching "across the boundaries of faith and community; to extend a helping hand wherever one might be needed." This message is relevant for all of us, no less so for Muslims in the West who are on high alert following the terrorist attack against a Canadian mosque that killed six people. It comes amid an already hostile atmosphere against Muslims where we are seen as different, alien and not part of this country.
In this poisonous atmosphere of fear and distrust it would be understandable for Muslims to hunker down and turn in on themselves just to survive. But that would be giving in to the bigots. Instead we Muslims should remind ourselves that we are at our best when we reach out, share our faith and welcome fellow citizens into our home.
That is why this Sunday over 150 mosques around the country are participating in Visit My Mosque day. For the third consecutive year, mosques will be welcoming in their neighbours for tea, biscuits, and an opportunity to build bridges and talk about their faith beyond the negative headlines.
Unlike Trump's immigration ban, Visit My Mosque day does not discriminate your entry based on your religion. Men, women and children of all faiths and none will be welcome.
Some may worry about what to do at mosques, whether women have equal access, or question certain practices in our faith. These are all valid concerns, but we hope the great British public will use the opportunity to come visit their local mosque and put these questions to their Muslim neighbours.
In previous years we were struck by how the great British public took to Visit My Mosque Day. Visitors from remote parts of the country where there were no mosques drove dozens of miles to visit mosques in Aberdeen and Bristol after hearing about it on national radio. While mosques in Cambridge and Wolverhampton that were unaware of the campaign, reported that neighbours were knocking on their doors asking if they could come inside.
And Muslims too have been enthusiastic to invite their neighbours to share their story. A mosque is a place of worship for those practicing the Islamic faith, where five daily congregational prayers are held, led by an imam (prayer leader). The first mosque on our Isles is said to have been established in Liverpool in 1887 by the Englishman Abdullah Quilliam. He intended it not only for it to be a place of worship and a spiritual focal point, but also active in serving their local communities, regardless of faith or background.
Full report at:
http://www.telegraph.co.uk/news/2017/02/03/donald-trump-thinks-islam-incompatible-west-britains-mosques/
-------
European populists seek 'Trump boost' for anti-Islam stances
February 3, 2017
In Donald Trump, Europe's populist leaders think they have found a champion. For now. The opening salvoes of Trump's presidency, most notably his ban on immigration from seven Muslim-majority nations, are being gleefully milked by anti-Muslim lawmaker Geert Wilders in the Netherlands and other populist leaders in Germany, Italy and elsewhere who want to roll back the European Union and stem the influx of migrants and refugees. Ignoring the anti-Trump protests, the wide criticism and legal challenges that have erupted over the new US president's ban, populists in Europe argue that Trump is proving that immigration can be stemmed, even stopped. They see a quick and decisive leader _ and their latest weapon with which to attack the European governments and institutions they accuse of being soft on immigration. For Alexander Gauland, deputy leader of the anti-immigrant Alternative for Germany party, Trump is "a path-finder, by proving that with political will you can change polices."
"It makes it easier for people who want to stop Islamic immigration that Trump says: 'You can do it,'" Gauland said. "If this policy works, and if Mr Trump works with these goals, then it could be helpful in the next general election in Germany or the French presidential elections." Czech President Milos Zeman's spokesman, Jiri Ovcacek, calls Trump 'a trailblazer'.
"The EU has been discussing the necessity of protecting its external borders for months. However nothing has happened so far. Europe should perceive the steps taken by President Trump as an inspiration," he said.
With national elections this year in the Netherlands, France and Germany, the rising tide of populism is being watched with growing alarm at EU headquarters in Brussels, which is still reeling from last year's Brexit vote to take Britain out of the 28-nation bloc. Donald Tusk, the EU president, flagged up the threat of populism in a sobering letter this week to EU governments before they meet Friday to discuss their collective future without the British. But political analysts aren't convinced that populists' enthusiastic welcome of Trump's ban _ "Well done (at)POTUS it's the only way to stay safe + free," Wilders tweeted _ will help them as much as they think.
While the ban has pushed immigration back to the top of the global agenda, analysts say that's no guarantee of more votes for populists at the ballot box. In fact, they say, associating too closely with Trump could backfire on populists if his promised "America first" trade protectionism policies end up hurting European workers _ which populists are wooing, as the new US president did in the United States, to gain power.
"In a few weeks, months or years, there could be big differences between leaders of populist parties and Trump," said Marco Tarchi, a political scientist at the University of Florence in Italy. "Long-term, things could get really complicated." In the Netherlands, Wilders was already polling strongly before he started furiously tweeting and praising Trump's immigration ban.
Full report at:
http://indianexpress.com/article/world/european-populists-seek-trump-boost-for-anti-islam-stances-4505549/
-------
Jews hand Muslims keys to synagogue after Texas mosque burns
February 4, 2017
The congregation of the Victoria Islamic Center in Texas was devastated. Its mosque was destroyed over the weekend in a fire, the cause of which is unknown.
Then an act of kindness revived their spirits -- the leaders of the local Jewish congregation gave them the keys to their synagogue so they could continue to worship.
The leader of the mosque said he wasn't surprised by the gesture.
"I never doubted the support that we were going to get" after the fire, Dr. Shahid Hashmi, a surgeon and president of Victoria Islamic Center, told CNN. "We've always had a good relationship with the community here."
Hashmi said Dr. Gary Branfman -- a member of Temple B'nai Israel in Victoria, as well as a fellow surgeon and friend -- just came by his house and gave him the keys.
Support from around the world
And that wasn't the only offer of a temporary worship space that was extended. Hashmi said three local churches said his congregation could use their buildings. Also offered up was an empty office building, which the congregation used for three days before moving into a mobile home on the mosque property, Hashmi said.
"It's a beautiful community," he said.
Though Hashmi always knew his own east Texas community would support the mosque, he was stunned by the outpouring of support from people outside Victoria.
So far, a GoFundMe page set up to help raise money for the mosque's reconstruction has taken in more than $1 million.
That's on top of other donations the congregation has received from people in 90 different countries.
Full report at:
http://nation.com.pk/international/03-Feb-2017/jews-hand-muslims-keys-to-synagogue-after-texas-mosque-burns
-------
In Marseille, police disguise themselves as Muslims to arrest drug dealer
Feb 4, 2017
A man suspected of being a dealer was arrested on Wednesday February 1 in the southern French port city of Marseille by two police officers... who had donned traditional Muslim dress in order to make the arrest. The scene was filmed and shared on French social media, with many people asking the question: was the move entirely above board?
The arrest was carried out in La Bricarde, a neighbourhood in the 15th arrondissement of Marseille in the north of the town. One of the police officers who appears in the video is wearing a qamis, a long tunic often worn by Muslim men. The other officer is wearing a jilbab, another long tunic that also covers the head, usually worn by women. In the video, the officers are joined by another officer in uniform after having arrested the suspect.
First shared on Snapchat, the video was then taken up on Twitter:
A number of residents in the neighbourhood weren't best pleased by the police's latest tactic. Wassim (not his real name), told France 24 :
This is the first time that I've heard of the police using this strategy. I don't think it's right for the police to pretend to be Muslim just in order to arrest someone, even if the rules do go out of the window in this game of cat and mouse. They could have simply been in mufti, without having to pretend to be Muslim.
Some locals also didn't like that the police were reinforcing the stereotype of the poorer suburbs of the city being full of Muslims. The person who posted the video on Twitter wrote, "This gives the impression that you basically have to be Muslim or look like a Muslim in order to blend in." He continued, "This could cause a lack of trust between the police and those they're trying to imitate."
On the other hand, some residents think that the tactic might be a necessary evil. Clara (not her real name), spoke to France 24 about the incident.
In the neighbourhoods, there are people who act as lookouts and immediately alert the dealers when the police are coming. The police sometimes even arrest people that they don't know. So I think that trying to blend into the crowd in order not to attract attention is a good way of catching traffickers.
Full report at:
http://observers.france24.com/en/20170203-marseille-police-disguise-themselves-muslims-arrest-drug-dealer
-------
Southeast Asia
Allow opposing views on Islamic laws, G25 tells Putrajaya
February 4, 2017
KUALA LUMPUR, Feb 4 — Authorities must be receptive to all views on the formation of laws including those on Islam, said the G25 civil society group.
The group noted that there was noteworthy controversy over the attempt to expand the powers of the Shariah courts, and urged Putrajaya to heed concerns over the ramifications increasing the coverage of Islamic laws and scope of their punishments.
Saying Malaysia was "basically secular" according to the language of the Federal Constitution, it expressed concerns regarding the harm to racial and religious harmony that could be brought about by such legislation.
"We hold the view that any laws made by parliament or the state legislatures whether on civil or religious matters are public policies and as such, all citizens have the right to express their views, as long as they do so within the law," it said in a statement.
"This is a fundamental right in all constitutional democracies which must be upheld to enable the voice of the people to be heard locally and internationally."
PAS president Datuk Seri Abdul Hadi Awang has proposed a private Bill to increase Shariah punishment caps to a maximum 30 years' imprisonment, RM100,000 fine and 100 lashes of the cane.
Putrajaya has said that it will eventually adopt the Bill.
The G25 professes to be an advocate for moderation in Islam and good governance. The group was formed in late 2014 to press the government to contain the encroachment of religion into the country's laws and administration.
http://www.themalaymailonline.com/malaysia/article/allow-opposing-views-on-islamic-laws-g25-tells-putrajaya
-------
Muslim Countries Hope for More Visitors after US Travel Restrictions
February 03, 2017
Some areas hope for more foreign students and visitors because of the new United States restrictions on people from seven Muslim-majority countries.
The U.S. order includes a 120-day suspension of refugee admissions and a 90-day entry ban for individuals from Iran, Iraq, Libya, Somalia, Sudan, Syria and Yemen.
Asia's largest budget airline company, Air Asia, is based in Malaysia, one place hoping to profit from the restrictions.
The head of the company, Tony Fernandes, suggested the U.S. move could lead to more Muslims traveling to Southeast Asia.
"With the world now getting more isolationist, it's time for ASEAN (the Association of Southeast Asian Nations) to start making it easier for tourists to come." Fernandes published the comment on the social media network Twitter.
Malaysia is a popular stop for tourists from the Middle East. Nearly 200,000 people arrived there in 2016 from countries including the United Arab Emirates, Saudi Arabia, Iraq and Qatar, the Reuters news service reported.
Many people go to Malaysia for medical treatment. Because most Malaysians are Muslim, it is easy for visitors to find halal food products.
Other countries also hope to profit from the U.S. travel restrictions.
Ajay Mittal is director of International Placewell Consultants in New Delhi. His company places Indian students in colleges and universities overseas.
Mittal said Germany and Singapore had increased efforts to advertise their colleges and universities. He said some students are worried that, even if they go the United States for an education, they might not get a job there at the end of their studies. He noted that the new U.S. administration has announced plans to tighten work visa rules.
Mittal said some students are very worried.
"Of particular concern are plans to review the Optional Practical Training, or OPT program, which gives foreign graduates in fields like science, technology, engineering" or mathematics "the right to find jobs in the U.S. for up to 36 months," he said.
Rod Jones is head of the education business Navitas, Ltd. He said the company has received fewer requests for its U.S.-based English language courses.
"We have started to see students back off from the U.S. because of their concerns about potential issues they may face," said Jones.
Reuters reported that Jones said foreign students should also consider Canada and Australia.
Full report at:
http://learningenglish.voanews.com/a/muslim-countries-hope-for-more-visitors/3702255.html
-------
Malaysian PM sends aid for Muslim Rohingyas in Myanmar
3 February 2017
KUALA LUMPUR, Feb 3 (Reuters) - Malaysian Prime Minister Najib Razak on Friday sent a ship carrying tonnes of food and emergency supplies to Myanmar's Rohingya Muslims, saying their suffering would not be ignored.
Najib has been an outspoken critic of the treatment of predominantly Buddhist Myanmar's Muslim Rohingya minority, calling on the government to stop attacks.
The Myanmar government, led by Nobel Peace Prize winner Aung San Suu Kyi, has denied the accusations, saying many reports of violence against Rohingya are fabricated. It insists strife in Rakhine State, where many Rohingya live, is an internal matter.
"This is a historic moment ... a noble effort that shows that all the pain and suffering of Rohingya in Myanmar will not go ignored," Najib said in a speech at a port near the capital of mostly Muslim Malaysia.
"We hear their pain, those who have been raped, murdered and burned alive."
Myanmar security forces launched a crackdown in the north of Rakhine State, on the border with Bangladesh, in October after nine policemen were killed in attacks on border posts the government blamed on Rohingya supported by foreign militants.
At least 86 people have been killed and about 66,000 have fled into Bangladesh since then to escape what refugees, residents and human rights groups say have been abuses by Myanmar forces including summary executions and rape.
The 2,200-tonne aid shipment, bound for Myanmar's biggest city and port of Yangon, has been organised by Malaysian Muslim groups, as well as domestic and foreign aid groups.
The ship is expected to arrive in Yangon on Feb. 9 where it will unload 500 tonnes of supplies, organisers said, before heading to Teknaf port, across the border from Myanmar, where many Rohingya refugees are camped.
At one stage the Malaysian foreign ministry said Bangladesh had denied permission for the ship to dock at Teknaf, casting doubt on where the bulk of the aid could be unloaded.
However, the ministry later released a second statement stating that Bangladesh reversed the decision late Friday evening following a meeting between Foreign Minister Anifah Aman and Bangladesh's High Commissioner to Malaysia.
"The matter has been resolved as a result of good relations between Malaysia and Bangladesh," the statement said.
'POLITICAL AGENDA'
Myanmar has not allowed the ship to sail to Sittwe, the capital of Rakhine State, as organisers had hoped.
Full report at:
http://news.trust.org/item/20170203161505-ngkpu/?source=reTheWire
-------
Pakatan leaders protest 'Muslim ban' at US embassy
Faiz Zainudin
February 3, 2017
KUALA LUMPUR: More than 200 protesters gathered outside the United States embassy today to protest President Donald Trump's travel ban on seven Muslim-majority countries.
Opposition leaders and NGOs who also joined the protest demanded the temporary restrictions be lifted, adding that linking Islam to extremism was wrong and racist.
Amanah president Mohamed Sabu said banning people from Muslim countries could not help in the war against Islamic State (IS) militants.
Trump is not fighting the IS, he is fighting basic human rights," said Mohamad, adding that Trump was destroying America's standing as the "most democratic nation in the world".
protes-2
Mohamad also questioned Prime Minister Najib Razak for not condemning Trump's actions.
Citing a recent United Nations report which said a Malaysian officer was stationed in Saudi Arabia to provide logistical support to a Saudi-led alliance's military operation in Yemen, Mohamad said Malaysia was no longer a neutral country.
"During Tun Abdul Razak and Tun Dr Mahathir Mohamad's time, they worked hard to ensure Malaysia remained neutral, but now Najib is leaning towards the Arabs as if he's welcoming the IS to come to Malaysia," he said.
Putrajaya has denied Malaysia was militarily involved in the attacks carried out in Yemen.
protesMeanwhile, DAP's Tony Pua also questioned the government's silence over Trump's order.
Full report at:
http://www.freemalaysiatoday.com/category/nation/2017/02/03/pakatan-leaders-protest-muslim-ban-at-us-embassy/
-------
Malaysians protest Trump's immigration ban
BY RAM ANAND
February 3, 2017
KUALA LUMPUR, Feb 3 — Over 100 Malaysians demonstrated today against the temporary US immigration ban on citizens from seven Muslim-majority countries and refugees.
The protest, which lasted for over an hour in front of the US Embassy here, was led by Opposition coalition Pakatan Harapan along with Parti Pribumi Bersatu Malaysia (PPBM), joined by several other non-governmental organisations (NGOs).
Representatives from the organisers later submitted a memorandum directed towards US' Ambassador-Designate to Malaysia, Kamala Shirin Lakhdir, demanding that US president Donald Trump rescind the executive order he signed on January 27 putting into effect the ban.
The memorandum on the ban, signed by Pakatan Harapan's Amanah, PKR and DAP, along with PPBM, was handed over by Amanah president Mohamad Sabu and DAP's Pasir Pinji assemblyman Howard Lee.
The memorandum, in which the demands were addressed directly to Trump, called on him to uphold the United Nations' Universal Declaration of Human Rights.
Among those who attended include DAP's Petaling Jaya Utara MP Tony Pua, social activist Datin Paduka Marina Mahathir, and PKR's Selangor state executive councillor Nik Nazmi Nik Ahmad.
Full report at:
http://www.themalaymailonline.com/malaysia/article/malaysians-protest-trumps-immigration-ban
-------
Arab World
Syria: ISIL Executes Own Members on Charges of Escaping Battlefield
Feb 03, 2017
The six militants were reportedly arrested by ISII guards near Margada town in Syria's Northeastern Hasaka province, after fleeing clashes with the army troops in Deir Ezzur, ARA news reported.
"ISIL has accused them of treason for failing to defend the so-called Caliphate," a media activist in Margada told ARA News, speaking on the condition of anonymity.
"The militant fighters evacuated their post in Northern Deir Ezzur without permission, while clashes continued between ISIL and Syrian soldiers in the region," the source added.
The six militants were publicly executed by firing squad in central Margada.
The execution was ordered by ISIL Governor of Margada Abdu Abdullah al-Jizrawi.
http://en.farsnews.com/newstext.aspx?nn=13951115000767
-------
Over 40 FSA-Linked Terrorists Killed in ISIL's Ambush in Dara'a
Feb 03, 2017
The pro-ISIL Jeish Khaled bin al-Waleed ambushed a gathering of rival terrorists of Liwa Brouj al-Sham that were preparing to launch an attack on Sahem al-Joulan dam, in al-Yarmouk region, killing 33 militants, including a commander known a Mohammad Ali al-Ta'ani.
In the meantime, local activists reported that 11 rebels of Liwa Brouj al-Sham, including a senior commander, were killed in the ISIL's ambush and many more were wounded.
Reports also disclosed that over 48 militants have been killed in clashes between ISIL and FSA in the last 48 hours.
On Monday, hundreds of militants surrendered to the Syrian officials and joined the nationwide reconciliation plan in the Southern province of Dara'a.
Over 600 rebels and militants handed over their arms to the relevant authorities in the town of Qabaqab and received government amnesty.
The Russian Reconciliation Center for Syria said in a statement on Saturday that militants in seven more regions in three provinces laid down their arms and joined nationwide peace plan with the Syrian government.
"Representatives of militants in four regions in Hama province, one region in Homs province and two more regions in Lattakia province have inked peace agreement with Damascus," the Russian centers said.
Full report at:
http://en.farsnews.com/newstext.aspx?nn=13951115000397
-------
Syria: 7 Turkish Soldiers, Allied Militants Killed in ISIL's Attack near Al-Bab
Feb 03, 2017
ISIL opened heavy fire at a gathering of the Turkey-led Euphrates Shield Operation to the North of the town of Baza'ah, killing seven Turkish soldiers and their affiliated militants and wounding four more.
Reports said on Thursday that the Syrian army imposed control over 250 square kilometers of land in the Eastern part of Aleppo province and won full control of over 30 towns and villages in al-Bab military liberation operations.
The Syrian army units seized back over 30 towns, villages and key heights in Eastern Aleppo from ISIL's control since the start of al-Bab military operations.
Full report at:
http://en.farsnews.com/newstext.aspx?nn=13951115000540
-------
UN sees Mosul assault driving out 250,000 civilians
3 February 2017
A renewed assault on ISIS militants in the Iraqi city of Mosul could force 250,000 civilians to flee, if they can find a way out, the UN refugee agency UNHCR said on Friday.
Such an exodus would be on top of roughly 162,000 people already displaced by Iraqi government efforts to retake the city since October. Such numbers, although high, remain well below UNHCR's initial contingency plans, which anticipated a million people or more fleeing from the city.
"As many as 250,000 Iraqis could be displaced from their homes with the anticipated escalation of conflict in densely-populated western Mosul," UNHCR spokesman Matthew Saltmarsh said.
An expected intensification of fighting around Hawija, 130 km southeast of Mosul, could displace another 114,000, adding to the 82,000 who have fled since August, risking ambushes and death.
In Iraq's biggest military operation since the fall of Saddam Hussein in 2003, government forces have seized most of east Mosul. But they have yet to cross the Tigris river, leaving the western half in the hands of the jihadists, who declared a caliphate there two-and-a-half years ago.
UN Special Representative for Iraq Jan Kubis told the UN Security Council on Thursday that retaking western Mosul would be a massive challenge, with complex urban operations.
"There is no question that civilians will be at extreme risk when the fighting starts in the western sections of Mosul," he said.
"Humanitarian partners are bracing for a variety of possible scenarios in the western sections, including a possible mass exodus, prolonged siege-like conditions, or a sequenced and managed evacuation by the Iraqi Security Forces."
He praised Iraqi forces, including the Popular Mobilization Forces, for prioritizing the protection of civilians after learning from mistakes in previous battles to wrest control of cities from ISIS.
Full report at:
https://english.alarabiya.net/en/News/middle-east/2017/02/03/UN-sees-western-Mosul-assault-driving-out-250-000-civilians.html
-------
Warplanes kill 12 fighters in Syria's Idlib
3 February 2017
Air strikes killed at least 12 extremist rebel fighters in Idlib province in northwestern Syria on Friday, the Syrian Observatory for Human Rights said.
Unidentified warplanes struck positions for the hardline extremist Jund al-Aqsa group southeast of Idlib city, near the village of Sarmin, the Observatory, a British-based war monitoring group, said.
Full report at:
https://english.alarabiya.net/en/News/middle-east/2017/02/03/Warplanes-kill-12-fighters-in-Syria-s-Idlib.html
-------
Nusra Centers in Western Damascus Hit Hard by Syrian Army
Feb 03, 2017
The army's missile units targeted al-Nusra Front's gathering and concentration centers in the village of Moqr al-Mir and Tal (hill) Marwan heavily, killing at least 24 militants and destroying their equipment.
On Thursday, tens of militants in Western Ghouta region in Damascus handed over their arms to the Syrian Army troops and received government amnesty.
At least 100 militants in Wadi al-Bardi region in Western Ghouta handed over their weapons to Damascus officials stationed there.
The militants had previously called for government pardoning, so the relevant officials granted them amnesty after seizing their arms.
Full report at:
http://en.farsnews.com/newstext.aspx?nn=13951115000626
-------
ISIL's Arms Depot, Oil Tanker Destroyed in Syrian Air Raid in Sweida
Feb 03, 2017
The warplanes bombed heavily ISIL's concentration centers and movements to the South of Beir al-Rasi'ei near al-Roshdiyeh, destroying a large depot of arms and ammunition, a large oil tanker and a military vehicle.
The ISIL also suffered a heavy death toll in the air attack.
In relevant developments in the Southern province last week, the Syrian army troops targeted a convoy of ISIL terrorists' oil tankers in Eastern Sweida, destroying several tankers and killing several militants accompanying the convoy.
Full report at:
http://en.farsnews.com/newstext.aspx?nn=13951115000601
-------
Syrian Army Scores More Victories against Terrorists in Eastern Damascus
Feb 03, 2017
The army soldiers stormed the defense lines of Jeish al-Islam to the Northeast of Hawsh al-Salehiyeh town, seizing several farms near the town, killing and wounding a number of terrorists from Jeish al-Islam and Faylaq al-Rahman.
The army also captured some trenches and checkpoints in the Northern flank of Hawsh Al-Salehiyeh after a six-hour battle.
The army troops are now about to attack Hawsh al-Salehiyeh from two different flanks, alongside a parallel offensive from the nearby village of Hawsh al-Zriqiyeh.
In a relevant development in the province on Thursday, the Syrian army pounded the movements and gathering centers of the ISIL terrorists to the East of al-Seen airport in Damascus province, inflicting heavy losses on the militants.
The Syrian army units and their allied forces hit hard the ISIL's concentration centers North of al-Seen airport Northeast of Damascus which resulted in the destruction of several military vehicles and killing of all the militants moving in the vehicles.
The Syrian army also cut off ISIL's supply lines from Badiyeh (desert) in Eastern and Northeastern of Damascus province.
Full report at:
http://en.farsnews.com/newstext.aspx?nn=13951115000449
-------
Syrian Army Continues to Advance against ISIL in Eastern Homs
Feb 03, 2017
The army men struck ISIL's defense line and drove the terrorists out of the village of al-Hattaniyeh and Bir al-Marhatan region, killing and wounding a large number of terrorists and destroying three vehicles equipped with machineguns.
The army also established control over the strategic Jahar intersection to the East of the Fourth Station on Homs-Palmyra road, after inflicting heavy losses on the terrorists.
The army units expanded control in the Western direction of Palmyra in the course of their continued large-scale operation against the ISIL terrorists.
The army troops, meantime, advanced towards al-Beida al-Sharqiyeh village and the road to al-Maher gas field, hunting fleeing ISIL terrorists and killing many of them.
The army also launched heavy strikes at terrorists' camps and bases in the village of al-Moshirefeh in response to the militants' attack on the village of Khatab, inflicting major losses on the militants.
On Thursday, the army and its allied forces continued their military operations to boost security of T4 airbase in the Eastern part of Homs province and managed to take full control of vast areas in the vicinity of the airbase.
The Syrian army seized back Baner Fazeh, Fazeh Farm and Western Qasr al-Heir in Eastern Homs province after several hours of clashes with the terrorists.
A military source said that the Syrian troops took control of vast lands to the South of T4 airbase as they are still continuing their advances towards the airbase.
"The ISIL terrorist group has sustained heavy losses in this operation with over 30 casualties and losing over seven military vehicles," the source added.
The army men stormed ISIL's concentration centers and positions to the Northeast of T4 airbase and drove ISIL out of the rest of the terrorist-held heights in al-Tayas chain of mountains, winning full control over the mountains.
Full report at:
http://en.farsnews.com/newstext.aspx?nn=13951115000578
-------
Syrian Army, Hezbollah Fighters Strom ISIL's Positions in Eastern Homs
Feb 03, 2017
The army men and Hezbollah combatants, Backed up by Russian fighter jets, struck ISIL's defense lines in the Hayan gas field from the Western flank of the site in the vast Syrian Desert around 3:00 A.M. (Damascus Time), forcing the latter to withdraw from several points in order to avoid being overrun.
Despite the withdrawal of ISIL from the Western part of the Hayyan Gas Fields, the army has yet to enter the area due to security concerns.
In the meantime, the Syrian warplanes carried out four combat flights over the positions of Al-Nusra Front (recently renamed to Fatah al-Sham Front) in al-Rastan in Northern Homs, inflicting major losses on the militants.
In relevant developments in the Province on Thursday, the army continued its advances in Eastern Homs and seized back several new areas after managing to push back the ISIL terrorists in fierce clashes.
The Syrian army units took control of Jahar intersection and also five of its surrounding regions.
Full report at:
http://en.farsnews.com/newstext.aspx?nn=13951115000308
-------
Mideast
Singapore to cane Saudi diplomat over molestation
February 4, 2017
SINGAPORE : A Singapore court sentenced a Saudi Arabian diplomat to four strokes of a cane and more than 26 months in jail for molesting a young hotel intern while on holiday in the city state last year, the Straits Times newspaper said on Friday.
Bander Yahya A. Alzahrani, 39, who is attached to the Saudi Arabia Embassy in Beijing, is appealing against his conviction and sentence, the newspaper said.
Caning is legal for male offenders in Singapore. The judicial system can hand down the corporal punishment for offences such as drug and sexual abuse, vandalism and rioting, or to foreigners who overstay visas by more than 90 days.
Alzahrani was granted bail for Sg$20,000 ($14,140) and will be appealing the sentence and conviction, his lawyer Shashi Nathan told AFP.
"He's obviously upset and disappointed, but he understands there's another stage of the appeal to be had, and that's what we will be preparing for," Nathan said.
The victim had initially refused to report the incident but staff members at the hotel later convinced her to contact police after they found out that she had been molested in Alzahrani's room, court papers showed.
http://nation.com.pk/international/04-Feb-2017/singapore-to-cane-saudi-diplomat-over-molestation
-------
Former Norwegian PM held in US over Iran visa
February 4, 2017
OSLO : A former Norwegian prime minister said he was held at a Washington airport for one hour because of an Iranian visa in his passport, an incident he described as "provocative".
"There is no reason to be afraid of a former head of government who has been on official visits several times to this country, including in the White House," Kjell Magne Bondevik, 69, told Norwegian broadcaster TV2 on Thursday.
Bondevik, who served as prime minister twice between 1997 and 2005, said immigration authorities held him on Tuesday for an hour and questioned him over an Iranian visa in his diplomatic passport. Iran is one of seven Muslim-majority countries whose nationals are temporarily banned from entering US territory in accordance with a controversial decree signed by Trump. The head of human rights organisation Oslo Centre, Bondevik flew to the US on Tuesday to attend a yearly event in Washington DC called the "National Prayer Breakfast". US President Donald Trump also attended the event.
Full report at:
http://nation.com.pk/international/04-Feb-2017/former-norwegian-pm-held-in-us-over-iran-visa
-------
US Navy sends destroyer to Yemen amid Iran tensions
February 4, 2017
WASHINGTON: The United States has sent a Navy destroyer to patrol off the coast of Yemen to protect waterways from Houthi militia aligned with Iran, two US officials told Reuters on Friday, amid heightened tension between Washington and Tehran.
The USS Cole arrived in the vicinity of the Bab al-Mandab Strait off southwestern Yemen where it will carry out patrols, including escorting vessels, the officials said, speaking on condition of anonymity.
In 2000, the USS Cole was attacked when al Qaeda bombers steered a boat full of explosives into the side of the American warship while it refueled in the Yemini port of Aden, killing 17 US sailors and wounding about three dozen others.
While US military vessels have carried out routine operations in the region in the past, this movement, first reported by Reuters, is part of an increased presence there aimed at protecting shipping from the Houthis, the officials said.
The Houthis are allied to Iran, which is at odds with the administration of US President Donald Trump.
The country recently test launched a ballistic missile.
Trump said on Thursday "nothing is off the table" in dealing with Iran, a day after his national security adviser, Michael Flynn said he was putting Iran "on notice."
The officials said the decision to move the USS Cole was made before the most recent comments.
Full report at:
http://nation.com.pk/international/04-Feb-2017/us-navy-sends-destroyer-to-yemen-amid-iran-tensions
-------
Al-Qaeda enters three Yemen towns days after US raid
February 4, 2017
Aden: Al-Qaeda in Yemen overran three southern towns just days after a deadly US raid targeting its commanders, before withdrawing from two of them on Friday, officials said.
The jihadists' entry into the Abyan province towns of Loder, Shaqra and Ahwar came as the White House defended Sunday's raid on an Al-Qaeda compound as a "success", even though multiple civilians and a Navy SEAL were killed.
Abyan has long been an Al-Qaeda stronghold and it was only through a major offensive backed by a Saudi-led coalition last summer that the government was able to drive its fighters out of the province's main towns.
But the jihadists have faced some opposition from ordinary Yemenis.
"The Al-Qaeda fighters withdrew from Loder and Shaqra after protest demonstrations by residents," a local government official said.
"Residents made clear during the protests that they were ready to take up arms if necessary."
The jihadists' entry into the two towns on Thursday evening was helped by a pullout by government forces angry over the late payment of their wages, a security official told AFP.
"Our forces are also angry that they have not been provided with the weapons and other equipment to confront the jihadists, who have been stepping up their armed attacks," the official said.
Al-Qaeda fighters set up roadblocks around the towns and blew up two security service buildings.
Saudi-led aircraft carried out two strikes on jihadist positions in Loder overnight, the official added.
Al-Qaeda has taken advantage of nearly two years of fighting between government forces and Shiite rebels who control the capital Sanaa to entrench its presence in the south.
Washington has kept up its long-running drone war against the jihadists but that has done little to dent their influence.
Full report at:
http://nation.com.pk/international/03-Feb-2017/al-qaeda-enters-three-yemen-towns-days-after-us-raid
-------
US: 'Iran is biggest state sponsor of terrorism'
4 February 2017
US Defense Secretary James Mattis said Saturday that Iran was the world's biggest state sponsor of terrorism, as President Donald Trump slapped fresh sanctions on the country's weapons procurement network.
"As far as Iran goes, this is the single biggest state sponsor of terrorism in the world," Mattis said at a press conference in Tokyo, but added that the US had no plans to increase troop numbers in the Middle East in response.
"It does no good to ignore it. It does no good to dismiss it and at the same time I don't see any need to increase the number of forces we have in the Middle East at this time," he said.
"We always have the capability to do so but right now I don't think it's necessary."
US officials said that the new sanctions, announced on Friday, were in response to Iran's ballistic missile test this week and its support for Houthi militias in Yemen, who recently targeted a Saudi warship.
The new sanctions do not yet mean that the US has abandoned commitments it made under an earlier deal to lift measures aimed at Iran's nuclear program, officials said.
Full report at:
https://english.alarabiya.net/en/News/middle-east/2017/02/04/US-Iran-biggest-state-sponsor-of-terrorism.html
-------
US sanctions strike Iran's missiles, Guards
3 February 2017
The US Treasury Department on Friday issued sanctions against organizations and individuals aiding Iran's ballistic missile program, as well as for acting for or on behalf of, or providing support to, Iran's Islamic Revolutionary Guard Corps-Quds Force (IRGC-QF).
The statement by the US Treasury's Department of the Treasury's Office said: "This action reflects the United States' commitment to enforcing sanctions on Iran with respect to its ballistic missile program and destabilizing activities in the region and is fully consistent with the United States' commitments under the Joint Comprehensive Plan of Action (JCPOA)."
According to Reuters, 13 individuals and 12 entities based in the Gulf, Lebanon and China come under the new US sanctions.
The OFAC has designated several networks and supporters of Iran's ballistic missile procurement, including a critical Iranian procurement agent and eight individuals and entities in his Iran- and China-based network, an Iranian procurement company and its Gulf-based network, and five individuals and entities that are part of an Iran-based procurement network, which was designated on January 17, 2016.
Individual providing procurement and other services on behalf of the IRGC-QF were also in the sanctions list.
This action was taken pursuant to an Executive Order, which targets proliferators of weapons of mass destruction and their means of delivery and supporters of such activity.
Dual-use technology
These individuals have been procuring controlled and dual-use technology and materials for over a decade to support Iran's ballistic missile programs. They allegedly coordinate the procurement of dual-use and other goods for the Shahid Hemmat Industrial Group (SHIG) through intermediary companies that obfuscate that the goods are for and will support Iran's ballistic missile program.
Two Iran-based companies - East Star Company and Ofog Sabze Darya Company - used for shipments of dual-use and missile-related items to Iran, have also been named by the US Treasury Department.
Hasan Dehghan Ebrahimi, an IRGC-QF official based in Beirut, Lebanon, who maintains direct ties to senior IRGC-QF officials in Tehran, was designated for acting for or on behalf of the IRGC-QF.
Ebrahimi had facilitated cash transfers to Hezbollah worth millions of dollars, including through US-designated Hezbollah construction firm Wa'ad Company.
"Iran's continued support for terrorism and development of its ballistic missile program poses a threat to the region, to our partners worldwide, and to the United States. Today's action is part of Treasury's ongoing efforts to counter Iranian malign activity abroad that is outside the scope of the JCPOA," said Acting OFAC Director John E. Smith.
"We will continue to actively apply all available tools, including financial sanctions, to address this behavior."
Full report at:
https://english.alarabiya.net/en/News/middle-east/2017/02/03/US-sanctions-strike-Tehran-s-missile-program-Revolutionary-Guards.html
-------
Iran to impose legal restrictions on some US entities, individuals
3 February 2017
Iran denounced on Friday as illegal new sanctions imposed on it by the United States and said it would impose legal restrictions on American individuals and entities helping "regional terrorist groups," state TV quoted a Foreign Ministry statement as saying.
"The new sanctions ... are not compatible with America's commitments and resolution 2231 of the UN Security Council that endorsed the nuclear deal reached between Iran and six powers," the statement said.
Full report at:
https://english.alarabiya.net/en/News/middle-east/2017/02/03/Iran-to-impose-legal-restrictions-on-some-US-entities-individuals.html
-------
Yemen: al-Qaeda spreads again in three towns of Abyan province
3 February 2017
A Yemeni official and tribal sources said that fighters of al-Qaeda fighters have taken control again in three towns in the Abyan province south of the country.
The security official said that the withdrawal of the security forces from these areas was a protest following the delayed payment of salaries, which facilitated the entry of fighters into Lauder, Shukrah and Aked areas in Abyan.
The official added that the security forces are suffering from a shortage of resources, especially weapons, to confront the enemies. Sources said that al-Qaeda fighters set up checkpoints on the streets in Lauder and blew up two security buildings using explosives.
This comes as warships, believed to be American, bombed strongholds of al-Qaeda in the mountainous area south of the country.
The source confirmed that the ships fired several missiles towards al-Marakichah mountain where al-Qaeda elements are stationed.
Full report at:
https://english.alarabiya.net/en/News/gulf/2017/02/03/Yemen-al-Qaeda-spreads-again-in-three-towns-of-Abyan-province.html
-------
Saudi heavy setbacks in Yemen behind anti-Iran claims: Qassemi
Feb 3, 2017
The Iranian Foreign Ministry has dismissed as hackneyed and groundless the recent claims by Saudi Arabia against the Islamic Republic, saying the heavy blows Riyadh has suffered in Yemen are the reason for such allegations.
"Fictitious claims by the Saudi foreign minister are a result of [Riyadh's] major and successive setbacks in Yemen," Iranian Foreign Ministry Spokesman Bahram Qassemi said on Friday.
He added that Saudi Arabia's ceaseless diversionary moves and blame games would not "change the existing realities," and emphasized that the "Yemeni army and popular forces have not and will no need any foreign aid."
The Iranian spokesperson said the Saudi rulers must be held accountable sooner or later for their "inhumane crimes" committed in Yemen over the past two years and added, "Leveling such allegations will not reduce their international responsibility for the war crimes committed in Yemen."
"The Islamic Republic of Iran, as a powerful country in the region which has always played a constructive and positive role in the fight against terrorism, does not need to interfere in the affairs of regional Muslim countries," Qassemi said.
He urged the Saudi foreign minister "to change his tested and futile ways."
In a meeting with Secretary General of the United Nations António Guterres in New York on Thursday, Adel al-Jubeir appealed for the international community to address what he claimed was Iran's interference in the affairs of other countries in the region, particularly in Yemen.
Full report at:
http://www.presstv.ir/Detail/2017/02/03/509002/Iran-Saudi-Arabia-Yemen-Bahram-Qassemi-Adel-alJubeir-Antnio-Guterres
-------
North America
Bannon film outline warned U.S. could turn into 'Islamic States of America'
By Matea Gold
February 4, 2017
The flag fluttering above the U.S. Capitol is emblazoned with a crescent and star. Chants of "Allahu Akbar" rise from inside the building.
That's the provocative opening scene of a documentary-style movie outlined 10 years ago by Stephen K. Bannon that envisioned radical Muslims taking over the country and remaking it into the "Islamic States of America," according to a document describing the project obtained by The Washington Post.
The outline shows how Bannon — years before he became a strategist for President Trump and helped draft last week's order restricting travel from seven mostly Muslim countries — sought to issue a warning about the threat posed by radical Muslims and their "enablers among us." Although driven by the "best intentions," the outline says, institutions such as the media, the Jewish community and government agencies were appeasing jihadists aiming to create an Islamic republic.
The eight-page draft, written in 2007 during Bannon's stint as a Hollywood filmmaker, proposes a three-part movie that would trace "the culture of intolerance" behind sharia law, examine the "Fifth Column" made up of "Islamic front groups" and identify the American enablers paving "the road to this unique hell on earth."
The outline, titled "Destroying the Great Satan: The Rise of Islamic Facism [sic] in America," lists Bannon as the movie's director, as well as its co-writer with his longtime writing partner Julia Jones. The title page includes the line "A Film by Stephen K. Bannon" in capital letters.
Jones, reached by The Post, declined to discuss the contents of the document in detail but confirmed its authenticity. She added that it was essentially Bannon's product.
"It was all his words," Jones said.
A White House spokeswoman declined to comment. Bannon did not respond to several requests for comment.
['Why even let 'em in?' Understanding Bannon's worldview and the policies that follow.]
The film proposal includes as possible on-air experts two analysts who went on to advise Trump, although their names are misspelled in the document: Walid Phares, a Lebanese-born Maronite Christian who has warned that jihadists are posing as civil rights advocates, and Heritage Foundation security expert James Jay Carafano, who has defended Trump's executive order.
Phares said he did not recall any discussions about the film. A Heritage spokesman said Carafano was not familiar with the project.
The outline offers an early glimpse of Bannon's belief that the West and "supremacist" Islam are headed for a "fundamental clash of civilizations," as the outline says. Bannon later expressed this view publicly as chief of Breitbart News, a site that often features articles about radical Islamists and has provided a platform for the alt-right, a small, far-right movement that seeks a whites-only state.
"We are in an outright war against jihadist Islamic fascism," he said in a 2014 talk via Skype to a group at the Vatican, according to a transcript first published by BuzzFeed. "And this war is, I think, metastasizing far quicker than governments can handle it."
"I believe you should take a very, very, very aggressive stance against radical Islam," he added, citing ancient battles between Christian and Islamic forces.
Trump, who has known Bannon since 2011, has voiced similar views about the threats posed by jihadist Muslims. During the campaign, he called for "a total and complete shutdown of Muslims entering the United States until our country's representatives can figure out what is going on" and said that there is a "great hatred towards Americans by large segments of the Muslim population."
At Thursday's National Prayer Breakfast, Trump showed sympathy for Muslim victims of terrorism, saying that "peace-loving Muslims" have been "brutalized" by the Islamic State.
One of Trump's first acts as president was to issue last week's travel limits, which temporarily bar travelers from Iraq, Iran, Sudan, Somalia, Syria, Libya and Yemen. Administration officials have said the order is not a "Muslim ban" but is instead targeted at countries whose citizens pose the greatest terrorism risk. However, none of those countries is the birthplace of terrorists who committed recent attacks in the United States connected to extremist Islamist ideology, unlike Saudi Arabia, Egypt and Pakistan.
Some within the administration have also advocated designating the Muslim Brotherhood, a religious and social movement founded nearly 100 years ago in Egypt, as a foreign terrorist organization. Experts disagree on what this would accomplish, noting that the Brotherhood is not a single organization but a broad, transnational movement of Sunni Muslims whose individual factions vary widely in goals and activities in different nations.
[You can learn a lot about Steven Bannon from the films he made]
The 2007 film summary calls the Muslim Brotherhood "the foundation of modern terrorism."
Shadi Hamid, a senior fellow at the Brookings Institution who reviewed the outline for The Post, called it "propaganda" that was "designed to generate hate against not just Islamists, not just extremists, but Muslims writ large."
"There's no way you can look at this and Steve Bannon's other comments and remarks and say Steve Bannon is a friend of American Muslims," said Hamid, the author of "Islamic Exceptionalism: How the Struggle Over Islam Is Reshaping the World."
"It's remarkable that someone involved with a film like this is at the center of power at the White House," he added.
Tim Watkins, a producer who participated in discussions with Bannon about the project, rejected the idea that the film was driven by anti-Muslim bias.
"This is not because Bannon had a hate or dislike for Muslims," Watkins said. "I believe that he believed that no society is without its radical fringes."
Watkins said he and Bannon met with Steven Emerson, author of the 2002 book "American Jihad: The Terrorists Living Among Us" and founder of the Investigative Project on Terrorism, at an Italian restaurant in Washington and discussed the project. After hearing about Emerson's research, Watkins said he came up with the idea for the opening sequence featuring the reconstituted American flag flying over the Capitol dome.
"Based on what I heard, it seemed like a documentary in the making," Watkins said.
Emerson, whose book asserts that many Muslim institutions in the West have provided ideological support for militants, is listed as an executive producer in the proposal. A section of the film was to be drawn from his research archives, according to the document.
"Steve Bannon and I definitely had some interaction at some point about a film, due to a mutual interest in the threat of radical Islamism," Emerson wrote in an email, describing himself as someone who deeply respects Islam. He added that he did not recall ever seeing the outline, which he said contained material that was not drawn from his work.
"I believe there is a witch hunt and campaign of character assassination being waged against Steve Bannon for his comments against radical Islam like there has been waged against me for many years in order to silence critics of radical Islam," he said.
The outline uses stark language to spell out the dangers posed by Islamist jihadists.
"The ideology is scary, and its ideologues will frighten small children as we bring to light an unbroken chain of 'thinkers' who epitomize the culture of hate," the outline reads.
Part of the film would detail "the rise of a global holy war — financed by the cash flow of oil — to attack and destroy western civilization," according to the outline.
The proposal names two dozen conservative writers and terrorism experts who could serve as potential on-screen guests, including Robert Spencer, director of the Jihad Watch website, who is labeled by the Southern Poverty Law Center as an anti-Muslim "propagandist."
In an email, Spencer rejected that term as "a smear," adding that he is "no more anti-Muslim than critics of Nazism were anti-German."
Spencer, who has written for Breitbart and was interviewed by Bannon on Breitbart's daily radio show, said he did not recall any discussions about the 2007 film proposal. But he said that he found Bannon "to be brilliant and extraordinarily well-informed about both the history and doctrines of Islam."
The outline warns about "front groups and disingenuous Muslim Americans who preach reconciliation and dialogue in the open but, behind the scenes, advocate hatred and contempt for the West."
It names the Council on American-Islamic Relations and the Islamic Society of North America as examples of such "cultural jihadists." After The Post's revelation of the 2007 script, CAIR officials on Friday urged Republicans to call for Bannon's dismissal, saying that he promoted "virulently anti-Muslim conspiracy theories."
The proposal also lists other "enablers," including The Post, the New York Times, NPR, "Universities and the Left," the "American Jewish Community," the ACLU, the CIA, the FBI, the State Department and the White House.
"The road to the establishment of an Islamic Republic in the United States starts slowly and subtly with the loss of the will to win," the outline reads. "The road to this unique hell on earth is paved with the best intentions from our major institutions. This political/accommodation/appeasement approach is not simply a function of any one individual's actions but lies at the heart of our most important cultural and political institutions."
Bannon's work on the "Great Satan" project came after the release of his well-received 2004 Ronald Reagan biopic, "In the Face of Evil." That film included a coda that warned about the threat of "the beast" during a montage that showed praying Muslims, terrorist camps and people falling to their deaths from the World Trade Center on 9/11.
Bannon then produced political documentaries including "Border War: The Battle Over Illegal Immigration"; "Generation Zero," an examination of the global economic crisis; and "Battle for America," which hammered an "out-of-touch, arrogant, and ever-expanding central government."
It's unclear why "Great Satan" was never produced. Jones, a political liberal who was Bannon's screenwriting partner for 16 years, said that after helping him type up the proposal, she did not work on it any further.
Karen DeYoung contributed to this story.
https://www.washingtonpost.com/politics/bannon-film-outline-warned-us-could-turn-into-islamic-states-of-america/2017/02/03/f73832f4-e8be-11e6-b82f-687d6e6a3e7c_story.html
-------
Trump adviser Conway cites fake terror attack to defend 'Muslim visa ban'
Feb 03, 2017
Kellyanne Conway, a senior adviser to US President Donald Trump defended his controversial immigration ban by citing a fake terror attack, the media reported.
In an MSNBC interview on Thursday night, Conway blamed two Iraqi refugees for the fictional "Bowling Green massacre".
"Most people don't know that because it didn't get covered," Conway said.
However, there has never been a terrorist attack in Bowling Green, Kentucky, carried out either by Iraqi refugees or anyone else, the Washington Post reported.
Conway was likely referring to two Iraqi citizens living in Bowling Green who were arrested in 2011 and eventually sentenced to federal prison for attempting to send weapons and money to al Qaeda in Iraq for the purpose of killing US soldiers, according to a news release from the Department of Justice.
Mohanad Shareef Hammadi, 25, was sentenced to life in federal prison, and Waad Ramadan Alwan, 31, to 40 years in federal prison, followed by a life term of supervised release. Both men pleaded guilty to federal terrorism charges.
Both men admitted having taken part in attacks against US troops in Iraq, not in Bowling Green.
Full report at:
http://www.hindustantimes.com/world-news/trump-adviser-conway-cites-fake-terror-attack-to-defend-muslim-visa-ban/story-7qPj1444zcSJkYiXEq4xUN.html
-------
Trump asks US to 'get smart' after 'radical Islamic terrorist' attack in Paris
Feb 03, 2017
President Donald Trump said Friday that the United States must "get smart" after a machete-wielding man attacked security forces at the Louvre museum in Paris while yelling "Allahu akbar" ("God is greatest").
Trump said the attacker was a "radical Islamic terrorist," using a term he has used previously to describe such attackers.
"A new radical Islamic terrorist has just attacked in Louvre Museum in Paris. Tourists were locked down. France on edge again. GET SMART U.S.," Trump wrote on Twitter.
In a briefing earlier this week, a senior US administration official defended the temporary US travel ban on refugees and other travellers from seven predominantly Muslim countries by saying America was trying to avoid the security situation in France and other European countries.
"The reality, though, is that the situation that exists today in parts of France, in parts of Germany, in Belgium, et cetera, is not a situation we want replicated inside the United States," the official said, warning against a "large and permanent domestic terror threat."
"We don't want a situation where, 20 to 30 years from now, it's just like a given thing that on a fairly regular basis there is domestic terror strikes, stores are shut up or that airports have explosive devices planted, or people are mowed down in the street by cars and automobiles and things of that nature," the official added.
Police held hundreds of tourists in secure areas of the renowned museum in central Paris after the assailant was shot five times around 10.00am (0900 GMT) in a public area inside the Louvre complex.
The attacker is in a serious condition, while one soldier received a "minor" head wound and has been taken to hospital, security forces said.
Two backpacks carried by the assailant were checked by bomb disposal specialists at the scene and were found not to contain explosives.
Full report at:
http://www.hindustantimes.com/world-news/trump-asks-us-to-get-smart-after-radical-islamic-terrorist-at-paris-museum/story-cOnVPCr7WgbNOaywk3wLGM.html
-------
Angelina Jolie slams Donald Trump's travel ban
February 4, 2017
Actress and human rights advocate Angelina Jolie on Thursday said U.S. President Donald Trump's executive order barring travelers from seven Muslim-majority countries hurts vulnerable refugees and could fuel extremism.
Without directly naming Trump, Jolie, who has served as a special envoy for the United Nations High Commissioner for Refugees, said in a New York Times opinion piece that discriminating based on religion was "playing with fire."
The Oscar-winning actress added that as the mother of six children, "all born in foreign lands and ... proud American citizens," she believed in the need for the nation's safety, but said decisions should be "based on facts, not fear."
"I also want to know that refugee children who qualify for asylum will always have a chance to plead their case to a compassionate America. And that we can manage our security without writing off citizens of entire countries — even babies — as unsafe to visit our country by virtue of geography or religion," she wrote.
Trump's executive order bans citizens of Iran, Iraq, Libya, Somalia, Sudan, Syria and Yemen from entering the United States for 90 days. Refugee admissions were suspended for 120 days while Syrian refugees were barred indefinitely.
The move has not only caused consternation for the nations involved but among other Muslim-majority countries, allies such as Germany and Britain and career State Department officials.
Full report at:
http://images.dawn.com/news/1177040/angelina-jolie-slams-donald-trumps-travel-ban
-------
US imposes fresh sanctions on Iran
February 4, 2017
WASHINGTON: President Donald Trump raised the stakes in Washington's increasingly tense stand-off with Iran on Friday, slapping fresh sanctions on Tehran's weapons procurement network.
Officials said the new measures were in response to Iran's recent ballistic missile test and its support for Houthi rebels in Yemen, who recently targeted a Saudi warship.
The sanctions do not, officials say, mark a retreat from US commitments under the Iran nuclear deal to lift measures targeting Tehran's alleged bid to build a nuclear warhead.
But Trump has made no secret of his contempt for the accord, which his predecessor Barack Obama approved in July 2015, and officials said Friday's new measures would not be the last.
"Iran is playing with fire - they don't appreciate how 'kind' President Obama was to them. Not me!" Trump tweeted Friday.
US intelligence and Treasury officials are constantly scrutinising Iran's networks, looking for evidence of advanced weapons procurement.
The immediate trigger for the sanctions was Iran's test, on Sunday, of a ballistic missile that US officials judge to have been capable of one day carrying a nuclear warhead.
But the latest detailed list of entities added to the list has clearly been in preparation for some time, and the White House has said "nothing is off the table" in dealing with Iran.
"We are undertaking a larger strategic review," a senior US administration official told reporters. "The launch of the missile was the triggering event," he said.
Washington is also concerned about attacks by Houthi rebels, a powerful faction in Yemen's civil war which US intelligence believes is armed and supported by Iran.
This week Houthi forces attacked a Saudi warship operating off Yemen and on Friday a US official said: "We're very concerned about freedom of navigation in the Bab el-Mandeb area."
The senior official said Iran was "not necessarily responsible for every tactical decision" made by Houthi forces, but that it will be made to bear responsibility for its "proxies".
The United States has already protested about Iran's missile test at the United Nations, arguing it was inconsistent with UN Security Council Resolution 2231. US Treasury officials hope that preventing Iran's networks in Lebanon and China from buying US goods or using the US financial system will curtail their activity. Nevertheless, Trump's pronouncements on the 2015 nuclear deal, and Iran's angry response that his taunts as "baseless" and "provocative", have raised fears of an imminent showdown.
Full report at:
http://dailytimes.com.pk/world/04-Feb-17/us-imposes-fresh-sanctions-on-iran
-------
More than 100,000 visas revoked amid Trump travel ban
3 February 2017
More than 100,000 visas have been revoked in the wake of the Trump administrations recent travel ban on citizens of seven mainly Muslim countries, according to media reports on Friday.
Full report at:
https://english.alarabiya.net/en/News/world/2017/02/03/More-than-100-000-visas-revoked-amid-Trump-travel-ban-.html
-------
Ohio State Course Suggests Muslims Helped Build America
A new course at Ohio State University aims to highlight role that Muslims played in making America great — from the founding fathers to the news of today.
According to The College Fix, "Islam in the United States," scheduled to debut in Ohio State's spring session, will be instructed by Dr. Sabra Webber and will argue that Muslims have always been an essential element of the American experience.
The course comes at a time when some Americans are accusing President Donald Trump of being anti-Muslim or even racist for issuing an executive order that temporarily bans visits or immigration into the U.S. from seven scheduled countries because of their reputation for exporting terrorists.
Full report at:
http://dailycaller.com/2017/02/03/ohio-state-course-suggests-muslims-helped-build-america/
-------
Dozens Form Human Chain To Support Muslims In America
February 3, 2017
CHICAGO (CBS) — Dozens formed a human chain Friday at a mosque in the southwest suburbs. They joined other diverse faith groups around the country by standing in solidarity with Muslims in America.
CBS 2's Sandra Torres reports.
The human chain at the Bridgeview mosque was part of the "We Are All America" day of action, which was an effort around the United States to stand with Muslims.
Deanna Othman of the Mosque Foundation said the day felt reassuring.
"People are afraid of being in large gatherings of Muslims that might be targeted. So to see the human chain on an occasion like this is to feel that sense of security," she said.
Oscar Chacon of Alianza Americas said people from his organization attended to support the marginalized religious group.
"In you, we see us. And we want you to see yourself in us," he said to attendees.
Rabbi Michael Davis of the Jewish Voice for Peace said he could empathize with how some Muslims may feel.
Full report at:
http://chicago.cbslocal.com/2017/02/03/dozens-form-human-chain-to-support-muslims-in-america/
-------
For Canadian Muslims, recent disturbing events part of 'familiar narrative'
Feb. 3, 2017
U.S. President Donald Trump's travel ban against Muslims came as no surprise to Canadian Muslims, though they did not expect how harshly and quickly it happened.
Then came the massacre at a Quebec City mosque that struck another blow to a community already numbed by the Islamophobia its members have faced day in day out in Canada.
A group of Muslims invited by the Star to a roundtable discussion last week described their immediate reactions to the disturbing events on both sides of the border with such phrases as "not again," "resistance" and "heavy heart."
"It's a familiar narrative. It's very real in our lives," said Gilary Massa, 31, whose family came to Canada from Panama in the late 1980s. "Some people say at least we live in Canada. This is what we say to ourselves to cope, but (the shooting) is an unfriendly reminder of how Islamophobia is well and alive in the country."
Massa, a co-ordinator for a national Muslim advocacy group, said she felt lucky she didn't have to explain what was happening to her daughter, who is only 16 months old.
For Mississauga's Farrah Marfatia, also a parent, the response from her 7-year-old son to the events was worrisome. The young boy tried to comfort his mother, telling her it would be OK for them to travel to the United States as long as they painted themselves white.
Marfatia, a school vice-principle who was born and raised in Toronto to Pakistani immigrant parents, said she wondered where he got that from. "That's not what we want to teach kids, our second generation. Canada is supposed to be our home, but it's just our house," she said.
With heightened security and police patrols at the private Islamic school where she works, Marfatia, 37, worries about the effects these events might have on the children's mental health.
The past week has been exhausting for a community that's trying to find the space to grieve amid their concern for their fellow Muslims in the U.S. while being overwhelmed by support from well-meaning fellow Canadians who suddenly were confronted by the issue of Islamophobia.
Like many, Shazlin Rahman, whose family moved to Toronto from Malaysia a decade ago, is still trying to digest what all these changes mean to her as a Muslim.
"We have lost our sense of security and safety. A mosque isn't only a place we go to pray. It is a social hub for us. We can pray at home, but we go there also for social support," said Rahman, 34, who works at a non-profit organization.
"My parents live in Brantford and they just block it out. Everywhere my father goes, he's the only Muslim. I have a large support network in Toronto, but they don't."
Many of the participants in the discussion were also advised by their families not to speak out about the travel ban and Quebec shooting for fear of retribution. Rahman said she now takes cabs for safety reasons and avoids going to the mosque late at night.
A post-9/11 Canada vigilant about national security and threats by Muslims is all Rania El Mugammar knows, but the 28-year-old Sudanese artist and consultant counts herself as less vulnerable because she doesn't wear a head scarf.
That said, she said she's not unfamiliar with discrimination and racism, growing up as a black woman in the city's St. James Town and Regent Park community.
"You call the cops and you are the ones who get arrested," said El Mugammar sarcastically. "The community is highly racialized, highly Muslim. We all have this thread of shared fear. You do not have to explain yourself. That's the only reprieve."
She said often victims feel they have no one to turn to when bad things happen "even when we are on the terror-receiving side."
The events have also shaken the faith of staunch community activist Sureya Ibrahim, who has been working tirelessly in community building with Toronto police and the RCMP.
"It is me being naive, feeling it's my home. I don't feel that way anymore. There is no rest here," said Ibrahim, who is in her 40s and came to Canada in 1995 with her Ethiopian family.
Ibrahim said she attended an interfaith event after the Quebec shooting and was glad to see the huge turnout of white Canadians in the audience.
However, she wishes the sympathizers' support had been just as strong when the community was fighting against the Peel District School Board over Friday prayer restrictions, the York Region District School Board over a principal who posted anti-Muslim messages on Facebook and Justin Trudeau's Liberal government over the unfulfilled promise to amend Bill C-51, the sweeping and controversial anti-terrorism legislation.
"Tweets are politics. Leadership is action," said Adil Dhalla, 34, who was born and raised in Toronto to Tanzanian immigrant parents, referring to a tweet by Prime Minister Trudeau praising Canada's diversity after the announcement of the U.S. Muslim travel ban.
Dhalla, who grew up making every effort to hide his Muslim identity to fit in, said diversity won't serve as Canada's strength without inclusion and equity.
"The country has to change. We have to be comfortable with being uncomfortable. We have to recognize our challenge. Otherwise, we are no better than what's happened in the U.S.," added Dhalla, who is the executive director of the Centre for Social Innovation, a Toronto organization that promotes community collaboration and development.
Inspirit Foundation, whose mandate is to advance social inclusion, said tackling Islamophobia is a top priority for the organization.
"There is much more work to do and this moment underscores the urgency," said Andrea Nemtin, president and CEO of the foundation, which facilitated the Star's roundtable discussion.
Massa said it is time for Canadians to recognize the multifaceted identities of their fellow Canadians.
"At what point, should we shed our (Muslim) identity as immigrants?" asked Massa rhetorically. "We don't want to erase our culture, but the framing of our identity separate from our Canadian identity is a double-edged sword, that we are always just guests, hyphenated Canadians."
Marfatia said Canadians don't need to be apologetic but should confront their own biases by recognizing the Islamophobic reality. It starts with education in school by including Islamophobia in the curriculum for children and for adults to be allies against injustice.
Instead of spending money on cultural celebrations and festivals, added Marfatia, governments and community groups should invest in programs that promote systemic inclusion and equity.
A national survey by the Environics Institute last year found 83 per cent of Muslim Canadians are proud to be Canadians, despite experiences of discrimination and unfair treatment.
"We hope we belong here," said Massa. "But it is more a hope than an assertion."
What six GTA Muslims say about the ban
Shazlin Rahman
Shazlin Rahman, 34, came here from Malaysia in 2007: "(Last) weekend made me feel really sad, not only for the loss of lives, but also the fact that it took this kind of tragedy for Islamophobia, racism and bigotry to register on everyone's radar."
Rania El Mugammar
Rania El Mugammar, 28, moved here from Sudan in 2001: "We knew this was just going to get worse after the election of Trump state-side, so for a lot of us the challenges became very practical. I'm Sudanese Canadian, so my first concern was for my family members who are in the U.S."
Sureya Ibrahim
Sureya Ibrahim, in her 40s, came to Canada in 1995 from Ethiopia: "I felt heavy-hearted. I couldn't sleep . . . I don't know how to feel anymore. I think all of us could collectively come up with solutions."
Adil Dhalla
Adil Dhalla, 34, was born and raised in Toronto to Tanzanian immigrant parents: "What's happening is not right. It hasn't been right for a long time. Many of us have been saying and doing things to communicate that. Now it is the time that we all need to do something."
Full report at:
http://www.thefader.com/2017/02/03/canada-healthcare-critically-ill-children-trump-muslim-ban
-------
Pakistan
Pakistan Senator urges world leaders to not use term 'Islamic terrorism'
ruary 3, 2017
Pakistan's former interior minister & chairman, Senate Standing Committee on Interior and Narcotics Control, Senator A. Rehman Malik has appealed global leaders not to use the word 'Islamic terrorism' as Islam teaches peace like all other religions.
In his speech on "Current Affairs and Global Threat of Terrorism" at the United Nations Conference in University College London on Sunday, he said it is time to realise and admit our mistake if we as state, organization or individual had made in past due to which today the whole world is suffering of ongoing terrorism and extremism.
Malik appealed to UN Secretary General Antonio Guterres and U.S. President Donald Trump on behalf of entire Muslim Umah not to use the word 'Islamic terrorism' as it is hurtful and offensive and as the religion teaches peace like all other religions, reports the Nation. He added that President Trump must know that disgruntled criminals are using the name of Islam and U.S as country is signatory to Baguio Conference 1995, where these terrorists have been named as "religious extremists".
"Certainly no one will call it Christian terrorist if the Christians kill innocent people in USA/ Ireland/ other place," he added. He also drew world attention towards the problems and crisis of terrorism stricken countries particularly Pakistan which is suffering due to terrorism since the Afghanistan War. He said that the international community did not learn lesson from the creation of Jehadis in Afghanistan, which became the source of Terrorism from Manila to New York.
You may also like to watch this
He detailed the terror attacks in Pakistan during 2003-2017 (to date) and said in total 61,554 were killed, out of these 21,526 were civilians, 6,669, security force personnel and 33,359 terrorists or insurgents.
"We must accept that terrorism and extremism are byproduct of conflicts, invasions and disputes, so we have to solve the conflicts to have peaceful world," he said. He also appealed the world community to let us give due importance to interfaith harmony and peace with real meaning.
http://www.financialexpress.com/world-news/pakistan-senator-urges-world-leaders-to-not-use-term-islamic-terrorism/536635/
-------
NA passes bill giving constitutional cover to jirga, panchayat systems
SYED IRFAN RAZA
February 4, 2017
The National Assembly on Friday passed a bill giving legal and constitutional cover to the centuries old jirga and panchayat systems in the country with a view to ensure speedy resolution of petty civil matters and reduce the burden of litigations on the courts.
The bill was tabled by Law Minister Zahid Hamid and is enforced with immediate effect from Friday in the federal capital. Gradually it will be implemented in provinces with the consent of provincial governments as amendments in civil laws are in the domain of the provincies.
The law minister told the house that either the federal government will request provinces or the provinces will request the federal government for implementation of the new legislation.
"The system exists in the country for the last several years and we are giving it a legal cover," the minister added.
The bill called Alternate Dispute Resolution (ADR) Bill-2016 was passed by 23 members - 17 from the treasury benches and six from the opposition out of total house of 342.
The law minister also told the house that the ADR system will settle 23 types of civil and criminal disputes.
Members of the opposition benches from the PPP, Pakistan Tehreek-i-Insaf (PTI) and the Muttahida Qaumi Movement (MQM) raised some objections on the bill, but eventually passed it.
Under ADR system mediators, who will be called 'Neutrals', will be appointed by the government to settle disputes as the judge.
"Under the system the government will appoint panels of Neutrals in all districts in consultation with the relevant high courts and the courts will appoint them as mediators in different disputes," Hamid said.
The PTI and PPP leaders supported the bill but raised some concerns. PTI leader Shafqat Mehmood questioned the appointment of 'Neutrals' in the Panchayat system.
PPP leader Nafisa Shah and PTI leader Dr Shireen Mazari expressed concerns over rights of women in the system and demanded women 'Neutrals' too.
"The dispute will be settled with consent of both parties in the dispute and if any woman feels that she is not being given justice, she can move the court," added Hamid.
The law minister said there will be no punishment in the disputes to be settled by the ADR system.
Full report at:
http://www.dawn.com/news/1312498/na-passes-bill-giving-constitutional-cover-to-jirga-panchayat-systems
-------
A US travel ban on Pakistan to be counterproductive: minister
February 4, 2017
WASHINGTON: Federal Minister for Planning and Development Ahsan Iqbal has said that putting Pakistan on a list of countries whose citizens have been temporarily barred from visiting the United States will be counterproductive.
Mr Iqbal, who met several US officials and lawmakers during his five-day stay in Washington, said he did not notice any intention to place Pakistan on the list of banned states but "if it were to happen, it would be counterproductive".
Pakistan, he said, was an important country with a large middle class spread across the globe and the Pakistan diaspora was making a major contribution to global development. "Singling them out like this would be a mistake," said the minister while pointing out that only a tiny fraction of the estimated 1.6 billion Muslims around the world were involved in terrorist activities.
"The overwhelming majority of Muslims lives peacefully and pursues its goals like other religious groups and nations," he said.
The minister was talking to the Pakistani media on Thursday evening after addressing a seminar on Kashmir at the Pakistan Embassy where he reminded the international community of its responsibility to help resolve the Kashmir issue.
Taouqir Hussain, a professor at Johns Hopkins University, Washington, however, explained how changing realities had made it difficult for Pakistan to advocate its case on Kashmir before the international community.
India's growing economic and political influence were forcing other nations to seek closer ties with India, making them less inclined to hear Pakistan's arguments, Prof Hussain said.
The minister acknowledged that changing realities had made it difficult for Pakistan to reach out to other nations but he said that despite these difficulties, Pakistan could not abandon Kashmir.
He argued that if a referendum could be held in East Timor and South Sudan to get people their fundamental rights, there was no justification for denying the Kashmiris the same right.
Full report at:
http://www.dawn.com/news/1312655/a-us-travel-ban-on-pakistan-to-be-counterproductive-minister
-------
Chinese, Pakistani businesses build ties as Beijing splurges on 'Silk Road'
February 4, 2017
Chinese companies are in talks to snap up more businesses and land in Pakistan after sealing two major deals in recent months, a sign of deepening ties after Beijing vowed to plough $57 billion into a new trade route across the South Asian nation.
A dozen executives from some of Pakistan's biggest firms told Reuters that Chinese companies were looking mainly at the cement, steel, energy and textile sectors, the backbone of Pakistan's $270b economy.
Analysts say the interest shows Chinese firms are using Beijing's "One Belt, One Road" project ─ a global trade network of which Pakistan is a key part ─ to help expand abroad at a time when growth has slowed at home.
A Chinese-led consortium recently took a strategic stake in the Pakistan Stock Exchange, and Shanghai Electric Power acquired one of Pakistan's biggest energy producers, K-Electric, for $1.8b.
"The Chinese have got deep pockets and they are looking for major investment in Pakistan," said Muhammad Ali Tabba, chief executive of two companies in the Yunus Brothers Group cement-to-chemicals conglomerate.
Tabba said Yunus Brothers, partnering with a Chinese company, lost out in the battle for K-Electric, but the group is eyeing up other joint ventures as part of a $2b expansion plan over the coming years.
Sindh Governor Mohammad Zubair, who until recently was the privatization minister, told Reuters China's steel giant Baosteel Group is in talks over a 30-year lease for state-run Pakistan Steel Mills. Baosteel did not respond to a request for comment.
The negotiations come as Pakistani business sentiment turns, with companies betting that Beijing's splurge on road, rail and energy infrastructure under the China-Pakistan Economic Corridor (CPEC) will boost the economy.
The Chinese charge is in contrast to Western investors, who have largely avoided Pakistan in recent years despite fewer militant attacks and economic growth near 5 per cent.
It is welcomed by many in Pakistan: foreign direct investment was $1.9b in 2015/2016, far below the 2007/2008 peak of $5.4b.
At the stock exchange signing ceremony, Sun Weidong, China's ambassador to Pakistan, said the deal "embodies the ongoing financial integration" between Chinese and Pakistani markets.
"This will facilitate more financial support for our enterprises," Sun said.
Reservations
CPEC will connect China's Western region with Pakistan's Arabian Sea port of Gwadar through a network of rail, road and pipeline projects.
That will be funded by loans from China, and much of the business will go to Chinese enterprises.
The scale of Chinese corporate interest beyond that is difficult to gauge, but in Karachi, Pakistan's financial center, sharply-dressed Chinese appear to outnumber Westerners in hotels, restaurants and the city's airport.
Rising skyscrapers testify to a construction boom in the city, businesses are printing Chinese-language brochures and salaries demanded by Pakistanis who speak Chinese have shot up.
Miftah Ismail, chairman of Pakistan's Board of Investment, said Chinese companies were interested in investing in the telecoms and auto sectors, with FAW Group and Foton Motor Group planning to enter Pakistan.
FAW said the Pakistan "project is going through internal approvals", but did not offer more details. Foton declined to comment.
But not everyone is excited by China's growing role in the Pakistan economy, including trade unions, who said Chinese companies' alleged mistreatment of local workers in Africa in the past had alarmed them.
"We have concern and reservations that the Chinese might use the same methods in Pakistan," said Nasir Mansoor, deputy general secretary of National Trade Union Federation, Pakistan, the national trade union body.
The Chinese government and Chinese companies have dismissed such accusations in the past.
Full report at:
http://www.dawn.com/news/1312472/chinese-pakistani-businesses-build-ties-as-beijing-splurges-on-silk-road
-------
'Countrywide' demonstrations for Jamaatud Dawa chief
February 04, 2017
LAHORE - Jamaatud Dawa and Tehreek Azadi Jammu Kashmir (TAJK) have arranged countrywide protests and rallies against detention of Hafiz Saeed and his allies.
A statement issued from the JuD head office – Jamia Qadsia – claimed thousands of people participated in protests after Friday prayer in Lahore, Gujranwala, Faisalabad, Islamabad, Rawalpindi, Jhelum, Multan, Bahawalpur, Karachi, Hyderabad, Quetta, Peshawar, Mardan, Muzaffarabad and other cities.
They demanded immediate release of Hafiz Saeed and other allies. People shouted slogans against India and America. According to the statement, scholars and leaders of religious organizations were also the part of protests.
In Lahore, supporters staged a demonstration at Chauburji in front of JuD HQ.
JuD leader Hafiz Abdul Rehman Makki addressed the gathering and condemned the detention, dubbing the action an attempt to please India.
"The government should refrain from such actions to fulfill friendship with India and the US. Crime of Hafiz Saeed and his allies is that they help oppressed Kashmiris and support miserable humanity in Sindh and Baluchistan," he said.
JuD Lahore chapter chief Abul Hashim Rabbani, Rai Nawaz Kharal Advocate, Rao Tahir Shakeel Advocate, Hafiz Masood ul Rehman, Habibur Rehman were also among speakers.
In Islamabad, TAJK staged demonstration Jamia Masjid Quba, the group stated, adding that in Rawalpindi, rally was arranged from Markaz Al-Quds to Press Club.
District Bar Association (DBA) also held a seminar in which President Naveed Hayat, Raja Rizwan Abbasi Advocate, Chaudhry Ashraf Gujar, Shakeel Awan and large number of lawyers participated.
Full report at:
http://nation.com.pk/lahore/04-Feb-2017/countrywide-demonstrations-for-jamaatud-dawa-chief
-------
Pakistan denies identity cards to family of doctor who helped trace bin Laden
Feb 3, 2017
Pakistan has denied identity cards to the family of Shakeel Afridi, the jailed doctor who helped the US Central Intelligence Agency (CIA) agents hunt down former al-Qaeda leader Osama bin Laden.
Qamar Nadeem, the family's lawyer, said in the northwestern city of Peshawar on Friday that Afridi's 19-year-old daughter and 21-year-old son have been denied national identity cards.
The lawyer said he had received no response to his letters to the National Database and Registration Authority (NADRA) that issues ID cards, which are key documents for establishing Pakistanis' citizenship.
"Getting an identity card is a fundamental right of every citizen and if NADRA or the interior ministry refuse to issue them, we will approach the Peshawar High Court for justice," the lawyer said.
Afridi was accused of treason after he helped the CIA collect DNA samples of the bin Laden family, paving the way for a secret US Navy Seal raid that allegedly killed the al Qaeda leader in the town of Abbottabad.
He was arrested days after the US operation.
Full report at:
http://www.presstv.ir/Detail/2017/02/03/508981/Pakistan-alQaeda-bin-Laden-Qamar-Nadeem-NADRA--CIA
-------
India
Rajya Sabha discusses bill seeking to declare Pakistan a terror sponsor
Feb 3, 2017
A bill accusing Pakistan of sponsoring terror and was discussed in the Rajya Sabha on Friday. 'The Declaration of Countries as Sponsor Of Terrorism Bill, 2016', a private member bill moved by Rajya Sabha member Rajeev Chandrasekhar, seeks to put into motion the process of calling Pakistan to account.
"On September 18, 2016, a terrorist attack in Uri took 19 lives. Marking yet another attack on Indian territory and causing loss of Indian lives - part of a long series of Pakistan originated terrorist attacks against India. That marked a turning point - at least in my mind and I publicly promised that I would take on the important responsibility of calling Pakistan for what they are and have been for several years - a sponsor of terrorism," Chandrasekhar said in the House.
"For decades, India and other countries in the region have been victims of numerous terror attacks from organisations and individuals based in and with support of elements in Pakistan. And yet, for decades we have remained engaged with Pakistan in an attempt to draw it into the mainstream. There is a basic tenet of criminality and criminal conduct - that if criminals are not declared criminals and made to bear the consequences of their criminality, they continue to be criminals," he added.
With growing international pressure, especially from the new US administration, Pakistan has placed 26/11 Mumbai attacks mastermind and Jamaat-ud-Dawa (JuD) chief Hafiz Saeed and four others under detention on January 31 under an anti-terrorism act.
"I think this will be another cog in the wheel where we can continue to mount pressure on Pakistan to mend its ways and stop being the terrorist state that it has become. Pakistan has relied on this narrative of freedom fighters and jihadis since the time of its existence in 1947 and again in Kargil in 1999 and continues to do so year on year," Chandrasekhar said.
Full report at:
http://timesofindia.indiatimes.com/india/rajya-sabha-discusses-bill-seeking-to-declare-pakistan-a-terror-sponsor/articleshow/56957212.cms
-------
Pakistan Blames India for Slow Pace of 26/11 Mumbai Attacks Trial
Feb 04, 2017
Pakistan has blamed India in writing for the weak prosecution and slow progress in the ongoing 2008 Mumbai attacks trial in Islamabad, even suggesting Lashkar-e-Taiba commander Zakiur Rehman Lakhvi got bail because New Delhi couldn't provide incriminating evidence.
In July 2015, foreign secretaries of India and Pakistan exchanged letters after a meeting between Prime Ministers Narendra Modi and Nawaz Sharif in Ufa, Russia.
The contents of the letter from Pakistani foreign secretary Aizaz Ahmad Chaudhry – a copy of which is with HT – haven't been previously revealed and the tone and substance suggests that Islamabad isn't seriously pursuing the trial.
Chaudhry's letter dated September 8, 2015 accepts that the meeting between Modi and Sharif "provided us a direction to move forward". It points out that "the government of Pakistan has assigned a dedicated high level team of experts to closely monitor the developments in the case.
Read | Pakistan puts Lashkar-e-Taiba founder Hafiz Saeed under house arrest
But the letter goes on to add: "So far the prosecution evidence remains weak and incomplete due to the failure on the part of the Indian authorities to provide incriminating evidence that they claimed was in their possession."
The document puts the responsibility of providing evidence on New Delhi.
"It is neither reasonable nor acceptable to blame Pakistan for the slow pace or lack of progress. It was Indian authorities' responsibility to provide all the material evidence which has not been done."
The trial's sluggish pace and lack of convictions has been a thorn in bilateral relations and India has maintained that crucial evidence was to be found in Pakistan, the site of training and plotting of the 26/11 strikes that killed 166 people.
"Despite repeated provocation and obfuscation by Pakistan, we continue to cooperate. Their judicial commission has been here twice,'' a government official said. "It is preposterous to blame us for Lakhvi's bail when it is well known that he even sired a son while in custody. He was a free man even while in jail."
Chaudhry's letter goes on allege that India delayed the Pakistani judicial commission's Mumbai visit that set back crucial gathering of proof such as recording the statements of prosecution witnesses, including the chief metropolitan magistrate who recorded the statement of the lone surviving terrorist, Ajmal Kasab.
"…(it had been) emphasised that further delay in facilitating the commission's visit…could weaken the prosecution's case against the principal accused Zakiur Rehman Lakhvi, resulting in bail, lesser sentence or acquittal," the document read.
Foreign secretary S Jaishankar replied to Chaudhry a year later, saying India would be glad to consider the requirement for material evidence by deputing a Pakistani judicial commission.
He underlined, however, that ''this cooperation can only be supplementary to the full investigation in Pakistan of the entire period of the conspiracy and of all relevant places and actors."
Pakistan is still to reply to Jaishankar's letter of September 6, 2016.
A Pakistani official, on the condition of anonymity, said that they too would reply in a year's time.
Full report at:
http://www.hindustantimes.com/india-news/pakistan-blames-india-for-sluggish-pace-of-26-11-mumbai-attacks-trial-says-evidence-delayed/story-X0rIq99J3b6PKpROblyHpN.html
-------
Terror undertrial out on bail picks up the pieces, starts practice as lawyer in Mumbai
by Sadaf Modak |
February 4, 2017
For Mohammed Atik, it is a new beginning. The computer engineer, who was employed with a leading IT company, was arrested by the Mumbai Police crime branch in 2008 on charges of being an alleged member of the Indian Mujahideen (IM). Now four years after his release on bail in 2012, 33-year-old Atik has donned a lawyer's robe and is slowly picking up the threads of his life.
"When I was in prison, my first worry was to get bail. I used to think all my problems will be solved once I am released. But, when I came out on bail, I realised my problems have become more serious," Atik said.
Atik was one of 23 accused held by the crime branch while investigating emails sent allegedly by IM members to media houses before a series of blasts in Gujarat on July 26, 2008. While the prosecution has not claimed that these accused were part of the conspiracy on the serial blasts, the allegations are limited to the emails which were sent. As for Atik's role, the prosecution does not claim that he is the person who had sent the email but claims that he was a member of an organised crime syndicate and of the IM, on the basis of his alleged association with some of the accused in the case, according to the confessions of some of his co-accused.
While granting bail to Atik in 2012, the Bombay High Court observed that he deserved to be released on bail, having spent four years in prison without the trial commencing. The court had also observed that there was no prima facie evidence to show that Atik had taken part in achieving the objectives of an organisation by unlawful means or violence.
On his release in 2012, Atik contacted the IT company he was working with to resume work but was told that his contract had been terminated since he did not report to work without prior notice. He approached the labour court against the decision and, meanwhile, began looking for jobs in Yavatmal district, where he stayed with his family.
"My family was apprehensive about my security and, hence, were not ready to send me to metro cities to look for a job," he says, recalling the initial few months after his release. His father, who was working as a clerk in a private college, retired soon after his release. "I felt like I had become a financial burden for my family. To even appear for a court hearing from my hometown in Mumbai, 700 km away, I had to borrow money," he says.
While in prison, he had read a lot of books on law to understand legal procedures. "I had approached the court to allow me to pursue a law degree and, despite getting a go-ahead, I could not take admission as the colleges I wrote to said that they required the student to be present in the class," he says.
In September last year, having successfully pursued a law degree, Atik enrolled with the bar council and started practising as a lawyer, currently assisting a senior advocate in Mumbai.
Full report at:
http://indianexpress.com/article/india/terror-undertrial-out-on-bail-picks-up-the-pieces-starts-practice-as-lawyer-in-mumbai-4506843/
-------
India further liberalises visa policy for Afghan nationals
February 3, 2017
Seeking to enhance people-to-people contacts and trade ties, India on Friday further liberalised its visa policy for Afghan nationals to make it easier for them to visit the country. "Embassy of India, Kabul is pleased to inform all Afghan nationals that with effect from February 1, 2017 Indian visa regime has been further liberalised to make it even more convenient for Afghan nationals to visit India," the Indian Embassy here said in a statement.
Watch What Else is Making News
Delhi: 59 Dalit Families Protest Outside Airports Authority Of India Office For Land Allotment
The duration of a tourist visa has been enhanced to one year with continuous stay of 90 days during each visit as against the existing provision of stay of 30 days. The provision of a gap of 60 days between two tourism visits, however, remains unchanged, the statement said.
Full report at:
http://indianexpress.com/article/india/india-further-liberalises-visa-policy-for-afghan-nationals-4506440/
-------
South Asia
New UN report chronicles abuse against Rohinyga in Myanmar
February 3, 2017
U.N. human rights investigators have chronicled new accounts of crimes including beatings, disappearances and brutal killings of children as young as 8 months old by Myanmar security forces against the Muslim Rohingya minority.
A U.N. human rights office report on Friday cites accounts of 204 people interviewed by U.N. staffers after fleeing to neighboring Bangladesh since October. The report says crimes against humanity were "very likely" committed.
U.N. rights chief Zeid Ra'ad al-Hussein deployed the team after Myanmar's government denied repeated requests for access to the worst-hit areas of Myanmar's Rakhine state, where many Rohingya live.
The report is likely to raise pressure on the governing party of Nobel Peace Prize-winning Aung San Suu Kyi amid allegations that soldiers have been killing and raping Rohingya and burning their homes.(dan)
http://www.thejakartapost.com/seasia/2017/02/03/new-un-report-chronicles-abuse-against-rohinyga-in-myanmar.html
-------
Arakan State Advisory Commission Member Describes Inhumane Conditions for Refugees in Bangladesh
By MOE MYINT
3 February 2017
RANGOON – An Arakan State Advisory Commission delegate who participated in a three-day trip to Bangladesh, Al Haj U Aye Lwin, told The Irrawaddy on Thursday that the living conditions for Muslim refugees on the Bangladeshi border were "inappropriate even for animals."
Commission members, U Win Mra—of the Myanmar National Human Rights Commission—and Al Haj U Aye Lwin—co-founder of Religions for Peace Myanmar—as well as the former UN Special Advisor to the Secretary General, Ghassan Salame, visited Bangladesh at the end of January and arrived back in Rangoon on Wednesday.
The advisory commission made an official announcement on Thursday that three delegates had traveled to Dhaka to explore Bangladeshi perspectives on the various challenges facing Arakan State. During the visit, they held meetings with Bangladesh's Foreign Affairs Minister, the Minister of Home Affairs, an advisor to the Prime Minister, former Bangladeshi diplomats of Bangladesh, as well as non-profit organizations, according to U Aye Lwin.
Bangladeshi authorities led the three commission delegates to the sites of several Rohingya camps in Teknaf, Cox's Bazar, said U Aye Lwin. He added that, currently, the Bangladeshi officials had identified three categories of refugee housing: registered camps, makeshift camps and camps for new arrivals who fled the Maungdaw border region as a consequence of the Burmese armed forces' "clearance operations" and manhunt for assailants who attacked three border outposts on Oct. 9, killing nine policemen.
International rights groups have accused the Burma Army of committing right abuses in the conflict zone; the Burmese government has rejected the allegations.
Al Haj U Aye Lwin told The Irrawaddy that the new arrivals were living in inhumane conditions.
"The place where they live is inappropriate even for animals, not to mention humans. When I asked a child if he had eaten, he just cried instantly."
According to statistics released by the UN's Office for the Coordination of Humanitarian Affairs in Burma, the latest report on Feb. 2 states that a total 92,000 people have been displaced since the October 2016 attacks on police posts in northern Arakan State; among them 69,000 people have sought shelter in Bangladesh.
Speaking to reporters from The Daily Star after meeting with representatives from Bangladesh's Institute of International and Strategic Studies on Jan. 31, commission delegate Ghassan Salame said that granting Burmese citizenship to Muslims in Arakan State was "key" to creating "a better situation" and halting the flow of Rohingya refugees into Bangladesh.
Full report at:
http://www.irrawaddy.com/news/burma/arakan-state-advisory-commission-member-describes-inhumane-conditions-for-refugees-in-bangladesh.html
-------
Malaysia sends off aid ship bound for Rohingyas in Myanmar
February 03, 2017
Myanmar has not allowed the ship to sail to Sittwe, the capital of Rakhine State, as organisers had hoped. Myanmar has also insisted that the aid to be distributed equally to both Buddhist and Muslim communities
Malaysian Prime Minister Najib Razak on Friday sent off a ship carrying tonnes of food and emergency supplies to Myanmar's Rohingyas, saying their suffering would not be ignored. Najib has been an outspoken critic of the treatment of predominantly Buddhist Myanmar's Muslim Rohingya minority, calling on the government to stop attacks.
The Myanmar government, led by Nobel Peace Prize winner Aung San Suu Kyi, has denied the accusations, saying many reports of violence against Rohingya are fabricated. It insists strife in Rakhine State, where many Rohingya live, is an internal matter.
"This is a historic moment, a noble effort that shows that all the pain and suffering of Rohingya in Myanmar will not go ignored," Najib said in a speech at a port near the capital of mostly Muslim Malaysia. "We hear their pain, those who have been raped, murdered and burned alive."
Myanmar security forces launched a crackdown in the north of Rakhine State, on the border with Bangladesh, in October after nine policemen were killed in attacks on border posts the government blamed on Rohingya supported by foreign militants.
At least 86 people have been killed and about 66,000 have fled into Bangladesh since then to escape what refugees, residents and human rights groups say have been abuses by Myanmar forces including summary executions and rape.
The aid shipment, bound for Myanmar's biggest city and port of Yangon, has been organised by Malaysian Muslim groups, as well as domestic and foreign aid groups. The ship is expected to arrive in Yangon on February 9 where it will unload 500 tonnes of supplies, organisers said.
It will then embark on a three-day journey to Teknaf port in Bangladesh.
'Political agenda'
Myanmar has not allowed the ship to sail to Sittwe, the capital of Rakhine State, as organisers had hoped. Myanmar has also insisted that the aid to be distributed equally to both Buddhist and Muslim communities.
"We are still hoping with all our hearts that they will eventually allow us to visit Sittwe and distribute the aid ourselves," said the mission chief, Abdul Azeez Abdul.
Malaysia has urged the Association of South East Asian Nations to coordinate aid and investigate alleged atrocities committed against the Rohingya, breaking the 10-nation group's long-standing tradition of non-interference in each other's internal affairs. Myanmar, in turn, has accused Malaysia of exploiting the crisis "to promote a certain political agenda".
Full report at:
http://www.dhakatribune.com/world/south-asia/2017/02/03/malaysia-sends-off-aid-ship-bound-rohingyas-myanmar/
-------
Afghan forces and Taliban suffer casualties in new Helmand clashes
Feb 04 2017
The Afghan security forces and the Taliban insurgents suffered casualties in the latest clashes in southern Helmand province of Afghanistan.
The provincial government media issued a statement late on Friday afternoon, saying the Taliban militants launched a major coordinated attack on several security posts in Garamser district.
The statement further added that the attack was launched from various locations but the Afghan forces managed to repulse the offensive.
At least 16 Taliban insurgents were killed and 9 others were wounded during the clashes, the statement said, citing the preliminary information received after the attack.
The statement said that the Afghan security forces also suffered casualties during clashes, adding that further information regarding the Afghan forces casualties will be disclosed later.
Full report at:
https://www.khaama.com/afghan-forces-and-taliban-suffer-casualties-in-new-helmand-clashes-02800
-------
Hekmatyar's name removed from UN Security Council sanctions list
Feb 04 2017
The name of Hezb-e-Islami leader Gulbuddin Hekmatyar has been removed from the sanctions list of the United Nations Security Council (UNSC).
According to a statement by UNSC, "On 3 February 2017, the Security Council Committee pursuant to resolutions 1267 (1999), 1989 (2011) and 2253 (2015) concerning ISIL (Da'esh), Al‑Qaida and associated individuals, groups, undertakings and entities removed the name below from the ISIL (Da'esh) and Al-Qaida Sanctions List."
UNSC disclosed the name of Hekmatyar after he was removed from the sanctions list, providing all the details regarding the Hezb-e-Islami leader, including date of birth and the date he was included in the list.
"Therefore, the assets freeze, travel ban and arms embargo set out in paragraph 2 of Security Council resolution 2253 (2015) no longer apply to the name set out below," the statement added.
This comes as a etter was formally sent by the Afghan government to United Nations Security Council (UNSC) late last year to remove the leaders of Hezb-e-Islami from the sanctions list.
Full report at:
https://www.khaama.com/hekmatyars-name-removed-from-un-security-council-sanctions-list-02799
-------
Africa
How my administration stopped religious killings – Goodluck Jonathan
February 3, 2017
Former President, Goodluck Jonathan, has disclosed that his administration was able to contain the menace of religious killing by working with relevant religious stakeholders.
Addressing the United States, US, House Sub-Committee on Africa, Jonathan revealed that his administration's political will to halt impunity in Nigeria led to the localisation of religious extremism in the Northeast with occasional killings in other zones of the North.
He pointed out that in a bid to contain the spread of religious killings from the North to the Christian domination south, he personally reached out to the then President of the Christian Association of Nigeria, CAN, Pastor Ayo Oritsejafor, whom he asked to appeal to the Christian community against reprisal attacks.
Jonathan explained further that he also reached out to the "Muslim Ummah in Nigeria, His Eminence, the Sultan of Sokoto, Sa'ad Abubakar III," whom he was able to convince to "publicly condemn Islamic extremism in Nigeria."
According to Jonathan, he worked through a body known as the Nigeria Inter-Religious Council, NIREC, to bring Christian and Muslim leaders together "so they could talk to each other not at each other."
Jonathan also highlighted some of his achievements in office to include, establishment of 12 universities, arrest and prosecution of Boko Haram bomb blast masterminds among others.
His speech reads in part: "Even before I set up the National Conference in 2014, my government took certain initiatives to end impunity and reorient the minds of Nigerians. First was education. I established twelve conventional Federal Universities and two specialized universities. Nine of the twelve Federal Universities were located in those states in Northern Nigeria that previously did not have any Federal University. The Specialized Police University was located in Kano state, also in the North, bringing the total number of universities I established in the North of Nigeria to ten. The Specialized Maritime University was located in the Niger Delta.
"In addition to these, I also established 165 Almajiri elementary and high schools in each of the nineteen states of Northern Nigeria to combine Islamic education with Western education.
"In the area of law enforcement, it was quite challenging, but we were determined. When the Boko Haram Islamic terrorists bombed St. Theresa's Catholic Church, Madalla, in Niger state of Nigeria on Christmas Day of 2011, I physically visited the scene of the bombing at which 44 people died on Saturday the 31st of December 2011 and I promised Nigerians that those responsible for that heinous act would be brought to book.
"That promise was fulfilled on the 20th of December 2013 when Kabiru Umar, aka Kabiru Sokoto, was sentenced to life imprisonment after my administration investigated that crime, identified him as the mastermind, arrested him and diligently prosecuted him and some of his associates.
"Might I add that this was the first and only successful prosecution of a crime of deadly terrorism against a religious place of worship inspired by religious extremism since Nigeria's return to civil rule in 1999.
"Before then, my administration had also diligently carried out the first successful prosecution of terrorists of the Islamic extremist group, Boko Haram, for another terror attack, but this time not in a place of worship but on the offices of the Independent National Electoral Commission also in Madalla, Niger state, an act which led to the deaths of sixteen persons on April 8th, 2011.
"We were in the process of prosecuting Aminu Ogwuche, the mastermind of the April 14, 2014 Nyanya bombing in Nasarawa state which killed 75 people but unfortunately that prosecution was ongoing as at the time I left office in 2015.
"But the point I want to emphasize by citing these incidences is that my administration had the political will to halt impunity in Nigeria and that is why killings due to religious extremism was localized to the Northeast with occasional killings in other zones of the North.
"And even in the Northeast, we had rolled back the Islamic terrorist sect, Boko Haram, by the end of the first quarter of 2015 after we were able to get weapons to arm our military.
"The killings did not spread to the mainly Christian south and I believe that the fight back against impunity by my administration was the main reason for this.
"Of course, there were other reasons for this. For instance, through my personal reach out to the then President of the Christian Association of Nigeria, Pastor Ayo Oritsejafor, I was able to persuade the Body of Christ in Nigeria not to engage in any retaliation or reprisal killings. My job was made easier in this regards when the Christian Association of Nigeria saw a genuine desire on my part to bring religious extremists to book.
"Using the same approach with the head of the Muslim Ummah in Nigeria, His Eminence, the Sultan of Sokoto, I was able to get the mainstream of the Islamic faith to publicly condemn Islamic extremism in Nigeria. This was important to show that a clampdown on Islamic extremism was and is not a clampdown on Islam.
"Going a step further, I worked through a body known as the Nigeria Inter-Religious Council (NIREC) to bring Christian and Muslim leaders together so they could talk to each other not at each other."
http://dailypost.ng/2017/02/03/administration-stopped-religious-killings-goodluck-jonathan/
-------
Trump's Order on Muslim Countries Will Not Effect Nigerians – US Envoy
February 3, 2017
The United States has stated that the recent executive order on immigration by President Donald Trump would not affect Nigerians hoping to travel to the country.
It added that the two-year multiple entry visas for applicants will continue as before.
It said, "Generally speaking, we issue two-year multiple entry visas to Nigerians based on reciprocity from Nigeria and this has not changed, the is no plan to change it to one year."
This explanation was given before journalists in Abuja on Friday by the US Ambassador to Nigeria, Stuart Symington and the US embassy Consular Chief, Meghan Moore.
It assured Nigerians that the new order on 'Protecting the Nation From Foreign Terrorist Entry Into the United States' would not also affect the validity of visas held by Nigerians, noting that its visa policy to Nigeria has not changed.
They said that US visa policy was based on reciprocity, maintaining that Nigerians would not be discriminated against.
Symington stated that the way Nigeria treats the US reflects in America's visa policy to Nigerians.
Full report at:
http://dailypost.ng/2017/02/03/trumps-order-muslim-countries-will-not-effect-nigerians-us-envoy/
-------
East Africa: Somali Refugees Stranded in Kenya After Trump Ban
3 FEBRUARY 2017
By Claire Rush
Somali refugees living in camps in Kenya are in limbo because of US President Donald Trump's immigration ban. Among them is Ahmed who has been waiting with his wife and 10 children to be resettled in the United States.
After fleeing Somalia's civil war in 1992, Ahmed* arrived in Dadaab, the world's largest refugee camp. More than 300,000 people live on the site, located in northern Kenya near the Somali border and operated by the UN Refugee Agency (UNHCR).
Ahmed lived in Dadaab for nearly 20 years. It was there that most of his 10 children were born.
But a few years ago he was transferred with his family to a transit centre in another Kenyan camp, Kakuma, as part of a refugee resettlement program. There they underwent seven medical exams and extensive interviews with US officials as part of the North American country's vetting process for refugees.
They were told that they would only be there for six months before going to the US, but they've been there now for four years.
That wait could be even longer now due to US President Donald Trump's immigration ban, which took effect last week.
The ban bars citizens of seven predominantly Muslim countries from entering the US for 90 days: Iran, Iraq, Libya, Somalia, Sudan, Syria and Yemen. It also bans all refugee for 120 days.
Ahmed is doubly affected by Trump's ban as he is from Somalia, one of the seven countries named in the executive order, and because he is a refugee.
"Anxious and upset"
"All our dreams were dismantled by the Trump administration," said Ahmed. "We are essentially stranded here at the transit centre in Kakuma."
"I don't know what will happen next. We have no choice."
He added that he and his family are "depressed, anxious, upset, everything".
Roughly 26,000 refugees in Kenya have been affected by the ban, according to the UNHCR. Most of them are Somali.
Some refugees cleared for imminent travel to the US had already checked in to their flight when the ban was announced, according to media reports.
This year alone, 3,000 refugees were scheduled to be resettled in the US from refugee camps in northern Kenya.
Geno Teofilo, who works for the international aid group Norwegian Refugee Council (NRC) at its regional office in Nairobi, described the current atmosphere in these Kenyan camps.
"The situation in the refugee camps is very sad after the announcement of this ban on refugees," he said. "It's really disappointing and disillusioning for hundreds of families."
He added that the NRC has been working with refugees in the Horn of Africa for years.
"Many countries in this region have accepted large numbers of [Somali and Sudanese] refugees regardless of their religion," he explained.
"This has also been a tradition in the USA, that refugees, including Muslims, have been accepted."
"This ban by the Trump administration has come as a very big shock to all of them," he said.
Full report at:
http://allafrica.com/stories/201702030759.html
-------
Sudan 'To Demolish At Least 25 Christian Churches' in Khartoum
2 FEBRUARY 2017
Sudanese are reportedly set to demolish at least 25 Christian churches allegedly said to be "trespassing into residential areas".
According to Radio Tamazuj, religious leader, Meilad Musa, who is a member of the Sudanese Christian Church, said President Omar al Bashir's led government had been refusing to approve plots for Christians to build places of worship like Muslims.
Reverend Yahya Abdurrahman, a pastor of Evangelical Church described the decision as a flagrant violation of religious freedom.
"This move targets the churches in Khartoum, because they always acclaim that these churches have trespassed into public places, but it I think it's a plan," Yahya was quoted as saying.
In 2014, Sudanese authorities issued an order banning the construction of all new Christian churches in the Muslim-dominated country, a report by Christian Post said.
Sudanese Minister for Guidance and Religious Endowments, Shalil Abdullah, was at the time quoted as saying that due to the country's separation from South Sudan - where many Christians have fled - the existing churches in the Republic of Sudan were sufficient for the nation's minority Christians.
The ban prompted "deep concern" from rights group.
The Chief Operating Officer at Christian Solidarity Worldwide lambasted the move saying that this "constitutes a violation of the right to freedom of religion or belief".
Full report at:
http://allafrica.com/stories/201702030422.html
-------
URL: https://www.newageislam.com/islamic-world-news/new-age-islam-news-bureau/more-than-150-uk-mosques-hold-open-day-for-non-muslims/d/109958
New Age Islam, Islam Online, Islamic Website, African Muslim News, Arab World News, South Asia News, Indian Muslim News, World Muslim News, Womens in Islam, Islamic Feminism, Arab Women, Womens In Arab, Islamphobia in America, Muslim Women in West, Islam Women and Feminism, Moderate Islam, Moderate Muslims, Progressive Islam, Progressive Muslims, Liberal Islam