New Age Islam News Bureau
25 Nov 2017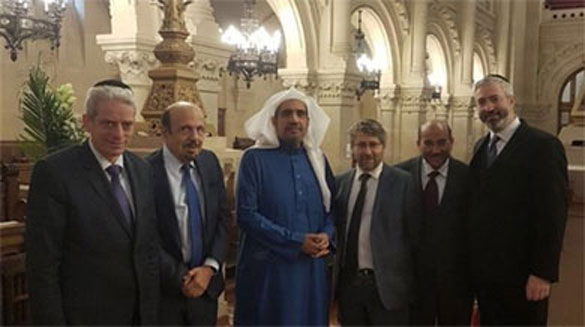 The grand synagogue of Paris rabbi Moshe Sebbag (1st-R) and France's chief rabbi, Haim Korsia (3rd-R), host former Saudi minister Muhammad bin Abdul Karim Issa (3rd-L) and Saudi Ambassador to France Khalid bin Mohammed al-Angari (2nd-L) in the grand synagogue of Paris, France, in November 2017.
------
• Mohammed Bin Salman: Not Reinterpreting Islam, but Restoring It to Its Origins
• Rabiul Awwal's True Message Is Supremacy of 'Shariah': Jamaat-e-Islami Chief
• Muslim Law Board Says RSS Chief's Remarks on Ram Temple a Challenge to SC
• Two Top Saudi Officials Visit Paris Synagogue: Israeli Media
• Pakistan Govt Should Arrest, Charge 26/11 Mastermind Hafiz Saeed for His Crimes: US
• Afghan Air Strike Kills About 20 Taliban at Religious School: Officials
Arab World
• Mohammed Bin Salman: Not Reinterpreting Islam, but Restoring It to Its Origins
• Saudi Ambassador to Prague: Modernisation Not Counter To Islam
• Sisi: We Will Strongly Respond To the Massacre of Al-Arish Mosque
• Saudi Crown Prince Calls Iran's Supreme Leader 'New Hitler'
• Syria: Children Killed in Terrorists' Heavy Attacks in Eastern Damascus
• Several Civilians Killed in Terrorists' Attack in Southern Syria
• Egypt military carries out air strikes, kills terrorists near Al-Arish
• China says to help with reconstruction of Syria
--------
Pakistan
• Rabiul Awwal's True Message Is Supremacy of 'Shariah': Jamaat-e-Islami Chief
• 'India Dictating Terms to Pakistan' Claims Jamaaat Ud Dawa
• Islamist Extremists Gather near DC to Promote Jihad
• Islamabad High Court declares Faizabad sit-in 'a terrorist act'
• Intolerance, violence on the rise in Pakistan: Senator
• Pakistani police launch operation to clear Islamist rally
• Pakistan High Court 'to decide if Black Friday goes against Islamic teachings'
• Peshawar police AIG, gunman martyred in suicide bombing
--------
India
• Muslim Law Board Says RSS Chief's Remarks on Ram Temple a Challenge to SC
• Hafiz Saeed Rearticulating Agenda of Terrorists Thriving In Pak: India
• NIA Report Includes Hadiya Statement That She Wed Of Her Own Will
• Bengaluru: Shia Muslim Group Attacked India Today's Office over Aaj Tak TV Anchor Rohit Sardana's Comment
• UP's lone Muslim minister Mohsin Raza does not get marriage certificate
• Poet wrote on Hindu-Muslim unity, says Jaisi's native village
• Hafiz Saeed rearticulating agenda of terrorists thriving in Pak: India
--------
Mideast
• Two Top Saudi Officials Visit Paris Synagogue: Israeli Media
• Israel Cleansing Al-Quds of Palestinian Population: Rights Activists
• Council of Pakistani scholars warns of Iran's destabilizing activities
• Israel nuclear arsenal threat to Middle East security: Iran
• US seeks to hatch new plots after Daesh collapse: Larijani
• Turkey, Iran, Russia to decide who will participate in Syria talks
• Erdogan does not rule out contact with Assad
--------
North America
• Pakistan Govt Should Arrest, Charge 26/11 Mastermind Hafiz Saeed for His Crimes: US
• Turkey Confident US Will Stop Arming Kurdish Fighters In Syria
• US adjusts military support to partners in Syria: White House
• Trump admin retracts decision to close Palestinian office in DC
• Islamic Center of Wheaton open doors to build better relationships and build bridges
--------
South Asia
• Afghan Air Strike Kills About 20 Taliban at Religious School: Officials
• Hurriyat Chairman Condemns Death Penalty to Jamat Leaders, Says Bangladesh Has Invited Wrath of Allah
• 'We Are Ready To Return To Myanmar Only If Our Civic Rights Are Ensured'
• Awami League leaders occupying Hindu property in Bangladesh, says minority community leader
• 'Hefazat won't contest in any election'
• Bangladesh says agreed with Myanmar for UNHCR to assist Rohingya's return
--------
Southeast Asia
• Malaysia's 'Arabization' Owes to Ties with Saudi Regime
• IGP Unfazed by Hadi's Involvement In Alleged Terror Group
• Let MAS flight attendants wear 'tudung' too, Opposition MPs tell Putrajaya
• Tahfiz schools must use national education curriculum, says task force
--------
Africa
• Boko Haram: Mubi Suicide Attack Shows Insurgents Are Not Muslims – TMC
• Nigeria: Why Nigerians Should Embrace Islamic Finance, By IIFP
• Kenya: Al-Shabaab 'Poster Boy' Faces Execution after Fall Out
• Three UN peacekeepers, soldier killed in Mali
• Tunisia Mps Urge Govt. To Reject Saudi-Backed Arab League Statement
--------
Europe
• 'Wiping out' extremist ideology is my mission - head of Saudi-based Muslim body
• False terror alert sparks fear in London shopping district
• UN special envoy on Syria says had 'useful' meeting with Russia's Lavrov: Ifax
• Dozens arrested at anti-war protest in Belgium
• British Muslim Archives offer 'hope,' says London mayor
• Brussels conf. to discuss role of Imams in promoting harmony, peaceful in Europe
• Germany invites 'indoctrinated' children of ISIS fighters BACK to Europe
• Talk aims to build bridges and show common bonds between London's Muslim, First Nations communities
Compiled by New Age Islam News Bureau
URL: https://www.newageislam.com/islamic-world-news/mohammed-bin-salman-reinterpreting-islam/d/113353
--------
Mohammed bin Salman: Not reinterpreting Islam, but restoring it to its origins
24 November 2017
Mohammed bin Salman, in his interview to the New York Times, raised explained his position on several issues that have regional and global ramifications.
One of the more fundamental subject he tackled was that of the interpretation of Islam, which has been a matter of debate in recent times.
The article suggests that Mohammed bin Salman is on a mission to bring Saudi Islam back to the center. According to the article, he has not only curbed the authority of the once feared Saudi religious police, he has also taken the hard-liners on ideologically unlike any Saudi leader before him.
Friedman quotes a 28-year-old US-educated Saudi woman who says that Mohammed bin Salman "uses a different language. He says, 'We are going to destroy extremism.' He's not sugar-coating. That is reassuring to me that the change is real."
To Friedman himself, Mohammed bin Salman said: "Do not write that we are 'reinterpreting' Islam — we are 'restoring' Islam to its origins — and our biggest tools are the Prophet's practices and [daily life in] Saudi Arabia before 1979."
He said that at the time of the Prophet Muhammad, there were musical theaters, there was mixing between men and women, there was respect for Christians and Jews in Arabia.
"The first commercial judge in Medina was a woman!" So if the Prophet embraced all of this, Mohammed bin Salman asked, "Do you mean the Prophet was not a Muslim?"
Saudi of the 1950s
Friedman writes that one of his ministers got out his cellphone and shared with him pictures and YouTube videos of Saudi Arabia in the 1950s when it was still a traditional and modest place, but not one where fun had been outlawed, which is what happened after 1979.
"If this virus of an antipluralistic, misogynistic Islam that came out of Saudi Arabia in 1979 can be reversed by Saudi Arabia, it would drive moderation across the Muslim world and surely be welcomed here where 65 percent of the population is under 30," the article reads.
One middle-age Saudi banker told Friedman: "My generation was held hostage by 1979. I know now that my kids will not be hostages."
Music in Riyadh
Another 28-year-old Saudi woman social entrepreneur said 10 years ago when they talked about music in Riyadh it meant buying a CD. "Now it is about the concert next month and what ticket are you buying and which of your friends will go with you."
According to him, this reform push is giving the youth a new pride in their country, almost a new identity, which many of them clearly relish.
Now they have a young leader who is driving religious and economic reform, who talks the language of high tech, and whose biggest sin may be that he wants to go too fast.
Most ministers are now in their 40s — and not 60s. And with the suffocating hand of a puritanical Islam being lifted, it's giving them a chance to think afresh about their country and their identity as Saudis, says the article.
https://english.alarabiya.net/en/News/middle-east/2017/11/24/Mohammed-bin-Salman-Not-reinterpreting-Islam-but-restoring-it-to-its-origins.html
--------
Rabiul Awwal's True Message Is Supremacy of 'Shariah': Jamaat-e-Islami Chief
Nov 25, 2017
LAHORE: Jamaat-e-Islami chief Sirajul Haq on Friday said that the real message of Rabiul Awwal was to establish the "supremacy of the Shariah Muhammadi all over the world and the enforcement of the all-embracing Nizam e Mustafa in the Muslim states".
Addressing a Friday congregation at Mansoora, he impressed upon the Muslims of the world to forge unity in their ranks and adopt a joint strategy for the "revival of the Khilafat".
The JI chief said that Pakistan came into being in the name of Islam. However, for the last seventy years, the country was being ruled by "secular elements". Siraj said the enforcement of Islam would help eliminate exploitation, tyranny, immorality, interest-based economy and also the violation of the women rights.
https://www.pakistantoday.com.pk/2017/11/24/rabiul-awwals-true-message-is-supremacy-of-shariah-siraj/
--------
Muslim Law Board Says RSS Chief's Remarks on Ram Temple a Challenge to SC
By ANANTHAKRISHNAN G , Abantika Ghosh
November 25, 2017
RSS chief Mohan Bhagwat's statement that only the temple will be built at the disputed site in Ayodhya comes 11 days before the Supreme Court starts final hearings in the Ram Janmabhoomi case from December 5, exactly 25 years after Babri Masjid was demolished on December 6, 1992. The court will hear appeals against the Allahabad High Court verdict dividing the 2.77-acre disputed land in Ayodhya between the main deity Ram Lalla, Sunni Wakf Board and Nirmohi Akhara.
The case had come up before a three-judge bench headed by Justice Dipak Misra on August 11 and was adjourned for three months as relevant documents had not been translated into English.
There are nearly 90,000 pages of oral evidence and 533 documentary exhibits in eight different languages in the matter including in Sanskrit and Persian. Also Read: Days before SC hearing, RSS chief Mohan Bhagwat rules: Only Ram temple will be built in Ayodhya
BJP leader Subramanian Swamy filed an interlocutory application in the matter to enforce his right to worship in Ayodhya but the court said it will hear all such applications only after the main matter had been heard.
While litigants await hearing in the Supreme Court, the change of government in Uttar Pradesh saw a new cast of characters jumping in. First, there was the Shia Wakf Board of Uttar Pradesh, its chairman proclaiming that a mosque at the disputed site made no sense. Then came a glittering Diwali celebration in Ayodhya in the presence of Uttar Pradesh Chief Minister Yogi Adityanath and, subsequently, the abrupt entry of spiritual guru Sri Sri Ravishankar as a mediator.
Bhagwat's assertion also comes in the run-up to a host of elections — including in Gujarat that votes next month and Karnataka that votes next year. Before the general elections in 2019, Madhya Pradesh, Meghalaya, Mizoram, Nagaland, Rajasthan and Tripura go to the polls next year.
Incidentally, Bhagwat had made a similar statement in 2013, in the run-up to the 2014 Lok Sabha elections in which he described Ram Janmabhoomi as a question of "India's identity".
Zafryab Jilani, convenor of the Babri Masjid Action Committee and lawyer for the UP Sunni Wakf Board, described Bhagwat's statement as a "challenge" to the Supreme Court and the Constitution of India. "As per the Constitution, the Supreme Court is the highest authority and it is that authority which is adjudicating on whether there can be construction there or not.The country runs by rule of law and we are all awaiting the verdict of the SC. This statement amounts to a challenge to both the SC and Constitution," he said.
Member of All India Muslim Personal Law Board (AIMPLB) executive committee Asaduddin Owaisi said: "This is obnoxious, a deliberate ploy to vitiate the atmosphere. How can such a statement be made when the matter is in the Supreme Court? This is a title suit and the RSS is saying it is a matter of faith. I hope the SC takes note of it. This is dangerous."
The government is doing its own meetings on Ram Janmabhoomi too. Home minister Rajnath Singh met a delegation of Sufi clerics earlier this month kicking off another controversy — on top of an existing one about the Art of Living founder's locus standi in the case — when the identity of the man who led the delegation was questioned by the Ajmer Sharif Dargah with which he claimed to be associated.
http://indianexpress.com/article/india/rss-chief-mohan-bhagwats-ram-temple-remarks-a-challenge-to-sc-muslim-law-board-4953507/
--------
Two top Saudi officials visit Paris synagogue: Israeli media
Nov 25, 2017
Two senior Saudi Arabian officials, both of whom formerly served as government ministers, have reportedly visited a synagogue in the French capital in what Israeli media have depicted as "a historic first."
Israeli daily The Jerusalem Post reported on Thursday that Muhammad bin Abdul Karim Issa, who is the head of a Saudi government-funded organization and a former justice minister, and Saudi Ambassador to France Khalid bin Mohammed al-Angari, an ex-education minister, had made their visit to the grand synagogue of Paris this week.
Issa is also an official adviser to the royal court in Riyadh and to the Saudi Crown Prince Mohammed bin Salman.
Surprise!
The visit came amid numerous reports suggesting growing ties between Tel Aviv and Riyadh. The two sides have no diplomatic relations but are known to be in secret contact.
While there have been many reports of those secret ties, individual instances of Saudi overtures to the Israeli regime are often depicted as singular and "surprising" incidents.
The two Saudi officials who visited the Paris synagogue were hosted by France's chief rabbi, Haim Korsia, and the synagogue's rabbi, Moshe Sebbag. Sebbag expressed "surprise" over the visit.
"This was very exciting. This was their first time in a synagogue, and I was frankly surprised that they came," he said.
Earlier this week, Israeli Prime Minister Benjamin Netanyahu said the Israeli regime had "secret" but "fruitful" cooperation with Arab governments, noting that peace between his regime and Arab capitals would "happen in the end."
Earlier this month, Israeli Energy Minister Yuval Steinitz said that Israel had covert ties with Saudi Arabia and other Arab countries.
His comments came one day after Israeli minister of military affairs Avigdor Lieberman called on Arab states to befriend Israel and team up against Iran.
On November 16, Chief of Staff of Israeli military, Lieutenant General Gadi Eizenkot, said Tel Aviv was ready to share intelligence with Saudi Arabia in their joint efforts to confront Iran.
He said that in a first ever interview by an Israeli military official with a Saudi media outlet.
On November 14, Lebanon's al-Akhbar newspaper published a secret undated letter from Saudi Foreign Minister Adel al-Jubeir to Crown Prince Mohammed bin Salman, in which Jubeir put forward a plan to normalize ties with Israel despite "risks" of a public backlash.
Back in September, reports emerged about a secret visit by bin Salman to Israel, where he held consultations with senior Israeli officials over "regional peace." However, an official source at the Saudi Foreign Ministry denied the news.
Israeli man 'visits holy Muslim sites'
Earlier this week, Israeli blogger Ben Tzion claimed he had made secret visits to holy Muslim sites in Saudi Arabia, Iran, Lebanon, and Jordan. He reportedly holds a Russian passport.
He posted photos of himself inside the al-Masjid an-Nabawi in Medina, Saudi Arabia, in which he can be seen pointing to his name written in Hebrew.
Observers say the increasingly public but informal contact between Israeli and Saudi officials, such as the synagogue visit, are attempts to test the waters before Riyadh and Tel Aviv potentially declare open relations.
http://www.presstv.com/Detail/2017/11/25/543400/Saudi-Arabia-officials-Muhammad-bin-Abdul-Karim-Issa-Khalid-bin-Mohammed-alAngari-Paris-synagogue
--------
Pakistan govt should arrest, charge 26/11 mastermind Hafiz Saeed for his crimes: US
November 24, 2017
The United States on Friday asked the Pakistan government to ensure that 26/11 master mind and Jamaat-ud-Dawa (JuD) chief Hafiz Saeed, who was released from House arrest earlier in the day, was arrested and charged for the crimes he has committed.
"The United States is deeply concerned that Lashkar-e-Taiba (LeT) leader Hafiz Saeed has been released from house arrest in Pakistan. LeT is a designated Foreign Terrorist Organisation responsible for the death of hundreds of innocent civilians in terrorist attacks, including a number of American citizens," PTI quoted state department spokesperson Heather Nauert as saying. "The Pakistani government should make sure that he is arrested and charged for his crimes," he added.
The US government has put a USD 10 million American bounty on Saeed for the terror activities he has been responsible for. Saeed was freed from his ten-month detention by the Pakistan government, which came as a major setback for the Indian government's attempts at punishing him and providing justice to the victims of the Mumbai terror attack.
ALSO READ: Hafiz Saeed calls Nawaz Sharif a 'traitor', says he wanted friendship with India and ignored Kashmir
Saeed was designated as a Specially Designated Global Terrorist by the US Department of the Treasury under Executive Order 13224 in May 2008. The UN too had designated him individually under the UN Security Council Resolution 1267 in December 2008.
The US has offered a USD 10 million reward for any information that might bring Saeed to justice since 2012.
Earlier in the day, Saeed spoke to reporters after his release and said he will continue to work towards the "cause of Kashmir". He said he will gather people across Pakistan for the "cause of Kashmir" and help the Kashmiris secure "freedom."
"I fight the case of Kashmiris. I will gather the people from across the country for the cause of Kashmir. And we will try to help Kashmiris get their destination of freedom," PTI quoted Saeed as saying.
He said he was detained when he announced a month of solidarity for Kashmiris this January. He used the release order to buttress his claims of "innocence".
"I am very happy that none of the allegations against me proved as three judges of the LHC ordered my release …India had levelled baseless allegations against me. The LHC's review board decision has proved that I am innocent," Saeed said.
http://indianexpress.com/article/india/pakistan-govt-should-arrest-charge-26-11-mastermind-hafiz-saeed-for-his-crimes-us-4953043/
--------
Afghan Air Strike Kills About 20 Taliban at Religious School: Officials
November 24, 2017
KABUL: A rocket attack on an Afghan religious school killed about 20 Taliban insurgents exchanging fire with security forces, officials said on Friday, adding that no children were among the victims.
The insurgents had taken shelter at the school compound in the central eastern province of Wardak, 35 km (20 miles) southwest of the capital, Kabul, when the air strike hit late on Wednesday, the officials said.
International forces that conduct most of the air strikes across the country were not immediately available for comment.
Abdul Rahman Mangal, a spokesman for the governor of Wardak, said there were no civilian casualties, adding that all the pupils had gone home before the air strike.
Foreign troops have stepped up air strikes in Afghanistan in recent months as Afghan forces struggle against a resilient Taliban insurgency.
The Taliban are seeking to reimpose strict Islamic law after their 2001 ouster by US-led troops.
http://nation.com.pk/24-Nov-2017/afghan-air-strike-kills-about-20-taliban-at-religious-school-officials
--------
Arab World
Saudi ambassador to Prague: Modernisation not counter to Islam
24 NOVEMBER 2017
Prague, Nov 23 (CTK) - Modernisation, including the softening of the laws applied to women, is not at variance with Islam, Naif Al Aboud, the new ambassador of Saudi Arabia to the Czech Republic, who assumed the post in April, has said in an interview with CTK.
Aboud, who was ambassador to Finland, said the anti-corruption fight in his country had not surprised him and he declined that this might lower the investors' trust.
On the contrary, he continued, the fact that even princes, including the King's nephew, were arrested during the anti-corruption raid proves that the Saudi judiciary system treats all in the same manner, which is in harmony with Islam on which the courts are based there.
Saudi Arabia has also started releasing various restrictions against women - it has softened the laws on custody and will allow women to drive cars as of next year.
The ambassador said modernisation does not mean violating the Saudi principles.
In this respect, he pointed to the participation of Saudi Arabia in an intercultural dialogue in Vienna.
Islam cannot be in conflict with other religions, it calls for peace and safety for the whole humankind, he stressed.
He said he can see the main problem in the Middle East policy in the involvement of the Shia Hezbollah, supported by Iran, in the conflicts in Yemen and Syria and in support for radical groups by Qatar.
In June, Saudi Arabia, Bahrain, Egypt an the United Arab Emirates interrupted diplomatic relations with Qatar, citing its support for terrorist organisation and destabilising the region as the reasons.
The ambassador said Qatar had violated its commitment to see to stability in the region by its support for the Palestinian Hamas, radical groups in Syria and other terrorist groups that were given space in the Qatari TV Al-Jazeera.
As far as the war in Syria in concerned, Saudi Arabia sides with "moderate groups," Aboud said, adding that the conflict cannot be solved by military means.
Asked whether Israel and Saudi Arabia are coming closer because of the involvement of Hezbollah in Syria, Aboud said the Palestinian-Israeli conflict had existed before Hezbollah and that its peaceful solution was in the interests of Arab countries.
He dismissed that Saudi Arabia was interfering in the internal affairs of Lebanon.
Aboud also spoke about tourism and expressed hope that cooperation between both countries would improve in the interview.
The Czech Republic has become an attractive tourist destination for Saudi Arabs many of whom visit the country because of its high-quality health care and education, he said.
The number of Czech visas issued to Saudi Arabs has doubled in the past six months.
However, Aboud said it was important that cooperation in other areas, mainly in diplomacy, develop, too.
The Czech Republic is a country with a very rich history that has good relations with Saudi Arabia. However, bilateral relations have not developed as expected in the past few years, he said.
Asked whether President Milos Zeman's negative comments on Islam caused this and whether relations improved of late, Aboud said Riyadh believed in their improvement.
However, he at the same time expressed fears that such statements about culture and Islam would not contribute to mutual understanding. Rather a positive approach is expected from the heads of state, government and parliament to improve bilateral relations, he added.
Saudi Arabia is trying to cooperate with Czech partners at the Foreign Ministry and other government institutions with the aim to organise bilateral visits of diplomats and senior officials, he said.
In early November, Saudi Arabia appreciated that the Czech Foreign Ministry had expressed fears of a missile attack by the Yemeni Shia rebels on the international airport in Riyadh.
Aboud said he believed that such a statement would help boost cooperation between both countries.
In July, the Czech Senate refused to support the ratification of he Czech-Saudi agreement on air transport services, pointing at human rights violation in Saudi Arabia.
Aboud said this decision must be respected.
Some senators connected the deepening cooperation with other issues, but the Czech Transport Ministry supported the agreement, so there is a hope it will be debated again, he added.
An increase in Saudi investments in the Czech Republic depends on the improvement of bilateral relations, he said.
http://praguemonitor.com/2017/11/24/saudi-ambassador-prague-modernisation-not-counter-islam
--------
Sisi: We will strongly respond to the massacre of Al-Arish Mosque
24 November 2017
Egyptian President Abdel Fattah al-Sisi said televised address to the nation, that the Massacre of Sinai mosque, which claimed the lives of 235 people and 109 injured, is a real reflection of the efforts exerted in the face of terrorism, stressing that Egypt will respond strongly to attack.
"Egypt is facing terrorism on behalf of the world," he said in a speech on Friday evening.
"What is happening is aimed at stopping our efforts to confront terrorism. It is aimed at destroying our will and shaking the confidence of the Egyptians. But we are steadfast and will continue to fight terrorism."
Sisi stated that this violence and terror will increase the determination and will to respond with brute force, calling on the Egyptians to unite in the face of terrorism, and vowed to avenge the perpetrators of the attack and restore security and stability.
He said that a terrible terrorist plot to demolish the rest of our region, and we would face it with all force.
Full report at:
https://english.alarabiya.net/en/News/middle-east/2017/11/24/Sisi-We-will-strongly-respond-to-the-massacre-of-Al-Arish-Mosque-.html
--------
Saudi crown prince calls Iran's supreme leader 'new Hitler'
November 25, 2017
RIYADH - Saudi Crown Prince Mohammed bin Salman has denounced Iran 's supreme leader Ayatollah Ali Khamenei as the "new Hitler of the Middle East", as tensions simmer between the regional rivals.
Saudi Arabia and its arch-rival Iran have traded a bitter war of words after a missile fired from Yemen was intercepted near Riyadh airport on November 4. The missile was claimed by Yemen's Tehran-backed Huthi rebels.
Iran 's "supreme leader is the new Hitler of the Middle East", Prince Mohammed told The New York Times in an interview published Thursday.
"We learned from Europe that appeasement doesn't work. We don't want the new Hitler in Iran to repeat what happened in Europe in the Middle East."
Tehran has strongly denied supplying any missiles to the rebels, and President Hassan Rouhani has warned Saudi Arabia of Iran 's "might".
The spike in tensions coincides with Prince Mohammed's new anti-corruption purge, which saw around 200 elites including princes, ministers and business tycoons arrested or sacked earlier this month. The prince described as "ludicrous" reports equating the crackdown to a power grab, saying that many of those detained at Riyadh's opulent Ritz-Carlton hotel had already pledged allegiance to him. "A majority of the royal family" is behind him, the prince said, dismissing longstanding rumours of internal opposition to his meteoric rise.
He said 95 percent of those detained agree to a "settlement", or handing over ill-gotten gains to the Saudi state treasury.
Saudi Arabia's attorney general estimates at least $100 billion has been misused in embezzlement or corruption over several decades.
Authorities have frozen the bank accounts of the accused and warned assets related to the alleged graft cases would be seized as state property, in what they describe as a top-down approach to battling endemic corruption.
"About one percent are able to prove they are clean and their case is dropped right there. About four percent say they are not corrupt and with their lawyers want to go to court," the prince said.
"We have experts making sure no businesses are bankrupted in the process," he added.
Full report at:
http://nation.com.pk/25-Nov-2017/saudi-crown-prince-calls-iran-s-supreme-leader-new-hitler
--------
Syria: Children Killed in Terrorists' Heavy Attacks in Eastern Damascus
Nov 24, 2017
The sources reported that two children from a single family were killed after the terrorist groups conducted over 30 rounds of artillery attacks on residential areas in Eastern Ghouta.
A number of civilians were also injured in the attacks, the sources confirmed.
Relevant reports said on Wednesday that the army units drove the Al-Nusra Front (Tahrir al-Sham Hay'at or the Levant Liberation Board) out of Tal (hill) Halaf Shour close to the villages of Beit Saber and Beit Timan and Tal al-Maqla'a West of the village Kafr Hoor in Southwestern Damascus.
A number of terrorists were killed or wounded and the remaining pockets of them fled the battlefield in the attack.
Full report at:
http://en.farsnews.com/newstext.aspx?nn=13960903000589
--------
Several Civilians Killed in Terrorists' Attack in Southern Syria
Nov 24, 2017
The sourced said that the terrorist groups, deployed in Eastern Dara'a, opened fire at a bus on the road to the village of Haran in Western Sweida, killing six civilians and wounding several more.
Reports said last month that a militant-commandeered vehicle was badly destroyed by a roadside bomb in Syria's Southern province of Dara'a, leaving two terrorists dead.
A vehicles of Liwa Ahfad al-Rasoul affiliated to the Free Syrian Army fighters was destroy by a roadside bomb while traveling from Dara'a city to the town of Um Elmiathin inside rebel-held territories.
The blast caused heavy damage to the vehicle, killing two of the rebel fighters and wounding the third passenger.
Full report at:
http://en.farsnews.com/newstext.aspx?nn=13960903000377
--------
Egypt military carries out air strikes, kills terrorists near Al-Arish
25 November 2017
Egypt's military has begun conducting air strikes around the area of North Sinai where a deadly mosque attack that killed more than 230 occurred on Friday, security sources and eyewitnesses said.
The strikes have been concentrated in several mountainous areas surrounding Al Rawdah mosque where militants are believed to be hiding out, the security sources said.
The Egyptian army stated that a number of the terrorists involved in the massacre of Al-Rawda mosque in northern Sinai, which killed 235 people, were killed in air raids.
The military spokesman, Col. Tamer Rifai, said that "as part of the pursuit of the terrorists responsible for targeting the worshipers at Al Rawda mosque in Al-Arish, the air force destroyed a number of vehicles involved in the brutal terrorist attack."
Rifai added that a number of terrorist outposts containing weapons and ammunition belonging to terrorist were also targeted and completely destroyed.
He stressed that the law enforcement forces in North Sinai, in cooperation with the Air Force, will continue to comb the terrorist strongholds and eliminate them.
In his address to the nation, Egypt's President Abdel Fattah al-Sisi said that the Egyptian army will respond with brute force, calling on the Egyptians to unite in the face of terrorism, and vowed to avenge the perpetrators of the attack and restore security and stability.
He added that "what is happening is aimed at stopping our efforts to confront terrorism. It is aimed at destroying our will and shaking the confidence of the Egyptians. But we are steadfast and will continue to fight terrorism."
President Abdel Fattah al-Sisi has instructed the military and police to secure all religious sites in Sinai after the attack.
Full report at:
https://english.alarabiya.net/en/News/middle-east/2017/11/25/Egypt-military-carries-out-air-strikes-near-Al-Arish.html
--------
China says to help with reconstruction of Syria
Nov 24, 2017
China says it will help with reconstruction efforts in Syria, which has seen massive destruction as a result of over six and a half years of armed conflict.
Chinese Foreign Minister Wang Yi told a visiting senior aide to Syria's President Bashar al-Assad on Friday that dialog was important in resolving the conflict and that the world must support the reconstruction of the Arab country.
"The international community should emphasize and actively support Syria's reconstruction. China will put forth its own effort for this," Wang told Bouthaina Shaaban, according to a statement by China's Foreign Ministry.
According to the statement, Shaaban welcomed China playing a greater role in the political process to resolve the Syrian conflict.
Two parallel peace processes have been going on for Syria, one in the Kazakh capital of Astana and the other in the Swiss city of Geneva. The Astana peace process has been launched by Iran, Russia, and Turkey, and the Geneva talks are held on the auspices of the United Nations (UN).
On Wednesday, the presidents of Iran, Russia, and Turkey invited all countries to contribute to peace in the Middle East region, including in Syria, and help with the reconstruction of Syria and the return of Syrian refugees to their homes.
Syria has been fighting different foreign-sponsored militant and terrorist groups since March 2011.
At Damascus' request, Iran has been providing military advisory support to the Syrian military in its counterterrorism operations.
Full report at:
http://www.presstv.com/Detail/2017/11/24/543327/China-hopes-for-a-show-of-flexibility-by-Syria-in-promoting-peace-talks
--------
Pakistan
'India dictating terms to Pakistan' claims Jamaaat ud Dawa
NOVEMBER 24, 2017
Around 12:30 am early on Friday, the Lashkar-e-Taiba (LeT) and Jamaat-ud-Dawa (JuD) Chief Hafiz Saeed, the main accused in the 2008 Mumbai attacks,and a global designated terrorist was finally a free man. His release came after the Lahore High Court (LHC) on Wednesday ruled that there was "insufficient evidence" against him to prolong his house arrest.
Long before midnight, hundreds of Saeed's supporters thronged the area outside his residence, as the jail staff withdrew. The supporters distributed sweets and chanted in Saeed's support, raising slogans for the 'freedom of Kashmir'. Following international pressure, Saeed had been detained in January for three months, which was extended multiple times, till the LHC ruling released him.
Pakistani authorities were already under pressure with the Tehreek-Labaik-ya-Rasool-Allah (TLY) having blocked the main highway from Islamabad since November 6. International observers say that Sayeed's release couldn't have taken place without the tacit backing of the Pakistani "deep-state" a euphemism for the military-led intelligence agency, the ISI (Inter Services Intelligence). This could also be a move, these observers say, to cut the civilian government down to size.
During the hearing, Abdul Sami Khan, heading the three-member board reviewing the government's request for extension, told the prosecutor, "You're saying that Hafiz Saeed is the target of international pressure, but he alone isn't the one responsible. The allegations you're putting on him are true for many others. Why are you only after him?"
Immediately after the verdict Saeed was quick to send his message across to India. "India has always leveled allegations of terrorism … but (Lahore) High Court decision has proved that all of India's propaganda are false," he said in a video message. Coupled with the messages for India were the outlining of the plan of action.
"The government succumbs to Indian pressure. The masses, the political parties – especially the religious parties – all fully support Hafiz Saeed," JuD spokesman Nadeem Awan said while talking to Asia Times. Awan added that while JuD had continued to function amidst Saeed's detention, his release is a major boost for the group. "Jamaat-ud-Dawa would continue its usual activities, and Hafiz Saeed would start working on the prospects of the Milli Muslim League (MML) now that he's out," he said, confirming that a meeting in this regard has already taken place at his residence.
Milli Muslim League is the political offshoot of JuD, whose affiliated candidates Yaqoob Sheikh and Liaqat Ali Khan contested by-elections in in NA-120 (Lahore) and NA-4 (Peshawar) in September and October respectively. However, the Election Commission of Pakistan (ECP) is yet to register the party following the Interior Ministry's insistence, citing MML's links to LeT and JuD.
"This government is taking instructions from India," said MML Finance Secretary and Spokesman Ehsanullah while talking to Asia Times on his way back from the meeting with Hafiz Saeed on Thursday. "But now that Mr Hafiz Saeed has been released, and has already started planning for general elections, they can't do anything about it."
Ehsanullah says that MML is currently fully focused on getting itself registered with the ECP. "Mr Hafiz Saeed will soon start planning out our membership strategy and getting others on board through networking," he added.
In September's NA-120 by-election, MML backed Yaqoob Sheikh won 5,822 votes. While the ruling Pakistan Muslim League-Nawaz (PML-N) won the contest, it lost over 14,000 votes compared to the 2013 general elections, in the center of Lahore – considered to be the party's political hub.
Military scientist Ayesha Siddiqa, author of 'Military Inc: Inside Pakistan's Military Economy' believes the MML will divide the urban PML-N vote in Punjab. "It won't have much more impact other than that. But yes, the decision to release Hafiz Saeed basically denotes an effort by the security establishment to give confidence to its JuD allies," she said while talking to Asia Times. Political scientist Hasan Askari Rizvi, author of 'The Military and Politics' in Pakistan says the government faces a major dilemma on Hafiz Saeed. "On the one hand there's international pressure – especially American pressure – to contain his activities, on the other hand they don't have enough criminal data to keep him in detention of an indefinite period," he said while talking to Asia Times.
He also believes that the MML won't have much impact on its own to be a part of the government on its own. "Unless of course it forms a coalition with other religious parties," he said.
http://www.atimes.com/article/india-dictating-terms-pakistan-claims-jamaaat-ud-dawa/
--------
Islamist Extremists Gather Near DC to Promote Jihad
November 23, 2017
At a gathering of Islamist extremists near Washington, D.C. last weekend, speakers from Maryland, Virginia, Texas and Pakistan railed against America calling it the "land of infidels."
The keynote speaker, Habib-ur-Rehman Ludhianvi, a visiting imam from Pakistan who is the principal of an Islamic seminary in Faisalabad, told a group of about 100 that "ignorant infidels" need to be forced to accept Islam.
"They are ignorant and there is no need for dialogue with them. God has given them two options, one is the holy book and one is the stick, and if one does not accept the holy book, they have to be forced," he said.
Reports from the conference came from several Muslims from the Ahmadiyya community that attended the conference under cover.
The conference was held at the Holiday Inn Express in Springfield, Virginia, and organized by two U.S.-registered charities, Idara Dawat-O-Irshad and Khatme Nubuwwat Center, both of which enjoy IRS tax-exempt status.
Ludhianvi, who in the past issued fatwas against women using cellphone and wearing high heels in public, noted, "The biggest threat that Islam is facing today is the disruption of the family system, for which they [the West] are urging women to go out of their homes."
Conference speakers also used their platforms to denigrate Ahmadiyya Muslims, whom they contend are heretics. Booths that were set up for conference participants handed out literature against Ahmadiyyas calling them infidels and the "greatest enemy of Islam."
Ludhianvi stated that Ahmadiyyas are worse than Jews and Christians and advocated using the American justice system to outlaw the faith altogether.
"Have all Muslim lawyers died? Why can't they learn and understand U.S. laws and then go present their case in front of the judge and explain that Qadianis [Ahmadiyyas] are disrespecting Islam?"
"Islam is our faith and they [Ahmadiyyas] are portraying their religious beliefs as Islamic beliefs…it should be made criminal for them to do so," he continued.
Ahmadiyya Muslims eschew jihad and believe a prophet came after Mohammed, whom they believe was the messiah. This prophet, Mirza Ghulam Ahmad, said he came to reform Islam and renounced jihad, declaring it against Islamic beliefs.
Pakistan passed a constitutional amendment declaring Ahmadiyyas are not Muslims and instituted blasphemy laws against them, forbidding them to recite the Quran or call their places of worship mosques. Due to these laws, many Ahmadiyyas were gunned down in Pakistan, including American cardiologist, Mehdi Ali Qamar, who was volunteering at a heart institute in Pakistan built and funded by the Ahmadiyya communiy.
Mehdi, who was an assistant professor of cardiology at Ohio University, was with his wife, one of his three sons and his cousin paying respects at a grave when he was shot 11 times by two people on a motorbike.
Also at the conference, the imam of the Noor Mosque in Springfield, Virginia, Shazad Hussain, accused the Ahmadiyyas of joining with the British to stop Muslims from "fighting jihad and committing bloodshed."
Full report at:
https://clarionproject.org/islamist-extremists-gather-near-dc-promote-jihad/
--------
Islamabad High Court declares Faizabad sit-in 'a terrorist act'
Malik Asad
November 25, 2017
ISLAMABAD: The Islamabad High Court (IHC) on Friday declared the ongoing sit-in at the Faizabad interchange an "anti-state activity" and "an act of terrorism".
Another show cause notice was issued to the interior minister for not implementing the court's orders to clear Faizabad, observing that Ahsan Iqbal had "stopped the [Islamabad] administration from acting upon the order passed by this court."
IHC Justice Shaukat Aziz Siddiqui further asked "why contempt of court proceedings may not be initiated against him. He is directed to appear in person on the next date".
In his order, Justice Siddiqui noted that "calling the honourable judges of superior judiciary and other respectable persons with names is intolerable", adding that the "leadership of dharna, prima facie, [are] involved in an act of terrorism."
He also ordered that the persons identified in the report of the Raja Zafarul Haq-led committee should not be allowed to leave the country.
Judge asks agencies to dispel impression they are supporting demonstrators
"Patients dying for want of access to hospitals, traders crying for lack of business activity, students are being deprived from their right to education and right of free movement of almost six million people of twin cities usurped by dictatorial act of one person and passive approach of law enforcing agencies [is] adding to the miseries of citizens", the order noted.
In the order, Justice Siddiqui stated that faith in the finality of the Prophethood of the Holy Prophet Muhammad (peace be upon him) was "of every Muslim and few persons cannot be allowed to claim exclusive right for its protection".
However, the court order advised the district administration not to use "firearms" during the clearance operation, if one was required.
It also directed the interior secretary to "ensure the production of report of the committee headed by Senator Raja Zafarul Haq." The report shall not be made public till next date of hearing, the court noted.
During the hearing, counsel Lt-Col Inamur Rahim asked the court to direct the Intelligence Bureau (IB) chief to trace the call records of the Tehreek Labbaik Ya Rasool Allah leadership to ascertain who was backing the protest.
"There is serious need for our sensitive institutions to dispel this impression that [the] Faizabad dharna is sponsored by the intelligence agencies, therefore, sector commander of Inter-Services Intelligence (ISI) and DG IB are directed to appear in person on the next date," the bench ordered.
On Friday, Islamabad Chief Commissioner Zulfiqar Haider told the court that the interior minister had stopped the ICT administration from acting upon the orders of the court so that negotiations may continue.
The IHC expressed its astonishment and said: "It is beyond understanding how a federal minister or even a prime minister can sit over an order passed by the court of competent jurisdiction, unless not reversed by the appellate court."
The IHC bench directed the registrar's office to fix the two petitions of Maulana Allah Wasaya and Tehreek-i-Labbaik Ya Rasool Allah for Monday (Nov 27) instead of Nov 29. The petitions seek orders to publicise the report of the committee led by Senator Raja Zafarul Haq to fix responsibility for the amendment of the oath regarding Khatm-i-Nubuwat in the election law.
Earlier, the two petitions were fixed for hearing on Nov 29, but bench in its latest order noted that due to the sensitivity of the situation, the petitions should be heard two days earlier.
Full report at:
https://www.dawn.com/news/1372696/islamabad-high-court-declares-faizabad-sit-in-a-terrorist-act
--------
Intolerance, violence on the rise in Pakistan: Senator
OVEMBER 25, 2017
ISLAMABAD: Senator Farhatullah Babar on Friday proposed the appointment of a special public prosecutor for dealing with crimes against women and a national register of embarrassment containing details of crimes, status of prosecution and the current status of cases.
He was speaking at an event organised by the National Commission on Status of Women (NCSW) in Islamabad on combating violence against women.
"Local governments with women participation can play an effective role in combating violence against women he said and called for the implementation of NCSW recommendations pertaining to reserved seats for women at all levels," he said.
He said that intolerance and violence in Pakistan was increasing day by day and identified two areas of violence. "One is security-driven violence as in the case of missing persons, bodies and the reported violence in Guantanamo Bay like internment centres. It is the women and children who suffer most when their men folk disappear mysteriously," he said.
"The second category is belief-driven violence in which case the rich and the poor alike are beheaded. This violence goes far beyond as an accused of blasphemy cannot find a lawyer to defend him," he said
"The largest variety of violence takes place against women as newer forms of violence against them are invented every year ranging from men's honour, gang rape and acid-throwing. For women, it is death by the kitchen stove in Punjab, by pesticide in South Punjab, axe in Sindh and guns elsewhere. An unheard of new kind of violence was invented by a holy man when he inserted a red hot iron rod in the abdomen of his wife," he said.
"Lack of access to justice, broken criminal justice system, jirga that exclude and degrade women and misapplication of Qisas laws have further compounded violence against women," he said.
"Of course pardon can be granted under the Qisas law, but only after conviction. It is a miscarriage of justice and misinterpretation of the law by accepting pardons even before conviction," he said.
Later, talking to the media, he said that to fight crimes against women, the society must recognise economic rights, the right to own land, the right to inheritance and equal wages for women. "The draft Constitution of October 1950 contained clear cut provisions for ending all forms of torture and also for equal wages for women. But both the provisions were deleted in the draft Constitution finalised in 1956," he said.
Full report at:
https://dailytimes.com.pk/147021/intolerance-violence-rise-pakistan-farhatullah-babar/
--------
Pakistani police launch operation to clear Islamist rally
25 November 2017
ISLAMABAD: Pakistani police have launched an operation to clear an intersection linking capital Islamabad with the garrison city of Rawalpindi where an Islamist group's supporters have camped out for the last 20 days.
Police and paramilitary force moved against the supporters of Tehreek-i-Labaik Ya Rasool Allah party early Saturday after a deadline expired at midnight.
Police lobbed tear gas canisters, surrounding and arresting dozens of protesters who were resisting by throwing stones. The action came after a court ordered the protest to stop saying it has disrupted life.
Television footage shows police trying to take control of the venue that's engulfed by thick smoke from tear gas.
Full report at:
http://www.arabnews.com/node/1198866/world
--------
Pakistan High Court 'to decide if Black Friday goes against Islamic teachings'
Nov 25, 2017
Islamabad's High Court has reportedly been asked to decide whether Black Friday shopping campaigns run "contrary to Islamic teachings".
A petitioner asked judges to rule on whether the term should be outlawed in Pakistan due to negative connotations.
They made Pakistan's government a party to the complaint, according to reports in local media.
The petitioner wrote: "Friday has religious significance for Muslims. Therefore calling it 'black' is a crime.
"According to the dictionary, Black Friday means ill-fated or black day. Hence, the court must ban celebration of Black Friday on 24 November in Pakistan."
The Daily Times reported that a prominent lawyer, Azhar Siddique, had written separately to high-ranking members of the government to ask them to block any official endorsements of the Black Friday phenomenon.
He suggested businesses could use "Bright Friday" to advertise deals instead.
The Daily Times quoted Chaudhry Abdul Ghafoor, chief of Pakistan's Tourism Development Corporation, as saying: "It is disgusting that some business tycoons are bringing Friday a bad name of 'black' just to blindly follow the West for increasing their business.
Full report at:
http://www.independent.co.uk/news/world/asia/pakistan-high-court-black-friday-2017-islamic-teaching-islamabad-muslims-shopping-bargains-a8073006.html
--------
Peshawar police AIG, gunman martyred in suicide bombing
NOVEMBER 25, 2017
PESHAWAR: Additional Inspector General (AIG) of Police Ashraf Noor was martyred while six other policemen were injured in a suicide blast in the Hayatabad area of provincial capital Friday morning.
Peshawar Capital City Police Officer (CCPO) Tahir Khan told media that the blast appeared to be a suicide attack. He said the attacker rammed his motorbike into the vehicle carrying the AIG near Zarghooni Mosque on Hayatabad Phase I and II's junction as he was on way to the Central Police Office.
"Ashraf Noor died on the spot while his gunmen were injured who were rushed to the Hayatabad Medical Complex (HMC)," he said, adding his vehicle was badly damaged in the blast.
According to Rescue 1122, AIG Noor and his guard Habibullah lost their lives while six other policemen sustained injuries in the explosion. "Some 15-20 kilogrammes of explosives were used in the blast," according to Bomb Disposal Squad official Shafqat Malik.
According to an initial investigation report compiled shortly after the explosion, the suicide attacker was identified as an 18-20 years old youth.
After the blast, security officials cordoned off the site and launched a search operation in the surrounding areas. There has been no immediate claim of responsibility for the attack.
Funeral prayers for the slain AIG were offered at the police lines in the city during which contingents of police paid rich tributes to the martyred official. "Ashraf Noor was a faithful and principled officer and his martyrdom has given the KP police a new resolve to continue its fight against terrorism," IG Salahuddin Khan said while speaking to the media. In this fight, the IG continued, "provincial police needs coordination and prayers of the general public so that we could continue this war bravely."
AIG Ahsraf Noor, son of Haji Ali Muhammad, hailed from Gilgit-Baltistan. Born in April, 1963, he obtained a Master of Science in Agriculture before joining the Police Services of Pakistan after clearing superior services exam in 1989.
During his career, AIG Noor held several key positions including DPO Kahota, DOP Chitral, DPO Kohistan, DIG Special Branch and Commandant PTC Hangu. He was transferred to the Frontier Constabulary on July 13 last year. He was posted as Additional IG Elite Force on March 08, 2017 and subsequently posted as Additional IG HQ on April 25 this year.
Full report at:
https://dailytimes.com.pk/146865/peshawar-police-aig-gunman-martyred-suicide-bombing/
--------
India
Hafiz Saeed rearticulating agenda of terrorists thriving in Pak: India
Nov 24, 2017
NEW DELHI: Reacting sharply to Lashker-e-Taiba founder Hafiz Saeed's latest declaration that he would continue to help Kashmiris achieve "freedom", the home ministry on Friday termed it as yet another re-articulation of the agenda of the "terrorist constituency" that thrives across the border.
Saeed, who was freed on Thursday after the Pakistani authorities decided against detaining him further, told reporters after his release: "I was detained for 10 months only to stop my voice for Kashmir."
"I fight for the case of Kashmiris. I will gather the people from across the country for the cause of Kashmir and we will try to help Kashmiris get their destination of freedom".
A home ministry official slammed Saeed for raising the Kashmir bogey.
"The principled and consistent stand of the government is that Jammu & Kashmir is an integral part of India. The recent statement by Saeed is simply a re-articulation of the agenda of terrorist constituency that thrives across the border".
The official added: "Such statements have been made repeatedly in the past. Each time they have received an appropriate and resounding response on the ground from the people as well as the law enforcement agencies".
The Jamaat-ud-Dawah (JuD) head, who carries a $10 million American bounty for his role in terror activities, was freed after the government decided against detaining him further in any case.
He was under detention since January.
https://timesofindia.indiatimes.com/india/hafiz-saeed-rearticulating-agenda-of-terrorists-thriving-in-pak-india/articleshow/61782582.cms
--------
NIA report includes Hadiya statement that she wed of her own will
Deeptiman Tiwary
November 25, 2017
THE National Investigation Agency (NIA), in its status report to the Supreme Court on Thursday, is learnt to have attached the statement of Hadiya (Hindu girl Akhila who converted to Islam and married a Muslim man, Shafin Jahan) in which she has reportedly denied any pressure to convert to Islam or marry Jahan.
"She has said that she married Jahan of her own free will and decided to convert voluntarily," a top government source told The Indian Express. Sources familiar with the investigation said Hadiya has also denied that she was offered any pecuniary benefits.
The development is significant since any investigation against Jahan, or a decision on the annulment of their marriage ordered by the Kerala High Court, would be based on whether she was under pressure.
"While the woman's father has alleged that she was not in a proper mental state to take the correct decision, the same has not been proved and cannot be proved at this stage," said a government official.
Hadiya's father, K M Ashokan, had alleged that she had been indoctrinated by radical groups. Hadiya is set to appear before the Supreme Court on Monday.
Sources said the NIA also did not find any financial trail linking Hadiya or others in the case to any organisation allegedly involved in facilitating conversions. In its report, however, the NIA is learnt to have listed organisations which reportedly facilitate inter-faith marriages and conversions in such cases.
In August, the Supreme Court had directed the NIA to probe the case after Jahan challenged the Kerala High Court's decision to annul their marriage and give Hadiya's custody to her father.
In its earlier report to the court, the NIA had claimed there was a "well-oiled machinery working in Kerala" involved in indoctrination and radicalisation of women, and 89 such cases had been reported. The agency had listed nine cases of alleged forced conversion registered by Kerala police since January 1, 2015.
It claimed that the court could invoke parental authority even if Hadiya was an adult, as her case suggested that she was radicalised.
Full report at:
http://indianexpress.com/article/india/nia-report-includes-hadiya-statement-that-she-wed-of-her-own-will-4953512/
--------
Bengaluru: Shia Muslim Group Attacked India Today's Office Over Aaj Tak TV Anchor Rohit Sardana's Comment
November 24th, 2017
According to a report by The Newsminute, today, a large crowd of Shia protesters gathered outside the India Today/Aaj Tak's Bengaluru office chanting slogans, "Band Karo Band Karo, Aaj Tak Band Karo." They attacked the office and attempted vandalising it. The protesters also carried a silent march from Masjid-e-Haskari to Aaj Tak's office. This protest was organised by Anjuman-e-Imamia.
It was written on one of the posters carried by a protester that "the group condemned Rohit Sardana's comment against Bibi Fatima (SA), daughter of the Holy Prophet, the wife of the Holy Prophet and Immaculate Mary, the mother of Jesus Christ."
Another Shia group had put out a statement demanding an apology from Rohit Sardana within 48 hours. Sardana had tweeted an apology. The protesters also demanded the arrest of the Aaj Tak TV journalist, saying that his tweets were 'blasphemous'.
Sardana's tweets on 16 November triggered an immediate outrage. The tweet came in the backdrop of the film banned in IFFI, Sexy Durga. Sardana referred to women in Islam and Christianity, including Prophet Muhammad's wife Ayesha, daughter Fatima and Mary, Jesus Christ's mother. His tweet asked why was the word 'sexy' used only before the name of a Hindu goddess and if the same can be done for the other names also.
Similar incidents of protest
According to another report by The Times of India, protests against journalist Rohit Sardana took place in Hyderabad's Old City, just yesterday. People in large numbers from Shia, Sunni, and Christian communities staged a protest in front of the Old City police commissioner's office at Purani Haveli in Hyderabad. The group of protesters was led by Shia cleric Nisar Hussain Hyder Agha. They demanded that the media outlet must fire Rohit Sardana.
Complaints against Rohit Sardana were filed at around six police stations in the city for allegedly hurting religious sentiments. Naya Nagar Police Station at Mira Road invoked IPC sections 295A (deliberate and malicious acts, intended to outrage religious feelings or any class by insulting its religion or religious beliefs), 153A (promoting enmity between different groups on ground of religion, race, place of birth, residence, language, etc) and 67 of the ITAct.
Mohammed Abbas Rizwan Khan, president of Muslims' Association of Peace and Harmony said, "This is another attempt to get cheap publicity. We don't know if he tried to appease some of his political masters or ideological gurus, but his words have deeply hurt us and we condemn it." Anjuman-E-Hussain Trust said in its complaint to the Versova police, "By his slander, Rohit Sardana has hurt the entire Indian community cutting across all religious boundaries." Copies of the complaint have been sent to Chief Minister of Maharashtra Devendra Fadnavis and Mumbai Police Commissioner Dattatray Padsalgikar.
Full report at:
https://thelogicalindian.com/news/muslim-group-attacked-india-todays-office/
--------
UP's lone Muslim minister Mohsin Raza does not get marriage certificate
Nov 24, 2017
LUCKNOW: The lone Muslim minister in Uttar Pradesh, Mohsin Raza, today submitted a fresh application for registration of his marriage as he failed to present himself in the court and collect the certificate within the stipulated 90 days.
"We were unable to collect the marriage registration certificate within 90 days of applying for registration as a result of which it stood null and void," Raza said.
He said he submitted a repeat affidavit today.
Raza, 49, said that according to rules, both husband and wife have to be physically present in the court to collect the certificate.
"Generally during Moharram, which is a mourning period, we abstain from doing anything auspicious," he said, dismissing as baseless reports that his marriage registration has been cancelled.
Additional district magistrate (Trans-Gomti) Anil Kumar said the minister had failed to collect the certificate within the 90-day period even though he was given reminders over phone.
Raza, who has been married for about 16 years, had got his marriage registered on August 3 this year after the Yogi Adityanath government made it compulsory for all marriages to be registered.
He filed his papers two days after the Uttar Pradesh Cabinet gave its nod to the UP Marriage Registration Guidelines (2017), that makes registration mandatory for marriages in all religions.
His "court marriage" had taken place amid media glare with his family members standing by his side apparently to set an example before Muslims, who had been opposing the government decision.
Raza reached the district magistrate's office with his wife Fauzia Sarwar Fatima and parents to get his marriage registered.
Some Muslim groups had been opposing the decision, saying their 'nikahnama' was already a certification of marriage.
Clerics, including those at the Islamic seminary Darul- uloom Deoband, have termed it unnecessary "since nikahnama is a valid form of marriage registration".
Full report at:
https://timesofindia.indiatimes.com/city/lucknow/ups-lone-muslim-minister-mohsin-raza-does-not-get-marriage-certificate/articleshow/61784433.cms
--------
Poet wrote on Hindu-Muslim unity, says Jaisi's native village
Nov 25, 2017
AMETHI: Even as the world is caught up in a storm over 'Padmavati', people in this quiet village - the birthplace of Malik Mohammad Jaisi, the writer of 'Padmavat' - wonder what the fuss is all about. For the residents, most of whom can recite couplets from the tale written in Awadhi in the 16th century, "mahakavi" Jaisi's work revolved around the unity between Hindu and Muslims, bereft of any hurtful sentiments towards any community.
People in Jais, about 100 km from Lucknow, are dismissive about the controversy around 'Padmavati'. "I had studied the book in school. Thosewho are opposing it have not seen the movie. They have perhaps not read the book either. It seems to be a political gimmick to oppose it. The book has no controversial element," said Mohammad Nizam Khan, who lives right across the place where then Prime Minister Rajiv Gandhi laid the foundation stone for Malik Mohammad Jaisi Research Institute in 1988. The institute, however, never saw the light of day.
Khan recited a quatrain from 'Padmavat', which he had memorised as a child, to elaborate on unity that Jaisi wrote about: " Briksh laagi ek bhaee dui daara / Aae rehte nana parkara / Maatu ke rakat, pita ke bindu / Kehlaave Turuk au Hindu (God had planted only one tree that had two branches with different kinds of people living together. And both Hindus and Muslims are children of the same god."
Jais residents say 'Padmavat' was an "amalgamation of fact and fiction"
Aseef Jaisi, a scholar, said, "Jaisi mixed fact and fiction to compose the book in Persian script and Awadhi language in 1540. Several editions of the book were produced over time in different languages. Had there been any hurtful content to any community, it would have been raised over the years."
Shiv Nayak Singh (84), founding principal of Malik Mohammad Bharatiya Intermediate College, said in Jaisi's epic, Rani Padmavati has been depicted in the "most graceful manner" and the poet has kept her royal lineage in mind. "The trailer of the film does not indicate that anything around her character and personality has been distorted. Any protest ahead of the release of the film is amusing," he said.
In Kanchana locality of Jaisi, a lone brick wall from Jaisi's 16th century home - a memorial said to be established in the British period - stands beside a park, the foundation for which was also laid by Rajiv Gandhi with push from former Assam governor Sibtey Razi, who also hails from Jais.
Full report at:
https://timesofindia.indiatimes.com/city/lucknow/poet-wrote-on-hindu-muslim-unity-says-jaisis-native-village/articleshow/61791247.cms
--------
Hafiz Saeed rearticulating agenda of terrorists thriving in Pak: India
Bharti Jain
Nov 24, 2017
NEW DELHI: Reacting sharply to Lashker-e-Taiba founder Hafiz Saeed's latest declaration that he would continue to help Kashmiris achieve "freedom", the home ministry on Friday termed it as yet another re-articulation of the agenda of the "terrorist constituency" that thrives across the border.
Saeed, who was freed on Thursday after the Pakistani authorities decided against detaining him further, told reporters after his release: "I was detained for 10 months only to stop my voice for Kashmir."
"I fight for the case of Kashmiris. I will gather the people from across the country for the cause of Kashmir and we will try to help Kashmiris get their destination of freedom".
A home ministry official slammed Saeed for raising the Kashmir bogey.
"The principled and consistent stand of the government is that Jammu & Kashmir is an integral part of India. The recent statement by Saeed is simply a re-articulation of the agenda of terrorist constituency that thrives across the border".
The official added: "Such statements have been made repeatedly in the past. Each time they have received an appropriate and resounding response on the ground from the people as well as the law enforcement agencies".
Full report at:
https://timesofindia.indiatimes.com/india/hafiz-saeed-rearticulating-agenda-of-terrorists-thriving-in-pak-india/articleshow/61782582.cms
--------
Mideast
Israel cleansing al-Quds of Palestinian population: Rights activists
Nov 24, 2017
Human rights activists have warned that Tel Aviv is involved in an "ethnic cleansing" campaign against the generations-long Palestinian residents of Jerusalem al-Quds in order to get rid of their demographic dominance in the Israeli-occupied city.
Citing rights groups and researchers, The Middle East eye news and analysis portal reported on Thursday that Tel Aviv was gradually moving Palestinians out of Jerusalem al-Quds' Israeli-majority areas by annexing the city's settlements and turning Palestinian areas into "a no man's land."
The regime is advancing the so-called "Greater Jerusalem" aimed at "legalizing" the annexation of the settlements, which house around 150,000 Israelis, to appropriate the land on which it has built the structures.
"The pace of physical and demographic changes in the city has accelerated dramatically since Israel began building a steel and concrete barrier through the city's Palestinian neighborhoods more than decade ago," the sources noted.
Aviv Tartasky, a field researcher with Ir Amim, an Israeli group advocating fair treatment for Palestinians in Jerusalem al-Quds, described the developments in the occupied city as "ethnic cleansing, without guns."
"Israel hopes to get rid of a third of Jerusalem's Palestinian population through legislative moves alone," he added.
Another bill will deny more than 100,000 Palestinians on the "wrong" side of the barrier rights in the city.
At the same time, it is employing harsh policies to force the Palestinians inside the wall to move out. Those include late-night arrests, home demolitions, and a denial of basic services.
Palestinians want the eastern part of the city as the capital of their future state, while Israel lays claim to its entirety as its "eternal capital."
Israel's settlement construction has accelerated since the January inauguration of US President Donald Trump. He has also signaled that he would move the US Embassy from Tel Aviv to al-Quds as a means of endorsing the regime's claim to the city.
http://www.presstv.com/Detail/2017/11/24/543311/Israel-Jerusalem-alQuds-Palestinian
--------
Council of Pakistani scholars warns of Iran's destabilizing activities
24 November 2017
The Council of Pakistani scholars warned Muslim countries and the international community of Iran's continuous attempts, along with its terrorist militias Hezbollah and the Houthis, to destabilize the region and harm its security.
During a meeting held in Lahore, the council called on the international community to realize the Iranian threat and decisively deal with Iran and its terrorist militias to deter them and protect the region and the world from disastrous consequences.
The meeting was attended by top Muslim clerics, thinkers and political figures and it was held to discuss challenges which Arab and Muslim countries confront, particularly foreign interferences and regional conspiracies which Iran has exported to the region's countries via terrorist groups.
The council chief Tahir Ashrafi confirmed the Pakistani scholars' support of the Saudi kingdom's call to stand in Iran's face and prevent it from interfering in the region's affairs.
He also urged Muslim countries to pressure Iran to prevent it from supporting terrorism via its destructive tools in some Arab countries, such as in Yemen where people have paid a high price due to Iran's support of its destructive tools, i.e. the Houthis.
He noted that the situation is the same in Syria and Iraq as Iran's Revolutionary Guards and the terrorist Hezbollah group are also inflicting pain on innocent civilians.
Full report at:
https://english.alarabiya.net/en/News/gulf/2017/11/24/Council-of-Pakistani-scholars-warns-of-Iran-s-destabilizing-activities.html
--------
Israel nuclear arsenal threat to Middle East security: Iran
Nov 24, 2017
Iranian Ambassador to the International Atomic Energy Agency (IAEA) Reza Najafi says the Israeli regime's military nuclear program has a negative impact on the security of the Middle East and the credibility of the Non-Proliferation Treaty (NPT).
Addressing a meeting of the IAEA's 35-member Board of Governors in Vienna on Friday, Najafi denounced the West's double standard approaches on Israel's move to develop its nuclear program in violation of all international regulations.
The Iranian envoy also highlighted the repeated demands of the international community and the IAEA resolutions that the Israeli regime immediately join the NPT and Israel's nuclear installations be subjected to the full monitoring of IAEA safeguards..
"The Zionist regime [of Israel] has unfortunately overlooked legitimate demands of the international community over the past years and continued to advance its military nuclear program in blatant violation of all international regulations and with the blind support of certain countries," he said.
He added Israeli military nuclear activities are the main cause of concern among regional nations and the international community and urged the UN nuclear agency to closely and seriously attend to the issue.
Najafi also urged a complete ban on any type of nuclear cooperation with Israel.
Israel is estimated to have 200 to 400 nuclear warheads in its arsenal. The regime, however, refuses to either accept or deny having the weapons.
Full report at:
http://www.presstv.com/Detail/2017/11/24/543363/Iran-Israel-IAEA-Vienna-Board-Governors-ambassador-Reza-Najafi-NPT-nuclear
--------
US seeks to hatch new plots after Daesh collapse: Larijani
Nov 24, 2017
Iranian Parliament Speaker Ali Larijani says the United States is the root cause of terrorism in the Middle East, warning of new US plots after the collapse of Daesh terrorist group in Iraq and Syria.
The US created Daesh and Taliban in cooperation with extremists in the region, Larijani said in an interview with the Turkish Radio and Television Corporation, TRT, on Friday.
The US intends to create concern among regional countries about their relations with Iran, he said. Now that Daesh has been eliminated, Washington seeks new plots and claims that Tehran is a threat to the region.
"This is while we have never attacked any country and it is the US that has constantly threatened countries," the top Iranian parliamentarian pointed out.
Backed by popular groups and Iranian military advisors, armed forces in Iraq and Syria have managed to flush Daesh militants out of their last strongholds in both countries.
In a letter addressed to Leader of the Islamic Revolution Ayatollah Seyyed Ali Khamenei on Tuesday, Major General Qassem Soleimani, the commander of the Quds Force of Iran's Islamic Revolution Guards Corps (IRGC), declared the collapse of Daesh in both Iraq and Syria.
Larijani further said the Islamic Republic's presence in Syria and Iraq was at the request of their governments with the purpose of battling terrorism.
He added that after Daesh terrorists suffered a defeat in Syria, the US moved to create further chaos in the region. Larijani urged Iran and Turkey to remain vigilant so as not to be fall into the trap of new plots.
He further warned that the fleeing Daesh terrorists from Syria and Iraq may cause security concerns after infiltrating into other countries.
In reply to Soleimani's letter, Ayatollah Khamenei said the victory over the Daesh terrorist group in Iraq and Syria is tantamount to the defeat of plots to sow division and wage a civil war in the Middle East.
Full report at:
http://www.presstv.com/Detail/2017/11/24/543342/Iran-US-Parliament-Speaker-Ali-Larijani-Daesh-TRT-Turkey
--------
Turkey, Iran, Russia to decide who will participate in Syria talks
Nov 24, 2017
Ankara says Turkey, Iran, and Russia are to decide who will participate in the peace talks on Syria.
The onus is upon the three countries to decide together who will join the peace talks, Turkish Foreign Minister Mevlut Cavusoglu told a news conference in Ankara on Friday.
An all-Syrian congress is to be held in the near future to determine the fate of the country and pave the way for the drafting of a new constitution and elections.
The three countries joined efforts in late 2016 with the aim of returning peace to the crisis-hit Syria. Russia and Iran were allied with the Damascus government, while Turkey supported the anti-Damascus front. Since then, the three neighboring counties have taken successful strides on the path to peace, mediating talks between the Syrian government and the foreign-backed opposition.
The talks have led to the establishment of four de-escalation zones across Syria with Turkey, Iran and Russia playing the role of the guarantors of a ceasefire that took effect in Syria late last year.
Full report at:
http://www.presstv.com/Detail/2017/11/24/543357/Turkey-Russia-Iran-Syria-Cavusoglu
--------
Erdogan does not rule out contact with Assad
Nov 24, 2017
Turkish President Recep Tayyip Erdogan has not ruled out possible contact with Bashar Assad, signaling a break with his long-held opposition to the Syrian president's role in the Arab country's future.
"The political doors are always open until the last minute," Erdogan said when asked about a possible contact or cooperation with Assad.
Erdogan's comments were reported by Hurriyet newspaper and other Turkish media on Friday, made on board his plane returning from a trilateral meeting with Russia and Iran to promote a peaceful settlement in Syria.
Even though Russia and Iran have backed Assad's government since the start of the Syrian conflict in March 2011 and Turkey has supported his foes, the three countries have teamed up to help mediate a peace settlement.
Ankara has toned down its anti-Assad rhetoric, and the climbdown was clear during the trilateral meeting with Russia and Iran in the Russian Black Sea resort of Sochi on Wednesday.
Turkey made clear its "reservations" about Assad having any future role in Syria, Mahir Unal, the spokesman of the Justice and Development Party, told reporters.
Unal said Turkey emphasized that there must be negotiations between Assad and the opposition.
"It's not within the logic of negotiations to have a precise position today on the political solution and on whether the transition will be with or without Assad," he said.
Both Syria and Turkey are suspicious of US intentions in the Arab country's north where Washington is supporting Kurdish militants.
Ankara considers the militants, which control a significant stretch of territory in Syria, a terror group and an extension of the Kurdish insurgency with Turkey's own borders.
Erdogan met with Iranian President Hassan Rouhani and Russian President Vladimir Putin in the Black Sea resort of Sochi on Wednesday to discuss an end to the conflict in Syria.
The Syrian government welcomed the closing statement of the trilateral summit which called for a political settlement of the conflict.
Full report at:
http://www.presstv.com/Detail/2017/11/24/543333/Turkey-Syria-Erdogan-Assad-US-Kurdish-militants
--------
North America
Turkey confident US will stop arming Kurdish fighters in Syria
Nov 25, 2017
The administration of US President Donald Trump is considering making a series of "adjustments" to its strategy in Syria, which Turkish officials say might include an end to arming Kurdish fighters in the Arab country.
The White House on Friday stirred speculation in a cryptic statement about an earlier phone conversation between Trump and Turkish President Recep Tayyip Erdogan.
"Consistent with our previous policy, President Trump also informed President Erdogan of pending adjustments to the military support provided to our partners on the ground in Syria, now that the battle of Raqqah is complete and we are progressing into a stabilization phase to ensure that ISIS cannot return," the White House statement said, referring to the recent liberation of the Syrian city that had served as the Daesh terrorist group's de facto capital.
Later in the day, Turkish Foreign Minister Mevlut Cavusoglu told reporters that the American head of state had actually pledged to stop arming the Kurdish People's Protection Units (YPG).
"Mr. Trump clearly stated that he had given clear instructions, and that the YPG won't be given arms and that this nonsense should have ended a long time ago," the Associated Press quoted him as saying at a news conference that followed the call.
Ankara views the YPG as the Syrian branch of the militant Kurdistan Workers' Party (PKK) that has been fighting for an autonomous region inside Turkey since 1984.
The Trump White House's decision to stop arming Kurdish fighters is expected to eliminate what has become a major source of tension between Washington and Ankara, which is also a key NATO ally.
The military support first began under Trump's predecessor Barack Obama, whose administration provided the Syrian Democratic Forces (SDF) with weapons and training.
The SDF, which opposes the government of Syrian President Bashar al-Assad, is controlled by the YPG.
Trump and Erdogan talked over the phone days after the Turkish leader attended a trilateral summit on Syria with Russian President Vladimir Putin and his Iranian counterpart Hassan Rouhani in the Black Sea resort of Sochi.
Putin also talked to Trump ahead of the summit, emphasizing the "need to keep Syria's sovereignty, independence and territorial integrity intact."
http://www.presstv.com/Detail/2017/11/25/543384/US-Trump-Turkey-Syria-Erdogan-SDF-YPG
--------
US adjusts military support to partners in Syria: White House
November 25, 2017
U.S. President Donald Trump said that he had informed Turkey's President Recep Tayyip Erdogan in a call that Washington is adjusting military support to partners on the ground in Syria , the White House said Friday.
Turkey's presidency had previously reported that the United States would not supply weapons to the Kurdish YPG fighters in Syria .
http://nation.com.pk/25-Nov-2017/us-adjusts-military-support-to-partners-in-syria-white-house
--------
Trump admin retracts decision to close Palestinian office in DC
Nov 25, 2017
The administration of US President Donald Trump has backtracked on a decision to shutter the office of the Palestine Liberation Organization (PLO) in Washington, DC, after facing heavy backlash.
Last week, US State Department officials said the PLO couldn't stay open because of its support for a Palestinian bid to prosecute Israeli officials at the International Criminal Court (ICC).
Department spokesman Edgar Vasquez said Friday that the US had "advised the PLO office to limit its activities to those related to achieving a lasting, comprehensive peace between the Israelis and Palestinians."
Instead, he said, the State Department would put some limitations on the office that it expected would be lifted after 90 days.
"We therefore are optimistic that at the end of this 90-day period, the political process may be sufficiently advanced that the president will be in a position to allow the PLO office to resume full operations," Vasquez said.
According to a law passed by the US Congress, Palestinians would be stripped of the right to have a mission in the US capital if they support an ICC investigation of Israelis for committing crimes against them.
Palestine threatens to cut ties with US
US threatens to shutter Palestine's DC office
Apparently, Secretary of State Rex Tillerson held the view that Palestinian leaders had ran afoul of that law but it was up to Trump to make the final decision, the Associated Press reported, citing a State Department official.
The news triggered a major rift in US-Palestinian relations, with Palestinian officials threatening to cut all communications with the US in case Washington pushed ahead with the plan.
Senior Palestinian negotiator Saeb Erekat also reacted harshly, accusing the Trump administration of bowing to pressure from Israeli Prime Minister Benjamin Netanyahu "at a time when we are trying to cooperate to achieve the ultimate deal."
Palestinian President Mahmoud Abbas, in his September speech at the United Nations, said his country had "called on the International Criminal Court to open an investigation and to prosecute Israeli officials for their involvement in settlement activities and aggression against our people."
Full report at:
http://www.presstv.com/Detail/2017/11/25/543386/US-Palestine-PLO-DC-Israel-Trump-Vasquez
--------
Islamic Center of Wheaton open doors to build better relationships and build bridges
11/24/2017
Syed Ullah
More than 450 people visited the Islamic Center of Wheaton during freezing rain in the area. The center has invited every year since last two years.
The friends and neighbors of different faiths inside to find out more about Islam's teachings and understanding their Muslim neighbors. The program was hosted by Outreach/Interfaith Committee of Islamic Center of Wheaton on Saturday, Nov. 18. At the beginning, all the guests were served traditional Mediterranean foods in the cafeteria during social hours.
The event that started at 11 a.m. and concluded at 2 p.m. welcomed many members of the non-Muslim community and neighbors with their families to the mosque, who came to see, explore and even have a nice and wonderful time. The event was marked with a line-up of attendees which included members of churches, members of temples and the synagogue.
The Open Mosque was attended by many guests and public officials from the community. The officials who attend are Wheaton Mayor Michael Gresk, Congressman Peter Roskam, Congressman Raja Krishnamoorthi and Lt. Governor of Illinois Evelyn Pacino Sanguinetti.
Master of ceremonies was Haaris Uddin, co- chair of Outreach/Interfaith Committee.
"The whole purpose of the Open Mosque Day is to introduce ourselves and our community, our religion, our culture to other brothers and sisters from different faiths and backgrounds," said Alaa Fahmy, president of Islamic Center of Wheaton.
Open Mosque Day is a great opportunity for people to come together and appreciate different beliefs and backgrounds, and to come to a greater understanding of each other, said Sheikh Omer Haqqani - Scholar/Chairman of Outreach/Interfaith Committee.
The program started with the recitation of holy Quran with sweet voice by Imam Ibrahim Darasawi. After recitation of holy Quran Isra Ibrahim performed translation of verses of the Quran in English. Ms. Summer Zehra presents a short speech, Muslim American Women -Growing.
The program for the day included a mosque tour, a short presentation and a Q&A session.
Dr. Sabeel Ahmed, Director of the Gain Peace outreach program, who was the main speaker of the day, gave an overview of the religion of Islam, covering such topics as Woman's Rights in Islam, Sharia Law, etc. Dr. Ahmed said that Muslims believe that men and women are born with original goodness. He highlighted in Islam separate prayer spaces for men and women, orientation toward Mecca, where Muslims face while praying five times a day.
The guest turning up and learning and understanding Islam and its reality. The day could guest to meet face-to-face, get to know each other and tackle misconceptions.
One guest Maria said to "I am pleasantly surprised to see people milling around and really welcoming, lovely smiling and well greeting faces".
Gregory, a first-time guest, said "Today, after having a nice conversation and meeting with Muslim brothers we all know it is a realization that we are closer to one another."
A lady she is a member of local church Ms. Peter said "Today we had nice respectful, constructive dialogue with our Muslim friends. I will come when you have another Open Day." Alex, a local college student, said "It feels so good to understand another religion and makes unity in diversity of faith. Dr. Ahmed is a very good speaker.
Many of the visitors gave remarks to organizers, "you guys are wonderful! Thank you so much for your hospitality. It was an honor to be there with you all.
The Open Day Mosque was an informative day and many of the guests departed with offering thanks to the Muslims for hosting the wonderful event. This Open Mosque Day will create more understanding and dispel misconceptions about what it means to be Muslim in America.
Full report at:
http://www.dailyherald.com/submitted/20171124/islamic-center-of-wheaton-open-doors-to-build-better-relationships-and-build-bridges
--------
South Asia
Hurriyat Chairman Condemns Death Penalty to Jamat Leaders, Says Bangladesh Has Invited Wrath of Allah
Nov 24 2017
Hurriyat (G) chairman Syed Ali Geelani on Friday expressed his "deep shock and concern" over Bangladesh's Supreme Court verdict for death penalty to six Jamat-e-Islami leaders, saying "Bangladesh government has invited the wrath of Allah by killing the innocent Muslim scholars and intellectuals."
In a statement, Geelani claimed that Sheikh Hasina is killing Islamists and intellectuals in a well thought out plan because of India's influence.
"Bangladesh Prime Minister has been dancing on the tunes of India to appease them and has been targeting the eminent Muslim religious leaders by implicating and executing them," he said.
"It is murder of justice," said Geelani, adding that "it will have serious consequences for Bangladesh."
Geelani said that it is a moral responsibility for Pakistan to play an effective role as these leaders were being sentenced to death "just because they did not favour the division of Pakistan in 1971."
Geelani said that "all ruling elite in Muslim world are on war path against Muslim scholars and religious organizations."
Despite facing tyrant and brute forces, he said, these scholars were moving ahead.
"They are writing a history with their blood and illustrating that no power on earth can stop them while serving interests of Islam," said Geelani.
Criticising Europe, America and Israel, Geelani said that they are providing every help to their puppets against Islamist forces in Iraq, Syria, Afghanistan Egypt, Chechnya, Burma and Palestine.
He also blamed India for its "deceitful political activities in Bangladesh."
Geelani said that these allegations against leaders in Bangladesh were "baseless and concocted."
He warned Bangladesh government of dire consequences, saying that such "brute behaviour can destabilize country and create uncertainty in the region."
Appealing international organisations for human rights, Geelani impressed upon the world human rights bodies to take concrete steps against the "tyrant Sheikh Hasina government" to halt the hanging and uphold its commitments with world community.
http://www.greaterkashmir.com/news/kashmir/geelani-condemns-death-penalty-to-jamat-leaders-says-bangladesh-has-invited-wrath-of-allah/266978.html
--------
'We are ready to return to Myanmar only if our civic rights are ensured'
November 24, 2017
According to a statement of Press Information Department (PID), the government has already registered more than 600,000 Rohingyas, to help ease the repatriation process.
It has been three months since the recent refugee crisis started in Bangladesh, as an unprecedented number of displaced Rohingyas began a mass exodus from northern Rakhine state, following a campaign of terror perpetrated by the Myanmar Army.
To get an in-depth view of the current state of the refugee crisis, a Dhaka Tribune correspondent visited the Rohingya camps located in Ukhiya and Teknaf upazilas of Cox's Bazar district.
More than a hundred Rohingya men and women, who fled Myanmar after August 25 this year, were asked their opinion about returning to their homeland.
A majority of the refugees stated that they are ready to go home only if the Myanmar government ensures their basic human rights and ethnic identity.
Kalimuddin, 30, who left his home village in Maungdaw Township day after Eid-ul-Azha [August 27], became emotional while describing the life he had in Myanmar.
"I took my wife and five children, and fled the oppression of Myanmar army and Moghs. We made a life here at Jamtoli Camp but we miss our homeland dearly," he said.
Kalimuddin firmly added that Myanmar is his country and he wants to go back but the Rohingya people's civic rights must be ensured first.
Mohib Ullah, a sexagenarian hailing from Chindiprang area of Buthidaung, said: "Bangladesh is not our country and we are Rohingya not Bangali. We are Myanmar nationals and we have the right live in Rakhine despite Myanmar government's repeated claims that we do not belong there.
"We just want to preserve our ethnic identity and our rights," he added.
Anwar Hossain, who arrived in the camp from Bolibazar area under Maungdaw Township, echoed the same.
Also Read- Dhaka, Naypyidaw agree to start Rohingya return in two months
"If our Hukumat [government] agrees to accept us as Myanmar nationals and allow us to preserve our identities as Rohingya, then I will begin my journey back immediately, and will not seek compensation for the damages caused in the recent violence," Anwar, who claimed to be a landlord in his locality, told the Dhaka Tribune.
Most of the youths living in the Kutupalong Rohingya camp also expressed their wish to return home.
However, Babul Miah, 55, who fled from Buthidaung's Sherangdaung area following the unrest, is a bit pessimistic about the whole situation.
"We demand that our government recognize us as Myanmar nationals. Once we achieve this, obtaining other civic rights would be a bit easier," he said.
The teenagers living in the camp, hailing mostly from Kinisi area of Buthidaung, said they are happy because they get food and shelter here, but they feel homesick and are eagerly waiting to return home.
According to the Refugee Relief and Repatriation Commission, more than 631,500 displaced Rohingya entered Bangladesh in between August 25 and November 24 following the recent spate of violence in northern Rakhine state.
Human Rights Watch, on the basis of satellite images, revealed that at least 288 villages were partially or completely burned in northern Rakhine State since August 25.
The Rohingya are one of the most persecuted minorities in the world. Myanmar does not recognize the Rohingya as citizens and forces them to live in camps under apartheid-like conditions.
Even before the recent influx began, several thousands of Rohingyas were already living in Bangladesh since 1991.
Full report at:
http://www.dhakatribune.com/bangladesh/nation/2017/11/24/ready-return-myanmar-civic-rights-ensured/
--------
Awami League leaders occupying Hindu property in Bangladesh, says minority community leader
November 25, 2017
Rana Das Gupta, general secretary of Bangladesh Hindu, Buddhist & Christian Unity Council (BHBCUC) on Friday claimed that many ruling party leaders are involved in property of Hindu people in Bangladesh through various MPs and ministers.
Gupta was speaking as the chief guest at the tri-annual conference of BHBCUC in Pirojpur. Prime Minister Sheikh Hasina is the chief of the Awami League, the ruling party of Bangladesh. The party time and again claims that Hindus are its friends.
"We want Prime Minister Sheikh Hasina's intervention to remain free from this situation. We do not want to see the Awami Muslim League of 1954, we want to see Bangladesh of 1971- the dream of Bangabandhu," Gupta said.
He added that the oppression against Hindus has been continuing since 1991, all under the state's nose. No one sees the light of justice in any of these violent attacks. He expressed his anger over the recommendations of the Justice Shahabuddin Commission in 2012 to protect the interests of Hindus.
'AWAMI LEAGUE LEADERS INVOLVED IN ATTACK'
Gupta said local Awami League leaders were involved in the incident at Thakurpara of Rangpur District in Bangladesh.
Following rumours that a Hindu youth had posted an offensive Facebook status on November 10, a mob of angry protesters had set at least 30 houses of Hindus on fire in Bangladesh. "Not just in Rangpur, an Awami League leader was involved in an attack on a Buddhist temple in Cox's Bazaar and another Hindu area at Nasrinagar in Brahmanbaria district," he added.
"Even though they (the attackers) talk about the ideology of Bangabandhu, they do not hold his ideology in their heart."
'NO VOTES FOR THOSE TORTURING HINDUS'
Full report at:
http://indiatoday.intoday.in/story/awami-league-leaders-occupying-hindu-property-in-bangladesh/1/1096861.html
--------
'Hefazat won't contest in any election'
November 24, 2017
Hefazat is a 'non-political platform that is dedicated to protect the Islamic faith in the country,' said Secretary General Junaid Babunagari
Hefazat-e-Islam will not take part in any election as it is not a political party, said its Secretary General Junaid Babunagari on Friday afternoon.
"Hefazat has no connection with any political alliance, hence no member of Hefazat will be nominated to take part in any election," he said while addressing an Islamic conference at Jamiatul Falah Mosque in Chittagong.
He said since the beginning, Hefazat was a non-political platform that is dedicated to "protect the Islamic faith in the country in the face of constant propaganda and falsehood against Islam in this day and age."
"With the progress of information technology, fitna [conflict] is spreading fast among our fellow Muslims, creating jealousy, hatred and divide. Having failed to conspire against the Ulemas, the secular media is now spreading propaganda and falsehood to smear Hefazat's reputation," he said.
He further said there was a global conspiracy against Muslims hatched by Jews and Christians and imperialist quarters.
"Anti-Islam forces in both home and abroad are at work to destroy the iman [faith] of Muslims. They are corrupting our society with heresy and prohibited behaviour and practices. Because of the lack of political unity, the entire Muslim ummah [community] is now suffering from conflicts that are killing our Muslim brothers. Arrogance, greed for power and pride is forcing one Muslim to point their gun at another Muslim. We must resist this, or else it will get worse," he added.
The conference was also addressed by Mawlana Tafajjul Haque, Mawlana Junaid al Habib, Mawlana Mufti Ahmadullah, Mawlana Hafez Nurul Islam, Mawlana Obaidur Rahman Nadvi, Mawlana Khaled Saifullah, Mawlana Sheikh Ahmed, Mawlana Rahimullah, Mawlana Forqan Ahmed, Mawlana Ziaul Hossain, Mawlana Salimullah Shah Muhibullah Babunagari, Mawlana Hafez Tajul Islam and Mawlana Lokman Hakim.
Full report at:
http://www.dhakatribune.com/bangladesh/nation/2017/11/24/hefazat-wont-contest-election/
--------
Bangladesh says agreed with Myanmar for UNHCR to assist Rohingya's return
25 November 2017
DHAKA: Bangladesh and Myanmar have agreed to take assistance from the UN refugee agency for the repatriation of hundreds of thousands of Rohingya Muslims, Bangladesh Foreign Minister Abul Hassan Mahmood Ali said on Saturday.
The two governments signed a pact on Thursday settling terms for the repatriation process, and the return of Rohingya to Myanmar is expected to start in two months.
Uncertainty over whether the United Nations High Commissioner for Refugees (UNHCR) would have a role had prompted rights groups to insist that outside monitors were needed to safeguard the return of the Rohingya to Myanmar.
Full report at:
http://www.arabnews.com/node/1198901/world
--------
Southeast Asia
Malaysia's 'Arabization' owes to ties with Saudi regime
NOVEMBER 25, 2017
The deepening politicization of conservative Islam and concerns over the erosion of traditional religious practices and culture in Malaysia have brought the traditionally moderate multicultural nation's ties to Saudi Arabia under new scrutiny.
Karima Bennoune, the United Nations Special Rapporteur for cultural rights, noted during a September visit deepening involvement of religious authorities in policy decisions, developments she said were influenced by "a hegemonic version of Islam imported from the Arabian Peninsula" that was "at odds with local forms of practice."
The rapporteur's statement alludes to the long reach of Saudi cultural influence made possible by decades of oil-financed proselytization via mosques and madrassas that promote Wahhabism, a puritanical interpretation of Islam, and the growing role of Saudi-trained Islamic scholars recruited into Malaysia's civil service and religious establishment.
Wider public support for an interpretation of Islam and Muslim identity influenced by Saudi-sponsored ultra-conservatism has grown under the tenure of Prime Minister Najib Razak, whose office funds an Islamic bureaucracy promoting an exclusivist interpretation of the faith through various religious organizations.
This drift toward Islamism and its stranglehold on Sunni religious discourse has complicated communal relations in the country and galvanized pushback from Malaysia's constitutional monarchs, who last month issued a rare statement expressing their collective concern over rising ethno-religious polarization.
"There's this idea that the more like Arabs you are, the better Muslim you are. That's the very real obliteration of our cultural heritage," Marina Mahathir, founder of the Sisters in Islam organization and daughter of former Malaysian prime minister Mahathir Mohamad, said in a recent interview. "Arab culture is spreading, and I would lay the blame completely on Saudi Arabia."
Other critics have accused the prime minister of overseeing an "Arabization" of Malaysia, linked to his government's tacit approval of a controversial hudud bill in Parliament that sought to ease constitutional restrictions imposed on sharia courts to implement more severe physical punishments.
Ahead of general elections that must be called by next August, Najib and his ruling United Malays National Organization (UMNO) have rallied the majority Malay community by playing on fears of the erosion of Islam and the loss of Malay political power should opposition parties win the polls.
Hostility toward atheists, non-believers and the LGBT community has been on the rise, while Malaysian religious bodies also regard the small community of Malaysian Muslims adhering to Shia Islam as a potential threat. Critics say these groups are politically scapegoated to enable politicians and religious organizations to posture as defenders of Islam.
There are also indications Najib is leveraging his relationship with Saudi King Salman bin Abdulaziz Al Saud, who claims religious guardianship as custodian of Islam's holiest sites, to boost his Islamic credentials in a bid to appeal to religious hardliners, far-right Malay groups and conservative rural Muslim voters.
In July, Najib announced that the King Salman Center for International Peace (KSCIP), a permanent structure ostensibly designed to counter radical ideologies and promote Islam as a religion of peace and moderation, would be built on a 16-hectare piece of land in Putrajaya, the country's administrative capital.
The center, named after the incumbent octogenarian Saudi king, is the most tangible symbol of Malaysia's deepening cooperation with the Arab kingdom. KSCIP will function in collaboration with the two countries' defense ministries, as well the Islamic Science University of Malaysia (USIM) and the Muslim World League, a major Saudi religious body known for propagating ultra-conservatism.
The prime minister and other top Malaysian officials have boasted domestically about the center, which currently operates at a temporary office. Mohammad bin Salman, the 31-year-old crown prince of Saudi Arabia now rapidly consolidating political authority in Riyadh, has pledged to visit Malaysia personally to launch the center, according to Najib.
"King Salman could have chosen any other country to build the center, but the Custodian of the Two Holy Mosques still chose this country," he told audiences at an open-house event marking the end of Ramadan, noting that past Malaysian leaders had never received such acclaim from the kingdom.
Defense Minister Hishammuddin Hussein said the center would "not only focus on military aspects, but also on academic elements," adding that it would fight terrorism "through soft power, counter-narrative and the winning of hearts and minds, as opposed to just military initiatives." He did not divulge details, however, on the center's actual operations.
KSCIP began as an initiative hatched during King Salman's landmark month-long visit to Malaysia in February in an Asian tour that also saw Saudi delegations touch down in Indonesia and Brunei. The extended trip was seen by analysts as an opportunity for Sunni-majority countries in the region to court Saudi investment in a range of sectors and reduce their rising economic dependence on China.
Beyond projecting its Islamic clout eastward, Saudi Arabia sought cooperation on energy development and drawing Asian investments ahead of a 5% selloff of state company Saudi Aramco in 2018, expected to be the world's biggest ever share flotation, though there are doubts on the valuation of the initial public offering.
Saudi Arabia's national oil company, believed to be the most valuable company in the world, invested US$7 billion into Malaysia's state-run oil giant Petronas during the trip, intended to develop an oil refinery and naphtha cracker project valued at $27 billion that would make Aramco the single largest investor in Malaysia.
Riyadh also pledged to provide up to 70% of the crude-oil requirements for the project, known as the Refinery and Petrochemicals Integrated Development, or RAPID.
The 300,000 barrel-a-day refinery, scheduled to start in 2019, will improve Malaysia's chances of competing in the regional oil-refining and energy-storage sector now monopolized by Singapore.
The investment in Petronas is part of Aramco's long-standing strategy of investing in refining to help lock in demand for Saudi crude amid challenges presented by US shale-oil producers, Russia and other Organization of the Petroleum Exporting Countries (OPEC) member states.
Saudi Arabia is Malaysia's leading foreign source of crude oil, accounting for some 30% of its oil imports in 2016, while the country's total trade with Saudi in 2016 increased by 27.8% year on year.
In 2015, Najib became embroiled in money-laundering accusations related to 1Malaysia Development Berhad (1MDB), a heavily indebted state investment fund created and until recently overseen by the prime minister.
Saudi Arabia was pulled into the multibillion-dollar corruption scandal when Najib claimed $681 million found in his personal bank account was a donation from the Saudi royal family, rather than funds siphoned and embezzled from 1MDB.
Saudi officials publicly confirmed Najib's claim, helping to rescue his political career from a major scandal, though critics remain skeptical of the Riyadh-backed alibi.
Though a Malaysian anti-corruption commission cleared Najib of all wrongdoing, the 1MDB debacle is currently under criminal investigation in six countries, including neighboring Singapore, Switzerland and the US, where investigators at the Department of Justice believe more than $3.5 billion was illicitly siphoned from the fund.
Closer political and economic ties have also heralded Malaysia's integration into the Saudi military fold. In 2015, it joined the Saudi-led coalition of Sunni-majority states that operate from a joint operations center based in Riyadh. Malaysian defense officials maintain that their participation is limited to intelligence sharing.
The grouping was nominally formed to counter Islamic State (ISIS), though others see it as a sectarian military bloc against Shia-majority rival Iran and a bolster to the Saudi-led military campaign against Yemen, where the kingdom is pitted against Shiite Houthi rebels.
Malaysian troops have since taken part in two extensive joint military exercises, Thunder of the North and North Sphere, on invitation of the Saudi government.
Malaysia's involvement in these exercises has invited inquiry from opposition party Amanah Negara and others seeking clarity on the country's involvement in Riyadh's campaign in Yemen.
The queries arose after a UN report criticizing the Saudi-led alliance's attacks on civilian targets and blockade of food and medicine supplies mentioned the presence of Malaysian officers at the joint headquarters where air strikes on Yemen are coordinated.
Hishammuddin has maintained that Malaysian troops are not involved in hostilities and are based in Saudi Arabia solely for humanitarian reasons and to evacuate Malaysian civilians in Yemen, of whom more than 600 have been flown out of the country. Najib's government continues to maintain a stance of non-interference in the Saudi-led campaign in Yemen.
While Malaysia has generally enjoyed cordial relations and robust trade with Iran despite its legal discrimination of Shiites at home, a joint statement issued at the conclusion of King Salman's visit to Malaysia that expressed "serious concerns over the Iranian interference in the internal affairs of countries in the region" received a critical response from Tehran, which called the statement "delusional."
Malaysia has more credibly emphasized its neutrality toward the ongoing dispute between Qatar and a Saudi-led coalition of Arab countries that severed diplomatic ties and imposed a blockade on the Qatar Peninsula in June.
Qatar's emir, Sheikh Tamim bin Hamad Al Thani, visited Malaysia in October amid speculation that Malaysian steel and timber exporters would move to fill the vacuum left in the wake of Doha's diplomatic isolation. Underscoring its desire for friendly relations with both Qatar and Saudi Arabia, top Malaysian officials have talked of playing an intermediary role in the crisis.
Yet Malaysia's closer ties to Saudi Arabia have raised questions about the extent of its involvement in Middle East strife and appears to be putting strain on the country's non-aligned stance. While Riyadh's strategic rivalry with Iran has put Malaysian neutrality to a test, the sectarian dimensions of Saudi-funded evangelism are reverberating more clearly than ever in Malaysian public life.
http://www.atimes.com/article/malaysias-arabization-owes-ties-saudi-regime/
--------
IGP unfazed by Hadi's involvement in alleged terror group
November 25, 2017
KUALA LUMPUR, Nov 25 — The police said they are monitoring developments, but found no threat from PAS president Datuk Seri Abdul Hadi Awang's involvement in an organisation that was accused of supporting terrorism.
"As far as Malaysia is concerned, there is no threat from his involvement in the group," Inspector-General of Police (IGP) Tan Sri Mohamad Fuzi Harun told local daily The Star.
The so-called Anti-Terror Quarter which consists of Saudi Arabia, Egypt, the United Arab Emirates and Bahrain, had yesterday added the International Union of Muslim Scholars (IUMS) — of which Hadi is vice-president — into its list of terrorist groups.
The Qatar-based group of Muslim scholars is headed by Egyptian theologian Yusuf Al-Qardawi, whom Saudi has accused of having links to terrorism.
The quartet has cut diplomatic ties with Qatar last June, and accused the latter of backing terrorist groups.
The Star also reported PAS Ulama wing chief Datuk Mahfodz Mohamed as saying that the Malaysian government has not listed IUMS as a terrorist organisation.
"It is obvious that it is a malicious report to discredit the union that is led by Yusuf, who has been branded a terrorist just because he is based in Qatar," he was quoted saying.
Yesterday, Parti Amanah Negara Datuk Mujahid Yusof Rawa has demanded Hadi to explain his involvement with IUMS following the terror accusation.
In response, PAS had in a statement accused Mujahid of supporting Saudi Arabia and its allies in a campaign to break the Muslim community apart.
Full report at:
http://www.themalaymailonline.com/malaysia/article/igp-unfazed-by-hadis-involvement-in-alleged-terror-group#YK5QgAOvX8YxDrBL.97
--------
Let MAS flight attendants wear 'tudung' too, Opposition MPs tell Putrajaya
BY BOO SU-LYN
November 25, 2017
KUALA LUMPUR, Nov 25 — Two Opposition lawmakers challenged the government today to change the policies of state-owned Malaysia Airlines and other local airlines so that Muslim flight attendants can don headscarves if they want to.
Kota Raja MP Dr Siti Mariah Mahmud from Parti Amanah Negara said Malaysia Airlines and local budget carrier AirAsia could provide alternative uniforms for flight attendants who wished to wear the "tudung" (headscarf), such as long-sleeved blouses and trousers instead of the "kebaya" with thigh-high slits or short skirts.
"I challenge the government and Nazri — MAS is a government-linked company. And whatever airlines that operate within Malaysia, they are on Malaysian land.
"If they take Muslim workers from Malaysia, they should have a choice," Dr Siti Mariah told Malay Mail Online on the controversy over wearing headscarves at work.
She was referring to Tourism and Culture Minister Datuk Seri Nazri Aziz. The MAS acronym she used refers to government-linked corporation Malaysia Airlines, now rebranded and known as MAB.
The Opposition MP who is also a doctor pointed out that the Health Ministry did not allow nurses to wear headscarves back in the 1980s, but eventually relented.
"They had to fight for it," she said.
The head of Amanah's women's wing, however, stressed that Muslim women should not be forced to cover their aurat, or intimate parts.
Aurat refers to the parts of a Muslim's body that must be covered, but the extent of which, especially for women, varies in interpretation according to schools of Islam.
"There are some people who feel it's not wajib. But for people who feel it's wajib, 'I want to do it', give them the choice," said Dr Siti Mariah, using the Malay word meaning compulsory in the Islamic context.
Lembah Pantai MP Nurul Izzah Anwar from PKR encouraged business owners and management in the hospitality and travel industries to create alternative uniforms that allowed female Muslim workers to do their jobs, while protecting their right to observe their religion by wearing the tudung.
"I would expect the government to waste no time in initiating the implementation of these policies with Malaysia Airlines immediately, as the sole owner of the company through Khazanah," Nurul Izzah told Malay Mail Online, referring to state investment arm Khazanah Nasional Berhad.
Deputy Tourism and Culture Minister Datuk Mas Ermieyati Samsudin, who is also Puteri Umno chief, said besides her ministry's concern about some hotels that did not allow frontline staff to wear the "tudung", her ministry also viewed seriously airline policies that did not allow stewardesses to don headscarves on board planes.
"The Ministry encourages the relevant parties to review their policies so that they are in line with our country's religion, customs and culture, and do not affect public sensitivity," the Masjid Tanah MP told Malay Mail Online.
National newswire Bernama had reported Nazri as saying in Parliament that anti-discrimination legislation could be enacted as there are currently no laws that prohibit individuals from discriminating against others.
Full report at:
http://www.themalaymailonline.com/malaysia/article/let-mas-flight-attendants-wear-tudung-too-opposition-mps-tell-putrajaya#FZ1o9iQjoMIHBsqG.97
--------
Tahfiz schools must use national education curriculum, says task force
November 25, 2017
KUALA LUMPUR, Nov 25 — A government task force on tahfiz schools has decided that the Education Ministry must work with relevant agencies to ensure that they use the national curriculum registered with the ministry.
New Straits Times (NST) reported Deputy Prime Minister Datuk Seri Ahmad Zahid Hamidi, who chaired the task force, as saying that the task force's meeting yesterday was to review follow-up actions taken by agencies — such as the Islamic Development Department (Jakim), state religious departments and tahfiz associations — after the task force's first meeting in September.
"On October 4, the Cabinet meeting agreed to allocate RM30 million, in addition to the RM30 million allocation announced by Prime Minister Datuk Seri Najib Razak in the 2017 budget to repair tahfiz institutions nationwide," Zahid was quoted saying.
Full report at:
http://www.themalaymailonline.com/malaysia/article/tahfiz-schools-must-use-national-education-curriculum-says-task-force#mevVk53bJC1GKYJc.97
--------
Africa
Boko Haram: Mubi suicide attack shows insurgents are not Muslims – TMC
November 24, 2017
By Daramola Adebayo
The Muslim Congress (TMC), has appealed to President Muhammadu Buhari-led Federal Government and security agents involved in the fight against terrorism not to attach religious colouration to the war against terrorism but fight it holistically.
TMC while urging all the stakeholders to intensify efforts in ending terrorism in the country, condemned the suicide attack that led to the death of about 50 Muslims in Mubi, Adamawa State on Monday.
TMC President, Dr. Lukman AbdurRaheem who gave this advice in a press statement issued on Thursday while reacting to the suicide attack, explained that "the recent attack should spur security agencies to fight terrorism in Nigeria holistically without attaching religion to it".
AbdurRaheem while commending the efforts of the Nigeria security agencies in the fight against terrorism, urged the Federal Government to beef up security in religious centres.
He said "We condemn unequivocally the dastardly bombing of worshippers in the mosque by the forces of evil called Boko Haram. We empathise with the people of Mubi, Adamawa State at this trying moment.
"We implore the Federal and State Governments to beef up security of lives and property.
"The bombing of Muslims in the mosque on Monday while praying has further justified the position that Boko Haram members are not fighting an Islamic agenda. What is playing out is the phenomenon of Muslim Identity Theft."
http://dailypost.ng/2017/11/24/boko-haram-mubi-suicide-attack-shows-insurgents-not-muslims-tmc/
--------
Nigeria: Why Nigerians Should Embrace Islamic Finance, By IIFP
24 NOVEMBER 2017
By Shakirah Adunola
The need for Nigerians to embrace the Islamic finance packages have been stressed in view of the current economic hardship and quest for finacial solutions by the corporate entities.
Islamic scholars who gathered at the induction of 118 new members of the Institute of Islamic Finance Professionals of Nigeria (IIFP), said Islamic Finance is the only market that can provide ethical finance that can ultimately solve societal problems .
Acting President, IIFP, Dr. Tajudeen Yusuf, urged Muslims to develop passion for Islamic finance by engaging in research, capacity building, structuring Islamic product to solve problems in the society.
Yusuf enjoined Muslims to be advocate of Islamic finance, practice and patronise existing Islamic banks. He reiterated the need to go into research and try to tailor products to meet local peculiarities.
He said: "If you look at our society, there are problems everywhere; people lack finance, people lack initiatives; we need to develop product that will be affordable for teeming population. If you look at those who are championing and promoting Islamic finance in the world, they probably don't have background in Islamic finance but later on diversify into Islamic finance. They started by conducting research in Islamic finance, doing what we called financial engineering. One thing about Islamic finance is innovativeness; Islamic finance is flexible.
"If you don't do lot of researches, you cannot benefit from the values that Islamic finance will give us.
Chairman Advisory Board, IIFP, Alhaji Umar Abdul Mutallab, said Nigerians should embrace the benefits of Islamic finance irrespective of religious affiliations.
Mutallab said Nigeria is a relevant case study of an emerging economy.
"The advent of Jaiz Bank PLC, Jaiz Takaful Insurance Plc., An-Nour Takaful Insurance Plc and the recent N100 billion Federal Government's Sukuk Bond among others are few potentials of Islamic finance in Nigeria," he said.
He said the big challenge now is the dearth of Islamic finance practitioners.
"So the coming on board of all our inductees at this ceremony is apt and timely. I therefore urge all the inductees to live above board and avail the Nigeria Islamic finance opportunities of your empathy, exposure and experience to take Islamic finance practice to great heights," he said.
IIFP Governing Council member Dr. Ganiyat Adesina-Uthman, said there was need for Muslims to wake up from slumber; adding that Islamic finance is the only market that can provide ethical finance.
Full report at:
http://allafrica.com/stories/201711240652.html
--------
Kenya: Al-Shabaab 'Poster Boy' Faces Execution After Fall Out
23 NOVEMBER 2017
By Fred Mukinda
A Kenyan who rose through al-Shabaab ranks to become a poster boy for the terrorist organisation is on the run, after a fallout with other commanders who want him executed.
Ahmed Iman alias Kimanthi, who appeared in numerous al-Shabaab propaganda videos taunting Kenyan troops fighting in Somalia, the terrorist group's stronghold, is now seeking to surrender to Kenyan forces and get an amnesty, the Nation has learnt.
Until the fallout, he was close to the current Al-shabaab supremo Ahmed Diriye and Mahad Karate, also known as Abdirahim Mohamed Warsame, who commanded Al-shabaab's Amniyat, its intelligence wing, at a time when gunmen stormed Garissa University college and killed 147 students in April 2015.
International Security sources operating in Somalia, have told the Nation that Iman, has been the head of a group of foreign fighters who together with him, are now on the run from the main group loyal to Diriye and Karate.
FROM GARISSA
A number of Kenyans and other foreigners who joined Al-shabaab militants in Somalia have since been captured and executed.
On November 6, a 25-year-old Kenyan from Garissa was among four people who were publicly executed by Al-shabaab militants in Somalia.
Mr Omar Adar Omar was killed by a firing squad on accusations of spying the Africa Union Mission in Somalia, which comprises the Kenya Defence Forces.
The fallout is further complicated after emergence of another faction that has pledged allegiance to the Islamic State in Syria, while Diriye's group maintains its formal partnership with Al-Qaeda in Afghanistan.
The Nation has further learnt that Iman, in a bid to escape from Somalia, has cheated several dragnets to capture him.
Al-shabaab is well known for executing militants within its own ranks whenever there is a fall out.
The latest developments are a repeat of what happened to Fazul Abdullah Mohamed, who was killed in a set up laid by Godane Ahmed Abdi Godane alias Mukhtar Abu Zubeyr, who is Diriye's predecessor.
JOINT OPERATION
Godane was later killed in a joint operation by United States and KDF in Somalia.
Besides assuming the role of commander of foreign fighters in Somalia, Iman also has a great influence in Jaysh Ayman, another Al-shabaab faction operating in Boni forest which spreads across the Kenyan - Somalia border in Lamu county.
Furthermore, Iman is also said to be getting foreign funding directly further angering indigenous Somali commanders, the sources also said.
A 2016 security report published by the Nation then, revealed that Iman and accomplices in Nairobi, collected millions of shillings every year by renting shops and kiosks in Umoja and Majengo, and the money was smuggled to Somalia to fund terrorism activities.
In one of Al-shabaab propaganda videos, he was seen clad in KDF uniform, holding a walkie talkie and an M-16 rifle, which he claimed was one of the arms looted from El-Adde Forward Operating Base which was overran by the terrorist in January 2016.
Besides Kenya whose soldiers are operating in Southern Somalia, Al-shabaab is also being fought by the United States and other countries in Amisom, including Ethiopia, Uganda, Burundi and Djibouti.
KILLED IN AIRSTRIKE
On Tuesday, 100 Als-shabaab militants were killed in an airstrike by the US.
"In coordination with the Federal Government of Somalia, U.S. forces conducted an airstrike in Somalia against an al-Shabaab camp at approximately 10.30 local Somalia time, killing more than 100 militants. The operation occurred 125 miles northwest of the capital, Mogadishu," according to a statement by US Africa Command.
It added: "US forces will continue to use all authorized and appropriate measures to protect Americans and to disable terrorist threats. This includes partnering with AMISOM and Somali National Security Forces in targeting terrorists, their training camps and safe havens throughout Somalia, the region and around the world."
The Kenyan Al-shabaab commander, also known at home as Kimanthi and Ahmed Abu Zinira, is the fugitive who graduated with an Engineering degree from Jomo Kenyatta University of Science and Technology before joining Al-shabaab.
WITHOUT NOTICE
Until 2009, Iman was the organizing secretary of Pumwani Riyadha Mosque Committee in Majengo, Nairobi, but disappeared without notice.
The disappearance was later explained after he surfaced in Somalia, where he escaped to, after his cover as an Al-shabaab secret operative was blown.
Iman is responsible for the preparation of media themes, most notably the propaganda videos after the September 2013 Westgate mall attack and also Mandera killings in which Christians were separated from muslims and slaughtered.
Full report at:
http://allafrica.com/stories/201711230211.html
--------
Three UN peacekeepers, soldier killed in Mali
Nov 24, 2017
At least three peacekeepers and a Malian soldier were killed in an attack in northeast Mali, the UN's MINUSMA mission to the country said on Friday.
Besides an initial toll of four dead, another Malian soldier and several other peacekeepers were wounded, some critically, a MINUSMA statement said.
"This morning, a detachment of the MINUSMA force repelled an attack during a coordinated operation with FAMAS (Malian armed forces) in the Menaka region," the statement said.
It did not give the nationalities of the UN troops involved but contingents from Togo and Nigeria are deployed in the area.
Several of the attackers were killed and others wounded, it added.
"This operation to protect civilians in the region also aimed to bring medical assistance to people in need," the head of MINUSMA, Mahamat Saleh Annadif, said in the statement, condemning the new attack.
He praised the "bravery" of the peacekeepers and soldiers who "neutralized several terrorists" and called for vigilance and unity in the face of "the cowardice of our adversaries," referring to militant groups in Mali's restive north.
On October 26, three Chadian peacekeepers in the UN force were killed when their vehicle hit a landmine and a fourth one later died of his injuries.
Full report at:
http://www.presstv.com/Detail/2017/11/24/543337/Mali-peacekeepers-UN-MINUSMA
--------
Tunisia MPs urge govt. to reject Saudi-backed Arab League statement
Nov 24, 2017
A group of Tunisian lawmakers have condemned a recent Arab League statement against Lebanon's Hezbollah and Iran, calling on the Tunis government to withdraw its support for the Saudi-backed document.
Arab League member states had gathered in Cairo last Sunday at Saudi Arabia's request to discuss "confronting" Iran and Lebanon's Hezbollah resistance movement.
In a final statement, the gathering accused Tehran of "interfering" in Arab countries and disrupting security in the region, and branded the Lebanese resistance movement as "a terrorist" organization.
As many as 41 Tunisian legislators co-signed a statement to counter that of the Arab League, condemning it and pleading with the Tunisian Foreign Ministry to withdraw its support for it.
Part of the parliamentarians' statement read, "We, the signatories, decisively condemn what has been featured in the statement by the Arab League foreign ministers' meeting, including the accusations againsy Hezbollah and whatever effort at igniting flames of a new war against the people of this nation (Lebanon)."
Mubarakah al-Brahim, an MP with the country's Popular Front political coalition, denounced the content of the Arab League statement as "a stain on the forehead of the revolutionary Tunis, and betrayal of the blood of the revolution's martyrs."
In 2011, the country's people rose up in revolution, ousting dictator Zine El Abidine Ben Ali. The revolt was first in a string of similar uprisings across the Arab world that became known as the Arab Spring.
Iran has called the Arab League statement "worthless," emphasizing that it was "full of lies and distortions."
Tehran has urged Saudi Arabia to stop its policy of exerting pressure on Lebanon, Qatar, and other Middle Eastern nations.
The Islamic Republic has invariably rejected Saudi Arabia's accusation of regional interference, and invited it to negotiation over standing differences.
The kingdom has also been trying to weaken Hezbollah for more than a decade.
Full report at:
http://www.presstv.com/Detail/2017/11/24/543296/Tunisia-Arab-League-Saudi-Arabia-Hezbollah-Iran
--------
Europe
'Wiping out' extremist ideology is my mission - head of Saudi-based Muslim body
24 Nov 2017
PARIS: The head of a Saudi-based organisation that for decades was charged with spreading the strict Wahhabi school of Islam around the world has said those times were over and his focus now was aimed at annihilating extremist ideology.
Former justice minister Mohammed al-Issa, appointed secretary-general of the Mecca-based Muslim World League (MWL) just over a year ago, told Reuters during a European tour that his organisation would no longer sit by and let Islam be taken hostage by extremists.
The push for a more moderate Islam underscores efforts by Saudi Crown Prince Mohammed bin Salman to modernise the kingdom, which finances groups overseen by the organisation, and cleave to a more open and tolerant interpretation of Islam.
The ambitious young prince has already taken some steps to loosen Saudi Arabia's ultra-strict social restrictions, scaling back the role of religious morality police, permitting public concerts and announcing plans to allow women to drive next year.
"The past and what was said, is in the past. What happened in the past and the way in which we worked then, is not the subject of debate," Issa said in an interview late on Thursday.
"We must wipe out this extremist thinking through the work we do. We need to annihilate religious severity and extremism which is the entry point to terrorism. That is the mission of the Muslim World League."
WAHHABI BULWARK
Saudi Arabia has used the MWL to export its strict Wahhabi version of Islam since it was set up in 1962 as a bulwark against radical secular ideologies.
The missionary society controls mosques and Islamic centres around the world, which critics say promote hatred and intolerance of other sects and religions - a charge the group has denied.
Issa said the MWL would be much more hands on now and aim to tackle any sign of extremism in areas where it operates, but also if it became aware of any other schools, centres or mosques where an extremist ideology was being propagated.
While he declined to give specific details, a week earlier he was in Geneva where he vowed to reform the city's largest mosque after French and Swiss authorities raised concerns that it had become a hub of extremism. The mosque is supported by the MWL.
"Every time we spot such a message, we won't keep our arms crossed, we will do everything to annihilate this ideology," the 52-year-old said through a translator.
"ONLY THE TRUTH"
"What we are doing and want to do is purify Islam of this extremism and these wrong interpretations and give the right interpretations of Islam," he said. "Only the truth can defeat that and we represent the truth."
The emergence of Islamic State in Syria and Iraq with its thousands of foreign fighters has highlighted how Europe in particular has become a breeding ground for angry and fragile people to turn to radical Islam.
In France alone, a string of attacks that saw hundreds of people killed since 2015 were in large part carried out by French Muslims.
Issa said part of his work was to address the difficulties Muslims may have in adapting their religion to non-Muslim nations.
"We try to bring answers to face down these messages that change the reality of Islam. We want to offer the real interpretation of the sacred texts that have been taken hostage and interpreted in a wrong way," he said.
As part of those efforts, Issa said he was also working with other faiths. After the Lebanese Maronite patriarch made a historic visit to Riyadh last week, Issa visited religious officials at Paris' landmark Notre Dame Cathedral, but also Paris' Grand Synagogue.
"We have a common objective to end hatred," he said. "The Muslim World League really believes that we can accomplish that, and religions are very influential in doing that."
http://www.channelnewsasia.com/news/world/-wiping-out--extremist-ideology-is-my-mission---head-of-saudi-based-muslim-body-9437466
--------
False terror alert sparks fear in London shopping district
November 25, 2017
LONDON - Armed police rushed to London's busy Oxford Street shopping district on Friday after reports of shots fired sparked fears of a terror incident, but authorities said it was a false alarm.
There was panic around Oxford Circus and in its underground station shortly after 4:30 pm (1630 GMT), as police said they were responding "as if the incident is terrorist-related".
Crowds ran from the scene, many rushing into already packed shops for safety, reflecting the nervousness in a country that has seen five terror attacks since March.
But just over an hour later, the Metropolitan Police said: "To date police have not located any trace of any suspects, evidence of shots fired or casualties. "Officers continue to work with colleagues from British Transport Police in the area of Oxford Circus." A short time later, they tweeted: "Our response on #OxfordStreet has now been stood down.
"If you sought shelter in a building please now leave, and follow the direction of police officers on the ground if you need assistance."
Oxford Circus, the junction of London's Oxford Street and Regent Street, was packed with shoppers seeking to take advantage of "Black Friday" bargains.
The British Transport Police said they had received one report of a woman sustaining a minor injury when leaving the station. Shopper Ahlam Ibrahim told AFP she was pushed into a shop when people started shouting. "We didn't know what was going on, it was really a nightmare. I am glad nobody was hurt," she said.
Transport authorities said Oxford Circus station was reopened, as was nearby Bond Street, which had been closed amid fears of overcrowding. Trains were stopping at both.
In the first statement, police said they were called at 4:38 pm "to a number of reports of shots fired on Oxford Street and underground at Oxford Circus tube station... Police have responded as if the incident is terrorist related".
They later said there were "numerous 999 (emergency) calls" reporting shots fired in a number of locations in the area.
British security forces are on high alert after a string of attacks this year, which have left scores of people dead.
Full report at:
http://nation.com.pk/25-Nov-2017/false-terror-alert-sparks-fear-in-london-shopping-district
--------
UN special envoy on Syria says had 'useful' meeting with Russia's Lavrov: Ifax
November 24, 2017
United Nations special envoy on Syria , Staffan de Mistura, said a meeting with Russian Foreign Minister Sergei Lavrov in Moscow on Friday was "useful", Russia's Interfax news agency reported.
He declined additional comments before the end of a Syria's opposition meeting in Riyadh. He also said he planned to discuss Syria with Russia's defense minister later on Friday.
http://nation.com.pk/24-Nov-2017/un-special-envoy-on-syria-says-had-useful-meeting-with-russia-s-lavrov-ifax
--------
Dozens arrested at anti-war protest in Belgium
Nov 24, 2017
Police in Belgium have arrested dozens of people protesting in the capital, Brussels, against the European Union (EU)'s plan to spend 40 billion euros on arms research and development amid the bloc's austerity measures, Press TV reports.
Dozens of anti-war activists staged a protest outside the venue of an arms industry conference, the European Defence Agency (EDA) Annual Conference, on Thursday.
The activists were expressing anger that civil society representatives had not been permitted to enter the event.
Peace activists claimed police used very heavy-handed tactics.
An EU lawmaker, Luke Ming Flanagan, who was among the protesters, was also forced away.
Addressing a 400-strong audience representing the whole European defense spectrum, the EU's foreign policy chief, Federica Mogherini, said the conference was taking place "in the most important moment for European defense in decades."
The EU arms industry has an annual turnover of more than 100 billion euros.
Full report at:
http://www.presstv.com/Detail/2017/11/24/543301/Dozens-arrested-at-protest-against-Belgium-arms-conference
--------
British Muslim Archives offer 'hope,' says London mayor
Tharik Hussain
24 November 2017
LONDON: Mayor of London Sadiq Khan inaugurated a new strong room at the East London Mosque on Thursday which will house Britain's first Muslim archives.
Addressing a crowd of hundreds at the London Muslim Centre, Khan said: "At a time when there are people trying to divide us, our shared history can be a source of hope, because by looking back we can also look forward to a brighter future."
The mayor, who was invited to unveil a plaque and officially open the new flood- and fire-proof strong room, quoted wartime Prime Minister Winston Churchill in his speech.
He also reminded the audience that the study of archives has recently highlighted the valuable contribution that Muslims made to Britain and Europe's freedom.
"We now know 2.5 million Muslims fought for us — the Allies — during World War I," he said. "At a time when Islamophobia is on the rise, it is important to recall that Muslims were among those who sacrificed their lives for a free Europe."
The East London Mosque is Britain's largest, and one of the most influential in Europe. It was the first mosque in the UK to develop a professional archiving system, and it now holds 250,000 documents dating back to 1911.
The project was supported by The National Archives and has taken five years to complete. The collection has an online catalogue and is available for viewing by appointment in the mosque's reading room.
The collection — which tells the story of the mosque and of East London's early Muslim community — includes photos, minutes, newspaper cuttings and annual reports of functions and activities that have taken place at the mosque and the London Muslim Centre, as well as more personal documents, including marriage and conversion records.
There is also a collection of letters written by one of the mosque's early supporters, the famous Qur'an translator, Muhammad Marmaduke Pickthall.
"The archives are important because they allow the Muslim experience to be woven into the tapestry of British social history," said Dr. Jamil Sherif, the chair of the East London Mosque Archives Project's Steering Committee. "Without that narrative, Muslims are always going to be considered as the 'other' and their contribution will never be appreciated."
As well as the mosque's records, the archives contain documents of the Indigent Moslems Burial Fund, set up to aid early British Muslims who were unable to meet the cost of burying their dead.
Those who attended the launch included Abdul Maalik Tailor, founder of Muslim History Tours, which take visitors around London revealing the city's hidden Muslim past.
Tailor believes more mosques need to be supported to follow the example set by the East London Mosque.
Full report at:
http://www.arabnews.com/node/1198596/world
--------
Brussels conf. to discuss role of Imams in promoting harmony, peaceful in Europe
Nov 24, 2017
BRUSSELS, Nov 24 (KUNA) -- Over 150 Imams from various European countries will gather in the Belgian capital tomorrow Saturday to discuss ways to contribute effectively to the stability and promotion of living together in European societies.
The conference titled "the Imamate in the European Context: Challenges and perspectives," will emphasize the role of Imams as partners for promoting social peace and living together between the different components of society.
"This meeting aims to strengthen the capacities of imams and religious workers to contribute effectively to the stability and promotion of living together in European societies" said Khalid Hajji, President of the administration of European Council of Moroccan Ulema (Islamic scholars) which has organised the conference.
"Today we exaggerate the role of Imams in negative things but Imams are doing a marvellous job and we must listen to them what they have to tell us," Hajji told KUNA in an interview.
He noted that Saturday's conference is the first of its kind organised by the Council which has invited the imams to share the challenges that they are called to take up every day and reflect on the future challenges, and hence to design a realistic training for them.
The afternoon session is devoted to Quran competition to which 12 reciters from different countries of the world will participate under the motto "Quran a message of peace." Khalid Hajji said the European Council of Moroccan Ulema was founded in 2008 and has its headquarters in Brussels.
It is an international organisation sponsored by the government of Morocco. The Council has 18 members scattered all over Europe.
The Council has three main activities, training Imams, organising conferences and doing research.
The Council helps Imams by introducing them to the subtleties of European cultures in the European context, he explained.
They also help the Muslim youth to harmonize with "belonging and believing." "They are Muslims and believe in Islam but they belong to another setting which is not Muslim in its context," explained Hajji who has studied in Morocco and in France.
"This is a daily question as how can I as a Muslim live my religion and at the same time belong to another society. It is a challenge and some youth don't know how to do it. We try to give them some guidance," he said.
Full report at:
http://www.kuna.net.kw/ArticleDetails.aspx?id=2661912&language=en
--------
Germany invites 'indoctrinated' children of ISIS fighters BACK to Europe
Nov 24, 2017
Diplomats have requested that Baghdad grant exit visas to the captives who fell into government hands after fierce fighting.
Some of the children are babies and toddlers born to German mothers or fathers whose only birth certificates were issued by Isis bureaucrats.
An estimated 1,000 radicals left Germany to fight with Islamic State over the past few years, 20 per cent of them women.
German officials would rather have the infants and women returned so they can be re-educated about their support for radical Islam rather than run the risk of them indoctrinating a new generation.
"We see the danger of children who socialised with and were indoctrinated by jihadists returning to Germany from the war zones," the chief of Germany's domestic intelligence agency, Hans-Georg Maassen, said last month. "This could allow a new generation of jihadists to be raised here."
The captives in Iraq include four children in Erbil and a pregnant woman. The most famous POW is Linda Wenzel, 16, from a small town near Dresden.
She was captured in the ruins of Mosul in the summertime after leaving Germany in 2016 to marry a Jihadist in Syria later killed in the fighting.
Full report at:
https://www.express.co.uk/news/world/883861/Germany-ISIS-children-fighters-Europe
--------
Talk aims to build bridges and show common bonds between London's Muslim, First Nations communities
November 24, 2017
By Dan Brown
People of the Islamic faith and members of our First Nations — it's not a combination you hear about often. But it makes perfect sense in this multicultural city.
A talk taking place Saturday afternoon at the London Muslim Mosque aims to show the two communities have more in common than you might think.
"I've talked about the issue of supporting Indigenous causes before," said Imam Abd Alfatah Twakkal. "This is really about building strong relationships, bridge building."
Twakkal says the genesis of the forum goes back to 2015 and the report from the federal Truth and Reconciliation Commission. "We have an obligation toward the Indigenous and First Nations community," he added. "It's a principled stance. We want to stand up for justice."
One of the speakers is Western University Prof. Erica Neeganagwedgin, an Indigenous Taino person from the Caribbean. "She can talk about her perspectives as a mother with First Nations children and the challenges and complexities they face," the mosque said in a statement.
But it might be the other guest speaker, Abdullah Hakim Quick, who best personifies the complex relationships that will be addressed. He's an African American who also comes from Native American ancestry.
"When they find out (his background), they are shocked, they normally don't connect First Nations and Islam," said Quick, a University of Toronto history scholar, of what happens when people learn about his mixed heritage.
"What I'm trying to do is make the average Muslim aware of pre-Columbus America," said Quick, who's both an educator and religious leader.
"That's what I'm trying to do, show parallels and build bridges."
But talking about the issues is just the first step, Twakkal added — action must follow.
He cites a bursary for First Nations mothers set up by the Muslim community in North Bay as an example of the type of steps that could be taken here in London.
However, doing so must be carried out with care. "They are wary of people who come bearing gifts," Quick said of Indigenous Canadians.
Full report at:
http://www.lfpress.com/2017/11/24/talk-aims-to-build-bridges-and-show-common-bonds-between-londons-muslim-first-nations-communities
--------
URL: https://www.newageislam.com/islamic-world-news/mohammed-bin-salman-reinterpreting-islam/d/113353
New Age Islam, Islam Online, Islamic Website, African Muslim News, Arab World News, South Asia News, Indian Muslim News, World Muslim News, Women in Islam, Islamic Feminism, Arab Women, Women In Arab, Islamophobia in America, Muslim Women in West, Islam Women and Feminism