New Age Islam News Bureau
7 Oct 2018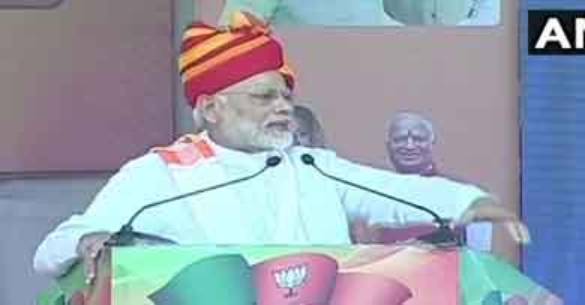 Photo: Prime Minister Narendra Modi addressed the rally in Rajasthan's Ajmer on Saturday ahead of the Election Commission announcing the dates for the Assembly Elections in Rajasthan, Madhya Pradesh and Chhattisgarh.Photo-ANI
------
• Houthis barricade Yemen's Sanaa university and kidnap 55 students
• Pakistani court to hear appeal of Christian on death row
• Taliban launch assault in Afghanistan's Ghazni province
India
• Modi in Ajmer: PM Bats For Hindu-Muslim Unity, Says Country Shouldn't be Divided on Communal Lines
• The Sufi way and the connected history of India and Central Asia
• Muslims will honor the court order, others should also do: Jamaat-e-Islami Hind Prez
• India's Rohingya refugees struggle with hatred, fear as first group is expelled
• Rise of extremism in Bangladesh may affect NE Indian states: B'deshi journalist
--------
Mideast
• Houthis barricade Yemen's Sanaa university and kidnap 55 students
• Iran warns 'racist, narcissist Israel' against thoughtless statements against Iranians
• Turkish police believe 'missing' journalist was killed inside Saudi consulate: source
• Source: Turkey behind Terrorists' Delay in Leaving Al-Tanf
• Three Israelis shot in West Bank settlement attack
• Israel places new restrictions on Gaza after protests
• Abductees' Mothers Association: Houthi violations 'will not be forgiven'
• Turkey arrests 137 in anti-PKK raids
• Defying Israeli occupation, Golan Druze pledge loyalty to Syria's Assad
• Religious leaders back 'peace caravan' to Jerusalem
• Erdogan threatens to crush Kurdish militants in Iraq
--------
Pakistan
• Pakistani court to hear appeal of Christian on death row
• US should not view Pakistan ties through Afghan or Indian lens: FM
• Govt working for uniform education system: minister
• Opposition leaders visit NA speaker to seek NA session to discuss Shahbaz's arrest
• Federal govt will facilitate provincial set-up in building a 'Naya Balochistan': PM Khan
• CJ inquires if another JIT can be formed in Model Town incident
• Bangladesh refuses to accept Pakistan's new high commissioner
• Bolton terms meeting with FM Qureshi 'constructive'
--------
South Asia
• Taliban launch assault in Afghanistan's Ghazni province
• Madrasa a place of prayer and peace for Rohingya kids
• Taliban hint at meeting with US special envoy in Qatar
• Taliban commanders among 23 killed, wounded in Farah operations
• Modernising Qawmi education more important than upgrading certificates: Experts
• N-E States Urged To Be Alert Against Jihadis Because Of Crack Down In Bangladesh
• 4 ISIS-K militants killed, training compounds destroyed in drone strikes
• Taliban, ISIS militants, children suffer casualties in Kunar infighting
• Bomb explosions kill 2 Afghan security forces, injure 9, including civilians, in Kabul
--------
Africa
• Egypt imposes 'tough' visa regulations for Moroccans, Algerians, Tunisians
• 'Separate blasts kill 7 security forces in Burkina Faso'
• Yemen's national army liberates major areas north of Saada
• 100s of Nigerian shias wage protest rally in Abuja to demand Zakzaky's release
• S Africa Muslim Body Welcomes Arrest of Mosque Attack Suspects
• Islamic State a threat seven years after we went to Somalia
• Nigeria army averts Boko Haram attack on camp, arrests terrorist
--------
North America
• US has failed to achieve its goals in Afghanistan: survey
• US military is against starting war with Iran: US foreign policy expert
--------
Southeast Asia
• Malaysian Police Arrest 8 Suspected Salafi Terror Cell Members
• PM: Islam is not about chopping heads and hands
• Of human rights and Malaysia
• After counter-terror swoop in state, mufti says Perlis not hotbed of extremism
• Islamic law is states' affairs, muftis tell minister bidding to end moral policing
• Mahathir: 'Climbing' into houses for khalwat raids 'not Islamic'
• Muslims pray to the sea after Indonesia quake-tsunami
--------
Arab World
• Dozens of People Killed, Wounded in Huge Explosion in Turkey-Occupied Region in Aleppo
• Infighting Increases among Terrorists in Northern Syria on Verge of Implementation of Sochi Agreement
• ISIL Asks for Surrender Terms as Gov't Forces Advances in Sweida Desert
• Pro-Opposition Source: Terrorists Continue Reinvigoration of Positions in Demilitarized Zone
• Militant Sources: Russia Deploying Troops to Deir Ezzur Near Iraqi Borders
• Damascus Army Destroying ISIL's Stronghold in Southern Syria
• Syrian rebels start to withdraw heavy weapons from Idlib buffer zone
• Saudi cleric close to MBS calls for 'peace' trip to Israel
• At least 5 people, including 2 children, killed in car bomb attack in northern Syria
--------
Europe
• 'Disturbing' number of Britons open about Muslim prejudice
• Dutch scramble two F-16s to escort flight from Abu Dhabi to Amsterdam
• New Netflix drama 'Elite' explores Islamophobia in Europe
Compiled by New Age Islam News Bureau
URL: https://www.newageislam.com/islamic-world-news/modi-ajmer-pm-bats-hindu/d/116579
--------
Modi in Ajmer: PM Bats For Hindu-Muslim Unity, Says Country Shouldn't be Divided on Communal Lines
October 6, 2018
Jaipur: Prime Minister Narendra Modi addressed the rally in Rajasthan's Ajmer on Saturday ahead of the Election Commission announcing the dates for the Assembly Elections in Rajasthan, Madhya Pradesh and Chhattisgarh. PM Modi who was scheduled to arrive at the Jaipur airport at noon today reached the Ajmer helipad at around 1:50 PM.
The Prime Minister then reached the public rally venue – Kayad Vishram Sthali and started addressing the rally. PM Modi's rally marked the conclusion of Rajasthan Chief Minister Vasundhara Raje's state-wide 'Rajasthan Gaurav Yatra' which she had begun from Rajsamand's Charbhujanath temple.
Chairman of the Rajasthan Heritage Preservation and Promotion Authority, Onkar Singh Lakhawat had said, "This will be a historic rally of the prime minister which will be participated by a large number of people." On the other hand, Amin Pathan, the chairman of Ajmer Dargah Committee, said he had urged the members of the minority community also to attend the Modi's rally in large numbers.
Earlier, PM Modi was scheduled to visit Brahma temple in Pushkar town.
BJP leaders had claimed that nearly three lakh people would come to attend the rally. State Primary and Secondary Education minister Vasudev Devnani, who represents Ajmer North assembly constituency, has been campaigning in the area and inviting people to attend the rally. "A large number of people will come to attend the PM's rally which is significantly ahead of the polls," Devnani said.
The Congress on Friday had launched a scathing attack on PM Modi over his visit to Ajmer. "Modiji is coming to Ajmer, but he remembers the city at the time of elections. He visits Ajmer to seek votes," Rajasthan party chief Sachin Pilot was quoted as saying. He also slammed CM Vasundhara Raje and accused her of misleading the PM on development in the district.
https://www.india.com/news/india/pm-narendra-modi-in-jaipur-live-news-and-updates-3366439/
--------
Houthis barricade Yemen's Sanaa university and kidnap 55 students
6 October 2018
Houthi militiamen in Yemen on Saturday closed down the University of Sanaa, and deployed tanks and armored vehicles around the building to intimidate the students, according to an Al Arabiya correspondent.
The militia also used military displays to separate protestors who stood at the main entrance of the university, as well as kidnapping around 55 students.
Meanwhile, local sources in Sanaa revealed that the Houthi militias tightened security measures and launched search campaigns to prevent citizens from walking towards Tahrir Square in the city's center.
According to the sources, Houthi militias deployed their army on the streets and neighborhoods near Tahrir Square, along with military vehicles to patrol the capital.
The militia also placed security checkpoints to stop and search citizens, and arrested those who refused to cooperate.
The sources added that the militias directed its men to launch search campaigns on hotels and rest-stops in the capital, which resulted in the arrest of several young people who were not carrying their personal identifications.
The Houthi militias are fearful of activists' ongoing protests on social media against the currency collapse and the drastic rise in prices.
https://english.alarabiya.net/en/News/middle-east/2018/10/06/Houthi-militias-close-University-of-Sanaa-use-military-tanks-to-intimidate-students.html
--------
Pakistani court to hear appeal of Christian on death row
Oct 6, 2018
ISLAMABAD: A defense lawyer says Pakistan's top court will hear the final appeal of a Christian woman who has been on death row since 2010 after being convicted of insulting Islam's Prophet Muhammad.
Asia Bibi's lawyer Saiful Malook said Saturday the Supreme Court will take up her appeal on Monday.
Bibi's first appeal was dismissed by a Lahore High Court in 2014, but the Supreme Court stayed her execution in 2015.
Her case is being closely watched internationally and nationally as a test of Pakistan's tolerance for its minorities.
Bibi was arrested in 2009 after a quarrel with Muslim women and since then she has languished in prison. Pakistani Islamists have demanded her execution and two politicians, a governor and a minister of minorities, were killed in 2011 for supporting her.
https://timesofindia.indiatimes.com/world/pakistan/pakistani-court-to-hear-appeal-of-christian-on-death-row/articleshow/66096481.cms
--------
Taliban launch assault in Afghanistan's Ghazni province
Oct 6, 2018
The Taliban have destroyed a number of bridges and have set up checkpoints in Ghazni province in a bid to gain control over a vital highway linking Afghanistan's capital of Kabul to the southern areas of the country.
The Afghan army is engaged in an operation to contain the militants' Saturday attack. Five militants, who were attempting to destroy three of the highway's bridges, were killed. The army also deployed helicopters to stall any incursion into the city, according to Ghazni's governorate spokesman Mohammad Arif Noori.
"We are fully prepared to attack them. This time the province will not fall into the hands of the Taliban," added Noori speaking to Reuters.
The Saturday attack comes after the Taliban were pushed back from the area following a bloody five-day assault in August that lead to the partial fall of Ghazni city and deaths of 150 security forces and 95 civilians, along with hundreds of militant fighters, based on official Afghan accounts.
President Ashraf Ghani's government promised $20 million in relief and reconstruction following the catastrophic assault, which convinced authorities to cancel polling in the province for the country's upcoming parliamentary elections.
The elections were originally scheduled to be held in 2015 but were postponed till July this year and then till October due to the country's uncertain security situation in what observers have described as a test for the war-torn country's democratic institutions ahead of the 2019 presidential elections.
https://www.presstv.com/Detail/2018/10/06/576239/Taliban-Afghanistan-Assault
--------
India
The Sufi way and the connected history of India and Central Asia
October 6, 2018
I seek to draw attention here to the longstanding historical, political and cultural connections between India and Central Asia, with special focus on the Sufis who played significant roles through intermeshing of ideas and practices. When Zahiruddin Muhammad Babur founded the Timurid-Mughal empire in CE 1526, large parts of the Indian subcontinent were already ruled by a series of Turko-Afghan dynasties for over three centuries, with Delhi being a major centre of power. Conquerors from Central Asian steppes dismounted from their horses to understand the reality of the place and conduct their business of governance in the best possible manner known to them.
The first thing Babur did after entering Delhi, the day after the historic battle of Panipat, was to visit the shrine or dargah of patron saint of the city, Chishti Sufi Khwaja Nizamuddin Auliya, whose grandfather had come from Bukhara to settle down in Badaun in what is now Uttar Pradesh. The next day Babur visited the dargah of another venerable Chishti Sufi Khwaja Qutbuddin Bakhtiyar Kaki, at Mehrauli in South Delhi, who had himself come down from Transoxania, as directed by his preceptor Khwaja Muinuddin Chishti Ajmeri, who originally hailed from Sistan in eastern Iran. The two formidable Sufi figures were much respected by the contemporary Delhi Sultan Shamsuddin Iltutmish, in early 13th century. The pious Sultan also originated in Central Asia.
Further, Babur also thought, as did his great-grandson Emperor Jahangir a century later, that he was recapturing a territory previously conquered by his ancestor and empire-builder Amir Timur, late in the 14th century. Being descendants themselves, Mughals sought to carry forward the legacy of Amir Timur and Changezid Chaghtai practices. The spiritually-blessed vicinity of Nizamuddin Dargah was also chosen for the burial place of the Timurid imperial family under Emperor Akbar, with the grand tomb complex of Emperor Humayun as a living testimony, which is now a UNESCO Heritage site.
Thus, the history of the interconnection between peaceful Sufi spirituality and political aspirations of India and Central Asia can be traced back to the early modern, medieval and, indeed, even further back into ancient times. The connections can be seen in aspects which range from the innocuous to the critical and of great transformative nature.
Before Sufism and before Islamisation, variants of Buddhism had a significant presence in early medieval Central Asia. When Sufis adopted popular practices of Islam, they appropriated many Buddhist beliefs and practices as well, besides replicating monasteries with simpler khanqahs of their own. Shared beliefs included aspects such as notions of God and truth, bodily practices,commonality between yoga and Sufism, belief in the unity of existence, and respect for diversity. The key terms include tauhid, wahdat-ul-wujud, wahdat-us-shuhud, ekeshwarwad and Advaita philosophy. Together, these concepts and theories created conditions for peaceful coexistence of a great diversity of opinions and practices, which the political system has been able to maintain with considerable success, aberrations apart.
Sufi orders, silsilas, which came to India and became popular or politically influential included Chishti, Suhrawardi, Naqshbandi, and Qadiri. At the same time, connections may also be seen in political theory, philosophy and practices, which were developed in Central Asia and were brought to India by the medieval and early modern empire-builders. Together they shaped political ideas: for example, broad-based political framework of akhlaq in contrast to the earlier, perhaps more narrowly conceived moral conduct of adab.
The connections can also be seen in common cultural practices and the emergence of new forms: literature, music, architectural developments, etc. Languages such as Urdu originating in army camps took shape and flourished in Sufi khanqahs, before emerging as an elegant language having a vast literature. Mughals in India struggled with their mother-tongue, Turkish language. Turkish-speaking married women with children were specially invited to serve as breastfeeding foster-mother for Timurid children born to Indian mothers to inculcate Turkish mannerisms and language, a strategy that did not work to the satisfaction of the imperial family. For, Babur wrote his autobiography in Chaghtai Turkish, but Jahangir composed his autobiographical Tuzuk-i Jahangiri in Persian. Before him, Akbar could have been more comfortable in Hindi. Eventually, officially it was going to be Persian as the language of power and politics, and unofficially and all over Hindi and other vernaculars.
Further, food habits and culture left a deep impact and continues to inform our shared delicious heritage. Mughlai biryani and kebab for a foodie with taste buds, besides simple tahiri, naan and qorma offered in Sufis' hospices, and not to forget the ubiquitous "sambosa", in whatever delicious ways you want to make.
New initiatives such as a seminar on cultural legacy as a bridge between India and Uzbekistan, recently organised at the National Museum in New Delhi, is a commendable exercise.
https://www.sundayguardianlive.com/news/sufi-way-connected-history-india-central-asia
--------
Muslims will honor the court order, others should also do: Jamaat-e-Islami Hind Prez
Oct 7 2018
The President of Jamaat-e-Islami Hind (JIH) and Vice President of All India Muslim Personal Law Board (AIMPLB) Maulana Syed Jalaluddin Umari voiced serious concern over reports about the VHP trying to pressurize the government to build a Ram temple by 2019.
Addressing a monthly press meet organised at its headquarters in New Delhi, the JIH chief said: ''all Muslim organizations including Jamaat-e-Islami Hind have time and again reiterated that we will abide by the court judgment irrespective of whether it goes in our favor or against. However the VHP and others are trying to pressurize the government and the judiciary by insisting that a temple be built there without waiting for the outcome of the title suit. This posture goes against the democratic nature of our polity and is leading to polarization of society along communal lines.
Umari said that it was not commendable that the minority community whose mosque was illegally destroyed is ready to follow what the judiciary says but the other petitioners are showing utter disregard and scant respect by openly challenging the government, the courts and due process of law.
"This does not bode well for our nation and we urge the government to abide by its constitutional duty and not cave in to the demands of these parochial forces,'' he said.
Earlier the Secretary General of Jamaat-e-Islami Hind, Muhammad Salim Engineer briefed the media regarding rising police atrocities in the country especially in the state of Uttar Pradesh. He said: ''the UP police had invited the media to witness an encounter in Aligarh in which two youth belonging to the minority community were gunned down. If the police knew that an encounter was going to take place and therefore invited the media to witness it then it is nothing but extra-judicial killing which goes against all norms of justice and fundamental human rights," Engineer said.
Full report at:
https://www.greaterkashmir.com/news/india/muslims-will-honor-the-court-order-others-should-also-do-jamaat-e-islami-hind-prez/298954.html
--------
India's Rohingya refugees struggle with hatred, fear as first group is expelled
OCTOBER 7, 2018
JAMMU, India (Reuters) - Hours after Indian TV channels flashed that the country was deporting seven Rohingya Muslims to Myanmar, Sahidullah said he received a call from his nephew: "Uncle, please get us out of here. They will send us back too."
Sahidullah, a Rohingya living in the far north of India after fleeing what he called persecution in Buddhist-majority Myanmar in 2010, said his relative, Sadiur Rahman, 40, was lodged in one of several detention centers for illegal immigrants in the distant northeastern state of Assam.
Rahman, he said, had been incarcerated with his brother and eight other relatives since being caught in 2012 at a railway station as they fled to India via Bangladesh. Sahidullah had taken the same route two years earlier, but like many others had escaped detection.
He said Rahman made the phone call when he was taken out for a routine medical checkup on Oct. 3, the day when India moved the seven Rohingya men out of a similar detention center and took them to the border.
They were handed to the Myanmar authorities the next day, the first ever such deportations of Rohingya here, spreading panic among an estimated 40,000 refugees who have fled to India from its neighbor.
About 16,500 of the refugees, including Sahidullah, have been issued identity cards by the United Nations High Commissioner for Refugees (UNHCR) that it says helps them "prevent harassment, arbitrary arrests, detention and deportation".
India says it does not recognize the cards and has rejected the UN's stand that deporting the Rohingya violates the principle of refoulement – sending back refugees to a place where they face danger.
"Anyone who has entered the country without a valid legal permit is considered illegal," said A. Bharat Bhushan Babu, a spokesman for the Ministry of Home Affairs. "As per the law, anyone illegal will have to be sent back. As per law they will be repatriated."
In recent days, Reuters interviewed dozens of Rohingya in two settlements, one in the northern city of Jammu and a smaller one in the capital, Delhi, and found communities who feel they are being increasingly vilified.
Many now fear Prime Minister Narendra Modi's Hindu nationalist government is about to act on its stated position – that it wants to deport all Rohingya Muslims from the country. With a general election due by next May, they worry that targeting them will be a populist tactic used by Modi and his allies.
HATRED GROWING
Sahidullah – who like many Rohingya goes by only one name - is not just worried about his detained relatives but also his family living in a mainly Hindu region of India's only Muslim-dominated state, Jammu & Kashmir, in the country's northern tip.
The restive Himalayan state that borders Pakistan and is home to Muslim separatists battling Indian rule, has the biggest population of Rohingya in the country with around 7,000 people scattered in various makeshift settlements, largely in the Jammu region.
"We came to India because people told us things were better here, there's more work and one could move freely unlike back home," said Sahidullah, who works as a cleaner at a car showroom in Jammu city to support his aging amnesiac mother, wife and four children.
"All that's true and we are thankful to India for letting us live here. But hatred against us is growing," he told Reuters as he sat on a colorful linen sheet laid on the floor of his self-made wood and plastic-sheet house built on a rented plot of land.
Mohammed Arfaat, a 24-year-old Rohingya youth leader in Jammu, said that locals often accuse them of having links with militants without any proof.
"They want us out of here and that has got our families worried," said Arfaat, switching between English and Hindi as nearly a dozen community elders seated around him on the rough concrete floor of a Rohingya house started leaving for Friday prayers. "Everybody here is aware of the deportation and is afraid."
Indian authorities said that the repatriation of the seven was a routine procedure and that it sends all illegal foreigners back home.
But the UNHCR voiced deep concern on Friday about the safety and security of those expelled, saying they had been denied access to legal counsel and a chance to have their asylum claims assessed.
"Current conditions in Myanmar's Rakhine state are not conducive for safe, dignified and sustainable return of stateless Rohingya refugees," said UNHCR spokesman Andrej Mahecic.
Most Rohingya used to live in Rakhine.
In August last year, attacks by Rohingya fighters on security posts in Rakhine led to a bloody military crackdown that caused around 700,000 Rohingya to flee across the border to Bangladesh.
The United Nations has accused Myanmar of acting against the Rohingya with "genocidal intent," a charge Myanmar refutes, saying its military did not use excessive force and was reacting to militant attacks.
INCREASINGLY UGLY
The atmosphere facing the Rohingya in India has been getting increasingly ugly.
Jammu's Chamber of Commerce & Industry last year threatened to launch an "identify and kill movement" against the settlers, which it said pushed the government into taking the issue of Rohingya more seriously.
The chamber's president, Rakesh Gupta, told Reuters on Friday that there was nothing new in taking the law into one's hands if "someone becomes a threat to our security, to the nation's security, and the security forces don't tackle them".
In some of the more virulent parts of India's media, the Rohingya are not only accused of being terrorists but also of trafficking in drugs and humans, and of having the money to elbow out local businesses.
The Pioneer newspaper, which supports Modi's ruling Bharatiya Janata Party (BJP), said in an editorial on Saturday that "the Rohingya are a problem", declaring that those that are radicalized Islamist extremists need to be dealt with ruthlessly and the rest are economic migrants that India cannot afford to help.
India, which considers itself a victim of Islamist militancy and is trying to boost economic ties with Myanmar to counter China, said late last year that it shared Myanmar's concern about "extremist violence" by Rohingya militants.
India's home ministry has told the Supreme Court that it had reports from security agencies and other authentic sources "indicating linkages of some of the unauthorized Rohingya immigrants with Pakistan-based terror organizations and similar organizations operating in other countries".
"It's definitely an election issue," said Kavinder Gupta, a BJP legislator in Jammu & Kashmir and former deputy chief minister of the state.
"It's our decision to throw them out keeping in mind the security situation of the state," he told Reuters on the sidelines of a campaign meeting for municipal elections. "We have made the home ministry aware of the need to send them back to their country."
Senior Jammu police officials said on condition of anonymity that they had identified all Rohingya in the area in preparation for their eventual deportation. They added they had not found any link of Rohingya with militants.
Around 600 km (370 miles) south of Jammu, residents of a makeshift refugee camp in Delhi's Shaheen Bagh also said they fear deportation.
Full report at:
https://www.reuters.com/article/us-myanmar-rohingya-india-insight/indias-rohingya-refugees-struggle-with-hatred-fear-as-first-group-is-expelled-idUSKCN1MH04P
--------
Rise of extremism in Bangladesh may affect NE Indian states: B'deshi journalist
6 October 2018
Guwahati, Oct 6 (IANS) The rise of Islamist extremism in Bangladesh poses a serious threat not only to the religious minorities, secularists, intellectuals and other sects within the Muslim community, but also to India's northeastern states, says prominent Bangladesh-based journalist, Saleem Samad.
He was speaking to a group of journalists at Guwahati Press Club from Dhaka through video-conferencing on Friday evening.
An Ashoka Fellow and Hellman-Hammett Award recipient, Samad said an upsurge of fundamentalist forces in Bangladesh may affect Indian states that share the border with the country.
He said atheist and secularist bloggers are increasingly becoming the target of the Islamic extremists in Bangladesh.
He said other minority sects within the Muslim community such as the Ahmadiyyas also face threats of survival in Bangladesh due to the rise of Islamic extremism in the country.
He said thousands of Bangladeshi youths had joined various militia groups in Syria, Iraq, Chechnya, Indonesia, the Philippines, Afghanistan and Pakistan to fight alongside the jihadists there.
The senior journalist reiterated that currently there is no northeastern separatist leader in Bangladesh as the Sheikh Hasina government in Dhaka continues a rigorous crackdown on fundamentalist outfits.
A champion for media rights, Samad painted a dismal picture of press freedom in Bangladesh as journalists are frequently targeted by both state and non-State actors. He regretted that though 26 Bangladeshi journalists lost their lives to assailants since 1991, most cases remain unsolved.
Replying to questions about infiltration from Bangladesh to Assam, Samad said that none of the Indian leaders visiting Dhaka ever took up the issue of illegal Bangladeshi infiltrators in Assam with their counterparts.
Strongly advocating people-to-people contact between Assam (India) and Bangladesh, Samad lamented how Assam had missed the bus despite being so closely located, while other states such as West Bengal and Tripura were taking several steps to improve connectivity with Bangladesh via railway and roadways.
Full report at:
https://in.news.yahoo.com/rise-extremism-bangladesh-may-affect-ne-indian-states-163017391.html
--------
Mideast
Iran warns 'racist, narcissist Israel' against thoughtless statements against Iranians
Oct 5, 2018
Iran has lashed out at Israel's President Reuven Rivlin for making insolent comments against the Iranian nation, warning the Tel Aviv regime's racist, narcissistic and impolite officials of the consequences of their thoughtless remarks.
It is a shame that officials of a regime which has "brutality, aggression, disgracefulness, maliciousness and deceit" as among its main characteristics, are addressing the richly-cultured, brave and civilized Iranian people in such an insulting way, Iran's Foreign Ministry Spokesman Bahram Qassemi said on Friday.
During remarks on Thursday, the Israeli president, whose role in government is largely ceremonial compared with the prime minister, said, "From our point of view, now is the time to join the effective sanctions on Iran and not to circumvent them."
"The Iranian beast must be starved and not fed. This is the only way to guarantee the stability of the world," Rivlin added.
In reaction to such a shameful insult, the Iranian Foreign Ministry spokesperson said the great and educated Iranian nation respects the dignity and rights of the followers of Prophet Moses and draws a distinction between them and the fascist and racist regime in the occupied lands.
The Israeli president, who received German Chancellor Angela Merkel, also urged Germany to join US sanctions on Iran after Washington unilaterally withdrew from a 2015 nuclear deal Iran signed with the P5+1 group of countries which is still supported by Europe as well as China and Russia.
US President Donald Trump announced in May that Washington was pulling out of the nuclear agreement, officially known as the Joint Comprehensive Plan of Action (JCPOA), which lifted nuclear-related sanctions against Tehran in exchange for restrictions on Tehran's nuclear program. The deal had been signed between Iran and the five permanent members of the UN Security Council -- the United States, Britain, France, Russia and China -- plus Germany in 2015.
The US administration reintroduced the previous sanctions while imposing new ones on the Islamic Republic. It also introduced punitive measures — known as secondary sanctions — against third countries doing business with Iran.
A first round of American sanctions took effect in August, targeting Iran's access to the US dollar, metals trading, coal, industrial software, and auto sector. A second round, forthcoming on November 4, will be targeting Iran's oil sales and its Central Bank.
https://www.presstv.com/Detail/2018/10/05/576161/Qassemi-Israel-Iran-Reuven-Rivlin-Germany
--------
Turkish police believe 'missing' journalist was killed inside Saudi consulate: source
October 07, 2018
Turkish police have concluded that prominent Saudi journalist Jamal Khashoggi was murdered inside the Saudi mission in Istanbul after going missing Tuesday, an unnamed government official said Saturday.
"Based on their initial findings, the police believe that the journalist was killed by a team especially sent to Istanbul and who left the same day," the official told AFP.
The news came hours after police confirmed that around 15 Saudis, including officials, arrived in Istanbul on two flights on Tuesday and were at the consulate at the same time as the journalist.
Khashoggi, a Washington Post contributor, "did not come back out" of the building, police had told the state-run Anadolu news agency.
On the back of this preliminary investigation, Ankara announced Saturday it had opened an official probe into the journalist's disappearance.
A former government adviser who has been critical of some policies of Saudi Crown Prince Mohammed bin Salman and Riyadh's intervention in the war in Yemen, Khashoggi has lived in self-imposed exile in the United States since last year to avoid possible arrest.
The Saudi crown prince earlier denied in an interview with Bloomberg that the journalist had been inside the consulate and said Turkish authorities could search the building.
"We are ready to welcome the Turkish government to go and search our premises," he said. The consulate is Saudi sovereign territory.
He added that "we will allow them to enter and search and do whatever they want to do... We have nothing to hide", in the interview published on Friday.
According to Reuters, a source at the Saudi consulate in Istanbul denied reports citing Turkish sources saying they believed that Khashoggi had been killed inside the consulate building.
The source quoted by Reuters claimed the accusations were baseless, and that a security team also comprising Saudi investigators had arrived in Istanbul to probe the journalist's disappearance.
Reacting to the news of his alleged murder, Khashoggi's Turkish fiancee, Hatice Cengiz, said she "did not believe he has been killed".
According to Cengiz, Khashoggi had visited the consulate to receive an official document for his marriage.
Turkey's Foreign Ministry on Wednesday summoned Saudi Arabia's ambassador over Khashoggi. Khashoggi, who turns 60 on October 13, fled the country in September 2017, months after Prince Mohammed was appointed heir to the throne and amid a campaign that saw dozens of dissidents arrested, including intellectuals and preachers.
The journalist said he had been banned from writing in the pan-Arab daily Al-Hayat, owned by Saudi prince Khaled bin Sultan al-Saud, over his defence of the Muslim Brotherhood which Riyadh has blacklisted as a terrorist organisation.
Full report at:
https://www.dawn.com/news/1437412/turkish-police-believe-missing-journalist-was-killed-inside-saudi-consulate-source
--------
Source: Turkey behind Terrorists' Delay in Leaving Al-Tanf
Oct 06, 2018
The Arabic-language website of Sputnik news agency quoted an informed source as saying that Turkey is behind the delay in transferring all terrorist groups from al-Tanf region and al-Rakban camp to Northern Syria to pave the ground for civilians' return to their villages and towns.
He added that the Turkish side has not yet fully accepted to transfer the US-backed terrorist groups, including al-Qoryatayn, Maqawir al-Thawra and Ahmad al-Abdou, stationed in al-Tanf to regions in Northern Syria.
Based on the report, Turkey wants to shelter the foreign terrorist groups, including Turkistani, Turkaman, and other militants who consider themselves as remnants of the Ottoman government in Northern Syria and prevent the Syrian militants from residing in that region.
The source also said that delay in the implementation of al-Tanf agreement has also delayed the US forces' withdrawal which depended on the retreatment of all terrorist groups by receiving government amnesty or their transfer to Northern Syria, adding that Ankara has revealed its opposition after a likely agreement with the US in this regard.
Sources had said last month that Moscow and Washington had held talks to end the presence of US forces and affiliated militants in al-Tanf base at the borders with Iraq, adding that their withdrawal was imminent.
The Arabic-language website of Sputnik news agency quoted informed sources as saying that the Russian and American officials were negotiating the withdrawal of the US forces from al-Tanf region in the bordering triangle of Iraq-Syria-Jordan.
They added that the US and Russian officials were in talks over the final stages of the agreement, noting that plan was to come into effect soon.
The sources underlined that closure of al-Rakban camp which hosts over 80,000 civilians and their return to their villages and towns in different parts of Syria is also included in the agreement.
They said that based on the agreement, thousands of terrorists, trained and supported by the US, will also leave al-Tanf for Idlib, adding that most of their commanders have earlier left the region.
Full report at:
http://en.farsnews.com/newstext.aspx?nn=13970714000830
--------
Three Israelis shot in West Bank settlement attack
7 October 2018
Three Israelis were shot, two of whom were critically wounded, in an attack in the occupied West Bank on Sunday, police said.
Israeli police and soldiers were searching for the attacker, who opened fire in the industrial area of the Jewish settlement Barkan, a police spokesman said.
A Reuters witness said Israeli security forces had closed off the area.
https://english.alarabiya.net/en/News/middle-east/2018/10/07/Three-Israelis-shot-in-West-Bank-settlement-attack-.html
--------
Israel places new restrictions on Gaza after protests
6 October 2018
Israel announced new restrictions on Gaza Saturday, weeks after the territory's Hamas rulers stepped up protests along the enclave's land and sea borders with Israel.
Defense Minister Avigdor Lieberman has ordered the permissible zone for Gaza fishermen to be scaled down from nine to six nautical miles and threatened "additional steps if the violent incidents continue," according to a statement by COGAT, the Israeli defense body that coordinates civil affairs for the Palestinian territories.
Other measures could include more restrictions at Kerem Shalom, Gaza's prime commercial crossing point and the only one with Israel.
Lieberman cited Friday's "riots" at the fence dividing Gaza and Israel as contributing to his decision, in addition to the midweek beach protests in which fishing boats and protesters gather at the northwest end of the Gaza Strip where its sea and land barriers meet with Israel.
Hamas seized Gaza forcibly from the Palestinian Authority in 2007 after winning legislative elections a year earlier. The militant group has since March initiated protests on a weekly basis, demanding an end to an Israeli-Egyptian blockade that has made it increasingly difficult for the group to govern.
Hamas accuses Palestinian President Mahmoud Abbas, who governs parts of the West Bank, of thwarting regional efforts to reach a Gaza cease-fire that could ease the closure.
Hamas has in response escalated and intensified the protests recently, adding locations and leading night gatherings near the fence where activists use sound bombs and laser lights to distract soldiers.
On Friday, three Palestinians, among them a 13-year-old boy, were killed by Israeli troops during protests at five locations along the frontier. Full story
Israel said the demonstrators threw grenades at the soldiers, adding that they also tore at parts of the fence with bolt cutters.
Full report at:
https://english.alarabiya.net/en/News/middle-east/2018/10/06/Israel-places-new-restrictions-on-Gaza-after-protests.html
--------
Abductees' Mothers Association: Houthi violations 'will not be forgiven'
6 October 2018
The Yemeni Abductees' Mothers Association condemned the Houthi militia's kidnappings of women from the streets of Sanaa in a statement issued on Saturday.
The association stated that: "These unprecedented violations are taking place in the Yemen society which elevates the status of women and criminalizes these kind of assaults. How can [the militias] kidnap and arrest a woman, put her in detention centers without any regard to societal, ethical or human values?"
They added that the Houthi's violations will "remain a disgrace and will not be forgiven."
Full report at:
https://english.alarabiya.net/en/News/middle-east/2018/10/06/Abductees-Mothers-Association-Houthis-violations-will-not-be-forgiven-.html
--------
Turkey arrests 137 in anti-PKK raids
6 October 2018
Turkish authorities have arrested 137 people in a country-wide operation over two days aimed at the outlawed Kurdistan Workers' Party (PKK), state news agency Anadolu said Saturday.
The PKK, designated as a terror group by Turkey and its Western allies, is regularly targeted in security forces raids.
The authorities are still battling the over three-decade insurgency of the PKK which initially took up arms for a separate state but now demands a degree of autonomy.
The clashes between Turkish security forces and PKK members have resumed after a fragile ceasefire collapsed in 2015.
The PKK's armed struggle with the Turkish government has killed more than 40,000 people since 1984.
On Thursday, eight soldiers were killed by an improvised explosive device in southeastern Turkey in an attack the government blamed on the PKK.
Full report at:
https://english.alarabiya.net/en/News/middle-east/2018/10/06/Turkey-arrests-137-in-anti-PKK-raids.html
--------
Defying Israeli occupation, Golan Druze pledge loyalty to Syria's Assad
Oct 6, 2018
In a move of defiance towards the Israeli regime, Arab Druze inhabiting the occupied Golan Heights have gathered at the Syrian border to declare their loyalty to Syrian President Bashar Al-Assad, celebrating what they describe as Syria's victory in the country's war.
The crowd marked the Saturday event by wearing their traditional black garbs and white hats while waving Syrian flags and pictures of Assad. The gathering Druze shouted support for the president into megaphones and were answered by Syrian soldiers who were standing behind a security fence on the opposite side of the border.
The Druze are an Arab religious minority who practice an offshoot of Ismaili Islam and are known to have historically good relations with the ruling government in Syria.
Some of Syria's Druze population, however, fell under Israeli control after the Golan Heights were occupied by Israel in the 1967 Third Arab-Israeli War. The territory was officially annexed in 1981 by Tel Aviv in a move that was never recognized by the international community.
Full report at:
https://www.presstv.com/Detail/2018/10/06/576269/Druze-Support-Assad
--------
Religious leaders back 'peace caravan' to Jerusalem
October 07, 2018
NEW YORK: Catholic and Jewish religious leaders expressed support for a call by the secretary-general of the Muslim World League (MWL) for religious leaders with no political affiliation to travel to Jerusalem in a "peace caravan."
Dr. Mohammed bin Abdul Karim Al-Issa's call was made on Thursday at the opening of a conference in New York on cultural rapprochement between the US and the Muslim world.
"This convoy should represent the three religions to visit all the holy places in Jerusalem," he told some 400 Jewish, Christian and Muslim leaders and thinkers.
Marwan Faouri, secretary-general of the Global Forum for Moderation, said: "The peace caravan can help bridge the hate gap that exists on both sides."
Rabbi Joseph Potasnik, executive president of the New York Board of Rabbis, said that the Palestinian-Israeli conflict can't be ignored or camouflaged.
"Peace can't be reached by more fighting. Palestinians are not going anywhere, and Israelis are not going anywhere, and therefore a way has to be found to allow these two peoples to live together."
Michael Coppotelli, associate superintendent of schools in the Archdiocese of New York, said: "We need to find a way to train children so that they can fill the caravan for peace. This can only be done through education."
Zainab Al-Suwaij, executive director of the American Islamic Congress, said that minority rights in the Muslim world must be respected and work is needed, especially with families to fight violent extremism.
"To build bridges we can stop hatred and empower our nations and stop violence and extremism," she said.
Ali Rashid Al-Nuaimi, chairman of the newly established Department of Education and Knowledge in the Government of Abu Dhabi, called on participants to look to the future and not to be enslaved to the past.
Al-Nuaimi said that it is unacceptable that we continue to focus on dialogue and instead we must roll up our sleeves and work on programs.
"What we expect from this meeting is to launch ideas and programs and not for us only, but for everyone. We have to have accomplishments on the ground that prove that we believe in accepting the other including his right for thought and religion."
Al-Nuaimi put a lot of emphasis on the need to build up the role of women and youth. "If we are honest with ourselves we need to confess that for every step forward, for women we take many backwards."
He also said he hoped future meetings would include youth from different backgrounds so that they can have a role in the future.
Full report at:
http://www.arabnews.com/node/1383706/middle-east
--------
Erdogan threatens to crush Kurdish militants in Iraq
October 06, 2018
ANKARA: Recep Tayyip Erdogan on Saturday vowed to "finish" Kurdish militants in Iraq's Sinjar and Qandil regions to avenge eight Turkish soldiers killed in a bomb attack in southeastern Turkey earlier this week.
The outlawed Kurdistan Workers Party (PKK), which carried out the attack in Batman province, would pay the price for the eight soldiers, the Turkish President told members of his ruling AK Party at the start of a two-day summit in Ankara.
"Do we have eight martyrs? Then let those terrorists know that they will pay the price for this with at least 800," he said. "We will finish them by going into their dens, their holes. We will end them in Sinjar and in Qandil."
The comments marked Erdogan's strongest warning of a potential offensive against Kurdish militants in northern Iraq in recent weeks.
Turkey has in recent months carried out strikes on PKK bases in northern Iraq, especially its stronghold in the Qandil mountains, but warnings of a ground offensive into the area had largely died down following the June elections.
The PKK, considered a terrorist organisation by the United States, Turkey and the European Union, has waged an insurgency against the state since Turkish the 1980s.
Violence in the largely Kurdish southeast has worsened since the collapse of a ceasefire in 2015 and the government has carried out widespread operations to capture the militants in Turkey as well.
Full report at:
http://www.arabnews.com/node/1383446/middle-east
--------
Pakistan
US should not view Pakistan ties through Afghan or Indian lens: FM
OCTOBER 7, 2018
Foreign Minister Shah Mehmood Qureshi Saturday said that Washington should not view relations with Pakistan through the perspective of the Afghan issue or the ties with India. Talking to the media in Multan after completing his 10-day visit to the United States, the foreign minister said that he had presented Pakistan's stance on key global and regional issues at the United Nations in a clear and vivid manner.
The minister said that everything could not be achieved in one meeting, adding that efforts would be continued to bring the US-Pakistan relations on track. "Pakistan's sacrifices in war on terror must be acknowledged," he added.
"The UN is a global forum and it needs to be made more effective for the resolution of issues being faced by the regions and countries."
Qureshi went on to say that he had demanded a commission of inquiry into the United Nation's report, adding that voices were being raised against Indian violence in Held Kashmir on international forums. "Kashmir dispute is not new but its nature has change," he added.
Commenting on the meeting with his US counterpart, he said that several issues were discussed in the meeting. The foreign minister said that the US's stance had changed after his meeting with the US Secretary of State Mike Pompeo.
He said Pak-US relations could not be undermined easily. "The relations with US are improving gradually. I have made it clear to the US authorities that Pakistan wants bilateral relations with Washington based on mutual respect and reciprocity."
When asked about his statement eon the arrest of Pakistan Muslim League-Nawaz (PML-N) president Shehbaz Sharif, Qureshi said that the arrest was a court matter and the ex-Punjab CM had the right to contest his case.
He said that the National Accountability Bureau (NAB) took decision of Sharif's arrest after investigation and that the anti-graft watchdog was an independent institution.
The Pakistan Tehreek-e-Insaf (PTI) has not made cases against the opposition leader, he said, adding: "We must respect the courts."
https://dailytimes.com.pk/307188/us-should-not-view-pakistan-ties-through-afghan-or-indian-lens-fm/
--------
Govt working for uniform education system: minister
October 07, 2018
LAHORE: Federal Educa­tion Minister Shafqat Mahmood said on Saturday that government was working on introducing a uniform education system across the country.
Chairing the 53rd meeting of the governing body of Iqbal Academy Pakistan (IAP), he said the government was also reviewing the existing curricula because the students of English medium educational institutions managed to grab most of the employment opportunities and excelled in competition examinations as well.
Mr Mahmood said the government wanted to introduce a system under which students of government-run institutions and those of madressahs could land good jobs and avail handsome opportunities.
He said there should be five to six core subjects which should be taught in all educational institutions of the country.
The minister underlined the need for presenting the message of Allama Muhammad Iqbal in an effective manner so that students could be attracted to it. Chapters of Iqbal Society should be established in schools and colleges.
He urged the IAP to post on its website literature about Iqbal and his philosophy because this would provide an authentic platform to those who wanted to read about the great thinker and philosopher.
Full report at:
https://www.dawn.com/news/1437360/govt-working-for-uniform-education-system-minister
--------
Opposition leaders visit NA speaker to seek NA session to discuss Shahbaz's arrest
October 06, 2018
A delegation of opposition leaders met National Assembly Speaker Asad Qaiser at his residence on Saturday to urge him to summon a National Assembly (NA) session over the arrest of Leader of the Opposition Shahbaz Sharif.
Led by former PML-N speaker Sardar Ayaz Sadiq, the delegation also included Raja Zafarul Haq, Jamiat Ulema-i-Islam-Fazl's Maulana Abdul Ghafoor Haideri and others.
NA Speaker Qaiser assured the delegation that an NA session will be called within 14 days.
Following the meeting, the delegation delivered a media talk, where Sadiq linked the timing of Shahbaz's arrest to the upcoming by-elections.
"An attempt is being made to steal the by-elections," he said. "The government only has a lead of four members.
"[Shahbaz] was called for the Saaf Pani case but was arrested in the Ashiana case. PML-N is being made a target of political vengeance. The government is using the NAB," he alleged.
He referred to Information Minister Fawad Chaudhry's comments, in which the latter had said that Shahbaz's arrest was the "first step". He asked if NAB would now arrest people on the government's orders.
He also questioned the timing of the decision to place the names of Khawaja Saad Rafique on the Exit Control List, saying that he was one of the candidates of the upcoming elections.
While the former speaker clarified that he supported the accountability of politicians, he also asked: "Who will hold NAB accountable?"
"I will contact Shah Mehmood Qureshi and Pervez Khattak as well," Sadiq added, hoping that a parliamentary session will be called in two to three days.
Leader of the Opposition in Senate, Raja Zafarul Haq also expressed his concerns over the development and said that the "entire country was sad" at Shahbaz's arrest. He repeated Sadiq's demand for an NA session and insisted that "it was important that production orders for opposition leader Shahbaz Sharif are issued".
Meanwhile, JUI-F leader Maulana Abdul Ghafoor Haidery termed Shahbaz's arrest as "shameful" and claimed that the government was "making cowardly decisions against one party".
"Opposition will not remain silent," he warned and added that: "It seems the government has decided to go home already."
MPAs request speaker Elahi to convene PA session
Later in the day, several MPAs from Punjab wrote to Speaker Pervez Elahi to summon a session "under Article 54(3) read with Article 127 of the Constitution of Pakistan to discuss the unjustified arrest of the Leader of the Opposition".
PML-N's Samiullah Khan, one of the co-signatories to the application, demanded that the Punjab Assembly session be convened before October 16 — the day when Shahbaz's remand will end.
Resolution moved in PA against Shahbaz's arrest
PML-N leader Hina Pervez Butt tabled a resolution in the Punjab Assembly condemning Shahbaz's arrest.
"The arrest of Mian Nawaz Sharif before general elections and the arrest of Mian Shahbaz Sharif before by-elections has raised several questions," Butt states in the resolution. "Such dirty tactics are being used to run a failing government.
"This [latest] arrest proves that one party is being arrest but the other is being given relief. Revenge is being exacted in the name of accountability.
"Therefore, this parliament registers a comprehensive protest against Mian Shahbaz Sharif's arrest and demands his immediate release."
Full report at:
https://www.dawn.com/news/1437196/opposition-leaders-visit-na-speaker-to-seek-na-session-to-discuss-shahbazs-arrest
--------
Federal govt will facilitate provincial set-up in building a 'Naya Balochistan': PM Khan
Syed Ali Shah
October 06, 2018
Prime Minister Imran Khan on Saturday promised that the federal government will facilitate the Balochistan government through all means to raise the human development level of the province's residents and set out on the journey to build a "Naya Balochistan".
Addressing an event during his maiden official visit to Quetta since assuming office, Khan assured Balochistan Chief Minister Jam Kamal that the Centre will provide the capacity that Balochistan lacks to bring about development that the province has long awaited.
He said many development projects needed to be started in Balochistan, but nothing was more crucial than investing in the people of the province.
"We will be there for you, whenever you need [us]," the premier assured the Balochistan chief executive, who was also in attendance.
Khan urged the provincial authorities to bring a new local government system in Balochistan along the lines of what the PTI is introducing in Punjab and Khyber Pakhtunkhwa.
He said the PTI had won a two-thirds majority in KP in the 2018 elections because it had managed to improve the basic living conditions of people there. Development efforts can only bear fruit if power and funds are devolved down to the level of village councils in Balochistan, he added, citing the KP model.
Emphasising the need to root out corruption, the prime minister said it is due to high-level corruption that the money meant to be spent on the public is laundered out of the country and institutions are destroyed. He urged to Balochistan chief minister to strengthen his anti-corruption efforts.
He said Gwadar and its role in the China-Pakistan Economic Corridor (CPEC) is an "opportunity" that can bring immense benefits for the province if it is utilised. He noted that 800,000 acres of land can be used for agricultural purposes if Balochistan is given its water share through the Kachhi Canal.
Khan said incidents of terrorism had led to a major brain drain from Balochistan and vowed that the government will make efforts to send qualified professionals to the province. He also announced that the government will conduct a feasibility study on providing cancer treatment in Balochistan, so its residents do not have to travel to other cities.
PM receives security briefing
Earlier in the day, Prime Minister Khan was received by Chief Minister Kamal on his arrival in Quetta for a day-long visit, according to the Government of Pakistan's official Twitter account.
During his visit, the premier met members of the Balochistan government's cabinet and chaired a meeting on development projects in the province.
The PM and the Balochistan CM with key federal ministers later visited the Pakistan Army's Headquarters Southern Command at Quetta Cantt. Chief of Army Staff (COAS) Gen Qamar Javed Bajwa received the PM at the Quetta Air Base.
The premier was given a detailed briefing on Balochistan's security situation, challenges and responses. He was also briefed about the Khushal Balochistan socio-economic development program, the security of China Pakistan Economic Corridor projects and the progress of fencing along the Pak-Afghan border, according to a press release issued by Inter-Services Public Relations.
According to the ISPR, Gen Bajwa said that after the attainment of stability in the troubled areas of Khyber Pakhtunkhwa, the military's focus has shifted to Balochistan, "the economic future of Pakistan".
The prime minister was reported to have acknowledged and appreciated the contributions of security forces towards improving peace, stability and socio-economic development of Balochistan.
Full report at:
https://www.dawn.com/news/1437208/federal-govt-will-facilitate-provincial-set-up-in-building-a-naya-balochistan-pm-khan
--------
CJ inquires if another JIT can be formed in Model Town incident
Rana Bilal
October 06, 2018
The Supreme Court's (SC) Lahore registry on Saturday issued notices to the Punjab government, Punjab advocate general and the prosecution department to submit responses on whether it is legally permissible to form a new joint investigation team (JIT) when a previous one has already submitted its report in the Model Town case.
A two-member SC bench, headed by Chief Justice Mian Saqib Nisar, was hearing an appeal filed by a teenaged girl, Bisma, whose mother had been killed in the Model Town incident. Pakistan Awami Tehreek (PAT) Chief Tahirul Qadri was also in court for the hearing.
Qadri said that the report released by the earlier JIT — which had been formed by the previous Punjab government — could not be trusted as members of the former administration were suspects in the case.
He claimed that his party's witnesses could not appear before the JIT due to government pressure, and alleged that the JIT had recorded one-sided witness accounts and could not be called neutral.
The CJP asked him if it was legally possible to form a JIT when a previous one had already submitted a report. The PAT chief said that there was precedent of a JIT being formed more than once.
Full report at:
https://www.dawn.com/news/1437212/cj-inquires-if-another-jit-can-be-formed-in-model-town-incident
--------
Bangladesh refuses to accept Pakistan's new high commissioner
Oct 7 2018
Bangladesh has not yet accepted Pakistan's designated high commissioner to Dhaka despite repeated notifications issued by Pakistan, a local media outlet reported on Saturday.
Pakistan had nominated Saqlain Syedah for the post in February this year and notified Bangladesh but received no response.
Authorities in Bangladesh were subsequently given a number of reminders over the matter but to no avail, leading many to suspect the lack of response equals rejection of Syedah's nomination.
https://www.pakistantoday.com.pk/2018/10/07/bangladesh-refuses-to-accept-pakistans-new-high-commissioner/
--------
Bolton terms meeting with FM Qureshi 'constructive'
OCTOBER 7, 2018
US National Security Adviser John Bolton has said that he held 'constructive' talks with Foreign Minister Shah Mehmood Qureshi during his visit to Washington earlier this week.
"Qureshi and I discussed the security assistance that was suspended earlier this year," he told media. "Qureshi and I also discussed effective strategies against terrorist groups and Dr Shakil Afridi's release," he added.
FM Qureshi met Bolton and US Secretary of State Mike Pompeo in Washington on October 2 and discussed regional issues as well as matters of mutual interest.
"We hope to work with the new Pakistani government so that we might be able to turn a page and move forward in the fight against terrorism," Bolton said.
Full report at:
https://dailytimes.com.pk/307187/bolton-terms-meeting-with-fm-qureshi-constructive/
--------
South Asia
Madrasa a place of prayer and peace for Rohingya kids
October 07, 2018
Inside a stifling bamboo shanty, eight-year-old Saleema Khanam throws a bright yellow shawl over her head and steps out into the enormous Bangladesh refugee camp tightly clutching her treasured Koran.
She is the only girl in her local madrasa -- or Islamic seminary -- catering to Rohingya children driven from Buddhist-majority Myanmar by a wave of genocidal violence.
Since formal schooling -- which suggests a permanent presence -- is not allowed in the camps, for many children the madrasa are the only places to learn.
It is just a short distance from Saleema's family's shack to the school, one of thousands to spring up in the world's largest refugee camp since a massive influx of Rohingya Muslims last year.
She steps carefully through the crowded alleyways in Kutupalong with her blue-bound Koran held tight to her chest, removes her shoes and enters the dimly-lit classroom.
Inside, more than a dozen young boys with white prayer caps rock back and forth, reciting passages from the Islamic holy book.
She takes her position in the front, flanked by two brothers, and opens the book.
"I come here to learn the Koran. My mother wants me and my brothers to learn, to become a better person," the young student told AFP.
The Rohingya are a deeply conservative Muslim minority from western Myanmar, where decades of state-sanctioned oppression and violent persecution has forced them out in droves.
An army purge that began in August 2017 has forced more than 700,000 Rohingya over the border into Bangladesh -- most of them children.
- New generation -
Islamic schools and houses of worship were torched in the crackdown by Myanmar troops and Buddhist gangs that UN fact-finders said amounted to crimes against humanity and genocide against the Rohingya.
"By targeting our madrasas and mosques, they tried erase our culture and religion from Rakhine," said Rohingya activist Rafique bin Habib, referring to Myanmar's westernmost state where the minority dwelled.
"But many of our top madrasa teachers survived and fled to Bangladesh, where they have set up schools in the camps so that our new generation can be deeply rooted in our culture and religion."
Bangladesh, which hosts one million of the displaced Muslims in camps near the border, is determined the Rohingya will be returned to Myanmar.
Some of the madrasas are attached to prominent mosques and large enough for 400 students.
Others, like Saleema's, cannot fit many more than a dozen children.
Classes are taught not just in the Rohingya language but also in Bengali, Arabic, Urdu and English.
"These madrasa play an essential role in the survival of the Rohingya language," said bin Habib.
As the call to prayer sounds across the camps, the boys in Saleema's class file out to the local mosque to perform their ablutions before the Friday sermon.
Saleema, the lone girl, stays behind.
She finds a quiet spot at the back of the classroom, faces Mecca and, holding her palms to the sky, places her forehead to the ground in solemn prayer, alone.
https://www.thedailystar.net/rohingya-crisis/news/madrassas-place-prayer-and-peace-myanmar-rohingya-kids-bangladesh-1643734
--------
Taliban hint at meeting with US special envoy in Qatar
Tahir Khan
OCTOBER 7, 2018
Afghan Taliban have not ruled out a meeting between their political representatives with American Special Representative for Afghanistan Reconciliation Zalmay Khalilzad during his visit to Qatar, sources said on Saturday.
The State Department says Khalilzad is leading an interagency delegation to Afghanistan, Pakistan, United Arab Emirates, Qatar, and Saudi Arabia from October 4-14.
Sources told Daily Times that the US special envoy could visit Islamabad on Monday or Tuesday. It would be his second visit to Pakistan in five weeks. He had earlier accompanied US Secretary of State Mike Pompeo in his September 5 visit to Islamabad.
"Special Representative Khalilzad's mission is to coordinate and lead US efforts to bring the Taliban to the negotiating table. He will do so in close coordination with the Afghan government and other stakeholders, exploring how best to reach a negotiated settlement to the conflict," a State Department statement said.
The trip is his first visit following his appointment as special representative and reflects the Administration's intent to support, facilitate and participate in a peace process in Afghanistan.
Although there is no official word if the US envoy will meet the Taliban political representatives in Qatar, the Taliban sources say a meeting can be held.
"I do not want to offer any comment at this state," a Taliban source said when asked if Khalilzad would meet the Taliban political envoys in Doha.
Earlier, a Taliban political source had told Daily Times that they were ready for the second round of talks with the US.
The first meeting between the two sides in July this year was seen as a major shift in the US policy to sit face-to-face with the Taliban to explore ways for political solution to the Afghan conflict.
"The second meeting was expected in September but could not take place as Americans were waiting for Khalilzad to get in place in Afghanistan before the next round of talks," Taliban sources said.
The appointment of Khalilzad as special envoy for Afghan reconciliation is seen a major step by the US to press negotiations with the Taliban.
In Islamabad, the focus would be the US new approach to push for political process and to seek Pakistan's cooperation. Pakistan and other regional stakeholders had been insisting on political option as the military option over the past 17 years had further complicated the problem.
Kahlilzad's visit misses some key regional stakeholders, including Russia, China and even Iran, which have contacts with the Taliban political office. Cooperation of these countries cannot be ignored as they are key partners in the Kabul process and other peace initiatives.
The US opposition to the Moscow Format is also a naïve approach, which is not helpful for efforts to press for political solution. Russia had to postpone an international peace conference on Afghanistan that was scheduled to take place in Moscow on September 4 after Washington turned down the invitation. Kabul followed the US to stay away from the conference after the Taliban political announced that they would take part in the moot.
Full report at:
https://dailytimes.com.pk/307179/taliban-hint-at-meeting-with-us-special-envoy-in-qatar/
--------
Taliban commanders among 23 killed, wounded in Farah operations
Oct 07 2018
At least twenty three Taliban militants were killed or wounded during the operations of the Afghan armed forces in western Farha province of Afghanistan.
The 207th Zafar Corps of the Afghan Military in a statement said the Afghan armed forces conducted operations against the militants in Bala Bolok and Khak Safid districts with the support of the artillery units and the air forces.
The statement further added that the operations were conducted in Todanaks and Paso villages of Bala Bolok and Hajiabad and Dewar Surkh areas of Khak Safid districts.
At least 15 militants were killed during the operations and at least 8 others sustained injuries, the 207th Zafar Corps said, adding that five motorcycles, two vehicles including a Ford Ranger, an armored personnel carrier previously captured by the militants were destroyed during the same operations.
Full report at:
https://www.khaama.com/taliban-commanders-among-23-killed-wounded-in-farah-operations-06101/
--------
Modernising Qawmi education more important than upgrading certificates: Experts
OCTOBER 07, 2018
Dhaka, Oct 7 (UNB) – As the government has recognised top Qawmi degree 'Dawrae Hadith' as master's one, noted educationists think it will be a useless exercise unless the curricula of such informal madrasa are vigorously reformed and modernised with its integration into the mainstream education.
They also questioned the justification of giving the top Qawmi degree master's status without recognising its certificates equivalent to JDC, SSC, HSC and Degree levels.
Talking to UNB, National Professor Anisuzzaman, Professor Emeritus Serajul Islam Choudhury, Prof Abul Barakat and Prof Mesbah Kamal said the government's such move will not yield any positive outcome for the country and students of Qawmi madrasas since their education quality in no way matches the general education when it comes to curricula.
They said an education commission comprising Islamic scholars and academics needs to be formed urgently to modernise the Qawmi education with a holistic approach combining science, English and Arabic education so that Qawmi educational institutions can produce skilled human resources.
On September 19, a bill to recognise Dawrae Hadith (Kamil) certificate in Qawmi madrasas with the status of postgraduate degree of Islamic Studies and Arabic, was passed in parliament.
The bill will have retrospective effect and those who have so far acquired Dawrae Hadith degrees after the recognition in April, 2017 will be considered as master's degree holders.
There will be a board named Al-Haiyatul Ulia Lil-Jamiatil Qawmia Bangladesh integrating the existing six Qawmi madrasa education boards in the country which will prepare syllabuses, question papers, conduct examinations and award certificates among the students of Qawmi madrasas.
Contacted, Prof Anisuzzaman said, "I think the standard of education of Qawmi madrasas and mainstream educational institutions is not equal to give Dawrae Hadith the status of master's degree. If the government has different information and statistics, that's a different matter."
He said the standard of Qawmi madrasa education needs to be upgraded with modern education to give such recognition.
Prof Serajul Islam said Qawmi and general education are two different streams of education system as their syllabuses and style of education are also different. "So, the recognition of Dawrae Hadith certificate as master's degree status will only create confusion instead of bringing anything good for the county and people."
He also said the Qawmi madrasa students will not be benefited by receiving such certificates due to the poor standard of their education. "If you give medical students the certificate of engineering how will they be benefited from it?"
Prof Serajul Islam also said Qawmi madrasa curricula are outdated ones as those have no focus on mother language, history, culture and science.
Prof Abul Barkat of Dhaka University's Economics department said it is not clear to him how the government recognises Qawmi's top class certificate without recognising its other levels equivalent to JSC, SSC, HSC and Degree ones. "I also can't understand what benefits the students will get with their only master's certificates since their education doesn't match the general one."
He said the Qawmi madrasa education should be integrated with the mainstream education through massive overhauling of their syllabuses and teaching method. "The government should now immediately constitute a commission comprising experts from both Qawmi and general education to streamline Qawmi madrasa education through reforming and modernising its syllabuses."
Barkat who conducted a research on madrasa education and wrote a book titled 'Political Economy of Madrasa Education in Bangladesh', said Qawmi madrasa degrees are not comparable to mainstream ones as their curricula give emphasis on religious aspects instead of science-based modern one.
"Around 75 percent of madrasa students now remain unemployed in different forms as they have no opportunity to engage in jobs based on their education and skills," he said.
Prof Mesbah Kamal of Dhaka University's History department said, "I think it's not a justified decision to recognise the Dawrae Hadith certificate as equivalent to master's degree."
Qawmi Madrasa education needs to bring under a systematic structure through vigorously reforming its curricula by including general subjects like history, culture, science and English and mathematics. "The reform should begin from the entry level to the top class of the Qawmi madrasas," he said.
"Without modernising Qawmi madrasa education and improving its standard what's the point of giving such certificates? Neither the students nor the county will be benefited from it," the DU professor observed.
Full report at:
http://unb.com.bd/category/Special/modernising-qawmi-education-more-important-than-upgrading-certificates-experts/3693
--------
N-E States Urged To Be Alert Against Jihadis Because Of Crack Down In Bangladesh
Oct 6, 2018
GUWAHATI: A prominent journalist from Bangladesh Saleem Samad has called upon the north-eastern States of India to remain alert against jihadi elements in view of the ongoing crackdown on Islamic militancy in Bangladesh.
Speaking to a group of scribes at Guwahati Press Club from Dhaka through video conferencing, Samad revealed that thousands of Bangladeshi youths had joined various militia groups in Syria, Iraq, Chechnya, Indonesia, Philippines, Afghanistan, Pakistan etc., to fight alongside the jihadis there.
Citing how a network of Jamaat-ul-Mujahideen, Bangladesh was busted in West Bengal few years back, Samad commented that it would be prudent on part of N-E states to remain vigilant against jihadi elements.
He also commented that rise of Islamist extremism in Bangladesh poses serious threats not only to the religious minority communities there, but also to the secularists, intellectuals and other sects within the Muslim community.
An Ashoka Fellow and Hellman-Hammett Award recipient, the journalist also added that an upsurge of fundamentalist forces in the Muslim-dominated country may affect some to its neighbouring Indian States in due course of time.
Samad narrated how atheist and secularist bloggers and activists are increasingly becoming the target of the Islamic extremists in Bangladesh, which has otherwise slowly (but steadily) marched on the path of becoming a country of one nationality (Bangladeshi), one language (Bangla) and one religion (Sunni Muslims).
The outspoken journalist made an observation that due to overwhelming majority of Sunni Muslims in the country, among whom considerable rise of extremism is observed, other minority sects within the Muslim community like the Ahmadiyya also face threats of survival.
Answering queries from Guwahati scribes, the senior journalist reiterated that currently there was no northeastern separatist leader in Bangladesh as the Sheikh Hasina government in Dhaka continues rigorous crackdowns against the outfits. Samad made it clear that Prime Minister Hasina would leave no stone unturned to wipe out militancy in the country.
A front runner for media rights, Samad painted a dismal picture of press freedom in Bangladesh, as journalists are frequently targeted by both State and non-State actors. He regretted that though 26 Bangladeshi journalists lost their lives to assailants since 1991, majority cases remained pending till date.
In another significant remark, Samad, who works as Special Correspondent at The Bangladesh Monitor and contributes news-features to India Today, has divulged that none of the Indian leaders visiting Dhaka and Bangladesh delegation meets in New Delhi had taken up the issue of illegal Bangladeshi infiltrators in Assam (India) with their counterparts.
Speaking about the process of National Register of Citizens (NRC) updating process in Assam, Samad asserted that Bangladesh government believes that it is an internal affair of India only and hence it has not made any official statement over the development. He agreed that there is hardly any media attention in Bangladesh Press over the NRC updating process and its outcome.
Strongly advocating people-to-people contact between Assam (India) and Bangladesh, Samad lamented how Assam had missed the bus despite being so closely located, while other States like West Bengal and Tripura were taking several steps to improve connectivity with Bangladesh via railway and roadways.
Full report at:
http://www.theshillongtimes.com/2018/10/06/n-e-states-urged-to-be-alert-against-jihadis-because-of-crack-down-in-bangladesh/
--------
4 ISIS-K militants killed, training compounds destroyed in drone strikes
Oct 06 2018
At least four militants affiliated with the Islamic State of Iraq and Syria Khurasan (ISIS-K) were killed and two of the training of the terror group were destroyed in U.S. drone strikes in Nangarhar province.
The provincial government media office in a statement said the drone strikes were conducted in Khogyani district of Nangarhar, targeting the training compounds of the group in Machine Dara area of the district.
The statement further added that the drone strikes did not inflict casualties to the local residents.
The anti-government armed militant and terrorist groups including ISIS-K loyalists have not commented regarding the report so far.
Nangarhar is among the relatively calm provinces in East of Afghanistan but the Taliban militants and ISIS loyalists have been attempting to expand their foothold and activities in this province.
Full report at:
https://www.khaama.com/4-isis-k-militants-killed-training-compounds-destroyed-in-drone-strikes-06099/
--------
Taliban, ISIS militants, children suffer casualties in Kunar infighting
Oct 06 2018
Several Taliban and ISIS militants along with two children were killed or wounded during a clash between the Taliban and ISIS loyalists in eastern Kunar province of Afghanistan.
The 201st Silab Corps of the Afghan Military in the East said the clash broke out between the two sides in Watapur district on Friday.
According to a statement released by 201st Silab Corps, at least four Taliban militants were killed during the clash and three others sustained injuries. The statement further added that four militants affiliated with the Islamic State of Iraq and Syria were also killed during the fighting.
In the meantime, the 201st Silab Corps said two children were also killed or wounded during a clash, including a two-year-old girl who lost her life while a one-year-old girl sustained injuries.
Full report at:
https://www.khaama.com/taliban-isis-militants-children-suffer-casualties-in-kunar-infighting-06095/
--------
Bomb explosions kill 2 Afghan security forces, injure 9, including civilians, in Kabul
Oct 6, 2018
At least two Afghan security forces have been killed in two back-to-back bomb explosions in an eastern neighborhood of the capital Kabul, local police say.
A spokesman for the Kabul police chief, Basir Mujahid, said nine people, including six police officers and three civilians, were also injured in the attacks on Saturday.
He added that the incident occurred when a roadside bomb hit a military vehicle as police arrived to respond to a militant attack, then a second blast took place in the same area causing casualties.
Mujahid noted that the police chief was among the injured.
An Afghan army commander, Captain Aimal Sakhi, said at least 10 people were wounded in the blasts.
"After the first explosion occurred, officials from the 12th police district came to the area, and after locals and police had gathered there, the second blast took place. In this incident, two people have been killed and ten others have been wounded," the army commander added.
A Taliban spokesman, Zabihullah Mujahid, claimed responsibility for the attack.
Last month, scores of Afghan security forces and Taliban militants were killed in separate clashes in northern Afghanistan.
Fighting reportedly raged in four provinces, leaving as many as 60 Afghan forces and dozens of militants dead.
Back in June, Taliban militants in Afghanistan killed at least 16 police officers and two civilians in the western province of Badghis.
Full report at:
https://www.presstv.com/Detail/2018/10/06/576240/Kabul-Basir-Mujahid-bomb-attacks-Aimal-Sakhi-security
--------
Africa
Egypt imposes 'tough' visa regulations for Moroccans, Algerians, Tunisians
6 October 2018
A large number of Tunisians have been angered by Egypt's recent decision to intensify visa procedures for citizens of North African countries.
The decision comes after the release of an official document on social media websites on Friday, in which the Tunisian Ministry of Foreign Affairs stated that Egypt's Ministry of Tourism will enforce new measures on the citizens of Morocco, Algeria and Tunisia who want to obtain a tourist visa.
The regulations include providing a bank statement proving that citizens have no less than $2,000 in their account, as well as a certificate verifying their occupation.
Citizens of those three countries must also provide confirmations on airline tickets and hotel rooms, as well as a representative from a travel agency who must confirm the tourists' departure immediately after the end of their visit.
Egypt's "tough" regulations have caused some Tunisians to call on authorities to impose similar procedures on Egyptian citizens, while others have called for a complete boycott of Egypt's tourist destinations.
In a Facebook post, Tunisian Journalist Amira Mohammed wrote: "Is this how Egypt is trying to encourage tourism? Do you think the people of the Maghreb are thinking of immigrating to Egypt or staying there illegally? Tunisia must reciprocate."
Activist Mohammed Ali Ammari added that this decision "is not right and will hurt the tourism sector in Egypt", especially since Egypt is "the cheapest [destination] for middle-class Tunisians and citizens of the Maghreb who travel to the country in large numbers."
He said that "the time has come for citizens of the Maghreb to look for other travel destinations that do not impose impossible conditions on us."
https://english.alarabiya.net/en/News/north-africa/2018/10/06/Egypt-imposes-tough-visa-regulations-for-Maghreb-citizens.html
--------
'Separate blasts kill 7 security forces in Burkina Faso'
Oct 7, 2018
Seven policemen have been killed in two separate explosions in the West African country of Burkina Faso, sources say.
AFP reported unnamed sources as telling the news agency that the two separate explosions had occurred late on Friday and late on Saturday.
Six police officers were killed in the Friday attack when the leading vehicle in a security convoy hit an improvised explosive device (IED) in the northern town of Solle, near the border with militant-infested Mali, the news agency said on Sunday.
The convoy then reportedly came under gunfire, which injured an unspecified number of other officers.
The Saturday blast, also caused by an IED, killed one security officer and injured another in the country's eastern town of Pama.
No group immediately claimed responsibility for the attacks, but assaults have previously been carried out in Burkina Faso by al-Qaeda-affiliated terrorist groups in retaliation for the country's participation in a regional fight against militants.
France, a former colonizer of the region, has had a military presence in the region — including in Burkina Faso since 2010 — on a declared mission to help regional governments in the Sahel tackle extremism, particularly in Mali.
French warplanes killed around 10 militants in northern Burkina Faso following a deadly raid on a gendarmerie, the Burkinabe military command announced on Friday.
Full report at:
https://www.presstv.com/Detail/2018/10/07/576288/Burkina-Faso-explosion-IED-security-forces
--------
Yemen's national army liberates major areas north of Saada
6 October 2018
In a string of military operations in north of Saada, the Yemeni national army liberated major areas overlooking Baqim directorate in the governorate.
A senior military source said that the fighting resulted in the killing and wounding of a number of Houthi elements, in addition to the arrest of two members of the coup militia, pointing out that the army recovered ammunition and weapons, including sniper machine guns and radio communications equipment.
Meanwhile, the Houthi militias closed down the University of Sanaa on Saturday, deploying tanks and armored vehicles around the building before kidnapping around 55 students and taking them to an unknown location. Read more
https://english.alarabiya.net/en/News/gulf/2018/10/06/Yemen-s-national-army-liberates-major-areas-north-of-Saada.html
--------
100s of Nigerian shias wage protest rally in Abuja to demand Zakzaky's release
Oct 6, 2018
Shia Muslims in Nigerian capital of Abuja have once again staged a protest rally to call for the release of their leader Ibrahim Zakzaky, who is still in prison despite a 2016 high court ruling.
The protest was held in front of the Federal Ministry of Justice. Spokesman for Zakzaky's Islamic Movement in Nigeria (IMN), Abdullahi Muhammad, explained on Friday that the protest move came since "our leader would not be released to us."
"We his followers are tired, and we want the Minister of Justice Abubakar Malami to do the needful by releasing our leader," Muhammad said, further insisting that Prosecution Counsel Dari Bayero had complained of lack of adequate security in Zakzaky's home town of Kaduna, prompting presiding Judge Gideon Kurada to adjourn the court without issuing a release order for the elderly cleric.
"This is inhuman; the government keeps telling us they are protecting Zakzaky and keep coming up with excuses," Muhammad further emphasized, adding: "Today at a Kaduna High Court, the ruling on the bail application of our leader was again adjourned to November 7."
Scores of Zakzaky's followers were arrested during a brutal raid by the security forces on the Shia cleric's IMN headquarters in December 2015.
During the raid, Nigerian forces killed nearly 300 Zakzaky supporters, including three of his sons, and later buried them in mass graves.
Zakzaky and his wife, who were shot and injured during the raid, were taken into custody and accused of plotting to attack the military convoy of army Chief Tukur Buratai in an earlier incident.
Members of his Islamic group insisted, however, that they were merely holding a rally when Buratai's convoy happened to pass by at the time. Facing the crowds of protesters, agitated Nigerian security forces shot them and Buratai's car sped away, thinking an assassination attempt was underway.
A Federal High Court had ordered Zakzaky's unconditional release in 2016, but the Nigerian government has so far refused to abide by the ruling.
This is while a spokesman for the Islamic movement stated back in March that the government in Abuja was planning to indefinitely hold the cleric and his wife in custody.
Following the government's refusal to release the prominent cleric in Africa's most populous country, his followers began staging near daily protest rallies in Abuja and parts of the North.
In late August, meanwhile, UK-based rights group Amnesty International (AI) accused Nigeria's government of carrying out unlawful arrests and practicing "enforced disappearance," calling on Abuja to clarify the fate of hundreds of jailed Shia activists.
The organization further stated that the fate of at least 600 members of the Islamic Movement in Nigeria remained unknown since their arrest in 2015.
"The Nigerian government has used enforced disappearance as a longstanding tactic to silence critics and instill fear in civilian populations," Amnesty International Nigeria Director Osai Ojigho said at the time. "Enforced disappearance is an instrument of intimidation that grossly violates human rights. It is unacceptable and must stop."
Full report at:
https://www.presstv.com/Detail/2018/10/06/576218/Nigeria-Abuja-Ibrahim-ElZakzaky-Shia-leader-unconditional-release-court-ruling-Islamic-Movement-in-Nigeria
--------
S Africa Muslim Body Welcomes Arrest of Mosque Attack Suspects
October 06, 2018
The attack on the Imam Hussain (AS) Mosque left one person dead and three others critically wounded during the month of Ramadan.
The MJC says the Muslim community has been on edge since the incident as it seemed authorities were not making headway in their investigation.
Police Minister Bheki Cele announced the trio's arrests Friday.
The MJC's Shayk is-Gaak Taliep has urged the Muslim community to respect the rule of law and allow justice to take its course.
Full report at:
http://iqna.ir/en/news/3466910/s-africa-muslim-body-welcomes-arrest-of-mosque-attack-suspects
--------
Islamic State a threat seven years after we went to Somalia
OCTOBER 7 2018
October 2018 marks seven years since the Kenya Defence Forces (KDF) crossed the border into Southern Somalia on October 16, 2011 in pursuit of the al-Qaeda affiliated Al-Shabaab group, which had kidnapped foreign tourists and aid workers inside Kenya.
KDF will most likely be back home by 2020 when the African Mission in Somalia (Amisom) is expected to transfer responsibilities to the Somali military.
However, even before the guns against the Al-Shabaab fall silent, a new asymmetrical threat is looming large.
The Islamic State (IS), a Salafi jihadist militant group that rose to global prominence in early 2014, has been making serious inroads into East Africa, potentially eclipsing Al-Shabaab as the face of radical Islamism.
As a recent report by the European Institute of Peace (EIP), The Islamic State in East Africa (September 2018), shows IS has extended its footprints across the region, including in Somalia, Ethiopia, Kenya, Tanzania, Uganda, Sudan, DRC, and Mozambique.
THREAT
Despite this, at this point, there is no consensus on the extent of the threat that IS poses to the region.
By June 2018, the Kenyan National Intelligence Service (NIS) reportedly characterised the Islamic State as "a potential rather than an immediate threat to the security of the country".
In June 2016, around 100 men and women may have gone to join the Islamic State in Libya and Syria.
By 2018 these fighters are returning home, and swelling the ranks of IS cells.
By July 2018, the Islamic State claimed responsibility for 65 attacks in East Africa, at least two of them in Kenya.
On February 18, 2017, Kenya arrested two suspected members of IS, Nasra Hyder Faiz and Salim Mohamed Rashid, who had returned from Syria.
Another high profile arrest is that of Ali Hassan Ali in Malindi in March 2017. Ali, a suspected IS militant on the country's "most wanted list", had helped send recruits to Libya and Somalia.
RECRUITS
These events serve as a wake up call that IS maintains a small but steady and dangerous foothold in the region.
As IS attracted large flows of foreign fighters in 2014 and 2015, Kenyan recruits managed to join the caravan by flying to Istanbul, then crossing the Turkish border into Syria.
Among those who used this route is Mohammed Atom, an associate of Abdirahim Abdullahi, one of the masterminds of the Al-Shabaab attack on Garissa University in April 2015.
Islamic State's recruiters have targeted university students in the high-end technical areas including computer science, engineering, information technology and medicine.
They use social media sites to target potential recruits and prioritise them according to their skill sets, knowledge of and devotion to IS's globalist view of 'jihad'.
LOANS
In 2016, one such group was tracked down to Moi University, Eldoret, where students were travelling to Libya.
Here, IS recruiters have prioritised bright but financially needy students who are offered low-interest loans with flexible payment regimes.
"A condition of the loan is conversion to Islam", says the EIP report. IS "loan officers" then follow this with gradual radicalisation into its ideology.
Details of another IS network emerged in May 2016 when the police in Kenya arrested Mohamed Abdi Ali (also known as Abu Fida'a) and foiled an IS attack.
In Uganda, police also arrested his wife, Nuseiba Mohammed Haji, and another woman on suspicion of planning a mass attack.
When Abu Fida'a was arrested, he was conducting research on the use of anthrax as a biological weapon.
POVERTY
Two of his associates, Farah Dagane Hassan and Hiishi Ahmed Ali, both medical interns, fled to Libya when they learnt of his arrest. The two died in a US air strike in March 2017.
Abu, Farah and Hiishi studied medicine at the Kampala International University before returning to Kenya.
Back home, Abu was appointed an intern at the Wote Hospital while the other two went to Kitale, western Kenya.
Poverty is not the sole driver of violent extremism. Abu Fida'a's network comprised mainly of medical practitioners.
In the network was the Malindi-based doctor Abudulla Adelqani Allin, who was arrested in October 2016.
Also in the cell were two medical interns at Malindi Hospital, Shukri Mohammed Yerrow (a graduate from Saratov Medical University in Russia in 2015) and Abdulrazak Abdinuur.
The two were planning to join ISIS in Puntland when they were arrested.
ATTACKS
The Islamic State's Kenyan cell also had linkages with Samatar Ullah, a UK-based IS supporter arrested in 2017.
Kenya experienced two low-level attacks in 2016.
On September 11, 2016, a three-some female cell comprising Tasnib Yaqub Abdullahi Farah, Fatima Omar Yusuf and Mariam, attempted to burn down Mombasa Central Police Station.
The three, who gained entry into the station under the pretext of reporting the theft of one of their cell phones, lit a petrol bomb and tossed it on the police officers and attempted to stab an officer before they were shot and killed.
ALLEGIANCE
Secondly, on October 27, 2016, Abdimahat Ibrahim Hassan stabbed and tried to snatch a gun from a Kenyan police officer manning the outer perimeter of the American embassy in Gigiri, Nairobi. He was shot and killed.
The attackers pledged their allegiance to IS leader, Abu Bakr al-Baghdadi. In both cases, the IS claimed responsibility.
Full report at:
https://www.nation.co.ke/oped/opinion/Islamic-State-a-threat-/440808-4794402-yhmp76z/
--------
Nigeria army averts Boko Haram attack on camp, arrests terrorist
Oct 7 2018
The Nigerian Army on Saturday reported fending off a Boko Haram attack on an Internally Displaced Peoples, IDP, camp in northeastern Borno State.
The Army reported neutralizing three attackers and arresting one who had sustained gunshot wounds in the ensuing combat.
The attack of Saturday dawn was targeting the Ngala IDP camp in Borno, the epicenter of attacks by the terrorist group that has killed hundreds of thousands and displaced millions.
The army continues to prosecute the Operation Lafiya Doole – Security by all means – aimed at rooting out remnants of Boko Haram.
The group has also staged attacks that have led to deaths on the part of soldiers and civilian population. Ending the Boko Haram crisis was a key plank of President Buhari's campaign in 2015.
Full report at:
http://www.africanews.com/2018/10/06/nigeria-army-averts-boko-haram-attack-on-camp-arrests-terrorist/
--------
North America
US has failed to achieve its goals in Afghanistan: survey
Anwar Iqbal
October 07, 2018
WASHINGTON: More Americans are now saying that despite 17 years of war, the United States has failed to achieve its goals in Afghanistan, says a survey released on Saturday.
The Pew Research Centre, Washington, which conducted the survey from Sept 18-24, found that about half of American adults (49 per cent) believe the United States has mostly failed to achieve its goals in Afghanistan. About a third (35pc) say Washington has mostly while another 16pc say they do not know if the US has succeeded or failed.
Between 2009 and 2011, when asked whether the US will succeed or fail to achieve its goals, majority said the US would be successful. But in 2014 and 2015, opinions about the mission were similarly more negative than positive.
In this month's survey, Republicans appear more optimistic than Democrats that the US mission in Afghanistan has succeeded in achieving its goals, according to the new survey. About half of Republicans and Republican-lean­ing independents (48pc) say the US has succeeded, compared with about three-in-ten Democrats and Demo­cratic-leaning independents (28pc).
As Afghanistan becomes America's longest-ever military engagement, the American public has become more divided on whether the 2001 invasion was the right or the wrong decision. Today, 45pc say the US made the right decision in using military force and 39pc say it was the wrong decision.
The share of Americans saying the initial decision was right declined over time. In 2006, 69pc said it was the right decision and 20pc said it was the wrong decision. In early 2002, a few months after the start of the war, 83pc of Americans said they approved of the US-led military campaign against the Taliban and Al Qaeda in Afghanistan.
Republicans have consistently expressed more support than Democrats for the decision to use force in Afghanistan, though support has fallen in both parties over the past decade.
About two-thirds of Republicans and Republican sympathisers (66pc) now say it was the right decision to use force in Afghanistan.
Only about a third of Democrats and Democratic sympathisers (31pc) say the same. About half of Democrats (53pc) say it was a wrong decision, compared with 21pc of Republicans.
https://www.dawn.com/news/1437319/us-has-failed-to-achieve-its-goals-in-afghanistan-survey
--------
US military is against starting war with Iran: US foreign policy expert
Oct 6, 2018
American foreign policy expert James Jatras believes the US military is against starting war with Iran because it does not want to get engaged in another open-ended wasteful military adventure in the Middle East region.
Jatras, a former Senate foreign policy adviser in Washington, made the remarks in an interview with Press TV on Friday while commenting on a statement by the general overseeing the US military's involvement in the Middle East.
General Joseph Votel, who heads the US Central Command, said on Thursday that the United States is not "on the road to war with Iran," despite the fact that some Trump administration officials have stepped up rhetoric against Tehran.
"I don't think we're seeking to go to war with Iran, and I don't think that's what we're focused on," he said.
Jatras said that it is "somewhat reassuring that a top American general would say that we are not on the road to war with Iran. I don't know how much comfort we can take from that."
"It's very clear that the top non-military officials are dedicated to a regime change policy in Iran. They hope to do that by fomenting internal discontent, by crushing Iran's financial and economic system, by cutting off its foreign trade and by supporting the terrorist groups like the MEK (Mojahedin-e Khalq or MKO), which they hope to install as the new government," he stated.
"If that failed, will they consider a military option? They very likely might want to on the pattern of Iraq 2003. On the other hand, I think that would result in some resistance from the professional military who do not want to see another horrible, open-ended wasteful military adventure, especially one that would be as massive as Iran would be," the analyst concluded.
A warning by retired US General Wesley Clark that Iran has been a target of US intentions issued more than a decade ago appeared last month to be moving closer to realization.
Trump, in the anti-Iran remarks made at the UN General Assembly's General Debate and amplified as he chaired a meeting of the Security Council, seemed to confirm the claim made by the former chair of the Joint Chief' of Staff under President Bill Clinton that Iran was on a list of seven countries that Washington planned to invade and destroy.
Full report at:
https://www.presstv.com/Detail/2018/10/06/576256/US-military-is-against-starting-war-with-Iran-US-foreign-policy-expert
--------
Southeast Asia
Malaysian Police Arrest 8 Suspected Salafi Terror Cell Members
2018-10-06
Seven foreigners were among eight men arrested by Malaysian officers on suspicion of involvement in Southeast Asian recruitment efforts by a terror cell linked to a Yemen-based Salafi extremist group, Malaysia's police chief announced Saturday.
The arrests were carried out during coordinated raids in Perlis, Kuala Lumpur and Johor on Sept. 24, Police Inspector-General Mohamad Fuzi Harun said in a statement. Six of the foreigners were students at an Islamic school located in the northern state of Perlis, Fuzi said.
The arrests by counter-terrorist police were made "following an intelligence report obtained by the police regarding efforts by a Salafi Jihadist terror group in Yemen to establish a school in the Southeast Asian region to propagate Salafi Jihadism ideology," Fuzi said.
Five of the suspects came from the same European country while a sixth suspect was a citizen of a country in the Americas. He did not elaborate, but said the eight suspects ranged from 24 to 38 years old and that most of them, based on information shared by foreign intelligence, were linked in their home countries to the so-called Islamic State (IS) organization or other extremist groups.
A former student of the school and a former member of its faculty were among those arrested, Fuzi said. He did not disclose the school's name.
The former teacher, 33, who comes from the Middle East, was arrested in Kuala Lumpur and known to be giving unsanctioned classes in the Malaysian capital on Salafi Jihadism, the police chief said.
All eight suspects were connected to a madrassa, or Islamic boarding school, in Yemen that was founded by an icon of Salafi Jihadist movement, the late Muqbil bin Hadi al-Wadi'i, according to Fuzi.
"The Yemeni madrassa adheres to strict Salafi Jihadist ideology that allows for the murder of non-Muslims and Muslims who differ from them in their beliefs," Fuzi said.
"They also label democracy as a system hostile to God."
The eight men were arrested on suspicion of committing terrorist-related offenses and were being investigated under the Security Offenses (Special Measures) Act (SOSMA), Fuzi said. None of the suspects have been charged yet.
Ayob Khan Mydin Pitchay, the chief of the Malaysian police's counter-terrorist special branch, told BenarNews that the school in Perlis where most of the suspects were arrested had been operating since 2011. He declined to reveal the campus's name.
Perlis is reputed for permitting the Salafist or Wahhabist strain of Islam that has been exported to Southeast Asian Muslim countries by predominantly Sunni Saudi Arabia. Salafism is a revivalist movement that advocates for the return to the Islam as practiced during the time of Prophet Muhammad.
Reacting to the Fuzi's announcement about the arrests, Asri Zainal Abidin, the mufti of Perlis, said the state was not "a center for radical teachings," according to Bernama, the Malaysian government-run news service.
He said students who intended to pursue their studies at religious learning centers in Perlis, as well as teachers who wanted to work there, must first be screened by police as a security measure.
"I always ask the state police chief about the students at these learning centers, especially the foreigners," Bernama quoted him as saying. "Only with police confirmation will we allow them (to pursue studies at the religious learning centers)."
Earlier last month, Malaysian police said they had arrested five other suspects who were allegedly involved in a terrorist plot targeting a country in the Middle East. When he announced those arrests at the time, Fuzi did not identify the country in question but said the five were believed to be members of an extremist group known as Asoib.
A government source told BenarNews then that the suspects had planned to travel to Yemen to carry out the attack in neighboring Saudi Arabia.
"Yemen has been a hotbed of al-Qaeda, like in other countries in the Middle East. Some groups which advocate Salafi Jihadism set up school there," Ahmad El Muhammady, an expert on counterterrorism at the International Islamic University Malaysia, told BenarNews.
According to him, such groups are taking advantage of an interest in Islamic studies among Malaysians by importing Yemeni-based teachings into the country.
https://www.benarnews.org/english/news/malaysian/terror-arrests-10062018123836.html
--------
PM: Islam is not about chopping heads and hands
6 Oct 2018
KUALA LUMPUR: Prime Minister Tun Dr Mahathir Mohamad says Islam is not about chopping hands and heads.
"Islam is not a cruel religion, and it is not about chopping heads, chopping hands.
"There are various ways of punishment which are much milder, but these people want to harass, want to cut people's hands, people's heads.
"That is not Islamic" said Dr Mahathir.
He also said the religion took care of humans lives and did not ask its followers to intrude into homes and look for people's sins.
The Prime Minister was commenting on an article in The Star today in which the government said it practised a compassionate form of Islam and was against khalwat raids on private premises.
https://www.thestar.com.my/news/nation/2018/10/06/pm-islam-is-not-about-chopping-heads-and-hands/
--------
Of human rights and Malaysia
By Zurairi AR
07 October 2018
OCT 7 — One of the things, and there are many, that sets Dr Mahathir Mohamad apart from his disgraced predecessor Najib Razak is the way he conducts himself on the global stage.
Where Najib was dead set on winning foreign hearts and minds to the frustration of his citizens, Dr Mahathir acts the opposite: he could care less about what others think, garnering the affection of the nation.
To the adoring masses, Dr Mahathir's address at the 73rd United Nations General Assembly was a sign of bravado, the colours of a strongman that they have sorely missed.
The prime minister hit out at trade-warring United States, Palestine-bombing Israel, palm oil-hating Europeans, money-making arms dealers, and Rohingya-oppressing Myanmar in one fell swoop; checking the little boxes of what Malaysians, particularly the Malay-Muslim majority, would like to hear.
It was Putrajaya's intention to signal Malaysia's return with a new steward, a new ambition, and Dr Mahathir did it with a bang.
Drowned out by this swelling Malaysian pride, however, lies a problematic core in Dr Mahathir's address that few took note of, and even fewer would address.
It shows Dr Mahathir's age, a stark reminder that he is a nonagenarian and not getting any younger. It may not totally be his fault, for he is a product of his times — of World War II, of post-colonialist nationalism, benevolent authoritarianism, and Eastern moralising — but it is a shortcoming, nonetheless.
The prime minister kicked things off by reiterating Putrajaya's pledge to ratify all the remaining UN human rights conventions, a pledge preceded by his foreign minister, Saifuddin Abdullah, a few months ago.
While there has been little publicly to suggest that progress has been made on the ratification — and I may yet be wrong here — Dr Mahathir has pre-empted the difficulty of such a move by saying that Malaysia is multi-ethnic, multi-religious, multi-cultural and multi-lingual.
It is frustrating to hear that we are not making the required strides when it comes to human rights because of our plurality, when it is the plurality that should be the catalyst of our progress.
When Dr Mahathir said that the last 15 years has not changed much, it may well be that he is the one who has not changed much, as evident by his disdain for social progress.
"Socially, new values undermine the stability of nations and their people. Freedom has led to the negation of the concept of marriage and families, of moral codes, of respect etc," he said, a subtle dig at the advancements of civil liberties, minority rights, and progressive values across the world.
This disdain was only galvanised in the various media appearances he has made since the address.
In a Wall Street Journal interview, he has scoffed at abolishing the colonial relic of the anti-sodomy law, saying that "a Muslim nation" like Malaysia does not tolerate sodomy.
Later on in "The Future of Democracy in Asia" event held at Chatham House, he persisted that there must be "limits to freedom" — holding on to old dichotomy of "Western human rights" versus "Eastern family values."
Freedom does not negate marriage, families and certainly not moral codes. It is just that in 2018, humans have a more sophisticated view of what it means to have ties and relationships. Morality, too, has evolved. And respect comes with reciprocity, not seniority.
But perhaps Dr Mahathir's biggest fallacy comes from his over-simplistic, condensed, almost monochromatic view towards religious terrorism and jihadism — that if not because of his intellect, may have come across as too naïve.
He seemed to distill the many sectarian conflicts and jihadism to one sole cause: the 1948 formation of the modern Israel state, and the subsequent massacre and eviction of Palestinians.
"Malaysia hates terrorism. We will fight them. But we believe that the only way to fight terrorism is to remove the cause. Let the Palestinians return to reclaim their land.
"Let there be a state of Palestine. Let there be justice and the rule of law. Warring against them will not stop terrorism. Nor will out-terrorising them succeed," said Dr Mahathir.
While we cannot deny him his points on the conflict, one has to wonder whether this was Dr Mahathir's unapologetic anti-Semitism talking.
He had told BBC HARDtalk show that his "hook-nosed" comment was merely an "old truth."
Back home on Friday, Dr Mahathir defended his anti-Semite stance, accusing the Jews of being "so privileged" and beyond reproach for their acts of violence — again, showing that to him, the Jews, Israelis, and Zionists may as well all be one and the same. Will global jihadism stop once the two-state solution is achieved? It may well do, if we can ever reach it.
But hoping so ignores the many factors driving terrorism, one of which is the return of a pan-Muslim caliphate to replace democracy which they do not only see as flawed, but is the main stumbling block towards establishing God's rule on Earth.
And at the centre of this zealotry is Islamism, the political belief that Islamic scriptures and laws should reign supreme over everyone, not just Muslims, but every man, woman, and child no matter what they may or may not believe in.
It ignores the reality on Malaysia's own ground — the spread and dominance of a strain of judgmental Islam, that values form and rituals more than faith, that forsakes compassion, that measures piety by pieces of cloth.
Pakatan Harapan and Dr Mahathir may have won over most of Malaysians, but now it is time for us to measure our bodies to the global cloth, to acknowledge that sovereignty does not mean turning our backs on universal rights enshrined to all humans by virtue of existing, and hold ourselves to a higher standard.
Full report at:
https://www.malaymail.com/s/1680047/of-human-rights-and-malaysia
--------
After counter-terror swoop in state, mufti says Perlis not hotbed of extremism
6 October 2018
AMMAN, Jordan, Oct 6 — Students intending to pursue their studies at religious learning centres in Perlis as well as teachers who want to work there must undergo security screening and be declared 'clean' by police.
Perlis mufti Prof Madya Dr Mohd Asri Zainul Abidin said the state police chief SAC Noor Mushar Mohamad himself had been appointed a member of the state Islamic Religious Council Committee.
"I always ask the state police chief about the students at these learning centres, especially the foreigners. Only with police confirmation will we allow them (to pursue studies at the religious learning centres)," he told Bernama here today.
He was commenting on the arrests of eight men including seven foreigners by the Bukit Aman Special Branch Counter Terrorism Division following an operation in Perlis, Kuala Lumpur and Johor on September 24 for suspected involvement in activities that were detrimental to security and public order.
Inspector-General of Police Tan Sri Mohamad Fuzi Harun was reported as saying on October 6 that all of the suspects were involved with an Islamic learning centre in Perlis, believed to be promoting extremist teachings.
Mohd Asri stressed that the arrests of the eight individuals did not mean that Perlis was the centre for the spreading of radical teachings.
"We have nothing to do with the issue as the people of Perlis are adopting the values of moderation.
"I want the police to conduct a transparent investigation as the heads of these centres have given their assurance that they will take action if there is a spread of radicalism or terrorism in their institutions," he said.
Full report at:
https://www.malaymail.com/s/1680044/after-counter-terror-swoop-in-state-mufti-says-perlis-not-hotbed-of-extremi
--------
Islamic law is states' affairs, muftis tell minister bidding to end moral policing
07 October 2018
KUALA LUMPUR, Oct 7 — Islamic enforcers will continue pursuing moral offences despite a federal minister's call to stop raids over victimless crimes occurring in the privacy of Malaysians' homes, said several state muftis.
Responding to requests for comment on Minister in the Prime Minister's Department Datuk Mujahid Yusof Rawa's statement that the federal government planned to stop so-called moral policing, they said such matters were the purview of the individual states.
Selangor Mufti Datuk Seri Mohd Tamyes Abd Wahid also told Malay Mail that such enforcement in his state was not abusive or invasive as suggested by the minister, insisting that it was executed using clear procedures.
"The enforcement will continue to be carried out as (Islamic laws) are enacted by state leaders, and this includes Selangor," he explained.
Saying he was unclear how far Mujahid has gone with his proposal, he added that such decisions must be presented to the various religious authorities, including the Muzakarah National Fatwa Committee Council in Islamic Affairs before reaching the Conference of Malay Rulers.
Under the Federal Constitution, Islamic matters come under the individual Malay Rulers as the heads of the religion in each state.
Negri Sembilan Mufti Datuk Mohd Yusof Ahmad also disputed the minister's description of khalwat (close proximity) raids as invasive and exploitative, saying such action was justified as they were normally launched based on public reports.
He said enforcement officers were duty-bound to respond when reports are lodged, and could not pick and choose which they should investigate.
"For example, if a wife reports that her husband is up to no good at home, then the authorities have to come and take action against it. You cannot allow immoral acts to just happen and leave it be," he said.
Rejecting the argument that such enforcement constituted an invasion of privacy, he asked if police could choose to ignore a reported robbery by deciding it took place inside a private residence.
Mohd Yusof said all Muslims were obligated to defend the community's morality, just as the government and members of the public have a responsibility to act if they witness a crime.
This obligation also applied to Mujahid, he said.
"If the minister himself sees an immoral act taking place, then he has to use his power and take action against it and make the effort to curb it from happening.
"Therefore, if the officers are forced to stop such raids, then the government has to take up whatever risks that come with it or bear the sin from allowing vice practices to continue," he said.
Perak Mufti Tan Sri Harussani Zakaria pointedly told the federal government to do as it pleases and proceed with ignoring the states' powers and laws to act against religious vices.
Harussani said he was not inclined to meddle in the federal government's decisions, but stressed that it was compulsory for Muslims to curb immoral acts from mushrooming in the community.
"Up to them (government) what they want to do. If such raids cannot be carried out anymore, it is OK, I have no problem," he said sarcastically.
"Even with such laws in place, vice practices cannot be curbed. If we stop the raids and allow them to take place freely, then we are at a loss and this will encourage more immoral activities to take place. Good on them."
Mujahid pledged in an interview that the Pakatan Harapan government will shun enforcement seen as moral policing for areas under its jurisdiction and will instead pursue a policy of "compassionate Islam".
He said the government has no intention to interfere in Malaysians' private lives and will focus instead on matters that affect security.
The vice-president of Parti Amanah Negara acknowledged that such matters came under state jurisdiction, but said the government was engaging with religious agencies at the state level to convince them to adopt the stance of the federal administration.
Full report at:
https://www.malaymail.com/s/1680069/islamic-law-is-states-affairs-muftis-tell-minister-bidding-to-end-moral-pol
--------
Mahathir: 'Climbing' into houses for khalwat raids 'not Islamic'
October 6, 2018
KUALA LUMPUR: Prime Minister Dr Mahathir Mohamad has shrugged off concerns that an announcement on ending snooping into khalwat cases would make conservative Muslims in the country upset, saying Islam is not a cruel religion.
Mahathir said Islam does not dictate its followers to "go and hunt for people" and "needlessly find trouble".
"This is to the point that you want to climb into their house and all that … that is not Islam," he told reporters on the sidelines of a forum at Suria KLCC here.
He was responding to Minister in the Prime Minister's Department Mujahid Yusof Rawa's comments in The Star earlier today that what Muslims do behind closed doors is none of the government's business.
This means religious officers will no longer go knocking on doors or break down doors in the middle of the night to probe reports of khalwat or other alleged wrongdoings.
He also pointed out that although alcohol consumption is not allowed in Islam, the government would not "interfere" if it is done behind closed doors.
"My concern is what goes on in public that encroaches on sensitivity, legality or criminality. Only then does the government come in, not because we want to be the moral police but because we want to secure the public sphere," he said.
The Star also quoted Mujahid, who is in charge of religious affairs, as saying the government intends to uphold Islam as a religion that is compassionate to all. He added that this would be translated into all government policies, Islamic judiciary affairs and inter-religious dialogues.
Mahathir today concurred with Mujahid's views that Islam is a compassionate religion, "not about chopping heads and hands".
He said there are other "milder" forms of punishment, and questioned why some wanted to harass people and cut their hands off.
"Certainly religion takes into account the life of a person. It's not easy to allow killing of people by cutting off one's head. Islam does not agree with killing.
"If you kill, you commit a sin," the Langkawi MP said.
Campaigning in PD
On another matter, Mahathir said there is nothing wrong with him going to campaign for PKR president-elect Anwar Ibrahim in the Port Dickson by-election, which will enable his return to politics after recently obtaining a royal pardon.
"There's nothing wrong with the prime minister going to campaign. I'm going there as party chairman," Mahathir said, referring to his party, PPBM.
Full report at:
https://www.freemalaysiatoday.com/category/nation/2018/10/06/mahathir-climbing-into-houses-for-khalwat-raids-not-islamic/
--------
Muslims pray to the sea after Indonesia quake-tsunami
5 October 2018
Muslims prayed facing out to the sea Friday and by crumbling mosques in an Indonesian region pummelled by a quake-tsunami, putting their faith in God to help on the road to recovery.
Worshippers wearing skullcaps gathered by the coast in the city of Palu, ground zero of the tragedy in the world's biggest Muslim-majority country, and chanted before sending prayers out to the waters.
In the city's shattered Baiturrahman mosque -- whose green dome collapsed into the prayer hall -- 62-year-old Adan Abdurazak stood in tears in the place of worship where he had said his Friday prayers every week for the past 15 years.
"I'm still confused," he said, when asked where he will pray now.
Friday is the holiest day of the week for followers of Islam the world over, but this week's prayers around Palu took on a special significance following the double calamity that has killed over 1,500 people and razed whole neighbourhoods.
About 200 of the faithful held prayers on carpets in the car park of one mosque in the city, whose minarets survived the catastrophe intact but which is covered in huge cracks.
Chunks of latticework appeared ready to fall off, as aftershocks continue to rock the region.
Further up the coast in Donggala, which was close to the epicentre of the quake and also suffered substantial damage, about 200 men gathered at a mosque.
"We feel a bit relieved because there's no sign of another tsunami," Irham Hassan, 50, told AFP.
Full report at:
https://www.dailymail.co.uk/wires/afp/article-6243991/Muslims-pray-sea-Indonesia-quake-tsunami.html
--------
Arab World
Dozens of People Killed, Wounded in Huge Explosion in Turkey-Occupied Region in Aleppo
Oct 06, 2018
Field sources reported on Saturday that a bomb-laden car was detonated in the industrial zone East of A'azaz which is under the occupation of the Turkish army and its affiliated militants in Northern Aleppo, destroying several military vehicles and civilian cars.
They added that at least 4 people were also killed and over 21 others were wounded in the explosion.
Meantime, reports from al-Bab in Northeastern Aleppo said that heavy clashes between Ahrar al-Sham and the FSA-affiliated Jeish al-Ahfad terrorist groups in the village of al-Sokriyeh near al-Bab in Eastern Aleppo killed and wounded a number of militants and civilians.
The clashes happened after Ahrar al-Sham targeted the vehicle of Jeish al-Ahfad commander.
In a relevant development last month, the Turkish army and Ankara-backed FSA militants engaged in heavy infighting in the city of A'azaz in Northern Aleppo as tensions intensified in Northern Syria.
Heavy infighting broke out between militants of Jbahat al-Shamiya affiliated to the Free Syrian Army (FSA) and the Turkish army stationed in key regions of A'azaz city which resulted in the closure of the roads leading to the city, local sources in A'azaz city said.
The sources noted that clashes happened after the Turkish army sacked the commander of the police and general security for his involvement in multiple bribery cases in Afrin.
They pointed to the intensified tensions and differences between the two sides in A'azaz city and the fury of the civilians, and said that the residents of city have been asking for the evacuation of the Turkish army units from the city and removal of the siege of the region.
http://en.farsnews.com/newstext.aspx?nn=13970714001033
--------
Infighting Increases among Terrorists in Northern Syria on Verge of Implementation of Sochi Agreement
Oct 06, 2018
Tahrir al-Sham and Nouralddeen al-Zinki and NLF engaged in a fresh round of infighting in the village of Kafr Halab in Southwestern Aleppo that left several terrorists and 7 civilians dead.
Nouralddeen al-Zinki sent a long military convoy to the village of Kafr Nouran in Western Aleppo after Tahrir al Sham laid siege on the village of Kafr Halab.
A field sources, meantime, said that al-Wataniyah Front dispatched 40 military vehicles from Afrin and Northeastern Aleppo to Western Aleppo to counter Tahrir al-Sham.
The sources further said that the infighting has spilled over to the village of Tadil and the town of al-Abzamou in Western Aleppo and Tal Adah in Northern Idlib, inflicting several casualties on both warring sides.
In the meantime, Commander of Nouralddeen al-Zinki threatened Tahrir al-Sham that in case the siege on the village of Kafr Halab continues, al-Zinki will kick off a heavy offensive in Northern Syria to kill Tahrir al-Sham Chief Commander Abu Mohammad al-Joulani.
The first phase of the Sochi Agreement demilitarized zone that would cover an area 15 km in radius will start in Idlib province by mid October.
Local sources said on Thursday that Tahrir al-Sham and National Liberation Front (NLF) terrorists engaged in clashes near the town of Zardana, adding that several militants of both sides as well as civilians were killed and wounded.
They added that the clashes erupted after Jeish al-Ahrar terrorists, affiliated to the NLF, detained a member of Tahrir al-Sham in the town.
according to reports, the NLF dispatched a large military convoy to Zardana and Tahrir al-Sham terrorists have erected a large number of checkpoints across the town.
Also, a bomb-laden car was detonated near the town of Salqain in Northern Idlib, killing and wounding several people, including civilians.
Full report at:
http://en.farsnews.com/newstext.aspx?nn=13970714000512
--------
ISIL Asks for Surrender Terms as Gov't Forces Advances in Sweida Desert
Oct 06, 2018
The Arabic-language website of Russia's state news agency, Sputnik, reported that ISIL has called several times on the government forces in the last two days to lay the ground for the terrorists to surrender in Toloul al-Safa rugged terrain in the Eastern desert of Sweida.
It further said that the ISIL's move came after the army men continued capturing of key regions in Toloul al-Safa and the imminent collapse of the terrorist front in the region, specially after army dispatched more men and military equipment to the battlefield.
Relevant officials said the ISIL terrorists, whose total number stands at 3,000, are likely to surrender soon.
The army forces have advanced rapidly towards the last stronghold of ISIL and the terrorists' main water reservoir in Toloul al-Safa rugged terrain.
On Friday, the army units engaged in fierce clashes with ISIL in the depth of the rocks in Tolou al-Safa in the Eastern deserts of Sweida, seizing control over several positions and heights in Qabr Sheikh Hossein flank.
Other units of the army managed to capture Qa'a al-Banat region Northwest of Sweida desert.
Full report at:
http://en.farsnews.com/newstext.aspx?nn=13970714000726
--------
Pro-Opposition Source: Terrorists Continue Reinvigoration of Positions in Demilitarized Zone
Oct 06, 2018
The London-based Syrian Observatory for Human Rights (SOHR) reported that the militant groups, including the Turkey-backed National Liberation Front (NFL), have not retreated from the weapons-free zone at the administrative borders of Idlib, Hama, Lattakia and Aleppo provinces.
It, meantime, added that the militant groups have, instead, strengthened their positions and strongholds in the demilitarized zone, specially areas in Northern Lattakia.
Syrian sources said on Thursday that Tahrir al-Sham Hay'at (the Levant Liberation Board or the Al-Nusra Front) terrorist group and the Turkish army disagree on the implementation of the Sochi agreement between Moscow and Ankara, adding that the militants seek control over key passageways in the demilitarized zone.
The Arabic-language al-Watan newspaper quoted sources close to the militants as saying that Tahrir al-Sham has demanded control over certain crossroads on M5 highway which links Aleppo to Hama and M4 highway that links Aleppo to Lattakia.
They added that the Turkish intelligence body has opposed the demand, specially about the passageways located between the Syrian army-controlled areas and those occupied by the terrorists in Idlib, Western Aleppo and Sahl al-Qab in Northwestern Hama, adding that Turkey wants to deliver their control to the National Liberation Front militants who are supported by Turkey.
The report said if Tahrir al-Sham and Ankara come into terms with each other over this issue, the terrorist group will soon start withdrawal from demilitarized zone.
Full report at:
http://en.farsnews.com/newstext.aspx?nn=13970714001100
--------
Militant Sources: Russia Deploying Troops to Deir Ezzur Near Iraqi Borders
Oct 06, 2018
The Arabic-language al-Baladi news channel affiliated to the militants in Syria reported on Saturday that the Russian forces have been deployed in regions near the Syrian Democratic Forces (SDF) and US forces' positions in Southeastern Deir Ezzur.
It added that the Russian forces have been for the first time deployed in the region after the Syrian army regained control of the Western banks of the Euphrates river.
Meantime, the Syrian army troops have started military operations against the ISIL in Badiyeh (desert areas) of Deir Ezzur.
The Syrian army had earlier reinvigorated its positions in al-Sayal region in Southeastern Deir Ezzur near Albu Kamal after sending military convoys.
The Syrian Army dispatched more fresh forces and military equipment to Southeastern Deir Ezzur on Wednesday to intensify attacks on ISIL's movement and positions in the Eastern desert of Deir Ezzur.
The army forwarded tens of fresh soldiers and a large volume of military equipment to al-Sayal region near the town of Albu Kamal in Southeastern Deir Ezzur.
In the meantime, field sources said that the army has kept its soldiers on alert and has reinvigorated its combat-defense capabilities after ISIL's sporadic attacks.
Meantime, the Syrian Air Force carried out a number of combat flights over the ISIL's movements near Aweiraz Dam and a large region from the T2 Oil Pumping Station in Southwestern Deir Ezzur to the Eastern desert of Palmyra (Tadmur) in Eastern Homs.
Full report at:
http://en.farsnews.com/newstext.aspx?nn=13970714000927
--------
Damascus Army Destroying ISIL's Stronghold in Southern Syria
Oct 06, 2018
The army men, backed up by artillery units and Air Force, managed to push ISIL back 200 meters from its key positions in the rocks in Toloul al-Safa, deploying a few hundred meters away from a key height near Qabr Sheikh Hossein.
Local sources said that once the army captures the key height it would be able to impose military control over Qabr Sheikh Hossein that is home to the terrorists command center, and bring the entire Toloul al-Safa region under control.
On Friday, the army units engaged in fierce clashes with ISIL in the depth of the rocks in Tolou al-Safa in the Eastern deserts of Sweida, seizing control over several positions and heights in Qabr Sheikh Hossein flank.
Other units of the army managed to capture Qa'a al-Banat region Northwest of Sweida desert.
Full report at:
http://en.farsnews.com/newstext.aspx?nn=13970714000191
--------
Syrian rebels start to withdraw heavy weapons from Idlib buffer zone
6 October 2018
Two Turkey-backed Syrian rebel officials told Reuters that militant groups on Saturday began to withdraw heavy weaponry from a demilitarized zone agreed by Turkey and Russia in northwest Syria.
"The process of withdrawing heavy weapons began this morning and will continue for a number of days," a rebel group commander told Reuters.
The official said the Turkey-backed National Front for Liberation (NFL) rebel alliance will extract its heavy weaponry - such as rocket launchers and artillery vehicles - and bring it 20 km from the contact line between insurgents in Syria's militant-held Idlib province and government forces.
"Light and medium weapons and heavy machine guns up to 57 mm will remain in place," the official said.
Under the deal agreed last month between Turkey and Syrian President Bashar al-Assad's key ally Moscow, "radical" rebels will be required to withdraw by the middle of this month from the demilitarization zone.
The agreement halted a threatened Syrian government offensive. The United Nations had warned such an attack would create a humanitarian catastrophe in the Idlib region, home to about 3 million people.
Full report at:
https://english.alarabiya.net/en/News/middle-east/2018/10/06/Syrian-militants-start-to-withdraw-heavy-weapons-from-Idlib-buffer-zone-.html
--------
Saudi cleric close to MBS calls for 'peace' trip to Israel
Oct 7, 2018
A Saudi cleric with close ties to Crown Prince Mohammed bin Salman (MBS) has called on faith leaders to travel to Jerusalem al-Quds in a bid to promote "peace" with Israel.
Mohammed bin Abdul Karim Issa, head of the Muslim World League, made the controversial proposal in New York on the sidelines of an annual conference for "Cultural Rapprochement Between the US and the Muslim World" in New York.
"We should send a peace convoy that is representative of all three Abrahamic religions. They should be Muslim, Christian and Jewish and they should visit all holy sites," he told Fox News.
"They should meet everyone and find common ground, and they should provide fertile ground to find solutions for peace."
He also claimed that a possible Jerusalem al-Quds meeting is meant "to keep extremists from taking any advantage of any intellectual holes that they can use to promote their extremist ideologies."
Saudi Arabia has hostile ties with resistance movements in the Palestinian territories, including Hamas which is fighting the Israeli occupation.
Issa's remarks further reflect a quiet warming of relations between the regimes in Riyadh and Tel Aviv.
In his comments, the cleric who was formerly the Saudi justice minister noted that the "peace" delegation should only be made up of religious leaders not political figures.
"They should be independent of politics, they should have no political agenda whatsoever. They will be more influential without a political agenda because they are independent," Issa said.
Israel and Saudi Arabia have no diplomatic relations, but they are widely believed to have secret liaisons. Latest reports say the two regimes are even working behind the scenes to establish formal contact.
Critics say Saudi Arabia's flirtation with Israel would undermine global efforts to isolate Tel Aviv and affect the Palestinian cause in general. They say Riyadh has gone too far in its cooperation with the Israelis as a way of deterring Iran as an influential player in the region.
Back in April, bin Salman recognized the "right" for Israelis to "have their own land" in an interview with US magazine The Atlantic.
This is while most of the Arab nations do not recognize Israel and reject its claim to the whole Jerusalem al-Quds.
US President Donald Trump, who is a close friend and ally of Saudi leaders, recognized Jerusalem al-Quds as the "capital" of Israel last December and moved the American embassy from Tel Aviv to the occupied city in May.
The embassy relocation sparked global uproar and widespread condemnations.
Full report at:
https://www.presstv.com/Detail/2018/10/07/576289/Saudi-Arabia-Israel-Jerusalem
--------
At least 5 people, including 2 children, killed in car bomb attack in northern Syria
Oct 6, 2018
At least five people, including two children, have been killed in a car bomb attack in Syria's northern province of Aleppo, reports say.
According to a report by the so-called Syrian observatory for Human Rights group, the large explosion on Saturday occurred after an explosives-laden vehicle went off at the entrance of the industrial district of the town of Azaz, which is controlled by Turkey-backed armed militia.
The UK-based monitor also said that the blast occurred near a tanker filled with fuel, sending up large pillars of smoke as a raging fire engulfed the area.
Turkey's pro-government Yeni Safak newspaper also reported that at least 27 people had sustained injuries in the explosion and the subsequent blaze.
The wounded are said to be rushed across the border to Turkey's Kilis Public Hospital to receive due treatment.
Azaz is located some 350 kilometers north of capital Damascus, and just a few kilometers away from the border with Turkey.
Car bombs are common in the war-ravaged country and are used by Takfiri outfits, particularly the Daesh terrorist group, during the past several years against civilians and Syrian government soldiers alike.
Full report at:
https://www.presstv.com/Detail/2018/10/06/576264/Syria-car-bomb-explosion-fire-Azaz-Aleppo-Daesh-Turkey
--------
Europe
'Disturbing' number of Britons open about Muslim prejudice
October 6 2018
An official inquiry into prejudice and discrimination in Britain has revealed a backlash against equal opportunities for immigrants and Muslims.
The report for the Equality and Human Rights Commission (EHRC), a statutory body, found that 37 per cent of adults believed that efforts to provide equal opportunities to immigrants had gone "too far".
In the case of Muslims, the figure was 33 per cent. By contrast, nearly two thirds of the public felt that more help was needed to support those with a mental health condition, as 63 per cent said that efforts had not gone far enough. The figure for those with a physical impairment was 60 per cent.
The report, which could be the first of an annual "barometer" testing public opinion, also…
https://www.thetimes.co.uk/article/disturbing-number-of-britons-open-about-muslim-prejudice-bhvz2vnvm
--------
Dutch scramble two F-16s to escort flight from Abu Dhabi to Amsterdam
6 October 2018
The Dutch air force scrambled two F-16 fighter jets to escort a flight from Abu Dhabi to Amsterdam after an onboard fight broke out with an aggressive American passenger, authorities said Saturday.
"A 29-year-old American man became aggressive after being asked by a purser to return to his seat," Joanna Helmonds said.
"A scuffle broke out and the cabin crew, together with other passengers managed to restrain the man," she told AFP, declining to name the airline or flight.
A number of passengers were lightly wounded including two passengers who were given black eyes, said Helmonds.
The plane was then given special clearance to land immediately at Schiphol airport with police arresting the man shortly afterwards.
Helmonds said the man was examined at the airport and officers determined that he came across as disorientated.
The man has been admitted to a psychiatric institution for observation, she said.
Full report at:
https://english.alarabiya.net/en/News/world/2018/10/06/Dutch-scramble-two-F-16s-to-escort-flight-from-Abu-Dhabi-to-Amsterdam.html
--------
New Netflix drama 'Elite' explores Islamophobia in Europe
October 06, 2018
MADRID: After the success of "Casa de Papel" (Money Heist), Netflix premiered its latest Spanish language teen drama, "Elite," this week.
The story is based on a prestigious private school in Spain where three newly enrolled working-class students upset the status quo — among them, an ambitious Muslim-Palestinian girl.
As the plot unravels around spoilt, rich teens clashing with the newbies and the death of one of their classmates, the show — which has been compared to "13 Reasons Why," "Gossip Girl" and "Pretty Little Liars" — highlights key issues, among them prejudice toward the working class, HIV and Islamophobia.
In the first episode, Nadia, played by Mina El-Hammani, is ordered to remove her headscarf by the principal or face expulsion in a scene that plays heavily on the debate over whether to ban headscarves in schools that has gripped Europe in recent years.
In 2004, France banned the wearing of all noticeable religious symbols in public schools, which affected those wearing headscarves in schools. Meanwhile, in 2016, a young Muslim woman missed a week of classes because she refused to remove her headscarf.
There was also widespread controversy when a primary school in London banned pupils from wearing the headscarf earlier this year only to later back down from the ban.
It is in this context that the show's co-writers sought to use Nadia's character to highlight the challenges some Muslims face when integrating into European society.
"We wanted to work with this character because it's something that is happening in Europe. This is the reality that we see every day," co-writer Dario Madrona told Arab News.
"(Nadia) reflected the idea of what Muslims have to face in Europe every day. Because you are part of a different culture, you don't know if you can integrate. People look at you funny sometimes," he added.
During the series, Nadia is also faced with hateful comments from her fellow classmate Lu, played Danna Paola, who refers to her as "Taliban.
Nadia's brother, Omar, played by Omar Ayuso, faces his own challenges in the show. In one episode he his confronted by his friend Samuel, played by Itzan Escamilla, about his drug dealing.
Samuel advises Omar to join him at the restaurant where he works, to which Omar reminds him that although they both handed in their resumes, only Samuel received a call back.
Aside from Islamophobia and ethnic discrimination, the show also explores the identity crisis some teenagers go through in high school.
El-Hammani explained that, like Nadia, she comes from a Muslim background but struggles with the culture clash that comes with living in Spain.
"My parents are from Morocco, they are Muslims, so I know what it is like to live in a closed environment. Nadia is from Palestine so it's different, but the same clash of cultures can be felt in both cases," El-Hammani said.
Full report at:
http://www.arabnews.com/node/1383426/art-culture
--------
URL: https://www.newageislam.com/islamic-world-news/modi-ajmer-pm-bats-hindu/d/116579
New Age Islam, Islam Online, Islamic Website, African Muslim News, Arab World News, South Asia News, Indian Muslim News, World Muslim News, Women in Islam, Islamic Feminism, Arab Women, Women In Arab, Islamophobia in America, Muslim Women in West, Islam Women and Feminism