New Age Islam News Bureau
10 Apr 2020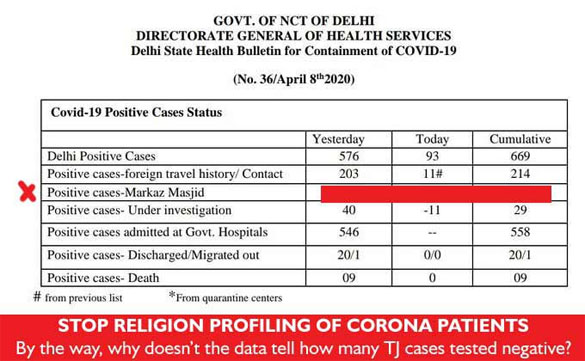 • Minorities Commission Asks Delhi Health Department to Stop Mentioning Tablighi Jamaat From Its Coronavirus Charts
• Pakistan Jamiat Ulema-e-Islam-Fazl tells IGP We Will Not Allow Anyone to Seal Mosques
• Yemen Army Dismisses Saudi Claim of Suspension of Hostilities
• Mosque, Neighbourhood Locked Down in Dhaka After Attendant Contracts Coronavirus
• COVID-19 Relief: ITFC Unveils $850m Emergency Funding for Islamic Nations
• West Midlands Police Boss: Far Right Groups Are Spreading False Rumours That Mosques Are • Breaking Lock Down Guidance
• Federal Aid and Relief Programs Available to Muslim Owned Businesses and Nonprofits During the Coronavirus Outbreak
• Muslim World League Donates Funds to Croatia to Help Fight Coronavirus Pandemic
-----
India
• Minorities Commission Asks Delhi Health Department to Stop Mentioning Tablighi Jamaat From Its Coronavirus Charts
• Coronavirus Lockdown: Salman Khan Shares Pics of Closed Mosque And Graveyard, Says 'Thank You For Listening'
• Communal Attack In Bawana Shared With False Claim Of Muslim Man Injecting Fruits With Spittle
• As Muslims Celebrate Shab-e-Baraat At Home, A Look at Its Significance
• Death of health worker in MP falsely communalised as attack by Muslims in UP
• Lucknow: Graveyards locked; Muslims observe Shab-e-Bara'at at homes
• Muslim man brutally thrashed on suspicion of spreading coronavirus
• Tablighi Jamaat had planned a 'fidayeen' attack on India: Shia Waqf Board chief
• Muslims help perform last rites of Hindu neighbour amid coronavirus lockdown
---------
Pakistan
• Pakistan Jamiat Ulema-e-Islam-Fazl tells IGP We Will Not Allow Anyone to Seal Mosques
• Special prayer to seek Allah's forgiveness will be offered at Aiwan-e-Sadr on Friday
• Mosques to stay open in country today
• Bilawal asks Sindh govt to prepare for 'worst' coronavirus situation
• Abbottabad hospital to conduct drug trials on Covid-19 patients
• Lockdown to badly affect Balochistan due to poverty: PM
------
Mideast
• Yemen Army Dismisses Saudi Claim of Suspension of Hostilities
• Islamic State attack in Syria kills 18 regime forces: Report
• Iran, Turkey discuss joint anti-COVID19 fight
• Imam Khamenei: US confiscation of masks, gloves is a result of western, liberal culture
• Khamenei tells Iranians to avoid Ramadan gatherings amid virus
• Turkey sends another convoy of military vehicles into Syria's Idlib
• Syria rejects OPCW report on chemical attacks as misleading, fabricated
------
South Asia
• Mosque, Neighbourhood Locked Down in Dhaka After Attendant Contracts Coronavirus
• Severe restrictions announced for Kabul city amid a sharp rise in coronavirus cases
• 9 Taliban militants killed, 3 wounded Zabul and Logar clashes
• 20,000 Afghans cross Torkham in four days
• Five rockets hit U.S. air base in Afghanistan; ISIS claims responsibility
• Coronavirus positive cases rise to 521 as Afghanistan records 37 new cases
• Taliban announces stance as rockets hit U.S.-run Bagram Airfield
• Taliban commander among 6 killed as Afghan forces thwart Taliban attack in Zabul
-----
Arab world
• COVID-19 Relief: ITFC Unveils $850m Emergency Funding for Islamic Nations
• Liquidity stress highlights importance of effective Sharia-Compliant: Fitch Ratings
• 'Stylish and easy to wear': how Ramadan fashion has evolved over the years
• UAE COVID-19 measures: Mosques, churches, places of worship to stay closed
• UAE extends closure of mosques, places of worship until further notice
• Iraq's designated prime minister vows to control arms, fight corruption
• Coronavirus lockdown in Lebanon extended for additional two weeks
-------
Europe
• West Midlands Police Boss: Far Right Groups Are Spreading False Rumours That Mosques Are • Breaking Lock Down Guidance
• Muslim Doctor Who Warned PM Johnson About PPE Dies After Contracting Corona
• Aggressive Le Pen rebuked due to Islamic prayer criticism
-------
North America
• Federal Aid and Relief Programs Available to Muslim Owned Businesses and Nonprofits During the Coronavirus Outbreak
• 'Pro-Muslim' Bernie Sanders pulls out of U.S. presidential race
• Barr: Media on 'Jihad' Against Trump Over Hydroxychloroquine
• Toronto families celebrate Passover, Easter, Nowruz and Ramadan in creative ways during pandemic
• Islamic State claims responsibility after rockets strike U.S. base in Afghanistan
• Mid-Sha'ban ceremony to be held online in Canada
-----
Africa
• Muslim World League Donates Funds to Croatia to Help Fight Coronavirus Pandemic
• Chad army says 52 troops, 1,000 Takfiri militants killed in offensive
• Half a billion people likely plunge into poverty by COVID-19 pandemic: Oxfam
• Presidential pardon: Islamic group tells Buhari to free 54 more persons
• 'SA private military contractors' and Mozambican air force conduct major air attacks on Islamist extremists
• Top aide to DR Congo president detained in anti-corruption drive
-------
Southeast Asia
• Indonesia Looks to China, South Korea For Medical Supplies
• COVID-19: No road closures in Jakarta during large-scale social restrictions, police say
• Indonesia receives 58 foreign aid packages for COVID-19 relief: Foreign Minister
• Tasikmalaya authorities ban renovation of Ahmadiyah mosque
• An Open Letter to the Prime Minister of Malaysia
• Covid-19: 109 new cases, death toll now at 67
• Covid-19: Malaysian doctor in UK in stable condition after ICU scare
Compiled by New Age Islam News Bureau
URL; https://www.newageislam.com/islamic-world-news/minorities-commission-asks-delhi-health/d/121543
------
Minorities Commission asks Delhi Health Department to stop mentioning Tablighi Jamaat from its coronavirus charts
Apr 09, 2020
New Delhi, 9 April 2020: In a letter to the Director/Secretary, Delhi Health Department, Delhi Minorities Commission has asked it to drop any mention of religious undertones in its daily bulletins on coronavirus cases in Delhi.
The DMC Chairman Dr Zafarul-Islam Khan said in his letter "Your bulletins of Coronavirus victims are showing a separate column 'Markaz Masjid'. Such thoughtless classification is feeding into the Islamophobia agenda of the lap media and Hindutva forces and has been easily turned into a handle to attack Muslims across the country. As a result, Muslims are being attacked in various areas, calls are being made for their social boycott, one boy was almost lynched in the North-West Delhi village of Harewali, others attacked."
The DMC letter further said, "World Health Organisation has taken cognisance of this phenomenon, unique to India. WHO Emergency Programme Director Mike Ryan said on 6 April, 2020: 'Countries should not profile novel coronavirus disease (COVID-19) cases in terms of religion or any other criteria.' Two days later he asked governments not to politicise the issue and stop profiling people on religious basis. The Indian Union health ministry followed suit and said in its advisory on 8 April, 2020: 'Despite all precautions, if anybody catches the infection, it is not their fault. In a situation of distress, the patient and the family need support and cooperation." Further, the advisory requested citizens to 'never spread names or identity of those affected or under quarantine or their locality on the social media'".
The DMC letter made an earnest request to the Delhi Department of Health to stop mention of any data which has religious undertones and which can be exploited for political or communal purposes by vested interests.
http://www.milligazette.com/news/16894-minorities-commission-asks-delhi-health-department-to-stop-mentioning-tablighi-jamaat-from-its-coronavirus-charts
-----
Pakistan Jamiat Ulema-e-Islam-Fazl tells IGP We Will Not Allow Anyone to Seal Mosques
April 10, 2020
Jamiat Ulema-e-Islam-Fazl Sindh leaders on Thursday said their party and other religious groups and scholars had been cooperating with the provincial government in the joint efforts to limit the spread of coronavirus, but law enforcement agencies still had "sealed mosques, registered cases against pesh imams and handcuffed them".
A JUI-F delegation led by provincial secretary general Allama Rashid Soomro met Sindh IGP Musthaq Mahar at his office and expressed the party's concerns over police actions against clerics who had violated the government's restriction last Friday.
"Acting upon the agreement, mosques' pesh imams have already limited their prayers, but they cannot stop worshippers from coming to mosques to perform prayers," Soomro said. "Stopping the worshippers is the state's responsibility, not of clerics and pesh imams."
But despite the cooperation with the provincial government, cases were registered against pesh imams and clerics and mosques were sealed on the basis of violating the government' restriction, the JUI-F leader said.
He warned that his party would not tolerate acts of sealing mosques and registering cases against prayer leaders. However, he appealed to the clerics and pesh imams to limit their Friday prayers in light of directions from religious scholars.
Soomro also demanded of the government to conduct coronavirus tests on members of Tablighi congregations across the province and issue their results immediately. "Among them, arrange quarantine facilities for those who have tested positive for the virus, and the rest of the people who test negative should be allowed to go back to their hometowns in a respected manner," he said.
According to the JUI-F's statement, IGP Mahar told the delegation that the party's cooperation with police in Sindh was very ideal. He said that all cases registered against pesh imams and clerics had been ended and the police force had been trying its best to avoid any untoward incident on Friday.
https://www.thenews.com.pk/print/641979-we-will-not-allow-anyone-to-seal-mosques-jui-f-tells-igp
-----
Yemen Army dismisses Saudi claim of suspension of hostilities
09 April 2020
The spokesman for Yemeni Armed Forces has categorically dismissed a claim by Saudi-led military coalition that it was observing a two-week ceasefire and suspension of hostilities in its devastating war against Yemen.
In a Twitter post on Thursday, Brigadier General Yahya Saree said that the Saudi-led forces had stepped up their offensives and attacks across various parts of the impoverished Arab country over the past few hours
"Saudi and Emirati forces have carried out at least five large-scale airstrikes on Yemeni areas near the kingdom's southwestern border region of Najran since the early hours of this morning," he wrote.
On Wednesday night, the coalition claimed it was halting military operations in Yemen in support of UN efforts to end its five-year war, which has killed tens of thousands and spread hunger and disease.
Coalition spokesman Col. Turki al-Malkiclaimed that the move was decided in part to avoid a potential outbreak of the new coronavirus in Yemen. The spokesman said the ceasefire would go into effect at midday on Thursday for two weeks and was open to extension.
However, shortly after the announcement, the coalition's warplanes struck positions at several Yemeni regions, including Sa'ada, Amran, and al-Bayda, according to Yemen's al-Masirah TV.
Before the airstrikes, Yemen's Houthi Ansarullah movement had downplayed the Saudi ceasefire announcement, describing it as a chance for Riyadh to get out of the quagmire with minimum disgrace.
Saudi Arabia and a number of its regional allies launched the devastating war on Yemen in March 2015 in order to bring former president, AbdRabbuh Mansur Hadi, back to power and crush the Houthi Ansarullah movement.
Saudi Arabia and the United Arab Emirates have purchased billions of dollars' worth of weapons from the United States, France and the United Kingdom in their war on Yemen.
Riyadh and its allies have been widely criticized for the high civilian death toll resulted from their bombing campaign in Yemen.
The US-based Armed Conflict Location and Event Data Project (ACLED), a nonprofit conflict-research organization, estimates that the war has claimed more than 100,000 lives over the past five years.
The UN says over 24 million Yemenis are in dire need of humanitarian aid, including 10 million suffering from extreme levels of hunger
https://www.presstv.com/Detail/2020/04/09/622684/Saudi-Arabia-Yemen-Yahya-Saree-Turki-al-Malkiclaimed-UN
-------
Mosque, neighbourhood locked down in Dhaka after attendant contracts coronavirus
09 Apr 2020
All people of the mosque, including the imam, went into quarantine after the lockdown of the Shaheed Buddhijibi Jame Masjid and the area on Thursday, police said.
Roushanul Haque Saikat, assistant commissioner of Dhaka Metropolitan Police, said the authorities moved after the test report came from the government's disease control agency IEDCR.
DMP Deputy Commissioner Biplab Bijoy Talukder said they were not allowing anyone in the area to get outdoors.
Sheikh Mohammad Hossain Khokon, the city corporation councillor of ward-34 who resides in a building next to the mosque, said it has two attendants.
https://bdnews24.com/bangladesh/2020/04/09/mosque-neighbourhood-locked-down-in-dhaka-after-attendant-contracts-coronavirus
-----
COVID-19 Relief: ITFC unveils $850m emergency funding for Islamic nations
April 10, 2020
JEDDAH As the COVID-19 pandemic is posing an unprecedented challenge to the global economy, International Islamic Trade Finance CorporationITFC, is set to provide $850 million in emergency financing to mitigate the socio-economic risks faced by OIC member countries. Jeddah-based ITFC is an autonomous entity within the Islamic Development Bank Group (IsDB). "ITFC has moved quickly to put in place emergency financing measures to ensure that member countries continue to receive the support needed. Our COVID1 9 'Rapid Response Initiative' (RRI) has made $300 million immediately available," ITFC CEO, Hani Salem Sonbol, said in a statement. These funds are being directly funneled towards eligible OIC member countries in most need of support – for critical supplies of energy, healthcare, food security and other life support requirements. ITFC is in continuous consultations with OIC member countries to ascertain their most pressing needs as the pandemic unfolds, the organisation said in a statement. An additional fund – the 'Recovery Response Program' (RRP) – earmarks another $550 million for deployment over the next two years. The RRP is aimed at fixing the socio-economic damage which is expected to last longer than immediate impact of the virus. ITFC stated that it is actively engaging international, regional and local partners as a strategic means of scaling these interim financing measures to contribute to the critical needs of the member countries and where necessary, on the mobilization of trade development support services during the pandemic
https://pakobserver.net/covid-19-relief-itfc-unveils-850m-emergency-funding-for-islamic-nations/?utm_source=rss&utm_medium=rss&utm_campaign=covid-19-relief-itfc-unveils-850m-emergency-funding-for-islamic-nations
-----
West Midlands Police Boss: Far Right Groups Are Spreading False Rumours That Mosques Are Breaking Lock Down Guidance
By Mark Cardwell
9 APR 2020
Far right groups are spreading false rumours that mosques are breaking lockdown guidance, according to Birmingham's crime and policing boss.
West Midlands Police and Crime Commissioner David Jamieson also said shop employees working during the coronavirus pandemic are being put at an added risk from shoplifters.
Speaking at the West Midlands Combined authority weekly media briefing, Mt Jamieson gave an update on police priorities during the lock down.
Also speaking was Chief Constable Dave Thompson of West Midlands Police, who said there has been a drastic drop in crime since the start of the lock down, particularly violent crime.
The force has said there was a 41 per cent fall in serious violence across the region at the end of March compared to same period last year.
He said: "Well done to the vast majority of the public who followed the guidance very closely. There is a small minority of people ignoring the advice and putting the rest of us at risk.
"I would like to mention another group of key workers - people working in shops and keeping supplies of food going. We often do not think of these people as much as others who are deeply involved. They are stocking shelves and serving customers."
He said drug addicts are continuing to look to burglary and shoplifting as sources of income to pay for their drug habit during the lock down, and the closure of the majority of shops will put the remaining ones at an added risk.
He said: "Shop keepers are dealing with a group of people who are quite dangerous and obsessed with getting money for their habit. We need to be supporting these people.
"In the last 24 hours, one shop was held up in an armed robbery. It's not just minor things happening [during the lock down], it's quite serious things."
He said: "Far right groups are putting out messages purporting to be from the Muslim community. They are trying to create divisions within our community."
He added he didn't think it was necessary to make the Health Protection (Coronavirus, Restrictions) (England) Regulations 2020 clearer to inform people of how long they can spend outside.
He said: "The clearer legislation is, the easier it is for the police service to enforce it. But actually this is all pretty clear on what we are supposed to be doing.
"I don't think we need to be looking for anything more. The vast majority of people are following it. I'm not sure more legislation will make people comply more than they are now."
https://www.birminghammail.co.uk/news/midlands-news/far-right-rumours-mosques-lockdown-18070576
------
Federal Aid and Relief Programs Available to Muslim Owned Businesses and Nonprofits During the Coronavirus Outbreak
April 9, 2020
There is not a single aspect of life that has not been impacted by the Coronavirus pandemic. One third of Americans are unemployed and local and state governments have issued ordinances shuttering countless businesses that are now struggling to stay afloat. Likewise, nonprofit organizations that normally rely on regular and annual donations are watching their revenues streams dry up in the face of a global recession.
In response to the economic slowdown created by the Coronavirus, the U.S. Congress has passed several bills that expand or create new federal aid and relief programs, including the Coronavirus Aid, Relief, and Economic Security Act (CARES Act).
If your business or nonprofit has been negatively impacted by the Coronavirus outbreak, the Council on American-Islamic Relations (CAIR) has prepared the following fact sheet to break down and disseminate information sourced directly from the Small Business Administration (SBA), Depart- ment of Treasury, IRS, and Department of Labor on these federal aid and relief programs that may lessen the financial impact of this pandemic and aid in your recovery.
The policies and procedures governing the implementation of these new benefits are evolving, please contact a trusted financial advisor prior to applying for benefits.
[NOTE: CAIR advises Muslim business owners and nonprofit organizations to consult with their trusted Islamic religious scholars in regard to the permissibility of accepting those small business loans which may require interest payments.]
The Paycheck Protection Program prioritizes millions of Americans employed by small businesses by authorizing up to $349 billion toward job retention and certain other expenses. This program is available for small businesses and eligible nonprofit organizations, as well as individuals who are self-employed or are independent contractors, are eligible if they also meet program size standards.
• If you maintain your workforce, SBA may forgive a portion of the loan proceeds that are used to cover the first 8 weeks of payroll and certain other expenses following loan origination.
For more information or to see if you qualify, go to: https://www.sba.gov/funding-programs/loans/paycheck-protection-program-ppp
Business owners and nonprofits, with some exceptions, are eligible to apply to the SBA for an Economic Injury Disaster Loan advance of up to $10,000.
Economic Injury Disaster Loan program provides small businesses with working capital loans of up to $2 million that can provide vital eco-nomic support to small businesses to help overcome the temporary loss of revenue they are experiencing. The loan advance will provide economic relief to businesses that are currently experiencing a temporary loss of revenue. Funds will be made available within three days of a successful application, and this loan advance will not have to be repaid. There are some restrictions on co-mingling EIDL funding with funding from the Paycheck Protection loan, consult with your lender for further details.
The Express Bridge Loan Pilot Program allows small businesses and nonprofits who currently have a business relationship with an SBA Express Lender to access up to $25,000 with less paperwork. These loans can provide vital economic support to small businesses to help overcome the temporary loss of revenue they are experiencing and can be a term loans or used to bridge the gap while applying for a direct SBA Economic Injury Disaster loan. If a small business or nonprofit has an urgent need for cash while waiting for decision and disbursement on Economic Injury Disaster Loan, they may qualify for an SBA Express Disaster Bridge Loan.
For more information or to see if you qualify connect with your local SBA District Office: https://www.sba.gov/local-assistance/find/?type=S-BA%20District%20Office&pageNumber=1
The SBA Debt Relief program will provide a reprieve to small business-es as they overcome the challenges created by this health crisis. Under this program:
It is being reported that this debt relief is automatic, but make sure to check with your lender to make sure. Also inquire with your bank or lender to see if they provide these loans or contact SBA.
The employee retention tax credit is a broad based refundable tax credit designed to encourage business and nonprofit employers to keep employees on their payroll. The credit is 50% of up to $10,000 in wages paid by an employer whose business is fully or partially sus-pended because of the Coronavirus or whose gross receipts decline by more than 50%.
Employers can be immediately reimbursed for the credit by reducing their required deposits of payroll taxes that have been withheld from employees' wages by the amount of the credit.
On April 1, the U.S. Department of Labor announced guidelines on how American workers and employers will benefit from the protections and relief offered by the Emergency Paid Sick Leave Act and Emergency Family and Medical Leave Expansion Act, both part of the Families First Coronavirus Response Act (FFCRA).
FFCRA helps the U.S. combat the workplace effects of the Coronavi-rus by reimbursing American private employers that have fewer than 500 employees with tax credits for the cost of providing employees with paid leave taken for specified reasons related to Coronavirus. The law enables employers to keep their workers on their payrolls, while at the same time ensuring that workers are not forced to choose between their paychecks and the public health measures needed to combat the virus. This temporary rule is effective from April 1, 2020 through December 31, 2020.
Under this temporary rule, certain employers are required to provide up to 80 hours of paid sick leave to employees who need to take leave from work for certain specified reasons related to COVID-19. These reasons may include the following:
• The employee or someone the employee is caring for is subject to a government quarantine order or has been advised by a health care provider to self-quarantine;
• The employee is caring for his or her son or daughter whose school or place of care is closed or whose child care provider is unavail-able for reasons related to COVID-19.
Certain employers are also required to provide up to 10 weeks of paid, and 2 weeks unpaid, emergency family and medical leave to eligible employees if the employee is caring for his or her son or daughter whose school or place of care is closed or whose child care provider is unavailable for reasons related to COVID-19.
https://www.cair.com/press_releases/federal-aid-and-relief-programs-available-to-muslim-owned-businesses-and-nonprofits-during-the-coronavirus-outbreak/
--------
Muslim World League Donates Funds to Croatia to Help Fight Coronavirus Pandemic
By HINA
9 April 2020
ZAGREB, April 9, 2020 - The Muslim World League has donated US$300,000 to the Croatian government for combating the coronavirus pandemic, and has also donated funds to the Islamic community in Zagreb for the repair of the damage caused by the March 22 earthquake, the governing body of the Islamic community in Croatia said in a statement on Thursday.
The deputy prime minister and head of the national civil protection authority, Davor Božinović, thanked the Muslim World League on behalf of the government and Mufti Aziz Hasangović thanked the organisation on behalf of the Islamic community in Croatia, the statement said.
With its donation, the Muslim World League "showed sensibility for the entire country and our society, which will certainly contribute to stronger ties and cooperation," it added.
The Secretary General of the Muslim World League, Muhammad bin Abdul Karim Al Issa, was involved in the organisation and sponsorship of an international conference held in Zagreb more than two months ago as part of the programme of the Croatian Presidency of the Council of the European Union, which focused on human brotherhood as the basis of peace and security in the world, the statement said.
https://www.total-croatia-news.com/politics/42768-coronavirus
------
India
Coronavirus lockdown: Salman Khan shares pics of closed mosque and graveyard, says 'thank you for listening'
Apr 10, 2020
Salman Khan has been living in isolation with his family at his Panvel farmhouse and has shared a post as he stepped out for presumably an important work. The actor was impressed to see deserted streets and the barriers put up by the authorities at places which could see public gatherings and took to Instagram to praise the people for their cooperation.
Sharing the two pictures on Twitter, Salman wrote, "Wah ! Thank u for listening n understanding the gravity of this situation the country is in . God bless n protect each n every 1 . . #IndiaFightsCorona." While the first picture is of an empty street, the other shows entry to a graveyard being restricted by the authorities.
Wah ! Thank u for listening n understanding the gravity of this situation the country is in . God bless n protect each n every 1 . .#IndiaFightsCorona
The actor had earlier celebrated the birthday of his nephew Ahil along with his entire family at the farmhouse. It was a small party which included all from his mother Salma, sister Arpita and brother-in-law Aayush Sharma.
Salman has pledged to financially support 25,000 daily wage workers who have been affected by the 21-day lockdown to contain the coronavirus spread in the country. The actor started the process of transferring funds into the accounts of daily wage workers of the film industry, the Federation of Western Indian Cine Employees (FWICE) said on Wednesday.
A source close to Salman said the actor will continue to support the workers until the situation improves in the country. "We have started the process from Tuesday. We will be giving sufficient money to workers monthly, we will also give money next month and if the situation is still the same, we will continue to financially help the workers till it doesn't return to normalcy," the source said.
Meanwhile, his next film Radhe: Your Most Wanted Bhai which was scheduled to release on May 22 is expected to be delayed. This will be for the first time in over a decade that ardent Salman fans will not see a release on Eid, a festival date which has been synonymous with the actor.
https://www.hindustantimes.com/bollywood/coronavirus-lockdown-salman-khan-shares-pics-of-a-closed-mosque-and-graveyard-says-thank-u-for-listening/story-sPkIZ1KtusuylicaRidNiJ.html
-----
Communal attack in Bawana shared with false claim of Muslim man injecting fruits with spittle
Archit Mehta
9th April 2020
A two-minute video which shows a group of men aggressively interrogating a man in a red shirt is widely circulating on social media. The men interrogating in Haryanvi ask – "who taught you this?" and "what is your plan?" Subsequently, they threaten to pour oil on the man and immolate him. It is also evident that the man being interrogated is severely injured – there is blood on his head, chest and legs.
Several Twitter and Facebook users have shared the video with the claim that the man used an injection filled with spittle on fruits to spread coronavirus. The Hindi text associated with the video reads, "Found in Bawana. Planned to fill fruits with an injection filled with spit. After all, what do these people want? (translated from बवाना से मिला है ये। थूक को इंजेक्शन से फ्रूट्स में भरकर कोरोना फैलाने की तैयारी थी. आखिर ये लोग चाहते क्या हैं)."
Facebook page Resurging Hinduism posted the viral video along with the Hindi text on April 6. Since then it has been shared over 1,200 times and viewed over 37,000 times. (archive link)
On April 9, media outlets including IndiaTV (archive link), Huffington Post (archive link) and The Quint (archive link) carried a report by Press Trust of India (PTI) which quoted the police as saying that a "22-year-old man was allegedly beaten to death in Delhi's Bawana after he was suspected of a conspiracy to spread COVID-19". Similarly, Maktoob Media (archive link) also published the report with the same claim.
Alt News has received several requests to fact-check the video on WhatsApp (+91 76000 11160) and on our official Android application.
Alt News performed a keyword search on Google and found a report by The Hindu (archive link) published on April 6. According to the report, Shamshad Ali, a 30-year-old man, was thrashed by a group of men in Harewali village in Bawana in outer-north Delhi over the suspicion that he was part of a "conspiracy" to spread coronavirus.
Several media outlets including Indian Express, Times Now and Catch News reported the incident. However, unlike in the report by The Hindu, the man has been identified as 22-year old Dilshad alias Mehboob Ali. Alt News spoke with Assistant Commissioner of Police (ACP) Bawana who confirmed the man in the video is 22-year-old is Ali.
Alt News found a longer video of the violent incident which we are refraining from adding to the fact-check. Those who wish can watch the full clip here.
ACP Bawana informed that the claim that Ali used injections filled with spit on fruits is false. The ACP said that Ali had gone to attend a jamaat in Bhopal, Madhya Pradesh. While returning to Delhi in a truck, he was stopped by the police and taken to Guru Teg Bahadur Hospital for coronavirus screening. Since no symptoms were observed, Ali was allowed to go home where he was attacked by three men who have now been arrested.
Delhi Police Additional PRO Anil Mittal said, "Naveen, 30 years old, Prashant 26 years old, Pramod 30 years old have been arrested in case FIR No. 189/2020 under Section 323 (Punishment for voluntarily causing hurt), Section 341 (Punishment for wrongful restraint), Section 506 (Punishment for criminal intimidation) and Section 34 (Acts done by several persons in furtherance of common intention) of the Indian Penal Code by the Bawana Police Station." Furthermore, the officer informed that Ali has been booked under Section 188 (Disobedience to order duly promulgated by public servant) for breaking the lockdown protocol.
It is noteworthy that Bollywood singer Kanika Kapoor was booked under IPC Section 188, Section 269 (negligent act likely to spread infection of disease dangerous to life) and Section 270 (malignant act likely to spread infection of disease dangerous to life). Had Ali been involved in an act to spread the infection a case would've been registered against him under the aforementioned IPC Sections. However, he has only been booked under Section 188 for flouting lockdown protocol.
Mittal said, "22 years old Dilshad Ali, alias Mehboob resident of village Harevli is still admitted in Lok Nayak Jai Prakash Narayan (LNJP) Hospital, Delhi as a coronavirus suspect. The investigating officer of the case had a telephonic conversation with him today morning in which he stated that he is fine."
Alt News spoke with Ali's family friend Akram Chaudhary who informed, "Ali is currently quarantined under suspicion of being infected with coronavirus." Chaudhary also confirmed Ali's name and age.
Therefore, PTI-led reports carried by IndiaTV, Huffington Post and The Quint misreported that Ali died in the attack. Maktoob Media also incorrectly reported the same. Furthermore, The Hindu misidentified the survivor as 30-year-old Shamshad Ali.
The man who was beaten is 22-year-old Dilshad Ali, alias Mehboob. While mainstream media misreported that he lost his life in the attack, social media added a false communal colour to the incident
https://www.altnews.in/communal-attack-in-bawan-shared-with-false-claim-of-muslim-man-injecting-fruits-with-spittle/
-----
As Muslims Celebrate Shab-e-Baraat At Home, A Look At Its Significance
April 09, 2020
New Delhi: Shab-e-Baraat 2020: The Muslim community is celebrating the day of Shab-e-Baraat today. Among the community members, it is believed that Allah forgives all the sins on the night and also decided people's fortune for the year ahead. The day is also known as Shab-e-Raat, Bara'a Night and Mid-Sha'ban.
The day is observed across the world on the night between the 14 and 15 of Sha'aban, the eighth month of the Islamic calendar.
According to Hadeeth (sayings of Prophet Muhammad), Shab-e-Barat is also the night when Allah decides fortunes of human beings for the year ahead.
The Muslim community members have a tradition of visiting Mosques and graveyards on the day. This year, however, due to coronavirus outbreak, the community members have been urged to observe the day at home.
Chief of All India Imams Organization, Umer Ahmad Ilyasi, has asked the community members to not to violate lockdown orders on the day.
"I want to appeal to all the Muslim brothers to not violate the lockdown on Shab-e-Baraat and stay at home. I request all of you to pray for the people who are fighting against COVID-19," he said.
Delhi Chief Minister Arvind Kejriwal and Bihar Chief Minister Nitish Kumar have also requested to maintain social distancing on the day.
"The most effective way to combat this problem is social distancing. Please stay at your homes. Your support is crucial for battling this pandemic successfully," Nitish Kumar posted on Twitter.
"My sincere wishes on the occasion of Shab-e-Barat. I request one and all to pray inside their homes this year. Please ensure the safety of yourself and your family," Mr Kejriwal tweeted.
https://www.ndtv.com/india-news/shab-e-barat-2020-as-muslims-celebrate-shab-e-baraat-at-home-a-look-at-its-significance-2209127
----
Death of health worker in MP falsely communalised as attack by Muslims in UP
Kinjal
9th April 2020
An image of an injured woman is being shared on social media with the claim that she is a doctor who died after she was attacked by "Islamic jihadis" in Uttar Pradesh. The woman is lying on a gurney with an intubation tube inside her mouth.
A parody Twitter handle of journalist Arnab Goswami while tweeting the image claimed, "Today, doctor Vandana Tiwari died. Last week, she had gone to conduct coronavirus test in UP where she was attacked by 'Islamic Jihadis'. She was severely injured in the attack and today she has died." At the time of writing this article, this tweet has garnered close to 1,100 retweets.
[Translated from: "आज डां वंदना तिवारी कि मृत्यु हो गई वह पिछले हफ्ते ही UP में कोरोना टेस्ट के लिए गई थी पर इस्लामिक जिहादीयों ने उन पर हमला कर गंभीर रूप से घायल कर दिया था आज उनकी मौत हो गई।"]
With a reverse search on Google, Alt News found a news report published by Bhopal Samachar on April 7, 2020. According to the report, Vandana Tiwari, a pharmacist at Shivpuri medical college, was working with a team fighting coronavirus. Tiwari suddenly felt sick while she was on duty on March 31. She was later admitted to the district hospital and on April 1, she was moved to Birla hospital after her condition worsened. Doctors had informed that Tiwari was suffering from brain haemorrhage. She went into a coma after her operation and succumbed to her illness on April 7, 2020.
UP Police has also rubbished the claim about Tiwari's death having links with any incident in Uttar Pradesh and clarified that the pharmacist died in Madhya Pradesh.
समाचार स्रोतों (https://www.bhopalsamachar.com/2020/04/24-mp-news.html?m=1 … …) से विदित है कि वंदना तिवारी जी की घटना का सम्बन्ध मध्य प्रदेश से है , उत्तर प्रदेश में इनसे जुडी ऐसी कोई घटना नहीं हुई है|@agrapolice : सूचनार्थ एवं आवश्यक कार्यवाही हेतु|#UPPAgainstFakeNews
Upon performing a keyword search on Twitter, we found a tweet by one Satyabhan Singh. In the tweet, Singh had posted a video of Tiwari and had asked for help from the government. Singh identified himself as a relative of the patient. Alt News reached out to Singh: "I am a family friend of Tiwari. Vandana used to work in Shivpuri hospital. She died due to a brain haemorrhage. No Muslim had attacked her."
@sardanarohitमाननीय पत्रकार महोदय जी से निवेदन है हमारे परिवार की सदस्य कोरोना कर्मवीर हमारी भाबी जी वंदना तिवारी जी पर ध्यान दे लीजिये इनका इलाज शिवपुरी में ठीक से नही हो पा रहा है कृपया कर इनकी मदद कीजिये आपसे विनम्र निवेदन है... आप से बहुत उम्मीद कर के मेने आपको ट्वीट किया है.
Therefore, a case of a health worker who died due to brain haemorrhage in MP was communalised on social media with the false claim that she died after Muslims attacked her in UP. This is one of the several attempts where the Muslim community has been targeted with misinformation in the light of a religious gathering organised by the Tablighi Jamaat being identified as a coronavirus hotspot. Earlier this week, a 2015 video of a man massaging his customer's face with his own saliva was shared with a false communal narrative.
Note: The number of positive cases of the novel coronavirus in India exceeds 6,600 and close to 200 deaths have so far been reported. The government has imposed a complete restriction on movement apart from essential services to tackle the pandemic. Globally, more than 15 lakh confirmed cases and over 90,000 deaths have been reported. There is a sense of panic among citizens, causing them to fall for a variety of online misinformation – misleading images and videos rousing fear or medical misinformation promoting pseudoscience and invalid treatments. While your intentions may be pure, misinformation, spread especially during a pandemic, can take lives. We request our readers to practice caution and not forward unverified messages on WhatsApp and other social media platforms.
https://www.altnews.in/images-of-mp-pharmacist-who-died-due-to-brain-hemorrhage-shared-with-false-communal-narrative/
-----
Lucknow: Graveyards locked, Muslims observe Shab-e-Bara'at at homes
Apr 9, 2020
LUCKNOW: Gates of several graveyards in the city were put under lock and key on Thursday, as Sunni Muslims observed Shab-e-Bara'at--the night of forgiveness and atonement, while staying at their homes and not moving out.
At least 25 big cemeteries including that of Aishbagh, Haiderganj, Khala Bazaar, Talkatora, Alambagh Khadra Daliganj, Dada Miyan Sadar, Nishatganj, Khurramnagar, Bulaqi Adda and Ujariyaon Gomtinagar were locked keeping any visitor at bay, following strict coronavirus lockdown.
The night of forgiveness is the night that Muslims worship, make dua and visit the graves of their ancestors to pray for them. However, this year, several clerics including Maulana Khalid Rasheed Farangimahali, Maulana Abul Ifran Farangimahali and even Darul Uloom Nadwatul Ulama had appealed to people to not go to the cemeteries and mosques, but to pray at their homes so that the coronavirus spread is kept under check.
Following the appeal, on the day, gates of most of the cemeteries were pasted with a notice asking devotees to stay at home even as the gate itself remained locked. A caretaker was also stationed inside the cemetery as additional measure.
https://timesofindia.indiatimes.com/city/lucknow/lucknow-graveyards-locked-muslims-observe-shab-e-baraat-at-homes/articleshowprint/75071682.cms
------
Muslim man brutally thrashed on suspicion of spreading coronavirus
09th April 2020
By Gayathri Mani
NEW DELHI: A 22-year-old muslim man was brutally thrashed by a gang in Outer North Delhi's Bawana area on suspicion of spreading coronavirus among the people in the village.
Earlier, several news reports claimed that the man has been lynched to death. However, Delhi Police has clarified that the man is alive and has been kept in corona quarantine centre.
The 22-year-old has been identified as Dilshad Ali aka Mehboob, a resident of Harevli village under Bawana police station.
"He is admitted in LNJP Hospital, Delhi, as a corona suspect. He is fine and being kept in the isolation centre. As per information, there are no virus symptoms till date," said a senior police official.
He said there was a rumour in the village that he and a bunch of other boys are planning to return to the village to spread the virus. "It has been rumoured that all of them were planning to inject salaiva in fruits and vegetables ans sell them to people to spread virus," said source.
The police have arrested three accused namely Naveen, Prashant and Promod for wrongful restraint, beating and threatening a person. An FIR under section 341/323/506/34 IPC has been filed against them in Bawana police station.
"Investigation Officer (IO) of the case had a telephonic conversation with him on Thursday morning in which he stated that he is fine," added the police.
The video of the man being beaten up went viral in social media. In the video, Ali was seen bleeding from his leg and pleading that he had no plan to spread the virus. He was just returning to his village. However, the attackers abused him while asking him to tell them the truth.
"Please do not hit me. It was not my plan, wo dusre log the jinka plan tha ye bimari felane ka (They were others who were planning to spreas the virus)," the video shows Ali as saying.
https://www.newindianexpress.com/nation/2020/apr/09/muslim-man-brutally-thrashed-on-suspicion-of-spreding-coronavirus-2127927.html
-----
Tablighi Jamaat had planned a 'fidayeen' attack on India: Shia Waqf Board chief
April 9, 2020
Launching an attack on Tablighi Jamaat, Waseem Rizvi, Chairman of the Uttar Pradesh Central Shia Waqf Board said the Tablighi Jamaat had planned a 'fidayeen' attack on India by spreading the deadly coronavirus.
"This was designed to disturb the Modi government and was actually a conspiracy against the Prime Minister," Rizvi said in a statement.
He said, Jamaatis were now misbehaving with the medical staff and attacking them in order to demoralise the medical fraternity so that they stop treating the corona patients.
The Tablighi Jamaat members who attended a religious gathering in a Markaz Mosque at Delhi's Nizamuddin are in the news for spreading the disease over the country.
Many members were from different parts of the country and when the returned to their houses, they reportedly found positive of the deadly coronavirus after which all of them were asked to be kept in isolation centres
https://www.thestatesman.com/india/tablighi-jamaat-had-planned-a-fidayeen-attack-on-india-shia-waqf-board-chief-1502875529.html
------
Muslims help perform last rites of Hindu neighbour amid coronavirus lockdown
APR 09 2020,
Members of the Muslim community helped in performing the last rites of their 68-year-old Hindu neighbour here in suburban Bandra after the latter's relatives could not reach his place due to the lockdown.
The Muslim neighbours carried the body of Premchandra Buddhalal Mahavir, a resident of Gareeb Nagar locality of Bandra, on their shoulders to the cremation ground while chanting 'Ram naam satya hai'.
His son Mohan Mahavir subsequently informed their relatives and friends about the demise, but they could not come because of the lockdown enforced to contain the spread of coronavirus.
"I could not contact my two elder brothers residing in Nalasopara area of neighbouring Palghar district. I informed about my father's death to my uncles in Rajasthan but they could not move out because of the lockdown," Mohan Mahavir told PTI.
Later, their Muslim neighbours came forward and helped in perfoming the last rites on Saturday, he said.
"My neighbours helped with death-related documentation and carried my father's body to the cremation ground. I am thankful to them for helping me in this situation," he said.
Yusuf Siddique Sheikh, who attended the funeral, said, "We knew Premchandra Mahavir quite well. At such times, we should show humanity transcending religious barriers."
https://www.deccanherald.com/national/west/muslims-help-perform-last-rites-of-hindu-neighbour-amid-coronavirus-lockdown-823235.html
------
Pakistan
Special prayer to seek Allah's forgiveness will be offered at Aiwan-e-Sadr on Friday
April 10, 2020
A special prayer to seek Allah's forgiveness will be offered tomorrow (Friday) at Aiwan-e-Sadr after Jumma prayer with extremely limited gathering.
This was decided during a meeting of President Dr Arif Alvif with a delegation of Council of Islamic Ideology, led by Dr. Qibla Ayaz, in Islamabad today (Thursday).
The meeting further decided that Minister for Religious Affairs Pir Noor-ul-Haq Qadri will deliver Jumma Khutba which will be telecast live.
Speaking on the occasion, Ulema gave various suggestions to deal with the prevailing situation and urged the people to resort to Almighty Allah to seek His blessing by offering two rakat Salat-e-Tauba tomorrow.
They advised the people to seek forgiveness and repentance in individual prayers at their homes, which can help save the humanity from the current catastrophe.
The President urged the Ulema to play their due role in creating awareness among masses about the preventive measures against Coronavirus.
The meeting was attended by Minister for Religious Affairs Pir Noor-ul-Haq Qadri, Secretary, Ministry of National Health Services Dr Tauqeer Ahmad Qureshi and others.
https://www.radio.gov.pk/09-04-2020/special-prayer-to-seek-allahs-forgiveness-will-be-offered-at-aiwan-e-sadr-on-friday
-----
Mosques to stay open in country today
April 10, 2020
ISLAMABAD Mosques were allowed to remain open today (Friday), when people gather for weekly prayers, even as the coronavirus pandemic spread and much of the country had shut down. Prime Minister Imran Khan is relying on restricting the size of congregations attending mosques and advice to stay at home from religious groups like the country's Islamic Ideology Council. However, some provinces have issued their own lockdown orders to prevent Muslims from gathering for Friday prayers. In southern Sindh province, a complete lockdown is being enforced from noon until 3 p.m., the time when the faithful gather for prayers. Anyone found on the streets will be arrested, according to the provincial local government minister in a statement. In eastern Punjab province many checkpoints have been set up in major cities stopping people from congregating. Still, mosques remain open, even as they have been shut down across much of the Middle East and elsewhere.
https://pakobserver.net/mosques-to-stay-open-in-country-today/?utm_source=rss&utm_medium=rss&utm_campaign=mosques-to-stay-open-in-country-today
------
Bilawal asks Sindh govt to prepare for 'worst' coronavirus situation
April 10, 2020
Imran Ayub
KARACHI: Pakistan Peoples Party (PPP) chairman Bilawal Bhutto-Zardari warned his party government in Sindh on Thursday to prepare for the "worst situation" emerging from the novel coronavirus outbreak.
He wanted the PPP provincial government to equip itself with a comprehensive plan warning that he would not tolerate any shortfall in the provision of assistance to those who were facing consequences of the coronavirus pandemic.
"There is a need to speed up capacity and ability building efforts to meet the growing challenge," he said while presiding over a meeting through video link at Bilawal House on preparation of the government to deal with the lockdown and its challenges.
The meeting, attended by Sindh Chief Minister Syed Murad Ali Shah, Health Minister Dr Azra Pechuho and other members of the cabinet and provincial administration, also discussed the future strategy for battle against the global pandemic.
"The Sindh government should be ready for the worst situation," a statement issued by Bilawal House after the meeting quoted the PPP chairman as saying. "The government should have a comprehensive plan to fight against the coronavirus in the worst case scenario. For this, the provincial government should speed up its efforts and mobilise all resources."
The Sindh government has already hinted that the three-week province-wide lockdown may not be eased off after April 14 as Chinese experts, owners and chief executive officers of private hospitals and leading doctors have urged the provincial government to extend the restrictions to slow down the spread of the coronavirus in Sindh.
Apart from the conventional strategy to meet the challenges emerging from the spread of the virus and lockdown, the PPP chairman also called for increasing research-based efforts. "A research team of the Sindh government is also doing its job for a future strategy considering the current trend of virus and its impact," the statement quoted Mr Bhutto-Zardari as saying. "I urge the research team to review the situation across the country which emerged in the wake of coronavirus. The team should also share its findings with other provinces so they can also take advantage of such a study."
The PPP chairman was briefed on the government's recent attempt to persuade the private hospitals to share their experiences and resources with the provincial administration in fight against the virus. The meeting was informed that all the CEOs and owners of private hospitals had assured the chief minister that they would provide him equipment, manpower, technical and expert support whenever the provincial government needed. The CM in that regard, the PPP chairman was briefed, had also formed a committee headed by Health Minister Dr Pechuho and comprising Dr Asim Hussain, Dr Saadia and others as members to work out a plan to tackle the situation.
"The Sindh government official briefed the PPP chairman about the government's performance so far in the wake of the pandemic. He was informed that the Sindh government is also focusing on health facilities in Sukkur, Jacobabad, Larkana and Dadu," it said.
The PPP chairman again urged the centre to support the Sindh government and make this fight a united effort. "We all need to take it up collectively. If we want to emerge successful in these challenging times, we need to prove our unity," the statement quoted the PPP chairman as saying.
https://www.dawn.com/news/1547942/bilawal-asks-sindh-govt-to-prepare-for-worst-coronavirus-situation
-----
Abbottabad hospital to conduct drug trials on Covid-19 patients
April 10, 2020
Ashfaq Yusufzai
PESHAWAR: The US National Institute of Health has approved a proposal of medical teaching institution Ayub Medical College and Ayub Teaching Hospital Abbottabad to conduct trial on Covid-19 patients to find out treatment for the pandemic, which has no cure so far.
The trial entitled "effectiveness of hydroxychloroquine in Covid-19 patients" was approved by the US National Library of Medicine of National Institute of Health (NIH), last month to try different set of medicines for the treatment of Covid-19 patients.
Prof Umar Farooq, dean and chief executive officer of Ayub Medical College (AMC) and Ayub Teaching Hospital (ATH) Abbottabad, who will lead the trial, said that they had begun work and were hopeful of success.
"There is no timeline about completion of trial as it depends on the number of patients we receive. Approval of our proposal is indication of the ability of our team and its success would benefit the entire world," he said.
Prof Umar said that the trial was meant to find the effectiveness of hydroxychloroquine alone and adjuvant with azithromycin in mild to severe Covid-19 pneumonia patients admitted to their hospital.
The disease has been killing people at alarming speed and 23 trials are currently underway and some encouraging results from Wuhan, China have been recorded.
The drugs being tried are approved for malaria treatment by Food and Drug Administration (FDA), the US, yet their effectiveness in treatment of Covid-19 pneumonia is a question mark owing to which trials are underway in many countries, including the USA, India and China where the pandemic first occurred.
Prof Umar, who is PhD in public health, said that the disease was new and therefore researches were in progress to closely monitor the Covid-19 patients and their treatment and find out effectiveness of the drug.
Soon after the onset of the outbreak of pandemic in China, there has been worldwide demand for treatment of the Covid-19, which has so far killed more than 50,000 people. "It has no treatment as of now but we are sure that our trial will succeed and Pakistan will become a country to be remembered in the history of medicine," he said.
Prof Umar said that their proposal was approved last month and they began the trial a week ago. "So far, three of our patients have recovered, details about them couldn't be made public at this point because of the confidentiality of the patients," he added.
He said that they were distributing patients in groups and they were given three different regimes of drugs to find accurate treatment of Covid-19. Three groups of 25 patients each are getting different medication and the result will be shared with the NIH, the US on completion of the trial on total 75 patients.
According to him, one group of patients will be given a combination of two drugs including Hydroxy-chloroquine and Azithromycin while the second group will receive only Hydroxychloroquine and the third will undergo traditional method of treatment.
"We are taking consent of each and every patient included in the trial and informing them about the research," said Prof Umar. He said that all information of patients along with their signatures would be sent to the NIH on completion of the trial.
He said that patients for the trial were being selected on the basis of intensity of their diseases and ages. "We include only Covid-19 patients below 50 years. Those with heart, kidney and other serious ailments aren't allowed to be included in the trial," he added.
Prof Umar said that a total of 15 doctors working in different specialties and faculties at AMC and ATH were taking part in the process to win honour for the country.
https://www.dawn.com/news/1547911/abbottabad-hospital-to-conduct-drug-trials-on-covid-19-patients
------
Lockdown to badly affect Balochistan due to poverty: PM
April 10, 2020
Saleem Shahid
QUETTA: Prime Minister Imran Khan has said Balochistan will be the province most affected by the lockdown as its poverty level is more than any other part of the country due to joblessness of daily-wage earners and other poor people, as well as its impact on small business.
Talking to the media and addressing members of the Balochistan cabinet and parliamentarians after presiding over a meeting during his day-long visit to Quetta on Thursday, the prime minister said all the provincial governments would take decisions on April 14 whether to continue or ease the lockdown in view of the coronavirus situation in their provinces.
Balochistan Governor retired Justice Amanullah Khan Yasinzai, Chief Minister Jam Kamal Khan Alyani, federal ministers Asad Umar, Zubaida Jalal and Sardar Yar Mohammad Rind, Commander of Southern Command Lt Gen Wasim Ashraf and senior federal and provincial officials were also present on the occasion.
Prime Minister Khan expressed the apprehension that by the end of the current month the number of Covid-19 cases would increase in the country and put pressure on hospitals and health system. However, he said it was a matter of satisfaction that none of the coronavirus patients in Balochistan had been put in the intensive care unit of any hospital.
He said that only Quetta was a populous city while other cities and towns of the province had a small population where the situation could be brought under control. "I feel that Balochistan will be less affected by the pandemic."
But the situation in big cities of the country like Lahore, Karachi, Rawalpindi, Peshawar and Faisalabad could worsen due to their big population in case the number of coronavirus cases rose there, he feared.
Imran Khan said his government was making all-out efforts to deal with the situation. "We will fight the coronavirus pandemic jointly as a nation as no government can overcome this alarming situation alone," he said, adding that the federal and provincial governments were jointly dealing with the situation.
He said Pakistan had meagre resources but the countries having big and strong economy were also facing difficulties in fighting the pandemic. He said the government was reviewing the situation very keenly and getting data from other countries, especially from India and Bangladesh, as they were also facing the same situation as Pakistan. The National Command and Operation Centre was analysing the situation on a daily basis and the government adopting measures for future planning on the basis its data and reports, he added.
The prime minister said the government focusing its attention on supply of safety gear and other medical equipment to doctors and health staff. "Doctors, paramedics, nurses and other health workers have been provided PPE (personal protective equipment) and the government is making all-out efforts for their safety and protection."
Mr Khan said the purpose of his visit to Quetta was to review the situation in the province with regard to the impact of the lockdown due to coronavirus. Balochistan, he said, would be affected badly because of its poverty as it would face joblessness of daily-wage earners and other poor people following the closure of businesses of small shopkeepers and traders.
However, he said the federal government had launched the biggest relief programme in the country's history under which Rs12,000 each would be provided to 12 million families of poor and daily-wage earners as financial assistance. All arrangements had been completed in this regard and the programme would be implemented across the country in the coming two weeks.
"Federal and provincial governments are coordinating with each other in dealing with the coronavirus situation," he said, adding that the Centre would provide all-out assistance and cooperation to the provinces in this regard.
The prime minister appreciated the efforts and arrangements made by the Balochistan government to combat the pandemic. He said the federal government was fully aware of the problems and financial constraints of the common man due to the lockdown, adding that a comprehensive strategy would be made to ensure continued supply of ration to the poor and daily wagers. "Policy will be evolved with the consultation of provincial governments," he added.
Earlier, Prime Minister Khan visited a quarantine centre set up at the Bolan Medical Collage Hospital Complex, where the authorities concerned briefed him on medical facilities like availability of ventilators and medicines. He was accompanied by National Assembly Deputy Speaker Qasim Suri.
Balochistan Chief Secretary retired Captain Fazeel Asghar informed the prime minister about the facilities being provided at isolation wards and quarantine centers in Taftan, Quetta, Chaman and other districts of the province.
Governor Yasinzai and Chief Minister Alyani also met Prime Minister Khan at the Governor House.
https://www.dawn.com/news/1547992/lockdown-to-badly-affect-balochistan-due-to-poverty-pm
------
Mideast
Islamic State attack in Syria kills 18 regime forces: Report
Apr 09, 2020
Islamic State group jihadists on Thursday killed at least 18 regime fighters in an attack in central Syria, a war monitor said.
Pro-government fighters backed by Russian air strikes were battling off the jihadists on the outskirts of the desert town of Al-Sukhna in Homs province, the Syrian Observatory for Human Rights said.
"The Russian aviation intervened to stop the jihadists from advancing and retaking the town," Observatory chief Rami Abdel Rahman said.
Thursday's attack was the deadliest in the area since December, when IS fighters attacked an army garrison in a gas facility east of Homs city, killing four civilians and 13 troops or militiamen, Abdel Rahman said.
After years of various offensives against it, US-backed forces finally expelled the jihadists from their last patch of territory in eastern Syria a year ago.
But IS fighters still retain a presence in the vast Badia desert stretching across the country through Homs province and eastwards to the Iraqi border, and continue to carry out deadly attacks.
Syria's war has killed more than 380,000 people and displaced millions since starting in 2011 with the brutal repression of anti-government protests.
https://www.hindustantimes.com/world-news/islamic-state-attack-in-syria-kills-18-regime-forces-report/story-g6JzgXRmCyLDKEx4fYm3kM.html
------
Iran, Turkey discuss joint anti-COVID19 fight
April 9, 2020
AhlulBayt News Agency (ABNA): Speaker of Grand National Assembly of Turkey Mustafa Şentop in a phone conversation with Iranian Parliament (Majlis) Speaker Ali Larijani on Thursday discussed joint efforts in fight against coronavirus pandemic.
Şentop expressed regret over Larijani's infection to COVID19 and wished health for him and for all Iranians.
He expressed the hope that the two sides to successfully pass the crisis through collective efforts.
After certain symptoms emerged, Larijani underwent coronavirus testing and he tested positive for COVID-19. He is currently in quarantine receiving medical treatment.
Earlier, President of the Inter-Parliamentary Union (IPU) Gabriela Cuevas Barron in a message expressed solidarity with Iranian Parliament Speaker Ali Larijani diagnosed with coronavirus, saying: "I also stand in solidarity with the MPs. We will get through this together."
https://en.abna24.com/news//iran-turkey-discuss-joint-anti-covid19-fight_1023953.html
------
Imam Khamenei: US confiscation of masks, gloves is a result of western, liberal culture
April 9, 2020
AhlulBayt News Agency (ABNA): On the occasion of the anniversary of the birth of the Imam of the Age (may Allah hasten his reappearance), Imam Khamenei, the Supreme Leader of the Islamic Revolution, will address the nation in a live TV broadcast on Thursday, April 9, 2020.
"There are probably few eras in the history of mankind where the whole of mankind has felt the need for a savior as much as they do today, whether consciously or subconsciously. This is the feeling of a need for a savior, a powerful divine guide."
"Today, after experiencing various ideologies from communism to pretentious, western, liberal democracy, mankind does not feel at peace. Mankind is not happy. Few eras in the history of mankind have witnessed such a strong desire for the sublime truth, for a Savior."
"Today, mankind is afflicted with poverty, disease, injustice, and wide class divisions. And, mankind witnesses the abuse of science, discoveries and nature by world powers. These have led to mankind's exhaustion and frustration and their desire for a savior, a redeeming hand."
"Human beings' wisdom is a great blessing, which can solve many problems but not all of them. For example, today science is serving injustice and warmongering in the world. There is a need for a spiritual and divine power, the powerful hand of the Infallible Imam."
"All religions have promised the coming of a Savior. In Islam, people have been told to await the Savior. Awaiting does not mean sitting idly; awaiting means having hope and preparing. It means taking actions."
"Another part of my speech concerns Coronavirus. The Coronavirus outbreak is a test for all the world, both for governments and for nations. The Iranian nation shone brightly in this test, and at the peak of this national pride are the health professionals."
"Health professionals are risking their lives to serve the people. This is very important and great. Tolerating being away from their families during the Nowruz holidays, sleepless hours and the mental pressures they have endured are all a source of pride for Iran's medical community."
"Besides the health professionals, volunteers, university students and Basij forces have entered the battlefield against Coronavirus and their services are indescribable. Employing the administrative and scientific abilities of the Army and the IRGC in this battle are also sources of pride."
"People's participation in the fight against Coronavvirus was truly amazing: 1) people feeding the needy; 2) turning houses into workshops to sew masks; 3) disinfecting public areas; 4) talking to landlords and shop owners to exempt people from their rents; and tens of other measures."
"All of this participation in the fight against Coronavirus are signs of the roots of Islamic culture in people of Iran. In contrast, Western civilization showed its outcome too, one of the most appalling of which is the US and some European countries' confiscation of other nations' masks and gloves."
"Confiscating other nations' masks, emptying shops, fighting over toilet paper and long lines for buying guns during the Coronavirus outbreak are the logical and natural outcome of the philosophy that governs western civilization. Or, for example, in some western countries, they have said that the elderly, the disabled and people with major problems are not a priority to receive medical care. All of this is a result and product of the dominance of western culture, which is based on materialism and atheism."
"A few days ago, a western official said that with the Corona outbreak we are witnessing rule by the wild west. Some were surprised when we said that western civilization has a savage spirit that comes together with a perfumed, smart appearance. Now they're confessing to this."
"Corona is a major, dangerous problem for mankind; but, it is not bigger than problems the Iranian nation has endured. During the war, Saddam—with help from western governments—dropped chemical bombs on the Iranian nation, killing thousands, injuring hundreds of thousands."
"Corona is a major problem for mankind. But we won't forget that in Vietnam, Iraq, etc. hundreds of thousands of ppl were killed by the US. Even now, millions suffer from the tyranny of the US and its allies in Yemen, Palestine, etc. Mankind has worse problems than Corona."
https://en.abna24.com/news//imam-khamenei-us-confiscation-of-masks-gloves-is-a-result-of-western-liberal-culture_1023951.html
------
Khamenei tells Iranians to avoid Ramadan gatherings amid virus
April 9, 2020
TEHRAN: Supreme leader Ayatollah Ali Khamenei on Thursday appealed for Iranians to pray at home during the Muslim fasting month of Ramadan to help stop the spread of the coronavirus.
Iran has reported more than 4,100 deaths and 66,000 infections from the novel coronavirus, making the country's COVID-19 outbreak one of the worst in the world.
Khamenei called on Iranians to avoid mass gatherings, such as collective prayers, during Ramadan, which starts later this month.
"In the absence of public gatherings during Ramadan, such as prayers, speeches… which we are deprived of this year, we should not neglect worship, invocation and humility in our loneliness," he said in a televised speech.
Iran, which announced its first COVID-19 cases on February 19, is by far the worst hit by the pandemic in the Middle East, according to official tolls.
https://www.brecorder.com/2020/04/09/587927/khamenei-tells-iranians-to-avoid-ramadan-gatherings-amid-virus/
------
Turkey sends another convoy of military vehicles into Syria's Idlib
09 April 2020
A Britain-based war monitor says Turkey has dispatched another military convoy to Syria's northwestern province of Idlib, as Ankara beefs up its military presence in the embattled region following a ceasefire reached earlier this month with Moscow to halt an escalation of violence there.
The so-called Syrian Observatory for Human Rights, citing activists requesting anonymity, reported that the Turkish convoy, consisting of nearly 25 military vehicles, crossed into the Syrian territory through Kafr Lusin border crossing on Thursday afternoon, and headed toward Turkish positions.
It noted that the convoy, armed with heavy machine guns, passed through the border village of al-Sokkariyeh and headed towards the villages of al-Dawudiyah and Aniq.
Turkish army troops and militants allied to Ankara reportedly shell a number of villages in Syria's Hasakah province, causing damage.
Separately, Turkish military forces and their allied Takfiri militants fired artillery rounds at Kurdish-controlled towns of Kafr Naya and Sheikh Hilal in addition to the outskirts of Tell Rifaat city, located roughly 40 kilometers (25 miles) north of the city of Aleppo
The development took place only a day after Turkish troops in Mare' town, located some 25 kilometers north of Aleppo, heavily shelled Kurdish-held areas in the villages of Tell Qarah, Um al-Housh, Ahras, Tall Soussine besides Kafr Naya town, leaving an internally displaced child injured.
The Observatory also reported on Thursday that Turkish forces had established an observation post in Jannat al-Qura village, which lies in the western countryside of Idlib and on the strategic M4 highway.
At least two civilians are killed as Turkish forces and their allied militants shell villages in Syria's province of Hasakah.
Furthermore, Syrian Observatory for Human Rights reported that a militant commander from the Turkish-backed so-called Sultan Murad Division has been killed after a bomb explosion struck his car in al-Bab city, which is situated in the northeastern countryside of Aleppo.
Turkish Defense Minister Hulusi Akar announced on March 13 that the Russian and Turkish militaries had agreed on the details of a new ceasefire in the Idlib de-escalation zone following four days of talks in Ankara.
Akar said the first joint patrol by Turkey and Russia on the M4 highway in Idlib would take place on March 15, and that Turkey and Russia will set up joint coordination centers in the area.
Turkey and Russia agree to begin joint patrols along a key highway in Syria's northwestern province of Idlib as part of a ceasefire agreement, Turkey's defense minister says.
The announcement followed a telephone call between Russian President Vladimir Putin and his Turkish counterpart Recep Tayyip Erdogan the previous day to discuss the implementation of the agreements the two leaders had reached in Moscow the previous week.
"Vladimir Putin and Recep Tayyip Erdogan reaffirmed the importance of continued close joint efforts, first of all between the Russian and Turkish defense ministries, in order to ensure a stable ceasefire and further stabilization of the situation," a Kremlin press release read.
https://www.presstv.com/Detail/2020/04/09/622691/Turkey-sends-convoy-military-vehicles-Syria-Idlib
-----
Syria rejects OPCW report on chemical attacks as misleading, fabricated
09 April 2020
Syria has roundly dismissed a recent report by the Organization for the Prohibition of Chemical Weapons (OPCW) about a series of toxic attacks in the country's western Hama region as misleading, and based on fabricated information provided by Takfiri terrorists and the so-called civil defense group, White Helmets.
"The OPCW published on April 8 a report compiled by its Investigation and Identification Team (IIT), whilst Syria and a number of countries have described the team as illegitimate and unconventional," the Syrian Ministry of Foreign Affairs and Expatriates said in a statement carried by the country's official news agency SANA on Thursday.
The ministry noted that the report contains fake and fabricated conclusions, and is aimed at falsifying facts and accusing Syrian government forces of using toxic materials in Lataminah town back in March 2017.
Russia slams as 'untrustworthy' a recent report by the global chemical arms watchdog that accuses Syrian government forces of being behind a series of 'chemical attacks' on a militant-held village in late 2017.
It further highlighted that the report relied on sources prepared and fabricated by the Jabhat Fateh al-Sham Takfiri terrorist group, formerly known as the al-Nusra Front, and the so-called civil defense group, White Helmets, under the instructions of their masters in the United States, Turkey and other Western countries.
"Syria categorically denies the use of toxic materials in Lataminah or any part of the country. It reiterates that the Syrian Arab Army has never used such weapons in the course of fierce battles against terrorist groups," the ministry pointed out.
A top Syrian official urges the Organization for the Prohibition of Chemical Weapons (OPCW) to change course and show impartiality.
The Syrian foreign ministry finally compared the OPCW's latest report with the one on the alleged use of chemical weapons in the city of Douma, located about 10 kilometers northeast of the capital Damascus, noting that the present publication is another "disgrace" for the organization.
Freshly leaked information has revealed that the Organization for the Prohibition of Chemical Weapons (OPCW) manipulated a report on an alleged chemical attack in Syria in 2018.
On April 14, 2018, the United States, Britain and France carried out a string of airstrikes against Syria over the suspected chemical weapons attack on Douma.
The OPCW launched an inspection into that incident and announced in a report in March last year that a "toxic chemical" containing chlorine was used in clashes between the Syrian military and anti-government militants in Douma on April 7, 2018.
A former OPCW inspector has accused the organization's management of ignoring and suppressing findings of the team that was deployed to investigate an alleged chemical attack in Syria's Douma.
Ian Henderson, a former OPCW inspector in the Douma probe team, told the UN Security Council earlier this year that the account the watchdog had issued on the matter ran contrary to the findings of its own fact-finding mission.
Syria surrendered its stockpile of chemical weapons in 2014 to a joint mission led by the United States and the OPCW, which oversaw the destruction of the weaponry. It has also consistently denied using chemical weapons.
https://www.presstv.com/Detail/2020/04/09/622685/Syria-rejects-OPCW-report-chemical-attacks-misleading-fabricated
----
South Asia
Severe restrictions announced for Kabul city amid a sharp rise in coronavirus cases
09 Apr 2020
The Ministry of Interior (MoI) on Thursday announced more restrictions for Kabul city amid a sharp rise in the novel coronavirus (COVID-19) cases in the country.
According to a statement released by MoI, the police forces are obliged to implement the restrictions in a more strict manner, considering the sharp rise in coronavirus cases.
The statement further added that the ministry strictly prohibits commuting on public streets with effect from today, warning that the police forces would take strict legal actions against those who would commute on the streets without any emergency work.
This comes as the Ministry of Public Health announced that the authorities have recorded 40 new positive cases of coronavirus in the country in the past 24 hours.
Meanwhile, the authorities said the new positive cases increase the total number of COVID-19 cases to 484 across the country and the disease has so far killed 32 patients.
https://www.khaama.com/severe-restrictions-announced-for-kabul-city-amid-a-sharp-rise-in-coronavirus-cases-04637/
----
9 Taliban militants killed, 3 wounded Zabul and Logar clashes
10 Apr 2020
The security forces killed 9 Taliban militants and wounded 3 others during the clashes in Zabul and Logar provinces, the Afghan military said.
The 205th Atal Corps in a statement said the Taliban militants were planning to attack the security posts in Arghandab district of Zabul province on Wednesday.
The statement further added that the security forces conducted airstrikes in self-defense, killing 7 Taliban militants and wounding 3 others.
The 203rd Thunder Corps in a statement said the Taliban militants attacked the security posts in Qala-e Elyas, located in the outskirts of the provincial capital of Logar province.
The security forces repulsed the attack and killed 2 Taliban militants during the clash, the 203rd Thunder Corps added in its statement.
The statement also added that the security forces discovered and defused 18 improvised explosive devices during the operations in Paktiya, Wardak adn Khost provinces.
https://www.khaama.com/9-taliban-militants-killed-3-wounded-zabul-and-logar-clashes-04640/
----
20,000 Afghans cross Torkham in four days
April 10, 2020
LANDI KOTAL: More than 20,000 stranded Afghans went back to their country via Torkham during the last four days of border reopening.
Officials told Dawn that the last day was comparatively calm as only about 1,100 Afghans, mostly men, crossed the border prior to its closure. The total number of returned Afghans during the four days was 20,066, they said.
Officials said that the second and third day (April 7 and 8) were very tough for them as the 'influx' of the stranded Afghan was beyond their expectations.
"Cumulatively, almost 18,000 Afghans, including men, women and children, went back home in these two days as the government had relaxed its immigration policy by allowing just all and sundry t cross the border," an official told this scribe on condition of anonymity.
He said that border remained opened till mid night on Wednesday, April 8, while it was closed at around 10:30pm on Tuesday, the second day of its reopening. "On the first day, we allowed only 1,000 Afghans, who all possessed valid travel documents," said the official. He added that they could not keep pace with the process of immigration due to large number of returning Afghans.
Official figures showed that on Thursday, 485 Afghans with valid visas on their passports, 461 with their Afghan national identity cards and 57 with Proof of Registration Cards (POR) were allowed to go back to their homeland.
Officials said that they had completed all arrangements for resumption of the bilateral trade between Pakistan and Afghanistan via Torkham from Friday (today).
Pakistan had earlier announced to resume bilateral trade with Afghanistan on a restricted basis with more emphasis on the health screening of both drivers to check transmission of coronavirus on any side of the border.
The Khyber district administration in assistance with local health authorities have also established four separate quarantine centres in Landi Kotal where suspected Covid-19 patients would be kept after their arrival from Afghanistan.
Shamsul Islam, an official, said that stranded Pakistanis and transporters would be kept at those quarantine centres for 14 days where they would be provided with all health facilities along with free food. He said that the administration and health staff would conduct regular monitoring of the centres and would refer those, who tested positive for Covid-19 to Services Hospital in Peshawar for further treatment.
https://www.dawn.com/news/1547910/20000-afghans-cross-torkham-in-four-days
------
Five rockets hit U.S. air base in Afghanistan; ISIS claims responsibility
April 9, 2020
AhlulBayt News Agency (ABNA): Five rockets hit a major U.S. air base in Afghanistan on Thursday but there were no casualties, Afghanistan's NATO-led force said, in an attack claimed by the ISIS terrorist group.
The attack comes weeks after Taliban militants and the United States reached a deal on the withdrawal of U.S.-led international troops in exchange for Taliban security guarantees. ISIS terrorists have not been included in the pact.
"Five rockets were fired at Bagram airfield early this morning," the NATO-led mission, Resolute Support, said on Twitter, referring to the main U.S. air base in Afghanistan, north of Kabul.
The Afghan affiliate of ISIS, known as ISIS-K, first appeared in eastern Afghanistan in 2014, and has since made inroads into other areas, particularly the north.
The U.S. military estimates their strength at 2,000 fighters. Some Afghan officials estimated the number is higher.
The Afghan government has begun the release of Taliban prisoners from a jail near the Bagram base, as step to build confidence for the Taliban talks.
A hundred Taliban members are scheduled to be freed on Thursday from detention at a jail near the base, following the release on Wednesday of 100 Taliban members.
The prisoner exchange deal provides for the government to free 5,000 Taliban prisoners, with the Taliban releasing 1,000 members of the Afghan security forces in exchange.
https://en.abna24.com/news//five-rockets-hit-u-s-air-base-in-afghanistan-isis-claims-responsibility_1023954.html
------
Coronavirus positive cases rise to 521 as Afghanistan records 37 new cases
10 Apr 2020
The Ministry of Public Health (MoPH) confirmed that the authorities have recorded 37 new positive cases of the novel coronavirus (COVID-19) in the past 24 hours.
Waheed Mayar, a spokesperson for the ministry, said the authorities recorded the new cases in various provinces including capital Kabul.
Mayar further added that 16 of the new positive cases were recorded in Kabul, 2 cases in Kandahar, 2 cases in Logar, 2 cases in Daikundi, 2 case in Takhar, one case in Bamyan and one case in Parwan.
According to public health officials, the new cases increase the total number of COVID-19 positive cases to 521 across the country.
The officials further added that the disease has so far killed 16 people while 32 others have recovered.
https://www.khaama.com/coronavirus-positive-cases-rise-to-521-as-afghanistan-records-37-new-cases-04639/
-----
Taliban announces stance as rockets hit U.S.-run Bagram Airfield
09 Apr 2020
The Taliban group has announced its position regarding the rocket attack on the U.S.-run Bagram Airfield, saying the group is not involved in the assault.
Zabiullah Mujahid, a spokesperson for the Taliban group, said the Islamic Emirate Mujahideen are not involved in the rocket attack on Bagram Airfield.
The Afghan security officials had earlier said the Taliban militants fired five rockets at Bagram Airfield earlier today which caused no casualties.
Tariq Arian, a spokesperson for the Ministry of Interior, said the Taliban militants had placed the rocket launcher in the trunk of a car.
He said the militants fired the rockets at around 5:40 am which caused no casualties.
https://www.khaama.com/taliban-announces-stance-as-rockets-hit-u-s-run-bagram-airfield-04636/
-----
Taliban commander among 6 killed as Afghan forces thwart Taliban attack in Zabul
09 Apr 2020
The Afghan forces thwarted militants bid to launch an attack on security posts in southern Zabul province and killed six Taliban militants during the operation.
The Ministry of Defense in a statement said the Taliban militants were looking to attack the security posts in Kajak Khel Village of Shahjoi district.
However, the Afghan forces thwarted the plan by launching an operation and killed six Taliban militants including one of their commanders Hayatullah.
The statement further added that the security forces also arrested one of the commanders of Taliban during the operation.
The security forces also confiscated some weapons and munitions during the same operation, the Ministry of Defense added.
https://www.khaama.com/taliban-commander-among-6-killed-as-afghan-forces-thwart-taliban-attack-in-zabul-04635/
------
Arab world
Liquidity stress highlights importance of effective Sharia-Compliant: Fitch Ratings
April 10, 2020
DUBAI/LONDON The recent disruptions caused by the coronavirus and the oil price slump are affecting Islamic banks' liquidity and highlight the need to develop deeper sharia-compliant repurchase agreements (repo) markets, Fitch Ratings says.We believe a better-functioning Islamic repo market would be credit positive for Islamic banks' funding and liquidity profiles by providing banks with an additional source of short-term funding on a secure and low-risk basis, especially in times of liquidity stress as we currently see. It can also provide some support to Islamic banks' earnings generation capabilities through a lower cost of funding due to the collateral held. However, issues with sharia-compliance, the lack of standardisation and regulatory hurdles are hindering the growth of the Islamic repo market and its acceptance among counterparties. The economic downturn caused by the coronavirus pandemic and the sharp fall in oil prices are reducing banks' liquidity in Islamic finance's core markets, namely Gulf Cooperation Council (GCC) countries and Malaysia. While each of these countries is at a different stage of development, Malaysia's money and repo markets are the deepest and most liquid. The country has well-developed domestic debt capital markets that drive a broad range of collateral eligible for repos under sale and buy back agreements (SBBA) with the central bank ranging from sovereign sukuk to Islamic private debt securities. Funding options for Islamic banks in Malaysia are broader than in other countries due to the longer repo tenors available. In the GCC, the Central Bank of Bahrain is leading the way by introducing sharia-compliant liquidity management tools, such as the Islamic Sukuk Liquidity Instrument (ISLI) and the Wakalah, an intraday credit (IDC) facility available to Islamic banks against their tradable Islamic securities holdings (Sukuk-al-ijara). The latter is designed to ensure a level playing field between Islamic and conventional banks, and increase the efficiency of the monetary policy. However, banks' recourse to repo funding in the past has been limited as high oil prices have supported banks' liquidity through strong deposits inflows from government and government-related entities, which represent about a third of total deposits on average. However, during the previous oil price shock in 2015-2016, we saw Gulf central banks injecting liquidity into the banking system through repo facilities with commercial banks which had suffered from tightening liquidity, thereby providing banks with contingent liquidity sources. This was accompanied by tenor extension of repo operations, particularly in SaudiArabia and Qatar, and broadening the range of collateral eligible for repo operations in the UAE. With the economic boycott of Qatar, the Qatar Central Bank's (QCB) repo operations skyrocketed to QAR413.9 billion in 2017 from QAR3.4 billion in 2016 to alleviate banks' liquidity pressures. Should the economic disruptions caused by the coronavirus continue and oil prices remain low, we expect central banks across the GCC to increase repo facilities and provide additional sources of liquidity to banks. Most GCC countries have already announced that additional liquidity will be made availableto supportthe banksif needed and this includes banks' access to repo funding at their respective central banks. Compared to their conventional peers, Islamic banks face several constraints to raise funding through repo markets, especially for bank-to-bank transactions. These constraints include differences in sharia interpretation, lack of standardisation and regulatory hurdles faced by Islamic banks. Malaysia's Islamic repo structure, SBBA, is not viewed as sharia-compliant in GCC countries, where Murabaha, Ijara and Tawaruqq are mainly used. This lack of harmonisation hinders growth. To address the issue of standardisation and provide an alternative to conventional repo,the Bahrain-based International Islamic Financial Market published the Master Collateralized Murabaha Agreement in 2014. While we view the creation of the standard as a positive step, its uptake has been low with implementation mostly limited to the UAE. To support short-term liquidity management at Islamic banks and liquidity in secondary markets, the International Islamic Liquidity Management Corporation, based in Malaysia and owned by various central banks, has issued about USD53 billion of short-term and tradable sukuk denominated in US dollars since 2013. However, we believe this amount would need to be inflated to create a functioning and liquid Islamic repo market. Regulatory hurdles are another challenge. Some countries with less-developed Islamic finance ecosystems, such as Oman, Jordan and Morocco, do not have any Islamic repo facilities with central banks or have a very limited offering. This places Islamic banks at a disadvantage to their conventional peers, which is especially problematic given the current tight liquidity conditions. However, some other jurisdictions are being proactive in developing shariacompliant liquidity management tools. In 2018, Turkey launched the Committed Transactions Market of Sukuk, which enables bank-to-bank repo transactions, while banks can have access to repo funding through the central bank through sovereign sukuk and lease certificates as collateral, albeit with shorter tenors than conventional banks. In the UAE, the adoption of the Accounting and Auditing Organization for Islamic Financial Institutions standards has been compulsory for Islamic banks since September 2018; its impact on the Islamic repo market is evolving and is still being assessed. GCC Islamic banks' funding profiles continue to benefit from strong retail networks, a high share of low-cost customer deposits and low reliance on wholesale funding, all of which support the stability of their funding base. Their liquidity is supported by a good proportion of liquid assets (in the form of cash balances with central banks and held-to-maturity domestic sovereign sukuk) relative to their customer deposit base. Nevertheless
https://pakobserver.net/liquidity-stress-highlights-importance-of-effective-sharia-compliant-fitch-ratings/?utm_source=rss&utm_medium=rss&utm_campaign=liquidity-stress-highlights-importance-of-effective-sharia-compliant-fitch-ratings
------
'Stylish and easy to wear': how Ramadan fashion has evolved over the years
Hafsa Lodi
April 10, 2020
A decade ago, shopping for clothes to wear during Ramadan mainly involved stocking up on kaftans and decorative abayas from local souqs. But the Ramadan retail market has since evolved, with names such as Michael Kors, Oscar de la Renta and Dolce & Gabbana entering the landscape.
It all started in 2014, when American label DKNY launched a capsule collection for Ramadan, kicking off a trend many other western brands would come to follow. Six years on, Tommy Hilfiger, Burberry and H&M have all experimented with longer hemlines, flowing silhouettes and headscarves for their Middle East clientele during the holy month.
Then came the rise of modest fashion, which is now a thriving retail category, thanks to hijab-wearing models and modest fashion bloggers shedding light on the demand for conservative cuts. Financial projections, too, show this fashion segment as a lucrative one; the State of the Global Islamic Economy Report 2019-20 estimates that spend on fashion by the Muslim community tallied up to $283 billion (Dh1 trillion) in 2018, projected to grow to $368bn in 2021 and reach $402bn by 2024.
However, Ramadan-exclusive collections have drawn criticism, both from the West and the East. In a 2016 article for Refinery29, Zahra Al Jabri, the American-Muslim founder of early modest wear website Mode-sty, said her main issues with Ramadan collections is that they are often only available in the Middle East, where a mere 20 per cent of the world's Muslim population resides. She also said they are too expensive, and that some are simply not modest enough, often designed with high slits, low necklines and sheer fabrics. Ramadan ranges from Mango, for instance, have featured strappy dresses and sleeveless tunics, which Al Jabri deems "improper".
Emirati-Mexican fashion blogger Ashley Al Busmait believes, in the Middle East, it comes down to understanding the local style aesthetic. "Some labels attempted to cater to the GCC market with campaigns that soon backfired. This is due to a lack of understanding of the trends that are established locally and the profile of the audience they are trying to tap into," she says. While it was not made for Ramadan, Dolce & Gabbana's 2019 abaya collection, she says, with its "sunflower and leopard-print" designs, is an example of a poorly executed attempt to cater to women in the Middle East.
Carolina Herrera's 2017 abaya collection, meanwhile, was a hit, according to Al Busmait because "it featured impeccably tailored pieces using modern fabrics while still maintaining the modesty element". For Ramadan this year, Carolina Herrera presents a bright yellow kaftan with an embroidered keyhole neckline, while Michael Kors has a navy metallic dress with scattered daisies, and another with a floral ombre effect and matching shayla.
Ramadan is also a time when trends overall change: silhouettes become loose, airy and culturally inspired, and kaftans become a key piece in your wardrobe, even if floaty and feminine styles are not what you wear for the other 11 months of the year. Besides this, Al Busmait believes there is room for designers to experiment with modest trends. "I often see pieces that are overly decorative or limited to kaftans and dresses, whereas women are also experimenting with minimalist, tailored silhouettes such as matching sets," she says.
Ana Canadas, brand marketing director at online store Farfetch, also says there is more to Ramadan-appropriate fashion than kaftans. "Customers look for pieces that are stylish and easy to wear – kaftans, shirt dresses, maxi skirts and pyjamas-style sets tend to be the products of choice during this period," she says. Canadas acknowledges that while many women attend the iftars and suhoors that take place in hotels and restaurants during the month, others observe the occasion at home.
"There is a segment of consumers who opt for more opulent dresses with heavy embellishment and beautiful head accessories, from turbans to headbands and scarves. Homeware is another category that gets a lot of attention, since this time of year is very family-oriented and anchored in togetherness, so people spend a lot of time in the home."
E-retailers such as Net-a-Porter, Moda Operandi and Farfetch promote "Ramadan edits" that include a curated selection of garments suitable for the season. On Farfetch, a brocade Saint Laurent dress, cotton kaftan by Jil Sander and Fendi mules can be found in this year's selection. Al Busmait says this approach works well for shoppers. "It makes it easier to style cohesive looks without having to browse through pages and pages," she says.
Canadas says: "It is important to buy quality and versatile pieces that allow you to get the most out of your wardrobe all year long. Understand what core pieces are available from the trends you might want to buy into, and then adapt them to create modest looks."
Taller Marmo, a brand born in Dubai and now based in Milan, has incorporated kaftan-inspired silhouettes in its spring / summer 2020 range. Designer Yago Goicoechea believes that the styles can be worn throughout the year. "We don't like to specifically pertain to it as 'Ramadan fashion', like it would cease to exist after that. We think what the client wants is a product that they can relate to; a product high in quality, creativity and storytelling," he says.
"A globalised market gives a positive stimulus to designers and creatives. It makes our ideas cross-pollinate," says Goicoechea. Such is the case with modest fashion in general – pieces that may not at first stand out as conservative can be styled as such.
We don't like to specifically pertain to it as 'Ramadan fashion', like it would cease to exist after that. We think what the client wants is a product that they can relate to; a product high in quality, creativity and storytelling.
Brands are becoming savvy with trends such as layering. The homepage of high-street e-retailer Asos features a "Ramadan Edit" banner, along with a dark-skinned model wearing an edgy, orange, animal-print ensemble and black turban. "We want our diverse customer base to feel represented by the models they see," says Sian Ryan, head of design at Asos. "As well as having year-round modest-wear edits, we are working with an influencer to launch a selection in time for Ramadan."
Perhaps this wide-reaching approach of offering curated looks that speak to different budgets, styles, cultures and levels of modesty, as opposed to creating ritzy, one-off exclusives, is more apt.
Designs released in time for Ramadan this year may be very different from the themes of the past. As the UAE and other countries attempt to contain the coronavirus pandemic, it's possible social distancing measures will continue for the next few weeks. This means we may observe a spiritual month without the hotel iftar and suhoor buffets. Perhaps this will be the year comfort trumps glamour in the realm of Ramadan style – a trend that may stick in the years to come.
https://www.thenational.ae/lifestyle/fashion/stylish-and-easy-to-wear-how-ramadan-fashion-has-evolved-over-the-years-1.1004183
------
UAE COVID-19 measures: Mosques, churches, places of worship to stay closed
April 09, 2020
Dona Cherian
Dubai: The UAE government announced in a tweet on Thursday that mosques, churches and other places of worship are to remain closed until further notice.
The authorities added that these measures are in line with the precautionary measures being taken to ensure the health and safety of the public.
On March 16, it was first announced that prayers at mosques and all other places of worship in UAE would be suspended as part of preventive measures to stop the spread of COVID-19. The decision at the time was subject to a four-week review. The decision on Thursday extends the suspension until further notice.
The decision was taken by the National Emergency of Crisis and Disasters Management Authority in collaboration with the General Authority of Islamic Affairs and Awqaf.
https://gulfnews.com/uae/uae-covid-19-measures-mosques-churches-places-of-worship-to-stay-closed-1.1586457271099
------
UAE extends closure of mosques, places of worship until further notice
09 April 2020
The United Arab Emirates announced on Thursday its decision to extend the closure of mosques and places of worship until further notice, according to state news agency WAM.
The report said the decision was made as part of the precautionary measures taken throughout the country to prevent the spread of coronavirus.
The country is home to thousands of mosques, over 40 Christian churches, and a Hindu temple. The announcement comes days ahead of Easter, the holiest day in the Christian calendar.
A member of medical staff wearing a protective face mask and gloves takes a swab from a man during drive-thru coronavirus disease testing (COVID-19) at a screening center in Abu Dhabi, United Arab Emirates, March 30, 2020. (Reuters)
The suspension of prayer in all houses of worship across the country was first announced on March 16, and was set for a period of four weeks.
The UAE announced on Saturday the extension of the nationwide disinfection program until further notice. Other preventative measures include halting flights, suspending metro services, closing tourist attractions, and suspending marriages and divorces until further notice.
https://english.alarabiya.net/en/coronavirus/2020/04/09/UAE-extends-closure-of-mosques-places-of-worship-until-further-notice.html
------
Iraq's designated prime minister vows to control arms, fight corruption
09 April 2020
The designated PM, who was named by President Barham Salih earlier on Thursday also said in a televised speech the key objectives for his government will be to fight corruption and return displaced people back home.
Iraqi President Saleh nominated spy chief Kadhemi on Thursday as the country's third prime minister-designate this year, moments after predecessor Adnan Zurfi ended his bid to form a government.
The nomination ceremony was attended by the country's top political figures, indicating widespread support for Kadhemi, 53, that neither of the previous PM-designates had enjoyed.
That backing was the result of a flurry of political meetings over the past week aimed at reaching consensus over Kadhemi, the head of Iraq's National Intelligence Service.
Among them were gatherings attended by Iranian General Ismail Qaani, who has headed Iran's powerful Quds Force foreign operations unit since a US drone strike in Baghdad killed his predecessor Qasem Soleimani in January.
Tehran holds vast political and military influence in Iraq, and its approval is seen as necessary for any prime ministerial candidate.
https://english.alarabiya.net/en/News/middle-east/2020/04/10/Iraq-s-designated-prime-minister-vows-to-control-arms-fight-corruption.html
-----
Coronavirus lockdown in Lebanon extended for additional two weeks
09 April 2020
Lebanon's government has extended its almost month-long coronavirus shutdown by another two weeks until April 26 to combat the spread of the disease, the information minister said on Thursday.
Since Lebanon declared a state of medical emergency last month, people are allowed to leave their homes only to buy food or medicine, and most businesses have closed. The only airport is also shut, except for a few flights returning expatriates stranded abroad.
An overnight curfew largely bans people from going outside between 7 p.m. and 5 a.m., with security forces enforcing curbs.
As of Thursday, the country had 582 cases of the illness, with 19 deaths, according to the government's website on the virus. For Lebanon, the outbreak came at a time when the country was already deep in financial crisis.
https://english.alarabiya.net/en/coronavirus/2020/04/09/Coronavirus-lockdown-in-Lebanon-extended-for-additional-two-weeks.html
------
Europe
Muslim doctor who warned PM Johnson about PPE dies after contracting corona
April 10, 2020
Murtaza Ali Shah
LONDON: A British Muslim doctor diagnosed with coronavirus has died - three weeks after he warned Prime Minister Boris Johnson that health workers urgently need more PPE.
Abdul Mabud Chowdhury, 53, passed away after 15 days in hospital. He was originally from Bangladesh. On 18 March he wrote a message to Boris Johnson asking him to "urgently" ensure personal protective equipment for "each and every NHS worker in the UK". He told the prime minister that healthcare workers "are in direct contact with patients" and have a "human right like others to live in this world disease-free with our family and children".
Dr Chowdhury was a locum urologist who worked at Homerton Hospital in East London and died on Wednesday at Queen's Hospital in Romford after testing positive for coronavirus. He is survived by his wife and two children.
Taking to Facebook last month, Dr Chowdhury wrote: "Dear and Respectable Prime Minister Boris Johnson,. "Please ensure urgently Personal Protective Equipment [PPE] for each and every NHS health worker in the UK. Remember we may be doctor/nurse/HCA/allied health workers who are in direct contact with patients but we are also human beings trying to live in this world disease free with our family and friends. People appreciate us and salute us for our rewarding jobs which is very inspirational, but I would like to say we have to protect ourselves and our families in this global disaster."
The Muslim Doctors Association paid tribute to him in a statement, saying: "We are deeply saddened by the death of Dr Abdul Mabud Chowdhury, Consultant Urologist at Homerton Hospital, after fighting for his life from COVID-19. "He leaves behind his wife and two children. Our thoughts and prayers are with them. Two weeks before his admission to hospital he wrote a message to the prime minister urging for better PPE. "May he rest in peace."
Two days ago British Pakistani doctor Syed Zeeshan Haider, a general practitioner at Dagenham's Valence Medical Centre, passed away at the Queen's Hospital in Romford after losing battle to COVID-19.
Two weeks ago, Dr Habib Zaidi, a distinguished Pakistani British doctor, lost his life after spending 24 hours in intensive care at Southend Hospital. Dr Zaidi had contracted the deadly coronavirus in his duties as a doctor.
https://www.thenews.com.pk/print/642109-muslim-doctor-who-warned-pm-johnson-about-ppe-dies-after-contracting-corona
-----
Aggressive Le Pen rebuked due to Islamic prayer criticism
2020-04-09
(Zaman Al Wasl)- As the fire of the Coronavirus spreads in France, placing her among the highest countries in the world in terms of injuries and deaths, the populist right chose to ignite a fire of another kind, introducing to the scene its favorite card of Islamophobia, to reinforce and boost the firm opinion that already exists among the ranks of this right wing, and that holds that Islam and Muslims pose an existential danger to the French Republic and its values.
Along the same line, the leader of the hardline National Rally Party, Marine Le Pen, addressed an open letter to the Minister of the Interior, Christophe Castania, in which she accuses several mosques of "exploiting" the imposed confinement to raise the call to prayer in public, while the authorities are busy implementing ban orders.
In a tone that is not alien to her and to the diction of her extremist party, Le Pen called on the Minister of the Interior to prevent these acts, which she considers as "noisy", and which represent an "illegal encroachment on the public space". She goes on to add that these calls to prayer embody "a rejection of the principles of secularismand a challenge to the republican state."
Le Pen also considered lifting the call to prayer in some mosques as a provocation, accusing the Ministry of Interior and the Conservatives of "dubious" silence, and denouncing their unresponsiveness. She also warns that allowing the call to prayer would, in the future, put France in situations which are hard to control.
Le Pen based her letter on the case of mosques in the city of Lyon" and in Valente located in the far east of France near the Swiss border, but it became clear, later on, that the bearer of the far-right brigade relied on a misleading account of Valentin City in particular.
According to what the French media reported, Le Pen received a three-dimensional response, from the Minister of the Interior, the Mayor of the city of Valente and finally from the President of the French Council for Islamic Religion, when the minister affirmed that the rolling clip to raise the call to prayer was only photoshopped and deliberately edited, putting the sound of the call to prayer with an image of a mosque in the concerned city.
The mayor of Valentine's response was stricter and more ruthless stressing that he did not raise any call to prayer from any mosque in the city (which has only two mosques). Addressing Le Pen, he says: "You have to learn how to respect boundaries, and how not to rub salt in the wound... this is foolishness", calling to put a stop to, in his terms, "supporters of hatred and division". As for the head of the French Council for Islamic Religion, "Mohamed Moussaoui", he affirmed that the video to which Le Pen was pointing is a misleading video, in which the sound of the call to prayer came from a mobile device and was deliberately added to the image of a mosque in "Valentine".
Moussaoui firmly denounced the nonsensical and incomprehensible political campaign that Le Pen was, again, trying to launch against the Muslims of France.
It is striking that the response of the Minister of the Interior Castagnet, which was revealed by the AFP, exposed Le Pen for its false allegations, only in a polite manner this time. The minister affirmed that all mosques are closed because of the ban, and that what happened in the city of Lyon was a consoling gesture in coordination with Churches, on the occasion of the so-called "Annunciation", as part of a broader initiative launched by the Conference of the Bishops of France, which was only set in solidarity with the current circumstances, and which consisted in ringing the bells of all the churches of the country simultaneously for 10 minutes
https://en.zamanalwsl.net/news/article/53896/
-------
North America
'Pro-Muslim' Bernie Sanders pulls out of U.S. presidential race
21 hours ago
Bernie Sanders, a democratic socialist whose progressive agenda pushed the Democratic Party sharply to the left, ended his campaign on Wednesday, clearing the way for a November 3 election battle between former Vice President Joe Biden and Republican President Donald Trump.
Sanders, who promised to lead a grassroots political revolution into the White House, acknowledged he no longer had a path to victory after a string of decisive nominating contest losses to Biden, but promised to work with his more moderate former rival to oust Trump.
"I cannot in good conscience continue to mount a campaign that cannot win, and which would interfere with the important work required of all of us in this difficult hour," he said in an online speech to supporters from Vermont.
In February Sanders won endorsements from a national Muslim political organising group and came top in a survey of Muslim voters.
The national board of the Muslim Caucus in America said: "For decades, Senator Sanders has been consistent in fighting for progressive policies and has demonstrated in word and in action the need to care for all Americans regardless of race, creed, or class," the organisation explained in its endorsement. "His passion has ignited a whole generation committed to disrupting corruption, inequality, and all forms of racial injustice."
The endorsement pointed to Sanders' long history as a civil rights and labour rights activist, his commitment to ending "endless wars" and his statements in favour of vulnerable Muslim communities around the world including Palestinians, Kashmiris, Bosnians and Uighurs.
Meanwhile, a survey by the Council on American-Islamic relations, which surveyed 346 registered Muslim voters across the country who said they would support a Democratic candidate for president, found that Sanders won the largest share with 39% support. He was followed by former Vice President Joe Biden, at 27%.
During his campaign Sanders called Israel's Benjamin Netanyahu a "reactionary racist," and blasted Saudi Arabia's rulers as "murderous thugs" while calling for an even-handed US diplomacy that prioritises human rights and multilateralism.
The Vermont senator proposed conditioning U.S. military aid for Israel to push it to end its occupation of Palestinian territories. He also called for lifting the blockade on Gaza and addressing the humanitarian crisis there.
In the Senate, he was one of the leading voices working to end U.S. support for the Saudi-led war in Yemen, and he was one of two legislators to reject a bill to impose sanctions against Iran in 2017.
On the other hand, Biden, who describes himself as a Zionist, has been a staunch supporter of Israel throughout his political career. Last December, he dismissed Sanders' pledge to condition aid to Israel as "bizarre."
The former vice president also sent a video message to the conference of the Israeli lobby AIPAC in March, breaking with his more liberal opponents who boycotted the event.
https://5pillarsuk.com/2020/04/09/pro-muslim-bernie-sanders-pulls-out-of-u-s-presidential-race/
-----
Barr: Media on 'Jihad' Against Trump Over Hydroxychloroquine
09 April 2020
Attorney General William Barr says some members of the media are waging a "jihad" war against President Donald Trump's support of using an anti-malaria drug to treat coronavirus patients.
During an interview with Fox's Laura Ingraham, Barr praised Trump's response to the outbreak and fired back at the media's coverage.
He said as soon as Trump supported the use of hydroxychloroquine as a possible coronavirus treatment, the press began an orchestrated effort to discredit the drug. He said the president has remained patient despite been subjected to a series of "snarky, gotcha questions from the White House media pool."
"Before the president said anything about it, there was fair and balanced coverage of this very promising drug," Barr said in the interview. "And the fact that it had such a long track record, the risks were pretty well-known. As soon as Trump said something positive about it, the media's been on a jihad to discredit the drug."
There is no Food and Drug Administration approved drug or treatment for COVID-19.
Currently, the FDA says, hydroxychloroquine is "under investigation in clinical trials for pre-exposure or post-exposure prophylaxis of SARS-CoV-2 infection, and treatment of patients with mild, moderate, and severe COVID-19."
Trump has promoted the use of the drug and said the government stocked up on 29 million pills during a recent White House briefing.
https://www.newsmax.com/politics/trump-coronavirus-hydroxychloroquine/2020/04/09/id/962058/
---
Toronto families celebrate Passover, Easter, Nowruz and Ramadan in creative ways during pandemic
April 9, 2020
Every year at the Passover seder, Jews around the world ask themselves a question: "How is this night different from all other nights?" Typically, part of the answer lays in the unleavened bread that they eat, known as matza. This year, in the wake of COVID-19, the answer is much more complicated.
"Usually, I have family and friends over, and we do the seder at my house," says Toronto resident, Vicky Sher, of the traditional Passover ritual. She typically hosts up to 30 people. "It usually takes me about two days to prepare the meal," she explains. Sher's spread includes a turkey, salmon, and vegetarian options. "I do some of the traditional things like matza ball soup and the whole seder plate, which includes a boiled egg, matza, horseradish and celery, too."
For this year's seder, Sher's family and friends are going virtual. "My nephew has a subscription to GoToMeeting for his business," she explains. She's invited family and friends to invite their family and friends to participate, too. In total, they're expecting 20-25 people to log in from Toronto, Hamilton, Barrie, Montreal, Victoria, and Copenhagen.
While she's now only cooking dinner for herself, Sher and her family are finding ways to keep their traditions alive. "I'm going to do the seder plate and I'll drop it off my son's house, who will be conducting the seder," she says. "He will have it on camera and will be pointing to different parts of the plate as we go through the night."
Generally during the seder at Sher's house, everyone takes a turn reading from the Jewish text known as the haggadah. "We do it in English because not everybody reads Hebrew," says Sher. "Every now and then, someone will read in Hebrew, but many times, we have people who aren't Jewish participate just because they are interested," she continues. To maintain the tradition, Sher's nephew has sent everyone a virtual book they'll follow and take turns reading on camera. It's not the way they're used to doing it, but Sher is still grateful to be able to do it at all.
"Typically, in my family, we do two separate Easter celebrations," says local art director, Amber Hickson. "It's just because none of us live in the same city." With one sister in London, UK, another in Waterloo, and her parents and sister in Ottawa, it's always been a fine balancing act for the Hicksons.
And while it might look a little different every year, certain aspects have stayed consistent. Hickson's family always starts the morning off with an Easter Egg Hunt before church. "At church, it's very common to have a passion play, whether it's a full play or a 10-minute snippet with a message." The rest of the day would be spent together with family before a big dinner. "My brother-in-law's mother would bring a turkey and my brother-in-law would make a ham," says Hickson. "We always had homemade cupcakes or something that me, my nieces and sister would decorate that afternoon," she says.
"Easter this year is quite interesting because I'm the only one in Toronto," says Hickson. "I'll still "go" to church," she says of the livestream she will watch from home. "My church is doing online services right now and they have a play that they've filmed."
The Hickson's family always starts the morning off with an Easter Egg Hunt before church. Avery Cameron, Amber Hickson's niece searches for eggs at a past Easter.
Ontario health units report largest 24-hour increase: Star count; U.K. PM Boris Johnson moved out of ICU; Trudeau says months of effort needed to avoid worst-case scenario
Ontario health units report largest 24-hour increase: Star count; U.K. PM Boris Johnson moved out of ICU; Trudeau says months of effort needed to avoid worst-case scenario
Even though her family can't be together physically, Hickson has a few ideas to bridge the gap. "Last year, I was in London, UK, with my sister for Easter, and we walked over to a local bakery and bought hot cross buns and sat and ate outside. There were church bells ringing and it was quite nice," says Hickson. "This year, I ordered hot cross buns to be delivered to all my sisters' houses. We always had them growing up," she says. "My one sister doesn't like raisins, so she'll have to pick them out," she laughs.
Ultimately, it's the chaos mostly that Hickson says she will miss most. "I'll miss the vibrancy of all that and just sitting in the backyard having a glass of beer or wine together and spending time talking about everything under the sun," she says. "Well, that and my dad's apple pie."
When it came to celebrating the Persian New Year, known as Nowruz, Sahar Nooraei, the editor-in-chief of a Canadian luxury magazine, says she did the most with what she had. Growing up, Nooraei's mother went all out for the holiday celebrated on the first day of spring. "My mom would really go above and beyond to set up a Haft-sin table filled with different items that start with an F in the Farsi language," she says. According to Nooraei, the table would be decorated with apples, garlic and vinegar for cleansing. "My mom would source everything. We would even get a goldfish," she continues. "Depending on how religious you are, you would put the Quran on the table or a book of poetry to symbolize the spirituality, love and care."
Originally, Nooraei had planned to celebrate this year with her sister and a friend. "At first, we planned on celebrating together, but we made the conscious decision to do it separately because we were social distancing." Instead, Nooraei focused on the traditions she could adapt. "There's a fire ceremony before New Years called Chaharshanbe Suri. Typically, you jump over a fire pit, and you recite these two lines to ward off old energy and purify the soul for the year ahead," she explains. "Because I didn't have access to a fire pit, I lit my favourite fancy candle, and I jumped over it on my balcony and I recited those two lines."
Celebrating during a pandemic has given Nooraei a new perspective going forward. "I think because of what's been happening, it's made me appreciate the celebration in a whole different way, where I will make more of an effort next year to really celebrate it in a way inspired by my mother even though life is hectic," she says. She's optimistic too. "We're a very spiritual culture and we do believe in renewal," says Nooraei. "It's like a circle of life and spring really represents that," she continues. "There are good times ahead. Eventually things bloom even though there are dark days," she says. "There is greenery and flowers on the way."
"Ramadan spans a full month," says Toronto publicist, Zoya Shaban. "The date changes with the lunar year according to the Muslim calendar, so typically ever since I've moved to Toronto, I try to spend as much time with my family because it includes fasting from sunrise to sunset," she explains. Since she began fasting at 7 or 8-years-old, Shaban has been sitting down with her family nightly for a meal to break the fast called iftar. "We'll do the traditional samosas and kebab rolls, but then we'll also have rice, chicken or soup."
During Ramadan, Shaban and her family usually eat at home three nights a week and spend the rest at the homes of friends and family. "We usually go to the mosque on Thursday night because it's a religious evening," she says. "We have prayers and then we all break our fasts together with everyone at the mosque. It's probably more than 1,000 people," she continues. "The mosque provides food, but we all bring dishes from home and share so it's a really nice custom and tradition for us."
This year already looks much different. "Considering that it's starting on the 24th of April and it doesn't seem like things are getting much better too quickly, I think it's going to be really tough honestly," says Shaban. She considers her grandmother, aunts and uncles like immediate family, and can't imagine celebrating without them. "We've all been talking about it with my family, whether they're in Dubai, London Pakistan or here," she says. "This year will be very quiet."
Despite it all, Shaban says she has a lot to be thankful for. "A lot of my friends ask 'what is Ramadan? Is it just not eating?'" she says. "The purpose of it is to really be reflective and grateful for what you have." Many people don't realize that a big element of Ramadan is about charity, explains Shaban. "I think that now more than ever, the world needs all the help we can give them," she says. "In that way, there's more we can do to come together as a community to support the people around us."
https://www.thestar.com/life/2020/04/09/toronto-families-celebrate-passover-easter-nowruz-and-ramadan-in-creative-ways-during-pandemic.html
------
Islamic State claims responsibility after rockets strike U.S. base in Afghanistan
23 HOURS AGO
Five rockets hit a major U.S. airbase in Afghanistan on Thursday but there were no casualties, Afghanistan's NATO-led force said, in an attack claimed by the Islamic State militant group.
The attack comes weeks after Taliban militants and the United States reached a deal on the withdrawal of U.S.-led international troops in exchange for Taliban security guarantees. Islamic State militants have not been included in the pact.
"Five rockets were fired at Bagram airfield early this morning," the NATO-led mission, Resolute Support, said on Twitter, referring to the main U.S. airbase in Afghanistan, north of Kabul.
The Afghan affiliate of Islamic State, known as Islamic State Khorasan (ISIS-K), after an old name for the region, first appeared in eastern Afghanistan in 2014, and has since made inroads into other areas, particularly the north.
The U.S. military estimates their strength at 2,000 fighters. Some Afghan officials estimated the number is higher.
IS militants, who battle foreign and Afghan government forces as well as the Taliban, have carried out some of the deadliest attacks in Afghanistan's urban centres in recent years.
The Taliban, as part of their agreement with the United States, have promised to open peace talks with the U.S.-backed Afghan government but little progress has been made.
The Afghan government has begun the release of Taliban prisoners from a jail near the Bagram base, as step to build confidence for the Taliban talks.
A hundred Taliban members are scheduled to be freed on Thursday from detention at a jail near the base, following the release on Wednesday of 100 Taliban members.
The prisoner exchange deal provides for the government to free 5,000 Taliban prisoners, with the Taliban releasing 1,000 members of the Afghan security forces in exchange.
https://www.theglobeandmail.com/world/article-islamic-state-claims-responsibility-after-rockets-strike-us-base-in/
-----
Mid-Sha'ban ceremony to be held online in Canada
April 9, 2020
AhlulBayt News Agency (ABNA): On the occasion of the birth anniversary of Imam Mahdi (may God hasten his glad advent), the Imam Hussein (AS) Islamic Center in Edmonton, Canada, will hold an online ceremony.
The center announced that Sheikh Osama Al-Attar, the imam of the center, will deliver a speech at the program at 8 p.m. local time.
Another online program will also be held by the center on April 9, which will broadcast live on YouTube at 6 p.m. local time.
Quran recitation, religious speeches, contests, special programs for children, and eulogy recitations will be different parts of the programs.
Nimeh Sha'aban, the 15th day of the lunar Hijri month of Sha'aban, marks the birthday of Imam Zaman, the twelfth Imam of Shia Muslims.
Shia Muslims all around the world celebrate the auspicious occasion every year, but most of the ceremonies are held online this year due to the coronavirus concerns.
https://en.abna24.com/news//mid-sha%e2%80%99ban-ceremony-to-be-held-online-in-canada_1023959.html
------
Chad army says 52 troops, 1,000 Takfiri militants killed in offensive
10 April 2020
The Chadian army said Thursday it had wound up an offensive against Boko Haram Takfiri militants in the Lake Chad border region in which 52 troops and 1,000 militants were killed.
Army spokesman Colonel Azem Bermendoa Agouna told AFP that the operation, launched after nearly 100 soldiers were killed last month, ended Wednesday after the Nigerian militants were forced out of the country.
"A thousand terrorists have been killed, 50 motorized canoes have been destroyed," he said, referring to a large boat also called a pirogue.
It is the first official snapshot of the outcome of Operation Bohoma Anger, launched after Chad's armed forces suffered their biggest one-day loss in their history.
The western shores of the lake have been hit by the Takfiri militants crossing from northeastern Nigeria, where Boko Haram launched a bloody campaign of violence in 2009.
On March 23, the Takfiri militants mounted a deadly seven-hour assault on a Chadian army base at Bohoma, killing at least 98 troops, according to an official toll.
The four countries bordering the lake on 2015 set up a formation called the Multinational Joint Task Force (MNJTF), also including Benin, to fight Boko Haram.
But Chad, whose forces have a relatively high standing in the Sahel, has shown frustration with the MNJTF following the Bohoma losses.
"Chad is alone in shouldering all the burden of the war against Boko Haram," President Idriss Deby Itno complained last weekend. "I met the commander of the MNJTF and asked him to take over."
Boko Haram's 11-year-old campaign has claimed tens of thousands of lives in northeast Nigeria and driven nearly two million people from their homes.
Separately, in Niger, the defense ministry in Niamey said its armed forces, in a joint operation with Chad, had inflicted "heavy losses" on Boko Haram in the lake region.
"Arms caches, logistical points and several boats were destroyed" and islands used as rear bases in the lake's marshland were "bombarded from the air," it said.
Landlocked and poor, Niger is facing Takfiri militant attacks in opposite ends of the country -- an insurgency that has spilled over from neighboring Mali, and raids in the Lake Chad region by Boko Haram fighters.
In Burkina Faso, meanwhile, five soldiers were killed and three were wounded on Thursday when their unit came under attack from Takfiri militants in Solle, in the northern province of Loroum, an army official said.
Around 4,000 people lost their lives last year in militant- or community-related violence in Mali, Niger and Burkina Faso, according to UN figures.
https://www.presstv.com/Detail/2020/04/10/622711/Chad-Army-Troops-Militants-Offensive
------
Half a billion people likely plunge into poverty by COVID-19 pandemic: Oxfam
09 April 2020
The new COVID-19 pandemic can push some half a billion people across the globe into poverty, Oxfam says, as the contagious disease is raging around the world, taking more lives and wreaking havoc on economies.
In a report on Thursday, the Kenya-based charity organization assessed the fallout from the coronavirus spread on global poverty due to shrinking household incomes or consumption.
"The economic crisis that is rapidly unfolding is deeper than the 2008 global financial crisis. The estimates show that, regardless of the scenario, global poverty could increase for the first time since 1990," the report found.
The report, which came out a few days ahead of the joint annual meeting of the International Monetary Fund (IMF) and the World Bank, added that such dramatic impact could plunge certain countries back to poverty last seen three decades ago.
The COVID-19 disease, caused by a new coronavirus, was first detected in the Chinese city of Wuhan late last year and is currently affecting 209 countries and territories across the globe. It has so far affected more than 1,537,500 people and killed over 89,950.
The authors of the Oxfam report developed several scenarios, taking into account the World Bank's different poverty lines - from severe poverty, defined as living on $1.90 a day or less, to higher poverty lines of living on less than $5.50 a day.
Under the most serious scenario, which sees a 20 percent contraction in income, 431 million more people to nearly 1.2 billion across the world will plunge into extreme poverty. According to the same scenario, the number of people living below the $5.50 a day threshold will rise by 548 million people to nearly 4 billion.
Oxfam, a confederation of 19 independent charitable organizations focusing on the alleviation of global poverty, also predicted that women are at more risk than men, as they are more likely to work in the informal economy with little or no employment rights.
"Living day to day, the poorest people do not have the ability to take time off work, or to stockpile provisions," the report further warned, noting that over two billion informal sector workers globally have no access to sick pay.
The World Health Organization (WHO) warns against the premature lifting of the measures aimed at preventing the spread of the new coronavirus.
Last week, the World Bank warned that poverty in East Asia and the Pacific region alone could soar by 11 million people if conditions worsened.
To help alleviate the impact of COVID-19 pandemic, Oxfam proposed a six-pint action plan that would provide people and businesses in need with cash grants and bailouts. The plan also called for debt cancellation, more IMF support, and increased aid.
According to Oxfam plan, taxing wealth, extraordinary profits, and speculative financial products would also help increase the funds needed.
The report further said that governments across the globe would need to mobilize at least $2.5 trillion in total to help developing nations.
"Rich countries have shown that at this time of crisis they can mobilize trillions of dollars to support their own economies. Yet unless developing countries are also able to fight the health and economic impacts the crisis will continue and it will inflict even greater harm on all countries, rich and poor," it added.
The World Bank warned Thursday that sub-Saharan Africa could slip into its first recession in a quarter of century because of the coronavirus pandemic on the world's most impoverished continent.
"We project that economic growth in Sub-Saharan Africa will decline from 2.4 percent in 2019 to 2.1 to -5.1 percent in 2020, the first recession in the region in 25 years," the Bank said in an assessment.
The virus has arrived late in Africa compared to elsewhere but is spreading rapidly in some countries, and the continent is highly vulnerable to declining trade and tourism as well as falling prices for oil and mineral exports, it said.
"The COVID-19 pandemic is testing the limits of societies and economies across the world, and African countries are likely to be hit particularly hard," said Hafez Ghanem, the Bank's vice president for Africa. The impact on African countries will vary, the twice-yearly economic update report said.
It warned, however, that real gross domestic product was forecast to "fall sharply" in the three largest economies -- Nigeria, South Africa and Angola -- because of "persistently weak growth and investment" and declining commodity prices.
The continent's most industrialized country, South Africa, slipped into recession in the final quarter of 2019 and has posted its weakest growth rates ever in the past five years -- never exceeding 1.3 percent and in some years falling below one percent.
The collapse in oil prices "is catastrophic" for public finances in the continent's leading crude producers of Nigeria and Angola, said Albert Zeufack, the Bank's chief economist for Africa.
"We are living in unprecedented times," Zeufack said. "The world has not seen this since World War II," he said during a briefing streamed from Washington.
"This is going to be the deepest recession globally but also affecting Africa, and the reason why this is so serious is because it is not just a health crisis, it's a health crisis that's going to be combined with an economic crisis and potentially a food crisis in African countries."
While governments are taking varying steps to deal with the economic fallout of the pandemic, the bank says African countries will inevitably require debt relief.
"There is no doubt there will be need for some sort of debt relief from bilateral creditors to secure the resources urgently needed to fight COVID-19 and to help manage or maintain macroeconomic stability in the region," said Cesar Calderon, economist and lead author of the report.
The Bank said it will giving out up to $160 billion in financial support over the next 15 months to help countries protect the vulnerable, support businesses and shore up economic recovery.
The pandemic will also worsen food shortages on a continent already grappling with drought, locust invasions conflict and violence, the Bank said.
The UN World Food Program (WFP) said Wednesday that since December, hundreds of thousands more people had already slipped into the severely hungry category in Zimbabwe, where more than half of the population faces hunger.
One hundred Italian doctors have died of the novel coronavirus since the pandemic reached the Mediterranean country in February, Italy's FNOMCeO health association said on Thursday.
"The number of doctors who have died because of COVID-19 is 100 -- perhaps even 101 at the moment, unfortunately," a FNOMCeO spokesman told AFP.
The toll includes retired doctors the government began calling in a month ago to help fight a coronavirus that has officially claimed a world-topping 17,669 lives in Italy.
"We can longer allow our doctors, our health workers, to be sent to fight without any protection against the virus," FNOMCeO president Filippo Anelli said on the association's website.
"It is an unfair fight," Rome's ISS public health institute estimates that 10 percent of those infected with the novel coronavirus in Italy work in health care.
https://www.presstv.com/Detail/2020/04/09/622674/Oxfam-COVID-19-pandemic-recession-poverty-Africa-Italy
------
Presidential pardon: Islamic group tells Buhari to free 54 more persons
April 10, 2020
By John Owen Nwachukwu
The Muslim Rights Concern, MURIC, has told President Muhammadu Buhari to release the 54 soldiers of the Nigerian Army who are currently serving a 10-year jail term for requesting for better weapons to fight Boko Haram during the administration of President Goodluck Jonathan.
The group's position was contained in a press release issued to DAILY POST on Friday by its director, Professor Ishaq Akintola, who described the President's action as timely and humane.
"Some of the 54 soldiers are in Kirikiri and Ikoyi correctional centres. We urge the presidential team to visit those places.
"The war against terror will remain shady until the authorities give justice its prime of place. Funds meant for the purchase of weapons were being diverted to private pockets while our soldiers were stinted of vital equipment.
"But instead of hailing the 54 soldiers as heroes of the land, they were clamped in jail. We hereby appeal to the committee handling the implementation of the presidential amnesty to consider them," he said.
https://dailypost.ng/2020/04/10/presidential-pardon-islamic-group-tells-buhari-to-free-54-more-persons/
-----
'SA private military contractors' and Mozambican airforce conduct major air attacks on Islamist extremists
9 April 2020
Light helicopter gunships strafed a base of the Ahlu Sunnah wa Jamaa (ASWJ) jihadists in Mozambique's Muede area on Wednesday and then attacked their bases in Mbau in the Awassi district and in Muidumbe on Thursday, according to security sources.
They said the attacks did not include ground forces although these might follow later. They did not know if the attacks had been successful and what casualties had been inflicted on the insurgents, who have recently intensified their attacks in the province, taking major towns, raising the flag of the Islamic State (IS) and winning over locals by distributing looted goods and money.
The precise identity of the private soldiers who participated in this week's attacks is not completely clear. In his newsletter on Thursday, Joseph Hanlon, a usually reliable commentator on Mozambique, published a photograph which is being widely circulated on social media, of one of the helicopter gunships supposedly used in the attack. It shows someone operating what military sources have said is a 20mm cannon mounted in the door of the aircraft.
Hanlon identified the crew of the "South African-registered" gunship as members of the Russian private military company Wagner which reportedly entered Mozambique in November under a contract with the Mozambican government to help it defeat the insurgents.
However, two separate security sources told Daily Maverick that Wagner had pulled out of Mozambique in March after failing in its mission and that Wednesday's aerial attack on the insurgents had been conducted by the private security company Dyck Advisory Group, (DAG) based in South Africa and owned by former Zimbabwean military colonel Lionel Dyck who is believed to be close to Zimbabwean President Emmerson Mnangagwa.
He is reputed to have helped Mozambique's ruling Frelimo party defeat its rebel enemy Renamo in the 1980s, and to have helped Zimbabwe's ruling Zanu PF put down a rebellion of its internal rival Zapu in the early 1980s.
The security sources said the private military companies had on Wednesday flown in three helicopters to Pemba on the Cabo Delgado northern coast — one Gazelle gunship, one Bell UH I "Huey" and one Bell 406 Long Ranger — and one fixed-wing Diamond DA42. They joined another Gazelle and a Cessna Caravan fixed-wing personnel carrier which had arrived in Pemba over the weekend.
The intervention of the new private military operators follows the apparent withdrawal from Mozambique of the Wagner private military company, which, according to security sources, had moved into the country in November 2019 but pulled out in March after suffering defeats by the insurgents.
The security sources said that the Wagner private soldiers did not understand the difficult terrain of Cabo Delgado. But the activities of Wagner — a company suspected of links to Russian President Vladimir Putin — have always been obscure and some observers insist it only came to Mozambique as personal security for President Filipe Nyusi and never had a mandate to defeat the Islamist insurgents.
According to its website, "The Dyck Advisory Group (DAG) is the result of years of experience in leading operations in the fields of Demining, Explosive Hazard Management, Specialised Security, Canine Services and Counter Poaching".
"DAG is capable of rapid assessments of stated problems and the subsequent sourcing of required solutions. The appropriate solutions will then be put into place by DAG in an advisory capacity. If necessary, DAG will also oversee the solutions launch."
The ASWJ insurgents — who have also been presented as loyal to Islamic State Central Africa Province (ISCAP) — an affiliate of the global Islamic State (IS) — have been mounting ever-larger and more frequent operations in Cabo Delgado province, killing about 600 people.
The insurgency has been active since October 2017 and has become increasingly characterised by brutal attacks on government security forces and civilian villagers alike, in which the victims are often beheaded and otherwise mutilated. These are also trademarks of IS operations in the Middle East.
But in March the insurgents appeared to change tactics, when they mounted a large-scale attack by sea and land on Mocimboa da Praia, Mozambique's northernmost commercial port.
They killed or drove out security forces and destroyed many buildings including the airport, government offices, shops and banks and raised the IS black and white flag. But they did not target civilians, instead mounting a hearts and minds operation to win over the local population, including by distributing to them looted food and money.
A few days later they did the same in the administrative capital of Quissanga and they have attacked several other towns and villages since. This week they mounted a major attack in Muidumbe district, Cabo Delgado.
They also reoccupied Bilibiza on Monday and at a meeting told local people that Islamic practices would now be followed, according to Hanlon's bulletin, quoting various local media:
"On Tuesday, insurgents moved from Miangalewa up the N381 road toward Mueda, occupying Xatia, Namacande (district town of Muidumbe), Ntchinga and Muatade villages.
"The occupation of Ntchinga was particularly provocative because this had been a Frelimo base in the liberation war; it is still a military base, and it is claimed the soldiers fled.
"The insurgents have been criticised by President Filipe Nyusi of being 'faceless' and not stating their goals. And they used their occupation of Ntchinga to record a second video to respond.
"At a public meeting, and speaking in the local language, kimwani, they said: 'We are occupying this village to show that the government of the day is unfair. It humiliates the poor to the advantage of bosses. Those who are detained are those of the lower class, so this is not fair. Like it or not, we are defending Islam. We want an Islamist government, not a government of unbelievers. We are children of here and these faces are not new. And in the forest, we are many.'
"In the district town, Namacande, insurgents first attacked the security force base and the police post and captured weapons, then attacked public institutions and shops, notably the district government office, Millennium Bim bank, and the local petrol station.
"In Miangalewa they burned the Catholic church, shops, the workshop of the security firm Arkje, and kidnapped some people; one report says six people were killed.
"They attacked the military camp guarding the Japanese firm Konoike repairing the N380 bridge over the Messalo river. The soldiers fled and all vehicles and machinery at the construction camp were destroyed. In Muatade the secondary school, health post, houses and other infrastructure were burned."
The increasingly bold attacks in Cabo Delgado are beginning to unnerve the foreign companies which are building facilities on the coast to extract and process the province's vast gas reserves. The attack on Mocimboa da Praia particularly rattled them as it was close to their processing plant under construction and was being used to offload equipment. DM
https://www.dailymaverick.co.za/article/2020-04-09-sa-private-military-contractors-and-mozambican-airforce-conduct-major-air-attacks-on-islamist-extremists/
------
Top aide to DR Congo president detained in anti-corruption drive
09 April 2020
Vital Kamerhe, a key ally to President Felix Tshisekedi in the Democratic Republic of Congo, was placed in custody at Kinshasa's central prison on Wednesday evening, a judicial source said.
Kamerhe, who became Tshisekedi's chief of staff after a long spell as speaker of parliament, was taken to Makala prison shortly after 7:30 pm (1830 GMT), under a wide-ranging crackdown on corruption.
A key figure on the political scene in the DRC, the 61-year-old Kamerhe was detained under "a provisional arrest warrant" after being questioned for more than six hours by the public prosecutor in an inquiry into suspected mismanagement of public funds, the judicial source said.
It was the first time a presidential chief of staff -- a position that wields great clout in the DRC -- has been arrested in the country's history.
Tshisekedi has vowed to tackle corruption to bring the "renewal" of justice and end the perceived impunity of political and business elites.
Named to head Tshisekedi's cabinet after the new president was sworn in on January 24, 2019, Kamerhe is being investigated into use of funds earmarked for major construction projects.
Kamerhe initially ran in the 2018 presidential elections but backed out to team up with Tshiseki. The two leaders signed a political agreement that gave birth to a joint platform, Heading for Change.
The December 2018 vote led to the first peaceful transition in the history of the former Belgian Congo, although Tshisekedi also has to juggle power with forces that support former president Joseph Kabila.
Kamerhe's political party, the Union for the Congolese Nation (UNC), has several ministers in a sprawling coalition government of 67 members.
A banker, two corporate bosses and an official from a state-owned firm have already been placed in provisional custody during the inquiry into the financing of Tshisekedi's "100 days" action plan. Some detainees have been released.
https://www.presstv.com/Detail/2020/04/09/622658/Top-Aide-DR-Congo-President-Anti-corruption-Drive
-----
Southeast Asia
Indonesia looks to China, South Korea for medical supplies
April 9 2020
Indonesia is looking to China and South Korea to become the country's main suppliers of medical equipment as nations worldwide scramble for supplies to combat the rapid spread of COVID-19.
The government expects South Korean and Indonesian companies to produce test kits and personal protective equipment (PPE) in Indonesia, while Chinese enterprises have been importing test kits, ventilators and medical-grade PPE, such as N-95 masks.
"We are taking coordinated steps between industries, factories and the State-Owned Enterprises (SOEs) Ministry to obtain materials," Investment Coordinating Board (BKPM) chairman Bahlil Lahadalia said in a video conference on Tuesday, saying that air shipping would expedite the delivery of goods.
Demand for materials to produce medical supplies is spiking, as industries alter and ramp up their production lines to produce medical and...
https://www.thejakartapost.com/news/2020/04/09/indonesia-looks-china-south-korea-medical-supplies.html
-----
COVID-19: No road closures in Jakarta during large-scale social restrictions, police say
April 10, 2020
The Jakarta Police have said they have no plans to close any roads in the capital during the two weeks of large-scale social restrictions (PSBB) that will begin on Friday.
"There are no closures or traffic rerouting on roads entering or exiting Jakarta so far, despite transportation restrictions that are in place," Jakarta Police chief Insp. Gen. Nana Sudjana said in a virtual press conference on Wednesday.
Jakarta Transportation Agency head Syafrin Liputo said that physical distancing and limiting the number of passengers in private vehicles were the best options.
Jakarta Governor Anies Baswedan has announced that the city will impose stronger mobility restrictions for 14 days starting on Friday to contain the surge of COVID-19 cases in the capital.
Public transportation services will limit passenger numbers to 50 percent of their capacity and restrict their operational hours from 6 a.m. to 6 p.m. Private vehicles are still allowed to pass through the city's streets, also in and out of the capital, but with a limited number of passengers in each vehicle.
Residents have been instructed to stay at home as schools, offices and public spaces will remain closed. Gatherings of more than five people in public spaces will be prohibited.
The Jakarta Police launched a two-week operation starting on Monday to educate the public about COVID-19 prevention as well as PSBB. The operation will end on April 19.
"The operation aims to educate road users about PSBB and increase their awareness about obeying traffic rules. It also acts as a preemptive and preventive measure to deal with the COVID-19 outbreak," Adj. Com. Sr. Fahri Siregar of the Jakarta Traffic Police said in a written statement on Wednesday.
As of Thursday afternoon, Jakarta had confirmed 1,706 COVID-19 cases in the city, more than half of the country's official tally of 3,293 cases. The capital has recorded 142 fatalities out of 280 nationwide.
https://www.thejakartapost.com/news/2020/04/09/covid-19-no-road-closures-in-jakarta-during-large-scale-social-restrictions-police-say.html
------
Indonesia receives 58 foreign aid packages for COVID-19 relief: Foreign Minister
Apriza Pinandita
April 10, 2020
The Foreign Ministry said on Thursday that Indonesia had received 58 international aid packages for COVID-19 relief. They came from foreign governments, international organizations, NGOs and the private sector.
Foreign Minister Retno LP Marsudi said that nine of the aid packages had come from foreign governments, 42 from NGOs and the private sector and seven from international organizations.
"The governments of China, Japan, the United States, Singapore, Vietnam, South Korea, Australia, New Zealand and the United Arab Emirates have sent aid," Retno said at a virtual press briefing in Jakarta on Thursday.
The seven international organizations that have given aid packages to Indonesia are the World Health Organization, the Asian Development Bank (ADB), the International Atomic Energy Agency (IAEA), the United Nations Development Programme (UNDP), the International Organization for Migration (IOM), the Global Fund, and UNICEF.
In addition, Indonesia has received 42 assistance packages from NGOs and private enterprises in nine countries, namely China, Singapore, South Korea, Vietnam, France, Russia, Germany, Japan and Sweden.
The Foreign Ministry said it would prioritize seven kinds of medical equipment to be accepted, namely personal protective equipment, N95 and surgical masks, rapid testing kits, virus transfer media (Dacron swabs), ventilators, RT-PCR with reagent and thermometers (infrared and thermal).
"Amid this pandemic, Indonesia's diplomacy will continue with two main focuses, namely citizen protection and international cooperation facilitation," Retno said.
Although every country, she added, was busy with their domestic affairs, especially in addressing the spread of COVID-19, the spirit of collaboration remained.
According to the WHO, the pandemic has spread to 211 territories around the world. As of Wednesday, more than 1.3 million cases have been confirmed with nearly 80,000 deaths.
https://www.thejakartapost.com/news/2020/04/09/indonesia-receives-58-foreign-aid-packages-for-covid-19-relief-foreign-minister.html
------
Tasikmalaya authorities ban renovation of Ahmadiyah mosque
Arya Dipa
April 9, 2020
Authorities in Tasikmalaya, West Java, have banned the renovation of a mosque in Cipakat vilage, Singaparna district, that belongs to a local Ahmadiyah congregation, a minority Muslim group that has long been persecuted for its beliefs.
The ban was enacted in a joint decree signed on Jan. 27 by authorities in the regency, including Tasikmalaya Regent Ade Sugianto.
Nanang Ahmad Hidayat, the chairman of the local Ahmadiyah group, said the decree included nine key provisions, one of which prohibited any members of the group from performing religious activities in public.
The renovation of their mosque, the Al-Aqso Mosque, was also halted as the administration wanted to prevent public outrage, he said.
The ban is reportedly based on Law No. 28/2002 on the construction of buildings, as well as a joint decree issued by the Religious Affairs Ministry and the Home Ministry on religious harmony.
"The mosque has existed since 1970. The last renovation took place in 2005. We planned another renovation in 2019 because the roof [was leaking]. It won't be a major renovation," he said.
He added that the group already kept all religious events private to avoid public controversy. During the ongoing COVID-19 pandemic, the mosque had only occasionally hosted group prayers with limited attendance as most members were practicing physical distancing, he said.
Aip Mubarok, the head of human resources development at the Tasikmalaya chapter of Nahdlatul Ulama (NU), the country's largest Islamic organization, said the activities of the local Ahmadiyah group had never seemed to bother anyone in the region.
He said the administration's ban contradicted a 2008 joint decree issued by the religious affairs minister, the attorney general and the home minister on the activities of Ahmadiyah groups.
The controversial decree – which critics call a violation of religious freedom – bans Ahmadis from evangelizing their beliefs, but it does not explicitly stipulate any ban on practicing their faith.
Aip called on the Tasikmalaya administration to engage in a dialogue with the local Ahmadiyah group instead of imposing the ban.
"It's for the sake of mutual understanding, so that the rights of Ahmadiyah members may be protected in accordance with the law," Aip added.
Ahmadiyah groups have long been persecuted in the country, with some local administrations sealing mosques belonging to the minority group and justifying their actions using the 2008 joint ministerial decree prohibiting Ahmadiyah adherents from spreading their beliefs.
Earlier this month, authorities in Sukabumi, West Java, reportedly prevented the reconstruction of a mosque belonging to an Ahmadiyah group in the regency, highlighting the continued repression of the minority Muslim group since the mosque was set ablaze by a mob in 2008. (rfa)
https://www.thejakartapost.com/news/2020/04/09/tasikmalaya-authorities-ban-renovation-of-ahmadiyah-mosque.html
------
An Open Letter to the Prime Minister of Malaysia
09 Apr 2020
Pandemic Covid-19 has become the greatest challenge and socioeconomic crisis in this country, as it has in almost every country in the world. To Malaysia's credit, the measures taken by the government, guided by professionals and the best available knowledge, have so far managed to prevent the sort of runaway increase in cases and deaths that we have seen in some other countries.
This is partly due to the movement control order (MCO) that is now due for review. In deciding what to do now, we hope the government will be guided by certain facts.
First and foremost, we know that the SARS-CoV 2 virus (Covid-19) is not going to disappear anytime soon. Until a significant proportion of the population has antibodies, acquired naturally or through vaccination, the disease will continue to spread.
But does this mean that all of us have to cower at home until the "all clear" is declared? This might be a long time coming yet, going by epidemiological projections by health experts.
It is useful to consider that even before this unprecedented pandemic emerged, every time we stepped out of our homes, we were exposed to a sea of microbes. Fortunately, for many or most of us, we have acquired built-in defences against these microbes. Many of these we have come to take for granted because of our mass vaccination successes, e.g. TB, smallpox, measles, whooping cough, even hepatitis B. However, some (like dengue and influenza) still have that potential to kill in some of us, when exposed.
Why, then, are we treating Covid-19 so differently? Partly from ignorance, of course. This is an entirely novel mutation of the common coronavirus. Scientists do not yet fully understand
the virus or the disease it causes, although we are getting floods of new knowledge every day into this devastating outbreak. Importantly, effective treatments for this Covid-19 infection
Another reason is the frightening speed with which this disease spreads. We're now convinced that this virus is airborne and remains potentially infective on exposed surfaces for possibly days. We're also informed that early infected people without symptoms could be shedding this virus as early as within the first two to three days, and thus have been "silent" sources of spread in the community.
Although most (70-80%) infected persons may have mild symptoms and do not become very sick, they may be serious spreaders of this coronavirus! Unfortunately, some older people especially those with underlying health conditions have become very ill and require intensive treatment in hospitals and ICUs. A good number perish, especially the oldest.
If ten thousand people are infected in a week, then possibly a projected 2,000 may need hospitalizations! This will severely strain and overwhelm our hospital resources, as has happened in Italy, Iran, Spain, even UK and now USA. That is why health scientists call for a flattening of the curve. If we can space out the number getting infected, the numbers requiring intensive therapies will be reduced to more manageable proportions.
Besides this, lesser numbers of very sick patients presenting all at once, would allow for better utilisation of resources including properly trained healthcare workers and the very crucial PPE, or personal protection equipment, which is in short supply worldwide. Thus, health care personnel taking care of such patients are also less likely to get infected, even if
Globally, hundreds of doctors and nurses have already died looking after Covid-19 patients. This should not be allowed to happen here. If doctors and nurses get sick, it places even greater strains on the healthcare system. Worse, this will seriously undermine the morale and confidence of frontline healthcare workers, here.
Like many other countries, Malaysia has therefore chosen to try and limit the spread of the disease by limiting contact between people. This is the rationale for the movement control order currently in place.
However, there can be no doubt that such measures severely damage the economies of nations adopting them. The longer they are in force, the worse the socioeconomic damage will be. The authorities will have to find a balance between controlling the spread of the disease and avoiding irreparable economic damage.
The WHO has suggested that "all public health measures to stop disease spread can be balanced with adaptive strategies to encourage community resilience and social connection, protect incomes and secure the food supply. Countries should balance the possible benefits and negative consequences of each intervention and deploy strategies to encourage community engagement, gain trust and limit social or economic harm.
"There are many strategies that can support community resilience and mental health, protect access to essential goods and services, and limit the economic impact of stay-at-home measures where these are deemed necessary. For example, organising work-sites to ensure physical distance between persons, such as staggering shifts over time, or converting on-site service to home delivery may help to keep more businesses open. Tele-working and tele-schooling strategies in different contexts demonstrate innovation and the role of technology in supporting business continuity and sustaining social connection within families and communities.
"In general, implementation of distancing measures should also aim to sustain personal and professional community connections by virtual means and technology, including widely accessible means such as radio and mobile phones."
Therefore, disruption of social activities, gainful employment, job losses and bankruptcies will have to be tempered with strong tangible ground level people to people, as well as small
enterprise/small business support. No jobs mean no income; many would be hard-pressed to survive prolonged MCOs or long term lockdowns. Thus, it is extremely critical to plan longterm easing of these movement control and social distancing efforts.
It is likely that a stepwise relaxation of movement control will be the way forward. For instance, businesses may be allowed to operate with strict guidelines on how many people can be on the premises. Public transport may have to operate with limited loads, with frequent disinfection. Solitary public exercise will have to be permitted, to allow for mental and physical health issues. In all cases, strict hand hygiene and physical distancing must be observed, with masks if necessary. Interstate travel may need to be restricted but will have to be prioritised for economic needs rather than personal.
Large group congregations for places of worship, celebrations (e.g. weddings) unfortunately will have to be restricted still, until the likelihood of community viral spread comes down consistently. This might take upwards of months to years.
All such measures will need enforcement, and enforcers must be given very clear guidelines so they do not exceed the limits of the regulations or their powers. The public likewise must be well informed about the practical effects of such regulations – what is and is not permissible.
While relaxing movement control, we cannot afford to let up on diagnosis, isolation and treatment of Covid-19 patients. We will need to get point of care rapid tests such as we have for dengue and influenza, which we hope will be evaluated and available within a few weeks.
We will need to look into those who have been cured or who have protective antibodies so that perhaps these convalescent people might get 'certificates of infection and cure', and therefore, be allowed to return quickly to society: to work, to pursue business, to study etc. This is being explored in Germany and northern European nations right now.
We hope that there will not be any sort of monopoly on the manufacture, import, distribution and sale of such tests or economic incentives. These should benefit all our rakyat equitably and fairly without losses from leakages and unnecessary bureaucracy.
The government must exercise financial prudence, power restraint as well as great transparency, so that the rakyat can have confidence in the government's management and control of this Covid-19 pandemic. In the meantime, there must be careful regular reevaluation of the scientific advances made globally, so that we can work in tandem with world experts to contain and finally to eradicate this pandemic.
https://www.thestar.com.my/opinion/letters/2020/04/09/an-open-letter-to-the-prime-minister-of-malaysia
------
Covid-19: 109 new cases, death toll now at 67
09 Apr 2020
By JOSEPH KAOS Jr
PUTRAJAYA: Malaysia recorded 109 new Covid-19 cases on Thursday (April 9), taking the total number of confirmed infections in the country to 4,228.
This translates to a fatality rate of 1.58% out of the total number of cases, Health Director-General Datuk Dr Noor Hisham Abdullah said at the ministry's daily Covid-19 media briefing here.
Currently, 72 patients are being treated at intensive care units (ICUs), with 43 of them requiring the use of ventilators.
On the latest Covid-19 death cases, the 66th fatality was a 59-year-old Malaysian man with a history of autoimmune and other chronic diseases. He had attended the Sri Petaling Mosque tabligh gathering earlier this year.
She was a close contact of two Covid-19 positive patients and is a fifth-generation patient of the Kuching church gathering cluster.
Malaysia has entered its 23rd day of the movement control order (MCO), where people are instructed to stay at home and movement is heavily restricted.
https://www.thestar.com.my/news/nation/2020/04/09/covid-19-109-new-cases-death-toll-now-at-67
------
Covid-19: Malaysian doctor in UK in stable condition after ICU scare
10 Apr 2020
By FATIMAH ZAINAL
PETALING JAYA: A Malaysian-born doctor based in the United Kingdom who caught Covid-19 is now in stable condition after being admitted into the intensive care unit (ICU).
According to Facebook page Traditional Halaqa, while Dr Tun Muzamal Wildan continues to require breathing assistance, his oxygen levels are stable and he is in a stable condition.
"Our Malaysian brother Dr Tun Muzamal Wildan who attended the recent Wycombe Halaqa, which he has been attending since 2002, is fighting for his life in intensive care due to being infected by Covid-19 virus.
"Please pray for him, may Allah grant him speedy recovery and may Allah protect him and his family and all other loved ones suffering," read a post on the Facebook page on Wednesday (April 8).
On Thursday (April 9), Dr Nur Amalina Che Bakri tweeted, asking for prayers for Dr Tun Muzamal, who is being treated at a hospital in Birmingham.
"As requested by Dr Tun Muzamal Wildan's family, a Malaysian surgeon based in the United Kingdom, I would like to humbly request you to consider him in your prayers today.
"He's currently being ventilated in the ICU due to Covid-19 and he's stable, " wrote Dr Nur Amalina, a Malaysian general surgeon (specialist trainee) based in London.
KPJ Damansara Specialist Hospital obstetrician and gynaecologist Dr Imelda Balchin thanked those who had prayed for Dr Tun Muzamal, whom she said is a friend.
"Thank you all who prayed for my friend, Dr Muzamal Wildan. For now he still requires breathing assistance in Birmingham, UK, but he is stable and his oxygen levels are stable.
There are over 65,000 cases of Covid-19 in the United Kingdom, which has a death toll of close to 8,000 as at the time of writing.
https://www.thestar.com.my/news/nation/2020/04/10/covid-19-malaysian-doctor-in-uk-in-stable-condition-after-icu-scare
------
URL: https://www.newageislam.com/islamic-world-news/minorities-commission-asks-delhi-health/d/121543
New Age Islam, Islam Online, Islamic Website, African Muslim News, Arab World News, South Asia News, Indian Muslim News, World Muslim News, Women in Islam, Islamic Feminism, Arab Women, Women In Arab, Islamophobia in America, Muslim Women in West, Islam Women and Feminism