New Age Islam News Bureau
27 Feb 2020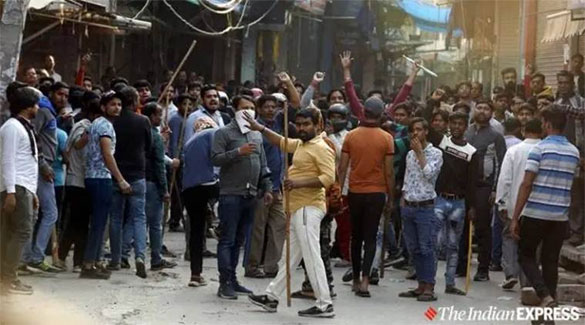 Asked about incidents of violence during his India visit, the US president had said, "As far as the individual attacks, I heard about it, but I didn't discuss that with him (Modi). That's up to India." (Express File Photo)
------
• Delhi Violence: 'This Is a Failure of Leadership on Human Rights,' Bernie Sanders Condemns Donald Trump's Remark
• 'Insha'Allah, It Will Be Fine': NSA Ajit Doval Takes Charge
• Anyone Targeting Minorities in Pakistan Ongoing Violence in India, Would Be Dealt With Strictly: Imran Khan
• 5,000 Taliban Prisoners To Be Released After The Signing Of Peace Deal With US: Spokesperson Of The Political Office Of Taliban In Qatar
• Virus Adds To Fears for Targets of Muslim Crackdown In China
• Secret Saudi Plan to Undermine Rival Islamic Summit Revealed
• Virus or Not, Religion Dominates in Land of Islamic Shrines in Qom and Mashhad in Iran
• Why Muslim Voters Love Bernie Sanders
• Islamophobia 'Everyday Issue' For More Than A Third of Scottish Muslims
• New Tunisia Government Wins Confidence Vote In Parliament
India
• Message of Harmony and Brotherhood in Delhi: Chand Bagh Muslims Protect Temple By Forming Human Chain
• Delhi Violence: 'This Is a Failure of Leadership on Human Rights,' Bernie Sanders Condemns Donald Trump's Remark
• 'Insha'Allah, It Will Be Fine': NSA Ajit Doval Takes Charge
• India's police 'watch in silence' as Hindu mobs attack Muslims, loot businesses and desecrate mosques
• Ironic that 'global terror epicentre' Pak lectures on rights: India at UN
• NIA raids houses of terrorists in Pulwama
• In case of another Pulwama, there will be no status quo, says IAF chief Bhadauria
• Shaheen Bagh blockade: Supreme Court to take call after March 23
• Delhi violence: For riot-hit families, their homes of years are not 'safe' anymore
• Ex-RAW chief flew to J-K to gauge Farooq Abdullah's mood on Art 370 repeal
• SC notice to J&K on plea challenging Mehbooba Mufti detention under PSA
• 35 Dead In Delhi Violence. 130 Arrests So Far, Say Sources
--------
Pakistan
• Anyone Targeting Minorities in Pakistan Ongoing Violence in India, Would Be Dealt With Strictly: Imran Khan
• Pak PM Imran to visit Qatar ahead of signing of US-Taliban peace deal
• With Geneva installations, exiled activists expose Pak's terror links
• Nawaz Sharif declared 'absconder' for violating bail terms
• Resolution in Punjab Assembly to condemn India mosque attacks
• Shahbaz warns govt against dereliction of duty over coronavirus
• Jamaat holds 'Azadi March' against govt in Lower Dir
• Pakistan confirms first two cases of coronavirus, govt says 'no need to panic'
• PAF commemorates 'resounding victory' in Operation Swift Retort
• US firms keen on enhancing investments in Pakistan: Ross
• Pakistan to become playmaker with Turkey's ship project: Turkish official
--------
South Asia
• 5,000 Taliban Prisoners To Be Released After The Signing Of Peace Deal With US: Spokesperson Of The Political Office Of Taliban In Qatar
• Rohingya Displaced Within Rakhine since 2012 Riots Face Bleak Prospects
• Human rights defenders strategy: From commitments to action
• Deadly roadside bomb rips through Taliban vehicle in Balkh province
• Top Afghan, U.S. defines officials optimistic about RIV agreement amid sporadic incidents
• U.S. confirms position on Afghan elections amid deepening political tensions
--------
Southeast Asia
• Virus Adds To Fears for Targets of Muslim Crackdown In China
• Amanah Urges Rogue MPs To Return To Pakatan Fold, Help Fulfill GE14 Mandate
• PAS and Umno deny report their lawmakers back Muhyiddin Yassin to be PM
• Mahathir to form unity government, sorry for quitting in haste
• Lawyer claims trial to racial incitement in Facebook post
• Malaysia's Geriatric Palace Intrigues Are Causing Political Turmoil
• Mahathir's meeting with King ends amid speculations some PKR MPs set to return to PH
• 70 years of Indonesia – Jordan relations towards a genuine and solid partnership
--------
Arab World
• Secret Saudi Plan to Undermine Rival Islamic Summit Revealed
• Saudi Arabia Halts Entry from Coronavirus-Hit States for Umrah In Mecca, Tourism
• Al-Azhar's imam faces hostile media campaign
• Iraq announces sixth coronavirus case associated with travel to Iran
• Two Turkish troops killed in Syria's Idlib: Defence Ministry
• Syrian opposition forces regain strategic town of Saraqib: Officials
• Qatar says to evacuate its citizens and Kuwait's from Iran due to coronavirus
• Iraq bans public gatherings and travel to 9 countries over coronavirus concerns
• Egypt holds military funeral for former leader Hosni Mubarak
• Syrian regime targets Turkish convoy with missiles, burns vehicle: Monitor
• Bahrain extends coronavirus flight ban to Dubai, Sharjah airports for 48 hours
• Bahrain suspends flights to and from Iraq, Lebanon amid coronavirus fears
• Europeans tell Syrian regime, Russia: Return to 2018 Idlib deal
• Egypt holds full-honors military funeral for Hosni Mubarak
--------
Mideast
• Virus or Not, Religion Dominates in Land of Islamic Shrines in Qom and Mashhad in Iran
• Laylat al-Raghaib: Muslims around the World Gear Up For Islam's Night of Wishes
• Iran Cleric Urges People To Visit Qom Religious Site Despite Coronavirus Fears
• Two Turkish soldiers killed in airstrikes in Syria's Idlib: Ministry
• Iran imposes local travel restrictions on confirmed, suspected coronavirus cases
• Israeli PM Netanyahu pulls his punches after Bernie Sanders calls him a racist
• Coronavirus panic adds insult to already injured Iranian currency
• Turkey will push Syrian regime forces beyond observation points: Erdogan
• Yemeni forces intercept, shoot down Saudi-led reconnaissance drone in Najran
• PA demands Amazon to halt discriminatory practice toward Palestinians
• Arab League wants intl. observers back in al-Khalil to protect Palestinians against Israeli crimes
--------
North America
• Why Muslim Voters Love Bernie Sanders
• As Domestic Terrorists Outpace Jihadists, New U.S. Law Is Debated
• US issues travel warnings for Iran, Italy, Mongolia amid coronavirus spread
• US imposes new sanctions on 13 entities in China, Iraq, Russia and Turkey
• US slaps illegal sanctions on senior commander of Iraq's PMU
• Two US Senate hawks pushing for new Iran nuclear deal
• US sanctions head of Iraq's Kataib Hezbollah
• US military says it killed terrorist leader who planned attack that killed Americans in Kenya
• US targets individuals, entities linked to Lebanon's Martyrs Foundation
• US targets Iranian-backed militia active in Iraq: State Department
--------
Europe
• Islamophobia 'Everyday Issue' For More Than A Third of Scottish Muslims
• London's New Faith Hub Is Building Young Muslims a Bridge Back to the Mosque
• Russia to halt visas to Iranian citizens amid coronavirus outbreak
• Russia says Turkey helping foreign militants enter Libya
• Turkey urges unity to fight xenophobia, Islamophobia
• Kosovo removes tariffs on Serbian, Bosnian products
• Interpol official warns of dramatic rise in extremist right-wing violence
--------
Africa
• New Tunisia Government Wins Confidence Vote In Parliament
• Rival Libyan politicians meet for peace talks in Geneva
• Sahel Summit in Nouakchott Tackles Terrorism, Libyan Crisis
• Scores die in ISWAP, Boko Haram clash
• 'Repentant' Boko Haram members arrive Maiduguri from Niger
Compiled By New Age Islam News Bureau
URL: https://www.newageislam.com/islamic-world-news/message-harmony-brotherhood-delhi-chand/d/121170
--------
Message of Harmony and Brotherhood in Delhi: Chand Bagh Muslims Protect Temple By Forming Human Chain
BY SAFOORA
FEBRUARY 27, 2020
NEW DELHI: After three days of violence in northeast Delhi, the area's residents gave a message of harmony and brotherhood by saving a temple from being vandalised.
The incident was reported from Chand Bagh, one of the worst-affected areas, where an elderly man and several other local residents formed a human chain around a temple and saved it.
"It would have been shameful for us if the temple would have been damaged," said the elderly man said.
A 30 -year-old local resident said, "We have ensured that nothing happens to the temple. We also ensured that no damage happens to the shops of our Hindu brothers."
"If we would not have protected the temple, it is we who will be blame and the whole locality would get destroyed," said another woman.
Maujpur
Another example of Ganga-Jamuna Tehzeeb was witnesses in Muslims dominated Maujpur where the people from the minority community have been seen guiding the temple.
People sitting outside the temple so that no rioters from outside come and do any damage to the temple.
Such stories coming up after communal hatred, violence and arson coming in from northeast Delhi speaks of easing of tension in the area.
Seelampur: Locals offer food to security forces
Meanwhile, residents of Seelampur, one of the worst affected areas in the violence that engulfed northeast Delhi, have in a gesture of solidarity offered food and tea to the security forces deployed there.
Gaurav, who lives near Welcome Metro Station, told IANS: "We are taking care of all those people who are providing security in our areas. We are also offering food to needy people. Following the deteriorating situation, shops have been shut."
"We are with them (security forces) and will serve them till they are here," he added.
There has been heavy deployment of security forces including the police, CRPF, BSF and the RPF in the area.
However, on the fourth day on Wednesday, since violent clashes erupted in northeast Delhi following protests against the Citizenship Amendment Act, the situation started returning to normal.
The violent protests have claimed the lives of at least 23 people and left dozens injured. After the situation worsened on Saturday evening, shops were set on fire and people were looted by unidentified miscreants. Following this, Section 144 was imposed in some sensitive areas including Jafrabad, Maujpur and Seelampur.
https://www.siasat.com/delhi-chand-bagh-muslims-protect-temple-forming-human-chain-1839117/
--------
Delhi violence: 'This is a failure of leadership on human rights,' Bernie Sanders condemns Donald Trump's remark
February 27, 2020
Hitting out at President Doland Trump for saying violence in Delhi is an "internal matter of India", Democratic presidential candidate Bernie Sanders on Thursday said it's a "failure of leadership on human rights".
"Over 200 million Muslims call India home. Widespread anti-Muslim mob violence has killed at least 27 and injured many more. Trump responds by saying 'That's up to India'. This is a failure of leadership on human rights," tweeted Sanders.
Bernie Sanders
✔
@BernieSanders
Over 200 million Muslims call India home. Widespread anti-Muslim mob violence has killed at least 27 and injured many more. Trump responds by saying, "That's up to India." This is a failure of leadership on human rights.https://www.washingtonpost.com/world/toll-rises-to-22-in-delhi-violence-as-modi-issues-plea-for-calm/2020/02/26/2cb8e0d8-589f-11ea-8efd-0f904bdd8057_story.html …
Death toll rises to 27 in Delhi violence as Modi issues plea for calm
The clashes are the worst communal violence in India's capital in decades.
washingtonpost.com
45.6K
1:54 AM - Feb 27, 2020
Twitter Ads info and privacy
26.9K people are talking about this
https://platform.twitter.com/widgets.js
On the last day of his India visit, when Trump was asked about incidents of violence in India's capital, the US president had said, "As far as the individual attacks, I heard about it, but I didn't discuss that with him (Modi). That's up to India."
Sanders is the second Democratic presidential nominee after Senator Elizabeth Warren to speak against the violence over the Citizenship Amendment Act in New Delhi.
Condemning the violence in Delhi, Warren had tweeted, "It's important to strengthen relationships with democratic partners like India. But we must be able to speak truthfully about our values, including religious freedom and freedom of expression—and violence against peaceful protestors is never acceptable."
Elizabeth Warren
✔
@ewarren
It's important to strengthen relationships with democratic partners like India. But we must be able to speak truthfully about our values, including religious freedom and freedom of expression—and violence against peaceful protestors is never acceptable. https://www.bbc.com/news/world-asia-india-51612461 …
Demonstrators gather along a road scattered with stones following clashes between supporters and opponents of a new citizenship law, at Bhajanpura area of New Delhi on February 24, 2020
Policeman killed in India citizenship law violence
The violence in Delhi broke out hours before a scheduled visit by US President Donald Trump.
bbc.com
2,855
6:00 AM - Feb 26, 2020
Twitter Ads info and privacy
1,121 people are talking about this
https://platform.twitter.com/widgets.js
Other influential senators too expressed concern over the developments on Wednesday.
"We are alarmed by the recent violence in New Delhi. We continue to support an open dialogue on issues of significant concern in order to advance our vital long-term relationship," Senator Mark Warner from the Democratic Party and John Cornyn from the GOP said in a joint statement.
Warner and Cornyn are co-chairs of the Senate India Caucus, the largest country-specific caucus in the US Senate.
Congressman Jamie Raskin said he was horrified by the violence, which was fueled by religious hatred and fanaticism.
Rep. Don Beyer
✔
@RepDonBeyer
I condemn attacks against Muslims in India, and reject violence, bigotry, and religious intolerance. The US State Department should too.
7,354
7:09 PM - Feb 26, 2020
Twitter Ads info and privacy
3,666 people are talking about this
"Liberal democracies must protect religious freedom and pluralism, and avoid the path of discrimination and bigotry," the Congressman said.
Richard N Hass, who heads the powerful Council on Foreign Relations, said the reason for India's relative success has been that its large Muslim minority saw itself as Indian.
"But this is at risk owing to govt attempts to exploit identity politics for political advantage," he said.
Earlier in the day, the US Commission on International Religious Freedom urged the Government of India to take swift action for the safety of its citizens.
Expressing "grave concern" over the violence, the US body said the Indian government should provide protection to people regardless of their faith amid reports of the attack on Muslims.
https://indianexpress.com/article/india/delhi-violence-maujpur-babarpur-jaffrabad-bernie-sanders-6288884/
--------
'Insha'Allah, It Will Be Fine': NSA Ajit Doval Takes Charge
Feb 27, 2020
Hours after US President Donald Trump left Delhi on Tuesday, National Security Adviser (NSA) Ajit Doval hit the ground at midnight to control the volatile situation in the national capital, toured riot-hit north-eastern neighbourhoods of Delhi on Wednesday and reassured people that law enforcement agencies had been deployed to keep them safe.
By Wednesday morning, hours after Doval first visited the north-east deputy commissioner's office to take stock of the situation and issue instructions, the fire of the communal riots, which has killed at least 27 people, appeared to simmer down. Security forces carried out flag marches in several parts of north-east Delhi through the day.
Prime Minister Narendra Modi tasked NSA Doval with the job of restoring normalcy in the riot-hit areas as concerns grew over inept handling of the spiraling violence by the Delhi Police.
Analysts said that the scale of violence preceding the ground action by the NSA showed the Delhi Police had completely failed to rein rioters, leading to an alarming number of deaths and unprecedented destruction in the national capital.
The Delhi Police have been widely criticised for not acting against rioters on Monday and Tuesday – the 48 hours when the communal violence was at its peak.
On Wednesday, Doval sought to assure residents stricken by fear, including a Muslim student who said that the police did not protect them from mobs who vandalised shops and set vehicles on fire. "We are not feeling safe and comfortable," the 22-year-old girl named Ifra Parvez told Doval in Brahmpuri, as people watched on.
Doval responded: "I give you my word, you do not have to worry. It is the responsibility of the police, it is the responsibility of the government."
As he walked through congested lanes of north-east Delhi neighbourhoods, he said to locals: "What has happened has happened. Inshallah, there will be complete peace here."
Walking along with Doval in the riot-hit streets was SN Shrivastava, an IPS officer who was hurriedly appointed as special commissioner to be the chief of law and order in Delhi.
Delhi Police commissioner Amulya Patnaik, who has been widely criticised for not responding proportionately to the inflamed situation, wasn't around when Doval walked around in areas such as Maujpur, Jafrabad and Brahmpuri. Patnaik is set to retire on Saturday.
On Wednesday morning, Doval presented his assessment of the situation to the Cabinet Committee on Security (CCS) headed by the PM and detailed the steps taken to end the violence.
Later in the day, as he visited the riot-hit areas, Doval said he was there on the instructions of Modi and home minister Amit Shah. "Police is working hard. Only some criminals were involved in this. One should try resolving issues and not increasing them. There were incidents earlier but today it is calm. Locals want peace. We have full faith there will be peace," he said.
He patted the shoulder of an elderly man in one of the areas and said: "If there is any problem at all, just inform… Force is deployed here to ensure you all remain safe."
When a woman said she was extremely scared when violence broke out, the NSA told her: "Don't be scared. Maintain peace and harmony. We have to live together and take the country forward."
"The situation is totally under control. People are satisfied. I have confidence in law enforcement agencies. The police are doing their work," he added during his tour.
The NSA later returned to the North Block to brief Shah about the law and order situation.
Doval first took a round of the riot-hit areas around midnight on Tuesday after visiting the office of DCP Ved Prakash Surya in Seelampur. He was accompanied by police commissioner Patnaik.
An official, who spoke on condition of anonymity, said that it was for the first time in the history of the national capital that the NSA had to go to a police station area and hit the ground to assess a riot situation.
Vikram Singh, former DGP of Uttar Pradesh Police, said the NSA was forced to step in as senior officers of the Delhi Police, including its commissioner, did not take to the streets early on as part of a confidence-building measures.
"The senior-most police officers should have been out on the streets instead of sitting in their ivory towers. But that did not happen and the NSA stepped in to do their job," said Singh.
https://www.hindustantimes.com/india-news/inshallah-it-will-be-fine-nsa-ajit-doval-takes-charge/story-kwqgXOhoehtzUUd42jXqrN.html
--------
Anyone Targeting Minorities in Pakistan Ongoing Violence in India, Would Be Dealt With Strictly: Imran Khan
Feb 26, 2020
ISLAMABAD: Pakistan Prime Minister Imran Khan on Wednesday warned that anyone targeting minorities in the country would be dealt with strictly, as he condemned the ongoing violence in India.
At least 20 people have been killed since Sunday in violence in Northeast Delhi, triggered after clashes between pro and anti-protestors over the Citizenship Amendment Act (CAA).
"I want to warn our people that anyone in Pakistan targeting our non-Muslim citizens or their places of worship will be dealt with strictly. Our minorities are equal citizens of this country," he said.
Khan also condemned the violence in India and said the world community "must act" now.
"Now 200 million Muslims in India are being targeted. The world community must act now," he tweeted.
"Whenever a racist ideology based on hatred takes over, it leads to bloodshed," he said.
Khan also referred to his address to the UN General Assembly last year in which he warned the international community against ignoring the situation in Kashmir after the abrogation of Article 370 in August last.
India has defended its move on Kashmir in August, saying the special status provisions only gave rise to terrorism in Jammu and Kashmir.
Pakistan has been trying to internationalise the Kashmir issue but India has asserted that the abrogation of Article 370 was its "internal matter". New Delhi has also asked Islamabad to accept the reality and stop its anti-India rhetoric.
The Indian Parliament had passed the CAA last year, resulting in a series of protests across the country.
According to the CAA, members of the Hindu, Sikh, Buddhist, Jain, Parsi and Christian communities who have come from Pakistan, Bangladesh and Afghanistan till December 31, 2014 following religious persecution there will get Indian citizenship.
The Indian government has been emphasising that the new law will not deny citizenship rights, but has been brought to protect the oppressed minorities of neighbouring countries and give them citizenship.
https://timesofindia.indiatimes.com/world/pakistan/anyone-targeting-minorities-in-pakistan-would-be-dealt-with-strictly-imran-khan/articleshow/74317787.cms
--------
5,000 Taliban Prisoners To Be Released After The Signing Of Peace Deal With US: Spokesperson Of The Political Office Of Taliban In Qatar
27 Feb 2020
The Taliban group and Afghan government are expected to exchange at least six thousand prisoners following the signing of peace deal between Taliban and Washington.
Suhail Shaheen, a spokesperson of the political office of Taliban in Qatar has confirmed to RFE/RL that the group would definitely launch intra-Afghan talks after the signing of the deal.
However, Shaheen said trust-building measures would be a prerequisite for the launch of the intra-Afgahn dialogue.
According to Shaheen, the Afghan government will release 5,000 Taliban prisoners in its first step to build trust and similarly the Taliban group will release 1,000 security personnel.
Shaheen also confirmed to RFE/RL that the Taliban group is expected to sign the peace deal with the United States on coming Saturday.
He also added that Mullah Abdul Ghani Baradar will likely sign the agreement in Qatari capital of Doha, in the presence of the representatives of 26 countries.
https://www.khaama.com/5000-taliban-prisoners-to-be-released-after-the-signing-of-peace-deal-with-us-shaheen-04461/
--------
Virus adds to fears for targets of Muslim crackdown in China
FEBRUARY 26, 2020
WASHINGTON — The spread of a new virus in China has deepened fears about the targets of a mass crackdown on ethnic Muslims in the far west of the country, human rights advocates said Wednesday.
The Uighur Human Rights Project released video and social media posts from China suggesting that many people are quarantined in their homes and unable to get food, creating a potential hunger crisis in a region under a government crackdown since April 2017.
Members of the group also expressed alarm about the potential spread of the new coronavirus among the mass detention camps where the State Department says more than a million Uighurs and other ethnic Muslims are held without charge.
China has reported 555 cases of the virus among prisoners, though not yet from the detention camps in the Xianjiang region where witnesses say about 60 people are held per cell, so cramped together they are forced to sleep in shifts, and deprived of adequate food or medicine while being subjected to torture.
Kuzzat Altay, president of the Uighur American Association and the son of a detainee, called on China to open up the region to international news organizations and other independent monitors and urged the World Health Organization to inspect the camps.
China has rejected criticism of its crackdown and said the camps are "re-education" and vocational schools. But many of those held are highly educated, retirees and business owners.
The government on Wednesday also downgraded the threat posed by the virus in the Xinjiang Uygur Autonomous Region as new cases decline, according to state-run Xinhua news agency.
http://www.startribune.com/virus-adds-to-fears-for-targets-of-muslim-crackdown-in-china/568214712/
--------
Secret Saudi plan to undermine rival Islamic summit revealed
By David Hearst, Ragip Soylu
26 February 2020
Saudi Arabia was so spooked by the prospect of major Muslim nations convening at the Kuala Lumpur Summit in December, outside the control of the Organisation of Islamic Cooperation (OIC) which it chairs, that it prepared a media campaign to belittle its importance, Middle East Eye can reveal.
The Saudi Ministry of Media compiled a series of messages which local media organisations and commentators were "instructed" to issue, as well as targeting newspapers, websites and television channels in countries including Pakistan, Indonesia and several Arab states.
According to a ministry document obtained by MEE, the aims of the campaign were: to highlight the role of the OIC in serving the causes of the Islamic Ummah; to belittle the Malaysia summit; and to highlight the aid Saudi has given to the Islamic world, especially Palestine.
The Malaysia summit on 19 December was attended by the leaders of Iran, Turkey and Qatar, and delegates from 56 countries.
Pakistan's Prime Minister Imran Khan, the head of the world's second largest Muslim-majority nation, was a notable absentee, after strenuous Saudi efforts were made to stop him from attending.
In February last year the Crown Prince Mohammed bin Salman announced a $20bn package of investment in Pakistan.
Khan bowed to the pressure, sending his foreign minister in his place, but afterwards regretted his decision.
Speaking at a press conference held earlier this month alongside Kuala Lumpur Summit host Mahathir Mohamad, the Malaysian prime minister who resigned on Monday, Khan said: "Some of our close friends felt that the conference would divide the Ummah, which was not the purpose of the conference. I feel that it is the duty of the Muslim countries to educate the western countries and other nations about Islam."
The Saudi Ministry of Media acknowledged the importance of the summit despite its efforts to undermine the event.
It said: "Due to the importance of this event and its effects and dimensions on the course of joint Islamic action, a media plan has been prepared to highlight the joint Islamic action carried out through the OIC and the pivotal role played by the Kingdom in supporting this organisation and its efforts."
The document states that the key purpose of their campaign was to "belittle the importance of the summit and the decisions that may emerge out of it in view of the absence, or the downgrading of the level of participation by Islamic states that play a pivotal role in leading the Islamic world and in serving its causes".
It told its journalists to write that the convening of a mini-summit in Malaysia outside the framework of the OIC could "encourage the creation of similar blocs among other Islamic states that have not been invited. These states would be tempted to convene other summits. Consequently, efforts would be wasted and so would be the endeavour to reform the structure of the organisation".
The document also told them to highlight Imran Khan's withdrawal from the summit.
"The absence of pivotal Islamic states from the Malaysian summit, and the cancellation of the participation of Pakistan's Prime Minister Imran Khan, and downgrading the level of representation to that of the Foreign Minister, reflects the lack of conviction on the part of a country that has been instrumental in setting up this summit that it would not be possible to achieve any success outside the framework of the OIC."
More revealing still were the "implementation mechanisms" revealed in the secret document.
These included: "Instructing authors of opinion columns to criticise any grouping formed for the purpose of achieving narrow political objectives outside the OIC," along with the preparation of TV news reports highlighting the role of the kingdom in founding the OIC, and the hosting of political analysts.
Translation: Instructing authors of opinion columns to criticise any grouping formed for the purpose of achieving narrow political objectives outside the OIC, which is considered the second largest international organisation after the United Nations.
These were put out on a host of Saudi TV channels, radio stations, and newspapers.
The document also lists a number of foreign media organisations at which the propaganda campaign was to be targeted.
These included the Dawn, Daily Jang and Nawa-i-Waqt newspapers in Pakistan; Al-Rai, Ad-Dustour, and Ammon newspapers and websites in Jordan; and other news channels and publications in countries including Egypt, Sudan, Iraq, Lebanon, Indonesia and India.
Middle East Eye has sought comment from all of the above named publications but none had replied at the time of publication.
In implementing the plan, the Ministry of Media listed getting "a number of writers in the Arab and Islamic press to write about highlighting the role of the OIC and cast doubt on the benefit of convening a mini Islamic summit outside the framework of this organisation".
* Highlight the role of the OIC in serving the causes of the Islamic Ummah, in its capacity as a representative of all the countries of the Muslim world.
* Belittle the importance of the summit and the decisions that may emerge out of it, in the view of the absence or the downgrading of the level of participation by Islamic states that play a pivotal role in leading the Islamic world and in serving its causes.
* Shed light on the amount of aid provided by the kingdom throughout the past decades to the Islamic and the support its causes, foremost of which is the Palestinian cause.
A social media campaign, the document reveals, involved "sending the messages in both Arabic and English to influencers in the social media in the Arab and Islamic countries and to the influencers locally".
The prime minister's office in Malaysia would not comment on the document after Mahatir's offer of resignation on Monday.
A Turkish official, speaking on condition of anonymity, said that there had been ongoing anti-Turkey propaganda efforts by Saudi authorities since the murder of Saudi journalist Jamal Khashoggi in October 2018.
"We aren't even surprised by any of this," the official said. "They continuously smear Turkey.... They never downgrade their anti-Turkey efforts.
"They spend millions of dollars on this, making American and British companies rich to relay ridiculous talking points to their own parrots."
A Turkish diplomat said Turkish President Recep Tayyip Erdogan was angry at Saudi and Emirati officials for putting pressure on Imran Khan to cancel his participation into the summit.
"The Saudis thought Turkey and Qatar were trying to forge a new division with the south Asian countries by also adding Iran to the picture. They were totally mistaken. It was regional countries that invited Turkey and Qatar. It wasn't led by Ankara," the diplomat said.
Erdogan at the time said that Khan was pressured to cancel his visit.
Speaking to reporters in the Malaysian capital in December, he said: "This isn't the first time that the Saudi Arabia and Abu Dhabi administrations have taken such an attitude.
"Unfortunately, we observe that Saudi Arabia is putting pressure on Pakistan. See, there are [Saudi] promises to Pakistan regarding its central bank.
"Beyond everything else, there are four million Pakistan workers in Saudi Arabia," said Erdogan.
"They [Saudi Arabia] tell them that 'we can send them back, and instead take Bangladeshis'.
"On the other hand, regarding the central bank, they tell [Pakistan] that they could withdraw their money. And following similar threats, Pakistan, which is facing harsh economic conditions, found itself in a position to take such [a decision not to attend the summit]."
Middle East Eye contacted the Saudi Ministry of Media and the Saudi embassy in London but had not received a response by the time of publication.
https://www.middleeasteye.net/news/exclusive-secret-saudi-plan-undermine-rival-islamic-summit-revealed
--------
Virus or Not, Religion Dominates in Land of Islamic Shrines in Qom and Mashhad in Iran
February 26, 2020
(Bloomberg) -- It's been three days since the Iranian city of Qom banned one of Shiite Islam's holiest shrines from holding religious ceremonies in an attempt to contain the spread of coronavirus. On Wednesday, it was still open with pilgrims pushing at fences erected to stop them kissing the gilded shrine.
The Iranian government has become the target of popular anger and ridicule over its slow and confused response to the outbreak, which has killed at least 19 people in the country so far with wildly fluctuating reports on how many people actually have the virus.
At least part of the cause appears to be an over-powerful clergy, unwilling to interfere with religious observance. Shiite pilgrims visiting a circuit of shrines in Qom and Mashhad in Iran, as well as Najaf in Iraq, have been identified as a primary source of the disease's spread across the Gulf.
Read More: Bloomberg's Rolling Virus Update
Still, the faithful continue to have access to shrines. The official news agency IRNA said that Friday prayers would be held as usual in Tehran, where the main Mosalla mosque can hold tens of thousands.
Meanwhile access to Qom, a city of 1.2 million and epicenter of the coronavirus outbreak in Iran, remains free in stark contrast to the quarantining of affected urban centers in Italy and China.
"The biggest question is why Qom has not been quarantined," said Mehdi, a 28 year-old photographer who lives and works in Qom. "It's getting worse with each passing day. They're disinfecting the shrine by the hour, but unfortunately, people still go there and touch and kiss all over the place in reverence."
Tea houses, cafes for smoking hookah pipes and gyms are shut, as well as many restaurants and stores, and there are few pedestrians on the streets, according to Mehdi. Kits to test for the virus are scarce, and a recent delivery of face masks sold out within hours. The government has begun distributing packages containing face masks, disinfectant and sanitary gloves, but supplies are insufficient to cover the whole city, Mehdi said.
On Wednesday, the normally bustling Grand Bazaar was deserted, yet people were still visiting the Imamzadeh mosques—mausoleums for the lesser offspring of Holy Imams related to the Prophet Mohammed—as well the Fatima Masoumeh shrine, according to Hamid, a driver for Snapp, the Iranian equivalent of Uber.
The problem is that people would take offense at being shut out of Qom's holy places, said Hamid, speaking by phone from his car. "It's a religious city" he said. "If it was up to me, I'd shut all the Imamzadeh mosques and the shrine, but people go everywhere as they please."
To be sure, there are other equally important reasons to help explain the Iranian response. There's a shortage of medical supplies caused by U.S. sanctions and the prioritization of geopolitics over domestic health saw some 3 million face masks shipped to China that are now needed at home.
On Tuesday, the Chinese embassy in Tehran said it was in turn donating 250,000 masks to the Iranian Ministry of Health and Medical Education, according to China's official People's Daily.
Iran faces more disruption it can ill afford. With its oil sales hit by American sanctions, the economy has been dependent on goods exports to neighbors that are now shutting their borders. The rial, Iran's battered currency, has fallen 11.5% since Feb. 12, according to quotes from three open-market traders in Tehran.
For Qom, pilgrimage is critical. The bustling city is visited by about 20 million domestic and 2.5 million foreign tourists per year. Now it's the city worst hit by covid-19. Iranian state TV confirmed 139 cases nationwide by Wednesday afternoon.
On Feb. 21, the custodian of the Fatameh Massoume Shrine accused the U.S. of targeting his city with coronavirus, as "the enemy" tried to sow fear and break Iran's resistance.
Still, "you can't chalk it all up to officials," said Mehdi, the photographer, speaking by phone. While the shrine and mosques were open, they are much less trafficked than usual. The problem was that believers insisted on continuing to visit.
Precisely how many cases and fatalities there are in Iran's most religious city remains unclear. On Monday, a conservative parliamentarian from the city claimed it had suffered 50 coronavirus deaths, a figure swiftly denied by the authorities.
Yet the government's own statistics have prompted mistrust, not least because the low number of registered cases relative to the deaths would suggest a mortality rate several times higher than the World Health Organization's 2% estimate.
Adding to the confusion, the deputy head of the Qom University of Medical Sciences said 434 patients suspected of having the coronavirus have been hospitalized in recent days, the semi-official Mehr news agency reported on Wednesday. That would be a multiple of the government figure for all of Iran. Indeed, he himself was quarantined as a possible case.
Kuwait on Monday reported three positive cases from people who had been evacuated from Mashhad, even though Iranian authorities had identified no coronavirus in the city.
The relatively lax Iranian response contrasts with Italy, which sealed off about ten towns south of Milan and one near Venice the day after discovering a rash of covid-19 cases in the area. It also shut down the Venice carnival, one of the world's great cultural festivals. Countermeasures taken by China, after its initial efforts at suppressing news of the virus failed, have been still more draconian.
--With assistance from Yasna Haghdoost, Golnar Motevalli and Peter Martin.
To contact the authors of this story: Arsalan Shahla in Dubai at ashahla@bloomberg.netMarc Champion in London at mchampion7@bloomberg.net
To contact the editor responsible for this story: Rodney Jefferson at r.jefferson@bloomberg.net
https://finance.yahoo.com/news/virus-not-religion-dominates-land-171107307.html
--------
Why Muslim Voters Love Bernie Sanders
By Steve Friess
2/26/20
At last night's messy Democratic debate in Charleston, South Carolina, one of the messiest moments came when Bernie Sanders was asked to address the concerns of American Jews over his Mideast policies. The Vermont senator firmly voiced his commitment to protect the independence and security of Israel. But he also called Israeli Prime Minister Benjamin Netanyahu "a reactionary racist" and coupled his support for Israel with the view that "you cannot ignore the suffering of the Palestinian people."
The response from the candidate, who increasingly looks like the frontrunner in the Democratic race, will likely serve to solidify feelings about Sanders among two key constituencies: Muslim voters, who strongly support him, and Jewish voters, who do not—even though he may be the first Jewish person to become the presidential nominee of a major political party in the U.S.
In fact, in a national poll of Muslim Democrats released by the Council on American-Islamic Relations (CAIR) just before primary season got underway Sanders was the clear leader, with 39 percent support to Joe Biden's 27 percent. The rest of the Democratic contenders were all in single digits. And in the weeks since, that support has only seemed to grow stronger.
For many Americans, everything about this development defies well-worn stereotypes about Muslims—that they're instinctively hostile to or suspicious of Jews and that the dogma of their faith demands they be extreme social conservatives who would find a stridently pro-choice, pro-LGBTQ candidate unacceptable. But Sanders, in fact, has a long history of outreach to Muslim Americans that is serving him well in the current race. Says Medicare For All activist Abdul El-Sayed, "Bernie is the one candidate who has made the effort to engage our community and speak to us where we are."
Early Signs of Strength
The strong support for Sanders among Muslim voters was abundantly clear in Iowa, during a caucus otherwise marred by confusion and suspicion about the outcome.
On caucus night on February 3 at the Muslim Community Organization mosque in Des Moines, for instance, voting didn't even go to a second round. When Democrats there were first told to head to their candidates' corners, just two people each dispersed to show support for Andrew Yang and Elizabeth Warren and one went for Pete Buttigieg. The rest, another 115 folks, congregated for Bernie Sanders.
Similarly lopsided breakdowns in Sanders' favor emerged at other mosques that served as caucus sites. What's more, the only reason there were caucuses in mosques at all—the first time for a presidential primary caucus anywhere in the U.S.—was because the Sanders campaign lobbied the state Democratic Party to do so to encourage Muslim participation.
Six days after the Iowa caucus, on a conference call of more than 100 "Muslims For Bernie" volunteers, some speakers even referred to him as Ammu Bernie, using the Arabic for "uncle," so familiarly and affectionately do they regard the independent senator from Vermont.
Yet another vote of confidence: Ten days before Super Tuesday, when voters from 14 states will head to the polls—including California and Texas, which have the largest number of voting-age Muslims—Emgage, the nation's biggest Muslim PAC, endorsed Sanders, saying the candidate "has built a historically inclusive and forward-thinking movement."
Courting the Muslim Vote
That the majority of Muslim voters would pick a Democrat has become a given in recent years. More than 74 percent of Muslim voters backed Democrats in exit polling from the 2012, 2016 and 2018 elections, CAIR says—a significant shift since the 2000 election, when Republican George W. Bush took 42 percent of the Muslim vote, according to a 2001 Zogby survey.
After the 9/11 terror attacks, Bush's "War on Terror" and its harsh rhetoric against what it called Islamic extremism, Muslim Americans migrated in droves to the Democratic Party. "That's when you start seeing Republican candidates run on really anti-Muslim platforms and engaging in very Islamophobic campaign rhetoric," says Robert McCaw, CAIR's director of government affairs director.
As Muslims became a consistent Democratic voting bloc—one with substantial numbers not only in California and Texas but also in fellow Super Tuesday states Minnesota and Virginia, as well as Michigan, which votes a week later—Sanders has been singular in his direct, aggressive effort to win their support.
To be sure, he's not the only Democratic candidate to reach out to Muslim voters. Massachusetts Senator Elizabeth Warren in January held a one-hour conference call with Muslim leaders to hear their concerns and vie for their help in her quest for the Democratic nomination. And former New York City Mayor Michael Bloomberg earlier this month sent an Arab-American campaign surrogate to hold two meetings with community leaders in Michigan and has taken out Arabic-language ads in the Dearborn-based Arab American News in advance of that state's primary on March 10.
But Sanders is the only one of the major 2020 presidential contenders who has visited mosques or appeared publicly with prominent Muslim elected leaders from the Democratic Party such as Representatives Ilhan Omar of Minnesota and Rashida Tlaib of Michigan. Meanwhile, Bloomberg's Arabic ads, instead of boosting him within the community, conjured up controversy in the Detroit media with many Muslim leaders saying the outreach was disingenuous given his past support of undercover surveillance of New York City mosques while he was mayor.
Sanders, on the other hand, is seen as the real deal. He has a career-long history of outreach to Muslims; it's not something that began with the 2020 campaign or even his run for president in 2016. Along the way, he's also forged alliances with some purported anti-Semitic figures and has been a longstanding critic of Israel's treatment of Palestinians—factors that may help explain why he polls poorly among Jewish voters.
"Jewish reticence for Sanders has a number of sources," wrote columnist Alex Zeldin last week for The Forward, a Jewish magazine, under the headline "Bernie Sanders says he's proud to be Jewish. Will Jewish voters care?" "Some may worry that any prominent Jew in the race could attract anti-Semitism. Others may feel alienated by Sanders' online fans, many of whom have a reputation for harassing his critics. Then there are his surrogates, which include Linda Sarsour, who repeatedly antagonized American Jews, including with attempts to make Jews choose between Zionism and feminism, and by hosting a conference in which Sarsour sought to define and explain anti-Semitism to Jews."
Sanders also hasn't worked particularly hard to court this demographic. The day after his resounding Nevada caucus win put him in the driver's seat for the Democratic nomination, he infuriated many in the Jewish political world by tweeting that he wouldn't attend the American Israel Public Affairs Committee convention in Washington D.C. in early March because he was "concerned about the platform AIPAC provides for leaders who express bigotry and oppose basic Palestinian rights."
An "Authentic" Voice
All this just makes Sanders' views seem more authentic to Arab-American voters, according to Sanders' campaign manager, Faiz Shakir, the 40-year-old Muslim son of Pakistani immigrants.
"You get tarred as somehow a member of a terrorist group, told you are somehow not fully American because your allegiances may not be to the U.S. Constitution, you get all kinds of Islamophobia spewed against you," Shakir says. "Then here comes Bernie Sanders who stands up and says, 'I'm going to a Muslim convention' and he speaks authentically about Kashmir, the Israel-Palestinian dispute, the Afghanistan war, the Chinese treatment of the Uyghurs. Muslims have been dealt injustices from American politicians of both parties and then Bernie Sanders says, 'I see that, I speak to it and I tell you I'll do better.' "
El-Sayed, the Medicare for All activist whom Sanders endorsed in his failed pursuit of the 2018 Democratic nomination in Michigan's gubernatorial race, agreed: "National Democrats all talk about us when it scores some political points for them, like when they want to virtue-signal that they're standing with Muslims [against Trump's ban on travel from Muslim-majority nations] and fighting for our rights. But they don't do the work of actually engaging the issues as we see them or engaging on our turf. Bernie is the one candidate who has made the effort to engage our community and speak to us where we are."
Shakir and CAIR's McCaw both trace the origins of Muslim affinity for Sanders at least back to his 2003 vote against the authorization of force that started the Iraq War. In 2007, as Keith Ellison of Minnesota was about to become the nation's first Muslim member of Congress and controversy swirled in right-wing media over his plan to be sworn in on the Quran, Sanders was the first to call to bolster his resolve.
"Brother Bernie, he said, 'You swear on anything you want,' " says Ellison, now Minnesota attorney general, on that Muslims for Bernie call. "That's why I love Bernie." More recently, Sanders campaigned for Tlaib, Omar, El-Sayed and other Muslim candidates in 2018—and they've all endorsed him this year in return.
"Bernie Sanders offers an authentic message that has stood the test of time," McCaw says. "Also, it's not just that he speaks to Muslim issues. He embraces Muslims speaking for his campaign in a way that I have not seen another candidate do."
An Agenda That Works
Sanders' appeal goes beyond his outspoken opposition to bigotry against Muslims and U.S. interference in the affairs of Muslim-majority countries. A 2016 exit poll by CAIR found Muslims rated civil rights, education and the economy as issues of even greater concern than opposition to Trump's proposed Muslim ban or the Israeli-Palestinian conflict. So the rest of Sanders' creed—his drive for universal health care and free college and against income inequality, gun violence and climate change—resonates because the vast majority of Muslims in the U.S. are also minorities living in urban areas, says Youssef Chouhoud, a political science professor at Christopher Newport University in Newport News, Virginia.
"A large percentage of American Muslims are actually at or below the poverty line, so these economic policies appeal to them as well," Chouhoud says. "They gravitate toward Bernie for that broader platform, first and foremost. And then it just so happened that he has a foreign policy that they find appealing as well."
McCaw echoed this, noting that Muslims are "the most ethnically diverse religious community in the United States. We probably have one of the highest rates of interracial marriage in America. Our issues are a combination of almost every minority community's issues, all unified around the issues of progressive social justice."
Still, the idea that Muslim Americans want a Jew as their standard-bearer is intriguing. Prominent Palestinian-American activist Linda Sarsour, a Sanders surrogate, winks at that twist when she marvels over the fact that she "fell in love with an old Jewish guy," a routine laugh line in her speeches.
And far from Sanders avoiding discussion of his faith around Muslim groups, he uses his family's immigrant experience to relate to their experiences as targets of oppression and bigotry. At the Islamic Society of North America convention in July 2019, for instance, he opened by declaring himself the "proud son of Jewish immigrants," a phrase the elicited applause. The Holocaust, he told the crowd, taught him "how important it is for all of us to speak out forcefully wherever we see prejudice and discrimination."
Sometimes his authenticity does risk alienating Muslims, but audiences give him props for his consistency. "I am a strong supporter of the right of Israel to exist in independence, peace and security," he said later in that speech. "But I also believe that the United States needs to engage in an even-handed approach towards that long-standing conflict which results in ending the Israeli occupation and enabling the Palestinian people to have independence and self-determination in a sovereign, independent, economically viable state of their own."
Shakir conceded that some more socially conservative Muslims struggle with Sanders' stances on LGBTQ equality, abortion and legalized marijuana. But "people end up saying, 'Hey you know I don't agree with Bernie Sanders on this or that, but I know he really believes it and so I appreciate that,' " Shakir says. "What brings it all together is that he's trustworthy, he's compassionate, he has the qualities that I feel comfortable with as a leader."
Sanders surrogate Amer Zahr, a comic-activist who in November hosted an Arab Americans For Bernie organizing meeting in Dearborn bristles at the idea that disagreement on this topic or Sanders' Jewish identity could be a deal-breaker. "Yes, the Palestinian-Israeli thing is out there and that creates a lot of tension from time to time, but that doesn't automatically color the way we see every Jewish person because we have been living peacefully with Jewish people and Christian people for centuries and centuries and centuries," Zahr says. "The notion that we are automatically suspicious of Jewish people, it's just simply not the case. We actually view Bernie's Jewishness as a positive, something that connected us more with him as being minorities in this country."
Backlash From Jewish Voters?
In fact, Sanders' embrace of Muslim voters generally and some Muslim leaders in particular may cost him politically—with Jewish voters. A Pew Research survey released in January showed he drew support of just 11 percent of Democratic Jewish voters—the lowest he drew with any religious group—versus 31 percent for Joe Biden and 20 percent for Elizabeth Warren. That 11 percent figure is stubborn and hasn't grown, even as his overall polling averages have; he got the same percentage of Jewish support in a May 2019 poll too.
Overall, there has been precious little fanfare in the Jewish media over the increasing likelihood that he could be the first Jewish person to become a major political party's presidential candidate or his unprecedented wins in the early voting. Sanders is not only the first Jewish politician to win the first three contests, but he's the first candidate to do so, period, from either party.
Specifically of concern to many Jewish pundits and leaders is Sanders' close relationship with Sarsour, whose strident anti-Israel comments, they believe, occasionally take on an anti-Semitic hue. In December, for instance, Sarsour asked in a speech to the American Muslims for Palestine conference in Chicago how anyone could claim to be against white supremacy but support "a state like Israel that is based on supremacy, that is built on the idea that Jews are supreme to everyone else."
Sanders, who opposes the Sarsour-led boycott, divest and sanction (BDS) movement to economically punish Israel for its Palestinian policies, nonetheless did not disavow Sarsour's remarks. That earned him yet another round of opprobrium from Jewish leaders like Rabbi Jacob Herber of Wisconsin, who tweeted in response to Sanders' silence on Sarsour, "I abhor Donald Trump for the same reasons you do. But I'll be damned if I'm going to vote for Bernie Sanders."
For his part, Sanders has put more effort into courting Jews than he did in 2016, when he was criticized for rarely, if ever, discussing his religion. In an essay last year for Jewish Currents, he wrote: "It is true that some criticism of Israel can cross the line into anti-Semitism, especially when it denies the right of self-determination to Jews, or when it plays into conspiracy theories about outsized Jewish power. I will always call out anti-Semitism when I see it."
At a hall in Derry, New Hampshire, shortly before that state's primary, Sanders explained that his drive for social justice began when, as a young Jewish boy in Brooklyn, he learned about the Holocaust—an answer that earned him unusual plaudits from the Jewish media.
Yet if Sanders' outreach to the Muslim community loses him some support among Jewish voters, it has paid political dividends too. The effort can easily be regarded as decisive in his poll-defying, surprise 10,000-vote win over Hillary Clinton in the 2016 primary in Michigan, which has one of the largest concentration of Arabs and Muslims in the U.S. Now the advantage may help him run up the score when Democrats in the Wolverine State vote on March 10.
"He's going to win the state of Michigan by a bigger majority than he did last time," El-Sayed says. "His campaign is going to be able to pick up a lot of momentum that was started by his campaign in 2016."
Even before Michigan, the Sanders cause will likely be helped by the large numbers of Muslim and Arab voters in key Super Tuesday contests. "It's not that the Muslim community will swing the election in any state, but we're definitely in a position to tip it," Shakir says. "If you can increase participation rates by just a few percentage points, you can actually have a major impact."
In fact, according to a study by Emgage, voter turnout among Muslim Americans for the 2018 midterm elections in the key states of Florida, Michigan, Ohio and Virginia—all four with primaries in early to mid-March—was 25 percentage points higher than in 2014, compared with a 14 percent jump in participation among the general electorate in those areas. If any of these contests are as close as, say, the Iowa caucus turned out to be, says Shakir, "it demonstrates that any increase can be everything."
https://www.newsweek.com/why-muslim-voters-love-bernie-sanders-1489226
--------
Islamophobia 'everyday issue' for more than a third of Scottish Muslims
26th February
ISLAMOPHOBIA is an everyday issue for more than a third of Muslims in Scotland, according to new research.
Holyrood's cross-party group on Islamophobia found more than 80% of Muslims had been subjected to abuse because of their faith at some stage.
The research found some have resorted to dressing differently, changing their accents and avoiding city centre streets, public transport and swimming pools in a bid to escape abuse. Others said they have even changed their name to sound "less Muslim".
Muslims reported they fear being branded a "terrorist" or "extremist", while females are particularly concerned they could have their hijab pulled off in public.
Anas Sarwar, chairman of the cross-party group on Islamophobia, said the early findings from the research – which was carried out together with Newcastle University – made for "sobering reading".
The Glasgow MSP said while Scots "pride ourselves on being a welcome and tolerant country" the report "demonstrates how much more work we have to do".
He said: "There are people in Scotland who feel scared to leave their homes for fear of verbal of physical attack, are withdrawing from public services with devastating knock-on consequences on their health and education, and feel they are outsiders in their own country. This should shame us all.
"We have already established that Scotland is not immune from Islamophobia and anti-Muslim hatred, and now we know just how widespread it is."
A total of 435 people took part in the research, including 344 who described themselves as being Muslim.
Of those Muslim respondents, 35.5% said they face abuse because of their faith every day, while 41.3% said they had to deal with such incidents "regularly".
Overall, 83.4% of Muslim respondents said they had experienced Islamophobia – with 78.8% saying they believed the problem was getting worse in Scotland.
More than three-quarters (76.5%) of Muslims told how they had been verbally abused, with more than a third (36.6%) having faced the problem at work and 32.6% targeted on social media.
Just over three-fifths (60.5%) said they had changed their behaviour as a result of such attacks.
Sarwar said the findings would inform the next phase of the cross-party group's inquiry "in which we must redouble efforts to challenge and overcome hatred and prejudice".
He called on politicians to take part in this "because the fight against hate is a fight for all of us".
Sarwar said: "We need to come together to address this.
"Education is the key to defeating prejudice and discrimination but we also need to build a more diverse workforce and work harder to bring communities together."
Professor Peter Hopkins, of Newcastle University, was involved in the work after spending almost 20 years researching issues of racism and Islamophobia in Scotland.
He said: "The initial findings emerging from the inquiry demonstrate that Scotland has a serious issue when it comes to everyday racism and Islamophobia.
"Those who suffer Islamophobic abuse are often left feeling fearful, anxious and worried, with nearly 80% feeling that the situation is getting worse.
"There is a lot of work to do - across many different sectors – in order to address the problem of Islamophobia in contemporary Scotland."
https://www.thenational.scot/news/18262735.islamophobia-everyday-issue-one-third-scottish-muslims/
--------
New Tunisia government wins confidence vote in parliament
27 February 2020
Tunisia's new government won a confidence vote in parliament on Thursday, after more than four months of political wrangling since elections.
Former finance minister Elyes Fakhfakh was named prime minister-designate by Tunisia's President Kais Saied at the end of January and tasked with forming a government within a month.
A previous cabinet team put forward by him was rejected by the party Ennahdha, which won the most seats in October's legislative election but fell far short of a majority in the 217-seat assembly.
But Fakhfakh's revised lineup won the vote 129 to 77 after a debate that started on Wednesday and lasted more than 14 hours.
Ennahdha had given its support to the new cabinet after being handed six portfolios.
Fakhfakh said last week that despite difficulties, the negotiations had taken place "in a completely democratic manner."
The confidence vote follows a power struggle between the president and Ennahdha, with the party previously threatening to take steps to force out Fakhfakh.
The government will be sworn in at a ceremony to be held later on Thursday at the presidential palace, the president's press office told AFP.
Fakhfakh will become the eighth prime minister in Tunisia since the 2011 revolution ousted president Zine El Abidine Ben Ali.
Tunisia, which has been managed for more than four months by the outgoing government, has been trying to revive a struggling economy but unemployment continues to affect the population, especially the young, and inflation is eroding an already low purchasing power.
The new government will be tasked with re-launching discussions with the International Monetary Fund, which in 2016 approved a four-year, three-billion-dollar loan for Tunisia in return for major reforms, some of which are disputed.
Due to delays, the country has only received about 1.6 billion dollars so far, while the facility ends in April and the first repayments are due in November.
https://www.presstv.com/Detail/2020/02/27/619617/Tunisia-new-government-parliament-approval
--------
India
India's police 'watch in silence' as Hindu mobs attack Muslims, loot businesses and desecrate mosques
26 February, 2020
Scores of Muslims are being beaten mercilessly by pro-government Hindutva mobs, who are burning down Muslim-owned properties, including shops and houses, and desecrating Muslim religious sites, as deadly violence against India's Muslim population leaves at least 24 people dead on Wednesday, including a policeman, and more than 200 injured.
New Delhi has been rocked by anti-Muslim violence since Parliament approved a new citizenship law in December that provides rapid naturalisation for foreign-born minorities while depriving India's indigenous Muslim population of those same rights.
Videos surfaced on social media showing Muslims in northeast Delhi leaving their homes with their belongings.
The violence, the deadliest in decades in Delhi, erupted in multiple parts of northeast Delhi on Sunday but turned deadly on Monday, several hours ahead of US President Donald Trump's arrival, who was on his first official visit to the country.
On Tuesday, fresh violence broke out when armed Hindu mobs went on a rampage in parts of northeast Delhi, which has a sizeable Muslim population – just 18 kilometres away from where Trump and Indian Prime Minister Narendra Modi were holding talks.
A group of around 50 right-wing Hindu rioters in Mustafabad attacked the anti-CAA protest site, injuring several people including children on Tuesday evening.
Attackers armed with rods and pistols, vandalised two mosques, injuring several children sitting inside the mosques. Many of the injured had gunshot wounds, while one person died on spot, The Wire, a Delhi-based news outlet, reported
What has trigged the violence?
The controversial Citizenship Amendment Act (CAA) – rendered unconstitutional, anti-Muslim and a threat to the pluralist structure of India by critics – triggered massive unrest in India after it was passed in December last year. In Delhi prolonged peaceful sit-ins, mostly held by Muslims, went on for months.
On Sunday in northeast Delhi, supporters of CAA attacked anti-CAA protesters, mostly woman, who had blocked a road and were demanding revocation of the law.
A frenzied Hindu mob, armed with iron rods, sticks and stones, charged at Muslim protesters while shouting "Jai Shri Ram" or Hail Lord Ram, a Hindi deity.
Protesters alleged that a Hindu mob, accompanied by police, threw stones at them that triggered massive violence between the two groups.
Police resorted to teargas shelling but struggled to quell the rioters, who were running rampant, burning and looting shops owned by Muslims, pelting stones and thrashing people. The Hindu goons also attacked Muslim localities and vandalised mosques.
A Reuters news agency reported that the police watched as mute spectators and did little to foil the violence.
Eyewitnesses said police stood behind the goons, who were hell-bent on vandalising Muslims properties. They found police stood silent when a mob destroyed shops with Muslim names, pulled out vehicles and set them ablaze.
In some areas where section 144 – which forbids the gathering of four or more people – was imposed, Hindu mobs attacked Muslims, again while the police watched in silence.
Earlier on Sunday, Bharatiya Janata Party (BJP) leader, Kapil Mishra, informed anti-CAA protesters that they must vacate the peaceful sit-ins in the northeastern Jafrabad and Maujpur areas of Delhi.
Accompanied by pro-CAA protesters and flanked by the deputy commissioner of police in northeast Delhi, Mishra gave a three-day ultimatum to the police to clear the road where anti-CAA protesters were sitting, or else he would "handle the matter himself".
Many critics and opposition leaders have criticised Mishra for his speech that allegedly provoked the violence, claiming many lives and leaving scores of people, mostly Muslims, homeless.
However, Mishra, in a series of tweets said he has received multiple death threats. "I have received death threats and some people are abusing me," Mishra said. "But, I am not scared because I have not done anything wrong by supporting the CAA."
According to a report by The Caravan, a Delhi-based magazine, Hindu mobs attacked Muslims in areas that fall in the constituency represented by Modi's BJP in the parliament.
Another local area where Hindu mobs went on their deadly rampage falls in the assembly constituencies recently won by the BJP in elections.
In the Ashok Nagar area of Delhi, a mosque was set on fire by right-wing Hindu goons. In another video footage, a man is seen climbing up the minaret, attempting to place a Hindu nationalist flag atop it. The mob then paraded around the mosque and burnt down shops around it, The Wire reported.
On Monday, a Mazar (a mausoleum or shrine in the Muslim world) was set on fire by a group of pro-government Hindutva rioters who openly accepted they had in a video, with their faces blurred.
In another video, verified by AltNew, a fact-checking website, a group of injured protesters lying on the roadside were being beaten and forced to sing the Indian national anthem by the police.
In some videos, the police were visibly seen taking sides and helping the goons attacking Muslims. "Go ahead and throw stones," a policeman was seen shouting to the supporters of CAA.
"We are planning to leave Delhi if the violence does not stop. We feel scared, anything can happen anytime as violence against Muslims is going unabated," a group of Muslim students told The New Arab.
Delhi's Chief Minister, Arvind Kejriwal, called on people to maintain law and order. He said the situation in Delhi is "alarming and the army should be brought in to control further riots."
Before meeting Amit Shah, India's home minister on Tuesday, Kejriwal claimed that the police could not do anything because they were not getting orders from the seniors.
However, the Union Home Ministry, under whom Delhi's police forces work, ruled out calling the army, saying adequate forces and police are on the ground.
Denying allegations that not enough forces are present on ground to control the situation, a Delhi police official said, "We have enough forces on the ground. Senior police officials are constantly monitoring the situation. The home ministry is continuously supporting us."
All the private and government schools in northeast Delhi were closed following orders released by the Delhi government.
On Wednesday Modi appealed for calm, saying agencies are working on the ground "to ensure peace and normalcy."
Media and journalists attacked
Scores of journalists covering the incidents of violence claimed that they were attacked by the frenzied mobs, who were taking their equipment, checking photos and videos and asking them to prove their religion.
Akash, a correspondent for JK 24×7 was shot at in east Delhi's Maujpur, while covering the violence. He was rushed to nearby hospital in a serious condition.
Times of India, one of the leading English-language daily newspapers, published a first-hand account by a photojournalist, who surrounded by a Hindu mob trying to snatch his camera and asking him to "prove his religion."
"They threatened to take off my pants to confirm my religion. I then folded my hands and said I was just a photographer," he wrote.
Another account by female journalist published by Firstpost revealed the horrific violence going on in northeast Delhi areas, where she wrote about being chased by the Hindu mobs, only narrowly escaping.
Two journalists belonging to the NDTV news channel were also badly beaten on Tuesday morning.
President Trump, who held bilateral meetings with his Indian counterpart Narendra Modi, declined to comment on the situation.
"I don't want to discuss that. I want to leave that to India and hopefully they're going to make the right decision for the people," he said.
Amnesty International on Monday said that "anti-Muslim sentiment permeates" the policies of both United States and Indian leaders, who share values of "bigotry and hostility", in a joint statement ahead of Trump's visit.
Aamir Ali Bhat is a Kashmir-based freelance journalist who reports on human rights abuses, culture and the environment. He writes for The New Arab, Kashmir Ink and Free Press Kashmir.
https://www.alaraby.co.uk/english/indepth/2020/2/26/hindu-mobs-attack-muslims-loot-businesses-and-desecrate-mosques
--------
Ironic that 'global terror epicentre' Pak lectures on rights: India at UN
Feb 27, 2020
GENEVA/NEW DELHI: Describing Pakistan as world's leading exporter of terror, the government on Wednesday said Jammu and Kashmir "was, is and shall forever" remain an integral part of India. This followed Pakistan's call for intervention by the international community on the Kashmir issue.
Speaking at the 43rd session of the UN Human Rights Council which is being held in Switzerland from February 24 to March 20, Vikas Swarup, Secretary (West), described Pakistan as the "epicentre of global terrorism".
He called for decisive action against those who direct, control, fund and shelter terrorists, in an obvious reference to Pakistan, which is accused by its neighbours of providing safe havens to terror groups.
"It is more than a little ironical that a nation that has become the world's leading exporter of terror and violence seeks to lecture others about human rights...
"Jammu and Kashmir was, is and shall forever remain an integral part of India," Swarup asserted a day after Pakistan's minister for human rights Shireen Mazari alleged that India continues to violate the human rights of the Kashmiri people and demanded immediate repeal of all actions by India taken on August 5 last year.
India abrogated the special status of Jammu and Kashmir under Article 370 on August 5 and bifurcated it into two Union Territories.
Pakistan has been trying to internationalise the Kashmir issue but India has asserted that dilution of Article 370 was its "internal matter". New Delhi has also asked Islamabad to accept the reality and stop its anti-India rhetoric.
Swarup said the transformative changes "wrought by our Parliament last August were meant to strengthen the integration of the state... It was intended to ensure extension of all progressive legislations passed for the entire country to cover this region, and to resume the pace of socio-economic development in the Union Territory of Jammu and Kashmir."
Despite Pakistan's best efforts over decades to destabilise J&K through externally-instigated terror and a campaign of canards and untruth, the situation on the ground is quite normal, he said.
"Most temporary restrictions - imposed solely to ensure safety of the people from Pakistan-trained terrorist attacks - have already been removed, political processes have resumed, telecom facilities have been largely restored, developmental activities are being undertaken at a rapid pace and there is access for all to education and healthcare," Swarup added.
Full report at:
https://timesofindia.indiatimes.com/india/ironic-that-global-terror-epicentre-pak-lectures-on-rights-india-at-un/articleshow/74326700.cms
--------
NIA raids houses of terrorists in Pulwama
Feb 26, 2020
SRINAGAR: National Investigation Agency (NIA) on Wednesday conducted raids in South Kashmir's Pulwama district in connection with the encounter that had taken place at Ban toll plaza near Nagrota on January 31.
"Among many other residential premises, the house of top Jaish-e-Muhammad commander Zahid Ahmad Wani at Karimabad in Pulwama was raided by NIA on Wednesday morning," an official source said.
NIA also raided the house of Sameer Ahmad Dar at Gundibagh in Kakapora, he added. Sameer, a driver by profession, was arrested by J&K police along with two other Jaish over-ground workers — Asif Ahmed Malik and Sartaj Ahmad Mantu — following the Nagrota encounter. They were ferrying three Pakistani Jaish terrorists, who all were killed.
Full report at:
https://timesofindia.indiatimes.com/india/nia-raids-houses-of-terrorists-in-pulwama/articleshow/74325160.cms
--------
In case of another Pulwama, there will be no status quo, says IAF chief Bhadauria
Feb 26, 2020
SRINAGAR: The Indian Air Force chief, Air Chief Marshal R K S Bhadauria, said on Wednesday that the IAF's response in case of another Pulwama-type attack orchestrated from across the LoC would be "very robust" and that "there will be no status quo".
Talking to reporters at Technical Airport Srinagar on the first anniversary of "Operation Balakote", the Chief of Air Staff said it was "really good to be with the boys" and fly a mission with them. "The spirit of the Air Force is very high," he said. Bhadauria landed in Srinagar after flying a MiG- 21 of 51 Squardon with Gp Capt Nazeer along with a Mirage 2000 and Sukho-30 MKI to mark the first anniversary of the IAF's Balakote airstrikes. He said the Mirages were present at a drill to represent their own fleet.
Responding to a query about the strategy adopted by the IAF after the Pulwama fidayeen attack on February 14 last year that saw 40 CRPF men killed, he said: "The message (to Pakistan) was clear at the government level — that any attacks orchestrated from across the LoC will not be acceptable at all." He said various intelligence agencies had formulated a strategy and the IAF was given targets located across the LoC, including the terrorist training camps at Balakote. "The operation was conducted professionally," he said.
Asked what if there was a repeat of a Pulwama-type attack, the Chief of Air Staff said, "There will be no status quo, and the response will be very robust."
"Various agencies are monitoring the activities of militant camps across and, if there is a repeat of a Pulwama-type attack, the Air Force is ready to take on any target, be it close, deep or surface."
"We had a review post-Pulwama attack followed by more reviews where we discussed threat analyses that require different handling. Today we have better weapons, communication and other things on board," he said.
The air chief said that 51 Squardon's Wg Cdr Abhinandan's exploits demonstrated the spirit of the IAF. "They had no hesitation in engaging vastly superior aircraft (Pakistan Air Force F-16s, compared to IAF's MiG-21) in terms of technology and weapons. The IAF is proud of them," he said
Meanwhile, Army Chief General M M Naravane visited forward posts along the LoC on Wednesday and chaired a security review meeting at the Army's Srinagar-based 15 Corps HQ in his first visit to Kashmir after taking over as Chief of Army Staff.
The Army chief was accompanied by the Northern Army commander, Lt Gen Y K Joshi, and GoC 15 Corps Lt Gen K J S Dhillon while visiting formations and units deployed along the LoC.
"The Army was briefed by local commanders on the situation on the LoC, ceasefire violations, our retaliations, counter-infiltration operations and operational preparedness being maintained," a defence spokesman said.
He said that during the Army chief's interaction with soldiers on the snow-clad heights, he was appreciative of their sharp vigil and high morale. "The Army chief also exhorted the soldiers to remain alert for any eventuality," the defence spokesman said.
Full report at:
https://timesofindia.indiatimes.com/india/in-case-of-another-pulwama-there-will-be-no-status-quo-says-iaf-chief-bhadauria/articleshow/74325158.cms
--------
Shaheen Bagh blockade: Supreme Court to take call after March 23
Feb 27, 2020
The Supreme Court on Wednesday put off taking a call on the blockade in Shaheen Bagh till March 23, prolonging an issue that has become a commuter's nightmare as well as a potential flashpoint in the national capital.
The two-judge bench of justices Sanjay Kishan Kaul and KM Jospeh said present environment isn't conducive to pass orders.
While the court observed that protests can't go on indefinitely on roads, it wasn't immediately clear whether the Delhi Police would try and relocate the protesters to another venue, or wait till March 23. Shaheen Bagh is the site of a sit-in by protesters against the Citizenship (Amendment) Act.
The court also refused to entertain applications urging the court to pass directions on the violence that has gripped parts of the capital since Saturday. The court said it will confine itself to the issue concerning the blockade in Shaheen Bagh, noting that the Delhi high court was already seized of a case concerning the violence in the national capital.
However, the court had some strong words for the way Delhi Police has handled the violence. Loss of lives in the capital in communal clashes is a serious issue, and inaction by the police and a lack of professionalism in the police force were major reasons for the violence getting out of hand, it remarked.
Justice KM Joseph was particularly critical of the police who, he said, should have taken prompt action in line with the law instead of waiting for orders.
"The moment an inflammatory remark is made, police should take action. Not just Delhi, any other state for that matter. Thirteen lives are not small. Police should act as per the law," justice Joseph said.
Clashes between Hindu and Muslim groups in several neighbourhoods of north-east Delhi has left at least 27 people dead until Wednesday night.
The petitions against the road blockade in Shaheen Bagh were filed by advocate Amit Sahni and Bharatiya Janata Party (BJP) leader Nand Kishore Garg, seeking to lift the road blockade in the Shaheen Bagh-Kalindi Kunj stretch. Sahni, in his plea, stated that the road closure in Shaheen Bagh had caused great inconvenience to citizens. He contended that the road closure and the consequent traffic diversion had led to wastage of time, energy and congested alternative routes from Delhi to Noida.
The court has appointed senior advocate Sanjay Hegde and advocate Sadhana Ramachandran as interlocutors to talk to the protesters, mainly women, in Shaheen Bagh and coax them into shifting their protest to an alternative location that would not inconvenience public.
The interlocutors submitted a report to the court in a sealed cover Monday.
Justices Kaul and Joseph will hear the case on March 23, when the court reopens after the Holi vacation.
But justice Joseph also wanted to weigh in on the violence. "I want to say certain things. If I don't, I won't be discharging my duty, my loyalty lies to the institution," he said.
Solicitor general Mehta requested him not to make adverse remarks against the police. Justice Joseph, however, came down on the police for its failure to take prompt action.
Justice Joseph said the police need not wait for anybody's nod to act in accordance with the law and that the guidelines prescribed by the Supreme Court in the 2006 judgment in the case of Prakash Singh v Union of India to secure the independence of the police should be followed.
Full report at:
https://www.hindustantimes.com/india-news/shaheen-bagh-blockade-supreme-court-to-take-call-after-march-23/story-OFkPaNK3MWe41pU4zVAduK.html
--------
Delhi violence: For riot-hit families, their homes of years are not 'safe' anymore
Feb 27, 2020
Risha Chitlangia and Vatsala Shrangi
Irshad Ahmed (57), a daily wager, and his family left their home in Bhagirathi Vihar in north-east Delhi's Mustafabad area on Wednesday morning. Their home of 20 years was no longer a "safe" place.
The distressed family moved into their relative's house in New Mustafabad, less than 400m away from their home and across the Brijpuri Road, which divides the Hindu-dominated Bhagirathi Vihar and Muslim-dominated New Mustafabad.
Shaken by the violence that unfolded in the area, especially on Brijpuri Road, Ahmed says he just wanted his family to be "safe".
"We quietly left home around 7am. We didn't take anything; just a change of clothes. It is safer to be with your own people (community)," says Ahmed, adding that he was worried about the safety of his daughters, aged 17 and 22. "My son has gone to Aligarh to attend a wedding. I asked him to stay there till the time situation gets back to normal back here," he said.
As Delhi Police officers and paramilitary personnel manned Brijpuri Road on Wednesday, several Hindu and Muslim families crossed the road to be at a "safer location" and be with their "own people".
There was large-scale violence in the area on Monday and Tuesday as rioters ran amok pelting stones, ransacking shops and setting shops, houses and mosques on fire. The streets, on Wednesday, lay deserted, littered with bricks, stones, charred vehicles, broken bottles, tyres and shoes of people trying to escape the mobs.
The tension and fear were palpable. Shutters of shops were down; some half-burnt, others broken. It was a common sight in all the riot-affected areas such as Shiv Vihar, New Mustafabad, Prem Nagar, Chaman Park, Bhajanpura, Karawal Nagar and Dayalpur.
Tightly holding the hands of his five-year-old twin granddaughters, Chaman Lal (60), along with his two daughter-in-laws and son, walked towards the Pushta Road. He requested the police to allow them passage, as he was sending his family to a relative's place in Harsh Vihar.
Lal, a carpenter, however, chose to stay back. "I have to guard my property. I know of someone whose house was ransacked by rioters. I can't take a chance," he said.
Lal's friend Suresh Gupta's home was ransacked a day earlier. "After the violence, we shifted to a friend's house. But the next morning, my house was ransacked. We have lost everything," Gupta said.
Recalling what he saw on Tuesday, Lal said he has never seen such destruction in the area, "not even when the Babri Masjid was razed in Ayodhya in 1992".
In Shiv Vihar near Gokalpuri, it was the same story. Asma (32), carrying just a small bag stuffed with clothes, along with her mother and brother's family, was dropped off by a police vehicle at riot-ravaged Muslim-dominated Chaman Park around 5pm Wednesday.
The two families were rescued from nearby Hindu-dominated Shiv Vihar where people said violence was still on. A drain separates the two neighbourhoods.
An exhausted Asma walked up to the entrance of the colony, barred by a large bamboo stick by residents to keep the mobs out. Finding the area relatively safer, Asma and her mother have come to stay with her brother who has a house in Chaman Park.
She said houses were burnt in the area by a huge mob Tuesday night. "I can't believe I am still alive after two nights of just seeing houses going up in flames and screams of people running for their lives. The Hindu families in my lane saved us from the mob. They hid us inside. It was only today that we mustered the courage to step out," Asma, who owns a rented accommodation in Shiv Vihar, said.
In neighbouring Prem Nagar, Hindu families safeguarded the few Muslim families in the colony from the mob. "There were just three Muslim families in our area. They wanted to go to their relatives' homes. So we contacted the police for help," Babloo Goswami, a resident of Prem Nagar, said.
On Wednesday, Rapid Action Force personnel escorted these families to Mustafabad.
Mohammad Hanif, 45, a resident of Karawal Nagar, said his grocery shop was burnt by rioters on Tuesday. He locked his house and came to stay at his brother's place in New Mustafabad. "I have got my wife and children here. I don't know what happened to my house back there. We just wanted to save our lives first."
Full report at:
https://www.hindustantimes.com/india-news/delhi-violence-for-riot-hit-families-their-homes-of-years-are-not-safe-anymore/story-UCjKzXbPiqUyf9VwIHx6cP.html
--------
Ex-RAW chief flew to J-K to gauge Farooq Abdullah's mood on Art 370 repeal
Harinder Baweja
Feb 27, 2020
The Indian spy agency's former chief, AS Dulat, flew to Srinagar in early February on a hush-hush mission for the government — a quiet, top secret meeting with detained National Conference (NC) leader and former chief minister Farooq Abdullah, multiple senior officials said on condition of anonymity.
The brief for Dulat's secret mission was simple: to suss out Abdullah's mood in "accepting the new reality of Jammu & Kashmir after the nullification of Article 370", according to one of the officials. The government effectively revoked the state's special status on August 5 last year and detained several leaders including Farooq, his son Omar Abdullah, and former Bharatiya Janata Party (BJP) ally Mehbooba Mufti of the Peoples Democratic Party.
"Mr Dulat had been wanting to meet the former chief minister for several months," a member of the family said, adding on condition of anonymity that the former Research & Analysis Wing chief was finally given the go-ahead earlier this month.
When contacted, Dulat said: "No comments. If the officials and family have told you so, I have nothing more to say."
Abdullah was detained and placed under house arrest soon after Article 370 was nullified. Since mid-September, the 82-year-old leader has been held under the stringent Public Safety Act (PSA). Subsequently, his son Omar and former chief minister Mehbooba Mufti too were detained under the same law, which allows for detention without trial for a period of two years.
A second official familiar with what transpired in the meeting between Dulat and Abdullah said, "Farooq Abdullah was furious and refused to yield any ground." This person added that the J&K administration has been trying to get Omar Abdullah to sign a bond giving an undertaking that he would not criticise the nullification of Article 370, but that he has refused.
The senior Abdullah is angry and hurt at being detained and painted as an anti-national when he has openly and publicly raised slogans of "Bharat Mata ki Jai". He has, in fact, often said that he was "a soldier of the country, not an enemy of the nation", the person said.
New Delhi has been trying to restart political activity in the new Union Territory and has silently backed former ministers Altaf Bukhari and Muzaffar Baig to announce the formation of a new party. HT reported a chance meeting between Bukhari and the BJP general secretary Ram Madhav in Gulmarg last week.
The government does not seem to be clear on how to move ahead and break the security logjam and, as the second official quoted above said, "They are trying various options. Letting Dulat meet Farooq was one such experiment. Keeping leaders locked up under PSA is not a long-term possibility. Many foreign envoys who visited the UT have (also) asked for their release."
Since January, two groups of foreign envoys, 40 in total, have visited the Valley.
The relationship between Dulat and Abdullah is an old one, and this is the third time that the former intelligence official has been chosen to meet the former chief minister and "calm him down".
In 1989, Abdullah was the chief minister when Rubaiya Saeed, daughter of then home minister Mufti Mohammad Saeed, was kidnapped and released in exchange for five militants. Dulat, then an Intelligence Bureau official posted in Srinagar, was by the side of an angry Abdullah, who did not want the militants released.
The tougher task assigned to Dulat was in December 1999, when, as RAW chief, he went to Srinagar to convince Abdullah to release terrorists in exchange for passengers aboard Indian Airlines Flight 814, hijacked to Kandahar in Afghanistan. Abdullah argued against their release, saying it would be "the last nail in India's coffin". He even threatened to resign as chief minister and took Dulat along with him to Raj Bhawan, where then governor GC Saxena persuaded him not to resign.
Full report at:
https://www.hindustantimes.com/india-news/raw-ex-chief-tried-to-gauge-farooq-abdullah-s-mood-on-new-order-in-j-k/story-Wbhlw1OF2vM4cALCQMLOrJ.html
--------
SC notice to J&K on plea challenging Mehbooba Mufti detention under PSA
February 27, 2020
THE SUPREME Court on Wednesday issued notice to the Jammu and Kashmir administration on a plea challenging the detention of former CM Mehbooba Mufti under the Public Safety Act, 1978.
A bench of Justices Arun Mishra, Vineet Saran and M R Shah, which took up the plea by Mufti's daughter Iltija Mufti, asked her counsel why she had not approached the J&K High Court. The counsel pointed out that the Supreme Court had already been seized of a similar petition challenging the detention of Omar Abdullah, also a former CM.
The plea said the detention order signed by District Magistrate, Srinagar, was wholly and substantially based on the recommendation of and the dossier prepared by Senior Superintendent of Police, Srinagar. "No other material showing the facts on which the grounds of (detention) were based were given," it said, adding that "the Impugned Dossier… is replete with personal remarks in bad taste…".
Full report at:
https://indianexpress.com/article/india/sc-notice-to-jk-on-plea-challenging-mehbooba-mufti-detention-under-psa-6288392/
--------
35 Dead In Delhi Violence. 130 Arrests So Far, Say Sources
February 27, 2020
New Delhi: With northeast Delhi on the edge with 35 dead and over 200 injured after four straight days of brutal violence over the citizenship law, 130 people have been arrested so far. Delhi Police sources said WhatsApp was used to organise goons from Uttar Pradesh and to identify areas to target. Over 50 phones have seized from the accused. Hundreds of police and paramilitary personnel are patrolling the streets of the region amid reports of sporadic violence today. Reports of arson and unrest emerged from northeast Delhi's Bhajanpura, Maujpur and Karawal Nagar areas late on Wednesday. Prime Minister Narendra Modi on Wednesday made his first public statement, calling for "peace and brotherhood". Delhi Police has filed 48 FIRs and arrested 130 people in connection with the violence, which they say is now under control.
Here are the top 10 updates we know so far on northeast Delhi violence:
The number of deaths went up to 35 today after two bodies were found in a drain in Gagan Vihar-Johripur area.
A delegation of Congress leaders, led by Sonia Gandhi and Manmohan Singh, walked to the Rashtrapati Bhavan and submitted a memorandum to President Ram Nath Kovind. "We handed over demands to President Kovind in a memorandum. The centre and the Delhi government were mute spectators to the violence," Mrs Gandhi said. The Congress president had launched a broadside at Amit Shah on Wednesday, demanding he take responsibility and resign.
A furious Delhi High Court on Wednesday urged police to file FIRs against those making hateful and inflammatory speeches. The court's observation came after speeches made by four BJP leaders, including Union Minister Anurag Thakur and local leader Kapil Mishra (whose rally in northeast Delhi on Sunday afternoon has been accused of inciting violence), were played in open court, prompting Justice S Muralidhar to assert "the court would not allow another 1984 scenario". Justice Muralidhar has been transferred to the Punjab and Haryana High Court. The notification, based on a Supreme Court collegium recommendation on February 12, was issued late last night.
NSA Ajit Doval, who has been tasked with restoring law and order in the national capital, made a second visit to violence-hit areas on Wednesday evening. Mr Doval, who walked with a convoy of police officials in Jafrabad, one of the worst-hit areas, told reporters: "Inshallah, there will be peace here". Shortly before that he was confronted by a young girl who made an emotional appeal for help. "I give you my word," he told her. The decision to rope in Mr Doval has raised eyebrows given Delhi Police reports to Amit Shah.
PM Modi, making his first official statement since violence erupted on Sunday, said he had held "an extensive review of the situation (and) police and other agencies are working to ensure peace and normalcy". Calling for calm, he tweeted: "Peace and harmony are central to our ethos. I appeal to my sisters and brothers to maintain peace and brotherhood. It is important that calm and normalcy is restored at the earliest."
Home Minister Amit Shah, under fire for failure to control the violence, has held multiple review meetings. Delhi Chief Minister Arvind Kejriwal also issued a call for peace on Wednesday. Addressing the Assembly, Mr Kejriwal said neither Hindus nor Muslims would benefit from the violence and said: "Delhi now has two options: Either people can come together and help make the situation better or they can hit and kill one another". Demanding the Army be called in - something the Home Ministry has so far refused to do - the Chief Minister held outsiders and political elements responsible for the violence.
Among the deaths reported on Wednesday was that of Ankit Sharma, an Intelligence Bureau employee whose body was found stuffed in a drain in Jafrabad. Mr Sharma worked as a Security Assistant. He was allegedly attacked by a mob at Chand Bagh Bridge and beaten to death. After his body was recovered his father, Ravinder Sharma, who is also an IB employee, accused supporters of the ruling Aam Aadmi Party of killing his son.
Amid the bloodshed and the tragedy, stories of brotherhood and people of different communities and religions standing against the hate has lifted spirits. Midway between Jafrabad and Maujpur, one mohalla has emerged as a relative haven of peace.
The violence, which has left several neighbourhoods looking like war zones, also led to the postponement of CBSE board exams for a second straight day. Five exams - two for Class X and three for Class XII - had been deferred on Tuesday after appeals by students.
Full report at:
https://www.ndtv.com/india-news/delhi-violence-number-of-deaths-rises-to-28-2186364
--------
Pakistan
Pak PM Imran to visit Qatar ahead of signing of US-Taliban peace deal
Feb 27, 2020
ISLAMABAD: Pakistan Prime Minister Imran Khan will visit Qatar on Thursday, just two days prior to the signing of a landmark peace deal between the US and the Taliban in Doha to end more than 18-year-long Afghan war that has claimed tens of thousands of lives.
The US is set to sign a peace deal with the Taliban on Saturday provided that a week-long reduction in violence across Afghanistan holds, Secretary of State Mike Pompeo said in a recent statement. The Taliban also released a statement confirming the plan to sign a peace deal that day.
During his day-long visit, Prime Minister Khan will meet Emir of Qatar Sheikh Tamim bin Hamad al Thani and the two leaders will discuss matters related to the bilateral ties and regional development, according to an official statement.
"During the visit of Prime Minister Imran Khan to Qatar, the focus will be on strengthening bilateral cooperation and exchanging views on regional developments," the Pakistan Foreign Office said in a statement.
This would be the second visit of Prime Minister Khan to Qatar after taking office in 2018.
The Emir of Qatar visited Pakistan in June 2019 and the visit resulted in strengthening the bilateral economic collaboration in diverse areas, the statement said.
Qatar has invited Pakistan Foreign Minister Shah Mahmood Qureshi to attend the peace deal signing ceremony in Doha.
President Donald Trump said on Monday in India that the landmark Afghan peace deal had received "tremendous support".
Trump's remarks came after the US and the Afghan Taliban started a seven-day partial truce ahead of the possible peace deal to end more than 18-year-long war.
The longstanding war has killed tens of thousands of civilians and Afghanistan remains one of the poorest countries in the world. Some 2.5 million Afghans are registered as refugees abroad and another two million are displaced within their country.
The agreement struck during talks between the US and the Taliban, if maintained, may secure a peace deal that would lead to a withdrawal of American troops from Afghanistan.
The US currently has less than 14,000 troops in Afghanistan, but military officials would not confirm the exact number.
https://timesofindia.indiatimes.com/world/pakistan/pak-pm-imran-to-visit-qatar-ahead-of-signing-of-us-taliban-peace-deal/articleshow/74329455.cms
--------
With Geneva installations, exiled activists expose Pak's terror links
Feb 27, 2020
As the 43rd session of United Nations Human Rights Council (UNHRC) gotunderway in Geneva, installations depicting Pakistani government's atrocities against minorities and crimes against humanity came up across the city.
One ofthe installations at the iconic Broken Chair sculpture depicts a jail scenarioto highlight the atrocities faced by women and children in Pakistan. The installation shows Pakistan Army General Qamar Bajwa, Prime Minister Imran Khanand Director General of ISI Faiz Hameed in front of a jail with women and children behind bars. Along with installations, posters stating 'Pakistan Army Stop Supporting Terrorism' have also cropped up across the city.
These protest activities have been planned by Baloch, Sindh, Pashtun, Ahmadiya and Muhajir human rights activists in exile. These activists say Pakistan has been openly supporting terrorism and terrorists both within and outside the country. Another set of hoarding highlighting the plight of Pashtuns in FATA, a tribal region that was merged with Khyber Pakhtunwa province have also come across the city.
These banners and boards were put in protest against the arrest of human rightsactivist and leader of Pashtun Tahaffuz Movement, Manzoor Pashteen. He was tried for sedition, criminal conspiracy, attacking Pakistan's sovereignty, and promoting ethnic hatred by Pakistani government. Activists who have also planned a photo exhibition to urge the UN to urge the UN to take action to stop the human rights abuse of the innocent Pashtuns. They added that activists who have stood up against these atrocities have been silenced.
Full report at:
https://timesofindia.indiatimes.com/world/pakistan/with-geneva-installations-exiled-activists-expose-paks-terror-links/articleshow/74326807.cms
--------
Nawaz Sharif declared 'absconder' for violating bail terms
Feb 26, 2020
ISLAMABAD: Islamabad on Tuesday declared former prime minister Nawaz Sharif an 'absconder' while simultaneously denying extending bail to him.
The federal cabinet presided over by Prime Minister Imran Khan cited that Sharif failed to provide required medical reports and has violated the bail terms.
The government has also decided to freeze gas and electricity tariffs for the next four months, the Dawn reported.
"After Nawaz Sharif failed to submit his medical report of any hospital in London, the medical board rejected a medical certificate sent by him and [the government] declared him an absconder. From today, Nawaz Sharif is an absconder according to the law of land and if he does not return to the country he will be declared a proclaimed offender," said Dr Firdous Ashiq Awan, special assistant to the Prime Minister on information, in a press conference.
She further asserted that the Punjab government, which was authorized by the Islamabad high court (IHC) to decide Sharif's case on medical grounds, had written several letters asking him to submit his medical report from any hospital in London. However, he failed to do so and only sent a certificate that was not accepted by the medical board.
"If he (Nawaz Sharif) is seriously ill then why a comprehensive medical report is not being submitted to the medical board," Firdous added.
Further, she said that the office of the opposition leader was also waiting for his younger brother and Leader of the opposition in the National Assembly Shahbaz Sharif, who was also staying in London for 'no reason'.
"He is getting a monthly salary and enjoying luxurious offices and other perks and privileges but not performing his duties required by his office and the people. Shahbaz Sahib, return to the country and justify your salary and other benefits being given from taxpayers' money," Firdous added.
On October 29 last year, the IHC granted bail for eight weeks to Sharif, who was convicted and disqualified in corruption cases, on medical grounds.
Full report at:
https://timesofindia.indiatimes.com/world/pakistan/nawaz-sharif-declared-absconder-for-violating-bail-terms/articleshow/74316056.cms
--------
Resolution in Punjab Assembly to condemn India mosque attacks
February 26, 2020
A resolution has been submitted at Punjab Assembly Secretariat to condemn desecration of mosques and attacks on Muslims in India on Wednesday.
Pakistan Muslim League-Nawaz MPA Uzma Bukhari has submitted resolution in the Punjab assembly secretariat to condemn the attacks and sacrilege of mosques by Hindu extremists in the neighboring country.
"This house vehemently condemns sacrilege of mosques by Hindu extremist mobs and violence against Muslims in Indian capital New Delhi," the resolution reads.
"Indian Muslim population being subjected to violence on the behest of the Modi led Indian government," said the resolution.
"The religious minorities are protesting against disputed citizenship law in India for last three months," it said.
"Narendra Modi has become the biggest dictator of this century," resolution further read.
The resolution demands the United Nations to take notice of attacks of extremists on Muslims in India.
Full report at:
https://nation.com.pk/26-Feb-2020/resolution-in-punjab-assembly-to-condemn-india-mosque-attacks
--------
Shahbaz warns govt against dereliction of duty over coronavirus
Amir Wasim
February 27, 2020
ISLAMABAD: Opposition Leader in the National Assembly and Pakistan Muslim League-Nawaz (PML-N) president Shahbaz Sharif has called upon the government to take emergency and serious measures to deal with the coronavirus outbreak.
He stressed the need for coordination and cooperation between institutions of the federal and provincial governments to ensure flawless functioning of this system.
In a statement issued from London and released by the PML-N's media section here on Tuesday, Mr Sharif said the current government was dealing with the new deadly coronavirus with the same dereliction as they did with dengue and polio, which was extremely dangerous. He said the federal and provincial governments must collaborate to form a joint strategy to safeguard the population.
The PML-N chief called for immediate establishment of special medical facilities for the treatment on the same lines as China. He said traditional lip service and routine eyewash measure would prove to be a mega blunder in this case. He said a specialist task force comprising the most relevant and competent doctors must be readied. He also called for a thorough procedure of monitoring and diagnosis to be delineated.
Senate interior committee chairman Rehman Malik, through a notice, has directed that a detailed report on the 'Potential threat of coronavirus and precautionary measure' may be presented in the committee meeting.
In a related development, Senate Standing Committee on Interior chairman Rehman Malik of the Pakistan Peoples Party (PPP) has convened an urgent meeting of the committee on Thursday (today) to discuss precautionary measures being taken by the government, Federal Investigation Agency (FIA) and other stakeholders to stop the potential spread of coronavirus in the country.
Full report at:
https://www.dawn.com/news/1536928/shahbaz-warns-govt-against-dereliction-of-duty-over-coronavirus
--------
Jamaat holds 'Azadi March' against govt in Lower Dir
February 27, 2020
TIMERGARA: The Jamaat-i-Islami on Wednesday insisted an incompetent and inexperienced government was running the country and people were facing food shortages.
Addressing an 'Awami March' organised by the JI Lower Dir chapter against the government at Timergara, central general secretary Ameer ul Azeem said 15 million people were forced to use contaminated water. He said about four million people had lost jobs during the last one and a half year.
The JI leader claimed that the automobile industry had shed 40,000 employees. He said the rulers were under the US pressure to abolish blasphemy laws.
Earlier, hundreds of party workers led by Mr Azeem, Senator Muhtaq Ahmad Khan and district emir Izazul Mulk Afkari marched from Balambat to Gorgorai Chowk. The participants carried banners and placards and chanted slogans against the government for inflation and unemployment.
Speaking at the rally, Mushtaq Ahmad alleged that sugar and flour mafias had surrounded the prime minister, who were actually running the government.
The JI leader said people were crying for jobs but the rulers had kept silence. He said people were being befooled by mere slogans. He said President Arif Alvi had admitted that 2.2 million people had been rendered jobless while eight million were leading life below the poverty line. He also condemned hike in Haj charges and said rulers wanted to make pilgrimage difficult. He demanded of the election commission to announce verdict in the PTI foreign funding case.
JUI-F MEETING: Jamiat Ulema-i-Islam-Fazl provincial chief Senator Maulana Atta ur Rehman on Wednesday said his party's anti-government campaign was continuing.
Addressing a party meeting, he said the JUI-F had truly represented the people whenever it shared the government either at the centre or in the provinces. He alleged that American agents ruled the country and confronted it with threats from all sides.
Full report at:
https://www.dawn.com/news/1536896/jamaat-holds-azadi-march-against-govt-in-lower-dir
--------
Pakistan confirms first two cases of coronavirus, govt says 'no need to panic'
Imtiaz Ali | Dawn.com | Syed Ali Shah | Naveed Siddiqui
February 26, 2020
Pakistan on Wednesday confirmed its first two cases of the novel coronavirus as it continued its march beyond China — the source of the outbreak.
On Thursday morning, Special Assistant to Prime Minister on Health Dr Zafar Mirza called on people who have recently traveled to virus-hit countries to call on the helpline.
"If you or somebody you know have recently returned from China, Iran or a country where #COVIDー19 is prevalent and if there are symptoms like fever, cough, difficulty in breathing, please report by calling at 1166," he said.
Yesterday, the Sindh health department announced that a young man had tested positive for the coronavirus in Karachi — the first confirmed case in Pakistan.
Shortly after, Dr Mirza had confirmed the case in Karachi and one more, both coming from Iran.
"I can confirm first two cases of coronavirus in Pakistan. Both cases are being taken care of according to clinical standard protocols & both of them are stable," said Dr Mirza via a tweet.
"No need to panic, things are under control," he added.
Later, addressing a late-night press conference in Quetta, Mirza said one of the cases was reported in Sindh while the second was confirmed in "federal areas". He added that both the affected persons had travelled to Iran in the last two weeks. He, however, refused to comment further on the two cases.
In response to a question, he said 15 suspected cases of the virus are currently under investigation, while 100 cases have tested negative so far.
He said instead of creating panic or worrying needlessly, people should "take precautions and show responsibility". Mirza urged the public to go to hospitals if they start experiencing any of the symptoms and contact the government helpline on 1166.
He said due to measures taken by the government to prevent the spread of the virus, Pakistan is the last country in the region where COVID-19 has been reported.
"We are on the right track. With Allah's blessings, this [virus] will not take the form of an outbreak in Pakistan," the SAPM said, adding that measures are in place to prevent an outbreak.
Sindh reports first case
The 22-year-old male patient in Sindh had travelled to Iran where he acquired COVID-19, Media Coordinator to the Health and Population Welfare Minister Meeran Yousuf said in a statement, days after Pakistan closed its land border with Iran, where 19 people have died from the virus.
The patient travelled from Iran to Karachi by plane on February 20. He and his family have been placed in quarantine and the Health Department is in the process of examining all the passengers that he travelled with, the statement added.
Speaking to DawnNewsTV, Yousuf said the man had started showing symptoms while he was in Iran. His tests were carried out today at the Aga Khan University Hospital (AKUH) which turned out to be positive, she said.
Yousuf said the Sindh government has informed the federal government, World Health Organisation and other partners about the confirmation of the virus in the patient. "The passengers who travelled with him were exposed as well; we will track down all the passengers and carry out their tests," she added.
"It's a very alarming situation. Not only his case couldn't be detected in Iran or in Pakistan when he reported at the airport, he roamed around freely in the city for almost a week during which he must have interacted with a lot of people," said Dr Qaiser Sajjad of the Pakistan Medical Association, adding that all those people who had travelled with him might also be at risk of contracting the disease.
This whole episode, he said, put a question mark over the government claims that scanners had been installed at airports to detect cases of highly infectious coronavirus.
Second case confirmed at PIMS Islamabad
According to a spokesperson for Pakistan Institute of Medical Sciences (Pims) in Islamabad Dr Wasim Khawaja, the coronavirus test results for a patient who came from Skardu were positive.
The spokesperson said that the patient had visited Iran a month ago, adding that his condition was out of danger.
Earlier, a source in the Ministry of National Health Services also confirmed the two cases to Dawn. The source had said the other patient was admitted at Islamabad's PIMS facility; the health secretary did not verify the claim.
"A person has been confirmed with virus in Karachi and another has been kept in isolation ward of PIMS," the source had said. Health Secretary Dr Allah Baksh Malik, however, was reluctant to confirm that a patient had been admitted at PIMS.
School closures
Meanwhile, Balochistan government as a precautionary measure announced the closure of all education institutions in the province until March 15.
According to Balochistan Minister for Secondary and Higher Education Sardar Yar Mohammad Rind, all government schools, madressahs and private schools in the province will remain closed until March 15.
Sindh government announced that educational institutions in the province would be shut on Thursday and Friday (Feb 27 and Feb 28).
Sindh Chief Minister Murad Ali Shah has called an emergency meeting on Thursday (today) to chalk out a strategy to prevent the spread of coronavirus.
Suspect cases emerge
In Fateh Jang, a 45-year-old woman was admitted to a tehsil headquarters hospital on Wednesday as a suspect patient of coronavirus.
District health officer of the preventive services Dr Asad Ismail told Dawn that the woman had returned on Feb 16 after a month-long pilgrimage visit to Iran. He said that as part of emergency preventative measures, all visitors from China, Iran and other neighbouring countries were being monitored for 14 days after their arrival in Pakistan. He said the woman on Wednesday complained of flu and sore throat, following which she was moved to the isolation ward and quarantined at THQ hospital for medical observation. He said her samples were sent to the National Institute of Health in Islamabad for testing and analysis.
In Jhelum district, a woman with flu symptoms was admitted to the district headquarters hospital. She had recently returned from Iran but had not been diagnosed with the virus as of Wednesday night.
Late on Wednesday night, all the airports in the country were placed on high alert as extra staff was posted for screening of passengers.
In a tweet, Minister for Aviation Ghulam Sarwar said: "In the wake of coronavirus, all the airports have been placed on high alert and all the airport managers have been directed again to ensure 100 per cent screening of passengers."
A manager at Islamabad International Airport told Dawn that extra manpower had been made available to ensure screening of passengers.
Spread of the coronavirus
The novel coronavirus has killed over 2,700 people and infected more than 80,000 in 34 countries, although the vast majority of cases remain in China, according to the World Health Organisation (WHO).
The virus is believed to have originated late last year in a food market in the Chinese city of Wuhan that was illegally selling wildlife. Health experts think it may have originated in bats and then passed to humans, possibly via another animal species.
On Wednesday, the WHO said there are now more new cases of the coronavirus reported each day outside China than inside the hardest-hit country.
Full report at:
https://www.dawn.com/news/1536792/pakistan-confirms-first-two-cases-of-coronavirus-govt-says-no-need-to-panic
--------
PAF commemorates 'resounding victory' in Operation Swift Retort
February 27, 2020
The Pakistan Air Force on Thursday conducted a ceremony at the Air Headquarters in Islamabad to commemorate the first anniversary of the Feb 27 'Operation Swift Retort' which resulted in the downing of two Indian planes that had violated Pakistani airspace.
Addressing the event Chief of Air Staff Air Chief Marshal Mujahid Anwar Khan said that they had gathered today to commemorate the "resounding victory" in 'Operation Swift Retort'.
"Pakistan Air Force living up to its legacy yet again made its mark through professional excellence and valour."
He said that the "prompt, measured and surprising response busted the aggressor's arrogance".
"No doubt our successes are attributed to blessings of Allah. Decades-long hard work, investment in PAF operational capacity by our predecessors and the heroic acts of our personnel, let there be no doubt that PAF is and would remain reassuring fundamental of national defence."
The air chief said that Pakistan has been facing "diversified challenges".
"Despite these [challenges] PAF has continued on the path of professional consolidation over the last two decades while we solidified our professional training, capability enhancement remained our primary pursuit through indenization.
"Today our platforms complemented by advance precision weaponry follow illustrate successful realisation of our homegrown technological pursuits alongside we place special emphasis on human resource development and force multipliers in making robust architecture of Pakistan Air Force."
He described the PAF as a "hard-hitting" force and "focussed on its mission".
"My comrades while I assure Pakistani nation on the preparedness of PAF to counter threats we will not compromise on sovereignty or territorial integrity of Pakistan.
"Remember, professionally we are second to none. Along with other services, PAF remains poised to the defence of Pakistan.
"More significant in last year February was your professional superiority and lethality. We performed as a team," he said.
"Ladies and gentleman Pakistan Air Force is one of the most respected and responsible air forces of a peace-loving country.
"Prior to aggression last year, our national leadership had made it amply clear that no misadventure again on Pakistan would ever go unresponding."
The chief of air staff also witnessed a guard of honour and a flypast at the ceremony, which was also attended by various dignitaries.
Full report at:
https://www.dawn.com/news/1536970/paf-commemorates-resounding-victory-in-operation-swift-retort
--------
US firms keen on enhancing investments in Pakistan: Ross
February 27, 2020
ISLAMABAD: Prime Minister Imran Khan on Wednesday underscored that US companies need to take full advantage of trade and investment opportunities in Pakistan.
Welcoming US Secretary of Commerce Wilbur Ross, PM Khan highlighted United States as Pakistan's second largest trading partner with a significant investment footprint in the country.
Secretary Ross's visit would help in realising the shared vision of Pakistan-US leadership in transforming the bilateral relationship into a broad-based, multifaceted and economic-centred partnership, a press release issued by the PM Media Office said.
The PM called for enhancing business-to-business cooperation between the two countries and highlighted the 'ease of doing business' in Pakistan.
Secretary Ross's visit to Pakistan is a follow-up of the understanding between PM Khan and President Donald Trump on up-scaling Pakistan-US trade and investment ties several-folds.
In a tweet, Secretary Ross said, "It was an honor to meet with U.S. companies based in Pakistan and discuss ways the U.S. government can support improving prospects for their success. Protecting their interests and removing tariff and non-tariff barriers is a priority for the @realDonaldTrump Administration."
Many US companies are desirous of enhancing their investments in Pakistan, especially in the energy sector, the US official said.
During a meeting with Adviser to the Prime Minister on Commerce Razak Dawood, the US official said America wants to play full part in the progress and development of Pakistan. He said Pakistan and the United States will have to collectively work to increase the volume of bilateral trade.
Mr Dawood told the visiting delegation that the government is now focusing on job creation and export augmentation by encouraging foreign investments. He took up the issue of early convening of the long awaited 9th session of Trade and Investment Framework Agreement (TIFA) meeting as well as the visit of US business delegation to Pakistan to participate in the Business Opportunities Conference in order to forge a better networking among the private sectors of both countries.
The adviser also suggested that the US International Development Finance Corporation (IDFC) should help in developing of new businesses in Pakistan.
Secretary Ross said that his visit to Pakistan is part of his government's desire to increase trade relations with Pakistan. He also believed that such links would not only enhance bilateral trade but encourage further expansion of ties in all fields of economic engagement.
Regarding the IDFC assistance, he sounded positive and suggested that Ministry of Commerce should propose projects in this regard.
In a meeting with Secretary Ross, Minister for Energy, Omar Ayub Khan called for greater US investment in the energy sector including areas such as power generation, transmission and distribution, artificial intelligence, renewable energy, hydel energy and training opportunities.
The minister also reaffirmed Pakistan's commitment to cleaner fuels and green energy.
Special Assistant to Prime Minister on Petroleum Nadeem Babar briefed the visiting delegation on key actions taken to improve ease of doing business in Pakistan and how more US investments could be incremental in improving bilateral business relations. The two sides agreed to step up cooperation in the energy sector.
The US commerce secretary also met with Adviser to the Prime Minister on Finance Dr Hafeez Shaikh who noted that the arrival of the delegation from the commerce sector is good news for Pakistan and would have positive consequences for the country.
"This is at a time when the government is looking forward to a major boost in exports after offering concessions to the export oriented sector of Pakistan," Shaikh said.
He noted that Pakistan is trying to carve out a new progressive image in the comity of nations.
Full report at:
https://www.dawn.com/news/1536953/us-firms-keen-on-enhancing-investments-in-pakistan-ross
--------
Pakistan to become playmaker with Turkey's ship project: Turkish official
February 27, 2020
KARACHI: A Turkish official has praised an agreement between Pakis­tan and Turkey on sale of four corvettes to Pakistan as part of Turkey's National Ship (Milgem) project.
"Pakistan's possession of four Milgem corvettes will change the balance in the region and will carry the country to the position of a playmaker," said Esad Ak­g­un, director general of Military Factory and Ship­yard Manage­ment Inc (Asfat) — a company operating under Turkey's defence ministry.
"It is very important for us to have Pakistan in this position as we do not see the Pakistani army separate from our own army," Anadolu Agency quoted Mr Akgun as saying.
According to the report, Mr Akgun visited Pakistan to attend Pakistan-Turkey Business Investment For­um organised by Turkey's Foreign Economic Rela­tions Board.
In line with the 2018 agreement, Pakistan would buy four Milgem corvettes, two of them would be manufactured in the Istanbul shipyard and the others in Karachi.
"In the first phase, one corvette each to be built in Istanbul and Karachi will participate in the Pakistan Navy inventory in 2023," Asfat said on its official website.
The other two ships would be inscribed in the inventory in 2024, Asfat added.
Full report at:
https://www.dawn.com/news/1536932/pakistan-to-become-playmaker-with-turkeys-ship-project-turkish-official
--------
South Asia
Rohingya Displaced Within Rakhine Since 2012 Riots Face Bleak Prospects
2020-02-26
Rohingya Muslims, who were displaced by communal violence with ethnic Rakhine Buddhists across western Myanmar's Rakhine state nearly eight years ago, say that prospects for improving their lives look dimmer than ever as they still live in near-apartheid conditions.
The wave of brutal slayings and attacks in June 2012 left more than 200 people dead and displaced about 120,000 Rohingya, who were later forced to live in squalid camps scattered around the state that borders southeastern Bangladesh.
During that explosion of violence, tens of thousands of stateless Rohingya crossed into Bangladesh to shelter at refugee camps and settlements in Cox's Bazar. The population of those camps has swelled to around 1.1 million refugees.
These include more than 740,000 Rohingya who fled across the frontier after Myanmar's military and security forces launched a brutal military offensive in August 2017, in the wake of deadly raids carried out by a Rohingya insurgent group.
Back in 2012, entire communities in Rakhine were burned down, including Narzi ward in the state capital Sittwe, where Khin Maung, a 30-something year-old Rohingya said he lived with his family. During the violence, Khin Maung, his relatives, and other residents escaped to the west side of town where other Muslims were living.
Khin Maung told the Myanmar Service of Radio Free Asia (RFA) that he did not know whether his family would ever be able to return to their original ward, with restrictions still imposed on the free movement of the Rohingya in Rakhine and beyond. BenarNews is affiliated with RFA.
"I cannot guess when our return to the original place will take place," he said. "Only Allah knows. I am only expecting Allah's decision."
Khin Maung's mother, Ah Ray Shah, said she missed her house in Narzi ward.
"Even though everything has been destroyed and I've lost everything, I miss my house," she said. "I miss my small shop. I would like to go back and live there now."
Amid the riots in June 2012, Rohingya Muslims torched eight ethnic Rakhine communities on the south side of northern Rakhine's Maungdaw township: Go Mu, Way Thali, Shwe Yin Aye, Bawdigon, Khayay Myaing, Thayay Konbaung, Mawrawaddy, and U Daung villages.
In retaliation, ethnic Rakhines destroyed and burned many wards and villages in townships, including Sittwe, Kyaukphyu, Pauktaw, Myebon, and Kyauktaw, where the Rohingya lived.
Myanmar's government then resettled displaced ethnic Rakhines and herded tens of thousands of Rohingya into camps, where they remain today.
Though officials have closed several of the camps and relocated the Rohingya to other settlements, about 14 still exist, including Theh Gyaung, Dah Pine, Manzi, Thekkeh Byin, Baw Duga, and Ohn Daw Gyi on the west side of Sittwe.
Because racial tensions have not subsided, it is nearly impossible for any Rohingya who has permission to travel the 10-minute drive from the camps to Sittwe even with security guards, some say.
Bahusa Nara, who is in her 30s and lives in the Theh Gyaung displacement camp, said she began suffering from hepatitis two weeks ago, but hadn't received sufficient medical treatment because she could not pay for it.
The Rohingya woman also said she could not afford the cost of hiring a security guard to escort her to Sittwe Hospital if she had permission to travel.
"If I go to the hospital in the city, I need money," she told RFA. "I will have to pay the driver and the police. I cannot afford that much. How can I go? That's why I've only been going to the Thekkeh Byin Clinic."
'Wherever you go'
Rohingya who want to leave the camps to go into town must first obtain written permission from officials.
"If you must travel, you have to report to the government and then you can go," said Kyaw Thein Maung, another displaced Rohingya who lives in one of the camps. "The government provides you with security. You have to travel with that security."
"The government does give us that right," he added. "It's not that they don't give it to us. If you go to the hospital, you have to go with the security. Wherever you go, you have to go with security."
The problems faced by Bahasu Nara and Khin Maung are typical of the systematic discrimination confronting Rohingyas in Myanmar, where members of the minority group are considered illegal immigrants from Bangladesh.
Not only are their movements restricted and their access to health service limited, but they are also denied citizenship and prevented from obtaining jobs and formal education.
Because of a lack of income, displaced Rohingya living in the camps must rely on international NGOs to fill the gaps.
After moving from Sittwe in 2017, children from the more than 2,000 families who live at the Thekkeh Byin camp were unable to attend school for two years, because there was no school in the settlement.
An NGO eventually built a primary school facility, and international organizations provide support for those who teach classes there, said camp resident Mohammed Shobi.
Rohingya adults in the camps build their own huts in instances where the government does not build the structures for them. They depend mostly on odd jobs to try to eke out a living.
Ka Sein, who ran his own business in Narzi ward before he was forced to flee in June 2012, said he now has had to improvise so his family could makes ends meet.
"When I was in Narzi, I had a shop in the market," he said. "At that time, we were able to eat. But we've been encountering problems since we arrived here."
"After building the house, I worked as a cobbler, [and] people hire me to build houses," he said. "If there's no job, I go around and sell Popsicles."
'Not asking for a state'
The Myanmar government, meanwhile, has been shutting down the camps one by one and relocating the Rohingya to other settlements in accordance with recommendations made in an August 2017 report by an advisory commission led by former U.N. chief Kofi Annan to help resolve the religious and ethnic divisions in the unstable region.
Amid the gradual closures of the camps, the country is still grappling with the fallout of a larger round of violence against the Muslim minority group that began in August 2017 when a military-led crackdown in northern Rakhine left thousands dead. The violence then drove nearly three-quarters of a million Rohingya into southeastern Bangladesh, where they now languish in sprawling refugee camps.
Despite an agreement between Myanmar and Bangladesh to repatriate Rohingya refugees who receive approval to return, none of them have shown up at border crossings to go back to northern Rakhine state through the official program, citing fears of ongoing discriminatory policies, more violence, and denied citizenship rights.
The Rohingya in the Rakhine displacement camps say members of the minority group have lived in the region for generations and should therefore be accorded equal rights to full citizenship.
"We are not asking for a state, and we are not asking for a country either," said Kyaw Hla, a member of the management committee at the Thekkeh Byin camp. "Recognize us as citizens and allow us to live as we did before."
Nearly all, except for a few hundred Rohingya refugees from Myanmar, have decided to remain in the squalid but relatively safe displacement camps in Bangladesh. But tens of thousands of others, mainly living in Rakhine state, have paid human traffickers to ferry them to Muslim-friendly countries like Malaysia and Indonesia.
However, many are caught by Myanmar authorities and returned to their places of origin where they face charges for violating immigration laws.
Full report at:
https://www.benarnews.org/english/news/bengali/Rohingya-internally-displaced-02262020132317.html
--------
Human rights defenders strategy: From commitments to action
26 Feb 2020
Wherever there is injustice in Afghanistan, you will find some of the bravest people fighting against it. They are lawyers and activists supporting women who have suffered violence and discrimination. They are teachers who are supporting the right to education of girls and boys. They are journalists who advance the right to freedom of expression. They are whistleblowers who expose allegations of corruption and other abuses of government and its officials. They are all human rights defenders, as they work to contribute to the protection and promotion of human rights in the country
Human rights defenders in Afghanistan have played a crucial role in bridging the gap between the government and the people. They have been key actors in protecting and promoting human rights and strengthening the rule of law, often at great risk to themselves, their families and communities, and to the organizations and movements they represent. For decades, they have advocated humanity's core values of equality, justice, fairness and non-discrimination. They have not only contributed to the development and progress of communities and the country but have also paid a high price for the work they do.
Despite the positive contributions they make, human rights defenders face hostility from different state and non- state actors. They have been subjected to threats, intimidation, harassment, violence and even death. The human rights defenders and women human rights defenders are questioned for their human rights work, labeled as 'anti-religion' and 'anti-culture' and are targeted for challenging injustices. There have been systematic attacks on human rights defenders in Afghanistan in the last couple of years, which notably increased in 2019.
In May last year, a female journalist and activist, Mena Mangal was shot dead in Kabul.[1] In July, Saeed Karim Musawi a well-known human rights defender and civil society activist was shot and killed by two gunmen who were riding on a motorbike and escaped the scene in Kunduz province.[2] In September, the Taliban attacked Kunduz and Baghlan provinces, laying siege to the cities. Human rights defenders were trapped for days without access to communication, internet and any kind of protection support from the government or other actors.[3] Their fear was being found and targeted for their human rights work. In the same month, Abdul Samad Amiri, a human rights defender and head of the Ghor provincial office for Afghanistan Independent Human Rights Commission was kidnapped and killed on his way to Ghor province.[4] In November, two prominent human rights defenders from Logar province were forcibly disappeared and then detained for exposing alleged sexual abuse against children.[5]
These attacks on human rights defenders, and many more that are yet to be documented, have not been investigated. While the government has the obligation to respect, protect, promote and fulfill the human rights of human rights defenders, there have been no concrete steps to identify the suspected perpetrators and bring them to justice or provide immediate protection support to human rights defenders at risk. In many incidents, human rights defenders have been accused of fabricating the threats in order to 'seek asylum' abroad. There are also examples where human rights defenders were advised to silence themselves, claiming officials are not capable enough to provide them protection. In certain cases, human rights defenders were even told to acquire weapons to protect themselves.
The widespread threats to human rights defenders necessitate the establishment of a robust and independent protection mechanism. Without this, they cannot safely carry out their crucial work. There are several small ad-hoc initiatives to provide support to human rights defenders, but these are severely limited in terms of their resources and geographic scope. For example, the Afghanistan Independent Human Rights Commission, despite having an action plan for the protection of human rights defenders, has not been able to provide immediate support for human rights defenders due to budget constraints.
Similarly, the Human Rights Defenders Committee does not have the authority to investigate and provide immediate support to human rights defenders under threat.
Over recent months, the human rights community with the support of Amnesty International collaborated in devising a protection strategy for human rights defenders in Afghanistan. This maiden effort addresses the protection of human rights defenders, the need for investigations of threats, calls for bringing suspected perpetrators to justice and encourages collaboration between the government and international community specifically for the protection of human rights defenders.
The Afghanistan human rights defenders protection strategy must be seen as an important first step for the Afghan government, whose job now is putting the strategy into implementation by bringing relevant government and non-governmental actors together and demonstrate its commitment to the protection of human rights defenders and promotion of human rights in Afghanistan. As Sarwar Danish, the Second Vice President of Afghanistan stated during the launch of the Afghanistan human rights defenders protection strategy, "Until now, there has been a lot of focus on awareness of human rights, but for the protection of human rights defenders there has not been enough attention." AIHRC and Afghanistan's newly created position of State Minister on Human Rights and International Affairs can play a major role in contributing towards the effective implementation of a protection mechanism for human rights defenders.
The international community has a key role to play here as well. For years, human rights defenders have worked with these actors to provide first-hand information about violations taking place in Afghanistan. The international community has encouraged them to speak out against human rights violations and abuses and to promote human rights values. When these same human rights defenders are at risk, the international community has a responsibility to stand up for them – as the United Nations Declaration on Human Rights Defenders demands.
The European Union member states, the United Kingdom and Canada are some of the countries that have made explicit commitments to protect human rights defenders. It is now for them, and others, to put their commitments into action to both protect human rights defenders and ensure a safe and enabling environment. This will require a long-term commitment from the Afghan government, funding from the international community, and, most importantly, sustained advocacy and monitoring by Afghanistan's human rights community to ensure these commitments are effectively realized. As human rights defenders emphasized during the launch of the human rights defenders protection strategy, it is time for the Afghan government and the international community to put their commitments to action.
[1] https://www.theguardian.com/world/2019/may/11/afghan-journalist-mena-mangal-shot-dead-in-kabul
[2] https://hrdmemorial.org/hrdrecord/saeed-karim-musawi/
[3] https://www.afghanistan-analysts.org/taleban-attacks-on-kunduz-and-pul-e-khumri-symbolic-operations/
[4] https://www.amnesty.org/en/latest/news/2019/09/afghanistan-killing-of-human-rights-defender-is-a-war-crime/
[5] https://www.amnesty.org/en/latest/news/2019/11/afghanistan-release-hrds-now/
https://www.khaama.com/human-rights-defenders-strategy-from-commitments-to-action-678689/
--------
Deadly roadside bomb rips through Taliban vehicle in Balkh province
27 Feb 2020
An Improvised Explosive Device (IED) explosion ripped through a vehicle in northern Balkh province of Afghanistan which killed at least seven militants.
The 209th Shaheen Corps of the Afghan military in a statement said a roadside bomb, Improvised Explosive Device (IED), planted on a roadside went off late on Wednesday afternoon in Dawlatabad district.
The statement further added that the incident took place in Yolboldi Village of the district which killed all seven militants on board the vehicle.
The explosion did not inflict casualties on security personnel and ordinary civilians, the 209th Shaheen Corps added.
The Taliban group has not commented regarding the incident so far.
Full report at:
https://www.khaama.com/deadly-roadside-bomb-rips-through-taliban-vehicle-in-balkh-province-04460/
--------
Top Afghan, U.S. defense officials optimistic about RIV agreement amid sporadic incidents
26 Feb 2020
The Acting Minister of Defense Asadullah Khalid and Gen. Scott Miller, the Commander of the U.S. forces and the NATO-led Resolute Support Mission expressed optimisms about the 'Reduction in Violence' agreement with the Taliban group.
Accompanying Khalid during a visit to Kandahar, Gen. Miller said "We're working our way through the reduction of violence. We're seeing what we would call a downward trend in violence, which is great for the Afghan people. It's great for the country of Afghanistan."
Gen. Miller admitted that "There's still some incidents and we're working through those incidents."
However, he said "We remain committed in our support to the Afghan security forces. The minister and I are talking about it every single day to make sure we're seeing what's happening on the ground together."
Meanwhile, Khalid said "This is a success for us. The sacrifices of our hard working Afghan forces and patience of our great nation caused this reduction in violence."
"We hope, God willing [Inshallah], this results in a ceasefire and enduring peace," he said, adding that "In several locations, people celebrated the reduction in violence."
According to Khalid the Taliban groups came in to the cities in some provinces and took photos with our soldiers, calling it a 'big success'.
The U.S. and Taliban group reached to an agreement to reduce violence nearly a week after concluding the final phase of talks in Qatari capital of Doha.
Full report at:
https://www.khaama.com/top-afghan-u-s-defense-officials-optimistic-about-riv-agreement-amid-sporadic-incidents-04459/
--------
U.S. confirms position on Afghan elections amid deepening political tensions
26 Feb 2020
The State Department released a statement late on Tuesday emphasizing on handling of concerns regarding Afghan presidential elections in accordance with the 'constitutional and legal procedures'.
The Department of State in a statement said it 'notes the announcement on February 18, 2020 by the Independent Election Commission of Afghanistan on the results of the presidential election held September 28, 2019 in favor of President Ashraf Ghani.'
However, the State Department added in its statement that "Concerns have been raised about the election process."
"We expect these concerns to be handled in accordance with constitutional and legal procedures," the statement said, adding that "Moving forward, we call on the new government to be inclusive and reflect the aspirations of all Afghans."
This comes as tensions are escalating on political level following the announcement of final election results on February 18th.
The Chief Executive of the Unity Government and one of the forerunners of the elections, Abdullah Abdullah rejected the results as 'fraudulent' and vowed to establish a parallel government.
Meanwhile, the State Department said "The country's leaders and their supporters should ensure that political debate is carried out in a calm manner, free from the use or threat of violence."
The statement also added "They should also desist from destabilizing actions, including purported efforts to establish parallel government structures inconsistent with the constitution and rule of law."
According to State Department "Such moves call into question the country's sovereignty and unity that the United States strongly supports."
Full report at:
https://www.khaama.com/u-s-confirms-position-on-afghan-elections-amid-deepening-political-tensions-04458/
--------
Southeast Asia
Amanah urges rogue MPs to return to Pakatan fold, help fulfill GE14 mandate
Thursday, 27 Feb 2020
KUALA LUMPUR, Feb 27 — Parti Amanah Negara communications director Khalid Abdul Samad has said the honourable thing left to do is for those who have quit Pakatan Harapan to return to the coalition.
In a series of tweets, he said this is especially the case since they won their parliamentary seats on Pakatan's ticket, and that if they choose to leave the coalition later, it is up to them.
"Even more so when Pakatan wants to continue fulfilling its mandate and the promises made during the 14th general election. There is no excuse for them to betray us," Khalid said.
He added the Pakatan government collapsed due to 'several people' in PKR who won on the coalition's ticket but left their party, even though they won due to the support and sacrifices of Pakatan's election machinery.
"In Bandar Tun Razak, the local PKR leadership reaffirmed their support for Pakatan as well as rejecting the treachery of their MP," Khalid said, referring to Datuk Kamaruddin Jaffar, who is one of 11 former PKR MPs who have since formed an independent Parliamentary block under former PKR deputy president Datuk Seri Azmin Ali.
Noting that some have compared the departure of the PKR MPs to those of Amanah's when they left PAS in 2015, he said both situations are completely different as Amanah's MPs left PAS after its leadership's intention to betray the then-Opposition coalition Pakatan Rakyat by joining hands with Umno.
"Some want to play on the issue of religion, by claiming that Datuk Seri Anwar Ibrahim's supporters are mostly non-Muslims and therefore he should be rejected. Such individuals do not care for justice and the truth, for they are willing to be together with robbers and traitors who happen to be Muslims.
"Islam does not teach us to be like this, instead of teaching us to be honourable. Islam teaches us to stand together with those who are true, just, and trustworthy, for that is what is being fought for by Pakatan. It is saddening to see Muslims being taken for a ride on the basis that there are many non-Muslims with Pakatan," Khalid said, adding that instead of being called upon to reject Pakatan, Muslims ought to be called upon to support the coalition.
https://www.malaymail.com/news/malaysia/2020/02/27/amanah-urges-rogue-mps-to-return-to-pakatan-fold-help-fulfill-ge14-mandate/1841362
--------
PAS and Umno deny report their lawmakers back Muhyiddin Yassin to be PM
February 27, 2020
PETALING JAYA - Parti Islam SeMalaysia (PAS) and Umno have denied a news report that their federal lawmakers have signed a statutory declaration (SD) in support of Parti Pribumi Bersatu Malaysia (PPBM) president Muhyiddin Yassin as the candidate for prime minister
PAS secretary-general Takiyuddin Hassan tweeted on Thursday morning (Feb 27) that the report by The Star was "totally not true".
"PAS and Umno remain with the proposal for Parliament to be dissolved," he said.
"Any formal statements from PAS only comes from the president and the secretary-general in written form."
Umno secretary-general Annuar Musa also echoed his PAS counterpart's statement, saying that the report was not true.
"Umno and PAS are steadfast in our stand to request to the King for Parliament to be dissolved so that the people can exercise their right with regard to the problem facing us today," he said in a statement.
In its report, The Star quoted PAS deputy president Tuan Ibrahim Tuan Man as saying that MPs from his Islamic party, together with Umno, have backed Tan Sri Muhyiddin to be Malaysia's next premier.
"When Dr Mahathir announced his resignation and refused to accept positions, Muafakat Nasional signed an SD for Muhyiddin," he was quoted as saying, in reference to the National Consensus pact between the two Malay parties.
"But if there isn't a clear (Parliament) majority, we propose for Parliament to be dissolved," he said.
Datuk Tuan Ibrahim's purported comments come following the political crisis which saw the collapse of the Pakatan Harapan coalition due to the exit of 26 PPBM MPs and 11 Parti Keadilan Rakyat MPs.
He later clarified that the SD in support of Mr Muhyiddin was signed before the decision to call for Parliament to be dissolved.
Dr Mahathir, who resigned and was then appointed interim Prime Minister on Monday (Feb 24), said on Wednesday in a televised address to the nation that he hoped to lead a non-partisan administration which prioritises national interest.
He said: "Rightly or wrongly, politics and political parties must be set aside for the time being."
Full report at:
https://www.straitstimes.com/asia/se-asia/pas-denies-report-its-lawmakers-back-muhyiddin-yassin-to-be-pm
--------
Mahathir to form unity government, sorry for quitting in haste
February 27, 2020
KUALA LUMPUR: In an unprecedented address broadcast live to the public on Wednesday, Malaysia's interim Prime Minister Mahathir Mohamad confirmed that he would try to form a nonpartisan administration.
"I think right or wrong, politics and political parties need to be put aside for now. If it is possible, I will try to establish a government that does not favor any party. Only the interests of the nation will take precedence," he said in his first public comments since the Pakatan Harapan (PH) government collapsed on Monday, following his resignation as prime minister — although he remains the country's acting leader.
He added that politicians and political parties "are too political" — so much that they had forgotten about the health and economic issues threatening the country.
In light of the recent coronavirus outbreak and the severe economic aftershocks faced by the country due to its ongoing political drama, the Malaysian leader also conveyed his apologies to the public for resigning in haste.
"I apologize to all Malaysians for the country's political turmoil that may cause anxiety," the 94-year-old said. "As a normal human being, I am not alone in making mistakes. I apologize if my resignation was wrong."
Mahathir quit the top job in Putrajaya and the Malaysian United Indigenous Party (BERSATU) on Monday, following political maneuvers by certain factions within the alliance and amid accusations of a power grab by some.
"I resigned because I didn't see the power and the position as the be all and end all — as my goal. For me, that power and position is a means to an end or a tool to achieve an objective. And our objective is the good of the nation," Mahathir said.
The Peoples Justice Party (PKR) tried to consolidate power with an opposition party bloc, including the United Malays National Organization (UMNO), to form a "backdoor government" on Sunday. The plan failed because they did not get Mahathir's backing after he realized the UMNO would be part of the coalition.
UMNO, a Malay-based party, has been in power for the past 61 years, and critics say it has openly embraced cronyism and race-based politics. The billion-dollar 1MDB scandal involving UMNO's former president, Najib Razak, led to the PH party, under Mahathir and Anwar Ibrahim, winning the 2018 elections.
"I can accept UMNO members who leave UMNO and join other parties. But UMNO will join this unity government and treat it as the UMNO Party. This is unacceptable to me. That drove my decision to resign," explained Mahathir.
Malaysian head of state Sultan Abdullah Ri'ayatuddin Al-Mustafa Billah Shah subsequently appointed Mahathir as the interim prime minister on Monday, while the country was in the process of transition.
Professor James Chin, a political analyst at Tasmania University's Asia Institute, told Arab News that Mahathir is trying to put together a balanced coalition.
"He wants individuals, not parties," said Chin. "If Mahathir gets his way to form a unity government, there will be no specific ideology, so that all sides are represented."
Adib Zalkapli, director of political consultancy firm BowerGroupAsia, told Arab News that Mahathir's agenda for the unity government is unrealistic.
"Some of the parties are ideologically different. UMNO, for example, is defined by its opposition to the Democratic Action Party's (DAP) ideology of Malaysian Malaysia," he said. "They cannot be in the same coalition."
The king will interview MPs to assess who might get majority support as prime minister — or whether a general election is needed.
The PH party told reporters on Wednesday that they have chosen PKR president Anwar Ibrahim as the "prime ministerial candidate for the Alliance government." Other parties, including Gabungan Parti Sarawak (GPS) from Borneo, are backing Mahathir, while opposition parties such as the UMNO have pushed for a snap election.
"The statement by the Alliance showed they want the king to decide, which means the Alliance did not get a deal with Mahathir," Chin said, adding that it would be a major challenge to the 60-year-old king, as he is "young and untested."
Full report at:
https://www.arabnews.com/node/1633836/world
--------
Lawyer claims trial to racial incitement in Facebook post
February 26, 2020
KUALA LUMPUR: Lawyer Mohd Khairul Azam Abdul Aziz today claimed trial at the Magistrate's Court here for alleged racial incitement.
He was charged under Section 505(c) of the Penal Code for allegedly trying to incite hatred among the different races.
If found guilty, Khairul may face a maximum of two years' jail or fine, or both.
Syed Azimal Farhan Maarof represented Khairul while deputy public prosecutor Mohd Sophian Zakaria appeared for the prosecution.
It was alleged that he had posted a two-minute-and-17-second video on his Facebook account last month where he had said that there was no mention of Chinese or Indians under the Federal Constitution.
Magistrate Wong Chai Sia granted Khairul bail of RM6,000 with one surety.
The court also ordered Khairul to surrender his passport pending the disposal of his case as well as to report himself to the police station in Gombak every month.
The next date for mention is March 26.
Previously, Khairul had caused controversy when he threatened to lodge a report against a Puchong secondary school over its supposedly "religious" decorations in conjunction with Chinese New Year.
Full report at:
https://www.freemalaysiatoday.com/category/nation/2020/02/26/lawyer-claims-trial-to-racial-incitement-in-facebook-post/
--------
Malaysia's Geriatric Palace Intrigues Are Causing Political Turmoil
BY KRITHIKA VARAGUR
FEBRUARY 26, 2020
Anwar Ibrahim may be the most outmaneuvered man in Malaysia. The trials of his political life have been Job-like, from multiple sodomy accusations to police assaults to nearly a decade spent in jail. In 2018 he seemed, momentarily, to have been rewarded for his forbearance, when his party coalition with former Prime Minister Mahathir Mohamad won a surprise election victory, overturning the National Front that had ruled Malaysia since its independence from Britain in 1957. Anwar "won" from jail, through a baroque setup by which he was supposed to eventually succeed the then 92-year-old Mahathir after two years, in a transition whose specifics were never explained. But he would eventually get his day in the sun … right?
Wrong. After a series of hushed, closed-door meetings, backdoor plots, and obtuse power plays over the past five days, the Malaysian government is now in chaos, and it seems like Anwar may let power slip through his fingers again. Mahathir resigned as prime minister at 1 p.m. on Monday, as well as from his leadership of the Bersatu political party. Meanwhile, Bersatu, which accounts for 26 seats in the lower house of Parliament, announced that it was exiting the Alliance of Hope (Pakatan Harapan) coalition that won in 2018, depriving it of its parliamentary majority and essentially dissolving the government. The same day, 11 members of Anwar's party resigned. The clock is ticking for a new ruling coalition to emerge soon. The suddenness and rapid succession of these events have the dramatic flair of late-season scripted television.
"This is a very typical Malaysian way of doing politics," said James Chin, a political scientist at the University of Tasmania. "They are trying to create a herd mentality so people can start rushing to the presumed forerunner." Anwar's People's Justice Party was the largest component of the Alliance of Hope, having won 47 seats in the 2018 general election. A new coalition needs 112 members of Parliament to form a government, said Chin, but "to prove stability they will need at least 130 people." On top of that, Malaysia is a constitutional monarchy, and the king must greenlight a new government. The current king, Sultan Abdullah Sultan Ahmad Shah, interviewed every single member of Parliament on Tuesday and Wednesday in order to establish which faction has the majority support, according to the Associated Press. The king also appointed Mahathir as interim prime minister.
On Wednesday, Mahathir delivered a national address and apologized for the recent "political turmoil," which seemed, at surface level, like an effort to distance himself from the week's machinations. "If it is possible I will try to establish a government that does not favor any party. Only the interests of the nation will take precedence," he told the country.
"He is speaking in code," said Chin. "He is saying: Everyone can come together, but I get to pick and choose who gets to come in. And he is addressing the other MPs as individuals, not as parties. He remains the kingmaker."
The choice before members of Parliament is essentially whether to back Anwar or Mahathir now, and one of them has been prime minister for a cumulative 24 years, whereas the other has been spectacularly foiled at multiple junctures during that time frame. "The choice," said Chin, "is not exactly difficult."
So what set all this off?
"Last Friday, there was an important meeting of the Alliance of Hope leadership and Mahathir's party was very unhappy with what transpired," said Chin. Several members of the Bersatu party later told Chin that "they felt strongly bullied by Amanah and the Democratic Action Party," other parties in the coalition, particularly the Democratic Action Party, which demanded a specific date for Mahathir to step down. "Bersatu felt that you cannot talk to a statesman that way, which triggered talk of acting fast, and sure enough, the ground started moving on Saturday."
The more deep-seated dynamic underlying these events was one of brewing discontent among Malay Muslims, who make up about 50 percent of Malaysia's population, said Chin. In September 2019, the United Malays National Organization (UMNO), a leading national party that claims to represent Malays, and the Malaysian Islamic Party (PAS), a conservative, Islamist party popular in rural, peninsular Malaysia, joined forces in a "unity pact" despite their previous rivalry. "They pushed the line that minorities had too much influence and scared voters that the Alliance of Hope will not protect Islam," said Chin. They pointed to symbolic examples that the new finance minister, chief justice, and attorney general were all non-Malays. "This scared the shit out of Mahathir," said Chin.
The upheaval has already affected the country's stock market, which dipped 2.69 percent on Monday, ending a 12-year bull run, the longest in the world.
Full report at:
https://foreignpolicy.com/2020/02/26/malaysia-mahathir-mohamad-anwar-ibrahim-politics/
--------
Mahathir's meeting with King ends amid speculations some PKR MPs set to return to PH
Shannon Teoh
KUALA LUMPUR - Interim Prime Minister Mahathir Mohamad has left the Palace following an audience with the Yang di-Pertuan Agong on Thursday (Feb 27), after the King completed his interviews of Malaysia's parliamentarians in search of a new government the previous evening.
He left at around noon. However, no details are available as to what transpired in the one-hour meeting. He waved but did not stop to speak to the media when he left.
However, with Malaysia's nine state rulers set for a previously unscheduled conference on Friday afternoon, it appears that a conclusion to the political impasse has not been achieved.
A total of 220 out of Malaysia's 222 MPs - Umno's Padang Rengas MP Nazri Aziz is overseas and Dr Mahathir is understood to vote for himself - were polled by the King for who they supported to lead the country, or if they preferred a snap poll.
With the Pakatan Harapan (PH) coalition's remaining three parties ordering their 92 MPs to back Parti Keadilan Rakyat president Anwar Ibrahim, it appears no one has the majority on paper.
Dr Mahathir, who was, up to Monday, backed by all parties despite resigning the position, had the declared support of his own Parti Pribumi Malaysia Bersatu (PPBM), rebels from PKR aligned to sacked deputy president Azmin Ali, the Coalition of Sarawak Parties (GPS), and Sabah's ruling Warisan party.
This means he has the support of 64 MPs, short of a simple majority of 112 needed to form a government.
However, the interviews were conducted individually, with only the King and the chief secretary of the government in attendance, and some observers have suggested that there are MPs who broke party ranks.
Dr Mahathir addressed the nation in a televised broadcast on Wednesday evening after the King finished his two-day long audiences with lawmakers, proposing a "non-partisan" unity government that aims to rise above party politics.
But PH's stance is that Dr Mahathir should be PM as head of the coalition, as it was given the mandate in the election less than two years ago.
Meanwhile, the likes of the Umno-led Barisan Nasional (BN) and Islamic party Parti Islam SeMalaysia (PAS) have said they prefer a snap election rather than working with the Democratic Action Party (DAP), the PH component they claim is anti-Malay and anti-Islam.
PH leaders were on Thursday afternoon gathered in a hotel just outside Kuala Lumpur. Part of the agenda appears to be to confirm that several MPs who were said to have followed Datuk Seri Azmin out of the party would be returning to PKR.
The chaos was sparked when renegades from PPBM and PKR joined the opposition on Sunday to call on Dr Mahathir to stay in power until the next election, instead of honouring a PH transition plan for Datuk Seri Anwar to take over midterm.
Despite the turmoil, Dr Mahathir is set to go ahead with announcing a stimulus package on Thursday afternoon that was planned before the government collapsed.
If he is sworn in as premier by then, it would be the first signature policy of his new unity government - addressing the fallout from the coronavirus outbreak that has dampened Malaysia's already slowing economy.
Full report at:
https://www.straitstimes.com/asia/se-asia/malaysia-awaits-result-of-royal-search-for-pm
--------
70 years of Indonesia – Jordan relations towards a genuine and solid partnership
Feb 26,2020
This year marks the momentum of 70 years of diplomatic relations between Indonesia and Jordan that deserves to be commemorated. In fact, the historical threads of relations between the two countries started earlier. Jordan, then still called Trans-Jordan, as one of the founders of the Arab League was among the countries that first recognised Indonesia's independence.
On 18 November 1946, the Council of the Arab League made a decision to recognise Indonesia as a fully independent sovereign state. The reason the Arab League gave its support for Indonesia's independence was based on religious, brotherhood and kinship ties. Since then, the two have formed a normal and firm relationship between the two young nations.
A few months later, the late President Sukarno dispatched a delegation led by Foreign Minister Agus Salim to visit Cairo, as the headquarters of the Arab League, Damascus and Amman. In July 1947, the Indonesian delegation was received by King Abdullah I in Amman, who said that Jordan was committed to the Arab League's decision. However, the formality of Jordan recognition of Indonesian independence needed to be postponed because at that time Jordan's was still in transition from the British rule.
On 27 February 1950, a member of the Central Indonesia National Committee, Bagindo Dahlan Abdullah, was appointed by President Sukarno to become the Ambassador of the United States of Indonesia to Iraq, Syria, Lebanon and Jordan and reside in Baghdad. Since then, the official diplomatic relations between Indonesia and Jordan have continued and developed until now.
Seventy years is a platinum period of friendship between the two countries. The bilateral relations have developed not only at the government level but also at the public level. Although geographically separated by two continents and two oceans, the two countries truly have a close and fraternal relationship. The ties can be displayed as an Indonesian proverb said: "Jauh di mata, tetapi dekat di hati" or "miles apart, but close at heart".
As the two most populous Muslim countries, Indonesia and Jordan have religious, brotherhood and kinship ties. In 2006, His Majesty King Abdullah initiated an International Islamic Conference, which was attended by 200 Islamic leaders and scholars from 50 countries. The conference successfully issued the declaration entitled the "Amman Message" as an effort to prevent Muslims from being divided because of differences in schoolls of thoughts or sects.
In a meeting between President Joko Widodo and King Abdullah in April 2015 in Jakarta, the two leaders agreed to continue spreading the message of Islam as a religion of peace, tolerance and "rahmatan lil alamin". Aside from being a Muslim-majority country, the two countries also adhere to other religions, having diverse tribes and democratic parliaments. Therefore, Indonesia and Jordan serve as a model for democracy, pluralism and tolerance in the Islamic world.
At the age of 70 years, relations between Indonesia and Jordan have been going well and solid. The leaders of the two countries and high-ranking officials have visited each other for the past three decades. In 1986, His Majesty the late King Hussein and Her Majesty Queen Noor paid a state visit to Jakarta. Ten years later, President Soeharto and Mrs. Tien Soeharto returned a visit to Amman in 1996.
In the next period, the brotherly relations between the leaders of the two countries have become stronger. In 2005, Their Majesties King Abdullah and Queen Rania made a state visit to Indonesia. A year later, President Susilo Bambang Yudhoyono and Mrs. Ani Yudhoyono responded with a state visit to Amman. In 2014, King Abdullah returned to a working visit to Jakarta to strengthen bilateral ties, and again in 2015 to attend the 60th Anniversary of the Asia-Africa Conference.
In facing a century of the relationship in the next 30 years, the two countries need to fill in and enhance partnerships. Despite the fact that trade, investment and tourism cooperation have shown progress over the past three years, it is acknowledged that the cooperation is still below its potential. Even though they are still relatively small, trade, investment and tourism figures have indicated a positive direction.
In 2018, the value of bilateral trade volumes was close to $300 million, and Jordanian investment in Indonesia reached $3.2 million. Traditional export products from Indonesia such as wood products, palm oil, coconut shell charcoal, food and beverage products are still likely to be increased. While car tires, coffee and herbal medicines have great potential to enter the Jordanian market.
In the last three years, the strengthening of relations between the two countries can also be seen in the mutual visits of tourists. In 2019, an increased number of Indonesian tourists reached more than 46,000 people for religious pilgrimages to Jordan and then to Palestine. In addition, the number of Jordanian tourists also increased by 30 per cent to reach more than 6,000 people.
Indonesia's recognised role in Jordan also involves humanitarian diplomacy. Jordan is the host country of 1.4 million refugees, mostly Palestinian and Syrian. Aside from the assistance from the government, a number of groups, such as humanitarian agencies, philanthropists, celebrities, academics, civil societies, Council of Ulemas, scout movement and zakat fund agencies, have participated in raising humanitarian in aid for refugees in Jordan. As part of humanitarian diplomacy, no less than $7.5 million aid and donations were collected from the government and non-state actors in the last three years.
Apart from bilateral issues, since the beginning of their independence, the diplomatic relations between the two countries have been cemented by the Palestinian issue. Supporting Palestine is a shared commitment not only at the government level, but also at the community level. Indonesia and Jordan have always been at the forefront in supporting the struggle for the independence of the Palestinian State with East Jerusalem as its capital along the pre-1967 border.
As seen, there are still huge opportunities for cooperation and partnership that can be developed by the two countries in facing a century of relationship. In the thirty years to come, Indonesia and Jordan need to strengthen cooperation in a number of areas that still have potential to be explored. Historical ties on the basis of religion, brotherhood and kinship can serve as modality for strengthening the relations between the two countries toward a genuine and solid partnership.
Full report at:
http://www.jordantimes.com/opinion/andy-rachmianto/70-years-indonesia-%E2%80%93-jordan-relations-towards-genuine-and-solid-partnership?__cf_chl_captcha_tk__=d86ee8158045c98a326b45db370d7d796084c40a-1582787149-0-AW1hlUhpMoEgbC_d2SeKO8vujIuQpxdA2g8US3Hn4FZdr19dE5JFUuf-bboP20vdJIq7z_2Y4H1no9qcQdLqmZMV8q080jfO6s-ZKkU8wxXtaARQ6K68LILpo0fD7d1A4hMsi_TTIhtPKTbDMbHI9yTu-qC93OORhJuNUQXNr2oBQD3Y-mT0iYTKxkQjYXGWu_GOUXCV8trvPv38EaQ7YtYSsXnYzhY6ul6ajqXT3xhnAEHk3aQZnbcxKkxU8yqlGRsPNqH4dx1YUQn7XIgHMHMJol7IZ2ctzCWn4IMnGVb8qCbujBgfho4Vnv5chPTDidoUKzUB4PbSQx1KW1_fTSZxXO4NZ1yiB6lW3Szatp4UAxhsUGn7OQbWMAyxQvp7kTV0rzmpGfV4FAl5ZfPtCZEMnVnwqLLeMYFEbGTK37Op6CyKfzuxSaXdrfHknK0rN6fyimDN3B42wfd0WQOFp8C2Tspkiy2hY82P0Njd5KtPLD7FVZoO2Wv0hsI1xPxouw
--------
Arab World
Saudi Arabia halts entry from coronavirus-hit states for Umrah in Mecca, tourism
27 February 2020
Saudi Arabia temporarily suspended entry for individuals seeking to perform Umrah pilgrimage in Mecca or visiting the Prophet's Mosque in Madina, as well as tourists traveling from countries where the coronavirus poses a risk as determined by the Kingdom's health authorities.
The new precautions are "based on the recommendations of the competent health authorities to apply the highest precautionary standards and take proactive preventive measures to prevent the emergence of the coronavirus in the Kingdom and its spread," the Ministry of Foreign Affairs said in a statement on Twitter.
These measures come at a time when has been a sharp increase in the number of cases reported in the Middle East, where most of the individuals infected had traveled from Iran which has a reported death toll standing at 19, the highest outside China.
This pushed several countries to suspend flights and most of its neighbors to close their borders. Kuwait, Bahrain, Oman, Lebanon, Iraq, and the UAE have all reported coronavirus cases who had traveled to Iran recently.
Foreign Ministry 🇸🇦
✔
@KSAmofaEN
We ask God Almighty to spare all humanity from all harm#CoronaVirus#COVID19
View image on Twitter
221
5:26 AM - Feb 27, 2020
Twitter Ads info and privacy
327 people are talking about this
Exceptions to the ban
The Minister of Health Tawfiq al-Rabiah confirmed on Wednesday that there were no coronavirus cases detected in the Kingdom so far.
Saudi Arabia is also suspending the use of the national identity card by Saudi national and citizens of the Gulf Cooperation Council (GCC) states to travel to and from the Kingdom.
However, there are exceptions: Saudis who are abroad and wish to return home if their exit from the Kingdom was with the national identity card, and citizens of the GCC countries currently inside the Kingdom who wish to return to their countries if their entry was with the national identity card.
This allows the authorities at entry points to "verify from which countries visitors came before their arrival to the Kingdom and apply health precautions to deal with those coming from those countries."
"The Kingdom affirms that these procedures are temporary, and are subject to continuous evaluation by the authorities," the ministry said.
https://english.alarabiya.net/en/News/middle-east/2020/02/27/Saudi-Arabia-suspends-entry-for-Umrah-pilgrimage-due-to-coronavirus.html
--------
Al-Azhar's imam faces hostile media campaign
Hossam Rabie
February 27, 2020
CAIRO — Egypt's Grand Imam of Al-Azhar, Sheikh Ahmed el-Tayeb, has been facing, since the end of January, a fierce campaign spearheaded by Egyptian media outlets owned by and close to the state.
This follows a verbal duel that stirred nationwide controversy between Tayeb and Cairo University President Mohamed Othman Elkhosht, who is close to President Abdel Fattah al-Sisi, during the second day of a conference at Al-Azhar, titled "Al-Azhar International Conference on Renovation of Islamic Thought." The conference, held on Jan. 27-28, focused on renewing the religious discourse. The conference was attended by delegates and scholars from 46 countries of the Islamic world.
The media attacks climaxed with the publication Feb. 3 of an article by Dandarawy al-Hawary, writer for Al-Youm Al-Sabeh newspaper, titled, "Religious men in Egypt proclaimed themselves prophets and formed a special class above the people."
Meanwhile, anger is mounting between the Egyptian state and Al-Azhar. The two disagree over the mechanism of renewing the religious discourse. Also, Tayeb's positions differ from those of the state on many issues.
In February 2017, Al-Azhar refused Sisi's proposal to abolish verbal divorce. Al-Azhar also refused to amend the conditions of the use of endowments. In its statement objecting to the abolishing of verbal divorce, the Supreme Council of Scholars at Al-Azhar urged the state to improve the citizens' living conditions, which are deemed the main reason for divorce in Egypt, instead of seeking to cancel verbal divorce.
A source close to Tayeb spoke to Al-Monitor on condition of anonymity, saying, "It seems that within Al-Azhar Tayeb is subjected to a campaign of intimidation from the state in order to renege on his independent stance and critical tone." The source noted that Sisi did not attend Al-Azhar's conference organized under his auspices although he had previously confirmed his attendance.
During his speech at the opening session, Tayeb renewed his implicit criticism of those calling for renewing the religious discourse, while lacking scientific formation. Sisi called for renewing the religious discourse for the first time in January 2015.
"The topic of renewing Islamic thought and the religious discourse has recently become a vague and ambiguous concept, because it has been frequently covered in newspapers by those lacking knowledge and those who have the skill of talking about any subject without adequate study or previous scientific formation," Tayeb said.
The source said that at the end of the first day of the conference Tayeb's armored vehicle was shot at; the next day the conference activities were transferred from Al-Azhar conference hall to the conference hall at the Kempinski Hotel in Cairo.
According to the source, the sheikh of Al-Azhar was infuriated when Elkhosht publicly handed him at the conference a copy of one of his books titled, "Toward establishing a new religious age."
In his book, Elkhosht calls for a different curriculum for religious studies based on scrapping heritage. The book also calls for creating a new religious thought rather than renewing the existing one. The source reckoned Tayeb may have interpreted Elkhosht's move as an attempt to embarrass him by insinuating that Al-Azhar is showing neglect in renewing Islamic thought.
Professor of Islamic history at Al-Azhar University Abdel Maksoud Abu Basha concurred with the source's view. He told Al-Monitor that Tayeb understood the intention behind Elkhosht's move and he responded by elucidating some of the flaws in his approach to Al-Azhar's methodology.
He said that those who demand the renewal of the discourse do not understand what they specifically want. "They raise general slogans to renew the Islamic discourse, but they do not explain exactly what they want to renew. Is it the discourse or the curriculum? Their criticism regarding the curriculum currently used in Al-Azhar is incomprehensible," he said.
Abu Basha added, "Tayeb is trying to preserve as much as possible the independence of Al-Azhar and prevent it from being politically hijacked. The successive authorities in Egypt are always seeking to control Al-Azhar and turn its religious discourse in their favor."
At the end of November 2019, media outlets circulated statements by Tayeb to Al-Masriya channel, in which he complained of a media attack against Al-Azhar's positions. These statements date back to February 2016, Ahmed al-Sawi, Sawt al-Azhar's editor-in-chief, told Al-Nabaa news website.
The media attack has escalated recently, according to Abu Basha. "There are attempts to marginalize Al-Azhar in the media. Professors and sheikhs of Al-Azhar rarely appear in government and private channels in Egypt, and if they do, they are demanded not to engage in any discussion that might cause controversy."
This isolation was evident after US President Donald Trump announced his Middle East peace plan on Jan. 28. Following instructions of the Egyptian security services, Egyptian media called the plan "the US peace plan," without referring to "the deal of the century" that is used often in the region.
"The Egyptian authorities banned media outlets from contacting Al-Azhar for any comment on the plan," a journalist at Al-Ahram newspaper told Al-Monitor on condition of anonymity.
According to the journalist, sovereign bodies sent instructions to newspapers demanding them not to analyze the deal of the century from a religious aspect and not to involve Al-Azhar.
The journalist clarified that the state fears Tayeb would fiercely reject this deal, which may embarrass the state authorities before the Egyptian public, especially since the first statement by Egypt's Ministry of Foreign Affairs, on the day Trump unveiled his plan, shows Egypt's tacit acceptance of the plan.
It should be recalled that in December 2017, Tayeb refused to meet US Vice President Mike Pence in Cairo, after Washington's recognition of Jerusalem as the capital of Israel.
Lately, Al-Azhar has been also concerned by the Administrative Control Authority, according to the Al-Azhar source. This authority has managed to get many of the figures surrounding Tayeb dismissed on charges related to corruption and illicit profit through Al-Azhar.
According to the source, the investigation of corruption cases at Al-Azhar has intensified in a bid to embarrass Tayeb. He explained that these investigations forced him to dismiss figures close to him suspected of corruption or push them to resign.
These figures mainly include Tayeb's legal adviser, Mohammad Abd al-Salam, Al-Azhar's Undersecretary Abbas Shoman and Secretary-General of the Islamic Research Academy Mohiuddin Afifi.
The sheikh of Al-Azhar was also forced to dismiss Momen Mitwalli from his position as secretary-general of the Supreme Council of Al-Azhar and transfer him to the position of secretary-general of Al-Azhar University, after pressure by the Administrative Control Authority.
Full report at:
https://www.al-monitor.com/pulse/originals/2020/02/egypt-azhar-controversy-imam-religious-discourse-tayeb-media.html
--------
Iraq announces sixth coronavirus case associated with travel to Iran
27 February 2020
Iraq has confirmed its sixth case of coronavirus, in a young Iraqi man in Baghdad who had traveled from Iran, the health ministry said on Thursday.
https://english.alarabiya.net/en/News/middle-east/2020/02/27/Iraq-announces-new-coronavirus-case-associated-with-travel-to-Iran.html
--------
Two Turkish troops killed in Syria's Idlib: Defense Ministry
27 February 2020
Two Turkish soldiers have been killed and two others wounded in an air strike in Syria's northwestern province of Idlib, the defense ministry said on Thursday.
The Turkish army retaliated against Syrian "regime targets" in the region, it added.
https://english.alarabiya.net/en/News/middle-east/2020/02/27/Two-Turkish-troops-killed-in-Syria-s-Idlib-Defense-Ministry.html
--------
Syrian opposition forces regain strategic town of Saraqib: Officials
27 February 2020
Syrian opposition fighters backed by the Turkish military have recaptured the strategic town of Saraqib, the first significant reverse for the Syrian army in a Russian-backed offensive that had made swift gains, the rebels said on Thursday.
Three weeks ago, the armed opposition lost the northwestern town situated at the junction of two main highways, following advances by the Syrian army in its bid to retake the last large rebel-held region in Syria after nine years of war.
Nearly a million Syrians have been displaced by the latest fighting.
https://english.alarabiya.net/en/News/middle-east/2020/02/27/Syrian-opposition-forces-regain-strategic-town-of-Saraqeb-Officials.html
--------
Qatar says to evacuate its citizens and Kuwait's from Iran due to coronavirus
27 February 2020
Qatar's Emir Sheikh Tamim bin Hamad al-Thani ordered on Thursday the evacuations of Qatari and Kuwaiti citizens from Iran over concerns of the spread of coronavirus.
"The Amir has issued directives to evacuate the citizens of the State of Qatar and citizens of the sisterly State of Kuwait, who are currently in Iran, due to the outbreak of the novel Coronavirus (COVID-19)," state news agency QNA reported on Twitter.
Iran's coronavirus death toll rose on Wednesday to 19, the highest outside China, pushing several countries to suspend flights and most of its neighbors to close their borders, especially after several neighboring countries started registering coronavirus cases relating to travel from Iran.
https://english.alarabiya.net/en/News/middle-east/2020/02/27/Qatar-says-to-evacuate-its-citizens-and-Kuwait-s-from-Iran-due-to-coronavirus.html
--------
Iraq bans public gatherings and travel to 9 countries over coronavirus concerns
26 February 2020
Iraq banned all public gatherings and banned travelers from Kuwait and Bahrain from entry, the health minister said on Wednesday, taking the total number of countries on the entry ban list to nine amid growing fears over the spread of the coronavirus.
Iraqi citizens are now also banned from traveling to the nine countries which are China, Iran, Japan, South Korea, Thailand, Singapore, Italy, Bahrain, and Kuwait, the minister said in a decree seen by Reuters.
He also ordered the suspension of schools and university and the closure of cinemas, cafes, clubs, and other public gathering spots nationwide from February 27 to March 7.
https://english.alarabiya.net/en/News/middle-east/2020/02/26/Iraq-bans-public-gatherings-and-travel-to-9-countries-over-coronavirus-concerns.html
--------
Egypt holds military funeral for former leader Hosni Mubarak
26 February 2020
Egypt held a military funeral on Wednesday for its former president Hosni Mubarak, bestowing the state's final rehabilitation on the man who ruled for 30 years until he was ousted in a 2011 popular uprising.
Horses drew Mubarak's coffin draped in the Egyptian flag at a mosque complex as canons fired into the air, followed by a procession led by President Abdel Fattah al-Sisi, as well as Mubarak's two sons Alaa and Gamal.
The funeral march was attended by key political figures from Mubarak's years in power, some of whom had been scarcely seen in public since he was removed from office. Sisi stayed for the duration of the procession, offering condolences to Alaa, Gamal and Mubarak's wife Suzanne before his departure.
The stately funeral was a contrast from the rejoicing on the streets in 2011 when he was swept out of power as an early victim of the "Arab Spring" revolutions across the region.
He spent many of the subsequent years moving between jail and military hospitals before being freed in 2017 under Sisi, a fellow military officer risen to the presidency.
Egypt's presidency and armed forces mourned the former air force officer as a hero for his role in the 1973 Arab-Israeli war. The presidency declared three days of national mourning.
Mubarak's coffin was airlifted to the family burial compound from the funeral at Field Marshall Tantawi mosque – named for Mubarak's defense minister of 20 years, who presided over an abortive transition to democracy after Mubarak resigned.
Full report at:
https://english.alarabiya.net/en/News/middle-east/2020/02/26/Egypt-holds-military-funeral-for-former-leader-Hosni-Mubarak.html
--------
Syrian regime targets Turkish convoy with missiles, burns vehicle: Monitor
26 February 2020
Syrian regime forces targeted a Turkish convoy with missiles on Wednesday in Idlib, burning at least one Turkish vehicle, a UK-based war monitor reported.
The regime-controlled Syrian Central Military Media confirmed the attack on Telegram, saying eight Turkish soldiers were injured as a result.
Turkey backs opposition factions north of Syria, while Russia backs the Syrian regime led by Bashar al-Assad.
Turkey has been sending military convoys into Syria and setting up observation posts to back the Syrian opposition factions in their fight for their last stronghold in the war-torn country.
The Russian-backed regime has been bombing the Turkish-backed opposition factions on a daily basis in support of an offensive by the Syrian government forces.
The Idlib region is home to around three million people, half of whom were evacuated by regime forces from other parts of the country after the forces besieged cities controlled by the opposition and bombarded them with airstrikes.
Full report at:
https://english.alarabiya.net/en/News/middle-east/2020/02/26/Syrian-regime-targets-Turkish-convoy-with-missiles-burns-vehicle-Monitor.html
--------
Bahrain extends coronavirus flight ban to Dubai, Sharjah airports for 48 hours
27 February 2020
Bahrain extended by 48 hours its suspension of all flights arriving from Dubai and Sharjah airports from Wednesday as part of the kingdom's efforts to halt the spread of coronavirus.
The kingdom first banned flights from Dubai International Airport and Sharjah International Airport on Tuesday as it reported a rapid increase in the number of coronavirus cases. While most of the cases were travelers from Iran, which has the highest number of deaths from coronavirus outside of China, two of them had transited via Dubai.
Bahrain's Civil Aviation Affairs also announced it had "reduced the number of incoming regional flights" more generally "in order to safeguard the health of the Kingdom's citizens and residents."
Coronavirus in Bahrain
Bahrain's Ministry of Health had reported 33 cases of coronavirus in the country as of Thursday.
"Infected individuals were immediately transferred to Ebrahim Khalil Kanoo Community Medical Center for isolation and treatment following tests that confirmed they were carrying COVID-19, upon arrival at Bahrain International Airport via indirect flights from Iran," Bahrain News Agency reported.
"All individuals in contact with the infected patients have also been quarantined as per preventive efforts."
The ministry said that one of the newly confirmed cases is a Bahraini citizen who had returned from Iran before the country started confirming cases of coronavirus. The citizen, having presented COVID-19 symptoms, called the designated hotline and was quickly transferred to isolation for treatment.
Bahrain taking precautionary measures
Bahrain has announced several precautionray mesaures to combat the spread of coronavirus, including closing schools, a travel ban from Iran.
Bahrain suspended all private and public schools, universities, and nurseries across the kingdom for two weeks from Tuesday.
Bahrain will test all citizens and residents who traveled to Iran in February in an effort to control the spread of coronavirus, announced the Health Ministry on Wednesday, according to Bahrain News Agency.
The ministry provided a hotline for those who have been to Iran this month to schedule test appointments, noting that all citizens and residents must comply with the implementation of all instructions and preventative measures issued by the ministry to ensure the safety of everyone, Bahrain News Agency reported.
Coronavirus in UAE
The UAE was the first country in the Middle East region to announce any cases of coronavirus.
Full report at:
https://english.alarabiya.net/en/News/gulf/2020/02/27/Bahrain-extends-coronavirus-flight-ban-to-Dubai-Sharjah-airports-for-48-hours-.html
--------
Bahrain suspends flights to and from Iraq, Lebanon amid coronavirus fears
27 February 2020
Bahrain suspended on Thursday all flights to and from Iraq and Lebanon as part of its latest efforts to combat the spread of the coronavirus, according to state news agency BNA.
The Civil Aviation Affairs (CAA) authority urged all citizens and residents who are currently in areas affected by the coronavirus and were planning to return to Bahrain to contact a dedicated hotline.
"All arrivals to Bahrain International Airport suspected of infection will be tested and, if found to be suffering from the condition, are immediately transferred to designated centers for isolation and treatment," BNA reported.
The number of coronavirus cases in Bahrain increased to 33 on Thursday as the ministry of health confirmed seven new cases.
"Infected individuals were immediately transferred to Ebrahim Khalil Kanoo Community Medical Center for isolation and treatment following tests that confirmed they were carrying COVID-19, upon arrival at Bahrain International Airport via indirect flights from Iran," BNA reported.
There has been a sharp increase recently in the number of cases reported in the Middle East, where most of the individuals infected had traveled from Iran.
Full report at:
https://english.alarabiya.net/en/News/gulf/2020/02/27/Bahrain-suspends-flights-to-and-from-Iraq-Lebanon-amid-coronavirus-fears.html
--------
Europeans tell Syrian regime, Russia: Return to 2018 Idlib deal
February 27, 2020
PARIS, ANKARA: Foreign ministers from 14 European countries, including France and Germany, demanded on Wednesday that Syrian regime forces and their Russian backers end their offensive in Idlib province and return to the terms of a 2018 cease-fire deal.
Turkey however plans to push regime forces away from its military observation posts in the Idlib region this week, despite continued advances by Damascus's Russian-backed military.
President Recep Tayyip Erdogan on Wednesday vowed Turkey would not take the "smallest step back" in an escalating standoff with Damascus and Russia over the northern Syrian region of Idlib.
Meanwhile, a meeting between Erdogan and his Russian counterpart, Vladimir Putin, is expected to take place ahead of a possible summit including EU heavyweights Germany and France to find a political solution to the Idlib crisis.
"We will not take a smallest step back in Idlib, we will certainly push the regime outside the borders we designated, and ensure the return of the people to their homes," Erdogan told ruling party's lawmakers in parliament in Ankara.
Nearly a million Syrians have been displaced in the past three months by fighting between Turkish-backed rebels and Syrian forces backed by Moscow trying to recapture the last major insurgent-held region in Syria after nine years of war.
'End offensive'
The 14 ministers said in a column published in French daily newspaper Le Monde: "We call on the Syrian regime and its supporters, especially the Russians, to end this offensive and return to the cease-fire arrangements of autumn 2018,"
"We call on them to immediately end hostilities and to respect their obligations under international humanitarian law, in particular the protection of humanitarian workers and medical personnel, who pay with their lives for their engagement in favor of civilian populations."
Turkey and Russia agreed in September 2018 to create de-escalation zones in Idlib, but that has since unraveled amid the Syrian regime offensive.
Ankara has sent thousands of troops and truckloads of equipment into the region, in Syria's northwest corner bordering Turkey, to support the rebels, and Erdogan has vowed to push back Bashar Assad's forces.
But Assad's forces made fresh gains in southern Idlib province where they took a number of villages on Wednesday, with more hospitals and schools struck by airstrikes.
"The fight against terrorism cannot, should not, justify the massive violations of international humanitarian law, which we are witnessing every day in northwest Syria," the ministers said.
"We also call on Russia to continue negotiations with Turkey, in order to achieve de-escalation in Idlib and contribute to a political solution," they said, calling on Moscow to not block the renewal by the UN Security Council of a mechanism allowing cross-border aid to enter the area.
Erdogan bluntly warned the Syrian regime to "stop its attacks as soon as possible" and to pull back by the end of February.
"The time we have given to those who besieged our observation towers is running out," Erdogan said.
"We are planning to save those of our observation posts from the besiegers one way or another by the end of this month."
Erdogan said: "The biggest problem we currently have is that we cannot use the air space" over Idlib which is controlled by Russia. "God willing, we will find a solution soon." In recent weeks, Damascus backed by Russian airstrikes has pressed a major offensive against the remaining territory held by militants and Turkish-backed rebels in Idlib.
In a statement read on public television, the Syrian army on Wednesday announced it had "regained control" of a dozen of areas in recent days, including Kafranbel in the south of Idlib, a town known to have been among the first to rebel against Damascus. The army vowed to "liberate the territories of the Syrian Arab Republic from terrorism and its supporters."
Displaced
Idlib hosts more than 3 million people — half of them already displaced by violence elsewhere and the UN has warned against an imminent "bloodbath" amid the contiuing fighting.
Turkish Foreign Minister Mevlut Cavusoglu was quoted as saying on state-run TRT tv, that as a first step, "what President Erdogan and Putin have agreed is to come together at a bilateral format."
While backing opposite sides, Russia and Turkey have worked to end the conflict but strains have soared in recent weeks over Idlib.
The tensions are seen as the biggest threat to Ankara-Moscow ties since Turkey shot down a Russian warplane over Syria in November 2015.
The Kremlin indicated Tuesday however, that an Erdogan-Putin meeting was not on the cards, also saying that a tripartite summit with another regime ally Iran could be planned instead of a multilateral one with France and Germany.
Full report at:
https://www.arabnews.com/node/1633871/middle-east
--------
Egypt holds full-honors military funeral for Hosni Mubarak
February 26, 2020
CAIRO: Egypt held a full-honors military funeral Wednesday for the country's former autocratic President Hosni Mubarak, who ruled for decades before he was ousted in the 2011 Arab Spring uprising that swept much of the region.
The funeral, replete with cannon fire and a horse-drawn carriage carrying his coffin, highlighted the wartime achievements of Mubarak. It comes as part of a government effort to make Mubarak's military career his legacy, rather than his time in office.
Egypt's current President Abdel Fattah El-Sisi, attended briefly, offering condolences and shaking hands with Mubarak's two sons, Alaa and Gamal, and his wife Suzanne.
Mubarak's body was later placed in a tomb a few kilometers away at his family's cemetery in Heliopolis, an upscale Cairo district that was Mubarak's home for most of his rule and where he lived quietly until his death.
The country's state television channel, meanwhile, maintained live coverage and played footage of Mubarak in his younger, pre-office days, lauding him for his role as commander of the air force during the country's 1973 war with Israel. As president, Mubarak would later solidify peace with their onetime enemy.
On Wednesday, a few dozen Mubarak supporters, clad in black and carrying posters of the former president, had gathered since morning hours at a mosque complex in an eastern New Cairo neighborhood, where Mubarak's body was brought for the funeral service.
A horse carriage carrying Mubarak's casket, wrapped in the Egyptian flag, left the mosque after afternoon prayers, to a slow military march. His sons, wealthy businessman Alaa and Mubarak's one-time heir apparent Gamal, stood in the front row alongside several Mubarak-era ministers.
The 91-year-old Mubarak died on Tuesday at a Cairo military hospital from heart and kidney complications, according to medical documents obtained by The Associated Press. He was admitted to hospital on Jan. 21 with intestinal obstruction and underwent surgery, after which he was treated in intensive care.
To the outside world, Mubarak the strongman symbolized so much of Egypt's modern history but his rule of nearly 30 years ended after hundreds of thousands of young Egyptians rallied for 18 days of unprecedented street protests in Cairo's Tahrir Square and elsewhere in 2011, forcing him to step down.
Mubarak's funeral service was held at a military mosque in eastern Cairo, named for now retired Field Marshal Hussein Tantawi, who headed the military council that ran Egypt following Mubarak's ouster and until the election of Islamist President Mohammed Morsi in 2012.
A crowd of Mubarak supporters gathered at the cemetery, holding photos of the deposed president and chanting, "Gamal, tell your father, 100 million say goodbye!"
"We thank President El-Sisi for holding a military funeral for President Mubarak. He deserves it," said Ahmed Salah, a 43-year-old businessman from Menofia, north of Cairo.
Police officers were out in force, a sign that the government regarded his death as a security risk. Under El-Sisi, Mubarak and his sons ultimately walked free from prison but kept far from the limelight.
In a statement Tuesday, El-Sisi praised Mubarak's service during the 1973 war with Israel but made no mention of his rule as president.
Pro-government media also paid tribute to Mubarak, a pilot by training, for his command of Egypt's air force. National flags at government buildings flew at half-mast.
Full report at:
https://www.arabnews.com/node/1633531/middle-east
--------
Mideast
Laylat al-Raghaib: Muslims around the world gear up for Islam's Night of Wishes
FEB 26, 2020
Muslims around the world will Thursday night celebrate Laylat al-Raghaib, Islam's blessed Night of Wishes, which marks the first day of the Islamic month of Rajab.
The night marks the beginning of three holy months – Rajab, Shaban and Ramadan – in the Islamic Lunar Hijri calendar, beginning the countdown for Ramadan.
Muslims traditionally recite a special set of prayers and read from the Quran on this night, which falls on the first Thursday of the month of Rajab, and it is believed that every wish, request and hope will be fulfilled if asked for on that night.
Raghaib comes from the root "regabe" in Arabic, which means to desire, seek or tend toward.
According to Quranic verses and the hadiths (sayings) of the Prophet Muhammad, for Muslims there are five holy nights called "kandil" in Turkish; the first of which, according to the Gregorian calendar we use today, is Laylat al-Regaib, followed by Laylat al-Miraj, Laylat al-Berat, Laylat al-Qadr and Mawlid an-Nabi, the most blessed of all.
These holy nights aren't marked by public holidays in Turkey, but the minarets of mosques across the country are illuminated and special prayers are recited to mark them. The tradition of lighting up mosques dates back to the reign of Ottoman Sultan Selim II in the 16th century. The nights were named "kandil geceleri" because Muslims used to light oil lamps called "kandils" in mosques on these days. Most pastry shops and bakeries sell "Kandil simidi," small bagels with black cumin or sesame seeds.
According to the Hijri calendar, these holy nights unfold as follows:
On the 12th day of Rabi' al-Awwal, the third month of the Islamic calendar, Muslims celebrate the birth of Prophet Muhammad on Mawlid an-Nabi. People usually worship and sing the Mevlit (mawlid), an epic poem written to commemorate Prophet Muhammad's birth in Mecca, Saudi Arabia in the year 570 A.D.
Then comes Laylat al-Raghaib. Soon after follows Laylat al-Miraj, also called the "Night of Ascension," on the 27th day of Rajab, the seventh month on the Islamic calendar. The night marks Prophet Muhammad's nighttime journey from Mecca to the Al-Aqsa Mosque in Jerusalem, from which he ascended into heaven.
The night of Laylat al-Bara'at (or Mid-Shaban) is when Muslims ask for forgiveness of their own or their ancestors' sins, and it is generally observed on the night between 14 and 15 Shaban. Muslims believe their fortunes are determined for the next year on this night.
Laylat al-Qadr culminates the end of these holy nights and signals the last 10 days of Ramadan. This period is considered especially divine in Islam. Also called the Night of Decree, Power or Destiny, the night is when the verses of the Quran were first revealed to Prophet Muhammad. Muslims believe God sent the Angel Gabriel, referred to as "the Spirit," to the Prophet Muhammad on this night.
https://www.dailysabah.com/life/religion/laylat-al-raghaib-muslims-around-the-world-celebrate-islams-night-of-wishes
--------
Iran cleric urges people to visit Qom religious site despite coronavirus fears
26 February 2020
The representative of Iran's Supreme Leader Ali Khamenei in the city of Qom called on Iranians to visit the city's main religious site, calling it a "place of healing," despite the coronavirus outbreak in the city.
"We consider this holy shrine to be a place of healing. That means people should come here to heal from spiritual and physical diseases," said cleric Mohammad Saeedi.
Saeedi is the head of the Fatima Masumeh shrine, Qom's main Shia holy site.
He opposed closing down the shrine due to the coronavirus outbreak in the city.
"This place should remain open, and the people should strongly attend," Saeedi said. "Of course, we also exercise caution and comply with health and safety procedures."
Nineteen people have died and 139 people have been infected by coronavirus in Iran, Health Ministry Spokesman Kianush Jahanpur said on Wednesday in an announcement on state TV.
Full report at:
https://english.alarabiya.net/en/News/middle-east/2020/02/26/Iran-cleric-urges-people-to-visit-Qom-religious-site-despite-coronavirus-fears.html
--------
Two Turkish soldiers killed in airstrikes in Syria's Idlib: Ministry
27 February 2020
Turkey's Defense Ministry said early on Thursday that two of its soldiers were killed and two others wounded in an airstrike on Turkish forces in Syria's Idlib region.
It said the Turkish military opened fire on Syrian government targets in response.
The ministry said that according to various sources in the region 114 members of the Syrian forces were "neutralized."
On Wednesday, Syrian regime forces targeted a Turkish convoy with missiles in Idlib, burning at least one Turkish vehicle, a UK-based war monitor reported.
Full report at:
https://english.alarabiya.net/en/News/middle-east/2020/02/27/Two-Turkish-soldiers-killed-in-airstrikes-in-Syria-s-Idlib-Ministry.html
--------
Iran imposes local travel restrictions on confirmed, suspected coronavirus cases
26 February 2020
Iranian authorities on Wednesday announced domestic travel restrictions for people with confirmed or suspected cases of the novel coronavirus.
"Instead of quarantining cities, we are going to implement movement restrictions for those suspected of infection or those infected," Health Minister Saeed Namaki said at a news conference.
"I ask people not to travel," the minister said.
He said teams would be located at the entrance of cities "that see a lot of movement," without naming them, adding that such controls had already started.
Read: Coronavirus cases in Iran could be as high as 1,500: Experts
The teams will take people's temperature and "stop those who are infected or suspected of infection," he said.
All those suspected of being infected with COVID-19 would be quarantined for 14 days.
Read: About 50 dead from coronavirus in Qom, Health Minister to blame: Iran MP on ILNA
Namaki also announced curbs on access to several Shia holy sites, including Imam Reza shrine in Mashhad and the Fatima Masumeh shrine in Qom.
Iran last week announced its first two deaths from the coronavirus in Qom, a center for Islamic studies and pilgrims from abroad.
According to official figures, the virus has since killed 19 people in Iran and another 140 people have been infected.
Visitors to the shrines will be allowed to visit on condition they are provided "with hand-washing liquids, proper (health) information, masks," the minister said.
They must "not gather together in groups but just pray and leave," he said.
In the affected areas, school closures will be extended for three days, he added, and universities for another week starting from Saturday.
Also in these regions, weekly Friday prayers will be suspended, Namaki said.
Full report at:
https://english.alarabiya.net/en/News/middle-east/2020/02/26/Iran-imposes-local-travel-restrictions-on-confirmed-suspected-coronavirus-cases.html
--------
Israeli PM Netanyahu pulls his punches after Bernie Sanders calls him a racist
27 February 2020
Israeli Prime Minister Benjamin Netanyahu said on Wednesday Bernie Sanders was wrong to call him a racist during a debate among contenders for the US Democratic presidential nomination, but shied away from attacking the senator in return.
"I am not intervening in the US election," Netanyahu replied when asked on Israeli Army Radio about what an interviewer termed Sanders' personal attack on him at Tuesday's event in Charleston, South Carolina.
Sanders, who has been critical of the right-wing leader's policy towards Palestinians, described Netanyahu as "a reactionary racist who is now running" Israel.
Pressed further for his thoughts about Sanders, who if elected would be the first Jewish president in US history, Netanyahu said: "What I think about this matter is that he is definitely wrong. No question about it."
Asked about possible confrontation with Sanders should the self-described democratic socialist win the White House, Netanyahu said that as prime minister he had stood up to US presidential opposition to his policies before and would be able to do so again.
Netanyahu had a contentious relationship with Barack Obama, Republican Donald Trump's predecessor as president, with the Iranian nuclear deal and Israel's settlement policy in the occupied West Bank main areas of friction.
Israel's longest-serving leader, Netanyahu is fighting for his political survival in a national election on Monday, the country's third in less than a year after inconclusive ballots in April and September.
During the campaign, Netanyahu has steered clear of commenting directly on the US election.
But he has praised Trump as the best friend Israel has ever had in the White House, noting the president's decisions to withdraw from the 2015 Iran nuclear deal, recognize Jerusalem as Israel's capital and move the US embassy to the city.
Netanyahu has also tried to play on many Israelis' suspicions about the loyalty of Israel's 21 percent Arab minority, political analysts say.
The right-wing Likud party leader says his main challenger, former general Benny Gantz, would need the support of an Arab party to form a governing coalition, effectively tying his hands in pursuing any military action in the region.
The tactic forced Gantz to deny that a government led by his centrist Blue and White party would rely on the Joint List, an Arab coalition mostly supported by descendants of Palestinians who lived in what became Israel after its creation in 1948.
Israel's Arab community has long accused Netanyahu, in power from 1996-1999 and since 2009, of fear-mongering. On election day in 2015 Netanyahu urged his voters to turn out, warning that Arabs were flocking to the polls "in droves."
Full report at:
https://english.alarabiya.net/en/News/middle-east/2020/02/27/Israeli-PM-Netanyahu-pulls-his-punches-after-Bernie-Sanders-calls-him-a-racist.html
--------
Coronavirus panic adds insult to already injured Iranian currency
26 February 2020
The rapid spread of the coronavirus in Iran, which has now more confirmed cases than anywhere else in the Middle East, is causing panic in the country and the hurting the already tumbling rial.
The Iranian rial has weakened approximately 10 percent on the black market within a week since Tehran announced its first case of coronavirus on February 19, according to Bombast.com, which tracks the free market.
The dollar was being offered at as much as 158,500 rials on Wednesday, well below its official rate of 42,000 rials.
That has extended its fall since thousands of Iranians took to the streets in November to demonstrate against a hike in gasoline prices in a protest turned political against government corruption.
The rial has since plummeted by almost 30 percent.
Iran's coronavirus death toll rose on Wednesday to 19, the highest outside China, pushing several countries to suspend flights and most of its neighbors to close their borders, especially after several neighboring countries started registering coronavirus cases relating to travel from Iran.
Full report at:
https://english.alarabiya.net/en/News/middle-east/2020/02/26/Coronavirus-panic-adds-insult-to-already-injured-Iranian-currency.html
--------
Turkey will push Syrian regime forces beyond observation points: Erdogan
26 February 2020
Turkey will push Syrian regime forces beyond Ankara's observation points, Turkish President Recep Tayyip Erdogan said on Wednesday, less than a day after the Russian-backed regime recaptured Kafr nabl – a renowned opposition town in Idlib.
In a speech to AK Party lawmakers, Erdogan said he hoped the issue of using air space in northwest Syria's Idlib will be resolved soon. Russia controls the air space and has been bombing Turkey-backed opposition factions on a daily basis in support of an offensive by the Syrian government forces.
The Idlib region is home to around three million people, half of whom were evacuated by regime forces from other parts of the country after the forces besieged cities controlled by the opposition and bombarded them with airstrikes.
Full report at:
https://english.alarabiya.net/en/News/middle-east/2020/02/26/Turkey-will-push-Syrian-regime-forces-beyond-observation-points-Erdogan.html
--------
Yemeni forces intercept, shoot down Saudi-led reconnaissance drone in Najran
26 February 2020
Yemeni army forces, supported by allied fighters from Popular Committees, have intercepted and targeted an unmanned aerial vehicle belonging to the Saudi-led military coalition as it was flying in the skies over a mountainous region in the kingdom's southwestern border region of Najran.
An unnamed Yemeni military source said Yemeni air defense forces and their allies shot down the drone as it was on a reconnaissance mission over al-Sawh area of the region, situated 844 kilometers (524 miles) south of the capital Riyadh, with a surface-to-air missile on Wednesday evening.
موقع أنصار الله
@ansarollah2
موقع أنصار الله ..
إسقاط طائرة تجسسية لقوى العدوان قبالة نجرانhttps://www.ansarollah.com/archives/320404
View image on Twitter
8
8:46 PM - Feb 26, 2020
Twitter Ads info and privacy
See موقع أنصار الله's other Tweets
The development took place only a few days after Yemeni armed forces unveiled four domestically-built long-range, surface-to-air missile defense systems, which could act as game changers and alter the course of battle in the face of the deadly campaign led by Saudi Arabia against Yemen.
The president of Yemen's Supreme Political Council and commander-in-chief of the armed forces, Mahdi al-Mashat, who was speaking at a ceremony in the capital Sana'a on Sunday, identified the systems as Fater-1 (Innovator-1), Thaqib-1 (Piercer-1), Thaqib-2 and Thaqib-3.
The systems have entered service following successful tests, the official announced.
Mashat praised the efforts by the Yemeni Ministry of Defense as regards the development and modernization of the military systems in order to deter or, if need be, confront the enemy.
"The new defense systems will change the course of the battle against the coalition of aggression, and pave the ground for the introduction of more sophisticated systems in order to engage enemy targets," Mashat stated.
Also on Wednesday, Saudi forces fired barrages of artillery rounds and mortar shells at residential neighborhoods in the Razih district of Yemen's northwestern province of Sa'ada. There were no immediate reports about possible casualties and the extent of damage available though.
Elsewhere in the Majzar district of Yemen's central province of Ma'rib, Saudi-led fighter jets carried out three airstrikes, but no casualties and damage were quickly reported.
Saudi-led warplanes also launched more than a dozen aerial attacks against al-Ghayl district in the northern Yemeni province of al-Jawf. No reports of casualties and damage were immediately available.
Saudi Arabia and a number of its regional allies launched the devastating campaign against Yemen in March 2015, with the goal of bringing back to power the government of former President Abd Rabbuh Mansour Hadi and crushing the Ansarullah movement.
The US-based Armed Conflict Location and Event Data Project (ACLED), a nonprofit conflict-research organization, estimates that the war has claimed more than 100,000 lives over the past nearly five years.
Saudi Arabia and the United Arab Emirates have purchased billions of dollars' worth of weapons from the United States, France and the United Kingdom in the war on Yemen.
The Saudi-led coalition has been widely criticized for the high civilian death toll from its bombing campaign. The alliance has carried out nearly 20,500 air raids in Yemen, according to the data collected by the Yemen Data Project.
Full report at:
https://www.presstv.com/Detail/2020/02/26/619587/Yemeni-forces-intercept,-shoot-down-Saudi-led-reconnaissance-drone-in-Najran
--------
PA demands Amazon to halt discriminatory practice toward Palestinians
26 February 2020
The Palestinian Authority has condemned Amazon over its policy that allows Israeli settlers living in settlements free delivery but charges Palestinians in the occupied West Bank, calling on the online retail giant to cease its discriminatory practice against Palestinians.
Palestinian Minister of Finance, Shukri Bishara, and Palestinian Minister for National Economy Khaled al-Osaily, in two identical letters addressed to Amazon CEO Jeff Bezos on Wednesday, expressed astonishment over the company's recent decision.
Wafa News Agency
@WAFA_PS
الحكومة الفلسطينية تخطر شركة "أمازون" بالتوقف الفوري عن دعم النشاط الاستيطانيhttp://www.wafa.ps/ar_page.aspx?id=wYPMtua871052911377awYPMtu …
View image on Twitter
1
5:28 PM - Feb 26, 2020
Twitter Ads info and privacy
See Wafa News Agency's other Tweets
"It is unacceptable for Amazon to flaunt international law in such a way. Nearly 140 UN member states – a vast majority – have formally recognized Palestine as a state. Yet Amazon, using its overwhelming financial and commercial clout, now seeks to extract from Palestinians a formal admission that they are part of Israel," the letter read.
The two Palestinian ministers then accused Amazon of aiding and abetting the Tel Aviv regime's violation of international law as regards free shipping to Israeli settlements in the occupied West Bank which are illegal under the international law.
"Amazon's reprehensible practice must cease immediately," they said. "If it does not do so, then the world will come to realize that the lofty words and aspirations of Amazon's commitment to equality, fairness and corporate social responsibility are entirely hollow," Bishara and Osaily pointed out.
Last week, the English-language international daily newspaper Financial Times revealed that upon running West Bank addresses listed as Israeli through Amazon's delivery portal, the online retailer offers free shipping to settlements on the occupied Palestinian territory.
Customers who select "Palestinian Territories" as their address, however, are subject to shipping and handling fees upwards of $24.
More than 600,000 Israelis live in over 230 settlements built since the 1967 Israeli occupation of the Palestinian territories of the West Bank and East Jerusalem al-Quds.
All Israeli settlements are illegal under international law.
Full report at:
https://www.presstv.com/Detail/2020/02/26/619579/PA-demands-Amazon-to-halt-discriminatory-practice-toward-Palestinians
--------
Arab League wants intl. observers back in al-Khalil to protect Palestinians against Israeli crimes
26 February 2020
The Arab League has called for the redeployment of international observers to al-Khalil (Hebron) and other Palestinian cities to protect the Palestinians against Israeli crimes a year after the regime expelled the civilian observer mission from the occupied territories.
Arab League Assistant Secretary General for Palestine and Occupied Arab Territories, Saeed Abu Ali, made the remarks on Tuesday, marking the 26th anniversary of the Ibrahimi Mosque massacre.
On February 25, 1994, an Israeli settler randomly opened fire at Muslims observing the dawn prayers at the Ibrahimi Mosque in the holy fasting month of Ramadan, killing 29 worshipers and injuring 150 others.
Later in the day, Israeli forces killed an additional 21 Palestinians who took to the streets across the occupied lands to protest the al-Khalil bloodshed.
The Temporary International Presence in Hebron (TIPH), tasked with safeguarding Palestinians in al-Khalil, was set up in the wake of the fatal attack. The mission was staffed by nationals of Italy, Norway, Sweden, Switzerland and Turkey.
The mission did not start its work until 1998, after the Israeli military refused to leave al-Khalil following the establishment of an illegal Israeli settlement at the heart of the city.
TIPH's mandate, which came up for renewal every six months, ended on January 31, 2019 after Israel decided to expel the force.
According to Palestinian media, Abu Ali underlined the need for TIPH's redeployment to al-Khalil and other Palestinian cities, adding that a mechanism should also be set up to implement the Articles of the Fourth Geneva Convention in a bid to prevent terrorist acts against Palestinians similar to what happened at the Ibrahimi Mosque.
The massacre anniversary, he added, comes at a time of increased US-encouraged Israeli violations of Palestinian rights.
Abu Ali also lashed out at Israeli Prime Minister Benjamin Netanyahu for ending TIPH's activity in al-Khalil.
Full report at:
https://www.presstv.com/Detail/2020/02/26/619545/Arab-League-alKhalil-Hebron-Israel
--------
North America
As Domestic Terrorists Outpace Jihadists, New U.S. Law Is Debated
By Neil MacFarquhar
Feb. 25, 2020
When the New Jersey Office of Homeland Security and Preparedness issued its terrorism threat assessment for 2020 last week, it noted a marked shift.
The threat level from violent, homegrown extremists, and specifically white supremacists, was marked in red as the top category: "High." The threat from the Islamic State, Al Qaeda and their ilk was demoted to third, in green: "Low."
Terrorism experts believe that holds true for the entire United States.
"In the U.S., more people are killed by far-right extremists than by those who are adherents to Islamist extremism," said Mary McCord, a Georgetown University law professor and a former senior Justice Department official for national security. Her comments came at a discussion last week at the 9/11 Memorial and Museum, which commemorates victims of the most notorious attack by international terrorists on American soil.
Even as the menace from homegrown extremists grows more explicit, however, law enforcement is wrestling with how to combat it. That challenge has spawned a fervent debate over whether the United States needs a new law to specifically criminalize domestic terrorism, or whether such a statute would threaten basic First Amendment rights.
Proponents argue that a domestic terrorism law would streamline and clarify the patchwork of charges now used against homegrown extremists, charges that often avoid even mentioning terrorism.
Opponents counter that a new law would amount to a worrisome expansion of government powers, and might face constitutional challenges on the grounds of impinging on free speech.
Yet the New Jersey report laid out what is at stake in stark terms. "Some white supremacist extremists argue that participating in mass attacks or creating other forms of chaos will accelerate the imminent and necessary collapse of society in order to build a racially pure nation," it said.
After Latino shoppers were targeted in a shooting in El Paso last August, leaving 22 people dead, Congress proposed a new wave of laws. However, most of those have stalled.
But the recent arrests of eight members of a white supremacist group called the Base, some of whose members were accused of planning a mass attack in Richmond, Va., have renewed focus on the issue. Three members arrested in Maryland pleaded not guilty last week to various charges, including transporting a firearm and ammunition with the intent to commit a felony.
Senior law enforcement officials express frustration that cases like those cannot be called terrorism in court.
"The statutes that are typically deployed in connection with domestic terrorism cases are really kind of pedestrian in nature," said Thomas E. Brzozowski, the Justice Department's counsel for domestic terrorism. "This confuses people. It leads to this pervasive but false narrative that somehow the government is paying more attention to the Islamic extremist threat than to the domestic threat."
With both Democrats and Republicans proposing legislation, the issue is one of the few that does not divide strictly along partisan lines.
There is no legal mechanism for designating domestic extremist groups as terrorists. Federal laws define terrorism as a criminal attack intended to intimidate and coerce civilians in order to influence government policy or to otherwise affect government conduct.
They also define 57 specific acts as federal crimes of terrorism. Among the conditions required for formally labeling a crime terrorism in court are targeting an international airport, using a weapon of mass destruction or attacking federal officials.
Such charges come into play periodically. Using a weapon of mass destruction was among the accusations faced by Glendon Scott Crawford, a member of the Ku Klux Klan from upstate New York who failed in his attempt to build a radiation death ray that would inflict cancer on Muslims hit from afar. In 2016, he was sentenced to 30 years in prison.
However, current terrorism statutes do not incorporate most attacks on civilians that involve guns or vehicles, or the stockpiling of assault weapons, which Ms. McCord, the Georgetown law professor, said was a gaping hole considering their frequency. A new law would also underscore that society considers white supremacist violence on par with jihadism, she said.
Several draft bills seek to define domestic terrorism as a crime and to prescribe court sentences, including the death penalty. A less sweeping bill would force the federal government to make public statistics about all violence attributed to white supremacy.
The F.B.I. director, Christopher Wray, told the House Judiciary Committee this month that the agency had more than 1,000 violent extremist investigations in progress, covering all 50 states, but he resisted providing a more detailed breakdown.
He described "racially motivated violent extremism" as a "national threat priority" equal to the threat from the Islamic State. The F.B.I. has also created the Domestic Terrorism-Hate Crimes Fusion Cell to buttress its efforts, he said, stressing that the focus is "not about the ideology, it's about the violence."
Misgivings about a new law are also bipartisan.
African-American and Muslim organizations harbor deep concerns that a new law could actually be used against minority groups — organizations protesting police violence, for example — even though their communities are among the most frequently targeted. Current hate crimes laws are powerful enough to prosecute these acts, said Nadia Aziz, the policy counsel for the Stop Hate Project at the Lawyers' Committee for Civil Rights Under Law.
"We need to know how domestic terrorism investigations are being carried out right now instead of a new statute," said Ms. Aziz, echoing a common criticism.
A sweeping new law also makes some conservatives uneasy. The lack of such a law has not hindered the prosecution of anyone who carried out terrorist attacks domestically, said Julian Sanchez, a senior fellow at the Cato Institute who specializes in technology, privacy and civil liberties.
He pointed out that one domestic terrorism law proposed by a Republican congressman specified various prison sentences, including up to 25 years for destroying or damaging "any structure, conveyance or other real property."
That means a protester who engaged in vandalism to make a political point could face 25 years in jail. "Beyond being unnecessary, it seems quite thorny and dangerous," Mr. Sanchez said.
After Mr. Trump's inauguration, more than 200 demonstrators were arrested, some in connection with smashing storefronts and damaging vehicles. All charges were eventually dropped, but under such a law the defendants could be charged with terrorism, Mr. Sanchez noted.
Critics of federal counterterrorism measures, and even some senior law enforcement officials, believe that the intense focus on the jihadist threat since the Sept. 11 terrorist attacks slowed efforts to counter white supremacists.
"There is a blind spot within law enforcement about the threat white supremacy poses," said Michael German, a former undercover agent with the F.B.I. who researches national security law at New York University's Brennan Center for Justice. "The F.B.I. and other intel agencies were not putting their resources toward the most serious threats."
Under the Trump administration, the F.B.I. began dividing domestic extremism among four categories, down from 11: racially motivated violent extremism; anti-government/anti-authority violent extremism; animal rights/environmental extremism and abortion extremism.
Members of Congress have expressed skepticism about lumping white supremacists with other groups given the recent history of violent attacks directed against Latinos in El Paso, Jews in Pittsburgh and African-Americans in Charleston, S.C., among others.
There is no official source on the number of attacks carried out by white supremacists in the United States. Statistics kept by academic centers or nongovernmental organizations rarely match because of different methods, including various definitions of right-wing extremism.
In addition, the tendency to include them with other hate crimes leaves the extent of the problem unclear.
"The F.B.I. is being evasive," said Representative Karen Bass, Democrat of California and a member of the Judiciary Committee. "It raises the question as to whether or not they are seriously looking at white supremacy."
In the short term, a far more likely outcome than a new law is the State Department designating a foreign white supremacist group as a terrorist organization, allowing for law enforcement agencies to pursue any United States adherents for providing material support for terrorism.
The debate over a domestic terrorism law underscores just how complex the terrorist threat has become in the nearly two decades since Sept. 11, said Seamus Hughes, the deputy director of the Program on Extremism at George Washington University.
"You look at the landscape now — it is scattered," he said, with white supremacists and antigovernment organizations rivaling jihadists in their aspiration to foment mayhem. "It is a diversification of the homegrown threat in a way that we have not seen before."
https://www.nytimes.com/2020/02/25/us/domestic-terrorism-laws.html
--------
US issues travel warnings for Iran, Italy, Mongolia amid coronavirus spread
26 February 2020
The United States on Wednesday stepped up travel advisories for Iran, Italy and Mongolia, warning of the risks of coronavirus or disruptions related to efforts to control the disease's spread.
The US State Department urged US citizens to exercise increased caution when traveling to Italy, and said those in Iran should also be careful. Both nations are combating coronavirus outbreaks.
The United States already had a "do not travel" warning in place for Iran that cited the risk of kidnapping and detention.
In its advisory on Mongolia, the department urged US citizens to reconsider visiting due to "travel and transport restrictions" put in place in response to the spread of coronavirus in neighboring China.
https://english.alarabiya.net/en/News/world/2020/02/26/US-issues-travel-warnings-for-Iran-Italy-Mongolia-amid-coronavirus-spread.html
--------
US imposes new sanctions on 13 entities in China, Iraq, Russia and Turkey
25 February 2020
The United States is sanctioning 13 foreign entities and individuals in China, Iraq, Russia, and Turkey pursuant to the Iran, North Korea, and Syria Nonproliferation Act (INKSNA), according to a statement from US Secretary of State Mike Pompeo.
The new sanctions will be imposed on five entities and individuals in China and Turkey for supporting Iran's missile program.
"The recent determinations were the result of a periodic review of sanctionable activity as required by INKSNA. We have imposed two-year discretionary sanctions on the 13 individuals/entities identified in this report. The sanctions include restrictions on US government procurement, US government assistance, and exports," Pompeo's statement read.
https://english.alarabiya.net/en/News/world/2020/02/25/US-imposes-new-sanctions-on-13-entities-in-China-Iraq-Russia-and-Turkey.html
--------
US slaps illegal sanctions on senior commander of Iraq's PMU
27 February 2020
The United States has slapped sanctions on a senior commander of Iraq's Popular Mobilization Units (PMU), a group known for its fight against Daesh terrorists in Iraq.
"The Department of State has designated Ahmad al-Hamidawi as a Specially Designated Global Terrorist (SDGT) pursuant to Executive Order 13224," the US Department of State said in a statement on Wednesday.
"Today's designation seeks to deny Hamidawi the resources to plan and carry out terrorist attacks. Among other consequences, all of his property and interests that are in the United States, that hereafter come within the United States, or hereafter come within the possession or control of US persons, have been blocked, and US persons are generally prohibited from engaging in any transactions with him," it added.
Washington has accused the PMU of rocket attacks on US military bases in Iraq.
The US also used the allegation as an excuse to assassinate Iran's top general Qassem Soleimani and the PMU's second-in-command Abu Mahdi al-Muhandis at the Baghdad airport in January.
The PMU, better known by the Arabic name Hashd al-Sha'abi, is an organization composed of around 40 factions of volunteer counter-terrorism forces, including mostly Shia Muslims besides Sunni Muslims, Christians and Kurds.
The group's formation goes back to the summer of 2014, shortly after Daesh, the world's most notorious Takfiri terror group, showed its face and managed to occupy swathes of territory in Iraq. The lightning gains made by the foreign-backed terrorists caught the national army of Iraq off guard, pushing government forces to the verge of collapse and leaving the Arab state in disarray.
On June 15 that year, Iraq's prominent Shia cleric Grand Ayatollah Ali al-Sistani intervened to help rebuild the national army, issuing a fatwa that called on all Iraqi people to join forces with the army in the face of the Daesh threat.
Full report at:
https://www.presstv.com/Detail/2020/02/27/619608/US-Iraq-PMU-Popular-Mobilization-Units-Ahmad-al-Hamidawi
--------
Two US Senate hawks pushing for new Iran nuclear deal
26 February 2020
Two anti-Iran senators from different parties have teamed up to come up with a plan to reach a new nuclear deal with Iran.
Republican Senator Lindsey Graham and Democratic Senator Robert Menendez traveled to Europe earlier this month to discuss their new nuclear plan with the European leaders, including French President Emmanuel Macron, on the sidelines of the Munich Security Conference, the Washington Post reported.
They have assured the European leaders that the final deal would be ratified by the Senate in order to avoid the fate of the previous nuclear deal with Iran, scrapped by the US President Donald Trump.
The new scheme allegedly includes the allies of the United States in the Persian Gulf.
The plan reportedly offers free access to to nuclear fuel for civilian energy purposes. In exchange, both Iran and the Persian Gulf countries are expected to abandon fuel enrichment inside their own countries forever. Iran would also benefit a limited sanctions relief.
"The goal is to give Iran nuclear power without enrichment. That way they can have what they say they want, nuclear power. And the world never has to worry about a bomb, because you can't make a bomb unless you enrich," Graham claimed.
Tehran has maintained that nuclear enrichment is its absolute right, thus non-negotiable.
Javad Zarif
✔
@JZarif
Over the last 2 days in Tehran, good meetings with Dutch FM @ministerBlok and Austrian FM #Schallenberg. Emphasized importance of preserving the #JCPOA through action—living up to commitments made—on the part of the #EU.
View image on TwitterView image on Twitter
1,255
12:42 AM - Feb 24, 2020
Twitter Ads info and privacy
529 people are talking about this
Based on the Graham-Menendez plan, Washington and Tehran would subsequently negotiate a comprehensive agreement includding restrictions on Iran's missile program in exchange for broader sanctions relief.
Iran has time and again asserted that ts missile program is merely defensive and peaceful. Tehran has also repeatedly said that it would not negotiate while being under pressure.
Ali Akbar Salehi, head of the Atomic Energy Organization of Iran, reiterated in a recent meeting with the Director General of the International Atomic Energy Agency (IAEA) Rafael Grossithat that Tehran is open to talks on the country's nuclear program but will not bow to pressure for its decisions.
He underlined that "Iran welcomes negotiation and logic but will not make any decisions under pressure."
Tehran and six major world powers -- the United States, Britain, France, China, Russia and Germany -- signed a nuclear deal, officially known as the Joint Comprehensive Plan of Action (JCPOA), in 2015, which was ratified in the form of a United Nations Security Council resolution.
But, Donald Trump, a stern critic of the landmark agreement, unilaterally pulled Washington out of the JCPOA in May 2018, and unleashed the "toughest ever" sanctions against the Islamic Republic in defiance of global criticism in an attempt to strangle the Iranian oil trade.
"I think the [current Iran nuclear deal] is fatally flawed, but that's not the end of the discussion," Graham said of the deal that took over a decade to negotiate.
Full report at:
https://www.presstv.com/Detail/2020/02/26/619567/Iran-nuclear-deal-Lindsey-Graham-Robert-Menendez
--------
US sanctions head of Iraq's Kataib Hezbollah
Michael Gabriel Hernandez
27.02.2020
WASHINGTON
The U.S. sanctioned the secretary-general of an Iraqi militia group Wednesday that it blames for a deadly rocket attack on a base which killed an American contractor in December.
The designation of Ahmad al-Hamidawi as a global terrorist is intended to deny him "the resources to plan and carry out terrorist attacks," the State Department said in a statement.
Any property belonging to al-Hamidawi subject to U.S. jurisdiction has now been frozen and U.S. citizens are now generally prohibited from conducting transactions with him.
The U.S. blames al-Hamidawi's group, Kataib Hezbollah, for the Dec. 27 rocket attack on an Iraqi base near Kirkuk that killed American contractor Nawres Hamid and injured four other U.S. service members and two Iraqi security forces personnel.
Full report at:
https://www.aa.com.tr/en/americas/us-sanctions-head-of-iraqs-kataib-hezbollah/1746175
--------
US military says it killed terrorist leader who planned attack that killed Americans in Kenya
By Ryan Browne and Barbara Starr
February 25, 2020
Washington (CNN)A US airstrike in Somalia killed an al-Shabaab leader who had a role in "planning and directing terrorist operations," including a January attack on Manda Bay, Kenya, that killed three Americans, the US military said Tuesday.
"Post-strike assessments confirm the two terrorists killed in the Feb. 22 precision airstrikes were an individual associated with the attack on Manda Bay and his wife, who was also a known al-Shabaab member," US Africa Command said in a statement Tuesday.
"The two terrorists were identified as a senior al-Shabaab leader, who was in charge of planning and directing terrorist operations on the Kenya border region, including the recent attack on Manda Bay, and his wife, who also was a witting and active member of al-Shabaab responsible for facilitating a wide range of terrorist activities," the statement added.
The airstrike occurred in the vicinity of Saakow, Somalia, which is located approximately 320 kilometers west of Mogadishu. An earlier statement from Africa Command said the strike had targeted an al Shabaab compound, killing "two terrorists" and wounding another.
The high-profile al Shabaab attack on a military airfield in Manda Bay resulted in the death of a US soldier and two American defense contractors as well as the destruction of multiple Defense Department aircraft.
During the attack, al Shabaab fighters fired mortars on Kenyan military installations while simultaneously assaulting the airfield. US and Kenyan troops responded to the attack, killing five al-Shabaab members. Initial US military estimates said that "several dozen al-Shabaab fighters" were involved in the assault.
The attack raised questions about the security of US personnel in neighboring Kenya and underscored al Shabaab's ability to mount complex attacks in the region despite suffering setbacks in Somalia.
"Since January 5, U.S. Africa Command and our partners have pursued those responsible for the attack on U.S. and Kenyan forces at Manda Bay," said U.S. Army Gen. Stephen Townsend, the commander of U.S. Africa Command said in the statement released Tuesday.
"This strike demonstrates that we will continue to relentlessly pursue those responsible for Manda Bay and those wishing to do harm to Americans and our African partners," Townsend added.
Al Shabaab is considered to be al Qaeda's largest affiliate, commanding some 5,000 fighters according to US military assessments.
There are approximately 600 Department of Defense personnel in Somalia where they primarily work with local Somali National Army forces to battle the al Qaeda affiliate.
US military officials say they have trained some 1,000 light infantry troops known as the Danab which are seen as key to taking on al Shabaab.
While al Shabaab has lost control of much of the territory it once held in Somalia it maintains the ability to conduct high-profile attacks in Mogadishu and elsewhere.
Full report at:
https://edition.cnn.com/2020/02/25/politics/us-kills-terrorist-leader-kenya/index.html
--------
US targets individuals, entities linked to Lebanon's Martyrs Foundation
February 26, 2020
WASHINGTON: The United States on Wednesday added a host of Lebanese individuals and entities it said were linked to the Martyrs Foundation to its designated "global terrorists" lists, according to a notice on the US Treasury Department's website.
US officials have previously targeted the Lebanon-based Martyrs Foundation, an organization the department has said channels financial support to several militant groups, including Hezbollah.
The US Treasury Department said in a statement that its Office of Foreign Assets Control (OFAC) had blacklisted Atlas Holding for being owned or controlled by the Martyrs Foundation, as well as senior Atlas official Kassem Mohamad Ali Bazzi, and 10 Atlas-affiliated companies.
Jawad Nur-al-Din and Sheikh Yusuf Aasi were also designated for being leaders or officials of the Martyrs Foundation, which was designated for supporting terrorism in July 2007. Mirath S.A.L., which is owned or controlled by Jawad Nur-al-Din, was also designated.
Full report at:
https://www.arabnews.com/node/1633626/middle-east
--------
US targets Iranian-backed militia active in Iraq: State Department
27 February 2020
The United States on Wednesday blacklisted a senior member of Iranian-backed Kata'ib Hezbollah militia, punishing it for its attacks targeting US forces, most recently for killing an American contractor in an Iraqi military base near the northern city of Kirkuk.
The US State Department said it has designated Ahmad al-Hamidawi as a Specially Designated Global Terrorist (SDGT), Secretary General of Kata'ib Hezbollah (KH), an Iran-backed terrorist group active in Iraq and Syria, which Washington designated as terrorist organization in 2009.
"The Kata'ib Hezbollah group continues to present a threat to US forces in Iraq," Nathan Sales, the State Department's counterterrorism coordinator, said at a news briefing. "We're adding to the pressure that has existed on this group for a decade."
Qassem Soleimani's legacy
Washington has blamed Iran-backed paramilitary groups for increasingly regular rocketing and shelling of bases hosting US forces in Iraq and of the area around the US Embassy in Baghdad.
An attack last month hit the US Embassy compound itself, and a rocket attack on a military base in the north in December killed a US civilian contractor. This triggered a string of events resulting in with the United States killing the top Iranian commander Qassem Soleimani and Iraqi paramilitary chief Abu Mahdi al-Mohandes in a drone strike in Baghdad last month.
Shortly after Soleimani's death, senior officials from Lebanese Hezbollah urgently met with Iraqi militia leaders with the aim of uniting them in the void left by Soleimani, reported Reuters.
Full report at:
https://english.alarabiya.net/en/News/middle-east/2020/02/27/US-targets-Iranian-backed-militia-active-in-Iraq-State-Department.html
--------
Europe
London's new Faith hub is building young Muslims a bridge back to the mosque
February 26, 2020
Aysha Khan
LONDON (RNS) — Hamidah Khanom had never felt any particular interest in traditional Islamic learning. Yet there she and about 40 other young Muslims sat, drinking tea and chatting in a makeshift classroom as they awaited the first session of a weekly course on tafsir, or Quranic exegesis.
"I feel like people ask me questions about religion, and when I don't necessarily have the answers then it's a bit embarrassing," said Khanom, who recently graduated and started her first full-time job. "So I figured I want to have that knowledge for myself."
But Khanom doesn't feel like she fits in at most mosques, in part because of the way she dresses. Plus, her local mosque doesn't offer a space for women, so she has to trek across the city to the East London Mosque's Maryam Centre in order to have questions answered, attend programs or pray in congregation. As a result, she only attends during the holy month of Ramadan.
Joining the tafsir course hosted by Faith — a new spiritual community hub for young Muslims, which she and many of her classmates discovered while scrolling through Instagram — felt like a more approachable alternative.
"This is me gaining that religious knowledge before I go back to the mosque, eventually," Khanom said. "This is a way for me to reconnect with my deen (faith)."
Founded by three young Muslim men in London one year ago, Faith offers a community space that facilitates spiritual growth while prioritizing fellowship, openness, accessibility and relevance, the initiative's co-founders explained.
"The reality is that there is a disenfranchised kind of feeling people may have, and because of religious trauma or a bad experience, they don't feel welcome in the masjid or other Muslim spaces," co-founder Sheikh Hasib Noor explained. "People feel like their voices are not being heard, or that the relevance wasn't there, or their spiritual needs are not being met. We felt like we could provide that to people with an environment where the social is just as important as the spiritual."
Directed by Noor with his co-founders Imam Shabbir Hassan and Adel Chowdhury, the initiative is growing rapidly and has just emerged from its soft launch. This month, the organization hosted its grand opening at its newly secured permanent space, held its first monthly seminar and introduced its first ongoing modular course.
In a city filled with hundreds upon hundreds of mosques, Faith's founders had no interest in creating yet another one. Nor did they have any interest in stealing away congregants.
Instead, Hassan said, they're trying to create a gathering space for what he described as the "literally 95% of the Muslim community" that he said has been neglected by the city's existing mosques, Islamic organizations, conferences and events.
In London, there are many formal institutes of Islamic learning — including Q-Iman, where Hassan teaches — as well as social and professional networking events for Muslims. But the co-founders, along with dozens of other members now attending Faith events, found themselves instead tuning in every Monday night to Heartwork, a popular lecture series aimed at young Muslim professionals and led by Imam AbdelRahman Murphy of Irving, Texas.
For years, all three co-founders had wondered individually about finding a way to bring something similar to London. It wasn't until one day when Noor, Hassan and Chowdhury were driving in a car together that they realized that, through their combined religious training and community development experience, they could build their own version.
It took just two weeks for them to pull together their first event, focused on practical spirituality and modeled after the Roots Community Space, founded by Murphy two years ago in Texas.
Roots is one of a growing number of so-called third spaces set up to foster spiritual and social community growth among millennial Muslims beyond the traditional mosque environment. The U.K. does have a small handful of such alternative sacred spaces, from Rumi's Cave in London to the convert-focused Crescent Centre in Cardiff, Wales, and the women-led Inclusive Mosque Initiative.
Noor pointed out that Faith's organizational model is not unique, but its leaders are focused on building a structure that can easily scale up.
The initiative has already expanded to North America, as well, with a network of independent locations set up in Ottawa, Ontario; San Diego; and Austin, Texas. A New York City location launched just this week with a session on practical spirituality led by spiritual facilitator Abdelrahman Badawy.
Each location mirrors the structure of Faith's London space, with a trained spiritual facilitator leading relevant programming aimed at young Muslim men and women.
"It's an outlet for Muslims who can't express themselves in the masjid or don't feel comfortable there," said Muntasir Sayeedi, who's co-director of the New York City location. "You don't hear many masajid (mosques) talking about burnout. The masjid will always remain sacred as the house of Allah, but those running the masjid can end up pushing people away from the faith. We want to redefine what a spiritual space is."
"New York City has a really large Muslim community. It's really that there are pockets of communities throughout the city," his co-director Arva Anees said. "With Faith we want to bring these different pockets of Muslims with different backgrounds, cultures and lifestyles together in one space to learn from each other. ... I hope it can function as a place where Muslims can learn how to treat one other."
In each location, Faith's programming is centered on spiritual growth and religious learning, but also focuses on creating community bonds. The first hour of each event is reserved for tea and socializing, and each session ends with an open Q&A with its spiritual facilitator. In the middle is a session on "relevant spirituality," Hassan said, "all in English, with no jargon or technical terms, just giving everyone access to Quran and tafsir."
While most institutes in London require students to have an intensive knowledge of Arabic previously, Faith's programming has no such requirements. In its first-ever modular course on tafsir — dedicated to dissecting the Quranic chapter Surah Maryam, named after Jesus' mother, Mary, as a nod to the mostly female audience — about half of the attendees said it was their first time in any sort of tafsir class.
"For the first time we've opened up those doors of learning to everyone," Hassan said. Seats fill up quickly at most programs they host, with between 80 and 120 attendees on average, and organizers regularly field last-minute requests for entry until minutes before events begin.
Over the next few months, organizers plan to turn their new permanent space in East London into a community hub with a book club, women's only events, programs for teens, events for mothers and their children, and short taraweeh prayers with reflections in English during Ramadan.
Organizers say Faith is particularly aimed at offering a nonjudgmental and welcoming environment for those who may feel uncomfortable at their local mosque: converts who are still learning to navigate Islamic rituals, people who require English-language programs, people with tattoos and piercings, men without beards, women who don't wear hijab, and any Muslim who feels unrepresented.
Faith's tagline, quoted in countless social media posts alongside emojis of brown-skinned prayer hands, drives the message home: "Come as you are, to faith as it is."
In that way, Hassan said, he hopes to build young British Muslims a bridge back to traditional Islamic spaces.
"We hope we can connect with the masajid that are already out there, and start gently pushing people toward the mosque," he said. "Because obviously there's a disconnect, and we want to bridge that gap. We want to get people to a level where they're comfortable going to a mosque and continue coming to us."
Indeed, a welcome but unintended consequence of Faith's model has been providing a community of young Muslim women with a rare space to socialize, engage in religious learning and ask a trained imam their questions directly, with no barrier between them.
At every Faith event, women comprise a sweeping majority of the attendees. To accommodate them, Faith is bringing on a female spiritual adviser in the next few months and has set up walking groups to make attendees feel more comfortable making their way back to the train station when events end at night.
"Most of the Islamic spaces here in the U.K. are quite traditional and conservative, and there's not a lot of space for women," said Ayesha Khanom, a primary school teacher who was studying Arabic under Hassan before he launched the space and is one of about 50 volunteers for Faith. "But in Islam, it doesn't matter who you are, or what your background is, there's space for you. So in Faith, there's also space for you."
That has left some Muslims who believe in strict separation of the genders uncomfortable.
"Some people come to the space, they literally walk in, look around, see that there's no barrier between men and women and they walk straight out," Noor noted. "We see this regularly."
Separation of the genders happens at Faith events, but it occurs organically, with men typically filling in one row and women claiming the rest. There are no physical barriers in place, and women are encouraged to participate fully and ask questions. Most of Faith's crew of volunteers are women, too.
In fact, Ayesha Khanom said, it was volunteering with Faith that put her on the road back to connecting with Islam after years of feeling distant.
"Faith is becoming a place where people can start their journey to finding Islam again," she explained. "We don't want to be an endpoint for anybody."
https://religionnews.com/2020/02/26/londons-new-faith-hub-is-building-young-muslims-a-bridge-back-to-the-mosque/
--------
Russia to halt visas to Iranian citizens amid coronavirus outbreak
26 February 2020
Russia said on Wednesday that it will halt issuing visas to some Iranian citizens starting from February 28, amid the coronavirus outbreak, according to Russian Deputy Prime Minister Tatiana Golikova.
Nineteen people have been killed by the new coronavirus in Iran, with 139 confirmed cases in the country so far, according to Iranian state television.
Russia has so far reported two cases of the virus in the country.
Golikova said Moscow will be suspending flights between Russia and South Korea starting from March 1, except those operated by Aeroflot and Aurora, and added that Russia is advising its citizens against traveling to Italy. Italy has reported 323 cases and 12 deaths from the coronavirus.
Other Russian restrictions related to the outbreak which have been previously announced, would be extended by one month to April 1, Golikova said.
Full report at:
https://english.alarabiya.net/en/News/world/2020/02/26/Russia-to-halt-visas-to-Iranian-citizens-amid-coronavirus.html
--------
Russia says Turkey helping foreign militants enter Libya
26 February 2020
Russia says Turkey is helping foreign militants cross into Libya, where rebel forces are attempting to unseat the internationally-recognized government.
The Interfax news agency on Wednesday cited Russian Deputy Foreign Minister Mikhail Bogdanov as making the remark.
Turkish President Recep Tayyip Erdogan has previously confirmed the presence of pro-Turkish Syrian militants in Libya.
"Turkey is there with a training force. There are also people from the Syrian National Army," Erdogan said last Friday, referring to a group of anti-Damascus militants previously known as the so-called Free Syrian Army.
Turkey has also deployed its regular military forces to Libya to shore up the government of Prime Minister Fayez al-Sarraj.
Rebel forces under the command of a general named Khalifa Haftar have been fighting since April last year to capture Tripoli and unseat the government. Numerous attempts to bring about peace between the two sides have failed. A shaky ceasefire, brokered by Russia and Turkey, has been in place since January but has been violated dozens of times.
The conflicting sides have recently been negotiating under the auspices of the United Nations in Geneva.
Bogdanov also pointed out that Libya's warring sides were generally observing the truce, but did not seem to be ready to fully embrace the military and political decisions made in the Berlin conference in January, hinting at an agreement that the tentative truce would eventually become permanent to set the stage for the advancement of a political process.
Libya rebels claim to have downed Turkish drone
Separately on Wednesday, Libyan rebel forces said they had shot down a Turkish drone that was flying over the Mitiga International Airport, east of the Libyan capital, Tripoli.
A video released by the Libyan rebels on Wednesday showed a destroyed unmanned aerial vehicle purportedly south of Tripoli.
Libya has since 2014 been divided between the internationally recognized government of Sarraj, and a camp in the eastern city of Tobruk, supported militarily by the rebels under the command of Haftar.
The rebel militia receive support from Egypt, Saudi Arabia, and the United Arab Emirates.
Their offensive on Tripoli has so far killed 1,000 people and displaced some 146,000 people, according to the UN.
Full report at:
https://www.presstv.com/Detail/2020/02/26/619549/Libya-Turkey-Russia-foreign-militants
--------
Turkey urges unity to fight xenophobia, Islamophobia
Peter Kenny
26.02.2020
GENEVA
All countries should work together in the fight against xenophobia and Islamophobia, Turkish deputy foreign minister said Wednesday in a speech citing a recent racist terror attack in Germany.
Faruk Kaymakci spoke at the high-level section of the 43rd session of the Human Rights Council at the European headquarters of the UN in Geneva.
Expressing condolences to the families of nine people killed "in the heinous racist attack in Hanau, Germany last week," he said: "We lost four Turkish citizens in this act of racism and hostility towards Islam."
On Feb. 19, a German far-right extremist attacked two cafes and killed nine people with migrant backgrounds in the western town of Hanau. Four people with Turkish roots died in the racist terror attack, as did one Bosnian, one Bulgarian, one Romanian, and a dual German-Afghan national.
Kaymakci said Turkey had voiced its concern about rising xenophobic attacks across Europe as well as manifestations of racism and other forms of discrimination around the world.
"It is time for all countries to step up their efforts to counter this alarming trend, first and foremost, by speaking with one voice and abandoning racist and xenophobic discourse," he said.
The deputy minister referred to the ongoing conflict in Syria that continues to pose a severe threat to regional peace and stability.
Kaymakci said that since May 2019, over 1,800 civilians had been killed in Syrian regime attacks in the northwestern province of Idlib.
He cited UN figures that more than 1 million people are displaced and forced to flee towards the Turkish border and that at least 300 civilian facilities, including schools and hospitals, had been bombed.
"Stopping the regime's aggression and ensuring full compliance with the existing agreements on Idlib remains crucial. This is where we would like to see stronger support from the international community."
Kaymakci noted that Turkey continues to uphold the human rights and dignity of the millions of refugees it hosts.
"With around 4 million externally displaced persons, including approximately 3.6 million Syrians, Turkey is home to the largest refugee population in the world," said the deputy minister.
In his speech, Kaymakci also referred to more than 600 Azerbaijani citizens who were brutally murdered on Feb. 26, 1992 in the town of Khojaly for control of the now-occupied Upper Karabakh region of Azerbaijan.
"More than a million Azerbaijanis were displaced within the country, as a result of the Armenian occupation of 20% of Azerbaijan," he said.
Full report at:
https://www.aa.com.tr/en/europe/turkey-urges-unity-to-fight-xenophobia-islamophobia/1745957
--------
Kosovo removes tariffs on Serbian, Bosnian products
Talha Ozturk
26.02.2020
BELGRADE, Serbia
Taxes on Serbian and Bosnian products will be replaced by reciprocity measures, Kosovo's prime minister announced on Wednesday.
Prime Minister Albin Kurti said the 100% tariff currently in place would be replaced by reciprocity measures as soon as they are worked out by Kosovo's Ministry of Economic Development.
Kurti, who took office earlier this month, emphasized that "full reciprocity" measures would be established with Belgrade.
In 2018, Kosovo imposed 100% customs duty on products imported from Serbia and Bosnia and Herzegovina.
The move was part of efforts to make Serbia recognize Kosovo's independence. It marked the end of talks between the two countries initiated by the EU in 2011.
Over the past two years, Kosovo ignored repeated calls from the EU and the U.S. to withdraw the tax.
Kosovo declared independence from Serbia in 2008 but Belgrade insists the country is one of its provinces.
The international community has also remained divided on recognition of Kosovo as a sovereign state.
Full report at:
https://www.aa.com.tr/en/economy/kosovo-removes-tariffs-on-serbian-bosnian-products/1745926
--------
Interpol official warns of dramatic rise in extremist right-wing violence
By Souad Mekhennet
Feb. 25, 2020
The secretary general of Interpol, Jürgen Stock, spoke to The Washington Post about the dramatic rise in extremist right-wing violence and the use of social media as a "sort of incubator" for far-right ideas. The incidents, he said, should be treated in the same way as Islamist extremism.
Stock, who is German, has served in his position since 2014. We interviewed him during the Munich Security Conference earlier this month and again last week after a gunman — apparently fueled by extremist right-wing views and conspiracy theories — killed nine people in the German city of Hanau.
Interpol, an international organization facilitating police cooperation across borders, is headquartered in Lyon, France.
Q: In the past months, we've seen attacks by individuals who were followers of right-wing ideologies. The most recent attack was in Hanau. Has right-wing extremism increased?
A: The indication is that things are getting worse, definitely. We will see more of these attacks in the future.
It is too early to say [on Hanau], but it seems to be. There clearly seems to be a right-wing xenophobic background to the whole thing. It will be interesting to see whether there was a national or international network involved. Interpol has offered its support to the German authorities.
Q: Do you see a trend of globalization in the case of right-wing extremism? Are people much more connected?
A: This is a key question. So far, we still have to work on the bigger picture. What we see is that of course in parallel, the number of these kinds of incidents is increasing dramatically. And I think we have some information that just in the last couple of years, primarily in the Western countries, particularly Western Europe, North America, Oceania — the number of cases attributed to far-right groups has been increasing by 320 percent. We have seen in some of the cases that of course social media was used as a sort of incubator, as the modus operandi for any ideas.
Q: Do you have any examples?
A: For instance, what happened in Christchurch was used as inspiration by others to streamline other activities. There were more or less loose connections via social media groups, closed user groups, information exchange, and obviously we also see that some of these terrorists are "media sensitive" — releasing messages, videos and manifestos. And here we have to dig a little deeper and establish a better exchange among law enforcement globally about how this radicalization is taking place, what role does social media play, how is the planning exactly going on.
Q: What about the attack in Hanau? What possible connections to right-wing groups are of interest to you? And where should international cooperation work better?
A: The person did not have a criminal record. The law enforcement agencies were not aware of him, so the modus operandi, the way they contact each other, the role of weapons, and of course their connections — nationally and internationally. This is something where we have to put in more effort, to intensively share this information on a global scale in order to exactly answer these questions. Understanding what is going on and of course being a little bit ahead so we can kind of predict what is going to happen in the months to come.
Q: You said during the Munich Security Conference everyone seems to be pretty much on the same page regarding how to deal with the Islamic State and al-Qaeda. Is it as easy with right-wing extremism?
A: Of course, we need a collective understanding that this is terrorism. Period. What we know from the other case in Germany where the other obviously right-wing cell was arrested — and obviously had the motivation, according to authorities, to go for a kind of civil war within Germany. So this is terrorism. The successful methodology we have been applying in regard to other terrorist groups including ISIS, this global solidarity to tackle this, to enter a new level of sharing information amongst countries which we have never seen before — we have to apply the same methodology to right-wing terrorism, no doubt.
Q: Are you running into problems, for example in the United States, where you can find on social media right-wing extremist and anti-Semitic propaganda that would be considered rabble-rousing in Germany and other European countries?
A: At Interpol we are focusing on crime, so when an attack occurs, we support the investigation, supporting the sharing of information, also preventing these kinds of attacks. We don't have any legal problem at Interpol to take action if it concerns this kind of terrorist activity.
Q: Would it be helpful to collect the data of right-wing extremists, biometric data for example, the travel movements, the same way you are doing with foreign terrorist fighters?
A: We have clear rules regarding the possession of data and at the end of the day this is a national responsibility. The basis is the law that exists in our member countries that allows the national law enforcement agencies to share with Interpol. We are ready to use our strongest tool — the red notices and other alerts — that exist based on information provided by our member countries. We have a good tool box in place that was developed over the past couple of years, specifically, of course, on terrorist activity from al-Qaeda and ISIS, there is no reason not to apply it also to right-wing terrorism. What we are seeing more and more is terrorist activity. Period.
Q: Does the information sharing from member states on right-wing extremism reach the same level as when it comes to al-Qaeda or ISIS?
A: No, I would not say that it is at the same level. . . . Interpol's membership in the global coalition against ISIS has been helping us a lot . . . The U.N. Security Council has been encouraging countries to better use the instruments of Interpol and better share the information. So that today we can say that sharing has been reaching a very high level and this is still something we have to apply in regard to right-wing terrorism.
Maybe the international dimension is not as obvious as in the case of ISIS, so here there is more work to do, but it starts by sharing the relevant information. This is the only way to get the bigger picture.
https://www.washingtonpost.com/national-security/interpol-official-warns-of-dramatic-rise-in-extremist-right-wing-violence/2020/02/24/174a8394-5725-11ea-9b35-def5a027d470_story.html
--------
Africa
Rival Libyan politicians meet for peace talks in Geneva
February 27, 2020
GENEVA: Rival Libyan politicians met on Wednesday for UN-sponsored political talks in Geneva aimed at ending the latest round of fighting over the country's capital, Tripoli.
The resumption of political negotiations, one of three ongoing UN-mediated diplomatic tracks, followed an agreement this week between military officials to formalize a shaky cease-fire around Tripoli.
The declared cease-fire deal, now under review by Libya's competing leaders, addresses the return of thousands of displaced civilians to Tripoli. But it makes no mention of key points of contention, such as the withdrawal of eastern-based forces or the demobilization of formidable militias loosely allied with the UN-supported Tripoli government.
Peace negotiations have made halting progress over past weeks, as low-intensity clashes continue around Tripoli and weapons flow into the war-torn country despite world powers' pledges to the contrary at a peace summit in Berlin last month.
Oli blockade
Meanwhile, Eastern Libya's foreign minister said on Wednesday that his government, parallel to the Tripoli administration, could not force eastern tribesmen to lift an oil blockade that he said was a "popular decision."
The embattled Tripoli government has increasingly relied on Turkey to supply military aid, including air defenses and fighters deployed from nearby Syria, to repel Haftar's advances.
The commander of the eastern forces, Khalifa Haftar, and his followers, who control the country's east and south, launched an offensive to capture Tripoli last April. The fighting has displaced more than 150,000 people and killed hundreds of civilians.
"We cannot use our power to lift the blockade," Abdulhadi Lahweej told journalists in Geneva, alleging that the Tripoli government was using revenues from oil to pay for thousands of mercenaries he says have come from Syria to help them.
He also reiterated that his side, led by eastern commander Khalifa Haftar, would not participate in political talks due to begin in Geneva on Wednesday, saying there was no agreement with the U.N. mission on the composition of their delegation.
"The participation for the moment is suspended," he said.
The United Nations had planned to bring together lawmakers from both sides of Libya's conflict on Wednesday to end the fighting over Tripoli as part of a dialogue encompassing military, political and economic strands.
https://www.arabnews.com/node/1633791/middle-east
--------
Sahel Summit in Nouakchott Tackles Terrorism, Libyan Crisis
26 February, 2020
The G5 Sahel heads of state discussed on Tuesday during a summit in Nouakchott, Mauritania, the growing threat of terrorism and the Libyan crisis.
The summit was held in line with the first General Assembly of the Sahel Alliance, chaired by French Minister Jean-Yves Le Drian to ensure high-level international mobilization in support of development in the region.
The Sahel General Assembly's first meeting was attended by representatives from Germany, the EU, the UN, the African Union, Saudi Arabia, UAE, Japan, China and Russia.
"I am here with you to say that a surge in mobilization, coordination or prioritization is necessary," Le Drian told the summit.
During their meeting, the presidents of Burkina Faso, Chad, Mali, Mauritania and Niger heard appeals to step up the fight against militants whose offensive across three countries has claimed thousands of lives and inflicted crippling economic damage.
"More than ever, the Sahel requires heightened and coordinated attention from states in the region and the international community to brake the spiral of violence," said Mauritanian President Mohamed Ould Cheikh El Ghazouani, chairing the one-day summit.
In their final statement, the Sahel countries said the region faced an "unprecedented humanitarian crisis."
The statement also condemned the mounting terrorist activities, reiterating the G5 Sahel states' pledges to enhance cooperation in fighting terrorism.
"We urgently need concrete victories against terrorism. The real challenge of this summit is to meet this existential need," said the chair of the African Union's commission, Moussa Faki Mahamat.
The Sahel leaders renewed their demands to the United Nations Security Council to place the G5 Sahel Joint Force under Chapter VII of the UN Charter, which authorizes the Council to use force against threats to peace, breaches of the peace and acts of aggression.
Full report at:
https://aawsat.com/english/home/article/2150246/sahel-summit-nouakchott-tackles-terrorism-libyan-crisis
--------
Scores die in ISWAP, Boko Haram clash
27 February 2020
No fewer than 25 Commanders and a Chief Judge of the Islamic State West Africa Province (ISWAP) and Boko Haram have been killed during a leadership tussle among the terrorists at Lake Chad region and Sambisa Forest.
The terrorists' groups launch their attacks on communities of Borno, Adamawa and Yobe states from the Sambisa Forest and Lake Chad region.
Despite the recent emergence of the first leader of ISWAP, Abu Musab Albarnawi, two sons of the founder of Boko Haram, Mohammed Yusuf, was slain in the leadership crisis over control of the region and forest.
An expert in counter-terrorism, David Otto Endeley, in a series of tweets in Maiduguri yesterday said, "The first leader of ISWAP, Albarnawi, two sons of Yusuf and another of his son were still in charge."
He disclosed that Boko Haram and ISWAP have appointed a new leader, Amir Abba Gana, following the assassination of Ba'a Idirisa in February last year, noting that Idirisa replaced his brother, Albarnawi, who was also a son of the late Yusuf.
According to him, Idirisa, son of Yusuf was assassinated along with three other commanders, adding that the killings were caused by commanders' attempt to surrender and renounce the terrorist groups that have been prosecuting a form of jihad in North East.
In his tweet, he said, "About 25 five high profile Boko Haram Terrorist Commanders were killed within the past two months. The neutralisation of the commanders followed intensified military aerial bombardments of ISWAP and Boko Haram camps in the Lake Chad region. The surviving commanders and other terrorists had fled to Chad, Niger, and Cameroon.
"The death of Boko Haram commanders was caused by Undetonated Improvised Explosive Devices (UIEDs) used by ISWAP as traps to fortify their camps against military incursions in the Chad Basin."
Full report at:
https://guardian.ng/news/scores-die-in-iswap-boko-haram-clash/
--------
'Repentant' Boko Haram members arrive Maiduguri from Niger
February 26, 2020
Abdulkareem Haruna
Former Boko Haram members and their wives who recently surrendered to troops in Niger Republic have arrived Maiduguri, the Borno state capital.
The former terrorists arrived at Maiduguri airport in a military aircraft in the company of soldiers led by Bamidele Shafa, a major general who is the coordinator of the Federal Government Safe Corridor programme.
Mr Shafa said, "We have just delivered 25 persons, comprising men, women, and children," he said.
He said the ex-Boko Haram members laid down arms and surrendered to the Nigerien government, who contacted the Nigerian government to take them home.
"So we have brought them home safely and handed them to the Borno State government for onward rehabilitation as part of the Operation Safe Corridor de-radicalization programme," he said.
"We are using this opportunity to encourage those that are still in the bush come out because the president of the Federal Republic has given them an open arm to drop their weapons and embrace peace."
The Borno State Commissioner of Women Affairs, Zuwaira Gambo, who received returnees said the state government "will provide them with psychosocial support, feed them, clothe them, and give some form of education and skills acquisition."
Full report at:
https://www.premiumtimesng.com/regional/nnorth-east/379243-breaking-repentant-boko-haram-members-arrive-maiduguri-from-niger.html
--------
URL: https://www.newageislam.com/islamic-world-news/message-harmony-brotherhood-delhi-chand/d/121170
New Age Islam, Islam Online, Islamic Website, African Muslim News, Arab World News, South Asia News, Indian Muslim News, World Muslim News, Women in Islam, Islamic Feminism, Arab Women, Women In Arab, Islamophobia in America, Muslim Women in West, Islam Women and Feminism