New Age Islam News Bureau
16 December 2020
• Hundreds of Global Faith Leaders Call For Ban On Same-Sex Relations And End LGBT+ Conversion Therapy
• Twitter Page of the Arabic-Language Al-Ahd Al-Jadid Reported That Al-Qahtani Murderer of Khashoggi Returns To Power Again
• Indonesia Rebuffs Israeli Media Allegations about Imminent Normalization with Tel Aviv
• Israel Signals Openness to Future Joint Missile Defence with Gulf Partners
• Pakistan's Anti-Rape Ordinance 2020 Allowing Castration of Rapists Approved
• Defeated Force of 1971 Wants To Mislead Devout Muslims, With False Statements on Bangabandhu, Says Hasina
• Sudan Celebrates 'New Era' as U.S. Drops It from Terrorism List
India
• Members of Tablighi Jamaat from the US, Russia, UK, France, Sudan, Tunisia, Sri Lanka, Tanzania, Thailand, Kazakhstan and Indonesia Freed, Court Slams Police, Says No Proof
• Had Miscarriage Due To Medical Negligence: Moradabad Woman Held Under UP's 'Love Jihad' Law Shares Horror
• BJP Real Tukde Tukde Gang, Pit Hindus against Muslims First, Now Sikhs: Sukhbir Badal
• "BJP Bringing Party from Hyderabad To Cut Muslim Votes": Mamata Banerjee
• Vijay Diwas: All you need to know about 1971 war with Pakistan
• PM Modi to light 'Swarnim Vijay Mashaal' today on 50th anniversary of 1971 India-Pak war
--------
Europe
• Hundreds of Global Faith Leaders Call For Ban On Same-Sex Relations And End LGBT+ Conversion Therapy
• Alleged Qatari Expert 'Does Not Rule Out' French Intelligence Role in Samuel Paty Murder
• Bosnia's Croat, Muslim Presidents Snub Russia FM Over 'Disrespect'
• EU withholds $100mn budget support for Ethiopia over Tigray conflict
• Armenia, Azerbaijan exchange prisoners of war
• Met Police officer denies membership of neo-Nazi terrorist group
--------
Arab World
• Twitter Page of the Arabic-Language Al-Ahd Al-Jadid Reported That Al-Qahtani Murderer of Khashoggi Returns To Power Again
• Saudi Arabia Holds Hundreds of African Migrants in Appalling Conditions: HRW
• Iraqi activist Salah al-Iraqi shot dead in Baghdad al-Jadida district
• UAE-based Big Heart Foundation supports damaged Beirut hospital with more than $2 mln
• As Lebanon's crisis deepens, UNICEF provides cash assistance to over 70,000 children
• Lebanon's path to new cabinet totally blocked: Speaker Berri
• ISIS sleeper cell attacks in Syria reach record low, data shows
--------
Southeast Asia
• Indonesia Rebuffs Israeli Media Allegations about Imminent Normalization with Tel Aviv
• India Seeks Malaysian Intelligence Input on Alleged Financing for Terror Plot
• Malaysian Christians file complaint against Muslim politician
• Two Christian Sabahans sue Hadi, want court to declare him unfit for minister-level post over alleged seditious remark
• Sarawakian Bumiputera Christian's 'Allah' case to finally have court decision delivered in Jan 2021
• Indonesia police: Top terror suspect mastermind of attacks
--------
Mideast
• Israel Signals Openness to Future Joint Missile Defence with Gulf Partners
• Iran will stand by Syria until final victory over terrorism: Rouhani
• Iran's Rouhani says he is happy that 'lawless' Trump is leaving office
• Netanyahu picks new Mossad director to replace Yossi Cohen
• Iran to ban dual-nationals, Green Card holders from running for presidency
• UN chief urges countries to help address economic crisis in war-torn Yemen
• Israel to build 8,300 settler units over next 20 years: Report
• Yemenis demand protection against Houthi attacks
--------
Pakistan
• Pakistan's Anti-Rape Ordinance 2020 Allowing Castration of Rapists Approved
• Imran Khan govt pushes for early Senate polls to weaken Opposition
• A Delegation from Taliban's Qatar- Based Political Office Is Reaching Islamabad Today
• Dawn columnist Irfan Husain passes away in England
• FIA finds Meesha guilty of 'vilification' drive against Ali Zafar
• Turkish ambassador urges compatriots to invest in Pakistan
• Bilawal rules out talks with Imran at the helm
--------
South Asia
• Defeated Force of 1971 Wants To Mislead Devout Muslims, With False Statements on Bangabandhu, Says Hasina
• Taliban Oppose Calls to Hold Negotiations inside Afghanistan
• Saleh Views Riding Two-Up Bikes 'Terrorist Threat'
• Islamic Scholars Meet Home Minister Over Sculpture Issue in Bangladesh
• Bomb Attack Kills Deputy Governor, Three Others in Afghanistan
• Proxy Peace in Favor of Pakistan, Backlash against Taliban Visit
--------
Africa
• Sudan Celebrates 'New Era' as U.S. Drops It from Terrorism List
• Bahrain opens consulate in Western Sahara after Trump recognizes Morocco's rule over region
• UNSC calls for withdrawal of mercenaries from Libya
• Somalia: Senior Al-Shabaab Foreign Fighters Killed in Lower Shabelle
• Anti-terrorist campaign in Somalia continues despite troop reduction
• Tunisia says more than 90 migrants intercepted during bid to reach Italy
• Coronavirus: Tunisian PM cancels Italy trip after minister gets virus
• Somalia cuts ties with Kenya amid rising tensions over breakaway territory
--------
North America
• US Designates Iran-Backed Bahrain-Based Group As Global Terror Organization
• Canada says Iran should not lead investigation on downed Ukrainian plane
• Jared Kushner to lead delegation to Morocco, Israel
Compiled by New Age Islam News Bureau
URL: https://www.newageislam.com/islamic-world-news/members-tablighi-jamaat-us-russia/d/123775
--------
Members of Tablighi Jamaat from the US, Russia, UK, France, Sudan, Tunisia, Sri Lanka, Tanzania, Thailand, Kazakhstan and Indonesia Freed, Court Slams Police, Says No Proof
By Anand Mohan J
December 16, 2020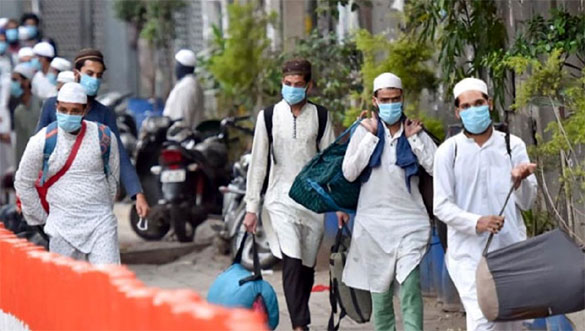 Observing that the prosecution failed to "prove the presence of accused inside the Markaz premises" and noting "contradictions" in statements by its witnesses, a Delhi court Tuesday acquitted 36 foreigners facing trial for allegedly flouting Covid guidelines while participating in a Tablighi Jamaat event in Nizamuddin in March that was later linked to infections in 14 states.
While passing the order, Chief Metropolitan Magistrate Arun Kumar Garg pulled up the Station House Officer of Hazrat Nizamuddin, who was the complainant in the case, and the investigating officer for lapses in identification of accused.
Referring to contradictions in the statements of witnesses, the court acknowledged the probability of the plea by some of the accused that "none of them was present at Markaz during the relevant period and they had been picked up from different places so as to maliciously prosecute them upon directions from Ministry of Home Affairs…"
"It is beyond comprehension of the court, as to how IO (Inspector Satish Kumar) could have identified 952 foreign nationals out of 2,343 persons who, as per SHO, were found flouting the guidelines, without any Test Identification Parade (TIP), but on the basis of list provided by MHA (Ministry of Home Affairs)," the court said.
The court also noted that the SHO, Inspector Mukesh Walia, made improvements in his statement. "The SHO was aware of the actual number of persons gathered at Markaz since the beginning and still failed to take any timely measures to ensure dispersal of the said gatherings despite being aware of Government guidelines," it said.
"Else, if he was not so aware of the actual or even approximate numbers staying inside Markaz till the last day of evacuation exercise, he in all probability is deposing falsely about his daily visits to Markaz…In any case, his testimony has failed to pass the test of creditworthiness and hence identification by him of the accused persons in the court is not sufficient to discharge the onus of prosecution to prove the presence of accused at Markaz during the relevant period," the court said.
The accused hailed from a number of countries, including the US, Russia, UK, France, Sudan, Tunisia, Sri Lanka, Tanzania, United Kingdom, Thailand, Kazakhstan and Indonesia.
Fahim Khan, lawyer for the accused, welcomed the ruling and said his clients had been "falsely implicated". "We argued that out of the 36, 10 were not even present at the spot. The police had filed documents showing their presence, which were contradictory. The prosecution could not prove that the accused persons did not maintain social distancing or broke other Covid guidelines," he said.
The verdict was also welcomed by the accused. "We are happy with the judgment," said Irfan Khan (39), a mechanical engineer from Australia, who was on trial with his wife. Irfan said had come to Delhi to visit friends and religious sites when he was detained. Like the other accused, he spent 60 days in a detention centre before being shifted to a court-approved accommodation.
"I knew that in India, you can win a case if you defend it. In Australia, there was a judge who said if you want the truth go to a masjid, if you want justice go to a court. That inspired me to fight my case rather than take a plea bargain," he said.
The 36 were the last of the accused from abroad who were put on trial in the case. According to court records, 952 foreigners were accused of breaking Covid violations by Delhi Police. Over 900 of them had pleaded guilty as a part of a plea bargain as they did not want to stay back in India to face trial and wanted to be reunited with their families.
The 36 are among 44 foreigners who chose to stand trial on charges of violating visa rules and Covid regulations — eight were discharged in August by the court after it found that there was no "prima facie evidence" against them.
The trial commenced on August 10 following directions from the Supreme Court, and the final arguments were heard over three days from December 3.
During the trial, the prosecution argued that "social distancing and other guidelines were not followed and that large gatherings were being held without following the norms of social distancing and other safety directions".
Stating that the Covid norms were in the public domain, the police argued that "accused persons had both malignantly and negligently participated and gathered inside the Markaz, thereby, increasing the spread of Corona Virus infection".
https://indianexpress.com/article/india/tablighi-case-all-foreigners-freed-court-slams-police-says-no-proof-7106554/
--------
Hundreds of Global Faith Leaders Call For Ban On Same-Sex Relations And End LGBT+ Conversion Therapy
December 16, 2020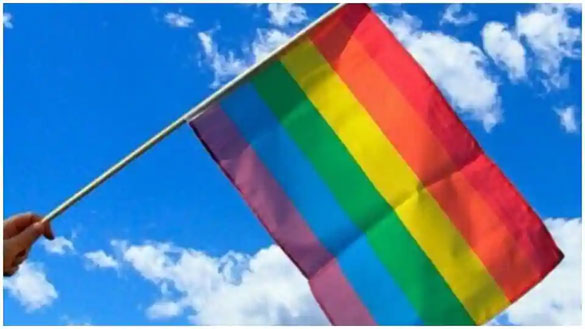 Hundreds of global faith leaders call for ban on LGBT+ conversion therapy(Twitter/AlphaSelena)
----
LONDON: Almost 400 global religious leaders, including anti-apartheid campaigner Desmond Tutu and Britain's Bishop of Liverpool, called on Wednesday for countries to overturn bans on same-sex relations and end LGBT+ conversion therapy.
69 United Nations member states still outlaw gay sex, according to the 2020 State-Sponsored Homophobia report released by the International Lesbian, Gay, Bisexual, Trans and Intersex Association (Ilga World) on Tuesday.
Only Brazil, Ecuador, Malta and Germany have instituted forms of nationwide bans on conversion therapy, which aims to alter a person's sexual orientation or gender identity.
Organised by the Ozanne Foundation charity, the declaration has been signed by faith leaders from 35 countries, including representatives of the world's main religions, and former Irish President Mary McAleese, a prominent member of the Roman Catholic Church.
The announcement, which marks the launch of the Global Interfaith Commission on LGBT+ Lives, will be made on Wednesday at a virtual conference of global faith representatives funded by Britain's foreign ministry (FCDO).
Wendy Morton, Britain's junior foreign minister, told the Thomson Reuters Foundation that the declaration marked "an important step towards equality".
"We fully support its call to end violence, discrimination and the ongoing criminalisation of same-sex conduct in 69 countries," she said in emailed comments, describing conversion therapy as "an abhorrent practice and should be stopped".
Culpable
McAleese said the joint statement represented "a small step towards countering (homophobia)".
"But it's a necessary step to remind the faith systems of the world and people of faith that they have an obligation to their fellow citizens who are also entitled to the full dignity of their humanity and their full equal human rights," she said.
The declaration also acknowledges "with profound regret" that religious teachings through the centuries have "caused and continue to cause deep pain and offence to those who are lesbian, gay, bisexual, transgender, queer and intersex".
Rabbi Laura Janner-Klausner, former senior rabbi to Reform Judaism – which groups 41 independent synagogues – said the statement was partly about acknowledging that "our religions … still have a lot that we are culpable for".
"It would be lovely to say it has nothing to do with us, but our religious traditions have driven conversion therapy, particularly," she added.
To date, the declaration has been signed by religious leaders including Christians, Jews, Sikhs, Hindus, Buddhists and Muslims.
"I think the Muslim community is ready for this conversation," said Imam Muhsin Hendricks, who founded the Masjidul Ghurbaah Mosque in Cape Town, South Africa, one of the world's few LGBT-inclusive mosques.
"I'm currently training with six imams from different parts of Africa and the openness to look at this issue (is incredible)," he said.
"I'm really amazed and excited because 10 years ago this kind of training with imams was not possible. So I do think the community is ready."
https://www.freemalaysiatoday.com/category/world/2020/12/16/hundreds-of-global-faith-leaders-call-for-ban-on-lgbt-conversion-therapy/
--------
Twitter Page of the Arabic-Language Al-Ahd Al-Jadid Reported That Al-Qahtani Murderer of Khashoggi Returns To Power Again
2020-December-15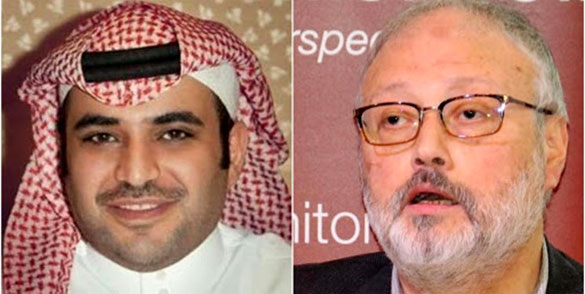 Saud al-Qahtani and Jamal Khashoggi
-------
The twitter page of the Arabic-language al-Ahd al-Jadid reported that al-Qahtani, a close friend of bin Salman, has been reappointed and returned to his office at the royal court two years after he was called off the stage after his role in Khashoggi's death was exposed.
King Salman had dismissed Qahtani after Khashoggi's case but he and a number of key officials who were suspects of the Saudi journalist's murder were never put on trial.
Khashoggi, a former advocate of the Saudi royal court who had become a critic of Saudi Crown Prince Mohammad bin Salman, was killed and his body dismembered by a Saudi hit squad in the Saudi consulate in Istanbul on October 2, 2018, where he had gone to obtain documents for his impending wedding.
The Washington Post, for which Khashoggi was a columnist, reported in November that year that the CIA had concluded that bin Salman personally ordered his killing.
Agnes Callamard, the United Nations special rapporteur for extrajudicial summary or arbitrary executions, has said there was credible evidence that the crown prince and other ranking Saudi officials were individually liable. She has called for an independent and impartial international inquiry into the foul play.
In September, a court in Saudi Arabia handed 20-year prison sentences to five people, while sentencing another three to seven to 10 years in jail.
The ruling was rejected by a United Nations (UN) expert as a "parody of justice".
Riyadh has spurned all the allegations linking the killing to bin Salman and instead claimed that the murder was committed by a "rogue" group.
https://www.farsnews.ir/en/news/13990925000879/Arab-Media-Mrderer-f-Khashggi-Rerns-Pwer-Again
--------
Indonesia rebuffs Israeli media allegations about imminent normalization with Tel Aviv
16 December 2020
Indonesia has dismissed Israeli media allegations that the world's most populous Muslim-majority country is seeking to establish diplomatic ties with the Tel Aviv regime, after Israel and Morocco agreed last week to normalize relations in a deal brokered by the United States.
Foreign Ministry spokesperson Teuku Faizasyah said in a statement on Tuesday that there was not any such possibility, and that the ministry has never been in contact with Israel.
"In exercising Indonesian foreign policy with regard to the Palestinian issue, the Foreign Ministry has consistently worked in accordance with the mandate of the Constitution," Faizasyah said.
The remarks came after Israeli English-language daily newspaper The Jerusalem Post, citing an unnamed diplomatic source, reported on Sunday that Oman and Indonesia could be next in line to establish diplomatic relations with Israel in the coming weeks.
The diplomatic source further alleged that talks with the two countries had advanced, and normalization could be announced before US President Donald Trump leaves office on January 20.
Indonesia has long been a staunch supporter of the Palestinian cause and statehood and has refused to communicate with Israel.
During his speech at the United Nations General Assembly on September 3, Indonesian President Joko Widodo reiterated his country's unswerving support for Palestine.
He said at the time that Palestine is the sole participant of the 1955 Bandung Conference — a meeting on world peace attended by Asian and African nations — which has not attained independence yet.
Additionally, Indonesian Islamic groups and pro-Palestinian NGOs have condemned recent normalization deals between several Arab states and Israel.
The Indonesian Committee for Palestinian Solidarity (KISPA) said in October that Israel was an occupying entity and should not be trusted to bring peace to the region.
"Any form of support or normalization with Israel means supporting the occupation," KISPA Chair Muhendri Muchtar said.
Muchtar added that normalization betrays the Palestinian cause and the Indonesian people firmly reject it as their Constitution opposes all forms of colonialism.
The Hidayatullah Islamic Organization also denounced normalization of relations with the Tel Aviv regime back then, saying it aims to justify Israeli violations of Palestinian rights.
Israel and Morocco agreed on December 10 to normalize relations, making the North African country the fourth Arab state since August to strike a deal aimed at normalizing relations with Israel. The others were the United Arab Emirates, Bahrain and Sudan.
On September 15, US President Donald Trump hosted a White House ceremony, where Israeli Prime Minister Benjamin Netanyahu signed normalization agreements with Emirati Foreign Minister Sheikh Abdullah bin Zayed Al Nahyan and Bahrain's Foreign Minister Abdullatif al-Zayani.
Trump later announced on October 23 at the White House that Sudan and Israel had also agreed to normalize relations.
The normalization deals have drawn widespread condemnation from Palestinians, who seek an independent state in the occupied West Bank and Gaza Strip, with East Jerusalem al-Quds as its capital. They say the deals ignore their rights and do not serve the Palestinian cause.
https://www.presstv.com/Detail/2020/12/16/640829/Indonesia-rebuffs-Israeli-media-allegations-over-normalization-of-relations-with-Tel-Aviv
--------
Israel Signals Openness to Future Joint Missile Defence with Gulf Partners
15 December 2020
Israel could be open to future cooperation on missile defense with Gulf Arab states that share its concerns about Iran, a senior Israeli official said on Tuesday.
But Moshe Patel, who heads the Israeli Missile Defense Organization that is part of the Defense Ministry, said it was still premature to pursue any such deals. He said Washington's approval would be needed if Israeli systems developed with US technology were involved.
For all the latest headlines follow our Google News channel online or via the app.
"Things can be done, maybe in the future," Patel told reporters when asked whether any of the systems might be offered to Israel's new partners in the Gulf, or synchronized with comparable systems there.
"From an engineering point of view, of course, there is a lot of advantage. That information can be shared, like sensors that can be deployed in both countries because we have the same enemies."
Jitters about Iran were a driver of a US-brokered pact on Sept. 15 formalizing relations between Israel and the United Arab Emirates and Bahrain for the first time. Saudi Arabia has encouraged the rapprochement, while holding off on having its own bilateral ties with Israel for now.
Prior to those deals, a senior Israeli official had told Reuters there would be no coordination on missile defense with Gulf countries.
Patel's briefing was called to announce what he said was the successful live test of a multi-tiered Israeli missile defense system that could hit targets flying at different altitudes - and allow for any targets initially missed to be re-engaged.
The lowest tier is made up of the Iron Dome short-range rocket interceptor, which Israel said had also shot down cruise missiles and unmanned aerial vehicles.
The US Army has received one Iron Dome battery from Israel, with another one on order, Patel said.
Israel imbricates Iron Dome with the mid-range interceptor David's Sling, and with the Arrow system, which shoots down ballistic missiles - including in space.
https://english.alarabiya.net/en/News/middle-east/2020/12/15/Israel-relations-Israel-signals-openness-to-future-joint-missile-defense-with-Gulf-partners
--------
Pakistan's Anti-Rape Ordinance 2020 Allowing Castration of Rapists Approved
Malik Asad
16 Dec 2020
ISLAMABAD: President Dr Arif Alvi on Tuesday accorded approval to the Anti-Rape Ordinance 2020 which will ensure speedy trial of rape cases with women and children as victims and also allow for chemical castration of those convicted of such offences.
However, contrary to the draft approved by the Cabinet Committee on Legislative Cases (CCLC), the consent of the convict will not be required for carrying out castration, but it will be the discretion of the judge of the trial court.
Sources said Prime Minister Imran Khan had desired to include castration as a punitive measure to counter the increasing incidents of rape.
The CCLC proposed castration for the first or repeated offenders and the concept of chemical castration was also introduced mainly as a form of rehabilitation and subject to consent.
The consent for the purpose of chemical castration was introduced in the draft bill since the international law makes it mandatory to take consent of the convict before the said procedure. If an accused does not agree to chemical castration, according to the law ministry, he would be dealt in accordance with the Pakistan Penal Code in which the court may award him death sentence, life imprisonment or 25 years' sentence.
The sources said the CCLC had presented the draft bill before the federal cabinet, where it was decided that the castration would not be with the consent of the convict. Subsequently, the clause proposing castration with the consent of the convict was omitted from the bill.
According to the sources, the law ministry will frame rules for carrying out the castration procedure. They said the judge would be empowered to order chemical castration of the convict for a period ranging from six months to lifetime.
According to a statement issued by the President House on Tuesday, special courts would be established throughout the country for speedy trial of sexual assault suspects. The courts would have to wrap up the cases within four months, it added.
Under the ordinance, the prime minister's anti-rape crisis cells would be set up for conducting medico-legal examination within six hours of the incident.
A countrywide registry of sexual offenders will also be established with the help of the National Database and Registration Authority.
Under the ordinance, disclosing identities of the victims would be prohibited and declared a punishable offence, the statement said. Police and government officials showing negligence in investigating the cases would be jailed for three years along with imposition of fines. They will also be punished for providing false information.
Repeated offenders would be chemically castrated under the guidance of a notified board, the statement added. It said a fund would be set up by the prime minister, the money from which would be used for establishing special courts, while the federal and provincial governments would also allocate grants for the fund.
Ordinance termed eyewash
Rights activists and constitutional experts termed the ordinance allowing for castration of the rapists useless and eyewash and ruled out the possibility of countering the menace through such a punishment.
Sadia Bokhari of the Human Rights Commission of Pakistan (HRCP) said such legislation was mere eyewash as it did not help in protecting the victims. She said public hanging and castration could not guarantee end of rape cases, adding that it was effective implementation of the law that would create real deterrence for the rapists.
Ms Bokhari pointed out that even in the most high-profile cases, the suspected rapists got off scot-free because of various loopholes, including out-of-court settlement with the victim's family.
Renowned lawyer Hamid Khan termed the castration cruel, unusual, unconstitutional and un-Islamic and said it was an irreparable loss for the convict.
In Pakistan's criminal justice system, a convict was proven innocent even after 17 years of incarceration, he said, adding that had the convict been subjected to castration, his physical condition could not have been reversed.
Hamid Khan said there was a law in place to counter rape cases and protect the victims, adding that instead of promulgating the ordinance, the government should ensure strictly implementation of the existing law.
https://www.dawn.com/news/1596015/ordinance-allowing-castration-of-rapists-approved
--------
Defeated Force of 1971 Wants To Mislead Devout Muslims, With False Statements on Bangabandhu, Says Hasina
15 Dec 2020
The defeated forces of the 1971 Liberation War are trying to mislead Muslims in the Bangladesh with false statements on Bangabandhu and the Awami League, Sheikh Hasina has said.
Describing Bangabandhu Sheikh Mujibur Rahman as a devout Muslim, the prime minister said on Tuesday no government other than the Awami League has worked more for the Muslims.
"But a section of the defeated forces of '71 are now trying to mislead devout Muslims with false, fictitious and imaginary statements. They are out to create anarchy in the society," she said in a televised speech greeting the nation on the eve of the Victory Day.
"In 1972, the Father of the Nation asked everyone not to use religion as a political weapon. But the accomplices of the defeated forces dream to push the country 50 years backwards," Hasina said.
Hasina believes the people will resist such action of the defeated forces. "People in Bangladesh are pious, but not fanatics. Please don't use religion to serve political interest," she said.
Her comments came when Hifazat-e Islam and other Islamic extremist groups are opposing a government plan to install a statue of Bangabandhu in Dhaka in celebration of his birth centenary. The Islamists say that statues are forbidden in Islam.
Scores of political and cultural groups have protested against the Islamists' threat to tear down statues, and demanded arrest of Islamist leaders for their nasty remarks about Bangabandhu's statue.
Amid the debate, an under-construction statue of the independence hero was defaced in Kushtia earlier in December. The police have arrested two students and two teachers of a local madrasa over the act of vandalism while the High Court has ordered the government to protect Bangabandhu's statues.
"Everyone has the right to practise their religions. Bangladesh is a non-communal country which became independent with the sacrifice of people from all races and religion -Hindu, Muslim, Buddhists and Christians," Hasina said.
"We'll not allow any disparity in the name of religion. The people in the country will move forward to progress and development while upholding the religious values."
Highlighting her government's initiatives to spread religious education, she noted that it established an Islamic Arabic University, launched graduation courses in 80 model madrasas, and acknowledged post-graduation degrees in Qawmi madrasas.
Bangabandhu was a devout Muslim who practised the religious rituals ardently, she said.
"Unfortunately, anti-liberation forces captured power after 1975, and distorted the history while trying to disgrace Bangabandhu and his family," said Hasina.
"What the Father of the Nation has worked to uphold and spread the religious values, those governments (after 1975) faked their intentions to maintain Islam," she said.
Bangabandhu banned liquor, casino, and horserace and established the Islamic Foundation, madrasa board and earned Bangladesh the membership of the Organization of Islamic Countries, the prime minister said.
She paid her respects to the Liberation War martyrs and the four national leaders – Syed Nazrul Islam, Tajuddin Ahmad, M Mansur Ali and AHM Kamruzzaman.
Hasina also paid respects to the freedom fighters and the members of the Indian armed forces who fought and sacrificed their lives during the war.
Bangladesh will celebrate the golden jubilee of its independence next year. The government plans to celebrate it with much enthusiasm provided the coronavirus epidemic ebbs, the prime minister said in her speech.
"Let's promise not to be oblivious to the sacrifices made by the millions of martyrs. We must not allow the spirit of the Liberation War to diminish. I urge the new generation, the youth to never forget the sacrifices made by your predecessors. Never disrespected the flag of red and green they have given to you," she said.
https://bdnews24.com/bangladesh/2020/12/15/defeated-force-of-1971-wants-to-mislead-devout-muslims-says-hasina
--------
Sudan Celebrates 'New Era' as U.S. Drops It From Terrorism List
By Declan Walsh
Dec. 14, 2020
NAIROBI, Kenya — Sudan took a major step back into the international fold on Monday when the United States formally removed it from a list of nations that sponsor terrorism, ending a 27-year period of isolation that left the vast African country a diplomatic pariah, hobbled its economy and blocked access to financial aid that it now urgently needs.
Prime Minister Abdalla Hamdok, the leader of Sudan's fragile transitional government, hailed the American move as a rare cause for celebration in a nation that is straining badly under a crushing economic crisis and the coronavirus pandemic.
This is the beginning of a "new era," Mr. Hamdok declared on Twitter, adding that after three decades of isolation Sudan could officially rejoin the international community as "a peaceful nation supporting global stability."
The move put in effect a decision announced by President Trump on Oct. 19, when he said Sudan would be removed from the terrorism list in exchange for a $335 million compensation payment to the victims of the 1998 Qaeda attacks on American Embassies in Kenya and Tanzania.
Only three countries now remain on the American list of state sponsors of terrorism: North Korea, Iran and Syria.
In a statement that proclaimed "a fundamental change" in the relationship between the United States and Sudan, Secretary of State Mike Pompeo praised Mr. Hamdok's government for daring to "chart a bold new course" away from the legacy of Omar Hassan al-Bashir, the country's longtime dictator who was ousted amid dramatic street protests last year.
In delisting Sudan, American officials are certifying that they no longer believe the country is allied with militant groups like Hezbollah and Al Qaeda, as it was in 1993 when President Bill Clinton made the designation.
In reality, those ties withered many years ago, even before last year's overthrow of Mr. al-Bashir. An effort to remove Sudan from the terrorism list started after the United States lifted many sanctions against Sudan in 2017, and talks formally started in 2018.
But the negotiations were grindingly slow and legally complex, and only gained urgency last summer as the Trump administration sought ways to pressure or induce Arab countries to normalize relations with Israel.
That effort bore fruit on Oct. 23 when Sudan agreed, with evident reluctance, to recognize Israel — although it appeared to stop short of agreeing to full diplomatic relations — provided Mr. Trump followed through on his promise of removal from the terrorism list.
In so doing, Sudan became the third Arab country, after the United Arab Emirates and Bahrain, to recognize Israel this year. Last week, Morocco joined the list.
For Khartoum, the decision was driven by burning economic need and increasingly precarious domestic politics. Long lines for fuel and others essential supplies, as well as soaring inflation, have put the civilian-military coalition that has replaced Mr. al-Bashir under intense pressure in recent months.
The crisis fed speculation that Mr. Hamdok's civilian-led government, which is supposed to steward the country toward elections scheduled for 2022, could face destabilizing street protests, or worse.
Now the government hopes to access emergency funds from the International Monetary Fund to alleviate its economic pain, and is likely to seek forgiveness for some of its $64 billion national debt. Both measures were effectively impossible until now because the terrorism listing obliged the United States to oppose financial aid to Sudan.
More broadly, many Sudanese hoped the American move would herald their country's reintegration into the mainstream of the global economy.
"Removal from the terror list is kind of Phase 1," said Anas Mohamed, 28, an economics researcher in Khartoum. "It gives us the boost to continue the path of reforms. We have no other choice."
Others, though, warned that the delisting did not offer a panacea for Sudan's economic woes. "This is not the economic takeoff people are hoping for," said Magdi el Gizouli, a Sudan analyst at the Rift Valley Institute, a research group that specializes in Africa. "The government badly needs a success story, but the importance of Western investment should not be overstated."
Even so, Mr. Hamdok, who has spent much of his premiership battling crises, seemed elated by a rare political victory.
"Today we return with all our history, the civilization of our people, the greatness of our country and the vigor of our revolution to the international community," he wrote on Twitter.
The deal over Israel appeared to hang in the balance earlier this month, amid uncertainty over whether Congress would restore Sudan's immunity from prosecution. But Monday's delisting showed that at least one major part of it had gone through.
Since a congressional notification period of 45 days had lapsed, the American Embassy in Sudan said on Facebook, Sudan's removal from the terrorism list was effective immediately.
In Israel, Army Radio noted the delisting, as well as the fact that relations between Sudan and Israel had not yet been restored. "The normalization agreement has not yet been signed, and the negotiations are still underway," it said.
For Sudan, the delisting couldn't come soon enough.
Even though American sanctions were lifted three years ago, Sudan's continued status as a state sponsor of terrorism imposed legal restraints and reputational costs that caused international banks and businesses to continue to shun Khartoum, and which cut the country off from international financial aid.
Then there is the pandemic. Sudan has registered a steep rise in new infections lately, amid warnings that even those figures may be grossly underestimated. British researchers recently estimated that 38 percent of people in Khartoum had been infected with Covid-19 — far higher than the official figure — and that the majority of deaths had gone unreported.
https://www.nytimes.com/2020/12/14/world/middleeast/sudan-us-terrorism-sponsors-list.html?utm_source=iterable&utm_medium=email&utm_campaign=1819727_
--------
India
Had miscarriage due to medical negligence: Moradabad woman held under UP's 'love jihad' law shares horror
Sharad Gautam
Moradabad
December 15, 2020
The 22-year-old Moradabad woman, who was sent to a shelter home after her husband was arrested under the new "love jihad" law in Uttar Pradesh, on Tuesday alleged that suffered a miscarriage due to medical negligence. She also said that she was tortured at Nari Niketan -- the protection home where she was sent.
Speaking to reporters, the woman alleged that staff at the protection home ignored her worsening condition and took her to a hospital, where an injection by a doctor caused her miscarriage.
"I was at Nari Niketan for five-six days during which I started experiencing stomach ache. They [Nari Niketan staff] ignored my stomach pain and when the condition didn't improve, I was taken to a hospital where doctors gave me medicines and injections due to which I suffered a miscarriage," the woman said.
Elaborating on the inhumane treatment meted out to her at Nari Niketan, the Moradabad woman said that the warden there scolded her when she complained about her health and didn't even give her medicines when she asked.
"The doctors knew about my miscarriage. An ultrasound check-up was also done. Initially, they said that the foetus is fine. Then they administered an injection following which my health deteriorated. I started bleeding and my condition turned quite serious," she added.
When asked if she suspects any foul play on part of police, doctors and district administration, the woman said, "Doctors are responsible for it because they gave me an injection. I can't say anything about anyone else. I don't know what medicine or injection I was given. I just had a stomach ache after which I was taken to the hospital. I don't know what was done to me there," she claimed.
Countering the woman's statement, the medical superintendent at the district hospital was quoted by ANI as saying, "She was given medicines to stop bleeding and pain. Ultrasound showed foetus but no heartbeat. TVS [transvaginal ultrasound] was advised and she was referred to Meerut. Her relatives wanted to take her in their private vehicle. All the allegations are false."
Earlier in December, police in Uttar Pradesh's Moradabad arrested a man and his brother under the new anti-conversion law. The groom, identified as Rashid, was at the registrar's office in Kanth when he was handed over to the police by members of the fringe outfit Bajrang Dal.
Rashid had married a 22-year-old woman from Bijnore in Dehradun about five months ago. The two met in Dehradun where Rashid was working and the girl was studying.
After the first case of "love jihad" came to light, police, acting on a complaint, arrested Rashid, and booked him under the new anti-conversion law, while the woman was sent to a protection home. A few days later, several sections of media reported that the woman, who was shifted to a government shelter home, was forced into an abortion.
Later, officials of the Child Protection Commission in Moradabad clarified that the reports of a "forced abortion" of the 22-year-old woman were "fake" and said she did not suffer a miscarriage.
Speaking to India Today TV, Child Protection Commission Chairman Dr Vishesh Gupta said, "We deny the reports. We instructed the director of DPO, Moradabad to get the woman medically tested to know if she has been forced into abortion. The medical report clearly says that she is three-months pregnant. We have evidence."
However, the woman now alleges that she suffered a miscarriage due to medical negligence.
"WANT TO STAY WITH MY HUSBAND"
Meanwhile, the woman has also appealed to authorities to release her husband and her brother-in-law and expressed her wish to return to her in-laws' home.
When asked what she said during the court hearing, the woman said, "I told the court that want to go back to my in-laws. I want to stay with my husband. I requested them to release my husband and brother-in-law."
The woman maintained that she married the man of other religion of her own will. "At the court, I was asked if I knew the man [Rashid] and his religion. I said that I knew him and I married out of my own will," she said.
"I was studying in Dehradun for the past five years. I met Rashid there. I know him very well. I am happy with him. I'm not facing any problems," she said.
"I was heading towards Kanth Tehsil with papers of court marriage when Bajrang Dal workers caught me," the woman said.
She further said, "Yes, my mother was against my marriage but she didn't do anything. Bajrang Dal workers had called her after which a case was filed."
The woman's mother had earlier alleged that Rashid had forcibly converted her daughter through marriage. However, the woman told reporters, "I got married to Rashid on July 24. I have been living here in Kanth in Moradabad since then. I am an adult and got married to Rashid as per my wishes."
https://www.indiatoday.in/india/story/up-s-love-jihad-law-miscarriage-medical-negligence-moradabad-woman-horror-1749877-2020-12-15
--------
BJP real tukde tukde gang, pit Hindus against Muslims first, now Sikhs: Sukhbir Badal
December 16, 2020
On a day that Prime Minister Narendra Modi accused Opposition parties of "misleading" farmers and "shooting from their shoulders", the BJP's former ally, the Shiromani Akali Dal, called the party "the real tukde tukde gang in the country today" while accusing it of trying to pit Hindus against Sikhs in Punjab.
Addressing the media in Bathinda, where some AAP and BJP workers were inducted into the party, Akali Dal president Sukhbir Singh Badal said, "If one speaks in favour of the Central government, he is called 'desh bhakt (patriot)' and if he speaks out against it, he is branded 'tukde tukde gang'," Badal said, adding, "So desperate is the BJP for power that it has no qualms taking the communal route and setting the country aflame. The BJP first set Hindus against Muslims. Now, it is determined to replay the same evil game and re-enact the same tragedy in Punjab."
He repeated his charge in a tweet on Tuesday, saying, "BJP is the real #TukdeTukdeGang in the country. It has smashed the national unity to pieces, shamelessly inciting Hindus against Muslims & now desperately setting peace-loving Punjabi Hindus against their Sikh brethren esp #farmers. They're pushing patriotic Punjab into communal flames."
The Akali Dal had walked out of the National Democratic Alliance over the new farm laws. Sukhbir's wife and Bathinda MP Harsimrat Kaur Badal had also resigned as Union minister.
On the farm laws, Badal said, "These laws have been made by those who have never done farming."
Saying that the whole country, "except the BJP", acknowledges the debt we owe to our "patriotic farmers and soldiers", he added, "The BJP is provoking people to deny farmers their due. It is so ungrateful to farmers that it is painting them anti-national. Today it is the farmers… Tomorrow, if it suits them, who knows what the BJP might say about our soldiers?"
Later, in a statement issued from the party headquarters in Chandigarh, Sukhbir said, "SAD deems it its national duty to caution the countrymen against BJP's desperate and destructive game-plan in Punjab."
At Delhi's Singhu borders, farmers hardened their stance, saying they will "make" the government repeal these laws, and asserting that their fight has reached a stage where they are "determined" to win, no matter what.
They announced that they would completely block the Chilla border between Delhi and Noida on Wednesday to press for their demands, adding that farmer unions are not running away from negotiations, but the government has to come forward with concrete proposals.
Addressing a press conference at the Singhu Border, farmer leader Jagjeet Singh Dallewal said, "The government is saying 'we won't repeal these laws', we are saying we will make you do it."
Farmer unions also announced that they would organise a nationwide 'shraddhanjali' for all farmers who died during the current protests.
Gurnam Singh Chaduni, Haryana state chief of the Bhartiya Kisan Union, said around 14 farmers have died so far, either during the protests or while on their way to the protest sites.
Those coordinating the protests confirmed the death at Singhu on Tuesday of Gurmeet Singh, 67, a farmer from Kandala village in Punjab's Mohali district.
https://indianexpress.com/article/india/bjp-real-tukde-tukde-gang-pit-hindus-against-muslims-first-now-sikhs-sukhbir-badal-7106535/
--------
"BJP Bringing Party From Hyderabad To Cut Muslim Votes": Mamata Banerjee
December 16, 2020
West Bengal Chief Minister Mamata Banerjee on Tuesday said the BJP is "spending crores of rupees to bring in a party from Hyderabad to divide Muslim votes", in an apparent reference to Assaduddin Owaisi-led All India Majlis-e-Ittehad-ul-Muslimeen (AIMIM).
The AIMIM, after its good show in the Bihar assembly polls, has announced to contest in next year's Bengal polls.
In the recently concluded Bihar elections, the AIMIM won five seats in the Muslims dominated Seemanchal region on the border of West Bengal.
"To divide the Muslim votes, the BJP is spending crores of rupees to bring in a party from Hyderabad. The plan is that BJP will eat into Hindu votes, and this Hyderabad party will eat into Muslim votes.
"In recent Bihar elections, they did the same thing. This party is a B-team of the BJP," Ms Banerjee said while addressing a rally here.
The political parties in West Bengal are apprehensive that political equations in the communally polarised state is set to witness significant changes as the sway of non-BJP parties over minorities, a key factor in several seats, appears to be set for a stiff challenge with AIMIM announcing that it will enter the poll fray in Bengal.
A deciding factor in nearly 100-110 seats in the state, the 30 percent Muslim population, till 2019, have acted as a bulwark of the TMC against its rivals, with most of them voting in favour of the party, considering it to be a "credible" force that can resist the saffron surge.
A section of the TMC leadership is apprehensive that with the entry of AIMIM, equations are likely to alter.
Elections to the 294-member West Bengal assembly are due in April-May next year.
https://www.ndtv.com/india-news/bjp-bringing-party-from-hyderabad-to-cut-muslim-votes-mamata-banerjee-2339134
--------
Vijay Diwas: All you need to know about 1971 war with Pakistan
Dec 16, 2020
NEW DELHI: Today marks the beginning of the 50-years celebrations of the victory over Pakistan in the 1971 war, that saw the birth of Bangladesh as a nation and its liberation from Pakistani rule. The war concluded with the fall of Dhaka and surrender of Pakistani forces on Dec 16, 1971. The day is observed as 'Vijay Diwas' in India.
Here are the highlights of the conflict:
This was one of the shortest military conflicts in history, lasting just 13 days.
The war resulted in the largest military surrenders since World War II, when the Pakistan Army chief General Niazi surrendered with 93,000 of his troops.
A pro-leberation struggle in Bangladesh against the Pakistani misrule was already on in full swing before the war began.
The genocide and oppression by pakistani forces saw a huge influx (approximately 10 million people) from erstwhie East Pakistan to India. India opened camps in states brdering Bangladesh for sheltering the refugees.
The Mukti Bahini, that was fighting the regime in East Pakistan got a boost when then-Indian Prime Minister Indira Gandhi extended support in their fight.
Sensing the possibility of war, India had already made military preparations with buildups on Western and Eastern fronts.
Pakistan carried out air strikes on several Indian bases in the Western sector on December 3. The same night, PM Gamdhi addressed the nation over radio and said the Pakistani raids amounted to declaration of war against India.
Indian Air Force carried out massive retaliatory strikes the next day, marking the official commencemnet of war.
The war saw Indian dominance in air, sea and ground. The Mukti Bahini, trained and armed by India, joined hands with Indian Army to inflict heavy damage to Pakistani forces on the ground.
Pakistan suffered heavy losses in a surprise attack on the Karachi port by Indian Navy.
In a major air attack, Indian Air Force destroyed several Pakistani aircraft at the Murid base; Pakistan lost about 75 aircraft in the war.
In the famous Battle of Longewala, fought on the Rajasthan border, Indian forces thwarted a major offensive by Pakistani tanks. Indian forces destroyed 34 Pakistani tanks and nearly 200 soldiers.
The war ended with Pakistan army chief Gen Niazi signing the Instrument of Surrender with India's Lieutenant General Jagjit Singh Aurora in Dhaka on Dec 16, 1971.
About 93,000 Pakistani troops also surrendered, making it the largest military surrender after World War II.
Huge swathes of Pakistani areas came under Indian control, which were ceded as a gesture of goodwill after the signing of Shimla Agreement in 1972.
https://timesofindia.indiatimes.com/india/vijay-diwas-all-you-need-to-know-about-1971-war-with-pakistan/articleshow/79751734.cms
--------
PM Modi to light 'Swarnim Vijay Mashaal' today on 50th anniversary of 1971 India-Pak war
Dec 16, 2020
NEW DELHI: Prime Minister Narendra Modi will light up 'Swarnim Vijay Mashaal' at the National War Memorial (NWM) in Delhi on Wednesday and kickstart the 50th-anniversary celebrations of the 1971 India-Pakistan war, the Ministry of Defence said. In an official release on Tuesday, the Ministry said, "In December 1971, the Indian Armed Forces secured a decisive and historic Victory over Pakistan Army, which led to the creation of a Nation - Bangladesh and also resulted in the largest Military Surrender after the World War - II. From 16 December, the Nation will be celebrating 50 Years of India-Pak War, also called 'Swarnim Vijay Varsh'. Various commemorative events are planned across the Nation."
Prime Minister Modi will be received by Defence Minister Rajnath Singh at the venue.
The Prime Minister, Chief of Defence Staff and Tri-Service Chiefs will lay wreath and pay homage to the fallen soldiers.
The Prime Minister will light up the 'Swarnim Vijay Mashaal' from the eternal flame of NWM on the occasion.
"Four Victory Mashaals (flames) will be lit from the Eternal Flame of NWM. These Mashaals will be carried to various parts of the country including to villages of Param Vir Chakra and MahaVir Chakra Awardees of 1971 War. Soil from the villages of these Awardees and from areas where major battles were fought in 1971 are being brought to the NWM," read the release.
Various commemorative events will be conducted pan-India wherein war 'Veterans and Veer Naris' will be felicitated and events like band displays, seminars, exhibitions, equipment displays, film festivals, conclave and adventure activities are planned.
Minister of Defence for state Shripad Yesso Naik and other senior civil and military officials of the Ministry of Defence will also be present on the occasion.
Vijay Diwas is celebrated every year on December 16 to mark India's triumph in liberating Bangladesh from Pakistan in 1971.
In one of the fastest and shortest campaigns of military history, a new nation was born as a result of the swift campaign undertaken by the Indian Army.
After facing defeat in the 1971 war, the then Army Chief of Pakistan General Amir Abdullah Khan Niazi, along with his 93,000 troops, surrendered to allied forces which also comprised of Indian Army personnel.
https://timesofindia.indiatimes.com/india/pm-modi-to-light-swarnim-vijay-mashaal-today-on-50th-anniversary-of-1971-india-pak-war/articleshow/79751391.cms
--------
Europe
Alleged Qatari expert 'does not rule out' French intelligence role in Samuel Paty murder
December 15, 2020
LONDON: An alleged Qatari expert on French affairs said that he does not rule out the involvement of French intelligence in the murder of Samuel Paty.
In controversial views expressed on the Qatar-based Al-Mujtama Online TV channel on YouTube, Hassan Bin Ali-Alansari said: "I don't rule out the possibility that the French intel were behind the attack against the teacher."
In October, Paty, 47, was killed by 18-year-old Abdullakh Anzorov after the former showed caricatures by French satirical magazine Charlie Hebdo of the Prophet Muhammad in a class on freedom of expression. Anzorov later tweeted an image of the teacher's decapitated head.
"This is a blatant justification of terrorism and a leeway for its exemption from responsibility for radicalisation. This also reflect a belief in conspiracy theory," extremism expert Hani Nasira told Arab News.
"While the mentioned Qatari expert accuse France's people and government, he utterly disclaims terrorism from the responsibility," he added, also stating that "this is sheer stubbornness and determination to give excuses to terrorists."
The expert questioned the French laws and educational system that fosters radicalisation, and went further to play down the terrorist attack itself, stating that "no one saw the decapitated head of the teacher."
Ali-Alansari proclaimed that French intelligence were aware of everything that occurs in Islamic circles in France, and stated that the country "failed miserably" in their fight against terrorism.
"The problem is with the French people. France is the problem. The terrorist was born, lived and studied under the French law," he added.
Following the attack, French President Emmanuel Macron gave a highly-criticised speech in which he stated that Islam was a religion "in crisis," prompting him to become a figure of hate in some Muslim countries, with some boycotting French products.
Paty's death came after a series of other extremist-inspired attacks in France this year, including a knife assault outside the former offices of Charlie Hebdo, and deadly stabbings at a church in Nice.
https://www.arabnews.com/node/1777766/world
--------
Bosnia's Croat, Muslim presidents snub Russia FM over 'disrespect'
15 Dec 2020
SARAJEVO, Dec 15 — Bosnia's Croat and Muslim members of the joint presidency refused to meet with Russia's foreign minister today after accusing him of "disrespecting" the country during a meeting with their Serb counterpart.
The unusually harsh move reflected a growing rift within the Balkan state's two political halves, a Serb region that is pro-Russian and a Muslim-Croat federation that is pushing for Nato membership.
Russia's top diplomat Sergei Lavrov arrived in the Balkan state yesterday, first paying a visit to the country's Serb president Milorad Dodik.
Lavrov was supposed to meet all three members of the presidency today, but after the two others refused to show, he was hosted only by Dodik, the current holder of the body's rotating chair.
"Unfortunately, Lavrov showed a disrespect towards both the institutions and constitutional system of Bosnia-Herzegovina," Zeljko Komsic, the Croat member of the presidency, told a press conference.
"With regret, we decided not to host him."
Komsic said he was insulted notably by the lack of a Bosnian flag during the meeting with Dodik, which had only the flag of the Republika Srpska, the Serb-run zone.
That move showed "scorn and denial of the institutions of the country that he (Lavrov) is officially visiting".
Komsic also criticised Lavrov's support for the Bosnian Serb stance on military neutrality.
While Bosnia is united in its aspiration to join the European Union, the Muslim and Croat leaders are also eager to join Nato, a move opposed by the ethnic Serbs, who are traditional allies of Moscow.
"We cannot be a hostage of Russia's games of any kind regarding their relations with both EU and Nato countries," Komsic said.
Lavrov was visiting Bosnia on the 25th anniversary of signing of the peace deal which ended the country's 1992-95 war.
The conflict between Bosnia's Croats, Muslims and Serbs claimed some 100,000 lives.
It also cleaved the nation into two parts, with a political system that has helped entrench ethnic divides.
The country's two post-war entities are highly independent and linked by weak central institutions, making national-level policy difficult to enact. — AFP
https://www.malaymail.com/news/world/2020/12/15/bosnias-croat-muslim-presidents-snub-russia-fm-over-disrespect/1932245
--------
EU withholds $100mn budget support for Ethiopia over Tigray conflict
16 December 2020
The European Union (EU) has decided to put a hold on funding to Ethiopia due to the month-long conflict in the country's Tigray region, which has triggered a refugee crisis and a humanitarian disaster.
The EU is delaying nearly 90 million euros (over 109.8 million dollars) in budget support payments to Ethiopia, said a document seen by AFP on Wednesday, adding that "Postponing these disbursements does not imply that funds are lost for the Government of Ethiopia."
The EU has provided 815 million euros of budget support to Ethiopia in the seven years through 2020. EU officials have decided to postpone the additional 90 million euros due to the impact the violence has had on human rights.
The document, authenticated by two diplomatic officials in the Ethiopian capital, Addis Ababa, said the decision intended to highlight the EU's wish for a cessation of hostilities and "resolution through political means" of the conflict, as well as the bloc's concerns about restrictions on humanitarian and media access.
The document further called for a "follow-up on allegations of human rights abuse" during the conflict in Tigray, which began in early November.
The postponed EU funding includes 60 million euros for a program supporting transport and logistics links with Ethiopia's neighbors and 17.5 million euros for the health sector.
There was no immediate response from Ethiopian officials to the EU decision.
Tigray, with a population of six million — some one million of them now thought to have been displaced — has remained cut off from the world since an armed conflict erupted between Ethiopian troops and local rebels there last month.
Ethiopian Prime Minister Abiy Ahmed ordered an army offensive in the volatile region on November 4, in response to a deadly attack on an army base that killed at least 54 people.
Abiy accused the Tigray People's Liberation Front (TPLF), the region's ruling party, of having staged the attack.
His government, which had restricted access to the region, said last week that it had defeated forces loyal to the TPLF and struck a deal with the United Nations (UN) to allow aid.
Aid agencies, however, said the agreement was too restrictive and security remained a problem.
Mekelle, the regional capital and home to 500,000 people, on Saturday received the first humanitarian aid convoy since the war broke out.
The Ethiopian government is meanwhile trying to restore normalcy to Tigray. The government on Monday ordered civil servants to go back to work and gun owners to disarm.
Some power and telephone links were also restored in Mekelle after a virtual communications blackout, according to Abiy's government.
Accounts of hunger and harassment, however, emerged from refugees, along with reports of big fuel and food price hikes as well as water shortages.
Thousands of people have so far been killed in Tigray, according to the International Crisis Group think tank, and around 50,000 Ethiopians have fled to refugee camps across the border in Sudan.
Human rights groups say they have documented at least one large-scale massacre in the region, and that others are feared.
The crisis also risks destabilizing the wider Horn of Africa region.
The EU's latest decision could strain an economy already struggling to deal with the impact of the coronavirus pandemic and the conflict.
https://www.presstv.com/Detail/2020/12/16/640837/EU-withholds-budget-support-for-Ethiopia-over-Tigray-conflict
--------
Armenia, Azerbaijan exchange prisoners of war
15 December 2020
Armenia and Azerbaijan have started a prisoner swap, under a ceasefire deal that was brokered by Russia last month to put an end to weeks-long fighting between the two countries over the Nagorno-Karabakh region.
Russia's Defense Ministry said on Tuesday that Baku and Yerevan had begun exchanging prisoners of war.
A Russian military aircraft flew a group of 12 Azeri prisoners to Baku late on Monday, said the commander of Russia's peacekeeping forces in Karabakh, Rustam Muradov.
Baku also released a group of 44 Armenian prisoners on Monday, according to Armenian Deputy Prime Minister Tigran Avinyan.
After six weeks of deadly fighting in and around the disputed Caucasus region, Armenia and Azerbaijan agreed to end hostilities under the Russian-brokered deal in early November.
Karabakh is internationally recognized as part of Azerbaijan, but it has been occupied by ethnic Armenian separatists backed by Armenia since 1992 when they broke from Azerbaijan in a war that killed some 30,000 people.
The latest fighting re-erupted in late September.
Under the ceasefire deal, Azerbaijan regained some of its territorial claims and Russia and Turkey sent peacekeeping forces to jointly monitor the truce.
Armenia and Azerbaijan have, however, accused each other of violating the ceasefire.
Armenian-backed forces and Azeri troops engaged in fighting in the southeastern part of Nagorno-Karabakh over the weekend.
Six Armenian soldiers were wounded, according to the Armenian Ministry of Foreign Affairs.
"The provocations of Azerbaijan continued today in the direction of the villages of Mets Shen and Hin Shen in the Hadrut region," the Armenian Foreign Ministry said in a statement on Sunday.
Azerbaijan reported a casualty toll of four.
Armenian Prime Minister Nikol Pashinyan said that Azerbaijan took control of the two villages of Hin Taghe and Khtsaberd in the fighting.
Azerbaijan said it launched two operations on Friday and Saturday in the villages after its forces came under two deadly attacks by Armenia over the past three weeks.
But Russian peacekeepers reported no major fighting in the region. They said there had only been one ceasefire violation over the weekend.
https://www.presstv.com/Detail/2020/12/15/640774/Armenia-Azerbaijan-exchange-prisoners-of-war
--------
Met Police officer denies membership of neo-Nazi terrorist group
Lizzie Dearden
16 December 2020
A police officer has denied being a member of a neo-Nazi terrorist group and concealing his allegiance from Scotland Yard.
Benjamin Hannam, 22, was serving in the Metropolitan Police when he was arrested on suspicion of a terror offence and fraud.
Appearing at London's Old Bailey on Monday, he denied being a member of the neo-Nazi terrorist group National Action between December 2016, when it was banned, and September 2017.
He also pleaded not guilty to two counts of fraud by false representation.
Mr Hannam is accused of lying on his application to join the Metropolitan Police, made in July 2017, and a vetting form submitted in October 2017.
Both documents asked him whether he had "been a member of an organisation similar to the British National Party".
The Metropolitan Police previously said Mr Hannam was still in his probation period when he was arrested and was currently suspended from duty.
Mr Hannam, of Enfield in north London, was released on bail under a series of conditions, which ban him from travelling abroad and restrict his internet usage.
He is due to go on trial on 1 March and a further pre-trial hearing was set for 1 February.
https://www.independent.co.uk/news/uk/crime/neo-nazi-police-officer-met-b1773779.html?utm_source=iterable&utm_medium=email&utm_campaign=1819727_
--------
Arab World
Saudi Arabia holds hundreds of African migrants in appalling conditions: HRW
16 December 2020
Human Rights Watch (HRW) says Saudi Arabia has held in a deportation center hundreds of mostly Ethiopian migrant workers in "appalling" conditions, calling for their immediate release.
The New York-based organization said in a report on Tuesday that a deportation center in the Saudi Arabian capital of Riyadh is "holding hundreds of mostly Ethiopian migrant workers in conditions so degrading that they amount to ill-treatment."
Warning about the inhuman conditions of the deportation center, the HRW said the migrants are held in "extremely overcrowded rooms for extended periods," and that guards have tortured and beaten them with rubber-coated metal rods.
The report added that at least three people had died in custody since October.
"Saudi Arabia, one of the world's richest countries, has no excuse for detaining migrant workers in appalling conditions, in the middle of a health pandemic, for months on end," said Nadia Hardman, refugee and migrant rights researcher at the HRW.
"Video footage of people crammed together, allegations of torture, and unlawful killings are shocking, as is the apparent unwillingness of the authorities to do anything to investigate conditions of abuse and hold those responsible to account," she added.
The HRW quoted detainees as saying that some of them had been infected with the coronavirus but no measures were taken to control the spread of the disease.
"The Saudi authorities should immediately release the most vulnerable detainees and ensure that detention is only used as an exceptional measure of last resort," New York-based organization concluded.
"It should immediately end any torture and other ill-treatment, and ensure that detention conditions meet international standards."
The migrants at the center, mostly from Ethiopia but also from other African or Asian countries, were arrested and pending deportation amid the coronavirus pandemic, with Saudi authorities claiming that the migrants had no valid residency permits.
"Saudi Arabia should act fast to end the abusive conditions in the Riyadh deportation center and contain the potential of a devastating outbreak of Covid-19. Governments with nationals inside the facility should pressure the authorities and do all they can to facilitate voluntary repatriation," Hardman underlined.
Foreign workers account for some 12.6 million of Saudi Arabia's total population of 33.4 million, according to the latest available government data from 2018, with several million others living in the kingdom outside the law.
The detention of migrants in deplorable facilities in Saudi Arabia has been a longstanding issue.
In 2014, Ethiopian nationals in Riyadh told the HRW that thousands of foreign workers were being held in makeshift detention facilities without adequate food and shelter, before being deported.
In 2019, the New York-based organization identified approximately ten prisons and detention centers in the ultra-conservative kingdom where migrants were held for various periods.
In August, Human Rights Watch identified three detention centers in the provinces of Jizan and Jeddah where thousands of Ethiopian migrants were being held in deplorable conditions since they were pushed from northern Yemen in April.
https://www.presstv.com/Detail/2020/12/15/640817/Human-Rights-Watch-Saudi-Arabia-deportation-center-Ethiopian-migrant-workers
--------
Iraqi activist Salah al-Iraqi shot dead in Baghdad al-Jadida district
Ismaeel Naar
15 December 2020
Iraqi authorities are investigating another assassination of an activist after Salah al-Iraqi was shot five times on Tuesday in the country's Baghdad al-Jadida district.
A security source confirmed to Al Arabiya that investigations are underway to find out the circumstances surrounding al-Iraqi's assassination.
The source confirmed that the area where al-Iraqi was gunned down falls under the responsibilities of the Federal Police Force Command.
An Iraqi security official told the Erm News outlet that "unknown gunmen on a motorcycle opened fire on the Iraqi activist Salah al-Iraqi after he left his home in the Baghdad al-Jadida area, east of the capital."
"The security forces have cordoned off the area and opened an investigation into the incident, and they are currently reviewing surveillance cameras to follow the course of the motorcycle which was carrying the gunmen," the security source told Erm News.
Al-Iraqi reportedly died on the scene.
"Iraqi activist Salah Al-Iraqi was gunned down in Baghdad al-Jadida tonight. He was shot five times and was known for his outspoken courage against corruption and militias. Salah was injured in an earlier protest," Iraqi journalist Steven Nabil tweeted.
Al-Iraqi is considered one of the main activist leaders of the Iraq protests that took place last year.
https://english.alarabiya.net/en/News/middle-east/2020/12/15/Iraqi-militias-Iraqi-activist-Salah-al-Iraqi-shot-dead-in-Baghdad-al-Jadida-district
--------
UAE-based Big Heart Foundation supports damaged Beirut hospital with more than $2 mln
15 December 2020
UAE-based Big Heart Foundation has announced a $2.3 million fund for a renovation and restoration project of St. George University Hospital Medical Center in Beirut, which was damaged by the Beirut port explosion in August, reported Lebanon's National News Agency (NNA).
The Big Heart Foundation is an international humanitarian organization dedicated to helping refugees and needy people worldwide, which is headquartered in the UAE emirate of Sharjah.
For all the latest headlines follow our Google News channel online or via the app
The project comes within the framework of the "Peace for Beirut" campaign launched by the wife of the Ruler of Sharjah, Sheikha Jawaher Bint Muhammad Al Qasimi, President of the Big Heart Foundation and prominent advocacy for refugee children at the United Nations High Commissioner for Refugees.
NNA added that the restoration project started this month and will last for three months. It includes developing the medical center's infrastructure and providing medical equipment and administrative equipment, contributing to increasing the capacity of the hospital's emergency unit.
The unit is fully financed by the foundation and will be named "The Big Heart Foundation." Its medical services reach 40,000 patients annually, which allows this charitable institution to expand its services to meet community members' needs.
Part of the financial support provided by the "Big Heart" will be devoted to building a new pediatric department in the hospital that includes three patient rooms, a recovery room, and an isolation room. An isolation unit equipped with the latest medical equipment and the highest international standards will be established.
The Director of the Big Heart Foundation, Maryam Al Hammadi, said: "The Great Heart Foundation chose Saint George University Hospital in Beirut as an appreciation for its historical and social standing, as it represents one of the features of the city's heritage identity, as it began providing free health services nearly 140 years ago to become a haven for those unable to afford treatment costs, it is an essential landmark of the memory of the city and its residents."
She added: "The project to enhance the capabilities of this charitable medical institution embodies the vision of Her Highness Sheikha Jawaher Bint Mohammed Al Qasimi, aimed at providing health care to the needy, especially those who cannot afford medical care, as well as expanding health services to reach the largest number of beneficiaries, reflecting the essence of work of our humanitarian foundation which is based on giving and translates our belief that promoting the health of societies is the basis for stability and sustainable progress."
https://english.alarabiya.net/en/News/middle-east/2020/12/15/UAE-based-Big-Heart-Foundation-supports-damaged-Beirut-hospital-with-more-than-2-mln
--------
As Lebanon's crisis deepens, UNICEF provides cash assistance to over 70,000 children
Rawad Taha
15 December 2020
The United Nations Children's Fund (UNICEF) is providing cash assistance to over 70,000 children across Lebanon to help households protect child wellbeing, the institution announced in a statement on Tuesday.
UNICEF added that this assistance is due the deepening economic crisis that is now affecting most of the population in Lebanon.
For all the latest headlines follow our Google News channel online or via the app
UNICEF Representative to Lebanon Yukie Mokuo said Lebanon has faced multiple crises that have increased the vulnerability of its residents.
"As prices rise and people lose their jobs, everyone is affected, particularly vulnerable households such as those with children. UNICEF's aim is to provide immediate support, as far as our resources would allow, to some of the most vulnerable households in the country," Mokuo added.
UNICEF clarified that the Cash Assistance is a one-off grant that is being transferred once during the month of December 2020 to households across the entire country.
Supported households include Lebanese families and their children who are identified as vulnerable under the Government's National Poverty Targeting program and hold an electronic card (the Hayat card) as well as non-Lebanese households and their children who have previously been identified as vulnerable under UNICEF programs and hold an active Red e-Card.
UNICEF elaborated that families received an SMS from UNICEF informing them that their card was loaded with the amount for which they are eligible. Lebanese and non-Lebanese households with children under 18 years old receive a one-off amount of 460,000 Lebanese lira (officially $304) per child up to a maximum of three children per family. Lebanese families with no children also receive support of 460,000 Lebanese lira.
This cash support to households comes on top of UNICEF's existing programs that support the most vulnerable Lebanese, Syrian and Palestinian children and young people across Lebanon with basic services, including education, social assistance, child protection, youth development, health and nutrition, and water and sanitation.
https://english.alarabiya.net/en/News/middle-east/2020/12/15/As-Lebanon-s-crisis-deepens-UNICEF-provides-cash-assistance-to-over-70-000-children
--------
Lebanon's path to new cabinet totally blocked: Speaker Berri
15 December 2020
The path to a new Lebanese government is completely blocked, Parliament Speaker Nabih Berri said in comments published on Tuesday, but he held out hope that French President Emmanuel Macron might be able to help in a forthcoming visit.
Fractious politicians have been unable to agree on a new government since the last one quit in the aftermath of the Aug. 4 Beirut port explosion, leaving Lebanon rudderless as it sinks deeper into economic and financial crisis.
"We have entered a tunnel and I don't know how we will get out of it," Berri told al-Joumhuria newspaper. "We are in a pitiful situation. The government situation is completely blocked."
Prime Minister-designate Saad Hariri and President Michel Aoun aired their differences over the government in statements on Monday, each blaming the other for the delay.
"Why this blockage? The answer certainly lies with the president and prime minister-designate," said Berri, an ally of the armed Iran-backed Lebanese Hezbollah.
"God willing, the French President Emmanuel Macron will be able to do something in his coming visit. We can only wait."
Macron is due to visit Lebanon later this month, his third visit since the devastating port explosion which worsened an economic crisis.
Caused by decades of corruption and bad governance, the financial meltdown is the worst crisis to hit Lebanon since its 1975-90 civil war.
Following the blast, Macron led efforts to get Lebanese politicians to agree on a new government which could enact reforms and in turn unlock international support.
But Lebanese leaders have delivered no reforms.
French Foreign Minister Jean-Yves Le Drian said Lebanon's political and economic collapse was like the sinking of the Titanic, only without the music which it is believed the orchestra played as the ship went down.
https://english.alarabiya.net/en/News/middle-east/2020/12/15/Lebanon-s-path-to-new-cabinet-totally-blocked-Speaker-Berri
--------
ISIS sleeper cell attacks in Syria reach record low, data shows
16 December 2020
Despite the still frequent terrorist attacks ripping through the once ISIS-controlled pockets of northeastern Syria, data released this month showed that November 2020 recorded the lowest number of sleeper cell attacks by the Islamic terror group since their territorial defeat last year.
According to the Syria-based monitoring group Rojava Information Center (RJC), there were 16 confirmed attacks – plus an additional seven attacks at the sprawling al-Hol displaced person camp – making it an 80% decrease year over year. The previous record low was double this figure.
"Throughout this year, we have seen a gradual chipping down (of attack numbers) to the lowest-ever number last month," Thomas McClure, a Syria-based researcher, told Fox News. "But it is important to remember that these numbers are still very high."
The mild triumph comes months after the U.S.-backed Syrian Democratic Forces (SDF), in conjunction with the International Coalition, intensified raids in the early summer throughout the Deir-ez-Zor area – the last ISIS stronghold – resulting in over 110 arrests.
The latest RJC report emphasized that, of the assaults that did take place in November, 14 of them took place in that volatile spot, marking a 55-64% monthly decrease on prior months. Only two attacks took place outside of Deir-ez-Zor last month: one in the once so-called caliphate capital of Raqqa and another in Heseke.
The potential turning of the tide comes just over a year after President Trump announced a dramatic drawdown of U.S. troops in the area, igniting a firestorm of criticism and concern over the long-term ramifications of a resurgence in ISIS gaining ground.
McClure stressed that the populous still has a long way to go until the future looks stable and secure, and ISIS has "no room" in which to continue waking its sleeper cells, cautioning that another invasion from Turkey – who view the SDF as being a wing of their longstanding adversity to the Kurdish separatist and designated terrorist group known as the PKK – could risk undoing all the recent gains.
Moreover, November's attacks – eight of which were believed to be assassination attempts targeting individuals suspected of connection to the SDF-supported Autonomous Administration – resulted in nine fatalities. In total, this saw 15 confirmed fatalities and many more wounded. Despite a reduction in the number of attacks, this is a 50% increase compared to October, which only saw 10 deaths.
"Despite fluctuation from month to month, it is clear that joint Coalition and ISIS raids are having a long-term effect, decreasing the rate of ISIS and other sleeper-cell attacks. Except for January and February, every month throughout 2020 has seen a decrease when compared to the same month in 2019," Rojava Information Center researcher Robin Fleming said. "This November, (the northeastern region) saw a record-low figure of ISIS attacks since the Rojava Information Center began collecting data; only 16 total attacks compared to 83 confirmed attacks in November 2019, immediately following the Turkish invasion."
RJC researchers surmised that efforts made to provide "amnesty" to hundreds of women and children in recent months haven't resulted in an uptick of attacks across the region. But within the confines of the camp, as conditions for the 65,000 people stuffed inside continue to deteriorate and officials pled for foreign governments to take back their nationals as resources dwindle – the security situation is only worsening.
"As we see attacks in (northeastern Syria) falling, so we see the situation in Hol Camp intensifying. al-Hol Camp remains a hotspot for attacks by ISIS-affiliated women, with 7 attacks resulting in 7 deaths and several wounded," the report continued. "Nonetheless, it is positive to note that neither releases of hundreds of families from Hol Camp nor an amnesty for hundreds of low-level ISIS fighters have led to an increase in sleeper-cell attacks."
In addition to housing around 10,000 people from other countries, the camp hosts 28,000 Syrians and 30,000 Iraqis, according to U.N. figures. Since October, the local administration has embarked on a campaign to steadily release some 500 willing families to alleviate the overcrowding and security burden.
Riza Kumar, a researcher at the Counter Extremism Project (CEP), underscored that raids against ISIS need to continue to ensure that sleeper cells are actively neutralized to prevent future recruits' radicalization.
"The camp continues to be a threat to the region as former ISIS members are able to recruit, indoctrinate, and exploit fellow detainees. However, if camp departures are safe and low-risk, the camp will be better able to monitor higher-risk individuals who pose a genuine threat to regional security," she said. "(But) given the mass release of Syrian detainees from al-Hol, there will also have to be active rehabilitation and monitoring systems in place to ensure that former detainees—who may have acquired knowledge on how to carry out attacks and persuade recruits—will not potentially re-radicalize or radicalize others in their home villages."
Kumar conjectured that the longer individuals remain at al-Hol, there will be a higher risk that residents will adhere to ISIS under duress or, if they ever return to their communities, will face communal revenge and isolation the stigma of ISIS affiliation or support.
"U.S. national security, and international security, ultimately depends on ensuring that al-Hol residents and those who leave al-Hol, have the necessary humanitarian and specialized support to safely reintegrate back into their communities," she continued.
The SDF has also purported to ease the pressure on its deluged ISIS prison system, granting more than 600 low-level Syrian fighters general amnesty in recent months. More than 250 others had their prison terms slashed by more than half.
Yet, one problematic point remains the return of ISIS inmates and families to neighboring Iraq. While Baghdad has agreed to take back the terrorist-connected, it has been met with trepidation from locals and minority communities – including Christians and Yazidis – who fear reprisal of oppression and violence.
It has also drawn concern from human rights activists and the returnees themselves, given that neighboring Iraq has undertaken a stringent crackdown against the terrorist outfit, executing hundreds on-mass since the group took over swaths of its terrain in 2014.
https://www.foxnews.com/world/isis-sleeper-cell-attacks-in-syria-reach-record-low-data-shows?utm_source=iterable&utm_medium=email&utm_campaign=1819727_
--------
Southeast Asia
India Seeks Malaysian Intelligence Input on Alleged Financing for Terror Plot
2020-12-15
New Delhi has contacted Malaysian authorities about an Indian intelligence report claiming that U.S. $200,000 allegedly routed from Kuala Lumpur to India could be used to fund a terror attack on the subcontinent in coming weeks, a senior security official told BenarNews.
According to an Indian intelligence document seen by two leading Indian media outlets, the money was sent by Malaysia-based Indian Islamic cleric Zakir Naik, and a Rohingya leader named Mohammad Naseer, to finance a woman-led terror operation in northern or eastern India.
"They contacted us seeking further information on the day the news report came out," said the Malaysian security official, who was not authorized to speak publicly on the issue and requested not to be named, referring to Indian media reports from the weekend.
BenarNews tried to contact counterterrorism officials in India as well as criminal investigation officials in the eastern state of West Bengal for more details, but they couldn't be reached. The Indian Embassy in Kuala Lumpur didn't immediately comment.
The Indian publications said that New Delhi suspected the woman leading the alleged terror attack plan was sent from Malaysia to Myanmar for training, and had planned to infiltrate into India through Bangladesh or Nepal.
Bangladesh's counterterrorism officials told BenarNews they had not yet heard from India about an alleged terror suspect entering India via the border.
"We do not have any such information of possible infiltration in India from Bangladesh. India also hasn't made any communication regarding this matter," said Saiful Islam, deputy commissioner of Counter Terrorism and Transnational Crime.
Indian intelligence officials discovered that an individual in the southern city of Chennai received a part of the $200,000 of funds routed from Kuala Lumpur, likely through a non-banking money transfer system called hawala, the Indian media outlets reported.
Malaysia had yet to receive proof from India about the alleged financial transactions, but the central bank was looking into it, the Malaysian security official said.
"BNM (Malaysia's central bank) is still scrutinizing the transaction records. However, any hawala transaction will not surface on formal financial records. Hawala record is also very hard to prove as it is not an official record," the official told BenarNews.
"Since the Indian authorities claimed they have intercepted financial records, I recommend you to get the info direct from BNM, since Zakir Naik is associated with the transaction. We are also waiting for them to clarify."
BNM didn't respond to BenarNews' request for comment.
Unknown Rohingya man
Naik, a hardline Islamic televangelist, left India in 2016, and subsequently obtained permanent residency in Muslim-majority Malaysia. He faces charges in India to do with money laundering and inciting hatred through his sermons broadcast on Peace TV.
Indian authorities had accused Naik of inspiring some of the militants who carried out an Islamic State-linked terrorist attack at a café in Dhaka, where 29 people, including 20 hostages, were killed in July 2016.
In August 2019, Malaysia temporarily banned Naik from delivering sermons, amid complaints that his speeches carried racist comments about the multicultural nation that is sheltering him from prosecution in India.
Malaysian officials have no knowledge about Naseer, the Rohingya man who allegedly sent money to India along with Naik.
"So far, this 'Mohammed Naseer' is not traced in our counterterrorism radar," the security official said, adding that two police units that monitor Rohingya NGOs had responded negatively to queries on the name.
Ayob Khan Mydin Pitchay, who served as Malaysia's counter-terror chief until February 2020, told BenarNews that Naseer's name didn't surface during his tenure, including in connection with a Rohingya group found to be sending funds to Arakan Rohingya Salvation Army (ARSA) militants in Myanmar in 2019.
"He could be known by a different name here, maybe," Ayob said.
'Rubbish news'
As of October 2020, Malaysia hosted 102,000 Rohingya refugees, according to figures from the United Nations refugee agency (UNHCR).
The agency didn't break down the number to say how many arrived in Malaysia after a brutal military crackdown in Myanmar in 2017 forced hundreds of thousands of Rohingya to flee to Bangladesh and other countries.
Myanmar conducted the crackdown after deadly raids on police and military outposts in Rakhine state which authorities blamed on ARSA rebels. Myanmar declared ARSA a terrorist group by on Aug. 25, 2017.
In 2018, a study paper by the European Foundation for South Asian Studies (EFSAS) in Amsterdam said that Malaysia was "being used as a clearing house for ARSA funds and a transit point for movement of militants."
A year later, Malaysia made its first terror-related arrests involving Rohingya, police said at the time.
In May 2019, two Rohingya were among suspects arrested in a foiled Islamic State (IS) plot in Malaysia to attack worship sites and assassinate "high-profile personalities" during Ramadan.
As for the cleric Naik, his spokesman told BenarNews that the Indian publications' reports alleging his involvement have no basis in fact.
"Dr. Naik usually does not comment on such vague news. What The Times of India reported is rubbish news. The report doesn't even explain the nature of the alleged connection," said Naik's spokesman, who did not wish to be named for security reasons.
He was referring to one of the two Indian publications that reported on the alleged financing for a terror attack.
Shailaja Neelakantan in Washington, Prapti Rahman in Dhaka and Paritosh Paul in Kolkata, India, contributed to this report.
https://www.benarnews.org/english/news/malaysian/in-my-terror-plot-12152020112746.html
--------
Malaysian Christians file complaint against Muslim politician
December 16, 2020
Two Malaysian Christians have called on the attorney-general to hold a prominent Muslim politician to account for what they see as seditious comments that denigrated Christians.
The two Christians, who are residents of the state of Sabah, said they want to see Abdul Hadi Awang, president of the Malaysian Islamic Party (PAS), charged under Section 3 of the Sedition Act in the Criminal Code for an article he wrote four years ago.
In the 2016 article published in a PAS-run newspaper, Hadi accused Christian missionaries of preying on poor and uneducated people in impoverished communities in Malaysian states like Sabah and elsewhere by paying them off to convert to Christianity.
"Unfortunately, after being rejected in Europe, Christian missionaries have taken their teachings to those African countries where the people are far from being educated and civilized. They have also taken these teachings to the interior areas of our country, such as in Sabah and Sarawak [states in Malaysia]," the senior Muslim politician, 73, argued.
"They have spread their religion not by using knowledge and reasoned argument but by baiting their targets with money and other forms of aid. This is transgression in the name of religion. It is a danger that must be fought."
The two Christians filed a complaint with the High Court in Kuala Lumpur last week, saying they want to have Hadi declared unfit for any government position because of his anti-Christian bigotry.
"It has been more than four years since the defendant issued the statement but no prosecution has been brought against him," they said in their affidavit.
"We respectfully believe that the defendant has made an unfounded statement and cast aspersions on Christians and/or Christian missionaries. The defendant's statement has affected the Christian community in the country and has thus become a matter of public interest."
Anti-Christian statements are hardly uncommon in Muslim-majority Malaysia where Christians account for 13 percent of the population, according to a census last year. Two-thirds of Malaysian Christians live in just two of the country's 13 states, Sabah and Sarawak on the island of Borneo, where they make up a third of the population.
Earlier this year, during a recent session in parliament, Nik Muhammad Zawawi Salleh, a prominent Muslim politician, said that the texts of the New Testament had been corrupted by Christians over time and so they did not reflect the true teachings of Jesus.
His comments caused widespread outrage among the country's Christians, including its Catholics, and several lawmakers urged Zawawi to apologize for his religiously divisive comment.
Zawawi refused, arguing that Christians had no right to be offended because it was a "fact" that their scriptures had been corrupted.
"They have no right to be offended," the Muslim lawmaker said. "What I said was not an accusation but a fact," he added. "There is no need to apologize … What I said is right. Why should I apologize?"
In response, Archbishop Julian Leow Beng Kim, a prominent Catholic clergyman based in Kuala Lumpur, joined several other religious leaders from the Malaysian Consultative Council of Buddhism, Christianity, Hinduism, Sikhism and Taoism in decrying Zawawi's comments as "totally unacceptable to all peace-loving Malaysians of all faiths."
Archbishop Kim also issued a separate statement in which he said that the Muslim lawmaker "showed a reprehensible disrespect not only for his fellow Malaysians who are Christians but also for all the efforts of our forefathers in forging peoples of diverse creeds, colour and cultures into a peace-loving and harmonious nation."
https://www.ucanews.com/news/malaysian-christians-file-complaint-against-muslim-politician/90709#
--------
Two Christian Sabahans sue Hadi, want court to declare him unfit for minister-level post over alleged seditious remark
15 Dec 2020
BY IDA LIM
KUALA LUMPUR, Dec 15 — Two Sabahans have filed a lawsuit against PAS president Datuk Seri Abdul Hadi Awang as a public interest matter, seeking to have the court declare the politician as unfit for any government posts over his alleged previous seditious remark against Christians.
The two men Maklin Masiau and Lawrence Jomiji Kinsil @ Maximilhian are asking the court to find Hadi guilty of violating Section 3 of the Sedition Act and a declaration that he is "unfit to hold any position in the government of Malaysia, including that of a position equivalent to a ministerial post".
Hadi was appointed the prime minister's special envoy to the Middle East on April 2. The position carries a status equivalent to a minister.
Last month, a government official explained Hadi's role, which is said to involve helping and advising the prime minister on ways to enhance Malaysia's interests in the Middle East in the fields of Islam, education, trade and investment, as well as meeting with ambassadors from countries in the Middle East to strengthen cooperation in such matters.
In their court filing, the two Sabahans claimed that Hadi had made a seditious statement in PAS newspaper Harakah against Christians and Christian missionaries on January 18, 2016.
They said they initiated the lawsuit because the public prosecutor had not charged Hadi for those remarks after four years.
"This is a public interest litigation brought to vindicate the rule of law by reason of the fact that no other person including the public prosecutor has any intention of bringing any proceedings against the defendant," Maklin and Lawrence who described themselves as Christians said in their originating summons.
In an affidavit filed in support of their lawsuit, the duo said that Hadi had made an "unfounded statement" and cast aspersions on Christians and Christian missionaries, further saying that Hadi's statement "has affected the Christian community in the country and thus has become a matter of public interest".
They said Hadi's alleged "seditious philosophy" was reflected recently in PAS' Pasir Puteh MP Nik Muhammad Zawawi Salleh's August 26 remarks in the Dewan Rakyat alleging the Bible to be "distorted".
Nik Muhammad Zawawi had on November 3 in the Dewan Rakyat apologised if anyone had felt hurt over his remarks.
The Christian Federation of Malaysia — an umbrella body which represents churches nationwide — however questioned the sincerity of Nik Muhammad Zawawi in his so-called "apology" and described it as a "non-apology".
The two Sabahans also included various news reports in January 2016 and August 2020 as part of their court filing to support their case.
Lawyer R. Kengadharan representing Maklin and Lawrence told Malay Mail that the lawsuit was filed on December 9 in the High Court in Kuala Lumpur, and that the court papers had been delivered to the PAS headquarters yesterday.
https://www.malaymail.com/news/malaysia/2020/12/15/two-christian-sabahans-sue-hadi-wants-court-to-declare-him-unfit-for-minist/1932265
--------
Sarawakian Bumiputera Christian's 'Allah' case to finally have court decision delivered in Jan 2021
15 Dec 2020
BY IDA LIM
KUALA LUMPUR, Dec 15 — The High Court is expected to finally deliver its decision next month in a Sarawakian native Christian's bid to seek official recognition of her constitutional rights to freely practise her religion and to non-discrimination, more than three years after the matters were heard in court.
Lawyer Annou Xavier, who represents Jill Ireland Lawrence Bill, today confirmed the decision date.
He told Malay Mail that the case "has now been fixed for decision on January 14, 2021, 10am at KL High Court and will be delivered by Datuk Norbee binti Ariffin".
This would be the second time that the High Court delivers a decision in Jill Ireland's case.
Jill Ireland had filed her lawsuit in August 2008 against the home minister and government of Malaysia, after the Home Ministry's May 11, 2008 seizure of eight compact discs (CDs) — containing the word "Allah" — which were meant for her personal use at KLIA upon her return from Indonesia.
While the High Court had in July 2014 decided that the Home Ministry was wrong to seize the CDs and had ordered their return to Jill Ireland, the court did not address the constitutional points in the lawsuit.
The Court of Appeal in June 2015 directed the Home Ministry to return the CDs and also sent the constitutional issues back to the High Court to be heard, with Jill Ireland finally receiving her CDs in September 2015.
The constitutional issues in Jill Ireland's case were then heard by then High Court judge Datuk Nor Bee Ariffin (now Court of Appeal judge) on October 19, 2017 and November 15, 2017.
The High Court had initially fixed March 22, 2018 as the decision date for the constitutional issues, but deferred it to August 13, 2018 as the Attorney General's Chambers needed to get "fresh instructions" from the government.
The August 13, 2018 date was however subsequently converted to be a case management date following a change in government to enable parties to engage to seek a resolution for the matter, with the case subsequently undergoing multiple case management over the years before the scheduling of the new decision date in January 2021.
In this lawsuit, Jill Ireland is seeking several court orders, including a declaration that it is her constitutional right to have access to Christian publications in the exercise of her rights to practise religion and right to education, as provided for by the Federal Constitution's Article 11 on the freedom of religion.
The Sarawakian native of the Melanau tribe is also seeking a court declaration that the Constitution's Article 8 guarantees her equality before the law and protection from discrimination on grounds of religion in the administration of law ― specifically the Printing Presses and Publications Act 1984 and the Customs Act 1967.
Jill Ireland is also asking the court to declare the Home Ministry's December 5, 1986 circular to ban the word "Allah" in Christian publications as unconstitutional and unlawful, arguing among other things that the government has failed to prove such use was a threat to public order.
The government had used the 1986 circular to justify its 2008 seizure of Jill Ireland's CDs.
Jill Ireland's lawyers had in 2017 previously highlighted views from local and international experts that the Arabic word "Allah" for God is not used exclusively by Islam, and said that this word has been adopted into Malaysia's national language and has long been used by the local Bahasa Malaysia-speaking Christian community as shown by Malay translations of Christian publications dating back a few centuries.
https://www.malaymail.com/news/malaysia/2020/12/15/sarawakian-bumiputera-christians-allah-case-to-finally-have-court-decision/1932237
--------
Indonesia police: Top terror suspect mastermind of attacks
Dec. 14, 2020
By Niniek Karmini
JAKARTA, Indonesia — Indonesian authorities said Monday that a top terror suspect arrested last week was the architect of a series of deadly attacks and sectarian conflicts in the world's most populous Muslim nation.
Aris Sumarsono, known as Zulkarnaen, was arrested Thursday by counterterrorism police in a raid at a house in East Lampung district on Sumatra island.
"He was the military commander of Jemaah Islamiyah," National Police spokesperson Ahmad Ramadhan said at a news conference in the capital, Jakarta. "He's been on the police wanted list for 18 years."
Zulkarnaen, a biologist who was among the first Indonesian militants to go to Afghanistan in the 1980s for training, was an instructor at a military academy there for seven years, Ramadhan said.
Since May 2005, Zulkarnaen has been listed on an al-Qaida sanctions list by the U.N. Security Council for being associated with Osama bin Laden or the Taliban.
The Security Council said that Zulkarnaen, who became an expert in sabotage, was one of al-Qaida's representatives in Southeast Asia and one of the few people in Indonesia who had had direct contact with bin Laden's network.
It said that Zulkarnaen led a squad of fighters known as the Laskar Khos, or Special Force, whose members were recruited from among some 300 Indonesians who trained in Afghanistan and the Philippines.
Zulkarnaen was appointed the head of Camp Saddah, a military academy in the southern Philippines established for fighters from Southeast Asia, the Security Council said. He spent a decade at the camp training other Jemaah Islamiyah members.
He became operations chief for Jemaah Islamiyah after the arrest of his predecessor, Encep Nurjaman, also known as Hambali, in Thailand in 2003.
The United States' "Rewards for Justice" program had offered a bounty of up to $5 million for his capture. He was the only Indonesian on the list.
Indonesian police said he masterminded church attacks that occurred simultaneously in many Indonesian regions during Christmas and New Year's Eve in 2000 that killed more than 20 people.
Ramadhan said Zulkarnaen is suspected of being involved in the making of bombs used in a series of attacks, including the 2002 Bali bombings that killed 202 people, mostly foreign tourists, and a 2003 attack on the J.W. Marriott Hotel in Jakarta that killed 12.
Zulkarnaen was also the mastermind of a bomb attack on the official residence of the Philippine ambassador in Jakarta in 2000 that killed two people, a 2004 suicide attack outside the Australian Embassy that killed nine, and a 2005 bombing in Bali that killed 20, Ramadhan said.
He said Zulkarnaen was also the architect of sectarian conflict in Ambon and Poso from 1998 to 2000.
Conflicts between Christians and Muslisms in Ambon, the provincial capital of the Molluca islands, left more than 5,000 people dead and half a million displaced. The Muslim-Christian conflict in Poso, known as a hotbed of Islamic militancy on Indonesia's Sulawesi island, killed at least 1,000 people from 1998 to 2002.
Police previously said they were tipped off to Zulkarnaen's location in raids after interrogating several suspected militants arrested late last month.
Zulkarnaen is also accused of harboring Upik Lawanga, another bomb maker and a key Jemaah Islamiyah' member. Lawanga was arrested by counterterrorism police in Lampung late last month. He had eluded capture since 2005 after being named as a suspect in an attack that killed more than 20 people at a market in Poso.
A court banned Jemaah Islamiyah in 2008, and the group was weakened by a sustained crackdown on militants by Indonesia's counterterrorism police with U.S. and Australian support. A new threat has emerged in recent years inspired by Islamic State group attacks abroad.
Indonesia's last major militant attack was in May 2018, when two families carried out suicide bombings in the country's second-largest city, Surabaya, killing a dozen people, including two young girls whose parents had involved them in one of the attacks. Police said the father of the girls was the leader of a militant Jemaah Anshorut Daulah cell who pledged allegiance to Islamic State group leader Abu Bakr al-Baghdadi.
https://www.washingtonpost.com/world/asia_pacific/indonesia-police-top-terror-suspect-mastermind-of-attacks/2020/12/14/c57a6234-3e03-11eb-b58b-1623f6267960_story.html
--------
Mideast
Iran will stand by Syria until final victory over terrorism: Rouhani
15 December 2020
Iranian President Hassan Rouhani has once again reaffirmed the Islamic Republic's support for Syria until its final victory over terrorism, describing Tehran-Damascus relations as "strategic and friendly."
"The Islamic Republic of Iran has always supported the Syrian people and will stand by the Syrian nation and government until the final victory over terrorism, the return of refugees and the reconstruction of the country," Rouhani said in a meeting with new Syrian Ambassador to Tehran Shafiq Dayoub on Tuesday.
"In the field of diplomatic activities, particularly in the framework of the Astana talks, Iran will continue its efforts to establish complete stability and peace in Syria," he added.
Iran, Russia, and Turkey have been leading a peace process for Syria known as the Astana process. Kazakhstan's capital, Nur-Sultan, formerly called Astana, originally hosted the meetings.
The Astana talks resulted in two agreements.
A first deal was signed in the capital, arranging for the creation of de-escalation zones across Syria, including in parts of Idlib. The second one that came about in the Russian resort city of Sochi allowed Ankara to bring in a small number of forces to man the observation posts to reinforce de-escalation.
While the two deals have helped significantly reduce fighting in Syria, the conflict has not entirely ended, due in large part to Turkish failure to separate terrorists from what it calls "moderate" opposition groups in Idlib as well as Ankara's dispatch of thousands of troops and heavy military hardware into the Syrian province to back the militants.
In a meeting with Syrian Foreign Minister Faisal Mekdad in Tehran earlier this month, President Rouhani said Iran and Syria share the common goal of countering the Israeli occupation and terrorism.
"There is no doubt that we must continue our resistance to the end and finalize destruction of terrorists."
During the Tuesday meeting, the new Syrian ambassador, who presented his credentials to the Iranian president, said his country seeks to preserve all the valuable achievements that have been made over the past four decades in strategic relations with Iran.
Dayoub commended the support of the Iranian people and government for Syria at difficult junctures and said Damascus is still fighting terrorism and occupation in all their dimensions and has managed to make great achievements in the anti-terror battle. There is still a long way to go, he highlighted.
He also thanked Tehran's diplomatic efforts to restore full peace and stability to Damascus, repatriate refugees and create the Constitutional Committee.
The Syrian diplomat emphasized that his country is committed to the preservation of security and stability in the region and would stand against any plan and conspiracy targeting them.
Japan should release Iran's financial resources
Rouhani also met with a number of other new ambassadors to Tehran.
In a meeting with new Japanese Ambassador Kazutoshi Aikawa, Rouhani stressed the importance of accelerating the implementation of joint agreements and the release of Iranian financial resources in Tokyo.
"Iran always welcomes the expansion of economic and scientific relations with Japan and we hope to see a development in these ties and the presence of more Japanese companies to advance our national projects in the fields of science and technology."
The Japanese ambassador presented his credentials to Rouhani and said Tokyo is determined to develop cooperation with Tehran in areas of common interest.
He added that the finalization and implementation of the agreement to boost technical cooperation would lead to broad opportunities for bilateral work.
'Tunisia gateway for Iran to North Africa, Europe'
In another meeting with new Tunisian Ambassador to Tehran Samir al-Mansour, who submitted his credentials to the Iranian president, Rouhani said Tunisia can be the gateway for Iran to North Africa and Europe.
The Iranian president hailed Tunisia's stance supporting Iran in international circles, particularly in dealing with sanctions imposed by the US government against Tehran.
Rouhani also received the credentials of new ambassadors of Thailand, Mexico, Indonesia and Uganda to Tehran on Tuesday.
https://www.presstv.com/Detail/2020/12/15/640783/Rouhani-Iran-Syria
--------
Iran's Rouhani says he is happy that 'lawless' Trump is leaving office
16 December 2020
Iranian President Hassan Rouhani said on Wednesday he was happy that Donald Trump was leaving office, calling him "the most lawless US president" and a "terrorist."
"We are not overjoyed about Mr. Biden's arrival, but we are happy about Trump leaving," Rouhani said in a televised speech to the cabinet.
https://english.alarabiya.net/en/News/middle-east/2020/12/16/Iran-s-Rouhani-not-happy-about-Biden-win-but-glad-Trump-is-leaving-office
--------
Netanyahu picks new Mossad director to replace Yossi Cohen
15 December 2020
Israeli Prime Minister Benjamin Netanyahu on Tuesday picked the next director of the Mossad spy agency, identified only as "D", to replace Yossi Cohen, a high-profile player in recent normalization deals with Arab states.
For the latest headlines, follow our Google News channel online or via the app.
Netanyahu "decided to appoint Deputy Mossad Director 'D' as the next Mossad Director. 'D' is an accomplished Mossad veteran," a statement from the prime minister's office said.
Israel does not customarily disclose the names of top Mossad personnel, except the director, whose identity is generally known to the public.
But Cohen is widely seen as having a more prominent public profile than many past chiefs of the foreign intelligence service.
He was appointed to the post in 2015 after serving as Netanyahu's national security adviser and previously as Mossad deputy-chief.
Cohen traveled extensively in the Arab world, notably making key visits to the United Arab Emirates and Bahrain amid Israel's US-brokered normalization deals with both Gulf states.
Cohen's Mossad has also been widely linked to last month's killing of top Iranian nuclear scientist Mohsen Fakhrizadeh.
Iran has blamed Israel for Fakhrizadeh's death but the country has not commented on the incident.
Cohen's replacement must be approved by a special committee responsible for top civil service appointments, the government statement said.
The Jerusalem Post reported that, if approved, the Mossad changeover would take place in June.
https://english.alarabiya.net/en/News/middle-east/2020/12/15/Netanyahu-picks-new-Mossad-director-to-replace-Yossi-Cohen
--------
Iran to ban dual-nationals, Green Card holders from running for presidency
15 December 2020
Iran's parliament passed a measure on Tuesday to ban dual nationals and holders of foreign residency from running in presidential elections, after speculation that some officials may hold Green Cards from the United States.
The measure, passed in a session carried live on state radio, still needs to be approved by a high clerical council before it takes effect.
Hardline figures and media outlets have long speculated that some senior officials, such as US-educated Foreign Minister Mohammad Javad Zarif, hold dual nationalities or US residency and that this posed a security risk.
Zarif has denied even applying for a Green Card.
Iran is due to hold presidential elections in June 2021, in which President Hassan Rouhani cannot run, having served two consecutive four-year terms.
https://english.alarabiya.net/en/News/middle-east/2020/12/15/Iran-to-ban-dual-nationals-Green-Card-holders-from-running-for-presidency
--------
UN chief urges countries to help address economic crisis in war-torn Yemen
15 December 2020
United Nations (UN) Secretary-General Antonio Guterres has called on world countries to provide financial assistance to resolve the severe economic crisis in Yemen, which has been under incessant attacks by a Saudi-led coalition over the past several years.
Saudi Arabia and a number of its regional allies launched a devastating war on Yemen in March 2015, in an unsuccessful attempt to suppress an uprising that had toppled a Riyadh-friendly regime.
"I call on all member states to step up their financial support for United Nations relief operations, and to help address the severe economic crisis in the country," Guterres said in a statement issued via his spokesperson Stephane Dujarric on the second anniversary of the Stockholm Agreement between Yemen's Houthis and Riyadh-sponsored loyalists to the former regime of Yemen.
Guterres said the 2018 agreement was a diplomatic breakthrough aimed at bringing an end to the conflict in Yemen, and said "far more needs to be done" to achieve that goal and the profound suffering of the Yemeni people had persisted.
"The preservation of this lifeline is even more vital now as pockets of famine-like conditions have returned in Yemen and millions are facing severe, growing food insecurity, in particular against the backdrop of the COVID-19 pandemic," he said, adding that it is crucial to avoid any action that could exacerbate the dire situation in Yemen.
"Only through dialogue will the Yemeni parties be able to agree on a nationwide ceasefire, economic and humanitarian confidence-building measures to alleviate the suffering of the Yemeni people, as well as the resumption of an inclusive political process to reach a comprehensive negotiated settlement to end the conflict," the UN chief said.
The remarks by Guterres came as the Food and Agriculture Organization of the United Nations (FAO) raised the alarm about millions of Yemenis risking falling into worsening levels of hunger by mid-2021.
The United Nations World Food Programme (WFP) also described the crisis in Yemen as "the world's worst humanitarian crisis," and warned against the continuation of the protracted conflict there.
"The Yemen crisis remains the world's worst humanitarian crisis with millions trapped in a cycle of conflict and hunger. Everyday life in Yemen gets harder for millions as the window to prevent famine narrows. We must act now," the WFP said in a tweet.
The #YemenCrisis remains the world's worst humanitarian crisis with millions trapped in a cycle of conflict & hunger. Everyday life in #Yemen gets harder for millions as the window to prevent famine narrows. We must #ActNow: https://t.co/0MCQuQnkcp pic.twitter.com/6Zr3JXVhuR
— WFP_GCC (@GccWfp) December 15, 2020
Earlier this month, the UN Office for the Coordination of Humanitarian Affairs (OCHA) offered the staggering death toll of 233,000 from the Saudi-led war on Yemen.
Houthis highlight UN's role in continuation of crimes against Yemen
In a related development on Tuesday, the spokesman for Yemen's Houthi Ansarullah movement, Mohammed Abdul-Salam, criticized the UN's silence on the Saudi-led siege of Yemen and said the continuation of the blockade would implicate the international body in the crime against Yemenis.
"The continuation of the siege and the closure of Sana'a International Airport and the port of Hudaydah is a crime in which the United Nations participates by allowing the aggression forces to persist in their assault and atrocities against the entire nation," read the tweet.
The Saudi-led coalition has since five years ago enforced an all-out aerial, naval, and land blockade on the impoverished country.
The war has taken a heavy toll on Yemen's infrastructure, destroying hospitals, schools, and factories. The UN says over 24 million Yemenis are in dire need of humanitarian aid, including 10 million suffering from extreme levels of hunger.
https://www.presstv.com/Detail/2020/12/15/640803/United-Nations-Antonio-Guterres-economic-crisis-Yemen
--------
Israel to build 8,300 settler units over next 20 years: Report
15 December 2020
Israel reportedly approves construction of a whopping 8,300 settler units in the occupied West Bank through a 20-year project that practically enables annexation of the Palestinian land on which the structures are to be built.
The Palestinian Wafa news agency carried the report on Tuesday, citing information announced earlier by the Arab48 news website.
The project would get off the ground next year and last until 2040 involving industrial, commercial, and residential facilities, including towers running as high as 30 stories, in areas lying south of the holy occupied city of Jerusalem al-Quds.
Wafa said the facilities were to rear their heads on "seized Palestinian land extending from Beit Safafa neighborhood to al-Walaja village."
Israel occupied the West Bank during a war in 1967 and has, ever since, been dotting the Palestinian territory with illegal settlements.
Earlier this year, US President Donald Trump said he agreed with the regime's "annexing" the areas on which the settlements have been built.
Tel Aviv, though, supposedly shelved the annexation plan amid international outcry.
According to the National Bureau for Defending Land and Resisting Settlements (NBPRS) of the Palestine Liberation Organization (PLO) umbrella group, however, such ambitious building projects, in effect, realize the regime's annexation purposes.
The regime has just allegedly frozen the annexation march in a gesture aimed "to deceive the public opinion and the international community."
Going at its current rate, the Israeli regime would have turned "the West Bank by 2045 into a new Galilee," the bureau warned, referring to an area located in the north of the occupied territories.
The regime's building projects involves creating "a large settlement belt" around al-Quds, it said.
Palestinian want the holy city's eastern part to serve as the capital of their future state, while he occupying regime lays claim to its entirety.
Trump has endorsed the Israeli claim and relocated the American Embassy from Tel Aviv to the city in a move that used to be avoided by all of his predecessors.
https://www.presstv.com/Detail/2020/12/15/640784/Israel-building-project-West-Bank
--------
Yemenis demand protection against Houthi attacks
December 15, 2020
AL-MUKALLA: Twelve rights groups, medical workers and officials in Yemen's southern city of Taiz have called for the protection of civilians against arbitrary mortar strikes by the Iran-backed Houthis.
The groups wrote a joint petition urging the international community to help put an end to Houthi attacks that had claimed the lives of dozens of civilians in the densely populated city since early last month.
"These acts are considered crimes against humanity that require urgent action by the international community," they said in their petition. "We hold the Houthi group and all the parties that commit those violations fully responsible for these actions. We demand them to abide by the principles of international humanitarian law and human rights law."
On Saturday, a mortar shell landed inside a stadium in Taiz, killing a football coach and his 10 year-old son and wounding two children.
The attack triggered outrage as Yemenis called for an end to the attacks and labeled the Houthis terrorists due to their crimes against civilians.
On Sunday, dozens of protesters gathered inside the stadium to denounce the Houthi attacks that have escalated during the past couple of months.
Local officials and activists who spoke at the gathering strongly condemned the attacks on civilians and called for designating the Houthi movement as a terrorist organization.
Medical workers in Taiz told Arab News on Monday that increasing mortar strikes by the Houthis have placed more pressure on the city's health facilities that are working as full capacity due to the war and the coronavirus pandemic.
"Deaths and the wounded from Houthi attacks have overflown the already strained hospitals and morgues. We urge the international community to urgently intervene to end those attacks," Dr. Ahmed Mansour, a health official in Taiz, said by telephone, adding that artillery shells have targeted almost all of the districts in Taiz that are under government control.
Radar Watch, an independent right group established in the Netherlands by Yemeni activists, said on Sunday that arbitrary shelling by the Houthis had killed 691 civilians, including 252 children and 101 women, and wounded 2898 others, including 1,013 children and 279 women, from early 2015 to mid-2020.
Stationed on the edges of the city since 2015, the Houthis have sporadically launched artillery and machine-gun strikes on the heavily populated districts in the city's downtown in a bid to weaken the government forces that managed to push back their attacks.
In the neighboring Hodeidah province, Medecins Sans Frontieres (MSF) said on Monday its small hospital in the Red Sea port of Mocha has seen a surge in the number of civilians killed or wounded in the latest escalation of violence in the province.
"What we are seeing in our small hospital is disturbing, and outrageous. Killing and wounding civilians in conflict not only constitutes a severe violation of International Humanitarian Law," Raphael Veicht, MSF head of mission in Yemen, said in a statement seen by Arab News.
"It goes further than that; our patients include children, pregnant women, breastfeeding mothers, and men working in a milk-bottling factory that was hit by shelling — and there is nothing that can justify this."
On the second anniversary of the Stockholm Agreement, the Head of the United Nations Mission to support the Hodeidah Agreement and Chair of the Redeployment Coordination Committee Lieutenant General Abhijit Guha urged the internationally recognized government of Yemen and the Houthis to make good their promises.
"There has been important progress but challenges persist, including periodic violence that undermines the spirit of the Hodeidah Agreement. I call on both parties to renew their commitment to the Agreement – and to help bring an end to the suffering of people," Guha said.
https://www.arabnews.com/node/1777446/middle-east
--------
Pakistan
Imran Khan govt pushes for early Senate polls to weaken Opposition
Dec 16, 2020
ISLAMABAD: Amid political chaos in Pakistan, the federal government has decided to hold Senate elections in February instead of March 2021. The polls are expected to result in the loss of seats for Opposition Pakistan Democratic Movement (PDM), which currently controls the Upper House.
The decision was taken on Tuesday during a meeting of the federal Cabinet chaired by Prime Minister Imran Khan, reported Dawn.
In a 104-member Senate, elections will be held for 52 seats as many members of the Upper House will be retiring on March 11. The federal government invoked the idea of early elections in order to change the power structure in the Senate.
Currently, the Senate is decisively controlled by the constituent parties of the Pakistan Democratic Movement (PDM). Early elections will result in the loss of seats for PDM.
The PDM had unanimously decided that its lawmakers will handover resignations to their party chiefs by December 31 and Pakistan People's Party (PPP) chairperson Bilawal Bhutto Zardari termed that resignations of opposition lawmakers are an 'atom bomb' for the incumbent government.
The move to resign en masse by PDM will stall the Senate election. The resignations may render the electoral college for Senate elections incomplete which in turn may make the Senate election constitutionally untenable.
This, in turn, will ease a lot of the (Pakistan Tehreek-e-Insaf) PTI's current problems such as the passage of legislation considered important by the government but stuck in the Senate.
A source disclosed to Dawn that the proposal for the early Senate election was put forth by the Minister of Science and Technology Fawad Chaudhary. The government also invoked advisory jurisdiction of the Supreme Court on open voting for the polls.
Generally, Senate elections are done through secret balloting, but PM Imran Khan desired to hold the election by open ballot or show of hands.
The information minister said that the government mulled over getting the bill ratified through several means -- either through a constitutional amendment, executive order, or the election commission.
After pondering over the matter, the government decided to move to the apex court regarding the matter, reported Dawn.
Meanwhile, PDM has demanded PM Imran Khan-led government quit by January 31 or face intensified movements by opposition parties such as the long march to Islamabad.
https://timesofindia.indiatimes.com/world/pakistan/imran-khan-govt-pushes-for-early-senate-polls-to-weaken-opposition/articleshow/79753681.cms
--------
A Delegation from Taliban's Qatar- Based Political Office Is Reaching Islamabad Today
Baqir Sajjad Syed | Mohammad Asghar
16 Dec 2020
ISLAMABAD: A delegation from Taliban's Qatar- based political office is reaching here on Wednesday (today) on a three-day trip for consultations on ongoing Afghan peace process.
The delegation led by Taliban's deputy chief for political affairs Mullah Abdul Ghani Barader will meet Prime Minister Imran Khan and Foreign Minister Shah Mehmood Qureshi during its stay in Islamabad.
The visit is taking place on Pakistan government's invitation, a Taliban spokesman said.
A 20-day break in intra-Afghan negotiations and coming transition in the United States form the backdrop of Taliban's latest visit to Islamabad.
Afghan government and Taliban negotiators have taken the break to consult their principals on the negotiations on the agenda of the talks.
Meanwhile, the change at the White House next month, intensified fighting in Afghanistan and lack of clarity about the next venue for the talks have inserted an element of uncertainty into the process.
Taliban delegation's visit follows closely on the heels of a trip by US Special Envoy for Afghan Reconciliation Zalmay Khalilzad to Islamabad on Monday.
The anxiety in Washington about the break was obvious from the envoy's social media messages.
Amb Khalilzad, after his arrival in Islamabad, tweeted: "Tragically, the war continues. The need for a political settlement, reduction in violence, and a ceasefire remain urgent."
"Given how much is at stake, it is imperative that there is no delays in resumption of talks and they must resume on Jan 5 as agreed," he said in another tweet.
Pakistan this year not only helped the US and Taliban sign their agreement, but also facilitated the start of intra-Afghan negotiations and more lately the agreement on rules and procedures for the dialogue.
Prime Minister Imran Khan, during his visit to Kabul last month, assured the Afghan leadership of Pakistan's cooperation for reduction in violence in Afghanistan. He told President Ashraf Ghani that "we will do whatever is within our reach".
Army Chief Gen Qamar Javed Bajwa in his meeting with Amb Khalilzad assured him of Pakistan's continued support for efforts for regional peace and stability.
https://www.dawn.com/news/1596014/taliban-team-due-in-islamabad-today
--------
Dawn columnist Irfan Husain passes away in England
16 Dec 2020
Dawn columnist Irfan Husain passed away early Wednesday in Dorset, England, his family said.
In a tweet, his son Shakir Husain said he was grateful his father "slipped away gently" and that he was able to be with him. "See you on the other side, Abba."
In a column in Dawn published earlier this year in August, Husain had said that he had been diagnosed with a rare type of cancer nearly three years ago.
"After nearly three years of this barrage, I must confess there are times I wish it would just end quietly without fuss. But then I look outside the window and see the flowers, trees and birds in our garden, and I am happy to be still alive," he wrote in the column.
According to the publisher Harper Collins, Husain was born in Amritsar, India in 1944. Three years later, his family migrated to Pakistan.
He was educated in Karachi, Paris and Ankara, and joined the civil service in 1967 after obtaining a master's degree in economics.
"He pursued a parallel and covert career as a freelance journalist for most of his working life, writing under a succession of pseudonyms," the publisher said, adding that he divided his time between the UK, Pakistan and Sri Lanka since 2002.
Husain also authored a book titled "Fatal Faultlines: Pakistan, Islam and the West" in 2012. At the launch, he described the thought of a writing a book as "frightening" since he had been mostly writing columns.
He had said that his book was primarily intended for a Western audience and for them to understand how they were viewed by the Muslim world. "At the same time, I tried to explain to Muslim readers why they are viewed so negatively in the West," he had said.
Meanwhile, condolences poured in from all quarters. PPP Senator Sherry Rehman said she was "heartbroken".
"We all just lost a great writer, life-long friend, and a nurturing colleague. Feels like the end of an era. He was the finest of men, right to the core," she said.
Dawn columnist Nadeem Farooq Paracha described Husain's death as a "great loss". "Such a fine man. I had been a fan of his columns for over thirty years. And he was always humble and cheerful whenever I got the chance to meet him," he said.
Journalist Amber Rahim Shamsi said she had been reading Husain's column for years so it "almost felt like I knew him".
Dawn journalist Khurram Hussain said: "So many of us grew up reading Irfan sahab's columns that his loss hits very close to the heart."
https://www.dawn.com/news/1596076/dawn-columnist-irfan-husain-passes-away-in-england
--------
FIA finds Meesha guilty of 'vilification' drive against Ali Zafar
16 Dec 2020
LAHORE: The Federal Investigation Agency (FIA) has declared singer Meesha Shafi and eight others guilty of running a vilification campaign on social media against singer-actor Ali Zafar and asked the trial court to start its proceedings against them.
The FIA's cybercrime Lahore wing on Tuesday submitted an interim challan before the court of a special judge central in the FIR registered on the complaint filed by Mr Zafar.
In the interim challan, the FIA said: "During the course of investigation so far Meera Shafi alias Meesha Shafi, Iffat Omar, Maham Javaid, Leena Ghani, Haseemus Zaman, Fariha Ayub, Syed Faizan Raza, Humna Raza and Ali Gul Pir have been found guilty in this case as per available oral and documentary evidences. However, the complainant recorded his statement in favour of Hamna Raza to the extent of accepting her apology, thus she is not required in the investigation furthermore."
The FIA said Ms Shafi posted defamatory and false allegations of sexual harassment against Ali Zafar in April 19, 2018 but she failed to produce any witnesses before it in favour of her allegations. The other suspects also failed to provide evidence in favour of the direct allegations posted by them on social media. Resultantly, an FIR was registered on the court's order in September last against them under section 20 (1) of Prevention of Electronic Crimes Act 2016 and R/W 109-PPC.
In November 2018, Ali Zafar had filed a complaint with the FIA cyber-crime wing, alleging that many social media accounts were posting "threats and defamatory material" against him. He provided details of some Twitter and Facebook accounts to support his claim.
Mr Zafar, in his complaint, had attached the pictures Ms Shafi had uploaded on her social media accounts but 'discretely deleted just before making the allegation'. He had also submitted a 'threat message' sent to his manager on Instagram in Feb 2018.
"A twitter account @nehasaigol1, which posted 3,000 defamatory tweets against me and my family only in one year, [was] created 50 days before Meesha's allegations of sexual harassment," the singer-actor told the FIA with documentary 'evidence'.
The FIA said Ms Shafi had appeared before the FIA cyber-crime wing with her team of lawyers in December 2019, but she failed to produce any witness in favour of her allegations (of sexual harassment) against Mr Zafar.
Zafar's defamation suit against Ms Shafi is also pending in a sessions' court.
https://www.dawn.com/news/1595947/fia-finds-meesha-guilty-of-vilification-drive-against-ali-zafar
--------
Turkish ambassador urges compatriots to invest in Pakistan
Peerzada Salman
16 Dec 2020
KARACHI: A webinar on Pakistan-Turkey relations was organised by the Karachi Council on Foreign Relations (KCFR) on Tuesday morning.
Speaking on the occasion, Ambassador of Turkey in Pakistan Ihsan Mustafa Yurdakul said what Turkey and Pakistan have is more than a relationship. Whenever he is asked to comment on the bilateral ties between the two countries, he objects to the word bilateral. The thing between the two can't be called a relationship because by definition a relationship needs two parties with a distance between themselves. "In case of us, it's not correct because we don't have that distance to live with each other. It's better to call the interaction a bond. The bond between Turkey and Pakistan started a long time back and we will pass this legacy to the next generations."
The diplomat said Turkey's political relations with Pakistan have always been great. It's still the same regardless of who is in power in Turkey or Pakistan. The last high-level event was President Erdogan's visit to Islamabad in February this year just before the "Covid timeout". Pakistan and Turkey have a good legacy of brotherhood, cooperation and solidarity; [so] it's good to see that leaders on both sides are very committed and keen to take the relationship further ahead in the years to come.
There are numerous mechanisms to keep these relations alive and kicking. "We have a high-level group chaired by the president and the prime minister. We have numerous working groups encompassing all walks of life. It's about trade, tourism, the economy, agriculture, defence … you name it."
'TV dramas have increased the interaction between people of the two countries'
The ambassador said what is missing is the economic and commercial ties between the two countries. We have a good volume [of trade], but it's not enough.
"We should be doing more. To that effect both sides are working on having a trade agreement. Before the Covid period the exercise was in full swing but during this period both sides also tried to do their homework. In the days to come we are hopeful we will be gaining some ground."
He said what's positive about this economic sphere is that there's an appetite on the part of Turkish investors who'd like to come and benefit from emerging economic and commercial indicators of Pakistan. Pakistan is a promising market. It has huge resources and capacity to be an important trade partner.
Mr Yurdakul said on the cultural and social side, Turkey proves to be an important destination for Pakistani nationals. "We see the number of Pakistani visitors going to Turkey increasing every passing year. Even in the Covid period we were able to keep the airline connection open, and I'm happy to report that Turkey was one of the top destinations for Pakistani tourists."
He pointed out that in the sphere of cultural exchanges the effect of TV dramas has increased the interaction between peoples of the two countries. The latest Turkish drama Ertugrul has made a huge impact in Pakistan. The numbers [of viewers] went through the roof. "We were not familiar with such numbers even in Turkey. A spin-off effect of the play is that a number of tourists visiting Turkey saw a spike. We can also see increasing cultural and cinematographic activities of Pakistan in Turkey … joint production etc."
He said in these challenging times the more we stand together the better for both countries. It's only wise that we embrace challenges standing side by side, proving to the rest of the world that Turkey and Pakistan are two powers in this region.
After the ambassador's talk the floor was opened for a question-answer session. Replying to the query about the fact that the UAE has recognised Israel and other countries are likely to follow, he said it is every country's sovereign right to establish a diplomatic relationship or formal relationship with any other country they choose. But if you remember when this [decision] was made public there was also a huge emphasis on stating that Palestine and its people will also be the beneficiary of this latest recognition of Israel.
"My humble and personal objection comes to that point. You can establish a relationship with any country, [but] if you sugar-coat it with some very unrealistic perceptions or expectation or commitments, I don't think that's the best way to go, because as things stand, even on the night of that recognition you will recall there was no certain commitment coming from Israel about the cessation of building new housing in the occupied territories."
Earlier, senior vice chairman of the KCFR ambassador Mustafa Kamal Kazi welcomed the guest. The event was moderated by Dr Huma Baqai.
https://www.dawn.com/news/1595985/turkish-ambassador-urges-compatriots-to-invest-in-pakistan
--------
Bilawal rules out talks with Imran at the helm
Amjad Mahmood
16 Dec 2020
LAHORE: Pakistan People's Party Chairman Bilawal Bhutto Zardari has ruled out talks with the government at least until Imran Khan is holding the office of the prime minister.
"As far as a puppet is working as the prime minister how can dialogue be held (with the government)," he told the media here on Tuesday outside the Kot Lakhpat jail, where he had gone to condole with incarcerated PML-N President Shehbaz Sharif the demise of the latter's mother.
He said as he could not meet Mr Sharif when he was on parole for the burial of Shamim Begum he decided to visit him in the jail for offering condolence. Former prime minister Raja Pervez Ashraf, Senator Sherry Rehman and Qamar Zaman Kaira accompanied the PPP chairman.
Mr Bhutto-Zardari told a questioner that they could not accept national dialogue offer by the National Assembly speaker who won't allow the opposition to talk in the house.
"There are puppets in this government — from the speaker of the assembly to the chief minister Punjab. We cannot have dialogue with the puppets. When the leader of opposition is not allowed to talk on the floor of the house then what national dialogue the government is talking about."
To a query, the PPP leader said resignations of the lawmakers would impact the government 'like the atom bomb' and the same would be tendered in accordance with the strategy to be set by the PDM.
"The resignations have to be submitted to the party leadership by Dec 31 and these resignations are our atom bomb which we will use from the platform of PDM."
He negated the impression of rifts among the PDM ranks and said all the parties were united against this 'incapable', 'fake' and 'illegitimate' government of Imran Khan.
He said this 'selected' prime minister and his government doesn't have the courage to hear the truth. This is probably the only government in the world in which current and former leaders of opposition, namely Shehbaz Sharif and Khursheed Ahmed Shah, respectively, were languishing in prison without any conviction, he said.
Recalling that President Zardari had been kept in prison for 12 years without any conviction, he termed the policy against democracy and human rights and said this was the reason the democracy had not progressed in this country.
Mr Bhutto-Zardari said the message for Imran Khan was loud and clear that he should resign.
"We will go to every nook and corner of Punjab and the country to mobilise people against this selected government. The mobilisation is increasing by the day."
He lamented that Pakistani economy was worse than Afghanistan today and in this situation Imran Khan would have to resign. Imran Khan has made institutions disputed.
"This selected prime minister makes a hue and cry about corruption but the entire corrupt are in his cabinet. The thieves of sugar, flour, K-electric, Malam Jabba, BRT etc., are with him. Imran Khan is protecting them. Funds from Israel and India are in the foreign funding case against Imran Khan," he alleged.
https://www.dawn.com/news/1595943/bilawal-rules-out-talks-with-imran-at-the-helm
--------
South Asia
Taliban Oppose Calls to Hold Negotiations inside Afghanistan
By Mohammad Haroon Alim
16 Dec 2020
Taliban Peace negotiating members oppose the Afghan government's call to hold the next round of talks inside Afghanistan.
"Many areas in the country are in our control and any decision that we get belongs to us. These locations are those that were suggested to them by the United Nations a while ago in which they mentioned that the members of (the Taliban) remain on a blacklist and pressure is brought on (the Taliban). All these statements are in contradiction," Tolo quoted Wardak.
Naeem discussed the matter with the media saying, "Both team leaders agreed before the break that the next rounds of the talks should be held here (Doha)," said Naeem Wardak to Ariana news.
He indicated both sides, will resume talks in Doha on January 5th rather than inside Afghanistan.
Dr, Naeem Wardak also tweeted on Tuesday that "a high-level delegation led by Mullah Baradar Akhund, Political Deputy and Head of the PO, IEA, left for Islamabad at the official invitation of neighboring country Pakistan. The delegation will hold talks with Imran Khan, Prime Minister of Pakistan"
Naeem Wardak Taliban spokesman said in a tweet thread, that the delegation will meet "Foreign Minister Shah Mahmood Qureshi. The delegation will discuss issues of mutual interest. In particular, problems of refugees, relaxation, and facilitation of afghan's movement to Pakistan, as well as the problems of Afghan traders are envisaged to be discussed".
This comes as a delegation of the Afghan government led by Mohammad Masoom Stanekzai arrived in Kabul on Tuesday evening.
It has been three months since the start of talks between the Afghan government and the Taliban in Qatar, and the two sides have finally agreed on a procedural rule and soon will finalize the agenda.
Earlier, President Gani iterated, that the next round of Intra-Afghan talks should be held in Afghanistan, as people have the right to keep up to date on the progress and topics being focused on, President Ashraf Ghani said in a cabinet meeting.
https://www.khaama.com/taliban-oppose-calls-to-hold-negotiations-inside-afghanistan-8788844/
--------
Saleh Views Riding Two-Up Bikes 'Terrorist Threat'
By Mohammad Haroon Alim
15 Dec 2020
Amrullah Saleh, First Vice President, said motorcycles that travel carrying two passengers are considered a terrorist threat.
Saleh said in the 6:30 a.m. meeting that he had instructed the police and national security forces to deal with two-up riding bikes.
He added investigations into criminal and terrorist assassinations indicate, that 90% of these incidents are carried out using the technique of two- up riding bikes, and two passengers on a motorbike will be considered a terrorist threat.
According to Saleh, the same technique was used in the assassination of Abdul Hamid, a prosecutor in the PD8 area of Kabul city.
In another incident, a number of government employees were involved in one of the criminal incidents in PD7, adding to his words, he said, "any government employee involved in such incidents, in addition to being punished, the perpetrator would lose his job forever, Saleh said.
On the other hand, the first vice president has also said those experts and analysts will be dealt with in the light of the law who are making baseless allegations against the government.
Saleh pointed out that some people are accustomed to making baseless accusations against the country for seeking fame, and those individuals will be dealt with legal action.
This came at a time the number of assassinations and criminal offenses in Kabul has recently increased once again, and this has caused serious concerns among the citizens of the capital.
https://www.khaama.com/saleh-considers-bikes-with-two-passengers-a-terrorist-threat-445566/
--------
Islamic Scholars Meet Home Minister Over Sculpture Issue in Bangladesh
December 15th, 2020
Asaduzzaman Khan Kamal will talk about the details of the discussion on Tuesday
A group of top Islamic scholars of the country has met Home Minister Asaduzzaman Khan Kamal at his residence in Dhaka Monday night to discuss the issue of installation of the sculpture of Father of the Nation Bangabandhu Sheikh Mujibur Rahman.
Both the sides expressed satisfaction after the two-hour discussion that started around 9pm, reports Bangla Tribune.
Home Ministry's Public Security Division Additional Secretary Md Harun-Or-Rashid Biswas said that the Islamic scholars spoke about their issues while the minister would talk about the details on Tuesday.
Hefazat-e-Islam Bangladesh leaders protested against the installation of a sculpture of Bangabandhu in Dhaka's Dholairpar area.
Mamunul Haque, joint secretary general of the radical Islamist group, threatened to throw Bangabandhu's sculpture into the Buriganga River while its chief Junaid Babunagari also threatened to tear down all statues in the country.
On December 5, miscreants smashed an under construction sculpture of Father of the Nation Bangabandhu Sheikh Mujibur Rahman at a key intersection in Kushtia town.
Awami League and other political parties along with socio-cultural organizations continued their protests against the anti-sculpture groups.
https://www.dhakatribune.com/bangladesh/2020/12/15/islamic-scholars-meet-home-minister-over-sculpture-issue
--------
Bomb attack kills deputy governor, three others in Afghanistan
16 Dec 2020
KABUL: A bombing and a shooting attack in Kabul killed at least three people, including a deputy provincial governor, while a deputy provincial council chief was killed in western Afghanistan on Tuesday, officials said.
The attacks are the latest in relentless violence in Afghanistan even as the Taliban and Afghan government negotiators hold talks in Qatar, trying to hammer out a peace deal that could put an end to decades of war.
According to Tariq Arian, an Afghan interior ministry spokesman, a sticky bomb attached to the armoured vehicle belonging to Kabul's deputy provincial governor killed two people, and wounded two others.
The deputy provincial governor and the apparent target of the attack, Mahbobullah Mohibi, was killed alongside his secretary while two of his bodyguards were wounded, Arian said. The bombing took place in the Macrorayan neighbourhood of Kabul.
Abdullah Abdullah, chairman of the High Council for National Reconciliation, condemned the attack and said the recent increase in attacks across the war-torn country is a clear enemy of the Afghan peace process.
Sima Samar, special presidential envoy and state minister for human rights, tweeted that the "people are tired of terrorist attacks every day".
Samar also urged the Taliban to agree to a ceasefire to stop the killing and more bloodshed.
Also in Kabul, gunmen shot and killed a police officer and wounded another policeman, said Ferdaws Faramarz, spokesman for Kabul's police chief. An investigation was ongoing, he added.
In violence elsewhere, a deputy provincial council head in western Ghor province was killed while another council member and their driver were wounded when a sticky bomb attached to their vehicle detonated on Tuesday, said Arif Aber, spokesman for the provincial governor.
The slain council chief, Abdul Rahman Atshan, was the apparent target of the attack, which took place around noon in the provincial capital of Faroz Koh.
No one immediately claimed responsibility for the Kabul or Ghor attacks. The militant Islamic Sate (IS) group has claimed responsibility for multiple attacks in the capital in recent months, including horrific attacks on educational institutions that killed as many as 50 people, most of them students.
The Taliban have waged bitter battles against IS fighters, particularly in IS strongholds in eastern Afghanistan, while continuing their insurgency against Afghan government forces.
Separately, the Afghan defense ministry said on Tuesday the army repelled a Taliban attack in the district of Arghandab, in southern Kandahar province. At least seven Taliban fighters were killed, it claimed.
On Monday, the ministry announced authorities were investigating reports that an alleged air strike over the weekend killed around a dozen civilians, including children, in Arghandab.
https://www.dawn.com/news/1596032/bomb-attack-kills-deputy-governor-three-others-in-afghanistan
--------
Proxy Peace in Favor of Pakistan, Backlash against Taliban Visit
By Mohammad Haroon Alim
16 Dec 2020
Reacting to a visit to Pakistan by Mullah Baradar, the Taliban's political deputy, Rahmatullah Nabil, the former head of the National Directorate of Security (NDS), said the whole game is going in Pakistan's favor.
Nabil tweeted, on Tuesday night, according to the current situation, after Mullah Baradar, it is the turn of Afghan politicians to travel to Pakistan.
He added that after the visit of Pakistani Prime Minister Imran Khan and the head of the Pakistani Intelligence Service (ISI) to Kabul, Khalilzad went to Islamabad yesterday and the Taliban's political deputy still attends Pakistani political events.
Criticizing the Afghan government's approach to the Pakistani government's policies, the former National Security Adviser said that, soon President Ghani's turn will come to visit Pakistan.
Nabil called on Afghan citizens to unite against the Pakistani political games, and raise voices against it.
According to this former national security official, "if the citizens of Afghanistan do not stand against the greedy and extravagant policies of the Pakistani government, the whole game will move in favor of Islamabad".
Earlier, Mohammad Sadiq, Pakistan's Special Envoy to Afghanistan, Tweeted, that "the visit is part of Pakistan's policy to reach out to key Afghan parties in peace negotiations that commenced in Doha last September".
https://www.khaama.com/proxy-peace-in-favor-of-pakistan-backlash-against-taliban-visit-667755/
--------
Africa
Bahrain opens consulate in Western Sahara after Trump recognizes Morocco's rule over region
16 December 2020
Bahrain has opened a consulate in Moroccan-controlled Western Sahara, after US President Donald Trump agreed to recognize the North African country's sovereignty over the disputed territory as part of a normalization agreement between Rabat and the Israeli regime.
During a ceremony in the coastal city of Laayoune on Monday, Bahraini Foreign Minister Abdullatif bin Rashid al-Zayani and his Moroccan counterpart Nasser Bourita opened the mission.
Bahrain's official news agency BNA quoted al-Zayani as saying that the opening of the consulate constitutes a "historic stage" in the Persian Gulf kingdom's strong relations with Morocco.
Late last month, Morocco's Royal palace announced Bahrain was planning to open a consulate in Western Sahara and the decision came after a phone call between King Mohammed VI and Bahraini King Hamad bin Isa Al Khalifah.
The United Arab Emirates (UAE) was the first Arab state to open a diplomatic mission in Laayoune in November.
Morocco, in a deal brokered by Trump's outgoing administration, became the fourth Arab state this year to strike a normalization deal with Israel, following the UAE, Bahrain and Sudan.
As part of the agreement with Morocco announced last week, Trump agreed to recognize Morocco's sovereignty over Western Sahara.
Algeria, however, rejected Trump's stance, saying the step would undermine efforts to end the decades-long conflict over the desert territory.
The Algerian Foreign Ministry said the US decision "has no legal effect because it contradicts UN resolutions, especially UN Security Council resolutions on Western Sahara."
"The proclamation would undermine the de-escalation efforts made at all levels in order to pave the way for launching a real political process," the ministry said in a statement.
Morocco annexed Western Sahara — a former Spanish colony — in 1975, and has since been in conflict with the Algeria-backed Polisario Front.
The movement has been fighting for independence of the Sahrawi people in Western Sahara and a referendum on their self-determination.
https://www.presstv.com/Detail/2020/12/16/640838/Bahrain-opens-consulate-in-Western-Sahara-after-Trump-recognizes-Morocco-rule-over-region
--------
UNSC calls for withdrawal of mercenaries from Libya
16 December 2020
The United Nations Security Council (UNSC) has demanded the exit of all foreign combatants and mercenaries from war-torn Libya.
In a unanimous statement released following a closed-door video conference on Tuesday, all members of the UNSC called for the "withdrawal of all foreign fighters and mercenaries from Libya in line with the ceasefire agreement reached by the Libyan parties on 23 October, the commitments of the participants of the Berlin Conference and the relevant United Nations Security Council resolutions."
The 15-member body further underlined "the importance of a credible and effective Libyan-led ceasefire monitoring mechanism," which would operate under the auspices of the UN.
UN Secretary-General Antonio Guterres is due to submit proposals for the establishment of the mechanism at the end of December.
Libya has been in chaos since 2011, when a popular uprising and a NATO intervention led to the ouster of long-time dictator Muammar Gaddafi.
For the past six years, the country has been split between two rival camps, namely the UN-recognized government based in the capital, Tripoli, and another camp based in the eastern city of Tobruk, backed militarily by rebel forces led by strongman Khalifa Haftar.
The Libyan government receives major backing from Turkey, and the rebels from the United Arab Emirates, Egypt, and Jordan.
The conflict in Libya has escalated into a regional proxy war fueled by foreign powers pouring weapons and mercenaries into the country.
The 75-member Libyan Political Dialogue Forum (LPDF), which is part of the UN efforts to end the chaos in Libya, is trying to get the country's warring sides to reach an agreement on a mechanism that would set up a transitional administration to lead the country through presidential and parliamentary elections in December 2021.
In October, the two sides signed a ceasefire deal, which also set a three-month deadline for foreign combatants and mercenaries to leave Libya. However, no progress has been made on the departure of those forces.
According to UN experts, the foreign forces, including Syrians, Sudanese, and Chadians, have purportedly been brought into Libya by rival sides.
In early December, the UN's acting Libya envoy, Stephanie Williams, said about 20,000 foreign and mercenary forces were still in the North African country.
Parties concerned in the Libyan conflict also agreed during a conference in the German capital in January to respect UN resolutions and pull out all foreign mercenaries from Libya.
https://www.presstv.com/Detail/2020/12/16/640832/UNSC-calls-for-withdrawal-of-mercenaries-from-Libya
--------
Somalia: Senior Al-Shabaab Foreign Fighters Killed in Lower Shabelle
13 DECEMBER 2020
The Special Forces squad, Danab killed 17 Al-Shabaab militants including two foreigners in the Lower Shabelle region in operation conducted on Sunday.
According to a statement from the army, the soldiers destroyed a base belonging to the militants in Sablale district on Saturday morning following an operation there.
Among those militants killed were Suleiman Abu Mahfud, al-Shabaab's in deputy supervisor who is a Tanzanian national, Abu Yasir Yahid, a Syrian national who was in charge of the group's security, and Hassan Mohamed Osman in charge of militants operations.
Somali government forces and African Union Mission in Somalia (AMISOM) have driven Alshabaab militants from the capital in 2011 but the still some parts of southern and central Somalia.
Government forces have in past months intensified operations in the against al-Shabab extremists, who have been hiding in rural areas and conducting ambushes and planting landmines.
https://allafrica.com/stories/202012140398.html?utm_source=iterable&utm_medium=email&utm_campaign=1819727_
--------
Anti-terrorist campaign in Somalia continues despite troop reduction
December 14, 2020
U.S. Africa Command showed it is not about to scale back the fight against Islamic terrorist group al Shabab in Somalia, releasing its first video of a targeted airstrike Dec. 10 as American soldiers prepare to leave the country at President Trump's orders.
The short, black-and-white video with blue crosshairs shows a precision missile hitting a target inside a building compound. AFRICOM said eight bomb makers were killed and two were injured in the strike.
"Even when the repositioning of forces occurs, AFRICOM will ensure a focus on the continuity of operations and support in Somalia and the East African region," U.S. Air Force Col. Christopher Karns told the Washington Examiner.
"The airstrikes reflect this fact and demonstrates Al-Shabaab will not go unchecked," he added.
Ten days ago, Trump made good on a campaign promise to end the "forever wars" that keep service members globally deployed when he ordered 750 troops out of Somalia.
The move followed a Nov. 26 visit by acting Defense Secretary Chris Miller, himself a former Special Forces operator, to Somalia and America's only African base, Camp Lemonnier in Djibouti.
AFRICOM commanders recently told the Washington Examiner the U.S. troops were vital to the continued terrorist fight against al Shabab, a group with global ambitions and al Qaeda connections.
"We think that al Shabab is the most significant terrorist network in Africa that can conduct attacks into the homeland," U.S. Army Africa commander, Maj. Gen. Andrew Rohling told the Washington Examiner in November.
Rohling explained that Army troops in Somalia were training the elite Somali Army DANAB battalion to track down and root out terrorists.
"American soldiers on the ground provide capacity and capability unmatched across the world today," he added in the phone interview from the U.S. Army Africa headquarters at Camp Ederle in Vicenza, Italy.
Nonetheless, Trump ordered the troops out, and AFRICOM scrambled to reposition the soldiers in neighboring countries so they could still conduct the fight from outside Somali borders.
Karns said the drone that killed eight bomb makers near Jalib, Somalia, shows that AFRICOM can still monitor al Shabab activity.
"It is important to help people understand who this enemy is and what they represent," he said in describing why the command decided to release the video.
Karns did not say if drone strikes can continue once all American troops are out of Somalia.
Since 2018, al Shabab has conducted about 45 car bomb attacks in the capital of Mogadishu, killing more than 400 people.
"Every time an Al-Shabaab bomb maker or explosives expert is killed it saves countless lives by permanently eliminating potential plans and future timelines for destruction," Karns explained.
https://www.washingtonexaminer.com/policy/defense-national-security/anti-terrorist-campaign-continues-somalia?utm_source=iterable&utm_medium=email&utm_campaign=1819727_
--------
Tunisia says more than 90 migrants intercepted during bid to reach Italy
15 December 2020
Tunisia's navy said on Tuesday it had intercepted 93 African irregular migrants after their boat ran into trouble in the Mediterranean Sea during an attempt to reach Italy.
The defense ministry said the boat carrying "93 migrants of various African nationalities", including three Tunisians, had broken down 42 kilometers northeast of the coastal city of Sfax on Monday night.
They included 37 women and four children, spokesman Mohamed Zekri said in a brief statement.
The navy and coast guard took them "to Sfax fishing port and handed them over to the national guard to carry out the relevant legal measures," he added.
Tunisia, just a few hundred kilometers from mainland Europe, has long been a launchpad for migrants making desperate clandestine bids to reach Europe.
Those departures peaked in 2011 following the revolution that overthrew dictator Zine El Abidine Ben Ali, but numbers have since dropped significantly.
But, with many Tunisians disillusioned by years of economic crisis and ballooning unemployment, the numbers are ticking up again.
The UN's refugee agency UNHCR says a fifth of refugees and migrants arriving in Mediterranean countries this year have been Tunisians.
Tunisian Prime Minister Hichem Mechichi said Monday night during a visit to France that the two countries were looking into the causes of clandestine immigration.
They were working on "solidarity between the two shores of the Mediterranean, an approach that could tackle this illegal immigration," he said in an interview with France 24.
https://english.alarabiya.net/en/News/north-africa/2020/12/15/Tunisia-says-more-than-90-migrants-intercepted-during-bid-to-reach-Italy
--------
Coronavirus: Tunisian PM cancels Italy trip after minister gets virus
15 December 2020
Tunisian Prime Minister Hichem Mechichi canceled a planned visit Tuesday to Italy at the last minute, after one of his ministers accompanying him on a visit to France tested positive for the coronavirus.
Mechichi had been on a three-day trip to France, where he met French Prime Minister Jean Castex, as well as the presidents of the Senate and the National Assembly.
For more coronavirus news, visit our dedicated page.
Castex's office said French officials who attended the meeting have been informed. Since sanitary protocols were respected, Castex is not considered as having been in close contact with an infected person, his office said.
Senior French political officials have repeatedly said that they adhere to strict sanitary rules during the pandemic.
According to the official TAP news agency, Minister of Economy and Finance Ali Kooli was found positive for Covid-19 during tests carried out in Paris before the planned trip to Rome. TAP reported that the other members of the delegation tested negative for the virus.
https://english.alarabiya.net/en/coronavirus/2020/12/15/Coronavirus-Tunisian-PM-cancels-Italy-trip-after-minister-gets-
--------
Somalia cuts ties with Kenya amid rising tensions over breakaway territory
15 December 2020
Somalia's government says it has severed ties with strategic neighbor Kenya "to safeguard the unity, sovereignty, stability of the country."
The announcement on Tuesday came as the leader of the breakaway territory of Somaliland ended a three-day visit to Kenya where he was given treatment similar to that accorded to a head of state in meetings with the Kenyan leadership.
"The Somali government, on the basis of its sovereignty, international law and order, and in fulfillment of its constitutional duty to safeguard the unity, sovereignty and stability of the country, has decided to cut off diplomatic relations with the Government of Kenya," said Osman Dubbe, Somalia's information minister on Twitter.
Somaliland broke away from Somalia in 1991 as the country collapsed into warlord-led conflict and it has seen little of the violence and extremist attacks that plague Somalia to the south. Despite lacking international recognition, Somaliland has maintained its own independent government, currency and security system.
Somalia, however, considers Somaliland as part of its territory. Several rounds of talks over possible unification have failed to reach an agreement.
Somali President Mohamed Abdullahi Mohamed, also known as Farmajo, and Somaliland leader Muse Bihi Abdi met in February, the first meeting between the two, who both took office in 2017.
The meeting was brokered by Ethiopia's Nobel Peace Prize-winning Prime Minister Abiy Ahmed in Addis Ababa, Ethiopia's capital, but it did not result in a breakthrough agreement.
Kenya's government spokesman Col. Cyrus Oguna said a committee has been set up to normalize relations between the two countries.
"As a country, we have been very kind and accommodating because you know even in Daadab (refugee center) we have camps that currently house over 200,000 people from the neighboring country and therefore we have a lot of commonality between these two countries and anything that is capable of undermining that, is, of course, something that efforts must be put in place to ensure it is resolved," he told reporters.
Tensions between the two countries became evident in late November when Somalia expelled Kenya's ambassador to the country and ordered its ambassador to return home.
Horn of Africa Analyst Rashid Abdi said that faced with tough competition in the coming parliamentary and presidential elections in Somalia, scheduled for December 2020 and February 2021, respectively, Somalia's president is stirring up altercations with foreign countries to try to consolidate the electorate behind him.
"There is the old dictum about leaders picking foreign fights when they are desperate. This is it. Kenya is almost certain to let Farmajo huff and puff and have his usual tantrums. Will it recognize Somaliland? Maybe. But it will choose the time, date and not let Farmajo dictate the pace," Abdi said in a post on Twitter.
https://english.alarabiya.net/en/News/world/2020/12/15/-Somalia-cuts-ties-with-Kenya-amid-rising-tensions-over-breakaway-territory
--------
North America
US designates Iran-backed Bahrain-based group as global terror organization
15 December 2020
The US designated an Iran-backed extremist group based in Bahrain as a terrorist organization on Tuesday, citing its threat to US national security and foreign policy.
The Saraya al-Mukhtar group is now considered "a Specially Designated Global Terrorist," according to a US State Department statement.
Saraya al-Mukhtar reportedly receives "financial and logistic support from Iran's Islamic Revolutionary Guard Corps" and says its goal is to depose the Bahrain government in order for Iran to exert greater influence on the country, the statement said.
"The group has plotted attacks against US personnel in Bahrain and has offered cash rewards for the assassination of Bahraini officials," the State Department said.
US Secretary of State Mike Pompeo said the designation Saraya al-Mukhtar "sends a strong message to the Iranian regime that we will not allow its terrorist proxies to threaten the people of Bahrain and the US personnel stationed there."
The designation comes one day ahead of Bahrain's National Day.
Saudi Arabia, the United Arab Emirates, Egypt, and Bahrain designated Saraya al-Mukhtar a terrorist organization in June 2017.
https://english.alarabiya.net/en/News/gulf/2020/12/15/US-designates-Iran-backed-Bahrain-based-group-as-global-terror-organization
--------
Canada says Iran should not lead investigation on downed Ukrainian plane
16 December 2020
An independent Canadian report published Tuesday into a Kiev-bound passenger plane shot down by Iran in January said Tehran should not be allowed to investigate itself and called for changes to civil aviation rules.
For all the latest headlines follow our Google News channel online or via the app.
"The party responsible for the situation is investigating itself, largely in secret. That does not inspire confidence or trust," said the report, written by one of Prime Minister Justin Trudeau's former ministers, Ralph Goodale, the government's special counsel into the tragedy.
Ukraine International Airlines Flight 752 crashed shortly after taking off from the Iranian capital's main airport on January 8, killing all 176 people on board, 85 of whom were Canadian citizens or permanent residents.
The Islamic republic admitted days later that its forces accidentally shot down the plane after firing two missiles amid heightened US-Iran tensions.
"Many of the key details of this horrific event remain unknown," the report said, noting in particular why Iranian airspace had remained open the night of the tragedy.
"Iran bears responsibility for that because -- at least thus far -- it has not conducted its investigations (safety, criminal or otherwise) in a truly independent, objective and transparent manner," the report continued.
In early November, the International Civil Aviation Organization (ICAO) called on Iran to "expedite the accident investigation" and publish its final findings on the crash.
Canada had said in early October that it would set up its own team of investigators to collect and analyze available information on the crash.
Goodale called for a review of current international standards that entrust the investigation of an aviation crash to the country where the accident occurred.
"In the case of a military shoot-down, that means the very government involved in causing the disaster (Iran in this case) is in complete control of the safety investigation, obvious conflicts of interest notwithstanding, with few safeguards to ensure independence, impartiality or legitimacy," the report said.
"This undermines the investigation's credibility and enables a sense of impunity in avoiding essential questions."
Trudeau welcomed the report and called on Iran to "answer comprehensively, with supporting evidence" the questions the document raises.
https://english.alarabiya.net/en/News/middle-east/2020/12/16/Canada-says-Iran-should-not-lead-investigation-on-downed-Ukrainian-plane-
--------
Jared Kushner to lead delegation to Morocco, Israel
15 December 2020
US President Donald Trump's son-in-law and White House senior advisor, Jared Kushner, is scheduled to lead a US delegation to Israel and Morocco next week.
A senior US administration official told Reuters on Tuesday that Kushner and his team were set to take part in discussions concerning the recent Israel-Morocco normalization deal reached last week,
Kushner and his delegation, who will fly to Tel Aviv, plan to join up with an Israeli delegation led by the Israeli national security adviser, Meir Ben-Shabbat, and together take the first direct commercial flight between the Israel and Morocco, the official said.
During his stop in Tel Aviv, Kushner is to hold talks with Israeli Prime Minister Benjamin Netanyahu, the official added.
The Israeli flagship airline, El Al, is expected to provide the airliner for the first direct flight from Tel Aviv to Rabat.
Morocco became the fourth Arab country after the United Arab Emirate, Bahrain and Sudan to normalize ties with Israel in the past few months.
Despite Trump's departure from office on January 20, Kushner's team is still holding talks with Washington's regional lackeys to push more countries from the Arab and Muslim world to seal deals with Israel.
Following Trump's announcement of Morocco's normalization of ties with Israel, Kushner said that a deal between Riyadh and Tel Avivi was inevitable.
Kushner claimed the only unresolved issue regarding the Israel-Saudi deal was the timeframe of their agreement.
https://www.presstv.com/Detail/2020/12/15/640798/Normalization-US-Jared-Kushner-Israel-Morocco
--------
URL: https://www.newageislam.com/islamic-world-news/members-tablighi-jamaat-us-russia/d/123775
New Age Islam, Islam Online, Islamic Website, African Muslim News, Arab World News, South Asia News, Indian Muslim News, World Muslim News, Women in Islam, Islamic Feminism, Arab Women, Women In Arab, Islamophobia in America, Muslim Women in West, Islam Women and Feminism