New Age Islam News Bureau
5 March 2014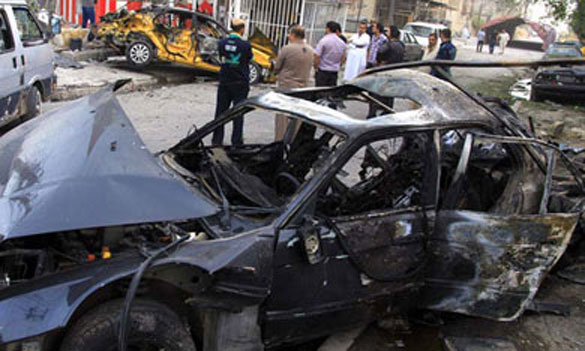 Baghdad, one of the most frequently-targeted cities in the country, is hit by near-daily bombings and shootings.— File photo
------------
Africa
• Mauritania's Capital hit by protest over Quran Desecration
• Nigerian army losing grip on northeast as Islamists rampage
• Libya rehabilitates royals overthrown by Qaddafi
• Uganda to 'send troops to Somalia to protect UN'
• Abandoned in a palace, CAR militia waits
• Fighting breaks out in South Sudan capital
• Officer among 3 killed in Libya's Benghazi: Security
Europe
• UK MP Says 'Putin No Better Than Saddam Hussein'
• Frenchman convicted for running al-Qaida website
• Muslim Tatars minority keep low profile amid Russia fears
• Putin: US Wars in Afghanistan, Iraq, Libya Distorted Int'l Law
• French far right: No funds for religious groups
• UN decries sieges, starvation as war strategy in Syria
Arab World
• Baghdad blasts targeting Shias kill 12
• President Assad: Syria Rejects Kerry's Plan to Consecrate Israel Jewish State
• Social Media Exposes True Face of Brotherhood
• Bahrain Opposition Strongly Condemns Serious Transgression against Al-Wefaq
• ISIL Executes Two 'Comrades in Arms' amid Fierce Clashes in Hasakah
• Bishops: Airstrikes price of intervention in Syria
• Hezbollah says resistance a 'Lebanese reality'
• Egypt watchdog blames protesters, police for Rabia killings
Mideast
• Drone strike kills 4 Qaeda suspects in Yemen: military
• Turkish PM tells Putin crisis must be solved by Ukrainians
• Iran, global powers to commence talks on a positive note
• Netanyahu declared unilateral end to talks: Palestinians
• Turkish FM visits northern Iraq, speaks Kurdish
• Israel intercepts Gaza-bound ship transporting 'Iranian weapons'
North America
• 'Bangladesh to be hub of Indo-Pacific Economic Corridor': US Ambassador
• By slamming Russia, Kerry hints that Pentagon prepares attack against Iran
• Los Angeles gang members fighting in Syria
• US activist says Egypt police assaulted her
• US plans 280 mn military aid to Pakistan, cuts civilian aid
Southeast Asia
• Copies of Quran and the Yasin scriptures in Terengganu mosques found damaged
• Court postpones 'Allah' decision indefinitely
• Indonesian Council of Ulema Issue Fatwa to Protect Wildlife
• Political Violence against Legislative Candidates in Aceh Seen as Attack on Secularism
Australia
• Australian Centre for Islamic Finance sets up Sharia advisory board
India
• Attacker, victim: 2 faces of Gujarat riots come together for 'Hindu-Muslim' unity
• Jamiat sends memorandum to new ATS chief for release of innocent Muslims
• Indian pilgrim shot dead in Iraq
Pakistan
• Six FC personnel killed in Hangu explosion
• Not bound to follow ceasefire: Jaish-e-Usama, a faction of militants
• Face-to-face meeting: Taliban propose Waziristan rendezvous
• 50 bomb disposal vehicles being imported, says Rashid
• First round of TTP, govt committee meeting concludes
• Musharraf's lawyers 'threatened with beheading'
South Asia
• MDP majority will reform Supreme Court and JSC, says Nasheed
• Nine activists of the BNP and Jamaat-e-Islami leaders jailed
• Dhaka thanks Riyadh for 'Aquama' scope
• FM calls on international community not to undermine Maldives' judiciary
Compiled by New Age Islam News Bureau
URL: https://www.newageislam.com/islamic-world-news/new-age-islam-news-bureau/mauritania-s-capital-hit-by-protest-over-quran-desecration/d/55995
-----------
Africa
Mauritania's Capital hit by protest over Quran Desecration
March 5, 2014
Hundreds of Muslims have protested in Mauritania's capital, Nouakchott, after news spread that the Quran had allegedly been desecrated at a mosque.
An imam reported that four men with their faces covered by turbans entered the mosque, tearing copies of the Quran and throwing them into a toilet.
Police fired tear gas to disperse angry crowds, and one person was killed, a hospital source said.
Mauritania is a Muslim country with a tiny Christian population.
It has been a key ally of the West in the campaign against al-Qaeda and other militant groups operating in the region.
Journalist Hamdi Mohamed El Hacen in Nouakchott says protesters burnt barricades and many shops and markets remained closed on Monday.
'Psychiatric evaluation'
Hundreds of protesters gathered in the city centre and outside various mosques, chanting "God is Great" and demanding that the men be arrested and given the death sentence for allegedly blaspheming Islam, he says.
A hospital source told Reuter's news agency that one person was killed after apparently being hit by an exploding tear gas canister.
It is unclear who allegedly desecrated the Quran or what their motive was.
The imam, Mohamedoun Ould Mohamed Salem, said the men took four copies of the Quran, which they then shredded and threw into the mosque's toilet.
Public anger has been compounded by two recent incidents of alleged blasphemy, Mr El Hacen says.
In February, a man was arrested and sent for psychiatric evaluation after urinating on a Quran in northern Mauritania.
A young Muslim is facing a possible death sentence after being convicted in January of apostasy and jailed for writing an article criticising the Prophet Mohammed.
An Islamist party, Tawassoul, became the main opposition party in Mauritania in December after polling the second highest number of votes in legislative elections.
http://www.bbc.com/news/world-africa-26423285
----------
Nigerian army losing grip on northeast as Islamists rampage
March 5, 2014
Nigeria's military is losing control of swathes of the largely Muslim northeast to radical Islamist insurgents who are killing civilians almost daily, and the run-up to elections next year risks aggravating the violence further. By Joe Brock.
Islamist sect Boko Haram has killed thousands since it launched an uprising in 2009 in a bid to carve out an Islamic state in the West African country of 170 million people, divided roughly equally between Christians and Muslims.
More than 150 civilians have died in Boko Haram attacks in the last four days, adding to the 300 killed last month, according to Reuters figures and security sources, one of the worst periods in the northeast since the sect intensified its insurgency three years ago.
A security source, who asked not to be named, said 2,100 people were killed in Boko Haram violence in the last six months.
Nigeria - Africa's biggest oil producer and second largest economy - is a year away from a presidential election and already the two main political parties are trading blame over the escalating Boko Haram conflict.
President Goodluck Jonathan, who is expected to run for re-election in next February's vote, declared a state of emergency in three northeastern states last May and launched a military surge into the zone. It has failed to stem the bloodshed.
Elections are often violent periods in Nigeria and politicians have in the past paid armed groups to destabilise regions, which could allow Boko Haram the opportunity to extend its insurgency towards the nation's centre.
"The north-east is likely to witness some of the highest levels of violence during the elections given that fierce political competition will overlay existing insecurity," said Roddy Barclay, Nigeria analyst at Control Risks.
"But perhaps the greatest risk stems from Boko Haram taking advantage of any outbreak in post-election unrest to incite ethno-religious violence in the north," he said.
Boko Haram is increasingly targeting the civilian population and caused international outrage when dozens of school children were slaughtered in an attack last month. Young girls are regularly kidnapped by insurgents.
The mounting bloodshed in the Muslim-dominated, less developed north has prompted Jonathan's opponents to question whether as a southern Christian he understands the severity of the Boko Haram threat. Jonathan says it is a top priority.
In the past, some southern politicians have accused northern political power brokers of stoking the Boko Haram revolt to undermine Jonathan because they oppose his standing for next year's polls. Since independence, Nigeria's delicate internal political and ethnic balance has been maintained by rotating the presidency between northerners and southerners.
"GETTING WORSE"
Western governments are concerned about Boko Haram taking total control of northeast Borno state, which borders Niger and Cameroon and could provide a base for the sect joining up with al Qaeda-linked groups in the unstable Sahel region.
Jakkie Cilliers, executive director at the Pretoria-based Institute for Security Studies, said the scale of Boko Haram's attacks in the northeast and the slaughter of civilians there suggested a calculated intent to sow terror.
"The purpose of terrorism is to terrorise and destroy, so that it becomes a no-go area, so that the population are simply too terrified, and you create a separation within the body politic that is unresolvable," he told Reuters.
Borno State Governor Kashim Shettima has said Boko Haram is far better equipped than the Nigerian military. Dozens of witnesses have given accounts this year of soldiers fleeing before insurgents attack or being outnumbered and outgunned.
Internet videos posted by Boko Haram show they have seized large quantities of arms and military equipment. Images often show armoured cars mounted with 50 caliber guns, while fighters wear bullet-proof jackets, armed with AK-47 rifles and grenades.
"Boko Haram is getting the upper hand each day. The spate of killing is getting worse," said Bishop Oliver Dashe Doeme, who is based in Borno state.
"The equipment the military are using is not sufficient. They need modern weapons to curtail the insurgents," he said.
Nigeria's armed forces did not immediately respond to requests for comment.
In statements last week, the military said its operations in the northeast were proving successful, killing 13 insurgents recently and arresting many more in a series of raids.
Boko Haram fighters have focused their attacks in rural areas to the south and east of Maiduguri, Borno's capital, although there have recently been bomb attacks in the city.
THREAT UNDERESTIMATED?
At least 3,000 insurgents are based in the Sambisa Forest, south of Maiduguri, with a similar number in the mountain region on the Cameroon border, security sources told Reuters, adding these are difficult areas for the military to secure.
"You can understand why exposed and under supported military units wouldn't want to take on assaults by Boko Haram, which can often involve 100-150 heavily armed, steadfast fighters," a Western diplomat who analyses the military said.
But with the largest standing army in sub-Saharan Africa and 20 percent of the federal budget allocated to security - around $6 billion - many Nigerians question whether the army is being properly managed in a country rife with corruption.
"The Nigerian Army top command must provide answers to questions being asked by Nigerians. Why is Boko Haram always attacking when they are supposed to be on the run? Why are our troops always on the defence?" a statement from the Muslim Rights Concern, a non-government organisation, said last week.
In its 2013 Conflict Barometer, the Heidelberg Institute for International Conflict Research categorises the Nigerian government's conflict with Boko Haram in Borno state as a "war", as opposed to a "limited war" or "violent crisis".
Many analysts believe the longer-term threat of instability is underestimated because it appears far removed from central Nigeria, where the capital Abuja is located, and from the commercial hub of Lagos and oil-producing areas in the south.
"When you speak to Nigerians and investors, they often very rapidly discount what is happening, all the attention is on the growing consumer market," Cilliers said.
http://www.dailymaverick.co.za/article/2014-03-05-nigerian-army-losing-grip-on-northeast-as-islamists-rampage/#.UxbmcT-SxNs
-----------
Libya rehabilitates royals overthrown by Qaddafi
March 5, 2014
Libya rehabilitated Tuesday the family of the late King Idriss, who was overthrown by Muammar Qaddafi himself toppled and killed in a 2011 uprising after four decades in power.
A decree issued by the government stipulates that the heirs of Idriss al-Senussi will regain their Libyan nationality and recover property confiscated by Qaddafi.
Idriss, who became king in 1951 after Libya was the first North African country to gain independence, was overthrown in 1969.
Following the coup, the royal family was held under house arrest, its members stripped of their nationality and their property and assets seized. The family was later expelled from the country.
Idriss sought refuge in Cairo, where he lived until his death in 1983 at the age of 94.
The rest of the family obtained political exile status in Britain, including Idriss' grandnephew and heir-apparent, Mohammad al-Senussi.
http://english.alarabiya.net/en/News/africa/2014/03/05/Libya-rehabilitates-royals-overthrown-by-Qaddafi.html
-----------
Uganda to 'send troops to Somalia to protect UN'
March 5, 2014
Uganda will send a 410-strong special force to guard UN installations in Somalia's capital, Mogadishu, a Ugandan army spokesman has said.
The protection squad will free up thousands of UN-backed troops to pursue militant Islamists in the city, Paddy Ankunda said.
The al-Qaeda-linked al-Shabab group has stepped up attacks in Mogadishu in recent weeks.
At least 12 people were killed in a suicide bombing last Thursday.
Last June, it carried out a major assault on the main UN base in Mogadishu, leaving at least 22 people dead.
'Mortar raids'
On Tuesday, a Somali military general, Hassan Mohamud, assumed the post of mayor of the city replacing Mohamed Nur, who is known by his nickname of Tarzan.
The government's decision to appoint him shows that improving security in Mogadishu remains its key priority, correspondents say.
A 22,000-strong African Union (AU) force, operating under a UN mandate, is battling al-Shabab in Somalia.
Col Ankunda said the protection squad would ensure the AU force was not "bogged down" escorting UN staff - many of whom are involved in aid work.
"Amisom [the African force] will be freed to follow al-Shabab wherever they are hiding," he added.
Al-Shabab lost control of most of Mogadishu in 2011 to AU and Somali government troops.
It has changed its strategy since then, launching guerrilla-style attacks - including suicide bombings and night-time mortar raids.
Last month, al-Shabab fighters stormed Villa Somalia, the seat of government in Mogadishu, killing at least 11 people.
The group has waged an eight-year insurgency to overthrow the weak UN-backed government and create an Islamic state in Somalia.
http://www.bbc.com/news/world-africa-26432779
----------
Abandoned in a palace, CAR militia waits
March 05, 2014
BERENGO, Central African Republic: Abandoned by their superiors, hiding from their enemies, several hundred Christian militiamen in the Central African Republic find themselves holed up in an abandoned palace, left to train with wooden Kalashnikovs and hunt mice for food.
Once home to self-styled emperor Bokassa I in the 1970s, the crumbling palace at Berengo, some 30 kilometers outside the capital Bangui, is consumed by undergrowth.
The gilt and white paint of the once-grand "imperial court" peels off the walls, rotting from damp. The vaulted ceilings are a haven for bats.
Full report at:
http://www.dailystar.com.lb/News/International/2014/Mar-05/249276-abandoned-in-a-palace-car-militia-waits.ashx#ixzz2v92cxObB
-----------
Fighting breaks out in South Sudan capital
March 5, 2014
Fighting broke out in a military barracks in war-torn South Sudan's capital Juba on Wednesday, witnesses said, although the cause of the clashes were not immediately clear.
An AFP reporter said the sound of heavy gunfire was heard coming from Giyada barracks near Juba University. There were conflicting reports of an uprising over unpaid salaries or possible defections from the government.
The conflict in South Sudan started in the capital Juba nearly three months ago amid tensions within the ruling party of President Salva Kiir and former vice president Riek Machar, but quickly spread across the country.
Full report at:
http://english.ahram.org.eg/NewsContent/2/8/95913/World/Region/Fighting-breaks-out-in-South-Sudan-capital.aspx
-----------
Officer among 3 killed in Libya's Benghazi: Security
March 5, 2014
Two separate attacks in the restive eastern Libyan city of Benghazi left three people dead, including an air force officer, a security official said Tuesday.
Colonel Adem Faraj al-Abdelli was found shot dead in his car near a cemetary in the eastern city of Benghazi, the official said on condition of anonymity.
And the bodies of a lawyer and her husband were found the day after the couple were kidnapped by unknown attackers, the same source said, without giving details of how they had been killed.
Full report at:
http://english.ahram.org.eg/NewsContent/2/8/95869/World/Region/Officer-among--killed-in-Libyas-Benghazi-Security.aspx
-----------
Europe
UK MP Says 'Putin No Better Than Saddam Hussein'
March 5, 2014
A leading UK member of parliament likened Russian President Vladimir Putin to Iraq's Saddam Hussein in an interview on Tuesday.
Brooks Newmark made the comment to Express Online, saying "Putin is testing our resolve… His behaviour is no better than Saddam Hussein when he invaded Kuwait."
The Conservative MP added that "at some stage the West has to say enough is enough," before saying "Putin has been trying to reassert Russia imperial role as a great world power."
Newmark referred to the West's lack of intervention in the Georgia war of 2008 and the failure to act decisively on Syria's alleged use of chemical weapons in 2013, saying "I think it would be very bad if for a third time we did nothing."
Russia has reportedly deployed 6,000 troops in the Crimean peninsula just over a week after pro-Russian Ukrainian President Viktor Yanukovych was deposed.
According to the news outlet, Newmark believes President Putin sent troops into Ukraine after the U.S. and UK failed to enforce self-imposed "red lines" over the Syrian chemical weapons issue.
Full report at:
http://english.alarabiya.net/en/News/world/2014/03/04/UK-MP-says-Putin-no-better-than-Saddam-Hussein-.html
-----------
Frenchman convicted for running al-Qaida website
March 5, 2014
A Frenchman who operated what prosecutors described as an al-Qaeda propaganda website went on trial on Tuesday on charges of defending and promoting terrorism. It was the first test of a 2012 law outlawing "cyberjihad" in response to attacks by a radical Islamist who killed seven people in the south of France.
Romain Letellier has been jailed since his arrest in September in the Calvados region of Normandy. The 27-year-old, who adopted the psydonym Abou Siyad al-Normandy, faces up to five years in prison if convicted.
His long hair pulled back tightly and a thick beard reaching to his chest, Letellier on Tuesday acknowledged acting as an administrator for the site Ansar al-Haqq, which the prosecutor said had 4,000 members.
Full report at:
http://english.alarabiya.net/en/media/digital/2014/03/04/France-tries-man-accused-of-running-al-Qaeda-site.html
---------
Muslim Tatars minority keep low profile amid Russia fears
March 5, 2014
Only five days ago, Tatars of Ukraine's Crimea came out in their thousands, chanting Allahu Akbar in a show of loyalty to the new authorities in Kiev and opposition to separatist demands by the region's Russian ethnic majority.
But now, with Moscow's military forces having unexpectedly seized control, the indigenous Muslim people of the isolated Black Sea peninsula have all but vanished from the public square, keeping their heads down to avoid being sucked into war.
"If there is a conflict, as the minority, we will be the first to suffer," said Usein Sarano, 57, as the midday call to prayer rung out from the 16th-century stone minarets of Bakhchisaray, once an ancient Tatar capital.
Full report at:
http://english.alarabiya.net/en/perspective/analysis/2014/03/04/Muslim-Tatars-minority-keep-low-profile-amid-Russia-fears-.html
-----------
Putin: US Wars in Afghanistan, Iraq, Libya Distorted Int'l Law
March 5, 2014
TEHRAN (FNA) - Wars in Iraq, Afghanistan, and Libya were distortions of international law and UNSC resolution, Vladimir Putin said in response to the US officials' criticism of Moscow's move on Ukraine.
http://english.farsnews.com/player.aspx?nn=13921214000741
-----------
French far right: No funds for religious groups
March 5, 2014
PARIS — Marine Le Pen, whose party is riding a wave of anti-immigration and anti-Muslim voter sentiment around Europe, says it will cut public funds to religious groups in towns where it wins municipal elections this month.
Le Pen told The Associated Press in an interview Monday that secularism will be strictly applied in towns where her far-right National Front prevails on March 23 and 30, and that referendums will be held on major issues.
Le Pen, 45, praised the recent Swiss decision, in a referendum, to cap immigration, saying countries have an "inalienable right" to control their borders.
The National Front reached a high in 2012 when Le Pen scored 18 percent in presidential elections. But the party wants to establish itself in towns around France with the municipal vote.
Full report at:
http://www.washingtonpost.com/world/europe/french-far-right-no-funds-for-religious-groups/2014/03/03/569fa4d2-a2e7-11e3-b865-38b254d92063_story.html
-----------
UN decries sieges, starvation as war strategy in Syria
March 5, 2014
Syrian government forces are waging a campaign of siege warfare and starving civilians as part of their military strategy, UN-mandated investigators said Wednesday.
"The government employs siege warfare, instrumentalising basic human needs for water, food, shelter and medical care as part of its military strategy," the Independent International Commission of Inquiry said in a report.
http://english.ahram.org.eg/NewsContent/2/8/95934/World/Region/UN-decries-sieges,-starvation-as-war-strategy-in-S.aspx
-----------
Arab World
Baghdad blasts targeting Shias kill 12
March 5, 2014
BAGHDAD: Nine bombings mainly targeting Shia majority areas of Baghdad killed at least 12 people on Wednesday, officials said, as Iraq suffers its worst violence in years.
The seven car bombs and two roadside bombs, which hit six different areas of Baghdad, also wounded more than 60 people, the sources said.
The deadliest single attack was a car bomb in the Karrada district in central Baghdad that killed at least three people and wounded at least 10.
Baghdad, one of the most frequently-targeted cities in the country, is hit by near-daily bombings and shootings. Sunni jihadists often target members of Iraq's Shia majority.
Iraq has been hit by a year-long surge in bloodshed that has reached levels not seen since 2008, driven by widespread discontent among the country's Sunni Arab minority, and by the bloody civil war in neighbouring Syria.
Violence in Iraq has killed more than 1,790 people since January 1, according to AFP figures based on security and medical sources.
https://www.dawn.com/news/1091180/baghdad-blasts-targeting-shias-kill-12
-----------
President Assad: Syria Rejects Kerry's Plan to Consecrate Israel Jewish State
March 5, 2014
President Bashar al-Assad on Tuesday received a delegation from the Jordanian Foreign Affairs Council for Regulating Popular Diplomacy, headed by Nahedd Hatar.
During the meeting, President al-Assad affirmed the importance of popular delegations which encompass intellectual elites and popular demographics in creating a popular movement on the Arab arena, which is essential for confronting plots targeting the region's people, Al-Manar reported.
President al-Assad asserted that despite the aggressive war targeting them, the Syrian people will always stand alongside their brethren in Jordan and support their struggle to preserve the Jordanian national identity and state.
Full report at:
http://english.farsnews.com/newstext.aspx?nn=13921214000321
----------
Social Media Exposes True Face of Brotherhood
March 5, 2014
The Arab world has been socially and intellectually stunned by the statements made by some popular Muslim clerics recently. Many Arab Muslims look upon these clerics as their role models and own their audio CDs or books.
These scholars have now been unmasked, largely due to the social media and the Arab Spring. Arab societies witnessed the true face of these clerics, who hold views very similar to those held by the banned Muslim Brotherhood group.
People have taken to the social media to question the viewpoints of these scholars. They are questioning the rationale behind their instigation of Jihad in the name of religion. These clerics are always quick to criticise counter-viewpoints held by others.
Full report at:
http://www.khaleejtimes.com/kt-article-display-1.asp?xfile=data/infocus/2014/March/infocus_March1.xml&section=infocus
-----------
Bahrain Opposition Strongly Condemns Serious Transgression against Al-Wefaq
March 5, 2014
The National Democratic Opposition Parties in Bahrain condemned the terrible attack on al-Wefaq National Islamic Society headquarters perpetrated by groups of masked men carrying knives.
Groups of masked men smashed the glass at the front doors threatening the lives of the individuals in the building, Al-Wefaq.net reported.
The opposition considered what happened a serious transgression with an intention to kill or harm. Al-Wefaq deputy secretary general Shaikh Hussain al-Daihi was among other members who were under the threat of murder during the attack.
The opposition called for an urgent international action in response to what is happening in Bahrain amid the destructive calls of lawlessness. Bahrain is seriously threatened by these groups and those who support them inside the authority.
http://english.farsnews.com/newstext.aspx?nn=13921213000395
-----------
ISIL Executes Two 'Comrades in Arms' amid Fierce Clashes in Hasakah
March 5, 2014
Sources inside Syria reported that the so-called Islamic State of Iraq and the Levant terrorist group (ISIL) have executed two Jordanians who were fighting in its ranks in Syria.
The sources, preferred anonymity, said that "ISIL Shot dead Mohammad al-Hayar and Ashraf Arabiat for charges of seizing weapons, vehicles and other materials captured by the organization after battles against the Syrian army," Al-Manar reported Tuesday.
Moreover, Infighting continues among armed opposition groups in Hasakah, where fierce clashes broke out Monday between battalions of the so-called Free Syrian Army and al-Nusra Front on one side, and ISIL on the other hand.
Full report at:
http://english.farsnews.com/newstext.aspx?nn=13921214000388
-----------
Bishops: Airstrikes price of intervention in Syria
March 05, 2014
BEIRUT: Maronite Bishops condemned Wednesday Israel's latest aerial attack on Hezbollah but said Syrian airstrikes on Lebanon were the price of Lebanese intervention in the crisis next-door.
"The Bishops strongly denounce the Israeli air raid on Lebanon and Israeli violations of Lebanese sovereignty as well as Syrian shelling and [attacks] along the border with Syria [with the aim of] intimidating the Lebanese," the bishops said in a statement released following their monthly meeting.
"This shows the exaggerated involvement by various Lebanese factions in Syrian [affairs] at a time when evading the destruction of homes and infrastructure and the displacement of innocent people is needed," the statement added.
Full report at:
http://www.dailystar.com.lb/News/Lebanon-News/2014/Mar-05/249327-bishops-airstrikes-price-of-intervention-in-syria.ashx#ixzz2v932ulnq
------------
Hezbollah says resistance a 'Lebanese reality'
March 05, 2014
BEIRUT: Hezbollah official Sheikh Naim Qassem Tuesday urged his rivals to avoid chicanery in drafting the Cabinet's policy statement, saying any such attempt would be futile as the resistance is now a "Lebanese reality."
"The resistance is a reality and a destiny. It was the first supporter of the state and its strength is in facing challenges. There is no point in playing smart, looking for ways to remove this solid strategy," Qassem, Hezbollah's deputy secretary-general, told reporters at his office.
"The resistance is no longer a proposal or an idea that can be questioned. It is fixed, just like Lebanon. The right of the resistance in the policy statement is a given and one of its primary premises," he added.
Full report at:
http://www.dailystar.com.lb/News/Lebanon-News/2014/Mar-04/249202-hezbollah-says-resistance-a-lebanese-reality.ashx#ixzz2v93DMdQY
------------
Egypt watchdog blames protesters, police for Rabia killings
World Bulletin / News Desk
March 5, 2014
A fact-finding report by Egypt's National Council for Human Rights (NCHR) will blame supporters of ousted president Mohamed Morsi and security forces for the bloody dispersal of their protest camp in Cairo's Rabia al-Adawiya, according to sources.
"The report will show that the Muslim Brotherhood members inside the sit-in were armed and had initiated the attack on police forces," a source with the council, a state body, told Anadolu Agency on Tuesday.
"The report will also condemn the way security forces acted," added the source.
The council's findings are reportedly based on reports issued by the Egyptian Forensic Authority.
Full report at:
http://www.worldbulletin.net/headlines/130248/egypt-watchdog-blames-protesters-police-for-rabia-killings
-----------
Mideast
Drone strike kills 4 Qaeda suspects in Yemen: military
March 05, 2014
SANAA: A US drone strike in northern Yemen on Wednesday killed four suspected Al-Qaeda members, including an Iraq veteran, a military official said.
The unmanned aircraft fired two rockets at a vehicle in the Khalka area of Jawf province, the official said, adding that among those killed was Ali Juraym, a local militant chief who had fought in Iraq.
The American military operates all drones flying over Yemen in support of Sanaa's campaign against Al-Qaeda and has killed dozens of militants in a sharply intensified campaign in the past year.
Full report at:
http://www.dailystar.com.lb/News/Middle-East/2014/Mar-05/249333-drone-strike-kills-4-qaeda-suspects-in-yemen-military.ashx#ixzz2v93cLk7E
-----------
Turkish PM tells Putin crisis must be solved by Ukrainians
Reuters | Istanbul | March 5, 2014
Turkish Prime Minister Tayyip Erdogan told Russian President Vladimir Putin on Tuesday that it was largely up to Ukrainians to resolve their country's crisis, and said instability in the Black Sea nation would have regional repercussions.
The leaders spoke by telephone about the situation in Ukraine and its southerly Crimea region, which lie across the Black Sea from Turkey. Crimea has a large Turkic speaking minority and is now under Moscow's control. Erdogan told Putin "that it is foremost the responsibility of Ukrainians to resolve the country's crisis" and emphasised that "instability in (Ukraine) would negatively affect the entire region", a statement from Erdogan's office said.
Full report at:
http://indianexpress.com/article/world/europe/turkish-pm-tells-putin-crisis-must-be-solved-by-ukrainians/
-----------
Iran, global powers to commence talks on a positive note
ATUL ANEJA
March 5, 2014
Iran and the six global powers are set to commence expert-level nuclear talks on Wednesday, bolstered by an affirmation by the International Atomic Energy Agency (IAEA) that Tehran is abiding by its obligations spelled out in an earlier nuclear deal.
Talks will be held in Vienna on the sidelines of an on-going meeting of the IAEA board of governors.
Iran and the sextet - the five permanent members of the Security Council and Germany- are holding a flurry of meetings to fulfil a six-month Joint Plan of Action (JPA), which they had signed in Geneva in November 2013. During this period, Iran is obliged to undertake a series of transparent and verifiable confidence building steps, under the supervision of the IAEA, which would result in limited sanctions relief amounting to $4.2 billion.
Full report at:
http://www.thehindu.com/news/international/world/iran-global-powers-to-commence-talks-on-a-positive-note/article5750438.ece
-----------
Netanyahu declared unilateral end to talks: Palestinians
March 5, 2014
RAMALLAH, Palestinian Territories: Israeli Prime Minister Benjamin Netanyahu's speech to pro-Israel lobbyists in Washington on Tuesday amounted to "an official announcement of a unilateral end to negotiations," a top Palestinian official told AFP.
Fatah central committee member Nabil Shaath said Netanyahu's repeated demand that the Palestinians recognize Israel as a Jewish state and his rejection of Palestinian demands on refugees and international peacekeepers were "totally rejected."
In his address to the annual policy conference of AIPAC, Netanyahu directly appealed to Palestinian president Mahmud Abbas to recognize Israel as a Jewish state and to "abandon the fantasy" of flooding Israel with refugees.
Full report at:
http://www.arabnews.com/news/534806
-----------
Turkish FM visits northern Iraq, speaks Kurdish
World Bulletin / News Desk
March 5, 2014
Turkey's Foreign Minister Ahmet Davutoglu said in a conference in Iraq that there are no homogeneous states or societies and it is important to respect different beliefs whether Sunni or Shiite, considering the current situation in the country.
Greeting participants at the 'Sulaymaniyah Forum' in Kurdish, an event hosted by the American University of Iraq, Davutoglu also talked about Middle Eastern countries' policies.
"The Arab Spring should be an opportunity for Middle Eastern countries. Nobody can stand against a new generation's demands," he said.
The minister also said: "There are some countries in the Balkans, in Asia and in Africa that unfortunately cannot involve their people in their countries' political process. As Turkey, we do not just involve our people in this process, we also want all Middle Eastern countries to be a part of Turkey's vision. It is wrong to object to a group or a sect".
Full report at:
http://www.worldbulletin.net/headlines/130221/turkish-fm-visits-northern-iraq-speaks-kurdish
---------
Israel intercepts Gaza-bound ship transporting 'Iranian weapons'
March 5, 2014
Israel's military said it intercepted a ship carrying Iranian "advanced weaponry" bound for Gaza in the Red Sea between Eritrea and Sudan on Wednesday.
"Earlier today, the IDF (Israeli army) prevented an attempt to smuggle an Iranian shipment of advanced weaponry intended for terrorist organisations operating in the Gaza Strip," the army said in a statement.
http://voiceofrussia.com/news/2014_03_05/Israel-intercepts-Gaza-bound-ship-transporting-Iranian-weapons-1858/
----------
North America
'Bangladesh to be hub of Indo-Pacific Economic Corridor': US Ambassador
March 5, 2014
US Ambassador in Dhaka Dan W Mozena yesterday said he would see Bangladesh uses its geographical gift to become the hub of the Indo-Pacific Economic Corridor, linking Central and South Asia to China, Singapore and rest of the world.
Bangladesh would be a lion contributor to the global trade and commerce besides the 21st century trade route, he said while speaking at a conference on "NRB Talent, Remittances and Investment for Development," arranged by the Centre for NRB, at a city hotel.
Chairperson of the centre Shekil Chowdhury presided over the event while Bangladesh Bank Governor Atiur Rahman spoke as the chief guest.
Full report at:
http://www.dhakatribune.com/foreign-affairs/2014/mar/05/bangladesh-be-hub-indo-pacific-economic-corridor
-----------
By slamming Russia, Kerry hints that Pentagon prepares attack against Iran
March 5, 2014
The US Secretary of State has described moves to tighten security at Russian bases in Crimea as a brazen act of aggression, dropping a hint earlier that the Pentagon is continuing to prepare for an attack against Iran. He stressed that senseless "eastern campaigns" resulted in the death of thousands of citizens of far-away countries, but said nothing about the wasted expenditure of trillions of dollars on the US Iraq war and the war in Afghanistan.
"You just don't invade another country on phony pretext in order to assert your interests," John Kerry said in an interview with the NBC television network on March 3rd in what was no admission at all that the US use of fake pretexts and wrong ways of fighting senseless "eastern campaigns" resulted in the death of thousands of citizens of far-away countries, as well as the numerous deaths of troops of US NATO allies.
Full report at:
http://voiceofrussia.com/news/2014_03_05/By-slamming-Russia-Kerry-hints-that-Pentagon-prepare-attack-against-Iran-2933/
----------
Los Angeles gang members fighting in Syria
March 5, 2014
Two gang members from Los Angeles appear to have joined the civil war in Syria, fighting alongside President Bashar al-Assad's forces, according to the Washington Post.
The two men appeared in a video posted on social media, linking arms and fighting against what they call the "enemygos."
One man identified himself as "Creeper" form the Surenos, a southern California gang with suspected links to a Mexican mafia group.
The other identified himself as "Wino," from Westside Armenian Power gang. He appeared smoking and in military garb, pointing out the "enemygos."
"Still puro Surenos putting it down, homie," Creeper says. "In Middle East, homie, in Syria, still gangbanging, not giving a (explicit) homie."
Full report at:
http://english.alarabiya.net/en/News/middle-east/2014/03/04/Video-Los-Angeles-gang-members-fighting-in-Syria.html
-----------
US activist says Egypt police assaulted her
March 5, 2014
CAIRO: The co-founder of U.S.-based anti-war group CodePink said Tuesday that Egyptian police detained her at Cairo's international airport when she tried to enter the country on route to the Gaza Strip and treated her roughly, fracturing her shoulder as they handcuffed her before deporting her.
Egyptian officials denied Medea Benjamin was assaulted, saying she had refused to leave despite being told that the border to Gaza is closed because of military operations in the area. However, other members of the same delegation of women activists heading to Gaza were allowed into Egypt, and it was not clear why Benjamin was singled out for deportation.
Speaking from Turkey, where she was deported, Benjamin told The Associated Press she was roughed up by Egyptian airport officials and security agents, who declined to explain why she was barred from entry, telling her only that she was on a blacklist.
Full report at:
http://www.dailystar.com.lb/News/Middle-East/2014/Mar-04/249257-us-activist-says-egypt-police-assaulted-her.ashx#ixzz2v52ikb4Z
-----------
US plans 280 mn military aid to Pakistan, cuts civilian aid
Press Trust of India | Washington | March 5, 2014
Arguing that Pakistan will remain a key player in counter terrorism post-2014, the US has proposed USD 280 million in military assistance to the country, although it wants to cut civilian aid in an effort to acknowledge India's concerns about misuse of the funds.
Marred by financial constraints, the Obama administration has proposed to substantially cut civilian aid to Pakistan to USD 446 million for the next fiscal year as against USD 703 million in 2013, which among other things the State Department argued is aimed at improving ties with India.
Full report at:
http://indianexpress.com/article/world/asia/us-plans-280-mn-military-aid-to-pakistan-cuts-civilian-aid/2/
-----------
Southeast Asia
Copies of Quran and the Yasin scriptures in Terengganu mosques found damaged
MARCH 5, 2014
KUALA LUMPUR, March 5 — Hundreds of copies of the Quran and the Yasin scriptures were found damaged and thrown about at two neighbouring mosques in Terengganu on Tuesday morning, local Malay daily Sinar Harian said in a report published today.
The two incidents, which even saw the Muslim holy book thrown into toilet bowls, reportedly occurred at Masjid Limbongan and Masjid Nasaruddin Shah and were discovered by mosque officials at around 2.30am and 5.30am respectively.
Masjib Limbongan treasurer Che Rawi Rahim expressed shock at the incident and said those responsible for damaging the books had likely smashed the glass doors of the mosque first before throwing the Holy Scriptures about.
"There were Qurans that had its pages deliberately opened and put into toilet bowls. A number of the Yasin scriptures were thrown into the rubbish bin in front of the mosque's stairs, in the ablution pond and on the soil," the chairman of the Limbongan voluntary patrol scheme was quoted as saying by Sinar Harian.
Full report at:
http://www.themalaymailonline.com/malaysia/article/al-qurans-in-terengganu-mosques-found-damaged-dumped-into-toilets#sthash.sX5sT2xe.dpuf
-----------
Court postpones 'Allah' decision indefinitely
BY BOO SU-LYN
MARCH 5, 2014
PUTRAJAYA, March 5 — The Federal Court today postponed indefinitely a decision whether it will allow the Catholic Church to appeal a lower court ruling preventing a Catholic newspaper from using the word "Allah" to refer to God.
As an unruly crowd gathered outside the country' highest court to await the decision, a seven-man panel headed by Chief Justice Tun Arifin Zakaria listened to arguments from both sides before postponing its ruling to a yet-to-be-determined date.
During the hearing, the lawyer for the Catholic Church said that the publication in question, Herald, had been circulating for 14 years without disrupting public order.
He argued that the home minister's justification for banning the Herald from using the word "Allah" on the grounds of national security and public order could be questioned by the court.
Full report at:
http://www.themalaymailonline.com/malaysia/article/court-postpones-allah-decision-indefinitely#sthash.tatcbsAh.dpuf
-----------
Indonesian Council of Ulema Issue Fatwa to Protect Wildlife
March 5, 2014
Jakarta. Indonesia's top Islamic clerical body has issued a religious fatwa against the illegal hunting and trade in endangered animals in the country, which the World Wildlife Fund hailed on Wednesday as the world's first.
The fatwa by the Indonesian Council of Ulema (MUI) declares such activities "unethical, immoral and sinful," Asrorun Ni'am Sholeh, secretary of the council's commission on fatwas, told AFP. "All activities resulting in wildlife extinction without justifiable religious grounds or legal provisions are haram. These include illegal hunting and trading of endangered animals.
"Whoever takes away a life, kills a generation. This is not restricted to humans, but also includes God's other living creatures, especially if they die in vain."
The country of 250 million people is the world's most populous Muslim nation, but it remained unclear whether the fatwa would have any practical impact.
Full report at:
http://www.thejakartaglobe.com/news/indonesian-council-of-ulema-issue-fatwa-to-protect-wildlife/
-----------
Political Violence Against Legislative Candidates in Aceh Seen as Attack on Secularism
March 5, 2014
Jakarta. A recent string of attacks against legislative candidates and political parties' headquarters in Aceh may be a form of dissatisfaction toward efforts to introduce a national idealism into the province which only a few years ago was waging an armed struggle for separation from Indonesia, an analyst says.
Tensions continue to escalate in Indonesia's only province permitted to implemented a limited interpretation of Shariah law, marked by a string of attacks on political targets as next month's legislative election draws closer.
On Sunday night, Faisal, a legislative candidate from the Aceh National Party (PNA), was shot and killed by unknown gunmen who opened fire at his car as it passed a secluded road near Sawang in South Aceh district.
Full report at:
http://www.thejakartaglobe.com/news/political-violence-against-legislative-candidates-in-aceh-seen-as-attack-on-secularism/
-----------
Australia
Australian Centre for Islamic Finance sets up Sharia advisory board
March 5, 2014
The Australian Centre for Islamic Finance has set up an advisory board to help local businesses conduct sharia-compliant transactions, including developing financing options such as Islamic bonds, the centre's director told Reuters.
The three-member board is the latest sign the industry is making headway despite Australia's lack of regulation catering to Islamic finance, which follows religious principles such as bans on interest and pure monetary speculation.
The centre's sharia board members might not have the global name recognition as some of their Gulf-based peers, but familiarity with Australian law would appeal to local firms, said Almir Colan, director of the centre, an education and training body.
"We need people who will be able to apply classical fiqh (Islamic jurisprudence) principles within a modern context - the increased complexity of financial products and commercial transactions needs specialists."
Full report at:
http://in.reuters.com/article/2014/03/04/islamic-finance-australia-idINL6N0M100R20140304
-----------
India
Attacker, victim: 2 faces of Gujarat riots come together for 'Hindu-Muslim' unity
March 5, 2014
At a seminar organised in Thaliparamba in Kerala's Kannur district on Monday, two men sat together, smiling and talking. Twelve years ago, these men had entered India's collective consciousness through their pictures published in the news media — images that went on to become iconic reminders of the Gujarat riots of 2002.
One of the men was seen as the victim, wearing a shirt streaked with blood, pleading for mercy with folded hands, his eyes brimming with tears. The other appeared as the ruthless perpetrator of the violence, wearing a black beard and saffron Bajrang Dal bandana, standing with a leg on a signboard and both hands aloft, in one of which he held an iron rod. Behind him burnt a large fire.
The first picture — of a tailor named Qutubuddin Ansari — was taken in Naroda Patiya, which saw some of the worst violence of the riots. The other picture, of Shahpur cobbler Ashok Bhavanbhai Parmar, or Ashok Mochi, was taken in Dudheshwar.
Full report at:
http://indianexpress.com/article/india/india-others/attacker-victim-2-faces-of-gujarat-riots-come-together-for-hindu-muslim-unity/2/
-----------
Jamiat sends memorandum to new ATS chief for release of innocent Muslims
March 5, 2014
Mumbai: Jamiat Ulema Malegaon has written a memorandum to newly appointed Anti Terrorism Squad (ATS) chief Himanshu Roy demanding discharge of nine innocent Muslims implicated in 2006 Malegaon blast case. They have also demanded not to arrest innocent Muslims only on the basis of suspicion.
The 2006 Malegaon blast case has seen many turns over the years. The local police and ATS had arrested nine Muslim men and had filed a charge sheet against them. Then, in February 2007, the state transferred the case from state ATS to the CBI. The CBI completed its investigation and filed a supplementary charge sheet, again implicating the nine arrested accused.
Full report at:
http://twocircles.net/2014mar04/jamiat_sends_memorandum_new_ats_chief_release_innocent_muslims.html
-----------
Indian pilgrim shot dead in Iraq
Mohammed Wajihuddin,TNN | Mar 5, 2014
MUMBAI: Unidentified gunmen killed an Indian pilgrim in trouble-torn Iraq on Tuesday. Usaid-ul-Haq Qadri, 37, from UP's Badayun, was travelling with his father and brother to Sulaimania town, around 300km from Baghdad when their car came under fire from an armed group. It was not known if the attackers were terrorists.
"We had covered half the distance of the destination when some gunmen suddenly stopped our car and started firing indiscriminately. The driver, who was also injured, speeded up and we reached a check post from where an ambulance was called. Usaid died in the attack while the driver has been hospitalized," said Mohammed Lateef Qadri, brother of the deceased, on phone from Iraq.
Full report at:
http://timesofindia.indiatimes.com/india/Indian-pilgrim-shot-dead-in-Iraq/articleshow/31439117.cms
-----------
Pakistan
Six FC personnel killed in Hangu explosion
March 5, 2014
HANGU/KHYBER: A roadside bomb targeted a security forces' convoy in Hangu district on Wednesday, killing six Frontier Corps (FC) personnel whereas a policeman and another person were killed in separate incidents of violence in Khyber Pakhtunkhwa province.
Military sources confirmed that a security forces' convoy was travelling from Hangu to Kurram Agency when it was targeted near Warmagal area on the Hangu-Kurram Agency border. Six soldiers were killed whereas eight others sustained injuries.
The sources said the vehicle was also damaged in the attack.
The sources added that the blast was carried out using an Improvised Explosive Device (IED) and might have been detonated through a remote control.
Full report at:
https://www.dawn.com/news/1091169/six-fc-personnel-killed-in-hangu-explosion
-----------
Not bound to follow ceasefire: Jaish-e-Usama, a faction of militants
March 5, 2014
KHYBER AGENCY - The driver of a NATO supply truck and his helper were shot dead and another was injured by unknown militants in a firing incident which took place on Pak-Afghan highway here in the Sur Kamr area of Tehsil Jamrud, a subdivision of Khyber Agency, official and local sources said on Tuesday.
Jaish-e-Usama, a faction of militants, claimed responsibility for the attack, saying they were not bound to follow the ceasefire announced by the Taliban.
Nato supply trucks, bearing registration No 9496 and 9351, were on their way to Torkham border from Peshawar to deliver the assignment somewhere in Afghanistan when unknown armed persons intercepted them and opened fire on them. As a result, three crew members of the trailers got wounded, sources said. The injured were rushed to a nearby health centre where two of them succumbed to their injuries while the third was referred to Hayatabad Medical Complex in view of his precarious condition.
Full report at:
http://www.nation.com.pk/national/05-Mar-2014/not-bound-to-follow-ceasefire-jaish-e-usama
-----------
Face-to-face meeting: Taliban propose Waziristan rendezvous
March 5, 2014
ISLAMABAD: The Tehreek-e-Taliban Pakistan (TTP) has invited government peace negotiators to visit the Waziristan tribal region for a 'direct sitting' with them, a Taliban member said on Tuesday. A member of the government's four-member negotiating team also confirmed the invitation, saying the trip would materialise if 'progress' was made in talks with the TTP intermediaries.
"We've formally invited the government negotiators and will welcome them whenever they want to meet us," a Taliban official told The Express Tribune. He said the TTP intermediaries will continue dialogue with the government. The invitation has been made to the government negotiators because they had earlier proposed such a meeting.
Full report at:
http://tribune.com.pk/story/679107/face-to-face-meeting-taliban-propose-waziristan-rendezvous/
-----------
50 bomb disposal vehicles being imported, says Rashid
March 05, 2014
ISLAMABAD : Minister for Information and Broadcasting, Pervaiz Rashid, has said that effective steps are being taken by the government to curb terrorism and foil terrorist activities.
Talking to media persons here on Tuesday' he said 50 bomb disposal vehicles are being imported as part of measures to control the terrorist attacks. He said five such vehicles have already reached the country. The minister rejected the impression that police are not fulfilling their responsibilities regarding maintenance of law and order. He said the security forces and police have saved so many precious lives on several occasions by taking timely actions and rapid response.
Full report at:
http://www.nation.com.pk/islamabad/05-Mar-2014/50-bomb-disposal-vehicles-being-imported-says-rashid
----------
First round of TTP, govt committee meeting concludes
March 5, 2014
PESHAWAR: The first round of a meeting in Akora Khattak between negotiators from the government and the Tehreek-i-Taliban Pakistan (TTP) concluded on Wednesday with both sides agreeing to certain terms and conditions, DawnNews reported.
Government negotiator retired Major Amir told media representatives that the suggestions presented during the first round of the meeting had been agreed upon by both sides.
During the meeting, the members consulted on the dissolution of existing committees and the formation of new committees to carry forward peace talks, DawnNews had quoted sources as saying.
Full report at:
https://www.dawn.com/news/1091183/first-round-of-ttp-govt-committee-meeting-concludes
-----------
Musharraf's lawyers 'threatened with beheading'
AFP | Mar 5, 2014
ISLAMABAD: Lawyers representing Pakistan's former military ruler Pervez Musharraf in a landmark treason case said on Wednesday they had been threatened with beheading and urged a new venue for the trial.
They also urged the court to let Musharraf, who last month became the first former army chief to appear in court for treason, to go abroad for medical treatment.
The case relates to his 2007 imposition of emergency rule and is seen as a key test of civilian authority over the country's powerful army.
Lawyer Ahmad Raza Kasuri said the defence team wanted the trial shifted to another location and feared for its safety, after a gun and suicide attack on a lower court complex in Islamabad on Monday left 11 dead.
Full report at:
http://timesofindia.indiatimes.com/world/pakistan/Musharrafs-lawyers-threatened-with-beheading/articleshow/31467169.cms
--------------
South Asia
MDP majority will reform Supreme Court and JSC, says Nasheed
By Ahmed Rilwan | March 4th, 2014
President Mohamed Nasheed has said that Maldivian Democratic Party (MDP) will change the number of judges in the Supreme Court and strive to bring their thinking closer to that of the people, and closer to justice.
"We can never accept the level of political influence and the ugly money of corruption that has entered most courts of Maldives. We have to reform these courts. Development for the Maldives can only be achieved if the people Maldives are able to get justice and equality."
Speaking at a parliamentary campaign rally in Thinadhoo, Gaafu Dhaalu atoll, Nasheed said that the judicial watchdog will also be reformed by amending the Judicial Services Commission Act.
Full report at:
http://minivannews.com/politics/mdp-majority-will-reform-supreme-court-and-jsc-says-nasheed-79008
-----------
Nine activists of the BNP and Jamaat-e-Islami leaders jailed
March 5, 2014
Nine activists of the BNP and Jamaat-e-Islami, including a newly-elected vice chairman, have been sent to jail in a violence case of Natore on Wednesday.
Chief Judicial Magistrate Liakat Ali Molla binned bail plea of the eleven after hearing in a pre-poll truck vandalism case of Natore Sadar upazila.
Among the nine is BNP-sponsored Natore Sadar upazila Vice Chairman Faisal Alam Abul, who was elected in the Upazila election of February 27.
Among others are Natore town Jamaat Secretary Rasel, ex-Shibir President Milon and BNP leaders Asad and Enayet Chowdhury.
http://www.dhakatribune.com/politics/2014/mar/05/11-natore-bnp-jamaat-leaders-jailed#sthash.DguaAiID.dpuf
-----------
Dhaka thanks Riyadh for 'Aquama' scope
March 5, 2014
PM expresses hope that fraternal relations between both countries would be strengthened further
Bangladesh has extended its sincere gratitude to the Saudi Arabian government for giving a scope for changing 'Aquama' (work permit) and professions to nearly nine lakh Bangladesh workers staying in the kingdom.
Prime Minister Sheikh Hasina thanked Saudi Arabian Ambassador to Bangladesh Dr Abdullah NA Al Bussairy on behalf of her government when he paid a courtesy call on her at her office on Wednesday morning.
After the meeting, PM's Deputy Press Secretary Bijan Lal Deb briefed reporters regarding the matter, reports BSS.
Full report at:
http://www.dhakatribune.com/bangladesh/2014/mar/05/dhaka-thanks-riyad-aqama-scope
-----------
FM calls on international community not to undermine Maldives' judiciary
By Ahmed Rilwan | March 4th, 2014
Foreign Minister calls on international community not to undermine Maldives' judiciary thumbnail
Minister of Foreign Affairs Dunya Maumoon has called on the international community to refrain from undermining the Maldives' judicial system.
"We request our international partners to support us. We request you to contribute constructively in overcoming our challenges. We urge you not to undermine our judicial system," said Dunya during the 25th session of the UN Human Rights Council yesterday.
"We call on all to respect our institutions, young though they may be. And we urge you to base your partnership with us on dialogue and cooperation, not on judgment and retribution," she added.
Full report at:
http://minivannews.com/politics/foreign-minister-calls-on-international-community-not-to-undermine-maldives-judicial-system-78943
-----------
URL: https://www.newageislam.com/islamic-world-news/new-age-islam-news-bureau/mauritania-s-capital-hit-by-protest-over-quran-desecration/d/55995