New Age Islam News Bureau
3 Feb 2014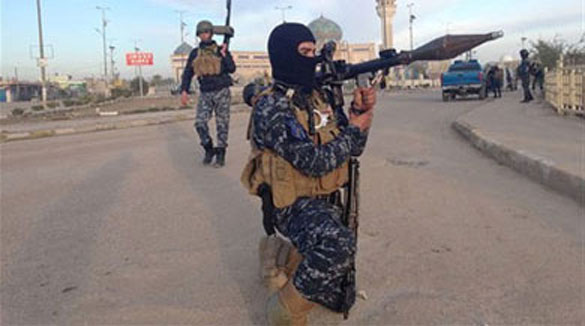 Al-Qaida-linked fighters seized control of the city of Fallujah and parts of the Anbar provincial capital Ramadi last month after authorities dismantled a protest camp by Sunnis. (AP)
-------------
Pakistan
• Maulana Fazl ur Rehman Wants Military Operation against Jeans-Wearing Women
• Sharif wants to settle issues with India through talks
• 5 killed as two blasts hit cinema hall in northwest Pakistan
• Bilawal Bhutto's plea for Pakistan: 'we are not the Taliban'
• Three Taliban-nominated committee members meet
• JUI-F stresses importance of Jirga mechanism
• Imran not to represent Taliban's committee: PTI statement
• Attempts will be made to sabotage dialogue process: Maulana Sami
Arab World
• Ayman Zawahiri denies links to Islamic State in Iraq and the Levant in Syria
• 16 killed in Baghdad as Iraqi forces push to free Anbar of militants
• Shadowy militant group poses grave threat to Egypt
• Metropolises have more drug users: Saudi Arabia
• Syrian Army Kills Al-Nusra Front Terrorists in Lattakia
• Report: Saudi Mediator Fails to Reconcile ISIL, Al-Nusra Front
• Mass Grave Found in ISIL-Held Territory
Africa
• Tunisian Jihadist Discloses Part of FSA Crimes in Syria
• Mombasa riots after Kenya police raid mosque
• Two killed in Mombasa Masjid Musa fighting
• Libya's Cache of Toxic Arms All Destroyed
• 643 killed in 2013: Libya Congress report
South Asia
• Inhumane Treatment of Muslims in Myanmar
• 'Qaisar Bahini' chief indicted for 1971 crimes
• President requests Maldivians to be vigilant of plots to weaken the Islamic faith
• Bangladesh to seek US help to address Rohingya issue
Mideast
• Four Turkmen commanders killed in ISIL suicide attack near Turkey border
• Fatah wants Kerry prosecuted before ICC for 'threatening' Abbas
• Israel prevents call for prayer at Al-Ibrahimi mosque
• Islamic Jihad leader accuses PA of arresting group activists
• Abbas says Israeli pullout over 5 years if NATO deploys
Europe
• Rights activists call new Saudi counter-terrorism laws a 'catastrophe'
• Fifth Khalifa of Ahmadiyya Muslims Condemns Violence and Warfare in Muslim World
• Italy slams international community failure in getting aid into Syria
North America
• Hundreds of Muslims pray for rain in drought hit California
• John Kerry labelled 'anti Semite' for warning of possible boycott of Israel
• Hillary Clinton calls on Senate not to impose more sanctions on Iran
Southeast Asia
• Malaysia now a sick example of interfaith disharmony, says DAP
• Khalid will still be part of Selangor government, says Anwar
• Malaysia favoured destination for Islamic learning
Australia
• Anti-Islamic group moves to stop mosque
India
• Manipur Govt organize educational awareness programme in Muslim villages
• India, Iran look to boost relations on Afghanistan
• Omar calls for open science, liberal dissemination of knowledge
Compiled by New Age Islam News Bureau
URL: https://newageislam.com/islamic-world-news/maulana-fazl-ur-rehman-wants/d/35572
------------
Pakistan
Maulana Fazl ur Rehman Wants Military Operation Against Jeans-Wearing Women
February 03, 2014
Islamabad – Staff Report: Jamiat Ulema-e-Islami Fazl (JUI-F) Chief Maulana Fazl ur Rehman on Tuesday requested the armed forces of Pakistan to launch a military operation against "jeans-wearing women" all over Pakistan in a press conference at a local hotel in Islamabad. Fazl ur Rehman while highlighting the demerits of an operation against the Tehrik-e-Taliban Pakistan (TTP) said that the Taliban were not Pakistan's enemy and the forces needed to target the real enemies of Pakistan.
"The Taliban are our brothers and their angst against the state is justified," Fazl said adding that, "As brother Ansar Abbasi has so eloquently put: TTP's suicide bombings are just Allah's wrath upon us. And so there is a need to earmark and eliminate the real enemy of Pakistan: every woman who wears jeans."
When asked how jeans-wearing women were enemies of the state the JUI-F chief retorted angrily. "From earthquakes to inflation all kinds of disasters are caused by the immodesty of women. A woman that is not covered like a sack of flour is a walking and talking weapon of mass destruction for her state. And Pakistan has a multitude of such nuclear missiles in all its major cities," Fazl said, now fuming like a steam engine.
Fazl then went on to lay the blame of the Balochistan crisis, energy shortfall and the deteriorating security situation upon the "immodest women" as well. "If you wrap up these women in sacks and keep them stored in your houses, do you think the Taliban brothers would attack Pakistan? That's what they want, Shariah left, right and centre and women inside houses living in their sacks. And once Allah stops delivering His wrath via the Taliban the economy would automatically improve through foreign investment, which in turn would improve the energy situation. Every problem's solution lies in taking care of the women and by that I mean doing away with them."
Fazl then openly requested the two Sharifs – the army chief and the prime minister – to openly declare war against Pakistani women and launch a military operation. "Pakistan's sovereignty and the security of the citizens are at stake. And when that's the case the only logical approach of the state should be to launch a military operation," concluded Fazl.
http://www.pakistantoday.com.pk/2014/02/01/comment/maulana-fazlur-rehman-wants-military-operation-against-jeans-wearing-women/
------------
Sharif wants to settle issues with India through talks
February 3, 2014
As the Pakistan government and the outlawed Taliban prepare for peace talks, Prime Minister Nawaz Sharif on Monday said he wants to overcome both terrorism within the country and outstanding issues with India through dialogue as peace is vital for reviving the country's economy.
"My only wish and prayer is that this process (talks with the Taliban) should move forward successfully, and whatever issues Pakistan faces, they should be solved through dialogue," Mr. Sharif told the media.
"I also want Pakistan's external issues (with) India, Afghanistan to be resolved through dialogue. There are so many issues pending for long on which we can move forward through dialogue," he said.
Mr. Sharif, whose government has named a four-member committee for talks with the Tehrik-e-Taliban Pakistan (TTP), said restoring peace through dialogue is the best option. He added peace is vital for reviving Pakistan's economy.
He welcomed the team nominated by the Taliban to hold talks with the government's committee.
Expressing satisfaction at the ongoing dialogue process with the Taliban, Mr. Sharif said he hoped both the committees will move forward in a positive direction to bring peace to the country.
He said he was supervising the dialogue process and Interior Minister Chaudhry Nisar Ali Khan was in touch with the government committee to assist it in efforts to reach a positive outcome.
Meanwhile, the Taliban promised to provide security and protection to members of the negotiating committees in areas under its control.
In a statement issued to the media, TTP spokesman Shahidullah Shahid said the Taliban's political 'shura' or council would guide its committee. He said the Taliban sincerely want peace talks with the government.
http://www.thehindu.com/news/international/south-asia/sharif-wants-to-settle-issues-with-india-through-talks/article5649130.ece
---------
5 killed as two blasts hit cinema hall in northwest Pakistan
PTI | Feb 3, 2014
PESHAWAR: At least five people were killed and nearly 20 others injured when two blasts ripped through a cinema hall in the capital of the restive Khyber-Pakhtunkhwa province of northwest Pakistan on Sunday.
According to initial reports, around 70 people were in the theatre when the blasts occurred. A Pashto film was being screened at the hall located opposite a police station.
Five people were killed by the blasts, media reports said. The injured were taken to the state-run Lady Reading Hospital. Many of the injured were in a critical condition, said a report on the website of the Dawn newspaper.
Officials said they suspected that someone threw two grenades inside the hall. No group claimed responsibility for the attack.
Footage on television showed footwear and caps lying strewn at the cinema hall.
http://timesofindia.indiatimes.com/world/pakistan/5-killed-as-two-blasts-hit-cinema-hall-in-northwest-Pakistan/articleshow/29783029.cms
------------
Bilawal Bhutto's plea for Pakistan: 'we are not the Taliban'
February 03, 2014
The son of Benazir Bhutto opened a new front in the war against extremism in Pakistan at the weekend, with a glittering gala of music and fireworks set against the illuminated ruins of a Bronze Age city.
In an interview with The Telegraph, Bilawal Bhutto Zardari, who at 25 is heir to the country's grandest political dynasty, said his two-week cultural festival was designed to reclaim ground lost to militants and extremists.
"This is Pakistan's history, this is Pakistan's culture and we're proud of it," he said. "We going to try to mark out a line in the sand and say this is who we are and fight back against that."
It is a bold move by a young man so far untested in the country's ferocious politics but his vision for Pakistan could yet provide the philosophical framework for a tilt at power and a revitalised country - or provide his death sentence.
Several hundred politicians, socialites and diplomats gathered at the ancient site of Mohenjodaro on Saturday night to witness an opening ceremony that combined imagery from the 5,000-year-old Indus Valley civilisation, that once dominated this part of South Asia, with dance beats and lasers.
Conceived with the help of a small circle of friends from his Oxford days, Mr Bhutto Zardari shrugged off the idea that the event marked his political coming out party.
"This is a pre-politics sort of thing," he said, speaking rapidly with excitement as the sun set and workers readied the stage.
Yet in four years time he could be prime minister of one of the world's most troubled countries: a fractured land with a growing nuclear arsenal, a hobbled economy and apparently bereft of ideas to tackle the suicide bombers who strike at will.
While the government of Nawaz Sharif continues to seek talks with the terrorists, Mr Bhutto Zardari has called repeatedly for decisive action against the Pakistan Taliban, the group that killed his mother as she left a campaign rally in 2007.
With such deeply-held differences coming to the fore, he declares his destiny lies in politics. "I am my mother's son," he says, when posed the inevitable questions about such an iconic figure in Pakistan.
He plans to overhaul his Pakistan People's Party (PPP) which suffered a humiliating defeat last year, learning his trade from the grassroots up.
However that means talk of him becoming prime minister can wait.
"That's not my aim," he said. "My aim is to have a PPP victory in the 2018 election. It's five years from now, and that's an extremely long time in politics. It's a lifetime."
Few people could make that phrase with more poignancy. Political lives in his family are all too frequently cut short by a hail of bullets.
Yet he has been ridiculed frequently for practising "twitter politics" and being nothing more than an empty figurehead for the Bhutto family party.
That criticism crescendoed during last year's general election. He stayed at his home in Dubai - after the Taliban singled out his party for death threats - under pressure from his two sisters who feared losing a brother as well as a mother to the family business.
It cemented the idea that he was a privileged outsider, more comfortable speaking English than Urdu.
His critics have also seized on his two-week festival in the southern province of Sindh hinting he may be happier organising an Oxford May Ball.
The launch night will have given them ammunition. The audience was drawn from the country's liberal elite, ferried in by chartered 737 from Karachi some 300 miles away, rather than the ordinary Pakistanis that Mr Bhutto Zardari says he wants to reach.
Rather than helping tackle poverty in the region, which has the worst rate of child malnutrition in the country, his opponents wonder why he is promoting kite flying, concerts and a donkey derby.
"That would be an approach of someone who doesn't understand the depth behind the project or the scale of the concepts or the reach that this has," he said.
His point is that Pakistan is struggling to find a unifying idea. General Zia ul-Haq tried religion and General Pervez Musharraf tried the army.
Neither of those could prevent Bangladesh breaking away in 1971 and neither has stemmed the rise of the Taliban or its extremist ideology since.
"So I believe it's democracy that holds us together, and it's the democractic system, where culture and heritage are allowed to flourish, where they are not suppressed," he said. "There is a shared culture, a shared history that binds us together as nation - and that has not been allowed to happen because of our history of dictatorial rule."
Such is the level of fear in Pakistan that last month a book launch for Malala Yousafzai's memoir - detailing how she was shot in the head at close range for her campaign to get more girls into school - was cancelled under intense political pressure.
Traditional instruments are disappearing as children are discouraged from taking up music because parents believe they may provoke Taliban anger.
By promoting Pakistan's culture - including its pre-Islamic history - Mr Bhutto Zardari hopes the country can reclaim its freedoms from terrorists who hunt down dancers and from their apologists in public office who ban YouTube.
Other events will have a more populist touch, he promised.
"For security reasons and because this is a heritage site we could only have a small number of people here," he said.
Money raised will be used to protect the ancient streets and clay-brick walls of Mohenjodaro, which is crumbling beneath annual monsoon rains and to train locals in the skill needed to preserve the site for years to come.
His university friends said he had found his niche with the festival, micromanaging every aspect of the event.
"This is the sort of thing he loves and that he is really good at," said one college mate.
http://www.telegraph.co.uk/news/worldnews/asia/pakistan/10613192/Bilawal-Bhuttos-plea-for-Pakistan-we-are-not-the-Taliban.html
------------
Three Taliban-nominated committee members meet
2014-02-03
ISLAMABAD: The five-member committee nominated by the Pakistani Taliban to facilitate the dialogue process with the government held its first meeting in the federal capital on Monday, DawnNews reported.
The banned militant organisation Tehrik-i-Taliban Pakistan (TTP) had nominated Pakistan Tehrik-i-Insaf (PTI) chief Imran Khan, Maulana Samiul Haq, former chief cleric of the Lal Masjid in Islamabad Maulana Abdul Aziz, Professor Mohammad Ibrahim of the Jamaat-i-Islami (JI), and Mufti Kifayatullah, a former lawmaker of the Jamiat Ulema-i-Islam (JUI-F) from Mansehra said to have close ties with the Taliban.
Full report at:
http://www.dawn.com/news/1084664/three-taliban-nominated-committee-members-meet
------------
JUI-F stresses importance of Jirga mechanism
2014-02-03
FAISALABAD: Jamiat Ulema-i-Islam-Fazl (JUI-F) chief Maulana Fazlur Rehman has expressed reservations over the nomination of a committee by the banned Tehreek-i-Taliban Pakistan (TTP) for holding talks with the government and the procedure the government is following to initiate the dialogue.
Addressing a press conference on Sunday, he asked why the Jirga system, which enjoyed the trust of both the Taliban and political parties, was being ignored.
Full report at:
http://www.dawn.com/news/1084534/jui-f-stresses-importance-of-jirga-mechanism
------------
Imran not to represent Taliban's committee: PTI statement
February 03, 2014
ISLAMABAD: Imran Khan, Chairman of Pakistan Tehreek e Insaf (PTI), would not play his part as a representative of a committee proposed by the Taliban, according to the statement issued by his party here Monday.
The statement expressed full confidence on a four-member committee announced by the government, stating Rustam Shah Mohmand from government's side would represent PTI in peace talks.
Full report at:
http://www.thenews.com.pk/article-136521-Imran-not-to-represent-Talibans-committee:-PTI-statement
------------
Attempts will be made to sabotage dialogue process: Maulana Sami
February 03, 2014
ISLAMABAD: The committee nominated by the Taliban held its first meeting here on Monday. The meeting was chaired by Maulana Samiul Haq and attended by Professor Ibrahim and Maulana Abdul Aziz.
In a news conference after the meeting, Maulana Samiul Haq cautioned that several attempts will be made to sabotage the dialogue process. He added that the Taliban's demands would be known after the committee met with them.
Full report at:
http://www.thenews.com.pk/article-136510-Attempts-will-be-made-to-sabotage-dialogue-process:-Maulana-Sami-
------------
Arab World
Ayman Zawahri denies links to Islamic State in Iraq and the Levant in Syria
February 03, 2014
Al-Qaida's general command has said it has no links with the Islamic State in Iraq and the Levant (ISIL), in an apparent attempt to assert authority over the Islamist militant groups involved in Syria's civil war.
The small but powerful ISIL has been caught up in battles with other Islamist insurgents often triggered by disputes over authority and territory, and has also clashed with secular rebels.
The internecine fighting - among the bloodiest in the three-year conflict - has undermined the uprising against President Bashar al-Assad and dismayed western powers pushing for peace talks.
Full report at:
http://www.theguardian.com/world/2014/feb/03/al-qaida-denies-links-isil-syria
------------
16 killed in Baghdad as Iraqi forces push to free Anbar of militants
Press Trust of India | Baghdad | February 03, 2014
A series of attacks in and around Baghdad, including a spate of car bombs, killed 16 people on Monday as Iraqi forces pressed an assault against militant-held areas of Anbar province.
The latest bloodshed comes amid a surge in violence that left more than 1,000 people dead last month, the worst such figure in nearly six years, as security forces grapple with near-daily attacks and protracted battles with anti-government fighters.
Foreign leaders have urged the Shiite-led government to do more to reach out to the disaffected Sunni Arab minority in a bid to undercut support for militants but with parliamentary polls looming in less than three months, Iraqi premier Nuri al-Maliki has taken a hard line.
Full report at:
http://indianexpress.com/article/world/middle-east-africa/16-killed-in-baghdad-as-iraqi-forces-push-to-free-anbar-of-militants/
------------
Shadowy militant group poses grave threat to Egypt
February 03, 2014
CAIRO // An Islamist militant group behind a wave of attacks is a grave threat to Egypt's stability amid political turmoil triggered by the removal of the Islamist president, analysts say.
In less than two weeks, Ansar Beit Al Maqdis, or Defenders of Jerusalem, has claimed responsibility for several high-profile attacks.
These include a car bombing at police headquarters in Cairo, shooting down a military helicopter with a missile and assassinating a police general in daylight in the capital.
"Vengeance is coming," the Sinai-based group warned the army chief, Field Marshal Abdel Fattah El Sisi, who is expected to stand for the presidency after he removed Mohammed Morsi, Egypt's first democratically elected president, after days of protests calling for the Islamist to step down.
Full report at:
http://www.thenational.ae/world/egypt/shadowy-militant-group-poses-grave-threat-to-egypt#ixzz2sCzcbqAr
---------
Syrian Army Kills Al-Nusra Front Terrorists in Lattakia
February 03, 2014
TEHRAN (FNA)- Syrian army units on Monday destroyed two weapons and ammunition's caches after a deadly attack on the al-Nusra Front terrorists in the Northern countryside of Lattakia.
A military source told the state-run news agency that an army unit destroyed terrorists' hideout and a weapon's warehouse, killing a number of al-Nusra Front terrorists, among them Abu al-Haitham al-Hijazi, Abu Jarir al-Hijazi, Abu al-kumait al-Hijazi, the leaders of terrorist groups in Wadi Hazrin in Lattakia countryside and injuring others.
Full report at:
http://english.farsnews.com/newstext.aspx?nn=13921114001184
----------
Report: Saudi Mediator Fails to Reconcile ISIL, Al-Nusra Front
February 03, 2014
TEHRAN (FNA)- A Saudi mediator has failed to reconcile Al-Qaeda-linked militant groups fighting against each other in Syria, media reports said.
Saudi mediator Abdullah Al-Mohisini declared that his mediation efforts for reconciliation of the ISIL and Al-Nusra Front has not worked out, Panoram Al-Sharq Al-Awsat reported.
"The ISIL did not accept my plan for reconciliation with the Al-Nusra Front," Al-Mohisini said in a 35-minute audio message released on a social network.
He underlined the depth of animosity and hatred of the militants against each other.
Al-Mohisini urged ISIL leader Abu Bakr Al-Baghdadi to agree with the formation of a religious court to deal with the differences among the militant groups.
Full report at:
http://english.farsnews.com/newstext.aspx?nn=13921114001310
----------
Mass Grave Found in ISIL-Held Territory
February 03, 2014
TEHRAN (FNA)- Rival militant groups fighting against the Islamic State of Iraq and the Levant (ISIL), an Al-Qaeda offshoot in Syria, said they have discovered a mass grave of the captives executed by the ISIL in Idlib countryside.
The militants seized a stronghold of the ISIL near the border city of Al-Dana in Idlib countryside and a little later declared that they have found a mass grave in there.
They said that the concentration camp was run by ISIL ringleader Abu Omar al-Kuwaiti. They said they had found dead bodies of civilians and members of the Free Syrian Army (FSA) who had been taken hostage by the ISIL.
Full report at:
http://english.farsnews.com/newstext.aspx?nn=13921114001081
----------
Africa
Tunisian Jihadist Discloses Part of FSA Crimes in Syria
February 03, 2014
TEHRAN (FNA)- Tunisian Jihadist Abu Zayd exposes the filth of the Free Syrian Army (FSA) after his return to Tunisia.
http://english.farsnews.com/player.aspx?nn=13921114000571
-----------
Mombasa riots after Kenya police raid mosque
February 03, 2014
More than 100 people arrested in the Kenyan port city of Mombasa during Sunday's riots over a police raid on a mosque are expected in court.
Police said Islamist militants were carrying out training in the mosque.
At least two people are feared dead after protesters threw stones at the police, who responded with live rounds and teargas.
Kenya has been under pressure to crack down on militants blamed for a spate of attacks, including the Westgate siege.
Full report at:
http://www.bbc.co.uk/news/world-africa-26013964
-----------
Two killed in Mombasa Masjid Musa fighting
February 03, 2014
At least two people, including a General Service Unit officer and a Muslim youth, were yesterday killed as police broke up a meeting believed to be a recruitment forum for al Shabaab at the infamous Masjid Musa mosque in Mombasa.
About 300 Muslim youth had gathered in and around the mosque in what is being referred in police circles as a 'jihad convention'. Police believe this was a recruitment forum for radicalised youth to join the al Shabaab.
Full report at:
http://www.the-star.co.ke/news/article-153398/two-killed-mombasa-masjid-musa-fighting#sthash.SzcABO8v.dpuf
------------
643 killed in 2013: Libya Congress report
February 03, 2014
TRIPOLI – A report from Congress' Interior Committee says that 643 people were killed in Libya in 2013, mostly in assassinations and extra-judicial killings. The figure is said to be a significant increase on 2012, although no details for that year were disclosed. According to UN figures, however, there were 176 intentional homicides in Libya in 2012.
The reason given for the high level is that the country is full of guns and there is no effective police force. The result is that criminals can act with impunity and "crime is now a way of earning money".
Full report at:
http://www.saudigazette.com.sa/index.cfm?method=home.regcon&contentid=20140203194498
---------
Libya's Cache of Toxic Arms All Destroyed
By ERIC SCHMITT
February 03, 2014
WASHINGTON — Even as the international effort to destroy Syria's vast chemical weapons stockpile lags behind schedule, a similar American-backed campaign carried out under a cloak of secrecy ended successfully last week in another strife-torn country, Libya.
The United States and Libya in the past three months have discreetly destroyed what both sides say were the last remnants of Col. Muammar al-Qaddafi's lethal arsenal of chemical arms. They used a transportable oven technology to destroy hundreds of bombs and artillery rounds filled with deadly mustard agent, which American officials had feared could fall into the hands of terrorists. The effort also helped inspire the use of the technology in the much bigger disposal plan in Syria.
Full report at:
http://www.nytimes.com/2014/02/03/world/africa/libyas-cache-of-toxic-arms-all-destroyed.html?hpw&rref=world
------------
South Asia
Inhumane Treatment of Muslims in Myanmar
February 03, 2014
About 90% of the country's population of 55 million are Buddhist, with Muslims making up between 4% and 8%. Despite tensions, the Buddhist majority has lived largely peacefully along with the Muslims for the past decades. But over the last two years, several violent episodes against Muslims led by angry Buddhist mobs have tainted the picture of a progressive Myanmar painted by president Thein Sein.
The capital Yangon, a multicultural city populated by Buddhists, Christians and Muslims, has also witnessed a rise in fear and suspicions among the two communities.
Over recent days, UN humanitarian chiefs, and human rights organisations have reported credible evidence of a massacre of at least 48 Rohingya Muslims in Myanmar's western Rakhine State, with many of the victims believed to be women and children.
The Myanmar government has dismissed the reports as "misinformation and unjustified conclusions", and instead responded by ordering mass arrests of Rohingya men and boys in the area.
Full report at:
http://abna.ir/data.asp?lang=3&Id=502297
------------
'Qaisar Bahini' chief indicted for 1971 crimes
February 03, 2014
The International Crimes Tribunal yesterday indicted Syed Mohammad Qaisar, a former state minister for agriculture during HM Ershad's tenure, on 16 charges of crimes against that include genocide, torture, murder and rape during the 1971 Liberation War.
The charges are based on 16 separate incidents of crimes against humanity, in which more than 150 unarmed people were killed and two women raped. After framing of the charges against Qaisar, the tribunal set March 4 for beginning the trial with the opening statement of the prosecution.
Full report at:
http://www.dhakatribune.com/law-amp-rights/2014/feb/03/qaisar-bahini-chief-indicted-1971-crimes#sthash.BPuYRCuo.dpuf
---------
President requests Maldivians to be vigilant of plots to weaken the Islamic faith
By Minivan News | February 03, 2014
In his message to the nation on the occasion of the Maldives' conversion to Islam, President Abdullah Yameen has warned Maldivian citizens about foreign influences working to weaken the nation's Islamic faith.
"We should also be very vigilant of foreign influences attempting to weaken our religious faith. And I call on the beloved citizens of the Maldives be very aware of attempts by various parties to disrupt the religious unity among the people of Maldives, and never give any opportunity for such activity," Yameen said in his statement.
Full report at:
http://minivannews.com/category/news-in-brief
------------
Bangladesh to seek US help to address Rohingya issue
February 03, 2014
Bangladesh would seek help from the US to resolve the Rohingya issue with Myanmar.
The issue will be discussed with Senior Adviser for Burma at the State Department Judith Beth Cefkin while interaction with State Minister for Foreign Affairs Md Shahariar Alam and Foreign Secretary Md Shahidul Haque. Cefkin arrived in Dhaka yesterday and is scheduled to fly to Myanmar today.
"Washington would like to develop relationship with Naypyidaw for strategic reasons and Bangladesh wants to take the leverage by requesting US to solve the problems," said a senior diplomat, seeking anonymity.
"We would like to convey our message to the senior adviser andexpect that she would pass it on to Myanmar," he said.
Full report at:
http://www.dhakatribune.com/foreign-affairs/2014/feb/03/bangladesh-seek-us-help-address-rohingya-issue#sthash.kLkCUjBw.dpuf
------------
Mideast
Four Turkmen commanders killed in ISIL suicide attack near Turkey border
February 03, 2014
Four Turkmen commanders have been killed in an attack claimed by the Islamic State of Iraq and the Levant (ISIL) in a town near the border of Turkey.
Clashes have been ongoing between ISIL and Syrian Turkmen groups for more than ten days around the Çobanbey town in Aleppo, a Turkmen populated town. The town has been captured by ISIL militants recently and they offered to negotiate with Turkmens to settle the dispute.
Full report at:
http://www.hurriyetdailynews.com/four-turkmen-commanders-killed-in-isil-suicide-attack-near-turkey-border.aspx?pageID=238&nID=61925&NewsCatID=352
----------
Fatah wants Kerry prosecuted before ICC for 'threatening' Abbas
February 03, 2014
US Secretary of State John Kerry recently threatened PA President Mahmoud Abbas that he would meet the same fate as his predecessor, Yasser Arafat, if he turned down Washington's proposals for peace with Israel, a Palestinian source was quoted Sunday as saying.
The source told the website Rai al-Youm that Abbas angrily stormed out of a four-hour meeting with Kerry in Ramallah after the latter exerted pressure on him to accept the proposals.
Full report at:
http://www.jpost.com/Diplomacy-and-Politics/Fatah-wants-Kerry-prosecuted-before-ICC-for-threatening-Abbas-340127
----------
Israel prevents call for prayer at Al-Ibrahimi mosque
February 03, 2014
RAMALLAH – Israeli occupation authorities prevented the Adhan (calling for prayers) in the Ibrahimi Mosque forty-nine times in February under the pretext that it disturbs Jewish settlers and make too much noise.
Tayseer Abu Snaineh, the director of the director of the Wakf (endowment) Department in Hebron, said that the Israeli authorities prevented the mosque from sounding the call to prayer in favor of Jewish settlers who visit the Old City of Hebron.
Abu Snaineh said that Israeli soldiers at the entrance of the mosque "oblige the Palestinian worshipers to undergo strict security check before entering the mosque for prayers."
He added that the "Israeli soldiers allow the Jewish settlers to enter the mosque freely under lame excuses." The official said that the "settlers desecrate this holy mosque and often embarrass and ridicule Muslims while praying."
Full report at:
http://www.saudigazette.com.sa/index.cfm?method=home.regcon&contentid=20140203194582
------------
Islamic Jihad leader accuses PA of arresting group activists
February 03, 2014
RAMALLAH (Ma'an) -- A leader from the Islamic Jihad movement on Monday accused the Palestinian Authority security services of arresting activists from the group in Ramallah.
Khader Adnan, who went on hunger strike for over 60 days while in an Israeli jail, told Ma'an that PA forces have targeted Islamic Jihad activists in the Ramallah area.
Several Islamic Jihad members were arrested at a recent rally to show solidarity with Muatasim Raddad, a Jihad detainee suffering from cancer, Adnan said.
http://www.maannews.net/eng/ViewDetails.aspx?ID=670341
-----------
Abbas says Israeli pullout over 5 years if NATO deploys
February 03, 2014
Palestinian president Mahmoud Abbas would support a five-year Israeli withdrawal from the West Bank provided a NATO force is deployed to ensure security, the New York Times has reported. Abbas, in an interview published by the paper on Sunday, shifted from his insistence on a three-year time frame for Israel's withdrawal from occupied territories under any future peace deal.
"At the end of five years my country will be clean of occupation," Abbas said, insisting however that NATO forces should be deployed during this period to undertake cross-border security and anti-terrorism duties.
Full report at:
http://voiceofrussia.com/2014_02_03/Abbas-says-Israeli-pullout-over-5-years-if-NATO-deploys-6492/
----------
Europe
Rights activists call new Saudi counter-terrorism laws a 'catastrophe'
By AYA BATRAWY, Associated Press
February 03, 2014
DUBAI, United Arab Emirates (AP) — Saudi Arabia put into effect a sweeping new counterterrorism law Sunday that human rights activists say allows the kingdom to prosecute as a terrorist anyone who demands reform, exposes corruption or otherwise engages in dissent.
The law states that any act that "undermines" the state or society, including calls for regime change in Saudi Arabia, can be tried as an act of terrorism. It also grants security services broad powers to raid homes and track phone calls and Internet activity.
Human rights activists were alarmed by the law and said it is clearly aimed at keeping the kingdom's ruling Al Saud family firmly in control amid the demands for democratic reform that have grown louder since the Arab Spring protests that shook the region in 2011 and toppled longtime autocrats.
Full report at:
http://www.newstimes.com/news/world/article/New-Saudi-counterterrorism-law-alarms-activists-5197879.php
------------
Fifth Khalifa of Ahmadiyya Muslims Condemns Violence and Warfare in Muslim World
3 February 2014
Hazrat Mirza Masroor Ahmad prays for peace and an end to atrocities
The World Head of the Ahmadiyya Muslim Community and Fifth Khalifa, Hazrat Mirza Masroor Ahmad, lamented the "pitiful and sorry-state" of much of the Muslim world during his weekly Friday Sermon delivered on 31st January 2014.
Speaking at the Baitul Futuh Mosque in London, the Khalifa highlighted the examples of war-torn Syria and of Pakistan, where he said countless innocent people were being targeted and persecuted. He called on Ahmadi Muslims around the world to pray for the peace and stability of the Muslim world.
Full report at:
http://www.scoop.co.nz/stories/WO1402/S00034/world-muslim-leader-condemns-violence-and-warfare-in-muslim.htm
------------
Italy slams international community failure in getting aid into Syria
February 03, 2014
Italy's foreign minister Emma Bonino said Monday that the international community had "largely failed" in getting humanitarian aid to Syria, despite having the necessary medicines, food and transport ready.
"Things are not moving forward. On the contrary we must admit that the international community has largely failed in ensuring access to the necessary humanitarian aid," Bonino said during a meeting with the UN Under-Secretary General for humanitarian affairs Valerie Amos.
Bonino said "practically everything is ready to be taken into Syria to alleviate suffering," but diplomacy and negotiations had failed to ensure access.
"The question is not whether we have enough medicine, food, transport, means of distribution. All this is ready, so the shame falls on us," she added.
Full report at:
http://english.ahram.org.eg/NewsContent/2/8/93364/World/Region/Italy-slams-international-community-failure-in-get.aspx
-----------
North America
Hundreds of Muslims pray for rain in drought hit California
World Bulletin / News Desk
February 03, 2014
Hundreds of Muslims in the US state of California gathered outside in San Francisco on Saturday to pray for rain, as scorching temperatures in an unusually hot summer threatens to leave the state in drought.
Muslim scholar and co-founder of the Zaytuna College Hamza Yusuf led the prayers in a mass event organized by the Council of American-Islamic Relations (CAIR).
This was the biggest gathering of Muslims performing the prayer for rain, called Salat-ul-Istisqa, a well-known practice from the tradition of the Prophet Muhammad (peace be upon him), after similar gatherings in other cities.
Full report at:
http://www.worldbulletin.net/todays-news/128159/hundreds-of-muslims-pray-for-rain-in-drought-hit-california
-------------
John Kerry labelled 'anti Semite' for warning of possible boycott of Israel
February 03, 2014
John Kerry, the US secretary of state, triggered an angry backlash from Israeli leaders on Sunday after warning Israel faces an economic boycott if it failed to reach a peace accord with the Palestinians.
The uproar came as Mr Kerry held cordial talks with his Iranian counterpart, Mohammad Javad Zarif in Munich at which the pair vowed to intensify nuclear diplomacy.
Ministers in Benjamin Netanyahu's cabinet accused Mr Kerry of effectively endorsing "anti-Semitic" efforts to impose sanctions on Israel by issuing the warning.
"The risks are very high for Israel," Mr Kerry told the conference. "People are talking about boycott. That will intensify in the case of failure.
Full report at:
http://www.telegraph.co.uk/news/worldnews/middleeast/israel/10613055/John-Kerry-labelled-anti-Semite-for-warning-of-possible-boycott-of-Israel.html
-----------
Hillary Clinton calls on Senate not to impose more sanctions on Iran
February 03, 2014
Hillary Clinton, the former secretary of state and Democratic presidential heir apparent, has urged her former Senate colleagues not to pass new sanctions on Iran, even as she called the Islamic Republic a "threat to global security".
The intervention from Clinton, who holds a commanding lead in a 2016 Democratic primary contest she has not formally entered, represents both a new opportunity for the Obama administration to rescue its major diplomatic overture from a Congress that largely loathes it and a threat of being undermined by a potent and independent force within the Democratic Party.
Full report at:
http://www.theguardian.com/world/2014/feb/02/hillary-clinton-senate-sanctions-iran
-----------
Southeast Asia
Malaysia now a sick example of interfaith disharmony, says DAP
February 03, 2014
As the world celebrates World Interfaith Harmony week, Malaysia has become a sick example of "interfaith disharmony" in a multiracial, multireligious country because Prime Minister Datuk Seri Najib Razak has failed to moderate the majority, says DAP.
Party adviser Lim Kit Siang said Najib had failed to stand firm against the forces of extremism, who were allowed a free hand to incite racial and religious hatred, conflict and tension to destabilise the country.
He said their action was raising the spectre of the May 13 riots.
Lim also accused the prime minister of failing to curb a department under his purview, the Department of Islamic Development (Jakim), allowing them to incite religious acrimony, animosity and hatred in last Friday's sermon where Jakim blamed Christians and Jews for dividing Muslims.
Full report at:
http://www.themalaysianinsider.com/malaysia/article/malaysia-now-a-sick-example-of-interfaith-disharmony-says-dap
--------
Khalid will still be part of Selangor government, says Anwar
February 03, 2014
Tan Sri Abdul Khalid Ibrahim will continue to be a part of the Selangor government although his specific role and whether he will remain as menteri besar, will only be determined after the upcoming Kajang by-election, Datuk Seri Anwar Ibrahim said today.
Anwar, however, would not confirm or deny whether he would be the next menteri besar, saying that such matters would only be decided after the by-election and after consultations with PKR allies, PAS and the DAP.
"Abdul Khalid is important based on his track record... We still need him," said Anwar of the present menteri besar, a popular figure in Selangor and who has been widely credited with turning the state's finances around.
Full report at:
http://www.themalaysianinsider.com/malaysia/article/khalid-will-still-be-part-of-selangor-government-says-anwar
------------
Malaysia favoured destination for Islamic learning
February 03, 2014
DUBAI: Malaysia is considered one of the sources of higher learning on Islam, specifically relating to Arabic language and Arab culture.
This is the opinion of the Higher Colleges of Technology-Library/Learning Centre supervisor Aamena Al Mansoori, who is among the delegation of UAE-based journalists who visited the Edu City in Johor and other tertiary educational institutions in Malaysia, recently.
She told The Gulf Today: "Malaysia is an alternative source of education. The UAE gives prime importance to its students who are the best in Arabic languages and its culture, so they are fully aware and continually appreciative of their history and identity."
"From what I have observed, Malaysia is an alternative source of education because we have the same lifestyle, the same values regarding families, culture and religion. The country also allows us to be flexible and adaptable to the changing world," added Al Mansoori, who has been in the educational sector for 13 years, during eight of which she was a teacher.
Full report at:
http://gulftoday.ae/portal/07698fb5-1c6a-40b2-b615-3e7d21119746.aspx
-----------
Australia
Anti-islamic group moves to stop mosque
February 03, 2014
AN anti-Islamic group is mobilising against Ballarat's first mosque.
Restore Australia, which describes Islam on its website as a "aggressive totalitarian political ideology", plans to letterbox people in Ballarat to "mobilise people to write to the council" to oppose the building of a mosque at 116 Elsworth Street East in Ballarat.
The Islamic Society of Ballarat has purchased the property and been granted a planning permit by the City of Ballarat.
The planning permit required amendments to the original plan submitted by the Islamic Society, including changes to car parking to improve disability access and lighting.
Restore Australia chief executive officer Mike Holt said supporters of the group in Ballarat were being organised to protest the building of the mosque.
Full report at:
http://www.thecourier.com.au/story/2061809/anti-islamic-group-moves-to-stop-mosque/?cs=62
------------
India
Manipur Govt organise educational awareness programme in Muslim villages
February 03, 2014
Imphal: Manipur Minorities and Other Backward Classes Economic Development Society (MOBEDS), an agency under the Department of Minorities and Other Backward Classes (MOBC), organised one-day educational awareness programme at the Remedial Coaching Centre at Azad High School on February 1, 2014 at Yairipok.
The function was attended by Parliamentary Secretary of MOBC, SC & Science and Technology Md. Amin Shah and Chairperson of Manipur State Minorities Commission (MSMC) A. Halim Chowdhury, IAS Retd. attended the function as Chief Guest and President respectively. The newly elected MP of Rajya Sabha, Alhaj Abdul Salam, MOBEDS Project Director Md. Salauddin Khan and SDO (Keirao Bitra) Md. Samim Ahmad Shah were also present as Guests of Honour.
Addressing the function, Md. Amin Shah said that the Muslim community is lagging behind the others because the community had failed to realize the importance of education for quite a long time. The Union Ministry of Minority Affairs and MOBC Department have been implementing various schemes for the welfare of the minority communities. There are schemes for giving scholarship and coaching to minority students. Recently we had opened free remedial coaching programme in many Muslim villages. We had opened one here at Yairipok to give special coaching for Muslim students. Such coaching centres had produced excellent students. The Muslim students should take these opportunities and work hard to bring good results, he added.
Full report at:
http://www.manipur.org/news/2014/02/02/manipur-govt-organize-educational-awareness-programme-in-muslim-villages-twocircles-net/
------------
India, Iran look to boost relations on Afghanistan
Sachin Parashar,TNN | Feb 3, 2014
NEW DELHI: India is actively seeking Iran's cooperation in dealing with the situation in Afghanistan, where the Taliban have been emboldened by the growing rift between the US and President Hamid Karzai, not deterred by the recent hiccups in ties with the energy rich country. Responding to India's sentiment, the moderate Iranian President, Hassan Rouhani, will soon be sending the secretary of Iran's Supreme National Security Council, Ali Shamkhani, to Delhi for talks on the issue.
National security advisor Shivshankar Menon met Iranian foreign minister Javad Zarif on Saturday to discuss the issue of regional stability in light of recent developments in war-ravaged Afghanistan. Menon also emphasised on the importance of the deep-sea Chabahar port -- which will see India investing $100 million -- and the accompanying north-south transit corridor for both the countries.
Full report at:
http://timesofindia.indiatimes.com/india/India-Iran-look-to-boost-relations-on-Afghanistan/articleshow/29785939.cms
------------
Omar calls for open science, liberal dissemination of knowledge
February 03, 2014
Calling for open science and liberal dissemination of knowledge, Jammu and Kashmir Chief Minister Omar Abdullah on Monday said medical technologies having global relevance like cure for AIDS or cancer should not be patented.
"All innovations should have universal implications and consequences that would lead to amelioration of human condition. Global public goods like cure for AIDS or cancer and diffusion of technologies to better and improve services and systems for mankind cannot be patented," he said.
Full report at:
http://www.thehindu.com/news/national/omar-calls-for-open-science-liberal-dissemination-of-knowledge/article5648724.ece
------------
URL: https://newageislam.com/islamic-world-news/maulana-fazl-ur-rehman-wants/d/35572