New Age Islam News Bureau
1 May 2019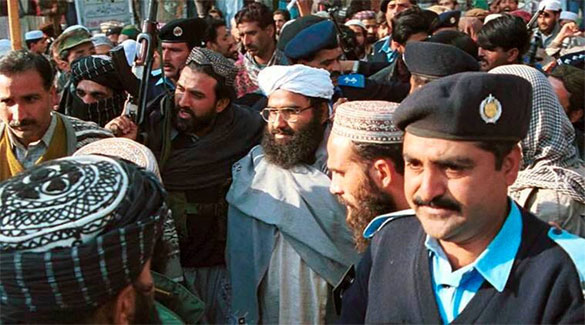 JeM Chief Masood Azhar Global Terrorist: Jaish-e-Mohammad chief Masood Azhar. (File)
-------
• Masood Azhar Designated As Global Terrorist After China Lifts Technical Hold
• Two Radical Muslim Preachers from Tamil Nadu Went To Sri Lanka, Police Track One, Other Deported
• Kerala: If He Is A Terrorist, Let Him Perish In Jail, Says Father Of IS Suspect
• Rulers Are Not Above the Law in Islam, Says PAS President
• Zakir Naik and the Radicalisation of Malaysia Baru
• Saudi Arabia among Top Violators of Religious Freedom: US Govt. Body
• 'Satisfy Us You No Longer Possess Religious, Radical Thoughts': China Frees 'Lost' Uighur Wives at a Price
• Syria: Ankara-Backed Militants Plunder Artifacts in Aleppo's Afrin
• Sudan's Military Council: We Are Ready to Negotiate but No Chaos after Today
• China May Lift Its Hold Leading To Ban on JeM Chief
India
• Masood Azhar Designated As Global Terrorist After China Lifts Technical Hold
• Two Radical Muslim Preachers from Tamil Nadu Went To Sri Lanka, Police Track One, Other Deported
• Kerala: If He Is A Terrorist, Let Him Perish In Jail, Says Father Of IS Suspect
• Decision on global terrorist tag on JeM chief Masood Azhar likely today
• US body clubs India with Iraq, Afghanistan on religious strife
• IS Names New Emir In 'Bengal', Issues Threat To Carry Out Attacks
• Kerala man was ready for suicide attack but didn't have explosives
• Hindu Sena Wants Ban on Burqa, Niqab to Prevent Terror Attacks
---------
Southeast Asia
• Rulers Are Not Above the Law in Islam, Says PAS President
• Zakir Naik and the Radicalisation of Malaysia Baru
• A Step Forward In Muslim-Christian Ties in Malaysia
• PAS assemblyman urges Penang govt to have law to curb spread of non-Muslim religions to Muslims
---------
North America
• Saudi Arabia among Top Violators of Religious Freedom: US Govt. Body
• Trump Weighs Labelling Muslim Brotherhood A Terrorist Group
• Taliban: Fresh round of talks with US peace envoy opening
• Donald Trump says Europe is not helping with ISIS prisoners in Syria
---------
South Asia
'• Satisfy Us You No Longer Possess Religious, Radical Thoughts': China Frees 'Lost' Uighur Wives at a Price
• Viral Video Showing Muslims Protesting Crackdown By Sri Lanka After Blasts Is False
• Days after blasts, Sri Lanka cable operators block Islamic preacher Zakir Naik's Peace TV: Sources
• Explosion rips through border police vehicle in Mazar-e-Sharif city
• 20 Taliban militants killed, 2 others detained in Afghan Special Forces raid in Nangarhar
---------
Arab World
• Syria: Ankara-Backed Militants Plunder Artifacts in Aleppo's Afrin
• Muslim Brotherhood Financier and 6 Others Get Life Sentences in Egypt
• ISIS Leader Tries to Rally Supporters with Claims of 'Steadfastness' After Battlefield Defeats
• Lebanon's President Aoun says 2019 budget should be agreed upon by end of May
• Daesh remains potent threat worldwide despite reduced capabilities, Iraqi PM warns
• Iraq says Daesh leader Baghdadi filmed video in 'remote area'
---------
Africa
• Sudan's Military Council: We Are Ready to Negotiate but No Chaos after Today
• Six Killed As Tensions Mount Between Sudan Military Rulers, Protesters
• Sudan protests to continue as talks with military body fail
• Jordan monarch orders changes to $10 billion gas deal with Israel
• Boko Haram kill 14 loggers in northeast Nigeria: Sources
---------
Pakistan
• China May Lift Its Hold Leading To Ban on JeM Chief
• US, Taliban likely to begin new round of talks today
• PPP will continue fighting for labourers' rights: Bilawal
• Pakistan making sincere efforts for success of Afghan peace process, says Qureshi
• No proof India is using Afghan soil against Pakistan, says Wells
---------
Mideast
• UN: Palestinian Authority faces risk of financial collapse
• Sweden 'proud' to have recognized Palestine, will continue to support it: Foreign minister
• Israel summons French ambassador over colleague's apartheid comments
• Russia's Putin, Turkey's Erdogan call for Libya cease-fire during telephone call
---------
Europe
• Merkel: Germany Supports Territorial Integrity Of Iraq
• Russia Says Idlib Not to Be 'Safe Zone' For Terrorists
• British Muslims visit NZ high commissioner for condolence
• New Zealand police arrest man in Christchurch after reports of bomb threat
• Tunisia, Italy urge cease-fire in Libya amid clashes
Compiled by New Age Islam News Bureau
URL: https://www.newageislam.com/islamic-world-news/masood-azhar-designated-global-terrorist/d/118476
---------
Masood Azhar Designated As Global Terrorist After China Lifts Technical Hold
By Express Web Desk |
New Delhi |
May 1, 2019 6:40:56 pm
The development comes a month after China had put a hold on a fresh proposal by the US, UK and France to impose a ban on the chief of the JeM which claimed responsibility for the deadly Pulwama terror attack.
China on Wednesday lifted its technical hold on the listing of Jaish-e-Mohammad (JeM) chief Masood Azhar as a global terrorist. The development comes a month after China had put a hold on a fresh proposal by the US, UK and France to impose a ban on the chief of the JeM which claimed responsibility for the deadly Pulwama terror attack.
Source: https://indianexpress.com/article/india/global-terrorist-masood-azhar-china-india-united-nations-live-updates-5705359/
------
Two Radical Muslim Preachers from Tamil Nadu Went To Sri Lanka, Police Track One, Other Deported
by Nirupama Subramanian
May 1, 2019
TWO RADICAL Muslim preachers from Tamil Nadu travelled to Sri Lanka to deliver sermons on towheed, a puritanical version of Islam, a few years ago, but had to leave after local Muslims complained that they were causing sectarian unrest, according to their former associates.
The role of Tamil Nadu towheed groups in spreading their version of a "pure Islam" among Sri Lankan Muslims has come under the scanner after the Easter Sunday bombings that killed more than 250 people.
P Jainulabdeen, who was until last year associated with the Tamil Nadu Towheeth Jamaath (TNTJ), was deported from Colombo after the All Ceylon Jamiyyat Ullama (ACJU) complained to police in 2006 that his sermons were creating divisions among Muslims in Sri Lanka.
Thereafter, "PJ", as he is better known, tried to go back in 2008, and more recently, in 2015, but was denied a visa on both occasions, a former aide told The Indian Express from Chennai.
Another well-known towheed preacher, Kovai Ayub of Coimbatore, who belonged to the Jamiat ul Quran al Hadith (JUQH), a Tamil Nadu towheed group that predates TNTJ, gained notoriety in Sri Lanka in July 2009 after police launched a manhunt for him on a complaint from the Sri Lankan Ministry of Religious Affairs.
The Tamil Nadu Towheeth Jamaath has denied any links to towheed groups in Sri Lanka, and has stressed its role in speaking against social evils such as dowry.
But at least one of its former members, PJ, was identified early by the Sri Lankan Muslim community as a "troublemaker". Ayub, the other preacher, was with the JUQH, a religious organisation founded on the 1980s to spread the towheed message.
Both preachers are fiery speakers and are well known in Muslim political and religious circles in Tamil Nadu, sources said.
PJ, too, began at the JUQH but left to join the Tamil Muslim Munnetra Kazhagam, a political party formed in the mid-1990s. He left that party in the early years of the last decade to found the TNTJ of which he was the leader until 2018, when he was removed following allegations of sexual harassment and misappropriation of funds.
The Sri Lankan Muslim community, a majority of whom follow a moderate version of Islam, took serious objection when the two started travelling to the island to preach against common practices like visiting dargahs.
PJ was first invited to Sri Lanka in 2006. His then aide, S M Backer, who travelled with PJ, said they were invited by "individuals" who were attracted to the towheed ideology. They went to at least seven locations across Sri Lanka, including Kattankudy, in the eastern province and Puttalam in the northwest.
In Colombo, they held three sessions. It was when they returned to the capital for the last one, that police, acting on a complaint by the ACJU, detained PJ overnight, and put him on the next flight back to Chennai, Backer said.
Backer, who is now the founder leader of another towheed group called the Indian Towheeth Jamaath, said PJ was invited again in 2008, by the then recently formed Sri Lanka Towheeth Jamaat.
This time he was denied a visa. Another invitation to him in 2015, to release a Sinhala version of the Quran at the Sugathadasa stadium, triggered protests by Muslims in Colombo — again, he was not given a visa. Backer's account is corroborated by Sri Lankan media reports at the time.
In August 2009, less than three months after the military defeat of the LTTE, Kovai Ayub landed in Colombo and was all set to deliver the Friday sermon at a tawheed mosque in Kalmunai, a Muslim majority town in the Ampara district of eastern Sri Lanka. However, acting on a complaint from the Ministry of Religious Affairs and the Immigration Department, the police launched a manhunt for him.
According to a report in the Sunday Times, Ayub returned to India without being detected, but read out a message to the congregation at the mosque, which was relayed over loudspeakers. Ayub said he was unable to visit the mosque since the police were on the lookout for him.
Ayub was ejected a few years ago from the the JUQH. After their bitter parting from their respective organisations, both Ayub and PJ are keeping a low profile in Tamil Nadu, sources said. Though neither has been able to visit Sri Lanka in recent years, they have remained popular with towheed followers through their earlier sermons on YouTube. Both PJ and Ayub could not be reached for comment.
https://indianexpress.com/article/india/sri-lanka-blasts-tamil-nadu-towheed-ntj-5703647/
---------
Kerala: If he is a terrorist, let him perish in jail, says father of IS suspect
by Shaju Philip
May 1, 2019
The changes were first visible about three years ago. He started growing his beard, ignoring objections from his family, and wearing "Arabian attire". He became silent and aloof. He stopped watching films and TV, turning instead to his smartphone for videos and articles on Islam. Soon, his brother warned him against his "objectionable" Facebook posts.
On Sunday, the family of Riyas Aboobacker, 29, realised what it all added up to. That was when officers of the National Investigation Agency (NIA) reached its small, partially built home on eight cents of land at Akshaya Nagar colony in Palakkad's Kambrathchala village. Riyas was arrested a day later on suspicion of being an Islamic State (IS) recruit and "for conspiring to commit a terrorist act". According to the NIA, Riyas had been following speeches and videos of Zaharan Hashim, the mastermind behind the Easter Sunday blasts in Sri Lanka — and "wanted to carry out a suicide attack in Kerala".
When The Indian Express reached Riyas's home Tuesday, it found a family struggling to cope with shock and disbelief. "If my son is a terrorist or anti-national, let him perish in jail, we won't help him,'' said his father Aboobacker, a worker at a mango plantation in the area.
According to the NIA, Riyas was in touch with at least two men from the group of 22 that left Kerala in 2016 to join the Islamic State in Afghanistan. Recently, the agency said, he changed his name on Facebook to "Abu Dujana".
"I knew he was on the wrong track. But I never expected that he would be arrested for links to the Islamic State," said Aboobacker.
Riyas is Aboobacker's eldest son, and has a younger brother and a sister who is married.
"In 2016, when two men from Palakkad named Yahiya and Issa (Christian brothers who converted to Islam) left the country to join the IS as part of a group from Kerala, Riyas told us that they were his friends. When photos of those men appeared in the media, he told us that he had met them at a mosque in Palakkad,'' said Riyas's brother-in-law, Kaja, who is employed as a driver.
According to Kaja, Riyas cleared Class 12 in the Humanities stream. "He completed his BA through private study but we don't know any details," he said. The family said Riyas moved from one city to another in Kerala "doing odd jobs", including as a jewellery salesman and an employee at a steel firm in Palakkad's Kanjikode.
"Recently, he started going twice a week on his two-wheeler to Govindapuram village nearby to sell perfumes. He was not interested in helping me run the family. I had asked him several times to join me at the mango plantation where he would have got Rs 500 for a day's work. But he wanted to learn religion,'' said Aboobacker.
According to the family, Riyas turned to the Internet to learn more about religion because the family never sent him to a madrasa. "In those days, we were staying at Chappakkad, a remote village, where the nearest madrasa was about 8 km away. So he felt that he didn't get a proper religious education,'' said Riyas's brother, who declined to be identified.
Neighbours said they were still in shock over the arrest. "His long beard was a cause of concern because it was unusual. You will not find a Muslim youth in this region sporting such a long beard and hair,'' said Sirajuneesa, a local resident.
Another resident, Saleem Shahul Hameed, said Riyas "got attracted to the Salafi movement", which preaches an orthodox form of Islam. "But we never expected that he would have links to the Islamic State," he said.
https://indianexpress.com/article/india/sri-lanka-attack-islamic-state-isis-nia-kerala-5703720/
---------
Rulers are not above the law in Islam, says PAS president
30 Apr 2019
PAS president Abdul Hadi Awang noted that Islam does not place a monarch or head of state above the law.
The Marang MP said when Prophet Muhammad became Rasulullah (messenger of God), he did not act like God, make the people slaves or use the nation's wealth as his own.
"There are numerous other instances in Islamic history, where heads of state, kings, caliphs or emirs did not possess absolute power and were not above the law.
"(Islam) rejects the concept of someone or a group of people being above the law," he said his column posted in Harakah Online today.
Although the PAS president did not make specific references, his remarks came amid tension between Putrajaya and the rulers on various issues.
Hadi said if a ruler is not pious and courteous, then the concept of the sovereignty of law would be nothing more than empty talk.
"There are some rulers who use a slogan immersed in religion that the ruler is a shadow of Allah who protects the people with this shadow of Allah.
"Hence, there are those who act like God... All of this is just empty talk if one is not pious and courteous.
"So the aim is to establish their respective positions without caring for the people. In fact, power is used to relegate people according to caste and the wealth of a nation is considered his (the ruler's) own," he added.
Hadi said Islam does not haramkan (forbid) or halalkan (permit) words like 'monarchy', 'republic', 'democracy' and other terms not mentioned in the Quran.
However, he stressed, what is prioritised is the concept of justice and to fight cruelty.
"All who rule, regardless of name and title, will be called to face Allah," he added.
https://www.malaysiakini.com/news/474333
---------
Zakir Naik and the radicalisation of Malaysia Baru
Dennis Ignatius
May 1, 2019
In the wake of the recent terrorist attacks in Sri Lanka, a warning by the Inspector-General of Police (IGP) last month that Malaysia was becoming a hub for foreign militants has taken on added significance.
According to news reports, the IGP warned that the police had "uncovered a plan by foreign militants to use the country as a safe haven, transit and logistics centre, following the collapse of terrorist outfit Islamic State in Iraq and Syria (ISIS)." Continuing, he said that the militants planned to marry local women to get spousal visas to enable them to live in Malaysia, or to remain in the country by attending educational institutions or by being involved in business.
The IGP's warning should have immediately set off alarm bells but such is the state of denial in the country when it comes to religious radicalism that it passed almost without notice. Even the high security alert throughout the country announced by the IGP soon after the attacks in Sri Lanka – an indication of just how vulnerable we are – did not appear to have evoked much concern.
A favoured terrorist destination
Of course, Malaysia has long been a favourite destination for international terrorism. Some of the al-Qaeda operatives who planned the 9/11 attacks, for example, met in Kuala Lumpur. Since then, the growing number of both local and foreign jihadis being arrested in the country suggests that the problem has grown exponentially. And so, too, is the scope of their activities – from bomb-making and weapons smuggling to recruitment and fundraising.
The rising number of foreign jihadis in Malaysia is usually dismissed as simply a consequence of Malaysia's good airlinks but the reality is far more worrying: they choose Malaysia because the local culture is increasingly tolerant of them. In fact, there is a sense among many local Muslims that it is their duty to assist anyone fighting for Islamic causes even though they might not necessarily agree with their methods. For this reason, foreign jihadis appear to have no problem finding refuge and support locally.
Not happening in a vacuum
Of course, all this is not happening in a vacuum but is taking place within the context of the growing radicalisation of our society. Thanks to decades of sustained Wahhabi indoctrination and infiltration, Malaysia is no longer the moderate country it once was although we continue to pretend it is. Despite a fatwa against it, Wahhabi theology is now the dominant force in the country and is being vigorously promoted in every school, every university and every government department, not to mention every religious establishment with predictable results. Ironically, while we boast about the success of our de-radicalisation programmes, the whole country is slowly being radicalised!
A recent survey, for example, revealed that one-fifth of students in major public universities believe that terrorism is an effective strategy to achieve an objective while 11% of Malaysians have a favourable view of IS. The dozens of young Malaysians who rushed off to join IS is but a manifestation of the slow process of radicalisation that has been underway in our society.
Paralysis in Putrajaya
Unfortunately, Putrajaya has thus far been unable or unwilling to provide the kind of decisive leadership that the situation demands.
There is widespread agreement, for example, that our education system has become a major precursor of religious extremism and intolerance but is Putrajaya willing to fight to wrest back our education system from the religionists who now dominate it? Do they even know how?
All they have done thus far is pander to the religious establishment by showering them with more money and ceding more and more legal and moral authority to them.
Even taking simple steps like strengthening immigration controls and reimposing visa requirements on Middle Eastern and other visitors seem too onerous, too fraught with danger to the risk-averse politicians in Putrajaya.
Sending the wrong signals
Nothing sums up the government's lack of resolve on the issue of extremism more than the way it has managed the case of Zakir Naik – arguably one of the most controversial Wahhabi ideologues in the world today. He is so toxic that he has been banned by several countries and is now a fugitive from the Indian criminal justice system. Reports suggest that his teachings have inspired several jihadis including the ones who carried out attacks in Bangladesh and Sri Lanka. Everywhere he has gone, he has promoted nothing but division and social and religious strife.
And yet this is the man who is now held up as a role model in Malaysia Baru. Prime Minister Mahathir honoured him with a private meeting soon after he took office, the minister for religious affairs called him an "inspiration," the Menteri Besar of Kedah welcomed him while the Perlis mufti is one of his staunchest supporters.
The PH government may not have given Naik permanent residence but they have given him something far more important – a level of credibility and respect that no other country has bestowed upon him. That, in itself, says a lot about the kind of nation we have become.
Of course, Mujahid has since backtracked on his comments and now says that he has not changed his position that Naik's teachings are not suitable for Malaysia. If he really believes that, the very least he can do, as minister for religious affairs, is to publicly disassociate himself from Naik and work to have him removed from the country as speedily as possible. Anything short of that is simply intellectual dishonesty.
Mujahid and other PH leaders would also do well to note that Naik is not here simply to pass time or hide from justice in his own country; he is here to spread his hateful extremism and recruit followers to his cause. The very fact that one of his acolytes has just been arrested for insulting another faith should tell us something about the threat this man poses to our society. The longer he stays in Malaysia, the more people he recruits to his cause, the more dangerous he'll become.
Non-Muslims, in particular, have every reason to detest Naik and other radical preachers because they (non-Muslims) are the principal targets. As the police have repeatedly warned, both foreign jihadis and local extremists tend to target non-Muslim places of worship. Naik himself has built his reputation on belittling other religions and promoting the view that non-Muslim places of worship have no place in Muslim countries.
But don't expect the government to send him packing anytime soon. Naik has so skilfully woven his narrative into the fabric of Malay ethno-religious nationalism that his removal now would be seen as an assault on Islam, Malay rights and Malay civilisation. No Malay politician would dare do it. As it is, even the arrest of one of his proteges is deemed to be an affront to the Malays.
Malaysia Baru a passing phase
What all this says is that the Malaysia Baru that many of us are celebrating is simply a passing phase, a prelude to a more radical religious state. With no leader of consequence willing to defend the secular constitutional foundations of our nation, democracy's days may well be numbered. The future, it seems, belongs to the likes of Zakir Naik.
https://www.freemalaysiatoday.com/category/opinion/2019/05/01/zakir-naik-and-the-radicalisation-of-malaysia-baru/
---------
Saudi Arabia among top violators of religious freedom: US govt. body
Apr 30, 2019
A US government commission has called Saudi Arabia — a close ally of Washington — one of the world's "worst violators" of religious freedom, citing the Riyadh regime's discrimination against Shia minorities, non-Muslims, women and prisoners of conscience. In its 2019 report released on Monday, the US Commission on International Religious Freedom (USCIRF) listed Saudi Arabia in its tier one category of the states which merit designation as a "country of particular concern" or CPC.
The US State Department first designated Saudi Arabia a CPC in 2004, but it has granted an indefinite waiver to Riyadh since 2006.
The USCIRF recommended that the US State Department re-designate the kingdom a CPC under the International Religious Freedom Act (IRFA).
"Shia Muslims in Saudi Arabia continue to face discrimination in education, employment, and the judiciary, and lack access to senior positions in the government and military," the survey said.
It also noted that during a USCIRF visit to Saudi Arabia's mainly Shia-pupulated Eastern Province, certain Shia Muslims had reported harassment and invasions of privacy by the regime's forces.
The report further complained about restrictions of non-Muslims living in the kingdom.
"As a matter of law, the Saudi government bans the public practice of non-Muslim faiths by citizens and expatriates alike. While the Saudi government has stated repeatedly that non-Muslims who are not converts from Islam may practice their religion in private, this policy has not been codified," it said.
Elsewhere, the report criticized Saudi Arabia's guardianship system for classifying women as "legal minors," who need permission to study at universities and travel abroad.
"Saudi Arabia is the only Muslim country with such an extensive system of guardianship, which places severe limitations on women's religious freedom and human rights," it added.
The survey also raised concerns about the situation of Saudi Arabia's prisoners of conscience and the government's failure to address the intolerant language in official textbooks inciting hatred and violence toward non-Muslims.
The report said, however, that the administration recommends renewing a waiver for Saudi Arabia as required in the "important national interest of the United States."
It was published before Saudi Arabia's brutal beheadings of its 37 nationals, which sparked widespread condemnations.
The commission later reacted to the mass execution in a statement on Friday, saying the US State Department "must stop giving a free pass" to Saudi Arabia and urging the government to lift the waiver.
USCIRF Chairman Tenzin Dorjee said in the statement, "The Saudi government's execution of minority [Shia] Muslims on the basis of their religious identity and peaceful activism is not only shocking, but also directly contradicts the government's official narrative of working toward greater modernization and improving religious freedom conditions."
Among other issues that have tarnished the image of the Saudi royal family is the state-sponsored killing of dissident journalist Jamal Khashoggi in October 2018.
Riyadh has also been under scrutiny over the crimes it has been committing during its US-backed military campaign against Yemen.
Despite Riyadh's brazen rights violations, President Donald Trump has repeatedly stressed the importance of Washington's alliance with Riyadh, citing petrodollars.
Addressing his supporters in Wisconsin on Sunday, Trump indicated that he would remain a steadfast supporter of the Saudi regime, largely due to Riyadh's purchases from US companies.
"They have nothing but cash, right?" he told the crowd. "They buy a lot from us. $450 billion they bought."
"You had people wanting to cut off Saudi Arabia ... I don't want to lose them," he added.
https://www.presstv.com/Detail/2019/04/30/594711/Saudi-Arabia-religious-freedom
---------
'Satisfy Us You No Longer Possess Religious, Radical Thoughts': China Frees 'Lost' Uighur Wives at a Price
May 1, 2019
Islamabad: Their Uighur wives vanished in 2017, swept up in a Chinese dragnet tackling Islamic extremism, now they've been released -- but the Pakistani husbands left behind say freedom has come at a price: The women must prove their "adaptability to Chinese society", and publicly sacrifice their religious ideals.
The group of around 40 women -- all from the western Chinese province of Xinjiang and married to traders from neighbouring Pakistan -- were among some one million people believed to be held in a network of internment camps that authorities downplay as "vocational education centres".
But the men say their partners were forced into acts that are haram, or forbidden, to followers of Islam -- both in the camps and now they've been freed.
"She said they had to eat pork and drink alcohol, something she still has to do," one merchant, who recently visited his wife at her parents' house in Xinjiang told AFP, on condition of anonymity.
"She was told that she had to satisfy the authorities that she no longer possesses radical thoughts if she does not want to go back," he explained, adding that she had given up praying and the Quran had been replaced by books on China at his in-laws home. Some of the traders, who traditionally leave their wives in Xinjiang for weeks or months at a time when they return home to conduct business, believe the women were taken to the camps because of their connection to Pakistan, which is an Islamic republic.
Former detainees have said they were held simply for following Islamic traditions, such as having a long beard or wearing a veil.
But with the detention centres, part of a security clampdown targeting Muslims including ethnic Uighurs, facing growing international condemnation and China pushing its economic relationship with Pakistan, authorities began slowly releasing the women two months ago.
Faiz Ullah Faraq, a spokesman for the government of Gilgit-Baltistan, the Pakistani region which borders Xinjiang, confirmed the "majority" have now been released.
AFP interviewed nine of the women's husbands, who confirm their wives are free but cannot leave Xinjiang for three months, during which time they will be closely monitored.
"They will observe her adaptability to Chinese society and if they deem her to be unfit she will be sent back," a gemstone trader said of the rules of release.
Their initial joy at the release of much-loved wives and mothers has faded because the women who've returned are like strangers.
"My wife said she was forced to dance, wear revealing clothes, eat pork and drink alcohol in the camp," he revealed, adding that she now carries with her a book of guidelines, which features illustrations such as a mosque marked with a red cross, and a Chinese flag with a green tick.
"She used to pray regularly but now it's gone, and she has started occasionally drinking (alcohol) which she does in the restaurants," he explained, adding that he believed officials required such acts from the women.
He too declined to give his name for fear of repercussions from authorities, who make surprise visits to his wife's home in Xinjiang every week.
James Leibold, an expert on Chinese security at Australia's La Trobe University, told AFP that stepped-up surveillance policies in Xinjiang gave authorities "increased confidence" in their ability to closely monitor those released from the camps.
Since their release, the families of many of the women say they have become paranoid and fear of being reported on.
"The worst thing was her silence," the merchant explained, adding: "She suspects everyone, her parents, her family, even me." The seven other traders interviewed by AFP, anonymously, have been in contact with their wives only by telephone and gave similar testimonies.
The Chinese foreign ministry in Beijing declined to comment on the releases, and a Pakistani foreign ministry spokesman did not respond to requests.
Maya Wang, Human Rights Watch's senior researcher on China, said the activist group has heard stories of people being released from the camps and subjected to house arrests or severe restrictions on movement.
"These releases may indicate that the Chinese government is increasingly sensitive to heightening international pressure over its serious abuses in Xinjiang," she said.
Last month US Secretary of State Mike Pompeo renewed demands China end its widespread detention of Uighur Muslims as he met with Mihrigul Tursun, who claims to be a former detainee, and has spoken publicly about what she said was widespread torture in the camps.
Beijing "cannot afford international criticism of its policies in Xinjiang to spread throughout the Muslim world, especially in Pakistan", China security expert Leibold explained.
In recent years, China has strongly pushed its relationship with Pakistan, investing heavily in infrastructure projects under the China-Pakistan Economic Corridor.
For its part, Pakistan has been reluctant to publicly join global condemnation of Beijing's crackdown on Muslims in Xinjiang. When pressed on the subject in a recent interview with the Financial Times, Prime Minister Imran Khan said: "Frankly, I don't know much about that." But for the merchant and the other traders, it is as though their wives are still lost.
He explained: "My wife, a practising Muslim, has been turned into someone I could not even imagine. She has given up her prayers, drinks and eats pork".
He added: "I am afraid our marriage will not last long because she is a completely different person, someone whom I don't know."
https://www.news18.com/news/world/satisfy-us-you-no-longer-possess-radical-thoughts-china-frees-lost-uighur-wives-but-at-price-families-2123803.html
---------
Syria: Ankara-Backed Militants Plunder Artifacts in Aleppo's Afrin
Apr 30, 2019
The local sources said that the Ankara-backed terrorists have begun excavations and diggings in different parts of Afrin to gain access to archeological works there.
The sources pointed to the terrorists' excavations in archeological sites and some ancient graveyards, including Tal Jandaris and Houri Nabi, with modern excavation machinery which has just come from Turkey, and said that the terrorists transfer Syria's artifacts to Turkey with the assistance of the Turkish authorities.
Syria's artifacts director general had previously warned against terrorists' attempts to plunder the archeological works from occupied regions in Northern Syria, including Manbij, Afrin, Idlib and Raqqa.
He had said that the Western countries, including the US and France help terrorists in plundering Syria's artifacts.
In a relevant development earlier in April, the Kurdish-language media reported that the Turkish Army had strengthened its military positions in areas under its control in Afrin and set up another military base for Jeish al-Islam terrorists there.
The Kurdish-language Hawar News quoted local sources in Afrin as saying that the Ankara Army is presently setting up 3-meter walls in the surrounding areas of its command centers in the villages of Afrin region, specially in the villages bordering al-Shahba region.
The report pointed to an attempt by the Turkish Army to destroy people's houses, administrative buildings, schools and water reservoirs North of Jalbareh village in Shirva, and said that the occupying army intends to set a new military base in the same region.
Meantime, informed sources reported that the Turkish troops are establishing a command center and a camp for Jeish al-Islam terrorists near Kawa al-Haddad Square.
They also said that the Jeish al-Islam terrorists are meant to use the camp for training their militants.
http://en.farsnews.com/newstext.aspx?nn=13980210000612
---------
Sudan's military council: We are ready to negotiate but no chaos after today
30 April 2019
Sudan's military rulers said they were ready to negotiate with the opposition over the political future of the country but there should be no further unrest beyond Tuesday, a reference to protests disrupting trains and bridges.
Opposition groups and protesters have been pressing the Transitional Military Council (TMC) to speed up the move to civilian rule since the army ousted former President Omar al-Bashir on April 11.
"We are ready to negotiate but no chaos after today," said the TMC's deputy head Mohamed Hamdan Dagalo, who goes by the nickname Hemedti. "We told them, continue with the sit-in, but the train is connected to delivering fuel," he added.
The main organizers of the protests - the Sudanese Professionals Association - called on Monday for civil disobedience and a general strike as meetings with the TMC failed to provide any breakthrough on the creation of a joint civilian-military transitional council.
At a press conference on Tuesday, the military said it would not disperse a protest sit-in that has been taking place outside the defense ministry since April 6.
The sit-in, the culmination of months of demonstrations against Bashir's three-decade rule, carried on after the army removed him from power, as protesters demanded civilian rule.
"We have no interest in dispersing the sit-in but it's in the interest of the Sudanese people to open the roads," said Lieutenant General Salah Abdelkhalek, a TMC member.
He also distanced the TMC from the previous government.
"We are part of the revolution and not part of the former regime as people view us."
During the press conference, the TMC also said it had accepted the resignations of three TMC members. The SPA had demanded that the three be dismissed over their alleged role in a crackdown that killed dozens of protesters.
One of the three members, who resigned last week, was Lieutenant-General Omar Zain al-Abideen who headed the TMC's political committee. The other two were Lieutenant-General Jalal al-Deen al-Sheikh and Lieutenant-General Al-Tayeb Babakr Ali Fadeel.
https://english.alarabiya.net/en/News/middle-east/2019/04/30/Sudan-s-military-council-We-are-ready-to-negotiate-but-no-chaos-after-today.html
---------
China may lift its hold leading to ban on JeM chief
Baqir Sajjad Syed
May 01, 2019
ISLAMABAD: China on Tuesday hinted at 'progress' on designation of Jaish-e-Mohammad (JeM) chief Masood Azhar by the United Nations' 1267 Sanctions Committee, as the United States called for resolving the contentious matter.
Senior Pakistani officials disclosed to Dawn that China could lift its technical hold leading to Azhar's designation, while developments in this regard are likely to be shared by the Foreign Office with the media at a special briefing scheduled for Wednesday (today).
Chinese foreign ministry spokesman Geng Shuang, speaking at a media briefing in Beijing, said: "We support the listing issue being settled within the 1267 committee through dialogue and consultation and I believe this is the consensus of most members. Second, the relevant consultations are going on within the committee and have achieved some progress. Third, I believe, with the joint efforts of all parties, this issue can be properly resolved."
India has been seeking Azhar's listing since 2016, but the latest push came after the February 14 Pulwama attack on the Central Reserve Police Force in India-held Kashmir, which was claimed by the JeM. The Indian resolution was backed by UNSC permanent members the US, the United Kingdom and France. China halted the process by applying technical hold for the fourth time.
However this time, the US, the UK and France, in a change of tactics, plan to table a resolution in the Security Council.
As Chinese spokesman Geng noted that the matter needed to be settled within 1267 Committee, Beijing has remained averse to dealing with the issue in the UNSC, where proceedings are public as compared to the sanctions committee, which operates under secrecy.
Alice Wells, Principal Deputy Assistant Secretary of State for South and Central Asian Affairs, while talking to journalists at the US Embassy in Islamabad, said: "We would encourage the parties to move forward with the designation (of Azhar). It reaffirms the centrality of UN and UN role in designating terrorists."
She noted: "We believe designation process should be technical in nature, even assessment of evidence and countries moving forward to ensure that UN process works and works well and the international community is able to take corrective action against any terrorist, whoever they are, wherever they are located."
Amb Wells was on a two-day trip to Pakistan in which she met Chairman of the Joint Chiefs of Staff Committee Gen Zubair Hayat, Army Chief Gen Qamar Bajwa, Adviser to Prime Minister on Finance Abdul Hafeez Shaikh, Foreign Secretary Sohail Mahmood, and several other key officials. Her visit coincided with the trip of US Special Envoy for Afghan Peace and Reconciliation Zalmay Khalilzad and the two together held a few meetings.
The US embassy in a statement said Amb Wells in her interactions in Islamabad underscored the importance of all actors in the region takings steps to advance security, stability, and cooperation in South Asia.
About the proceedings in Pakistan's case, she told journalists that Pakistan would be required to detail the steps it had taken to prevent the terrorist groups from fund raising and organising.
Asked about US assessment of the steps taken by Pakistan so far, Amb Wells said: "We have heard some positive reports and partly seen some positive actions, but FATF itself will determine whether it meets the level of identifying and enforcing (restrictions on) the ability of these groups to fundraise and organise."
Regarding prospects for improvement in Pakistan-India ties after the installation of new government in India, the US official said that forward movement would depend on the steps taken by Pakistan government to demonstrate its seriousness in implementing the (National Action) plan.
Clarifying the expectations from Pakistan, she said the government should take positive steps to demonstrate its commitment to ensure that use of force was the prerogative of the state and that militants groups could not use Pakistani soil. The action against terrorist groups, she emphasized, needed to be sustained.
When her attention was drawn to reports of Indian involvement in terrorism in Pakistan and Indian and Afghan intelligence agencies funding Pashtun Tahaffuz Movement (PTM), she said she did not have the evidence.
https://www.dawn.com/news/1479446/china-may-lift-its-hold-leading-to-ban-on-jem-chief
---------
India
Decision on global terrorist tag on JeM chief Masood Azhar likely today
May 1, 2019
UNITED NATIONS: A decision on whether Pakistan-based Jaish-eMuhammed chief Masood Azhar will be listed as a global terrorist by the United Nations will be known Wednesday as the world body's Sanctions Committee holds a crucial meeting, amid indications that China could lift its hold on the proposal to blacklist Azhar.
The Council's 1267 Al Qaeda Sanctions Committee is expected to meet here and the issue of Azhar's listing is likely to be considered. Sources said that the outcome of the meeting - whether UNSC permanent member China decides to lift its hold on the proposal to blacklist Azhar, paving the way for the UN to slap sanctions against him - will be known Wednesday.
Beijing said on Tuesday that the vexed issue of designating Azhar as a global terrorist by the UN will be "properly resolved."
China had put a hold in March on a fresh proposal by the US, UK and France to impose a ban on the chief of the JeM which claimed responsibility for the deadly Pulwama terror attack. The proposal was the fourth such bid at the UN in the last 10 years to list Azhar as a global terrorist.
In 2009, India had moved a proposal by itself to designate Azhar.
In 2016 again India moved the proposal with the P3 - the United States, the United Kingdom and France in the UN's 1267 Sanctions Committee to ban Azhar, also the mastermind of the attack on the air base in Pathankot in January, 2016.
In 2017, the P3 nations moved a similar proposal again.
However, on all occasions China, a veto-wielding permanent member of the Security Council, blocked India's proposal from being adopted by the Sanctions Committee.
"I can only say that I believe that this will be properly resolved," Chinese Foreign Ministry spokesman Geng Shuang told a media briefing in Beijing.
He was responding to questions on the media reports that China has reportedly consented to lift its technical hold on a fresh proposal moved by France, the UK and the US to list Azhar under the 1267 Al Qaeda Sanctions Committee of the UN Security Council.
Keeping up the international pressure to designate Azhar as a global terrorist, the US, supported by France and the UK, moved a draft resolution directly in the UN Security Council to blacklist the Pakistan-based terror organisation's head.
Though China can exercise its veto power as a permanent member of the UNSC, Beijing has staunchly opposed the issue to be taken to the apex UN body as it has to publicly explain its stand on its reservations to list Azhar, whose group JeM has already been designated as terror outfit by UN, before exercising its veto.
"Regarding the listing issue in the 1267 Committee, we have expressed our position many times and I just want to stress two points," Geng said answering a number of questions on Azhar's issue.
"First, we support the listing issue being settled within the 1267 committee through dialogue and consultation and I believe this is the consensus of most members. Second, the relevant consultations are going on within the committee and has achieved some progress. Third, I believe, with the joint efforts of all parties, this issue can be properly resolved," he said.
On reports that China would lift its technical hold on May 1, he said, "on the listing issue, China is still working with the relevant parties and we are in contact with all relevant parties within the 1267 Committee and I believe with the joint efforts of all parties, this will be properly resolved."
A UNSC designation will subject Azhar to an assets freeze, travel ban and an arms embargo.
An assets freeze under the Sanctions Committee requires that all states freeze without delay the funds and other financial assets or economic resources of designated individuals and entities.
The travel ban entails preventing the entry into or transit by all states through their territories by designated individuals.
Under the arms embargo, all states are required to prevent the direct or indirect supply, sale and transfer from their territories or by their nationals outside their territories, or using their flag vessels or aircraft, of arms and related materiel of all types, spare parts, and technical advice, assistance, or training related to military activities, to designated individuals and entities.
The efforts to resolve Azhar's listing issue gathered momentum last week with the visit of Pakistan Prime Minister Imran Khan to Beijing to attend China's 2nd Belt and Road Forum held from April 25-27.
During the visit, Khan held talks with Xi, besides meeting Premier Li Keqiang and Vice President Wang Qishan during which India-Pakistan tension following the Pulwama terror attack as well as listing of Azhar reportedly figured.
An official statement of China issued after Xi-Khan meeting on Sunday said the Chinese President had expressed hope that Pakistan and India can meet each other halfway and improve their relations.
https://timesofindia.indiatimes.com/india/decision-on-global-terrorist-tag-on-jem-chief-azhar-likely-today/articleshow/69124715.cms
---------
US body clubs India with Iraq, Afghanistan on religious strife
May 1, 2019
NEW DELHI: Citing India as one of the countries where it was increasingly difficult to separate religion and politics and claiming that the religious freedom in India continued a "downward trend" in 2018, the United States Commission on International Religious Freedom (USCIRF) has placed India on its Tier 2 list along with countries like Afghanistan, Azerbaijan, Bahrain, Cuba, Egypt, Indonesia, Iraq, Kazakhstan, Laos, Malaysia, and Turkey.
Countries are placed in Tier 2 for "engaging in or tolerating religious freedom violations" that meet at least one of the elements of the "systematic, ongoing, egregious" standard for designation as a "country of particular concern," under International Religious Freedom Act. Alleging that Indian government has repeatedly denied USCIRF access to India, the commission has said it would welcome an opportunity to openly and candidly engage with government.
"India's history of religious freedom has come under attack in recent years with the growth of exclusionary extremist narratives including, at times, the government's allowance and encouragement of mob violence against religious minorities," it has claimed.
"Prime Minister Narendra Modi has seldom made statements decrying mob violence, and certain members of his political party have affiliations with Hindu extremist groups and used inflammatory language about religious minorities publicly," the report further says.
Full report at:
https://timesofindia.indiatimes.com/india/us-body-clubs-india-with-iraq-afghanistan-on-religious-strife/articleshow/69122341.cms
---------
IS Names New Emir In 'Bengal', Issues Threat To Carry Out Attacks
May 1, 2019
NEW DELHI: Naming one Abu Muhammed al-Bengali as its new emir in 'Bengal', an Islamic State affiliate group on Tuesday issued a direct threat to carry out strikes in India and Bangladesh.
"If you think you have silenced the soldiers of the Khilafa in Bengal and Hind and you are certain about that then listen we men are never to be silenced.. And are thirst for revenge is never to be faded away (sic)," the IS poster released in Bengali, English and Hindi reads. The development comes just a day after Islamic State carried out a minor explosion near a cinema theatre in Dhaka. The minor blast took place near Gulistan theatre around 7.30pm on Monday. Though no casualties were reported as there was some problem with the bomb assembly, a few policemen did sustain injuries in the blast.
The IS released a statement in Arabic in the early hours of Tuesday through its mouthpiece Amaq. Subsequently, it also released Bengali translation of its statement on the Dhaka attack along with transcript of Baghdadi's speech.
The Indian intelligence is closely monitoring the developments in Bangladesh as they suspect that this incident could be a smokescreen and the real attack may still be coming either in Bangladesh or West Bengal.
The quick unfolding of developments and spurt in circulation of IS-related material in Bengali language has rung alarm bells across agencies. Last Thursday, pro-IS Telegram channels had released a poster in Bengali saying "Coming soon", a development first reported by TOI.
Dhaka Metropolitan Police chief Asaduzzaman Mia told the press on Tuesday that the The Counter Terrorism and Transnational Crime and DMP's bomb disposal units were still investigating the incident. The improvised bomb that exploded in Gulistan on Monday was different from normal crude bombs, he added.
Agencies had started a probe after the poster — which read: "Shighroi Aschhe (coming soon), Inshallah.." — came into circulation on Telegram. The poster flashed the logo of a group called al Mursalat and the Tuesday threat was issued by the same group.
"It is serious.. IS has just managed to pull of serial blasts in Colombo through a local outfit called Tawheed Jamaat. Bangladesh already has a strong Islamic State presence with a section of the local terrorist organisation named Jamatul Mujahideen (NewJMB) being affiliated to the ISIS central," an officer said.
Full report at:
https://timesofindia.indiatimes.com/india/is-names-new-emir-in-bengal-issues-threat-to-carry-out-attacks-in-india-and-bangladesh/articleshow/69122283.cms
---------
Kerala man was ready for suicide attack but didn't have explosives
May 1, 2019
KOCHI: Suspected Islamic State operative Riyas Aboobacker alias Abu Dujana, arrested by National Investigation Agency (NIA) in the Kasaragod IS module case, was "mentally prepared" to carry out a suicide attack but was yet to acquire explosives, agency sources said on Tuesday.
They said he was in frequent contact with IS operatives who migrated to Afghanistan and Syria like Abdul Rashid, Ashfaq Majeed and Abdul Khayoom, who prepared him mentally for a suicide attack in the state. The agency is on the lookout for a resident of Kollam who is the fourth member of the module.
"He had agreed to con-duct the suicide attack but the location was not decided and explosives were not procured," an officer said.
Aboobacker (29) was presented before the special court in Kochi on Tuesday and remanded in judicial custody till May 29. The NIA has filed a petition seeking his custody for five days, which judge K Sathyan has agreed to hear on Monday. NIA counsel Arjun Ambalapatta submitted before the court that Aboobacker, a resident of Kollengode in Palakkad, was an IS member and he was following the speeches of Sri Lankan bomber Zahran Hashim and Zakir Naik.
NIA sources said they were yet to decide on recording the arrest of the other two members of the cell, Ahamed Arafat and Aboobacker Siddique of Kasaragod. They were being quizzed at the Kochi NIA office for the past two days. All three were named accused numbers 18 to 20 in the 2015 case lodged after 15 persons from Kasaragod moved to Afghanistan and Syria.
Eight of the 15 who left India have been killed, they added.
Full report at:
https://timesofindia.indiatimes.com/india/kerala-man-was-ready-for-suicide-attack-but-didnt-have-explosives/articleshow/69122273.cms
---------
Hindu Sena Wants Ban On Burqa, Niqab To Prevent Terror Attacks
Apr 30, 2019
NEW DELHI: Right-wing fringe group Hindu Sena has written to the Home Ministry, demanding a complete ban on face covers, Burqa and niqab at public places and government and private institutions on the lines of Sri Lanka to prevent terror attacks.
In his letter to home secretary Rajiv Gauba, Hindu Sena national president Vishnu Gupta said intelligence failures in Sri Lanka led to synchronized suicide bombings by terrorists in churches in the island nation recently, resulting in more than 250 deaths.
"We request you to immediately formulate policies at both tactical and strategic levels to prevent occurrence of such attacks in India and Indian territories, including embassies and high commissions, all across the world," the letter read.
"Please impose a ban on full face covers and dresses like Burqa and niqab at all public places and inside government and private institutions. These kind of head coverings enable terrorists to hide their identity from CCTV cameras and other surveillance measures in place. Sri Lanka has already implemented this policy," Gupta said.
Sri Lanka Monday enforced a ban on Burqa, a week after suicide bombers claiming links to Islamic State blew themselves up, killing more than 250 people in churches and hotels on Easter Sunday.
On January 22, the Hindu Sena had paid tributes to Queen Victoria on her 118th death anniversary here, saying she "freed India from the autocratic rule of the Mughals".
Full report at:
https://timesofindia.indiatimes.com/india/hindu-sena-wants-ban-on-Burqa-Niqab-to-prevent-terror-attacks/articleshow/69116839.cms
---------
Southeast Asia
A step forward in Muslim-Christian ties in Malaysia
Afra Alatas
May 1, 2019
Last Sunday, on April 28, it was reported that a group of Malaysian Muslims visited a church to show their solidarity with the Christian community following the horrifying Easter attacks in Sri Lanka. The group, known as the Global Unity Network, visited St Joseph's Church in Sentul and observed the congregation at Mass, after which they engaged in a dialogue session with the church's priest Father George Packiasamy. I have to admit that when I first saw the headlines, I was slightly shocked. But in a good way, of course.
Muslim-Christian relations in Malaysia have a rocky history. Since the government's introduction of the Islamisation project back in the 1980s, Malaysian Christians have continuously expressed fears of encroachment into their rights and freedom to practice their religion. Much of their concern has had to do with practical issues. For example, the difficulty in getting land for the construction of new churches, and protests by local Muslim communities against the construction when the land is finally allocated to them. There was also the case of the ministry of home affair's ban on the use of "Allah" in the Alkitab, the Malay-language Bible, and the Herald, the Catholic newsweekly.
The latter, known as the "Allah controversy", was a long-drawn affair involving the ministry, the Catholic Church, the courts, and even Islamic NGOs. When the High Court ruled in 2009 that the ministry's decision to prohibit Christians from using 'Allah' was unconstitutional and that Christians should be allowed to use "Allah" in their worship, Malaysia garnered public attention when several churches across the country were attacked. Clearly, the idea of Christians using the word "Allah" did not sit comfortably with certain segments of the Muslim community, and was even deemed to be a threat to national security.
Eventually, the High Court ruling was overturned by the Court of Appeal in 2013.
Throughout the affair, Christians bore the brunt of the politicisation of religion. It was not uncommon – and still isn't – to hear certain Muslim groups and individuals referring to the Christian community as having some sort of "agenda" to convert Muslims and to take over the country, or that their use of "Allah" is a threat to the sanctity and supremacy of Islam and is an insult to Muslims.
For that reason, there is often this fear among some Muslims that if they were to visit a church, or if they were to engage in dialogue with Christians, they would somehow be converted to Christianity. Often times, Muslims are warned by their religious leaders and teachers to steer clear of such dialogue. The Christian community in Malaysia is therefore no stranger to misconceptions, prejudice, discrimination, violence and hatred. Hence, when I saw the headlines concerning this visit to the church, I was not only shocked, but I also felt a mix of worry and hope.
After reading the reports, I quickly scrolled down to the comments sections on various media platforms, worrying (and even expecting) that I would see snide remarks about how Muslims shouldn't be stepping foot into a church lest their faith gets threatened. I found none. Sure, some said that the report was possibly fake news, while others anticipated that the Muslim visitors would face backlash for visiting the church. But on the whole, netizens responded with a sense of hope, expressing their aspirations for a Malaysia in which people of different faiths not only tolerate one another, but are open-minded and willing to engage in genuine interaction with one another. In fact, people said such visits should happen more often.
I too feel the same way. When I saw the picture of the Muslim women sitting among the congregation at Mass, I felt a sense of warmth and optimism. That picture in itself demonstrates to fellow Muslims that it is more than all right to be able to step into a church in peace and to be able to show compassion for others, regardless of their faith. Furthermore, it shows that they bring no harm upon themselves in going to the church, or any place of worship, for that matter. More often than not, people benefit from such visits as they are given the opportunity to directly engage with others and to allay their own fears and misconceptions. However, as one of the netizens said, perhaps these Muslims would face a backlash for their actions. Nevertheless, I believe that their actions, as well as that picture, serve as a powerful symbol of the hope for Muslim-Christian relations in Malaysia.
With the fasting month around the corner, some mosques and some Muslim families will probably be inviting Christians and other non-Muslims to join them in the breaking of their fast. While it is indeed commendable that Muslims are willing to invite non-Muslims to share the experience of Ramadhan with them, it is another and more inspirational step forward for Muslims to be able to step out of their comfort zone and to visit others in their places of worship.
However, this should not only happen in times of crisis, but should be something that we strive to do even when the local or global situation is relatively peaceful. It is therefore my hope that the visit of this Muslim group serves as an example to other Malaysian Muslims, as well as Malaysians in general, that it is possible to build a Malaysia in which open hearts and open minds trump bigotry.
https://www.freemalaysiatoday.com/category/opinion/2019/05/01/a-step-forward-in-muslim-christian-ties-in-malaysia/
---------
PAS assemblyman urges Penang govt to have law to curb spread of non-Muslim religions to Muslims
01 May 2019
GEORGE TOWN, May 1 ― The sole PAS assemblyman in Penang today called on the state government to formulate a new legislation to prevent the spread of non-Muslim religions to Muslims.
Mohd Yusni Mat Piah (PAS-Penaga) said the proposed enactment is necessary as there were several such incidents at a school in Bukit Mertajam when Muslims were the target of distribution of biblical leaflets, at a park in Penaga and early this year, there was the issue involving the developer of a residence in Jelutong which displayed lighting in the form of a cross at night.
According to him, Article 3 of the Federal Constitution provides for Islam as the religion of the Federation but other religions may be practised in peace and harmony.
"I want to propose to the state government to create an enactment in line with Article 11 (4) of the Federal Constitution which empowers the state government or federal government to formulate laws to control and curb non-Muslim religions from spreading their teachings or beliefs to Muslims," he said here yesterday.
He was debating in the motion of thanks for the Penang Yang Dipertua Negeri's speech at the State Legislative Assembly.
Full report at:
https://www.malaymail.com/news/malaysia/2019/05/01/pas-assemblyman-urges-penang-govt-to-have-law-to-curb-spread-of-non-muslim/1748580
---------
North America
Trump Weighs Labelling Muslim Brotherhood A Terrorist Group
May 1, 2019
WASHINGTON: President Donald Trump is working to designate the Muslim Brotherhood a foreign terrorist organization (FTO), the White House said on Tuesday, which would bring sanctions against Egypt's oldest Islamist movement.
"The president has consulted with his national security team and leaders in the region who share his concern and this designation is working its way through the internal process," White House press secretary Sarah Sanders said in an email.
Egyptian President Abdel Fattah al-Sisi asked Trump to make the designation during an April 9 visit to Washington, a senior US official said, confirming a report in the New York Times on Tuesday.
After the meeting, Trump praised Sisi as a "great president" while a bipartisan group of US lawmakers raised concerns about Sisi's human rights record, his efforts to stay in office until 2034 and Egypt's planned Russian arms purchases.
The White House did not say on what basis it might label the group a terrorist organization and former officials questioned whether the group met the legal standard of engaging in "terrorist activity" that threatens US citizens or national security.
The Brotherhood, which estimates its membership at up to 1 million people, came to power in Egypt's first modern free election in 2012, a year after long-serving autocrat and US ally Hosni Mubarak was toppled in a popular uprising.
As Egypt's army chief in 2013, Sisi engineered the removal of elected President Mohamed Mursi, a senior Brotherhood figure, and a subsequent crackdown on its supporters as well as liberal opposition in Egypt. Sisi was then elected president in 2014.
After Mursi's overthrow, the Brotherhood was swiftly banned in Egypt. Authorities declared it a terrorist organization and jailed thousands of followers as well as much of its leadership, including Mursi.
The Brotherhood, founded in Egypt in 1928, says it is a non-violent movement and denies any relationship to violent insurgencies waged by al Qaeda and Islamic State militants.
"We will remain ... steadfast in our work in accordance with our moderate and peaceful thinking," the Brotherhood said in a statement on its website.
Internal US debate
It was not clear if the administration was considering blacklisting only the Egyptian branch as a foreign terrorist organization (FTO) or all regional offshoots of what analysts say is a heterogeneous group with no central authority.
The proposal to designate the group set off a debate within Trump's national security team, the senior US official said.
White House national security adviser John Bolton and Secretary of State Mike Pompeo support the designation but officials at the Pentagon and elsewhere have been opposed and want more limited action, the senior official said.
"The President has heard the concerns about the Muslim Brotherhood from our friends and allies in the Middle East, as well as here at home," said a second senior US official. "Any potential designation would go through a robust, deliberate, and inclusive interagency process."
Former US officials were skeptical that the Brotherhood met the US legal standard to be designated an FTO.
Daniel Benjamin, the State Department's former top official for counterterrorism who teaches at Dartmouth College, called the idea "mystifying," saying the agency considered the designation in 2017 but concluded there was no basis.
Benjamin said US domestic political considerations could be at play with Trump facing re-election in 2020. "There is no question that there has been an effort to meet the appetites of Trump's very Islamophobic base," he said.
Jason Blazakis, a former State Department official who oversaw the FTO designation process, voiced concern that US rightwing groups would be encouraged to call for legal action against domestic Muslim advocacy organizations.
"It will be used to go after organizations inappropriately within the United States," said Blazakis, head of the Middlebury Institute of International Studies' Center on Terrorism, Extremism and Counter-Terrorism.
Analysts said the designation also could complicate US dealings with officials across the Middle East.
Under US law, someone who provides "material support" to terrorist groups is subject to extensive penalties. Material support is defined widely and can cover anything from providing funds, transportation or counterfeit documents to giving food, helping to set up tents or distributing literature.
Foreign nationals who deal with such groups can be denied US visas or removed from the United States if in the country.
Istanbul-based Yehya Hamed, who served as investment minister in the Mursi government, said Trump is "trying to fight with the wind," pointing to the prominent role of Islamist political parties in Tunisia and Morocco.
"What Trump is doing is bringing more instability to the region," Hamed said.
Formally designating the Brotherhood could also worsen the US relationship with NATO ally Turkey. The organization has close ties with President Tayyip Erdogan's ruling AK Party and many of its members fled to Turkey after it was banned in Egypt.
https://timesofindia.indiatimes.com/world/middle-east/trump-weighs-labeling-muslim-brotherhood-a-terrorist-group/articleshow/69123827.cms
---------
Taliban: Fresh round of talks with US peace envoy opening
May 01, 2019
KABUL, Afghanistan: The Taliban say a fresh round of talks with US peace envoy Zalmay Khalilzad is to begin in Qatar, where the religious movement maintains a political office.
Khalilzad has been tasked with finding a negotiated end to Afghanistan's 17-year war and America's longest military confrontation.
Taliban spokesman Zabihullah Mujahid told the Associated Press that Wednesday's talks will be the sixth round of direct meetings with the Khalilzad since his appointment last year. Talks are narrowly focused on a US troop withdrawal and Taliban guarantees that Afghanistan will not be used to stage global terrorist attacks.
Khalilzad, who was in Pakistan on Tuesday, is touring the region to press Afghanistan as well as its neighbors to forge ahead toward finding a peaceful end to the fighting.
http://www.arabnews.com/node/1490701/world
---------
Donald Trump says Europe is not helping with ISIS prisoners in Syria
April 30, 2019
US President Donald Trump has criticised European countries for refusing to take back foreign ISIS fighters imprisoned in Syria by coalition forces.
The American leader said US involvement in fighting against the terror group in Syria had been done for the benefit of European nations.
"We have 1,800 ISIS Prisoners taken hostage in our final battles to destroy 100% of the Caliphate in Syria. Decisions are now being made as to what to do with these dangerous prisoners," Mr Trump wrote on Twitter on Tuesday.
"European countries are not helping at all, even though this was very much done for their benefit. They are refusing to take back prisoners from their specific countries. Not good!"
Donald J. Trump
✔
@realDonaldTrump
Replying to @realDonaldTrump
....European countries are not helping at all, even though this was very much done for their benefit. They are refusing to take back prisoners from their specific countries. Not good!
64.5K
10:01 PM - Apr 30, 2019
Twitter Ads info and privacy
21.7K people are talking about this
Earlier on Tuesday, Britain's Middle East minister held a roundtable of ambassadors from across the region to discuss the potential threat posed by ISIS.
Mark Field said that he had discussed what the next phase of tackling ISIS could be, on the back of ISIS leader Abu Bakr Al Baghdadi reappearing after five years in new images circulated on Monday despite the extremist group being wiped out on the battlefields of Syria.
"[ISIS] once controlled territory roughly the size of the UK, but thanks to the military campaign by the Global Coalition and its partners on the ground it no longer occupies land. 7.7 million people have been liberated from its rule," said Mr Field.
"But as the Foreign Secretary, Jeremy Hunt, has said, 'we cannot be complacent. Even without territory, [ISIS] and its poisonous ideology will continue to pose a threat to the people of Iraq and Syria, as well as to the wider world."
Baghdadi claimed the Sri Lanka terror attacks on Monday in a video but it remains unclear as to when the footage was filmed.
Full report at:
https://www.thenational.ae/world/europe/donald-trump-says-europe-is-not-helping-with-isis-prisoners-in-syria-1.855661
---------
South Asia
Viral video showing Muslims protesting crackdown by Sri Lanka after blasts is false
Chayan Kundu
April 30, 2019
Since the deadly Easter blasts in Sri Lanka on April 21 that killed more than 250 people, social media has seen a flurry of posts, many of which later turned out to be false. Now, a video circulating on social media claims that Muslims have been protesting in London against the crackdown by Sri Lanka following the attacks.
India Today's Anti-Fake News War Room (AFWA) has found the claim to be false, as the viral video has no relation with the recent attacks. This is a video of a protest that happened in 2013 in London.
"Protest in London against action taken by Sri Lankan Government.. Against Tertorist who organised synchronised bomb attacks in the country..! Their brothers just killed 290 Christians in Srilanka..! Is this a joke or something.. Now terrorists are Victims..!!", posted a Twitter user "Major Subrat Mishra SM" on Monday. The post has the two-minute-long viral video attached in which Muslim men with placards against the Sri Lankan government can be seen.
According to Mishra's Twitter bio, he is a decorated army veteran. Hundreds have liked and shared his post.
This post can be found on Face book and YouTube as well. "Narendra Modi - Election 2019" posted this on YouTube on April 29. Facebook users "Pushpendra Kulshrestha", "Arvind Shenoi" and many others have posted the same video and message.
By slicing up the video in key frames and using Yandex reverse image search, we found a blog written on April 6, 2013, where still pictures of a similar protest can be seen.
Translating the blog which was originally written in Indonesian language, we came to know that there was a protest by Muslims in April 2013 in London against the Sri Lankan government.
We found a news report published by mainstream news website "Colombo Telegraph" on April 11, 2013. According to this report, Muslims gathered outside the Sri Lankan embassy in London on April 5, 2013, to condemn alleged oppression by the island country.
We found a longer video of this protest on YouTube, published in May 2013, where the same visuals can be seen in the initial two minutes.
Hence, we conclude that the claim is completely wrong as the protest video six years old and has no relation with the blasts in Sri Lanka.
https://www.indiatoday.in/fact-check/story/viral-video-showing-muslims-protesting-crackdown-by-sri-lanka-after-blasts-is-false-1514064-2019-04-30
---------
Days after blasts, Sri Lanka cable operators block Islamic preacher Zakir Naik's Peace TV: Sources
01 May 2019
Days after serial blasts on Easter Sunday, cable operators in Sri Lanka blocked Islamic preacher Zakir Naik's Peace TV, according to sources. India and Bangladesh have already banned Peace TV, which has often been used by ISIS recruiters for indoctrination and brainwashing youth. The official announcement in this regard is yet to be made.
On Monday, the National Investigation Agency (NIA) arrested an Islamic State sympathiser and follower, identified as Riyas Aboobacker, of alleged Sri Lanka bombings mastermind Zahran Hasim from Kerala, the agency said. Aboobacker admitted that he wanted to carry out a suicide attack in Kerala. The 29-year-old told the NIA that he has been following Hasim for more than a year and has also followed the speeches of Zakir Naik, an absconding Indian Islamic preacher and the founder of the Islamic Research Foundation.
Naik has been under investigation since 2016, when the Centre banned his Islamic Research Foundation (IRF) for five years. The controversial preacher is accused of inciting youth to take up terror activities, giving hate speeches and promoting enmity between communities.
He is being probed by the National Investigation Agency (NIA) on several charges under the Indian Penal Code and the Unlawful Activities Prevention Act (UAPA). The preacher, declared a proclaimed offender by a special NIA court in June 2017, is accused of inciting youth to take up terror activities, giving hate speeches and promoting enmity between communities. The NIA filed a charge sheet against Naik and others before a Mumbai court in October 2017.
Full report at:
https://www.newsnation.in/world-news/breaking-zakir-naik-peace-tv-sri-lanka-cable-operators-block-islamic-preacher-terrorist-dubai-article-222442.html
---------
Explosion rips through border police vehicle in Mazar-e-Sharif city
30 Apr 2019
An explosion ripped through the vehicle of the border police forces in Mazar-e-Sharif city, the provincial capital of Balkh province.
A spokesman for Balkh Police Headquarters Adilshah Adil confirmed the incident and said the explosion was triggered by a magnetic bomb planted in police vehicle.
Adil further added that the incident took place later this afternoon close to the municipality compound of Mazar-e-Sharif city.
He said the body of a border policeman who lost his life in the explosion has been shifted to hospital.
In the meantime, reports emerging from the area suggest that two other people have also sustained injuries in the explosion.
Full report at:
https://www.khaama.com/explosion-rips-through-border-police-vehicle-in-mazar-e-sharif-city-03846/
---------
20 Taliban militants killed, 2 others detained in Afghan Special Forces raid in Nangarhar
30 Apr 2019
At least 20 Taliban militants were killed and two others were detained in an operation of the Afghan Special Forces in eastern Nangarhar province.
The informed military sources said Tuesday that the operation was conducted in Khugyani district of the province.
"Afghan Special Forces conducted a raid in Khugyani district killing 20 Taliban fighters, detaining two and destroying 7 IEDs and 4 hand grenades," the sources said.
The anti-government armed militants including Taliban have not commented regarding the operation so far.
Nangarhar has been among the relatively provinces in East of Afghanistan but the security situation in some of its remote districts has started to deteriorated during the recent years.
Full report at:
https://www.khaama.com/20-taliban-militants-killed-2-others-detained-in-afghan-special-forces-raid-in-nangarhar-03838/
---------
Arab World
Muslim Brotherhood financier and 6 others get life sentences in Egypt
April 30, 2019
CAIRO: Egypt has sentenced seven Muslim Brotherhood members, including one of the group's top financiers, to life in prison on charges of joining and funding a terrorist group.
The Supreme State Security Emergency Court sentenced three others to 10 years, while acquitting 14. The verdicts can be appealed.
Those sentenced to life include Hassan Malek, a businessman who owned stores that imported computers and electronics, and his son.
The Muslim Brotherhood won a series of elections after the 2011 uprising that toppled President Hosni Mubarak. Muhammad Mursi, a senior Brotherhood figure, became Egypt's first freely-elected president the following year.
The military overthrew Mursi in 2013 amid massive protests against his brief rule. Authorities have since branded the Muslim Brotherhood a terrorist organization and arrested thousands of its members.
http://www.arabnews.com/node/1490356/middle-east
---------
ISIS leader tries to rally supporters with claims of 'steadfastness' after battlefield defeats
April 30, 2019
The video is a studied piece of militant Islamist theatre. In it, ISIS leader Abu Bakr Al Baghdadi assumes the role of humble warrior, seated cross-legged in a grey robe and utility vest, conferring with three close companions.
Ostentatiously at his side is an AKS-74U assault rifle – a shortened AK-47 variant used by the Soviets in Afghanistan, where captured specimens were much-prized by Mujahedeen fighters. In Islamic militant circles, the weapon is sometimes called "the Osama"; the favoured sidepiece of Al Qaeda founder Osama bin Laden. The rifle's Islamist pedigree was further established by its appearance in propaganda videos by Abu Musab Al Zarqawi, the founder of ISIS' predecessor Al Qaeda in Iraq.
In the video released by ISIS on Tuesday, Baghdadi's demeanour contrasts starkly with his only other public appearance, where he declared himself caliph from the minbar of Mosul's Al Nouri Mosque in front of hundreds of worshippers in July 2014.
There a finger-wagging Baghdadi assumed the mantle of religious leader, quoting the prophet's father-in-law Abu Bakr and cloaking himself in black robes reminiscent of the Abbasid caliphs, whose 500-year reign from Baghdad encapsulated the golden age of Islamic civilisation.
In contrast, the "caliphate" declared by Baghdadi – which at its peak ruled over a population of 8 million people across a third of Iraq and Syria – was destroyed in less than five years. The hardships of this short era have marked the world's most wanted man. Baghdadi's beard, hennaed after the fashion of the prophet, has greyed. His face is now deeply lined.
But his carefully staged and edited message was clear. Despite tribulations, the ISIS leader is alive and apparently well. And he wants the world to know that the organisation he heads is enduring and steadfast, a term he mentions a dozen times in the 18-minute video.
The year started disastrously for ISIS. After losing most of its territory in Iraq and Syria over the past three years, by January its supporters were encircled in a riverside hamlet in Syria's Deir Ezzour. The loss of Baghouz was particularly damaging from a propaganda angle as fighters from the once terrifying group were shown abject and defeated, surrendering by their hundreds to US-backed Syrian forces. Among the dead and captured were key members of the group's "Ministry of Media".
Baghdadi meanwhile has been notable mainly by his public silence at a time when many close to him have been killed or apprehended. His teenage son was reportedly killed in Homs last July, while his own death has been reported several times.
Despite reportedly being seriously wounded in an airstrike in 2015, Baghdadi today looks healthy. Likewise, while he acknowledged his group's recent losses, he commended his followers for their "steadfastness". The battle for Baghouz showed the "barbarism and brutality" of the West, he said, but "the battle of Islam and its people against the Crusaders and their followers is a long battle."
In reality, the loss of its territory has been a serious but not fatal setback for ISIS. While it has lost much of its ability to raise funds along with its attraction as a destination for foreign recruits, a series of recent attacks and foiled attempts claimed by ISIS indicates that the group is successfully shifting towards a globalised insurgency.
The Easter Sunday bombings in Sri Lanka, which killed at least 250 people, is one example of recent attacks claimed by ISIS. Saudi authorities last week thwarted an attack in which the would-be perpetrators produced an allegiance video remarkably similar to that released by the Sri Lanka attackers.
Other attacks have occurred in regions not historically afflicted by Islamist violence, including the Democratic Republic of Congo. Elsewhere ISIS seems eager to capitalise on Islamist insurgencies fuelled by localised grievances, including in Burkina Faso, where a church was attacked on Sunday.
But to appear as an historic power with the ability to challenge the West and attract a global following, ISIS needs to portray itself as a monolithic entity, rather than a loose corpus of extremist ideology vague enough to appeal to fringe radicals motivated by any number of local injustices, real and imagined. For this reason, it is not only important for ISIS to claim responsibility for attacks after the fact, Baghdadi needs to appear to be leading his "nation of Islam."
In his address, Baghdadi referred repeatedly to ISIS' resilience and enduring global power. Of the defence of Baghouz, he said: "This steadfastness ripped out the hearts of the Crusaders, which increased their fury and hatred."
Key to the message is the portrayal of Baghdadi as the administrator of a centrally run insurgency. In the video, he says he has accepted pledges of allegiance from militants in Burkina Faso and Mali. Later, he pantomimes receiving monthly reports on activities in the various "provinces" of ISIS, including Somalia, Yemen, West Africa and the until now unknown "Turkey province".
The video showed little of the editing flair that characterised earlier ISIS releases. It was published without subtitles or accompanying foreign language transcripts, unlike Baghdadi's previous audio release last August. Many of ISIS's formerly prolific media operatives were killed or captured in the defeat of Baghouz, including Mohammed Khalifa, who narrated the notorious 2014 Flames of War video and surrendered in January. In his address, Baghdadi acknowledged by name the death of other "knights of media", including Abu Abdullah Al Australi, a shadowy Australian believed to have served as ISIS propaganda chief.
While there is no overt indication of where the video filmed – the faces of the three other men are blurred and a sheet hangs behind them to obscure details of their surroundings – Baghdadi is believed to be hiding somewhere in western Iraq or across the border in Syria. Certainly the mats and bolsters he sits on are typical furnishings in this part of the world. With all the technology of US intelligence arrayed against him, from satellite surveillance to informants on the ground, the man with a $25 million bounty on his head is no doubt paranoid about security.
The video is recently recorded, with Baghdadi mentioning the protests in Algeria and Sudan that overthrew longstanding leaders. Sri Lanka though is only mentioned in a voiceover, suggesting the original video was conceived independently of that attack rather than in response to it. Likewise, Baghdadi does not mention the Christchurch mosque shootings in March.
The white supremacist gunman who killed 50 Muslims in New Zealand preached a similar narrative of a clash of civilisations between Islam and the West and likewise understood how to harness media to seize global attention.
Full report at:
https://www.thenational.ae/world/mena/isis-leader-tries-to-rally-supporters-with-claims-of-steadfastness-after-battlefield-defeats-1.855650
---------
Lebanon's President Aoun says 2019 budget should be agreed upon by end of May
30 April 2019
Lebanon's President Michel Aoun urged ministers on Tuesday to speed up discussions on the 2019 draft budget so that parliament can approve it by the end of
May.
Wrestling with one of the world's heaviest public debt burdens and years of low economic growth, the Lebanese government has vowed to carry out overdue reforms.
But it risks facing public anger at potential cuts to the massive public wage bill, including salaries, pensions and benefits - the Lebanese state's biggest expense. Retired army officers who fear pension cuts protested on Tuesday as ministers convened at the presidential palace to start debating the draft budget.
The budget will test the government's will to enact reforms, which economists say are more pressing than ever. State finances are strained by a bloated public sector, high debt servicing costs and hefty subsidies spent on the power sector.
Prime Minister Saad al-Hariri has said Lebanon faces catastrophe if the government does not carry out what may be the most austere budget in its history.
Full report at:
https://english.alarabiya.net/en/News/middle-east/2019/04/30/Lebanon-president-2019-budget-should-be-agreed-upon-by-end-of-May.html
---------
Daesh remains potent threat worldwide despite reduced capabilities, Iraqi PM warns
Apr 30, 2019
Iraqi Prime Minister Adel Abdul Mahdi has warned that even though the Takfiri Daesh terrorist group has been militarily weakened, it has not been defeated and remains a potent threat around the world.
"Daesh is not just a small organization, it's widespread and will try to put confidence back in its militants and carry out acts such as those in Sri Lanka," Abdul Mahdi said at a joint press conference with German Chancellor Angela Merkel on Tuesday.
A series of coordinated bombings on Easter Sunday rocked Sri Lanka, killing at least 253 people and wounding 500 others.
The attacks targeted three churches as well as four hotels in the capital, Colombo.
Daesh later claimed responsibility for the bomb attacks. "The perpetrators of the attack that targeted nationals of the countries of the coalitions and Christians in Sri Lanka before yesterday are fighters from Daesh," the terror group said in a bulletin posted by its Aamaq news agency.
The Iraqi premier also pointed to the appearance of the elusive leader of Daesh, Ibrahim al-Samarrai aka Abu Bakr al-Baghdadi, for the first time in five years in a propaganda video.
"One and a half years ago, Daesh controlled large areas in Iraq and Syria, and now Baghdadi appears in an isolated, unknown location," Abdul Mahdi commented.
"He did not seem to be among his followers like the first time in Mosul", he said, referring to a July 2014 video in which Baghdadi announced the birth of the group's so-called caliphate across swathes of Iraq and Syria during a speech at the Grand al-Nuri Mosque in the strategic northern Iraqi city.
"Daesh has not completely disappeared but suffered painful blows," Abdul Mahdi underscored.
He noted that the Takfiri terrorist group "was broken, but if little cells are left, it could reactivate and resurface and commit painful attacks."
Merkel, for her part, said Baghdadi's appearance in the 18-minute video was a sign that "we will remain occupied for some time to come with the question of how Daesh can finally be defeated."
The former Iraqi prime minister, Haider al-Abadi, declared the end of military operations against Daesh in the country on December 9, 2017.
On July 10 that year, he had formally declared victory over Daesh in the strategic northern city of Mosul, which served as the terrorists' main urban stronghold in Iraq.
Full report at:
https://www.presstv.com/Detail/2019/04/30/594782/Daesh-remains-potent-threat-worldwide-despite-reduced-capabilities-Iraqi-PM-warns
---------
Iraq says Daesh leader Baghdadi filmed video in 'remote area'
April 30, 2019
BAGHDAD: Daesh remains a potent threat around the world despite reduced capabilities, Iraqi Prime Minister Adel Abdul Mahdi said on Tuesday, adding its leader Abu Bakr Al-Baghdadi had made his latest video appearance in a "remote area."
Abdul Mahdi did not say which country that area was in.
A video released late on Monday by Daesh's propaganda wing showed a man it said was Al-Baghdadi in what would be his first appearance since he declared the extremists' now-defunct "caliphate" five years ago.
The authenticity and date of the recording could not be independently verified.
Abdul Mahdi said Baghdadi's appearance was an attempt to boost militants and that Daesh would attempt to carry out more attacks.
"Regarding the location of Baghdadi, we can't give intelligence information right now but it's clear from the video that he's in a remote area," Abdul Mahdi said at a news conference on a visit to Berlin.
Al-Baghdadi, an Iraqi, is believed to be hiding out in an isolated area of either Iraq or Syria, part of vast desert regions Daesh once held and from where it is thought the extremists are now waging regular insurgent-style attacks against security forces in both countries.
Hisham Al-Hashemi, a security adviser to the Iraqi government, said officials had narrowed his whereabouts from 17 to a possible four locations.
"These are in the desert of Iraq's Anbar (province) or in the (eastern) desert of Homs in Syria," he said.
Abdul Mahdi said Daesh's capabilities had "greatly reduced" but that the group still posed a threat.
"Daesh is not just a small organisation, it's widespread and will try to put confidence back in its militants and carry out acts such as those in Sri Lanka," he said, referring to the Easter Sunday attacks claimed by the group which killed more than 250 people.
In the 18-minute video, a bearded man with Al-Baghdadi's appearance says the bombings in Sri Lanka were Daesh's response to losses in its last territorial stronghold of Baghouz in Syria.
Full report at:
http://www.arabnews.com/node/1490341/middle-east
---------
Africa
Six killed as tensions mount between Sudan military rulers, protesters
Apr 30, 2019
At least six Sudanese security personnel have been killed and several others injured in a series of violent clashes with protesters, as tensions mounted over the makeup of a new joint civilian-military council.
Mohamed Hamdan Dagalo, the Transitional Military Council (TMC)'s vice president said in a press briefing on Tuesday that the clashes took place after demonstrators reinforced barricades outside the army headquarters in the capital Khartoum over the past 24 hours.
"In different incidents, six people from the security forces were killed and 16 wounded," said Dagalo, adding, "There were incidents of burning of markets and looting."
Dagalo also warned that the army will not accept unrest in the country.
"We will not accept chaos. We will deal with it firmly in accordance with the law," he stated, noting, "We do not want to escalate the situation. We are committed to negotiation. After today, there will be no chaotic scenes."
Meanwhile, the Alliance for Freedom and Change, Sudan's leading protest group in a statement on Tuesday called for a "million-strong march" to demand a civilian administration.
"We are calling for a million-strong march on May 2 to assert our main demand, which is for civilian rule," the statement read.
On Monday, Sudan's main protest group said the military was trying to remove barricades at the sit-in outside the army headquarters.
"The military council is a copy cat of the toppled regime. The army is trying to disperse the sit-in by removing the barricades," said the Sudanese Professionals Association (SPA), the group that first launched a movement against the government of Omar al-Bashir.
"We are calling on our people to come immediately to the sit-in area. We are calling on the revolutionaries to protect the barricades and rebuild them."
Risking the anger of protesters, a top Sudanese general announced Tuesday that the new body would be headed by current military ruler General Abdel Fattah al-Burhan.
This comes as the military and the opposition remains divided over the composition of a joint civilian-military council.
The military had earlier agreed to allow civilians into the transitional administrative body. It also accepted the resignation of three of its members who were accused by the opposition of being involved in a recent crackdown that left dozens of protesters dead.
The joint council is supposed to replace the military body that took power after Bashir's ouster in the face of mass protests against his three-decade rule.
But the two sides are at odds over its composition, with the military pushing for a 10-member council including seven military representatives and three civilians.
The protesters want a majority of civilians on a 15-member joint council with seven military representatives.
Thousands of protesters have been camping outside the army headquarters in Khartoum, almost three weeks after the military and security forces removed Omar al-Bashir from power on April 11.
https://www.presstv.com/Detail/2019/04/30/594767/Sudan-Mohamed-Hamdan-Dagalo-SPA-alBashir
---------
Sudan protests to continue as talks with military body fail
Apr 30, 2019
Sudan's military rulers and protest leaders have failed to reach an agreement on a joint civilian-military council to rule the African nation after holding talks, with the protest organizers calling for continued civil disobedience and a general strike.
The key protest group in Sudan called for the defiant measures on Monday after talks with current military rulers — functioning as the Transitional Military Council (TMC) — earlier in the day failed to provide any breakthrough on the establishment of a joint transitional council.
While TMC spokesman Shams El Din Kabbashi described the Monday talks as positive and claimed the two sides had agreed to clear certain sites occupied by protesters, the civilian-led Sudanese Professionals Association (SPA) denied agreeing to end the acts of civil disobedience.
Kabbashi said that during the negotiations, the SPA had agreed to open some roads, a railway line, and two bridges that lead to or pass near the military headquarters in the capital, Khartoum.
The SPA said no such agreement had been made. "This is counter to reality and negates any agreement with the military council, and we affirm that we are maintaining our sit-in, and everything that the [TMC] spokesman said is incorrect," the SPA said in a statement later on Monday.
The protest movement further called for a general strike and civil disobedience through the holy month of Ramadan — beginning in early May — and the Eid holidays that follow.
"The military council is a copycat of the toppled regime. The army is trying to disperse the sit-in by removing the barricades," added the SPA statement, in reference to the regime of long-time president Omar al-Bashir, which was toppled on April 11. "We are calling on our people to come immediately to the sit-in area. We are calling on the revolutionaries to protect the barricades and rebuild them."
The TMC spokesman told reporters after the Monday talks that "the military council has presented its vision for a 10-member joint council, with seven military representatives and three civilians." He said the other side "presented its vision of a 15-member joint council, with eight civilians and seven military representatives."
Khabbashi also said the talks would resume on Tuesday.
A joint council, if agreed, would replace the existing military council that took power after the army ousted Bashir amid popular protests against his rule.
Like Bashir, the TMC is backed by despotic Arab states in the Persian Gulf such as Saudi Arabia and the United Arab Emirates (UAE).
The formation of a joint council would further pave the way for a civilian administration as demanded by the protesters.
Full report at:
https://www.presstv.com/Detail/2019/04/30/594720/Sudan-military-council-protest-leaders-strike-civil-disobedience
---------
Jordan monarch orders changes to $10 billion gas deal with Israel
Apr 30, 2019
Jordanian King Abdullah II has ordered a review of his country's multi-billion-dollar deal to import natural gas from the Israeli-occupied territories.
The London-based and Arabic-language Asharq al-Awsat newspaper, citing senior Jordanian political sources, reported that the king made the decision "in a technical report that examines Jordan's interests from the continuation or the freezing of the agreement."
Khaled Bakkar, the head of the finance committee in the Jordanian parliament, said the gas deal apart from being "blatant normalization" with the Israeli regime, is "economically weak" based on the feasibility studies.
He stressed that Jordan's energy production surpassed the country's needs, and the import of Israeli gas was only for the benefit of the Tel Aviv regime.
On September 26, 2016, Jordan's National Electric Power Company signed a 10-billion-dollar deal with US-based Noble Energy and Israeli partners, which will tap the Leviathan natural gas field in the Mediterranean Sea off the coast of Israel for the supply of approximately 1.6 trillion cubic feet of natural gas, or 300 million cubic feet per day (mcf/d), over a 15-year term. Production is expected to begin around 2019 or 2020.
On March 26, members of Jordan's parliament called for the cancellation of the gas deal with Israel during a parliamentary session closed to the public.
House Speaker Atef Tarawneh stated that all sectors of the society and members of parliament utterly reject Jordanian electricity company agreement to buy Israeli natural gas.
Several legislators argued that the multi-billion-dollar deal violates Article 33, section two of the Jordanian constitution, which states: "Treaties and agreements which entail any expenditures to the Treasury of the State or affect the public or private rights of Jordanians shall not be valid unless approved by the parliament; and in no case shall the secret terms in a treaty or agreement be contrary to the overt terms."
Lawmaker Saddah al-Habashneh said the deal was unconstitutional, stressing that members of parliament were not given access to read what he called the "secret" deal.
"Why are they hiding it? It's a clue that there is something. It is totally rejected," he commented.
Habashneh then demanded the deal be scrapped along with Jordan's peace accord with Israel – known as Wadi Araba Treaty and signed on October 26, 1994.
"We are calling for the Wadi Araba agreement to be dropped. What is peace when they're attacking Gaza?" the parliamentarian said.
"And with yesterday's recognition of the Golan Heights, what's left? We want dignity," he pointed out.
On March 25, US President Donald Trump signed a proclamation, formally recognizing Israel's sovereignty over the Golan Heights. The announcement came as Israeli Prime Minister Benjamin Netanyahu visited the White House.
The Syrian Ministry of Foreign Affairs and Expatriates, in a statement, called the US decision a "blatant attack on the sovereignty and territorial integrity" of Syria.
"The liberation of the Golan by all available means and its return to the Syrian motherland is an inalienable right," according to the statement carried by Syria's official news agency SANA, which added, "The decision ... makes the United States the main enemy of the Arabs."
The Arab League also condemned the move, saying "Trump's recognition does not change the area's status."
Iran, Iraq, Russia and Turkey also condemned the US move.
Full report at:
https://www.presstv.com/Detail/2019/04/30/594778/Jordan-monarch-orders-changes-to-10-billion-gas-deal-with-Israel
---------
Boko Haram kill 14 loggers in northeast Nigeria: Sources
April 30, 2019
KANO, Nigeria: Boko Haram jihadists have killed 14 loggers as they collected firewood in northeast Nigeria, residents and anti-Boko Haram militia have told AFP.
The bodies of the men were found at Duwabayi village near the garrison town of Monguno in Borno state late Tuesday by other loggers.
"The bodies of the 14 men were evacuated to the police station in Monguno after some people reported seeing the bodies," a militia leader in the town said.
Duwabayi village was deserted last year after residents fled into camps in Monguno due to Boko Haram attacks.
Fighters loyal to an IS-backed faction of the jihadists are known to operate in the area.
"Fourteen dead bodies were brought this evening to Monguno and people have been going to the police station to see if they could identify them," Monguno resident Kulo Gana said.
Another resident, Bunami Mukhtar, said the corpses had "bullet wounds."
The loggers were among thousands of people sheltering in camps in the town after being displaced by the jihadists.
Those in the camps rely on food aid to eat but some turn to felling vegetation, in order to sell to buy extra produce.
Monguno, 135 kilometers north of Maiduguri, the capital of Borno state, houses a military base.
The town has been repeatedly attacked by jihadists, who have made several failed attempts to overrun the base.
Boko Haram militants have also repeatedly targeted farmers, loggers and herders, accusing them of passing information to the military and pro-government militia fighting them.
Four farmers were killed in an attack by Boko Haram insurgents on March 19 in a drive-by shooting as they worked on their farms outside Borno's Askira town.
Boko Haram's decade-long conflict has killed more than 27,000 people and displaced 1.8 million others in the northeast.
Full report at:
http://www.arabnews.com/node/1490616/world
---------
Pakistan
US, Taliban likely to begin new round of talks today
Tahir Khan
MAY 1, 2019
The Afghan Taliban and the United States are likely to begin a new round of talks in Qatar today (Wednesday) to hold detailed discussions on withdrawal of foreign troops and to stop terrorism from Afghan soil against other countries, Daily Times has learnt.
Taliban spokesman Suhail Shaheen did not reply when a query was posted on WhatsApp for confirmation. Zabihullah Mujahid, who reports about Taliban activities, did not confirm, but said he was "making efforts to get information". Taliban and US negotiators in their last round of talks from February 25 to March 12 had reported "progress" in the longest round, but failed to reach any agreement.pak
The Taliban had stated earlier that "extensive and detailed discussions" had taken place on two issues – withdrawal of all foreign forces from Afghanistan and preventing anyone from harming others from Afghan soil – and how and when will all foreign forces exit Afghanistan and through what method?
They said both sides had also reviewed options as to how the United States and its allies would be given assurances about post-withdrawal Afghanistan. The Taliban and the US peace envoy Zalmay Khalilzad will be meeting for the first time after the Taliban launched the spring offensive in April that marked beginning of the fighting season.
Khalilzad had condemned the Taliban offensive "Al-Fatah" and had also urged Pakistan and Qatar to condemn the Taliban decision.
https://dailytimes.com.pk/386086/us-taliban-likely-to-begin-new-round-of-talks-today/
---------
PPP will continue fighting for labourers' rights: Bilawal
MAY 1, 2019
Pakistan People's Party (PPP) Chairman Bilawal Bhutto Zardari on Tuesday said that the labourers' rights remain the cornerstone of his party's democratic ideology, and that the Constitution of 1973 guarantees justified wages, personal security and equal rights.
In his message on the eve of Labour Day being commemorated today across the world, he pledged that the PPP would continue to fight for the labourers' rights until the labour class "gets what the constitution has guaranteed" for them.
The PPP chairman saluted Pakistani labourers who laid down their lives for the rights of their class during the struggle for restoration and strengthening of democracy, which "is still continuing". However, they have achieved certain targets during their struggle for the rights, mainly during the PPP governments, he added.
Bilawal said the working class of Pakistan was still being deprived of their due rights, while those denying them their just rights and privileges were also at work. "Hence, the incumbent government of Imran [Khan] Niazi and the collective interests of the working and labour classes of Pakistan stand poles apart from each other. The present Niazi government has deprived the poor and labourers of bread after the prices of the commodities and utility items rocketed during the past nine months of his misrule," he pointed out.
He said that the flawed policies of the present government had almost buried the economy and such policies ruined the lives of the people across the board. "Amid these devastating situations, only the PPP is capable of creating a balance between the employers and the employees through fair and workable policies and programmes," he added. Bilawal reminded that PPP founder Zulfikar Ali Bhutto had in his time pioneered the labour policy and trade unions' rights, and again it was the PPP government that introduced "Benazir Employees Stake Option Scheme" through which the employees benefitted from free shares in their respective company. It is also a major breakthrough that the PPP's present provincial Sindh government has launched a tripartite labour policy, in which a mechanism has been devised to facilitate both sides – the employees and the employers. However, much is still needed to be done for the improvement in the policies to resolve all pending issues," he said.
Full report at:
https://dailytimes.com.pk/386032/ppp-will-continue-fighting-for-labourers-rights-bilawal/
---------
Pakistan making sincere efforts for success of Afghan peace process, says Qureshi
May 1, 2019
ISLAMABAD: Foreign Minister Shah Mahmood Qureshi on Tuesday said Pakistan is making sincere efforts for the success of the ongoing Afghan peace process and has played its due role in the development of the country.
Addressing the seventh round of the Pakistan-Afghanistan Track-II Dialogue here, Qureshi said peace in Afghanistan is imperative for regional connectivity, and the Afghan people have to decide their future themselves.
The foreign minister noted that he has visited different countries and also held several meetings with US Special Representative for Afghanistan Reconciliation Zalmay Khalilzad for peace in Afghanistan.
Inviting Afghanistan to make a new beginning, Qureshi said Pakistan and Afghanistan have a shared future.
Pakistan has played its due role in the development of Afghanistan, pledging projects worth one billion dollars, he added.
Mentioning a number of examples in this regard, the minister said Afghanistan is a major trading partner of Pakistan, and the two countries carry out trade through rail and road.
"Over 50,000 Afghans have studied in Pakistani educational institutes and are now working in the public and private sector in Afghanistan.
"We extended 6,000 fully-funded scholarships to Afghan students. To encourage female education, we [allocated] 100 seats to female candidates from Afghanistan," he continued.
Full report at:
https://www.pakistantoday.com.pk/2019/04/30/pakistan-making-sincere-efforts-for-success-of-afghan-peace-process-qureshi/
---------
No proof India is using Afghan soil against Pakistan, says Wells
May 1, 2019
ISLAMABAD: Pakistan and the United States have agreed to continue the engagement on the Afghan peace process and strengthening bilateral ties, however Washington is seemingly unconvinced with Pakistan's narrative that India is using Afghan soil to perpetrate terrorism in the country.
The understanding was reached during an important meeting wherein Ambassador Zalmay Khalilzad, US Secretary of State's Special Representative for Afghanistan Reconciliation and Ambassador Alice Wells, Principal Deputy Assistant Secretary for South and Central Asian Affairs, held delegation-level talks with Pakistani officials at the Ministry of Foreign Affairs a day earlier.
As per a handout issued by the Foreign Ministry, the two sides reviewed recent developments regarding the Afghan peace process. It was underlined that this was a historic opportunity to end the prolonged Afghan conflict for which all local stakeholders, as well as Afghanistan's neighbours, had an important role to play.
"Pakistan reiterated its support for intra-Afghan dialogue, which is vital to move the process forward. It was highlighted that the prospective agreement in Afghanistan must contribute to bringing lasting peace and stability leading to international cooperation and development in Afghanistan."
The delegation of Pakistan also emphasized the need for creating a conducive environment in Afghanistan for early and dignified return of Afghan refugees to their homeland, as per the FO's statement.
The two sides reviewed the state of engagement and cooperation between Pakistan and the United States on a range of bilateral issues including political, economic and consular matters, the statement added.
'NO EVIDENCE AGAINST INDIA'
Meanwhile, while interacting with journalists at the US Embassy, Alice Wells said that US does not have the evidence of India using Afghan soil against Pakistan.
The statement appears to suggest that the US is far from convinced with Pakistan's narrative on India.
Pakistan has long been expressing its concerns regarding India using the Afghan soil to create trouble and often presented the case of Indian spy Kulbushan Yadhav as evidence.
The American diplomat, nevertheless, made it clear that US would never condone or support any use of 'terrorist proxies against another country'.
"We have been working very actively with Pakistan to combat whether it's al Qaeda or TTP. Any terrorist attacking Pakistan is enemy of ours and we share very strong counter-terrorism objectives in defeating extremist forces," Wells emphasised.
When her attention was drawn towards Pakistan's concerns regarding India's role in creating trouble in Balochistan, she urged regional countries to respect each other's sovereignty without naming India.
"We recognise and respect the territorial integrity and sovereignty of Pakistan. We do not support any separatist movements," she said, adding, "We think it's critical that nations of this region respect one another and work to achieve peace and economic growth."
Wells also said the US had no information regarding Pakistan Army's latest allegations that Afghan and Indian secret agencies were funding the Pashtun Tahafuz Movement (PTM).
Wells said the US welcomed Prime Minister Imran's public statements affirming his resolve not to allow Pakistan's soil to be used against any other country.
"I would positively note that many comments the prime minister has made in public underscoring his government's commitment to moving away from non-state actors to ensuring that the national action plan that Pakistan has forged is implemented," she said.
She said the steps the government had so far taken to implement the national action plan were 'positive.'
Wells said under the Financial Action Task Force (FATF) action plan, Pakistan had to take specific steps to deal with the terror financing. Ultimately, she said it would not be the US but FATF that would determine the steps taken by Pakistan.
She nevertheless added the US appreciated recent steps hoping that would continue until the threat was eliminated.
About the prospects of resumption of dialogue between Pakistan and India after the polls are over in the neighbouring country, Wells apparently linked the progress to Pakistan's commitment of not allowing its territory to be used against India.
She said Pakistan needed to demonstrate its commitment to ensure that "violence is prerogative of the state that the militant groups can't take advantage of Pakistani soil."
When asked to specify the US concerns regarding the China-Pakistan Economic Corridor (CPEC), Wells said while Washington did not object to infrastructure investment by China, the question remains whether such projects meet the international standards.
She argued that such investments should be transparent, sustainable and should produce benefits for the country.
"So any concern that we have over CPEC projects is with regards to the transparency, the efficacy and the sustainability of the loans," she explained.
"This is an issue that is not Pakistan specific. We have expressed this concern about belt and road initiative more broadly.
"We welcome the infrastructure investment by China and by all countries so far it advances the prosperity of the countries involved," she maintained.
Full report at:
https://www.pakistantoday.com.pk/2019/04/30/pakistan-us-to-continue-engagement-on-afghan-peace-process/
---------
Mideast
UN: Palestinian Authority faces risk of financial collapse
30 April 2019
The UN political chief warned Monday that the worsening Palestinian financial crisis poses a growing risk "of a financial collapse of the Palestinian Authority."
Rosemary DiCarlo told the UN Security Council that "a sustainable resolution" to the authority's funding crisis is urgently needed.
Israel is withholding about $11 million of the roughly $180 million a month in tax funds that it collects for the Palestinians, claiming that money was being used to support families of terrorists. The Palestinians, in protest, have refused to accept any of the tax transfers.
"Israel's so-called 'withholding' of Palestinian tax revenues is blatant theft, violating bilateral agreements and the Geneva Convention prohibition on the pillaging of the occupied people's resources," Riyad Mansour, the Palestinians' ambassador at the UN, told the council.
Without the funds, the Palestinian Authority has cut most workers' salaries in half since March, though salaries will be raised to 60 percent this month because of the Muslim holy month of Ramadan. The lowest paid employees who earn less than $600 a month continue to get full pay, but most civil servants have higher salaries.
DiCarlo called on both sides to address the underlying causes of the financial crisis, implement their bilateral agreements, and avoid actions that undermine security and stability for both Palestinians and Israelis.
She also urged the Ad Hoc Liaison Committee, which coordinates development aid to the Palestinians, to use its meeting Tuesday in Brussels to work with Israel and the Palestinian Authority to resolve the crisis.
In addition to the tax revenue, the Trump administration has cut hundreds of millions of dollars in funding for the Palestinians.
Last month, the head of the UN agency that helps 5.3 million Palestinian refugees called for equal generosity from donors who filled a $446 million hole in its budget last year after the US drastically cut its contribution.
Pierre Krahenbuhl said donors funded the UN Relief and Works Agency's $1.2 billion budget for 2018 after the US reduced its $360 million contribution in 2017 to just $60 million.
He said the UN agency also adopted a $1.2 billion budget for 2019, and this year it is getting nothing from the United States.
US President Donald Trump said in January 2018 that the Palestinians must return to peace talks to receive US aid money.
https://english.alarabiya.net/en/News/middle-east/2019/04/30/UN-Palestinian-Authority-faces-risk-of-financial-collapse.html
---------
Sweden 'proud' to have recognized Palestine, will continue to support it: Foreign minister
Apr 30, 2019
Swedish Foreign Minister Margot Wallström says her country is proud to have officially recognized the state of Palestine, and will continue to support it.
"I am proud of the decision of Sweden's government, which recognized Palestine as an independent state in 2014," Wallström told Swedish national public television broadcaster Sveriges Television AB (SVT) on Monday.
She added that many countries followed suit after Sweden became the first European Union member in Western Europe to recognize a Palestinian state.
"This shows that we recognized Palestine at the right time. We will continue to support Palestine," Wallström added.
The top Swedish diplomat then made a reference to the Israeli regime's criticism of Sweden's Palestine policy, stating that negotiations are underway between Stockholm and Tel Aviv to resolve diplomatic tensions.
On October 30, 2014, the Swedish government formally recognized Palestine as a state, less than a month after Prime Minister Stefan Löfven announced his intention to make the move.
Wallström then told reporters that the territory has fulfilled the "criteria of international law," adding that Palestine had both "a territory, a people and government."
She also expressed hope that Sweden's move would provide a "positive injection into the dynamics of the Middle East peace process."
Wallström highlighted that recognition of Palestine would make the country more equal while participating in the so-called peace negotiations with Israel
Palestinian President Mahmoud Abbas later hailed Sweden's "brave and historic" move.
Full report at:
https://www.presstv.com/Detail/2019/04/30/594771/Sweden-proud-to-have-recognized-Palestine-will-continue-to-support-it-Foreign-minister
---------
Israel summons French ambassador over colleague's apartheid comments
Apr 30, 2019
The Israeli Foreign Ministry has called in the French ambassador to the occupied territories to protest comments made by Paris' outgoing envoy to the United States after he said the Tel Aviv regime's occupation of the West Bank amounts to "apartheid."
The ministry's spokesman Emmanuel Nahshon said in a statement on Tuesday that Hélène le Gal had been summoned for "a verbal reprimand" over comments made earlier in the week by Gérard Araud in which he declared Israel an "apartheid state."
"We firmly protested the remark," Nahshon said.
In an April 19 interview with The Atlantic magazine, Araud said Israel was "extremely comfortable" with the status quo "because they [can] have the cake and eat it. They have the West Bank, but at the same time they don't have to make the painful decision about the Palestinians, really making them really, totally stateless or making them citizens of Israel."
"They won't make them citizens of Israel. So they will have to make it official, which is we know the situation, which is an apartheid. There will be officially an apartheid state. They are in fact already," the outgoing French ambassador to the United States noted.
Araud also pointed to the US President Donald Trump's controversial proposal for peace between the Israelis and Palestinians, dubbed "the deal of the century," stressing that the plan will be "very close to what the Israelis want," and is 99 percent "doomed to fail."
The French diplomat went on to say that Trump's son-in-law and adviser Jared Kushner "doesn't know the history" of the Israeli-Palestinian conflict," noting, "He may neglect the point that if you offer the Palestinians the choice between surrendering and committing suicide, they may decide the latter. Somebody like Kushner doesn't understand that."
Trump's so-called "peace plan" has been dismissed by Palestinian authorities ahead of its unveiling at the end of the holy fasting month of Ramadan and the formation of the new Israeli cabinet, most likely in June.
Speaking in the occupied West Bank city of Ramallah on April 16, Palestinian Prime Minister Mohammad Shtayyeh lashed out at Trump's initiative, asserting that it was "born dead."
Full report at:
https://www.presstv.com/Detail/2019/04/30/594756/Israel-summons-French-ambassador-over-colleagues-apartheid-comments
---------
Russia's Putin, Turkey's Erdogan call for Libya cease-fire during telephone call
April 30, 2019
MOSCOW: Russian President Vladimir Putin and his Turkish counterpart Tayyip Erdogan called for a ceasefire in Libya and renewal of a political process under the aegis of the United Nations during a phone call on Tuesday, the Kremlin said in a statement.
They also underscored further close coordination between Russia and Turkey aimed at "normalization" in Syria's Idlib province and agreed on "efficient" measures against militants there, the Kremlin said.
http://www.arabnews.com/node/1490446/middle-east
---------
Europe
Merkel: Germany supports territorial integrity of Iraq
Ayhan Şimşek
30.04.2019
BERLIN
Chancellor Angela Merkel has reaffirmed Germany's support for the territorial integrity of Iraq and pledged closer political and economic ties between the two countries.
Speaking at a joint news conference with visiting Iraqi Prime Minister Adil Abdul-Mahdi in Berlin, Merkel praised the government's efforts to preserve the unity of Iraq.
"I have once again clearly expressed our support for the territorial integrity of Iraq," she stressed.
"We have very intensive relations with the regional government in Erbil, but always as an integral part of Iraq, and we will continue to follow this approach," she added.
Merkel said Germany was interested in further strengthening cooperation with Iraq in the fields of economy, energy and security, and pledged continued support for the reconstruction efforts in Iraq after years of fighting with the Daesh terrorist group.
Following Merkel's meeting with Abdul-Mahdi at the Chancellery, German technology giant Siemens and Iraq's Minister of Electricity Luay al-Khateeb signed a memorandum of understanding on upgrading Iraq's electricity infrastructure.
Abdul-Mahdi told reporters that Iraq's plan to upgrade its electricity infrastructure would consist of four stages, with various projects worth around $14 billion (€ 12.5 billion).
The Iraqi premier said Siemens has had good chances of winning majority of the contracts.
https://www.aa.com.tr/en/europe/merkel-germany-supports-territorial-integrity-of-iraq/1466466
---------
Russia says Idlib not to be 'safe zone' for terrorists
Elena Teslova
30.04.2019
MOSCOW
Russia will not allow the de-escalation zone in Syria's Idlib to be a "safe zone" for terrorists, presidential envoy for Syria said on Monday.
"No one is interested in it. The fight against terrorists will no doubt continue, but this will require additional time. We still work on it, and want to stabilize the situation," Alexandre Lavrentyev told Russia's state-run news agency TASS in an interview.
At this stage, Russia also opposes any large-scale military operation in the region, Lavrentyev said, citing numerous civilians who can be used as human shields by the militants.
"We will think (about how to solve the problem). It may be necessary to use the capabilities of our aerospace forces or international forces. The problem will have to be solved sooner or later," he said.
In September 2018, Turkey and Russia agreed to turn Idlib into a de-militarized zone after a meeting between Turkish President Recep Tayyip Erdogan and his counterpart Vladimir Putin in Russia's coastal city of Sochi.
Ankara and Moscow signed a memorandum of understanding calling for the stabilization of the situation in Idlib's de-escalation zone, in which acts of aggression are prohibited.
Syria has been locked in a vicious civil war since early 2011, when the Bashar al-Assad regime cracked down on pro-democracy protests with unexpected ferocity.
Since then, hundreds of thousands of people have been killed and more than 10 million others displaced, according to UN officials.
On the invitation of Iraq and Lebanon to join the Astana format as observers, Lavrentyev said they were invited to the next round of talks since being neighbors of Syria.
There were many applications, but so far "they do not fit" to the format "for some reasons", he added.
According to the diplomat, it is possible to organize meetings in the Kazakh capital Nur Sultan in quadrilateral format with the participation of Syria, Iraq, Lebanon and Jordan, which along with the UN, has the observer status from the very beginning of the Astana format, to solve the existing problems.
Lavrentyev went on saying that despite of "softer rhetoric" from Riyadh, London, Paris and Washington, the position of these countries regarding the fate of Assad has not changed, and they still stand for his resignation.
The Astana format does not have consultations with the Western countries following its meetings, but brief in the bilateral contacts, and they inform the Astana countries of the decisions within a "small group".
Full report at:
https://www.aa.com.tr/en/europe/russia-says-idlib-not-to-be-safe-zone-for-terrorists/1465618
---------
British Muslims visit NZ high commissioner for condolence
Murtaza Ali Shah
May 1, 2019
LONDON: British Muslims led by Imam Mohamed Mahmoud including dozens of school children from all faith visited the New Zealand High Commissioner to give their condolences in the aftermath of the Christchurch terrorist attack last month.
The visit included a minute silence, presentations of flowers and reading of the names of all the young people who were killed in two mosques during Friday prayers in Christchurch, in a well-planned mass shooting by a white supremacist terrorist.
The attack, which sent shockwaves throughout the Muslim world, brought widespread condemnation from a variety of UK faith and political leaders.
After a private meeting with the New Zealand High Commissioner Imam Mahmoud said: "After visiting the victims and survivors of the terrorist attack in Christchurch, I was overcome by the dignity and patience with which they conducted themselves in the aftermath. I was also impressed with the manner in which the New Zealand government and officials responded - deciding to further embrace their Muslim community, and not letting division and hatred win."
The visit organised by Naz Legacy Foundation follows from their interfaith event with the Chief Rabbi and the Archbishop of Canterbury held at the Regent Park Mosque's Islamic Cultural Centre just two days following the attack. They were joined by over 250 leading faith and civil society leaders as well the Home Secretary Sajid Javid and Communities Secretary James Brokenshire who both reiterated the government's support for the British Muslim community, and security funding for mosques across the country. Speaking to The News, Harris Bokhari organiser of the visit and event said that memorial served as a "message to the terrorist who sought to sow division in society and spread fear that he has failed; as that unites us is far greater than what divides."
This vigil and event was not the first of its kind orchestrated by Bokhari who is one of UK's leading grassroots experts in Countering Violent Extremism (CVE). He has in the past brought together politicians and faith leaders to unite British communities after attacks, most notably Nick Clegg the then Deputy Prime Minister in 2013 following the tragic murder of Drummer Lee Rigby in Woolwich.
Bokhari organised the Woolwich interfaith event following the attack with the former Deputy Prime Minister, who cited verse 32 chapter 5 of the Quran, which says: "If anyone kills a human being it shall be as though he killed all mankind whereas if anyone saves a life it shall be as though he saved the whole of mankind."
Full report at:
https://www.thenews.com.pk/print/465297-british-muslims-visit-nz-high-commissioner-for-condolence
---------
New Zealand police arrest man in Christchurch after reports of bomb threat
30 April 2019
New Zealand police arrested a man in Christchurch on Tuesday following reports of a possible bomb threat in the city, where 50 people were killed in attacks by a lone gunman on two mosques in March.
Police cordoned off streets in the Phillipstown area of the city on New Zealand's South Island, with a bomb disposal team, ambulance and fire and emergency crews sent to the scene, according to a police statement.
"A 33-year-old man has been arrested and is currently speaking to police in regards to the incident," the statement said.
A no-fly zone was also established, it said.
No further details were available about the nature of the incident but New Zealand media reported there had been a potential bomb threat.
The New Zealand Herald said police were called due to "threats about an explosive device".
A spokesman for the St John Ambulance service said an ambulance was on standby at the request of police but had not treated any patients.
Fifty people were killed and dozens wounded in attacks on the Al Noor and Linwood mosques during Friday prayers in Christchurch on March 15, the worst peace-time shooting in New Zealand history.
Authorities have charged Australian Brenton Tarrant, 28, a suspected white supremacist, with 50 counts of murder.
Full report at:
https://english.alarabiya.net/en/News/world/2019/04/30/New-Zealand-police-arrest-man-in-Christchurch-after-reports-of-bomb-threat.html
---------
Tunisia, Italy urge cease-fire in Libya amid clashes
Yosra Ouanes
30.04.2019
TUNIS, Tunisia
The leaders of Tunisia and Italy called for a cease-fire in Libya amid recent clashes south of Tripoli.
Tunisian Prime Minister Youssef Chahed, in a joint news conference in Tunis, stressed his government's "clear" stance on the necessity of a cease-fire, affirming Tunisia's eagerness to push the diplomatic track, and urged Libyans to sit at the dialogue table.
"Tunisia has been affected by the conflict in Libya since 2011, and there is fear of infiltration of terrorist elements across its border with Libya, which exceeds 500 kilometers (310 miles)," said Chahed.
Italian leader Giuseppe Conte arrived in Tunisia earlier in the day and affirmed the need to give a political settlement a chance, stressing "there is no room for a military solution -- a political process is needed in Libya."
Khalifa Haftar, commander of forces based in eastern Libya, launched a military offensive in early April to capture Tripoli from the UN-recognized Government of National Accord (GNA).
GNA forces re-captured the El-Sbeaa region south of Tripoli from Haftar forces Tuesday, a military source told Anadolu Agency.
Libya has remained beset by turmoil since long-serving ruler Muammar Gaddafi was ousted and killed in a bloody NATO-backed uprising in 2011.
Full report at:
https://www.aa.com.tr/en/africa/tunisia-italy-urge-cease-fire-in-libya-amid-clashes/1466794
---------
URL: https://www.newageislam.com/islamic-world-news/masood-azhar-designated-global-terrorist/d/118476
New Age Islam, Islam Online, Islamic Website, African Muslim News, Arab World News, South Asia News, Indian Muslim News, World Muslim News, Women in Islam, Islamic Feminism, Arab Women, Women In Arab, Islamophobia in America, Muslim Women in West, Islam Women and Feminism