New Age Islam News Bureau
08 January 2022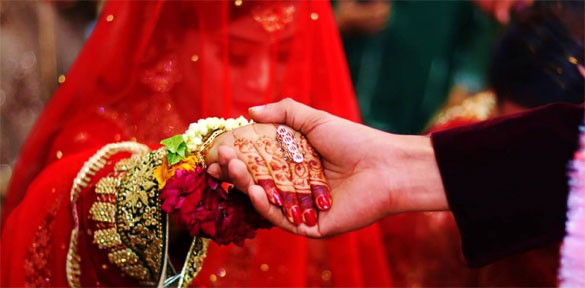 Representative Photo
-----
• Nikah or Namaz-e-Janaza Would Not Be Performed If Any Family Played Music During Weddings: Fatwa By Islamic Clerics In Jammu And Kashmir Sparks Debate
• Lawyers Training School In Paris Accused Of Islamophobia; Muslim Student Threatened With Expulsion From An Oath Ceremony For Wearing A Headscarf
• Imam Urges Nigerians To Reveal Hideouts Of Bandits, Terrorists To Military
• Biden Sets The Stage For The Next Muslim Ban With Minimal Checks Or Consultation With Congress
Pakistan
• Spiritual Figure Pir Syed Ali Bahadur Gilani's Body Stolen And Taken It For Reburial
• Tragedy that Karachi pleads for its rights, says Siraj ul Haq
• Averting Afghan humanitarian crisis imperative for regional stability: COAS
• Pak-Afghan border fencing issue will be resolved through diplomatic channels: Qureshi
--------
India
• Probe Over Video Of Villagers Pledging To Boycott Muslims In Chhattisgarh's Ambikapur
• Retired IPS officer removed from MP IPS officers WhatsApp group over objectionable post about Muslims
• In Chhattisgarh Village, People Take Oath To Boycott Muslims
• Muslim man dons Koragajja attire on his wedding in Karnataka, booked following protest
• Jharkhand: BJP Activists Force Muslim Man To Chant 'Jai Shri Ram'
--------
Europe
• Russian-Backed Kazakhstan President Orders Shoot-To-Kill Sans Warning At Kazakh Protesters
• Progress made on Iran nuclear talks but time running out: France's foreign minister
• Kazakhstan detains former security chief for treason
• UN calls on all involved in Kazakhstan unrest to choose peace over violence
--------
Africa
• FG secures $98m Islamic bank grant to build nine bi-lingual schools
• Cameroon Christians and Muslims Pray for Peace in Cameroon During AFCON
• UN Security Council to meet Jan. 12 on Sudan
• Roadside bomb blast in Somalia kills 2 soldiers, injures 9 others
• EU calls for independent probe into deaths, violence in Sudan
--------
North America
• US envoy Malley meets with Saudi diplomat to discuss Iran nuclear deal
• US warns Kazakhstan will find it 'difficult' to get Russian troops to leave
• Biden names Kosovo, Iraq war veteran as Central Command chief
--------
South Asia
• Mullah Baradar Asks International Community To Deliver Aid To Winter-Affected Afghans
• Over 2,500 Taliban affiliates dissociated over misdemeanour
• Afghan-Pak territorial conflicts, Pakistani NSA to visit Kabul
• Afghans need emergency humanitarian aid without 'political bias': Taliban
• Taliban thank India for medical aid
--------
Southeast Asia
• 'Light' Sentences For Indonesian Ahmadi Attack Spark Storm
• Amin asks Muslims to help bolster Indonesia's economy
• UMNO strikes back after Malaysia's year of political melee
• Floods and landslides kill seven in eastern Indonesia
• Terror Threat In Asian Countries Declined In 2021
--------
Arab World
• Syrians Seek Word Of Loved Ones Missing In Regime Jails
• Saudi Arabia says Dakar rally accident investigation shows no criminal suspicions
• Saudi war on drugs net over 37 tons of narcotics in 2021
• Saudi armed forces delegation visits Greek military academies
• General Labour Union president warns against 'certain catastrophe' in Lebanon amid economic crises
--------
Mideast
• Israeli Security Says Downed Drones Show Hezbollah Surveillance
• Artefacts To Be Displayed In "Archeo-Park' Near Selimiye Mosque
• Deputy FM: S. Korea Must Pay Debt to Iran
• Iran displays ballistic missiles amid nuclear talks with world powers
• 'Settlers violence' sparks Israeli-European tension
• 22 injured as Israeli forces attack Palestinian rallies
Compiled by New Age Islam News Bureau
URL: https://www.newageislam.com/islamic-world-news/marriage-iddat-zina-muslim-women/d/126115
--------
Marriage Without Completing Iddat Not Void And Does Not Constitute Zina: Lahore High Court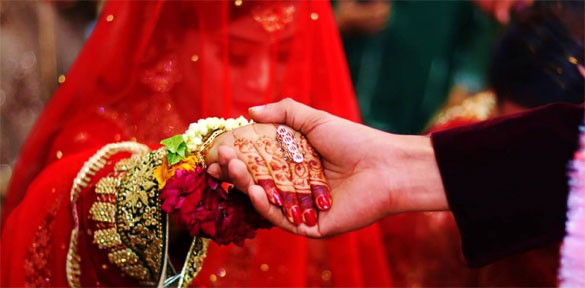 Representative Photo
-----
Wajih Ahmad Sheikh
January 8, 2022
LAHORE: The Lahore High Court (LHC) has ruled that a marriage without completing Iddat — a period spanning about four months after separation between a married Muslim couple or death of the husband — cannot be treated as void and does not constitute the cognisable offence of Zina (adultery).
In a verdict issued on a petition of a man who said his wife committed Zina by contracting a marriage without completing her Iddat, Justice Ali Zia Bajwa explains that a woman's marriage before completion of her Iddat period would be "irregular", but not void. In this case, Iddat refers to a period a woman has to observe after dissolution of a marriage.
Petitioner Ameer Bakhsh had challenged a decision of ex-officio justice of peace of Muzaffargarh whereby his application for registration of a criminal case against his former wife and her new husband was dismissed.
He submitted that the respondent, Amina Bibi, was legally married to him and residing in his house being his legally wedded wife. She, with mala fide intentions, secretly filed a suit for dissolution of marriage and got the same decreed ex-parte against him from a family court.
According to verdict, such a marriage can be called irregular
The petitioner challenged the dec­ree and his application is still pending before the family court concerned.
The petitioner said his wife after obtaining the ex-parte decree got married to Mohammad Ismail the next day without observing iddat as ordained in the holy Quran. He said this act of his wife and the respondent was against the teachings of Islam and amounted to committing of zina under the Offence of Zina (Enforcement of Hudood) Ordinance 1979, which is a cognizable offence.
However, he said, the justice of peace dismissed his application without applying his judicious mind and without appraising the facts of the case in their true perspective.
In his verdict, Justice Bajwa observes that a Sahih (valid) marriage is the one which is free from all sorts of defects and infirmities and is in absolute conformity with the requirements of Shariah.
For a valid marriage, it is necessary that there should be no legal prohibition affecting the capacity of the parties to marry. A marriage which is short of a valid marriage will be termed an invalid marriage. There are two kinds of invalid marriages — irregular (Fasid) and void (batil).
"Irregular (Fasid) marriage is the one where the impediment to the validity of such marriage is temporary, while in case of a void (Batil) marriage, such impediment is permanent," he adds.
Source: Dawn
Please click the following URL to read the text of the original story:
https://www.dawn.com/news/1668239/lhc-rules-marriage-without-completing-iddat-not-void-zina
--------
Nikah or Namaz-e-Janaza Would Not Be Performed If Any Family Played Music During Weddings: Fatwa By Islamic Clerics In Jammu And Kashmir Sparks Debate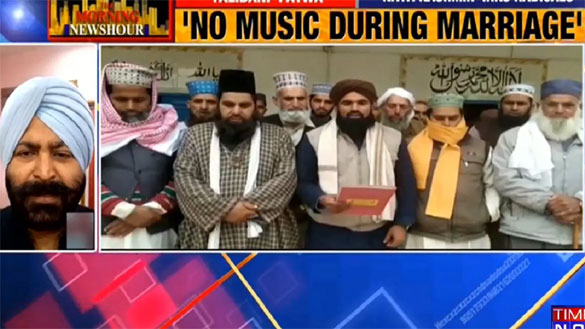 Islamic experts in Poonch, Jammu and Kashmir, have issued a fatwa prohibiting the use of music, DJs, and drumming during weddings.
-----
Jan 05, 2022
Kashmir: Islamic scholars in Jammu and Kashmir's Poonch district have now issued a fatwa against playing music, DJs and beating drums during marriage functions. The announcement was made in Mankote, with clerics warning that Nikah or Namaz-e-janaza would not be performed if any family played music during weddings.
The incident has sparked outrage from several quarters. Speaking to Times Now, BJP leader Yudhvir Sethi wondered why fatwas were not issued to ensure that the children of Jammu and Kashmir, "drop guns and pick up laptops" and obtain an education and earn well. "Why do they have a problem with those who work as DJs etc and earn a living?" the Jammu and Kashmir BJP vice president asked.
Thus far there had been no follow up comments from other leading political leaders from other parties in the Kashmir Valley.
J&K COVID situationJammu and Kashmir: L-G Manoj Sinha chairs high-level meeting to review COVID situation, vaccination drive
This however is not an isolated incident. Recent reports from various locations indicate that similar statements were also made in Uttar Pradesh last year. Soon after the All India Muslim Personal Law Board issued an 11-point resolution letter to curb social evils, Islamic scholars had said that they would not perform the marriage ceremony if the groom demanded dowry from the girl's family or played music or indulged in fireworks.
In 2018, clerics in UP's Deoband had said that they would boycott weddings where music and dance were taking place and a DJ was there as it was against Islam. "If the music and dance happened before the nikah ceremony and qazi didn't know then it's different," news agency ANI had quoted city Qazi Mufti Azhar Hussain as saying at the time.
Source: Times Now News
Please click the following URL to read the text of the original story:
https://www.timesnownews.com/india/article/no-nikah-if-there-is-music-or-djs-at-wedding-fatwa-by-islamic-clerics-in-jammu-and-kashmirs-mankote-sparks-debate/846441
--------
Lawyers Training School In Paris Accused Of Islamophobia; Muslim Student Threatened With Expulsion From An Oath Ceremony For Wearing A Headscarf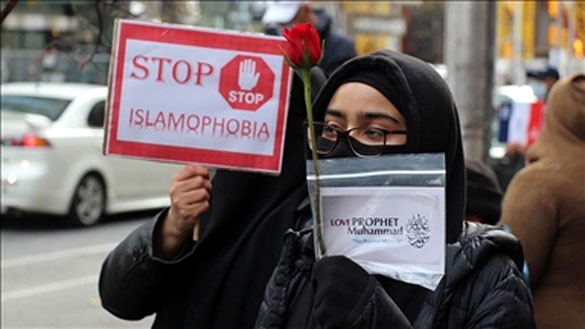 File Photo/Islamophobia
----
Shweta Desai
08.01.2022
PARIS
A young Muslim student accused France's foremost legal institution of Islamophobia after being threatened with expulsion from an oath ceremony for wearing a headscarf.
Graduating lawyer Sara, who only revealed her first name, told Revolution Permanente, a far-left digital news site, that she was singled out for wearing a headscarf during a ceremony Thursday at the Palais des Congres in Paris.
Four staff members of the l'Ecole de Formation des Barreaux (EFB), a professional training school for lawyers, which falls under the jurisdiction of the Paris Court of Appeal, forced her to remove her head covering.
"You must take off your headscarf. If you don't remove it, you walk out of the room and you can't take the oath," a school administrator demanded, she said.
She said the incident made her feel threatened and humiliated after being yelled at in front of other students and left her with no other choice.
According to Sara, a magistrate accompanied her at the back of the auditorium to make sure she removed the headscarf.
She was told not to wear a headscarf if she aspired to be a professional lawyer.
The president of the Paris bar and distinguished lawyer Richard Malka was a guest speaker at the small oath-taking ceremony, a precursor to the main oath before becoming a lawyer.
Malka, who famously fought racism charges against satirical magazine Charlie Hebdo for publishing Prophet Mohammad's caricatures, gave a speech on upholding the freedom of speech.
"Half an hour before the speech, I was asked to take off my headscarf. I found that completely hypocritical," said Sara.
Another student named Romane, who witnessed the incident, denounced the racist legal system that discriminates against minorities.
"After a young woman was publicly humiliated and exposed, R. Malka made a speech saying the only place where we have absolute freedom of expression is in the courts," Romane said on Twitter.
Source: Anadolu Agency
Please click the following URL to read the text of the original story:
https://www.aa.com.tr/en/europe/lawyers-training-school-in-paris-accused-of-islamophobia/2468351
--------
Imam Urges Nigerians To Reveal Hideouts Of Bandits, Terrorists To Military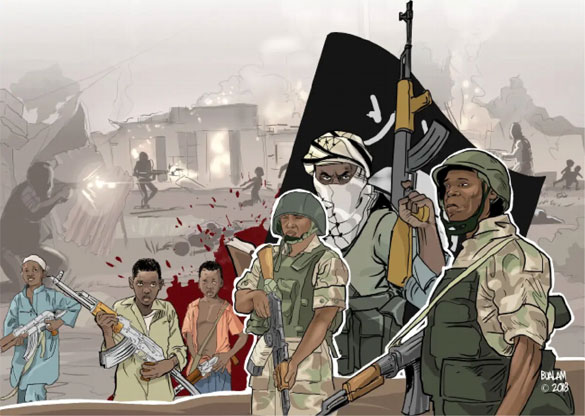 Representative Photo/ Parrot Nigeria News
-----
08 Jan 2022
The Chief Imam of the Abuja National Mosque, Dr Muhammad Kabir Adam, Friday, appealed to all Nigerians to disclose the hideouts of bandits, terrorists, kidnappers and other criminals terrorising the country to the military.
This, the cleric said, would support troops of the armed forces and other security agencies fighting security challenges across the country to hasten their mandate in bringing an end to the current menace in the country.
Dr Adam stated this in an interview with defence correspondents shortly after a special Jumat service prayers organised in commemoration of the 2022 Armed Forces Remembrance Day.
According to him, it may be difficult for Nigerians to reveal the dens of the adversaries disturbing the peace of the country, but that it has become imperative considering everyday killings in the country.
Dr Adam explained that the Friday prayers were set aside to remember Nigeria's fallen heroes who sacrificed their lives in defence of the country's territorial integrity and ensured peace returned to the land.
Source: Daily Trust
Please click the following URL to read the text of the original story:
https://dailytrust.com/imam-urges-nigerians-to-reveal-hideouts-of-bandits-terrorists-to-military
--------
Biden Sets The Stage For The Next Muslim Ban With Minimal Checks Or Consultation With Congress

Section 212(f) – remains unchecked.
----
01/07/22
Five years ago this month, on Jan. 27, 2017, President Trump signed an executive order he labelled "Protecting the Nation From Foreign Terrorist Entry Into the United States." Known as the "Muslim ban," the order – with its misspellings and misstatements of facts and law – was enacted under Section 212(f) of the Immigration and Nationality Act (INA), which essentially gives a president unilateral authority to ban certain classes of foreign nationals. The Muslim ban triggered global outrage as thousands of Americans rushed to the airports to support international travellers. Democrats, including then-candidate Joe Biden, urged limits on the president's power to unilaterally enact travel bans.
Fast forward five years, and even though the Muslim ban is no more, the basis for it – Section 212(f) – remains unchecked. Like his predecessor, Biden has leaned in on using Section 212(f) to enact his own travel bans with minimal checks or consultation with Congress.
Originally enacted in 1952, Section 212(f) provides the president with authority to suspend from entry "any aliens or of any class of aliens into the United States" whose entry would be "detrimental to the interests of the United States." As potent and open-ended as the statute is, few presidents bothered using Section 212(f) until President Trump. Referring to Section 212(f) as his "magical authority" to restrict immigration, Trump turned to it in the first week of his presidency to institute the Muslim ban that he had promised as a candidate. Although lower courts rejected the Muslim ban as discriminatory, the Supreme Court upheld the ban in Trump v. Hawaii.
That decision predictably emboldened the Trump administration, which expanded the ban to 13 countries total, including more Muslim-majority countries, and targeted particularly large numbers of African and brown immigrants. Trump would use Section 212(f) to ban refugees and asylum seekers, Chinese students and researchers, and to ban immigrants based on health care status and their alleged harm to the U.S. economy.
In response to Trump's frequent use of Section 212(f), Democrats drafted the National Origin-Based Anti-discrimination for Non-immigrants (NO BAN) Act to bar a president from unilaterally banning entry of immigrants. The bill would amend Section 212(f) to restrict travel bans to those supported only by credible facts, are of a defined duration and are necessary to address specific acts that threaten the safety of the American public.
Critically, under the NO BAN framework, a ban may be used only if less severe policy options would not work, and if it is crafted to affect no more people than is essential to accomplish its purpose. Under the bill, the president also would have to first consult with Congress then deliver a follow-up report within 48 hours or the ban would expire.
Biden not only backed the NO BAN Act, he included language limiting presidential authority in the comprehensive immigration reform bill he introduced on his first day in office. Yet as soon as the Democrats took power and when faced with using Section 212(f) within the confines of the NO BAN Act, the White House opted to implement its travel bans in the same manner as President Trump. Indeed, on Biden's first day in office, he extended the travel ban imposed by Trump against 27 European Union countries and Great Britain that Trump actually attempted to end.
Just a month ago, despite international protests, Biden implemented a ban on eight southern African countries without much in the way of consultation with Congress. All of this of course after then-candidate Biden criticized Trump-era travel bans against Europeans and Africans in 2020 as counterproductive and unnecessary.
Biden does not need to wait on Congress to limit his authority. He can do so now, and there's no better time to start than on the fifth anniversary of the Muslim ban. Biden sympathizers may argue that unlike Donald Trump, we can trust him to use travel ban authority fairly, sparingly and based on science. But presidential authority is not about the president you trust today, but rather about the future president you will not trust tomorrow. Whether it be over social media checks, the Muslim Ban, family separation, the border wall or "extreme vetting," many of Trump's immigration policies had foundation in programs from his predecessors.
In terms of the most recent bans adopted by Biden, scientists were far more split on their effectiveness. The omicron variant, for example, may well have been circulating in Europe even before South Africa identified it. And given the surging cases of omicron in the United States, we can certainly say the Southern Africa travel ban did nothing more than alienate our allies while scoring a few political points with the public.
Finally, Biden supporters may suddenly view such bans in the same manner Trump did: as effective tools to respond to rapidly changing situations such as a pandemic. Yet rather than inhibiting effective crisis management, adoption of the NO BAN Act would help the president. Instead of taking knee-jerk reactions not rooted in sound science, this president, or any president, would have to essentially "show their work." That is, they would need to demonstrate to Congress and the public that the ban really is necessary and that no other options are available.
Members of Congress, both Democrats and Republicans, should be clamoring to rein in executive power as the first step in reestablishing some semblance of checks and balances in the relationship between Congress and the White House. What is the point of electing a member of Congress or even having a Congress if they merely serve as a rubber stamp or opponent to whoever is in the White House?
As we look back on the Muslim ban from five years ago, the best way we can remember and honor its victims is to ensure that no president, irrespective of party, has unchecked power in the form of an immigration provision. Democrats have a short window to limit the use of Section 212(f). Come November 2022, it's likely that Republicans will win back the House and do all in their power to ensure the return of Donald Trump come 2024. It is the time to restrict Section 212(f) before it's too late.
Source: The Hill
Please click the following URL to read the text of the original story:
https://thehill.com/opinion/immigration/588729-biden-sets-the-stage-for-the-next-muslim-ban
--------
Pakistan
Spiritual Figure Pir Syed Ali Bahadur Gilani's Body Stolen And Taken It For Reburial
Tariq Saeed
January 8, 2022
TOBA TEK SINGH: The Garh police in Tandlianwala on Friday registered a case against 35 people of Okara's Sheiku Sharif area for allegedly exhuming the body of spiritual figure Pir Syed Ali Bahadur Gilani and taking it to Okara for reburial there.
Gilani was laid to rest and a shrine built in his honour six months ago.
The suspects included two sons of Gilani from his first wife. The spiritual figure had left his first wife in Okara and contracted second marriage and settled at Garh several years ago.
Complainant Syed Shahzaib, a son of Gilani from his second wife, claimed in his FIR registered under sections 297, 395, 365, 186, 148 and 149 of PPC that his stepbrothers Hasan Raza and Kazim Raza -- residents of Okara -- and their 33 accomplices reached Garh at 2am on Friday by four vans. They broke the lock of the shrine and tortured him and devotees and held them up, he said.
Shahzaib said the suspects exhumed the body of his father and kept it in a van. When devotee Bilal offered resistance, he said, they kidnapped him.
Speaking to Dawn, the complainant claimed that he had come to know that the suspects had buried his father at an unknown place with the sole motive of earning money in the form of alms devotees give. He alleged that his stepbrothers had also illegally occupied his land measuring more than three acres worth millions of rupees and had yet to free Bilal.
Source: Dawn
Please click the following URL to read the full text of the original story:
https://www.dawn.com/news/1668290/case-registered-against-35-for-stealing-spiritual-figures-body-in-garh
--------
Tragedy that Karachi pleads for its rights, says Siraj ul Haq
Imran Ayub
January 8, 2022
KARACHI: The sit-in of the Jamaat-i-Islami outside the Sindh Assembly against the recently passed Sindh Local Government (Amendment) Act 2021 entered its second week on Friday as the top leadership of the party expressed the resolve to continue the protest until the announcement of the Pakistan Peoples Party to review the 'black law'.
The JI leadership also called for countrywide protests and rallies on Sunday (tomorrow) to demand rights for Karachiites.
On the eighth day of the sit-in, JI chief Senator Siraj ul Haq came to join the protesters and address the participants.
He warned the PPP government that it should not remain under the 'illusion' that the JI workers would return after getting 'tired' from the sit-in.
He called it an irony that a city that generated employment for people of every district and town of the country was never owned by the rulers.
The JI chief called it a great 'tragedy' that Karachi that deserved to become the world's centre was pleading for its due rights from its very own rulers.
He vowed that the JI would further boost the momentum of its protest and soon different cities of the country would hear slogans for Karachi rights.
"The PPP government is playing the same dirty politics when it blames us that we are doing politics of ethnicity," he said.
"But let me tell my PPP friends that the people can no more be fooled with the same hollow claims and old tactics. Even a child of this country knows that the PPP is the party which represents a feudal mindset in this country.
Source: Dawn
Please click the following URL to read the full text of the original story:
https://www.dawn.com/news/1668181/tragedy-that-karachi-pleads-for-its-rights-says-siraj-ul-haq
--------
Averting Afghan humanitarian crisis imperative for regional stability: COAS
January 7, 2022
Chief of Army Staff (COAS) General Qamar Javed Bajwa met British High Commissioner Christian Turner at the General Headquarters (GHQ) in Rawalpindi on Friday.
COAS Bajwa stated that the international community's assistance to Afghanistan in averting humanitarian crisis is imperative for regional peace and stability.
The military's media wing stated that during the meeting, matters pertaining to bilateral cooperation and regional security situation, including Afghanistan, came under discussion.
The British envoy appreciated Pakistan's efforts for regional peace particularly in the Afghan situation.
Last month, COAS Bajwa reaffirmed Pakistan's commitment to cooperate with its international partners for peace in the region and ensuring a stable and prosperous future for the Afghan people.
The army chief had said during a meeting with Andreas Papastavrou, Greek Ambassador to Pakistan who paid a farewell call to COAS Bajwa at GHQ, according to the ISPR.
During the meeting, the army chief stressed the need for global convergence on Afghanistan and sincere efforts to avert a looming humanitarian catastrophe.
Source: Pakistan Today
Please click the following URL to read the full text of the original story:
https://www.pakistantoday.com.pk/2022/01/07/coas-tells-british-envoy-averting-afghan-crisis-imperative-for-regional-stability/
--------
Pak-Afghan border fencing issue will be resolved through diplomatic channels: Qureshi
January 7, 2022
MULTAN: Foreign Minister Shah Mahmood Qureshi on Friday said that the government has received positive response from Afghan authorities to resolve Pak-Afghan border fencing issue through diplomatic channels.
The foreign minister expressed these views while addressing a press conference along with Special Assistant to Prime Minister on Poverty Alleviation and Social Safety Senator Dr Sania Nishtar and PTI's chief whip in National Assembly Malik Muhammad Amir Dogar in Multan.
Fencing of Pak-Afghan border is in the interest of both the countries to regulate and facilitate trade and movement through the border so that unscrupulous elements do not get any opportunity to misuse Afghanistan or Pakistan's land for their nefarious designs.
"It was meant to regulate movement across the border through visa and we are moving forward to that end," he added.
Qureshi said almost 95 percent of fencing work has been completed, adding that the country suffered difficulties, hurdles and martyrdoms during the work.
The foreign minister said that he is hopeful that the issue would be resolved through diplomatic channels and talks.
"There were some incidents that we have taken up with the Afghan authorities. Our talks are ongoing and they have given us a positive response," the FM said.
"We must not forget that there are spoilers who do not wish to see the exemplary friendly relations between Pakistan and Afghanistan moving forward. They do create hurdles and would continue with it but we will thwart their nefarious plans."
He said that while on way to muster up support from international community to help Afghan people, Pakistan has recently contacted neighbours of Afghanistan and established a new platform titled "The Immediate Neighbours of Afghanistan", adding that its first meeting has taken place in Islamabad, another in Tehran and the third meeting is scheduled to take place in China in February.
Qureshi said Pakistan has been making strenuous efforts in raising the serious issue of humanitarian crisis and economic collapse in Afghanistan at different forums, adding that Prime Minister Imran Khan has advocated the case of Afghan people at the United Nations while he has himself talked to foreign ministers of different countries to initiate a global effort to save Afghan people from troubles.
He said that the efforts resulted into an extraordinary meeting of around 30 OIC countries' foreign ministers and deputy foreign ministers on December 19 last year.
Source: Pakistan Today
Please click the following URL to read the full text of the original story:
https://www.pakistantoday.com.pk/2022/01/07/pak-afghan-border-fencing-issue-will-be-resolved-through-diplomatic-channels-qureshi/
--------
India
Probe over video of villagers pledging to boycott Muslims in Chhattisgarh's Ambikapur
08th January 2022
By Ejaz Kaiser
RAIPUR: A brawl between two villages took communal turn in Chhattisgarh's Ambikapur district, about 350 km north of Raipur, as some unidentified people held a meeting in which villagers were seen in a video taking pledge to boycott the Muslims.
Seven accused were arrested on Friday, additional SP (Ambikapur) Vivek Shukla told this newspaper, adding that the police are closely monitoring the situation and had reinforced its local intelligence network.
It all began after some Muslim villagers from Aara, out on a New Year picnic, had verbal altercation with the residents of Kundikala. Tempers became frayed resulting in youths from Aara allegedly barging into some houses, thrashing the locals in Kundikala and misbehaving with women.
Given the sensitivity of the episode, the police were alerted and an FIR was lodged at Lundra police station. Six were arrested but they got bail.
Later, villagers protested at the police station alleging that strong offences were not pressed against the accused. According to the police, the FIR was lodged after evaluating the complaint.
Source: New Indian Express
Please click the following URL to read the full text of the original story:
https://www.newindianexpress.com/nation/2022/jan/08/probe-over-video-of-villagers-pledging-to-boycott-muslims-in-chhattisgarhs-ambikapur-2404462.html
--------
Retired IPS officer removed from MP IPS officers WhatsApp group over objectionable post about Muslims
08th January 2022
BHOPAL: A retired Indian Police Service (IPS) officer was removed from the WhatsApp group of the Madhya Pradesh IPS officers, after he refused to delete an objectionable post against the Muslim community on Friday.
The 1984 batch IPS officer Maithili Sharan Gupta made the post containing objectionable contents about the Muslims in the WhatsApp group, 'IPS MP,' on which the state's director general of police (DGP) Vivek Johri requested him not make such posts in the group and asked to delete the post.
When Gupta didn't delete the post, the DGP asked one of the group admins to act in the matter, after which the group admin rang Gupta, requesting him to remove the objectionable post. With the retired senior IPS officer refusing to delete the post, the Group Admin removed him from the IPS MP WhatsApp group.
When contacted by the The New Indian Express in the matter, Gupta (who retired as Special DG-Police Reform and was in the race to become DGP in 2020) defended himself for making the post, "I don't think there was anything objectionable in the post, I posted what is true. I've written what is true to depict the sufferings of Hindus in their own country," Gupta said defending his post.
In the post, the retired IPS officers shared a YouTube channel link which was aimed at countering lyricist Javed Akhtar's recent argument in support of forefathers of present day Muslims choosing India as their home.
Along with the YouTube link, the retired IPS officer posted, "Muslim League won from those places which are part of India today. Those who voted for Muslim League stayed back in India, if India was dear to them, then did they vote for creating Pakistan."
Source: New Indian Express
Please click the following URL to read the full text of the original story:
https://www.newindianexpress.com/nation/2022/jan/08/retired-ips-officer-removed-from-mp-ips-officers-whatsapp-group-over-objectionable-post-about-muslim-2404335.html
--------
In Chhattisgarh Village, People Take Oath To Boycott Muslims
January 07, 2022
Bhopal: A video from a Chhattisgarh village is being widely circulated where villagers can be seen taking a pledge to boycott Muslims. The police said they have traced the person who organised it, but have not found the involvement of any political party or religious group
"We Hindus will not buy goods from any Muslim shopkeeper, will not sell or rent our land to any Muslim," the residents of Kundikala village in Sarguja district, can be heard saying in the video.
"We Hindus pledge to buy from vendors coming to our villages only after ascertaining their religion. We also pledge to not work as labourers for them," they are heard saying.
Officials said the video surfaced after a brawl between residents of two villages -- Kundikala and Aara -- on January 1.
On New Year's Day, some boys of Aara village had come to Kundikala for a picnic and clashed with the local men.
Later in the evening, more than 10 people from Aara -- led by Iliyaas, a member of the local government -- came in motorcycles and an SUV, entered the house of a local, Birendra Yadav, and assaulted his family.
Everyone in the house, including Birendra Yadav's minor niece, was injured.
The police came soon after and arrested the assailants. They were accused of rioting, obscene act, voluntarily causing hurt, criminal intimidation and trespass. But soon after, they received bail from the court.
The villagers alleged that the minor girl was also assaulted by the attackers but they got bail as the police failed to apply the relevant sections.
After the accused got bail, hundreds of villagers held a demonstration outside the Lundra police station and raised slogans against the police.
Later the villagers later took the oath, pledging to sever all ties with Muslims.
Source: ND TV
Please click the following URL to read the full text of the original story:
https://www.ndtv.com/india-news/in-chhattisgarh-village-people-take-oath-to-boycott-muslims-2695736
--------
Muslim man dons Koragajja attire on his wedding in Karnataka, booked following protest
07th January 202
A newly married man has been booked for promoting disharmony, enmity and hatred between different groups.
According to the complainant Chethan from Vitlapadnur village, the accused Umarulla Bashith, a native of Uppala in Kerala, donned the attire of Koragajja daiva, worshipped by the Hindus and allegedly behaved indecently along with others during his wedding. The incident occurred at Salethur in Kolnadu village in Bantwal on Thursday night.
"The accused also tried to disrupt peace in the society by making the video public. This incident has hurt the religious sentiments of Hindus," said Chethan demanding legal action against the bride's family, the groom and his friends.
The accused have been booked under 295A (Deliberate and malicious acts, intended to outrage religious feelings of any class by insulting its religion or religious beliefs) and 153A(promoting disharmony, enmity or feelings of hatred on grounds of religion) of the Indian Penal Code (IPC).
Source: New Indian Express
Please click the following URL to read the full text of the original story:
https://www.newindianexpress.com/nation/2022/jan/07/muslim-man-dons-koragajja-attire-on-his-wedding-in-karnataka-booked-following-protest-2404263.html
--------
Jharkhand: BJP Activists Force Muslim Man To Chant 'Jai Shri Ram'
8th January 2022
Ranchi: A Muslim man was allegedly thrashed, forced to lick his own spit and chant 'Jai Shriram' by BJP workers at Dhanbad. The man allegedly abused Prime Minister Narendra Modi and the party's Jharkhand president on Friday. Chief Minister Hemant Soren has asked officials to investigate the matter and take stern action against the guilty.
The incident took place during a protest by BJP near the Gandhi statue in Dhanbad against the security lapse during Modi's Punjab visit. The man, reportedly a Muslim, was a passerby and had allegedly abused the prime minister and BJP Jharkhand president Deepak Prakash.
A purported video of the incident and the man seeking pardon with his palms firmly together was shared on Twitter.
While the police did not say anything about the identity of the man, the tweet identified him as a Muslim.
Soren retweeted the link to the video and sought strict action against the culprits.
"Please investigate the matter and take strict action against the culprits. There is no place for enmity in this state where people live peacefully," he said.
Dhanbad superintendent of police (City), R Ramkumar told PTI, "Strict action will be taken against the guilty."
Neither the victim nor BJP leaders have lodged any complaint with the police about the incident till evening. BJP said it is probing the incident and if anyone is found guilty action will be taken against the person.
Jharkhand BJP spokesperson, Kunal Sarangi said "This kind of kangaroo justice is not acceptable. It is not about any religion or political outfit. It applies to all citizens of India."
He said, "I surely don't approve of what the man had to say about our state president. But that could have been reported to the local police to allow the law to take its course instead of beating him and making him lick his own spit."
Dhanbad MP P N Singh, MLA Raj Sinha, district BJP president Chandrashekhar Singh and other senior leaders of the party were present at the two-hour-long dharna. Chandrashekhar Singh claimed that the man was handed over to the police to save him from the ire of the party workers present at the spot.
Source: Siasat Daily
Please click the following URL to read the full text of the original story:
https://www.siasat.com/jharkhand-bjp-activists-force-muslim-man-to-chant-jai-shriram-2254608/
--------
Europe
Russian-Backed Kazakhstan President Orders Shoot-To-Kill Sans Warning At Kazakh Protesters
Jan 8, 2022
ALMATY: Security forces appeared to have reclaimed the streets of Kazakhstan's main city on Friday after days of violence, and the Russian-backed president said he had ordered his troops to shoot to kill to put down a countrywide uprising. A day after Moscow sent paratroopers to help crush the insurrection, police were patrolling the debris-strewn streets of Almaty, although some gunfire could still be heard. Dozens have died and public buildings across Kazakhstan have been ransacked and torched in the worst violence the former Soviet republic has experienced in 30 years of independence. Moscow said more than 70 planes were ferrying Russian troops into Kazakhstan, and that these were now helping control Almaty's main airport, recaptured on Thursday from protesters.
The uprising has prompted a military intervention by Moscow at a time of high tension in East-West relations as Russia and the US gear up for talks next week on the Ukraine crisis. Kazakh President Kassym-Jomart Tokayev blamed foreign-trained terrorists for the unrest, without providing evidence. "The militants have not laid down their arms, they continue to commit crimes or are preparing for them," Tokayev, 68, said in a televised address. "Whoever does not surrender will be destroyed. I have given the order to law enforcement agencies and the army to shoot to kill, without warning."
The demonstrations began as a response to a fuel price hike but swelled into a broad movement against the government and former President Nursultan Nazarbayev. Nazarbayev, 81, was the longest-serving ruler of any ex-Soviet state until he turned over the presidency to Tokayev in 2019. His family is widely believed to have retained influence in Nur-Sultan, the purpose-built capital that bears his name.
Russian President Vladimir Putin has discussed the situation with Tokayev in several phone calls during the crisis, the Kremlin said on Friday. The interior ministry said 26 "armed criminals" had been "liquidated", while 18 police and national guard members had been killed. Those figures appeared not to have been updated since Thursday. State TV reported more than 3,800 arrests. Fresh gunfire could be heard on Friday near the main square in Almaty, where troops had fought protesters on Thursday. Armoured personnel carriers and troops occupied the square.
Source: Times of India
Please click the following URL to read the full text of the original story:
https://timesofindia.indiatimes.com/world/rest-of-world/president-orders-shoot-to-kill-sans-warning-at-kazakh-protesters/articleshow/88767576.cms
--------
Progress made on Iran nuclear talks but time running out: France's foreign minister
07 January ,2022
Progress has been made regarding the Iran nuclear talks although time is running out, said French Foreign Affairs Minister Jean-Yves Le Drian on Friday.
"I remain convinced we can reach a deal. But time is running out," Le Drian told BFM TV and RMC Radio.
Iran is currently negotiating with major world powers to revive a 2015 nuclear deal in Vienna.
US State Department spokesman Ned Price said earlier this week that those nuclear deal talks with Iran in Vienna had shown modest progress, and that the United States hopes to build on the progress that had been made.
Source: Al Arabiya
Please click the following URL to read the full text of the original story:
https://english.alarabiya.net/News/middle-east/2022/01/07/Progress-made-on-Iran-nuclear-talks-but-time-running-out-France-s-foreign-minister
--------
Kazakhstan detains former security chief for treason
08 January ,2022
The former head of Kazakhstan's domestic intelligence agency has been detained on suspicion of high treason, the agency said Saturday, after he was fired amid violent protests.
The National Security Committee, or KNB, said in a statement that its former chief Karim Masimov had been detained on Thursday after it launched an investigation into charges of high treason.
"On January 6 of this year the National Security Committee launched a pre-trial investigation into high treason," the statement said.
"On the same day, on suspicion of committing this crime, former chairman of the KNB K.K. Masimov was detained and placed in a temporary detention centre, along with others."
Masimov, a close ally of Kazakhstan's founding president Nursultan Nazarbayev, was sacked from his post as head of the KNB this week after protesters in Kazakhstan's largest city Almaty stormed government buildings.
Source: Al Arabiya
Please click the following URL to read the full text of the original story:
https://english.alarabiya.net/News/world/2022/01/08/Kazakhstan-detains-former-security-chief-for-treason
--------
UN calls on all involved in Kazakhstan unrest to choose peace over violence
January 08, 2022
NEW YORK: The UN on Friday appealed to all those involved in the unrest in Kazakhstan to exercise restraint, refrain from violence and resolve their grievances through peaceful means.
The country is experiencing the worst street protests it has witnessed since the nation gained independence from the Soviet Union three decades ago, and dozens reportedly have been killed.
"It's important that there be a stop to the violence," Stephane Dujarric, spokesperson for Secretary-General Antonio Guterres, told reporters at the UN headquarters in New York.
"The killing of police officers is unacceptable; the killing of protesters is as well. There is a clear need in any situation to respect human rights and international standards while we reestablish public order."
Kazakhstan's President Kassym-Jomart Tokayev has referred to demonstrators as "terrorists." On Friday, he authorized security forces to shoot to kill when responding to anti-government protests.
The demonstrations began on Jan. 2, following a near-doubling of fuel prices, and quickly spread across the country.
On Thursday, Michelle Bachelet, the UN's high commissioner for human rights, reminded the Kazakh authorities that any use of force must be subject to "strict requirements of necessity and proportionality."
She added: "Lethal force, in particular live ammunition, should only be used as a last resort against specific individuals to address an imminent threat of death or serious injury."
A police spokesperson in Kazakhstan's main city of Almaty said that security forces have killed dozens of protesters. More than 1,000 people reportedly have been injured.
According to the Kazakh interior ministry, 12 police officers were killed during the unrest and more 300 have been injured.
"International law is clear: People have the right to peaceful protest and freedom of expression," Bachelet said. "At the same time, protesters, no matter how angry or aggrieved they may be, should not resort to violence against others."
Source: Arab News
Please click the following URL to read the full text of the original story:
https://www.arabnews.com/node/2000151/world
--------
Africa
FG secures $98m Islamic bank grant to build nine bi-lingual schools
8 January 2022
The Federal Government through the Universal Basic Education Commission has secured a grant of $98m from the Islamic Development Bank, Saturday PUNCH has learnt.
Our correspondent gathered that the grant would be utilised towards building nine bi-lingual schools.
Though the Federal Government and the bank failed to disclose the details of the languages involved, our correspondent learnt that the projects would be facilitated in three states namely Borno, Adamawa and Gombe states with three bi-lingual schools built in each of the states.
Three different memos with reference numbers FGN/ISDB/BEP/CW/AD/Lot1-3; FGN/ISDB/BEP/CW/BN/Lot1-3 and FGN/ISDB/BEP/CW/Lot1-3 on the project partly read, "The Federal Government of Nigeria has received financing for the amount of $98m from the Islamic Development Bank towards the cost of the Bilingual Education Project, and intends to apply part of the proceeds towards payment under the contracts for civil works (construction of three units each) of bi-lingual education boarding schools in Borno, Adamawa and Gombe."
In Gombe, the schools will be located in Garin Hamza, Yamaltu-Deba Local government area of Gombe, Dogun-ruwa Awak district in Kaltungo LGA and Shamaki Wada-gombe LGA.
Source: Punchng
Please click the following URL to read the full text of the original story:
https://punchng.com/fg-secures-98m-islamic-bank-grant-to-build-nine-bi-lingual-schools/
--------
Cameroon Christians and Muslims Pray for Peace in Cameroon During AFCON
January 07, 2022
YAOUNDE, CAMEROON —
Cameroonian officials have joined hundreds of Muslims and Christians in the capital, Yaoundé, to pray for peace during the Africa Football Cup of Nations games.
Cameroon is hosting Africa's top football championship starting Sunday, including in western regions, where anglophone separatists have vowed to disrupt the games. Police say the rebels set off a bomb Thursday in one of the towns where matches will be held, but nobody was injured.
Imam Souleymane Bouba of Yaoundé's Tsinga Mosques prays in Arabic for peace in Cameroon. During the prayers Thursday (January 5) Bouba asked God to protect football players, fans and match officials coming to Cameroon for the African Football Cup of Nations which begins on Sunday (January 9).
Among the more than 60 Muslim and Christian clerics present was Jean Mbarga, archbishop of Yaounde. Mbarga says the prayer at the Mary Queen of the Apostles Basilica in Yaounde asked God to intercede for a peaceful AFCON in Cameroon.
Mbarga says he knows Cameroonians love football very much and will be coming out to cheer their team, the Indomitable Lions, and other African teams they cherish. He says the African Football Cup of Nations should therefore mark a new beginning for a peaceful, strong and united Cameroon. He says Muslims and Christians have jointly prayed for the safety of players, match officials and football fans who will be in Cameroon for AFCON.
Mbarga said he and the cleric who attended the prayer strongly believe that because Cameroonians love football, AFCON will remove the country from the agony it has been going through in several troubled spots.
Mbarga said the Cameroon Association for Inter-religious Dialogue organized the prayer. Cameroon Prime Minister Joseph Dion Ngute represented President Paul Biya at the prayer. The Cameroon Association for Interreligious dialogue said at least 400 civilians, 20 ministers and senior state functionaries attended the prayer.
Cameroon is hosting the continent's top football tournament from Sunday to February 6.
Separatists fighting to create an independent English-speaking state in the French-speaking majority country have vowed to disrupt the games. On social media platforms like Facebook and WhatsApp, the separatists say they are in ongoing battles with Cameroon government troops. They add that Limbe and Buea are not safe zones.
Limbe and Buea are English-speaking western towns that will host group matches for teams from Gambia, Mali, Mauritania, and Tunisia.
Separatist fighters said Thursday they set off a roadside bomb in Half Mile, a neighborhood in the town of Limbe.
Capo Daniel is deputy defense chief of the Ambazonia Defense Forces, a rebel group in Cameroon's English-speaking North-West and South-West region. Capo says fighters have vowed to disrupt the games in Limbe despite the heavy presence of Cameroon troops.
"The Cameroon government has drawn our forces [separatists] to those venues because they have stationed their military in those areas so we shall combat them. On the 30th of December we planted an IED [improvised explosive device] at Half Mile, today [Thursday] again we planted another IED to send a message to all the visitors that are coming to watch football to understand that they are putting themselves in harm's way," Capo expressed.
Cameroon military confirmed Thursday's explosion in Limbe but called it an isolated attempt to scare football fans, players and officials. The government said no one was injured but called on civilians to collaborate with the military by reporting suspected fighters in their communities.
Source: VOA News
Please click the following URL to read the full text of the original story:
https://www.voanews.com/a/cameroon-christians-and-muslims-pray-for-peace-in-cameroon-during-afcon/6386702.html
--------
UN Security Council to meet Jan. 12 on Sudan
08 January ,2022
The UN Security Council will meet next Wednesday in an informal session to address the latest developments in Sudan as demonstrations against military rule continue, diplomatic sources said.
The session will be behind closed doors, the sources said Friday, adding that the meeting was requested by six of the council's 15 members: the United States, Britain, France, Norway, Ireland and Albania.
A common position of the Security Council "is not expected, as China and Russia would oppose it," a diplomat said on condition of anonymity.
Beijing and Moscow in the past have stressed that the situation in Sudan, which has been on the edge of chaos since an October 25 military takeover, was an internal matter for the country and did not threaten international security.
The meeting will allow the UN special representative for Sudan, Volker Perthes, to brief Security Council members on conditions there since prime minister Abdallah Hamdok resigned Sunday amid protests against the junta.
Hamdok had been the face of the transition to civilian rule launched after the ouster of Omar al-Bashir, but concerns have swelled about a slide back to dictatorship.
The United States and European Union warned Sudan's military against naming its own prime minister after Hamdok quit.
On Thursday three demonstrators were shot dead in the capital Khartoum and its suburbs, according to doctors and witnesses, as people gathered there and elsewhere in the country to protest against military rule.
Source: Al Arabiya
Please click the following URL to read the full text of the original story:
https://english.alarabiya.net/News/middle-east/2022/01/08/UN-Security-Council-to-meet-Jan-12-on-Sudan-
--------
Roadside bomb blast in Somalia kills 2 soldiers, injures 9 others
Mohammed Dhaysane
07.01.2022
MOGADISHU, Somalia
At least two military personnel were killed and nine others wounded in a bomb blast targeting a military convoy in central Somalia on Friday, officials said.
A military official in the region's provincial capital Dhusamareb told Anadolu Agency over the phone that the military convoy was hit by a landmine while traveling between the town of Guriel and Dhusamareb, the administrative capital of Galmudug State.
"The military convoy belonged to Danab commandos, and we understand the attack was an improvised explosive device (IED) planted near the road, killing soldiers," the official said, speaking on condition of anonymity because he is not authorized to speak to the media.
Mohamed Deeq Abdi, a local journalist, told Anadolu Agency that nine wounded soldiers were admitted to a hospital in Dhusamareb.
Sources in the hospital told Anadolu Agency that four of the wounded soldiers sustained serious injuries.
The al-Qaeda-affiliated terrorist group al-Shabaab claimed responsibility for the attack, claiming 15 soldiers were killed or injured.
Separately, on Friday, Galmudug regional soldiers repulsed an al-Shabaab attack on the town of Bahdo in the same region.
Somali national TV reported that 17 terrorists were killed in the retaliatory attack, citing military commanders as saying.
Somali military kills 5 al-Shabaab operatives
Separately, the Somali national army announced on Friday that it carried out a military operation against al-Shabaab terrorists, killing at least five "top operators."
The operation, which took place near Gamboole in the Middle Shabelle region, was undertaken by the country's elite commandos, called locally Danab (the lightning).
"Gambole is one of al-Shabaab's strongholds in the Middle Shabelle region. A heavy gunfight erupted during the operation, but our commandos killed many al-Shabaab terrorists, including five senior commanders," a military official in the region told Anadolu Agency over the phone.
Col. Ahmed Abdullahi Nur, commander of the 16th Danab Commandos, also confirmed the operation and the killing of al-Shabaab operatives.
Source: Anadolu Agency
Please click the following URL to read the full text of the original story:
https://www.aa.com.tr/en/africa/roadside-bomb-blast-in-somalia-kills-2-soldiers-injures-9-others/2467999
--------
EU calls for independent probe into deaths, violence in Sudan
Bahram Abdel Moneim
07.01.2022
KHARTOUM, Sudan
The Delegation of the European Union to Sudan on Friday called for an independent investigation into the deaths and violence that occurred during countrywide protests since last year's military coup.
"The EU reiterates the need for independent investigations into all deaths and associated violence, and call for the perpetrators to be held accountable," the delegation said in a statement.
"Attacks on hospitals, detentions of activists and journalists, and communication blackouts, must also stop," it added.
Sudan's Doctors Committee reported the killing of three protesters in Khartoum on Thursday, bringing the total number of deaths to 60 since rallies for "civilian rule" began.
Resistance committees have issued a public call to hold a new round of demonstrations in the capital and other cities to demand full civilian rule.
Sudan has been in turmoil since Oct. 25, 2021 when the Sudanese military dismissed Abdalla Hamdok's transitional government and declared a state of emergency.
Prior to the military takeover, the country was governed by a sovereign council of military and civilian officials tasked with overseeing the transition period until elections in 2023.
Source: Anadolu Agency
Please click the following URL to read the full text of the original story:
https://www.aa.com.tr/en/middle-east/eu-calls-for-independent-probe-into-deaths-violence-in-sudan/2468034
--------
North America
US envoy Malley meets with Saudi diplomat to discuss Iran nuclear deal
07 January ,2022
US Special Envoy for Iran Rob Malley on Friday met with Saudi Arabia's ambassador to the International Organizations in Vienna to discuss the latest developments in talks to revive a nuclear deal between Tehran and Western powers.
According to Al Arabiya, Prince Abdullah bin Khalid Al-Saud convened with Malley after separate meetings with French and Russian officials in the days prior, where he was provided with updates to the talks.
For all the latest headlines, follow our Google News channel online or via the app.
Russia's ambassador to Vienna, Mikhail Ulyanov, tweeted a photo of the meeting, revealing that he briefed the Saudi side on the situation in the Vienna talks. "We also exchanged views on prospects of security dialogue in the [Gulf] area,'" the Russian diplomat wrote.
Asked about a reported meeting between Prince Abdullah and Malley earlier in the week, a State Department official told Al Arabiya English that the pair would "periodically" meet. "These engagements are part of the US commitment to consulting closely with our regional partners on the ongoing talks," the official added.
Gulf countries have long been demanding a seat at the negotiating table, citing their geographical proximity to Iran and the direct threats imposed by Iran's nuclear and ballistic missile programs.
Saudi Arabia has voiced its support for a deal that would put a halt to Iran's nuclear program and ensure the security of the region.
Source: Al Arabiya
Please click the following URL to read the full text of the original story:
https://english.alarabiya.net/News/middle-east/2022/01/07/US-envoy-Malley-meets-with-Saudi-diplomat-to-discuss-Iran-nuclear-deal
--------
US warns Kazakhstan will find it 'difficult' to get Russian troops to leave
Michael Hernandez
07.01.2022
WASHINGTON
US Secretary of State Antony Blinken warned Kazakhstan on Friday that it will have a "difficult" time getting the Russian forces it invited to the country to quell unrest to leave.
Addressing reporters at the State Department, Blinken pointed to recent examples of Russian troops entering foreign nations, saying "one lesson" learned from those experiences is that "once Russians are in your house it's sometimes very difficult to get them to leave."
Amid nationwide protests prompted by a spike in some fuel prices, Kazakh President Kassym-Jomart Tokayev requested assistance from a multinational Collective Security Treaty Organization (CSTO), a Eurasian military alliance of five former Soviet republics and Russia.
Troops from Russia, Belarus, Armenia, Tajikistan, and Kyrgyzstan began deploying on Thursday to quell the unrest, and Tokayev has ordered security forces to "open fire to kill terrorists without warning."
"When it comes to the CSTO we have questions about the nature of the request, why it came about," Blinken said. "It would seem to me that the Kazakh authorities in government certainly have the capacity to deal appropriately with protests, to do so in a way that respects the rights of protesters while maintaining law and order. So it's not clear why they feel the need for any outside assistance."
He further called on Kazakh and CSTO forces to "adhere to international human rights standards."
Source: Anadolu Agency
Please click the following URL to read the full text of the original story:
https://www.aa.com.tr/en/americas/us-warns-kazakhstan-will-find-it-difficult-to-get-russian-troops-to-leave/2468312
--------
Biden names Kosovo, Iraq war veteran as Central Command chief
January 08, 2022
WASHINGTON: President Joe Biden is nominating Army Lt. Gen. Michael Kurilla to lead the US Central Command, which oversees military operations in the Middle East, the Pentagon announced Friday.
If confirmed by the Senate, General Kurilla will succeed Marine General Kenneth McKenzie at the head of Centcom, which oversees military operations in Iraq, Syria, Afghanistan and Yemen.
According to his official biography, Kurilla, 55, currently leads the 18th Airborne Corps, which groups the majority of the United States Army's response forces at Fort Bragg, North Carolina.
A West Point graduate, he fought in Kosovo, Afghanistan and Iraq, where he was seriously wounded by gunshot during an assault on Mosul in 2005. Kurilla also held responsibilities at the General Staff of the United States Army and commanded the prestigious 82nd Parachute Division, known for having participated in the Normandy landings in 1944.
Source: Arab News
Please click the following URL to read the full text of the original story:
https://www.arabnews.com/node/2000246/world
--------
South Asia
Mullah Baradar asks International Community to deliver aid to winter-affected Afghans
08 Jan 2022
As the freezing winter, heavy snow, and rainfall that triggered floods continue to affect the lives of tens of thousands of people in Afghanistan, the Islamic Emirate of Afghanistan has asked the International community and humanitarian agencies not to forget these people and provide them with urgent relief assistance.
Deputy Prime Minister of IEA Mullah Abdul Ghani Baradar in a video clip on Friday, January 7, 2022, said that the world must put an end to "brutal sanctions" and do their parts in addressing what he called a critical situation.
Baradar said that it was the time for the world to put apart politics and do their parts on basis of humanity.
"Ongoing sanctions on Afghanistan on the one hand, on the other hand, no infrastructure has been carried out so that the people of Afghanistan could make use of that for living and now the floods have adversely affected lives of hundreds of people." Said Baradar.
Meanwhile, the Deputy PM assured people of full preparedness of IEA in addressing the effects of natural disasters and that provincial authorities across Afghanistan have been directed to deliver aids to the victims of recent floods and avalanches.
Source: Khaama Press
Please click the following URL to read the full text of the original story:
https://www.khaama.com/mullah-baradar-asks-international-community-to-deliver-aid-to-winter-affected-afghans-876876/
--------
Over 2,500 Taliban affiliates dissociated over misdemeanour
08 Jan 2022
Ranks' Purification Commission has said that they have so far dissociated 2,514 Taliban affiliates from their ranks and the process is going on across Afghanistan.
Head of the commission Lutfullah Hakimi has said that the process of purifying the Taliban ranks has been completed in some provinces and that in others it has been expedited.
The commission is one of the newly founded bodies of the Islamic Emirate of Afghanistan that was created after the Taliban regained power on August 15 last year.
It works on identifying the Taliban affiliates who mistreat people, have links with ISIS-K, and misuse the name of the Taliban to do illegal activities.
Lutfullah Hakimi said that their activities of identifying and dissociating the people are based on the complaints and information of common people, reports of mainstream media, and social media.
Source: Khaama Press
Please click the following URL to read the full text of the original story:
https://www.khaama.com/over-2500-taliban-affiliates-dissociated-over-misdemeanor/
--------
Afghan-Pak territorial conflicts, Pakistani NSA to visit Kabul
08 Jan 2022
Following recent territorial conflicts between Pakistan and Afghanistan's borders guards in different bordering provinces of the latter, Pakistan's National Security Advisor Moeed Yusuf to visit the Afghan capital Kabul later this month-January.
The Pakistani delegation headed by Moeed Yusuf will be discussing fencing by Pakistan on Durand Line.
The exact date of the visit is not clear though, it is rumored that the Pakistani delegation will leave for Afghanistan on January 16-17.
This is after a Taliban commander said that they will no longer allow Pakistan to erect barbed wire on the Durand line no matter which forms or when.
Earlier, foreign ministries of both Pakistan and Afghanistan announced to be resolving the issue through diplomatic means.
Source: Khaama Press
Please click the following URL to read the full text of the original story:
https://www.khaama.com/afghan-pak-territorial-conflicts-pakistani-nsa-to-visit-kabul-876785/
--------
Afghans need emergency humanitarian aid without 'political bias': Taliban
January 7, 2022
The Taliban appealed on Friday for emergency humanitarian aid without "political bias", saying recent snow and flooding had worsened the plight of the Afghan people.
Since the Taliban seized control of Afghanistan in mid-August, the country has plunged into financial chaos, with inflation and unemployment surging.
Billions of dollars of the country's assets have been frozen by the United States, while aid supplies have been heavily disrupted.
Read: Trickle-down misery — how Afghanistan's asset freeze hurts everyone
Global aid agencies have warned that more than half of Afghanistan's 38 million people are expected to face hunger this winter.
In a video appeal, deputy prime minister Abdul Ghani Baradar said the world had an obligation to help.
"In various places right now, people do not have food, accommodation, warm clothes or money," Baradar said.
"The world has to support Afghan people without any political bias and carry out their humanitarian obligations."
Snow has blanketed most of central and northern Afghanistan in recent days while flooding has affected parts of the south. Many Afghans are struggling to afford heating, with the country facing regular electricity blackouts.
Baradar said the weather had worsened the already "sensitive situation" of the Afghan people, adding that the Taliban were prepared to help with the distribution of international aid across the country.
"We call for the international community, NGOs and all the countries not to forget our poor people," Baradar said in what was the first direct appeal made by a senior Taliban leader to tackle the deteriorating humanitarian crisis.
Kabul, which has not seen regular snowfall for years, was covered on Friday in a thick blanket of snow, affecting air and road traffic and forcing businesses to shutter.
No country has yet formally recognised the Taliban government and diplomats face the delicate task of channelling aid to the stricken economy without propping up the hardline group.
In December, Muslim nations however resolved to work with the United Nations to try to unlock the frozen assets, mainly held in the United States.
The special meeting of the 57-member Organisation of Islamic Cooperation (OIC) was the biggest conference on Afghanistan since the previous US-backed government fell in August and the Taliban returned to power.
Also in December, the UN Security Council unanimously adopted a US-proposed resolution to help humanitarian aid reach desperate Afghans, while seeking to keep funds out of Taliban hands.
Source: Dawn
Please click the following URL to read the full text of the original story:
https://www.dawn.com/news/1668158
--------
Taliban thank India for medical aid
Jan 08, 2022
The Taliban have thanked India for its medical assistance to Afghanistan after a third batch of essential life-saving medicines were handed over to Indira Gandhi Hospital in Kabul on Friday.
Taliban spokesman Zabiullah Mujahid said that besides six tonnes of medicines that arrived in Kabul in the morning, New Delhi had also sent five lakh doses of Covid vaccine and "many other items".
"The Islamic Emirate is grateful to India for its humanitarian assistance and cooperation," said Mujahid.
Source: Tribune India
Please click the following URL to read the full text of the original story:
https://www.tribuneindia.com/news/nation/taliban-thank-india-for-medical-aid-359211
--------
Southeast Asia
'Light' sentences for Indonesian Ahmadi attack spark storm
Ryan Dagur
January 07, 2022
Indonesian rights activists have condemned what they say were lenient sentences handed down by a district court in West Kalimantan province against 21 people who attacked an Ahmadi mosque.
The Pontianak District Court on Jan. 6 sentenced them to four months and 15 days in prison for ransacking the Miftahul Huda mosque and setting fire to a nearby building in Balai Haram, Sintang district, in September last year.
With time already served on remand, the 21 convicted people will be due for release on Jan. 22. They had faced possible jail terms of up to six years.
The Advocacy Team for Freedom of Religion and Belief expressed dismay at the punishment, saying it was "too light."
"The judge's decision is supposed to have a deterrent effect and be a warning to other people not to commit such actions, but this very light sentence will almost certainly encourage perpetrators," it said in a statement.
The group said the whole court process appeared to favor the defendants as prosecutors had demanded only six months instead of six years and they ended up with a sentence lower still.
During the trial, the judge provided an opportunity for one of the defendants "to deliver hate speech against the Ahmadi community," it added.
The group said it would report the prosecutors and judges to the Attorney General's Office and the Supreme Court for violating their code of ethics.
Muhammad Isnur, from the Indonesian Legal Aid Foundation, said the trial process showed discrimination and intolerance towards minority groups.
He pointed to the blasphemy case in which Basuki Tjahja Purnama, a Christian former governor of Jakarta, was jailed for two years in 2017.
He said it seemed the judges and prosecutors tailored the sentences to fit the period of detention that the defendants had already served.
Fitria Sumarni, a representative of the Ahmadi legal team, said they needed security guarantees for the Ahmadi community in Sintang.
She added that they had asked the police and relevant authorities to ensure the protection of the Ahmadi community and to allow the reopening of their mosque.
The Ahmadi, who number around 400,000 in Indonesia, are often targeted by other Muslims, who consider them heretics for believing that Muhammad was not the last prophet.
Source: UCA News
Please click the following URL to read the full text of the original story:
https://www.ucanews.com/news/light-sentences-for-indonesian-ahmadi-attack-spark-storm/95633
--------
Amin asks Muslims to help bolster Indonesia's economy
08 Jan 2022
Palu, Central Sulawesi (ANTARA) - Vice President Ma'ruf Amin has urged Indonesian Muslims to unite and help strengthen the national economy at the family and community level to bring Indonesia on par with other major global economies.
Muslims must not only toil to perform religious rituals, but they must also not neglect their duty to boost their households' economic conditions and livelihoods in their community, Amin said adding, the religion considers economic activity performed by Muslims for earning a living as a good deed.
"Allah the Almighty has said, through The Holy Quran, that if Muslims have completed their prayer obligation then they must disperse in the land to seek Allah's bounty. We must also remember that eradicating poverty is our duty as well," Amin said while delivering a sermon after the congregational Friday prayer at Al-Mujahidin Mosque within the Central Sulawesi Governor's Office complex in Palu city on Friday.
"Even Prophet Muhammad said, as narrated by an authentic Hadith, that Muslims, particularly male Muslims, who are leaving their home to make a living for their wife, children, parents, and family members, are regarded to perform a good deed," he added.
"But if they otherwise seek fortunes only for personal pride and to enrich themselves, then they are seeking the way of the Devil," Amin remarked.
The Vice President warned that poverty would make Muslims physically and spiritually weak and easily swayed to commit heinous acts prohibited by Islam.
He also highlighted the necessity of innovation in all economic aspects to establish a resilient economy amidst fierce economic competition.
Source: Antara News
Please click the following URL to read the full text of the original story:
https://en.antaranews.com/news/208473/amin-asks-muslims-to-help-bolster-indonesias-economy
--------
UMNO strikes back after Malaysia's year of political melee
7 January 2022
William Case
For nearly half a century, Malaysia's political dynamics were demarcated by a stable hybrid regime, an amalgam of democratic procedures, electoral manipulations, and repressive controls. This regime was anchored in the single-party dominance of the United Malays National Organisation (UMNO).
Protesters hold placards and black flag during a demonstration to demand the resignation of the then prime minister Muhyiddin Yassin, Kuala Lumpur, Malaysia, 31 July 2021 (Photo: Mohd Firdaus/NurPhoto).
UMNO perpetuated its dominance by unifying party elites through lavish, though retractable state patronage. It mobilised mass-level Malay-Muslim voters through modest and conditional state subsidies. The loyalties of the Malay-Muslims were also redoubled by confrontation with residual 'non-Malay' categories — mainly local Chinese, scorned for their grievances over Malay political and cultural 'supremacy' and redistributive entitlement.
But in 2018, after a 'stunning' electoral turnover to which hybrid regimes are occasionally susceptible, these systems were weakened. UMNO and its subordinate partners were dislodged by the Pakatan Harapan (Alliance of Hope) coalition. Yet Malaysia's hybrid politics were merely destabilised, rather than fully democratised, as Pakatan remained tepid towards enacting institutional reforms. But despite its caution, after barely 22 months, through extra-parliamentary machinations, party defections, royalist interventions, and a renewed mobilisation of Malay-Muslim resentments, Pakatan was ousted. UMNO thus found its way back to power — albeit as part of a quarrelsome coalition, with the leader of the Malaysian United Indigenous Party (Bersatu), Muhyiddin Yassin, claiming the prime ministership.
Throughout 2021, Malaysia's central political dynamic involved a frenzied quest by UMNO to regain its dominance. By instigating a new round of defections in August, UMNO replaced Muhyiddin with one of its own party vice-presidents, Ismail Sabri. Bersatu has since slumped into a redundant splinter vehicle. UMNO also managed to heighten factionalism within Bersatu's closest ally in the coalition, the Islamic Party of Malaysia (PAS). At the same time, Sabri has pacified Pakatan in opposition, forging an unusual 'MOU' and securing a Confidence and Supply Agreement by which to pre-empt no-confidence motions and challenges to budget bills.
Sabri next turned his hand to reenergizing Malay-Muslim voters, launching a galvanising, but deceptively labelled campaign of Keluarga Malaysia ('Malaysian family'). He firmed this shibboleth with new distributions of ethnically defined patronage and subsidies. In late November, UMNO registered its gains through an important election held in the small but indicative Malay heritage state of Malacca. In this contest, waged by UMNO against its nominal partners, Bersatu and PAS, as well as a divided and mismanaged Pakatan in opposition, UMNO swept the field.
Amid UMNO's revival, the party's old guard has regained prominence. Indeed, UMNO's former prime minister, Najib Razak, so overshadowed Sabri in Malacca's campaigning that speculation has mounted that he is the party's top candidate for the prime ministership in the next general election. Conversely, calls are widespread for Pakatan's leader, Anwar Ibrahim, an advocate of pluralist politics, to step down. Anwar's ally in Pakatan, the Democratic Action Party (DAP), is also beset by doubts, with its once ardent Chinese supporters adjudging the party as spent.
At the end of 2021, broad trends remain difficult to discern. Democracy's prospects are constrained by hard structural realities wherein the Malay-Muslim community values democracy less than its own supremacy. Democracy is also weakened by pandemic controls, COVID-19 surveillance, and tight limits on civil liberties.
But even as parties and factions tirelessly skirmish, their hold on state power is still principally ratified by contesting elections and amassing legislative seats. During 2021, a period of emergency rule was imposed, elections were suspended and defections were plotted, enabling the king to emerge as chief arbiter. Yet in Malaysia, manipulated though competitive elections under hybrid conditions remain the only game in town.
Within these parameters, UMNO appears to be reasserting its single-party dominance. Factional battling still smoulders within the party and ruling coalition as Sabri, the fledgling prime minister, struggles to keep his vehicle aligned with Bersatu and PAS. But he is increasingly outweighed by UMNO's old guard, featuring Najib and his combative ally, the party's current president, Ahmad Zahid Hamidi. But no sooner have Najib's fortunes perked up than he has been undercut by the corruption cases in which he and Zahid are ensnared.
Accordingly, the record of governance and judicial independence remained mixed in 2021. Elite-level patronage continues to pulse within UMNO. PAS's long-time president, Haji Hadi Awang, lent sanction, proclaiming in February that corruption was not covered by hudud law. The courts then dropped sundry prominent cases over corrupt payments and tax avoidance, delivering a sheepish judgement of 'dismissal not amounting to acquittal'.
Though this may signal the weakening of governance in Malaysia, Najib's conviction on 1MDB corruption charges were upheld in December by the Court of Appeals. The court's lead judge pronounced that Najib's conduct as prime minister had done less to advance the national interest than to produce 'national embarrassment'.
These ambiguities in Malaysian politics rest atop a social structure which, by contrast, has grown in clarity. The Malay-Muslim community is no longer so torn over the 1MDB scandal, instead taking collective fright over the threat to Malay supremacy that it believes Pakatan to have conveyed. Even so, this communal profile grew more nuanced during 2021.
'Black' and 'White Flag' protest movements erupted across ethnic lines over the government's perceived neglect of ordinary citizens during the pandemic. Discontents swelled again over the inept responses of emergency services during flooding that displaced some 70,000 people.
Source: East Asia Forum
Please click the following URL to read the full text of the original story:
https://www.eastasiaforum.org/2022/01/07/umno-strikes-back-after-malaysias-year-of-political-melee/
--------
Floods and landslides kill seven in eastern Indonesia
Ryan Dagur
January 07, 2022
Floods and landslides in Jayapura, capital of Papua province, have killed seven people and displaced hundreds.
The National Disaster Management Agency said the floods and landslides were triggered by heavy rain accompanied by strong winds since Jan. 6 afternoon.
Abdul Muhari, spokesman for the agency, said the water level reached 150-200cm in a number of locations, while in the main market area of the city, Yotefa Abepura, it reached 300cm.
In addition to the seven victims, three of whom have already been identified, more than 500 residents whose houses were still submerged were evacuated, with many seeking refuge at Maranatha Protestant Church in Kota Raja.
Muhari added that the deluge had affected a number of public facilities, including Aryoko Hospital and the Governor's Office.
Neles Siep, a Catholic resident of Jayapura, said three of the victims who died were his relatives.
"The three men were sleeping when their house was hit by a landslide at 3am. They were found still lying in their room. Two other people in the house managed to escape but were injured," he said.
He added that the rain had stopped but many people living in landslide-prone areas chose to stay outside. He said they were raising aid for the victims.
Jayapura and its surroundings are categorized by the disaster agency as an area with a moderate to high potential for flooding.
Apart from natural factors, the agency also called the flood a disaster because some areas in the city's highlands, which were previously forests, have been turned into settlements and fields.
Source: UCA News
Please click the following URL to read the full text of the original story:
https://www.ucanews.com/news/floods-and-landslides-kill-seven-in-eastern-indonesia/95638
--------
Terror Threat In Asian Countries Declined In 2021
January 7, 2022
Terrorist threats in Southeast and South Asian countries declined in 2021, a Singapore think-tank said in its annual threat assessment published this week, noting that COVID-19 movement restrictions had "flattened the curve of terrorism."
There were fewer terror-related incidents in Indonesia, Malaysia, the Philippines and Bangladesh as governments battled the pandemic, according to the Counter Terrorist Trends and Analysis report published by researchers at the S. Rajaratnam School of International Studies.
In Thailand in 2021, meanwhile, violent incidents connected to an insurgency in the far south were similar to those in the previous year, the researchers found.
"Ultimately, the 2021 survey underscored the continuing imperative for states to address the longer-term underlying grievances that fuel violent extremism," the analysis said.
In Indonesia, Southeast Asia's largest country, the number of attacks and plots by violent extremist Islamic militant groups dipped during the past two years compared with before the outbreak of COVID-19, according to the report.
Jamaah Ansharut Daulah's (JAD) relatively stagnant activities in 2020-2021 and the decline of Eastern Indonesia Mujahideen's (MIT) terror activities in 2021, it said, "can be partly attributed to movement restrictions and higher costs associated with domestic travels due to the pandemic."
In 2021, JAD was involved in at least nine incidents, including five using explosive materials. Those included two suicide bomb attacks and a suicide bomb plot, compared with 11 incidents the previous year.
Police were the most common targets of terrorist incidents in Indonesia, the analysis found. Others targeted by Indonesian extremists last year were "civilians, including Christians, as well as both Indonesian and mainland Chinese," the report said.
On Tuesday, Indonesian security forces announced they had killed Ahmad Gazali, a suspected MIT member, in the mountains of Central Sulawesi province, cutting MIT's membership down to only three.
Both MIT and JAD are pro-Islamic State (IS) extremist groups.
Malaysia, Philippines
The analysis specifically linked the COVID-19 pandemic to the drop in terror activities in Malaysia last year.
"The pandemic-driven movement restrictions that hampered inter-state and international movements also 'flattened the curve of terrorism' in Malaysia," it said.
Authorities made no terror-related arrests in Peninsular Malaysia last year – but made about 15 in Sabah between May and September. There were seven arrests in 2020; 72 in 2019; 85 in 2018; 106 in 2017 and 119 in 2016, the analysis found.
Still, the analysis expressed concern that terror threats had moved online.
"The government-imposed lockdowns have forced people to spend more time online, raising the likelihood of vulnerable individuals being exposed to radical ideologies in the cyber domain. Around the region, groups such as IS have increased their recruitment and radicalization efforts through social media during the pandemic," it said.
Elsewhere, the Armed Forces of the Philippines drew praise for retaking terror bases in the southern region of Mindanao.
Nationwide, "the number of successful terrorist incidents dropped from 134 in 2019, to 59 incidents in 2020 and 17 in 2021, the analysts said, defining a successful incident as an attack that injured or killed others.
The analysis noted that government-imposed COVID-19 lockdowns affected terror operations.
"Given they significantly limited the movements of the general population, as well as those of terrorists, this has rendered terrorist logistics vulnerable to being detected more readily," it said.
Bangladesh
In Bangladesh in 2021, "there were two failed attacks compared to four successful ones in 2020," the report said, adding that authorities had arrested about 130 terrorist suspects nationwide.
Neo-JMB, a pro-Islamic State breakaway faction of Jamaat-ul-Mujahideen Bangladesh, "appeared to target law enforcement agencies, churches, noted Hindu and Buddhist personalities and workers of non-governmental organizations," the analysis said.
It also said that Neo-JMB sought to "'train all its members in the production of IEDs,' as well as 'chloroform bombs to target buses, classrooms and public places in its bid to kill silently.'"
Thailand
In Thailand's insurgency-hit southern border region, 423 violent incidents were recorded, leaving 104 dead and 169 injured through November 2021, according to the report. The scale was similar to 2020 when 335 violent incidents occurred, leaving 116 dead and 161 injured.
In the Muslim-majority Deep South, as the region is known, more than 7,000 people have been killed since separatist groups resumed an insurgency against the Buddhist-majority 18 years ago.
Source: Eurasia Review
Please click the following URL to read the full text of the original story:
https://www.eurasiareview.com/07012022-terror-threat-in-asian-countries-declined-in-2021/
--------
Arab World
Syrians seek word of loved ones missing in regime jails
08 January ,2022
More than 70 families gathered in the rebel-held Syrian town of Azaz on Friday to highlight the plight of loved ones missing in the government's feared jail system.
Since civil war broke out in Syria in 2011, nearly one million people have been detained in the network of prisons and camps run by the various security services, according to Britain-based monitoring group the Syrian Observatory for Human Rights.
Of those, around 105,000 have died in custody, while others have been released, but tens of thousands remain unaccounted for, according to Observatory figures.
Lama Andani said it was nine years since her husband was arrested.
For 18 months, she had received some updates indirectly, but then nothing.
"I know what it's like to be tortured in the jails of the regime," said Andani, who said she spent nine years in prison during a previous outbreak of political unrest in Syria during the 1980s.
"We came here in the hope of getting our message through to the international community... so that it isn't forgotten.
"I dream of seeing my husband... and of knowing what happened to him," she said, as she joined others in posting messages in a square in Azaz.
The northern town, hard by the border with Turkey, was occupied by Turkish troops in 2016 to prevent it falling to US-backed Kurdish forces, which had taken swathes of northern Syria from the Islamic State group.
It has since been under the control of rebel groups supported by Ankara.
In 2013, a military defector known as "Caesar" smuggled more than 50,000 photographs out of Syria, many of them documenting the deaths of prisoners in detention centers or military hospitals.
The name went on to be used in the title of US legislation that provides for economic sanctions against Syria.
Source: Al Arabiya
Please click the following URL to read the full text of the original story:
https://english.alarabiya.net/News/middle-east/2022/01/08/Syrians-seek-word-of-loved-ones-missing-in-regime-jails
--------
Saudi Arabia says Dakar rally accident investigation shows no criminal suspicions
08 January ,2022
Saudi Arabia's foreign ministry said on Friday that initial results of an investigation an accident during the Dakar car rally, which left one French contestant injured last week, showed no criminal suspicions.
The Kingdom is liaising with the concerned French authorities to share available evidence related to the accident, the ministry added in a statement.
Source: Al Arabiya
Please click the following URL to read the full text of the original story:
https://english.alarabiya.net/News/gulf/2022/01/08/Saudi-Arabia-says-Dakar-rally-accident-investigation-shows-no-criminal-suspicions
--------
Saudi war on drugs net over 37 tons of narcotics in 2021
January 07, 2022
RIYADH: The Saudi Zakat, Tax and Customs Authority reported that it seized more than 37,000 kilograms of illegal drugs in 2021, in addition to 190 million pieces of the highly addictive Captagon pills.
It came as part of authority's mission to protect society, support the national economy and improve international trade.
The smuggling of Captagon pills, narcotics, counterfeit products and other contraband threatens the security and safety of Saudi society, and poses a major threat to the growth of the economy, the authority said.
Hashish, heroin, cocaine and khat are among the most common illegal substances smuggled into the Kingdom.
The authority, working with other bodies including the Directorate General of Narcotics Control and General Directorate of Border Guards, also seized more than 234,000 liquor bottles and 4,155 liters of illegal alcohol last year.
It confiscated more than 3.9 million counterfeit products as part of its efforts to eliminate commercial fraud.
The authority operates in 41 customs ports around the Kingdom, using modern security techniques, sniffer dogs and other methods to seize contraband.
The authority's record in 2021 demonstrates its success in tightening customs control over imports and exports, as well as combating smuggling in all its forms.
The authority called on members of the public to help its mission and protect society by using the designated phone number for security reports (1910), the international number (00966114208417) or by email (1910@zatca.gov.sa).
Source: Arab News
Please click the following URL to read the full text of the original story:
https://www.arabnews.com/node/2000141/saudi-arabia
--------
Saudi armed forces delegation visits Greek military academies
January 08, 2022
ATHENS: Gen. Konstantinos Floros, chief of the Hellenic National Defense General Staff, on Friday met the chief of staff of the Saudi Armed Forces, Ahmad Al-Mutairi.
Al-Mutairi is currently leading a delegation visiting the Hellenic Armed Forces' military academies to examine how Greece develops its non-commissioned officers and soldiers.
Source: Arab News
Please click the following URL to read the full text of the original story:
https://www.arabnews.com/node/2000176/saudi-arabia
--------
General Labour Union president warns against 'certain catastrophe' in Lebanon amid economic crises
January 07, 2022
BEIRUT: General Labor Union President Bechara Al-Asmar has warned against "a certain catastrophe, since hospitalization is now accessible to the wealthy only."
At a press conference on Friday, he commented on the multitude of crises facing the Lebanese, including "the ongoing madness in the dollar exchange rate, insane increases in fuel prices, electricity bill, the removal of medicine subsidies and the loss of the depositors' savings as a result of bank circulations — viewed as organized robbery."
He warned that "the draft budget included a provision for raising the customs dollar, which would raise the prices of goods by 30 percent, and raise all taxes and duties."
He added: "This is unacceptable because it entails the removal of subsidies on everything in exchange for nothing, which is surrendering to the IMF conditions without any supervision."
The fresh warning came as the ruling elite attempted to resolve its many conflicts that are blocking political and administrative progress.
President Michel Aoun has signed a decree calling on parliament to hold an extraordinary session starting from Monday and ending on March 21.
This will restore the parliamentary immunity of the ministers charged for the crime of the Beirut port blast, including current MPs, one of whom had an arrest warrant issued for him in absentia and that has not yet been executed.
The parliamentary session sets the stage for the transfer of power from a judicial investigator to a parliamentary body for the prosecution of ministers and deputies allegedly to blame for the explosion.
Lawyer and activist Hassan Bazzi said that "the key parties to the settlements are Parliament Speaker Nabih Berri, Prime Minister Najib Mikati and President Michel Aoun."
This follows the intense political discord between Aoun and Berri that reached its peak last week.
Bazzi said the settlement moved Aoun to sign a decree calling on parliament for a special session.
He also said that the parliamentary session's agenda includes amending the law under review before the constitutional council — approving only six seats for expatriates' voting instead of letting them participate in nationwide elections.
Bazzi also indicated that parliament was likely to approve the amendment to the code of criminal procedure, setting up a judicial parliamentary panel to look into appealing the decisions of Judge Tarek Bitar who has issued arrest warrants for several ministers.
While Cabinet is called to convene under this basis, Bazzi said the appointments for the panel would be made on a quota basis, where "the diaspora loses the opportunity for change and the political system regains control."
Berri and Aoun tried to hide the parameters of this settlement by sparking a new debate concerning the special parliamentary session.
Although the main title of the urgent session is the discussion and approval of the two draft budgets, the presidential decree — bearing the signature of Prime Minister Najib Mikati — has on its agenda "the ratified laws that the president may request to be reconsidered and drafts or proposals of urgent and necessary laws related to the parliamentary elections."
Berri indicated in a statement on Friday that "parliament is independent and is not restricted to any description of projects or proposals that the bureau of the parliament decides to put forward and the president has the right to respond after they are issued by the General Authority."
The statement added: "This is the constitution's provision and jurisprudence."
The president's team replied indirectly through unidentified sources that "they do not want to get into a debate with Berri."
They added that article 33 of the constitution "stipulates that the parliament may be convened to extraordinary sessions by a decree setting their opening, end and agenda."
Parliamentary sources replied to Aoun's party that "the procedural authority may certainly set for the parliament the agenda it wants to look into in this extraordinary session, provided that parliament's work is not limited to this agenda only."
The settlement meant to be followed requires the re-convening of the Cabinet.
However, Hezbollah's bloc of MPs ignored the issues of governance and only supported the opening of an extraordinary parliamentary session extending until the date of the ordinary session, in view of the urgent need to adopt laws relating to "rescue, accountability and state regularity."
Source: Arab News
Please click the following URL to read the full text of the original story:
https://www.arabnews.com/node/2000116/middle-east
--------
Mideast
Israeli security says downed drones show Hezbollah surveillance
07 January ,2022
Israeli security sources claimed Friday that drones captured after being flown across the frontier from neighboring Lebanon have provided insight into the growing aerial surveillance capabilities of the Iran-backed Hezbollah terrorist organization.
Lebanon and Israel are technically in a state of war and drones have become a regular feature of their heavily guarded border.
Images extracted from one drone downed in August, shown to AFP, showed what the source said was Hezbollah drone operators and pictures of other drones, as well as an aerial shot of a northern Israeli settlement and military post.
The source, speaking on condition of anonymity, said he believed the footage showed Hezbollah special forces training in how to use drones, which he said was the first such glimpse for Israel.
A second source said that five drones seized last year, including a small observation drone downed on Tuesday, belonged to Hezbollah.
"We are learning about the enemy and the enemy is learning about us," said the second source, also speaking on condition of anonymity. "It is kind of a learning race between Hezbollah and us."
Israel is a leader in developing and using drones in warfare, but it is seeing its technological superiority challenged by arch-foe Iran, which is also developing unmanned aerial vehicles for military use.
The drones used by Hezbollah were not necessarily Iranian made, but rather ordinary commercially available devices, the second source said.
"It is so easy to just take a drone from the store and gather intelligence and do whatever you imagine," he said.
Source: Al Arabiya
Please click the following URL to read the full text of the original story:
https://english.alarabiya.net/News/middle-east/2022/01/07/Israeli-security-says-downed-drones-show-Hezbollah-surveillance-
--------
Artefacts To Be Displayed In "Archeo-Park' Near Selimiye Mosque
January 08 2022
All historical artifacts unearthed in excavation sites nearby the Selimiye Mosque in the northwestern province of Edirne will be displayed in an "archeo-park," which is currently under construction.
"We have been working on the project for about four months and hope to finish it and open to tourism in the spring," Edirne Mayor Recep Gürkan told Demirören News Agency on Jan. 7.
The excavation site is on some 4,000-square-meters land, where there are tombs and water wells from the Roman era and structures constructed during the period of the Ottoman Empire.
"We want to make an archeo-park, an agora that will be suitable with the glorious Selimiye Mosque. That is why the preparation process took so long," Gürkan noted.
The Selimiye Mosque, a complex which has been on UNESCO's World Heritage List since 2011, was commissioned by Sultan Selim II and constructed by Mimar Sinan, known as "the Grand Architect," between 1568 and 1575.
Sinan called the mosque his "masterpiece."
Bahri Dinar, the head of the Edirne Promotion Association, agreed with the mayor, saying that "the archeo-park will make a 100 percent contribution to the city's economy."
"Until now, the place nearby the Selimiye Mosque looked inert. I am sure that the agora will be fantastic," he added.
When asked about the importance of the Selimiye Mosque for the province, the mayor said: "It is the climax of Islamic art and Ottoman mosque construction. The mosque in the center of the city has always been in use since the first day."
"With the Ottomans conquering the city, Edirne has been a prominent center since 1361. After the construction of the mosque, the agora nearby the mosque has been a social-cultural zone for people for centuries," he highlighted.
Once the archeo-park project will be in progress, the area will be closed to vehicular traffic. "There will be no smoke exhaust or noise pollution. Only pedestrians will be able to tour the agora," the mayor added.
Source: Hurriyet Daily News
Please click the following URL to read the full text of the original story:
https://www.hurriyetdailynews.com/artifacts-to-be-displayed-in-archeo-park-near-selimiye-mosque-170632
--------
Deputy FM: S. Korea Must Pay Debt to Iran
2022-January-7
The South Korean government is bound to pay its debts to the Islamic Republic of Iran, Baqeri Kani said in a meeting with South Korean Vice Minister of Foreign Affairs Choi Jong Kun in Vienna on Thursday.
He noted that the US unilateral sanctions are not a good reason for South Korea's refusal to pay its debts to Iran.
Baqeri Kani noted that Seoul has to act immediately to unfreeze Iranian assets.
The South Korean official, for his part, said that his country would make every efforts to pay its debts to Iran.
The Iranian foreign ministry had on Wednesday confirmed the meeting, but stressed that the meeting is not related to talks between Tehran and the world powers.
Foreign Ministry Spokesman Saeed Khatibzadeh said that Baqeri Kani, who is also the deputy foreign minister for political affairs, will meet and hold talks with his South Korean counterpart in Vienna.
Khatibzadeh said that Baqeri Kani will meet his Korean counterpart in Vienna, Austria.
The presence of the South Korean Foreign Ministry official in Vienna is a personal decision and third parties are requested to be present in Vienna because of bilateral and multilateral issues, he added.
Khatibzadeh noted that the request for a meeting with the Iranian delegation has been announced by the South Korean side.
Stating that the meetings had nothing to do with the Iran-the G4+1 negotiations, he highlighted that the South Korean officials met and held talks with some of the delegations in Vienna, and such meetings are usually common on the sidelines of these meetings.
South Korea said on Wednesday that it had sent a delegation to Vienna to hold talks with Iran and other countries over how to resolve the issue of frozen Iranian assets held in the Asian country.
The South Korean foreign ministry said its vice foreign minister Choi Jong-kun had arrived in Vienna with a delegation to "explore ways to resolve the issue of frozen Iranian assets in Korea" through consultations on the sidelines with Iran and in coordination with the US, France, Germany and Britain.
Iran and the remaining signatories of a 2015 nuclear deal on Monday resumed discussions to remove sanctions on the Islamic Republic and bring the US back to compliance with the agreement.
About $2.7 billion deposited by the Seoul branch of Iran's Bank Mellat is held by the Bank of Korea, while more than $7 billion worth of Iranian oil money is stuck at the Industrial Bank of Korea and Woori Bank, according to Yonhap news agency. South Korea's refusal to free them has caused a diplomatic spat.
South Korea was the biggest client of Iranian gas condensate with 300,000 barrels per day (bpd) on top of 100,000 bpd of crude oil, but the country stopped the imports in November 2018 even before the illegal US sanctions imposed on Iran's oil industry kicked in.
Gas condensate is an ultra light oil which has a wide range of utilization in the petrochemical industry.
Source: Fars News Agency
Please click the following URL to read the full text of the original story:
https://www.farsnews.ir/en/news/14001016000436/Depy-FM-S-Krea-Ms-Pay-Deb-Iran
--------
Iran displays ballistic missiles amid nuclear talks with world powers
07 January ,2022
Iran put three ballistic missiles on display at an outdoor prayer esplanade in central Tehran on Friday, as talks in Vienna aimed at reviving Tehran's nuclear deal with world powers flounder.
The missiles, known as Dezful, Qiam and Zolfaghar and with official ranges of up to 1000-km (620 miles), were already-known models, the paramilitary Revolutionary Guard said.
Diplomats from countries that remain in the 2015 nuclear deal — Britain, France, Germany, Russia and China — are working with Tehran to revive the accord, which had sought to limit Iran's nuclear ambitions in exchange for trade.
American diplomats are present in Vienna but they are not in direct talks with Iranians. The accord collapsed in 2018 when then-President Donald Trump unilaterally withdrew the US and re-imposed sanctions on Iran.
A report by state TV said the missiles on display were the same types as those used to strike US bases in Iraq.
The display came on the second anniversary of ballistic missile attacks on American bases in Iraq in retaliation for the US drone strike that killed top Iranian general Qassem Soleimani in Baghdad in 2020.
The Iranian military mistakenly shot down Ukraine International Airlines Flight PS752 with two surface-to-air missiles after the attacks, killing all 176 people on board. After days of denial, the Guard publicly apologized, blaming air defense operator who authorities said mistook the Boeing 737-800 for an American cruise missile.
An Iranian military court in December held a hearing for 10 people suspected of having role in downing the Ukrainian airliner.
Source: Al Arabiya
Please click the following URL to read the full text of the original story:
https://english.alarabiya.net/News/middle-east/2022/01/07/Iran-displays-ballistic-missiles-amid-nuclear-talks-with-world-powers
--------
'Settlers violence' sparks Israeli-European tension
Ali Rezzakoğlu
07.01.2022
JERUSALEM
An Israeli-European dispute broke out after European diplomats lodged a joint formal protest over "settler violence" against Palestinians in the West Bank, according to a report.
Israeli news website Walla reported that "diplomats and ambassadors from 16 European countries arrived at the Israeli Foreign Ministry in [West] Jerusalem two weeks ago to hold a routine meeting with the head of the European Department at the Foreign Ministry, Aliza Bin Noun, regarding the situation in the West Bank."
The portal quoted three European and Israeli diplomats, without mentioning their names, as saying that the meeting was tense.
According to the report, representatives of the European countries, led by the UK, attended the meeting to lodge a joint official protest over "settler violence against Palestinians in the West Bank."
Bin Noun responded very "sharply and said that the European allegations were insulting," the report said.
The Israeli official "criticized the European diplomats, saying: After everything the new government in Israel has done for the Palestinians, do you come to complain?"
Some European diplomats, who attended the meeting, were quoted as saying that they were interested in having a professional and non-emotional dialogue on the issues that concern them, but Bin Noun refused to engage in a substantive discussion.
"European diplomats said that the atmosphere at the meeting was very difficult and that it got out of control very quickly."
European countries called on Israel to stop the expansion project of settlements in Jerusalem.
The EU believes new settlements in Jerusalem will eliminate the chances of a two-state solution by establishing a Palestinian state alongside the state of Israel.
Source: Anadolu Agency
Please click the following URL to read the full text of the original story:
https://www.aa.com.tr/en/middle-east/settlers-violence-sparks-israeli-european-tension/2468254
--------
22 injured as Israeli forces attack Palestinian rallies
Awad al-Rujoub
07.01.2022
RAMALLAH, Palestine
At least 22 Palestinians protesting against illegal Israeli settlements were injured by Israeli forces on Friday in different areas across the occupied West Bank.
In a statement, the Palestinian Red Crescent Society said its medical teams treated 19 Palestinians in the Beita village, southern Nablus city in the north of the West Bank.
It added that four Palestinians were injured by rubber-coated bullets and 15 others suffered tear gas inhalation.
Beita village is a flashpoint for clashes with Israeli forces, with virtually daily protests over Israel's confiscation of Palestinian property for the development of an Israeli settlement on Mount Sbeih near Beita.
Meanwhile, Eid Abu Monshar from the Red Crescent Society told Anadolu Agency that three Palestinians were injured by the Israeli forces in Hebron city, southern West Bank, during a rally protesting the Israeli settlement policy.
On weekly basis, Palestinians hold demonstrations against illegal Jewish settlements in different parts of the West Bank, especially in Beita, Beit Dajan, and Kafr Qaddoum villages.
Source: Anadolu Agency
Please click the following URL to read the full text of the original story:
https://www.aa.com.tr/en/middle-east/22-injured-as-israeli-forces-attack-palestinian-rallies/2468230
--------
URL: https://www.newageislam.com/islamic-world-news/marriage-iddat-zina-muslim-women/d/126115
New Age Islam, Islam Online, Islamic Website, African Muslim News, Arab World News, South Asia News, Indian Muslim News, World Muslim News, Women in Islam, Islamic Feminism, Arab Women, Women In Arab, Islamophobia in America, Muslim Women in West, Islam Women and Feminism