New Age Islam News Bureau
13 Apr 2017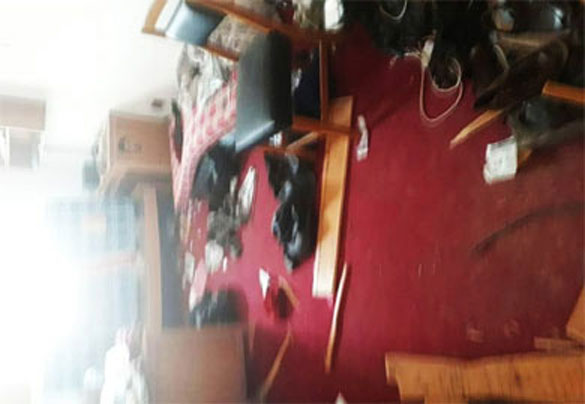 A view of Mashal's hostel room, Mardan University. ─ Photo by author
----
• Mardan University Student Lynched By Mob Over Alleged Blasphemy: Pak Police
• Bangladesh Hangs 3 Extremists Including HuJI Chief For UK Envoy Attack
• Sweden To Fast-Track Tighter Law On Joining Militant Groups
• 'What Love Jihad? Have Been Targeted As I Am A Muslim'
• Nigerian Senate Won't Interfere With Any Religion – Senate President
Pakistan
• Mardan University Student Lynched By Mob Over Alleged Blasphemy: Police
• Don't Touch Historic Sites, SC Warns Punjab Govt
• 'Pro-Taliban Policies Are Costing Us Economic Development'
• Pakhtun Students Protest 'Inaction' Against IJT
• Rangers nab five Daesh, Qaeda-linked terrorists
• 3 injured in Gwadar blast
• Iraqi envoy for inking 'twin cities agreement' with Pakistan
--------
South Asia
• Bangladesh Hangs 3 Extremists Including HuJI Chief For UK Envoy Attack
• Hefazat Now Demands Removal Of All Statues From Bangladesh
• ISIS suffer heavy casualties in East of Afghanistan, 49 killed in latest operations
• Islamic State claims suicide bomber attack that kills five in Afghan capital
• Bangladesh PM backs hardliners over statue controversy
• Heavy explosion heard in Kabul city
• NATO reaffirms support to ensure peace and stability in Afghanistan
• Taliban leader in charge of group of 80 insurgents arrested
--------
Europe
• Sweden To Fast-Track Tighter Law On Joining Militant Groups
• US Makes 'Adjustments' To Daesh Strikes Amid 'Tensions' In Syria
• Russia calls on US not to repeat Syria strike
• Muslims should accept European values or go elsewhere – German minister
• Hungary court repeals town's anti-Islam decree
• The Push to Ban Arabic Sermons in Europe's Mosques
• Russia vetoes UN draft resolution on Syria
• Putin meets Tillerson as US, Russia wrangle over Syria
--------
India
• 'What Love Jihad? Have Been Targeted As I Am A Muslim'
• Odisha: Bhadrak Communal Violence Has Taken Many By Surprise
• Thirty Pakistan spies in Indian jails, provided consular access whenever sought: Officials
• J&K: After video emerges of assault on its men, CRPF says it's our reality
--------
Africa
• Nigerian Senate Won't Interfere With Any Religion – Senate President
• 'Alarming' Rise In Boko Haram Child Suicide Bombers
• Trio who tried to blow up US plane gets 15-year jail in Jordan
• UN: Refugees traded in Libya 'slave markets'
• Four dead in army, police clashes in Nigeria: source
• Nigeria: Attacks on UK, US embassies foiled, say police
--------
Southeast Asia
• Use Moderation To Contain Liberal Threat, Malaysian PM's Religious Adviser Says
• Selangor Suspends Controversial Restrictions On Non-Muslim Places Of Worship
• Chinese daily is no Charlie Hebdo, says Malaysia police chief
• Feeling the pinch, Malaysian IS militants in Syria long for home
• Malaysian students urged to tread carefully in Egypt to avoid being a 'security threat'
• Video of auxiliary cop yelling in mosque goes viral
• Killing of key militant a success and worry for Philippines
--------
Arab World
• Iraqi Forces Kill At Least 52 Daesh Militants In West Mosul Operations
• At Least 13 Civilians Killed In US Led-Airstrike In Western Mosul
• Military Expert Warns of Jordan's Likely Participation in War on Syria
• Russia: Over 220 Towns Taken Back from ISIL in 2017
• Militants in More Towns Join Peace Agreement with Syrian Gov't
• Syrian Army Inches Closer to Main Terrorist Bastions in Northern Aleppo
• Syria: ISIL Retreats from More Territories in Eastern Homs
• Egypt reveals identity of Alexandria church suicide bomber
• Lebanese president blocks expected extension of parliament's term
• While In Saudi Arabia, Philippine President Duterte pulls back on flag vow with China
--------
Mideast
• Germany Abetting Terrorists, Reviving Nazism: Turkey's Erdogan
• Commander: Iran's Ground Force Expanding Drone Fleet
• Raging Yemen clashes leave 18 dead
• Iran's missile tests not linked to UN resolution on nuclear deal: Qassemi
• Iran rejects EU sanctions over human rights as politically-motivated
--------
North America
• Trump Gave Syria Attack Order 'During Dessert'
• Islam and Round Rock: Mosque member explains faith
Compiled by New Age Islam News Bureau
URL: https://www.newageislam.com/islamic-world-news/mardan-university-student-lynched-mob/d/110754
--------
Mardan University Student Lynched By Mob Over Alleged Blasphemy: Pak Police
ALI AKBAR | HASSAN FARHAN 13 April 2017
A student of Abdul Wali Khan University in Mardan was killed and another injured by a vigilante mob on campus Thursday for allegedly publishing blasphemous content online, according to police.
At least 15 people have been arrested in connection with the incident, and the campus has been shut down until further notice. The hostels have been vacated and a search for the culprits is ongoing.
Deputy Inspector General (DIG) of Police Mardan Alam Shinwari said the student was accused of running Facebook pages which allegedly published blasphemous content.
He was assaulted by a group of students and appears to have succumbed to a gunshot wound, the DIG said.
An eyewitness at the scene of the incident said that Mashal and Abdullah, two Mass Communication students, were believed to be promoting the Ahmadi faith on Facebook.
A mob of university students surrounded Abdullah in his hostel room. He was forced to recite verses from the Holy Quran. Despite this, the students beat him.
The police, when alerted, reached the site of the attack and rescued Abdullah, after which the mob set its sights on Mashal who was in the hostel at the time, the eyewitness said.
Mashal was beaten and shot by the mob, and succumbed to his injuries.
Footage of the incident shows Mashal lying on the floor surrounded by men. The student is not moving and his body bears marks of severe torture. Men can be seen kicking him. At the end of the video, he is pulled from his clothes by an unidentified man.
The Mass Communication department in Abdul Wali Khan University is half a kilometre away from the hostel.
Hostel warden Muhammad Ali claimed: "Three to four thousand students were approaching. I was alerted that they were approaching, so I closed the gates but they broke in, found Mashal and fired at him and started beating him."
Students said police had been alerted of the incident and were present on campus at the time. When asked why they didn't intervene, the police said there were too many people in the mob for them to take on.
Source: dawn.com/news/1326729/mardan-university-student-lynched-by-mob-over-alleged-blasphemy-police
-------
Bangladesh Hangs 3 Extremists Including HuJI Chief For UK Envoy Attack
April 13, 2017
KASHIMPUR - Bangladesh hanged three extremists including the leader of a banned militant outfit on Wednesday, after they were sentenced to death over a 2004 grenade attack on the British ambassador.
The explosion at a 14th century Sufi shrine in the north-eastern city of Sylhet killed three people and injured the British high commissioner at the time. Mufti Abdul Hannan, the head of Harkat ul Jihad Al Islami (HuJI) and two associates were sentenced to death in 2008 over the carnage, with Bangladesh's highest court upholding the sentences last month. "They were hanged at 10 pm (1600 GMT)," Home Minister Asaduzzaman Khan told AFP.
Hannan and the two associates, Delwar Hossain and Sharif Shahedul Islam, sought clemency from the Bangladesh President in a last-ditch attempt to commute the execution orders to life sentences, but he rejected their pleas.
A madrassa teacher who studied in India and Pakistan, Hannan, 60, fought against the Soviets in Afghanistan before returning to join HuJI, a group founded for militants who fought in that war.
Prosecutors said Hannan had headed HuJI since the late 1990s, masterminding deadly attacks on a church, secular gatherings, and mosques used by minority sects.
In August 2004, in one of the country's deadliest extremist attacks, he masterminded the blasts at a political rally of current Prime Minister Sheikh Hasina outside her party office in central Dhaka.
Hasina, then leader of the opposition, narrowly survived what she said was an assassination attempt. At least 22 people were killed and more than 100 were injured.
By the time Hannan was arrested in late 2005, more than 100 people had been killed in attacks he orchestrated across the Muslim-majority nation.
HuJI was the first militant outfit to emerge in Bangladesh, and rose to prominence as Hannan escalated its deadly operations under his leadership.
Security was tight at the Kashimpur high security prison, where Hannan and Shahedul Islam were hanged, and at Sylhet jail where Hossain was executed, with hundreds of policemen and an elite security force patrolling outside the facilities.
Last month suspected extremists hurled bombs at a prison van in a daring attempt to free Hannan near the Kashimpur jail. Police arrested a 24-year-old former Madrassa student at the scene.
Tension is running high in the moderate Muslim country in recent weeks following a resurgence of extremist attacks, with at least three being claimed by the Islamic State group.
The fatalities included the head of intelligence of an elite security force tasked with tackling militancy across the Muslim-majority country.
Al-Qaeda and the IS have claimed responsibility in dozens of attacks in recent years, but Hasina's secular government blames local outfits, mainly another banned group, Jamayetul Mujahideen Bangladesh.
Police and army commandos have arrested scores of suspected extremists and killed more than 60 people since an attack on a Dhaka cafe last year that left 22 people, most foreign hostages, dead.
New York-based Human Rights Watch had asked the government to halt the executions of the three extremists, saying evidence against them was based on confessions possibly extracted through torture.
With the latest executions, at least ten Islamists have been hanged by Hasina's secular government since 2013.
http://nation.com.pk/international/13-Apr-2017/bd-hangs-3-extremists-for-uk-envoy-attack
--------
Sweden to fast-track tighter law on joining militant groups
12 April 2017
Sweden's center-left government wants to fast-track plans to make it a criminal offence to be a member of what it deems a terrorist organization, Justice Minister Morgan Johansson said, bringing Sweden into line with neighbor Norway.
The deadly truck attack in central Stockholm that left four dead and injured another 15 has led to widespread calls for
tighter laws, more resources for police and a speedier framework for deporting people who have been denied asylum.
"Freedom of association was never intended to mean that you could be active in terrorist organisations," Johansson told a news conference.
"In the circumstance, this will be fast-tracked."
Similar measures have been discussed previously in Sweden, but were abandonded because they could clash with civil liberties enshrined in Sweden's constitution.
The government has appointed a high court judge to investigate legal framework for a new law, which could be introduced by autumn next year.
Police have said that Rakhmat Akilov, who is suspected mowing down shoppers on a busy Stockholm street in a hijacked truck, had expressed sympathies with extremist organizations.
Security services had not viewed him as a militant threat.
Sweden already has a law making it illegal to travel abroad for terrorist purposes.
Norway introduced a law making it illegal to be a member of a terrorist organization in 2013.
https://english.alarabiya.net/en/News/world/2017/04/12/Sweden-to-fast-track-tighter-law-on-joining-militant-groups.html
--------
'What Love Jihad? Have Been Targeted As I Am A Muslim'
by Ankita Dwivedi Johri
April 13, 2017
A DIFFERENT version of the anti-Romeo squad played out on Tuesday in Meerut, where a 25-year-old youth, Mohammad Wasim, alleged that he was beaten up by "local RSS men because I am a Muslim". Police, however, said the youth was arrested for "harassing women", and charged under Section 294 (for obscene acts or words in public). Their allegation is largely based on local residents' version and some complaints by women of "harassment".
Several reports on Wednesday alleged that Wasim was assaulted by members of the Hindu Yuva Vahini, a youth group founded by Chief Minister Yogi Adityanath, who barged into his rented room in Meerut's Shastri Nagar, found him in a "compromising position with a Hindu woman", and accused him of forcefully trying to convert her in an act of "love jihad". A purported video of the incident was circulated on social media. But Wasim denied this version.
"I had come to Shastri Nagar to collect my belongings because I had moved out," he said. "Suddenly, a few men came and asked me my name. The moment I said Mohammad Wasim, they began hitting me and accusing me of harassing women… There were 8-10 men at first, 20 others joined the group later. They let me go only when the policemen arrived," said Wasim, speaking to The Indian Express over the phone on Wednesday after being released on bail.
Wasim denied that there was any woman with him. Police said they had received complaints of harassment from some women in the area. "When the police patrol team reached the spot, we saw a boy standing there and singing obscene songs. He was telling women, 'my darling, you look very beautiful'," says the FIR lodged by constable Sunil Sharma, who is the complainant in the case.
"We have no idea about any love jihad or conversion. There was no girl, Hindu or otherwise, when the team reached the bridge near the locality — that is where we found him. The team saw him harassing women and he admitted it, following which he was arrested," claimed Senior Sub-Inspector Mohan Singh.
Wasim, who hails from Muzaffarnagar, denied the police's version. "Why would I harass women? I have a Bachelor of Computer Applications degree, and I have been preparing for my Master's. I was working as a field officer with a telecom company," he said. Asked about the purported video, he said: "It is all fake. I haven't even seen it. Anyone can make a video and circulate it."
The Hindu Yuva Vahini, meanwhile, had a different version. "We were at a Hanuman Jayanti event in the neighbourhood when we received a call that something abhadra (immoral) was happening in Shastri Nagar. Four-five of us went to the spot, but by the time we reached, they had already taken him (Wasim) to police station. We went to thana and urged police to conduct a probe against the landlord and the youth — the neighbours said he had many women visitors in the past and was caught with a woman in his room," said Nagendra Pratap Singh Tomar, western UP head of the outfit.
"When the police asked him his name, he said it was Sonu. Why did he lie and use a Hindu name if he was not trying to do love jihad," asked Sachin Mittal, 31, a Hindu Yuva Vahini member.
"Women would come here all the time… On Tuesday, I went there with 20-25 women, and forced them to open the door. There was a girl there… We didn't lay a finger on them, just handed them to the police," said Neeraja Pundir, a neighbour. "I saw a girl with him and decided to call the others," said Ruby Parveen, 29, another neighbour.
"The Hindu Yuva Vahini members came here after the youth was arrested, shouted 'Bharat mata ki jai' slogans and left," said Upendra Singh, 42, a resident of the area. Sukhbir Singh Tyagi, Wasim's landlord, refused to comment.
Meanwhile, Wasim said he just wanted to "move on". "I have no plans to file a complaint against the RSS men. I just want to concentrate on my MCA preparations," he said.
http://indianexpress.com/article/cities/lucknow/what-love-jihad-have-been-targeted-as-i-am-a-muslim-4611099/
--------
Nigerian Senate Won't Interfere With Any Religion – Senate President
By Wale Odunsi
April 12, 2017
Senate President, Dr. Abubakar Bukola Saraki, has said that the Senate will not make laws that interfere with the religious creeds of Nigerians.
Saraki, according to a statement by his Chief Press Secretary, Sanni Onogu, disclosed this when the Council of Ulama (Muslim clerics) in Nigeria visited him in Abuja.
"I say that again, whatever laws we pass here, will be respectful to the religious beliefs of our people. We will not do anything that will in anyway go against that.
"We are trying our best to ensure that we pass laws that will make direct positive impact on Nigerians. I want to also use this opportunity to assure you that whatever laws we pass here, will be sensitive to the religious values of the whole Nigeria", Saraki said.
The Senate President also commended the Council for uniting all Islamic scholars under one umbrella, a development he said has contributed immensely to the stability and progress of not only the Islamic religion but that of the nation.
He expressed the commitment of the Senate to make the country better by passing laws that make positive impact in the life of the citizenry.
He further stated that the Senate is working hard to replicate the successes achieved in the fight against terrorism, in the fight against corruption and the revival of the economy.
"We thank God for the success we have made in the fight against corruption and I am sure that the progress will be extended to the economy in order to put this country in a better place," he said.
On his part, the Chairman of the Council of Ulama in Nigeria, Sheik Abdullahi Abubakar Tureta, commended the Senate President for his patience and perseverance in the face of political adversity since his emergence as Senate President.
"We praise you for that and we are not surprised looking at your family background and we urge you to continue to be patient and persevere as the Almighty Allah promised to be with the patient one," Tureta said.
Reminding the Senate President about the burden of leadership, Tureta said the responsibility for the welfare of all Nigerians has been placed on both the executive and the legislative arm of government.
"If the two of you cooperate, everything will go well with the country, but if you work at cross-purposes, only the Almighty God knows what will befall the country."
On his part, the Secretary General of the Council, Professor Mohammed Sadiq Abubakar, lauded the cooperation between the Senate and the Executive in the fight against terrorism in the country.
He noted that the cooperation contributed in no small measure in defeating terrorists and insurgents in the North East.
Abubakar urged the two arms of government (executive and legislature), to further strengthen their relationship.
"We are happy about the fence mending and reconciliation efforts of the President with the Senate. I was happy when I read that the Senate President in a newspaper interview said that there is no quarrel between the executive and the Senate.
The Council of Ulama of Nigeria, he said, was established 31 years ago to unite the Ulamas from all the Islamic sects for the purpose of stability within adherents of the Islamic religion and the nation in general, saying that, "our membership is drawn from all Islamic sects without any form of discrimination."
http://dailypost.ng/2017/04/12/nigerian-senate-wont-interfere-religion-saraki/
--------
Pakistan
Don't touch historic sites, SC warns Punjab govt
NASIR IQBAL
April 13, 2017
ISLAMABAD: The Supreme Court on Wednesday warned the Punjab government not to touch any historical site in Lahore — including the British-era General Post Office (GPO) building — in developing the Orange Line Metro Train.
"Do not even dream of usurping any [part] of the GPO building," observed Justice Sheikh Azmat Saeed, a member of the five-judge Supreme Court bench hearing challenges to the Lahore High Court's stay order on the project.
Justice Saeed also asked the provincial government to assure the court, in writing, that no part of the GPO building would be used to build a stairway for an elevated train station, nor would any wall of the St Andrews Church be demolished and reconstructed.
Headed by Justice Ejaz Afzal Khan, the five-member bench also ordered the provincial government to: identify the extent of damage already caused to different heritage sites; and suggest remedial measures to address the concerns of civil society activists who were campaigning for the preservation and protection of historical sites.
The bench is hearing identical petitions filed by the Punjab government, Lahore Development Authority (LDA), Punjab Mass Transit Authority (PMTA) and Nespak, challenging the high court's suspension of construction work on the Orange Line project within 200 feet of 11 heritage sites.
Asma fears heritage sites may be de-listed if Orange Line project goes ahead as planned
The order came on a petition filed by architect and civil society activist Kamil Khan Mumtaz.
The directions came in response to arguments by human rights activist Asma Jahangir, who — using pictures and diagrams — highlighted the neglected and dilapidated state of different heritage sites, and feared that these historical places may not sustain the impact of vibrations or other hazards that were bound to be generated during construction of pillars for the ambitious metro train project.
During Wednesday's proceedings, Justice Ijaz-ul-Ahsan wondered why the provincial government could not apportion a few million from the multi-billion rupee budget of the project for the restoration of heritage sites.
Nespak counsel Shahid Hamid, however, assured the court that Punjab Chief Minister Shahbaz Sharif had allocated Rs100 million for the restoration of all historical buildings and that work to preserve the Mughal-era Chauburji monument had already begun.
Advocate Mustafa Ramday and the project's chief engineer also assured the court that no path or veranda of the GPO office would be demolished following the high court's restraining order.
In her presentation, Ms Jahangir referred to a number of sites of cultural value that would definitely be subject to visual impairment from the project, since the train track or its supporting pillars would — at certain points — pass within 200 metres of the heritage site.
This cut-off distance, she said, was considered by experts to be essential in order to reduce the impact of the vibrations from the metro train.
A pedestrian would not even be able to enjoy the ambience of the walls of the Shalimar Gardens because of the track's pillars, she said, claiming that the Shalimar Gardens Hydraulic Tank, which provided water for the garden's signature fountains, was a mere eight meters from the track.
Alluding to the absence of infrastructure around the Taj Mahal in the Indian city of Agra, she said it had been removed so it would not block the view of the magnificent tomb.
"[The developers] also planned to desecrate an old mosque inside the Baba Mauj Darya Bukhari shrine," said claimed, insisting that the residents of Lahore were lucky to be living in one of the most beautiful cities of the world, which was full of archaeological sites that should be preserved, not defaced.
Ms Jahangir also wryly noted that the developers has chosen to dig a cut-and-cover (referring to the way underpasses are built) tunnel outside the Supreme Court Registry, which was not as important as the Shalimar Gardens in terms of historical value.
When an exasperated Justice Saeed observed that he had no words to express himself, Ms Jahangir sarcastically mused that Lahore had even reduced renowned poets Faiz Ahmed Faiz and Habib Jalib to mere underpasses.
She also expressed the fear that these heritage sites may lose their historical value and may end up being removed from the list of world heritage sites if the train project was constructed according to the design the developers had envisaged.
Published in Dawn, April 13th, 2017
https://www.dawn.com/news/1326666/dont-touch-historic-sites-sc-warns-punjab-govt
--------
'Pro-Taliban policies are costing us economic development'
April 13, 2017
ISLAMABAD: Pro-Taliban policies are hindering economic development in Pakistan. The country would have earned more if it had good relations with Afghanistan than it will from the China Pakistan Economic Corridor (CPEC), said former senator and Awami National Party (ANP) leader Afrasiab Khattak.
During a presentation of the shadow budget for the ANP at the Sustainable Development Policy Institute on Wednesday, Mr Khattak said trade between Afghanistan and Pakistan had been at Rs2.5 billion when Afghan President Ashraf Ghani had visited Pakistan in 2013.
It was then decided that trade between the two countries will be increased to $5 billion during the next five years.
"If we had better relations between Pakistan and Afghanistan, we would have reached central Asia and would have been earning a huge income rather than getting loans from China under CPEC," he said.
"We have to understand that the cold war has ended and there is a need for adopting different policies for addressing economic issues. Our Afghan policy has blocked the way to central Asia," he added.
ANP leader says Pakistan could earn more from good relations with Afghanistan than what it will from CPEC
He said the National Finance Commission Award, which is announced every five years, was due since 2014.
He urged the government to announce the award immediately and to revise the formula for the distribution of funds.
"The government has made a number of promises which it has not kept. The revenue of the country needs to be increased via direct taxes. For example, property tax should be increased and more so for those living in bigger houses," he said.
Mr Khattak suggested the provinces should announce an agricultural tax as it is unfair that only the salaried class and industrial sector pay taxes while those who earn huge incomes from agriculture do not.
"Our textile industry has been suffering due to our polices and that it why it has been overtaken by India and Bangladesh. Foreign policy plays an important role in increasing the exports of a country,' he said.
The former senator said a large number of people were working in the agriculture sector and suggested other aspects of agriculture should also be promoted including poultry and dairy farming as those products can also be exported.
He said steps should be taken for training labour as Indian labour has been replacing that from Pakistan in the Gulf and that skilled workers will also be required for CPEC.
Mr Khattak said there are black patches and economies in the country such as in the Federally Administered Tribal Area (Fata), which the federal government was unwilling to discuss.
Full report at:
https://www.dawn.com/news/1326643/pro-taliban-policies-are-costing-us-economic-development
--------
Pakhtun students protest 'inaction' against IJT
April 13, 2017
LAHORE: Punjab University's (PU) Pakhtun students on Wednesday blocked the Campus Bridge to protest against the university administration and police for not taking action against Islami Jamiat Tulba (IJT) activists who had allegedly tortured them.
A large number of students gathered on the bridge in the morning and shouted slogans against the administration and police. Traffic was blocked on the canal and Iqbal Town Main Boulevard for more than two hours.
The protesters demanded arrest of students and IJT activists nominated in first information reports and a ban on the entry of IJT members on the campus.
Meanwhile, IJT activists also reached the bridge but they were stopped by police and university administration.
University administration and Iqbal Town Superintendent of Police (SP) Umar Farooq held negotiations with the protesting Pakhtun students and opened the road for traffic.
The SP said that the protesters were demanding action against the nominated suspects involved in torturing Pakhtuns on the campus. The education minister had constituted an inquiry team, which would suggest the course of action against the students. However, he said they stopped both student organisations from getting into an argument again and succeeded in dispersing them.
A university administration official said that they were trying to sort out the matter peacefully and all IJT activists who were not PU students were not allowed on the campus. He said they would also take action on the suggestion of the inquiry team.
Earlier, the provincial higher education department had written to public universities and directed them to ensure that activities by students in the name of holding functions were not allowed and that such activities were under the administrative control of the vice chancellor.
Full report at:
https://www.dawn.com/news/1326629/pakhtun-students-protest-inaction-against-ijt
--------
Rangers nab five Daesh, Qaeda-linked terrorists
April 13, 2017
KARACHI - The Rangers yesterday claimed to have arrested at least five hardcore militants of Daesh and al-Qaeda in Indian Subcontinent (AQIS), having a nexus with foreign countries' spy agencies.
Colonel Qaiser Khattak of Sindh Rangers, addressing a press conference, revealed they had received information through intelligence sources about trained militants of Daesh and AQIS, who were planning to carry out a major terror activity in Karachi.
"After getting information, the Rangers arrested five hardcore militants during a raid in the Mawach Goth area of Keamari Town," the officer explained. "These terrorists had planned to conduct a major terror activity in Karachi. The Rangers saved Karachi by taking timely action against them," he asserted.
The colonel told the media that the Rangers had also support of some peace-loving citizens of Karachi during this operation and they would be awarded special rewards on the directives of the SIndh DG Rangers.
The Rangers official said these terrorists belonging to AQIS got militancy training from Afghanistan. "These terrorists had nexus with Indian spy agency, RAW, and Afghanistan's agency, NDS. The militants were operating their network in Pakistan via Balochistan," the colonel revealed. He said the militants were using SD cards to communicate with one another.
The Rangers recovered a laptop from their possession, which contained 3D maps of highly sensitive installations in Karachi as well as jihadi and anti-state literature which confirmed their connections with banned militant outfits, he explained.
The arrested suspects were identified as Tahir Zaman alias Faisal Mota Boxer, Muhammad Nawaz, Bilal Ahmed alias Kashif, Muhammad Farhan Siddiqui and Dur Muhammad Mashhadi.
Sharing details of the arrested militants, the officer said accused Tahir Zaman, besides being trained in Afghanistan, also got militancy training from a training camp in Miran Shah. He along with his accomplices killed two cops in Korangi in January 2013 while attacking a police mobile with a hand grenade. He also killed two workers of an ethnic party in 2013.
Accused Nawaz joined AQIS in 2012 and got training of militancy and IEDs manufacturing. He used to provide information about army, intelligence and police officials to Tehreek-e-Taliban Pakistan. Another militant, Bilal Ahmed, is a closed aide of Tahir Minhas, a key suspect in Safoora bus carnage already arrested by law enforcers. He also got training of suicide bombing. He killed eight people belonging to Dawoodi Bohra community and Ahle Hadith on the directions of Tahir Minhas. He was also involved in a bomb blast outside a mobile market in North Nazimabad.
Accused Farhan Siddiqui joined al-Qaeda in 2008. He was recruitment in-charge for al-Qaeda. Accused Dur Muhammad joined al-Qaeda in 2008. He was also arrested in 2009 while smuggling arms to Karachi from Sukkur. After his release from jail in 2014, he again joined the banned outfit and started terror activities.
The colonel said action against terrorists would continue under the ongoing operation Radd-ul-Fasad. The Rangers claimed to have recovered eight kilograms of explosives, four ball bombs, four sub machine guns (SMGs), two pistols, one suicide jacket, four hand grenades, ammunitions and other explosive materials.
MILITANT HELD IN PESHAWAR
Staff Reporter adds: Police Special Unit on Wednesday nabbed suspected militant and recovered explosives from his possession.
Police on tip-off apprehended a suspected terrorist, identified as Salman, resident of Mohmand Agency. Police said its special unit raided Rashakai area and arrested the suspected militant who was wanted to the law enforcers in various acts of violence.
One kilogram of explosives and a hand grenade were also recovered from his possession, police said.
Full report at:
http://nation.com.pk/national/13-Apr-2017/rangers-nab-five-daesh-qaeda-linked-terrorists
--------
3 injured in Gwadar blast
April 13, 2017
GWADAR - At least three people were wounded while seven vehicles and scores of shops damaged yesterday when an improvised explosive device exploded in Gwadar, police said.
Miscreants planted an improvised explosive device (IED) in a motorcycle at Airport Road, Gwadar, near Razzaq Plaza, which exploded with a powerful bang. As a result, three persons were injured while seven vehicles and scores of shops damaged.
On receiving information of the incident, contingents of police and Frontier Corps reached the site and shifted the injured to hospital where their condition was reported to be out of danger. The wounded are said to be one each from Lahore, Hyderabad and Gwadar. The terrorists used 3-4kg explosives, said police officials.
Meanwhile, Chief Minister Nawab Sanaullah Zehri condemned the blast and directed the local administration concerned to extend the best possible medical facilities to the wounded.
Full report at:
http://nation.com.pk/national/13-Apr-2017/3-injured-in-gwadar-blast
--------
Iraqi envoy for inking 'twin cities agreement' with Pakistan
April 13, 2017
KARACHI - Ambassador of Iraq in Pakistan Dr Ali Yasin Mohammed Karim has underscored the need for inking a 'twin cities agreement' between Pakistan and Iraq, which, he argued, would not only help in dealing with visa issues but will also pave the way for bringing people more closer to each other and enhancing trade.
He suggested that this could be done either by declaring Karachi and Basra or Karachi and Najaf or any other city as 'twin cities'
Exchanging views at a meeting during his visit to the Karachi Chamber of Commerce and Industry (KCCI) here on Wednesday, the Iraqi ambassador said by declaring any city in Iraq and Karachi as twin cities the two countries would relieve themselves of visa issues, as people will be able to move between the twin cities freely.
The ambassador further said that Iraq had some factories, including 18 cement manufacturing factories, but these were not properly functional as compared to Pakistan's advanced industrial units and infrastructure. "As factories in Iraq need improvements, therefore the private and public sectors of Iraq and Pakistan can undertake joint ventures in all the sectors of economy," he said, and added, "We prefer joint ventures in private sector which are quicker as compared to joint ventures in public sector."
Karim said that currently Iraq mostly bought goods from China, India and some other countries whereas Pakistan could also enhance its trade share and efficiently compete with Chinese and Indian products through quality control.
"Four months ago, Iraq imported hundreds of tonnes of rice from India and the first shipment of Indian rice was good but the second shipment was 100 percent rotten, which discouraged the Iraqi importers," the envoy added.
Subsequently, the Iraqi embassy in Pakistan was asked to find anyone who could export rice to Iraq.
This trade inquiry was forwarded from the Ministry of Foreign Affairs to all chambers of commerce in Pakistan but nobody has answered us yet," he added.
To a query regarding trade opportunities in Iraq, he stressed the need for frequent meetings between Karachi Chamber and Chambers of Commerce in Basra, Baghdad or Najaf in order to explore not just the fabric market but also other markets, saying Iraq required almost everything so the business community of Karachi should not confine itself to fabric market only.
Commenting on the China-Pakistan Economic Corridor (CPEC), the envoy said that Iraq was considering establishing gas terminals at Port Qasim and Gwadar, worth billions of dollars. "After CPEC becomes operational, many ports in the region will be paralyzed and Pakistan will be a rich country whereas most of the Pakistanis residing abroad especially in the Gulf region will return to their homes," he added.
Full report at:
http://nation.com.pk/karachi/13-Apr-2017/iraqi-envoy-for-inking-twin-cities-agreement-with-pakistan
--------
South Asia
Hefazat now demands removal of all statues from Bangladesh
April 13, 2017
'In future, we want no more statues to be installed and demand that government remove all statues from the country'
Islamist group Hefazat-e-Islam has demanded the removal of all statues which were installed by the government.
The hardline Islamist pressure group first petitioned the prime minister and the chief justice on the issue on February 14, describing the Lady Justice statue erected at the Supreme Court premises as "anti-Islamic."
Hefazat followed up their request by staging protests in Dhaka, Chittagong and Narayanganj on February 24 to demand the removal or destruction of the Greek goddess statue.
"We have asked the prime minister to remove the Greek idol from the Supreme court premises. She has given us hope in this regard," Hefazat central Organising Secretary Azizul Ahaque Islamabadi said on Wednesday.
"In future, we want no more statues to be installed and demand that government remove all statues from the country," he added.
Hefazat's central Joint Secretary General and Islami Oikya Jote (IOJ) Secretary General Mufti Fayzullah told the Dhaka Tribune that their demand was not aimed at the minority Hindu communities.
"Although we demand all statues be removed from the country, it does not mean the removal of religious idols from temples," he said.
http://www.dhakatribune.com/bangladesh/2017/04/13/hefazat-now-demands-removal-statues-bangladesh/
--------
ISIS suffer heavy casualties in East of Afghanistan, 49 killed in latest operations
Apr 12 2017
The Islamic State of Iraq and Syria (ISIS) terrorist group offshoot militants suffered heavy casualties in Eat of Afghanistan during the latest counter-terrorism operations.
The provincial government in a statement said at least forty nine militants including three commanders of the group were killed during the past 24 hours.
The statement further added that the militants suffered the casualties during the Hamza operations being conducted in the vicinity of Achin district.
The operations were conducted with the support of the airpower as the Afghan security forces continued to their clearance operations in this district, the statement said.
Several weapons and other military kits including explosives were also destroyed during the operations.
Nangarhar is among the relatively calm provinces in eastern Afghanistan but the anti-government armed militants have recently increased their insurgency activities in some parts of the province during the recent years.
Both the Afghan and US forces based in Afghanistan are conducting regular operations to suppress the insurgency led by ISIS militants and other insurgent groups including Taliban.
Full report at:
http://www.khaama.com/isis-suffer-heavy-casualties-in-east-of-afghanistan-49-killed-in-latest-operations-02552
--------
Islamic State claims suicide bomber attack that kills five in Afghan capital
Apr 12, 2017
Islamic State militants claimed responsibility for a suicide bomb attack on Wednesday near the Afghan Defence Ministry that killed at least five people.
At least one civilian and two members of the Afghan security forces were killed, a ministry spokesman said, adding that the target appeared to be a police post near military headquarters.
Islamic State claimed responsibility in an online post.
A police officer at the scene told Reuters the attack appeared to have been carried out by a suicide bomber on foot. A Reuters witness reported seeing several damaged cars, with possible injuries to the occupants.
Last month, Islamic State fighters killed nearly 50 people when then stormed the main military hospital in Kabul.
Islamic State's offshoot in Afghanistan, known as the Sunni jihadist group's so-called Khorasan Province, is suspected of carrying out several attacks on minority Shi'ite Muslim targets. U.S. officials say intelligence suggests Islamic State is based overwhelmingly in Nangarhar and neighbouring Kunar province.
Estimates of its strength in Afghanistan vary. U.S. officials have said they believe the movement has only 700 fighters but Afghan officials estimate it has about 1,500.
Full report at:
http://www.hindustantimes.com/world-news/islamic-state-claims-suicide-bomber-attack-that-kills-three-in-afghan-capital/story-Dz4WcOoJKaTKKjY1kNJoaL.html
--------
Bangladesh PM backs hardliners over statue controversy
12 Apr 2017
DHAKA: Bangladesh Prime Minister Sheikh Hasina has been accused of "kowtowing" to hardline Muslims after expressing dislike for a controversial statue that religious radicals want removed from the Supreme Court.
The statue of "lady justice" has ruffled feathers in the Muslim-majority nation, with hardliners staging massive protests in recent weeks against what they say is a Greek god unbefitting Bangladesh.
Protesters want the statue of the blindfolded woman holding scales, said to represent justice, destroyed and replaced with a Koran, despite Bangladesh's secular constitution.
Hasina, who had kept the furore at arms length, broke her silence late Tuesday after inviting top hardline leaders to her residence where she described the statue as "ridiculous".
"I don't like it myself. It's being called a Greek statue, but how did a Greek statue get here?" she said in comments published in online news portal bdnews24.com.
Court officials have defended the statue as a symbol of justice while secular groups expressed dismay that Hasina and the secular ruling party, the Awami League, was seemingly siding with hardliners on the issue.
"The government and Awami League's kowtowing to this type of demand will be suicidal for Bangladesh," Shahriar Kabir, secretary of Bangladesh's leading secular rights group, told AFP.
In a further major concession to hardliners, Hasina also said Tuesday her government would recognise degrees from hardline madrassas, paving the way for millions of religious scholars to qualify for jobs in public and private sectors.
The prime minister made the announcement after meeting hardline Muslim leaders including the head of Hefazat-e-Islam, a fundamentalist group that has called for gender-segregated workplaces and tough blasphemy laws.
Conservative Bangladesh has experienced increasing tensions between hardliners and secularists in recent years, suffering a spate of killings of atheist bloggers, religious minorities and foreigners.
Full report at:
http://www.channelnewsasia.com/news/asiapacific/bangladesh-pm-backs-hardliners-over-statue-controversy/3672524.html
--------
Heavy explosion heard in Kabul city
Apr 12 2017
The incident has taken place in the vicinity of the 2nd police district, house to the Ministry of Defense and several other government institutions, including the VIP Protection Unit providing security to the government elites.
The Ministry of Interior confirmed the incident that took place in Police District#2 was due to a suicide attack.
Preliminary reports suggest at least two people belonging to the VIP protection unit were killed in the attack.
In the meantime, another official said at least five people were killed and more than ten others were wounded after a suicide bomber detonated his explosives near a vehicle carrying the government employees.
No group including the Taliban insurgents or any other terrorist group has so far claimed responsibility behind the incident.
Full report at:
http://www.khaama.com/heavy-explosion-heard-in-kabul-city-02555
--------
NATO reaffirms support to ensure peace and stability in Afghanistan
Apr 12 2017
The North Atlantic Treaty Organization (NATO) has reaffirmed continued support until peace and stability is ensured in Afghanistan.
The commitment was made by Deputy NATO Senior Civilian Representative to Afghanistan cornelius zimmermann during a meeting with Interior Minister Taj Mohammad Jahid.
He said the alliance is prepared to provide support in the framework of train, advise, and assist mission to the Afghan forces until stability is achieved in the country.
In his turn, the Minister of Interior Taj Mohammad Jahid emphasized on the vital role of NATO's support to the Afghan forces and said the NATO-led Resolute Support Mission consisting of train, advise, and assist mission has proven help for the Afghan forces.
This comes as the NATO Secretary General Jens Stoltenberg said earlier this month that the presence of the alliance in Afghanistan is to the prevent the country from becoming the international terrorism safe haven.
The US Secretary of State Rex Tiller also said the work of the alliance in Afghanistan remains critical as he insists continued support to the Afghan forces to enable them fight terrorist groups and prevent the country from becoming the safe haven of the terrorist groups.
Full report at:
http://www.khaama.com/nato-reaffirms-continued-support-to-ensure-peace-and-stability-in-afghanistan-02554
--------
Taliban leader in charge of group of 80 insurgents arrested
Apr 12 2017
A key Taliban leader in charge of a group of at least 80 insurgents was arrested by the Afghan intelligence operatives in north of Afghanistan.
The Afghan Intelligence, National Directorate of Security (NDS), said the detained Taliban leader has been identified as Akhtar Mohammad who was also famous as Belal.
A statement by NDS said Akhtar was arrested by the intelligence operatives from the vicinity of the Jawzjan province.
The statement further added that Akhtar was involved in major terrorist attacks including attacks on convoys, government officials and civilians, roadside bombings, and kidnappings.
Akhtar confessed that he was looking to join the Islamic State of Iraq and Syria (ISIS) terrorist group offshoot in Jawzjan under the leadership of Mullah Hekmatullah.
NDS said the attempt by Akhtar was reflecting the latest move by the Taliban insurgents to infiltrate the ISIS terrorist group and further expand their insurgency in the country.
Both the Taliban insurgents and militants loyal to the Islamic State of Iraq and Syria (ISIS) terrorist group are active in some parts of Jawzjan province.
This comes as at least six employees of the International Committee of Red Cross were shot dead by militants in this province last week.
Full report at:
http://www.khaama.com/taliban-leader-in-charge-of-group-of-80-insurgents-arrested-02556
--------
Europe
US makes 'adjustments' to Daesh strikes amid 'tensions' in Syria
Apr 12, 2017
The United States and its allies are pulling back on airstrikes to allegedly target Daesh terrorists in Syria in the wake of US missile strikes against an airbase under the control of the Syrian government, which drew Russia's ire.
US warships deployed to the eastern Mediterranean launched a barrage of 59 Tomahawk missiles against Shayrat Airfield, southeast of the western Syrian city of Homs, on Friday. Washington, without providing any evidence, alleged that the attack came in response to a chemical attack by the Syrian government in Khan Shaykhun.
The missile attack, which faced condemnation by Russia, Iran as well as the Syrian government, appeared to be the reason behind the "adjustments" the US-led coalition is making.
"We have made adjustments to our operations to account for the potential tensions that resulted from the strikes that were conducted because of the Syrian regime's chemical attack," Colonel John Dorrian, the spokesman for Combined Joint Task Force - Operation Inherent Resolve, told reporters at the Pentagon on Wednesday.
The spokesman further asserted that the so-called coalition would continue its operations against the Daesh de facto capital, Raqqah, in northern Syria.
"But make no mistake, we do plan on continuing our operations and we do continue to look for ways to accelerate them," Dorrian said.
He further noted that the forces are attempting to avoid a "miscalculation," which could potentially make Russia confront the US in Syria.
"It's just appropriate to make sure that you're taking appropriate measures to account for that," said the spokesman. "We don't want to be reckless and we don't want to have some type of incident that would cause a miscalculation, or some type of unintended incident."
The so-called coalition reportedly conducted 123 strikes in past week in an attempt to allegedly liberate the Takfiri-held town.
"The intent is to get back as quickly as possible to our normal operations and as fast a pace as we can manage," Dorrian said, adding that there was no evidence of any threats against US forces by Russia or the Syrian forces.
Damascus has categorically denied carrying out the gas attack, with the foreign ministry stressing that an Idlib airstrike had targeted a depot, where terrorists stored chemical weapons.
Full report at:
http://www.presstv.ir/Detail/2017/04/12/517817/US-makes-adjustments-to-ISIL-strikes
--------
Russia calls on US not to repeat Syria strike
12 April 2017
Russian Foreign Minister Sergey Lavrov Wednesday insisted that the U.S. should not carry out further attacks against Bashar al-Assad's regime in Syria.
Speaking at the start of a meeting in Moscow with a U.S. delegation led by Secretary of State Rex Tillerson, Lavrov said: "We consider it fundamentally important to prevent the risk of recurrence of such events in the future."
Last week, the U.S. responded to a chemical attack on civilians by Assad forces by launching missiles against a regime air base thought to have been used in the attack, which killed at least 100 civilians.
The U.S. attack raised tensions between Moscow and Washington. Russia is a major ally of Assad with troops stationed in the country and the U.S. has suggested Russia may have known about the chemical attack in advance.
The Kremlin has said it regarded the U.S. strike as an "act of aggression" against a sovereign state carried out in violation of international law under a "far-fetched pretext".
In comments reported by the TASS news agency, Lavrov said Tillerson's visit was "very timely". He added that Russia hoped to clarify the possibility of dialogue with the U.S.
It is the first visit by a member of President Donald Trump's administration to Russia.
Lavrov said it was important for Russia to understand the "real" intentions of the U.S. government. Tillerson said he hoped for an "open and frank" dialogue with Lavrov.
President Vladimir Putin received Lavrov and Tillerson at the Kremlin Palace, spokesman Dmitry Peskov told reporters later.
Full report at:
http://www.worldbulletin.net/europe/187826/eu-turkey-ties-hang-in-referendum-balance
--------
Muslims should accept European values or go elsewhere – German minister
12 Apr, 2017
Muslim migrants who refuse to embrace European values must realize there are better places for them to reside than in the EU, Wolfgang Schaeuble, the German Finance Minister has said.
Muslims who don't want to change their ways after arriving in Europe must be told, "you've made the wrong decision," Schaeuble said during a round table discussion in Berlin on Wednesday.
"There are better places in the world to live under Islamic law than Europe," he said as cited by Reuters.
Last year, Schaeuble, who is a known long-time ally of Chancellor Angela Merkel, stated that the influx of refugees was "a challenge for the open-mindedness of mainstream society."
In a guest article in Welt am Sonntag paper, the 74-year-old politician urged Muslim newcomers to adopt what he called, "German Islam," based on liberalism and tolerance.
Almost 1 million migrants from the Middle East and Africa arrived in Germany in 2015, according to the country's estimates. The numbers spurred social tension and led to numerous anti-government protests against Merkel's so-called 'open door' immigration policy.
The situation also saw the rise of the right-wing and anti-immigrant Alternative for Germany (AfD) party, which gained foothold in almost all of the country's 16 state parliaments since the eruption of the refugee crisis in 2015.
In February, Austrian authorities slammed the country's Islamic Religious Community (IGGO) for its recommendation that Muslim women should start wearing a headscarf from the onset of puberty.
Full report at:
https://www.rt.com/news/384549-eu-muslims-germany-schaeuble/
--------
Hungary court repeals town's anti-Islam decree
APR 12, 2017
BUDAPEST (AFP) - Hungary's highest court on Wednesday (April 12) repealed a far-right mayor's decree banning the construction of mosques and the wearing of clothes such as the niqab and the burkini in his town.
The decree in Asothalom, close to the Serbian border, was "unconstitutional" and "infringed fundamental rights", the constitutional court in Budapest said.
The directive was introduced last November by Laszlo Toroczkai, a vice-president of the radical-right Jobbik party.
He gained prominence in 2015 when he filmed an action movie-style video at a fence on the Serbian border warning asylum-seekers not to enter Hungary.
The 39-year-old said last year the Asothalom decree was aimed at "protecting the community and its traditions from any mass settlement from outside".
Asothalom, a town of around 4,000 people, has few migrants.
The Hungarian Islamic Community (MIK), estimated to have around 40,000 members, had called the measures "xenophobic" and asked the constitutional court to examine their validity.
At the height of Europe's migrant crisis in 2015, over 400,000 people, many fleeing the Syrian civil war, passed through European Union member Hungary on their way to western and northern Europe.
Right-wing Prime Minister Viktor Orban, a strong admirer of US President Donald Trump, has taken a hard line on immigration, calling it the "Trojan horse of terrorism".
Last month, his government announced it would detain all asylum-seekers in container camps on its southern border with Serbia, a plan that has drawn criticism from rights groups and the UN.
Full report at:
http://www.straitstimes.com/world/europe/hungary-court-repeals-towns-anti-islam-decree
--------
The Push to Ban Arabic Sermons in Europe's Mosques
APR 12, 2017
SIGAL SAMUEL
In several Western European countries, some politicians want to force imams to deliver sermons only in the official language: In Germany, imams should preach in German; it Italy, in Italian; in Britain, in English; in France, in French.
To justify this requirement, two rationales are cited. Some say it will function as a counterterrorism strategy. Others say it will promote the social integration of Muslims. A few appeal to both lines of reasoning.
Germany's Deputy Finance Minister Jens Spahn called last month for an "Islam law" that would make imams' sermons "transparent," saying that the authorities "had to know what happens in mosques." He argued that imams should preach in German and that "imported imams lead to social disintegration." Spahn, who also proposed an official registry for mosques, is a member of the executive committee of Chancellor Angela Merkel's ruling Christian Democratic Union party. Other senior Merkel allies like Julia Kloeckner have joined the push for an Islam law, though a Merkel spokesman said this month that such a law is "not now" on the agenda.
In Italy, Islam isn't officially recognized as a religion, even though it has an estimated 1.6 million adherents in the country. (The Italian Constitution requires non-Catholic faith groups to sign an accord or "intesa" in order to be formally recognized, after which the groups gain the right to take days off for holidays, to have their religious marriages acknowledged by the state, and so on.) However, in February, the Interior Ministry agreed to "facilitate the path" toward official recognition in an unprecedented arrangement titled the "National Pact for an Italian Islam." But the government wanted something in exchange: Muslim organizations had to agree to a registry of their imams, and to a requirement that the imams sermonize in Italian. Interior Minister Marco Minniti described the document as a safeguard "against any form of violence and terrorism."
In Britain, a counter-extremism task force is working on a plan to encourage imams to preach in English, the Telegraph reported last month. The report noted that the plan arose "amid concern that preaching in foreign languages enforces divisions between Islam and mainstream British society and can foster radicalization." It cited a senior government source who said, "If imams are speaking in another language it makes it far harder to know if radicalization is taking place."
In France, this rationale has been offered up by far-right National Front party leader Marine Le Pen, who claimed in 2014 that, "It's not difficult to require sermons in France to be given in French. That would also make it much easier to report what subjects are being dealt with." Le Pen is not the only French politician to call for this requirement; it gained support from across the political spectrum after the 2015 Paris attacks. Another French politician put it bluntly: "Sermons in France shouldn't be in Arabic."
Considering that fundamentalist recruiters don't need to speak in Arabic to be extremely successful at what they do, it's not clear how clamping down on Arabic-language sermons would represent a viable counterterrorism strategy. After all, Anwar al-Awlaki, the al-Qaeda propagandist and cleric, gave many recorded sermons in English. In the U.K., prominent preachers like Anjem Choudary, Abu Hamza al-Masri, and Omar Bakri Muhammad likewise delivered their messages in English before they were convicted for supporting terrorism.
"It's easy to preach a resistance message even when you're speaking the same language as the people you're preaching against," said Brenna Powell, a Stanford scholar who studies civil conflict. "And even when they speak the same language, people are often very good at manufacturing code."
Although preaching in Arabic makes it harder for those who don't speak the language to "decode" the substance of the message, that doesn't mean an Arabic sermon is more likely to be radicalizing anyone. It could just be more likely to make non-Muslim Europeans nervous about what's going on in mosques.
But experts say that's not where most Muslims who adopt extremist views are getting them.
"We can't just pin everything on mosques," said Mubaraz Ahmed, an analyst with the Centre on Religion and Geopolitics who specializes in jihadi groups and online extremism. "Overwhelmingly there's an acceptance within the [countering violent extremism] field that radicalization doesn't take place in mosques; it's increasingly taking place elsewhere. Certainly in the ISIS era, a lot of it is online, with encrypted messaging services"—like WhatsApp and Telegram—"coming under the spotlight."
Scott Atran, an anthropologist who studies terrorism through fieldwork with Islamic fundamentalists and others, echoed this statement. "Traditional religious education is a negative predictor of involvement in these movements," he said in an email, adding that most who join jihadi movements from Europe are young adults who are "born again" into extremist strains of Islam, and that a significant number are converts (more than one in four in France, for example).
The upshot for the proposed Islam laws? "As a counterterrorism strategy, it's likely to be worthless," Atran wrote. "More generally, mass programs—such as those aimed at reducing marginalization and encouraging integration, if not assimilation, including teaching religion in the host country vernacular—massively overreach, wasting resources (and perhaps lives by crowding out more targeted forms of engagement). That's because considerably less than 1 percent of 'susceptible' populations (those targeted by these mass programs) ever come close to joining violent extremist movements, so that any such mass program is somewhat like using carpet bombing to kill a rat, and the rat still may get away."
"At best this will alienate people, at worst it will radicalize them," Powell agreed. "Anytime you feel like your culture is being taken away, that's what happens." She cited the example of Northern Ireland, where narratives about the loss of Gaelic language have become a force for political mobilization.
Several European Muslims have spoken out against the idea of a language law for imams. When the National Pact for an Italian Islam was signed, Milan-based scholar Yahya Pallavicini derided it as "a document that Muslims had to sign in order to prove we're good citizens and not bad people." Sumaya Abdel Qader, a sociologist also based in Milan, called it "unfair," and said that some of the requirements "have made some Muslims feel like they're being treated unequally." The proposed law strikes critics as a double standard because other religious groups in Europe aren't forced to preach in the local language. For instance, in Italy, Catholics can and do offer masses in Spanish and English as well as Latin. Rabbis can give synagogue sermons in Hebrew.
Even so, there are imams who believe that they should deliver their sermons in the local language and who are doing so of their own volition. In France, where most imams preach in Arabic, popular Bordeaux imam Tareq Oubrou makes it a point to preach in French as well.
"We have to take Islam out of the context of ancient Arab-Muslim civilizations and adapt it to a modern, globalized, secular society, like France," Oubrou told NPR in February. And on a purely practical level, he noted, clerics who don't preach in French risk losing the next generation, because a majority of young French Muslims don't understand Arabic.
Some clerics are also acceding to the language requirement because it's easy to comply. "We're already encouraging imams to preach in Italian," Florence imam Izzedin Elzir told the Washington Post. "If having this written down in a document is making non-Muslim Italians feel a bit safer, I don't see anything wrong with it."
This observation—that the requirement may be more about quelling the nervousness of non-Muslim Europeans than about actually curbing terrorism—seems like a plausible reading of the underlying rationale, according to Atran. It's psychologically comforting to be able to understand what's being said by groups one perceives as threatening. And for politicians, promising to deliver this comfort through a new Islam law may provide a boost in popularity.
"It is in part driven by electoral ambitions," Atran wrote.
With France and Germany preparing to hold federal elections (in April-May and September, respectively), taking a harder stance on Islam could help politicians in the polls—particularly where they are facing challenges from their right, as has been the case for Merkel with the Alternative for Germany party. In the Netherlands, Prime Minister Mark Rutte successfully used this tactic to forestall a Geert Wilders victory in the recent election.
"It could help them in their election push," Ahmed agreed. "But it's wrong for politicians to play along these lines, not only because it's a divisive tactic but also because even if they were to follow through with those policies, I don't think they would offer any great protection against the spread of extremism."
The language requirement may run into unsurmountable legal problems, anyway. But it won't be an open-and-shut case, according to Mark Movsesian, the director at the Center for Law and Religion. As parties to the European Convention on Human Rights, these countries will have to contend with that treaty's religious freedom provision, which says that a government cannot substantially interfere with the manifestation of religion unless it has a compelling interest—for example, public safety. The interference has to be proportionate to that compelling interest.
"Telling Muslims 'you can't preach in your own language' I think we'd say is interfering with their freedom of religion. It might also just be a flat-out free speech violation," Movsesian said. "But the European Court of Human Rights gives each country a lot of leeway in deciding what they need to do to maintain public order," as it demonstrated in 2014 by approving France' s burqa ban. "So who knows, maybe the court would defer to these countries."
Full report at:
https://www.theatlantic.com/international/archive/2017/04/push-to-ban-arabic-sermons-in-european-mosques/522000/
--------
Russia vetoes UN draft resolution on Syria
April 13, 2017
UNITED NATIONS/WAShington - Russia on Wednesday vetoed a UN draft resolution demanding the Syrian government cooperate with an investigation of a suspected chemical attack that the West blames on President Bashar al-Assad's forces.
It was the eighth time that Russia has used its veto power at the UN Security Council to block action directed at its ally in Damascus. Britain, France and the United States put forward the measure in response to the suspected sarin gas attack in Khan Sheikhun on April 4 that left 87 dead, including 31 children.
China, another veto-holding power at the council, abstained in the vote, as did Kazakhstan and Ethiopia. Bolivia voted against the measure and 10 other council members supported it.
Russia imposed its veto as US Secretary of State Rex Tillerson said after talks in Moscow that there was a "low level of trust" between the United States and Russia.
The proposed resolution would have condemned the alleged attack and expressed the council's full backing to investigators from the Organization for the Prohibition of Chemical Weapons (OPCW).
The draft specifically would have demanded that the Syrian government provide flight plans, flight logs and other information on its military operations on April 4, hand over the names of commanders of any aircraft and provide access to air bases to UN investigators.
US WON'T SEND TROOPS
INTO SYRIA: TRUMP
US President Donald Trump has ruled out sending American troops to Syria to fight the government of President Bashar al-Assad, insisting that defeating Daesh/ISIL remains Washington's first priority.
The president also touched upon other issues such as Russian President Vladimir Putin's support of Syria, North Korea and sweeping domestic reforms as promised on the campaign trail.
"We're not going into Syria. Our policy is the same — it hasn't changed. We're not going into Syria," Trump told Fox News.
The comments are expected to clear the air amid speculations that last week's US missile attack against a Syrian airfield was the stepping stone for a major invasion.
"What I did should have been done by the Obama administration a long time before I did it, and you would have had a much better - I think Syria would be a lot better off right now than it has been," he said.
Secretary of Defence General James Mattis spoke earlier in the day at a Pentagon news conference about the Syrian chemical weapons attack last week, which killed 86, and the subsequent US response.
"We are obviously paying close to the environment in the wake of these strikes and remain appropriately postured to respond as necessarily," he said.
Two US Navy destroyers fired 59 Tomahawk cruise missiles from the Mediterranean Sea at al-Shayrat airbase in Homs province in western Syria on April 7. Trump said the attack was in response for an alleged chemical attack that killed over 80 people in Syria last week.
The military action, coupled with American officials' change of tone over Assad's future, stirred speculation that the US and its Western allies were ready to put boots on the ground in Syria.
"Our big mission is getting rid of ISIS (ISIL)," Trump said. "That's where it's always been. But when you see kids choking to death, you watch their lungs burning out, we had to hit him (Assad) and hit him hard."
Claiming that the US attack was "an act of humanity," Trump said he reflected a lot on the severity of the strike and came to the conclusion that "this would be the appropriate first shot."
Full report at:
http://nation.com.pk/national/13-Apr-2017/russia-vetoes-un-draft-resolution-on-syria
--------
Putin meets Tillerson as US, Russia wrangle over Syria
April 13, 2017
MOSCOW/UNITED NATIONS - Russian President Vladimir Putin on Wednesday met US Secretary of State Rex Tillerson after complaining of worsening ties with Donald Trump's administration as the two sides spar over Syria.
Putin received Tillerson at the Kremlin along with Russia's Foreign Minister Sergei Lavrov after the top diplomats held several hours of talks dominated by the fallout of an alleged chemical attack in Syria.
Despite initial hopes in Moscow of better ties with the US under Trump, the two powers have descended into a furious war of words over the incident and a retaliatory US missile strike against the forces of Moscow's ally Bashar al-Assad last week.
Russia has slammed Washington's attack on a Syrian airbase and, as Tillerson met Lavrov, Putin admitted that relations between Washington and Moscow have worsened in the three months that Trump has been in office. "You can say that the level of trust on a working level, especially on the military side, has not improved but most likely worsened," Putin said in the transcript of an interview with Mir television released by the Kremlin.
"Where is the proof that Syrian troops used chemical weapons? There isn't any. But there was a violation of international law. That is an obvious fact."
Meanwhile, US Secretary of State Rex Tillerson battled to overcome differences with his Russian opposite number Wednesday, but they remained split over an alleged chemical attack in Syria after talks in Moscow. "Despite the quantity of existing problems... there are considerable prospects for joint work," Russian Foreign Minister Sergei Lavrov told a news conference after talks with Tillerson and Russian President Vladimir Putin.
"Russia is open to this, open to dialogue with the US in all different areas, not only to dialogue but to joint action aimed at results in the areas where this corresponds to the interests of both countries."
Lavrov said both sides were set on leading an "uncompromising fight against international terrorism".
He said Moscow was ready to resume a deal with Washington to avoid incidents in Syrian airspace as the two countries lead separate bombing campaigns.
"Today the president confirmed our readiness to return to its implementation on the understanding that the original aims of the air forces of the American coalition are reaffirmed, namely the fight with IS and Al-Nusra," Lavrov said.
The United States told Russia at the United Nations on Wednesday that is it isolating itself by continuing to support Syrian President Bashar al-Assad, while Britain said its scientists found sarin was used in a deadly toxic gas attack on Syrian civilians last week.
Russia is set to block a push by Western powers at the United Nations later on Wednesday to bolster support for international inquiries into the April 4 toxic gas attack in Syria. It will be Moscow's eighth veto in support of the Assad government since the Syrian war began six years ago.
"To my colleagues from Russia - you are isolating yourselves from the international community every time one of Assad's planes drop another barrel bomb on civilians and every time Assad tries to starve another community to death," US Ambassador to the United Nations Nikki Haley, told the UN Security Council.
During a heated Security Council meeting, Russia's deputy UN envoy Vladimir Safronkov told the 15-member body that Western countries were wrong to blame Assad for the attack in the town of Khan Sheikhoun.
"I'm amazed that this was the conclusion. No one has yet visited the site of the crime. How do you know that?" he said.
The attack prompted the United States to strike a Syrian air base with cruise missiles and worsened relations between the United States and Russia.
Britain's UN Ambassador Matthew Rycroft told the Security Council that samples taken from the site of the gas attack, in a rebel-held area of northern Syria, have tested positive for the nerve gas sarin.
Full report at:
http://nation.com.pk/international/13-Apr-2017/putin-meets-tillerson-as-us-russia-wrangle-over-syria
--------
India
Odisha: Bhadrak communal violence has taken many by surprise
by Debabrata Mohanty
April 12, 2017
The communal violence that erupted in Bhadrak town last Friday reportedly over a derogatory comment by a Muslim youth on Facebook may have taken a lot of people by surprise. However, the town with a sizeable Muslim population (about 40 per cent of its 1.21 lakh population) is a tinderbox for communal problems despite the apparent peace.
Unlike 1991, when a riot on Ramnavami claimed 17 lives, last weekend's riot did not lead to the loss of life. But the impact has been as devastating with the violence effectively tearing apart the fabric of peace that existed in the town. There are uncanny similarities between the 1991 and 2017 violence though. Both happened during Ramnavami festival. Biju Patnaik was the chief minister during the 1991 riots while his son Naveen Patnaik happens to be CM during the 2017 riots.
The riot was triggered after Muslim youths on April 5 allegedly posted vulgar remarks on Ramnavami. The following day, Hindus led by Bajrang Dal and Vishwa Hindu Parishad gheraoed the town police station demanding the arrest of the persons forcing the administration to impose section 144 of CrPC. The next day a peace committee meeting between the two communities in the presence of local BJD MLA was called, but it ended in failure.
Even as prohibitory orders were in force, over 200 bike-borne Muslim youths allegedly went on a rampage, targeting shops owned by Marwari and Hindu traders which lined the arterial roads. Retaliation followed with the burning down of shops owned by Muslim traders. By Friday night, many shops in the main market area including vegetable shops, furniture shops, cloth shops, restaurants and roadside slaughter houses were burning. With the situation deteriorating, the state government imposed curfew in the town and rushed the home secretary, the director general of police and senior officials to the spot to control the situation. It even sent a new collector to take charge as the previous one had retired a week earlier. Four companies of central paramilitary force apart from 35 platoons of the state police spread through the town, keeping an eye on troublemakers.
Five days later, with over 100 arrests and 8 cases, the police are back in control of the situation. Chief Minister Naveen Patnaik today visited Bhadrak to review the situation and meet the riot-affected people. The police have arrested a Muslim youth, son of a small-time BJD leader, over his inflammatory Facebook comment.
Bhadrak town had more Muslims than Hindus before 1990, but the influx of Marwari businessmen after 1965 changed the demographics and made it a Hindu-majority town. The Marwaris soon took over most business establishments and by 1991, when the first-eve riot happened, they monopolised the trading scene. In March 1991, when riots took place in the lead-up to the Ramjanmabhoomi movement, the shops, godowns and houses of Marwari businessmen were attacked along the main roads. The riots soon spread to Soro, another small town located nearby, where 16 persons died.
Since then, regular peacemaking efforts between the two committees had restored communal harmony to a large extent. However, over last few years the peace committee has been rendered defunct with the administration and local political leadership making little effort to rein in the hotheads in both communities. While Bhadrak did not see any communal tension last year, the sudden rise in Ramnavami processions from 47 in last year to 65 this year certainly played a role in raising the temperature. In September last year, in neighbouring town of Soro police had to impose curfew for three days due to pelting of stones on a procession for the immersion of Ganesh idols. The same month, Pattamundai town in Kendrapara district too continued to simmer as members of minority community opposed the use of loudspeakers and beating of drums in front of a mosque during an immersion procession of Ma Khudurukuni, a local deity. In the steel city of Rourkela, section 144 of CrPC was imposed after some miscreants hurled bricks at an idol of Lord Ganesha when the immersion procession reached minority-dominated Nala Road.
The lack of a full time collector during the Ramnavami festival was also a reason cited for the current violence. The previous one was on leave for a week before he retired at the end March, thus making the district effectively headless for over a fortnight. On April 9, the government finally curbed the use of social media in the town and its environs. A team of cyber crime sleuths from the CID have now identified over 150 people who either forwarded messages or posted inflammatory photos and comments through social media that fanned the fires during the riot. Five of the 150 identified are now being interrogated by the cybercrime cell over their role in fanning emotions.
Last week's riot was not as deadly as the 1991 one or the 2008 riots of Kandhamal, but had the rioters got more time and used social media a little more cleverly, there could have been casualties. In July last year, Rourkela saw similar tensions during Lord Jagannath's Rath yatra when a boy posted an objectionable comment about the minority community in a WhatsApp group. Timely action of the local police and effective coordination between elders of both communities saved the city.
The 2017 riot of Bhadrak is a reminder of the challenges that administrations face in times of social media.
http://indianexpress.com/article/india/odisha-bhadrak-communal-violence-has-taken-many-by-surprise-curfew-facebook-god-comment-hindu-muslim-4610171/
--------
Thirty Pakistan spies in Indian jails, provided consular access whenever sought: Officials
April 13, 2017
As many as 30 Pakistan nationals facing charges of spying are languishing in Indian jails but none has been denied consular access whenever sought or sentenced to death penalty so far, said top South Block officials as relations between India and Pakistan hit a new low over a Pakistani military court awarding death penalty to former Indian Navy official Kulbhushan Jadhav.
Officials added that more than 265 Pakistani nationals are currently in Indian jails. New Delhi has allowed consular access to them but Pakistan disowned them, they said. In 2015, a Lashkar-e-Toiba militant Mohammad Naved was arrested after an attack on a BSF convoy. He is facing trial before an NIA court in Jammu. However, Pakistan has refused to accept him as their national, said an official.
According to data available with the government, nearly two dozen Pakistan nationals caught on charges of smuggling were sent back to Pakistan in 2016 and 2017.
From 2014 to 2016, more than 250 Pakistani nationals were deported, according to a reply by Minister of State for Home Kiren Rijiju in Parliament.
Full report at:
http://indianexpress.com/article/india/thirty-pakistan-spies-in-indian-jails-provided-consular-access-whenever-sought-officials-4611103/
--------
J&K: After video emerges of assault on its men, CRPF says it's our reality
April 13, 2017
The CRPF is examining a video of its personnel being heckled and kicked by unidentified youth, who are also heard asking them to raise "Go India, Go back" slogans. The video, which went viral Wednesday, is believed to have been shot in Budgam during the bypoll for the Srinagar Lok Sabha seat on April 9. In the video, the security personnel can be seen showing restraint and not reacting to provocation by the youth. The clip also shows some youth trying to clear a safe passage and warning others not to assault or heckle the securitymen. On Tuesday night, after Internet services were restored in the Valley, anonymous Facebook users uploaded the three-minute-long video in which a youth is seen kicking at one of the securitymen and trying to push him. But the security personnel, carrying a rifle, is seen walking ahead without retaliating.
In the video, one youth is seen trying to force the securitymen to chant "Go India, Go back" slogans before another hits the helmet worn by one of them.
When contacted, CRPF DIG (Srinagar), Sanjay Kumar told The Indian Express that they were trying to ascertain the identities of the personnel shown in the video. "We have taken up this issue with local police for identifying the protesters who heckled the security personnel. We are also trying to find out the securitymen shown in the video clip. Once the securitymen are identified, I will recommend them for an award for showing restraint.''
CRPF IG (Srinagar) Ravideep Sahi told The Indian Express, "From whatever information we have gathered till now, it seems the video was shot in Budgam. The video is a reflection of the reality we face in Kashmir every day. Our men are under so much stress, it is very difficult to operate. Still, our troops exercise maximum restraint in all situations. The day this video was purportedly shot, I was myself in the Budgam area and saw how CRPF had to face violence at different places and yet exercised restraint."
Full report at:
http://indianexpress.com/article/india/clip-of-assault-on-its-men-crpf-says-its-our-reality-4611051/
--------
Africa
'Alarming' rise in Boko Haram child suicide bombers
12 April 2017
An "alarming" number of children, most of them girls, have been used by Boko Haram as suicide bombers in the first months of 2017, UNICEF said Wednesday.
The militants have increasingly been using children to attack crowded markets, mosques and camps for internally displaced people in northeast Nigeria and the broader Lake Chad region.
Experts said the number of children used in suicide attacks by Boko Haram surged to 27 in the first quarter of this year, compared to nine over the same period in 2016.
Since 2014, 117 children -- the "vast majority" of them girls -- have been used to carry out attacks in public places across Nigeria, Chad, Niger and Cameroon, said the report by the United Nations children's agency UNICEF.
Four children were used to carry out bomb attacks in 2014, 56 in 2015, 30 in 2016 and 27 in the first three months of 2017, reported UNICEF.
"The increase reflects an alarming tactic by the insurgents," said the report.
"This is the worst possible use of children in conflict," said Marie-Pierre Poirier, UNICEF's regional director for West and Central Africa.
"They are held in military barracks, separated from their parents, without medical follow-up, without psychological support, without education, under conditions and for durations that are unknown", said Patrick Rose, a UNICEF regional coordinator.
Last year, Amnesty International warned in a May report that children were dying in the Giwa barracks detention centre in Maiduguri, northeast Nigeria.
"Babies and young children have died in appalling conditions in military detention," said the rights organisation.
On Monday, the Nigerian army released nearly 600 children, women and elderly from Giwa barracks described as a "major step" by aid agencies toward the protection and reintegration of the children back into society.
Boko Haram has been largely weakened since Nigerian President Muhammadu Buhari came into power in 2015, but the Lake Chad region remains unstable with some areas still completely inaccessible.
The Boko Haram conflict has killed more than 20,000 people since 2009 and displaced more than 2.6 million from their homes.
Today the region is suffering from a severe food crisis. The UN warned Tuesday of a growing risk of mass deaths from starvation among people living in the Horn of Africa, Yemen and Nigeria.
http://www.worldbulletin.net/africa/187790/alarming-rise-in-boko-haram-child-suicide-bombers
--------
Trio who tried to blow up US plane gets 15-year jail in Jordan
12 April 2017
The State Security Court in Jordan on Wednesday handed over a 15-year imprisonment sentence along with hard labor to three terrorists who were convicted of plotting to carry out attacks and provide the funding for terror operations. The public hearing took place amid tight security measures.
According to the indictment, the General Intelligence Department managed to foil their plot to carry out a terror attack last July. The three planned to target a US plane in Marka Airport, a military bus, foreign tourists as well as a security checkpoint in the capital.
The Jordanian news agency Petra quoted the court as saying that the main suspect was in Yemen in 2012 and joined al-Qaeda. He was arrested in Yemen by the security services there and sent to a rehab center for two years. During his stay at the center, he was introduced to two Yemeni al-Qaeda members. Upon returning to Jordan, he kept in touch with the two al-Qaeda men and was introduced to a third one in Yemen.
In 2015, when the main convict was communicating with one of al-Qaeda members over the Telegram app, he informed the latter that he had seen a US plane at Marka airport. Consequently, he went along with the members of al-Qaeda in Yemen to target the plane with an RPG that would be sent to him from Syria. He was asked to wait, but the contact between him and al-Qaeda members was cut.
At the beginning of 2016, the main convict was seeking to go to Syria to join al-Qaeda there, but he could not find a way to do it. He then decided to carry out military operations on the Jordanian territories by targeting a military bus and killing foreign tourists who were passing near the Roman amphitheater, which was also near the Raghadan tourist complex. He kept in touch with the members of the organization in Yemen and offered to execute these operations. The latter suggested that their organization was ready to provide material support or consultation. They then linked him to the two other suspects to execute the operations.
Full report at:
https://english.alarabiya.net/en/News/middle-east/2017/04/12/Trio-who-tried-to-blow-up-US-plane-gets-15-year-jail-in-Jordan.html
--------
UN: Refugees traded in Libya 'slave markets'
Apr 12, 2017
The United Nations has raised alarm over a climbing number of refugees passing through Libya who are being traded in so-called slave markets before being held for ransom and subjected to malnutrition and sexual abuse.
Migrants are typically traded for as little as $200 to $500, and are held for an average of two to three months, said the head of the UN migration agency's Libya mission, Othman Belbeisi, in a Geneva press briefing on Tuesday.
He emphasized that "migrants are being sold in the market as a commodity," cautioning that "selling human beings is becoming a trend among smugglers as the smuggling networks in Libya are becoming stronger and stronger."
Many of the asylum seekers are used as day laborers in construction and agriculture, Belbeisi further stated, noting that although some are paid, others are forced to work without pay before being sold again to new buyers.
He also pointed to the extremely tragic fates that female refugees often encounter, saying, "About women, we heard a lot about bad treatment, rape and being forced into prostitution."
According to a report released Tuesday by the agency, officially called the International Organization for Migration (IOM), its representatives have spoken to African refugees who recounted their experiences of being bought and sold in garages and parking lots in the southern Libyan city of Sabha, one of the nation's main refugee smuggling hubs.
In the report, the IOM recounted the story of a Senegalese refugee – referred to as 'SC' to protect his identity -- who spoke of being 'bought' and taken to his first 'prison' – a private home where more than 100 asylum seekers were beaten and held as hostages.
SC, the report added, was asked to pay 300,000 Central African Francs ($480) for his release, which he could not pay. He was then sold to another Libyan, who set his release price at 600,000 CFA ($970).
The Senegalese refugee further spoke of awful sanitary conditions and meals offered only once per day, adding that he was eventually able to get money from his family and work as an interpreter to avoid future beatings.
However, the IOM report added, others are not so lucky. Those who cannot pay are often killed or left to starve to death. They are buried without being identified.
"What we know is that migrants who fall into the hands of smugglers face systematic malnutrition, sexual abuse and even murder," said IOM's director of operations and emergencies, Mohammed Abdiker. "We are hearing about mass graves in the desert."
The development came as Libya remains a major gateway for asylum seekers hoping to reach Europe via the Mediterranean Sea, with more than 450,000 people making the crossing over the past three years.
Full report at:
http://www.presstv.ir/Detail/2017/04/12/517724/Libya-slave-markets-African-refugees-UN-migration-agency-IOM-Othman-Belbeisi
--------
Four dead in army, police clashes in Nigeria: source
April 13, 2017
The police confirmed the fracas in the state capital of Damaturu, but did not say if there were casualties.
"The Nigeria police force is abreast of the unfortunate incident that occurred in the early hours of today 12th April, 2017 in Damaturu between the personnel of the force and that of the Nigerian army," police spokesman Jimoh Moshood said in a statement. He said an investigation had been launched to determine "the causes of the incident and deal with the situation appropriately to prevent such occurrence in the future".
The army authorities were not immediately available for comment.
A security officer who did not want to be named, told AFP trouble began on Tuesday when an army officer in a mufti (civilian dress) ran into a convoy of the head of the police mobile unit in Damaturu.
"The army officer was beaten up by the police for his action. This morning, soldiers stormed the police station and took away the head of the mobile unit to their military base," he said.
He said the the soldiers' action angered some police officers who invaded the army base to free their boss.
"There was a shootout in which a soldier and a policeman were killed on the spot while two policemen who were injured later died of their wounds," he said.
Yobe and two other states -- Borno and Adamawa -- in the northeast are the worst-hit in the eight-year Boko Haram Islamist insurgency in Nigeria.
Boko Haram, which aims to impose a hardline Islamist legal system in Nigeria's mainly-Muslim north, has killed some 20,000 people and forced 2.6 million others to flee their homes since 2009.
Full report at:
https://www.dailymaverick.co.za/article/2017-04-13-four-dead-in-army-police-clashes-in-nigeria-source/#.WO8iDtSGOzc
--------
Nigeria: Attacks on UK, US embassies foiled, say police
12 April 201
Nigeria's secret police said Wednesday it had foiled a plot by Daesh-affiliated terrorists to bomb embassies of the United Kingdom and the United States as well as other Western targets in the country's capital Abuja.
Tony Opuiyo, spokesman of Nigeria's secret police, said in a statement that at least five militants connected to the plot have been arrested in Abuja and central Nigeria's Benue state.
"On March 25-26, 2017, the service busted a ring of ISI -linked Boko Haram members based in Benue state and the FCT" or Federal Capital Territory, Opuiyo said.
"The group had perfected plans to attack the U.K. and American embassies and other Western interests in Abuja. During the operation to thwart this plan, five key suspects, namely Isa Jibril, Jibril Jibril, Abu Omale Jibril, Halidu Sule, and Amhodu Salifu, were arrested," he added.
Opuiyo said another 20-year-old Boko Haram fighter, Adamu Datti, was tracked down in the town of Fika in the northeastern Yobe state on March 22.
"[Datti] confessed his involvement in executing the sinister activities of the group," he added.
Boko Haram, a faction of which is officially affiliated to ISIL, has long targeted Western interests in Nigeria.
Ryan Cummings, a Johannesburg-based counterterrorism analyst, called the terrorism claim plot "plausible".
"From a [ISIL] perspective, a [Boko Haram] high-profile attack is long overdue, especially since the prevailing narrative is one of factionalism/defeat," he said of the secret police claim.
"An attack on the U.K. or U.S. embassy would demonstrate strength, be a reprisal for U.K./U.S. terrorism initiatives, and spare innocent Muslim civilians," he added.
Full report at:
http://www.worldbulletin.net/africa/187824/nigeria-attacks-on-uk-us-embassies-foiled-say-police
--------
Southeast Asia
Use Moderation To Contain Liberal Threat, Malaysian PM's Religious Adviser Says
BY SYED JAYMAL ZAHIID
April 13, 2017
KUALA LUMPUR, April 13 ― Muslims must return to the idea of Wasatiyyah, or moderation, to combat the so-called spread of liberalism, the religious adviser to the Prime Minister said today.
Speaking at a forum on the subject organised between the Malaysian and Saudi Arabian governments, Tan Sri Abdullah Mohd Zin claimed liberalism poses a serious threat to Islam, just next to radicalism and terrorism.
"Today, social media is widely used to spread liberalism, a Western idea that allows for wrongful different interpretations of Islamic teachings," he said at a lecture titled "The Threat of Liberalism, Radicalism and Terrorism in the Muslim World".
Abdullah also blamed liberalism for the opposition against what he deemed as efforts to strengthen Islam in the country by Muslim themselves.
"We see this in the opposition against Shariah laws and hudud among Muslims themselves.
"They dare to interpret the Quran according to their [Western] logic," he said.
Liberalism encompasses a wide array of ideas, but its supporters usually push for civil rights, freedom of speech, freedom of religion, free trade, private property, and free and fair elections.
Last month, Prime Minister Datuk Seri Najib Razak said the concept of wasatiyyah has been proposed to be incorporated in the school and university curricula to raise understanding about the idea.
The announcement came amid Putrajaya's effort to combat the influence of extremism within Islam, particularly terror group Islamic State.
Abdullah said today beefed up campaign to promote wasatiyyah will be crucial to circumvent the spread of liberalism or radicalism.
"We can face the problem and we have done so… and the return to wasatiyyah is the only way to deal them," he said.
Najib had previously echoed Abdullah's view on liberalism, and cautioned that Islam and its followers are being tested by new threats under the guise of humanism, secularism, liberalism and human rights.
http://www.themalaymailonline.com/malaysia/article/use-moderation-to-contain-liberal-threat-pms-religious-advisor-says
--------
Selangor suspends controversial restrictions on non-Muslim places of worship
BY TARRENCE TAN
April 12, 2017
KUALA LUMPUR, April 12 ― The Selangor government has suspended the controversial guidelines on restricting new non-Muslims places of worship, state executive councillor Datuk Teng Chang Kim said today.
He added that the decision was reached during the weekly state executive council meeting today.
"The exco meeting this morning decided to suspend the enforcement of the controversial provisions in the third edition and to review the provisions," he told Malay Mail Online in a Whatsapp text when contacted.
Selangor came under fire earlier this week after Teng admitted to an oversight on non-Muslim places of worship to be included in the final version of the manual approved by the state executive council last year.
The manual includes a recommendation that non-Muslim places of worship should not be built within 50m of a home owned by Muslims and that planned new non-Muslim places of worship in areas with a multi-racial makeup require the consent of residents within a 200m radius.
There are also height restrictions and restriction that non-Muslim places of worship cannot be built near commercial areas.
Full report at:
http://www.themalaymailonline.com/malaysia/article/selangor-suspends-controversial-restrictions-on-non-muslim-places-of-worshi
--------
Chinese daily is no Charlie Hebdo, says Malaysia police chief
April 13, 2017
Malaysia's police chief has warned the public not to link Nanyang Siang Pau's publication of a controversial cartoon to the Charlie Hebdo tragedy in France.
The Chinese daily landed itself in hot water after publishing a drawing depicting Islamic opposition party leader Abdul Hadi Awang and Parliament Speaker Pandikar Amin Mulia as monkeys sitting in a tree named Act 355, a law governing the country's syariah court powers.
With race and religion being sensitive topics in multiracial Malaysia, the drawing in a minority-race publication has caused some tension.
"So don't do anything or publish drawings or writing that can cause exasperation in the community. We have to be careful with these things," police chief Khalid Abu Bakar told reporters.
Datuk Seri Hadi, leader of Parti Islam SeMalaysia (PAS), had tabled a private member's Bill in Parliament last week, seeking to enable syariah courts to mete out harsher punishments. The proposal has been criticised by non-Muslims and ethnic minority political parties.
Nanyang Siang Pau issued a public apology on Monday and removed the offending cartoon from its website, but this did little to placate PAS members, who staged a protest outside the newspaper's office on Tuesday. Riled up, Penang PAS state commissioner Muhammad Fauzi Yusof warned the media against publishing offensive content.
"If this cartoon is circulated worldwide, it would only anger the Muslim world again," said Mr Fauzi, according to news site Free Malaysia Today. "If you remember, there was a French newspaper that published a caricature that angered the whole Muslim world".
In 2015, two terrorists attacked the Paris office of French satirical weekly Charlie Hebdo, leaving 12 dead. The publication is known for printing cartoons featuring Prophet Muhammad, an act deemed blasphemous by many Muslims worldwide.
While religious issues remain a delicate topic, analysts say the current dissatisfaction by Malaysia's conservatives over a cartoon is unlikely to escalate into violence.
"Malaysia is not France, KL is not Paris and Nanyang Siang Pau is not Charlie Hebdo," said Mr Yang Razali Kassim, a senior fellow at S. Rajaratnam School of International Studies. "The political cultures of the two countries are also vastly contrasting and different."
The Chinese paper received a show-cause letter from the Home Ministry on Tuesday, and has until today to respond. The daily's management declined to comment on its next course of action.
Full report at:
http://www.straitstimes.com/asia/se-asia/dont-link-chinese-daily-to-charlie-hebdo-kl-police-chief
--------
Feeling the pinch, Malaysian IS militants in Syria long for home
April 13, 2017
KUALA LUMPUR, April 13 ― The police have revealed that 57 of Malaysians who had joined jihadist group Islamic State (IS) in Syria have been trying to return home due to various pressures such as economic difficulties.
Bukit Aman's Special Branch's Counter-Terrorism Division's principal assistant director Datuk Ayob Khan Mydin said police had received information that many militants ― including those from Malaysia ― were seeking to leave Syria and to send their families off from the area.
"Many do not know that going to Syria is not only to engage in battles but they also have to work to get their own income.
"Although they are with Daesh, they also have to work to get money to provide for their families and to survive there. But the job opportunities there are very limited," he was quoted telling local daily Berita Harian, using the Arabic name for IS.
He said that Malaysians who in the past were able to earn RM890 per month there can now only earn around RM220 each month, adding that this has forced the militants there to ask for money from other Malaysians to be spent on food and Internet connection.
Full report at:
http://www.themalaymailonline.com/malaysia/article/feeling-the-pinch-malaysian-is-militants-in-syria-long-for-home
--------
Malaysian students urged to tread carefully in Egypt to avoid being a 'security threat'
April 13, 2017
SEPANG, April 12 ― Malaysian students in Egypt, especially those in Tanta and Alexandria have been advised not to engage in 'contentious' issues associated with the country on social media.
Deputy Foreign Minister Datuk Seri Reezal Merican Naina Merican said discussing about the issues on social media was feared would give the notion that Malaysian students were a threat to security in Egypt.
"Sometimes, on social media such as Facebook, people unintentionally make comments either in Malay, Arabic or English.
"I strongly urge them (Malaysian students) to be careful, especially in their interaction in social media networking," he said.
Reezal Merican was met by reporters after handing over Peninsular Malay Students Coalition (GPMS) bank drafts for education loans totaling RM1.1 million to 12 final-year students in Egypt.
Meanwhile, Education Malaysia Egypt (EME) distributed Safety Guidelines to all Malaysian students in Egypt on Monday (April 10) as a precautionary measure following the bombing incidents in Tanta and Alexandria on Sunday.
The Ministry of Higher Education said in a statement today that the Malaysian Embassy in Egypt had also set up an operations room to monitor the situation and latest developments.
All agencies under the embassy were ordered to monitor the situation and report the latest developments from areas where Malaysian students resided, namely in Cairo, Alexandria, Tanta, Zagazig, Mansoura, Fayoum and Assiut, it said.
There are an estimated 11,000 Malaysian students currently in Egypt.
Full report at:
http://www.themalaymailonline.com/malaysia/article/malaysian-students-urged-to-tread-carefully-in-egypt-to-avoid-being-a-threa
--------
Video of auxiliary cop yelling in mosque goes viral
Nawar Firdaws
April 12, 2017
PETALING JAYA: A video depicting two men in the midst of a verbal altercation, allegedly over the presence of a Muslim woman not wearing her headscarf in a mosque has gone viral.
In the 15-second video, uploaded on Facebook by a user named Lisza Laressa, a man in a green sweater is seen yelling at another man who appears older than him.
According to Lisza, the first man was an auxiliary policeman stationed at a mosque, located at Hospital Kuala Lumpur (HKL).
The second man was the woman's father who stood up for her when the auxiliary policeman told her off for being in the mosque without a headscarf.
"It is my fault, mosque area, have to wear a headscarf … (but I was there) to seek shelter while waiting for the heavy rain to stop, (and) while accompanying (my) mother who was eating," she wrote in Malay, relaying the incident in a Facebook post yesterday.
"My mother hadn't eaten anything since morning while waiting to visit a sibling who was involved in an accident."
According to Lisza, a man approached her and told her to "respect the mosque" and leave immediately. She, however, chose to stay as her mother was still eating.
The man refused to leave and continued yelling at her, she said. Her father then interfered and told the man that they would leave once Lisza's mother had finished eating.
"(But) look at the way the young man spoke to an elderly person. Lifting his hands up like that? If he wants to scold me, then scold me alone.
"Even when speaking with an elderly person, he raised his voice. He said, 'I am the auxiliary policeman here!'"
She claimed that those present during the incident had also criticised the way the auxiliary policeman had spoken to her and her father.
The video she attached to the post didn't show the argument she had with the auxiliary policeman. It only captured his altercation with her father.
The auxiliary policeman is seen yelling and saying: "This is a mosque, respect it."
The video had been viewed more than 1.2 million times in just over 24 hours.
Lawyer-cum-activist Siti Kasim also commented on it on her Facebook, saying that compassion is central to Islam.
"This is a very good example of how screwed the understanding of what Islam is all about is among the Malays.
Full report at:
http://www.freemalaysiatoday.com/category/nation/2017/04/12/video-of-auxiliary-cop-yelling-in-mosque-goes-viral/
--------
Killing of key militant a success and worry for Philippines
12 April 2017
The killing of a Muslim extremist leader on a resort island in the central Philippines this week was a clear victory for the military, but it also drove home an unsettling reality: that the militants are venturing farther from their jungle hideouts to spread terror.
Military chief of staff Gen. Eduardo Ano said that troops recovered and identified the remains of Abu Sayyaf group commander Moammar Askali at the scene of the battle in the coastal hinterlands of Bohol island. Five other Abu Sayyaf gunmen, three soldiers and a policeman also were killed in Tuesday's clashes.
"This is a major blow to the Abu Sayyaf," Ano told The Associated Press on Wednesday. "If they have further plans to kidnap innocent people somewhere, they will now have to think twice."
"We are gaining important headway in our fight to degrade the ASG in regard to our timeline," Ano later told a news conference, referring to a military objective to considerably cripple the extremist group of more than 300 armed fighters within six months.
Former Abu Sayyaf militants identified Askali from a photo troops took of the young militant leader after his death, confirming that the gunmen who quietly cruised into Bohol on three motorboats under cover of darkness late Monday before clashing with troops belonged to the Islamic extremist group. Askali, who used the nom de guerre Abu Rami, had partly served as an Abu Sayyaf spokesman in recent years.
Askali was an emerging hard-line leader of Abu Sayyaf and had pledged allegiance to the ISIS group. Abu Sayyaf was founded in 1989 as an offshoot of a decades-long rebellion by minority Muslims in the south of the predominantly Roman Catholic Philippines. He had received bomb-making training from Malaysian Zulkifli bin Hir, or Marwan, a top Southeast Asian militant leader who was killed in 2015, according to a police profile.
It was Abu Sayyaf's first known attempt to carry out ransom kidnappings deep in the central Philippine heartland, far from the group's jungle lairs in the southern provinces of Sulu and Basilan. Ano said the troops were still hunting for at least five Abu Sayyaf gunmen, though fighting had eased Wednesday.
While the bold kidnapping attempt appears to have been foiled, the militants' success in penetrating the bustling region of beach resorts and other popular attractions could raise concerns among tourists and businessmen.
The US Embassy in Manila had earlier advised Americans to take precautions amid "unsubstantiated yet credible information" of possible kidnappings by terrorists in Bohol and other central areas.
The United States and the Philippines both list Abu Sayyaf as a terrorist organization for bombings, kidnappings for ransom and beheadings.
Bohol island lies about 640 kilometers (397 miles) southeast of Manila and is about an hour by boat from Cebu province, a trade and tourism center that has hosted some of the meetings of the Association of Southeast Asian Nations, the regional bloc the Philippines is leading this year.
Ano said military intelligence operatives had been trying to track the movements of Askali's group for several days after learning of their planned abductions.
The gunmen traveled on motorboats along a river into a village in Bohol's Inabanga town where government forces assaulted them, military officials said, adding that troops recovered four rifles, a homemade bomb and a sack load of bomb-making materials from the slain gunmen.
In past years, Abu Sayyaf militants have crossed the sea border with Malaysia on powerful speedboats and kidnapped scores of foreign tourists, reflecting their growing capability and desperation for money. In 2001, they sailed as far as western Palawan province, where they seized 20 people from a resort, including three Americans, one of whom was beheaded and another shot and killed during an army rescue.
Although they rely mainly on ransom kidnappings, Abu Sayyaf has displayed incredible resiliency and has survived through US-backed military offensives under six presidents.
Philippine President Rodrigo Duterte, who took office in June, has ordered troops to destroy the extremists and has threatened to declare martial law in the country's south if the threat posed by Abu Sayyaf and other extremist groups aligned with the ISIS group gets out of control.
Full report at:
https://english.alarabiya.net/en/News/world/2017/04/12/Killing-of-key-militant-a-success-and-worry-for-Philippines.html
--------
Arab World
Iraqi forces kill at least 52 Daesh militants in west Mosul operations
Apr 12, 2017
Iraqi forces have killed at least 52 Daesh militants during operations aimed at purging west Mosul from the presence of the Takfiri terrorists.
"The forces raided al-Abar area, killing 17 Daesh members," said Major Ali Mohsen, a commander of the Iraqi army's elite Counter-Terrorism Forces (ICTF), on Wednesday.
He added that six female Daesh members from various Arab nationalities were also detained during the operations.
"Troops liberated around 40 percent of al-Abar region," he added, noting that Iraqi forces were still engaged in clashes with the terrorists.
A separate ICTF commander noted that the anti-terror forces had also carried out raids in al-Tanak, another district of the city.
Also on Wednesday, the Iraqi Defense Ministry announced that the air force had killed 20 terrorists during an operation in the al-Sabuniyah area of the city.
Separately, an Iraqi government official announced that 15 terrorists were also killed in an Iraqi air force airstrike in Mosul's western Hadar region.
"An airstrike targeted a gathering of Daesh militants in al-Shaihan village in al-Hadar area based on federal investigations and information," read a statement.
"Others were injured as they were intending to launch attacks in several areas," it added.
Iraqi forces destroy Daesh ammo depot
Meanwhile, Iraqi federal police troops discovered a terrorist ammunition depot during operations in the Old City area, where they have been active for several weeks and have been facing tough resistance which is hindering their progress.
They are currently advancing through the city's maze-like streets towards the al-Nuri mosque, where Daesh's leader, Abu Bakr Al-Baghdadi, announced the forming of the group's so-called caliphate in 2014.
According to police Lieutenant Colonel Hussein Zughayer, around 1,000 rockets and 1,000 bags of chemical material used to make bombs and explosives were found in the cache.
"Troops found this depot during search operations of the district. The place was used by the Daesh to store rockets and use it against the civilians and the security forces," he added.
Iraqi army soldiers and pro-movement fighters have made sweeping gains against Takfiri elements since launching the operation to retake Mosul last October.
The Iraqi forces took control of eastern Mosul in January after 100 days of fighting, and launched the battle in the west on February 19.
http://www.presstv.ir/Detail/2017/04/12/517820/iraq-daesh-mosul-operations-gains
--------
At least 13 civilians killed in US led-airstrike in western Mosul
Apr 13, 2017
A US-led coalition airstrike in western Mosul has claimed the lives of 13 civilians, says an Iraqi air force pilot.
According to a report published by the Anadolu Agency on Wednesday, the strike targeted several civilian homes in a residential area of Mosul's al-Yarmouk neighborhood, which was recently liberated from Daesh.
"The strike also left 17 people injured, mostly seriously," the news agency quoted Yazan al-Duberdani, the Iraqi pilot, as saying.
The latest civilian causalities came just a day after three members of one Iraqi family were killed in a US airstrike in the city.
The United States and some its allies have been carrying out airstrikes in Iraq since June 2014 allegedly targeting Daesh terrorists. The raids, which have done little to dislodge the terror group, have on numerous occasions claimed many civilian lives and inflicted damage on the country's infrastructure.
On March 17, Iraq's Kurdish-language Rudaw television network reported that 237 people had been killed in US-led coalition airstrikes on a Daesh-held neighborhood in western Mosul.
Last month, Amnesty International voiced its concerns over the number of civilian casualties in Mosul, suggesting the US-led coalition may not be doing enough to avoid such casualties.
The UN also expressed "profound concern" over the increase of civilian casualties in the Iraqi city and called on all parties engaged in anti-terror operations in the country to avoid "indiscriminate use of firepower."
The US-led coalition said on April 1 that at least 229 civilians have likely fallen victim to its military operations since 2014, but the figure is far less than those given by rights groups.
Airwars, an NGO monitoring civilian casualties in international airstrikes, has put the number of civilian deaths at over 2,830.
Hidden agenda behind US raids
Observers are deeply suspicious of the real intention behind Washington's so-called anti-Daesh raids.
In a Wednesday interview with Press TV, Mike Harris, a Veterans Today editor, said the US military is pursuing "another agenda" under the guise of fighting terrorism.
"I believe there is a fifth column operating within the US that is doing things that are counter to the stated US objectives and counter to the constitutionality that the US is built upon," Harris said.
He also maintained that the agenda is to keep Daesh terrorists "alive" and "prosperous" in order to use them as a tool to destabilize and topple certain governments within the Middle East for the benefit of Washington's allies in the region - namely Israel, Turkey and Saudi Arabia.
Full report at:
http://www.presstv.ir/Detail/2017/04/13/517825/us-mosul-airstrike-civilians
--------
Military Expert Warns of Jordan's Likely Participation in War on Syria
Apr 12, 2017
"The Southern parts of Syria are sensitive given their adjacency to Jodan's Northern borders which is a vital region and it is much likely to start a role in the war in Syria at a time when the equations are disturbed" given the presence of the Syrian army and its allies in Southern Syria, Sami al-Majali, a retired Jordanian General, told FNA on Wednesday.
Noting that all plots and warmongerings by the US and its allies in the region are aimed at disintegration of countries near Israel, he said that it is the Zionist lobby which makes decision for the western states on Syria.
"Fighting against terrorism is the westerners' trick to prolong the war in the region and destroy it," Majali said.
His remarks came after recent reports said that the US military is concentrating troops and military equipment at the Syrian-Jordanian border.
Local sources said that about 20 US Army armored vehicles (including battle tanks and artillery pieces) carried on trucks were spotted in Al-Mafraq. US troops were accompanied with the Jordanian Army's 3rd Division.
Full report at:
http://en.farsnews.com/newstext.aspx?nn=13960123000974
--------
Militants in More Towns Join Peace Agreement with Syrian Gov't
Apr 12, 2017
"Representatives of militants in the town of al-Bayadheh in Damascus province and in the town of al-Sabah in Quneitra province have ended fight against the Syrian Army troops and joined the peace process in the last 24 hours," the center said, adding, "The total number of regions, cities, towns and villages that have thus far joined the peace plan stands at 1,452 now."
The Russian Center announced on Tuesday that the number of cities, towns and villages which joined the reconciliation plan increased to 1,450.
It added that negotiations have been underway with various field commanders from the provinces of Aleppo, Damascus, Homs, Hama and Quneitra to encourage them to join the ceasefire regime.
Full report at:
http://en.farsnews.com/newstext.aspx?nn=13960123000895
--------
Russia: Over 220 Towns Taken Back from ISIL in 2017
Apr 12, 2017
The Russian center reported that the army's anti-ISIL operation across the war-hit country has thus far resulted in the liberation of 226 towns.
The center added that the army soldiers have managed to capture a total area of 3,856 sq/km from terrorists.
Earlier reports said that the army soldiers continued their anti-terrorism offensive in Northern Aleppo and managed to deploy forces in positions very close to one of the main bastions of the terrorists after killing 60 militants and destroying their equipment, well-informed sources said.
The sources said that following liberation of the village of Khirbet Anadan on Tuesday, the army forces continued their operation from two directions to take back the strategic town of Anadan, killing 60 terrorists and forcing the rest of them to retreat towards their main base, Anadan.
They added that the army soldiers have gained military control over Anadan from the direction of the town of al-Tamoureh and Khirbet Anadan.
In the meantime, the army's artillery and missile unis pounded the positions of the terrorists in Anadan, killing a number of them.
Also, the army units targeted and downed two imaging drones of the terrorists South of al-Tamoureh in Northern Aleppo.
Full report at:
http://en.farsnews.com/newstext.aspx?nn=13960123000931
--------
Syrian Army Inches Closer to Main Terrorist Bastions in Northern Aleppo
Apr 12, 2017
The sources said that following liberation of the village of Khirbet Anadan on Tuesday, the army forces continued their operation from two directions to take back the strategic town of Anadan, killing 60 terrorists and forcing the rest of them to retreat towards their main base, Anadan.
They added that the army soldiers have gained military control over Anadan from the direction of the town of al-Tamoureh and Khirbet Anadan.
In the meantime, the army's artillery and missile unis pounded the positions of the terrorists in Anadan, killing a number of them.
Also, the army units targeted and downed two imaging drones of the terrorists South of al-Tamoureh in Northern Aleppo.
The army aircraft, meanwhile, bombed terrorists' movements and gathering centers in the towns of Anadan, Haraytan, Bayanoun Hayan and its surrounding hills in Northern Aleppo.
Also, the army units engaged in fierce clashes with the terrorists in Northern Aleppo on Tuesday, and regained control of Khirbett al-Adnan village in the Southeastern parts of al-Tamoureh .
Full report at:
http://en.farsnews.com/newstext.aspx?nn=13960123000502
--------
Syria: ISIL Retreats from More Territories in Eastern Homs
Apr 12, 2017
The army soldiers that had previously captured al-Abtar mountain Southwest of Palmyra, engaged in fierce clashes with ISIL and managed to take full control over several key positions Northeast of al-Abtar mountain, 15km away from Palmyra.
In the meantime, the army men pushed ISIL back from cattle raising center, the power station South of Palmyra and the road that connects Palmyra to al-Sawaneh.
A field source reported that tens of ISIL members were killed or wounded in clashes with the army units in Badiyeh (desert) region, while terrorists' vehicles and equipment were also destroyed in large scale.
Relevant reports said on Tuesday that the army units clashed with the ISIL terrorists in Southern Palmyra and advanced 10km towards Khanafis mines.
During the operations a large number of militants were killed and wounded and tens of them fled towards Badiyeh region.
A field source noted that the Syrian army forces gained back control over al-Abtar mountain and several adjacent hills, and added that the ISIL used these positions to launch terrorist attacks, storing its weapons and ammunition and sheltering from the Syrian fighter jets' airstrikes.
Full report at:
http://en.farsnews.com/newstext.aspx?nn=13960123000439
--------
Egypt reveals identity of Alexandria church suicide bomber
12 April 2017
Egypt's interior ministry identified suicide bomber in Alexandria church attack as 31-year-old Mohamed Hassan Mubarak Abdullah, a resident of Suez province, a statement said on Wednesday.
Abdullah detonated his explosives at the entrance to Saint Mark's Cathedral, the historic seat of the Coptic Pope, killing 17 people as mass was being conducted. Hours earlier, another bomb tore through a church in Tanta, a city in the Nile Delta.
Egypt's government imposed a three-month state of emergency in the wake of the attacks.
The interior ministry said in a statement that Abdullah had been a resident of Suez province and used to work for a petroleum company.
It posted a photograph on its Facebook page of a man it said was Abdullah, placing the image alongside a picture taken by a surveillance camera outside the church.
ISIS claimed responsibility for the Palm Sunday attacks, which killed 44 people in total and wounded scores more a week before the Coptic Easter.
The interior ministry said Abdullah had links with the extremist militant cell behind the December suicide bombing on Cairo's main Coptic cathedral, an attack also claimed by ISIS.
Authorities are still trying to identify the Tanta attacker, the ministry said. It added that security forces killed seven suspected militants in a shootout on Monday as they met to plan attacks on minority Christians.
The statement named 19 other suspected militants believed to belong to the same cells and offered a 100 thousand Egyptian pound ($5,515.72) reward for any information on them.
Full report at:
https://english.alarabiya.net/en/News/middle-east/2017/04/12/Egypt-reveals-identity-of-Alexandria-church-suicide-bomber.html
--------
Lebanese president blocks expected extension of parliament's term
12 April 2017
Lebanese President Michel Aoun suspended a parliamentary session for a month on Wednesday, temporarily blocking proposed plans to extend parliament's term for the third time in a row since 2013.
Parliament was expected to vote on Thursday to extend its own mandate again until 2018 without an election, officials said. Current lawmakers were elected in 2009 for what was meant to be four-year terms.
Activists had called for protests against the extension, which they decried as a blow to democracy. The two previous extensions triggered massive protests in central Beirut.
In a televised address to the nation, Aoun said the delay would give politicians more time to agree on a new electoral law and help protect the Lebanese people's right to vote.
"To allow for more communication between all the parties ... I have decided to postpone the parliamentary session for one month based on article 59 of the Lebanese constitution," Aoun said.
Lebanon's main political parties have been unable to agree on a new electoral law for years. Parliament has already extended its own mandate twice since 2013, a move that critics including the European Union have condemned as unconstitutional.
Most political parties have rejected holding parliamentary elections based on the existing system, a sectarian-based electoral law that dates back to 1960. The next round of elections had previously been scheduled for May.
Some politicians say the law divides up the country's population into constituencies that do not fairly represent the sectarian political preferences of their supporters. Christian lawmakers have been the most vocal in demanding a new law.
Lebanese politics have long been dogged by sectarian divisions, with the war in neighboring Syria exacerbating party rivalries. The government has long struggled to make basic decisions and institutional paralysis often plagues parliament.
Critics and activists accuse Lebanese politicians of using regional upheaval as an excuse to dodge elections.
Full report at:
https://english.alarabiya.net/en/News/middle-east/2017/04/12/Lebanese-president-blocks-expected-extension-of-parliament-s-term.html
--------
While In Saudi Arabia, Philippine President Duterte pulls back on flag vow with China
13 April 2017
Philippine President Rodrigo Duterte on Wednesday pulled back from a vow to place his country's flag on an island in the Spratlys chain claimed by China and other regional states.
"Because of our friendship with China and because we value your friendship I will not go there to raise the Philippine flag," he told about 2,000 Filipinos during an official visit to Saudi Arabia. "I will not go to any of the islands. Maybe I will send my son, just to show that our claim is clearly good for all generations of Filipinos," he said to applause.
Duterte first made the threat on April 6 when he told reporters: "I have ordered the armed forces to occupy all – these so many islands, I think nine or 10 – put up structures and the Philippine flag."
"And in the coming Independence Day of ours (June 12), I might, I may go to Pag-asa island to raise the flag there. Even those that are vacant, let us habitate there." Pag-asa (Hope) is the Philippine name for "Thitu island" in the Spratlys, the largest of the islands occupied by the Philippines in that disputed archipelago. Duterte's initial declaration confused many.
His spokesmen and the military later insisted that he meant they should upgrade the facilities on about nine of the islands and outcroppings the Philippines already occupies. Duterte's declaration also apparently surprised China which he has been wooing since he took office in June.
Critics had attacked Duterte for supposedly failing to stand up for the country's claims. But he said his setting aside of the territorial dispute opened the door to improved trade, investment and assistance with China.
Full report at:
https://english.alarabiya.net/en/News/gulf/2017/04/13/While-In-Saudi-Arabia-Philippine-President-Duterte-pulls-back-on-flag-vow-with-China.html
--------
Mideast
Germany abetting terrorists, reviving Nazism: Turkey's Erdogan
Apr 12, 2017
Turkish President Recep Tayyip Erdogan has accused Germany of supporting terrorists and reviving Nazism as tensions heighten between the two sides over the cancellation of pro-Erdogan rallies in the European country.
"At present, Germany is abetting terrorists. I speak frankly. And they go crazy when I say 'They resurrected Nazism.' Why are you going crazy? That's what you are doing," Erdogan said in an interview with broadcaster A Haber late on Tuesday.
Turkey's dispute with the European Union erupted in March after several EU member states, notably Germany and the Netherlands, blocked Turkish ministers from holding rallies to secure a 'Yes' vote in the April 16 referendum on expanding Erdogan's powers, citing public safety concerns.
Erdogan accused the European countries of acting like "Nazis" and giving sanctuary to terrorists who back Kurdish forces and last July's failed military coup.
"You will harbor and feed thousands of PKK [Kurdistan Workers' Party] members; I will give you 4,500 cases and you will examine these cases but won't hand them over to me. But then you will come and will ask one agent-terrorist from me," Erdogan said, referring to German Chancellor Angela Merkel's call for the release of Turkish-German journalist Deniz Yucel.
Yucel, a reporter for Germany's Die Welt newspaper, was taken into custody in February on charges of spreading "terrorist propaganda."
At that time, Erdogan said Yucel had been sheltered at the German Consulate in Istanbul for nearly a month before being arrested.
Full report at:
http://www.presstv.ir/Detail/2017/04/12/517780/Turkey-Germany-Tayyip-Erdogan-Nazism-Merkel
--------
Commander: Iran's Ground Force Expanding Drone Fleet
Apr 12, 2017
"The Ground Force has set up a drone group and we are trying to become equipped with different tactics and technics, used by the world's advanced drone units, in the current (Iranian) year (started on March 21)," General Heidari told reporters in a press conference in Tehran on Wednesday.
"We have plans to prepare the drones for night and long-range operations and increase their durability for operations and we are now expanding the drone unit across the country," he added.
General Heidari also announced plans to launch four production lines of the needed strategic and major defense parts in the current Iranian year to meet the country's arms and equipment requirements.
In relevant remarks in September, Ground Force Commander Brigadier General Ahmadreza Pourdastan underlined the high capabilities of Iran-made Unmanned Aerial Vehicles (UAVs), and said his forces were using drones for conducting missions in remote regions. "When the Ground Force wants to make any activity in remote areas, it prepares its drones for that mission," Pourdastan said, addressing army commanders and personnel in Tehran.
Full report at:
http://en.farsnews.com/newstext.aspx?nn=13960123000586
--------
Raging Yemen clashes leave 18 dead
12 April 2017
Intensified confrontations between government forces and Houthi militia on Yemen's southwestern coast have killed 18 fighters in the past 24 hours, military officials and medical sources said on Wednesday.
Clashes have raged as government forces, backed by warplanes from the Arab coalition, push to seize rebel positions east of the government-held Red Sea town of Mokha, military sources said.
Fifteen insurgents have been killed in clashes and coalition air strikes in the past 24 hours, a medical source in the militia-controlled port city of Hudaydah said.
Three soldiers died in the battles, according to military and medical sources in Aden, the temporary base of the government as the capital Sanaa remains under militia control.
Forces loyal to President Abedrabbo Mansour Hadi captured Mokha in February as part of a major ongoing offensive that aims to drive Houthis from the lengthy Red Sea coastline.
Coalition spokesman General Ahmed Assiri on Wednesday said current operations aim to clear the route east of Mokha towards the flashpoint city of Taiz, where loyalists are surrounded by Houthis.
"The route between Mokha and Taiz should be cleared. On the way, there is Khalid bin al-Waleed military base that has a strong presence" of Houthis and allied renegade troops loyal to former president Ali Abdullah Saleh, he told AFP.
"It is a difficult area," Assiri said, adding that five Sudanese soldiers announced dead by Khartoum on Tuesday were special forces members killed in the same zone, known as Jabal al-Nar.
Sudan has contributed forces to the coalition that launched a military campaign against the militia in March 2015.
Assiri said, however, that government forces advancing northwards towards the key port of Hudaydah was not a priority for the moment.
"Hudaydah is far. Not now," he said.
Full report at:
https://english.alarabiya.net/en/News/gulf/2017/04/12/Raging-Yemen-clashes-leave-18-dead.html
--------
Iran's missile tests not linked to UN resolution on nuclear deal: Qassemi
Apr 12, 2017
The Iranian Foreign Ministry spokesman says the country's missile tests are not in contravention of a UN resolution endorsing the country's nuclear agreement with the P5+1 group of countries.
"The Islamic Republic of Iran asserts that its defense missile program is by no means linked to the Joint Comprehensive Plan of Action (JCPOA) and the nature and design of Iran's ballistic missiles are in a way that the country's missile tests are no breach of UN Security Council Resolution 2231," Bahram Qassemi said on Wednesday.
He added that Iran would continue to boost its defense capabilities in line with the country's doctrine to defend national security and promote regional peace and stability.
Qassemi's remarks came in reaction to a statement by the G7 countries, which claimed that Iran's missile tests were "inconsistent" with Resolution 2231.
Qassemi also underlined the need for the commitment of all parties to implement the JCPOA, as stressed by the G7 countries, to help guarantee the sustainability of the deal.
"Iran expects the full and balanced implementation of it (the JCPOA) by all sides in a constructive atmosphere," he noted.
In their final statement, the G7 countries also voiced their support for the JCPOA and stressed the "continued and full implementation" of the agreement.
Qassemi said that the International Atomic Energy Agency (IAEA) had on numerous occasions confirmed Iran's full compliance with the nuclear agreement.
Iranian Foreign Ministry Spokesman Bahram Qassemi
"As verified by the IAEA reports, the Islamic Republic of Iran has so far precisely and completely fulfilled all its obligations in the nuclear sector and it is Iran's natural, legitimate and legal expectation that the other sides reciprocate both in their action and their political approaches by fulfilling their JCPOA commitments, including the removal of sanctions," he said.
Full report at:
http://www.presstv.ir/Detail/2017/04/12/517815/Iran-missile-tests-Bahram-Qassemi-UN-JCPOA
--------
Iran rejects EU sanctions over human rights as politically-motivated
Apr 12, 2017
The Iranian Foreign Ministry has dismissed as politically-motivated the European Union's extension of sanctions against the Islamic Republic over human rights, saying the bloc has turned a blind eye to the realities of civil rights in Iran.
The Islamic Republic of Iran condemns the EU's "double standards and political approaches" and its "abuse of human rights as a tool," Foreign Ministry Spokesman Bahram Qassemi said on Wednesday.
He added that the EU's extension of "unilateral, illegitimate sanctions [against Iran] under the pretext of human rights violations" was a failed, ineffective policy.
On Tuesday, the European Union extended sanctions against Iran for alleged human rights violations until April 2018.
The extended EU sanctions include a travel ban and asset freeze against 82 Iranian people and one entity as well as a ban on the bloc's exports of certain equipment to Iran.
"Unfortunately, the EU has proved to lack a true and realistic understanding of the human rights situation in the Islamic Republic of Iran, and by adopting politically-motivated approaches it has turned a blind eye to civil rights realities in the religious, democratic establishment of Iran," Qassemi added.
Full report at:
http://www.presstv.ir/Detail/2017/04/12/517764/Iran-EU-sanctions-human-rights-Bahram-Qassemi
--------
North America
Trump gave Syria attack order 'during dessert'
April 13, 2017
WASHINGTON - US President Donald Trump gave the order to strike Syria with dozens of cruise missiles "during dessert" with visiting Chinese leader Xi Jinping, he said in an interview aired Wednesday.
"We had finished dinner. We're now having dessert. And we had the most beautiful piece of chocolate cake that you've ever seen and President Xi was enjoying it," Trump told the Fox Business television network.
"And I was given the message from the generals that the ships are locked and loaded, what do you do?" Trump said. "And we made a determination to do it, so the missiles were on the way."
"And I said, 'Mr. President, let me explain something to you' - this was during dessert - 'we've just fired 59 missiles.'"
Trump said Xi "paused for 10 seconds and then asked the interpreter to say it again. I didn't think that was a good sign."
But then, Trump said, Xi responded that "anybody that was so brutal and uses gases to do that to young children and babies, it's OK.... He was OK with it. He was OK."
Trump had been hosting Xi at his private Florida resort Mar-a-Lago on April 6. The US missiles struck a Syrian air base in retaliation for Syria's alleged chemical attack on a rebel-held town, killing 87 civilians, many of them children.
Pentagon chief Jim Mattis said Tuesday there was "no doubt" the Syrian regime was behind the chemical attack. But Russia, Syria's ally, disputes that, saying no evidence has been produced.
Trump, in his interview, said all 59 missiles fired hit their targets and called the display of military prowess "unbelievable," "amazing," "incredible," "brilliant" and "genius."
Trump regularly spends his weekends at his Mar-a-Lago resort, which his staff has nicknamed the "Southern White House."
Members of the club pay a $200,000 fee, which gives access to its amenities and its eateries.
http://nation.com.pk/international/13-Apr-2017/trump-gave-syria-attack-order-during-dessert
--------
Islam and Round Rock: Mosque member explains faith
April 12, 2017
In the wake of high political and social tension around the country, one Muslim organization is fighting to create love and understanding between and within communities.
Muhammad Ahmad, an outreach coordinator of the Round Rock-based Ahmadiyya Muslim Community of Austin talks about his faith, the Ahmadiyya sect and fostering relationships as a Round Rock resident in the Central Texas community.
First and foremost, what is Islam?
Ahmad described Islam as a monotheistic religion which professes in only one God (Allah) and that the final messenger was the Prophet Muhammad. The word Islam means "submission to the will of God." Along with Muslims believing in prophets like Jesus, Moses and Abraham, Muslims follow the holy book of the Qur'an as a guide. They also follow the Sunnah, which lies out the Five Pillars of Islam: declaration of faith, prayer five times a day, giving money to charity, fasting and completing a pilgrimage to Mecca. Islam is mostly divided by Sunni and Shia Muslims, which are split in their belief of who Prophet Muhammad's successor truly was.
What is Ahmadiyya?
"We consider the Ahmadiyya movement or sect as a revival of Islam," Ahmad says. "It was founded by Mirza Ghulam Ahmad Qadiani in 1889 as a revival movement in India."
The first missionary came to the U.S. in the 1920s, establishing the Ahmadiyya Muslim Community USA as the first Muslim-American organization. The first purpose-built mosque erected in Chicago, which Ahmad said signifies it was "built by a missionary for the purpose of congregation."
So, how are Ahmadiyya Muslims different from Sunni and Shia Muslims?
"The main difference between us and Sunni or Shia Muslims is that we believe that the second coming has already happened," Ahmad says. "Every religion is looking for a second coming, and we believe that Mirza fulfilled that prophecy."
Ahmadiyyas also follow the Qur'an and Sunnah, believing that the former takes precedence. Ahmad says the movement has a correlation to early Christianity.
Where are the mosques located?
There are locations in Round Rock, Houston, Fort Worth and Dallas, with hundreds more scattered across the U.S. and worldwide. The Ahmadiyya Muslim Community of Austin in Round Rock serves the Central Texas area, which is located at 800 Deepwood Drive.
"We've been at this address for about 10 years," says Ahmad, who is a Round Rock resident and employee at Dell Technologies. "Once they found a space, which was previously an old Baptist Church, things started to come together."
How does the mosque function within the Round Rock community?
Besides a minor incident in 2007, Ahmad says the mosque has had no issues of discrimination within the Round Rock community. A Christmas tree with strips of bacon was found at the mosque's front door around the time it opened, but Ahmad says they all presumed it was some high schooler pulling a prank.
"Since then, we have conducted several outreach programs every year where we open the mosque up for people to come in. In Ramadan, we have dinners where people sit and join us," Ahmad says.
What are relations like with churches and other mosques in the area?
Rapport with churches and other non-Ahmadiyya mosques have strengthened, especially in the last couple of years, according to Ahmad. "We do blood drives at the mosque in Round Rock and partner with some of the churches and do interfaith," Ahmad says. They have also invited churches over for community dinners and vice versa.
What involvement does the mosque have in community campaigns and efforts?
Beyond blood drives and other community service efforts, the mosque holds events and puts forth campaigns to break down stigmas and stereotypes about Islam. #MeetAMuslim Day in March had members of the community come together with signs and shirts in the streets to entice dialogue and introduce many to the Muslim faith.
"In Austin, the campaign received an extremely positive response," Ahmad says. "But that's preaching to the choir — we weren't really pushing the envelope." From there, he said mosque members conducted the same campaign in Georgetown and Taylor. "People were hugging us. We had no problems."
Ahmad says that most of the questions were along the lines of concern, like "How is the community treating you?"
Talk about 'Coffee, Cake and True Islam.'
Every Wednesday, a weekly chat at Round Rock's Corner Bakery Cafe and Cafe Medici in Austin is held by mosque members in effort to spur discussion, promote truth and answer questions about Islam. The aim is to close a divide between the Muslim community and the non-Muslim community by means of open dialogue. The chats began in November and ramped up in January.
"We've had 12 people show up here before, and we weren't able to talk to everyone," Ahmad says. "Other times, two people have showed up, but that's more than enough for me."
Full report at:
http://www.statesman.com/news/local/islam-and-round-rock-mosque-member-explains-faith/qGQycau9uPqmDWvb5NSKcL/
--------
URL: https://www.newageislam.com/islamic-world-news/mardan-university-student-lynched-mob/d/110754
New Age Islam, Islam Online, Islamic Website, African Muslim News, Arab World News, South Asia News, Indian Muslim News, World Muslim News, Women in Islam, Islamic Feminism, Arab Women, Women In Arab, Islamophobia in America, Muslim Women in West, Islam Women and Feminism