New Age Islam News Bureau
13 December 2020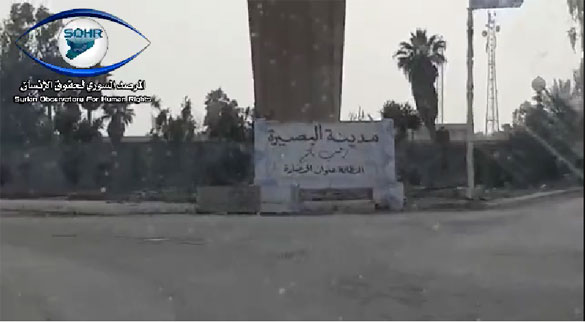 • Man Stands At Minbar Of Al-Safa Mosque In Al-Busayrah City of Deir al-Zour, Asking People Not To Pay Zakat To ISIS Cells
• Macron Thrusts Muslims Onto the Front Line of French Politics
• American Expert: Normalizing Ties With Israel Amounts To Acceptance Of Occupation
• Moroccan Islamist Groups Reject Normalizing Ties With Israel
• West Must Pressure Myanmar to Stop Rohingya Genocide
• New Zealand: Police Investigating Message Left Near Christchurch Mosque
• Vandalism Of The Statue Of Sikh Leader Maharaja Ranjit Singh, Located In The Lahore Fort, Condemned
Arab World
• Man Stands At Minbar Of Al-Safa Mosque In Al-Busayrah City of Deir al-Zour, Asking People Not To Pay Zakat To ISIS Cells
• Library Of The Makkah's Grand Mosque Uses Ozone Tech To Preserve Manuscripts
• OIC Body Adds 66 Sites To Islamic Heritage List
• Saudi skywatchers ready to catch a falling star
• Road projects linking Madinah city with other key places launched
• 3k plots for Saudis reserved under Sakani program
----------
Europe
• Macron Thrusts Muslims Onto the Front Line of French Politics
• France Shuts Down Only Muslim School In Paris
• First appearance of acting Muslim Brotherhood supreme guide Ezzat after 4 months in prison
• How Islamic funeral rituals have been affected by the coronavirus outbreak
-----------
North America
• American Expert: Normalizing Ties With Israel Amounts To Acceptance Of Occupation
• Bay Area Muslim Community Supports Local Restaurants In 1st Halal Restaurant Week In US
• Islamic Centre of Quad Cities hosts free fresh produce drive
• CAIR Welcomes Removal of Tennessee Board of Professional Responsibility Attorney After Anti-Muslim Posts
• One shot, four stabbed as political unrest continues across America
---------
Mideast
• Moroccan Islamist Groups Reject Normalizing Ties With Israel
• Creating Tension Among Muslim Countries "Unforgivable" Sin: Ayatollah Seyyed Ali Khamenei
• Asaib Ahl Al-Haq, One Of The Most Influential Iraqi Armed Factions Backed By Iran, Defying Iran To Attack US In Iraq
• Turkey summons Iran envoy over protest against Erdogan's controversial remarks
• IDF fighter faces Islamic rioters alone
• Syria reiterates necessity for closing chemical weapons completely
------
South Asia
• West Must Pressure Myanmar to Stop Rohingya Genocide
• China: Big Data Program Targets Xinjiang's Muslims
• Mohib: Intra-Afghan Talks Should Be Held in Afghanistan
• 90 Taliban Terrorists Killed In Kandahar Of Afghan
• Mullah Mansour had life insurance policy
• Kabul Blast Claims 2, Hurts 2
• NATO Supports Afghan Forces with Pharmaceutical Supplies
• Two killed in Kabul magnetic IED blast
• Audit Report Finds Glaring Wrongdoings In Setting Up 'Sharia' University
----------
New Zealand
• New Zealand: Police Investigating Message Left Near Christchurch Mosque
-----------
Pakistan
• Vandalism Of The Statue Of Sikh Leader Maharaja Ranjit Singh, Located In The Lahore Fort, Condemned
• Stage set for PDM power show in Lahore today
• Govt Decides To Act Swiftly Over Sedition, Incitement To Disorder
-----
India
• India To Discuss Chabahar Port Issue With Iran And Uzbekistan
• NIA Denied A News Report That Said NIA Court In Srinagar Has Acquitted All Accused In A Case
• Grenade attack on Sopore police post, 2 civilians hurt
-----
Southeast Asia
• 'Profits over people': Covid-19 overruns Top Glove factories as workers speak of appalling accommodations
• Indonesia arrests firebrand Islamist cleric over virus rule breaches
• Mat Sabu: Amanah will find best solution to resolve internal crisis in Negri Sembilan
• Professor Dr Wan Maseri's teachings to be referred to National Fatwa Council
• Malaysia cannot remain closed for too long, says Ismail Sabri
----------
Africa
• "Dividing Muslims, Global Diplomacy Of Enemies": Iran's Ambassador To Ethiopia
• 'Mosque of Jesus Christ' causes online sensation
• Algeria parties condemn normalization between Morocco, Zionist regime
• Nigerian Christians fear a bloody holiday season at the hands of Muslim terrorists
• Sudan confiscates Bin Laden's farm, ends services of 30 ambassadors
• Here are all the beautiful photos from NPP's Islamic thanksgiving service
• Libya releases 2 Russians suspected of spying for Saif al-Islam Gaddafi
• ICC prosecutor seeks investigation into crimes committed during Boko Haram insurgency in Nigeria
• Army kill nine Boko Haram terrorists in Borno, Yobe
• Hundreds of students missing after attack on Nigerian school
Compiled by New Age Islam News Bureau
URL: https://www.newageislam.com/islamic-world-news/man-stands-minbar-al-safa/d/123742
------
Man Stands At Minbar Of Al-Safa Mosque In Al-Busayrah City of Deir al-Zour, Asking People Not To Pay Zakat To ISIS Cells
Deir ez-Zor countryside
Dec 12, 2020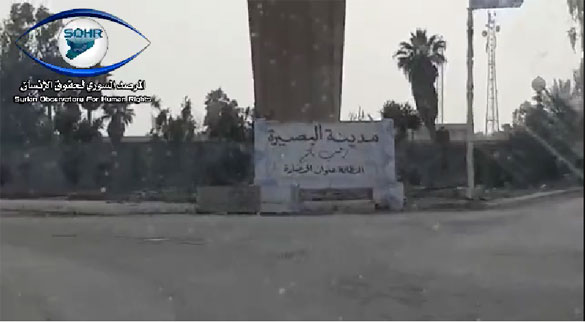 SOHR activists say that a man stood at the minbar of Al-Safa mosque in the city of al-Busayrah in eastern countryside of Deir al-Zour, after the end of Friday prayers yesterday, and demanded that residents not pay money to people who ask them to pay zakat as being from the Islamic State.
The man accused the SDF of turning a blind eye to these people as if it is not their concern. This comes in light of increasing incidents of money requests from residents in al-Busayrah and surrounding areas by people claiming to be from the Islamic State.
On December 8, reliable sources informed the Syrian Observatory that ISIS cells have planted an improvised explosive device (IED) in front of the house of a civilian in the city of Al-Busayrah, east of Deir ez-Zor, after the owner refused to pay zakat for the group's members. However, a number of young men have managed to dismantle the IED in front of the civilian's house before it explodes.
Meanwhile, ISIS cells threatened a shopkeeper in Al-Busayrah city not to come to his shop, otherwise he would be assassinated. This comes nearly a week after his home was shot by ISIS cells to force him to pay zakat.
https://www.syriahr.com/en/195634/
---------
Macron Thrusts Muslims Onto the Front Line of French Politics
Ania Nussbaum
13-12-2020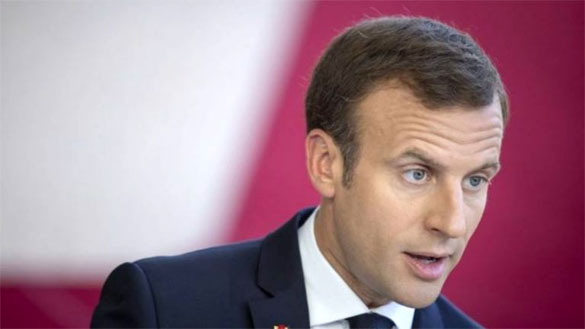 Nagib Azergui used to be hopeful that the racism he experienced growing up in a Paris suburb was on its way out. In Emmanuel Macron, the country was getting a president who would heal divisions, an "anti-Trump leader."
The head of France's only Muslim political party now he says he was wrong. Macron has called Islam a religion in crisis and has moved to shut down mosques accused of spreading hatred. Last week, his government introduced a draft law to fight "separatism," a term he's coined for groups that don't integrate and are susceptible to extremism.
"Muslims are tired of being used by politicians as scapegoats to deflect attention away from real problems," said Azergui, 41, an engineer of Moroccan descent from Nanterre.
Azergui can't claim to represent the country's Muslims—his group still only has about 1,000 members and in last year's European elections it gained just 0.13% of the vote. But Macron's policies have reinvigorated his goal of fighting Islamophobia and encouraging citizens of his religion to stop being "invisible."
France's president has cultivated an image abroad as a defender of liberalism since coming to power in 2017 in contrast to leaderships in the U.S., Britain and eastern Europe. Yet at home he's been courting conservatives after a series of horrific attacks by Islamic radicals and that risks alienating a Muslim population that may be heterogeneous but also represents France's second biggest religious group after Catholicism.
As campaigning for the 2022 presidential election unofficially gets underway, there's a growing sense of betrayal within France's 5.6 million-strong Muslim community, the overwhelming majority of whom are integrated and reject terrorism.
Macron hasn't said whether he'll run again, but he's clearly positioning himself as the law-and-order candidate in an election that's likely to pit him against far-right leader Marine le Pen.
Attacks by extremists have left about 250 people dead since 2015, including a teacher beheaded in October for opening a classroom debate on freedom of speech and cartoons of Prophet Muhammed.
Part of the French president's plan entails creating an "Islam of Enlightenment" and while he has repeatedly insisted that Muslims shouldn't be stigmatized, his assertion that the religion is in crisis upset many Muslims in France.
As did his appointment of Gerald Darmanin, a hardliner, as interior minister in a recent cabinet shuffle. His prime minister, Jean Castex, meanwhile has dismissed the idea of making amends for France's colonization of regions including in North Africa and the Sahel, from where many of its Muslims can trace their roots.
France's Muslim community is broad and opinions are hard to pin down because of restrictions on collecting ethnic and religious statistics.
The country's aspiration for universalism and integration makes it harder for those who identify with any religion from entering public life, said Hakim El Karoui, a fellow at Paris-based think tank Institut Montaigne. Polls commissioned by Journal du Dimanche, a French weekly newspaper, and Charlie Hebdo, the satirical magazine targeted in a 2015 terrorist attack, last year showed that 60% of French deem Islam incompatible with the values of the Republic, with almost half of French Muslims under 25 sharing that view.
El Karoui is himself a poster child of success in France, and said Islam represents a link to his family's roots. His mother is Protestant, his father a Muslim of Tunisian origin. He's an ex-banker whose time at Rothschild coincided with Macron's. Two of his uncles were ministers in Tunisia before the uprising that sparked the Arab Spring. El Karoui served as an adviser to former Prime Minister Jean-Pierre Raffarin.
In his elegant office in Paris's business district, El Karoui thinks France's integration system ultimately works well, citing as an example a high rate of mixed marriages. He advocates the creation of a body that would raise funds to encourage Muslims to fund research and train imams.
"After every terrorist attack, discrimination against Muslims jumps," he said. "What I'm telling them is: It's not your fault, but now it's in your interest to get organized."
The trouble is that when they try to do that, they can run into problems. Fatima Bent is the president of the feminist, anti-racist group Lallab. It describes itself as "pro-choice" on issues from abortion to the veil, but has been accused of being close to the Muslim Brotherhood. When it was set up in 2016, a bank even rejected its application to open an account.
Bent said she worries most about police violence, which quietly affected Muslims in the suburbs, or "banlieues," for a long time before entering the public eye more recently. She's critical of a law provision once pushed by Macron that would have made it harder to share videos of police abuse.
Muslim voters are disappointed by the parties on the political left, which they have tended to support, Bent said. That's when they don't abstain.
While Azergui tries to get people behind his Union of French Muslim Democrats, which he founded eight years ago after former President Nicolas Sarkozy began a debate on national identity and immigration, Bent is betting on local initiatives. She's organizing to help Muslim women share their stories.
"I can't believe we're still asked whether Islam is compatible with secularism when we have millions of French Muslims at peace with these two identities, and living peacefully," Bent said. "The government's rhetoric is dangerous, it's widening the rift of 'them' against us."
According to the draft law on "separatism" published on Dec. 9, there will be stricter punishments for those who promote hatred online and threaten civil servants, including teachers. It neither explicitly mentioned Islam nor Muslims.
Doctors who provide "virginity certificates" will also be targeted and scrutiny of the funding of religious associations increased. Home-schooling for kids older than three, meanwhile, will be restricted in a bid to prevent clandestine religious schools. Macron also wants to end the ghettoization of city suburbs and support their residents, though he has yet to unveil firm proposals to do so.
Azergui is concerned the crackdown will backfire and drive more youngsters to extremism. He defends an interpretation of France's secularism, known as "laicite," whereby all faiths are respected but kept private, though he'd like women to be allowed to wear veils wherever they want.
Since 2004, the wearing of religious signs has been prohibited in French schools, a ban backed by 44% of Muslims, according to a recent Ifop poll. While the veil may be worn elsewhere, women who do so and take on public responsibilities are often criticized as promoting a sexist symbol, including by government members.
"When Macron speaks about separatism, he deliberately focuses on Islamism rather than on Corsican separatists, or wealthy people building a life on the margins," said Azergui. "We're an easy target."
https://www.bnnbloomberg.ca/macron-thrusts-muslims-onto-the-front-line-of-french-politics-1.1535877
------------
American expert: Normalizing ties with Israel amounts to acceptance of occupation
December 12, 2020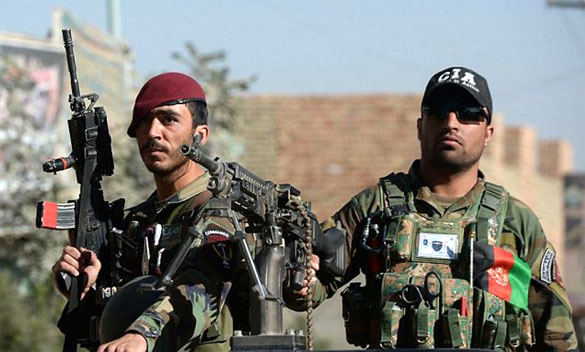 Leading lawyer, strategist & communications expert Elizabeth Myers said that normalizing ties with Israel amounts to acceptance of occupation citing Morocco's decision to normalize relations with the Zionist regime.
"While the moves of normalization of relations are good for the countries and of course for Israel, in the long term in my view they exacerbate the marginalization of the Palestinian people and undermine the potential for having a 2-state solution, the desired outcome so far supported by not only the US but also in the UN," Myers told IRNA News.
"These actions in effect legitimize Israel's continuing occupation and continuing expansion of settlements in the occupied territories by reducing and/or removing the former diplomatic pressures against Israel taking such actions that are contrary to international law," she added.
As long as the Palestinians themselves are excluded and marginalized, there cannot be a resolution of the conflict or the initiation of a lasting peace in the region.
"The Trump Administration, led by Trump's emissary Jewish son-in-law Jared Kushner, have been putting tremendous pressure on a number of Arab countries to normalize relations overtly with Israel," the expert said.
With respect to Morocco and the UAE in particular, this is merely a formalization of relations and transactions that have been ongoing for some time in the economic sphere," Myers said adding that the only real difference is the open acknowledgment.
"The countries involved so far have nevertheless reaffirmed their commitment to supporting the Palestinian cause," she reiterated.
"Moroccos King Mohammed VI issued a statement via the royal cabinet to thus effect. Morocco has had a special relationship with Israel for decades since the Jewish state's establishment as thousands of Jewish Moroccans emigrated there in the 1950s and 60s. There are for example 10 ministers of Moroccan origin in the Knesset."
"As Morocco's king so eloquently reaffirmed yesterday, "negotiations between the Palestinian and Israeli parties remain the only way to reach a final, lasting and comprehensive settlement of this conflict."
"While the US under the Trump administration has essentially sold out the Palestinian people by recognizing Jerusalem as the capital of Israel, King Mohammed VI as Chairman of the Al-Quds Committee has emphasized the need to preserve the city's special status and ensure the freedom for the followers of the three monotheistic religions to practice their religions including full access to the Al-Aqsa mosque, the US expert said.
Earlier on Friday, Secretariat of the International Conference in Support of the Palestinian Intifada of the Iranian parliament in a statement condemned Morocco's compromise with the terrorist occupying regime, stressing that the humiliating betrayal is not approved by the combatant and right-seeking nations.
https://en.abna24.com/news//american-expert-normalizing-ties-with-israel-amounts-to-acceptance-of-occupation_1094785.html
-----------
Moroccan Islamist groups reject normalizing ties with Israel
By Reuters Staff
RABAT (Reuters) - Morocco's main Islamist groups on Saturday rejected Rabat's plan to normalize ties with Israel following a deal brokered by the United States.
The religious branch of the co-ruling PJD party, the Unity and Reform Movement (MUR), said in a statement the move was "deplorable" and denounced "all attempts at normalisation and the Zionist infiltration." The Islamist PJD party was more nuanced, endorsing King Mohammed VI's actions support for the Palestinian cause while reiterating the party's "firm position against the Zionist occupation."
Unlike its government coalition partners who backed the deal, it took the PJD two days to react after disagreements emerged between the party's senior leadership, according to a source close to the matter.
A core element of the deal brokered by President Donald Trump was U.S. recognition of Morocco's claim to sovereignty over the Western Sahara. A decades-old territorial dispute has pitted Morocco against the Algeria-backed Polisario Front, which seeks to establish an independent state.
"The United States made an important proclamation that stresses Morocco's sovereignty over its southern provinces and opens new horizons for strengthening Morocco's position in international circles. It also further isolates the adversaries of our territorial integrity," the Islamist party said in a statement.
King Mohammed VI has the last say over major diplomatic decisions.On Friday, Morocco's outlawed Adl Wal Ihssane, one of the largest opposition groups in the country, said normalisation deals a "stab from the back to the Palestinian cause."
https://www.reuters.com/article/us-morocco-israel/moroccan-islamist-groups-reject-normalizing-ties-with-israel-idUSKBN28M102?rpc=401&
-----------
West Must Pressure Myanmar to Stop Rohingya Genocide
Source : Arab News
December 13, 2020
Dr. Azeem Ibrahim and Prof. Michael Charney, speaking at a webinar hosted by the Arab News Research & Studies Unit (ANRSU) and SOAS University of London, concluded that without international pressure the future looked bleak for the Rohingya Muslims.
The panelists said much of the response from other countries, especially in the West, to the plight of the Rohingya — which they said bore all the hallmarks of genocide — had been shaped by a belief that Myanmar, under the civilian rule of Aung San Suu Kyi, is on the path to a functioning democracy and a fear that any substantial pressure would bring a return to full military rule as seen before 2011.
But this is not the case, according to Ibrahim and Charney, who were discussing a recent ANRSU report written by Ibrahim titled "What next for the Rohingya?"
Suu Kyi is "not concerned" about the Rohingya or any other ethnic minority, Charney said. He added that a myth had been built up around her in the West, and that the only chance of a positive outcome for the minority in Myanmar would be a forceful challenging of the National League for Democracy (NLD) government and the removal of an "ineffective and opportunistic leader" in Suu Kyi.
Bangladesh has hosted fleeing Rohingya Muslims since 2017 in Cox's Bazar and more recently on Bhasan Char island and it is playing an active role in helping the Rohingya, according to Ibrahim. But it is under pressure with more than one million refugees within its borders costing $900 million a year to look after, as well as waning good will from Bangladeshis toward the Rohingya.
Ibrahim said that, in the long term, the absorption of the Rohingya into Bangladeshi society — and other sympathetic societies in Asia such as Malaysia and Indonesia — is one solution to the crisis, but this would require assistance from the international community.
While this outcome would likely lead to the diminishing, or even eradication, of the Rohingya identity, he said it was the "most practical outcome."
Both panelists agreed that the International Court of Justice's preliminary ruling in a case of genocide brought forward by The Gambia was a powerful tool and that the court's actions had to be supported by the international community, something Ibrahim called the "easiest" and "most realistic" way other countries could support the Rohingya, who currently have no global lobbyists working in their favor.
Both Charney and Ibrahim said an overhaul of how Myanmar was governed at a political and societal level was vital if the Rohingya were to be allowed to return home, where they are currently denied citizenship or inclusion in the electoral process.
his could be achieved through targeted sanctioning of Myanmar's wealthy military leaders and their assets through the Magnitsky Act, something that Ibrahim noted has worked in other parts of the world.
Charney also said persuading China — which has traditionally sided with the NLD and military rulers in the Rohingya issue — to pressure Myanmar to play more active role in returning the Rohingya and including them in the country's political process could also have an impact.
https://en.abna24.com/news//experts-west-must-pressure-myanmar-to-stop-rohingya-genocide_1095091.html
-----------
New Zealand: Police investigating message left near Christchurch Mosque
Source : NZ herald
December 13, 2020
The message, written on the footpath outside Masjid An-Nur in Riccarton Saturday, was reported to the police by the Muslim Association of Canterbury.
The message was reportedly written while worshippers were at afternoon prayers.
Canterbury police District Commander John Price said the incident was being taken very seriously.
"We take any messaging that has any concern to it extremely seriously and a report has been completed and that has been assigned to an investigator," he said.
Superintendent Price said the timing of the message - just days after the Royal Commission into the 2019 terrorist attack was released - was worrying.
"No matter what time it is, any messaging that has an undertone that is not right for us in New Zealand is concerning," he said.
"Whether or not it would be on the back of the Royal Commission of Inquiry or not, it's irrelevant. At the end of the day, it's about making sure we get to the bottom of what's actually happened, why it's happened and who has done it."
The police have a greater visibility around Masjid-An-Nur to provide reassurance to the community.
Masjid An-Nur was one of the two mosques targeted during the March 15, 2019 terror attack.
Forty-four people were murdered at the mosque, and another seven people were murdered at the Linwood Islamic Centre.
https://en.abna24.com/news//new-zealand-police-investigating-message-left-near-christchurch-mosque_1095161.html
-----------
Vandalism Of The Statue Of Sikh Leader Maharaja Ranjit Singh, Located In The Lahore Fort, Condemned
Xari Jalil
13 Dec 2020
LAHORE: A man was arrested for vandalising the statue of Sikh leader Maharaja Ranjit Singh, located in the Lahore Fort, on Friday and several have come forward to condemn the act.
Maharaja Ranjit Singh was the ruler of the Sikh empire spread across many parts of Pakistan, with Punjab being the main territory, parts of Khyber Pakhtunkhwa and even southern parts of the country. His statue was unveiled in the Lahore Fort at the Mai Jindan Haveli, on the emperor's 180th death anniversary, by Sikh historian, writer and filmmaker Bobby Singh Bansal. Bansal's London-based organisation the S.K. Foundation had funded the statue. It was sculpted by local artists, under the aegis of the Fakir Khana Museum.
Bansal himself had stated earlier that the statue was a project meant to forge a lasting friendship amongst the people of Punjab and that the statue had been donated to the people of Pakistan by his foundation to promote Sikh heritage and tourism here.
However, not long after the statue was inaugurated was the first attack of vandalism, where two men struck it with wooden rods, resulting in the breakage of one of its arms and damage to other parts. The attackers were chanting slogans against the former ruler of the Punjab, and were protesting against the revocation of the special status from Jammu and Kashmir.
In the recent attack, the young man who was later arrested, broke an arm of the statue made of cold bronze. Like those before him, the suspect, Zeeshan, also told the police that the Ranjit Singh's statue should not have been built as he had committed atrocities against Muslims during his rule.
Speaking to Dawn, Bansal said that there would always be people who would remain unaware of Punjab's rich Sikh history — this had been the case since 1947. "There has been so much apathy and mistrust over the Partition that it has caused misinformation and misunderstanding between Muslims and Sikhs as well as other religions," he said. "It is sad that people target a monument without knowing the facts."
Most students know about Mughal and British rule, but absolutely nothing about how Sikh's ruled for so long in a secular manner, he said. The Sikh chapter is a link to Punjab's identity both culturally and politically.
Bansal went on to specify how the rule had been and said that the Sikh period had been the most peaceful period. "Ranjit Singh had employed more Muslims and Hindus in his court than people of any other religion — there were hardly any Sikhs nobles in the darbar — Sikhs were usually sent to guard the frontiers," he said. "Ranjit Singh had repaired and restored many mosques and the Sunehri Masjid was given gold and a facelift after he evicted occupying troops from it. He never forcibly converted anyone to any faith and even married a Muslim woman, Gul Begum."
The act of vandalism has been condemned by some on Twitter. A user wrote: "So a statue of Maharaja Ranjit Singh has again been vandalized for the second time in Lahore fort. What's different between those Pakistanis who support this act, and #Modibhakts who call Aurangzeb Alamgir and Tipu Sultan terrorists?"
Although the teenager who has now been arrested had been influenced by the now deceased Khadim Hussain Rizvi, who had preached hate against the Sikh ruler, the colour of intolerance towards personalities of other religions have been tainting society since a long time and many academics and civil society activists have been uneasy about it.
Minority rights activist and chairperson of the People's Commission for Minority Rights (PCMR), Peter Jacob, said that it was time to keep in check the kind of intolerance that has seeped into society, and which has also received impunity in the public discourse. "The sociology of this should be investigated — why are people behaving like this?" he said.
https://www.dawn.com/news/1595466/vandalism-of-ranjits-statue-condemned
----------
Arab World
Library Of The Makkah's Grand Mosque Uses Ozone Tech To Preserve Manuscripts
ARAB NEWS
December 12, 2020
MAKKAH: The library of the Makkah's Grand Mosque is using ozone technology and ozone-based devices to disinfect historical manuscripts and books as part of its measures to curb the spread of the coronavirus disease.
The library, which has 15 sections, offers digital, audio and internet services. It contains rare books dating back to the Hijri second century, including "Al-Mustatab," "Majmaa Al-Anhur Fi Sharh Multaqa Al-Abhur" and "Al-Ashbah Wal Nazaer."
Khaled Al-Zahrani, head of the sanitization unit in the library, said that all books were disinfected using modern technology after being read by visitors and researchers.
"The device accommodates 100 books, placed next to each other and its takes approximately eight hours to disinfect all books and clean them from bacteria and harmful substances," he said.
Al-Zahrani explained that the unit receives the books periodically, where they are transported through fully packaged transport vehicles, placed directly inside the device for cleaning and then returned to their intended areas.
He said that the device worked by withdrawing oxygen into it and then converting it into ozone rays, which contributed to the preservation of the quality of the paper and its complete disinfection.
The control of the environment in buildings that house cultural collections has long been recognized as the best measure to insure the preservation of such objects. Ozone gas is high in oxidants that are able to kill microorganisms, including some bacteria and viruses. In addition, it does not leave toxic residue behind, unlike many industrial cleaning solutions.
Adel Eid, head of the manuscripts department at the Grand Mosque library, said that the device had three main functions: Ozone-ray disinfection, dust removal through suction, and dusting using a smooth dedicated pad to preserve the manuscripts.
Ayman Al-Sahli, director of the library's services department, said that the library had received more than 1,900 visitors since its opening after the resumption of Umrah.
He said that the number of visitors in the reading gallery exceeded 50 people an hour, and the hall accommodated between 15 and 20 people in line with the required procedures.
The library has enough reading spaces for both men and women, children's desk services, translation and research centers, high-tech storage, delivery and receipt of folders, special collections and multimedia tools — as well as specialized services using the latest scientific methods, a manuscripts and digital library, a department for rehabilitation and restoration of ancient manuscripts and adequate administrative space.
https://www.arabnews.com/node/1776411/saudi-arabia
-----------
OIC Body Adds 66 Sites To Islamic Heritage List
SPA
13 DECEMBER 2020
RABAT: The Islamic Educational, Scientific and Cultural Organization (ISESCO) has added 66 new cultural sites to its Islamic World Heritage List.
Twenty-two of those sites, located in the UAE, Afghanistan, Palestine, Yemen, Morocco and Oman, were added to the Islamic World Heritage List, while the remaining 44 sites, located in Palestine, Oman, Iraq, Burkina Faso, Jordan and Kuwait, were added to the preliminary Islamic World Heritage List.
In a statement issued on Friday, ISESCO pointed out that this decision was taken during the third extraordinary virtual session of the Islamic World Heritage Committee, which was held on Thursday.
The committee issued several recommendations, which included adopting ISESCO's initiative regarding the celebration of the Islamic World Heritage month annually. The move would involve entrusting the General Secretariat with the formation of a body to inspect the extent of the damage to heritage sites and cultural institutions in Azerbaijan's Nagorno-Karabakh province.
A special program would be designated for digital cultural heritage as part of ISESCO's "Roads to the Future" Program.
https://www.arabnews.com/node/1776496/saudi-arabia
----------
Saudi skywatchers ready to catch a falling star
RAWAN RADWAN
December 12, 2020
JEDDAH: Avid skywatchers in the Kingdom are preparing to head out into the deserts to catch one of the most spectacular celestial shows of the year — a meteor shower.
The Geminid meteor shower is expected to peak on Dec. 13-14, raining down up to 120 meteors per hour in one of the brightest displays of the 100-plus meteor showers viewed from Earth each year.
In a bonus for stargazers, the Geminids this year occur alongside a new moon, which will make for ideal viewing conditions, according to astronomers. New moons typically cannot be seen, improving the chances of meteors being seen streaking across the night sky.
Meteors, also known as shooting or falling stars, can be best viewed in areas far from city lights, which makes the Kingdom's deserts an ideal location to witness the best and final meteor shower of the year — and what a year it has been.
Anas Al-Majed, an astrophotographer based in Riyadh who earlier this year attempted to photograph the Alpha Capricornids and Southern Delta Aquariids meteor showers, is looking forward to photographing and recording a time-lapse video of the Geminids.
"The timing is absolutely fantastic because of the moon and the weather here is promising, too — it should be clear and visible," he told Arab News.
"Go to a place where the sky is at bortle five or better; anything higher than that will be quite hard to spot. The bortle scale ranges from 'one,' where sites can be pitch black, to 'nine,' which is a city sky," he added.
Other suggestions for those hoping to catch the show include dress warmly and take a chair that allows you to look halfway up in the sky comfortably.
https://www.arabnews.com/node/1776381/saudi-arabia
-----------
Road projects linking Madinah city with other key places launched
SPA
December 13, 2020
MADINAH CITY: Madinah Gov. Prince Faisal bin Salman on Saturday launched several road development projects in the region linking Madinah city with other parts of the Kingdom. The projects seek to develop the road infrastructure of the region and ensure the safety of road users.
At the ceremony, which was also attended by Transport Minister Saleh bin Nasser Al-Jasser, the governor was briefed about the projects and their significance to the development of the region.
The projects include the development of the two-way Madinah-Hail road, Madinah-AlUla-Tabuk highway, and service lanes project on both sides of the Madinah-Yanbu highway.
Al-Jasser said the Transport Ministry attaches great importance to the region and is keen on completing all ongoing and new projects in record time.
All these projects, he said, will help serve pilgrims and residents in a better way. He also said maintaining the highest standards in all these projects is the Transport Ministry's top priority.
https://www.arabnews.com/node/1776501/saudi-arabia
------------
3k plots for Saudis reserved under Sakani program
SPA
December 13, 2020
RIYADH: The Housing Ministry's Sakani program finalized 3,499 contracts for residential plots during November, said a statement issued on Saturday.
The program is continuing to serve families wishing to own property through Sakani's mobile application and website. It also displays the beneficiaries' national ID numbers on https://sakani-names.housing.sa/, and the electronic platform, which provides detailed information regarding the various housing options.
The Sakani program offers Saudi nationals access to land and residential housing across eight regions of the Kingdom through various financing solutions to enable families to own their first home, whether through prefabricated units, under-construction builds, or self-construction.
The ministry also reported that 42 prefabricated housing projects providing around 14,000 residential villas have so far been completed.
The total number of families that benefited from the program in different regions of the Kingdom since the start of the year reached 285,762, including 96,633 families that have already moved into their homes.
The program also announced that since the beginning of 2020, 61,552 under-construction residential units have been reserved.
https://www.arabnews.com/node/1776516/saudi-arabia
---------
Europe
France shuts down only Muslim school in Paris
News desk
December 13, 2020
French authorities have shut down the only school in Paris that caters to Muslims, TRT World reported.
According to the publication, the 4.5 million strong Muslim community in the country is facing increasing pressure from authorities.
Established in 2015, MHS College and High School is a private secondary in Paris. Despite the school officially being secular and following the national curriculum, its pupils are mostly Muslims.
"A unique feature of the school, however, is that it allows its girlstudents to follow their religious convictions and wear the hijab if they wish, 'because we think that everybody should wear the clothes they want!' said the founder of the MHS," reported TRT. ollowing France's 2004 crackdown against Muslim girls' right to wear a headscarf on school premises, they were compelled to take it off at the entrance of the school gate.
Since then, there were few options under which a Muslim woman could receive an education while still able to practice her faith. The Paris school was a "unique" establishment that had allowed this freedom to Muslim girls.
In a statement, the school called this latest decision to shut the school as "arbitrary", with more than 110 students without a placement in the middle of an academic year, as well 18 teachers and support staff unemployed.
https://pakobserver.net/france-shuts-down-only-muslim-school-in-paris/
-----------
First appearance of acting Muslim Brotherhood supreme guide Ezzat after 4 months in prison
MEMO
December 12, 2020
Acting Muslim Brotherhood Supreme Guide Mahmoud Ezzat appeared for the first time on Thursday in a cage at an Egyptian court in Cairo, Arabi21.com reported.
Ezzat appeared very pale and weak, according to Egyptian news websites, as he faced judges inside the court where he was being prosecuted for alleged terror and murder charges.
The judges presented him with the claims, on which he was sentenced for 25 years in absentia, but he denied them, stating: "This has never happened." The hearing was adjourned until 4 January 2021, in order to bring in witnesses and a lawyer.
In August, Egyptian security services arrested Ezzat in an apartment in the east of Cairo, after years of being in hiding. Izzat then disappeared until Thursday, when he appeared in court.
Speaking to Watan TV, Muslim Brotherhood Spokesman Talaat Fahmi conveyed: "It is a tragic image on the International Day for Human Rights (10 December) that portrays the conditions of a 76-year-old university professor, who has been detained over 100 days in a place that lacks humanitarian conditions."
Fahmi confirmed: "Ezzat was not a terrorist. He is keen on protecting Egypt, the Arab and Islamic nation. There are more than 60,000 others inside Egyptian prisons."
In February 2015, an Egyptian court sentenced four senior Muslim Brotherhood leaders to life sentences over claims of murder and creating chaos during the military coup carried out by Abdel Fattah El-Sisi against the late freely-elected Egyptian President Mohamed Morsi in 2013.
https://www.middleeastmonitor.com/20201212-first-appearance-of-acting-muslim-brotherhood-supreme-guide-ezzat-after-4-months-in-prison/
-----------
How Islamic funeral rituals have been affected by the coronavirus outbreak
ByRema Mukena
12 DEC 2020
The coronavirus pandemic in the UK has affected how most religious rituals are done, including funerals.
It is now different for the Muslim community in Bristol who have had to carry out funerals in a different manner since the outbreak of the virus in March.
The Covid-19 outbreak has meant that the religious process of holding the Janazah funeral prayer within the mosque has been denied to many families.
The owners of Aslam Funeral Services, which specialise in Muslim Funerals in the South West Region, have been running their family-led business since 1987.
The turn around of Muslim burials depends on the availability of the cemetery, but can be between one or two days, and usually friends, family and the wider community are invited to attend.
Ruksana Aslam, Managing Director, of Aslam Funeral Services said: "In terms of the Covid burials, funerals had to be conducted differently for example, entry inside the mosque was not permitted and prayers had to take place near the grave side."
Following the Prime Minister's announcement to temporarily close all places of religious and mass gathering when the first lockdown was introduced, Islamic funeral services have had to come up with adjustments to complete the final rites of a Muslim.
"It was difficult and it was more heartbreaking for us to see the impact on them, for example family members were not able to attend their loved one's burials and, in some cases watched from their cars at the cemetery where that was possible.
"Usually, we would go into the homes of families who have had someone pass away and there would be more of a personal connection and consultation and at the same time we would pay our condolences, but all of that was taken away from the process. Condolences were arranged via zoom calls so community members could support the bereaving families," Ruksana said.
But the business saw "a noticeable increase in funerals" due to the coronavirus pandemic and each funeral had to be handled with care.
"We continue to conduct funerals as we have been and keep the numbers limited to keep in line with government guidelines and follow our strict protocols to keep everyone safe," she added.
"Through all our procedures we are fully kitted in PPE, we sanitise everything and we guide all the families through the paper work which needs to be completed electronically.
"It's going to take a long time, but we don't want to become too relaxed too soon, so we will have to work under the correct guidelines," Ruksana said.
"Usually when a Muslim passes away, the community will do their best to support the family. Whether that's moral support, attending their homes, looking after them and cooking for them - but that just hasn't been an option at the moment.
"Due to some family members having to self isolate, we've also been arranging for the hearse to be driven past their homes, so then they could pay their last requests and feel involved in the process even if they couldn't attend the funeral."
https://www.bristolpost.co.uk/news/bristol-news/how-islamic-funeral-rituals-been-4786104
----------
North America
Bay Area Muslim community supports local restaurants in 1st Halal Restaurant Week in US
By Anser Hassan
December 13, 2020
FREMONT, Calif. (KGO) -- Parked along Alder Avenue is Fremont, is the El Halal Amigos food truck.
Just ahead of Friday's lunch rush, owner Hisham AbdelFattah is expecting a lot of phone orders.
El Halal Amigos specializes in Mexican street food, with their unique blend of sauces and original recipes.
"Our Nar-Cho burrito is basically nachos and a burrito. It's big! It's massive! And it's delicious," says Abdelfattah.
The creative menu may be a draw, but the some customers made the trip to Fremont as part of the first-of-its kind restaurant week featuring restaurants that serve halal food and zabiha meat. It is similar to Jewish kosher food, but following Islamic dietary guidelines.
RELATED: Coronavirus Impact: Farmers market on wheels brings healthy food to seniors, others in need during pandemic
"Most halal food is antibiotic-free, hormone-free and is free-range. And (the animal) has to be grass-feed," explains Abdelfattah.
"I've had a lot of tacos. I really like them here. I think they are definitely worth the drive," Mahmood says. "We don't have that many options for halal Mexican food in Concord. Yeah, so for me it's worth it."
Leading the charge is Irfan Rydhan, the founder of Halal Fest, an annual food event that takes place in the summer. He says it's critical to rally the community to support local mom-and-pop restaurants during the pandemic.
"They are getting a lot of exposure. They are getting new customers, as well, coming in (who) haven't even heard of them before. So, (the restaurants) are very happy about that," says Rydhan.
Zoha Raza is a foodie vlogger, who has been writing about the event. She says many restaurants getting big crowds for take away orders, while offering special discounts for the Halal Restaurant Week, which runs through Sunday .
"It is the first Halal Restaurant Week in the United States, happening in the Bay Area, and I think that's incredible," says Raza. "By people seeing swarms of people outside a restaurant, I am sure even non-Muslims will wonder what's going on."
He was the general manager at a restaurant in Santana Row, but was laid off due to the pandemic. He had been working on a plan for the past two years to start his own venture. But investors dropped out due to the COVID-19 crisis.
I just thought, 'Why not now?' We are all are going to be at home, bunkered down. Let's put our heads together and let's make this happen," says Hisham, adding, "Halal Mexican food was kind of untapped."
He says he had $100 to his name on August 12, the day he launched. He says people called him "crazy" to launch in the middle of a pandemic. Several in months, and business has been growing.
He proudly displays his halal sign. He hopes it helps break down stereotypes and open dialogue between communities.
"Bridge that gap and explain to people who don't know what halal is, through tacos. It's just a great avenue to take. I mean, who doesn't like a great taco!"
https://abc7news.com/society/1st-halal-restaurant-week-in-bay-area-us/8701506/
----------
Islamic Center of Quad Cities hosts free fresh produce drive
By KWQC Staff
Dec. 13, 2020
MOLINE, Ill. (KWQC) - The Islamic Center of the Quad Cities will be hosting their monthly free fresh produce drive on Sunday, December 13.
Organizers say free fresh produce will be given out to help Quad Cities families during this tough time.
The event is from 2 to 3:30 p.m. at their center which is located at 6005 34th Avenue in Moline. Organizers say everyone is welcome.
https://www.kwqc.com/2020/12/13/islamic-center-of-quad-cities-hosts-free-fresh-produce-drive/
----------
CAIR Welcomes Removal of Tennessee Board of Professional Responsibility Attorney After Anti-Muslim Posts
Ibrahim Hooper
December 12, 2020
WASHINGTON, D.C., 12/12/2020) – The Council on American-Islamic Relations (CAIR), the nation's largest Muslim civil rights and advocacy organization, today welcomed the removal a staff attorney for the Tennessee Board of Professional Responsibility (BPR) after allegations that he posted anti-Muslim messages online. [NOTE: BPR is an ethics watchdog for that state's attorneys.]
In a court filing, the BPR said Jerry Morgan was "no longer employed" as a disciplinary counsel. According to the filing, Morgan reportedly tweeted praise of Donald Trump for "stopping Muslims" and "talking big against Muslims." An attorney in the case referred to Morgan's "apparent termination."
SEE: Tennessee legal watchdog out after lawyer accused him of being an 'anti-Muslim bigot'
On Thursday, CAIR called for independent investigation of the attorney's alleged anti-Muslim posts.
SEE: CAIR Calls for Probe of Tennessee Board of Professional Responsibility Attorney's Alleged Anti-Muslim Posts
CAIR Calls for Probe of Tennessee Board of Professional Responsibility Attorney's Alleged Anti-Muslim Posts
"We welcome this development involving the Tennessee Board of Professional Responsibility as a sign that bigotry and bias will not be tolerated or excused," said CAIR National Communications Director Ibrahim Hooper.
Last month, CAIR called on Tennessee House Speaker Cameron Sexton to rescind his appointment of anti-Muslim activist Laurie Cardoza-Moore to the Tennessee State Textbook and Instructional Materials Quality Commission.
SEE: CAIR Calls on Tennessee House Speaker to Rescind Appointment of Anti-Muslim Activist to Textbook Commission
CAIR Calls on Tennessee House Speaker to Rescind Appointment of Anti-Muslim Activist to Textbook Commission
CAIR's mission is to protect civil rights, enhance understanding of Islam, promote justice, and empower American Muslims.
La misión de CAIR es proteger las libertades civiles, mejorar la comprensión del Islam, promover la justicia, y empoderar a los musulmanes en los Estados Unidos.
https://www.cair.com/press_releases/cair-welcomes-removal-of-tennessee-board-of-professional-responsibility-attorney-after-anti-muslim-posts/
--------------
One shot, four stabbed as political unrest continues across America
13-12-2020
Four people have been stabbed and one shot as political unrest spreads across US.
Rallies backing President Donald Trump's baseless claims of election fraud led to clashes in major US cities on Saturday.
Scuffles broke out in many places between rally-goers, including racist group Proud Boys, and counter-protesters who turned up to criticise the president, who lost the November 3 election to Democrat Joe Biden, but is yet to concede.
Washington State Police said in a tweet late Saturday that a shooting had taken place after clashes near the capitol building in Olympia, and that a suspect had been detained.
In the US capital, DC Fire and EMS Department communications chief Doug Buchanan told AFP that four people had been stabbed and were now hospitalised "with serious injuries."
Chaotic scenes in DC tonight. Police intervening on the regular for the past hour #DC #MarchForTrump #ProudBoys #DefendDC pic.twitter.com/HsnxF4JW1E
The gatherings of mostly unmasked Trump loyalists were intended as a show of force just two days before the Electoral College meets to formally elect Joe Biden as the 46th president.
Trump, whose term will end January 20, refuses to concede, while clinging to baseless claims of fraud that have been rejected by state and federal courts, and Friday by the Supreme Court.
Trump tweeted his apparent surprise Saturday morning at the rallies, publicly known for weeks: "Wow! Thousands of people forming in Washington (DC) for Stop the Steal. Didn't know about this, but I'll be seeing them! #MAGA"
Trump left the White House around midday for the trip to the Army-Navy football game at the US Military Academy in West Point, New York.
"That's pretty cool. Imagine just being able to jump in a helicopter and just go for a joy ride around Washington," said Flynn, whose pardon wiped away his conviction for lying to the FBI during the Russia investigation.
At a pro-Trump demonstration in Washington a month ago, Trump thrilled supporters when he passed by in his motorcade en route to his Virginia golf club.
That demonstration, which drew 10,000 to 15,000 people to the capital, ended late in the evening with scattered clashes between Trump's loyalists and local activists near Black Lives Matter Plaza near the White House.
Police took more steps to keep the two sides apart, closing a wide swath of downtown to traffic and sealing off Black Lives Matter Plaza.
But while Saturday's rallies, including one on Freedom Plaza downtown, were smaller than on November 14, they drew a larger contingent of the Proud Boys.
After the rallies ended, downtown Washington quickly devolved into crowds of hundreds of Proud Boys and combined forces of antifa and local Black activists — both sides seeking a confrontation in an area flooded with police officers.
As dusk fell, they faced off on opposite sides of a street, with multiple lines of city police and federal Park Police, some in riot gear, keeping them separated.
Antifa activists also were more organised this time, with their own bicycle corps to form bike walls to match those of the police.
Earlier in the day, a group of about 50 men in the Proud Boys' black and yellow circled the perimeter of Black Lives Matter Plaza, where about 200 anti-Trump demonstrators were rallying.
The assembly on the National Mall, called the "Jericho March," was described on its website as a "prayer rally" with speakers "praying for the walls of corruption and election fraud to fall down."
https://www.trtworld.com/americas/one-shot-four-stabbed-as-political-unrest-continues-across-america-42314
------------
Mideast
Creating Tension Among Muslim Countries "Unforgivable" Sin: Ayatollah Seyyed Ali Khamenei
Dec 12, 2020
Ayatollah Seyyed Ali Khamenei in northwestern provinces of Iran said in reaction to Turkish President Recep Tayyip Erdoğan's remarks that creating controversies among Islamic countries is an unforgivable sin.
Representatives of the Supreme Leader in Easter Azarbaijan, Western Azarbaijan, Zanjan, and Ardebil provinces, respectively Mohammad-Ali Al-Hashem, Mehdi Qoreishi, Ali Khatami, and Hassan Ameli, made the remarks in a statement issued on Saturday.
President Erdogan traveled to Baku on Thursday to attend a military parade of Azerbaijani forces on the occasion of the liberation of the Armenian-occupied territories. At the ceremony, which was also attended by Azerbaijan's President Ilham Aliyev, he recited a piece of poetry, including separatist sentiments about the Aras River which runs along the Iran-Azerbaijan border.
The four Iranian officials said in the statement that in a time that the Muslim world is underdeveloped in industrial, economic, and technological fields and is targeted by the vengeful enemy, creating rifts and tensions between Muslim countries is an unforgivable sin.
They added that it is a religious duty of the leaders of the Muslim countries to avoid any acts and words that may cause divide.
It is common knowledge that the enemies of Islam have always greed for the strategic region of Western Asia, which is now the fixed strategy of the Global Arrogance and the Zionists, they wrote.
They added that everyone knows that good neighborliness and cooperation with neighbors and all Muslim countries are among the most important principles of the Islamic Revolution, which has always been stated by the Ayatollah Seyyed Ali Khamenei.
They urged all the Muslim World, especially Iranian, Azerbaijan, and Turkish governments, to be aware of the sensitive conditions of the region and act wisely not become a tool of conspiracies of the enemy.
https://en.irna.ir/news/84144058/Creating-tension-among-Muslim-countries-unforgivable-sin-Officials
------------
Asaib Ahl Al-Haq, One Of The Most Influential Iraqi Armed Factions Backed By Iran, Defying Iran To Attack US In Iraq
By Suadad al-Salhy
12 December 2020
Asaib Ahl al-Haq, one of the most influential Iraqi armed factions backed by Iran, is rebelling against Tehran's orders and continuing to target US interests, Shia commanders and politicians told Middle East Eye.
In October, Iran issued orders to its armed allies in Iraq not to attack US targets, fearing the reactions of the outgoing President Donald Trump, who seeks to obstruct Iranian efforts to negotiate with his successor, Joe Biden, to return to the 2015 nuclear agreement.
Despite the explicit and strict Iranian directions, Asaib Ahl al-Haq, led by Qais al-Khazali, has carried out some attacks against the US embassy in Baghdad and American envoys over the past three weeks "without coordinating with any of the other factions or the Iranians," according to the commander of one of the armed factions.
That indicates that Asaib Ahl al-Haq is operating outside Iranian control and is therefore not relying on the protection of Tehran or other Iraqi paramilitaries, which raises many questions about the future of the faction.
On Thursday, two military convoys carrying equipment for the US forces were hit by explosive devices, causing material damage on the highwaysouthern Baghdad, security sources said.
'Asaib Ahl al-Haq's new approach has to do with preparations for the upcoming parliamentary elections and the competition to head the armed resistance factions in Iraq'
Those blasts were preceded by a missile attack targeting the US embassy in central Baghdad on 17 November, which killed a child and wounded seven others, in addition to causing material damage to a number of private properties and government buildings.
An armed group calling itself the "Qasim al-Jabareen Brigade" claimed responsibility for Thursday's attacks, while another faction calling itself "Asshab al-Kahaf" claimed responsibility for the November rocket attack.
Until recently, both groups were previously unknown. But their names have been circulated during the past few months, as they took turns claiming responsibility for attacks targeting the logistical support convoys of the US-led coalition forces in a number of governorates.
Although the finger of blame was pointed at Kataeb Hezbollah, the most influential Shia militia, commanders of four Shia armed factions, including that group and Asaib Ahl al-Haq, denied to MEE that it was involved in these attacks.
Instead, they insisted that Asaib Ahl al-Haq had carried out the attacks, putting an end to a truce with the US put forward by militias in October.
"The truce was conditional on scheduling the departure of US forces from Iraq within one month, but the Americans did not fulfill this condition and did not do anything to prove their intention to leave," a prominent Asaib Ahl al-Haq commander told MEE, speaking on condition of anonymity.
The commander said Washington's failure to make any plans to fully withdraw from Iraq meant his faction no longer needed to abide by the ceasefire.
"The religious and national duty requires everyone to stand against the foreign presence in Iraq and to use all political and military means to expel them," he said.
Asaib Ahl al-Haq is a Shia armed faction that split from the Mahdi Army, the former armed wing of influential cleric Muqtada al-Sadr's movement, in 2006.
At first, the faction attracted fighters with experience and combat skills, and, in conjunction with Kataeb Hezbollah, carried out dozens of deadly attacks against US troops between 2006 and 2008.
Since the beginning, Asaib Ahl al-Haq has been backed, equipped and supervised by Iran, and until last month was one of the most important and powerful Iranian arms in Iraq.
Although Iran's reaction is not yet clear, the recent attacks, which were carried out by small groups linked to Asaib Ahl al-Haq "unilaterally and without coordination with other factions," have provoked major disputes with Kataeb Hezbollah, Asaib Ahl al-Haq's traditional partner for over a decade, and other Shia factions backed by Iran.
"Iranian officials are still pressing [the Iraqi factions] to be patient and not to carry out attacks against US interests in Iraq, because these attacks may confuse the political situation in both [Iraq and Iran]," a prominent Shia politician close to Iran, who declined to be named, told MEE.
According to the politician, Asaib Ahl al-Haq is the most prominent of Iraqi factions unhappy with Iranian directives and starting to revolt. In a recent meeting with Shia leaders, he said, Asaib Ahl al-Haq said "the situation in Iraq is special and that they are not bound by the Iranian viewpoint and will not submit to the Iranian will".
"Kataeb is more committed to Iranian directives, and their fighters are more disciplined, and they see that it is necessary to not confuse the Iraqi scene with any unpredictable behaviour, so they were against these attacks from the beginning," the politician said.
"Asaib Ahl al-Haq seeks to reproduce its media and political discourse and to perpetuate the idea of their national belonging and their non-affiliation with Iran. Asaib Ahl al-Haq's new approach has to do with preparations for the upcoming parliamentary elections and the competition to head the armed resistance factions in Iraq."
An outbreak of fighting between Asaib Ahl al-Haq and Kataeb Hezbollah "is not currently expected" according to the factions' commanders. But Asaib Ahl al-Haq's insistence to continue its new approach will necessarily mean that Iran may exclude it, sacrifice it and leave it to confront the Americans and the Iraqi government alone.
"All scenarios are possible. What will happen with Asaib Ahl al-Haq depends on what the Iranians decide. It is expected that Iran will seek to bring them back to its bosom and will try to limit [Qais] al-Khazali's ambitions or satisfy him with some settlement," a Kataeb Hezbollah commander told MEE, referring to Asaib Ahl al-Haq's leader.
"But will they succeed in this? No one knows except Khazali and the Iranians."
https://www.middleeasteye.net/news/exclusive-asaib-ahl-al-haq-defying-iran-attack-us-iraq
------------
Turkey summons Iran envoy over protest against Erdogan's controversial remarks
Source : Mehr News
December 12, 2020
Turkey's Foreign Ministry has reportedly summoned the Iranian ambassador to Ankara over Iranian officials' protest against President Erdogan's controversial remarks.
Ambassador Mohammad Farazmand has been summoned to hear 'Ankara's condemnation' of allegation against Turkey and Erdogan, as well as protest the summoning of Turkish envoy to Tehran by the Iranian Foreign Ministry, Anadolu reported quoting unnamed sources.
"If Iran has discomfort with any issue related to Turkey, it is unacceptable for Iran's foreign minister to target Turkey via Twitter if there are other channels to communicate," the report says.
The Iranian Foreign Ministry issues an official statement on Friday, noting that it has summoned Ambassador Derya Ors over a controversial poem that President Erdogan had recited in Baku.
At the ceremony, which was also attended by Azerbaijani President Ilham Aliyev, Erdogan recited a separatist poem about the Aras River on the Iranian-Azerbaijani border. "They separated the Aras River and filled it with rocks and rods. I will not be separated from you. They have separated us forcibly," reads part of the controversial poem.
Earlier on Friday, Foreign Minister Zarif took to Twitter to protest Erdogan. "Pres. Erdogan was not informed that what he ill-recited in Baku refers to the forcible separation of areas north of Aras from Iranian motherland. Didn't he realize that he was undermining the sovereignty of the Republic of Azerbaijan? NO ONE can talk about OUR beloved Azerbaijan."
https://en.abna24.com/news//turkey-summons-iran-envoy-over-protest-against-erdogan%e2%80%99s-controversial-remarks_1094784.html
-----------
IDF fighter faces Islamic rioters alone
Arutz Sheva Staff
Dec 12 , 2020
A video being widely disseminated apparently shows an IDF fighter left alone to face Islamic rioters in Ramallah who attacked him with rocks. The soldier appears to attempt escape without meting the rioters a response.
The IDF Spokesman responded to the video: "The video documents only a small part of an incident during which fighters who were in an ambush surprised rioters and chased them away.
"Examination of the documented incident shows that two fighters sat in ambush in the center of the hill before a planned disturbance that is taking place in al-Maghar and that was known in advance. The rioters were surprised by the fighters. Some retreated down the mountain, and two or three of them threw rocks as they fled backwards after being surprised at close range by the force.
"While the Palestinians present the video as a 'picture of victory', the video they distribute actually cut off the moments when the fighters chased away the rioters - leaving only the last moments before the rioters who remained in the area also fled."
https://www.israelnationalnews.com/News/News.aspx/292944
-----------
Syria reiterates necessity for closing chemical weapons completely
December 12, 2020
Source : Sana
Syria has reiterated the necessity of closing chemical file completely and getting it out of political tricks and misleading media as it has met all its obligations regarding its joining to Chemical Weapons Convention in 2013.
"I listened with great interest to the statements of the member states' envoys, and while I reiterate my country's appreciation for the stances of the member states that adhere to the principles of International law and the provisions of its Charter, and Syria's condemnation of the use of chemical weapons and other weapons of mass destruction at any time, place and under any circumstances, I stress again that the Organization for the Prohibition of Chemical Weapons is a technical organization, but it has turned from a technical organization, which has noble goals, into a tool in a geopolitical game led by the US and its allies instead of being a faithful guard to implement the chemical weapons convention," Deputy Foreign and Expatriates Minister and Syria's representative to the UN, Bashar al-Jaafari said during a session for Security council via video on the situation in Syria.
He called on member states at the Organization of the Prohibition of Chemical Weapons to reject politicizing the technical feature of the Organization and treat what has affected its works of defects and politicization that undermine the status and credibility of the Organization, SANA reported.
Al-Jaafari reiterated that Syria has never used chemical weapons and it still committed in cooperation with the Organization and its technical secretariat, and the assessment team to settle all pending issues to pave the way for closing the file completely as soon as possible and get it out of the circle of political tricks and misleading media.
https://en.abna24.com/news//syria-calls-for-closing-chemical-file-completely_1094789.html
------------
South Asia
China: Big data program targets Xinjiang's Muslims
Human Rights Watch
12 December 2020
A big data program for policing in China's Xinjiang region arbitrarily selects Turkic Muslims for possible detention, Human Rights Watch said today. A leaked list of over 2,000 detainees from Aksu prefecture provided to Human Rights Watch is further evidence of China's use of technology in its repression of the Muslim population.
The big data program, the Integrated Joint Operations Platform (IJOP), apparently flagged the people on the Aksu List, whom officials then evaluated and sent to "political education" camps in Xinjiang.
"The Aksu List provides further insights into how China's brutal repression of Xinjiang's Turkic Muslims is being turbocharged by technology," said Maya Wang, senior China researcher. "The Chinese government owes answers to the families of those on the list: why were they detained, and where are they now?"
Human Rights Watch first reported on the IJOP in February 2018, noting that the policing program aggregates data about people from various sensory systems in Xinjiang, and flags to officials those it deems potentially threatening. Officials then evaluate these individuals' "general performance" together with other sources of information, and send some to political education camps and other facilities. Human Rights Watch "reverse engineered" the IJOP mobile app in May 2019 and revealed the dubious criteria this mass surveillance system was programmed to flag, including many lawful behaviors.
The Aksu List, dated around late 2018, is similar to another leaked file, the Karakax List. That list – of people detained for having relatives abroad – dated around June 2019, provides an assessment of whether an individual should remain in detention. The IJOP is also repeatedly mentioned in the Karakax List. Together the lists provide two snapshots of Xinjiang's bureaucracy, as it picks and vets its victims in the process of coerced thought transformation: the decision to detain people and the decision to keep them in detention. At both stages, the IJOP system assists officials in selecting targets.
The entry for "Ms. T" on the Aksu List illustrates how the program's algorithms identify legal behaviors as grounds for detention. It notes that she was detained because the IJOP system had flagged her for "links to sensitive countries." It reported that Ms. T had received four calls from a foreign number in March 2017, down to the number of seconds. In other words, the IJOP system is programed to pick out particular behavior, calls to a foreign number, noting the precise duration of the calls. Human Rights Watch called that number and found that it belongs to Ms. T's sister.
Ms. T's sister said that Xinjiang police interrogated Ms. T around the time the Aksu List recorded her detention date. The police had specifically asked about her sister because she lives abroad. Ms. T's sister said she has had no direct contact with her family in Xinjiang since then, but heard via an intermediary that Ms. T – presumably upon her release from a political education camp – was now working in a factory five days a week and allowed to go home only on weekends. Ms. T's sister believes Ms. T is being forced to work in a factory against her will, noting that Ms. T had been training for a different career before she was detained.
Human Rights Watch's analysis of the Aksu List strongly suggests that the vast majority of the people flagged by the IJOP system are detained for everyday lawful, non-violent behavior. This contradicts the Chinese authorities' claims that their "sophisticated," "predictive" technologies, like the IJOP, are keeping Xinjiang safe by "targeting" criminals "with precision."
The mass surveillance and arbitrary detention of Xinjiang's Turkic Muslims violate fundamental rights under China's constitution and international human rights law. Article 37 of the constitution states that all arrests must be approved by either the procuratorate (the state prosecution agency) or the courts.
Yet Human Rights Watch research indicates that neither agency appears to be involved in these detentions. Rather, administrative officials, including police officers, make the sole decision to detain someone. Those facing detention have no right to due process, including access to lawyers and family members, or a chance to stand trial to contest such allegations. The use of intrusive surveillance, including in and around people's homes, also violates everyone's right to privacy.
"'Predictive policing' platforms are really just a pseudo-scientific fig leaf for the Chinese government to justify vast repression of Turkic Muslims," Wang said. "The Chinese government should immediately shut down the IJOP, delete all the data it has collected, and release everyone arbitrarily detained in Xinjiang."
In August, Radio Free Asia's Uyghur Service provided Human Rights Watch with an Excel spreadsheet titled "List of IJOP Trainees" with the names of over 2,000 people obtained from an anonymous Xinjiang source in late 2018. The sheet has columns that include the person's name, gender, the date of their detention in a political education camp, the reason for their detention, the number of their detention facility or cell, the batch number from which the IJOP systems picked them out, and the reason why, usually no more than a sentence or two.
Although the sender has not been identified, the list appears to come from a part of Aksu prefecture where 80 percent of the residents are Uyghurs. Human Rights Watch is confident that all the people on the Aksu List are Uyghurs. About half of the list are men and the other half women. Their detention dates ranged from mid-2016 to late 2018. At the peak, well over 100 people were detained on a single day. To protect the source, Human Rights Watch is obscuring the precise location of the Aksu List, precise dates, and some of the numbers throughout the analysis.
The file's metadata suggests that it was last modified in late 2018. Human Rights Watch used various methods to verify the Aksu List:
Human Rights Watch shared the Excel sheet with Uyghur diaspora communities from that region, who identified 18 names on the list as their immediate family members.
The list also contains nearly 200 unique ID numbers, which were checked against the ID numbers on an official website of people who have been blacklisted under China's social credit system, run by the Supreme People's Court; and two of those numbers matched. The rate of 1 percent is consistent with the matching rate of those in the Karakax List, which contained more identifying personal information for extensive verification.
Some entries say the individual was detained in a camp after completing a prison sentence, and 20 list the crimes. Human Rights Watch searched the Supreme People's Court's database of Chinese court verdicts for these 20 people's full names, but it did not yield results, though the court verdict database is far from comprehensive.
The Aksu List also contains 27 unique Chinese mobile phone numbers. Human Rights Watch was able to find 14 of them on WeChat. In most cases, their photos, names, and locations indicate that they are Uyghurs from Aksu.
The Aksu List contains two mobile phone numbers from outside China. One is still functional and, as noted, the person who picked up the phone confirmed she is the sister of the woman on the list we have called Ms. T.
The language and terms used in the Aksu List are also consistent with those in other Xinjiang official documents that Human Rights Watch reviewed. Human Rights Watch has shown the full Aksu List to two experts who have extensively documented Xinjiang's repression. They determined that the list appears authentic based on details such as detention duration and the language used.
The same Xinjiang source who provided the Aksu List also provided other audiovisual content to Radio Free Asia's Uyghur Service between mid and late 2018. Human Rights Watch analyzed this material to assess the credibility of the Excel spreadsheet, as it was obtained from the same source.
To protect the anonymous source, Human Rights Watch will not describe specifics of the analysis performed, but concluded that the audiovisual content was taken from inside a detention facility in Aksu. The embedded geographic coordinates suggest that they were taken from within a large building complex previously identified as a political education camp by the Australian Strategic Policy Institute, a think tank. This analysis provides Human Rights Watch with additional confidence in the authenticity of the Aksu List.
According to the Aksu List, the IJOP can flag people at both the prefecture and regional levels, though it is unclear how, or if, those two levels of analysis differ. At both levels, most people were flagged for their relationships, their communications (通联), or for being related to (家族人员 or 亲属), or traveling, or staying with (同行同住) someone the authorities consider suspicious. Column F appears to be the reasons officials give for detaining a person. An examination of the Aksu List suggests that the authorities consider the following behavior suspicious:
https://ifex.org/china-big-data-program-targets-xinjiangs-muslims/
------------
Mohib: Intra-Afghan Talks Should Be Held in Afghanistan
By Mohammad Haroon Alim
12 Dec 2020
Hamdullah Mohib, National Security Adviser, said on Saturday, that the next rounds of peace negotiations between the Taliban and the Afghan government should be held in Afghanistan, adding that the Afghan government does not have any consideration with any venue selected by the Taliban.
He added, that Afghanistan is ready to hold talks in any part of the country as the Taliban suggests, talks within the country will build trust in peace negotiations and provide the ability to afghans to monitor and own the peace process.
He mentioned that talks in Afghanistan could be cost-effective and prevent additional expenses, he tweeted.
He expressed that there is a need to hold peace negotiations within Afghanistan, so peace turns countrywide and enduring and it will be impacted by the Afghan community instead of the foreign community.
As the peace negotiators became overshadowed and by conditions abroad and such type of peace will not be in the interest of Afghanistan, Mohib shared in a thread of tweets.
This comes as peace negotiators of both parties are set to take three-week off, media reported, members who have not met their families over the past few months, took a break for a visit, the break was in parleys is based on both side agreements.
https://www.khaama.com/mohib-intra-afghan-talks-should-be-held-in-afghanistan-876868/
-----------
90 Taliban terrorists killed in Kandahar of Afghan
Source : Mehr News
December 13, 2020
Ministry of Defense in a statement on Saturday announced that 90 members of Taliban were killed in the past 24 hours in Kandahar province.
Clashes between the Afghan National Security Forces and the Taliban in the southern province of Kandahar have left 90 killed.
"During the clashes, 90 Taliban members were killed and nine others wounded," the ministry said.
Taliban attacked regions including Panjwai, Zhari, Arghandab and Maiwand districts of Kandahar, based on which, nine other servicemen were also wounded in the clashes, according to the statement.
On the other hand, the Afghan army has seized large quantities of ammunition and mines during another operation against the Taliban.
Meanwhile, representatives of the Taliban and the Afghan government are currently in Doha, Qatar, to discuss resolving disputes and achieving lasting peace in the country.
After the US-led coalition invaded Afghanistan in 2001 under the pretext of fighting terrorism, statistics clearly show that the level of violence, terrorist attacks and insecurity in this country has been constantly increasing.
https://en.abna24.com/news//90-taliban-terrorists-killed-in-kandahar-of-afghan_1095096.html
-----------
Mullah Mansour had life insurance policy
S.Muddasir Ali Shah
13 Dec 2020
PESHAWAE (Pajhwok): Taliban's supreme leader Mullah Akhtar Mansour had purchased a 'life insurance' policy from a private firm in Pakistan.
A Karachi-based anti-terrorism court was informed on Saturday the former Taliban supremo, who was killed in a US drone attack in 2016, had bought the life insurance policy using a fake identity.
At the hearing of a terror funding case against Mansour and his absconding accomplices, the insurance firm confirmed this to the anti-terrorism court.
Mansour and his accomplices were involved in raising funds for terrorist activities through the purchase of properties on 'forged identities'.
The investigating officer appeared before the court along with an official of the IGI General Insurance Limited and filed a report on behalf of the fim.
According to the report, it emerged during the investigation that Mullah Mansour had purchased a 'life insurance' policy on the basis of a fake identity and had paid up to Rs300,000 to the firm before his death.
Dawn reported the insurance company had presented a cheque fo Rs300,000 to investigators for submitting it to the court so that the amount could be deposited in the state treasury.
"However, FIA investigators returned the cheque, asking the company to pay the principal amount along with premium so that the whole amount could be deposited in the treasury," the newspaper added.
At the hearing, the company deposited a cheque for Rs350,000 with the court, which had on Sept 24 ordered the firm to deposit the amount paid by the slain Taliban leader.
In compliance with a court directive, a property owned by Mansour in Karachi had been auctioned for Rs9,200,000 and the amount had been deposited with the court.
https://pajhwok.com/2020/12/13/mullah-mansour-had-life-insurance-policy/
-----------
Kabul Blast Claims 2, Hurts 2
By Mohammad Arif Sheva
13 Dec 2020
KABUL, Afghanistan – At least two person killed and further two wounded in an IED blast Sunday morning in PD15 of Kabul city, local police confirmed.
According to authorities, the incident took place at around 7:45 a.m. local time after a vehicle got hit by a magnetic mine at Khair Khana area of Police District 15 (PD15) in Kabul city.
The eyewitnesses said the car belongs to member of the House of Representatives, but further details are not reported.
No group or individual has immediately claimed responsibility for the attack.
https://www.khaama.com/kabul-blast-claims-2-hurts-2-43893478/
----------
NATO Supports Afghan Forces with Pharmaceutical Supplies
By Mohammad Haroon Alim
12 Dec 2020
NATO said in a statement on Saturday, that between November and early December of 2020, NATO Support and Procurement Agency (NSPA) has operated several chartered flights carrying pharmaceutical supplies from NATO allies to Afghanistan.
The cargo consisted of pain relievers, vitamins, antibiotic pills and ointments, polio vaccine, hand sanitizers, IV fluids, and other critical medicines, the statement read.
Such supplies will help Afghan forces improve their standards of care and reduce the risk of infections and harm to service personnel, other flights are scheduled through the end of this year.
This aid is funded by the NATO-run ANA trust fund, this is part of the extensive support by the NATO and CSTC-A Procurement Agency to the Combined Security Transition Command in Afghanistan, which plays a prominent role in developing Afghan National Defense Forces.
According to the statement, such projects focus on improving Afghan security forces in logistical, organizational, educational, and healthcare aspects.
"The Afghan National Army Trust Fund represents one of three funding streams used by the international community to channel its financial support to Afghanistan's security forces. The other two are the Law and Order Trust Fund for Afghanistan (LOTFA), administered by the United Nations Development Programme, and the United States Afghanistan Security Forces Fund (ASFF). LOTFA is used to pay the salaries of police and corrections personnel and to build the capacity of the Afghan Ministry of the Interior and the police. The ASFF pays for equipping and running Afghanistan's security forces, as well as facility and infrastructure repair, renovation and construction" NATO reported.
NATO indicated that Projects in ANA Trust Fund includes millions of dollars for power transmission, countering IEDs, training, helicopter repair, and security systems developed by video surveillance, these services are delivered through many agencies including NATO support, Procurement Agency, United States Army Corps of Engineers, The United Nations Office of Project Services.
Total contributions made to the ANA Trust Fund since its establishment in 2007 increased to over 3.2 billion US dollars.
Earlier NATO foreign ministers reiterated their strong commitment to RS missions in Afghanistan, they assured Afghanistan of NATO's financial sustainment of Afghan Security forces up to the year 2024 and efforts towards lasting peace in Afghanistan.
"The NATO Support and Procurement Agency is NATO's main services provider, delivering a broad spectrum of integrated capabilities for the Alliance, its member nations and partners. The Agency brings together NATO's logistics support and procurement activities, providing effective and cost-efficient multinational support solutions. NSPA is a customer-funded agency, operating on a "no profit – no loss" basis". NATO reported on their website.
https://www.khaama.com/nato-supports-afghan-forces-with-pharmaceutical-supplies-8796655/
--------------
Two killed in Kabul magnetic IED blast
Source : Mehr
December 13, 2020
A magnetically-attached improvised explosive device (MIED) blast occurred in Kabul's PD15 on Sunday.
At least two people were killed and two were wounded in a magnetic IED blast in Kabul's PD15 this morning, Kabul police confirmed on Twitter.
No group has claimed responsibility for the attack yet.
https://en.abna24.com/news//two-killed-in-kabul-magnetic-ied-blast_1095126.html
---------
Audit report finds glaring wrongdoings in setting up 'Sharia' University
Ruwantha Nithulgaspitiya
12-12-2020
The Hira Foundation chaired by Former Governor of the Eastern Province A.M.L.Hizbullah, has been accused of committing a number of wrongdoings and abuses of power in violation of the country's common law and regulations when initiating the controversial private 'Sharia' university in Batticaloa, according to a report by the Auditor General.
The Special Audit Report on the Establishment and Maintenance of the Batticaloa Private University has also pointed out that the Hira Foundation, acted in a manner which amounts to an interference in the normal functioning of one Ministry, two Pradeshiya Sabhas and several other state and semi-government institutions.
The report alleges that the Hira Foundation had misused state property, evaded taxes, concealed information, causing serious financial losses to several institutions, from the initial planning stage to the opening of the private university in Batticaloa.
The audit report also states the foundation has violated several general rules and regulations applicable when starting and operating a private university.
Therefore, the Auditor General recommends that the Attorney General should take immediate action against the illegal practices of the project.
The report further states that since the commencement of the project, a number of suspicious transactions have taken place in several accounts associated with the Hira Foundation.
According to the audit report, 49 NVQ certificates have been issued by this private university in the recent past in a background where no formal approval has been given at the ministry level to issue certificates to the relevant institution.
Also it states that the state emblem has been misused to promote the Hira Foundation's Batticaloa Private University as a government affiliated university and to extend open invitations to students for long term courses.
During the implementation of the relevant project, steps have been taken to lease the property without an assessment report contrary to the provisions of the Municipal Council Ordinance and the Municipal Council has lost over Rs. 84 lakhs during the relevant period due to the lease of property belonging to the Municipal Council.
http://www.dailynews.lk/2020/12/12/local/235921/audit-report-finds-glaring-wrongdoings-setting-%E2%80%98sharia%E2%80%99-university
-----------
Pakistan
Stage set for PDM power show in Lahore today
Zulqernain Tahir
13 Dec 2020
LAHORE: The 11-party opp­osition alliance, the Pakistan Democratic Movement (PDM), is all geared up for putting up its much-hyped "power show" at Minar-i-Pakistan here on Sunday (today), the last one in its first phase of anti-government rallies that began three months ago.
The PDM is expected to announce the "decisive phase" of its struggle against the Pakistan Tehreek-i-Insaf (PTI) led government in this public meeting.
A senior PML-N leader told Dawn that the next phase of its struggle would begin in January in which the PDM had planned 16 more rallies across the country before the final showdown — a long march on Islamabad and resignations from the national and provincial assemblies.
The PDM has planned a long march in February if the PTI government does not buckle to the pressure exerted by the opposition alliance.
However, no consensus seems to be in sight over resignations from the national and provincial assemblies at the moment because PPP is still reluctant to say goodbye to the Sindh government.
The government on the other hand appears to have changed at the last minute its strategy to handle Sunday's rally. The government said it would not stop the people coming from other cities from joining the rally, giving an opportunity to the opposition parties to match Imran Khan's Oct 2011 public meeting at the same venue.
The PML-N expressed its doubts over the government's intentions to give the PDM free hand to hold the public meeting. "It will be clear on Sunday morning whether the PTI government allows our caravans from other parts of the country to enter Lahore. At this moment we have reports that police have been put on alert and containers placed at different points, including motorways," PML-N lawmaker Samiullah Khan told Dawn.
"As far as our preparations are concerned, tomorrow's power show will be historic, setting a new record in terms of number of participants," Mr Khan said.
This is the first time in the recent history of the country that the PML-N is going to hold a public meeting at Minar-i-Pakistan, the first rally at this venue for the de-facto president of PML-N Maryam Nawaz.
Earlier she had held corner meetings in the 14 constituencies of Lahore to mobilise the party workers. She had pleaded the people to come out of their houses and reach Minar-i-Pakistan on Sunday so that the PDM could manage to send the government home.
Similarly, it will be the first appearance of PPP chairman Bilawal Bhutto-Zardari at a political gathering at Minar-i-Pakistan. Going there would revive the memories of his mother Benazir Bhutto's historic public meeting at Minar-i-Pakistan in 1986.
Both the PML-N and PPP leaders Dawn spoke to on Saturday emphasised the significance of public meetings at Minar-i-Pakistan. "Benazir Bhutto's historical power show at the venue in 1986 is remembered even today," a PPP leader said.
"For the PDM and particularly the PML-N, Minar-i-Pakistan's Sunday rally is a matter of do or die. In case of failure to put up a big show in terms of the number of participants, the anti-government campaign will fizzle out," the PPP leader said and expressed the hope that the PDM would manage to prove its mettle on Sunday.
On Saturday a good number of PML-N workers reached Minar-i-Pakistan, broke the locks of its main gate and placed chairs and installed lights at its ground. Some PML-N leaders also visited the venue and oversaw the preparations. Maryam Nawaz also reached there late on Saturday night to take a look at the arrangements.
As many as 3,000 volunteers of the Ansarul Islam, the volunteer wing of the JUI-F, will provide security cover to the rally. A separate gate has been allocated for women participants.
Meanwhile, Punjab Chief Minister Usman Buzdar asked the PDM to delay its Minar-i-Pakistan rally in light of "terror threat alerts" and the coronavirus situation. "I ask the opposition to resolve issues through talks; to discuss the issues through dialogue and not by playing with people's lives," Mr Buzdar said while talking to reporters.
He said the opposition should realise that current Covid-19 situation in Lahore was "very grave" and the positivity rate of coronavirus was more than 46 per cent.
Provincial Law Minister Basharat Raja said the government had given permission to the PDM to hold a rally at Minar-i-Pakistan but "action will be taken against those who will take law into their hands".
Special Assistant to the CM on Information Firdous Ashiq Awan said in a tweet that according to intelligence reports, there was a terror threat to the PDM rally. Besides gathering of more than 300 people is a violation of Covid-19 standard operating procedures. "If any untoward incident takes place at the PDM rally, the opposition parties will be responsible for it," she warned.
Meanwhile, Mr Bhutto-Zardari who is in Lahore, said the strategy of the second phase of the democratic struggle against the selected government of Imran Khan would be announced on Sunday at Minar-i-Pakistan. He called on every PPP worker in the city to attend the public meeting.
"Jiyalas of PPP fought against the dictatorship of Gen Ayub Khan and Gen Ziaul Haq. They were lashed but refused to give in. They sacrificed their lives in the struggle for democracy. They know how to fight dictators. The blood of jiyalas has kept democracy alive in this country. They know how to start and finish a long march, they know how train marches are organised and they know how to root out the tyrants," he said.
Mr Bhutto-Zardari said the PPP was fighting for democracy from the platform of the PDM and this would be a decisive struggle for democracy in the country. "We will restore real democracy in Pakistan. We want the people to decide about the economic policy and other policies of the country. We want the people to decide their future themselves. We will install a people's government after dislodging this puppet and selected government. We will form a government which will fulfill the promises of Shaheed Zulfikar Ali Bhutto," he said.
Speaking to reporters at Minar-i-Pakistan, PMLN information secretary Marriyum Aurangzeb said: "No matter what the imposed regime of selected PM Khan does, Sunday's public meeting will take place come what may."
She said the people of Pakistan did not need to worry about the fascist tactics of this regime because the PDM would now rest only after sending the sugar and wheat thieves home. "Dec 13 is the decisive day of sending the sugar, wheat, flour, medicine, electricity, gas thieves and lying, incompetent and corrupt hoard of looters back to their homes," she said.
Supreme Court Bar Association (SCBA) President Latif Afridi and former president Syed Qalbe Hassan on Saturday condemned what they called unwarranted arrests of political workers in the wake of the PDM rally in Lahore.
In a statement, they demanded immediate release of all political workers of PDM since they had been unlawfully arrested.
Mr Afridi said the people had the right to peacefully protest and hold demonstrations and the government had no justification to oppress peaceful political workers and protestors.
He said any aggression perpetrated against peaceful political workers was against constitutional, democratic and human values.
https://www.dawn.com/news/1595459/stage-set-for-pdm-power-show-in-lahore-today
-----------
Govt decides to act swiftly over sedition, incitement to disorder
Iftikhar A. Khan
13 Dec 2020
ISLAMABAD: A day ahead of the Lahore rally that the opposition is holding ignoring a terror threat alert and the worsening Covid-19 situation, the federal government has decided to act swiftly against sedition and incitement to disorder.
Informed sources told Dawn on Saturday that the cabinet under the provision of Section 196 of Criminal Procedure Code (CrPC) had authorised the interior secretary to lodge complaints on behalf of the government in case of `commission of an offence against the state'.
An official told Dawn that all offences against the state were tried under Section 196 of CrPC and if mandatory condition for the exercise of jurisdiction was not fulfilled, then the entire proceedings that followed would become coram non judice.
Section 196 of CrPC reads: "No Court shall take cognisance of any offence punishable under Chapter VI or IXA of the Pakistan Penal Code (except Section 127), or punishable under Section 108-A, or Section 153-A, or Section 294-A, or Section 295-A or Section 505 of the same Code, unless upon complaint made by order of, or under authority from, the Central Government, or the Provincial Government concerned, or some officer empowered in this behalf by either of the two Governments."
A three-member bench of the Supreme Court headed by the then chief justice had held that the federal government meant the federal cabinet. Consequently, each and every decision, even of administrative nature, is sent to the cabinet for approval.
"Now in case of offence against the state, a complaint will be lodged by the interior secretary on behalf of federal government and there will be no need to send a summary for the cabinet's approval each time," the official said.
When contacted, a lawmaker from the opposition said the government's intent would be clear in next few days and hastened to add that the way in which the cabinet had approved the summary without a formal meeting raised questions.
Offences against the state include waging or attempting to wage war or abetting waging of war against Pakistan, (Section 121 of the PPC), conspiracy to commit offences punishable by Section 121 (S.121-A), collecting arms etc., with intention of waging war against Pakistan (S.122), concealing with intent to facilitate design to wage war (S.123), defiling or unauthorised removing the national flag from a government building etc. (S.123-B), assaulting president or governor of any province with intent to compel or restrain the exercise of any lawful powers (S. 124), waging war against any power in alliance with Pakistan (S. 125) and sedition (S. 124-A).
Section 124A of the PPC, seen by many as a relic of colonial era criminalises words/expression which "brings or attempts to bring into hatred or contempt, or excites or attempts to excite disaffection" towards the government.
The section which relates to offences of sedition reads: "Whoever by words, either spoken or written, or by signs, or by visible representation, or otherwise, brings or attempts to bring into hatred or contempt, or excites or attempts to excite disaffection towards, the federal or provincial government established by law shall be punished with imprisonment for life to which fine may be added, or with imprisonment which may extend to three years, to which fine may be added, or with fine."
In June this year, a bill seeking omission of Section 124-A of the PPC had been tabled in the Senate by PPP Senator Mian Raza Rabbani.
The veteran senator noted that this section was a part of the inherited colonial structure of the British rule, which continued in Pakistan, and it had been in use to control those who incited rebellion against the masters.
"This law served as brutal occupying force and it is being used to crush the political dissent and ensure unquestionable obedience," he said while speaking on the bill.
Mr Rabbani stressed that the relationship between the rulers and the masses now was not of the master and servant, as was the case during the colonial rule.
https://www.dawn.com/news/1595460/govt-decides-to-act-swiftly-over-sedition-incitement-to-disorder
------------
India
India to discuss Chabahar port issue with Iran and Uzbekistan
TNN
Dec 13, 2020
NEW DELHI: Looking to enhance its engagement with energy-rich central Asia, India will participate in the first trilateral working group meeting with Iran and Uzbekistan for joint use of Chabahar Port on December 14.
The meeting would be jointly chaired at deputy minister level by Uzbekistan and Iran and at secretary level by India.
"India welcomes the interest of Uzbekistan to use the Chabahar port as a transit port. This would open up economic opportunities for the traders and business community of the region," said the government in a statement.
"Besides Uzbekistan, other central Asian countries have also shown interest in using the port. India seeks to cooperate closely with regional countries on this issue," it added.The port is being developed by India, Iran and Afghanistan in the wake of Pakistan denying transit access to New Delhi.
Ways to speed up connectivity projects linking central Asia was a major focus of a virtual summit between PM Modi and Uzbek President Shavkat Mirziyoyev Friday.
https://timesofindia.indiatimes.com/india/india-to-discuss-chabahar-port-issue-with-iran-and-uzbekistan/articleshowprint/79701891.cms
-----------
NIA Denied A News Report That Said NIA Court In Srinagar Has Acquitted All Accused In A Case
GK News Network
December 13, 2020
The National Investigation Agency today denied a news report that said NIA Court in Srinagar has acquitted all accused in a case.
"On 11.12.2020, there was a misleading news published by some media houses that NIA Court in Srinagar has acquitted all accused in a case related to killing of chief of Jamiat-e-Ahlihadeeth, J&K. It is clarified that for all the cases of NIA in Jammu & Kashmir, the trials are conducted by NIA Special Court at Jammu, which has been designated by Ministry of Home Affairs and Hon'ble High Court of Jammu and Kashmir," the NIA said in a statement.
"In the current year 2020, all the designated NIA Special Courts in India have pronounced judgements in 11 cases till date and NIA has been able to secure 100% conviction. The reference to the term NIA Court in respect of the designated Court dealing with Unlawful Activities (Prevention) Act cases in Srinagar is misinformation leading to raising of doubts about NIA's working," the statement said.
https://www.greaterkashmir.com/news/front-page-2/grenade-attack-on-sopore-police-post-2-civilians-hurt/
-----------
Grenade attack on Sopore police post, 2 civilians hurt
Ghulam Muhammad
December 13, 2020
Two civilians were injured in a grenade blast in north Kashmir's Sopore Saturday evening.
An official said that two civilians identified as Bilal Ahmad and Shakir Ahmad Malik, both residents of Sopore, were injured when a grenade was lobbed on a police post near bus stand in Sopore town.
https://www.greaterkashmir.com/news/front-page-2/grenade-attack-on-sopore-police-post-2-civilians-hurt/
-----------
Southeast Asia
'Profits over people': Covid-19 overruns Top Glove factories as workers speak of appalling accommodations
MYT
13 Dec 2020
KUALA LUMPUR, Dec 13 — Bangladeshi migrant worker Sheikh Kibria recalls with horror the filthy, overcrowded dormitory where he was housed by the world's biggest rubber glove manufacturer when a coronavirus outbreak erupted and infected thousands.
Malaysia's Top Glove saw profits soar, and its stock price jump as much as 400 per cent this year as countries worldwide rushed to buy protective gear as the pandemic intensified.
But in interviews with AFP, the South Asian migrants working flat out to make the gloves — who typically earn around US$300 a month (RM1,215) — described appalling living conditions, in cramped dormitories where up to 25 people sleep in bunk beds in a single room.
The scandal has added to growing pressure on the firm, already under scrutiny after the United States banned the import of some of its gloves over allegations of forced labour earlier this year.
"The room itself is a bare minimum. It is quite impossible to maintain cleanliness when so many people live in a single room. It is like an army barracks — only less maintained."
When the situation escalated last month, Top Glove began shifting infected workers to hospital and their close contacts to quarantine centres, reducing the numbers in dormitories.
Kibria, 24, was suspected of having Covid-19 so was first put in hospital, although he later tested negative and was moved to a hotel.
"The company had discussed decreasing people in the rooms before infections began but it never happened," a Nepali production line worker, Karan Shrestha, told AFP.
It has spent RM20 million (US$5 million) purchasing new worker accommodations in the past two months, and plans to build "mega-hostels" kitted out with modern facilities that can house up to 7,300 people.
"We are mindful there is much more to be done to uplift the standard of our employee welfare and promise to rectify shortcomings immediately," said managing director Lee Kim Meow.
"The company, its investors and its buyers have prioritised the delivery of more gloves, more quickly and at higher profitability over the welfare of its mainly migrant worker labour force," said Andy Hall, a migrant labour specialist who focuses on Asia.
Malaysia, a relatively affluent South-east Asian country of 32 million, has long attracted migrants from poorer parts of the region to work in industries ranging from manufacturing to agriculture.
Top Glove says the vast majority of workers who tested positive have already been released from hospital, and some factories are now reopening.
But some workers remain terrified at the prospect of returning to the production line, despite the company trying to enforce social distancing and providing protective gear.
https://www.malaymail.com/news/malaysia/2020/12/13/profits-over-people-virus-overruns-top-glove-factories/1931471
------------
Indonesia arrests firebrand Islamist cleric over virus rule breaches
By AFP
13 December 2020
A firebrand Indonesian Muslim cleric was arrested Sunday for allegedly breaching coronavirus restrictions after he held a series of sermons with tens of thousands of followers.
Rizieq Shihab's arrest came just days after Jakarta police shot dead six followers of his hardline Islamist group in a highway shootout.
Shihab will be detained for 20 days to prevent him from fleeing and destroying evidence, police said.
"Another reason for the detention is for him not to repeat the offence," National Police spokesman Argo Yuwono said Sunday.
If found guilty, he could face up to six years behind bars for breaching coronavirus rules.
Shihab was welcomed by tens of thousands of followers at Jakarta airport on his return from exile last month, in violation of a Covid-19 ban on gatherings.
As dozens who attended that gathering subsequently tested positive for the coronavirus, police summoned Shihab several times for questioning.
Indonesia has reported more than 600,000 coronavirus infections and over 18,500 deaths, with authorities imposing nationwide restrictions to curb the spread of the disease.
Despite those restrictions, Shihab held sermons, a celebration of the birthday of Islam's Prophet Mohammed, and his daughter's wedding -- all of which were attended by thousands of people.
The charismatic leader of the Islamic Defender Front (FPI), Shihab fled to Saudi Arabia shortly after police named him a suspect in a pornography case in 2017, and remained in exile for three years.
Since his return, he's called for a "moral revolution".
His FPI is notorious for targeting night clubs and other establishments it deems "immoral", and has also attacked minority Muslim sects it considers "deviant".
He was among the main figures behind mass rallies in 2016 against the then governor of Jakarta, Basuki Tjahaja Purnama, over allegations that he insulted the Koran.
Basuki, who is Christian, was sentenced to two years in prison for blasphemy.
https://www.dailymail.co.uk/wires/afp/article-9047985/Indonesia-arrests-firebrand-Islamist-cleric-virus-rule-breaches.html
------------
Mat Sabu: Amanah will find best solution to resolve internal crisis in Negri Sembilan
MYT
13 Dec 2020
SEREMBAN, Dec 13 — Parti Amanah Negara (Amanah) president Mohamad Sabu today said he will find the best solution to resolve problems in the party in Negri Sembilan.
"Other political parties also experience the same thing, no problem, we will find the best way (to discuss and resolve the matter). This process is normal and I am confident we will be stronger," he told reporters when met after chairing the Negri Sembilan Amanah Convention here today.
Bernama yesterday reported that six of the eight division and Wanita wing chiefs of Negri Sembilan Amanah have decided against attending the state party convention, being held today, because they do not recognise the state's current top leadership.
On the distribution of seats for the 15th General Election, Mohamad said the matter had not been discussed yet, either at the national or state level.
Meanwhile, on a statement by PKR president Datuk Seri Anwar Ibrahim, who claimed to have a sufficient number of supporters among members of the Dewan Rakyat to form a new government, Mohamad said he was also waiting for development on the matter.
The media reported yesterday that Anwar, who is also the Opposition Leader, was said to be seeking an audience with the Yang di-Pertuan Agong Al-Sultan Abdullah Ri'ayatuddin Al-Mustafa Billah Shah to present evidence that he now had 113 supporters in the form of a sworn statement (SD).
https://www.malaymail.com/news/malaysia/2020/12/13/mat-sabu-amanah-will-find-best-solution-to-resolve-internal-crisis-in-negri/1931502
----------
Professor Dr Wan Maseri's teachings to be referred to National Fatwa Council
Ahmad Marzuk Shaary
12/12/2020
KOTA BHARU, Dec 12 -- Issues on the teachings of "Asmaul Husna Wan Maseri" which is alleged to be deviant from Islam will be referred to the National Fatwa Council for further evaluation and decision, said Deputy Minister in the Prime Minister's Department (Religious Affairs) Ahmad Marzuk Shaary.
According to him, the matter had previously been raised and discussed several times in the Religious Division of the Prime Minister's Department in post-cabinet meetings.
He said initial information found that there were deviations in terms of the beliefs of Ahli Sunnah Wal Jamaah in the teachings of "Asmaul Husna Wan Maseri".
So far, the teaching was alleged to have surfaced in Pahang and a fatwa on it has been issued as a deviation from Ahli Sunnah Wal Jamaah.
Apart from that, several states had taken the same action, including the Federal Territories, "he told reporters after the COVID-19 Musaadah Contribution Presentation Ceremony at the Pengkalan Chepa Parliamentary Level here, today.
It is understood that the teachings allegedly founded by Professor Dr Wan Maseri Wan Ahmad had now been declared as heretical and misleading in Terengganu, Negeri Sembilan and several other states.
Ahmad Marzuk said, his ministry wanted to advise the communities, which were not fully aware about any teaching being taught, to be careful.
The individual who was said to be spreading this teaching was also no longer a member of PAS and had been sacked even though she had previously been a candidate in the general election, "he said.
Commenting further, he said so far the Federal Territories Mufti Department and the Akidah (Faith) Division under the Malaysian Islamic Development Department (JAKIM) had been entrusted to obtain more information from the individual concerned.
https://www.bernama.com/en/general/news.php?id=1911532
----------
Malaysia cannot remain closed for too long, says Ismail Sabri
MYT
12 Dec 2020
ARAU, Dec 12 —The government cannot be closing the country indefinitely and not allowing the people to move freely, said Senior Minister (Security Cluster) Datuk Seri Ismail Sabri.
"In the end, we need to allow them to be free as Covid-19 will always be around us like dengue and so on," he told reporters after an audience with the Raja of Perlis, Tuanku Syed Sirajuddin Putra Jamalullail at Istana Arau here today.
Also present in the audience were Perlis Menteri Besar Datuk Seri Azlan Man, Army Chief Gen Datuk Zamrose Mohd Zain and Defence Ministry secretary-general Datuk Seri Muez Abd Aziz.
Ismail said when the government allowed the people the freedom of movement, every individual should take preventive measures to avoid getting infected.
"As such the people have to comply with all the standard operating procedures (SOP) as well as all the instructions announced by the government from time to time. I believe if everybody cooperates, the Covid-19 graph could be flattened," he said.
He said many countries have no movement control such as Taiwan where the people are disciplined and practise self-control so much so Covid-19 did not spread in the country.
Commenting on the rise of Covid-19 cases in the past few days, Ismail said the total cases detected rose after government enforced mandatory screening of all foreign workers in the country.
"There are 888,000 workers (foreign workers) in the country...'just imagine' if five per cent were positive, the figure would increase drastically and we have to be prepared with sufficient number of beds if there are Covid-19 cases among them.
"What I want to stress here is that 'as long as' it does not spread in the community, we would be able to control it as the number involved only foreign workers," he said. He said at the same time, the Human Resource Ministry is intensifying inspection of worker accommodation as many factories did not adhere to Act 446 (Workers Minimum Standard of Housing and Amenities Act 1990) where employers are required to provide conducive living quarters for their workers.
"Two actions have to be taken, namely swab test for Covid-19 on foreign workers and we need to ensure their living condition is more conducive as living in cramped conditions with 20-30 people in an apartment can cause the disease to spread quickly," he said.
In another development, Ismail said the government has added two more new posts in the northern region of the country apart from increasing the purchase of new equipment such as drones to step up surveillance at the Malaysian-Thai border.
https://www.malaymail.com/news/malaysia/2020/12/12/malaysia-cannot-remain-closed-for-too-long-says-ismail-sabri/1931343
-----------
Africa
"Dividing Muslims, global diplomacy of enemies": Iran's ambassador to Ethiopia
Source : Taghrib News
December 13, 2020
AhlulBayt News Agency: Iran's charge d'affaires ad interim, Samad Ali Lakizadeh, has met with Ethiopian Islamic Affairs Supreme Council, Grand Mufti Haji Omar Idris in Addis Ababa to stress importance of Islamic unity.
Iranian envoy in this meeting related on the demography of Muslims and diversity of denominations in Iran and highlighted the key role of boosting unity among Muslims.
Samad Ali Lakizadeh warned of efforts to divide Muslims as the diplomacy of enemies and noted desecration of Prophet Mohammad (PBUH) and Qur'an burning as measures in line with the same objective.
https://en.abna24.com/news//dividing-muslims-global-diplomacy-of-enemies-irans-ambassador-to-ethiopia_1095094.html
-----------
'Mosque of Jesus Christ' causes online sensation
By HAROLD ODHIAMBO
December 13th 2020
It all started with a protracted legal tussle between the Muslim Association and the Seventh Day Adventist Church (SDA) over ownership of a parcel of land.
The row that lasted decades, ended in October this year after a Land and Environment Court in Kisumu declared that the parcel belonged to the Muslim community.
In an effort to build bridges and heal the rifts, the Muslim community have chosen a new name for the mosque that has caught the attention of many and become an Internet sensation.
The faithful say the choice of the name signifies the decision of the Muslim community to demonstrate to the SDA church that they are one.
"We have had a long tussle for the parcel and that is one of the reasons we opted to settle on the name. We are not enemies with Christians," says Abdul Rashid, a muezzin. A muezzin is the official who proclaims the call to prayer.
He notes that Muslims also believe in Jesus and that he was one of the prophets alongside four others that also included Prophet Muhamad.
"Muslims believe in Jesus Christ. The choice of the name is also our appreciation of Jesus Christ who we believe will come back," says Rashid.
Plans to construct a permanent mosque are also in the offing although the Muslims worshiping at the place have already constructed a temporary structure for their prayers.
A senior government official who worships at the mosque and is one of those who lodged the suit against the SDA church said the name is not unique, adding that Jesus is also recognised in Islam.
"Jesus was given Injil while Muhamad was given the Quran. The choice of name is a message to them that we are together. We have always been together," said the official.
"It is a good gesture. I think that is a strong indication that Muslims and Christians regard each other as brothers and sisters," said Joseph Odhiambo, a Christian.
The quest for the land began on September 25, 1985, when the then association Secretary Mohammed Abdo Saleh wrote to Commissioner of Lands, applying for a site to build a new mosque.
At the time, a 40-year lease to Ramisi Sugar Authority had expired, but there were controversies as the authority had used the title to secure a loan from a commercial bank, and had defaulted.
However, after back and forth correspondences between the Muslim Association and the Provincial Commissioner, the District Lands Registrar and the District Land registrar for 12 years, the association decided to engage the Bank which cleared the air by stating there was never charge on the land.
The association then took over the parcel without clearance from the relevant lands authorities. But in 2010, the SDA Church moved into the same parcel laying claim to it. This forced the Muslim Association to head to court. In October, the Muslim association breathed a sigh of relief after Justice Ombwayo determined that the church was not the legitimate holders of the land.
https://www.standardmedia.co.ke/nyanza/article/2001397115/mosque-of-jesus-christ-causes-online-sensation
-------------
Algeria parties condemn normalization between Morocco, Zionist regime
Source : Iran Press
December 13, 2020
Algerian parties have criticized the US-brokered normalization agreement between Morocco, and Israel, calling it a political, diplomatic, and ethical stain.
In a statement published on Facebook, the National Liberation Front (FLN) confirmed that it had angrily denounced and condemned the announcement made by the Kingdom of Morocco regarding the establishment of diplomatic relations with the usurping Zionist entity, in exchange for the recognition of the US president of Morocco's alleged sovereignty over occupied Western Sahara.
The statement added: "The most remarkable part of the humiliating and shameful agreement that traded the nation's honor, is that it coincided with Human Rights Day (10 December)."
The statement considered that: "Giving up the inalienable right of the Palestinian people in exchange for obtaining illusory sovereignty over occupied Western Sahara is humiliating. It will remain a political, diplomatic, and ethical stain on the forehead of the involved parties who have always bragged about supporting the Palestinian cause. Today, the truth is revealed after agreeing to sell the sacred cause based on a deceitful and fake tweet published at the last moment. It is a gift from the have-nots to the unworthy."
The FLN stressed that it renews its commitment, on this perfidious occasion, to continue its support for the Palestinian cause until victory is achieved in order to establish an independent state with Jerusalem Al-Quds as its capital.
The party also reiterated its support for the rights of the Saharawi people in their struggle and resistance until the implementation of the international legitimacy resolutions, as well as holding a referendum on self-rule to decide the fate of the people of Western Sahara.
Head of the Movement for the Society of Peace Abderrazak Makri posted on Facebook: "The Moroccan regime did not decide to normalize only today, and anyone who knows the complications of the Palestinian cause will be aware of the old hidden and uncovered paths of normalization between Morocco and the Zionist entity."
The leader of Algeria's largest Islamic party drew a distinction between the position of the Moroccan state and that of the Moroccan people, stating: "We are aware of the efforts made by the Moroccan people to reject normalization through their mass protests and varied efforts in this regard, and they will not be disappointed by Allah's will."
As a sign of solidarity with the Justice and Development Party that leads the Moroccan government, Makri expressed: "What will the affected party (the Justice and Development Party) in this case do? We ask Allah to help them handle the situation. Regardless of existing infiltrations of the Arab regimes that have inherited the honor of defending the Palestinian cause through national struggles and movements, but have abandoned it, the peoples of the region will remain faithful until the storm passes thanks to our steadfast values of Islam and the spirit of our nation that stands as our defense in difficult times."
The head of the Movement of Society for Peace seized the opportunity to call on the Algerians to preserve: "National cohesion to avoid the greed of conspirators."
The Moroccan people have expressed their rejection of normalization through their mass protests and various efforts to hinder this step.
https://en.abna24.com/news//algeria-parties-condemn-normalization-between-morocco-zionist-regime_1095095.html
-----------
Nigerian Christians fear a bloody holiday season at the hands of Muslim terrorists
By Rev. Johnnie Moore
December 12, 2020
Patience was 13. Revelation was 6. Rejoice was 4. They are the names of three of the youngest victims of a Christian massacre unfolding in Africa.
The terrorists killed at least 20 that evening as they went from house to house yelling "Allahu Akbar" along the way. They also put a bullet in the head of a 3-month-old and hacked a 6-year-old to death. We don't know their names. We do know the name of a 14-year-old girl who was murdered along with her grandparents.
This horror wasn't even the work of the infamous Boko Haram insurgents who've long terrorized Nigeria's northeast. These massacres came at the hands of a group of radicalized Fulani tribesmen who — profanely inspired by Boko Haram and ISIS — have been summarily executing Christians in the center of Nigeria, not far from the country's capital, Abuja. In this democracy, almost no one is ever prosecuted for the crimes. According to Stephen Enada, executive president of the International Committee on Nigeria, there have been at least 63,000 victims.
Thousands of churches have been torched, scores of children slaughtered, countless women enslaved, pastors have been beheaded and Christian homes have been set ablaze by the tens of thousands. The victims are mainly Christian, with the terrorists determined to also kill or extort every single Muslim who attempts to stand in their way. Christmas is a particularly vulnerable time of the year for Africa's beleaguered Christians.
Last year, the Islamic State in West Africa marked Christmas in Nigeria by beheading 11 Christians on video. Two weeks later they picked up another young Christian as he traveled back home from a Christmas holiday with his family. The 22-year-old was last seen on a video being executed at point-blank range by a child whose terrorist overlord was issuing a warning to "all Christians in Nigeria's Plateau State." Another young victim I met in Nigeria in February had only recently escaped her Christmas kidnappers. She had been picked up by Islamists 5 minutes after passing a government checkpoint. Before they carried her away to the bush they shot the Christian men she was traveling with.
The situation in Africa's most populated country, with the continent's largest economy, is getting out of control and it cannot be neglected any longer.
Despite the present US administration's unprecedented success in advancing religious freedom policies around the world, the current ambassador to Nigeria, Mary Beth Leonard, is one of many senior members of the career foreign service in the US Department of State who seem in total denial about the situation. During a meeting with myself in February, Amb. Leonard in Abuja actually downplayed the role of religion in the conflict, which she described as "fundamentally a resource issue." A recent, cursory look at the Embassy's social media channels in Nigeria didn't turn up a single acknowledgment of the victims of the conflict. It was business as usual.
The presumptive US Ambassador to the United Nations for a Biden administration is Linda Thomas-Greenfield, who served as a deputy and ally of former Assistant Secretary of State for African Affairs Johnnie Carson back when the Obama-Biden administration refused to even designate Boko Haram as a foreign terrorist organization. They were, apparently, concerned the designation would foster Islamophobia and give the Nigerian government an excuse to "legitimize a heavy-handed crackdown by [their] security forces at a time when American officials were urging them to avoid human rights abuses," Carson told The New York Times.
The fact is that the present and pitiful condition in Nigeria represents a multi-year and bipartisan foreign policy failure. All of this in a country which receives approximately $1 billion in aid a year from the United States government, not to mention what it receives from many other countries including 800,000 pounds a day from the United Kingdom, alone.
We shouldn't let the poor starve, but we also shouldn't continue to donate the hard-earned support of the American taxpayer with no real strings attached.
In the meantime, we must ensure the victims no longer suffer in the shadows, even during a pandemic. We must be their voice.
As one pastor recently told the Nigerian press, leaning against his torched Christian school, "This issue of COVID-19: We don't know anything about it; our problem is Fulani who keep killing us."
https://nypost.com/2020/12/12/nigerian-christians-fear-a-bloody-holiday-at-hands-of-terrorists/
------------
Sudan confiscates Bin Laden's farm, ends services of 30 ambassadors
MEMO
December 12, 2020
The Empowerment Elimination, Anti-Corruption, and Funds Recovery Committee in Sudan announced the confiscation of a farm owned by former Al-Qaeda leader Osama Bin Laden as well as ending the services of 30 ambassadors from the Ministry of Foreign Affairs. In addition, it was reported that land would be seized under the possession of officials of the regime led by former President Omar Al-Bashir.
Deputy Chairman of the committee and a member of the Sovereignty Council Mohamed Al-Faki affirmed that the committee ended the services of 30 ambassadors at the Ministry of Foreign Affairs, due to their ties with the previous regime.
Committee member Salah Manna disclosed in a press conference, reported by Sputnik, that the state had recovered a farm owned by Bin Laden, which had been seized from one of the officials of the former regime.
Manna mentioned the seizure of the Holborn company, affiliated with the Popular Defence Forces (PDF), which was working to receive and distribute funds to the defunct regime's wings.
Committee member Wagdi Saleh revealed the existence of an account containing hundreds of millions of foreign currencies at the Islamic Solidarity Bank of Sudan. The account received the funds from two former governors of the Central Bank of Sudan who used to sell foreign currencies on the black market to the supporters of the former regime, with 30 per cent gains in favour of the former president and his office.
Since the fall of Al-Bashir's regime in April 2019, the committee has been active in recovering billions of dollars, land, and properties from the leaders of the former regime.
Mohamed Ismat, a leader of the Forces of Freedom and Change that led the popular movement against Al-Bashir, confirmed that in addition to the funds seized in the country, the leaders of the former regime own about $64 billion in banks abroad.
https://www.middleeastmonitor.com/20201212-sudan-confiscates-bin-ladens-farm-ends-services-of-30-ambassadors/
------------
Here are all the beautiful photos from NPP's Islamic thanksgiving service
ANDREAS KAMASAH
12-12-2020
The NPP held the ceremony at midday on Friday led by the National Chief Imam, Sheikh Osman Nuhu Sharubutu after Jummah (Friday congregational prayers) at the Central Mosque.
President Akufo Addo, his vice Dr. Mahamudu Bawumia and his wife Samira as well as some members and bigwigs of the party were in attendance to thank God for making them victorious in the just-ended December 7 general election.
Dr. Mahamudu Bawumia and Samira and the Muslim congregation are seen in photos performing Muslim prayers.
Dr. Bawumia who posted some photos of the ceremony on his Facebook page wrote: "I joined President Akufo-Addo, Hajia Samira Bawumia, national executives and members of the New Patriotic Party for the Islamic thanksgiving service at the central Mosque in Abossey Okai officiated by the National Chief Imam Sheikh Osman Nuhu Sharubutu.
"We expressed our gratitude to the Almighty Allah for a successful election and the re-election of President Akufo-Addo and the New Patriotic Party and prayed for His guidance and protection for the next four years."
https://www.pulse.com.gh/news/politics/here-are-all-the-beautiful-photos-from-npps-islamic-thanksgiving-service/rv41c91
-----------
Libya releases 2 Russians suspected of spying for Saif al-Islam Gaddafi
BY LIBYAN EXPRESS
DEC 12, 2020
Two Russians, detained in Libya on espionage charges in 2019, were released on Thursday, Russian Foreign Ministry spokeswoman Maria Zakharova said.
Speaking at a news conference in Moscow, Zakharova said the Russian side is "satisfied" with the decision of the Libyan authorites to free Maxim Shugaley and Samer Hasan Ali Sueyfan, and thanked everyone who assisted in their release.
The Russian government had argued that these people were academic researchers affiliated with a think tank. But the Libyan government announced that the two Russian citizens were intelligence agents who were conducting field research associated with the Wagner private military company.
The Libyan security service found a memory stick, confirming Shugaley and Sueyfan were conspiring with Saif al-Islam Gaddafi, the son of Muammar Gaddafi on taking power in the county.
https://www.libyanexpress.com/libya-releases-2-russians-suspected-of-spying-for-saif-al-islam-gaddafi/
------------
ICC prosecutor seeks investigation into crimes committed during Boko Haram insurgency in Nigeria
Esther Chihaavi
DECEMBER 12, 2020
International Criminal Court Prosecutor Fatou Bensouda said Friday that she intends to open an investigation into possible crimes committed during Islamist rebel group Boko Haram's Nigerian insurgency that began in 2009. Bensouda indicated that a preliminary examination into the situation had found a reasonable basis to believe that Boko Haram and its splinter groups committed several war crimes and crimes against humanity, including rape, murder and conscripting children under 15 into armed groups. She said that as much as her office recognizes that most crimes were committed by non-state actors, there is reasonable basis to believe that the Nigerian Security Forces also committed crimes against humanity.
Attacks by Boko Haram had led to more than 1200 deaths by the end of 2013. The Nigerian government has made attempts to prosecute the group, primarily its low-level members. Bensouda also said that the Nigerian military has investigated and dismissed members of its military who were found to have committed crimes against humanity. But she still wishes to proceed:
I have given ample time for these proceedings to progress, bearing in mind the overarching requirements of partnership and vigilance that must guide our approach to complementarity. However, our assessment is that none of these proceedings relate, even indirectly, to the forms of conduct or categories of persons that would likely form the focus of my investigations. And while this does not foreclose the possibility for the authorities to conduct relevant and genuine proceedings, it does mean that, as things stand, the requirements under the Statute are met for my Office to proceed.
Beginning investigations would require authorization from the judges of the Pre-Trial Chamber of the ICC. Bensouda seeks to reach a determination on all cases that have been under preliminary examination during her tenure before that comes to an end on June 15, 2021.
https://www.jurist.org/news/2020/12/icc-prosecutor-seeks-investigation-into-crimes-committed-during-boko-haram-insurgency-in-nigeria/
-----------
Army kill nine Boko Haram terrorists in Borno, Yobe
By Njadvara Musa
13 December 2020
Troops of 151,112 Task Force Battalions and 21 Special Armoured Brigade of Operation Fireball have killed nine Boko Haram and Islamic State of West Africa Province (ISWAP) terrorists in Borno and Yobe states.
They also recovered two each, of AK-47 rifles, bicycles and bags of grains while conducting clearance operations in Pulka/Firgi/Banki axis and Goniri community in Yobe State.
While announcing operational successes, yesterday, at the Special Army Super Camp 1, Ngamdu, Borno State, acting Director Defence, Media Operations, Brig-Gen. Bernard Onyeuko, said: "Our troops successfully, sprang a well-coordinated ambush along Pulka/Firgi/Banki junction against the fleeing terrorists.
"During the decisive encounter, four terrorists were killed, while two each of bicycles, wheel barrows bags of fish and grains were also recovered."
Similarly, he added that on December 8, 2020, troops of 151 Battalion had an encounter with Boko Haram terrorists along Pulka/Firgi Road and neutralised an insurgent with the recovery of his AK-47 rifle and ammunition.
Speaking on Damaturu/Gujba Road clearance patrols, he said: "The 21 Special Armoured Brigade conducted clearance operations in the general area of Goniri village forest. During a fierce battle with terrorists, one of them was gunned down, while others fled with gunshot wounds towards the south flank of the forest."
He assured the people of Northeast that the military was determined to finally rout remnants of Boko Haram and ISWAP criminals from forest hideouts.
"We encourage you to avail our troops with credible information that could help in execution of ongoing military operations," he said.
https://guardian.ng/news/army-kill-nine-boko-haram-terrorists-in-borno-yobe/
-----------
Hundreds of students missing after attack on Nigerian school
NZ Herald
13-12-2020
Hundreds of students are feared missing after armed men attacked a boarding school in Nigeria, The Guardian reports.
Residents of north-western Katsina state reported hearing gunfire at the Government Science secondary school at about 11pm on Friday. The attack reportedly lasted for more than an hour.
Security staff at the school tried to fend off the attackers before police arrived, officials said.
More than 200 students were rescued by police, but hundreds more were missing, two local people told the Reuters news agency.
Chaotic scenes unfolded at the school as parents arrived and frantically searched for their children. Some students managed to escape the gunmen by climbing over the school's fence and fleeing, police said.
Katsina, the home state of Nigerian President Muhammadu Buhari, has been plagued by violent bandits who attack and kidnap people for ransom.
Attacks by Islamist militants are common in north-eastern parts of the country.
In 2014, more than 270 girls were kidnapped by the militant Islamist group Boko Haram from a school in the north-eastern town of Chibok.
https://www.nzherald.co.nz/world/hundreds-of-students-missing-after-attack-on-nigerian-school/YLUY2ZBWOAZATMXZS2QYW6E7MM/
------------
URL: https://www.newageislam.com/islamic-world-news/man-stands-minbar-al-safa/d/123742
New Age Islam, Islam Online, Islamic Website, African Muslim News, Arab World News, South Asia News, Indian Muslim News, World Muslim News, Women in Islam, Islamic Feminism, Arab Women, Women In Arab, Islamophobia in America, Muslim Women in West, Islam Women and Feminism