New Age Islam News Bureau
31 Jan 2016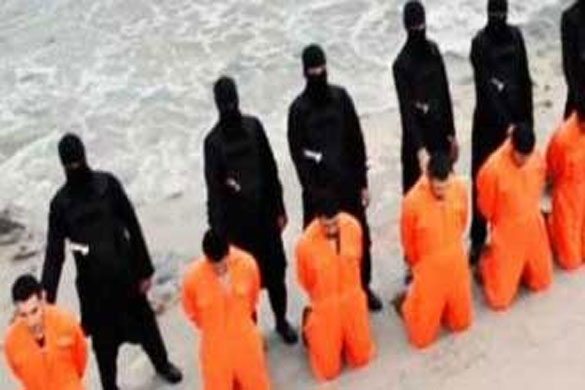 Photo: ISIS Publicly Beheads Its Deserters: Report
-----------
Europe
• Man Dubbed 'Jihadi Jack' Urges Britons To Convert To Islam As He Brands David Cameron 'Evil'
• France considers recognition of a Palestinian state
• Germany's Merkel says refugees must return home once war is over
-----------
Arab World
• Blasts close to Damascus' Main Shi'ite Shrine kill 45 -Ministry
• ISIS Publicly Beheads Its Deserters: Report
• Iraqi Forces Win Back New Areas in Samarra, Kill Scores of ISIL Members
• Tens of Terrorists Killed in Iraqi Army Operations near Baghdad
• Saudi-Led Coalition Continues Sustaining Large Casualties in Yemen
• Yemeni Missiles, Mortarts Rain Down on Saudi Military Bases in Jizan, Najran, Asir Provinces
• ISIL Militants Driven back from More Territories East of Syria's Aleppo
• Nasrallah: Allegations about Iran's Meddling in Lebanon's Presidency Case Unreasonable, Stupid
• Syrian Army Winning Battle against Militants in Lattakia Regardless of Turkish Artillery Shelling
-----------
North America
• Barack Obama To Visit US Mosque To Plead For Tolerance
• US Admits Anti-ISIL Airstrikes Killed Civilians in Syria, Iraq
• UN-hosted Syria peace talks get off to shaky start
-----------
Africa
• Now Britain Plans To Hit ISIS In Libya As Secret Team Flies In To Draw Up List Of Targets For Bombing Raids
• Generals fear Benghazi 2 in Libya
-----------
Pakistan
• Two SSP Men Sentenced To Death In Sectarian Killing Case
• Sharif Admits Pathankot Hit Talks, Pledges To Uproot Terror
• Pak, Afghan Intelligence Agencies To Hold Talks
• Pak varsity attack probe calls for removal of VC
• Afghan army delegation meets Pakistan's corps commander
• Rangers to stay in Karachi till peace returns: PM
• Pakistan, Iran sign deal to secure border for increasing trade
• Govt told to form JIT in 15 days for interrogation of Uzair Baloch
-----------
Mideast
• 37 Migrants Drown Off Turkey; Children's Bodies Strewn Over Beach
• Recapture Of Sheikh Meskeen Opens New Front Against Israel
• Kurdish Groups Staking Claim To Sinjar After Recapture From ISIL
• Ankara ignores inflammatory Israeli remarks to keep normalization on track
• Turkey issues warning to Russia after new airspace violation
• New Twist of Friendship: Russian Exporters Set Eyes on Iran's Market
• 'Democracy's Challenge with Turkey' debated at Abant Platform
• Turkey's opposition to PYD reveals inconsistency in foreign policy
• EU to deliver 3 billion euros to Turkey for refugees by end of February, minister says
-----------
South Asia
• Taliban Judge Among 14 Detained In Takhar
• Iran Has 1000s Of Afghans Fighting In Syria In Support Of Bashar Al-Assad
• Daesh Suspected For Killing Nangarhar-Based Journalist
• Afghanistan, Pakistan agree on enhancing security measures along border
• Police Chief of Kunar's Sarkanu District killed in landmine explosion
• Security cooperation on agenda during CEO Abdullah 5-day visit to India
Compiled by New Age Islam News Bureau
URL: https://newageislam.com/islamic-world-news/new-age-islam-news-bureau/man-dubbed--jihadi-jack--urges-britons-to-convert-to-islam-as-he-brands-david-cameron--evil-/d/106177
----------
Man Dubbed 'Jihadi Jack' Urges Britons To Convert To Islam As He Brands David Cameron 'Evil'
Shehab Khan | The Independent | Jan 31, 2016
A former Oxford schoolboy has denied reports he has joined Isis in an exclusive interview with The Independent - but labelled David Cameron "an evil creature"and described the US-led bombing of Syria as a "diseased" plot designed to kill off all Muslims "one by one".
In his first interview since reports accused him of becoming the first white British man to travel to Syria and join the jihadist group, Jack Letts insists he has travelled to the so-called Islamic State to spread the word of Allah and help "take down" the government of Bashar al-Assad.
"I can speak Arabic and English," he said. "That's like my only skill. I've spent efforts to take down the Syrian government."
In the interview, conducted over messaging app Telegram, Mr Letts, who has been widely dubbed "Jihadi Jack", confirms he is still in Syria and admits he will probably be put in prison if he tries to return to the UK.
He also calls on British people to convert to Islam and says David Cameron is "f not actually mentally ill... [then] an evil creature".
"If Britain stopped bombing Muslims in Syria, the Muslims in Syria would stop attacking them ... is that hard to understand?" he says.
The 20-year-old says Isis has been subjected to a "media frenzy", insisting militants are not committing atrocities in Syria as bad as the US-led coalition, which has been bombing positions in the country for the past 18 months.
"The US-led coalition is a plan concocted in the diseased hearts and minds of some of Allah's enemies," he says.
"A plot with the intention of collecting sincere Muslims who believe in taking action for their religion in one place and then killing them off one by one.
"Despite the media frenzy surrounding them, I've never seen Isis kill Muslim kids. I have, however, seen the coalition do so."
On Sunday, Mr Letts was named as having joined the jihadist group. The reports were accompanied by a picture of him seemingly giving the one-fingered salute many associate with Isis.
Mr Letts, who attended Cherwell School in Oxford, converted to Islam as a teenager and left his home more than a year ago. He was accused of admitting to his parents that he was with the group in September 2014.
He subsequently posted private messages to hisFacebook account - also seen by The Independent - in which he accused the press of telling lies about him because of his Islamic faith. His Facebook account appears to have since been suspended.
His parents, John and Sally Letts, an organic farmer and former books editor respectively, have described him as "kind, funny and gentle", and said they feel "betrayed" by the media coverage of their son.
There is no way of corroborating the accuracy of Mr Letts' claims.
In order to confirm his identity, The Independent asked Mr Letts to provide a sound recording of his voice, which was then verified with two unrelated people who know him. They both said it was Mr Letts' voice.
While there is no indication Jack Letts was speaking while under duress during the interview, it has not been possible to verify for certain that his answers were given with no immediate influence from other parties.
Mr Letts' parents have not responded to The Independent's request for comment.
A photograph taken from Jack Letts' Facebook page. (Photo courtesy: The Independnt)
A full transcript of the interview is provided below:
What made you leave the UK? What was the deciding factor?
To come to Syria. To leave dar al kufr [the land of disbelievers].
Why are you out in Syria?
To spread the religion of Allah and to help Muslims. I can speak Arabic and English. That's like my only skill. I've spent efforts to take down the Syrian government. That's all I want to say
There have been reports in the UK that you've joined Isis, what do you make of that?
I've made a clear response to this already. If you're gonna ask me questions, I'm not going to repeat something I've already addressed, Insha'Allah.
Have you joined Isis?
I'm not Isis, but I believe in the Sharia. I believe we should follow Islam how the first Muslims did.
I also think that whatever I say, the media will probably freestyle with it and make up more nicknames for me as a result of the void they have in their lives.
What do you think about Isis? Can you give us an insight into what's going on Syria with Isis? They've recently released a video saying they'll attack the UK - what are your thoughts on that?
I'm doing my own thing. I don't focus that much on what Isis does. Also this may sound strange but this is genuinely the first time someone's told me they threatened to attack the UK, which is probably a bit embarrassing, seeing as I'm in Syria and you'd expect I'd hear these things. If Britain stopped bombing Muslims in Syria the Muslims in Syria would stop attacking them. Is that hard to understand?
What do you think of the treatment of Muslims in Syria?
The Muslims in Syria are burned alive, raped, abused, imprisoned and much more. I also think that some of Muslims I met here are living like walking mountains. Full of honour.
Who do you think is responsible?
I think a number of different people/nations are responsible. Bashaar and his buddies, Russia and their buddies etc. The media.
Do you think you'll ever come back to Britain? Also - do you have a message to people in Britain?
They won't let me come back without putting me in prison probably. I would like to make it clear that David Cameron, if not actually mentally ill, is an evil creature who failed to understand his own existence correctly. With this foundation as his character, he ended up chatting rubbish and lying his way into power before taking out what, I expect, is built-up stress from being bullied for his forehead at school, on the rest of the world with the weapons his buddy America gave him.
My message for them is to embrace Islam. To think, well, did this universe come from nothing or did it create itself? To not be confused by the media or the fact that the Koran is in Arabic etc. Islam is the same religion of all the prophets and Allah decided to send the final prophet in Makkah. Leave your worship of money, celebrities, and other filth and direct all worship to the one who truly deserves it. I hope like this you will realize why people sacrifice all they have for the religion of Mohamed (Peace be upon him). Learn the declaration of faith, understand it, say it sincerely and then act by it. That's how you will succeed.
Can I ask if you agree with what Isis is doing? And if you have plans to join Isis? What are the aspects you agree with and disagree with?
I believe in ruling by the Sharia.
Can I ask you your thoughts towards the US-led coalition? And towards Isis?
I believe the US-led coalition is a plan concocted in the diseased hearts and minds of some of Allah's enemies. A plot with the intention of collecting sincere Muslims who believe in taking action for their religion in one place and then killing them off one by one. It's fuelled by their hatred for the truth and their sickening world view that even non-Muslims hate them for. Of course, I differ with any one of my Muslim brothers who makes a mistake with regards to his mistake, and they remain my brother as long as they don't commit disbelief. Regardless of who they are. But I believe the US and her bedfellows use things like Isis to alienate their enemies and dehumanize the brothers and sisters they present to their dead-hearted pilots as target practice, which, I suppose, leads us back to their hatred of Islam and the Muslims.
I've seen Muslims burned alive as a result of what the US calls 'hellfire missiles'. I've seen the little girls that lived around the corner from me at my old house hide from American jets and plugging their ears from the sound. Isis has huge mistakes, I don't deny that, but the coalition has far worse mistakes. As a separate point, despite the media frenzy surrounding them, I've never seen Isis kill Muslim kids. I have, however, seen the coalition do so.
timesofindia.indiatimes.com/world/middle-east/Man-dubbed-Jihadi-Jack-urges-Britons-to-convert-to-Islam-as-he-brands-David-Cameron-evil/articleshow/50790843.cms
----------
Blasts close to Damascus' Main Shi'ite Shrine kill 45 -Ministry
AMMAN/BEIRUT: Jan 31, 2016
At least 45 people were killed and 110 wounded on Sunday by a car bomb and two suicide bombers in the Sayeda Zeinab district of Damascus, where Syria's holiest Shi'ite shrine is located, the interior ministry said.
State television showed footage of burning buildings and wrecked cars in the neighborhood.
Syrian state news agency SANA, quoting an interior ministry source, said a group of militants had detonated a car bomb near a public transport garage in the neighborhood's Koua Sudan area.
Two suicide bombers then blew themselves up nearby as people were being rescued.
"Bodies were still being pulled from the wreckage," a witness told state news channel Ikhbariyah.
The heavily populated area in the south of the city is a site of pilgrimage for Shi'ites from Iran, Lebanon and other parts of the Muslim world.
The explosions occurred as representatives of Syria's government and its divided opposition began convening in Geneva for the first U.N.-mediated peace talks in two years.
Syrian Prime Minister Wael al-Halaki was quoted as saying the attacks were prompted by "terror groups" who sought to "raise their morale after a string of defeats" by the army.
The United Nations has said it is aiming for six months of talks, first seeking a ceasefire and later working toward a political settlement for Syria. The nearly five-year conflict has killed more than 250,000 people, driven more than 10 million from their homes and drawn in global powers.
The Sayeda Zeinab shrine area witnessed heavy clashes in the first few years of the war but has since been secured by the Syrian army and Shi'ite militias led by Hezbollah, which has set up protective roadblocks around it.
The shrine houses the grave of the daughter of Ali ibn Abi Taleb, the cousin of Prophet Mohammed, whom Shi'ites consider the rightful successor to the prophet. The dispute over the succession led to the major Sunni-Shi'ite schism in Islam.
Iraqi and Iranian Shi'ite militia groups that have volunteered to fight Sunni Islamist radicals in Syria in a conflict that has heavy sectarian overtones often say they are coming to Syria to defend the shrine.
Many have their headquarters in the area near the shrine, according to local residents.
(Reporting by Laila Bassam; Writing by Suleiman Al-Khalidi; Editing by Catherine Evans)
reuters.com/article/us-mideast-crisis-blast-shiite-idUSKCN0V90E1
----------
ISIS Publicly Beheads Its Deserters: Report
PTI | Jan 31, 2016
CAIRO: ISIS has reportedly beheaded over 20 of its fighters in full public view for trying to flee a war zone in Iraq's Mosul city, sending out a chilling warning to others in the terror group against desertion.
Islamic State in Iraq and Syria (ISIS) captured a group of its own militants who tried to escape the battlefront in Mosul city of Nineveh province, and executed them in public, Ara News reported.
"The dissidents were arrested at a checkpoint in the vicinity of Mosul on Friday evening. After being identified as fighters who have left their positions at the fighting front in western Mosul, they were transferred to the Sharia Court for prosecution," a local source cited an ISIS "official" as saying.
"Subsequent to a brief interrogation, the Sharia Court decided to behead the dissidents on charges of treason," the source was quoted as saying.
Observers said the beheadings were made in a bid to terrorize ISIS members who may leave their posts in the war-torn region.
The jihadis were beheaded in central Mosul in front of hundreds of people, mostly ISIS members and commanders, the report said.
"Witnessing the brutal punishment has caused a state of panic among the members of the group," the source said.
ISIS considers jihadis who leave their posts without permission as traitors and enemies of its so-called Caliphate.
This is not the first time that ISIS has executed its own militants on charges of treason.
Earlier, it was reported this month that ISIS militants who lost a key town to Iraqi forces were burned alive in full public view by their own men after they fled to the group's stronghold of Mosul.
Several Mosul residents claimed that when the black clad jihadists made it to Mosul, over 400 km north of Ramadi city retaken by Iraqi forces, they were set on fire in the town's main square. They were reportedly made to stand in a circle and set on fire.
In December, the extremist group had beheaded ten militant fighters "convicted of high treason" for evacuating their post at the battlefront without the group's permission.
In November, ISIS executed 73 militant fighters for escaping battles with the Kurdish Peshmerga forces in Shingal (Sinjar) district in northern Iraq, the report said.
Source: timesofindia.indiatimes.com/world/middle-east/IS-publicly-beheads-its-deserters-Report/articleshow/50794319.cms
-----
Americans Among Militant Suspects Detained In Saudi Arabia: Paper
Reuters, Sunday 31 Jan 2016
Nine Americans are among 33 suspects detained on terrorism charges in Saudi Arabia over the past week, the English-language daily Saudi Gazette reported on Sunday citing an unnamed source.
It reported that four Americans were detained on Monday and another five in the following days, along with 14 Saudis, three Yemenis, two Syrians, an Indonesian, a Filipino, a United Arab Emirates citizen, a Palestinian and a citizen of Kazakhstan.
The American embassy did not immediately respond to a request for comment.
Saudi Arabia in 2014 declared Islamic State a terrorist organisation and has detained hundreds of its supporters. The group, which controls territory in Iraq and Syria, has staged a series of attacks in the kingdom.
On Friday an attack at a Shia Muslim mosque in Saudi Arabia's al-Ahsa district in Eastern Province killed four people and injured 18, the latest in a string of attacks claimed by Sunni Islamist militant that have left over 50 dead in the past year.
The website of the Interior Ministry's militant rehabilitation centre listed four US citizens as having been detained on Jan 25 and four more over the previous three months. It did not yet list any more recent detentions.
The Interior Ministry spokesman pointed Reuters towards that website, which gives information on all people detained as militant suspects, but gave no further comment.
The ministry on Saturday identified one of the attackers in al-Ahsa as 22-year-old Abdulrahman al-Tuwaijri, a Saudi citizen, who detonated an explosive vest outside the Imam Rida mosque in the Mahasen district of Hofuf in al-Ahsa.
A 27-year-old was also arrested wearing an explosive vest and carrying hand grenades after members of the mosque's congregation seized him after he fired shots at them during the attack, the ministry said.
Attacks by supporters of Islamic State in Saudi Arabia include two bombings and two mass shootings at Shia mosques. A mosque used by Sunni security services was also bombed
The Saudi clergy have denounced the group as "kharijites", an early Islamic sect reviled by Muslims for its extreme ideology.
english.ahram.org.eg/News/186349.aspx
-----------
Europe
France considers recognition of a Palestinian state
Jan 31, 2016
PARIS: France will recognize a Palestinian state if its efforts to revive Israeli-Palestinian peace talks at an international conference fail, Foreign Minister Laurent Fabius said Friday.
He told French diplomats that the conference will aim to bring together the two parties and their American, European and Arab partners in order "to make happen a two-state solution."
If this attempt faces a deadlock, Fabuis said, France will have to recognize a Palestinian state.
France's Socialist government supports the idea of two states, but had previously argued that it was too early for outright recognition of a Palestinian state.
Full report at: dawn.com/news/1236409/france-considers-recognition-of-a-palestinian-state
-----------
Germany's Merkel says refugees must return home once war is over
January 30, 2016
German Chancellor Angela Merkel tried on Saturday to placate the increasingly vocal critics of her open-door policy for refugees by insisting that most refugees from Syria and Iraq would go home once the conflicts there had ended.
Despite appearing increasingly isolated, Merkel has resisted pressure from some conservatives to cap the influx of refugees, or to close Germany's borders.
Support for her conservative bloc has slipped as concerns mount about how Germany will integrate the 1.1 million migrants who arrived last year, while crime and security are also in the spotlight after a wave of assaults on women in Cologne at New Year by men of north African and Arab appearance.
The influx has played into the hands of the right-wing Alternative for Germany (AfD), whose support is now in the double digits, and whose leader was quoted on Saturday saying that migrants entering illegally should, if necessary, be shot.
Merkel said it was important to stress that most refugees had only been allowed to stay for a limited period.
Full report at: todayszaman.com/world_germanys-merkel-says-refugees-must-return-home-once-war-is-over_411036.html
-----------
Arab World
Iraqi Forces Win Back New Areas in Samarra, Kill Scores of ISIL Members
Sun Jan 31 2016
TEHRAN (FNA)- The Iraqi popular forces backed by the country's Federal Police in successful operations in the Western part of Samarra city seized back new areas, killing scores of ISIL militants.
The Iraqi forces killed and wounded over 50 terrorists in several hours of clashes.
The popular forces also seized back several areas from the terrorists.
The Iraqi forces are determined to purge terrorists from vast areas in the desert regions of the Western suburbs of Samarra and al-Sarsar lake.
If the Iraqi forces continue to make their advances in the desert regions of the Northern Al-Anbar province and the Southern parts of Salahuddin province, the terrorists will come under a siege by the Iraqi troops.
Full report at: en.farsnews.com/newstext.aspx?nn=13941110001110
-----------
Tens of Terrorists Killed in Iraqi Army Operations near Baghdad
Sun Jan 31 2016
TEHRAN (FNA)- The Iraqi Army's Central Command said in a statement that the country's troops have killed and injured a large number of terrorists near the capital city on Saturday.
"A sum of 57 terrorists were killed and over 30 others were injured in a joint operation by Iraqi army, air force and security forces," the statement said.
The Iraqi army also destroyed 39 bomb-laden vehicles and two explosives depots.
In a relevant development on Tuesday, 42 ISIL militants were killed and several others were wounded after the Iraqi police stormed the terrorist group's hideouts across at least four neighborhoods of the capital city of Baghdad, Iraq's anti-Terrorism Joint Command Center said Tuesday.
Full report at: en.farsnews.com/newstext.aspx?nn=13941110001502
-----------
Saudi-Led Coalition Continues Sustaining Large Casualties in Yemen
Sun Jan 31 2016
TEHRAN (FNA)- The Yemeni army and popular forces continued their retaliatory attacks against the Saudi-led coalition troops, and killed some 25 Saudi soldiers in Ma'rib province on Saturday.
At least 25 Saudi forces were killed in heavy clashes with the Yemeni forces in al-J'adan region in Ma'rib province as they were trying to penetrate into the areas under the Yemeni forces' control.
The Yemeni forces prevented the Saudi forces from entering the Mafraq al-Jawf district in al-J'adan after a several-hour-long battle.
In a relevant development earlier today, the Yemeni forces destroyed the military equipment of the Saudi-led forces in Ma'rib province, killing Saudi Arabia's key commander in the region.
Full report at: en.farsnews.com/newstext.aspx?nn=13941110001546
-----------
Yemeni Missiles, Mortarts Rain Down on Saudi Military Bases in Jizan, Najran, Asir Provinces
Sun Jan 31 2016
TEHRAN (FNA)- The Yemeni army and popular forces targeted the Saudi military bases in the Southern parts of the kingdom with a barrage of rockets and missiles on Saturday.
The Yemeni forces fired 70 missiles and mortar shells at Al-Qawiya and Jbal al-Dokhan military bases in Jizan province, killing over 10 Saudi military troops.
The army and popular forces also hit the Saudi troops' military centers in Al-Rabou'a in Asir province with mortars and missiles. There is yet no precise report on the number of Saudi army casualties in the attack in Rabou'a.
In Najran province, a military base in Western Al-Shurfa also came under the Yemeni troops' rocket attacks, where at least four Saudi soldiers lost their lives.
In a relevant development earlier today, the Yemeni army and popular forces destroyed the military equipment of the Saudi-led forces in Ma'rib province in Eastern Yemen, killing Saudi Arabia's key commander in the region.
Full report at: en.farsnews.com/newstext.aspx?nn=13941110001523
-----------
ISIL Militants Driven back from More Territories East of Syria's Aleppo
Sun Jan 31 2016
TEHRAN (FNA)- The Syrian Army and the popular forces won another battle against the ISIL terrorist group in the Eastern part of Aleppo province on Saturday, and restored security and stability to two more villages in the region.
The Syrian Army and the National Defense Force broke through the ISIL militants' fortified defense lines, killed many of the terrorists and pushed them back from the villages of Afash and Tanouza in the Northeastern side of the province's power plant.
Afash and Tanouza are now under full control of the Syrian government forces.
Full report at: en.farsnews.com/newstext.aspx?nn=13941110001075
-----------
Nasrallah: Allegations about Iran's Meddling in Lebanon's Presidency Case Unreasonable, Stupid
Sun Jan 31 2016
TEHRAN (FNA)- Lebanese Hezbollah Secretary General Sayed Hassan Nasrallah underlined that allegations about Iran's interference in Lebanon's internal affairs and presidential election are unreasonable and stupid.
"They accuse Iran of meddling in choosing Lebanon's president but we should say that Iran is a big regional power and doesn't need to intrude in Lebanon's presidency case," Nasrallah said on Friday night.
"Go and ask the P5+1 countries and see if Iran has raised the issue of Lebanon even once during the negotiations," he added.
Full report at: en.farsnews.com/newstext.aspx?nn=13941110001338
-----------
Syrian Army Winning Battle against Militants in Lattakia Regardless of Turkish Artillery Shelling
Sun Jan 31 2016
TEHRAN (FNA)- The Syrian Army and its popular allies are making a rapid march on terrorists' positions at Lattakia province's border with Turkey, battlefield source said, adding that even the Turkish Army's artillery shelling of Syrian government forces has failed to slow them down.
"The Turkish army' artillery units opened fire at the Syrian government forces this morning to prevent their rapid advance against the militant groups in the Northern part of the coastal province of Lattakia near the border with Turkey," the sources said.
"The Syrian army, the National Defense Forces (NDF) and the Iraqi pro-Syrian popular forces operating in the mountainous regions of Lattakia province are only a few hundred meters away from the Turkish border now," the sources added.
Full report at: en.farsnews.com/newstext.aspx?nn=13941110001395
-----------
North America
Barack Obama To Visit US Mosque To Plead For Tolerance
Reuters | Jan 31, 2016
WASHINGTON: President Barack Obama will make his first visit as President to a US mosque next week in a defense of religious freedom, the White House said, following a rise in anti-Muslim rhetoric in the United States.
Obama will visit on Wednesday the Islamic Society of Baltimore mosque, where he will hold a round-table with the community and deliver remarks, a White House official said on Saturday.
Full report at: timesofindia.indiatimes.com/world/us/Barack-Obama-to-visit-US-mosque-to-plead-for-tolerance/articleshow/50793405.cms
-----------
US Admits Anti-ISIL Airstrikes Killed Civilians in Syria, Iraq
Jan 31, 2016
TEHRAN (FNA)- US Central Command (CENTCOM) has confirmed that four airstrikes in Syria and Iraq last year "likely" resulted in five dead and eight injured civilians. However, the official figures fall far short of claims made by independent observers.
According to CENTCOM, a "preponderance of evidence" suggests that civilian casualties occurred in four separate airstrikes aimed at Islamic State of Iraq and the Levant (ISIL) targets in Iraq and Syria between July 27 and October 15 of last year, RT reported.
"In all of the cases released today, assessments determined that although the strikes complied with the law of armed conflict and all appropriate precautions were taken, civilian casualties unfortunately did occur," CENTCOM said in a statement. "We deeply regret the unintentional loss of life and injuries resulting from those strikes and express our deepest sympathies to the victims' families and those affected."
Full report at: en.farsnews.com/newstext.aspx?nn=13941110001464
-----------
UN-hosted Syria peace talks get off to shaky start
AP | Jan 30, 2016
GENEVA: Peace talks aimed at ending Syria's five-year civil war got off to a shaky and chaotic start on Friday, with the main opposition group at first boycotting the session, then later agreeing to meet with UN officials - while still insisting it would not negotiate.
That small commitment by the group known as the Higher Negotiating Committee came just minutes before UN special envoy Staffan de Mistura met with a delegation representing the government of President Bashar Assad.
The developments gave a glimmer of hope that peace efforts in Syria might actually get off the ground for the first time since two earlier rounds of negotiations collapsed in 2014.
The conflict has killed at least 250,000 people, forced millions to flee the country, and given an opening to the Islamic State group to capture territory in Syria and Iraq. It has drawn in US and Russia, as well as regional powers such as Turkey, Saudi Arabia and Iran.
The HNC, a Saudi-backed bloc, had previously said it would not participate in the UN-sponsored talks without an end to the bombardment of civilians by Russian and Syrian forces, a lifting of blockades in rebel-held areas and the release of detainees.
Full report at: timesofindia.indiatimes.com/world/middle-east/UN-hosted-Syria-peace-talks-get-off-to-shaky-start/articleshow/50785791.cms
-----------
Africa
Now Britain plans to hit ISIS in Libya as secret team flies in to draw up list of targets for bombing raids
31 Jan 2016
Britain is planning aerial bombings against Islamic State militants controlling parts of war-torn Libya, according to a military source.
A team of six RAF officers and MI6 operatives flew to an airbase near the eastern Libyan city of Tobruk, which is under control by internationally recognised militia forces.
Diplomats from the Foreign and Commonwealth Office and US and French military personnel also took part to the gathering, the Sunday Times reports.
A team of six RAF officers and MI6 operatives flew to an airbase near the eastern Libyan city of Tobruk to plan airtstrikes against ISIS, according to reports
The mission participants are working together to draw up a list of possible targets for future British and coalition airstrikes
Full report at: dailymail.co.uk/news/article-3424936/Now-Britain-plans-hit-ISIS-Libya-secret-team-flies-draw-list-targets-bombing-raids.html
-----------
Generals fear Benghazi 2 in Libya
January 31, 2016
WASHINGTON – As Washington prepares to take "decisive military action" in Libya against the alarming growth of ISIS, retired generals have told G2 Bulletin they are concerned that the United States may go it alone, according to a new report in Joseph Farah's G2 Bulletin.
They ask which allies, if any, will join a coalition and attempt to work with a Libyan government that barely exists.
At a news conference last week, Joint Chiefs of Staff Chairman Marine Gen. Joseph F. Dunford Jr. said the U.S. is "looking to take decisive military action" against ISIS in Libya and that a decision would be coming "in weeks" but "not hours."
"It's fair to say that we're looking to take decisive military action against ISIS in conjunction with the political process" in Libya, Dunford said. "The president has made clear that we have the authority to use military force."
ISIS is thought to have more than 3,000 fighters, with more flowing into Libya from Syria and Iraq, where the U.S., Russia and other countries have been carrying out intense airstrikes against the jihadist fighters.
Another 'trillion-dollar failure'?
Full report at: wnd.com/2016/01/generals-fear-benghazi-2-in-libya/
-----------
Pakistan
Two SSP men sentenced to death in sectarian killing case
January 31st, 2016
KARACHI: A sessions court on Saturday sentenced two men to death in a sectarian killing case.
Maulvi Inayatullah and Muhammad Zakaria, said to be associated with the banned Sipah-i-Sahaba Pakistan, were found guilty of killing Syed Ameer Hussain Shah Shirazi in a Shah Latif Town locality in January 2010.
Malir Additional District and Sessions Judge Shafi Mohammad Pirzada read out the conviction order after recording evidence of witnesses and final arguments from both sides.
Full report at: dawn.com/news/1236402/two-ssp-men-sentenced-to-death-in-sectarian-killing-case
-----------
Sharif admits Pathankot hit talks, pledges to uproot terror
Indrani Bagchi & Omer Farooq Khan | TNN | Jan 31, 2016
NEW DELHI/ISLAMABAD: The growing silence over the foreign secretary-level talks between India and Pakistan is directly related to lack of visible action by Pakistan against the Jaish-e-Muhammed terror group, which was responsible for the attack on the Pathankot airbase on January 2.
On Saturday, Pakistani PM Nawaz Sharif said talks with India were going in the "right direction" but had been adversely affected by the attack. Pakistan will not allow terrorists to use its soil against any other country, he told reporters in Islamabad.
Sharif promised that Pakistan would soon complete the investigations "to uncover if our soil was used in the attack". He has formed a committee comprising top intelligence, military and government officers to probe Indian allegations but its findings have so far not been shared with the media.
Sharif added that terrorists now carried out isolated acts to make their presence felt but "these will also be eliminated under an effective strategy".
Full report at: timesofindia.indiatimes.com/world/pakistan/Sharif-admits-Pathankot-hit-talks-pledges-to-uproot-terror/articleshow/50790078.cms
-----------
Pak, Afghan intelligence agencies to hold talks
January 31st, 2016
ISLAMABAD: Intelligence agencies of Pakistan and Afghanistan will hold rare talks aimed at bridging their trust chasm on Feb 4, a senior official disclosed on Saturday.
The chief of Afghanistan's National Directorate of Security (NDS), Masoud Andarabi, will come to Islamabad for a meeting with the Director General of the Inter Services Intelligence (ISI), Lt Gen Rizwan Akhtar. The visit takes place as the two countries resume their cooperation for getting the Afghan reconciliation process back on track after a suspension of several months.
The bilateral intelligence dialogue is being facilitated by the United States, while China will attend as an observer. Intelligence officials from the US and China will be visiting Islamabad for the meeting.
The four countries are also part of a Quadrilateral Framework on the Afghan reconciliation, but this initiative is separate from that endeavour. The intelligence dialogue, the official emphasised, was not linked to the reconciliation effort but could contribute to improving the prospects of that initiative.
Full report at: dawn.com/news/1236531/pak-afghan-intelligence-agencies-to-hold-talks
-----------
Pak varsity attack probe calls for removal of VC
ANI | Jan 30, 2016
PESHAWAR: A committee set up by Khyber Pakhtunkhwa Government in Pakistan to probe the Bacha Khan University attack has called for the removal of its vice chancellor Fazal Rahim and security in-charge Ashfaq Ahmed.
Dawn reported that the duo was held responsible for the security lapses and management.
The committee said the BKU administration was unable to maintain security standards despite the fact that the Governor/Chancellor had issued specific instructions to all vice chancellors in the aftermath of the Army Public School attack.
The committee reportedly stated that the BKU security administration did not have the training to handle situations like one of a terrorist assault and standard operating procedures (SOPs) for both routine and terrorist attacks were absent.
Committee findings also cited about the ineffective CCTV cameras and lack of coordination among the staff.
timesofindia.indiatimes.com/world/pakistan/Pak-varsity-attack-probe-calls-for-removal-of-VC/articleshow/50785789.cms
-----------
Afghan army delegation meets Pakistan's corps commander
January 31st, 2016
PESHAWAR: An eight-member delegation of Afghan National Army headed by Corps Com-mander Lt Gen Mohammad Sharif Yaftali called on Commander of 11th Corps Lt Gen Hidayatur Rehman here on Saturday, the Inter Services Public Relations said in a statement.
The two sides discussed matters of mutual interest and security arrangements at the Pak-Afghan border. They agreed on better coordination and enhancing security measures on both sides.
Earlier, the delegates laid floral wreath at the Shuhada monument and appreciated sacrifices of Pakistan Army in the fight against terrorism.
The Afghan delegation's visit is the follow-up of Army Chief Gen Raheel Sharif's trip to Afghanistan during which it was decided that corps commanders from both sides would hold meetings for better border management, the statement said.
dawn.com/news/1236540/afghan-army-delegation-meets-corps-commander
-----------
Rangers to stay in Karachi till peace returns: PM
January 31st, 2016
LAHORE: Prime Minister Nawaz Sharif declared on Saturday that the Rangers would stay in Karachi until complete restoration of peace.
"The city has seen an improvement in law and order since the operation against terrorists was launched," he said while speaking to reporters outside the residence of Mian Amer Mahmood, a former Lahore Nazim and chairman of the Dunya Media Group. The prime minister offered condolences to Mr Mahmood over the death of his father Mian Zahoorul Haq.
He also visited the home of former MPA Mian Latif to offer condolences over the death of his father Mian Abdul Latif.
Sharif concedes there is a need to expedite execution of some NAP provisions
Mr Sharif said the ongoing Operation Zarb-i-Azb in North Waziristan was yielding positive results, too. "It has drastically brought down the number of terrorist attacks across the country."
Terrorists were now carrying out isolated acts to make their presence felt, the prime minister added. However, he said, such desperate acts would also be eliminated through an effective strategy.
Full report at: dawn.com/news/1236536/rangers-to-stay-in-karachi-till-peace-returns-pm
-----------
Pakistan, Iran sign deal to secure border for increasing trade
January 31st, 2016
QUETTA: Pakistan and Iran have reiterated their resolve not to allow anyone to use their soil for terrorism against each other and agreed to launch joint efforts to make the border safe for increasing the volume of trade between the two countries.
This was resolved during a three-day meeting of the Pak-Iran Joint Border Commission which concluded here on Saturday.
Balochistan Chief Secretary Saifullah Chattah and Deputy Governor of the Iranian province of Sistan-Baluchestan, Ali Asghar Mirshekari, said that during the meeting the two sides inked memorandums of understanding (MoUs) on stopping border crossing by illegal immigrants, strengthening border security, jointly fighting against terrorism, curbing drug trafficking and discouraging illegal trade between them.
Efforts to be made for stopping illegal border crossing, strengthening border security and fighting terrorism
The MoUs were signed by Mr Chattah and the Iranian deputy governor, they said at a press conference.
Full report at: dawn.com/news/1236547/pakistan-iran-sign-deal-to-secure-border-for-increasing-trade
-----------
Govt told to form JIT in 15 days for interrogation of Uzair Baloch
January 31st, 2016
KARACHI: The administrative judge of the antiterrorism courts on Saturday directed the provincial authorities to constitute a joint investigation team to grill banned People Amn Committee chief Uzair Jan Baloch after it was informed about his three-month preventive detention by Rangers.
Rangers personnel along with their legal team produced Uzair Baloch — an absconder in around 45 cases pending before the ATCs — in the chamber of the administrative judge, Justice Syed Mohammad Farooq Shah of Sindh High Court, amid strict security.
The Rangers submitted an application along with a jail warrant and detention order in court stating that in exercise of powers conferred by the federal and provincial governments, they arrested Uzair Ali alias Sardar Uzair Jan Baloch within the jurisdiction of the Chakiwara police station and detained him upon receiving credible information about his involvement in extortion, targeted killing and kidnapping punishable under the Anti-Terrorism Act, 1997.
According to official documents submitted in court, the sector commander, Abdullah Shah Ghazi Rangers, has placed the suspect under preventive detention for three months under Section 11-EEEE (1) of the ATA for the purpose of inquiry.
The detention order said that it was in the public interest that an inquiry be conducted against the detainee and during the questioning he will be kept at the Mitha Ram Hostel, which has been notified as a sub-jail.
Full report at: dawn.com/news/1236400/govt-told-to-form-jit-in-15-days-for-interrogation-of-uzair-baloch
-----------
Mideast
37 migrants drown off Turkey; children's bodies strewn over beach
January 31st, 2016
AYVACIK (Turkey): The Turkish coastguard recovered on Saturday the bodies of women and children washed up on a beach after yet another migrant boat sank while trying to reach Europe, leaving at least 37 dead.
In harrowing scenes reminiscent of the death of Aylan Kurdi, the Syrian toddler photographed lying dead on a Turkish beach in September, the body of a small child could be seen among those strewn over a beach near the town of Ayvacik in north-western Canakkale province, a photographer at the scene said.
A picture showed the dead child dressed in dark trousers and a blue top, face covered with a small hat. In another image, a Turkish gendarme is seen lowering the body of an older child into a body bag.
Full report at: dawn.com/news/1236529/37-migrants-drown-off-turkey-childrens-bodies-strewn-over-beach
-----------
Recapture of Sheikh Meskeen Opens New Front against Israel
Sun Jan 31 2016
TEHRAN (FNA)- Informed military sources underlined that the Syrian army's recent victory in the strategic city of Sheikh Meskeen in the Northern part of Dara'a province has opened a new front against Israel.
Last Tuesday, the Syrian army alongside the popular forces, backed up by the Russian and Syrian fighter jets, drove the militant groups back from the entire city of Sheikh Meskeen after weeks of clashes.
"The seizing back of Sheikh Meskeen can result in the ultimate defeat of the foreign terrorists in Southern Damascus and the Resistance force's domination over the Southern borders of Syria that will, in turn, pave the way for opening a new front against the Zionist regime," informed military sources said today.
The sources reiterated that seizure of Sheikh Meskeen will help cut off the terrorists' supply lines on several directions and enhance security in surrounding areas of the International Damascus-Dara'a Highway.
Full report at: en.farsnews.com/newstext.aspx?nn=13941110001448
-----------
Kurdish groups staking claim to Sinjar after recapture from ISIL
January 30, 2016
Sinjar, a town in northern Iraq officially governed by the Kurdistan Regional Government (KRG) and home to the Turkmen and Yazidi people, is now a ghost town which Kurds from Iraq's Kurdistan Democratic Party (KDP) and the Kurdistan Workers' Party (PKK) have tried to stake a claim to since it was recaptured from the Islamic State in Iraq and the Levant (ISIL) in December 2015.
Sinjar (Şingal or Şengal in Kurdish) came to public attention when tragic photos and videos of thousands of Yazidi people on Mount Sinjar circulated the world's media following ISIL's capture of the region on Aug. 3, 2014.
Sunday's Zaman went to Sinjar and observed the tense situation in the city, which is on tenterhooks as both the KDP and PKK lay claim to it due to the strategic value of the city for both parties. The armed forces of the two Kurdish groups helped recapture the city from ISIL with the support of US airstrikes.
Peshmerga forces of the KDP have an official status as the region is ruled by KRG; however, armed pro-PKK Şengal Resistance Units (YBŞ) have unofficial status among the people of Sinjar as the PKK was the first armed group to open a corridor for the Yazidis in Syria's Rojava region to enable them to escape from ISIL in August 2014.
PKK and peshmerga avoid exacerbating tension between each other in Sinjar
There are tens of checkpoints in Sinjar where people and journalists entering the city are questioned. However, armed YBŞ and peshmerga forces don't carry out the same checks on each other as tension between them already runs high.
Full report at: todayszaman.com/diplomacy_kurdish-groups-staking-claim-to-sinjar-after-recapture-from-isil_410901.html
-----------
Turkey issues warning to Russia after new airspace violation
January 31st, 2016
Russian SU-24M jet fighter armed with laser guided bombs takes off from a runaway at Hmeimim airbase in Syria in this file photo. (Photo: AP)
January 30, 2016
NATO-member Turkey said another Russian warplane violated its airspace on Friday despite several warnings - two months after Turkey's military shot down a Russian jet for crossing over its territory. The past incident seriously strained the previously close ties between the two countries, damaging a strong economic partnership.
"We regard this infringement which came despite all our warnings in Russian and in English as an effort by Russia to escalate the crisis in the region," Erdoğan told reporters before departing on a Latin American tour. "If Russia continues the violations of Turkey's sovereign rights, it will be forced to endure the consequences."
He did not specify what those consequences might be.
Russian Defense Ministry spokesman, Maj. Gen. Igor Konashenkov, denied that there was any violation of Turkey's airspace and called the Turkish statements "unsubstantiated propaganda." His statement was carried by state news agencies Tass and RIA Novosti.
Erdoğan said he attempted to reach Russian President Vladimir Putin to discuss the issue but that the Russian leader did not respond.
Full report at: todayszaman.com/diplomacy_turkey-issues-warning-to-russia-after-new-airspace-violation_411033.html
-----------
New Twist of Friendship: Russian Exporters Set Eyes on Iran's Market
January 31st, 2016
TEHRAN (FNA)- Hit by shrinking domestic demand for their products, many Russian companies are now looking towards Iran as a new market to absorb a wide range of Russian-made goods, from tractors and railway cars to planes and nuclear reactors.
During a recent trade and industry expo in Tehran, the Russian delegation, led by Trade and Industry Minister Denis Manturov discussed with their Iranian hosts areas of mutually-beneficial cooperation, Sputnik reported.
One preliminary result of those discussions was an agreement to sell 250 million euros' worth of Russian-made rail freight cars to the Islamic Republic.
The sides also discussed the sale of 117 passenger cars for the underground rail system in the city of Qom. Russia is now in talks on the delivery of 1.2 billion euros' worth of electric engines for the Garmsar-Inche Burun railway.
Full report at: en.farsnews.com/newstext.aspx?nn=13941110001506
-----------
'Democracy's Challenge with Turkey' debated at Abant Platform
January 30, 2016
A large group of Turkey's intellectuals gathered on Saturday in Bolu province for the 34th Abant Platform meetings to debate the democracy problems of the country amid criticism of increasing authoritarianism and conflict in the country.
The participants, most of whom are veteran intellectuals from all walks of life, agreed on the unsolved challenges of Turkish democracy, including the Kurdish issue, the debate over an executive presidency and "Turkish style" constitution as well as heightened level of arbitrary rule.
The meeting, whose theme is "Democracy's Challenge with Turkey," is focusing on both Turkey's recent past and the current issues of today.
Reha Çamuroğlu, moderator of one of the panels, stated that Turkey goes through an ¨extraordinary period¨ which is not likely to end in an ordinary way in his own terms. Writer and scholar Murat Belge defined the current period in Turkey ¨frightening¨ while bringing example from President Recep Tayyip Erdoğan's instruction to local governors not to pay attention to official regulations.
Full report at: todayszaman.com/national_democracys-challenge-with-turkey-debated-at-abant-platform_411032.html
-----------
Turkey's opposition to PYD reveals inconsistency in foreign policy
January 30, 2016
Turkey's opposition against the participation of the Democratic Union Party (PYD) in the Syrian peace talks appear to result more from the Syrian Kurds' unwillingness to bow to Turkish demands than the group's close link with terrorism, revealing an inconsistency in Turkish foreign policy.
In sharp contrast Turkish officials have several times met with PYD leader Saleh Muslim in Turkey in the past couple of years.
"The government in essence has adopted such a stance because the PYD does not comply with its wishes," Faruk Loğoğlu, a former senior diplomat, told Sunday's Zaman.
Muslim was most recently secretly hosted by Turkish authorities in Ankara in June of last year, Abdülkadir Selvi, a columnist for the pro-government Yeni Şafak daily, said in his column on July 7.
Full report at: todayszaman.com/national_turkeys-opposition-to-pyd-reveals-inconsistency-in-foreign-policy_410962.html
-----------
South Asia
Taliban judge among 14 detained in Takhar
By Khaama Press - Sat Jan 30 2016
The National Directorate of Security (NDS) – Afghanistan's intelligence agency has arrested a judge of Taliban militants with 13 of his men in northeastern Takhar province.
A statement released by NDS on Saturday states that Mawlawi Najib-ur-Rahman alias Mudasir and Khair Andish was busy in destructive activities and collecting almsgiving in Darqad District.
One of the other 13 militants arrested is the so-called municipal of Taliban for the same district.
He is identified as Mullah Shukrullah alias Mawlawi Shakur.
Different types of heavy and light weapons and ammunition were recovered from the possession of the militants.
Taliban ran over Darqad District about four months before. It was in control of the militants for about three months but some 20 days before government forces drove them out of the district.
khaama.com/taliban-judge-among-14-detained-in-takhar-4528
-----------
Iran has 1000s of Afghans fighting in Syria in support of Bashar al-Assad
By Khaama Press - Sat Jan 30 2016
Iran has sent thousands of Shia Afghans to Syria to fight for support of the regime of Bashar al-Assad.
According to a report published by the Voice of America (VOA), these Afghans are the illegal immigrants of Iran. The report citing western media shows the number of these fighters between 10,000 to 12,000.
It also cites Human Rights Watch (HRW) as saying that these Afghans have been sent to Syria for fighting against their willing. Meanwhile, it mentions Iran as saying that the Afghan citizens have willingly accepted to fight.
The report adds that Iran has promised citizenship to these fighters and improving the living conditions of their families.
Full report at: khaama.com/iran-has-1000s-of-afghans-fighting-in-syria-in-support-of-bashar-al-asad-4528
-----------
Daesh suspected for killing Nangarhar-based journalist
By Khaama Press - Sun Jan 31 2016
The terrorist group of the Islamic State (IS) which is locally known by its Arabic name Daesh might be behind the killing of Haji Mohammad Zubair Khaksar, a local journalist in eastern Nangarhar province.
According to NAI, an organization that supports open media in Afghanistan, a colleague of Khaksar has said that he was previously threatened by Daesh.
NAI while strongly condemning the attack says that killing of defenseless people is against the principals of humanity and religion.
The media support organization has urged government to thoroughly follow the case and share its results with media community.
Full report at: khaama.com/daesh-suspected-for-killing-nangarhar-based-journalist-4534
-----------
Afghanistan, Pakistan agree on enhancing security measures along border
By Zabihullah Moosakhail - Sun Jan 31 2016
Afghanistan and Pakistan have agreed on enhancing security measures along the joint border to counter terrorist activities.
The decision was made during a meeting of the visiting Afghan National Army delegation and Pakistan's top military commanders in Islamabad.
"Eight members delegation of Afghan National Army headed by Corps Commander Lieutenant General Mohammad Sharif Yaftali visited Corps Headquarters and called on Corps Commander Lieutenant General Hidayat ur Rehman," a statement released by Inter Services Public Relations (ISPR) on Saturday states.
Full report at: khaama.com/afghanistan-pakistan-agree-to-enhance-security-measures-along-border-4531
-----------
Police Chief of Kunar's Sarkanu District killed in landmine explosion
By Khaama Press - Sun Jan 31 2016
Police vehicle damaged in explosionThe police chief of Sarkanu District of eastern Kunar province has been killed in a landmine explosion.
Brigadier General Abdul Habib Sayedkhil, police chief of Kunar province said the incident took place on Saturday.
He said police chief of Sarkanu District was on patrol when his vehicle struck a landmine in Tur Ghar area.
Reports suggest that at least three other security men were also killed and as many wounded in the blast.
No group has claimed responsibility for the explosion but Taliban militants have carried out similar attack in Kunar province in the past.
khaama.com/police-chief-of-kunars-sarkanu-district-killed-in-landmine-explosion-4530
-----------
Security cooperation on agenda during CEO Abdullah 5-day visit to India
By Khaama Press - Sat Jan 30 2016
The Chief Executive Officer (CEO) Abdullah Abdullah will arrive in India on Sunday on a 5-day visit to discuss issues of bilateral interest, including security cooperation between the two nations, it has been reported.
According to the local media reports, enhanced defense assistance to Afghanistan, including lethal weapons will be part of the security cooperation negotiations between CEO Abdullah and Indian officials.
Full report at: khaama.com/security-cooperation-on-agenda-during-ceo-abdullah-5-day-visit-to-india-0058
URL: https://newageislam.com/islamic-world-news/new-age-islam-news-bureau/man-dubbed--jihadi-jack--urges-britons-to-convert-to-islam-as-he-brands-david-cameron--evil-/d/106177
New Age Islam, Islam Online, Islamic Website, African Muslim News, Arab World News, South Asia News, Indian Muslim News, World Muslim News, Womens in Islam, Islamic Feminism, Arab Women, Womens In Arab, Islamphobia in America, Muslim Women in West, Islam Women and Feminism, Moderate Islam, Moderate Muslims, Progressive Islam, Progressive Muslims, Liberal Islam, Liberal Muslims, Islamic World News