New Age Islam News Bureau
6 May 2017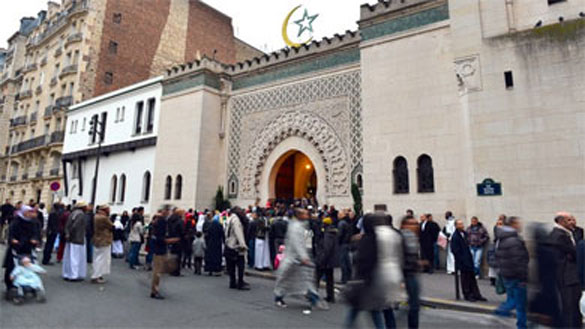 Muslims arrive at the Grand Mosque in Paris. Photo: AFP
-----
• Man Accused of Planning To Bomb New York to Help Islamic State
• Why France's Muslim Voters Are Not All Panicking About a Le Pen Victory
• Video Surfaces Showing Hizbul Terrorists Torturing 'Informers', Goes Viral
• Pakistan Rejects Bill Seeking to Raise Minimum Age for Marriage for Girls, Terms it 'Un-Islamic'
• Anti-Ahok Protesters Are 'Legally Blind': Expert
North America
• Man Accused of Planning To Bomb New York to Help Islamic State
• Trump's Saudi Visit Shows He Wants Strong Ties with Muslims
• New US strategy seeks long-term engagement with Afghanistan
• Pentagon to seek thousands more troops for Afghanistan
• Trump counterterrorism strategy urges allies to do more
--------
Europe
• Why France's Muslim Voters Are Not All Panicking About a Le Pen Victory
• Putin's Secret Weapon in Syria: Sunni-Muslim Chechen Forces
• Macron team blasts 'massive hacking attack' on eve of vote
• Germany will not allow Turkish vote on death penalty
• Why many French gays adore Marine Le Pen
• Turkey opens mosque in Russia's Kostroma
--------
India
• Video Surfaces Showing Hizbul Terrorists Torturing 'Informers', Goes Viral
• Muslim Group In UP Bans 'Triple Talaq' At One Go
• Muslim Family Donates Land for Temple in Bihar
• Attacks on India's Minority Muslims by Hindu Vigilantes Mount
• Stop Unauthorised Broadcast of Pak, Saudi Channels, Centre Tells J&K Govt
• Altaf Qureshi, Suspected ISI Agent, Had Been Held During Gujarat Riots
--------
Pakistan
• Pakistan Rejects Bill Seeking to Raise Minimum Age for Marriage for Girls, Terms it 'Un-Islamic'
• 12 Dead, 40 Hurt In Afghan Attack during Census in Quetta
• India has no role in Afghan peace process: Pakistan
• Border firing ends as Afghan military admits mistake
• Two suspected terrorists arrested in Peshawar
--------
Southeast Asia
• Anti-Ahok Protesters Are 'Legally Blind': Expert
• No Assurance Pakatan Win Will Empower Islam, PAS Leader Says
• Religion should incorporate local cultures, not foreign: NU chairman
• Indonesia hard-liners call for jailing of Christian governor
• PAS replaces Mustafa Ali as election director in new line-up
• Malaysian with suspected IS links left Thailand on April 21, say authorities
--------
Arab World
• Some 170 Killed in Fresh Militant Infighting near Syria's Damascus
• No American Troops to Stay In Iraq After Anti-Daesh Fight: Iraqi PM
• US Airstrikes in Raqqa City Leave Tens of Civilians Dead, Wounded Again
• ISIS leader in Egypt tells Muslims to avoid Christian gatherings
• Damascus: Terrorists Retreat from Al-Qaboun, Flee Streets as Army Advances
• ISIL Withdraws from More Key Positions under Syrian Army Attacks in Homs
• Hama: Syrian Army Repels Tahrir Al-Sham's Counter-Offensive
• Syrian Army Wards off ISIL's Massive Assault in Homs
• Homs: New Phase of Militants' Evacuation from Al-Wa'er Starts
• Russia says has stopped bombing proposed Syria safe zones
• Russia: Syria safe zones closed to US coalition jets
• ISIS leader warns Muslims to avoid Christian gatherings in Egypt
--------
Africa
• 47 Killed In Clashes between Chadian Forces, Boko Haram Terrorists
• Kenya: Jumwa, Charo Prepare for Tough Battle for Malindi Post
• US soldier killed, two wounded in fight with Shabaab in Somalia
--------
South Asia
• US Drone Strike Leaves 7 ISIS-K Militants Dead In East Of Afghanistan
• Hekmatyar warmly welcomed in ARG Palace by Afghan government
• Two held in Narail in war crimes case
• Afghan civilians suffer casualties in rocket attack from Pakistan in Nangarhar
• Clash among Afghan and Pakistani forces in Spin Boldak
--------
Mideast
• Unesco Ratifies Jerusalem Resolution Slammed By Israel
• Jordanians Stage Rally In Support Of Palestinian Inmates on Hunger Strike
• Turkish court rejects appeal against Wikipedia ban
• Turkey fires 100 more judges, prosecutors
• Saudi border forces counter Houthi attack near Najran
• Israeli troops injure dozens of Palestinian protesters in West Bank
Compiled by New Age Islam News Bureau
URL: https://www.newageislam.com/islamic-world-news/man-accused-planning-bomb-new/d/111052
--------
Man Accused of Planning To Bomb New York to Help Islamic State
May 6, 2017
A New Jersey man arrested after stabbing the family dog had plans to construct and use a pressure cooker bomb in New York City and, if necessary, become a martyr in support of the Islamic State group, federal prosecutors have said. Gregory Lepsky, 20, of Point Pleasant, was charged with attempting to provide material support to a designated foreign terrorist organisation. Investigators say he had praised the Islamic State group's leader, Abu Bakr al Baghdadi, in online messages. He was arrested in February after investigators said he stabbed and threatened to kill the dog. After police arrived, investigators said Lepsky threatened to kill his mother and told police that he had "pledged his allegiance to 'Allah.'"
While searching the home, officers found a pressure cooker stored behind a roll of bubble wrap in his bedroom closet.
"Lepsky expressed regret for having tried to kill the family dog because, according to him, if he had not done so, the police would not have discovered his plan," FBI agent Tara Jerussi wrote in a complaint filed yesterday.
Investigators said Lepsky told police he stabbed the dog because it was considered "dirty" in his view of Islam. Lepsky was ordered held without bail yesterday and given a court-appointed lawyer. He didn't enter a plea, and his lawyer didn't comment after the brief hearing. If convicted, the charge carries a maximum penalty of up to 20 years in prison and a USD 250,000 fine. Reached by phone, Lepsky's mother, Luda, said that the charges are "not true."
"This is my son, I feel I am going to die," she said. Authorities said a search of Gregory Lepsky's computer and social media yielded evidence Lepsky planned to detonate a bomb and fight on behalf of the Islamic State group. An unidentified family member told investigators that Lepsky began to espouse views and behaviours associates with radicalised Islam in December.
"I linked up with some guy I met on a chat website and he wants me to become Muslim and join ISIS," Lepsky said in message to someone, the FBI reported. "I really wanna go join ISIS."
Law enforcement also said they found a series of instructions on how to build a pressure cooker bomb and a message forwarded by Lepsky from another Islamic State group supporter stating that if a Westerner could not travel to Syria to fight, "he could conduct a terrorist attack in his home country using improvised explosive devices."
A search of his phone also found an image of a flag used by the Islamic State group and a photo of him holding firearms with his finger making a gesture used by Islamic State group members and supporters, investigators said. He said in another Facebook message that his father was a Muslim from Chechnya, but stopped being religious when he moved to America.
"But I want to be different," investigators said he wrote. "I want to be religious and grow up and be a martyr." Point Pleasant is 19 kilometres north of Seaside Park, where a pipe bomb exploded before the start of a charity military run last year.
Ahmad Khan Rahimi, of Elizabeth, faces charges that he set off that bomb and planting two pressure cooker bombs in Manhattan that injured more than 30 people. He was arrested the next morning after a shootout with police in Linden, New Jersey.
http://indianexpress.com/article/world/new-york-man-accused-of-planning-to-bomb-to-help-islamic-state-4642854/
--------
Why France's Muslim voters are not all panicking about a Le Pen victory
5 May 2017
Marine Le Pen, who wants to ban the Islamic headscarf, could still pull off a shock election win but that doesn't mean France's Muslim voters are all panicking over the far-right, National Front candidate taking power.
The name Marine Le Pen is routinely preceded by the words "anti-Islam".
Even though she herself has moved to soften her image with Muslim voters by insisting their religion is indeed "compatible with the French Republic" (much to the disgust of some in her party), it's not hard to see why she has a reputation for being an Islamophobe.
She once described Muslims praying in the streets of French cities in protest over a lack of mosque space to being akin to the Nazi occupation and has regularly taken aim at halal food, the veil, the burkini, and various other aspects of Muslim culture.
The grand mosque in Paris is taking no chances on her, and urged voters last week to vote "massively" for Emmanuel Macron, saying his campaign "promises to be decisive for the future of France and its religious minorities".
But even though Macron is leading in the polls by over 20 points, no one is ruling out a Le Pen victory, and you may think this would have France's Muslim community, believed to number between four and six million, in a panic.
But while there is no doubt concern, there are reasons why France's Muslims are not all frantically preparing for the worst.
1. Because many voters distrust others as much as they do Le Pen
When The Local talked to worshippers at a mosque in north east Paris before the first round of voting, not one singled Le Pen out as being worse than the other candidates.
Amadou, 57, said: "It's true that Marine Le Pen is an Islamophobe, but they all are, so what's the difference? She is the only one who will talk about it openly, while the rest of the candidates are Islamophobes but just keep it inside."
Many Muslims in France feel the country's politicians and political parties across the spectrum all resort to Muslim bashing in order to try and win votes, leaving many disinterested in politics altogether.
Henni-Moulai, the founder of the website Melting Book, which aims to amplify minority voices in the media, believes Macron will fall into the same trap as other politicians at some point.
"Muslim bashing is inescapable, especially if you want to reach the Elysée palace," she told Al Jazeera news site.
2. Because Muslims, like many French voters, just feel disenfranchised altogether
As Mohammed Moussaoui, the president of the Union of France's Mosques, told The Local, Muslim voters are first and foremost French citizens like other voters, which in 2017 means the same anger, apathy and indifference towards politics that has afflicted other sections of the population has also seeped into the Muslim community.
In 2012 some 86 percent of France's Muslim population voted for François Hollande and like other Hollande voters, particularly the working classes, many feel let down over the lack of real change.
So even the threat of Le Pen is not enough to motivate them to vote, and with France set for record abstention rates, its clear the country's Muslims are not the only disenchanted ones.
At the mosque in the 19th arrondissement of Paris, a middle-aged man named Ismail, originally from Algeria, told The Local he would not be voting.
"Many of the people here at the mosque aren't interested in politics. People here feel mistreated, they think the politicians are all hypocrites, why would they vote?" he said.
3. Because they know there are safeguards even if she wins
Even if Le Pen does pull off the type of shock populist win that led to Brexit and Trump, Muslims are confident that France's constitution and its political institutions will hold her back from doing exactly what she wants.
For a start Le Pen's party, only having two MPs currently, is unlikely to gain a majority in the parliamentary elections in June and without a majority in parliament she will find it difficult passing any of the reforms she plans, including banning Muslim women from wearing the headscarf in public places.
"Muslims, like other French citizens, will have confidence in the country's institutions that will put limits on her power," Mohammed Moussaoui from the Union of France's Mosques told The Local.
"There is the constitutional council which makes sure all laws are in line with the French constitution," he said.
"It will be hard for her as president. She will need the ability to unite people, which will be difficult for her," he added, pointing to the fact that other parties are unlikely to enter into coalition with Le Pen.
His view was backed by an Algerian-born Muslim named Ismael, who told The Local:
"Even if she does win it doesn't matter. I'm not scared of her. Why would I be scared of her? It's not as if she will have the power to change laws and make life difficult for immigrants or Muslims. That's why they have the constitution and the National Assembly."
4. Because Le Pen has successfully softened her image… even with Muslims
Le Pen has made big efforts to soften the image of her party – which under her father Jean-Marie (see photo below) was seen as a bastion of racists and colonial settlers returning from Algeria as well as apologists for the wartime Vichy regime's collaboration with Nazi Germany.
Recently she has been at pains to point out that she is not anti-Islam but anti-Islamic fundamentalism and extremists.
As she tries to widen her appeal and make herself more electable she has tried to appease fears among Muslims by stressing she feels Islam is perfectly compatible with the French Republic, a quote that did not sit well with many of her party members.
Rachid, an Algerian-born man in his thirties, told The Local: "I'm a Muslim but I'm not against Le Pen. I honestly don't think she is actually racist - she is just against anyone who is causing problems. I don't think it matters if they're Muslims, refugees, from the Roma community, the yobs….that's why a lot of people in France are uniting with her."
5. Because some Muslim voters will actually back Le Pen
Mohammed Moussaoui said the Muslim community, like the rest of France, is made of up of voters of all political persuasions, even those who will vote for Marine Le Pen.
According to Le Point magazine some 4 percent of Muslim voters opted for Le Pen in the first round of the 2012 election, but that number is expected to have jumped this time round as the taboo around the party has fallen.
These voters often find extremist Islam and communalism as distasteful as Le Pen does and her talk of cracking down on crime and battling globalisation appeals to voters in poor, peripheral areas, Muslims included.
Some Muslim voters may be enticed to Le Pen over her desire to scrap the gay marriage bill, which many protested against in 2013.
In the 2015 regional elections the National Front made a special effort to woo Muslim voters in the poor Paris suburbs.
"We'll tell them they're as French as the others," was the message and observers say the National Front allows those Muslims who feel French first and foremost to express their identity.
6. Because many still believe she won't win
But while no analyst will rule out a Le Pen win, there are reasons why it's still highly unlikely to happen.
... But let's not pretend no one is worried.
Despite all this it would be wrong to say the Muslim community were not at all concerned about the thought of Marine Le Pen taking power.
Slimane Nadour, head of communication at Paris's Grand Mosque said the community was concerned by the election and the prospect of a Le Pen victory.
"Today, we are a little afraid, of course, of having a National Front with Marine Le Pen that's very strong."
"There's a push towards extreme right and xenophobic parties across Europe, but especially in France and obviously, French Muslims are worried."
"Le Pen says Nous sommes chez nous (this is our home), but this is our home too. And we want to feel at home, and be on good terms with everybody no matter their religion or beliefs."
The Grand Mosque is ready to take an unprecedented step if Marine Le Pen, as expected, makes it through to the second round run-off vote.
"If in the second round there's a risk of the Front National winning, we may call on French Muslims to vote against Le Pen."
"Calling on people to vote is very rare, the Grande Mosquée has never called on people to vote for a candidate."
"People are scared at the moment, in this climate of xenophobia and Islamophobia."
https://www.thelocal.fr/20170505/why-frances-muslim-voters-are-not-as-scared-of-le-pen-as-you-might-think
--------
Video Surfaces Showing Hizbul Terrorists Torturing 'Informers', Goes Viral
M Saleem Pandit
May 6, 2017
SRINAGAR: A video showing two youths being tortured and their hair being shaved by terrorists went viral across Kashmir valley on Friday. The two youths were tortured and humiliated by Hizbul Mujahedeen terrorists after being branded as police informers in the video.
The video has sent a fresh wave of terror across Kashmir Valley among young boys seeking police jobs. The two youths, according to the video, acted as police informers to get jobs as SPOs.
The seven-minute video, which surfaced on social networking sites despite a government ban, starts with the Hizb's name and insignia scrolling on the screen. It then shows a dark room in which militants are shaving the head of a man pleading with them with folded hands for mercy.
"Breaking news: Asalam u Alaikum: ye wo gaddar hai jo police mai SPO bharti hone ke liye Mujahideen ki Khabar Hindustani kutton ko detey hain (They are those traitors who provide information about militants to Indian dogs for getting jobs in the police as SPOs)," a ticker running below the video reads.
The video also shows the militants thrashing another man with sticks and forcing his head into a bucket of water. Of late, the militants have been releasing videos of their activities to create fear among people so that they don't cooperate with the security agencies. Most of these videos, according to police, have been shot in south Kashmir.
http://timesofindia.indiatimes.com/india/video-surfaces-showing-hizbul-terrorists-torturing-informers-goes-viral/articleshow/58542437.cms
--------
Pakistan rejects bill seeking to raise minimum age for marriage for girls, terms it 'un-Islamic'
May, 05 2017
Islamabad: Pakistani lawmakers have unanimously rejected a bill aimed at increasing the minimum age for marriage of a girl from 16 to 18 years, terming the proposed amendment as "un-Islamic"
The National Assembly's Standing Committee on Religious Affairs met on Thursday, and discussed the The Child Marriage Restraint (Amendment) Bill, 2016 moved by lawmakers Kishwer Zehra.
The proposed amendment to increase the age was not only opposed by the Muslim lawmakers but also Hindu and Christian parliamentarians, The Express Tribune reported. The committee called the proposed amendment "un-Islamic". The committee members also discussed 'The National Commission for Minority Rights Act, 2015' at the request of lawmaker Lal Chand Malhi.
Christian lawmaker Tariq Christopher Qaiser recommended the number of commission members be increased to give representation to all the minorities. He also called for allowing the minorities to directly elect their representatives.
The committee also constituted a sub-committee to further discuss it.
The Pakistan Senate unanimously passed the landmark The Hindu Marriage Bill in 2017 bill to regulate marriages of minority Hindus in February.
The bill had already been approved by the lower house or the National Assembly in September 2015, and only needs the signature of the president, a mere formality, to become law.
The bill will help Hindu women get documentary proof of their marriage.
It will be the first personal law for Pakistani Hindus, applicable in Punjab, Balochistan and Khyber Pakhtunkhwa provinces. The Sindh province has already formulated its own Hindu Marriage Law.
http://www.firstpost.com/world/pakistan-rejects-bill-seeking-to-raise-minimum-age-for-marriage-for-girls-terms-it-un-islamic-3425656.html
--------
Anti-Ahok Protesters Are 'Legally Blind': Expert
May 6, 2017
Jakarta. Muslim protesters gathered at the historical Istiqlal Mosque in Central Jakarta on Friday (05/05) and marched to the nearby Supreme Court building in a mass rally they dubbed the "505 Action" — the number refers to today's date, May 5 — to demand a heavy sentence for Jakarta Governor Basuki "Ahok" Tjahaja Purnama whose long running blasphemy trial is set to conclude next Tuesday.
Prosecutors on April 20 downgraded the accusations against Ahok from alleged blasphemy to publicly expressing feelings of hostility, hatred or contempt against one or more population groups, making some of his political opponents worried that he might get away scot-free.
Friday's demonstration was organized by a group called the Guardians of the Indonesian Ulema Council's Fatwas (GNPF-MUI), which also staged other anti-Ahok rallies in the capital in the last few months.
During today's rally, Bachtiar Nasir, the head of the GNPF-MUI, said his group will accept whatever verdict the court hands down on Tuesday.
"We will accept whatever the judges decide," Bachtiar said, according to state news agency Antara.
Some protesters during the 505 rally pushed through barbed wired fences in front of the Supreme Court to voice their demand for a heavier sentence for the outgoing Jakarta governor.
Airlangga Pribadi Kusman, a lecturer in politics at Airlangga University in Surabaya, said the court is an independent institution and should not be swayed by public opinion.
"The judges should remain fair and objective. They should not let themselves be affected by political pressure, including these massive protests," Airlangga told the Jakarta Globe on Friday.
If anti-Ahok rallies end up influencing the verdict in Ahok's case, that would set a bad precedent for the rule of law in Indonesia, Airlangga said.
Airlangga also said that most of the anti-Ahok protesters did not understand the finer points of the legal arguments in Ahok's case. According to the lecturer, Ahok never intended to insult Islam, but was only warning residents in Jakarta's Thousand Islands district not to trust politicians who manipulate a Quranic verse to vilify him.
Two days ago, prominent lawyer Todung Mulya Lubis and 25 of his colleagues sent a letter to the North Jakarta District court, encouraging the judges not to bow down to intimidation and pressure.
In the letter, Todung said the blasphemy charges against Ahok were never proven in court and state prosecutors should stick to their downgraded sentence demand, which dropped the accusation of blasphemy.
Todung and his colleagues had collected more than 60,000 signatures for a petition to free Ahok at the website www.ahoktidakmenistaagama.com — the name of the website literally means "Ahok has not committed blasphemy" — and more than 10,000 signatures for the same petition hosted at www.change.org.
http://jakartaglobe.id/news/505-rally-protester-have-no-understandings-in-ahoks-verdict/
--------
North America
Trump's Saudi visit shows he wants strong ties with Muslims
May 6, 2017
Donald Trump's decision to make Saudi Arabia the first stop for his maiden overseas trip shows the US President's strong desire to build robust ties with the Islamic world and work with Muslim leaders to defeat radical terrorists, a top Trump supporter has said.
Sajid Tarar, a Pakistani-American Trump supporter, said Trump's decision to visit Saudi Arabia reflected that he was not against Islam, but terrorists.
"It is a huge thing that he's starting his first trip from Saudi Arabia. It reflects his will (to improve relationship with the Muslim world)," Tarar, founder of the Muslim Americans for Trump, told PTI.
Tarar was one of the few selected religious leaders invited by the White House on Thursday for the President's National Prayers Day address in the Rose Garden wherein he announced to make Saudi Arabia his first destination of his maiden overseas trip.
"It is a very positive sign that he's starting from Saudi Arabia, then going to Israel. So, this reflects his will and his determination to fight ISIS, to change the Middle East," Tarar said, noting that during his campaign, Trump repeatedly said that he wanted to learn where the hatred is coming from.
Tarar rued that leaders of the Muslim world were not playing a very positive role in this fight against radical Islamic terrorism. "No, so far they are not. But at the same time, what is going on in international arena right now is the issue with Yemen; is issue with Iran," he said, adding that they are the two continuous threats to Saudi Arabia.
Tarar, who was one of the first and among the few Muslim Americans to have supported Trump during his election campaign, asserted that the US President's decision to visit Saudi Arabia reflected that he was not racist against Islam.
"He's against terrorists. During his campaign, he was continuously telling that he's not against the religion. He's against the terrorism. He's against the terrorists, which in last eight years, the previous administration was hesitant to accept that extremists are a threat. They were ignoring it," he alleged.
"They (the previous administration) were pushing under the rug," Tarar alleged. Trump will visit Israel, the Vatican and Saudi Arabia in his first foreign trip as president this month. He will end his trip in Brussels with a visit to NATO on May 25, followed by a meeting at the G7 summit in Sicily.
http://indianexpress.com/article/world/trumps-saudi-visit-shows-he-wants-strong-ties-with-muslims-4643028/
--------
New US strategy seeks long-term engagement with Afghanistan
ANWAR IQBAL
May 6, 2017
WASHINGTON: The US Department of Defence has informed Congress that it has prepared a new strategy for Afghanistan, which includes a long-term engagement with the country and possible deployment of additional American troops.
"Afghanistan is a very important partner for the United States in a very tricky region," Acting Assistant Secretary of Defence Theresa Whelan told a Senate panel on Thursday. "We want to maintain the partnership with Afghanistan and we want to ensure that Afghanistan reaches its potential. That's the objective of the strategy."
Reports in the US media say the White House is also considering a proposal to provide $23 billion a year to implement the new strategy. The Pentagon informed the Senate panel that it would present a revised Afghan war plan to President Donald Trump within the next week.
Pentagon to present fresh war plan to Trump next week
During a hearing of the Senate Armed Services Committee, senior defence officials also hinted at the possibility of increasing the US military presence in Afghanistan.
Ms Whelan and General Ray­mond Thomas, commander of US Special Operations Command, testified to the Senate that the new policy would include major adjustments to the existing plans for defeating the Taliban and other militants and for bringing stability to the war-torn country,
"We are actively looking at adjustments to the approach in Afghanistan right now. I expect that these proposals will go to the president within the next week," said Ms Whelan while responding to questions from Senator Roger Wicker.
Earlier this year, General John Nicholson, who leads the US and Nato forces in Afghanistan, told the committee that he needed "a few thousand" additional personnel to break the present stalemate in the war against the militants.
Senator Wicker — a Mississippi Republican who is considered a close friend of former Afghan president Hamid Karzai — emphasised the need to move beyond anything that puts the US at a stalemate in Afghanistan.
"This is an important fight that we need to win and there's every reason that we should be able to do that," he said. "We have a populist in Afghanistan who supports our presence there. The overwhelming majority of the ethnic groups and tribes appreciate what we stand for and look to the United States for leadership."
And the intent is to do just that, to move beyond the stalemate," said Ms Whelan while responding to his remarks, reminding the lawmaker that the Pentagon too realised the importance of building a long-term relationship with Afghanistan.
Earlier in the hearing, the committee's chairman John McCain reminded Gen Thomas that in his testimony before this panel earlier this year he had admitted reaching a stalemate in Afghanistan.
"We are aware of Commander Nicholson's description of the current status of the fight as a stalemate. I recently returned from Afghanistan, it is admittedly a very tough fight. We are in the beginning of another fight season," the general said.
Gen Thomas, however, reminded the veteran lawmaker that the US forces had achieved their main objective in Afghanistan: "The avoidance of another attack from that area and that certainly is an accomplishment and something we need to reinforce going forward."
Senator McCain interrupted the general and reminded him that "a stalemate means it does not end".
"I understood the commander's assessment of a stalemate as an opportunity to change the strategy," the general replied.
Full report at:
https://www.dawn.com/news/1331410/new-us-strategy-seeks-long-term-engagement-with-afghanistan
--------
Pentagon to seek thousands more troops for Afghanistan
May 06, 2017
WASHINGTON - The Pentagon will ask the White House next week to send thousands more troops to Afghanistan to break a deadlocked fight with the Taliban, a senior official said Thursday.
After a steady downsizing of US troop numbers since 2011, US military commanders say they need to strengthen the numbers on the ground to better support Afghan forces and help retake territory lost to the Taliban.
According to US media, the Pentagon will ask for 3,000 to 5,000 more soldiers, mainly to be assigned to advise and train Afghan military and police.
US troops in Afghanistan number about 8,400 today, and there are another 5,000 from NATO allies, also now in an advisory capacity.
But that is a far cry from the US presence of more than 100,000 six years ago, and the Afghan military has struggled to fill the void amid an unrelenting Taliban insurgency.
"I expect that these proposals will go to the president within the next week," said Theresa Whelan, Acting Assistant Secretary of Defense for Special Operations, in a Senate Armed Services Committee hearing.
The intent is "to move beyond the stalemate and also to recognize that Afghanistan is a very important partner for the United States in a very tricky region."
NATO officially ended its combat operations against the Taliban at the end of 2014, and its current mission is to support Afghan troops in training and advice.
Last year, with the Kabul government struggling to hold ground against the Taliban, former president Barack Obama authorized US air strikes against the Taliban in limited cases, to ensure Afghan forces on the ground would have a "strategic advantage."
Full report at:
http://nation.com.pk/national/06-May-2017/pentagon-to-seek-thousands-more-troops-for-afghanistan
--------
Trump counterterrorism strategy urges allies to do more
May 6, 2017
A draft of President Donald Trump's new counterterrorism strategy demands that U.S. allies shoulder more of the burden in combating Islamist militants, while acknowledging that the threat of terrorism will never be totally eliminated.
The 11-page draft, seen on Friday by Reuters, said the United States should avoid costly, "open-ended" military commitments.
"We need to intensify operations against global jihadist groups while also reducing the costs of American 'blood and treasure' in pursuit of our counterterrorism goals," states the document, which is expected to be released in coming months.
"We will seek to avoid costly, large-scale U.S. military interventions to achieve counterterrorism objectives and will increasingly look to partners to share the responsibility for countering terrorist groups," it says.
However, it acknowledges that terrorism "cannot be defeated with any sort of finality."
Michael Anton, spokesman for the White House National Security Council, said, "As part of its overall approach, the administration is taking a fresh look at the entire U.S. national security strategy, to include the counterterrorism mission - which is especially important since no such strategy has been produced publicly since 2011."
The process is aimed at ensuring "the new strategy is directed against the pre-eminent terrorist threats to our nation, our citizens, our interests overseas and allies," Anton said. "Moreover, this new strategy will highlight achievable and realistic goals, and guiding principles."
Combating Islamic extremism was a major issue for Trump during the 2016 presidential campaign. The draft strategy paper, which officials said was still being fine-tuned at the White House, describes the threat from Islamic militant groups in stark tones.
It remains to be seen how Trump can square his goal of avoiding military interventions with ongoing conflicts involving U.S. troops in Iraq, Syria, Afghanistan, Yemen and elsewhere.
Rather than scale back U.S. commitments, he has so far largely adhered to former Obama administration plans to intensify military operations against militant groups and granted the Pentagon greater authority to strike them in places like Yemen and Somalia.
Trump may soon reverse years of Obama-ordered drawdowns in Afghanistan. His administration is now considering boosting by 3,000 to 5,000 soldiers the 8,400-strong U.S. contingent helping Afghan forces fight a resurgent Taliban, current and former U.S. officials say.
A senior administration official noted that only a small number of troops have been added to U.S. forces in Iraq and Syria under Trump, at the discretion of his military commanders.
"If you do see additions elsewhere, they will be in keeping with this (draft) strategy," said the official, who spoke on condition of anonymity.
The increased pace of U.S. military operations has seen a recent spate of American casualties. The latest came in Somalia, where a Navy SEAL died and two others were wounded in an attack by al Shabaab militants, U.S. officials said on Friday.
Since President Barack Obama released the last U.S. counterterrorism strategy in 2011 before the emergence of Islamic State, the threat has "diversified in size, scope and complexity from what we faced just a few years ago," the draft strategy said.
In addition to Islamic State, the United States and its allies are endangered by a reconstituted al Qaeda, groups such as the Haqqani network and Hezbollah, as well as from homegrown extremists radicalized online, it said.
Bruce Hoffman, director of Georgetown University's Center for Security Studies and who reviewed the document at Reuters' request, said the draft strategy "paints - and I think accurately - a more dire picture" of the threat than the Obama document, which sounded a "triumphalist" tone following al Qaeda leader Osama bin Laden's death in a 2011 U.S. raid in Pakistan.
MISSING PHRASE
The senior administration official said the document describing an overarching counterterrorism approach is separate from a detailed strategy to defeat Islamic State that Trump also has ordered.
The draft strategy seen by Reuters appears to flow from Trump's "America First" foreign policy calling for foreign aid cuts and more burden-sharing by allies and alliances such as NATO.
It does not include a signature phrase from Trump's 2016 campaign, "radical Islamic terrorism." Instead, it says that jihadist groups "have merged under a global jihadist ideology that seeks to establish a transnational Islamic caliphate that fosters conflict on a global scale."
Full report at:
http://nation.com.pk/international/06-May-2017/trump-counterterrorism-strategy-urges-allies-to-do-more
--------
Europe
Putin's secret weapon in Syria: Sunni-Muslim Chechen forces
May 5, 2017
Russia has deployed roughly 1,000 Sunni-Muslim Special Forces from Chechnya to Syria in an effort to hide its casualty figures and curtail the Assad regime if it undermines Moscow's wider interests in the Middle East concludes a report by the global magazine Foreign Policy.
Moscow has quietly deployed roughly 1,000 Muslim Special Forces from Russia's southern regions since the end of last year, a clear sign that Moscow is serious about upping its ground game in Syria, say the authors.
While Moscow plans to reduce its presence in the country, report author Neil Hauer explained, Moscow is actually expanding its role in Syria by deploying "an unprecedented Russian weapon to Syria: several units of Chechen and Ingush commandos hailing from Russia's restive North Caucasus region".
Their deployment marks a strategic shift for the Kremlin, said Hauer: Russia now has its own elite ground personnel, drawn from its Sunni Muslim population, placed across Syria. The presence of Sunni-Muslim private military contractors which are perfectly poised to reshape events on the ground would prove vital in "curtailing any action taken by the Assad regime that would undermine Moscow's wider interests in the Middle East.
Deploying Sunni Muslims from the Caucuses offers an effective method for the Kremlin to project power by reducing political cost, commented Hauer. Beyond their skill on the battlefield, which has been demonstrated since the first deployment of Chechen Muslim forces in December 2016, they have enabled Putin to conceal the true extent of Russian casualties in Syria, which are thought to be high. MEMO reported in March that for every 100 Russians in Syria, 50 are going back in caskets.
The report states that the Kremlin has gone to extreme lengths to hide its losses. Commenting on the sensitivity around casualty figures, it said that Moscow's official figure of 30 dead in Syria is much lower than expected. Using "non-ethnic" Russian special personnel, allows Kremlin to protect itself from a public backlash sparked by rising battlefield casualties.
Citing Gregory Shvedov, an expert on the North Caucasus, said the report makes clear that "disdain" toward the region and its Chechen Muslim population is a major factor for the deployment of these personnel.
Shvedov notes.
Another crucial advantage, besides having co-religionists carrying out operations in Sunni-majority Syria, the report mentions that it enables Moscow to wield greater influence over Syria, particularly in the face of occasional tension with its Syrian and Iranian allies.
Citing the tension that arose between Russia and its allies during the late stages of the Aleppo campaign, the authors believe that the outward appearance of solidarity conceals the occasional clashes with both Damascus and Tehran. Russia intends to have some kind of insurance if Syria and Iran go rogue. The report states that Iranian officials were reportedly incensed with the terms of a ceasefire brokered for the city by Russia and Turkey in December 2016 that were imposed without their input. Iran later intentionally scuttled the deal, using its Iraqi and Syrian proxy forces to resume fighting in Aleppo. Not coincidentally, wrote Hauer, Moscow's first Chechen soldiers arrived in Syria within weeks of that event.
While the first stage of Moscow's Caucasian adventure in Syria ended on 27 March, the "North Caucasian battalions will continue to serve as the tip of the spear in Moscow's wider strategy to expand its influence in Syria," concluded the report.
https://www.middleeastmonitor.com/20170505-putins-secret-weapon-in-syria-sunni-muslim-chechen-forces/
--------
Macron team blasts 'massive hacking attack' on eve of vote
6 May 2017
The campaign team of French presidential candidate Emmanuel Macron on Friday confirmed it had suffered a "massive and coordinated hacking attack" after internal documents were released online, slamming an attempt at "democratic destabilisation".
"The files circulating were obtained several weeks ago due to the hacking of the personal and professional mailboxes of several party officials," Macron's En Marche! (On The Move) party said in a statement, just as campaigning officially ended ahead of Sunday's election.
Macron's team added that all the documents were "lawful" and said the large-scale hacking was "unprecedented in a French electoral campaign".
The online leak shortly before midnight on Friday came barely 24 hours before Sunday's final round of the presidential election -- one of the country's most dramatic in decades -- in which the centrist former economy minister faces far-right leader Marine Le Pen.
"The En Marche movement was victim of a massive and coordinated hacking attack leading to the spreading this evening on social media of internal information of a diverse nature (emails, accoutning documents, contracts)," the statement said.
"Those circulating these documents are adding many false documents to authentic documents in order to sow doubt and disinformation," Macron's team said.
It noted that the release came "in the last hour of the official campaign" and that it is "clearly a matter of democratic destabilisation, like that seen during the last presidential campaign in the United States".
"Throughout the campaign, En Marche! has constantly been the party the most targeted by such attempts, in an intense and repeated fashion," the lengthy statement said.
"The aim of those behind this leak is, all evidence suggests, to hurt the En Marche! party several hours before the second round of the French presidential election."
It went on: "Clearly, the documents arising from the hacking are all lawful and show the normal functioning of a presidential campaign.
Full report at:
https://english.alarabiya.net/en/News/world/2017/05/06/Macron-team-blasts-massive-hacking-attack-on-eve-of-vote.html
--------
Germany will not allow Turkish vote on death penalty
May 5, 2017
The German government says that it wouldn't allow voting in Germany in any possible referendum on whether to reintroduce the death penalty in Turkey.
Turkish President Recep Tayyip Erdogan has spoken of reinstating the death penalty - a move that would effectively finish off Ankara's faltering bid to join the European Union - since narrowly winning expanded powers last month. Germany and other European countries vehemently oppose executions.
The German government says that its permission is required for voting in foreign elections or referendums to take place at embassies, consulates or elsewhere on its territory. It permitted polling stations for Turkish nationals in last month's Turkish constitutional referendum.
Germany has a large ethnic Turkish minority and about 1.4 million people living in Germany are eligible to vote in Turkish elections and referendums.
However, Chancellor Angela Merkel's spokesman, Steffen Seibert, said that "there is no obligation" for the German government to approve a request from a foreign country.
"It is politically inconceivable that we would agree to such a vote in Germany on a measure that clearly contradicts our constitution and European values," Seibert told reporters in Berlin. "I assume that we would use all legal means to prevent something like this."
In comments published earlier Friday, Merkel's challenger in Germany's Sept 24 election took a similar line.
"If the Turkish government really held a referendum on the introduction of the death penalty, it must be clear that such a vote must not take place among Turks living in Germany," Martin Schulz told the weekly Der Spiegel. "We cannot allow voting in Germany on an instrument that contradicts our values and our constitution."
Schulz's center-left party is the junior partner in Merkel's current coalition government.
Tensions between Turkey and Germany soared ahead of last month's constitutional referendum.
Full report at:
http://www.presstv.ir/Detail/2017/05/05/520681/Germany-Turkey-referendum-vote-Merkel-Erdogan-death-penalty
--------
Why many French gays adore Marine Le Pen
By Deroy Murdock
May 5, 2017
As France picks its next president on Sunday, National Front nominee Marine Le Pen, 48, enjoys significant support among an unlikely population: gay voters.
According to a survey released Wednesday by Hornet, a gay social network, 36.5 percent back Le Pen, while 63.5 percent favor former Socialist Party member and reputed centrist Emmanuel Macron, 39. Among Hornet's younger subscribers, 43.5 percent of 18-to-29-year-olds want Le Pen — and fully 49 percent of those age 25.
While Le Pen surely would appreciate even higher numbers, pundits are surprised that the so-called far-Right candidate does this well with typically Left-leaning voters. Why? Le Pen's previously hostile party now welcomes gays, and militant-Islamic attacks inside and outside of France have ushered gays into Le Pen's largely open arms.
Le Pen has "un-demonized" the National Front by distancing herself from the party's founder (her anti-Semitic father), appealing to Jewish voters, avoiding mass protests against gay marriage (although her party's platform promises to scrap it), and choosing gay men Florian Philippot as her chief deputy and Sébastien Chenu as her leading adviser.
These efforts have boosted the party among gay voters. In April 2012's presidential election, 26 percent of gay Parisians picked Le Pen. She scored just 16 percent of the straight vote. A third of gays who married after same-sex nuptials were legalized in 2013 reportedly voted for her party in 2015's regional contests.
Many of these "homonationalists," as they've been dubbed, applaud Le Pen's straight talk about Islamic fundamentalism's existential challenge to French lives and lifestyles.
In light of the November 2015 ISIS terror attacks that killed 130 in Paris, Tunisian immigrant Mohamed Lahouaiej-Bouhlel's truck rampage that murdered 86 pedestrians in Nice last July and other acts of extremist bloodshed, Le Pen said, "Islamism is a monstrous totalitarian ideology that has declared war on our nation, on reason, on civilization." She also wants to renew border checks and eject foreigners who are on France's terror-watch list.
Violent Muslim-extremist homophobia has battered France for years:
Then-Mayor Bertrand Delanoë of Paris was stabbed in the stomach by Azedine Berkane, a devout Muslim and son of Algerian immigrants, at City Hall in October 2002. Delanoë survived after two weeks in the hospital. According to justice officials, Berkane "explained his strong religious views made him reject homosexuality as unnatural."
"Up until 2005, Bordeaux was a very gay-friendly city," Patrick McCarthy told Britain's The Spectator. "Same-sex couples could openly walk down the street holding hands without any problems," the Bordeaux resident continued. "However, in the space of two months, five gay men were murdered in the city. The blame was put on Bordeaux's Muslim community, since some of these hate crimes were carried out by people of Arabic origins."
In April 2013, Dutch librarian Wilfred de Bruijn and his boyfriend, Olivier Couderc, strolled arm in arm after dinner in a highly Muslim district in Paris. "Hey, look. They're gays," Couderc recalled hearing before attackers pounced. They kicked de Bruijn in the face, delivered five cranial fractures, knocked out a tooth, and left both men unconscious. Three men of North African heritage paid for this carnage in June 2014. K. Taieb and M. Abdel Malik, both 19, earned 2½-year prison terms. T. Kide, 21, received six months' probation for not stopping this brutality.
Full report at:
http://nypost.com/2017/05/05/why-many-french-gays-adore-marine-le-pen/
--------
Turkey opens mosque in Russia's Kostroma
May 6, 2017
A mosque built in the Russian city of Kostroma by Turkey's state-run Presidency of Religious Affairs (DİB) was opened Friday by DİB President Mehmet Görmez.
The Central Mosque in Kostroma, which is located some 320 kilometers (200 miles) northeast of Moscow, is Turkey's latest contribution to places of worship for Russia's Muslims, after the Moscow Central Mosque was opened in 2015 through the aid of the DİB. Görmez, who was accompanied at the opening ceremony by Ravil Gaynuddin, the Grand Mufti of Russia, led the Friday prayers at the mosque and delivered a sermon.
He said the mosque held an important place in the lives of the Tatar Muslims in the area "who have preserved their faith and coexisted peacefully with followers of other faiths."
The mosque, built more than a century ago, was briefly home to Said Nursi, an influential Turkish-Muslim cleric who was a prisoner of war during World War I. Nursi was captured by the Russian forces occupying eastern Turkey while he lead troops to stave off the occupation and was later brought to Kostruma, where the Muslim Tatars lived.
In the repressive Soviet era, the mosque was demolished and a theater was built on the site. Ravil Gaynuddin called upon Turks to rebuild the mosque during a visit to Turkey in 1998. Mustafa Sungur, a close confidant of Nursi, spearheaded the rebuilding efforts and the DİB later provided the funds for its reconstruction. "Kostroma was home to 400 Turkish soldiers during World War I. These soldiers prayed here next to the Muslim residents," Görmez said at the opening ceremony.
Full report at:
https://www.dailysabah.com/turkey/2017/05/06/turkey-opens-mosque-in-russias-kostroma
--------
India
Muslim Group In UP Bans 'Triple Talaq' At One Go
May 6, 2017
A small group of Muslims living in Sambhal district, Uttar Pradesh has banned the practice of 'triple Talaq' at one go. The 'Turk' group will also consider it a husband's fault if a case of 'triple Talaq' at one goes is reported before the Panchayat. However, it was suggested that in unavoidable cases, a man should utter Talaq but only once and give time to his wife for things to resolve. The decision was yesterday taken in a meeting of the 'Turk' group, which has about 50,000 members living in 50 villages of this Sambhal district.
Asrar Ahmed, who presided over the Panchayat meeting, termed the practice of 'triple Talaq' at one go as wrong and said the community has decided to do away with it. "If it is extremely necessary, then a man should say Talaq but only once and give a month's time to his wife," he said.
If someone divorces his wife by uttering Talaq thrice, then the panchayat will punish him, Ahmed warned. In a case of any dispute with his wife, a man should raise the matter with the Panchayat which will try to resolve it. The group had last month banned cow slaughter, and also the practice of demanding dowry and extravagant weddings.
http://indianexpress.com/article/india/muslim-group-in-up-bans-triple-talaq-at-one-go-4642672/
--------
Muslim Family Donates Land for Temple in Bihar
May 05, 2017
In a gesture of communal harmony, a Muslim family has donated their land for upgradation of a temple in Bihar's Gopalganj district, officials said.
Tabarak Dewan and his son Manu Dewan, residents of Ahirauli Dubauli Tola Takia under Gopalpur police station, have donated their land near the NH 28, for construction of the main gate of the historical temple at Bathanakuti.
They had purchased the land for Rs 12 lakh for setting up a business a few months ago.
"By donating their costly land, the Muslim family has helped us to beautify the historical temple at Bathanakuti, which is under renovation. If they had refused to donate their land, it would have been impossible to construct the main gate of the temple. Thanks to their gesture now the temple's main gate will be constructed on their donated land," Amrender Kumar alias Pappu Pandey, ruling JD-U legislator of Kuchaikot, said.
According to Pandey, another Muslim, Aali Raza also donated land for the construction of the same temple. Raza, resident of Ramaina village in Kushinagar district in neighbouring Uttar Pradesh, termed it a symbol of communal harmony.
"We have been living here for decades and taking care of each other. It is a gesture of communal harmony. We have decided to donate land for a good cause. All religions are the same," Manu Dewan said.
This is not the first time Muslims have donated land for temples. Two years ago, some Muslims in Bihar's east Champaran district, in a demonstration of communal harmony, donated land to help build the world's largest Hindu temple which will have the capacity to seat 20,000 people.
"Muslims have not only donated land, they have also provided land at a nominal rate for construction of the world's largest Hindu temple. Without help of Muslims, it would have been difficult to realise this dream project," Acharya Kishore Kunal, secretary of the Patna-based cash-rich Mahavir Mandir Trust that is undertaking the ambitious project, said.
Muslims have also helped build a Hindu temple dedicated to goddess Durga in Bihar's Gaya district, through donations and also by supervising the construction.
Similarly, a Muslim donated his land for constructing a temple to Lord Shiva in Begusarai district. Mohammad Fakhrool Islam had given land for the temple in Muslim-dominated Bachwara village.
Over three decades ago, some Hindus donated a piece of land for the construction of a mazar in the same village.
Bihar has been by and large free from any major communal trouble, barring a few reported cases of tension, in the last few years.
Full report at:
http://www.hindustantimes.com/india-news/muslim-family-donates-land-for-temple-in-bihar/story-3BXn9xDmZljFQLGklLUDXK.html
--------
Attacks on India's Minority Muslims by Hindu Vigilantes Mount
May 6, 2017
NEW DELHI — One April afternoon, a group of men clad in saffron scarves barged into a house in Meerut, 40 miles northeast of here, and dragged out a young Muslim man and a Hindu woman. Their offense: They were an interfaith couple in love.
The men, part of a self-appointed enforcement group called the Hindu Youth Brigade, beat the man, videotaped the incident and then handed him over to police for charges of obscenity. The traumatized woman, who wept and covered her face with her scarf, was let off with a warning.
"We are not against love, but this guy changed his name (to a Hindu one) to mislead the girl. Let police investigate," said Nagendar Pratap Singh Tomar, chief of the brigade.
The April 12 Meerut incident is the latest example of Hindu vigilantes attacking Muslims in this overwhelmingly Hindu country, especially with the gains made by the ruling Hindu nationalist Bharatiya Janata Party (BJP) in March elections.
Several similar attacks have occurred since March, when Prime Minister Narendra Modi chose an anti-Muslim firebrand, Yogi Adityanath, to be chief minister of India's largest state, Uttar Pradesh, the heartland of the nation's Hindu population.
On April 13, another interfaith engaged couple in Meerut was attacked in the street by brigade members. The Muslim woman faced verbal abuse while her fiancé, a Hindu, was beaten for protesting.
Also in April, two dairy farmers returning from a cattle fair in a northern state were attacked by vigilantes, leaving one dead and the other seriously wounded. Cows are considered sacred by Hindus, who make up 80% of India's population of 1.3 billion.
"We had purchased the cows legally for dairy farming, but our vehicle was intercepted by these men and they beat us up so badly that my neighbour died," Azmat Khan, 27, from a remote village in Haryana, said from his bed.
India cracks down on slaughter of sacred cows
India's main opposition party, the Indian National Congress, said Muslims feel a deep sense of dread since Modi, a fierce Hindu nationalist, took office in 2014.
"For the last 30 months, a climate of fear and insecurity is created by repeated, deliberate, divisive and provocative statements," said Abhishek Manu Singhvi, a Member of Parliament and spokesman for the Congress party. "They are seeking to impose a single uniform ethic ... whether it is in relation to food, dress, culture or thinking."
Modi's party strongly disagrees. "There has been an attempt by rival parties and sections of the media to stoke a persecution complex among minorities based on rare, isolated events," said BJP spokesperson Narasimha Rao. "Propaganda by vested interests has miserably failed because it is unreal, fabricated and fictional."
New Delhi-based political analyst Ashok Malik said such statements show the BJP has to reach out to the persecuted minority. "The attacks on Muslims are often individual groups of criminals taking advantage of the situation," said Malik, a fellow with the Observer Research Foundation, an independent think tank.
The BJP has taken an aggressive stance in dealing with anti-India Muslim youths in the disputed Kashmir region, which is roiled by a Pakistan-backed separatist insurgency. India and mostly Muslim Pakistan have long fought over the region because of competing territorial claims.
Youths regularly pelt Indian soldiers with stones, causing an ongoing conflict in the Muslim-majority states of Jammu and Kashmir. The government faced fresh criticism when a video went viral showing a Muslim man, Farooq Dar, 24, tied to the front bumper of an army jeep as a human shield against the stone-pelters.
Dar later told Indian media that he had defied the separatists' call for an election boycott in Kashmir and was on his way to his sister's house after voting when the army picked him up to be a human shield.
The BJP government earlier had authorized paramilitary forces to use pellet guns on protesters, causing widespread casualties and eye injuries to the young stone-throwers.
"Everyone talks about the human rights of terrorists, separatists and disruptive elements. It is high time everyone realize that the security forces, fighting in tough conditions braving all odds, are also humans and have human rights," Rao said. "They have been highly professional and restrained even in some highly provocative situations."
Such assurances do not calm the fears of Muslims worried about continued persecution despite Modi's promise not to exclude religious minorities from his efforts to modernize his nation and make it more prosperous.
Full report at:
https://www.usatoday.com/story/news/world/2017/05/05/attacks-indias-minority-muslims-hindu-vigilantes-mount/100951514/
--------
Stop unauthorised broadcast of Pak, Saudi channels, Centre tells J&K govt
May 5, 2017
NEW DELHI: The Centre on Friday asked the Jammu and Kashmir government to take immediate steps to stop the unauthorised broadcast of Pakistani and Saudi Arabian channels in the state.
Information and Broadcasting Minister M Venkaiah Naidu spoke with the state chief secretary and also sought a compliance report at the earliest, official sources said here.
He expressed concern over reports that these channels are being broadcast in Jammu and Kashmir without permission.
Earlier in the day, Naidu's deputy in the ministry, Rajyavardhan Singh Rathore, had said the local administration in the state has right to confiscate the equipment of cable operators allegedly airing unauthorised channels.
Noting that the government has sent an advisory to the state, Rathore said such communications are regularly sent by the Centre on unauthorised channels.
"We also monitor whenever such news comes up. It is our work to ask for report about such incidents. The action is being taken," he said.
Rathore said it is the responsibility of the local administration to monitor unauthorised channels in their area and they have the right to take action against them.
"In Kashmir, the district collector or the authorised government official can confiscate the equipment and take action against cable operators," he told reporters on the sidelines of an event here.
Full report at:
http://timesofindia.indiatimes.com/india/stop-unauthorised-broadcast-of-pak-saudi-channels-centre-tells-jk-govt/articleshow/58539797.cms
--------
Altaf Qureshi, suspected ISI agent, had been held during Gujarat riots
May 5, 2017
Gujarat police Friday on said that Altaf Qureshi, the suspected ISI agent held from Mumbai two days ago, had been arrested during a communal riot at Dhoraji in Rajkot district of the state in 2002. After Qureshi was arrested from south Mumbai by Anti Terrorism Squads of Uttar Pradesh and Maharashtra, Rajkot police started probe into his links in Gujarat, said Rajkot Superintendent of Police Antrip Sood.
Qureshi (37), accused of working for Pakistan's spy agency ISI, had been arrested and charge-sheeted in a rioting case at Dhoraji town, his native place, back in 2002. "On checking past records, we found out he was arrested as well as charge-sheeted in a case of rioting and attempt to murder during incident of communal violence in Dhoraji. He was part of a mob which damaged property," Sood said. Qureshi's family still lives in Dhoraji.
"We have learned that Qureshi moved to Mumbai a few years ago. Upon learning about his arrest, we formed several teams to investigate whether he had any connections here," Sood said. According to ATS, Qureshi deposited money in the bank account of Aftab Ali, another ISI agent, in Lucknow for carrying out espionage activities. Aftab was arrested from Faizabad in UP on May 3.
Full report at:
http://indianexpress.com/article/india/altaf-qureshi-suspected-isi-agent-had-been-held-during-gujarat-riots-4642571/
--------
Pakistan
12 Dead, 40 Hurt In Afghan Attack during Census in Quetta
SALEEM SHAHID
May 6, 2017
QUETTA: At least 12 people — 10 civilians and one sepoy each from the Pakistan Army and the paramilitary Frontier Corps — lost their lives and around 40 others were injured in firing and shelling after Afghan forces attacked FC personnel guarding the staff conducting census in two villages on the Chaman border on Friday.
According to official sources, Pakistani forces immediately retaliated after taking positions.
Soon after the clashes began, the Pakistani authorities closed the Friendship Gate on the border.
Chaman border closed amid exchange of fire
Officials said the clashes erupted when Afghan forces attacked FC personnel guarding the census staff in the Killi Luqman and Killi Jahangir villages.
An Inter-Services Public Relations (ISPR) spokesman said that Afghan border police opened fire on FC personnel detailed for the security of a census team. A civilian died and 18 people, including four Balochistan FC soldiers, were injured in the initial attack. According to early reports, a teenager died in the incident.
The military spokesman said that since April 30, Afghan border police had been creating hurdles in the conduct of census in the divided villages of Killi Luqman and Killi Jahangir in the Chaman area on the Pakistani side.
"This was done despite the fact that Afghan authorities had been informed well in advance and coordination was carried out through diplomatic and military channels for the conduct of census," an ISPR statement said.
The authorities sent more FC and military troops to the Chaman area after the Afghan forces attacked the personnel and shelled border villages and the town.
According to security officials, Afghan forces used light and heavy weapons and lobbed mortar shells that exploded in border villages, killing and injuring the residents.
"The bodies of nine women, children and men have been brought to the hospital so far," Dr Muhammad Akhtar, Deputy Superintendent of the Chaman District Hospital, told Dawn and added that 40 injured people had also been admitted.
Officials said that four children and two women were among those who lost their lives in the attacks.
There were reports of casualties on the Afghan side as well.
According to AP, Gen Abdul Raziq, the police chief in Afghan­istan's Kandahar province, said six Afghan policemen and two civilians were killed, while another 37, including 23 civilians, were wounded.
At least six severely injured people were brought to the Civil Hospital in Quetta and admitted to the Trauma Centre. The heavy exchange of fire continued from morning till late afternoon and the Afghan forces attacked civilian settlements in Chaman town.
"Mortar shells exploded in the Bograh and Guldan areas on the outskirts of Chaman town, killing and injuring people," a police officer, Sajid Mohmand, said.
"A mortar shell exploded in a house on the outskirts of Chaman town, injuring three people," a security official said, adding that most of the victims had been hit by mortars.
A large number of residents of Killi Luqman, Killi Jahangir, Badshah Adda Kahol Killa and other border areas evacuated their homes after the heavy shelling.
According to ISPR, funeral prayer of Sepoy Hasan Ali was offered at Quetta Garrison. The sepoy laid down his life during firing by Afghan border forces in Chaman. Commander Southern Command Lt Gen Aamir Riaz and other officers and a large number of army personnel attended the funeral prayer.
https://www.dawn.com/news/1331421/12-dead-40-hurt-in-afghan-attack-during-census
--------
India has no role in Afghan peace process: Pakistan
May 5, 2017
ISLAMABAD: Pakistan on Friday ruled out any role for India in the peace process in Afghanistan, saying it is "part of the problem and not a solution" as New Delhi is using Afghan soil to destabilise Pakistan.
At a Foreign Office briefing, spokesperson Nafees Zakaria also attacked India on the Kashmir issue claiming the current situation in the Valley is "one of the worst episodes of human tragedy in living history" which has attracted attention of the entire international community.
Asked about India trying to seek greater role in Afghanistan, Zakaria said, "We have continued to underline that India is part of the problem and not a solution. India is also using Afghan soil for its nefarious designs to destabilise Pakistan and spoil Pak-Afghan relations."
When asked about Afghan President Ashraf Ghani linking his visit to Islamabad with Pakistan taking action against militants, he said the problems of Afghanistan are internal.
"Externalising Afghanistan's problems and blaming others for the continued instability in their country does not help. It would be in the interest of everyone that such accusations are avoided as they serve no purpose," he said.
Ghani has declined invitations extended by top civil and military officials to visit Pakistan, saying he would not visit until Islamabad hands over the perpetrators of terror attacks in Afghanistan.
Attacking India on the Kashmir issue, Zakaria said the human rights situation in Kashmir has further deteriorated after the Srinagar by-elections.
"The recent video of a Kashmiri youth tied to an Indian army jeep as a 'human shield' against the stone pelting young people has put India's claims of democracy to shame," he said.
Full report at:
http://timesofindia.indiatimes.com/world/pakistan/india-has-no-role-in-afghan-peace-process-pakistan/articleshow/58538213.cms
--------
Border firing ends as Afghan military admits mistake
BAQIR SAJJAD SYED
May 6, 2017
ISLAMABAD: Hosti­li­ties on the border near Cha­m­an ended late on Friday afternoon after a hotline conversation between Pakistan and Afghanistan's directors general of military operations (DGMOs) during which the Afghan official admitted his side's mistake in identifying the boundary in the area.
"Afghan director general, military operations, acknowledged that border is in between villages and not at the ditch… as being perceived by them," an Inter-Services Public Rela­tions (ISPR) statement on the conversation between the DGMOs said. It noted that the Afghan official had agreed that the ditch was well inside Pakistani territory.
With the attack happening at a time census was under way in the two border villages targeted by artillery, it appeared as if the Afghan side wanted to disrupt the exercise. The ISPR, in its first statement on the incident, pointed out that the Afghan border police had been creating hurdles in the conduct of the census since April 30 despite having been notified about it in advance.
Frontier Corps soldiers have been accompanying the census teams in the two villages, much like other parts of the country where troops have been part of the exercise for security and enumeration duties.
An Afghan official, Zia Durrani, talking to journalists in Afghanistan, alleged that Pakistan was, on the pretext of census, undertaking "malicious activities and was provoking villagers against the (Afghan) government".
Afghanistan appears averse to census in divided villages
The ISPR statement stres­­­sed that the Afghan DGMO was told that "we shall continue our work within our border". This was implied as a resolve about continuation of the census in the area.
Analysts believe that the Afghan forces were averse to the people residing in those villages being identified and counted.
During the hotline talk, DGMO Maj Gen Sahir Shamshad Mirza reminded his Afghan counterpart that the border line ran through the villages, dividing them between the two countries, and Pakistani security forces and civilians were well within their own territory.
He asked the Afghan DGMO to direct his troops to stay on their own side and defuse the situation.
"Afghan DGMO agreed to take up the matter and issue necessary orders accordingly," the ISPR said and noted that the exchange of fire had ended.
Afghan Ambassador Omar Zakhilwal said: "Ces­sation of fire and resolving (the matter) through talks had been agreed upon."
The military officers' conversation was followed by a 'flag meeting' of the local commanders near the Chaman crossing for discussion on details.
FO protest
The Afghan charge d'affaires was summoned to the Foreign Office for receiving a protest.
"We urge the Afghan government to take immediate steps to bring an end to the unprovoked firing from the Afghan side. Action should also be taken against those who are responsible for this violation," the Foreign Office said in a statement after the Afghan diplomat's visit.
"The Afghan charge d'affaires was conveyed that Pakistani authorities were undertaking the population census and this information had been shared with Afghan government earlier. The unprovoked firing from the Afghan side not only led to the loss of precious lives and injured many, but has also disrupted the census in areas on the Pakistan side of the border and caused damage to properties," it added.
Full report at:
https://www.dawn.com/news/1331437/border-firing-ends-as-afghan-military-admits-mistake
--------
Two suspected terrorists arrested in Peshawar
May 06, 2017
PESHAWAR:- The Counter Terrorism Department (CTD) of police here on Friday arrested two suspected terrorists and recovered 1,100 grams of explosive material along with two hand grenades from their possession. Police sources said that the raid was carried out on Bypass Road Mardan where two terrorists identified as Nisar, a resident of Mohmand Agency and Suleman, a resident of Yaka Ghund were arrested. CTD has intensified crackdown in Mardan, Peshawar and Malakand region. In the last few months, they have nabbed dozen of important terrorists along with weapons and explosive devices.–Staff Reporter
http://nation.com.pk/national/06-May-2017/two-suspected-terrorists-arrested-in-peshawar
--------
Southeast Asia
No assurance Pakatan win will empower Islam, PAS leader says
May 6, 2017
KUALA LUMPUR, May 6 — A Pakatan Harapan electoral victory holds no guarantee that Islamic principles and ideals will continue being empowered, said Nik Mohamad Abduh Nik Abdul Aziz.
The PAS central committee member also said in an Utusan Malaysia report today that the pact cannot beat Barisan Nasional in the general election without the Islamist party.
"Even if we stick with Pakatan Harapan, we cannot guarantee that the victory will ensure the empowerment of Islam," he reportedly said.
Nik Abduh explained this was why PAS would work with anyone including Umno to ensure that the Islamist party's goal to empower Islam in Malaysia is successful.
The Pasir Mas MP also insisted that DAP was currently leading Pakatan Harapan, and the opposition party has only two options to win federal power.
"The first is by making the non-Muslims the majority in the country, but to me this is a far-off [option], as statistically, the number of Muslims are increasing in the country.
"Secondly, DAP can be the government when Muslims are set 'adrift', without caring about religion, and when they only care about money, the economy and their own livelihoods, hence they will take DAP's bait," he said.
Nik Abduh said that DAP's main struggle is a secular "Malaysian Malaysia" concept that PAS vehemently opposed.
"It is clear today that DAP is struggling to turn the country a liberal one, without any religious ties, and this is why PAS cannot be with Harapan in its fight for Putrajaya."
The Islamist party fell out with secular DAP in 2015, leading to the breakup of the Pakatan Rakyat partnership formed after the landmark Election 2008 that denied the ruling Barisan Nasional its customary two-thirds control of Parliament for the first time in decades.
PAS also rejected Parti Pribumi Bersatu Malaysia and resolved to cut ties with PKR during its muktamar earlier this month.
http://www.themalaymailonline.com/malaysia/article/no-assurance-pakatan-win-will-empower-islam-pas-leader-says
--------
Religion should incorporate local cultures, not foreign: NU chairman
Anton Hermansyah
May 6, 2017
The country's biggest Islamic organization, Nahdlatul Ulama (NU), has said religion in the archipelago should incorporate local cultures.
Religion in the country should not incorporate the culture of another country, the NU further said.
NU chairman Said Aqil Siroj said the NU developed in Indonesia by accommodating local cultures. Many traditional practices had been preserved and incorporated with Islamic values.
Citing an example, Said stated that NU followers commonly held tahlilan (prayer gathering) to mark the seventh, 40th, 100th and 1,000th day of the passing of relatives. Such a practice could not be found in other Muslim communities around the world.
"The practice had long existed in local culture when the NU was formed," he said during a work meeting of the Nahdliyin Employers Association (HPN) in Jagakarsa, South Jakarta on Friday.
Full report at:
http://www.thejakartapost.com/news/2017/05/06/religion-should-incorporate-local-cultures-not-foreign-nu-chairman.html
--------
Indonesia hard-liners call for jailing of Christian governor
May 6, 2017
JAKARTA, Indonesia (AP) — Thousands of conservative Muslims took to the streets of the Indonesian capital on Friday to call for the jailing of its minority Christian governor who is on trial on charges of blaspheming the Quran.
At least several thousand white-robed protesters marched after Friday prayers at Istiqlal Mosque in central Jakarta until reaching the nearby Supreme Court building.
The protest comes just days before a district court announces its verdict in Gov. Basuki "Ahok" Tjahaja Purnama's blasphemy trial.
Some of the protesters held flags, banners and placards that said "Justice must be upheld" and "Ahok, the blasphemer of Islam, must be jailed."
Prosecutors last month recommended a two-year suspended prison sentence for Ahok. The relatively light sentencing demand was made a day after Ahok was defeated by a landslide election victory for a Muslim rival backed by conservative clerics. Ahok's term as governor ends in October.
The maximum penalty for blasphemy in Muslim-majority Indonesia is five years in prison. Prosecutors recommended one-year prison if Ahok violates his probation.
"We are here because we are disappointed with prosecutors who were blind and deaf to the aspirations of Muslims," said Bahruddin Rabbani, an Islamic boarding school teacher from Banten, a neighboring province of Jakarta.
Ahok was accused of blasphemy last year when a video surfaced of him telling voters they were being deceived if they believed a specific verse in the Quran prohibited Muslims from electing a non-Muslim as leader.
Hard-line Islamic groups have attracted hundreds of thousands to anti-Ahok protests in Jakarta, shaking the government of President Joko "Jokowi" Widodo and undermining Indonesia's reputation for practicing a moderate form of Islam.
"We believe that Ahok's use of our holy Quran for political campaigning constituted blasphemy," said another protester, Ahmad Salman. "We want to see the blasphemer of Islam in jail."
A verdict from the five-judge panel is expected on Tuesday.
Full report at:
http://www.nydailynews.com/newswires/news/world/indonesia-hard-liners-call-jailing-christian-governor-article-1.3138996
--------
PAS replaces Mustafa Ali as election director in new line-up
BY KAMLES KUMAR
May 6, 2017
KUALA LUMPUR, May 6 — PAS today announced its new officials list that excludes Datuk Mustafa Ali who was previously its election director.
The position has gone to Dr Ahmad Samsuri Mokhtar, who is also PAS president Datuk Seri Hadi Awang's political secretary.
PAS secretary-general Datuk Takiyuddin Hassan explained that the change did not mean Mustafa no longer had role in the party.
"He is still a party advisor, he is still needed. He is an advisor for all things, even to the president," he told reporters during a press conference today at the party headquarters.
Other changes include Salehen Mukhyi taking over as Selangor PAS commissioner from Datuk Iskandar Samad.
Takiyuddin said this to allow Iskandar to focus on preparing the party for the next general election.
Temerloh MP Nasruddin Hassan remained party information chief while Perak PAS commissioner Razman Zakaria was made treasurer.
Takiyuddin stressed that all the appointments were made by Hadi with the consent of the PAS central committee.
The party's three vice-presidents will be in charge of building up the election machineries in the northern, east and central region, Takiyuddin explained.
Full report at:
http://www.themalaymailonline.com/malaysia/article/pas-replaces-mustafa-ali-as-election-director-in-new-line-up
--------
Malaysian with suspected IS links left Thailand on April 21, say authorities
May 5, 2017
BANGKOK, May 5 — Thai authorities have confirmed that a Malaysian man who was linked to the Islamic State (IS) terrorist group left the country on April 21.
According to National Security Council (NSC) chief, Gen Thawip Netniyom, immigration records showed that Muhammad Muzaffa Arieff Junaidi, from Rantau Panjang, Kelantan left Thailand via the Sungai Golok Immigration checkpoint on that day.
"Our recent record showed he left Thailand legally through the Sungai Golok immigration checkpoint on April 21. We also have the record when he entered Thailand," he told the media here today but declined to elaborate.
Thailand would conduct a search for the wanted man if its Malaysian counterpart shared information regarding his alleged involvement with the terrorist group, said the NSC chief.
His statement was in response to an announcement by Malaysia's Inspector-General of Police (IGP) Tan Sri Khalid Abu Bakar two days ago on the arrest of six individuals for suspected links with the IS terrorist group.
The IGP had also said Muhammad Muzaffa managed to evade arrest and fled into southern Thailand with two firearms, namely a pistol and M-4 Carbine assault rifle.
Thawip also stressed that there was no evidence on the existence of an IS cell in the country but promised the authorities would continue monitoring the group and exchanged intelligence information with other countries.
"We need to exchange information with other countries and monitor the travelling activities of returning IS members," he said.
A security source in southern Thailand told Bernama that the Kelantanese was a regular traveller into southern Thailand with immigration records showing he entered the border provinces at least nine times recently.
"The latest immigration records showed he exited Thailand through the Sungai Golok Immigration checkpoint about 5am on April 21, " he said, adding that the immigration record only showed legal entry and exit.
On allegations of arms smuggling from southern Thailand into Malaysia by people suspected of having links with IS, he said Thailand needed more information from its neighbour.
Full report at:
http://www.themalaymailonline.com/malaysia/article/malaysian-with-suspected-is-links-left-thailand-on-april-21-say-authorities
--------
Arab World
Some 170 Killed in Fresh Militant Infighting near Syria's Damascus
May 5, 2017
A so-called monitoring group says about 170 people have been killed during a fresh wave of infighting between foreign-sponsored Takfiri groups over the control of an area near the Syrian capital city of Damascus.
The Britain-based Syrian Observatory for Human Rights (SOHR) reported on Friday that clashes between the Saudi-backed Jaysh al-Islam militant group and the Jabhat Fateh al-Sham terror outfit in the Eastern Ghouta region have left 156 militants dead since April 28.
The group noted that 67 slain militants were from the Jaysh al-Islam while the rest hailed from the Fateh al-Sham and allied Faylaq al-Rahman Takfiri groups.
The fighting also killed 13 civilians, including two children, and wounded dozens more.
Jaysh al-Islam terrorist group said in a statement that it had ended its operation against Fateh al-Sham after having obtained "most of its goals."
SOHR Director Rami Abdel Rahman said the "situation has returned to how it was before," adding that "each side has taken back the areas it lost during the fighting."
He said Fateh al-Sham had been weakened by the fighting, and had leaned heavily on Faylaq al-Sham for support during the fierce exchanges of gunfire and heavy shelling.
Jaysh al-Islam is the dominant Takfiri group in Eastern Ghouta. One of the group's leaders, Mohammad Alloush, is among the senior negotiators of the so-called opposition group at Syrian peace talks in Geneva.
Damascus has long been saying that Saudi Arabia, Turkey and Qatar are funding and arming anti-Syria terrorist groups, including Takfiri Daesh terrorists.
http://www.presstv.ir/Detail/2017/05/05/520691/Militant-infighting-Damascus-outskirts-Eastern-Ghouta-Takfiri-terrorists
--------
No American troops to stay in Iraq after anti-Daesh fight: Iraqi PM
May 5, 2017
Iraqi Prime Minister Haider al-Abadi says US military forces will not stay on in his conflict-stricken Arab country once government forces, backed by volunteer fighters from Popular Mobilization Units, retake swathes of land that are still under the control of Takfiri Daesh terrorists.
Abadi, in a statement released on Friday, announced that there are no foreign combat troops on Iraqi soil, but there are military advisers and experts from a number of countries.
The statement further dismissed the Associated Press report on talks between Iraq and the United States on maintaining American forces in the country.
The US combat mission in Iraq ended in 2010, when former president Barack Obama ordered almost all US troops to withdraw from the Arab state.
The Iraqi prime minister added that the Iraqi government has plans and strategies to develop the capabilities of its security forces through training and arming so that they are fully prepared to counter any future security challenges.
Baghdad is open to all international expertise in accordance with the requirements of Iraqi national sovereignty, Abadi highlighted.
Iraqi forces recapture three villages northwest of Mosul
Meanwhile, Iraqi security forces have made territorial gains on the outskirts of Mosul, located some 400 kilometers (250 miles) north of the capital Baghdad.
Commander of Federal Police Forces Lieutenant General Raed Shaker Jawdat said on Friday that his forces had established control over five square kilometers northwest of Daesh's last urban stronghold, and liberated three villages from the clutches of the extremists.
Jawdat added that Federal Police forces also besieged the militant-held al-Haramat region, and four kilometers close to the Fifth Bridge in western Mosul. He noted that 23 Daesh militants were killed in the process.
Top Daesh commanders slain in western Mosul
Iraqi security forces also launched an operation against Daesh positions in the Zanjili neighborhood of western Mosul, killing a senior militant commander identified as Hassan Jomeh Hassan.
Separately, Captain Ali al-Bahadoli of Counter-Terrorism Service (CTS) said government forces had lobbed a barrage of missiles at an area west of Mosul, killing scores of Daesh militants. Habib Khalid al-Jabbar, an official in charge of the terror group's military affairs, was killed during the operation.
Iraqi army soldiers and pro-government fighters from the Popular Mobilization Units, commonly known by the Arabic name Hashd al-Sha'abi, have made sweeping gains against the Takfiri elements since launching the operation to retake Mosul.
The Iraqi forces took control of eastern Mosul in January after 100 days of fighting, and launched the battle in the west on February 19.
The United Nations says nearly half a million civilians have fled fighting since the offensive to retake Mosul started on October 17, 2016.
Full report at:
http://www.presstv.ir/Detail/2017/05/05/520675/Iraq-Abadi-US-forces-leave-Daesh-defeat
--------
US Airstrikes in Raqqa City Leave Tens of Civilians Dead, Wounded Again
May 05, 2017
The US-led coalition fighter jets targeted Post al-Darieh, Al-Boulman garage and the old garage district in Raqqa city, killing 12 civilians and injuring 15 others.
Meantime, several Syrian civilians were killed and wounded in the US-led coalition airstrikes on the market of the village of al-Dashisheh near al-Shadadi city in Southern Hasaka province.
In a relevant development last Sunday, the Syrian media said Sunday that 14 civilians, including five members of a family, were killed in the US-led coalition air raids in the cities of Raqqa and al-Tabaqa.
The Syrian TV reported that 8 civilians, including five members of a family, were killed in the US-led coalition warplanes' attacks on two neighborhoods of al-Mansoureh and al-Wahab in al-Tabaqa.
In the meantime, six more civilians were killed in the fighter jets' raid on Raqqa city, the TV report added.
Reports also said that five civilians were killed and several more were wounded in the coalition warplanes' attacks on the village of al-Sweidiyeh Kabirh in Western Raqqa in the recent days.
In relevant developments last Tuesday, the coalition warplanes targeted a vehicle carrying civilians near al-Tabaqa city in Western Raqqa, killing all the civilians on board, including several children.
Full report at:
http://en.farsnews.com/newstext.aspx?nn=13960215000301
--------
ISIS leader in Egypt tells Muslims to avoid Christian gatherings
May 6, 2017
CAIRO: Islamic State's leader in Egypt has warned Muslims to stay away from Christian gatherings as well as government, military and police facilities, suggesting that the militant group will keep up attacks on what he referred to as "legitimate targets". In April, two Islamic State suicide bombers killed at least 45 people at churches in the cities of Alexandria and Tanta, one of the bloodiest attacks the country has experienced in years.
"We are warning you to stay away from Christian gatherings, as well as the gatherings of the army and the police, and the areas that have political government facilities," the leader, who was not named, said in an interview in Islamic State's Al Naba weekly newspaper published on Telegram.
Islamist militants are increasingly targeting religious minorities, a challenge to President Abdel Fattah al-Sisi, who has promised to protect them from extremism.
Full report at:
http://nation.com.pk/international/05-May-2017/isis-leader-in-egypt-tells-muslims-to-avoid-christian-gatherings
--------
Damascus: Terrorists Retreat From Al-Qaboun, Flee Streets as Army Advances
May 05, 2017
"The Syrian soldiers made major advances in street battles in al-Qaboun in Eastern Ghouta and took back many more regions from the terrorists in the area," the Arabic-language media quoted a military source as saying.
The source went on to say that after breaking the last defense line of the terrorists South of Al-Qaboun, the army managed to recapture several more apartment blocs and kill more terrorists.
He added that the quick advances by the Syrian army in al-Qaboun have forced many terrorists to flee through underground tunnels.
"In view of the massive attacks by the Syrian army's missile, artillery and tank units, the freedom of al-Qaboun is imminent," the source added.
Although nearly all key points in the al-Qaboun neighborhood have been captured by the Syrian army troops, negotiations are still underway over a militant capitulation that would have members of the terrorist groups evacuated to Idlib.
In a relevant development on Thursday, the Syrian army troops continued to hit terrorists' defense lines in al-Qaboun district in Eastern Ghouta, capturing more positions and inflicting major losses on the terrorists.
The army men engaged in a fresh round of street battles with Al-Nusra Front (also known as Fatah al-Sham Front or the Levant Liberation Board) in al-Qaboun and drove the terrorists back from several residential complexes in the Southeastern part of the district to the North.
The Al-Nusra lost a number of its members in the clashes.
In the meantime, the army's artillery and missile units opened heavy fire at the positions of the terrorists in al-Qaboun, inflicting major losses on the terrorists.
Reports said on Wednesday that the army units continued their anti-terrorism operation inside the al-Qaboun district, hitting militants in the Southern parts of the district.
In the meantime, a military source announced that pro-government forces were trying to confront terrorists in both the Northern and Western directions, driving a wedge between the terrorists.
The source added that the Syrian soldiers recaptured 7 building blocks and discovered a tunnel connecting Southeastern al-Qaboun to the Southwestern part of the district.
Full report at:
http://en.farsnews.com/newstext.aspx?nn=13960215000556
--------
ISIL Withdraws from More Key Positions under Syrian Army Attacks in Homs
May 05, 2017
The government troops along with the National Defense Forces (NDF) continued military operations against the ISIL in Eastern Homs and engaged in bloody battle with the terrorists.
The NDF managed to penetrate ISIL defense lines and finally recaptured Point 968 Northwest of Dab'a Al-Mleha and Points 881 and 876 West of Al-Mushirah Al-Janoubiyeh.
The Syrian army killed 20 ISIL terrorists and destroyed five military vehicles of the militants.
In a relevant development on Wednesday, the army soldiers engaged in fierce clashes with the ISIL in al-Shoumeriyeh mountain and took back control over more positions, killing tens of terrorists.
The army units managed to advance 9km in depth and 13km in width against ISIL and managed to take full control over al-Shoumeriyeh, ending their operation in the mountainous region.
Also on Tuesday the army troops, backed up by the country's Air Force, repelled ISIL's attack to take back lost positions in al-Shoumeriyeh mountain in Eastern Homs, inflicting heavy casualties on them.
The army soldiers engaged in fierce clashes with ISIL in wheat silos and in the regions of Jabab Ham and Rajm al-Qasr and managed to repel terrorists' attack after killing and wounding a number of terrorists.
Full report at:
http://en.farsnews.com/newstext.aspx?nn=13960215000280
--------
Hama: Syrian Army Repels Tahrir Al-Sham's Counter-Offensive
May 05, 2017
Tahrir Al-Sham launched an offensive in the Wadi Al-Adib area of Northern Hama as they attempted to reclaim the territory they lost to the Syrian Army in recent weeks in Northern Hama province.
The Syrian soldiers along with the National Defense Forces (NDF) repulsed the assault after inflicting heavy losses on the terrorists.
A military source pointed to the heavy losses of the terrorists in the Syrian army's missile and artillery attacks, and said that the Syrian army troops seized a large amount of weapons and ammunition from the terrorists after repelling their attack.
In a relevant development on Thursday, the Syrian army troops warded off the terrorist groups' large-scale offensive in Southern Hama, killing and wounding a number of the militants.
The army soldiers engaged in fierce clashes with a group of terrorists that tried to prevail over the pro-government forces' positions in the village of Jadrin between Northern Homs and Southern Hama, and managed to repel their attack.
The terrorists lost a number of fighters under the army soldiers' heavy machinegun fire.
In the meantime, the army's artillery units targeted the positions of the Al-Nusra Front (also known as Fatah al-Sham Front or the Levant Liberation Board) near a square in the small town of Hirbnafsa in Southern Hama, killing a number of militants and destroying their equipment.
Local sources in Northern Hama reported that the Syrian Air Force bombed the movements of Jeish al-Izzah terrorists in the towns of Lahaya and Alboyzeh, inflicting a dozen casualties on the terrorists.
Full report at:
http://en.farsnews.com/newstext.aspx?nn=13960215000597
--------
Syrian Army Wards off ISIL's Massive Assault in Homs
May 05, 2017
The Syrian army soldiers warded off a massive attack by the terrorists on the newly-liberated al-Shoumeriyeh mountain in Homs province.
The ISIL terrorists launched a counter-attack in Eastern Homs province and targeted several points in Al-Shoumeriyeh Mountain that were recaptured by Syrian army troops days ago.
According to reports, after hours of bloody battle, the army units completely repelled the ISIL assault, inflicting casualties and losses on the assailants.
The Syrian army had liberated nearly 10 settlements occupied by ISIL in the Eastern part of the Homs province in late April.
A well-informed source said last Tuesday that the army troops continued their rapid advances against ISIL in al-Shoumeriyeh mountain and managed to tighten noose on the terrorists in Eastern Homs, restoring security to al-Sha'er oilfield and mountain.
The source said that the army men's operation in Eastern Homs started from two flanks of al-Shoumeriyeh mountain and Jubb al-Jarrah and managed to seize the villages of al-Khaliliyeh, al-Tadmuriyeh and Jobab Hamd and al-Shoumeriyeh mount.
They added that the army further managed to capture the main positions of ISIL that overlook the villages of Um Sahrij, al-Shandakhiyat and Unq al-Hawa and ISIL's missile unit was using them to attack several villages, including abu al-Alaya, Jubb al-Jarrah and Um al-Seraj.
The source went on to say that recent advances against ISIL have enabled the army units to protect the newly-captured positions near al-Sha'er mount and al-Sha'er oilfield, adding that security has been restored to the village of Jubb al-Jarrah and its nearby villages.
Full report at:
http://en.farsnews.com/newstext.aspx?nn=13960215000515
--------
Homs: New Phase of Militants' Evacuation from Al-Wa'er Starts
May 05, 2017
The reconciliation agreement of al-Wa'er neighborhood aims at clearing the neighborhood from arms and gunmen and paving the way for the return of governmental institutions to it.
According to a report, as part of the of the reconciliation agreement reached last March in al-Wa'er neighborhood, the eighth batch of gunmen and some of their family members started leaving the neighborhood under the supervision of the Syrian Arab Red Crescent, the Internal Security Forces and the Russian Military Police.
Homs Governor General Talal al-Barazi said in a statement the phases of the reconciliation agreement are going ahead without any obstacle, expecting that nearly 400 gunmen, along with some of their family members head for Jarablus at this phase.
In a relevant development in early April, over 2,000 gunmen and their family members had left al-Wa'er district in Homs for the militant-held regions in the Northwestern province of Idlib.
In the 7th phase of the evacuation deal in al-Wa'er which is supervised by the Syrian Red Crescent and the Russian security and police authorities, a sum of 2,041 people, including 460 militants, left the district for Idlib on 52 buses.
Local sources had confirmed that a sum of 350 gunmen and their family members have left al-Wa'er district for the militant-held regions in Idlib within the framework of the 7th phase of the evacuation deal in the district.
The sources said that 100 gunmen, mainly from Ahrar al-Sham and Al-Nusra Front (also known as Fatah al-Sham Front or the Levant Liberation Board), and 250 of their family members left al-Wa'er district for Idlib on 8 buses under the supervision of the Russian monitoring troops.
Full report at:
http://en.farsnews.com/newstext.aspx?nn=13960215000198
--------
Russia says has stopped bombing proposed Syria safe zones
5 May 2017
Russia on Friday said it had already stopped bombing in areas of Syria set to be designated safe zones under an agreement it inked with Iran and Turkey.
The three key powerbrokers signed off on a Russian plan Thursday to establish four "de-escalation zones" in rebel-held territory of the war-torn country in a bid to shore up a shaky ceasefire.
Under the pact - which Moscow said comes into force from Saturday - the three sides have a month to define the exact borders of the safe zones where fighting and air strikes should be halted.
Moscow - which is flying an air campaign in support of President Bashar al-Assad - said that in order to ease the deal it has stopped bombing the proposed zones.
"From 00:00 May 1 the use of Russian airforce aviation in areas corresponding to the de-escalation zones was halted," senior Russian military commander Sergei Rudskoi told a news briefing.
The safety zone initiative is the latest attempt by Moscow to forge an end to the six-year conflict after its military might turned the tide of the conflict in favor of Assad.
Rudskoi outlined the proposed zones in the northwestern Idlib province, the north of central Homs province, Eastern Ghouta near Damascus and an area of the south involving Daraa and Quneitra provinces.
Along the frontiers of the "de-escalation zones" will be "security zones" with checkpoints and observation posts to monitor and secure access run by the three guarantor countries.
Moscow said that it was talking to "Jordan and a number of other countries" to sign up as backers of the initiative.
Russia's military underlined that it will keep on fighting against the ISIS group and the former Al-Qaeda affiliate previously known as Al-Nusra, including inside the "de-escalation zones".
Rudskoi said that Syrian government troops freed up after the safety zones come into force will be sent to fight ISIS in central and eastern Syria and along the Euphrates river with Russian air support.
Russia's military said it wants to restore an agreement with the United States to coordinate air operations over Syria and reduce the risk of aircraft colliding.
Russia suspended the agreement a month ago following a US missile strike on a Syrian air base in response to a deadly chemical gas attack that has been blamed on the Syrian government forces.
Rudskoi told reporters on Friday that Russian officers planned to discuss the restoration of the agreement with their American counterparts soon.
Pentagon: Deal won't affect ISIS fight
Meanwhile, the Pentagon says the de-escalation agreement will not affect the UC led air campaign against the ISIS group in Syria.
Marine Maj. Adrian J.T. Rankine-Galloway, a Pentagon spokesman, said on Friday that "the coalition will continue to target ISIS wherever they operate to ensure they have no sanctuary."
Rankine-Galloway noted that the US government is not party to the agreement, which was struck during cease-fire talks in Kazakhstan on Thursday.
The United States was represented at the talks but was not part of the agreement signed by Russia, Iran and Turkey.
The Pentagon spokesman also said that the US continues "to effectively de-conflict coalition operations, however, we are not going to discuss the specifics of how we de-conflict operations in the highly congested and complex battlespace in Syria."
Syrian Kurdish PYD denounces deal
The Syrian Kurdish PYD party rejected a Russian proposal to create de-escalation zones in Syria and views it as "sectarian partition" of the country, a spokesman said on Friday.
Iran and Turkey agreed on Thursday to the Russian plan, but the memorandum was not immediately published, leaving its details unclear.
The zones appear intended to halt conflict in specific areas between Syrian government forces and rebels, and would potentially be policed by foreign troops.
The plan amounts to "dividing Syria up on a sectarian basis," said Ibrahim Ibrahim, a PYD spokesman, who described it as a "crime".
Ibrahim said the Russian proposal could also threaten autonomous regions in the Kurdish-dominated north that emerged with the onset of the multi-sided conflict in 2011.
The PYD is the political affiliate of the YPG militia, which effectively serves as the military of the Kurdish-led enclaves and has appeared to be a key partner for the United States in fighting ISIS in Syria.
Full report at:
https://english.alarabiya.net/en/News/middle-east/2017/05/05/Russia-says-has-stopped-bombing-proposed-Syria-safe-zones-.html
--------
Russia: Syria safe zones closed to US coalition jets
5 May 2017
Jets from the US-led coalition are barred from proposed safe zones in Syria set to be created under a deal inked by Russia, Iran and Turkey, Moscow's envoy said Friday.
"In terms of their actions in the de-escalation zones then from this moment these zones are closed for their flights," the Kremlin's envoy to peace talks in Kazakhstan Alexander Lavrentiev was quoted as saying by Interfax news agency.
"Aviation operations, especially by the international coalition forces, are absolutely not envisioned," he said.
Regime backers Russia and Iran and rebel supporter Turkey on Thursday signed a deal at talks in Kazakhstan to set up four safe zones in the war-torn country.
The agreement did not explicitly mention the US-led coalition, which has been targeting militants from the ISIS, but Lavrentiev insisted that "flights cease over these territories."
"We as guarantors will closely monitor all operations," he said.
Moscow's envoy said this means coalition air power can now only focus on "ISIS targets that are located in the area of Raqa, some populated areas in the region of the Euphrates, Deir Ezzor and further on to the territory of Iraq."
The exact boundaries of the proposed safe zones in Syria are yet to be defined but they are meant to focus on rebel-held territory.
The United States gave an extremely cautious welcome to the deal, citing concerns over Iran's role as a guarantor, even as it expressed hope that the agreement could set the stage for a settlement.
Full report at:
https://english.alarabiya.net/en/News/middle-east/2017/05/05/Russia-Syria-safe-zones-closed-to-US-coalition-jets-.html
--------
ISIS leader warns Muslims to avoid Christian gatherings in Egypt
5 May 2017
ISIS leader warned Muslims in Egypt to avoid Christian gatherings, posing a threat of further attacks against Christians in the country following two suicide bombings that targeted two churches last month.
In the weekly Al Naba newspaper, published on the encrypted messaging platform Telegram, the anonymous leader warned Muslims to keep away as well from army and police targets.
"We are warning you to stay away from Christian gatherings, as well as the gatherings of the army and the police, and the areas that have political government facilities," he said.
ISIS suicide bombers detonated two bombs targeting churches in the city of Alexandria and Tanta, killing 45.
Full report at:
https://english.alarabiya.net/en/News/middle-east/2017/05/05/ISIS-leader-warns-Muslims-to-avoid-Christian-gatherings-in-Egypt.html
--------
Africa
47 killed in clashes between Chadian forces, Boko Haram terrorists
May 5, 2017
At least seven Chadian troops and some 40 militants belonging to the Boko Haram Takfiri terrorist group have been killed in clashes in the volatile Lake Chad region, the Chadian military says.
According to Chadian army spokesman Colonel Azem Bermendoa Agouna, the fighting broke out in the early hours of Friday, when Boko Haram terrorists launched an attack against the Chadian army's position in Kaiga on Lake Chad but "were pushed back" by fierce response from the government troops.
Chad is a member of a multinational task force battling Boko Haram across its border with Nigeria, Niger and Cameroon. The force has been created with the aim of preventing a spillover of the Nigeria-based militancy to those countries.
Boko Haram terrorists started their reign of terror in 2009 with the aim of toppling the Nigerian government. In their heyday in early 2015, they managed to control an area in the country's northeast as vast as Belgium but lost most of that territory over the past year as the multinational task force launched a campaign to eradicate the militant group.
On December 24, 2016, Nigerian President Muhammadu Buhari, who came to power in 2015 with a pledge to eradicate Boko Haram, announced that the army had "crushed" the terror group a day earlier by retaking its last key bastion, deep inside the thick Sambisa Forest in Borno.
The group, however, has resorted to sporadic shooting and bombing attacks in the country's northeast, spreading panic among the local residents. It also carries out cross-border attacks in Niger, Chad and Cameroon.
Boko Haram, whose name means "Western education is forbidden," has claimed responsibility for numerous deadly terror attacks in Nigeria during the past eight years. The attacks have so far claimed the lives of at least 20,000 people and displaced more than 2.7 million others.
Full report at:
http://www.presstv.ir/Detail/2017/05/05/520716/Chad-troops-Boko-Haram-Muhammadu-Buhari-Daesh
--------
Kenya: Jumwa, Charo Prepare for Tough Battle for Malindi Post
4 MAY 2017
By Daniel Tsuma Nyassy
Voters in Malindi constituency are set to be the target of yet another round of bruising campaigns as Jubilee and ODM parliamentary candidates lock horns ahead of the August 8 General Election.
The campaigns come 15 months after the two parties fought a major political battle during the Malindi by-election that was won by ODM.
The March 7, 2016 by-election pitted JP candidate Philip Charo against ODM's William Mtengo.
JUMWA AGAINST CHARO
The biggest change is that Kilifi Woman Rep Aisha Jumwa, who led ODM's campaign and victory for Mr Mtengo in the by-election, is herself in the parliamentary ring this time around.
She bagged the ODM ticket in a vicious battle with Mr Mtengo that produced almost as much fireworks as the unforgettable by-election.
She scooped 8,436 votes against the incumbent's 3,758 votes.
Now the August election will feature Mr Charo against Ms Jumwa.
Ms Jumwa, the vocal and skilful orator made her threat come to pass by wrestling the inexperienced Mtengo at the party primaries last week after supporting him so vigorously during the by-election.
KAZUNGU'S APPOINTMENT
She will face Mr Charo and by extension, Jubilee, like it was in 2016.
However, Mr Mtengo is also likely to feature after he indicated he would consider running on an independent ticket.
In the by-election, Mr Mtengo beat Mr Charo when he got 15,582 votes to his opponent's 9,243 votes to fill the vacancy left by MP Dan Kazungu (ODM), who was appointed Mining Cabinet Secretary by President Uhuru Kenyatta and had to resign as MP.
Mr Charo got the JP ticket almost effortlessly when he floored his only rival, Mr Peter Mwawana with 7,269 votes to the challenger's 1,135 votes during the party primaries last week.
FOCUS CAMPAIGN
It can be argued, however, that a lot of water has passed under the bridge.
The by-election campaigns had the push of the opposition top brass, ODM leader Raila Odinga, Wiper leader Kalonzo Musyoka and all the other opposition chiefs, including Mombasa Governor Hassan Joho and his Kilifi counterpart Amason Jeffa Kingi.
Equally, the Jubilee onslaught then had its top men, Deputy President William Ruto, outspoken MP for Garissa Township and Leader of Majority in the National Assembly Aden Duale, and Kilifi North MP Gideon Mung'aro among others in Mr Charo's campaign trail.
The opposition leaders then had set aside their differences to mount a fierce common campaign for their candidate.
The same cannot be said today as Ms Jumwa is said to be allied to Mr Odinga while the disgraced Mtengo has massive support from Governor Kingi.
ODM ZONE
It is obvious that during the August 8 race, it will be a one-on-one battle between the vocal Ms Jumwa and Mr Charo, with residents holding their breath to see who will carry the day.
There's also currently bad blood between Ms Jumwa and Mr Kingi, with the MP accusing the governor of having taken sides and backed Mr Mtengo during the party mini-polls.
Malindi and indeed the entire coast has been a strong opposition zone, this is manifested by the number of seats it won during the 2013 General Election.
All the six governors in the coast were elected on opposition party tickets.
Majority MPs and MCAs too were elected on the now Nasa-affiliated parties.
WOOING VOTERS
Jubilee has been struggling to make inroads in the area since then, with a spirited onslaught led by President Kenyatta, his deputy and a group of rebel coast MPs led by Mr Mung'aro.
The Kenyatta administration has been dangling the carrot of development to lure voters and reverse the opposition wave in the area -- funding massive roads projects, initiating electricity supply programmes, dishing title deeds and appointing locals to top public service jobs.
Those in JP have been arguing that there is much to be gained in terms of development by being in government, unlike in the Opposition.
However, the Opposition still enjoys an upper hand in the area because residents believe that their aspirations and dreams are found there - ending marginalisation, resolving the decades-old squatter problem, fair distribution of resources and generally better governance.
Full report at:
http://allafrica.com/stories/201705050176.html
--------
US soldier killed, two wounded in fight with Shabaab in Somalia
May 6, 2017
MOGADISHU - An American soldier was shot dead and two others wounded in Somalia during a joint operation with Somali forces against Shabaab militants, the US military said Friday.
"On May 4, one US service member was killed during an operation against al-Shabaab near Barii, Somalia, approximately 40 miles west of Mogadishu," said a statement from the US Africa Command (AFRICOM), adding the US forces were "conducting an advise and assist mission alongside members of the Somali National Army."
AFRICOM spokeswoman Robyn Mack told AFP two US soldiers were also wounded. "The service member was struck by small arms fire while conducting an advise and assist mission alongside members of the Somalia National Army. Two other US service members were wounded in the incident. They are both receiving proper medical attention," she said.
US special forces have been deployed in Somalia for years, training and supporting the Somali military in the fight against the al-Qaeda aligned Shabaab. Drone and missile strikes have also been used against Shabaab commanders and footsoldiers.
Since taking office President Trump has signed a directive loosening the US military's rules of engagement in Somalia and authorised the deployment of dozens of additional regular troops from the 101st Airborne Division.
In 1993, during the last major deployment of US troops in Somalia, 18 US soldiers were killed in the capital Mogadishu in fighting against warlords and their clan militias. The incident was captured in the book and film 'Black Hawk Down'.
Full report at:
http://nation.com.pk/international/06-May-2017/us-soldier-killed-two-wounded-in-fight-with-shabaab-in-somalia
--------
South Asia
US drone strike leaves 7 ISIS-K militants dead in East of Afghanistan
May 04 2017
At least seven militants of the Islamic State of Iraq and Syria (ISIS) terrorist group's offshoot in Afghanistan, ISIS-Khurasan, were killed in an airstrike in eastern Nangarhar province of Afghanistan.
The provincial police commandment said the airstrike was carried out in the vicinity of Gorgori area of Haska Mina district on Wednesday.
The source further added that the security forces and the local residents did not suffer any casualties in the airstrike.
The anti-government armed militant groups including the ISIS-K loyalists have not commented regarding the report so far.
Nangarhar is among the relatively calm provinces in eastern Afghanistan but the anti-government armed militant groups have recently increased their insurgency activities in some parts of the province during the recent years.
This as an anti-ISIS operation is underway in Nangarhar to eliminate the presence of ISIS affiliates in this province.
The Hamza operations were launched nearly one month ago in response to the growing threats posed by ISIS loyalists in Nangarhar province.
The US forces based in Afghanistan are also providing support to the Afghan forces during the operations, mainly involving airstrikes.
The US forces in Afghanistan dropped the largest non-nuclear bomb on ISIS hideouts in Achin district last month that resulted into the elimination of the largest tunnels network of the terror group besides leaving nearly 100 ISIS militants dead, including some of their senior leaders.
http://www.khaama.com/us-drone-strike-leaves-7-isis-k-militants-dead-in-east-of-afghanistan-02717
--------
Hekmatyar warmly welcomed in ARG Palace by Afghan government
May 04 2017
The Afghan government warmly welcomed the leader of Hezb-e-Islami Gulbuddin Hekmatyar to ARG Presidential Palace today.
Hekmatyar arrived in capital Kabul before noon today after almost twenty years and conclusion of the peace agreement with Afghan government.
President Mohammad Ashraf Ghani hailed Hekmatyar for reaching an agreement with the government to accept reconciliation and insisted that the government is committed to pave the way for peace for the Afghan nation.
Speaking during a gathering in ARG Palace, President Ghani said the conclusion of peace agreement with Hezb-e-Islami proves that the Afghan nation and government is committed to peace and stability.
President Ghani called on the other insurgent and militant groups to adopt negotiations rather violence, raising questions regarding the capabilities of Taliban to participate in peace talks similar as Hez-e-Islami.
Full report at:
http://www.khaama.com/hekmatyar-warmly-welcomed-in-arg-palace-by-afghan-government-02718
--------
Two held in Narail in war crimes case
May 05, 2017
They were sent to jail by a court
Police have arrested two war crimes accused from different places of Narail.
Gulzar Hossain Khan, 70, of Sheikh Hati village under Sadar upazila; and Daud Sheikh, 68, of Lakshmipasha village under Lohagorha upazila were arrested from their houses early Friday.
They were sent to jail by a court later in the day.
Confirming their arrests, Narail Sadar police chief Delwar Hossain said that the duo had been arrested in a case filed with the International Crimes Tribunal on March 21 last year.
Full report at:
http://www.dhakatribune.com/bangladesh/nation/2017/05/05/two-held-narail-war-crimes-case/
--------
Afghan civilians suffer casualties in rocket attack from Pakistan in Nangarhar
May 06 2017
Two Afghan civilians were killed or wounded in rocket attack from the other side of Durand Line in eastern Nangarhar province of Afghanistan.
Provincial governor's spokesman Ataullah Khogyani said the rockets landed in Torkham Township, leaving a driver of a truck dead.
He said four trucks were burnt after the mortar rounds landed on them and another driver was wounded.
Khogyani further added that the shelling started around 7 am local time and continued for several minutes.
According to Khogyani the situation in the area is normal at the moment and the Torkham route is open for the traffic and passengers.
This comes as a deadly clash broke out between the Afghan security forces and the Pakistani troops near the Durand Line in Spin Boldak district of Kandahar on Friday.
Full report at:
http://www.khaama.com/afghan-civilians-suffer-casualties-in-rocket-attack-from-pakistan-in-nangarhar-02721
--------
Clash among Afghan and Pakistani forces in Spin Boldak
May 05 2017
A clash broke out between the Afghan and Pakistani security forces in Spin Boldak near the Durand Line earlier this morning.
According to the local officials in Kandahar, the clash started around 3 am local time as the Pakistani militia forces were trying to conduct census work.
Provincial governor's spokesman Samim Khpolwak confirmed the incident and said the militia forces of Pakistan had started census work in Loqman village which belongs to Spin Boldak district of Kandahar.
He said the Afghan security forces prevented the Pakistani militia forces to do census work inside the Afghan soil which resulted into clash.
Khpolwak further added that the clashes continued for several hours and the two sides have sustained casualties but did not disclose the exact number.
In the meantime, the provincial security commandment in Kandarhar said additional border protection forces have been deployed in the area.
On the other hand the Pakistani authorities are claiming that a child was killed and 18 others were wounded during the clash.
Full report at:
http://www.khaama.com/clash-among-afghan-and-pakistani-forces-in-spin-boldak-02720
--------
Mideast
Unesco ratifies Jerusalem resolution slammed by Israel
May 6, 2017
PARIS - The executive board of the UN's cultural agency ratified Friday a resolution that identifies Israel as "the occupying power" in Jerusalem and calls on it to rescind any move changing the city's "character and status."
The resolution had been passed by a Unesco commission on Tuesday, sparking anger in Israel.
The text, approved at Unesco headquarters, denounces "all legislative and administrative measures and actions taken by Israel, the occupying power, which have altered or purport to alter the character and status of the Holy City of Jerusalem."
It said such moves were "null and void and must be rescinded forthwith".
It particularly criticised Israel's annexation of east Jerusalem after occupying it in 1967, a move that remains unrecognised by the international community.
The resolution had been passed on Tuesday by 22 votes to 10, with 23 abstentions.
It drew the ire of Israeli Prime Minister Benjamin Netanyahu, who responded this week by cutting his country's UN funding by $1 million.
Saying the resolution denies Jews' historical connection with Jerusalem, Netanyahu called the move "absurd" and said "this systemic harassment has a price."
It was the third time in recent months Israel reduced its UN budget over what it considers anti-Israel votes, putting the 2017 payments at $3.7 million instead of the original $11 million, an Israeli official said.
Israel had already locked horns with Unesco in October, when the agency's World Heritage Committee adopted a resolution voicing concern about threats to the city from Israeli building works and archaeological excavations.
Netanyahu recalled his Unesco envoy for consultations.
Israel considers all of Jerusalem its undivided capital, but the Palestinians want the eastern part, including the Old City, as the capital of a future state.
http://nation.com.pk/international/06-May-2017/unesco-ratifies-jerusalem-resolution-slammed-by-israel
--------
Jordanians Stage Rally In Support Of Palestinian Inmates on Hunger Strike
May 5, 2017
Hundreds of people have staged a rally in Jordan to express solidarity with hundreds of Palestinians who have stopped eating their food portions in Israeli jails in protest at the administrative detention policy and harsh prison conditions.
The protesters marched through a street in downtown Amman, holding up a sign reading "In Support of the Brave Prisoners" in Arabic. Member of parliament Deema Tahboub was among the marchers.
"Our message is that we stand with the prisoners' movement. The Palestinian cause is the only just cause in the world that no one can disagree with. We support the prisoners in all their demands, and we hope this movement will lead to the liberation of all the prisoners in the occupied territories," demonstrator Ghada Amar said.
Tahboub said, "This is a march in solidarity with the prisoners in Israeli jails. We send a message of solidarity from Amman; we call on the international community to stand beside the prisoners for ... [defending] their human rights. You can see that all the people here amassed for one and only reason. We call for the support of the Palestinian prisoners in Israeli jails and for them to have their basic human rights."
The development came on the same day that the Palestinian Prisoners' Society (PPS) announced that more Palestinians in the Israeli-run Ofer prison near the occupied West Bank city of Ramallah have launched an open-ended hunger strike.
Israel preparing to force-feed hunger strikers
Meanwhile, the Israeli regime is reportedly preparing to coerce hundreds of the Palestinian hunger strikers to end their protest by force-feeding them.
The Israeli Health Ministry has ordered hospitals to get ready to receive hundreds of hunger strikers. The ministry said hospitals should force prisoners to take medicines or nutrients if they are in a life-threatening condition or risk permanent disabilities.
More than 1,600 Palestinian prisoners have joined the protest action dubbed the Freedom and Dignity Strike since April 17, which was initially called by imprisoned and former Fatah movement leader Marwan Barghouti.
The strikers are demanding basic rights, such as an end to the policies of administrative detention, solitary confinement and deliberate medical negligence.
The much criticized administrative detention is a policy under which Palestinian inmates are kept in Israeli detention facilities without trial or charge. Back in 2012, a similar hunger strike, involving some 2,000 Palestinian inmates, ended after an agreement was reached with Israeli authorities to terminate the policy of internment without trial or charge.
Full report at:
http://www.presstv.ir/Detail/2017/05/05/520701/Jordan-rally-solidarity-Palestinian-hunger-strikers-Israeli-jails
--------
Turkish court rejects appeal against Wikipedia ban
May 5, 2017
A Turkish court has rejected an appeal by the Wikimedia Foundation against a ruling delivered last week to block all access inside Turkey to the Wikipedia online encyclopedia.
According to the state-run Anadolu news agency, the first magistrates court in Ankara on Friday dismissed the appeal filed by the foundation, which runs Wikipedia, among other sites.
On May 1, a court in Ankara backed the April 29 ban imposed by Turkey's Information and Communication Technologies Authority (BTK).
The block was reportedly imposed following Wikipedia's failure to respond to repeated requests by Turkey to remove content accusing Ankara of cooperation with several terrorist groups.
The head of Turkey's communications agency, Omer Fatih Sayan, said on Wednesday that the ban would continue to be enforced until the online encyclopedia followed court rulings ordering it to remove the anti-government content that Ankara deemed to be false.
Istanbul's municipality officials also canceled on May 2 an invitation sent to Wikipedia's founder, Jimmy Wales, to attend the World Cities Expo, a major international conference to be held in the city on May 15-18.
Wales had reacted to the ban on April 29, saying, "Access to information is a fundamental human right. Turkish people, I will always stand with you to fight for this right."
The block angered freedom of information activists who accuse Ankara of slapping bans on websites and social media with alarming regularity.
Over the past years, Turkey has become notorious for provisionally blocking access to popular sites, including Facebook and Twitter, in the wake of major events such as mass protests or militant attacks.
Ankara has also been engaged in suppressing the media and opposition groups, who were believed to have played a role in a coup attempt on July 15, 2016, when a faction of the Turkish military declared that the government of President Recep Tayyip Erdogan was no more in charge of the country.
Full report at:
http://www.presstv.ir/Detail/2017/05/05/520672/Turkey-appeal-Wikipedia-ban
--------
Turkey fires 100 more judges, prosecutors
May 6, 2017
ISTANBUL - Turkey's judicial authorities on Friday announced the sacking of over 100 more judges and prosecutors deemed to be followers of the alleged mastermind of the July 15 failed coup, in a purge that shows no sign of letting up.
The Supreme Board of Judges and Prosecutors (HSYK) said that 107 judges and prosecutors were being fired in the latest wave of the purge against alleged supporters of the US-based preacher Fethullah Gulen. They are also the target of an arrest warrant but it was not clear if any had been detained so far.
Turkey accuses Gulen of masterminding last year's failed bid to oust President Recep Tayyip Erdogan but the reclusive preacher denies the charges.
Some 47,000 people have been arrested under the state of emergency imposed after the coup, while tens of thousands more have lost their jobs.
Only last weekend, Turkey dismissed almost 4,000 public officials under the state of emergency while over 9,100 police were suspended on April 26.
According to Anadolu, 4,238 judges and prosecutors have been fired over alleged links to Gulen since the start of the state of emergency.
The latest sackings underline that there is to be no let-up in the anti-Gulen purge after Erdogan won a April 16 referendum on expanding his powers.
Under the new presidential system, the HSYK is itself due to be reformed with its members reduced to 13 from 22, of whom seven will be chosen by parliament and six either directly or indirectly via the president.
Full report at:
http://nation.com.pk/international/06-May-2017/turkey-fires-100-more-judges-prosecutors
--------
Saudi border forces counter Houthi attack near Najran
6 May 2017
Saudi forces were able to counter an attack from Houthi militias and forces loyal to former Yemeni president Ali Abdullah Saleh in the border region near Najran.
The counter-attack came after several Houthi militias were able to breach into Saudi border on Friday afternoon but Saudi forces were able to stop their advance.
Several of the militias and one of their leaders were injured in the counter-attack by Saudi forces.
Full report at:
https://english.alarabiya.net/en/News/gulf/2017/05/06/VIDEO-Saudi-forces-counter-Houthi-attack-near-Najran.html
--------
Israeli troops injure dozens of Palestinian protesters in West Bank
May 6, 2017
Israeli military forces have wounded dozens of people demonstrating across the occupied West Bank in solidarity with Palestinians prisoners on an open-ended hunger strike in Israeli jails.
The rallies were held on Friday in several localities in the occupied territories in support of some 1,600 Palestinian inmates who have joined a hunger strike, dubbed the Freedom and Dignity, which started on April 17 in protest at their conditions in Israeli prisons.
At least 28 demonstrators sustained injuries at the Beta junction near Nablus when Israeli troops fired tear gas, stun grenades and rubber bullets at the Palestinian protesters.
In the town of Beit Ummar, northwest of al-Khalil (Hebron), at least two protesters suffered gunshot wounds to their their legs, while a number of other Palestinians suffered from tear gas inhalation in Bab al-Zawiya area in central al-Khalil.
At least eight demonstrators were injured in the small central West Bank village of Nabi Salih. Five of the wounded were shot by live bullets and the rest were injured by rubber-coated bullets. Israeli troops had already closed the main road to the village, barring ambulances from reaching the area.
Israeli forces also suppressed a rally in the village of Nilin, where several demonstrators suffered breathing difficulties as a result of inhaling tear gas.
In Kafr Qaddum, a teenage demonstrator was hit by a tear gas canister to his head and another one was shot in the foot by a live bullet. Six other demonstrators suffered from tear gas inhalation in the northern West Bank town.
Clashes were also reported at the Qalandiya checkpoint, a main crossing point between Jerusalem al-Quds and Ramallah, but there has been no immediate report of possible casualties.
The mass hunger strike is led by 57-year-old Marwan Barghouti (pictured above), who is a top leader of the Palestinian Fatah movement. Barghouti, a highly popular figure among Palestinians, has been sentenced by an Israeli court to five life terms in jail over his role in a Palestinian Intifada (Uprising). He has been in Israeli prisons since 2002.
The hunger strikers are calling for immediate improvements in jail conditions, including longer family visits, proper medical attention, phone access, and an end to solitary confinement and administrative detention.
Meanwhile, the Israeli regime is reportedly preparing to coerce hundreds of the Palestinian hunger strikers to end their protest by force-feeding them.
The Israeli Health Ministry has ordered hospitals to get ready to receive hundreds of hunger strikers. The ministry said hospitals should force prisoners to take medicines or nutrients if they are in a life-threatening condition or risk permanent disabilities.
Full report at:
http://www.presstv.ir/Detail/2017/05/06/520723/Palestine-Israel-West-Bank-Nablus-hunger-strike-protest-tear-gas
--------
URL: https://www.newageislam.com/islamic-world-news/man-accused-planning-bomb-new/d/111052
New Age Islam, Islam Online, Islamic Website, African Muslim News, Arab World News, South Asia News, Indian Muslim News, World Muslim News, Women in Islam, Islamic Feminism, Arab Women, Women In Arab, Islamophobia in America, Muslim Women in West, Islam Women and Feminism