New Age Islam News Bureau
11 Oct 2012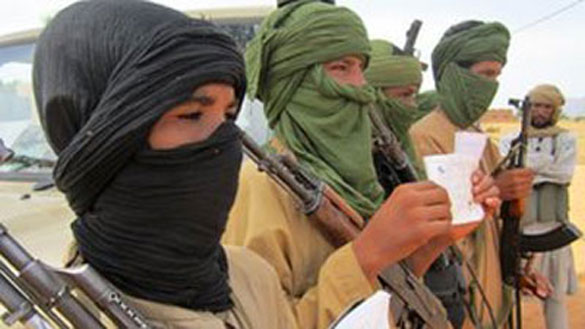 Africa
• Mali Islamists 'Buying Child Soldiers at $600 per Child, Imposing Sharia'
• In search of Salafists, the West's new bad guys
• Libya reserves Haj slots for relatives of martyrs
• At Hague, Libya Insists It Should Try Qaddafi Son
• Nigeria, Islamists May Have Committed Crimes Against Humanity: HRW
• Thousands march in Mali to urge armed intervention against Islamists
• Sudan expels Norwegian diplomat in tit-for-tat spy row
Europe
• Norwegian mass killer's mother 'sexualised him as a child'
• Muslim players told wearing Wonga-sponsored shirts infringes Sharia law
• UN chief strongly condemns 'heinous and cowardly' attack on Pakistani schoolgirl
• Danish agency accused over CIA killing of Awlaki
• Suspected Militants Planned French Attacks: Prosecutor
• Abu Qatada appeal: UK called for pardon by Jordan
• France frees five of 12 detained as Islamic extremists
Pakistan
• Mob ransacks house of Pak Christian boy accused of blasphemy
• Pakistani teen Malala Yousufzai's Taliban attackers identified
• Malala Yousufzai 'not yet out of danger', being shifted to Rawalpindi
• 5 killed in drone strike in Miranshah
• Pak announces Rs 1 crore for information on Malala's attackers
• Six killed in bomb blast in Pakistan
• Malala's attackers identified, will be brought to justice: Rehman Malik
• Battle Eases between Pakistani Government and High Court
• Orakzai blast kills eight, injures 20
• Balochistan unrest: Roadside blast kills five, injures 15 in Sibi
• Balochistan case: FC's job to establish peace in province, says CJ
• Former intelligence officer kidnapped in Islamabad
• Rimsha case: Cleric granted bail
• 'UN rights mechanism can help improve situation in Pakistan'
• War in Afghanistan is jihad, says Imran
• For attacks on houses, PPP blames 'pseudo-nationalists'
• Lahore custom collector make strange claim about smuggling in goods train
India
• In Deoband, BJP President talks 'social harmony'
• In Bangladesh at the time of 'crime', yet held in Tihar for years
• Cops foil Indian Mujahideen's major plan to strikes Delhi and Bodh Gaya, 3 held
• 1000 youths want to return home from PoK: J&K govt
• Picturesque Kashmir attracts foreign tour operators
• Scenes in anti-Islam film blocked on web: Police
Arab World
• Middle East Airlines fires air hostess for racism
• 8 Syrians die in attack on bus at Lebanon border: Syria TV
• I do not fear the Islamists' rise to power: Head of Cairo Opera House
• Film about Egyptian Jews stirs 'normalization' uproar
• Egypt releases partial draft of disputed constitution
• Egypt Brotherhood urges demos, ex-officials' retrial
• Egypt's first president Mohamed Naguib: Homeless forever
• Islamic Investment Company launched in Riyadh
• Syrian opposition seeking new impetus at Qatar talks
• Egyptian 'Battle of the Camels' officials acquitted
North America
• Al-Qaida grows every day in Libya: US security chief
• Iran can target New York City due to large Jewish population: NYPD
• Canada Muslims Stand Up to Intimidation
• American arrested for suspected Al-Qaeda links in Yemen
• Barack Obama names US Marine Gen John Allen in Afghanistan to lead NATO
Mideast Asia
• Rift with Moscow Deepens After Turkey Forces Syrian Jet to Land
• Israeli warplanes hit Gaza after rocket attacks
• Turkey briefly detains Syrian plane as tension heightens
• Yemen security chief at US Embassy killed in Sanaa
• Iran on a defiant note in the face of currency hardship
Southeast Asia
• The correct way of jihad is not terrorism: Haji
• Malaysia transsexuals lose court fight against law banning men from wearing women's clothes
• Indonesian leader says Bali bombings strengthened nation
• National scene: NU calls for jihad against AIDS
South Asia
• Bangladesh's ex-army chief surrenders over graft cases
• US soldier in Afghanistan survives grenade direct hit
• Afghan Officials Denounce Western Group's Report on Country's Future
Compiled by New Age Islam News Bureau
Photo: Mali Islamists 'Buying Child Soldiers at $600 per Child, Imposing Sharia'
URL: https://www.newageislam.com/islamic-world-news/new-age-islam-news-bureau/mali-islamists--buying-child-soldiers-at-$600-per-child,-imposing-sharia-/d/8950
--------------
Africa
Mali Islamists 'buying child soldiers at $600 per child, imposing Sharia'
October 11, 2012
Islamists who seized control of part of Mali are amassing money from ransoms and drug trafficking while imposing Sharia law, says a senior UN official.
They are also buying child soldiers, paying families $600 (£375) per child, Ivan Simonovic said after a fact-finding visit to the country.
Islamic extremists seized two-thirds of Mali in March when a military coup plunged the country into chaos.
Mr Simonovic painted a grim picture of human rights abuses there.
Women's rights were being particularly restricted, said Mr Simonovic, the UN Assistant Secretary-General for Human Rights, citing the compilation of a "frightening" list of unmarried women who were pregnant or had borne children.
More women were being forced into marriage - with a wife costing less than $1,000 - and some were then being resold in "a smokescreen for enforced prostitution", added Mr Simonovic.
"Human rights violations are becoming more systematic," he told reporters at UN headquarters in New York, adding that Islamists had "imposed an extremist version of Sharia".
Amputations and floggings
The fact-finding mission gleaned information from people travelling to and from northern Mali, where he said Islamists were imposing harsher punishments for crimes.
So far, he said, there had been three public executions, eight amputations and two floggings.
There were allegations of torture and inhuman prison conditions in southern Mali, where the government retains control, Mr Simonovic added.
He urged authorities to investigate these cases if they expected UN help as Mali's army tries to reclaim the north.
The 15-member Security Council seems prepared to back an international intervention force in the country, under the right conditions, says the BBC's Barbara Plett at the UN.
She says council members are deeply concerned about al-Qaeda linked extremists taking advantage of the anarchy in northern Mali.
http://www.bbc.co.uk/news/world-africa-19905905
--------------
In search of Salafists, the West's new bad guys
SABRIA S. JAWHAR
11 October 2012
REPRESENTATIVES of the Council on Foreign Relations (CFR), an American non-profit organization specializing in US foreign policy and international affairs, were in Tunisia this week on a search for Salafists. And it appears they found just the kind of Salafists they were looking for: Anti-democratic and hell-bent on bringing Shariah to the masses.
I think highly of the Council on Foreign Relations, but the organization has fallen into the Western trap of creating new bogeymen when the old ones no longer inspire condemnation. Representing the CFR on the Tunisian trip was Ed Husain, a senior fellow at the CFR and co-founder of the United Kingdom-based McQuilliam Foundation.
I have little use for the McQuilliam Foundation, which purports to be a think tank focusing on counterterrorism, but is really nothing more than government-paid informants who shill for the UK government's view of what constitutes a good Muslim. The foundation also studies "Islamism," which, I suppose, is a bad thing for the West and must be monitored. If one is not a mild-mannered, moderate Muslim, then one must be an Islamist with the attendant baggage that goes with it in the West. Unsurprisingly, the McQuilliam Foundation has little credibility in the Muslim community.
So, it was with this in mind I read Husain's blog post recently on the CFR website about how he plunged into the lion's den in search of Salafists. He didn't disappoint. Right off the bat, Husain tells us that Salafism and Wahabbism are the most "dangerous, destructive strain of thought." So he wasn't looking for my father's Salafist neighbours in Madina, but something more sinister.
The reason for their hunt was to investigate the swift rise of Salafism among Tunisia's youth. The increase has been so great since the fall of Zine El Abidine Ben Ali that it has alarmed the more moderate Islamic leaders.
Husain drove around Tunis looking for guys with the longest beards and shortest thobes, hoping that one will identify himself as a Salafist. And sure enough, like ducks in a pond, they found a few young men who met Husain's stereotyped expectations: misogynist, anti-democratic and uninterested in moderate Islamic leaders.
These self-described Salafists believed in "real and true" leaders like Bin Baz and Sheikh Uthaymeen, both of whom are deceased and who Husain described as "socially regressive" but are considered by Saudis to be true Salafists of their time and since replaced by other conservative sheikhs. An apt comparison would be US Republican presidents Richard Nixon and Ronald Reagan replaced by extreme right-wing Republicans Rick Santorum, Paul Ryan and Michele Bachmann.
Yet the Tunisian Salafists have little use for the popular Saudi Sheikh Salman Al-Audah who endorsed the Ennahda party in the Tunisian elections. Sheikh Salman is also one of the few contemporary Salafists who visited the Shiites in the Eastern Province to promote dialogue and to develop tolerance. However, another bearded man told the CFR that Tunisian Salafists actually prefer two Jordanian jihadis as their spiritual leaders.
The Salafists on the Tunis street corner, or maybe just a bunch of guys having fun with the Brit, established their bona fides as narrow-minded miscreants. They went on to say that Tunisian Salafists do not have political parties because they divide Muslims and that democracy is kufr. "As Muslims, we cannot believe in democracy. It is not our Sunnah, but a Sunnah of the West," according to Husain.
I guess Husain's street corner experts had forgotten — and Husain apparently didn't bring it up — that Shoura is the very essence of democracy in which community members reach a consensus to make decisions. And they also failed to understand The Camel War, the first fitna in which Muslims fought Muslims in 656 while the Prophet's wife, Ayesha, (may Allah be pleased with her) rode a camel into battle. Divisions exist. It's human nature. By calling the work of Muslims who want to implement democracy as kufr, well, there's your division.
When one looks hard enough, they will undoubtedly end up confirming their worst fears and justify their own prejudices. It's troubling that Husain, under the aegis of the CFR, went to Tunisia with a preconceived idea of what makes a Salafist and then shoehorns that perception into validating his prejudices.
I grew up in Madinah and never knew of Salafism carrying a negative connotation or viewed as a political entity. But since the beginning of the Arab uprisings, Salafism has replaced Wahhabism as the new obsession of the West.
Salafism to me was, and remains today, a term to demonstrate a commitment to the regulations of Islam. It is following the path of the Prophet Muhammad (peace be upon him) and his companions (may Allah be pleased with them). It is following our ancestors' path.
Salafists — not the manufactured interpretation dreamed up by Muslims eager to politicize Islam to gain power or Westerners who think Wahabists have lost their luster as the bad guy — may disagree with people about aspects of Islam and consider them lost people. But true Salafists don't call them out on it. Salafists exercise wide tolerance of different ideas alien to their own.
The new Salafists toss false accusations against Muslims they disagree with on whatever topic. The new generation has adopted the tactics of American politicians who knowingly lie but if they say it long and loud enough people begin to believe it.
Husain's interview with these "Salafists" puts on display the Council on Foreign Relations' investigative techniques in determining the facts on the ground. If this interview is any indication of the methods of how so-called non-partisan organizations go about their business, then Muslims can expect the cycle of Western demagoguery.
E-mail: sabria_j@hotmail.com
http://www.arabnews.com/search-salafists-west%E2%80%99s-new-bad-guys
--------------
Libya reserves Haj slots for relatives of martyrs
IBRAHIM NAFFEE
11 October 2012
JEDDAH: A quarter of the 7,000 places for Libyan pilgrims to Makkah this year have been reserved for the martyrs' families of Libyan revolutionaries.
A diplomat at the Libyan Embassy in Riyadh, who requested anonymity, confirmed that "the Libyan government will cover expenses of pilgrims from the martyrs' families."
Saudi Arabia allocates a number of Haj places to each country based on its population. In the case of Libya, this year's Haj quota is on the generous side.
"The families are to be chosen by lottery. The authorities also set aside a percentage of Haj places for martyrs' families and covered their full costs. The practice will continue every year for the foreseeable future," he said.
Haj is expected to fall this year between Oct. 24-29. Pilgrims usually spend around two weeks in Saudi Arabia for the pilgrimage, arriving several days in advance. Many also travel to Madinah to pray at the Prophet's Mosque.
The consul general of Libya in Jeddah, Mohammad Al-Hamroni, confirmed a first group of 130 Libyan pilgrims had already arrived in Jeddah on way to Makkah for Haj. The consulate has been making constant and concerted efforts to improve the services provided to Libyan pilgrims.
Meanwhile, 540,000 tickets are now on sale for the Holy Sites Train, and will continue to be available for pilgrims until the third day of Dul Hijjah (Oct. 19), according to Fareed bin Mohammed Al-Ghamdi, head of the ticket collection committee. Tickets are being sold at the Central Administration for Development Projects offices, located on Makkah Ring Road in front of Al-Nour Hospital.
Tickets cost SR 250 for pilgrims and SR 50 for operators, non-pilgrim government sector employees and Haj group officials.
"The tickets are differentiated by color, to distinguish the three holy sites' nine stations. Blue tickets are for Station 1; yellow for Station 2 and green for Station 3. All stations are at Mina, Muzdalifa and Arafat," said Al-Ghamdi.
"At each station there will be a checking point to avoid congestion and ensure that only pilgrims with tickets get on board. For further security measures, an electronic gate is situated right after the checkpoint, allowing pilgrims access to the stations. The stations are also equipped with escalators to allow access for the disabled and elderly, he added.
Al-Ghamdi said the project officials met with domestic pilgrim companies and Tawafa companies (responsible for external pilgrims) to introduce and orient them about the train stations.
http://www.arabnews.com/libya-reserves-haj-slots-relatives-martyrs
--------------
At Hague, Libya Insists It Should Try Qaddafi Son
By MARLISE SIMONS
October 11, 2012
PARIS — Libya is preparing to bring a wide range of charges against a son of Col. Muammar el-Qaddafi, and to begin his trial by next February, lawyers for Libya told the International Criminal Court at The Hague on Wednesday. They appeared at a hearing dealing with the question of whether Libya or the international court has the right to try the younger Mr. Qaddafi as well as a powerful intelligence chief in his father's regime.
Libyan authorities insist that the two men, Seif al-Islam el-Qaddafi, and the former intelligence chief, Abdullah el-Senussi, must be tried in their own country by Libyan judges.
A team of 12 investigators is collecting evidence against Mr. Qaddafi, including crimes like murder, torture, indiscriminant violence against demonstrators and recruiting mercenaries from Pakistan, lawyers for Libya told the panel of judges. They said he might be tried jointly with Mr. Senussi.
Full report at:
http://www.nytimes.com/2012/10/11/world/africa/libya-insists-on-trying-seif-al-islam-el-
--------------
Nigeria, Islamists May Have Committed Crimes Against Humanity: HRW
October 11, 2012
LAGOS (Reuters) - Islamist sect Boko Haram and Nigerian security forces might well have committed crimes against humanity during three years of conflict that has killed at least 2,800 people, Human Rights Watch (HRW) said on Thursday.
Crimes against humanity are offences that can lead to prosecution by the International Criminal Court (ICC).
Boko Haram says it is fighting to create an Islamic state in Nigeria, and its fighters have killed hundreds in bomb and gun attacks since launching an uprising in 2009. The sect has become the No. 1 security threat to Africa's top energy producer.
Full report at:
http://www.nytimes.com/reuters/2012/10/11/world/africa/11reuters-nigeria-violence-hrw.html?ref=africa
---------
Thousands march in Mali to urge armed intervention against Islamists
11 Oct 2012
Several thousand people marched in Mali's capital Bamako on Thursday to press for armed intervention by a west African force to help wrest back the north from armed Islamists.
The demonstrators waved banners and placards expressing support for the army, Prime Minister Cheick Modibo Diarra, and for the Economic Community of West African States (ECOWAS) which is preparing to send troops, if backed by the United Nations and the West.
http://english.ahram.org.eg/NewsContent/2/9/55344/World/International/Thousands-march-in-Mali-to-urge-armed-intervention.aspx
--------------
Sudan expels Norwegian diplomat in tit-for-tat spy row
10 October 2012
Sudan on Wednesday expelled a Norwegian diplomat, the foreign ministry said, after Oslo told a Sudanese diplomat to leave the previous day over suspicions he was spying on refugees from the African country.
The diplomatic spat risks damaging the two countries' ties - Norway is one of the few Western countries to enjoy normal relations with Sudan, advising Khartoum on how to improve the performance of its oil industry.
Full report at:
http://www.khaleejtimes.com/kt-article-display-
--------------
Europe
Norwegian mass killer's mother 'sexualised him as a child'
Oct 08 2012
Oslo : Norwegian mass killer Anders Behring Breivik's mother 'sexualised' her four-year-old son, smacked him, and often told him she wished he were dead, a new book on the right-wing extremist has claimed.
Child psychologist reports printed in the book 'A Norwegian tragedy', said that when Breivik was just four-years-old, his mother became preoccupied with fears that her son would violently assault someone.
According to the Telegraph, the psychologist reports show that Wenche Behring already felt her son was 'aggressive, hyperactive and clingy,' when she was breastfeeding him.
Full report at:
http://www.indianexpress.com/story-print/1013605/
--------------
Muslim players told wearing Wonga-sponsored shirts infringes Sharia law
By Luke Edwards
10 Oct 2012
Newcastle United's Muslim players have been warned that wearing the club's shirt with the logo of new sponsors Wonga on the front could infringe Sharia law.
The Muslim Council of Britain's (MCB) intervention is the latest batch of criticism the club has received since signing a four-year £24 million sponsorship deal with the short-term loan company on Tuesday that will also see the club's ground revert to its long-standing title of St James' Park.
There is nothing illegal about Wonga's enterprise, but the firm's charge of 4,214 per cent APR on its internet-based payday loans has been criticised by local MPs, consumer groups and trade unions.
Full report at:
http://www.telegraph.co.uk/sport/football/teams/newcastle-united/9598023/Newcastle-
--------------
UN chief strongly condemns 'heinous and cowardly' attack on Pakistani schoolgirl
10 October 2012
Voicing his "outrage and strongest condemnation" over the shooting of a 14-year-old girl who has bravely championed the right to education for women and girls in Pakistan, Secretary-General Ban Ki-moon today called for the perpetrators of this "heinous and cowardly" act to be swiftly brought to justice.
According to media reports, Malala Yousufzai, who opposed Pakistani Taliban restrictions on female education, was in critical condition after gunmen shot her in the head and neck yesterday as she left school in Mingora, in the Swat area of Pakistan. Two other girls were also wounded.
Full report at:
http://www.un.org/apps/news/story.asp?NewsID=43255&Cr=pakistan&Cr1=#.UHaGJW_MgXw
--------------
Danish agency accused over CIA killing of Awlaki
9 October 2012
Legal experts on Tuesday questioned whether Denmark's PET intelligence agency broke Danish law after an ex-agent said he helped it locate an Al Qaeda operative who was later killed by a drone in Yemen.
Ex-PET agent Morten Storm, 36, came forward over the weekend and claimed he helped PET estabish the whereabouts of Anwar Al Awlaki last year for the US Central Intelligence Agency.
An American drone killed Awlaki, a US citizen, and several other Al Qaeda fighters on September 30 last year in northern Yemen.
Full report at:
http://www.khaleejtimes.com/kt-article-display-
--------------
Suspected Militants Planned French Attacks: Prosecutor
October 11, 2012
PARIS (Reuters) - French anti-terrorist investigators believe a group of suspected Islamist militants arrested on Saturday were recruiting Jihadi fighters to go to Syria and planning attacks in France, a Paris prosecutor said.
Members of the group had assembled enough material to make a bomb the same size as explosives used in a deadly wave of attacks in Paris in the mid-1990s, Paris prosecutor Francois Molins added.
Full report at:
http://www.nytimes.com/reuters/2012/10/11/world/europe/11reuters-france- --------------
--------------
Abu Qatada appeal: UK called for pardon by Jordan
October 11, 2012
The British government asked the Jordanian authorities to consider pardoning radical cleric Abu Qatada, it has emerged in court.
But an appeal hearing was told that Jordan said that would not be possible and he would have to stand trial there.
Jordan also refused a UK request to ensure evidence from torture was not used against him, a judge heard.
Abu Qatada is challenging Home Secretary Theresa May's decision to order his deportation to Jordan.
Full report at:
http://www.bbc.com/news/uk-19906595
--------------
France frees five of 12 detained as Islamic extremists
October 11, 2012
Five men arrested in anti-terror raids in France have been freed but seven remain in custody, some of whom allegedly planned to fight in Syria.
The 12 were arrested after a grenade attack on a Jewish shop in Paris. Police shot dead the alleged organiser of the attack when he opened fire.
Two suspects were involved in a network for Islamists waging jihad abroad, prosecutor Francois Molins said.
Full report at:
http://www.bbc.com/news/world-europe-19907272
--------
Pakistan
Mob ransacks house of Pak Christian boy accused of blasphemy
Oct 11, 2012
KARACHI: A mob led by Islamic clerics ransacked the home of a teenage Christian boy in Pakistan's Karachi city and set fire to furniture and some other household articles after he was accused of sending text messages with blasphemous content, a media report said on Thursday.
The incident occurred in the staff colony of the Sui Southern Gas Company, a middle-class neighbourhood in Gulshan-e-Iqbal area, on Wednesday.
The mob ransacked the Christian boy's home and set furniture on fire.
Police said the boy was accused by local residents of sending text messages containing blasphemous content to employees and officers of Sui Southern Gas Company (SSGC) at the residential-cum-office compound, the Dawn newspaper reported.
After the news circulated among residents of the colony, a mob attacked the quarter of 16-year-old Ryan Stanten.
His mother, Rubina Bryan, works as a superintendent in Sui Southern Gas Company.
The boy and his mother were unharmed as they had left the quarter the previous night due to tension in the area.
Full report at:
http://timesofindia.indiatimes.com/world/pakistan/Mob-ransacks-house-of-Pak-Christian-boy-accused-of-blasphemy/articleshow/16766738.cms
--------------
Pakistani teen Malala Yousufzai's Taliban attackers identified
Oct 11, 2012
ISLAMABAD: Child peace campaigner Malala Yousufzai, who was shot at by the Taliban, will not be sent abroad for treatment, said interior minister Rehman Malik. He added that her attackers have been identified.
Malik said he was satisfied with her treatment by Pakistani doctors, reported Geo News from Peshawar.
The interior minister said Malala's attackers had been identified and would be brought to justice.
Full report at:
http://timesofindia.indiatimes.com/world/pakistan/Pakistani-teens-Taliban-attackers-identified/articleshow/16764585.cms
--------------
Malala Yousufzai 'not yet out of danger', being shifted to Rawalpindi
Oct 11 2012
Lahore/Islamabad: Teenage rights activist Malala Yousufzai, who was shot in the head by the Taliban, is "not yet out of danger" and is being moved from Peshawar to a top Rawalpindi hospital, authorities said today, as special prayers were offered across Pakistan for her speedy recovery.
Malala, 14, is currently in the intensive care unit of a military hospital in Peshawar after doctors yesterday removed a bullet lodged near her spine during a three-hour surgery.
Doctors have said she is improving though her condition continues to be serious.
Malala is being shifted to the Armed Forces Institute of Cardiology (AFIC) in Rawalpindi from the Combined Military Hospital in Peshawar.
Full report at:
http://www.indianexpress.com/news/malala-yousufzai-not-yet-out-of-danger-being-shifted-to-rawalpindi/1015308/
--------------
5 killed in drone strike in Miranshah
October 11, 2012
MIRANSHAH: A US drone strike targeting an insurgent's compound killed five terrorists in a tribal region near the Afghan border on Wednesday, security officials said.
The attack was the first since a massive anti-drone rally last weekend near the lawless region known as a stronghold of Taliban and al Qaeda terrorists, they said. "Several US drones flew into the area before dawn and fired four missiles on a compound, killing five terrorists," a security official told AFP after the strike in Hurmuz area, east of Miranshah, the capital of North Waziristan. Another security official in Peshawar confirmed the attack and casualties. Full report at:
http://www.dailytimes.com.pk/default.asp?page=2012\10\11\story_11-10-2012_pg7_4
--------------
Pak announces Rs 1 crore for information on Malala's attackers
Oct 10 2012
Islamabad: Pakistani authorities today announced a reward of Rs 1 crore for information leading to the capture of the militants who attempted to assassinate teenaged rights activist Malala Yousufzai, who was shot and seriously injured in the former Taliban stronghold of Swat.
The Khyber-Pakhtunkhwa government will give a reward of Rs 1 crore to anyone who helps identify the persons who attacked Malala yesterday, provincial Information Minister Mian Iftikhar Hussain told a news conference in Peshawar this evening.
Full report at:
http://www.indianexpress.com/news/pak-announces-rs-1-crore-for-information-on-malalas-attackers/1014896/
--------------
Six killed in bomb blast in Pakistan
October 11, 2012
At least six persons were killed and 15 more injured when a bomb went off in a crowded market in the Orakzai tribal region of north-west Pakistan on Thursday.
The bomb, hidden in a donkey cart, exploded in Hasanzai Bazar of Orakzai Agency this morning.
Full report at:
http://www.thehindu.com/news/international/six-killed-in-bomb-blast-in-pakistan/article3987462.ece
--------------
Malala's attackers identified, will be brought to justice: Rehman Malik
October 11, 2012
The attackers who shot child peace campaigner Malala Yousufzai have been identified, Pakistani interior minister Rehman Malik said. He also added that Yousufzai will not be sent abroad for treatment.
Malik said he was satisfied with her treatment by Pakistani doctors, reported Geo The interior minister said Malala's attackers had been identified and would be brought to justice.
Malala, Pakistan's first National Peace Award winner, was shot and seriously injured in the country's Khyber Pakhtunkhwa province on Tuesday when she was returning from home from school.
Full report at:
http://www.hindustantimes.com/world-news/Pakistan/Malala-s-attackers-identified-will-be-brought-to-justice-Pakistan/Article1-942896.aspx
--------------
Battle Eases Between Pakistani Government and High Court
By SALMAN MASOOD
October 11, 2012
ISLAMABAD, Pakistan — A longstanding legal battle between the Pakistani government and the country's assertive Supreme Court appears to have run its course after both sides came closer to a face-saving settlement on Wednesday.
A five-member Supreme Court bench, led by Justice Asif Saeed Khosa, on Wednesday approved the draft of a letter to be written to the authorities in Switzerland that could theoretically revive corruption cases against President Asif Ali Zardari dating from the 1990s in that country.
Full report at:
http://www.nytimes.com/2012/10/11/world/asia/battle-eases-between-pakistani-
--------------
Orakzai blast kills eight, injures 20
October 11, 2012
PESHAWAR: Eight people were killed and 20 injured on Thursday when a roadside-planted improvised explosive device (IED) exploded on Mushti Mela road in Orakzai agency's Hasanzai Bazar area, DawnNews reported.
A passenger van was travellig from Mushti Mela in Central Orakzai to Kalaya area in Lower Orakzai Agency when it was struck by a remotely-detonated IED in Hasan Zai Bazaar.
Officials from the political administration confirmed that 8 passengers were killed while 20 others were injured.
Full report at:
http://dawn.com/2012/10/11/orakzai-mine-blast-kills-6-injures-14/
--------------
Balochistan unrest: Roadside blast kills five, injures 15 in Sibi
October 11, 2012
QUETTA: Five people were killed and 15 others were injured in a roadside blast in the town of Sibi in Pakistan's southwestern province of Balochistan, DawnNews reported on Thursday.
A bomb comprising 20 kilograms of explosives was planted inside a rickshaw and exploded on Nishtar Road in the main town, officials told DawnNews reporter Khalil Ahmed.
As a result of the explosion, five people were killed and 15 others received injuries. The injured were shifted to Civil Hospital, Sibi.
Twelve shops and five vehicles were also hit by the explosion and most were completely destroyed.
Sibi lies in northern part of the restive Balochistan province and also adjoins the provincial capital Quetta.
http://dawn.com/2012/10/11/roadside-blast-kills-five-injures-15-in-sibi/
--------------
Balochistan case: FC's job to establish peace in province, says CJ
October 11, 2012
QUETTA: Chief Justice Iftikhar Muhammad Chaudhry on Thursday said it was the job of the Frontier Corps (FC) to establish peace in Balochistan, DawnNews reported.
The chief justice issued the above stated remark during the hearing of a petition on the law and order situation and human rights violations in Balochistan at the Supreme Court's Quetta registry.
A three-judge bench of the apex court, comprising Chief Justice Iftikhar, Justice Khilji Arif Hussain and Justice Jawwad S. Khawaja, was hearing the petition filed by the Balochistan Bar Association on the law and order situation in the province.
Full report at:
http://dawn.com/2012/10/11/sc-resumes-balochistan-case-hearing-5/
--------------
Former intelligence officer kidnapped in Islamabad
October 11, 2012
ISLAMABAD: Brigadier (retd) Tahir Masood, a former officer of an intelligence agency, was kidnapped near his residence in Islamabad's Defence Housing Authority (DHA) Phase II, DawnNews reported on Thursday.
Security sources said Masood was leaving his residence for his office when unknown men came to kidnap him.
Full report at:
http://dawn.com/2012/10/11/former-intelligence-officer-kidnapped-in-islamabad/
--------------
Rimsha case: Cleric granted bail
October 11, 2012
ISLAMABAD: District and sessions judge Islamabad Raja Jawwad Abbas on Thursday granted bail to Khalid Jadoon, the prayer leader of Mehra Jaffer mosque who had been accused of altering the evidence against blasphemy accused Rimsha Masih, DawnNews reported.
The cleric was granted bail against a surety of rupees 200,000.
Police had arrested Jadoon on Sept 1 after Hafiz Zubair, a member of the Mehra Jaffer mosque, had accused him of altering the evidence against Rimsha.
On Oct 1, three prosecution witnesses — Qari Owais, Khurram Shehzad and Danish — backtracked from their earlier statements in which they had endorsed Zubair's allegation.
In light of the witnesses' earlier statements and the competition of the preliminary investigation, Jadoon had been declared the main accused in the first challan in the blasphemy case submitted to the session's court.
Full report at:
http://dawn.com/2012/10/11/court-grants-bail-to-khalid-jadoon/
--------------
'UN rights mechanism can help improve situation in Pakistan'
October 11, 2012
LAHORE: Speakers at a conference on Wednesday called upon the government to engage seriously with international bodies like the United Nations and make use of opportunities to overcome obstacles in the way of improving human rights situation in Pakistan.
The conference, 'Can United Nations human rights mechanism help improve situation in Pakistan? Participation, Opportunities and Threats' was organised under the auspices of National Commission for Justice and Peace (NCJP), at SAFMA, which was attended by people from different walks of life. The speakers regretted that successive governments ignored protecting human rights in the country and failed to fulfil their responsibilities and commitments in this regard. They argued that a wholehearted commitment to the international human rights' framework could ameliorate situation in Pakistan.
Full report at:
http://www.dailytimes.com.pk/default.asp?page=2012\10\11\story_11-10-2012_pg7_15
--------------
War in Afghanistan is jihad, says Imran
By Hassan Ali
October 11, 2012
PESHAWAR: Terming the ongoing war in Afghanistan a 'jihad', Pakistan Tehreek-e-Insaf (PTI) chief Imran Khan parried a question on Wednesday whether the war in Pakistan's tribal belt could be labelled as terrorism. He was addressing a press conference in Peshawar after paying a visit to inquire after the health of Malala Yousafzai.
The PTI chief condemned the attack on Malala, saying attacking children was against the teachings of Islam and Pashtun traditions, and offered every possible help to Malala's family.
Full report at:
http://tribune.com.pk/story/449938/war-in-afghanistan-is-jihad-says-imran/
--------------
For attacks on houses, PPP blames 'pseudo-nationalists'
October 11, 2012
HYDERABAD: At a press conference on Wednesday, Sindhi nationalist leaders and opposition parties were at the receiving end as over half a dozen ruling party ministers vented their fury on the attacks at the houses of Pakistan Peoples Party leaders.
Interestingly, the Sindhu Desh Liberation Army, whose pamphlets were found near the houses, and the Jeay Sindh Muttahida Mahaz, which is believed to be manning the army and whose workers were arrested in late night raids across the province, drew no mention.
Full report at:
http://tribune.com.pk/story/449842/for-attacks-on-houses-ppp-blames-pseudo-nationalists/
--------------
Lahore custom collector make strange claim about smuggling in goods train
Yudhvir Rana
Oct 10, 2012
AMRITSAR: Just 5 days ago Customs Collector, Lahore Fazal Yazdani had boasted that they had taken strong measures on their side to check smuggling of narcotics etc. to India via goods train but on Wednesday it was Yazdani who washed his hands off from the smuggling of 105 kilogram heroin and 500 cartridges of Magnum revolver from Pakistan side and floated an idea that the smugglers could have loaded heroin and ammunition in the bogey of goods train somewhere between Attari and Amritsar. Custom officials had recovered the contraband concealed in cement bags from a goods train that arrived India from Pakistan on October 8th . Khan who had arrived India to attend meeting with his counterparts in Amritsar was on way back to Pakistan on Wednesday.
Full report at:
http://timesofindia.indiatimes.com/india/Lahore-custom-collector-make-strange-claim/articleshow/16758892.cms
--------------
India
In Deoband, Gadkari talks 'social harmony'
Ravish Tiwari
Oct 11 2012
Deoband : Addressing the first rally held by the BJP during non-election times in Deoband, Nitin Gadkari on Wednesday reiterated that the party would work towards "social harmony", without any discrimination on the basis of religion. The BJP president also repeated his condemnation of the anti-Islam film that has provoked Muslim protests.
It was Gadkari's first rally after the recent BJP national conclave, where too he had talked of social harmony and slammed the controversial film.
Deoband is the seat of the prestigious Islamic seminary Darul Uloom.
"The BJP believes in social harmony where there is no discrimination on the basis of religion or caste... We respect all religions. That is why the BJP condemned the anti-Islam film," Gadkari said at the rally. Like the party meeting at Surajkund, he skipped mention of Ram temple, Article 370 and the common civil code.
Full report at:
http://www.indianexpress.com/news/in-deoband-gadkari-talks--social-harmony-/1015007/
--------------
In Bangladesh at the time of 'crime', yet held in Tihar for years
Pritha Chatterjee
Oct 11 2012
New Delhi: The Bangladesh High Commission has complained to the Indian government that two Bangladeshi citizens have been implicated in crimes committed in Delhi when they weren't even in India.
The two Bangladeshis, aged 22 and 60, have been held as under trials in Tihar jail for nearly four and three years respectively. According to documents presented in two Delhi courts, both men arrived in India several months after their alleged crimes — a murder in one case, involvement in a robbery in the other — were committed.
In two letters written to the ministries of external affairs and home on August 3 and September 27 this year, the Bangladesh High Commission has sought help to ensure "early release and repatriation of the ill-fated individuals".
Full report at:
http://www.indianexpress.com/news/in-bangladesh-at-the-time-of--crime--yet-held-in-tihar-for-years/1015120/
--------------
Cops foil Indian Mujahideen's major plan to strikes Delhi and Bodh Gaya, 3 held
Oct 11, 2012
NEW DELHI: Delhi Police on Thursday claimed to have solved the Pune serial blasts in August and averted terror strikes in Delhi and Bihar's Bodh Gaya during upcoming festival season with the arrest of three suspected Indian Mujahideen terrorists.
The Pune blasts were to avenge the murder of IM operative Qateel Siddique in Yervada Jail on June eight and the initial plan was to target Mumbai or the prison but later this was changed due to logistical reasons, police said.
Full report at:
http://timesofindia.indiatimes.com/india/Cops-foil-Indian-Mujahideens-major-plan-to-strikes-Delhi-and-Bodh-Gaya-3-held/articleshow/16769592.cms
----------
1000 youths want to return home from PoK: J&K govt
M Saleem Pandit
Oct 11, 2012
SRINAGAR: The Jammu & Kashmir government on Wednesday informed the state legislature that over 1,000 Kashmiri youth stranded in PoK have applied to return home under its rehabilitation programme.
Minister of state for home Nasir Aslam Wani informed the house that the government has received 1,082 applications from Kashmiris stranded in PoK since they crossed over for arms training in the 1990s.
Full report at:
http://timesofindia.indiatimes.com/india/1000-youths-want-to-return-home-from-PoK-JK-govt/articleshow/16759895.cms
--------------
Picturesque Kashmir attracts foreign tour operators
Oct 10 2012
Srinagar : Tourist operators from across the world visited Srinagar with an aim to promote the 'Paradise on Earth' and to make an on the spot assessment of prominent destinations in Jammu and Kashmir.
The Department of Tourism had invited the operators to dispel the notion about law and order situation in the valley.
More than thirty tour delegates from various countries, including China, Thailand, South Africa, Malaysia, Indonesia, Spain, Belgium and United Kingdom visited the valley, and they felt that Kashmir is one of the best tourist destinations in world.
Full report at:
http://www.indianexpress.com/news/picturesque-kashmir-attracts-foreign-tour-operators/1014850/
--------------
Scenes in anti-Islam film blocked on web: Police
October 10, 2012
The Cyber Crime Investigation cell of Mumbai police's Crime Branch on Wednesday informed the Bombay High Court that on police's request, video-sharing portal Youtube (a Google subsidiary), had blocked "objectionable scenes" in the controversial anti-Islam film `The Innocence of
Muslims'.
However, Youtube could not provide the IP addresses from where the film was uploaded as addresses were located outside India, said inspector Ravi Sardesai in his affidavit on a petition seeking removal of the film from the Internet.
Full report at:
http://www.hindustantimes.com/India-news/Mumbai/Scenes-in-anti-Islam-film-blocked-on-web-Police/Article1-942632.aspx
--------
Arab World
Middle East Airlines fires air hostess for racism
11 October 2012
Lebanon's national carrier, Middle East Airlines, sacked an air hostess for making a racial comment against foreign workers at the country's Rafic Hariri International Airport, Now Lebanon online reported on Wednesday.
Abd Shahin, a witness, wrote details of the incident on his Facebook page. He said the air hostess, who was speaking through a loudspeaker, requested all Filipino and Nepalese workers at Gate 11 to be quiet because "they have no right to speak."
Full report at:
http://english.alarabiya.net/articles/2012/10/11/243141.html
-------
8 Syrians die in attack on bus at Lebanon border: Syria TV
October 11, 2012
DAMASCUS: Eight people were killed on Thursday in an attack by "armed terrorists" on a bus transporting Syrian workers at the Lebanon border, Syrian state television said.
The channel said another eight people were wounded in the attack. The regime uses the term "armed terrorists" for rebels ranged against President Bashar al-Assad in Syria's civil war.
http://www.dailystar.com.lb/News/Middle-East/2012/Oct-11/191023-8-syrians-die-in-attack-on-bus-at-lebanon-border-syria-tv.ashx#ixzz28zhfmlEj
-------
I do not fear the Islamists' rise to power: Head of Cairo Opera House
Ines Abdel Dayem, the head of the Cairo Opera House, dispelled fears regarding the Islamists' rise to power and its effect on the freedom of expression in a statement to MENA, 'Opera House is safe'
10 Oct 2012
In a statement released to MENA on Wednesday, to mark the 24th anniversary of the inauguration of the Cairo Opera House, Enas Abdel-Dayem said, "I do not fear the rise of Islamists. The Cairo Opera House will not be touched, because what we present here is highly respectable. We consider some of the worrying statements released every now and then as personal opinions, but I doubt that this is the orientation of the state."
Full report at:
http://english.ahram.org.eg/NewsContent/5/33/55256/Arts--Culture/Music/I-do-not-fear-the-Islamists-rise-to-power-Head-of-.aspx
-------
Film about Egyptian Jews stirs 'normalization' uproar
Thursday, 11 October 2012
"Jews of Egypt," an Egyptian documentary film that records the life of Jews in Egypt before their departure from the country in the 1950s, has stirred controversy after it was screened in a film festival in Cairo.
Amir Ramsis, director of the film, was accused of promoting normalization of ties with Israel through attempting to gain the audience's sympathy for Jewish Egyptians, currently seen as Zionists by many Egyptians.
"Those accusations are absolutely groundless," Ramsis told Al Arabiya. "Those who think the film promotes normalization either did not watch it or analyzed it very superficially."
Full report at:
http://english.alarabiya.net/articles/2012/10/11/243023.html
-------
Egypt releases partial draft of disputed constitution
Wednesday, 10 October 2012
The panel writing Egypt's new constitution released a partial draft of the document on Wednesday, calling for a public debate in the face of mounting criticism over Islamists' shaping of the charter.
The campaign, labeled "Know Your Constitution," comes as the 100 members of the assembly are still haggling over controversial articles in the charter, some of which will determine the role of religion in the country's affairs and the independence of the judiciary. The partial draft made public also did not include sections still under debate over the role of the military and the extent of civilian oversight over its budget.
Full report at:
http://english.alarabiya.net/articles/2012/10/10/243016.html
-------
Egypt Brotherhood urges demos, ex-officials' retrial
October 11, 2012
CAIRO: Egypt's Muslim Brotherhood on Thursday called for demonstrations demanding the retrial of those responsible for protester deaths during last year's popular uprising against Hosni Mubarak.
A court on Wednesday acquitted 24 stalwarts of the ousted president who had been accused of incitement to murder over a notorious camel-borne assault on protesters on February 2, 2011, to the disbelief of human rights activists.
"The Brotherhood was shocked, like the Egyptian people, throughout the verdict acquitting the accused of the 'battle of the camel,'" said Mahmud Hussein, general secretary of the Islamist movement, on its website.
Full report at:
http://www.dailystar.com.lb/News/Middle-East/2012/Oct-11/191011-egypt-brotherhood-urges-demos-ex-officials-retrial.ashx#ixzz28ziYiugL
-------
Egypt's first president Mohamed Naguib: Homeless forever
Sayed Mahmoud
10 Oct 2012
After the heirs of Zeinab Al-Wakeel sold her house in Al-Marg, the palace where Mohamed Naguib was placed under house arrest by order of the Free Officers has been demolished
Mohamed Naguib was Egypt's first president after the July Revolution of 1952. He was quickly overshadowed by Gamal Abdel-Nasser; and it seems as if he continues to be neglected. After living through very difficult times when he was forcefully removed from power after the March 1954 crisis, the home where he spent nearly three decades was finally confirmed demolished by the Ministry of Culture's Urban Coordination Agency (UCA).
Full report at:
http://english.ahram.org.eg/NewsContent/1/64/55309/Egypt/Politics-/Egypts-first-president-Mohamed-Naguib-Homeless-for.aspx
-------------
Islamic Investment Company launched in Riyadh
MD RASOOLDEEN
October 2012
The Investor for Securities Company launched Safa Investment Services, the first global Islamic asset manager in the GCC, in Riyadh on Monday.
Safa Investment Services is the world's first independent Islamic wealth and asset management brand. It insures an independent selection of "best of class" Sharia-compliant assets.
"Professionally managed assets worldwide are now worth around $80 trillion (SR 300 trillion), of which Muslims own at least $3 trillion (SR 11.25 trillion). What is striking is that almost none of that is invested with any respect for Sharia. A lot is invested in the type of securities that accelerated the global financial crisis," said John Sandwick, manager at Safa Investment Services, during the launch.
Full report at:
http://www.arabnews.com/islamic-investment-company-launched
--------------
Syrian opposition seeking new impetus at Qatar talks
11 October 2012
PARIS: Syria's main opposition bloc will restructure itself in Qatar next week to seek fresh impetus, Syrian National Council leader Abdulbaset Sieda said.
His remarks came as Syrian fighters launched an attack on troops in second city Aleppo's landmark Umayyad Mosque yesterday sparking clashes inside the 13th century place of worship, a military source told AFP.
An AFP correspondent witnessed the tail end of the fighting, which the military source said lasted some four hours.
Full report at:
http://www.arabnews.com/syrian-opposition-seeking-new-impetus-qatar-talks
--------------
Egyptian 'Battle of the Camels' officials acquitted
October 11, 2012
An Egyptian court has acquitted 24 former officials who were accused of sending men on camels and horses to break up a protest in Cairo in 2011.
In the incident, later called the Battle of the Camels, supporters of then President Hosni Mubarak charged protesters in Tahrir Square.
It became one of the most notorious incidents of the anti-Mubarak uprising and left nearly a dozen people dead.
Full report at:
http://www.bbc.com/news/world-middle-east-19905435
-------
North America
Al-Qaida grows every day in Libya: US security chief
Oct 11, 2012
WASHINGTON: Al-Qaida's presence in Libya is growing every day, the former commander of a special security team in Tripoli told US lawmakers today at a hearing into a militant attack on a US mission.
The al-Qaida "presence grows every day. They are certainly more established than we are," Lieutenant Colonel Andrew Wood, who headed up a 16-strong site security team in Tripoli.
He was addressing a hearing of the House oversight and government reform committee into the September 11 attack on the US consulate in Benghazi, amid allegations of security failures by the US administration.
Full report at:
http://timesofindia.indiatimes.com/world/us/Al-Qaida-grows-every-day-in-Libya-US-security-chief/articleshow/16760472.cms
--------------
Iran can target New York City due to large Jewish population: NYPD
11 October 2012
New York City's large Jewish population can make it a potential target for an Iranian-sponsored attack, a local newspaper reported on Wednesday.
New York City's police chief, Ray Kelly, warned that a possible conflict between Iran and Israel is a particular area of concern, given New York City's large Jewish population, the New York Post newspaper quoted him as saying during an anti-terror conference called NYPD SHIELD.
Full report at:
http://english.alarabiya.net/articles/2012/10/11/243078.html
---------
Canada Muslims Stand Up to Intimidation
09 October 2012
CAIRO – Despite feeling worried at first, threats of attacks on mosques in the eastern Canadian city of Charlottetown have failed to intimidate the sizable Muslim community in the area.
"This was getting too close for comfort," Zain Esseghaier, who has been a Charlottetown resident for the last 33 years, told Toronto Star.
"That's a threat. I spent a good part of my life here. This is home for me."
Mosques in Charlottetown faced numerous threats of attacks in recent weeks.
Two weeks ago, a bottle of gasoline with a note reading "Defeat Jihad" was found on the front steps of the Masjid Dar As-Salam mosque.
Full report at:
http://www.onislam.net/english/news/americas/459407-canadian-muslims-stand-up-to-intimidation.html
--------------
American arrested for suspected Al-Qaeda links in Yemen
11 October 2012
SANAA: A Yemeni official said yesterday that security forces have detained a US citizen suspected of having links to Al-Qaeda.
Authorities arrested the suspect Monday in a hotel in the southern city of Shabwa, the official said. The man was carrying two US passports and a German one, and had been shuffling from one mosque to another in the nearby eastern city of Marib before moving on to Shabwa, according to the official.
Full report at:
http://www.arabnews.com/american-arrested-suspected-al-qaeda-links-yemen
--------------
Barack Obama names US Marine Gen John Allen in Afghanistan to lead NATO
Oct 10, 2012
WASHINGTON:President Barack Obama has nominated Marine Gen. John Allen, the top US commander in Afghanistan, to be the next NATO supreme allied commander. Allen is slated to replace Admiral Jim Stavridis in the spring, and Marine Gen. Joseph Dunford, the assistant Marine commandant, would take the top Afghanistan job. The changes must be confirmed by the Senate.
Full report at:
http://timesofindia.indiatimes.com/world/us/Barack-Obama-names-US-Marine-Gen-John-Allen-in-Afghanistan-to-lead-NATO/articleshow/16759180.cms
--------------
Mideast Asia
Rift with Moscow Deepens After Turkey Forces Syrian Jet to Land
By ELLEN BARRY, ANNE BARNARD and SEBNEM ARSU
October 11, 2012
MOSCOW — Adding to strains with Turkey over the conflict in Syria, Russia demanded an explanation on Thursday after Turkish warplanes forced a Syrian passenger plane flying from Moscow to Damascus to land in Ankara on suspicion of carrying military cargo.
The episode on Wednesday also marked a sharp escalation of Turkey's confrontation with Syria as authorities in Ankara ordered Turkish civilian airplanes to avoid Syria's airspace and warned of increasingly forceful responses if Syrian artillery gunners keep lobbing shells across the border.
Full report at:
http://www.nytimes.com/2012/10/12/world/middleeast/syria.html?hp&gwh=F66AE8F6B8BD6F4C072A5BD1D47F9350
--------------
Israeli warplanes hit Gaza after rocket attacks
October 11, 2012
The Israeli Air Force on early Thursday morning launched a strike against what a spokeswoman called "a terror activity site" in the northern Gaza strip, which she said was in response to earlier rocket attacks on Israel.
Palestinian officials in Gaza said the target was a training camp of Ezzedine al-Qassam Brigades and said there were no casualties.
The Israeli strike came several hours after Gaza militants fired two rockets into southern Israel on Wednesday evening in the latest of a wave of tit-for-tat fire across the border. Israeli police told AFP that nobody was injured.
Full report at:
http://www.hindustantimes.com/world-news/Africa/Israeli-warplanes-hit-Gaza-after-rocket-attacks/Article1-942856.aspx
--------------
Turkey briefly detains Syrian plane as tension heightens
Oct 11, 2012
ISTANBUL: Turkey scrambled fighters and briefly detained a Syrian passenger plane on Wednesday, suspecting it of carrying military equipment from Moscow, while Turkey's military chief warned of a more forceful response if shelling continued to spill over the border.
Military jets escorted the Damascus-bound Airbus A-320, carrying around 30 passengers, into the airport in Ankara hours after Turkey's chief of staff said his troops would respond with greater force if bombardments from Syria kept hitting Turkish territory, Turkish state-run television said.
Full report at:
http://timesofindia.indiatimes.com/world/rest-of-world/Turkey-briefly-detains-Syrian-plane-as-tension-heightens/articleshow/16763572.cms
--------------
Yemen security chief at US Embassy killed in Sanaa
Oct 11, 2012
SANAA, Yemen: Yemeni security officials say a gunman has assassinated the Yemeni chief of security at the US Embassy in Sanaa.
The officials say Qassem Aqlani, who was in his fifties, was shot dead while on his way to work early on Thursday. They say a gunman on a motorcycle opened fire at him and fled the scene.
Full report at:
http://timesofindia.indiatimes.com/world/middle-east/Yemen-security-chief-at-US-Embassy-killed-in-Sanaa/articleshow/16767748.cms
---------
Iran on a defiant note in the face of currency hardship
ATUL ANEJA
October 11, 2012
Defiant in the face of the currency difficulties that Iran is facing, supreme leader Ayatollah Ali Khamenei has said the U.S. and certain European countries are hypocritical about linking sanctions to Iran's nuclear energy programme.
He said on Wednesday that the main reason behind the embargoes was not the nuclear issue, but Iran's resistance against western global dominance. "They pretend that the sanctions will be lifted if the Iranian nation gives up nuclear energy. They lie. They make decisions out of grudge and aversion [toward Iran] and impose irrational sanctions," he said at a mass rally in North Khosaran province.
Full report at:
http://www.thehindu.com/news/international/iran-on-a-defiant-note-in-the-face-of-currency-hardship/article3985236.ece
--------------
Southeast Asia
The correct way of jihad is not terrorism: Haji
BY NI KOMANG ERVIANI
2012-10-10
In his newly released biography, the well-respected volunteer at the Bali Bombing, Haji Agus Bambang Priyanto, encourages the younger generations of Indonesian Muslims to perform jihad correctly, based on the spirit of helping those in need, rather than being violent.
His 228-page biography, entitled Bambang: Keikhlasan Menuntun Langkahku (Sincerity guides my steps) was officially launched on Tuesday in Kuta. Written by a journalist from local newspaper Radar Bali, Djoko Heru Setiyawan, the book reveals the life of the respected Muslim leader, who has been an active volunteer in a number of natural and terrorist disasters in the country.
Full report at:
http://www.thejakartapost.com/bali-daily/2012-10-10/the-correct-way-jihad-not-terrorism-haji-bambang.html
--------------
Malaysia transsexuals lose court fight against law banning men from wearing women's clothes
October 11, 2012
KUALA LUMPUR, Malaysia — A Malaysian court on Thursday dismissed an attempt by a group of transsexuals to challenge a law that bars Muslim men from wearing women's clothes.
Lawyers say it is the first known effort to overturn an Islamic Shariah law that prescribes jail terms of varying lengths or fines for convicted cross-dressers.
The secular High Court in Malaysia's southern Seremban town rejected a bid by four Muslim transsexuals who were born male to declare the Shariah law unconstitutional.
The law is enforced in Shariah religious courts against Muslims, who comprise nearly two-thirds of Malaysia's 29 million people.
Full report at:
http://www.washingtonpost.com/world/asia_pacific/malaysia-transsexuals-lose-court-fight-
--------------
Indonesian leader says Bali bombings strengthened nation
October 11, 2012
Indonesia's President Susilo Bambang said on Thursday the "monstrous act of terror" in Bali 10 years ago failed to achieve its goal of fracturing the nation, ahead of an anniversary held under the shadow of a security threat.
Susilo's comments came as some 2,000 police and military personnel including snipers deployed across the island to ensure commemorations Friday pass peacefully after "credible information" of a threat to the ceremony.
Bali's deputy police chief I Ketut Untung Yoga Ana told AFP authorities were "ready to tackle any kind of terror threat during the commemoration event" which Australian Prime Minister Julia Gillard will attend.
Full report at:
http://www.hindustantimes.com/world-news/RestOfAsia/Indonesian-leader-says-Bali-bombings-strengthened-nation/Article1-943018.aspx
--------------
National scene: NU calls for jihad against AIDS
October 10 2012
JAKARTA: The country's largest Muslim organization Nahdlatul Ulama (NU) pledged that it would support the fight against HIV/AIDS by planning to dispatch its clerics to preach on the perils of the disease.
"Religious clerics should not live in ivory towers, they must help improve the quality of life," NU chairman Said Aqil Siraj said as quoted by tribunnews.com.
Said Aqil spoke in a press briefing to launch a program called "Jihad of NU clerics against HIV/AIDS."
Full report at:
http://www.thejakartapost.com/news/2012/10/10/national-scene-nu-calls-jihad-against-aids.html
------
South Asia
Bangladesh's ex-army chief surrenders over graft cases
Oct 11, 2012
DHAKA: Former Bangladeshi army chief Harunur Rashid surrendered before a court on Thursday, days after the cancellation of the bail granted to him and four others in a major money laundering case.
Rashid, currently chairman of a private business group, surrendered before the court to seek fresh bail in two money laundering cases, court officials said.
They said Rashid and a director of the controversial Destiny Group appeared before the court of senior special judge Mohammad Zahirul Haque who is expected to deliver an order on their bail petitions later today.
Full report at:
http://timesofindia.indiatimes.com/world/south-asia/Bangladeshs-ex-army-chief-surrenders-over-graft-cases/articleshow/16765783.cms
--------------
US soldier in Afghanistan survives grenade direct hit
Oct 11 2012
Baraki barak (Afghanistan) : A US soldier has described how he survived a direct hit from a rocket-propelled grenade on his first patrol in Afghanistan, after the projectile bounced off his leg.
Specialist Devin Hagar's brush with death came during a patrol in Logar province south of Kabul. His platoon retreated along a river after coming under attack, and were about to cross when his squad leader decided they were in a bad spot.
"I turned and put one foot up on the riverbank and that's when I saw the back-blast of the RPG and the guy's silhouette and a silver thing with a red tip coming at me," the 22-year-old from Kansas said.
Full report at:
http://www.indianexpress.com/news/us-soldier-in-afghanistan-survives-grenade-direct-hit/1015287/
--------------
Afghan Officials Denounce Western Group's Report on Country's Future
By ALISSA J. RUBIN
October 11, 2012
KABUL, Afghanistan — The Afghan government and some politicians and local news outlets denounced Western research organizations and news media, blasting them as spies and political agents in the wake of a report that suggested it was possible the Afghan government would collapse after 2014.
Setting off the firestorm was a paper released Monday by the International Crisis Group titled "Afghanistan: the Long, Hard Road to the 2014 Transition." In it, the group, which is based in Brussels and Washington, detailed obstacles to holding the next presidential election in a way that would satisfy a majority of the people; the report outlined several chains of events that could lead to disarray and civil war.
Full report at:
http://www.nytimes.com/2012/10/11/world/asia/afghan-officials-denounce-report-on
---------
URL: https://www.newageislam.com/islamic-world-news/new-age-islam-news-bureau/mali-islamists--buying-child-soldiers-at-$600-per-child,-imposing-sharia-/d/8950