New Age Islam News Bureau
14 March 2015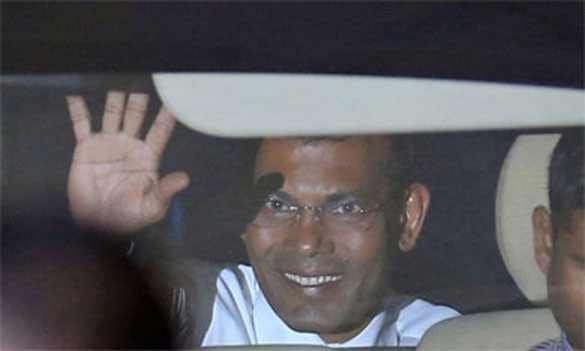 Mohamed Nasheed waves to reporters from inside a car outside the court after a three-judge panel pronounced his verdict. Photograph: Sinan Hussain/AP
---------
Southeast Asia
• Maldives Former President Nasheed Jailed For 13 Years
• Malay Voters Look for Islamic Credentials in Future PM, Survey Shows
• Islamic finance a viable complement in global financial system: Sultan Nazrin Shah
• G25 claims met with some sultans, upbeat over Islamic law reform
• Indonesians 'heading to join Islamic State' held in Turkey
----------
Pakistan
• 48 Terrorists Killed In Tirah Valley in Khyber Agency Airstrikes
• 13 Seminaries Training Militants in Punjab
• Balochistan Govt to Collect Bio-Data of Afghan Clerics
• Six Suspected Militants Killed During Raid in Dera Bugti
• Secret Meetings Expose Obstacles in Af-Pak Peace Talks
• Sit-in against Mumtaz Qadri's death sentence
• Lakhvi back in detention on Punjab Interior Ministry's orders
• Operation launched in Karachi with MQM consent, says CM
• President reiterates support for Azerbaijan on Nagorno-Karabakh
• 5,000 South Waziristan Agency families set to return home from 16th March
• Civil society should speak against torture of MQM workers: Altaf
• Pakistan, India trade demarches over Lakhvi trial
-----------
North America
• SiriusXm Radio Host Ousts Guest Who Said Obama 'Is A Muslim'
• Kerry in New Iran Talks as US Political Storm Rages
• Pakistani brothers plead guilty to New York terror plot
• Cause unites Jewish, Muslim students
• Pacifica Institute Offers Muslim Voices against Extremism
------------
Europe
• French Classmates Recognize 'Child Killer' In ISIS Video
• Could the Muslim vote sway the UK's general election?
• Italy Refers Anti-Mosque Law to Court
• German court rules for gay Muslim man threatened with death by his family
-----------
South Asia
• US Drone Strike Claims 7 Lives in East Afghanistan
• Khaleda Vows To Continue Anti-Govt Campaign
• Two key TTP men among 8 killed in clash
• Bangladeshi Blogger's Father Hopeful Police Will Catch Killers
• Hopeful meeting with Muslim Afghan clerics
• China held rounds of Taliban talks: Abdullah
------------
Mideast
• Hezbollah Official Criticizes US, Israel for Creating ISIL
• Iran's Advances Create Alarm in Saudi Arabia and the Gulf
• Turkey Urges EU to Give More Intel against ISIL
• Israel security officials recommend barrier on Jordan border
• Iranian advisor clarifies 'Baghdad capital of Iranian empire' remark
• Iran mass produces long-range anti-ship Qadir cruise missile
• Maliki urges Bahraini officials to free opposition cleric
• Turkey arrests 16 Syria-bound Indonesians
• Israeli troops attack Palestinian protesters; eleven wounded
• Turkish PM meets Syrian National Council, calls 'democratic Syria' ultimate objective
• NATO official sees vital need for rebuilding of trust between Turkey, allies
------------
Africa
• Acceptance of Boko Haram Allegiance Makes IS Global
• Al-Shabab Militants Kill Three in North-Eastern Kenya
• Nigeria acknowledges presence of foreign mercenaries
• 'Decisive' phase of Libya talks to start next week, UN envoy says
• Nigeria 'embarrassed' by Morocco royal phone row
------------
Arab World
• Saudi-Brazil Ties Scale New Heights with Shoura Visit
• Iraqi Forces Vow To Liberate Tikrit within 72 Hours
• U.S.-led raids target ISIS in Syria after Kurdish plea
• U.S. announces $70 mln in non-lethal aid to Syrian opposition
• UNICEF urges talks with ISIS for aid access
• U.S. does not want to see Syrian regime 'collapse'
• 3 Arab states pledge to provide Egypt with $12 bn
-----------
India
• Muslims in India Better Off Than Their Pakistani Counterparts
• US asks Pakistan to keep its pledge on Mumbai attacks
• Pakistan Rangers violate ceasefire in Samba district
• Opposition livid at J&K map goof-up in RSS mag
• Pakistan to release 57 Indian boats
• Indian domestic workers 'too expensive' for Saudis
Compiled by New Age Islam News Bureau
URL: https://newageislam.com/islamic-world-news/maldives-former-president-nasheed-jailed/d/101957
-----------
Southeast Asia
Maldives former president Nasheed jailed for 13 years
Mar 14th, 2015
MALI: Former Maldives president Mohamed Nasheed was convicted of a terrorism charge by a criminal court and sentenced to 13 years in prison on Friday.
The three-judge bench unanimously found Nasheed guilty of ordering the arrest of a chief judge in January 2012 when he was leader of the Indian Ocean archipelago.
"Nasheed is found guilty of arresting and illegally detaining judge Abdulla Mohamed," judge Abdulla Didi told the court in a verdict just before midnight.
The ruling came four days after Nasheed's lawyers quit in protest against what they called a biased trial aimed at destroying his political career.
Nasheed, the country's first democratically elected leader, was originally cleared of the charge last month but a few days later the prosecutor general had him re-charged and arrested under tough anti-terror laws.
The United States and regional power India had voiced concern over the charges and attempts to keep him out of politics.
The controversial trial went on despite widespread criticism, with current President Abdulla Yameen denying that the move was politically motivated.
Hundreds of supporters have been protesting in the tiny capital island Male on a regular basis since Nasheed's arrest last month.
Nasheed resigned as Maldives leader in February 2012 after a mutiny by police and troops that followed weeks of protests over the arrest of judge Mohamed on corruption allegations.
He has maintained that he was innocent and he was wrongfully charged.
Nasheed was denied medical attention while in police custody, his party has said.
http://www.dawn.com/news/1169430/maldives-former-president-nasheed-jailed-for-13-years
-----------
Malay voters look for Islamic credentials in future PM, survey shows
14 March 2015
Most Malay voters feel that the number one criterion a prime minister of Malaysia must have is "Islamic credentials", with the majority preferring it over qualities such as "hardworking" and "economic and management skills", a survey commissioned by The Malaysian Insider has revealed.
The survey by pollster Merdeka Center showed that fewer Malay voters felt "taking a tough stand on corruption" was among the most important qualities needed in a prime minister, even as Pakatan Rakyat (PR) continues to use Barisan Nasional's (BN) alleged corrupt activities as its main ammunition.
Asked to pick the top two qualities they were looking for in a prime minister, 35.8% of Malays chose "Islamic credentials", while just 24.3% chose "tough stand on corruption".
The other qualities listed in the survey, which respondents were told to choose from were "economic and management skill set" which got 8.6%, "decisiveness/firmness" (7.8%), "honest" (6%), "hardworking" (4.8%), "fair to all races/treats everyone equally" (4.6%), "has team of competent and good advisors" (1.5%), "good orator/public speaking" (1.2%), and "efficient" (1%).
Malays make up a huge vote bank, with the community counting for around 60% of the electorate, compared with Chinese (30%) and Indians (10%).
"This survey shows that any leader who wants to come in and promote himself as the top person in power needs to show they have Islamic credentials and an awareness of Islamic sensibilities," said Ibrahim Suffian, the director of Merdeka Center.
"They don't necessarily have to be a religious scholar or an ustaz, but it's just that Islam is very central to the Malay identity these days."
He said Malays were becoming increasingly conscious about their Muslim identity, due to education and the Islamisation of Malaysia, and they wanted their leaders to embody the same values.
"They want to know what these leaders' stand is on Islamic matters like the Palestine conflict, Islamic law... they want leaders to be able to at least converse about the Quran, who can draw references to the religious texts," added Ibrahim.
But Ibrahim denied that this meant PAS, the only Islamist party in Malaysia, had the upper hand, saying that Malays also wanted a prime minister who could stem corruption and treat everyone fairly.
Meanwhile, most of the Chinese interviewed in the survey preferred a prime minister with economic and management skills, with 28.5% choosing it as one of their top two criteria, followed by "tough stand on corruption" (27.2%) and "fair to all races" (18.5%).
Indian voters were more concerned about a prime minister who is fair to all races (38.2%) and hardworking (17.6%), the poll revealed.
Race aside, respondents who were undecided over whether to support Barisan Nasional (BN) and Pakatan Rakyat (PR) mostly chose "tough stand on corruption" as one of their top two criteria (21.5%), followed by Islamic credentials (17.8%), economic and management skills (17.3%) and fair treatment to all races (17.3%).
BN supporters placed emphases on Islamic credentials (30.5%) and tough stand on corruption (22.3%).
Some 21% of PR supporters chose tough stand on corruption, while 22.6% favoured management skills.
Overall, Malaysians chose fair treatment to all races as the most popular quality for a prime minister, followed by Islamic credentials and tough stand on corruption.
Umno's top leaders such as Najib, his deputy Tan Sri Muhyiddin Yassin and vice-president Datuk Seri Ahmad Zahid Hamidi have often painted themselves as defenders of Islam and Muslims, a move that has increasingly ostracised the non-Malays who overwhelmingly voted for the opposition in the 2013 general election.
Najib projects himself as a moderate Muslim leader internationally, and has spoken out against terrorist acts by those using Islam, such as the Islamic State militant group.
PR's choice for prime minister, Datuk Seri Anwar Ibrahim, who founded the Muslim Youth Movement of Malaysia, or Abim in the 1970s, has similarly taken up a moderate Muslim image, and often peppered his speeches with quotes from the Quran, and Islamic scholars such as Yusuf Al-Qaradawi.
The survey involved 1,008 respondents of voting age, who were interviewed by telephone from January 21-30 and selected through the random stratified sampling method along the lines of ethnicity, gender, age and parliamentary constituency.
All parliamentary constituencies were surveyed and the selection of the respondents is proportional with respect to the population. – March 13, 2015.
http://www.themalaysianinsider.com/malaysia/article/malay-voters-look-for-islamic-credentials-in-future-pm-survey-shows
-----------
Islamic finance a viable complement in global financial system: Sultan Nazrin Shah
14 MARCH 2015
KUALA LUMPUR: Policymakers should consider Islamic finance as a viable complement or reinforcement to the still fragile global financial system, the Sultan of Perak, Sultan Nazrin Shah said.
He said the principles and values in the Syariah-compliant Islamic finance are universally desirable and should therefore be acceptable.
"However, we must also recognise that strong commitment and coordination among the policymakers and other relevant stakeholders are required for this approach to achieve a positive outcome.
"I look forward to even more developments in relationship building between parties in the United Kingdom and Malaysia in the coming years," he said in his address at the 6th Securities Commission-Oxford Centre for Islamic finance (SC-OCIS) dinner in London Friday.
The text of his speech was made available to Bernama.
The dinner was held in conjunction with the 6th SC-OCIS Roundtable on Islamic Finance.
Sultan Nazrin Shah, who is also Royal Patron for Malaysia's Islamic Finance Initiative, welcomed closer collaboration in various areas of Islamic finance between the two countries to create greater business opportunities, strengthen industry skill sets and enhance industry profiling.
As a global financial centre, he said London could create a wider acceptance and adoption of Islamic finance, which would later on contribute significantly towards the vibrancy and reach of Islamic finance, not only in the country but also globally.
He said the Battersea Power Station development, one of the Malaysian-owned projects based in the UK, has secured a Syariah-compliant syndicated financing of 467 million pound, one of the largest Islamic finance transactions ever conducted in the British market.
"In my view, the defining event in the development of Islamic finance globally was the maiden issuance last year by the United Kingdom government of 200 million pound sovereign sukuk.
"The issuance underscores London's ability, as an international financial centre, to successfully market a product that hitherto has only been offered by Muslim countries.
"It also reaffirms the United Kingdom government's commitment in developing Islamic finance, and its ability to play a leadership role in this regard," he said.
He said the sovereign issuance by the UK was followed in quick succession by other non-Muslim countries, namely Hong Kong, South Africa and Luxembourg.
According to rating agency Moody's, the US$2 trillion sukuk market is set to grow to US$4 trillion by 2020, growing annually at 15 to 20 per cent. – BERNAMA
http://www.nst.com.my/node/76472
-----------
G25 claims met with some sultans, upbeat over Islamic law reform
March 14, 2015
KUALA LUMPUR, March 14 ― Seeking a review of the country's diverse Islamic laws, the moderate Malay group dubbed G25 said it has been "encouraged" after meeting with several state rulers to discuss unconstitutional Shariah laws and moral policing.
At a dinner dialogue here last night called "Restoring Faith In Our Constitution", G25 representative Datuk Noor Farida Ariffin noted that state Islamic laws have been encroaching on federal jurisdiction, which was why the group had sought out some of its rulers.
"We got a very good discussion," Noor Farida told reporters after the dinner, referring to the recent meetings between G25 and a few state rulers.
The retired diplomatic envoy said among the concerns raised were the implementation of hudud as well as the setting up of rehabilitation camps for Muslims that purportedly deviate from Islamic teaching.
Noor Farida said the meetings were held in the past month, but declined to specify the number of rulers the group of influential former civil servants had met, or the identity of the sultans.
"They encouraged us to speak to other rulers," she said, noting that decisions by the Conference of Rulers are made through a consensus.
G25 also plans to meet other rulers, as well as mentris besar and chief ministers, to discuss the increasing Islamisation of Malaysia, Noor Farida said.
She cited cases like the Negri Sembilan cross-dressing case, child conversion cases, body-snatching cases, the Borders case and the arrest of a Hindu bride.
In the Borders case, the Shariah High Court here discharged Borders bookstore branch manager Nik Raina Nik Abdul Aziz last month of selling a book deemed un-Islamic by local religious authorities.
Noor Farida also expressed fears of a "silent rewriting" of the Federal Constitution through the encroachment of Shariah law on crimes that should be under federal jurisdiction, as well as through the reluctance of civil courts to hear cases on constitutional issues that overlap with Islamic law.
"The Federal Court decided they had no jurisdiction to decide on cases concerning apostasy," Noor Farida said in a speech at the dinner organised by law firm Lee Hishammuddin Allen & Gledhill, referring to the Lina Joy case.
The G25 spokesman also criticised moral policing by Islamic authorities, saying that khalwat raids are "totally un-Islamic".
Khalwat raids are carried out against Muslims who are in "close proximity" with someone of the opposite sex who is not married to them or related by blood.
"In Islam, you're not supposed to invade someone's private spaces. That's totally forbidden in Islam," said Noor Farida.
She told reporters that G25 is planning to set up an expert group comprising local and international Shariah and constitutional experts to review Shariah laws in the country, noting that the jurisdiction of Islamic legislation is limited to the Federal Constitution's Ninth Schedule, List II.
"We've identified members and given their names to the government...We're working with the government to form this," Noor Farida said, adding that 10 members have been identified but they have yet to be formally approached.
The G25 group currently has 44 members.
Last December, the initial group of 25 influential Malays had, in a strongly-worded open letter, called on the federal government to review Shariah criminal offences and to assert the supremacy of the Federal Constitution over Islamic state laws in the country.
The group, dominated by some of the country's most senior-ranking civil servants who have since retired from duty, expressed its dismay over the unresolved disputes on the position and application of Islamic laws in Malaysia, which it said reflects a "serious breakdown" of the division of powers between the federal authority and the states.
http://www.themalaymailonline.com/malaysia/article/g25-claims-met-with-some-sultans-upbeat-over-islamic-law-reform
-----------
Indonesians 'heading to join Islamic State' held in Turkey
MARCH 13 2015
JAKARTA — Sixteen Indonesians, mostly women and children, have been arrested in Turkey attempting to cross into Syria to join the Islamic State group, a minister said, the latest case of Indonesians heading to battlegrounds in the Middle East.
The 11 children, four women and one man from the world's most populous Muslim-majority country were detained in the Turkish border town of Gaziantep. Officials did not say when they were arrested.
"We are still investigating ... but it is clear that they wanted to join (the Islamic State) to have a better life in accordance with Islamic sharia laws," Security Minister Tedjo Edhy Purdijatno told reporters late on Thursday.
Foreign Minister Retno Marsudi said a team was being dispatched to Turkey to work with authorities after the arrests.
Officials had previously revealed that a different group of 16 Indonesians went missing in February after joining a tour group to Turkey, and were also believed to be attempting to reach Syria.
Full report at:
http://www.bdlive.co.za/world/asia/2015/03/13/indonesians-heading-to-join-islamic-state-held-in-turkey
----------
Pakistan
48 Terrorists Killed In Tirah Valley in Khyber Agency Airstrikes
March 14, 2015
KHYBER AGENCY - Pakistan Air Force (PAF) fighter jets pounded suspected hideouts of militants in the country's northwest on Friday, killing at least 48 terrorists, Inter-Services Public Relations (ISPR) said.
The airstrikes took place in the remote Tirah valley in Khyber Agency where TTP terrorists and militants from across the mountainous areas have holed up since the start of operation Zarb-e-Azb in the North Waziristan region on the Afghan border.
The ISPR said in a statement that 48 suspected militants were killed and several hideouts destroyed in fresh airstrikes.
The airstrikes were carried out a day after Chief of Army Staff General Raheel Sharif and Chief of Air Staff Air Chief Marshal Tahir Rafique Butt visited North Waziristan Agency.
On the occasion, General Raheel Sharif appreciated the efficacy of use of air power with ground operations.
Full report at:
http://nation.com.pk/national/14-Mar-2015/48-terrorists-killed-in-tirah-airstrikes
-----------
13 Seminaries Training Militants in Punjab
March 14, 2015
Lahore- Thirteen seminaries that provide training to militants have been identified in Punjab province alone.
According to details, most of the seminaries identified belong to South Punjab. Media Reports sources confirmed that authentic evidence has been obtained that proves the terrorist activities of the seminaries in question.
Reportedly, those responsible for running of these seminaries have links with North Waziristan and will be apprehended after crackdown.
Full report at:
http://nation.com.pk/national/14-Mar-2015/13-seminaries-training-militants-in-punjab
-----------
Balochistan Govt to Collect Bio-Data of Afghan Clerics
March 14th, 2015
QUETTA: Balochistan government has decided to collect the bio-data of all Afghan clerics currently performing duties as Paish Imams (prayer-leaders) across the province, it has been learnt.
On Friday evening, Balochistan Chief Minister Dr Malik Baloch chaired the meeting of Apex Committee comprising senior military and civil officers to review the pace of implementation of National Action Plan (NAP) in the province.
The meeting decided to rein in those elements taking law into their hands and selling hate materials in Quetta and other parts of Balochistan.
The decision to collect bio-data of Afghan clergymen is part of Balochistan government's resolve to implement the National Action Plan (NAP).
In most parts of Quetta and northern parts of Balochistan, Afghan clerics have been performing their duties as prayer leaders for more than three decades. These clerics have established good ties with local population. "We have no specific details of these clerics," the officer said.
District Intelligence Coordination Committees (DICCs) have already been established to scrutinise Madrasas (religious seminaries) in the province.
These DICCs have also been entrusted the task to collect bio-data of Afghan clergymen, an officer of the Balochistan Home and Tribal Affairs Department told Dawn.com.
The officer of Home Department informed that hitherto 1,641 seminaries were scrutinised by DICCs in different districts of the province. He revealed that so far 2,441 seminaries were registered with Industries department in Balochistan under the Society Registration Act, 2010, adopted by Pakistan Peoples Party government. Under this act the registration of seminaries, students and teachers was declared essential.
"We have no data about the number of non-registered seminaries," the official said.
This is for the first time that a vigilant eye is being kept at Afghan clerics since the influx of Afghan refugees in the aftermath of 1978 after the Red Revolution in Afghanistan.
http://www.dawn.com/news/1169345/balochistan-govt-to-collect-bio-data-of-afghan-clerics
----------
Six suspected militants killed during raid in Dera Bugti
SYED ALI SHAH
QUETTA: At least six suspected six militants were killed during a search operation in Balochistan's troubled Dera Bugti district on Thursday morning.
A spokesperson for Frontier Corps – a para-military force – said security forces conducted search operations in Dur Jan and Rustam areas of Dera Bugti during which six militants were killed. He claimed the militants were involved in targeting security forces and blowing up gas installations in the district.
He said arms and ammunition were also recovered from the deceased militants.
The spokesperson said a large number of personnel were involved in the search operation being conducted in different parts of Dera Bugti. He added that security forces were backed by helicopter gunships.
The FC claim could not be verified by independent sources.
The incident has come a day after the killing of seven suspected militants by security forces in Pir Koh area of Dera Bugti.
Balochistan, Pakistan's largest but least developed and most sparsely populated province, has been afflicted for decades by a separatist insurgency that was revived in 2004.
Rights groups allege that Pakistani security forces often arrest rebels and kill them extra-judicially, staging gunfights to cover up the executions.
http://www.dawn.com/news/1169102/six-suspected-militants-killed-during-raid-in-dera-bugti
--------
Secret meetings expose obstacles in Af-Pak peace talks
March 14, 2015
Islamabad- Days after word leaked that the Afghan Taliban had signaled willingness to enter talks to end Afghanistan's long war, senior representatives of the militant group visited Islamabad for secret discussions on the next step forward.
They left with a blunt message from Pakistan: the Taliban must end a rift between two top leaders, or talks might never get off the ground.
The warning was a reminder of how tough it will be to get insurgents and the Afghan government around the same table, let alone agree a lasting peace, even with help from Pakistan, the Taliban's erstwhile backer that still wields influence over them.
The two senior Taliban figures in question are political leader Akhtar Mohammad Mansour, who favors negotiation, and battlefield commander Abdul Qayum Zakir, a former Guantanamo Bay detainee, who opposes talks with Kabul.
Mansour and Zakir, long-time rivals, met recently to resolve their personal differences, slaughtering sheep for a feast to mark the occasion, according to two Taliban sources.
But Mansour was unable to persuade Zakir to reverse his opposition to direct talks with Kabul, which he sees as "wasting time" because the United States holds real power in Afghanistan, the sources added.
The latest peace initiative, considered more promising than recent doomed efforts because of Pakistani and Chinese mediation, is aimed at ending an escalating conflict in which hundreds of Afghans are killed every month.
Full report at:
http://nation.com.pk/national/14-Mar-2015/secret-meetings-in-pakistan-expose-obstacles-to-afghan-peace-talks
-----------
Sit-in against Mumtaz Qadri's death sentence
Mar 14th, 2015
KARACHI: Several religious parties on Friday staged a sit-in at the Numaish traffic intersection against the Islamabad High Court decision to uphold the death sentence of Mumtaz Qadri in the then Punjab Governor Salman Taseer murder case.
Full report at:
http://www.dawn.com/news/1169377/sit-in-against-mumtaz-qadris-death-sentence
-----------
Lakhvi back in detention on Punjab Interior Ministry's orders
TAUQIR GHUMMAN
Mar 14th, 2015
LAHORE: A day after the detention orders of the alleged mastermind of the 2008 Mumbai attacks Zakiur Rehman Lakhvi were declared void by the Islamabad High Court (IHC), the Punjab Interior Ministry reordered his detention on Saturday.
IHC's Justice Noorul Haq Qureshi on Friday had accepted Lakhvi's appeal filed against his third time detention orders and ordered the immediate release of the alleged Mumbai attacks mastermind.
However, before his release could be executed, the Punjab Interior Ministry detained Lakhvi for a month on Saturday.
Take a look: Lakhvi's detention declared void by IHC
Lakhvi had been granted bail in both cases against him, including the 2008 Mumbai attack case and the six-year-old case pertaining to the kidnapping of an Afghan national.
IHC's decision drew a sharp reaction from New Delhi and the Indian External Affairs Ministry's (EAM) summoned Pakistan High Commissioner to India Abdul Basit and sought from him an explanation over Lakhvi's release.
Commenting on the IHC order to release Lakhvi, India's Home Ministry said in a statement that, "It is the responsibility of the Pakistan government to take all legal measures to ensure that Lakhvi does not come out of jail."
Washington also responded to IHC's order by saying that Pakistan had promised US to bring the perpetrators of the Mumbai terror attack to justice and it hoped that it would do so.
Lakhvi is accused of being the mastermind of the November 2008 Mumbai attacks, which killed 166 people. The Pakistani government took Lakhvi and other suspects into custody in February 2009 for 'facilitating' the attacks.
The Special Investigation Unit (SIU) of the Federal Investigation Agency (FIA) had also registered a First Information Report (FIR) against Lakhvi and six other alleged abettors in 2009.
Also read: Govt finally finds lawyer to prosecute Lakhvi
In August 2009, Chaudhry Zulfiqar Ali was appointed special prosecutor in the case. Later, Advocate Mohammad Azhar Chaudhry was also appointed senior prosecutor.
After the murder of Chaudhry Zulfiqar on May 3, 2013, the FIA handed over the job to Abuzar Hasnain Pirzada.
Full report at:
http://www.dawn.com/news/1169524/lakhvi-back-in-detention-on-punjab-interior-ministrys-orders
-----------
Operation launched in Karachi with MQM consent, says CM
HABIB KHAN GHORI
Mar 14th, 2015
KARACHI: Sindh Chief Minister Syed Qaim Ali Shah said on Friday that the ongoing targeted operation was launched in consultation with the Muttahida Qaumi Movement and it had yielded positive results with regard to elimination of terrorism, targeted killing, kidnapping for ransom and extortion.
He said this while talking to newsmen at the 87th passing-out parade of the Sindh police at the Saeedabad Police Training College.
Some 510 male and female police personnel participated in the passing-out parade. The CM also spoke at the ceremony, distributed prizes and shields among the position holders of the training courses.
Take a look: Rangers raid MQM HQ in Karachi, detain member of Rabita Committee
He said the country was passing through a crucial period and routine life in Sindh, Karachi in particular, had been virtually paralysed due to terrorism and lawlessness.
He said that targeted killing, kidnapping for ransom, extortion and terrorism had emerged as a big challenge for the government.
He claimed that the result of the government's effective strategy and coordinated performance of the police and Rangers was evident from the fact that now there was not a single case of kidnapping for ransom, traders were not receiving any extortion slips and targeted killing had become almost nonexistent.
The police and the Rangers played an important role not only in restoring law and order across the province, but had successfully solved the cases of Shikarpur imambargah bombing and assassination of Jamiat Ulema-i-Islam-Fazl leader Dr Khalid Mehmood Soomro.
The CM said that the law and order problem was not only in Karachi but throughout the country.
Full report at:
http://www.dawn.com/news/1169389/operation-launched-in-karachi-with-mqm-consent-says-cm
-----------
President reiterates support for Azerbaijan on Nagorno-Karabakh
Mar 14th, 2015
BAKU: President Mamnoon Hussain said here on Friday that Pakistan would continue to support Azerbaijan on the conflict of Nagorno-Karabakh, expressing gratitude on Azerbaijan's support on the core issue of Jammu and Kashmir.
During a meeting with Minister of Foreign Affairs of Azerbaijan, Elmar Maharram Mammadyarov, the president said that the real success of Azerbaijan-Pakistan ties lay in transforming burgeoning political relations into concrete cooperation in the fields of trade, investment, defence, education, culture, science and technology.
He stressed that Pakistan condemned terrorism in all its forms and manifestations.
Know more: Mamnoon for strong economic ties with Azerbaijan
The president said that Pakistan was happy to provide training to diplomats from Azerbaijan at its Foreign Service Academy.
He said Pakistan would like to have more young diplomats from Azerbaijan that would result in better understanding and friendship between the two countries.
Minister of Defence and Industry of Azerbaijan Yavar Jamalov also called on the president who said that both countries should take advantage of each other's experience in the field of defence.
Member of National Assembly of Azerbaijan Ganira Alasgarqizi Pasha­yeva also met President Mamnoon Hussain.
Full report at:
http://www.dawn.com/news/1169441/president-reiterates-support-for-azerbaijan-on-nagorno-karabakh
-----------
5,000 South Waziristan Agency families set to return home from 16th March
Mar 14th, 2015
TANK: The Fata Disaster Management Authority (FDMA) on Friday completed registration of about 5,000 internally displaced families of South Waziristan Agency who would start returning to their homes from 16th of this month.
Tank assistant political officer, Nawab Khan Safi, told media persons at the political compound here that so far 5,000 IDP families had been registered in the first phase of their repatriation, which continued from March 8 to 13 at the facilitation desk set up at the political agent's office.
He said in the repatriation of the registered families would start from March 16 and continue till April 4.
Full report at:
http://www.dawn.com/news/1169519/5000-swa-families-set-to-return-home-from-16th
-----------
Civil society should speak against torture of MQM workers: Altaf
March 14, 2015
London- Muttahida Qaumi Movement (MQM) chief Altaf Husain appealed to human rights organizations, civil society members and lawyers today to raise their voice against alleged torture on detained party workers.
On Wednesday, Rangers personnel raided the MQM offices in Azizabad area of Karachi acting on an intelligence tip-off that convicted criminals were hiding inside and arrested several suspects. Huge quantity of heavy weapons and ammo were also seized in the raid.
In a telephonic address to the MQM Legal Aid Committee in Karachi, Altaf Hussain said his party backed targeted operation in Karachi but now MQM workers are being victimized in the name of anti-crime action.
Full report at:
http://nation.com.pk/national/14-Mar-2015/civil-society-should-speak-against-torture-of-mqm-workers-altaf
-----------
Pakistan, India trade demarches over Lakhvi trial
March 14, 2015
ISLAMABAD - India on Friday launched new diplomatic offensive against Pakistan by trying to politicise the order for release of Mumbai attacks accused Zakiur Rehman Lakhvi by a superior court, a development seen by many as New Delhi's another bid to stay away from peace talks with Pakistan.
The situation turned unpleasant when Indian External Affairs Ministry summoned Pakistan High Commissioner to India Abdul Basit after judicial relief granted to Lakhvi, and sought explanation from him about the development.
Pakistan followed the same approach when the Foreign Office summoned Indian Deputy High Commissioner JP Singh to lodge protest with New Delhi for unnecessarily creating media hype over the issue and summoning Pakistan's High Commissioner.
Islamabad also lodged its strong protest with him over India's deliberate delay in the trial of Samjhota Express terror attack.
According to government sources, India, instead of creating hype and projecting the case in the media out of proportion, should have expressed its concerns as per diplomatic norms.
India on Friday gave a kneejerk reaction when the Islamabad High Court ordered the federal government to release Zakiur Rehman Lakhvi, saying that he could not be detained under Maintenance of Public Order (MPO) for an unspecified period.
"Pakistani agencies must produce incriminating evidence in the court of law in Pakistan.
And there should be no discrimination in showing the character of terrorists.
Terrorists cannot be bad or good terrorists," India's Junior Home Minister Kiren Rijiju told reporters.
"They must ensure that Lakhvi doesn't get out on bail and doesn't get out of jail.
If proper legal measures are taken then I am sure Lakhvi will not get out of jail.
"
According to sources, India has been trying to create hype through its media out of nothing on the issue of Mumbai attacks.
Full report at:
http://nation.com.pk/national/14-Mar-2015/pakistan-india-trade-demarches-over-lakhvi-trial
-----------
North America
SiriusXm Radio Host Ousts Guest Who Said Obama 'Is a Muslim'
March/14/2015
A host on SiriusXM radio today cut off a guest for declaring that President Obama "is a Muslim." On "The Morning Briefing with Tim Farley," retired Air Force Col. Dick Brauer Jr. said, "The key thing is that, our president being a Muslim, and he is a Muslim because his father -"
At that point, host Farley stopped him with these words, "All right, well, we're just going to take you right off the air now, so we don't need that on the air because that's ridiculous and just, we're not going to let you put falsehoods on the air. So I appreciate your being here. But that is not something we're going to allow to get on the air because it's a ridiculous accusation."
Later, Farley explained that his program hosts both conservative and liberal guests. "We try to steer them into a path of discussion as opposed to just an attack," he said. "We will occasionally challenge facts, but when somebody states that the president is a Muslim, we've gone past the point of fact and it's clear that from that point on we cannot have a reasonable discussion so we just stopped it."
Full report at:
http://www.washingtonpost.com/blogs/erik-wemple/wp/2015/03/13/siriusxm-radio-host-ousts-guest-who-said-obama-is-a-muslim/
-----------
Kerry in new Iran talks as US political storm rages
March/14/2015
GENEVA: Iran nuclear talks enter their critical end-game on Sunday with US Secretary of State John Kerry due to meet his Iranian counterpart in Switzerland as a March 31 deadline looms and a political storm rages in Washington.
After 18 months of talks and two missed deadlines, six world powers want by the end of the month to nail down the outline of a deal with Iran that would put making a nuclear bomb out of Tehran's reach.
A full accord is due by July 1. But as time runs short tempers have been boiling over in the United States, putting Kerry and US President Barack Obama under immense pressure.
Know more: Iran nuclear deal possible in six months
Iran's supreme leader, Ayatollah Ali Khamenei, has meanwhile criticised the two-step process, saying matters should be handled in one fell swoop. He is due to give a closely watched Iranian New Year's address on March 21.
On Thursday Khamenei said the other side in the talks is "deceitful and stabs in the back", according to news agency ISNA.
From Lausanne, Iranian Foreign Minister Mohammad Javad Zarif is due to go to Brussels on Monday to meet his French, German and British counterparts before returning to Switzerland, according to his ministry.
Republican letter
On March 9, 47 Republican US senators wrote an open letter to Iran's leaders warning that any nuclear deal could be modified by Congress or revoked "with the stroke of a pen" by Obama's successors.
Full report at:
http://www.dawn.com/news/1169350/kerry-in-new-iran-talks-as-us-political-storm-rages
-----------
Pakistani brothers plead guilty to New York terror plot
March/14/2015
MIAMI: Two Pakistani-born brothers accused in a plot to detonate a bomb in New York City to avenge the deaths of people killed by drone attacks in Afghanistan, pleaded guilty to federal terrorism charges on Thursday in Miami.
Raees Alam Qazi, 22, and Sheheryar Alam Qazi, 32, were arrested in 2012, accused of providing support to al Qaeda to use a weapon of mass destruction.
The brothers are naturalised US citizens who were living in Fort Lauderdale, Florida at the time of their arrest.
The younger brother pleaded guilty on Thursday to conspiring and attempting to provide material support to terrorists and conspiring to assault a federal employee. He faces a maximum sentence of 35 years in prison followed by supervised release for life.
His older brother also pleaded guilty to conspiring to provide material support to terrorists as well as conspiring to assault a federal employee. He faces a maximum sentence of 20 years in prison followed by supervised release for life.
Sentencing was set for June 5.
Full report at:
http://www.dawn.com/news/1169322/pakistani-brothers-plead-guilty-to-new-york-terror-plot
-----------
Cause unites Jewish, Muslim students
MARCH 13, 2015
LA JOLLA — It began as a modest request to expand the menu at a UC San Diego dining hall, but it could be a reminder that groups portrayed as having extreme differences can work together.
Members of the Union of Jewish Students and the Muslim Student Association at UCSD say they realize relations between their faiths sometimes have been stressed, but for the past year they focused on what they had in common and worked together on a shared problem.
Both faiths have restrictions on food, which limited options at campus dining halls.
"I had to basically be a vegetarian throughout the year," said Hibah Khan, explaining that as a Muslim, she followed halal restrictions on how animals are slaughtered for meat.
Jewish students who observe kosher restrictions had it even worse.
"I'd just buy Oreos," Union of Jewish Students President Jonah Saidian said about the limited kosher offerings at the dining halls.
The menu was especially frustrating for students who live on campus because they are required to buy about $3,000 in "dining dollar" vouchers that can only be used in the campus dining halls.
That should change by the 2016-17 school year when Oceanview Terrace in the Thurgood Marshall College at UCSD is renovated and becomes the first University of California dining hall with a kosher station and halal meats on the menu. UCSD is in the process of selecting an architect for the project, which when completed will include a prayer room open to all students.
The effort included many face-to-face meetings with two members of each student group and a public meeting in November that attracted about 20 Jewish and Muslim students.
The students' work already has resulted in the dining hall acquiring a new distributor that is providing hala meat.
Zev Hurwitz, executive vice president of Union of Jewish Students, said the idea of expanding the menu came in the 2012-13 school year when the university sent out a questionnaire about campus climate.
Full report at:
http://www.utsandiego.com/news/2015/mar/13/ucsd-jewish-muslim-students-collaborate-on-dining/
-----------
Pacifica Institute Offers Muslim Voices against Extremism
Mar 13, 2015
Thursday night a group of Muslim leaders joined the Pacifica Institute to provide insight into the perception that Muslim voices are slow to speak out against terror attacks perpetrated by Muslims in the name of Islam.
Department of Justice, US Attorney Laura Duffy kicked off the event by explaining why dialogue was important. "The need for our community (s) to come together to combat this problem has never been more apparent than it is today…the DoJ is deeply engaged in this vital effort across our country."
Muslim leaders Ahmet Kuru, Imam Taha Hassane, Jihad Turk all Sayed Mahdi Qazwini addressed various root causes that lead young people to join violent terror groups like the Islamic State of Iraq and Syria (ISIS). All cited social media propaganda as an effective tool terror groups use to lure large swaths of people to their cause. All of the leaders at the conference denounced terrorism perpetrated by ISIS.
The forum was organized by the Pacifica Institute a Turkish organization that works within communities to provide faith-base assistance to those in need.
"The Pacifica Institute organizes a lot of events condemning violence and terrorist attacks committed in the name religion, particularly Islam," Pacifica Institute spokesperson Mesut Inci said. The group hopes forums can spark a nationwide discussion on brutal terrorist acts perpetrated by extremists, like ISIS, in the name of Islam.
"We just want to speak up and stand against violence by inviting speakers with Muslim backgrounds to speak out. We also believe that many Muslim people feel and think same way, therefore, we just wanted to create a platform to encourage Muslim leaders to express this important message to the community. The main goal of organizing this event is to denounce all kind of extremism and examine some events to see if there are any contributing factors of the religion."
Full report at:
http://www.sandiego6.com/news/national-news/Pacifica-Institute-offers-Muslim-voices-against-extremism-296246531.html
------------
Europe
French classmates recognize 'child killer' in ISIS video
14 March 2015
A child who appears to execute an Arab Israeli in a video released this week by the Islamic State of Iraq and Syria (ISIS) group is said to have been recognized by classmates in France, an official said Friday.
The schools inspector in the Haute-Garonne district in southern France said students in the city of Toulouse believe they recognized the boy, who appears to be no more than 12.
"Concerning the formal identification of this person, I cannot tell you anything," Jacques Caillaut told reporters. "Children from the Vauquelin College have recognized one of their classmates, but we must remain cautious."
Shocked students had seen the video on Wednesday and counselling was put in place for them, he said.
According to the inspector, students at the Vauquelin secondary school would have known the boy when he was still in primary school in Toulouse.
"There is a child who has not been enrolled at the Vergers (primary) school since March 14, 2014, but I do not have any other details," Caillaut said.
French officials Thursday launched a formal investigation into the video, which also features a French-speaking man.
Full report at:
http://english.alarabiya.net/en/News/world/2015/03/14/French-classmates-said-to-recognize-child-killer-in-ISIS-video-.html
-----------
Could the Muslim vote sway the UK's general election?
13 Mar 2015
London, United Kingdom - British Muslims are being urged to turn out and vote in greater numbers than ever before in the upcoming UK general election amid claims their say could be decisive in shaping the country's next government.
Turnout among Muslims eligible to vote has traditionally been significantly lower than among the wider population.
But campaigners say they hope a voter registration drive in the run-up to the May 9 ballot and community concerns over Islamophobia, British foreign policy, counter-terrorism measures, and economic and social marginalisation will motivate more people to participate.
Launching a "Muslim Manifesto" at an event attended by members of parliament from each of the UK's three main parties earlier this month, Sufyan Gulam Ismail, the head of MEND, a grassroots group encouraging Muslim participation in public life, said the potential for Muslim voters to re-elect or unseat incumbent candidates in many marginal seats was "absolutely extraordinary".
"There is phenomenal untapped potential," said Ismail. "You have got a community that could make a massive difference to the political landscape."
Demographic factors are also increasing British Muslims' political leverage.
According to figures from the last census, the Muslim population of England and Wales increased from 1.55 million to 2.77 million between 2001 and 2011.
In contrast to an aging population, 48 percent of British Muslims are 24 or younger, and one-third are under 15.
And with just 47 percent of eligible adults from the Muslim community estimated to have voted in 2010, compared with a turnout of 65 percent among the general population, campaigners say it is time for Muslims to stand up and be counted.
"The fact of the matter is that we are a community that is growing. We are becoming increasingly active in the political sphere and politicians will have to take notice," Shamiel Joarder, a spokesperson for YouElect, another grassroots initiative to encourage Muslims to register to vote, told Al Jazeera.
"This is an important election in terms of the way the political climate is at the moment, with smaller parties coming to the fore and a lot of marginals, and we need to make sure that all politicians are held accountable. MPs need to realise that we will be voting and that they need to make sure our concerns are looked into and not brushed aside."
Full report at:
http://www.aljazeera.com/indepth/features/2015/03/muslim-vote-sway-uk-general-election-150311055142181.html
-----------
Italy Refers Anti-Mosque Law to Court
14 March 2015
ROME – Facing accusations of targeting the country's Muslims, the Italian government has referred new building regulations for Lombardy northern region, which made it impossible for Muslims to construct any new mosques, to Constitutional Court in the first move to block the regulation.
The laws were introduced last January in Lombardy, the country's most populous region which includes the capital Milan.
Widely known as "anti-mosque" laws, the new regulations stipulates that anyone seeking to build a new place of worship for a religion not officially recognized by the state would be subject to an extensive list of special restrictions ranging from the size of associated parking facilities, to the outward appearance of the buildings.
Since Islam is the only major religion not recognized by the Italian state, the new rules have been seen as being specifically targeted at Italy's more than one million Muslims.
The law also allows Lombardy's officials to call a local referendum about building any new place of worship in the region.
Facing outcry as a blatantly discriminatory move in the northern region, Prime Minister Matteo Renzi's center-left government said on Friday they had decided to refer the new rules to the Constitutional Court for review, the AFP news agency reported.
The decision elicited a harsh response from Matteo Salvini, an outspoken, up-and-coming anti-Islam politician who heads the right-wing Northern League, according to AFP.
"Renzi and [Interior Minister Angelino] Alfano -- here are the new imams," Salvini wrote on his Facebook page.
Critics say the legislation breaches Italy's constitution on several grounds and is bound to be overturned by the Constitutional Court.
Others believe that Italy's Constitutional Court is bound to revoke the discriminatory law as it breaches the country's constitution on several grounds.
Full report at:
http://www.onislam.net/english/news/europe/483977-italy-refers-anti-mosque-law-to-court.html
-----------
German court rules for gay Muslim man threatened with death by his family
March 13, 2015
BERLIN (Reuters) A German court fined the father and two uncles of an 18-year-old Muslim citizen for depriving him of his personal freedom when he was a minor in an attempt, the victim says, to force him into marriage with a woman despite his homosexuality.
In a case highlighting the problems Germany faces in integrating its four-million-strong Muslim community, Nasser El-Ahmad, who has a Lebanese background, has also told German media that his family tortured him for being gay.
Found in a car at the Romanian-Bulgarian border two days after he went missing in December 2012, prompting an Interpol alert, El-Ahmad says he was kidnapped by his family in order to arrange his marriage to a Lebanese girl.
After a five-minute hearing on Thursday, the judge handed the three accused men, who were not present, fines of 1,350 euros ($1,436) each for detaining him and taking him abroad.
El-Ahmad, wearing a black shirt and trousers, black earrings and a "STOP HOMOPHOBIA" badge, said the court had done what it deemed right. "I did what I have the strength to do. At least this came to court, I'm happy about that," he said, adding he had not expected his relatives to turn up. "I'm not someone who hides. I don't want to suppress my sexuality."
El-Ahmad has told German media his father vowed to slit his throat and his uncle threatened to burn him after dousing him with petrol because they could not allow him to be gay.
The court did not deal with allegations of torture or forced marriage but the abduction happened after he was put into care.
Full report at:
http://www.religionnews.com/2015/03/13/german-court-rules-gay-muslim-man-threatened-death-family/
-----------
South Asia
US drone strike claims 7 lives in east Afghanistan
Mar 14, 2015
At least seven people have been killed in the latest drone strike carried out by the US forces in Afghanistan's eastern province of Nangarhar, an official says
Colonel Mohammad Ayub Hussainkhel, a border police official in eastern zone, told local media that seven Taliban militants, including a commander, were killed in the air raid that struck Nangarhar's Lal Pur district on Saturday.
The United States conducts drone strikes in Afghanistan as well as Yemen, Pakistan, Afghanistan and Somalia despite international criticism.
While Washington claims the targets of the drone attacks are al-Qaeda militants, local officials and witnesses have on many occasions maintained that civilians have been the victims of the attacks over the past few years.
Full report at:
http://www.presstv.ir/Detail/2015/03/14/401754/US-airstrike-kills-6-in-E-Afghanistan
-----------
Khaleda vows to continue anti-govt campaign
Mar 14th, 2015
DHAKA: Bangladesh's opposition leader Khaleda Zia vowed on Friday to push on with her campaign to topple the government as she struck a defiant note in her first public appearance since being effectively confined to her office.
While Zia remains holed up at her headquarters in Dhaka, authorities allowed her to address the media for the first time since she called for anti-government protests and a transport blockade at the turn of the year, sparking a wave of violence that has killed more than 110 people. Khaleda, a two-time former premier, used the press conference to lash out at the current Prime Minister Sheikh Hasina whom she accused of turning the country into a one-party state by refusing her calls for new polls.
Full report at:
http://www.dawn.com/news/1169352/khaleda-vows-to-continue-anti-govt-campaign
-----------
Two key TTP men among 8 killed in clash
Mar 14th, 2015
PESHAWAR: Two key leaders of the banned Tehreek-i-Taliban Pakistan (TTP) have been killed in a clash with a faction of Punjabi Taliban across the Afghan border.
According to sources, the clash took place in Lalpura area of Nangarhar province in Afghanistan on Thursday morning, in which eight militants, including head of the TTP central Shura Qari Shakeel Ahmad Haqqani and Dr Tariq Ali, were killed.
Ehsanullah Ehsan, spokesman for the Jamaatul Ahrar, had confirmed death of four militants, including Qari Shakeel and Dr Tariq, on Thursday and blamed an intelligence agency. Qari Shakeel was carrying Rs10 million head money.
Dr Tariq was a former officer of the Army Medical Corps. Qari Shakeel was head of the TTP team which held peace talks with a committee appointed by the government last year.
The sources said that a younger brother of Mohmand Agency-based TTP leader Shamsul Haq alias Abu Bakar was also among the dead.
Full report at:
http://www.dawn.com/news/1169456/two-key-ttp-men-among-8-killed-in-clash
-----------
Bangladeshi Blogger's Father Hopeful Police Will Catch Killers
March 13, 2015
KOLKOTA, INDIA—
Police in Bangladesh this week announced plans to pursue more religious extremists who may know about last month's killing of a prominent Bangladeshi-American atheist blogger.
Avijit Roy was killed in a machete attack in Dhaka on February 26 while he was on a visit to the country. Police have arrested one extremist Islamist activist who last year allegedly threatened that Roy would be killed if he returned to Bangladesh.
Dhaka police said this week that they have drawn up plan to arrest 10 other activists who might have instigated the killing of the blogger.
A team of investigators from the U.S. Federal Bureau of Investigation (FBI) landed in Bangladesh last week to investigate the killing of the blogger, in cooperation with local police.
Roy's wife and fellow blogger Rafida Ahmed, who was injured in the attack, has said police failed to act despite being present in the scene. She also said that she could identify the attackers if she saw them again.
In a phone-interview with VOA, Roy's father Ajoy Roy, a retired university professor said that his son was a secular humanist who was killed by Islamists for his writing.
The death threats from those religious extremists in the Facebook and via emails indicated that they were angry with his writings. I am sure, they were trailing him. They got a chance this time, and ended up killing him," Roy said.
Two days after his son's murder, Roy said he received a phone call from Prime Minister Sheikh Hasina who assured him that her agencies would do their best to track down the killers.
With FBI joining hands, I am hopeful that the investigation will move on with good pace and the perpetrators of the crime will be brought to justice," the 80-year-old professor said. "He was an atheist. In his books and other writings he condemned the ways the religion is practiced in the world. He also wrote against Hinduism."
Some social media users, who followed the 40-year-old Roy's activities online, note that the blogger also had enemies among activists from the opposition as well as ruling parties in Bangladesh.
Full report at:
http://www.voanews.com/content/bangladeshi-bloggers-father-hopeful-police-will-catch-killers/2678659.html
-----------
Hopeful meeting with Muslim Afghan clerics
Maureen Fiedler
Mar. 13, 2015
About two weeks ago, I received an unexpected phone call from a man who runs the Institute of International Education and brings visitors here for the State Department. He was organizing a series of meetings for a group of Afghan clerics coming to the United States to look at interfaith relations and interfaith dialogue in the American context.
"Would I be willing to meet with them?" he wanted to know. "Of course, I would," I replied.
And yesterday, the delegation arrived at my offices. There were four clerics (two Sunni Muslims and two Shia Muslims), two translators, four of my board members, my producers for Interfaith Voices and myself.
I frankly did not know what to expect, but it was a very friendly and hopeful meeting. As it turns out, one of the imams has his own radio show in Afghanistan — relatively new, but interfaith in scope — and he was very interested in Interfaith Voices. Several in the group shared the fact that Afghanistan used to have a more diverse religious population than it does today … not only Muslims, but Jews, Christians and others. The radio host seemed anxious to revive a good sense of interfaith understanding through his show. So we exchanged information, and said we would be open to collaboration if we can figure out how to handle the language barrier (they speak Dari).
Full report at:
http://ncronline.org/blogs/ncr-today/hopeful-meeting-muslim-afghan-clerics
------------
China held rounds of Taliban talks: Abdullah
March 14, 2015
NEW DELHI - China has held rounds of talks with the Taliban and asked the militants to hold direct talks with the Afghan government, the head of Afghanistan's power sharing government said on Friday.
The Chinese have held "one, two or three" rounds of talks with the Taliban in the past few months, Abdullah Abdullah said at a conference organised by an Indian media group.
"They asked the Taliban to have talks directly with the Afghan government, that's a good message," Abdullah said, adding that he did not know what the outcome would be of China's efforts.
China's foreign minister last month said during a visit to Islamabad that Beijing was willing to help mediate talks to end the Afghan war, but Chinese officials have not provided many details.
China's Foreign Ministry spokesman Hong Lei said this week that reports its diplomats in Islamabad met last month with Taliban representatives "do not accord with reality".
Abdullah, speaking at the India Today Conclave 2015 in New Delhi, did not say where the meetings took place.
He said Afghanistan had begun to improve relations with China under the previous president, Hamid Karzai, with the idea that Beijing could use its influence over Pakistan to help broker peace talks.
China has close ties with Afghanistan's neighbour Pakistan, which is widely believed to harbour the Taliban's top leaders and exert considerable control over the group.
In February, a Pakistani army delegation brought word to Afghanistan's President Ashraf Ghani that Taliban leaders had signalled they were willing to open talks, according to senior Pakistani and Afghan officials.
Full report at:
http://nation.com.pk/national/14-Mar-2015/china-held-rounds-of-taliban-talks-abdullah
-----------
Mideast
Hezbollah official criticizes US, Israel for creating ISIL
Mar 13, 2015
The deputy head of the Lebanese resistance movement Hezbollah has criticized the United States, Israel and certain regional Arab governments for creating and sponsoring the ISIL Takfiri militants.
"We hear the world wants to confront ISIS because it represents Takfiri terrorism. Who created ISIL? Those who want to fight [them] are the ones who raised and funded ISIL," the Daily Star quoted Sheikh Naim Qassem as saying in a statement on Friday.
He further noted that the US has been providing the Takfiri militants with weapons and training "starting from Afghanistan all the way to Syria and Iraq."
The official also slammed certain regional countries and allies of the US for supporting the Takfiri militants in order for the terrorist group to carry out "acts of sabotage in their name and on behalf of America."
Sheikh Qassem also lashed out at the Tel Aviv regime for backing the ISIL Takfiri militants, saying, "Israel opened hospitals [to ISIl casualties]; and contact between Takfiris in Syria's Quneitra and Israel is constantly ongoing, uninterrupted, because they are part of this scheme."
Full report at:
http://www.presstv.in/Detail/2015/03/13/401668/US-Israel-to-blame-for-ISIL-creation
-----------
Iran's advances create alarm in Saudi Arabia and the Gulf
13 March 2015
The commanders of Iran's Islamic Revolutionary Guard Corps (IRGC) have been working overtime recently, flaunting their achievements across the Middle East and flexing muscles as international negotiations over the country's nuclear programme enter their critical and perhaps final phase.
On Wednesday it was the turn of Major-General Mohammad Ali Jafari, the IRGC's most senior officer. "The Islamic revolution is advancing with good speed, its example being the ever-increasing export of the revolution," he declared. "Not only Palestine and Lebanon acknowledge the influential role of the Islamic Republic but so do the people of Iraq and Syria. They appreciate the nation of Iran."
Last month a similarly boastful message was delivered by General Qassem Suleimani, who leads the IRGC's elite Quds force — and who is regularly photographed leading the fightback of Iraqi Shia miltias against the Sunni jihadis of the Islamic State (Isis) as well as against western and Arab-backed rebels fighting Bashar al-Assad in southern Syria. "Imperialists and Zionists have admitted defeat at the hands of the Islamic Republic and the resistance movement," Suleimani said.
Iran's advances are fuelling alarm in Saudi Arabia and the Gulf, where Tehran has been a strategic rival since the days of the Shah, and which now, it is said with dismay, in effect controls four Arab capitals – Baghdad, Damascus and Beirut and in the last month Sana'a in Yemen – which is uncomfortably close to home.
Iran's regional position has certainly improved. Its high-profile role fighting Isis in Iraq, Assad's retention of control in Syria with the help of its Lebanese ally Hezbollah, and the Houthi rebel takeover in Yemen have all been deeply discomfiting for the Saudis. Anti-government protests in Shia-majority Bahrain are also often blamed on Tehran — though that ignores the domestic roots of the unrest.
In Riyadh King Salman has dropped his preoccupation with the Muslim Brotherhood in favour of building a united Sunni Arab front to confront the Iranians, diplomats say, though translating that strategy into action is another matter. The message from Saudi Arabia and the United Arab Emirates is that whatever the outcome of the nuclear talks, Iran is bent on expanding its power and influence. "The Iranians have scored major victories but only where there are Shia minorities," a senior Gulf official told the Guardian. "Our concern is that the nuclear issue will become a tool of their foreign policy."
Full report at:
http://www.theguardian.com/world/2015/mar/13/irans-advances-create-alarm-in-saudi-arabia-and-the-gulf
------------
Turkey urges EU to give more intel against ISIL
March/13/2015
Turkey is facing unfair accusations over the flow of foreign fighters into Syria even though it has been doing its best to close its borders, Turkey's foreign minister has said, urging the European Union to share more intelligence over potential recruits to extremist jihadists.
"We are taking our measures and we have also established detection centers. And we are yielding results. But we can only end or reduce this problem through cooperation. Our cooperation has been strengthened recently. But there are still serious shortcomings with regard to intelligence sharing. We need to overcome this," Foreign Minister Mevlüt Çavuşoğlu told reporters at a joint press conference with visiting Macedonian Foreign Minister Nicola Poposki on March 13.
Çavuşoğlu singled out the failure of European Union countries in stopping the travel of foreign fighters without leaving their origin countries and called on them to intensify intelligence sharing with Turkey on foreign fighters. "To be frank, their justifications on this are not valid for us," Çavuşoğlu said.
Providing updated information about Ankara's actions to halt the infiltration of foreign fighters, he said: "Turkey is doing more than it has to do. We have issued travel bans on 12,519 persons. The number of persons we have detained and deported is 1,154."
Çavuşoğlu's remarks came a day after he revealed that three missing British girls who are believed to join the Islamic State of Iraq and the Levant (ISIL) received assistance from a Syrian national serving for one of the anti-ISIL coalition countries. The country is believed to be Canada although there has been no official confirmation. Çavuşoğlu repeated his claim March 13 without specifying the country in question.
Full report at:
http://www.hurriyetdailynews.com/turkey-urges-eu-to-give-more-intel-against-isil.aspx?pageID=238&nID=79650&NewsCatID=510
-----------
Israel security officials recommend barrier on Jordan border
14 March 2015
Israeli security officials have recommended building a barrier along the border with Jordan -- the Jewish state's only frontier that does not yet feature a fence.
"Security officials recommended the construction of a security barrier to protect the new airport which will be built at Timna" some 20 kilometers (12 miles) north of resort city Eilat, an army spokeswoman said, without elaborating.
Work has already begun on the new airport near Eilat, which lies across the Jordanian border from the port city of Aqaba.
Newspaper Haaretz reported that the planned 30-kilometre (19-mile) barrier was designed both to protect the airport and to foil attempts by would-be "jihadist infiltrators" from Jordan, which is home to some extremist sympathizers and a number of radical clerics.
It was unclear whether the government would approve construction of the fence.
Israel has a fence on its southern border with Egypt, also near Eilat, that was erected in 2013 to keep out illegal African immigrants.
Full report at:
http://english.alarabiya.net/en/News/middle-east/2015/03/14/Israel-security-officials-recommend-barrier-on-Jordan-border-.html
-----------
Iranian advisor clarifies 'Baghdad capital of Iranian empire' remark
13 March 2015
Ali Younisi, Iranian President Hassan Rowhani's adviser on Ethnic and Religious Minorities affairs, clarified a statement made Monday - "Baghdad is now capital of the Iranian empire" - saying Tehran never wants to damage its neighboring country's sovereignty and independence, Al Alam website reported.
Instead, Younesi said that he was alluding to cultural similarities with Iraq, Azerbaijan and Afghanistan, adding that "unification" of these countries could halt expansionist agendas of powers foreign to the region.
He urged for cultural, economic and political cooperation between these countries, which happened to be part of the Persian empire in the past.
On Wednesday, the Iraqi Foreign ministry condemned Younesi's statement, local Al Sumaria News reported.
Full report at:
http://english.alarabiya.net/en/News/middle-east/2015/03/13/Iranian-advisor-clarifies-Baghdad-capital-of-Iranian-empire-remark.html
-----------
Iran mass produces long-range anti-ship Qadir cruise missile
Mar 14, 2015
Iran has started the mass production of a domestically-manufactured anti-warship cruise missile dubbed Qadir.
The mass production of the long-range missile was launched by the Defense Ministry's Aerospace Industries Organization in a ceremony on Saturday attended by Defense Minister Brigadier General Hossein Dehqan.
Several Qadir missiles were handed over to the Islamic Revolution Guards Corps (IRGC)'s naval forces after it was unveiled on August 24, 2014 in a ceremony with President Hassan Rouhani and the defense chief in attendance.
Dehqan told reporters that the missile has already gone through research and prototyping processes as well as successful aviation tests.
"Today, we are simultaneously witnessing the launch of the mass production line and the delivery of this strategic and effective missile in the domain of defense and marine battle," he said.
Full report at:
http://www.presstv.in/Detail/2015/03/14/401764/Iran-mass-produces-Qadir-cruise-missile
-----------
Maliki urges Bahraini officials to free opposition cleric
Mar 14, 2015
Iraqi Vice President Nouri al-Maliki has called upon authorities in Manama to immediately release the jailed secretary general of Bahrain's main opposition bloc, the al-Wefaq National Islamic Society.
Addressing a group of people in the Iraqi capital city of Baghdad on Friday, Maliki urged Bahrain's ruling Al Khalifa regime to set Sheikh Ali Salman free and put an end to the policies of persecution and marginalization against the Bahraini nation.
He noted that the Iraqi government and nation stand with oppressed peoples seeking to restore their legitimate rights, urging the Bahraini regime to pay heed to public demands and not insist on standing against people as it would eventually lead to the Manama regime's downfall.
The senior Iraqi official further noted that the continued detention of 49-year-old Sheikh Salaman will not help resolve the political crisis in Bahrain at all, stressing that detentions, executions and other means of oppression will not help the Al Khalifa dynasty cement its power base.
Full report at:
http://www.presstv.in/Detail/2015/03/14/401769/Maliki-urges-immediate-Salman-release
-----------
Turkey arrests 16 Syria-bound Indonesians
Mar 14, 2015
Turkey has announced the detention of 16 Indonesian nationals that allegedly attempted to cross its border into Syria in a bid to join the ISIL Takfiri terrorists.
Turkish Foreign Minister Mevlut Cavusoglu said on Friday that security forces were also looking for a separate group of 16 Indonesian citizens that have gone missing in the country.
This is while local Turkish news outlets reported that 11 children and five women were among the captured Indonesians without elaborating on the ages of the detained kids.
Cavusoglu also said Turkey and Indonesia have been cooperating and sharing intelligence in an effort to locate the 16 missing Indonesians who are suspected to have left their native country to travel to Syria.
Full report at:
http://www.presstv.in/Detail/2015/03/14/401768/Turkey-nabs-Syriabound-Indonesians
-----------
Israeli troops attack Palestinian protesters; eleven wounded
Mar 14, 2015
At least eleven Palestinians have been injured and three others arrested when Israeli forces attacked a group of Palestinian protesters in the occupied West Bank.
On Friday, dozens of Palestinians held a demonstration in the village of Nabi Salih, located 20 kilometers (12 miles) northwest of Ramallah, to express their resentment over illegal Israeli settlements as well as the construction of the separation wall which snakes across the occupied West Bank, isolating large swathes of Palestinian territories.
Violence erupted when Israeli soldiers stormed the Palestinians and used batons to disperse the crowd. They then fired tear gas canisters, stun grenades and live bullets at protesters.
One Palestinian protester was shot in the leg while ten others suffered multiple bruises from beatings by the batons.
Full report at:
http://www.presstv.in/Detail/2015/03/14/401737/11-hurt-as-Israel-attacks-WB-protest
-----------
Turkish PM meets Syrian National Council, calls 'democratic Syria' ultimate objective
March/13/2015
The only solution to the ongoing bloodshed is to create a "democratic Syria," Turkish Prime Minister Ahmet Davutoğlu has said, vowing that Ankara will continue to stand with the Syrian National Council (SNC) as the most legitimate body representing the people of Syria.
"There is always a third and real alternative. This is a democratic Syria. This is the building of a new Syria where all Syrians will live together in peace," Davutoğlu told the members of the Syrian National Council visiting the Turkish capital.
The group also met with Turkish Foreign Minister Mevlüt Çavuşoğlu on March 13.
Praising the SNC's struggle of against all attacks committed by the Bashar al-Assad regime, Davutoğlu said it was the most legitimate representative of the Syrian people.
"We have lost 300,000 of our brothers so far. Up to 5 million of our brothers are now refugees outside Syria. Turkey now hosts 1.7 million Syrians and 300,000 Iraqis. Turkey's position is clear on this," he said, underlining that the country would continue to keep its doors open to Iraqis and Syrians fleeing violence.
Full report at:
http://www.hurriyetdailynews.com/turkish-pm-meets-syrian-national-council-calls-democratic-syria-ultimate-objective.aspx?pageID=238&nID=79660&NewsCatID=510
-----------
NATO official sees vital need for rebuilding of trust between Turkey, allies
March/14/2015
He might have maintained his diplomatic grace, but veteran French politician Pierre Lellouche left no room for doubt in expressing his view that there is a strong need for a rebuilding of trust between Turkey and its allies in the fight against jihadists in Syria and Iraq.
Lellouche, former secretary of state for European affairs and foreign trade of France and former president of NATO's Parliamentary Assembly (NATO PA), underlined that the destruction in Syria, "which has always been a mosaic of small ethnic groups," is "abysmal," with 4 million refugees spread to neighboring countries.
"To reconstruct this would take a lot of time. There will probably be more violence as foreign fighters are coming into the country, and what I want to really insist is that we are not going to go through this enormously difficult period without trust. Trust between the allies, the Europeans and the Turks in particular," Lellouche said in an interview with the Hürriyet Daily News.
Lellouche and Guy-Michel Chauveau, member of the Foreign Affairs Committee of the French National Assembly, were in Ankara earlier this week in their capacity as members of NATO PA's Political Committee. The two held separate talks with both Foreign Minister Mevlüt Çavuşoğlu and Defense Minister İsmet Yılmaz before traveling to the southern province of Adana to visit İncirlik Airbase, with Ankara saying it would consider allowing its use by the international coalition against the Islamic State of Iraq and the Levant (ISIL) "only" as part of a "comprehensive process." The two MPs also visited refugee camps hosting Syrian people.
"But I sympathize with some of the interrogation I heard from my Turkish speakers today the way that America is going; we do not know either. It will be interesting to see where they will be going with Iran if they sign a deal this month. But clearly we need to rebuild trust," Lellouche said.
Full report at:
http://www.hurriyetdailynews.com/nato-official-sees-vital-need-for-rebuilding-of-trust-between-turkey-allies.aspx?pageID=238&nID=79670&NewsCatID=510
-----------
Africa
Acceptance of Boko Haram allegiance makes IS global
14 March 2015
BEIRUT: Islamic State militants have accepted a pledge of allegiance by the Nigerian-grown Boko Haram extremist group, according to a spokesman for the Islamic State movement.
The development Thursday came as both groups — among the most ruthless in the world — are under increasing military pressure and have sustained setbacks on the battlefield.
Boko Haram has been weakened by a multinational force that has dislodged it from a score of northeastern Nigerian towns. But its new Twitter account, increasingly slick and more frequent video messages, and a new media arm all were considered signs that the group is now being helped by IS propagandists.
Then on Saturday, Boko Haram leader Abubakar Shekau posted an audio recording online that pledged allegiance to IS.
"We announce our allegiance to the Caliph of the Muslims ... and will hear and obey in times of difficulty and prosperity, in hardship and ease, and to endure being discriminated against, and not to dispute about rule with those in power, except in case of evident infidelity regarding that which there is a proof from Allah," said Boko Haram's message.
On Thursday, the Islamic State group's media arm Al-Furqan, in an audio recording by spokesman Abu Mohammed Al-Adnani, said that Boko Haram's pledge of allegiance has been accepted, claiming the caliphate has now expanded to West Africa and that "no one can stand in its path."
Full report at:
http://www.arabnews.com/middle-east/news/718041
-----------
Al-Shabab Militants Kill Three in North-Eastern Kenya
Mar 13, 2015
Al-Shabab militant group in Somalia has reportedly killed three people in the northeastern Kenyan city of Mandera, the latest in its cross-border attacks.
The militant group on Friday killed two police officers and a civilian in an attack on a convoy carrying Mandera county governor, Ali Roba, said Elvis Korir, the East deputy county commissioner of the city.
He added that the governor managed to escape the attack in which the militants used grenades and gunfire.
"The governor's vehicle had passed a few minutes before the attack on the security officers escorting him," Korir said.
The militant group claimed responsibility for the attack with its military spokesman, Abdulaziz Abu Musab, saying, "A Shebab commando unit attacked a Kenyan convoy traveling from Mandera to Nairobi."
Full report at:
http://www.presstv.in/Detail/2015/03/13/401683/AlShabab-kills-3-in-northeastern-Kenya
-----------
Nigeria acknowledges presence of foreign mercenaries
14 Mar 2015
The Nigerian government has acknowledged it is getting technical and logistical support from what it calls foreign contractors in the fight against Boko Haram.
Nigerian government spokesman Mike Omeri said on Thursday that the government is not engaging in "any backchannel or unlawful recruitment".
In a statement emailed to The Associated Press, Omeri noted that soldiers from neighbouring countries, including Chad and Niger, were participating in operations against the group.
Omeri said other "individuals" from the region "are on the ground in a capacity limited to training or technical support".
But sources have told Al Jazeera that mercenaries from South Africa and other countries are actually playing a decisive fighting role on the frontlines.
A senior Nigerian non-commissioned officer, who is on active duty and was wounded by Boko Haram, said foreign mercenaries are doing the bulk of the fighting in towns the Nigerian military says it has recaptured from Boko Haram.
The officer said that the Nigerian military still suffers from a lack of equipment and low morale, and that without the mercenaries' help, these towns would still be held by Boko Haram fighters.
'Hundreds of mercenaries'
Security forces and diplomatic sources say Nigeria has brought in hundreds of foreign mercenaries in recent weeks from South Africa and other countries.
The reported presence of foreign fighters, equipped with heavy weaponry, attack helicopters and armoured vehicles, adds to the already broad array of forces, including soldiers from Chad, Niger, Cameroon and Benin, engaged in the battle to defeat Boko Haram.
Nigeria confronts Boko Haram by rebuilding schools
Security operations have been stepped up as Nigeria prepares to hold general elections on March 28.
Full report at:
http://www.aljazeera.com/news/africa/2015/03/nigeria-foreign-mercenaries-boko-haram-150313122039403.html
-----------
'Decisive' phase of Libya talks to start next week, UN envoy says
Mar 14, 2015
The United Nations special envoy to Libya says a decisive phase of negotiations between Libya's warring factions is set to start next week.
"The UN mission has decided to give the parties time to organize and prepare for this decisive phase," said Bernardino Leon in the Moroccan coastal town of Skhirat on Friday.
"They will be back here on Thursday, and they have to come all of them ready to negotiate," he added.
Leon also stated that the UN has notified the rival groups of "the sense of urgency" in the violence-wracked North African country, urging them to find a political solution to end Libya's deadly crisis.
"The crisis in Libya is deepening in all aspects. To reach a solution soon... Libya cannot wait anymore," he said.
According to the UN official, the talks are aimed at forming "the national unity government, which is the most important element, and the security arrangements."
Meanwhile, the European Union said the bloc is mulling over a plan to send a civil or a military mission to the oil-rich country if the negotiations bring about a favorable result.
"We have in mind both military and civilian missions to contribute to the protection of an eventual government of national unity," said an unnamed EU official.
Earlier in the day, Leon held talks with a delegation from the Tripoli-based General National Congress in Skhirat.
This is while Libya's Tobruk-based internationally recognized government had no representative in the Skhirat talks, saying it needs another week to prepare for the negotiations with the armed opposition.
The two sides have so far held several rounds of UN-brokered peace talks that have failed to deliver any practical results.
Full report at:
http://www.presstv.in/Detail/2015/03/14/401725/Decisive-Libya-talks-to-resume-Feb-19-UN
-----------
Nigeria 'embarrassed' by Morocco royal phone row
13 March 2015
Nigeria's President Goodluck Jonathan has said he is "highly embarrassed" that his officials said he had spoken to the Moroccan king when he had not.
Earlier this week, Morocco recalled its ambassador over the affair after the Nigerian foreign ministry insisted the two heads of state had spoken by phone.
The North African kingdom accused Nigeria of using King Mohammed VI as part an election campaign.
But Mr Jonathan denied it had anything to do with campaigning.
An investigation has been ordered into "the controversy".
'Unethical practices'
There were reports that President Jonathan, a Christian from southern Nigeria, had wanted use the conversation to curry favour with Muslim voters in elections later in the month.
But he said he had been trying to speak to various African leaders to seek their support for Nigeria's candidate for the position of African Development Bank (AfDB) president.
His office released a statement saying President Jonathan was "shocked, surprised and highly embarrassed by the controversy that has erupted" and that he had ordered the foreign affairs minister to find out how it had occurred.
Full report at:
http://www.bbc.com/news/world-africa-31880798
-----------
Arab World
Saudi-Brazil ties scale new heights with Shoura visit
14 March 2015
Parliamentary relations between the Kingdom and Brazil are set to reach new heights following talks held between key officials from the two countries on Thursday.
The bilateral talks were held in Brazil between members of a Shoura Council delegation and the Vice President of Brazil, Michele Temer.
The visiting Shoura team to Brazil was headed by Mohamed Al-Nakada, while other members of the delegation included Ahmed Al-Mofarreh, Sadak Al-Fadel, Awad Al-Asmar, Firdouse A. Al-Saleh, Mansoor Al-Kredees and Fahd Al-Musaint.
Delivering the welcome address at the talks, Brazilian Vice President Temer lauded the efforts of Saudi Arabia to strengthen the bilateral relations with Brazil in all possible fields. He added that the talks could lead to new areas of cooperation between the two countries.
Responding to the vice president's speech, Al-Nakada said that the Kingdom is keen to strengthen the existing friendly relations between the two countries.
Al- Nakada, who is the chairman of the Saudi-Brazilian Parliamentary Friendship Committee, said that there are several areas from which both countries could mutually benefit.
Diplomatic relations between Brazil and Saudi Arabia were established in 1968 and 1973, when both countries opened their embassies in Brazil and Jeddah, respectively. The Brazilian Embassy in Jeddah later moved to Riyadh in 1986. Following the opening of the embassies by both countries, an agreement for Economic and Technical Cooperation was signed in Brazil on April 2, 1975. Other major agreements between the countries were the Basic Agreement for Scientific and Technical Cooperation signed on August 13, 1981, as well as the Protocol on Industrial-Military Cooperation in 1984.
Full report at:
http://www.arabnews.com/saudi-arabia/news/718101
-----------
Iraqi forces vow to liberate Tikrit within 72 hours
14 March 2015
Iraqi forces besieging dozens of die-hard jihadists from the Islamic State of Iraq and Syria (ISIS) group in Tikrit will have liberated the city within three days, a spokesman said Saturday.
Karim al-Nuri, a top leader from the Badr militia and the spokesman of the volunteer Popular Mobilization units, said it would take no more than "72 hours" to flush out holdout ISIS fighters.
Full report at:
http://english.alarabiya.net/en/News/middle-east/2015/03/14/Iraqi-forces-vow-to-liberate-Tikrit-within-72-hours-.html
-----------
U.S.-led raids target ISIS in Syria after Kurdish plea
14 March 2015
The U.S.-led coalition fighting ISIS launched air strikes against the jihadists in a key Syrian village overnight after Kurdish forces appealed for action, a monitor said Saturday.
The Syrian Observatory for Human Rights said the strikes near the northeastern village of Tal Tamr were the first by the U.S.-led coalition in the area since an ISIS advance there began in late February.
There were no immediate details on casualties in the raids, which the Britain-based monitor said hit ISIS positions near the village in the northeastern province of Hasakeh.
The strikes came just hours after the Kurdish forces battling to prevent ISIS from seizing Tal Tamr and the nearby border town of Ras al-Ain appealed for international action.
In a statement, the Kurdish People's Protection Units (YPG) called on "the international coalition forces to take part in the battle for Tal Tamr."
The village is one of a number that ISIS has attacked in Hasakeh province since it began an offensive there in late February.
It has so far seized several villages and kidnapped more than 200 Assyrian Christians in the area, prompting thousands of residents to flee to the safety of nearby cities.
Tal Tamr, while small, has strategic value because it lies on a road that runs across the Iraqi border to the east and on to ISIS' bastion there, Mosul.
It also sits on a road leading north to the Turkish border and the town of Ras al-Ain, which is also under IS assault.
On Friday, YPG spokesman Redur Khalil said ISIS was bringing reinforcements to the Ras al-Ain area and Kurdish fighters there were expecting an "imminent attack."
The ISIS offensive in Hasakeh came after Kurdish fighters backed by US-led air strikes expelled the jihadist group from the key border town of Kobane.
More than 210,000 people have been killed in Syria since an anti-government uprising that began in March 2011 descended into a civil war that has attracted thousands of foreign jihadists.
Full report at:
http://english.alarabiya.net/en/News/middle-east/2015/03/14/U-S-led-raids-target-ISIS-in-Syria-after-Kurdish-plea-.html
-----------
U.S. announces $70 mln in non-lethal aid to Syrian opposition
13 March 2015
The U.S. State Department said on Friday it was working with Congress to provide nearly $70 million in new foreign support to the moderate Syrian opposition fighting to overthrow President Bashar al-Assad.
"Today, I can announce a modest step forward that the Administration is working with Congress to provide nearly $70 million in new foreign assistance to continue our full range of support to the moderate Syrian opposition," Antony J. Blinken, Deputy Secretary of State, said in remarks published on the State Department website.
"With this additional funding, the United States will have committed nearly $400 million to support the opposition since the start of the revolution. And in two weeks, we will again step up to pledge generously at the conference in Kuwait to fund humanitarian assistance for displaced Syrians and refugees in neighboring states," Blinken added.
Full report at:
http://english.alarabiya.net/en/News/middle-east/2015/03/13/U-S-announces-70-mln-in-non-lethal-aid-to-Syrian-opposition.html
-----------
UNICEF urges talks with ISIS for aid access
13 March 2015
Countries should negotiate with Islamic State of Iraq and Syria (ISIS) to persuade it to let U.N. children's agency UNICEF into areas the militants control, the aid organization's representative in Syria said on Friday.
Other U.N. agencies say they are struggling to get vital aid to millions of civilians in territory held by the fighters - but ISIS is refusing to talk to them.
Negotiations should take place "at least to protect the children," UNICEF's Hanaa Singer told a news conference in Geneva.
"They refuse to talk to the U.N. for the time being," she said. "But at the same time it's not the responsibility only of the humanitarian agencies. This is a political responsibility, and for the political parties to talk and put pressure and start a dialogue with ISIS."
Asked if she meant that Syria or other countries with influence in the region should be talking to ISIS, she said: "Other state parties, yes."
Full report at:
http://english.alarabiya.net/en/News/middle-east/2015/03/13/UNICEF-urges-talks-with-ISIS-for-aid-access-.html
-----------
U.S. does not want to see Syrian regime 'collapse'
14 March 2015
The United States does not want to see a chaotic demise of the Syrian regime as it could open doors to Islamist extremists to seize power, said CIA Director John Brennan on Friday.
With the rise of the Islamic State of Iraq and Syria (ISIS) and other militants groups, Washington had reason to worry about who might replace President Bashar al-Assad if his government fell, said the spy chief.
Asked whether the U.S. feared who might succeed Assad, Brennan said: "I think that's a legitimate concern."
Speaking at an event at the Council on Foreign Relations, he said that "extremist elements" including the ISIS group and al-Qaeda veterans are "ascendant right now" in some parts of Syria.
"The last thing we want to do is allow them to march into Damascus."
"That's why it's important to bolster those forces within the Syrian opposition that are not extremists," he added.
Also on Friday, the United Stated made a fresh call for Assad to step down marking the fourth anniversary of the civil war.
Without the departure of Assad, it would not be possible "to fully stabilize" the country, State Department spokeswoman Jen Psaki said.
The U.S. military is funding the training and arming of "moderate" Syrian rebel forces but the effort is only now getting off the ground.
Full report at:
http://english.alarabiya.net/en/News/world/2015/03/14/U-S-does-not-want-to-see-Syrian-regime-collapse-CIA.html
-----------
3 Arab states pledge to provide Egypt with $12 bn
Mar 13, 2015
Three Persian Gulf Arab states have pledged to provide Egypt with an aid package of USD 12 billion to help the North African country's lumbering economy.
Speaking at a high-profile three-day investment conference in the Egyptian resort town of Sharm el-Sheikh on Friday, Kuwaiti Emir Sheikh Sabah Al-Ahmad Al-Jaber Al-Sabah, Saudi Crown Prince Moqren bin Abdulaziz and Emirati Prime Minister Mohammed bin Rashid Al-Maktoum announced they would contribute four billion dollars each.
"I am happy to announce that Kuwaiti investment bodies will invest $4 billion in different economic sectors of Egypt," the Kuwaiti emir said at the inaugural session of the conference.
The Saudi crown prince said his country's investments will include a one-billion-dollar deposit in the Egyptian Central Bank while the remaining three billion dollars will be disbursed through Saudi development funds and investment as aid in projects.
Full report at:
http://www.presstv.in/Detail/2015/03/13/401701/Arab-states-pledge-12-bn-aid-to-Egypt
-----------
India
Muslims in India Better Off Than Their Pakistani Counterparts
Mar 14th, 2015
Though Muslims make up only 14.4 percent of India's total population, the country maintains "the world's second-largest Muslim population" (roughly 176 million). Most of the Islamic countries that have a majority Muslim population have established an Islamic state. Though Muslims in India form a minority, they still have a substantial number in the total population. It, however, is a matter of no debate that the condition of the average Muslim citizen is far better off than the average Muslim citizen in the neighbouring countries like Pakistan. It is primarily because of the fact that the organizing principles of Indian polity and society are the same that define a western country: a multi-party system, individualism, liberty, a free press and rule of law and most important is secular fabric of the nation.
Muslims in India enjoy complete political and religious liberty, a free legislative environment to undertake economic and educational initiatives, a vibrant television media and cinema that teach liberal coexistence, and access to a vast number of universities and institutes of modern education. There is absolutely no Muslim country that offers such a vast array of freedoms to its people. Indian democracy is a model for all Islamic countries.
It is the only country where Muslims have experienced democracy solidly for more than half a century; the other countries where Muslims have had some democratic experience are Indonesia and Turkey but their experiences have been limited to just a few decades. The political and social landscape of a secular and democratic India stands in stark contrast with the authoritarian Islamic state in countries like Pakistan. Islamic terrorists, jihadists like Hafiz Saeed and other Taliban-like Islamists think of defending their religions and ideologies rather than the interests and welfare of their people. It is due to such thinking that 180 million people of Pakistan are today literally buried under the weight of a failed education system, a rapidly collapsing Pakistani economy.
Full report at:
http://www.newdelhitimes.com/muslims-in-india-better-off-than-their-pakistani-counterparts123/
-----------
US asks Pakistan to keep its pledge on Mumbai attacks
IANS | Mar 14, 2015,
WASHINGTON: As a Pakistani court ordered the release of an alleged mastermind of the Mumbai terrorist attack, the US asked Pakistan to follow through on its pledge to bring its perpetrators and sponsors to justice.
The US was "monitoring reports that an Islamabad High Court judge suspended detention orders for the alleged Mumbai attack mastermind" Zakiur Rehman Lakhvi, State Department spokesperson Jen Psaki told reporters on Friday.
"The government of Pakistan has pledged its cooperation in bringing the perpetrators, financiers and sponsors of the Mumbai terrorist attacks to justice, and we urge Pakistan to follow through on that commitment," she said.
"Pakistan is a critical partner in a fight against terrorism," Psaki said.
While the US "can't speculate on the outcome of an ongoing legal process in Pakistan" she said according to their information Lakhvi remained in prison for now.
"Well, for now, let me also reiterate he remains in prison. Obviously, there's a range of ways that we share information. I'm not going to speak to that from the podium," Psaki said.
Asked how the Islamabad court's order for the release of Lakhvi would impact ongoing talks between India and Pakistan, she said: "Well, certainly, we support ongoing dialogue. I'm not going to speak to how it will impact talks between two other countries."
Full report at:
http://timesofindia.indiatimes.com/india/US-asks-Pakistan-to-keep-its-pledge-on-Mumbai-attacks/articleshow/46562754.cms
-----------
Pakistan Rangers violate ceasefire in Samba district
IANS | Mar 14, 2015
JAMMU: Pakistan Rangers overnight violated the ceasefire in Samba district of Jammu region, resorting to unprovoked firing at a Border Security Force (BSF) picket.
A senior police officer told IANS in winter capital Jammu on Saturday that "Pakistan Rangers fired three rounds of automatic gunfire at the BSF border outpost from their Hussain border outpost in Ramgarh sector of Samba district overnight."
Full report at:
http://timesofindia.indiatimes.com/india/Pakistan-Rangers-violate-ceasefire-in-Samba-district/articleshow/46563377.cms
-----------
Opposition livid at J&K map goof-up in RSS magazine
Vishwa Mohan,TNN | Mar 14, 2015
NEW DELHI: The publication of a distorted Indian map in RSS' mouthpiece. Organiser evoked strong reactions in the Rajya Sabha on Friday with opposition members asking the government whether it had approved such a map.
In its latest issue, Organiser printed a map of South Asia, depicting Pak-occupied Kashmir as part of the neighbouring country. Although it quickly pulled the map from its online edition, the print edition of March 15 carries the map.
Though an embarrassed government promised to investigate the issue, saying what is shown in the map was not the stand of RSS or BJP, opposition MPs led by Ghulam Nabi Azad put the treasury benches completely on the back foot. Raising the issue in zero hour, he said: "Jammu and Kashmir is the crown of India. Every Indian wants this crown there at any cost. Numerous sacrifices have been made by our security forces to maintain it as the crown ...but look what has happened in the BJP government."
Observing that BJP and RSS have been in the forefront of protests whenever a foreign magazine showed PoK as part of Pakistan, Azad wanted to know from the government whether it or BJP approved of the map.
Full report at:
http://timesofindia.indiatimes.com/india/Opposition-livid-at-JK-map-goof-up-in-RSS-mag/articleshow/46561620.cms
-----------
Pakistan to release 57 Indian boats
TNN | Mar 14, 2015
AHMEDABAD: After nearly a decade, Pakistan will be returning Indian board seized for fishing in Pakistan waters. The 57 boats seized by Pakistan since 2004 will be released shortly, an eight-member delegation is already in Pakistan for repairs to the boats.
The release of the boats was partly a result of talks of Prime Minister Narendra Modi with his counterpart Nawaz Sharif, said fisheries minister Babubhai Bokhiria. He said the decision to release the 57 boats at Karachi shores was taken at a meeting with Sharif and Modi when the former visited India for the swearing-in ceremony.
The minister said this during a debate on the seizure of eight fishing boats and 46 fishermen by a Pakistan maritime agency on March 3, 2015. He said that in July 2014, a delegation from Gujarat and the Union government had visited Pakistan and found 57 boats. These boats were checked and once the government receives confirmation, an eight-member delegation is already in Pakistan to complete the necessary formalities and carry out repairs. He said that once the delegation is back, 157 fishermen will go to Pakistan and return in their boats.
Full report at:
http://timesofindia.indiatimes.com/india/Pakistan-to-release-57-Indian-boats/articleshow/46560441.cms
-----------
India lodges strong protest after Islamabad HC orders Lakhvi?s release
TNN | Mar 14, 2015
ISLAMABAD/NEW DELHI: The Islamabad high court on Friday ordered the release of 2008 Mumbai attack accused and Lashkar-e-Taiba commander Zaki-ur Rehman Lakhvi by declaring his third-time detention orders void, drawing a strong protest from the Indian government.
The foreign ministry summoned Pakistani high commissioner Abdul Basit to convey India's outrage , saying this went against Islamabad's professed commitment to combat terrorism, including its recently stated policy of not differentiating among terrorists. "If such a person who is also designated international terrorist by the United Nations is released, it will pose a threat that cannot be ignored," said MEA spokesperson Syed Akbaruddin.
Earlier in the day, accepting Lakhvi's plea against his detention under maintenance of Public Order Act, Justice Noorul Haq Qureshi pronounced the notification "null and void", adding that the court hadn't been presented with enough evidence to keep him in jail. "Lakhvi is a Pakistani citizen and he cannot be detained under external pressure. The detention of the petitioner is not only illegal but also violates the fundamental rights of a common Pakistani citizen," the order said.
READ ALSO: 26/11 attacks mastermind Lakhvi's luxury life in jail
India's home ministry said "overwhelming" evidence against Lakhvi wasn't given to the court by the Pakistani agencies. Minister of state for home Kiran Rijiju said, "The overwhelming evidence against Lakhvi has not been presented properly before court by Pakistani agencies. There are no good terrorists or bad terrorists."
An MHA spokesperson said, "It's the responsibility of the Pakistani government to take all legal measures to ensure that Lakhvi doesn't come out of jail."
High commissioner Basit later told reporters, "He (Lakhvi) may have been granted bail but as you know the trial continues. We are all working to complete the trial. Let the judicial process take its course."
Full report at:
http://timesofindia.indiatimes.com/india/India-lodges-strong-protest-after-Islamabad-HC-orders-Lakhvis-release/articleshow/46560181.cms
-----------
URL: https://newageislam.com/islamic-world-news/maldives-former-president-nasheed-jailed/d/101957