New Age Islam News Bureau
22 Feb 2015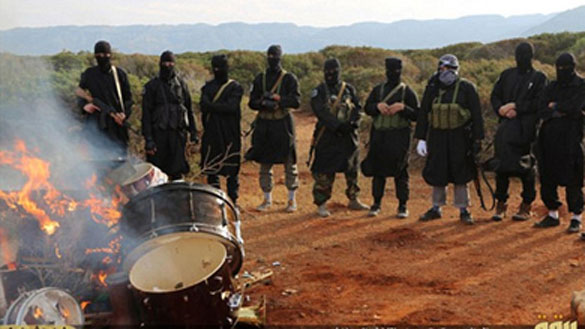 The photos, which were released by an ISIS media wing, show masked militants setting fire to drums and saxophones (Photo courtesy of Twitter)
------------
South Asia
• Maldives a fertile ground for ISIS, India must act: Former president Nasheed
• Maldives arrests ex-president Nasheed for 'terrorism'
• 18 insurgents killed in military operations
• Stop 'scapegoating' Afghan refugees for Taliban atrocities in Peshawar: HRW urges govt
• Being Muslim, I appreciate my Chinese roots more, says ex-playboy model
• Militant camp busted in Bangladesh
• PM Sheikh Hasina for exemplary trial of recent atrocities
Arab World
• Arab oil funds helping IS fight war
• Grand mufti: Fighting terror is Islamic duty
• Syrian forces execute 10 children of rebels
• Iraq: 27 ISIL Terrorists Killed in Mosul
• New IS group video shows Kurdish fighters in cages
• Suicide bomber kills 4 in Assad clan's hometown
• 269 Gunmen Turn Themselves in to Authorities in Syria
• Kurdish Fighters Liberate Dozens of Villages in Raqqa Countryside
• ISIS seizes U.S.-made arms in Iraq's Anbar
• Jordan rethinks orange uniforms after ISIS killings
• Damascus dubs Turkish incursion 'flagrant aggression'
Africa
• ISIS in Libya burns 'un-Islamic' instruments
• 89 children abducted by militia in South Sudan
• Libya militants 'direct threat' to Europe
• 'Somalia hotel suicide bombers were Dutch'
• Lakhdar Brahimi: Algeria has moral responsibility to help Libya
• Nigerian military claims recapture of Baga from Boko Haram
North America
• US Muslim group wants apology for canceled prayer
• Obama welcomes Modi assurance on religious freedom
• 'Force alone cannot eradicate extremism'
• U.S. warns on viability of Palestinian Authority if Israel blocks funds
• War on extremism: Saudi Arabia joins White House talks
• US assures continued support to Pakistan in war against terror
• Withdrawal from Afghanistan under review: US defence chief
Europe
• Norway's Muslims and Jews link up to denounce extremist violence
• European jihadis unable to join Islamic State, locked at home
• War of petitions over halal meat in the UK
• Italians mock ISIS threats of 'conquering' Rome on Twitter
• Former UK nightclub bouncer joins fight against ISIS in Iraq
• UK counter-terror officials criticised over Syria-bound missing schoolgirls
India
• More India-Israel joint defence projects on anvil
• Live telecast of anti-terror operations should be prohibited: Ministry Of Home Affairs
• Indian Catholic priest freed in Afghanistan
Pakistan
• Sindh makes prior permit must for new seminaries, mosques
• Five-year-old ban: JuD seeks easing of UN curbs
• Imran announces jihad against timber mafia in KP
• Revolutionary steps taken for women empowerment: Shahbaz Sharif
• UK's drugs aid puts Britons at risk of execution in Pakistan
• Aziz has apologised for defending APS attack, says Nisar
• Growing cooperation between Pakistan, Afghanistan raises hopes for peace
• Fazl demands two seats from Zardari for alliance in KP
• Countering militancy: Separate police stations, jail to be set up
Southeast Asia
• Indonesia prays Islamic tourism drive can draw more visitors
• Zaid Ibrahim's new moderate Malay portal to counter racial, religious extremism
• Schoolgirl eyed Isis before attending religious school, police say
• Indonesia Recalls Ambassador to Brazil Over Death Penalty Spat
Mideast
• Turkish military enters Syria to evacuate troops, tomb
• Rebels allow former President to leave Yemen
• Turkish president congratulates government, army for operation in Syria
• Turkey informs anti-ISIL coalition of Süleyman Şah operation on Syrian soil
• Iran politics soiled by 'dirty money': interior minister
Compiled by New Age Islam News Bureau
URL: https://newageislam.com/islamic-world-news/new-age-islam-news-bureau/maldives-a-fertile-ground-for-isis,-india-must-act--former-president-nasheed/d/101641
----------
South Asia
Maldives a Fertile Ground for ISIS, India Must Act: Former President Nasheed
February 22, 2015
NEW DELHI: About 30 Maldivian ISIS jihadists have returned home and are currently active in the archipelago, the opposition Maldivian Democratic Party (MDP) has alleged, ahead of PM Narendra Modi's visit to the country.
Former Maldives president and MDP leader Mohamed Nasheed told TOI that he suspected the role of Maldives government in facilitating recruitment of jihadists by ISIS. Modi will visit Maldives on March 15 as the final leg of his 4-nation Indian Ocean tour.
Nasheed recently sought asylum in India saying he feared prosecution by President Abdulla Yameen government over baseless charges. He said Maldives Islamic affairs minister Sheikh Mohamed Shaheem Ali Saeed may be facilitating recruitment of Maldivians by ISIS. "Most of these recruits travelled to Syria from Turkey. It is certainly a worry that this minister has been visiting Turkey regularly,'' said Nasheed, adding that over 200 Maldivian men had been recruited by ISIS.
Modi will be visiting Maldives at a time when the country is again in the throes of political instability. With a complete breakdown of dialogue between the Yameen government and opposition, Nasheed's party appealed to Modi to work for a dialogue between the two.
Another MDP leader and former foreign minister Ahmed Naseem said Yameen had himself aligned with extremist groups to lend weight to his portrayal of Nasheed as a threat to Islam. "During periods of authoritarianism in Maldives, such as the Gayoom (former dictator) years and now under President Yameen, you see an executive with limited popular mandate embracing Islamic extremism to bolster support for itself and to undermine the democratic, liberal opposition,'' said Naseem.
While MDP wants India to intervene if Yameen chooses to impose emergency in the country, the Maldives foreign ministry tweeted Friday that it had "no doubt that India will adhere to the principle of Panchsheel and will not intervene in domestic politics of Maldives''. MDP and another opposition party, Jumhooree Party, have come together to demand Yameen's resignation for repeatedly violating the Constitution. India fears the situation could reach a flash point on February 27 when the 2 parties are expected to lead a 20,000-strong protest march against the government.
Aware that India has deep insecurities about the presence of China in the region and Maldives' decision to join Beijing's Maritime Silk Road project, MDP has also sought to bring under focus how Yameen is turning Maldives into a strategic asset for China. Nasheed said that the government was favouring Chinese investments even though these were mostly loans at high interest rates.
According to Naseem, China's real ambition in Maldives is not economic but military. "Although Beijing denies this, we believe that China is interested in establishing a military base in Maldives,'' said Naseem.
The influence of external powers is a worrying trend, he said, because MDP wanted India to remain the predominant power in the Indian Ocean. "For these reasons, MDP is concerned that President Yameen has rushed, with unseemly haste, to embrace China and its plans for a maritime silk road,'' said Naseem.
http://timesofindia.indiatimes.com/india/Maldives-a-fertile-ground-for-ISIS-India-must-act-Former-president-Nasheed/articleshow/46326832.cms
----------
Maldives arrests ex-president Nasheed for 'terrorism'
AP | Feb 22, 2015
MALE: Maldives police have arrested former president and current opposition leader Mohamed Nasheed under anti-terrorism laws.
A document signed by the prosecutor general seen by Associated Press said that Nasheed was arrested on Sunday to stand trial for his 2012 order as president to arrest a senior judge. It said he was being charged under anti-terrorism laws, but did not specify why.
Television stations in the country aired scenes of the arrest.
Nasheed resigned as president in February 2012 following weeks of public protests against his order to arrest criminal court judge Abdulla Mohamed.
In 2013, he lost the presidential election to Yameen Abdul Gayyoom, a half-brother of the Indian Ocean archipelago nation's 30-year autocratic ruler, Maumoon Abdul Gayyoom.
http://timesofindia.indiatimes.com/world/south-asia/Maldives-arrests-ex-president-Nasheed-for-terrorism/articleshow/46332752.cms
----------
18 insurgents killed in military operations
Feb 22 2015
Afghan National Security Forces have killed 18 insurgents during operations in different parts of the country in past 24 hours, officials said on Sunday.
The operation were conducted in Herat, Takhar, Badakhshan, Helmand, Kunar, Paktiya, Ghazni, Farah, Kunduz, Sar-e-Pul, Maidan Wardak, Badghis, Uruzgan, Daikundi, and Khost provinces where nine different types of Improvised Explosive Device (IEDs) were also defused by the security forces.
17 other insurgents were also wounded during confrontation with Afghan National Security Forces while two of them arrested.
With some 350, 000 soldiers, after taking full security responsibility from NATO forces this year, Afghan National Security Forces have stepped up their operations against insurgents. According to the official data, since the beginning of this year hundreds of insurgents have been killed.
NATO ended its combat mission in Afghanistan on December 1, 2014 and now runs Resolute Support Mission in Afghanistan which is a non-combat mission centralized on Training, Advising and assisting the Afghan National Security Forces and its institutions against the insurgents.
Some 13, 000 troops from the US and other NATO member countries are reportedly be the part of NATO's Resolute and Support Mission in Afghanistan.
http://www.khaama.com/18-insurgents-killed-in-military-operations-29098
----------
Stop 'scapegoating' Afghan refugees for Taliban atrocities in Peshawar: HRW urges govt
Feb 22 2015
The Human Rights Watch (HRW) has urged Pakistan to stop scapegoating Afghans for the Taliban's atrocities in Peshawar, while requesting the government to order local authorities to stop pressuring registered refugees to return to Afghanistan.
"It is inhumane, not to mention unlawful, to return Afghans to places they may face harm and not protect them from harassment and abuse," the HRW said in a statement issued on Sunday.
The HRW further added, "The Pakistan government has an obligation to protect all Afghans in the country, including those not registered as refugees, from harassment and other abuses."
Thousands of Afghans under threats of arrest and growing hostility towards them have flocked out of Pakistan back home, leaving behind boarded-up shops, houses and restaurants.
Within hours of the December 16 attack on a school in Peshawar in which more than 150 people were killed, officials pointed the finger at Afghanistan and vowed to crack down on illegal immigrants whom they say furnish a cover for militants.
Full report at:
http://tribune.com.pk/story/842365/hrw-urges-govt-to-stop-scapegoating-afghan-refugees-for-taliban-attrocities-in-peshawar/
----------
Being Muslim, I appreciate my Chinese roots more, says ex-playboy model
Feb 22 2015
It has been eight months since former Playboy model Felixia Yeap embraced Islam. Her action at the time drew different reactions from both Muslims and non-Muslims, with some accusing her of pulling a publicity stunt.
But, the 28-year-old from Ipoh who now goes by her Muslim name Raisyyah Rania Yeap or Rara, said that her decision was made with pure and good intentions.
Being Muslim, however, will not stop her from celebrating the Chinese New Year (CNY) and joining her family for the traditional reunion dinner, she told The Malaysian Insider in an exclusive interview recently.
She added that this first year of celebrating the lunar new year as a Muslim has made her appreciate her Chinese roots more.
The following are excerpts from the interview in which she talks about the festivities and traditions of the Lunar New Year.
Full report at:
http://www.themalaysianinsider.com/malaysia/article/being-muslim-i-appreciate-my-chinese-roots-more-says-ex-playboy-model#sthash.HaAPOODI.dpuf
----------
Militant camp busted in Bangladesh
Feb 22 2015
Rapid Action Battalion (RAB) has unearthed a militant training camp in remote hill area at Lotmoni under Banshkhali upazila.
Five militants were also detained from the camp in possession with firearms and ammunitions. They are Mobassher Hossain, Abul Khaleque, Md Aminul Haque, Hafizur Rahman Bappi and Amir Hossain.
"Acting on a tip-off, a team of RAB 7 conducted drive in Lotmoni area on Saturday midnight and held the militants with arms," said RAB 7 Commanding Officer Lt Col Mifta Uddin.
He said the detained militants gave sensational information during interrogation.
"The militants primarily select people from poor families and bring them to the camp for training," said the RAB official.
http://www.dhakatribune.com/bangladesh/2015/feb/22/rab-militant-camp-found-chittagong#sthash.jxFrfuxE.dpuf
----------
PM Sheikh Hasina for exemplary trial of recent atrocities
Feb 22 2015
Prime Minister Sheikh Hasina has laid importance on speedy and exemplary trial of the perpetrators of the recent petrol bomb attack and other atrocities on innocent people saying delaying the trial encouraged them for bigger occurrence.
"Trial of the persons who give order, provide finance should be held in a very stern and exemplary manner along with bomb makers and supplier as intelligence came up with the information that they are planning for more grievous incident," she said.
Hasina was addressing the officials of the Ministry of the Law, Justice and Parliamentary Affairs during a visit to the ministry at Bangladesh Secretariat on Sunday.
Terming the current activities of BNP as a futile exercise, the prime minister said their disturbances undoubtedly could degrade the country's image abroad despite they gained nothing from the evil practice.
Minister for Law Anisul Huq also spoke on the occasion while secretary of the ministry Abu Saleh Sk Md Zahirul Haque, secretary of the Legislative and Parliamentary Affairs Division Mohammad Shahidul Haque and senior officials of the ministry and Prime Minister Office (PMO) were present.
Full report at:
http://www.dhakatribune.com/bangladesh/2015/feb/22/pm-speedy-and-exemplary-trial-recent-atrocities#sthash.1Ep266rN.dpuf
--------
Arab World
Arab oil funds helping IS fight war
February 22, 2015
The Sunni jihadi group Islamic State (IS), which controls large territories in Iraq and Syria has been getting financial support from oil-rich Arab sympathisers outside those two countries, a media report said Sunday.
Rich private donors in the Gulf states have been supporting the IS with funds that help to pay the fighters, who may number well over 100,000, The Independent reported, citing Kurdish officials.
"There is sympathy for the Da'esh (the Arabic acronym for IS) in many Arab countries and this has translated into money - and that is a disaster," Fuad Hussein, the chief of staff of Kurdish president Massoud Barzani said Sunday.
He pointed out that until recently, financial aid was being given openly by the Gulf states to the opposition in Syria, but by now, most of these rebel groups have been absorbed into the IS and the Al Qaeda-affiliated Jabhat al-Nusra, and as a result, it is they "who now have the money and the weapons".
Mr. Hussein implied that the Gulf oil states funding the IS were those, which financed the Sunni Arab rebels in Iraq and Syria in the past.
Mahmoud Othman, a veteran member of the Iraqi Kurdish leadership, said the IS receives money from the Arab countries because the latter are afraid of it.
"Gulf countries give money to the Da'esh so that it promises not to carry out operations on their territory."
Full report at:
http://www.thehindu.com/news/international/arab-oil-funds-helping-is-fight-war/article6922150.ece
----------
Grand mufti: Fighting terror is Islamic duty
Feb 22 2015
Grand Mufti Sheikh Abdul Aziz Al-Asheikh has stressed the importance of rallying all efforts from media and educational institutions to combat terrorism.
"The misuse of the religion by extremists is greatly damaging the image of Islam," he said.
Such actions severely distort the image of Islam abroad, he said.
Those sinners attribute their inhuman actions to Islam when they claimed an Islamic State and Allah knows that the hypocrites are liars, said the grand mufti.
Al-Asheikh made these remarks during his weekly talk show while highlighting the importance of an international conference, opening in Makkah on Sunday, to discuss counter terrorism from a Muslim perspective.
Under Custodian of the Two Holy Mosques King Salman's patronage, Makkah Gov. Prince Khaled Al-Faisal will open the conference, titled "Islam and the Campaign Against Terror."
The Muslim World League (MWL) is organizing the event.
Full report at:
http://www.arabnews.com/news/708161
----------
Syrian forces execute 10 children of rebels
Feb 22 2015
BEIRUT: Ten children were among at least 48 people killed in a Syrian village this week when regime forces executed six families of rebel fighters, a monitoring group said.
Tuesday's executions took place in the village of Rityan, north of second city Aleppo, after regime forces entered that day during an offensive aimed at cutting rebel supply lines to the Turkish border, the Syrian Observatory for Human Rights said.
The Britain-based monitor said that villagers had discovered the bodies when they returned to their homes after the regime forces withdrew a day later.
Five women and 13 rebels from the six families were among the dead.
"The troops and militiamen knew exactly where they lived thanks to the informers who accompanied them," Observatory director Rami Abdel Rahman said.
Full report at:
http://www.arabnews.com/middle-east/news/708081
----------
Iraq: 27 ISIL Terrorists Killed in Mosul
February 22, 2015
Iraqi Kurdish Peshmarga fighters repelled an attack by the ISIL Takfiri group on the village of Guver in Mosul province, and managed to claim the lives of at least 27 terrorists.
The regional Peshmarga commander, Lieutenant Suphan Bakuriani, told Anadolu Agency that ISIL attacked the Sultan Abdullah region of Guver village Saturday night. The village is located around 45 kilometers from Erbil, Northern Iraq.
He said that Iraqi Kurdish Peshmarga forces responded immediately and inflicted heavy casualties on the terrorists.
"27 ISIL militants were killed in the clashes," Bakuriani said.
Guver village is seen as being strategic as it is located near Erbil. The fall of Guver and Mahmur would make it easier for ISIL to attack Erbil.
http://english.farsnews.com/newstext.aspx?nn=13931203000869
----------
New IS group video shows Kurdish fighters in cages
February 22, 2015
The Islamic State jihadist group released a new video on Sunday purporting to show captured Kurdish peshmerga fighters paraded through Iraqi streets in cages.
The video shows 21 captives presented as 16 peshmerga fighters, two Iraqi army officers and three policemen from Kirkuk, a city about 240 kilometres (150 miles) north of Baghdad.
The captives, in orange jumpsuits with their heads lowered, are led to cages in a square surrounded by concrete walls and masked IS fighters carrying pistols.
A bearded man in a white turban warns the peshmerga against fighting IS.
Then the caged captives are shown being paraded through the streets on the back of pick-up trucks, as dozens of residents and armed men look on.
The date and location is not specified in the video, but Kurdish sources told AFP it was filmed a week earlier in the main market of Hawija, an IS-held town some 50 kilometres (30 miles) from Kirkuk.
Full report at:
http://english.ahram.org.eg/NewsContent/2/8/123634/World/Region/New-IS-group-video-shows-Kurdish-fighters-in-cages.aspx
----------
Suicide bomber kills 4 in Assad clan's hometown
February 22, 2015
A suicide bomber killed four people in a hospital on Sunday in an attack that took Syria's civil war to the ruling Assad clan's hometown for the first time, a monitoring group said.
The attack came as the Syrian Observatory for Human Rights reported that troops had executed 48 people earlier this week in a northern village, among them 10 children.
"The explosion that hit the town of Qardaha... was caused by a suicide bomber driving a car along with another person," said the Observatory, adding that the passenger, likely an accomplice, also died in the blast.
"Two women and two soldiers were killed in the attack," said Observatory director Rami Abdel Rahman.
Full report at:
http://english.ahram.org.eg/NewsContent/2/8/123630/World/Region/Suicide-bomber-kills--in-Assad-clans-hometown.aspx
----------
269 Gunmen Turn Themselves in to Authorities in Syria
February 22, 2015
A total of 269 wanted people from Damascus, Aleppo, Hama, Idlib, Lattakia and Homs turned themselves in to the Syrian authorities on Saturday.
Informed sources told the State News Agency on Saturday that all gunmen handed over their guns to the relevant authorities and asked for governmental pardon.
The source added that ex-gunmen could be released as soon as their legal status settled.
Syrian army has recently gained upper hand in so many battlefields across the county that has caused militants to flock military bases and asked for government's pardon.
Insurgency started in Syria nearly four years ago when too many terrorists from around the world left for the country to fights against the legal government of President Bashar al-Assad.
http://english.farsnews.com/newstext.aspx?nn=13931203001080
----------
Kurdish Fighters Liberate Dozens of Villages in Raqqa Countryside
February 22, 2015
The Syrian Kurdish fighters gained the upper-hand against the Takfiri terrorists in Al-Raqqa countryside in Northern Syria and liberated nearly two dozen of villages in there.
The Kurdish People's Protection Units (YPG) regained control over 20 villages in the surrounding areas of the town of Tal Abyaz in Raqqa countryside.
The villages liberated by the YPG forces include Tal Mamal al-Esmant, Al-Shalabieh and Kourki.
Regaining control of the Kurdish villages will pave the way for the liberation of Tal Abyaz.
On Friday, the Syrian Kurdish fighters liberated more villages in the surrounding areas of the town of Kobani.
The Kurdish Pishmarga forces regained control of Birlouz, Seif Ali, Darbazen Kabir, Darbazen Saqir and Darbazen Houran in the Western countryside of Kobani.
Full report at:
http://english.farsnews.com/newstext.aspx?nn=13931203000635
----------
ISIS seizes U.S.-made arms in Iraq's Anbar
22 February 2015
Islamic State of Iraq and Syria (ISIS) militants have reportedly seized armored vehicles and American-made weapons from Iraq's western Anbar province, CNN reported on Saturday.
According to an online video, which emerged this week, the extremists attacked an Iraqi military post before seizing dozens of weapons.
The arms seized by the group included M-16s and heavy machine guns, according to the CNN.
The authenticity of the video could not be independently verified. But if confirmed, it would not be the first time ISIS gets its hands on U.S.-made equipment.
In June, the group gained access to military arsenals in northern Iraq, which were filled with U.S.-supplied assault rifles, heavy weapons and ammunition.
In October, ISIS said it had taken weapons and ammunition from an American airdrop that was intended for Kurdish forces near the border between Syria and Turkey.
http://english.alarabiya.net/en/News/middle-east/2015/02/22/ISIS-seizes-American-made-weapons-in-Iraq-s-Anbar-.html
----------
Jordan rethinks orange uniforms after ISIS killings
February 22, 2015
Municipal authorities of the Jordanian capital Amman are mulling changing their worker's orange-colored uniforms due to the association with Islamic State of Iraq and Syria (ISIS) hostage-killing videos, English-language daily the Jordan Times reported this week.
For many in Jordan, the orange uniforms now carry strong associations with the militant group, after a grisly ISIS video showed orange jumpsuit-clad captured Jordanian fighter pilot Moaz al-Kasasbeh being burned to death in a metal cage was released online.
After Moaz's brother Jawad Kasasbeh began calling for the bright uniform – worn by some 4,600 sanitation workers – to be changed, a municipality official said his plea was being considered.
"The Amman mayor likes the idea and there is a possibility we will do this," the Greater Amman Municipality official, who declined to be named, told The Jordan Times.
The usage of orange jumpsuits on hostages – including captured foreign journalists and aid workers – have become something of a trademark of the militant group, which regularly releases slickly-produced videos of its latest killings.
http://english.alarabiya.net/en/variety/2015/02/21/Jordanian-workers-rethink-orange-uniforms-after-ISIS-killings.html
----------
Damascus dubs Turkish incursion 'flagrant aggression'
February 22, 2015
Syria said Sunday that an overnight incursion by Turkish troops to evacuate an historic tomb and the soldiers guarding it was a "flagrant aggression", state news agency SANA said.
"Turkey is not satisfied with merely giving all kinds of support to its puppets Daesh (the Islamic State group), (Al-Qaeda affiliate) the Al-Nusra Front and other terrorist groups," said a foreign ministry statement carried by the official SANA news agency.
"It even carried out... a flagrant aggression against Syrian territory."
http://english.ahram.org.eg/NewsContent/2/8/123638/World/Region/Damascus-dubs-Turkish-incursion-flagrant-aggressio.aspx
--------
Africa
ISIS in Libya burns 'un-Islamic' instruments
21 February 2015
Islamic State of Iraq and Syria (ISIS) militants in Libya have released photos burning musical instruments, due to them being "un-Islamic."
The photos, which were released by an ISIS media wing, show masked militants setting fire to drums and saxophones.
The instruments had been seized by the religious police, and were destroyed near the port city of Derna, east of the desert nation, the Daily Mail reported.
ISIS militants have previously been pictured burning cartons of cigarettes and shisha tobacco in its strongholds of Raqqa in Syria and Mosul in Iraq, as well as other items they regard as "Haram" (forbidden in Islam.)
http://english.alarabiya.net/en/News/middle-east/2015/02/21/Photos-show-ISIS-fighters-burning-un-Islamic-musical-instruments.html
----------
89 children abducted by militia in South Sudan
Feb 22 2015
JUBA: An unidentified South Sudan armed group has abducted at least 89 boys, some as young as 13, from their homes in the north of the country, Unicef said on Saturday.
"Eighty-nine children were abducted ...," a statement said, adding that "the actual number could be much higher". The UN children's agency said the mass abduction happened at the start of the week in the town of Wau Shilluk.
Witnesses said that unidentified armed soldiers surrounded the community and went house-to-house taking away by force any boys thought to be over 12 years old.
"The recruitment and use of children by armed forces destroys families and communities," said Jonathan Veitch, the head of Unicef in South Sudan.
"Children are exposed to incomprehensible levels of violence, they lose their families and their chance to go to school". Unicef estimates there are at least 12,000 children used by both sides in South Sudan's ongoing civil war.
Full report at:
http://www.dawn.com/news/1165072/89-children-abducted-by-militia-in-south-sudan
----------
Libya militants 'direct threat' to Europe
Feb 22 2015
MADRID: Militants in Libya pose a "direct threat" to Europe, French Prime Minister Manuel Valls said in Madrid on Saturday.
"I would like to cite the question of Libya and the direct threat to our security of the creation — under our eyes and not far from our borders — of a new haven for terrorist," Valls told a gathering of social democrats, according to a transcript of his speech.
Valls' comments come amid growing concern that the Islamic State (IS) group, which has already seized swathes of Iraq and Syria, has also established a foothold in Libya.
The lawless North African country has become fertile ground for militants following the ouster of Muammar Qaddafi in 2011.
Analysts have warned that IS is expected to gain more strength in Libya, and said the international community was running out time to combat its spread there.
"The IS threat in Libya is set to increase exponentially," analyst Mohamed El-Jareh, from the Atlantic Council's Hariri Center for the Middle East, said on Friday.
Since Qaddafi was killed, Libya's beleaguered authorities have been struggling to rein in powerful armed militias who are battling for power and the country's oil wealth.
Recent attacks in Libya claimed by IS have boosted concern that some militias have in fact pledged allegiance to the extremists.
http://www.arabnews.com/middle-east/news/708086
----------
'Somalia hotel suicide bombers were Dutch'
Feb 22 2015
MOGADISHU: Twin suicide bombings at a Mogadishu hotel popular with ministers and officials were carried out by Dutch nationals, Somali intelligence sources said Saturday, the day after 25 people were killed.
Somali intelligence believe both suicide bombers — a man and a woman — were Dutch-Somali citizens who infiltrated the Central Hotel close to the presidential palace ahead of the attack.
Sources within the Somali National Intelligence and Security Agency (NISA) said the man, identified as Ismail Muse, exploded a bomb in a car parked at the hotel while the woman, Lula Ahmed Dahir, detonated her explosive vest inside the hotel's prayer room.
The woman "worked part time in the hotel for up to four months," according to an intelligence report seen by AFP.
Full report at:
http://www.arabnews.com/world/news/708066
----------
Lakhdar Brahimi: Algeria has moral responsibility to help Libya
Feb 22 2015
Lakhdar Brahimi, one of the most influential Algerians in the world today, has insisted that his country has a 'moral responsibility' to help solve the growing security crisis in Libya.
The former United Nations and Arab League peace envoy's strong words will have huge international repercussions, especially as it goes against the grain of Algeria's famously non-interventionist foreign policy.
Speaking at the prominent Fikra (Idea) Conference in Algiers this week, Brahimi said: "Algeria has a role to play in North Africa and especially towards Libya.
"The Libyan people are our neighbours and Algeria has a moral responsibility to help end the violence in the country".
Islamic State of Iraq and Syria (ISIS) militants produced a deeply disturbing video of Egyptian Christian workers being beheaded in Libya last week.
Brahimi told the Algiers Conference, which focused on inspiring young people to succeed: "Muslim majority countries have to ask themselves what leads to terrorism, and try to find a solution to the problem."
Full report at:
http://english.alarabiya.net/en/perspective/features/2015/02/21/Lakhdar-Brahimi-Algeria-has-moral-responsibility-to-help-Libya.html
----------
Nigerian military claims recapture of Baga from Boko Haram
February 22, 2015
Nigeria's military on Saturday claimed to have recaptured the town of Baga from Boko Haram, more than a month after it was overrun in what is feared to be the worst massacre of its six-year insurgency.
Defence spokesman Chris Olukolade claimed that "a large number of terrorists" drowned in Lake Chad as they tried to flee bombardment from air force jets.
The town, a fishing hub on the shore of Lake Chad in the far north of Borno state, northeast Nigeria, was recaptured on Saturday morning after the assault began the previous day, he added.
There was no independent corroboration of the claim, as thousands of Baga residents had fled the town after Boko Haram attacked on January 3 and hundreds, if not more, were killed in the following days.
Full report at:
http://english.ahram.org.eg/NewsContent/2/9/123621/World/International/Nigerian-military-claims-recapture-of-Baga-from-Bo.aspx
---------
North America
US Muslim group wants apology for canceled prayer
February 22, 2015
The largest Muslim civil liberties group in the U.S. wants Republicans in the state of North Dakota to apologize for canceling a Muslim's opening floor session prayer on Ash Wednesday and having a Christian deliver the invocation instead.
Dr. Nadim Koleilat, a surgeon in Bismarck and president of the city's Muslim Community Center, went across the hall from the North Dakota House of Representatives and delivered the invocation to the state Senate, without objection from the lawmakers in that chamber. Republicans control both chambers.
Jaylani Hussein, executive director of the Minnesota chapter of the Council on American-Islamic Relations, said Friday that Koleilat and other Muslims in North Dakota deserve an apology from lawmakers for what he called "religious bigotry and exclusion".
Full report at:
http://indianexpress.com/article/world/americas/us-muslim-group-wants-apology-for-canceled-prayer/
----------
Obama welcomes Modi assurance on religious freedom
February 22, 2015
US President Barack Obama has welcomed the recent remarks of Prime Minister Narendra Modi in which he condemned religion-based violence and gave an assurance that his government will give equal respect to all religions.
"The President welcomed Prime Minister Modi's February 17 condemnation of religious-based violent acts, and his assurance that his government will give equal respect to all religions," the White House said on its website on Friday in response to an online petition.
Launched by the New York-based Sikh for Justice, the online petition had urged Obama before his India trip to raise the issue of "Sikh Genocide" and "Sikhs' Right to Self-determination" during his talks with Modi.
The petition had attracted more than 125,000 signatures.
The White House responded to the petition in less than a month after it was launched.
Thanking those who signed the petition, the White House said during his recent trip to India, the President discussed the importance of religious freedom and tolerance in India on January 27 during his speech at Siri Fort in New Delhi.
Full report at:
http://www.thehindu.com/news/national/obama-welcomes-modi-assurance-on-religious-freedom/article6919980.ece
----------
'Force alone cannot eradicate extremism'
Feb 22 2015
WASHINGTON: More than 60 countries which participated in a White House summit have concluded that using force alone to curb extremism can exacerbate the problem and suggested a multi-pronged approach, which includes methods to win hearts and minds.
They also stressed that terms like "violent extremism" and "terrorism", should "not be associated with any religion, nationality, civilisation, or ethnic group".
The participants also "reaffirmed their determination to stand against any manifestation of religious-based discrimination wherever it may reveal itself".
The three-day summit to counter violent extremism, which ended on Friday, also brought dozens of international organisations, including the UN, EU, OIC and the Arab League, to the US capital.
In a joint statement issued after the ministerial meeting, the participants reaffirmed that intelligence gathering, military force, and law-enforcement "alone will not solve — and when misused can in fact exacerbate — the problem of violent extremism".
Instead, they stressed the need of following comprehensive rule of law and community-based strategies to deal with these issues.
Full report at:
http://www.dawn.com/news/1164978/force-alone-cannot-eradicate-extremism
----------
U.S. warns on viability of Palestinian Authority if Israel blocks funds
22 February 2015
U.S. Secretary of State John Kerry expressed concern about the viability of the Palestinian Authority if it does not soon receive tax revenue which has been withheld by Israel.
The funds have been held back from the Authority since last month in retaliation for Palestinian moves to join the International Criminal Court (ICC).
The move would pave the way for the ICC to take jurisdiction over alleged crimes committed in Palestinian lands and to investigate the conduct of Israeli and Palestinian leaders.
While the United States opposed steps by the Palestinians to join the ICC, it has raised concerns with the Israelis about its decision to freeze the transfer of more than $100 million in tax revenue, warning it could further raise tensions.
The tax revenue is critical to running the Authority, which exercises limited self-rule, and for paying public sector salaries.
Full report at:
http://english.alarabiya.net/en/News/middle-east/2015/02/22/Kerry-warns-on-viability-of-Palestinian-Authority-if-Israel-blocks-funds.html
----------
War on extremism: Saudi Arabia joins White House talks
Feb 22 2015
The Kingdom is at the forefront of global efforts to eradicate terrorism, senior Saudi officials told a recent meeting at the White House on countering extremism.
Deputy Foreign Minister Prince Abdul Aziz bin Abdullah led the Kingdom's delegation at the talks.
Addressing US and international officials, he said that Saudi Arabia is determined to fight extremism in all its forms.
He highlighted Saudi Arabia's keenness and commitment to supporting global efforts against extremism and terrorism, and fight whatever party standing behind it in the name of religion, said Prince Abdul Aziz bin Abdullah. The Kingdom has always deplored extremism, which distorts the image of Islam.
Full report at:
http://www.arabnews.com/featured/news/708151
----------
US assures continued support to Pakistan in war against terror
Feb 22 2015
WASHINGTON: US National Security Adviser Susan Rice assured continued support to Pakistan in eliminating terrorism from the country, Radio Pakistan reported.
Rice held a meeting with Interior Minister Chaudhry Nisar in Washington, during which she appreciated the sacrifices and commitment of the country's leadership.
Nisar spelled out the support of the entire nation in implementing the National Action Plan.
The two leaders exchanged views on matters of bilateral interests and regional issues. They agreed to continue cooperation in the wake of last ministerial session held on strategic dialogue in Islamabad.
The reconciliation process in Afghanistan was also discussed during the meeting.
Read: Obama's Pentagon nominee willing to expand counter-terrorism cooperation with Pakistan
On February 4, US President Barack Obama's pick for defense secretary, Ashton Carter, was willing to expand US counter-terrorism cooperation with Pakistan, according to an opening statement Carter is due to read to the Senate.
http://tribune.com.pk/story/842380/us-assures-continued-support-to-pakistan-in-war-against-terror/
----------
Withdrawal from Afghanistan under review: US defence chief
Feb 22 2015
KABUL: Washington is reviewing a plan to withdraw US troops from Afghanistan by 2016 to ensure that "progress sticks" after more than a decade of war, new US Defence Secretary Ash Carter told reporters in Kabul on Saturday.
Under the current plan, the United States will halve the number of troops in Afghanistan to 5,000 this year, gradually winding down to a "normal" US embassy presence by 2016.
That schedule could now change, said Carter on his first trip abroad since swearing in as the Pentagon chief on Tuesday, as the United States rethinks the future of its counter-terrorism mission in Afghanistan.
His remarks set the stage for talks next month when the Afghan president is expected in Washington.
Full report at:
http://www.dailytimes.com.pk/region/22-Feb-2015/withdrawal-from-afghanistan-under-review-us-defence-chief
--------
Europe
Norway's Muslims and Jews link up to denounce extremist violence
Feb 22 2015
Norwegian Muslims organised a peace vigil in Oslo on Saturday in a show of solidarity with Jews a week after fatal shootings in Denmark targeted a synagogue and free-speech seminar.
As the mainly elderly Jewish congregation filed out of the synagogue after Shabbat prayers, a group of young Muslims, many of them teenage girls wearing headscarves, formed a symbolic ring outside the building to applause from a crowd of more than 1,000 people.
"This shows that there are many more peacemakers than warmakers," 37-year-old Zeeshan Abdullah, one of the organisers, told the crowd.
"There is still hope for humanity, for peace and love across religious differences and background," he added, before a traditional Shabbat ceremony was held in the open air with many demonstrators adding their voices to the Hebrew chants.
Norway's chief rabbi, Michael Melchior, appeared visibly moved when he said it was the first time the ceremony had taken place outdoors with so many people.
Ervin Kohn, a Jewish community leader, said: "It is unique that Muslims stand to this degree against antisemitism and that fills us with hope … particularly as it's a grassroots movement of young Muslims," adding that the rest of the world should "look to Norway".
Kohn said: "Working against fear alone is difficult and it is good that we are so many here together."
Full report at:
http://www.theguardian.com/world/2015/feb/21/norways-muslims-and-jews-link-up-to-denounce-extremist-violence
----------
European jihadis unable to join Islamic State, locked at home
February 22, 2015
The flow of European fighters from Europe to territory held by the ultra-hardline Islamic State is drying up due to tighter restrictions imposed by European states that have prevented would-be jihadis from travelling, fighters from the group said.
Fighters in Syria and Iraq contacted by Reuters said the impact was limited on the battlefield since European fighters make up only a fraction of the forces of Islamic State.
"Now most of the (foreign) fighters are coming from Asian countries, like Tajikistan and Uzbekistan. They are tough fighters," an Islamic State militant who fought with the group in both Syria and Iraq, told Reuters via the internet.
Some also said that restrictions might backfire on European countries when jihadis who are prevented from travelling to the Middle East are encouraged to wage individual attacks at home.
Full report at:
http://english.ahram.org.eg/NewsContent/2/8/123625/World/Region/European-jihadis-unable-to-join-Islamic-State,-loc.aspx
----------
War of petitions over halal meat in the UK
February 22, 2015
The Muslim community in the UK has launched a campaign against active attempts to halt halal animal slaughter in the country.
Mosques, Islamic centres and imams from all over the UK have called on Muslims to sign an e-petition, appealing to the government to "continue to protect the right to non-stun religious slaughter in the UK (the Islamic and Jewish way of slaughter)."
The issue of halal slaughter hit the headlines earlier this month when animal rights campaigners released footage of animals at a halal slaughterhouse in North Yorkshire being kicked and mistreated.
Observant Muslims are forbidden in Islam to eat meat from animals that have not been killed by having their throats cut with a sharp knife while conscious. Some Muslims believe that a mechanised form of killing also conforms with religious precepts.
EU and UK law requires all animals to be stunned before slaughter, to render them unable to feel pain, but non-stun slaughter is permitted for certain communities, including Muslims and Jews.
Full report at:
http://english.ahram.org.eg/NewsContent/2/9/123553/World/International/War-of-petitions-over-halal-meat-in-the-UK.aspx
----------
Italians mock ISIS threats of 'conquering' Rome on Twitter
22 February 2015
Social media users aligned with the Islamic State of Iraq and Syria (ISIS) threatened on Twitter they would soon "conquer" Italy's capital, Rome, a warning that did not sit well with Italian Twitter users.
Instead of panic and fright, Italians responded mocking the militant group using the hashtag #We_Are_Coming_O_Rome - the same one that radicals created to send their threats.
The threat comes after the release of a video, reportedly shot in Libya, showing the beheading of 21 Christian Egyptian workers in which a masked militant said "Today we are south of Rome. We will conquer Rome with Allah's permission."
To the militants' dismay, the Romans and others did not take the threat very seriously.
One user posted: "#We_Are_Coming_O_Rome I'll alert the Gladiator!" in reference to a 2000 film starring Australian actor Russell Crowe.
Others depicted what would Roman soldiers' response be to the threat.
One user warned the group of one the most challenging tourist sights in Italy.
http://english.alarabiya.net/en/media/digital/2015/02/22/Italians-mock-on-Twitter-ISIS-threats-of-conquering-Rome.html
----------
Former UK nightclub bouncer joins fight against ISIS in Iraq
22 February 2015
A former British nightclub bouncer and construction firm owner quit his job and joined a militia to fight Islamic State of Iraq and Syria (ISIS) rebels in Iraq, UK-based newspaper the Daily Mail reported on Saturday.
After selling his house and quitting his work positions, Tim Locks travelled to Iraq to join a Christian militant group called Dwekh Nawsha, meaning in Assyrian "the self-sacrificers."
Locks, 38, decided to fight against ISIS in August last year, after seeing the desperate fate of members of the Yazidi minority forced to flee to Mount Sinjar.
"I just thought I have a great life, job, beautiful house and I thought it is time to help someone else," Locks told the Daily Mail.
Full report at:
http://english.alarabiya.net/en/perspective/features/2015/02/22/Former-UK-nightclub-bouncer-joins-fight-against-ISIS-in-Iraq.html
----------
UK counter-terror officials criticised over Syria-bound missing schoolgirls
Feb 22 2015
British counter-terrorism officers have been accused of failing to take basic steps to prevent young women from joining Islamic State after three London schoolgirls evaded authorities to travel to Syria.
One of the missing girls, Shamima Begum, 15, is thought to have made online contact with a Scottish woman who left Britain to marry an Islamic State fighter in 2013.
The contact with Aqsa Mahmood, whose social media use is supposedly under surveillance by counter-terror agencies, came two days before Begum slipped out of her east London home and met up with schoolfriends Kadiza Sultana, 16, and Amira Abase, 15.
On 17 February, the three girls secretly made their way to Gatwick airport and caught a Turkish airlines flight to Istanbul, Turkey, from where they are feared to be heading towards Islamic State-held territory in Syria.
A Twitter account thought to be linked to Begum shows that she contacted Mahmood, a prominent online advocate of Islamic State, on 15 February, saying: "follow me so i can dm you back".
Full report at:
http://www.theguardian.com/world/2015/feb/22/uk-counter-terror-officials-criticised-syria-bound-london-schoolgirls
--------
India
More India-Israel joint defence projects on anvil
PTI | Feb 22, 2015
NEW DELHI: Reflecting rapid expansion in military ties, Israel has said it was ready to share cutting-edge defence technologies with India and both countries will go for co-development of a number of key weapon systems soon.
Israeli defence minister Moshe Ya'alon said both countries have overcome hurdles in co-development of Barak 8 missile defence system and work on another key project of aerial defence systems was on track.
At the end of his India visit, Ya'alon said his talks with Prime Minister Narendra Modi and defence minister Manohar Parrikar were very "satisfying" and that his country was ready to have manufacturing bases in India for certain weapons systems and military hardware.
India is Israel's largest buyer of military hardware and it was the first visit by any Israeli defence minister to this country after they established full diplomatic ties in 1992.
Asked about status of two key projects, Barak 8 missile defence system and aerial defence systems, Ya'alon said both the projects are important and they are going ahead despite having some initial difficulties.
"We are moving forward. We had some difficulties. We overcame it together. Both these projects are important for us," Ya'alon told in an interview here.
Israel Aerospace Industries (IAI) and Defence Research and Development Organisation (DRDO) are jointly developing the Barak 8 missile defence system.
Asked whether slow decision making process in defence sector in India was affecting certain projects, Ya'alon said, "We have to overcome bureaucratic obstacles in order to do things at higher speed."
Praising Modi's 'Make in India' initiative, he said Israel wants to take advantage of it and added that the NDA government has brought a new vigour to bilateral defence ties.
"Modi's concept of Make in India is encouraging. We are flexible to make everything convenient to India," he said.
Replying to a question on whether Israel was interested in participating in upgrading of India's tank systems, he did not give a specific reply but said "we are interested in all that is proposed by the Indian government and the defence ministry".
On whether new defence co-development projects between the two countries are in the works, he replied in the affirmative and said his country was ready to set up manufacturing bases in India.
"Yes, all kind of cooperation, whether it is to share technologies or to manufacture in India," he said.
http://timesofindia.indiatimes.com/india/More-India-Israel-joint-defence-projects-on-anvil/articleshow/46331885.cms
----------
Live telecast of anti-terror operations should be prohibited: Ministry Of Home Affairs
February 22, 2015
Taking a step forward to ban live coverage of terror-related operations by TV channels, the Home Ministry has said that 'anti-terror operations' should be prohibited from telecasting.
Home Ministry stated its position on the matter after the Information and Broadcasting Ministry sought definition of terms 'anti-terror operations' and 'counter-terror actions'.
The Home Ministry has conveyed that live coverage of anti-terror operations would compromise various aspects of security and jeopardies the life of security personnel and innocent people in a hostage situation.
The counter terrorism initiative include construction of roads, bridges, schools, health centres, improvement of telecommunication network in Maoist-hit areas besides others.
Earlier, the Home Ministry had asked the Information and Broadcasting Ministry to amend the rules to stop live telecast of anti-terror operations.
Citing the unpleasant experience during 26/11 Mumbai terror attacks when news channels broadcast NSG operations live, the Home Ministry told the I&B Ministry to amend the Programme Code under the Cable Television Network Rules so that no terror-related operation is telecast live in future.
In its letter, the Home Ministry had said such live coverage not only affects the secrecy and effectiveness of the operation but also puts the safety of security forces, common people and journalists in jeopardy.
After the 26/11 Mumbai attacks, the National Broadcaster Association put out a set of rules, including restriction on live reporting of terror situations, as part of a self-regulation exercise on the part of private broadcasters.
However, so far there is no official ban on live coverage of anti-terror operations. The Home Ministry has sought more changes to the 15-point Programme Code prescribed under the Cable Television Network Rules, 1994 for this purpose. The rules were amended in 2009 when private broadcasters were brought within the ambit of the Cable Television Networks Rules.
During the Mumbai terror attacks, television channels had broadcast live images, including the moves by security forces, para-dropping of commandos, which led the authorities to intervene and stop it.
Last month, Information and Broadcasting Minister Arun Jaitley had in a lecture indicated that there could soon be norms for media coverage of terror-related operations by saying that the issue is under "serious and very advanced consideration" of the government.
http://indianexpress.com/article/india/india-others/live-telecast-of-anti-terror-operations-should-be-prohibited-ministry-of-home-affairs/
----------
Indian Catholic priest freed in Afghanistan
February 22, 2015
An Indian Christian priest, Father Alexis Prem Kumar, abducted in Afghanistan eight months back, has been released, Prime Minister Narendra Modi announced on Sunday.
"Delighted at securing the release of Indian Jesuit priest Father Alexis Prem Kumar from captivity in Afghanistan," Modi tweeted.
"Have spoken to Father Alexis Prem Kumar. Informed happy family of Father Alexis Prem Kumar of his safe return after 8 months in captivity," he added.
Rev. Kumar, 47, an aid worker, was abducted from Herat in Afghanistan by unidentified gunmen on June 2, 2014.
An External Affairs Ministry spokesman had then said that Rev. Kumar was working with an NGO and had no connection with the Indian government or mission or consulate in Afghanistan.
A native of Tamil Nadu, Rev. Kumar was working with the Jesuit Refugee Service (JRS), an educational charity, as its Afghanistan Director and had been in the country for over three years.
Before moving to Afghanistan, Rev. Kumar had worked for the JRS, serving Sri Lankan refugees in Tamil Nadu.
Rev. Kumar had accompanied teachers on a visit to a JRS-supported school for returnee refugees in Sohadat village, 25-km from the city of Herat. He was kidnapped from the school as he was about to return to Herat, the JRS said.
Four days after the abduction, Afghan authorities had announced that three Taliban members had been arrested in connection with the case.
http://www.thehindu.com/news/national/catholic-priest-prem-kumar-freed-from-taliban-captors/article6922145.ece
---------
Pakistan
Sindh makes prior permit must for new seminaries, mosques
Feb 22 2015
KARACHI: Moving forward to implement the national action plan at the provincial level, the Sindh government on Saturday decided to ban establishment of new madressahs and mosques without a prior permission of the home department.
The government also decided to build a 'high-security prison' in Jamshoro within a week for high-profile terror suspects.
The key decisions were taken at a meeting, which was chaired by Sindh home secretary Abdul Kabir Kazi and attended among others by senior officials of the law enforcement and intelligence agencies.
Other key decisions included repatriation of all Afghan refugees by the year end, proposing legislation for the regulation of mosques and seminaries, recruitment in the newly-established counterterrorism department of police and expediting process of forensic lab facilities in major cities to improve investigation and prosecution.
The repatriation of all Afghan refugees will require a 'massive campaign' on the part of the relevant provincial and federal authorities as well as international bodies.
"There is a political consensus to fight terrorism and the decisions taken today to execute the apex committee decisions reflect that consensus," home secretary Mr Kazi told reporters after the meeting.
He said: "The officials would hold regular meetings to review progress on the decisions, which included attaching permission from the home department for building any new mosque and madressah in the province.
"Similarly, we are going to set up the high-security prison in Jamshoro by the end of this month to shift all high-profile terror suspects lodged in different jails of the province."
He said the Sindh government had referred 64 cases to the interior ministry out of the 84 forwarded by the Sindh police, but the ministry sought details of all the 84 cases to study before finally sending them to military courts.
Full report at:
http://www.dawn.com/news/1165140/sindh-makes-prior-permit-must-for-new-seminaries-mosques
----------
Five-year-old ban: JuD seeks easing of UN curbs
Feb 22 2015
ISLAMABAD: Amidst controversy and confusion, Jamatud Dawa (JuD) has once again decided to approach the United Nations against a five-year-old ban over its 'activities' by the world body.
A spokesperson for the organisation told The Express Tribune that Hafiz Saeed's counsel pleading innocence and claiming that the JuD has no link with al Qaeda, Taliban or the Mumbai attacks requested the UN chief Ban Ki-moon for lifting of the sanctions.
He said attention of the UN was also sought towards some corrective measures which have been taken in light of the UN instructions. "We have also shown willingness for audit of our organisational activities," he added.
Full report at:
http://tribune.com.pk/story/842286/five-year-old-ban-jud-seeks-easing-of-un-curbs/
----------
Imran announces jihad against timber mafia in KP
Feb 22 2015
HARIPUR: Pakistan Tehreek-e-Insaf Chairman Imran Khan formally inaugurated the tree plantation campaign in Khyber Pakhtoonkhwa by planting a sapling here on Saturday and announced a jihad against the timber mafia.
Talking to media at Sangra near here after planting a sapling, Imran Khan said that the timber mafia has caused a loss of one hundred billion rupees to the KP government. He said the timber mafia was planning to cut timber of another Rs200 billion but the PTI government took immediate notice and stopped the illegal practice. He said he himself and the minister for forests would take action against the mafia. For this purpose necessary amendments would be made in the law as the present one has less punishment, he added.
Khan said the provincial government would sow one billion plants in the next five years to make the province green.
Full report at:
http://www.dailytimes.com.pk/national/22-Feb-2015/imran-announces-jihad-against-timber-mafia-in-kp
----------
Revolutionary steps taken for women empowerment: Shahbaz Sharif
Feb 22 2015
LAHORE: Punjab Chief Minister Shahbaz Sharif has said that 50 percent population of Pakistan consists of women, and their role in national development is of paramount importance. He said that Pakistani women are talented, educated and hardworking and they have proved their worth in different sectors. Women also have to play their role in the constitution of peaceful society and development of the country, he added. He said that Punjab government has taken revolutionary steps for women empowerment and progress of the people of the province.
He expressed these views while addressing female members of the Punjab Assembly from Pakistan Muslim League-Nawaz.
Full report at:
http://www.dailytimes.com.pk/punjab/22-Feb-2015/revolutionary-steps-taken-for-women-empowerment-cm
----------
UK's drugs aid puts Britons at risk of execution in Pakistan
Feb 22 2015
LONDON: A number of British citizens could be executed in Pakistan as a result of the British government's overseas funding for operations against drug-smuggling in the country, The Independent reported on Sunday.
According to reports, England has provided at least £12m to 22 counter-narcotics projects in Pakistan – where six British nationals are on death row for drugs offences – with the aim of increasing the number of drug arrests and prosecutions, which can result in death sentences.
The United Kingdom is a major funder of Pakistan's anti-narcotics force, which has a 92 per cent conviction rate.
Full report at:
http://tribune.com.pk/story/842382/uks-drugs-aid-puts-britons-at-risk-of-execution-in-pakistan/
----------
Aziz has apologised for defending APS attack, says Nisar
Feb 22 2015
WASHINGTON: Maulana Abdul Aziz, the imam of Islamabad's Lal Masjid, has submitted a written apology to police over his implied defence of the Dec 16 attack on the Army Public School in Peshawar, Interior Minister Chaudhry Nisar Ali Khan said on Friday.
The minister was talking to journalists after ending a three-day visit to Washington.
Asked why Islamabad was reluctant to arrest the Lal Masjid cleric, Mr Khan said the government was careful, not reluctant.
"It is not difficult to arrest him. But we want to keep our focus on the ongoing operation against militants," he said. "Any other action at this stage will create a diversion and benefit the militants."
The minister recalled that after the Lal Masjid operation in 2007, the Musharraf government was forced to bring Maulana Aziz back from his village and provide him special security.
"We do not want to take a decision that we have to review later," he said.
"If we arrest him and it leads to yet another tragic incident, it will have very negative consequences. So I believe that we have to sequence our actions."
The interior minister said Pakistan welcomed US President Barack Obama's stance that terrorism was not linked to any religion.
Full report at:
http://www.dawn.com/news/1165114/aziz-has-apologised-for-defending-aps-attack-says-nisar
----------
Growing cooperation between Pakistan, Afghanistan raises hopes for peace
Feb 22 2015
ISLAMABAD: Pakistan's close security cooperation with Afghanistan is raising prospects for the start of peace talks with the Taliban, at a time when concerns are growing about a possible increase in violence as the weather warms up in the country.
The vast majority of Afghans strongly believe that Pakistan can play a key role to encourage the Afghan Taliban to come to the negotiating table, however, the years of mistrust have had a negative impact on their cooperation. Both countries paused playing the blame game since President Ashraf Ghani was inaugurated in September.
Kabul had long been asking Islamabad to use its influence on the Afghan Taliban to find out a political solution to the problem.
The Taliban insurgents had previously rejected the possibility of peace talks with the new Afghan government, but they are now seemingly under mounting pressure to join the intra-Afghan dialogue, an Afghan Taliban official, privy to the developments, said. They say Pakistan has played an important role in encouraging face-to-face talks between the Taliban and the new government in Kabul and "share their demands" for a negotiated settlement.
Afghanistan has also for the first time realized Pakistan's role and President Ashraf Ghani on Friday hailed Pakistan's move to cooperate in the reconciliation process amid reports that the Taliban have indicated a willingness to begin peace talks.
Full report at:
http://www.dailytimes.com.pk/national/22-Feb-2015/growing-cooperation-between-pakistan-afghanistan-raises-hopes-for-peace
----------
Fazl demands two seats from Zardari for alliance in KP
Feb 22 2015
ISLAMABAD: The Jamiat Ulema-e-Islam-Fazl chief has demanded two Senate seats from the PPP for the Senate's March 5 elections as a precondition for formation of an electoral alliance in Khyber Pakhtunkhwa. Maulana Fazlur Rehman held a meeting with PPP Co-chairman Asif Ali Zardari on Saturday and discussed the pros and cons regarding formation of an electoral alliance of opposition parties in KP. Zardari suggested that if the JUI-F, PPP (Sherpao), ANP and PPP formed an alliance, they could secure one seat for each party. But Fazl demanded two seats. Zardari has not yet responded to the demand.
http://www.dailytimes.com.pk/islamabad/22-Feb-2015/fazl-demands-two-seats-from-zardari-for-alliance-in-kp
----------
Countering militancy: Separate police stations, jail to be set up
Feb 22 2015
KARACHI: The Sindh government has decided to establish separate police stations and a jail to deal with terrorism in the province.
This decision was made during a high-level meeting held at the provincial home department on Saturday, which was attended by officials from the police, intelligence agencies and home department.
Home secretary Abdul Qazi Kabeer told the media that two police stations had already been set up in Karachi to handle cases of terrorism and one police station each will be established in Hyderabad and Sukkur for the same purpose. "There will also be a separate jail for terrorists in Karachi," he said. "We have received approval from the higher authorities and will arrange the land for it soon."
Kabeer, who also heads the provincial execution committee for the National Action Plan, said that the committee had already referred 64 cases to the military courts and shortlisted 21 more cases to send to them. He added that the government will soon make laws for the establishment of mosques and seminaries in the province. "No one can establish mosques or madrassas without government approval."
Responding to a question about political influence within the police department, the home secretary said, "Transfers and posting are being done purely on merit and there is no influence being exerted by the Pakistan Peoples Party government to appoint police officers of its choice." However, he added that interference in governance by influential people was a problem in the entire country, not just Sindh. He further said that a DNA testing laboratory will start working in Sindh in a week.
Full report at:
http://tribune.com.pk/story/842107/countering-militancy-separate-police-stations-jail-to-be-set-up/
---------
Southeast Asia
Indonesia prays Islamic tourism drive can draw more visitors
Feb 22 2015
Just a short hop from the Indonesian holiday hotspot of Bali, a Saudi tourist and his family listen to the call to prayer as the sun goes down on Lombok, the self-styled "island of 1,000 mosques".
Lombok is at the centre of an Islamic tourism drive in Indonesia, which has the world's biggest Muslim population and is hoping to boost the number of visitors from wealthy Middle Eastern countries.
While aiming to continue to attract Western tourists who flock to its pristine beaches, the island is also seeking to promote its Islamic heritage, from numerous places of worship to shrines dedicated to ancient Muslim preachers.
"I love it here because I can hear the azan (call to prayer) and people go to the mosque to pray," said 58-year-old Sulaiman, the Saudi tourist, who gave only one name and was accompanied by his wife who was wearing an all-encompassing burqa.
Indonesia is the world's biggest archipelago nation, made up of more than 17,000 islands, but has long lagged behind smaller, more developed countries in Southeast Asia, such as Malaysia and Thailand, in attracting tourists.
Foreign visitor arrivals to Indonesia rose to 8.8 million in 2013, according to official figures, compared with 25.72 million in Malaysia and 26.55 million in Thailand.
While there are no official figures for "sharia" tourism in Indonesia, the sector is experiencing strong growth internationally.
Full report at:
http://www.dawn.com/news/1165197/indonesia-prays-islamic-tourism-drive-can-draw-more-visitors
----------
Zaid Ibrahim's new moderate Malay portal to counter racial, religious extremism
Feb 22 2015
Concerned about fraying racial and religious relations and Putrajaya's weak leadership, former Umno minister Datuk Zaid Ibrahim has set up a "liberal moderate Malay" website to educate Malaysians on good governance and leadership.
The Nasionalis website set up two weeks ago is aimed at creating a culture of discussion, peaceful debate and understanding of issues instead of making provocative statements.
"I wanted a 100% Malay-language portal focussing on political education and issues the country needed to talk about, especially among the Malay community," he told The Malaysian Insider.
Muslim Malays are multi-racial Malaysia's majority ethnic group, constituting about 51% of the nation's 30 million population.
Describing the news portal as a sensible Malay language site, Zaid expressed concerns that the Malays were being influenced by ideologies of racial and religious extremism which he felt would be detrimental to both the community and the country in the long term.
"People are not respecting the law, they are saying whatever they want, which is not good for the country.
Full report at:
http://www.themalaysianinsider.com/malaysia/article/zaid-ibrahims-new-moderate-malay-portal-to-counter-racial-religious-extremi#sthash.epTMgJwp.dpuf
----------
Schoolgirl eyed Isis before attending religious school, police say
Feb 22 2015
A schoolgirl, detained in connection with an attempt to join the so-called Isis militant group in Syria, was believed to have been interested in its ideology, even before entering a religious school.
Bukit Aman Special Branch principal assistant director (counter-terrorism division) principal assistant director Datuk Ayob Khan Mydin Pitchay said the information was based on an initial police investigation conducted on the 14-year-old from Muar, Johor.
"However, our investigation is ongoing to determine whether the religious school where she was studying was in anyway, involved in spreading the militant group's ideology.
"We have identified the religious school involved... and until now, the investigations are ongoing.
Full report at:
http://www.themalaysianinsider.com/malaysia/article/schoolgirl-eyed-isis-before-attending-religious-school-police-say-bernama#sthash.SI678Shk.dpuf
----------
Indonesia Recalls Ambassador to Brazil Over Death Penalty Spat
Feb 22 2015
Jakarta. Indonesia has recalled its new ambassador to Brazil after the South American country postponed a ceremony sealing his appointment, Jakarta said on Saturday, amid a row over the execution of a Brazilian national for drugs trafficking.
Brazil and the Netherlands withdrew their ambassadors from Indonesia, which has some of the strictest drug trafficking laws in the world, after two of their citizens were among six people executed for drugs offenses last month.
Indonesia is also involved in a diplomatic spat with Australia over the fate of two Australian members of the "Bali Nine" drug trafficking ring due to be executed this month.
Toto Riyanto, who was chosen to be Indonesia's new ambassador to Brazil in October, had been invited to present his credentials at a ceremony at Brazil's presidential palace on Friday which was postponed at short notice, an Indonesian Foreign Ministry statement said.
"The manner in which the foreign minister of Brazil suddenly informed [us of] the postponement … when the ambassador designate was already at the palace, is unacceptable to Indonesia," the ministry said.
Full report at:
http://thejakartaglobe.beritasatu.com/news/indonesia-recalls-ambassador-brazil-death-penalty-spat/
----------
Mideast
Turkish military enters Syria to evacuate troops, tomb
February 22, 2015
Turkey launched an overnight military operation into neighboring Syria to evacuate troops guarding an Ottoman tomb, authorities said Sunday.
TRT television broadcaster said ground troops backed by warplanes crossed into Syrian territory to reach the tomb, just over the border near the town of Kobani.
Private NTV television said one soldier was killed in the operation. The Turkish military later issued a statement saying the soldier had been killed in an "accident" en route to the tomb, without elaborating.
On Twitter, Prime Minister Ahmet Davutoglu said the tomb of Suleyman Shah, the grandfather of Osman I, founder of the Ottoman Empire, was moved into Turkey.
The tomb, once some 35 kilometers (22 miles) from Turkey on the banks of the Euphrates River, was in Syria's embattled Aleppo province and is considered Turkish territory.
Davutoglu said the tomb would be sent to a "new location in Syria." He did not elaborate, though he was expected to give remarks later Sunday.
Full report at:
http://indianexpress.com/article/world/world-others/turkish-military-enters-syria-to-evacuate-troops-tomb/
----------
Rebels allow former President to leave Yemen
February 22, 2015
Yemen's former President left the capital after Shia rebels who surrounded his house let him go under international and local pressure, aides close to him said on Saturday.
The aides said former President Abed Rabbo Mansour Hadi left Sanaa and later arrived in Aden. They say Mr. Hadi later plans to leave the country to receive medical treatment.
The aides say the rebels let Mr. Hadi go after pressure from the United Nations, the U.S., Russia and local political parties.
The aides spoke on condition of anonymity as they weren't authorised to speak to journalists.
Witnesses said the Houthis and others in the area later ransacked Mr. Hadi's house and at least three people were seen each taking out a Kalashnikov assault rifle from the house.
Jamal Benomar, the U.N. envoy to Yemen, said Friday that rival factions, including the Houthis, have agreed on a new legislative body consisting of former and new lawmakers to serve during the country's upcoming transition period.
But a coalition of Yemeni parties voiced objections to the plan, describing it as an insufficient half-solution.
Full report at:
http://www.thehindu.com/news/international/houthi-rebels-allow-former-president-to-leave-yemen/article6919995.ece
----------
Turkish president congratulates government, army for operation in Syria
February 22, 2015
Turkish President Recep Tayyip Erdoğan has congratulated both the government and the Turkish Armed Forces (TSK) for their "successful" overnight "Şah Fırat" evacuation operation into neighboring Syria to evacuate troops guarding an Ottoman tomb and to move the crypt to a new location.
"On behalf of myself and on behalf of my nation, I congratulate our government and our armed forces that carried out this successful operation which is beyond all kinds of appreciation," Erdoğan said in a written statement released on Feb. 22.
"All relics at The Tomb of Süleyman Şah and the Saygı Outpost and our soldiers who were performing their assignments there have been brought to our country safe and sound in the Şah Fırat operation which was carried out during the night," Erdoğan said.
Full report at:
http://www.hurriyetdailynews.com/turkish-president-congratulates-government-army-for-operation-in-syria-.aspx?pageID=238&nID=78670&NewsCatID=338
-------
Turkey informs anti-ISIL coalition of Süleyman Şah operation on Syrian soil
February 22, 2015
Turkey informed the international coalition combatting extremist jihadists in Syria of its "Şah Fırat" operation to evacuate the Tomb of Süleyman Şah right immediately after mobilization began, the Turkish prime minister has said.
"The decision for the operation has been taken in Ankara and in line with legal framework as the necessity of rule of law. We implemented the authority given by parliament through the motion [to deploy troops in Syria]. No permission or cooperation was sought from any foreign parties. Once this decision was made and the instructions given, the Turkish Armed Forces ... fulfilled its duty," Davutoğlu said at a press conference he held early Feb. 22 with Chief of General Staff Gen. Necdet Özel and Defense Minister İsmet Yılmaz.
Full report at:
http://www.hurriyetdailynews.com/turkey-informs-anti-isil-coalition-of-suleyman-sah-operation-on-syrian-soil.aspx?pageID=238&nID=78663&NewsCatID=352
---------
Iran politics soiled by 'dirty money': interior minister
Feb 22 2015
Iran's Interior Minister Abdolreza Rahmani Fazli said Saturday political life in the Islamic Republic was tainted by "dirty money", including from drugs, the official IRNA news agency reported.
"A large part of the moral corruption in this country comes from the introduction of dirty money into politics," the minister was quoted as saying.
Iran was in 136th place out of 175 last year in an index of nations seen as corrupt by Transparency International, a non-governmental organization.
"Part of this money is now in politics," said Rahmani Fazli, who was speaking during a seminar of police officials charged with fighting drugs trafficking.
"For example, a candidate in municipal elections spends 20 billion rials ($600,000). When asked where it came from, he says friends helped him. This dirty money is everywhere."
The minister did not say whether his example referred to any specific candidate in the June 2013 elections.
Full report at:
http://english.alarabiya.net/en/News/middle-east/2015/02/21/Iran-politics-soiled-by-dirty-money-interior-minister.html
--------
URL: https://newageislam.com/islamic-world-news/new-age-islam-news-bureau/maldives-a-fertile-ground-for-isis,-india-must-act--former-president-nasheed/d/101641