New Age Islam News Bureau
09 November 2021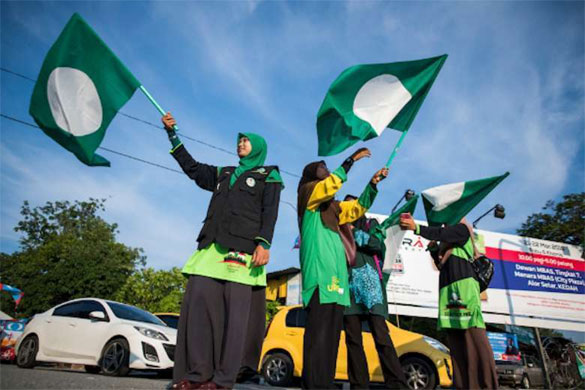 Malaysian Islamic Party supporters wave party flags on the eve of the country's 14th general election in Alor Setar on May 8, 2018. (Photo: AFP)
----
• Russia to Mark 1100th Anniversary of Embracing Islam in 2022; Unveiling 14 Books on Theology
• 'Last Rites Samaritan' Shareef Chacha from Ayodhya, Who Has Given Honour in Death to Over 25,000 People, Gets Padma Shri
• Plot for Hindu Temple and Cremation Centre in Islamabad Restored
• WHO, UNICEF Launch Afghan Polio Vaccine Campaign with Taliban Backing
Southeast Asia
• Sabah allows funeral rites at non-Muslim houses of worship from tomorrow, says state minister
• UN experts urge Singapore to halt Malaysian's execution
--------
Europe
• Islamophobia in France: Police Who Killed Muslim Woman Will Not Face Charges, Prompting Anger
• Two Dagestan Muslims saved seven people from burning house
--------
India
• Tiffin Meetings, 'Taleem Aur Tijarat' Seminars — BJP Is Wooing Muslims Before UP Polls
• Gurugram Friday Namaz Row: Muslims Seek More Mosques, Action over 'Hateful Sloganeering'
• On Pre-Poll Kairana Visit, Yogi Attacks 'Talibani' Mind-set
• Afghan Minorities Group Leaders in India Write To Indian Government Ahead Of NSA Meeting on Afghanistan
• After Pakistan, China Also Skips Meet on Afghanistan Hosted By India
• Terrorists again resort to selective attacks, kill salesman in Srinagar within 24 hours of shooting cop dead
--------
Pakistan
• Complete Ceasefire Agreed Between Govt and TTP: Fawad Chaudhry
• Jamaat-i-Islami seeks Supreme Court order for inquiry in Pandora Papers case
• Pakistan agrees one-month 'complete ceasefire' with local Taliban militants
• Punjab Home Dept withdraws reference banning Ansarul Islam
--------
South Asia
• Islamic State violence dents Taliban claims of safer Afghanistan
• Pakistan invites Taliban's acting FM to attend Troika plus
• Opium Cultivation Continues Even As Taliban Vows Crackdown on Afghanistan's Drug Trade
• World Bank chief says Afghanistan aid resumption unlikely
--------
North America
• London Muslim Mosque Leaders Call for Ontario, Ford Government To Tackle Islamophobia
• Supreme Court Justices Closely Divided In Case On State Secrets, Anti-Muslim Discrimination By FBI
• Washington supports Taliban's 'vigorous' efforts to wipe out Daesh: Envoy
--------
Mideast
• Grand Mufti of Palestine Warns Of Israeli Enemy Attempt to Demolish Al-Aqsa Mosque
• Global Campaign calls for one-day hunger strike in support of Palestinian inmates
• Palestinian prime minister calls on US Congress to recognize State of Palestine
• Congresswoman says US must stop 'enabling' Israel's killing of Palestinian children
• Iran wants US assurances it will never abandon nuclear deal in case of revival
• Hackers Leak Secret Info of Senior Israeli Intelligence, Military Officials
• Iran Calls for Complete, Effective Removal of All US Sanctions
• Iran suspends Kelid newspaper after linking poverty with Khamenei
• Turkey releases Syrian journalist behind 'banana video'
--------
Arab World
• Arab League Urges 'Detente' Between Lebanon, Persian Gulf States Amid Tension Over Yemen War Comments
• Egypt's Azhar grand imam, Coptic pope attend Egyptian Family House's 10th anniversary celebration
• Resignation of Lebanon minister could solve Gulf row: Arab League
• Explosions heard over Syria's Homs, Tartous: State media
• US, Egypt begin first bilateral strategic dialogue since 2015
• Syria's air defences repel fourth Israeli act of aggression in one month
--------
Africa
• UN Warns Tigray Conflict Threatening To 'Consume' Ethiopia's Future
• Ethiopian government says its air force bombed 2 rebel targets
Compiled by New Age Islam News Bureau
URL: https://www.newageislam.com/islamic-world-news/malaysia-kelantan-sharia-faiths-conversion/d/125739
--------
Malaysia's Kelantan State's Sharia Law Criminalizes Conversion from Islam to Other Faiths
November 09, 2021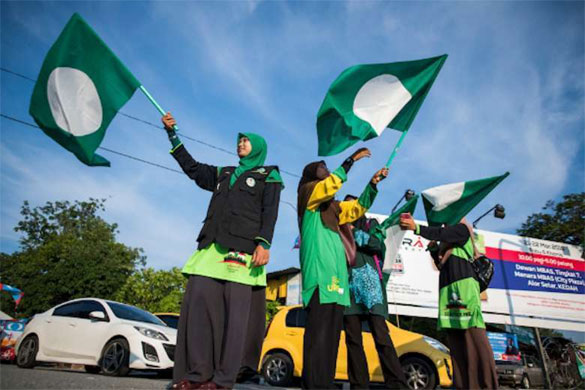 Malaysian Islamic Party supporters wave party flags on the eve of the country's 14th general election in Alor Setar on May 8, 2018. (Photo: AFP)
----
Malaysia's Kelantan state has enacted new Sharia laws that create 24 new offenses, including attempts of conversion from Islam to other faiths, triggering concerns from Christian and rights groups.
Authorities in the northeast state made effective the Kelantan Syariah (Sharia) Criminal Code (I) Enactment 2019 on Nov. 1, local media reported.
The new laws are based on amendments to the Syariah Criminal Code (II) 1993 and the existing 1985 Syariah Criminal Code. Sultan Muhammad V, the head of the state, agreed and passed the new laws in July last year.
The state's chief minister Ahmad Yakob reportedly said that the enactment allows Sharia courts to deliver verdicts on cases relating to a specific list of offenses. The punishments include a maximum jail term of three years, a fine of up to 5,000 ringgit (US$1202) or six strokes of the cane.
Among the 24 listed punishable offenses are attempts to convert from Islam, distortion of Islamic teachings, disrespecting the month of Ramadan, destroying houses of worship, disobeying parents, tattooing and undergoing plastic surgery, reported The Star.
Other offenses include sexual intercourse with corpses and non-humans, witchcraft and false claims.
During a media briefing on Oct. 31, minister Ahmad said that the new laws aim at educating and bringing offenders back to the right path of Islam, not just merely punishing them.
It would would be beneficial in strengthening Sharia law not only in Kelantan but also in other states in Malaysia, he added.
Earlier, Indris Ahmad, minister in-charge of religious affairs in the Prime Minister's Department, had said that Islamic-related enactments including hudud (Islamic Penal Code) would not affect non-Muslims in Malaysia.
Critics in Malaysia and beyond have expressed concerns over the new laws in Kelantan.
US-based Christian group International Christian Concern (ICC) said the laws would contribute to "exclusive and intolerant Islam."
Sisters in Islam, a Malaysia-based women rights group, issued a statement on Nov. 2 to decry the new laws.
It said the chief minister's statement on law is "restorative and retributive" and his claims that the law aims to educate and bring offenders back to the right path of Islam and not merely punish them is questionable and poses a grave concern.
"We find these developments concerning and dangerous as they violate fundamental principles of democracy by suppressing critical thought and expression through arbitrary provisions and punishing those who do not toe the line," the group said.
Malaysia is a multi-ethnic and multi-religious country with its constitution declaring it a secular state. However, observers note there has been a creeping radicalism within powerful segments of the Malay Muslim-majority community that aims to assert a strong Islamic identity for the nation of 32 million.
Source: UCA News
Please click the following URL to read the text of the original story:
https://www.ucanews.com/news/malaysian-states-sharia-law-criminalizes-conversion-from-islam/94898#
--------
Russia to Mark 1100th Anniversary of Embracing Islam in 2022; Unveiling 14 Books on Theology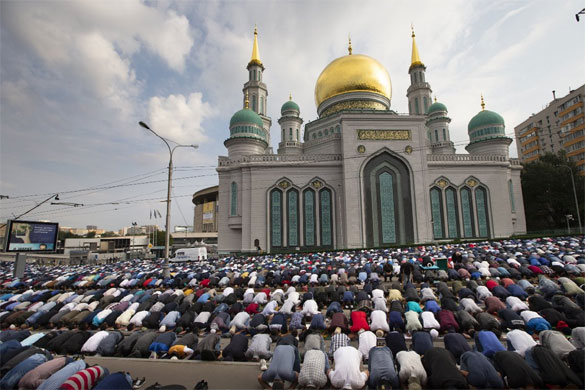 Russia has scheduled to mark the 1100th anniversary of arrival of Islam to the country in a ceremony. (en.abna)
-----
November 9, 2021
Russia has scheduled to mark the 1100th anniversary of arrival of Islam to the country in a ceremony unveiling 14 books on theology.
Council for religious affairs in Russia will unveil 14 books on theology, Islamic history and culture in part of the ceremony to mark 1100 anniversary of the holy religious being embraced by Russians.
The monography by Demir Muhyiddin, first deputy of the Council for religious affairs in Russia titled "Russian Islam: Searching Political Subjectivism" has been welcomed by everyone.
The main theme of the book is how a Russian Muslim pictures himself as a citizen or stresses his ethnical identity. The author provides the readers with a precise idea on "Russian Islam's consciousness on its identity."
The Russian religious figure relates on the relation between Russian Islam as, a socio-cultural phenomenon, and its stance in the cultural law dominating Russia proving that this phenomenon depends upon Russian Muslims capabilities in redefining cultural laws and that requires spiritual and ideological promotions in Russia.
The 1100th anniversary for arrival of Islam in Russia will be held in 2022 and the ceremony is particularly important since Islam was peacefully embraced by the local people.
Source: ABNA24
Please click the following URL to read the text of the original story:
https://en.abna24.com/news//russia-to-mark-1100th-anniversary-of-embracing-islam-in-2022_1196926.html
--------
'Last Rites Samaritan' Shareef Chacha from Ayodhya, Who Has Given Honour in Death to Over 25,000 People, Gets Padma Shri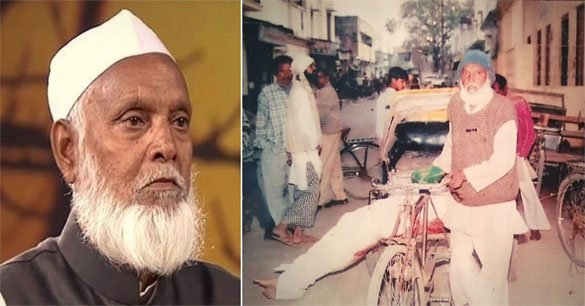 Mohammad Shareef (File Photo | The Better India)
----
Arshad Afzaal Khan
Nov 8, 2021
AYODHYA: Mohammad Shareef, the "last rites samaritan", who has given honour in death to over 25,000 people when their bodies lay unclaimed, finally received his Padma Shri award on Monday at Rashtrapati Bhawan.
The 83-year-old had been conferred the award in 2020, but the award ceremony was postponed due to coronavirus pandemic.
Shareef, popularly known as Shareef Chacha, was a bicycle mechanic.
His eldest son Raees was murdered in 1992 on way to Sultanpur, a neighbouring district of Ayodhya (then Faizabad).
With his unclaimed body lying on the road, it was devoured by stray animals.
After this incident, Shareef started performing the last rites of the unidentified bodies.
He used to visit police stations, hospitals, railway stations and mortuary in search of unclaimed bodies.
The bodies are handed over to him by police only after nobody claims it for 72 hours.
For his selfless service, he was conferred with India's fourth highest civilian award Padma Shri in 2020.
Talking to TOI, Shareef's son Shabbeer said, "We received a call from the ministry of home a day back. They called us to Delhi and arranged air tickets for three persons. In Delhi, we stayed at Ashoka Hotel and on Monday evening my father was conferred Padma Shri by President Ram Nath Kovind."
Source: Times of India
Please click the following URL to read the text of the original story:
https://timesofindia.indiatimes.com/city/lucknow/last-rites-samaritan-shareef-chacha-from-ayodhya-gets-padma-shri/articleshow/87591189.cms
--------
Plot For Hindu Temple and Cremation Centre in Islamabad Restored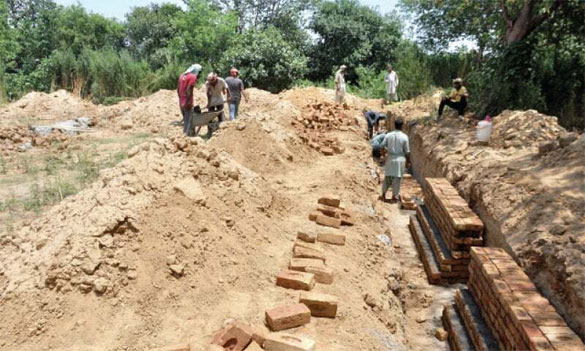 Workers build a boundary wall at the temple's site in Islamabad. — White Star/File
----
Kashif Abbasi
November 9, 2021
ISLAMABAD: The Capital Development Authority (CDA) on Monday came under severe criticism from the public for cancelling a plot allotted for the construction of a Hindu temple and cremation centre at H-9.
However, within hours the city managers had to withdraw a notification under which the plot had been cancelled.
The four kanals at H-9/2 was allotted to the community in 2016 for the construction of the first ever Hindu temple, cremation and community centre in the federal capital.
During hearing of a case in Islamabad High Court (IHC) on Monday, CDA's counsel Javed Iqbal told the court that the civic agency had already cancelled the plot for the Hindu community in February this year for not starting construction on it.
Following this, the mainstream as well as social media criticised the CDA, forcing it to withdraw the notification and restore the plot within few hours.
CDA says plot cancellation was result of misinterpretation of cabinet's decision
CDA spokesperson Syed Asif Raza said in the light of a decision of the federal cabinet, allotments of all lands allotted to various offices, universities and other institutions on which no construction work had been started were canceled.
However, the officials concerned in the civic agency misinterpreted the cabinet decision and had cancelled the plot allotted to the Hindu community. He said approval had already been given for construction of a boundary wall on the land allotted for the temple so the decision of the federal cabinet did not apply to it. This plot did not fall in the category of those where construction had not taken place, he added.
The spokesperson also shared a copy of the new allotment letter which stated: "The allotment of subject plot allotted for temple, community centre and cremation ground for Hindu community in Sector H-9/2, Islamabad, stands valid as the same is not affected by the cabinet decision dated 22-09-2020 as construction work on the subject plot had been initiated after approval of CDA dated 21-12-2020."
It added: "In view of the above, Directorate of Estate Management II's letter dated 15-2-2021 stands withdrawn as ab-initio."
Asked if the CDA will initiate any inquiry against those who misinterpreted the cabinet's decision, he said: "Actually, there was no bad intention involved in this case. There was some sort of confusion and misinterpretation of the cabinet decision and when the matter was brought into the notice of high-ups, the allotment was restored immediately."
He added that it was the legal and constitutional right of all citizens to observe their faith and the CDA had been playing its positive role in this regard.
In July last year, after strong reaction from rightwing groups, who criticised the government for its intention to build a Hindu temple with government funding, the CDA all of a sudden stopped the community from constructing the boundary wall around the plot.
However, the matter was resolved in December when the city managers issued permission to the community to raise the boundary wall around the proposed site.
The permission letter issued in December stated: "Permission to construct the boundary wall around cremation ground for Hindu community in H-9/2 is hereby accorded in accordance with clause 4.1.1 of Islamabad Capital Territory, Building Control Regulations 2020."
It said the height of the boundary wall shall not exceed seven feet and that of the enclosure not less than three feet.
There is no temple and cremation centre in Islamabad for the Hindu community. After lots of efforts by the community and on the direction of the Human Right Commission of Pakistan, the CDA allotted the four kanals to the community in 2016.
In the past, there was a temple in Saidpur village but that was abandoned decades ago.
The cancellation and subsequent restoration letters were addressed to former president Islamabad Hindu Panchayat, Preetam Das. Last year, a delegation of the Hindu Panchayat led by its president Mahesh Kumar had held a meeting with the CDA chairman and informed him that the Council of Islamic Ideology had given a ruling for the construction of a crematorium in Islamabad.
Source: Dawn
Please click the following URL to read the text of the original story:
https://www.dawn.com/news/1656840/plot-for-hindu-temple-in-capital-restored-after-public-outcry
--------
WHO, UNICEF Launch Afghan Polio Vaccine Campaign with Taliban Backing
Nov 8, 2021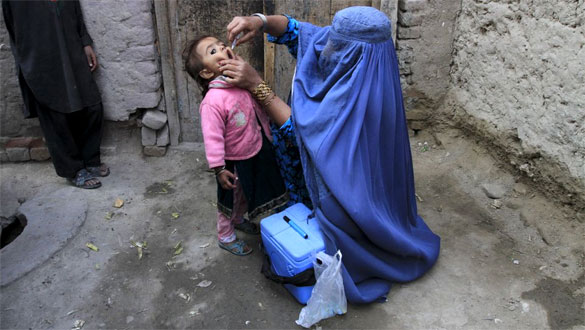 A child receives a polio vaccination during an anti-polio campaign on the outskirts of Jalalabad, Afghanistan, December 1, 2015. REUTERS/Parwiz
------
KABUL: The World Health Organization (WHO) and the United Nations children's agency kicked off a polio vaccination campaign in Afghanistan on Monday, the first nationwide campaign to fight the disease in three years.
Naikwali Shah Momim, the National Emergency Operations Coordinator for the polio programme at Afghanistan's health ministry, told Reuters the campaign had started in various parts of the country on Monday, but added there were several hurdles around a shortage of trained staff.
The campaign, which is aimed at reaching over 3 million children, had received Taliban backing, which would allow teams to reach children in previously inaccessible parts of the country, the WHO said.
"The urgency with which the Taliban leadership wants the polio campaign to proceed demonstrates a joint commitment to maintain the health system and restart essential immunizations to avert further outbreaks of preventable diseases," said Ahmed Al Mandhari, WHO Regional Director for the Eastern Mediterranean, in a statement.
However, Momim said that more training was needed for teams in remote areas, so the programme would initially start in places such as Kabul.
Afghanistan and neighbouring Pakistan are the last countries in the world with endemic polio, an incurable and highly infectious disease transmitted through sewage that can cause crippling paralysis in young children.
Polio has been virtually eliminated globally through a decades-long inoculation drive. But insecurity, inaccessible terrain, mass displacement and suspicion of outside interference have hampered mass vaccination in Afghanistan and some areas of Pakistan.
Several polio workers have been killed by gunmen in eastern Afghanistan this year, though it was not clear who was behind the attacks.
According to WHO figures compiled before the collapse of the Western-backed government in August, there was one reported case of the one wild poliovirus type 1 (WPV1) in Afghanistan in 2021, compared with 56 in 2020.
Until the disease is eliminated completely, it remains a threat to human health in all countries, especially those with vulnerable health systems because of the risk of importing the disease, according to health experts.
Source: Times of India
Please click the following URL to read the text of the original story:
https://timesofindia.indiatimes.com/world/south-asia/who-unicef-launch-afghan-polio-vaccine-campaign-with-taliban-backing/articleshow/87593078.cms
--------
Southeast Asia
Sabah allows funeral rites at non-Muslim houses of worship from tomorrow, says state minister
08 Nov 2021
KOTA KINABALU, Nov 8 — Funerals and last rites at non-Muslim houses of worship and funeral parlours will be allowed in the state, with a capacity of 50 per cent, starting tomorrow, said Sabah Local Government and Housing Minister, Datuk Masidi Manjun.
He said that the period of operation allowed was from 6am to 8pm daily, and it must not exceed two hours per session, in adherence to regulations under Phase Four of the National Recovery Plan (PPN).
"However, the permission is only for fully-vaccinated individuals.
"According to the standard operating procedures (SOPs) set, individuals or families who have yet to be fully vaccinated are strictly prohibited from entering houses of worship, except for children aged 12 and below whose parents have been fully vaccinated," he said in a statement here tonight.
Commenting on the development of daily Covid-19 cases in Sabah, Masidi said the number of cases for Sabah continued the declining trend, at 364 cases today compared with 405 reported yesterday.
Source: Malay Mail
Please click the following URL to read the full text of the original story:
https://www.malaymail.com/news/malaysia/2021/11/08/sabah-allows-funeral-rites-at-non-muslim-houses-of-worship-from-tomorrow-sa/2019378
--------
UN experts urge Singapore to halt Malaysian's execution
09 November ,2021
A group of UN human rights experts have appealed to Singapore to halt an execution scheduled this week of a Malaysian who smuggled drugs into the city-state, on the grounds that he has intellectual disabilities.
Nagaenthran Dharmalingam, 33, is scheduled to be hanged on Wednesday, but the court stayed his execution pending an appeal to be heard on Tuesday.
The court had earlier dismissed an argument that hanging Nagaenthran would violate Singapore's constitution because he was intellectually challenged.
"We are seriously concerned that, if the appeal is dismissed, he could still be executed imminently," the experts said in a statement.
The independent UN experts called on Singapore, which has some of the world's toughest laws on drugs, to commute the death sentence against Nagaenthran, in line with international human rights law.
Nagaenthran was detained in April 2009 for trafficking about 42.72 grams of diamorphine, or pure heroin, which was strapped to his thigh.
His lawyer M Ravi, and activists say his intellect was at a level recognized as a mental disability, and he has other disorders affecting his decision-making and impulse control.
Authorities previously said Singapore courts were satisfied Nagaenthran knew what he was doing.
The case has attracted international attention including from British billionaire and capital punishment opponent Richard Branson, who called on Singapore to spare Nagaenthran.
Source: Al Arabiya
Please click the following URL to read the full text of the original story:
https://english.alarabiya.net/News/world/2021/11/09/UN-experts-urge-Singapore-to-halt-Malaysian-s-execution
--------
Europe
Islamophobia in France: Police who killed Muslim woman will not face charges, prompting anger
November 9, 2021
Two French police officers under investigation for their involvement in the death of an elderly Algerian woman in Marseille, will not face charges, prompting shock and anger.
The 80 year-old victim, Zineb Redouane, was murdered at home during a Yellow Vest demonstration, after police shot her in the face with a tear gas grenade.
In 2020, the victim's family filed a legal complaint against the former interior minister and other senior officials.
The managing director of the National Police (DGPN),Frédéric Veaux says the two riot police will not face a disciplinary hearing, as was originally recommended following an administrative inquiry carried out by the Inspection Générale de la Police Nationale (IGPN), a police monitoring body.
However, a counter-investigation in December argued that "the presence of several buildings directly in front of the shooting officer should, at the very least, have constituted a red alert."
It noted that the Cougar-type launcher used in the incident has a range of approximately 100 metres and that the projectile struck Redouane "after 37 metres", while it was still ascending, "collapsing" the right part of her face and causing her to inhale large quantities of tear gas.
Source: ABNA24
Please click the following URL to read the full text of the original story:
https://en.abna24.com/news//islamophobia-in-france-police-who-killed-muslim-woman-will-not-face-charges-prompting-anger_1196925.html
--------
Two Dagestan Muslims saved seven people from burning house
November 9, 2021
The two Muslim young men from Dagestan saved the residents of the panel house from fire in the city of Baltiysk in the Kaliningrad region. The young men took an active part in a rescue campaign and managed to get out of the house several people, including those of retirement age.
The cause a massive fire was the explosion of the gas.
The young heroes were the Marine Corps soldier Rajab Rizvanov and his friend Pirmagomed Huseynov. They were among the first to come to the aid of the victims. Rizvanov managed to enter the flaming house through the window and saved a woman with a small child, after which he helped to evacuate people from the second floor.
Source: ABNA24
Please click the following URL to read the full text of the original story:
https://en.abna24.com/news//two-dagestan-muslims-saved-seven-people-from-burning-house_1196924.html
--------
India
Tiffin Meetings, 'Taleem Aur Tijarat' Seminars — BJP Is Wooing Muslims Before UP Polls
Neelam Pandey
8 November, 2021
New Delhi: The Bhartiya Janata Party (BJP) has chalked out an ambitious plan to garner the support of the Muslim community in poll-bound Uttar Pradesh — it plans to hold 'tiffin meetings', conduct seminars and conferences on 'Taleem aur Tijarat' (education and commerce), and ask party workers to reach out to as many minority voters as possible.
Ministers, MLAs and party workers are all being asked to approach Muslim voters through these programmes.
Muslims comprise around 19 per cent of the total population of UP, and the BJP has decided to focus on areas dominated by the community where it lost by a slim margin in 2017. It plans to highlight the steps taken by the Narendra Modi government in the last seven years to provide better education to the community, and better avenues for commerce.
While there is no definitive data available on whether or not the Muslim community votes for the BJP, according to 'Studies in Indian Politics', a statistical report on the election results in all states conducted between 2017 to 2018, "an analysis of the results (Uttar Pradesh) by proportion of Muslim population in constituencies shows that BJP was ahead both in terms of votes and seats in both low and high Muslim-dominated constituencies".
Speaking to ThePrint, Jamal Siddiqui, national president of the BJP's Minority Morcha, said a nationwide campaign will be launched to make the Muslim community aware of the steps taken by the Modi government for its welfare, with special emphasis on poll-bound states such as Uttar Pradesh.
"At all levels, our leaders, right from block and district level to ministers, will initiate informal discussions with the Muslim population. This will be done over lunch and everyone will carry their own tiffin and eat together. This will also spread a positive message to the society," Siddiqui said.
"Our government has done a lot of work for the minority community, whether it is abolishing Triple Talaq, providing them housing, or creating new job opportunities. We will go door-to-door and inform the people about it," he added.
Party targets 5,000 minority workers in each assembly seat
According to a senior BJP leader, the Uttar Pradesh unit of the BJP Minority Morcha has also set a target to create at least 5,000 new minority workers in each assembly constituency. "Under this, 100 people have been given the responsibility in each assembly constituency to create contact with at least 50 families," said a BJP leader who did not wish to be named.
"There are a number of Muslim majority seats where we lost out by a slim margin in 2017. For instance, in Saharanpur Nagar, we lost to the Samajwadi Party by over 4,000 votes. In Dholana, which comes under the Ghaziabad district, the margin was also very slim. Similarly, we have identified more such seats and work has already started on them," added a second BJP leader.
Source: The Print
Please click the following URL to read the full text of the original story:
https://theprint.in/politics/tiffin-meetings-taleem-aur-tijarat-seminars-how-bjp-is-wooing-muslims-before-up-polls/762395/
--------
Gurugram Friday Namaz Row: Muslims Seek More Mosques, Action Over 'Hateful Sloganeering'
By Leena Dhankhar
Nov 08, 2021
Reiterating the demand for more land parcels to build mosques, representatives of Muslim groups on Monday informed the Gurugram administration of their decision to refrain from offering Juma Namaz (Friday prayers) at a designated site in Sector 12A to avoid conflicts with right-wing organisations. They, however, sought action against people for allegedly making provocative speeches and raising communal slogans during Govardhan Puja rituals at the site last Friday.
Members of the Muslim community also sought police protection to offer namaz at the other designated sites, citing scarcity of closed spaces for offering Friday prayers. Members of the Muslim community, after holding meetings on Monday, decided to offer Namaz at 28 sites designated by the district administration.
Altaf Ahmad, a member of Gurgaon Nagrik Ekta Manch and spokesperson for Gurgaon Muslim Council, said that they have requested the deputy commissioner to take cognisance of the provocative speeches. "The videos have gone viral and have brought disrepute to our nation. Hence, the hatemongers should be booked immediately for hurting religious sentiments of the Muslim community," he said.
Mohammad Adeeb, a former Rajya Sabha member, who is leading a 21-member committee to resolve the ongoing issue, said that they have assured the administration of their continued support in resolving the Juma Namaz issue in a "pragmatic and peaceful manner."
"There are only 13 mosques in Gurugram city for a population of over five lakhs (0.5 million). Given there are such few and far off masjids, with capacity of hardly a few hundred, praying once a week in the open is a desperate necessity and not preferred by the devotees," Adeeb said.
Members of the 21-member committee, constituted last Saturday, said that they will not visit the Sector 12 site on Friday to avoid confrontation with right-wing groups who participated in Govardhan Puja.
Members said they will also meet Haryana chief minister Manohar Lal Khattar on Wednesday to apprise him of the situation and to seek the government's assistance for setting up an adequate number of mosques in Gurugram. The group plans to meet residents' welfare association members (RWAs) and members of political parties to apprise them of the needs and challenges of the community and to build mutual trust, members said.
Adeeb said that Muslim groups have voluntarily and pre-emptively reviewed their prayer sites and relocated if the congregations caused any problems, such as traffic disruptions. "The Muslim community has been seeking both private and government land for constructing mosques, which has not been forthcoming. One of the only two operational masjids in New Gurugram is under litigation in Supreme Court, despite legitimate allotment. We have urged the administration to review the allotments and the places of worship that have come up in Gurugram over the past three decades, as the fewest and most inadequate are of masjids," he said.
Source: Hindustan Times
Please click the following URL to read the full text of the original story:
https://www.hindustantimes.com/cities/gurugram-news/namaz-row-muslims-seek-more-mosques-action-over-hateful-sloganeering-101636394641085.html
--------
On Pre-Poll Kairana Visit, Yogi Attacks 'Talibani' Mind-set
Pankaj Shah & Sandeep Rai
Nov 9, 2021
LUCKNOW: Uttar Pradesh chief minister Yogi Adityanath's visits to Kairana in Shamli and Rampur on Monday marked the Bharatiya Janata Party's (BJP) strategy of putting its saffron mascot on the front for escalating the political spadework in the restive west UP region ahead of the assembly elections.
The visits are crucial as Kairana was at the centre stage during the 2014 Lok Sabha elections after BJP had ratcheted up the issue of Hindu exodus following the 2013 Muzaffarnagar communal riots, while Rampur is the bastion of Samajwadi Party (SP) MP Azam Khan.
The chief minister said in Kairana that those with "Talibani mindset will not be tolerated in Uttar Pradesh". Referring to the 2013 Muzaffarnagar riots and the Kairana "exodus", he added, "the criminals who had forced Kairana businessmen to flee their homes are themselves compelled to follow the exodus process now."
Informed party sources said Yogi is likely to visit Mathura, Meerut and Saharanpur in quick succession in the next few days.
In Mathura, on November 10, Yogi will inaugurate the 'Braj Raj Utsav' which is being organised by Braj Teerth Vikas Board. On November 11, the CM will felicitate Paralympics sportspersons from across the state in Meerut.
Plans are also afoot for CM's visit to Saharanpur where he will lay the foundation stone of the Anti-Terrorist Squad (ATS) centre in Deoband. The state government had in August green flagged the project, which entails setting up a commando centre over 2,000 sq mt. The move had come under sharp criticism as the opposition termed it a 'polarisation bid' of the BJP government.
UP BJP organisation secretary and in charge of Saharanpur, Chandra Mohan said the development of west UP has been high on CM Yogi's agenda. "His visits to the region will speed up the ongoing development projects being carried out by the state government," he said.
Yogi's move to step up campaign in west UP also gains pertinence in the backdrop of farmers' continuing protest against the new farm laws. The Lakhimpur violence in which eight persons, including four protesting farmers, were killed had further stoked political frenzy in the region having a sizeable presence of Dalits and Muslims.
The development also draws a noticeable contrast from the politically crucial east UP region that has been hogging the spotlight amid the opposition's concerted attempts for gaining a foothold in PM Narendra Modi's constituency Varanasi and CM Yogi's political backyard Gorakhpur.
SP chief Akhilesh Yadav is planning to set the political temperature soaring by kicking off the third phase of his 'Vijay Yatra' from Gorakhpur on November 13.
Source: Times of India
Please click the following URL to read the full text of the original story:
https://timesofindia.indiatimes.com/india/on-pre-poll-kairana-visit-yogi-attacks-talibani-mindset/articleshow/87594851.cms
--------
Afghan Minorities Group leaders in India write to Indian government ahead of NSA meeting on Afghanistan
JK Singh
Nov 8, 2021
AMBALA: Ahead of the National Security Advisers (NSAs) level meeting of different countries on Afghanistan in New Delhi scheduled on November 10, the 'Afghan Minorities Group (AMG)' leaders in India have written to the Government of India (GOI) and raised their concerns about the community members still living in Afghanistan.
In a letter addressed to Prime Minister of India, Secretary of Ministry of Home Affairs (MHA), Secretary of Ministry of External Affairs (MEA) and President of Indian World Forum (IWF), 13-members of AMG have thanked the GOI for its proactive steps for safety and well being of minorities living in Afghanistan i.e. Hindus and Sikhs including protection of their rights as per the UN (United Nations) Charter.
The AMG members said that hereinafter the AMG, a joint coordination committee comprising representatives from all of the Afghan origin managed Gurdwaras and Mandirs in India and Afghan origin community leaders in India will be liaising and coordinating with the Government of India on behalf of Afghan minorities and refugees i.e. Hindus and Sikhs residing in Afghanistan and India.
The AMG members have also raised concern about the maintenance and management of historical Gurdwaras and Mandirs located in Afghanistan including the protection of interests of Afghan minorities.
"Therefore, AMG will also be seeking assistance and cooperation of GOI and your good self (in) maintenance and management of historical Gurdwara and Mandirs located there as per their sanctity", wrote AMG to GOI and IWF.
"At present 222 Afghan citizens i.e. Hindus and Sikhs have applied for e-visas for India and seeking immediate evacuation due to political and security situation in Afghanistan and...requested that they may be granted e-visa and be provided with all appropriate assistance at the earliest," said AMG in their letter.
The AMG has also requested not to consider facilitating the travel back to Afghanistan or not grant any exit permission to Afghan citizens belonging to Hindu and Sikh communities living in India due to unforeseen incidents in past towards minorities and lack of security there.
On October 25, 2021, a writ petition was moved in Delhi High Court by New Delhi based Sikh, Parminder Pal Singh against MHA and MEA through his advocate Gurinder Pal Singh, related to 227 Indian and Afghan nationals of Indian origin - Hindus, Sikhs stranded in Afghanistan, facing life threats by the Taliban. The petitioner sought urgent evacuation, issuance of e-visa, and safe return to India.
The WP (C) was disposed-off by the court of Chief Justice of Delhi High Court on October 27, 2021, noticing the government to resolve the issue.
Advocate Gurinder Pal Singh said the Delhi High Court issued, "We, therefore, direct the concerned Respondent authority to decide the representation of the Petitioner in accordance with the law, rules, regulations, and government policies applicable to the facts of the case. At this juncture, government counsel Amit Mahajan informed the Bench that a lot of efforts have already been made by the Government of India to evacuate the stranded persons. To this, the Bench clarified that the government also has the option to reject the representation (of issuing e-visas), giving proper reasons. We know the operation of airlines is also in difficulty. You mention that and reject if you want, the Chief Justice of Delhi High Court said orally."
Gurinder Pal said that to date the court has not uploaded the order online after disposing-off the case despite the norms of the Delhi High Court that it should be uploaded on the same day.
Speaking on the issue, JAGO (Jag Aasra Guru Ott) Party leader Manjit Singh GK from New Delhi said, "We have been escalating the issue in writing at every possible level. Even the Delhi High Court asked the government to resolve the issue on the representations. The government has earlier airlifted them and brought them to India, whether they were embassy staff or local Afghans. The Modi government has always taken such decisions and once more it should evacuate about 220 members of Afghan minorities immediately on humanitarian grounds. The government must overlook the persons who are creating hurdles in this issue and take an immediate decision and conduct the evacuation before it is too late."
Manjit Singh GK claimed that the Afghan minorities still living in Afghanistan are in regular touch with his organisation and they are living under a sense of constant threat of life and property.
Source: Times of India
Please click the following URL to read the full text of the original story:
https://timesofindia.indiatimes.com/india/afghan-minorities-group-leaders-in-india-write-to-indian-government-ahead-of-nsa-meeting-on-afghanistan/articleshow/87592049.cms
--------
After Pakistan, China also skips meet on Afghanistan hosted by India
Indrani Bagchi
Nov 9, 2021
NEW DELHI: China and Pakistan will be missing when the national security chiefs of seven key regional countries gather here on Wednesday for a security dialogue on Afghanistan.
The day-long event, the first being hosted by India, will focus on terrorism and related security challenges and uncertainties emerging from Afghanistan which was taken over by the Taliban in August.
Pakistan refused to come because of India. China, however, qualified its response. Citing its inability to attend due to "scheduling issues", Beijing said that they would like to engage India bilaterally on Afghanistan. The Indian government is refraining from clubbing the two refusals, though sources said China's response may be due to its Pakistan sensitivities. "We were keen on China's participation," sources said.
The meeting will focus on terrorism, within Afghanistan and across borders: the growth of radicalisation and extremism that might spread from Afghanistan, either by the Taliban and Haqqani network, or IS-K, or just by the power of demonstration to influence populations in all the participating countries.
Cross-border movement is another area of concern. A new challenge that faces the region is the threat emanating from the military equipment and weapons left behind by the US troops in Afghanistan. There is apprehension that these could be used to fuel terrorism or feed organised crime networks in the region.
Source: Times of India
Please click the following URL to read the full text of the original story:
https://timesofindia.indiatimes.com/india/after-pakistan-china-also-skips-meet-on-afghanistan-hosted-by-india/articleshow/87594531.cms
--------
Terrorists again resort to selective attacks, kill salesman in Srinagar within 24 hours of shooting cop dead
M Saleem Pandit
Nov 9, 2021
SRINAGAR: Terrorists shot dead a salesman in Bohri Kadal area here on Monday, within 24 hours of killing a police constable in his rented accommodation in Batmaloo area, also in Srinagar. He is the 12th civilian to be killed since October 2 this year.
Mohammad Ibrahim (45) was grievously wounded in Monday's attack and succumbed to his injuries in hospital, doctors said. Ibrahim was a salesman at the shop of a Kashmiri Pandit, Roshan Lal Mawa, who reopened his small business at Bohri Kadal on May 1, 2019 on returning to the Valley after 29 years.
Ibrahim belonged to Ashtangu Ghat in the northern district of Bandipora. The medical superintendent at SMHS hospital, Dr Kanwaljeet Singh, said the victim died after being shot in the chest and abdomen.
Mawa had returned to reopen his shop in old Srinagar city and local Muslims celebrating his return had even tied the traditional welcome turban on him and his son, Dr Sandeep Mawa, who had helped fulfil his father's dream of returning to the valley. "I migrated to Delhi where I did good business. I own a house there, but all these 29 years I have lived like a fish out of water. I always wanted to return to my home, which is Kashmir," Roshan Lal Mawa had said at the time.
The constable shot dead on Sunday was Tausif Ahmad. "At about 8 pm, terrorists fired at Jammu & Kashmir police constable Tausif Ahmad near his residence at S D Colony, Batamaloo," a police official said.
Eleven civilians have been killed by terrorists between October 2 and 17, including two teachers and pharmacy owner M L Bindroo. Seven of the 11 victims were Muslims, and the remainder, barring one Sikh who was a school principal, were Hindu.
IGP (Kashmir zone) Vijay Kumar said terrorists have killed 28 civilians this year. "Out of 28, five were local Hindus/Sikhs, and two migrant Hindu labourers," he said. He said that in all such cases the terrorists had used pistols. "These acts are committed by newly recruited terrorists or those who are about to join terror outfits," he said, adding, "In some cases, OGWs have been found directly involved."
Intelligence sources said these killings have been carried out by sleeper cells of terror groups.
IGP Kumar said, "We are identifying all such part-time/hybrid terrorists and the strictest action shall be taken against them. We have received several leads and are working on them. We have also been launching operations along with security forces."
Mohammad Shafi Dar was the first civilian targeted by terrorists, on October 2, over his alleged links with security forces. Majid Ahmad Gojri, a resident of Chattabal in Srinagar, was the second. Gojri was shot dead by terrorists near Madina Complex in Karan Nagar area on October 2.
Pharmacy dealer Makhan Lal Bindroo (68) was shot dead at point-blank range at his shop in Srinagar on October 5. He and his family had remained in Kashmir in the 1990s, when militancy was at its peak. Virender Paswan, a street food vendor in Srinagar's Lal Bazaar, was shot dead the same day that Bindroo was killed. Paswan was a resident of Bhagalpur, Bihar. Mohammad Shafi Lone, president of a cab stand in Bandipora and a cab driver, was shot dead the same day, and in the same hour, as Bindroo and Paswan. Lashkar terrorist Imtiyaz Ahmad Dar, on the run after killing Shafi, was gunned down by security forces a few days later.
Source: Times of India
Please click the following URL to read the full text of the original story:
https://timesofindia.indiatimes.com/india/terrorists-again-resort-to-selective-attacks-kill-salesman-in-srinagar-within-24-hours-of-shooting-cop-dead/articleshow/87594005.cms
--------
Pakistan
Complete ceasefire agreed between govt and TTP: Fawad Chaudhry
Nadir Guramani | Tahir Khan
November 8, 2021
Information Minister Fawad Chaudhry announced on Monday that a complete ceasefire had been reached between the government and the banned Tehreek-i-Taliban Pakistan (TTP), according to state-run Pakistan Television (PTV).
The state broadcaster quoted the minister as saying that talks between the government and the TTP were underway in line with the Constitution and that the ceasefire would be extended keeping in view the progress of the talks.
"The state's sovereignty, national security, peace in relevant areas and social and economic stability will be considered during the talks," he said.
Chaudhry added that the interim Afghan government had facilitated the negotiations.
The minister said progress on the restoration of "complete peace" in these areas of the country was a positive development.
The announcement comes a little over a month after Prime Minister Imran Khan had stated that the government was in talks with some TTP groups, seeking a reconciliation.
"There are different groups which form the TTP and some of them want to talk to our government for peace. So, we are in talks with them. It's a reconciliation process," the premier had said during an interview with TRT World.
Meanwhile, the TTP — in a statement issued late on Monday — confirmed that the group had reached an agreement with the government regarding a month-long ceasefire.
"[Both] sides will observe a month-long ceasefire from Nov 9 until Dec 9. The ceasefire will be extended with the consensus of the two sides," TTP spokesman Mohammad Khorasani said in a statement.
"The Islamic Emirate of Afghanistan is playing the role of a mediator in the negotiations," the spokesman added.
He said the two sides have agreed to form negotiation teams which will take the process forward. The spokesman said the TTP is ready for negotiations which can ensure durable peace in Pakistan.
So far, the Afghan government has not commented on the agreement.
'Govt can't take unilateral decisions'
Separately, PPP Chairman Bilawal Bhutto-Zardari said that policies drafted without taking parliament into confidence lacked "legitimacy".
Speaking to the media after a high-level security briefing, Bilawal refrained from commenting on the details of the meeting but said that the government could not take "unilateral decisions" when it came to the country's Afghanistan policy, talks with the TTP and agreements made with the Tehreek-i-Labbaik Pakistan.
"No policy can be made [regarding] these issues without the approval of Parliament," he said. "Any policies made without the approval of Parliament will lack legitimacy and will not be successful."
The PPP chairman reiterated his criticism of the government's "rhetoric" on talks with the TTP.
He also questioned whether the president or the premier had the right to "beg" with the group responsible for the deaths of Pakistan Army soldiers and the students of Army Public School Peshawar without taking Parliament into confidence.
He stated that the country's policies should be approved by Parliament and after forming a consensus. "That policy will not only be better, but will also have legitimacy," he said.
Tentative understanding with TTP
Earlier this month, sources familiar with the development had told Dawn that the government had reached a tentative understanding with the TTP to seek a broader peace agreement to end nearly two decades of militancy in the country.
Read: Truce with TTP — will it be different this time around?
Sources had said the "direct, face-to-face" talks between the two sides being held in Afghanistan's south-western Khost province for nearly two weeks had resulted in a tentative understanding to declare a countrywide truce, conditional to the release of some TTP foot soldiers as part of confidence-building measures.
Source: Dawn
Please click the following URL to read the full text of the original story:
https://www.dawn.com/news/1656804/complete-ceasefire-agreed-between-govt-and-ttp-fawad-chaudhry
--------
Jamaat-i-Islami seeks Supreme Court order for inquiry in Pandora Papers case
Nasir Iqbal
November 9, 2021
ISLAMABAD: Jamaat-i-Islami (JI) emir Sirajul Haq filed in the Supreme Court on Monday a petition seeking a directive for initiation of an inquiry against Pakistani citizens whose names have surfaced in the recently leaked Pandora Papers.
The present petition is a continuation of an earlier plea also moved before the apex court, seeking an investigation against 436 Pakis­tani individuals whose identities were revealed in the Panama Papers leaks in 2016.
Moved through Advocate Muhammad Ishtiaq Ahmed Raja on behalf of the JI emir, the fresh petition argued that the process of investigation into the matter was to be started by the government, but neither the names of the persons revealed in the Pandora Papers were being acknowledged by the government nor was any action proposed by it so far.
According to media reports, top cabinet members, ministers, media moguls, relatives of the army officers and powerful businessmen have been named in the Pandora Papers. Released by the International Consortium of Investigative Journalists, the papers revealed that some people had secretly owned an array of offshore companies and trusts holding millions of dollars of hidden wealth.
"Since a similar petition is also pending before this court, the petitioner seeks the indulgence of the Supreme Court for a directive to the government for the purpose of inquiry/investigation," the JI petition contended.
It said that information about the names of the individuals surfaced in the Pandora Papers had been published in which the names of a number of people were disclosed.
Talking to reporters after filing the petition, Sirajul Haq regretted that the opposition parties had failed to raise any voice for investigation against those whose names had surfaced in the Pandora Papers. He also deplored the lack of substantive accountability system in the country to prosecute those responsible for the transfer of money from Pakistan to foreign countries.
He recalled that the JI was one of the first parties which had approached the apex court when the Panama Papers came with a request that inquiries should be initiated against all those who had been named in the papers. But, he added, Imran Khan as the PTI chairman, who had also moved a similar petition before the apex court seeking accountability, targeted only former prime minister Nawaz Sharif and got him disqualified on the allegations of having a UAE iqama.
Mr Haq said that around 700 people had been named in the Pandora Papers against whom investigations should be launched on the orders of the Supreme Court. He said the national exchequer was deprived of a huge amount of Rs184 billion by the sugar mafia, whereas the state suffered another chunk of Rs220bn in the wheat flour scam.
He said the list was continuing as the petroleum scam cost the country another Rs25bn, the energy crisis Rs350bn and the LNG issue Rs100bn. "There is an elite capture on the resources of the country while the ordinary people have to struggle for even basic necessities of life," he alleged.
This is the second such petition as earlier the Transparency International of Pakistan (TIP), a non-partisan coalition against corruption, had approached the Supreme Court on Oct 16 against the Pakistani citizens named in the Pandora Papers and Panama Papers, asking them to clear themselves by assuring that the investments made in offshore companies were not derived through illegal means.
Source: Dawn
Please click the following URL to read the full text of the original story:
https://www.dawn.com/news/1656882/jamaat-i-islami-seeks-supreme-court-order-for-inquiry-in-pandora-papers-case
--------
Pakistan agrees one-month 'complete ceasefire' with local Taliban militants
08 November ,2021
Pakistan and local Taliban militants have agreed a one-month ceasefire which may be extended if both sides agree, spokesmen said on Monday, opening the possibility of a fuller peace accord to help end years of bloodshed.
The Pakistani Taliban, or Tehreek-e-Taliban Pakistan (TTP), are a separate movement from the Afghan Taliban and have fought for years to overthrow the government in Islamabad and rule the South Asian nation of 220 million with their own brand of Islamic Sharia law.
There have been numerous failed attempts to reach peace agreements in the past. The latest talks were opened following the victory of the Afghan Taliban in August and the two sides have been meeting across the border in Afghanistan, with the aid of Afghan Taliban leaders.
"The government of Pakistan and banned Tehreek-e-Taliban Pakistan have agreed on a complete ceasefire," Pakistan's Information Minister Fawad Chaudhry said in a statement, adding that the ceasefire would be extended as the talks progressed.
Best known in the West for attempting to kill Malala Yousafzai, the schoolgirl who went on to win the Nobel Prize for her work promoting girls' education, the TTP has killed thousands of military personnel and civilians over the years in bombings and suicide attacks.
Among its attacks was a 2014 assault on a military-run school in Peshawar, near the border with Afghanistan, which killed 149 people including 132 children.
As recently as Saturday, it claimed a bomb blast that killed four soldiers and wounded another in North Waziristan tribal district. It said the attack was in revenge for the killing of four of its fighters two days earlier.
Chaudhry said the ceasefire agreement would be under the Constitution of Pakistan and would ensure state sovereignty and national integrity.
The TTP, which sources said had been demanding the release of a number of prisoners as a condition for full ceasefire negotiations, said it was "ready for a dialogue that will lead to lasting peace in the country."
It said the ceasefire would come into force from Tuesday and last until Dec. 9 and could be extended if both sides agreed.
Special committees had been set up to try to map out the negotiation process.
The agreement comes days after the government in Islamabad reached an accord with another militant group Tehrik-e-Labaik Pakistan or TLP, after weeks of violent clashes.
Source: Al Arabiya
Please click the following URL to read the full text of the original story:
https://english.alarabiya.net/News/world/2021/11/08/Pakistan-agrees-one-month-complete-ceasefire-with-local-Taliban-militants
--------
Punjab Home Dept withdraws reference banning Ansarul Islam
By Sher Ali Khalti
November 09, 2021
LAHORE: Punjab government's home department has withdrawn reference from the provincial Cabinet regarding imposing a ban on Ansarul Islam, the volunteer group of the JUI-F.
Punjab government has taken a major decision and the home department withdrew its reference pertaining to banning Ansarul Islam. This decision was taken when the government lifted ban on Tehreek-e-Labbaik Pakistan (TLP).
While talking to The News, Abu Bakr Chaudhry, deputy secretary general JUI-F Punjab said, "home department has withdrawn reference from the provincial Cabinet regarding imposing a ban on Ansarul Islam". He said, "Ansarul Islam is an essential part of the JUI-F and government cannot ban a political party". He said few months ago, the Punjab government had decided to impose a ban on the JUI-F's essential part Ansarul Islam and sent a summary to the cabinet committee concerned. According to him, Ansarul Islam was not a militant group. He said Ansarul Islam is a volunteer group and works for relief in the country.
Source: The News Pakistan
Please click the following URL to read the full text of the original story:
https://www.thenews.com.pk/print/907283-punjab-home-dept-withdraws-reference-banning-ansarul-islam
--------
South Asia
Islamic State violence dents Taliban claims of safer Afghanistan
November 9, 2021
ISLAMABAD, Nov 9 (Reuters) - Last month, the family of Mawlavi Ezzatullah, a member of Afghanistan's Hizb-e Islami party, received a WhatsApp message from his phone: "We have slaughtered your Mawlavi Ezzat, come and collect his body."
Ezzatullah's killing, in the eastern province of Nangarhar, was one of a steady stream of assassinations and bombings that have undermined Taliban claims that they have brought greater security to Afghanistan after 40 years of war.
Victims have ranged from former security officials from the ousted government to journalists, civil society activists, mullahs, Taliban fighters and apparently random targets like Ezzatullah, whose family said he had no enemies they knew of.
The Taliban have said their victory has brought stability to Afghanistan, where thousands of people were killed in fighting between the group and Western-backed forces between 2001 and 2021 before the hardline Islamists emerged victorious.
But on just one day last week, pictures from Jalalabad - the provincial capital of Nangarhar - appeared online showing two bodies swinging from a rope. Residents also reported a mullah's murder and video footage was circulated of a group of gunmen firing into a car, apparently killing its occupants, one of whom was identified by local journalists as a Taliban official.
Reuters was unable to verify the images and footage independently.
On Sunday, according to locals, three bodies were brought into a hospital in Jalalabad after a roadside bomb explosion that apparently targeted Taliban fighters in a pickup truck.
Later that day, gunmen shot a former Afghan army soldier in front of his house, killing him and two friends standing nearby.
The Taliban have downplayed such incidents, saying that after decades of war, it will take time for the country to be completely pacified.
"There are 34 provinces in the country and in a week, 20 cases will be prevented for every one that takes place," said spokesman Bilal Karimi. "We have had 20 years of revolution and invasion and the level of these incidents will go down."
Some former soldiers and intelligence officers from the ousted government blame members of the Taliban for targeting them since taking over. The group has promised there would be no reprisals, but accepts rogue fighters may have acted alone.
Many targeted killings remain unclaimed and some may be the result of local vendettas.
But others look the result of increasingly open conflict between the Taliban and a local affiliate of Islamic State, a development which the new U.S. Special Representative for Afghanistan, Tom West, said on Monday was causing concern in Washington.
The militant jihadi group has claimed some of the deadliest attacks in Afghanistan in recent months in which hundreds of people have been killed, mainly in big cities.
"They are trying to undermine and discredit the Taliban Emirate. The Emirate promised security and they're trying to show they can't deliver it," said Antonio Giustozzi, a specialist in jihadi groups from the Royal United Services Institute in London.
He said Islamic State, which he estimated to have around 4,000 fighters, had been carrying out a campaign of targeted killings since around the summer of 2020 and had continued since the Taliban victory in August on a "roughly comparable scale".
'BIDEN HIRELINGS'
For many going about their business, the violence feels particularly menacing.
"I have never been as terrified as I am now," said a university professor in Nangarhar who has also worked as a journalist and who spoke on condition of anonymity for fear of being targeted. He described events in Nangarhar as "total chaos."
The violence has fuelled fears that Afghanistan could collapse into anarchy and even return to a new phase of civil war, creating a haven for militant groups to launch attacks in neighbouring countries and the West.
"This is the scenario that has everyone worried," said one Western official with long experience of the region.
Islamic State, which first appeared in Afghanistan in late 2014 and adopted the title Islamic State Khorasan after an ancient name for the region, has been trying to recover from a bruising series of defeats in 2018 and 2019.
The group has claimed a series of strikes against Shi'ite mosques and other targets since the Taliban's victory in August, most recently on the main military hospital in Kabul which killed at least 25 people.
Less commonly reported are frequent, smaller atrocities which have been taking place not only in Nangarhar, long a stronghold of Islamic State.
Areas affected include Ghazni in central Afghanistan, Herat in the west, Balkh in the north, and Paktia, Paktika and Khost in the southeast.
Source: Reuters
Please click the following URL to read the full text of the original story:
https://www.reuters.com/world/asia-pacific/islamic-state-violence-dents-taliban-claims-safer-afghanistan-2021-11-09/?rpc=401&
--------
Pakistan invites Taliban's acting FM to attend Troika plus
09 Nov 2021
Pakistani mainstream media have cited Pakistani officials that a special invitation has been extended to Afghanistan's acting foreign minister Amir Khan Motaqi to attend Troika Plus.
Spokesperson of Afghanistan's foreign ministry Abdul Qahar Balkhi in a Tweeter post said that a high-level delegation led by Amir Khan Motaqi will travel to Pakistan on November 10 to attend Troika plus.
The Troika plus is intended to be held on November 11 in the Pakistan capital Islamabad.
Amir Khan Motaqi will reportedly be extending his visit by a day as he will conduct negotiations with the Pakistani officials on bilateral issues but Kabul has not commented on the visit yet.
Troika plus is a forum established by Pakistan, the US, China, and Russia who are the most impactful countries in restoring peace and stability in Afghanistan.
Source: Khaama Press
Please click the following URL to read the full text of the original story:
https://www.khaama.com/pakistan-invites-talibans-acting-fm-to-attend-troika-plus-457457/
--------
Opium cultivation continues even as Taliban vows crackdown on Afghanistan's drug trade
November 9, 2021
The Taliban's move to eradicate the drug trade in Afghanistan and ban opium production has faced challenges on several fronts. With the country being one of the biggest producers of opium and a lack of alternative livelihood, farmers continue to cultivate opium despite the Taliban's warning.
The illicit opium trade is intertwined with Afghanistan's economy, which is in turmoil.
However, the production of opium threatens to deter foreign aid in Afghanistan, which has been facing a major economic and humanitarian crisis since the takeover by the Taliban.
Soon after coming to power on August 15, Taliban spokesman Zabiullah Mujahid said the new government won't allow drug trade in the country. He said, "We are against drugs and the Islamic Emirate of Afghanistan is trying to eradicate the production of narcotics, but it is only possible when the whole world helps us in empowering the farmers and providing them with an alternative to earn their livelihood."
An Afghan farmer, Abha Wali, told Aljazeera, "We grow poppy so that we can buy bread for the family to survive. No government has helped us. We don't have adequate water for other crops, so the poppy has become the only available option.
Opium farming has increased by 37 per cent in the last year and is a major source of income across the country. The plant and the drugs that it produces are a multi-million dollar industry.
According to the United Nations, opium harvesting has provided employment to 1,20,000 people in 2019. However, the production of opium threatens to deter foreign aid which is facing a major economic and humanitarian crisis since the takeover by the Taliban.
Another farmer, Haji Muhammad Hashim, said, "I do have other farms of potatoes, onions and pomegranates, but because the borders are closed, the whole yield has gone to waste. It cannot reach international buyers. But when I cultivate opium, the buyers come to my house to buy it in cash. We don't even have to go to the market to sell it.
Even though the production of opium sustains a large part of the country, it also has a devastating impact on the Afghan society fraught with danger from drug addiction.
Dr Ahmad Zahir Sultani said, "We have had problems because of the war. There was no awareness of drug addiction, illiteracy, illegal refugees and the problems of unemployment. These are the reasons why people are so affected by drugs here.
Source: India Today
Please click the following URL to read the full text of the original story:
https://www.indiatoday.in/world/story/taliban-ban-opium-harvest-afghanistan-drugs-1874593-2021-11-09
--------
World Bank chief says Afghanistan aid resumption unlikely
09 November ,2021
World Bank President David Malpass indicated Monday that the institution is unlikely to resume direct aid to Afghanistan, after suspending financing at the end of August when the Taliban seized power.
"I would not envision us operating inside given the full breakdown" of the economy, he said in a conversation at the Center for Strategic and International Studies (CSIS).
"One of the challenges is the payment system," he said, noting that "there's not the ability to have money actually flow, given what the current government is doing."
The Washington-based development lender paused aid in August amid concerns about the security situation and women's rights following the Taliban's swift takeover of the country, saying it was "closely monitoring and assessing the situation."
The World Bank has more than two dozen development projects ongoing in Afghanistan and has provided $5.3 billion since 2002, mostly in grants, according to the bank's website.
The IMF also suspended aid to the country, and the Taliban has been denied access to much of Afghanistan's $9 billion in reserves, which are held abroad, mostly in the United States.
Source: Al Arabiya
Please click the following URL to read the full text of the original story:
https://english.alarabiya.net/News/middle-east/2021/11/09/World-Bank-chief-says-Afghanistan-aid-resumption-unlikely
--------
North America
London Muslim Mosque Leaders Call For Ontario, Ford Government To Tackle Islamophobia
Nov 8, 2021
TORONTO – Muslim leaders are calling on Ontario to take action against Islamophobia.
Imam Aarij Anwer of the London Muslim Mosque said Monday that the province should tackle the issue now and not wait for the results of next year's election.
A Muslim family from Anwer's mosque was killed after they were hit by a truck in London, Ont., in June. Police allege the driver deliberately targeted the family in an act of hate against the Islamic faith.
"We don't want to hold another vigil as a community," Anwer said. "We don't want to have another community funeral where we're all grieving. We don't want to lose any more lives to hate or Islamophobia."
Anwer and the National Council of Canadian Muslims want to see several measures implemented by the province that they say will help curb acts of hatred against Muslims.
Those include changes to the educational system so children can better understand Islamophobia, said Nadia Hasan, the chief operating officer of the National Council of Canadian Muslims.
"We also need to see the dismantling of white supremacist groups in the province by preventing them from registering as societies," Hasan said.
They would also like to see a provincial hate crimes accountability unit that investigates failures in combating hate incidents and would like Ontario to hire more minorities in the public service.
The calls for action come five months after four members of a Muslim family were killed in London in what police allege was an act motivated by hate.
Salman Afzaal, 46, his 44-year-old wife Madiha Salman, their 15-year-old daughter Yumna and her 74-year-old grandmother, Talat Afzaal, were killed while out for an evening walk on June 6.
The couple's nine-year-old son, Fayez, was seriously hurt.
Nathaniel Veltman, 20, is accused of deliberately hitting the family with his truck. He is charged with four counts of first-degree murder and one count of attempted murder in what prosecutors say was an act of terrorism.
The calls also come more than a year after Mohamed-Aslim Zafis was stabbed to death as he volunteered outside the International Muslim Organization in Toronto in September 2020.
Police have said Zafis was attacked at random and they could not discount that it was motivated by hate.
A 34-year-old man faces one count of first-degree murder in Zafis's death.
"Our call is simple: no more violence," Hasan said. "Our communities cannot wait until after the election for change, we are calling on all of our leaders — let's work together to make change."
Source: Toronto City News
Please click the following URL to read the full text of the original story:
https://toronto.citynews.ca/2021/11/08/ontario-islamophobia-ford-government/
--------
Supreme Court justices closely divided in case on state secrets, anti-Muslim discrimination by FBI
Nov. 8, 2021
The Supreme Court justices Monday appeared closely divided in a case about whether the FBI illegally discriminated against and spied on a California Muslim community – and whether the agency can shut down a lawsuit by claiming litigating it would harm national security.
The case stems from an FBI investigation between 2006 and 2007 in which paid informant Craig Monteilh posed as a Muslim convert in an Orange County, Calif., Islamic community while using electronic surveillance against many of the people he met.
But Monteilh's behavior, according to the Muslims against whom the surveillance was targeted, became concerning to them.
So they reported the FBI informant – to the FBI – for alleged "attempts to incite violence."
The subjects of the surveillance eventually sued the FBI and some of the individual agents who took part in the operation, alleging that their community was only targeted because of their religion. But the FBI claimed "state secrets privilege" in an attempt to shut down the case, arguing that the disclosure of the information surrounding the case would harm national security.
A district court sided with the FBI, but the Ninth Circuit Court of Appeals overturned that ruling and sided with the plaintiffs.
The case is the second on the state secrets privilege that the court's heard in just a few weeks, indicating that the justices may have significant concerns about the status of the doctrine. Last month they considered whether the government could use the state secrets privilege in a case about the alleged torture of detainees at Guantanamo Bay.
At times Monday, government lawyer Edwin Kneedler struggled to defend the government's position against an onslaught of questions from Justices Elena Kagan, Neil Gorsuch and Sonia Sotomayor.
Sotomayor in particular complained repeatedly that Kneelder was not answering her questions.
But perhaps the most contentious exchange happened later between Ahilan Arulanantham, a lawyer for the plaintiffs, and Justice Amy Coney Barrett.
"What happens to the individual defendants?" Barrett asked, referring to the individual FBI agents who were also sued for religious discrimination in the case.
"Let's say that the evidence that they can use to defend themselves against the claim that they religiously discriminated is in this body of evidence that's protected by the state secrets doctrine," Barrett said. "And you're saying dismissal is not a remedy. So they just go in with their hands tied behind their back and they just are sitting ducks?"
Barrett warned that the plaintiffs' potential remedy would harm the "due process rights of the individual defendants" potentially as much as the alleged illegal spying harmed the rights of the plaintiffs.
Source: Fox News
Please click the following URL to read the full text of the original story:
https://www.foxnews.com/politics/supreme-court-justices-religious-discrimination-fbi
--------
Washington supports Taliban's 'vigorous' efforts to wipe out Daesh: Envoy
November 08, 2021
LONDON: Washington has no plans to establish diplomatic relations with the Taliban any time soon, but supports their effort to crack down on Daesh's Afghanistan division, the US special representative for Afghanistan said on Monday.
In a press briefing attended by Arab News, Thomas West added that the US has an "unwavering commitment to ensuring that Afghanistan never, ever again becomes a launching pad for terrorists to harm us or our allies."
He said: "When it comes to reopening our embassy in Kabul … we're not seriously thinking about taking that step at this time. I think what we want to see is the establishment of a record of responsible conduct by the Taliban, of predictable conduct, and then we'll assess what needs we have on the diplomatic front."
Asked about the security situation in Afghanistan vis-a-vis international terrorist groups, West said: "We want the Taliban to succeed against ISIS-K (Daesh's Afghanistan division). I think they have a very vigorous effort underway against that group. We condemn the innocent loss of Afghan lives that have taken place in recent weeks at the hands of vicious ISIS-K attacks across the country."
He added: "We're worried about the uptick in ISIS-K attacks, and we want the Taliban to be successful against them."
West said he is "very concerned" about other groups such as Al-Qaeda which maintain a presence in Afghanistan, and it is an ongoing issue of concern in Washington's dialogue with the Taliban.
This summer, the Taliban rapidly seized Afghanistan from the US-backed government that had previously ruled the country with NATO's assistance.
The American and wider NATO withdrawal was marred by violence, including a Daesh attack outside Kabul airport that killed nearly 200 people, including more than a dozen US service members.
Since then, Afghanistan has faced an economic and humanitarian crisis that threatens the lives of millions.
Regarding this humanitarian crisis, West said the UN has an "absolutely essential role to play in Afghanistan right now. They have a big footprint and are delivering life-saving aid." The US "will be entirely and squarely behind" the UN's efforts, he added.
Source: Arab News
Please click the following URL to read the full text of the original story:
https://www.arabnews.com/node/1964096/world
--------
Mideast
Grand Mufti of Palestine warns of Israeli enemy attempt to demolish Al-Aqsa Mosque
November 9, 2021
The Grand Mufti of Palestine, Sheikh Muhammad Hussein, warned on Sunday of the Israeli violations against Islamic sanctities, especially Al-Aqsa Mosque and the Dome of the Rock.
The statements came following Jewish calls for demolishing the Dome of the Rock and removing it from its current location.
These calls reveal the Israeli intention to destroy the Dome of the Rock and change the religious, historical, and legal situation in Al-Aqsa Mosque, Sheikh Hussein said.
Al-Aqsa Mosque, known as the first Qibla and the third of the two holy mosques, is part of the Muslim creed, he added.
Source: ABNA24
Please click the following URL to read the full text of the original story:
https://en.abna24.com/news//grand-mufti-of-palestine-warns-of-israeli-enemy-attempt-to-demolish-al-aqsa-mosque_1196936.html
--------
Global Campaign calls for one-day hunger strike in support of Palestinian inmates
09 November 2021
The Global Campaign to Return to Palestine has called for a one-day international hunger strike in solidarity with the Palestinian prisoners who have been refusing food to protest Israel's illegal administrative detention policy that allows their incarceration for long periods of time without charge or trial.
The campaign, which is an umbrella organization for NGOs supporting the Palestinian cause both in the Arab world and across the globe, issued the call on Monday.
It also asked social media users to tweet an Arabic hashtag, which roughly means "empty bowel battle," and upload Hungry for Freedom photos.
The campaign further urged people to record shorter than one-minute messages in solidarity with the hunger-striking Palestinian inmates.
At least seven Palestinians have remained on an open-ended hunger strike in Israeli jails to denounce their indefinite detention based on "secret information" with no trial or indictment.
The prisoners include Kayed Fasfous, Miqdad Qawasmeh, Alaa Aaraj, Hesham Abu Hawwash, Shadi Abu-Akr, Ayyad Hureimi, and Rateb Harebat.
Fasfous and Qawamesh are in currently critical health conditions and at risk of losing their lives.
Source: Press TV
Please click the following URL to read the full text of the original story:
https://www.presstv.ir/Detail/2021/11/09/670231/Palestinin-inmates-hunger-strike
--------
Palestinian prime minister calls on US Congress to recognize State of Palestine
09 November 2021
Palestinian Prime Minister Mohammad Shtayyeh has called on US Congress to recognize an independent Palestinian state with East al-Quds as its capital, urging Washington to amend laws and regulations that target the Palestinian Authority (PA) as well as the Palestine Liberation Organization (PLO).
During a meeting with a visiting delegation of US congressmen at his office in the central occupied West Bank city of Ramallah on Monday, Shtayyeh discussed the so-called Middle East Peace Process between Palestinians and Israel, amid the Tel Aviv regime's attempts to wreck prospects for the purported two-state solution through occupation and violation of Palestinians' rights.
He also asked the Biden administration to honor pledges it made to Palestinians, among them the reopening of the United States consulate in occupied East al-Quds.
Shtayyeh then called upon the US and other Western countries to stop Israel from jeopardizing the Middle East region's future by insisting on its colonial policies and violations of human rights.
"How can we continue to talk about the [so-called] two-state solution when there are 720,000 settlers on the lands of the Palestinian state, and the settlement program is continuing?" he asked.
"There are 62% of the Palestinian lands under the direct control of Israel, and it deals with it as a geographical reservoir for settlement expansion," Shtayyeh noted.
The Palestinian prime minister also demanded pressure on the Israeli regime in order to let the PA hold general elections across Palestinian territories, including East al-Quds.
About 600,000 Israelis live in over 230 settlements built since the 1967 occupation of the Palestinian territories of the West Bank and East al-Quds.
Source: Press TV
Please click the following URL to read the full text of the original story:
https://www.presstv.ir/Detail/2021/11/09/670227/Palestinian-PM-urges-US-Congress-recognize-State-of-Palestine
--------
Congresswoman says US must stop 'enabling' Israel's killing of Palestinian children
08 November 2021
Muslim Congresswoman Rashida Tlaib of the United States has called on the White House to stop enabling the killing of Palestinian children in the wake of an incident where Israeli forces shot dead a Palestinian teenager in the occupied West Bank.
The only Palestinian-American member of US Congress said in a Twitter post that Washington should give up its unconditional support for Israel and stop the regime from committing crimes against minors, the official Palestinian news agency Wafa reported on Monday. "Our country must stop enabling the killing of children," Tlaib posted.
Mohammad Da'das, 13, was shot during clashes that erupted between Israeli troops and Palestinians in the village of Deir al-Hatab, east of the city of Nablus, on November 5. The Palestinian Health Ministry said the teenager had been shot in the abdomen.
Congresswoman Tlaib has frequently spoken out against the United States' military support for Israel, and called for the protection of the Palestinians' rights.
In an emotional speech at the House of Representative in May, Tlaib criticized President Joe Biden and other top officials for offering statements that she said did not acknowledge "Palestinian humanity." "To read the statements from President [Joe] Biden, Secretary [of State Antony] Blinken, General [Lloyd] Austin and leaders of both parties, you would hardly know Palestinians existed at all."
Tlaib and Ilhan Omar, the first two Muslim women elected to Congress, are outspoken critics of Israel's policies toward the Palestinians and vocal supporters of the Boycott, Divest and Sanction (BDS) movement. The pair has time and again said Congress should reconsider the annual US aid to Israel.
The United States and Israel signed an agreement in September 2016 for the regime to receive $38 billion in military assistance over the next decade, the largest such aid package in US history.
US grassroots movement slams Israel's killing of Palestinian minor
Separately, a US grassroots movement on Sunday denounced Israel's killing of the Palestinian teenager. "13-year-old Mohammad Da'das was shot and killed by Israeli forces in the occupied West Bank today, bringing the toll of Palestinian children murdered by Israel to at least 80. How many more?" it tweeted.
Source: Press TV
Please click the following URL to read the full text of the original story:
https://www.presstv.ir/Detail/2021/11/08/670192/Rashida-Tlaib-Israel-Palestinian-teenager
--------
Iran wants US assurances it will never abandon nuclear deal in case of revival
November 9, 2021
Iran said on Monday that the United States should provide guarantees that it will not abandon Tehran's 2015 nuclear deal with world powers again if talks to revive the agreement succeed.
Indirect talks between Iran and the United States, which stalled in June after the election of hardline Iranian President Ebrahim Raisi, are set to resume on November 29 in Vienna to find ways to reinstate the 2015 accord.
It has eroded since 2018 when then-US president Donald Trump withdrew from it and reimposed sanctions on Iran, prompting Tehran to breach mandated limits on uranium enrichment the following year.
"The US should show that it has the capability and will to provide guarantees that it will not abandon the deal again if the talks to revive the deal succeed," Foreign Ministry spokesman Saeed Khatibzadeh told a virtual news conference.
Echoing Iran's official stance, Khatibzadeh said Washington must lift all sanctions imposed on Tehran in a verifiable process and "recognise its fault in ditching the pact".
That ongoing stance is likely to cause concern in the US and with its European allies — France, Britain and Germany — who deem it unrealistic and want to resume June's talks where they left off without new demands.
One Western diplomat said if Tehran was genuinely continuing to demand a guarantee and full lifting of sanctions then it meant Iran was not serious about talks.
Source: Dawn
Please click the following URL to read the full text of the original story:
https://www.dawn.com/news/1656974/iran-wants-us-assurances-it-will-never-abandon-nuclear-deal-in-case-of-revival
--------
Iran Calls for Complete, Effective Removal of All US Sanctions
2021-November-8
"The US should know that it is not a member of the JCPOA (Joint Comprehensive Plan of Action) and that it cannot attribute statements to other members of the deal," Foreign Ministry Spokesman Saeed Khatibzadeh told reporters in a press conference in response to a question about US National Security Advisor Jake Sullivan's claims that Tehran is not ready for the JCPOA talks.
The steps the US should take in order to return to the JCPOA are clear, he added, saying, "They should lift the oppressive sanctions completely and effectively. They should guarantee that no administration in the United States mocks the world and international law and does not repeat these behaviors [withdrawing form intl. deals]."
Khatibzadeh said that the Vienna talks on removal of the US sanctions with Europe will start on the announced date, and Iranian Deputy Foreign Minister Ali Baqeri Kani Iran's top negotiator will attend the meetings.
"Baqeri will leave Iran for several European countries this week and will travel to France, Germany and Britain," he noted, adding that Iran will explain its position about the JCPOA talks in details in the forthcoming trips.
"Iran will not stop its compensatory actions until it is confident that US sanctions will be lifted in an effective and verifiable manner with the necessary and objective guarantees."
Iran and six world powers, namely the US, Britain, France, Germany, Russia, and China, inked the JCPOA in July 2015. The agreement removed international sanctions on Iran in exchange for certain limits on Tehran's nuclear activities.
The deal, however, was unilaterally abandoned by the US in 2018 despite Iran's full compliance with its nuclear undertakings, as repeatedly certified by the UN nuclear agency. The US then unleashed a "maximum pressure" campaign against Iran, which practically deprived the country of all of the deal's economic benefits.
Source: Fars News Agency
Please click the following URL to read the full text of the original story:
https://www.farsnews.ir/en/news/14000817000386/Iran-Calls-fr-Cmplee-Effecive-Remval-f-All-US-Sancins
--------
Iran suspends Kelid newspaper after linking poverty with Khamenei
08 November ,2021
Iran's press watchdog has suspended a newspaper after it published a front-page graphic of the poverty line purportedly being drawn by the hand of Supreme Leader Ali Khamenei.
The suspension of the Kelid paper was "in accordance with the media law" watchdog head Alaedin Zohourian said, according to state news agency IRNA Monday.
The graphic, which showed a hand with the distinctive ring of Khamenei, was used to illustrate an article with the headline "Millions of Iranians Below Poverty Line."
Khamenei has a political and religious status which makes him effectively untouchable in Iran.
Iran, with a population of 83 million people, is facing an economic crisis after international sanctions.
There were high hopes for economic relief after Iran's 2015 pledge not to build or acquire nuclear weapons -- a goal it has always denied pursuing.
Source: Al Arabiya
Please click the following URL to read the full text of the original story:
https://english.alarabiya.net/News/middle-east/2021/11/08/Iran-suspends-Kelid-newspaper-after-linking-poverty-with-Khamenei
--------
Turkey releases Syrian journalist behind 'banana video'
08 November ,2021
A Syrian journalist living in Turkey who caused a stir over a humorous video about claims that local people could not afford to buy bananas while Syrians could will not be deported, his lawyer said on Monday.
Majed Shamaa, a journalist working for Orient News, was detained and taken to a repatriation center in Gaziantep province, near the Syrian border, last week, pending a decision on whether to deport him.
Lawyer Mehmet Ali Hartavi told Reuters on Monday that Shamaa had been released and would return to Istanbul on Tuesday.
Last month, Syrians in Turkey shared footage of themselves eating bananas after a video on social media showed a Turkish citizen saying he could not afford bananas but Syrians are buying them "by the kilogram."
The videos outraged many Turks, prompting authorities to detain foreign nationals over "provocative posts" of them eating bananas. The Immigration Directorate said those detained would be deported.
In a video, Shamaa, who has lived in Turkey for seven years, buys bananas in a secretive manner and hides away to eat them without being seen.
Source: Al Arabiya
Please click the following URL to read the full text of the original story:
https://english.alarabiya.net/News/middle-east/2021/11/08/Turkey-releases-Syrian-journalist-behind-banana-video-
--------
Arab World
Arab League urges 'detente' between Lebanon, Persian Gulf states amid tension over Yemen war comments
08 November 2021
The Arab League has called on Lebanon and Persian Gulf countries to de-escalate tensions following critical comments made by Lebanese Information Minister George Kordahi regarding the Saudi-led war against Yemen.
Arab League Assistant Secretary General Hossam Zaki made the appeal at a press conference in the Lebanese capital, Beirut, where he is on an official visit to resolve the diplomatic crisis spurred by Kordahi's comments criticizing Saudi-led intervention in Yemen.
"We do not want this situation to continue. We want a breakthrough, a détente in this relationship," Zaki said.
Following a meeting with Lebanese Prime Minister Najib Mikati, he told reporters, "We hope the starting point for that will begin here."
On October 29, Saudi Arabia gave the Lebanese ambassador 48 hours to leave the country over Kordahi's remarks.
The kingdom also imposed a ban on all imports from Lebanon and banned its citizens from travelling there.
Saudi Arabia, the United Arab Emirates, Bahrain and Kuwait also recalled their envoys to their countries for consultations.
The Arab countries' decision was taken days after an interview with Kordahi was aired by an online show affiliated with Qatar's al-Jazeera television network.
Kordahi, in comments made on August 5, called the Saudi-led Yemen war futile, and said the impoverished Arab country is subjected to an aggression.
The Lebanese minister added that Yemeni army forces and their allied fighters from Popular Committees are defending themselves.
The interview was recorded before Kordahi was appointed as minister, but it aired on Monday.
The Arab League has already voiced concern about a rapid deterioration of Lebanese-Persian Gulf relations, urging Persian Gulf countries "to reflect on the measures proposed to be taken … in order to avoid further negative effects on the collapsing Lebanese economy."
Source: Press TV
Please click the following URL to read the full text of the original story:
https://www.presstv.ir/Detail/2021/11/08/670213/Lebanon-Arab-League-Saudi-Arabia-Persian-Gulf-states-tensions-deescalate-George-Kordahi-Yemen-war
--------
Egypt's Azhar grand imam, Coptic pope attend Egyptian Family House's 10th anniversary celebration
Amr Kandil
8 Nov 2021
Al-Azhar's Grand Imam Ahmed El-Tayyeb and Pope Tawadros II, the patriarch of the See of St Mark and leader of Egypt's Coptic Orthodox Church, attended on Monday a celebration marking the 10th anniversary of the Egyptian Family House in Cairo's Nasr City.
The Egyptian Family House was established in 2011 to promote tolerance and peaceful coexistence.
The House is the brainchild of El-Tayyeb and Pope Shenouda, Tawadros II's predecessor, after one of the deadliest terrorist attacks against Coptic Christians in Alexandria.
The bombing took place during a New Year's Eve service in 2010 at the El-Qiddissin Church and claimed the lives of 23 people and wounded 97.
In remarks during the celebration, El-Tayyeb said the idea of establishing the Family House "emerged from the womb of sorrowful challenges… the most dangerous of which were the loss of security, peace, and social stability as well as the proliferation of terrorist crimes.
"We have been fully aware that if not fought, sectarian strife would have plunged the country into a sectarian war."
The Egyptian Family House is in charge of implementing supreme mutual values among different civilisations and religions.
Monday's event, divided into four sessions, discussed tolerance of religious texts and their role in bolstering social peace and the effect of citizenship on endorsing coexistence.
The sessions also addressed the necessity to fight violence against women.
The Family House works with the state to protect social values and moral traditions, boost citizenship, and address challenges, Pope Tawadros II said.
"The Family House has consolidated the ideas of love and understanding of the other," Pope Tawadros II affirmed.
The House is "the fruit of deep and well-studied understanding between Al-Azhar and the Church in order to protect Egypt and the Egyptian people against strife" that destroyed neighbouring countries, societies, and longstanding civilisations, El-Tayyeb added.
Al-Azhar and the Church understand "the duty of religious institutions to participate in national, security, and political efforts" to defeat the scheme of dividing the nation, El-Tayyeb said.
He noted that this scheme "was sponsored by foreign powers in coordination with internal powers," without mentioning the names of these powers.
The Egyptian Family House, headquartered in Cairo, comprises Muslim scholars, clerics from the Coptic Church, representatives of various Christian faiths in Egypt, and intellectuals.
Source: Ahram Online
Please click the following URL to read the full text of the original story:
https://english.ahram.org.eg/News/438291.aspx
--------
Resignation of Lebanon minister could solve Gulf row: Arab League
09 November ,2021
The Arab League Monday backed the resignation of Lebanon's information minister whose comments on the Yemen war sparked a damaging diplomatic row with Gulf States.
"From the very beginning, the resignation could have defused the crisis," the League's assistant secretary general, Hossam Zaki told a news conference in Beirut.
"We need stronger confirmation that this step could still happen," he said following talks with parliament speaker Nabih Berri.
Zaki, who also met Prime Minister Najib Mikati and President Michal Aoun said Information Minister George Kordahi's departure could be a starting point for "detente" between Lebanon and Gulf states.
The diplomatic rift, which threatens to plunge Lebanon deeper into meltdown, prompted Saudi Arabia and some of its allies to recall ambassadors and block imports from Lebanon.
Import restrictions are a further blow to a country where a weak government is struggling to secure international aid, namely from wealthy Arab neighbors.
The dispute was triggered by comments made by Kordahi in an interview taped in August before he became information minister and broadcast in late October.
Kordahi characterized the Arab-led intervention in Yemen since 2015 as an "external aggression," sparking rebukes from Saudi Arabia, Bahrain, Kuwait and the United Arab Emirates.
Each of those states support the Arab-led military coalition against the Iran-backed Houthi militia fighting Yemen's internationally recognized government.
The diplomatic rift has prompted calls for the resignation of Kordahi, an ally of the powerful Shiite movement Hezbollah.
Source: Al Arabiya
Please click the following URL to read the full text of the original story:
https://english.alarabiya.net/News/middle-east/2021/11/09/Resignation-of-Lebanon-minister-could-solve-Gulf-row-Arab-League
--------
Explosions heard over Syria's Homs, Tartous: State media
08 November ,2021
Syria's state media said on Monday that its air defences intercepted an Israeli attack on sites in the central and coastal regions.
State media had said earlier that air defences were intercepting "hostile targets" over the countryside around the
city of Homs, after explosions were heard over Homs and the coastal city of Tartous.
The Syrian military said in a statement that the attack came from north of Beirut and that air defences managed to shoot down most of the missiles used.
Source: Al Arabiya
Two soldiers were injured and there were some material losses, the military added.
https://english.alarabiya.net/News/middle-east/2021/11/08/Explosions-heard-over-Syria-s-Homs-Tartous-State-media
--------
US, Egypt begin first bilateral strategic dialogue since 2015
08 November ,2021
The top US and Egyptian diplomats met in Washington on Monday to begin the first strategic bilateral dialogue since 2015.
"During their bilateral meeting at the beginning of the dialogue, Secretary Blinken and Foreign Minister Shoukry exchanged views on international and regional issues, human rights, and pathways to increased cooperation on economic, judicial, security, education, and cultural issues," State Department Spokesman Ned Price said.
Blinken thanked his counterpart for Cairo's role in "supporting regional stability," including in Palestine and Libya.
Blinken also underscored Washington's commitment to Egypt's water security and said that the Biden administration was committed to ensuring that human rights would be central to US foreign policy.
Source: Al Arabiya
Please click the following URL to read the full text of the original story:
https://english.alarabiya.net/News/middle-east/2021/11/08/US-Egypt-begin-first-bilateral-strategic-dialogue-since-2015
--------
Syria's air defences repel fourth Israeli act of aggression in one month
08 November 2021
Syria's air defenses have repelled Israeli missiles attacking targets in the central and coastal regions of the country, the second assault of this type in less than a week and the fourth in the past month.
Syria's official news agency SANA reported on Monday that the air defenses had intercepted "hostile targets" over the countryside around the city of Homs after confirming that explosions were heard in Homs and the coastal city of Tartus.
Later on, the Syrian military confirmed the attack, saying in a statement that the airstrike was conducted by Israeli aircraft from north of the Lebanese capital of Beirut.
The Syrian military said most of incoming Israeli missiles were shot down, adding that two Syrian soldiers were injured and there was some material damage.
Moreover, the Lebanese media said Israeli aircraft had been spotted over Lebanon shortly before the strikes were reported and that Syrian air defense system was activated to repel the aerial attacks.
The latest airstrike comes less than a week after Israel launched a similar attack with a number of missiles targeting a site in the town of Zakia on the outskirts of the capital Damascus. Citing an unknown military source, the Syrian state TV reported early on Wednesday that the attack resulted in "material damage." The same area had been targeted by Israeli missiles in a rare daytime aggression in less than a week earlier.
Source: Press TV
Please click the following URL to read the full text of the original story:
https://www.presstv.ir/Detail/2021/11/08/670210/Syrian-state-Israeli-missiles-Homs
--------
Africa
UN warns Tigray conflict threatening to 'consume' Ethiopia's future
Michael Hernandez
08.11.2021
The ongoing conflict between Tigray rebels and Ethiopian government forces threatens to "consume" the future of the East African country, the UN warned on Monday.
Rosemary DiCarlo, the UN's top official for political and peacebuilding affairs, told the Security Council that the year-long conflict has reached "disastrous proportions" as rebels led by the Tigray People's Liberation Front (TPLF) close in on the capital of Addis Ababa.
"The fighting places the future of the country, and its people, as well as the stability of the wider Horn of Africa region, in grave uncertainty," she said.
"No one can predict what continued fighting and insecurity will bring, but let me be clear, what is certain is that the risk of Ethiopia descending into a wider civil war is only too real. That would bring about a humanitarian catastrophe and consume the future of such an important country," she added.
Over 7 million people are in need of humanitarian aid in northern Ethiopia alone, with 400,000 living in famine-like conditions there, according to UN estimates. Alleviating the humanitarian crisis has been hindered by "an ill ability to move cash, fuel and supplies into the region," according to DiCarlo.
"Let us recall that this expanding crisis is happening in a country that was already grappling with enormous humanitarian challenges, including local conflicts, flooding, drought and infectious disease outbreaks. While needs are most acute in the north, across Ethiopia as a whole more than 20 million people are estimated to need some form of humanitarian support," she said.
The TPLF has joined forces with at least eight other groups, including the Oromo Liberation Army, to form the United Front of Ethiopian Federalist Forces in a bid to remove Ethiopian Prime Minister Abiy Ahmed from power.
Ethiopia declared a state of emergency last week as TPLF rebels made military gains against government forces, closing to within 200 miles of the capital.
Source: Anadolu Agency
Please click the following URL to read the full text of the original story:
https://www.aa.com.tr/en/africa/un-warns-tigray-conflict-threatening-to-consume-ethiopias-future/2415437
--------
Ethiopian government says its air force bombed 2 rebel targets
Andrew Wasike and Addis Getachew
09.11.2021
The Ethiopian government said Monday that its air force attacked more bases used by Tigray rebels in the country.
The Ethiopian National Defense Forces reportedly targeted key locations, including a military training center for the Tigray People's Liberation Front (TPLF). The air force said large numbers of illegal recruits were undergoing military training at the center which was bombed
"Another target was in Kiliwwa or Haji Meda, a strategic location between northern Wollo and Afar," an official with the Government Communication Service told Anadolu Agency.
"The airstrike targeted the terrorist group's training center, a logistics hub and the terrorist group's backup force," it said.
Armed conflict between TPLF forces and the Ethiopian army has been raging since November 2020.
The TPLF is yet to comment on the claim by the Ethiopian government that the airstrike killed its recruits who were at a training facility.
Oromo Liberation Army (OLA) commander Jaal Marroo in a statement Monday warned of an imminent attack in Ethiopia's capital Addis Ababa, saying his forces were very close to the area.
TPLF spokesman Getachew Reda has acknowledged a statement from Berhane Gebrechristos, the spokesman for the OLA, who said that the TPLF and at least seven other opposition political parties in Ethiopia have formed the United Front of Ethiopian Federalist Forces political party to remove Prime Minister Abiy Ahmed from power.
A spokesman for the prime minister's office told Anadolu Agency that the government is aware of the alliance by Ethiopian factions but dismissed it as a gimmick.
According to the UN, more than two million people have been displaced due to the war and a humanitarian catastrophe is looming.
In the latest effort to broker peace between the warring parties, the African Union's special envoy for East Africa, former Nigerian President Olusegun Obasanjo, met with TPLF leaders in Mekele, the capital of the Tigray region.
Obasanjo on Monday also briefed the African Union peace mission about his meeting with the TPLF leaders. No details have been released by the African Union to the media about the outcome of Obasanjo's efforts in Tigray.
Source: Anadolu Agency
Please click the following URL to read the full text of the original story:
https://www.aa.com.tr/en/africa/ethiopian-government-says-its-air-force-bombed-2-rebel-targets/2415491
--------
URL: https://www.newageislam.com/islamic-world-news/malaysia-kelantan-sharia-faiths-conversion/d/125739
New Age Islam, Islam Online, Islamic Website, African Muslim News, Arab World News, South Asia News, Indian Muslim News, World Muslim News, Women in Islam, Islamic Feminism, Arab Women, Women In Arab, Islamophobia in America, Muslim Women in West, Islam Women and Feminism