New Age Islam News Bureau
19 Feb 2018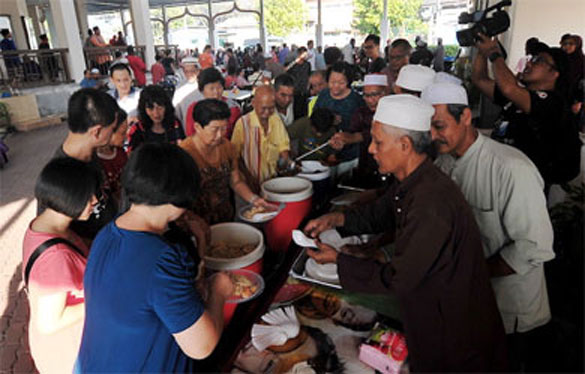 Members of the Tionghua community from the Tasek Gelugor area at a Chinese New Year celebration held in the Masjid Jamek Tasek Gelugor compound, February 18, 2018. — Bernama pic
----
• Malaysian Masjid Organises Chinese New Year Celebration
• Jaish-e-Mohammad Owns Up Jammu Army Camp Attack, Masood Azhar Hails Jihadis
• Mosul after Islamic State: Ulema Battle to Rid Locals of Extremist Ideas Following City's Recapture from Jihadists
• Film at Berlin Fest Examines How Islamic State Jihadists Recruit European Brides
Southeast Asia
• Malaysian Masjid Organises Chinese New Year Celebration
• Amri Che Mat, Shia Muslims and National Security in Malaysia
• Hadi claims Amanah causing rift among Muslims
• Report: Fugitive Malaysian militant linked to Abu Sayyaf abductions
-------
India
• Jaish-e-Mohammad Owns Up Jammu Army Camp Attack, Masood Azhar Hails Jihadis
• Indian Residency Rights for Kin of Ex-Terrorists
• Iran and India Sign Deal To Deepen Relations
• Firozabad: Three BJYM members booked for 'assaulting' police, two Muslims
-------
Arab World
• Mosul after Islamic State: Ulema Battle to Rid Locals of Extremist Ideas Following City's Recapture from Jihadists
• Car Bomb In Syria's Qamishli Kills Five People - State Media
• OIC to attend event on media's role in combating terrorism
• Emir of Al-Nusra Killed in Clashes with Rival Group in Southern Damascus
• Iraqi Victories Remain Fragile As US Reduces Troops
• Syria forces ready for assault on rebel enclave
• Fresh Wave of Tensions Erupts among Terrorists in Northern Syria
• Arab Daily: Tel Aviv's Military Superiority Questioned by F16 Crash
• Whistle-Blower: Saudi Crown Prince Not Willing to Admit Regional Failures
• Damascus: Last Round of Talks between Syrian Army, Militants underway before Gov't Forces' Operation
• Deal for Syrian army to enter Afrin, says Syrian Kurdish official
-------
Europe
• Film at Berlin Fest Examines How Islamic State Jihadists Recruit European Brides
• Is Russia Attempting To Erase Crimean Muslim Culture?
• ISIS Claims Deadly Attack on Church in Russian Region of Dagestan
• Jeremy Corbyn Attacks Islamophobia during Mosque Visit
• Germany: Turkey key partner in fight against terror
-------
South Asia
• Pope Thanks Prime Minister of Bangladesh for Reception of Rohingya Refugees
• Bangladeshi Govt 'Using Enforced Disappearances to Silence Critics'
• Another governor refuses to step down in Afghanistan
• Atmar off to Saudi Arabia on a special invitation of the Saudi Crown Prince
• Five IS militants killed in Afghanistan
• US drone strike kills 7 IS terrorists in Afghanistan
-------
Mideast
• Daesh Leader's Capture in Turkey Points to New Iraq Cooperation
• Dozen Emirati Troopers, Tens of Saudi Mercs Slain In Abortive Assault on Yemeni Base
• Israel Advances Bill Cutting Palestinian Funding Over 'Terror'
• Clashes leave 27 dead in Yemen
• Assad's forces, Hezbollah prepare for Iranian-Israeli confrontation in Syria
• Iran's Zarif Says Israel's "Myth of Invincibility" Has Crumbled
• Arab Coalition intercepts ballistic missile over Yemen coastal city
• Ali Abdullah Saleh's Nephew Seen in Yemen's Hodeidah Following Victories
• US-backed SDF militants claim cross-border attack on Turkish soldiers for first time
• Israel arrests six Islamic Jihad fighters over planned attack on Lieberman
-------
Pakistan
• Very Few Countries Have Been As Successful As Pakistan in War against Terror: COAS
• Fazl Says US Prioritising India over Pakistan
• JI pushes for revamping of political system
• Balochistan FC conducts IBOs, five terrorists apprehended: ISPR
• Two 'terrorists' held in DI Khan
• Unity among Muslims must to deal with challenges: PUC
• PTI confirms Imran Khan's marriage to Bushra Maneka in Lahore
-------
North America
• Pentagon Watchdog Agency Questions 'Progress' In US War on Afghanistan
• US to work with Turkey on liberated areas in Syria
• US vows to probe Syria attack involving Russians
-------
Africa
• Nigeria Frees 475 Boko Haram Suspects
• Police foil major terror attack, arrest two Al-Shabaab agents
• Boko Haram: Nigerian Army speaks on Shekau's 'escape'
• Libyans mark 7 years since protests that ousted Kaddafi
Compiled by New Age Islam News Bureau
URL: https://www.newageislam.com/islamic-world-news/malaysian-masjid-organises-chinese-new/d/114334
-------
Malaysian Masjid Organises Chinese New Year Celebration
February 18, 2018
TASEK GELUGOR, Feb 18 — For the first time ever, Masjid Jamek Tasek Gelugor here has taken an initiative to organise Chinese New Year celebration in its compound.
Chairman of the mosque, Khairul Anuar Musa said the event was organised, among others, to make the public aware that the mosque was not only a place for Muslims, but also to people of other faiths.
"We have been planning the event since last month and last Feb 11, the mosque committee started to send invitation to the Chinese community living around the mosque. We also received a positive feedback (from the Chinese), some of them even wanted to contribute for the event.
"Alhamdulillah (praise be to Allah), the Chinese community came with the spirit of goodwill," he said after the event which was held after the Asar prayer at the mosque compound today.
About 100 Chinese attended the event and they were served with a variety of food.
A Chinese Muslim who attended the event Ooi Chooi Beng, 36, said before embracing Islam, he always thought that a mosque was only for Muslims and did not dare to come close to it.
"Alhamdulillah, after I converted to Islam about six months ago, I learned a lot about the functions of a mosque and I also hope that today's programme will be a starting point for other programmes (to be held in the future)for us to seek Allah's blessings," said Ooi who also brought his Buddhist parents to the event.
For Tan Chooi Tit, 51, he and his family were touch by the invitation from the mosque committee to its Chinese New Year celebration.
He said the initiative taken by Masjid Jamek Tasek Gelugor was something that should be lauded as it conveyed a positive message to the multiracial community in the country. — Bernama
http://www.themalaymailonline.com/malaysia/article/masjid-jamek-tasek-gelugor-organises-chinese-new-year-celebration#jtWgHZe61Rkigg0a.97
-------
Jaish-e-Mohammad owns up Jammu Army camp attack, Masood Azhar hails jihadis
February 18, 2018
Jaish-e-Mohammad chief Maulana Masood Azhar has written about the attack on the Sunjuwan military station in Jammu on February 10, in the latest issue of the outfit's online mouthpiece, saying, "Only three mujahideen destroyed the Sunjuwan military camp. For three days, they withstood thousands of troops, special squads, helicopters and tanks. Entire India from head to toe panicked."
In another article in the issue, a Jaish leader says the attack was launched by "the Afzal Guru squad" of Jaish.
Azhar wrote about the attack in his weekly column 'Rang-u-Noor', under his pen name Saidi, in the February 14 edition of Al Qalam. Though he didn't take responsibility for the attack, he wrote that "the attack by these three fidayeens has carried forward the legacy of Khalid Bin Waleed" — in a reference to the legendary military commander of the era during the advent of Islam.
The attack was carried out at the military station by three militants in the wee hours of February 10, leaving five soldiers and a relative of a soldier dead. All the three militants, whom the Army identified as Pakistan nationals belonging to the JeM, were later gunned down.
"Fighting and defeating big armies with few men is truly one of the colours of the jihadi legacy of Khalid Bin Waleed,'' Azhar wrote. "When I heard the details of the attack on the Sunjuwan military camp by Kashmiri mujahideen, I remembered Khalid Bin Waleed. Imagine, despite such a huge strength of the enemy, three mujahideen entered a military camp and fought for more than 50 hours, targeting the enemy posts. Is it any ordinary thing? There were miracles taking place. The Kashmiri leadership was saying that the number of mujaideen is only three. Next day India claimed that three mujahideen have been martyred, but the sounds of explosions and firing were still coming from within the camp. With the help of media, the entire world was watching this miracle. If all the three were already martyred, who were fighting then? Whose fear made them take tanks inside the camp? Why were they (the Indian Army) blowing up their own buildings? India should reflect on this attack and they will understand that defeat is their destiny."
In another article in the same issue of Al Qalam, Jaish leader Talha Saif also wrote about the Sunjuwan attack, saying, "February 9 is the martyrdom anniversary of our great comrade and victimised brother Afzal Guru. On February 10, one of the founders of Kashmir movement Maqbool Bhat was martyred. The graves of both of them are inside that Indian jail (Tihar). And it was February 11 when India arrested our leader (Masood Azhar) from Anantnag. Keeping in view these three incidents, the Sunjuwan army camp became the target of revenge attacks launched by the Afzal Guru squad (of Jaish)."
Saif claimed that the militants had taken hostages inside the Army camp and that the Army had to use tanks to fight the three. He also claimed that the militants had written slogans on the walls of the station, which the Army had later painted over. He wrote that the graph of militant movement in Kashmir was rising fast and that local militants were becoming "fidayeens" for the first time.
He referred to "the allocation of funding and other emergency measures for enhancing the security of the Sunjuwan camp" as a sign of the success of the attack.
The militants had been able to carry out the attack on the Sunjuwan military station despite a red alert across the state, and despite a warning by security agencies that Jaish's Afzal Guru squad may strike on the fifth anniversary of his hanging.
A senior police officer had told The Indian Express two days before the attack that "assessment" by multiple agencies indicated a possible strike by the terror group around Guru's anniversary.
Defence Minister Nirmala Sitharaman, who had visited the Sunjuwan station on February 12, had named the JeM and warned Pakistan that "it would pay for the misadventure". Referring to "the demography of the cantonment and adjoining areas", she had indicated the possibility of local support to the attack.
http://indianexpress.com/article/india/jaish-e-mohammad-owns-up-jammu-army-camp-attack-masood-azhar-hails-jihadis-5068281/
-------
Mosul after Islamic State: Ulema Battle to Rid Locals of Extremist Ideas Following City's Recapture from Jihadists
17 February 2018
Mosul: In a classroom of the University of Mosul, in the Islamic State group's former Iraqi capital, around 50 volunteers have undergone a week's training on how to combat the jihadists' ideology.
The ulema, or Islamic scholars, aim to set up "brigades" tasked with ridding Mosul residents of extremist ideas following the city's recapture last July which ended three years of Islamic State rule.
"Mosul must be liberated from the thinking of Daesh after having been liberated militarily," said Mussaab Mahmud, who just completed the course, using an Arabic acronym for Islamic State.
"We were deceived by Daesh ideas and now we are trying to free ourselves from its ideology," said the 30-year-old day labourer.
The first group of volunteers came from all sectors of Mosul society, including mechanics, teachers and a sheikh.
The men aged from 25 to 45 signed up on Facebook for the course run by the Ulema Forum of Mosul, Iraq's second largest city which was left shattered by the months-long battle to expel Islamic State.
The classes are being conducted by five teachers who are experts in Islamic jurisprudence from Mosul and Tikrit, a city to the south that was also previously under brutal Islamic State rule.
"The lessons are concentrated on human rights, human development, peaceful coexistence and communal peace," the forum's president Sheikh Saleh al-Obeidi told AFP.
He said participants were tutored on "faith, Islamic jurisprudence and the Hadith (record of the sayings of the Prophet Mohammad) to allow them to counter the ideas of Daesh and its intellectual terrorism".
>Priority on 'brainwashed' children
Islamic State imposed its own rigid interpretation of Islamic law on all aspects of everyday life, branding opponents "apostates" who should be killed.
Most members of religious and ethnic minorities who had lived in peace for centuries alongside Mosul's majority Sunni Muslims fled to escape the radicals with their beatings and public executions.
Sheikh Obeidi said the brigades will go out and "combat the extremist ideas on social media and by calling on residents in their homes".
His forum was established in 2014 in the autonomous region of Iraqi Kurdistan, to the north of Mosul, by ulema who had fled the city.
They broadcast on private television channels but residents risked the wrath of Islamic State if they were caught tuning in to the forum's programmes.
Sheikh Obeidi said that the classes would expand to cover "all social groups and both sexes", although it was still looking for permanent premises in the war-battered city.
Priority will be the children indoctrinated in Islamic State-run schools where they were taught the jihadist version of Islam and given weapons training.
"As a teacher myself, what I've learnt here will allow me as far as possible to erase the radical Daesh ideas instilled in pupils, because they were the worst affected and influenced," said Ibrahim Mohammad Hamid, 27.
"I will go to the parents because the home and the family play a major role in spreading the idea of tolerance and coexistence," he said.
Mohammad Abaiji, a 24-year-old imam, or prayer leader, said he would run seminars in the mosque for children "to spread enlightened ideas, because Islam is a religion of tolerance".
https://in.news.yahoo.com/mosul-islamic-state-ulemas-battle-132248273.html
-------
Film at Berlin fest examines how Islamic State jihadists recruit European brides
18 Feb 2018
BERLIN: A movie at the Berlin film festival that looks at how Islamic State fighters recruit young European women online highlights the dangers of using the internet, the actress in the starring role told Reuters.
In the film "Profile", British journalist Amy Whittaker goes undercover to investigate the workings of the militant group by creating a fake Facebook profile and pretending to be a Muslim convert called Melody Nelson.
She comes up with a cover story, disguises her tattoo, learns a bit of Arabic and dons a hijab. Over the coming days she spends hours chatting online to an Islamic State fighter called Bilel, with whom she makes curry via video link in one scene, and gradually finds herself being attracted to him.
"It's dangerous for us all to be online because there's so much access to everything," said Valene Kane, who plays Amy. "You can basically do anything online and I suppose that's what the film shines a light on, this new world that we live in."
"It's not just Syria - it's all over. People are being manipulated into different situations with the anonymity of being online and having an avatar or whatever it is that they use to represent themselves," Kane said.
Bilel, who in the film is originally from London and describes his job in Syria as "killing people", promises the woman he knows as Melody he will treat her like a queen and get her a cat.
The character, played by Shazad Latif, shows Melody a luxury home where she would live and makes a video call to her while he is having fun playing football with international recruits.
Kane said women often had a fantasy about what romance should be like and Bilel played that role perfectly for her character.
"This man comes on her screen and says everything that she thought as a little girl that she wanted - I'm going to get you a palace, I'm going to give you as many children as you want, you'll never have to work again," she said.
The camera shows Whittaker's screen for the duration of the film, with viewers voyeuristically watching as she chats to Bilel and her friends and carries out internet searches on everything from Islamic State to how to freeze her eggs.
"It's about loneliness, about who we are today, how much of our life is happening on screen and how vulnerable we are when we are attached to the internet and how scary it is," Russian-Kazakh director Timur Bekmambetov told Reuters.
"It's a reality - it's how we live today," he said. "If I'm awake for 15 hours, half of this time I'm in front of a screen - my iPhone screen or my desktop or laptop and most important events today in my life are happening on screen."
The film is based on the true story of French journalist Anna Erelle's undercover work, which was published in December 2014 and resulted in six people being arrested for involvement in jihadist recruitment networks.
Germany's domestic intelligence chief said last month that Islamic State continued to target vulnerable youths in Germany through the internet and social media.
"Profile" is one of around 400 films being screened at this year's Berlinale, which runs until Feb. 25.
https://www.channelnewsasia.com/news/lifestyle/film-at-berlin-fest-examines-how-islamic-state-jihadists-recruit-european-brides-9969758
-------
Southeast Asia
Amri Che Mat, Shia Muslims and national security in Malaysia
February 19, 2018
By Eric Paulsen
Some 14 months after Amri Che Mat's mysterious disappearance, his case appears no closer to being resolved. An ongoing inquiry by Suhakam has prompted a verbal back and forth between Norhayati Ariffin, the victim's wife, and Perlis mufti, Dr Mohd Asri Zainul Abidin, with the latter accusing Amri of propagating Shia Islam and therefore a threat to national security.
In a recent interview with Free Malaysia Today, the mufti brushed off Amri's disappearance before slamming the spread of Shia teachings in Perlis and neighbouring Thailand. Dr Asri even made the incredible claim that Perlis Hope, the charity run by Amri was working towards establishing a theocracy. Quite how the mufti made the leap from being a Shia to establishing a theocracy in Malaysia is never explained.
However, such an exaggerated claim on the dangers of Shia and other activities perceived to be a threat to Islam (in particular proselytisation of other faiths to Muslims), and by extension 'national security', reflects the sinister implications that can be derived from the authorities' lackadaisical attitude in investigating Amri's disappearance and other similar cases namely, Pastor Joshua Hilmi and his wife Ruth Hilmi, and Pastor Raymond Koh.
People in this day and age simply should not vanish into thin air without a trace, and the nonchalance displayed by the police force in investigating these cases is extremely worrying. That eyewitness reports and in the case of Pastor Raymond Koh, irrefutable CCTV evidence, indicate professionals with the assets and training to abduct people without fear of being traced should concern all Malaysians.
Upon reflection, the mufti's view, unfortunately, is largely reflective of the Malaysian authorities' harsh attitude towards Shia Islam, and this has led to dire consequences for its believers in Malaysia.
The Shia deviants
In Malaysia, Shia Islam is deemed as 'deviant' from mainstream Islam (only the official variant of Shafie school of Sunni Islam) by the federal and state religious authorities, and this is reflected in the religious laws, fatwas, publications and sermons. Under Article 11(4) of the Federal Constitution, in respect of Islam, laws may be passed to control or restrict the propagation of any religious doctrine among Muslims. By virtue of a 1996 fatwa by the National Fatwa Council, Shia teachings are declared to be haram. Under the various state Islamic laws, Shia gatherings have been subjected to raids and arrests, books and other paraphernalia seized, and in some cases, believers charged for criminal offences.
Foreigner Shias are also not spared – as recent as October 2017, some 200 Iraqi Shias were detained by the Selangor religious authorities for taking part in a religious ceremony to celebrate Ashura, and they were only freed following pressure from Iraqi authorities.
Due to this continued persecution, statistics on Malaysian Shia believers are hard to come by, estimated at around 250,000 by the Home Ministry in 2013, a minuscule number compared to the wider Sunni Muslim population in Malaysia.
The Shia-threat-to-national-security narrative as described by Dr. Asri is nothing more than an ugly exaggeration, albeit one that stems from a larger historical and sectarian conflict between Sunni and Shia Muslims in the Middle East. Nevertheless, it continues to be propagated, with an Islamic scholar even proclaiming Shia Islam to be a bigger threat than the so-called Islamic State (IS) in Southeast Asia during a conference in November 2017.
The vitriol flung at Shia Muslims flies in the face of more pressing security concerns that have enveloped the region. With the fall of their caliphate in Syria and Iraq, experts have warned that IS may adopt a more decentralised brand of terrorism as they struggle on defiantly. Western countries such as France, Germany, and the United Kingdom have already seen first-hand, the radicalisation of home-grown terrorists, the fear is there will be a successful attack soon on Malaysian soil.
IS and the real threat to national security
If Dr. Asri is truly concerned about the state of national security in Malaysia, he may be best served by reflecting on the inflammatory nature of his comments, and how they feed into the long-running narrative that oppresses a tiny community in Malaysia, and indeed in other more extreme parts of the world, for example in Pakistan and Afghanistan.
According to Joseph Liow, Senior Fellow of Brookings Institution, the number of Malaysian IS fighters, when adjusted according to population, is actually higher than Indonesia. Similarly, according to Pew Research in 2015, a higher percentage of Malaysians (11 percent) have a 'favourable opinion' of IS when compared with Indonesians (4 percent).
IS remain the biggest terror threat for Malaysia; their ideology remains appealing to radicalised Malaysians, and they are continuing to attract recruits – this much was recently confirmed by PDRM counter-terrorism chief Ayob Khan Mydin Pitchay.
Within Southeast Asia, IS affiliates have been digging in. For over five months last year, the city of Marawi in Mindanao was decimated in a siege as Philippines security forces and their allies fought the Maute and Abu Sayyaf terrorist groups, both of which had pledged allegiance to IS in earlier years. Reports throughout the year indicated that there were Malaysian nationals present amongst the ranks of the terrorists, a new twist to the already-established trend of Malaysians travelling to Syria and Iraq to join IS previously.
That there is a genuine security threat to Malaysia is clear but it does not come from Shia Muslims. The security threat instead comes from radicalised Sunni Muslims who are drawn to extremism, to Salafi-jihadi ideology – and possessing a willingness to support or take part in terrorist activities in order to advance their religious goals.
There must be greater vigilance and a serious policy rethinking as Malaysia continues to count the number of terror suspects arrested and the number of terror plots foiled. It is not inconceivable that spurred on by the bogeyman created by their own leaders, and with a misguided desire to protect their religion and way of life, radicalised Sunni Muslims may one day, be inspired to wage hostilities against Shias right here in Malaysia.
http://www.freemalaysiatoday.com/category/opinion/2018/02/19/amri-che-mat-shia-muslims-and-national-security-in-malaysia/
-------
Hadi claims Amanah causing rift among Muslims
February 18, 2018
PETALING JAYA: PAS president Abdul Hadi Awang has accused Amanah of deepening the rift among Muslim voters while giving a lifeline to Umno to win the 14th general election (GE14).
The Marang MP said Amanah was actively trying to penetrate PAS-held constituencies while claiming to be focusing its energy on battling Umno.
In an interview published in Utusan Malaysia today, he claimed that the splinter outfit had been formed in 2015 due to interference by "outside parties" and was supported by DAP to have PAS replaced in the Malaysian political scene.
He said Amanah's plan to run in 27 parliamentary seats, most of which are held by PAS, would not succeed.
He said PAS had faced offshoots like Amanah before and they have all eventually been wiped out.
"Since the 1960s, we have faced the likes of Imam, Islah, Berjasa and Hamim that all became obscure over time.
"Many of their members returned to PAS," he said, adding that Amanah should heed the fate of these parties as a historical lesson for itself.
Hadi also claimed that PAS, which plans to run in 130 parliamentary seats in GE14, needed to win at least 40 seats in the Dewan Rakyat to allow it to wield some influence in the formation of the federal government.
He also dismissed allegations that he was an extremist, including the claim that he had instigated the deadly clash at Memali village near Baling, Kedah, in 1985.
In October last year, PPBM chairman and former prime minister Dr Mahathir Mohamad had claimed that the "Amanat Hadi", a speech delivered by Hadi in Kampung Banggol, Kuala Terengganu, on April 7, 1981, had contributed to the Memali incident, leading to 14 villagers and four police officers losing their lives.
Violence had erupted when the villagers tried to protect religious preacher and local PAS leader Ibrahim Mahmud, also known as Ibrahim Libya, from arrest under the Internal Security Act (ISA) for alleged deviant teachings.
PAS had then rejected the allegation made against Ibrahim, who was among those killed.
Mahathir had asked what right Hadi and PAS had to denounce ("mengkafirkan") those who did not join their party as infidels.
Hadi's speech had, among other things, questioned Muslims who joined Umno. He had said that anyone who died opposing the Umno government would be considered a martyr.
Full report at:
http://www.freemalaysiatoday.com/category/nation/2018/02/18/hadi-claims-amanah-causing-rift-among-muslims/
-------
Report: Fugitive Malaysian militant linked to Abu Sayyaf abductions
February 19, 2018
KUALA LUMPUR, Feb 19 — A wanted Malaysian militant is believed to be working with 40 Islamic State (IS) terrorists to abduct locals to strengthen their influence in the east coast of Sabah, according to security sources.
The Star reported intelligence sources as asserting the Tawau-born Amin Bacho evaded the Philippine military last year and is hiding in Jolo with his father-in-law, Abu Sayyaf commander Hatib Hajab Sawad.
"So far, they (the militants) have carried out local kidnappings in Jolo itself but they are likely to look beyond soon," the sources were quoted as saying.
The news report said the group has been terrorising the Sabah's east coast with numerous abductions in the past decade.
The most recent case happened last Wednesday where Enrico Nee, an engineer with the Public Works and Highways, was kidnapped by a sub-group of the Abu Sayyaf — Ajang Ajang group.
Full report at:
http://www.themalaymailonline.com/malaysia/article/report-fugitive-malaysian-militant-linked-to-abu-sayyaf-abductions#GcaMYctC636O0f2q.97
-------
India
Indian Residency Rights for Kin Of Ex-Terrorists?
Feb 19, 2018
NEW DELHI: The Centre is working on a plan for proper rehabilitation of nearly 350 Kashmiri ex-terrorists who received arms training in Pakistan-occupied Kashmir and Pakistan between 1989 and 2009 but eventually returned to Jammu & Kashmir, encouraged by the state government's 2010 policy for return of ex-militants.
A major benefit under consideration is for the Pakistan/PoK-born wives and children of these ex-terrorists, who joined them during travel to J&K via the 'undesignated' Nepal route, and may involve the issue of documents to legalise their stay in India.
Sources said the Centre's representative for J&K dialogue Dineshwar Sharma is studying options for economic rehabilitation of the returned ex-terrorists and conferment of residency rights or citizenship to their wives, who they had married during their stay in Pakistan/PoK, as well as children born to them prior to return to J&K.
As per information shared by J&K chief minister Mehbooba Mufti with the state assembly last year, 337 ex-militants along with 864 family members had returned via Nepal and Bangladesh since 2010.
However, she conceded that the returnees were not eligible for benefits under J&K's policy for return of ex-militants as they had not entered India through the four designated checkpoints - Attari-Wagah, Salamabad, Chakan-da-Bagh and Indira Gandhi International Airport, Delhi.
A senior home ministry officer said the condition of these ex-militants who left PoK/Pakistan hoping for a better and peaceful life in J&K left much to be desired. "They were encouraged by us to come back to J&K but rendered ineligible for benefits under the policy for return of ex-militants as they could only return via Nepal owing to security reasons. The returnees continue to lead miserable lives in J&K with no proper employment or jobs. Their wives and children are stateless people who had to destroy their Pakistani passports before entering India from Nepal through the land border. Their citizenship status remains undecided, making them ineligible for basic facilities like school and college admissions or travel beyond J&K," the officer said.
Sources said the failure of the central and state governments to offer the ex-militants a "dignified" life they had hoped for in J&K had made them disenchanted with the very authorities that had facilitated their return.
https://timesofindia.indiatimes.com/india/residency-rights-for-kin-of-ex-terrorists/articleshow/62975643.cms
-------
Iran and India sign deal to deepen relations
Feb 19, 2018
New Delhi, India - Iran and India have inked nine agreements, including leasing part of the Iranian port of Chabahar to an Indian company, after "substantive" bilateral talks between the Indian prime minister and the Iranian president in New Delhi.
"We had detailed discussions on ways to further deepen cooperation between India and Iran," Indian Prime Minister Narendra Modi tweeted on Saturday, after "fruitful" talks with President Hassan Rouhani.
A joint statement described the Chabahar Port, which is being developed with funding from India, as a "golden gateway" that will help in reaching out to land-locked Afghanistan and central Asia.
During the joint press conference, Rouhani spoke on the importance of rail links from Chabahar to Zahedan, near the Afghan border.
Last year, New Delhi successfully sent shipments of wheat assistance to Afghanistan through Chabahar Port, bypassing archrival, Pakistan. Islamabad does not allow New Delhi to use its land route to reach Afghanistan.
"Chabahar offers India connectivity to Afghanistan and Central Asia. Along with Bandar Abbas port, it also offers India a means of multimodal connectivity all the way to Europe," said Manoj Joshi, senior analyst at Observer Research Foundation (ORF), a think-tank based in New Delhi.
"This enables India to bypass the Pakistan blockade and play a significant role in Central Asia and Afghanistan. It also helps to keep Pakistan off-balance with regard to India," Joshi told Al Jazeera.
'Belt and Road Initiative'
New Delhi has already committed $500m to the Chabahar Port, outside of the Gulf of Hormuz – site of one of the busiest shipping lanes in the world. The port is significant for India, as it would provide new sea-trading routes and connectivity to Afghanistan, aiming to parallel China's growing presence in the region.
Chabahar is located about 140km from Pakistan's Gwadar port, which is being developed with Chinese help as part of the "Belt and Road Initiative".
Hadi Haqshenas, deputy head of Iran's Ports and Maritime Organisation, said, "Chabahar's development is the most important maritime connectivity cooperation between Tehran and New Delhi.
"While, in Pakistan, the Chinese invested in the development of the Port of Gwadar; in Chabahar, part of the investment was brought by India. So these two ports, which are located at a short distance from each other, can help connectivity from India and China to Central Asia and vice-versa," Haqshenas told Al Jazeera.
On Saturday, Rouhani was accorded a ceremonial welcome at the presidential palace in New Delhi.
Both India and Iran want to see a peaceful, stable Afghanistan, Modi said at a joint press conference with Rouhani, underscoring New Delhi's focus on Kabul.
An official joint statement also referred to "strengthening India-Iran-Afghanistan trilateral consultations". The three nations had signed a trilateral transit agreement during Modi's visit to Tehran in May 2016.
Trade ties between the two countries have been dominated by Indian import of Iranian crude oil. India is the second largest buyer of Iranian crude after China.
According to India's Foreign Ministry, India-Iran bilateral trade during the fiscal year 2016-17 reached $12.89bn.
Uncertainty over the nuclear deal
Rouhani's three-day trip – the first by an Iranian president in 10 years – comes after his country witnessed one of its biggest protests in years over economic woes.
The uncertainty over the fate of the nuclear deal Tehran signed with the West in 2015 poses a big challenge to Indian foreign policy. Donald Trump, the US president, has decertified the deal that promised to lift crippling economic sanctions in return for limiting the country's controversial nuclear programme.
In a big diplomatic boost, however, Tehran was able to get New Delhi's backing on the nuclear deal, after India "reaffirmed its support for full and effective implementation" of the deal.
Speaking at an ORF event in New Delhi, the Iranian president took aim at the US, saying that haggling over the nuclear deal was "ridiculous.
"After the signing [of the Nuclear Agreement], there is no place for haggling. It is ridiculous," he said.
Experts warn that a US exit from the deal would affect India's planned investments in Iran.
"If the US pulls out, it will have many consequences. China and Russia won't accept it, and so India will have to carefully nuance its stand because it would not want to rub the US the wrong way either. It will also dampen India's ardour to invest in Iran," Joshi said.
Israel, one of the closest US allies in the region, has also been vocal against the nuclear deal, and considers the Shia government in Tehran its biggest security threat. Last week, it bombed what it called Iranian military bases inside Syria.
But Sujata Ashwarya, author of "India-Iran Relations", says India's bilateral interests in the region "serve distinct sets of interests.
"Israel is a key partner for arms import and defence technology as well as in counterterrorism initiatives," said Ashwarya, Professor at the Centre for West Asian Studies of Jamia Millia Islamia University in New Delhi.
"On the other hand, our relations with Iran, apart from being animated by the familiarity and stability of historical ties, are crucial for access to Afghanistan through the Chabahar port, and import of crude oil which is a significant seven percent and not immediately replaceable," she said.
Sectarian strife
Syria has been wracked by violence after a largely peaceful uprising against President Bashar al-Assad's regime regressed into bloody conflict, involving regional powers and a proxy war.
Iran's backing of Assad, Houthi rebels in Yemen and the armed Hezbollah group in Lebanon have heightened tension with Sunni countries in the region.
One of the biggest challenges for India is to negotiate the newly emerging faultlines in the region, said Aishwarya.
"The Sunni Arab countries of the Gulf, especially Saudi Arabia, the UAE, Bahrain and Kuwait, are aligned against Shia-majority Iran, in cohort with Israel. India has a dynamic commercial partnership with Arab Gulf states. The region is also critical to India's energy security.
"India's ability to forge independent bilateral relations sans overlapping interests should work here. The task before Indian diplomacy is to use its good offices and weight to promote political accommodation," she added.
The two leaders stressed the historic and cultural relations between the two countries.
"Relations between the two countries go beyond trade and business; they go back in history," Rouhani said.
The Iranian president began his trip from Hyderabad, the largely Muslim capital of southern Telangana State, where he met religious leaders and visited Islamic sites.
He offered Friday prayers at a 17th-century Sunni mosque in the city, and later urged Muslim solidarity and "compassion for humankind" across the world.
"They all can be compared to streams which come from a single spring and all these streams eventually into one ocean," he said, referring to sectarianism that divides the Muslim world into Shia and Sunnis - a schism linked to the battle for power, resources and territory in the Middle East.
Ties with the OPEC producer have both economic and geopolitical significance for New Delhi.
India recognises Iran as a "very major power" in the Gulf, said Meena Singhroy, Coordinator at the West Asia Centre of the Institute for Defence Studies and Analyses in New Delhi.
Full report at:
http://www.aljazeera.com/indepth/features/iran-india-sign-deal-deepen-relations-180218131756257.html
-------
Firozabad: Three BJYM members booked for 'assaulting' police, two Muslims
February 18, 2018
Security was tightened and mobile internet services were suspended till evening in Firozabad on Friday following an incident the previous evening wherein members of BJP's youth wing allegedly assaulted police and two Muslim men. Firozabad police are on the lookout for three Bharatiya Janata Yuva Morcha (BJYM) members — Lucky Garg, Dheeraj Parashar, Uday Thakur — and around 20 of their supporters in connection with the incident that happened at a bus stop near Gandhi Park.
"We rushed to find a group of drunk youths thrashing two men. We rescued the victims and sent them to South police station (which had jurisdiction in the area). A constable and I stayed back and they started misbehaving with us. They were abusing and asking to call the two men back," North Police station house officer (SHO) Lokesh Bhati said.
He requested additional police force to handle the situation but the accused escaped taking advantage of the crowd, he said. South Police SHO Vinod Kumar said the two men were identified as Imran and his friend Sehjil. "Imran said they went to buy medicines when they were caught by the men. He said they abused them and made derogatory remarks on their religion. When they objected, they started beating them," the SHO said. SHO Bhati named Garg, Parashar and Thakur, and 15-20 unidentified others in his complaint and they were booked under section 147 (rioting)and other relevant sections of the IPC.
Full report at:
http://indianexpress.com/article/india/firozabad-three-bjym-members-booked-for-assaulting-police-two-muslims-5068285/
-------
Arab World
Car bomb in Syria's Qamishli kills five people - state media
19 February 2018
A car bomb exploded in the Kurdish-dominated city of Qamishli in northeastern Syria on Sunday, killing five people and injuring seven, Syrian state news agency (SANA) said, citing a source in the police headquarters of Hasakeh province.
The explosion targeted al-Hay al-Gharbi in the city, SANA reported.
The Kurdish YPG militia controls swathes of northeastern Syria including most of Hasakeh province where Qamishli is located.
It was not immediately clear what the explosion targeted in the Qamishli, which is in the northern rural area of Hasakeh.
The Syrian Observatory for Human Rights, a Britain based war monitor, said the last explosion to target the city was in September, when a motorcycle exploded near the financial administration, killing a child and injuring several other people.
https://english.alarabiya.net/en/News/middle-east/2018/02/19/Car-bomb-in-Syria-s-Qamishli-kills-five-people-state-media.html
-------
OIC to attend event on media's role in combating terrorism
19 February 2018
RIYADH: The Organization of Islamic Cooperation (OIC) is participating in the international conference on the role of media in combating terrorism in Cotonou, the capital city of Benin, West Africa, on Monday and Tuesday.
The OIC will highlight its efforts in addressing terrorism and Islamophobia, including campaigns on social media, creating a journalists' guide for covering terrorism and holding seminars on countering Islamophobia in Western media.
The theme of the conference is "Media for World Harmony: Role of Media in Combating Terrorism and Islamophobia."
Full report at:
http://www.arabnews.com/node/1249306/saudi-arabia
-------
Emir of Al-Nusra Killed in Clashes with Rival Group in Southern Damascus
Feb 18, 2018
The Arabic-language al-Watan daily reported that ISIL imposed full control over Mashrou'a al-Wasim region in Yarmouk camp after heavy fighting with Al-Nusra.
The daily added that a number of members of both warring sides, including Al-Nusra Emir Abu Talib al-Yadawi, were killed in the clashes.
ISIL is in control of 70 percent of the camp, the Al-Nusra controls 25 percent of the camp and the remaining part in under the control of Palestinian Resistance Forces, al-Watan said, adding that 2,000 ISIL terrorists and 170 gunmen of Al-Nusra are stationed in the camp.
ISIL stormed the positions of Al-Nusra Front on Saturday and managed to push the rival terrorist group back from more points in the Yarmouk Palestinian Refugee Camp in the Southern countryside of Damascus city.
The ISIL captured al-Melion and al-Mashrou'a neighborhoods in Yarmouk camp in the Southern countryside of Damascus city after heavy clashes with Al-Nusra.
Full report at:
http://en.farsnews.com/newstext.aspx?nn=13961129000983
-------
Iraqi victories remain fragile as US reduces troops
February 19, 2018
From their outpost on Iraq's westernmost edge, U.S. 1st Lt. Kyle Hagerty and his troops watched civilians trickle into the area after American and Iraqi forces drove out the Islamic State group. They were, he believed, families returning to liberated homes, a hopeful sign of increasing stability.
But when he interviewed them on a recent reconnaissance patrol, he discovered he was wrong. They were families looking for shelter after being driven from their homes in a nearby town. Those who pushed them out were forces from among their "liberators" — Shiite militiamen who seized control of the area after defeating the IS militants.
It was a bitter sign of the mixed legacy from the United States' intervention in Iraq to help defeat the militants. American-backed military firepower brought down the IS "caliphate," but many of the divisions and problems that helped fuel the extremists' rise remain unresolved.
The U.S.-led coalition, which launched its fight against IS in August 2014, is now reducing the numbers of American troops in Iraq, after Baghdad declared victory over the extremists in December. Both Iraqi and U.S. officials say the exact size of the drawdown has not yet been decided.
U.S. and Iraqi commanders here in western Iraq warn that victories over IS could be undercut easily by a large-scale withdrawal. Iraq's regular military remains dependent on U.S. support. Many within Iraq's minority communities view the U.S. presence as a buffer against the Shiite-dominated central government. Still, Iranian-backed militias with strong voices in Baghdad are pushing for a complete U.S. withdrawal, and some Iraqis liken any American presence to a form of occupation.
That has left an uncomfortable limbo in this area that was the last battlefield against the extremists. Coalition commanders still work with Iraqi forces to develop long-term plans for stability even as a drawdown goes ahead with no one certain of its eventual extent.
HEARTS AND MINDS — AGAIN
"Let's go win us some hearts and minds," Sgt. Jonathan Cary, 23, joked as he and Hagerty and the patrol convoy set off from a base outside the town of Qaim, evoking a phrase used in American policy goals for Iraq ever since the 2003 U.S.-led invasion that ousted Saddam Hussein.
After just a few hours moving on foot across farmland and orchards to a cluster of modest houses, Hagerty realized the families he thought were returnees to the area were in fact newly displaced. Their homes in Qaim had been confiscated by the government-affiliated Popular Mobilization Forces, or PMF, made up mainly of Shiite paramilitary fighters backed by Iran.
"Our end goal is a stable Iraq, right?" Hagerty said later, back at the base. "But when you see stuff like that, it makes you wonder if they are ever going to be able to do it themselves."
After victories against IS, the PMF has built up a presence in many parts of Sunni-majority provinces, including western Anbar. It formally falls under the command of the prime minister, but some Iraqi commanders accuse the PMF of being a rival to government power.
PMF flags line highways crisscrossing Anbar. At a PMF checkpoint outside al-Asad airbase — a sprawling complex used by both Iraqi and coalition forces — U.S. convoys are regularly stopped for hours while busloads of PMF fighters are waved through.
U.S. Marine Col. Seth Folsom works closely with the branches of Iraq's security forces — Sunni tribal fighters and the Iraqi army — who are increasingly concerned about the rise in power of the PMF. Iran has given no indication of dialing back its support after the defeat of IS extremists.
"The biggest question I get now is, 'how long can we count on you being here?'" Folsom said of his conversations with Iraqi commanders and local politicians.
That decision ultimately rests with Iraq's political leadership, he said.
"I guess some people could see that as a cop-out, but at the same time it's not my place as a lowly colonel to define how long the U.S. presence is going to be."
'FORWARD LINE OF FREEDOM'
For the senior officers leading the current fight against IS, decades of U.S. military intervention in Iraq has defined their careers.
The top U.S. general in Iraq — Lt. Gen. Paul Funk — served in Iraq four times: in the Gulf war in 1991; in the 2003 invasion; in the surge when some 170,000 American troops were serving in Iraq in 2007; and most recently in the fight against IS.
"It will definitely be positive," Funk said of the legacy of the U.S. role against IS in Iraq. "People see their young men and women out here defeating evil. That's a positive thing."
On a recent flight from Baghdad to a small U.S. outpost in northern Syria near Manbij — a trip that traversed the heart of the battlefield with IS for the past 3½ years — Funk described the future of the fight as ideological and open-ended.
"The problem is people believe it's already over, and it's not," he said. "Beating the ideology, destroying the myth, that's going to take time."
Touching down outside an orchard on the perimeter of the Manbij base, Funk exclaimed: "Welcome to the front line of freedom!"
Funk predicts the ideological fight could take years and easily require U.S. troop deployments elsewhere. He said that is one reason he believes it's so important to visit U.S. troops on the current front lines — to show them "the American people believe in their purpose."
"We have got to recruit the next generation," he said.
Many of the young U.S. troops interviewed by The Associated Press said they didn't know anything about the Islamic State group when they enlisted.
Rayden Simeona, a 21-year-old corporal in the Marines, enlisted in 2014, when all he knew about the U.S. military was from movies and video games.
"I felt like I wasn't going anywhere with my life, I had no idea what IS was. I just knew I wanted to go to war," he said. Once deployed, he said talk rarely broached the big questions of "What we are doing here?" or "Why?"
"But I do wonder all the time: Why are we spending all this money in Iraq?" he said. "There's probably some greater plan or reason that someone much higher up than me knows."
IS THE JUICE WORTH THE SQUEEZE?
Along Iraq's border with Syria, the two Iraqi forces charged with holding a key stretch of territory lack direct communication. Because one force falls under the Defense Ministry and the other under the Interior Ministry, their radios are incompatible.
Instead, the troops use Nokia cellphones in a part of the country where network coverage is spotty to nonexistent.
At the nearby coalition outpost near Qaim, U.S. Army Lt. Col. Brandon Payne spends much of his time filling communications gaps by relaying messages between different branches of Iraq's military.
"The coordination is not where we hoped it would be," Payne said. "But they do talk to each other, and we see that as a sign of progress."
Tactical shortcomings within Iraq's military are partially what fueled the expansion of the coalition's footprint in Iraq in the past three years. As Iraqi ground forces demonstrated an inability to communicate and coordinate attacks across multiple fronts, U.S. forces moved closer to the fighting and sped up the pace of territorial gains.
Despite the caliphate's collapse, those weaknesses have persisted. Iraqi forces remain dependent on coalition intelligence, reconnaissance, artillery fire and airstrikes to hold territory and fight IS insurgent cells.
Payne regularly shuttles between his base, Qaim and the Syrian border, meeting with different members of Iraqi forces to coordinate security and repel IS attacks from the Syrian side.
"I would say we are still needed," Payne said. "We are getting great results with this model, but you see how much goes into it."
The base, once a small, dusty outpost, now houses a few hundred coalition troops and is a maze of barracks, gyms, a dining facility, laundry services and a chapel.
"At some point, someone much higher up than me is going to decide the juice is just not worth the squeeze," Payne said, referring to the cost of such a large outpost in a remote corner of the country.
ROTTEN LEADERSHIP
Iraqi army Lt. Col. Akram Salah Hadi, who works closely with Payne's soldiers at the Qaim outpost, said coalition training and intelligence sharing have improved the performance of his unit. But overall, the U.S. effort in Iraq gives him little hope for the future.
Corruption in the military, Hadi said, remains as bad as it was in 2014, when it was seen as a major reason why entire Iraqi divisions simply dissolved in the assault on Mosul by a few hundred IS fighters.
Young Iraqi soldiers with ambition and talent can't rise through the ranks without political connections. Top ranks are bloated with officers who have bought their promotions. Within his division alone, Hadi said he can think of 40 officers with no military background who attained their rank because of their membership in a political party.
"With leadership like this, the rest will always be rotten," he said.
Coalition programs that have trained tens of thousands of Iraqi troops have largely focused on the infantry, not the junior officers needed to lead units and instill a culture of service that will make a professional force.
Full report at:
https://nation.com.pk/19-Feb-2018/iraqi-victories-remain-fragile-as-us-reduces-troops
-------
Syria forces ready for assault on rebel enclave
February 19, 2018
BEIRUT - Syrian forces readied Sunday for a ground offensive against the rebel-held enclave of Eastern Ghouta outside Damascus, a monitor said, as residents of the capital braced for retaliatory shelling.
President Bashar al-Assad has in recent days been sending reinforcements from across the country to the edge of Eastern Ghouta, besieged by regime troops since 2013.
"The reinforcements are complete; the attack is just waiting for a green light," said Rami Abdel Rahman, the head of the Syrian Observatory for Human Rights.
On Sunday dozens of rockets and artillery slammed into three key towns in Eastern Ghouta, he told AFP.
The last rebel bastion near Damascus, Eastern Ghouta is held by two main Islamist factions, Jaish al-Islam and Faylaq al-Rahman, although jihadists also have a foothold there.
The regime is keen to regain control of the area to halt the deadly salvo of rockets and mortars that those factions have fired on the capital.
An AFP correspondent in Damascus said residents were already starting to pack bags and rent rooms outside of Damascus in anticipation of an operation now seen as imminent.
One of them said he was planning to temporarily move his parents out of their home in the capital's east, which is regularly hit in rebel shelling.
"I'd rather drop my parents off in our village in Wadih al-Qalaa," in the government-controlled province of Latakia, said 29-year-old Karim. "They'll be safer there, and I can bring them back as soon as it's calm in their neighbourhood," he told AFP.
According to the Observatory, the regime began dispatching military reinforcements to Eastern Ghouta on February 5, the same day it launched a fierce five-day bombing campaign on the region. Air strikes have left around 250 civilians dead, with retaliatory rocket fire on Damascus killing about 20, the monitor said. Abdel Rahman said negotiations with Russian involvement were taking place for the evacuation of jihadist faction Hayat Tahrir al-Sham (HTS), whose footprint in Ghouta is limited but includes areas directly adjacent to Damascus.
The Syrian daily Al-Watan, which is close to the government, also reported the talks on Sunday.
But rebels have denied the claim, with top Jaish al-Islam figure Mohammad Alloush telling AFP there were no negotiations.
"We reserve our legitimate right to defend ourselves. We opened the door for a political solution and participated in negotiations to stop the bloodshed in Syria , but the other side breached these agreements and broke every ceasefire," he said.
Faylaq al-Rahman spokesman Wael Alwan also told AFP his group had "no correspondence or negotiations with the criminal regime or its allies."
The government has already cleared swathes of territory around Damascus through local deals, whereby besieged anti-government forces were evacuated and bussed to other rebel-dominated areas.
If a deal is struck for Eastern Ghouta, HTS jihadists would likely be sent to the northwestern province of Idlib, which is almost completely out of government control.
But time appeared to be running out for an agreement Sunday and regime forces , who have been receiving aerial backing from Russia, looked on the brink of starting a major offensive.
The Observatory said more than 240 rockets had rained down on Eastern Ghouta in the space of an hour on Sunday evening.
"The collapse of the negotiations will signal the start of an assault ," Abdel Rahman said.
Full report at:
https://nation.com.pk/19-Feb-2018/syria-forces-ready-for-assault-on-rebel-enclave
-------
Fresh Wave of Tensions Erupts among Terrorists in Northern Syria
Feb 18, 2018
The Al-Nusra has accused Nouralddeen al-Zinki terrorists of assassinating its field commander Abu Ayman al-Mesri in Western Aleppo, and issued a call to place all its forces on alert for an imminent attack on al-Zinki positions in the region, militant sources said.
In the meantime, the chief commander of Ahrar al-Sham warned the newly-appointed chief commander of Al-Nusra, Abu Mohammad al-Joulani, to avoid any "stupid move or wait for a fall".
Other sources reported that Ahrar al-Sham and Nouralddeen al-Zinki have decided to start a new coalition to be named "Syria's Tahrir Front" to face the Al-Nusra threat.
Other sources said that two Al-Nusra-affiliated groups engaged in heavy fighting in the town of Ma'arat al-Nu'aman in Southern Idlib on Wednesday, inflicting a number of casualties on both warring sides.
Field sources reported on Sunday that Abu Hazifah Homsi, a notorious Al-Nusra commander, was killed after a remote-controlled bomb went off in his vehicle on a road connecting the town of Ariha to the village of al-Mastoumah in Southern Idlib.
Full report at:
http://en.farsnews.com/newstext.aspx?nn=13961129001187
-------
Arab Daily: Tel Aviv's Military Superiority Questioned by F16 Crash
Feb 18, 2018
"The Israeli and US military commanders are still in shock one week after the advanced F16 fighter jet was shot down by the Syrian air defense system," the Arabic-language al-Ray al-Youm wrote in its editorial on Sunday.
It said that the strategic reports in the US indicate that Israel might change the type of its planes and squadrons for such cross border attacks.
According to the report, the Aviation Analysis Wing, a specialized US aviation magazine, has also confirmed the Syrian missile's success in shooting down the Israeli plane, adding that the incident marks a major blow to Israel's perceived aerial supremacy in the region.
Shooting down one of the most advanced fourth generation fighter jet can seriously affect Israel's aerial offensive capability in case of war with arch rival Iran, it added.
Powered by a single F100-PW-229 manufactured by Pratt and Whitney with a maximum thrust of 29,100 lbs, the F-16I features a CFT (Conformal Fuel Tank) which increase fuel capacity by 40 percent the amount of fuel it can load normally, the magazine wrote.
Most of the systems installed in the airplane are Israeli and were manufactured by Israeli Defense industries, accustomed to the IAF's needs. The aircraft is equipped with an advanced radar which has synthetic aperture capability, and allows for the detection of ground targets in any sort of weather, in day and at night, it added.
The aircraft is also equipped with a Litening Pod- which locates targets and guides weapons, and a LANTIRN pod for navigation, according to the US aviation magazine.
Syria's Air Defense Units targeted an Israeli warplane after it raided the Syrian Army positions in the Central part of Syria on February 10.
The state-run SANA news agency quoted a field source as saying that an Israeli warplanes embarked on targeting a military base of the Syrian Army in Central part of the country on February 10, adding that the Syrian air defense units tracked the warplanes and targeted more then one of them.
In the meantime, an Israeli media source reported that one of the Israeli jets was downed in al-Jalil region in Northern occupied Palestine by the Syrian air defense units' fire in the occupied Golan region.
In relevant remarks last Sunday, Secretary of Iran's Supreme National Security Council (SNSC) Ali Shamkhani rejected Israeli claims that the F16 fighter jet downed by the Syrian army was on a mission to target an Iranian drone, stressing that Damascus move showed the end of hit-and-run era.
"There is an important point in the recent events and in targeting an Israeli fighter jet: the Syrian army showed to the Zionists that the era of hit-and-run has ended," Shamkhani told FNA in Tehran during the nationwide rallies to commemorate the anniversary of the victory of the Islamic Revolution in Iran in 1979.
Asked about Israeli officials' claims that they had flown the F16 fighter jet, which was downed by the Syrian army, to intercept an Iranian drone flying over the occupied territories, he said, "It is an irrational claim as no F16 fighter takes off to target a drone."
Shamkhani also dismissed the Zionists' claim that they have attacked a Syrian-Iranian base in Syria, and said, "We play an advisory role in Syria."
The Arabic-website of Russia's Sputnik quoted Spokesman for the Israeli Army Avikhai Adra'ei as saying that the Syrian air defense units targeted an Israeli F16 fighter jet in Northern part of Palestine, adding that the downed warplane's pilots are alive and in good health condition.
The Israeli spokesman further claimed that an Iranian drone entered airspace of the occupied Palestine, but an Israeli combat helicopter targeted it. Iranian officials have rejected the claim.
The Joint Operations Room run by the allied forces of Syria, Hezbollah, Iran, and Russia said the drone never crossed the border into Israel, adding that Israel has raided its drone base at the T4 airbase in Central Homs province in Central Syria far away from the Israeli border. The operations room said the drones operating at the base are tasked with collecting vital intel on ISIL in Syrian territories. It also warned that the incident crossed the border of its tolerance, implying that it would reciprocate any further aggression by Israel.
In the meantime, other sources said that the two pilots of the down Israeli jet were injured and one of them is in critical condition.
Some sources reported that the badly inured pilot was wounded before ejecting form the warplane.
Damascus stressed earlier this month that the repeated Israeli attacks on Syria are a continuation of Israel's aggressive approach represented by supporting terrorist groups to prolong the crisis in Syria and to raise the morale of the terrorists.
In a letter sent to the United Nations Secretary General Antonio Guterres and the UN Security Council, Syria's Foreign Ministry stressed that the continuation of Israel's attacks only serves to support terrorist groups and to prolong the crisis in Syria.
"The government of the Syrian Arab Republic reiterates its warning to Israel on the serious repercussions of its attacks on Syria, its continued support for armed terrorist organizations, and its continued occupation of the Arab territories, including the occupied Syrian Golan, and it holds Israel fully responsible for that," it said.
It further went on to condemn the Tel Aviv regime's latest attack in which Israeli aircraft launched missiles from the Lebanese airspace on an area in Damascus countryside.
The letter noted that the attack coincides with "the launching of more than 1,000 rockets and mortar rounds during the past few days on neighborhoods, suburbs, diplomatic missions, service facilities, and churches in Damascus and other cities, where dozens of civilians were killed and hundreds others were wounded, most of them women and children."
The letter concluded by calling on the UN and the Security Council to condemn such actions and to take firm and immediate measures to halt those attacks.
During the past few years, Israel has frequently attacked military targets in Syria in what is considered as an attempt to prop up terrorist groups that have been suffering heavy defeats against Syrian government forces.
Full report at:
http://en.farsnews.com/newstext.aspx?nn=13961129001333
-------
Whistle-Blower: Saudi Crown Prince Not Willing to Admit Regional Failures
Feb 18, 2018
"In private meetings, Bin Salman doesn't want to admit failure of his foreign policies but always complains that his affairs don't progress well in Qatar, Yemen, Kuwait, Iraq, Syria, Egypt and Turkey as he desires, and he is angry that the western newspapers mock his views," Mujtahid wrote on his twitter page.
He added that the Saudi crown prince praises his foreign policy and then complains that the pressures on Qatar have backfired and Riyadh's attempts against Iraq, Syria and Lebanon didn't yield desired results.
"Bin Salman is spending millions of dollars to stop the western media's negative reports on him and improve his image with their help," Mujtahid said.
The Saudi whistle-blower had also revealed in November that bin Salman has personally bribed US President Donald Trump with a sum of $1bln during the latter's visit to Riyadh last May.
Mujtahid wrote on his twitter page that Bin Salman, then-deputy crown prince, was able to win the US administration's favor in his power struggle with his cousin Mohammed bin Nayef, who was heir to the throne until he was deposed last June.
Full report at:
http://en.farsnews.com/newstext.aspx?nn=13961129000883
-------
Damascus: Last Round of Talks between Syrian Army, Militants underway before Gov't Forces' Operation
Feb 18, 2018
The Arabic-language al-Watan daily quoted sources close to the reconciliation trend in Eastern Ghouta as saying that serious negotiations are underway between the army and representatives of militant groups, adding that Russia has been mediating the reconciliation talks.
It added that clashes between the army and militants have been halted, adding that the terrorist groups called for resumption of peace talks after they violated the ceasefire in de-escalation zone and the army put the terrorist groups under pressure.
In the meantime, the Russia-run Humeimim airbase has warned that Moscow will provide back up for the Syrian Army operation against the Al-Nusra Front (Tahrir al-Sham Hay'at or the Levant Liberation Board) in Eastern Ghouta if peace talks fail.
Al-Watan said that if the reconciliation talks fail the army- that has dispatched a large number of forces and a large volume of equipment to Eastern Damascus- will kick off a large-scale operation against the terrorists.
A field source reported last week that the army troops stormed the positions of two main terrorist groups in Eastern Ghouta and beat them back from more positions to expand the security zone around government-controlled regions.
The army men struck the strongholds of Ahrar al-Sham and Al-Nusra Front Northwest of the town of Arbin in Eastern Ghouta and imposed control over al-Nofous building, Abdul Rahman Bin Aowf grand mosque and a Lebanese-Jordanian Company building.
Full report at:
http://en.farsnews.com/newstext.aspx?nn=13961129000859
-------
Deal for Syrian army to enter Afrin, says Syrian Kurdish official
18 February 2018
Syrian Kurdish forces and the Damascus government have reached an agreement for the Syrian army to enter the Afrin region to help repel a Turkish offensive, a senior Kurdish official told Reuters on Sunday.
Badran Jia Kurd, an adviser to the Kurdish-led administration in north Syria, said army troops will deploy along some border positions and could enter the Afrin region within the next two days.
The agreement underscores the increasingly complex situation in northern Syria where Kurdish groups, the Syrian government, rebel groups, Turkey, the United States and Russia are tangled in a complex web of enmities and alliances.
The complex relationship between the Damascus government and the Syrian Kurds, which each holds more territory than any other side in the war, will be an important element in determining the future course of the conflict.
Turkey launched an air and ground offensive last month on Syria's Afrin region, opening a new front in the multi-sided Syrian war to target Kurdish fighters in the autonomous canton in the north.
The Kurdish YPG militia, which has received arms from the United States, has seized swathes of northern Syria from ISIS during the conflict, and has a rival vision for the country's future to that of the Damascus government.
But while the United States has a military presence in the much larger area of Syria the YPG and its allies control further east, it has not given any support to the YPG in Afrin.
Complex relationship
Syrian President Bashar al-Assad's government has had a complex relationship with the YPG during the conflict. They have mostly avoided direct conflict and both sides have at times suggested a long-term agreement between them might be possible, but they have also sometimes clashed and espouse utterly
different visions for Syria's future. Assad has said he wants to take back control of the whole country.
Jia Kurd said the agreement that had been reached with Damascus was purely military and that no wider political arrangements had been made yet.
"When it comes to the political and administrative matters in the region, it will be agreed upon with Damascus in the later stages through direct negotiations and discussions," he said.
Full report at:
https://english.alarabiya.net/en/News/middle-east/2018/02/18/Syrian-Kurdish-official-Deal-for-Syrian-army-to-enter-Afrin.html
-------
Europe
Is Russia attempting to erase Crimean Muslim culture?
by Mansur Mirovalev
18 Feb 2018
Bakhchisaray, Ukraine - The mosque looked like a bandaged patient.
The 500-year-old limestone building was wrapped in wooden scaffolding and long pieces of cloth that hid geometric ornaments and Koranic calligraphy.
Next to it lay heavy bundles of steel rods that seemed alien in the courtyard of the seemingly weightless, palatial complex out-of-a-fairy-tale, built for Crimean Khans. The dynasty of Genghis Khan's descendants was dethroned after tsarist Russia's annexation of the Black Sea peninsula in 1783.
In January, almost four years after Moscow's second annexation of Crimea, pro-Russian authorities started restoring the oldest and holiest part of the complex - the Big Khan Mosque built in 1532. They also announced plans to restore the entire palace.
But experts, community leaders and Ukrainian officials have lambasted the restoration as the destruction of the complex's authenticity. They call it part of Kremlin's drive to reshape, ban and erase the cultural identity of Crimean Tatars, a Muslim ethnicity of 250,000 that largely resisted Crimea's return to Russia.
"This is a blueprint for the restoration of the entire palace," Edem Dudakov, a construction engineer and former official in Crimea's pre-annexation government, told Al Jazeera. "The palace will be lost; what they're building is a sham."
The ATTA Group, a company behind the restoration, specialises in contemporary architecture and uses modern materials such as steel and concrete that will inevitably destroy the fragile building, Dudakov said.
It replaces medieval, handmade tiles with modern, Spanish-made roofing, and whole wooden beams with glued, composite planks.
The company did not reply to requests for comment.
What has been done to the mosque already amounts to "partial loss of the building's authenticity," Mustafa Jemilev, a revered community leader expelled by Moscow, wrote on Facebook.
Ukrainian authorities echo his concerns.
The restoration "poses a real danger of destruction" of the palace, the foreign ministry said in a statement.
'Revenge for disloyalty'
The palace's gradual destruction and "remodelling" exemplifies Russia's fraught relationship with Crimean Tatars.
The Turkic-speaking ethnic group once controlled the Great Silk Road's westernmost branch and warred with Moscow for centuries. Crimean Tatars consider the palace the most significant symbol of their lost statehood.
A Russian army burned the palace and its gigantic library. Westernised tsars changed the rebuilt palace's interior to make it look more European. They erased elaborate frescoes, destroyed many buildings and dramatically reduced the palace's acreage.
The restoration is part of Kremlin's broader campaign of pressure on the Crimean Tatar community that includes abductions, arrests, searches and sentences of up to 15 years in jail for alleged "terrorism" and membership in "radical" religious groups.
"Assimilation, erasure of historic memory are revenge for political disloyalty, for reluctance to obey," Gulnara Bekirova, an historian and the host of television shows on ATR, a Tatar-language television network that criticised Moscow's actions in Crimea, told Al Jazeera.
Shortly after the annexation, Moscow banned ATR and several other media outlets. It made Tatar-language kindergartens bilingual and reduced Tatar classes in public schools to two voluntary hours a week.
Such lessons "are number seven or eight on the schedule, in such conditions, one just does not attend", political activist Seitumer Seitumerov told Al Jazeera.
He fled Crimea for mainland Ukraine after the owner of a restaurant he managed was arrested and charged with "extremism."
Moscow introduced history textbooks that describe how Crimean Tatars pillaged Russia, enslaved and sold tens of thousands of captives, and obediently served Ottoman sultans - the tsars' archenemies.
Meanwhile, Kremlin-controlled media stoke anti-Tatar sentiments.
Some ethnic Russians accuse Tatars of plotting to massacre the pro-Moscow population that mostly voted for Crimea's "return to Russia" during the March 2014 "referendum".
"If it wasn't for the referendum, Tatars and [Ukrainians] would have cut our throats," Alexander Topchilin, a store manager in Simferopol, Crimea's main city, told Al Jazeera.
Anti-Tatar campaigns go hand in hand with pressure on all things Ukrainian.
Although Russia declared Ukrainian one of three official languages in Crimea along with Crimean Tatar and Russian, Ukrainian classes were reduced, and activists displaying Ukrainian symbols or posting pro-Ukrainian comments online face harassment, beatings and jail, rights groups say.
Ukraine's Culture Ministry bristled at "Russia's totalitarian and aggressive policies aimed at destroying ethnic identity and self-identification" of Crimean Tatars and ethnic Ukrainians.
It said in a statement that the policies were part of Moscow's "ethnic genocide conducted to fully colonise the peninsula."
Muslim reformers
Crimea's location - between the Mediterranean trade outposts, Eurasian steppes and Eastern Europe - attracted Byzantine emperors, Mongol khans and Ottoman sultans.
The peninsula's multiethnic population included Turkic-speaking nomads, Greeks, Goths and Armenians.
Many accepted Islam, but retained cultural traits such as horticulture and sophisticated, odd-metered music.
Crimea's cultural openness made it an important centre of Muslim culture - despite the constant pressure that forced hundreds of thousands of Tatars to leave for Ottoman Turkey.
"Following tsarist government's policies, Crimean Tatars were forced to leave Crimea and soon turned into a minority in their only historic motherland," historian Bekirova said.
A century after the 1783 annexation, Crimea became the cradle of Jadidism, a movement for political and cultural reforms among Russian Empire's Muslims.
Jadidism's founder Ismail Gasprinsky published Terjiman (Interpreter), a newspaper that reached Siberia, Central Asia and Eastern Europe. His daughter, Shefika, started one of the first magazines for Muslim women, Alemi Nisvan (Women's World).
Crimean Tatars used an adapted Arabic script, but under Joseph Stalin, they had to switch to a Cyrillic script, and their next generation simply could not read their pre-Soviet literature.
During anti-religious campaigns, most of the peninsula's mosques were closed down. Jadids, who largely supported Bolsheviks, were purged and executed.
In 1944, the entire Crimean Tatar community was deported to Central Asia for alleged collaboration with Nazi Germans, and was allowed to return in the late 1980s. Half a century of exile amid a virtual ban on their language further eroded their religious and cultural identity.
Wider linguistic crackdown
The ongoing crackdown on their language follows a similar trend throughout multiethnic Russia.
Last November, the Kremlin forbade compulsory classes of Tatar, Russia's second-most spoken language and a linguistic sibling of Crimean Tatar, following complaints from the parents of ethnic Russian students in the Volga River province of Tatarstan.
"It is inadmissible to force a person to study a language that is not their mother tongue," Russian President Vladimir Putin said, adding that Russian "can't be replaced with anything".
Several other provinces with large non-Russian populations responded with similar bans, despite protest rallies and pleas signed by intellectuals and public figures.
Critics blame the trend on Kremlin's tilt to anti-Western nationalism that began after massive protests against Putin's third election.
Russia has turned "into a colonial 'prison of nations' with a hardline course to assimilate national minorities", wrote Radjana Dugarova, an activist from the southern Siberian province of Buryatiya.
Although Mongol-speaking Buryats form a sizable minority, they also faced a ban on the compulsory teaching of their mother tongue.
Fearing persecution, Dugarova fled Russia in 2009.
http://www.aljazeera.com/news/2018/02/russia-attempting-erase-crimean-muslim-culture-180217174807613.html
-------
ISIS Claims Deadly Attack on Church in Russian Region of Dagestan
By ANDREW E. KRAMER and RUKMINI CALLIMACHI
FEB. 18, 2018
A man carrying a knife and a hunting rifle opened fire on worshipers on Sunday at an Orthodox church in Kizlyar, in the Dagestan region of Russia, killing at least five people and wounding several others, according to a Russian state news agency.
The gunman shouted, "Allahu akbar" and began firing, a priest told the local news media. Churchgoers said they had prevented more casualties by closing the door to the church and stopping the attacker from getting inside.
The man was later shot and killed by security forces on duty at the time, reports said. The assailant was identified only as a 22-year-old man from the region, the Russian news agency Tass said.
The Islamic State claimed credit for the attack on the church, issuing a bulletin on its Amaq news agency, followed by a lengthier official statement in which the group described the assailant as a "soldier of the caliphate" and provided a nom de guerre for the attacker, Khalil al-Dagestani.
Not long afterward, pro-Islamic State channels on the Telegram app released a video showing a man said to be the assailant sitting before the Islamic State flag, his face covered by a ski mask. A gun and a long knife leaned against the wall behind him, presumably the weapons that would later be used in the attack.
In the video, the man pledges allegiance to Abu Bakr al-Baghdadi, the Islamic State leader, referring to him as "the Emir of the believers," the honorific that Islamic State members reserve for the man they view as their caliph.
Sunday is the last day before Orthodox Christian Lent. The Russian RBK Daily quoted an Orthodox priest as saying that the attacker had opened fire on churchgoers after an afternoon service.
The priest, identified as Father Pavel, said: "We had finished the Mass and were beginning to leave the church. A bearded man ran towards the church shouting, 'Allahu akbar.' "
Four women died at the scene, and a fifth died of her injuries at a hospital, a Health Ministry spokeswoman, Zalina Mourtazalieva, told Tass. Two Russian police officers were among five people injured in the attack.
The local Interior Ministry said the gunman had acted alone, according to the Interfax news agency.
After the man was shot and killed, photos circulating on media sites online showed the body of a man dressed in camouflage pants lying on the ground. His head was bloodied, and empty cartridges were scattered nearby. Other images showed what appeared to be a weapon.
Dagestan is a predominantly Muslim region between Chechnya and the Caspian Sea and is known for, among other things, widespread nepotism. Its administration has recently undergone a major cleanup that, according to some analysts, is meant to show the central government's commitment to fighting corruption before presidential elections in March.
But two separatist wars in Chechnya have spread to Dagestan. In 2015, the Islamic State declared that it had established a "franchise" in the North Caucasus. It has claimed a number of attacks on the police in Dagestan.
Full report at:
https://www.nytimes.com/2018/02/18/world/europe/russia-dagestan-attack.html?mtrref=www.google.co.in&gwh=8CFA45E8B094E4DA7A4338979176BA3E&gwt=pay
-------
Jeremy Corbyn attacks Islamophobia during mosque visit
18 Feb 2018
Muslim women are facing routine racist abuse on the streets of the UK, Jeremy Corbyn has said while visiting mosques participating in a nationwide open day to build bridges across communities.
"Islamophobia is a real problem in our society, as is other forms of racism like antisemitism and racism against people of Afro-Caribbean heritage," the Labour leader said at the Finsbury Park mosque in north London.
"I've held meetings with Muslim women who have told me horrific stories of routine racist abuse on our streets. If women are abused because they are wearing a headscarf, then it is a wrong against them and it is a wrong against all of us."
Finsbury Park mosque was among more than 200 Muslim places of worship to take part in Visit My Mosque day, organised by the Muslim Council of Britain (MCB). From Inverness to Cornwall, mosques invited people of other faiths and no faith to witness prayers, ask questions, read the Qur'an, take part in hijab and henna demonstrations and eat traditional food in an effort to debunk myths about Islam.
For the Finsbury Park mosque and nearby Muslim Welfare Centre, it was the first set-piece open day since a terror attack last June, in which Darren Osborne drove his van into a group of people leaving prayers, killing one person and injuring 12 others. Osborne was jailed for a minimum of 43 years earlier this month for the attack, which the judge said was motivated by an "ideology of hate towards Muslims".
Mohammed Mahmoud, the imam of the Muslim Welfare Centre who was hailed as a hero after the attack for urging people in the crowd not to harm Osborne and delivering him to the police, said the attack "realised people's fears and left the community in shock".
Mahmoud, who gave evidence at Osborne's trial, said "any person would have done what I did. The effect [of the attack] on me is irrelevant compared to the victims and the bereaved."
He added: "The rise of extremist rightwing groups is a very serious threat not just to Muslims but to all minorities, and in fact to all Britons, and to the interwoven fabric that holds this country together. The way to combat this is to have open and frank dialogue; barring and banning can only breed further hate and division."
Although the Muslim Welfare Centre had been holding open days for more than 30 years, the coordinated nationwide initiative was important because "most people have a negative perception of what a mosque is without ever going inside one", he said.
Research recently conducted on behalf of the MCB found that 90% of Britons have never visited a mosque, and one in four said they did not know any Muslims. Almost three-quarters have never been into another faith's place of worship.
"This is not good for social cohesion. In a time of increasing intolerance and rising misunderstanding of faith communities, we should all be opening our doors to others," said Harun Khan, the secretary general of the MCB.
Emily Thornberry, the shadow foreign secretary and a north London MP, held a private meeting on Sunday with women from the Finsbury Park mosque to discuss their concerns about rising abuse and attacks. "Muslim women are particularly vulnerable," she said. Fatima, a volunteer at the mosque who declined to give her full name, said it was a "scary time" for Muslim women.
"Politicians talk about the lack of integration, but women are frightened to leave their homes. Many women feel marginalised and judged, and ostracised because of their faith," she said.
Visitors to the mosque – once associated with the radical cleric Abu Hamza but now a model of community relations – were given red roses, copies of the Qur'an and headscarves as gifts.
Full report at:
https://www.theguardian.com/politics/2018/feb/18/jeremy-corbyn-attacks-islamophobia-during-mosque-visit
-------
Germany: Turkey key partner in fight against terror
18 February 2018
Turkey is a key partner in the fight against terrorism, German Interior Minister Thomas de Maiziere said on Saturday.
During his address at the Munich Security Conference, the conservative politician turned down opposition calls to restrict security cooperation with Turkey.
"Turkey remains an important NATO partner," de Maiziere said, defending the government's policy of close cooperation between Berlin and Ankara.
"We must also understand that Turkey has suffered from terrorism much more than Germany, and they have much more victims. Of course, Turkey is a key partner for us in the fight against terrorism," he stressed.
Germany's far-left opposition party Die Linke has criticized Turkey's counter-terrorism operation in northwestern Syria, Operation Olive Branch, and called for restricting security cooperation with Ankara and suspending arms sales to Turkey.
Earlier on Saturday, Turkish Prime Minister Binali Yildirim told conference participants that Turkey's measures against foreign fighters and its fight against the terrorist groups PYD/PKK and Daesh in northern Syria carry significant importance for Europe's security.
According to the Turkish General Staff, Operation Olive Branch in northwestern Syria aims to establish security and stability along Turkey's borders and the region as well as to protect Syrians from terrorist oppression and cruelty.
The operation is being carried out under the framework of Turkey's rights based on international law, UN Security Council resolutions, its self-defense rights under the UN charter, and respect for Syria's territorial integrity, it said.
Full report at:
http://www.worldbulletin.net/europe/198948/seeking-post-brexit-unity-eu-leaders-find-more-fights
-------
South Asia
Pope thanks Prime Minister of Bangladesh for reception of Rohingya refugees
February 19, 2018
Pope Francis received in private audience the Prime Minister of the People's Republic of Bangladesh with whom he discussed a series of issues of mutual concern.
Pope Francis has received in audience the Prime Minister of Bangladesh whom he thanked for the nation's reception of Rohingya refugees from Myanmar's Rakhine State.
The meeting on Monday morning between the Pope and Sheikh Hasina, Prime Minister of the People's Republic of Bangladesh took place in the Vatican's Apostolic Palace.
A statement released by the Holy See Press Office described the discussions between the two leaders as cordial, and said the two leaders evoked the good bilateral relations and expressed satisfaction for the Pope's recent apostolic journey to Bangladesh and for "the keen participation in the event on the part of the population including many non-Catholics".
The statement revealed that the Pope and Hasina also focused their attention on the contribution of the Catholic Church in the country, "especially in the field of education."
It said that Francis acknowledged the effort of the State of Bangladesh in promoting the peaceful coexistence of the various religious communities in the nation.
Most of all, he voiced appreciation for the government's welcome of Rohingya refugees from Myanmar and he expressed hope for "a just and lasting solution to their ordeal".
http://www.vaticannews.va/en/pope/news/2018-02/pope-francis-bangladesh-prime-minister-audience-rohingya.html
-------
Bangladeshi govt 'using enforced disappearances to silence critics'
By FAISAL MAHMUD
FEBRUARY 19, 2018
The disappearance of an academic, a journalist and a former diplomat over the past six months has once again highlighted the dangers faced by dissenters against the Hasina regime in Bangladesh. The state is the prime suspect in these "enforced disappearances", which have created a culture of fear in an election year.
While enforced or involuntary disappearance is considered a "heinous violation of human rights and an international crime" by the United Nations, it is not an unusual occurrence in Bangladesh. Or that's what it seems given the under-reporting on disappearances by the Bangladeshi media. According to historian Dr Anwar Hussain, most of the enforced disappearances are suspected to be state-sponsored and the government naturally "doesn't want these to be reported".
Hussain, a former editor-in-chief of a national Bangladeshi daily, told Asia Times he believed there were both government restrictions on local media in regard to covering enforced disappearances as well as self-censorship by media outlets. "Media here is anything but independent. That's why I resigned," he added.
Fifteen other alleged abductions were reported over the last six months, although most of these people later turned up. But the cases of the academic, the journalist and former diplomat caught popular attention as the victims were all from well-off families and not members of any political party.
The academic — Mubashar Hasan – penned several scholarly articles on political Islam and militancy. The journalist — Utpal Das – wrote news stories about Bangladesh's armed forces. And the former diplomat Maroof Zaman, a former diplomat, was a critic of the incumbent Awami League (AL) government and shared anti-government posts written by others on his Facebook page.
Hasan and Das were missing for 44 and 71 days respectively before they reappeared in the last week of December and told strikingly similar stories. Both said they were kidnapped by four or five "unidentified abductors" in Dhaka – whisked into vehicles in broad daylight and kept in solitary confinement. Later, they were blindfolded and dropped off on a highway.
However, Maroof Zaman is still missing. His daughter Shabnam Zaman told Asia Times that media had initially reported on Zaman's disappearance but "nothing new has been published for the past several weeks."
Most Bangladeshi media outlets report a 'disappearance' when it occurs. But they have consistently failed to ask tough questions.
Indian news website The Wire ran a report on academic Hasan's disappearance; it said a state agency had abducted Hasan. Within a day, the Bangladesh government blocked access to the website in the country.
Elite police unit linked to killings
This was not the first time the incumbent AL government has blocked a foreign news website for publishing stories that reveal wrongdoing by Bangladesh's state agencies. In May 2017, access to Swedish Radio's website was also blocked after it published an article about a senior officer from Bangladesh's Rapid Action Battalion. In the article, the officer claimed that his organization was involved in extrajudicial killings across the country.
Not surprisingly, the country's government denies any role in media censorship. Bangladeshi Information Minister Hasanul Haq Inu said the country's media enjoys press freedom and the government does not interfere. However, Bangladesh was ranked 146 in the World Press Freedom Index in 2017.
David Bergman, a British journalist had spent years investigating enforced disappearances in Bangladesh. He researched and wrote an 82-page report titled "We don't have him". The report, created for the US-based organization Human Rights Watch (HRW), said that law enforcement authorities illegally detained hundreds of people since 2013, and that as many as 90 were victims of "enforced disappearances" in 2016 alone.
British journalist Bergman denied visa extension
The Bangladeshi government retaliated recently by refusing to renew Bergman's visa. Speaking to Asia Times from the UK, Bergman said that media groups in Bangladesh often have to pay a price when they confront the government and law enforcement authorities.
He gave an example, saying that when two leading papers — the Daily Star and Prothom Alo — published reports about alleged extrajudicial killings in the Chittagong Hill Tracts, the government allegedly pressured the country's largest companies from advertising in these papers.
Bergman also believes that the hands of local journalists are tied if they cover such stories. "The recent disappearance of journalist Utpal Das, carried out by law enforcement agencies, certainly created a sense that anyone is at risk of being subjected to an enforced disappearance," he said.
Political columnist Afsan Chowdhury told Asia Times the reappearance of individuals who could have been the most valuable sources to reveal the underlying truth about abductions, but those involved remained "abnormally tight-lipped" about what they endured. "Enforced disappearances instill a great fear and a chilling effect," he said.
No law against enforced disappearance
Bangladesh lacks a specific criminal law that recognizes enforced disappearance as an offense. The International Convention for the Protection of all Persons from Enforced Disappearance, adopted by the United Nations in 2006, ensures that the "perpetrators of enforced disappearance — no matter whether it is a state authority or not — can be tried." Bangladesh, however, is yet to be a signatory to that convention.
Meenakhsi Ganguly, South Asia director of HRW, told Asia Times that the Bangladeshi government appears unwilling to address the problem of enforced disappearances, often engaging in outright denial.
Full report at:
http://www.atimes.com/article/enforced-disappearances-bangladeshi-authorities-silence-critics/
-------
Another governor refuses to step down in Afghanistan
February 19, 2018
MAZAR-I-SHARIF: A second Afghan provincial governor defied an attempt by President Ashraf Ghani to remove him on Sunday, deepening a political crisis that has underlined the weakness of the Western-backed government in Kabul.
Abdulkarim Khaddam, governor of the northern province of Samangan, followed the leader of neighbouring Balkh province, Atta Mohammad Noor, in rejecting an order to step down, issued last week as part of a shakeup of regional governors.
"I do not accept my removal because it is political," Mr Khaddam said in a televised statement. "I have served Samangan well and my people won't let me go," he said.
Mr Ghani has been struggling for weeks to resolve the conflict with Atta Noor, who has refused to cede the governorship of Balkh, a province straddling key trade routes into Central Asia that includes Afghanistan's second-biggest city Mazar-i-Sharif.
With Taliban fighters active across much of the country and the capital Kabul regularly hit by devastating suicide attacks, the disputes have added to a picture of weakness and division that has undermined support for Mr Ghani's government ahead of elections scheduled for this year.
It is unclear whether the dispute would threaten Mr Ghani's government as Samangan, a mountainous and largely undeveloped region, has little of the strategic importance of Balkh, one of the richest provinces in the country.
But the standoff has underlined the fractious political climate, marked by increasingly open divisions between Afghanistan's mixes of different ethnicities.
Mr Khaddam is an ethnic Turkman but both he and Mr Noor are from Jamiat-i-Islami, a party mainly supported by Persian-speaking ethnic Tajiks that has been increasingly hostile to Mr Ghani, an ethnic Pakhtun.
Although Mr Ghani nominally shares power with Chief Executive Abdullah Abdullah from Jamiat, the two sides have become more and more alienated, with Jamiat accusing Mr Ghani of monopolising power and favouring his own Pakhtun supporters.
Formed in the wake of the disputed 2014 election that forced the two rival candidates, Mr Ghani and Mr Abdullah, into an uneasy partnership, the government has struggled to present a united front amid growing criticism of its handling of the insurgency.
The splits have been thrown into sharp relief by a row over new electronic ID cards, which have drawn bitter opposition as they register national identity as "Afghan", a term used in the past for Pakhtuns, traditionally the most powerful ethnic group.
Many Tajiks see the term as a means of entrenching longstanding Pakhtun dominance and refuse to accept the cards.
In a symbolic move to build support for the new so-called "e-tazkiras", Mr Ghani and his wife, were among the first to take their new cards last week.
Full report at:
https://www.dawn.com/news/1390273/another-governor-refuses-to-step-down-in-afghanistan
-------
Atmar off to Saudi Arabia on a special invitation of the Saudi Crown Prince
Feb 18 2018
Afghanistan's National Security Advisor Mohammad Hanif Atmar has left for Saudi Arabia on a special invitation of the Saudi Crown Prince Mohammad bin Salman Al Saud.
A spokesman for the Office of the National Security Council (ONSC) Qadir Shah confirmed that Atmar has left for Saudi on official visit and on a special invitation of Prince Mohammad bin Salman Al Saud.
Qadir Shahd further added that Mr. Atmar will hold talks with senior Saudi officials during his visit to the Kingdom of Saudi Arabia
According to Qadir Shah, Mr. Atmar will hold talks on a various issues of bilateral interest but did not elaborate further.
The Afghan government believes that the Kingdom of Saudi Arabia can play a vital role to assist Afghanistan in various sectors including the reconciliation process.
In the meantime, some changes have also been noted in the perspective of the Saudi officials regarding the militant groups conducting insurgency in Afghanistan.
A top Saudi diplomat told reporters in Kabul late last year that the Kingdom of Saudi Arabia condemns all acts of insurgency against the Afghan government.
Full report at:
https://www.khaama.com/atmar-off-to-saudi-arabia-on-a-special-invitation-of-the-saudi-crown-prince-04513
-------
Five IS militants killed in Afghanistan
Feb 18, 2018
Kabul [Afghanistan], Feb 18 (ANI): At least five militants affiliated with the terror outfit Islamic State (IS) have been killed in Afghanistan's Deh Bala district in Nangarhar province.
According to the Afghan Army, the militants were killed during the operations of the Afghan commandos which were conducted with the help of the close-air support, reported Khaama Press.
At least three weapons and ammunition depots were also destroyed along with another depot containing foods and commodities belonging to the terror outfit, the officials added.
No comments have been received from the anti-government armed militant and terrorist groups including the IS by far.
Full report at:
https://www.aninews.in/news/world/asia/five-is-militants-killed-in-afghanistan201802181758230002/
-------
US drone strike kills 7 IS terrorists in Afghanistan
Feb 18, 2018
Kabul [Afghanistan], Feb 18 (ANI): At least seven Islamic State (IS) militants were killed in a drone strike launched by the United States in Kunar province in northeastern Afghanistan on Sunday.
According to the local security officials, the latest drone strike was carried out by the US armed forces near Chapara Dara district in the province, the Khaama press agency reported.
Acting provincial security chief Zaman Ayar confirmed the airstrike and said at least seven militants, including a local leader, affiliated with the IS group were killed.
Militants loyal to the dreaded terrorist group and other insurgents including the Al-Qaeda operatives are also active in parts of Kunar province.
This comes a day after the Afghan military forces targeted a hideout of the IS group, which killed a terrorist as well.
Also, two IS terrorists were killed in a similar airstrike in Achin district in eastern Afghanistan last week.
Full report at:
https://www.aninews.in/news/world/asia/us-drone-strike-kills-7-is-terrorists-in-afghanistan201802181610150001/
-------
Mideast
Daesh leader's capture in Turkey points to new Iraq cooperation
19 February 2018
ANKARA: The capture and extradition of a top Daesh leader from Iraq to Turkey has revealed a new level of intelligence cooperation between Ankara, Baghdad and Washington.
Ismail Alwan Salman Al-Ithawi was the head of what the extremist group described as its Ministry of Religious Edicts. He also oversaw a committee that appointed leaders of cadres within Daesh.
Al-Ithawi fled to Turkey and settled in the northern province of Sakarya after the territorial losses suffered by Daesh in Syria and Iraq last year, an Iraqi interior ministry official told AFP.
He was using his brother's name to hide his identity, but the intelligence operation managed to capture him following the infiltration into the "highest levels" of Daesh.
He was detained and returned through cooperation between Turkish, Iraqi and US intelligence agencies, the official said.
The US military said the cooperation between the two, who are both partners in the American led anti-Daesh coalition, was "significant."
"Iraqi intelligence, in coordination with Turkish security forces, arrest ISIS high-value individual Ismail alwan Al-Ithawi. "Global coalition and partners hunting down ISIS leaders every day," coalition spokesman Col. Ryan Dillon tweeted.
The counter-terrorism cooperation between Turkey and Baghdad is the outcome of the warming in relations with regular meetings between the foreign ministers of the two countries and the recent pledge by Turkey of $5 billion in loans to rebuild the country after the devastation of Daesh.
During his address at the Munich Security Conference, Turkish Prime Minister Binali Yıldırım said on Saturday that Turkey's counter-terror measures against foreign fighters and Daesh carry significant importance for Europe's security.
"We also banned 56,300 potential foreign fighters affiliated with Daesh from traveling to Turkey. Around 10,000 Daesh members are currently under arrest in Turkey," he said.
Yildirim met his Iraqi counterpart Haidar Al-Abadi at the conference to discuss cooperation against terrorism.
Ankara has deported more than 5,000 Daesh suspects and 3,290 foreign fighters from 95 countries in recent years.
But the country has also been criticized for not doing enough to stop the flow of extremists in and out of Syria.
Experts think the recent anti-Daesh operation give a symbolic message to the West that Turkey's counter-terror efforts are not just focussed on Kurdish militants. Turkey last month launched Operation Olive Branch into Syria's Afrin region against YPG militias, which its says are linked to the Kurdish group waging an insurgency inside Turkey.
"The West criticized Turkey for being distracted from the fight against Daesh and overemphasizing, the YPG threat," Emel Parlar Dal, associate professor of international relations at Marmara University in Istanbul, said. "And now Ankara disproves this claim."
Sertac Canalp Korkmaz, a researcher in security studies at ORSAM, a think tank in Ankara, said the capture of high-level Daesh members is also significant as an attempt to prevent the group from regaining ground.
"The number of Daesh members who are jailed in Turkey is stunning and confirms again that the terror group's terror-generating capacity does not only threaten domestic security but also Europe's own stability," he told Arab News.
On Feb. 13, six foreign nationals, including two Iraqis and a Syrian, were detained in central Turkey for suspected links to Daesh. Separately on the same day, during simultaneous raids in the central province of Eskisehir, three more Iraqi nationals were also caught on suspicion of their Daesh links.
http://www.arabnews.com/node/1249276/middle-east
-------
Dozen Emirati troopers, tens of Saudi mercs slain in abortive assault on Yemeni base
Feb 18, 2018
At least twelve servicemen from the United Arab Emirates Army and tens of Saudi-backed militiamen loyal to Yemen's resigned president, Abd Rabbuh Mansur Hadi, have been killed when they launched an offensive on a military base in Yemen's southwestern province of Ta'izz.
A Yemeni military source, requesting anonymity, told Arabic-language al-Masirah television network that the Emirati soldiers and their allies carried out the assault in the Mawza district of the province, situated 346 kilometers (214 miles) south of the capital Sana'a, on Sunday evening, but were repelled and suffered losses within their ranks.
The source added that four armored vehicles belonging to Emirati troopers and four vehicles of Saudi mercenaries were destroyed in the botched assault as well.
The General Staff of the Armed Forces of the United Arab Emirates identified one of the slain Emirati servicemen as Sergeant Ali Khalifah Hashal al-Mesmari.
On October 17, 2017, a Boeing AH-64 Apache attack helicopter operated by the United Arab Emirates Air Force (UAEAF) crashed in Yemen's northern province of al-Jawf, killing the two pilots on board.
The UAE's official WAM news agency reported that the four-blade and twin-turboshaft aircraft had gone down due to a technical glitch.
The report identified those onboard the helicopter as Major Ali al-Mismari and First Lieutenant Badr al-Murshedah.
Yemen's official Saba news agency reported on August 11 that a Sikorsky UH-60 Black Hawk utility helicopter of the UAEAF had crashed in the Amqeel area of Ar Rawdah district in the south-central Yemeni province of Shabwah.
The general command of the UAE's armed forces confirmed that four of its soldiers were killed after their helicopter was hit by a technical fault.
However, Colonel Turki al-Maliki, a spokesman for the Saudi-led military coalition engaged in a war in Yemen, later said the pilot made an emergency landing in the area due to "a technical defect while returning from an operation in Yemen."
Saudi Arabia has been incessantly pounding Yemen since March 2015 in an attempt to crush the popular Houthi Ansarullah movement and reinstate former president, Abd Rabbuh Mansur Hadi, who is a staunch ally of the Riyadh regime.
The UAE is one of the main allies of Riyadh in its deadly war against the Yemeni nation. The United States has also been providing arms and military training as well as bombing coordinates to the Saudi-led coalition since the beginning of the protracted war, which has failed to achieve its goals.
8 Saudi soldiers killed in Yemeni sniper fire in Jizan
Meanwhile, Yemeni army soldiers, supported by fighters from allied Popular Committees, have shot dead eight Saudi soldiers in the kingdom's southwestern border region of Jizan, in retaliation for the Riyadh regime's military campaign against the crisis-hit country.
The media bureau of Yemen's Houthi Ansarullah movement reported that Yemeni forces had fatally shot four troopers in the region's Quwa village.
Later on Sunday, Yemeni soldiers and Popular Committees fighters shot and killed four other Saudi soldiers in Hamezah village of Jizan.
At least 13,600 people have been killed since the onset of Saudi Arabia's military campaign against Yemen. Much of the Arabian Peninsula country's infrastructure, including hospitals, schools and factories, has been reduced to rubble due to the war.
The Saudi-led war has also triggered a deadly cholera epidemic across Yemen.
According to the World Health Organization's latest count, the cholera outbreak has killed 2,167 people since the end of April and is suspected to have infected 841,906.
On November 26 last year, the United Nations children's agency (UNICEF) said that more than 11 million children in Yemen were in acute need of aid, stressing that it was estimated that every 10 minutes a child died of a preventable disease there.
Additionally, the UN has described the current level of hunger in Yemen as "unprecedented," emphasizing that 17 million people are now food insecure in the country.
Full report at:
http://www.presstv.com/Detail/2018/02/18/552813/4-Emirati-troopers-tens-of-Saudi-mercs-slain-in-abortive-assault-on-Yemeni-base
-------
Israel advances bill cutting Palestinian funding over 'terror'
18 February 2018
JERUSALEM: Ministers Sunday greenlighted a bill allowing Israel to withhold tax monies it collects for the Palestinian Authority by the same amount as stipends that the PA pays to jailed militants.
Defense Minister Avigdor Lieberman, whose ministry drafted the bill, welcomed the vote in a ministerial committee, the first step toward sending it to parliament to be passed into law.
"Soon there will be an end to this theater of absurd," he wrote in Hebrew on Twitter, adding that the money confiscated would be used "to prevent terror and compensate victims."
Israel annually collects around $127 million in customs duties levied on goods destined for Palestinian markets that transit through Israeli ports monthly and then transfers it to the PA.
It has withheld payment in the past, notably in response to Palestinian admission in 2011 to the UN cultural agency UNESCO as a full member.
The Israeli move comes as the US Senate considers a bill approved by the House of Representatives to withhold aid to the PA if it does not stop the controversial practice of so-called martyr payments to families of Palestinians convicted of terrorist attacks.
Republican and Democratic US lawmakers alike have warned that the payments incentivise violence and serve as a sticking point in the Middle East peace process.
According to the Israeli bill, Lieberman will present an annual report detailing payments to "terror activists" and their families granted by the Palestinian Authority," his office said.
"Based on the report, the sum will be deducted from payments handed from Israel to the Palestinian Authority."
The bill will now face a series of parliamentary debates and votes before being finalized.
The Palestinian government slammed the move, calling it "piracy and theft" as well as a breach of international law, official news agency WAFA said.
Full report at:
http://www.arabnews.com/node/1249351/middle-east
-------
Clashes leave 27 dead in Yemen
February 19, 2018
ADEN - Eight soldiers and 19 suspected members of Al-Qaeda were killed in Yemen on Sunday, as the army launched an offensive against key outposts of the extremists, a military official said.
General Faraj al-Bahsani, governor of Hadramawt province, told AFP the army had taken control of the Mesini Valley west of Mukalla, a central site for Al-Qaeda in southeast of the country.
Mukalla was the most populated Yemeni city under direct Al-Qaeda control from 2015 to 2016, when the army and its regional military allies seized control of the port city. Special forces trained by the United Arab Emirates - a key member of a Saudi-led alliance fighting alongside Yemen 's government forces - over the weekend launched the offensive, codenamed "Al-Faisal", against Al-Qaeda cells in oil-rich Hadramawt province.
Two soldiers were killed on Saturday in the offensive, which targets the Mesini and Amed Valleys - both in the vast province of Hadramawt and home to Al-Qaeda in the Arabian Peninsula (AQAP).
The two valleys are critical to control over Yemen 's southeastern coastline.
More than 9,200 people have been killed in the Yemen war since 2015, when the Saudi-led coalition joined the government's fight against Iran-backed Huthi rebels.
Radical groups, including AQAP and the Islamic State group, have flourished in the chaos of the war, regularly launching attacks on government and military targets.
Full report at:
https://nation.com.pk/19-Feb-2018/clashes-leave-27-dead-in-yemen
-------
Assad's forces, Hezbollah prepare for Iranian-Israeli confrontation in Syria
19 February 2018
The Syrian regime and Hezbollah have begun military preparations in Quneitra's countryside amid fears that Daraa and Quneitra will turn into an arena for an Israeli-Iranian confrontation.
Activists said regime forces and Hezbollah fighters stationed in several areas in Quneitra's countryside are on security alert. They've been arming with heavy weapons and monitoring the area 20 kilometers off the borders with the Occupied Golan Heights.
According to analysts there are four possible scenarios. The first scenario, which is most likely, is that the Syrian regime and the opposition will reach some sort of reconciliation. The opposition will stay in the area as a guarantee to prevent Iran and Hezbollah from approaching the borders.
The second scenario is setting a de-escalation zone in south Syria while choosing a third party to supervise the monitoring checkpoints.
The third one is that the Syrian regime will control the entire area and Russia will play the role of the guarantor while UN peace troops return to the border area.
Full report at:
https://english.alarabiya.net/en/News/middle-east/2018/02/19/Assad-Hezbollah-prepare-for-Iranian-Israeli-confrontation-in-Syria.html
-------
Iran's Zarif Says Israel's "Myth of Invincibility" Has Crumbled
18 February 2018
Iran's Foreign Minister said on Sunday the shooting down of an Israeli jet after it bombed an Iranian site in Syria had shattered Israel's "so-called invincibility", reacting to a critical speech delivered earlier by Israel's premier.
"Israel uses aggression as a policy against its neighbors," Mohammad Javad Zarif told the Munich Security Conference, accusing Israel of "mass reprisals against its neighbors and daily incursions into Syria, Lebanon."
"Once the Syrians have the guts to down one of its planes it's as if a disaster has happened," Zarif said.
He was responding to Benjamin Netanyahu's address to the conference hours before, in which the Israeli prime minister, holding a piece of what he said was an Iranian drone, accused Iran of trying to impose an "empire" across the Middle East.
"What has happened in the past several days is the so-called invincibility (of Israel) has crumbled," Zarif said of Netanyahu's remarks, which followed the Feb. 10 downing of an Israeli F-16 jet.
David Ivry, a former Israeli Air Force chief, told Reuters earlier this month he believed it was the first time an Israeli F-16 was brought down since Israel began using the jets in the 1980s.
Anti-aircraft fire downed the jet as it was returning from a bombing raid on Iran-backed positions in Syria.
It was one of at least eight Israeli planes despatched in response to what Israel said was an Iranian drone's incursion into its airspace earlier on that day.
Full report at:
https://english.alarabiya.net/en/News/middle-east/2018/02/18/Iran-s-Zarif-says-Israel-s-myth-of-invincibility-has-crumbled.html
-------
Arab Coalition intercepts ballistic missile over Yemen coastal city
18 February 2018
A ballistic missile was intercepted over the coastal city of Mokha west of Yemen by Arab Coalition forces on Sunday.
Yemeni sources said that the ballistic missile launched by Houthi militias was destroyed by Arab Coalition air defense batteries before reaching its target.
Al-Arabiya correspondent reported that coalition aircraft destroyed a missile platform and more than 10 military vehicles carrying Houthi elements, as well as barricades and ammunition used by the militias.
The missile launch came as Arab Coalition fighters targeted Houthi militia reinforcements in the north-west of Taiz and south of the coastal province of Hodeidah.
Full report at:
https://english.alarabiya.net/en/News/gulf/2018/02/18/Arab-Coalition-intercepts-ballistic-missile-in-Yemen.html
-------
Ali Abdullah Saleh's nephew seen in Yemen's Hodeidah following victories
18 February 2018
Tarek Saleh, the nephew of late Yemeni president Ali Abdullah Saleh, was seen in Hodeidah with the city's governor Al-Hassan Taher in the operations room to liberate the west coast.
Areas in the west coast have been recently liberated, such as Hays.
Many Yemenis think Tarek's public appearance sends a clear message to the Houthis especially that Tarek is viewed as the "second man" after Ali Abdullah Saleh and that he's played an efficient role in the uprising against the Houthis in Sanaa.
Earlier this month, Tarek, who escaped from Sanaa where he was leading battles against the Houthis, called on all parties in different fronts and with different political affiliations to reach agreements to serve the mutual aim of confronting the Houthi movement.
https://english.alarabiya.net/en/News/gulf/2018/02/18/Ali-Abdullah-Saleh-s-nephew-seen-in-Yemen-s-Hodeidah-following-victories.html
-------
US-backed SDF militants claim cross-border attack on Turkish soldiers for first time
Feb 18, 2018
The so-called Syrian Democratic Forces (SDF), a US-backed anti-Damascus militant group, has claimed that in a cross-border attack it targeted military positions in neighboring Turkey, which is leading a month-long war against a Kurdish-controlled enclave in war-torn Syria.
The Kurdish-led coalition of Kurdish and Arab militants made the news in a statement released on late Saturday, saying it had conducted "a special operation against a gathering centre for Turkish soldiers" and allied Syrian factions in Kirikhan, a district in Turkey's southern Hatay province.
"We call on civilians to stay away from positions controlled by the Turkish invaders and... terrorists, as all military positions are legitimate targets for our forces," the statement further said, adding that there were casualties without specifying their exact number and the weapons it had used in the attack.
It was the first time that the SDF has claimed a cross-border attack on Turkish troops. However, no Turkish official has yet commented on the claim.
Turkey has been waging "Operation Olive Branch" against Syria's Afrin region since January 20 in a bid to eliminate the US-backed People's Protection Units (YPG), which forms the backbone of the SDF. The Turkish government views the YPG as a terror organization and the Syrian branch of the outlawed Kurdistan Workers' Party (PKK). The latter has been fighting for an autonomous region inside Turkey since 1984.
Last week, YPG chief Sipan Hamo said in a press conference that his forces had never carried out a cross-border attack against Turkish soldiers. "From when we established our forces until today, we have never conducted an operation on Turkish soil and haven't thrown a single rock at it."
On Sunday, the YPG announced that three of its foreign members, a Spaniard, a French, and a Dutch, had been killed in Syria. It added that French national Olivier Francois Jean Le Clainche, 41, and Spanish national Samuel Prada Leon, 25, lost their lives "in the clashes with the occupiers at the Jandairis front on February 10."
Meanwhile, the Turkish General Staff said in a statement that a total of 1,614 militants had been "neutralized" since the start of Operation Olive Branch in Afrin. Turkish authorities use the word "neutralized" in their statements to imply that the militants in question either surrendered or were killed or captured.
It added that a total of 674 "terrorist targets" had also been destroyed in airstrikes since the start of the operation.
The developments come a few weeks after Kurdish authorities in the Afrin district appealed to the government of President Bashar al-Assad to send troops and help defend them against the Turkish incursion in line with protecting Syria's sovereignty.
The Syrian government has given a degree of authority to the Kurdish regions to run their own affairs in the face of a foreign-backed militancy. The US, however, has used the vacuum to establish a foothold in those regions with the help of militants.
Assad has described US-sponsored Kurdish armed elements as "traitors" to the nation but has also denounced Turkish incursions as an act of aggression.
Operation Olive Branch in Afrin region is Turkey's second major military intervention in Syria during the unprecedented foreign-backed militancy that broke out in 2011.
In August 2016, Turkey began a unilateral military intervention in northern Syria, code-named Operation Euphrates Shield, sending tanks and warplanes across the border. Ankara claimed that its military campaign was aimed at pushing Daesh from Turkey's border with Syria and stopping the advance of Kurdish forces, who were themselves fighting Daesh.
Full report at:
http://www.presstv.com/Detail/2018/02/18/552811/Syria-SDF-YPG-Turkey-Kurdish-Kirikhan-Afrin-PKK
-------
Israel arrests six Islamic Jihad fighters over planned attack on Lieberman
Feb 18, 2018
Israeli military forces have detained six members of the Islamic Jihad resistance movement in the central part of the occupied West Bank on the allegation that they were planning to carry out attacks against the Tel Aviv regime's minister of military affairs Avigdor Lieberman and other Israeli officials.
Israel's internal spy agency, Shin Bet, announced in a statement that the detainees were active in Bethlehem, located about 10 kilometers (6.2 miles) south of Jerusalem al-Quds, sought to carry out shootings against Israeli civilians and military forces.
Some of the arrested Palestinians were allegedly planning to target Lieberman's vehicle, when he traveled to his home in Nokdim settlement south of Bethlehem.
Shin Bet statement said the suspects had been "trying to obtain explosives to make a bomb, and even reached out to … elements in (Gaza) for funding."
"Upon failing to acquire the materials, they decided to create a fake device to receive recognition for their action and enable further attacks," the statement claimed.
Back in 2014, Shin Bet said Israeli forces had apprehended members of a group affiliated to the Palestinian Islamic resistance movement, Hamas, who were seeking to kill then-foreign minister Lieberman by firing a rocket-propelled grenade at his convoy.
More than 7,000 Palestinians are reportedly held at Israeli jails. Hundreds of the inmates have apparently been incarcerated under the practice of administrative detention, a policy under which Palestinian inmates are kept in Israeli detention facilities without trial or charge.
Some Palestinian prisoners have been held in administrative detention for up to eleven years.
Palestinian inmates regularly stage hunger strikes in protest at the administrative detention policy and their harsh prison conditions in Israeli jails.
Full report at:
http://www.presstv.com/Detail/2018/02/18/552802/Israel-arrests-six-Islamic-Jihad-fighters-over-planned-attack-on-Lieberman
-------
Pakistan
Very few countries have been as successful as Pakistan in war against terror: COAS
February 18, 2018
MUNICH: Chief of Army Staff (COAS) General Qamar Javed Bajwa said that very few countries have achieved as much success as Pakistan has in the war against terror.
Addressing Munich Security Conference, COAS Bajwa said that the country has been instrumental in the disruption and decimation of Al-Qaeda from Afghanistan and Pakistan.
The Army Chief went on to say that more than 35,000 Pakistanis have lost their lives in the war against terrorism and over 48,000 are critically wounded or disabled whereas the financial cost is exceeding US $250 billion which is shared fractionally by the global partners.
"I can say with pride and conviction that there are no organized terrorist camps on our side of the border. However, presence of terrorists of various hues and colours cannot be ruled out. We still have their active and sleeper cells, who are hiding in mountains, border towns and 54 refugee camps, besides some major towns and cities, he added."
He said that out of the last 131 terrorist attacks in our border areas last year, 123 were conceived, planned and executed from Afghanistan.
"We understand their predicament therefore we do not blame them, but instability in Afghanistan is also hurting us badly – and it is happening despite the presence of the most powerful alliance in Kabul," the COAS said.
COAS further said that after spending more than 1.4 trillion, the situation can best be described as a stalemate. But to my reckoning the cause of stalemate is not only the Haqqani Network or Tehreek-e-Taliban Afghanistan (TTA), as they had almost been defeated 13 years ago; it was the pursuit of a wrong strategy which led to their resurrection.
"Let me say that the popular assertion of TTA not being defeated in totality due to presence of part of their leadership in Pakistan, is not correct or whole truth. We defeated Al-Qaeda, Tehrik-e-Taliban Pakistan and Jamat-ul-Ahrar, while their safe heavens still exist in Afghanistan at a mere fraction of resources employed on the other side of the border. Now instead of blame games, it is time for NATO and allies to conduct an audit and introspection to find out causes for this stalemate," he said.
He added, "In our war against terror, military operations were not the only thing that we conducted. We realized very early that the complex problem of violent extremism could not be handled through military operations only. First and foremost, we generated public opinion to defeat the terrorists' narrative. We also formulated the National Action Plan, aimed at fighting terrorism and gradually rooting out extremism. We launched Operation Radd-ul-Fasaad in 2017, we the aim of:
Firstly, targeted kinetic and enhanced law enforcement operations to locate and destroy the residual terrorist presence across the country.
Second prong of our campaign, comprises supporting the National Action Plan, that involves better prosecution, policing, education reforms, along with curbing terror financing and hate speech
Equally important is our information prong aimed at discrediting the terrorist ideology including the misuse of the terms like Jihad and Caliphate. Most recently, 1854 eminent Pakistani religious scholars, representing all schools of thoughts within Islam, teamed up to issue a resounding fatwa against violence, extremism and terrorism in the name of religion. Called the Message of Pakistan, it bans suicide bombing and jihad, other than the one sanctioned by the State.
The COAS stated that successes have been made possible by the collective resolve and resilience of the nation but it is his sincere belief that Pakistan's lasting domestic peace hinges on peace and stability in Afghanistan, despite limited resources.
"We are trying our best to export peace to our neighbors in the west. Please remember, at times our efforts are curtailed by capacity and not by will," he said.
He added that Pakistan and Afghanistan are sovereign countriesand both have a right to peace and progress but this will only be possible if our respective soils are not used against each other. In this regard, two aspects are important:-
Firstly, Pakistan still has nearly 2.7 Million Afghan refugees in the country, whose concentrations are routinely used by TTA and Haqqani Network to recruit, morph and melt. It is time for these refugees to be repatriated with dignity. It is the only way that Pakistan can ensure that no one is misusing its hospitality and soil for mischief in the neighboring country. He added, "This is possible at a fraction of the cost of war in Afghanistan, which is currently around $ 46 Billion per year."
COAS said, "Secondly, our border with Afghanistan is highly porous. We have unilaterally taken many steps to ensure proper management of this border. We gave raised tens of new border specific units, built hundreds of new border."
The army chief added, Intelligence agencies of multiple countries have confirmed the on-going relocation of fleeing Daesh fighters to Afghanistan.
"So far we have been successful in denying any foothold to Daesh in Pakistan, but we are very concerned about its unchecked growth in the neighborhood. We need to counter the threat much more proactively through collaboration and cooperation," he said.
He went on to say that the war against terrorism and extremism will take some time before the world is free of it, therefor we all have to be patient and remain steadfast. He said, "We need to first counter terrorist' narrative with a superior narrative before breaking their back. Unfortunately, we have not done enough in this regard. Finally, trust, cooperation and sharing will work, scapegoating won't."
COAS Bajwa said terrorists thrive on divisions and feed on our inability to come together against them. He called upon all to deny them these chinks in our collective armour.
"Please realize that it's a global problem and needs a global approach. Lack of focus and commitment and individual efforts won't take us anywhere," he said.
He said that he had the honour of commanding an Army, which has achieved great successes, against violent extremism and terrorism.
The Army Chief stated that Jihadism is a misnomer. Jihad is a highly evolved concept that underlines myriad struggles against tyranny of all types. Muslims are taught that control of self is the most elevated form of Jihad.
He added, "There is also a saying of the Holy Prophet Muhammad (Peace Be Upon Him) that 'the best of Jihad is a word of truth in the face of a tyrant ruler'."
Bajwa further said, 'Qitaal', or aspect of 'armed jihad' comes at the lowest end of the spectrum of actions and beliefs that comprise the concept of jihad and can only be sanctioned by a State authority and nobody else.
COAS stated that that a powerful concept such as jihad, can easily be misused for propagating extremism or terrorism.
"Particularly, as many Muslims, world over, are not only feeling alienated, but disowned, targeted and devoid of positive expression. Same is true for the concept of caliphate which is more of a nostalgic response rather than actual possibility for most Muslims," COAS said.
The Army Chief stated, "The notion of caliphate has not found any traction, but jihad has definitely been used to radicalize fairly large tracts of population. However, this phenomenon is not a recent creation or started after 9/11."
He also said that 'the Frankenstein' was actually created by the liberal free world, with willing, but myopic cooperation from our side after the Soviet invasion of Afghanistan in 1979. Therefore, we all are responsible for making the world population in general and Muslim population in particular, hostage to this extremist ideology.
COAS added, "Times have surely changed since the noon of March 10, 1982, when, President Ronald Reagan, dedicated the March 22nd launch of the Columbia Space Shuttle to the valiant Afghan Mujahedeens or Jihadis and termed their struggle against the Soviet occupation forces as a representation of `man's highest aspirations for freedom'."
The Chief of Army Staff also said that Pakistan was as normal a country as any other on the earth he was young.
"Jacqueline Kennedy flew to Karachi, the Beatles visited us, Queen Elizabeth went to the Khyber pass to chat with the tribesmen. We were a favourite tourism destination for many. We were hosting world cups of hockey and cricket, besides many other multi-national events," he said
"World Bank termed Pakistan in 1963 as one of the most progressive and dynamic developing country in Asia," he said.
The COAS further remarked that that 1970s were nothing less than a disaster for Pakistan, but even the separation of the Eastern part of our country and the political upheavals thereafter, did not change the society as deeply as the events of 1979, the year the Soviet Union invaded Afghanistan and the Iranian revolution.
"It was only then that we started learning that we were not only Muslims, but were Sunnis and Shias. It was also the time that we were drawn to conviction of fighting Soviet invasion and also challenging communist ideology," he said.
He said that a syllabus was designed in one of the western university for seminaries wherein jihad was fed to young minds in a concentrated dose without context or explanation with the able intellectual assistance of free world.
"An exception was created, using a 'self defence' clause to justify declaration of jihad by Non State Actors. Young men were recruited from all over the world, radicalized and then left and disowned after they had delivered us, the success," he said.
He said that the country is harvesting what we sowed 40 years back. So it will be a while before this scourge is eliminated in totality – but first, it should not be called Jihadism as it is nothing else but terrorism.
https://www.samaa.tv/pakistan/2018/02/few-countries-have-been-as-successful-as-pakistan-in-war-against-terror-coas/
-------
Fazl says US prioritising India over Pakistan
Feb 19, 2018
HYDERABAD: Jamiat Ulema-e-Islam (Fazl) Chief Maulana Fazlur Rehman said on Sunday said that prosperity can't come in the country under the governments of Pakistan Muslim League-Nawaz and Pakistan People's Party.
Speaking in a party gathering, the JUI-F leader said that his party has always raised its voice against the prevailing feudalism in Sindh. He added that the government has invested all its resources on counter-terrorism initiatives but the poor farmers direly wanted employment to feed their families.
He said that the politicians should review their vision, adding that his party did not represent any particular segment of the society. "We criticise the policies but never hurl abuses." "All the institutions are respectable but their decisions should not reflect vengeance or bias," he said.
Full report at:
https://www.pakistantoday.com.pk/2018/02/18/fazl-says-us-prioritising-india-over-pakistan/
-------
JI pushes for revamping of political system
Feb 19, 2018
NOWSHERA: Jamaat-e-Islami (JI) Chief Sirajul Haq on Sunday stressed the need for revamping of the prevailing political system in the country.
Addressing a rally, Sirajul Haq said that the former prime minister complained that the courts were not dispensing justice. He said that the same judicial system had prevailed when he had been the chief executive of the country thrice but he never bothered to reform the system.
The JI chief said that the present political system had failed to provide any relief to the masses. It had been proved that instead of curbing crime and corruption, the system was facilitating the cheats and plunderers in coming to power, he added.
He said that the people who were responsible for all the present ills were again in the run and were begging for votes to return to power so that they could continue sucking the blood of the people.
Sirajul Haq said that horse trading for Senate elections was at its peak and every effort was being made to secure Senate seat on the power of wealth instead of capability. He said that the parties which had only four assembly members had fielded two Senate candidates and persons having no political background were also keen to return to the Upper House. He said that the corrupt mafia and criminals, upon returning to the Senate, would only pursue personal goals.
The JI chief said that those who had been in power three times would have done something for the uplift of the masses if they had been concerned about the people, adding that it was of no use now to shed crocodile tears.
He further said that the present government was burdening the masses with more taxes and by raising prices of petroleum products.
Sirajul Haq said that if the country's leadership was of this nature, the foreign policy would fail and US President Donald Trump would be issuing further threats to the country.
Full report at:
https://www.pakistantoday.com.pk/2018/02/18/ji-pushes-for-revamping-of-political-system/
-------
Balochistan FC conducts IBOs, five terrorists apprehended: ISPR
Feb 19, 2018
QUETTA: Balochistan Frontier Corps (FC) on Sunday conducted intelligence-based operations (IBO) in various parts of Balochistan.
According to Inter-Services Public Relations (ISPR), security forces personnel apprehended five terrorists during raids in the province's Bostan, Dera Murad Jamali, Sibi, Pishin, Lehri and Chathar areas.
A huge cache of arms and ammunition, including rockets, sub-machine guns, mines, and explosives were recovered.
Full report at:
https://www.pakistantoday.com.pk/2018/02/18/balochistan-fc-conducts-ibos-five-terrorists-apprehended-ispr/
-------
Two 'terrorists' held in DI Khan
Feb 19, 2018
DERA ISMAIL KHAN: The Counter Terrorism Department (CTD) arrested two suspected members of a banned outfit here on Sunday.
The CTD officials, acting on a tip-off, arrested Ajmal and Jamal from Kota Tong station in DI Khan.
The suspected militants were involved in 2015 terrorist attack in which three security personnel were martyred and another three injured, said the statement by the CTD.
In January, CTD arrested a key facilitator involved in last year's terror attack on Agricultural Training Institute (ATI) in Peshawar, which left eight people dead and 23 injured.
https://www.pakistantoday.com.pk/2018/02/18/two-terrorists-held-in-di-khan/
-------
Unity among Muslims must to deal with challenges: PUC
FEBRUARY 19, 2018
Lahore: Leadership of different political and religious organisations while lauding army chief's decision of troops' deployment in Saudi Arabia for training and consultative mission said that any evil force can't destabilise brotherly relations of Pakistan and Saudi Arabia.
PUC Chairman Muhammad Tahir Mehmood Ashrafi, Maulana Ayub Safdar, Maulana Abdul Kareem Nadeem, Maulana Abdul Hameed Watto, Qazi Matiullah Saeedi, Allama Tahir ul Hassan of International Mutahidaa Ulema Council, Maulana Mufti Muhammad Zia Madni of Mutahida Ulema Islam, Maulana Faheem ul Hassan Thanvi of Jamiat ul Ulama e Islam (S), Maulana Ashfaq Patafi of Wafaq ul Masajid Pakistan and Maulana Ghulam Ullah Khan of Mutahida Ulema Ahle Hadees said that amidst prevailing challenges of Muslim world, endeavours should be made to rid Muslim Ummah of sectarianism, extremism and terrorism through reinforcing bilateral coordination among Muslim countries.
"Conspiracies are being hatched against Pakistan, Saudi Arabia and Muslim countries, which can only be contained through unity."
Leadership of different religious organisations also lauded the speech of Chief of Army Staff General Qamar Javed Bajwa in Germany pertaining to peace efforts in Afghanistan.
They said that the COAS represented whims of Islam and Muslims in a befitting manner. "General Bajwa made it clear to the world that there is a big difference between jihad and terrorism."
They said that the people of Pakistan were willing and committed to ensuring security and defence of Harmain Al Sharifain.
Full report at:
https://dailytimes.com.pk/204578/unity-among-muslims-must-deal-challenges-puc/
-------
PTI confirms Imran Khan's marriage to Bushra Maneka in Lahore
Fahad Chaudhry
February 18, 2018
Pakistan Tehreek-i-Insaf (PTI) chief Imran Khan married Bushra Maneka, a respected Pir [faith healer] in Pakpattan, in "a simple ceremony" in Lahore on Sunday, the party's spokesperson told DawnNews.
Confirming Khan's third marriage, PTI spokesperson Fawad Chaudhary said that the ceremony was held at the residence of Bushra's brother.
Party leader Inamul Haq told DawnNews that only close relatives, including the bride's mother, and friends participated in the ceremony — Khan's sisters, however, were not in attendance. Mufti Saeed performed the nikah in the presence of Awn Chaudhary and Zulfi Bukhari who appeared as witnesses, said PTI members.
The ceremony was a low-profile one as per the desire of Imran Khan, Haq added. He expressed hope that Imran Khan's marriage would prove blessed not only for him and his wife but for the entire nation.
PTI leaders, including Naeemul Haque, Shireen Mazari, Jahangir Tareen, and Shah Mehmood Qureshi, congratulated Khan and his new wife on their marriage on Twitter.
Bushra Maneka is in her 40s, and belongs to the Wattoo clan, of which the Manekas are a sub-clan. Earlier, she was married to Khawar Farid Maneka, a senior customs official in Islamabad but parted ways in recent times.
The PTI chief has been married twice before. His first marriage was with Jemima Goldsmith, daughter of a British billionaire in 1995. The couple divorced in 2004.
Khan's second marriage to Reham Khan dissolved 10 months after a public ceremony had taken place in January, 2015.
Speculation around third marriage
The News in an article published in January claimed that Khan had married for the third time in a secret ceremony on January 1, saying that Mufti Saeed had performed the nikkah. PTI had originally refuted the claim, calling the speculation "ridiculous". A day later, however, the party had 'clarified' that Khan had only proposed marriage to Bushra Maneka.
Soon after, the party leader had also broken his silence on the speculation through a series of tweets, saying, "My only crime is wanting to get married". Khan, who has two sons from his first marriage, had also appealed to people to pray for his "personal happiness".
During an interview the same month, Khan had said: "I met Bushra [Maneka] almost two years ago. I will like to reiterate that every time I met her, with family and alone, she has been in purdah. My interest in her lies in the fact that I have not seen or met anyone with her level of spirituality."
He had made it clear that he only sent the proposal for marriage after she divorced her husband.
Khan's connection with the Manekas was confirmed by PTI leader Naeemul Haq in 2016 when rumours were doing the rounds that the PTI chief had married a UK-based relative of the family on the advice of his spiritual patron, Bushra Bibi, also known as Ms Pinki Pir.
Haq had then denied reports about Khan's third marriage but confirmed in his tweet that his leader had "spiritual relationship" with the Maneka family.
A source close to the family had told Dawn that Khan first visited Bushra ahead of the NA-154 (Lodhran) by-poll in 2015 and was very pleased when Jahangir Tareen won the seat according to her prediction. Since then he has been visiting her regularly, the source had added.
Full report at:
https://www.dawn.com/news/1390200/pti-confirms-imran-khans-marriage-to-bushra-maneka-in-lahore
-------
North America
Pentagon watchdog agency questions 'progress' in US war on Afghanistan
Feb 18, 2018
A watchdog agency at the US Defense Department has raised new reservations about "progress" in the 16-year-old US-led war on Afghanistan despite deployment of thousands of more troops to the war-ravaged country.
According to Pentagon's office of inspector general, the Afghan government forces had not expanded its areas of control by the end of 2017, even as the US military added nearly 3,500 troops and escalated airstrikes against Taliban militants across the country. AP reported Friday.
The government agency stated in its latest report released Friday that it is too early to judge whether the war strategy announced by President Donald Trump in August would achieve its key objective of compelling the Taliban terrorists to reconcile with the government in Kabul.
It further said it is difficult to measure the plan's effectiveness because potentially useful pieces of information -- such as Afghan military casualty rates -- are no longer publicly available.
The agency also suggested that more yardsticks of "progress" are needed.
Trump introduced a new Afghanistan strategy in August, hinting at relaxing the rules of engagement, accelerating strikes and other military actions aimed at producing "an honorable and enduring outcome".
Since he took office, the number of troops has nearly doubled in Afghanistan – from 8,500 in early 2017 to 14,000 today.
According to The Washington Post, the US Army is floating plans to increase the total number of troops in Afghanistan by another 1,000.
The US invaded Afghanistan with the express aim of defeating Taliban but the militants are openly active in 70 percent of the country, a study released by the BBC said in a report late last month.
This while former Afghan President Hamid Karzai insisted last week that the US is not in Afghanistan to defeat the Taliban but because America's main rivals like China, Russia and Iran are in the neighborhood.
"The United States is not here to go to a party," Karzai said in an interview with The Washington Post on February 14. "There is no need for them to build so many bases just to defeat a few Taliban. They are here because all the great American rivals are in the neighborhood, and we happen to be here, too. They are welcome to stay but not to deceive us."
http://www.presstv.com/Detail/2018/02/18/552747/US-military-Pentagon-watchdog-agency-Afghanistan-Taliban
-------
US to work with Turkey on liberated areas in Syria
18 February 2018
The U.S. will work with Turkey on the locals taking control of the liberated areas in Syria, Secretary of Defense Gen. James Mattis said on Saturday.
"We concur with Turkey on the need for locals taking control of the liberated areas, and we are going to work with Turkey on the locals taking control, and with Turkey on every other irritant, or diversion or distraction, or every area.
"We have many areas of absolute concurrence, too," Mattis told reporters en route to Washington, according to a DoD statement.
Mattis said U.S. Secretary of State Rex Tillerson and his Turkish counterpart Mevlut Cavusoglu agreed on "significant" issues that the two countries would work through.
Tillerson on Thursday made a two-day working visit to the Turkish capital Ankara, where he met the Turkish President Recep Tayyip Erdogan and Cavusoglu to discuss several issues, including bilateral ties and regional developments, particularly Syria and Iraq.
Pushing the button to mend bilateral ties, Turkey and the U.S. reaffirmed their mutual and unequivocal commitment to each other's security and to the preservation of Syria's territorial integrity in a joint statement on Friday.
The two countries "agreed to establish a results-oriented mechanism," which will be activated no later than mid-March.
Asked how this mechanism wouldwork in Syria's Afrin and Manbij, Mattis said there was a "commitment" to work them out.
"Yes, how would the mechanisms work, for example, in Afrin. That's exactly what we have to work out...We are going to put them in place," he said.
Relations between the two countries have been strained over U.S. support for the terrorist group PYD/YPG/PKK in northern Syria, which the U.S. has called a "reliable ally" in fighting Daesh.
Full report at:
http://www.worldbulletin.net/america-canada/198942/us-to-work-with-turkey-on-liberated-areas-in-syria
-------
US vows to probe Syria attack involving Russians
Feb 18, 2018
US Defense Secretary James Mattis has pledged to investigate an alleged attack involving a group of Russian private military contractors on US-backed opposition forces in Syria but stopped short of accusing Moscow of orchestrating the assault.
"I understand that the Russian government now is saying that some of their non-military forces, contractors, were involved in that still unexplained attack," Mattis said Saturday while flying back to Washington after a weeklong tour of Europe.
"But they took directions from someone. Was it local directions? Was it from external sources? Don't ask me, I don't know. But I doubt that 250 to 300 people, all just excited on their individual self, suddenly crossed the river in enemy territory, started shelling a location and maneuvering tanks against it," he added.
"So, whatever happened, we'll try to figure it out. We'll work with obviously anyone who can answer that question."
Russia has acknowledged that five of its citizens were killed in a US-led coalition bombing in the province of Dayr al-Zawr in eastern Syrian after they were part of a group of pro-government forces which led an attack on positions held by the Syrian Democratic Forces (SDF).
At the time of the attack on February 7, the Russian defense ministry insisted it had no troops in Dayr al-Zawr.
The US has around 2,000 military personnel in northern Syria supporting the SDF, which is an alliance of militias in northern and eastern Syria and largely dominated by the Kurdish People's Protection Units (YPG).
The US and its allies have been bombarding what they call Daesh positions inside Syria since September 2014 without any authorization from the Damascus government or a UN mandate.
The strikes, however, have on many occasions resulted in civilian casualties and failed to fulfill their declared aim of countering terrorism.
Russia has backed Syria's fight against terror since late 2015 when Russian air force and troops arrived in the Arab country at an official request of Damascus to help the government fight against Daesh and other Takfiri militants.
Full report at:
http://www.presstv.com/Detail/2018/02/18/552812/US-Mattis-Russia-Syria
-------
Africa
Nigeria frees 475 Boko Haram suspects
February 19, 2018
ABUJA - Nigeria has freed another 475 Boko Haram suspects following a series of mass trials in which most cases were dropped for lack of evidence, the justice ministry said Sunday.
Over the course of the week, hundreds of suspected Boko Haram extremists have appeared before a court at the Kainji military base in central Niger state.
The release order was issued on Friday, with the 475 suspects to be returned to their home states for "proper rehabilitation" before being sent back to their families, ministry spokesman Salihu Othman Isah said.
He said they had been arrested on grounds they either belonged to Boko Haram , or had concealed information about the group's plans or its members' whereabouts.
"However, the Prosecution Counsel could not charge them with any offence due to lack of sufficient evidence against them. Therefore, the suspects were released."
Among those released was a young girl with a three-month-old baby from Borno State who was taken to a Boko Haram enclave by her brother and married off to his friend when she was 11. She was arrested in 2014 while trying to escape.
Also freed were two mechanics, identical twins who were arrested in Bauchi State in 2010 after servicing a vehicle at their workshop which belonged to a Boko Haram member.
Also Friday, the court imposed a second 15-year sentence on Haruna Yahaya, 35, who was involved in the 2014 kidnapping of more than 200 schoolgirls from Chibok.
Earlier in the week, he had been jailed for 15 years but the court handed him an additional 15-year term, with the judge saying the two sentences would run consecutively.
In total, some 1,669 people have been processed in a string of mass hearings which began in October at four specially-constituted civilian courts inside the facility.
Most were men, but their number also included some women and children, with Nigeria widely criticised for holding them and thousands of others for years without trial or even contact with a lawyer.
Before Friday's release of 475 suspects , 468 had been freed after it was found they had no case to answer; 45 were jailed for between two and 15 years and 28 had their cases transferred to other jurisdictions.
A further 82 pleaded guilty in exchange for a lesser sentence or release, taking into account time served in custody. And others were freed after spending years behind bars.
The remaining cases have been delayed for another hearing.
Boko Haram 's bloody quest since 2009 to establish a hardline Islamic state in remote northeast Nigeria has left at least 20,000 dead and forced more than 2.6 million others out of their homes.
The violence has also spilt over into neighbouring Cameroon, Chad and Niger.
https://nation.com.pk/19-Feb-2018/nigeria-frees-475-boko-haram-suspects
-------
Police foil major terror attack, arrest two Al-Shabaab agents
FEBRUARY 18 2018
Police have foiled a major terrorist attack after fighting off gunmen, killing one and arresting two others after which they found a cache of arms including 36 grenades and five automatic rifles.
The officers also detained the terrorists' car which was rigged up with explosives.
Initial investigations showed the car was headed to Nairobi where the terrorists planned to use it as a vehicle borne improvised explosive device (VBIED), simply a bomb on wheels.
Further investigations showed the car was assembled by Al-Shabaab experts in El-Adde, Somalia.
Following the Thursday evening gunfight in Merti, Isiolo County, a major police operation is underway in the city with the aim of arresting the terrorists' accomplices.
BOOKED HOTEL
An initial report shared among security agencies and seen by Nation says the terrorists had probably booked a hotel room because they were carrying a key, which indicated the name of the hotel a room number.
The Nation cannot name the hotel because of the ongoing security operation.
According to the report, there were five terrorists in the car when police officers spotted it.
"Our officers spotted a Mitsubishi sport car registration number KBM 200D hidden in a thicket. The team alighted from their vehicles and approached. One of the occupants came out while shooting at the officers. The officers returned fire killing the unidentified gunman instantly. Four of the occupants tried to escape," it said.
ARMED TERRORIST ESCAPES
The report added: "Two (terrorists) were apprehended while two are at large among them one armed with Ak47 rifle."
Police also identified those in custody as Kenyans, going by the national identity cards they were carrying.
They are Abdimajit Hassan Adan, 24, and Mohammed Nane Kenyan, 23.
Another ID card belonging to Jirma Huka Galgalo was also found.
Photographs of the terrorists' vehicle after it was dismantled showed it was rigged up with 18 IEDs.
If detonated, the impact would be devastating because explosion would be powerful enough to bring down a storey building, according to a security official who spoke to Nation on condition of anonymity because he is not authorised to divulge details of an ongoing investigation.
Also found in the car were the five AK 47 rifles with 36 fully loaded magazines – each magazine carries 30 bullets.
Also, there were "36 unprimed hand grenades, 18 IEDs and three millitary knives."
AL-SHABAAB FLAG
A black flag similar to that used by extremist jihadists and other paraphernalia associated with Al-Shabaab were also found.
Police also took a motor cycle registration number plate KMEE 180R and ignition keys.
The operation was led by Merti Deputy County Commissioner Maiyo Julius, Police Commander Gifinalis Barasa and his Administration Police counterpart Hussein Ibrahim.
The senior officers were from a security patrol in Yamicha when they spotted the terrorists and pursued them.
With intensified war against Al-Shabaab in Somalia where Kenya Defence Forces (KDF) are operating under the African Union Mission in Somalia (Amisom, militants have been sneaking into Kenya to carry out attacks on soft targets.
On Friday, three teachers were killed after gunmen attacked Qarsa Primary School in Wajir County.
ROAD EXPLOSIVE
On Wednesday, an Al-Shabaab terrorist was blown up after an explosive went off while he planted it on a road in Lamu County.
The 3.25am incident happened between Sarira and Kolbio, a stretch regularly used by security units patrolling the Boni enclave.
Six hours later, three other terrorists were killed by military personnel who were patrolling the route.
KDF Spokesman David Obonyo said the patrol unit "found the body of the militant approximately three kilometres from Sarira following suspected premature explosion of an improvised explosive device he was trying to place on the road".
Three AK 47 rifles, 236 bullets and bomb-making materials were recovered thereafter, he added.
Colonel Obonyo also said other terrorists escaped with injuries.
Full report at:
https://www.nation.co.ke/news/Police-foil-Shabaab-terror-attack/1056-4309822-l7rrr8/index.html
-------
Boko Haram: Nigerian Army speaks on Shekau's 'escape'
February 17, 2018
By Wale Odunsi
Nigerian Army on Friday dismissed as "misleading" reports indicating that the Boko Haram factional leader, Abubakar Shekau, escaped to Cameroon.
Brig.-Gen. Sani Kukasheka, the Director, Army Public Relations, said in a statement issued in Maiduguri that the army was not aware of the whereabouts of the fugitive Boko Haram leader, Abubakar Shekau.
Kukasheka said that the army was in a manhunt for Shekau, adding that N3 million was offered as reward for any credible information that would lead to his arrest.
"The attention of the Nigerian Army has been drawn to a news story on some news medium, alleging that the wanted factional terrorists' group leader, Abubakar Shekau, is in Kolofata, Republic of Cameroon.
"The report alleged that a top Boko Haram commander; Abdullahi Bello, alias Abu Zainab, who was captured by the Nigerian Army on February 14, disclosed that Shekau escaped to Cameroon.
"This is not true; the Nigerian Army did not arrest such person, neither do we have such suspect in our custody.
Full report at:
http://dailypost.ng/2018/02/17/boko-haram-nigerian-army-speaks-shekaus-escape/
-------
Libyans mark 7 years since protests that ousted Kaddafi
18 February 2018
Thousands of Libyans on Saturday marked the seventh anniversary of the start of protests that ousted dictator Moamer kaddafi, with rallies and concerts despite the country's political and economic morass.
Libya descended into chaos after the 2011 NATO-backed uprising, with rival militias, tribes and extremists vying for influence across the oil-rich country.
A 2015 UN-backed deal to set up the unity government in Tripoli was meant to end the turmoil.
But Libya has remained riven by divisions between the Government of National Accord (GNA) and a rival administration backed by military strongman Khalifa Haftar in the east.
The GNA has failed to assert its authority across the oil-rich country, which is also grappling with deadly attacks, and a migration crisis seven years since the uprising erupted.
Internationally-backed Prime Minister Fayez al-Sarraj acknowledged his government's shortcomings in a televised speech on Saturday to mark the seventh anniversary, and called for national reconciliation.
"Maybe a regime has ended, but the truth is we have not managed to rid ourselves of a culture that has dominated the minds and behaviour of many people, who today are at the forefront of politics and who consider the homeland as booty," Sarraj said.
National reconciliation, he said, was key to a solution to end divisions in Libya and ease the crisis facing the country.
Sarraj also accused countries, which he did not name, of "fuelling" the Libyan conflict and called on them to stop intervening in his homeland.
In Tripoli, Libyans thronged the central Martyrs' Square waving the country's red-green-black flag.
Boy scouts marched and concerts as well as fireworks were planned as part of the festivities, which were kicked off on Friday.
"Maybe 2018 will be a good year for Libya," said Mohsen Ali, a civil servant, who brought his wife and two small children to Martyrs' Square.
"We must start the year well so that good things happen," he added.
But if some were keen on celebrating the start, seven years ago, of protests that led to the toppling and killing of kaddafi, others took to social media to declare there was nothing worth celebrating.
Full report at:
http://www.worldbulletin.net/africa/198962/libyans-mark-7-years-since-protests-that-ousted-kaddafi
-------
URL: https://www.newageislam.com/islamic-world-news/malaysian-masjid-organises-chinese-new/d/114334
New Age Islam, Islam Online, Islamic Website, African Muslim News, Arab World News, South Asia News, Indian Muslim News, World Muslim News, Women in Islam, Islamic Feminism, Arab Women, Women In Arab, Islamophobia in America, Muslim Women in West, Islam Women and Feminism