New Age Islam News Bureau
8 Nov 2018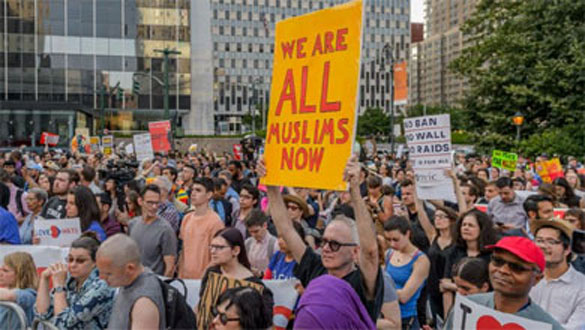 American Muslims are proudly flaunting their participation in the US midterm election using #MyMuslimVote.
-----
• Malaysia: Gov't May Freeze Bank Accounts of Muslim Men Who Fail To Pay Alimony
• 'Brain Drain' Warning Over Indian Muslim Migration
• American Muslims Defy Trump's Islamophobia with #MyMuslimVote
• Russian Security Heads Warn Of Possible IS, Qaeda Merger
• Pakistan PM Imran Khan Wishes Hindu Community on Diwali
Southeast Asia
• Malaysia: Gov't May Freeze Bank Accounts of Muslim Men Who Fail To Pay Alimony
• Indonesian 'Vaccine Fatwa' Sends Measles Immunization Rates Plummeting
• In Third UN Review, Malaysia to Be Grilled Over Death Penalty, Child Marriages, FGM
• Authorities probe Bible distribution near school
• Umno president's reminder about Constitution totally irrelevant, says Patriot
--------
India
• 'Brain Drain' Warning Over Indian Muslim Migration
• BSF, Pakistan Rangers Exchange Sweets at Border on Diwali
• AR Rahman Responds To Question "If I Convert To Islam, Will I Be Successful Too?"
• Farooq Abdullah urges India, Pakistan to start sustained dialogue to resolve Kashmir issue
• Couldn't Pay Dividend After Losses from Note Ban, GST: Woman Held For Cheating
--------
North America
• American Muslims defy Trump's Islamophobia with #MyMuslimVote
• Facing New Sanctions, Iranians Vent Anger at Rich and Powerful
• Asian, Muslim and Latino immigrants across U.S. helped Trump and GOP win
• US shoring up support for Geneva conference on Afghanistan
• US warns nations not to allow Iranian oil tankers into their territorial waters
• US offers up to $5 mln reward for information on PKK members
--------
Europe
• Russian Security Heads Warn Of Possible IS, Qaeda Merger
• Europe Has Turned a Blind Eye to Arab Tyranny In Pursuit Of Profit
• Bulgaria detains three Iranians with fake Israeli passports
• Alarming rise in prejudice against Muslims in Germany
• Apparent suicide of Syrian refugee in German jail questioned amid fears of official whitewash
--------
Pakistan
• Pakistan PM Imran Khan Wishes Hindu Community on Diwali
• No Truth in Reports Of Aasia Bibi Leaving Pakistan: Foreign Office
• Committee formed to organise Khatam-e-Nabuwwat conference on Eid Milad un Nabi
• 'Lack of Funds Affecting Research & Development in Muslim World'
• SC declares appointment, benefits granted to Attaul Haq Qasmi as PTV MD as illegal
• Enemies plan to foment violence in Balochistan, Senate panel told
• Imran issued notice in disqualification case
• Illegal Afghan nationals and refugees in Pakistan to be repatriated: FO
• Four more people interrogated in Samiul Haq's murder case
• Police submit report to Interior Ministry over TLP's KP protests
--------
South Asia
• ISIS-K's Two Pakistani Members Arrested with Family Members in Nangarhar
• Highway to Hell: Afghan Travellers Run Gauntlet of Taliban Violence
• Bangladesh rescues 33 'Malaysia-bound' Rohingya from sea
• Bangladesh rejects opposition plea for caretaker government
• Taliban to seek end of US presence in Afghanistan at Moscow conference
• UN warns of rushed plans to repatriate Rohingya
• Report: Bangladeshis part of US-bound Central American migrant caravan
--------
Arab World
• Kurdish Politician: US Unable to Halt Turkey's Attacks on Kurds
• Coalition Strikes Kill 20 ISIS Members In Eastern Syria, Says Monitor
• Egypt sentences eight ISIS extremists to death over attack
• Israel threatens to target Russia-manned S-300s in Syria
• Israeli minister visits Oman amid warming ties with Arab governments
• Fierce Infighting Erupts among Terrorists in Aleppo's Afrin, Leaves Heavy Casualties
• Syrian regime wants Palestinian refugees back in Yarmouk
--------
Mideast
• Israeli Software Was Used To Track Khashoggi: Snowden
• UN Salutes Damascus Allowing Yarmouk Palestinians to Return
• Palestinian Leader of Hezbollah-linked Ansar Allah leaves Lebanon to Syria
• Yemeni government warns of Houthi militias' 'terrorist intentions'
• Yemeni army officer lost four sons in fights against Houthi militias
• Denmark arrests 3 for praising September terror attack in Iran's Ahvaz
• Hamas rejects UAE criticism of support for Iran against US sanctions
• Turkish forces 'neutralize' wanted PKK terrorist
--------
Africa
• Nigeria: Incompetent Politicians Fuelling Ethno-Religious Crisis - Senator Bwacha
• Anti-Terrorism Group Accuses AI of Plotting To Replace Boko Haram with another Sect
• US Willing to Lift Sudan's 'Terror State' Designation Pending Reforms
• Nigeria Court Refuses To Release Zakzaky on Bail
• International powers quietly shelve December plan for Libya election
• Nigerian Shi'ite leader denied bail after supporters killed during protest
• Ghana: Ambariya Muslim Group Gives to Floods Victims in Tamale
• One soldier killed, 16 missing in separate Boko Haram attacks on Nigerian forces
Compiled by New Age Islam News Bureau
URL: https://www.newageislam.com/islamic-world-news/malaysia-gov-t-freeze-bank/d/116826
--------
Malaysia: Gov't May Freeze Bank Accounts of Muslim Men Who Fail To Pay Alimony
7 Nov 2018
PETALING JAYA: Ex-husbands who fail to pay Nafkah (alimony) to their children and former wives may have their bank accounts frozen.
According to a report in Sinar Harian, Minister in the Prime Minister's Department Datuk Seri Mujahid Yusof Rawa said that the ministry officials had held discussions with the State Syariah Judiciary Department (JKSN).
The talks, he added, touched upon how to implement actions including freezing bank accounts in an effort to empower enforcement against Muslim individuals who disobey court orders.
He was speaking to reporters after a town hall session here on Wednesday (Nov 7).
According to Mujahid, many women are not afforded justice in terms of alimony, which is decided upon by the Syariah court.
He stressed that once a decision had been made by the court, the amount should be paid.
The issue had been discussed at several levels, he said, expressing hopes that enforcement would be stepped up to include bank restrictions.
"We need a bit of authority to act on husbands who do not pay alimony to their former wives. Many ex-wives have no place to forward their complaints to, and there are flaws from an enforcement point of view," said Mujahid.
Many divorced women do not get what they are rightfully entitled to when ex-husbands feel they are not obliged to fulfil their responsibility to pay alimony, he added.
https://www.thestar.com.my/news/nation/2018/11/07/mujahid-govt-may-freeze-bank-accounts-of-men-who-fail-to-pay-alimony/
--------
'Brain Drain' Warning Over Indian Muslim Migration
June 04, 2018
DUBAI: For decades political and financial pressures have forced generations of educated Indian Muslims to leave their homes and travel as economic migrants in search of a better future overseas.
But while continuous migration has helped to bring financial stability, the trend has also exacted a heavy toll on the community at home, according to an Indian politician and member of All India Muslim Personal Law Board.
Speaking exclusively to Arab News during a visit to the UAE, Mohammed Adeeb said that economic migration had led to a "brain drain," and the loss of "leaders and torchbearers" in India's Muslim community.
"Be it partition, when the most of the educated and qualified Muslims crossed the border, and then economic migration to Gulf and now to the US and Canada, Muslims back home have been left without leaders and torchbearers. As a result they have become more vulnerable to political, economic and social challenges," he said.
However, Adeeb said while migration outside India may be creating a "vacuum," it was also providing thousands of Muslim households with financial stability because of money earned in the Gulf region.
"If on the one hand, it was a brain drain, then on the other it was a money gain as well. The financial situation of thousands of Muslim households in the country has improved because of money earned in the Gulf. Because of Gulf income, a middle and upper middle class have emerged in the Indian Muslim community. However, we need to ask whether it was a good bargain," he said.
Adeeb is a former member of Rajya Sabha (the upper house of Indian Parliament), a member of All India Muslim Personal Law Board and alumni of Aligarh Muslim University.
He urged Indian Muslim graduates living around the world, including the Gulf, to "come forward and share responsibilities.
"There is a lack of leadership in the community. University alumni have to take the lead and become the voice of the Indian Muslim community," he said.
According to Adeeb, Muslims in the country have their own challenges and are scared.
"Those who live outside India have to talk about the challenges of Indian Muslims in their adopted countries, such as the UAE and Saudi Arabia. They are educated and privileged people, and must raise their voice in a way that the corridors of power listen to them."
Last month, violent clashes took place between university students in Aligarh and local BJP workers over a portrait of Pakistan's founder Mohammed Ali Jinnah in the university campus.
India has the world's third-largest Muslim population and largest Muslim-minority population. The country is home to about 172 million Muslims, according to a 2011 census. A 2017 census showed Pakistan's population at 207.8 million.
http://www.arabnews.com/node/1315476/world
--------
American Muslims defy Trump's Islamophobia with #MyMuslimVote
7 November, 2018
Muslim voters are taking heed in bitterly divided America, which went to the polls on Tuesday for a high-stakes midterm election.
The election is seen as a referendum on the first two years of the mercurial presidency of Donald Trump, who capitalised on anti-Muslim rhetoric during his campaign in the 2016 presidential elections.
Shortly after Trump came to power, Trump imposed a travel ban on seven Muslim majority countries: Iran, Iraq, Syria, Yemen, Somalia, Sudan and Libya -- sparking outrage in the US and across the world.
Early voting hit record levels and turnout appeared high across the country. Muslims were particularly enthusiastic in hitting the polls, with even a campaign being launched to emphasise the importance of the Muslim vote.
The campaign #MyMuslimVote led by the MPower Change, which describes itself as "the largest Muslim led social and racial justice organisation" raised awareness for the power of voting and encouraged Muslims to do so.
https://www.alaraby.co.uk/english/blog/2018/11/7/us-midterms-women-blaze-a-trail-through-american-politics
--------
Russian security heads warn of possible IS, Qaeda merger
Nov 8, 2018
MOSCOW - Russia's security heads warned Wednesday that the Islamic State (IS) and al-Qaeda may merge and thus increase the threat of global terrorism.
"The transition to a network-based organizational model based on regional branches may push the IS leadership to merge with al-Qaida, which is also interested in replenishing its forces and means for conducting active terrorist activities," Secretary of the Russian Security Council Nikolai Patrushev was quoted as saying by TASS news agency.
"This will allow these two terrorist organizations to control the activities of their regional branches and affiliates more efficiently," he said at a meeting of foreign security services and law enforcement bodies in Moscow. IS has lost most of the territories it occupied in Iraq and Syria, but it remains along with al-Qaida and its affiliates a potent threat, with a presence of both terrorist groups in various countries of the Middle East and Africa.
There are a number of signs indicating a possible convergence of IS and al-Qaeda, Director of the Russian Federal Security Service (FSB) Alexander Bortnikov said at the meeting.
"Both international terrorist organizations use a close ideological base and common human resources to replenish each other's forces," Borthikov said. Many terrorists, despite the armed clashes between al-Qaida and IS, are moving from one terrorist structure to another, motivated by personal gain, changes on the battlefield and other reasons, he said. According to the Security Council's Patrushev, currently there are more than 200 terrorist groups in the world, of which IS and al-Qaeda are the largest.
An inevitable defeat of terrorism in Syria and Iraq has forced foreign mercenaries to leave, return to their own countries, or create new centers of instability, he said.
According to Patrushev, the militants have changed tactics by joining local radical groups and criminal circles, forming criminal groups within national communities and diasporas of the world, as well as creating so-called "dormant cells," recruiting new members and accumulating financial assets.
https://nation.com.pk/08-Nov-2018/russian-security-heads-warn-of-possible-is-qaeda-merger
--------
Pakistan PM Imran Khan wishes Hindu community on Diwali
November 7, 2018
Pakistan Prime Minister Imran Khan on Wednesday extended his good wishes to the Hindu community on the occasion of Diwali, the festival of lights. "Wishing all our Hindu citizens a happy Diwali," Khan tweeted. National Assembly Speaker Asad Qaiser also greeted Hindu parliamentarians and the Hindu community. "Pakistan is a pluralistic country and enriched with cultural diversity," he said.
Other key members of the Khan government, including Foreign Minister Shah Mahmood Qureshi, Finance Minister Asad Umar, Information Minister Fawad Chaudhry and Sindh Governor Imran Ismail, also wished the Hindu community a happy Diwali.
Imran Khan
✔
@ImranKhanPTI
Wishing all our Hindu citizens a happy Diwali.
"I wish our Hindu brethren a happy #Diwali. May the Festival of Lights usher in joy and prosperity for all of you. May light always have victory over darkness, good over evil and knowledge over ignorance," Foreign Minister Qureshi tweeted. Leader of the Opposition in the National Assembly and Pakistan Muslim League-Nawaz chief Shehbaz Sharif also wished the Hindu community on the occasion, asserting that members of the Hindu community are equal citizens of Pakistan, Dawn reported.
Sharif said the rights of non-Muslims were enshrined in the Constitution and guaranteed by Islam, and that members of minority communities have played an important role in the formation, defence, construction and development of Pakistan, the paper reported. He said that the PML-N would continue to play its role in protecting the rights of non-Muslims.
Pakistan People's Party Chairman Bilawal Bhutto Zardari also extended his greetings to Hindu communities across the world and in Pakistan. Hindus form the biggest minority community in Pakistan. According to official estimates, 75 lakh Hindus live in Pakistan. However, according to the community, over 90 lakh Hindus are living in the country. Majority of Pakistan's Hindu population is settled in Sindh province where they share culture, traditions and language with their Muslim fellows.
https://www.financialexpress.com/india-news/pakistan-pm-imran-khan-wishes-hindu-community-on-diwali/1375585/
--------
Southeast Asia
Indonesian 'vaccine fatwa' sends measles immunization rates plummeting
Nov. 7, 2018
As the bell rang on a recent morning at an elementary school here and pupils filled the classrooms, anxious adults crowded the corridors outside. It was vaccination day, but many parents in this North Sumatra village did not want their children immunized with a new measles-rubella (MR) vaccine. Some told the teacher their children were at home, not feeling well. Others were there to make sure their kids didn't get the jab. They whispered the reason with disgust: The vaccine "contains elements of pork." By the time the vaccination team left, only six out of 38 students had been immunized.
Millions of parents around Indonesia have eschewed the vaccine in recent months, after Islamic clerics declared the MR vaccine "haram," or forbidden under Islamic law because pig components are used in its manufacturing. Vaccine coverage has plummeted as a result, alarming public health experts who worry that the world's largest Muslim-majority country could see new waves of measles and more miscarriages and birth defects resulting from rubella infections during pregnancy.
Indonesia has long used a locally produced measles vaccine as part of its childhood vaccination scheme, but coverage has been patchy, and until recently, the country had one of the highest measles burdens in the world, according to the World Health Organization (WHO). Last year, as part of a WHO-led plan to eliminate measles and rubella globally by 2020, Indonesia switched to a combined MR vaccine, produced by the Serum Institute of India in Mumbai. The Ministry of Health launched an ambitious catchup campaign targeting 67 million children aged 9 months to 15 years. The first phase, in 2017 on the island of Java, was a success; all six provinces reached the 95% coverage target, and measles and rubella cases dropped by more than 90%.
But the rollout to the rest of the country, originally scheduled for August and September of this year, ran into trouble. Just before it began, the Indonesian Ulama Council (MUI) of the Riau Islands, a provincial Islamic body, raised concerns that the new MR vaccine had not been certified as "halal," or lawful, by the central MUI in Jakarta, the highest authority in such matters. The letter asked for vaccinations to be postponed. The news quickly spread throughout the country, stoking distrust among parents.
To salvage the campaign, the health ministry in August lobbied the central MUI to issue a fatwa—a ruling under Islamic law—declaring the vaccine halal. Instead, the council declared the MR vaccine haram, based on its ingredients and manufacturing process. Like many vaccines, it is made using several porcine components. Trypsin, an enzyme, helps separate the cells in which the vaccine viruses are grown from their glass container. Gelatin derived from pigs' skin serves as a stabilizer, protecting vaccine viruses as they are freeze-dried.
MUI took pains not to block the vaccination campaign. It ruled that parents could still have their children vaccinated, given the need to protect public health. "Trusted experts have explained the dangers posed by not being immunized," MUI said, a message it reiterated at a public consultation with Health Minister Nila Moeloek on 18 September.
But local clerics and confused parents have drawn their own conclusions. In contrast to the success on Java, coverage of children on other islands has reached only 68% so far, according to the health ministry, which did not respond to interview requests. In some regions it is far worse—just 8% in Aceh, for example, a province ruled by sharia law.
A spokesperson for WHO's country office in Jakarta notes that Indonesia is hardly the only country where trust in vaccination has eroded and says WHO remains optimistic about the campaign. Although the fatwa "has caused some confusion at local levels, it is in fact clear in its directive and ultimately supportive" of vaccination, the spokesperson wrote in an email. WHO is working with the Indonesian government, which has extended the catch-up campaign until December, to expand the coverage.
Failure could be a major setback for public health. Measles can cause deafness, blindness, seizures, permanent brain damage, and even death; vaccination coverage needs to be at 95% to reach herd immunity, in which even nonvaccinated people are protected. That threshold is about 80% for rubella. At lower levels, a paradoxical effect can occur: Some women who would otherwise have an innocuous infection early in life now catch the virus while pregnant, raising their risk of miscarriage or giving birth to babies with congenital rubella syndrome—whose symptoms include blindness, deafness, heart defects, and mental disabilities. "We can't play" with the MR vaccine, says Elizabeth Jane Soepardi, an independent public health expert who until January was director of disease surveillance and quarantine at the health ministry. Low vaccination rates "could mean a boomerang for us," she says.
There is no ready alternative; no MR vaccines have been certified as halal anywhere. (Indonesia's previous measles vaccine didn't have a halal certificate either, which has not hampered its use.) Arifianto Apin, a Muslim pediatrician in Jakarta who advocates for vaccination within the Indonesian Pediatric Society, says education may help. Clerics in many Muslim countries have concluded that gelatin in vaccines is halal because it has undergone hydrolysis, a chemical transformation that purifies it under an Islamic legal concept called istihalah. And in 2013, the Islamic Religious Council of Singapore declared a rotavirus vaccine halal despite the use of trypsin; it ruled that the enzyme had been made pure by dilution and the addition of other pure compounds, which is known as istihlak. If Muslim parents learn about the diverse legal views within Islam, Apin says, "they won't hesitate to vaccinate their children."
If that doesn't happen, the only solution is to develop a halal vaccine as soon as possible, says Art Reingold, an epidemiologist at the University of California, Berkeley. Neni Nurainy, the lead scientist at Indonesia's state-owned vaccine company, Bio Farma, in Bandung notes that nonporcine vaccine stabilizers exist, for instance; the company plans to start to investigate bovine gelatin as a replacement. But development and clinical trials could take 6 to 10 years, she says. "In the meantime, many will be made ill and some may die avoidable deaths," Reingold says.
WHO, however, is steering clear of the religious debate and won't recommend the development of a halal vaccine. "WHO works with regulatory authorities and manufacturers to ensure vaccines have the highest standards of safety and efficacy," the spokesperson says. "We don't assess vaccines on other criteria."
https://www.sciencemag.org/news/2018/11/indonesian-vaccine-fatwa-sends-measles-immunization-rates-plummeting
--------
In third UN review, Malaysia to be grilled over death penalty, child marriages, FGM
08 November 2018
PUTRAJAYA, Nov 8 ― Malaysia will face its third Universal Periodic Review (UPR) by the United Nations Human Rights Council (UNHRC) in Geneva, Switzerland tonight, even as the new Pakatan Harapan administration works to bolster the country's human rights track record.
Putrajaya is expected to face scrutiny over its pledge to abolish capital punishment ― which was the major concern in its last run ― and issues involving women such as child marriages and female genital mutilation (FGM).
Checks by Malay Mail with the Office of the UN High Commissioner for Human Rights showed that Sweden, Portugal, Germany, Liechtentstein, United Kingdom, Belgium, Slovenia, and Australia have already submitted their advance questions for Putrajaya in the UPR.
At least five countries in the list above are curious over the next step taken by Putrajaya, after de facto law minister Datuk Liew Vui Keong announced that the Cabinet has agreed to the abolition of the death penalty in October this year.
"How does Malaysia intend to proceed with the abolishment? Is Malaysia considering, as an immediate measure, to commute all death sentences to terms of imprisonment?" asked Belgium.
"Could you outline in detail the complete process the government intends to follow for the abolition of the death penalty in Malaysia following the introduction of legislation to Parliament?" asked Australia.
In October 2013, the majority of countries which reviewed Malaysia's human rights record in that UPR urged Putrajaya to implement a moratorium on capital punishment, with a view to abolish it.
Countries such as Sweden, the UK, and Belgium also questioned Putrajaya's commitment to end child marriages, with the latter asking: "Which initiatives will the government of Malaysia take to curb the increasing trend of child marriages, both in civil and religious marriages?"
Last month, Deputy Prime Minister and women's minister Datuk Seri Dr Wan Azizah Wan Ismail had said that the proposal to increase the marriage age to 18 has been presented the Conference of Rulers, as most limits are subjected to state laws.
Malaysia will also be asked about FGM, after the United Nations Convention on the Elimination of All Forms of Discrimination against Women (Cedaw) committee in its February review urged Putrajaya to eliminate the practice.
Representatives from Muslim-majority countries had criticised Malaysia for allowing the practice of FGM, even when it is no longer considered to be in line with Islamic teachings.
On Sunday, Malaysian Islamic Development Department (Jakim) director-general Datuk Mohamad Nordin Ibrahim said the federal religious authority will join the Malaysian delegation to answer questions regarding child marriages, FGM, and the treatment of lesbian, gay, bisexual and transgender (LGBT).
Malaysia first came under the UPR review on February 2009, and consequently accepted 62 of the 103 recommendations issued by the UPR working group.
In 2013's UPR, Malaysia accepted 150 out of the 232 recommendations, but only 113 of those were accepted in full.
Held every four and a half years, the UPR is a UNHRC mechanism that was established in 2007 to improve the treatment of human rights in all 193 UN member states.
The process involves a three-hour interactive dialogue, where UNHRC members will question Malaysia based on reports prepared by the government, UN agencies, and the stakeholders' report.
The Malaysian delegation will be led by Foreign Ministry secretary-general Datuk Seri Ramlan Ibrahim, and will include representatives from several ministries, Attorney-General's Chambers, Jakim, Orang Asli Development Department, and Sarawak state government,
Full report at:
https://www.malaymail.com/s/1691145/in-third-un-review-malaysia-to-be-grilled-over-death-penalty-child-marriage
--------
Authorities probe Bible distribution near school
07 November 2018
GEORGE TOWN, Nov 7 — The police, Penang Islamic religious affairs department and state education department are investigating allegations that Bibles were distributed to students in front of a school here, the Penang deputy chief minister said today.
"The state government will leave it to the authorities to investigate this issue," Deputy Chief Minister I Ahmad Zakiyuddin Abdul Rahman said in a statement issued today.
Yesterday, Minister in the Prime Minister's Department Datuk Seri Mujahid Yusof Rawa confirmed that Bibles were distributed to students in front of a secondary school in Bukit Mertajam.
He said it was possible that the Bibles were also distributed to some Muslim students.
Ahmad Zakiyuddin stressed that Islam remains the official religion in Penang as stated in the state constitution.
"Any attempts to cause disturbances and chaos in a multiracial society is unacceptable," he said.
Meanwhile, Penang Gabungan Pelajar Melayu Semenanjung (GPMS) information chief Azdy Mohd Arshad urged the authorities to take stern action against those responsible.
He said the individual, who claimed to be from a non-governmental organisation (NGO), should face the full brunt of the law for distributing Bibles to Muslim students.
"Penang GPMS believes that the individual's action was irresponsible and aimed at causing disharmony between different religions in the state," he said in a statement issued today.
He said this action clearly went against Article 11(4) of the Federal Constitution, which empowers each state to control or restrict the propagation of any religious doctrine or belief among persons professing the religion of islam.
Full report at:
https://www.malaymail.com/s/1691022/authorities-probe-bible-distribution-near-school
--------
Umno president's reminder about Constitution totally irrelevant, says Patriot
08 November 2018
KUALA LUMPUR, Nov 8 ― The Umno president's reminder to all parties not to "disturb" the Constitution with regards Islam, the Malay rulers and Malay language is baffling, said Brig Gen (Rtd) Datuk Mohamed Arshad Raji.
The president of the National Patriot Association (Patriot) said Datuk Seri Ahmad Zahid Hamidi has become overly concerned about the issues he raised "when in fact no party, especially the non-Malays, has ever questioned the Federal Constitution relating to those issues mentioned ever since the constitution was first adopted."
In a statement to the media, Mohamed Arshad stated that any questions about those issues were most probably raised by Malay pressure groups including Umno.
He cited a recent case where a member of the Kedah royal family criticised the state of affairs of Malay rulers which was met "with total silence from the Malay pressure groups and Umno leaders."
"Had the criticism been from a non-Malay it would be a foregone conclusion that a hellfire torment would be unleashed from the pressure groups and Umno," he added.
As such, Mohamed Arshad said the statement by Zahid Hamidi was a diversionary tactic "aimed to keep a dying party relevant through its pretence to defend Islam, race and the rightful position of the rulers."
Full report at:
https://www.malaymail.com/s/1691196/umno-presidents-reminder-about-constitution-totally-irrelevant-says-patriot
--------
India
BSF, Pakistan Rangers exchange sweets at border on Diwali
Nov 7, 2018
AMRITSAR: Border Security Force (BSF) exchanged sweets with Pakistani Rangers on the occasion of Diwali from Attari(India)-Wagah (Pakistan) land border on Wednesday.
BSF Commandant Sudeep Kumar greeted his Pakistan counterpart by giving a box of sweets, the gesture was reciprocated by Rangers officials.
Exchange of sweets is a traditional practice carried out by BSF and Pak Rangers on various religious and national events including Independent Day and Republic Day to maintain harmony on the border and for coordination between two forces for better border management.
The friendlier gesture, however, comes to a halt when tension mounts between two countries.
In 2016 there was no exchange of sweets on the occasion of Diwali but the gesture was resumed in 2017.
Exchange of sweets takes place on all the three major international border posts of Attari, Hussaniwala, and Sadqi in Punjab.
The sweets diplomacy is also an indication of the current state of relations between the two nations.
https://timesofindia.indiatimes.com/india/bsf-pakistan-rangers-exchange-sweets-at-border-on-diwali/articleshow/66535037.cms
--------
AR Rahman Responds To Question "If I Convert To Islam, Will I Be Successful Too?"
Nov 07, 2018
Mumbai: Oscar-winning musician A.R. Rahman, whose biography "Notes of a Dream: The Authorized Biography of A.R. Rahman" was launched recently said that people usually ask him, "If I convert to Islam, will I be successful too?".
According to the report published in Hindustan Times, responding to the question, he said, "It is not about converting or not. It's whether you find the spot, whether it presses that button in you. So for me the spiritual teachers, the sufi teachers taught me and my mom things which are very very special, which are there in many faiths. So this is the faith that we took and we stand by it".
Further talking about his faith, he said, "It save me from many falls because between every prayer there is 'Oh! I have to do the prayer so I can't do this mischief'. So the evening prayer is gonna come so then I can't do. So it covers you and a sense of peace comes in early morning…in other faiths too"
Responding to another question, "In today's time, how important is it not to impose one's belief, one's faith onto another?", he said, "You can't impose anything".
'Notes of a Dream…' has been a journey for me: A.R. Rahman
"Notes of a Dream: The Authorized Biography of A.R. Rahman" which was written by author Krishna Trilok in association with Landmark and Penguin Random House was launched here on Saturday.
"'Notes of a Dream' has been a journey for me that took me to those corners of my life which have remained candid for a long time. The insightful conversations with Krishna Trilok have unravelled parts of my creative and personal life which are not known to many," Rahman said in a statement.
He said he is humbled by the people who have showered their love and prayers on him by loving my work.
"Nothing could be possible without their acceptance. Hope this book creates a sense of positivity, perseverance, and love among the readers. It is an uplifting and balancing act of words put together in soothing sentences by Trilok," he added.
Trilok called it a magical journey as an author to be able to tell the story of Rahman.
Full report at:
https://www.siasat.com/news/ar-rahman-responds-question-if-i-convert-islam-will-i-be-successful-too-1428850/
--------
Farooq Abdullah urges India, Pakistan to start sustained dialogue to resolve Kashmir issue
November 7, 2018
National Conference (NC) chief Farooq Abdullah Wednesday urged India and Pakistan to start a sustained dialogue process and advocated an Ireland-type settlement model to resolve the Kashmir issue. "Abdullah impressed on the governments of India and Pakistan to start a sustained dialogue process and advocated an Ireland-type settlement model to resolve the procrastinated Jammu and Kashmir issue," an NC spokesman said. He added that the NC chief said this while addressing a public gathering at Uri in north Kashmir's Baramulla district. Abdullah urged the Centre to restore autonomy to Jammu and Kashmir at the earliest.
"Autonomy is the only way ahead to address the political and developmental deficit of all the regions of Jammu and Kashmir. It will secure the secular character of our state and strengthen the bonds of amity and brotherhood," he said. The Member of Parliament from Srinagar also said a day would come when the people of the state would breathe in a peaceful atmosphere, without any insecurity.
"We should not feel disheartened. The current situation is grave, but we have witnessed even worst throughout the history. At one time in our history, people would not buy the idea that the autocratic rule will end. But a day came when democratic forces usurped the kings's throne with determination and struggle," he added. Abdullah asked the people to keep the faith and follow the path shown by the prophet of Islam.
"In this hour of grief and uncertainty, we should not let anxiety and hopelessness overpower us. We should follow the teaching of the prophet of Islam in our day-to-day lives. Hopelessness is a curse," he said. The former Jammu and Kashmir chief minister said the NC had to face many challenges since its inception and that scores of party functionaries were "preyed upon by the monster of conflict".
"Our party was back-stabbed by many political shenanigans and turncoats, but history bears testimony to how they eventually faded on their own. The NC is a people's party, we owe our being to people and we are a grassroot-level party," he added.
Full report at:
https://www.financialexpress.com/india-news/farooq-abdullah-urges-india-pakistan-to-start-sustained-dialogue-to-resolve-kashmir-issue/1375674/
--------
Couldn't Pay Dividend After Losses from Note Ban, GST: Woman Held For Cheating
by Mohamed Thaver
November 8, 2018
Nowhera Shaikh, 44, the managing director of Heera Group arrested for allegedly cheating nearly 150 people from Mumbai and surrounding areas, has told investigators that losses she suffered following demonetisation and imposition of the Goods and Services Tax (GST) rendered her unable to pay dividends on investments made by people.
Citing the impact of demonetisation, carried out in November 2016, and then implementation of the GST regime in July 2017, Shaikh has said that by early 2018 she was forced to stop paying monthly dividends, leading investors to approach the police.
More than 150 people from Mumbai and Thane have made police complaints against Shaikh, and FIRs have been registered against her at several police stations across the country, it is learnt.
An officer associated with the case said that during interrogation, Shaikh has said that she had been paying out dividends for nearly a decade, but fell back on payments since early 2017.
"In May 2017, she issued a circular to her investors, stating that she will pay quarterly dividends, which she managed for some time," the officer said. "But even the quarterly payments stopped since early this year."
The officer said that during interrogation, Shaikh replies confidently and asks them to check her bank statements and prior investigations if they do not believe her.
"Her Mumbai agent, Salim Ansari, has also been named in the FIR. Nearly 20,000 people had put in money through him. Like Ansari, there are several agents working for her in the city, so the number of investors must be quite high," the officer said.
The officer said Shaikh targeted investors from the Muslim community, promising them "interest-free, halaal" investment, as permitted by Islam. Interest in most forms is forbidden by Islam.
Arrested on October 26 after an FIR was registered against her at Pydhonie police station, Shaikh is currently in the custody of the Economic Offences Wing (EOW), which is investigating the matter, until November 9. In its earlier remand application, the EOW had said that nearly 15 companies had been formed, with Shaikh as director, since 2010. These include Heera Gold, Heera Textile and others, in sectors such as construction, groceries, and tours and travels – she has told the police that her companies are named Heera after herself.
The police said 50 bank accounts belonging to her in various banks have been frozen.
Shaikh, daughter of a fruit exporter from Tirupati, has six younger siblings and married a Hyderabad resident named named Salman Qureshi in 2007. They divorced in 2014, the police said, adding that she did not clear Class X Board exam and she has a degree from an open university in Colombo, reportedly acquired online.
An officer said Shaikh taught at madrassas in Tirupati and later formed trusts with other women and started doing business in buying and selling of gold in the late-1990s. "She registered them as companies only in 2010," the officer said.
Full report at:
https://indianexpress.com/article/india/couldnt-pay-dividend-after-losses-from-note-ban-gst-woman-held-for-cheating-5437162/
--------
North America
Facing new sanctions, Iranians vent anger at rich and powerful
November 7, 2018
More Iranians are using social media to vent anger at what they see as the corruption and extravagance of a privileged few, while the majority struggles to get by in an economy facing tighter US sanctions.
The country has been hit by a wave of protests during the past year, some of them violent, but as economic pressures rise, people are increasingly pointing fingers at the rich and powerful, including clerics, diplomats, officials and their families.
One person channelling that resentment is Seyed Sadrossadati, a relatively obscure cleric who has amassed 256,000 followers on his Instagram account with a series of scathing posts aimed at children of the elite.
In one recent post, he blasted the "luxury life" of a Revolutionary Guards commander and his son, who posted a selfie online in front of a tiger lying on the balcony of a mansion.
Openly criticising a well-known member of the powerful military unit that answers to Supreme Leader Ayatollah Ali Khamenei is in itself an unusual act of defiance.
"A house tiger? What's going on?" Mr Sadrossadati wrote. "And this from a 25-year-old youth who could not gain such wealth. People are having serious difficulty getting diapers for their child."
The Iranian rial has hit 149,000 to the US dollar on the black market used for most transactions, down from around 43,000 at the start of 2018, as US President Donald Trump vowed to pull out of the nuclear deal between Tehran and world powers aimed at curbing its nuclear programme.
That has sent living costs sharply higher and made imports less accessible, while the threat of financial punishment from the US has prompted many foreign companies to pull out of Iran or stay away.
The situation could get worse, as additional sanctions come into force this week.
Wary of growing frustration over the relative wealth of a few among the population of 81 million, Mr Khamenei has approved the establishment of special courts focused on financial crimes.
The courts have handed out at least seven death sentences since they were set up in August, and some of the trials have been broadcast live on television.
Among those sentenced to death was Vahid Mazloumin, dubbed the "sultan of coins" by local media, a trader accused of manipulating the currency market and who was allegedly caught with two tons of gold coins, according to the Iranian Students' News Agency (ISNA).
The tough sentences have not been enough to quell frustration, however, with high profile officials and clerics in the firing line.
"Because the economic situation is deteriorating, people are looking for someone to blame and in this way get revenge from the leaders and officials of the country," said Saeed Leylaz, an economist and political analyst in Tehran.
Washington is likely to welcome signs of pressure on Iran's political and religious establishment, as it hopes that by squeezing the economy it can force Tehran to curb its nuclear programme and row back on military and political expansion in the Middle East.
Public anger among Iranians has been building for some time.
Demonstrations over economic hardships began late last year, spreading to more than 80 cities and towns and resulting in at least 25 deaths.
In addition to his written contributions, Mr Sadrossadati has posted videos of debates between himself and some of those he has criticised.
In one, he confronted Mehdi Mazaheri, the son of a former central bank governor who was criticised online after a photograph appeared showing him wearing a large gold watch.
In a heated exchange, Mr Sadrossadati shouted: "How did you get rich? How much money did you start out with and how much money do you have now? How many loans have you taken?"
Mr Mazaheri, barely able to get in a reply, said he would be willing to share documents about his finances.
Children of more than a dozen other officials have been criticized online and are often referred to as "aghazadeh" - literally "noble-born" in Farsi but also a derogatory term used to describe their perceived extravagance.
High-profile clerics have also been targeted.
Mohammad Naghi Lotfi, who held the prestigious position of leading Friday prayers at a mosque in Ilam, west Iran, resigned in October after he was criticised on social media for being photographed stepping out of a luxury sports utility vehicle.
Facebook posts labelled Mr Lotfi a hypocrite for highlighting ways that ordinary Iranians could get through the economic crisis during his speeches. The outcry was a major factor in his decision to resign from a post he had held for 18 years.
"The hype that was presented against me in this position ... made me resign, lest in the creation of this hype the position of the Supreme Leader of the Islamic Revolution be damaged," Mr Lotfi told state media after stepping down.
"The issue of the vehicle ... was all lies that they created in cyberspace," he added.
He was one of at least four clerics in charge of Friday prayers who have resigned in the last year after being accused on social media of profligacy or financial impropriety.
https://www.thenational.ae/world/mena/facing-new-sanctions-iranians-vent-anger-at-rich-and-powerful-1.789042
--------
Asian, Muslim and Latino immigrants across U.S. helped Trump and GOP win
Nov. 7, 2018
Adryana Aldeen hovered outside a Dallas polling station Tuesday with a sign that read "Pete Sessions for Congress" and a T-shirt that said "Latinas for Abbott" – promoting both the incumbent Republican U.S. congressman from the Dallas suburbs and the incumbent Republican governor of Texas.
Aldeen, who immigrated from Mexico three decades ago, wasn't letting President Donald Trump's harsh rhetoric on illegal immigration get in the way of Republican wins.
"I believe in the sovereignty of the state," said Aldeen, a GOP activist and special adviser for Hispanic engagement for the Republican Party of Texas. "This is a nation of immigrants, but we need to do everything we can for the rule of law."
Aldeen joins a significant number of immigrant voters who supported the Republican Party on Tuesday and, in turn, Trump, despite the president's controversial stances on immigration leading up to the elections.
Over the past few months, Trump initiated a "zero tolerance" policy that led to migrant children being separated from their parents at the border, gave alarming and unsubstantiated warnings about a caravan of migrants coming from Central America, threatened to eliminate birthright citizenship and retweeted a racially charged video linking a convicted murderer to immigrants and the Democratic Party.
The tough talk didn't seem to chase away immigrant voters in significant numbers. On Tuesday, Democrats got about 68 percent of the Latino vote, slightly higher than the 66 percent won by Hillary Clinton in 2016, while Republicans garnered 30 percent of their vote, just above the 28 percent Trump earned two years ago, according to exit polling.
Asian voters sided with Democrats 77 percent of the time in Tuesday's elections, and Republicans received 23 percent of their vote, the exit polling showed.
Victor Sanchez, a pro-Trump Republican from Houston, said he was not fazed by the president's tough talk on securing the border or other controversial stances on immigration.
At a Trump rally in Houston last month supporting Sen. Ted Cruz, Sanchez, 25, who immigrated to the U.S. from Mexico when he was 5, said he was pleased to see other Latinos, from Mexico, Cuba and other countries, rallying around the president and his policies.
"There's thousands and thousands of them," Sanchez said. "They may be a little shy ... but once they go to the polls, they vote their conscience."
Saba Ahmed, president of the Washington-based Republican Muslim Coalition and a Trump supporter, said it was initially a challenge persuading Muslim immigrants to support the president and the GOP after Trump proposed a travel ban on five predominately Muslim countries.
But, Ahmed tells potential voters, it's better to try to initiate change from the inside than complain about policies from the outside. She has managed to get more candidates to speak at Muslim gatherings and would like to see a Muslim in Trump's Cabinet.
"The greatest opportunity for immigrants is within the Republican Party," Ahmed said. "We have to get involved. We have to get our voices heard."
Asian-Americans care about immigration, but other issues – such as the economy, trade and college-entrance procedures – are equally important, said Cliff Zhonggang Li, executive director of the National Committee of Asian American Republicans.
Trump scored points with the Asian community earlier this year when his administration backed students suing Harvard University over affirmative-action programs they say discriminate against Asian-Americans, Li said.
Li, originally from China, celebrated Tuesday night with a group of other Asian-Americans at a victory party in Orlando for Florida governor-elect Ron DeSantis.
"Frankly, a lot of Asian-Americans don't like the tone the president uses," Li said. "But so far, we haven't seen any decisive issue that turns off the Asian-American community." He added: "But we'll see what happens the next two years or six years."
Jacob Monty, a Houston-based attorney and Latino and GOP activist, said recruiting Republican voters became markedly more difficult the past 10 days as Trump fired up the rhetoric against illegal immigration.
He got pushback not just from Latino voters but from Anglo business owners, he said, who were turned off by Trump's comments, especially his promotion of a web video showing Luis Bracamontes, a Mexican man who had been deported but returned to the U.S. and was convicted in February in the slaying of two California deputies, mixed in with images of Central American migrants.
Despite wins on Tuesday, Monty said he's worried about the long-term health of a Republican Party that supports such scare tactics aimed at Latinos.
Full report at:
https://www.usatoday.com/story/news/politics/elections/2018/11/07/immigrants-support-donald-trump-midterm-elections/1913462002/
--------
US shoring up support for Geneva conference on Afghanistan
Anwar Iqbal
November 08, 2018
WASHINGTON: The upcoming Geneva Conference on Afghanistan and joint efforts to advance the Afghan peace process were the two key items discussed during this week's US-Pakistan talks in Islamabad, said an official US statement released on Wednesday.
US Principal Deputy Assistant Secretary of State for South and Central Asian Affairs Alice Wells visited Islamabad on Nov 6-7 to "review key items on our bilateral agenda, including the upcoming Geneva Conference on Afghanistan and joint efforts to advance the Afghan peace process", the statement added.
The Geneva Ministerial Conference on Afghanistan will be held in the Swiss city on Nov 27 and 28 to underline international support for Kabul's efforts to peacefully end the Afghan conflict. While the United States is playing a key role in arranging this conference, Pakistan also supports the move and is likely to participate.
In Islamabad, Ambassador Wells met Minister for Finance Asad Umer, senior officials from the ministries of foreign affairs and interior and Director General Military Operations Nauman Zakria.
In these meetings, Ambassador Wells "reaffirmed the goal expressed by both Secretary of State George Pompeo and Foreign Minister Shah Mehmood Qureshi to build a mutually-beneficial relationship based on trust", said the official US statement. The two chief diplomats expressed the desire to rebuild and reset the relationship at a meeting in Washington early last month.
The Geneva conference will follow a 12-nation meeting in Moscow on Friday. Moscow has also invited the Taliban to this meeting.
Taliban spokesman Zabihullah Mujahid said in a statement released on Tuesday that a high-ranking delegation from the Taliban's Qatar-based office will travel to the Russian capital to attend the meeting.
Afghanistan's High Peace Council — a government body responsible for reconciliation efforts with the militants — said it would also send four representatives to the Moscow peace talks.
Moscow has also invited representatives from the United States, India, Iran, China, Pakistan and five former Soviet republics in Central Asia — Kazakhstan, Kyrgyzstan, Tajikistan, Turkmenistan and Uzbekistan.
Foreign Office spokesman Mohammad Faisal told journalists in Islamabad earlier this week that "Pakistan will definitely attend" the meeting.
US officials, however, did not respond to requests for comments on whether Washington is also sending a delegation to Moscow.
The statement on Ambassador Wells' visit did not address this question either, but it did "underscore the importance of all actors in the region taking steps to advance security, stability, and cooperation in South Asia" and welcomed Pakistan's commitment to work towards this goal.
Ambassador Wells also discussed with Pakistani officials opportunities to build business and economic ties between the United States and Pakistan, and explored other areas for growth in bilateral relationship.
Full report at:
https://www.dawn.com/news/1444323/us-shoring-up-support-for-geneva-conference-on-afghanistan
--------
US warns nations not to allow Iranian oil tankers into their territorial waters
8 November 2018
The United States is warning other countries not to allow Iranian oil tankers into their territorial waters or ports, saying such access may run afoul of US sanctions and not only incur penalties, but also result in catastrophic economic and environmental damage should an accident occur.
The State Department reminded the global shipping and insurance industries Wednesday that as part of the Trump administration's "maximum pressure campaign" to get Iran to change its behavior, insuring Iranian tankers will now incur penalties under US sanctions reinstated this week.
Brian Hook, the special US representative for Iran, said that as major insurers withdraw coverage from Iranian vessels, Iran will likely turn to domestic insurance companies that will not be able to cover losses for maritime accidents that could run into the billions of dollars.
"From the Suez Canal to the Strait of Malacca and all choke points in between, Iranian tankers are now a floating liability," Hook told reporters. "Countries, ports and canal operators and private firms should know they will be likely responsible for the costs of an accident involving a self-insured Iranian tanker."
The US "sincerely hopes" accidents do not occur, he said, but he noted that an Iranian tanker was involved in an accident in the East China Sea in January that resulted in the loss of the ship and a massive oil spill. He said the US has evidence that Iranian vessels are trying to evade US sanctions by disabling location transponders used to prevent collisions.
"This tactic is a maritime security threat," Hook said. "These transponders are designed to maximize visibility at sea and turning them off only increases risk of accidents and injuries. Self-insured Iranian tankers engaging in unsafe behavior, with many tons of crude oil on board, is courting environmental and financial disaster."
The sanctions that came into force Monday target Iran's energy, financial and shipping sectors and mark the end of US participation in the 2015 nuclear deal that President Donald Trump withdrew from in May.
The sanctions aim to further isolate Iran by choking off its main source of revenue - oil exports - by imposing sanctions on countries and companies that do not end their imports.
Full report at:
https://english.alarabiya.net/en/News/world/2018/11/08/US-warns-nations-not-to-allow-Iranian-oil-tankers-into-their-territorial-waters.html
--------
US offers up to $5 mln reward for information on PKK members
7 November 2018
The United States on Tuesday offered rewards for information on three senior members of the outlawed Kurdistan Workers' Party (PKK), which has waged an armed insurgency against the Turkish state for decades.
The move could help Washington repair strained ties with NATO ally Ankara.
Turkey has been infuriated by US support for the Syrian Kurdish YPG militia in the fight against ISIS in Syria. Ankara considers the YPG an extension of the outlawed PKK and, like it, a terrorist organization.
On Tuesday, Washington authorized rewards of up to $5 million for information "leading to the identification or location" of Murat Karayilan, up to $4 million for Cemil Bayik and up to $3 million for Duran Kalkan.
The announcement was made by the US Embassy in Ankara following a visit by US Deputy Assistant Secretary of State Matthew Palmer.
The three PKK figures also appear on Turkey's "most wanted terrorists" list, according to the Interior Ministry, which describes them as being among the leaders of the organization.
The PKK, designated a terrorist organization by Turkey, the United States and the European Union, has fought the Turkish state since 1984.
Relations between Turkey and the United States have begun to thaw since the release from jail last month of American evangelical pastor Andrew Brunson.
Last week, the two countries mutually lifted sanctions on government officials, imposed in August over the Brunson case. Washington announced this week that Turkey would receive a temporary waiver from re-imposed sanctions on Iran.
President Tayyip Erdogan also said on Tuesday that talks with the United States regarding state-owned lender Halkbank, which had been facing a US fine over allegations of evasion of sanctions on Iran, were on a positive track.
US and Turkish troops last week began conducting joint patrols in Syria's Manbij, which the two sides have agreed to clear of militants. Turkey had previously said the United States was delaying implementation of the plan.
Full report at:
https://english.alarabiya.net/en/News/world/2018/11/07/US-offers-up-to-5-mln-reward-for-information-on-PKK-members.html
--------
Europe
Europe has turned a blind eye to Arab tyranny in pursuit of profit
7 November 2018
The appeals by European countries for democratic reforms and basic human rights in the Arab world appear to be a thing of the past.
After the popular Arab Spring uprisings of 2011, many European countries stressed the importance of regional democratic values and human rights. Yet, this tone was quickly replaced by other priorities, such as national security, fighting terrorism and stopping migration. Soon, Europe returned to rolling out the red carpet for corrupt tyrants.
In the Arab world, an alternative plan for democratic change has been developed, with an air of European approval. It is based on the consolidation of tyranny and the deprivation of freedoms on one hand, and the presentation of an image of society's "openness" and Western values on the other.
Despotic propaganda
Permitting women to drive cars served as a perfect opportunity to polish the global reputation of Saudi rulers. Movie theatres are being launched in countries that censor free speech, and branches of Western universities and museums, including Sorbonne and the Louvre, have opened in the United Arab Emirates - even as the country fails to uphold the values of the French revolution.
While people in these countries are still deprived of basic freedoms and prohibited from participating in politics, the despotic propaganda is enriched through partial social reforms. To silence the public, these regimes condemn any form of dissent as radicalism. Their lists of terrorist groups have become a tool to demonise civil society organisations that they consider a threat.
Tyrannical regimes use the language of anti-terrorism to market themselves as being focused on safety and stability, fostering close ties with Israel, the "trusted partner" in combatting terror. These governments have also announced strategies for social change and altering religious interpretations in favour of the regimes.
To strengthen their policies and give the public a veneer of cheerfulness, these regimes have increased the prevalence of entertainment facilities and festivals, aiming to cover up the dark truth of their repressive rule. It is comparable to taking hallucinogenic drugs to escape the misery of reality.
Turning a blind eye
Rather than continuing to push for a democratic order in the Arab world that guarantees public freedoms and human rights, Europe's politicians have accepted and colluded with the alternative approaches of these tyrannical regimes. Thus, the old tyranny persists with increased oppression and silencing, all the while benefitting from the assured Western support of leaders who turn a blind eye to various violations, especially in the era of US President Donald Trump.
By relentlessly targeting all forms of free political and civil work, these tyrants have put maximum effort into preventing a resurgence of the Arab Spring. Since the 2011 uprisings began on platforms such as Twitter and Facebook, the authorities have employed "electronic armies" to go after critical expressions.
When political content that does not appeal to the authorities is spotted, the author is in danger of severe punishment, including imprisonment, excessive fines or enforced disappearance. Today, a number of Arab social media personalities with a big reach have been either detained or vanished from their platforms; most of these cases have not been addressed by European politicians.
While European governments have issued many news releases in the past few years in reference to prisoners of conscience in some Arab countries, this has not affected bilateral relations and actively growing partnerships between the tyrannical leaders and European governments. These relations serve as a cover for ongoing violations.
Weapons deals
Guaranteeing democracy, human rights and essential freedoms have not been a priority for Europe in recent years. Strategic interests and economic contracts, along with the drive to stop the influx of asylum seekers from reaching Europe apparently remain of greater significance.
European capitals have chosen to look away from the spread of authoritarianism and repression in the Arab world, shifting the discussion to other subjects. European decision-makers know that these Arab leaders will work faithfully towards their strategic interests, including multi-billion-dollar arms deals.
Last month, the death of Jamal Khashoggi presented an unexpected turn - but what happened to the prominent Arab journalist is not an isolated incident. Rather, it is only the latest among many violations by Arab regimes that are still welcomed warmly in European capitals.
The main lesson of Khashoggi's agonising case is that sweeping tyranny, rights violations and brutal practices under the rug is not a sustainable strategy. Ignoring violations in order to smooth lucrative business ties only encourages the tyrants to act with impunity.
https://www.middleeasteye.net/columns/khashoggi-case-shows-tyranny-can-no-longer-be-swept-under-rug-1443736079
--------
Bulgaria detains three Iranians with fake Israeli passports
8 November 2018
Bulgarian border police detained three Iranians attempting to enter the country with fake Israeli passports, the interior ministry said.
The men, in their 20s and early 30s, arrived at the checkpoint located on the border between Bulgaria and Turkey on October 31.
The three men were transferred to a facility for temporary detention of foreigners in Lyubimets, southeast of the country. Fast-track proceedings against them have been initiated, the Bulgaria's interior ministry added in a statement.
In September, Authorities in Bahrain had also arrested 14 Iranians who allegedly entered the island nation on "forged Asian passports."
Full report at:
https://english.alarabiya.net/en/News/world/2018/11/08/Bulgaria-detains-three-Iranians-with-fake-Israeli-passports.html
--------
Alarming rise in prejudice against Muslims in Germany
07.11.2018
By Ayhan Simsek
BERLIN
Prejudice against Muslims, migrants and asylum seekers have significantly increased in Germany, according to a new study by the Leipzig University.
Almost 55 percent of Germans claimed they felt like foreigners in their own country because of large numbers of Muslims. In 2010, before the refugee crisis, 33 percent of the respondents shared this view.
The research has also revealed that xenophobia was becoming increasingly widespread throughout Germany.
Around 36 percent of respondents said they consider Germany to be dangerously swamped by foreigners.
More than a quarter of them said they believe foreigners should be send back to their home countries if there were a shortage of jobs in Germany.
Professor Elmar Braehler, who conducted the research together with Dr. Oliver Decker said, xenophobia and prejudices against Muslims were fueling the surge of far-right party Alternative for Germany (AfD).
"People with far-right views are now turning away from the Christian Democratic Union and the Social Democratic Party[…] and finding a new home in the AfD," he said.
Adopting an explicitly anti-Islamic rhetoric, the AfD argued that the country was under the threat of "Islamization", especially after nearly one million refugees -- mostly from Syria and Iraq -- arrived in the country since 2015.
Germany, a country of over 81 million people, has the second-largest Muslim population in Western Europe after France. Among the country's nearly 4.7 million Muslims, 3 million are of Turkish origin.
Full report at:
https://www.aa.com.tr/en/europe/alarming-rise-in-prejudice-against-muslims-in-germany/1305471
--------
Apparent suicide of Syrian refugee in German jail questioned amid fears of official whitewash
November 7, 2018
Pressure is mounting on German officials to take responsibility after a Syrian refugee falsely accused of sexual offences reportedly committed suicide in a jail amid claims officials ignored his cries for help.
The death of Amad A, 26, has attracted controversy over its haphazard handling and contradictory statements made by the regional justice minister in Dusseldorf who has had a lead role in investigations.
It took just under two weeks for Amad to die from severe injuries sustained after a fire broke out in his cell on 17 September in the town of Kleve on the Dutch border. An investigation, which was due to be debated at a legislative committee of the state parliament on Wednesday, said all signs indicated intentional arson "presumably with suicidal intent".
The findings backed up those initially made by the fire department but have raised concern among the representatives.
Peter Biesenbach, the justice minister for North Rhine-Westphalia and a member of Chancellor Angela Merkel's Christian Democratic Union has defended the 60-page report. It was intended to clear up any remaining confusion over the case but could have potentially only added to it.
Bizarrely, the report said the 26-year-old called for help 15 minutes after the fire started via the telecom system in the cell. He was rebuffed by the prison worker tasked with communicating with inmates, who was on call with someone else Die Welt said. The attendant was said to have told Amad he would deal with the situation after, suggesting the seriousness of the incident was not fully conveyed or understood.
It is unclear how much Amad actually told the official about the situation. Currently unsubstantiated rumours the Syrian was ignored are likely to prompt a further investigation and more questions.
Only four minutes later did wardens act to put out the fire after noticing smoke coming from Amad's cell, who was then rushed to a specialist clinic to deal with severe burns. Investigators have not said if the extra minutes could have been the difference between life and death. The report said he set light to the lower mattress of his bunk bed – Amad was alone in the cell at the time.
Mr Biesenbach has come under repeated attack from his detractors over contradictions he had made over the last couple of months, with the Green Party calling on him to resign. "The Ministry does everything for clarification," he has said in the face of questions over his credibility.
As late as 10 October Mr Biesenbach was quoted as saying Amad did not use the call system to alert staff. The regional justice minister has lashed out at the "malicious" claims and insisted he was simply speaking based on information the authorities in Kleve had given him.
There have also been questions raised as to why Amad had not been evaluated further to check for suicidal tendencies or mental health problems. If he had been suffering from such issues, greater protection measures would have been in place.
Accidental causes of the fire, such as Amad falling asleep with a cigarette, were ruled out because of the injuries sustained.
Full report at:
https://www.thenational.ae/world/europe/apparent-suicide-of-syrian-refugee-in-german-jail-questioned-amid-fears-of-official-whitewash-1.789187
--------
Pakistan
No truth in reports of Aasia Bibi leaving Pakistan: Foreign Office
Naveed Siddiqui
November 08, 2018
Foreign Office Spokesperson Dr Mohammad Faisal on Thursday denied reports that Aasia Bibi had left Pakistan, saying the recently acquitted Christian woman was still in the country.
"There is no truth in reports of her leaving the country — it is fake news," Dr Faisal told DawnNewsTV. Aasia Bibi was released from Multan jail last night — more than 10 days after the Supreme Court overturned her conviction and death sentence.
The FO's clarification comes on the heels of news reports from a day earlier which stated that Aasia Bibi had left Multan's women prison and was being flown to an "unknown destination". This particular quote, attributed to Aasia Bibi's lawyer Saiful Malook, led to speculation amid some media outlets that she had left the country.
However, reliable sources on Wednesday night had confirmed to Dawn that Aasia Bibi was brought to Islamabad onboard a special aircraft.
The aircraft carrying Aasia Bibi landed at the old Benazir Bhutto International Airport of Islamabad adjacent to Nur Khan Air Base, said sources. From there, she was taken to an undisclosed place in Islamabad amid tight security. The authorities are keeping her movement and whereabouts secret for security reasons.
Aasia Bibi's acquittal had sparked countrywide protests by religious parties and groups. The Muttahida Majlis-e-Amal (MMA) is expected to hold a 'million march' in Karachi against the Supreme Court's verdict today.
Concern for Aasia's safety
On Tuesday, Italy stated it would help Aasia leave Pakistan because her life was in danger in the country following charges of blasphemy that put her on death row for eight years.
Her husband Ashiq Masih has reportedly stated that they could be killed by those opposing her acquittal.
Earlier, the international Catholic agency Aid to the Church in Need (ACN) had quoted Ashiq Masih as saying in a telephone call: "I appeal to the Italian government to help me and my family leave Pakistan. We are extremely worried because our lives are in danger. We don't even have enough to eat because we can't go out to buy food."
Aasia's case has prompted groups such as ACN, which has close ties to the Vatican, to demand protection for Christians in countries where they are a minority.
Protests following acquittal
Soon after the Supreme Court's verdict, the Tehreek-i-Labbaik Pakistan (TLP) blocked roads in major cities of the country for three days, condemning the judges who had acquitted Aasia Bibi, the prime minister and the army chief.
The TLP had called off the protests after striking a deal with the government. Under the five-point agreement, the government said it would not object to the review petition filed against the acquittal of the Christian woman and would "initiate a legal process" to place her name on the Exit Control List.
Read: TLP ends protest after deal with government
The agreement was signed by Minister for Religious Affairs Sahibzada Dr Noor-ul-Haq Qadri, Punjab Law Minister Basharat Raja, TLP patron-in-chief Pir Afzal Qadri and its central Nazim-i-Aala Waheed Anwar.
On Tuesday, Chief Justice of Pakistan (CJP) Mian Saqib Nisar took suo motu notice of the losses caused by the riots that broke out during the protests.
The CJP directed the federal and the provincial governments to submit reports within three days on the losses and steps taken to compensate victims of these riots.
https://www.dawn.com/news/1444349/no-truth-in-reports-of-aasia-bibi-leaving-pakistan-foreign-office
--------
Committee formed to organise Khatam-e-Nabuwwat conference on Eid Milad un Nabi
Nov 8, 2018
ISLAMABAD: Information Minister Fawad Chaudhry on Wednesday met with Prime Minister Imran Khan to discuss preparations to celebrate Eid Miladun Nabi across the country.
The duo agreed to organise the International Khatam-e-Nabuwat conference on Eid Miladun Nabi and constituted an organising committee for the purpose as well.
Fawad Chaudhry, Noorul Haq Qadri, Iftikhar Durrani, Faisal Javed, Babar Awan, Amir Liaquat and Ali Muhammad Khan would be the committee's members.
Religious scholars from around the world, including the Imam-e-Kaaba would participate in the two-day conference, according to Minister for Religious Affairs Noorul Haq Qadri.
Full report at:
https://www.pakistantoday.com.pk/2018/11/07/committee-formed-to-organise-khatam-e-nabuwat-conference-on-eid-miladun-nabi/
--------
'Lack Of Funds Affecting Research & Development In Muslim World'
November 8, 2018
Leading Muslim scientists at the 14th International Symposium on Natural Products Chemistry said on Wednesday the spirit of science and technology in the Muslim world had become parched.
It is an open secret that Muslim countries have lagged behind in science and technology in the world, as these countries allocate very limited funds for the promotion and growth of science and development, they said, adding that Muslim scientists needed to have their own network to help each other.
They were speaking at a seminar held at the International Centre for Chemical and Biological Sciences (ICCBS), the University of Karachi. Those who attended were Dr Sahar Mustafa (Egypt), Dr Eldar A. Garaev (Azerbaijan), Dr Kamala Kamal (Azerbaijan), Dr Mannan (Lebanon), Dr Nohad A. Al Omari (Iraq), Dr Rami Mamdouh Arfeen (Palestine), Dr Rahim Jantan (Malaysia) and ICCBS Director Prof Dr Muhammad Iqbal Choudhary.
Over 600 eminent scientists and young researchers, including 100 foreign experts, are attending this symposium. Prof Iqbal Choudhary said there was an inadequate allocation of funds for research and development sectors in Muslim nations. Pointing out some causes of this dilemma, he said that lack of political will, internal political instability and failure to be gathered as one Ummah were some of the major causes.
In Pakistan, he observed, political instability, corruption and lack of political will were the main hurdles in the progress of science and technology. Lebanese scientist Dr Mannan said that lack of funds was the major issue in Lebanon, where universities were merely focusing on teaching rather than research.
Describing the state of science in Palestine, Dr Rami Mamdouh Arfeen said universities in Palestine were just teaching-oriented, adding that lack of funds and a trained human resource were really some of the major problems that the Palestinian science and tech sector was facing.
Dr Nohad A. Al Omari said that Iraqi people were skilled and talented, but the country was deprived of a suitable science platform for its scientists. Dr Rahim Jantan said that the world of sciences was completely controlled by the Western world. He suggested that Pakistan should take the lead of the Muslim world on the frontier of science and technology.
Talking about the problems in Azerbaijan, Dr Eldar A Garaev and Dr Kamala Kamal declared the language barrier one of the most important issues making the chances of science promotion slim in the country.
Full report at:
https://www.thenews.com.pk/print/390962-lack-of-funds-affecting-research-development-in-muslim-world
--------
SC declares appointment, benefits granted to Attaul Haq Qasmi as PTV MD as illegal
Haseeb Bhatti
November 08, 2018
The Supreme Court (SC) on Thursday declared the appointment and monetary benefits bestowed upon Attaul Haq Qasmi, former managing director of Pakistan Television, as illegal, DawnNews TV reported.
In a short order read out by Justice Umar Atta Bandial, the court held former ministers of information and finance, Pervez Rashid and Ishaq Dar respectively, as well as former principal secretary to the prime minister Fawad Hassan Fawad responsible for the discrepancies.
A three-member Supreme Court bench headed by the Chief Justice of Pakistan (CJP) had heard the suo motu case and a verdict was reserved earlier this year.
Full report at:
https://www.dawn.com/news/1444353/sc-declares-appointment-benefits-granted-to-attaul-haq-qasmi-as-ptv-md-as-illegal
--------
Enemies plan to foment violence in Balochistan, Senate panel told
Ikram Junaidi
November 08, 2018
ISLAMABAD: Inspector General of the Balochistan Frontier Corps Maj Gen Nadeem Anjum informed a Senate panel on Wednesday that enemies of Pakistan planned to raise the level of violence in the province to force the United Nations to intervene and declare it an independent state.
During a meeting of the Senate Standing Committee on Interior, he said that Balochistan had become a battleground for a global game.
"Things are being manipulated just like in Libya and Yemen. In the past, unrest was created in some areas of Balochistan, but it is the first time that efforts are being made to create unrest across the province. However, our success is that the people are rejecting the conspiracy," he said.
While sharing the history of the province before creation of Pakistan, Maj Gen Anjum said the Quaid-i-Azam spoke about the issues of Balochistan, but Britishers told him that Balochistan was an ordinary tehsil of Uttar Pradesh.
He said that the FC was ensuring security of all the matters from railway tracks to pilgrims. Earlier, only 15,000 pilgrims travelled through Balochis­tan, but now around 150,000 pilgrims were using this route.
"People have rejected the Tehreek-i-Taliban Pakistan, Baloch Republican Army, Balochistan Liberation Army, Baloch Liberation Front and Lashkar-i-Balochistan. These organisations have failed to engage or attract youths and the militant Islamic State group does not have its footprint in the province. In just one year weapons worth Rs3 billion have been seized," he said.
"There are thousands of success stories in Balochistan, but media only shows bomb blasts and terrorism. When people of the province hold rallies in favour of Pakistan, media highlights the stories regarding donkeys. On the other hand, the foreign media use Bollywood and Hollywood movies and claim that it is going on in Balochistan," he claimed.
Maj Gen Anjum said that besides maintaining law and order in Balochistan, the FC was running nearly 100 schools from its own resources and providing free healthcare to the people. He said that soldiers were protecting and shielding the national assets just because of their love for the country.
"The FC has set up 77 schools in Balochistan in which 24,500 students are studying and built 12 hostels for poor children. We have built more than 60 medical centres which treat 260,000 patients annually," he said.
Minister of State for Interior Sheheryar Afridi said that practical and collective efforts were needed to be taken to strengthen institutions and law enforcement agencies.
The committee's chairman, Rehman Malik, said the nation stood by the Pakistan Army in the war against terrorism and anti-state elements. The Indian intelligence agency, Research and Analysis Wing (RAW), in collaboration with the Afghan intelligence agency was carrying out terrorist activities in Balochistan, he alleged.
He said Indian Prime Minister Narendra Modi had himself admitted to his government's involvement in Balochistan.
The committee called for strengthening the FC by increasing its budget and fully equipping it with modern gadgets and a helicopter.
Mr Malik asked for a separate housing scheme for the Balochistan FC, particularly for the families of martyrs.
Full report at:
https://www.dawn.com/news/1444321/enemies-plan-to-foment-violence-in-balochistan-senate-panel-told
--------
Imran issued notice in disqualification case
November 08, 2018
PESHAWAR: A Peshawar High Court bench on Wednesday asked the prime minister and Election Commission of Pakistan to respond to a petition seeking Imran Khan's disqualification from holding any public office on multiple grounds, including on the failure to mention his alleged daughter in nomination papers for the July 25 general elections.
Justice Ikramullah Khan and Justice Ishtiaq Ibrahim fixed Dec 13 for the next hearing into the petition filed by NA-35, Bannu, candidate Inamullah Khan, a leader of the Pakistan Justice and Democratic Party.
Imran Khan had won the NA-35 seat in the July 25 elections but later vacated it to retain another National Assembly seat also won by him. During the last hearings, the court had sought a reply from the prime minister through the advocate general's office. However, the bench observed on Wednesday that as the premier's name was mentioned in the petition, a notice should be issued to him.
Abdur Rasheed Khan and Hayatullah Khan, counsel for the petitioner, said Imran Khan had concealed important facts in his election nomination papers and therefore, he was not righteous and sagacious in line with articles 62 and 63 of the Constitution.
PJDP chief and former chief justice of Pakistan Iftikhar Mohammad Chaudhry had announced ahead of the elections that his party would challenge the candidature of Imran Khan in all constituencies the PTI had planned to contest election in.
Lawyer Rasheed Khan said the petitioner had raised important objections but the returning officer of the constituency rejected them and accepted the nomination papers of Imran Khan.
He added that the petitioner had also filed an appeal with the election appellate tribunal in Bannu but the appeal was turned down prompting him to file the instant petition.
The lawyer said the petitioner had annexed important documents including judgments of courts in US related to the famous case of Sita White and her daughter, Tyrian White, which proved that the latter was daughter of Imran Khan.
He alleged that while Mr Khan had not been admitting in Pakistan that Tyrian White was his daughter, he had admitted the fact in foreign countries.
The lawyer claimed that in the nomination papers, Imran Khan had only mentioned his two sons and not his daughter.
He said the premier had concealed the properties belonging to his spouse, Bushra Bibi, in the nomination papers.
The lawyer said the worth of Imran Khan's Banigala mansion was only mentioned as Rs11.4 million, which was undervalued.
Full report at:
https://www.dawn.com/news/1444276/imran-issued-notice-in-disqualification-case
--------
Illegal Afghan nationals and refugees in Pakistan to be repatriated: FO
Nov 8, 2018
ISLAMABAD: Pakistan and Afghanistan on Wednesday held a second meeting of the refugee working group (RWG) under the Afghanistan-Pakistan Action Plan for Peace and Stability (APAPPS) to discuss the repatriation and other matters regarding Afghan nationals and refugees who are "illegally" residing in Pakistan, the Foreign Office (FO) said in a statement.
The meeting took place at the Ministry of States and Frontier Regions (Safron) in Islamabad and was led by Ministry of States and Frontier Regions Secretary Muhammad Aslam and Deputy Minister of the Afghan Ministry for Refugees Dr Alema as representatives of their respective countries.
"Both sides deliberated on ways to enhance mutual cooperation for a dignified, gradual, time-bound and complete return of the Afghan nationals to their country," the FO statement said.
During the meeting, both sides agreed to timelines and procedures for the repatriation of "various categories" of Afghan nationals to Afghanistan. A standard operating procedure (SOP) was then signed to streamline the working of the RWG.
"APAPPS working groups work on the principle of direct, regular contact between [the] relevant ministries in both countries, under the umbrella of the politico-diplomatic working group co-chaired by the two Ministries of Foreign Affairs," the statement said.
According to the statement, the two sides emphasised the importance of the APAPPS to further bilateral relations between the countries and agreed to "optimally utilise" it to "deepen engagement, communication and understanding for [the] early return and resettlement of Afghan refugees," as well as, to promote cooperation under numerous working groups.
Full report at:
https://www.pakistantoday.com.pk/2018/11/07/illegal-afghan-nationals-and-refugees-in-pakistan-to-be-repatriated-fo/
--------
Four more people interrogated in Samiul Haq's murder case
Nov 8, 2018
RAWALPINDI: Four more people who had been recently in contact with Jamiat Ulema-e-Islam-Sami (JUI-S) chief Maulana Samiul Haq were questioned on Wednesday as part of the probe into the assassination of the religious leader.
According to probe team sources, the four people had been in contact with the slain JUI-S chief in the weeks before he was killed.
The investigation team collected evidence from the crime scene, including hair of three lengths, the bed sheet with blood on it and three glasses from the spot.
The hair and blood samples were sent to a forensic laboratory for DNA testing. The police officials have searched the gardens of neighbouring houses and the surrounding hilly areas to trace the murder weapon and other evidence which may help in identifying the killer.
The medical examination report, from the private hospital where Maulana Samiul Haq was taken and declared dead, has also been obtained by the police.
According to doctors, the former senator died an hour prior to the time when his body was brought to the hospital. The medical reports include an ECG, X-Rays and details of the stab wounds.
On the other hand, Jamiat Ulema-e-Islam-Sami (JUI-S) is suspecting involvement of foreign elements in the murder of its late chief.
"It is confirmed to thousands of his followers, the party, Darul Uloom Haqqania and his family that martyrdom of Maulana was not an internal issue rather Indians, Afghans and other elements are involved in this act," said a statement issued by JUI-S.
Highlighting the key role played by the slain leader in mediation between the Taliban and other groups including Afghan government, the statement said, a delegation of Afghan government had requested Maulana Samiul Haq in October to facilitate talks with Taliban.
"They started propaganda against him and Darul Uloom Haqqania when they failed to persuade him to play the desired role," the statement alleged.
Hamidul Haq, son of Maulana Samiul Haq, said his father was unwell and taking rest at home when he came under attack.
He said Maulana Samiul Haq's driver and gunman were away when he was stabbed and added that when one of his servants returned he saw his father lying in a pool of blood.
Full report at:
https://www.pakistantoday.com.pk/2018/11/07/four-more-people-investigated-over-samiul-haqs-assassination/
--------
Police submit report to Interior Ministry over TLP's KP protests
Nov 8, 2018
PESHAWAR: The Khyber Pakhtunkhwa (KP) Police on Wednesday submitted a report to the Ministry of Interior over protests that had engulfed the country in the wake of the Supreme Court's decision to acquit Aasia Bibi.
Nowshera and Hangu were sites where incidents of vandalism and arson occurred, the report stated.
The report added that out of 25 cases registered against those responsible for the violence, eight suspects have been arrested.
In addition, those responsible for setting fire to Rashakai Interchange Toll Plaza were being tracked with 17 suspects already arrested over the incident.
Full report at:
https://www.pakistantoday.com.pk/2018/11/07/police-submit-report-to-interior-ministry-over-tlps-kp-protests/
--------
South Asia
ISIS-K's two Pakistani members arrested with family members in Nangarhar
Nov 08 2018
Two members of ISIS Khurasan, originally hailing from Pakistan, have been arrested during the operations of the security forces in eastern Nangarhar province.
The 201st Silab Corps of the Afghan Military in the East in a statement said the two militants were arrested during the operations in Nazian district.
The statement further added that both the militants handed over themselves and their family members, including two women and four children to the security forces during a search and clearance operation.
According to 201st Silab Corps, the militants also handed over two Ak-47 assault rifles to the security forces.
The anti-government armed militant groups including ISIS loyalists have not commented regarding the report so far.
Nangarhar has been among the relatively calm provinces in East of Afghanistan but the security situation in some of its remote districts has deteriorated during the recent years.
https://www.khaama.com/isis-ks-two-pakistani-members-arrested-with-family-members-in-nangarhar-02701/
--------
Highway to hell: Afghan travellers run gauntlet of Taliban violence
November 08, 2018
KABUL - On a good day, it takes Mohammad less than three hours to drive from Ghazni to Kabul. But preparations for the hair-raising journey through Taliban-infested areas can take weeks. Road trips are a dangerous, and often deadly, activity in Afghanistan.
Travellers run the gauntlet of Taliban checkpoints, fighting, robberies, kidnappings, and pressure-plate bombs targeting government officials and security forces.
The stretch of Highway 1 between the Afghan capital and the southeastern city of Ghazni - which the Taliban stormed in August and still threaten - is one of the most treacherous. Spontaneous trips are out of the question, said Mohammad, who is in his 20s and a regular visitor to Kabul.
Mohammad, not his real name, asked AFP to use a pseudonym to avoid being identified by the Taliban. He begins preparing for the journey at least two weeks before his planned departure, starting with growing out his beard, which he normally keeps short, to create a scruffier appearance.
He then starts working his contacts, calling trusted relatives and neighbours who ply the busy route for information about Taliban activity along the main artery connecting Kabul to the insurgent strongholds in the south.
"You have to be careful who you call because you could be sold out to the Taliban" by someone working for the militant group, he told AFP. On the day of his departure, Mohammad swaps his clean, well-ironed clothes for a dirty pyjama-like shalwar kameez to make himself look more like a villager and clears the call history on his mobile in case a phone number raises suspicion. "You can't just jump into a car and come (to Kabul), not if you want to be on the safe side," he said.
Mohammad's most recent trip to Kabul was delayed for three days after he received warnings of Taliban disguised as Afghan soldiers manning checkpoints along the road.
The first thing Taliban militants check is a person's tazkira, or national identification document. "If the tazkira is from Ghazni then you may be fine. If not, they might think that you are a member of the security forces from another province coming to Ghazni to fight," Mohammad said.
After registering to vote in the October 20 parliamentary election - which the Taliban had vowed to attack and which was finally cancelled in Ghazni due to protests - Mohammad carries a second tazkira that does not have a sticker identifying him as a voter.
"There are many reasons to be worried and anxious," Mohammad explained.
"Even if they don't kill you, they may keep you as a hostage and ask for a ransom. If they kept me for one night, my mother would not survive."
A one-way trip between Kabul and Ghazni costs Mohammad 250 afghanis (around $3) in a Toyota Corolla taxi, a ubiquitous model in Afghanistan that is often used as public transport. He tries to travel with drivers he knows.
He avoids travelling on Mondays and Wednesdays. Those are the days the Afghan army delivers supplies to its troops in the provinces and attacks along the highway are more likely, Mohammad said.
Thursday, the last day of the Afghan working week, is also a bad day to venture out of the city. Militants lie in wait for government employees as they leave Ghazni for the weekend. Whenever possible, Mohammad said he travels with women wearing burqas, but not because he prefers their company.
In the deeply conservative society where physical contact between men and women in public is prohibited, female passengers can hide mobile phones and other sensitive items under their head-to-toe coverings without fear of the Taliban searching them. Once on the open road, Mohammad remains vigilant. He listens carefully to the phone conversations of the driver and other occupants for signs they are planning to give him, or someone else in the vehicle, up to the Taliban.
"Taliban spies use codes like 'I have brought the rooster that you asked for' or 'we found the yoghurt that you asked for'," he said.
An oncoming vehicle with lights blinking, a line of cars stopped on the highway, or no traffic at all are warning signs that something has happened up ahead.
"Fighting and ambushes are common. You have to accept that you might face it," Mohammad said.
Despite the risks, Kabul's alluring cafes and shopping malls make the nail-biting trip worthwhile, Mohammad said.
Even a few days in the heavily militarised and overcrowded city is "refreshing" and a relief from Ghazni, where he feels his "heart can burst from boredom".
Full report at:
https://nation.com.pk/08-Nov-2018/highway-to-hell-afghan-travellers-run-gauntlet-of-taliban-violence
--------
Bangladesh rescues 33 'Malaysia-bound' Rohingya from sea
Nov 8, 2018
COX'S BAZAR, Bangladesh (AFP) - Bangladesh's coast guard rescued 33 Rohingya and detained six alleged human traffickers from a fishing trawler headed for Malaysia in the Bay of Bengal, an official said on Wednesday (Nov 7).
The rescued included 14 men, 10 women and nine children who had been living in refugee camps in the southeastern Bangladesh district of Cox's Bazar, according to Fayezul Islam Mondol, coast guard commander in the southeastern coastal town of Teknaf.
"We have captured six traffickers as well. All of them are Bangladeshis," he told AFP.
Some 720,000 refugees of the persecuted Myanmar minority have taken shelter in Bangladesh camps since August last year.
They fled what the UN has described as ethnic cleansing in Buddhist-majority Myanmar's western Rakhine state, and have joined some 300,000 refugees already living in camps in Cox's Bazar.
People smugglers in recent years have sent tens of thousands of Rohingya from the Bangladesh camps to Malaysia, before Bangladesh launched a crackdown in 2015 after Thai authorities discovered mass graves and boats overcrowded with thousands of migrants drifted at sea.
Mondol said the Rohingya rescued Wednesday had boarded a dilapidated fishing trawler on an uncertain "sea voyage to Malaysia".
The boat was intercepted on Wednesday evening by a coast guard boat near Saint Martin's Island, the last territory of Bangladesh, situated only a few kilometres away from Myanmar's Anauk Myinhlut coastline.
One of the arrested traffickers, Abdus Shukur, 55, told AFP that the fishing trawler had been due to transfer the Rohingya to a bigger Malaysia-bound ship moored neared the island in the Bay of Bengal.
"We were forced by an influential local to take these (Rohingya) people on the fishing boat. We were instructed to board them on an awaiting ship near Saint Martin's," Shukur said.
Authorities in Bangladesh worry many refugees may once again risk travelling to South-East Asia by boat, a route previously popular among Rohingya seeking economic opportunities outside the grim and crowded camps.
Most voyages take place between November and March when seas are most calm.
A local government official said with the approach of winter, traffickers were now trying to lure Rohingya again to the dangerous boat journeys.
"The sea is getting calm and there are high demand among the refugees to travel to Malaysia," Teknaf mayor Abdullah Monir said.
"The traffickers are therefore taking the opportunity to float their boats again," he said.
On Tuesday, Border Guard Bangladesh (BGB) detained 14 Rohingya on Teknaf coast who had allegedly been cheated by human traffickers.
Local BGB spokesman Major Shariful Islam said they paid nearly US$120 (S$160) each to a fellow refugee in Kutupalong, the largest Rohingya refugee settlement, to be sent to Malaysia.
Full report at:
https://www.straitstimes.com/asia/south-asia/bangladesh-rescues-33-malaysia-bound-rohingya-from-sea
--------
Bangladesh rejects opposition plea for caretaker government
07 Nov 2018
DHAKA: Bangladesh's ruling party has rejected an opposition party's demand for a caretaker government it says is essential for a free and fair general election due to be held in December.
Although Prime Minister Sheikh Hasina's Awami League had agreed to unprecedented talks last week with the Bangladesh Nationalist Party (BNP) to discuss the arrangement, on Wednesday it declared the demand was unconstitutional.
"Our prime minister told them there is no provision in our constitution to form such a caretaker government," said Obaidul Quader, her party's secretary general.
The BNP, which is in disarray after the jailing of its chief, former prime minister Khaleda Zia, on corruption charges, also pressed for a caretaker government at the last general election in 2014.
When that demand was not met, it boycotted the poll.
The party and its allies were still undecided whether to participate in the election, BNP Secretary General Mirza Fakhrul Islam Alamgir told Reuters.
Quader said the Awami League would ensure a level playing field by preventing ministers from using government buildings or vehicles for the next three months.
Hasina and Khaleda, who between them have ruled Bangladesh for decades, are bitter rivals and the BNP says its leader has been jailed on trumped-up charges to keep her out of politics.
On Wednesday the Awami League also rejected BNP demands to reconsider Khaleda's sentence, which was doubled to 10 years on October 30, so ruling her out of December's contest.
Full report at:
https://www.channelnewsasia.com/news/asia/bangladesh-rejects-opposition-plea-for-caretaker-government-10905870
--------
Taliban to seek end of US presence in Afghanistan at Moscow conference
November 08, 2018
KABUL - The Taliban group has announced to send a delegation to the Moscow Peace Conference, at which it will discuss an end to the US presence in Afghanistan, a statement from the outfit said Wednesday.
In the statement posted on the armed group's website, the hardliner group said that a delegation from the group will attend the meeting in Moscow slated on Nov. 9, to find a peaceful solution to the ongoing conflict in Afghanistan and seek what it called an end to "the US occupation" of the country.
"A particular point needs clarification; this conference is not about negotiating with any particular side rather it is a conference about holding comprehensive discussions on finding a peaceful solution to the Afghan quandary and ending the American occupation," asserted the Taliban statement.
The statement comes after the government of Afghanistan said it has no plan on sending delegation to the Moscow-led peace meeting on Afghan imbroglio. Afghan government has said repeatedly that it only wants to attend an Afghan-initiated and Afghan-led negotiation with the armed oppositions, but supports any peace talks in which Afghan interest was at the forefront.
https://nation.com.pk/08-Nov-2018/taliban-to-seek-end-of-us-presence-in-afghanistan-at-moscow-conference
--------
UN warns of rushed plans to repatriate Rohingya
Nov 8, 2018
The United Nations' human rights investigator on Myanmar urged Bangladesh on Tuesday to drop plans to start repatriating hundreds of thousands of Rohingya refugees to Rakhine state this month, warning they would face a "high risk of persecution."
More than 700,000 Rohingya refugees crossed into Bangladesh from western Myanmar, U.N. agencies say, after Rohingya insurgent attacks on Myanmar security forces in August 2017 triggered a sweeping military crackdown. The two countries agreed on Oct. 30 to begin the returns to Myanmar in mid-November. The U.N. refugee agency has already said that conditions in Rakhine state were "not yet conducive for returns."
Yanghee Lee, U.N. special rapporteur on human rights in Myanmar, said in a statement that she had received credible information from the refugees in Cox's Bazar that "they are in deep fear of their names being on the list to be repatriated, causing distress and anguish." She had not seen any evidence of the government of Myanmar creating an environment where the Rohingya can return to their place of origin and live in safety with their rights guaranteed. It has "failed to provide guarantees they would not suffer the same persecution and horrific violence all over again," Lee said.
Human rights groups had earlier voiced concern that returning the men ignored the danger they faced in Myanmar where for decades the Rohingya have been targeted in violent pogroms by security forces. Around 100,000 displaced Rohingya Muslims living in Myanmar's Rakhine state struggle to save their lives from systematic violence, persecution, according to reports.
The U.N.-backed investigators presented a report in September that painted a grim picture of crimes against Rohingya. The report found that certain members of the Myanmar army have participated in genocide against Rohingya Muslims, many of who fled to neighboring Bangladesh. The 444-page United Nations fact-finding report has called the crimes committed by the Myanmar army "the gravest crimes under international law." Referring to previous U.N. reports, the report listed similar actions taken by the Myanmar army and government in the past against the Rohingya.
Full report at:
https://www.dailysabah.com/asia/2018/11/08/un-warns-of-rushed-plans-to-repatriate-rohingya
--------
Report: Bangladeshis part of US-bound Central American migrant caravan
November 7th, 2018
CIS Senior National Security Fellow Todd Bensman claimed the presence of Bangladeshis in the caravan posed a security risk
Bangladeshis are among the members of the Central American migrant caravan headed for the US, according to a report by US-based think tank Center for Immigration Studies (CIS).
Univision reported that Bangladeshis were spotting moving alongside Central Americans in the migrant caravan in late October, the CIS report said.
In the report, CIS Senior National Security Fellow Todd Bensman claimed the presence of Bangladeshis in the caravan posed a security risk.
"The Muslim-majority country is regarded as so rife with Islamic extremists and violent ideology that its government has mounted a "zero tolerance" campaign to prevent it from becoming a terrorist safe haven, with US backing. Certainly, that's good reason for uninterested Bangladeshis to leave for greener hills, even though the country's economy is booming," Bensman said.
Earlier, US President Donald Trump had remarked that the presence of "unknown Middle Easterners" in the migrant caravan increased the risk that it had posed.
The president's comment had been criticized by the media, with many taking the presence of Bangladeshis as unsupportive of Trump's claim.
Full report at:
https://www.dhakatribune.com/bangladesh/foreign-affairs/2018/11/07/report-bangladeshis-part-of-us-bound-central-american-migrant-caravan
--------
Arab World
Kurdish Politician: US Unable to Halt Turkey's Attacks on Kurds
Nov 07, 2018
"The stances adopted by the US-led coalition forces in Syria may not deter Turkey's aggressions on regions located in Eastern Euphrates," member of the executive body of Syrian Democratic Alliance Talat Youness said on Wednesday.
The politician reiterated that the US measures to prevent Turkey's attacks are in vain.
Youness' remarks came as the US and Kurdish forces patrolled Syria's regions bordering Turkey, including Hasaka and Aleppo.
Meantime, the Turkish army's troops launched mortar attacks on Tal Jeyhan village in Torbeh Sibeh region East of Qameshli.
The Turkish army troops also attacked al-Mahta district of Ra'as al-Ain border town in Hasaka province.
Lebanese media outlet reported on Monday that the Turkish warplanes were carrying out an increasing number of flights over the border with Syria's Hasaka as Ankara ground troops were preparing to launch a large-scale operation against Kurds on the Eastern banks of the Euphrates River.
The Arabic-language al-Manar TV Channel reported that the Turkish fighter jets were flying in large numbers over the border region with Hasaka province in Northeastern Syria.
It further said that the US-led coalition forces and the Syrian Democratic Forces (SDF) held joint patrol along Syria-Turkey border between the two small towns of al-Darbasiyah in Northern Hasaka, and Ra'as al-Ein in Northwestern Hasaka.
The TV channel went on to say that a large number of Turkish troops and Ankara-backed militants have been put on alert along the contact lines with the SDF in Northern Syria to be used in a military operation on the Eastern banks of the Euphrates River.
In the meantime, SOHR reported that the SDF commanders held a meeting over countering Turkey's possible attack on the Eastern banks of the Euphrates River.
http://en.farsnews.com/newstext.aspx?nn=13970816000251
--------
Coalition strikes kill 20 ISIS members in eastern Syria, says monitor
7 November 2018
US-led coalition air strikes against ISIS extremist group killed 20 of the extremists Wednesday as they attacked an oil field in eastern Syria, a monitor said.
"Coalition air strikes killed 20 IS fighters during their attack on the Tanak oil field" where US-backed Syrian Democratic Forces are based, said the Britain-based Syrian Observatory for Human Rights.
Last Sunday, ISIS killed 12 US-backed fighters in a surprise attack from the extremists' holdout in eastern Syria on the Iraqi border.
https://english.alarabiya.net/en/News/middle-east/2018/11/07/Coalition-strikes-kill-20-ISIS-members-in-eastern-Syria-says-monitor.html
--------
Egypt sentences eight ISIS extremists to death over attack
7 November 2018
An Egyptian military court sentenced eight members of ISIS extremist group to death on Wednesday for a deadly attack against the army in 2016, several regime sources told AFP.
The court in Ismailia in the country's northeast also sentenced 32 people to life imprisonment- a term of 25 years under Egyptian law- while two others were given 15 years.
Two defendants were acquitted, a military source said.
The eight who were sentenced to death were not present in court, a judicial source told AFP without elaborating.
The accused were tried for "the killing of several soldiers and the attack on a checkpoint and an army vehicle" in 2016, the military source said, without giving further details.
All were identified as members of the Egyptian branch of ISIS, which has led an insurgency in North Sinai and carried out several attacks across the country.
Egypt's army launched a major offensive in February dubbed "Sinai 2018" to dislodge the insurgents from the peninsula.
More than 450 suspected extremists and around 30 Egyptian soldiers have been killed since the offensive began, the army said in October.
Extremist attacks have killed hundreds of police, soldiers and civilians.
Full report at:
https://english.alarabiya.net/en/News/middle-east/2018/11/07/Egypt-sentences-eight-ISIS-terrorists-to-death-over-attack.html
--------
Israel threatens to target Russia-manned S-300s in Syria
Nov 7, 2018
The Israeli regime has threatened to hit the Russia-made S-300 missile defense launchers in Syria, even those manned by the Russian military itself, should the launchers target Tel Aviv's warplanes.
Speaking during a press conference for Russian media on Monday, Israeli Minister of Environmental Protection Ze'ev Elkin said Moscow's supply of the S-300 system to Damascus was "a big mistake" that "might lead to destabilization of the situation."
He then questioned the Syrian army's ability to use the system properly.
"The Syrian military are not always capable of correctly using the hardware transferred to them. In case of improper operation, civilian aircrafts may be harmed," Elkin said.
He further warned that the Israeli regime would take "practical action" in response to alleged attacks from Syria and stressed that Russia "bears partial responsibility" for Syria's use of the system.
"Actions would undoubtedly take place, should [an attack] occur, against the launchers used to attack" the occupied territories or Israeli planes, he said, adding, "I hope greatly that there would be no Russian military specialists [at S-300 sites]."
The S-300 missile defense system – known as one of the most advanced in the world -- is capable of striking short- and medium-range ballistic missiles, cruise missiles as well as tactical and strategic aircraft.
Russia signed an agreement to sell the system to Syria back in 2010, but later scrapped the plan.
In September 2018, however, Moscow decided to bolster Syria's air defense capability by deploying the modern S-300 system to the country.
The announcement came in the wake of the accidental downing of Russia's Il-20 reconnaissance aircraft with 15 servicemen on board by Syria's S-200 launchers, which were at the time responding to a wave of Israeli strikes on state institutions in Latakia Province.
Moscow held Israel responsible for the incident, saying the regime's pilots had intentionally used the Russian plane as cover to conduct air raids, effectively putting it in the crosshairs of the Syrian air defenses.
Israel frequently attacks military targets inside Syria in what is considered as an attempt to prop up Takfiri terrorist groups that have been suffering heavy defeats against Syrian government forces.
Full report at:
https://www.presstv.com/Detail/2018/11/07/579331/Israel-Russia-Syria-S300
--------
Israeli minister visits Oman amid warming ties with Arab governments
Nov 7, 2018
An Israeli minister is visiting Oman, following a controversial trip by the regime's premier to the sultanate, for talks on a railway project as Tel Aviv moves to make its secret ties with the Persian Gulf Arab monarchies public.
Israeli Transport and Intelligence Minister Yisrael Katz, who reportedly arrived in Muscat on Sunday, will take part later on Wednesday in the International Road Transport Union, where he is expected to propose a railway connecting the Persian Gulf to the Mediterranean via the Israeli-occupied territories.
At the annual conference, he would be explaining that the proposed railway would start in Haifa, go through Jordan, and eventually connect to some railway stations in the Persian Gulf region.
Late last month, Israeli Prime Minister Benjamin Netanyahu traveled to Oman in a surprise visit, which marked the high point of increasing Arab-Israeli gravitation over the past several years.
Israel and certain Arab states, including Saudi Arabia and its regional allies Bahrain and the United Arab Emirates, have been making overt and covert contacts over the past years.
The overtures have taken place against the backdrop of those Arab governments' alleged support for the Palestinian cause against the Tel Aviv regime's occupation.
The pro-Israel administration of US President Donald Trump strongly supports the increasing closeness. Trump's Middle East envoy Jason Greenblatt welcomed Katz's visit to Oman, tweeting, "These efforts support our efforts."
The Palestinians have, however, clearly distanced themselves from the administration's Middle East policy, calling it excessively in favor of Israel.
Late last year, the Palestinian Authority (PA) stopped recognizing Washington's negotiating role in any Middle East process after Trump recognized the occupied holy city of Jerusalem al-Quds as Israel's "capital."
Full report at:
https://www.presstv.com/Detail/2018/11/07/579318/Israel-Oman-railway-Haifa-Persian-Gulf-Arab-states-United-States
--------
Fierce Infighting Erupts among Terrorists in Aleppo's Afrin, Leaves Heavy Casualties
Nov 07, 2018
Jeish al-Islam terrorists and militants of Ahrar al-Sharqieh heavily clashed near Kaveh al-Hadad in Afrin in Western Aleppo, local sources reported.
The sources noted that fierce clashes left many terrorists dead and many others wounded form both sides. Meantime, several civilians were also killed in the infighting between the two terrorist groups.
"The clashes took place over the deployment of the militants in the region, while the militants' so-called Police Forces were sent to the region to put an end to the clashes," the local sources said.
In a relevant development on Sunday, Ankara-backed terrorists engaged in fresh round of clashes in the towns of Azaz and Afrin in Northern and Northwestern Aleppo.
Gunmen of Liwa al-Shamal and their rival terrorists known as Police Forces, both backed up by the Turkish army, engaged in heavy fighting in the town of Azaz in Northern Aleppo.
The infighting came after the Police Forces arrested 2 Liwa al-Shamal militants.
The infighting inflicted several casualties on both sides.
Local sources, meantime, said that al-Shamiyah Front sent its gunmen from Afrin to Azaz following the infighting.
Other sources in Afrin reported that militants of Sultan Murad clashed fiercely with other rival militants in the village of Kafr Janah in Afrin, adding that several terrorists were killed and at least 10 more were wounded in the infighting between the two Ankara-backed militant groups.
The Kurdish-language Hawar News reported on Thursday that Ferqat al-Hamzeh, Sultan Murad, Faylaq al-Sham, Ahrar al-Sham and other terrorist groups in Afrin cut the forest trees in the villages and jungles.
It added that a large number of the trees were sent to Turkey, while several other cargoes were sold to the Syrian dealers.
The terrorists also cut off and stole olive trees in different parts of Afrin after harvesting them.
According to the report, militants started imposing their rule over new regions in Afrin, including Tal Haloubiyeh in Shara region and a hill between the village of Marateh and Bablit in Central Afrin, starting measures to extract artifacts and crops.
Turkey-backed militants have intensified plundering historical artifact in occupied Afrin region.
Full report at:
http://en.farsnews.com/newstext.aspx?nn=13970816000270
--------
Syrian regime wants Palestinian refugees back in Yarmouk
November 07, 2018
BEIRUT: The Syrian regime has created a plan for the return of Palestinians to the war-ravaged Yarmouk refugee camp in southern Damascus, the deputy foreign minister said Tuesday.
In an interview with Beirut-based broadcaster Al-Mayadeen, Faisal Al-Meqdad said there was a "plan for the return of all refugees to the camp," home to some 160,000 Palestinians before Syria's war broke out in 2011.
He did not specify how or when people would start returning.
The Syrian regime and allied forces retook the neighborhood in May from Daesh, pushing the militants out of their only bastion in the capital.
"Efforts are being made to clear (the camp) of mines left by... Daesh," said Meqdad.
Founded in 1957 with tents for Palestinians who fled or were ousted from their homes with the establishment of Israel, Yarmouk grew into a bustling neighborhood.
In 2012, around 140,000 residents fled as clashes raged.
Those who stayed faced severe shortages of food and medicine under a withering years-long regime siege.
Daesh terrorists entered the area in 2015, bringing further suffering to remaining residents until being forced out in May.
Five months on, only a few residents have managed to return.
Meqdad said Damascus wanted to dispel any "rumors" that Palestinians had been displaced.
The once-busy district is now a ghost town piled with rubble and mangled steel rods.
The UN agency for Palestinian refugees, UNRWA, has said its 23 premises in the camp including 16 schools are damaged, but that it would not fix any unless the government officially allowed residents to return.
UN and Palestinian officials have criticized Damascus for not giving the go-ahead for reconstruction plans or officially allowing residents to return.
On Monday, Meqdad said the Syrian regime would not object to a "role for the Palestinian Authority or UNRWA in rebuilding the camp."
Full report at:
http://www.arabnews.com/node/1400991/middle-east
--------
Mideast
Israeli software was used to track Khashoggi: Snowden
November 08, 2018
MOSCOW - US whistleblower Edward Snowden believes Israeli cyber intelligence firm NSO Group Technologies is "selling a digital burglary tool," which he claimed had been used to track Saudi journalist Jamal Khashoggi, who was killed in Istanbul in early October.
"[NSO's software is not] just being used for catching criminals and stopping terrorist attacks … not just for saving lives, but for making money … such a level of recklessness … actually starts costing lives," Snowden said via video conference at an event organized by OH! Orenstein Hoshen communications firm based in Tel Aviv on Tuesday. NSO Group Technologies refuted the accusations, stating that it considers that Snowden is selectively slandering Israeli technology companies and does not possess any reliable information on the matter. "NSO is developing products that are sent to government agencies for the sole purpose of investigating and preventing crimes and terrorism," the company was quoted as saying by the Israeli Public Broadcasting Corporation.
The application of NSO products is monitored by a special ethics commission, the company added.
Khashoggi, a Washington Post contributor, disappeared on October 2 after entering the Saudi consulate in Istanbul. Saudi Arabia's acknowledgment that the journalist had been killed in a fight inside the consulate came after two weeks of denials and growing pressure from Western allies to provide explanations. Turkey, which conducts a separate probe into the case, claims that Khashoggi was assassinated by a hit squad sent from Saudi Arabia.
In 2013, Snowden leaked classified documents pertaining to mass surveillance practices carried out by US authorities around the globe. Later in the year, Russia granted the former NSA contractor temporary asylum for one year. In 2014, Snowden received a three-year residence permit to live in Russia, which was later extended until 2020.
https://nation.com.pk/08-Nov-2018/israeli-software-was-used-to-track-khashoggi-snowden
--------
UN salutes Damascus allowing Yarmouk Palestinians to return
7 November 2018
The United Nations on Wednesday welcomed a Syrian regime plan to allow Palestinians back home to the ravaged Damascus suburb of Yarmouk after expelling extremists.
Tens of thousands of pre-war residents have been unable to return to the large Palestinian refugee camp in the south of the capital since regime forces ousted ISIS extremist group in May.
On Tuesday, deputy foreign minister Faisal al-Meqdad said Damascus had created a "plan for the return of all refugees to the camp", though he did not give a date.
The UN agency for Palestinians refugees, UNRWA, on Wednesday applauded the decision.
"UNRWA welcomes the decision by the Syrian government to allow Palestine refugees to return to their homes in Yarmouk camp," spokesman Chris Gunness said.
Some 160,000 Palestinians lived in Yarmouk before the start of Syria's seven-year conflict.
After years of devastating fighting, siege and bombardment, much of the district has been reduced to a sea of grey rubble and mangled steel, though main roads have been cleared of debris.
Only a few dozen families now live amid its bombed-out buildings.
UNRWA has 23 premises there including 16 schools, all of which have been damaged.
It has faced a funding crisis since August when the United States, its largest single donor, announced it would end its US$350 million a year funding.
"We call on the international community to provide support for UNRWA to allow the agency to provide core services, including health services and education, to Palestine refugees who return to Yarmouk," Gunness said.
"The camp is largely destroyed and there is a need for the municipality to restore basic infrastructure, including water, electricity and sewage," he said.
Set up in 1957 after the creation of the state of Israel, Yarmouk evolved from a camp of tents into a bustling neighborhood that was home to Syrians as well as Palestinian refugees.
"Yarmouk was home to almost 30 percent of the Palestine refugee population in Syria before they were displaced," Gunness said.
Many of Yarmouk's residents fled after rebels overran the neighborhood in 2012, leaving those who remained to face severe food shortages under a years-long regime siege, and then extremists.
The Palestinian Liberation Organization has funded rubble clearing, but rebuilding awaits a green light from Damascus.
Full report at:
https://english.alarabiya.net/en/News/middle-east/2018/11/07/UN-salutes-Damascus-allowing-Yarmouk-Palestinians-to-return.html
--------
Palestinian Leader of Hezbollah-linked Ansar Allah leaves Lebanon to Syria
7 November 2018
The leader of Ansar Allah Jamal Suleiman left the Mieh Mieh Palestinian refugee camp in the Lebanese southern city of Sidon, with 20 of his supporters including his family, to Mezzeh area in Syria.
Lebanon official news agency reported that Jamal Suleiman, General Secretary of Hezbollah-linked Ansar Allah left to Syria as part of a deal with the Palestinian Fatah Movement following violent clashes between the two Palestinian groups last month, leading to the death of four persons and wounding 30 others including huge damages in properties.
Palestinian sources revealed that Suleiman and around 20 others left late last night to unknown destination, while the faction's head quarter was handed over to Suleiman deputy Maher Oweid, while the next step is to withdraw all Fatah Movement militants from the camp's streets to pave the way for the return of displaced civilians who fled the area in the latest flare of violence.
The sources said that the exit process came as a result of a lengthy security meeting that was held overnight, overseen by senior Hezbollah official Wafiq Safa, according to local Lebanese media.
Eye witnesses said that Suleiman "burnt personal documents in his security zone few hours before he left."
Full report at:
https://english.alarabiya.net/en/News/middle-east/2018/11/07/Leader-of-Hezbollah-linked-Ansar-Allah-leaves-Lebanon-to-Syria.html
--------
Yemeni government warns of Houthi militias' 'terrorist intentions'
8 November 2018
The Houthis intentionally target civilians and have "terrorist intentions" in Hodeidah, Yemeni government spokesperson Rajeh Badi warned in a statement on Wednesday.
Badi told the Yemeni news agency that the Houthi militias have a "terrorist agenda", including the possibility of "blowing up" an oil tanker in Ras Isa.
"The militias have schemed terrorist plans as a result of the huge losses they've endured. These plans include booby-trapping governmental buildings and national (facilities) like the Hodeidah Port. There are also terrorist intentions to target international navigation paths and global trade in Bab-el-Mandeb and South of the Red Sea, and to blow up the Safer oil tank at Ras Isa which contains around one million barrels of crude oil," Badi said, noting that blowing up the latter may result in an environmental and economic disaster to Yemen and the region's countries.
He added that the militias deliberately place heavy weapons in populated residential neighborhoods and block main roads in Hodeidah thus affecting civilian movement and flow of humanitarian aid, adding that the Houthi militias intentionally target civilians.
According to Badi, the joint forces command of the coalition continues to facilitate naval permits for the Hodeidah Port and continues to secure safe passages to and from Hodeidah.
He noted that the Houthis will be legally responsible before the international community for their violations of international humanitarian laws and any terrorist activity they plan to carry out to weaken economic capabilities and infrastructure in Hodeidah and other governorates.
Badi also said that the joint forces command of the coalition support the Yemeni national army and popular resistance to liberate Hodeidah as liberating the city is "the government's right towards liberating all of Yemen."
Full report at:
https://english.alarabiya.net/en/News/gulf/2018/11/08/Yemeni-government-warns-of-Houthi-militias-terrorist-intentions-.html
--------
Yemeni army officer lost four sons in fights against Houthi militias
7 November 2018
Yemeni people continue offering sacrifices in their conflict against the Houthi militias, and this colonel has lost four of his sons in the wake of this war.
Colonel Mefreh Buhaibeh, who has participated in several liberation battles to free regions from militia control, has lost four of his sons, who fought among the first ranks of the Yemeni army.
His last loss was his son Waleed, who gained martyrdom during clashes in Al-Baydaa province.
The heartbroken father, tells Al Arabiya English: "[Waleed] is my fourth son to receive martyrdom in the fields of pride and dignity in defense of the homeland, against the Houthis, after a fierce battle between us and the Houthis."
"This is not the first time that I lose one of my children in battles against the Houthis. I have four martyrs: the first one was martyred during clashes in the Beihan front, and two were martyred in Marib, and what motivates us behind these sacrifices is the intervention of Houthi in religion. We respect any intellectual difference, but not interference and defamation of religion."
Full report at:
https://english.alarabiya.net/en/News/gulf/2018/11/07/Yemeni-army-officer-lost-four-sons-in-fights-against-Houthi-militias-.html
--------
Denmark arrests 3 for praising September terror attack in Iran's Ahvaz
Nov 7, 2018
Denmark says it has arrested three people for praising those behind a September terror attack in the southwestern Iranian city of Ahvaz that killed at least 25, including a four-year-old boy.
"Three people have been arrested suspected of violating the Danish law... on condoning terrorism," a Danish police statement said on Wednesday.
The trio is accused of praising the four gunmen who attacked a military parade in Ahvaz in Iran's Khuzestan Province on September 22, sprayed the crowd with gunfire and killed 25 people while injuring some 70 others.
The men were held on preliminary charges. However, police spokesman Bjoerke Kierkegaard said they had violated Danish laws and could face fines or up to two years in prison.
Kierkegaard said all three were members of al-Ahwaziya -- a terror group which claimed responsibility for the Ahvaz attack.
The group, which receives backing from Saudi Arabia, has a record of carrying out sabotage acts in Khuzestan province.
In addition to al-Ahwaziya, the Daesh terrorist group also claimed it was behind the attack and published online purported footage of the assailants.
Three of the four assailants involved in the attack were killed by Iranian security forces, and a fourth one was arrested but later died of the wounds he had sustained during a security chase.
Two days after the attack, the Iranian Intelligence Ministry said in a statement that its forces had found the hideout of the terrorists involved in the attack, and arrested 22 elements in connection with the incident.
Some explosives, firearms, military vehicles and communications facilities were also seized from the hideout, the statement added.
Full report at:
https://www.presstv.com/Detail/2018/11/07/579359/Denmark-arrest-Iran-Ahvaz-attack--alAhwaziya
--------
Hamas rejects UAE criticism of support for Iran against US sanctions
Nov 7, 2018
Hamas dismisses the United Arab Emirates' remarks about the Palestinian resistance movement's condemnation of America's anti-Iran sanctions, saying it is Abu Dhabi's overtures to the occupying Israeli regime that should be criticized, not Hamas' stance against US bullying.
The Gaza-based resistance group had earlier this week voiced support for the Iranian nation in the face of a fresh wave of US bans targeting the Islamic Republic's banking, energy and insurance sectors.
Irked by Hamas' position, Emirati Foreign Minister Anwar Qarqash – whose country is a strong supporter of Washington's anti-Tehran policies – blasted the Palestinian movement for speaking out against the sanctions.
Qarqash claimed that Hamas was an "instrument" of Iran in the region, and that its expression of solidarity with the Iranian nation cannot contribute to efforts towards the resolution of the Israeli-Palestinian conflict.
Posting a tweet, Sami Abu Zuhri, Hamas spokesman, rejected the Emirati minister's comments, saying what is "abnormal" is in fact Abu Dhabi's overtures to the Israeli regime -- including its recent hosting of an Israeli delegation.
He said the Emirates' had chosen to host "criminal Israeli officials," while the regime was engaged in crimes against the Palestinian nation.
Israeli Culture and Sports Minister Miri Regev traveled to the UAE on October 25 to accompany Israel's judo team at the Abu Dhabi Grand Slam 2018.
Zuhri reminded Abu Dhabi that Israel's "anthem" had been played twice during the visit.
The UAE has long claimed to be an advocate of the Palestinian cause. It has no formal relations with the Tel Aviv regime, but the two sides have been working to gradually normalize their ties.
Palestinian officials, including those of Hamas, based in the Israel-blockaded Gaza Strip, and the Palestinian Authority, headquartered in the occupied West Bank, have voiced strong opposition to the increasing gravitation between Tel Aviv and certain regional Arab states, including the UAE.
Full report at:
https://www.presstv.com/Detail/2018/11/07/579329/Palestine-Hamas-Israel-Iran-support-United-States
--------
Turkish forces 'neutralize' wanted PKK terrorist
07.11.2018
By Ahmet Sertan Usul
ANKARA
Turkish forces "neutralized" a wanted PKK terrorist with bounty on his head in counter-terrorism operations last week, an official statement said on Wednesday.
In a statement, Turkish Interior Ministry said 15 PKK terrorists were "neutralized" in operations in rural areas of southeastern Sirnak province from Oct. 31 to Nov. 2.
Turkish authorities often use the word "neutralized" in their statements to imply the terrorists in question either surrendered or were killed or captured.
The ministry said Muslim Firtina, a wanted PKK terrorist, was among those neutralized in the operations.
Firtina, who had a codename Rizgar Gever, was in the green category of the wanted list and had 1 million liras ($186,014) bounty on his head.
The wanted list is divided into five color-coded categories, with red as the most wanted, followed by blue, green, orange and grey.
The PKK is listed as a terrorist organization by Turkey, the U.S. and EU.
Full report at:
https://www.aa.com.tr/en/todays-headlines/turkish-forces-neutralize-wanted-pkk-terrorist/1305364
--------
Africa
Nigeria: Incompetent Politicians Fuelling Ethno-Religious Crisis - Senator Bwacha
7 NOVEMBER 2018
The Deputy Senate Minority Leader, Sen. Emmanuel Bwacha, representing Taraba South Senatorial District, says incompetent politicians are responsible for ethno-religious crisis in Nigeria.
Bwacha, in an interview with newsmen on Wednesday in Abuja, said that 80 per cent of politicians got themselves elected into different political positions by whipping up ethnic and religious sentiments.
He urged electorates, particularly the people of Taraba to vote candidates on the basis of who they were to prevent weak politicians or leaders from using religion to score cheap political goals.
"I want to say clearly that this situation is not peculiar to Taraba state alone, it is a national problem.
"It is a national problem that is fueled by bad leadership because when people have a lot of inadequacies and they are suffering from complex, they often resort to either religion or ethnocentrism and geo-politics.
"And this thing will continue to play because a lot of people come to contest election not because they have the capacity but because they want to capitalise on tribe or religion as a tool to advance their political interest.
"Most of our politicians don't have the capacity; they are hanging on to primordial sentiments and we will continue to suffer this problem until our eyes open."
He admonished citizens to realise that what the nation needed leaders that would put smile on the faces of the people not sentiment because poverty does not know tribe, religion or geopolitics.
The law maker also warned incompetent politicians to stop promoting religion politics because God cherished just and fair leader not religious bigots.
"There are unserious Muslims and unserious Christians and in the category of these unserious ones, they actually constitute the trouble makers.
"If a government is bad; it is bad there is no barrier; you either take it or live it, " he said.
The deputy minority leader, however, advised electorate to learn how to assess people's capacities to deliver, adding that God was not a religionist but a God of righteousness and holiness."
"People who serve God are holy people; sin should not be seen in them but you will see an adulterer and a highly corrupt person talking about religion.
"Both Muslims and Christians meet together to steal the common wealth and later they will be talking about religion.
"Most of them are criminals and so this is the problem we have in this country and until people understand this how morally upright are that you are talking about religion.
" We have bunch of criminals all over the land destroying the country and many people have died because of misinformation by these selfish politicians.
"That is the unfortunate situation we found ourselves and it will take a great deal before it will end."
He advised the people of Taraba to eschew violence and deemphasize primordial sentiment and religion politics to avoid division ahead of 2019 General Elections.
https://allafrica.com/stories/201811070682.html
--------
Anti-terrorism group accuses AI of plotting to replace Boko Haram with another sect
November 7, 2018
By Seun Opejobi
The Coalition Against Terrorism and Extremism, CATE, has accused the Amnesty International, AI, of plotting to replace the Boko Haram sect with another deadly terror group.
CATE said AI's penchant for distortion of facts was a deliberate attempt to create an enabling environment for the spawning of terrorism in West Africa.
The group was reacting to a recent report released by the agency where it alleged that they have obtained footage of a shocking and unconscionable use of deadly force by soldiers and police against members of the Islamic Movement in Nigeria, IMN.
CATE, therefore, challenged the Amnesty International to be truthful in addressing human rights issues, especially those relating to Nigeria and the West African region.
Gabriel Onoja, National Coordinator of the group, at a press conference on Wednesday, said the recent assertion by the Amnesty International in which it called on the Federal Government to hold security forces accountable for alleged killing of Shiites was a campaign of incitement against the Nigerian state.
According to Onoja, "We are concerned that Amnesty International is on the way to providing the incentives to make its Shiite ally, the Islamic Movement in Nigeria (IMN) into a replacement for Boko Haram after it became glaring that Boko Haram will never be able to provide the kind of destabilization it had hoped for. What is ridiculous, however, is for Amnesty International to be repeating the same strategy it deployed in support of Boko Haram terrorists.
"Part of the pattern being promoted by this NGO is to attempt decriminalizing the atrocities being committed by IMN extremists. This consists largely of using images of IMN members that died in clashes with security agencies to draw attention away from the acts of terror committed by IMN prior to and in the course of confrontation with the security forces:
"Members of the group, under the pretext of protesting for the release of their leader, Ibrahim El-Zakyzaky, obstruct the roads and harass other commuters. We wonder if Amnesty International is aware that among the road users that are trapped in the gridlocks created by these protests are patients being rushed to hospital for life-saving medical intervention. The suggestion of this so-called international NGO is that it is okay for IMN to obstruct the roads in manner that kill people even though charges may never be brought against them and that the persons that will die in such agonizing manner do not have rights.
"Amnesty International is suggesting that stones, slingshots, sticks and fused bottles filled with petrol do not qualify as weapons; it is practically saying that we should allow members of the group attack security personnel with these items since they are not considered to be lethal weapons.
"The NGO is also brainwashing people into disregarding the vandalism and arson committed by IMN members. They deface public infrastructure, destroyed cars belonging to other Nigerians and there is multimedia evidence of the police car they burnt and the other vehicles belonging to security agencies that were smashed. Had the Police and Military not stepped in to put a stop to the IMN madness they would have definitely killed scores of Nigerians.
"Amnesty International engaged the same tactic when it repeatedly used lies about human rights abuses to obstruct Nigeria's war on terrorism. The implication is that the terror group now uses the NGO as a shield each time it wants to re-group after being defeated. The blame for the lingering Boko Haram crisis is therefore on Amnesty International. Leah Sharibu and other hostages would never have been held by Boko Haram against their fundamental rights while others victims that have been killed and deprived of their rights to life would certainly still be among the living if only Amnesty International allows security and military agencies to do their work."
The group further called on the United Nations Human Rights Commission (UNHRC) to urgently take practical step of sanctioning Amnesty International especially by way of distancing itself from the questionable group as its work around the globe have added to human misery instead of the converse.
Full report at:
http://dailypost.ng/2018/11/07/anti-terrorism-group-accuses-ai-plotting-replace-boko-haram-another-sect/
--------
US willing to lift Sudan's 'terror state' designation pending reforms
8 November 2018
The United States said Wednesday it was willing to remove Sudan from its blacklist of state sponsors of terrorism if the country undertakes further reforms.
In a statement released after talks in Washington, the State Department called on Sudan to step up anti-terrorism cooperation and improve its human rights record.
The statement cited "systematic discrimination and oppression" of non-Arabs in Darfur, and how the government used brutal force against them when they rebelled in 2003, killing over 300,000 people.
"US policy in Sudan is focused on ensuring that Sudan does not provide support to or a safe haven for international terrorists; achieving a definitive end to gross human rights abuses; concluding a comprehensive peace process that includes both Darfur and the Two Areas ; and encouraging an open and inclusive political dialogue," the statement read.
Full report at:
https://english.alarabiya.net/en/News/north-africa/2018/11/08/US-willing-to-lift-Sudan-s-terror-state-designation-pending-reforms.html
--------
Nigeria court refuses to release Zakzaky on bail
Nov 7, 2018
A Nigerian court has refused to grant bail to top Muslim cleric Sheikh Ibrahim Zakzaky, days after more than 40 of his supporters were killed during protests demanding his release.
Zakzaky, the leader of Islamic Movement in Nigeria (IMN), has been held in detention since December 2015 and was charged just in April with murder, culpable homicide, unlawful assembly, disruption of public peace and other accusations. He has pleaded not guilty.
"The court refused to grant him bail," Zakzaky's lawyer Maxwell Kyon said.
His legal team had urged his release, saying he is suffering from health issues that require urgent medical care abroad but the court denied the request.
But the state high court in the northern city of Kaduna said on Wednesday that no substantial medical evidence was provided to grant Zakzaky bail.
Zakzaky would remain in custody throughout the period of his trial. The upcoming hearing will take place on January 22.
"We are disappointed with the court's decision," said Ibrahim Musa, an IMN spokesman.
He stressed that Zakzaky should have been granted bail due to poor health, adding that "We will keep on with our protests in Abuja and other cities."
The hearing comes after several peaceful protests staged by IMN supporters last month in demand for Zakzaky's release. Nigerian security forces opened fire with live ammunition on IMN members in the capital, Abuja, leaving 47 people killed.
Before Zakzaky was charged, the Nigerian government has refused to set him free despite the ruling of a Federal High Court, which ordered Zakzaky's unconditional release in 2016.
The top cleric, who is in his mid-sixties, lost his left eyesight in a raid which was carried out by the Nigerian army on his residence in the northern town of Zaria in December 2015.
During the raid, Zakzaky's wife sustained serious wounds too and more than 300 of his followers and three of his sons were killed. Zakzaky, his wife, and a large number of the cleric's followers have since been in custody.
A judicial inquiry after the 2015 brutal raid concluded that the military had killed 347 IMN members in Zaria. Soldiers buried the bodies in mass graves.
Full report at:
https://www.presstv.com/Detail/2018/11/07/579381/Nigeria-refuses-release-Zakzaky
--------
International powers quietly shelve December plan for Libya election
November 07, 2018
TUNIS, CAIRO: The UN and Western powers have given up hope that Libya will hold elections in the immediate future, focusing on reconciliation first among rival factions locked in a cycle of conflict, diplomats and other sources said.
In May, France had persuaded major players in the North African country to verbally agree to elections on Dec. 10 as a way of ending repeated rounds of bloodshed between competing factions that emerged after a 2011 NATO-backed uprising.
But weeks of fighting between rival militias in the capital Tripoli and deadlock between rump parliaments in Tripoli and th¡e east has made that goal unrealistic, Western officials argue.
Shelving the plans for presidential and parliamentary elections is the latest setback for Western powers that helped topple Muammar Qaddafi seven years ago before stepping back and seeing hopes for a democratic transition crumble.
Instead of pushing for a vote as a short-term goal, UN Special Envoy Ghassan Salame will focus in a briefing to the UN Security Council on Thursday on staging a national conference next year and fixing the economy, diplomats said.
The conference would aim to forge consensus in a country divided between hundreds of armed groups controlling mostly minimal territory, towns, tribes and regions.
Libya has two governments, a UN-backed administration in the capital and a largely powerless eastern version aligned with influential veteran commander Khalifa Haftar, whose forces control much of the east. Salame will also push again for economic reforms to end a system benefiting armed groups that have access to cheap dollars due to their power over banks.
There was no immediate comment from the Tripoli-based government or the eastern-based Parliament. Diplomats say delayed reforms introduced in Tripoli in September, including a fee on purchases of foreign currency, can only partially ease Libya's economic woes as long as the central bank remains divided and predatory factions retain their positions.
The reforms have so far done little to improve conditions for ordinary Libyans hit by steep inflation and a cash crisis linked to the fall of the dinar on the black market.
For the militias, the sources said Salame would outline a new "security arrangement" for Tripoli aimed at depriving them of control of key sites and integrating their members into regular forces — something that has proved elusive in the past.
Salame is the sixth UN special envoy for Libya since 2011.
Talks to unify rival camps launched in September 2017, shortly after Salame took up his post, ground to a halt after one month with Haftar's role a key sticking point. Many in western Libya oppose him, fearing he could use the position to seize power.
Haftar's Libyan National Army says it is committed to the election process, in which Haftar himself is a possible candidate.
UN efforts to stabilize Libya have long been undercut by the divergent agendas of foreign powers.
The international community formally backs the transitional government in Tripoli, but Egypt and the UAE have lent Haftar support and European states including France courted the commander as his power grew.
France led the push for elections, believing it could benefit from helping fix the Libya conflict, before realizing the country was not ready for a vote, diplomats say.
"We have to accelerate the process, which is what Salame will say and push on with going to the ballot box," a French official said. "The calendar on elections will slip, but that's not a problem."
France has vied for influence with Italy, which has sought to protect its oil and gas interests and stem the flow of migrants crossing the Mediterranean by building ties in Tripoli, where it is the only Western country to fully reopen an embassy.
Italy is hosting a conference in Palermo next week, where Salame's roadmap will be discussed.
In recent weeks, Western powers and the UN have quietly stopped talking about the election in December, without formally declaring it dead.
"The idea is now that Salame will talk about a national conference and economic reforms so people hope the Dec. 10 date will quietly pass away," said one source familiar with UN plans.
Elections remain the goal, but progress on the ground toward better governance and security were needed in place of "extended additional thinking sessions," said a senior US administration official.
"I think pinning everything on a single date for an election has not proved a successful strategy," the official said.
Full report at:
http://www.arabnews.com/node/1401006/middle-east
--------
Nigerian Shi'ite leader denied bail after supporters killed during protest
07 Nov 2018
KADUNA, Nigeria : The leader of Nigeria's minority Shi'ite Muslims was denied bail on Wednesday, days after the group said more than 40 of its members were killed by security forces shooting at protesters calling for his release.
Ibrahim Zakzaky, leader of the Islamic Movement of Nigeria (IMN), has been held in detention since December 2015 when the army killed hundreds of his followers at his compound and a nearby mosque and burial ground in northern Kaduna state.
He is facing trial for murder, culpable homicide, unlawful assembly, disruption of public peace and other charges following the 2015 violence. He was charged in April.
The treatment of IMN and Zakzaky's detention for nearly three years have drawn criticism from human rights groups and raised fears that the group may become radicalised - just as the Sunni Muslim militant group Boko Haram turned into a violent insurgency in 2009 after police killed its leader.
On three separate days this month, security forces opened fire with live ammunition on IMN members in the capital, Abuja, when they marched in their hundreds to demand his release, leaving at least 45 protesters dead, the group said.
The army has said three protesters were killed.
At the Kaduna High Court, in a regular hearing as part of the case, Justice Gideon Kurada said no substantial medical evidence had been produced to grant Zakzaky bail.
The judge said he should remain in the custody throughout the period of his trial. The next hearing is set for Jan. 22 2019.
Around half of Nigeria's 190 million people are Muslims, nearly all of them Sunnis.
Zakzaky has attracted an estimated 3 million followers as a preacher of Shi'ite Islam since being drawn to that branch of the faith by the 1979 revolution in Iran.
Full report at:
https://www.channelnewsasia.com/news/world/nigerian-shi-ite-leader-denied-bail-after-supporters-killed-during-protest-10906446
--------
Ghana: Ambariya Muslim Group Gives to Floods Victims in Tamale
6 NOVEMBER 2018
By Yakubu Abdul-Majeed
Tamale — The Ambariya Muslim group in Tamale has donated large quantity of foodstuffs and assorted items to floods victims in the region.
The items worth GH¢3.5 million are 505 bags of maize, 45 bags of rice, 10 bags of cassava, 10 cartons of cooking oil and six cartons of tomato paste.
The rest are 83 bags of cement, 173 pieces of iron sheets, 645 used clothing and a number of new smocks as well footwear.
Sheikh Zakaria Saeed who presented the items to officials of the National Disaster Management Organisation (NADMO) in Tamale said, it was part of effort of the group to assist alleviate the suffering of the floods victims in the region.
He said that the Ambariya Muslim group was saddened about the devastation of the floods on the people, hence the donation
Sheikh Saeed said it was prudent and the duty on every Muslim to help put smiles to the faces of the victims because many of them had lost almost all their properties and it was only proper to assist them overcome their predicaments.
The Northern Regional Coordinator of NADMO, Abdalla Hindu, who received the items, commended the Ambariya Muslim group for the kind gesture, saying that the donation was the largest received from a non-government organisation or group, since the floods occurred in the region.
Mr Hindu assured that NADMO would ensure that the items got to right beneficiaries, and appealed to other philanthropists and other organisations to emulate the shining example of the Ambariya Muslim group.
Many of the victims were elated about the support of Ambariya, saying it had come at the right time since most of them were trying to reconstruct their homes.
Full report at:
https://allafrica.com/stories/201811070632.html
--------
One soldier killed, 16 missing in separate Boko Haram attacks on Nigerian forces
November 8, 2018
Two attacks on Nigerian soldiers attached to Multinational Joint Task Force between November 5 and 6 left at least one soldier killed and 16 others missing, military sources told PREMIUM TIMES on Wednesday.
At least five soldiers were also wounded during the attack on a military camp in Kukawa village on November 5 and an improvised explosive device that went off on a moving military truck in Mallam Fatori on November 6. Both communities are in the northern fringes of Borno State, near the border with Niger Republic.
In the November 5 attack, the Boko Haram insurgents tried to overrun a military checkpoint manned by 101 Special Forces and 157 Battalion with five gun trucks around 5:40 p.m.
They managed to dislodge the troops and burned two armoured personnel carriers that were already in disrepair, and made away with one anti-aircraft gun and one light machine gun, military sources said.
The sources said the Boko Haram terrorists then proceeded to an abandoned secondary school nearby, where the MNJTF soldiers had been using as their base, and burned its administrative office and kitchen down.
The attack left one soldier wounded while 16 others were missing in action as of Wednesday night, sources said.
The insurgents fled after air support arrived. The Nigerian Air Force personnel pursued the terrorists with an attack helicopter, forcing them to withdraw into their enclaves.
Military sources said the Air Force is currently conducting an assessment of the damage, and would forward final findings on potential casualties to command headquarters afterwards.
The attack in Mallam Fatori involved troops of 119 Task Force Battalion who were moving back to their battalion headquarters in the border community when their vehicle hit a landmine planted by Boko Haram elements, military sources said while briefing PREMIUM TIMES on the aftermath of the incident.
One soldier was killed and four others were wounded in action in the attack, which occurred between Bosso, Niger Republic and Mallam Fatori, headquarters of Abadam Local Government Area of Borno State. It was not immediately clear whether the wounded have been taken to the hospital in Nigeria or Niger.
The Defence Headquarters announced last week it had taken new delivery of military equipment, boasting of a tough time ahead for insurgents.
The military has said it recorded tremendous gains in its counter-insurgency operations over the past three years, especially after managing to confine the insurgents to the fringes of Nigerian territories.
Full report at:
https://www.premiumtimesng.com/news/headlines/294620-one-soldier-killed-16-missing-in-separate-boko-haram-attacks-on-nigerian-forces.html
--------
URL: https://www.newageislam.com/islamic-world-news/malaysia-gov-t-freeze-bank/d/116826
New Age Islam, Islam Online, Islamic Website, African Muslim News, Arab World News, South Asia News, Indian Muslim News, World Muslim News, Women in Islam, Islamic Feminism, Arab Women, Women In Arab, Islamophobia in America, Muslim Women in West, Islam Women and Feminism