• Makkah Grand Mosque Imam: Enormous Task to Spread Moderation in the Muslim World
• Yassmin Abdel-Magied, Muslim-Australian Activist, Denied Entry to U.S.
• European Law Should Include Islamophobia: Turkish FM
• Malaysian: Okay to Vote Non-Muslims, But PM, Defence Minister Must Stay Muslims, Says Mufti
• Delhi: Maulana Aftab Alam Claims Harassment on Bus Says Was Asked To Utter 'Jai Mata Di'
Arab World
• Makkah Grand Mosque Imam: Enormous Task to Spread Moderation In The Muslim World
• Syria: 500 Douma Patients Had Chemical Attack Symptoms, Reports Say
• Turkish Army Seizes Saudi-Backed Militants' Weapons in Northern Syria
• FSA Calls for US Forces' Back-up to Storm Syrian Army Positions in Deir Ezzur
• Thousands of Militants, Family Members Leave Syria's Douma
• WHO demands access to victims of alleged Syria chemical attack
• Egypt court sentences 36 to death for church attacks
• Russian Air Force, Navy Prepared to Respond to Possible US Strikes
• Saudi forces intercept new Houthi attack
--------
North America
• Yassmin Abdel-Magied, Muslim-Australian Activist, Denied Entry to U.S.
• Here's What Happens When Diplomats Get Involved in Religious Rhetoric
• Trump's Would-Be Secretary Of State Has an Islamophobia Problem
• 5 years after Boston bombing, anti-extremism efforts falter
• Trump praises Qatar's efforts on combating terrorist financing
• As Russia warns against US strike in Syria, Donald Trump says missiles 'will be coming'
• Renewed sanctions need not mean US exit from Iran deal: Mnuchin
--------
Europe
• European Law Should Include Islamophobia: Turkish FM
• Russia to US: Save Your Missiles for Terrorists
• Peace should prevail in response to crimes in Syria
• Islamophobia threatens Muslims, EU values, experts say
• Putin calls on Netanyahu not to take any 'destabilizing action' on Syria
• UK's May says Syria chemical weapons can't go unchallenged
• Strikes against Syria could begin as early as Thursday night: Report
--------
Southeast Asia
• Malaysian: Okay to Vote Non-Muslims, But PM, Defence Minister Must Stay Muslims, Says Mufti
• Lecturer Faces Hate Speech Charges For Calling Holy Books 'Fiction'
• Perlis mufti a key witness at 'disappearance' inquiry today
• Indonesia Set for Repeat Contest in 2019 Presidential Poll
--------
India
• Delhi: Maulana Aftab Alam Claims Harassment on Bus Says Was Asked To Utter 'Jai Mata Di'
• Rohingya Terror Suspect Reveals Al-Qaeda's India Plan
• This Indian Calligrapher Is On A Mission To Revive Arabic Calligraphy
• Abdul Azeez, a Man of Selfless Acts in Life-Threatening Situations
• India's Muslims Await Top Court Judgment on Plea to Ban Polygamy
• 'Rape-Murder in Kathua Meant To Drive Out Muslim Tribe'
• Allahabad HC Dismisses Zakir Naik's Petition Challenging Non-Bailable Warrant
• 1 soldier, 4 civilians killed in anti-terror operation in Kashmir
• Ahead of CHOGM meet in London, India, Pakistan walk tightrope on Russia
--------
Africa
• Libyans Divided Over Presidential Bid by Gadhafi's Son
• Police Raid Al-Shabaab Hideout, Seize Drugs and Crude Weapons
• Muhammadu Buhari Says Nigerians 'Appreciate' His Government
• Polisario Front: 30 'Sahrawis' and relatives died on Algeria plane crash
• Chad welcomes removal from US travel ban list
• Nigerian govt bungles prosecution of two Boko Haram suspects
--------
Pakistan
• Pakistan Regulator to Adopt 7 New Islamic Finance Standards
• Matter of Rights: People, Not Constitution Discriminates On Basis Of Faith
• Seven policemen dismissed over involvement in LeJ militants' jailbreak
• Fazl says giving voting rights to overseas Pakistanis a 'conspiracy'
• PHC Suspends Execution of Amjad Sabri's 'Killer'
• Siraj calls for expediting KP-FATA merger, wants tribal Jirgas
• MNAs deplore online drive against Hindu faith
• Sikh pilgrims laud Pakistan's efforts
• Rare uproar over Kunduz airstrike reaches Pakistan's Senate House
--------
South Asia
• B'desh: Ahmadiyya Community in Fear After Mosque Ambush
• Aid Groups Seek Greater Support for Rohingya Refugees Facing Trauma, Hunger
• Afghan district governor among seven killed in Taliban attack
• Myanmar court refuses to dismiss charges against journalists
• More than 250 killed in Algerian military plane crash
• Myanmar minister assures Rohingya in Bangladesh repatriation is a priority
• Eight militants killed in Afghanistan
• Kabul police rescue deminers abducted by Taliban group from Sarobi
--------
Mideast
• Iran Hurls 'Support for Terrorism' Charge Back At Rival Saudi Arabia
• Israel Targets Hamas Posts in Gaza
• Missiles, drones from Yemen 'intercepted' over Saudi Arabia
• Yemen's coastal city of Midi celebrates complete liberation from Houthi control
• Saudi jets attack Intl. airport, airbase in Yemen capital city
• Hamas fighter killed in Israel airstrike in Gaza strip
Compiled by New Age Islam News Bureau
URL: https://www.newageislam.com/islamic-world-news/makkah-grand-mosque-imam-enormous/d/114910
--------
Makkah Grand Mosque Imam: Enormous task to spread moderation in the Muslim world
11 April 2018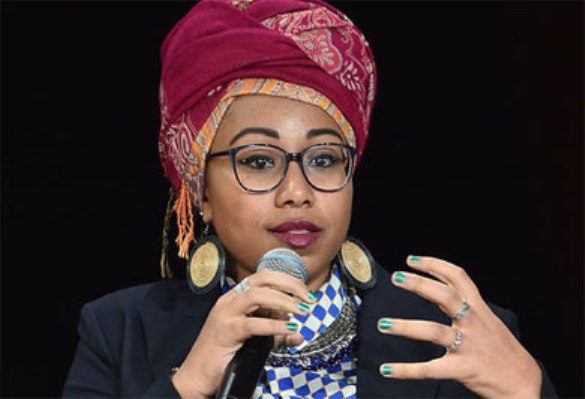 THEO WARGO VIA GETTY IMAGES
Author and activist Yassmin Abdel-Magied speaks on Sept. 19, 2017, in New York City. Her attempt to come to the U.S. for a speaking engagement next week was halted when she wasn't allowed past customs in Minneapolis.
Makkah: Spreading moderation in the Muslim world will be an enormous task that will present Islamic scholars with numerous challenges, Sheikh Dr. Saleh bin Mohammed A-Talib, Imam and Preacher of the Grand Holy Mosque in Makkah, has said.
He was addressing the 12th batch of guests of the Program of the Custodian of the Two Holy Mosques for Umrah and Hajj.
Al-Talib stressed that the program seeks to build bridges of communication among Islamic scholars around the world in order to discuss thorny issues and challenges facing Islamic nations, and to overcome obstacles to deploying the true Islamic religion.
"A big task rests on our shoulders that is to identify and defend the true status of Islam, which is a religion of peace and teaches us love, peace, brotherhood, equality, humanity, way of life, justice and tolerance," he added.
Al-Talib emphasized the importance of unifying Muslim ranks to counter the impending dangers so as to avoid disintegration and fragmentation, and instead to embody the concept of Islamic fraternity, which is based on love and honor.
"Our Islamic fraternity which gathers Muslims from the far west to the far east and makes us one secure nation, impels us to cooperate and sense the fraternal tie. We should never allow anyone to penetrate our rank to stoke division, suspicion or disintegration."
"Islam has been under fire since 1,439 years ago. However, its power increases with new people reverting to Islam each and every day," Al-Talib said. He noted that the largest Muslim country today in terms of population is Indonesia, which did not witness for 1,400 years any battle on its soil because people there reverted to Islam through trade and commercial dealings or by addressing the intellect.
He reassured the Islamic scholars that Islam cannot be weakened and shall prevail.
Dr. Abdul Hamid Al-Ameen, Head of the Mercy Relief Society in Norway, emphasized the significant role played by Saudi Arabia under the leadership of the Custodian of the Two Holy Mosques King Salman in caring for Muslims and serving Islam.
http://www.arabnews.com/node/1283136/saudi-arabia
--------
Yassmin Abdel-Magied, Muslim-Australian Activist, Denied Entry to U.S.
By ISABELLA KWAI
APRIL 11, 2018
SYDNEY, Australia — Australia's most prominent female Muslim activist, an outspoken critic of her country's immigration policies, was denied entry into the United States on Wednesday.
Yassmin Abdel-Magied, 27, an award-winning author and broadcaster, was scheduled to speak next week at the Pen World Voices Festival in New York. When she arrived in Minneapolis around 4 p.m., she said on Twitter, she was detained by border agents.
"I'm currently at the border and they've said I'm being deported," Ms. Abdel-Magied wrote on Twitter. "This should be fun. What are my rights?"
The agents, she said, told her they had canceled her visa and required her to return to London, where she currently lives.
According to the American authorities, Ms. Abdel-Magied was denied entry because she failed to disclose that she was being paid to speak at the conference, a violation of her visitor's visa.
** if they will let me in. I'm currently at the border and they've said I'm being deported. This should be fun. What are my rights ? https://t.co/fv12WoSSwf
— Yassmin Abdel-Magied (@yassmin_a) April 11, 2018
Ms. Abdel-Magied said that while waiting in a holding room before her return flight to Europe, she passed the time painting her nails and reading a book.
"My heart's been on double time for the last three hours," she said when reached via Twitter as she waited for her return flight. "The system isn't set up for people like me."
Ms. Abdel-Magied said she had visited the United States many times previously on the same visa without issue.
She has spoken in the United States previously, she said, at events for Chevron, and the Inter-American Development Bank. She was last in the United States in February, she said, on the same visa to speak at a conference for Twitter.
Ms. Abdel-Magied said she was traveling with a B1/B2 visa. That document allows foreign nationals to visit the United States to attend "scientific, educational, professional, or business convention or conference," according to the State Department. But it prohibits paid performances, or "any professional performance before a paying audience."
In a statement, the United States Customs and Border Protection agency said Ms. Abdel-Magied did not have an appropriate visa to enter the country for paid work.
"During the inspection, C.B.P. officers determined this individual did not possess the appropriate visa to receive monetary compensation for the speaking engagements she had planned during her visit to the United States," the agency said.
"The traveler is eligible to reapply for a visa for future visits," the statement read.
Ms. Abdel-Magied is the daughter of Sudanese immigrants to Australia. She has been an outspoken critic of Australia's refugee and immigration policy, and writes regularly about her experiences as both a Muslim and a feminist.
In 2017, Ms. Abdel-Magied moved to London, after a backlash over a Facebook post she wrote critiquing Australia's refugee detention policy on Anzac day, a national day of remembrance of the country's war dead. Conservative commentators heavily criticized the post as insensitive. She has called herself "Australia's most publicly hated Muslim."
Ms. Abdel-Magied had planned to speak on two panels at the Pen World Voices Festival: one on her experiences as a Muslim woman in a Western country and another on online harassment.
In a statement, the festival's organizers called for her to be admitted to the United States.
"We call on Customs and Border Protection to admit her to the U.S.," the statement read, "so that she can take her rightful place in the urgent international conversation to take place at the festival next week."
https://www.nytimes.com/2018/04/11/world/australia/yassmin-abdel-magied-muslim-activist-us.html?mtrref=www.google.co.in&gwh=24FC2761C6C1B3812146013FCDDD3591&gwt=pay
--------
European law should include Islamophobia: Turkish FM
11.04.2018
ANKARA
The Turkish foreign minister on Wednesday urged European countries to include Islamophobia as a crime in their constitution, without waiting for a Holocaust-like situation to unfold.
"We should ensure that Islamophobia is included in [European] constitution as a crime clearly," Mevlut Cavusoglu said during an event at capital Ankara marked to unveil the latest European Islamophobia Report (EIR).
"There is no need to relive Auschwitz or wait for Muslims to be burned in gas chambers like Jewish people," he said, referring to the Nazi concentration camp in Poland and the Holocaust.
Cavusoglu said that hate speech, which is a crime in Europe, is still used by politicians.
He recalled that populist politicians in Europe, especially in Germany, used anti-Turkey discourse and Islamophobia to win elections.
The EU's largest economy has witnessed growing Islamophobia and hatred of migrants in recent years, triggered by propaganda from far-right and populist parties who exploit fears over the refugee crisis and terrorism.
The far-right AfD became the third-largest party in Germany's federal parliament after winning 12.6 percent of the vote in federal elections last year.
Not restricted to politicians
Cavusoglu said that Islamophobia is not restricted to politicians but also extends to civilians and the media.
"There is another problem: the press in Europe. Today, we are unfortunately seeing that the European press is also joining or sinking into the populist flow," he said.
"When we observe the language used by the media, hostility towards migrants and foreigners, and Islamophobia is obvious."
He criticized European politicians for their lack of action against rising incidents of Islamophobic assaults.
"Europe does not regard Islamophobia as a hate crime and it is not seen as another form of racism, especially by the politicians," he said.
The Islamic houses of worship across Europe have endured dozens of attacks over the past three months as attackers attempted to arson them with Molotov cocktails or spray-painted terror symbols or racist slurs on the walls. Luckily, the attacks caused no casualties.
Germany takes the lead in hate crimes against mosques, as over 30 of them, were targeted in such attacks in the first three months of this year -- double the figure in the same period last year.
Rising wave of Islamophobia
Ten out of 31 attacks were perpetrated by far-right groups while remaining 21 assaults were conducted by PKK/PYD supporters as the group threatened to carry out violent acts against a Turkish counterterrorism operation in Afrin, northwestern Syria.
Cavusoglu said that non-existing terminologies such as "Islamism" are also repeated by European politicians and the media which lead to false perceptions of Islam.
"There is only one Islam and its meaning is peace," he said.
According to the European Islamophobia Report 2017, a rising wave of Islamophobia has taken hold in Europe.
The report revealed 908 crimes, ranging from verbal and physical attacks to murder attempts, targeting Muslims in Germany, as well as 664 in Poland, 364 in the Netherlands, 256 in Austria, 121 in France, 56 in Denmark, and 36 in Belgium.
The report was prepared by the Ankara-based Foundation for Political, Economic and Social Research (SETA).
https://aa.com.tr/en/politics/european-law-should-include-islamophobia-turkish-fm/1114866
--------
Malaysian: Okay to Vote Non-Muslims, But PM, Defence Minister Must Stay Muslims, Says Mufti
12 APRIL, 2018
KUALA LUMPUR — Muslims in Federal Territories (FT) were told on Wednesday (April 11) that voting for non-believers in the upcoming general election is permissible by the religion.
However, FT mufti Zulkifli Mohamad said "top posts" such as the prime minister and defence minister must continue to be held by Muslims.
"The initial rule for voting for non-Muslims in the election and appointing them as leaders is 'harus'," he wrote in an explainer article published on his office's website, using the local Muslim term that means "permissible".
Mr Zulkifli said the only factors that should curb adherents from voting non-Muslims are when such a move would threaten the sanctity of Islam, and if the leaders are untrustworthy or incompetent.
"All these factors should be taken into account in making the decision before voting and choosing, except when ensuring that the country's top posts such as prime minister, Islamic affairs portfolio, and national defence remain to be held by qualified Muslims only," he added.
In the writing, Mr Zulkifli admitted that there were Islamic scriptures saying it is forbidden for Muslims to vote non-Muslims, but clarified that they were only directed at those who hold enmity towards the religion.
"For non-Muslims who are not hostile towards Islam and obey the Federal Constitution that specifies Islam as the religion of the federation, the prohibition does not apply," he wrote.
Last year, Mr Abdul Hadi Awang from the Islamist party Parti Islam Se-Malaysia (PAS) had caused furore for suggesting that his proposed Cabinet would bar non-Muslims from key leadership positions that involve policy-making.
PAS deputy president Tuan Ibrahim Tuan Man had later asserted that Mr Hadi had not said he wanted an "all-Malay Cabinet" and reportedly claimed that the latter's remarks had been twisted by others.
Following Mr Hadi's article, leaders from the federal Opposition pact Pakatan Harapan had criticised the idea of pushing for an all-Malay Cabinet as being irrational and discriminatory, while DAP secretary-general Lim Guan Eng had also described such a proposal as being racist, extremist and unconstitutional.
Mr Hadi had on several occasions last year said that Muslims should control Malaysian politics because its adherents make up the majority of the country's population, and Malay-Muslims should rule since they are the dominant group.
Malaysians will vote in the 14th general election on May 9. THE MALAY MAIL ONLINE
http://www.todayonline.com/world/malaysian-ge-okay-vote-non-muslims-pm-defence-minister-must-stay-muslims-says-malaysian-mufti
--------
Delhi: Maulana Aftab Alam Claims Harassment on Bus Says Was Asked To Utter 'Jai Mata Di'
April 11, 2018
A 29-year-old Muslim man has claimed that he was harassed on a bus in New Delhi by two men who asked him to utter a religious slogan and roughed him up. In his complaint to the police, Maulana Aftab Alam, who teaches at a mosque in New Delhi, said he was also asked about his nationality by the two men.
A case has been registered on the complaint of the victim and efforts are on to nab the accused persons, a senior police officer said. Alam, who is a resident of JJ Colony in Bawana, said in his complaint that he was heading home from Shahbad Dairy, outer Delhi, when the incident took place on the night of April 8. "The two men of Prahladpur village, aged around 35-40, asked me whether I was an Indian. When I said yes I am an Indian, they asked me to say 'jai mata di', which I did, but they started roughing me up," Alam said in the complaint.
Later, the two men got down at the Prahaladpur bus stand. Alam did not know the duo, the police officer said. After the incident, Alam called the police. He got his statement registered and was also medically examined, but no injuries were found on his body.
http://indianexpress.com/article/cities/delhi/delhi-muslim-man-claims-harassment-on-bus-says-was-asked-to-utter-jai-mata-di-5133523/
--------
Arab World
Syria: 500 Douma patients had chemical attack symptoms, reports say
11 Apr 2018
An estimated 500 people went to Syrian health facilities with "signs and symptoms consistent with exposure to toxic chemicals" after the attack on the rebel-held town of Douma at the weekend, according to reports passed to the World Health Organization.
"WHO demands immediate unhindered access to the area to provide care to those affected, to assess the health impacts and to deliver a comprehensive public health response," said Peter Salama, the agency's deputy director general for emergency preparedness and response.
UN aid agencies do not have access to most of the enclave of eastern Ghouta, including Douma where the alleged attack occurred. The Syrian government has denied responsibility for the attack.
The report from the WHO's partners in Syria adds to mounting evidence of the use of toxic gas in the attack, which killed at least 42 people and has raised the prospect of American airstrikes against forces loyal to the regime of Bashar al-Assad.
Medics on the ground in Douma – the last besieged town that was under opposition control in the enclave of eastern Ghouta, near Damascus – reported that hundreds of patients arrived on Saturday night with symptoms of exposure to toxic chemicals.
They said the symptoms, which included frothing at the mouth, suffocation, dilated and constricted pupils, corneal burns, central cyanosis – a blue tinge to the skin – and a chlorine-like odour, were consistent with exposure to an organophosphorus compound. Sarin gas is such a chemical.
The attack appears to have prompted a surrender deal the following day by local rebels. Jaish al-Islam, the dominant opposition group in Douma, agreed to leave the town along with thousands of civilians for northern Syria, after weeks of saying they had no intention of agreeing to a deal that would lead to their forcible exile.
Since then, thousands of the estimated 100,000 people still living in Douma have left on buses heading north. More were expected to leave on Wednesday.
Douma was the last holdout in eastern Ghouta after other rebel groups agreed to leave other parts of the region, which has been under siege for years and was subjected to multiple chemical attacks in the past.
The worst incident was in 2013 when more than 1,000 people died after the Syrian government launched attacks using nerve agents, which nearly prompted a US intervention in the war.
The possibility of western intervention against Assad was heightened on Tuesday after Russia and its western opponents, the US, UK and France, respectively vetoed duelling resolutions at the UN security council over the latest atrocity.
The UN high commissioner for human rights said the world must react to the use of chemical weapons or risk dire consequences. "After decades when we thought we had successfully outlawed the use of chemical and biological weapons, the world is sitting idly by while their use is becoming normalised in Syria," said Zeid Ra'ad al-Hussein. "This collective shrug to yet another possible use of one of the most ghastly weapons ever devised by man is incredibly dangerous."
This article was amended on 11 April 2018 to clarify in the text and page furniture that the WHO's statements were based on reports from its partner agencies and not its own verified evidence
https://www.theguardian.com/world/2018/apr/11/syria-douma-patients-chemical-attack-symptoms-who
--------
Turkish Army Seizes Saudi-Backed Militants' Weapons in Northern Syria
Apr 11, 2018
The Turkish army ordered its allied militants to seize the personal weapons of the Saudi-backed Jeish al-Islam terrorists that have recently left Douma and arrived in regions that are under the control of the Euphrates Shield forces in Northern Syria.
Several convoys of Jeish al-Islam militants arrived in Northern Syria within the framework of an evacuation agreement with the Syrian Army.
A wave of anger and disappointment has been reported among Jeish al-Islam militants after the Ankara-backed forces seized their weapons.
Saudi Arabia and Turkey are two rivals in providing back up for terrorist groups in Syria.
http://en.farsnews.com/newstext.aspx?nn=13970122001240
--------
FSA Calls for US Forces' Back-up to Storm Syrian Army Positions in Deir Ezzur
Apr 11, 2018
The websites reported that the terrorists of Maqavir al-Thowrah, affiliated to the Free Syrian Army, have demanded the US army to support them to take part in battle against the Syrian pro-government forces in the Eastern province of Deir Ezzur.
The US and its western allies have threatened to launch military operation against Damascus following a false-flag chemical attack in Douma by terrorist groups to accuse the Syrian government of killing its civilians.
Local sources reported on Tuesday that the ISIL terrorists launched a heavy offensive against the Syrian Army troops' positions in Southwestern Deir Ezzur on Monday following a missile attack on the T4 airbase in Northern Homs.
The sources said that the ISIL stormed the pro-government forces' positions and tried hard to advance towards Saba'a Bayar region and T2 Oil pumping Station in a desert region between Western Deir Ezzur and Eastern Homs.
They added that the ISIL attack came after a number of missile fired at the army's T4 airbase in Northern Homs a few hours ago.
Full report at:
http://en.farsnews.com/newstext.aspx?nn=13970122001157
--------
Thousands of Militants, Family Members Leave Syria's Douma
Apr 11, 2018
The sources said that a sum of 3,916 militants and their family members left Douma for Northern Aleppo on 96 buses via al-Wafedeen safe corridor today.
Also, the Russian Defense Ministry reported that 11,983 militants and their family members have thus far been evacuated from Douma.
A sum of 165,123 people has been evacuated from Eastern Ghouta via safe corridors with the assistance of the Russian Reconciliation Center for Syria.
http://en.farsnews.com/newstext.aspx?nn=13970122001097
--------
WHO demands access to victims of alleged Syria chemical attack
11 April 2018
The World Health Organization on Wednesday demanded "immediate" access to the victims of an alleged chemical attack in Syria, voicing indignation at the strike that caused symptoms consistent with exposure to toxic substances.
"We should all be outraged at these horrific reports and images from Douma" where Saturday's attack took place, said Peter Salama, the UN agency's chief of emergency response.
"WHO demands immediate unhindered access to the area to provide care to those affected, to assess the health impacts, and to deliver a comprehensive public health response," he added.
Citing information previously released by local health organizations, WHO said that "an estimated 500 patients presented to health facilities exhibiting signs and symptoms consistent with exposure to toxic chemicals".
"There were signs of severe irritation of mucous membranes, respiratory failure and disruption to central nervous systems of those exposed," the statement added.
The United States, Britain and France have argued the incident bears all the hallmarks of a strike ordered by the regime of Syrian President Bashar al-Assad.
Assad has been blamed for previous attacks by the Organization for the Prohibition of Chemical Weapons (OPCW) and UN-backed war crimes investigators.
WHO has delivered medicine capable of treating certain types of chemical agents to clinics through a series of humanitarian convoys deployed across the country in recent years.
Full report at:
https://english.alarabiya.net/en/News/middle-east/2018/04/11/WHO-demands-access-to-victims-of-alleged-Syria-chemical-attack.html
--------
Egypt court sentences 36 to death for church attacks
2018-04-11
A Cairo military court on Tuesday sentenced 36 people to death over their involvement in attacks against Coptic churches in Egypt, defence lawyers said.
According to the lawyers, 48 people have been put on trial in connection with attacks on Coptic churches in the cities of Cairo, Tanta and Alexandria between 2016 and 2017.
The attacks, claimed by the Islamic State jihadist group, killed at least 80 people.
Copts, a Christian minority that makes up 10% of Egypt's 96 million people, have been particularly targeted by ISIS.
The court's verdict now has to be considered by Egypt's Grand Mufti, as is required by law.
Full report at:
https://www.news24.com/Africa/News/egypt-court-sentences-36-to-death-for-church-attacks-20180411
--------
Russian Air Force, Navy Prepared to Respond to Possible US Strikes
Apr 11, 2018
The Arabic service of RT news channel quoted a Russian military diplomatic source as warning that any increased military build-up in the Mediterranean will intensify tensions, adding that Moscow is pursuing and assessing the developments.
He stressed that the Russian A-50 reconnaissance planes have been monitoring the guided-missile destroyer the USS Donald Cook's voyage in the past few days, saying, "The Russian warships are able to give a rapid response if necessary."
The source noted that the Russian navy also has deployed submarines in the Mediterranean equipped with torpedoes and missiles to destroy marine and ground targets.
Meantime, Russia's Humeimim airbase in Syria's Lattakia province is equipped with anti-ship cruise missiles of Kh-35 type.
The US newspaper, Wall Street Journal, reported earlier that the US already has one guided-missile destroyer, the USS Donald Cook, in the eastern Mediterranean, where it could take part in any strike on Syria, according to US defense officials. A second, the USS Porter could get there in a few days.
Russia has maintained that there has been no evidence of any chemical attack in Douma and sees Washington's threats to "punish" Syria with military force as a pretext for intervention.
On March 13, Russia's military chief of staff, General Valery Gerasimov, said that Moscow had intelligence about militants in Eastern Ghouta preparing a false-flag chemical attack in the area.
Full report at:
http://en.farsnews.com/newstext.aspx?nn=13970122001426
--------
Saudi forces intercept new Houthi attack
12 April 2018
JEDDAH: Saudi air defense forces intercepted a Houthi militant attack on Wednesday with ballistic missiles and drones targeting the capital, Riyadh, the cities of Jazan and Najran, and Abha airport.
The missiles were aimed at Riyadh and the two southern cities. One armed drone targeted Abha airport and a second drone was heading toward a civilian neighborhood in Jazan.
There was a loud explosion and smoke in the sky over Riyadh as Saudi air defenses successfully intercepted and destroyed the missile.
There were no reports of casualties or damage to property. Iranian-backed Houthi militants have launched dozens of missiles in the past year, aimed at Riyadh and southern Saudi cities.
All have been successfully intercepted and shot down by Saudi air defense forces. However, last month a missile fragment killed an Egyptian expatriate in Riyadh, the first fatality caused by the missile attacks.
The Saudi-led coalition fighting to restore the legitimate government of President Abed Rabbo Mansour Hadi in Yemen has produced evidence that the missiles targeting Saudi Arabia are made in Iran, and the attacks have drawn global condemnation, most recently by the French President Emmanuel Macron this week during Crown Prince Mohammed bin Salman's visit to Paris.
A coalition spokesman said on Wednesday that the drones used in the most recent attacks were of a type and specification used by the Iranians.
The Saudi-led coalition warned Houthi militants and those who support them that terrorist attacks targeting civilian areas of the Kingdom would not be tolerated, and the coalition would respond in a decisive way.
Full report at:
http://www.arabnews.com/node/1283046/saudi-arabia
--------
North America
Here's What Happens When Diplomats Get Involved in Religious Rhetoric
Apr 12, 2018
As Mike Pompeo and John Bolton assume two of the most important positions in the Trump administration, media reports direct attention to their association with anti-Muslim organizations and statements that frame political questions in in explicitly religious terms. Such views have been widely criticized by policy makers who worry that this kind of "us versus them" framing contributes to radicalization. Instead, critics argue, U.S. diplomats should work to clearly disassociate extremists from the vast majority of peaceful Muslims.
This criticism may seem intuitive and appropriate, but in new research, we show how classifying who constitute "real" Muslims – even when it is used to assert progressive values – can be unpredictable and contingent on the authority of the speaker and perceptions of the audience.
Understanding the high stakes of calling someone a nonbeliever
In 2017, Angela Merkel called actions by terrorist groups from Muslim-majority countries "falsely understood Islam." The year prior, Secretary of State John F. Kerry made a habit of referring to ISIS forces as apostates. While distinguishing a radical few from a peaceful majority seems like it would bolster relationships with Muslim-majority countries and reduce religious tensions at home, statements like these often leave politicians in a minefield as they appear to define the boundaries of legitimate belief for Muslims.
Such statements constitute a kind of discourse that is hard to neatly distinguish from the practice it rejects. Accusations of apostasy, called takfir in Arabic, have often preceded violence throughout the Middle East. Some interpreters of Islamic law and their followers have argued that the punishment for apostasy is death. While this interpretation has long been contested, it has led to extrajudicial or vigilante acts of violence in a number of legal contexts. Most actors in the region therefore share the common knowledge that the stakes of takfir are high, and many who have been accused understand the practice to be an explicit threat.
As our research shows, charges of apostasy are a powerful tool for delineating group membership and assigning rights. These accusations become particularly potent — if unpredictable — during moments of institutional change, when uncertainty is high and rivals are jockeying for position in a new constitutional order. Recently, these charges have assumed sectarian overtones, with Sunni groups questioning the legitimacy of Shiite Muslims and Iranian press using the term "takfiri" (apostate or unbeliever) to attack Sunni groups in the region.
In Tunisia, takfir was blamed for the murder of two secular politicians during the democratic transition in 2013. The following year, a member of parliament was placed under personal security after a colleague reportedly called him an "enemy of Islam." In response, Tunisia adopted an "anti-takfir" article into its constitution to curb such explicit accusations of apostasy and their implicit calls for violent retribution.
Yemen's 2013 National Dialogue Conference was similarly marred by assassinations and acts of violence associated with a heated discourse of takfir. It contributed significantly to the amplification of sectarian tension as a prelude to the war that broke out in 2015. Though its exact effects differed, the use of takfir was consequential in each case.
When policymakers join the accusations
Accusing fellow Muslims of apostasy has been one of the main tools of the Islamic State and other militant organizations. Ironically, in his denunciation of ISIS as apostate, Kerry joined the group in declaring who is and who is not a Muslim, drawing derision and mockery from Muslims. By engaging in a war of accusations, the United States entered a centuries-old debate about who counts as a real Muslim, with potentially violent reprisals for those who don't. What Kerry may not have reckoned with — but his Muslim audience certainly did — is that the weight of the accusation is deeply dependent on characteristics of the speaker and broader political dynamics.
Many leaders in the region, including King Abdullah of Jordan, have worked to reduce accusations of apostasy in public discourse and the violence that often follows. Egypt's Al-Azhar University, a center of Islamic learning for more than 1,000 years, refused to declare ISIS and other violent actors apostates, arguing that doing so reinforced the cycle of mutual "excommunication." By contrast, others, including King Mohammed VI of Morocco have actively called terrorists such as ISIS "non-Muslim."
State-led efforts to articulate an explicitly "moderate Islam," can spur precisely the kind of extremist competition it seeks to avoid. When Saudi Arabia asserts itself as the main source of religious leadership, research shows how this may actually prompt extreme groups to compete with it. If this is true of states that legitimize themselves in relation to Islam, consider the ramifications when it is the United States or Germany endorsing a particular religious interpretation.
Religious rhetoric and U.S. policy
The United States has been grappling with ideas of apostasy for more than a decade, with inconsistent strategies even in the same government agencies. In 2008, the Department of Homeland Security's Office of Civil Rights and Civil Liberties suggested that U.S. officials use the word takfir alongside phrases like "death cult" to distinguish terrorists from ordinary Muslims. By the end of the Obama administration, the government backpedaled on the strategy, with Homeland Security advising that religious terms be eschewed, again specifically mentioning takfir.
Constant and cyclical accusations and counter-accusations of who is or is not a "real" believer rarely meet their intended goal, especially for those far removed from religious communities themselves. The United States and its allies have primarily focused on how this rhetoric can bolster their legitimacy and win new allies. But evidence from the region suggests that even when mobilized by those deeply versed in Islam, the strategy can backfire. The line between criticizing takfir and engaging in takfir is difficult to spot until one has crossed it.
https://www.washingtonpost.com/news/monkey-cage/wp/2018/04/11/heres-what-happens-when-diplomats-get-involved-in-religious-rhetoric/?utm_term=.0a04dbf5df76
--------
Trump's would-be secretary of state has an Islamophobia problem
By Ishaan Tharoor
Apr 12, 2018
Mike Pompeo, the CIA director who was tapped by President Trump to lead the State Department, faces a confirmation hearing before the Senate Foreign Relations Committee on Thursday. For the White House, it couldn't come sooner.
It's not an ideal moment for the post of the United States' top diplomat to be vacant: The Trump administration is weighing further military action in Syria, squaring off with Russia and Iran on several fronts, gearing up for a potential trade war with China and considering direct talks with North Korea.
But Pompeo has had to prepare himself for a tough fight. Although Republicans hold a narrow 11-to-10 majority in the committee, he'll probably need a degree of bipartisan support to win the committee's approval. Libertarian Sen. Rand Paul (R-Ky.) has indicated his probable opposition to Pompeo over his support of the Iraq War, and tolerance of waterboarding and other forms of torture.
Democrats aren't going to be in a forgiving mood, either. They are expected to grill Pompeo on contentious issues Thursday. Those include his defense of practices tantamount to torture; his climate-change denial; his opposition to equal rights for LGBT Americans and State Department programs aimed at promoting gender equality abroad; and his eagerness to scrap the nuclear deal brokered with Iran.
My colleague Josh Rogin wrote that Democrats may seek to press Pompeo on two key fronts: "his commitment to make the State Department and diplomacy relevant again, and his willingness to speak truth to Trump."
Even if the committee fails to approve Pompeo's nomination, he could still get the job thanks to the geopolitical urgency of the moment. As Rogin reported, his confirmation could, no matter the committee's decision, be brought to the full Senate for a floor vote, where he stands a better chance of winning.
The prospect of Pompeo's ascension to the top rungs of the U.S. foreign-policy apparatus set off alarm bells across Washington. Critics worry that between Pompeo and new national security adviser John Bolton, Trump is assembling a "war cabinet" that will stoke his most volatile and hawkish instincts.
"A lot of us are worried about the combination of Pompeo and Bolton putting a set of military options on the table for the president," Sen. Chris Murphy (D-Conn.), a member of the Foreign Relations Committee, said to reporters Tuesday. "It could do real damage to our national security."
In addition to Pompeo's potential hawkishness, critics are worried about Pompeo's troubling track record on religion and intimate association with the Islamophobic fringe in America. Of course, in the era of Trump's divisive populism, anti-Muslim voices are closer to the mainstream than probably ever. But Pompeo was an early adopter.
The former tea party congressman from Kansas built up his profile as a right-wing hard-liner. In 2013, after the Boston Marathon bombing, Pompeo took to the House floor and complained that Muslims were allegedly not denouncing terrorism. Numerous American Muslim organizations and leaders had in fact issued statements condemning the bombing, conducted vigils and worked to support victims of the attack. But Pompeo was undeterred.
"Silence has made these Islamic leaders across America potentially complicit in these acts," Pompeo said at the time, a statement that implicitly cast suspicion on a good chunk of America's Muslim population.
In 2014 and 2015, Pompeo spearheaded legislation to designate the Muslim Brotherhood a foreign terrorist organization. That might not seem so outlandish a proposition in 2018: The Islamist party is outlawed in countries such as Egypt and reviled by the monarchies of the Arab Gulf.
But the campaign for this designation in the United States has no support from a wide spectrum of mainstream counterterrorism analysts. It is deeply connected to the efforts of a fringe set of hate groups that see American Muslims as a fifth column bent on subverting the state. One of those organizations, ACT for America, awarded Pompeo its highest honor, the National Security Eagle Award, in 2016. The Anti-Defamation League describes ACT for America as the "largest anti-Muslim group" in the country, one that "stokes irrational fear of Muslims" and "propagates" a "hateful conspiracy theory" of Muslims secretly working to impose sharia law on Americans.
Pompeo also frequently appeared on radio shows with Frank Gaffney, another leading Islamophobe who spuriously accused various Democrats of clandestine ties to the Muslim Brotherhood. During one 2015 episode featuring Pompeo, Gaffney went on a rant about President Barack Obama, suggesting he had an "affinity" for Islamist militants.
Pompeo agreed. "Frank, every place you stare at the president's policies and statements, you see what you just described," he said.
Pompeo will probably have to disavow this track record of extremist and, frankly, unhinged rhetoric. This week, the CIA, on behalf of its director, told the New York Times that Pompeo "has worked extensively and successfully to expand CIA's partnerships with countries throughout the Muslim world."
Pompeo has embarked on a diligent listening tour, gauging the concerns of his colleagues and even reaching out to moderate Democrats such as Hillary Clinton, whom he once deemed "morally reprehensible."
But critics say that Pompeo's rise to the top is part of a dangerous phenomenon: the normalization of anti-Muslim sentiment in the Republican Party. An investigation published this week by BuzzFeed News found dozens of examples of state and local Republican politicians in virtually every U.S. state attacking Islam.
Full report at:
https://www.washingtonpost.com/news/worldviews/wp/2018/04/12/trumps-would-be-secretary-of-state-has-an-islamophobia-problem/?utm_term=.c86af9f8d946
--------
5 years after Boston bombing, anti-extremism efforts falter
By Philip Marcelo 
Apr 12, 2018
BOSTON — Five years after two brothers who had been living in America for about a decade bombed the Boston Marathon, federally funded community programs to prevent attacks by homegrown extremists are barely underway and face an uncertain future.
These projects, which grew out of a strategy developed during the Obama administration, are aimed at steering young people away from extremism.
But they have been hobbled almost from the start by suspicion and mistrust among Muslims, who complain they are being singled out. And it's unclear whether the strategy will continue to be funded under the Trump administration.
In Massachusetts, the Somali Community and Cultural Association abruptly withdrew from a nearly $500,000 program with Boston police and two other organizations just as the work was beginning in earnest late last year. Another Somali group has since stepped in to take its place.
Deeqo Jibril, founder of the Somali Community and Cultural Association, said she has concerns about concentrating terrorism prevention efforts on the Somali community.
"Extremism, radicalization and violence exists across cultures, religions and ethnicities," Jibril wrote in an October email in withdrawing from the program. "Focusing efforts specifically on one subgroup will ultimately create deeper divisions in our fractured society, doing more harm than good."
Chad Wood, a spokesman for the Department of Homeland Security, which is funding the efforts, stressed the agency's approach to preventing terrorism isn't based on race or religion and instead focuses on communities targeted by terrorists for recruitment. Created in 2011, the Countering Violent Extremism strategy was seen as a way to short-circuit extremism before it exploded in violence.
The Obama administration called on Facebook, Twitter and YouTube to do more to remove extremist propaganda. It encouraged local and federal law enforcement agencies to provide training to school and public health officials about terrorist recruitment and other online threats.
And it provided grants to universities, nonprofit organizations and other local institutions to develop after-school programs and sports and community service projects geared toward young people who might otherwise be drawn to violence.
Last June, 26 programs were awarded $10 million in grants, the largest pot of money doled out to local communities yet under the program.
Some Muslim leaders are troubled by the strategy.
A number of Muslim organizations turned down the money soon after President Donald Trump took office, including Leaders Advancing and Helping Communities, of Dearborn, Michigan ($500,000), and Ka Joog, a Somali organization in Minneapolis ($500,000).
In Los Angeles, civil rights groups such as Asian Americans Advancing Justice and the Council on American-Islamic Relations have been demanding more details on how the city intends to use its $425,000 grant.
Logan Ebel, a program manager at the nonprofit Nashville International Center for Empowerment in Tennessee, which works with refugees and immigrants and received a $445,110 grant, said: "There are still people in the community who think we're up to something and that our intentions are not just."
The Trump administration, meanwhile, has not proposed authorizing any further grants as it continues to review the program and intends to submit its own terrorism prevention strategy to Congress this year, Wood said.
Despite local opposition, Boston's Youth and Police Initiative Plus program is set to begin this month with the first of six week-long "dialogues" between police and Somali youth over the next two years.
Like programs in Minneapolis and other cities, the Boston effort is motivated by concern over young Somali men traveling overseas to fight for al-Qaida and the Islamic State group.
Boston hasn't had to deal with that phenomenon yet, and extremism and terrorist recruitment won't be directly addressed unless youths bring it up, said police Capt. Haseeb Hosein, a Muslim district commander who has been promoting the program.
"One of my goals is that the officers will understand the Somali community," he said. "We're going to focus on their day-to-day life and the issues that every youth is dealing with — school, bullying, culture, language."
The 2013 marathon attack, which killed three people and wounded more than 260, was carried out by two Muslim brothers of Chechen descent who emigrated from the former Soviet Union.
Federal money under the Countering Violent Extremism program is also helping Massachusetts inmates safely re-enter society. With the help of its $500,000 grant, a maximum-security prison has hired counselors to work with inmates on their behavior and coping skills in the months before and after they get out.
Arno Michaelis, a former skinhead leader in the Milwaukee area, said that if such efforts had been around in the 1980s and '90s, he might have left the white supremacist movement much sooner.
Full report at:
https://www.washingtonpost.com/national/5-years-after-boston-bombing-anti-extremism-efforts-falter/2018/04/12/a66e04d8-3e09-11e8-955b-7d2e19b79966_story.html
--------
Trump praises Qatar's efforts on combating terrorist financing
11 April 2018
Donald Trump has welcomed Qatar's leader to the White House, barely a year after denouncing the gas-rich Gulf state as a "funder of terror".
The US president initially sided with Saudi Arabia and other Arab nations when they cut ties with their neighbour over its alleged support for jihadists.
But on Tuesday he praised Sheikh Tamim Al Thani for becoming a "big advocate" of combating terrorist financing.
He also said the emir was a "great gentleman" and a "friend of mine".
Sheikh Tamim said the Qatari authorities did not and would not tolerate "people who fund terrorism" and that Mr Trump had been "very helpful" in supporting Qatar during the partial blockade that is still in place.
The dispute began last June, when Saudi Arabia, the United Arab Emirates, Egypt and Bahrain severed all diplomatic and trade links with Qatar.
Yemen, the Maldives and Libya's eastern-based government later followed suit.
Qatar's only land border was closed; ships flying the Qatari flag or those serving Qatar were banned from docking at many ports; and much of the region's airspace was closed to Qatari aircraft.
The Saudi-led bloc accused Qatar of supporting terrorist groups across the region and of being too close to Iran, with whom it shares a huge offshore gas field.
Qatar acknowledged providing assistance to Islamist groups designated as terrorist organisations by some of its neighbours, notably the Muslim Brotherhood. But it denied aiding jihadist groups linked to al-Qaeda or Islamic State (IS).
In return for ending the partial blockade, Qatar's neighbours demanded that it shut down the Al Jazeera news network, close a Turkish military base, cut ties with the Muslim Brotherhood, and downgrade relations with Iran.
Qatar rejected the demands, saying it would not agree to any measures that threatened its sovereignty. It quickly established new trade routes to ensure the basic needs of its population of 2.7 million were met and spent tens of billions of dollars to prop up its economy.
Despite Qatar hosting the largest US military facility in the Middle East, President Trump was quick to claim credit for the partial blockade.
But aides subsequently persuaded him to take a more neutral stance. Qatar also mounted an expensive lobbying campaign in Washington.
In a remarkable turnaround on Tuesday, Mr Trump hosted Sheikh Tamim at the Oval Office and praised Qatar's efforts to address US concerns.
"We're making sure that terrorism funding is stopped in the countries that we are really related to," he said.
"But those countries are stopping the funding of terrorism, and that includes UAE and it includes Saudi Arabia, it includes Qatar and others. A lot of countries were funding terrorism and we're stopping it."
Mr Trump turned to the emir and added: "You've now become a very big advocate, and we appreciate that."
Full report at:
http://www.bbc.com/news/world-middle-east-43724576
--------
As Russia warns against US strike in Syria, Donald Trump says missiles 'will be coming'
Apr 11, 2018
WASHINGTON/BEIRUT: US President Donald Trump warned Russia on Wednesday of imminent military action in Syria over a suspected poison gas attack, declaring that missiles "will be coming" and lambasting Moscow for standing by Syrian President Bashar Assad.
Trump was reacting to a warning from Assad's main ally Russia on Tuesday that any US missiles fired at Syria over the deadly assault on a rebel enclave would be shot down and the launch sites targeted.
"Russia vows to shoot down any and all missiles fired at Syria. Get ready Russia, because they will be coming, nice and new and 'smart!'," Trump wrote in a post on Twitter.
"You shouldn't be partners with a Gas Killing Animal who kills his people and enjoys it!" Trump said, referring Moscow's alliance with Assad.
In response, Russia's Foreign Ministry said in a Facebook post that "smart missiles should fly towards terrorists, not towards the lawful government", referring to Syrian rebels and Assad respectively.
Foreign Ministry spokeswoman Maria Zakharova said any US missile strike could be an attempt to destroy evidence of the reported chemical weapons attack in the Syrian town of Douma, for which Damascus and Moscow have denied any responsibility.
After the attack, the rebel group holed up in Douma - Jaish al-Islam - finally agreed to withdraw from the town. That sealed a major victory for Assad in Syria's civil war, crushing a protracted rebellion in the eastern Ghouta region near Damascus.
Officials at the White House did not immediately respond to a Reuters request for more details about Trump's comments on the planned military action. The US Defense Department did not immediately respond to a request for comment.
The World Health Organization said on Wednesday that 43 people had died in Saturday's attack on Douma from "symptoms consistent with exposure to highly toxic chemicals", and more than 500 in all had been treated.
Moscow's threat to down US missiles came from its ambassador to Lebanon, Alexander Zasypkin, who said he was referring to a statement by President Vladimir Putin and the Russian armed forces chief of staff.
Zasypkin also said that any hostilities with Washington should be avoided and Moscow was ready for negotiations.
But his remarks could raise fears of direct conflict for the first time between major powers backing opposing sides in Syria's protracted civil war.
Oil prices hit their highest level in more than three years on Wednesday after Trump's threat to unleash missiles, and US stock index futures fell sharply over rising concern about possible Russian-US conflict over Syria.
The Kremlin said earlier on Wednesday it hoped all sides involved in Syria would avoid doing anything to destabilise an already fragile situation in the Middle East, and made clear it strongly opposed any US strike on its ally.
Standoff
Moscow and Washington stymied attempts by each other at the United Nations Security Council on Tuesday to set up international investigations into chemical weapons attacks in Syria.
Trump cancelled on Tuesday a planned trip to Latin America later this week to focus instead on talks with Western allies about possible military action to punish Assad over the suspected gas attack.
Trump had warned on Monday of a quick, forceful response once responsibility for the attack was established.
"If there is a strike by the Americans, then ... the missiles will be downed and even the sources from which the missiles were fired," Zasypkin, the Russian ambassador, told Hezbollah's al-Manar TV, speaking in Arabic.
The Russian military said on March 13 that it would respond to any US strike on Syria by targeting any missiles and launchers involved. Russia is Assad's most powerful ally and its devastating air power has helped him wrest back large areas of territory from rebels since 2015.
Zasypkin also said a clash between Russia and the United States over Syria "should be ruled out and therefore we are ready to hold negotiations".
Missile salvo from Mediterranean?
Any US strike is likely to involve the navy, given the risk to aircraft from Russian and Syrian air defence systems. A US Navy guided-missile destroyer, the USS Donald Cook, is in the Mediterranean.
With tensions growing, pan-European air traffic control agency Eurocontrol warned airlines to exercise caution in the eastern Mediterranean due to the possible launch of air strikes into Syria over the next 72 hours.
Eurocontrol said that air-to-ground and cruise missiles could be used within that period and there could be intermittent disruptions of radio navigation equipment.
Aviation regulators have been stepping up monitoring of conflict zones since Malaysia Airlines flight MH17 was downed by a surface-to-air missile over Ukraine in 2014, killing all 298 people on board. Recent warnings have tended to be after military action has started, and so Eurocontrol's pre-emptive notice suggests a heightening of regulatory scrutiny.
Both Russia and Iran, Assad's other main ally, have warned his enemies against military action in recent days, underlining their commitment to the Syrian government they have armed and supported through years of conflict.
Ali Akbar Velayati, the top adviser to Iranian Supreme Leader Ayatollah Ali Khamenei, said during a visit to Damascus on Tuesday that an Israeli attack on an air base in Syria earlier this week would "not remain without response".
Risk of "uncontrollable escalation"
On Monday, UN Syria peace envoy Staffan de Mistura cited the air base strike along with other recent events in Syria in a briefing to the Security Council, cautioning against a "situation of uncontrollable escalation".
Syria's Russian-supplied air defences shot down an Israeli F-16 jet in February during a previous bombing run against what Israel described as Iranian-backed positions in Syria.
Last year, the United States carried out strikes from two Navy destroyers against a Syrian air base after another toxic gas attack on a rebel-controlled pocket.
The US and Russian militaries have sought to avoid conflict in Syria, notably last year in the Euphrates River Valley where they supported rival sides in the campaign against Islamic State militants.
However, US forces in February killed or injured hundreds of Russian contractors fighting on Assad's side during a confrontation in Deir al-Zor province.
French President Emmanuel Macron said on Tuesday that any military action would not target the Syrian government's allies or anybody in particular, but rather the Syrian government's chemical facilities.
Any US strike similar to the limited one launched last year would not cause a shift in the course of the war that has been going Assad's way since Russia intervened on his side.
Deadly chemical attack
The WHO said that among the more than 500 people treated for symptoms of gas poisoning in Douma, "there were signs of severe irritation of mucous membranes, respiratory failure and disruption to central nervous systems of those exposed".
France and Britain discussed with the Trump administration how to respond to the Douma attack. Both stressed that the culprit still needed to be confirmed.
The Hague-based Organisation for the Prohibition of Chemical Weapons said Assad's government had been asked to make necessary arrangements for an OPCW investigation team to visit shortly.
The mission will aim to determine whether banned munitions were used but not assign blame.
Full report at:
https://timesofindia.indiatimes.com/world/us/as-russia-warns-against-us-strike-trump-threatens-missiles/articleshow/63714999.cms
--------
Renewed sanctions need not mean US exit from Iran deal: Mnuchin
April 12, 2018
A decision by U.S. President Donald Trump not to renew sanctions relief for Iran on May 12 would not necessarily mean the United States had withdrawn from the 2015 Iran nuclear deal, U.S. Treasury Secretary Steven Mnuchin said on Wednesday.
It was not immediately clear what Mnuchin meant by his comment but it appeared to signal the Trump administration believes the agreement will not necessarily collapse if Trump chooses not to extend U.S. sanctions relief to Iran.
The crux of the 2015 agreement between Iran and six major powers - Britain, China, France, Germany, Russia and the United States - was that Iran would restrict its nuclear program in return for relief from sanctions that have crippled its economy.
On Jan. 12, Trump delivered an ultimatum to Britain, France and Germany, saying they must agree to "fix the terrible flaws of the Iran nuclear deal" or he would refuse to extend the U.S. sanctions relief on Iran that it calls for.
U.S. sanctions will resume unless Trump issues new "waivers" to suspend them on May 12, although it is not clear how quickly they would go into effect.
European officials saw Trump's Jan. 12 comments as a threat to kill the deal. They have since been in negotiations with the Trump administration to see if there is a way to salvage it.
Speaking at a congressional hearing, Mnuchin said the Trump administration was in talks with allies and would "not do anything abruptly."
"If the president decides not to sign that (waiver), it doesn't mean we're necessarily pulling out of the deal. What it means is that the primary and secondary sanctions will go back in place," he told the U.S. House of Representatives Appropriations Committee.
The political directors of Britain, France and Germany met Brian Hook, the State Department's director of policy planning, in Washington on Wednesday to discuss the future of the pact, formally known as the Joint Comprehensive Plan of Action, or JCPOA, two sources familiar with the matter said.
It is not immediately clear how Iran might respond to a Trump decision not to renew the sanctions waivers, but Tehran would be within its rights to argue the United States violated its commitments to ease sanctions even as Iran, as verified by international inspectors, had kept its nuclear commitments.
U.S. nuclear experts say if Trump does not waive the sanctions in May, it effectively kills the nuclear deal.
European diplomats have said that even if U.S. allies decide to remain in the agreement, Western companies would withdraw from Iran because of the threat of U.S. sanctions.
ALL ABOUT LIFTING THE SANCTIONS
Democratic Representative David Price pressed Mnuchin on the issue, saying: "Are you saying that failing to waive the sanctions would not constitute pulling out of the deal? The deal is all about lifting the sanctions."
Mnuchin did not answer the question directly.
The secretary declined to speculate on what Trump might do, repeatedly emphasizing he could not discuss the issue publicly.
Trump has voiced frustration at having to waive the sanctions again, believing his predecessor, Democratic President Barack Obama, negotiated a bad deal for the United States in agreeing to the accord.
Full report at:
https://nation.com.pk/12-Apr-2018/renewed-sanctions-need-not-mean-u-s-exit-from-iran-deal-mnuchin
--------
Europe
Russia to US: Save your missiles for terrorists
Apr 11, 2018
In response to US President Donald Trump's threat of an imminent missile attack on Syria, Russia has advised Washington to target terrorists instead of the Syrian government and its forces.
"Smart missiles should fly toward terrorists, not legal government," a Russian foreign ministry Spokeswoman Maria Zakharova wrote on her Facebook page Wednesday, shortly after Trump warned Russia in an incendiary tweet to "get ready" for US strikes in Syria.
The tweet came after the United Nations Security Council failed to fend off the prospect of a possible military intervention by the West in the Arab country over an alleged chemical weapons attack that took place outside Damascus over the weekend.
The US and its allies have stepped up the war talk over the past days while Russia, Iran and other regional players have invited all parties to exercise restraint and look forward to the outcome of investigations into the matter.
The Syrian Foreign Ministry has official asked the Organization for the Prohibition of Chemical Weapons (OPCW) to send a fact-finding mission to Douma and investigate the alleged use of chemical weapons there.
Zakhorva said a potential attack by the US might be aimed at destroying the evidence altogether in order to hinder any such probes.
"Have the OPCW inspectors been warned smart missiles will eliminate all alleged chemical weapons-related evidence on the ground?" she said.
"Or is the real purpose to promptly eliminate the traces of a provocation using smart missile strikes to create a situation where international inspectors will have no evidence to look for?" she added.
Trump's aggressive rhetoric over the issue has further strained relations between Moscow and Washington.
Shortly after his first tweet, Trump posted a rather strange one admitting that ties between the two sides were even worse than they were during Cold War.
"Our relationship with Russia is worse now than it has ever been, and that includes the Cold War. There is no reason for this. Russia needs us to help with their economy, something that would be very easy to do, and we need all nations to work together. Stop the arms race?" he wrote.
Russia-US conflict in Syria sets Mideast afire: Turkey
Meanwhile, Turkey warned Wednesday that a possible military confrontation between the US and Russia in Syria would set the whole Middle East region on fire.
"If an attack occurs against the forces [in Syria] backed by Russia or there is an attack by the US-supported forces, Russia won't be able to stay away, otherwise it will lose its influence. So, serious clashes may start," Turkish National Defense Minister Nurettin Canikli told the 24 TV channel.
"Just one spark may set the entire region on fire and open the door for the conflict," he warned, asking both sides to de-escalate.
http://www.presstv.com/Detail/2018/04/11/558160/Russia-US-Trump-Syria-missile-attack-Assad
--------
Peace should prevail in response to crimes in Syria
12 April 2018
Italy's prime minister said Wednesday that the use of chemical weapons is 'not acceptable', but working for peace should prevail in all responses to crimes.
"Over and above the response to crimes [in Syria], we need to work for peace," Paolo Gentiloni was quoted as saying by the Italian news agency ANSA about a suspected chemical attack in the city of Douma in the Eastern Ghouta suburb of Damascus on April 8 that killed dozens of people.
Forces of the Bashar al-Assad regime struck targets in Douma using a toxic gas which left at least 78 civilians dead, according to the Syrian Civil Defense, also known as the White Helmets.
On Feb. 24, the UN Security Council unanimously adopted a resolution which called for a month-long ceasefire in Syria -- especially in Eastern Ghouta -- to allow the delivery of humanitarian aid.
Despite the resolution, the Assad regime last month launched a major ground offensive backed by Russia aimed at capturing Eastern Ghouta's last opposition strongholds.
Full report at:
http://www.worldbulletin.net/europe/200968/peace-should-prevail-in-response-to-crimes-in-syria
--------
Islamophobia threatens Muslims, EU values, experts say
Apr 12, 2018
In the face of growing threats posed by a rising Islamophobia in Europe, experts say that first and foremost European countries need to stop denying the existence of Islamophobia and recognize the Muslim community's problems, which also threaten the core values of Europe.
"The European societies show a tendency of denying the existence of Islamophobia and the problems Muslim people face which is rather dangerous," Farid Hafez, a political scientist from Salzburg University, told a panel at the Foundation for Political, Economic and Social Research (SETA) yesterday. The program was held to present the European Islamophobia Report 2017.
"Muslims are excluded from the general society, they are treated differently because of their religion and I think it is a bigger problem for democracy than for Muslims," said Hafez, who called for the recognition of Islamophobia as a problem. According to the report, which examines various cases of verbal and physical assaults on Muslims in Europe within the scope of Islamophobia, there were 908 incidents in Germany targeting Muslims, compared to 664 in Poland, 364 in the Netherlands, 256 in Austria, 121 in France, and 56 in Denmark.
In Germany, 100 attacks on mosques were reported by the Turkish-Islamic Union for Religious Affairs (DİTİB) and 908 attacks targeted German Muslims. According to the Observatory of Islamophobia, 121 Islamophobic incidents were reported in France.
Delivering an opening speech at the panel, Foreign Minister Mevlüt Çavuşoğlu said that blaming immigrants or foreigners as the sole reason for the problems in Europe is not humane or just. "For instance, immigrants are not responsible for economic problems that stem from wrong government policies. On the contrary, the immigrants contribute to those countries' development," he said.
Çavuşoğlu added that the hate speech, which has been widely used by these politicians, is a crime in all European countries, underlining that the populist politicians have been stoking the prejudices within the society against immigrants.
Touching on the negative rhetoric toward foreigners and Muslims during the French elections, Yasser Louati, from Justice and Liberties Committee in France, told the panel that 2017 was a tough year for them.
Full report at:
https://www.dailysabah.com/politics/2018/04/12/islamophobia-threatens-muslims-eu-values-experts-say
--------
Putin calls on Netanyahu not to take any 'destabilizing action' on Syria
12 April 2018
Russian President Vladimir Putin on Wednesday called on Israel's Prime Minister Benjamin Netanyahu not to take any action that could further destabilize the situation in Syria, following Israeli strikes against a regime military base on Monday.
In a telephone call, Putin urged Netanyahu "to abstain from any action that could further destabilize the situation in the country, which would represent a threat to its security," the Kremlin said in a statement.
Putin "stressed the importance of respecting Syria's sovereignty," and the two leaders "discussed recent Israeli air strikes against the T-4 air base," the statement added.
Netanyahu's office also released a statement saying that "the Prime Minister talked by telephone with the Russian President Vladimir Putin this evening" and the Israeli leader "reiterated that Israel will not allow Iran to establish itself militarily in Syria".
Syria's T-4 military airbase, in the central province of Homs, was hit by an air strike on Monday. The attack left 14 people dead, including seven Iranian soldiers.
Iran is a key ally of the Syrian government, alongside Russia. All three countries have blamed Monday's air strike on Israel.
Israel is believed to have carried out numerous raids inside Syria since 2013.
The T-4 base had already been targeted by Israeli air raids in February, in retaliation for a drone sent to its territory by Iran.
Full report at:
https://english.alarabiya.net/en/News/middle-east/2018/04/12/Putin-calls-on-Netanyahu-not-to-take-any-destabilizing-action-on-Syria-.html
--------
UK's May says Syria chemical weapons can't go unchallenged
12 April 2018
Prime Minister Theresa May moved ever closer on Wednesday to committing Britain to military action against Syria, saying "all the indications" are that President Bashar Assad's forces were behind a chemical weapons attack in Douma.
May called an emergency meeting of her Cabinet for Thursday afternoon to discuss Syria, and The Telegraph newspaper reported that the prime minister has already ordered British submarines to move within missile range of the country.
The Cabinet meeting suggests May could decide to sidestep parliamentary approval for military strikes amid reports that Assad has begun moving his arsenal away from air bases that are likely to be targeted.
May said earlier on Wednesday that the government was still assessing who was responsible for the attack on Douma. Britain has been working with its allies to determine what happened, and "we are rapidly reaching that understanding," she said during a visit to the English city of Birmingham.
"All the indications are that the Syrian regime was responsible," May said. "And we will be working with our closest allies on how we can ensure that those who are responsible are held to account and how we can prevent and deter the humanitarian catastrophe that comes from the use of chemical weapons in the future."
The US, France and Britain have been consulting about launching a military strike within days, and President Donald Trump tweeted Wednesday that missiles "will be coming."
May has not confirmed whether Britain will participate directly, but said "the continued use of chemical weapons cannot go unchallenged."
She condemned Russia for vetoing a UN Security Council resolution calling for a new body to determine responsibility for the attack, saying it meant "there can be no role now for investigations by the United Nations."
May isn't legally required to get Parliament's backing for military action, though it is conventional for lawmakers to be given the chance to vote. Britain's Parliament is in recess until Monday, though it could be recalled for an emergency debate.
In 2013, Parliament defeated a call by then-Prime Minister David Cameron for air strikes in response to an earlier chemical attack in Syria.
Some lawmakers have expressed reservations about taking military action now, but others have come to believe the 2013 vote was a mistake.
Full report at:
https://english.alarabiya.net/en/News/world/2018/04/12/UK-s-May-says-Syria-chemical-weapons-can-t-go-unchallenged.html
--------
Strikes against Syria could begin as early as Thursday night: Report
Apr 11, 2018
As Western leaders remain undecided on how to deal with an alleged chemical attack in Syria, a report says that they might attack the war-ravaged country by Thursday.
The Daily Telegraph reported Wednesday that strikes against the government of Syrian President Bashar al-Assad "could begin as early as Thursday night."
This is while British Prime Minister Theresa May has not yet reached a final decision to join forces with the United States and France against Syria.
However, she has ordered British submarines to move within missile range of Syria to be ready for possible strikes.
Britain reportedly hopes to fire Tomahawk cruise missiles against Syria from its submarines.
According to the White House, US President Donald Trump has not laid out any timetable for action, either.
Trump had earlier tweeted that missiles "will be coming" and Russia should "get ready."
His stance was toned down by White House press secretary Sarah Huckabee Sanders, who asserted that Trump has a number of options, and not just the military one.
Russia has dismissed as "bogus" reports of the chemical gas attack in Eastern Ghouta, while Damascus maintains that it has not launched any chemical attacks.
Iran has strongly condemned the use of chemical weapons by any country in any part of the world, saying claims about a chemical attack by the Syrian government in Eastern Ghouta are "conspiratorial and illogical."
The alleged attack was launched not long after Trump called for withdrawal of US troops from war-ravaged Syria.
Full report at:
http://www.presstv.com/Detail/2018/04/11/558209/AntiSyria-strikes-could-begin-as-early-as-Thursday
--------
Southeast Asia
Lecturer Faces Hate Speech Charges For Calling Holy Books 'Fiction'
April 12, 2018
A lecturer at the University of Indonesia's School of Philosophy has been reported to the police for alleged hate speech after stating on a TV show on Tuesday that holy books are "fiction".
The report was made to the Jakarta Police by Cyber Indonesia chairman Permadi Arya, also known as Abu Janda, on Wednesday.
While appearing on the Indonesia Lawyers Club talk show on TVOne, the philosophy lecturer, Rocky Gerung, argued about the importance of fiction or literature. He said the word fiksi (fiction), particularly in political parlance, is now considered as pejorative in Indonesia, while it is in fact an important tool for stimulating the imagination.
"If I use the notion that 'fiction activates the imagination, then holy books are [works of] fiction because they are not yet conclusive [...] The function of fiction is to activate the imagination, to encourage us to be more imaginative. And now that word is being slain by politicians," he said.
His statement has provoked some netizens. In colloquial Indonesian, the word "fiksi" rarely refers to literature or the power of storytelling, and is often associated with lies and deceit.
"According to the Indonesian dictionary, holy books refer to the Quran, the Gospels and others. So he cannot make the excuse that he did not specifically say what religion he was referring to. The dictionary definition is clear," Permadi said as quoted by kompas.com.
The official Indonesian dictionary defines a holy book as a canonized revelation from God, such as the Quran, the Gospel, the Torah and the Psalm.
Permadi said Rocky had offended all religious believers, adding that the representatives of the major religions in the country— Islam, Protestantism, Catholicism, Hinduism and Buddhism—had supported his legal move.
Rocky could be charged with hate speech as stipulated under Article 28 of the nation's draconian Electronic Information and Transaction Law, which carries a maximum punishment of six years' imprisonment. (ahw)
http://www.thejakartapost.com/news/2018/04/12/lecturer-faces-hate-speech-charges-for-calling-holy-books-fiction.html
--------
Perlis mufti a key witness at 'disappearance' inquiry today
Michael Murty
April 12, 2018
PETALING JAYA: Perlis mufti Mohd Asri Zainul Abidin will be a key witness to testify today at an inquiry into the disappearance of activist Amri Che Mat.
Amri, who co-founded the Perlis Hope organisation, has been missing since Nov 24, 2016.
The inquiry into his disappearance is being held by Suhakam, the Human Rights Commission of Malaysia.
Amri's wife, Norhayati Ariffin previously told the inquiry that before Amri went missing he was concerned about a meeting that took place between the police and the Perlis Mufti's Department about investigations into Perlis Hope.
She said that the Mufti had posted on Facebook thanking the police officer who attended the meeting.
Norhayati had also named two officers from the state fatwa office, and the state's Islamic authorities, as among those she suspected of being involved in her husband's disappearance.
In response to testimony in the inquiry, Asri was reported to have said that Amri was a Shia Muslim who practised mut'ah, a form of contract marriage not recognised in Malaysia, which can be summarily ended with the consent of both sides.
He has denied any suggestion linking him to Amri's disappearance.
Norhayati had told the inquiry that Asri was among a team of some 20, comprising police and Perlis Mufti's Department officers, who arrived at their home some time in 2015 to question Amri and to investigate the activities of Perlis Hope.
Asri admitted he was part of the team of officers, but said the visit took place in 2016, and that the meeting was also conducted peacefully.
Lawyers tomorrow will be looking at any links between Asri's concerns about Amri being a Shia Muslim and the cooperation he received from the police as suggesting that the state might be involved in Amri's disappearance.
Another witness at tomorrow's inquiry is Perlis Islamic Department director Hazman Hassan.
The Suhakam inquiry is also investigating the disappearance of Pastor Joshua Hilmy and his wife, Ruth, who were last seen on Nov 30, 2016.
The inquiry had also looked into the case of Pastor Raymond Koh, who has been missing since Feb 13 last year after he was abducted by some 10 men in Petaling Jaya.
Full report at:
http://www.freemalaysiatoday.com/category/nation/2018/04/12/perlis-mufti-a-key-witness-at-disappearance-inquiry-tomorrow/
--------
Indonesia Set for Repeat Contest in 2019 Presidential Poll
April 12, 2018
Jakarta. Former Army general Prabowo Subianto has accepted the endorsement of the main opposition party to stand as a candidate in next year's presidential election, setting the stage for a rematch with President Joko "Jokowi" Widodo.
Prabowo, who narrowly lost the election to Jokowi in 2014, is chairman of the nationalist Great Indonesia Movement Party (Gerindra), which forms the opposition alongside two Islamic parties.
"We have affirmed that Mr. Prabowo is ready to be a presidential candidate and has received the party's mandate to proceed as presidential candidate in 2019," Gerindra deputy chairman Arief Poyuono said by telephone from a party meeting.
Gerindra spokesman Irawan Ronodipuro said Prabowo had accepted the party's mandate on Wednesday evening (11/04).
A presidential candidate needs the support of parties that together won 25 percent of the national vote in the previous legislative election or have 20 percent of seats in parliament.
Jokowi, a former furniture salesman, is Indonesia's first president to come from outside the political and military elite. He has gained the support of five parties and is currently well ahead in most opinion polls.
An Indo Barometer Survey conducted in late January gave Jokowi 48.8 percent support, with Prabowo at 22.3 percent and 28.9 percent undecided.
Jokowi has led a push to build infrastructure, though annual growth in Southeast Asia's biggest economy, at about 5 percent, has yet to reach the 7 percent he pledged when campaigning in 2014.
Prabowo appeared to improve his political prospects last year after backing a successful challenge by former education minister Anies Baswedan to win the powerful post of Jakarta governor.
Full report at:
http://jakartaglobe.id/news/indonesia-set-repeat-contest-2019-presidential-poll/
--------
India
Rohingya Terror Suspect Reveals Al-Qaeda's India Plan
April 12, 2018
Sneha Agrawal
Samiun Rahman, a 28-year-old British Rohingya terror suspect serving al-Qaeda in Syria, was sent to India to recruit and mobilise youth to fight for the cause of the stateless Muslim community, the National Investigation Agency (NIA) says. He was allegedly planning to make his way into Myanmar through Mizoram and then Chittagong in Bangladesh.
The NIA has alleged a plot by the al-Qaeda in the Indian subcontinent in its charge sheet against Rahman, who is being tried for terrorist acts. Mail Today has exclusively accessed the charge sheet that provides insights into his journey to India from London via his stint in Syria.
Hundreds of thousands of Rohingyas have fled from Myanmar following a military crackdown that the United Nations has called "genocide" and the United States "ethnic cleansing". Myanmar says its operation is a legitimate response to guerrilla attacks by Rohingya insurgents.
The NIA attached a total of 536 chats retrieved from Telegram and other protected messaging apps that he used to stay in touch with Rahman's alleged al-Qaeda associates in India, Bangladesh, Syria and other countries.
The accused, who was allegedly assigned the duty of guard and posted at the defence lines of an al-Qaeda base in Syria where he fought different groups for two weeks, was sent to Bangladesh in view of his dedication and knowledge of the local language and was assigned the task of establishing its base in the Indian subcontinent, the charge sheet says.
When he reached Dhaka in 2014 he went to his ancestral village from where he created a Facebook page, Aid to Syria, for creating awareness on the Syrian crisis. He also got in touch with and allegedly influenced Asif Adnan, son of a high court judge and Tanzil, son of a bureaucrat to recruit and radicalise them.
During his stay, he visited Silhet, Nabiganj, Dhaka and other places in Bangladesh to radicalise youths and send them to Syria and Myanmar. He along with his associates was apprehended for terrorist activities in Bangladesh and was sent to jail from October 2014 to April 2017. According to the NIA, India and Bangladesh are top priorities for al-Qaeda after American and Israeli targets.
It said that the banned terror outfit claims that India is the prime defender of the secular government and secular movements in Bangladesh and provides every sort of support to "blasphemers". India is an alleged strong ally of America, Russia and Israel against the Islamic and jihadi awakening in Kashmir, other Indian states, Bangladesh and Myanmar.
After his release on bail, Rahman allegedly remained in touch with al-Qaeda terrorists for establishing a base in the sub-continent and fight for the Rohingya cause.
He allegedly entered India without documents through the Beenapole border in West Bengal in July 2017.
Rahman told Delhi Police that in the first week of July 2017, he came in touch with Abu Akhter, a Bangladeshi national and active member of al-Qaeda who was familiar with Indian cities.
Akhter and another associate arranged his entry into India. After crossing the border, Abu Akhter took the accused to Hazaribagh in a vehicle. He later boarded a train to Delhi from Ranchi. He purportedly stayed in the Capital for 54 days.
On September 17 last year, Delhi Police received information of someone named Raju Bhai planning terror activities. That turned out to be Rahman.
He revealed that in April last year he came in contact with al-Qaeda terrorist Mahin in Bangladesh who was also assisting him in getting volunteers for the group.
In 2011, Rahman was sent to jail in London for a traffic violation. He was influenced by Islam during his stay. After his release, he went to Syria for the first time with to help refugees and came back to London after almost two months.
Subsequently, he decided to learn Arabic and again went to Syria again in December 2013 and got in touch with the Al-Nusra Front. He received physical and arms training, got in touch with al-Qaeda and fought against the Syrian army.
https://www.indiatoday.in/india/story/rohingya-terror-suspect-reveals-al-qaeda-s-india-plan-1210255-2018-04-12
--------
This Indian calligrapher is on a mission to revive Arabic calligraphy
Apr 08, 2018
Arabic calligraphy is worship for Muqtar Ahmed, an Indian calligrapher who has made a mark for himself at a global level. Hailing from a remote village in Telangana, and currently based in Bengaluru, Muqtar is on a mission to revive this dying art in India.
As beautiful as pearls, his works attract attention even if one is not familiar with Arabic. According to him, the aesthetics and refinement are the specialities of Islamic art. "Writing the Quranic verses and Hadith (sayings of the Prophet Mohammad) is worship. These works are sawab-e-jaria (continuous reward)," says the calligrapher, who believes that there is no script as beautiful in the world.
Muqtar believes his efforts have started yielding results as his disciples are carving a niche for themselves at a global level. The only Indian to obtain an "Ijazah" (Master's diploma) from the Istanbul-based Research Centre for Islamic History, Art and Culture (IRCICA) of the Organisation of the Islamic Cooperation (OIC), Muqtar is grooming young talent at the Institute of Indo-Islamic Art and Culture (IIIAC) in Bengaluru.
He has so far trained 500 youngsters, including students and professionals coming from varied backgrounds at the institute. A Japanese girl is among the three foreigners who learnt Arabic calligraphy under him. Muqtar, whose calligraphic works adorn mosques and even private jets abroad, is happy that the institute is getting global recognition for the high standards set by it in Arabic calligraphy.
Three of his students bagged top prizes at a national-level calligraphy competition organised in New Delhi last year by Yayasan Restu, a Malaysian organisation. Ameerul Islam and Abdul Sattar of Hyderabad won the top honours and were selected for an 18-month training programme in Malaysia.
About 400 people from calligraphy institutes across the country participated in the competition. "For the first time, people in India saw what real Arabic calligraphy is," said Muqtar, who has participated in many exhibitions in different parts of the world.
According to him, the art in India has been in continuous decline after the end of Mughal rule. He pointed out that the calligraphy work in India was never recognised globally, as it was nowhere near the international standard.
Ameerul Islam and Abdul Sattar are now teaching calligraphy at the institute's Hyderabad branch, which was opened recently. The talented youth, who have participated in competitions in various countries, are training more than 20 students.
Muqtar, who plans to open another branch of the institute in Lucknow, believes that with more youngsters evincing interest in Arabic calligraphy, the art has bright future in the country. The "ijazah" obtained by Muqtar in 2013 may have fetched him a good job in the Arab world, where Islamic art is greatly valued. But he stayed back to revive the art in India, where it once enjoyed royal patronage.
One of his works was purchased by the then governor of Madina in 2011 when he participated in the international exhibition in the holy city in Saudi Arabia.
Interested in calligraphy from his school days, Muqtar migrated from his village in Medak district to Hyderabad to learn the art. He them moved to Bengaluru where he started working for a Urdu daily. Rendered jobless after the newspaper replaced calligraphy with computers in the early 1990s, Muqtar started writing wedding cards to make a living. "It was not my goal. I wanted to go deep into the art," recalled the artist, who improved his art under renowned international calligraphers Mamoun Luthfi Sakkal and Mohammed Zakariya of the US, and refined it further under the guidance of Turkey's Hassan Chalabi and Dawood Biktash.
Full report at:
https://www.hindustantimes.com/art-and-culture/this-indian-calligrapher-is-on-a-mission-to-revive-arabic-calligraphy/story-q6HLBHIZCwhEYBhXV0QbFI.html
--------
Abdul Azeez, A Man Of Selfless Acts In Life-Threatening Situations
APRIL 07, 2018
This member of Olavanna Gram Panchayat has been a rescue volunteer for 35 years
"I have taken 2,628 dead bodies to hospitals across Kerala for autopsy till date," Madhathil Abdul Azeez said, not happy with the mention of 'more than 2,500 bodies.' This member of the Olavanna grama panchayat has been a rescue volunteer for most of his life and has been instrumental in saving umpteen number of lives.
Azeez's phone number is on speed dial for all those who deal with emergencies in Kozhikode and nearby districts. Whenever and wherever there is a major accident or a life-threatening situation, he will be one of the first volunteers on the spot.
"This is the mission of my life. No job or no family function is more important than helping people in life-threatening situations," Azeez told The Hindu on the sidelines of yet another function where he was honoured for his selfless acts.
Mr. Azeez, whose life story Daivam Paranjittanu (Because God asked me to) written by Razaq Kalleri, was released on Wednesday, has been doing his duty to fellow human beings, without expecting any remuneration, for 35 years. He was one of the volunteers at Pookkipparamba when a bus caught fire there almost a decade and a half ago. He was also there at Kadalundi when a train fell into the river in 2001. Azeez was one of the first to come to the aid of those in need on the coasts of Kozhikode during Cyclone Ockhi. Though he has retrieved many bodies from massive accident sites, many of whom may have been alive, there are nine people whom he rescued personally from a hanging rope or blazing fire.
He was only 17 when he first dove into a river to rescue a child in his neighbourhood. Though he could not save the child, the dive changed his life forever. Now at 53, Azeez gets involved in situations no one else would dare to, including retrieval of dead bodies that are days old.
Full report at:
http://www.thehindu.com/news/national/kerala/a-man-of-selfless-acts-in-life-threatening-situations/article23468750.ece
--------
India's Muslims Await Top Court Judgment on Plea to Ban Polygamy
By Mahesh Trivedi
11 April 2018
India's 172-million-odd Muslims are biting their nails as its highest court has started examining the legal validity of polygamy and other marital practices in the minority community.
The Supreme Court's recent decision to ask the federal government for declaring its stand on banning these customs for being violative of constitutional provisions, and refer the case to a constitution bench has raised many eyebrows and even sparked protests from several clerics, scholars and Muslim organizations.
Coming just seven months after the apex court banned instant verbal divorce or triple talaq (talaq-e-biddat), the move has stirred up a hornet's nest with Jamiat-Ulama-I-Hind and the All-India Muslim Personal Law Board (AIMPLB) raising a banner of revolt against the top court's decision to hear four petitions questioning the legality of polygamy as well as nikah halala, nikah mutah and nikah misyar which enjoy socio-religious sanction under the Muslim Personal Law (shariah).
Women's dignity
The four petitioners – a leader of pro-Hindu Bharatiya Janata Party (BJP), a Telangana lawyer as well as Sameera Begum and Nafeesa Begum (who claimed to be the 'victims' of polygamy) – have told the court that polygamy and nikah halala were unconstitutional and should be declared illegal, and that nikah mutah and nikah misyar did not respect women's dignity.
In India, a Muslim man is allowed to have four wives at the same time, though the practice of polygamy is not widespread in the country which is home to the world's third largest Muslim population.
In nikah halala, a Muslim woman who wishes to restore her marriage after divorce is required to marry someone else and consummate the marriage before divorcing him to remarry her previous husband.
Nikah mutah is a temporary marriage contract in which the duration of the marriage and the mahr (money or possessions promised to be paid to the bride by the groom or his father at the time of marriage) must be specified and agreed upon in advance. It is a private contract made in verbal or written format and does not confer any right on the woman.
Marital rights
Under nikah misyar, the husband and wife renounce several marital rights like living together, the wife's rights to housing and maintenance money, and the husband's right to home-keeping and access.
The petitions against polygamy and other forms of marriage come amid Muslim women's constant protests against the Bill pending in Parliament to make triple talaq a crime with provision for three years' jail term for husband.
Supporting the petitioners, Zakia Soman from the Bharatiya Muslim Mahila Andolan (Indian Muslim Women's Movement) said that the case was a ray of hope for Muslim women who have been victims of polygamy, and slammed the BJP-led Narendra Modi government for not bringing in a balanced and comprehensive law to ensure rights to Muslim women.
Failing clerics
According to her, while the rest of the Muslim world has reformed laws and ensured legal rights of women, Indian Muslim clerics haven't followed the example.
While Firoze Mithiborwala, convener of the Indian Muslims for Secular Democracy, described nikah halala as the "most cruel of all the malpractices" inflicted on community women, Sabiha Yaseen, a women's activist in New Delhi, said rackets were run in the name of nikah halala.
However, several Muslim groups have dubbed Supreme Court's move as interference in the religious affairs of Muslims. Maulana Khalid Rashid Farangi, a member of the AIMPLB, said it was unfortunate that polygamy was being considered unlawful when live-in relationships were becoming a trend in India.
"The constitution guarantees minority communities, including Muslims, the freedom to follow their own personal laws, but the internal matters of Muslims are now being questioned. This has caused anxiety among Muslims as Islamic laws are presented in completely the wrong manner in the court," said the cleric.
Islamic principles
Abdul Hafiz Lakhani, editor of Gujarat Siyasat, a popular fortnightly, told Al Arabiya English that the way in which the personal laws of Muslims are being targeted one by one was fishy, and suspected that the Modi regime was trying to erode all Islamic principles and practices and present them in a way that they look anti-human and anti-women.
He said the government could not ban what Islam had permitted as it would cause a lot of anxiety among Muslims, adding that the government should have asked Muslim religious organizations to reach a consensus over whether practices like polygamy should be restrained.
Jamiat-Ulama-I-Hind and Imam Council of India have come out strongly in support of the controversial practices by arguing that the constitution does not touch upon the personal laws and, therefore, the apex court cannot examine the question of constitutional validity of the practices.
Religious issues
They opined that even the apex court and various High Courts have on earlier occasions refused to interfere with practices sanctioned by personal law, an argument they advanced even in the triple talaq challenge matter.
Full report at:
https://english.alarabiya.net/en/features/2018/04/11/India-s-Muslims-await-top-court-judgment-on-plea-to-ban-polygamy.html
--------
'Rape-Murder in Kathua Meant To Drive Out Muslim Tribe'
Apr 12, 2018
NEW DELHI: The J&K police chargesheet in the Kathua rape and murder of a minor girl has said the mastermind instigated his juvenile nephew and six others to execute the ghastly act to drive out the nomadic Muslim community of Bakarwals from Hiranagar tehsil.
Bakarwals move through the Pir Panjal range of J&K and are mainly shepherds. The chargesheet submitted to the Kathua chief judicial magistrate on Monday said Sanji Ram, the mastermind, was "against the settlement" of Bakarwals in the tehsil.
One rapist came all the way from Meerut
Kathua rape-murder mastermind Sanji Ram had been "motivating" members of the Hindu community of the area to not provide Bakarwals land for grazing.
The "general impression" among the Hindu community in the tehsil was that "Bakarwals indulge in cow slaughter" and "drug trafficking" which was "turning their children into drug addicts", the chargesheet said, adding that as a result, Hindus had been "blaming the Bakarwals on one pretext or the other and used to threaten them". Sanji's co-conspirators were also "against the settlement of Bakarwals in the area" and had asked him to "chalk out a strategy for dislodging" them.
This rivalry between the two communities in the area has resulted into registration of FIRs and counter-FIRs at various police stations of the area, the chargesheet said.
According to the crime branch investigation, the minor was held captive in a temple, using sedatives, gang-raped several times through the week and even before she was killed. The eight-year-old was gang-raped also after the mastermind "performed rituals" in the place of worship.
One of the rapists, Ram's son Vishal, came all the way from Meerut after the juvenile called him with the proposition to "satisfy his lust". Just before she was killed by strangulation, a co-conspirator, policeman, asked others to "wait because he wanted to rape her one last time". The others joined, too. Later, after killing her, they hit her head twice with a stone to ensure she was dead. Following a police inquiry, Ram paid Rs 1.5 lakh as a bribe to cops for a cover-up.
The accused — Ram, his son Vishal, sub-inspector Anand Dutta, two special police officers Deepak Khajuria and Surender Verma, head constable Tilak Raj and civilian Parvesh Kumar — have been booked under various sections of Ranbir Penal Code for rape, murder and destruction of evidence.
Full report at:
https://timesofindia.indiatimes.com/india/rape-murder-in-kathua-meant-to-drive-out-muslim-tribe/articleshow/63721581.cms
--------
Allahabad HC Dismisses Zakir Naik's Petition Challenging Non-Bailable Warrant
Apr 11, 2018
The Allahabad high court on Wednesday dismissed a petition filed by Islamic preacher Zakir Naik challenging the 2010 order of a local court in Jhansi, which summoned him on several charges, including waging war against the state, and the subsequent order of a non-bailable warrant against him.
The interim order earlier granted in his favour now stands vacated with the dismissal of the petition.
Justice Amar Singh Chauhan had reserved the judgement on March 28, 2018, on the petition filed by Naik, president of Islamic Research Foundation.
A person called Mudassir Ullah Khan had filed a complaint on January 9, 2008, before the chief judicial magistrate X in Jhansi alleging that Naik had allegedly hurt the religious sentiments of a particular community in a television programme telecast on January 21, 2006.
Khan said that Naik had published and distributed a pamphlet to incite hatred and ill will among different communities.
The judicial magistrate summoned Naik on April 30, 2010, before the court for waging war against the state and other sections of Indian Penal Code and issued a non-bailable warrant against him. A person can be punished with death or life imprisonment for waging a war against the government of India or attempting to wage such war or abetting it.
Naik's plea was that he is president of an organisation that clarifies Islamic viewpoints and clears misconceptions about Islam and the allegations against him were baseless.
The high court had on June 6, 2011, directed that till the next date of listing no coercive action should be taken against Naik following the April 30, 2010, order by the judicial magistrate.
And, the Bombay high court on Monday refused to restore his passport, saying no relief can be granted to a proclaimed offender absconding from India. The court adjourned the petition by two weeks on his lawyer's request.
Naik landed in trouble when reports emerged that terrorists who attacked the Holey Artisan Bakery in Dhaka, Bangladesh, killing 20 foreigners on July 1, 2016, were his followers. The 51-year-old has denied the charges and claimed that he never incited communal disharmony and "his lectures are doctored".
Full report at:
https://www.hindustantimes.com/india-news/allahabad-hc-dismisses-zakir-naik-s-petition-challenging-non-bailable-warrant/story-bUPSrZedqmxlpsqML0cweM.html
--------
1 soldier, 4 civilians killed in anti-terror operation in Kashmir
M Saleem Pandit
Apr 12, 2018
SRINAGAR: At least five people, including an Army jawan and two teenagers, were killed and more than 100 others were injured during an anti-terror operation at Khudwani village in South Kashmir's Kulgam district and subsequent civilian protests across the valley on Wednesday.
While the jawan was killed by terrorists, four civilians — part of a stone-pelting mob — were killed in the crossfire, police sources said.
Sources said the stone-pelting, which helped terrorists flee, was so intense that security forces had to retreat. Soon after security personnel lifted the cordon at the operation site, terrorists joined the mob that helped them escape.
The terrorists were identified by cops as Muhammad Azad Pala, Bilal Ahmed and Suhail Ahmed Dar from Laskhar-e-Taiba.
Thousands of people participated in the funeral of the civilians killed in the crossfire. The three LeT terrorists, who had escaped, later resurfaced at the encounter site after security forces withdrew the cordon.
Videos showing three terrorists who had managed to escape an anti-terror operatoin being welcomed at the funerals of the civilians who died on Wednesday and chanting pro-azadi and anti-India slogans went viral on social media.
The anti-terror operation, which lasted for more than 12 hours, had begun around 11.30pm on Tuesday when security personnel received an intelligence input about the presence of terrorists at a house in Khudwani village. After a joint team of the Army, Special Operations Group and CRPF launched operations, the terrorists fired at them, resulting in a fierce gun-battle. Sepoy S Gunakar was killed in the exchange of fire. Two other security personnel were also injured. At least five houses and three shops were damaged.
"The slain Armyman was identified as Sepoy S Gunakar Roy. He died of injuries at an Army hospital," a police statement said, adding, "In the encounter and subsequent protests, four civilians — Sharjeel Sheikh (25), Bilal Ahmad Tantray (16), Faisal Illahi (14) and Aijaz Ahmad Palla (30) — were killed," the statement added.
After the operation, clashes erupted in several parts of the Valley, including Baramulla, Anantnag and Srinagar. The injured were taken to Sher-i-Kashmir Institute of Medical Sciences (SKIMS) and Shri Maharaja Hari Singh Hospital (SMHS), in the Valley. Kashmir University students also fought a pitched battle with security personnel in protest against the civilian killings.
SKIMS medical superintendent Dr Farooq Jan said the hospital received five injured, including Baramulla SHO Khalid Ahmad. "Ahmad suffered head injuries after being hit by stones. He has skull fracture, but he is stable. Another injured person is 25-year-old Adil Ahmad from Anantnag. His condition is serious," Dr Jan said.
A senior doctor said at least eight injured were admitted to SMHS hospital. "Among them, 50-year-old Abdul Salam Dar suffered a serious neck injury. His condition is critical and he is on ventilator," he said.
A doctor from District Hospital, Anantnag, said, "A total of 10 injured people were admitted to the hospital and one was brought dead. Among the 10 injured, eight with serious wounds were referred to Srinagar hospitals."
Full report at:
https://timesofindia.indiatimes.com/india/1-soldier-4-civilians-killed-in-anti-terror-operation-in-kashmir/articleshow/63721509.cms
--------
Ahead of CHOGM meet in London, India, Pakistan walk tightrope on Russia
by Shubhajit Roy
April 12, 2018
As the United Kingdom and Russia are engaged in a diplomatic face-off over the Salisbury incident, India and Pakistan are caught in a dilemma on how to negotiate their way through the joint declaration at the upcoming Commonwealth Heads of Government Meeting (CHOGM) in London next week. Prime Minister Narendra Modi will be in London from April 18, and will attend the summit on April 19-20.
Sources said the UK is keen to include a strongly-worded paragraph on the Salisbury incident. However, India, which has strong strategic ties with Russia, wants the language to be moderated, and would not even want a reference to the incident in the declaration.
In its efforts to dilute any reference to Russia, India has found an unlikely partner in Pakistan, which is developing its own ties with Moscow in recent years, much to Delhi's discomfiture.
At the CHOGM summit, the negotiators are also discussing a declaration on "cyber crime" — which may have a reference to Russian involvement in elections in the UK and US.
"We do not want to get caught in the battle between the West and the Russians… while we understand the need to voice our concerns, we will do it, if the need arises, in a bilateral format, and not on such multilateral groupings," a South Block source told The Indian Express.
For India, one of the main reasons for not acting adversely against Russian interests is the strong defence ties. A possible deal on S-400 missile system is at risk of attracting sanctions imposed on Russians.
Though the Salisbury incident took place over a month ago, on March 4, India has refrained from issuing a statement. The only Indian statement on the issue was at the Organisation for the Prohibition of Chemical Weapons (OPCW)'s special session, where Indian envoy Venu Rajamony said that "India, like all other countries, should await the outcome of the investigation" done by the OPCW.
This was a clear riposte to the UK and western countries, as the British authorities had concluded that the plot to kill former Russian spy Sergei Skripal and his daughter Yulia, by using a nerve agent, was carried out by Russia. Yulia has since been discharged from hospital, while Sergei is still recuperating.
According to sources, the Indian position is going to be on the line that "India is against the use of chemical weapons anywhere, at any time, by anybody, under any circumstances". This formulation was articulated by the Indian envoy at the OPCW meeting in the Netherlands on April 4. Sources said Indian negotiators are clear that there will not be any mention of Russian interference in the CHOGM joint declaration.
"We cannot stop what individual countries may or may not say in their statements, but we will steer clear of the controversy," said a source. While Modi's speech is still being discussed, it is unlikely to make any mention of the issue, given his relationship with Russian President Vladimir Putin.
Full report at:
http://indianexpress.com/article/india/ahead-of-chogm-meet-in-london-india-pakistan-walk-tightrope-on-russia-5133736/
--------
Africa
Libyans divided over presidential bid by Gadhafi's son
Mat Nashed
April 11, 2018
News that Moammar Gadhafi's most prominent son, Saif al-Islam, intends to run for president is raising fears and hopes that the old regime could return to power in Libya through the ballot box.
He could have a reasonable chance to win, especially now that Gen. Khalifa Hifter — the leader of the Libyan National Army who has hinted that he could run for president — was reportedly admitted to a hospital in Paris after suffering a stroke on April 11.
On March 19, Saif al-Islam announced through his lawyer that he plans to run as the head of the Popular Front for the Liberation of Libya, a political party with a stated mission to unify the country. However, many Libyans still don't know what to make of his candidacy.
There are even rumors that Saif al-Islam could be dead. Since militias from the northwest city of Zintan ostensibly released him in June 2017, he hasn't issued an announcement himself or made a public appearance.
But Khaled Mohammad, who belongs to the same Qadhadhfa tribe as the Gadhafis, claims to have secret information that confirms he is alive. Mohammad is one of more than 2 million people signed up to vote in the next election, and he insists that Saif al-Islam is running for office at the request of the tribes and communities who support him.
"Nobody has the right to be mad if Saif al-Islam becomes Libya's ruler through the ballot box," said Mohammad, who lives in a Cairo suburb, to Al-Monitor over the phone. "The Qadhadhfa tribe was expecting him to run. We need Saif al-Islam to pull Libya out of chaos."
The Warfalla tribe could also be a source of significant support for Saif al-Islam. Their stronghold is in the western town of Bani Walid, where Saif al-Islam sought refuge in the winding days of the Libyan uprising. And like most tribes who supported Gadhafi's regime, the Warfalla have been marginalized by Libya's competing authorities since the revolution.
Some of Gadhafi's opponents nonetheless stress that Saif al-Islam shouldn't be eligible to run for president until he is sent to The Hague, where he is wanted for committing crimes against humanity during the popular uprising in 2011. But Libya's weak institutions would have to adopt an electoral law that bars suspected war criminals from campaigning in the elections, otherwise Saif al-Islam could become the head of state regardless of outstanding charges against him.
That's been the case in Sudan, where Omar al-Bashir still reigns since the International Criminal Court issued a warrant for his arrest in July 2009. The difference, of course, is that Bashir was firmly in power when he was indicted.
"Saif shouldn't technically be allowed to run in elections while he is an international outlaw," said Jaber Elobidy, whom the elder Gadhafi threw in prison for 12 years in 1977 for belonging to a student union. "[Saif al-Islam] should be handed a fair trial, which Libya isn't equipped to give him right now. That's why he needs to be handed over to the International Criminal Court."
Alice Alunni, a Ph.D. candidate at the School of Government and International Affairs at Durham University in England and an analyst on Libya, doesn't believe that Saif al-Islam is a real threat to win the elections. The only way he could be a serious contender, she said, is by making a public appearance.
"If he made a public appearance, it would be a game changer," she told Al-Monitor. "But he would have to demonstrate the same charisma and personality that he had during the 2000s. Only then would he rally support beyond the tribes that traditionally back him."
However, appearing in public poses great risks. Tarek Megerisi, a Libyan analyst and a visiting fellow at the European Council on Foreign Relations, noted that lots of people would like to kill or arrest Saif al-Islam, which is probably why he never discloses his whereabouts. Despite his absence, Saif al-Islam still has a chance to win.
"Libyan elections aren't different to other Arab elections; people often vote for the personalities that they know," Megerisi said, over the phone. "But there are so many grievances against Saif al-Islam that some parties won't accept the result if he wins. Some people might not mind him anymore, but others maintain a visceral hatred for [Saif al-Islam]."
Before the revolution, Saif al-Islam was branded a reformer. He acquired a degree from the London School of Economics despite allegations of plagiarizing his dissertation, and he was embraced by the likes of former British Prime Minister Tony Blair. But many Libyans turned against him after he denounced the rebellion and promised to spill "rivers of blood" in a televised speech on Feb. 21, 2011.
Public resentment has subsided since the overthrow of his father in 2011. For the last seven years, militias have hijacked the country by killing and kidnapping civilians with impunity. The anarchy has hampered service provisions and plummeted the value of the Libyan dinar, spurring a growing nostalgia for Gadhafi's era that many Libyans associate with a period of stability.
But not everybody is yearning for the past. Laila Moghrabi, who participated in demonstrations against Gadhafi's regime, said she won't vote for Saif al-Islam since he shoulders much of the blame for the mess that Libya is in today.
"Saif al-Islam was one of the main figures in the old regime," she told Al-Monitor. "And if he failed to improve the country before [the revolution], then he won't succeed today."
Elobidy, the political prisoner from Gadhafi's era, adds that Saif al-Islam may have his own scores to settle if he rises to power again. Those deemed responsible for killing his father could be the first target, continuing the cycle of revenge that has doomed Libya since the revolution.
"Can Saif al-Islam forget about the hatred that so many Libyans had toward him and his father in 2011?" pondered Elobidy. "I doubt it. I think Saif al-Islam still views most Libyans as the people who killed his dad."
https://www.al-monitor.com/pulse/originals/2018/04/libya-divided-elections-president-bid-saif-al-islam-gadhafi.html
--------
Police Raid Al-Shabaab Hideout, Seize Drugs And Crude Weapons
Apr 11, 2018
A multi-agency operation on Monday raided and dismantled an Al-Shabaab camp in Kotile, Ijara district.
The troops recovered two loaded pistol magazines, combat knives, assorted medicines and syringes, ICOM hand held radio Black polythene Tarpaulin, among other items.
Officers also recovered drugs at the camp after confessions from returnees that Al Shabaab militants are extremely abusing drugs and alcohol.
The raid came following a tip off from villagers who informed the security agents about what has been happening at the camp.
Police praised the communities within Boni and the surrounding areas for their increased support for the troops operating in the area.
In September 2017, KDF troops found a load of pornographic DVDs, alcohol and drugs after raiding an Al Shabaab camp inside Boni forest, later in the year numerous condoms washed off from Jilib, an Al-Shabaab stronghold after flash floods had hit Somalia.
The returnees said the militants also sexually abuse women from the neighbouring communities.
Sheikh Noor Farah council elder from Ijara said, "It's either we cooperate with the police or allow Al-Shabaab to turn our town into a sex and drug den."
He was speaking on confirmation that indeed they had offered the information to the troops in the area and vowed to smoke out all Al-Shabaab operatives from the area.
Full report at:
https://nairobinews.nation.co.ke/news/police-raid-al-shabaab-camp/
--------
Muhammadu Buhari says Nigerians 'appreciate' his government
THURSDAY APRIL 12 2018
ABUJA,
President Muhammadu Buhari said Wednesday he is seeking re-election because Nigerians "appreciate" his government, while blaming an escalating security crisis on "armed gunmen" trained in Libya.
Buhari made the comments at a meeting with the Archbishop of Canterbury Justin Welby in London, where he is scheduled for talks with British Prime Minister Theresa May later this month.
GADAFFI
"I felt I should break the ice," said Buhari in a statement released by the presidency on Wednesday, "the majority of Nigerians appreciate what we are doing, and that is why I am re-contesting."
Buhari, a 75-year-old former general who rarely speaks publicly at length, then turned to the issue of security.
Along with fighting Boko Haram jihadists in the northeast, Nigeria is battling to contain bloody clashes between nomadic pastoralists and farmers that have led to scores of deaths this year.
The problem has been "made worse by the influx of armed gunmen from the Sahel region into different parts of the West African sub-region," claimed Buhari in the statement.
"These gunmen were trained and armed by Muammar Gadaffi of Libya. When he was killed, the gunmen escaped with their arms. We encountered some of them fighting with Boko Haram," according to Buhari.
In February, Boko Haram Islamists kidnapped over 100 schoolgirls from the northeastern town of Dapchi.
BOKO HARAM
Of the 111 who were kidnapped, 105 were returned by the jihadists following a ceasefire agreement with the government.
Five others are believed to have been killed in the initial stages of the kidnapping, while one other, Leah Sharibu, is still being held for refusing to renounce her Christian faith.
"We are managing the matter quietly. Making noise would not help," said Buhari on the rescue operation.
Buhari made history in 2015 when he became the first Nigerian to defeat an incumbent candidate, amid anger over the Boko Haram jihadist insurgency and rampant corruption in West Africa's largest economy.
But his administration has been criticised for being too slow to address Nigeria's worst recession in decades, resurgent Islamist attacks and increasing violence between farmers and herdsmen.
Full report at:
https://www.nation.co.ke/news/africa/Muhammadu-Buhari-2019-elections/1066-4389064-sf8s78z/index.html
--------
Polisario Front: 30 'Sahrawis' and relatives died on Algeria plane crash
12 April 2018
The Polisario Front issued a statement on Wednesday that 30 "Western Sahrawi" people perished on the ill-fated Algerian military plane that crashed near the Algerian capital.
"The 30 Sahrawis on board were sick, and were accompanied by other members of their families, men, women and children, who were on their way back after treatment in Algerian hospitals," the statement read.
The Front has declared mourning for a week in memory of the victims.
The crash occurred in Boufarik, a town in Blida Province, approximately 30 km from the capital Algiers.
Full report at:
https://english.alarabiya.net/en/News/north-africa/2018/04/12/Polisario-Front-30-Sahrawis-and-relatives-died-on-crashed-Algerian-plane-.html
--------
Chad welcomes removal from US travel ban list
11 April 2018
The Chadian government has welcomed the United States decision to remove the central African country from its travel ban list.
"We continue to think that the inclusion of Chad in the list of countries of which the nationals are denied access to the United States was a mistake, so the lifting of the ban is only fair to Chadians," Minister of New Technologies and Information, and government spokeswoman, Madeleine Alingue said on Wednesday.
According to Alingue, the lifting of the travel ban on Chadians by U.S. President Donald Trump shows that bilateral ties between Chad and the U.S. are strengthening.
"There have been Chadian students, civil servants and businessmen studying or working in the United States who have been stuck [in Chad] with this decision. Some will not be able to go back even if the ban has been lifted because they have either lost their business or cannot make up their studies simply "
Late Tuesday the White House announced that it had removed Chad from its travel ban list.
''Based on the Department of Homeland Security's (DHS) assessment, President Donald J. Trump signed a proclamation today announcing that the Republic of Chad has improved its identity-management and information sharing practices sufficiently to meet the baseline security standard of the United States.
Full report at:
http://www.worldbulletin.net/africa/200962/chad-welcomes-removal-from-us-travel-ban-list
--------
Nigerian govt bungles prosecution of two Boko Haram suspects
April 11, 2018
Two Boko Haram suspects who were arrested over five years ago have been freed.
They were freed by the court on Wednesday after the judge accused the government of poor prosecution.
The Federal High Court in Abuja discharged two persons, Ibrahim Ahmed and Sani Argungu, arraigned for alleged ties with Boko Haram, for lack of diligent prosecution.
Discharging the defendants, Justice Binta Nyako noted that Mr Ahmed had been in detention since 2013 while Mr Argungu had been detained since 2012. The judge said since the time of their arrest and prosecution, the government prosecutors are yet to call any witnesses.
"The defendants have been in custody with no trial because the prosecution cannot bring its witnesses to court. So, I discharge the defendants and the suit is hereby struck out," she said.
Mrs Nyako, however, said that whenever the prosecution was able to get its witnesses to attend court, the defendants could be re-arraigned.
The judge added that the defendants, although discharged, would be monitored. She warned them not to associate with any person of questionable character.
Mr Ibrahim, who said in his statement that he was a security guard at the Government House, Sokoto, was alleged to have been responsible for giving passage to Boko Haram members.
Over 100,000 people have been killed across Nigeria due to the activities of the Boko Haram terror group.
Full report at:
https://www.premiumtimesng.com/news/headlines/264682-nigerian-govt-bungles-prosecution-of-two-boko-haram-suspects.html
--------
Pakistan
Pakistan regulator to adopt 7 new Islamic finance standards
Apr 11, 2018
Pakistan's capital market regulator will introduce seven new standards covering a variety of Islamic finance transactions, as it fast-tracks the adoption of rules to help streamline industry practices.
The Securities and Exchange Commission of Pakistan (SECP) said it had opened a two-week public consultation period for the standards, which are to be issued by the Accounting and Auditing Organisation for Islamic Financial Institutions (AAOIFI).
The sharia standards cover areas including indices, liquidity tools, capital protection and agency agreements, and follow three other AAOIFI standards adopted in February.
The SECP published governance rules last month to cover sharia-compliant companies and securities, and it has also amended rules governing the issuance of Islamic bonds, or sukuk.
The sukuk funding format is attracting a wider number of issuers, such as Agha Steel Industries, which is planning to tap the market to raise 5 billion rupees ($43.3 million).
Javedan Corporation plans to sell sukuk worth 3 billion rupees for a middle-income housing project, and Pakistan Services Ltd intends to issue sukuk worth 7 billion rupees to finance construction of a hotel in the city of Mirpur.
https://timesofindia.indiatimes.com/world/pakistan/pakistan-regulator-to-adopt-7-new-islamic-finance-standards/articleshow/63708930.cms
--------
Matter of Rights: People, Not Constitution Discriminates On Basis Of Faith
April 12, 2018
The Constitution of Pakistan grants equal rights to all Pakistanis, irrespective of any faith. In some cases, non-Muslims are even given more rights than Muslims, to avoid any discrimination.
Yet, on ground, the feeling is otherwise, speakers at a workshop noted. It is actually the people running the affairs of the state who have not embraced a common Pakistani as an equal citizen with certain rights.
These thoughts came in a workshop, engaging on freedom of faith and inter-faith harmony, organised by Pak Institute for Peace Studies (PIPS), on. The workshop was attended by around 20 experts, faith leaders, and development professionals who have worked in the domain of interfaith harmony. The purpose of the discussion was to know how to undertake different activities aimed at enhancing interfaith harmony.
Our judgments are based on law, constitution, not free will: CJP
Zafarullah Khan, expert on constitution affairs, argued it is not that only a non-Muslim is discriminated; many Muslims too are on the periphery, and, like non-Muslims, are vulnerable to exploitation too. Rather than compartmentalising the issue, presenting it as the problem of one or other community, he asked to explore how common Pakistanis have been denied the rights accorded to them as citizens of the land. This, he said, has spawned different types of citizens, ranging from those who live in FATA to those who in Islamabad.
Renowned Islamic scholar Dr Khalid Masud also underscored that acccording to Islamic jurisprudence, non-Muslims Pakistanis are equal citizens of the land and cannot be regarded as "zimmis."
Meanwhile, Zafarullah Khan, quoting from the constitutional history of Pakistan, underlined that "democracy in Pakistan has promoted inclusion of non-Muslims, whereas dictatorial eras saw exclusion." This reality calls upon strengthening democratic norms and institutions in the country.
Earlier, PIPS's project manager Muhammad Ismail Khan, said that a critical issue faced by non-Muslims and Muslims alike is inconsistency in their proper documentation. Non-Muslims contend they are under-reported. In some cases, those on the lower-rung even lack identity documents, thereby excluding them from socio-political processes and increasing their vulnerabilities.
Objective Resolution dividing people on basis of faith: Jahangir
A range of suggestions were discussed, one of which was about economic mainstreaming of non-Muslims. It was suggested that the 5% quota marked for non-Muslims should be filled properly. Civil society should get data on that, and train others on how to get that data, using the Right to Information Act (RTI).
Experts also touched upon the need for interfaith harmony through education reforms. Romana Bashir, peace activist, also talked about segregation in the schools and the discrimination meted to non-Muslims.
Full report at:
https://tribune.com.pk/story/1683422/1-matter-rights-people-not-constitution-discriminates-basis-faith/
--------
Seven policemen dismissed over involvement in LeJ militants' jailbreak
Apr 12, 2018
KARACHI: Sindh government on Wednesday dismissed seven police officials from service after an inquiry found evidence of their involvement and even alleged facilitation in the escape of two high-profile Lashkar-e-Jhangvi (LeJ) militants.
In June 2017, Sheikh Muhammad Arif Firon and Ahmed Khan Arif Manako belonging to the banned militant outfit had managed to easily escape Karachi's Central Jail. The two were presented in the jail's judicial complex for a hearing when they managed to flee the prison.
A former Senior Superintendent Police of Karachi Central Prison and six other officials were among the dismissed policemen.
According to notifications issued by chief secretary Sindh, Rizwan Memon, the 15 jail officials were issued a charge sheet under Rule 4-A (I) of the Sindh Civil Servants (Efficiency and Discipline) Rules, 1973. The development occurred when a team of investigators led by DIG Prisons Capt (r) Pervez Ahmed Chandio conducted a detailed investigation into their escape and concluded that over a dozen jail officials "abetted and facilitated" the jailbreak.
"The accused Senior Superintendent of Prison Ghulam Murtaza Shaikh and his accused subordinates behaved carelessly, negligently and dishonestly throughout their tenure in maintaining discipline and order at the Central Prison Karachi," according to the findings of DIG Prisons.
DIG Chandio opined that at the time of the jailbreak the prison was being influenced by some "powerful" prisoners instead of the jail administration.
Full report at:
https://www.pakistantoday.com.pk/2018/04/12/seven-policemen-dismissed-over-involvement-in-lej-militants-jailbreak/
--------
Fazl says giving voting rights to overseas Pakistanis a 'conspiracy'
Apr 12, 2018
MANSEHRA: Jamiat Ulema-e-Islam-Fazl (JUI-F) chief Maulana Fazlur Rehman Wednesday termed giving voting rights to overseas Pakistanis a 'conspiracy' saying that this would allow foreign lobbies to meddle in Pakistan's politics.
Fazl expressed his apprehensions while speaking at the Ulema Convention in Mansehra, where he also questioned the eagerness of Pakistan Tehreek-e-Insaf (PTI) Chairman Imran Khan's to seek voting rights for overseas Pakistanis.
He said that the next election will be PTI's last, as the party has destroyed Khyber Pakhtunkhwa. The politician added that Imran should give a clear message to the people of Pakistan to clear all the impurities in the country.
The JUI-F leader also stated that the provincial government's attempt to buy clergymen has failed.
The National Database Registration Authority (NADRA) is due to give a briefing to political parties on the issue of allowing overseas Pakistanis to vote in the general elections on April 12. In the briefing, being held on the directions of the Supreme Court, representatives of all 18 parties with a presence in Parliament, as well as secretaries of various ministries, will be invited.
The Senate chairman and National Assembly speaker will select six members each from their houses to attend the briefing.
Full report at:
https://www.pakistantoday.com.pk/2018/04/11/fazl-says-giving-voting-rights-to-overseas-pakistanis-a-conspiracy/
--------
PHC suspends execution of Amjad Sabri's 'killer'
Apr 12, 2018
PESHAWAR: The Peshawar High Court (PHC) on Wednesday suspended the execution of a death-row prisoner sentenced by a military court.
His lawyer told a two-judge bench comprising of Justice Qalandar Ali Khan and Justice Ishtiaq that Hazrat Ali was arrested by security forces back in 2009 from Karak district when he was 18 years old.
The lawyer maintained that he was accused of killing famous qawwal Amjid Sabri in Karachi and was awarded the death sentence on April 3.
The lawyer asked the court to direct the military court to halt Ali's execution and that he should be given more time to defend the allegations leveled against his client.
The two-judge bench stopped the authorities from going forward with the death penalty and sought a reply from the defense ministry till the next hearing of the case.
The qawwali maestro had been shot dead by motorcycle-borne gunmen in Karachi's Liaquatabad back in 2016 when he was traveling from his home to a television studio to attend an iftar transmission.
Full report at:
https://www.pakistantoday.com.pk/2018/04/11/phc-suspends-execution-of-amjad-sabris-killer/
--------
Siraj calls for expediting KP-FATA merger, wants tribal jirgas
Apr 12, 2018
MOHMAND AGENCY: Jamaat-e-Islami (JI) leader Sirajul Haq on Wednesday demanded an end to the Frontier Crimes Regulations (FCR) and the merger of Federally Administered Tribal Areas (FATA) with Khyber Pakhtunkhwa (KP), saying that that FCR is a British era draconian law and the state should instead create jirgas to address grievances of tribesmen.
Addressing a public meeting at Mohmand Agency, the JI leader stated that if the federal government fails to grant lawful rights to the people of FATA, the tribal people would be forced to lay a siege around Islamabad and the provincial capital Peshawar.
Siraj stated,"People of FATA should be respected at the checkposts instead of being humiliated as tribal people have fought in Kashmir in the past and have freed Kashmir from various attackers, and whenever Pakistan needed them, they will fight for Pakistan against the enemy."
He also said that rulers have divided the country geographically for their own business and demanded that CNIC's of tribal people be unblocked.
He also said that missing persons should be brought before the court instead of being kept in extrajudicial detention. He demanded the opening of cellular networks in the agency, adding that if these were not opened within a month the JI will start a protest movement in the agency.
JI, earlier in December last year had also announced to stage a sit-in in Faizabad area followed by another sit-in at D-Chowk to press the government to expedite the merger of FATA with Khyber Pakhtunkhwa.
Voicing reservations about the recent national census, JI called for a review of the statistics pertaining to the tribal areas.
Full report at:
https://www.pakistantoday.com.pk/2018/04/11/sirajul-haq-demands-expediting-kpfata-merger-calls-for-creation-of-tribal-jirgas/
--------
AJK president meets Saudi ambassador, updates on human rights abuse in IOK
Apr 12, 2018
ISLAMABAD: Azad Jammu and Kashmir (AJK) President Sardar Masood Khan on Tuesday met Ambassador of the Kingdom of Saudi Arabia to Pakistan Nawaf Saeed Ahmad Al Maliki here in the federal capital.
The president, during the meeting, briefed the Ambassador about the latest apprehensive human right situation in Indian Occupied Kashmir (IOK).
He thanked the Kingdom of Saudi Arabia for its principled stance on the Kashmir issue.
Saudi Arabia being a key member of the Organization of Islamic Cooperation's (OIC) Contact Group on Kashmir has always supported the unarmed freedom struggle in IOK.
Furthermore, AJK president thanked the government of Saudi Arabia for its committed and resolute support to the right to self-determination of the people of Kashmir on all forums including the OIC's ministerial and summit meetings.
Full report at:
https://www.pakistantoday.com.pk/2018/04/11/ajk-president-meets-saudi-ambassador-updates-on-human-rights-abuse-in-iok/
--------
MNAs deplore online drive against Hindu faith
Syed Irfan Raza
April 12, 2018
ISLAMABAD: National Assembly Speaker Sardar Ayaz Sadiq on Wednesday directed the interior ministry to crack down on any individual or group involved in posting blasphemous material about the Hindu religion.
A picture of Pakistan Tehreek-i- Insaf (PTI) chairman Imran Khan depicted as a Hindu god has been doing the rounds on social media in what is also believed to be a concerted campaign against the opposition party.
The speaker issued the directives following a protest by Hindu legislators who said that their faith was being smeared in a wave of hate speech online. The issue was raised as a point of order by Ramesh Lal who presented an example of the blasphemous content — a picture of a Hindu deity with the PTI chairman's face.
Such posts have deeply hurt the religious sentiments of more than four million Hindus living in Pakistan. The MNA said that such offences were covered by cyber laws and should not remain unpunished.
Demanding legal action against the perpetrators for posting blasphemous content, he asked the speaker to order an inquiry into the matter.
Another parliamentarian, Lal Chand Malhi, said there was evidence of a malicious online campaign targeting the minority community and desecrating images that were revered by millions of Pakistani Hindus.
In response to the complaints, Speaker Sadiq directed Minister of State for Interior Tallal Chaudhry to complete the inquiry within seven days. He also directed the state minister to lodge a case against the culprits with the Federal Investigation Agency. Later, Mr Lal, while speaking to Dawn, said that he and Mr Malhi had prepared a complaint to be made the basis of the FIR which was to be handed over to Mr Chaudhry, but the state minister had left the house before the complaint could be finalised. "We will hand it over to the minister on Thursday," he said.
Mr Lal said the social media campaign against the Hindu community had been giong on for two weeks.
Earlier in the house, PTI vice chairman Shah Mehmood Qureshi said his party fully supported the Hindu community. He alleged that such content was being generated by the social media wing of a political party.
Commenting on the PTI allegation, Tallal Chaudhry said that the government strongly condemned all such acts, but unfortunately the internet was filled with blasphemous content that was used not only to hurt the feelings of the Hindu community but also to insult Muslims.
Former interior minister Chaudhry Nisar Ali Khan had in the past also taken up the issue of blasphemous content appearing on Facebook and even reached out to the management of the social networking website, asking it to not allow such offensive posts, but no action was taken.
Full report at:
https://www.dawn.com/news/1401113/mnas-deplore-online-drive-against-hindu-faith
--------
Sikh pilgrims laud Pakistan's efforts
April 12, 2018
SIALKOT-A delegation of 23 male and female Sikh Yatrees from Canada on Wednesday visited Gurudawara Babey Di Beri and thanked Pakistani government's policies for the minority communities especially Sikhs.
They highly hailed Pakistan's sincere efforts for ensuring the religious freedom of the minorities and safeguarding the sacred places and Gurudawaras of the Sikh community in Pakistan.
Led by Jasveer Singh, the Sikh Yatrees refreshed their pre-partition memories. They also performed their religious rites and distributed sweets. They said that Pakistan was peaceful country and the people of Pakistan were also very peace-loving. They said that the Pakistanis have given marvelous love, affection, care and unforgettable hospitality to them.
Later, these Sikh pilgrims visited Gurudawara Darbar Sahib Kartarpur-Shakargarh. They also performed their religious rites there amid tight security.
Meanwhile, Sialkot Municipal Corporation announced to launch an awareness- campaign in Sialkot city for motivating the people of Sialkot city to ensure timely registration of births and deaths at its registration branch.
Mayor Tauheed Akhtar told newsmen that the Municipal Corporation would also launch a campaign to cull stray dogs. It will ensure anti-mosquitoes spray in urban areas to save the local people from dengue, mosquitoes and flies.
CHILD INJURED AT SCHOOL: A student was injured after receiving bullet injuries as the 12-bore gun of the untrained security guard went off at the main gate of a leading private school namely Sialkot Grammar School at College Road.
Full report at:
https://nation.com.pk/12-Apr-2018/sikh-pilgrims-laud-pakistan-s-efforts
--------
Rare uproar over Kunduz airstrike reaches Pakistan's Senate House
Apr 12 2018
The Senate House of Pakistan has passed a resolution regarding the alleged killing of civilians in northern Kunduz province of Afghanistan as the rare uproar regarding the airstrike persists in the country with the Afghan officials insisting that the Taliban group has suffered heavy casualties in the raid despite it claimed the lives of some civilians as well.
According to the local media reports, the resolution moved by Jamiat e Ulema Islam Fazl (JUI-F) Senator Maulana Attaru Rehman, says strongly condemned the killings of Huffaz in a 'Dastar Bandi' ceremony in a seminary.
It was aso claimed that around 250 to 300 seminary students were killed during the airstrike.
This comes as the 209th Shaheen Corps of the Afghan Military said Friday that the latest findings of the Afghan national Army (ANA) reveals that five senior Pakistan military advisors supporting the Taliban were among those killed in Kunduz airstrike as the raid has sparked an unprecedented uproar in Pakistan.
According to the Shaheen Corps, the Pakistani advisors had apparently visited Dasht-e-Archi district to help coordinate the future spring offensive of the Taliban as well as helping the group to establish contacts with the certain regional countries.
Although the civilian deaths in Kunduz airstrike remains a disputed issue so far with investigations underway regarding the airstrike and civilian casualties, the unprecedented uproar in Pakistan has came as a matter utter surprise.
Full report at:
https://www.khaama.com/rare-uproar-over-kunduz-airstrike-reaches-pakistans-senate-house-04856/
--------
South Asia
B'desh: Ahmadiyya community in fear after mosque ambush
April 12, 2018
The Ahmadiyya community, who are also known as 'Qadiani', has been living in fear ever since suspected radical groups allegedly attacked a mosque in Bangladesh's Jamalpur last month, leaving more than 20 worshippers injured.
On that note, the Ahmadiyya community in Bangladesh is reportedly marginalised and has come under attack at various times.
Anticipating more 'hate' attacks in the future, many Ahmadiyya families have left Jamalpur; others who are residing in the town, are hiding their religious identities to avoid attention, the Dhaka Tribune reported.
On March 30, a group of people, armed with sharp weapons, launched an alleged attack on an Ahmadiyya mosque after Friday's prayers at Jamalpur's Madarganj Upazila, injuring 20 worshippers in the process.
As per the report, the members of Ahmadiyya community claimed that local Awami League leader Moneer Munshi had instigated the attack. However, this is yet to be ascertained.
A resident named Tayeb Ali was among those who were injured in the mosque ambush. He claimed, though he is not an Ahmadi, he went to the mosque to offer prayers and learn about their faith.
Jamalpur district's Ahmadiyya Jamaat South teacher Asaduzzaman Rajib added that owing to repeated hate attacks on the Ahmadis, people are living in fear and peace is disturbed because of "hardliners such as Khatme Nabuat Bangladesh and Jamaat-e-Islami".
"They have attacked us several times. They are disturbing the peace. We do not have any disputes with others. They (radical groups) are creating the discord," Rajib said, as quoted by the Dhaka Tribune.
Rafiqul Islam Khoka, a member of the Ahmadiyya community who owns a small stationery stop next to his home, said that he is not able to sell products, as people avoid purchasing from his shop for being an Ahmadi.
Speaking about the alleged attack, Sharishabari Ahmadiyya Jamaat President Faridul Islam and several others said that they had gone to offer their prayers at the mosque when the incident happened.
The members of the Ahmadiyya community claimed that the attack happened for no reasons, and said that they did not force anyone to follow their ideology.
On a related note, over 15,000 Ahmadis reside in the country, with 10,000 of them living in Brahmanbaria, 3,500 in Kishoreganj and 3,000 more in Mymensingh.
http://www.business-standard.com/article/news-ani/b-desh-ahmadiyya-community-in-fear-after-mosque-ambush-118041200278_1.html
--------
Aid Groups Seek Greater Support for Rohingya Refugees Facing Trauma, Hunger
April 11, 2018
Cox's Bazar, Bangladesh. Rohingya refugees in Bangladesh are struggling from mental health issues, including suicidal thoughts, while almost half of the children are malnourished, according to aid agencies racing to boost services.
Focus groups involving 300 people living in the densely populated "mega-camp" in Cox's Bazar District found that 38 percent of children and 74 percent of adults "felt sad always."
Suicidal thoughts were reported by 4 percent of youth, according to an assessment by the International Organization for Migration (IOM), which has not previously been made public.
"It's an alert that youth are neglected from services," said Olga Rebolledo, a mental health and psychosocial support coordinator with IOM. "They don't have any options here right now, no possibilities for jobs or education."
About 700,000 Rohingya Muslims have crossed into Bangladesh from Myanmar since an Aug. 25 crackdown by the military in Rakhine state. Rohingya refugees reported killings, looting and rape in response to militant attacks on security forces.
The government of Buddhist-majority Myanmar says its forces have engaged in a legitimate campaign against Muslim "terrorists", and has denied atrocities against civilians.
But aid agencies said many refugees are traumatized.
One elderly woman – whom the Thomson Reuters Foundation is not identifying due to the risk of retribution against her relatives in Myanmar – said she could not stop thinking about her son and husband who were killed by soldiers.
"I dreamed about my son twice," she said, sitting in a tarpaulin and bamboo shelter. "Once he was bringing me seeds to plant, and the second time he was hiding behind a wall."
Suffering From Trauma
Her feelings are common, according to the IOM study, which found 63 percent of adult participants are constantly grieving for lost family members.
Rebolledo said a small percentage of people who experience such events may need psychiatric treatment but for others establishing stable living conditions, including security and access to food and education, can restore a sense of wellbeing.
But improving living standards is a challenge for aid agencies scrambling to provide services to the fastest growing refugee population in decades.
The population in the camp swelled to almost 600,000 from about 19,000 in four months, according to the United Nations refugee agency, UNHCR.
Food shortages were the most recurrent issue affecting the refugees' mental health while inadequate shelter, poor sanitation and hygiene were also frequently cited as concerns.
One quarter of children in the camp are acutely malnourished, with 7.5 percent at a high risk of death from severe malnutrition, according to a study published on Tuesday (10/04).
More than 43 percent of children are chronically malnourished, said researchers from the United States' Centers for Disease Control and Prevention, the charity Action Against Hunger, and UNHCR.
The IOM study also found 40 percent of refugees cited "not being recognized as citizens" as psychologically destabilizing.
"We can't do anything about that," said Rebolledo. "What we can do is show them that they have resources and a very strong sense of identity as a community."
Strengthening community bonds can promote mental health, said Rebolledo, and the IOM is partnering with organisations as the Red Cross and Action Against Hunger to scale up services.
Full report at:
http://jakartaglobe.id/international/aid-groups-seek-greater-support-rohingya-refugees-facing-trauma-hunger/
--------
Afghan district governor among seven killed in Taliban attack
April 12, 2018
GHAZNI, Afghanistan: Taliban militants launched a pre-dawn raid on a district government compound in Afghanistan on Thursday, killing at least seven people including the local governor, officials said.
Six police also died and nine intelligence officers were wounded in the attack on the Khwaja Omari district headquarters in the southeastern province of Ghazni, provincial governor spokesman Aref Noori said.
The militants used a ladder to climb into the compound in the early hours of Thursday, deputy provincial police chief Ramazan Ali Mohsini said.
Mohsini put the death toll at 13, including the governor, police and intelligence officers, adding scores of Taliban fighters were also killed but that could not be immediately confirmed.
Afghan officials often give conflicting casualty figures immediately after an attack.
"The attack is over and the district is under the control of Afghan security forces after reinforcement forces rushed to the scene following the Taliban attack," Mohsini added.
The Taliban claimed responsibility for the raid in a WhatsApp message to journalists, saying "more than 20 police" were killed and several others wounded.
"Our mujahideen have confiscated weapons and ammunition," Taliban spokesman Zabihullah Mujahid said.
"In the attack three mujahideen were martyred and four others were wounded."
The attack was one of the deadliest by the Taliban in several weeks and comes as the militants prepare to launch their annual spring offensive, which marks the beginning of the traditional fighting season.
The Taliban is under pressure to take up President Ashraf Ghani's offer of peace talks but so far the group has not responded directly to the proposal.
The militants had vowed to take revenge over last week's Afghan airstrike in an area controlled by the group in the northern province of Kunduz.
Full report at:
http://www.arabnews.com/node/1283291/world
--------
Myanmar court refuses to dismiss charges against journalists
Apr 11, 2018
YANGON (MYANMAR): A Myanmar court on Wednesday refused to dismiss a case against two Reuters journalists after the reporters' lawyers insisted last week that the evidence doesn't support the charges.
The case against Wa Lone and Kyaw Soe Oo has been strongly criticized internationally as an effort by authorities to intimidate the press, especially its coverage of the sensitive situation in Myanmar's Rakhine state, where the military is accused of massive human rights abuses against the Muslim Rohingya minority.
The two journalists were arrested Dec. 12, with police accusing them of violating the Official Secrets Act, a law dating from British colonial times, by acquiring "important secret papers" handed to them by two policemen who worked in Rakhine. If convicted, they could get up to 14 years in prison.
"I am not happy at all," Kyaw Soe Oo told reporters as he walked out of the courtroom Wednesday.
Wa Lone shouted out, "We journalists just did our job as we have the rights of free press in the democracy and now we are facing the charge that could probably put us in prison for 14 years."
The two had worked on Reuters' coverage of the crisis in Rakhine, where security forces' response to a Muslim insurgents' attack have driven nearly 700,000 Rohingya to neighboring Bangladesh.
The case has drawn international attention, with high-profile rights lawyer Amal Clooney joining the legal team representing the jailed journalists. The United States, Britain and Canada, as well as the United Nations, have called for the reporters to be freed.
The defense lawyers asked the judge last week to dismiss the charges after four months of preliminary hearings, saying testimony from prosecution witnesses did not give enough evidence to prove the pair violated the law.
"The judge said that eight more witnesses are still left to testify and our claims of baseless evidence from persecution witnesses are not yet true," Than Zaw Aung, one of the defense lawyers, said after Wednesday's hearing.
Reuters President and Editor-in-Chief Stephen J. Adler said he was disappointed with the court's decision.
Full report at:
https://timesofindia.indiatimes.com/world/rest-of-world/myanmar-court-refuses-to-dismiss-charges-against-journalists/articleshow/63710326.cms
--------
More than 250 killed in Algerian military plane crash
APRIL 12, 2018
More than 250 people including Western Sahara refugees were killed when a military plane crashed near Algeria's capital on Wednesday, state media said, with witnesses saying they saw a wing catch fire shortly after the plane took off.
Dozens of firefighters, rescue workers and military officials worked around the blackened fuselage of the aircraft, which had been ripped open near its wings.
Bits of mangled and smouldering debris were scattered across the field near Boufarik airport southwest of Algiers where people were searching for bodies among the rubble.
Earlier TV images showed flames and smoke billowing from the site of the crash, the country's worst air disaster.
"This morning at around 8:00 an Ilyushin model military transport plane … crashed directly after takeoff in an agricultural field that was clear of residents," Major General Boualem Madi told state TV.
A line of white body bags could be seen on the ground next to the wreck of what media said was a Russian Ilyushin Il-76 transport plane, part of which was still intact. Smoke was still billowing hours after the crash.
"After taking off, with the plane at a height of 150 meters I saw the fire on its wing. The pilot avoided crashing on the road when he changed the flight path to the field," Abd El Karim, a witness, told the private Ennahar TV station.
Another witness said: "We saw bodies burned. It is a real disaster".
A total of 257 people were killed, most of them military, the defence ministry said. Ten crew and other people described as family members died, and a number of survivors were being treated at an army hospital, the ministry added.
The plane had been heading to Tindouf on the border with Western Sahara, Algeria's defence ministry said.
One young man cried as he spoke to a local TV station about a relative who died in the crash.
"We talked on the phone yesterday evening and he promised to call me again on arrival in Tindouf," he said.
Western Sahara
A member of Algeria's ruling FLN party told Ennahar the dead included 26 members of the Polisario Front, an Algerian-backed group fighting for the independence of neighbouring Western Sahara, a territory also claimed by Morocco in a long-running dispute.
A source close to Polisario said that the dead included four refugee children and that around 30 refugees who had received medical treatment in the capital had been killed in all.
Tindouf is home to tens of thousands of refugees from the Western Sahara standoff, and a source close to Polisario said the flight route is taken regularly by Western Saharan refugees.
The defence ministry said in a statement it would investigate the cause of the crash, and it expressed condolences to the families of the victims.
President Abdelaziz Bouteflika ordered three days of mourning, while former colonial power France, the United States, Russia and other countries expressed their condolences, a statement said.
Doctors who have been on strike for months over their pay and work conditions resumed work to treat the survivors, residents said. Some 70 ambulances arrived at the scene after the crash, local media said.
Full report at:
https://dailytimes.com.pk/226915/more-than-250-killed-in-algerian-military-plane-crash/
--------
Myanmar minister assures Rohingya in Bangladesh repatriation is a priority
11 April 2018
By Clare Baldwin
KUTUPALONG REFUGEE CAMP, Bangladesh, April 11 (Reuters) - A Myanmar minister told Rohingya Muslim refugees in Bangladesh on Wednesday their repatriation was a priority during the first visit by a top Myanmar official to victims of what the United Nations says was "ethnic cleansing" by the Myanmar army.
Social Welfare Minister Win Myat Aye, who is leading rehabilitation efforts in Myanmar's western Rakhine state, met about 50 Rohingya gathered in a community centre run by the U.N. High Commissioner for Refugees in the Kutupalong refugee camp in southeast Bangladesh.
Acknowledging their mistrust and fear of Myanmar, Win Myat Aye told the Rohingya to set aside the past and prepare to "go back to your own residences", promising new villages would be built with hospitals and schools.
"The most important thing is to the start the repatriation process as soon as possible. We can overcome all of the difficulties," he said as he left the meeting.
A Bangladesh foreign ministry official said his country wanted to show the visiting minister the challenges it was facing in hosting the refugees. Win Myat Ayat is expected to meet Bangladesh's foreign minister in Dhaka on Thursday.
Bangladesh wants the refugees to go home as quickly as possible and officials said this week they hoped the minister's visit would speed up repatriation.
But some refugees have said they are worried about going back to Buddhist-majority Myanmar, fearing persecution.
When asked about whether Rohingya could be granted Myanmar citizenship, which they had been long denied, the minister replied: "We are trying to have that."
For now, Myanmar is offering Rohingya national verification cards (NVC), which some refugees regard as inadequate.
The meeting became heated only when Win Myat Aye tried to persuade the refugees to accept the NVC, telling them they would be given an opportunity to apply for nationality later.
"Before, applying for the citizenship card took very long and (you) don't get it in the end. Now, it won't take long and you might get it. You might get it according to the law."
Dozens crowded around the minister, showing him their parents' and grandparents' identity documents and raising their voices to be heard.
Some remained unconvinced by the minister's words and later voiced their doubts about the Myanmar government's sincerity.
"At first I was glad to hear the minister was coming here but after hearing his speech I am very upset," said Mohammed Showife, 29, from Buthidaung.
"The Myanmar government does not wish to solve the problem," Showife told Reuters.
Myanmar has rejected accusations of ethnic cleansing in Rakhine, saying its security forces launched a legitimate counter-insurgency operation on Aug. 25 in response to Rohingya militant attacks.
According to U.N. officials, nearly 700,000 Rohingya have fled to Bangladesh since then. Refugees have reported killings, burnings, looting and rape by members of the Myanmar security forces and Buddhist vigilantes.
Myanmar has dismissed most such accounts but the army said on Tuesday seven soldiers had been jailed for 10 years with hard labour for participating in a massacre of 10 Rohingya Muslim men in a village in September.
The two countries reached a deal in November to begin repatriation within two months, but it has not begun, with the Rohingya, who face restrictions on their movements in Myanmar, still arriving in Bangladesh.
Full report at:
http://news.trust.org//item/20180411083552-apff2/
--------
Eight militants killed in Afghanistan
April 11, 2018
At least eight militants have been killed in Afghanistan's northern Jawzjan province.
The terrorists were killed in Darab district of Jawzjan during a clearance operation, reported Khaama Press.
Not much detail has been put out with respect to the killed militants apart from the fact that out of the eight militants, one of them included French national apparently fighting in Islamic State (IS) ranks.
This comes as the Afghan Intelligence, National Directorate of Security (NDS), noted in late March, that at least five IS suspects including a French woman have been arrested during a Special Forces operation in the North.
According to the reports, the French woman was arrested during a joint operation of the Afghan Special Forces and the foreign forces based in Afghanistan.
Full report at:
http://www.business-standard.com/article/news-ani/eight-militants-killed-in-afghanistan-118041100796_1.html
--------
Kabul police rescue deminers abducted by Taliban group from Sarobi
Apr 11 2018
The Afghan National Police (ANP) forces have rescued a group of deminers who were kidnapped by the Taliban militants from Sarobi district.
The Criminal Investigation Department (CID) officials the four deminers were rescued during an operation of the police forces.
The officials further added that the deminers were kidnapped few days earlier by the Taliban insurgents from the Sarobi district of Kabul.
The anti-government armed militant groups including Taliban insurgents have not commented regarding the report so far.
In the meantime, the Criminal Investigation Department (CID), officials are saying that 74 suspects have been rounded from different parts of the capital in connection to the criminal incidents.
The officials further added that the suspects were involved in criminal related incidents including murder and armed robberies.
This comes as there has been a sharp rise in criminal-related incidents in Kabul city and other key cities of the country during the recent years.
Full report at:
https://www.khaama.com/kabul-police-rescue-deminers-abducted-by-taliban-group-from-sarobi-04854/
--------
Mideast
Iran hurls 'support for terrorism' charge back at rival Saudi Arabia
11 April 2018
TEHRAN, Iran — Iran on Wednesday hit back at Saudi accusations that Tehran provides "support for terrorism," pointing at alleged links between Riyadh and jihadists such as Al-Qaeda and the Islamic State group.
Countries in the region "will never forget the role played by Saudi Arabia in conspiring for, supporting and arming violent terrorists and extremists… such as Al-Qaeda and Daesh (Islamic State) and other similar groups," Iran's foreign ministry said.
It also singled out Saudi support for Iraq's fallen dictator Saddam Hussein in his 1980-1988 war against Iran, its military intervention in Yemen since 2015 and its apparent rapprochement with Israel.
Iran, a bitter regional rival of Saudi Arabia with which diplomatic ties were cut in 2016, was responding to the kingdom's Crown Prince Mohammed bin Salman who Tuesday referred to Tehran's "support for terrorism" during a visit to Paris.
On Tuesday, President Emmanuel Macron said that France agreed with Saudi Arabia on the need to curb Iranian "expansionism" in the Middle East, while also announcing a conference to boost humanitarian support for Yemen, where Riyadh is waging a bombing campaign.
Speaking alongside Crown Prince Mohammed bin Salman at a press conference as the latter wrapped up a three-day official visit, Macron called for "greater efforts to limit Iran's ballistic activity and regional expansionism."
The Wahhabist ideology which is historically linked to the Saudi monarchy has inspired the ideology of jihadist groups, and 15 of the 19 plane hijackers in the 9/11 attacks on the United States were Saudi nationals.
https://www.timesofisrael.com/iran-hurls-support-for-terrorism-charge-back-at-rival-saudi-arabia/
--------
Israel targets Hamas posts in Gaza
April 12, 2018
JERUSALEM - The Israeli army said it fired at unspecified Hamas "military targets" in Gaza on Wednesday after a Palestinian bomb attack on an army engineering unit working inside the Hamas-ruled territory.
No Israelis were reported injured in the explosion, which the army's radio station said appeared to have targeted a mechanical digger.
It was not clear what the engineering unit was working on, though Israel routinely carries out maintenance work on or near the border fence in an area it considers a buffer zone.
The army said the bomb was planted under cover of mass protests along the Gaza-Israel border since March 30.
"During routine activity in northern Gaza, an explosive device that was placed under the guise of the riots was detonated against an (army) engineering vehicle on the western side of the security fence," a military statement said.
"In response, the Israel Defence Forces struck a number of Hamas military targets," it added.
The statement did not give the location of the targets or the type of military fire used. Israel has used both tank fire and air strikes against Hamas targets in the past.
A Gazan security source said the strikes had targeted a base for Hamas's armed wing east of Gaza City, causing damage but no injuries.
Separately, two Palestinians were moderately injured east of Gaza City in clashes on Wednesday morning, according to the health ministry in Gaza.
The mass rallies, under the name "the Great March of Return," call for Palestinian refugees to be allowed back to their former homes now inside Israel.
They have led to clashes in which Israeli forces have killed 31 Palestinians. No Israelis have been hurt.
Meanwhile, a Palestinian who says he was shot by an Israeli sniper along the Gaza border said Wednesday he was posing no threat to soldiers at the time, after a video of the incident went viral.
The footage filmed from the Israeli side of the border fence, which included rejoicing after the shooting, was shared widely online and by the media earlier this week.
It led to further scrutiny of Israel's open-fire rules along the Gaza border.
Israel's defence minister praised the sniper, but criticised the soldier who filmed the incident.
Israel's military alleged that the soldier opened fire after rioting by Palestinians and warnings from soldiers.
Tamer Abu Daqqa, 28, said he recognised himself in the video, which was filmed on December 22 in southern Gaza, particularly due to the red jacket he was wearing.
AFP could not independently verify Abu Daqqa's claim, but separate footage from that day shows him in hospital after being shot in his leg, which is still in plaster four months after the incident.
Abu Daqqa said he had thrown stones at Israeli soldiers over the border during the day, but denied being armed or posing any threat at the time of the gunshot.
"When they shot me I was not throwing stones. I was yelling to friends near the fence to leave and go back to our homes," he told AFP at his home in Khan Yunis in the southern Gaza Strip.
The incident took place during protests along the Gaza border sparked by US President Donald Trump's controversial recognition of Jerusalem as Israel's capital, which infuriated Palestinians and led to clashes.
The Palestinians consider the eastern part of Jerusalem as the capital of their future state.
In the footage of the incident, voices can be heard discussing opening fire on Palestinians walking on the other side of the border fence.
A soldier then opens fire on one of the Palestinians, knocking the person to the ground.
"Wow. What a video! Yes! That son of a bitch," one of the voices behind the camera exclaims in Hebrew.
Israel's military on Tuesday confirmed the authenticity of the video, but alleged the shooting followed riots and warnings from troops.
It said a single bullet was fired toward the Palestinian "suspected of organising and leading this incident while he was a few metres from the fence," wounding him in the leg.
"In the video they say they killed me," said Abu Daqqa. "The sniper failed. I was only injured."
The video came at a highly sensitive time for Israel's military, which has faced mounting criticism over its use of live fire along the Gaza Strip border, where 31 Palestinians have been killed since late March as mass protests have led to clashes.
Hundreds of others have been wounded. There have been no Israeli casualties. The European Union, UN Secretary-General Antonio Guterres and others have called for an independent investigation into the deaths, which included a journalist.
Israel has rejected the calls, saying its forces have opened fire to stop attempts to damage the fence, infiltrations, bids to carry out attacks and at those seeking to harm soldiers.
It accuses Hamas, with whom it has fought three wars since 2008, of seeking to use the protests as cover for violence.
The Abu Daqqa video, though it dates from several months earlier, led to fresh questions about Israel's rules of engagement.
The Israeli human rights organisation B'Tselem said earlier this week that shooting incidents similar to what is seen in the video have "occurred hundreds of times over the past few weeks in the Gaza Strip, causing death and injuries."
Abu Daqqa said the video showed the Israelis were "terrorists".
"In the video they laugh at me and insult me. If they were men they would face me without weapons as I faced them," he said.
Full report at:
https://nation.com.pk/12-Apr-2018/israel-targets-hamas-posts-in-gaza
--------
Missiles, drones from Yemen 'intercepted' over Saudi Arabia
April 12, 2018
RIYADH - Saudi Arabia said its air defences on Wednesday intercepted ballistic missiles fired from rebel-held Yemen at Riyadh and the south of the kingdom where two drones were also shot down.
Yemen's Shiite Huthi rebels said their cross-border barrage marked the launch of what their leadership has dubbed "the year of ballistics".
The attacks prompted swift condemnation from a Saudi military spokesman, who said the kingdom would respond "with resolve".
A missile launched from Sadaa, the Huthis' stronghold in northern Yemen, "towards Riyadh was successfully intercepted" by Saudi air defences, said Colonel Turki al-Malki, spokesman for a Saudi-led coalition fighting the Huthis.
The announcement came after an AFP journalist witnessed explosions and heard three blasts over the capital, which has come under repeated attack by Huthi rebels. Malki said Saudi forces also intercepted two missiles in the southern Jizan and Najran provinces, close to the border with Yemen.
Saudi Arabia has since March 2015 led a coalition of Arab states fighting to roll back the Huthi rebels in Yemen and restore its neighbour's internationally-recognised government to power.
Nearly 10,000 people have since been killed in the conflict, in what the United Nations has called the world's worst humanitarian crisis.
Saudi Arabia accuses its rival Iran of smuggling missiles to the Huthis - a charge Tehran denies. Wednesday's attacks were claimed by the rebels via their news outlet Al-Masirah.
"The missile force carried out a large-scale ballistic missile attack on various parts of Saudi Arabia ," Al-Masirah said.
It named the defence ministry in Riyadh, King Abdullah Economic City in Najran and the Saudi Aramco facility in Jizan as the targets.
The Huthis said the attacks were timed to "inaugurate the ballistic year announced by the president". Saleh al-Sammad, head of the rebels' supreme political council, in a speech earlier this week declared 2018 would be "the year of ballistics".
Rebel drones
As the announcement on the missile interceptions emerged, Malki also said in a separate statement that Saudi air defences had shot down two unmanned Yemeni drones in southern Saudi Arabia .
One of the drones was targeting the Abha international airport in Asir province, which led to a temporary suspension of air traffic.
Upon coalition inspection, "it turned out to be a hostile Huthi drone with Iranian components", Malki said.
A second drone was identified while approaching a "civilian object" in Jizan province, he added.
The Huthis claimed attacks on Abha airport and Saudi Aramco, located in Jizan, publishing an infographic of the "Qasef 1" drone on Al-Masirah.
Oil giant Aramco downplayed the attacks, saying its "operations and facilities, including our facilities in Jizan, are operating normally and safely". But the Huthi leadership was electrified.
"We are stronger today than every before," Huthi military spokesman Sharaf Luqman said of the incursions into Saudi Arabia .
Full report at:
https://nation.com.pk/12-Apr-2018/missiles-drones-from-yemen-intercepted-over-saudi-arabia
--------
Yemen's coastal city of Midi celebrates complete liberation from Houthi control
11 April 2018
Yemen's city of Midi has celebrated victory and liberation from the grip of Houthi militias after the latter were driven out by legitimate and coalition forces in recent days.
The leadership of Yemen's Fifth Military Region, local authorities represented by the governor of Hajjah province, Maj. Gen. Abdul Karim al-Sinani and the Joint Operations Command of the Arab coalition on Wednesday took part in the victory festivities in the districts of Midi which were liberated from Houthi militias.
The Governor of Hajjah province, Major General Abdul Karim al-Sinani, congratulated the political and military leadership represented by President Abdrabbuh Mansour Hadi and his deputy, Lieutenant General Ali Mohsen Al-Ahmar and the Yemeni people.
He also thanked the Fifth district leadership for exerting all efforts to liberate the city of Midi and lead the joint operations to liberate the city, praising the efforts of the heroes of the national army in the fifth military region, who were desperate to restore the city from the hands of the coup militias.
The commander of the fifth district, Major General Yahya Salah, said that the city of Midi is the gate of victory and liberation of the entire province, saying that soon the banner of victory will rise in all the provinces of Tihama and the capital Sanaa. The commander of the coalition in Jazan district, Major General Mohammed al-Meissari commended the victories achieved by the national army in the liberate the city of Midi, stressing that more military support from the Arab coalition will continue for the National Army until the complete liberation of all Yemeni territory from the militia.
Full report at:
https://english.alarabiya.net/en/News/gulf/2018/04/11/Yemeni-city-of-Midi-celebrates-victory.html
--------
Saudi jets attack Intl. airport, airbase in Yemen capital city
Apr 12, 2018
Saudi warplanes have launched seven airstrikes against the Sana'a International airport and al-Dailami air base in Yemen's capital city as the regime pushes ahead with its aggression against its neighbor.
Saudi sources said their airstrike on Wednesday night targeted a drone hanger at the Sana'a airport.
Saudi Arabia had attacked Sana'a airport last November, damaging its ground navigation tower and parts of its runway.
The attack came after Riyadh announced that it was tightening the siege on Yemen's air, sea, and land borders, after Yemeni forces, backed by Houthi Ansarullah fighters, launched a missile, a Borkan H2 long-range missile, at King Khalid International Airport in northeastern Riyadh.
Earlier on Wednesday, the Yemeni army's remote control drones carried out an airstrike on the Abha International Airport in Saudi Arabia's southwestern Asir region, causing the airport to cancel its flights.
Yemeni drones also attacked an Aramco facility in the nearby Jizan region.
Yemeni forces regularly target positions inside Saudi Arabia in retaliatory attacks against the Riyadh-led military operation.
The Saudi aggression against Yemen was launched in March 2015 in support of Yemen's former Riyadh-friendly government and against the country's Houthi Ansarullah movement, which has been running state affairs in the absence of an effective administration. The offensive has, however, achieved neither of its goals despite the spending of billions of petrodollars and the enlisting of Saudi Arabia's regional and Western allies.
The Yemeni Ministry of Human Rights announced in a statement on March 25 that the Saudi-led war had left 600,000 civilians dead and injured during the past three years.
Full report at:
http://www.presstv.com/Detail/2018/04/12/558226/Saudi-Yemen-airport-airstrike
--------
Hamas fighter killed in Israel airstrike in Gaza strip
April 12, 2018
GAZA CITY, Palestinian Territories: A fighter from the Palestinian group Hamas was killed Thursday by an Israeli strike in the Gaza Strip, the health ministry in the enclave said.
Mohammed Hijaila was killed and another man seriously wounded early Thursday during the airstrike, the health ministry in the Hamas-controlled enclave said, confirming he was a member of the movement's militant wing.
A security source said he was one of a number of Hamas fighters manning an observation point east of Gaza City when it was struck early Thursday.
Israel confirmed the strikes, saying they were retaliation for gun fire.
The Hamas fighters were apparently shooting at an Israeli jet, which was carrying out strikes in Gaza in response to an explosive device at Israel's border fence on Wednesday.
"In response to the explosive device that was detonated against an engineering vehicle of the (army) yesterday, Israeli fighter jets struck military targets in the Gaza Strip," the Israeli army said in a statement
"After the strike, a terror cell fired with machine guns at an (Israeli) aircraft, without actually harming it. (Israeli) aircraft intercepted the terror cell."
At least 32 Palestinians in Gaza have been killed by Israeli forces since March 30.
Full report at:
http://www.arabnews.com/node/1283266/middle-east
--------
URL: https://www.newageislam.com/islamic-world-news/makkah-grand-mosque-imam-enormous/d/114910
New Age Islam, Islam Online, Islamic Website, African Muslim News, Arab World News, South Asia News, Indian Muslim News, World Muslim News, Women in Islam, Islamic Feminism, Arab Women, Women In Arab, Islamophobia in America, Muslim Women in West, Islam Women and Feminism