New Age Islam News Bureau
23 Jul 2017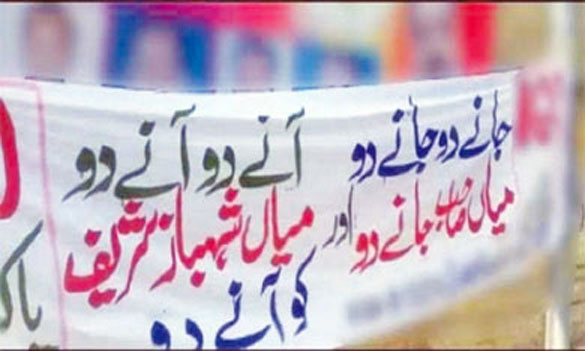 Banner on display along the road at Shimla Pahan on Sunday – Dawn
----
• Making Its Way into Bangladesh: ISIS Needs To Be Stopped At the Gate
• Islamist Parties in Trouble Over 33% Female Leadership Rule
• Christians and Muslims Condemn the Hate Campaign in Goa
• Banners Favouring Shahbaz as PM Appear In Lahore
• Muslim Brotherhood Radical Cleric Calls For 'Islamic War' For Jerusalem
South Asia
• Making Its Way into Bangladesh: ISIS Needs To Be Stopped At the Gate
• Islamist Parties in Trouble Over 33% Female Leadership Rule
• Afghan Official Says Taliban Capture District Headquarters
• Dozens Killed, Wounded In an Explosion in Kabul City
• Officials: 16 Afghan police killed in US strike in Helmand province
• Bangladesh: 2 suspects behind Holey Artisan attack killed in raid months ago
• Irresponsible statements and moves could spark chaos, warns Abdullah
--------
India
• Christians and Muslims Condemn the Hate Campaign in Goa
• Kerala: Kin of Slain Youth Embrace Islam
• 'Six Kerala men among Islamic State fighters in Syria'
• Muslim Village in India Celebrates Renaming as 'Trump Village'
• Pakistan should recall what happened in 1971: NDA's Vice-Presidential candidate
• Kargil war: When an IAF Jaguar had Sharif, Musharraf in its crosshairs
• Search on for 39 Indians abducted in Iraq, Sushma to bring up issue in talks
• Number of Indians heading to Gulf countries falls, remittances dip
--------
Pakistan
• Banners Favouring Shahbaz as PM Appear In Lahore
• Imran Resents Comparison between Him and Sharif
• PPP 'Go Nawaz Go' rallies seek PM's resignation sans delay
• Journalists angry as no FIR against FIA officials
--------
Mideast
• Muslim Brotherhood Radical Cleric Calls For 'Islamic War' For Jerusalem
• Iran Drafts Law to Provide Addicts with Coupons for Drugs from Government
• Saudi Forces Kill 15 Houthi Militias in a Qualitative Operation
• Arab League: Jerusalem is a red line and Israel is playing with fire
• Muslim world will not remain silent amid ongoing violations at Al-Aqsa: President Erdogan
• Israeli Artillery Bombards Sites in Gaza Strip
• Yemen: Army and resistance have control over Midi city
• Mohammed Dahlan reveals power-sharing deal with Hamas on Gaza
• Two Jordanians killed in Israeli embassy incident in Amman
• Leader takes part in Imam Reza Shrine Dust Clearing ceremony
• Iran, Iraq vow to boost military ties
• Houthis withhold cholera medicine in al-Hudaydah, exposes them to damage
--------
Southeast Asia
• Korean Comedy-Drama Sparks Uproar for 'Disrespecting Islam'
• Muslims Must Unite To Avoid Destruction by Others - PAS President
• Indonesia strongly denounces ban on prayers at Al Aqsa Mosque
• MCA rejects Hadi's call on M'sians to accept Islamic approach
• Jokowi courts political risk with ban on hard line islamic group
--------
Arab World
• Syrian Army, Allies Advance against ISIS East Of Raqqa
• Syrian Warplanes Strike near Damascus despite Ceasefire
• Lebanese mediator killed in fighting near Syrian border
• Egypt's Sisi opens biggest military base in Middle East and Africa
• Saudi soldier killed in landmine explosion near Asir border province
• Why Saudi state security service was established
• UAE Minister: I had hoped Qatar's emir speech included initiative for revision
--------
Africa
• Nigerian Army Gets 40 Days to Nab Boko Haram Leader
• Libya army commander Hafter to meet UN-backed Sarraj
• One killed in grenade explosion in Somalia
• Hamas denies seeking presence in Algeria
--------
North America
• US State Dept. Urges Calm At Al-Aqsa
• US Urged PYD/PKK to Change Name For Legitimacy
• Tillerson 'satisfied' with Qatar's progress in resolving crisis
• Pentagon blocks some Pakistan military payments
--------
Europe
• London protest urges Israel to end Al-Aqsa aggression
Compiled by New Age Islam News Bureau
URL: https://www.newageislam.com/islamic-world-news/making-its-way-bangladesh-isis/d/111929
--------
Making Its Way into Bangladesh: ISIS Needs To Be Stopped At the Gate
24 July 2017
The global community is legitimately worried about the rising influence of what appears to be one of the world's most impactful terrorist outfits- the Islamic State (IS). The influence of IS is increasing rapidly in the region, with Afghanistan, Pakistan having become the main bastions of this terrorist outfit in South Asia. While Indian Muslims, who have been moderate in their views are least likely to be ensnared by radical passions, but misguidance of the Muslim youth in the name of religion by the IS has been witnessed, nevertheless. Having arrived on the western flank of South Asia almost a year ago, the IS is now trying to make inroads into the other parts of this volatile region, with Bangladesh appearing to be its recent catch. The influence of IS is accelerating rapidly in Bangladesh, which as a country is composed of 160 million Muslims, with majority of them belonging to the Sunni sect.
While Bangladeshi Muslims are certainly less fundamentalists than their Pakistani counterparts, but several Islamic terrorist organisations including Harkat-ul-Jihad-al Islami Bangladesh (HuJI-B), Jagrata Muslim Janata Bangladesh (JMJB), Jama'atul Mujahideen Bangladesh (JMB) have either joined IS or are ready to accept its allegiance. Not a long ago, the United States had claimed that IS is looking to penetrate into Bangladesh and is intensifying its presence in the country through various means and measures. Bangladesh, which has the third largest Muslim population in the world, had dismissed the information and proclaimed that few terror incidents here and there do not indicate strong presence of IS.
Prime Minister Sheikh Hasina Wajed who has been ruling the country for more than 7 years now, rejected these claims and observed that all the allegations about the presence of IS are nothing but a part of a smear campaign which has been launched against her by those in the opposition. Nonetheless, it is important to note that despite these dismissals by the government of Bangladesh, the IS had taken the responsibility of several terrorist attacks, including murder of an Italian aid worker, attack on a Japanese agriculturist, murder of a few bloggers and the attack on a large gathering of Shias, as its doings. Ansarullah Bangla Team (ABT) which was established in 2007 as a unit of al-Qaida changed its allegiance to IS and Muhammad Aminul Islam Baig, an important IS operative who has recruited more than 25 Bangladeshis for IS, was arrested in Dhaka in May 2015. JMB, ABT and a few other terrorist outfits aspire to establish an Islamic State based on the Sharia law.
There are reports that JMB is running training camps and owe their loyalty to IS, indicating that the influence of the terror outfit is widening rapidly in Bangladesh. JMB has the capacity of carrying out terrorist activities and it may again indulge in terrorist activities on the behest of IS if not stopped at this stage itself. IS which uses social sights vigorously for recruitment and propagation of Islamic extremism, has put jihadist literature and training manuals on the internet to pollute the minds of young Bangladeshis. The radical ideology, the desire of establishing the Islamic Caliphate, its strong financial status, powerful network and brutal acts have managed to sway educated, semi-literate and deprived Muslim youths towards this terror outfit alike. Large numbers of Bangladeshis are working in the Middle East and people of Bangladeshi origin are residing in the United Kingdom, France, Australia and several other developed countries.
There are reports that few of these people of Bangladeshi origin have joined the IS and have gone to Syria to join its ranks. People of Bangladeshi origin settled in European countries also allure Bangladeshis to join IS. In the view of increasing fundamentalism in Bangladesh, the prevailing acute animosity among various political rivals, rampant corruption, polarization of security personnel, apathy towards law and order, weak judicial system, presence of several terror outfits and their splinter groups, Bangladesh looks like an ideal country for the IS to take its fight to. The execution of a few Jamaat-e-Islami (JI) leaders for their offenses committed during the 1971 war of independence has also united extremists against the present regime, making it all the more possible that their vendetta becomes a medium for the IS and its sympathizers to penetrate further into the country. A newly constituted terrorist outfit, Jund al-Tawheed wal Khilafah (JTK) that has launched a recruitment drive in Bangladesh, has announced that it will help in establishing the Islamic Caliphate in the South Asian region, with Bangladesh being integral to that territorial expanse. The formation of al-Qaeda in the Indian Subcontinent (AQIS) is also significant as it will enhance the terrorist activities in the region, especially in Bangladesh.
Ansar al Islam Bangladesh which is an associate of al-Qaeda has also threatened to carry out terrorist activities. In the view of above, Bangladesh must accept the reality and should adopt measures to counter increasing influence of IS before it becomes late. IS has already issued its expansion plan for the South Asian region and while the plan excludes Bangladesh, according to the analysts however, it is only a deception and that Bangladesh is a perfect country where IS can find for itself a secure ground. Sheikh Hasina has launched a de-radicalization campaign under which the security agencies have closed training camps run by terrorist outfits, arrested the probable extremists and prohibited access of foreign terrorists to them by putting them under detention. The administration has also removed IS page and IS literature from internet, including Facebook and You Tube.
These mechanisms of defense should also be supplemented by proactive measures such as those that can enable the Bangladesh security agencies to counter the malicious propaganda of the IS with active advocacy for de-radicalization. After all, in the time and age for soft power, biting the bullet would not do much. The government should chalk out a detailed plan to counter the terrorist organisations, especially the IS. The IS is an international terrorist outfit hence, Bangladesh should seek help from other countries especially neighbouring countries, including India. Signing a counter terrorism initiative with United States in 2013 is a good beginning. The security forces should also be strengthened and should be equipped with latest electronic gadgets. The capability and accessibility of intelligence organisations should also be enhanced so that they can provide prior and actionable intelligence. The plan should include mass awareness drives, prompt investigation and early punishment to real culprits. The counter terrorism plan should also incorporate the rehabilitation of reformed misguided youths. Bangladesh is progressing well economically and the government should strive to maintain and even enhance its growth and expand employment opportunities so that they can keep its youth from getting misdirected and exploited at the hands of a terror outfit that has been barbarous to say the least.
http://theindiasaga.com/saga-corner/making-its-way-into-bangladesh-is-needs-to-be-stopped-at-the-gate
--------
Islamist parties in trouble over 33% female leadership rule
July 23, 2017
The Islamist parties of Bangladesh are facing an unprecedented challenge, trying to meet the Election Commission's requirement of having female members in at least one-third of all committee memberships.
Although none of the registered political parties have met this requirement yet, many including the two major parties have reported significant progress to the EC. The deadline for this condition is 2020.
But for the Islamist parties this is both an ideological and a logistic crisis. Many are unwilling to commit to having female leadership because of their religious views and some do not even have enough female members to fill 33% of the leadership positions.
EC asked all registered political parties to include 33% women in their committees before 2020 with a view to increasing women's participation in politics.
Leaders of different Islamist parties told the Dhaka Tribune that they are not morally happy in doing this, but they are working on including women in their committees as per the EC's instructions.
"We are working to change our party charter as required to follow the EC provision," a leader of an Islamist party said.
Currently, Bangladesh has more than 20 Islamic political parties, of whom 11 are registered with the EC.
The EC announced the rule in 2008, but none of the registered Islamist parties have submitted the required progress reports. Currently, most of these parties have less than 1% female representation in their committees.
Only Bangladesh Jamaat-e-Islami took a visible step last year, amending their party charter to have 33% women in their committee by 2020.
The Pir of Chormonai Sayed Rezaul Karim, who is the ameer of Islami Andolon Bangladesh, told the Dhaka Tribune that they do not have a single woman in their committee yet.
"Our party is working to include 33% women in our committee by the deadline. The latest party meeting on July 15 decided to move forward on this," he said.
In the parties that do have women in various committees, none of these women are working directly in the field and are not a part of the decision making process, sources in Islamist parties said. They also said female members are not interested to be in the committees.
Leaders of Islamic parties are saying they are working to find a way to include women in the committees while keeping their ideologies unchanged.
Islami Oikya Jote Secretary General Mufti Faizullah said his party was allowing women into the party's upper levels in a way that is permissible in Islam.
"We are working on this matter and will submit our report soon to EC," he said.
Sources said Islamic parties would require more time, may be till 2030, to comply with the EC recommendation. Most of the parties will send papers to the EC reporting on the present status of women in their committees.
The EC on June 13 sent letters to 40 registered political parties inquiring about their current status, but in reply, most Islamist parties have sought more time.
Currently, there are no women in the central and grassroots committees in different parties including Jamiat-E-Ulema-E-Islam Bangladesh, Bangladesh Khelafat Andolon, Bangladesh Islami Front (BIF), Islami Andolan Bangladesh (IAB) and Bangladesh Khelafat Mojlish.
Khelafat Majlis Secretary General Ahmad Abdul Quader told the Dhaka Tribune that they had sought more time from the EC.
He said the party had recently formed women's units to try and recruit more women. The secretary general failed to say what the percentage of women is in the party at present.
"We have opened women's units in Sylhet, Moulvibazar and other districts," he added.
"Islam does not allow women in the top leadership of a party. Although there some conflicting issues here, we are nevertheless working to to fulfill the EC's condition. But we need more time."
He said because of social and cultural realities it would not be possible to fulfill the EC's condition within the deadline and that the condition was unfair.
"Not a single political party, including Awami League, BNP and secular parties, meet this condition," Faizullah added.
He said: "Some one of our party leaders said if we might need to bring our domestic helps into the party to fulfill the conditions."
He criticised the EC's condition, saying it was illogical and an idea imported from the west.
http://www.dhakatribune.com/bangladesh/politics/2017/07/23/islamist-parties-trouble-33-female-leadership-rule/
--------
Christians and Muslims condemn the hate campaign in Goa
Jul 23, 2017
We are meeting in the aftermath of a series of desecrations in Goa. We are also meeting in the aftermath of a pervasive hate campaign that is being systematically perpetrated in Goa by the right wing forces, at times with the command and at other times with the tacit acceptance of the Government in Goa.
We have observed how the ruling Government has been handling the investigations into desecrations in a simplistic manner. We have observed how the ruling Government has been dismissive of the calls for hanging beef eaters, implying Catholics and Muslims. We have observed how the Government has taken no action against this incitement of hate, sending a signal about its being a party to the very same politics of exclusion and elimination.
We have noted how laws and rules are being selectively and insidiously twisted to target the economies of the minorities in order to drive them into oblivion. We have noted how the Government has remained silent when businesses that minority communities are engaged in are being butchered, without representing the concerns of these communities at the necessary fora. We have also noted how the Government has been systematically distorting history in order to force a Hindu identity on all Goans. We believe that all these acts or omissions of Government have created a hate-filled environment that makes it conducive to desecrate crosses and graves in the cemeteries, and to normalize violence against minority communities by making it seem that they are asking for the same by their food and cultural habits and because of the religion they follow. Even as we strongly condemn the destructive acts and omissions of Government, we are seriously concerned that this will further graduate into lynchings that are already a matter of grave concern in other parts of the country.
We are also equally concerned about the labeling of the Muslim minority as terrorists, and about State anti-terrorism that have a history of introducing draconian laws that are ultimately used to suppress freedom of speech and expression, freedom to profess a religion of one's choice, and one's very right to live with dignity.
We have reason to believe that communalism and destructive development are two sides of the same coin. As we have gathered here, the chief negotiators of Governments from sixteen countries, including India, are meeting at Hyderabad where the people have no say in the mega free trade agreement called Regional Comprehensive Economic Partnership. This agreement will barter away our basic human rights to investor corporates allowing them a free reign to maximize profits at any cost, without corresponding social, economic, environmental obligations.
We will no longer remain silent about this state of affairs where seeds of injustice are sown in order to harvest hate to suit their vested interests. We are determined not to rest until the Government plants justice, because calls for peace without justice have no meaning. We believe that only when there is an environment where every citizen and every community, particularly the historically marginalized, has a right to live with dignity, without discrimination and without a threat to their life and livelihood that justice can be seen to be done. Only when justice is planted, peace can be harvested.
http://www.milligazette.com/news/15767-chistians-and-muslim-condemns-the-hate-campaign-in-goa
--------
Banners favouring Shahbaz as PM appear in Lahore
Zulqernain Tahir
July 24, 2017
LAHORE: Banners in favour of Punjab Chief Minister Shahbaz Sharif appeared in the city on Sun­day, asking Prime Minister Nawaz Sharif to step down and let his younger brother become the premier.
The banners were put up outside the Lahore Press Club at Shimla Pahari by 'NGO Pakistan' .
Opposition parties, including the Pakistan Peoples Party, Pakistan Tehreek-i-Insaf, Jamaat-i-Islami and Pakistan Muslim League-Q, have also been pressing Nawaz Sharif to resign and nominate anyone from his party to replace him as he has lost both "moral and legal" authority to cling to his office in the wake of Panama Papers case.
Read: PM not out of the woods as SC reserves verdict
The banners read: "Janay do janay do Mian sahib (Nawaz Sharif) janay do, aur aanay do aanay do Mian Shahbaz Sharif ko aanay do (Mian sahib let it go (step down) and allow Shahbaz Sharif to take over the top slot)."
When the matter was brought to the notice of the local leadership of the PML-N, its Lahore chapter office-bearers sprang into action and removed the banners. The PML-N distanced itself from the NGO and termed the banners "mischievous".
"Those behind displaying these banners do not belong to the PML-N. The whole party is united under the leadership of Nawaz Sharif. We will not let any conspiracy against the party succeed," PML-N Lahore president Pervaiz Malik said, adding that the matter would be probed and those responsible for it would be held accountable.
PML-N leadership calls the move mischievous
Lahore Deputy Mayor Waseem Qadir smelled the role of some intelligence agency in the matter, saying the banners were displayed to create differences (among the leaders of the party). "It looks a work by some agency to create differences in the PML-N," he said.
The names of two persons and their mobile phone numbers were mentioned in the banners. Their mobile phones were found switched off throughout the day when Dawn tried to contact them.
As a three-judge Supreme Court bench headed by Justice Ejaz Afzal Khan reserved its verdict in the Panama Papers case on Friday, rumours have been rife that the ruling party is shortlisting the candidates for the slot of prime minister in case Nawaz Sharif is sent packing.
The names of Defence Minister Khawaja Asif, National Assembly Speaker Sardar Ayaz Sadiq and Petroleum Minister Shahid Khaqan Abbasi are doing the rounds for the PM slot for 45 days till Shahbaz Sharif is elected (on a National Assembly seat) to lead the government for the remaining term.
Even Kalsoom Nawaz, wife of Nawaz Sharif, is also a candidate for the top post, according to some reports.
However, all the three 'potential' candidates have denied that their names had been shortlisted by the Sharifs as the party leadership has yet to start consultative meetings on the matter. "There is no prime ministerial candidate. There has been no discussion on this matter as yet," Khawaja Asif said.
When asked whether Shahbaz Sharif was a 'potential' candidate for the post of prime minister if Nawaz Sharif was disqualified, Punjab Law Minister Rana Sanaullah told Dawn that the chief minister would follow the party leadership's instructions in this regard. "Mian Nawaz Sharif is PML-N chief and Shahbaz Sharif will do what his elder brother asks him to do in the current scenario," he said.
Another PML-N leader told Dawn that whatever situation arose after the SC judgement in the Panama Papers case, Shahbaz Sharif would not like to lose Punjab to anyone outside his family. "Shahbaz may try to get the top slot in the Centre and also have his complete hold on Punjab," he said.
https://www.dawn.com/news/1347322/banners-favouring-shahbaz-as-pm-appear-in-lahore
--------
Muslim Brotherhood Radical Cleric Calls For 'Islamic War' For Jerusalem
24/07/17
Sheikh Yusuf al-Qaradawi, head of the Association of Muslim Scholars and a senior member of the Muslim Brotherhood, said on Sunday that the confrontation with Israel on the Temple Mount should be defined as a religious campaign.
"It must be clearly stated that this is an Islamic campaign, since Al-Quds is not only a Palestinian issue or an Arab one. Al-Quds is the interest of the Islamic nation from the west to the east," Qaradawi wrote on Twitter.
Qaradawi is considered the supreme religious authority of the Sunni Muslim world and the spiritual leader of both the Muslim Brotherhood and Hamas. During the period of the Al-Aqsa Intifada, Qaradawi issued a fatwa permitting suicide attacks against Israel.
On the religious level, Qaradawi advocates for a gradual Islamic revolution until the Islamic rule and the rule of the caliphate are fully implemented. He predicted that Islamic immigration to Europe would eventually lead to the Islamization of the continent.
Qaradawi is among one of several individuals and institutions that were recently blacklisted by Saudi Arabia, Egypt, Bahrain and the United Arab Emirates.
The Palestine Religious Scholars Association later condemned Arab states for including Qaradawi on the blacklist, claiming he is a moderate who acts against heresy, extremism and terrorism.
http://www.israelnationalnews.com/News/News.aspx/232881
--------
South Asia
Afghan official says Taliban capture district headquarters
23 July 2017
An Afghan official says Taliban fighters overran a district headquarters in northern Afghanistan after a ferocious fight that left 2 police dead in northern Faryab province.
Abdul Karim Yourish, provincial police chief spokesman, said Sunday the assault on the Lawlash District government headquarters was launched under the cover of darkness late Saturday. Government offices as well as the police headquarters were located inside the compound.
In recent days, Taliban have launched dozens of attacks in northern Afghanistan, temporarily closing a key highway between the capital Kabul and northern Afghanistan. The attacks reflect the Taliban's efforts to apply pressure on government troops and police across the country and not just in their strongholds in the south and east of Afghanistan.
https://english.alarabiya.net/en/News/world/2017/07/23/Afghan-official-says-Taliban-capture-district-headquarters.html
--------
Dozens killed, wounded in an explosion in Kabul city
Jul 24 2017
Dozens of people were killed or wounded in an explosion in Kabul city earlier today.
The incident took place around 7 am local time in the vicinity of the 3rd police district of the city in West of Kabul.
Preliminary reports indicate at least twenty people were killed and several others were wounded in the explosion.
The type of the explosion has not been ascertained so far and no group or individual has claimed responsibility behind the incident.
http://www.khaama.com/dozens-killed-wounded-in-an-explosion-in-kabul-city-03208
--------
Officials: 16 Afghan police killed in US strike in Helmand province
22 July 2017
A US airstrike killed 16 Afghan police and wounded two others in Helmand province, officials said Saturday. The incident took place Friday 5 pm as Afghan security forces were clearing a village of Taliban elements, Salam Afghan, Helmand police spokesman, told AFP.
"In the strike, 16 Afghan policemen were killed including two commanders. Two other policemen were wounded," he said. Omar Zwak, Helmand provincial governor spokesman, confirmed the strike and gave the same account.
It occurred in Gereshk district in Helmand, large parts of which are under Taliban control. NATO's mission in Afghanistan issued a statement."During a US-supported (Afghan security) operation, aerial fires resulted in the deaths of the friendly Afghan forces who were gathered in a compound," it said.
Full report at:
https://english.alarabiya.net/en/News/world/2017/07/22/US-air-strike-kills-16-Afghan-police-in-Afghanistan.html
--------
Bangladesh: 2 suspects behind Holey Artisan attack killed in raid months ago
Sahidul Hasan Khokon
Dhaka, July 23, 2017
Two planners and suspected militants of the Holey Artisan Bakery attack at Gulshan, were killed in a police operation in Chapai Nawabganj district in April, Bangladesh Police has said. Both the militants, Basharuzzaman alias Chocolate and Mizanur Rahman alias Chota Mizan, were on the most wanted list.
In a meeting of Dhaka Metropolitan Police, Monirul Islam, Chief of the Counter Terrorism Unit, said that this information was found from interrogation of recently arrested militant Sohel Mahfuz.
The suspected militants were killed on April 26 and 27, in the Shibganj area of Chapai Nawabganj, in the village of Trimohoni Shibnagar under Mobarakpur Union, during operation 'Eagle Hunt' conducted by the Counter-Terrorism and Transnational Crime unit.
Police had recovered the bodies of four militants after the two-day operation. Monirul Islam said, "The identity of one of the four people killed was confirmed immediately. The identity of the remaining three was not known."
During the interrogation of Mahfuz he revealed that militant Basharuzzaman, alias Chocolate Bashar and younger Mizan were killed there. "We've came to understand with militant Mahfuz's statement, where militants Basharuzzaman Chocolate and Chota Mizan were killed. We've collected the DNA of the dead to be more sure. It will be cross checked with their family members to confirm their identity," Monirul Islam added.
NIA DIDN'T COME TO DHAKA
Media reports have said that Indian Intelligence Agency NIA had come to Bangladesh to interrogate militant Sohel Mahfuz, suspected of being involved in a terrorist attack in Burdwan, India.
Dhaka Metropolitan Police Commissioner Mohammad Asaduzzaman Mia denied the news saying that no team of the NIA had come to Dhaka. Calling the news baseless, he said that no such interrogation could take place without the permission of the court.
Bangladeshi security analysts believe that the Pakistani intelligence agency has been involved in Holly Artisan attacks. Police also said that the weapons used in the attack were entered into Bangladesh through India . DMP commissioner Mohammad Asaduzzaman Mia said, "We had left the post-mortem report and forensic report so far but have got it now. Information given by Sohel Mahfuz is under scrutiny at the final stage of the case. We hope we will be able to place charge sheet of the case in a very short time."
Full report at:
http://indiatoday.intoday.in/story/bangladesh-holey-artisan-terror-attack-chapai-nawabganj-nia-gulshan-dhaka/1/1008985.html
--------
Irresponsible statements and moves could spark chaos, warns Abdullah
Jul 23 2017
The Chief Executive of the Government of National Unity Abdullah Abdullah has warned that irresponsible statements and moves could spark chaos in the country.
Abdullah made the remarks during the inauguration of the second term of the youth parliament in Kabul today.
Apparently gesturing towards the remarks by his close ally during the elections, Ata Mohammad Noor, said the political figures should consider their national responsibilities rather focusing on personal statements.
He warned pursuing such approaches could have a negative impact and will lead to chaos, specifically during the current situation in the country.
Speaking during a gathering on Sunday, for the first time after the agreement for formation of a new political coalition, Noor said the government, specifically the chief executive failed to ensure security of the ordinary people during the protests who were shot dead and even run over by the armored vehicles.
Noor said the chief executive has particularly failed to ensure the right of those people who had once casted votes in his favor in the elections.
In other parts of speech, Noor said a major conspiracy is being orchestrated against the Jamiat-e-Islami party and its allies and the last month's attack on the funeral Salim Izadyar, the son of the deputy chairman of the Senate House, was plotted to eliminate the party's leaders.
Full report at:
http://www.khaama.com/irresponsible-statements-and-moves-could-spark-chaos-warns-abdullah-03206
--------
India
Kerala: Kin of slain youth embrace Islam
Jul 23, 2017
MALAPPURAM: Eight months after Faisal Pullani was brutally murdered by suspected RSS cadre in Kodinhi for converting to Islam, eight members of his family have adopted Islam, a source close to the family has confirmed. Faisal's two sisters, brother-in-law and their five children were converted two weeks ago and are now learning the basics. Their conversion has been registered by the Maunathul Islam Sabha in Ponnani. Faisal's mother Meenakshi had also embraced Islam a month after the tragic incident.
Faisal was found dead with severe wounds on his head and neck by the roadside at Kodinhi on November 19, 2016. The police had arrested 16 accused in the case including prime accused and RSS Tirur Saha Karyavah Madathil Narayanan, Faisal's brother-in-law Vinod and Kottasseri Jaya-kumar, VHP's Tirurangadi Taluk secretary. All the accused are out on bail.
All party panel seeks police protection:
The all party action committee which was formed after the killing of Faisal Pullani for converting to Islam, has approached police seeking protection from anti socials who are allegedly trying to disrupt peace in the area in the wake of latest developments. They have submitted memorandum to Chief Minister, State Police Chief, District Police Chief and Collector seeking protection in the neighbourhood and Faisal's family.
The committee had also conducted a public convention in Kodinhi on Tuesday calling for vigil against possible untoward incidents and provocation. The convention was inaugurated by District panchayat president A.P. Unnikrishnan. Meanwhile, a local resident who wanted to remain anonymous told this newspaper that the Sangh Parivar organisation was trying to disrupt peace in the area by hosting flags throughout the streets. "We approached the police because of the presence of strangers in the area. Some of the accused in the case who are out on bail also active in such activities," he said.
However, the police denied the anticipation of any provocation by anti-social elements. "There are no issues in the area and it is calm. The area has been under police watch since the incident last year," the Inspector of Tirurangadi, V. Baburaj said.
http://www.deccanchronicle.com/nation/current-affairs/230717/kerala-kin-of-slain-youth-embrace-islam.html
--------
'Six Kerala men among Islamic State fighters in Syria'
Vijaita Singh Hemani Bhandari
JULY 23, 2017
At least six persons from Kerala are said to be fighting alongside the Islamic State (IS) in Syria since February, according to disclosures by a Kannur resident to the Delhi Police after he was deported from Turkey recently.
Shahjahan Velluva Kandy from Kannur in Kerala, who was arrestedon July 1 at the Delhi airport on being deported, has identified at least six persons from in and around Kannur who were said to be in the IS-controlled territory.
From Dubai
Kandy told security agencies that the six men had crossed over to Syria while two others were deported.
He told interrogators that some of them were working in Dubai and had reached Turkey through Iran, from where they crossed over to Syria on foot. An official said they were interrogating Kandy further to know the exact point from where the Kerala men crossed over to Syria, adding there were many points along Turkey-Syria border to illegally cross over.
All accounted for
"All the men named by Kandy have been accounted for and we are investigating further. Some of them went from Dubai, where they were working, so their families were also not aware. Kandy was caught when a paying guest accommodation where he was living in Istanbul was raided by Turkish authorities," a senior Home Ministry official told The Hindu. It is not clear whether Kandy and others had the same handler, who was directing them online.
The Islamist organisation, which had captured large areas in Syria and Iraq to establish a 'Caliphate,' has been losing territory over the past few months as coalition forces reclaim the areas under their control. While Mosul in Iraq has been declared free of IS control, Syrian forces were in the last leg to recapture Raqqa, the self-declared capital of the terrorist outfit.
Escaped scrutiny
The official said the escape of the four persons to Syria at a time when the hold of the terrorist organisation was shrinking was a cause of concern as security agencies had till now no knowledge of this development.
Kandy managed to slip from the radar of security agencies even though he had been questioned by the authorities in February and was under "scrutiny."
Last year, 21 men, women and children from Kerala had left for Afghanistan via Iran to live in the IS controlled territory. Mainly comprising defectors from Tehrik-i-Taliban (TTP), the Wilayat Khorasan of Islamic State in Afghanistan came into existence in 2015. Three of them are learnt to have been killed in drone attacks.
Earlier, agencies had information about 30 Indians who were said to be fighting for IS since 2014. Most of these fighters included former Indian Mujahideen members who fled India after the serial bombings in 2008.
Police said, the last was Kandy's third attempt to cross over to Syria from Turkey in the past one year. Kandy made the first attempt when he went alone to Malaysia in 2016 but he returned as he couldn't get a contact in Turkey. He went to Malaysia again in February 2016 and travelled on to Turkey in June the same year with his wife and children. He and his family were caught by the Turkish authorities and deported to India.
Full report at:
Source: http://www.thehindu.com/news/national/six-kerala-men-among-islamic-state-fighters-in-syria/article19337763.ece?utm
--------
Muslim Village in India Celebrates Renaming as 'Trump Village'
22 Jul 20177
The village of Marora, a remote village in India, is celebrating a major name change that is being used not only to promote a campaign to encourage sanitation but also to celebrate U.S. President Donald Trump. The 80 percent Muslin town will now be called "Trump Village," reports say.
Located in the Mewat district in the Indian state of Haryana, in northern India, about 50 miles south of New Delhi, "Trump Village" is a town of around 2,000 residents. Along with the name change, the tiny village is undergoing a sanitation program encouraged by Indian Prime Minister Narendra Modi, who is striving to bring many of his country's small towns into the modern era.
The ceremony to rechristen the town "Trump Village" was part of the campaign to promote proper sanitation that featured the grand opening of brand new toilets as well as a new vocational training facility for the town's female population.
If anyone worried that President Trump's well-known crackdown on immigration from some war torn, majority Muslim countries would cause a controversy, few villagers seemed concerned.
"I do not care if Trump is a Muslim baiter. All I know is he is against Muslims who cause violence and destroy countries. He is the president of a powerful country," villager Zorauddin told German public broadcaster, Deutsche Welle.
According to Sulabh International chief Bindeshwar Pathak, the idea to rename Marora "Trump Village" came to him on a visit to the U.S.
"The idea was born when I was in the U.S. recently," Pathak told DW. "Trump's slogan is 'Make America Great Again, ' and our Modi's credo is 'Make in India' so I thought why not make a humble beginning honoring the friendship of the two."
Sulabh International is an integral part of PM Modi's Clean India Campaign.
An American official was also present for the renaming of the village. According to DW, "Puneet Ahluwalia, vice-chairman of the Fairfax County Republican Committee in the U.S. and a member of Trump's Asian Pacific American Advisory Committee, was also present at the occasion and inaugurated some of the newly built toilets."
"He is the leader of the free world," Ahluwalia added. "This is a great tribute, and there are shared ideals between both countries. It will take a while for the name to sink in but it will happen."
Still, some felt the name change was just a political show. One local student wondered if Trump even knew where Mewat or Haryana are in India.
The event in India occurred even as Indians in the U.S. seem more than ever to be leaning toward the Republican Party in the era of Trump.
In June, the head of America's Republican Hindu Coalition told Breitbart News that by focusing on the interests of America's Indian and Hindu voters, President Trump's campaign marked a turning point in the relationship those communities have with the Republican Party.
Indeed, the influence of Trump is also keenly felt in India as the president's policy of rooting out Muslim extremism coincides with the long campaign against radical Islam that the nation of India has been fighting for decades.
During his first meeting with Trump, PM Modi told the press, "The top priority for both President Trump and myself is to protect our society from global challenges like terrorism — and because our aim is the strengthening of India and the USA – two great democracies in the world – friends."
Modi insisted that Trump was showing "great leadership" in the fight against radical Islam, and even noted that the U.S. and Indian navies would soon initiate a closer working relationship to provide maritime security in the Indian Ocean and beyond.
Modi and Trump are kindred spirits in many ways. Both are political outsiders who worked to encourage their business sectors. They have also focused their political campaigns on national pride and patriotism, and have made national security central parts of their policies.
Full report at:
http://www.breitbart.com/big-government/2017/07/22/muslim-village-india-celebrates-renaming-trump-village/
--------
Pakistan should recall what happened in 1971: NDA's Vice-Presidential candidate
July 24, 2017
The ruling NDA's Vice-Presidential candidate M Venkaiah Naidu who is expected to win the August 5 election, delivered a strong warning to Pakistan on Sunday, saying that the neighbouring country "should understand that aiding and abetting terror will not help them" and that it "should recall what happened in 1971". Naidu, who was a senior cabinet minister in Prime Minister Narendra Modi's government till last week, reminded Pakistan about New Delhi's victory over it in the Bangladesh Liberation War because terrorism "has unfortunately become Pakistan's state policy".
"Our neighbour is restless… (it) doesn't allow other nations to rest but they should understand that we are united. People from Kashmir to Kanyakumari are united. We are united to fight back," Naidu said, while addressing the Kargil Parakram Parade here. The annual parade honours martyrs of the Kargil conflict.
"Our neighbour should understand that aiding and abetting terror will not help them, they should recall what happened in 1971 and should focus on their own country and maintain peace there…. Terrorism is the enemy of humanity, it has no religion. Pakistan is mixing terrorism with religion. It has unfortunately become Pakistan's state policy," Naidu said.
Naidu alleged that Pakistan, which had embarked on the "Kargil misadventure", was now resorting to "diplomatic misadventures" to foment trouble in Kashmir. "It is time all mis-adventurists realised that India's development story can't be derailed by such shoot-and-scoot tactics. We are too strong to get irritated and lose our focus," he said.
"We are a peace loving people, we never attacked any country and this is our speciality. We don't want war, we don't want confrontation, we don't want violence. We want peace. We also want to have good relations with neighbours but they should reciprocate. They should remember that Kashmir is an integral part of India and not an inch of even PoK will be allowed to be taken by anybody," he said.
'Terrorism Has Become Pakistan's State Policy', Says NDA's Vice-presidential Nominee Venkaiah Naidu
Full report at:
Source: http://indianexpress.com/article/india/pakistan-should-recall-what-happened-in-1971-venkaiah-naidu-4764010/
--------
Kargil war: When an IAF Jaguar had Sharif, Musharraf in its crosshairs
Written by Sushant Singh
July 24, 2017
Around 8.45 am on Thursday, June 24, 1999, at the height of the Kargil War, an Indian Air Force Jaguar flying close to the Line of Control "lased over" — that is, acquired for bombing using its laser-guided system — a forward base of the Pakistan army. Ultimately, however, the pilot of a second Jaguar that was following close behind — who was supposed to fire the bomb — targeted it "outside the laser basket"; that is, he did not fire it at the military base.
At that precise time, Pakistan Prime Minister Nawaz Sharif and Pakistan Army chief General Pervez Musharraf were present at the base, shows an official document accessed by The Indian Express. The events of what might have been a day of catastrophic disaster have not been made public before.
"On 24 June 1999, Jaguar CLDS [Cockpit Laser Designation System] engaged Point 4388. The pilot had lased over Gulteri across LoC but the bomb did not reach the target as it was released outside the laser basket," says the document of the Government of India. It then notes, in bold type, that "Later, it was ascertained that the PM of Pakistan, Mr Nawaz Sharif, was present at Gulteri when the target was attacked."
When the first Jaguar targeted Gulteri base, it was not aware that Sharif and Musharraf were present at the target. An Air Commodore, who was airborne at the same time, however, advised the pilot to not fire the bomb. The bomb was then dropped on the Indian side of the LoC.
Gulteri, also called Gultari, a forward administrative base of the Pakistan Army, was at the forefront of providing logistics support to Pakistani soldiers during the Kargil War. It is approximately nine kilometres inside Pakistan Occupied Kashmir (PoK) from the LoC, opposite India'' Dras sector.
On that day, Sharif, accompanied by Musharraf, was on his first visit to forward areas along the LoC in Shakma sector. In a report titled 'War no solution to problems, says Nawaz', the Pakistani newspaper The News, said in its edition of June 25, 1999: "Prime Minister Muhammad Nawaz Sharif on Thursday reiterated his call for dialogue with India for defusing a war-like situation along the Line of Control (LoC). "I invite the government of India to adopt the way of reconciliation," so that all disputes including Kashmir could be solved through peaceful means, he said while addressing the troops at the height of 11,600 feet here. Chairman Joint Chiefs of Staff Committee and the Army Chief Gen Pervez Musharraf, Defence Secretary Lt Gen (Retd) Iftikhar Ali, Hummayun Akhtar, the Chairman Board of Investment, were also present on the occasion."
Air Marshal Vinod Patney (retd), who was then the Air Officer Commanding-in-Chief of the IAF's Western Air Command, and directly responsible for the air operations in the Kargil War, told The Indian Express about the incident of June 24, 1999: "It was a target in Mushkoh Valley, where a logistics dump was seen by the Jaguar aircraft. The first Jaguar lased against the target and the second Jaguar was to fire a laser-guided bomb. When the captain of the lasing aircraft suddenly had a doubt and told him not to fire, he came back and found from the video that it was Gulteri."
'Lasing the target' happens when the laser guidance system locks on to the target, puts the crosshairs on it, and continues to keep it in the crosshairs, which is visible to the pilot on a screen in the cockpit. As the CLDS system was then fitted on trainer Jaguar aircraft which could not carry weapons, the bombing had to be done by a second Jaguar aircraft. Following at a distance of about three kilometres, the second Jaguar would pick up the laser beam from the target using the LRMTS (laser range-finder and marked-target seeker), and deliver the bomb with pinpoint accuracy.
Air Marshal Patney clarified that "I was neither informed nor aware" about Sharif's presence at Gulteri. In any case, "hitting Gulteri was against the rules", said the Air Marshal, who is now director general of the Centre for Air Power Studies (CAPS) in New Delhi.
The government of Prime Minister Atal Bihari Vajpayee had chosen to restrict operations to India's side of the LoC, and denied the IAF permission to cross the Line while executing missions. Air Marshal Patney's Air-1 (a senior staff officer) in HQ Western Air Command then, Air Marshal A K Singh (retd), a Jaguar pilot, was airborne in that area during the same time, and was in communication with the pilot of the leading aircraft when this incident occurred. Air Marshal Singh, who was an Air Commodore during the Kargil War, retired as AOC-in-C of the Western Air Command a decade ago, and now leads a retired life in Delhi.
"The time was around 8.45 am. I was also airborne that day in the same area in a Jaguar aircraft, which I had flown from Adampur air base. The flight commander of the leading Jaguar was a Squadron Leader who was my youngster when I had commanded the squadron," Air Marshal Singh told The Indian Express.
According to Air Marshal Singh, "The flight commander excitedly called me on the radio and said, 'I have the target in sight. It is a big military camp with a large number of people. I have it on the CLDS.' I told him not to fire and to tell me whether he was on this side of the river or the other side."
The flight commander of the first aircraft had lased on to Gulteri while Sharif and Musharraf were there, and the second aircraft was ready to fire the bomb when Air Marshal Singh told them not to fire. The second Jaguar then fired the bomb in Mushkoh Valley on the Indian side of the LoC.
"I was very sure that he was across the LoC as I had overflown that area earlier myself. I also knew the flight commander personally who was excitable and known for his impetuousness. As it was on a riverbank and with a large number of people, the base could only be Gulteri," Air Marshal Singh said.
"I then told the flight commander, 'let me fix the position'. It means that my aircraft had to come to a position where I could physically see his aircraft. When I did that, I saw that he was 10-12 kilometres to my right, clearly in Pakistani territory," said Air Marshal Singh. But Air Marshal Singh refused to fully blame the pilot, ascribing it to "the aircraft equipment which was so inaccurate in terms of border marking and the maps; and where you were, you could not be sure."
When Air Marshal Singh and the flight commander returned to base and saw the video recorded by CLDS, it was confirmed that the target lased by the Jaguar was indeed Gulteri. The large number of men seen at the post in the video were listening to the speech being delivered by Sharif.
Was it pure luck that a disaster was averted? "It was purely coincidental that I was airborne at that time," Air Marshal Singh said. "Else, once a pilot is in the air, acquires a target and confirms it, he has orders to bomb it." In this case, the target of the bombs would have included Nawaz Sharif and Pervez Musharraf, in the middle of a war between two nuclear-armed neighbours.
Full report at:
Source: http://indianexpress.com/article/india/kargil-war-when-an-iaf-jaguar-had-sharif-musharraf-in-its-crosshairs-4764110/
--------
Search on for 39 Indians abducted in Iraq, Sushma to bring up issue in talks
Jul 24, 2017
Hindustan Times (Reuters)
Iraqi authorities are trying to trace 39 Indians taken hostage by the IS terrorist group in Mosul in 2014, the war-ravaged country's embassy said on Sunday.
The fate of these Indians, who were in Mosul when the IS captured the city, is set to come up during bilateral talks between foreign minister Sushma Swaraj and her Iraqi counterpart Al Ibrahim al-Jaafari on Monday.
"Regarding the Indian citizens who were taken prisoner by Daesh (IS) terrorist group in 2014, search operations are on and there is high-level coordination between Iraqi and Indian authorities to locate them," the Iraqi embassy said.
But the foreign ministry didn't issue any statement about the missing citizens ahead of the meeting.
Kin disheartened as Swaraj says missing Punjabis are in ISIS-zone
India pushed for information about the 39 Indians after Iraqi forces liberated Mosul this July after three years of fierce fighting that left thousands dead and turned millions of people into refugees.
The Indian government sent two delegations to Iraq to check how these people could be traced and rescued. The Iraqi mission reiterated the move.
Other than that, there was little clarity about these Indians.
Ambassador Fakhri H Al-Issa said the embassy has no information about these people.
"I don't want to say anything. Sometimes no news is good news. They might be in Badush prison," news agency ANI quoted him as saying.
Hindustan Times published a report that said the prison near the Iraqi city of Mosul is a desolate and abandoned structure that has been unoccupied for weeks, if not months. The place is rigged with landmines.
The families of the missing Indians are set to meet Swaraj again after an interaction a week ago.
The foreign minister assured them on July 16 that "we can probably find out the whereabouts of the missing nationals" once the "fighting stops in Badush and the area is cleared".
Government officials said they are doing everything possible to trace the Indians.
Iraqi foreign minister al-Jaafari will be on his maiden official visit to India. Accompanied by a delegation of senior officials, he will be here from Monday to Friday.
"The visit is expected to add impetus to our mutually beneficial bilateral engagement," a foreign minister press note said.
India and oil-rich Iraq have been trading partners for long. Iraq is the second-largest supplier of crude oil to India and the volume of bilateral trade between the two countries was nearly US$ 13 billion in 2016-17.
Full report at:
Source: http://www.hindustantimes.com/india-news/iraq-says-search-is-on-for-39-indians-abducted-in-mosul-sushma-to-bring-up-issue-in-bilateral-talks/story-yEKUggBjV5Z7YRVUl3pLTP.html
--------
Number of Indians heading to Gulf countries falls, remittances dip
Indrani Bagchi
Jul 24, 2017
NEW DELHI: The number of Indian workers emigrating to the Gulf for work has dropped in the past couple of years, possibly due to slowing economies of countries part of the Gulf Cooperation Council (GCC) which have been hit by weaker oil prices. The decline has been significant between 2014 and 2016.
According to official figures, the number of Indian workers emigrating to the GCC countries was 775,845 in 2014 and fell to 507,296 in 2016.
Though disruptions due to the Islamic State were largely in Iraq-Syria, the instability affected perceptions about the region as a whole.
The reduced flow of Indian workers to the Gulf is seen to have impacted remittances from these countries. While the breakup is not available, overall remittances as recorded in India's balance of payments statistics fell slightly from $69,819 million in 2014-15 to $65,592 million in 2015-16.
In terms of number of Indians emigrating, Saudi Arabia showed a sharp decline from 329,882 in 2014 to 165,356 in 2016, almost a 50% drop.
Part of this is attributable to a slowing Saudi economy due to low oil prices. But for the past few years, Saudi Arabia has been following what the Indian government calls a 'Saudiisation' policy, which is aimed at employing more Saudi nationals rather than foreigners.
"This is to encourage the private sector to employ greater number of Saudi nationals as well as to reducing reliance on expatriate workers. Further, against the backdrop of declining oil prices, the Saudi government has introduced a number of new taxes/VAT so as to augment the sources of government revenue," the foreign ministry told Parliament this week.
--------
Pakistan
Imran resents comparison between him and Sharif
Amir Wasim
July 24, 2017
ISLAMABAD: Pakistan Tehreek-i-Insaf (PTI) chairman Imran Khan on Sunday expressed resentment at being compared to his arch-rival, Prime Minister Nawaz Sharif, saying "his case and my case are very different".
"He is accused of money laundering, tax evasion, concealment of assets and forgery. I earned from abroad and brought all the money back to Pakistan, what exactly is the case against me?" he asked.
He also lashed out at press coverage of the reply he submitted to the Supreme Court, saying it was being portrayed as if he had failed to come up with a money trail.
"The people are being misled," he claimed, saying that he had provided complete details of his banking transactions to the Supreme Court, as well as the money trails for his London flat and his Banigala property.
PTI chief says bringing foreign-earned money into Pakistan not a crime
On Saturday, Mr Khan's counsel had told the Supreme Court that neither Worcestershire nor Sussex, for whom he played county cricket between 1971 and 1988, maintained salary records beyond 20 years.
The three-judge Supreme Court bench, headed by Chief Justice Mian Saqib Nisar, will resume hearing the petition of Pakistan Muslim League-Nawaz (PML-N) leader Hanif Abbasi, which seeks the disqualification of Mr Khan and PTI secretary general Jahangir Tareen, on July 25.
Following the press conference at Banigala, Mr Khan also tweeted his indignation at the comparison with PM Sharif. "Shameful to make fabricated comparisons between NS, who is guilty of money laundering, tax evasion & assets concealment, & myself," he wrote on his Twitter account.
Flanked by his legal advisers, the cricketer-turned-politician told reporters he used to pay his taxes abroad and everybody knew that he owned a flat in London.
His ex-wife Jemima had sent full details of her bank accounts, showing transactions made to him in Pakistan, all of which had already been submitted to the Supreme Court, he said.
"Jemima also provided decades old banking records viz Bani Gala - all submitted before SC. Unlike Sharif clan my money trail is all there," he tweeted later.
Brandishing the documents before reporters, the PTI chief said that he had played cricket for Sussex for 11 years and the county had issued him a certificate to this effect. The document states that during this time, tax was deducted from his salary at-source.
However, he said, the club did not have the record of the money it had paid him, adding that instead, he had submitted a copy of the contract between leg spinner Mushtaq Ahmed and Sussex.
"His (Mushtaq's) contract says that he earned 70,000 pounds per year. The reason I presented Ahmed's contract was to give the court an idea of how much I would have earned as a [renowned] all-rounder of my time," he added.
Mr Khan also showed documents and a letter from Austin Robertson — a central figure in Kerry Packer's World Series Cricket — saying that he was among the cricketers signed between 1977 and 1979.
He said that other cricketers, including Zaheer Abbas, Asif Iqbal and Javed Miandad, were also signed by Packer. From his Twitter account, he lashed out at media outlets for comparing Mr Robertson's letter to the Qatari royal's communiqué in the Panamagate case.
The PTI chief maintained that even though he had never held public office, he was presenting himself for accountability as a "public figure".
Responding to a question, Mr Khan criticised Defence Minister Khawaja Asif, who had accused the PTI chief of investing charity money abroad.
He challenged the minister to prove any wrongdoing or embezzlement in charity funds and asked him to take the matter to court, if he had any proof.
Source: dawn.com/news/1347308/imran-resents-comparison-between-him-and-sharif
--------
PPP 'Go Nawaz Go' rallies seek PM's resignation sans delay
July 24, 2017
LAHORE: The Pakistan People's Party on Sunday took out a rally in the provincial metropolis to force Prime Minister Nawaz Sharif to resign from his office before Supreme Court verdict in Panama case involving the ruling family.
Bracing the muggy weather, the participants, occupying jeeps, cars and riding motorcycles and some of them on foot, marched from the Press Club up to Aiwan-i-Iqbal on Egerton Road, covering around one kilometre distance.
Many of them carried placards and banners inscribed with slogans targeting the Sharifs, terming them "lutairay" (plunderers) and "chore" (thieves).
50 booked in Sahiwal for agitating
The party's senior leader Azizur Rehman Chan, who led the jiyalas' 'Go Nawaz Go' rally, said the masses were waiting for a "logical end" to Panama Leaks case. The prime minister, however, should resign before waiting for the Supreme Court verdict in the case as he (Nawaz Sharif) had lost moral ground to rule the country.
He demanded immediate resignation of the premier, lest any delay in this regard should hit the democratic process in the country.
He alleged that the government removed the PPP banners that had been hoisted for inviting the masses to join the party's rally but, he said, the step could not save the government from accountability.
Mr Chan also criticised the PML-N government's development projects saying it only focused the areas which could help it win wider publicity instead of being beneficial for the public in the long run. Wasting public money on "flawed" projects was also a sort of corruption and dishonesty, he added.
GUJRAT: The Punjab PPP president Qamar Zaman Kaira led his party's "Go Nawaz Go" rally here on Sunday that was participated by a large number of the party workers from across the district.
The participants gathered at the Kutchehry Chowk and marched up to the Press Club.
The PPP workers, mostly women, seemed enthusiastic and were carrying party flags and placards inscribed with 'Go Nawaz Go' slogans. They also chanted the slogans demanding Prime Minister Nawaz Sharif's resignation over Panamagate.
Punjab's former finance minister Tanveer Ashraf Kaira, PPP Gujrat president Zia Mohyuuddin, secretary general Dr Zahid Zaheer and president woman wing advocate Wazirun Nissa Chaudhry were also among those leading the rally that was the party's first major activity in the district since the last general elections. Earlier, Qamar Kaira led a rally from his home town of Lalamusa to Gujrat where another big rally of party workers from Jalalpur Jattan, led by Dr Zahid Zaheer, joined it. According to some observers, participation of party workers from Gujrat city in the rally was thin.
Speaking to the workers on the Press Club lawns, Mr Kaira again asked the prime minister to reveal the names of those elements who were allegedly hatching a conspiracy against PML-N government.
Mr Kaira said all the PPP governments had been facing conspiracies hatched by the state agencies, besides adverse court verdicts, but the party had always exposed the elements behind these conspiracies.
Saying that the days of Nawaz government were numbered, he added that now the public's demand was not limited to just resignation of the premier but the people wanted to see Nawaz Sharif in Adiala Jail. Referring to turncoats leaving the PPP, he said some "seasonal migratory birds" had been flying towards the Pakistan Tehreek-i-Insaf seeking tickets for next election instead of bringing a change in the country.
He announced that PPP Chairman Bilawal Bhutto Zardari would start visiting Punjab districts, including Gujrat, in the next month to meet with the party workers which, he hoped, would bring a "new wave" in the party for its revival in Punjab.
OKARA: Hundreds of PPP workers led by district president and a former MNA, Chaudhry Sajjadul Hassan, took out a "Go Nawaz Go" rally from Press Club to Gol Chowk.
The participants holding placards and banners carrying anti-government slogans marched through Ghousia Masjid Chowk and Kutchehry Bazaar to reach Gol Chowk where local party leaders delivered fiery speeches.
Those who spoke included Chaudhry Sajjadul Hassan, city president Alam Sher Lodhi, founder workers Malik Riasat Ali, Sayyed Zakir Hussain Shah, Shahid Saleem Nonari, Asif Baloch, Rana Shakeel Sulehria and Sheikh Najamul Saqib.
They said the premier had been left with no moral or ethical basis for ruling the country following the Joint Investigation Team's findings in Panmama case.
They claimed Nawaz Sharif's disqualification by the apex court was just a matter of days.
Similarly, in Depalpur tehsil the PPP workers took out a rally led by district secretary general Shahzad Ahmed Naul and in Renala Khurd the party's anti-government show was led by tehsil president Rana Abdul Rehman.
SAHIWAL: PPP district president Zaki Chaudhry and 50 others were booked on Sunday under Section 16 of the Maintenance of Public Order (MPO) for taking out a "Go Nawaz Go" rally in the city.
According to police, the PPP local leaders and workers were booked for taking out rallies without seeking permission despite imposition of Section 144 by the district administration.
An FIR (188/17) has been lodged under 16 MPO and section 188 of the PPC.
City SHO Rana Asif Sarwar told Dawn that those booked included PPP city president Zaki Chaudhry.
Earlier, local chapter of the party organised a "Go Nawaz Go" rally from Jogi Chowk to Mazdoor Puli.
Hundreds of party workers including women, led by district, city and tehsil office-bearers participated in the rally where PPP ticket holders of previous election and aspirants for upcoming poll were also present.
Zaki Choudhary told the media the rally was part of the PPP's campaign in nine divisions of Punjab for making Prime Minister Nawaz Sharif resign.
Those who spoke included Mahar Gulam Farid Kathiya, Pir Zafar Shah Khagga, Chaudhry Shafqat Javed, Wajid Ali Doger and Muhammad Ali Bokhari.
SIALKOT: A large number of Pakistan Peoples Party workers on Sunday took out a "Go Nawaz Go" rally in the city for building pressure on the prime minister for his resignation.
Sialkot PPP President Chaudhry Ejaz Ahmed Cheema led the rally which started at Kutchery Chowk and ended at Allama Iqbal Chowk.
The protesters were carrying banners and placards inscribed with slogans against the government.
Local PPP leaders Khwaja Awais Mushtaq, Tahir Akhtar Malik, Faisal Gujjar and Azhar Diyal said Nawaz Sharif had no right to stay in power after the JIT's report.
Full report at:
Source:dawn.com/news/1347261/ppp-go-nawaz-go-rallies-seek-pms-resignation-sans-delay
--------
Journalists angry as no FIR against FIA officials
A Reporter
July 24, 2017
ISLAMABAD: Journalists protested that an FIR has not yet been registered against Federal Investigation Agency (FIA) officials accused of manhandling journalists, in response to a call to protest by the Rawalpindi Islamabad Union of Journalists (RIUJ) and the National Press Club (NPC).
FIA officials on July 21 manhandled Channel 24 reporters Saba Bajeer and Irfan Malik, cameraman Imran Iqbal and Dawn News reporter Aitzaz Hassan as well as others while they were trying to record footage of FIA officials with Securities and Exchange Commission of Pakistan (SECP) Chairman Zafar Hijazi.
A number of government offices and the administration of the Pakistan Institute of Medical Sciences (Pims), where the incident took place, have taken notice of the issue, but the police have not registered an FIR.
Journalists, civil society activists and political workers – including PPP Punjab women's wing secretary Nargis Faiz Malik and Islamabad city president Iftikhar Shazada – participated in the protest at the NPC.
Journalists panel chairman Farooq Faisal Khan, addressing the protesters, said the journalist community has never compromised and would never compromise on press freedom.
He said: "We will continue our protest as long as the FIR is not registered against the FIA officials who were involved in the incident."
NPC Secretary Imran Yaqoob said that although Interior Minister Chaudhry Nisar speaks about merit and transparency, he becomes quiet when such incidents take place.
Journalists also staged a protest at PID where State Minister Tariq Fazal Chaudhry and Daniyal Aziz were about to hold a press conference.
Hijazi to stay at Pims
Sources said Mr Hijazi's condition has improved somewhat and he walked in his room and had a proper breakfast, but he will remain at Pims for another day because doctor's feel he may need an angioplasty after an angiography.
Mr Hijazi's pre-arrest bail was rejected on Friday in a case related to the tampering of records of a sugar mill owned by the Sharif family, after which he was taken to Pims for a medical check-up.
A team has been constituted by the hospital's management, headed by cardiologist Dr Naeem Malik, which includes urologist Dr Sajid Qazi, nephrologist Dr Sohail Tanveer, general physician Dr Shajee Ahmed Siddiqui and Dr Faisal Kakar from the administration wing.
Full report at:
Source: https://www.dawn.com/news/1347264/journalists-angry-as-no-fir-against-fia-officials
--------
Mideast
Iran drafts law to provide addicts with coupons for drugs from government
23 July 2017
Iranian Member of Parliament Hassan Noroozi, the spokesperson of the parliament's judicial committee, said there was a draft law to provide drug addicts with coupons to get drugs from the government.
The Iranian Labor News Agency (ILNA) quoted Noroozi as saying that distributing these coupons will be carried out like the days of the Shah, adding that religious references had agreed to distributing drugs through the government.
He noted that the aim of this proposal is to cut the relation between drug addicts and drug traffickers.
"The government will provide soft drugs on addicts so they gradually quit addiction. Instead of seeking drug traffickers, they will resort to the government and get drugs (legally)," he said.
Noroozi added that soft drugs refer to Methadone which will be distributed instead of opium, cannabis and other common drugs in Iran.
The judicial committee had proposed a draft law that halts the execution penalty for carrying and distributing less than 100 kilograms of traditional drugs like opium or less than two kilograms of synthetic drugs.
On July 16, the Iranian parliament approved a list of amendments to the country's drug law and mandated the death penalty against drug producers, traders and traffickers who use minors to commit drug-related crimes.
Noroozi said the new amendments were added to the previous drug law, adding that the people who produce and distribute 2 kilograms of synthetic drugs or carry or keep three kilograms of synthetic drugs will be executed.
Iran has been widely criticized by international human rights organizations due to its strict judicial decisions over drug-related crimes. Amnesty said that at least 570 people were executed in Iran in 2016 for drug-related convictions.
https://english.alarabiya.net/en/News/middle-east/2017/07/23/Iran-drafts-law-to-propose-providing-addicts-with-coupons-for-drugs-from-government.html
--------
Saudi forces kill 15 Houthi militias in a qualitative operation
23 July 2017
The Saudi forces on Saturday carried out a qualitative operation inside the border between Saudi Arabia and Yemen, after the infiltration of Houthi elements and the from the ousted Guards.
Sources said that 15 Houthi were killed during the operation.
Meanwhile, Yemeni army attacked militias' posts in camp Khalid bin al-Walid near Mokha after imposing a tight siege from different directions.
Army forces, aided by the Saudi-led coalition's air force, approached the camp near al-Nujyaba area and advanced in the area of al-Asfourya after fighting fierce battles against the rebels.
A military source said the fighting inflicted heavy losses on the rebels as several Houthi militiamen and fighters affiliated with ousted President Ali Abdullah Saleh were killed while military vehicles were destroyed and many weapons were seized.
https://english.alarabiya.net/en/News/gulf/2017/07/23/Yemen-s-army-launches-new-attacks-against-Houthi-militias-near-Mokha.html
--------
Arab League: Jerusalem is a red line and Israel is playing with fire
23 July 2017
Arab League Secretary General Ahmed Aboul Gheit said on Sunday that Jerusalem is a red line, accusing Israel of playing with fire and introducing the region into a "very dangerous" situation by adopting policies and measures that target not only the Palestinians but also the feelings of every Arab and Muslim.
"Jerusalem is a red line that Arabs and Muslims do not accept if touched," a statement quoted the UN secretary-general as saying.
He said that the Israeli government is "playing with fire and creating a major crisis" in the Arab and Muslim world through the imposition of security measures to enter the the Noble Sanctuary of Jerusalem.
Meanwhile, the UN Security Council is meeting on Monday to discuss the bloodiest violence in years between Palestinians and Israelis, diplomats said Saturday.
Violent confrontations
On Saturday, Sweden, France and Egypt called for an emergency meeting of the UN Security Council following violent confrontations in occupied Jerusalem.
The Middle East Quartet, which includes the United States, Russia, the European Union and the United Nations, called on all parties involved in the situation in Occupied East Jerusalem to exercise utmost restraint and called on Israel to restore the status quo in Jerusalem.
Clashes broke out in all neighborhoods of occupied East Jerusalem after Friday's prayer. Tensions are rising after Israel imposed security measures around the Al-Aqsa Mosque, including setting up metal detectors at the entrance to the mosque.
Three Palestinians were killed in street clashes Friday in some of the worst street violence in years, and later a Palestinian stabbed to death three members of an Israeli family.
'New security cameras'
Meanwhile Israel installed new security cameras on Sunday at the entrance to the holy site, as officials began indicating it was considering "alternatives" to the metal detectors at the contested shrine.
Maj. Gen. Yoav Mordechai, who heads the Israeli defense body for Palestinian civilian affairs, said Israel was open to alternatives to lower the tensions.
However, the Mufti of Jerusalem, Sheikh Muhammad Hussein, told the Voice of Palestine he demands a complete return to procedures that were in place before.
Full report at:
https://english.alarabiya.net/en/News/middle-east/2017/07/23/Arab-League-Jerusalem-is-a-red-line-and-Israel-is-playing-with-fire.html
--------
Muslim world will not remain silent amid ongoing violations at Al-Aqsa: President Erdogan
23 July 2017
President Recep Tayyip Erdogan said Sunday that the Muslim world will not remain silent amid ongoing violations at Al-Aqsa mosque compound in Jerusalem.
Speaking to reporters at a news conference in Istanbul Atatürk Airport before heading to Saudi Arabia, Erdogan urged Israeli security forces to avoid using violence.
https://www.dailysabah.com/diplomacy/2017/07/23/muslim-world-will-not-remain-silent-amid-ongoing-violations-at-al-aqsa
--------
Israeli artillery bombards sites in Gaza Strip
24 July 2017
Israeli artillery fired several shells at positions in central Gaza Strip at dawn on Monday, according to Palestinian media sources.
Local media sources said that the Israeli artillery fired several shells at the observation posts east of Deir al-Balah, no injuries among Palestinian civilians have been recorded.
https://english.alarabiya.net/en/News/middle-east/2017/07/24/Israeli-artillery-bombards-sites-in-Gaza-Strip.html
--------
Yemen: Army and resistance have control over Midi city
23 July 2017
The Yemeni army and Popular Resistance took control of the town of Midi in Hajjah province on Sunday.
An official military source in the Fifth Military Region, announced the control of the national army and the people opposition on the coastal city of Midi north-west of the border province of Hajjah after fierce battles, and cutting off supply lines for the Houthi militias.
The source pointed out that the militias are besieged in the southeast part of the city, while the rest of the city is under the full control of the national army.
The source expected that the Midi city will be fully cleared within the next few hours.
https://english.alarabiya.net/en/News/gulf/2017/07/23/Yemen-Army-and-resistance-have-control-over-Midi-city.html
--------
Mohammed Dahlan reveals power-sharing deal with Hamas on Gaza
23 July 2017
The former head of the Palestinian Preventive Security Service (PSS) in Gaza, Mohammed Dahlan, said that an authority-sharing agreement with Hamas had been reached for the first time on Sunday.
After understandings and discussions held in Cairo between Dahlan and the head of Hamas in Gaza Yahya al-Senwar, where the two sides agreed to share authority in the sector.
Dahlan, who was dismissed from Fatah and led a Palestinian group, said that the agreement would facilitate the reopening of land crossings between Gaza and Egypt, which has been closed for some time due to security and political tensions, and will help the region's economic prosperity.
Dahlan explained that the understandings with Hamas will lead to a better future in Gaza, where a power plant will be opened with Gulf support worth 100 million dollars to ease the growing electricity crisis in the sector.
Full report at:
https://english.alarabiya.net/en/features/2017/07/23/Mohammed-Dahlan-reveals-power-sharing-deal-with-Hamas-on-Gaza.html
--------
Two Jordanians killed in Israeli embassy incident in Amman
23 July 2017
Two Jordanians were killed on Sunday and an Israeli seriously wounded at Israel's embassy in Amman, a security source said.
"A Jordanian man was killed and an Israeli man wounded and is in a serious condition following an incident inside the (Israeli) embassy" in the residential Rabiyeh neighbourhood of Amman, said the source who declined to be named or give further details.
Jordanian security forces deployed in the streets around the embassy, an AFP correspondent said.
Israel and Jordan are bound by a 1994 peace treaty, but tensions have been high in recent days after Israel security measures at a highly sensitive holy site in annexed east Jerusalem.
On Friday, thousands of Jordanians took to the streets of Amman after the weekly prayer to denounce the Israeli measures at the al-Aqsa Mosque compound.
Jordan is the official custodian of Muslim holy sites in Jerusalem.
Full report at:
https://english.alarabiya.net/en/News/middle-east/2017/07/23/Jordanian-killed-in-Israeli-embassy-incident-in-Amman.html
--------
Leader takes part in Imam Reza Shrine Dust Clearing ceremony
23.07.17
Tehran, July 23, IRNA – On the verge of Imam Reza and his sister Fatema Masumeh's birthdays, (respectively, 4 August and 25 July), the Supreme Leader of the Islamic Revolution Ayatollah Seyyed Ali Khamenei is now at Imam Reza'a shrine, Mashad, performing the Dust Clearing ceremony of Holy Zarih (burial chamber) of Holy Shrine of Imam Reza (AS).
Leader takes part in Imam Reza Shrine Dust Clearing ceremony
Ayatollah Khamenei attended the spiritual ceremony in the past years as well.
Full report at:
http://www.irna.ir/en/News/82606921/
--------
Iran, Iraq vow to boost military ties
23 July 2017
Iran and Iraq on Sunday signed deals aimed at boosting military cooperation during a visit by Baghdad's Defence Minister Irfan al-Hayali to Tehran.
In a memorandum of understanding signed by Hayali and his Iranian counterpart Hossein Dehghan, the neighbors agreed on a "wide range of military and defence cooperation" including the "fight against terrorism and extremism," state news agency IRNA reported.
Hayali, who was leading a military delegation, also met separately with parliament speaker Ali Larijani and Ali Shamkhani, secretary of Iran's Supreme National Security Council.
Larijani and Shamkhani emphasised the importance of "unity".
"Iran supports the unity of all groups and ethnicities in Iraq," the state broadcaster's website quoted Larijani as telling Hayali.
Preserving Iraqi unity
Larijani also underlined the importance of preserving Iraqi unity "because if it wasn't for the emergence of political differences, the (ISIS group) would not have been able to penetrate there".
The Iraqi minister acknowledged Iran's help in the fight against ISIS and also stressed the importance of unity.
Iraq's Kurdistan region has announced it will hold an independence referendum in September.
"We will not let any political side disintegrate Iraq," Hayali said.
In his talks with Hayali, Shamkhani warned that "secessionist approaches can become a platform... to prepare the ground for insecurity and instability".
Tehran has been a key supporter of Baghdad in its fight against ISIS and has provided Iraq with financial and military help.
Full report at:
https://english.alarabiya.net/en/News/middle-east/2017/07/23/Iran-Iraq-vow-to-boost-military-ties-.html
--------
Houthis withhold cholera medicine in al-Hudaydah, exposes them to damage
23 July 2017
Houthi coup militias have been reportedly withholding three vehicles loaded with cholera medications for a fourth day in a row in the province of al-Hudaydah, west of Yemen.
Local sources confirmed to Al Arabiya English that al-Hudaydah customs director, who was appointed by Houthi militias, is withholding aid medicines and insists on imposing customs duties on it, rejecting orders to release them and facilitate its entrance. Medical sources also confirmed that these medicines, which are held on board convoys of vehicles in the customs yard are being exposed to the sun which means they have probably been damaged and no longer valid for medical use. They also pointed out that maximum one-day exposure to the sun in the very high temperature coastal city of al-Hudaydah during the summer is enough to destroy it, while these shipments have been detained for four days so far.
Houthi militias are taking advantage of al-Hudaydah port in western Yemen, the last port under its control, to steal relief aid, smuggle weapons and use it as a military base to threaten international shipping, according to the legitimate Yemeni government and the Arab coalition forces.
Full report at:
https://english.alarabiya.net/en/features/2017/07/23/Houthis-withhold-cholera-medicine-in-al-Hudaydah-exposes-them-to-damage.html
--------
Southeast Asia
Korean comedy-drama sparks uproar for 'disrespecting Islam'
July 23, 2017
JAKARTA (THE JAKARTA POST/ASIA NEWS NETWORK) - New Korean comedy-drama Man Who Dies To Live has caused an uproar among netizens who have accused it of misusing Islamic values and portraying a false image of Muslims in its scenes.
According to yonhapnews.co.kr, the drama, which has been broadcast on MBC TV since July 19, tells the story of Jang Dal Goo who travels to a fictional country in the Middle East, gets rich, receives a "count" title and then becomes a citizen under the name of Saeed Fahd Ali.
He later returns to Korea to reunite with his long-lost daughter and her husband.
The actor who plays the main character of Jang, Choi Min Soo, appears as a stereotypical Arab man by wearing thawb, headscarf and black robe.
In one scene, Saeed Fahd Ali is greeted by women wearing revealing swimsuits and donning hijab near a swimming pool. There is also a scene in which Saeed Fahd Ali drinks wine for breakfast.
In one of the drama's promotional posters, Saeed Fahd Ali poses in front of an open book that looks like a Quran, with his foot raised beside the book.
"That drama is sharing the wrong image of Islam and Muslims in general. It's a total piece of garbage," wrote Twitter user @mayssemgh, who also created a series of tweets on why MBC should not air the drama.
"It's literally just ruining Islam's image and making fun of Muslims."
View image on Twitter
Follow
MAY?? @mayanaizreal
[ a thread] Reasons why MBC's new drama Man Who Dies To Live should not be aired. YALL NEED TO BOYCOTT IT
4:38 AM - 21 Jul 2017
36,330 36,330 Retweets 14,671 14,671 likes
Twitter Ads info and privacy
Another netizen, @Sarw_Dope, wrote: "Never place the Quran that way next to a man's foot. Stop disrespecting Islam and Arabs."
View image on TwitterView image on TwitterView image on TwitterView image on Twitter
Follow
Thicc Nology ?? @Sarw_Dope
#JusticeForIslam #ManWhoDiesToLive @withMBC
NEVER PLACE THE QURAN THAT WAY NEXT TO A MAN'S FOOT
STOP DISRESPECTING ISLAM & ARABS
5:16 AM - 21 Jul 2017
1,202 1,202 Retweets 487 487 likes
Twitter Ads info and privacy
Protests could also be found on Instagram, where many of its users x-marked the drama's poster as their way of boycotting it. The #JusticeForIslam hashtag has also been circulated on social media.
MBC soon apologised on its official social media accounts, saying that all the characters, names and places were entirely fictional.
"MBC has no intention in distorting any particular religion, culture or people," its statement said in Arabic, Korean and English. "And we sincerely apologise for any harm that may have caused to the viewers in regards to the drama."
MBC said it would take "extreme caution in production from now onwards".
http://www.straitstimes.com/lifestyle/entertainment/korean-comedy-drama-sparks-uproar-for-disrespecting-islam
--------
Muslims Must Unite To Avoid Destruction by Others - PAS President
July 23, 2017
KOTA BHARU: Vice Head of the World Ulema Union, Datuk Seri Abdul Hadi Awang has urged Muslims all over the world to unite to defend Islam from humiliation by other parties.
He said at present, Muslims were being slaughtered all over the world, especially the people of Palestine and other West Asian countries.
"Muslims are now being slaughtered all over the world...the Palestinians are the settlers of Baitulmaqdis, the traders. If Muslims unite, Islam will remain strong," he said.
Abdul Hadi who is also the president of PAS said this in his speech at the dinner of the Fourth Asian International Meeting on Ummah Unity which was held for three days beginning Thursday.
Also present were PAS spiritual leader Hashim Jasin, PAS deputy president Datuk Tuan Ibrahim Tuan Man, Kelantan Menteri Besar Datuk Ahmad Yakob and PAS vice-president Datuk Mohd Amar Nik Abdullah.-- BERNAMA
http://english.astroawani.com/malaysia-news/muslims-must-unite-avoid-destruction-others-pas-president-150114
--------
Indonesia strongly denounces ban on prayers at Al Aqsa Mosque
July 23, 2017
Yogyakarta (ANTARA News) - The Indonesian government has strongly denounced the Israeli ban on prayers at Al Aqsa Mosque in Jerusalem, Palestine.
"Indonesia once again strongly denounces the restriction on prayers at Al Aqsa Mosque. Likewise, Indonesia strongly denounces the death of three citizens," President Joko Widodo (Jokowi) said on the Ahmad Dahlan University compounds here on Saturday.
The Indonesian government called on the international community to help settle the Israeli-Palestinian conflict and the Israeli occupation of the Palestinian land, he stated.
"Indonesia asks the UN, the UN Secretary General (in particular), to allow the UN Security Council to convene a session soon to discuss the Al Aqsa Mosque crisis," he remarked.
Security situation at the Al Aqsa Mosque compounds has been worsening in the past few days following the shooting of Al Aqsa Mosque Imam Sheikh Ikrima Sabri in East Jerusalem.
Israeli security agencies have also restricted access to Al Aqsa Mosque in a blatant breach of Muslims rights to perform prayers.
The Indonesian government has also urged Israel not to alter the status quo of Al Aqsa compounds so that Al Aqsa Mosque and the Dome of the Rock will remain holy sites to which all Muslims will have access.
Earlier, the Indonesian delegation to the International Conference on the Question of Jerusalem had condemned Israel for restricting access to the Al Aqsa Mosque, calling the measure as a reckless aggression.
The delegation, led by Indonesian Ambassador to Azerbaijan Husnan Bey Fananie, had encouraged the issuance of a Communique that condemned Israel for violating international laws and the status quo of Al Aqsa, the Indonesian Embassy in Baku noted in a press statement on Saturday.
Indonesias delegation to the conference comprised of Indonesian Ambassador to the UN/Indonesian Representative, Dian Triansyah Djani, and Counselor Minister of the Indonesian Permanent Representative in New York, Achsanul Habib, among others.
Djani revealed that frequent violation of the UN Security Council resolutions by Israel could no longer be tolerated.
Full report at:
http://www.antaranews.com/en/news/111982/indonesia-strongly-denounces-ban-on-prayers-at-al-aqsa-mosque
--------
MCA rejects Hadi's call on M'sians to accept Islamic approach
July 23, 2017
PETALING JAYA: MCA has rejected an open letter from PAS president Datuk Seri Abdul Hadi Awang who called on Malaysians to accept an "Islamic approach", saying that what he proposes can create disharmony.
Terengganu MCA state liaison committee chairman Datuk Toh Chin Yaw said Abdul Hadi's suggestion that the Islamist party's approach to politics, economy and society could help check corruption and crime was merely wishful thinking as countries which already enforced hudud law have not been able to curb these problems.
Toh said Pakistan, Bangladesh, Egypt, Sudan and Afghanistan were clear examples where corruption, fraud and abuse of power are common.
"Their people live in dire straits. Even their welfare and interests could not be ensured, so how can the impact on non-Muslims be any different?" he said in a statement.
Toh said that Abdul Hadi's Private Member's Bill on the proposed amendments to the Syariah Courts (Criminal Jurisdiction) Act would omit the constitutional rights of both Muslims and non-Muslims.
He added the PAS president also must realise that his Bill has failed to receive support from non-Muslims and many Muslims as well.
Toh also said Abdul Hadi's move could be viewed as a "backdoor attempt" to implement hudud.
He said MCA would continue to stand firm in rejecting "extreme religious-based" criminal codes, adding that he was confident that the people would not be tricked into accepting the changes proposed by PAS.
Abdul Hadi tabled his Private Member's Bill on the Syariah Court amendments, known as RUU 355, during the Dewan Rakyat meeting in April. But it was deferred for debate by Speaker Tan Sri Pandikar Amin Mulia.
The proposed amendments seek to increase the limits of punishment that can be meted out by the Syariah Court.
Full report at:
http://www.thestar.com.my/news/nation/2017/07/23/mca-rejects-hadis-call-on-msians-to-accept-islamic-approach/#x86hwWjUoJT2r7g3.99
--------
Jokowi courts political risk with ban on hard line islamic group
July 24, 2017
[JAKARTA] Indonesian President Joko Widodo risks further alienating conservative Muslim voters after being granted new powers to outlaw religious organizations.
The Law and Human Rights Ministry last week banned Hizbut Tahrir, citing the Islamist group's support for a Muslim caliphate and other activities that deviate from Indonesia's state principles, known as Pancasila.
Mr Joko, known as Jokowi, said the new powers were needed because of increased threats to Indonesia's unity and sovereignty. "The country must be fearless to take control," he said last week in a statement.
Still, some opposition parties have been critical of the move, raising the potential for a more fractious parliament at a time Mr Joko's seeking to fire up the economy to generate revenue for his ambitious spending plans. Mr Joko still controls about 70 per cent of the 560 seats in parliament, but there have been periodic frictions even with the parties that support him.
"We are concerned that the decree is being used to suppress organisations not on the government's side," said Mardani Ali Sera, deputy secretary general of the opposition Prosperous Justice Party. "That's the characteristic of an authoritarian, that the state has surpassed its authority as a facilitator that everything must be within its corridor." "The most effective way to tackle the problem is not by issuing a perpu but by strengthening our police," Mr Mardani said. "The government can assign the national intelligence agency and the military to proactively monitor anti-national groups."
Hizbut Tahrir has signaled it will challenge the decree in the courts while Gerindra, the party of Mr Joko's likely 2019 presidential election rival Prabowo Subianto, has expressed concerns that freedom of assembly restrictions could stir conflict.
"Hizbut Tahrir isn't particularly well liked across the Islamic spectrum but a lot of Islamic organisations also don't like the government disbanding civil society organisations without compelling reasons for doing so," said Greg Fealy, a senior fellow in Indonesian politics at the Australian National University.
Earlier this year, rallies supported by Hizbut Tahrir helped topple Jakarta's former Christian governor Basuki Tjahaja Purnama, known as Ahok, in an election marred by religious tensions. The election was widely seen as a proxy for the 2019 presidential race.
MECCA TRIP
While Fitch Ratings affirmed its positive outlook for Indonesia on Thursday, the agency also noted that Mr Joko's reform agenda could lose momentum if political and religious frictions became a distraction in the lead up to the next election. The Jakarta gubernatorial election shows "how such issues can dominate the electoral discourse," it said.
It's not the first time Mr Joko's religious commitment has been questioned. Prior to the 2014 presidential vote he made a last-minute dash to Mecca in a bid to woo conservative Muslims. Mr Joko's close ties with Ahok have raised eyebrows in some Muslim quarters.
Prabowo, who lost the 2014 election to Mr Joko, has been courting the Islamic vote. He was Anies Baswedan's main backer in his winning campaign for Jakarta governor, helping to tap Muslim anger towards Ahok over comments that later led to Ahok being convicted of blasphemy.
In the right circumstances, the hundreds of thousands of people to who took to the streets against Ahok might be prepared to do the same to support Prabowo against Mr Joko.
Prof Fealy said Mr Joko could also face a problem if the ban on Hizbut Tahrir was overturned in the courts. "That could play into the efforts of some Islamist organisations to undermine Jokowi in the run up to the 2019 election," he said.
Another risk would be the ban leads Hizbut Tahrir's more hardcore members to go underground and "become drawn into extremist and terrorist circles," said Usman Hamid, director of Amnesty International Indonesia.
For now, investors are likely to take a watching brief on the political maneuvering. There are no signs that Indonesia could face the kind of security crisis that forced then-dictator Suharto from office in 1998, said David Sumual, chief economist at PT Bank Central Asia in Jakarta. So far, "I don't see that it would delay capital spending and investment."
Still, Liam Gammon, editor of ANU's Southeast Asia-focused website New Mandala, said there was the potential for Hizbut Tahrir to gain sympathy from conservative Muslim voters who'd normally regard it as unpalatable.
Full report at:
http://www.businesstimes.com.sg/government-economy/jokowi-courts-political-risk-with-ban-on-hard-line-islamic-group
--------
Arab World
Syrian army, allies advance against ISIS east of Raqqa
23 July 2017
Syrian government forces and their allies have recaptured territory from ISIS in countryside southeast of its stronghold Raqqa after air strikes in the area, a pro-Damascus military media unit and war monitors reported.
The advances towards the provincial boundary between Raqqa and Deir al-Zor took place late on Saturday, the media unit, run by Damascus ally Lebanese Hezbollah, and the British-based Syrian Observatory for Human Rights said.
The army seized an oil field in the Sabkha area as part of the advance.
Rare advance
It was a rare advance for Damascus's forces in that area, which is close to territory controlled by the US-backed Syrian Democratic Forces (SDF), a Kurdish-dominated alliance separately fighting ISIS. It also brings government forces closer to Deir al-Zor province, another ISIS stronghold.
The Syrian army has active front lines with ISIS in western Raqqa province and has made recent gains there.
Incidents between the Syrian military and SDF last month raised tension between Washington and Damascus and its ally Moscow.
Separately in the north of Syria, one of the country's most complicated battlegrounds, Turkish-backed Syrian rebels are fighting US-backed Kurdish forces over control of some areas along the border, in clashes that threaten to distract from the fight against ISIS.
The Kurdish YPG militia, which forms the largest part of the SDF, controls much of northeastern Syria after capturing vast tracts of land from ISIS.
https://english.alarabiya.net/en/News/middle-east/2017/07/23/Syrian-army-allies-advance-against-ISIS-east-of-Raqqa.html
--------
Syrian warplanes strike near Damascus despite ceasefire
23 July 2017
Syrian government warplanes carried out several air strikes in the Eastern Ghouta area east of Damascus on Sunday, a day after the Syrian military declared a cessation of hostilities in the area, the Syrian Observatory for Human Rights said.
The British-based monitoring group said Saturday had been relatively calm after the ceasefire took effect with isolated incidents of shellfire.
On Sunday, six air strikes hit the towns of Douma and Ain Terma in rebel-held Eastern Ghouta, it reported.
There was no immediate comment from the government or army.
Syria's military declared a "cessation of fighting activities" starting at noon on Saturday in besieged Eastern Ghouta, which has long been controlled by the opposition.
One rebel group in Eastern Ghouta quickly welcomed the ceasefire.
A separate statement from Cairo-based political opposition movement Al-Ghad, headed by Ahmad Jarba, said the agreement had been reached in Cairo, sponsored by Egypt and Russia and with the involvement of mainstream rebel groups.
There was to be a full ceasefire in Eastern Ghouta, no government forces would enter the area and aid would be allowed in, it said.
Numerous attempts at a lasting ceasefire in western Syria, where rebels have lost ground to government forces and their allies over the last year, have often collapsed with both sides trading the blame.
Full report at:
https://english.alarabiya.net/en/News/middle-east/2017/07/23/Syrian-warplanes-strike-near-Damascus-despite-ceasefire-.html
--------
Lebanese mediator killed in fighting near Syrian border
22 July 2017
A Lebanese mediator was killed on Saturday in a second day of fighting between Hezbollah and militants near the border with Syria, sources and pictures obtained by Al Arabiya showed.
"Ahmad al-Fliti, who was mediating between fighters and Hezbollah... was wounded when his car was hit by shelling of unknown origin in Jurud Arsal," ANI said.
"He later succumbed to his wounds."
Lebanon's army said Fliti was killed in shelling by "the terrorist organization of the Al-Nusra Front", referring to the former Syrian branch of al-Qaeda.
Hezbollah on Friday said its fighters had begun an operation against militants on both sides of the country's border with Syria.
On Saturday, Hezbollah announced several advances in the mountainous border area of Jurud Arsal.
Funerals were held on Saturday for 11 Hezbollah fighters killed in the clashes, nine in Beirut and two in Baalbek.
Lebanon's army has not officially announced its participation in the offensive, but said Friday it had targeted "terrorists" in the area.
Thousands of Syrian refugees live in informal camps in Jurud Arsal after having fled the six-year war in their home country.
Full report at:
https://english.alarabiya.net/en/News/middle-east/2017/07/22/Al-Nusra-captures-an-armed-Hezbollah-militant-in-the-outskirts-of-Arsal.html
--------
Egypt's Sisi opens biggest military base in Middle East and Africa
22 July 2017
Egyptian President Abdul Fattah al-Sisi launched Mohammed Naguib military base in a huge ceremony in El Hammam city west of Alexandria on Saturday.
Mohammed Naguib military base is the biggest in the Middle East and Africa, reported Egyptian media.
President Abdul Fattah al-Sisi underlined that the Arab participation in the inauguration ceremony of Mohammed Naguib military base is a cogent proof of Arab unity.
The president welcomed Arab guests who participated in the ceremony that also celebrated the graduates of colleges and military institutes.
Arab princes and ambassadors headed by Abu Dhabi Crown Prince Sheikh Mohammed bin Zayed, Crown Prince of Bahrain, Prince Salman bin Hamad Al Khalifa, Prince Khalid Al Faisal, Emir of Mecca and Sheikh Mohammad Al-Khalid Al-Hamad Al-Sabah, Kuwaiti Minister of Defense and Field Marshal Khalifa Haftar the Libyan National Army commander attended the ceremony of opening the base which is named after late president Mohamed Naguib.
Sisi stressed the importance of constructive cooperation to confront the challenges besetting the Arab nation.
President Abdul Fattah al-Sisi graduated new batches of the Armed Forces propped up by modern science and high-level training to be in charge of defending the nation.
He said the base was named after late Egyptian president Mohammed Naguib in honor of his patriotic efforts.
Sisi urged new graduates to be highly vigilant and ready for fighting in view of the watershed stage through which the region and whole world are passing.
Sisi said sacrificing for the nation's security, stability and dignity is the duty of staunch sons of the nation.
He told the graduates that they are joining an ancient patriotic institution in charge of defending the nation, noting that Egyptians have always fully trusted their army.
The president paid tribute to Egypt's martyrs of the Armed Forces and police who sacrificed their souls for their country.
He told the families of the martyrs that they sacrificed their sons to protect Egypt and confront terrorism and extremism, cautioning that terrorists are trying to affect the morale of the Egyptians.
As for states who interfere in the Egyptian affairs, President Abdul Fattah al-Sisi said these countries will never be able to harm Egypt or regional countries, adding that no country has the right to interfere in other countries' affairs.
He highlighted that there are billions being spent to destroy countries, including Egypt.
Addressing Arab military graduates, he said we send a message to the world that Arabs join hands to build not to destroy, connive or foment sedition.
He said Egypt is now fighting in two battles; one for countering terrorism and the other for realizing socio-economic development.
Sisi said war tactics have changed and enemies resort to panicking people and spreading desperation in lieu of direct confrontations.
President Abdul Fattah al-Sisi expounded that terrorism is a multi-facet and complicated phenomenon, underlining the role of states and organizations that nurture and bankroll terrorism.
Egypt will never forgive terror-funding countries
He added: "We can never forgive those who spend billions of dollars in support of terrorism to kill our people and then speak about brotherhood and neighborhood".
Addressing terror sponsors, he said "killing innocent people will never go scot-free."
He said, "Egypt will remain a peace-loving nation and will never kowtow to terrorist threats and those behind them."
Sisi added that terrorism will never be a pretext to suspend economic reform and development as well as efforts to realize sustainable development.
"Terrorism, however, will be a catalyst for exerting more efforts at all levels" added the president of Egypt.
President Abdul Fattah al-Sisi urged people to bear the burdens of comprehensive economic development to reap its fruits which is a modern state and a dignified life.
For decades, the Egyptian economy failed to realize the optimal use of resources and economic crises piled up, but now the current generation has laid down strong foundations for a new modern Egypt whose people would enjoy prosperity and welfare.
He said the economic reform program is well examined, noting that Egypt is opening the door for all serious investors of Egypt, Arab or foreign states, creating jobs for youths and upping state revenues to realize a quantum leap in all services offered to people, especially health and education.
Sisi said he is sure that the Egyptians are aware of their high interests and they are adamant to proceed with economic reforms.
Full report at:
https://english.alarabiya.net/en/News/middle-east/2017/07/22/Egyptian-President-opens-biggest-military-base-in-the-Middle-East-and-Africa.html
--------
Saudi soldier killed in landmine explosion near Asir border province
23 July 2017
A Saudi soldier has died from his injuries after a landmine exploded near his patrol unit near the border region of Asir province.
A security spokesman of Saudi Arabia's Ministry of the Interior said the incident took place at 7 am local time on Sunday during a routine operation of a border patrol unit at the Maseel border post in the Asir. A landmine exploded, resulting in the death of soldier Ati bin Mardad al-Jadaani.
Houthi militias have been known to target Asir province given its closer proximity to Yemen. Earlier this year, Houthi militias targeted a United Nations building in Asir which lead to a destruction of the property.
https://english.alarabiya.net/en/News/gulf/2017/07/23/Saudi-soldier-killed-in-landmine-explosion-near-Asir-border-province.html
--------
Why Saudi state security service was established
23 July 2017
Saudi Minister of Culture and Information Awad bin Saleh Al-Awad said that the royal orders and decrees ordered by King Salman bin Abdul Aziz at close intervals confirm his keenness to keep pace with local and international changes at all levels and areas to improve the performance of the state agencies and provide the best level of services for citizens, residents and visitors of the two Holy Mosques.
In a press statement, he added, "These orders comply with the modernization and development of the service and administrative product of the state apparatus according to the vision of the present for the future 2030 and the aspirations announced by Crown Prince Mohammed bin Salman bin Abdulaziz, Deputy Prime Minister and Minister of Defense.
He added: "Among these orders came the royal decree establishing the Presidency of the State Security as an independent body directly related to the Prime Minister to give it the power to focus on the security of the homeland, the citizens and residents, combating terrorism, espionage and intellectual penetration in all its forms and types.
https://english.alarabiya.net/en/features/2017/07/23/Saudi-minister-Why-Saudi-state-security-service-was-established-.html
--------
UAE Minister: I had hoped Qatar's emir speech included initiative for revision
22 July 2017
The United Arab Emirates' Minister of State for Foreign Affairs, Anwar Gargash, said he had hoped the emir of Qatar's speech would have included a call to communicate and an initiative for revision.
"I hoped that Sheikh Tamim's speech would have been an initiative to review and call for dialogue. The positions are known and their recurrence deepens the crisis. Dialogue is necessary and wanted, but its review is necessary," Gargash tweeted in Arabic on Saturday.
Qatar's Emir Tamim, in his first address on Friday since the crisis began last month acknowledged that "there are differences with the countries of the Gulf Cooperation Council on our foreign policies".
The Anti-Terror Quartet of Saudi Arabia, Bahrain, UAE and Egypt decided to impose a diplomatic and economic boycott of Qatar last month for the latter's history of supporting terrorism and extremist groups in the region.
https://english.alarabiya.net/en/News/gulf/2017/07/22/UAE-Minister-I-had-hoped-Qatar-s-emir-speech-included-initiative-for-revision.html
--------
Africa
Nigerian army gets 40 days to nab Boko Haram leader
22 July 2017
Nigerian troops have 40 days to capture an elusive Boko Haram leader "dead or alive", according to the country's army chief Tukur Buratai.
"The Chief of Army Staff has directed the Theatre Commander, Operation LAFIYA DOLE (peace by all means necessary), Maj. Gen. Ibrahim Attahiru, to capture Abubakar Shekau, the so-called and self-styled leader of Boko Haram terrorist group, dead or alive," army spokesman Sani Usman said in a statement late Friday.
"The Theatre Commander has further been directed to do so within 40 days. He is to employ all arsenal at the disposal of the Theatre Command to smoke out Shekau wherever he is hiding in Nigeria," the statement added.
With an unabated spate of suicide bombings, the ultimatum comes days after the ultraviolent Shekau's faction of Boko Haram released a video of some policewomen recently captured in the northeast. The video apparently prompted Acting President Yemi Osinbajo's acknowledgment on Thursday of the June 20 kidnapping, which had initially been denied by police authorities.
The Nigerian military had repeatedly claimed to have killed the top militant.
http://www.worldbulletin.net/africa/192129/nigerian-army-gets-40-days-to-nab-boko-haram-leader
--------
Libya army commander Hafter to meet UN-backed Sarraj
23 July 2017
Libya's eastern commander Khalifa Haftar and the head of the UN-backed government Prime Minister Fayez al-Sarraj plan to meet on Tuesday for French-organized talks on a deal to resolve the country's crisis, a diplomatic source said on Sunday.
"I know Haftar is in Paris already, Sarraj is due to arrive soon. They are aiming for Tuesday," the source told Reuters.
The two held talks in Abu Dhabi in May, the first in more than a year and a half, about a UN-backed deal Libya's Western partners hope will end the factional fighting that has dominated Libya since the 2011 fall of Muammar Gaddafi.
French President Emmanuel Macron wants France to play a larger role in bringing Libya's rival factions together.
https://english.alarabiya.net/en/News/north-africa/2017/07/23/Libya-army-commander-Hafter-to-meet-UN-backed-Sarraj-.html
--------
One killed in grenade explosion in Somalia
23 July 2017
A child was killed Saturday and 17 injured when a hand grenade accidentally exploded at an Internally Displaced Persons (IDP) camp in Somalia's Sool region, according to police.
Authorities said the children mistook the grenade for a toy and were playing with it when it detonated.
"The hand grenade was found by a child somewhere near the camp and brought it among a group of IDPs and started to playing it," said region police chief Khalif Mohamed Ali.
The injured were taken to a nearby hospital for treatment.
"I have seen a lot of people lying on the ground we started to helping the victims after minutes people arrived at the scene and helped us", a mother, Halimo, told Anadolu Agency.
The IDP camp is at Ari Adeye village north of Lasanod, the provincial capital of the region.
There have been no indication as to who placed the grenade in the area.
http://www.worldbulletin.net/africa/192146/mandelas-family-infuriated-by-new-book-on-icon
--------
Hamas denies seeking presence in Algeria
23 July 2017
Palestinian resistance group Hamas has denied reports over asking Algeria to host some of the group leaders amid a Gulf crisis between Qatar and Arab neighbors.
Last week, the London-based Al-Sharq al-Awsat newspaper, citing Palestinian sources, said Hamas was seeking to have a presence in Algeria.
The daily claimed that the move came after Hamas leaders were forced out of Qatar, which is being boycotted by four Arab states, who accuse Doha of supporting terrorism.
The newspaper said that Hamas has made an official request to Algeria to have a presence in the country. Algeria has yet to respond to the request.
Hamas spokesman Sami Abu Zuhri, however, dismissed the report as untrue.
"For Algeria, we don't need a presence since the question of Palestine and Hamas is engraved in the heart of every Algerian citizen," he said during a conference marking the unity between Algeria's Movement for the Society of Peace and Taghyir Front on Saturday.
"We are proud of this country and its leadership, and we do not need leaders to represent us here," Abu Zuhri stressed.
Full report at:
http://www.worldbulletin.net/africa/192152/mandelas-family-infuriated-by-new-book-on-icon
--------
North America
US State Dept. urges calm at Al-Aqsa
21 July 2017
The US State Department on Thursday, urged Israelis and Palestinians to calm the growing tensions in Jerusalem following new Israeli restrictions on Palestinians at Al-Aqsa mosque.
"We are encouraging both sides to not take any actions that would potentially escalate tensions," agency spokeswoman Heather Nauert said.
Israeli authorities closed the Al-Aqsa compound and canceled weekly Friday prayers for the first time in nearly five decades following a shootout that killed three Palestinians and two Israeli policemen near the holy site in East Jerusalem.
On Wednesday, Israeli soldiers wounded nine Palestinians and detained four others during protests against the new Israeli measures.
Protests began Sunday after the mosque's leadership urged worshippers to boycott new metal detectors installed at entrances to the mosque.
Israel has defended the controversial move, claiming they are no different from security measures at other holy sites around the world.
"We continue to speak with the governments in the region to try to encourage a peace process," Nauert added.
Al-Aqsa Mosque is the third-holiest site in Islam after the cities of Mecca and Medina.
Israel occupied east Jerusalem during the 1967 Middle East War. It later annexed the city in 1980, claiming all of Jerusalem as the Jewish state's "eternal" capital -- a move never recognized by the international community.
http://www.worldbulletin.net/america-canada/192082/us-state-dept-urges-calm-at-al-aqsa
--------
US urged PYD/PKK to change name for legitimacy
22 July 2017
The U.S. urged its main Syrian ally to rebrand itself to avoid Turkish concerns and give the group a voice in Syria's future, the head of U.S. special forces said Friday.
"I was on the formative stage of the relationship with these guys," Army Gen. Raymond Thomas told a security gathering in Aspen, Colorado.
"They formally called themselves the YPG, who the Turks would say equated to the PKK," he said. "So we literally played back to them that you've got to change your brand. What do you want to call yourself besides the YPG? With about a day's notice they declared that they were the Syrian Democratic Forces."
The name change was vital to getting the group legitimacy in talks about Syria's future, Thomas said, noting that U.S. special envoy Brett McGurk "was able to keep them in the conversation" after the rebranding.
"They wanted a seat at the table," Thomas said, "and because they had been branded as PKK they could never get to the table."
Thomas acknowledged that group will still have a "branding challenge going forward".
"The first time Brett McGurk and I went out to this very old, cold guildhall in Kobani, right on the Turk border, we went in there, a bunch of somber technocrats and military people, and whose beaming face is looking down on us from the front of the guildhall but Ocalan," he recalled, referring to Abdullah Ocalan, the jailed leader of the PKK.
"We said, 'hey, that's got to go. You cannot belong to Ocalan and have any chance of legitimacy in the construct we're in," he said. "If they continue to keep linkage to past product, or PKK linkage specifically, the relationship [with the U.S.] is fraught with challenges."
The U.S. has supported the PKK/PYD along with several other Arab militia groups under the umbrella of the SDF, long vexing Ankara.
The U.S. views the SDF as a "reliable partner" in its fight against Daesh and continues to provide it with arms and equipment against strong objection by Turkey that views the PKK/PYD as the Syrian offshoot of the PKK terror group.
The PKK has waged a terror campaign against Turkey for more than 30 years that has led to the deaths of more than 40,000 people. It is a designated terror group in Turkey, the U.S. and EU.
http://www.worldbulletin.net/america-canada/192118/tillerson-satisfied-with-qatars-progress-in-resolving-crisis
--------
Tillerson 'satisfied' with Qatar's progress in resolving crisis
22 July 2017
US Secretary of State Rex Tillerson said Friday he was satisfied with Qatar's efforts to resolve a diplomatic crisis that has pitted it against Saudi Arabia and other Arab countries.
"The Qataris have continued to move forward on the MOU (Memorandum of Understanding) that the US and Qatar entered into to address many of the terrorism, terror financing, counterterrorism concerns that people have," he said.
"So we're, I think we're satisfied with the effort they're putting forth," he continued.
"I hope the four countries will consider as a sign of good faith lifting this land blockade, which is really having the most, I think, negative effects on the Qatari people," he added, referring to Saudi Arabia, the UAE, Egypt and Bahrain.
The four powers cut ties with Qatar on June 5, accusing it of backing extremism and fostering ties with their Shiite rival Iran -- charges which Doha denies .
Saudi Arabia and the UAE in particular have been critical of Tillerson's efforts, accusing him of being too sympathetic toward Qatar.
Full report at:
http://www.worldbulletin.net/america-canada/192137/tillerson-satisfied-with-qatars-progress-in-resolving-crisis
--------
Pentagon blocks some Pakistan military payments
21 July 2017
The US Defense Department has withheld $50 million in Pakistan military payments after Pentagon chief Jim Mattis determined Islamabad is not doing enough to counter the Taliban-affiliated Haqqani network, an official said Friday.
The United States had allotted $900 million in military aid to Pakistan through the special fund.
The country has already received $550 million of that, but Mattis's decision means $50 million will be withheld. The remaining $300 million was rescinded by Congress as part of a broader appropriations act.
"This decision does not reduce the significance of the sacrifices that the Pakistani military has undertaken over previous years," Stump said.
"Pakistan still has time to take action against the Haqqani network in order to influence the secretary's certification decision in FY17," he added.
The Taliban-affiliated Haqqani network, based in the border areas between Afghanistan and Pakistan, has long been thought to have ties to Pakistan's shadowy military establishment.
Full report at:
http://www.worldbulletin.net/america-canada/192097/pentagon-blocks-some-pakistan-military-payments
--------
Europe
London protest urges Israel to end Al-Aqsa aggression
23 July 2017
Hundreds of British Palestinians staged a protest in front of Israel's London embassy against the latest restrictions around the Muslims' third holiest site in Jerusalem on Saturday.
The emergency protest called for by the Palestinian Forum in Britain saw protesters from all ages, and organizers said they held the protest to attract attention to Israel's aggression in Jerusalem.
Some protesters held placards read "Save Al-Aqsa" and "Free Palestine" and some others shouted anti-Israeli slogans.
"Israel is a terror state", and "Hands-off Al-Aqsa", the group shouted.
A small pro-Israeli group also gathered in front of the embassy, however, British police directed them to the back of the building when tensions between the groups raised.
Anger has spilled over across the West Bank since last week when Israel shut the Al-Aqsa Mosque, revered by both Muslims and Jews, who call it Temple Mount, following a deadly shootout.
The mosque was reopened after a two-day closure, with Israel installing metal detectors at the mosque gates, which Palestinians say aim to change the status quo -- a delicate balance of prayer and visiting rights.
Israel, for its part, refused to remove the detectors, claiming the security measures were similar to procedures taken at other holy sites around the world.
Sacred to Muslims, Jews, and Christians, Jerusalem is home to the Al-Aqsa Mosque, which for Muslims represents the world's third-holiest site.
At least three Palestinians have been killed since Friday clashes.
Meanwhile, another group of protesters also gathered to condemn Israel's latest restrictions in Al-Aqsa Mosque compound and the latest killing in Northern Ireland's Londonderry city. The protesters urged Israel to end the aggression in Jerusalem.
http://www.worldbulletin.net/europe/192147/london-protest-urges-israel-to-end-al-aqsa-aggression
--------
URL: https://www.newageislam.com/islamic-world-news/making-its-way-bangladesh-isis/d/111929
New Age Islam, Islam Online, Islamic Website, African Muslim News, Arab World News, South Asia News, Indian Muslim News, World Muslim News, Women in Islam, Islamic Feminism, Arab Women, Women In Arab, Islamophobia in America, Muslim Women in West, Islam Women and Feminism