New Age Islam News Bureau
9 Feb 2019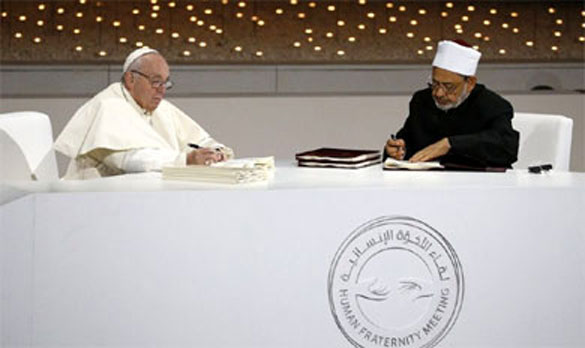 Pope Francis and Sheikh Ahmad el-Tayeb, grand imam of Egypt's al-Azhar mosque and university, sign documents during an interreligious meeting at the Founder's Memorial in Abu Dhabi, United Arab Emirates, Feb. 4, 2019. (CNS/Paul Haring)
------
• Majlis Ulama-e-Hind Strongly Opposed Tawhidi's Arrival in India and Urged Home Minister to Put a Ban on His Future Programmes
• PM Imran Khan for Including Islamic History, Iqbaliat In Curriculum
• U.S. Catholic Officials Welcome Catholic-Muslim Document Signed By Pope
• 'I Got Cheated. All of Us Got Cheated': Captured German Isis Member Says He Regrets Joining Terror Group
• Egyptian Stars Heading For Saudi Arabia In Latest Entertainment Boost
• Philippines' Muslim Region Takes Shape as Headwinds Blow
• Turkish Presidential Spokesman: '60 Percent of Conflicts Are In Muslim Countries'
India
• Majlis Ulama-e-Hind Strongly Opposed Tawhidi's Arrival in India and Urged Home Minister to Put a Ban on His Future Programmes
• Experts at Arth Speak On the Importance Of Inter Faith Interactions
• Lord Ram ancestor of both Hindus and Muslims: Baba Ramdev
• India sends note verbale to Pakistan in protest against Hafiz Saeed's rally
• 7 convicts, all Muslim get life imprisonment in Muzaffarnagar riots case
--------
Pakistan
• PM Imran Khan for Including Islamic History, Iqbaliat In Curriculum
• JI leader lays stress on Muslim unity
• Pakistan to submit evidence against Kulbhushan Jadhav in ICJ
• 10,000 Pakistanis who registered as Afghan refugees detected
• Pakistan freed Baradar at US request, says Khalilzad
• PTI looking for legal ways to remove Shahbaz from PAC
• Pakistan 'forced' Taliban to talk to US
--------
North America
• U.S. Catholic Officials Welcome Catholic-Muslim Document Signed By Pope
• US Executes Muslim Who Requested Imam Support at Death Chamber
• McCarthy Demands Democrats Treat Two Muslim Members As Bigots Like Steve King
• How radical Islam led one man from atheism to Marxism to Catholicism
• Pompeo calls for 'tougher international restrictions' on Iran
• Quebec mosque shooter gets life, no parole for 40 years
• Palestine says won't attend US' conference in Poland
• US eyeing Guantanamo for Daesh detainees: report
--------
Europe
• 'I Got Cheated. All of Us Got Cheated': Captured German Isis Member Says He Regrets Joining Terror Group
• EU Plans To Blacklist Saudi Arabia For Failure In Fighting Money Laundering: FT
• Iran FM says situation in Syria's Idlib 'very dangerous'
• Russia says won't move Israel embassy to al-Quds
• Afghan government complains to UN over Taliban trip to Moscow
• EU maintains demands for credible probe into Khashoggi
• Mosque in Bosnia to re-open 27 years after demolished
--------
Arab World
• Egyptian Stars Heading For Saudi Arabia In Latest Entertainment Boost
• Saudi Study: Millennial Extremist Fighters Educated, Not Outcasts
• Saudi Arabia's efforts in spreading moderation lauded
• MoS Foreign Affairs: Saudi Crown Prince 'Did Not Order Khashoggi Killing'
• MP: ISIL Reviving Operation in US-Controlled Areas in Northern Iraq
• US-Backed SDF Blocks Civilians' Move towards Army-Controlled Regions
• Kuwaiti delegation secretly visited Israeli-occupied territories last week: Report
--------
Southeast Asia
• Philippines' Muslim Region Takes Shape as Headwinds Blow
• Indonesians Join Protest Against 'Blasphemous' Nike Shoe
• Was NU radical in its fight against colonialism? Maybe not, NU says
• Indonesia sexual violence bill sparks conservative opposition
--------
Mideast
• Turkish Presidential Spokesman: '60 Percent of Conflicts Are In Muslim Countries'
• Palestinians Reject Invitation to Attend US Mideast Meeting In Poland
• Widely used 'Death to America' slogan directed at Trump, Iran leader claims
• Dozens of Houthi militiamen killed in coalition strikes in Yemen's Hajjah
• Two Palestinian teens killed by Israeli live fire during Gaza border protests
• UAE blasts Houthis for disregarding Hodeidah ceasefire and blocking Yemen aid access
--------
Africa
• Boko Haram: From Islamist Sect to Armed Threat
• US airstrikes in Somalia kill 15 al-Shabaab militants
• US general says strikes in Somalia won't stop Shabaab
• Sudan official says beatings led to iconic protester's death
• Libyan authorities reportedly arrest suspected al-Qaeda leader
• Tunisian court sentences seven terrorists to life for deadly 2015 attacks: prosecutors
--------
South Asia
• Bangladesh Stops Rohingya Trying To Get To Malaysia
• Bangladesh's Catholic Church celebrates 500 years
• Explosion leaves local ISIS-K commander dead in Kunar province
• U.S. envoy 'hopeful' a peace deal could be finalized with Taliban before elections
• Taliban's shadow intelligence chief killed in Helmand
• Afghan Special Forces kill 2 senior Taliban leaders in Nangarhar province
• Myanmar villagers flee fresh Rakhine State fighting, enter Bangladesh
Compiled by New Age Islam News Bureau
URL: https://www.newageislam.com/islamic-world-news/majlis-ulama-e-hind-strongly/d/117704
--------
Majlis Ulama-e-Hind Strongly Opposed Tawhidi's Arrival in India and Urged Home Minister to Put a Ban on His Future Programmes
by Rasia Hashmi
Feb 08, 2019
Lucknow: Majlis Ulama-e-Hind expressed its disapproval over the arrival of controversial Muslim preacher Imam Tawhidi in India. It wrote a letter to Home Minister Rajnath Singh to express its disapproval on his visit. The organisation also slammed Zee TV network for inviting such an irresponsible person.
After a unanimous decision taken by all Ulema, the Majlis Ulama-e-Hind strongly opposed Tawhidi's arrival in India and urged home minister Rajnath Singh to put a ban on his future programmes.
The letter written by Maulana Kalbe Jawad Naqvi, general secretary Majlis Ulama-i-Hind, stated that the so-called leader has been invited by a channel to India. This man is masquerading as a scholar while he is not related to Shi'ism or Islam, because his photos, videos, books and speeches all are against the teachings of Islam and Shi'ite belief.
Saying that inviting such a person is like disrupting the peace of India, Maulana Jawad urged the government to put a ban on all his programmes.
Tawhidi who claims to be a Shia Muslim is often seen criticizing Islam and Islamic countries like Iran.
https://www.siasat.com/news/opposing-tawhidis-arrival-india-maulana-kalbe-jawad-writes-letter-home-minister-1465328/
--------
PM Imran Khan for including Islamic history, Iqbaliat in curriculum
February 8, 2019
ISLAMABAD: Prime Minister Imran Khan Friday said philosophy of Dr Allama Muhammad Iqbal gave depth and height to human imagination and free thinking.
He said this while chairing a meeting regarding the steps taken to enlighten new generation about Islamic History, especially the philosophy and thinking of national poet Allama Muhammad Iqbal.
The meeting was attended by Minister for Federal Education and Professional Training Shafqat Mahmood, Information Minister Chaudry Fawad Hussain, Prime Minister's Spokesperson Nadeem Afzal Chan, Special Assistants, Iftikhar Durrani, Yousuf Baig Mirza, Punjab Education Minister Murad Ras Khan, Educationist Raza Hamdani and Dr Raza Gardezi.
The prime minister said in consultation with the provincial governments, Iqbaliat and Islamic history should be included in the curriculum so that the new generation could be enlighten about Islamic history, rise of Muslims and greatest thinker of Muslims in the subcontinent Allama Muhammad Iqbal.
He said the principles of State of Madina were as much universal today as its importance was universal in early period of Islam, and by following that golden principles the Muslims in a short period of time ruled the world.
"We can regain our past glory even today by following the basic principles of State of Madina," he said.
He said the religion taught moralities and before any economic and social degradation, moral destruction occurred.
Khan said corruption was manifestation of moral destruction.
Prime Minister Imran Khan said non-understanding of history and realities provided chance to the opportunist elements to distort the history and realities and used them for their personal benefits.
He said some politicians were using religion of Islam for political gains like those elements who were exploiting the problems, faced by the people of tribal areas due to ongoing war against terrorism.
https://www.thenews.com.pk/latest/429463-pm-imran-khan-for-including-islamic-history-iqbaliat-in-curriculum
--------
U.S. Catholic officials welcome Catholic-Muslim document signed by pope
Feb 8, 2019
WASHINGTON — The declaration signed by Pope Francis and Sheik Ahmad el-Tayeb, the grand imam of al-Azhar, during the pope's trip to the United Arab Emirates "is a clarion call for robust dialogue that leads to peace," said the Catholic chairman of the National Catholic-Muslim Dialogue and the chairman of the U.S. bishops' Committee on Ecumenical and Interreligious Affairs.
"In our increasingly hostile world in which violence too often predominates between Christians and Muslims — violence that has led to tragic consequences for the most vulnerable humans — we welcome with great joy this historic joint statement on human fraternity," said Cardinal Blase Cupich of Chicago and Bishop Joseph Bambera of Scranton, Pennsylvania.
Pope Francis and Sheik el-Tayeb, a leading religious authority for many Sunni Muslims around the world, signed "A Document on Human Fraternity for World Peace and Living Together" Feb. 4 in Abu Dhabi.
"We, who believe in God and in the final meeting with him and his judgment, on the basis of our religious and moral responsibility, and through this document, call upon ourselves, upon the leaders of the world as well as the architects of international policy and world economy, to work strenuously to spread the culture of tolerance and of living together in peace," the document said.
They also urged religious and political leaders to "bring an end to wars, conflicts, environmental decay and the moral and cultural decline that the world is presently experiencing."
But the centerpiece of the declaration was a call on Christians and Muslims to recognize and respect one another and work together for the good of humanity.
Commenting on the document Feb. 8, Cupich and Bambera urged "all people of goodwill, especially leaders of nations and religious groups," to read and study the declaration "in the hope that it might serve as a resource to overcome division through a renewed commitment to dialogue and the establishment of goodwill."
https://www.ncronline.org/news/quick-reads/us-catholic-officials-welcome-catholic-muslim-document-signed-pope
--------
'I got cheated. All of us got cheated': Captured German Isis member says he regrets joining terror group
Feb 09, 2019
Lucas Glass had not long finished school when he decided to join Isis. In the summer of 2014, shortly after the terror group declared its global caliphate, he left his home city of Dortmund and set off with his wife to start a new life in Syria. He was just 19 years old.
"All I knew about Isis was that they were establishing Islamic law and fighting Bashar al-Assad," he says, cutting a solemn figure under the watchful eye of his captors at a military installation in northern Syria.
"I came to practise my religion. I thought I would find what I wanted here, but actually it was very different."
Glass, a German citizen, now 23, is one of thousands of foreigners who came to this country in the throes of a brutal civil war to live under the strict interpretation of Islam that Isis promised its followers. That is not all they did, however. Many played a key role in the group's reign of terror, acting as soldiers, executioners and recruiters.
Over the past few months, as the caliphate nears its end, hundreds of foreign nationals have been detained by the Syrian Democratic Forces as they leave the ever-shrinking territory of Isis. But their capture is just the start of a complex process which has no clear end in sight.
Most countries do not want to take back those citizens who left to join the caliphate, fearing they would be a security threat if they returned. Prosecuting them is extremely difficult due to a lack of evidence of what individuals did during their time living with Isis.
Foreigners leaving the caliphate know this, and the majority claim they had nothing to do with the group or were not fighters. They say they were cooks, doctors or humanitarians who simply found themselves in the caliphate by accident.
"They all say the same thing," a Kurdish intelligence official responsible for handling suspected Isis members tells The Independent. "We don't believe them."
Glass is not one of those people. He admits to being a member of Isis, and to working for its police force for two years. But he claims he was duped by its propaganda, and did not discover the group's true nature until it was too late.
Glass' story gives an insight into the inner workings of one the most feared groups in the modern world, and the disillusionment of many of its followers as its fortunes started to decline.
In an exclusive interview with The Independent, he recounts the tale of how he came to join Isis, and how it all fell apart.
"You can compare it with a US soldier who wants to join the army," he says of his motivation for joining the group, speaking in accented English. "Why is he ready to join the US army, and go to Afghanistan or Iraq or Syria to sacrifice his life for the sake of democracy? We heard that they announced an Islamic State, this is what we came for," he says.
Glass converted to Islam in 2010, some 10 years after his mother had done the same. He had been familiar with the religion for most of this life, but it wasn't until he got older that he discovered his faith. But he says he felt Germany did not afford him the space to live the religious life he wanted to.
In July 2014, Isis leader Abu Bakr al-Baghdadi issued a call to Muslims around the world to come to Syria and Iraq to build an Islamic state. "Rush O Muslims to your state. Yes, it is your state. Rush, because Syria is not for the Syrians, and Iraq is not for the Iraqis," he said in an audio message.
Those words hit home with Glass. He felt it was his duty to go. He married his German wife, and a month later they traveled to Turkey, where he paid a smuggler to take him across the border into Syria. Shortly after, he found himself enrolled at an Isis religious school.
"There were 400 of us in one camp. People from Germany, France, Belgium, Britain, north African countries," he says.
Glass wanted to fight for the group, against the Syrian government, but an injury meant he was unfit for the frontline. Instead, he was assigned to the police force in Aleppo province.
"The main work was manning checkpoints in the streets. I would stop cars and look out for cigarettes and drugs," he says. "I never pointed my gun at another human," he insists.
He did this job for two years, he says. Life was as close to normal as it could be for a German living in an active warzone. But by 2016 Isis had gained enemies on all sides in Syria's civil war, and began to lose ground in Aleppo to the Syrian opposition. Its fighters withdrew from Aleppo to Raqqa; Glass and his family, which now included children, went with them.
Throughout the time Glass was a member of the Isis police force, the group carried out some of its most heinous atrocities. In August 2014, Isis fighters overran the Iraqi town of Sinjar, where it massacred Yazidi civilians and kidnapped thousands of women to keep as sex slaves. Shortly after, Isis members killed the American journalist James Foley. Then in September they released videos showing the beheading of American-Israeli journalist Steven Sotloff, and then the execution of British aid worker David Haines. All of these were designed to maximise publicity, shared on Isis propaganda channels, and aimed at shocking the world and instilling fear in its enemies.
Glass continued to do his job, manning checkpoints for Isis while the group wrought havoc across the region. He insists he did not know these crimes were being committed, despite their widespread publication. It wasn't until 2016, in Raqqa, that he says he had a change of heart.
"I had seen some stuff going on in Isis which I don't accept, which I thought was un-Islamic," he says.
"Some of the propaganda videos of Isis, burning people, drowning them. I got shocked when I saw these things. This is not allowed in Islam. These were things I don't accept," he says. "After that, I decided to leave."
By the time Glass says he realised the truth about the group, Isis was carrying out deadly attacks far beyond its borders. In France, the US and Tunisia, Isis-inspired attacks killed hundreds. But Isis was also on the back foot in Iraq and Syria, losing ground in both countries. The US had entered the conflict and was bombing intensively across Isis's self-declared caliphate.
"I just asked to leave," says Glass. "They give you a paper and you get stamps from the people who are responsible for you. From this day I lived as a civilian," but still within the caliphate.
"I didn't want to be a part of Isis anymore. I wanted to be innocent of these things," he adds.
Glass says he tried to escape once with his family but was caught by the Isis secret police.
"They imprisoned me for one and a half months. They released me under the condition that if I tried to leave a second time they would kill me," he says.
From that moment on, as he tells it, he was a prisoner of Isis, and was forced to retreat as they retreated, from Raqqa to Deir ez-Zor. The Isis caliphate got smaller and smaller, its fighters faced defeat after defeat. Eventually, a string of villages along the Euphrates became the last holdout of the group.
The SDF, with US backing, launched its offensive on this last stronghold in December. The caliphate was surrounded, and battered by daily airstrikes, as Isis made its last stand.
"I remember a few times, me and my family and my children we went to the market, and there was bombing next to us, and I saw in front of my eyes women and children, gone, arms gone, head gone," he says. "You didn't know what would happen tomorrow. Every moment you expected to die."
In the past months, an exodus of people have fled the Isis-held areas. The group's usually tight control over who comes and goes has seemingly collapsed. Thousands of women and children were among those fleeing, many of them believed to be the relatives of Isis fighters.
Glass says there was a sense of abandonment among Isis supporters and fighters when the group's leaders were suddenly nowhere to be found.
"Everybody was asking this question. Where are they? Why don't they show themselves? They claim to be responsible for us, for the Muslims, why don't they help us? The majority of people in Isis areas, even the majority of Isis fighters, hate them," he says.
Glass was eventually captured as he crossed the front lines east of the town of Susah on 6 January. He was separated from his family and remains in detention to this day. His wife and children are currently being held with thousands of other families of suspected Isis members in a holding camp.
What comes next for him, and the thousands of other foreign prisoners held by the SDF, is unclear. The Syrian Democratic Forces is calling on foreign countries to take back their citizens who came here to join Isis. So far, France is the only European country to say it will bring them back. The US has also said it will try citizens suspected of Isis membership at home. The UK, meanwhile, has refused to allow its citizens to return. Defence secretary Gavin Williamson said last year: "I do not believe that any terrorist, whether they come from this country or any other, should ever be allowed back into this country." Germany has so far taken the same position.
"I hope Germany is going to take me back, but I don't expect they will," he says. "I expect they will hand us over to the Syrian government."
It is likely he will face prosecution for belonging to Isis no matter where he ends up, even if he was not directly involved in killing, as he claims. But there will be many who don't believe his story.
"It is simply not plausible to suggest that there was any doubt over Isis's true nature in 2014. Indeed, by the end of January in that year the group was drawing heavy criticism from even other rebel groups for its barbarity," says Shiraz Maher, an expert on foreign fighters in the Syrian conflict, and director at the International Centre for the Study of Radicalisation and Political Violence at King's College London.
"It is true that individuals within Isis sometimes performed specialised roles, serving as doctors, engineers and so on, but interviews I conducted suggest that they did this in addition to holding combat roles. A prominent Australian doctor, Tarek Kamaleh, was revealed to be doing just that in Isis propaganda, alternating between his work as a doctor and serving on the front line," he adds.
It will not be long before Isis loses the last of its territory, bringing an end to the caliphate in Iraq and Syria. Already, many here are preparing for what comes next. Isis has already begun to transform back into an insurgency, and has demonstrated its ability to carry out attacks.
But according to Glass, who once held the group in high esteem, it will never again be able to muster the same support it did four years ago.
"At the beginning, when they announced their caliphate, thousands of Muslims came to Syria to support it. But now we know the reality of Isis. They will not find any supporters anymore in the Muslim world. All these things Isis did, and all these crimes, made Muslims all over the world hate Isis. So it will never be able to find any supporters anymore," he says.
"I got cheated. All of us got cheated. All of these foreigners, thousands of Muslims who came to join Isis got cheated."
https://www.independent.co.uk/news/world/middle-east/isis-syria-fighter-germany-lucas-glass-islamic-state-assad-islam-a8769911.html
--------
Egyptian stars heading for Saudi Arabia in latest entertainment boost
February 09, 2019
JEDDAH: In a further boost to the entertainment sector in the Kingdom, a wide range of Egyptian productions, stars and events are coming to Saudi Arabia, including plays, concerts and film screenings.
General Entertainment Authority Chairman Turki Al-Sheikh signed a number of memorandums of understanding with producers and promoters during a visit to Cairo on Friday. It comes just days after the announcement of similar agreements signed during a visit to London this week.
The highlights include six performances across the Kingdom of Shakespeare's "King Lear," starring Yehia Al-Fakharani and Farouk Al-Fishawi, as part of a theater deal with Cairo 21.
Al-Adl Group will present six family-friendly plays featuring the actress Sherihan, who recently came out of retirement and is returning to the stage after an absence of 25 years. They will be staged during the Riyadh Festival in October and November this year, and in Jeddah in June and July 2020.
Comedy actor Mohamed Henedi will appear in six performances of the play "3 days on the Coast," beginning in March. Actor and comedian Ashraf Abdul Baqi's Work Shop production company will stage a number of Egyptian plays, including four performances of "Crime in Maadi," directed by Baqi. Actor Mohammed Saad, star of the 2002 hit comedy "El-Limby," will also take to the stage in the Kingdom.
Producer and director Rami Emam, of True Motion Media Production, signed a deal for an appearance by his father, veteran actor Adel Emam, as a guest of honor at a special event produced by the company. The United Group Company will organize screenings of a number of films, featuring appearances by some of the stars, and stage outdoor concerts. The Sabah Group will produce a number of movies that will features Egyptian, Arab and Saudi actors and premiere in the Kingdom.
Playwrights Amir Taima and Ayman Bahgat Qamar will write new stage plays to help to revive Saudi Arabia's theatrical heritage.
Fans of Egyptian music can look forward to performances by Hani Shaker, Amr Diab and Mohammad Hamaki. In addition, there will be stage shows featuring the music of Egyptian legends Umm Kulthum, Mohammed Abdel Wahab and Abdel Halim Hafez. Other musical stars who will perform include Walid Mansour, Hakim Abdulsamad, Oka Wa Ortega, Hamada Helal, Ahmed Sheba, Ahmed Adaweyah, Saad El-Sogyahar, Moustafa Hagag, Mahmoud El-Leithy, Amr Diab and Abdel Basset Hamouda.
http://www.arabnews.com/node/1449311/saudi-arabia
--------
Philippines' Muslim region takes shape as headwinds blow
FEBRUARY 09, 2019
MANILA -- As the Philippines begins the work of creating a new Muslim autonomous government in the southern island of Mindanao in 2022, the peace process faces an uphill battle in the face of opposition from hardliners calling for outright independence.
The final of two rounds of voting was completed Wednesday, giving a rough outline of the region that will be included in the arrangement. In January, the current five provincial members of the existing Autonomous Region in Muslim Mindanao, plus Cotabato City, voted to participate in the new arrangement. This resulted in the so-called Bangsamoro Autonomous Region legally coming into existence.
This was followed by Wednesday's vote in Lanao del Norte Province and portions of Cotabato Province on the island on whether to take part in the autonomous region. Final results for that vote were pending as of Friday evening.
The current Autonomous Region in Muslim Mindanao has been deemed a failure because of its undeveloped institutions and high levels of corruption. President Rodrigo Duterte signed a law last year to create the new autonomous region in hopes of making peace with separatist Muslim rebels who have fought the national government for decades.
"There should be good, effective governance," Carlito Galvez, the presidential adviser on the peace process, quoted Duterte as saying earlier this month. "We must have sincere public servants with no record of corruption."
A transitional government will run the region through 2022. Duterte will soon name 80 members to the transition authority and, pending parliamentary approval, a government of 15 ministers will be formed. Murad Ebrahim of the Moro Islamic Liberation Front, the country's largest Muslim rebel group which signed the peace process deal with Manila, is expected to lead it as chief minister.
Although the peace process appears to have passed a critical juncture, hard-line groups pushing for outright independence on Mindanao and nearby islands remain opposed to the arrangement. After the January referendum, two bombings in the Sulu provincial capital of Jolo, located on an island near Mindanao, killed 23 people.
The transitional government may also have its share of troubles. The Autonomous Region in Muslim Mindanao is to be dissolved at the end of June, with a portion of its 6,000 or so staffers to be absorbed by the Bangsamoro arrangement. But a long delay for the second referendum has left little in the way of a transition period. With the region home to more than 4 million people, it puts the transitional government with an almost complete lack of administrative know-how on a course to turmoil, analysts say.
While many past presidents have given up on a final peace agreement for the region, Mindanao native Duterte has pushed it to where it is today. But there are many more hurdles to cross before the process is finished.
https://asia.nikkei.com/Politics/Philippines-Muslim-region-takes-shape-as-headwinds-blow
--------
Turkish Presidential Spokesman: '60 Percent of Conflicts Are In Muslim Countries'
08.02.2019
The Turkish presidential spokesman said Friday that 60 percent of conflicts globally are occurring in Muslim nations.
"Sixty percent of conflicts in the world today are happening in Muslim countries. This must be a hard lesson for all of us," Ibrahim Kalin said, speaking at a seminar held at the Statistical, Economic and Social Research Center for Islamic Countries (SESRIC) in Ankara.
The center is part of the Organization of Islamic Cooperation (OIC).
Kalin said most of the Muslim countries are becoming a playground for political proxy wars. "Why? Because we lack the unity we need."
The presidential aide said there are plans and schemes to divide Muslim countries, however, blaming others for Muslims' own problems is very easy to do.
"We really have to address our own issues," he added.
Kalin went on to say there is a lot that can be done under the OIC umbrella. "Muslim countries need political leadership... they need unity more than ever."
He added that the Muslim world is not as poor as many people think.
Kalin said Muslims have "enormous" natural resources and the youngest population in the world.
Compared to Europe and the U.S., the Muslim world is much younger, he added.
"So we have tremendous human resources that we have to tap into," Kalin said. "The problem is that we are not dealing with these resources in a smart way."
He went on to say the current global order is not giving justice or fair distribution of wealth.
He said the gap between the rich and the poor was narrower in the past than it is today and that raises the issue of justice.
"There is no peace without justice. There is no sustainable peace without justice and fairness. Whether you talk about the Palestinian issue or you talk about Rohingya Muslims in Myanmar or poverty in Africa," Kalin added.
Director General of SESRIC Ambassador Musa Kulaklikaya, also speaking, hailed the plenteous principles of peace and tolerance the Islamic religion came with.
"Islam is a religion of peace and tolerance, constantly taking the side of world peace and global justice," he said.
Kulaklikaya went on to note that the OIC has so far proven itself as one of the most successful projects in the Islamic World, but, "this project has faced difficulties in responding to the increasing security challenges of the 21st century".
Regarding the main aim of the seminar, he said, they target to address these difficulties by reflecting on some recent SESRIC research studies focused "on achieving peace and security in OIC countries".
https://www.aa.com.tr/en/politics/60-percent-of-conflicts-are-in-muslim-countries/1387472
--------
India
Experts at Arth Speak On the Importance Of Inter Faith Interactions
Feb 9, 2019
The talk on the topic of faith was organised at Arth. The topic of discussion was, "Importance of inter-faith dialogue". The talk was between Iranian born Australian Imam Twahidi and American Indian author Rajiv Malhotra. It was moderated by Vishwa Alduri. Imam Twahidi is an Iranian born Australian Imam and Rajiv Malhotra is an American Indian author, who has written acclaimed books like The Battle for Sanskrit.
Imam Twahidi enlightened the audience about Islam. He said that, "Quran is the word of God and it can't be amended like the Bible where Christians don't believe that every word is from God."
Muslims are of two kinds — Shia and Sunni. Humans should be free to read whatever they feel like and speak and question for bringing around advancement in the society on social and scientific fronts. Muslim women have a great role to play in Islam. This has been enforced right from the wife of Prophet Muhammad Aisha. Twahidi also said, "The West has nothing to give to India. In fact they have a lot to learn form India".
Twahidi cleared the assumptions made over the eating habits of Muslims.
The holy book of the Muslims, Quran, does not direct Muslims on what to eat but, in Islam, consumption of any intoxicant is generally forbidden.
He also said," I have not eaten any non-vegetarian food in the past two years. Muslims have a lot of options to eat from. Nigerian Muslims eat Snails. Muslims can change their eating habits for the betterment of the society".
https://www.dnaindia.com/india/report-experts-speak-on-the-importance-of-inter-faith-interactions-2717844
--------
Lord Ram ancestor of both Hindus and Muslims: Baba Ramdev
Feb 09, 2019
Nadiad (Gujarat): Yoga guru Ramdev appears to have stirred a possible controversy by claiming that Lord Ram was an ancestor of not only Hindus but also Muslims.
On the sidelines of a yoga event here on Friday, Ramdev told media persons, "The Ram Temple must be constructed. If not in Ayodhya will Ram Temple be built in Mecca-medina or the Vatican city? It is an undisputed truth that Ayodhya is the birthplace of Lord Ram and Ram is not only the ancestor of Hindus but also Muslims. This is not a political issue and nor a vote bank."
Earlier on February 2, he had said that there would be a risk of "law and order" across the country if Hindus march towards Ayodhya for the construction of the Ram temple.
"We respect the Constitution, either Parliament should find some way or the Supreme Court should find some way out. If marching towards the Ayodhya is required then Hindus can collectively march and build the Ram temple, but in that case there will be a risk to law and order across the country," said Ramdev.
The Ram Janmabhoomi-Babri Masjid dispute case has been pending before the apex court for the last eight years. For a long time, parties in the case and various right-wing organisations have been seeking for an early or day-to-day hearing in the matter.
Full report at:
https://www.siasat.com/news/lord-ram-ancestor-both-hindus-and-muslims-baba-ramdev-1465434/
--------
India sends note verbale to Pakistan in protest against Hafiz Saeed's rally
by Shameen
Feb 08, 2019
New Delhi: India has taken a strong note of 26/11 Mumbai attacks mastermind Hafiz Saeed's recent rally in Lahore on the occasion of so-called 'Kashmir Solidarity Day' and sent a note verbale to Pakistan in protest against the Jamaat-ud-Dawah (JuD) chief's gathering, sources said on Friday.
Sources added that India registered a strong protest against the continued use of Pakistani soil by extremist and terrorist elements to freely propagate and promote violence against New Delhi.
They further said that the Indian government once again called upon the Pakistani government to fulfill its international obligations and abide by it bilateral commitment to not allow any territory under its control to be used for terrorism against India, in any manner.
On February 5, Saeed, a UN-designated terrorist, had taken part in the rally in Lahore as part of the so-called 'Kashmir Solidarity Day.'
India, has, time and again, protested against Pakistan for harbouring Saeed, who is widely believed to have plotted the 2008 Mumbai terror attacks. New Delhi's stand on Saeed has been supported by the international community.
India has strongly condemned JuD chief's free movement in Pakistan and raised the matter with Islamabad several times.
In October last year, India lodged a strong protest against Pakistan Minister for Religious Affairs and Interfaith Harmony, Noor-Ul-Haq Qadri for sharing dias with UN-designated terrorist Hafiz Saeed at a public programme, sources said.
In that month itself, the JuD and FIF were no longer mentioned in the list of banned outfits after an ordinance by the Pakistani government that prohibited them under a UN resolution lapsed.
Saeed's JuD, along with several other terror outfits such as al-Qaeda, Tehreek-e-Taliban Pakistan, Lashkar-e-Jhangvi, Falah-i-Insaniyat Foundation (FiF), Lashkar-e-Taiba (LeT) is a part of UN Security Council sanctions list.
Full report at:
https://www.siasat.com/news/india-sends-note-verbale-pakistan-protest-against-hafiz-saeeds-rally-1465400/
--------
7 convicts, all Muslim get life imprisonment in Muzaffarnagar riots case
by safoora
Feb 08, 2019
Muzaffarnagar: A local court on Friday awarded life imprisonment to all the seven convicts, accused of killing two people in Kawal village in an attack which is believed to have triggered the 2013 Muzaffarnagar riots.
The sentence was pronounced by additional district judge Himanshu Bhatnagar.
The seven convicts, all Muslims were Muzammil, Mujassim, Furkan, Nadeem, Jahangir, Afzal and Iqbal – are accused of killing two youngsters named Gaurav and Sachin.
Earlier on Wednesday, a local court in Muzaffarnagar had convicted the seven people in connection to the incident.
When the lifer was handed out to the accused, the court was packed and heavy security deployment had been made by the local district administration.
Officials said that Sachin and his maternal brother Gaurav were lynched in Malikpura locality of Kawal on August 27, 2013, which triggered riots in western UP, leading to an unprecedented communal tension between the Jats and Muslims in the region. Sixty three people had lost their lives and more than 50,000 people had migrated to safer places.
Gaurav's father Ravindra had filed a police complaint against the seven accused, including Shahnawaz, who was also killed in the violence. The accused Mujassim, Muzammil, Furkan, Jehangir, Nadeem, Iqbal and Afzal have been convicted on charges of attacking to kill, threatening to murder and gathering against law and rules.
Families of the accused have termed the court's decision as a "judgement of Allah" while the families of Gaurav and Sachin have welcomed the judgement.
The clashes that broke out in Muzaffarnagar and Shamli districts of Uttar Pradesh between the Hindu and Muslim communities claimed 62 lives while injuring 93 others and rendering more than 50,000 homeless.
The riots took place over a minor altercation between Hindu and Muslim youths at Kawal village in Muzaffarnagar district.
Full report at:
https://www.siasat.com/news/7-convicts-all-muslim-get-life-imprisonment-muzaffarnagar-riots-1465326/
--------
Pakistan
JI leader lays stress on Muslim unity
February 09, 2019
LAHORE - Jamaat-e-Islami Secretary General Liaqat Baloch has said that unity of the Muslim world can free Muslims from the clutches of the colonial powers.
Addressing Ittehad-e-Ummah conferences in Lahore and Renala Khurd on Friday, he urged Pakistan, Turkey, Saudi Arabia, Egypt, UAE and Qatar to join hands and adopt a common line of action for liberation of Kashmir, Palestine, Syria and Yemen.
Baloch said the situation in Afghanistan and Kashmir had reached a decisive stage due to the struggle and sacrifices of people. He said the Muslim world, especially Pakistan, should play a key role in this respect through wisdom, national unity and without showing any weakness. He said the Pakistani nation and people of the region had suffered heavily and now they should reap the fruit.
Commenting on Aleem Khan's arrest, he said that both Jahangir Khan Tareen and Aleem Khan had been spending lavishly for the PTI and their accountability morally weekend Prime Minister Imran Khan's position. He said the PTI was also heading towards failure like the PPP and the PML-N.
https://nation.com.pk/09-Feb-2019/ji-leader-lays-stress-on-muslim-unity
--------
Pakistan to submit evidence against Kulbhushan Jadhav in ICJ
Feb 8, 2019
ISLAMABAD: Pakistan foreign minister Shah Mehmood Qureshi said on Friday that Islamabad would present evidence in the case of detained Indian national Kulbhushan Jadhav in the International Court of Justice (ICJ) in The Hague on February 19.
Speaking at a reception in Manchester, UK, Qureshi said his country's legal team would present its stance in the case. The FM added that Jadav had already confessed that he was involved in terrorist activities in Pakistan.
Last year, the ICJ had decided to hold public hearings in the Jadhav case from February 2019. The hearings are to take place from February 18 to February 21 at the Peace Palace in The Hague, the ICJ had announced.
Jadhav, according to Pakistan, was arrested on March 3, 2016 from Balochistan's Mashkhel area. New Delhi, however, said he was a retired Indian Navy officer who was abducted from Iran.
A secret Pakistan military court which had tried Jadhav on charges of espionage and subversive activities in Pakistan had sentenced him to death in April 2017. His appeals against his conviction had been rejected by the military appellate court.
On India's appeal, the ICJ had stopped Pakistan from carrying out the punishment.
Full report at:
https://timesofindia.indiatimes.com/world/pakistan/pakistan-to-submit-evidence-against-kulbhushan-jadhav-in-icj/articleshow/67907071.cms
--------
10,000 Pakistanis who registered as Afghan refugees detected
February 09, 2019
ISLAMABAD: The National Database and Registration Authority (Nadra) has tracked over 10,000 Pakistanis who have registered themselves as Afghan refugees for dollars, as the UN High Commission for Refugees had set $400 for each Afghan refugee returning to their homeland under a voluntary repatriation scheme.
This was disclosed by Nadra chairman Usman Yusuf Mobeen while giving a briefing on blocked Computerised National Identity Cards (CNICs) at a meeting of the Senate's standing committee on interior, which was presided over by the committee's chairman Senator Rehman Malik.
Mr Mobeen said the cases of fake identities were caught by the Nadra system when they came to obtain CNICs, as their cards had been blocked. He explained that CNICs were blocked in five different categories of suspicious cases.
While briefing the Senate committee, the Nadra chairman said around one million Afghan refugees had been repatriated to Afghanistan under the voluntary repatriation scheme. Each refugee ready to return home was to be given an assistance package of 400 dollars by the UN High Commission for Refugees. Even for their newborn, the UN provided assistance that was increased during different times and stood at the rate of $400 per individual at present.
The issue of Nadra's refusal to issue CNICs to Pakhtuns living in Balochistan had been raised by Pakistan Muslim League-Nawaz Senator Yaqoob Khan Nasar in the Senate on a point of public importance.
"There were 2.4 million registered Afghan refugees in Pakistan at one time," Mr Mubeen said, adding that 1.5 million unregistered Afghan refugees were also living in the country. He said that many of those Afghan nationals got fake CNICs posing themselves to be part of the family trees of Pakistani nationals in connivance with some government officials. Even those Pakistanis were suspected cases whose family trees were used to issue these fake CNICs, the chairman said. However, he added, there were some Pakistani nationals who voluntarily allowed them to become part of their family.
He said the authority had found 156,000 suspected cases during a national verification drive. He explained said that a parliamentary committee during the last PML-N government had devised a mechanism to verify the documents of those people whose identities as Pakistanis were doubtful. In the light of the recommendations of that committee, the government issued a notification that deputy commissioner of every district would head a verification committee to decide such cases. He said the parliamentary committee had decided that every applicant in question would have to produce at least one of the seven identity documents before their respective district committee to prove their nationality.
Even Abdol Malek Rigi, former head of an Iran-based terrorist group and his family, had succeeded to get Pakistani CNICs by intruding into the family trees, the chairman of the Senate standing committee observed.
Senator Malik said: "Nadra should have clarity between the Afghan refugees and Pakistanis." He said the seven documents' requirement to give proof of nationality should be reviewed to make the verification procedure easy but effective. He said laws could be amended to ease the process of registration for the people who were not literate.
Resolution
Meanwhile, the Senate committee through a unanimously adopted resolution decried and rejected Afghan President Ashraf Ghani's anti-Pakistan tweets.
The resolution moved by Senator Malik said Mr Ghani's statement was "factually baseless and a gross interference in the internal affairs of Pakistan". The committee called upon the government to register a serious protest with Afghanistan and demand that President Ghani "withdraw his statement immediately and tender an apology".
Mr Malik said Pakistan was facing serious security threats, as terrorist groups were being sponsored and activated from across the border.
1,200 pilgrims stranded
The Senate committee chairman informed the meeting about the issue of lack of security due to which hundreds of Pakistani pilgrims returning from Iran and Iraq were stranded at Taftan, Pak-Iran border.
"I have been informed that around 1,200 pilgrims were stranded for the last two weeks in Balochistan due to lack of security needed to escort their buses to Quetta," he said.
Senator Malik said that IG FC Balochistan South Region Major General Saeed Ahmed Nagra and an FIA director had assured him of their complete cooperation in ensuring safe travel of the stranded pilgrims. He directed the federal and provincial authorities to make immediate arrangements for rescue of pilgrims and submit a detailed report on it.
He noted that no structural monitoring or standing operating procedure was being followed for the pilgrims' travel and safety.
Full report at:
https://www.dawn.com/news/1462730/10000-pakistanis-who-registered-as-afghan-refugees-detected
--------
Pakistan freed Baradar at US request, says Khalilzad
Anwar Iqbal
February 09, 2019
WASHINGTON: US special envoy for Afghanistan Zalmay Khalilzad said on Friday that Pakistan had released Taliban leader Mullah Baradar at his request to help expedite the Afghan peace talks.
Khalilzad, who returned this week from almost a month-long peace mission to South Asia and the Middle East, said that he had discussed conditions for the withdrawal of US forces from Afghanistan with the Taliban, but there had been no agreement on this issue yet.
Speaking at the US Institute of Peace in Washington, America's chief negotiator for Afghanistan acknowledged that the US and the Taliban had reached a framework agreement in Doha last month, but more talks were needed for reaching a conclusion.
Responding to a question about Pakis­tan's role in facilitating the US-Taliban talks, he said that Islamabad had played a constructive role and released Mullah Baradar "at my request".
Khalilzad said that he requested Baradar's release because he believed the senior Taliban leader could also play a constructive role in the Afghan peace initiative.
Appreciating the role Islamabad was playing in promoting peace talks, Khalilzad said, "Pakistan is an important country and we want better relations with Pakistan."
He also repeated his earlier warning that it would take more than one meeting to end a 40-year-old war in Afghanistan.
The US diplomat said that previous governments in Afghanistan, whether led by the Taliban or others, had failed because they had tried to impose their views.
The difference he witnessed in Doha was the realisation that this approach would not work, he said, adding that all sides, including the Taliban, were now willing to accommodate each other.
Full report at:
https://www.dawn.com/news/1462740/pakistan-freed-baradar-at-us-request-says-khalilzad
--------
PTI looking for legal ways to remove Shahbaz from PAC
February 09, 2019
ISLAMABAD: Prime Minister Imran Khan on Friday ruled out the possibility of any "deal" with the opposition and directed leaders of the ruling Pakistan Tehreek-i-Insaf (PTI) to search for legal ways to remove Shahbaz Sharif from the office of chairman of the Public Accounts Committee (PAC).
He made these remarks at a meeting of senior leaders of the PTI at Prime Minister Office.
"We are looking into some legal ways to send Shahbaz Sharif home," Information Minister Fawad Chaudhry told Dawn after the meeting.
Shahbaz Sharif was appointed PAC chairman on Dec 22 last year with the consent of the PTI, but now the party is suddenly demanding his resignation.
The PTI leaders also asserted that the government would not make any National Reconciliation Ordinance (NRO)-like deal with any opposition leader.
The minister quoted Prime Minister Khan as saying: "No deal will be made with the Pakistan Peoples Party (PPP) and the Pakistan Muslim League-Nawaz (PML-N)."
The prime minister did not disclose who wanted NRO from him and why he and other PTI leaders said time and again that no deal was being made with the opposition.
However, Communication Minister Murad Saeed had said on the floor of the National Assembly a few days ago that seven opposition leaders had approached him for NRO. However, he too did not disclose the leaders' names.
Fawad Chaudhry said the government believed that Shahbaz Sharif was using the PAC as a shield against corruption cases he was facing and therefore his decisions as PAC head were a source of concern for the PTI and its allied parties.
He said the meeting was of the view that Shahbaz Sharif had been facing mega corruption cases and being the PAC chief he was exerting pressure on the National Accountability Bureau (NAB). "The way Shahbaz Sharif has summoned NAB officials to committee meetings shows that he wants to be protected behind the shield of the PAC," he added.
The PAC, the apex parliamentary watchdog that oversees the audit of revenue and expenditure by the government, is considered to be the most powerful and important committee of parliament.
Previously, the PAC comprised only National Assembly members, but in the recent past members of the Senate have also been made part of it.
Though there is no restriction on the government in the rules to give the chairmanship of the PAC to opposition parties, it has been a parliamentary practice and tradition that the office is given to an opposition member to ensure transparency in financial matters.
Full report at:
https://www.dawn.com/news/1462741/pti-looking-for-legal-ways-to-remove-shahbaz-from-pac
--------
Pakistan 'forced' Taliban to talk to US
Feb 09, 2019
WASHINGTON/PESHAWAR: Pakistan, long at odds with the United States over the war in Afghanistan, has begun to play a behind-the-scenes but central role in supporting US peace talks with the Afghan Taliban, including by facilitating travel to negotiations, a Reuters report quoted US officials and Taliban sources as saying.
The Pakistani assistance, which has not been reported in such detail before, also includes exerting pressure on Taliban leaders who fail to cooperate, including by detaining members of the militants' families, the insurgents say.
The Pakistani role in the peace negotiations is a delicate one, with Islamabad seeking to avoid demonstrating the kind of broad influence over the Taliban that Washington has long accused it of having. Sources caution its help could be temporary.
The Taliban also do not want to appear beholden to Islamabad, which has long denied US accusations that it provides safe haven and assistance to insurgents as a way to preserve influence in neighboring Afghanistan throughout its more than 17-year-old war. President Donald Trump has repeatedly signaled his intention to wind down America's longest conflict, declaring this week in his State of the Union address that "great nations do not fight endless wars."
One senior US official, who declined to be identified, said of Pakistan's role in the talks: "We know it just wouldn't be possible without their support."
"They've facilitated some movement and travel to the discussions in Doha," the official said.
Trump's administration has accelerated talks for a political settlement in Afghanistan. US peace envoy Zalmay Khalilzad held six days of talks – perhaps the most productive to date – with the Taliban in Doha last month and is due to meet Taliban representatives again on Feb. 25.
Taliban sources said Pakistan's role in bringing the Taliban to the negotiating table was instrumental. In one instance, Islamabad sent a message to the militants through religious leaders that they had to talk to the United States or risk a cut-off in ties.
They detained Taliban members' families as a way to pressure them, a Taliban leader told Reuters.
"I haven't seen Pakistan so serious before," the senior Taliban leader said.
The Taliban leader, who declined to be named, said Pakistan had kept "unprecedented pressure" on the militants and their close relatives over the past few months.
"They made it clear to us that we (Taliban) have to talk to the US and Afghan government," the Taliban leader said.
US General Joseph Votel, who leads the US military's Central Command, hinted at some kind of Pakistani assistance in a Senate hearing this week, saying Islamabad had "played a more helpful role."
To be sure, current and former US officials still are highly skeptical of Islamabad and do not see any steps by Pakistan that could not be easily reversed.
Washington appears for now to be sticking to a total freeze in US assistance to Islamabad imposed over a year ago over its alleged support to the Taliban. Trump at the time accused Islamabad of rewarding past US aid with "nothing but lies & deceit."
"There's some self-interest obviously involved here … I would be wary of taking that and extrapolating off that and saying they're now on board with the peace process," said Jason Campbell, who was the Pentagon's Afghanistan country director until last year.
PULLOUT PRESSURE:
Pakistani sources suggest that the driver behind their country's support for the talks is not US aid but growing concerns over the regional economic shockwaves that could follow an abrupt US pullout from Afghanistan.
Those concerns have been strengthened by Trump's surprise decision in December to withdraw completely from Syria, despite objections from the Pentagon.
There are only about 14,000 US troops in Afghanistan at the moment, but their presence ensures a continuous flow of US financial assistance to Afghanistan.
Islamabad, running short of foreign exchange reserves and in talks with the International Monetary Fund over what would be its 13th bailout since the 1980s, says it cannot afford to see Afghanistan slide into chaos just as Pakistan is trying to attract foreign investors to shore up its own economy.
"That is our main worry in all of this," said a senior official who is closely involved in cross-border relations.
"We have enough economic issues of our own to deal with already."
One of the most notable public signs of Pakistan's willingness to aid the negotiations was the release of Taliban leader Mullah Abdul Ghani Baradar.
Now the newly appointed chief negotiator, Baradar is expected to fly from Pakistan to attend the next round of negotiations in Doha on Feb. 25.
Dan Feldman, a former US special representative for Afghanistan and Pakistan, said he believed Washington was still hesitant to become too hopeful about Pakistan's change in posture.
Full report at:
https://www.pakistantoday.com.pk/2019/02/08/once-spoiler-pakistan-starts-behind-scenes-aid-to-us-taliban-talks/
--------
North America
US executes Muslim who requested imam support at death chamber
Feb 09, 2019
WASHINGTON DC: A US Muslim man has been executed after the Supreme Court denied a request to halt the sentence over his demand to be accompanied by an imam to the death chamber.
Domineque Ray, 42, was put to death in the southern state of Alabama for the 1995 rape and murder of Tiffany Harville, 15.
"Due to the nature of his crime, the decision of a jury to condemn him to death and because our legal system has worked as designed, Mr Ray's sentence was carried out," Alabama Governor Kay Ivey said in a statement.
The execution occurred on Thursday after the country's highest court denied a request for a stay of execution.
Alabama carries out the death penalty by lethal injection.
The Supreme Court's ruling lifted a last-minute stay which Ray had won on Wednesday from a federal appeals court.
Judges on that lower-level court had argued that Alabama regularly placed a Christian cleric in the death chamber of Christian inmates "but has refused to provide the same benefit to a devout Muslim and all other non-Christians."
Officials in the conservative state appealed that ruling to the Supreme Court, which has a conservative majority under President Donald Trump.
The First Amendment to the US Constitution forbids public authorities from favouring one religion over another, or from preventing the free practice of faith.
Ray converted to Islam while in prison and demanded the right to be escorted to the death chamber by an imam.
Local news site al.com reported that Ray's last words were in Arabic, and his Muslim spiritual advisor was sitting with his lawyers and journalists in a viewing room.
https://www.pakistantoday.com.pk/2019/02/08/us-executes-muslim-who-requested-imam-support-at-death-chamber/
--------
McCarthy Demands Democrats Treat Two Muslim Members As Bigots Like Steve King
By Ed Kilgore
Feb 09, 2019
Having chuckled and nodded and otherwise tolerated Steve King's racist antics for many years, House Republicans finally got shamed into denouncing the old nativist recently when he began identifying himself with global bigotry as a sort of movement of conscience. But now their leader, Kevin McCarthy, is trying to turn this around via a bold false equivalency claim, as the Washington Post reports:
The top House Republican leader slammed House Speaker Nancy Pelosi (D-Calif.) and other Democrats on Friday for refusing to denounce what the GOP is characterizing as the anti-Semitic views of some freshman Democratic lawmakers.
House Minority Leader Kevin McCarthy (R-Calif.) told reporters that he viewed the situation as being directly comparable, if no "more so," to the firestorm over the racially charged comments of Rep. Steve King (R-Iowa), who was quoted last month questioning whether white supremacy was offensive.
This attack is without question focused on the first two Muslim women to serve in Congress, Ilhan Omar of Minnesota and Rashida Tlaib of Michigan. Their principal sin, it seems, has been to support the BDS (Boycott, Divestment, and Sanctions) movement aimed at pressuring Israel into fundamentally changing its policies towards Palestinians and occupied territories. BDS, of course, is a red flag to many supporters of Israel, particularly those who identify with the current Israeli government's drift toward abandoning any possible two-state solution to the Israeli-Palestinian conflict. But the idea that BDS equals anti-Semitism – or even anti-Zionism — is ludicrous on its face. And so those seeking to go after Ilhan and Tlaib have to toss in random questionable comments and plenty of guilt-by-association:
In 2012, Omar sent a tweet saying that "Israel has hypnotized the world," and referred to "the evil doings of Israel." Under pressure last month, Omar disavowed "the anti-Semitic trope I unknowingly used, which is unfortunate and offensive" but stood by her criticism of Israeli policy.
Tlaib came under fire last month after a Daily Caller report identified a campaign supporter, Maher Abdel-Qader, as having posted anti-Semitic conspiracy theories on Facebook — including to a group that included Tlaib. Another campaign ally, Abbas Hamideh, also made comments critical of Israel in social media posts, referring to "Zionist terrorists" and asserting that Israel "does not have a right to exist."
But here's my favorite attack on Tlaib:
Last month, Tlaib attacked the sponsors of a Senate bill that would undermine the BDS movement by tweeting, "They forgot what country they represent." That prompted criticism from Republicans and a few Democrats, who saw in that comment a frequent anti-Semitic insinuation.
Yes, "dual loyalty" is a common insinuation aimed at Jews who go out of their way to advocate for Israel, though calling it "anti-Semitic" is a stretch (Irish-Americans, for example, have been legitimately criticized over many decades for letting their antipathy towards England dictate their worldview). But since Tlaib was talking not about Jews, but mostly about gentile United States senators (100 percent gentile United States senators, in the case of the Republicans taking umbrage at her comments), this criticism seems displaced. I consider myself a Zionist, but levied the same criticism at Mitt Romney and other Republicans in 2012 when they went after Barack Obama for failing to simply outsource his Middle East policies to their friend Bibi Netanyahu. Anyone in Congress who favors unconditional support for the policies of any foreign nation has indeed forgotten "what country they represent."
Full report at:
http://nymag.com/intelligencer/2019/02/mccarthy-demands-democrats-treat-muslim-members-as-bigots.html
--------
How radical Islam led one man from atheism to Marxism to Catholicism
Feb 09, 2019
At the height of the brutality of ISIS and Islamic radicalism, Sohrab Ahmari announced he was converting to Catholicism, a shocking admission for someone who grew up in an Islamic household in Iran.
Ahmari, 33, now an op-ed editor for the New York Post and a contributing editor for the Catholic Herald, shared his unlikely faith journey from atheism under the Islamic Republic and Marxism in his teens on "The Story with Martha MacCallum" Wednesday night. While living in a nominally Muslim home in Iran, Ahmari said he was pushed away by the hypocrisy and the double-life his family had to live – acting one way in public but another behind closed doors.
"That hypocrisy and that sort of sense of living a dual-life I found very repulsive, so when I was 12 or 13, I just decided that if this is God, I want nothing with it and he must be something for simple people," Ahmari said.
As a teenage atheist, Ahmari moved from Tehran to Utah. He said at first, he joked that he moved from one theocracy to another, which he now admits is an "unfair comparison" because in Iran enforcement was through flogging but in America, it was democratically elected.
The pendulum swung from one extreme to another for Ahmari. He was initially drawn to socialism and Marxism.
"I discovered Marxism as a way to answer all of life's questions because Marxism is this totalistic understanding of the world," Ahmari said. "Like every element from art and culture to economics, it has an answer to everything. It's a very horrible answer in some ways. It has no sense of human nature, of the soul. It denies all of that. It says everything is material. At the same time, Marxism has a religious dimension, so even as I was professing Marxism, in some ways, I was still looking for God."
But it was at the age of 23, after a series of bad choices one weekend, Ahmari stumbled into a mass in the heart of New York City, and that's where it all changed -- yet again.
"I had this astonishing experience that there was a mystery that is underway, in the process of the holy mass, is the presence of God in a very powerful way," he said.
And for some time, Ahmari went back to living one way internally and another on the outside.
"This was even while I would say outwardly I'm an atheist," he admitted. "I'm too smart to be a believer. I'm not one of these people, but internally the level of my imagination, my emotions, I thought this is true, and whatever redemptive thing is happening here, I want it. But it took still a long time to finally ascent to faith."
But in 2016, after ISIS took credit for slaughtering a priest at the altar of a Roman Catholic Church in Normandy, Ahmari had had enough.
"That act, when that happened, I was so outraged by it, that I thought I have to say something, and so like most millennials, I took to my Twitter account and I said, 'this is atrocious and, oh, by the way, I'm studying to become a Roman Catholic.'"
Full report at:
https://www.foxnews.com/faith-values/how-radical-islam-led-one-man-from-atheism-to-marxism-to-catholicism
--------
Pompeo calls for 'tougher international restrictions' on Iran
8 February 2019
US Secretary of State Mike Pompeo called for tougher international restrictions on Iran following its latest missile launch.
"We must restore tougher international restrictions to deter Iran's missile program," Pompeo said via Twitter.
Iran appears to have attempted a satellite launch as part of its space program, according to satellite images released on Thursday.
"We continue to call upon the Iranian regime to cease immediately all activities that are inconsistent with the United Nations Security Council Resolution 2231, including space vehicle launches," State Department spokesman Robert Palladino said on Thursday.
The EU had said it was gravely concerned by Iran's ballistic missile tests and called on it to stop such activity.
Earlier this month, Iran's deputy chief had warned Europe not to force Iran to boost its range of missiles.
"If the Europeans, or anyone else, want to conspire to disarm Iran of missiles, we will be forced to make a strategic leap," the guards' deputy commander Brigadier-General Hossein Salami said on Iranian state TV.
Full report at:
https://english.alarabiya.net/en/News/middle-east/2019/02/08/Pompeo-calls-for-tougher-international-restrictions-on-Iran.html
--------
Quebec mosque shooter gets life, no parole for 40 years
9 February 2019
A 29-year-old who shot dead six worshipers at a Quebec City mosque in the worst anti-Muslim attack in the West got life in prison on Friday.
Alexandre Bissonnette will have to wait 40 years -- longer than usual -- before he can apply for parole.
Judge Francois Huot rejected a prosecution request for a 150-year sentence, which would have been the longest ever in Canada, saying this would be a cruel and unusual punishment under Canadian law.
But he also noted the killer's "visceral hatred of Muslim immigrants" in his decision.
Ahmed Cheddadi, who was wounded in the attack, said the sentence was appropriate in that he found it unlikely that Bissonnette would ever be released.
The killer's "highly premeditated" attack on the mosque will go down in Canadian history "written in blood" as one of this country's worst tragedies, Huot said in court.
Bissonnette's actions sought to "undermine our fundamental societal values," he added.
A university student at the time of the shooting, Bissonnette was seduced by nationalist and supremacist ideologies into committing this "unjustified and deadly" massacre, Huot said.
As the 240-page verdict was read over a six-hour period, Bissonnette sat quietly in the packed courtroom, gazing at his feet while his parents and several friends and family of the victims wiped tears from their eyes.
On the evening of January 29, 2017, Bissonnette burst into the Quebec City mosque and unleashed a hail of bullets on the 40 men and four children who were chatting amongst themselves after evening prayers.
Six men were killed and five were seriously injured, one of whom is now quadriplegic.
The victims were all dual nationals who emigrated to Canada over recent decades: two Algerians, two Guineans, a Moroccan and a Tunisian.
Full report at:
https://english.alarabiya.net/en/News/world/2019/02/09/Quebec-mosque-shooter-gets-life-no-parole-for-40-years.html
--------
Palestine says won't attend US' conference in Poland
Feb 8, 2019
Palestine says despite having received an invitation, it will not take part in a US-sponsored conference on the Middle East slated to be hosted by Poland next week.
"Regarding statements that we have been invited, we can say that only today there was some contact from the Polish side," chief Palestinian negotiator Saeb Erekat said in a Friday tweet.
"Our position remains clear: We are not going to attend this conference and reiterate that we have not mandated anyone to talk on behalf of Palestine," said Erekat, who is also the Secretary General of the Palestine Liberation Organization (PLO).
In a separate tweet, Hussein al-Sheikh, a senior Palestinian Authority official, also rejected the invitation, saying only the PLO could speak on behalf of the Palestinian people.
The comments came a day after a US official said the Palestinians had been invited to the Warsaw conference, which he described as "a discussion" rather than "a negotiation."
Earlier on Thursday, the Palestinian Foreign Ministry branded the joint US-Polish conference as "an American conspiracy intended to get the participants to adopt the US views on issues of the region, particularly the Palestine issue."
The international gathering will take place in the Polish capital from February 13 to 14, the US State Department announced last month, with Secretary of State Mike Pompeo claiming at the time the gathering would focus on "stability and peace, freedom and security" in the Middle East.
The Palestinian Foreign Ministry's statement further stressed that the Palestinians would ignore all conclusions of the conference, criticizing US President Donald Trump for hailing the relocation of his country's embassy from Tel Aviv to Jerusalem al-Quds in his State of the Union address on Tuesday.
Kushner in Mideast for Trump's 'peace' plan
Israeli Prime Minister Benjamin Netanyahu, Pompeo as well as Trump's senior advisers Jared Kushner and Jason Greenblatt are among those expected to attend the Warsaw conference.
In late February, Kushner and Greenblatt are scheduled to travel to at least five Arab countries to "brief diplomats on the economic portion" of the US' so-called peace proposal for the Middle East and seek their support, officials said on Thursday.
The two advisers plan stops in Oman, Bahrain, Saudi Arabia, the United Arab Emirates and Qatar on their week-long trip, two senior White House officials said. They may reportedly add two other countries to their itinerary.
Ties between the US and the Palestinian Authority took an unprecedented dip in late 2017, when Washington recognized Jerusalem al-Quds as the "capital" of the Israeli regime.
Ever since, Palestinian President Mohammed Abbas has refused to talk about any peace plan with the United States in the wake of Trump's embassy move, but White House officials hope that will change.
"We hope Abbas reads the plan, judges it on its merits, and comes to the table for negotiations after we release the plan," one official was quoted as saying Friday.
A top Palestinian official said Wednesday the Palestinian Authority will keep an open mind about Trump's so-called peace plan if it meets all its demands, even if the US president doesn't explicitly revoke his recognition of Jerusalem al-Quds as Israel's capital.
If the US plan backs a Palestinian state in the pre-1967 boundaries, with its capital in East Jerusalem al-Quds, "we are ready to sit at the table and negotiate immediately," Information Minister and presidential spokesman Nabil Abu Rudeineh told foreign journalists in Ramallah, Bloomberg reported.
Angered by Abbas' refusal to engage, Trump cut hundreds of millions of dollars in aid to the Palestinians and called for sweeping changes at the United Nations agency that cares for Palestinian refugees.
Full report at:
https://www.presstv.com/Detail/2019/02/08/588061/Palestine-Warsaw-conference-Kushner-peace-plan
--------
US eyeing Guantanamo for Daesh detainees: report
08.02.2019
By Michael Hernandez
WASHINGTON
U.S. officials are considering the controversial military prison at Guantanamo Bay, Cuba to house captured suspected Daesh fighters as Washington prepares to withdraw from Syria, according to a report.
U.S. partners who have roughly 1,000 Daesh suspects in custody have warned they may not be able to continue to hold the detainees following the withdrawal.
The State Department told The Associated Press they could be transferred to Guantanamo "where lawful and appropriate."
"The Administration's National Strategy for Counterterrorism makes very clear that Law of Armed Conflict detention, including at Guantanamo, remains an important and effective counterterrorism tool," the department told the AP on Thursday.
U.S. President Donald Trump has taken a much different approach to the detention facility than his predecessor, Barack Obama, who worked to shutter the prison.
Obama was unable to do so amid fierce congressional pushback and security concerns, but was able to facilitate the transfer to third party countries of hundreds of detainees who were cleared by an interagency review. In all, 41 prisoners were at the site when Obama left office.
The U.S. has drawn criticism for its use of the prison where inmates are held without charge, and where a well-documented history of torture has been chronicled, most notably by a Senate report whose executive summary was published in redacted form in 2014.
But Trump has repeatedly spoken positively of the facility, signing an executive order shortly after assuming office in 2017 to keep Guantanamo open after pledging on the campaign trail to "load it up with some bad dudes."
Should the Trump administration send Daesh detainees to Guantanamo it would mark the first time the site has received new prisoners in more than a decade.
The U.S. has repeatedly called on foreign governments to repatriate citizens suspected of fighting on behalf of Daesh, and has done so itself, returning a Texas man accused of fighting for Daesh to the state to stand trial.
Warren Clark, 34, like many of those who were apprehended, insists he never took up arms on behalf of the terror group.
Full report at:
https://www.aa.com.tr/en/americas/us-eyeing-guantanamo-for-daesh-detainees-report/1387528
--------
Europe
EU plans to blacklist Saudi Arabia for failure in fighting money laundering: FT
Feb 8, 2019
The European Commission is planning to name Saudi Arabia in a list of countries that have failed to fight against terrorist financing and money laundering, a report says.
Brussels is in the final stages of adopting the list, which will include 23 countries and jurisdictions who failed to combat "dirty money," the Financial Times cited European Union officials as saying Friday.
The list, which is the first of its kind from Brussels, accuses the kingdom of "strategic deficiencies" in its efforts to fight illicit cash flows.
Under the EU law, Europe's banks will have to carry out "enhanced" checks on funds coming from these countries.
Banks would be required to act on suspicions by steering clear of dubious transactions and passing any concerns onto the authorities.
The commission is taking the measure against Riyadh despite resistance from Germany, France and the United Kingdom, the Financial Times reported.
This could increase tensions between the kingdom and the EU, which has already called on its member states to halt arms sales to Riyadh over the murder of dissident journalist Jamal Khashoggi in the Saudi consulate in Istanbul in October.
The EU also passed a resolution late last year, calling for an urgent halt to arms sales to Saudi Arabia over its ferocious war on Yemen.
The Saudis have already been blacklisted by the EU for "strategic deficiencies in their anti-money laundering and countering the financing of terrorism regimes that pose significant threats to the financial system of the Union."
The list includes 16 countries based on criteria used by the Paris-based the Financial Action Task Force (FATF).
https://www.presstv.com/Detail/2019/02/08/588005/Saudi-Arabia-EU-blacklist-moneylaundering
--------
Iran FM says situation in Syria's Idlib 'very dangerous'
Feb 8, 2019
Iranian Foreign Minister Mohammad Javad Zarif has warned about the current situation in the militant-held Idlib province in northwestern Syria, describing it as "very dangerous".
"The situation in the Syrian province [of Idlib] is very dangerous, and the Nusra Front terrorist group – which is not part of a de-escalation zone – is controlling a majority of the province's regions," Zarif said in an exclusive interview with RT Arabic Thursday.
He said the situation of Idlib is to be discussed during the upcoming meeting between the leaders and foreign ministers of Iran, Russia, and Turkey in the Black Sea resort city of Sochi on February 14.
The tripartite summit, whose main purpose is to provide further coordination among the three countries, will be held before the 12th round of Astana talks in the Kazakh capital, Astana.
Russian Foreign Ministry spokeswoman Maria Zakharova on Thursday demanded Turkey do more to tackle militants in Idlib and fulfill promises it made as part of a deal with Moscow last year.
Turkey and Russia brokered a deal in September to create a demilitarized zone in Idlib that would be evacuated of all heavy weapons and militants.
Speaking at a news conference in Moscow, Zakharova said the situation there was rapidly deteriorating and that militant fighters were trying to seize control of the entire de-escalation zone.
"Given the extremely difficult situation in the Idlib de-escalation zone, we expect our Turkish partners to activate their efforts to ultimately turn the tide and to fully carry out the obligations they took upon themselves," she said.
The militants "continue stockpiling toxic chemicals along the entire line of contact with the Syrian armed forces. We noted media reports that militants of Hayat Tahrir al-Sham recently delivered several tanks with chlorine from Jisr ash-Shugur to Khan Shaykhun in the south of Idlib Province," she said.
"It is reported that in transporting toxic chemicals the terrorists again relied on the help of the notorious White Helmets, whose activists kindly provided their ambulances this time," she added.
Iran, Russia on 'perfect' terms
In his press conference, Zakharova referred to Moscow's relations with Tehran, and said "Russia has perfect relations with Iran, and the Iranians well know it."
She made the comments in reaction to a January report by CNN which quoted Russian Deputy Foreign Minister Sergey Ryabkov as saying that Iran was not an ally of Russia, and Moscow's priority was the security of Israel. Zakharova said CNN had distorted Ryabkov's remarks in that interview.
In his Thursday interview, the Iranian foreign minister also declared that Iran and Russia have no disagreement over the political trend in Syria, and will continue their cooperation within the framework of Astana Process to bring back peace to the Arab country.
Late last month, Russian Foreign Minister Sergei Lavrov said that the Astana peace talks would be attended by Russia, Iran, and Turkey, as well as observers from Jordan and the United Nations.
Since January 2017, Moscow, Tehran, and Ankara have been mediating peace negotiations between representatives from the Damascus government and opposition groups in a series of rounds held in Astana and other places. The talks are collectively referred to as the Astana peace process.
Full report at:
https://www.presstv.com/Detail/2019/02/08/588020/Iran-Zarif-Syria-Idlib-Russia-Zakharova-Sochi
--------
Russia says won't move Israel embassy to al-Quds
Feb 8, 2019
Russia is not planning to move its diplomatic mission in Israel to Jerusalem al-Quds despite US President Donald Trump's recognition of the city as the new Israeli "capital".
Russian Ambassador to Israel Anatoly Viktorov told the TASS news agency on Thursday that Moscow would not breach international law and United Nations resolutions on Jerusalem al-Quds.
"The issue of transferring the Russian embassy from Tel Aviv to Jerusalem is outside the agenda. Russia is committed to the international legal framework concerning Jerusalem, including corresponding United Nations Security Council resolutions," Viktorov said.
Since December 2017, when Trump recognized Jerusalem al-Quds as the "capital" of Israel, only the US and the South American country of Guatemala have relocated their embassies to the holy city.
Paraguay became the third to move its embassy only to move it back to Tel Aviv after facing backlash.
Other countries like Austria, Brazil and the Czech Republic have expressed interest in moving their embassies but have yet to take action.
Trump's announcement has sparked grassroots Palestinian resistance and triggered numerous protests in Arab countries. Palestinians view the city as the future capital of Palestine after its statehood.
'Putin to visit Israel next year'
Viktorov also said that Moscow was considering possible plans by Russian President Vladimir Putin to travel to Israel in 2020 after receiving an invitation from Tel Aviv in late 2018.
"Our Israeli partners hope that President Vladimir Putin's work schedule will allow him to take part in the commemorative events to mark the 75th anniversary of the liberation of Auschwitz by the Red Army scheduled for 2020," the ambassador said.
"The corresponding invitation handed over by Israel at the end of last year is being considered by the Russian presidential administration with due attention," the envoy added.
Ties between Moscow and Tel Aviv have taken a turn for the worse as a result of Israel's aggressive policies against Syria, where the Russian military forces have been fighting a foreign-backed militancy upon a request from Damascus.
In October last year, Moscow equipped Damascus with the advanced S-300 surface-to-air missiles, days after Israeli fighter jets attacking Syrian targets used a Russian surveillance plane flying nearby as a shield and misled the Syrian air defenses to shoot it down.
Full report at:
https://www.presstv.com/Detail/2019/02/08/587980/Russia-Israel-US-Jerusalem-Quds-Trump-embassy-move
--------
Afghan government complains to UN over Taliban trip to Moscow
February 08, 2019
KABUL: The Afghan government has made a formal complaint to the UN for allowing banned Taliban members to travel to Russia for peace talks.
Officials on Friday said that 10 Taliban delegates this week attended a two-day meeting with influential Afghan politicians at a luxury Moscow hotel, to explore ways of ending the war in Afghanistan.
The two sides agreed on a total pullout of US-led troops from Afghanistan, a key condition set by the Taliban prior to enforcing a truce.
The trip was the second one to be made by the Taliban representatives to Russia since November. The delegates have also held a series of meetings with US diplomats in Qatar and the UAE in recent months.
Afghan President Ashraf Ghani's government, which was excluded from previous talks between Taliban and US officials on the insistence of the Taliban, did not participate in the Moscow meeting either and openly protested, branding it a useless exercise.
Officials from Ghani's administration confirmed to Arab News that a complaint had been filed with the UN about the latest Moscow talks, but failed to explain why Kabul had not objected to previous trips undertaken by Taliban delegates to Russia and the Gulf.
Kabul said that the outcome of the Moscow meeting had no executive authority, but some analysts and legal experts believe the gathering represented another political blow to Ghani.
His fragile government is facing an internal crisis with some of his former officials demanding the formation of an interim government with the Taliban's participation.
The latest Moscow meeting was the first major one to see the participation of members from several past regimes who said that Ghani's insistence on holding a presidential poll was because it represented his only chance of remaining in power through re-election in July.
Abdul Satar Saadat, who until recently was an adviser to the Afghan president, said Ghani felt threatened by the Moscow gathering and that was the reason behind Kabul's complaint to the UN.
"The president thinks that the Afghan dialogue in Moscow is the start of a national effort for ending his power. Since he feels threatened by the progress of the conference, he tries to create a blockade for it," he told Arab News.
The delegates who took part in the Moscow talks and pushed for the formation of an inclusive Afghan government, plan to convene again next month in Doha following a scheduled meeting between Taliban and US officials, the latter to be led by Washington's special envoy Zalmay Khalilzad.
The Taliban and Khalilzad have discussed the withdrawal of US troops from Afghanistan during past rounds of talks but have not yet announced an official timetable for the pullout. However, unconfirmed reports say that half of the 14,000 US soldiers stationed there are set to leave the country in the coming months.
The pending military departure, a long-standing demand of US President Donald Trump, has created concerns among some Afghans about the lack of a plan to ensure long-term peace in Afghanistan after decades of foreign interventions.
Full report at:
http://www.arabnews.com/node/1449191/world
--------
EU maintains demands for credible probe into Khashoggi
08.02.2019
By Yusuf Hatip
BRUSSELS
The European Union reiterated calls for a detailed and reliable investigation into Saudi journalist Jamal Khashoggi's murder in the kingdom's Istanbul consulate.
The EU stance into Khashoggi case has not changed, Maja Kocijancic, spokesperson for EU Foreign Affairs and Security Policy, said in response to an Anadolu Agency reporter.
"We continue to call for a thorough and credible investigation in line with everything that we have said on Khashoggi case over the past months," she said.
UN special rapporteur Agnes Callamard recently visited Turkey to investigate Khashoggi's murder and issued a written statement Thursday.
"Evidence collected during my mission to Turkey shows prime facie case that Mr. Khashoggi was the victim of a brutal and premeditated killing, planned and perpetrated by officials of the State of Saudi Arabia," Callamard said in the statement.
"Turkey's efforts to apply prompt; effective and thorough; independent and impartial; and transparent investigations -- in line with international law -- had been seriously curtailed and undermined by Saudi Arabia," she added.
Khashoggi, a contributor to The Washington Post, was killed at the Saudi Consulate in Istanbul on Oct. 2.
After producing various contradictory explanations, Riyadh acknowledged he was killed inside the consulate building, blaming the act on a botched rendition operation.
Full report at:
https://www.aa.com.tr/en/europe/eu-maintains-demands-for-credible-probe-into-khashoggi/1387413
--------
Mosque in Bosnia to re-open 27 years after demolished
08.02.2019
By Talha Ozturk
BELGRADE, Serbia
One of the most important Ottoman mosques in Bosnia Herzegovina will be re-opened on May 4.
Located in the city of Foca in the east, the Alaca Mosque was completely destroyed by Serb forces when the city was ravished during the Bosnian War in the mid 1990s.
Known as the Pearl of Bosnia, or the beauty of Foca, Alaca Mosque has been under intense reconstruction since 2014 by Turkey's Directorate General of Foundations.
Alaca Mosque will be opened on the eve of Bosnia's Day of Mosques, according to a statement from the Islamic Union of Bosnia Herzegovina.
The small Balkan country, which survived massive shelling during the war, as well as massacres and the 1995 Srebrenica genocide, marks May 7 as its Day of Mosques.
"This date in a symbolical way reminds us more than a thousand mosques, prayer rooms and other charitable works, which were destroyed in the war. This year, we marking the the will have special meaning by reopening the Alaca Mosque," said the statement.
Built in 1549 in Foca, the Alaca Mosque was among the protected cultural heritages of Bosnia Herzegovina. It is one of the first mosques built in the country with classical Ottoman architecture. It was demolished by Serb forces in 1992 by dynamite explosion.
The stones of the mosque were found at two different locations hundreds of meters away from its present site. The remains of the mosque were deliberately buried.
While there were 12 mosques in Foca before the war, all were destroyed.
According to Bosnia's Islamic Union, 614 mosques, 218 prayer rooms, 69 Quran course sites, four dervish lodges, 37 tombs, and 405 pieces of historical heritage that belong to Muslim foundations were destroyed during the war.
Some 534 mosques in territories controlled by Serb forces were destroyed, while 80 mosques were destroyed in territories under Croat forces.
Full report at:
https://www.aa.com.tr/en/culture-and-art/mosque-in-bosnia-to-re-open-27-years-after-demolished/1387368
--------
Arab World
Saudi study: Millennial extremist fighters educated, not outcasts
February 08, 2019
DUBAI: A study by a Saudi research center is challenging the notion that extremist fighters are necessarily disenfranchised and lacking opportunity, with its lead researcher saying that a new generation of Saudi militants are relatively well-educated, not driven purely by religious ideology and show little interested in suicide missions.
The 40-page study, published by the King Faisal Center for Research and Islamic Studies in conjunction with the International Center for the Study of Radicalisation at King's College in London, looked at 759 Saudi recruits who joined the Daesh group mostly between 2013 and 2014. That's roughly a third of the overall number of Saudis who fought in Syria. The data was drawn from leaked Daesh group entry documents.
The Saudi Interior Ministry previously said that 2,500 Saudis had gone to Syria in the years before the kingdom criminalized fighting abroad in early 2014. Only Tunisia sent more foreign fighters. Subsequently, the kingdom was the target of numerous Daesh group attacks that killed dozens of people, as well as in Kuwait.
Researcher Abdullah bin Khaled Al-Saud said the fighters were neither loners nor social outcasts but appear to have been motivated by the heightened sectarianism that began to color the 2011 Syrian revolution as it slid into armed conflict.
A turning point came when the Iranian-backed Shiite Hezbollah group decisively committed to join the conflict in May 2013 to defend the Syrian government against the mostly Sunni Muslim resistance.
"That actually was the point when the first wave of Saudis travelling to Syria started to happen," Al-Saud told The Associated Press. "So, I think instability, war and violence certainly plays a major role when it comes to the specific Saudi context."
In contrast, issues of disenfranchisement, poverty and criminal pasts factored heavily in Daesh fighters hailing from European countries like France, Belgium and the UK, to name a few.
An AP analysis of some 3,000 leaked Daesh documents had found that most of the recruits hailing from a range of nationalities, or around 70 percent, came with only the most basic knowledge of Islam — the lowest possible choice on the forms. This created fertile ground for the indoctrination of recruits in line with the group's extremist interpretation of Islam.
The Saudi study released this week, however, found that among Saudi recruits a little more than half said they had basic knowledge of Islam. Much of the rest claimed to have intermediate and advanced religious knowledge.
This was somewhat expected given that all Saudi students are given religious education in schools, according to the study.
"Still, the Saudi contingent's religious fluency should not be exaggerated: 58 percent of Saudi (fighters) acknowledged that they had only basic knowledge of the religion of Islam, and only eight percent claimed to be 'knowledge seekers,'" the report stated.
Unlike fighters from Europe, where many were high school dropouts or unemployed, the Saudi recruits were relatively well educated. Close to 340 had a high school-level education, around 60 had a diploma of some kind, close to 120 had university degrees and five held postgraduate degrees.
"This data demonstrates that the Saudi contingent does not consist of educational underachievers, which can lead to the argument that they were not lacking in socio-economic opportunities," the study said.
The report notes, though, that "education does not necessarily equate with job opportunities, and a sense of relative deprivation may still be relevant" with 15 percent of the Saudi contingent in this study stating they were unemployed.
Also noteworthy, of those who held jobs, 50 had been in the Saudi military or police and 36 were either members of the religious police, imams at mosques or considered themselves to be religious preachers.
Half of the Saudi recruits in this sampling were 20-24 years old, and 22 percent were 25-29 years old. Just 13 percent were over age 30, and 15 percent were under 19 years old, with the youngest just 9 years old.
The overwhelming majority, at 73 percent, were single. Just 18 percent were listed as married, with the rest unknown.
Additionally, the overwhelming majority of these recruits, or 625, volunteered to be fighters. Just nine percent, or 71, signed up to be suicide bombers.
Al-Saud said this suggests the recruits wanted to contribute to this "exciting project of a Caliphate" that had promised a life more rewarding than death.
Unlike in previous decades of Saudi extremist recruitment, this latest wave saw the highest ratio of Saudi fighters per the region's population from the landlocked, ultraconservative province of Qassim, north of Riyadh.
Still, in raw numbers, the largest numbers of Saudi recruits — more than a third — came from Riyadh, where 262 fighters of the total 759 originated. The next were Qassim and Mecca province, at 134 fighters each.
http://www.arabnews.com/node/1448911/saudi-arabia
--------
Saudi Arabia's efforts in spreading moderation lauded
February 08, 2019
JEDDAH: Chairman of the Hajj Committee of Tajikistan Abdul Ghafoor Yusuf has hailed the efforts of Saudi Arabia in the service of pilgrims.
He issued his statement during the visit by a delegation from the Ministry of Islamic Affairs, Call and Guidance of Saudi Arabia to Tajikistan.
The two sides held a meeting in Dushanbe to discuss bilateral cooperation in different Islamic fields, and especially the promotion of moderation and rejection of extremism and terrorism.
Full report at:
http://www.arabnews.com/node/1449296/saudi-arabia
--------
MoS Foreign Affairs: Saudi Crown Prince 'Did Not Order Khashoggi Killing'
February 08, 2019
WASHINGTON: Saudi Minister of State for Foreign Affairs Adel Al-Jubeir said on Friday that Crown Prince Mohammed bin Salman did not order the killing of journalist Jamal Khashoggi.
"We know that this was not an authorized operation. There was no order given to conduct this operation," Al-Jubeir told members of the US media in Washington.
Al-Jubeir said he could not comment on a New York Times story on Thursday in which anonymous sources alleged the crown prince made a threat against Khashoggi in 2017.
Saudi Arabia late last year indicted 11 people for the killing at the Kingdom's consulate in Istanbul in October. Prosecutors are seeking the death penalty against five of them.
The minister said it was "preposterous" for other countries to think that they can dictate what the Saudi leadership should do in handling the case.
He said the Saudi judiciary is committed to holding those involved in the killing of Khashoggi to account.
Al-Jubeir said he hoped the US Congress would take a step back and await the results of the investigation into Khashoggi's death.
The Trump administration has said there is no direct evidence of the crown prince's involvement, and has stressed the vital importance of relations between Washington and Riyadh.
Al-Jubeir met with US Secretary of State Mike Pompeo in Washington late on Thursday. During the meeting, they discussed the strategic partnership between the two countries as well as the latest regional developments.
Earlier, Al-Jubeir affirmed the Kingdom's ongoing commitment to the objectives of the Global Coalition to Defeat Daesh in working together to combat terrorism and extremism.
"My country's government will continue its fight against terrorism and its sponsoring countries, and pledges to support all international and regional efforts to eliminate terrorist organizations and the activities of destabilizing states in the region."
Full report at:
http://www.arabnews.com/node/1449136/saudi-arabia
--------
MP: ISIL Reviving Operation in US-Controlled Areas in Northern Iraq
Feb 08, 2019
"The ISIL terrorists have resumed their activities in the US-held regions in Northern Salahuddin, Al-Anbar, Diyala and Western Kirkuk," the Arabic-language al-Maloumeh news website quoted Iraqi lawmaker Mohammad Karim as saying on Thursday.
He noted that there is coordination between the US troops and the ISIL terrorists in Northern Iraq, and said, "The government of Iraqi Prime Minister Adel al-Mahdi has not taken a firm stance against the US' meddling and deployment of the US troops in the different Iraqi provinces and cities."
Karim reiterated that many political alliances have voiced their concern over the US' interference and its blatant presence in some Iraqi cities as well as meetings between the US officials and some tribesmen and businessmen in Western and Northern Iraq.
In relevant remarks last month, a senior commander of Hashd al-Shaabi in al-Anbar province warned that the US forces are attempting to provoke the Iraqi popular forces into starting war against them.
"The Americans are stirring tensions by spreading rumors of detention of Hashd al-Shaabi forces, bombing their positions or dissolving the group," Qassem Moslih was quoted as saying by the Kurdish-language Basnews.
Full report at:
http://en.farsnews.com/newstext.aspx?nn=13971119000490
--------
US-Backed SDF Blocks Civilians' Move Towards Army-Controlled Regions
Feb 08, 2019
The SDF's move came after thousands of Syrian citizens fled the US-controlled areas for the regions under the control of the US-backed forces, media activists announced.
They said that the SDF forces have fully closed the passageways of al-Salehieh in Eastern Deir Ezzur and al-Tabaqa in Western Raqqa to the civilians.
The media activists reiterated that the SDF's move came after a large number of civilians and the defected members of SDF started moving towards areas controlled by the Syrian Army.
They said that over 2,000 civilians have been transferred to army-controlled regions from Eastern Syria while hundreds of defected SDF members have also asked for government amnesty.
In a relevant development in later January, hundreds of people were arrested by the Syrian Democratic Forces in the recent uprisings against the US-backed SDF in Raqqa's areas under the control of the Kurds.
The Syrian Democratic Forces have detained more than 1,300 Syrian citizens, most of them children, youth and women, in areas stretching between Abu Qabi and al-Tabaqa, South of Euphrates River, the Arabic-language service of Russian Sputnik news agency quoted media activists as saying.
It noted that a number of Arab members of SDF left the group after the US-backed militia arrested a number of Arab tribesmen in Raqqa.
Meantime, media activists in Raqqa were quoted as saying that the residents of Raqqa hoisted Syria's national flag and printed graffiti against the US occupying troops and the SDF in several regions, including the town of Kadiran to West of Raqqa, calling for the Syrian Army rule over the region.
The SDF fighters have reportedly severely tortured a renowned tribal leader of Al-Tarn Tribe in the Western part of Raqqa after he in a statement called for the presence of the Syrian Army in the areas under the control of the US and the SDF.
In a relevant development also in January, the SDF dispatched a well-equipped military convoy to Raqqa to confront the heightened tensions between the SDF and civilians in the region.
The Arabic-language service of Sputnik news agency reported that the convoy, consisting of the US-made Hummer vehicles and other military equipment supplied by Washington, was sent to the Western parts of Raqqa city to suppress the tribal people's uprising.
It added that thousands of SDF forces have also been stationed in regions near the towns of Hunaideh and al-Mansoureh, noting that the US forces deployed in Western Raqqa have withdrawn from the two towns towards Eastern Euphrates for their fear of popular uprising.
Other reports also said that the SDF militants have in the past three days attacked over 600 houses in the two towns, and detained at least 70 people, adding that the civilians threw stones at the Kurdish vehicles to stop the arrests.
Full report at:
http://en.farsnews.com/newstext.aspx?nn=13971119000512
--------
Kuwaiti delegation secretly visited Israeli-occupied territories last week: Report
Feb 8, 2019
A Kuwaiti business delegation has reportedly paid a visit to the Israeli-occupied territories, amid moves by several monarchical regimes in the Persian Gulf region to better their relations with Tel Aviv following years of clandestine contacts.
Palestinian Arabic-language Safa news agency, citing a report published by Israel's Kan public broadcaster, reported on Friday that the Kuwaiti businessmen arrived in Tel Aviv last week, and spent several days in the occupied lands.
The report added that the merchants had been granted visa issued by the office of Israeli Prime Minister Benjamin Netanyahu.
The Kuwaiti nationals visited the Baha'i House of Worship and Mahmood Mosque in Haifa, the University of Haifa, the al-Aqsa Mosque as well as the Holocaust Museum in Jerusalem al-Quds.
Earlier this week, the Israeli Foreign Ministry has re-launched a virtual embassy in a bid to promote dialogue with Persian Gulf Arab nations.
"We are pleased to announce the re-launch of 'Israel in the [Persian] Gulf' page which aims to promote dialogue between Israel and the [Persian] Gulf nations.
"We hope this virtual embassy will contribute to deepen understanding between the peoples of the [Persian] Gulf and the people of Israel in various fields," the ministry said in a post published on Twitter.
The "Israel in the [Persian] Gulf" Twitter page was first launched in mid-2013 but stopped operation after just one year.
Netanyahu in late November visited Oman, where he met Sultan Sayyid Qaboos bin Said Al Said at the Bait al-Barakah Royal Palace in the coastal city of Seeb near the capital Muscat.
Israel's English-language daily newspaper The Jerusalem Post reported that the two men had discussed ways to advance the so-called Middle East peace process as well as mattes of mutual interest with regard to the region's stability.
Netanyahu was accompanied by senior officials, including the head of the Mossad spy agency and his national security adviser.
Netanyahu's unpublicized visit to Oman came on the same day that Israeli Culture and Sports Minister Miri Regev traveled to the United Arab Emirates to accompany Israel's judo team at the Abu Dhabi Grand Slam 2018.
Regev arrived in Abu Dhabi on October 26 last year, and she participated in the opening ceremony of the international event at the Emirati capital's Zayed Sports City, Palestinian Arabic-language Ma'an news agency reported.
Her visit to the UAE marked the first of its kind by an Israeli minister to a Persian Gulf littoral state.
Tel Aviv and Abu Dhabi have no diplomatic ties and the UAE does not recognize Israel, but the two sides have increased backchannel cooperation in recent years. There have been numerous reports of growing contacts between Saudi and Israeli officials, too.
Full report at:
https://www.presstv.com/Detail/2019/02/08/588057/Kuwaiti-delegation-Israel
--------
Southeast Asia
Indonesians Join Protest Against 'Blasphemous' Nike Shoe
February 8, 2019
Indonesia's main Muslim clerical body, the Ulema Council, has thrown its support behind an online campaign calling for shoe and clothing giant Nike to withdraw a training shoe, which many Muslims say is insulting to Islam.
Nearly 39,000 people, including many Indonesians, have signed an online petition begun in January demanding the company recall its Air Max 270 training shoe because it sports a logo on the soles that looks like the Arabic word for "Allah" or God.
"I urge all Muslims and everyone who respects the freedom of religion or belief to sign this petition," said Saiqa Noreen, who initiated the petition on change.org.
"We urge Nike to recall this blasphemous and offensive shoe and all products with the design logo resembling the word Allah from worldwide sales immediately," she said on the website.
Anwar Abbas, general secretary of Indonesian Ulema Council (MUI) told ucanews.com on Feb. 7 that the logo on the shoe did indeed resemble the word for Allah.
"We should not insult and humiliate something which is considered noble by other people," Abbas said.
"I hope Nike recalls its product so that it will not create more problems," he said.
He also urged Indonesian Muslims to remain calm and not over react.
"Don't ransack [Nike stores]," he said.
Nike said in a statement that the logo was "unintentional" and not aimed at hurting religious sentiments.
"Nike respects all religions and we consider this very seriously," the statement said.
Several vendors in Jakarta told ucanews.com that they have not received the controversial shoes that were scheduled to hit Indonesian stores later this year.
Theresia Yulianty, 46, a Catholic and owner of a shoe store in East Jakarta, said she would not sell them in her store.
"I respect Muslims and believe all religious symbols should be respected."
It is not the first time that Nike has angered Muslims.
The company was accused of insulting Islam in 1997 and was forced to recall about 38,000 pairs of shoes from all over the world because of the similar logo design.
Last week it was also reported that British retail giant Marks and Spencer were the subject of a boycott call following claims it was selling toilet paper featuring the Arabic word for God.
https://www.ucanews.com/news/indonesians-join-protest-against-blaspemous-nike-shoe/84471
--------
Was NU radical in its fight against colonialism? Maybe not, NU says
February 9, 2019
Nahdlatul Ulama (NU) — the largest Islamic group in the country which is now leading the war against religious extremism — was once considered a "radical" organization for its nonconformist attitude toward colonialism.
A state-commissioned history book for fifth-grade students describes the Islamic organization as such, but its current members are apparently irked by the "radical" reference in a textbook — even when it is used to explain the rise of Indonesian nationalism in the first decades of the 20th century.
Under the chapter "The Early Radical Era", the book Peristiwa Dalam Kehidupan (Events in Life) classifies NU as a "radical" group along with other revolutionary organizations such as the Indonesian Union (PI), the Indonesian Nationalist Party and the Indonesian Communist Party (PKI).
NU said the word was too loaded to be used now.
Wrong impression
The group, established in 1926, has filed a complaint with the Education and Culture Ministry, demanding that the book be revised.
"The Nahdlatul Ulama executive body deeply deplored the use of the phrase 'radical organization' by the Education and Culture Ministry in the book. This phrase may give the wrong impression to students about NU," NU secretary general Helmy Faisal Zaini said as quoted by Antara.
He said the group was aware that the word "radical" was used in the context of Indonesia's struggle against colonialism, but there was no guarantee it would not create misunderstanding if read by elementary school students.
Khoirul Anam, an editor at NU Online news portal, went as far as accusing the Education and Culture Ministry of "playing politics" by putting NU and antigovernment groups in the same box.
"This is really dangerous," he said.
NU's concern may not be entirely groundless.
In the past decade, Indonesia has seen the rise of radical Islamic groups linked to global jihadi movements such as Al-Qaida and the Islamic State group. Hizbut Tahrir, a nonviolent Islamic group that pushes for the creation of a transnational caliphate, has also gained traction in the country.
NU, which touts itself as a bastion of moderate Islam, has for years been working to stem the tide of radicalism sweeping the country. It is only natural that it has described itself as anything but radical.
Recall and correction
Following a meeting with concerned NU leaders on Wednesday, the Education and Culture Ministry decided to recall copies of the book.
"The ministry will recall the books as soon as possible and we will make a correction. The correction will then be published on the ministry's official website," Education and Culture Minister Muhadjir Effendy said during his visit to the Muhammadiyah Malang University in Malang, East Java, on Thursday.
The minister said the book authors did not intend to equate NU with contemporary radical groups. The book, he said, aimed to explain the pro-nationalist movement in the 1920s when Indonesian groups, including NU, were seen as "radical" in their opposition to colonialism.
"But if we use the word 'radical' for students today, the word could go out of context and could lead to negative [perceptions]," he said.
The book, according to the minister, was first published in 2013 and has never been revised since then.
Some teachers said they did not even know the book was problematic.
Hariyanti, a teacher at Bandulan 2 state elementary school in Malang, said the school had received copies of the book in 2017 from the local education agency. "I just found out about [about the problematic content] after reporters came to the school asking about it," she said.
'We never learn history the right way'
Historian Bonnie Triyana said NU's objection was unsuitable and deplored the ministry's decision to remove the word "radical".
"We never learn history the right way. People often use the current understanding of a word to understand the past. That is wrong," he said.
He argued that in the 192os Indonesian revolutionaries who fought for national independence were in fact called radicals. "The word radical at the time did not have negative connotations as it does now."
Indonesian radicals at the time were resisting a colonial government that was never elected by the Indonesian people, he said.
"That is how we got our independence."
Full report at:
https://www.thejakartapost.com/news/2019/02/08/was-nu-radical-in-its-fight-against-colonialism-maybe-not-nu-says.html
--------
Indonesia sexual violence bill sparks conservative opposition
by Kate Walton
Jakarta, Indonesia - Government efforts to tackle sexual violence in Indonesia have triggered a backlash from conservative religious groups and others claiming the proposed law violates Muslim values, puts too much emphasis on women's rights and promotes sex outside marriage.
Backed by an aggressive social media campaign, an online petition calling for parliament to reject the Draft Law on the Elimination of Sexual Violence has been signed by almost 150,000 people since its launch two weeks ago.
"Forced sexual activities will be chargeable offences [under the law], even if it's a wife rejecting her husband's advances. Yet consensual sex, even if it's outside of marriage, will be permissible," Maimon Herawati, the campaign's creator, wrote in the petition.
The draft law defines forms of sexual violence that are not covered under existing legislation, such as sexual harassment, sexual exploitation and forced prostitution. It is designed to make the criminal justice system more supportive of women reporting such crimes.
But critics reject the bill saying it implies any consensual sexual activity, including homosexuality, is acceptable because it does not specify that sex should only take place within a marriage.
'Indonesia facing a crisis'
The proposed legislation has been under development since 2014, led by the National Commission for the Elimination of Violence against Women (Komnas Perempuan) in consultation with legal experts, women's groups, academics and government ministries.
Yet, amid growing opposition, the bill remains unratified, prompting activists' concerns it might be derailed altogether if it is not adopted before the mostly Muslim archipelago holds elections in April. In such a scenario, the discussion process would have to start from the beginning.
"For Indonesian women, prosperity means being free from all forms of violence, including sexual violence," the Ministry of Women's Empowerment and Child Protection said in a statement last month.
"Sexual violence is a serious problem, causing trauma for victims and their families. They need [to be supported] in their rights to truth, justice, and rehabilitation."
Komnas Perempuan says that of the 13,384 cases of violence against women reported to its service partners in 2017, more than two-thirds (71 percent) took place in intimate relationships. One-third of those involved sexual violence. In public settings, Komnas said, just over three quarters of the cases involved sexual violence. Rights groups say the number of victims is likely to be much higher because many women do not report such cases out of fear.
Ratna Batara Munti, the coordinator of the Pro-Women's Legislation Program Working Group, says cases of sexual violence and harassment have been increasing in the past five years.
"Indonesia is facing a crisis of sexual violence," she told Al Jazeera, citing the 2016 rape and murder of a 14-year-old and the 2018 jailing of a 37-year-old woman for documenting sexual harassment.
Munti argues that Indonesia desperately needs legislation to prevent and address sexual violence. She says that the Criminal Code is poorly implemented, adding that the protection and rehabilitation for survivors is minimal.
"Victims of sexual violence are frequently re-victimised and their rights ignored," she says. "They are often not believed, their sexual history becomes evidence, and compensation is rare."
Growing opposition
Rejection of the draft law, however, is growing. The Prosperous Justice Party (PKS) says the bill is "too liberal" and will "promote free sex and deviant sexual behaviour".
This week, the mayor of Padang, a city of one million residents on the island of Sumatra, also added his voice to those opposing the bill.
"I reject the current draft of the law," Mahyedi Ansharullah told reporters on Tuesday. "It has been developed to protect LGBT people, give the green light to illicit sex and destroy family life."
Opposition to the draft has already cut the number of sexual crimes addressed in the bill from 15 to nine. Even so, critics remain steadfast.
GiGa Indonesia, an organisation whose slogan is "strengthening the family for better civilisation", is leading the charge.
It was founded by Euis Sunarti, a woman who previously headed AILA (Family Love Alliance), an organisation that The Jakarta Post described in 2016 as "more dangerous than the [hard-line group] Islamic Defenders' Front" because of its determination to criminalise all sexual activity outside of marriage, including between members of the same sex.
Although GiGa is small, its reach has been magnified by social media where its warnings on the supposed dangers of the draft law have been shared widely.
"Of course, we also want to eliminate sexual violence; everyone does," Sunarti told Al Jazeera by telephone. "The problem with the draft law on the elimination of sexual violence is that many of the definitions are very broad, and this could lead to multiple interpretations."
Sunarti says the academic study underpinning the draft law does not refer to the 1974 Marriage Law, which regulates the relationship between husbands and wives.
"Indonesian social values are that husbands and wives have not just rights, but also responsibilities," she says. "But this draft law puts more emphasis on rights than family stability … Our research shows that the majority of Indonesians want religion to be the basis of their families."
Susi Fitri, a counsellor and lecturer at the State University of Jakarta, says conservative groups are targeting the wrong piece of legislation.
"This draft law is about eliminating sexual violence, so it's not appropriate that consensual, non-violent sexual activities are also part of it," Fitri says. "Why should we debate including something that is not a form of violence - even according to the conservative groups themselves - in a law that is specifically about violence? All it means is that survivors of violence have to wait even longer get the rehabilitation services they need."
The draft law also makes mandatory a range of physical and mental health services to assist survivors.
"Survivors of sexual violence are frequently blamed for what happened to them," Fitri said. "They might be blamed for their appearance or their activities - going out at night or with a man - and this is now being justified by patriarchal interpretations of religion … The draft law is crucial because it is proof that the government does not blame victims and actually criticises the dominant narrative that does blame them. By being able to access justice and services, survivors will be able to reclaim their self-worth."
The draft law also proposes to strengthen the criminalisation of marital rape by reducing the amount of evidence required and expanding the definition of sexual violence - prompting critics' concerns that it would be easier for women to accuse their husbands of rape.
"In Islam, the ideal is that a husband and a wife should mutually understand one another, but a wife should also be concerned [about her husband's sexual needs] and serve him with sincerity," Sunarti said. "If a wife says: "I don't want to, if you force me, that's violence," that's not a harmonic relationship … It opens up marital disharmony, with the end being divorce or cheating."
Komnas Perempuan rejects the idea that the draft law on eliminating sexual violence is not in line with Islamic beliefs. "I think people who have this view have not read the draft," a commissioner from Komnas Perempuan, Masruchah, told local media last month.
Full report at:
https://www.aljazeera.com/news/2019/02/indonesia-sexual-violence-bill-sparks-conservative-opposition-190208062416667.html
--------
Mideast
Palestinians reject invitation to attend US Mideast meeting in Poland
9 February 2019
Palestinian officials have been invited to a US conference on the Middle East hosted by Poland next week, a senior US official said on Friday, but top Palestinian officials said they would not attend.
The senior administration official told reporters White House senior adviser Jared Kushner would discuss plans for peace between the Palestinians and Israelis at the event.
Palestinian President Mahmoud Abbas has called on the United States to reverse its recognition of Jerusalem as Israel's capital and cuts in aid to the Palestinians, saying these had undermined efforts to reach a two-state solution to the longstanding conflict.
"As noted we have asked the Palestinian Authority to send representatives to this event," the US official said.
Kushner, who is US President Donald Trump's son-in-law, "will discuss the administration's efforts to advance peace between Israel and the Palestinians and also take questions from the audience," the official said.
"We would very much welcome the Palestinian Authority's perspectives during the discussion, but I do want to emphasize this is not a negotiation but a discussion, and we look forward to fostering a constructive conversation in Warsaw," he added.
Chief Palestinian negotiator Saeb Erekat quickly rejected the invitation, writing on Twitter: "Regarding statements that we have been invited, we can say that only today there was some contact from the Polish side. Our position remains clear: We are not going to attend this conference and reiterate that we have not mandated anyone to talk on behalf of Palestine."
In another tweet on Friday, Erekat said: "The US administration dismissed itself from sponsoring the peace process because of its decisions that are contradictory to the international law."
In a separate tweet, Hussein Al-Sheikh, a senior Palestinian Authority official, also rejected the invitation, saying only the Palestine Liberation Organization could speak on behalf of the Palestinian people.
Kushner has been working on a peace plan for more than a year. The Warsaw event will be one of the first occasions where he will discuss the plan publicly, although he is not expected to reveal any details.
The State Department has said more than 40 countries will attended the conference in Warsaw from Feb. 12 to 14.
https://english.alarabiya.net/en/News/middle-east/2019/02/09/Palestinians-reject-invitation-to-attend-US-Mideast-meeting-in-Poland.html
--------
Widely used 'Death to America' slogan directed at Trump, Iran leader claims
8 February 2019
Iran's Supreme Leader Ayatollah Ali Khamenei claimed on Friday that the "Death to America" slogan widely used since the 1979 Islamic Revolution was directed at Trump and current US officials.
"As long as America continues its wickedness, the Iranian nation will not abandon 'Death to America'," Ayatollah Ali Khamenei said on Friday according to Reuters.
The anti-American slogan "Death to America" was first used in Iran in the Revolution of 1979 by the founder of the Islamic Republic of Iran, Ayatollah Khomeini, who overthrew the Shah of Iran.
"'Death to America' means death to Trump, (National Security Adviser) John Bolton, and (Secretary of State Mike) Pompeo. It means death to American rulers," Khamenei added.
Full report at:
https://english.alarabiya.net/en/News/middle-east/2019/02/08/-Death-to-America-used-since-Iranian-Revolution-aimed-at-Trump-Iran-leader-says.html
--------
Dozens of Houthi militiamen killed in coalition strikes in Yemen's Hajjah
8 February 2019
The Arab coalition launched three air strikes targeting Houthi militia positions in the Hajjah Governorate in north-western Yemen on Friday.
Dozens of Houthis were killed and several wounded after the first strike destroyed military outposts.
The second strike targeted an ammunition convoy and weapons in the al-Nuzha district, one of their main supply routes.
The third strike destroyed a military site that housed heavy weapons.
The siege of Hajour tribes
The clashes continued with the Houthi militia using heavy artillery.
The siege of Yemen's Hajour tribes continued for the third week since the beginning of the clashes.
Local sources said that a violent attack was launched by the Houthi militia using heavy machine guns on the area of al-Abysa tribe of Hajour.
Full report at:
https://english.alarabiya.net/en/News/gulf/2019/02/08/Dozens-of-Houthi-rebels-killed-in-coalition-strikes-in-Yemen-s-Hajjah.html
--------
Two Palestinian teens killed by Israeli live fire during Gaza border protests
Feb 8, 2019
Two Palestinian teenage boys have lost their lives and more than a dozen protesters sustained injuries during clashes between Palestinian protesters and Israeli soldiers stationed on the border between the eastern Gaza Strip and the occupied territories.
The spokesman for the Gaza Ministry of Health, Ashraf al-Qidra, said in a statement that 14-year-old Hassan Iyad Shalabi was fatally shot in the chest during a "Great March of Return" protest east of the city of Khan Yunis, located about 25 kilometers (15 miles) south of Gaza City, on Friday.
Qidra added that Hamza Mohammed Roshdi Ashtiwi, 17, died east of the Gaza Strip after he was hit in the neck with a live bullet.
He noted that 17 demonstrators suffered gunshot wounds, while dozens of Palestinians suffered excessive tear gas inhalation after Israeli forces sought to suppress the anti-occupation rallies.
Medical sources said six people were injured while participating in a demonstration at Malika refugee camp east of the Gaza Strip.
Israeli troops also fired live bullets and tear gas canisters at demonstrators taking part in a rally at al-Awdah refugee camp east of Rafah city, located 30 kilometers south of Gaza City. The forces targeted an ambulance with a tear gas canister as well. Palestinians have held weekly protests on the Gaza border, over the siege on the enclave and the right for refugees to return to their homes they were forcibly expelled from during the 1948 creation of Israel.
More than 250 Palestinians have been killed by Israeli forces ever since anti-occupation protest rallies began in the Gaza Strip on March 30. Over 26,000 Palestinians have also sustained injuries.
The Gaza clashes reached their peak on May 14 last year, on the eve of the 70th anniversary of the Nakba Day (Day of Catastrophe), which coincided this year with the US embassy relocation from Tel Aviv to occupied East Jerusalem al-Quds.
On June 13, 2018, the United Nations General Assembly adopted a resolution, sponsored by Turkey and Algeria, condemning the Israeli regime for the death of Palestinian civilians in the Gaza Strip.
The resolution, which had been put forward on behalf of Arab and Muslim countries, garnered a strong majority of 120 votes in the 193-member assembly, with eight votes against and 45 abstentions.
The resolution called on UN Secretary General Antonio Guterres to make proposals within 60 days "on ways and means for ensuring the safety, protection, and well-being of the Palestinian civilian population under Israeli occupation," including "recommendations regarding an international protection mechanism."
It also called for "immediate steps towards ending the closure and the restrictions imposed by Israel on movement and access into and out of the Gaza Strip."
Israeli forces teargas Palestinian protesters in West Bank
Also on Friday, dozens of Palestinians suffered breathing difficulties when Israeli military forces fired tear gas at separate groups of demonstrators against the controversial separation wall on the outskirts of East Jerusalem al-Quds and the Tel Aviv regime's policies of land expropriation and settlement expansion.
The protests were reported in Jabal al-Risan area of the northern West Bank village of Ras Karkar, northwest of Ramallah, the central West Bank town of Ni'lin, located 17 kilometers (11 miles) west of Ramallah, in addition to the village of Kfar Qaddum.
Palestinian prisoner dies inside Israeli prison
Separately, a Palestinian prisoner died on Friday afternoon inside the Eshel Prison in Beersheba.
The Palestinian Prisoner's Society confirmed the death of prisoner Yaser Hamed Ashtia, 36, from the northern West Bank city of Nablus, pointing out that the circumstances of his death were not immediately known.
Ashtia was detained by Israeli forces in 2009. He was sentenced to life imprisonment over alleged killing of a settler.
The development came only two days after Palestinian prisoner Fares Baroud died hours after being suddenly transferred to intensive care from Ramon prison in the occupied territories.
The late 51-year-old was suffering from a number of health conditions, including a hernia and liver disease, and had repeatedly spoken about medical neglect and denial of necessary health treatment to Palestinian inmates.
Baroud was arrested in 1991, and was supposed to be released in 2013 as part of negotiations between the Palestinian Authority and the Tel Aviv regime. Israeli officials, however, reneged on the agreement, refusing to release the final 30 prisoners, including him.
Full report at:
https://www.presstv.com/Detail/2019/02/08/588050/Palestinian-teens-Israeli-live-fire-Gaza-
--------
UAE blasts Houthis for disregarding Hodeidah ceasefire and blocking Yemen aid access
February 08, 2019
DUBAI: The UAE has accused the Houthis of disregarding a Yemen ceasefire agreement after the UN slammed the militants for blocking access to vast food supplies.
The Red Sea Mills in Hodeidah contains enough grain to feed 3.7 million people for a month, but aid officials have been unable to access the stores since September, despite Yemen's desperate food shortages.
Houthi militants have blocked the UN from reaching the food and last month destroyed some of the stores with shelling.
Mark Lowcock, under-secretary of the UN's Office for the Coordination of Humanitarian Affairs (UNOCHA), on Thursday implored the Iran—backed Houthis to allow access to the stores.
Anwar Garagsh, the UAE's minister of state for foreign affairs, said on Friday that the UN's plea for access to the stores showed that "the Houthi's are the real impediment to peace in Yemen."
"This will be clearer with their every move to derail the political process," Gargash said on Twitter.
"The Stockholm Agreement offers us a unique opportunity to end the war in Yemen.
"Nonetheless the Houthis are working hard to undermine this opportunity by their obstinate disregard to their commitments."
Gargash said the way forward for the Houthis is to withdraw from "the ports and Hodaidah city" as per the agreement signed in December.
"The militia is dragging its feet & threatening the overall prospects for peace," he added.
Talks were held this week in Hodeidah in an attempt to find a breakthrough in implementing the agreement. Mediators said Friday that talks in Jordan on a prisoner swap deal had made "important progress."
The huge prisoner exchange is seen as a crucial confidence-building measure in the UN-led push for peace.
The city of Hodeidah became the main front in the war, which was sparked when the Houthis seized the capital Sanaa in 2014.
Pro-government forces supported by an Arab coalition, which includes Saudi Arabia and the UAE, had surrounded the city and prepared to retake it last summer.
Hodeidah serves as the country's main port for aid supplies but the UN and the coalition accuse the Houthis of blocking those supplies from reaching those desperately in need.
"Access to the mills grows ever more urgent as time passes and the risk of spoilage to the remaining grain increases," Lowcock said in his statement.
"I implore all parties, in particular Ansar Allah affiliated groups, to finalize an agreement and facilitate access to the mills in the coming days," he said, referring to the Houthi's political wing.
Full report at:
http://www.arabnews.com/node/1449096/middle-east
--------
Africa
Boko Haram: from Islamist sect to armed threat
Feb 9, 2019
LAGOS: Nigeria's Boko Haram started out as an Islamic anti-corruption group but mutated into an IS affiliate waging a lethal insurgency.
Here is some background about the jihadists, whom Muhammadu Buhari vowed to defeat when he became president in 2015 but remain a threat as he seeks a second term.
Boko Haram aims to create a hardline Islamic state in northeastern Nigeria. Its campaign has cost at least 27,000 lives since 2009 and displaced 1.8 million people.
The name loosely translates from the Hausa language as "Western education is forbidden".
Its founder and spiritual leader Muhammad Yusuf pinned the blame for Nigeria's ills on Western values left by colonial master, Britain.
He also accused the country's secular leaders of corruption and neglecting development in Muslim regions.
Yusuf came to the attention of authorities in 2002 when he began to build a following among disaffected youths in Maiduguri, the Borno state capital in northeast Nigeria.
Yusuf was killed in police custody in 2009 after an uprising in Maiduguri that prompted a military assault. Some 800 people died in the action, and Boko Haram's mosque and headquarters were left in ruins.
Many of its supporters fled the country.
Boko Haram was broadly peaceful before Yusuf's death.
But his successor, his right-hand man Abubakar Shekau, undertook a violent campaign of deadly attacks on schools, churches, mosques, state entities and security forces.
Some Boko Haram members are thought to have trained with Al-Qaeda in the Islamic Maghreb (AQIM) in northern Mali in 2012 and 2013.
Among the group's most notorious acts was the April 2014 kidnapping of 276 schoolgirls from the remote northern town of Chibok in Borno state.
Fifty-seven fled in the immediate aftermath, and more than 100 of the 219 who spent years in captivity have since been released, found or escaped.
The mass abduction brought world attention to the insurgency at a time when Boko Haram was seizing territory across the northeast, which became a largely no-go area, with the violence spilling over into Cameroon, Chad and Niger.
In August 2014 Shekau proclaimed a "caliphate" in the Borno town of Gwoza, and in March 2015 pledged allegiance to the Islamic State group in Iraq and Syria.
The violence has destroyed property and farmland in the mainly rural northeast and sparked a humanitarian crisis and acute food shortages.
An offensive since 2015 by regional armies -- troops from Nigeria and backed by others from Cameroon, Chad and Niger --drove jihadists from most of the areas they had seized.
But regular bloody raids and suicide bomb attacks continue.
Mass court action for people suspected of being members of Boko Haram started in October 2017. Most were released, largely due to lack of evidence, and more than 100 convicted of belonging to the group and taking part in attacks.
A faction led by the son of Muhammad Yusuf, Abu Mus'ab al-Barnawi, broke away in opposition to Shekau's indiscriminate targeting of civilians.
Barnawi's faction, which has the backing of IS, targets the armed forces and has since July 2018 carried out numerous attacks on military bases.
Shekau's faction is meanwhile responsible for unrelenting suicide bombings targeting civilians.
https://timesofindia.indiatimes.com/world/rest-of-world/boko-haram-from-islamist-sect-to-armed-threat/articleshow/67910344.cms
--------
US airstrikes in Somalia kill 15 al-Shabaab militants
09.02.2019
By Mohammed Dhaysane
MOGADISHU, Somalia
At least 15 al-Shabaab militants were killed in separate U.S. airstrikes in Somalia's Lower Shabelle region, the U.S. Africa Command (AFRICOM) said Friday.
The airstrikes were conducted over the past 48 hours against the al-Qaeda linked group's positions in Gendershe village and Bariire town, it said in a statement.
It said the first airstrike took place on Feb. 6 in Gendershe, killing 11 militants, while the second airstrike on Feb. 7 in Bariire killed four militants.
The statement added that the airstrike on Bariire came after the Somali National Army was attacked by al-Shabaab militants as they conducted an operation to disrupt the group's efforts to illegally tax and intimidate civilians in the area.
Adow Mohamed, a Somali National Army captain in the Lower Shabelle region, confirmed the airstrikes to Anadolu Agency by phone.
Full report at:
https://www.aa.com.tr/en/africa/us-airstrikes-in-somalia-kill-15-al-shabaab-militants/1387656
--------
US general says strikes in Somalia won't stop Shabaab
8 February 2019
The US military's air campaign against al-Shabaab in Somalia will not stop the militants, a top US general said Thursday as he called on the east African nation's army to take more responsibility in the fight.
The Pentagon is running an ongoing mission in which US forces work with African Union and Somali national security forces to fight the al-Shabaab movement. "At the end of the day, these strikes are not going to defeat al-Shabaab," the US military's Africa Command head General Thomas Waldhauser told the Senate Armed Services Committee.
"The bottom line is the Somalian national army needs to grow, it needs to step up and it needs to take responsibility for their own security," he added.
Since early 2017, the US has increased the number of strikes it conducts, with 35 that year, 47 in 2018 and about 12 so far this year, Waldhauser said. He added that US strikes were providing the space for local forces to grow.
African Union troops pushed al-Shabaab fighters out of Somalia's capital in 2011, and subsequently from other towns and cities. But the extremists still hold sway in large parts of the countryside.
They launch regular gun and bomb attacks on government, military and civilian targets in Mogadishu as well as ambushes on military convoys and outposts. In one strike last month, Africa Command said it killed 52 Somali militants.
Full report at:
https://english.alarabiya.net/en/News/north-africa/2019/02/08/US-general-says-strikes-in-Somalia-won-t-stop-Shabaab-.html
--------
Sudan official says beatings led to iconic protester's death
8 February 2019
A governmental committee probing protester deaths in Sudan says a slain teacher who became an iconic figure in the recent uprising died of wounds sustained from beatings.
Amer Ibrahim, the head of the Supreme Investigation Committee, said on Thursday that forensic reports showed that teacher Ahmed al-Khair was beaten with a "hard object" on his back, kidney area and thighs causing complications that led to his death.
Al-Khair was detained by Sudanese authorities after protests in the town of Khashm el-Girba in Kassala.
Protesters had previously said al-Khair died from torture while the government claimed that he died last Saturday of food poisoning.
Full report at:
https://english.alarabiya.net/en/News/middle-east/2019/02/08/Sudan-official-says-beatings-led-to-iconic-protester-s-death.html
--------
Libyan authorities reportedly arrest suspected al-Qaeda leader
8 February 2019
Libyan authorities have arrested a suspected al-Qaeda leader who fled from the eastern city of Derna, a source in the attorney general's office said on Friday.
Abdel Qader Azuz was arrested in the western city of Misrata and then brought to the capital, Tripoli, the source said. No other details were immediately available.
Azuz was one of the top terrorists in Derna, according to Libyan officials. The city has been long a hotpot for militants. Many had fled Libya to escape persecution by Muammar Gaddafi and to fight in Afghanistan, then returned home after he was toppled in 2011.
Eastern military forces allied to Khalifa Haftar, which control eastern Libya, have seized much of Derna in an ongoing military campaign that officials say is almost over.
Full report at:
https://english.alarabiya.net/en/News/north-africa/2019/02/08/Libyan-authorities-reportedly-arrest-suspected-al-Qaeda-leader.html
--------
Tunisian court sentences seven terrorists to life for deadly 2015 attacks: prosecutors
February 09, 2019
TUNIS: A Tunisian court has sentenced seven terrorists to life in prison over attacks at a museum and on a beach in 2015 that left dozens of tourists dead, prosecutors said Saturday.
Two separate trials were held over the closely linked attacks which occurred just months apart in Tunis and Sousse.
Full report at:
http://www.arabnews.com/node/1449316/middle-east
--------
South Asia
Bangladesh stops Rohingya trying to get to Malaysia
08 Feb 2019
TEKNAF: Bangladesh security forces stopped 30 Rohingya refugees from being smuggled to Malaysia by boat, officials said on Friday (Feb 8), as fears rise that calmer seas may tempt those living in squalid camps to make the journey to Southeast Asia.
Two suspected human traffickers were detained in the operation by Border Guard Bangladesh (BGB) forces in Cox's Bazar district late Thursday, the officials said.
About 740,000 Rohingya fled Myanmar for Bangladesh following a military clampdown in August 2017. They joined about 300,000 of the Muslim minority already in the country where they are largely confined to camps, which have strained Bangladesh's resources to the limit.
The 17 women, six children and seven men were detained on a beach near the coastal town of Teknaf, which borders Myanmar's violence-wracked Rakine state, the BGB said.
It is the third time since November that Rohingya have been intercepted while attempting to reach the more prosperous and Muslim-majority Malaysia by boat.
Some boats have also been intercepted trying to leave Myanmar.
Lieutenant Colonel Asadud Zaman Chowdhury told AFP the 30 Rohingya were lured by human traffickers operating in refugee camps in Cox's Bazar.
He said the Rohingya, who had paid about US$1,000 each for "safe passage" to Malaysia, would be sent back to the camps.
One of the women in the group said she was going to Malaysia "to get married" to a Rohingya man she had never met.
"My uncle set me up for the journey and paid for the trip. My husband to be was meant to meet me once I reached Malaysia," she told AFP, refusing to give her name.
There are fears that with improving weather more Rohingya may be tempted by traffickers to leave the Bangladesh camps and make the dangerous boat journey to Malaysia.
People smugglers sent tens of thousands of Rohingya from the camps to Malaysia before Bangladesh launched a crackdown in 2015. This came after Thai authorities discovered mass graves of refugees and overcrowded boats were intercepted at sea.
The Bay of Bengal - which the boats must cross on their way to Malaysia - is calmer between November and March. But many of the small boats are critically overcrowded by the owners seeking to make more money.
https://www.channelnewsasia.com/news/asia/bangladesh-stops-rohingya-trying-to-get-to-malaysia-11223936
--------
Bangladesh's Catholic Church celebrates 500 years
02/08/2019
Chittagong (AsiaNews) - The Catholic Church of Bangladesh today marks the 500th anniversary of the arrival of the first Christians, as part of an initiative undertaken by Card Patrick D'Rozario and Mgr Moses Costa, bishop of Chittagong.
The anniversary marks the first settlement of Portuguese Catholic merchants in 1518 and provides an opportunity to remember the origins of a Church that is so far from Rome but one that has a long and yet mostly unknown history. This includes remembering its martyrs, the many Christians who gave their life to remain loyal to Christ and whose blood has seeped into the Bengal soil.
Held in Diang, in the diocese of Chittagong (recently renamed Chattogram), the event has attracted more than 8,000 Catholics, 100 priests, 120 nuns and 10 bishops from all over the country. Mgr Lumen Monteiro, bishop of Agartala (India), is also present.
After a full day of festivity, Muslims, Christians, Hindus and Buddhists gathered in the evening in the cathedral for an inter-religious meeting, a show of the harmony and joy that mark interfaith relations in the country. For Mgr Costa "Christian things" are not just for Christians, but for everyone.
Speaking about the Church's history, the prelate described the first steps taken by Portuguese merchants when they landed on the shores of Chittagong some 500 years ago.
These pioneers, he explained, "held Christ in their heart and helped Christianity grow in this land." It took however 80 years before the first priests arrived. The first Catholic missionary, "Fr Francisco Fernandez came from the Diocese of Cochin (India) in 1598. The following year he built the first church in Bangladesh in Diang (Chittagong). In 1600 he built two other churches, in Bandal and Jamalkhan."
The blood of martyrdom marks the origins of Christianity in this fertile land. Fr Fernandez, "who protested against the domination of the Rakhine army (currently a state in Myanmar), was captured in 1602, tortured and died in prison on 14 November. He is the first martyr of Bangladesh. The cathedral of Chittagong stands on his tomb."
At that time, "his evangelising work won the hearts of many people," said the bishop. "For this reason, a few years later (1607), soldiers killed 600 Christians by burning them alive in the place where we are now, in Diang, on the site of the Marian shrine of Our Lady of Lourdes and the Miriam Ashram Church."
"This is also a pilgrimage site, visited by thousands of devotees each year. Many do not know the history of the origins of our Church. This is why we have carried out an information campaign ahead of the event."
On the eve of the celebration, a prayer was held yesterday. Mgr Sebastian Tudu, bishop of Dinajpur, stressed that "the Portuguese had a lot of courage. They were killed for their faith. Let's pay homage to them. We should all learn to be Christians like them. Let us pray for the eternal rest of their souls."
Today the Catholic Church has 380,000 members across the Muslim majority country, 33,000 in Chittagong. The local archdiocese runs 16 schools, 125 kindergartens, 17 hostels and 13 medical dispensaries.
Full report at:
http://asianews.it/news-en/Bangladesh%E2%80%99s-Catholic-Church-celebrates-500-years-(video-and-photos)-46205.html
--------
Explosion leaves local ISIS-K commander dead in Kunar province
08 Feb 2019
A local commander of the Islamic State of Iraq and Syria Khurasan (ISIS-K) was killed in an explosion triggered by an improvised explosive device in eastern Kunar province of Afghanistan.
The 201st Silab Corps in the East in a statement said a local ISIS-K commander identified as Najeeb alias Isa Khan was killed an explosion on Thursday.
The statement further added that Najeeb was killed an explosion triggered by an improvised explosive which was planted by unknown individuals.
The incident took place in the vicinity of Deewa Gul Valley of Suki district, the statement by 201st Silab Corps added.
Full report at:
https://www.khaama.com/explosion-local-isis-k-commander-dead-in-kunar-province-03269/
--------
U.S. envoy 'hopeful' a peace deal could be finalized with Taliban before elections
09 Feb 2019
The U.S. Special representative for Afghanistan Reconciliation Ambassador Khalilzad has said that he is hopeful to finalize a peace deal with the Taliban group before presidential elections in Afghanistan.
Speaking at the U.S. Institute of Peace in Washington, Ambassador Khalilzad said he was hopeful a peace deal could be finalized before presidential elections.
However, he emphasized that 'a lot of work' still remains to be done to reach to a peace deal with the Taliban.
"We are at the early stages of a protracted process," Ambassador Khalilzad added.
Khalilzad also emphasized that the next phase of peace process should be led by the Afghans as the role of the United States will decrease.
This comes as the Taliban group has so far rejected to meet or hold talks with the Afghan government officials.
Full report at:
https://www.khaama.com/u-s-envoy-hopeful-a-peace-deal-could-be-finalized-with-taliban-before-elections/
--------
Taliban's shadow intelligence chief killed in Helmand
09 Feb 2019
The shadow intelligence chief of Taliban Mullah Ahmad has been killed with two other militants in an airstrike in southern Helmand province.
According to the informed military sources "A Taliban intelligence chief responsible for planning and carrying out attacks against Afghan civilians was killed by a precision airstrike in Now Zad District, Helmand Province, Feb. 6, 2019."
The sources further added that Mullah Amad was traveling along the roadway with two other militants when their vehicle was struck by an Afghan Special Security Forces (ASSF) precision airstrike, killing all three Taliban fighters.
Full report at:
https://www.khaama.com/talibans-shadow-intelligence-chief-killed-in-helmand-03270/
--------
Afghan Special Forces kill 2 senior Taliban leaders in Nangarhar province
08 Feb 2019
The Afghan Special Forces have killed two senior Taliban leaders during a raid in eastern Nangarhar province of Afghanistan earlier today.
According to the informed military sources "Afghan Special Forces conducted a raid in Khugyani district, Nangarhar province and killed two Taliban leaders. The lead weapons facilitator and recruiter for Nangarhar province were killed when they fired upon Afghan soldiers during an operation in the early-morning hours of Feb. 7, 2019."
The sources further added these Taliban leaders planned and carried out attacks on Afghan military personnel and innocent civilians.
The dead are just two among multiple Taliban leaders who have been killed recently. In December, friendly forces killed Haji Manan – a Taliban commander the militant group said significantly contributed to their violent operations.
Full report at:
https://www.khaama.com/afghan-special-forces-kill-2-senior-taliban-leaders-in-nangarhar-province-03264/
--------
Myanmar villagers flee fresh Rakhine State fighting, enter Bangladesh
February 08, 2019
YANGON/DHAKA: Scores of ethnic minority villagers have crossed from western Myanmar into Bangladesh in recent days amid fighting between the Myanmar military and ethnic Rakhine rebels, Bangladesh border guards and an activist said on Thursday.
Members of 38 families said they fled their homes fearing attack from military helicopters, said Col. Zahirul Haque Khan, the Border Guards Bangladesh (BGB) commander in Bandarban district where the group of 136 people are now living in shelters.
Clashes between Myanmar's military and the insurgent Arakan Army, which mainly recruits from the Rakhine ethnic group, have displaced more than 5,000 people in parts of Rakhine and Chin states since early December.
Myanmar's leaders have vowed to crush the rebels, who are fighting for autonomy for Rakhine State, and blocked most aid agencies from reaching the area, raising fears of more civilian suffering in an area long scarred by complex ethnic divisions.
While Rakhine State is majority Buddhist, in 2017 attacks on security posts by insurgents from the Muslim Rohingya minority provoked a military crackdown that forced 730,000 people from their homes and into camps in Bangladesh's Cox's Bazar district, according to UN agencies.
Win Thein, a member of the nongovernmental Bangladesh Human Rights Commission, said he had visited the refugees, who are members of the Khumi, Cho and Rakhine ethnic groups, in their remote jungle camp.
They had crossed into Bangladesh on Sunday and Monday after fleeing from two villages in Chin state's rugged Paletwa township after they heard gunfire and saw helicopters nearby, he said.
Some villagers said they later witnessed Myanmar soldiers looting and setting fire to homes, he said.
Win Thein said some of the refugee children were seriously ill and had no access to medical care.
"There are no blankets at all and it is very cold," he said.
State media in Myanmar said on Friday the Arakan Army had "taken about 200 Rakhine and other ethnic nationals including 38 schoolchildren to Bangladesh territory."
An announcement carried in official newspapers said the government was providing humanitarian assistance to displaced people, and said the insurgents may have taken the people into Bangladesh to "create misunderstanding between the two neighbors."
Khine Thu Kha, an Arakan Army spokesman based outside Myanmar, said the armed group had helped the displaced villagers to reach the border, but did so because the villagers feared being detained by the military.
The government was using "fake news" to cover up military abuses, he said.
Full report at:
http://www.arabnews.com/node/1448886/world
--------
URL: https://www.newageislam.com/islamic-world-news/majlis-ulama-e-hind-strongly/d/117704
New Age Islam, Islam Online, Islamic Website, African Muslim News, Arab World News, South Asia News, Indian Muslim News, World Muslim News, Women in Islam, Islamic Feminism, Arab Women, Women In Arab, Islamophobia in America, Muslim Women in West, Islam Women and Feminism