New Age Islam News Bureau
23 September 2020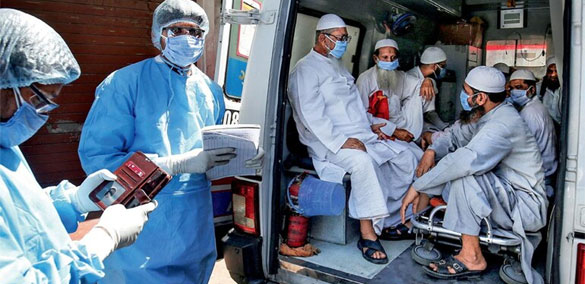 Officers at East Bidhannagar police station said three employees of the second guest house have been arrested for throwing out the teachers.(Representational Photo/REUTERS)
------
• PTI Lawmaker Dr Ramesh Kumar Vankwani Announced Sit-In in Islamabad Against Killing Of 11 Pakistanis In India
• Muslims in Kenya Change Tack on Family Planning, Abortion of Unintended Pregnancies No Longer Haram
• Palestine Refuses to Chair Arab League over UAE and Bahrain and Israel Deals
• Trudeau Calls Reports Linking Killing of Toronto Mosque Volunteer To Hateful Ideologies 'Extremely Concerning'
• Norway Allocates 1 Million Kroner to Foundation That Promotes Knowledge About Al-Noor Mosque Terrorist Attack
India
• Madrasa Teachers Humiliated and Thrown out of Guest House in Kolkata's Salt Lake for Being Muslims
• Turkish President Recep Tayyip Erdogan Comments on Kashmir Constitute Gross Interference in India's Internal Affairs and Are Completely Unacceptable: India
--------
Pakistan
• PTI Lawmaker Dr Ramesh Kumar Vankwani Announced Sit-In in Islamabad Against Killing Of 11 Pakistanis In India
• PPP Calls for Musharraf's Trial in Benazir Murder Case
• Fazl, Bilawal hold huddle to discuss anti-govt movement
• Eight years on, ex-MQM men get death in factory fire case
---------
Africa
• Muslims in Kenya Change Tack on Family Planning, Abortion of Unintended Pregnancies No Longer Haram
• Islamic group issues strong warning to Oduduwa Republic agitators
• Stop Looking for Endorsement from Pastors, Imams, Bishop Kukah Tells Nigerian Politicians
• Jaiz emerges most improved Islamic Bank
--------
Arab world
• Palestine Refuses to Chair Arab League over UAE and Bahrain and Israel Deals
• Hezbollah And Amal Movement: We Have Rescued Hariri Several Times from Ingesting His Allies' Poison
• Saudi Arabia will allow Umrah and visits to Holy Mosque starting on October 4
• Anti-ISIS Sunni fighters complain of electoral exploitation
• Jordan's Muslim Brotherhood to take part in elections, defying ban attempts
• Saudi cabinet underlines importance of confronting Iran
---------
North America
• Trudeau Calls Reports Linking Killing of Toronto Mosque Volunteer To Hateful Ideologies 'Extremely Concerning'
• Trump Attacks Muslim Congresswoman Over Telling Him 'How to Run Our Country'
• Pressure mounts on U of T law faculty as Amnesty, National Council of Canadian Muslims seek investigations into alleged inappropriate influence
---------
Europe
• Norway Allocates 1 Million Kroner to Foundation That Promotes Knowledge About Al-Noor Mosque Terrorist Attack
• Britain sends evidence on accused Islamic State 'Beatles' to U.S.
• Archbishop of Mosul nominated for the Sakharov prize in memory of Islamic State victims
• Alleged Isis members can be tried in US after UK high court ruling
• Council of Mosques issues guidance on Madrasas and children self-isolating
--------
Mideast
• Iranian President: Holy Defence Created Culture of Jihad, Self-Sacrifice, Martyrdom
• World Poets Welcome Int'l Poetry Competition on Shiite's Imam Hussein (AS)
• Iran Has Only Provided Yemen With the Know-How in The Defense Sector: Armed Forces Spokesman
--------
South Asia
• Sheikh Hasina: This Winter Is Likely to Herald A Second Wave Of The Pandemic In Bangladesh
--------
Southeast Asia
• Indonesian Finance Minister Stresses Importance of Sharia Economy in Global Economy
• Malaysia Airlines Defers Payments On $492 Million Islamic Bonds
Compiled by New Age Islam News Bureau
URL: https://www.newageislam.com/islamic-world-news/madrasa-teachers-humiliated-thrown-guest/d/122926
---------
Madrasa Teachers Humiliated and Thrown out of Guest House in Kolkata's Salt Lake for Being Muslims
Sep 22, 2020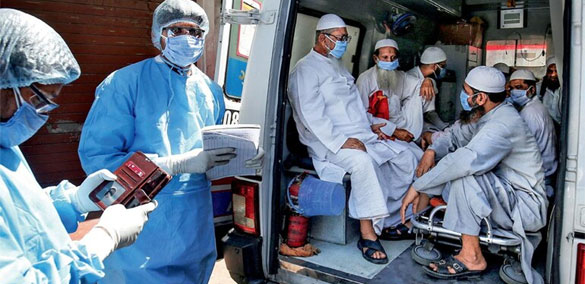 Officers at East Bidhannagar police station said three employees of the second guest house have been arrested for throwing out the teachers.(Representational Photo/REUTERS)
------
HT Correspondent
Ten madrasa teachers from West Bengal's Malda district alleged on Monday that they were thrown out of a private guest house in Kolkata's Salt Lake because of their religious identity. They said they had booked three rooms in advance ahead of their visit to Kolkata for some official work at the state education department.
Sadek Ali, the headmaster of Krishnapur Madrasa Education Centre, told reporters that he has never faced such humiliation in his long career as a teacher. Ali and his colleagues, in their police complaint, said when they reached the guest house on Monday morning after travelling overnight from Malda, they were told that no room was available and were sent to another guest house. At the second guest house, the teachers were allowed to stay for three hours before being asked to go.
"They were sent by another guest house. We told them that they would have to vacate at 9 am as we were expecting other guests. They left at 9 am," Gautam Pal, manager of the second guest house.
An employee of the second guest house, who did not want to be named, said after the arrests of six suspected al-Qaeda operatives, locals objected to the stay of teachers at their guest house.
Jahangir Ali, a second teacher in the group, said, "We never expected this kind of humiliation in Kolkata."
Actor Kaushik Sen and poet Joy Goswami condemned the incident, saying the arrest of the suspected al-Qaeda members cannot be used as an excuse to isolate people from a particular religion.
Md Salim of the Communist Party of India (Marxist) said Bengal has always been known for its secular values. "This cannot be tolerated. Trade licence of the guest house must be cancelled."
Officers at East Bidhannagar police station said three employees of the second guest house have been arrested for throwing out the teachers.
https://www.hindustantimes.com/kolkata/driven-out-of-guest-house-for-being-muslims-say-10-Madrasa-teachers/story-N13PA9cXVEiFiBJYBYu1RO.html
---------
PTI Lawmaker Dr Ramesh Kumar Vankwani Announced Sit-In in Islamabad Against Killing Of 11 Pakistanis In India
Kalbe Ali
23 Sep 2020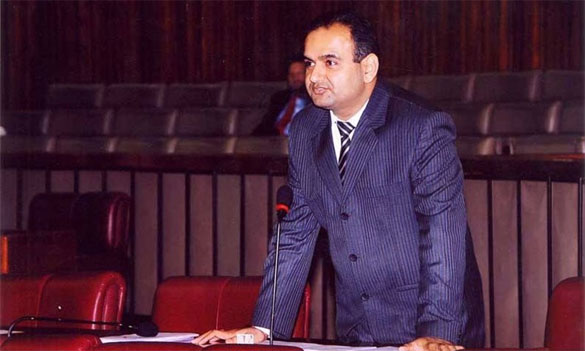 PTI lawmaker Dr Ramesh Kumar Vankwani said convoys from across the country led by members of the Hindu community will arrive in Islamabad on Thursday to hold the protest sit-in. — Photo courtesy Dr Ramesh Kumar Vankwani Facebook/File
------
ISLAMABAD: PTI lawmaker Dr Ramesh Kumar Vankwani on Tuesday announced to hold a sit-in in the Red Zone of the federal capital to seek justice over the death of 11 Pakistanis in the Indian city of Jodhpur, who were killed by extremist Hindu nationalists.
Addressing a press conference, the MNA, who is the patron-in-chief of Pakistan Hindu Council (PHC), said convoys from across the country led by members of the Hindu community will arrive in Islamabad on Thursday to hold the protest sit-in.
He said the victims belonged to the Bheel community from Tharparkar and the PHC had decided to hold the protest in front of the Indian High Commission.
The protest caravan will commence in Tharparkar and after passing through Mirpurkhas, Thatta, Hyderabad and Nawabshah would move to Islamabad. Another protest rally will come from Karachi and join the protestors from Larkana and Kashmore.
"Not only Hindus but also the entire Pakistani nation will be with me to seek justice for the 11 Pakistani Hindus killed by the extremists of RSS."
Dr Vankwani said the sit-in will continue until Indian authorities lodge an FIR against the culprits and submit the postmortem reports of the 11 people to the Pakistan High Commission.
He said the members of the Hindu family had migrated from Pakistan to India in 2012 but they were not granted Indian citizenship. The authorities claimed that the family members committed suicide by consuming some chemical on August 9, 2020.
"But what we say is that if they have committed mass suicide, there was no reason to stop the Pakistani High Commission from accessing the case. The reason is that India has declared these murders a suicide."
The PTI lawmaker also spoke about his discussions with Foreign Minister Makhdoom Shah Mahmood Qureshi and said he (Dr Vankwani) was under pressure from his community to raise voice for those who have been killed.
"The foreign minister told me last week that the Indian high commissioner had been called and it was likely that things will move in a right direction," Dr Vankwani said.
He added: "I told the foreign minister that I am under severe pressure from my community and we cannot wait forever against the injustice by Modi and his henchmen."
He said the daughter of the deceased head of the family, Shrimati Mukhi, had filed an FIR in Sanghar, nominating RSS and BJP for their involvement in the murder of her family members.
As per Ms Mukhi, her father, mother and other family members were murdered after they refused to spy on Pakistan and issue anti-Pakistan statements at the behest of the Indian intelligence agency, RAW.
Meanwhile, a statement issued by the Foreign Office said the foreign minister informed Dr Vankwani that Pakistan had taken up the issue forcefully with the Indian side through diplomatic channels both in Islamabad as well as in New Delhi.
Immediately after the incident, the high commission of Pakistan in New Delhi asked the government of India for provision of access to the surviving member of the bereaved family, sharing of copies of the FIR and initial investigation report and facilitating the presence of the high commission for Pakistan's representatives during the postmortem of the deceased persons.
Mr Qureshi assured the MNA that safety and security of all its nationals was the responsibility of the government of Pakistan.
https://www.dawn.com/news/1581102/sit-in-announced-in-capital-against-killing-of-11-pakistanis-in-india
---------
Muslims in Kenya Change Tack on Family Planning, Abortion of Unintended Pregnancies No Longer Haram
By Angela Oketch
22 SEPTEMBER 2020
With 10 mouths to feed, no source of income and nowhere proper to sleep, Fatuma Hamed has many difficulties to contend with.
We find her and four of her children sitting by the doorstep of her house - a grass-thatched shelter with holes everywhere.
She looks lost in thought. She wonders what to buy with the Sh50 she got from selling vegetables: Whether to buy food for the daytime meal or spare the money for dinner.
On a good day, when she makes a sale, she can buy flour for her children's porridge, which is the most affordable meal for her. As long as the children are full, the nutritional value of whatever they eat is the least of her worries.
Most times she goes hungry, so that her children can eat. Other times there is not enough to go around, and the younger children eat as the older ones and their mother watch.
Fatuma's life has been this way for as long as she can remember. A life of constant worry about whether her children will eat or have a decent place to sleep. She is the second wife in a family of four wives.
Back-to-back pregnancies have also left her vulnerable, depleting her nutritional stores. This means she is never healthy enough to breastfeed her children whenever she gives birth.
With the family's resources spread thin, her children are unlikely to go to school, increasing their chances of being trapped in a cycle of poverty.
However, the hard life does not stop her from wanting to continue giving birth. "Children are a blessing from God and child spacing is a sin, going against the religion and Islamic culture," she tells HealthyNation at her home in Balich village, Garissa County. "I just want to continue giving birth even if it means having 20 children whether I can feed them or not. It is God who gives children. Allah provides for each child."
What Fatuma does not understand is that frequent pregnancies without spacing of the births take a substantial toll on a woman's health and the risks are more pronounced in counties like Garissa, where quality healthcare is inaccessible.
All her 10 children were born at home. She does not remember a day when she was not either carrying a baby in her womb or her arms as she gives birth after every two years.
Her husband believes the more the children you have, the more respected you are in the society. "Muslims who are using family planning methods are sinning," he says.
Ismael Omar is among religious leaders who preach against family planning. "The Koran allows us to marry as many women as we want, so that they can give birth to many children who will continue with our lineage," the father of 12 tells HealthyNation.
But, a wave of change is sweeping across Garissa and unlike Fatuma, women are choosing a different path. They want a better life for their families.
Mubarak Hussein, the assistant chief of Dololo Midi village, says: "Somali women fail to use contraceptives because they think this is against their religion. I am happy that things are changing. Mothers and children of most families who space their children have good health."
Anneb Ibrahim, a 29-year-old from Ithin location, wants better. In the past 14 years of marriage, Anneb has given birth to only five children, a small number compared to what has been the norm for women from the region. She is grateful to a religious leader, who convinced her to consider spacing her children. Anneb does not want more children and is on injection contraception.
"When I informed my husband about the family planning methods, he did not object to them. He only wanted an assurance that I was safe," she says.
When she had her first injection, people were against it. They told her that modern contraceptives caused cancer. But, she went for the injection anyway. "I know it takes our men time to accept such things, but it is upon the woman to take a stand. Before the injection, I used to hide my pills and take them without his knowledge," she says. "Alikuwa ananikasirikia lakini mimi naficha na nakunywa (he used to get mad, but I would still take them)."
She said the Koran was not against child spacing. "In fact, I am in the (child spacing) programme with the Sheikh's wife," says Anneb, whose firstborn is in Class Seven.
This is not the first time the mother of three is using a contraceptive method. Soon after she gave birth to her first child, who is six years old now, she went for an injection. However, she developed complications and changed to the current method. "Men do not want us to use the drugs, but it is the woman and the child who suffer when a mother fails to space her children. All the births have been through Caesarean section. Child spacing has given me time to heal and take care of myself and my children as well," says Ibrahim.
Through the efforts of the sheikhs, imams and administration officers, who hold barazas to highlight the importance of child spacing, there has been a difference.
Mohammed Khalif, a sheikh in the county, says Islam does not prohibit child spacing and it does not interfere with the women's health and fertility.
However, he says, the effective way to deliver the family planning messages is through religion and culture. Religious leaders are deeply trusted. "In the past, Muslims used Al-Azl, also known as withdrawal, as a family planning method. Others are breastfeeding for two years as a method," says the sheikh.
Initially, threats would be issued to the community on the health dangers of failure to plan families, which failed to work. "The health of the mother is paramount and family planning is only meant to space children and not terminate an individual's fertility. The mother is a factory. She will keep on giving you children, but if her health is in danger, the whole family is affected," he says.
Fountain of Hope, a six-month programme that seeks to discuss more post-partum family planning, said it has so far reached 423 people with its messages.
Abdirizak Adan, the project manager Fountain of Hope, says the plan was to address the unmet need of postpartum family planning or contraception use among Muslim women. "In Garissa, religion is pervasive on all matters of life, even managing family life. The challenge has been the myths and misconceptions. There is also the challenge of what is permitted; that is child spacing in Islam vis-a-vis the conventional family planning," Adan tells HealthyNation.
As we celebrates World Contraceptive Day on Saturday, most countries, including Kenya, will be reflecting on some of the necessary measures to adopt to turn the bulging population into a socio-economic success.
She started using the Depo injection three years ago, but changed to a three-year implant. However, the unavailability and inaccessibility of the methods made her go back to the natural method of breastfeeding for two years to avoid pregnancy.
The only option the mother of nine has is to walk for hours to the nearest health facility for her preferred method, five hours to Garissa Referral hospital or stay without it.
"I learnt my lessons the hard way. I was giving birth every year, I did not have good health, my children were not as healthy as I would have wished them to be. My husband would not let me be. But, I made a choice. I want to take care of my body," she tells HealthyNation at her home in Doholo Sub-County, Garissa County.
Through the mobile clinic initiative, the mothers in the rural area get their preferred methods. However, these services are offered once in three months. "Before Covid-19, we would get the services on a monthly basis," she says.
She is hopeful that one day the county government will construct a health facility near her. "I have always given birth at home because of the distance. I am afraid that I might give birth on the road while going to the hospital," she says.
As Covid-19 takes up most of the health resources, people with other needs are struggling to get care and among the forgotten medical needs are reproductive health services.
Due to lockdowns in some countries, there has been a disruption in the importation of contraceptives into the country. As a result, in various health facilities, most of the methods are unavailable, especially the long-term ones.
Population Reference Bureau Country Director Kenya and Regional Technical Advisor East and Southern Africa Angeline Siparo said if counties prioritised family planning, they could avert the loss of an additional 2,138 lives by 2020.
Kenya is already experiencing a shortage of many commodities since Covid-19 has impacted on the production of condoms and other contraceptives in the main manufacturing countries, including India, Indonesia, Malaysia and Thailand.
A mother told HealthyNation that most long-acting methods were not available at Garissa County Referral Hospital and many health facilities in the county.
Like Hawes, one in seven married women aged between 15 and 49, who need contraceptives to space or delay their next birth lack them, resulting in many unintended pregnancies, according to data from the Performance Monitoring and Accountability 2020, which monitors family planning indicators in 11 counties in Kenya.
The reason given for non-use of birth control among all women ranged from health-related concerns, opposition to use and lack of access.
https://allafrica.com/stories/202009230097.html
--------
Palestine Refuses to Chair Arab League over UAE and Bahrain and Israel Deals
News Service
September 22, 2020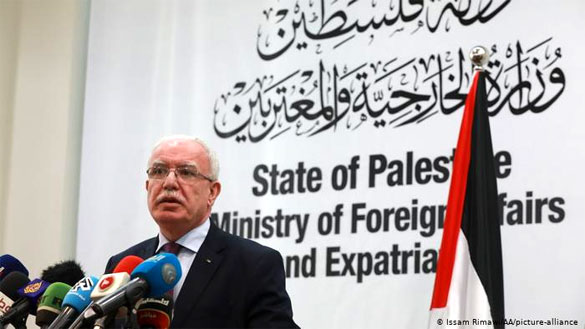 Palestinian Authority quit its rotating chairmanship of Arab League meetings on Tuesday
------
Palestine on Tuesday relinquished its right to take the rotating presidency of the Arab League in protest of recent deals to normalize relations between the United Arab Emirates (UAE), Bahrain and Israel.
"This decision was taken after the Arab League Secretariat took a supporting position to the UAE and Bahrain, which normalized their relations with Israel in violation of the Arab Peace Initiative," Foreign Minister Riyad al-Maliki told a press conference in Ramallah.
"Some influential Arab states refused to condemn the violation of the Arab Peace initiative," he said.
Al-Maliki, however, stressed that Palestine will not withdraw from the Arab League.
On Sept. 9, the pan-Arab body failed to issue a resolution condemning the move by Abu Dhabi and Manama to normalize their relations with Israel.
On Sept. 15, the UAE and Bahrain signed US-sponsored agreements to establish diplomatic relations with Israel, amid strong condemnations from the Palestinians.
https://www.yenisafak.com/en/world/palestine-refuses-to-chair-arab-league-over-muslim-states-deals-with-israel-3549868
--------
Trudeau calls reports linking killing of Toronto mosque volunteer to hateful ideologies 'extremely concerning'
Miriam Katawazi
September 22, 2020
Prime Minister Justin Trudeau says reports linking the killing of a 58-year-old mosque volunteer to Neo-Nazi and Islamophobia-inspired motives are "extremely concerning."
Earlier this month, Mohamed-Aslim Zafis was approach by a man while he was sitting outside the International Muslim Organization mosque in Toronto and stabbed.
Guilherme "William" Von Neutegem, 34, is now charged with first-degree murder in connection with the incident. The charge has not been proven in court.
"My heart goes out to the loved ones of Mohamed-Aslim Zafis. The reports that his murder was motivated by Neo-Nazism and Islamophobia are extremely concerning," Trudeau posted on Twitter Tuesday.
While police have not publically confirmed the crime was hate-motivated, Von Neutegem has allegedly shared content from a satanic neo-Nazi group on social media, according to an organization that tracks online extremism.
The Canadian Anti-Hate Network, a non-profit organization that researches, monitors and combats hate groups, has reported that the suspect's social media is allegedly connected to a variety of known racist and Nazi-inspired occult movements.
Police have previously said there does not appear to be any relationship between the accused and the victim. But on Saturday, police said they were aware of allegations that the murder suspect had ties to a neo-Nazi social media group.
"As far as the investigation goes, looking into the social media of the accused is an important part of trying to determine motive," Supt. Ron Taverner said on Saturday. "That process is ongoing and hopefully we can have answers to that question in the coming days."
Several politicians and advocacy groups across the region spoke against the act of violence and urged police to thoroughly investigate the matter.
"The news that his murder was motivated by Neo-Nazism and Islamophobia are very alarming," Brampton Mayor Patrick Brown stated Tuesday. "Brampton stands with the Muslim community against hate. There must be zero tolerance for hate crimes."
"Everyone should feel and be safe in their communities and places of worship," she wrote on Twitter Tuesday. "The attack on Mohamed-Aslim Zafis is part of a trend of white supremacist hate and terror we must confront. News that the perpetrator of this Islamophobic attack has Neo-Nazi ties make this even clearer."
Advocacy groups like the National Council of Canadian Muslims (NCCM) are calling on the federal government to take action in dismantling Islamophobic, Neo-Nazi and white supremacist groups.
"Someone connected with neo-Nazi movements slaughtered a man standing in front of the mosque doors … we need action to end white supremacist groups today," NCCM's CEO Mustafa Farooq said.
https://www.cp24.com/news/trudeau-calls-reports-linking-killing-of-toronto-mosque-volunteer-to-hateful-ideologies-extremely-concerning-1.5115601
--------
Norway allocates 1 million kroner to foundation that promotes knowledge about Al-Noor mosque terrorist attack
BY: ROBIN-IVAN CAPAR
22. SEPTEMBER 2020
The August 10 Foundation, established after the terrorist attack on the Al-Noor mosque, will receive NOK 1 million according to the government's proposal for next year's state budget, which will be presented on October 8.
"It means incredibly much. It shows that there is support out there for the purpose of the Foundation, and the work that we want to carry out in Bærum and Norway," general manager of the Foundation, Hawa Abshir Muuse, told newspaper Budstikka.
The Foundation will help promote knowledge about the terrorist attack on the mosque on August 10 of last year, as well as prevent hate speech and hateful actions.
"I visited the Al-Noor mosque and representatives from the Foundation before the summer.
I got to see the physical traces of the attack and to hear about what happened, why it happened, and why they are an actor who can convey the story further in a good and credible way," Minister of Education and Integration Guri Melby (V) wrote in an email to Budstikka.
"I think the Foundation has a project that is worth supporting," she said.
https://norwaytoday.info/news/norway-allocates-1-million-kroner-to-foundation-that-promotes-knowledge-about-al-noor-mosque-terrorist-attack/
---------
India
Turkish President Recep Tayyip Erdogan Comments On Kashmir Constitute Gross Interference In India's Internal Affairs And Are Completely Unacceptable: India
Sep 23 2020
Ahval
India lambasted remarks by Turkish President Recep Tayyip Erdoğan on Kashmir during his speech to the United Nations General Assembly (UNGA).
Erdoğan's comments "constitute gross interference in India's internal affairs and are completely unacceptable," T S Tirumurti, India's permanent representative to the U.N., said in a tweet on Wednesday.
"Turkey should learn to respect sovereignty of other nations and reflect on its own policies more deeply," he said.
During a general debate at the U.N. on Tuesday, Erdoğan said the topic of Jammu and Kashmir remained a "burning issue", and that a resolution was important to stability and peace in the region.
"Steps taken following the abolition of the special status of Jammu-Kashmir further complicated the problem," the Turkish president said in a pre-recorded video message. He also called for the matter to be resolved through negotiation.
The Indian-Pakistani dispute over Kashmir has led to several conflicts since the countries' partition in 1947. The Indian government withdrew the autonomy of Kashmir in August last year, shutting down internet access in the region and detaining activists and politicians.
Erdoğan, an outspoken critic of Indian policy toward Kashmir, said during a speech at the Pakistani parliament in February that resolving the future of the occupied region was of similar importance to Turkey's own war of independence early last century.
https://ahvalnews.com/turkey-india/india-slams-erdogan-kashmir-remarks-un
---------
Pakistan
PPP calls for Musharraf's trial in Benazir murder case
Amir Wasim
23 Sep 2020
ISLAMABAD: The Pakistan Peoples Party (PPP) has called for bringing back self-exiled former military ruler Gen Pervez Musharraf to the country in connection with Benazir Bhutto's murder case and regretted the failure of the state to implement the orders of the court which had already issued his non-bailable arrest warrants.
Talking to reporters outside the Lahore High Court's Rawalpindi bench after the hearing of the Benazir Bhutto murder case here on Tuesday, PPP leader and former Punjab governor Sardar Latif Khosa said the party jiyalas (activists) had been anxiously waiting to get justice in the case for the last over a decade.
"It is before everyone that the main accused General Pervez Musharraf has fled the country and how did he manage to escape the justice," said Mr Khosa, who is also PPP's counsel in the case.
PPP secretary general Syed Nayyar Hussain Bukhari, former senator Farhatullah Babar, former prime minister Raja Pervez Ashraf, Asif Ali Zardari's official spokesman Aamir Fida Paracha and party's media coordinator Nazir Dhoki were also present in the court, besides local PPP leaders and activists.
Mr Khosa regretted that several non-bailable warrants had been issued for Gen Musharraf but these could not be implemented. Moreover, he criticised the state machinery, particularly the city police officer (CPO), for not obeying the orders of the court in this most important case. He also slammed the CPO for not appearing before the court on Tuesday.
"It is ironic that all the people who were sentenced to 19 years in jail have now been restored on service, and even got promotions," Mr Khosa said.
Responding to a question, Nayyar Bukhari said the 26-point declaration issued at the opposition's multiparty conference (MPC) on Sept 20 would determine the direction of politics in Pakistan in near future. He lashed out at the federal ministers for their statements after the MPC.
Raja Pervez Ashraf welcomed the statement by the military leadership of dissociating itself from politics, saying politics was the job of only politicians. He said the opposition parties were united to safeguard the parliamentary system in the country.
Earlier, a two-judge LHC bench took up PPP's appeals against the 2017 verdict of an anti-terrorism court to acquit main suspects in the case. The ATC had also declared Gen Musharraf an absconder in the case.
The court issued warrants for two suspects — Aitzaz Shah and Sher Zaman — over their failure to appear before it and ordered the CPO to pro­d­uce them at the next hearing on Oct 19.
https://www.dawn.com/news/1581142/ppp-calls-for-musharrafs-trial-in-benazir-murder-case
---------
Fazl, Bilawal hold huddle to discuss anti-govt movement
Staff Reporter
23 Sep 2020
KARACHI: Two days after the opposition's multiparty conference in Islamabad, seasoned politician and chief of his own faction of the Jamiat Ulema-i-Islam-Fazl (JUI-F) Maulana Fazlur Rehman held a meeting with Pakistan Peoples Party chairman Bilawal Bhutto-Zardari on Tuesday and discussed with him the planned anti-government movement.
Maulana Fazl visited Bilawal House in Clifton along with his party leaders Rashid Soomro, Maulana Obaidur Rehman and Aslam Ghori. Mr Bhutto-Zardari was assisted by PPP leader Naveed Qamar during the meeting.
A brief PPP statement issued after the meeting said that both leaders discussed the overall political situation in the country. It added that Mr Bhutto-Zardari and the JUI-F chief also discussed the issue of launching a movement against the government.
The meeting comes against the backdrop of reports that Maulana Fazl was not happy with the PPP as it did not allow live telecast of his speech during Sunday's MPC. Maulana Fazl had himself protested during the MPC over the "media blackout" of his speech and the PPP claimed that the speech was not telecast live on his own party's request.
It appears that Tuesday's meeting between Mr Bhutto-Zardari and Maulana Fazl was aimed at quashing rumours that the opposition's newly formed alliance — the Pakistan Democratic Movement formed as a result of Sunday's MPC — had developed cracks moments after it was launched.
The country's major opposition parties had announced launching of a three-phased anti-government movement starting from next month with countrywide public meetings, protest demonstrations and rallies in December and a "decisive long march" towards Islamabad in January 2021.
The MPC also issued a 26-point declaration in the form of a resolution demanding an end to the establishment's interference in politics, new free and fair elections after election reforms with no role of armed forces and intelligence agencies, release of political prisoners, withdrawal of cases against journalists, implementation of the National Action Plan against terrorism, speeding up of the projects under China-Pakistan Economic Corridor and across the board accountability under a new accountability law, etc.
Former Senate chairman and senior PPP leader Senator Raza Rabbani called on Mr Bhutto-Zardari and discussed with him the country's political situation.
Mr Bhutto-Zardari, who is also a member of the National Assembly, and Senator Rabbani held a detailed discussion on different parliamentary bills and their certain clauses, said a party statement.
It added that Mr Bhutto-Zardari praised the performance of his party's lawmaker and said that PPP's performance in both houses of parliament was "impressive".
https://www.dawn.com/news/1581071/fazl-bilawal-hold-huddle-to-discuss-anti-govt-movement
--------
Eight years on, ex-MQM men get death in factory fire case
Naeem Sahoutara
23 Sep 2020
KARACHI: An antiterrorism court on Tuesday sentenced two former activists of the Muttahida Qaumi Movement (MQM) to death and awarded life imprisonment to four gatekeepers of the Baldia garments factory, while acquitting party leader Rauf Siddiqui in Pakistan's deadliest industrial blaze case.
Some 264 male and female workers, including 16 who remain unidentified, were burnt alive in an 'arson' attack on the multistorey Ali Enterprises garments factory in Karachi's Baldia Town on Sept 11, 2012.
According to the prosecution, the accused persons acted on the instruction of the-then chief of the Karachi Tanzeemi Committee Hammad Siddiqui after the factory owners failed to pay Rs250 million extortion or partnership in their business. Ten accused including Mr Siddiqui, MQM's then-Baldia Town sector in-charge Abdul Rehman alias Bhola, activist Mohammad Zubair alias Chariya, Hyderabad-based businesspersons Dr Abdul Sattar Khan, Mst Iqbal Adeeb Khanum, Umar Hasan Qadri, and the industrial unit's four gatekeepers were charged with setting fire to the readymade garments factory.
The judge of the ATC-VII, who conducted trial in the judicial complex inside the Karachi Central Prison, pronounced his verdict that had been reserved after recording evidence and final arguments from both sides.
The judgement in the high-profile case comes after eight years of the tragic incident.
Finding the-then MQM's Baldia sector in-charge and the-then head of the ill-fated factory's finishing department, Mohammad Zubair alias Chariya, guilty of committing an act of terrorism, the court handed down death sentence to each of them for causing death of 264 persons (both men and women) through 'arson' and ordered them to pay a fine of Rs200,000 for the death of each victim. The judge also awarded death sentence to the two activists under Section 302(a) (premeditated murder) and 34 (common intention) of the Pakistan Penal Code for killing 264 persons.
According to the verdict, both Rehman and Zubair were also given life imprisonment for participation in the offence likely to cause the death and endanger the life of factory workers/emplo­yees present inside the factory. Bes­ides, 10-year imprisonment each was awarded to the two former MQM activists for attempting to murder 60 persons (men and women, who suffered injuries) and ordered to pay Rs100,000 as fine each or undergo six months additional imprisonment on default. They were further sentenced to life imprisonment under the antiterrorism act for causing injuries to 60 people and ordered to pay Rs200,000 fine each or undergo additional six months imprisonment on default. Another life term was awarded to them for creating serious risk to the public, factory owners, workers and employees inside the factory, thereby preventing them to get out of the burning factory building. Similar punishment was given to them for destroying the factory. The judge awarded a collective sentence of 15-year imprisonment each to Rehman and Zubair for threatening the factory owners and extorting money ("bhatta") and ordered to pay a collective fine of Rs 250,000 each.
'Gatekeepers abetted arsonists'
The judge awarded life imprisonment to each of the four gatekeepers namely Shahrukh Latif, Ali Mohammad, Arshad Mehmood and Fazal Ahmed for aiding and abetting Rehman and Zubair and their accomplices allowing them entry into the factory to cause endanger to the life of workers, employees and owners of the factory. They were told to pay Rs200,000 fine each and on default suffer six month additional imprisonment. The four gatekeepers were also given life imprisonment for sharing common intention with Rehman and Zubair and ordered to pay Rs100,000 fine or undergo six months imprisonment on default.
Each of the four accused was ordered to pay Rs2,777,353 as Diyat to the legal heirs of each of 264 victims. The amount of Diyat, if paid, will be deposited in the government treasury. All the four accused, who were present on bail, were taken into custody and sent to the prison to serve out their sentences, which shall run concurrently as the court extended the benefit of Section 382(b) of the Criminal Procedure Code.
The judge exonerated the MQM-Pakistan leader Abdul Rauf Siddiqui and the three Hyderabad-based business persons of the charges of allegedly receiving Rs50.9 million from the factory owners under the pretext of giving compensation to the legal heirs of the victims. They appeared before the court on bail and the judge cancelled their bail and discharged their sureties.
While the judge sent a reference to the Sindh High Court for confirmation of all the sentences, the case against proclaimed offenders Hammad Siddiqui and Ali Hassan Qadri was kept on dormant file until their surrender or arrest for which the court issued perpetual non-bailable warrants.
Factory owner's testimony
The judge noted that the factory owner Arshad Bhaila in his statement recorded from Dubai deposed that he had been pressed hard repeatedly by the activists of MQM (Altaf) and Baldia sector activists of the party before the factory was torched through chemical substance. Mr Bhaila narrated the full particulars from the day one that he faced and under the tremendous pressure exerted upon him, his brother and father due to which he used to pay extortion money to the activists of MQM-A till the occurrence. Though he was not an eyewitness he specified the details of activities of the MQM workers in the factory that had neither been denied nor rebutted by the accused persons.
"The evidence of the factory owner nowhere suggests that such act of fire was due to his negligence or closure of doors by him deliberately," the judge wrote in the 146-page judgement. The court ruled that the evidence of prosecution witness Kashif, other witnesses as well as Mr Bhalia specifically pinpointed that it all was arson and sabotage activity.
The judge noted that the prosecution examined 400 witnesses, whose testimonies corroborated with the allegations of the prosecution, as well as the reports of the experts of forensic, chemical and ballistic experts also determined that the fire was caused by some chemicals.
The Rangers special public prosecutor Sajid Mehboob Shaikh represented the prosecution while Advocates Shaukat Hayat, Abid Zaman, M.T. Khan, Hasan Sabir, Mansoor Akhtar and others represented the accused persons.
MQM says it has nothing to do with case
Soon after the court verdict, MQM leader Rauf Siddiqui told the media that he had resigned from his post of provincial minister when the incident had occurred. "People don't let go of a cleaner's job [but] I had resigned from my post," he remarked, expressing gratitude over the court decision.
He said he was unable to forget the night of the incident, which would come to his mind every time he had to appear in court. "To this day, I can still hear the screams of the victim's families," he added.
Another MQM leader Faisal Subzwari posted the response of his party's spokesperson on twitter, which said the acquittal of party leader Rauf Siddiqui proved that the MQM-Pakistan had nothing to do with the case. "[We] make it clear that patronage of any anti-social and law-breaking elements neither was nor will ever be a policy of MQM-Pakistan," Mr Sabzwari's tweet quoted the party spokesperson as saying.
PPP objects to MQM claim
Mr Subzwari's tweet drew a quick response from PPP leader and Sindh Education Minister Saeed Ghani who asked him to tell who was "Hammad Siddiqui, Bhola and Charya".
https://www.dawn.com/news/1581135/eight-years-on-ex-mqm-men-get-death-in-factory-fire-case
--------
Africa
Islamic group issues strong warning to Oduduwa Republic agitators
By John Owen Nwachukwu
September 23, 2020
The Muslim Rights Concern (MURIC) has told the protagonists of the proposed Oduduwa Republic to stop using fake Islamic organisations to camouflage as Muslims.
The human rights organization urged Nigerians to be wary of fake Islamic groups masquerading and declaring support for the secessionists.
"The protagonists of the proposed Oduduwa Republic are desperate. Their desperation has reached a crescendo where they have resorted to dishonourable actions.
"This should jog the conscience of honest Nigerians. There is nothing wrong to have differences and disagreements. It is also normal to have ambition. But what is abnormal and ignoble is to pursue your ambition by hook or crook.
"Those in the irredentist Oduduwa Republic camp have descended so low that they use fake Muslim names and counterfeit Islamic organisations to issue statements in order to confuse Nigerians.
"Their plan is to deceive Nigerians and the rest of the world into believing that Yoruba Muslims are with them in their secession bid. This is not politics. It is outright dishonesty. It is not only cowardly, but ignoble, despicable and condescending. It should be condemned by all men and women of honour.
"Those behind it should be ashamed of themselves and those still supporting them should realize by now that they are being led by the nose.
"We urge Nigerians and the outside world to wake up to the antics of shenanigans masquerading as leaders of Yoruba self-determination groups.
"Yorubas are known to have great qualities of honesty and transparency. That is why the average Yoruba man, based on established Yoruba norms and values, is proud to be called an 'Omoluabi', i.e. a man of honour.
"But the reverse is the case with the self-acclaimed leaders of the present Yoruba irredentists. They are another cup of tea entirely.
"They are prepared to get their reckless and ill-thought-out ambition by fair or foul means. Instead of using superior logic to convince Nigerians, they tell lies at will to confuse the gullible. They forge names and concoct counterfeit organisations just by snapping their fingers.
"All these are in an effort to deceive the public. Our question to them is very simple: what kind of 'republic' do you want to establish with falsehood? Why must you resort to deception, lies and false propaganda? It is sheer mischief, nothing else.
"This is where Nigerians have to choose: should we follow liars and mischief makers or should we queue behind men of honour and truth? The devil you know is always better than the one you do not know. We may not have gold or silver today, but we will never deceive you with lies or half-truths. Unless you are a certificated gambler, it is too dangerous to follow liars to terra incognito.
"The names of fake Islamic groups like Yoruba Jamatru, Yoruba Islamic Organisation (YISO) and Yoruba Muslim Community have been used to deceive the general public. We alert the press and the good people of Nigeria that these are all fake groups conjured by the secessionist camp.
"Observers of the religious circle in the South West will note that notable Islamic organisations that have been speaking for Muslims in the region are the umbrella body for all Islamic organisations in the zone, the Muslim Ummah of South West Nigeria (MUSWEN), the Companion, The Criterion, The Muslim Public Affairs Centre (MPAC), FOMWAN, NASFAT, QAREEB, the Muslim Students Society of Nigeria (MSSN), The Muslim Congress (TMC), The Ansaruddeen Society, Nawairudeen Society, MURIC, the Movement for Islamic Cultural Affairs (MICA) and a few others whom space cannot allow us to mention here.
"Most of these Islamic organisations have issued statements rejecting the Oduduwa Republic but the irredentists want to distort history by making forged statements using faceless Islamic organisations.
This is criminal. We advise journalists to seek clarification from MUSWEN whenever any new group comments on the matter in order to avoid vicarious liability. MUSWEN is our umbrella organization in the South West and all Islamic groups in the South West are registered under it.
"We assert clearly, categorically and unequivocally that none of the so-called Islamic groups which have issued statements in support of a Yoruba Republic are known to us.
"They are fifth columnists created by the separatists with the aim of dividing the Yoruba Muslim community. But they have failed. It is not an Islamic organization if it is not an Islamic organization.
"The Yoruba Ummah is one, virile and indivisible. We therefore charge the Nigerian press to handle the Oduduwa Republic matter with utmost professionalism. The wheat must be separated from the chaff. This is not the time for yellow journalism. Neither is it the time for sensationalism.
"Statements issued by groups that are hitherto unknown in Christian, Muslim and traditional Yoruba circles should be checked and cross-checked. Media houses who publish statements made by fake groups will be held responsible for such statements. A certified journalist is expected to check the source of his or her information. The press must take responsibility.
"Those who allow the name of Yoruba Muslims to be used freely and irresponsibly will answer to Yoruba Muslims because we are going to make sure that we forward reports of fake statements to the security agents and legal action will be taken where necessary. The sources of those statements will be traced and all those involved will have questions to answer. This society must be sanitized.
"There must be consequences for irresponsible and mischievous statements and publications capable of causing the breakdown of law and order in the society. Yoruba Muslims have Allah-given fundamental right to enjoy freedom from molestation, harassment, intimidation and coercion from any quarters. MURIC will do everything possible within the laws of the land to guaranty this right.
"MURIC appeals to Nigerians, particularly the Yoruba people, to shine their eyes. These liars and forgers are advocatus diaboli whose only desire is to cause chaos in society.
"The Yoruba say 'Omo ti o ba puro yio jale' i.e. a child that tells lies will soon start stealing. Those who are now misleading you with lies will definitely steal all your money if ever Oduduwa Republic becomes a fait accompli.
"They are not to be trusted. They are making noise today because the tap from which free naira and dollar used to flow has been closed. We assure Nigerians that the agitation will die a natural death when the man they love to hate ends his tenure in 2023.
"To cut a long story short, we warn those agitating for the establishment of Oduduwa Republic to stop deceiving Nigerians by using Muslim names and fake Islamic organisations to issue statements.
"The Nigerian press has a duty to ensure that fake and faceless groups are not allowed to use it to cause disaffection in the society. Media houses are advised to publish only what they can be proud of as members of the noble profession," he said.
https://dailypost.ng/2020/09/23/islamic-group-issues-strong-warning-to-oduduwa-republic-agitators/
---------
Stop Looking For Endorsement From Pastors, Imams, Bishop Kukah Tells Nigerian Politicians
BY SAHARAREPORTERS
SEP 22, 2020
Bishop Matthew Kukah has knocked politicians, who run to religious leaders for endorsement, saying Nigeria was practicing democracy not theocracy.
Kukah, who is the Bishop of Sokoto Catholic Diocese and a member of the National Peace Committee, also commended the conduct of the Edo governorship election, urging the people of Ondo to imitate Edo electorates.
While speaking on Sunrise Daily on Channels Television, the cleric said politicians should engage the people and practice issues-based campaigns.
He said, "When last did you see a politician across Europe we are trying to imitate, go and bow to the queen or king or seek blessings from a bishop. We have too many intervening variables that are confusing the narrative.
"We are really not practicing the principles of democracy and it lies in the fact that only those who have money can hope to be voted into power.
"If you feel you need to be anointed to ascend to power then we are running a theocracy.
"Our commendation goes to the people of Edo State. I have received quite a lot of messages from old friends that I haven't spoken to in a long time commending the work of the National Peace Committee but really this is not an honour that one individual should take."
http://saharareporters.com/2020/09/22/stop-looking-endorsement-pastors-imams-bishop-kukah-tells-nigerian-politicians
--------
Jaiz emerges most improved Islamic Bank
22nd September 2020
Uche Usim, Abuja
Jaiz Bank Plc, Nigeria's premier non-interest bank has been recognised as the most improved Islamic Bank in the world in 2020 by the Global Islamic Finance Awards (GIFA).
GIFA is one of the most prestigious awards in Islamic banking and other prestigious awards are Islamic Development Bank Prize in Islamic Banking and Finance (also known as 'IDB Prize') and the Royal Award for Islamic Finance, founded by the government of Malaysia.
In a congratulatory letter to Hassan Usman, Managing Director of Jaiz Bank, Professor Humayon Dar, the Chairman of GIFA, said that the Award Committee selected Jaiz Bank as the best out of three organisations considered and "after long deliberations decided in favour of Jaiz Bank based on a number of factors included in the GIFA Methodology. Please accept our heartiest congratulations on this huge achievement and accolade."
The GIFA methodology – on which the awards are based and winners selected – is the most detailed approach to screen only the best of the best in their respective award categories.
Social Responsibility: An organisation is considered socially responsible if it makes continuing efforts to behave ethically and contribute to economic development while improving the quality of life of its employees and the local community and society at large.
Shari'a Authenticity: An organisation is considered Shari'a authentic if it commits itself to the Shari'a Standards issued by an independent body like the Accounting and Auditing Organisation for Islamic Finance Institutions (AAOIFI) or a national body set up to issue Shari'a guidelines.
Commitment to Islamic Banking and Finance: The selection criteria allocates a maximum points to full-fledged stand-alone Islamic banks and financial institutions
According to the Awards Committee, Jaiz Bank was able to meet all the above factors, hence the basis for its selection as the winner.
In his response, the Managing Director/CE of Jaiz Bank Hassan Usman thanked GIFA for choosing the bank as the Most Improved Islamic Bank in the world.
He said: "We are pleased that the world watches and appreciates our modest contributions to the development of Islamic Finance. This award is dedicated to our creator, in whose Grace all things are perfected. We are deeply appreciative of the contributions of our loyal customers, dedicated staff and committed shareholders.''
https://www.sunnewsonline.com/jaiz-emerges-most-improved-islamic-bank/
---------
Arab world
Hezbollah And Amal Movement: We Have Rescued Hariri Several Times From Ingesting His Allies' Poison
Source: Al-Manar
September 22, 2020
In response to the statement of the former premier, MP Saad Hariri, about the cabinet formation, the Shia duo (Hezbollah and Amal Movement) sources told Al-Manar that the duo wonders how Hariri allows himself to set conditions for nominating the finance minister, wondering how he alleges that the French initiative includes this issue.
The sources added that the Shia duo do not want for Hariri to be poisoned, adding that that they have rescued him several times from his allies' poison.
Hariri had stated that he decided to help the PM-designate Mustafa Adib by approving nominating a Shiite minister to hold the finance portfolio, considering that he has accepted again to ingest the poison.
The former prime ministers Fouad Siniora, Tammam Salam and Najib Miqati later issued a statement in which they pointed out that they are not committed to Hariri initiative pertaining the cabinet formation
Meanwhile, Al-Manar sources said that the cabinet formation process did not witness any progress, adding that President Michel Aoun has the right to propose whatever is suitable in this regard.
The Lebanese political system classifies the finance, interior, foreign affairs, and defense portfolios as sovereign and distributes them over the major sects. However, Taif Agreement grants the finance ministry to the Shia sect in order to have the third signature on most of the ministerial decrees.
The PM-designate Mustafa Adib and a group of former prime ministers reject granting the finance ministry to the Shia sect, while Hezbollah and Amal movement insist on the right to take the portfolio in line with the Constitution.
http://english.almanar.com.lb/1149810
-------
Saudi Arabia will allow Umrah and visits to Holy Mosque starting on October 4
The National
September 23, 2020
Saudi Arabia will allow visitors inside the Kingdom to perform the Umrah and visit the Holy Mosque starting October 4.
The Saudi Interior Ministry made the announcement on Tuesday night after a four-month pause caused by the pandemic.
"An approval was issued to allow the performance of Umrah and to visit the Holy Mosque in #Makkah gradually only to those within the kingdom starting from October 4, 2020, while taking the necessary health precautions," the ministry said.
Umrah will be reopened in four phases, with the first starting on October 4 allowing Saudi citizens and residents to perform the pilgrimage at 30 per cent capacity, or 6,000 pilgrims a day.
From October 18, crowds of up to 75 per cent, or 15,000 Saudi citizens and residents a day, will be allowed.
That will grow to 100 per cent capacity, or 20,000 pilgrims a day, from November 1.
Foreign pilgrims will be able to join the Umrah at a date yet to be announced.
Saudi Arabia has had more than 330,000 coronavirus cases, including 312,684 recovered and 4,542 deaths.
But it has had a drop of almost 88 per cent in cases this month compared with June, the Health Ministry said.
https://www.thenational.ae/world/mena/saudi-arabia-will-allow-umrah-and-visits-to-holy-mosque-starting-on-october-4-1.1081896
-------
Anti-ISIS Sunni fighters complain of electoral exploitation
2020-09-22
Iraq News
Shafaq News / Al-Hashd fighters in Diyala criticized on Tuesday the politicization of their file and turning it into an electoral tool in the governorate, demanding fairness with those who fought ISIS and officially integrating them into Al-Hashd Al-Shaabi formations.
One of the Hashd fighters, Murad Lahibi, 36, who does not receive any salary so far, along with thousands of his peers, said that the Al-Hashd Al-Ashaeri has become an electoral tool in Diyala among some parliamentarians to reserve early electoral votes.
In his interview with Shafaq News agency, he explained that the politicizing Al-Hash could led thousands of fighters to leave their sites due to the ignoring of the security authorities.
The former leader of Al-Hashd in Al-Azim, Muhammad Ibrahim Dhaifan, confirmed to Shafaq News agency that the politicization of this file in the electoral and regional areas, calling on the security authorities to grant all Al-Hashd fighters monthly salaries away from the criteria of patronage.
Dhaifan, who is fighting without any revenue noted, "There are more than 400 fighters volunteered at the border posts between Diyala and Saladin for 5 years and provided dozens of victims during their response to ISIS attacks".
He pointed out that many Al-Hashd fighters neglected their families and left them under a hard life conditions for not leaving the combat sites despite their very difficult financial situation.
For its part, A member of the Parliamentary Security and Defense Committee for Diyala Governorate, Abd al-Khaleq Medhat al-Azzawi, supports the demands of Al-Hashd fighters, explaining in his interview to Shafaq News agency that" 6000 fighters are fighting in Diyala, some of them get salaries, and the largest part deployed within the Ministry of Defense and without salaries."
Al-Hashed Al-Ashaeri were formed in Diyala within the areas that ISIS invaded in 2014 to secure the areas from attacks and exposures.
Al-Hashed fighters were distributed within the regions of the outskirts of Al-Miqdadiyah and the districts of Al-Azim and Al-Mansuriya in the north and northeast of Diyala.
It's noteworthy that, Al-Kadhimi had set June 6 as a date for early elections, pledging to conduct a fair voting process.
https://www.shafaaq.com/en/Iraq-News/Anti-ISIS-Sunni-fighters-complain-of-electoral-exploitation
---------
Jordan's Muslim Brotherhood to take part in elections, defying ban attempts
22 September 2020
By MEE and agencies
Jordan's Muslim Brotherhood said on Monday that it would take part in November's parliamentary elections, in defiance of a court order to dissolve the country's largest opposition party.
The announcement from the Islamic Action Front (IAF) came two months after Jordan's top court had dissolved the country's chapter of the Brotherhood, a transnational Islamist movement.
The decision by Jordan's Court of Cassation, issued on 15 July, came four years after the country had legalised a splinter group and closed the offices of the main Muslim Brotherhood organisation, claiming it was not licensed.
"The Islamist movement is clearly being targeted and faces vigorous attempts to undermine it due to its national role and charitable efforts," it said in a statement.
Murad al-Adailah, general secretary of the IAF, told Reuters that his group was considering participating in elections to advance demands for democratic reforms.
He pointed out that an Islamist voice was needed in parliament to help expose rampant corruption and stand up to tough laws restricting public freedoms, as well as oppose any normalisation deals with Israel, with which Jordan has a peace treaty.
"Meddling in these elections is playing with the security and stability of the country … In such conditions, it would create a social explosion," he said. "We don't accept any pressure from anyone, or a diktat as to whom we nominate or don't."
Analysts said that electoral laws that favour tribal areas rather than cities, where Islamists enjoy most support, meant they were unlikely to dominate the vote, but that they could still shake up Jordan's sclerotic political scene.
The Islamists made their comeback in the 2016 election - after having boycotted polls in 2010 and 2013 - when they gained 16 of parliament's 130 seats as part of a broad civic alliance. The boycott had reduced voting to nominal contests between tribal leaders, establishment figures and independent businessmen.
It had faced years of pressure, especially since the 2011 Arab Spring uprisings, and had been outlawed as a "terrorist" group in Egypt and banned in several other countries.
Amman had tolerated the group's political arm for decades, but since 2014, authorities had considered it illegal, arguing its licence was not renewed under a 2014 law.
It continued to operate, but its relations with the state deteriorated after the government authorised a splinter group in 2015, the Muslim Brotherhood Association.
In 2016, security services closed Brotherhood offices across the country and transferred their ownership to the splinter group. The movement denounced the step as political.
In mid-July, after a long court battle to retrieve the properties, Jordan's Court of Cassation ruled the group dissolved for "failing to rectify its legal status under Jordanian law".
The group, banned in Saudi Arabia and the United Arab Emirates, has widespread grassroots support in Jordan and is supported by Turkey and Qatar.
The breakaway Muslim Brotherhood Association, authorised by Jordan, aimed to sever ties with the Brotherhood in Egypt, where hundreds of supporters had been killed and thousands detained since the army ousted Islamist President Mohamed Morsi in 2013.
Elections were set to go ahead in despite the novel coronavirus crisis, which had infected 5,045 people in Jordan and left 32 dead.
https://www.middleeasteye.net/news/jordan-muslim-brotherhood-elections-defying-ban-attempts
---------
Saudi cabinet underlines importance of confronting Iran
SPA
September 23, 2020
RIYADH: The Saudi Cabinet on Tuesday reiterated the importance of confronting Iran over its destabilizing activities in the Middle East, and throughout the world, and its sponsorship of terrorism.
Only by agreeing to end such provocative behavior will the country be reintegrated into the international community and sanctions be lifted, ministers noted during a virtual meeting chaired by King Salman. Such an outcome would would greatly benefit the Iranian people, they added.
The cabinet said that any current or future nuclear agreement with Iran must include provisions that continue to prevent the proliferation of nuclear weapons and contribute to efforts to rid the region of weapons of mass destruction.
Ministers also reviewed the latest developments in the region and internationally. These included a joint statement on Yemen that was issued on Sept. 17 by the foreign ministers of US, China, France, Russia, Germany, Kuwait, Sweden and the EU — following their meeting in connection with the 75th General Assembly of the UN — in which they expressed concern about an attack by Houthis on the Yemeni city of Ma'rib, which undermined UN-led efforts to find a political solution to the crisis.
In addition, acting Minister of Media Majid Al-Qasabi told SPA that ministers reviewed the latest developments in the coronavirus pandemic, at local and international levels. These included statistics for cases in the Kingdom, which indicate that the number of infections continues to decline and that there has been a significant increase in recoveries, and the progress being made in global efforts to develop a vaccine.
The Cabinet also reviewed the Kingdom's response to the persecution and suffering of Rohingya Muslims and other minorities in Myanmar. It noted the Saudi call during the 45th Session of the UN's Human Rights Council in Geneva for the international community to urgently act to stop the violence, restore the rights of the Rohingya minority, intensify efforts to resolve this crisis, and create the conditions necessary for the safe return of those who have been displaced.
https://www.arabnews.com/node/1738696/saudi-arabia
---------
North America
Trump attacks Muslim congresswoman over telling him 'how to run our country'
Source : PressTV
September 23, 2020
US President Donald Trump has attacked Muslim congresswoman Ilhan Omar over telling him "how to run our country."
His Tuesday comments marked the latest personal attacks he has levied against Omar, who arrived in the United States with her family after fleeing war-ravaged Somalia.
"We're going win the state of Minnesota because of her, they say," the president said. "She's telling us how to run our country. How did you do where you came from? How is your country doing?"
Trump also attacked Representative Alexandria Ocasio-Cortez, another member of a group of progressive congresswomen known as The Squad, saying she is "not a good student" or a "good anything, but she's got a good line of crap."
"We don't need socialists and we don't need communists telling us how to run our country," Trump said.
The president posted a series of racist tweets last year, calling on the four lawmakers, who are some of his most fierce critics, to "go back" to the "totally broken and crime infested places from which they came" and fix them before criticizing the way America is governed.
This is while Representatives Ocasio-Cortez, Omar, Rashida Tlaib and Ayanna Pressley are natural-born US citizens, and only Omar was born in Somalia and immigrated to the US when she was younger.
https://en.abna24.com/news//trump-attacks-muslim-congresswoman-over-telling-him-how-to-run-our-country_1072758.html
-------
Pressure mounts on U of T law faculty as Amnesty, National Council of Canadian Muslims seek investigations into alleged inappropriate influence
By Shree Paradkar
Sept. 22, 2020
The University of Toronto and the Canadian Judicial Council are under mounting pressure to investigate allegations that the university's Faculty of Law backed off from an important hiring decision under external influence and that a sitting judge — a major donor to the faculty — exerted that inappropriate influence.
Global human rights organization Amnesty International threatened to pull out of its four-year partnership with the law school's International Human Rights Program (IHRP), citing "serious reputational risk" for Amnesty unless the university offered a "full, transparent explanation of events."
The Star reported last week that the university had reversed a decision to offer Germany-based scholar Valentina Azarova the position of director of IHRP. According to a note by two previous directors of that program to the faculty dean, Edward Iacobucci, on Sept. 12, a judge of the Tax Court of Canada had expressed concern about Azarova's scholarship on Israel's occupation of the Palestinian territories.
The Canadian Association of University Teachers (CAUT), which represents 70,000 academic and general staff at 120 universities and colleges, asked the university to immediately restart the hiring process with Azarova.
Dean Iacobucci denied "outside influence affected the outcome" of the search but not that such pressure was applied. He told law professors, "Even the most basic of the conjectures that are circulating in public, that an offer was made and rescinded, is false." However, sources told the Star that a verbal offer had been made and accepted. The Star also published details of emails that corroborate that intention.
The entire faculty advisory board of the IHRP has resigned; one of them was on a three-member hiring committee. Another hiring committee member resigned his job in protest.
On Monday, the National Council of Canadian Muslims (NCCM) asked the judicial council for an "independent and thorough investigation" of the alleged interference by a sitting judge.
"Unproven and potentially spurious allegations, both on social media and amongst various members of the University of Toronto community, have been made that Justice David Spiro, who sits on the Tax Court of Canada, and is publicly listed as a donor to the University of Toronto, was the judge responsible for engaging in such inappropriate conduct," wrote the council CEO Mustafa Farooq.
Two sources have independently named the same judge to the Star. Judge Spiro is among those named on the Faculty of Law Building Campaign Donors and for a Campaign for Excellence without Barriers in support of students in the $25,000-$99,999 donor category.
The tax court declined comment when the Star asked to clarify whether Spiro was involved. "The Tax Court of Canada will not comment on this matter," Sophie Matte, executive legal counsel to the chief justice, said by email Tuesday.
Farooq cited complaints from Canadian Muslim academics who feared the incident could restrict their academic freedom and lawyers, some of whom appear at the Tax Court feeling "reasonably concerned about the apprehension of bias."
On Sunday, Osgoode Hall Law School professor Craig Scott asked the council to seek the name of the judge and conduct further investigations once that name is determined.
Your chance of encountering COVID-19 has increased in 69% of Toronto neighourhoods. Check our interactive map to see where the risk is greatest
He offered four names at the University of Toronto's law school who he believed had "first-hand knowledge of the name of the Tax Court judge and the timing and recipients of one or more communications to the University of Toronto Faculty of Law" in relation to Azarova's appointment.
The four names are Iacobucci; Professor Audrey Macklin; who resigned from the faculty advisory board and was a hiring committee member; assistant dean Alexis Archbold, also on the hiring committee (the Star has seen letters from Archbold that suggest Azarova was the committee's unanimous and enthusiastic choice); and lastly, assistant dean Jennifer Lancaster, who leads the law school's fundraising strategy.
"If contacted, I assume that every one of them would feel ethically and possibly legally obliged to answer the questions of an investigator truthfully, even as they may, for different reason have decided not to speak to reveal such information to journalists," Scott wrote.
Search for new director of U of T law faculty's International Human Rights Program leads to resignations, allegations of interference
"It is essential that the investigation be independent, meaning wholly outside the university's control and direction," Amnesty secretary general Alex Neve told the Star. "The investigator must have unhindered access to any and all information and to interview anyone they see fit. It should be feasible to wrap this up within six weeks."
"According to information I have received, including discussions with Dr. Azarova, it appears the decision to cancel her appointment was politically motivated, and as such would constitute a serious breach of widely recognized principles of academic freedom," wrote David Robinson, CAUT executive director, on Sept. 16 in a note made public Monday.
From politics to policing, hospitals to housing, we report on the issues that affect us all. We hold the powerful accountable and help create a Canada that works for every one of us.
In its media statements, the university has been at pains to point out that the position of the IHRP director is "a managerial staff position not a faculty one" and that it was a "non-academic staff member."
"A job like the director of a human rights clinic, which engages teaching and research specifically on issues holding power to account, should attract academic freedom considerations similar to those of tenured faculty and students."
https://www.thestar.com/opinion/star-columnists/2020/09/22/pressure-mounts-on-u-of-t-law-faculty-as-amnesty-national-council-of-canadian-muslims-seek-investigations-into-alleged-inappropriate-influence.html
----------
Europe
Britain sends evidence on accused Islamic State 'Beatles' to U.S.
By Mark Hosenball
SEPTEMBER 22, 2020
WASHINGTON (Reuters) - The British government has forwarded to U.S. authorities evidence in its possession regarding two accused Islamic State militants known as the "Beatles" being held by the U.S. military and suspected of involvement in beheadings of Western hostages.
In a court ruling on Tuesday, two British High Court judges rejected a request from the family of one of the accused which sought to block the transfer of evidence to the United States.
In a message posted on Twitter, Priti Patel, Britain's interior minister, confirmed the transfer of the evidence regarding alleged militants Alexanda Kotey and El Shafee Elsheikh to U.S. authorities.
"Pleased to say that the further evidence to support the prosecution of Kotey & El Sheikh has now finally been transferred to the US. I sincerely hope that justice for the victims and their families will now be served," Patel wrote.
The pair are suspected of membership in a four-strong Islamic State cell known as the Beatles because they were English speakers. The group is alleged to have detained or killed Western hostages in Syria, including U.S. journalists James Foley and Steven Sotloff and aid workers Kayla Mueller and Peter Kassig.
U.S. Justice Department spokesman Marc Raimondi said: "We are pleased with the UK High Court's decision and we are grateful that the British government has passed its evidence to us and confirmed its commitment to cooperate with our efforts to investigate and prosecute the two ISIS terrorists currently being held in U.S. military custody."
In a letter to Patel last month, U.S. Attorney General William Barr said that if Britain granted a mutual legal assistance request for evidence regarding Kotey and Elsheikh, U.S. prosecutors will not seek the death penalty in any cases against them and would not carry out executions if it were to be imposed.
The pair are being held by the U.S. military in an unidentified overseas location after being captured in 2019.
https://uk.reuters.com/article/uk-britain-usa-security-court/britain-sends-evidence-on-accused-islamic-state-beatles-to-u-s-idUKKCN26D2L2
---------
Archbishop of Mosul nominated for the Sakharov prize in memory of Islamic State victims
09/22/2020
EUROPEAN UNION
Mosul (AsiaNews) – Najeeb Moussa Michaeel, a Dominican, has been the archbishop of Mosul in northern Iraq since January 2019. A few days ago, he was nominated for the Sakharov Prize for Freedom of Thought awarded by the European Parliament. Last year, the prize went to a Ilham Tothi, a Uyghur scholar.
For Archbishop Moussa, this is not a " personal recognition, but one for Iraq as whole;" above all for those who "suffer or have suffered" in the past few years of war and jihadist violence, as well as for working to protect "a heritage in danger of extinction".
He notes that it is important to remember the great threat posed by the Islamic State (IS) group against the country and the world because "a people without a heritage is a dead people".
Born in Mosul, Najeeb Moussa Michaeel was forced to flee the city first to the Nineveh Plain, then to Iraqi Kurdistan, when IS forces occupied it.
Over the years, he has worked on the preservation and digitisation of more than 800 ancient manuscripts in Aramaic, Arabic and other languages, as well as thousands of books and centuries-old letters.
His tenacity in saving this cultural heritage from jihadist madness earned him the nomination for the EU prize, together with the democratic opposition in Belarus, Polish LGBTI activists and the environmental movement Guapinol.
As the official statement of the European Parliament explains, the prelate "ensured the evacuation of Christians, Syriacs and Chaldeans to Iraqi Kurdistan and safeguarded more than 800 historic manuscripts dating from the 13th to the 19th century."
It goes on to say: "These manuscripts were later digitised and exhibited in France and Italy. Since 1990 he has contributed to safeguarding 8,000 more manuscripts and 35,000 documents from the Eastern Church."
The archbishop describes his action as a "rescue operation" of an invaluable asset "from the jihadi clutches". This "nomination represents an honour," which he ideally shares with the peoples of Iraq, Syria, Lebanon, and Yemen who "are going through tough times because it is a duty to save not only the heritage" but also and above all "people".
Archbishop Moussa still remembers "the bullets flying over our heads, as we sought shelter with our hands carrying precious volumes" during the sudden flight.
He considers the nomination to the Sakharov Prize "as a signature on every page of these manuscripts"; it is also a way to remember "the innocent victims, especially the Yazidis, a peaceful people who had to face a real tragedy and to whom I feel particularly connected."
This also represents "an encouragement to all Iraqis" who suffer but want to continue living.
"To save the manuscripts and people during the advance of Islamic State forces, many feet and many hands were needed. At that time, I called on God to have ten feet and ten hands to save books and people, and he replied by sending me many young people who helped me in this mission."
Faced with a shared tragedy, "we have seen a shared response from everyone, including Muslims who have done an extraordinary job to help Christian families and save their cultural heritage."
Now more than ever, "we need true peace in order to continue living as a community based on the principle of citizenship, overcoming barriers of race, religion, ethnicity . . . This is the only viable solution for the future."
To rebuild Mosul and all of Iraq, "it is necessary to rebuild homes, churches, work activities, offering young people jobs to avoid the desire to flee," the archbishop added.
"Iraq could be subjugated by neighbouring countries and external forces. This is inadmissible; we cannot allow Deash (IS) to be replaced by forces that are equally, if not more dangerous."
Human dignity must be accompanied by the "ultimate value of education in schools, churches, mosques, where it is necessary to fight hatred by every means, encourage positive statements, about brotherhood. Education remains the best weapon against obscurantism and the evil of our time."
http://www.asianews.it/news-en/Archbishop-of-Mosul-nominated-for-the-Sakharov-prize-in-memory-of-Islamic-State-victims-51103.html
---------
Alleged Isis members can be tried in US after UK high court ruling
Kevin Rawlinson
22 Sep 2020
Britain has handed over key evidence that should allow the prosecution in the US of two alleged Islamic State members accused of being involved in a series of beheadings, after a final appeal failed.
Priti Patel, the home secretary, announced that the information relating to El Shafee Elsheikh, 32, and Alexanda Kotey, 36, had been shared with US authorities immediately after the ruling in the high court on Tuesday morning.
"Pleased to say that the further evidence to support the prosecution of Kotey and El Sheikh has now finally been transferred to the US. I sincerely hope that justice for the victims and their families will now be served," the minister said.
It brings to an end a long-running legal battle over whether the two men – who were British citizens – can be prosecuted in the US. They are expected to be transferred from where they are now being held by the US military in Iraq.
The evidence is understood to be information that is intended to assist in identifying the two men, who have been accused of being involved in the murder of Britons and Americans in Syria in 2014 and 2015 – and which US officials have suggested is critical to the prosecution case.
Britain had been prevented from handing over the evidence by a supreme court ruling because the US had initially refused to waive a death penalty charge. However last month, at the urging of the victims' families, the US attorney general, William Barr, announced Washington would not seek the death penalty.
That paved the way for Britain to hand over the evidence, but Patel's decision to do so was subject to a final judicial review attempt by Elsheikh's mother, Maha Elgizouli. Her lawyers argued it was unlawful because it was incompatible with the Data Protection Act.
Elgizouli asked that the court order no material to be provided to US officials, who had already signalled their intention to prosecute. But, in their ruling, Dame Victoria Sharp and Mr Justice Garnham said Elgizouli's case was "not properly arguable".
The two men are accused of being part of a murderous four-man team known for their brutal treatment of captives and nicknamed "the Beatles" because of their British accents. One of the others, Mohammed Emwazi, was killed in a US airstrike in 2015 and the fourth, Aine Davis, has been jailed in Turkey.
The victims were the British aid workers David Haines and Alan Henning, the US journalists James Foley and Steven Sotloff, and the US aid workers Peter Kassig and Kayla Mueller, who was also tortured and sexually abused.
Diane Foley, James's mother, said that six years after the murder of her son, and thousands of Syrians killed by Isis, "there is a glimmer of hope for accountability and justice".
At a hearing in London on 11 September, Elgizouli's lawyers argued the evidence transfer was not necessary because the director of public prosecutions (DPP) was considering whether there was enough evidence to prosecute Elsheikh in the UK, which US authorities had previously said they preferred.
The judges said: "The conclusion that, even if Mr Elsheikh could be prosecuted in England, it would still be necessary and proportionate to transfer the data to the US authorities remained a conclusion properly open to the secretary of state."
The hearing was held urgently as the US indicated it would transfer the pair to Iraq for trial if it did not receive all the evidence the UK has by 15 October. If found guilty there, the pair could have been executed.
Elsheikh and Kotey, who were raised in the UK but have been stripped of their British citizenship, were captured by the Syrian Democratic Forces in January 2018, sparking an international row over whether they should be returned to the UK for trial or face justice in another jurisdiction.
They were transferred to the custody of the US military in Iraq in October 2019 and remain in American custody.
https://www.theguardian.com/world/2020/sep/22/alleged-isis-members-can-be-tried-us-uk-high-court-ruling
-------
Council of Mosques issues guidance on Madrasas and children self-isolating
By Shuiab Khan
22nd Septembe
In a message to clarify guidance for parents and teachers the Lancashire Council of Mosques (LCM) said if a child was part of a year or class sent home from school then they should not then attend any mosque or madressa in the evening.
Mosques and Madrasas across Lancashire reopened earlier this month. Some are continuing to host a mix of face to face classes and digital sessions whilst others have reopened fully in line with government guidelines.
If a child is sent home from school because of a confirmed coronavirus case, advice stipulates that they must self-isolate for 14 days. This means they should not leave home, meet up with friends or have guests over to the house.
Maulana Rafiq Sufi, Chair of the Lancashire Council of Mosques said, "I would like to share some information and clarifications. We know some pupils have been sent home from school due to the coronavirus cases.
"If a child has been sent home due to a colleague in that bubble testing positive then that whole bubble will also need to go into self-isolation for 14 days.
"A child that has been sent home due to being a contact of the colleague who has been tested positive will have to stay in self-isolation and they will not be attending Madrasah for the next 14 days."
Maulana Sufi added, "If a child is tested positive then that child's 'Madrasah bubble' will also be going into self-isolation for 14 days.
"If a child starts to develop symptoms of Coronavirus at the Madrasah then the parents should be called in immediately and the child should get a test done as soon as possible. No action is required by the Madrasah at that time until the child's results return back as positive"
The LCM has been working with Faith Associates who are providing COVID-19 Risk Assessments across the UK to ensure Mosques are COVID-19 Secure venues.
Many faith institutions followed government guidelines in order to first re-open following the national Lockdown in June and July. Faith Associates say a key part of being able to remain open, is having an adequate 'Response Strategy' to any potential COVID-19 outbreak in the institution.
https://www.lancashiretelegraph.co.uk/news/18739051.council-mosques-issues-guidance-Madrasas-children-self-isolating/
--------
Mideast
Iranian President: Holy Defence Created Culture Of Jihad, Self-Sacrifice, Martyrdom
September 23, 2020
Emphasising that culture played a very important role in the 8 years of Holy Defence, the President said, "The main factor of endurance, resistance and victory in the 8 years of defence was culture, especially the religious and doctrinal culture of the children of this land, and the Holy Defence created a culture of jihad, self-sacrifice and martyrdom".
Speaking on Tuesday in the meeting of the Supreme Council of Cultural Revolution in honour of the Holy Defence Week, Dr Hassan Rouhani referred to the resistance of the Iranian nation against world powers during the 8 years of Holy Defence and said, "In a relatively long period after World War II, the Iranian nation resisted and won not only against the aggressor army but also against all world powers during the 8 years of Holy Defence".
Explaining the cultural approaches during the Holy Defence, referring to the role of manpower and equipment, the President said, "In some countries, the first role is played in war by equipment and military facilities, but undoubtedly in the 8-year Holy Defence of our country, manpower played the first role".
The President noted, "The martyrs and youth who came to the borders to defend our country entered the field of resistance based on faith, belief and love for the homeland".
Emphasising that culture played a very important role in the 8-year Holy Defence, Dr Rouhani said, "The faith of the youth, belief in the Day of Judgment, faith in the verses of the Quran and hadiths and that they really went for a deal with God, was the main axis of the Holy Defence".
The President added, "Reviewing the history of the Holy Defence era and observing the states of fighters and warriors on the battlefield, especially in the trenches and their praying during the nights of operations, shows that culture, especially religious culture, played a key role in this period".
Dr Rouhani emphasised that the era of Holy Defence and the resistance of the young children of this region on the battlefield, created culture, jihad, self-sacrifice and martyrdom, and said, "If today the spirit of resistance is felt in society, there is no doubt the Holy Defence has had an important role in promoting and stabilising this spirit".
The President noted, "Today, patience and endurance of the families of veterans and martyrs is a great lesson for all of us. They promote the culture of self-sacrifice, endurance and patience in the true sense of the word in society".
https://en.abna24.com/news//pres-rouhani-holy-defence-created-culture-of-jihad-self-sacrifice-martyrdom_1072755.html
--------
World Poets Welcome Int'l Poetry Competition on Shiite's Imam Hussein (AS)
Sep 22, 2020
@jayezai20
TEHRAN (FNA)- Poets from several world states have sent their artworks to the international poetry competition in Persian and English languages on the third Imam of Shiites, Imam Hossein (AS), and issues related to his uprising 14 centuries ago.
Less than two weeks after call for the international competition held by the Islamic Center for Africa in Johannesburg, tens of poets from Iran, Australia, Sweden, Afghanistan, Tajikistan, Pakistan and India have sent their artworks to the secretariat.
The ICFA has launched an international poetry award to honor two winners who compose the best poems in Persian and English on Imam Hossein and his uprising.
Each work will receive the International Grand Poetry Award worth €10,000, ICFA Director Seyed Abdollah Hosseini announced earlier this month.
"Due to the fact that the award will also be for poetry in the English language, the headquarters of the award is located in South Africa," he said.
Each winner will also receive the trophy of the Poet of the Year, and the centers will cover all the cost of their travel to Karbala, which hosts the holy shrines Imam Hossein (AS) and his brother, Hazrat Abbas (AS).
A jury of top experts on Persian and English literature also will pick ten other top works, which will receive honorable mentions and their composers will also pay visits to the Muslims' holy shrines at the organizers' expense.
The jury will select the winners from a long list of 100 entries chosen from among the submissions. The 100 poems are scheduled to be published in a book. In addition the winning works will be published in several languages.
Only those compositions that have not been published audio-visually are allowed to compete in this contest, and the deadlines for Persian and English categories are October 8 and 20 respectively.
https://en.farsnews.ir/newstext.aspx?nn=13990701000853
--------
Iran Has Only Provided Yemen With The Know-How In The Defense Sector: Armed Forces Spokesman
22 September 2020
Iran has only provided Yemen with the know-how in the defense sector, says the spokesman for the Iranian Armed Forces, dismissing claims about the Islamic Republic's military presence and 'intervention' in the region.
"We provided them (Yemenis) with the technical experiences in the defense sector. They have learned how to produce missiles, drones and weapons in Yemen on their own," Brigadier General Abolfazl Shekarchi said in a televised program on Tuesday.
He emphasized that Iran has not supplied Yemen with missiles. "We have shared our experience and knowledge with the Yemeni people."
Unlike what the enemy is trying to portray, Yemenis are a very cultured and smart people who have managed to manufacture missiles and the most advanced drones at the shortest possible time while they have also made great headways in the electronic warfare, the Iranian military official said.
Shekarchi once again reiterated that Iran has no plan to have military presence anywhere and added that the country merely has "spiritual and advisory presence" in the region.
"Countries of the resistance front have armies and forces themselves. We provide them with advisory help. In order to share our experience with the people of Syria, Iraq, Lebanon and Yemen, our skilled forces go there and assist them, but this is the people and armies of these countries who stand against the enemies in practice."
Iran's Foreign Ministry Spokesman Saeed Khatibzadeh earlier this month slammed as "baseless" a report published by the United Nations' Office of the High Commissioner for Human Rights (OHCHR) alleging that Tehran has been sending arms to war-torn Yemen.
"Placing Iran's name next to those supplying weapons to the Saudi coalition against Yemen is completely wrong," Khatibzadeh said.
Since March 2015, Saudi Arabia has been striking Yemen with the help of its regional allies and largely assisted by Western-supplied weapons which have been indiscriminately used against Yemeni civilians.
Despite numerous bids to stop arms sales, top Western arms suppliers such as the United States, Britain, Canada, France and Germany have pushed through with lethal weapons shipments to the oil-rich kingdom.
According to a CNN investigation released in October 2019, the American-made weapons, supplied to Washington's allies involved in the war on Yemen, end up in the hands of US-backed militants fighting against each other in the impoverished state.
The report found that American military hardware has been distributed to militant groups in Yemen, including the southern separatists backed by the United Arab Emirates (UAE), al-Qaeda-linked militants and hardline Salafi militias.
https://www.presstv.com/Detail/2020/09/22/634774/Iran-Yemen-weapons
---------
South Asia
Sheikh Hasina: This Winter Is Likely To Herald A Second Wave Of The Pandemic In Bangladesh
Mohammad Al-Masum Molla
September 23, 2020
Chilly or not, the coming winter is set to be an ominous one.
The spike of pneumonia and asthmatic cases, triggered by the cold and poor air quality, is a typical winter woe.
But this winter, the novel coronavirus will be an additional and potentially deadlier peril, with some countries fearing it will add to the Covid-19 death toll by thousands.
As Prime Minister Sheikh Hasina has warned, this winter is likely to herald a second wave of the pandemic in Bangladesh and third or fourth waves in many other places of the world.
Influenza viruses, like the coronavirus, are typically found to be more potent in colder climates. The virus finds it easier to spread in cooler weather conditions, experts have said.
In Bangladesh, it is more likely to find a hospitable environment and claim more victims as moisture and humidity will plummet, people will remain indoors with little outside ventilation and the cold will make them prone to other infections as well.
"During winter, people who have COPD (Chronic Obstructive Pulmonary Disease) problems and allergies, will be in great danger as coronavirus is highly risky for them," epidemiologist and IEDCR adviser Mushtuq Hussain told The Daily Star yesterday.
He also said that the Chinese city of Wuhan -- the epicentre of Covid-19 -- saw the virus spread during winter and Chinese experts are fearing a second wave.
South China Morning Post reported that a second wave in China during winter was "inevitable" and until a vaccine was available, there could be further outbreaks.
The number of acute respiratory infections increases during this season and that is what the novel coronavirus targets primarily.
According to the Directorate General of Health Services, a total of 1,11,737 patients suffered from acute respiratory infections from November to March 15 this year and 22 died. Many are saying the situation could worsen this year due to the Covid-19 pandemic.
Muzaherul Haque, former WHO consultant for the South East Asia region, said while there is no scientific evidence that the coronavirus situation will deteriorate during winter, there is still a danger.
"Poor people will become vulnerable due to a lack of protection. If people who have respiratory diseases and lung diseases get infected with coronavirus, the risk of death will be huge and the number of deaths could be on the rise," he said.
BBC ran a report at the end of last month that said, "A leaked government report suggests a 'reasonable worst case scenario' of 85,000 deaths across the UK this winter due to Covid-19."
Prof Dr Mohammad Shahidullah, chairman of the national technical advisory committee on coronavirus, said some viruses spread more during winter, like the flu in the USA and Europe.
"During winter, humidity falls and dust is added, making for less dense air which aids in the virus travelling farther and so spreading more. The greater the coughing and sneezing, the greater the spread. And as respiratory infections increase during winter, coronavirus may take a huge toll on us," he added.
Bangladesh has already witnessed 3.5 lakh coronavirus cases since March 8 and more than 5,000 deaths since March 18.
The country's Covid-19 test positivity rate was now over 19 per cent but the rate has dropped to 12 per cent in recent days.
The death rate now ranges between 1.8 per cent and just above 2 per cent, which was a little above 1 per cent a few weeks ago.
Bangladesh reopened offices and businesses, except educational institutions, on May 31 after a complete shutdown of over two months.
"We have risks. From the experiences of various countries, we saw that the coronavirus [pandemic] took a deadly turn during winter. Although it is not definite, but there is a risk," Dr ABM Abdullah, Prime Minister Sheikh Hasina's personal physician, said.
Also a noted medicine specialist, he said not only Bangladesh, but almost all countries are fearing the worst case scenario in winter.
"Our air gets polluted during winter and various [kinds of] flu spreads during this time. In winter, we see the rise of fever and coughing, so it may be difficult to distinguish between Covid-19 and normal flu," he said.
Researchers at Johns Hopkins University are coming out with new research that suggests rising temperatures do moderate the spread of the virus -- and a big new wave of cases could be coming with the cooler fall air.
Another paper published in the Journal of the American Medical Association found the virus "acted in a way consistent with the behaviour of a seasonal respiratory virus spreading along with temperature and humidity levels".
https://www.thedailystar.net/frontpage/news/covid-19-winter-wave-people-conditions-will-be-greater-risk-1965813
--------
Southeast Asia
Indonesian Finance Minister Stresses Importance of Sharia Economy in Global Economy
Dewi Elvia Muthiariny
22 September 2020
TEMPO.CO, Jakarta - Finance Minister Sri Mulyani Indrawati revealed the importance of the concept of the Islamic economy for global economic growth. According to her, it contributed to the economic development up to 5.2 percent per year.
"The current total Muslim population in the world reaches more than 1.8 billion. This contributes to a total expenditure of around US$ 2.2 trillion, with a substantial hike in the annual growth rate of 5.2 percent," said Sri via her Instagram account @smindrawati on Tuesday, September 22, 2020.
She also delivered the statement at the 2020 Islamic Economic and Financial Research Forum (FREKS) held on Monday, September 21.
Sri stated that as a country with the largest Muslims population in the world, Indonesia has a great opportunity to develop a sharia economy and even become the world's sharia economic and financial hub, as well as a major player in the sector.
Thus she ensured that the government had drafted the 2019-2024 sharia economy master plan.
To achieve the target, the former World Bank managing director opined that Indonesia must work hard to build the ecosystem. For example, by formulating policies, regulations, instruments, and measures that can accommodate inclusive needs.
Sri Mulyani also highlighted the importance of exporting halal products by taking advantage of Indonesia's membership in the international Islamic Cooperation Organization (OKI).
She mentioned that in 2018, exports of halal products to OKI countries amounted to US$ 45 billion, or 12.5 percent of Indonesia's total trade valuing US$ 369 billion. "Hopefully, the growth can be maintained in the next years ahead," Sri said.
https://en.tempo.co/read/1388828/sri-mulyani-stresses-importance-of-sharia-economy-in-global-economy
--------
Malaysia Airlines defers payments on $492 million Islamic bonds
23-09-2020
AFP
KUALA LUMPUR (REUTERS) - Malaysia's national carrier has deferred by six months payments to holders of RM1.5 billion (S$492 million) in Islamic bonds, CIMB Investment Bank, the facility agent, said.
In a notice on a central bank website, CIMB Investment Bank said Malaysia Airlines issued deferral notices last week on periodic distribution amounts due on Sept 30 for RM1.5 billion nominal value unrated perpetual sukuk musharakah.
Payments will resume at the next periodic distribution date on March 31 next year, it added in the notice, filed on Tuesday (Sept 22).
The global coronavirus pandemic has hit airlines hard, with nations shutting borders as a precaution, bringing travel almost to a grinding halt for months.
Malaysia Airlines, which had struggled financially even before the outbreak, said in April it had made cost cuts and was working with sole shareholder Khazanah Nasional for support to ride out the crisis.
https://www.straitstimes.com/business/companies-markets/malaysia-airlines-defers-payments-on-492-million-islamic-bonds
---------
URL: https://www.newageislam.com/islamic-world-news/madrasa-teachers-humiliated-thrown-guest/d/122926
New Age Islam, Islam Online, Islamic Website, African Muslim News, Arab World News, South Asia News, Indian Muslim News, World Muslim News, Women in Islam, Islamic Feminism, Arab Women, Women In Arab, Islamophobia in America, Muslim Women in West, Islam Women and Feminism