New Age Islam News Bureau
27 Sept 2017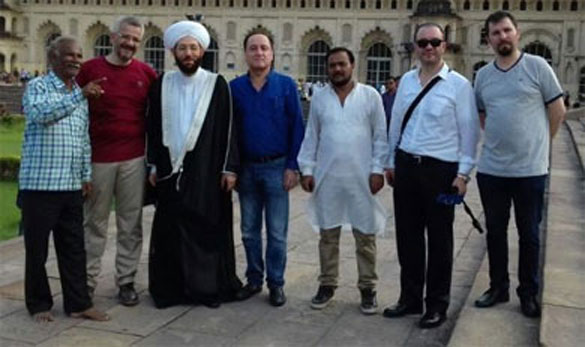 Madrasa students should not pay heed to external calls of Jihad from Wahhabis sys Syrian Top Jurist
-----
• Madrasa Students of India, Beware Of Wahhabi Jihad Call: Syrian Top Jurist
• US Airlifts Daesh Terrorists to Use Them Elsewhere: Syrian Foreign Minister
• Monk-Led Mob Attacks Rohingya Refugees in Sri Lanka
• Interfaith Group Backs Ex-IGP, Says Malaysia Not Meant To Be Islamic Theocracy
• Pak. Govt. against Registration of Hafiz Saeed's JuD's Political Wing as Political Party
India
• Madrasa Students of India, Beware Of Wahhabi Jihad Call: Syrian Top Jurist
• India Should Look East as Islamic State Comes Knocking On the Doors Of South East Asia
• Promoting communal harmony, Hindu-Muslims in this West Bengal village pray together
• India's Unity Didn't Allow Al-Qaeda, ISIS To Succeed: Union Minister
• Hadiya's father speaks: She is my life, have nothing against conversion but this is shady
• Giving Rohingyas refuge not in Indian Muslims' interest, says Shiv Sena
• Rohingya Muslims speak of fear, helplessness from Delhi to Myanmar, a phone call every morning
• India targets safe havens in Pakistan by seeking UNSC sanctions on Afghan terror funding
• J&K: Terrorist Abdul Qayoom Najar shot dead by security forces
• Army pushes back Pakistani intruders in J&K's Keran sector
--------
Arab World
• US Airlifts Daesh Terrorists to Use Them Elsewhere: Syrian Foreign Minister
• Saudi Regime Allows Clerics To Preach Hatred Against Minorities: HRW
• ISIL Using Kids to Carry out Suicide Attacks on Syrian Army Positions in Deir Ezzur
• 9 civilians killed in fresh US-led strikes on Syria's Hasakah
• Iraqi Kurd leader Barzani: Majority of Kurdistan voted 'yes' for independence
• Terrorists' Dangerous Security Commander Escapes from Deir Ezzur
• Syrian Army Repels Terrorist Group's Heavy Offensives in Hama Province
• US Troops Training Terrorists to Use TOW Missiles against Syrian Army Tanks
• Syria: Terrorists Continue Vast Withdrawal from Positions at Border with Jordan
• Lebanon civil servants on strike amid wage hike crisis
• Russian aircraft fire cruise missiles at Daesh positions in Syria
--------
South Asia
• Monk-Led Mob Attacks Rohingya Refugees in Sri Lanka
• US Drone Strike Kills 8 ISIS Militants in East of Afghanistan
• Herat mosque incident not the work of Afghans: Hekmatyar
• Attacks in Afghanistan kill 5 police officers
• Number of Rohingyas in Bangladesh rises to 480,000: UN
• DU demands international probe committee on Myanmar genocide
• Trump pushes Ghani to close Taliban office in Qatar
--------
Southeast Asia
• Interfaith Group Backs Ex-IGP, Says Malaysia Not Meant To Be Islamic Theocracy
• Terror in Indonesia – the threat posed by returning Islamic State fighters
• M'sian vigilance urged as jihad call from Indonesia strengthens
• After royal rebuke of Muslim-only laundry, MP calls for anti-discrimination laws
• Report: Rohingya issue shows Malaysia's biased refugee policy
• Muslim man in Kelantan booked for wearing shorts in public
• Singaporean Blogger Released After Winning US Ruling for Asylum
• Thailand Reinstates Chief of National Buddhism Office
--------
Pakistan
• Pak. Govt. against Registration of Hafiz Saeed's JuD's Political Wing as Political Party
• UN-listed Terror Group Found Collecting Donations for Rohingya in Pakistan
• JuD leaders allowed to file plea against detention orders
• Tehreek-i-Labaik fields candidate in NA-4
• Rabbani terms China's development source of world peace, prosperity
• Driver injured as bomb hits school bus in Quetta
• Two TTP men arrested in CTD raid
• Police recruiting commandos to fight terror
--------
Mideast
• Saleh Says He 'Does Not Recognize' UN Resolution on Yemen
• Iraqi Kurdistan's Independence Push Could Spark Ethnic War: Turkey's Erdogan
• Erdogan tells Iraqi Kurds they will go hungry if Turkey imposes sanctions
• Three Israelis killed in suspected gun attack on West Bank settlement
• Elimination of nukes every state's legal, political, moral responsibility: Iran
• Iranian, 74, Sentenced To Death over 'Mixed' Parties
--------
Africa
• Police Use Tear Gas, Batons to Disperse Opposition Protesters in Kenya
• Somalia: Trump's Muslim Ban Revision Risks More Suffering
• Libya groups start talks in Tunisia to launch new UN plan
--------
North America
• American-Born Muslims More Likely Than Muslim Immigrants to See Negatives In U.S. Society
• Trump welcomes Saudi driving decree as positive step for women's rights
• US, Israel urging Kurdistan to break away from Iraq: Ex-US diplomat
• Elimination of Prejudice Week tackles Islamophobia
--------
Europe
• Far-right AfD's Surge Worries Muslim Refugees in Germany
• Muslim surgeon who volunteered to treat Manchester victims stabbed in suspected hate crime
• Man suspected of mosque attack arrested in Sweden
• UN chief Guterres welcomes Saudi Arabia's lifted ban on women drivers
• Germany Warns Iraqi Kurds Over Unilateral Independence
• Jihadist who left Manchester to fight with Isis 'may still be alive'
Compiled by New Age Islam News Bureau
URL: https://www.newageislam.com/islamic-world-news/madrasa-students-india-beware-wahhabi/d/112681
--------
Madrasa Students of India, Beware Of Wahhabi Jihad Call: Syrian Top Jurist
Yusra Husain
Sep 26, 2017
LUCKNOW: Indians should steer clear of mercenaries and infiltrators and stay unified against extremism, while madrasa students should not pay heed to external calls of Jihad from Wahhabis and there should be a meeting of all religious heads to safeguard India. This, the general mufti of the Syrian Arab Republic, Ahmad Badr Eddine Hassoun, on a two-day visit to the city, along with Syrian ambassador to India, Riyadh Abbas and his political adviser Mazen Nasri, told TOI in an exclusive interview.
The delegation met Shia and Sunni clerics with an aim to dispel, as they claimed, misrepresentation of the Syrian crisis by American, Israeli and Saudi Arabia-backed forces. The mufti also compared India and Syria and cautioned madrassa students here against extremism and terrorism. The mufti is the head of the higher legal opinion assembly in Syria.
"Syrian crisis is not sectarian or religious, it is political interference of the western world, especially US, UK, Israel and Saudi Arabia, who want to destroy Arab countries. The situation is widely misrepresented by these forces who don't want the world to know the truth and this is why we have come here, to share the truth with not just our Muslim brethren but all Indians," said the mufti.
The mufti said, "A hundred years ago, Syria was like undivided India. We had Palestine, Lebanon, Jordan and present Syria. All of us shared the same language and culture but the British and French divided us into four countries. Just as India was divided, these forces want partition in Middle East and Syria is paying the price."
The Syrian ambassador to India, Riyadh Abbas said, "Wahhabism is the enemy of people and Islam and Indians should not take calls of Wahhabis. If Syria were experiencing sectarian war, why would President Bashar-Al-Assad get the support of majority population or why would mercenaries from Igor, Uzbekistan, Turkey and other countries be brought in to create chaos?"
Extending an invitation for urgent dialogue between Muslim communities and the Mynamar government, the mufti said that if not checked, Rohingya crisis would escalate and spread to neighbouring regions.
Having admired the architecture of the Bada (Asafi) Imambara, the Mufti, along with the ambassador met Sunni cleric Maulana Khalid Rasheed Farangi Mahali at Darul Uloom Nadwatul Ulama and Shia cleric Maulana Hamidul Hasan, during their visit to the city, organised by the ministry of external affairs. In India till September 29, the delegation will meet Union ministers of minority affairs and the home minister in Delhi, before proceeding on a visit to Jammu & Kashmir.
http://timesofindia.indiatimes.com/india/madrasa-students-beware-of-wahabi-jihad-call-syrian-top-jurist/articleshow/60847066.cms
--------
US airlifts Daesh terrorists to use them elsewhere: Syrian foreign minister
Sep 26, 2017
Syrian Foreign Minister Walid al-Muallem says American airplanes in Syria are transporting Daesh Takfiri terrorists to other places presumably to be later used in those areas.
"We have information and eyewitnesses on transporting ISIS (Daesh) terrorists on board American aircraft, and maybe the US wants to use ISIS terrorists in other areas," Syrian foreign minister said in a Monday interview with Russia Today.
Muallem noted that the US military presence in Syria was "illegitimate and it came without permission of the Syrian government," adding, "We knock all doors, and when diplomacy fails, we consider other solutions."
He pointed to the Russian military presence in Syria to assist Damascus in its fight against terrorism and said, "We must differentiate between the legitimate Russian presence in Syria and the US presence, which is an aggression on the Syrian sovereignty."
The US has been conducting airstrikes against what it says are Daesh targets inside Syria since September 2014 without any authorization from the Damascus government or a United Nations mandate.
The US and its allies have repeatedly been accused of targeting and killing civilians and drawn criticism over their failure to destroy Daesh, which they claim to be fighting.
On multiple occasions, Moscow has complained about what it says are friendly ties among US-backed militants, US special forces and Daesh terrorists in the region with the goal of slowing the advance of the Syrian army.
Semi-autonomy for Syrian Kurds negotiable
In response to a question about the Kurdish independence referendum in Iraq, Muallem expressed opposition to the idea of disintegration of Iraq, saying, "This issue is categorically rejected by us, and we are with the unity of Iraq."
The Syrian foreign minister, however, expressed Damascus' preparedness to hold dialogue on the prospect of semi-autonomy for the Syrian Kurds, noting, "The Syrian Kurds want a type of self-management within the borders of the Syrian Arab Republic, and this issue is negotiable and can be discussed, and when we eradicate ISIS (Daesh), we can sit with them and agree on the shape of the future."
On Monday, Iraq's semi-autonomous Kurdistan Region held an independence referendum in the face of strong objections from the central government in Baghdad and in defiance of urgent calls from the international community to scrap the vote.
Meanwhile, the Kurdish fighters belonging to the US-backed Syrian Kurdish People's Protection Units (YPG) are currently engaged in a fierce battle against Daesh Takfiri terrorists in Raqqah, the terror group's de facto capital in the Arab country, in a bid to dislodge them from the embattled city, which was overrun by Takfiri elements in March 2013.
The Syrian Kurdish fighters currently control two cantons in Syria's northeast as well as the Afrin region to the west.
Turkey is deeply concerned that the YPG will permanently hold parts of land in northern Syria after finishing with Daesh and establish a Kurdish state close to Turkey's Kurdish dominated areas.
On Syria's liberation, reconstruction
The Syrian foreign minister also lauded the country's latest military achievements against terrorists, including breaking the siege on city of Dayr al-Zawr and liberating Palmyra and al-Sikhnieh cities, as "significant" victories which indicate that "the main battles in Syria have almost reached the end and consequently, we are writing the final chapter of the crisis."
Touching on reconstruction process in Syria, Muallem noted that only "the states, which have not conspired against Syria," will be allowed to participate in the process.
He noted that if European countries sought to take part in Syria's reconstruction process, they must lift the unilateral restrictive measures imposed on Damascus.
http://www.presstv.ir/Detail/2017/09/26/536550/Syria-Daesh-US
--------
Monk-led mob attacks Rohingya refugees in Sri Lanka
Sep 27, 2017
COLOMBO - Radical Buddhist monks stormed a United Nations safe house for Rohingya refugees near Sri Lanka's capital Tuesday and forced authorities to relocate the group, officials said.
Saffron-robed Buddhist monks led a mob that broke down gates and entered the walled multi-storied compound as frightened refugees huddled together in upstairs rooms, a police official said.
"We have pushed back the mob and the refugees will be relocated in a safer place," the official told AFP, asking not to be named as he was not authorised to speak to the media.
The 31 Rohingya refugees were rescued by the Sri Lankan navy in May after they were found drifting in a boat off the island's northern waters.
The Rohingya were eventually to be resettled in a third country, the official said, adding that they were authorised to remain in Sri Lanka pending the processing of their papers.
A monk who stormed into the building was filmed by his radical Sinhale Jathika Balamuluwa (Sinhalese National Force) as he urged others to join him and smash the premises.
UN hikes Rohingya exodus
number to 480,000
The United Nations on Tuesday drastically increased the estimated number of Rohingya Muslims who have fled violence in Myanmar to 480,000 as Bangladesh eased restrictions on aid groups working in refugee camps and sought $250 million to cope with the crisis.
The number who have crossed the border since August 25 to escape a Myanmar military crackdown has increased by 45,000 in two days.
Between the new arrivals and some 300,000 Rohingya who were already living in the area due to previous violence in Myanmar, there are now nearly 800,000 refugees in camps around the Bangladesh border town of Cox's Bazar that are bursting at the seams.
The situation has forced new arrivals into makeshift shelters in grim conditions, and sparked warnings that epidemics, including cholera, could easily spread.
A report by UN agencies and international charities said the higher number was due largely to an estimated 35,000 Rohingya, not previously accounted for, moving into two refugee camps.
It also said numbers crossing the border had started to rise again.
After reporting a significant fall in arrivals last week, the new report said hundreds had been crossing the border daily in recent days.
Pressure on Bangladesh has increased so much that it has eased restrictions on private aid groups so they can work in Cox's Bazar camps.
The country has previously strictly limited access. It has never given reasons, but is sensitive about security and authorities fear a Muslim influx could tempt extremist groups.
The government NGO Affairs Bureau has now cleared 30 local and international groups to meet "emergency needs" in camps and said more would follow, Shahdat Hossain, a bureau director, told AFP.
The aid groups still only have permission to work in the camps for two months and must focus on providing healthcare, sanitation facilities and shelters for the Rohingya, Hossain said.
Authorities had previously only let four international groups - including Doctors With Border (MSF) and Action Against Hunger (ACF) - provide food and healthcare.
Muslim Aid, a British-based charity, was given permission to operate in Cox's Bazar last week but this was quickly revoked again. It remains barred even though it operates in other parts of Bangladesh.
Authorities briefly ordered MSF, ACF and Muslim Aid to stop providing aid to the Rohingya in 2012.
Dhaka-based BRAC, one of the world's largest charities, is among the new groups allowed into the camps.
BRAC senior director Asif Saleh said in a Facebook post that the scale of the "humanitarian crisis" was significantly worse than what was being portrayed by the media.
He said the group has taken on the "herculean task" of setting up 15,000 toilets, 1,100 tube wells, 50 health camps, 10 delivery centres and 50 child centres.
Bangladesh has deployed dozens of emergency medical teams and sent reinforcements to hospitals in Cox's Bazar.
They have treated more than 2,350 Rohingya for serious injuries sustained in the crackdown, including bullet and machete wounds and landmine injuries.
Some 80,000 Rohingya children have also been vaccinated for measles, rubella and polio diseases and thousands of adults treated for diarrhoea, respiratory diseases and pregnancy complications.
Desperately needing more help, junior health minister Zahid Malek said Dhaka has sought $250 million from the World Bank to provide healthcare to the Rohingya.
A United Nations official last week said it would need $200 million over the next six months to handle the Rohingya crisis.
The UN made an emergency appeal for $78 million on September 9, but UN resident coordinator in Bangladesh, Robert Watkins, said much more would be needed as the exodus grows.
http://nation.com.pk/international/27-Sep-2017/monk-led-mob-attacks-rohingya-refugees-in-sri-lanka
--------
Interfaith group backs ex-IGP, says Malaysia not meant to be Islamic theocracy
September 27, 2017
KUALA LUMPUR, Sept 27 ― The Malaysian Consultative Council of Buddhism, Christianity, Hinduism, Sikhism and Taoism (MCCBCHST) agreed with the view of a former top policeman who warned of trouble if the country turned into a theocracy.
The umbrella body representing non-Muslim religions said it fully supported former Inspector-General of Police Tan Sri Abdul Rahim Mohd Noor's assertion that Malaysia was never meant to be an Islamic state or to have an official religion.
"MCCBCHST has consistently stated in the past that when Malaya gained Independence in 1957 and when Malaysia was formed in 1963, that there was no consideration or proposal for Malaya or Malaysia to be an Islamic Country," the group said in a statement.
"Our forefathers had clearly envisioned Malaysia to be based on secular laws.
"That it would be unconstitutional and an attack on the 'Core fabric' of the constitution if one were to aspire for it to be an Islamic Country based on Islamic Laws including Hudud Offences".
Abdul Rahim told a forum in Sabah a week ago that Sabah and Sarawak would not have agreed to form Malaysia if the country were to become an Islamic nation.
He stated further that the majority of people in the two Bornean states, including Muslims, had opposed the idea that Islam be made the official religion.
The retired policeman felt the sentiment was reasonable as many Muslim-majority countries in the world, like Indonesia, also do not have Islam as their official religion.
Abdul Rahim subsequently warned that the country could be destabilised if those in power continue to succumb to growing pressure from conservatives to make Malaysia Islamic.
"If we continue down this line, it will destabilise the federation and maybe at that time, Sabah and Sarawak will think again whether they want to continue to be in Malaysia or whether they should leave," he said then.
MCCBCHST echoed the view, and said all Malaysians should respect and abide by the founding principles on which Malaysia was formed.
"Adhering to this founding principles will ensure a strong and united Malaysia that would be able to meet the challenges of the 21st Century with confidence," it said.
http://www.themalaymailonline.com/malaysia/article/interfaith-group-backs-ex-igp-says-malaysia-not-meant-to-be-islamic-theocra#UVprzMiH3OHMEG77.97
--------
Pak. govt. against registration of Hafiz Saeed's JuD's political wing as political party
Mubashir Zaidi
SEPTEMBER 26, 2017
Interior Ministry cites international pressure and refusal of security clearance by intelligence agencies.
Pakistan's Interior Ministry on Tuesday opposed the registration of the political wing of Jamaat-ud-Dawa (JuD), the Milli Muslim League (MML), as a political party, citing international pressure and refusal of security clearance by intelligence agencies. It stated that some countries have raised the issue diplomatically expressing concern over the MML.
In a letter to the Election Commission, which is considering the application of the MML, the Interior Ministry said the JuD and its charity wing, Falah-i-Insaaniyat, are under sanctions within the country and internationally as well.
The MML was launched last month and even fielded a candidate in an independent capacity in a by-election that fell vacant due to the disqualification of the former Prime Minister, Nawaz Sharif. Despite fielding the candidate in NA-120 Lahore, the MML used a social media campaign with the JuD head Hafiz Saeed's photographs on the banners. It also used social media platforms to campaign for the candidate who bagged 5,800 votes.
The campaign was anti-India and accused the ruling party PML(N) and Mr. Sharif of being pro-India.
The candidate lost the election but got more votes than the mainstream Pakistan People's Party and the Jamaat-i-Islami. The MML has already announced it would field its candidate in the upcoming Peshawar by-election on October 26.
The Election Commission had written to the Interior Ministry enquiring about its stance on the registration of the MML.
U.S. sends protest note
Sources told The Hindu that the United States of America had sent a written protest note over the MML and its political role while several other countries have also expressed their concern.
Saeed remained a declared global terrorist by the U.N and the U.S for his alleged role in the 2008 Mumbai terror attack. The U.S has put a bounty of US$ 10 million on his head.
Saeed was put under house arrest in January this year and the authorities kept extending his detention. No formal charges have been filed against him so far.
Saeed challenged his detention in the Lahore High Court, alleging that his arrest was due to U.S pressure and he had never been charged for any crime. The case is pending.
Sharif expresses concern
Mr. Sharif said banned organisations contesting in elections was a matter of grave concern for the democratic forces in the country.
http://www.thehindu.com/news/international/pakistan-opposes-registration-of-milli-muslim-league-as-political-party/article19756502.ece
--------
India
India Should Look East As Islamic State Comes Knocking On The Doors Of South East Asia
Syed Ata Hasnain
Sep 27, 2017
Even as the battle at Mosul in northern Iraq raged for the better part of almost a year, most people remained unaware of how Islamic State was planning the creation of its next bastion. The terrorist group had gained legitimacy within the ranks of illegitimate radical Islam through its ability to hold territory and control finances, which it used to fuel large-scale resistance in the supposed name of Islam.
Territory is important for any renegade movement, especially one which has aspirations of creating an Islamic caliphate. Al-Qaeda made the mistake of not acquiring any of its own, and rues to this day its guest status in Afghanistan. Abu Bakr al-Baghdadi was smarter. He decided that territory and finances were two things that would give him authority and legitimacy, the latter being reinforced by proximity to the revered shrines in Saudi Arabia. He knew that holding on to territory in the Middle East would always be a challenge and would draw major international players into the conflict, the United States and Russia primarily. Survival against them would only be a matter of time. In its concept, it needed to have dedicated Islamist fighters in its ranks, some of whom would return to fight in the countries of their origin. The second rung has to be the volunteers, to whom it advises not to travel but await instructions to fight in their homeland.
Islamic State's search for its next bastion gave it options of regions in Africa, the Middle East itself, the Afghanistan-Pakistan (Af-Pak) region and South East Asia. Surrogacy by riding on the back of existing jihadi groups is the concept Islamic State follows, but after the fall of Mosul and the increasing pressure it is coming under in Syria, the group has possibly considered the idea of remaining in a virtual and networked state even as it pursues its new bastions.
Resistance to Islamic State's efforts in the Af-Pak region has not given it the territory and finances it seeks through jihadi-controlled areas and the illegitimate narcotics trade. Besides, any upsurge of a strategic nature in the Af-Pak area is bound to once again draw major international players into the conflict. Africa has a dispersed Muslim population and not much money.
The region, therefore, which largely meets the group's requirements for the concept it pursues is South East Asia, where under-the-radar Islamic insurgencies have been existing for many years.
What is the rationale behind this assumption? South East Asia has a large and concentrated Muslim population, although its location is nowhere near the Arab lands with which Muslims have an emotional connect, to accept the notion of the caliphate. The world's largest Muslim population exists in Indonesia, its number being upwards of 203 million. Malaysia has 20 million and Philippines 11 million, mainly concentrated in the south in Mindanao in the Bangsamoro or Moro region; four million exist in southern Thailand and approximately two million in Myanmar with over a million of them being the Rohingya of Rakhine. Singapore too has a 15 per cent Muslim populace of its total five million people.
Thus, an estimated 240 million Muslims make up South East Asia. There is no better place to run an insurgency-like movement than the island regions of Indonesia, Malaysia and the Philippines because the terrain offers enough scope for militant hideouts. There are enough unoccupied islands, and the security forces can only destroy strongholds but cannot occupy every recaptured territory.
Poverty and resentment against the governments are rife. In addition, what could draw the devious attention of Islamic State is the huge international trade which takes place through the sea routes interspersing South East Asia. Piracy has been a lucrative means of gaining illegitimate finances and projecting a nuisance potential of illegitimate power.
One of the oldest insurgencies of the region, dating back to 1968, is the Moro uprising in the Mindanao region of southern Philippines. The Philippines armed forces do not have a reputation for professionalism and this has helped the Moros and their numerous militant outfits to survive. The recent uprising in Mindanao in May this year and the subsequent takeover of the 200,000-strong city of Marawi by Islamic groups confirmed the initial indications of serious Islamic State presence in the region.
Apparently for some time now, Islamic State has been transferring large sums of money to the Moro organisations. The Philippines has revealed that there are in Mindanao Islamic State-linked terrorists from Indonesia, Malaysia, Singapore, Pakistan, Saudi Arabia, Yemen, India, Morocco, Turkey, China and Chechnya. However, even before the Marawi uprising, there were enough efforts afoot to bring the radical Islamic State ideology to Mindanao. The initiators are known to have been Omar Khayyam and Abdullah of the "Maute Group", although they preferred the name Dawla Islamiyah. Both are believed to have been radicalised in the Middle East, with Omar Khayyam at Al-Azhar University in Egypt and Abdullah in Jordan pursuing Islamic studies. Executions similar to that carried out by Islamic State, with victims dressed in orange, have attempted to bring the terror group's footprint closer to the region.
Even as the Islamist stronghold in Marawi is in its last stages and only 40-50 fighters remain, the five-month-long siege has given Islamic State and the Moro groups the confidence they needed; this worries the governments of the Association of Southeast Asian Nations no end. The onset of the Rohingya issue in Myanmar and the outpouring of 400,000 Muslim Rohingya refugees into Bangladesh are adding to the woes with the potential of another area where the Islamic State imprint could emerge.
What appears to worry the governments in the region and particularly that of Singapore is that Islamic State would be looking for a spectacular act to announce its arrival in South East Asia. The Marawi standoff has not drawn sufficient international attention. A lone-wolf attack or something similar by a small jihadi team in a developed state such as Singapore could have an impact similar to that achieved in Europe. This is also simpler to do in Singapore than in Europe especially because of its dependence on the daily large-scale to-and-fro movement of the Malaysian workforce into Singapore.
South East Asia is not a region India usually focuses on in terms of security. However, considering the manner in which the security situation there is deteriorating, it is time we divided our attention more between the West and the East.
https://swarajyamag.com/defence/india-should-look-east-as-islamic-state-comes-knocking-on-the-doors-of-south-east-asia
--------
Promoting communal harmony, Hindu-Muslims in this West Bengal village pray together
Ei Samay
Sep 26, 2017
DIAMOND HARBOUR: In a gesture that sends out a heart-warming message of communal harmony, Hindu-Muslims in a West Bengal village pray together during Durga Puja and Muharram. From the past 16 years, the two communities come together for the prayers, popularly known as "Ram-Rahim's puja" in the district.
"Since 2001, the Raydighi Nagendrapur Durgotsab committee of South 24 Pargana district has been celebrating durga puja with the message of peace and harmony between the two communities. Ram-Rahim's puja belongs to the new generation," Kamalakanta Purkait, Sarpanch of Nagendrapur, said.
"Both Muslims and Hindus work together to organise the prayers,"he added.
According to the organisers, microphones of puja pandals are switched off during namaz.
"We don't use microphones or loudspeakers during namaz and in the evening our Muslim brothers participate in evening aarti," Pramoda Mondal,President of the puja committee,said, adding, "Everything from pandal preparation to managing subscriptions are done by both comunities together and with equal zeal."
Full report at:
http://timesofindia.indiatimes.com/india/promoting-communal-harmony-hindu-muslims-in-this-west-bengal-village-pray-together/articleshow/60842222.cms
--------
India's Unity Didn't Allow Al-Qaeda, ISIS To Succeed: Union Minister
September 27, 2017
NEW DELHI: Terror outfits like Al-Qaeda and ISIS have failed to find roots in India, thanks to the unity exuded by every section of Indian society, including Muslims, Union Minister for Minority Affairs Mukhtar Abbas Naqvi said here on Tuesday.
The minister's observation came during a meeting with the Grand Mufti of Syria, Ahmad Badr Eddine Hassoun, who led a delegation that called on Mr Naqvi at his office here.
One of the sons of Grand Mufti Hassoun was shot dead by IS militants.
Mr Naqvi said, "India's culture and tradition is filled with peace, brotherhood and human values. Hajrat Imam Hussain (A.S) gave a strong message against terrorism and atrocities at Karbala. That message will remain relevant forever."
"India is a country of different religions and languages. But our culture of brotherhood, tolerance, communal harmony and democratic values has maintained unity in diversity. This strength of India has defeated all evil forces who are trying to disturb peace and harmony," the minister said.
"Secularism is India's commitment and culture," he added.
Mr Naqvi said India was playing a major role in worldwide efforts against terrorism and had adopted a zero-tolerance policy against terrorism, adding that the world had now realised that terrorism was not a problem of any particular country but that of the entire humanity.
The Grand Mufti said India's cultural harmony, brotherhood, unity and culture of tolerance was an example and a source of inspiration for the entire world.
Full report at:
https://www.ndtv.com/india-news/indias-unity-didnt-allow-al-qaeda-isis-to-succeed-union-minister-for-minority-affairs-mukhtar-abbas--1755574
--------
Hadiya's father speaks: She is my life, have nothing against conversion but this is shady
By Arun Janardhanan
September 27, 2017
Four months after his daughter was sent home by the Kerala High Court, which nullified her marriage and put her under police watch, Akhila a.k.a Hadiya's father K M Asokan said he was waiting for the NIA to submit its report in the Supreme Court. "I will obey whatever the court says. Once the NIA submits the report, I hope I will also get a chance to read it. Then I will read it out to my daughter, and will be done with my job as a father," he said.
Asokan hoped the report would help Hadiya realise the "dangerous path" she had chosen by converting to Islam. The NIA is likely to submit the report on October 3.
In his first detailed interview since the controversy over the alleged love jihad broke, the 57-year-old, who has been under attack from activists for not letting anyone meet Hadiya, said he couldn't describe his pain or how isolated he felt. Particularly about the picture of him as a narrow-minded person.
Pointing out that he is an atheist himself, he said over the phone, "My daughter is my life, my wealth… I would have happily supported her even if she had gone in for an inter-religious marriage. I don't have a problem with conversions too. But this was shady, the PFI (the Popular Front of India) had an agenda. The PFI's woman leader, Sainaba, made her believe I would kidnap her from their custody with the help of RSS… Sainaba had no business to keep my daughter. Her phones were confiscated… Even the court noticed the shady manner in which they conducted her marriage in a single day."
After the Kerala High Court nullified the marriage, her husband Shefin Jahan filed an appeal in the Supreme Court, which ordered an NIA probe.
"I served in the Army for 19 years, from the age of 19. I respect the Constitution and the judiciary, I have great faith in them," Asokan said. However, he denied reports that Hadiya had agreed to return to Hinduism. "There is no change in her," he said.
He had also approached the Arsha Vidya Samajam, the controversial yoga centre in Kochi, to get her back to Hinduism, he admitted. One of their volunteers visited Hadiya and talked to her. Asokan also invited one of the two girls who knew Hadiya and returned to Hinduism with the help of the centre. "I thought a meeting with the girl (Athira) will help my daughter realise the dangers," he said.
Explaining why he went to court, Asokan said that despite being a rationalist, he had always respected Hadiya and his wife's temple visits. "But I was devastated when my daughter started talking the most irrational language."
He was shocked to hear she had started attending her college in Salem in headscarf and had approached the controversial Islamic learning centre Sathya Sarani, he added. The centre has links to the radical PFI, which is accused of chopping the hands of a college professor over Prophet Mohammad's depiction.
Asokan said he moved the first habeas corpus in the High Court in early January 2016 after Hadiya "went missing". "She was in PFI custody without permission to speak to her parents. My petition forced them to produce her in court. But she refused to come with us," he said. "Still I used to call my daughter every day, at least twice."
In August 2016, he added, he returned to the court, seeking Hadiya's custody, after reports of 21 Keralites fleeing to join the Islamic State. "When I called her sometime in July or August, I asked Akhila if she had plans to go to Syria to rear goats (a life that puritan Dammaj Salafi groups lead to recreate the Prophet's era). She said they had plans to go but chose to stay back as friends suggested that she complete her course (homeopathy) first."
Asokan pointed out how the mother of Nimisha (now Fathima), one among the 21 who fled Kerala after conversion and marriage to a Christian youth, had failed to stop her. "When Bindu fought for her daughter's custody, the court cited an adult's constitutional rights and allowed her to go. Her daughter joined the IS. Luckily, my daughter is with me now," he said.
Describing how he had pampered Hadiya, Asokan said he was the son of a toddy tapper, the eldest of eight children, with the responsibility of five sisters. "I don't know if you can picture that. I could clear my 10th only at the age of 19. Still I was a Communist, a member of the CPI, I used to read a lot. I wanted to study further, but my commitments made me join the Army after 10th."
After he had ensured his sisters were educated and married, Asokan decided to have own family. "Akhila is my only child. We decided to have only one child as we wanted to give her the best. When she joined the homeopathy course, all her friends had to take loans but I had ready cash for her studies. When I joined as a peon in a defence court after retirement, my salary and the ATM card would be with her, she would handle them. I haven't asked for the card back even now," Asokan said, adding that he hadn't gone to work since his legal fight began.
With some claiming he has BJP links, Asokan said he would take help from whoever offered it. His own party, the CPI, had not helped in the case at all, he said. "But others have helped me, lawyers, judicial officers, leaders from other parties. Maybe the BJP and RSS people have helped more. That doesn't make me a BJP man, neither can I predict where all this suffering will take me. I am a desperate father, I will seek help from anyone."
Asokan added that his priority was not to convince intellectuals or rights groups about his intentions but his daughter, and that there were many trying to capitalise on their crisis.
Asked whether they had fights or disagreements, like other parents and children, Asokan recalled, "Oh yes, I used to fight with her everyday, over TV… I wanted to watch news channels while she hated them. And one of us won finally… Her mother also used to fight with her. Akhila always wanted to go out with her friends when home during vacations, and her mother wanted to spend time with her only child."
Asokan wondered whether this lack of interest in news, in "what was happening around her", made Hadiya "gullible".
Full report at:
http://indianexpress.com/article/india/hadiyas-father-speaks-she-is-my-life-have-nothing-against-conversion-but-this-is-shady-kerala-high-court-hadiya-marriage-4862953/
--------
Giving Rohingyas refuge not in Indian Muslims' interest, says Shiv Sena
Sep 23, 2017
The Shiv Sena on Saturday said if India is forced to provide shelter to Rohingya immigrants under pressure from "vote-hungry" politicians, it would not bode well for Muslims in the country.
The Sena, an ally of the BJP, also questioned the patriotism of those advocating refuge to the community which is fleeing Myanmar.
"Having sympathy for these people for votes is the height of anti-nationalism. Already, Pakistanis and Bangladeshis are living here in lakhs. If Rohingyas also get added now due to these vote- hungry politicians, it will not be long before what happened in Myanmar happens here as well. And in the process, Indian Muslims will be crushed," the Sena said in an editorial in its mouthpiece 'Saamana'.
Violent attacks allegedly by Myanmarese armymen have led to an exodus of Rohingyas from the western Rakhine state in that country to India and Bangladesh.
"At present, around 40,000 Rohingyas are living in the country. The Centre has told the Supreme Court that Rohingya Muslims have entered India illegally and are a threat to the nation's security.
"The Centre also believes some of them have links with Pakistan's (spy agency) ISI," the Sena organ said.
"If somebody wants these people to stay and prosper here, do they have any patriotism in their blood? It is because of some selfish Muslim clerics that a common Muslim man is always under suspicion," the Marathi daily added.
The Sena said those backing Rohingya Muslims should explain why they had to flee the neighbouring country.
Two days ago, Union Home Minister Rajnath Singh said the Rohingyas are illegal immigrants and not refugees who have applied for asylum in India.
Full report at:
http://www.hindustantimes.com/india-news/giving-rohingyas-refuge-not-in-indian-muslims-interest-says-shiv-sena/story-EsZ6w5pddh8fMAnGOfWveN.html
--------
Rohingya muslims speak of fear, helplessness from Delhi to Myanmar, a phone call every morning
by Somya Lakhani
September 27, 2017
The first thing Maung Abdul Khan does every morning is text his parents: "Are you still alive?" Only when they respond with a "yes" does the 29-year-old Rohingya Muslim refugee, who lives in Vikaspuri, go about his day. On Tuesday afternoon at the Press Club of India, Khan shared disturbing stories that his family members narrate to him over the phone from a village in Rakhine State. He was speaking at a press conference held by the Rohingya Human Rights Initiative (ROHRIngya).
The group has been founded by 29-year-old Sabber, a Rohingya Muslim living in Delhi since 2005. "We are an indigenous, peaceful community. We request the international community to protect us. We cannot contact our families daily; they want us to save them but we are helpless," said Sabber, fighting back tears. "Whether it's Rohingya Muslims who are being killed or Hindus… it's a crime against humanity and we condemn it."
Talking about Myanmar leader Aung San Suu Kyi, Khan — who came to India in 2013 — said, "We expected a lot from her… she's a Nobel laureate but she was silent. The televised speech she gave was a lie. We know the reality… we have family there."
Sabber told The Indian Express, "I protested in Delhi when she was under house arrest in 2008. We thought she would help us, but her silence hurts."
A two-minute video — which has testimonies of young Rohingya Muslim girls alleging rape in Rakhine — was also screened at the conference. Expressing concern over the "recent killings of Rohingya Muslims in Rakhine State", the two urged "the UN, Amnesty International and India to protect Rohingya Muslims through political will and humanitarian aid".
Full report at:
http://indianexpress.com/article/cities/delhi/rohingya-muslims-speak-of-fear-helplessness-from-delhi-to-myanmar-a-phone-call-every-morning-4863008/
--------
India targets safe havens in Pakistan by seeking UNSC sanctions on Afghan terror funding
Shailaja Neelakantan
Sep 27, 2017
NEW DELHI: India yesterday urged the UN Security Council (UNSC) to use sanctions to cripple the source of funds for terrorists in Afghanistan, many of whom have safe havens across the border in Pakistan.
By emphasising that sanctions are the most effective way to stamp out terror safe havens in the region, India was none-too-subtly targeting international action against Pakistan, which is home to the Afghan-oriented terror groups, the Haqqani Network and the Taliban, and the India-focussed groups Lashkar-e-Taiba and Jaish-e-Mohammed.
In an address at the UNSC, Syed Akbaruddin, India's permanent representative at the UN, didn't name Pakistan once, but name-checked all the terror groups based there. Akbaruddin also spoke of the need to safeguard Afghanistan's sovereignty and stability that "anti-government terrorist elements are trying to undermine from their safe havens across the borders" of Afghanistan.
"We support the determination to overcome the challenges of security faced by Afghanistan and the willingness of many in the international community to effectively deal with the issue of safe havens enjoyed by the terrorist organizations that pose a threat to the region and beyond," said Akbaruddin.
"The Security Council must act on the funds which the terrorists in Afghanistan are generating through their illicit activities," said Akbaruddin.
Sanctuaries for terrorism cannot exist "anywhere and at any level", emphasised Akbaruddin.
"We must not differentiate between good and bad terrorists, or play one group against the other. The Taliban, Haqqani Network, Al-Qaeda, Daesh, Lashkar-e-Taiba, Jaish-e-Mohammed and others of their ilk are all terror organizations, many of them proscribed by the UN. They should be treated like terrorist organizations with no justifications offered for their activities," he said.
Akbaruddin then urged the UNSC to consider the Resolution 1988 sanctions regime which was adopted in 2011. This resolution targeted the Taliban by using methods like freezing of assets, travel bans and an arms embargo to cripple the terror group.
"These are significant instruments and must be utilized to their full capacity," said Akbaruddin.
India called the situation in Afghanistan "painful" and "disturbing" and added the security atmosphere there is worsening.
Full report at:
http://timesofindia.indiatimes.com/india/india-targets-safe-havens-in-pakistan-by-seeking-unsc-sanctions-on-afghan-terror-funding/articleshow/60850481.cms
--------
J&K: Terrorist Abdul Qayoom Najar shot dead by security forces
Sep 26, 2017
NEW DELHI: Abdul Qayoom Najar, a terrorist who was active in Kashmir for the last 17 years, was on Tuesday killed in an encounter along the Line of Control (LoC) in north Kashmir's Baramulla district, according to police.
It was a major success for the security forces as Najar was wanted for his alleged involvement in more than 50 killings, including that of policemen in Hygam area of Sopore.
Baramulla Senior Superintendent of Police (SSP) Imtiyaz Hussain said, "Najar was killed as security forces foiled an infiltration bid in Lachipora area near the LoC this morning."
Najar was trying to infiltrate into Kashmir from Pakistan side, the police official said.
43-year-old Najar, a resident of Sopore area of Baramulla district, carried Rs 10 lakh bounty on his head.
"He joined militancy at an age of 16. He was arrested in 1992 and later released. After his release, Najar once again took up arms in 1995," SSP Hussain said.
The officer said Najar was called to the base camp in Pakistan-occupied Kashmir by his handlers in 2015 after he fell out with the Hizb leadership.
Najar broke away from the Hizbul Mujahideen and formed his own outfit Lashkar-e-Islam (LeI) which carried out a series of attacks on cellphone towers.
Full report at:
http://timesofindia.indiatimes.com/india/jk-terrorist-abdul-qayoom-najar-shot-dead-by-security-forces/articleshow/60843919.cms
--------
Army pushes back Pakistani intruders in J&K's Keran sector
Sep 26, 2017
NEW DELHI: The Army on Tuesday thwarted an attempt by Pakistan's Border Action Team to intrude into Indian territory and attack an Army post in Keran sector of Jammu and Kashmir.
According to sources, seven-eight armed intruders came close to an Indian Army post, and were provided cover fire by a Pakistan Army post on the other side, which fired mortars and shells.
Sources said the aim of the intruders was to damage the post, but it was thwarted by the Indian Army.
There was no casualty on the Indian side and the intruders retreated.
http://timesofindia.indiatimes.com/india/army-pushes-back-pakistani-intruders-in-jks-keran-sector/articleshow/60841874.cms
--------
Arab World
Saudi regime allows clerics to preach hatred against minorities: HRW
Sep 26, 2017
Human Rights Watch (HRW) says Saudi Arabia has permitted government-appointed scholars and clerics to incite hatred and discrimination against the country's religious minorities, including Shia Muslims.
In a 62-page report, entitled "'They Are Not Our Brothers': Hate Speech by Saudi Officials" and released on Tuesday, the HRW said Saudi clerics often refer to Shias as rafidha or rawafidh, which mean rejectionists, and stigmatize their beliefs with impunity.
It cited a member of Saudi Arabia's Council of Senior Scholars, the kingdom's highest religious body, as saying that Shia Muslims "are not our brothers ... rather they are brothers of Satan."
"Saudi Arabia has relentlessly promoted a reform narrative in recent years, yet it allows government-affiliated clerics and textbooks to openly demonize religious minorities such as Shia," said Sarah Leah Whitson, Middle East director at HRW.
"This hate speech prolongs the systematic discrimination against the Shia minority and – at its worst – is employed by violent groups who attack them," she added.
The rights group warned that the anti-Shia bias had extended to the judicial system in Saudi Arabia, where the Shias are often subjected to discriminatory treatment or arbitrary criminalization of their religious practices.
For example, it said, a Saudi Shia citizen was sentenced in 2015 to two months in jail and 60 lashes for hosting private Shia group prayers and a Sunni man was convicted in 2014 of "sitting with Shia."
The HRW also warned of fatal consequences of the hate speech against minorities in Saudi Arabia, saying that terrorist groups such as Daesh and al-Qaeda use it to justify their targeting of Shia civilians.
The Saudi Education Ministry's religion curriculum uses veiled language to stigmatize Shia religious practices, it noted.
The rights organization further urged Saudi authorities to order an immediate halt to hate speech by state-affiliated clerics and government agencies.
It also noted that the US should press the Riyadh regime to end incitement to hatred or discrimination against religious minorities.
"Despite Saudi Arabia's poor record on religious freedom, the US has shielded Saudi Arabia from possible sanctions under US law. The US government should apply its own laws to hold its Saudi ally accountable," Whitson said.
Saudi Shias have long complained that they suffer systematic discrimination in the kingdom, where the majority follows the Wahhabi radical ideology.
The ideology is regarded as the breeding ground for the rise of Takfiri outfits.
Since February 2011, Saudi Arabia has stepped up security measures in Shia-dominated areas, which has been rocked by anti-regime demonstrations, with protesters demanding free speech, the release of political prisoners, and an end to economic and religious discrimination.
The government has suppressed pro-democracy movements, but they have intensified since January 2016 when Saudi Arabia executed respected Shia cleric Sheikh Nimr al-Nimr.
http://www.presstv.ir/Detail/2017/09/26/536517/Saudi-Arabia-HRW-Shia
--------
ISIL Using Kids to Carry out Suicide Attacks on Syrian Army Positions in Deir Ezzur
Sep 26, 2017
The English-language Lebanon-based AMN quoted Amaq news website as reporting about released photos on Tuesday showing another suicide bomb-attack by ISIL's car by an adolescent and presumably indoctrinated boy that reportedly took place on Monday East of Humeimeh region, targeting a key bastion of the army on the provincial border between Homs and Deir Ezzur that has become the repeated target of hit-and-run operations by the ISIL in the past month.
In addition to the aforementioned attack, the same batch of photos showed a lone ISIL's pickup truck opening fire on the targeted outpost and shooting at a Russian jet.
http://en.farsnews.com/newstext.aspx?nn=13960704000870
--------
9 civilians killed in fresh US-led strikes on Syria's Hasakah
Sep 26, 2017
At least nine civilians have lost their lives when the US-led coalition purportedly fighting the Daesh Takfiri terrorist group conducted a series of aerial assaults on Syria's northeastern province of Hasakah.
Local sources, speaking on condition of anonymity, told Syria's official news agency SANA that the airstrikes targeted the town of Markada, located nearly 100 kilometers south of the provincial capital city of Hasakah, on Tuesday.
The sources added that two women and a six-member Iraqi family, who had escaped fighting in the northern Iraqi city of Mosul, were among the victims of the attacks.
US-led military aircraft also struck the villages of Hadaj, Huneidis and Hassan Ali near the border, causing huge material damage to public infrastructure and private properties.
The so-called Syrian Observatory for Human Rights (SOHR) reported on Saturday that more than 2,800 civilians had been killed in US-led airstrikes over the past three years.
The Britain-based monitoring group reported that 427 people, including 137 minors and 113 women, were killed in the aerial attacks between May 23 and June 23 this year.
The US-led air raids also resulted in the injury of hundreds of civilians, some of whom suffered permanent disabilities and had to have their limbs amputated.
The aerial raids caused massive destruction of residential buildings and civilian infrastructure as well.
The US-led coalition has been conducting airstrikes against what are said to be Daesh targets inside Syria since September 2014 without any authorization from the Damascus government or a UN mandate.
The military alliance has repeatedly been accused of targeting and killing civilians. It has also been largely incapable of achieving its declared goal of destroying Daesh.
The Syrian Ministry of Foreign Affairs and Expatriates, in two separate letters sent to UN Secretary General António Guterres and rotating President of the UN Security Council Amr Abdellatif Aboulatta on August 24, stated that the US-led coalition was perpetrating war crimes and crimes against humanity through aerial bombardment of residential neighborhoods.
Full report at:
http://www.presstv.ir/Detail/2017/09/26/536544/9-civilians-killed-in-fresh-USled-strikes-on-Syrias-Hasakah
--------
Iraqi Kurd leader Barzani: Majority of Kurdistan voted 'yes' for independence
26 September 2017
Kurdish leader Masoud Barzani Tuesday urged Iraqi Prime Minister Haider al-Abadi to begin talks on the issues dividing them a day after the Kurdish autonomous community held a referendum in which he said a majority voted in favor of independence.
"I call on Mr Haider al-Abadi and the others (Iraqi political officials) not to close the door to dialogue because it is dialogue that will solve problems," he said in a televised address.
"We assure the international community of our willingness to engage in dialogue with Baghdad," he said.
"The referendum is not to delimit the border (between Kurdistan and Iraq), nor to impose it de facto," Barzani added.
The Kurdish move to stage a referendum on independence went ahead despite both Iraqi and international opposition.
Iraq's neighbors Turkey and Iran both have minority Kurdish communities of their own.
Full report at:
https://english.alarabiya.net/en/News/middle-east/2017/09/26/Iraqi-Kurdish-leader-Barzani-speaks-for-the-first-time-after-referendum.html
--------
Terrorists' Dangerous Security Commander Escapes from Deir Ezzur
Sep 26, 2017
The sources said that a number of ISIL terrorists, including Madhar al-Rashid that was one of the most dangerous security commanders of the terrorist group have escaped from the town of al-Mayadeen in Southeastern Deir Ezzur.
The sources further said that ISIL terrorists that have suffered heavy defeats in the battle with the Syrian Army try hard to maintain control over their regions by executing civilians and frightening people.
To the same end, they added, ISIL has executed three civilians in the town of Hasrat near the town of Albu Kamal and in the village of al-Sa'oudeh Northwest of Deir Ezzur.
Reports said on Monday that the Syrian army deployed a large number of soldiers and military equipment around Mount al-Thardah 5km South of Deir Ezzur city, fortifying positions in the key region.
Military sources said that the army stationed more forces and military equipment near Mount al-Thardah, fortifying positions against any possible ISIL attack.
Also, the army men carried out mop-up operations in areas surrounding Mount al-Thardah and reopened new roads and passageways towards the hills in the region, deploying artillery, missile units and monitoring positions in the hills near Mount al-Thardah to provide security for safe landing of planes in Deir Ezzur's airbase and monitor terrorists' movements, the sources added.
A field source said that the three high hills play a crucial role in supporting military operations in Deir Ezzur city as they overlook al-Mayadeen's road Southward.
Full report at:
http://en.farsnews.com/newstext.aspx?nn=13960704001225
--------
Syrian Army Repels Terrorist Group's Heavy Offensives in Hama Province
Sep 26, 2017
The Syrian army units clashed with ISIL that attacked the pro-government forces' positions along the oil pipeline South of the village of Aqarib in Eastern Hama and repelled their attack, killing and injuring a number of the terrorists.
Also, the army's artillery units opened heavy fire at Al-Nusra's night movements to prevail over the government forces' defense lines in the village of Tal Dareh in Northern Hama and repelled their offensive.
The Al-Nusra suffered heavy casualties in the failed attack.
Field sources said on Monday that the army and the Lebanese Hezbollah forwarded a large number of forces and a large volume of military equipment to Northern Hama to face the terrorist groups, mainly the Al-Nusra Front in the region.
The sources said that Hezbollah sent a large number of its fighters to Hama after the Al-Nusra and other terrorist groups stormed the army positions.
They added that the army also forwarded more military equipment to the region after they found out that the terrorist groups plan to attack the pro-government forces' positions and violate the ceasefire in Idlib and Hama.
Full report at:
http://en.farsnews.com/newstext.aspx?nn=13960704000970
--------
US Troops Training Terrorists to Use TOW Missiles against Syrian Army Tanks
Sep 26, 2017
The English-language AMN reported that although it was unable to verify when the video below was recorded, the footage was nevertheless released by Jeish Maghawir Tahwra affiliated to the US-backed Free Syrian Army (FSA) last week in what it said was preparations for an upcoming desert offensive against the Syrian army.
This summer, the Syrian Army completely cutoff FSA-held lands from their territorial border with the ISIL. Ever since, persistent rumors have suggested that the US-led coalition plans to leave the strategic region that notably borders both Iraq and Jordan.
Full report at:
http://en.farsnews.com/newstext.aspx?nn=13960704000779
--------
Syria: Terrorists Continue Vast Withdrawal from Positions at Border with Jordan
Sep 26, 2017
The Arabic-language al-Ahd news website quoted militant-affiliated sites as saying that Jeish al-Ashayer terrorists have retreated from checkpoints 130, 1312, 132, 133, 134, 135, 136, 137, 138 and 139 along the border with Jordan.
Relevant reports said earlier this month that the army units regained control of terrorists' al-Handalat military base near the border with Jordan after the terrorists fled towards al-Rakban military base.
This is while the exit of terrorists from the military base took place after the Syrian army and its allies approached Camp Mouk operations room asked the terrorists to surrender their positions in Badiyeh (desert) region.
http://en.farsnews.com/newstext.aspx?nn=13960704000915
--------
Lebanon civil servants on strike amid wage hike crisis
26 September 2017
Lebanon's civil servants are on strike to pressure the government to pay them recently approved wage hikes amid a new crisis over how to finance them.
The Cabinet is meeting on Tuesday to discuss new ways to finance the wages bill, estimated at $800 million. The law improving the wages, which had been in the works for years, was passed earlier this summer. But the Constitutional Council earlier this week revoked a tax law to finance the bill, saying it violated the constitution.
The decision left the government scrambling for ways to finance the wage bill, amid pressure from public servants who expected their new salaries this month.
Government offices were shut on Tuesday, and hundreds of civil servants protested outside.
One poster simply read: "The dignity strike."
https://english.alarabiya.net/en/News/middle-east/2017/09/26/Lebanon-civil-servants-on-strike-amid-wage-hike-crisis-.html
--------
Russian aircraft fire cruise missiles at Daesh positions in Syria
Sep 26, 2017
Russian Tupolev Tu-95 strategic bombers have fired a barrage of cruise missiles at the positions of Daesh Takfiri terrorist group in Syria's northwestern province of Idlib and the eastern province of Dayr al-Zawr, inflicting heavy losses on the terrorists.
Russian Defense Ministry Spokesman Major General Igor Konashenkov said on Tuesday that the warplanes took off from Engels airbase, located 14 kilometers (8.7 miles) east of Russia's major port city of Saratov, flew over territory of Iran and Iraq and launched Kh-101 air-to-surface cruise missiles at designated targets.
"The sudden strikes destroyed a number of terrorist command posts, fortifications, military hardware as well as ammunition depots," Konashenkov said in a statement.
The senior Russian military official went on to say that all destroyed targets were far away from residential areas, the positions of the US-backed militiamen from the so-called Syrian Democratic Forces, and US troops.
The report came only two days after a Russian commander, Lieutenant General Valery Asapov, was killed by mortar fire from Daesh militants near the city of Dayr al-Zawr, located 450 kilometers (280 miles) northeast of the Syrian capital, Damascus.
Russia's Deputy Foreign Minister Sergei Ryabkov later denounced the "two-faced policy" of the United States, saying Washington was to blame for the death of Asapov.
"The death of the Russian commander is the price, the bloody price, for the two-faced American policy in Syria," Ryabkov commented.
On September 22, a Russian submarine launched a barrage of Kalibr cruise missiles at the positions of the foreign-sponsored and Takfiri terrorists of Jabhat Fatah al-Sham – previously known as the Nusra Front – in Syria's northwestern province of Idlib and destroyed them only a few days after the extremists attacked a unit of Russian Military Police in the crisis-hit Arab country.
Full report at:
http://www.presstv.ir/Detail/2017/09/26/536549/Russian-warplanes-pound-Daesh-positions-in-Syria-with-cruise-missiles
--------
South Asia
US drone strike kills 8 ISIS militants in East of Afghanistan
Sep 26 2017
At least eight militants of the Islamic State of Iraq and Syria (ISIS) terrorist group's offshoot, ISIS Khorsan, were killed in an airstrike by the US forces in eastern Nangarhar province of Afghanistan.
The provincial police commandment in a statement said the airstrike was carried out in Nazian district of Nangarhar.
The statement further added that the militants were targeted in Spin Zhai area of Nazian late on Monday night.
Several weapons, ammunition, and explosives belonging to the terror group were also destroyed, the police commandment added.
The anti-government armed militant groups have not commented regarding the report so far.
Nangarhar is among the relatively calm provinces in eastern Afghanistan but the anti-government armed militant groups have recently increased their insurgency activities in some parts of the province during the recent years.
Operations led by the Afghan forces in coordination with the US forces based in Afghanistan are underway against the ISIS loyalists in this province.
The US forces stepped up airstrikes and operations against the terror group after they were granted a broader role by the former US administration.
http://www.khaama.com/us-drone-strike-kills-8-isis-militants-in-east-of-afghanistan-03436
--------
Herat mosque incident not the work of Afghans: Hekmatyar
Sep 26 2017
The leader of Hezb-e-Islami Gulbuddin Hekmatyar has said the incident involving a prayer participant attempting to attack with him shoe in Herat mosque is not the work of the Afghans.
In a statement issued in the aftermath of the incident, Hekmatyar said the attempted desecration was hatched by those who are carrying out attacks in Shi'ite and Sunni mosques.
Hekmatyar further added that such individuals are hirelings of the outsiders who have in the past desecrated and insulted the president outside the country and their aim is to spark tensions and hatred among the people.
The leader of Hezb-e-Islami also added that those who were thinking that Herat and its residents would remain their hostage forever are now fearing to lose control specifically after his visit to the province.
According to Hekmatyar, the attempted shoe attack was apparently hatched by those to show a reaction to their defeat.
The incident took place last Friday during the Friday prayers after a man stood up from among the gathering and attempted to hit Hekmatyar with a shoe.
The main motive behind the attempted attack has not been ascertained so far but earlier unconfirmed reports suggested the man was trying to hit Hekmatyar to avenge the miserable condition his father is suffering from due to the tortures he faced from the members of the party in the past.
Full report at:
http://www.khaama.com/herat-mosque-incident-not-the-work-of-afghans-hekmatyar-03435
--------
Attacks in Afghanistan kill 5 police officers
Sep 27, 2017
Attacks in two neighbouring provinces in Afghanistan killed at least five policemen, Afghan officials said on Tuesday, while a sixth policeman died in a gunbattle with the Taliban in another province.
In western Herat province, two police officers died in a roadside bombing while in neighbouring Farah province, three were killed when a bombing targeted their checkpoint.
No one immediately claimed responsibility for the attacks but officials in both provinces blamed the Taliban.
Insurgents have been active in both Herat and Farah as the Taliban stepped up their attacks against Afghan security forces across the country this year.
Jelani Farhad, spokesman for the provincial governor in Herat, said that along with the two who died in the attack there, three other officers were wounded. The police were on a routine patrol in Ghoryan district when the bomb exploded on Tuesday, he added.
In Farah province, where the three officers were killed, Mohammad Naser Mehri, spokesman for the provincial governor, said insurgents attacked the checkpoint and triggered a gunbattle that lasted for two hours.
And in yet another report, district police chief Rahmatullah Khan said that one policeman and six Taliban were killed in a gunbattle overnight in northern Takhar province, in Khoja Ghor district.
Full report at:
http://nation.com.pk/international/26-Sep-2017/attacks-in-afghanistan-kill-5-police-officers
--------
Number of Rohingyas in Bangladesh rises to 480,000: UN
September 26, 2017
The United Nations today drastically increased the estimated number of Rohingya Muslims who have fled violence in Myanmar to 480,000 as Bangladesh eased restrictions on aid groups working in refugee camps and sought $250 million to cope with the crisis.
The number who have crossed the border since August 25 to escape a Myanmar military crackdown has increased by 45,000 in two days.
Between the new arrivals and some 300,000 Rohingya who were already living in the area due to previous violence in Myanmar, there are now nearly 800,000 refugees in camps around the Bangladesh border town of Cox's Bazar that are bursting at the seams.
The situation has forced new arrivals into makeshift shelters in grim conditions, and sparked warnings that epidemics, including cholera, could easily spread.
A report by UN agencies and international charities said the higher number was due largely to an estimated 35,000 Rohingya, not previously accounted for, moving into two refugee camps.
It also said numbers crossing the border had started to rise again.
After reporting a significant fall in arrivals last week, the new report said hundreds had been crossing the border daily in recent days.
'Herculean task'
Pressure on Bangladesh has increased so much that it has eased restrictions on private aid groups so they can work in Cox's Bazar camps.
The country has previously strictly limited access. It has never given reasons, but is sensitive about security and authorities fear a Muslim influx could tempt extremist groups.
The government NGO Affairs Bureau has now cleared 30 local and international groups to meet "emergency needs" in camps and said more would follow, Shahdat Hossain, a bureau director, told AFP.
The aid groups still only have permission to work in the camps for two months and must focus on providing healthcare, sanitation facilities and shelters for the Rohingya, Hossain said.
Authorities had previously only let four international groups -- including Doctors With Border (MSF) and Action Against Hunger (ACF) -- provide food and healthcare.
Muslim Aid, a British-based charity, was given permission to operate in Cox's Bazar last week but this was quickly revoked again. It remains barred even though it operates in other parts of Bangladesh.
Authorities briefly ordered MSF, ACF and Muslim Aid to stop providing aid to the Rohingya in 2012.
Dhaka-based BRAC, one of the world's largest charities, is among the new groups allowed into the camps.
BRAC senior director Asif Saleh said in a Facebook post that the scale of the "humanitarian crisis" was significantly worse than what was being portrayed by the media.
He said the group has taken on the "herculean task" of setting up 15,000 toilets, 1,100 tube wells, 50 health camps, 10 delivery centres and 50 child centres.
Desperate for help
Bangladesh has deployed dozens of emergency medical teams and sent reinforcements to hospitals in Cox's Bazar.
They have treated more than 2,350 Rohingya for serious injuries sustained in the crackdown, including bullet and machete wounds and landmine injuries.
Some 80,000 Rohingya children have also been vaccinated for measles, rubella and polio diseases and thousands of adults treated for diarrhoea, respiratory diseases and pregnancy complications.
Desperately needing more help, junior health minister Zahid Malek said Dhaka has sought $250 million from the World Bank to provide healthcare to the Rohingya.
A United Nations official last week said it would need $200 million over the next six months to handle the Rohingya crisis.
Full report at:
http://www.thedailystar.net/world/rohingya-crisis/rohingya-influx-bangladesh-united-nations-un-hikes-exodus-number-480000-myanmar-rakhine-state-refugee-crisis-1468165
--------
DU demands international probe committee on Myanmar genocide
September 26, 2017
A human chain was held by Dhaka University (DU) teachers, students, and employees on Tuesday in front of Memory Eternal (DU), demanding an international probe committee for genocide of the Rohingya Muslims in Myanmar's Rakhine state.
The protestors also demanded the Myanmar government and its de facto leader State Counsellor Aung San Suu Kyi stop the ongoing atrocities against the Rohingya and take them back to their native residence.
The hourlong human chain was held under the banner of "Dhaka University Family" and was presided by Prof Md Akhtaruzzaman, vice chancellor (VC) of Dhaka University.
"Rohingya Muslims have lived in Myanmar for thousands of years. But, they have also been persecuted by their own government for a long while. We are calling on the world community to take a stand against this crime against humanity," said Prof Akhtaruzzaman.
Noakhali University of Science and Technology VC Prof Md Ahiduzzaman, DU Treasurer Prof Md Kamal Uddin, President of Dhaka University Teachers Association (DUTA) Professor Dr ASM Maksud Kamal, syndicate members, deans of the faculties, hall provosts, Freedom Fighters Institutional Unit Command members, Dhaka University Officers Association leaders, the president and general secretary of DU unit BCL, Third Class Employees Association leaders, Technical Employees Association and Fourth Class Employee Union leaders, among others, took part.
Full report at:
http://www.dhakatribune.com/bangladesh/nation/2017/09/26/du-demands-international-probe-committee-myanmar-genocide/
--------
Trump pushes Ghani to close Taliban office in Qatar
Sep 26 2017
The US President Donald Trump has stepped up efforts and pressures on President Mohammad Ashraf Ghani for the closure of the Taliban office in Qatar, a move which is apparently aimed at increasing pressures on the group as part of the new US strategy to combat terrorism and eliminate their sanctuaries from the region.
Sources privy of the development have said President Trump has discussed the issue with Afghan counterpart President Ghani.
The sources have told The Guardian newspaper that a decision is expected from President Ghani soon as he may likely agree with the closure of the Taliban's political office in Doha.
The decision was reportedly taken as several years have passed since the office was opened but no positive results were obtained.
On the other hand, reports regarding the closure of the Taliban office in Qatar emerge amid persistent tensions among the Saudi Arabia, United Arab Emirates and other key Gulf nations with Qatar.
In his speech at the UN General Assembly last week, President Trump said "It is time to expose and hold responsible those countries who support and finance terror groups like Al Qaida, Hezbollah, the Taliban and others that slaughter innocent people."
President Trump further added "The United States and our allies are working together throughout the Middle East to crush the loser terrorists and stop the reemergence of safe havens they use to launch attacks on all of our people."
He said "Last month, I announced a new strategy for victory in the fight against this evil in Afghanistan. From now on, our security interests will dictate the length and scope of military operations, not arbitrary benchmarks and timetables set up by politicians."
Full report at:
http://www.khaama.com/trump-pushes-ghani-to-close-taliban-office-in-qatar-03434
--------
Southeast Asia
Terror in Indonesia – the threat posed by returning Islamic State fighters
By PMC Editor
September 27, 2017
Heru Kurnia, an Indonesian who joined Islamic State in Syria, is describing watching children kick around the head of someone decapitated by IS militants.
He hadn't seen the execution but saw a crowd gather at the clock tower in the Syrian city of Raqqa. "People were watching. I went closer, but oh my God, the man was already dead and the body was being treated like that."
An IS guard left the body there and adults stood by and did nothing while kids treated a human head like a soccer ball. Later Heru's voice shudders as he spits out: "IS are sadists."
Heru is among 18 Indonesians who returned in August after reportedly escaping from a living hell that was a world away from the idealised Islamic society IS recruiters spruik online.
One man, Dwi Djoko Wiwoho, recounts IS militants asking him to be informed of when his daughter began menstruating.
"We were told schools would be free there, but once we were there we were asked to marry her," he says. Heru and Djoko both appear in a slickly-produced video released this week by the Indonesian government's counter-terrorism unit, BNPT, titled Stories of IS deportees.
Ghastly anecdotes
The government clearly intends the video, with its melodramatic music score and ghastly anecdotes, to convey an unequivocal message – don't buy the IS hype.
More than 500 Indonesian IS supporters are still believed to be in Syria. Hundreds more have been deported back to Indonesia, returned voluntarily or killed.
Another 30 Indonesians are believed to have fought with IS-linked militants in a much closer theatre of war – Marawi, on the island of Mindanao in the southern Philippines. None have yet returned.
The threat to Indonesia posed by battle-hardened returned fighters, equipped with new skills and radical ideology, has long exercised authorities.
"The thing that would lead to a marked increase in the threat level would be skilled jihadists suddenly being back, circulating in those networks in Indonesia, imparting their skills in bombmaking and operations," says Australian National University terrorism expert Greg Fealy.
"Also the fact these people would have the prestige of having fought in the battlefield, whether the battlefield is Marawi or whether it is in Syria, they would attract quite a following. So that could be the thing that suddenly gives a dramatic step up in the ability of terrorists to launch attacks. That's what's really been the missing factor so far."
Weak terrorism laws hamstring the government – no current legislation outlaws travelling to join IS or declaring support for the extremist group.
Nobody paid
Fairfax Media has been unable to interview the returnees and verify their accounts. BNPT spokesman Hamidin insisted no one had been paid to provide their video testimonial.
But this is not the first group of Indonesians to return from Syria citing disillusionment with IS.
"Indonesians aren't high-ranking in the fight in Syria. They come back disillusioned a lot of the time after cleaning toilets, doing crappy jobs," an intelligence source tells Fairfax Media.
But terrorism analyst Nava Nuraniyah says IS sympathisers mostly cheer about IS on encrypted chat groups on the Telegram app. "On the rare occasion when people complain about things in Syria or have doubts, they are immediately silenced," she says.
Nuraniyah believes the returnees who feature on the government video are genuine "but it doesn't necessarily represent the majority of Indonesian fighters or deportees".
"A lot who choose to remain in Syria still believe in it."
This is consistent with the experience of C-SAVE Indonesia, a network of civil society organisations addressing violent extremism.
Since January, C-SAVE has been assisting Indonesians deported while trying to join IS in Syria to return to their homes. As of late July they had assisted more than 160 people.
Of these about 90 percent wanted to go back to Syria, according to C-SAVE executive director Mira Kusumarini.
"They want to live under a caliphate, where Islamic sharia is implemented completely," Kusumarini says.
Government seen as 'the infidel'
She says many refused to sign a document agreeing to abide by Indonesia's 1945 Constitution and the pluralist state ideology of Pancasila until police threatened to put them in a cell.
"Deportees regarded the government as the infidel, the enemy. When we tried to engage with the children we couldn't use the usual technique of singing and clapping hands because that was regarded as satanic."
In January 2016, multiple explosions near the Sarinah shopping mall in Central Jakarta – including one in a Starbucks cafe – killed eight people, including four civilians.
It was the first terrorist attack in Indonesia to be claimed by IS.
Since then there have been a number of IS-inspired attacks, mostly low-impact suicide bombings targeting police.
But the day after the Marawi battle began in May, two explosions near a bus station in East Jakarta killed five people and an ominous link was revealed to the conflict in the Philippines.
Porous borders with Philippines
The borders between Indonesia and the Philippines are notoriously porous and militants can easily travel by boat between the two countries without passing through immigration.
One of those arrested over the East Jakarta bus stop bombing had helped arrange travel for Indonesians to the Philippines. Another arrested by police chillingly urged Indonesians over messaging app Telegram to "learn from the conquest of Marawi".
"One possible impact of Marawi is an increased risk of violence in other countries in the region as local groups are inspired or shamed into action by the Philippine fighters," Jakarta-based terrorism expert Sidney Jones writes in a recent report.
In July a pressure cooker bomb exploded prematurely in a dormitory in Bandung, West Java.
The man accused of assembling it – a 21-year-old meatball seller called Agus Wiguna – had been "obsessed" with fighting with the IS-affiliated group in Marawi, according to police.
He reportedly planned to detonate bombs in a restaurant, coffee shop and church in Bandung before flying to the Philippines.
Other targets possible
"Once the battle for Marawi is over, it is possible that South-east Asian [IS] leaders might encourage Indonesians to go after other targets, including foreigners or foreign institutions – especially if one of them comes back to lead the operations," Jones writes.
Prime Minister Malcolm Turnbull also did not mince his words.
"With the bitter memory of the 2002 Bali bombing, I am keenly alert to the risk that the next mass-casualty attack on Australian victims could well be somewhere in South-east Asia, where [IS] propaganda has galvanised existing networks of extremists and attracted new recruits," he told a security summit in June.
The latest edition of IA's glossy online magazine Rumiyah also focuses on the Philippines as IS loses its grip on a swath of Iraq and Syria, with a cover story on "The jihad in East Asia".
Anggara Suprayogi, one of the 30 Indonesians fighting with IS-linked militants in Marawi, had planned to leave for Syria to fight early this year.
But when he made contact with an Indonesian in Raqqa he was urged to fight in the Philippines instead.
On terrorist wanted list
It fell on the former police chief of Jatiuwung, a district of Tangerang City about 50 kilometres from Jakarta, to tell Anggara's mother her son was on a terrorist wanted list.
"Of course she was in shock," Agung Budi Laksono tells Fairfax Media. "What mother wouldn't be? Any mother whose son secretly went to war that was not a war for his country."
He says Anggara had been an obedient son who loved his family and was active in the local community.
"If Anggara found a wallet, he would look for the owner's address, return the wallet and refuse any gift," Agung says. "That in my eyes is a positive, it's rare."
Religion had been everything to him: he had even refused to use banks because charging interest is forbidden under Islam because it is thought to be exploitative.
Anggara was not the first Indonesian who wanted to fight for IS in Syria or Marawi that Agung came across in his year working in Tangerang.
"It exists quite a lot," he says. "One of the reasons is a limited understanding of jihad."
Effective anti-terrorist units
What Indonesia has on its side is one of the most effective anti-terrorist police units in the world.
Detachment 88, established in the wake of the 2002 Bali bombings, has foiled multiple terror plots ranging from a plan for a female suicide bomber to blow herself up outside the presidential palace to a proposed attack on the Myanmar embassy in Jakarta.
Any attacks that have occurred are followed up almost immediately with a string of arrests.
An intelligence source says despite low technological capacity – there is not one central database of foreign fighters in Indonesia, for example – Detachment 88 is highly skilled at monitoring, infiltrating mosques and intercepting plots.
"Yes, there is growing intolerance and there is inspiration from South-east Asia, but putting aside lone wolf and small attacks most plots are stopped and that is a tick," the source says. "Australia is probably not doing as well as they are doing."
The ANU's Fealy says the sheer number of returnees as IS crumbles in the Middle East, coupled with the conflict in Marawi, has raised the terrorism threat in the region "quite a bit".
But he says the risk to Indonesia is still "well below" what it was in 2002, when Jemaah Islamiyah was at its height.
"At the time we had people like Azahari Husin and Noordin Top who were master bombmakers teaching dozens of people how to make bombs that kill a lot of people," Fealy says.
"I think there is the potential to get there very quickly, but I think we are still well below that."
https://asiapacificreport.nz/2017/09/27/terror-in-indonesia-the-threat-posed-by-returning-islamic-state-fighters/
--------
M'sian vigilance urged as jihad call from Indonesia strengthens
Zam Yusa
September 27, 2017
KOTA KINABALU: A think tank has urged Malaysian authorities to be vigilant against the possibility of Indonesian expatriates answering a rallying call coming from their home country for a jihad in Myanmar.
"The Rohingya crisis has become a rallying cry for jihad" among Indonesian Islamist groups, said Remy Mahzam, a research fellow with the International Centre for Political Violence and Terrorism Research at Singapore's Nanyang Technological University.
He said the jihad sentiment in Indonesia was so strong that there was every possibility of its spilling over into Malaysia to inspire Indonesians living here.
"There is definitely a need for the Malaysian government to take some form of ownership of the situation," he told FMT. "Malaysia could push for a diplomatic solution and address the question of how the conflict can be resolved without the need for armed violence."
A recent report co-authored by Remy, entitled "The Inevitable Jihad in Myanmar", said the jihad advocated by hardline Islamist groups in Indonesia was essentially humanitarian and non-military, but it also said statements coming from recruiters and mobilisers indicated that armed action was possible.
The report quoted Ustadz Aka of the Front Pembela Islam (FPI) as saying "those volunteering must be willing to die for Islam."
The group sets four conditions for would-be volunteers: that they have permission from their parents, are at least 21 years old, have martial abilities and are prepared to die in Myanmar.
In Malaysia, police recently detained two men believed to have been planning to go to Myanmar to take part in the armed resistance against government forces. One of the men is an Indonesian national.
"To date, there are over 10,000 people registered with the FPI who have indicated their interest to take part in the humanitarian jihad in Rakhine," Remy said.
"FPI spokesperson Slamet Ma'arif asserted that there is a possibility of open war against Myanmar if the Myanmar government does not make any effort to stop the Rohingya crisis.
"Indonesians see the Rohingya crisis as a humanitarian catastrophe that needs immediate attention and a sustainable solution.
"There has already been pressure on the Indonesian government to take a proactive role to lead and initiate conflict resolution discussions with Aung San Suu Kyi and her Myanmar government."
The report also said exhortations to mount an offensive against Myanmar had been evident in recent videos uploaded by several Islamist groups.
It referred to a video released early this month that shows a group of uniformed people from Aceh undergoing physical training without weapons and another video that introduces a battalion of hundreds of men shouting battle cries while supposedly getting ready for a journey to Myanmar.
A third video, similar to the second, identifies the characters in it as "Soldiers of FPI departing to Myanmar".
"FPI has opened registration for 1,200 mujahideen volunteers to join in the humanitarian jihad in Myanmar," the report said.
Malaysia's counter-terrorism police chief has said that his department was on the alert for the possibility of would-be mujahidin travelling from Malaysia to Myanmar to join the Arakan Rohingya Salvation Army, a militant insurgent group.
Recently, a veteran journalist specialising in Myanmar affairs said his sources had told him that Malays, who could be Malaysians or southern Thais or both, were already in Myanmar to fight the government.
The Islamic State in Syria and Iraq has urged its supporters in Southeast Asia to raise arms in Myanmar in support of the Rohingya. Al Qaeda, the group responsible for the 9/11 attack in the United States, has made the same call.
Risk groups
Remy said the Malaysian government should take a holistic approach to preventing the radicalisation of Indonesians and Malaysians in the country.
"To avoid the possibility of an armed jihad, the government needs to look into identifying structural drivers of violent extremism and those who are at risk," he said.
"There is also a need to provide socio-economic alternatives to violence for those at risk and promote dialogue with these groups.
"It is important to channel the energy coming from any group, including the Indonesians who feel deeply about the Rohingya crisis, to positive avenues such as promoting humanitarian efforts instead of waging an armed jihad.
"Malaysia would also need to work closely with neighbouring countries to develop constructive measures in tackling the emerging wave of ideologically motivated violence.
"Tighter border measures are needed in Malaysia to reduce the incidence of human trafficking."
He also called for better attention to be given to Rohingya refugees in Malaysia.
"There is a need to look into the treatment of Rohingya asylum seekers in Malaysia by improving conditions at immigration detention centres," he said. "Opportunities should be made for asylum seekers to receive basic rights to work and education."
Full report at:
http://www.freemalaysiatoday.com/category/nation/2017/09/27/msian-vigilance-urged-as-jihad-call-from-indonesia-strengthens/
--------
After royal rebuke of Muslim-only laundry, MP calls for anti-discrimination laws
September 27, 2017
KUALA LUMPUR, Sept 27 — Malaysia needs anti-discrimination laws so that such behaviour will not need royal intervention to resolve these every time they emerge, said DAP's Teo Nie Ching.
While expressing gratitude to Johor's Sultan Ibrahim Sultan Iskandar for reprimanding a laundry operator for limiting his operations to Muslims, she said the state authorities had up to then appeared to condone the discrimination.
"Johoreans are lucky to have His [Majesty] to speak up for progressiveness and modernism, but what if this happens in other states in Malaysia?" the Kulai MP said.
"Can we be assured that this controversy will end in the same manner? Especially when the Johor Mufti Mohd Tahrir Samsudin has praised the laundromat's action as beautiful'?"
Teo said the incident was just the latest reminder about the importance of a law to ensure equality or at least to prohibit discrimination on the basis of faith, gender, and race.
Sultan Ibrahim ordered the laundry operator to cease the discrimination or face closure, and told the business owner to migrate to Afghanistan if he was unhappy with the decree.
He also ordered state Islamic Religious Affairs committee chairman Abdul Mutalip Abd Rahim, the religious council and district council to investigate the matter.
Pictures of the launderette in Muar displaying a sign that it only allowed Muslim customers at the premise has been widely shared on the social media since last week.
The laundry changed this to "Muslim-friendly" following backlash, but the Johor Sultan saw through the ploy and said it was essentially the same thing.
Full report at:
http://www.themalaymailonline.com/malaysia/article/after-royal-rebuke-of-muslim-only-laundry-mp-calls-for-anti-discrimination#wLS4y2gtwfv2cdUQ.97
--------
Report: Rohingya issue shows Malaysia's biased refugee policy
September 27, 2017
KUALA LUMPUR: The way Malaysia is handling the Rohingya refugees issue reflects the inconsistencies, and the bias, inherent in its refugee policy, according to an opinion piece in Asia Times.
Malaysians, especially non-Muslims, see Prime Minister Najib Razak's championing of the Rohingya as self-serving, as he has failed to show a similar atitude towards non-Muslims who were or are being persecuted worldwide.
The comment, written by Josh Hong, says Malaysia is also showing it is "a Muslim champion abroad, and an oppressor at home" due to actions seemingly depriving non-Muslim Malaysians of their rights.
Hong, who has spent 12 years working among refugees including Rohingya in Thailand, Malaysia and Indonesia, says although not a signatory to the 1951 Convention Relating to the Status of Refugees, Malaysia hosts around 150,000 refugees and asylum seekers, more than a third of whom are Rohingya from Myanmar.
In addition, there are about 50,000 Rohingya who have yet to register with the United Nations High Commissioner for Refugees.
About a year ago, Prime Minister Najib Razak, began to champion the Rohingya cause in an attempt to shore up his support among Muslim Malaysians, Hong says.
"Najib has so far organised at least one massive rally to highlight the plight of the severely persecuted Rohingya in Myanmar's Rakhine state, and allowed two street protests to take place in the heart of Kuala Lumpur without the organisers having to notify the police as would otherwise be required under the much criticised Peaceful Assembly Act of 2012."
Hong says: "To the non-Muslims in Malaysia, Najib's pledge to help the Rohingya is widely perceived to be self-serving, given the fact that his United Malays National Organisation (Umno), the linchpin of Barisan Nasional, the multinational ruling coalition, has failed to speak up for non-Muslim refugees facing persecution worldwide, such as the religious minorities in Iraq and Pakistan."
Giving examples, Hong says in 2015, the Najib administration deported three Tamil Sri Lankans "with the full knowledge that they could be at risk of physical abuse amounting to torture upon return, much to the chagrin of the Tamil community in Malaysia".
Back in 1979, he says, Dr Mahathir Mohamad, then deputy prime minister, had told the media that the government would not hesitate to shoot on sight boat people from Vietnam.
In 1996, Umno's youth wing stormed a public forum in a Kuala Lumpur hotel on largely Catholic East Timor, then under Indonesian occupation, forcing it to be aborted and resulting in the arrest and detention of organisers and attendants.
The Asia Times opinion piece says one former Umno youth leader later confessed he had done it with Mahathir's blessing.
"It is thus clear to all that while Malaysia has demonstrated solidarity with Muslim Palestinian and Bosnian refugees over the years, the same cannot be said of non-Muslim refugees worldwide.
"All this, coupled with the fact that decades of Umno dominance and state policies that favour Muslims in general and Malays in particular, has generated considerable antagonism on the part of non-Muslims."
Just last week, Hong notes, Kuala Lumpur City Hall revoked a permit for an Oktoberfest celebration at a shopping mall following pressure from Islamic conservative forces, despite the fact that only non-Muslims would have been allowed to attend the event.
"It is seemingly trivial issues and overzealousness like this that make non-Muslim Malaysians increasingly cynical towards the effort by the state to launch a crusade on behalf of 'downtrodden' Muslims around the world.
"In short, a Muslim champion abroad, and an oppressor at home."
Hong says ever since the latest crisis in Rakhine state broke out, non-Muslim netizens in Malaysia have been "highly critical of the announcement by their government to take in more Rohingya refugees fleeing Myanmar, as reflected in their virulent Facebook comments".
"Many see it as a double standard par excellence, while others are deeply concerned Muslim Rohingya would be used as phantom voters in the general election to be held in less than a year from now, to the detriment of the opposition parties.
"Such fears are not without basis, for Mahathir as prime minister once wrested the East Malaysian state of Sabah back from the opposition in the 1990s through what is now infamously known as Project IC, the provision of Sabah identity cards to foreign residents of the state."
Paradoxically, Hong says, Najib's Rohingya initiative does not appear to have worked even among the Malays.
While the Palestinian cause and the Bosnian Muslim issue in the 1990s aroused enormous sympathies within the country's Malay community, Hong says, the Muslim response towards the Rohingya seems to be lukewarm at best.
He suggests several reasons for this: the rising cost of living and a lackluster economy have dampened the zeal for indiscriminate Islamic unity among the Malays; and the potential number of Rohingya refugees is huge, as compared with the few hundreds of Palestinians, Bosnians and Syrians.
He also suggests that it may have also to do with the fact that the Rohingya, "being poorly educated, destitute and dark-skinned, simply do not appeal to Malaysian society at large, unlike Palestinians, Bosnians and, in recent years, Syrians, who have a European-like appearance."
Hong also says the government's "ad hoc and inchoate approach" to the refugee issue needs a complete rethink, with a view to signing up to the 1951 Convention and the 1967 Convention and Protocol on the Status Relating to Refugees.
Full report at:
http://www.freemalaysiatoday.com/category/nation/2017/09/27/report-rohingya-issue-shows-malaysias-biased-refugee-policy/
--------
Muslim man in Kelantan booked for wearing shorts in public
September 26, 2017
PETALING JAYA: The Kelantan Religious Affairs Department has ordered a Muslim man who wore shorts to play futsal to attend mandatory counselling for the offence of exposing his knees in public, or face a RM1,000 fine.
The Star Online today reported a department official as explaining that action was taken against the man because the state authorities wanted Muslims to dress decently in public areas, in line with Islamic religious teachings.
He said the imposition of the dress code was only for Muslims and no action would be taken against non-Muslims, male or female, who dressed in such a manner.
He was also quoted as saying that the Muslim man, Wan Khairul Hayyee Wali, would not have to pay the fine if he attended the counselling session as directed.
Wan Khairul, 30, said he was ordered to attend the session next month.
The wholesale store worker said he would have to face the shariah court if he refused to, and would risk being fined RM1,000 if convicted under the Syariah Criminal Enactment.
According to the news portal, he was slapped with the notice at 10.45pm on Monday.
He also said he attempted to explain to the enforcement officer that he was on his way to play the game but stepped out of his car to buy food for his wife.
"If I had not stopped to buy the burger, I would never have known that it is an offence to wear shorts even when we are on the way to play sports," he was quoted as saying.
He said he had been wearing shorts to play futsal since the time he was a schoolboy and was therefore shocked to receive the notice.
Full report at:
http://www.freemalaysiatoday.com/category/nation/2017/09/26/muslim-man-in-kelantan-booked-for-wearing-shorts-in-public/
--------
Singaporean Blogger Released After Winning US Ruling for Asylum
Sep 27, 2017
Chicago. A young Singaporean blogger who says he was persecuted for his political opinions in the Southeast Asian country was released on Tuesday (26/09) from United States detention in Chicago after a federal immigration panel ruled in his favor.
The federal Board of Immigration Appeals upheld a March decision by a Chicago immigration judge granting asylum to Amos Yee, 18, who had been jailed twice in Singapore for social media postings critical of government officials, his attorneys said on Tuesday.
"Now I can criticize the Singapore government without being sent to prison," Yee told Reuters after his release.
Yee's trials in Singapore were closely watched by rights groups and the United Nations, and fueled debate in Singapore over censorship, the limits of free speech and political correctness.
Yee had been in US immigration detention since December 2016 when he arrived seeking asylum, according to Yee's attorney Sandra Grossman. The court made its ruling on Sept. 21, but Grossman said she only learned of the outcome this week.
The US Department of Homeland Security, which opposed Yee's asylum application and argued the Singapore government had legitimately prosecuted him, could not be immediately reached.
The department could appeal the ruling to a circuit court but Grossman said she believed it was unlikely.
Chicago immigration Judge Samuel Cole found Yee's prosecution, detention and treatment by Singapore authorities "constitute[s] persecution on account of Yee's political opinions."
Officials at Singapore's embassy in Washington could not be immediately reached for comment Tuesday. In March, the country's Ministry of Home Affairs issued a statement in which it quoted Yee's remarks against Muslims and Christians and noted Yee had pleaded guilty to charges against him.
In September last year, Yee pleaded guilty to six charges of deliberately posting comments on the internet – in videos, blog posts and a picture – that were critical of Christianity and Islam. He was sentenced to six weeks in jail.
In 2015, Yee was convicted on charges of harassment and insulting a religious group over comments he made about former premier Lee Kuan Yew and Christians soon after Lee's death. His sentence at the time amounted to four weeks in jail.
Full report at:
http://jakartaglobe.id/international/singaporean-blogger-released-winning-us-ruling-asylum/
--------
Thailand Reinstates Chief of National Buddhism Office
Sep 27, 2017
Bangkok. Thailand has reinstated as the head of a state body charged with administering the Buddhist religion an official who was sacked last month, the prime minister said on Tuesday (26/09).
Thailand's military government has vowed to reform Buddhism, which is followed by 90 percent of a population of 67 million and is viewed as one of the three traditional pillars of Thai society, along with the nation and the monarchy.
Pongporn Pramsaneh, the chief of the National Buddhism Office, was sacked at the end of August, following pressure from Buddhist groups who said his plan to reform temple finances had painted all monks in a bad light.
"At the time there were problems, so it was necessary to remove him temporarily so things would calm down," Prime Minister Prayuth Chan-ocha told reporters after a weekly cabinet meeting.
"He did nothing wrong," Prayuth said, adding that senior monks had also signaled they would cooperate following the reinstatement, which takes effect on Oct. 1.
Pongporn did not answer telephone calls from Reuters to seek comment.
In a country where Buddhist temples rake in annual donations running into billions of dollars, but keep financial dealings private, Pongporn had planned to introduce a law forcing more than 40,000 temples to make their financial records public.
Despite high-profile temple scandals over murder, drugs, and sex as well as improper financial dealings, some monks saw the plan as interfering with Buddhist affairs, which are handled by a Sangha Supreme Council made up of senior monks.
The government's U-turn came as Thai police stepped up an investigation into alleged corruption and misappropriation of state funds for religion that involved 19 monks and officials and 23 Buddhist temples nationwide.
Four senior monks from the northern province of Petchabun were charged with embezzlement and related charges on Monday in the widening scandal.
Full report at:
http://jakartaglobe.id/international/thailand-reinstates-chief-national-buddhism-office/
--------
Pakistan
UN-listed Terror Group Found Collecting Donations for Rohingya in Pakistan
September 26, 2017
ISLAMABAD, PAKISTAN —
A Pakistan-based group listed as a terrorist outfit by the United Nations and the United States has been openly collecting donations in the name of helping Rohingya Muslims.
People in Rawalpindi received leaflets inside some newspapers Monday requesting donations for the "oppressed Muslims of Burma," an older name for Myanmar.
The two-sided flyers in the local Urdu language contained an appeal from Jamaat ud Dawa and its charity arm, the Falah e Insaaniyat Foundation.
The piece of paper showed photos of men, women, and children in dire conditions and suggested aid amounts. One family could be helped for three months for approximately $500, according to the piece of paper that included phone numbers to contact. Similarly, an injured person could be treated for approximately $150.
A spokesman for the group, Abdul Rahman, said the group was running its charity drive for the Rohingya Muslims in "every district of Pakistan."
He also claimed that members of his group were helping the Rohingyas in multiple countries.
"Our brothers have reached Indonesia and have constructed temporary wood and fiber houses for them, arranged for their monthly groceries and set up a bread plant for them," he said.
Doubts about ads
In addition, Rahman said the FIF members were feeding 63,000 Rohingyas in refugee camps on the shores of River Naf, a river that marks the border between Bangladesh and western Myanmar.
While VOA has not been able to independently verify any of these statements, Ali Ahsan, a Bangladeshi journalist who has been to Cox's Bazar and has covered Rohingya issues, called these claims "fake news."
Ahsan called 63,000 "a huge number. If anyone was doing charity at that scale, I would have heard about it." The only Islamist charity involved in providing any significant aid in that area was the Islamic Movement of Bangladesh, he said.
Similarly, Nupa Alam, a correspondent of Bangladesh's Channel 24 television news and a native of Teknaf, in the Cox's Bazar district, said that he knew of no organization called Jamaat ud Dawa or Falah e Insaaniyat that was feeding Rohingyas in that area. He said the 63,000 figure was "out of the question."
The eight feeding centers operating in the area, Alam said, were being run by the Bangladesh government and military.
Hasan Askari Rizvi, a political analyst in Lahore, said it was highly unlikely that the current Bangladesh government, with its tense relations with Pakistan and critical stance on Islamists, would tolerate the charitable arm of the Pakistani militant group openly operating in its territory.
There was also no way of knowing where the money was really going, Rizvi said, adding that it was possible that they were collecting donations in the name of Rohingyas but spending the money elsewhere.
Crackdown pledged
A spokesman for the Pakistan government, Musadik Malik, said the Ministry of Interior was aware of the charity drive and had already instructed police to take action against anyone collecting money in the name of these organizations.
The United States has long complained that despite billions of dollars in aid aimed at curbing the influence of banned terrorist groups in the country, some well-known groups such as JuD still operate with impunity. But government spokesman Malik said the administration was serious about cracking down on these groups.
"They had 66 accounts in the country. All of them have been ceased," he said. "We have canceled licenses of weapons of anyone associated with JuD and taken over their headquarters in Muridke, Punjab, to turn it into a Center for Peace and Development."
The United Nations has listed JuD as part of Lashkar-e-Taiba, a group that India and the U.S. blame for a devastating series of attacks on the Indian financial capital, Mumbai, in 2008. The coordinated attacks, which lasted several days and killed more than 160 people, brought India and Pakistan to the brink of war.
"LeT has financed terrorist activity and provided training, logistical and infrastructural support to further such activity through its front organization, Jamaat ud Dawa," according to the U.N.'s website.
Pakistan has placed the leader of JuD, Hafiz Muhammad Saeed, under protective custody since the beginning of the year. However, he has been placed under similar custody before, only to be freed by the country's courts that said there was insufficient evidence to hold him.
The U.S. has placed a $10 million bounty for information leading to his arrest and prosecution.
Pakistan has faced increasing pressure from the international community to take action against all militant groups, including LeT and JuD.
Last month, U.S. President Donald Trump blasted the country for "housing the very terrorists that we are fighting."
Earlier this month, Pakistan's longtime ally and protector China joined Brazil, Russia, India and South Africa in expressing concern about Pakistan-based groups.
"We, in this regard, express concern on the security situation in the region and violence caused by the Taliban, [Islamic State] ... , al-Qaida and its affiliates including Eastern Turkistan Islamic Movement, Islamic Movement of Uzbekistan, the Haqqani network, Lashkar-e-Taiba, Jaish-e-Mohammad, TTP and Hizb ut-Tahrir," the leaders of the BRICS nations, a group of the five emerging economies, said after a summit in Xiamen, China.
Network in Pakistan
Pakistani Foreign Minister Khwaja Asif recently said that the country needed to "put its own house in order."
That, according to Rizvi, is easier said than done.
"The problem is that these groups have support in the society. They have a huge network," which was why he said many of the mainstream political parties hesitated in openly criticizing these groups.
"There is a huge ambiguity in the government's policy towards them," said journalist Zahid Hussain, who has authored several books on the rise of militant Islam in Pakistan.
Pakistan's government has placed JuD under observation, but Hussain thought that was more "on paper" than in action.
The group has recently started efforts to formally enter Pakistan's politics through the launch of a new party called the Milli Muslim League. Pakistan's English-language daily, the Dawn, called it "the new political face of JuD."
The party's candidate, who ran as an independent in a recent by-election in Lahore, had the pictures of Hafiz Saeed on banners for his election campaign.
Rizvi pointed out that the government was going to find it hard to crackdown on JuD while relations between India and Pakistan remained tense.
"If you take this action while India was breathing down your neck, people will say the government caved in to India," he said.
Relations between the two South Asian rivals are currently extremely tense. At the recent U.N. General Assembly in New York, Pakistan's prime minister accused India of state-sponsored terrorism and of gross violations of human rights in the disputed Kashmir region.
India's foreign minister responded by calling Pakistan "the world's greatest exporter of havoc, death and inhumanity."
https://www.voanews.com/a/terror-group-found-collecting-donations-rohingya-pakistan/4045507.html
--------
JuD leaders allowed to file plea against detention orders
September 27, 2017
LAHORE - The Lahore High Court on Tuesday allowed the counsel for Jamaatud Dawa chief Hafiz Saeed to file a new application against issuance of fresh detention orders by the Punjab government.
Justice Sayyed Mazahar Ali Akbar Naqvi passed the order and adjourned the hearing till Wednesday (today).
During the proceedings, the Punjab Home Department submitted a copy of the notification containing fresh orders for detention of the petitioners for another 30 days. On this, the judge ordered making the notification record of the proceedings.
On Sept 12, the Punjab Home Department had informed the LHC that activities of Jamaatud Dawa chief Hafiz Muhammad Saeed, if released, would cause a threat to public safety and challenge the public order. Hafiz Saeed and his aides Abdullah Ubaid, Malik Zafar Iqbal Shahbaz, Abdur Rehman and Qazi Kashif Hussain were detained on January 28, but their detention orders expired on July 27.
The previous detention orders were issued by the Punjab government under II-EEE of the Anti-Terrorism Act, 1997 but now these had been issued under the Punjab Maintenance of Public Order, 1960.
The petitioners, however, challenged their fresh detention orders through their counsel A K Dogar submitting that the government was due to release them on July 27 but it issued again their detention orders. They said that government's decision was a gross violation of human rights and freedom guaranteed by the Constitution, 1973. They also termed their detention an inhuman act.
Hafiz Saeed and his aides' petition against their detention under various sections of ATA were already sub judice before the Lahore High Court. The counsel said that Punjab government's decision to detain his clients was unlawful.
On January 28, the Interior Ministry had suggested the provincial government to put them under detention, saying that Jamaatud Dawa and Falah-e-Insaniat Foundation were engaged in certain activities, which could be prejudicial to peace and security and in violation of Pakistan's obligations to the United Nations Security Council Resolution No 1267. The Punjab government has placed both organisations in the second schedule of ATA under its section 11-D (1).
LHC reserves judgement on plea against Musharraf
The Lahore High Court on Tuesday reserved decision on maintainability of an intra court appeal seeking contempt proceedings against former military ruler Gen (r) Pervez Musharraf.
Earlier, a single bench of Justice Shahid Karim on September 13 had dismissed a contempt petition against him, holding that it was not maintainable.
A local resident, Nadeem Butt, had moved the petition alleging that Musharraf gave statements against the judiciary. Petitioner's counsel Rana Asadullah Khan pointed out that Musharraf in his recent interview with electronic media uttered derogatory remarks about the judiciary.
He said that Musharraf claimed in his interview that the last army chief Gen (r) Raheel Sharif had managed things for him against proceedings under treason charges and secured a safe exit from the country. He alleged that Musharraf tried to ridicule the judiciary by saying the army had helped him out against treason proceedings.
He asserted that Musharraf tried to make mockery of the judiciary and his remarks were contempt of court. He requested that the federal law ministry should be directed to initiate an inquiry against Musharraf for scandalising and ridiculing the institution of judiciary. He also sought directions for the Pakistan Electronic Media Regulatory Authority (Pemra) to take action against a news channel for showing derogatory programmes against the judiciary.
Full report at:
http://nation.com.pk/lahore/27-Sep-2017/jud-leaders-allowed-to-file-plea-against-detention-orders
--------
Tehreek-i-Labaik fields candidate in NA-4
September 27, 2017
LAHORE - Encouraged by its candidate's good performance in NA-120's by-election, the Tehreek-i-Labaik Pakistan has decided to field its candidate in upcoming by-election in Peshawar's NA-04 constituency.
At a meeting in Lahore on Tuesday, the TLP leadership fielded Party's Peshawar-chapter amir Dr Muhammad Shafiq Ameeni as candidate to contest the by-election against mainstream political parties.
TLP's Sheikh Azhar Hussain Rizvi had bagged 7,130 votes in by-election of NA-120 and stood at third among the candidates of other political parties. The party's head, Khadim Hussain Rizvi presided over the meeting while its central leader Pir Afzal Qadri took part as special guest. Amirs of various zones were also present there in the meeting that held at the library of the seminary of Khadim Hussain - which is also the party office.
The TLP leadership decided that they would field candidates in all coming elections and would fully participate in next general elections of 2018. It has also formed its women wing.
"Scrutiny process has begun and very soon the party will give tickets to its workers for next general elections," said a release issued by the party on Tuesday night. It said that the party leaders vowed to use all available sources to enforce Sharia as the state law and would not indulge in any effort to divide votes of other parties. They also decided to cancel 'All Pakistan Labaik Ya-Rasoolallah conference' which was to be held on Oct 21 at Minar-i-Pakistan due to upcoming by-election of NA-04, it said. The announcement of conference would be made after the by-election.
The party leaders also made five-member election board of the party and decided that they would not allow Pakistan to be a 'secular state'.
Full report at:
http://nation.com.pk/lahore/27-Sep-2017/tehreek-i-labaik-fields-candidate-in-na-4
--------
Rabbani terms China's development source of world peace, prosperity
Sep 27, 2017
ISLAMABAD: Senate Chairman Mian Raza Rabbani has said that China's fast socio-economic development is a source of World's peace and prosperity, at a reception hosted by the Chinese ambassador on Monday night.
Extending heartiest congratulations to the government and the people of China on their 68th National Day to be commemorated on October 1, he said that Pakistan is proud of China's friendship, hoping it will keep growing with the passage of time.
The reception was hosted by Chinese Ambassador Sun Weidong and his wife Diana Bao on the occasion of the 68th anniversary of the founding of the People's Republic of China.
It was largely attended by ministers, politicians, senior members of the armed forces, diplomats and the civil society. The national anthems of Pakistan and China were played to celebrate the occasion.
Prominent guests included National Assembly Deputy Speaker Javed Abbasi, Punjab Governor Rafiq Rajwana, KP Governor Zafar Iqbal Jagar, Pakistan Muslim League-Quaid (PML-Q) President Chaudhry Shujaat Hussain, Jamiat Ulema-e-Islam (JUI) chief Maulana Fazalur Rehman, PPP Senator Sherry Rehman, PPP Senator Rehman Malik, PML-Q Senator Syed Mushahid Hussain and PTI leader Dr Firdous Ashiq Awan.
The ministers who attended the reception included Akram Khan Durrani, Sikandar Hayat Bosan, Abdul Qadir Baluch and Baligur Rehman, besides Adviser to PM on National Security Gen (r) Nasser Janjua.
Addressing the ceremony, Rabbani further said that the two countries enjoyed a common viewpoint on various regional and international issues and that they were moving ahead jointly on the road to progress and prosperity. He also spoke highly of China's growing partnership with Pakistan and praised China for its contribution to the development of Pakistan's domestic and global economy.
Ambassador Sun Weidong, in his address, reassured China's firm support for Pakistan's solidarity and independence, and its active participation in Pakistan's socio-economic development.
He also said that the participation of all the politicians gathered on the occasion, was a true reflection of the fact that China-Pakistan friendship is a cross-board consensus from all walks of life in Pakistan.
"We believe that there should be a global partnership with dialogue over confrontation, partnership over alliance. We are committed to promoting the "Belt and Road" Initiative," he said.
The Chinese ambassador went on to say that a prosperous and strong China will make greater contributions to world peace and development. "We would like to share with the world our development opportunities," he said.
About the Sino-Pak relationship, he said that China and Pakistan have always been good neighbours, friends, partners and brothers. Their cooperation developed vigorously in the fields of trade and investment, culture, science and technology, education, defence and security. The two countries maintained close coordination in major international and regional affairs.
He concluded by saying that fighting against terrorism is a strategic decision of Pakistan and that the efforts and national sacrifices made by Pakistan to curb terrorism should be fully understood and acknowledged by the international community.
Full report at:
https://www.pakistantoday.com.pk/2017/09/26/raza-rabbani-terms-chinas-development-source-of-world-peace-prosperity/
--------
Driver injured as bomb hits school bus in Quetta
27-Sep-17
QUETTA/BARA: A remote controlled bomb exploded near a school bus carrying about 100 children on Quetta's Hana Road on Tuesday.
According to security personnel, the bus was coming from Sorenje area when the explosion occurred. All schoolchildren remained safe in the mishap but the driver sustained minor injuries. He was shifted to a local hospital. The vehicle was also partially damaged.
After getting information, rescue teams along with Levies, police and Frontier Corps officers arrived at the spot and launched an investigation.
http://dailytimes.com.pk/pakistan/27-Sep-17/driver-injured-as-bomb-hits-school-bus-in-quetta
--------
Two TTP men arrested in CTD raid
September 27, 2017
LAHORE: The counter terrorism operatives Tuesday claimed to have arrested two members of the Tehrik-e-Taliban Pakistan during a successful operation in Lahore. A CTD spokesman said the raid was conducted on the basis on actionable intelligence in Lahore's Sabzazar.
The suspects were named by police as Tawakal Khan and Adam Khan. The Lahore CTD team also seized hand-grenades and explosives from their possession. The spokesman claimed that a "terrorism plan (has been) defeated in Lahore. "They were preparing to launch an attack on worship places in the coming days," he added. –Staff Reporter
http://nation.com.pk/lahore/27-Sep-2017/two-ttp-men-arrested-in-ctd-raid
--------
Police recruiting commandos to fight terror
September 27, 2017
KARACHI - Mindful that it is understaffed, Sindh Police is recruiting commandos to cope with the rising challenges of terrorism, The Nation learnt here on Tuesday.
While on one hand, routine recruitment of personnel continues, police is also recruiting commandos.
These commandos are either associated with Special Security Unit (SSU) or Rapid Response Force (RRF), and particularly facilitate police in crucial circumstances and also provide security to high-profile personalities and sensitive installations.
Police officials concerned revealed that the available police strength was not enough to maintain the law and order situation. Therefore it was essential for the department to increase the strength," they elaborated.
Police officials said that the port city's population was more than 20 million, and had some 109 police stations.
The strength of each police station is not more than 60 cops in both the shifts; even in the troubled areas of the metropolis, while 20 to 25 percent police personnel are deployed for VIP duty or to protect high-profile personalities, they added.
Sindh police, in the last couple of years, have established a special security unit (SSU) to cope with new challenges and for the security of sensitive personalities and installations.
However, due to the rising challenges thrown by terrorism, SSU strength is being exhausted. Therefore, SSU keeps on enhancing its operational capacity and capability in order to meet emerging challenges efficiently and effectively.
It has pioneered in introducing the first- ever Specialized Weapons and Tactics (SWAT) team. The Unit that had started with 1,000 personnel, now its strength stands at 3,000 with prospective increase to 4,000 in near future.
Karachi police force consists of over 30,000 police personnel, including around 8,000 deployed for the security of the VIPs.
As many as 18,000 operational police personnel are performing duties to maintain the law and order situation across the city in different shifts means not more than 7,000 cops are performing duties in each shift to control crimes in a mega city.
The province-wise break-up reported that the police's strength in Punjab is around 200,000 for a population of almost 85 million; in the second largest province, Sindh, 145,500 police personnel, including non-operational total or reserve force, guard a population of over 50 million; in Khyber Pakhtunkhwa 100,000 policemen protect a population of over 20 million; and in Balochistan some 55,000 policemen perform their duties for a population of eight million.
Full report at:
http://nation.com.pk/karachi/27-Sep-2017/police-recruiting-commandos-to-fight-terror
--------
Mideast
Saleh says he 'does not recognize' UN resolution on Yemen
26 September 2017
Ousted Yemeni president Ali Abdullah Saleh has repeatedly rebuffed UN resolutions regarding Yemen, saying he does not recognize UN resolution 2216.
Saleh referred to the resolve as an act of "war", thus destroying what was considered the only "gesture of hope" for the Yemeni people to reach a solution that would alleviates their suffering.
Saleh said in a speech on Monday evening that he also does not recognize the outcome of the national dialogue, which divided Yemen into territories, as well as his rejection of the Gulf initiative.
Saleh's remarks come as the Yemeni envoy to the UN is working to revive negotiations on the basis of international resolutions and the Gulf initiative, in an attempt to resolve the crisis resulting from the Houthi militia coup that put the Yemeni people in turmoil.
Saleh paid homage to the Houthi militias that stormed the city of Sanaa on September 21 and turned against President Hadi's regime.
Saleh defied Yemeni authorities, after recent tension between the coup parties, Saleh said: "No return for President Hadi to the capital Sanaa."
Abdullah al-Maalmi, Saudi Arabia's permanent representative to the United Nations, said on Monday that "there is a widespread understanding that the Houthis would reject any peace settlement because they profit from the war and they do not contribute to the cost of living of the Yemeni people."
https://english.alarabiya.net/en/News/gulf/2017/09/26/Saleh-rejects-UN-resolve-I-do-not-recognize-resolution-2216-.html
--------
Iraqi Kurdistan's independence push could spark ethnic war: Turkey's Erdogan
Sep 26, 2017
Turkish President Recep Tayyip Erdogan has warned Massoud Barzani, the president of Iraq's Kurdistan Regional Government (KRG), that the current push for the independence of the KRG could spark an "ethnic war" in northern Iraq.
"If Barzani and the Kurdish Regional Government do not go back on this mistake as soon as possible, they will go down in history with the shame of having dragged the region into an ethnic and sectarian war," Erdogan said in a speech addressing academics at his palace in the capital Ankara on Tuesday.
The Turkish president's comments came a day after the KRG held a provocative independence plebiscite in the Iraqi Kurdish region despite fierce opposition from Baghdad and neighboring countries Iran and Turkey. Ankara has already warned that disintegration of Iraq has the potential to turn into a major conflict.
The contentious non-binding vote, which was announced by the KRG earlier in the year, was also held in the region much to the consternation of the international community that warned it could most likely throw the already violence-weary Arab country into more trouble.
According to Iraqi Kurdish authorities, the turnout was 76 percent, with 3.3 million of the total 4.58 million registered voters having participated in the plebiscite. The results were expected to be announced within 24 hours following the referendum.
Elsewhere in his remarks, Erdogan described the Kurdish referendum as "treason to our country," since it had come at a time of warm relations between Ankara and Erbil, the capital of the KRG. The Turkish president also strongly urged Barzani to "give up on an adventure, which can only have a dark end."
"Until the very last moment, we weren't expecting Barzani to make such a mistake as holding the referendum; apparently we were wrong. This referendum decision, which has been taken without any consultation, is treachery," the Turkish president said.
On Monday, Erdogan said he would seal the Turkish border with the Iraqi Kurdish region over the controversial plebiscite, threatening the Kurdish leaders with blocking their key oil exports. He also did not rule out military intervention in the region to counter the creation of a Kurdish state on its southeastern border, hinting that the would-be state could become a safe haven for Kurdish militants, notably the Kurdistan Workers' Party (PKK) militants, who fight against Ankara.
On Tuesday, Erdogan reiterated that Turkey, which fears the effects of the referendum on its large Kurdish population, would consider all options, including economic sanctions and military measures, regarding the KRG, warning the Iraqi Kurds that they would go hungry if Ankara decided to stop the flow of trucks and oil across its border with northern Iraq.
"All options are on the table right now and being discussed. You (the KRG) will be stuck from the moment we start implementing the sanctions," said Erdogan in Ankara, warning, "It will be over when we close the oil taps, all (their) revenues will vanish and they will not be able to find food when our trucks stop going to northern Iraq."
'Israeli flag will not save you'
Elsewhere in his remarks, the Turkish president said only the Tel Aviv regime would recognize independence of the Iraqi Kurdistan Region.
"Who will recognize your independence? Israel. The world is not about Israel. You should know that the waving of Israeli flags there will not save you" from regional isolation, Erdogan said, referring to some Israeli flags waved by a number of people in the streets of Erbil during the celebrations last night.
On Monday, the Iraqi Defense Ministry announced that the country's army had begun large-scale military drills with the Turkish army along the common border. Earlier in the day, Iraqi legislators had called for the deployment of army troops to areas disputed with Kurds.
Iran, for its part, has announced that it is opposed to the "unilateral" scheme for the independence of the Iraqi Kurdistan, underlining the importance of maintaining the integrity and stability of Iraq and insisting that the Kurdistan region is part of the majority Arab country.
Full report at:
http://www.presstv.ir/Detail/2017/09/26/536555/Turkey-Erdogan-KRG-referendum-independence-Iran-Barzani-sanctions-drills-Israel
--------
Erdogan tells Iraqi Kurds they will go hungry if Turkey imposes sanctions
26 September 2017
Turkish President Tayyip Erdogan said Iraqi Kurds would go hungry if his country halts the flow of trucks and oil across the border with northern Iraq and warned that all military and economic measures were on the table against its neighbor.
The comments, some of the harshest yet from Erdogan about Monday's referendum in Iraq's semi-autonomous Kurdish region, came as Iraqi troops joined the Turkish army for military exercises near Turkey's border with northern Iraq.
While initial results indicated overwhelming support for independence, Turkey - long northern Iraq's main link to the outside world - sees the referendum as a threat to its own security, fearing it will inflame separatism among its Kurdish population.
"(They) will be left in the lurch when we start imposing our sanctions," Erdogan said in a speech broadcast live on television. "It will be over when we close the oil taps, all (their) revenues will vanish, and they will not be able to find food when our trucks stop going to northern Iraq."
Turkey, which is home to the region's largest Kurdish population, is battling a three-decade Kurdish insurgency in its southeast, which borders northern Iraq. Erdogan said on Monday that traffic was only being allowed to cross from the Turkish side of the border into Iraq.
Erdogan has repeatedly threatened economic sanctions, but has given few details. Hundreds of thousands of barrels of oil a day flow through a pipeline in Turkey from northern Iraq, connecting the region to global oil markets.
Iraq, including the Kurdish region, was Turkey's third-largest export market in 2016, according to IMF data. Turkish exports to the country totaled $8.6 billion, behind Germany and the United Kingdom.
Military measures possible
Erdogan said all potential measures - including economic and military initiatives that involved land and air space - were on the table, adding that Iraqi Kurds would be incapable of forming a state.
Full report at:
https://english.alarabiya.net/en/News/middle-east/2017/09/26/Erdogan-tells-Iraqi-Kurds-they-will-go-hungry-if-Turkey-imposes-sanctions.html
--------
Three Israelis killed in suspected gun attack on West Bank settlement
26 September 2017
A Palestinian opened fire at Israeli security personnel at the entrance to a West Bank settlement on Tuesday, killing three and wounding another before being shot dead, police said.
"A terrorist who arrived at the rear gate of Har Adar along with Palestinian laborers entering the settlement.... pulled out a weapon and opened fire at the force at the site," police said.
"Three Israelis were killed in the attack, another was wounded and the terrorist was neutralized."
Police later said the Palestinian had died of his wounds.
The wounded Israeli was admitted to Hadassah hospital in Jerusalem in serious condition, the hospital said.
The incident, at a settlement northwest of Jerusalem that lies near several Palestinian villages, comes nearly two years after a wave of unrest broke out.
The violence had greatly subsided in recent months.
Since October 2015, the unrest has killed at least 295 Palestinians or Arab Israelis, 50 Israelis, two Americans, two Jordanians, an Eritrean, a Sudanese and a Briton, according to an Agence France-Presse toll.
Israeli authorities say that most of the Palestinians killed were carrying out knife, gun or car-ramming attacks.
Full report at:
https://english.alarabiya.net/en/News/middle-east/2017/09/26/Three-Israelis-killed-in-suspected-gun-attack-on-West-Bank-settlement.html
--------
Elimination of nukes every state's legal, political, moral responsibility: Iran
Sep 27, 2017
Iranian Deputy Foreign Minister Abbas Araqchi has said that working towards the total purging of nuclear weapons is a "legal, political and moral responsibility" of every state.
Araqchi made the remarks on Tuesday while addressing the United Nations General Assembly on the International Day for the Total Elimination of Nuclear Weapons.
"We need to take this responsibility responsibly and continue our collective efforts resolutely. On its part, Iran will continue to remain a strong supporter of nuclear disarmament," he said.
He went on to add that nuclear-armed countries have been jeopardizing the Non-Proliferation Treaty by continued violations over the past almost 50 years.
"While nuclear-weapon states are primarily responsible for the elimination of their nuclear arsenals, the non-nuclear-weapon states shall not remain indifferent towards the 47-year non-compliance of nuclear-weapon states with their explicit nuclear disarmament obligations," he added.
He added that the global community will no longer tolerate such countries' lack of commitment to de-nuclearization.
"Non-nuclear-weapon States need to contribute to the work of the United Nations high-level international conference on nuclear disarmament in 2018 and the Review Conference of the States Parties to the NPT in 2020 towards taking concrete actions to rectify this situation," he added.
In 1970, the Treaty on the Non-Proliferation of Nuclear Weapons, or NPT, was ratified, and it was extended indefinitely in 1995. Under the treaty, the five permanent members of the United Nations Security Council — China, France, Russia, the United States and the United Kingdom — were acknowledged as nuclear powers, and other countries that joined the treaty agreed not to pursue nuclear weapons development, although they are allowed to use nuclear technology for non-military purposes.
Full report at:
http://www.presstv.ir/Detail/2017/09/27/536602/iran-npt-nuclear-weapons-removal
--------
Iranian, 74, sentenced to death over 'mixed' parties
Sep 27, 2017
TEHRAN - Iran has sentenced a 74-year-old man to death for hosting "mixed and half-naked parties", the head of Tehran's judiciary said on Tuesday. Chief prosecutor Abbas Jafari Dolatabadi said the man led "a corruption gang" which held parties with drugs and alcohol, and where women were "sexually harassed". "The head of this corruption gang has been sentenced to execution and the case has been sent for appeal to the supreme court," he said, according to the judiciary-linked Mizan news agency.
http://nation.com.pk/international/27-Sep-2017/iranian-74-sentenced-to-death-over-mixed-parties
--------
Africa
Police use tear gas, batons to disperse opposition protesters in Kenya
Sep 26, 2017
Kenyan riot police have clashed with opposition protesters staging a rally against election officials in the capital city, Nairobi.
Police fired tear gas canisters and used batons on Tuesday to disperse the protesters calling for the election officials to be fired and prosecuted before a re-run of a contested presidential vote.
Several volleys of tear gas were fired at protestors near the Independent Electoral and Boundaries Commission (IEBC) headquarters in central Nairobi, a Reuters witness said.
Security officers also beat some of the protesters with batons after regrouping with backup forces.
Supporters of the opposition National Super Alliance coalition marched in several cities across the country.
Opposition leader Raila Odinga, who lost his bid to be elected president on August 8, has got another chance when the vote is re-run after the Supreme Court annulled the re-election of President Uhuru Kenyatta, citing irregularities.
The court ruling on September 1 said a repeat election should be held within 60 days, but Odinga has said he would not participate in the re-run scheduled for October 26 if officials at the election board are not sacked and prosecuted.
http://www.presstv.ir/Detail/2017/09/26/536535/Kenyan-police-use-tear-gas-batons-to-disperse-opposition-protesters
--------
Somalia: Trump's Muslim Ban Revision Risks More Suffering
26 SEPTEMBER 2017
Following a revision of President Trump's travel ban to now include restrictions on travelers from Chad, Iran, Libya, North Korea, Somalia, Syria, Venezuela and Yemen, Naureen Shah, senior campaigns director for Amnesty International USA, released the following statement:
"Since this ban was implemented 10 months ago, we've seen families torn apart and whole nations of people demonized for the crimes of a few.
The order was a catastrophe not just for those seeking safety but for those who simply want to travel, work, or study in the United States. Today's action neither relieves this tension nor keeps anyone safe.
"Just because the original ban was especially outrageous does not mean we should stand for yet another version of government-sanctioned discrimination. It is senseless and cruel to ban whole nationalities of people who are often fleeing the very same violence that the U.S. government wishes to keep out.
This must not be normalized."
"At a time when the entire world is facing the largest refugee crisis since World War II, the U.S. government should not be taking actions that may encourage other countries to institute even more sweeping bans on top of already onerous vetting processes that will slam more doors on desperate people seeking safety."
Full report at:
http://allafrica.com/stories/201709260680.html
--------
Libya groups start talks in Tunisia to launch new UN plan
Sep 26, 2017
The opposing sides of a conflict in Libya have begun a series of negotiations in neighboring Tunisia to officially launch a new plan by the United Nations to end the six-year-old turmoil in the country.
Reports said the meeting, which got closed to the press, began on Tuesday in Tunis after a speech by UN envoy Ghassan Salame, who urged the two sides to set aside their differences and complete their work in a timely fashion.
"All Libyans are fed up. They are going from transition to transition with no horizon," said Salame as the talks convened, adding, "We have sleeping institutions that need to be awoken, divided institutions that need to be united, and hijacked institutions that need to be rebuilt."
The negotiations come a week after Salame announced a one-year "action plan" for a transition toward presidential and parliamentary elections in Libya.
Delegations from rival parliaments from eastern Libya and Tripoli are supposed to talk about how to amend a previous UN-mediated plan signed in December 2015.
If the parties to the current talks success in drawing up amendments, a national conference would convene with the presence of a much larger number of representatives from across Libya. The conference would then select the members of a transitional government that would run the country until elections. Libya's eastern parliament, or the House of Representatives (HOR), which is allied with the powerful military commander Khalifa Haftar, is tasked in the current scheme with devising laws for national elections. It should also engineer a referendum to approve Libya's much-delayed constitution.
The UN-backed 2015 deal, which should undergo amendments in the current UN plan, led to the establishment of the Government of National Accord (GNA) in Tripoli. The deal and the GNA itself have, however, failed to gain support from power-brokers in Libya and they are opposed by Haftar and militant factions associated with him.
Full report at:
http://www.presstv.ir/Detail/2017/09/26/536562/UN-Libya-peace-plan
--------
North America
American-born Muslims more likely than Muslim immigrants to see negatives in U.S. society
BY CLAIRE GECEWICZ AND BESHEER MOHAMED
Sep 26, 2017
While Muslims born in the United States and their immigrant counterparts share a pride in being American, U.S.-born Muslims are less likely than immigrants to feel comfortable with their place in broader American society.
Muslim immigrants and those born in the U.S. both overwhelmingly express pride in their national identity. About nine-in-ten U.S.-born (90%) and foreign-born (93%) Muslims say they are proud to be American, according to a 2017 Pew Research Center survey.
Like the larger American public, majorities of both U.S.-born Muslims and Muslim American immigrants say they believe people who want to get ahead can do so with hard work (65% and 73% respectively). Roughly six-in-ten of all Americans (62%) share this belief.
However, U.S.-born Muslim Americans are less likely than immigrants to perceive positive feelings from their fellow Americans. Indeed, just three-in-ten U.S.-born Muslims say the American people are friendly toward Muslim Americans, compared to 73% of immigrants who feel this way.
And U.S.-born Muslims are more likely than their immigrant counterparts to say there is discrimination against Muslims, and to say they have personally experienced at least one of several specific types of discrimination, such as people acting suspicious of them or calling them offensive names, being singled out by airport security or by some other law enforcement, or being physically attacked or threatened.
Nine-in-ten (91%) U.S.-born Muslims say there is a lot of discrimination against Muslims, compared with 65% of immigrants who say this. And six-in-ten U.S.-born Muslims (61%) say that in the past 12 months they have experienced at least one of the specific types of discriminatory behavior asked about in the survey, compared with 39% of immigrants who say this. As might be expected, those who have personally experienced discrimination are more likely to say that there is a lot of discrimination against Muslims.
U.S.-born Muslims also are more likely than immigrants to say that political institutions are unfriendly toward their group. For instance, most U.S.-born and foreign-born Muslims say the Democratic Party is "friendly" or "neutral" toward Muslim Americans, but immigrant Muslims are particularly likely to feel this way. Likewise, U.S.-born Muslims are more likely to say the Democratic Party is unfriendly (23%) than foreign-born Muslims (5%).
And while many U.S. Muslims say that the Republican Party is unfriendly toward Muslim Americans, seven-in-ten U.S.-born Muslims hold this view, while only half of foreign-born Muslims say this.
The same holds for views on President Trump. Large majorities of U.S. Muslims say that Trump is unfriendly toward Muslims, but U.S.-born Muslims are more likely to hold this view (85% vs. 67%).
http://www.pewresearch.org/fact-tank/2017/09/26/american-born-muslims-more-likely-than-muslim-immigrants-to-see-negatives-in-u-s-society/
--------
Trump welcomes Saudi driving decree as positive step for women's rights
27 September
US President Donald Trump on Tuesday commended Saudi Arabia's decision to allow women to drive.
The change came in a royal order that takes effect next June.
The statement from the White House press secretary's office says Trump viewed the change as "a positive step toward promoting the rights and opportunities of women in Saudi Arabia."
The royal decree issued also ordered the establishment of a high-level committee of involving the ministries of internal affairs, finance, labor and social development. They will be tasked with studying the arrangements of the edict within 30 days and to ensure the full implementation of the order by June 2018.
Full report at:
https://english.alarabiya.net/en/News/gulf/2017/09/27/Trump-welcomes-Saudi-driving-decree-as-positive-step-for-women-s-rights.html
--------
US, Israel urging Kurdistan to break away from Iraq: Ex-US diplomat
Sep 26, 2017
The US and Israel have vast influence in Iraq's semi-autonomous Kurdistan region and have great interest in the secession of Kurdistan from Iraq, says J. Michael Springmann, a former US diplomat in Saudi Arabia.
The US "encourages the Kurds to rebel against the government of Iraq," Springmann told Press TV on Sunday. "The United States and Israel have been doing their best for quite some time now to divide Iraq."
"What they've got now is a holy partnership between the United States of America, the Kurds and Israel," he said.
"Israel has great investment, great control and great influence in northern Iraq," he added. "They are looking at it as part of Greater Israel."
Reactions continue to pour in over the independence referendum in the Kurdistan region, which was held in defiance of widespread calls for its cancellation.
The US said on Monday that it was "deeply disappointed" by the Iraqi Kurdistan's "unilateral" independence referendum, adding it would increase "hardships" for people living in the region.
On Tuesday, Turkish President Recep Tayyip Erdogan warned Kurdistan Regional Government (KRG) President Masoud Barzani that pushing for independence risked sparking an "ethnic war" in the region.
Erdogan also emphasized that all options, including economic sanctions and military measures, are on the table in response to the Kurdish vote.
The Turkish president said that only the Tel Aviv regime would recognize the Kurdistan independence.
On Sunday, Iran closed its airspace to all flights to and from the Kurdish region at the request of the Iraqi government.
Tehran has advised against the "unilateral" scheme, underlining the importance of maintaining the integrity and stability of Iraq amid its ongoing war against Takfiri terrorist groups such as Daesh.
Full report at:
http://www.presstv.ir/Detail/2017/09/26/536596/US-Kurdistan--Michael-Springmann
--------
Elimination of Prejudice Week tackles Islamophobia
Sep 27, 2017
Islamophobia has received more attention recently in today's political climate, but the negative association many Americans have with Islam needs to stop, said junior Luma Khabbaz, president of the Muslim Student Association.
"It's important to show that Islamophobia is not an acceptable part of our society," Khabbaz said.
Around 40 students met Tuesday night in the Global and International Studies Building to discuss Islamophobia as a part of the 2017 Elimination of Prejudice Week. The event was organized by the Center for the Study of the Middle East and Pi Lambda Phi fraternity.
The panel included Khabbaz, Abdul Baram from the Islamic Center of Bloomington and event moderator Professor Kevin Jacques from the IU Department of Religion.
This is the third year that Pi Lambda Phi has brought multiple events to campus focusing on discrimination in the community as a part of the fraternity's Elimination of Prejudice Week. Pi Lambda Phi has a history of acceptance, as they were the first fraternity in the U.S. which accepted members regardless of religion or race.
Unlike Pi Lambda Phi's philosophy, the Trump administration released a new travel ban which includes six Muslim-majority nations. North Korea and Venezuela, two non-Muslim majority countries, were also added, but some believe the ban is still unconstitutional and targets Muslims.
Baram spoke extensively about the similarities between Islam and Western religions and the peaceful nature of Islam. He said Jews, Christians and Muslims all worship one God.
"Never I saw one statement in the Quran say 'hate people,'" he said.
Sophomore Lane Wolf, a member of Pi Lambda Phi, said events like these promote unity and community. He said he learned politics and personal life in the Middle East are more separated than in America.
"They talked about this divide in the U.S. between people and ideologies, all in the public, whereas Dr. Baram said that in the Middle East, it tends to be a lot more political divides," Wolf said.
Many of Baram's stories came from his childhood growing up in the city of Aleppo, a city in Syria that has been hit hard by the Syrian civil war. Baram was born in a house that was 900 years old. He said that in 2012, that same house was hit by two rockets. Because of the destruction caused by the civil war in Aleppo, Baram said that he wasn't sure if he would want to go back.
"I lost many great friends, many relatives," Baram said.
Baram spoke of a city where people could get along. He said he remembered helping out a family on his way to school on Saturdays, which are considered weekdays in Syria.
"In my childhood, every time I would go to school I'd pass a family who would ask me to light their kerosene stove on Saturday," Baram said.
Baram said he remembered what his mother had taught him about caring for others when he was very little.
"My mom taught me every day when I woke up, 'Pray for people.'" Baram said. "Never 'Pray for Muslims.' Pray for people."
Full report at:
http://www.idsnews.com/article/2017/09/elimination-of-prejudice-week-tackles-islamophobia
--------
Europe
Far-right AfD's surge worries Muslim refugees in Germany
Masood Saifullah
26.09.2017
The entry of the populist Alternative for Germany (AfD) in the Bundestag (German parliament) has shocked many Germans, but the anti-immigration party's surge has also unsettled Muslim migrants in Germany.
The AfD gained around 13 percent of votes in Sunday's parliamentary election, becoming the Bundestag's third largest party after Chancellor Angela Merkel's Christian Democratic Union (CDU) and Martin Schulz's Social Democratic Party (SPD). It is also the first time in more than half a century that a far-right group has made its way into the national parliament.
The AfD capitalized on anti-immigrant sentiment in Germany in the wake of Europe's unprecedented refugee crisis. The party vehemently opposes Merkel's pro-refugee policies that have resulted in an influx of over a million refugees from Middle Eastern and North African countries into Germany over the past two years.
The party raised anti-refugee slogans and held protests against what they deem the "Islamization" of Germany.
Winning back voters
In her victory speech, Merkel said she would try to win back right-wing voters in her next four years as German chancellor. This raises the specter of the AfD's success forcing mainstream political parties to alter their stance on immigration and push the agenda toward the political right that could result in more deportations and difficult asylum conditions.
"I have been having sleepless nights since the election results came out. I fear the government could deport me to Afghanistan," Kabir Usmani, a Frankfurt-based Afghan asylum-seeker, told DW.
"I left Afghanistan because I feared for my life, but I still live in fear — the fear of deportation," Usmani, who has been living in Germany for three years, added.
Usmani's asylum application has been rejected by the authorities but he still hopes to stay in the country for a longer period.
Tougher policies
Even after losing over eight percent of votes compared to the 2013 election, German Chancellor Merkel has bravely defended her refugee policy, insisting that her decision to take in refugees mainly from Syria, Iran and Afghanistan in 2015 was right. But many, even in her own party, are skeptical toward the chancellor's approach.
Read more: Opinion: Sunny days are over for Angela Merkel
The major concern is that in order to win back right-wing supporters, Merkel could be forced to tighten her refugee policy.
"I'm worried about the future. I fear that in order to gain right-wing support, Germany's political parties will toughen their stance towards us," Wafa Khan Wafa, an Afghan refugee living in a village near Cologne, told DW.
Experts point out that the government has already taken a tough line towards refugees. Prior to the election, German authorities decided to resume deportations to Afghanistan that it had stopped after a deadly suicide attack near the German embassy in Kabul in June.
Belief in the system
Some migrants, however, are optimistic that Angela Merkel won't go too far in appeasing conservative sections of society. They say the AfD cannot undermine secular governance in Germany.
"Post election, the behavior towards foreigners may change to some extent, similar to what happened in the US after Donald Trump became president, but as long as Merkel and other democratic politicians are determined, the system will be protected," a Bonn-based researcher from Pakistan told DW on condition of anonymity.
Afghan refugee Wafa says the new situation demands that asylum-seekers must also do their best to fully integrate in German society.
"It is very important for refugees to integrate in German society and fulfill their duties as law-abiding people so that the public opinion does not shift against them," he underlined.
http://www.dw.com/en/far-right-afds-surge-worries-muslim-refugees-in-germany/a-40688641
--------
Muslim surgeon who volunteered to treat Manchester victims stabbed in suspected hate crime
September 26, 2017
Nasser Kurdy, who operated on those injured in the atrocity in May, says he forgives the men who stabbed him from behind with a knife
A Muslim surgeon who volunteered in treating victims of the Manchester bomb attack in May has become a victim of a suspected hate crime after being stabbed from behind with a knife as he walked into Altrincham Islamic Centre in Hale, Cheshire just before 6pm on Sunday.
Nasser Kurdy, however, has said he has forgiven the man responsible for the attack, reports The Independent.
The 58-year-old victim was taken to Wythenshawe Hospital, where he works as a consultant orthopaedic surgeon, after receiving a three-centimetre wound on the back of his neck.
The father of three, from a Syrian-Jordanian family, was preparing to go back to work on Monday to tend to patients as investigation continued.
He said: "God was merciful to me yesterday. It could be a nerve, an artery, a vein, the gullet. The neck is the contact between the body and your head, but fortunately it was just the muscle.
"As I entered the grounds of the premises, I felt that pain and the blow to my neck.
"I turned around and saw this gentleman in a threatening pose. I did feel threatened, I did feel vulnerable."
He rushed inside and, fearing the attacker may follow, grabbed a chair and dashed outside, but his attacker had fled.
Police later made two arrests and said they were treating the incident as a hate crime.
Naser Kurdy has been working as a doctor for near four decades after coming to the UK in 1977 to study medicine.
He was going to the Islamic Centre for mid-afternoon prayers and a committee meeting, as he is a lay imam, sometimes giving sermons, and vice chairman of Altrincham and Hale Muslim Association.
Kurdy said, ahead of giving a police statement, that he could not say what his attacker said to him, but was in "no doubt" he was attacked because he was entering the Islamic Centre.
But he added he feels no anger towards his attacker.
He said: "He is not representative of what this country stands for. I have absolutely no anger or hate or anything negative towards him. I have declared it, I have totally forgiven him.
"He could be a marginalised person within his own community."
But Kurdy said he felt hate crimes against Muslims were escalating on the back of terror incidents including the Arena bombing and the Parsons Green tube attack.
"The climate is very threatening, very worrying. Something could have happened, horrible, yesterday.
"The atmosphere that is around has allowed for that.
"There needs to be acknowledgement that hate crimes against Muslims are on the increase and they are becoming more physical.
"It's not just someone saying something verbally, or somebody pulling a headscarf or what have you, it is now taking that extra step and I think that extra step is what has started worrying and frightening people.
"There are very senseless acts of insanity taking place, which can only fuel anger and hate.
"We can't hide away from what happened in Manchester, what happened around the country and the recent Tube incident. That will fuel hatred and anger.
"People need to know there are Muslims like myself. I've worked hard, I'm a surgeon, I treat people. I have a wonderful community. My colleagues at work respect me and value my contribution.
"I don't think I can see anybody more integrated than I am. I get invited to sit on services in the synagogue, service on Remembrance Sunday, I'm always in the church at All Saints.
"I'm sure people don't get to see that, all they get to see is those crackpots."
Kurdy said Muslims at the Islamic Centre were now frightened and security will be reviewed.
The centre has suffered a brick through its windows, graffiti and a rubbish bin set alight in the past.
Greater Manchester Police said two men, aged 32 and 54, were arrested within an hour of the attack.
Both of the men are understood to have been arrested in the local area.
The force is treating the matter as a hate crime but not terrorism related.
Assistant Chief Constable Russ Jackson said: "This is a very nasty and unprovoked attack against a much-loved local man."
Dr Khalid Anis, a spokesman for the Altrincham & Hale Muslim Association, said: "It could have been very, very serious.
"There were definitely abusive comments made – obviously he was in shock at the time, he had just been stabbed, so the detail of those comments I don't know, but there were definitely abusive comments made by the attackers at the door of the mosque.
"We understand it was a knife, he is very lucky.
"The fact they attacked an orthopaedic consultant who devoted his life to helping others is really quite poignant."
Other Muslim leaders condemned the attack.
Harun Khan, secretary general of the MCB, said on Sunday: "We are shocked to hear of the stabbing of a prominent Muslim surgeon outside Altrincham mosque today in what the Greater Manchester Police have described as a hate crime.
"We are relieved to hear that the victim's injuries are not currently critical.
"Our prayers are with the victim, his family and the local community."
Full report at:
http://www.dhakatribune.com/world/europe/2017/09/26/muslim-surgeon-volunteered-treat-manchester-bomb-victims-stabbed-outside-mosque-suspected-hate-crime/
--------
Man suspected of mosque attack arrested in Sweden
Sep 27, 2017
Swedish police on Tuesday arrested a man suspected of an arson attack that damaged a mosque overnight in the city of Orebro, the latest in a string of such incidents in recent years.
"We currently see no political or religious motives to this crime and we refrain from all kinds of speculation," Bo Andersson, the police chief of Orebro, about 200 kilometres west of Stockholm, said at a news conference.
He said the suspect was born in 1997, but declined to provide further details.
He also said police were "excluding nothing" in the investigation.
Images on the mosque's Facebook page showed a large part of the building burned down as smoke rose from its roof after the attack, which occurred early on Tuesday.
The mosque, used by the Sunni community, can host up to 250 people inside, and has thousands of visitors every month.
"It's a sad day today for Muslims in Orebro and in Sweden. It doesn't feel good at all to wake up to a destroyed mosque," Jamal Lamhamdi, head of the mosque's foundation, told local newspaper Nerikes Allehanda.
Several mosques in Sweden have been the target of arson attacks and vandalism in recent years but few of the perpetrators have been caught. No one has died in the attacks.
Sweden's largest Shia Muslim mosque, in a northern suburb of Stockholm, was badly damaged in a suspected arson attack in April.
Full report at:
http://nation.com.pk/international/26-Sep-2017/man-suspected-of-mosque-attack-arrested-in-sweden
--------
UN chief Guterres welcomes Saudi Arabia's lifted ban on women drivers
27 September 2017
UN Secretary General Antonio Guterres welcomed Saudi Arabia's decision to lift the ban on women drivers, calling it a positive move.
Guterres made this statement on Twitter after Saudi Arabia's King Salman issued a historic royal decree granting driving licenses for women in the kingdom as of next June.
The royal decree issued on Tuesday also ordered the establishment of a high-level committee of involving the ministries of internal affairs, finance, labor and social development. They will be tasked with studying the arrangements of the edict within 30 days and to ensure the full implementation of the order by June 2018.
Similarly, speaking to Al Arabiya, Latifa Shaalan, a Saudi female member of Saudi Arabia's Shoura Council said: "This is a great victory for many Saudi women. This was the one file and issue which Saudi women have fought not just years, but decades for. Every time we asked, we were told the time was not right. When we asked those previous from this men and women who said we didn't need to drive, King Salman."
https://english.alarabiya.net/en/News/gulf/2017/09/27/UN-chief-Guterres-welcomes-Saudi-Arabia-s-lifted-ban-on-women-drivers.html
--------
Germany warns Iraqi Kurds over unilateral independence
26 September 2017
Germany on Tuesday warned Iraqi Kurds to refrain from any unilateral move towards independence.
Foreign Minister Sigmar Gabriel criticized the Kurdish Regional Government (KRG) for holding a referendum on the region's future without the agreement of the central government of Iraq, and despite continued warnings from the international community.
"The referendum has no binding effect, particularly with respect to the disputed territories," he said in a statement, referring to the ongoing row between Erbil and Baghdad on contested areas, including the oil-rich city of Kirkuk, which is outside the autonomous Kurdish region.
"We are calling on all sides to avoid further escalation and to refrain from unilateral steps towards independence or coercive measures," he added.
Gabriel called for dialogue between Erbil and Baghdad to address the problems between the KRG and Iraq's central government.
The referendum, which was boycotted by Turkmens and Arabs, was held on Monday in Erbil, Dohuk and Sulaymaniyah provinces, the contested province of Kirkuk, Tuz Khurmatu district in Saladin province and Khanaqin district in Diyala province.
Russia on Tuesday reiterated it supports the territorial integrity of states in the Middle East.
"Russia's position has not changed: We continue to believe that preserving the territorial and political integrity of states is extremely important for maintaining stability and security in the region," Kremlin spokesman Dmitry Peskov said, according to Russia's official TASS news agency.
Peskov said President Vladimir Putin discussed the recent referendum with his Turkish counterpart Recep Tayyip Erdogan and his Iranian counterpart Hassan Rouhani by phone on Monday.
Putin and Erdogan will meet on Thursday in the Turkish capital Ankara, where they are expected to discuss bilateral relations and regional developments.
The EU also confirmed on Tuesday its full support for the unity, sovereignty and territorial integrity of Iraq.
"It therefore appealed for the referendum not to be held in this unilateral manner, and especially not in disputed areas. It regrets that these calls have not been heeded," the bloc said in a statement.
Full report at:
http://www.worldbulletin.net/europe/194373/brexit-progress-not-sufficient-eus-tusk-says
--------
Jihadist who left Manchester to fight with Isis 'may still be alive'
26 September 2017
A jihadist who fled Manchester for Syria has been identified as a key member of a clique of British fighters that include the notorious Islamic State extremist Mohammed Emwazi, it has been reported.
Raymond Matimba is believed to have left Britain in 2014 to link up with terrorists in the region. According to the Daily Telegraph, he went on to join a group of high-profile British jihadists that included Emwazi, the executioner also known as Jihadi John. The newspaper also reports that Matimba had links to the Manchester suicide bomber Salman Abedi.
Zimbabwean-born Matimba, who adopted the nom de guerre Abu Qaqa al-Britani al-Afro, is said to have become a leading sniper for Isis. The 28-year-old spent time in Raqqa, Isis's de facto capital, and reportedly may still be alive.
The newspaper published a video apparently showing Matimba, Emwazi and Britons Reyaad Khan and Junaid Hussain in a coffee shop in the city in 2014. The men are lounging on sofas, their weapons leaning against the wall, while they charge their phones. The clip, filmed in secret by an infiltrator, is said to be the first to show all four together.
The video's source, whom the newspaper did not identify, told the publication Matimba had urged the terror cell to organise an attack on his home city of Manchester, and had spoken to Salman Abedi in the months before his attack in May. The source said: "He said [to the group] that he hated his city, that he wanted it to be bombed."
Matimba was reported to have been killed this year, however his mother, Moncia, 60, told the newspaper that she had not received any official confirmation.
"I am still going through hell and I never expected such a thing like this to happen in my life," she said. The support worker last heard from her son in 2015 via WhatsApp. "I contacted the counter-terrorism authorities," she said. "I said I don't want to talk to him any more. Eventually I changed my number."
Emwazi was killed in a 2015 drone strike after becoming one of the top targets for the US-led coalition fighting Isis. The Kuwaiti-born Londoner appeared in a number the group's videos, including those in which he is shown murdering American reporter Steven Sotloff and British aid workers David Haines and Alan Henning.
Emwazi was suspected of having been part of a four-member Islamist terror cell known as The Beatles because of their British accents.
Hussain, a computer hacker, was described as a key Isis operative before he was killed by a US drone strike on 24 August 2015. The 21-year-old, from Birmingham, was said to have been number three on the Pentagon's "kill list" of Isis targets.
Khan, from Cardiff, is thought to have travelled to fight in Syria late in 2013 and appeared in the group's propaganda videos. He died when a car he was travelling in through Raqqa was targeted by an RAF remotely piloted aircraft.
This year a Guardian investigation found that 16 convicted or dead terrorists had lived within a 2.5-mile radius of a Moss Side address that was the childhood home of Ronald Fiddler, also known as Jamal al-Harith, who died in a suicide attack near the Iraqi city of Mosul in late February. One of those people was Matimba.
Full report at:
https://www.theguardian.com/world/2017/sep/26/british-ally-of-jihadi-john-may-still-be-alive-raymond-matimba-raqqa
--------
URL: https://www.newageislam.com/islamic-world-news/madrasa-students-india-beware-wahhabi/d/112681
New Age Islam, Islam Online, Islamic Website, African Muslim News, Arab World News, South Asia News, Indian Muslim News, World Muslim News, Women in Islam, Islamic Feminism, Arab Women, Women In Arab, Islamophobia in America, Muslim Women in West, Islam Women and Feminism