New Age Islam News Bureau
6 Feb 2019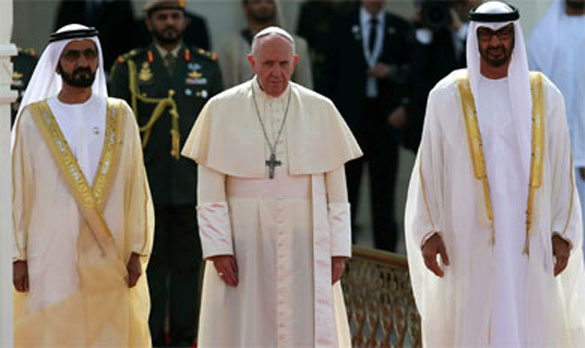 Prior to the conference, the pope was welcomed at the Presidential Palace in Abu Dhabi where he stood between Abu Dhabi's Crown Prince Mohammed bin Zayed and Dubai Ruler Sheikh Mohammed bin Rashid, and was accorded full military honors, including a 21-gun salute and fly-past leaving behind a trail of yellow smoke.
------
• Madrasa Education in India Be Modernised To Make It Sustainable: US-based Muslim Philanthropist Frank Islam
• Muslim Drivers, Christian Faithfuls Have Langar at Sikh Temple in Dubai
• Pope Francis Leaves Behind Trail of Hope, Unity Following Historic UAE Visit
• PKS Rejects Anti-rape Bill Because It Has 'Liberal Perspective'
• Document on Human Fraternity for World Peace and Living Together Signed in Abu Dhabi by Pope Francis and the Great Imam of Al Azhar: Full text
• Pakistani PM Imran Khan Orders Probe into Attack on Hindu Temple
• Taliban Take Centre Stage as Kabul Left Out Of Peace Talks
• Hamas, Islamic Jihad Call For Formation of Palestinian National Unity Government
India
• Madrasa Education Be Modernised To Make It Sustainable: US-based Muslim Philanthropist Frank Islam
• Army Sends Pakistan Tough Message over Its Plan for Kashmir Event near LoC
• Indians may consider visiting Iraq barring 5 terror-hit provinces: MEA
• India to soon send draft of Kartarpur Sahib Agreement to Pakistan
--------
Arab World
• Muslim Drivers, Christian Faithfuls Have Langar at Sikh Temple in Dubai
• Pope Francis Leaves Behind Trail of Hope, Unity Following Historic UAE Visit
• A Muslim's Heartfelt Experience of Papal Mass
• Terrorist Groups in Northern Syria Seeking to Form United Force in Idlib
• Civilian Population Asks Syrian Army to Free Idlib from Terrorists
• Chief bankers of Iran, Iraq sign deal on payment mechanism
• Bahrainis determined to continue peaceful struggle for change: Al-Wefaq
• US general in Middle East: Daesh hold in Syria, Iraq on verge of collapse
--------
Southeast Asia
• PKS Rejects Anti-rape Bill Because It Has 'Liberal Perspective'
• Why Did PAS Cut Ties With DAP? For Being 'Enemy of Islam', Hadi Claims
• Hadi: My Daughter-In-Law, Many Foster Uncles Are Chinese
• Allegation over mosque management defamatory, malicious, says MAIM
• 2nd Round of Philippine Muslim Autonomy Poll Imminent
• At Aceh governor trial, spotlight shifts to extramarital affair
• Indonesian anti-terror squad joins Philippines bomb probe
--------
Europe
• Document on Human Fraternity for World Peace and Living Together Signed in Abu Dhabi by Pope Francis and the Great Imam of Al Azhar: Full text
• Pope Francis: Abuse by Priests and Bishops Likely Still Ongoing
• Pope Francis reflects on his UAE visit: I saw a modern, welcoming country
• Roughly 40 Norwegian children born in ISIS territory say police
• Greece's Muslim minority complain of 'marginalisation' in Komotini
• Dutch Far-Right Leader Geert Wilders' Ex-Ally Converts To Islam
• EU, Arab League fail to release joint statement on Mideast conflicts
• British minister says ISIS hostage John Cantlie still alive
--------
Pakistan
• Pakistani PM Imran Khan Orders Probe into Attack on Hindu Temple
• Maulana Tariq Jameel Reveals Why He Supports Imran Khan
• Court Sends 92 TLP Workers on Judicial Remand
• Three suspected terrorists killed in South Waziristan
• Faizabad sit-in: SC directs govt, LEAs, and intelligence agencies to operate within mandate
• American Tourist Slams Pakistani Media for Portraying 'Negative Image of Country'
• Turkey planned covert operation against own nationals in Pakistan, claims plea in SC
--------
South Asia
• Taliban Take Centre Stage as Kabul Left Out Of Peace Talks
• Taliban Demand New Constitution for Afghanistan at Moscow Talks
• Afghan Officials: Taliban Kill 11 Policemen, 10 Others
• Taliban hold rare talks with senior Afghan politicians in Moscow
• Natural disasters, poverty drive rural poor into Dhaka
• Taliban outlines demands for peace during intra-Afghan summit in Moscow
• ALP forces suffer casualties in Taliban attack in Baghlan province
• Large scale Taliban attack repulsed in the outskirts of Kunduz city: MoD
--------
Mideast
• Hamas, Islamic Jihad Call For Formation of Palestinian National Unity Government
• On Syria buffer zone, Turkey's Erdogan slams US over delays
• Iran, Syria will boost terror combat until its eradication: Shamkhani
• UNSC calls on Yemen's rival forces to leave Hudaydah
• Yemeni army liberate an important mountain chain in Kitaf, Saada province
• New head of UN observer mission lands in Yemen
• Erdogan: No satisfactory plan yet with US on north Syria safe zone
--------
Africa
• Burkina Faso Forces Kill 146 Extremists after Civilian Attack
• Burkina Faso: 5 Soldiers Killed In Terrorist Attack
• Military kills 9 bandits in north-western Nigeria
• Lack of funding may prevent over half of Libya's local elections
• Turkey condemns deadly terror attack in Burkina Faso
--------
North America
• NYC Patrol Group Protecting Muslims Becomes Target of Smear Campaigns
• Political talks with Taliban key part of endgame, says US commander
• Senate rebukes Trump over Syria, Afghanistan pullouts
• Israel paper: US interfering in polls to help Netanyahu?
• US: Cubs owner under fire for Islamophobic emails
• ISIS regrouping quicker in Iraq than Syria, says US-led coalition
• El Salvador elects a new president of Palestinian descent
Compiled by New Age Islam News Bureau
URL: https://www.newageislam.com/islamic-world-news/madrasa-education-india-be-modernised/d/117668
--------
Madrasa Education in India Be Modernised To Make It Sustainable: US-based Muslim Philanthropist Frank Islam
February 5, 2019
The madrasas (Islamic seminaries) and the education imparted in them must be modernised to make it sustainable, US-based Muslim philanthropist Frank Islam said here on Tuesday.
"The clergy that resists the modern education has his own interests. (But) They must understand that the education being given there cannot provide any jobs to students," he said during an interaction with mediapersons here.
Known for funding higher education in India, Islam however said that he has no plans to fund ay madrasas here.
Asked if he has any plans to fund or establish a "model madrasa" where religious education can be gelled with contemporary learning, he said: "As of now I have not thought about it. But I think a few people here in India including Lt Gen (retd) Zameeruddin Shah are working on this concept."
He shared a few ideas regarding the educational empowerment of Muslims.
"Ensure a strong focus on literacy development in the rural areas and for females, develop technical and entrepreneurial skills, place an increased emphasis on higher education, make connections and build coalitions both here in India and with Muslims around the world," he said.
He stressed on developing technical and entrepreneurial skills.
"Around the world, we are finding that technological advances are occurring so rapidly that basic education and literacy ... are insufficient for success in life. This is true in India as well. To be fully empowered, Muslims must have the technical and entrepreneurial skills to compete and also to create their own opportunities in the 21st century workforce," Islam said.
On building coalitions inside the country as well as with Muslims around the world, Islam said that no government can alone achieve the goal of educating all the people.
"No group can do it alone. But together we can. We need to reach out to others who share our cause. If they are brought together, we will be able to create the level and type of educational empowerment that we need," he said.
https://www.business-standard.com/article/news-ians/madrasa-education-be-modernised-to-make-it-sustainable-frank-islam-119020501527_1.html
--------
Muslim Drivers, Christian Faithfuls Have Langar at Sikh Temple in Dubai
February 05, 2019
DUBAI: The Sikh Gurudwara Darbar Sahab in Jebel Ali, Dubai, was a picture of tolerance and diversity as hundreds of Muslim bus drivers and the Catholic faithfuls they were ferrying for the Papal mass in Abu Dhabi partook in the Langar or free community meals from 4pm onwards on Monday.
On Tuesday, Surinder Singh Khandari, chairman of the Gurdwara, told Gulf News, "There were some 100 buses outside the Gurudwara as this area, which has seven churches, was a pickup point for buses taking people to Abu Dhabi for the Papal Mass. We noticed that many of the bus drivers were there by 4pm and had to wait till 11pm for the trip to Abu Dhabi. So we opened our doors to them and served them tea and even dinner well into the night."
He said as Catholic faithfuls started arriving to board the buses, many of them also came to the Gurudwara and enjoyed the langar.
"Guru Nanak (the founder of Sikhism) always said, irrespective of the communities we belong to, we are all one and the children of God. We must support each other," said Khandari.
He said an average of 1,500 people have langar at the Jebel Ali gurdwara every day, with the number going up to 15,000 during the weekends and over 60,000 during festivities.
Prominent gurdwara volunteer Kulwant Singh said, "What a remarkable place the Gurudwara Darbar Sahab is — it is a fine example of tolerance and diversity and everyone is welcome here. It was wonderful seeing people from different religious faiths — Sikhs, Muslims, Christians and others — coming together ahead of the papal mass which was such a historic event. Being in the UAE is indeed a blessing as it fosters a sense of oneness among people of the 200-plus nationalities that call it their home."
What is Langar?
Langar is a term used in Sikhism for the community kitchen in a Gurdwara where a free meal is served to all visitors, irrespective of their religion, caste, gender, economic status or ethnicity. The free meal is always vegetarian.
https://gulfnews.com/uae/muslim-drivers-christian-faithfuls-have-langar-at-sikh-temple-1.61881927
--------
Pope Francis leaves behind trail of hope, unity following historic UAE visit
5 February 2019
On a cool Tuesday morning in Abu Dhabi, hundreds of thousands of people from far and wide flocked towards Zayed Sports City to attend Pope Francis's much anticipated Mass- the first to be held in the Arabian Peninsula.
A choir sang hymns as families excitedly hurried to the stadium's entrance to take their seats.
One Mass-goer, Christine from the Philippines, limped her way through the crowds at about 7:00 am using crutches.
"It's worth it, to be in the presence of the pope means everything to me," Christine said. She is almost 80 years old.
Several UAE residents of the Christian faith planned their journey from early on to be able to attend the first-of-its-kind event by the head of the Catholic Church. Many started their journey the night before, where their churches organized buses to take them from Dubai to Abu Dhabi. Others flew in from across the globe, slept in their cars in front of the stadium, or started their journey to the historic Mass as early as 1:00 am. The Mass was scheduled to start at 10:30 am.
"We are coming from Spain. Last night we arrived, then we came by bus to Abu Dhabi at two in the morning. We are so excited. I'm very tired because we didn't sleep, nothing. We want to see him and kiss him!" said Mass-goer Estel.
"We woke up at 1:00 am to catch the bus and come here. This visit is a great blessing to us as Christians. I was actually born in the UAE so I am the son of this country, although I am originally Jordanian. So I am honored that the pope is visiting this country, my country," said Mass-goer Sammy.
After arriving to the UAE on Sunday night, the head of the Catholic Church and the sovereign of the Vatican was accorded a state welcome to the UAE at a grand ceremony on Monday organized at the Presidential Palace in Abu Dhabi. His visit to the UAE is being billed as historic as he is the first pontiff to ever visit the Arabian Peninsula.
The unprecedented public celebration of Mass on Tuesday by Pope Francis gathered more than 120,000 worshippers inside the stadium, and a reported whopping 300,000 people outside the stadium who gathered in a designated area equipped with huge screens.
The Pontiff is in the Gulf country to promote inter-faith dialogue, and to mark the UAE's Year of Tolerance, which was highly showcased throughout the visit.
Before being interviewed, Mary Arbash, who is originally from Syria, was handed a Lebanese flag by an attendee who thought she was Lebanese. Laughingly, she exclaimed that she is actually Syrian but swore that she would wear it in the name of tolerance, and to showcase the essence of the pope's visit.
Religious leaders gather
Abu Dhabi's opulent Emirates Palace hotel also witnessed an unusual flurry of activities on Monday.
Archbishops in long black robes and sheikhs wearing turbans crowded in front of an information desk to get their credentials to enter the Conference of Fraternity, marking the rare visit of Pope Francis to the UAE.
The religious leaders happily mingled together and attended a series of meetings and lectures all themed around tolerance, marking the 'Year of Tolerance' in the UAE.
Julio Murray, the bishop of the diocese of Panama and the archbishop of the church in Central America, who flew in from Panama, was immersed in conversation with an Anglican priest who serves in Amman. The pair were even snapping some selfies to share with their churches back home.
"I think this event is very important to make people aware that Christians and Muslims, especially on the level of leadership, are working together and listening to each other, respecting each other, receiving each other, and accepting each other," Reverend George Al Kopti said.
"My worry usually is that what we speak in public, in conferences, needs to be implemented in the grassroots in our society. I need to go back to my church and teach about what I learned here. And the same thing, Muslim sheikhs need to go back and teach about what they learned. We need to unify our speech. We can't talk in public about something, and in private sessions a different thing," he added.
Prior to the conference, the pope was welcomed at the Presidential Palace in Abu Dhabi where he stood between Abu Dhabi's Crown Prince Mohammed bin Zayed and Dubai Ruler Sheikh Mohammed bin Rashid, and was accorded full military honors, including a 21-gun salute and fly-past leaving behind a trail of yellow smoke.
A number of UAE ministers were at the event as well, including Sheikh Mansour bin Zayed Al Nahyan, Deputy Prime Minister and Minister of Presidential Affairs, and Sheikh Abdullah bin Zayed Al Nahyan, Minister of Foreign Affairs and International Cooperation.
The Pontiff was accompanied by several bishops and cardinals as well, including Cardinal Pietro Parolin, Secretary of State of His Holiness, and Cardinal Leonardo Sandri, Prefect of the Congregation for the Oriental Churches.
Each official was announced on both sides, and walked up to the podium to greet the leaders.
Passions usually run high in the pope's presence, with many people considering it to be a once-in-a-lifetime event. But Archbishop Murray was lucky enough to see him twice, in the same month.
"It was a humbling experience. He's a humble man. And what was so impacting for us is his interest to reach out, not only to the people, but also to reach out to the different expressions of religion and faith. And the moment of the peace, during the celebration, he came from where he was and he walked straight over to where I was and he made sure that we embrace each other," Murray said.
During his speech delivered at the Emirates' Founders' Memorial, where he and the Grand Imam of Egypt's Al-Azhar mosque signed a joint-agreement that focuses on efforts to combat extremism, the Pontiff reaffirmed the need for unity, stating that there will be "no future" without it.
"We will either build the future together or there will not be a future. The time has come when religions should more actively exert themselves, with courage and audacity, and without pretense, to help the human family deepen the capacity for reconciliation, the vision of hope and the concrete paths of peace," the pope said.
Many religious leaders in attendance became the prime example of this: "Exerting themselves" for these noble purposes. But Grand Mufti Mustafa Ceric said that it wasn't always easy. Based in Bosnia, he said that after the country went through four years of siege, there were many initiatives coming from the Christian side for the dialogue and peace, but that he could hardly find an institution or individuals that he could share his concerns with.
"There was no major initiative from the Muslim countries or Muslim individuals, who had this project in mind. We had some ideas in books and in conferences but we didn't have an organization that can carry out and mediate with others to reach the kind of dialogue we have today," Ceric said.
"I hope that after this visit (of the pope), the major Christian European countries will invite Sheikh al-Azhar Ahmed el-Tayeb to visit Christian countries and to be given the same reception the pope is receiving here among the Muslim-majority countries. He was received very well… I hope that this Muslim reception of the pope will be a clear message to the whole world: Muslims are seeking peace and security in the world," Ceric added.
Unity and co-existence
The UAE hosts about half of the two million expatriate Catholics living in the peninsula. The community includes large numbers of people from the Philippines and India, many of which were seen at the Mass.
"It is most certainly not easy for you to live far from home, missing the affection of your loved ones, and perhaps also feeling uncertainty about the future," the pope said.
People wearing white pope-branded caps, and excitedly raising Vatican flags in the air as the Pontiff entered in a white open top Jeep, waving at the cheering crowds.
During the service, the pope spoke in Italian and English, the latter being the most common language used by residents of the UAE. The congregation prayed for migrant workers and their families and for the ending of wars.
The ceremony ended with a prayer, a thunderous round of applause from the crowd, as well as organ music.
"It's amazing, I'm super lucky I managed to get a ticket yesterday so I came down. For me, I was raised in the region so to have the pope in the region is just phenomenal. Seeing what these leaders have done in bringing us together, maybe we could have peace in the world," said Deborah Webster, who is half Finnish, half Maltese.
After the Mass, Abu Dhabi's Crown Prince Sheikh Mohammed bin Zayed Al Nahyan accompanied the pontiff on the tarmac towards the plane, before bidding him farewell, ending a historic three-day visit that united many under the banner of 'tolerance' in the Arab world.
https://english.alarabiya.net/en/features/2019/02/05/Pope-Francis-leaves-behind-trail-of-hope-unity-following-historic-UAE-visit.html
--------
PKS Rejects Anti-rape Bill Because It Has 'Liberal Perspective'
February 5, 2019
The Prosperous Justice Party (PKS) faction at the House of Representatives has rejected the passing of the long-awaited sexual violence bill, saying the bill has a "liberal perspective" that is contradictory to Pancasila and religious values.
"The PKS is determined to reject the draft bill and will take constitutional steps to drop the bill's deliberation," Jazuli Juwaini, chairman of the PKS faction at the House, said as quoted by kompas.com on Tuesday.
Jazuli said the party had tried to provide input but their suggestions were not accommodated.
He said the party objected to the definition and scope of sexual violence, which it deemed to have a liberal perspective that is not in line with Pancasila values, religious norms and Eastern culture.
"It even has the pretense to promote free sex and deviant sexual behavior," he said.
While a number of Islamic organizations such as Nahdlatul Ulama's (NU) women organization, Fatayat NU, have voiced their support for the bill, the more conservative Islamic groups, like the PKS, have strongly expressed their opposition to the bill.
According to some Islamic groups, the main problem of the bill is that it fails to include adultery as a sexual crime and therefore the bill, by omission, allows consensual sex outside of marriage and at the same time potentially criminalizes a husband just because the wife is reluctant to have sexual intercourse.
Maimon Herawati, a Padjadjaran University lecturer, recently launched an online petition calling on Muslims to reject the bill, which she said was pro-adultery and pro-LGBT.
"The idea that women should be given the legal power to protect themselves is good, but there is a gap that was deliberately made to allow [loopholes]," the petition said. "There is no regulation on sexual crimes, such as sexual relations that violate moral and religious norms."
The bill defines sexual violence as any "action that debases, insults, attacks […] the body of someone, their sexual desire or/and their reproductive function, forcefully, [or] against their will, [or] causing them to be unable to give permission freely due to power and/or gender relations, which could lead to physical, psychological, sexual suffering, and economic, social, cultural and political losses."
The bill categorizes as sexual violence sexual harassment, sexual exploitation, forced use of contraceptive, forced abortion, rape, forced marriage, forced prostitution, sexual slavery and sexual torture.
The sexual violence bill was first proposed in 2016 after the gang rape and murder of a 14-year-old girl in Bengkulu and gained traction again at the end of last year as the case of Baiq Nuril, a sexual harassment victim in West Nusa Nusa Tenggara (NTB) who was convicted for defaming her alleged harasser, came to light.
The National Commission on Violence Against Women (Komnas Perempuan), which helped compose the bill, has said that critics did not understand the intention of the bill.
"We hope that we can meet with them to discuss the bill, because I'm sure that no woman would be against eradicating sexual violence," commissioner Mariana Amiruddin said recently. (vny)
https://www.thejakartapost.com/news/2019/02/05/pks-rejects-antirape-bill-because-it-has-liberal-perspective.html
--------
Document on Human Fraternity for World Peace and Living Together Signed in Abu Dhabi by Pope Francis and the Great Imam of Al Azhar: Full text
INTRODUCTION
Faith leads a believer to see in the other a brother or sister to be supported and loved. Through faith in God, who has created the universe, creatures and all human beings (equal on account of his mercy), believers are called to express this human fraternity by safeguarding creation and the entire universe and supporting all persons, especially the poorest and those most in need.
This transcendental value served as the starting point for several meetings characterized by a friendly and fraternal atmosphere where we shared the joys, sorrows and problems of our contemporary world. We did this by considering scientific and technical progress, therapeutic achievements, the digital era, the mass media and communications. We reflected also on the level of poverty, conflict and suffering of so many brothers and sisters in different parts of the world as a consequence of the arms race, social injustice, corruption, inequality, moral decline, terrorism, discrimination, extremism and many other causes.
From our fraternal and open discussions, and from the meeting that expressed profound hope in a bright future for all human beings, the idea of this Document on Human Fraternity was conceived. It is a text that has been given honest and serious thought so as to be a joint declaration of good and heartfelt aspirations. It is a document that invites all persons who have faith in God and faith in human fraternity to unite and work together so that it may serve as a guide for future generations to advance a culture of mutual respect in the awareness of the great divine grace that makes all human beings brothers and sisters.
DOCUMENT
In the name of God who has created all human beings equal in rights, duties and dignity, and who has called them to live together as brothers and sisters, to fill the earth and make known the values of goodness, love and peace;
In the name of innocent human life that God has forbidden to kill, affirming that whoever kills a person is like one who kills the whole of humanity, and that whoever saves a person is like one who saves the whole of humanity;
In the name of the poor, the destitute, the marginalized and those most in need whom God has commanded us to help as a duty required of all persons, especially the wealthy and of means;
In the name of orphans, widows, refugees and those exiled from their homes and their countries; in the name of all victims of wars, persecution and injustice; in the name of the weak, those who live in fear, prisoners of war and those tortured in any part of the world, without distinction;
In the name of peoples who have lost their security, peace, and the possibility of living together, becoming victims of destruction, calamity and war;
In the name of human fraternity that embraces all human beings, unites them and renders them equal;
In the name of this fraternity torn apart by policies of extremism and division, by systems of unrestrained profit or by hateful ideological tendencies that manipulate the actions and the future of men and women;
In the name of freedom, that God has given to all human beings creating them free and distinguishing them by this gift;
In the name of justice and mercy, the foundations of prosperity and the cornerstone of faith;
In the name of all persons of good will present in every part of the world;
In the name of God and of everything stated thus far; Al-Azhar al-Sharif and the Muslims of the East and West, together with the Catholic Church and the Catholics of the East and West, declare the adoption of a culture of dialogue as the path; mutual cooperation as the code of conduct; reciprocal understanding as the method and standard.
We, who believe in God and in the final meeting with Him and His judgment, on the basis of our religious and moral responsibility, and through this Document, call upon ourselves, upon the leaders of the world as well as the architects of international policy and world economy, to work strenuously to spread the culture of tolerance and of living together in peace; to intervene at the earliest opportunity to stop the shedding of innocent blood and bring an end to wars, conflicts, environmental decay and the moral and cultural decline that the world is presently experiencing.
We call upon intellectuals, philosophers, religious figures, artists, media professionals and men and women of culture in every part of the world, to rediscover the values of peace, justice, goodness, beauty, human fraternity and coexistence in order to confirm the importance of these values as anchors of salvation for all, and to promote them everywhere.
This Declaration, setting out from a profound consideration of our contemporary reality, valuing its successes and in solidarity with its suffering, disasters and calamities, believes firmly that among the most important causes of the crises of the modern world are a desensitized human conscience, a distancing from religious values and a prevailing individualism accompanied by materialistic philosophies that deify the human person and introduce worldly and material values in place of supreme and transcendental principles.
While recognizing the positive steps taken by our modern civilization in the fields of science, technology, medicine, industry and welfare, especially in developed countries, we wish to emphasize that, associated with such historic advancements, great and valued as they are, there exists both a moral deterioration that influences international action and a weakening of spiritual values and responsibility. All this contributes to a general feeling of frustration, isolation and desperation leading many to fall either into a vortex of atheistic, agnostic or religious extremism, or into blind and fanatic extremism, which ultimately encourage forms of dependency and individual or collective self-destruction.
History shows that religious extremism, national extremism and also intolerance have produced in the world, be it in the East or West, what might be referred to as signs of a "third world war being fought piecemeal". In several parts of the world and in many tragic circumstances these signs have begun to be painfully apparent, as in those situations where the precise number of victims, widows and orphans is unknown. We see, in addition, other regions preparing to become theatres of new conflicts, with outbreaks of tension and a build-up of arms and ammunition, and all this in a global context overshadowed by uncertainty, disillusionment, fear of the future, and controlled by narrow-minded economic interests.
We likewise affirm that major political crises, situations of injustice and lack of equitable distribution of natural resources – which only a rich minority benefit from, to the detriment of the majority of the peoples of the earth – have generated, and continue to generate, vast numbers of poor, infirm and deceased persons. This leads to catastrophic crises that various countries have fallen victim to despite their natural resources and the resourcefulness of young people which characterize these nations. In the face of such crises that result in the deaths of millions of children – wasted away from poverty and hunger – there is an unacceptable silence on the international level.
It is clear in this context how the family as the fundamental nucleus of society and humanity is essential in bringing children into the world, raising them, educating them, and providing them with solid moral formation and domestic security. To attack the institution of the family, to regard it with contempt or to doubt its important role, is one of the most threatening evils of our era.
We affirm also the importance of awakening religious awareness and the need to revive this awareness in the hearts of new generations through sound education and an adherence to moral values and upright religious teachings. In this way we can confront tendencies that are individualistic, selfish, conflicting, and also address radicalism and blind extremism in all its forms and expressions.
The first and most important aim of religions is to believe in God, to honour Him and to invite all men and women to believe that this universe depends on a God who governs it. He is the Creator who has formed us with His divine wisdom and has granted us the gift of life to protect it. It is a gift that no one has the right to take away, threaten or manipulate to suit oneself. Indeed, everyone must safeguard this gift of life from its beginning up to its natural end. We therefore condemn all those practices that are a threat to life such as genocide, acts of terrorism, forced displacement, human trafficking, abortion and euthanasia. We likewise condemn the policies that promote these practices.
Moreover, we resolutely declare that religions must never incite war, hateful attitudes, hostility and extremism, nor must they incite violence or the shedding of blood. These tragic realities are the consequence of a deviation from religious teachings. They result from a political manipulation of religions and from interpretations made by religious groups who, in the course of history, have taken advantage of the power of religious sentiment in the hearts of men and women in order to make them act in a way that has nothing to do with the truth of religion. This is done for the purpose of achieving objectives that are political, economic, worldly and short-sighted. We thus call upon all concerned to stop using religions to incite hatred, violence, extremism and blind fanaticism, and to refrain from using the name of God to justify acts of murder, exile, terrorism and oppression. We ask this on the basis of our common belief in God who did not create men and women to be killed or to fight one another, nor to be tortured or humiliated in their lives and circumstances. God, the Almighty, has no need to be defended by anyone and does not want His name to be used to terrorize people.
This Document, in accordance with previous International Documents that have emphasized the importance of the role of religions in the construction of world peace, upholds the following:
• The firm conviction that authentic teachings of religions invite us to remain rooted in the values of peace; to defend the values of mutual understanding, human fraternity and harmonious coexistence; to re-establish wisdom, justice and love; and to reawaken religious awareness among young people so that future generations may be protected from the realm of materialistic thinking and from dangerous policies of unbridled greed and indifference that are based on the law of force and not on the force of law;
• Freedom is a right of every person: each individual enjoys the freedom of belief, thought, expression and action. The pluralism and the diversity of religions, colour, sex, race and language are willed by God in His wisdom, through which He created human beings. This divine wisdom is the source from which the right to freedom of belief and the freedom to be different derives. Therefore, the fact that people are forced to adhere to a certain religion or culture must be rejected, as too the imposition of a cultural way of life that others do not accept;
• Justice based on mercy is the path to follow in order to achieve a dignified life to which every human being has a right;
• Dialogue, understanding and the widespread promotion of a culture of tolerance, acceptance of others and of living together peacefully would contribute significantly to reducing many economic, social, political and environmental problems that weigh so heavily on a large part of humanity;
• Dialogue among believers means coming together in the vast space of spiritual, human and shared social values and, from here, transmitting the highest moral virtues that religions aim for. It also means avoiding unproductive discussions;
• The protection of places of worship – synagogues, churches and mosques – is a duty guaranteed by religions, human values, laws and international agreements. Every attempt to attack places of worship or threaten them by violent assaults, bombings or destruction, is a deviation from the teachings of religions as well as a clear violation of international law;
• Terrorism is deplorable and threatens the security of people, be they in the East or the West, the North or the South, and disseminates panic, terror and pessimism, but this is not due to religion, even when terrorists instrumentalize it. It is due, rather, to an accumulation of incorrect interpretations of religious texts and to policies linked to hunger, poverty, injustice, oppression and pride. This is why it is so necessary to stop supporting terrorist movements fuelled by financing, the provision of weapons and strategy, and by attempts to justify these movements even using the media. All these must be regarded as international crimes that threaten security and world peace. Such terrorism must be condemned in all its forms and expressions;
• The concept of citizenship is based on the equality of rights and duties, under which all enjoy justice. It is therefore crucial to establish in our societies the concept of full citizenship and reject the discriminatory use of the term minorities which engenders feelings of isolation and inferiority. Its misuse paves the way for hostility and discord; it undoes any successes and takes away the religious and civil rights of some citizens who are thus discriminated against;
• Good relations between East and West are indisputably necessary for both. They must not be neglected, so that each can be enriched by the other's culture through fruitful exchange and dialogue. The West can discover in the East remedies for those spiritual and religious maladies that are caused by a prevailing materialism. And the East can find in the West many elements that can help free it from weakness, division, conflict and scientific, technical and cultural decline. It is important to pay attention to religious, cultural and historical differences that are a vital component in shaping the character, culture and civilization of the East. It is likewise important to reinforce the bond of fundamental human rights in order to help ensure a dignified life for all the men and women of East and West, avoiding the politics of double standards;
• It is an essential requirement to recognize the right of women to education and employment, and to recognize their freedom to exercise their own political rights. Moreover, efforts must be made to free women from historical and social conditioning that runs contrary to the principles of their faith and dignity. It is also necessary to protect women from sexual exploitation and from being treated as merchandise or objects of pleasure or financial gain. Accordingly, an end must be brought to all those inhuman and vulgar practices that denigrate the dignity of women. Efforts must be made to modify those laws that prevent women from fully enjoying their rights;
• The protection of the fundamental rights of children to grow up in a family environment, to receive nutrition, education and support, are duties of the family and society. Such duties must be guaranteed and protected so that they are not overlooked or denied to any child in any part of the world. All those practices that violate the dignity and rights of children must be denounced. It is equally important to be vigilant against the dangers that they are exposed to, particularly in the digital world, and to consider as a crime the trafficking of their innocence and all violations of their youth;
• The protection of the rights of the elderly, the weak, the disabled, and the oppressed is a religious and social obligation that must be guaranteed and defended through strict legislation and the implementation of the relevant international agreements.
To this end, by mutual cooperation, the Catholic Church and Al-Azhar announce and pledge to convey this Document to authorities, influential leaders, persons of religion all over the world, appropriate regional and international organizations, organizations within civil society, religious institutions and leading thinkers. They further pledge to make known the principles contained in this Declaration at all regional and international levels, while requesting that these principles be translated into policies, decisions, legislative texts, courses of study and materials to be circulated.
Al-Azhar and the Catholic Church ask that this Document become the object of research and reflection in all schools, universities and institutes of formation, thus helping to educate new generations to bring goodness and peace to others, and to be defenders everywhere of the rights of the oppressed and of the least of our brothers and sisters.
In conclusion, our aspiration is that:
this Declaration may constitute an invitation to reconciliation and fraternity among all believers, indeed among believers and non-believers, and among all people of good will;
this Declaration may be an appeal to every upright conscience that rejects deplorable violence and blind extremism; an appeal to those who cherish the values of tolerance and fraternity that are promoted and encouraged by religions;
this Declaration may be a witness to the greatness of faith in God that unites divided hearts and elevates the human soul;
this Declaration may be a sign of the closeness between East and West, between North and South, and between all who believe that God has created us to understand one another, cooperate with one another and live as brothers and sisters who love one another.
This is what we hope and seek to achieve with the aim of finding a universal peace that all can enjoy in this life.
https://www.vaticannews.va/en/pope/news/2019-02/pope-francis-uae-declaration-with-al-azhar-grand-imam.html
--------
Pakistani PM Imran Khan orders probe into attack on Hindu temple
Feb 06, 2019
Pakistani Prime Minister Imran Khan has ordered an investigation into this week's attack on a Hindu temple in the southern town of Kumb, where assailants set fire to statues and holy books of the Hindu minority before fleeing.
Khan went on Twitter on February 5 night, saying the government of southern Sindh province "must take swift and decisive action against the perpetrators" of the attack, which was against the teachings of Quran, Islam's holy book.
According to local police, they continued a hunt on February 6 to trace and arrest those involved in the attack. No one has claimed responsibility for February 4 attack, which was condemned by Hindus as well as local Muslims.
Hindu are a tiny minority in predominantly Muslim Pakistan, and attacks on their worship places are rare.
https://www.moneycontrol.com/news/world/pakistani-pm-imran-khan-orders-probe-into-attack-on-hindu-temple-3489711.html
--------
Taliban take centre stage as Kabul left out of peace talks
Feb 06, 2019
President Ashraf Ghani is being pushed to the sidelines as the Taliban ignore his overtures for peace and negotiate instead with his friends, and enemies, over the future of Afghanistan.
From Doha to Moscow, the insurgents are meeting an array of envoys with competing interests in Afghanistan, from the United States eager to withdraw its troops to politicians in Kabul jostling for power.
Experts say regional powers -- including US foes Iran and Russia -- are angling for an audience with the Taliban, who are already outlining their vision for Islamic rule once foreign troops leave.
The elephant in the room is Ghani, whose US-backed administration has not been invited to the table despite a failed year-long effort to spark a dialogue with the Taliban.
"The sad irony is that Afghanistan's government is in danger of getting written out of the script of its own peace process," analyst Michael Kugelman of the Wilson Center in Washington told AFP.
Ghani's allies in Washington insist Afghans should lead the peace process, and ostensibly the months-long push by the US to engage the Taliban has been aimed at convincing them to negotiate with Kabul.
Those efforts culminated in an unprecedented six days of talks between the US and the Taliban in Doha in January.
The marathon negotiations ended with both sides touting "progress" -- spurring Afghan fears the US could cut a deal with the militants to withdraw its forces before a lasting peace with Kabul is reached.
"It's a major snub because without the Americans, the government in Kabul cannot survive," said Gilles Dorronsoro, a French researcher specialising in Afghanistan.
Then the Taliban agreed a week later to a separate, almost unheard of sit-down in Russia with some of Ghani's biggest rivals.
The two-day talks, which started Tuesday, saw the Taliban lead prayers with political heavyweights, some sworn enemies, and listen as Afghan women defended their rights.
The Taliban promised an "inclusive Islamic system" and opened the door for allowing women greater freedoms, but also demanded a new, Islam-based constitution.
'Begging' terrorists
Frozen out for a second time, a furious Ghani vowed he would not be an idle spectator as his country's future was debated abroad.
The meeting in Russia was "nothing more than a fantasy. No one can decide without the consent of the Afghan people," Ghani told Afghan broadcaster TOLOnews.
"Those who have gathered in Moscow have no executive authority. They can say what they want."
He later said on Twitter that he had spoken to US Secretary of State Mike Pompeo, who had "underscored the central importance of ensuring the centrality of the Afghan government in the peace process".
"We both agreed that words, rumors, and speculations cannot replace actions and that our partnership and resolve will remain strong in the pursuit of peace," Ghani wrote.
A top US general later said that Kabul must be involved in talks if a push for a peace deal is to be successful.
"Ultimately, we need to get to a Taliban-Afghanistan discussion," General Joseph Votel, the head of US Central Command, told US lawmakers Tuesday.
"Only they will be able to resolve the key issues involved in the dispute."
The frustration and sense of betrayal in Kabul was palpable.
Amrullah Saleh, a Ghani ally, accused the Afghan leaders in Moscow -- including former president Hamid Karzai -- of "begging... terrorists".
"A smile to the enemy is a blow to the national spirit," Saleh said.
The Taliban, who brutally ruled Afghanistan from 1996 to 2001, have so far refused to engage with the Kabul government, who they view as US stooges.
Instead, the insurgents are marching ahead with their diplomatic agenda.
This has presented an opportunity for Ghani's rivals to undermine his leadership ahead of presidential elections slated for July, analysts say.
Atta Muhammad Noor, an influential former warlord present in Moscow who is backing a Ghani contender in the polls, has called for the formation of an interim government to include the Taliban.
'A new war'
The Taliban outreach is also drawing a host of rival powers into its orbit, all keen to ensure that any finale to the war suits their strategic ambitions.
Many of these present "a fundamental clash of vision and interests" for Afghanistan, said Davood Moradian, director of the Kabul-based Afghan Institute for Strategic Studies.
The US, Afghanistan and India seek a stable democracy and a bulwark against terrorism, he said, while the Taliban and Pakistan, conversely, seek an Islamic government in Kabul.
A broader second group of "legitimate stakeholders and opportunistic spoilers" -- including regional powers like Russia, China and Iran -- have their eyes on waning US influence in the region, Moradian added.
The Moscow talks were officially hosted by an Afghan diaspora group but Russia's Foreign Minister Sergei Lavrov welcomed the conference as "useful" to finding peace.
Dorronsoro said the US-Taliban talks, which continue later this month, were an "acknowledgement of defeat" by Washington of its military campaign that would not be missed by rivals Russia and Iran, who have also engaged with the insurgents.
The departure of US forces -- if achieved under a deal with the Taliban -- could draw the region into a "new war" for dominance in Afghanistan.
"India, Pakistan, Iran... everyone will choose sides. Today, nothing is clear. Everyone is in the process of positioning themselves," Dorronsoro said.
https://www.timesnownews.com/international/article/taliban-take-centre-stage-as-kabul-left-out-of-peace-talks/360627
--------
Hamas, Islamic Jihad call for formation of Palestinian national unity government
Feb 5, 2019
Palestinian resistance movements Hamas and Islamic Jihad have demanded the quick formation of a new national unity government, stressing the need for further cooperation between the two groups in the face of challenges facing the Palestinian nation.
The two movements, in a joint statement released following a lengthy meeting between their representatives in the Egyptian capital city of Cairo on Tuesday, emphasized that a national unity government must be established in a bid to hold new parliamentary elections in Palestinian territories, and secure Palestinian unity.
Palestinian President Mahmoud Abbas announced on January 30 that the Palestinian legislative polls will be held in East Jerusalem al-Quds, the West Bank and the Gaza Strip to enable the Palestinian citizens to elect their representatives through ballots.
"The Palestinian leadership is keen to achieve the national Palestinian unity by implementing what had been agreed upon in Cairo in 2017," Abbas said, adding that "the Palestinian leadership is committed to its implementation."
Last December, Abbas announced that the Palestinian Constitutional Court had decided to dissolve the Palestinian parliament, better known as the Palestinian Legislative Council (PLC).
The court had also called for holding new parliamentary election in the Palestinian territories after six months of dissolving the parliament.
Late last month, Palestinian Prime Minister Rami al-Hamdallah officially submitted his resignation and that of his unity government to Abbas, casting doubt on the prospects of reconciliation efforts with Hamas.
Abbas had been facing pressure from his ruling Fatah movement over the past few weeks to remove Hamdallah from power, and establish a new government comprised of representatives from PLO factions in addition to independent figures.
Hamdallah headed the Palestinian National Consensus Government, which was formed after Fatah and Hamas reached an agreement in 2014.
Fatah leaders said there was no point in keeping the government in power in the wake of the continued crisis between their faction and Hamas.
They also argue that since their faction is the largest group in the PLO, it should have a strong presence in any government.
Hamas and Islamic Jihad also stressed the need for closer interactions in various fields in order to defend "the Palestinian nation, the resistance front and its firm principles."
"Our delegates praised Palestinian people for their spirited resistance, particularly the armed struggle against the Occupation (Israeli regime)," they stated.
The two resistance movements then called for an immediate end to divisions among Palestinian political factions to thwart US President Donald Trump's so-called "deal of the century."
The deal, a back channel plan to allegedly reach a peace settlement between the Israelis and the Palestinians, was proposed by the US administration in September 2018.
Although the plan has not been released, leaks signal it will consist of the same tried and failed ideas. All Palestinian groups have already rejected Trump's plan.
While little is known about the controversial deal, leaks have suggested that it regards East Jerusalem al-Quds as Israeli territory, whereas Palestinians view the eastern sector of the occupied city as the capital of their future state.
Palestinians also believe that the US-drafted plan calls for keeping borders and security under Israeli control, while it keeps Israeli settlements' final borders to be discussed in later negotiations.
https://www.presstv.com/Detail/2019/02/05/587752/Hamas-Islamic-Jihad-call-for-formation-of-Palestinian-national-unity-government
--------
India
Army sends Pakistan tough message over its plan for Kashmir event near LoC
by Shubhajit Roy
February 6, 2019
Ahead of Pakistan-organised Kashmir solidarity day on Tuesday, the Pakistan Army approached the Indian Army to inform about plans for a demonstration on the occasion near the Line of Control, sources said.
But the Indian Army responded that it will be seen as an "act of provocation" and appropriate response will be undertaken, sources said. Following this, there was a small-scale demonstration near the Line of Control in the Pakistan-occupied Kashmir.
Sources said that the conversation between the two sides took place through defence diplomatic channels.
While Pakistan tried to attract international attention by organising an event in UK's parliament which was attended by Foreign Minister Shah Mahmood Qureshi, sources in Delhi said that the meeting was only attended by Pakistan-origin MPs or those with some "Pakistan connection". "All 11 British MPs who attended the event have some Pakistan connection," sources said.
None of the cabinet ministers, including Pakistan-origin UK Home Secretary Sajid Javid, attended the event, sources said.
"The fact that Qureshi did not get a meeting with his counterpart, the British Foreign secretary, speaks for itself that the UK was not keen to give the event or the visit any official legitimacy," sources said.
Sources also said that the Indian side took up the issue quite strongly with the British counterparts. The event was organised by the Pakistani diaspora in the UK. "The event was organised by Pakistan's diaspora, many of whom are British citizens. Since any British citizen can book a room through their MPs in the British parliament and host an event, this event was organised on the parliament premises," sources said.
The UK conveyed to India that it was treating Qureshi's visit as "private" and did not entertain any official meetings. "They had conveyed to us that the UK government would not like to get drawn into what is a bilateral issue between India and Pakistan. While the Kashmir solidarity day is an annual ritual, the government had made efforts to make them understand that this was anti-India propaganda," sources said.
Sources also said that Pakistan's intention to internationalise the issue of Kashmir on the occasion of the Kashmir solidarity day, which is held every year on February 5, did not bear fruit. "We had told the British counterparts that they should take into account our sensitivities. We can say with some confidence that the events showed that there was acceptance of our position from the British side," sources said.
Pakistan on Tuesday observed Kashmir Solidarity Day, with top leaders extending their support to the people in the Valley and to find a peaceful resolution.
https://indianexpress.com/article/india/army-sends-pakistan-tough-message-over-its-plan-for-kashmir-event-near-loc-5570912/
--------
Indians may consider visiting Iraq barring 5 terror-hit provinces: MEA
by Shubhajit Roy
February 6, 2019
Almost four-and-a-half years after New Delhi cautioned Indians against travelling to Iraq, the NDA government Tuesday revised its travel advisory and said that Indians may now consider travelling to Iraq but avoid five terror-affected provinces.
This comes almost a year-and-a- half after the ISIS was defeated and less than 11 months after the government confirmed the death of 39 Indians, who were killed in captivity by the terror outfit.
Issued by the Ministry of External Affairs (MEA) on Tuesday, the updated advisory said that "due to the improvement in the security situation", Indians may now consider travelling to the country except to five provinces which are still affected by terrorism and violence. "With improvement in security situation in Iraq, Indian nationals may now consider travelling to the country except to the five Provinces of Iraq, namely Nineveh (capital Mosul), Salahuddin (capital Tikrit), Diyala (capital Baquba), Anbar (capital Ramadi) and Kirkuk," the MEA advisory said.
There are 19 provinces in Iraq, popularly known as governorates. And majority of them are considered safe spaces by the UN agencies. "Our mission made a thorough assessment of the security situation before we updated the travel advisory," a source said.
Indians wishing to travel for employment to the safe areas must register on the government's e-migrate portal and inform the Indian Embassy in Baghdad or the Consulate General of India in Erbil prior to travelling, the advisory said.
Before the Gulf war in 1991, there were more than 80,000 Indian nationals in Iraq. Most of them left Iraq before the war.
After the 2003 invasion, thousands of Indian workers were recruited by contractors to provide various services to foreign military bases in Iraq. Many of them left with the deteriorating security situation in the country.
With the lifting of the government advisory against Indians travelling to Iraq which was in vogue from 2004 till May 2010, the number of Indian workers had steadily increased in the more stable Kurdistan region comprising Erbil, Sulaimaniya and Dohuk governorates, with better salaries and working conditions in steel mills, oil companies and construction projects.
When the ISIS took over large parts of Iraq in 2014, the Indian government evacuated thousands of Indian nationals from Iraq. India had also issued at least three travel advisories in June 2014 itself, asking people to avoid Iraq.
At present, the total number of Indians in Iraq is now estimated to be around 10,000-12,000, mostly in Kurdistan region, Basra, Najaf and Karbala. About 30,000-40,000 Indians visit Baghdad, Karbala, Najaf and Samarrah in Iraq for pilgrimage annually.
Full report at:
https://indianexpress.com/article/india/indians-may-consider-visiting-iraq-barring-5-terror-hit-provinces-mea-5570919/
--------
India to soon send draft of Kartarpur Sahib agreement to Pakistan
February 6, 2019
The government will soon send a draft to Pakistan for finalisation of an agreement between New Delhi and Islamabad on the opening of the Kartarpur Sahib corridor.
The breezeway will facilitate easy passage of Sikh pilgrims to the historic Gurdwara Darbar Sahib in Pakistan, officials said.
A decision was taken to fast-track implementation of the corridor project at a meeting on Tuesday, officials said. The meeting was chaired by Union Home Secretary Rajiv Gauba and attended, among others, by Indian High Commissioner to Pakistan Ajay Bisaria and Punjab Chief Secretary Karan Avtar Singh.
"India will send within a month the draft of the agreement to be signed with Pakistan for the Kartarpur corridor. We hope the modalities will be completed soon," Singh told the media after the hour-long meeting.
The Kartarpur Sahib Gurdwara is located on the banks of the Ravi river, about 3 or 4 km from the international border, in Pakistan. Guru Nanak Dev, the founder of Sikhism, had established the gurdwara in 1522; he had spent more than 18 years in Kartarpur. India has already communicated to Pakistan the coordinates of Zero Point for the corridor's opening, a Home Ministry official said.
Land acquisition for the highway and the integrated check post (ICP) were discussed in the meeting. It was informed that the preliminary notification for land acquisition for the highway has already been issued, and the notification to acquire land for the ICP will be issued on Wednesday.
The Punjab government has assured that the land required will be made available for both projects by mid-March, the MHA official said.
Possession of land to begin preliminary work will be made available to the NHAI and the Land Ports Authority of India (LPAI), and a detailed plan of the ICP is expected to be finalised within the next few days, it was informed.
The Punjab Chief Secretary said the process of land acquisition is at the second stage.
Vice President Venkaiah Naidu had laid the foundation stone of Dera Baba Nanak-Kartarpur Sahib Corridor (up to the international border) at an event in Mann village, in Punjab's Gurdaspur district, on November 26, 2018. Two days later, Pakistan Prime Minister Imran Khan laid the foundation stone for the 4-km corridor, expected to be completed by 2019.
Full report at:
https://indianexpress.com/article/india/india-to-soon-send-draft-of-kartarpur-sahib-agreement-to-pakistan-5570926/
--------
Arab World
A Muslim's heartfelt experience of Papal Mass
February 05, 2019
Abu Dhabi: As a Muslim from the south Indian state of Kerala, the Papal Mass attended by Christians, Muslims, Hindus and people of other faiths revived fond memories of my childhood. Growing up with Hindu and Christian friends and sharing religious festivals and occasions were — and remain to this day — a common experience in Kerala for a Muslim.
This experience of growing up has remained largely unchanged despite the current turbulent socio-political situation in many other parts of India.
Living away from my homeland, the Papal Mass was reminiscent of a harmonious life where love, affection and support was showered on me by neighbours and friends for whom religion was immaterial in relationships.
That moment filled me with hope. Amidst every-day news of conflicts in the Muslim world, mostly due to religious and sectarian differences, a leading Muslim nation, my home away from home, has hosted a rare religious ceremony of another prominent faith. It gives a ray of hope because the Papal Mass reminded me the anecdotes I heard in religious sermons of hospitality extended by Prophet Mohammad (PBUH) and Caliph Omar Bin Al Khattab to Christian and Jewish priests.
When a nation tries to emulate such good examples from its own religious tradition and history, it strengthens the hope of the people who believe in such harmony and fraternity.
Every thought of excitement and jubilation causes introspection in any sensible person. During the mass on Tuesday, when I looked around, some fellow Muslims were respectfully following the proceedings. One rightly said: "I did not understand everything, but I realised that we all pray the same way and to the same God."
Those words were the answers to my introspection on the validity of excitement and sense of jubilation about a harmonious future. If it has aroused similar thoughts and hope among some, I am sure this will spread to many throughout the world.
https://gulfnews.com/uae/a-muslims-heartfelt-experience-of-papal-mass-1.61889185
--------
Terrorist Groups in Northern Syria Seeking to Form United Force in Idlib
Feb 05, 2019
Sources affiliated to the FSA reported on Tuesday that all terrorist factions in Northern Syria, including Tahrir al-Sham and FSA, have been conducting hectic moves and meetings to unite under single rule as the Damascus army is preparing to wage a wide-scale assault on the terrorists in Idlib.
They added that the terrorist groups have negotiated merging the so-called interim and salvation governments and dissolving Tahrir al-Sham to start a new army.
Meantime, the terrorists still continue cooperation with the Turkish army to send new military convoys to allegedly stabilize conditions at the new military points in Idlib to prevent the Syrian army's operations in the province.
Relevant reports said late last month that Ankara was integrating the terrorist groups in regions occupied by them in Northern Syria, sources said, adding that the move contradicts Turkey's undertakings under the Sochi agreement.
Syria's Arabic-language al-Watan newspaper quoted sources close to the terrorists as saying that the Turkish military and intelligence officials have promised the ringleaders of Ahrar al-Sham, Nour al-Din Zinki and the so-called National Liberation Front (NLF) terrorist groups that they would merge them along with Tahrir al-Sham within the framework of a military organization.
They added that Turkey had also promised them to set up a parliament and an autonomous government after dissolution of Tahrir al-Sham in territories occupied by the militants, adding that Faylaq al-Sham which has recently been joined by 18 other terrorist groups in Northern Idlib and Western Aleppo was due to be the political branch of the new organization and Tahrir al-Sham would take the responsibility for its military wing.
The military experts warned that Turkey's measures were against the Sochi agreement to establish a demilitarized zone in Northern Syria and the Turkish president's promises to his Russian counterpart in the last week meeting in Moscow, adding that the move by Ankara has left the Syrian army with the only option of cleansing Tahrir al-Sham from the demilitarized zone.
Similar reports last month also said that the terrorists of Tahrir al-Sham were pursuing the new scenario to establish a new integrated military organization in Idlib after the terrorist group extended its presence in the province in cooperation with Turkey.
"The terrorists of the National Liberation Front (NFL) affiliated to the Turkish Army will soon be dissolved in Tahrir al-Sham as the militant groups have agreed to form an integrated military structure," the Arabic-language Enab Baladi affiliated to militants quoted a source close to Ankara-backed Free Syrian Army (FSA) as saying.
The source noted that the scenario started after Tahrir al-Sham's dominance over most of Idlib's regions.
He said that according to the plan, Idlib province will be divided into two sections in political and military terms; the Ankara-backed Faylaq al-Sham terrorists will take charge of the political affairs and Tahrir al-Sham will represent the military wing.
Full report at:
http://en.farsnews.com/newstext.aspx?nn=13971116001079
--------
Civilian Population Asks Syrian Army to Free Idlib from Terrorists
Feb 05, 2019
The Arabic-language website of Sputnik quoted Governor-General of Idlib Fadi Sa'adoun as saying on Tuesday that a large number of people have called for an immediate Syrian army operation to liberate Idlib from terrorists' control.
He referred to the deteriorating humanitarian conditions in the province, and regretted that the number of detained people, confiscation of properties and lands and executions against the residents have increased after Tahrir al-Sham's occupation of Idlib.
Sa'adoun said insecurities, explosions, internal clashes among the terrorists have made life even harder for the local population, noting that the militants have prevented the civilians from leaving the region whenever the Syrian army reopened Abu al-Zohour passageway.
Meantime, field sources said that the terrorists' offensives from the demilitarized zone against the army points have increased sharply in the past few days, adding that the army is assessed to be readying to launch a full-scale military operations to beat the terrorists in the Northwestern province.
Relevant reports said last Thursday that the Syrian and Russian armies sent new military convoys to Northern Syria to launch military operations as they continue to repel offensives of Tahrir al-Sham al-Hay'at terrorist group and its allies in Northern Hama and Southern Idlib.
Field sources in Northern Syria reported that the Syrian army had sent a large military convoy, consisting of hundreds of forces and heavy military equipment, from Southern Syria to its positions in Northern Hama.
They added that the Russian military forces have also been sent to Southeastern Idlib near Abu Zohour airbase, noting that Moscow and Damascus are preparing for operations to cleanse Tahrir al-Sham militants from Northern Syria.
The Russian fighter jets and reconnaissance planes are also permanently flying over the regions occupied by terrorists in Northern Syria.
Meantime, the Syrian army forces stationed near the town of Mahradah in Northern Hama targeted the terrorists' moves from the town of Tal al-Sakhar to their military positions with artillery and missile fire, inflicting heavy tolls on them and repulsing their heavy attack.
Full report at:
http://en.farsnews.com/newstext.aspx?nn=13971116000523
--------
Chief bankers of Iran, Iraq sign deal on payment mechanism
Feb 6, 2019
Governors of the central banks of Iran and Iraq on Tuesday signed an agreement on a payment mechanism which is to facilitate the settlement of Baghdad's debts to Tehran.
The deal, signed in Baghdad by Iran's Abdolnasser Hemmati and Iraq's Ali Mohsen Al-Allaq, mainly focuses on a payment channel that is to facilitate the settlement of the Arab country's debts to Tehran over gas and electricity imports, among others.
The two sides inked the agreement following negotiations between members of their delegations in Baghdad's Al Rasheed Hotel.
Upon arrival in the Iraqi capital Tuesday, Hemmati told IRNA that his trip was aimed at removing the obstacles that hinder the settlement of Iraq's debts to Iranian exporters.
"Currently, we're witnessing a considerable volume of exports [from Iran to Iraq] in both public and private sectors, but there are shortcomings in banking and monetary exchanges, which have created problems for [Iranian] exporters," he said.
In addition to natural gas and electricity, Iraq imports a wide range of goods from Iran including food, agricultural products, home appliances, and air conditioners.
The value of Iranian imports to Iraq was about $6 billion for the 12 months ending March 2018, about 15 percent of Iraq's total imports for 2017.
The energy contracts between the two countries also contributed to a volume of trade of $12 billion last year.
Iran is currently Iraq's top trade partner, having sharply increased their trade exchanges in recent months despite US sanctions on the Islamic Republic.
The US government in November re-imposed unilateral sanctions against the Islamic Republic of Iran and urged all countries in the world to stop doing business with Iran.
However, in a bid to meet its energy needs, Baghdad requested the US to exempt the Arab country from its unilateral sanctions against the Islamic Republic, and was finally granted a 45-day waiver, which was later extended for another three-month period.
After giving the waiver, the US said that Iraq could continue to import natural gas and energy supplies from Iran as long as it did not pay Iran in US dollars.
Therefore, the country officially removed the US dollar in trade with Iran, and started working on the use of local currencies in its economic ties with Tehran.
Iran's Tuesday deal with Iraq on facilitating financial exchanges came a few days after the European signatories to the 2015 Iran nuclear deal formally announced the launch of a long-awaited direct payment mechanism meant to safeguard their trade ties with Tehran in the face of the "toughest ever" American sanctions.
Following months-long preparations, foreign ministers of France, Germany and Britain finally unveiled the mechanism -- officially called the Instrument in Support of Trade Exchanges (INSTEX) -- on Thursday following a summit in Bucharest.
"France, Germany and the United Kingdom, in accordance with their resolute commitment and continued efforts to preserve the Joint Comprehensive Plan of Action (JCPOA) endorsed by United Nations Security Council resolution 2231, announce the creation of INSTEX SAS (Instrument for Supporting Trade Exchanges), a Special Purpose Vehicle (SPV) aimed at facilitating legitimate trade between European economic operators and Iran," the three foreign ministers said in a joint statement," they said in a joint statement.
France, Germany and the UK are the initial shareholders of the INSTEX mechanism for trade with Iran, which has been registered in the French capital, Paris, with a capital of 3,000 euros, and will be governed by a German banking expert, according to AFP and German media.
Full report at:
https://www.presstv.com/Detail/2019/02/06/587792/Iran-Iraq-payment-mechanism-gas-electricity-exports-sanctions
--------
Bahrainis determined to continue peaceful struggle for change: Al-Wefaq
Feb 5, 2019
As Bahraini people gear up to mark the eighth anniversary of their uprising against the ruling Al Khalifah regime on February 14, the country's main Shia opposition group, the al-Wefaq National Islamic Society, has reaffirmed its determination to continue peaceful rallies until its demands for political reforms are met.
Al-Wefaq, which has been dissolved and banned from conducting any activity by the Al Khalifah rulers, said in a statement on Tuesday that Bahrainis have increasingly witnessed Manama's "corruption, tyranny and recklessness" over the years, Bahrain's Lulu TV reported.
Al-Wefaq described the country's deteriorating situation as "frightening," and warned of a bleak future.
Eight years on, the Bahraini movement is still sticking to its demands for political reforms, and is resolved to keep up its struggle for change, it added.
Since February 14, peaceful protest rallies have been held regularly, demanding that the Al Khalifah family relinquish power and let a just system representing all Bahrainis be established.
The protesters have also been complaining against widespread discrimination against the Shia majority in the kingdom.
Manama has responded to the protests with lethal force, drawing international criticism. In March 2011, troops from Saudi Arabia and the United Arab Emirates were also deployed to assist Bahrain in its crackdown.
Bahraini authorities have also detained human rights campaigners, broken up major opposition political parties and revoked the nationality of several activists.
Since the start of the popular protests, the Manama regime has dissolved key opposition factions, including al-Wefaq and the National Democratic Action Society (Wa'ad), arrested prominent opposition figures and rights activists, and conducted mass trials of civilians at military courts.
Rights activists have lashed out at Manama for the rampant torture and sexual abuse of political prisoners as well as numerous death sentences, lengthy jail terms, revocation of citizenships, enforced deportations and hefty financial penalties against political activists and Shia scholars in the country.
Critics argue that defendants in the mass trials, all Shia Muslims, are victims of torture and denied access to any legal representation during the investigation period.
Human Rights Watch and Amnesty International have repeatedly expressed deep concern over the deterioration of human rights in Bahrain, saying the situation reveals the regime's campaign to silence voices of dissent in the sheikhdom.
Sheikh Qassim's words 'road map for future'
Meanwhile, Bahrain's top religious scholars have welcomed last week's statement by Bahrain's top Shia cleric Sheikh Isa Qassim, describing it as a "road map" for the country and its future.
In the statement issued last Friday, the senior cleric hailed Bahraini people's relentless struggle for "rights, justice and freedom."
Bahraini scholars said in a statement on Monday that they had received "with great passion and eagerness" Sheikh Qassim's words that contained a "map, a strategy, foundations…and a signal."
They also called on the people of Bahrain to be fully prepared to mark the anniversary of the uprising.
Bahraini authorities stripped the cleric of his citizenship on June 20, 2016. They later dissolved the Islamic Enlightenment Institution founded by Sheikh Qassim as well as the opposition al-Risala Islamic Association.
On May 21 last year, a Bahraini court convicted Sheikh Qassim of illegal collection of funds and money laundering, and sentenced him to one year in jail suspended for three years. It also ordered him to pay $265,266 in fines in a ruling which sparked widespread demonstrations across the kingdom.
Under house arrest since May 2017, the Bahraini cleric was flown to Britain in July 2018 for medical treatment.
Top Bahraini cleric Qassim re-hospitalized in UK
Bahrain Foreign Minister Khalid Al Khalifah wrote on Twitter at the time that King Hamad bin Isa Al Khalifah had allowed Sheikh Isa Qassim to travel to the United Kingdom for medical care.
Full report at:
https://www.presstv.com/Detail/2019/02/05/587733/Bahrain-opposition-group-alWefaq-protest-uprising-top-shia-cleric-Sheikh-Isa-Qassim
--------
US general in Middle East: Daesh hold in Syria, Iraq on verge of collapse
February 05, 2019
WASHINGTON: President Donald Trump is expected to declare near-total triumph over the Daesh group in Syria in his State of the Union address, but US defense officials are increasingly fearful that the militants are simply biding their time until the Americans leave the battlefield as planned.
Daesh militants have lost territory since Trump's surprise announcement in December that he was pulling US forces out, but military officials warn the fighters could regroup within six months to a year after the Americans leave.
A Defense Department watchdog report released Monday warned of just such a possibility.
The Daesh group "remains a potent force of battle-hardened and well-disciplined fighters that 'could likely resurge in Syria' absent continued counterterrorism pressure," the report from the inspector general said.
However, the top commander of US forces in the Middle East, General Joseph Votel, told a Senate committee on Tuesday that of the 34,000 square miles of territory that Daesh once held, it now controls less than 20 square miles.
Votel told the committee that it was important to understand that even though the territory has been reclaimed, the fight against Daesh and "violent extremists" was not over and that the "mission has not changed."
"The coalition's hard-won battlefield gains can only be secured by maintaining a vigilant offensive against the now largely dispersed and disaggregated ISIS that retains leaders, fighters, facilitators, resources and the profane ideology that fuels their efforts," he said, using a term used to describe Daesh.
Votel said there are now between 1,000 and 1,500 Daesh fighters in the small area they still control in the southern part of the Euphrates River Valley near the Iraqi border. The remainder, he said, have "dispersed" and "gone to ground," suggesting they retain the potential to return.
Trump's decision to leave Syria, which he initially said would be rapid but later slowed down, shocked US allies led to the resignations of Defense Secretary Jim Mattis and the top envoy to the anti- Daesh coalition, Brett McGurk.
The withdrawal will fulfill Trump's goal of bringing troops home from Syria, but military leaders have pushed back for months, arguing that Daesh remains a threat and could regroup. US policy has been to keep troops in place until the extremists are eradicated.
Fears that Daesh fighters are making strategic maneuvers ahead of a US pullout could also fuel criticism that Trump is telegraphing his military plans — the same thing he accused President Barack Obama of doing in Afghanistan.
US officials in recent weeks say Daesh has lost 99.5 percent of its territory and is holding on to fewer than 10 square kilometers of turf in Syria — an area smaller than New York's Central Park. In late November and December that figure had been estimated at between 400 and 600 square kilometers, according to officials briefed on the matter.
But several defense officials said Monday that many fighters fled to ungoverned spaces and other pockets in the north and in the west and are likely hiding out until they can regroup.
Trump said in a weekend interview that the caliphate is "almost knocked out."
"We're at 99 percent right now, we'll be at 100," he said on CBS' "Face the Nation."
US officials say that Daesh fighters hold only several villages in the Middle Euphrates River Valley that amount to significantly less than 10 square kilometers. But they say they don't expect that area to be cleared of militants for another several weeks, at best.
Officials say that overall, there are about 2,000 Daesh militants in Syria.
The Defense Department watchdog report warned that even with the Daesh forces on the run, the group "is still able to coordinate offensives and counter-offensives, as well as operate as a decentralized insurgency."
The report, which covers October through December 2018, also includes a classified section that was provided to Congress and includes a more detailed Pentagon assessment on the impact of the troops' withdrawal and the status of Daesh militants and other foreign fighters in Syria.
According to the report, US Central Command believes that Daesh fighters will continue to conduct "opportunistic attacks" on US troops as they withdraw. And it says, "If Sunni socio-economic, political, and sectarian grievances are not adequately addressed by the national and local governments of Iraq and Syria it is very likely that Daesh will have the opportunity to set conditions for future resurgence and territorial control."
Central Command said that the Daesh group is "regenerating key functions and capabilities more quickly in Iraq than in Syria," but unless there is sustained counterterrorism pressure, Daesh militants "could likely resurge in Syria within six to twelve months and regain limited territory" in the Middle Euphrates River Valley.
Despite Trump's order to withdraw, American officials maintain that the goal remains the "enduring defeat" of the Daesh group and are moving ahead with a long-planned meeting of top diplomats from the 79-member US-led anti- Daesh coalition this week. The aim of the conference is to recommit the coalition to that aim and ensure that the departure of US troops does not overly complicate that mission.
Full report at:
http://www.arabnews.com/node/1447316/middle-east
--------
Southeast Asia
Why did PAS cut ties with DAP? For being 'enemy of Islam', Hadi claims
06 February 2019
By Azril Annuar
KUALA LUMPUR, Feb 6 — Datuk Seri Abdul Hadi Awang today sought to explain why PAS ended its alliance with DAP some years back, and in doing so accused the latter party of being an "enemy of Islam."
In a Facebook post, the PAS president said this was also why the Islamist party cut ties with its former members and leaders who have since left the party and allowed "non-Muslims" to lead them.
"PAS cut off its relations with parties that showed it is an enemy of Islam and challenged Islamic leadership like DAP and others.
"The same goes with PAS members and leaders who left the party because their cause is lost and it is no longer in accordance with Islamic principles, they fled from the Islamic cause and showed their attitude of allowing a non-Muslim, who are clear enemies of Islam and its people, to lead them so they can obtain power and position," Abdul Hadi wrote.
He said that PAS had made the decision according to its Ulama Syura Council which was based on the Quran and sunnah but also took note that Islam recognises other religion and the need to cooperate with non-believers.
However, Abdul Hadi also said that cooperation with non-believers are based on necessity and things can change according to the situation and whether the conditions are met or else it becomes prohibited.
DAP and PAS were once allies in the now-defunct Pakatan Rakyat, and before that Barisan Alternatif.
https://www.malaymail.com/news/malaysia/2019/02/06/why-did-pas-cut-ties-with-dap-for-being-enemy-of-islam-hadi-claims/1720227
--------
Hadi: My daughter-in-law, many foster uncles are Chinese
05 February 2019
By Zurairi AR
KUALA LUMPUR, Feb 5 — Datuk Seri Abdul Hadi Awang touted today several of his ethnic Chinese relatives, as he explained his ties to the community in a Chinese New Year address video.
The president of Islamist party PAS pointed out that he has an ethnic Chinese daughter-in-law, and many others from the community adopted by his grandfather — whom he regards as his blood uncles.
"One of my children-in-law is an ethnic Chinese, and when New Year arrives and she holds feasts, I would attend to celebrate one of my in-laws from the community," said Hadi.
The daughter-in-law in question is Aisyah Lim, the wife of one of his sons, Yusuf Abdul Hadi.
In 2016, then PAS information chief Nasrudin Hassan had insisted that Hadi "cannot be racist" as he has a daughter-in-law who is Chinese.
Hadi said his grandfather had not only fostered those from the Chinese community, but had also given shelter to Chinese refugees during World War II by hiding them in his farm.
"My grandfather had foster children from the Chinese community, whether they practice Islam or not, who became part of my family. I see them as uncles, and they see me as one of their children," he said.
"This shows that our relationship with the Chinese is not new," the Marang MP added.
In the video, Hadi also stressed on the freedom of worship and said that it is forbidden to force someone into converting into Islam.
He also highlighted racial and religious harmony, but warned non-Muslims against practising anything prohibited by Islam publicly.
"For things that are prohibited by our religion but permitted by theirs we cannot interfere, provided that they care for our sensitivities. Don't do it openly, and must take care of the relationship between us," he said.
Full report at:
https://www.malaymail.com/news/malaysia/2019/02/05/hadi-my-daughter-in-law-many-foster-uncles-are-chinese/1720030
--------
Allegation over mosque management defamatory, malicious, says MAIM
05 February 2019
MELAKA, Feb 5 — The Melaka Islamic Religious Council (MAIM) said today it regards the allegation by the opposition pertaining to the issue of mosque management in the state as defamatory with malicious intent to cast doubts on its credibility as a religious institution.
Its deputy chairman, Datuk Mohd Sofi Abdul Wahab, said MAIM strongly dismissed the allegation by state PAS commissioner Kamaruddin Sidek in his talk on 'Cooperation of PAS and UMNO in defending Islam and Malays' at Kampung Pulau, Durian Tunggal here, on Feb 2, which was also aired 'live' on Facebook.
He also refuted Kamaruddin's claim that the institution of mosques in the state was no longer 'functioning' and devoid of any activity after the Pakatan Harapan government took over the state administration about nine months ago.
"This is a baseless allegation as all activities are still being carried out as usual and the mosque committees were functioning until last Dec 31.
"However, the process of appointing new mosque committee members is expected only to be fully finalised at the latest by Feb 20, and, in the meantime, the Syarak officers are taking over the task," he told a press conference at the Melaka International Trade Centre (MITC) in Ayer Keroh.
Mohd Sofi, who is also the State Public Works, Transport and Public Utilities Committee chairman, stressed that no discussion had been held regarding the claim that MAIM would take over the collection of mosques in the state.
"Religious matters should not be politicised ... as if MAIM is distrustful (fearing irregularities) and wants to restrict the mosques from organising religious activities.
"We want to set the record straight as the opposition seems to have raised a negative perception deliberately and caused confusion among the people when the state government has never held any discussion on the issue (of taking over)," he said.
Hence, he said, six reports had been lodged for the police to investigate the involvement of Kamaruddin and others in the politically-motivated statement.
"The freedom of speech allowed by the government today should not be abused by the opposition to spread baseless allegations for the purpose of dividing the community," said Mohd Sofi, who is also the Durian Tunggal assemblyman.
Full report at:
https://www.malaymail.com/news/malaysia/2019/02/05/allegation-over-mosque-management-defamatory-malicious-says-maim/1720047
--------
2nd round of Philippine Muslim autonomy poll imminent
05.02.2019
The second round of a plebiscite that granted the Philippines' Bangsamoro the long-awaited comprehensive autonomy will take place on Wednesday for its expansion.
Bangsamoro is a collective term for Filipino Muslims living on an island and archipelago south of the Philippines.
Freedom of the Muslims in the region had for centuries was taken away from them by the Spanish, who occupied and started to Christianize the Philippines in the 16th century. After Spanish defeat at the hands of Americans in 1898, the Moros became under U.S. invasion.
The Bangsamoro people, who were already deprived of freedom during the U.S. occupation, also faced harsh times due the Christian settlement policy of the Manila government, when Americans left the region to the Philippine Christians after managing it until 1946.
Since then numerous talks were held between the Philippine government and the Muslim groups, yet they failed to yield any result.
However, the course of the issue had changed when Rodrigo Duterte became Philippine's president in 2016.
Duterte speed up the process that started in 2012, when then-President Benigno Aquino III and the Moro Islamic Liberation Front (MILF) leader Al Haj Murad Ebrahim signed the Framework Agreement on the Bangsamoro (FAB).
The FAB constituted a roadmap for a final settlement which allowed for an autonomous region administered by minority Muslims in the south of the predominantly Catholic country.
The MILF and the Manila government also signed the Comprehensive Agreement on the Bangsamoro (CAB) in 2014, paving the way for the Bangsamoro Organic Law (BOL).
The 2014 deal brought the 17-years of negotiations to a close and ended a decades-old armed conflict in the country's south.
- Historic plebiscite
The Philippines' landmark BOL was officially ratified on Jan. 25 following the first round of the plebiscite win on Jan. 21 on granting comprehensive autonomy to Moro Muslims.
Ratification of the BOL means the Autonomous Region in Muslim Mindanao (ARMM) in the southern Philippines will be replaced with the Bangsamoro Autonomous Region in Muslim Mindanao (BARMM).
More than 1.54 million people voted Yes, which corresponds to over 85 percent, to approve the BOL, while some 190,000 voted down the law, according to the official results.
The first voting included the provinces of Maguindanao, Lanao Del Sur, and the island provinces of Basilan, Tawi-tawi and Sulu as well as the cities of Cotabato and Isabela.
The second phase of the BOL will be held in six towns -- Tagoloan, Balo-i, Pantar, Munai, Nunungan and Tangcal -- in northwestern Lanao del Norte and in 67 residential areas in North Cotabato.
They will be asked whether they want to join the newly-formed BARMM.
The second phase will ensure a larger BARMM area, and once the phase is completed, an interim administration will be formed to take the region to the elections.
- Bangsamoro Organic Law
Under the law, courts of Islamic law will open in the region, and the Philippines' central government will transfer its administrative authorities in Mindanao to the Bangsamoro government.
The waters in the Bangsamoro region will be simultaneously managed by the national government and Bangsamoro government.
The autonomous government will be responsible for the management of energy resources.
The Muslims will be free in their internal affairs, while they will be bound to the Philippines in foreign affairs, however they will have some flexibility.
Full report at:
https://www.aa.com.tr/en/asia-pacific/2nd-round-of-philippine-muslim-autonomy-poll-imminent/1384556
--------
At Aceh governor trial, spotlight shifts to extramarital affair
February 5, 2019
The corruption trial of suspended Aceh governor Irwandi Yusuf began to unfold like a soap opera after his close companion, Steffy Burase, was grilled on the stand about allegedly receiving a portion of the money the former had allegedly embezzled.
A former leader of the separatist Free Aceh Movement (GAM) who had successfully transitioned into a provincial leader, Irwandi fell from grace when the Corruption Eradication Commission (KPK) named him a graft suspect for allegedly accepting Rp 500 million (US$35,848) in bribes related to an infrastructure project.
Steffy, a former model, denied in a hearing at the Jakarta Corruption Court on Monday that she had used some of the money to travel to Mecca, Saudi Arabia, for umrah (minor haj) with Irwandi prior to their planned wedding. She had just converted to Islam at the time.
She added that she had gone on umrah at the encouragement of Irwandi's aide, Teuku Saiful Bahri. She further conceded that she and the suspended governor were close but doubted she would marry him as he was still married to Darwati A. Agani.
"I went on umrah with money I borrowed from Saiful, which had been transferred to Fadhil. I don't know where he got the money from," Steffy told KPK prosecutor Ali Fikri.
She was referring to Teuku Fadhilatul Amri, Saiful's nephew and who had given his testimony prior to her.
Irwandi and Saiful were present in the hearing. Another witness in the court included non-active governor's aide Yusrizal.
Steffy also claimed that she and Irwandi had called off their wedding because of Irwandi's arrest.
According to the KPK's indictment, Steffy and Irwandi are already married.
Last year, Aceh, the country's only province that implements sharia, received Rp 8 trillion in special autonomy funds to be used for its development. About Rp 108 million was allocated to Bener Meriah regency.
Saiful and another Irwandi aide, Hendri Yuzal, allegedly directed Aceh's procurement unit to fund a number of projects in the regency with the special autonomy fund.
Irwandi stands accused of accepting Rp 500 million from Bener Meriah Regent Ahmadi — who has also been named as a suspect — as part of a Rp 1.5 billion "commitment fee" related to an infrastructure project in the regency.
According to KPK's indictment, some of the money transferred to Irwandi was allegedly used to buy uniforms and medals for the 2018 Aceh Marathon, a program initiated by Steffy.
She told the court she had only designed the program but had not handled purchases.
"I was not supposed to handle the event's procurements. However, the sports agency asked me to buy the clothes and medals as its officials were not familiar with the items necessary for the event," she said.
Steffy added that she had ended up asking for financial assistance from the governor.
Elaborating on her relationship with Irwandi, she explained that she had met him in Moscow in August 2017 during a Festival Indonesia event, where she was promoting the country's traditional woven fabric.
"At the meeting, I told Irwandi that I was interested in promoting something from Aceh abroad. He later asked me if I could help promote Sail Sabang 2017," she said.
Irwandi further asked her if she could create an event that would promote Aceh's tourism, she said.
"At that time, my mind was on the marathon," she said, adding that Irwandi had told her to propose the Rp 13 billion sport tourism event to the youth and sports agency.
Full report at:
https://www.thejakartapost.com/news/2019/02/05/at-aceh-governor-trial-spotlight-shifts-to-extramarital-affair-.html
--------
Indonesian anti-terror squad joins Philippines bomb probe
February 05, 2019
JAKARTA: An Indonesian anti-terror squad has been sent to the Philippines to help identify suicide bombers who attacked a Catholic church on Jolo island, killing 22 people.
National police spokesman Insp. Gen. Muhammad Iqbal told Arab News that three members of the Detachment 88 anti-terror unit and three officials from the national counterterrorism agency (BNPT), the Foreign Ministry and the national intelligence agency (BIN) left for Manila on Tuesday.
Philippines Interior Minister Eduardo Ano had earlier claimed that two Indonesians, a man identified only by his alias Abu Huda and his Indonesian wife, had carried out the suicide bombings on Jan. 27.
However, Indonesia's Chief Security Minister Wiranto on Monday cautioned the Philippines against making hasty, "one-sided" claims while the investigation was underway.
"They are still determining who the attackers were. There are still a lot of possibilities. So don't rashly judge that they were Indonesians," Wiranto said, calling on authorities to wait for the results of the investigation.
Sinyo Harry Sarundajang, Indonesia's ambassador to the Philippines, said the embassy had been told by the Philippines' Western Mindanao Command that the military had been unable to identify the attackers.
"We have asked the Philippines national police for more information," the envoy said. "They haven't released any DNA test results or CCTV footage from the crime scene to back the claims that Indonesian nationals were the attackers.
"We can't be certain that there were Indonesians involved in the bombing."
Al Chaidar, a terrorism analyst from Universitas Malikussaleh in Aceh, told Arab News that he is certain the attackers were Indonesians, despite the government's claims.
"The government has been denying that suicide bomb attacks carried out by a group of family members, such as the attacks in Surabaya last year, could be replicated elsewhere," he said, referring to the deadly strikes that targeted churches and the East Java capital last May.
However, he said it is unclear if the bombers were part of the Jamaah Ansharut Daulah (JAD), which was behind the Surabaya attacks. The JAD, a pro-Daesh Indonesian militant group, also carried out a fatal bomb attack in central Jakarta in January 2016.
"It is also still unclear where they were radicalized. But I believe they were not from Poso and part of the eastern Indonesia mujahideen. It is not the group's signature style to carry out such an attack," Chaidar said.
A number of Indonesian militants are believed to have been involved in the Marawi battle with Maute militants in 2017.
Full report at:
http://www.arabnews.com/node/1447681/world
--------
Europe
Pope Francis: Abuse by priests and bishops likely still ongoing
Sofia Barbarani
February 6, 2019
Just two weeks before the Vatican hosts a summit to address abuses in the Catholic church, Pope Francis has admitted sexual abuse of nuns by the clergy is an ongoing problem.
Speaking to reporters on his flight back to Rome from Abu Dhabi, Pope Francis said the Church was addressing the widespread problem, but that it was still going on.
"It is true… there have been priests and even bishops who have done this. I think it is still going on because something does not stop just because you have become aware of it," he told reporters.
Although the church has been embroiled in child abuse scandals carried out by the clergy, the widespread problem of abuse within the church has been less publicised.
Between February 21 and 24, the presidents of the episcopal conferences from over 100 countries will gather at the Vatican to discuss how to tackle abuse.
While many hoped it would lead to a church-wide procedure for handing members of the Church who fail to act on reports of wrongdoing, Pope Francis himself has sought to taper aspirations.
"The expectations need to be deflated," Pope Francis said as he was flying back from Panama in late January.
On January 1, Pope Francis sent a letter to the US Catholic Church in which he spoke plainly about the issue.
As well as causing untold pain to the victims and their families, he said "the Church's credibility has been seriously undercut and diminished by these sins and crimes, but even more by the efforts made to deny or conceal them.
"The mentality that would cover things up, far from helping to resolve conflicts, enabled them to fester and cause even greater harm to the network of relationships that today we are called to heal and restore," he added.
He said that combatting the "culture of abuse … urgently demands of us a renewed and decisive approach to resolving conflicts".
In 2018 cases of abuse against nuns were reported in South America, Europe, Africa and Asia. At the time, the Vatican declined to comment. Women were reportedly forced to bear children that their assaulters, usually priests, refused to recognise.
While the pontiff was visibly taken aback by the question, he was candid about the church's failings.
Years of inertia regarding this issue are being replaced by people coming forward.
Last November, the organisation representing women's Catholic orders around the world denounced the "culture of silence and secrecy" that helped cover up and perpetuate abuse. The International Union of Superiors General urged nuns to come forward and report incidents to the police.
In 2018, a nun who had been assaulted by a priest during confession said for years she pretended the violent incident hadn't taken place. For two decades she remained quiet.
"It opened a great wound," she told the Associated Press.
Last week, Lucetta Scaraffia, editor in chief of Women Church World – the women's magazine of the Vatican newspaper L'Osservatore Romano – wrote: "The abuse of women results in procreation and so is at the origin of the scandal of imposed abortions and children not recognised by priests."
Encouraged by the growing #MeToo movement, more nuns have spoken out against the abuses.
"Should more be done? Yes," the Pope said. "Do we have the will? Yes. But it is a path that we have already begun."
https://www.thenational.ae/world/europe/pope-francis-abuse-by-priests-and-bishops-likely-still-ongoing-1.822538
--------
Pope Francis reflects on his UAE visit: I saw a modern, welcoming country
Sofia Barbarani
February 5, 2019
On Sunday evening, under a rainy Emirati sky, the Alitalia Shepherd One landed in Abu Dhabi. The Pope met with the country's leaders and religious elders, before flying back to the Vatican on Tuesday.
It was a brief trip, but long enough for the Pope to form a favourable impression of the UAE. "I saw a modern country," he said on the flight back to Rome. "It's modern and welcoming of so many people."
On his last day in the Gulf state, Pope Francis celebrated mass in front of 150,000 people. One young girl surprised the Pope and onlookers when she breached security to approach the white Popemobile and deliver a letter to the pontiff.
"A brave one!" Pope Francis exclaimed. "I liked it, you have to be a brave one to do that."
Inside the Zayed Sports City Stadium, against the backdrop of a towering cross and statue of the Virgin Mary, the pontiff underscored his message of unity. "Take care of each other, there are no first and second-class Christians," he told the crowd.
Moments later he was escorted to the presidential airport to board the Etihad flight home.
The UAE, he told reporters aboard, is a nation that looks to the future.
"They educate their children by looking forward," he said. "They're always looking for new things. I even heard someone say: 'One day we'll cease to have oil, we're readying ourselves for that day.'"
Despite his advanced age and grueling schedule, Pope Francis entertained the press corps for 45 minutes during the flight.
The questions ranged from his ties to the Muslim community to the dangers of war.
His extensive answers and trademark smile at times gave way to weariness, and the satisfaction of a successful trip seemingly replaced by sporadic expressions of melancholy.
Six years into his papacy, the 82-year-old pontiff has been relentlessly criticised by conservative members of the Church for his liberal leanings and reformist ideals.
Flanked by his spokesman Alessandro Gisotti, Francis oscillated between humourous remarks and serious analyses, including on the wars that have ravaged regional countries like Yemen and Syria.
"There's only one great danger at the moment – destruction, war, hate among us," he said. "And if we're unable, among believers, to give each other a hand… our faith will be defeated."
The Human Fraternity document signed by the Catholic leader and the Grand Imam of Al Azhar Ahmed Al Tayeb on Monday night was a public and historic step toward greater religious cooperation.
The document, explained the Pope, was born from faith in God. "He is a father to everyone, he is the father of peace and he condemns every destruction, every terrorism."
The guidelines to the document on peace and coexistence had been worked on for over a year.
But in an increasingly hostile world, critics of the Pope have viewed his trip to Abu Dhabi with scepticism, accusing him of being manipulated by Muslim countries.
"But not only by Muslims," the Pope said. "They accuse me of being instrumentalised by everyone. Even journalists!"
The Pope was emphatic though that the guidelines drawn up by Dr Al Tayeb and himself were faithful to the values of the Vatican Church. "The document was made in the spirit of the Vatican," he said.
While his trip symbolised a step forward, 50 years in the making, progress towards religious harmony would not end there, he said. "It must develop."
Pope Francis also recounted the private meeting held on Monday afternoon between members of the Council of Elders and himself inside the Sheikh Zayed Grand Mosque.
It was very touching, he said. "They were of various cultures, this indicates the openness of this country to dialogue."
Full report at:
https://www.thenational.ae/uae/the-pope-in-the-uae/pope-francis-reflects-on-his-uae-visit-i-saw-a-modern-welcoming-country-1.822408
--------
Roughly 40 Norwegian children born in ISIS territory say police
February 5, 2019
Around 40 Norwegian children were born or taken to live inside ISIS' so-called 'Caliphate' in Syria and Iraq, security services said.
Roughly 30 Norwegian men and women remain in Syria, another 30 have died and 40 have escaped according to officials. Only a handful of these have returned to Norway, Martin Bernsen, senior advisor to the Norwegian Police Security Service (PST), told Dagbladet. The fate of the 40 children, almost all who were born in ISIS territory, is unclear Mr Bernsen added.
Very few of the 30 still active "foreign warriors" in the Levant region are expected to make it back to Norway. However, of those that are alive, some remain in contact with family members in Norway via social media. The primary threat from the 30 "lies in the opportunity they have to encourage" sympathisers to carry out attacks in Norway, a report released by the PST on Monday said.
It added, the "most serious terrorist threat in 2019 will still come from extreme Islamist groups".
Security officials expect any terrorist incident is likely to be carried out by only one or two people using a vehicle, firearm or explosive device – as has been the trend across Europe.
Most who travelled to Syria or Iraq did so in 2013 and were described as a mixture of Norwegian converts and "multi-ethnic" people. The last time officials believe a Norwegian tried to join ISIS was in autumn 2017 as the terror group's territory dwindled. The report warned, however, that extremist propaganda was still accessible, mainly through encrypted means, and would therefore continue to pose a lasting threat.
Western politicians are increasingly uneasy about the roughly 800 ISIS foreign fighters held in the Syrian jails of US-backed forces. The announcement by president Donald Trump of his intention to withdraw American forces from the county has led to fears foreign extremists could escape and plot attacks against their home countries.
Recent reports said that 130 French suspected ISIS members in Syria would be repatriated to face trial after the US development.
Perhaps Norway's most famous ISIS recruits were the Norwegian-Somalian Juma sisters who left for Syria in 2013. Their father, Sadiq, would track them down in ISIS territory in a futile attempt to convince his daughters to return home with him.
Norway has been largely spared the fate of its European neighbours, many of whom have suffered from a devastating series of ISIS-inspired terror attacks. In January a Russian man was arrested after allegedly trying to stab a woman at an Oslo supermarket.
Full report at:
https://www.thenational.ae/world/europe/roughly-40-norwegian-children-born-in-isis-territory-say-police-1.822268
--------
Greece's Muslim minority complain of 'marginalisation' in Komotini
FEBRUARY 6, 2019
Outwardly, Komotini looks like other Greek cities, but there is a major difference: it has nine mosques whereas there are none in Athens.
The northeastern city has existed from the second century and was captured by Ottoman-era Turkey in the 14th. It was an important hub connecting the capital city of Constantinople, as Istanbul was then known, with the European part of the empire.
Now it is home to nearly 30,000 Muslims, many of whom complain of marginalisation.
Greece has for centuries had a testy relationship with Turkey, with a slew of disputes ranging from Aegean sea issues to the long-running Cyprus problem.
"The minority Muslims and their Greek compatriots cohabit but each side lives in its own corner," said Mustafa Mustafa, a lawmaker from Prime Minister Alexis Tsipras's party, speaking in this frontier city of some 60,000 people.
Tsipras visits Turkey on Tuesday in a bid to improve relations.
"Relations deteriorated in the 1960s and until 1990 many villages in the area were ringed by military barricades," Mustafa, who is in his sixties, said.
"We could not access our properties or get a driving licence," he said.
'We are being used'
"We would like to be a bridge of peace and friendship and not act as a brake."
The issue of the Muslim minority is one of the sensitive areas in ties between the two neighbours.
Turkish President Recep Tayyip Erdogan, during a historic trip to Greece in 2017 — the first by a Turkish leader in 65 years — visited the Thrace region and called for the respect of the Muslim minority, railing against "discrimination" by the Greek government.
"It's sad that we are being used," said a young Muslim woman, speaking on condition of anonymity.
"These are normal people like us who are paying the price of politics," she said of residents of Komotini, which lies about 100 kilometres from the border.
There are up to 150,000 Muslims in Greece's western Thrace region, who were given minority status after the 1923 Treaty of Lausanne following the end of a war between Turkey and Greece which rang the death knell for the Ottoman empire.
The treaty provided for the application of sharia law to settle family disputes and the use of Turkish in educational institutions.
The presence of a Turkish consulate in the region adds to tensions.
"It would be better for everyone if the consulate stops serving the interests of the Turkish foreign ministry," Komotini's mayor Giorgos Petridis said.
'Islam = Turkey'
"What characterises this population is a plural identity," said Thalia Dragona from the Athens National University.
"The new generation is educated and wants to break free from being slotted," she said.
A young Muslim recounted how her family was criticised for putting their children in Greek schools, saying: "In their eyes, we had become traitors."
Chatitze Molla Sali, who is in her seventies, lived in Komotini before relocating to Istanbul. She had inherited her husband's house under Greek law but her sisters-in-law contested the decision, evoking sharia.
The European Court of Human Rights ruled in her favour in December.
"The decision clarifies the situation since it makes it impossible to apply Muslim law on European citizens," her lawyer Yanis Ktistakis said.
Full report at:
https://dailytimes.com.pk/351578/greeces-muslim-minority-complain-of-marginalisation-in-komotini/
--------
Dutch far-right leader Geert Wilders' ex-ally converts to Islam
February 6, 2019
A Dutch former far-right MP and right-hand man of anti-Islam politician Geert Wilders has set tongues wagging in the Netherlands after revealing that he has converted to Islam.
Freedom Party (PVV) leader Wilders compared the conversion of ex-ally Joram van Klaveren to a "vegetarian working in a slaughterhouse", media reports said on Tuesday.
For years, Joram van Klaveren fought a relentless campaign in the Lower House against Islam in the Netherlands as a legislator for Wilders' party.
At the time, the "hardliner pleaded for banning the burqa and minarets, saying 'we don't want any Islam, or at least as little as possible in the Netherlands'," the daily tabloid Algemeen Dagblad (AD) said.
But the 40-year-old Van Klaveren said he had changed his mind halfway through writing an anti-Islam book.
The work "became a refutation of objections non-Muslims have" against the religion, he told the respected NRC daily on Tuesday.
"If everything I wrote up to that point is true, and I believe that, then I am a de facto Muslim," he told the NRC.
Van Klaveren converted to Islam on October 26 last year, the NRC added in the interview piece ahead of the release of Van Klaveren's book titled Apostate: From Christianity to Islam in the Time of Secular Terror.
The former politician, who grew up in a Protestant Christian environment, said of his conversion that he "has been searching for a long time."
"It feels a bit like a religious homecoming for me," he told Dutch newspapers.
Van Klaveren could not be immediately reached for comment on Tuesday.
'Vegetarian in a slaughterhouse'
"What a story... it's like a vegetarian going to work in a slaughterhouse. I have no words," Wilders told RTL television news.
"I expect a lot but I didn't see this coming."
Van Klaveren split with Wilders in 2014 after the PVV leader's controversial comments asking supporters whether they wanted "fewer or more Moroccans in your city and the Netherlands".
Wilders was found guilty on discrimination charges in 2016. The sentence is currently being appealed.
Van Klaveren went on to form his own far-right party, called "For Netherlands" (VNL) but left politics after failing to win a single seat in the 2017 elections.
"If this really isn't a PR stunt to promote his book, then it really is an extraordinary choice for somebody who had a lot to say about Islam," former VNL cofounder Jan Roos told the AD.
Said Bouharrou, who serves on the Board of Moroccan Mosques in the Netherlands, praised Van Klaveren.
"It is great when somebody who has been so critical of Islam... realises that it is not so bad or perverse," he told the AD.
"It is brave that he's prepared to do it in public," Bouharrou said.
Around five percent of the Dutch population of 17 million people, or some 850,000, are Muslim, according to the Dutch Central Statistics Bureau.
Despite Wilders' objections, the religion is growing, with experts expecting the number to double by 2050.
Full report at:
https://www.aljazeera.com/news/2019/02/dutch-leader-geert-wilders-ally-converts-islam-190205175958375.html
--------
EU, Arab League fail to release joint statement on Mideast conflicts
Feb 5, 2019
The European Union and the Arab League have held a ministerial meeting, but failed to release a joint statement amid a lack of consensus on ongoing conflicts and issues in the Middle East region.
The meeting took place in the Belgian capital, Brussels, on Monday, with the aim of making preparations for the first ever summit between the EU and the Arab League due in the Egyptian city of Sharm el-Sheikh on February 24-25.
Speaking at a press conference following the meeting, EU foreign policy chief Federica Mogherini said "common ground was there on 90-95 percent of issues."
She also noted that the two sides shared the same positions regarding the support for a political transition in Syria, the so-called two-state solution to the Middle East conflict, the recognition of Jerusalem al-Quds as the capital of both Israel and Palestine, and finding solutions to the crises gripping Yemen and Libya.
The EU and the Arab League ministers further discussed ways to strengthen economic cooperation, trade and investments as well as opportunities for young people and education.
Arab League Secretary General Ahmed Aboul Gheit, for his part, stressed that there were "more complications on the European side rather than the Arab side."
However, Mogherini disagreed with him, saying, "I would say rather the contrary."
Speaking during the ministerial meeting, Aboul Gheit urged European countries to recognize the state of Palestine within the pre-1967 boundaries with its capital in East Jerusalem al-Quds.
He further praised Europe for its humanitarian and financial assistance to Palestinians provided through the United Nations Relief and Works Agency (UNRWA).
Full report at:
https://www.presstv.com/Detail/2019/02/05/587742/EU-Arab-League-Federica-Mogherini
--------
British minister says ISIS hostage John Cantlie still alive
Damien McElroy
February 5, 2019
Britain's security minister has revealed that the ISIS hostage John Cantlie is alive and remains in the terror group's custody, the first confirmation of the status of the photographer who was kidnapped in 2012.
Ben Wallace, the Home Office minister, told a briefing that he would not go into details about Mr Cantlie's whereabouts, more than six years after the 48-year old was captured in Syria.
Mr Wallace named Mr Cantlie as one of an unspecified number hostages as he reiterated official British policy that the UK does not negotiate or pay ransoms in kidnapping situations.
While the statement was impromptu it is likely that it is based on credible intelligence available to the UK authorities. The news of the minister's comments led the Free John Cantlie campaign to express its hope that the journalist's ordeal would be resolved.
"We are aware of the current news circulating that John Cantlie is alive, whilst this is not substantiated at present, we continue to hope and pray that this turns out to be true," it said on Twitter. "Thank you for your continued support."
Mr Cantlie's fate has occupied minds as the footprint of ISIS territory has shrank inexorable. Patrick Shanahan, the acting US Defence Secretary, has said the total collapse of ISIS territorial control could be just weeks away and other western officials have said it has lost almost all the land it once held.
There have been reported sightings of Mr Cantlie within the past year emerging from coalition allies and others. Most recently the Syrian Democratic Forces militia, said Mr Cantlie had been spotted in eastern Syria according to news websites.
Kidnapped alongside the American journalist James Foley, who was beheaded by his captors in 2014, Mr Cantlie was forced into ISIS propaganda videos. In these he appeared on camera wearing orange jumpsuits. In one of the videos he appeared in Mosul, Iraq, standing in the rubble of the bomb-damaged city.
The most recent appearance came in 2016 in a video thought to have been shot in Syria.
His long disappearance has seen the Cantlie family appeal to his captors to return the correspondent to his native country. Mr Cantlie's elderly father Paul made an emotional plea for his son's welfare in 2014, just weeks before he died.
Full report at:
https://www.thenational.ae/world/british-minister-says-isis-hostage-john-cantlie-still-alive-1.822387
--------
Pakistan
Maulana Tariq Jameel reveals why he supports Imran Khan
February 6, 2019
ISLAMABAD: Renowned religious scholar Maulana Tariq Jameel has finally revealed why he supports Prime Minister Imran Khan so much.
When a student asked Maulana Tariq Jameel about this, he said that Imran Khan is the only leader in the history of Pakistan who wants to make the country a Medina-like welfare state. Nobody had the vision this for Pakistan and this is why he won my heart, he said.
Maulana further said that although he has been close to former prime minister Nawaz Sharif as well, he never saw somebody so concerned for the country like Imran Khan is.
A lot of things used to come under discussion whenever he called me for a meeting but Imran Khan was the first person who called me to talk about Pakistan, he said. The religious scholar shared that he saw pure enthusiasm for Pakistan in Imran Khan.
He said that Imran Khan gave him his personal number to call him whenever he finds him doing something wrong. When Maulana was asked about the opposition he is facing over his statement, he said that they are all my people and I pray for everyone.
"Freedom of expression is a right in every healthy society and I respect it," he added.
In a special video message to the nation, Maulana Tariq Jameel had said that Imran Khan is the first prime minister in the history of Pakistan wishing to transform Pakistan into Medina-like welfare state. Therefore, I appeal the entire nation to fully extend support to PM Khan, Maulana Tariq Jameel had said.
https://www.pakistantoday.com.pk/2019/02/05/maulana-tariq-jameel-reveals-why-he-supports-imran-khan/
--------
Court sends 92 TLP workers on judicial remand
FEBRUARY 6, 2019
A local court here on Tuesday sent 92 workers of the Tehreek-i-Labbaik Pakistan (TLP) to jail on judicial remand, a private TV channel reported.
They workers had been arrested a day earlier for trying to block an armoured vehicle carrying party chief Khadim Rizvi following his appearance before an anti-terrorism court (ATC).
Rizvi had been brought a day earlier to the ATC for the hearing of a case registered against him and five other party leaders for damaging public property during violent protests against a Supreme Court verdict that acquitted Asia Bibi in a high-profile blasphemy case last year.
Judicial Magistrate Ahmed Nadeem Niazi heard the case regarding the 92 workers at Cantt Kachhery as the ATC was shut due to the public holiday on account of Kashmir Day.
A case was registered against the 92 workers at the Race Course Police Station under sections 290, 291, 147, 149, 186, 353 and 427 of the Pakistan Penal Code (PPC), Section 7 of the Anti-Terrorism Act, Section 16 of the Maintenance of Public Order (MPO) and Section 6 of the Punjab Sound Systems Regulation Act, 2015.
Full report at:
https://dailytimes.com.pk/351579/court-sends-92-tlp-workers-on-judicial-remand/
--------
Three suspected terrorists killed in South Waziristan
February 6, 2019
ISLAMABAD: Three terrorists have been killed in an intelligence-based operation in the Gulkuch area of South Waziristan district, Inter-Services Public Relations (ISPR) announced on Tuesday.
According to an ISPR statement, "Sub-machine guns, hand-grenades, communication equipment and local currency was also recovered in the operation."
Earlier, one terrorist was killed by the security forces during an intelligence-based operation in the Spinwam tehsil of North Waziristan.
Hand grenades, SMGs, magazines, and communication equipment were recovered during the operation, the military's media wing had said.
Further, the ISPR said that terrorist activity was foiled in Balochistan's Qilla Saifullah and Kahan districts. Weapons and ammunition were also recovered from the suspected terrorists.
In another incident, the Frontier Corps conducted an operation in the suburbs of Qila Saifullah and Kahan and foiled terrorist activities aimed to "sabotage peace" in Balochistan. Arms and ammunition were recovered during the operation.
Earlier, four security officials were martyred and many others were wounded while staving off a terrorist attack on a training centre of a paramilitary force in central Balochistan.
Full report at:
https://www.pakistantoday.com.pk/2019/02/05/three-terrorists-killed-in-south-waziristan/
--------
Faizabad sit-in: SC directs govt, LEAs, and intelligence agencies to operate within mandate
February 06, 2019
The Supreme Court on Wednesday wrapped up a suo motu case of the 2017 Faizabad sit-in staged by the Tehreek-i-Labbaik Pak­is­tan (TLP) and directed the government, law enforcers, intelligence agencies and the army's media wing to operate within their mandate.
On Nov 22, 2018 a two-judge SC bench comprising Justice Qazi Faez Isa and Justice Musheer Alam had reserved its judgement and closed the hearing of the case that was initiated on a suo motu on Nov 21, 2017 ─ after dishing out severe criticism to the attorney general, media regulator and other stakeholders.
The bench today did not read out the verdict in court and told reporters that a written copy of it would be uploaded onto the Supreme Court website.
Citizens, parties' rights subject to 'reasonable' legal restrictions
The judgement states that any person who issues an edict or fatwa that "harms another or puts another in harm's way must be criminally prosecuted under the Pakistan Penal Code, the Anti-Terrorism Act, 1997, and/or the Prevention of Electronic Crimes Act, 2016."
The court notes that citizens have the right to form and be members of political parties, subject to "reasonable restrictions" imposed by the law.
Each citizen and political party retains the right to peaceful assembly and protest, as long as it complies with the "reasonable" legal restrictions "in the interest of public order".
"The right to assembly and protest is circumscribed only to the extent that it infringes on the fundamental rights of others, including their right to free movement and to hold and enjoy property."
The court asserted that "protesters who obstruct people's right to use roads and damage or destroy property must be proceeded against in accordance with the law and held accountable".
The judgement notes that the responsibilities of the Election Commission of Pakistan (ECP) ─ as laid out in the Constitution ─ must be fulfilled. The court stated that the ECP must proceed in accordance with law against political parties violating the law.
"The law is most certainly not cosmetic as contended on behalf of the ECP," the order said, adding: "All political parties have to account for the source of their funds in accordance with the law."
State must be impartial, fair
The judgement noted that the state's failure to "prosecute those at the highest echelons of the government who were responsible for the murder and attempted murder of peaceful citizens on the streets" of Karachi during the May 2007 lawyers' protests "set a bad precedent and encouraged others to resort to violence to achieve their agendas".
"The state must always act impartially and fairly. The law is applicable to all, including those who are in government and institutions must act independently of those in government," the court asserted.
The court also directed the federal and provincial governments "to monitor those advocating hate, extremism and terrorism and prosecute the perpetrators in accordance with law".
Intelligence agencies, ISPR must not exceed mandates
The judgement said that Inter-Services Intelligence, the Intelligence Bureau, Military Intelligence and the Inter-Services Public Relations "must not exceed their respective mandates".
"They cannot curtail freedom of speech and expression and do not have the authority to interfere with broadcasts and publications, in the management of broadcasters/publishers and in the distribution of newspapers."
The judgement said that intelligence agencies "should monitor activities of all those who threaten the territorial integrity of the country, and all those who undermine the security of the people and the State by resorting to or inciting violence."
It added that it would be appropriate to enact laws "which clearly stipulate the respective mandates of the intelligence agencies" in order to "best ensure transparency and the rule of law".
"The Constitution emphatically prohibits members of the armed forces from engaging in any kind of political activity, which includes supporting a political party, faction or individual. The Government of Pakistan through the Ministry of Defence and the respective chiefs of the Army, the Navy and the Air Force are directed to initiate action against the personnel under their command who are found to have violated their oath," the court said.
The court directed the police and other law enforcement agencies to develop standard operating procedures and plans on "how best to handle rallies, protests and dharnas, and ensure that such plans/procedures are flexible enough to attend to different situations".
"It is clarified that, though the making of such plans/procedures is not within the jurisdiction of this court, we expect that in the maintenance of law and order every effort will be taken to avoid causing injury and loss of life," the order said.
Media broadcasts and regulation
The judgement stated that cable operators who had stopped or interrupted the broadcasts of licensed broadcasters "must be proceeded against by the Pakistan Electronic Media Regulatory Authority (Pemra) in accordance with the Pemra Ordinance".
However, it added, "If this was done on the behest of others then Pemra should report those so directing the cable operators to the concerned authorities."
Additionally, the court said that broadcasters who broadcast "messages advocating or inciting the commission of an offence" are in violation of the Pemra Ordinance and the terms of their licenses, and must be proceeded against by the watchdog "in accordance with law".
The judgement also warns those "spreading messages through electronic means" that statements that "advocate or incite the commission of an offence are liable to be prosecuted under the Prevention of Electronic Crimes Act, 2016".
Case history
The court took up the case after taking notice of the traffic congestion arising out of the sit-in and summoned a report from the ministries of interior and defence, Intelligence Bureau and Inter-Services Intelligence (ISI).
While initiating the case, the court regretted the use of abusive, filthy and provocative language by the leaders of the sit-in and held that this tended to promote enmity.
In pictures: Islamabad standoff intensifies as security forces, protesters clash
The legal observers believe that in its judgement the bench may come up with certain guidelines for ensuring that normal life of citizens was not disrupted due to such protests and about the role of the law enforcement agencies and the media.
The issue cropped up when, during the hearing of a case in 2017, the same bench noticed an application seeking adjournment on behalf of senior counsel Mohammad Ibrahim Satti, who was representing petitioner Sher Jamal.
The application for adjournment was moved by Advocate on Record Syed Rifaqat Hussain Shah on the grounds that the counsel could not reach the courthouse because he lived in the area that had been blocked off due to the sit-in.
Read more: How ordinary citizens make their way through Faizabad during the sit-in
At this, the court sought the assistance of Deputy Attorney General Sohail Mehmood, who was in attendance, and asked him whether highways and roads could be blocked.
Mehmood replied that he himself was facing tremendous difficulties in reaching the court. He had left his home early in the morning (at about 6.30am) to reach the court in time, he added.
In the order that followed, the apex court regretted that Islamabad and Rawalpindi were being held hostage by a few 'miscreants' while the state functionaries appeared to be negotiating with them rather than clearing the way for the public who were being denied access to courts, schools, and places of work, etc.
The court said that people taking part in the sit-in and their leaders were ostensibly advocating a religious cause but had not moved the courts, including the Federal Shariat Court. They were taking the law into their hands and were sowing divisions ('tafarruqu') and differences ('ikhtalafu') against the clear proclamations by Almighty Allah in Surah Ash-Shura (42) ayat 13 and Surah Al-Imran (3) ayat 103 and ayat 105.
Before reserving its ruling for a final judgement, the Supreme Court had also asked Attorney General Anwar Mansoor to furnish a report on behalf of the federal government about the mandate of ISI.
The directives were issued when a sealed envelope was produced before the court, the contents of which were not even shared with DAG Mehmood.
Justice Isa then regretted that the premier spying agency had only enclosed a copy of one of the apex court's orders in the sealed envelope.
The attorney general, however, said he would furnish the reply in writing, which should be treated as classified. That report was later submitted to the court.
The leaders of the TLP were taken into custody by the authorities after they launched another sit-in, this time against the backdrop of Oct 31, 2018, Supreme Court judgement of acquitting blasphemy accused Aasia Bibi.
An anti-terrorism court in Lahore has already extended till Feb 8 the judicial remand of TLP leader Khadim Hussain Rizvi, who is facing several charges for damaging public property and vandalism during violent protests staged after the apex court's judgement in the blasphemy case.
How it happened
Daily life in Islamabad was disrupted for 20 days (from Oct 2 to Nov 27, 2017) when protesters belonging to religiopolitical parties ─ including the TLP, Tehreek-i-Labbaik Ya Rasool Allah (TLYRA), the Tehreek-i-Khatm-i-Nabuwwat, and the Pakistan Sunni Tehreek ─ occupied the Faizabad Interchange which connects Rawalpindi and Islamabad through the Islamabad Expressway and Murree Road, both of which are the busiest roads in the twin cities.
The agitators believe that during the passage of Elections Act 2017, the Khatm-i-Nabuwwat oath was deliberately modified as part of a larger conspiracy. The amendment to the oath was deemed a 'clerical error' by the government and was subsequently rectified through an Act of Parliament.
Full report at:
https://www.dawn.com/news/1462170/faizabad-sit-in-sc-directs-govt-leas-and-intelligence-agencies-to-operate-within-mandate
--------
American tourist slams Pakistani media for portraying 'negative image of country'
February 6, 2019
In a video that is making rounds on social media, an American tourist who is currently in Pakistan criticised the local media for portraying a "negative image of the country" to the outsiders.
The tourist who was seen speaking to the media appreciated the beauty of the country and said that "not a lot people from the United States of America would come to Pakistan as tourists as they think it is a dangerous place".
"The problem with that is what the media is portraying," he said, adding that Mexico is more dangerous than Pakistan.
He further urged the authorities to put more emphasis and effort into promoting tourism as it would "do a great deal of good for this country".
He further said that this step would help change the perception of the country to the outsiders and might also help in bringing foreign investment along with other perks.
"I am a champion of increasing tourism of this country as a US citizen and I just challenge everyone to do the same. You are missing out," he concluded.
Potentially restarting tourism has been one of the most talked about parts of new Prime Minister Imran Khan's push to create an Islamic welfare state in Pakistan, but visitors to the country often complain of an arduous visa process.
Pakistan was last a prominent tourist destination in the 1970s when the "hippie trail" brought Western travellers through the apricot and walnut orchards of the Swat Valley and Kashmir on their way to India and Nepal.
Since then, a deteriorating security situation chipped away at the number of visitors.
Following Pakistan's participation in the US-led war in Afghanistan after the September 11, 2001 attacks in New York and Washington, the country was rocked by a decade of regular large-scale attacks.
Full report at:
https://www.pakistantoday.com.pk/2019/02/06/american-tourist-slams-pakistani-media-for-portraying-negative-image-of-country/
--------
Turkey planned covert operation against own nationals in Pakistan, claims plea in SC
February 6, 2019
The Pak-Turk Education Foundation (PTEF), in its review petition filed in the Supreme Court, has claimed that the Ministry of Interior in 2017 had refused to allow a plane carrying Turkish intelligence officers, who were planning to conduct an operation against Turkish nationals in Pakistan, to land in the country.
The PTEF made the comments in a review petition against the top court's decision in December last year to declare PTEF a "proscribed organisation". The apex court in its verdict had also handed Turkiye Maarif Foundation (TMF) the custody of the schools under PTEF.
PTEF informed the Supreme Court that the political conflict between the Turkish government and its political rivals should not be fought in Pakistan.
"As a sovereign state with longstanding relationship of friendship and brotherhood with the Turkish people, Pakistan ought not to become a battleground for settling domestic political scores of the ruling Turkish government with its political rivals," it argued in the petition.
"In this backdrop, it was essential to err on the side of caution and not slap PTEF with the label of terror thereby implicating and stigmatising the Pakistani citizens who have committed themselves to serve the cause of education under the banner of Pak-Turk Schools and Colleges," it added.
"As a matter of fact, the Government of Turkey has been pressurising the government of Pakistan to declare PTEF as terrorist organisation since 2015 without providing any documentary evidence or involvement of officials related to the PTEF in any alleged terrorist activities."
The petition, filed through PTEF's lawyer Babar Sattar, argued that Ministry of Interior and the Ministry of Foreign Affairs (MoFA), owing to the lack of evidence, did not accept Turkey's demands.
The petition claimed that National Crisis Management Cell of the Ministry of Interior via a letter dated 10.07.2017 directed all chief secretaries not to allow a special Boeing 777 aircraft to land at Islamabad or Lahore airports. The petition further claimed that two senior Turkish intelligence officials and 20 national police guards were arriving in the country on the aircraft to conduct intelligence-based operations against Turkish President Recep Erdogan's rivals in Pakistan. Further, the interior ministry then requested MoFA to issue a warning to Turkey.
In July 2017, the Ministry of Foreign Affairs sent a "diplomatic warning" to the Turkish ambassador in the country, explaining that Pakistan was given "fake reports" regarding threats posed by Turkish nationals residing in Pakistan associated with Turkish cleric Fethullah Gulen or other opposition leaders.
The review petition disclosed that in the warning letter, Turkey was informed that further submission of such "fake reports" would be regarded as dishonesty on part of the Turkish government.
Full report at:
https://www.pakistantoday.com.pk/2019/02/05/turkish-intelligence-had-planned-operation-against-its-own-nationals-in-pakistan-claims-ptef-petition/
--------
South Asia
Taliban demand new constitution for Afghanistan at Moscow talks
FEBRUARY 6, 2019
The Taliban demanded a new constitution for Afghanistan and promised an 'inclusive Islamic system' to govern the war-torn country at a rare gathering with senior Afghan politicians in Russia on Tuesday that excluded the Kabul government.
The Taliban's manifesto, outlined in Moscow before some of Afghanistan's most influential leaders, comes a week after the Taliban held unprecedented six-day talks with US negotiators in Doha about ending the 17-year war.
The Doha and Moscow discussions, though entirely separate, both excluded the government in Kabul, where President Ashraf Ghani is seen as increasingly sidelined from key negotiations for peace in his country.
The Moscow meeting – the Taliban's most significant with Afghan politicians in recent memory – saw them praying together with sworn enemies including former president Hamid Karzai as they discussed their vision for the future.
"The Kabul government constitution is invalid. It has been imported from the West and is an obstacle to peace," Sher Abbas Stanikzai, who headed the Taliban delegation, told attendees at a central Moscow hotel. "It is conflicted. We want an Islamic constitution," he said, adding that the new charter would be drafted by Islamic scholars.
Taliban's chief negotiator said they do not intend to monopolize power after an end to foreign invasion but want to establish an Afghan inclusive Islamic system with the consent of all Afghans. He said the Taliban and the US will form two joint committees to finalize drafts for the withdrawal of foreign troops and to prevent Afghanistan from being used against other countries. The committees will start work in the coming days, he said.
"It is responsibility of all the Afghans to end foreign invasion," Stanekzai said, adding, "War has been imposed on the Afghan nation and the Islamic Emirate as their country has been invaded and the invaders have toppled an Islamic sovereign system. All causes for war should first be removed."
A Taliban spokesman also released Pashto version of Stanekzai's speech to the media.
Karzai and other Afghan leaders were confident that the Moscow siting will pave the way for start of an intra-Afghan dialogue.
A 10-member Taliban delegation is attending the conference which will continue also on Wednesday. Karzai's list includes 38 delegates while several other prominent leaders are also among the participants.
Stanekzai called for some preliminary steps that he said are essential for peace and are parts of confidence building measures. He demanded removal of the UN Security Council's sanctions list, arguing that peace negotiations and sanctions list are two contradictory concepts and can't go side by side. "It is therefore required that these baseless sanctions and reward lists, which are used as a pressure tool for their interests, should be finished so that representatives of the Islamic Emirate are able to participate in peace talks in different places without any hurdle," he said.
He called for the release of Taliban detainees and claimed that US and its protectorate regime have detained tens of thousands of Afghans and Taliban in their secret and open prisons. He also demanded formal opening of the Taliban political office, which was closed days after its opening in 2013 when former president Karzai raised objections. "Venue for negotiations and a communication site in the shape of an office is necessary for peace," he said, adding at present the Taliban have no open and formal address as a venue for negotiations which is a preliminary requirement.
The Taliban leader also called for guarantors as he argued peace process needs guarantees, as without this, the provisions of the peace agreements could not be properly implemented. "Therefore, the United Nations, major powers, members of the Islamic Conference and facilitating countries must guarantee implementations of the agreements," he said.
He also promised to stamp out Afghanistan's poppy cultivation and take steps to prevent civilian casualties in a conflict that has killed and wounded hundreds of thousands.
Several delegates urged the Taliban to start talks with the Afghan government as intra-Afghan dialogue is the best option to end the conflict. Former president Hamid Karzai threw weight behind the ongoing talks between the Taliban and US envoy Zalmay Khalilzad. He said Afghanistan wants good relations with all countries but will not allow anyone to interfere in Afghan affairs.
Former vice president Yunus Qanooni told the conference that the current Islamic Republic system in Afghanistan is at the request of all Afghans and that it has been established on the back of sacrifices of millions of Afghans, according to Tolo News. He said the system in Afghanistan was established based on the will of the Afghan people and the constitution is one of the best in the region and that amendments to the constitution can be done only through legal channels.
Addressing the meeting, Hizb-e-Wahdat leader Mohammad Mohaqiq called on the Taliban to show 'flexibility' in holding face-to-face talks with Afghan government representatives, according to Afghan media.
Several delegates urged the Taliban to start talks with the government and also declare ceasefire in view of the peace talks in Qatar.
"I think all sides are ready for a compromise. It is a good start," said Ghulam Jalal, the head of an Afghan diaspora group who hosted the meeting. Two women also attended the roundtable conference.
Frozen out for a second time, a furious Ghani, however, vowed he would not be an idle spectator as his country's future was debated abroad. "Even if I have one drop of blood in my body, I am not going to surrender to a temporary peace deal," he railed in a speech Sunday.
Amrullah Saleh, a Ghani ally, accused those Afghan leaders travelling to Moscow for the Taliban talks – including former president Hamid Karzai – of 'begging to terrorists'. "A smile to the enemy is a blow to the national spirit," Saleh said.
"We appreciate the efforts, but any peace talks about Afghanistan should be under the umbrella of the Afghan government," Afghanistan's de facto prime minister Abdullah Abdullah said after the Doha talks. The Taliban have always refused to break bread with Ghani and Kabul, who they view as US stooges. "The talks in Moscow would see an opening of channels to reaching an understanding with Afghan leaders outside government," Taliban spokesman Zabihullah Mujahid said. Such a meeting between the Taliban and Afghan politicians – including Karzai, who was appointed by the US – is almost unheard of. Ghani's rivals could see an opportunity in these various Taliban talks to undermine his leadership, analysts say, ahead of presidential elections slated for July. The Taliban outreach is also drawing a host of rival powers into its orbit, all keen that any finale to the war suits their strategic ambitions.
https://dailytimes.com.pk/351793/taliban-demand-new-constitution-for-afghanistan-at-moscow-talks/
--------
Afghan officials: Taliban kill 11 policemen, 10 others
5 February 2019
The Taliban killed at least 21 people in their latest attacks in Afghanistan, including 11 policemen who were slain when the insurgents stormed a checkpoint in northern Baghlan province, provincial officials said Tuesday.
The attacks were reported as representatives of the Taliban were to hold meetings in Moscow with prominent Afghan figures, including former President Hamid Karzai, opposition leaders and tribal elders - but not Kabul government officials.
In the checkpoint attack, the Taliban targeted the local police force in the province's Baghlani Markazi district on Monday night, triggering a firefight that lasted for almost two hours, said Safder Mohsini, head of the provincial council.
Five policemen were also wounded and the Taliban seized all the weapons and ammunition from the security before reinforcements arrived, he said.
"They arrived there late, fought back and managed to get the checkpoint under control," he added.
Earlier on Monday, the Taliban targeted a local pro-government militia in a village in northern Samangan province, killing 10 people there, including a woman, said Sediq Azizi, spokesman for the provincial governor.
Four people were also wounded in that attack, in Samangan's Dara-I Suf district, he said.
According to Azizi, the Taliban targeted local villagers, including women and children. As the area is very remote, the villagers have their own militia to provide security for their area and defend their homes from the insurgents.
The Taliban claimed both attacks in statements to the media.
The two-day meeting in the Russian capital between the Taliban and Afghan figures, which starts Tuesday, is seen as another step in a process aimed at resolving Afghanistan's 17-year war, one that has accelerated since the appointment last September of US peace envoy Zalmay Khalilzad.
But the meeting has sidelined Afghan President Ashraf Ghani's government, which has criticized the gathering.
Abdullah Abdullah, the country's chief executive, said Monday that the Afghan government should be at the center of any peace talks, adding that Kabul "would prefer the Moscow meeting had a different shape."
Abdullah said that Taliban were the biggest obstacle to peace, but that if the Moscow meeting creates "an opening for real peace talks, it would still be a step forward."
Full report at:
https://english.alarabiya.net/en/News/world/2019/02/05/Afghan-officials-Taliban-kill-11-policemen-10-others.html
--------
Taliban hold rare talks with senior Afghan politicians in Moscow
Feb 6, 2019
Representatives from the Taliban militant group have attended a meeting with high-ranking Afghan politicians in the Russian capital city of Moscow, where the participants called for an interim government as they negotiated without delegates from the incumbent administration in attendance.
The rare intra-Afghan gathering on Tuesday saw the Taliban elaborating on their vision for Afghanistan, among them rules around women and replacement of the country's Constitution with one drawn up by Islamic scholars.
Former Afghan president Hamid Karzai, who led the Asian country from December 2001 to September 2014, described the talks as "very, very satisfactory."
"We understand that the government needs to be part of these negotiations. We wish they could have been here today," he told reporters in Moscow.
Sher Mohammad Abbas Stanikzai, who headed the Taliban delegation, said the initiative is the first step toward peace in Afghanistan.
He said the withdrawal of US forces from Afghanistan had also been discussed at the talks.
"The Kabul government constitution is invalid. It has been imported from the West and is an obstacle to peace," the Taliban representative commented.
Fawzia Koofi, one of two women invited to Moscow, said Taliban militants would "have to adapt to a modern Afghanistan."
"When they were in power, they would not even let women leave their homes," Koofi, the head of Afghanistan's parliamentary Committee on Women and Human Rights, told AFP.
"But now we're hearing women could be prime minister or a minister. It's a change I think. It's a positive step but not enough," she said.
'No peace deal between the Taliban & the United States without Afghan govt.'
Meanwhile, Afghan President Ashraf Ghani has highlighted that no peace deal between the Taliban and the United States could be finalized without involving his government as "the decision-maker."
"At the end of any peace deal, the decision-maker will be the government of Afghanistan," Ghani told private TOLO News television network.
"No power in the country can dissolve the government," he said, adding that he was ready to "stand and defend our country."
"Rest assured that no-one can push us aside," Ghani pointed out.
The Afghan president further noted that the meeting in Russia is "nothing more than a fantasy. No one can decide without the consent of the Afghan people."
"Those who have gathered in Moscow have no executive authority. They can say what they want," he said.
The two-day Afghan peace talks in Moscow will conclude on Wednesday. It came a week after Taliban militants held talks with US negotiators in the Qatari capital city of Doha about ending their 17-year militancy.
Full report at:
https://www.presstv.com/Detail/2019/02/06/587796/Taliban-hold-rare-talks-with-senior-Afghan-politicians-in-Moscow
--------
Natural disasters, poverty drive rural poor into Dhaka
February 6, 2019
A life full of struggles has not deterred 60-year-old Nurjahan, a Muslim widow and slum dweller in Bangladeshi capital Dhaka.
To her neighbors, Nurjahan is popularly known as the kolawali (banana seller). Every day she collects ripe bananas from a nearby market and sells them to customers in the slum to make ends meet.
"The traders at the wholesale market know that I am poor and helpless, so they don't take money when I buy bananas from them. I return them the amount when I finish selling the bananas," Nurjahan told ucanews.com at the Duaripara slum in the Mirpur area.
Some 40 years ago, Nurjahan and her husband left their village in Banaripara in Barishal district and moved to Dhaka.
"River erosion had swallowed our home and arable land. We decided to migrate to Dhaka for a better life and have lived in slums since then," she recalled.
In Dhaka, her husband became a rickshaw puller and an occasional banana seller to take care of the family of four including two daughters.
Nurjahan's husband died four years ago and her daughters live with their husbands' families, meaning Nurjahan has to fend for herself.
Although state-run social safety net schemes exist for vulnerable and poor women like Nurjahan, including elderly and widow allowances, she gets none of them. "I don't know how to avail these benefits — no one has ever helped me," she said.
In 2016, she learned about the Support Assisting Improved Living (SAIL) project run by Catholic charity Caritas Dhaka that seeks to improve the living conditions of people in the city's three major slums.
Caritas support helped her set up a better house made of corrugated iron sheets, bamboo and cement that cost 40,000 taka (US$471).
The project also enables her to get free medical check-ups, medicines, water, sanitation and hygiene tools every month.
"Sometimes I feel I should go back to my village but then I think again. We have no property left there and the relatives of my husband's family are not positive. It means I have to stay here as long as I live," Nurjahan said.
Like Nurjahan, Nipa Begum hails from Barishal district and lives in the Duaripara slum.
"I saw our home washed away and rebuilt nine times due to river erosion. I decided to move to Dhaka about 10 years ago," said 24-year-old Nipa, a mother of a three-year-old son.
After getting a job as a sewing operator in a garment factory, she married a colleague about eight years ago.
"During the birth of my son I had some complications in my ovary. I have not been able to work since then. My husband is the only breadwinner for the family," she said.
Since 2017, Nipa has also benefited from the SAIL project, getting free treatment and medicines every month. Her son attends a day-care center run by Caritas, where he gets free basic education and entertainment.
Dhaka, Bangladesh's largest city and one of the world's most densely populated places, is home to more than 15 million residents crammed into about 306 square kilometers.
About 60 percent of the capital's residents live in shantytowns, according to the Dhaka-based Association for Realization of Basic Needs, a development group focused on urban slum dwellers.
Most slum dwellers are climate refugees from the southern and northern parts of Bangladesh.
"Climate change-induced natural disasters like cyclones, flooding and river erosion spark the migration of millions from rural areas to urban areas after losing their homes and livelihoods. They dream of a better life in the cities but in fact they live in extreme poverty without any guarantee of basic needs," Prof. Tasneem Siddiqui, founding chairwoman of the refugee and migratory movement unit at Dhaka University, told ucanews.com.
Every year Dhaka receives about 70 percent of the inbound migration flow from rural areas while Chittagong, a port city in the southeast, takes about 10 percent.
Since Bangladesh won independence from Pakistan in 1971, development and prosperity have been limited to a handful of cities that have constantly attracted people seeking better prospects in life, Siddiqui said.
"Apart from climate change, poverty is a major driving factor behind internal migration. There are few livelihood opportunities in rural areas apart from traditional farming, fishing and small businesses. If development was decentralized, I think the situation in Dhaka could never be like this," she said.
Bangladesh is a Muslim-majority nation of more than 160 million in an area of 147,570 square kilometers, making it the world's eighth most populous country. About 75 percent of the population live in rural areas.
According to the World Bank, about a quarter of the population earn less than US$2 per day and live in extreme poverty, making it one of the poorest countries in the world.
Bangladesh is located on the flood plains of world's largest river delta system and crisscrossed by more than 300 rivers that empty into the Bay of Bengal, making it vulnerable to natural disasters. Most of the country lies on flat land only a few meters above sea level.
According to the International Migration Monitoring Center, over the last decade 700,000 people have been displaced every year on average in Bangladesh due to natural disasters.
Climate analysts fear that by 2050 vast areas of Bangladesh's coastline will vanish as sea levels rise and some 20 million will be displaced — one of the commonly predicted consequences of a warming planet.
Full report at:
https://www.ucanews.com/news/natural-disasters-poverty-drive-rural-poor-into-dhaka/84428
--------
Taliban outlines demands for peace during intra-Afghan summit in Moscow
05 Feb 2019
The Taliban group outlined its demands for peace as an intra-Afghan dialogue kicked off in Moscow the capital of Russia this afternoon.
The former chief of the political office of Taliban in Qatar Sher Mohammad Abbas Stanikzai said the group believes that the current stalemate of the country has a political solution.
Stanikzai further added that the Taliban group seeks the establishment of an Islamic system in the country but ruled out plans to monopolize the power, claiming that Taliban fights a holy war as the war has been imposed by the United States on the group.
He also demanded the removal of the names of Taliban leaders from the blacklists to enable them to take forward peace negotiations from various addresses.
In other parts of his speech, Stanikzai said the ongoing propaganda against the group must end, claiming that Taliban has never been involved in detonating bridges, poisoning of school girls, and killing of civilians in roadside bombings.
Calling the existing national constitution as illegitimate which depicts the western constitution, Stanikzai said work should be done on a system which is acceptable to Afghans, insisting that the current constitution is a major barrier on the way to reach to a peace deal.
Full report at:
https://www.khaama.com/taliban-outlines-demands-for-peace-during-intra-afghan-summit-in-moscow-03244/
--------
ALP forces suffer casualties in Taliban attack in Baghlan province
05 Feb 2019
The local officials in northern Baghlan province confirm that a number of Afghan Local Police (ALP) forces have lost their lives in an attack by Taliban militants late on Monday night.
A security source confirmed that 10 Afghan Local Police personnel lost their lives in the attack which triggered clashes that continued for two hours.
The source further added that the attack was carried out in Baghlan Markzai district and as a result five Afghan Local Police personnel also sustained injuries during the clash.
According to the official, at least four Taliban militants were also killed and five others were wounded during the clash with the Afghan Local Police forces.
In the meantime, a member of the provincial has said that the attack left 11 Afghan Local Police personnel dead including one of their commanders.
The anti-government armed militants including Taliban have not commented regarding the clash so far.
Full report at:
https://www.khaama.com/alp-forces-suffer-casualties-in-taliban-attack-in-baghlan-province-03243/
--------
Large scale Taliban attack repulsed in the outskirts of Kunduz city: MoD
05 Feb 2019
The Ministry of Defense (MoD) says a large scale Taliban attack has been repulsed in the outskirts of Kunduz city in North of Afghanistan.
According to a statement released by the Ministry of Defense, the Taliban militants launched a large scale attack on security posts at around 1:00 am local time which was repulsed by the security forces.
The statement further added that the clash left at least 22 militants dead and 18 others wounded.
The Ministry of Defense also added that the security personnel have also suffered casualties during the clash but did not elaborate further regarding the exact number of the security forces who have lost their lives.
In the meantime, the local sources and provincial council officials have said that more than 25 Afghan soldiers have also lost their lives in the attack.
The anti-government armed militant groups including Taliban have not commented regarding the clash so far.
Full report at:
https://www.khaama.com/large-scale-taliban-attack-repulsed-in-the-outskirts-of-kunduz-city-mod-03241/
--------
Mideast
On Syria buffer zone, Turkey's Erdogan slams US over delays
6 February 2019
Turkey's president criticized the US on Tuesday over delays in establishing a buffer zone in Syria, saying that if Washington won't contribute to the effort, Ankara will do it alone.
Recep Tayyip Erdogan and President Donald Trump last month discussed setting up a safe zone east of the Euphrates River in Syria. Turkey has demanded Syrian Kurdish militia withdraw from there and Erdogan has been seeking logistical and financial assistance from Washington for that.
Syria's main Kurdish parties have rejected the Turkish proposal for a "safe zone," saying Ankara's control of a 32-kilometer border area would endanger the Kurds.
Erdogan, addressing his ruling party's legislators in Parliament, said that if the US "does not keep to its promise to cleanse the region of terrorists and does not contribute to the creation of a safe zone under Turkey's control, then we will take care of our own business."
Ankara's patience
Erdogan warned that Ankara's patience is waning over delays in the withdrawal of Kurdish fighters from the US-patrolled northern Syrian town of Manbij.
"Our patience is not without its limits. If the terrorists in Manbij are not removed within weeks our waiting time will come to an end," he warned.
"In the same way, if at the east of the Euphrates, the people of the region are not allowed to establish self-rule with Turkey's support, then our waiting time will come to an end," Erdogan said.
"In other words, we will have the right to bring about our own plans. ... No threat can deter us from our path, including (being placed on) a sanction list," he said.
https://english.alarabiya.net/en/News/middle-east/2019/02/06/On-Syria-buffer-zone-Turkey-s-Erdogan-slams-US-over-delays.html
--------
Iran, Syria will boost terror combat until its eradication: Shamkhani
Feb 5, 2019
A senior Iranian security official says the joint fight with Syria against terrorism has contributed to regional and international security, emphasizing that the two nations will continue their cooperation until the eradication of the scourge in the Arab country.
"Cooperation between Iran and Syria in the fight against Takfiri terrorism has resulted in undeniable achievements for the region and international security and this trend will be continued until the end of the security crisis in this [Arab] country," Secretary of Iran's Supreme National Security Council (SNSC) Ali Shamkhani said in a meeting with Syrian Foreign Minister Walid al-Muallem in Tehran on Tuesday.
He further said certain Western countries' "excessive demands" and "acts of sabotage" targeting the political process in Syria indicate that their "illogical positions and pretexts" are merely aimed at prolonging the crisis gripping the Middle Eastern country.
Shamkhani further urged Muslim countries to reinforce their convergence and strengthen cooperation to solve their common problems.
"Common enemies of the Muslim world, particularly the US and the Zionist regime (Israel), are trying to destroy great interests of Muslim countries such as security and economic progress by creating and intensifying conflicts and discord," the SNSC secretary said.
Iran warns Israel
The top Iranian security official also censured as "unacceptable" the Israeli regime's continued acts of aggression against Syrian soil and violations of its territorial integrity.
"If these actions continue, some calculated strategies will be activated for deterrence and as a firm and appropriate response in a way to teach a lesson to the criminal and lying rulers of Israel."
Israel frequently strikes the Syrian territory, attacking military targets belonging to Syria and its allies, which have been assisting Damascus' war on foreign-backed terrorist groups. Observers view the attacks as a means of propping up the Takfiri terror groups that have suffered crushing defeat recently.
In January, Syria once again wrote protest letters to the United Nations, urging the world body to take a decisive step and put an end to Israel's acts of aggression against its territory, which it said were an attempt to raise the "morale" of the remaining terrorist hotbeds that are "subservient" to Tel Aviv.
Elsewhere in the meeting, Shamkhani stressed the importance of improving relations between Tehran and Damascus in various fields, particularly in trade and economic sectors, emphasizing that Iran would stand by Syria in the reconstruction plans of the war-ravaged country.
'Syria duty-bound to protect Iranian military advisors'
Muallem, for his part, hailed Iran's extensive support for the Syrian government and nation.
He said Iranian military advisers are present in Syria to strengthen its national army in the fight against terrorism, stressing that Damascus is duty-bound to protect them.
The Syrian foreign minister added that sustainable peace and security will be established in the region if some countries change their approaches and launch a real fight against the remaining Takfiri terror groups in Syria such as the Jabhat Fateh al-Sham, formerly known as al-Nusra Front.
Back in January, the chief commander of the Islamic Revolution Guards Corps (IRGC) vowed to protect Iranian military advisors in Syria, dismissing as "ridiculous and funny" Israeli threats to attack them.
"We will protect all of the military advisors as well as weapons and equipment that we have deployed to Syria in order to reinforce the Islamic resistance fighters and support the people of this Islamic country," Major General Mohammad Ali Jafari said.
Israel doesn't want peace in Syria, Mideast: Zarif
In Tehran, the Syrian foreign minister also sat down for talks with his Iranian counterpart, Mohammad Javad Zarif.
During the meeting, Zarif said the Tel Aviv regime does not favor the establishment of peace and security in Syria and the entire Middle East.
He further called on regional countries to boost their convergence and cooperation to counter any plots against them.
The top Iranian and Syrian diplomats discussed ways to improve relations and the latest developments unfolding in Syria.
Syria's resistance foiled enemies' adventurism: Larijani
Iranian Parliament Speaker Ali Larijani also held a meeting with Muallem, during which he said the Syrian people's resistance has neutralized the enemies' adventurism.
The top Iranian parliamentarian told the visiting Syrian foreign minister that Tehran and Damascus should boost their trade ties in 2019.
Full report at:
https://www.presstv.com/Detail/2019/02/05/587757/Walid-Shamkhani-Zarif-Larijani-terrorism-Zionists
--------
UNSC calls on Yemen's rival forces to leave Hudaydah
Feb 5, 2019
The United Nations Security Council has called on Yemen's warring parties to pull their forces out of the Red Sea port city of Hudaydah and two other ports "without further delays" under a recent UN-brokered ceasefire deal.
In a statement on Monday, the 15-member UN body expressed concern over alleged violations of the Hudaydah ceasefire agreement, which was reached last December in Rimbo, a town near the Swedish capital Stockholm, between Yemen's Houthi Ansarullah movement and the former Saudi-backed regime.
"The members of the Security Council called on the parties to seize this opportunity to move towards sustainable peace by exercising restraint, de-escalating tensions, honoring their commitment to the Stockholm Agreement and moving forward with swift implementation," the council said.
The council further asked the UN's Yemen envoy Martin Griffiths "to continue to keep them closely informed of developments so that they may consider further action as necessary in support of a political settlement."
The Houthi movement and forces loyal to the Riyadh-backed regime of ex-president Abd Rabbuh Mansur Hadi have, over the past weeks, traded accusations of truce violations in Hudaydah, a lifeline for millions of Yemenis.
The two sides missed a January 7 target to withdraw their forces from Hudaydah as they disagree on who should control the city and ports.
Meanwhile, UN spokesman Stephane Dujarric said representatives from both parties met for a second day on a ship in the Red Sea on Monday and "reiterated their commitment to implementing the Hudaydah aspects of the Stockholm agreement."
'Jordan to host fresh UN-mediated talks'
Additionally, Jordan is preparing to host a new round of talks between Yemen's warring sides under the auspices of the United Nations.
The UN said in a statement that the Ansarullah movement and the Saudi-backed delegation will hold negotiations over prisoner swap on Tuesday.
The two warring sides have already agreed to exchange 16,000 detainees and submitted lists of prisoners' names to UN mediators. The details are yet to be worked out.
The prisoner swap deal was signed as a confidence-building measure ahead of the Sweden peace talks.
The UN added that the two sides will meet again in the Jordanian capital, Amman, on Wednesday for "technical" talks to "finalize the list of prisoners."
Griffiths and Peter Maurer, the president of the International Committee of the Red Cross (ICRC), which is overseeing the prisoner exchange process between the warring sides, "are scheduled to take part in the first day" of the talks, the UN statement said, without specifying how many days the meetings would last.
'Swap deal hangs in balance'
The ICRC's director of operations Dominik Stillhart said the agreement on the prisoner exchange was "hanging in the balance," with trust among the parties "insufficient."
Stillhart said that each party had presented a list of up to 8,000 detainees to be released, but that many names could not be accounted for, and hence the prisoner exchange would realistically involve a significantly lower number.
"There is a lot of disappointment on both sides," said Stillhart. "What we now see on both sides (is that) they don't have them all because a lot of them, they probably died during the conflict."
"The whole discussion now is who will finally be on the lists," he said.
Stillhart also noted that distrust was running high between the two warring sides.
"There are expectations that some people on both sides should appear on the list and if they are not, immediately the question is: are you hiding them?" he said.
Saudi Arabia and the United Arab Emirates launched the Hudaydah offensive in June 2018, but faced strong resistance from Yemeni armed forces — led by the Houthis — as well as the city's residents.
That offensive was part of a broader Saudi-led military campaign, which has been underway against Yemen since March 2015.
Full report at:
https://www.presstv.com/Detail/2019/02/05/587714/Yemen-UNSC-Hudaydah-Saudibacked-forces-Houthi-Red-Cross-prisoner-swap
--------
Yemeni army liberate an important mountain chain in Kitaf, Saada province
February 05, 2019
DUBAI: Yemen's army liberated a strategic mountain range in the Kitaf district of Saada province, Saudi state-news agency SPA reported.
According to a statement issued by the Yemeni Ministry of Defense, the Arab Coalition backed the Yemeni army forces during the operation, and bombed Iran-supported Houthi militia positions and their reinforcements.
The operation resulted in several deaths and injuries among the militia, the destruction of military vehicles belonging to them and the capture of a number of militants.
http://www.arabnews.com/node/1447306/middle-east
--------
New head of UN observer mission lands in Yemen
February 05, 2019
SANAA: Retired Danish general Michael Lollesgaard arrived Tuesday in Sanaa to head the UN observer mission in war-wracked Yemen and replace his predecessor whose ties with the rebels were reportedly strained.
Lollesgaard replaces Patrick Cammaert, the Dutch general who had been tapped a little over a month ago to lead the mission deployed in the lifeline Red Sea port city of Hodeida.
The new mission head made no comments upon his arrival in Sanaa, an AFP correspondent said, and it was not clear when exactly he would begin his mission in Hodeida.
He will oversee a team of 75 unarmed observers to monitor a fragile ceasefire deal for Hodeida agreed in December between the Huthis and the Yemeni government at UN-brokered talks in Sweden.
Diplomats say relations have been strained between Cammaert and the Iran-linked Huthi rebels battling the Saudi-backed government, and with the UN envoy to Yemen, Martin Griffiths.
Some Huthis have accused him of running his own agenda, a claim disputed by the United Nations which said his only mission was to improve the lives of the embattled Yemeni people.
On January 17, his convoy came under fire in the flashpoint city of Hodeida but he and his team escaped unhurt and the UN said the source of the shooting was unknown.
Hodeida port is the entry point for the bulk of Yemen's supplies of imported goods and humanitarian aid, providing a lifeline to millions on the brink of starvation.
Lollesgaard, born in 1960, commanded the UN peacekeeping force in Mali (MINUSMA) from 2015 to 2016, and he then became Denmark's military representative to NATO and the European Union in 2017.
He was also military adviser to Denmark's UN mission in New York and served in peace support operations in Iraq and Bosnia
His new appointment was endorsed at the end of January by the UN Security Council.
Yemen's rebels have been mired in a war with government forces backed since 2015 by a Saudi-led military coalition.
The conflict has triggered what the UN calls the world's worst humanitarian crisis, with millions of people at risk of starvation.
Full report at:
http://www.arabnews.com/node/1447646/middle-east
--------
Erdogan: No satisfactory plan yet with US on north Syria safe zone
February 05, 2019
ISTANBUL: Turkish President Tayyip Erdogan said he had not yet seen an acceptable plan for the creation of a safe zone in northeastern Syria, three weeks after US President Donald Trump suggested establishing the zone.
"There is no satisfactory plan that is put before us concretely yet," Erdogan told a parliamentary meeting of his AK Party. "Of course, we are loyal to our agreements, our promise is a promise. But our patience is not limitless."
Turkey wants the zone to be cleared of the US-backed Kurdish YPG militia which Ankara considers a terrorist group. Erdogan also said that if terrorists are not removed from the northern town of Manbij in a few weeks, Turkey's waiting time will end.
http://www.arabnews.com/node/1447426/middle-east
--------
Africa
Burkina Faso forces kill 146 extremists after civilian attack
February 05, 2019
OUAGADOUGOU, Burkina Faso: Burkina Faso's commander general says armed forces have killed 146 extremists in three counterattack operations in the northwest near its border with Mali.
Gen. Moise Minoungou spoke on National Television late Monday saying armed men entered Kain village early Monday and killed 14 men and women. He said Burkina Faso's army responded by fighting in Kain, about 80 kilometers (50 miles) from Ouahigouya in the north Yatenga province. With air support it also fought in Bahn in the north region and Bomboro in the Boucle du Mouhon region.
He said the combined operations killed 146 extremists fleeing to Mali.
Extremists have increased attacks in Burkina Faso's Sahel region, also shifting to the forested east near the Niger border.
Burkina Faso is part of the G5 Sahel regional counterterror force.
http://www.arabnews.com/node/1447386/world
--------
Burkina Faso: 5 soldiers killed in terrorist attack
06.02.2019
By Alaattin Dogru
DAKAR, Senegal
Five soldiers were killed and three others were wounded in a terrorist attack in northern Burkina Faso, the country's military said Tuesday.
In a statement, the military said one of the terrorist groups in the region where the country's armed forces were conducting operations on Monday attacked a military unit in Oudalan province.
Security forces conducted an operation following the attack and "neutralized" 21 terrorists.
Also, security forces "neutralized" 146 terrorists Monday in land and air operations in the country's northwest.
The General Staff announced that the operations will continue until the country's lands and the lives of its citizens are secured.
Burkina Faso has been threatened by terrorist attacks since 2015.
On Dec. 27 last year, a terrorist attack on security forces in Sourou State in northwestern Burkina Faso left 10 gendarmes dead.
Full report at:
https://www.aa.com.tr/en/africa/burkina-faso-5-soldiers-killed-in-terrorist-attack/1384669
--------
Military kills 9 bandits in northwestern Nigeria
05.02.2019
The Nigerian soldiers killed nine armed bandits in the northwest of the country, an army official said on Tuesday.
As part of operations ramped up to rid the area of attacks on civilians, the military also arrested five armed bandits in the northwestern Zamfara state.
"Troops of Operation Sharan Daji have neutralized nine suspected bandits, apprehended five others and burned down their camp," army spokesman Clement Abiade said in a statement.
He also said troops also freed two persons who were kidnapped and held hostage in the bandits' camp.
Military is conducting clearance operations in forests across Zamfara and Katsina states where the armed bandits have bases, the spokesman added.
Abiade also said six people were arrested in a separate operation for colluding with the bandits.
Full report at:
https://www.aa.com.tr/en/africa/military-kills-9-bandits-in-northwestern-nigeria/1384189
--------
Lack of funding may prevent over half of Libya's local elections
February 05, 2019
TRIPOLI: At least 69 municipal councils out of 120 in Libya may not hold elections in March due to a lack of funding by the UN-backed government, the head of the elections committee said.
Libyan authorities allowed municipal elections in 2013 in a bid to end a decades-long legacy of centralization of administration and help communities manage their local affairs.
But the degradation of security conditions after the toppling of long-ruling Muammar Qaddafi and irregular funding hindered the process.
Holding elections to renew the municipal councils requires at least 50 million Libyan dinars ($36 million), Salem Bentahia, head of the Central Committee for Municipal Councils Elections told Reuters in an interview. For now, the committee has only received 30 percent of that budget, he said.
Without government funds the committee is unable to launch awareness-raising programs on the importance of municipal elections, Bentahia said.
Officials at the internationally recognized government in Tripoli were not immediately available for comment.
Full report at:
http://www.arabnews.com/node/1447656/middle-east
--------
Turkey condemns deadly terror attack in Burkina Faso
05.02.2019
Turkey on Tuesday condemned Sunday's deadly terror attack in Burkina Faso.
In a statement, the Foreign Ministry said: "We are saddened by the terrorist attack which took place in the Yatenta province in northern Burkina Faso, claiming many lives."
"We strongly condemn this heinous attack and offer our condolences to the brotherly people and Government of Burkina Faso," the statement added.
Burkina Faso's military said that at least 14 civilians were killed on Sunday night in the terrorist attack in Yatenta province bordering Mali.
https://www.aa.com.tr/en/africa/turkey-condemns-deadly-terror-attack-in-burkina-faso/1384181
--------
North America
NYC patrol group protecting Muslims becomes target of smear campaigns
February 05, 2019
New York's Muslim patrollers, who are in preparation to operate in the neighborhood of Brooklyn, have become a target of racist online hate speech campaigns that include far-right supporters in the U.S., the Independent reported on Tuesday.
The all-volunteer Muslim Community Patrol & Services will offer translation services, explain cultural nuances, report suspicious activity, respond to traffic accidents and even help in searches for the missing.
The hostility escalated after a far-right Canadian website, Rebel Media, spread inaccurate stories about New York City Muslims on YouTube, saying, "If there are feminists in New York, they should be concerned".
Muslim volunteers plan to work in shifts, watching over arrival and dismissal times at three Islamic schools in Brooklyn and conducting patrols from 5 p.m. to 11 p.m., mostly near mosques, busses and subway stops in the region, where there are large Muslim populations.
Community leaders said the group is self-funded and used donations to purchase cars and navy blue uniforms for its members.
The patrols work in coordination with the police but are not sanctioned or regulated by the police department.
At least 14 anti-Muslim bias cases were reported in 2017 in the city, according to the police department's annual report.
https://www.yenisafak.com/en/news/nyc-patrol-group-protecting-muslims-becomes-target-of-smear-campaigns-3473808
--------
Political talks with Taliban key part of endgame, says US commander
Anwar Iqbal
February 06, 2019
WASHINGTON: Top US commander in Afghan­istan said on Tuesday that political talks with the Taliban were a key part of the US endgame in Afghanistan.
In an interview to ABC News, General Scott Miller also said that neither the US nor the Taliban were in a position to win the war and that's why it was important to look for a political settlement.
"The political talks, I do think are, are positive," said General Miller who served in Afghanistan in 2001-2002 as a young officer and was now back as the commander of all US and Nato forces.
"Neither side will win it militarily, and if neither side will win it militarily you have to move into a ... towards a political settlement here," he told it ABC News team.
Asked if he believed the Taliban were key part of the US endgame in Afghanistan, he said: "Absolutely."
US Special Represen­tative for Afghanistan Reconcil­iation, Amba­ssador Zalmay Khalilzad, has held several rounds of talks with Taliban insurgents in Doha, Qatar, and UAE and hopes to hold more talks soon.
After the last round in January, he told reporters that US and Taliban delegates had agreed on a draft agreement and were now working on some key issues.
About 14,000 US troops are still serving in Afghanistan and President Donald Trump plans to withdraw half of them soon.
Asked if he had received orders to start sending his troops home, General Miller replied "no."
"I have the authorities of the capabilities that I need from the US and the coalition standpoint to work with our Afghan partners. At the same time, as a commander, I'm always trying to bring the footprint down, bring our force structure down," he said.
General Miller made clear that there was no endgame in Afghanistan that provided a safe haven for terrorists.
Full report at:
https://www.dawn.com/news/1462120/political-talks-with-taliban-key-part-of-endgame-says-us-commander
--------
Senate rebukes Trump over Syria, Afghanistan pullouts
5 February 2019
The US Senate approved by a large majority Monday an amendment critical of President Donald Trump's decision to withdraw troops from Syria and Afghanistan, in a sign of the deep discontent caused by the policies within his own Republican ranks.
The resolution was sponsored by the Republican leader of the Senate Mitch McConnell, who said last week the measure "would acknowledge the plain fact that al-Qaeda, ISIS and their affiliates in Syria and Afghanistan continue to pose a serious threat to our nation."
It passed by a majority of 70 to 26 -- opposed by only three of the 53 Senate Republicans. The amendment will eventually be incorporated into a broader security law on the Middle East.
According to the text, the "precipitous withdrawal of United States forces" from either country "could put at risk hard-won gains and United States national security."
In December, Trump tweeted plans to remove America's 2,000 troops out of Syria, arguing that ISIS had been defeated, even though his intelligence chiefs testified last week that the extremists remain a potent threat and are seeking a comeback.
Full report at:
https://english.alarabiya.net/en/News/world/2019/02/05/Senate-rebukes-Trump-over-Syria-Afghanistan-pullouts.html
--------
Israel paper: US interfering in polls to help Netanyahu?
Feb 5, 2019
An Israeli paper speculates that the administration of US President Donald Trump could be meddling in Israel's elections to help secure a win for Prime Minister Benjamin Netanyahu.
In a report on Tuesday, The Jerusalem Post raised the suspicion after Trump shared a photo directly from Netanyahu's Instagram account, which showed an election poster made by Netanyahu's ruling Likud party of the two shaking hands and smiling.
The advertisement captioned "Netanyahu: In a different league" prompted similar criticism after first showing up in Tel Aviv.
It has now turned up elsewhere across streets in the Israeli-occupied territories, said Arutz Sheva on its website.
The Jerusalem Post further pointed to the large numbers of likes and comments under Trump's share, saying this raised "concerns about election interference."
The network went as far as saying Likud had "recruited" Trump to promote its election chances.
Late last month, it was reported that the party had released a promotional video glorifying the two politicians' relationship by boasting about Trump's relocation of the US embassy from Tel Aviv to the holy occupied city of Jerusalem al-Quds last May.
The embassy relocation flew in the face of internationally-recognized Palestinian demands that the occupied city's eastern part serve as the capital of their future state.
It also circumvented a United Nations General Assembly resolution that had called on Trump to retract its recognition of al-Quds as Israel's "capital," which he had announced in late 2017.
Likud's video begins with a text on the screen stating, "They said it's impossible," referring to the embassy transfer.
It also features Trump's announcement of the relocation and Netanyahu's statement that "the US embassy needs to be here, in Jerusalem (al-Quds)."
Trump began contributing to Netanyahu's political powerbase in 2013, when he appeared in a video made by a Likud promoter, voicing all-out verbal support for the premier. "
So vote for Benjamin, terrific guy, terrific leader, great for Israel," Trump had said in the footage.
Netanyahu faces four corruption cases, and reports say Israeli Attorney General Avichai Mandelblit has reached a decision to indict him prior to April's elections on bribery charges. He has been the target of regular protests, including in front of Mandelblit's residence in northern Israel, in favor of his resignation.
His coalition announced snap polls last December after Likud failed to garner the necessary support to pass contested legislation aimed at drafting ultra-Orthodox Israelis into the military.
Yair Lapid, who chairs the opposition Yesh Atid party, has warned that if Netanyahu emerged victorious, he would immediately pass a bill that would help him evade prosecution, The Jerusalem Post reported on Monday.
Lapid said the premier would use an election victory as a mandate to justify closing the investigations.
Full report at:
https://www.presstv.com/Detail/2019/02/05/587761/Israel-Trump-election-interference-Netanyahu-Likud
--------
US: Cubs owner under fire for Islamophobic emails
06.02.2019
By Umar Farooq
WASHINGTON
The owner of a Major League Baseball team faced criticism Tuesday after emails were leaked in which he said Muslims are the enemy and Islam is a cult.
Obtained and published by Splinter News, chains of emails revealed Chicago Cubs owner Joe Ricketts, 77, peddled Islamophobic rhetoric while also pushing conspiracies that former President Barack Obama is a Muslim and laughing at racially charged jokes.
"Christians and Jews can have a mutual respect for each other to create a civil society. As you know, Islam cannot do that. Therefore we cannot ever let Islam become a large part of our society," Rickett said in an email sent in 2012. "Muslims are naturally my (our) enemy due to their deep antagonism and bias against non-Muslims."
"I think Islam is a cult and not a religion. Christianity and Judaism are based on love whereas Islam is based on 'kill the infidel' a thing of evil," the businessman said in an email to his son, Pete, who is the current governor of Nebraska.
Ricketts forwarded another email which alleged Obama was actually a Muslim, and he had in his past worked as a drug mule to haul heroine to America.
Ricketts grew up in Nebraska, and made his fortune founding the brokerage firm TD Ameritrade, which currently boasts client assets totaling nearly $1.3 trillion.
The Ricketts family went on to purchase a 95 percent stake in the Chicago Cubs for $700 million in 2009.
They also have a prominent name in conservative politics, with Ricketts' other son, Todd, being named finance chairman of U.S. President Donald Trump's re-election campaign.
After the emails were leaked, the elder Ricketts released a statement apologizing.
"I deeply regret and apologize for some of the exchanges I had in my emails. Sometimes I received emails that I should have condemned. Other times I've said things that don't reflect my value system. I strongly believe that bigoted ideas are wrong," he said.
Islamophobic rhetoric has been pushed by influential Americans in recent years, and anti-Muslim hate crimes have been on the rise over the past few years.
Last year, Rep. Steve King of Iowa came under scrutiny after he said in an interview he did not want Muslims working in meat-packing facilities.
Full report at:
https://www.aa.com.tr/en/americas/us-cubs-owner-under-fire-for-islamophobic-emails/1384628
--------
ISIS regrouping quicker in Iraq than Syria, says US-led coalition
James Haines-Young
February 5, 2019
ISIS is actively regrouping and is regenerating more quickly in Iraq than in Syria, the US-led operation against the insurgent group has warned in a new report.
Even as US-backed forces battle for the last pockets of ISIS-controlled territory in Syria, the Operation Inherent Resolve quarterly report on the campaign says that the group could start regaining territory again within six to 12 months without continued pressure.
US President Donald Trump announced just weeks ago that ISIS had been defeated and that he was withdrawing American forces from Syria. The report, coupled with a Senate vote on Monday criticising the surprise withdrawal, is yet another blow to the president who has received severe backlash from allies as well as his own officials over the move.
"ISIS remains an active insurgent group in both Iraq and Syria," the report said, adding that by their estimates there are still some 2,000 fighters in east Syria where American forces operate.
"Currently, ISIS is regenerating key functions and capabilities more quickly in Iraq than in Syria, but absent sustained [counterterrorism] pressure ISIS could likely resurge in Syria within six to twelve months and regain limited territory in the [Middle Euphrates River Valley]," it added.
Of the 88,000 square kilometres of territory that ISIS once held, it now controls less than 50 square kilometres, the top commander of US forces in the Middle East, General Joseph Votel, told a Senate committee on Tuesday.
"It is important to understand that even though this territory has been reclaimed, the fight against ISIS and violent extremists is not over and our mission has not changed," Gen Votel said.
In Iraq, there are still ISIS attacks in rural areas even though overall security has improved in recent months. In Baghdad, the once heavily fortified Green Zone enclave for government bodies, international organisations and embassies has been opened up for the first time in years.
Although the security situation is improved, the report warns that more needs to be done to improve the quality of life for Iraq's Sunni population.
"If Sunni socio-economic, political, and sectarian grievances are not adequately addressed by the national and local governments of Iraq and Syria it is very likely that ISIS will have the opportunity to set conditions for future resurgence and territorial control," the report said.
Analysts have warned that the ongoing post-battle crackdown on accused ISIS supporters has become a form of Sunni collective punishment. Hundreds have been sentenced to death for belonging to the extremist group at trials lasting mere minutes and often based on confessions rights groups say were extracted under torture or from witnesses they say could be unreliable.
The inclusion of Iran-backed and Shiite-majority Popular Mobilisation Forces into the Iraqi security forces has also led to warnings that government-sanctioned sectarian militias are exacerbating tensions.
Mr Trump's December announcement about withdrawing troops from Syria came as a shock to both US allies and his own officials. It led both Defence Secretary Jim Mattis and the US's top envoy to OIR Brett McGurk to resign. The withdrawal was later delayed but as Monday's report pointed out, it is now an ongoing process.
It also says that it is likely ISIS will continue to carry out opportunistic hit-and-run attacks on US forces and use them to claim "victory" in the media.
Four US troops were killed in an ISIS claimed suicide attack in northern Syria in mid-January. The bomber struck a restaurant in Manbij, killing at least 16 people.
Later this week the US will host the foreign ministers from the 79-member American-led OIR to discuss next steps as the US insists they are still aiming for the "enduring defeat" of ISIS. How the operation will shift and change as the militants lose their last territory but endure as a lingering insurgency is a major question the OIR now faces.
At almost the same time the report was released, the US Senate was approving an amendment critical of Mr Trump's Syrian and Afghanistan withdrawal. Sponsored by Republican leader of the Senate Mitch McConnell, the amendment sailed through 70 votes to 26 (of which only three were Republicans).
The article warns that the "precipitous withdrawal of United States forces" from either country "could put at risk hard-won gains and United States national security."
The bill and its easy passage show the deep discontent caused by the policies within the president's own Republican ranks.
Full report at:
https://www.thenational.ae/world/mena/isis-regrouping-quicker-in-iraq-than-syria-says-us-led-coalition-1.822391
--------
El Salvador elects a new president of Palestinian descent
February 5, 2019
On Sunday, Salvadorans discovered that it was not only Europe and North America where political outsiders were causing upsets to their national establishments. Cast aside from El Salvador's ruling party, a businessman, former mayor and figure of Palestinian descent surged to a decisive victory by carving an uncustomary path to the top.
Nayib Bukele, a 37-year-old who was dubbed the "millennial mayor" of San Salvador, won around 54 per cent in the election to secure the presidency of this small Central American nation, representing the right-wing party known as Grand Alliance for National Unity. That was after being expelled from the Farabundo Marti National Liberation Front party and then prevented from forming his own party.
His victory was not only notable in that he became the first ruler to end a two-party system that had presided over the country since the end of its civil war in 1992, but he became its second-ever leader of Palestinian descent after Tony Sacca, who led from 2004 to 2009.
Around 100,000 Salvadorans with Palestinian ancestry live in the country out of a population of 6.5 million, ranking it as the second highest population of Palestinian descendants in Central America behind Honduras.
The former mayor traces his Palestinians roots to the early 20th century, when many left the cities of Bethlehem and Jerusalem to find a new home in El Salvador. Some left for a better life while others were escaping from conscription under Ottoman rule at the time.
Mr Bukele's grandparents, who moved to the country as children, hail from Jerusalem – the holy city where Palestinians seek the eastern districts as the capital of their future state – and Bethlehem, the West Bank town under Israeli occupation that is believed to be the birthplace of Jesus. The Church of the Nativity, the alleged site of his birth, is located in the town.
Like many Palestinians who travelled to El Salvador, his grandparents were both Christians. His father Armando converted to Islam and has become a prominent imam in San Salvador.
Palestinians have for decades had close ties to Latin America. Chile hosts the largest Palestinian Christian community outside of the holy land and a Palestinian football team even plays in its top division, based out of Santiago. The majority of Latin American nations recognise the Palestinian right to a sovereign state despite Israel's occupation.
Mr Bukele is not alone in becoming a leader of a Latin American country with Palestinian ancestry. Carlos Robert Flores, the president of Honduras from 1998 to 2002, is of Palestinian descent. Salvador Nasralla, a Honduran with Palestinian parents, just missed out of the Honduran presidency in 2017 as incumbent Juan Orlando Hernandez was sworn in for a second term.
The youthful Salvadoran leader became the favourite to win the election after running on an anti-corruption campaign and appealing to the country's youth. He called out his older opponents for being outdated and corrupt.
He also made a use of a wardrobe, which included jeans, baseball caps and leather jackets, that made him appear a more appealing candidate to younger voters.
The political outsider also harnessed his social media platforms to his advantage, as many political outsiders have done in recent years to garner support through untraditional means. He used his profiles to ask ordinary Salvadorans how they would challenge corruption in the country.
He was a popular mayor of the Salvadoran capital from 2015 to 2018, giving away his salary for scholarships and promoting a fairer society.
But he has been engulfed in his own allegations of wrongdoing. Despite winning the election, he remains under investigation for laundering public funds and committing fraud while mayor. He refutes the charge of fraud but has remained silent on the money-laundering accusation.
Full report at:
https://www.thenational.ae/world/the-americas/el-salvador-elects-a-new-president-of-palestinian-descent-1.822297
--------
URL: https://www.newageislam.com/islamic-world-news/madrasa-education-india-be-modernised/d/117668
New Age Islam, Islam Online, Islamic Website, African Muslim News, Arab World News, South Asia News, Indian Muslim News, World Muslim News, Women in Islam, Islamic Feminism, Arab Women, Women In Arab, Islamophobia in America, Muslim Women in West, Islam Women and Feminism