New Age Islam News Bureau
8 May 2017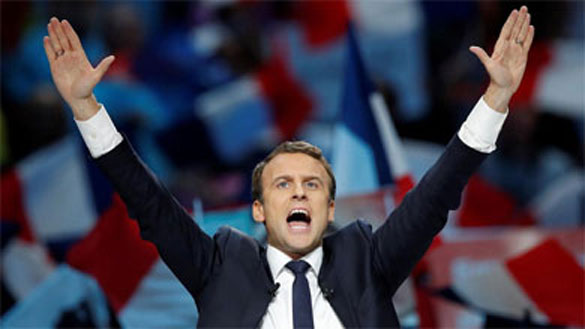 French President-elect Emmanuel Macron celebrates on the stage at his victory rally near the Louvre in Paris, France May 7, 2017. (Reuters)
-----
• 'Macron's Election Gives Hope to French Muslims,' Says Main Mosque in Paris
• Over 250 Prominent Indians, Pakistanis Sign Powerful Message for Peace
• Muslims Don't Need To Prove Patriotism: Jamiat e Ulama e Hind Leader
• Indonesia to Disband Hard-Line Islamic Group Hizbut Tahrir
• Netanyahu Tosses Hamas Policy Paper on Israel into Waste Bin
Europe
• 'Macron's Election Gives Hope to French Muslims,' Says Main Mosque in Paris
• How the British Developed a Taste for Religion in Politics
• Here's the new target in Russia's televised hunt for Islamic State terrorists
• The "Stamp of Guantánamo" Brands Russian Former Prisoners for Life
---------
Pakistan
• Over 250 Prominent Indians, Pakistanis Sign Powerful Message for Peace
• Pakistan Should Not Join Islamic Force in ME: Aseff
• Pakistan seeks US help to break Afghan-India nexus
• Pakistan's Gains against Terror 'Breathtaking': UK
• Two Hindus recovered in raid in Katcha area
---------
India
• Muslims Don't Need To Prove Patriotism: Jamiat e Ulama e Hind Leader
• 'Ignorance Mars Personal Law Debate': Jamaat-e-Islami Hind's, Gujarat Chapter
• This Ramzan, RSS Muslim Wing In UP To Serve Cow Milk Sharbat at Iftar Parties
• WhatsApp groups of Kerala IS youths on probe radar
• Pakistani channels, Zakir Naik's Peace TV go off air in Kashmir after govt order
• India Gives It Back To Pakistan: Bunker Destroyed In 60 Seconds
• Lashkar-e-Taiba Terrorists Give Gun Salute to Slain Ultra in J&K
• Maulana Azad's family donates historical treasure trove to AMU
• Net Chats between Kashmir and Syria, Iraq on Security Radar
---------
Southeast Asia
• Indonesia to Disband Hard-Line Islamic Group Hizbut Tahrir
• Ahok Loss Signals Tilt towards Political Islam in Indonesia
• Immigration says no, but Islamic authorities allow foreign temps to wed locals
• After furore, convert group to drop 'Islamic' label from Kaamatan event
• After Hindu temple, Buddhist centre breaks ground in Putrajaya
• Riau Islands Police to monitor hard-line groups operating in mosques
• Calls for tolerance spark controversy in Aceh
---------
Mideast
• Netanyahu Tosses Hamas Policy Paper on Israel into Waste Bin
• Bill To Declare Israel a Jewish State Back On Agenda
• Saudi Kingdom Will Be Destroyed If Riyadh Does Anything 'Ignorant': Iran Defense Minister
• Israel to revoke Arabic's official language standing in occupied territories
• Ayatollah Khamenei: Iran Not to Abide by UNESCO 2030 Agenda
• Iran's Rouhani faces protests at site of deadly mine collapse
• Top Iranian diplomat says no such thing as good terrorists
• Arab coalition launches air strikes on Houthi sites in Yemen's Taiz
• UN envoy on Yemen in new bid to revive peace talks
---------
South Asia
• ISIS Chief in Afghanistan Killed, Claims President Ashraf Ghani
• 5 Prominent Taliban Leaders among 37 Killed In Qala-e-Zal of Kunduz: Danish
• Two extremists killed in Bangladesh raid
• Afghanistan reacts at Pakistani claims regarding the killing of 50 Afghan troops
• Kandahar governor's media adviser shot dead by gunmen
---------
Arab World
• More Secrets Exposed about Fake Video of Chemical Incident in Syria's Idlib
• US Conducting Secret Attempts to Deploy in Western Iraq in Post-ISIL Era
• Four Syrian civilians killed in Daesh rocket attack on western Mosul
• Syrian Army Continues to Advance against Terrorists in Homs
• Commander: Iraqi, Syrian Resistance Forces to Launch Joint Operations at Borders
• Damascus: First Phase of Evacuation of Gunmen from Yarmouk Camp Kicks off
• Syrian Soldiers Make Fresh Gains in Hama Province
• ISIS flaunts rocket-mounted vehicle attack in northwestern Mosul
• Ex-Nusra fighters to be evacuated from Syrian camp
• Bahrain condemns Syrian ambassador's interference in Lebanon
---------
Africa
• Liberia's Finance Minister Urges Muslims to Practice Code of Islam
• Algeria summons Tunisia envoy over 'communist state' remark
--------
North America
• It's Not This Muslim Comedian's Job to Open Your Mind
• US-born Muslim told 'I wish they didn't let you in'
---------
Ausralia
• Australia's Prime Minister Says Islamic State Fighter's Son Can Return
Compiled by New Age Islam News Bureau
URL: https://www.newageislam.com/islamic-world-news/macrons-election-gives-hope-french/d/111069
-----
'Macron's Election Gives Hope to French Muslims,' Says Main Mosque in Paris
8 May 2017
Paris' main mosque said on Sunday that the election of centrist Emmanuel Macron as France's next president over far-right leader Marine Le Pen was a sign of reconciliation between French religions.
"It is a clear sign of hope to French Muslims that they can live in harmony and respect of French values", La Grande Mosquée de Paris said in a statement.
Emmanuel Macron was elected French president on Sunday with a business-friendly vision of European integration, defeating Marine Le Pen, a far-right nationalist who threatened to take France out of the European Union.
The centrist's emphatic victory, which also smashed the dominance of France's mainstream parties, will bring huge relief to European allies who had feared another populist upheaval to follow Britain's vote to quit the EU and Donald Trump's election as US president.
With virtually all votes counted, Macron had topped 66 percent against just under 34 percent for Le Pen - a gap wider than the 20 or so percentage points that pre-election surveys had suggested.
Even so, it was a record performance for the National Front, a party whose anti-immigrant policies once made it a pariah, and underlined the scale of the divisions that Macron must now try to heal.
After winning the first round two weeks ago, Macron had been accused of behaving as if he was already president; on Sunday night, with victory finally sealed, he was much more solemn.
"I know the divisions in our nation, which have led some to vote for the extremes. I respect them," Macron said in an address at his campaign headquarters, shown live on television.
"I know the anger, the anxiety, the doubts that very many of you have also expressed. It's my responsibility to hear them," he said. "I will work to recreate the link between Europe and its peoples, between Europe and citizens."
Later he strode alone almost grimly through the courtyard of the Louvre Palace in central Paris to the strains of the EU anthem, Beethoven's Ode to Joy, not breaking into a smile until he mounted the stage of his victory rally to the cheers of his partying supporters.
His immediate challenge will be to secure a majority in next month's parliamentary election for a political movement that is barely a year old, rebranded as La Republique En Marche ("Onward the Republic"), in order to implement his program.
https://english.alarabiya.net/en/News/world/2017/05/08/Paris-main-mosque-Macron-election-gives-hope-to-French-Muslims-.html
---------
Over 250 prominent Indians, Pakistanis sign powerful message for peace
May 8, 2017
Almost 250 prominent Pakistanis and Indians have come together to seek peace between the two neighbouring countries.
In a resolution, they call upon "both governments and their security establishments to take all steps possible towards improving relations."
The statement was initiated on May 5 and since then nearly 250 thought-leaders, journalists, lawyers, activists, filmmakers, physicians and students have endorsed the privately-shared statement.
The signatories recognise the interruption of dialogue between countries due to "jingoistic statements to militant attacks". However, they now call upon governments of both countries to engage in 'uninterrupted' dialogue.
"The traditional response to such disruptions only strengthens those who want continued tensions between our two countries," the statement read.
Calling for a peaceful subcontinent, the following are some of the demands made in the resolution.
1. Develop an institutionalised framework to ensure that continuous and uninterrupted talks between India and Pakistan take place regularly no matter what. Make dialogue un-interrupted and un-interruptible.
2. Ensure that political leaders, diplomats and civil servants from both countries conduct talks on the side-lines of all international and multilateral forums.
3. Recognise that the Kashmir dispute above all concerns the lives and aspirations of the Kashmiri people, and work to resolve it through uninterrupted dialogue between all concerned parties.
4. Implement the 2003 ceasefire agreement between India and Pakistan.
5. Renounce all forms of proxy wars, state-sponsored terrorism, human rights violations, cross-border terrorism, and subversive activities against each other including through non-state actors or support of separatist movements in each other's state.
6. Support and encourage all forms of people to people contact, and remove visa restrictions and discrimination faced by citizens of both countries. This must be further taken forward to allow visa-free travel between India and Pakistan.
7. Increase trade and economic linkages and cultural exchanges between India and Pakistan.
The signatories also asked media houses to "prevent the growing militarisation of debate". They further asked for a stop to the propagation of hate speech aimed at the other country.
While signatories on both sides know that this statement won't affect policy between both the countries, they hope it will "serve as a pebble thrown in a pond that will have a ripple effect."
From Pakistan, prominent names included, Kishwar Naheed (poet), Asma Jahangir (advocate Supreme Court), Afrasiyab Khattak (ex-Senator), Raza Rumi (Editor Daily Times), Dr Pervez Hoodhboy (physicist/teacher), Karamat Ali (Executive Director PILER), Dr. Ayesha Jalal (Writer/Professor of History), Dr. Ayesha Siddiqa (scholar), Beena Sarwar (journalist), Bushra Gohar (politician, activist), Anis Haroon (activist), Jibran Nasir (activist), Adil Najam (academician), Asma Shirazi (TV anchor), Air Vice Martial Shehzad Chaudhry, Taimur Rahman (Assistant Professor LUMS) and Nasim Zehra (journalist/TV anchor).
India willing to build ties with Pakistan in a terror-free environment: Mukherjee
From India, the prominent signatories included Mani Shankar Aiyar (writer, former parliamentarian), Mahesh Bhatt (film producer), Prem Shankar Jha (journalist, columnist), Seema Mustafa (journalist), Kamla Bhasin (activist), Kavita Krishnan (Secretary All India Progressive Women's Association), Anuradha Bhasin (Co-chair Pakistan India People's Forum for Peace and Democracy), Admiral L. Ramdas (former Chief of Naval Staff) and Gen. Tej Kaul (Executive President of India Pakistan Soldiers Initiative for Peace (IPSI).
https://tribune.com.pk/story/1404320/250-prominent-indians-pakistanis-sign-powerful-message-peace/
--------
Muslims Don't Need To Prove Patriotism: Jamiat e Ulama e Hind Leader
May 8, 2017
Maulana Saiyed Arshad Madani, president of Jamiat e Ulama e Hind (JUH), said the Muslims need not prove their patriotism to anybody, or be on the defensive amid accusations of terror. "The Muslims cannot be cowered by saffron forces, whose campaign of communal hatred will have to be countered by love for all," said Madani, while addressing a gathering during the Kaumi Ekta Maha Sammellan at Event Ground of Sabarmati Riverfront Saturday night. He said the communal situation in the country would become worse if efforts were not made to "nip the communal hatred in bud".
"We are not interested in politics, but we will not tolerate any interference in our religious affairs…. we had secured assurance from Congress to safeguard our heritage, culture, religion and places of worship after the Independence," he said.
Without taking names, he said it was strange that "elements who had no role in freedom movement" ask the Muslims, who have a long history of sacrifices, to prove their patriotism.
He said minorities were being "persecuted" and put behind bars on false accusations. He said Jamiat was fighting for acquittal of such innocent youths.
Other Jamiat leader claimed that the convention was had no political agenda and neither Congress nor BJP was a friend of the Muslims.
http://indianexpress.com/article/india/muslims-dont-need-to-prove-patriotism-juh-leader-4645355/
---------
Indonesia to Disband Hard-Line Islamic Group Hizbut Tahrir
May 8, 2017
JAKARTA, Indonesia (AP) — The top Indonesian security minister said Monday the country's president has ordered the dissolution of a hard-line Islamic group that seeks a global caliphate for Muslim nations and was behind massive blasphemy protests in Jakarta.
Wiranto, who goes by one name, announced the action against Hizbut Tahrir Indonesia in a brief meeting with reporters and said it was ordered by President Joko "Jokowi" Widodo.
Wiranto, who is the coordinating minister for politics, law and security, said the "activities of HTI are strongly indicated to be running against Pancasila (Indonesia's pluralistic state ideology) and the constitution."
The move comes after Jokowi's government was shaken by massive protests in the past six months by conservative Muslim groups against the minority Christian governor of Jakarta, who is accused of blaspheming the Quran.
Wiranto said HTI's activities "have clearly caused conflict in society" and threaten the integrity of the state. He said dissolution of the group would be achieved through the courts.
Hizbut was one of several hard-line groups behind the Jakarta protests that undermined Indonesia's reputation abroad for practicing a moderate form of Islam. It is active in dozens of countries despite being banned in some of them and began expanding in Asia several years ago.
Hizbut wants to unite all Muslim countries in a globe-spanning bloc ruled by strict Shariah law. It has a record of targeting university students and professionals, working within countries to try to persuade people to overthrow their secular governments.
Rochmat Labib, the group's chairman in Indonesia, referred questions to an official spokesman who couldn't immediately be reached.
In a rare interview with Western media in 2011, Labib told The Associated Press that Hizbut's "grand plan" in the following decade was to reinforce lack of trust and hope in the government. "That's what we are doing now: converting people from democracy, secularism and capitalism to Islamic ideology," he said.
Wiranto said the decision to dissolve Hizbut does not mean the government is against Islamic organizations.
Hizbut members were not among those arrested for suspected treason in December and February. Indonesian police alleged that opponents of Jokowi, including some high-profile Indonesians, plotted to overthrow the government by using the Jakarta protests to cause chaos and occupy government buildings.
http://www.dailyastorian.com/indonesia-to-disband-hard-line-islamic-group-hizbut-da-ap-webfeeds-news-nation-world611914b501af4dbd9d928535d4584ca6
--------
Netanyahu Tosses Hamas Policy Paper on Israel into Waste Bin
May 08, 2017
Israeli Prime Minister Benjamin Netanyahu on Sunday symbolically tossed into a bin a Hamas policy paper published last week that set out an apparent softening of the Palestinian Islamist group's stance toward Israel.
In a document issued last Monday, Hamas said it was dropping its longstanding call for Israel's destruction, but said it still rejected the Jewish state's right to exist and continued to back "armed struggle" against it.
The Israeli government has said the document aimed to deceive the world that Hamas was becoming more moderate.
Netanyahu, in a 97-second video clip aired on social media on Sunday, said that news outlets had been taken in by "fake news". Sitting behind his desk with tense music playing in the background, he said that in its "hateful document", Hamas "lies to the world". He then pulled up a waste paper bin, crumpled the document into a ball and tossed it away.
"The new Hamas document says that Israel has no right to exist, it says every inch of our land belongs to the Palestinians, it says there is no acceptable solution other than to remove Israel... they want to use their state to destroy our state," Netanyahu said.
Founded in 1987 as an offshoot of the Muslim Brotherhood, the banned Egyptian Islamist movement, Hamas has fought three wars with Israel since 2007 and has carried out hundreds of armed attacks in Israel and in Israeli-occupied territories.
Many Western countries classify Hamas as a terrorist group over its failure to renounce violence, recognize Israel's right to exist and accept existing interim Israeli-Palestinian peace agreements.
Outgoing Hamas leader Khaled Meshaal said Hamas's fight was not against Judaism as a religion but against what he called "aggressor Zionists". Ismail Haniyeh, Hamas's leader in the Gaza Strip, was named on Saturday to succeed Meshaal.
Netanyahu concluded his clip by saying that "Hamas murders women and children, it's launched tens of thousands of missiles at our homes, it brainwashes Palestinian kids in suicide kindergarten camps," before binning the document.
http://nation.com.pk/international/08-May-2017/netanyahu-tosses-hamas-policy-paper-on-israel-into-waste-bin
---------
Europe
How the British developed a taste for religion in politics
May 8, 2017
"Society is much more pluralistic today," Nick Spencer, of the religion think tank Theos, said. "We share our space with a wide variety of people and we don't always believe what they believe. For many people now the default is not religion. So when we have a believing politician, many people don't know what having faith means, so they are fascinated by it."
LONDON – The past week has been difficult for a British Christian political leader — his faith the subject of news stories and sometimes hostile questioning by journalists.
Tim Farron, the leader of the Liberal Democrats and an evangelical Christian, was questioned repeatedly about his views on homosexuality during the general election campaign, which began on April 17.
Farron, who has sometimes voted for LGBT rights and sometimes abstained, was asked whether he thought gay sex was a sin. After five days he said it was not.
The other Christian political leader, Conservative Prime Minister Theresa May, despite dominating the headlines, has not been subject to the same critical scrutiny about her religion.
And it is not because she hides her faith; from time to time May has acknowledged its profound influence on her life.
Indeed, just days before she took the nation by surprise by announcing a general election, May offered an Easter message, in which she spoke of herself as a vicar's daughter.
"This Easter I think of those values that we share … values of compassion, community, citizenship," she said. "These are values we all hold in common, and values that are visibly lived out every day by Christians, as well as by people of other faiths or none."
The notion of shared values and the unity of the nation has much to do with May's brand of Christianity.
May's beliefs are not being used to trip her up, but both the interest in her views and the hostility to Farron's are evidence of a growing fascination with politicians' faith that was unheard of 50 years ago.
May grew up in southeast England, the daughter of a Church of England vicar at a time when much of the nation was, by default, Anglican. In the 1950s and 60s the majority of people were married, baptized and had their funerals in the Church of England, the established church. It was also a time when, despite the nation's Christianity, few spoke about their faith, or about that of politicians.
That unspoken faith changed with the election of Margaret Thatcher, a cradle Methodist. Thatcher frequently discussed religion and fell out with bishops, including the archbishop of Canterbury, over the plight of the inner cities and the Falklands War.
By the time Tony Blair was elected to Downing Street, there was growing interest in the premier's religious beliefs. (Blair converted to Catholicism, after leaving office).
When a journalist asked Blair about his faith, his press adviser, Alastair Campbell, famously said: "We don't do God." But as Lord Peter Hennessy, a professor and one of Britain's leading political historians, said: "This only served to make people even more interested in Blair's faith, which was evident."
Blair's Labour successor, Gordon Brown, and May's Conservative predecessor, David Cameron, were both Christians, though not in the same league of devotion as Thatcher, Blair and May.
The reasons personal beliefs are discussed more often are complex. They include an aggressive secularism, the influx of more migrants of other faiths and fears about Islam after the attacks in London in 2005, when 52 people were killed.
Nick Spencer, research director of the religion think tank Theos, says it is also because the old class divisions between Labour, representing the working class, and the Conservatives, representing the more affluent, are no longer the dominant characteristic of British politics.
Instead, identity – gender, sexual preference, region and religion – now matter much more.
"Society is much more pluralistic today," Spencer said. "We share our space with a wide variety of people and we don't always believe what they believe. For many people now the default is not religion. So when we have a believing politician, many people don't know what having faith means, so they are fascinated by it."
Other major political leaders, such as Jeremy Corbyn, are not identified as believers.
Religion has, however, long played a part in the Labour Party, and it is frequently said that Labour owes "more to Methodism than Marx."
In recent times, Labour's biggest faith-linked issue has been a row involving anti-Semitism, which led to an internal inquiry after comments about Jews and Israel by two of its MPs and outspoken criticism of the party by the country's chief rabbi, Ephraim Mirvis.
So far, anti-Semitism has not played a major role in the British general election campaign but Islam has been placed firmly on the electoral agenda by the UK Independence Party, a right-wing party that wants to ban the burqa. So far, there is little evidence that the party's hard-line attack on Muslims is winning support.
While the most successful Muslim politician in Britain, Sadiq Khan, the mayor of London, is a Labour member, other successful Muslim politicians have been Tory.
Baroness Sayeeda Warsi, who was co-chair of the Conservative Party during Cameron's premiership, recently published "The Enemy Within: A Tale of Muslim Britain," in which she criticized her own party's government for failing to promote social cohesion. She described life for Muslims in 2017 Britain as being defined by religious identity more than racial identity. Warsi has also highlighted what she sees as an "intolerant secularism" in Britain that affects all people of faith, not just Muslims.
Her fellow Conservative Muslim, the Cabinet minister Sajid Javid, has taken a different line, stressing Britain's traditional religious identity.
"I think we should recognize that Christianity is the religion of our country," he said.
Indeed, most surveys show that about half the population still describes itself as Christian.
And if polls are right and May is ahead, the next prime minister will be Christian in all the traditional ways.
According to Jenny Sinclair, founder of the emerging movement Together for the Common Good, there is clear evidence of the communitarian flavor of Catholic social teaching in May's thinking and rhetoric, which is shared by the prime minister's long-standing allies and joint chiefs of staff, Nick Timothy and Fiona Hill. Hill is herself a Catholic and Timothy has previously cited interest in Catholic social teachings in his blog.
"May doesn't flaunt this religion but she gives you a sense of it," said Hennessy. "Whereas Tim Farron is at the evangelical end; he is a preacher by temperament."
Sinclair has noticed that certain secularists are voicing disapproval of faith playing a major role in the public square. And the prime minister is responding to it.
"In saying she is Christian I don't think she is triumphalist," Sinclair said. "Within the secular narrative in Britain there is the idea that believers are odd, but from a global perspective they are not."
But there may yet be more scrutiny of May's personal beliefs. This week the left-leaning New Statesman focused on May's faith, questioning the extent to which it influenced her thinking. It cited her track record on LGBT issues – the very topic that tripped up Farron.
So far, though, May is winning public approval from a nation whose chief concern is Brexit. Before becoming home secretary and then prime minister, May was most famous for criticizing her own party, when it had been out of office for five years, as being "the nasty party" – a party that many people felt was narrow and lacking in sympathy.
May looks as if she is making the Conservatives electable. She also seems to have made it acceptable to most voters that a political leader can be a person of faith – albeit a very English form of understated belief.
https://cruxnow.com/global-church/2017/05/08/british-developed-taste-religion-politics/
---------
Here's the new target in Russia's televised hunt for Islamic State terrorists
By David Filipov
May 7, 2017
MOSCOW — The arrests are decisive, dramatic, and nationally televised.
As the camera rolls, masked Russian counterintelligence agents jump out of a van and dash across a field outside Moscow. They take down a man in a blue coat, pin him to the pavement, and pull a pistol from his pants. This is Abror Azimov, the TV announcer says, "one of the organizers" of last month's bombing of a St. Petersburg subway train, which killed 16 people.
In the next scene, agents arrest Azimov's older brother, Akram. They pull a grenade from a bag he is carrying. The elder brother, the announcer says, is also an accomplice in the bombing.
The detentions, broadcast recently on one of Russia's most-watched news programs, are designed to show law enforcement's resolve. They give the public a name for a new enemy in Russia's struggle against domestic terrorism: migrant workers from Central Asia. And, some rights advocates worry, they are the harbinger of a new wave of repression against a vulnerable minority.
The Azimovs are part of a group of about 20 suspects who have been rounded up in what Russian law enforcement authorities say is an aggressive pursuit of Islamist extremists involved in the bombing. All of the suspects hail from predominantly Muslim, strife-torn former Soviet republics of Central Asia, from which, Russian President Vladi­mir Putin recently estimated, several thousand people have left to join the Islamic State.
[Mourners gather for the young victims of St. Petersburg]
Russian authorities say they are acting prudently to protect their country from a clear and present threat. Last month, Alexander Bortnikov, director of the Federal Security Service, or FSB, said agents had thwarted 16 terrorist attacks across Russia in 2016, most of which involved migrants from other former Soviet republics.
What the Russian government calls a decisive response, though, others fear could become an effort to find scapegoats among an impoverished, downtrodden population.
Migrant workers from Central Asia make convenient targets, said Tanya Lokshina, Russia program director for Human Rights Watch. In the 2013 campaign for Moscow mayor, both the eventual winner, Sergey Sobyanin, and the runner-up, opposition leader Alexei Navalny, campaigned on tough stances toward economic migrants from the region.
"They are treated like second-class humans in Russia," Lokshina said.
Crackdown fears grow
As the "caliphate" crumbles and the Islamist militants return from the Middle East, the concern in Moscow is that they will travel to Russia to infiltrate the large population of Muslim economic migrants from Central Asia — between 2.7 million and 4.2 million people, according to a 2016 study published by the Moscow-based journal Russia in Global Affairs.
Citizens of Kyrgyzstan — the home country of the Azimovs and Akbarzhon Dzhalilov, the suspected suicide bomber in the St. Petersburg attack — can travel to Russia without a visa, as can those from Tajikistan and Uzbekistan. These countries intersect in the Ferghana Valley, a volatile region that has seen a growth of stringent versions of Islam and the recruitment of hundreds of militants to fight in the Islamic State.
Central Asian migrants, who come to fill the low-paying jobs that Russians often refuse, become vulnerable to Islamist militant propaganda because of their "rather difficult social-economic position" in Russia, said Andrei Kazantsev, a specialist on Central Asia and a member of the Valdai Discussion Club, a Moscow think thank.
Some analysts are suspicious of the authorities' speed in identifying the alleged organizers of the St. Petersburg bombing. Kazantsev is not, attributing the results to the sheer number of police and counterintelligence agents dedicated to the investigation.
Three days after the bombing, Russian investigators said they had arrested eight possible accomplices in the subway attack. Along with the footage of the Azimovs' arrest, Russian television has broadcast several FSB videos showing agents kicking down doors, taking suspected militants into custody, and displaying what narrators describe as bomb components. One video showed the bodies of two men, shot by agents, the narrator says, after they put up a fight.
No one doubts that Central Asia is producing Islamist militants, but some Russian observers fear that the crackdown will extend to blameless civilians. They refer to Russia's response to militancy in the North Caucasus region along the country's southern border. There, federal forces fought two civil wars in Russia's semiautonomous republic of Chechnya, and are combating a simmering Islamist insurgency in the neighboring republic of Dagestan. Along with suspected militants, rights advocates say, thousands of innocents have been subject to imprisonment, torture and summary execution.
[9 questions about Chechnya and Dagestan you were too embarrassed to ask]
Arkady Dubnov, an independent Central Asia analyst based in Moscow, said that authorities are clearly "hurrying to prove the Central Asian connection" to the St. Petersburg attack, which is stoking "fear of migrants among the Russian population." He said authorities had provided little evidence of the suspects' terrorist links, other than "fake details of an investigation and staged arrests."
The Azimov brothers' mother, Vazira Mirzakhmedova, said in a statement last month that she believed her eldest son, Akram, had been kidnapped by authorities from a hospital in southern Kyrgyzstan, and that the arrest outside Moscow had been staged. In an interview in their home in Jalal-Abad, the Azimovs' youngest brother, Bilal, said that "everyone in Russia knows" that the arrests were "a setup, theater."
When FSB agents prepare to detain an armed terrorist, he said, they normally wear body armor. In both of the televised arrests, the agents do not appear to be wearing protective vests under their jackets, and their guns are holstered, even though a narrator says they knew the suspects would be armed.
Investigators said that Akram Azimov had admitted that he and his brother had been accomplices in the bombing, but in court Azimov denied involvement in the attack.
Russia's FSB did not respond to a request for comment.
'Perfect base for radical elements'
Jalal-Abad is lin Kyrgyzstan's part of the Ferghana Valley. The area has produced a prominent field commander in Syria, Sirozhiddin Mukhtarov, known as Abu Salah al-Uzbeki, who is believed to have been recruiting fighters from his native region since 2013. One Kyrgyz news site has reported that Abu Salah ordered the St. Petersburg bombing, although the SITE Intelligence Group, a private company that monitors terrorist organizations, reported last month that a group called the Imam Shamil Battalion claimed responsibility for the attack.
A well-known imam in Kara-Suu, Kyrgyzstan, not far from Jalal-Abad, was convicted in 2015 for possession of extremist literature.
"Lack of opportunities and access to good education among youth, poor labor market, conflict tensions among ethnic groups, political turbulence and widespread corruption in the government system bring the large population to vulnerability and marginalization," said Akylai Karimova, an activist from the Ferghana Valley city of Osh, Kyrgyzstan, who runs a U.N.-funded project to reduce radicalism among young people. "These, in turn, become a perfect base for radical elements to spread among them."
Full report at:
https://www.washingtonpost.com/world/europe/heres-thenew-target-in-russias-televised-hunt-for-islamic-state-terrorists/2017/05/06/e21b78ae-2a90-11e7-9081-f5405f56d3e4_story.html?utm_term=.74e397fb3b4b
---------
The "Stamp of Guantánamo" Brands Russian Former Prisoners for Life
May 07, 2017
While Donald Trump's dealings with Russia have triggered a political scandal, the mainstream media continue to maintain silence on a foreign policy area that Trump's predecessors, Barack Obama and George W. Bush, long colluded on with the Russian government: Guantánamo Bay.
The Modern Gulag
Eight Russian nationals were held at Guantánamo Bay. All were released without charge or trial. Seven of the men were returned to Russia in March 2004, after being quickly deemed to have no useful intelligence to offer or links to terrorist organizations. All of the men had fled persecution before being arrested or sold to the US military in Pakistan or Afghanistan in 2001-2002. Previous experience of torture and arbitrary detention in Russia had led some to flee over the border to Afghanistan. For some, this led to further detention by the Taliban, who took them for Russian spies.
Some of the men told the US military they had fled to Afghanistan for "religious freedom reasons." However, unlike another persecuted Muslim minority held at Guantánamo, the Uighurs from China, the men were not considered refugees fleeing persecution. Desperate pleas from themselves and their families that they should either remain at Guantánamo or be sent to any country other than Russia fell on deaf ears.
The United States knew exactly what would happen if the men were returned home. The risk was so severe that the US returned them on the basis of diplomatic assurances that Russia -- a state known for its widespread use of torture in spite of being a signatory to the UN Convention Against Torture -- would not torture them.
The US violated these prisoners' human rights not only by detaining them arbitrarily and abusing them for over two years in most cases, but also by returning them to Russia in breach of the principle of non-refoulement, which says that refugees should not be returned to states where they are at risk of persecution.
Homecoming
The men were detained and charged upon their arrival in Moscow on March 1, 2004. On the same day, the judicial authorities issued a statement: "All these people were recruited by representatives of radical Islamic organizations and later sent over to Afghanistan, where they fought on the side of the Taliban." That this statement was simply untrue was irrelevant: the men were returning from Guantánamo Bay.
The Russian authorities, already engaged in bloody conflict with Russia's Muslim minority, particularly in the North Caucasus, were quick to capitalize on the opportunities the return of these men afforded for broader human rights abuses.
They were detained until June 2004, then released due to a lack of evidence. They were detained at the behest of the US government. Release after years of arbitrary detention did not herald freedom for any of them but a new ongoing nightmare.
"In the Final Analysis, the Russians Were Worse"
The Russian authorities lost no time in picking up the baton where the US left off. The severity of the persecution the men faced may have been intended to deter their efforts to sue the US and to silence them from speaking out against what they had suffered in Guantánamo and on their return to Russia.
At an Amnesty International conference in London in November 2005, Airat Vakhitov said, "I consider the biggest humiliation I have suffered [to be] the stigma that the Americans gave to me. The life-long brand of terrorist, extremist, which I received in Guantánamo has stayed with me since being extradited to Russia."
Three years after their return, in March 2007, Human Rights Watch (HRW) produced a report, "The Stamp of Guantánamo," which detailed the abuses the men faced since their return home. It classified these into "three main categories: torture; harassment; and denial of the right to a fair trial."
Critical of their treatment by both the US and Russia, the report states, "At this writing, two of them have been tortured and are in prison after investigations and trials that did not meet international fair trial standards; one has been tortured and is in prison awaiting trial; the other four are either abroad or in hiding." As a result, researchers were only able to speak to three of the men. Comparing experiences at Guantánamo and in Russia, one of the men told HRW: "In the final analysis, the Russians were worse."
Life After Guantánamo
The two men who "have been tortured and are in prison" were Timur Ishmuratov and Ravil Gumarov. An explosion at a natural gas pipeline in January 2005 was considered a terrorist attack by the authorities. Interrogated a number of times prior to arrest, they were tortured into confessing with another man. At trial in September 2005, they were found not guilty by the jury, but this verdict was overturned in a politicized ruling by the Russian Supreme Court.
In a new trial in 2006, all three were convicted. The sentences were later reduced on appeal. Having served their time, the men have now been released, but they remain under constant police surveillance, and along with their families, are still subject to harassment by the authorities. In spite of no hard evidence placing them at the scene of the crime, implicating the two former Guantánamo prisoners allowed the Russian authorities to justify a broader crackdown on Muslim prisoners.
Aftermath
In June 2007, a few months after the publication of the HRW report, one of the prisoners hiding in Russia, Ruslan Odizhev, was shot dead by the police in the North Caucasus city of Nalchik. The police claimed he was armed and had become a militant. Such incidents where the police kill alleged armed militants with impunity remain frequent in the region.
Following his death, the Russian authorities claimed he had been wanted since 1999 in relation to bombings, which raised questions about his release in June 2004 if there had been evidence against him. The Russian authorities did not comment further. On the US side, Odizhev was classified a "confirmed" recidivist by the Pentagon in July 2007, but that status was posthumously downgraded to "suspected reengagement" in terrorist activity. Both states had something to gain, and to hide.
The HRW report did not receive widespread media attention at the time. Nonetheless, according to a 2009 diplomatic cable leaked by WikiLeaks, further HRW reports on the conditions of the detained Russian prisoners coupled with this report led to discussions between the two governments on the health of the three men held in Russian prisons. Given the US's own violations of these men's human rights, its concern was noncommittal: "We reinforced the need for a fair and transparent legal process and again stressed our concern over Kudaev's treatment during three years of pretrial detention and his immediate need for medical care."
"Strongest Case of Mistreatment in Russian Detention"
Rasul Kudaev lived in a village on the outskirts of Nalchik. He returned from Guantánamo in poor health and unable to walk unassisted. When one of the worst terrorist attacks in Russia this century took place in Nalchik in October 2005, Kudaev would find himself designated a ringleader and a convenient scapegoat for the repressive response of the Russian state. Kudaev was one of 2,000 local men arrested; he was tortured into signing a confession prepared for him.
The trial would become the longest in modern Russian history and with the largest number of defendants, most of whom were tortured into confessing against themselves and others. Kudaev was used "to justify the existence of foreign involvement in the events in Nalchik on 13-14 October 2005," according to the Russian human rights NGO Memorial which has classed him a political prisoner.
In December 2014 he and five other defendants were sentenced to life in prison in a bizarre verdict for a mass murder case in which the murder charge was dismissed for everyone involved. Kudaev and most of his codefendants appealed. The appeal was heard in January 2016 and while shorter sentences were reduced, none of the life sentences were mitigated.
Since March 2016 Kudaev has been held at the notorious maximum security Black Dolphin Federal Penitentiary Service Prison near the Kazakhstan border. Once again denied the right to a fair trial, Kudaev now finds himself in a Russian equivalent of Guantánamo Bay. Human rights lawyers report that he has been beaten and suffers abuse from prison guards here as well. The chances of a successful appeal within the Russian judicial system are unlikely.
Beyond Borders
Airat Vakhitov was one of the men who agreed to talk to HRW. He was outspoken about his experience at Guantánamo and persecution in Russia. He eventually left Russia, but remained undercover to avoid being found by the Russian authorities. Harassment of Russian dissidents abroad is not uncommon.
He settled in Turkey and used the country as a base to continue his criticism of Russia's repression of its Muslim minority, and its involvement in Syria once that conflict broke out. In 2015, he told Newsweek, "Muslims in Russia have been frightened into silence by the repressive policies that have been methodically carried out throughout Putin's rule." He was also critical of Islamist militants fighting in Syria.
The stamp of Guantánamo is never far behind. In late 2013, a leading pro-Kremlin Islamic extremism expert claimed Vakhitov was the leader of a militant group in Syria and had fought in Afghanistan, too. As a former Guantánamo prisoner, there was no need to prove any of this. The Washington Post reproduced these claims almost entirely in 2015. Recently, they have been used to link Vakhitov to militants and militant groups.
He denied the claims, but worse was to come. Shortly after the June 2016 attack on Istanbul International Airport, Vakhitov was arrested. Voice of America erroneously reported he was arrested in connection with the attack, even though no other suspect was named and the Turkish authorities made no such claim. He was, in fact, arrested for visa irregularities and stood trial in late December 2016. The case is ongoing and he remains detained in Turkey. The outcome of this trial could see him extradited to Russia, which the Russian authorities have already requested.
Full report at:
http://www.truth-out.org/news/item/40492-the-stamp-of-guantanamo-brands-russian-former-prisoners-for-life
---------
Pakistan
Pakistan should not join Islamic force in Middle East: Aseff
May 08, 2017
LAHORE - There is war among different religious groups in Middle East. There is no war for the cause of Islam. Who are we to prepare this force? In Middle East the war is between Shia and Sunni Muslims for dominance. Gen Raheel Sharif should not have gone to Saudi Arabia, former foreign minister Sardar Aseff Ahmed Ali stated this while speaking at Lahore Press Club on Sunday.
Aseff was delivering a lecture on 'Current International Scenario and Pakistan' at Nisar Osmani Auditorium of the LPC.
"There are two groups one is led by Iran and the other is led by Saudi Arabia and its allies. Here in Pakistan we do not have any rivalry between Shia and Sunni Muslims. Therefore, there is no reason for Pakistan to get involved in Middle East wars. It is not good for Pakistan. Saudi Arabia has made huge investment in India but what have we gained? Practically nothing I would say. Is this so called Islamic force going to fight in Niger or Nigeria? There is conflict in Yemen and Syria and that is on religious lines. We should not be part of this force," the former foreign minister was of the view.
About the Afghanistan situation, he said Pakistan accepted the American story. "It was not our narrative. Ziaul Haq was a dictator and he used the name of religion to join the war in Afghanistan. USSR had no intention to reach the Arabian Sea and there was no direct threat to Pakistan. We accepted what the Americans were saying at the time. We accepted it as war for Islam. Israeli generals came to Pakistan at the time. We trained jihadis from across the world to fight in Afghanistan and we had to face the situation when Americans left on ending their agenda. We opened up the whole of Pakistan for Afghan refugees," Sardar said.
"Afghan leaders see Taliban on both sides as one committed to each other as both are Pashtun. We have different options and our plus point is that of negotiating on transit trade. There is, however, a policy logjam. Afghan policy asset is relations with India and they are not going to give them up. Only Pakistan can ensure peace in Afghanistan. Tensions are likely to increase in coming months if we don't clarify our policy goals," he said.
"For 25 years there was unipolar world but American leaders destroyed the opportunity. Now we have situations in Ukraine, South China Sea, Syria, Iraq and Yemen where USA is no longer the lone player. So many other players have entered the scene. We must take benefit of CPEC," the former foreign minister was of the view.
About Pakistan's foreign policy, Sardar said, "We are playing on back foot and are being very defencive. Enemy will always hit us at our weakest points and we must be prepared for that. Internally there are terror groups that are backed by India to create problems and create sense of insecurity. At Kamran base they attacked the surveillance aircraft. There is Kabul – Delhi nexus to keep pressurising Pakistan and to down the morale of people. They want to keep Pakistan engaged on both the borders. Pakistan's vital interest must be watched."
"Hysteria is being created in India. But then they don't want to push Pakistan to point of no return. Kashmir solution is possible. This new generation of WhatsApp and twitter users are fighting for freedom. They will decide the fate of Kashmir. 90 percent of Kashmiris are in favour of joining Pakistan," Sardar said.
http://nation.com.pk/national/08-May-2017/pakistan-should-not-join-islamic-force-in-me-aseff
---------
Pakistan seeks US help to break Afghan-India nexus
May 08, 2017
ISLAMABAD - Pakistan has asked the United States to help break the India-Afghanistan nexus against Pakistan for the sake of regional peace, The Nation has learnt.
Senior officials at the foreign ministry said Washington was urged to play its role to defuse Pak-Afghan tension during the recent contacts.
"We know the US has a stake in Afghanistan. They [the US] want peace between us but India is trying to disrupt these efforts. We have asked them to take care of India if they can. New Delhi is obviously pulling their [Afghanistan's] strings," an official, who remains in contact with Washington, told The Nation.
He said the US was concerned over the recent firing incident along the Chaman border and appreciated Pakistan's restraint.
"We told them the nation was furious over the firing from the Afghan side, which left several dead. We obviously do not want the situation to get out of hands," the official added.
Earlier, Pakistan declared four-kilometre area adjacent to the Chaman border with Afghanistan a "no-go area" amid tensions with the neighbour.
Last week, Afghan forces opened firing on Frontier Corps personnel appointed for security of population census team – killing 10.
The Bab-e-Dosti or the Friendship Gate remained closed on Sunday – the third day running.
Due to the closure of the border, all private activities including the Afghan transit trade and the North Atlantic Treaty Organization (Nato)'s supply line were suspended.
Pedestrian movement also remained banned in the no-go area.
To respond to any further aggression by the Afghan forces, Pakistan army was on high alert.
Tanks and heavy artillery were moved forward.
To accommodate the displaced persons, camps were installed five kilometers away from the border.
The authorities said that as many as 2,000 families had been affected by Afghan shelling at the civilian areas.
As the tensions flared up, Defence Minister Khawaja Mohamed Asif warned Pakistan would give a befitting reply to all acts of aggression.
"If our borders are violated and further destruction occurs then those responsible will have to pay the price," he said last day.
The minister said that New Delhi-Kabul nexus was apparent on the Afghan border.
Another official at the foreign ministry said that the US had assured Pakistan of using its influence to stop Afghanistan from aggravating the situation.
"They understand our point of view. We have tried to convince them that the Pakistani officials were conducting census within their own territory. We have never violated any country's borders, be it Afghanistan or India," he maintained.
Over the weekend, Foreign Office spokesperson Nafees Zakaria said that border between the two countries was clearly demarcated and Pakistani teams were conducting the census drive in their own area.
He asked Afghanistan to stop firing against Pakistani forces.
"In case it does not stop, Pakistan reserves the right to respond to preserve its sovereignty and protect its civilians," Zakaria had said.
International affairs expert Dr Zahid Anwar Khan said Afghanistan had targeted the citizens, which proved it was a conspiracy.
"They are trying to create instability along the border at the behest of India. They should know it is not in their own interest," he added.
Khan said that Pakistan must highlight the Chaman incident at international forum.
It is good to speak to the US also on this violation," he added.
Defence expert Brigadier Harris Nawaz (retd) said instead of helping Pakistan to defeat terrorism, Afghanistan was increasing problems for Pakistan.
Full report at:
http://nation.com.pk/national/08-May-2017/pakistan-seeks-us-help-to-break-afghan-india-nexus
---------
Pakistan's gains against terror 'breathtaking': UK
May 08, 2017
LONDON - A senior British military commander has hailed Pakistan Army's efforts in war against terror, stating that it has made "breathtaking" gains against terrorists and extremists in Tribal Areas – unmatched in over 150 years – and deserves credit for that.
Commander Field Army Lieutenant-General Patrick Nicholas Sanders was speaking at an event held at the Royal Military Academy, Sandhurst, in celebration of the 70th Independence anniversary of Pakistan, organised by World Congress of Overseas Pakistanis (WCOP) in collaboration with High Commission of Pakistan and Conservative Friends of Pakistan (CFoP).
Pakistan's High Commissioner to the UK Syed Ibne Abbas, Bestway Group's Chief Executive Zameer Chaudhry and WCOP's Syed Qamar Raza also spoke on the occasion. Lieutenant-General Patrick Sanders said that the "Pakistan Army has done more than anyone to combat extremism and terrorism" and the achievements are extraordinary. Patrick Sanders, who visited Pakistan recently, said that the success Pakistan had in Waziristan and FATA is the "most extraordinary" by all standards and "it has been the most successful operation in that area for over 150 years".
Full report at:
http://nation.com.pk/national/08-May-2017/pakistan-s-gains-against-terror-breathtaking-uk
---------
Two Hindus recovered in raid in Katcha area
May 08, 2017
Kandhkot - Kashmore police on Sunday recovered two Hindu abductees from Katcha area.
According to details, police recovered Vikash, 22, and Kantesh, 25, who had been kidnapped from village Chimni in the limits of Gouspur police station five days ago.
Kashmore district police Chief Dr Samiullah Soomro, at a press conference, told that on a tip off, a heavy contingent of police, along with special unit force, cordoned off the katcha areas, namely Miyani, Badani, Jamal Gheehalpur and others and raided a hideout in village Bhurro Oghahi and Amanullah Oghahi near Gulab Patan where abductees had been kept.
"Finally, police managed to recover them safely," he said.
To a question, SSP Kashmore replied that the kidnappers had left their hideout before the raid, leaving the detainees alone.
He, however, said that the kidnappers would be arrested soon.
He asked the citizens to trust the police and point out any criminal element or activity. "Outlaws will be apprehended only if the citizens fulfill their responsibilities," he said, and added, "Action will be taken against the criminals across Kashmore district without any discrimination.
There is none above the law, and whosoever was found involved in any wrongdoing will be behind the bars."
Full report at:
http://nation.com.pk/karachi/08-May-2017/two-hindus-recovered-in-raid-in-katcha-area
---------
India
'Ignorance Mars Personal Law Debate': Jamaat-e-Islami Hind's, Gujarat Chapter
May 8, 2017
AHMEDABAD: As the debate on relevance of triple talaq gets momentum in the country, Jamaat-e-Islami Hind's, Gujarat chapter, organized a seminar, on Sunday, as part of their awareness campaign for Muslim Personal Law and Sharia laws. The seminar was held at Dr Babasaheb Ambedkar Hall in Saraspur where members of Muslim community participated and shared their views.
Gujarat convener for the campaign Mohammad Ilyas Qureshi in his speech mentioned that the current debate is result of the ignorance of the Islamic laws and Sharia among the Muslims and population at large.
Shakeel Ahmed Rajput, president of the Gujarat chapter, said that there are a number of practices, customs and traditions which are against the idea of Sharia and they should be changed. "Family is the primary unit of the society and the rules should ensure that the love and respect continues in the institution. Customs like dowry are akin to crimes such as theft and robbery," he said.
Woman community leader Arifa Parnavi in her speech said that there is need to get women educated so that they can understand their rights. "There should be a good number of counselling centers to resolve domestic issues so that the families should not go to the courts to seek justice," she said.
http://timesofindia.indiatimes.com/city/ahmedabad/ignorance-mars-personal-law-debate/articleshow/58567551.cms
---------
This Ramzan, RSS Muslim Wing In UP To Serve Cow Milk Sharbat at Iftar Parties
By Lalmani Verma
May 8, 2017
During the month of Ramzan, beginning on May 26, the Rashtriya Swayamsevak Sangh (RSS)-backed Muslim Rashtriya Manch (MRM) will start a "No beef party – now cow milk party" campaign appealing to the Muslim community to not eat beef but drink cow milk.
"Muslims are blamed for cow-slaughter. We want to spread the message that Muslims also work for protection of cows. After roza iftar, MRM workers will offer cow milk sharbat to the rozedars," said Mohd Afzal, national convener, MRM.
At the iftar parties, which would be organised across the country, Afzal said that people would also be told the benefits of cow milk and that beef was "not good for health".
The decision to hold the nationwide "No beef party – now cow milk party" campaign was taken during the outfit's two-day national executive meeting that concluded on Saturday at Piran Kaliyar Sharif near Roorkee in Uttarakhand.
The MRM claimed at the meeting — attended by nearly 500 delegates including around 70 women — that it had around 100 gaushalas in the country. It passed resolutions on four other issues, including Ram temple and triple talaq.
MRM will appeal to the Muslim community to support a Ram temple at the disputed site in Ayodhya. The resolution said doing so would secure a place in history for the community. The outfit had held a meeting with Muslims of Lucknow on the same issue last month.
Afzal said the outfit will convey to the Supreme Court that the triple talaq provision had no place in a modern society. The outfit will demand that the Central and the state governments develop shelter homes for triple talaq victims and ways to provide them gainful employment and education to their children. Speakers in the meet said that All India Muslim Personal Law Board and Ulemas associated with that were not executing their responsibilities.
MRM resolved to run awareness campaigns to ensure that schemes run by the governments for minorities reach their intended beneficiaries.
In other proposals, MRM resolved that to restore peace in Kashmir Valley it was essential that Pakistan occupied Kashmir is included in India. "
Full report at:
http://indianexpress.com/article/cities/lucknow/no-beef-party-now-cow-milk-party-campaign-this-ramzan-rss-muslim-wing-in-up-to-serve-cow-milk-sharbat-at-iftar-parties-4645396/
---------
WhatsApp groups of Kerala IS youths on probe radar
by Shaju Philip
May 8, 2017
The Kerala youths who left the country to live in the Islamic State-controlled territory in Afghanistan's war-torn Nangarhar are allegedly trying to indoctrinate more youths back home with social media propaganda, intelligence sources have said. The sources said that at least two WhatsApp groups have come to their notice in which several youths were added by the missing men or their handlers.
"The youths living in Afghanistan are adding their friends and familiar names back in Kerala into the WhatsApp groups meant for circulating IS ideas. These groups are used for advocating a common theme —that the Islamic way of life is not possible in Kerala. Many youths from Kasaragod, home to most of the missing persons living in Nangarhar, have been included in the group by the admins suspected to be in Afghanistan. Sensing danger, most of the youths have left the groups. Some have complained to the police about messages from such groups,'' the intelligence source said.
On Friday, the police got such a complaint. A Kasaragod native had found that he was added to a WhatsApp group called "message to Kerala", whose admin's number was believed to be in Afghanistan. The group was formed with 211 members in one sweep. The admin was Abu Isa. All the members added in the group hailed from the Trikkaripur region of Kasaragod, sources said.
When one of the added members, Haris Masthan, asked about the intention of the group, it was flooded with eight audio clips. All of them had pro-IS literature in Malayalam.
In one such audio clip, a person introduced himself as Rashid Abdulla, one of the missing persons from Trikkaripur.
Full report at:
http://indianexpress.com/article/india/whatsapp-groups-of-kerala-is-youths-on-probe-radar-4645350/
---------
Pakistani channels, Zakir Naik's Peace TV go off air in Kashmir after govt order
May 07, 2017
Pakistani and Saudi channels went off the air in most parts of Kashmir on Sunday triggering sarcasm in social media, a day after the Jammu and Kashmir government ordered cable networks to remove 34 channels from their platforms.
The government's order signed by principal secretary (home department) RK Goyal, said the transmission of these channels was against the cable TV rules and district magistrate had the power to seize the equipment in case of a violation. Moreover, it added, such channels have the "potential to encourage or incite violence and create law and order disturbance in the Kashmir Valley".
Deputy Commissioner, Pulwama, Muneer ul Islam told HT that in his district the ban was successfully implemented and soon after receiving the order he had asked the cable operators to adhere by the same. He added that most of the channels on the list were not being transmitted for a long time now.
The May 6 order came a day after Union information and broadcasting minister M Venkaiah Naidu expressed concern over reports that these channels, many of which propagate hardline Islam and indulge in anti-India propaganda, were being broadcast without the government's permission.
Topping the list are the Urdu and English channels of Peace TV of controversial Islamic preacher and TV evangelist Zakir Naik against whom the NIA and the ED have filed cases under the under the unlawful activities (prevention) Act and money laundering laws.
Some of the channels are from Pakistani networks such as ARY, PTV and GEO. Several Islamic channels like Karbala TV, Ahli-biat TV, Noor TV and Hadi TV are also mentioned in the order along with a sports channel, two culinary channels and a music channel.
Cable operators cannot beam channels not permitted by the information and broadcasting ministry. Private cable networks, which beam a lot of Pakistani and Saudi channels, are popular though satellite services such as Tata Sky and Airtel are also available in the Valley.
On Sunday afternoon, authorities told HT that the ban was being implemented while residents, subscribing to different cable networks, gave a varied response regarding the channels they were not receiving.
Some Srinagar residents said most Pakistani news channels were not accessible while Peace TV English and Urdu both were, while others said none of the 34 channels were displayed. Some, however, said all the 34 channels were still being transmitted while sources say by Monday the blanket ban should be implemented completely.
"The cable operators had stopped broadcasting Pakistani channels-- mostly 24x7 news like the ARY group—after the unrest began post killing of Hizb commander Burhan Wani. The channels were back recently before being taken off air after the Saturday's order," a Srinagar resident said.
On social media, many Kashmiris criticized the move by arguing that such channels were not responsible for fueling protests.
"This is hilarious. Pakistani sports channels and drama serials incite violence," tweeted political analyst Gowhar Geelani.
Full report at:
http://www.hindustantimes.com/cities/pakistani-zakir-naik-s-tv-channels-on-list-of-34-ordered-shut-by-j-k-govt/story-g8Uf24JKwDw7MoKdGUxYdL.html
---------
India gives it back to Pakistan: Bunker destroyed in 60 seconds
May 8, 2017
NEW DELHI: The Indian Army has carried out a counter-strike on Pakistani border posts along the line of control (LoC), a week after two Indian soldiers were martyred and their bodies mutilated by Pakistani forces, Times Now reported.
An exclusive video footage accessed by the news channel shows a destroyed Pakistani bunker along the LoC after a mortar fire was launched by India near Jammu and Kashmir's Krishna Ghati sector in Poonch district. The bunker was destroyed in less than 60 seconds.
In the footage, the soldiers can also be heard saying that the target has been hit successfully.
"Sir, the shell has hit the target, we have brought it down," one soldier can be heard saying in the video.
"While fire assaults are already under way in different sectors of the LoC, the retaliation for Pakistan army's inhuman act will be well-planned and executed at a time and place of our choosing," a senior Army officer had told TOI.
On May 1, two jawans were martyred in Pakistan firing along the LoC in Poonch district and their bodies were mutilated in a simultaneously launched attack by their Border Action Team.
Full report at:
http://timesofindia.indiatimes.com/india/india-gives-it-back-to-pakistan-bunker-destroyed-in-60-seconds/articleshow/58570306.cms
---------
Lashkar-e-Taiba terrorists give gun salute to slain ultra in J&K
M Saleem Pandit
May 8, 2017
SRINAGAR: Four Lashkar-e-Taiba (LeT) terrorists fired volleys from their automatic rifles into the air to pay "respect" to slain ultra Fayaz Ahmed Ashwar, from Reshipora in Kulgam district of south Kashmir, during his funeral on Sunday.
It's rare for terrorists to be present for the funeral of their dead cohorts, and rarer for them to expose themselves by publicly displaying such support. According to police, Fayaz was a member of Hizbul Mujahideen, who was killed in a retaliatory fire by police. A hand grenade and ammunition were recovered from him.
"The Hizbul militant was active for the last two years and involved in many subversive activities," police said. "He was active in his area and motivated youth to join militant ranks. He used to provide logistic support for safe passage of militants and their associates," police said.
Fayaz, in his 30s, had tried to snatch an AK-47 rifle from a cop after an attack when he was fired upon and killed. He was one of the main accused in the August 5, 2015, attack on a BSF convoy in Udhampur in which two BSF personnel were killed and 13 others injured.
The case was transferred to the NIA. Soon after the Udhampur attack, police arrested a Pakistani national and a Lashkar member, identified as Mohd Naveed. Fayaz had been absconding since then. Hundreds of people joined Fayaz's funeral while some offered funeral prayers amid anti-India slogans, eyewitnesses said.
Eyewitnesses said four armed militants appeared in the crowd who came to "pay" respect to slain ultra Fayaz Ahmed Ashwar. "They fired a volley of bullets in the air and raised pro-azadi slogans," sources said. Fayaz was known to transport terrorists in a truck to different parts of the state.
Meanwhile, one more civilian succumbed to injuries on Sunday after he was attacked on Saturday when terrorists attacked a police party on the national highway in Kulgam district. Life in general was affected in Kulgam on Sunday.
Full report at:
http://timesofindia.indiatimes.com/india/lashkar-terrorists-give-gun-salute-to-slain-ultra-in-jk/articleshow/58566914.cms
---------
Maulana Azad's family donates historical treasure trove to AMU
Priyanka Dasgupta
May 7, 2017
KOLKATA: In a rare act of generosity, personal belongings of Maulana Azad have been donated by his legal heirs to the Aligarh Muslim University (AMU). Azad, who had spent the early years of his life in Kolkata, has left behind a rare collection that have both historic and sentimental value. That included his translation of the Quran and comments on some issues from the Holy book, a dinner set with his initials, letters penned in Urdu, watches and books in Arabic. Recently, they were all officially handed over to AMU's vice chancellor Zamir Uddin Shah.
Azad was once the education minister of India and shared a long association with the Aligarh Muslim University. Said Shah, "Post-independence, there were some hostile sentiments against AMU. He had helped to preserve the university's character. We were delighted and honoured to have this collection bequeathed to us. All treasures donated to AMU are either kept in the museum or the library. This will be adequately displayed in our Maulana Azad library. We owe a great sense of gratitude to the family for giving this collection to us."
Azad's connection with Kolkata dates back to the time when he was married at the age of 11. Speaking about her grand uncle, Nahid Salim said, "My grandmother, Zohra Begum, and Azad's wife, Zuleikha Begum, were sisters. After marriage, he used to live in his mother-in-law's residence on 89B Collin Street. The property still remains though there are people who have tried to acquire it illegally."
During the 1930s, Azad had shifted to Delhi. Thereafter, he would often come down to Kolkata. After Azad passed away in 1958, the family shifted back to Kolkata. His belongings were then inherited by his nephew Nooruddin Ahmed - who was Salim's uncle. When the Indian government conferred the Bharat Ratna on Azad, her father Abdus Salim had gone to accept it because Ahmed wasn't keeping well then.
When Salim's father passed away in 2007, Azad's personal artefacts were inherited by Nahid Salim, her brother Nadim and sisters Nikhat and Ishrat following Ahmed's will.
In 2004, the family had donated some other belongings to the Azad Museum in Kolkata that was built by the central government on the premises of another property belonging to Azad's mother-in-law on 19A Ballygunje Circular Road. That museum houses Azad's Bharat Ratna and few of his other personal belongings, including furniture, spectacle, sherwanis, stick, shawl and books from his library.
But this time around, the family decided not to donate the remaining collection to this museum. "The belongings are priceless and have sentimental value too. We wanted to give it to someone who would look after it carefully. The collection at the Azad museum is not displayed the way it should be. The furniture is kept there but justice hasn't been done to his memories there. So, instead of donating it there, we have given it to AMU now," Salim said.
Full report at:
http://timesofindia.indiatimes.com/city/kolkata/maulana-azads-family-donates-historical-treasure-trove-to-amu/articleshow/58564634.cms
---------
Net chats between Kashmir and Syria, Iraq on security radar
May 7, 2017
SRINAGAR: Security agencies are not ruling out the possibility of the banned ISIS trying to create a base in the Kashmir Valley, noting that internet chats and establishing of contacts with possible handlers in Syria and Iraq by some youths have grown in the last six months.
Officials in the security establishment, who are not authorised to speak to the media, said on condition of anonymity that there have been small pockets in the Valley from where some youths are trying to get in touch with one or more handlers in Syria and Iraq.
Last month, two masked gunmen appeared at the grave of a Hizbul Mujahideen terrorist in Pulwama during which they asked the gathering to follow the rules laid down by Taliban and ISIS and not support or raise slogans in favour of Pakistan.
They gave fiery speeches for over three minutes in which they spoke about pan-Islamisation and the importance of having Shariat as a law, the officials said.
While militant outfits including United Jehad Council, a conglomerate of terror outfits based out of Pakistan-occupied Kashmir, as well as the local unit of Hizbul Mujahideen were quick to downplay the incident, security officials viewed it with more seriousness.
The agencies felt if the growing influence of ISIS was not checked, it could be detrimental to the situation in the Valley.
The officials said that the activities on the internet from the Valley to some accounts in Syria and Iraq have been tracked during last one year.
In 2014, 2015 and early 2016, there were few stray cases which had been noticed. But beginning this year, after a comprehensie monitoring system was placed to track such chats, over a 100 users were found to be conversing with possible handlers in the two foreign countries.
There was no pinpointed information about the users other than the general areas of some villages in South Kashmir, Sopore in North Kashmir, Prang and Lar in Central Kashmir as well as Reasi, Kishtawar and Doda areas of Jammu region, they said.
During the recent protests across the Valley, ISIS flags were waived in certain areas and even walls in some were splattered with slogans supporting the banned terror outfit.
Full report at:
http://timesofindia.indiatimes.com/india/net-chats-between-kashmir-and-syria-iraq-on-security-radar/articleshow/58560762.cms
---------
Southeast Asia
Ahok loss signals tilt towards political Islam in Indonesia
MAY 8, 2017
JAKARTA — The popular governor was the clear front-runner.
Despite his religion, a Christian in Muslim-majority Indonesia, Governor Basuki Tjahaja Purnama of Jakarta , popularly known as Ahok, held a commanding lead in the polls.
Then, in a campaign speech in September, he made a fatal reference to a verse of the Quran. A video, edited to make it seem that he had said the Muslim holy book was misleading people, went viral on Facebook.
Purnama was charged with blasphemy, mass rallies were mobilised against him and, despite a tearful apology, he was trounced in a runoff election last month. "A half-minute destroyed his career," said Professor Komaruddin Hidayat, a former rector of Syarif Hidayatullah State Islamic University Jakarta.
The governor's loss was the most prominent sign yet of Indonesia's tilt towards political Islam. A moderate, secular democracy with the world's largest Muslim population, Indonesia in many ways provides a counterweight to the sectarian clashes and autocratic rule that have plagued Muslim countries in the Middle East, some 8,000km away.
But in recent years, the radical Muslims who have been trying to turn Indonesia into a strict Islamic state have gradually gained influence, accruing an array of significant victories.
As the Jakarta election was under way, the Constitutional Court issued a ruling that was less noticed but could have a broader effect. The court struck down a law allowing the government to annul discriminatory local laws, such as religious-based laws regulating morality or women's behaviour.
Local laws are where the Islamists have made the biggest gains.
Since 1998, with the introduction of democracy and the decentralisation of power to local authorities, more than 440 local ordinances have been adopted imposing elements of Islamic law, or Syariah, such as requiring women to wear headscarves or restricting alcohol sales, according to Dr Michael Buehler, a senior lecturer at the University of London's School of Oriental and African Studies, in his book The Politics of Shari'a Law.
Dr Melissa Crouch, a senior lecturer at the University of New South Wales in Sydney who researches Asian legal systems. said: "Religion has become politicised in local elections, and we saw that emerge in a big way in the election for governor in Jakarta. Democracy gives a greater space to everyone, including greater space for radical Islam."
While the ultimate goal of those promoting such laws is an Islamic state, that prospect seems distant. Indonesia remains mostly tolerant and moderate. In Jakarta, many Muslim women socialise freely with men, ride motorbikes and decline to wear headscarves. Islamist parties have not fared well in national elections.
But the Islamists have kept up the pressure on a variety of fronts.
There have been efforts to change national laws: A Bill before Parliament would ban alcohol nationwide, while the Constitutional Court is hearing a petition by an Islamist group demanding that gay sex be outlawed and that the adultery law be broadened to criminalise sex between any unmarried people.
The blasphemy law, rarely used before 2004, has been deployed in more than 120 cases, helping to build support for the Islamists and silence dissent, said Mr Andreas Harsono, the Indonesia representative for Human Rights Watch.
A self-appointed morality brigade called the Islamic Defenders Front (IDF), best known for smashing up bars, has recently attacked people for selling food during Ramadan or wearing Santa outfits at Christmas.
While such efforts by hard-core activist groups are not new, what stood out in the governor's election was their tacit acceptance by moderate Muslims, many of whom took offence at a perceived insult to their religion.
The radical groups organised the protests, demanding that the governor be jailed or killed, and warning Muslims of dire consequences if they voted for a Christian.
The sight of an estimated half million people at a rally in December was shocking in relatively cosmopolitan Jakarta even if, as has been reported, many protesters had been bused in from the more conservative hinterlands.
Neither of Purnama's rivals publicly questioned the blasphemy accusation, forging alliances of convenience instead with the radicals.
Mr Anies Baswedan, the moderate former education minister who won the race, visited the headquarters of the IDF during the campaign, addressing the group as its leader Habib Rizieq sat by his side.
Even President Joko Widodo, an ally of Purnama's, appeared unexpectedly at the December rally alongside the IDF leader, thanking the crowd for holding a peaceful rally.
Both appearances demonstrated how much influence the militants had gained during the election campaign.
One of the groups behind the rallies was Hizbut Tahrir, an organisation dedicated to creating a state governed by a harsh form of Syariah, including stoning adulterers and amputating the hands of thieves, said Mr Ismail Yusanto, a spokesman for the group in Indonesia. "From the Islamic perspective, the state should exist for only one purpose — how to implement Syariah," he said.
The group is banned in many Muslim-majority countries.
"This is an ideology that has the potential to threaten democracy," said Ms Yenny Wahid, director of the Wahid Institute, an Islamic research centre founded by her father, former president Abdurrahman Wahid.
She likened the appeal of these laws to the populist proposals offered by President Donald Trump. "Build a wall. Chop off people's hands. These are very simplistic solutions to people's problems," she said.
Indonesia also faces the threat of Islamic terrorism, as a suicide attack in Jakarta last year reminded the country.
Four civilians and four attackers were killed in the midday attack on a police post in a busy commercial district. Police said the attack had been organised by an Indonesian member of the Islamic State (IS) in Syria.
About 450 Indonesians who tried to join the IS have returned home, most caught in Turkey or other countries before reaching Syria. Ms Sidney Jones, director of the Institute for Policy Analysis of Conflict, said most of the returnees were noncombatants who did not pose a significant threat.
More worrisome, she said, are some two dozen IS recruits who returned from Syria with training and combat experience.
Just as alarming, the institute has found that Jemaah Islamiyah, the regional terrorist group that carried out the 2002 Bali bombing, which killed more than 200 people, is regrouping. Some of its members have trained in Syria with non-IS militias, the institute said in a report released last month.
Full report at:
http://www.todayonline.com/world/asia/ahok-loss-signals-tilt-towards-political-islam-indonesia
---------
Immigration says no, but Islamic authorities allow foreign temps to wed locals
May 8, 2017
KUALA LUMPUR, May 8 — Foreigners in Malaysia on a temporary work permit have been given the greenlight by Islamic authorities in two states to marry locals despite an immigration law barring such marriages, a report said.
Selangor Islamic Religious Department director Datuk Haris Kasim said it applied the same conditions for migrant workers marrying Malaysians as when local get married to each other, Malay daily Berita Harian reported today.
"Foreigners that want to marry with locals have to prepare complete basic documents such as visa, pass, and letter proclaiming conversion to Islam first, so that the marriage can be registered in this country," he was quoted saying.
"The conditions for marriage do not mention nationality, there are no obstacles if they comply with the conditions for marriage and the documents are certified by those who are qualified.
"Foreigners are also not required to attend or have a pre-marital certificate," he added.
Pahang Mufti Datuk Seri Abdul Rahman Osman reportedly said there are no obstructions for any individuals that wish to marry to avoid vice, adding that marriages are valid if they comply with Islamic laws.
"Usually, the religious authorities will ask for the couple to settle the issue of documentation before the marriage is carried out. Failure to do so will affect the status and citizenship of their child in this country," he was quoted saying.
The newspaper however said that the Immigration Act 1959/63 disallows migrant workers with the Temporary Employment Pass from marrying locals. Disobeying this law would result in the revocation of the pass, and deportation to their countries of origin.
They would only be able to marry locals six months later by re-entering Malaysia using a social visit pass, the report said.
The report said at least two state Islamic authorities do not follow the immigration law, noting that this facilitates marriages between foreign workers and locals which then results in a list of problems, including divorce, bankruptcy over unpaid loans, and children with illegitimate status when the migrant's work permit is cancelled.
The newspaper also claimed that migrant workers desperate to continue staying in Malaysia are resorting to marrying Malaysian women, with the belief that they will be able to enjoy the full benefits according to citizens and also with the intention of using their local spouses' status to get loans and business licences.
The newspaper interviewed a 35-year-old civil servant who said she now has to pay off a RM100,000 loan by her runaway Arab spouse, who has since returned to Malaysia to use the same "tactic" on other local women.
"My husband's targets are civil servants who can take out loans easily, or women from dignitaries," she was quoted saying.
Another interviewee, Zarina Ismail, said she had left her two children from her first marriage to focus on a business with her Bangladeshi foreign worker spouse and was asked to be the guarantor for the business.
While the business was successful with two branches open, the earnings were not shared and her husband had instead used the profits to help his fellow nationals enter the country illegally, the 47-year-old was reported saying.
Zarina, who has no savings, said she is now left with RM200,000 in debt and that her husband is now using the same tactic on other local women after she maxed out on her credit card limit.
Another local woman said she quit her job to help out in the business by her Pakistani husband who came here as a foreign worker, but is now left with debts worth hundreds of thousands ringgit after the business shuttered in a year. Their two children were not given citizenship status as her husband's passport expired two years ago.
According to BH, the Department of Syariah Judiciary Malaysia's (JKSM) statistics show that there were 4,503 divorces or annulment of marriages between foreign and local Muslims recorded for the 2014-2016 period, with 1,448 cases in 2014, 1,541 cases in 2015 and 1,514 cases in 2016.
Full report at:
http://www.themalaymailonline.com/malaysia/article/immigration-says-no-but-islamic-authorities-allow-foreign-temps-to-wed-loca
---------
After furore, convert group to drop 'Islamic' label from Kaamatan event
BY JULIA CHAN
May 8, 2017
KOTA KINABALU, May 8 — The organisers of an "Islamic" Kaamatan festival here have agreed to drop the word from its event following concerns it may present the wrong impression to non-Muslims, a Sabah minister has confirmed.
Tourism, Culture and Environment Minister Datuk Masidi Manjun claimed the event organiser, Nicholas Sylvester of the Hidayah Centre Foundation, had "good intentions" in holding the event called "Kaamatan Islamik" for native Muslims converts.
"I conveyed to him our concern with the use of the term 'Islamik.' I told him that the use of it may create a wrong impression that the celebration is non-inclusive of others who are non-Muslims.
"Kaamatan should be celebrated by everyone, how or in what manner it's celebrated is up to the organisers. Nicholas agreed to drop the word 'Islamik,'" said Masidi.
Masidi, whose ministry has backed the event, told Malay Mail Online that the organiser's intent was "honorable."
"They are organising it to remind converts that they do not forsake their ethnic culture just because they have converted to the Islamic faith," he said.
When asked to comment whether an "Islamic" Kaamatan would take away from the essence of the Kadazandusun harvest festival, Masidi said the organisers have a right to celebrate it according to their own faith.
"Isn't theirs a thanksgiving too, the difference is in compliance with their religion? The churches too celebrate Kaamatan with no Bobohizan rituals, alcohol and Unduk Ngadau — nobody complains," he said, referring to a beauty pageant held during the harvest festival.
Photos from the Hidayah Centre's organised event showed several women dressed in a long, loose robe-like variation of the traditional Kadazandusun black-and-gold costume, but with their arms and heads covered.
Kaamatan, the Kadazandusun harvest festival, is largely rooted in the beliefs of the indigenous people who are giving thanks to their gods for a bountiful harvest.
The traditional old rituals have old pagan roots which has over the years given way as natives embraced Islam and Christianity.
However, many natives continue to retain their unique cultural identity, even though it may seemingly occasionally clash with their new faiths.
A Kadazandusun leader, who declined to be named said that the reality of today was that many natives are Christians and Muslims and have the right to celebrate Kaamatan, which had universal spiritual values.
"The Kaamatan spiritual values were founded upon our Momolian religion, which are universal and never claimed to monopolise spiritual mode and manner in expressing gratitude and thanksgiving to God," the leader said.
"This is why our Kadazandusun community celebrated the first state level Kaamatan celebration with a Roman Catholic Corpus Christi procession way back in 1960 at St Michael's Church Penampang. Our Catholic and other Christian denominations continue to celebrate Kaamatan in churches and parish halls.
"It is a reality that today we have a large community of natives who have embraced the Islamic faith. I think they are entitled to celebrate Kaamatan in their own spiritual way," he added, referring to the Kadazandusuns.
Full report at:
http://www.themalaymailonline.com/malaysia/article/after-furore-convert-group-to-drop-islamic-label-from-kaamatan-event
---------
After Hindu temple, Buddhist centre breaks ground in Putrajaya
May 8, 2017
PUTRAJAYA, May 8 — Putrajaya will soon receive its first Buddhist house of worship, after MCA minister Datuk Seri Ong Ka Chuan launched the ground-breaking ceremony yesterday for the Dhammaduta Malaysia Buddhist Centre at its Presint 20 here.
In a report by The Star Online, Ong said the national Buddhist centre will be built on a 0.27-hectare government-owned land, as part of the plan for a multi-religious enclave in the country's administrative capital.
"It represents and underscores the Govern­ment's commitment to religious freedom, as stated in our Constitution," the International Trade and Industry Minister II was quoted saying.
According to Ong, the centre will ensure that adherents nationwide will have a "Buddhist capital" there.
The Buddhist Missionary Society of Malaysia (BMSM) reportedly will raise around RM8 million for the construction of the centre, which will be its national headquarters.
Planned to be a two-storey building with a garden rooftop, BMSM president Loh Pai Ling also revealed that it would include a resource centre, training facilities and an education centre.
"It will feature contemporary designs with significant and symbolic elements to showcase the Buddha's wisdom and compassion in modern times," Loh was quoted saying.
Loh said the centre, which is set to be finished by August 2018, will cater to the around 2,000 Buddhists residing and working in Putrajaya.
The centre is located next to the Devi Sri Lalithaambigai Alayam temple complex which is still under construction — the first Hindu and non-Muslim house of worship to be constructed in Putrajaya.
Full report at:
http://www.themalaymailonline.com/malaysia/article/after-hindu-temple-buddhist-centre-breaks-ground-in-putrajaya
---------
Riau Islands Police to monitor hard-line groups operating in mosques
May 7, 2017
The Riau Islands Police are increasing security measures to monitor hard-line Islamic groups whose members tend to give religious sermons to local communities across Riau Islands province.
Such measures were taken to prevent the spread of religious teachings that could lead to radical behavior, a police officer has said.
Riau Islands Police spokesperson Sr. Comr. Saptono Erlangga said the police had obtained a list of names of people who were registered as members of hard-line Islamic groups that often led religious sermons in Muslim communities in the province, especially Batam.
"We have the records and we are monitoring them routinely. As long as their activities do not harm the people, we will only monitor their activities," said Saptono.
He refused to mention the names and number of radical preachers included in the list. "As long as the content of their sermons is fine, we will let it happen," said Saptono.
He was speaking in response to a circular issued by the Bangka Belitung Islands Police in Pangkal Pinang on April 28. Signed by Pangkalpinang Police security intelligence director Adj. Comr. M. Adi Putra, the circular regulates the activities of mass organizations or community groups that carry out their activities in mosques.
Full report at:
http://www.thejakartapost.com/news/2017/05/07/riau-islands-police-to-monitor-hard-line-groups-operating-in-mosques.html
---------
Calls for tolerance spark controversy in Aceh
May 8, 2017
After making strongly worded remarks against radicals propagating intolerance in his province, West Kalimantan Governor Cornelis was less than welcome by a group of conservative Muslims in Aceh.
The group, calling itself Islam Defender Troop (LPI), visited the hotel where the visiting governor was staying in Banda Aceh on Saturday, demanding he leave the city over statements they deemed "intolerant" and "provocative."
They claimed Cornelis' statements had been the reason for two clerics being turned away from Pontianak a day earlier.
"Aceh land is haram for those who hate ulemas and Islam, including Cornelis," said Tengku Achmad Shanjy, one of the protestors.
Cornelis had come to the city for the opening of a national meeting of farmers and fishermen, which was also attended by President Joko "Jokowi" Widodo, on Saturday.
The protesters lingered in front of the hotel until the hotel management said the governor had already checked out from the hotel.
Over the past two weeks, West Kalimantan has been gripped by a filmed speech that went viral on social media, in which Cornelis threatened to oust radical and provocative individuals who had "the guts" to enter his province.
Many considered the footage provocative, claiming it stirred up sectarian sentiment.
Speaking in Pontianak on Thursday, Cornelis addressed the controversy over his speech, saying he would fight intolerance in his province.
"With regard to intolerance, I frankly challenge those who are radical and intolerant to leave West Kalimantan," Cornelis said.
The Indonesian Democratic Party of Struggle (PDI-P) politician added that history showed that 17 massive riots had occurred in the province so far, resulting in West Kalimantan being economically poor and left behind.
"I don't want this to occur again," he said during the handover ceremony of the West Kalimantan police chief post from Insp. Gen. Musyafak to Brig. Gen. Erwin Triwanto.
Erwin promptly held a meeting after his swearing in ceremony with representatives of different religious and ethnic groups in the province to talk about rising social tensions.
The meeting was held in response to a planned visit by Sobri Lubis and Hidayat Quaiandri Batangtaris, clerics from the Islam Defenders Front (FPI), to Mempawah regency.
When the two arrived at Supadio Airport in Pontianak, police asked them to go back to Jakarta, citing security concerns.
"We have told the organizing committee that [it is not recommended] to invite figures considered to be provocateurs," Erwin said.
Earlier, Indonesian Ulema Council (MUI) deputy secretary Tengku Zulkarnain, who traveled along with Dayak Culture Council (DAD) leaders from Pontianak, faced rejection from a group of people upon arriving at Susilo Airport in Sintang regency.
The cleric was turned away because he had allegedly insulted the Dayak.
A staff member who accompanied Cornelis to Aceh, Awie, said the visit had gone well despite the protests from conservative groups.
He said Cornelis and his wife had still spent Saturday night in Banda Aceh and the governor had taken the opportunity to meet local leaders.
Full report at:
http://www.thejakartapost.com/news/2017/05/08/calls-for-tolerance-spark-controversy-in-aceh.html
---------
Mideast
Bill to declare Israel a Jewish state back on agenda
May 08, 2017
Israel's cabinet breathed new life on Sunday into efforts to anchor in law the country's status as a Jewish state,
legislation Palestinians have described as an obstacle to peace.
A ministerial committee approved a revised version of a bill first proposed in 2011 that declares the "State of Israel is the national home of the Jewish people", its author, Avi Dichter of Prime Minister Benjamin Netanyahu's right-wing Likud party, wrote on Facebook.
The legislation still has to go through further drafting by the Justice Ministry and pass several votes in parliament in what could be a lengthy process.
But the cabinet-level step -- two weeks before a visit by US President Donald Trump -- could help Netanyahu shore up relations with far-right members of his government and underpin his campaign to press Palestinians to recognize Israel as the "nation-state" of the Jewish people.
Such acknowledgement has been a key Netanyahu demand for reviving Israeli-Palestinian peace talks that collapsed in 2014 and which Trump has pledged to pursue.
Palestinians say accepting Netanyahu's call could deny Palestinian refugees of past wars any right of return. Palestinian President Mahmoud Abbas has characterized such "nation-state" legislation as putting "obstacles in the way of peace".
In meetings in Israel, Trump will discuss how he plans to broker peace between Israelis and Palestinians, a goal that has evaded many previous administrations. He is also scheduled to meet Abbas during the trip.
Critics have described the proposed legislation, which also declares that the "right to self determination" in Israel is "unique to the Jewish people" as impinging on the rights of its Arab minority, who make up some 20 percent of the population.
Opponents said that the bill designates only Hebrew as the country's official language, although it requires government services and forms to be available in Arabic as well."The nation-state law is tyranny by the majority and 'legally' turns us into second-class citizens," Arab legislator Ayman Odeh wrote on Twitter after the cabinet committee's decision.
Dichter, however, called the move "an important step in entrenching our identity, not only in consciousness of the world but primarily in our own minds".
The revised legislation appeared to soften previous language that would have given Jewish values prominence in law-making and judicial decisions.
Centrists in Netanyahu's government have argued a "nation-state" bill is unnecessary, noting the 1948 Declaration of Independence already proclaimed a Jewish state. They have accused him of pandering to right-wingers, and past versions of the legislation failed to make it through parliament.
http://nation.com.pk/international/07-May-2017/bill-to-declare-israel-a-jewish-state-back-on-national-agenda
---------
Saudi Kingdom Will Be Destroyed If Riyadh Does Anything 'Ignorant': Iran Defense Minister
May 7, 2017
Following Saudi deputy crown prince's comments about moving the battle to Iran, Defense Minister Brigadier General Hossein Dehqan says if the Saudis do anything stupid, the Iranian army will hit back and destroy all of the kingdom -- apart from Mecca and Medina.
Dehqan gave the warning in an interview broadcast on Arabic-language Al-Manar TV on Sunday in response to remarks made by Saudi deputy crown Prince Mohammed bin Salman, who said any battle between Riyadh and Tehran would take place on Iranian soil. "We will work to have the battle in Iran rather than in Saudi Arabia," prince Mohammed had said.
"We warn them against doing anything ignorant, but if they do something ignorant, we will leave nowhere untouched apart from Mecca and Medina," said Dehqan.
He referred to the Saudi bombing campaign on Yemen -- in which over 12,000 people have died -- and said the Saudis think they can do anything because they have an air force.
On Tuesday, Mohammed bin Salman, who is also Saudi Arabia's defense minister, ruled out ties with Iran after Tehran announced the possibility of de-escalation of tensions if Riyadh halts its war against Yemen.
He stressed that talks with Iran were impossible as Tehran's goal was to "control the Muslim world."
The remarks were made after Iranian Foreign Minister Mohammad Javad Zarif said the Islamic Republic was ready to normalize ties with Riyadh if the Kingdom halted its bombardment of Yemen and stopped supporting extremist groups.
Meanwhile on Saturday, the Iranian Armed Forces spokesman dismissed the recent Saudi deputy crown prince's remarks, noting that Riyadh is implementing the hostile policies of the US and the Israeli regime in the region.
On Wednesday, Iranian Foreign Ministry spokesman Bahram Qassemi said that Prince Mohammed's remarks prove that the kingdom follows "confrontational and destructive policies" in the region and towards Tehran.
Full report at:
http://www.presstv.ir/Detail/2017/05/07/520968/saudi-arabia-iran-warns-ignorance
---------
Israel to revoke Arabic's official language standing in occupied territories
May 7, 2017
Israel is pushing for a bill, which, if passed, will downgrade Arabic from its current status as an official language in the occupied Palestinian territories to a non-official language.
The provocative bill was approved by the Ministerial Committee for Legislation on Sunday and now waits to pass a number of rounds of legislation in the Israeli parliament, Knesset, for further readings before becoming law.
Both Arabic and Hebrew are now the official languages of Israel, but according to the new bill, "the national language [of Israel] is Hebrew." The bill further states that "the right to realize self-determination" within Israel "is unique to the Jewish people" and the occupied territories are their "national home."
The bill was initially proposed in 2011 by a member of the hard-line Likud Party, led by Prime Minister Benjamin Netanyahu. It came up for ministerial consideration in 2015. The bill, however, failed to pass through the ministerial committee at the time.
If the proposed law, which substantially harms the rights of minorities, is ultimately passed by the Knesset, it will turn into a fundamental law and will become an essential ingredient of Israel's central body of legislation. It will also encode the structure of the occupying regime.
The controversial bill, however, drew harsh criticisms even within Israel. Meretz party leader Zehava Gal-On lambasted the bill and called it "a declaration of war against Israel's Arab citizens."
The bill further proclaims the whole Jerusalem as the capital of Israel, a move which infuriates Palestinians, who want the occupied West Bank as part of a future independent Palestinian state, with East Jerusalem al-Quds as its capital.
About 600,000 Israelis live in over 230 illegal settlements built since the 1967 Israeli occupation of the Palestinian territories of the West Bank and East Jerusalem al-Quds.
Full report at:
http://www.presstv.ir/Detail/2017/05/07/520942/Israel-Palestine-Arabic-official-language
---------
Ayatollah Khamenei: Iran Not to Abide by UNESCO 2030 Agenda
May 07, 2017
"Why should a so-called International body-- which is definitely infiltrated by the superpowers—have the right to make decisions for the nations of the world with various cultures," Ayatollah Khamenei said in Tehran on Sunday, addressing a large group of teachers and university students on the occasion of teachers day in Iran.
Ayatollah Khamenei stressed that the Islamic Republic of Iran will not surrender to UNESCO's Global Education 2030 Agenda , and said, "The UNESCO 2030 education agenda and the like are not issues that the Islamic Republic of Iran could surrender and submit to."
Ayatollah Khamenei asserted that Iran will not sign such documents, and added, "This is wrong per se. That we sign an agenda and begin to carry it out secretly is wrong. It is not permitted at all. I have declared it."
The Leader of the Revolution expressed regret that the Supreme Council of the Cultural Revolution has shown neglect in supervising endorsement of the document, and said, "I am disappointed at the Supreme Council of the Cultural Revolution. They should have taken care of it and prevented it from getting to where it is now, so that I would not have needed to take action to stop it. It is the Islamic Republic here."
Ayatollah Khamenei also pointed to the upcoming presidential election, and invited the nation to participate.
"If you want this enthusiasm, dignity and immunity to last for us, you should take part in the elections. If you wish the Islamic Republic of Iran's establishment to preserve its power in the eyes of the people of the world — whether friends or foes — you should participate (in the elections)," he said.
Ayatollah Khamenei emphasized that "partaking in the elections protects the power, dignity and immunity of the country".
The Leader of the Revolution declared, "It is not important who you vote for. It is important for everyone to turn out and take part to show that they are ready to defend Islam and the Islamic Republic."
He highlighted the significance of deterring the enemies by displaying the dignity of the country, and said, "if this diligence and willpower continues to exist as mighty and dignified as it is now, the enemy will never be able to do a single thing against the country."
Ayatollah Khamenei said, "What is urgently necessary for the management and protection of the interests of the nation is the partaking of the nation. It is the partaking of the nation that can solve the problems. It is the nation's turn out that scares the enemies, making them fear the Islamic Republic's solemnity. The Islamic Republic is seen as solemn by its enemies. Does this solemnity come from people like this humble person? Never! It emerges from the people and the public partaking. It emerges from the people's enthusiasm and sentiments."
He further went on to clarify that he does not imply people should vote for a certain candidate by stating that "I am saying this so that no one will come up to distort what I have clearly declared and claim that I imply that people's partaking will elect an administration into office which would... no sir! It is not about the administrations. Have you forgotten what happened in the 90s? When a European government accused our president and called him to the court? And it happened despite the fact that the European government expressed friendship and letters were often exchanged. The same government called the administration of our president to the court. We hit them (the European government) in the mouth and they withdrew. If we hadn't slapped them they wouldn't have retreated."
Full report at:
http://en.farsnews.com/newstext.aspx?nn=13960217001106
---------
Iran's Rouhani faces protests at site of deadly mine collapse
May 08, 2017
TEHRAN - Iran's President Hassan Rouhani faced furious protests from victims' families on Sunday when he visited the site of a mine accident that claimed dozens of lives, two weeks ahead of an election. Local news agencies showed people stamping on Rouhani's car and beating the windows as it tried to make its way through an angry crowd at the site in the northern Golestan province, where at least 26 people were killed by an explosion on Wednesday.
"Why is there no safety at the mine? Why does no one care?" shouted one emotional spokesman for the miners at the scene, in a video shared on social media. "Last year, we gathered in front of the governor's office together with our wives because we were unpaid for 14 months. And you, the president, didn't even notice," he added.
Rouhani, who is standing for re-election on May 19, earlier addressed the crowd, saying: "The entire Iranian nation shares the sorrow of families of those killed in the Zemestan Yort mine accident. "Those responsible and anyone who had a fault in the incident must be found and dealt with accordingly, without any exceptions."
As well as 26 confirmed dead, at least nine more miners were trapped inside after Wednesday's explosion, but officials say there is little chance they have survived. The accident is thought to have been caused by concentrated methane gas that was triggered when workers tried to jump-start an engine.
Thousands of factories and industrial sites across Iran have struggled to keep up with payments in recent years due to the stagnant economy. Conservative presidential candidates trying to unseat Rouhani have focused on the poor, saying government policies have only benefited the wealthy.
The miner's spokesman said workers earned 10 million rials ($265) a month. "Can you live with that?" he asked the president. "Look at this mother with seven children. We have nothing to eat."
Full report at:
http://nation.com.pk/international/08-May-2017/iran-s-rouhani-faces-protests-at-site-of-deadly-mine-collapse
---------
Top Iranian diplomat says no such thing as good terrorists
May 08, 2017
KABUL: Iranian Foreign Minister Mohammad Javad Zarif stressed on Sunday the importance of fighting against the terrorist groups.
Zarif made the remarks in a meeting with his Afghan counterpart Salahuddin Rabbani.
There is no good or bad terrorist, and countries should cooperate with each other to make their borders more secure and combat terrorist groups, Zarif said in the meeting.
Zarif, who arrived here on Sunday morning to meet top Afghan officials, underlined that Tehran and Kabul should expand economic cooperation within the framework of their economic pact.
He then called for further bilateral ties to finalize the question of water between the two countries which would benefit the environment in the two countries.
In addition, the Iranian foreign minister called for solving the border problems and facilitating travel of nationals between the two countries.
For his part, the Afghan foreign minister appreciated Iran for hosting the Afghan immigrants and extending aid to the Afghan refugees.
Rabbani underlined the importance of boosting bilateral cooperation in counter-terrorism, business and completion of Chabahar and railroad projects.
Meanwhile, the visiting Iranian Foreign Minister Mohammad Javad Zarif and the Afghan National Security Advisor Mohammad Hanif Atmar discussed issues of mutual interest in Kabul on Sunday.
Zarif said in the meeting that the two countries are brothers and enjoy the same culture and need to further bilateral cooperation.
Prior to the meeting, Zarif had met the Afghan President Ashraf Ghani. In the meeting, various aspects of mutual ties, expansion of relations and the latest regional and global developments were discussed.
Earlier, Zarif heading a high-ranking political delegation arrived in the Afghan capital on Sunday morning to meet with the top Afghan officials.
Zarif has reportedly been visiting Afghanistan on an official invitation of his Afghan counterpart Salahuddin Rabbani.
A spokesman for the Ministry of Foreign Affairs of Iran Bahram Qasemi was quoted by state news agency, IRNA as saying that Zarif will hold talks on different aspects of Tehran-Kabul relations and the ways to promote the current level of bilateral ties as well as the latest international and regional developments during his visit to Kabul.
His visit to Afghanistan followed after an official visit he made to Islamabad.
According to the local media reports, the day-long visit to Pakistan took place on May 3 during which Zarif met top Pakistani officials on the recent terrorist attack near Iran-Pakistan border which resulted in killing of some Iranian border guards.
The sides would exchange views about ways to develop Tehran-Kabul relations and the latest regional and international developments, the Iranian spokesperson said.
Full report at:
http://nation.com.pk/international/07-May-2017/top-iranian-diplomat-says-no-such-thing-as-good-terrorists
---------
Arab coalition launches air strikes on Houthi sites in Yemen's Taiz
8 May 2017
Nineteen air strikes launched by Saudi-led coalition forces in Yemen killed at least 20 Houthi militias and rebels affiliated with ousted President Ali Abdullah Saleh and injured around 3o more.
The coalition's airstrikes targeted Khaled bin al-Walid camp in Mawza and in Maqbanah in west Taiz and destroyed a weapons storage facility, three vehicles and one armored vehicle.
Meanwhile, legitimate forces in Yemen achieved some military gains in Mawza as they continue to besiege Khaled bin al-Walid camp for a month now and prepare to retake it from the militias.
Six Houthis were also killed and several others were injured in Yemeni army shelling on the al-Waash mountain, northwest of Taiz.
Full report at:
https://english.alarabiya.net/en/News/gulf/2017/05/08/Arab-coalition-launches-air-strikes-on-Houthi-sites-in-Yemen-s-Taiz.html
---------
UN envoy on Yemen in new bid to revive peace talks
7 May 2017
The UN envoy to Yemen, Ismail Ould Cheikh Ahmed, is on a new regional tour to push Yemen's peace consultations which are stalled since late last year, even as alarm grows over the humanitarian crisis in the country.
According to Yemeni sources, the envoy will meet Yemeni and Saudi officials in the Saudi capital Riyadh.
Sources close to the UN envoy revealed that work is underway to launch a new round of consultations during the coming month of Ramadan. The parties concerned hope that the new round would be the prelude to signing a peace agreement.
Ould Cheikh Ahmed said recently, "We are at the preliminary stage, but time is also a real constraint for us, because my aim is to finish all of this before Ramadan," he said, adding that he hoped "to enter into a new round of talks before Ramadan."
The Muslim holy fasting month of Ramadan is set to begin at around May 27 this year.
Full report at:
https://english.alarabiya.net/en/News/gulf/2017/05/07/UN-envoy-on-Yemen-in-new-bid-to-revive-peace-talks.html
---------
South Asia
ISIS Chief in Afghanistan Killed, Claims President Ashraf Ghani
May 08, 2017
The head of the militant Islamic State (IS) group in Afghanistan, Abdul Hasib, has been killed in an operation led by Afghan Special Forces in Nangarhar province, President Ashraf Ghani said on Sunday.
Hasib, appointed last year after his predecessor Hafiz Saeed Khan died in a US drone strike, is believed to have ordered a series of high-profile attacks including one in March on the main military hospital in Kabul by a group of militants disguised as doctors, a statement said.
Last month, a Pentagon spokesman said Hasib had probably been killed during a raid by US and Afghan Special Forces in Nangarhar during which two US army Rangers were killed, but there was no confirmation.
The local affiliate of the IS, sometimes known as IS Khorasan, after an old name for the region that includes Afghanistan, has been active since 2015, fighting both the Taliban as well as Afghan and US forces.
It is believed to maintain links with the main IS group in Iraq and Syria but has considerable operational independence.
US and Afghan Special Forces, backed by drone strikes and other air support, have waged a series of operations against IS-K this year, killing dozens of their fighters, mainly in Nangarhar, on the border with Pakistan.
Defeating the group remains one of the top US priorities in Afghanistan and last month the United States dropped its largest non-nuclear device on a network of caves and tunnels used by IS in Nangarhar, killing 94 fighters, including four commanders.
https://www.dawn.com/news/1331700/is-chief-in-afghanistan-killed-claims-president-ashraf-ghani
---------
5 prominent Taliban leaders among 37 killed in Qala-e-Zal of Kunduz: Danish
May 07 2017
The Ministry of Interior of Afghanistan (MoI) said Sunday that 37 Taliban insurgents including 5 of their prominent commanders were killed during the operations in Qala-e-Zal district of Kunduz.
MoI spokesman Najib Danish told reporters that additional troops have deployed to Qala-e-Zal district.
He said the clearance operations are still underway in Qala-e-Zal district and at least 37 militants including five prominent commanders of the group have been killed during the operations so far.
Danish further added that the Taliban leaders killed during the operations have been identified as Qari Belal, Shamshad, Jabir, Abdul Rauf and Habib.
He also added that a delegation of the ministry of defense has arrived in the northeastern Badakhshan province.
According to Danish, the areas under the control of the militants in Zebak district will soon be cleared of the insurgents.
This comes as the provincial council officials in Kunduz said Saturday that the control of Qala-e-Zal district fell to Taliban after almost 24 hours of heavy clashes.
Full report at:
http://www.khaama.com/5-prominent-taliban-leaders-among-37-killed-in-qala-e-zal-of-kunduz-danish-02733
---------
Two extremists killed in Bangladesh raid
May 08, 2017
DHAKA - A suspected Islamist extremist blew himself up and another was shot dead after Bangladesh's anti-terrorism officers raided their hideout early Sunday, police said. Police cordoned off a one-storey building in a remote village in the western district of Jhenaidah on a tip-off that extremists were holed up there.
"There was an exchange of fire between counter-terrorism police and the extremists. An extremist was killed," district police chief Mizanur Rahman told AFP. "And when we came closer to the building, another extremist carried out a suicide blast. He died on the spot," he said, adding two police officers were also injured in the blast.
He said the extremists were members of a new faction of the Jamayetul Mujahideen Bangladesh (JMB), blamed for a wave of deadly attacks against religious minorities and foreigners in the Muslim-majority country. These include a major attack on a Dhaka cafe last July in which 22 people were killed, most of them foreigners.
The Islamic State group claimed that attack and several others, but Dhaka insists they were the work of homegrown Islamist groups.
Full report at:
http://nation.com.pk/international/08-May-2017/two-extremists-killed-in-bangladesh-raid
---------
Afghanistan reacts at Pakistani claims regarding the killing of 50 Afghan troops
May 07 2017
The Afghan government reacted at the remarks of a Pakistani general regarding the killing of at least 50 Afghan troops during the clash in Spin Boldak district located along the Durand Line, dismissing the claims as baseless.
The head of the Government Media and Information Center Sediq Sediqi the Afghan government rejects the claim by Pakistani general regarding the killing of 50 Afghan troops by the Pakistani militia forces.
Sediqi further added that only two border police forces lost their lives along with civilians and not what the Pakistani authorities are claiming.
He said the claims that 50 Afghan troops were killed are absolutely wrong and the Afghan government strongly rejects the claims.
Sediqi further added that the Afghan troops prevented the illegal movements of the Pakistani militia forces inside the Afghan soil and it was the Pakistani troops who launched the attack first.
This comes as Pakistan's Inspector General Frontier Corps (FC) Major General Nadeem Ahmed claimed today that Afghan forces targeted civilian population while Pakistan targeted their check-posts, leaving 50 Afghan troops dead and 100 others wounded.
Full report at:
http://www.khaama.com/afghanistan-reacts-at-pakistani-claims-regarding-the-killing-of-50-afghan-troops-02734
---------
Kandahar governor's media adviser shot dead by gunmen
May 07 2017
The media adviser of Kandahar governor was shot dead by unknown gunmen in the central Kandahar city earlier today.
The provincial government said the incident took place around 8 am local time in the vicinity of the 9th police district of the city in Najib Number area.
Kandahar governor Dr. Mohammad Humayoun Azizi strongly condemned the attack and said Abdul Ghafoor Feroz was serving as the media adviser of the provincial government since last one year.
Dr. Azizi further added that Feroz was not only serving as the media adviser of the Kandahar government but was also a religious cleric, a writer, and a prominent interpreter.
The governor further added that the enemies of the country have been spilling the blood of the innocent civilians for the past 16 years, a move which has defamed Islam besides insulting the humanity.
No group including the Taliban insurgents has so far claimed responsibility behind the attack.
The security situation in southern Kandahar province has started to deteriorate during the recent months as the anti-government armed militant groups are attempting to destabilize the key southern provinces.
Full report at:
http://www.khaama.com/kandahar-governors-media-adviser-shot-dead-by-gunmen-02731
---------
Arab World
More Secrets Exposed about Fake Video of Chemical Incident in Syria's Idlib
May 07, 2017
A diplomatic source who requested anonymity told Sputnik that the latest footage of a chemical weapons attack against civilians in Syria had been filmed recently and appeared to be ordered from a European country.
Meantime, the Russian Reconciliation Center said, "According to information from a number of sources among local residents and opposition formations … special 'video brigades' carried out staged filming in the past week of alleged consequences of shelling and airstrikes, including with the use of 'poisonous substances'."
The center added that some of the "consultants" of the brigades were recognized by the locals as cameramen shooting news in the region for the Al Jazeera channel.
It is not the first time such reports emerge. On May 2, al-Mayadeen broadcaster reported, citing local sources and eyewitnesses that a group of the White Helmets' activists accompanied by one of the Arab satellite channels arrived in the area near Idlib in Syria to shoot staged videos allegedly depicting consequences of a chemical attack.
However, the Swedish Doctors for Human Rights (SWEDHR) non-governmental organization issued a report earlier in the year, stating that the "lifesaving" procedures shown in the videos published by the White Helmets are incorrect, fake and "ultimately performed on dead children."
On April 4, a chemical weapons incident in Syria's Idlib province claimed the lives of some 80 people and inflicted harm on an additional 200 civilians. The Syrian National Coalition of Revolutionary and Opposition Forces, as well as a number of Western states, accused the Syrian government troops of carrying out the attack, while Damascus refuted these allegations, with a Syrian army source telling Sputnik that the army did not possess chemical weapons.
Local sources in Idlib province reported last week that each member of the White Helmets Organization receives almost $2,000 for making clips about their so-called humanitarian activities in the Northwestern province.
The sources that were operating in one of the regions in Idlib in which the White Helmets were present said that the White Helmets were receiving between $1,500 up to $2,000 to make a clip about pulling children out of the debris in Idlib.
The sources also said that a large number of the White Helmets along with their partners in Turkey were trading human body-organs in the region.
In April, the SWEDHR disclosed that White Helmets are risking civilian lives, rather than rescuing them, for false flag operations against the Syrian government.
Swedish Doctors For Human Rights analyzed videos, the rescue operation by White Helmets after an alleged attack by Syrian government forces, and found that the life-saving procedures seen in the film were incorrect – in fact life-threatening – or simply fake.
Dr. Leif Elinder, Swedish medical doctor profile, author and specialist in pediatrics, disclosed that "after examination of the video material, I found that the measures inflicted upon those children, some of them lifeless, were bizarre, non-medical, non-lifesaving, and even counterproductive in terms of life-saving purposes of children."
In a statement by Dr. Lena Oske, Swedish medical doctor and general practitioner, she referred to the presumed, adrenaline injection, performed in the White Helmet video. Her specialist opinion dismisses the procedure conducted in the White Helmet video, as unqualified and incorrect.
"If not already dead, this injection would have killed the child!," She said, adding, "Intracutaneous injection with adrenalin may be used if any other resuscitation measure does not succeed. Especially under precarious circumstances – such as in field emergency settings– where safer ways for the administration of medication might be difficult or unavailable. But not in the way shown in the video."
The Swedish specialist stressed, "In order to perform the injection, CPR (cardiopulmonary resuscitation) has to be interrupted, and then the CPR resumed immediately after. Which is not done in the procedures shown in the video."
She referred to a correct medical procedure, emphasizing that "the technique is simple. Long needle, syringe with 1 mg adrenaline, find the 4th or 5th intercostal space and insert the needle just adjacent to the sternum, left side, deposit the medication after checking you are in the right position (aspiration of blood and no resistance), take out the needle and immediately resume CPR! So, the doctor who wrote the comment, 'If not already dead, this injection would have killed the child' was right! What a macabre scene; and how sad."
According to the analysis provided by doctors, "the video should be life-saving measures after a chemical attack with chlorine gas (now claimed to be Sarin-not possible), including injection of adrenaline via syringe with a long needle into the heart of an infant. In no way were treatments correctly given for any potential chemical agent."
"The handling and treatment of the child was done in a manner that was careless, dangerous and likely to cause serious harm," it said, adding that "none of the children in the videos showed any sign of being a victim of a chemical attack."
The medical personnel also said that they could safely call them actors at this point, failed to push the plunger on the needle. Thus, the contents of the syringe were never injected as is clearly visible in the video itself.
They added that the most telling was the fake repeated shots of adrenalin, supposedly into the heart.
The visible diagnosis by a team of actual medical experts, based on what was observed in the video, indicated that "the child was suffering from an injection of opiates and was likely dying of an overdose. There is no evidence of any other agent, chemical or otherwise."
Based on the investigation by experts, "It was clear that the faked injection with the long needle administered through the stitches murdered the child in the video. This was a purposeful killing staged to appear as medical treatment."
Despite the White Helmets claim, the organization is not an independent body and receives financial supports from several Western states that back terrorist groups in Syria and also has overt links with Al-Qaeda affiliated Al-Nusra Front.
A Russian newspaper said in a report in December 2016 that the White Helmets Organization was behind the fake reports about Russia's airstrikes in Syria, adding that the organization was run by British agents.
Vzglyad daily disclosed in a report that there was reason to believe that the organization was supervised by the British intelligence service and the Soros Fund.
"The Government of the United Kingdom had allocated around 32 million pounds for the needs of the White Helmets in 2013 while another 12.5 million pounds has been paid to the organization only in the year 2016," a source close to the organization told Tass news agency.
According to the source, the whole budget of the organization was about 50 million dollars a year.
The White Helmets should have also received an additional US $13 million from the United States and the United Kingdom, including the companies associated with George Soros, he added, saying that the organization also received $23 from the US International Development agency.
The source also underlined that one of the leaders of the White Helmets, Mosab Obeidat, was identified to have contributed a major role in the financing of the terrorist groups.
According to some reports, Obeidat played the role of a mediator in providing the Syrian militants with around 2.2 million dollars to pay for weapons and ammunition supplies.
Speaking about the founder of White Helmets James Le Mesurier, the source pointed out that, in all probability, "he is a graduate of the Royal Military Academy at Sandhurst, which to this day is at the service of Her Majesty (the British Queen), to be exact - in the British military intelligence."
According to reports, also, the western media refer to the London-based Syrian Observatory for Human Rights and the White Helmets to report on what they call as the Syrian army's civilians' execution or detentions.
These sheer lies are told as many people in Aleppo remember the time that the so-called supporters of human rights occupied the people's houses and threw them into rubbles immediately after turning off the cameras.
Vanessa Beeley, a British investigative journalist focused on the Middle East, disclosed November 2016 that the White Helmets Organization was not an independent body despite their claims and receive financial supports from several Western states that back terrorist groups in Syria.
"The White Helmets cannot be an independent organization because it works for the interests of the western countries that back terrorist groups in Syria and receives financial support from the US, Britain and Germany instead," Beeley said, adding that "It seems to be strange that the White Helmets are constantly in the regions controlled by the ISIL and Fatah al-Sham Front (the al-Qaeda-affiliated terrorist group previously known as the al-Nusra Front) and their affiliated groups. Videos and images taken in these regions prove that the White Helmets cooperate with the terrorists".
"The White Helmets not only offer medical services to terrorists and take part in their assassination and execution of civilians, but also work for overthrowing the Syrian government," the journalist stressed.
A Syrian journalist proved in November 2016 via release of several images of a Syrian child that the US-linked White Helmet Humanitarian Organization's claims of saving civilians in the war-hit country were mere lies.
Abbas Jom'eh released three images of a little girl that had been allegedly rescued by members of the White Helmet Organization in three different locations, disclosing the organization's lies about rescuing civilians in Syria.
In his twitter page, the Syrian journalist placed three images form the girl that was rescued by the White Helmet's agents in different places.
"Actors in the White Helmet rescue one girl in three different places! Can't they play their role any better on this stage," Abbas Jom'eh asked.
Moscow also said in November 2016 that the so-called reports about "hospitals" and "schools" allegedly located in terrorist-held Syrian territory were created by the "White Helmets" group financed by London.
"After three days it is absolutely clear for everyone that the allegedly bombed "hospitals" and "mobile clinics" in Aleppo exist only in US State Department spokesman John Kirby's imagination. This "information blooper" will certainly remain a stain on Admiral Kirby's biography," Russian Defense Ministry Spokesman Maj. Gen. Igor Konashekov said, adding that if all the "bombed" "hospitals" and "mobile clinics" were counted, that would mean there is nothing else in Syria apart from them.
US State Department spokesman John Kirby blamed the Russian Aerospace Forces for allegedly "bombing hospitals" in Syria.
The Russian side requested international organizations to provide data on the presence of any medical facilities and schools in terrorist-held territories in Syria but the organizations said they did not have information on the existence of any of such facilities.
"We have repeatedly asked representatives of the United States, Great Britain, France, Germany, other countries and international organizations to provide any information on the location of medical aid posts ('hospitals') or schools in Syrian areas controlled by terrorists," Konashenkov underlined.
"The answer is always the same — no one has such information," he said.
"There are only reports by the "White Helmets" or anonymous local "journalists" ("activists")," the spokesman added.
Konashenkov underscored that the UK government officially allocated funds for the activity of "White Helmets", and so-called "mass media" in Syria which were tasked with posting on Facebook and Twitter information about chemical attacks and reports provided by locals and "White Helmets".
"The White Helmets," a documentary about volunteer rescue workers in Syria, won the Oscar for Best Documentary Short, while the analysts believe that it was a propagandistic move by Western media.
Syrian President Bashar al-Assad had hit out at the White Helmets, calling it a terrorist front, stressing that they are an example of Western narratives grotesquely distorting the truth about the conflict in the country.
Syria has been mired in bloody war since March 2011, with Damascus forces fighting numerous terrorist groups, including ISIL and al-Nusra Front.
http://en.farsnews.com/newstext.aspx?nn=13960217000935
---------
US Conducting Secret Attempts to Deploy in Western Iraq in Post-ISIL Era
May 07, 2017
Some Iraqi media outlets have recently reported that Washington and Baghdad have inked an agreement to prolong the US deployment in Iraq after retaking control of Mosul from the ISIL, but Prime Minister Haider al-Abadi's office rushed to issue a statement to strongly reject the reports.
The media reports were released after Chief of Staff of the US Army General Mark Milley spoke of the US commitment to support Iraq and the Iraqi Kurdistan region in the post-ISIL era.
Also, US Senator Marco Rubio revealed the negotiations between Washington and the Kurdish officials to supply the Peshmerga forces with weapons and equipment, without any coordination with the government in Baghdad.
Meantime, Spokesman for Iraqi Kurdistan Region's Peshmerga fighters Jabbar Yavar said that Washington seeks to equip two divisions of Peshmerga fighters with different weapons, including heavy arms, and allocate $415mln to pay the salaries of 36,000 Peshmerga fighters who are due to participate in operations to liberate Mosul.
Iraq's prime minister said on Friday that no US combat troops will stay in Iraq after the fight against ISIL is concluded.
Al-Abadi remarks came in a statement following a report by the Associated Press that talks are ongoing between Iraq and the US on maintaining American forces in Iraq.
Al-Abadi said the American troops will be advisers who will help Iraq's security forces maintain "full readiness" for any "future security challenges".
Full report at:
http://en.farsnews.com/newstext.aspx?nn=13960217001027
---------
Four Syrian civilians killed in Daesh rocket attack on western Mosul
May 7, 2017
At least four civilians have lost their lives when members of the Takfiri Daesh terrorists launched a rocket attack against a commercial district in Mosul as government forces, backed by fighters from Popular Mobilization Units, are trying to drive the militants out of their last urban stronghold in the country.
Local sources, speaking on condition of anonymity, said Daesh extremists lobbed a rocket at shops selling foodstuff in the densely populated Mosul al-Jadida neighborhood on Sunday, leaving four people dead and nine others injured, Arabic-language Shafaaq news agency reported.
The development came on the same day that the US-led coalition purportedly fighting Daesh in Iraq carried out an airstrike against a militant position northwest of Mosul.
The aerial attack reportedly targeted a building in the al-Eqtisadiyah neighborhood, claiming the life of a civilian. Three other people also sustained injuries in the strike.
Meanwhile, Commander of Federal Police Forces Lieutenant General Raed Shaker Jawdat said his forces were only 300 meters away from Grand al-Nuri Mosque, where purported Daesh ringleader Ibrahim al-Samarrai aka Abu Bakr al-Baghdadi gave his famous speech on the formation of the terror group.
Jawdat added that Mosul's Old City is heavily populated, and has many alleys and lanes.
The senior Iraqi security official went on to say that Daesh terrorists have taken dozens of civilians hostage there, using them as human shields.
Jawdat highlighted that Daesh has actually lost control over Mosul's Old City, and Iraqi army snipers are stationed on rooftops in the area.
Daesh putting up stiff resistance in liberated Mushirfa district
Separately, Iraqi military officers told Reuters on Sunday that Daesh members continue to fighting army troopers and their allies in Mushirfa district, a day after the military announced its full liberation.
"Fighting Daesh in Mushirfa with a large number of families still locked in their houses is making the battle more complicated," an unnamed colonel from the 9th Armored Division said.
Daesh militants are fighting back with a barrage of car bombers and snipers disguised among civilians as Iraqi government forces and fighters from Popular Mobilization Units, commonly known by the Arabic world Hashd al-Sha'abi, are tightening the economic noose around their neck.
Iraqi army soldiers and pro-government Hashd al-Sha'abi fighters have made sweeping gains against the Takfiri elements since launching the operation to retake Mosul.
The Iraqi forces took control of eastern Mosul in January after 100 days of fighting, and launched the battle in the west on February 19.
Daesh attack on Kurdish Peshmerga forces kills 2
Additionally, two Kurdish Peshmerga fighters were killed after a group of Daesh extremists attacked K-1 airbase on the outskirts of Kirkuk, located 236 kilometers (147 miles) north of the capital Baghdad, on Sunday.
Full report at:
http://www.presstv.ir/Detail/2017/05/07/520934/Daesh-militants-rocket-attack-Mosul-alJadida-civilians-killed-injured
---------
Syrian Army Continues to Advance against Terrorists in Homs
May 07, 2017
The army soldiers engaged in hours of fierce clashes with the ISIL and retook control over Madarej al-Some'eh hill, killing and wounding a number of terrorists.
ISIL's military hardware also sustained major damage in the clashes.
Relevant reports said on Saturday that the army soldiers engaged in a tough battle with ISIL in al-Shoumeriyeh mountain and pushed them back from their positions, taking control over al-Rajm al-Aali.
Full report at:
http://en.farsnews.com/newstext.aspx?nn=13960217001496
---------
Commander: Iraqi, Syrian Resistance Forces to Launch Joint Operations at Borders
May 07, 2017
"Given the fact that the Mosul operation is nearing end, I declare that the Hashd al-Shaabi forces will move towards the Syrian borders in the next few days and new operations will start against the ISIL in that region. Also, the resistance forces in Syria, including Hashd al-Shaabi fighters, will start their operations on Syrian soil and from al-Zamir region towards al-Nataf and their operation will cover a region 180 km in length," Abu Ala al-Velayee said on Sunday.
Explaining that the operations will lead to cleansing terrorists and regaining full control over the bordering regions between Syria and Iraq, he said, "The Operations will start from three points; the first point will be covered by the Syrian army, while the Lebanese Hezbollah and Hashd al-Shaabi forces will be present in the two other points. In the end, all forces will meet each other in regions along the border border."
His remarks came one day after reports said that the Syrian army forces have prepared the ground for closing off the country's border with Iraq with the help of Russia.
An informed source told Younews website that the Syrian army is preparing for massive military operations to seal the country's border with Iraq.
Full report at:
http://en.farsnews.com/newstext.aspx?nn=13960217001421
---------
Damascus: First Phase of Evacuation of Gunmen from Yarmouk Camp Kicks off
May 07, 2017
The Arabic-language Al-Hadath news reported that hundreds of militants and their family members moved towards Idlib province in Northwestern Syria in line with an evacuation deal concluded between the Syrian Army and the gunmen.
The report said with the withdrawal of Tahrir al-Sham from their positions in areas that stretch from Habib Mostafa Grand Mosque to al-Wasim Grand Mosque, the army and Palestinian groups will come in charge.
Al-Hadath news said that evacuation of the remaining pockets of the terrorists will be completed in coming days and members of Tahrir al-Sham Hay'at will leave Yarmouk completely.
The deal will not cover ISIL and its allies groups, stressed the report.
Media sources reported on Saturday that the Al-Nusra Front (also known as Fatah al-Sham Front or the Levant Liberation Board) informed the Syrian government delegation of its agreement for evacuating the Yarmouk Palestinian Refugees Camp in the Southern countryside of Damascus city.
The AMN website reported that negotiations between a delegation of the Syrian Army and commanders of Tahrir al-Sham Hay'at finally resulted in a verbal agreement to have the al-Qaeda-affiliated fighters in the Yarmouk pocket depart for militant-held regions in Idlib province.
Full report at:
http://en.farsnews.com/newstext.aspx?nn=13960217001088
---------
Syrian Soldiers Make Fresh Gains in Hama Province
May 07, 2017
The army soldiers engaged in fierce clashes with the terrorists in Northern Hama and managed to fortify its positions in al-Zalaqiyat township, imposing control over a hill.
The fighter jets, meantime, bombed the positions of Al-Nusra Front (also known as Fatah al-Sham Front or the Levant Liberation Board) in the towns of al-Latamina and Morek in retaliation for the terrorists' artillery and missile attacks on the ground forces' position in the towns and villages of Qamhaneh, Halfaya, Mahradeh and Shalitout.
Local sources confirmed that a large number of terrorists were killed and their positions and vehicles were destroyed in the air raids.
Also, the warplanes pounded ISIL's concentration centers in Aqayrabat region in Eastern Hama, inflicting heavy casualties on them.
In relevant developments in the province on Friday, the army managed to repel a massive counterattack launched by Tahrir al-Sham Hay'at (the Levant Liberation Board) to stop the army advances in Northern Hama and take back lost lands.
Tahrir Al-Sham launched an offensive in the Wadi Al-Adib area of Northern Hama as they attempted to reclaim the territory they lost to the Syrian Army in recent weeks in Northern Hama province.
The Syrian soldiers along with the National Defense Forces (NDF) repulsed the assault after inflicting heavy losses on the terrorists.
Full report at:
http://en.farsnews.com/newstext.aspx?nn=13960217000420
---------
ISIS flaunts rocket-mounted vehicle attack in northwestern Mosul
7 May 2017
Flaunting new arms it first announced in late April, ISIS has posted images showing its use of a rocket-mounted vehicle in a suicide bombing in northwestern Mosul.
The images showed the attacker inside the vehicle before he carried out the attack targeting Iraqi forces, the vehicle advancing on its target and the detonation he purportedly orchestrated.
But they did not illustrate the novel feature ISIS had advertised as key to the new weaponry - the firing of rockets mounted on the vehicle.
The group had said this would maximize destruction caused by the attacker as he advanced towards his target.
ISIS attacks kill two at Iraqi base
At least two people were killed and six injured when multiple ISIS suicide bombers attacked a base in northern Iraq where US military advisers are stationed, security sources said on Sunday.
In addition, two of the militants died when they detonated their vests at the entrance to the K1 base overnight, and three more were killed by Kurdish peshmerga forces who control the Kirkuk area where it is situated.
"They were wearing uniforms like the Kurdish peshmerga and had shaved their beards to look like us," one officer told Reuters.
ISIS claimed responsibility for the attack in a statement, saying it had killed and wounded dozens of "crusaders and apostates," referring to the peshmerga and Western military advisers.
Full report at:
https://english.alarabiya.net/en/News/middle-east/2017/05/07/ISIS-flaunts-rocket-mounted-vehicle-attack-in-northwestern-Mosul-.html
---------
Ex-Nusra fighters to be evacuated from Syrian camp
7 May 2017
Agreement has been reached to evacuate wounded fighters of the hardline Islamist group formerly known as Nusra Front from Yarmouk, in the southern suburbs of Damascus, to rebel-held Idlib province, Hezbollah-affiliated al-Manar TV reported on Sunday.
The agreement is the second phase of an earlier deal to evacuate people from two towns besieged by rebels, and two towns besieged by pro-government forces, the first phase of which was implemented last month, al-Manar reported.
The wounded fighters and some others accompanying them would form a group of about 50, reported the television channel, which is based in Lebanon. Hezbollah, also from Lebanon, is a close military ally of Syrian President Bashar al-Assad.
Nusra Front was the official branch of al-Qaeda in Syria until a year ago, when it broke formal allegiance to the global jihadist movement and renamed itself. It has since joined a number of other militant groups under the new name Tahrir al-Sham.
Both Nusra Front and later Tahrir al-Sham have at times fought alongside other rebel groups, including those that operate under the banner of the Free Syrian Army, against the government and at times have clashed with them.
Yarmouk, in the southern suburbs of Damascus, is the location of a large Palestinian refugee camp. Parts of the area are held by the government, parts by rebels including Tahrir al-Sham, and parts by Islamic State.
An earlier deal involved evacuating civilians from the rebel-besieged Shi'ite Muslim towns of Kefraya and al-Foua in Idlib province in return for the departure of civilians and insurgent fighters from Zabadani and Madaya, near Damascus.
Completed late last month, that agreement was the largest and most complex so far in a series of evacuation deals for besieged areas that have grown more common over the past year in Syria's civil war.
While Assad's government in Damascus has praised such deals as a way to reduce bloodshed, the rebels have condemned them as a means to impose demographic change by forcing large numbers of civilians to leave pro-opposition areas.
The United Nations, which has not been party to the agreements, has also voiced concern that they amount to forced displacement.
Syrian army advances
Syrian activists say government forces have taken a village on the edge of a large cease-fire zone encompassing rebel-held territory in northwest Syria.
A local media activist who goes by the name Obeida Hamawi says the government pushed opposition fighters out of the village of Zalaqiyat on Saturday, in Hama province, following days of fighting that killed at least 14 rebels.
Russia, Turkey, and Iran agreed on Friday to enforce a cease-fire between government and opposition forces in four areas in Syria, including one that extends into northern Hama province, where Zalaqiyat lies. It is not clear if the agreement encompasses the village. Russia says it will publish maps by June 4.
Full report at:
https://english.alarabiya.net/en/News/middle-east/2017/05/07/Ex-Nusra-fighters-to-be-evacuated-from-Syrian-camp-.html
---------
Bahrain condemns Syrian ambassador's interference in Lebanon
7 May 2017 T
The Ministry of Foreign Affairs in Bahrain strongly condemned the statements made by the Syrian regime's ambassador in Lebanon, saying that it represents an unacceptable interference in the internal affairs of the Kingdom of Bahrain and reflects a clear denial of the facts of the matter, according to Al Arabiya TV report on Saturday.
The Syrian ambassador, in an interview on "Al Lo'lo'a" channel which backed by Iran, said that Bahrain is trying to increase sectarian conflicts.
The ambassador said: "I believe that the state has indulged itself and the region in splits and conflicts with no reason."
In this way, Iran spoke about the Bahraini authorities, through the Ambassador of the Assad regime in Beirut, Ali Abdulkarim, which is a new intervention, that shows the Iranian games, and the evidence is the way the presenter of the program presented the interview on the Iranian-sponsored "Al Lo'lo'a" channel.
"The words of the Syrian ambassador in Lebanon, which is going to be presented today at 5:30 Bahrain time, come as part of a series of special interviews broadcast by "Al Lo'lo'a" channel with a number of Arab personalities, prior the trial of the Shiite presence on May 7," the presenter said.
The presenter here is penetrating to prove that the Assad regime's ambassador is speaking on behalf of Tehran. On May 7, the Bahraini judiciary will pronounce its verdict on the trial of 'Issa' Qassim, the one who represents Shia in Bahrain, who was previously stripped of his nationality, and charged of provoking sedition and sectarian division in the country by incitement from Tehran, cover funds to support terrorist operations in Bahrain and neighboring countries.
Full report at:
https://english.alarabiya.net/en/News/middle-east/2017/05/07/Bahrain-condemns-Syrian-ambassador-s-interference-in-Lebanon.html
---------
Africa
Liberia's Finance Minister Urges Muslims to Practice Code of Islam
May 08, 2017
Monrovia - Members of the Muslim Students Association of the Africa Methodist Episcopal University (AMEU- MSA) on April 26, 2017 held their association official launching and fund raising program on the campus of the AMEU on Camp Johnson Road.
Report by Macaulay Sombai, macaulay.sombai@frontpage@africaonline.com
During the program, the Assistant Minister for Expenditure at the Ministry of Finance who served as guess speaker said it is the responsibility of all Muslims students to make sure to demonstrate the core value or core principles of Islam in their daily activities.
Alieu F. Nyei who is also an alumnus of the AMEU and founding member of AMEU-MSA, told the students that he was on their campus to tell them what it means to be a Muslim in a Christian institution like the AME University.
He began by saying that there are so many misconceptions about Islam and that those misconceptions start from at the community level, to high schools, universities and it goes to the work places. He said these misconceptions are also sometimes carried into government and leadership.
"Because of the misconception of Islam, you sometimes listen to people in authority making statement that demonstrate comprehensive lack of knowledge in all respects on a particular issue."
Mr. Nyei made it clear to the students that as Muslims both male and female they needed to be modest in the way they appear in public and they must always try to keep themselves far from anything that goes against Islam and the laws of the country.
Says Nyei: "You know very well as a Muslim you need to be modest in the way you appear in public both male and female, and you need to uphold that. Also as Muslim when you are in a class and other students want to cheat try to exclude yourself from it. "
"As a Muslim student if you observe your comrades trying to put ideas together to do something that is wrong try to oppose it, if you cannot oppose it try not to form part of it."
He continued that being a Muslim is not just about saying you are Muslim but there is more to it.
"The way we compose ourselves in the public, we send so many massages to people around about our faith, and if you are a Muslim for example, after school you see your friends going out and you decided to go with them and all of you drink and get drunk, no one else will take you seriously the next time, and whenever you call yourself Muslim others will say that's how they are".
Mr. Nyei said Muslims are like all other humans and that they too are liable to human shortcomings, but added that as a Muslim an individual does wrong, like getting involved in corruption, that corruption would not only affect his or her family, but also the image of his or her dear religion Islam would be tarnished.
He conveyed that followers of Islam need to keep away from corruption because Islam is totally against it, and the act of corruption tarnishes the code of the religion and it followers.
"Corruption is when you take resources and use it for private gain. Whether people see you or not, that is corruption. Whether they talk about it, it is corruption, so that is why I want to encourage all of us, I myself not excluded, that we need to work every single day in order to uphold the core principle of Islam in our society and in our country."
Mr. Nyei paid homage to the administration of AME University for granting and authorizing his organization to operate on the university campus but called on his fellow Muslim brothers and sisters to try their best to play by the rules governing the institution if they must continue using the facility of the university.
"The fact that the administration of the AME University has now granted us the approval or the authorization to be able to operate on this campus as a legally registered organization, there are dos and don'ts, there are rules and regulations of this institution that we have to uphold, and trust me if other campus based organizations break the law they may go unpunished but if you break the law, you may not go unpunished."
"You have to make sure you play by the rules if this institution must continue to allow us maintain or organization activities on this campus and you must always keep the administration informed in case you want to have a program on this campus because we have to play by the rule you must try to always organize such a timely program in the name of our organization."
The AMEU-MSA was established in 2005 with two goals; one to bring all of the Muslim students of AMEU together and second to help Muslim students understand the true meaning and functions of their religion Islam on and off campus.
The association is headed by its President Hssan Twally, Vice President Soko Wiles, Secretary General Suliaman Bah, and Financial Secretary Zwannah Massaley.
Madusu Kanneh serves as treasure and Vamuyan M. Fofana as imam.
http://www.frontpageafricaonline.com/index.php/news/4069-liberia-s-finance-minister-urges-muslims-to-practice-code-of-islam
---------
Algeria summons Tunisia envoy over 'communist state' remark
8 May 2017
Algeria summoned Tunisia's ambassador in Algiers on Sunday, a few days after a Tunisian minister described Algeria as a communist state, state news agency APS said.
The North African neighbors usually have strong security and economic ties with Algeria coordinating with Tunisia to combat Islamist militancy in the region.
"Tunisia's ambassador has been received today at the ministry of foreign affairs where he has been asked to provide clarifications about remarks made by a Tunisian minister," the ministry said in a statement on APS.
Tunisia's minister for local affairs made a comment that Algeria is a communist state, in a conference in Rome on May. 4 when describing Tunisia's neighbors.
OPEC member Algeria still has a mostly state-run economy but has emerged from the one-party socialism that followed its 1962 independence from France.
Full report at:
https://english.alarabiya.net/en/News/middle-east/2017/05/08/Algeria-summons-Tunisia-envoy-over-communist-state-remark.html
---------
North America
It's not this Muslim comedian's job to open your mind
Zahra Noorbakhsh
May 08, 2017
In November, a few days after the US presidential election, I got a call from a TV producer, inviting me to be on her popular variety show.
Her pitch: "As a feminist, Muslim, Iranian-American comedian, you could be exactly what this country needs right now." She explained that she wanted me to come up with a set with the potential to make millions of Trump supporters laugh and think: "Wow, she's Muslim, but she's funny! And she's just like us!" I replied, "Absolutely!" After all, as (actress and comedian) Joan Rivers advised, you should never turn down a gig.
But I was deeply conflicted about the opportunity and ultimately backed out.
This ambivalence has followed me as I've fielded similar requests during a time when the Trump administration has attempted to defend its "Muslim ban" campaign promise in the courts, Islamophobic attacks have been reported throughout the country, and fears of a "Muslim registry" still swirl throughout my community.
The idea that jokes will stop the tide of fear, hate and misunderstanding about people who practise Islam is seductive. As a comedian, though, I'm not convinced. We have tried this before.
I do understand that comedy has some potential to open people's minds. But I've become convinced that the primary role of political humour today shouldn't be to alleviate tensions or smooth out differences. It should be to heighten them and illuminate for everyone what is a moment of crisis.
After Sept 11, Muslim comics went on what I call "We're not that scary, we're funny and just like you!" tours, in desperate attempts to push back against bigotry. In 2005, the "Axis of Evil" tour fought stereotypes with jokes by Muslim comedians in shows throughout the country. In 2013, the docu-comedy, The Muslims Are Coming, aimed to introduce Middle America to normal, huggable, everyday Muslims.
I played this game too. I tried to humanise Muslim families, with my one-woman show, All Atheists Are Muslim, sharing the story of moving in with my white atheist college boyfriend, and telling my parents about it. It's a typical boy-meets-girl story, up against thousands of years of cultural tradition and religious doctrine. The message the audience was meant to be left with was that if total non-believers and Muslims can find common ground, then everyone in between should be able to.
Unsurprisingly, none of this worked. I saw first-hand that the fairy tale, mind-opening reaction that producers imagined was nowhere to be found. While mixed-race and interfaith couples often thanked me after my shows, many others let me know that I was one of the "good Muslims" whom they didn't have a problem with. I hadn't made them more empathetic to Muslims as a whole.
Still, "We're just like you!" comedy is so much of what I'm being asked to do these days. Television producers, publishers and those booking events for college campuses all seem to want something similar: a representative of an "everyday" Muslim (I still don't really know what that means) with an outlook relatable enough to get audiences to forget their bigotry. These pleas don't make me as sad as the ones that come from Muslim activists, who seem to be begging: Use your jokes to make us human; make us likeable; let us prove to people that we're just like them.
I do understand that comedy has some potential to open people's minds. But I've become convinced that the primary role of political humour today shouldn't be to alleviate tensions or smooth out differences.
It should be to heighten them and illuminate for everyone what is a moment of crisis. At the White House Correspondents' Dinner a week ago, (comedian) Hasan Minhaj showed us how funny and effective this can be. One highlight: "As a Muslim, I like to watch Fox News for the same reason I like to play Call Of Duty: Sometimes I like to turn my brain off and watch strangers insult my family and heritage."
On occasion, I find this tension-heightening exhausting. I find myself reaching instead for stories divorced from a social agenda. Like how, as an immigrant kid, bringing home an A-minus in algebra meant my dad would look down on me with all the folds of disappointment on his face, as if to say, "We did not escape a revolution and swim the Atlantic Ocean and kiss the feet of the Statue of Liberty for you to get an A-minus in algebra. Our people invented algebra! You infidel!"
And if I ever got an A-plus, he'd look just as disappointed and ask, "Why'd you take such an easy class?"
I love pretending to do extreme sports just so that I can tag myself as an "extreme Muslim" on Instagram. I get a kick out of using my story to stick it to Muslims who think they're the only ones getting Islam right. I enjoy perplexing people who wonder how I can identify as bisexual and be married to a straight cis-gender man, and how I can identify as Muslim while my husband is an atheist - and I eat pork. But I do this because these things are amusing to me, and because part of my job is exposing tensions and pointing out the absurd, not because I'm trying to change minds.
I'm remembering the kind of comedian I was before the "You could be exactly what the country needs right now" requests came rolling in.
I'm enjoying poking fun at myself and my idiosyncrasies - like the fact that my preferred method of self-care during stressful times is to watch the same five climate-change documentaries in a row - even when it may make my audience realise I have less in common with them than they thought.
In some ways, by rejecting the persistent call to deliver "We're just like you" comedy in Trump's America, I'm finally asserting my right to be "just like" any other comedian and, more important, just like myself.
http://www.straitstimes.com/opinion/its-not-this-muslim-comedians-job-to-open-your-mind
---------
US-born Muslim told 'I wish they didn't let you in'
May 08, 2017
A US woman has been filmed unleashing a xenophobic tirade at a Muslim shopper - despite the latter letting the woman in the checkout queue ahead of her.
In footage taken discretely by the Muslim lady at a Trader Joe's in Virginia, she can be heard telling the woman she wished she hadn't let her queue in front of her - to which she responds "I wish they didn't let you in the country".
The Muslim woman, who was wearing a niqab head covering at the time of the incident, then explains that she was born in the US - which seems to take her by surprise.
"Oh, you were? Okay," she says, seemingly unconvinced. "Obama's not in office anymore. We don't have a Muslim in there anymore."
The remark, while offensive, is also nonsensical, as former President Barack Obama has never practiced Islam and is known to be a Protestant Christian - though conspiracy theories abound about him being Muslim.
Nevertheless, the Muslim shopper responds by saying she wishes Mr Obama was still in the White House, rather than current President Donald Trump.
"Well, he's gone. He may be in jail too in the future," she said.
That sets the Muslim woman off, and her next comment she makes is filled with aggression.
"You look a little crazy, maybe you need to get some help," she said, to which the woman says she's fine - but the Muslim lady filming is having none of it, and rips into her for her racist remarks.
"No you're not, because you don't just strike up a conversation with people in line talking about stuff like that if you're normal."
Full report at:
http://www.newshub.co.nz/home/world/2017/05/us-born-muslim-told-i-wish-they-didn-t-let-you-in.html
---------
Ausralia
Australia's Prime Minister says Islamic State fighter's son can return
May 08, 2017
A 6-year-old Australian boy photographed making an Islamic State movement salute in front of a human body hanging from a cross somewhere in the Middle East was entitled to return to Australia with his siblings, Australia's prime minister said on Monday.
But such children who returned from the battlefields of Syria and Iraq would be subjected to "the closest attention" to ensure Australians were safe, Prime Minister Malcolm Turnbull said.
"We will be utterly resolute in keeping Australians safe, and that applies to anyone who returns from the conflict zone, whether they are an adult or a child," Turnbull told reporters.
Australian media on Sunday published the photograph posted on social media by Sydney-born convicted terrorist Khaled Sharrouf of his youngest child. The smiling boy holds up his right index finger in a salute in front of an apparently lifeless body suspended from a cross with plastic cable ties. A sign hanging from the body said the capital crime was collaborating with Christians.
Sharrouf's Muslim-convert wife Tara Nettleton took their five children from Sydney to Syria to join their father in February 2014.
Nettleton died of surgery complications in September last year, but her mother Karen Nettleton continues to lobby governments for help to bring the children home.
Turnbull criticized Sharrouf, 35, over the picture, saying such behaviour demonstrated why Australia is committed to destroying the Islamic State movement.
"The despicable conduct of Khaled Sharrouf in using his child to promote the barbaric, terrorist activities of the organization of which he is part, is almost beyond belief," Turnbull said.
"All of the children that are being exploited in this way, if they are Australian citizens, of course, would be able to return to Australia. But under the closest possible supervision," he added.
Australian Federal Police Commissioner Andrew Colvin said his officers were working with foreign partners toward prosecuting Sharrouf. The image of the child "says a lot more about Khaled Sharrouf than it does about his children," Colvin said.
Sharrouf horrified the world in 2014 when he posted on social media a photograph of another son clutching the severed head of a Syrian soldier.
Then-US Secretary of State John Kerry described that image as "one of the most disturbing, stomach-turning, grotesque photographs ever displayed."
The US State Department in January announced sanctions against two Australian militants, including Sharrouf.
Sharrouf was among nine Muslim men accused in 2007 of stockpiling bomb-making materials and plotting terrorist attacks in Sydney and Melbourne, Australia's largest cities.
He pleaded guilty to terrorism offenses in 2009 and served less than four years in prison.
http://www.hindustantimes.com/world-news/australia-s-prime-minister-says-islamic-state-fighter-s-son-can-return/story-C4vSGNHZDdnXC3uElPiThM.html
---------
URL: https://www.newageislam.com/islamic-world-news/macrons-election-gives-hope-french/d/111069
New Age Islam, Islam Online, Islamic Website, African Muslim News, Arab World News, South Asia News, Indian Muslim News, World Muslim News, Women in Islam, Islamic Feminism, Arab Women, Women In Arab, Islamophobia in America, Muslim Women in West, Islam Women and Feminism