New Age Islam News Bureau
16 March 2018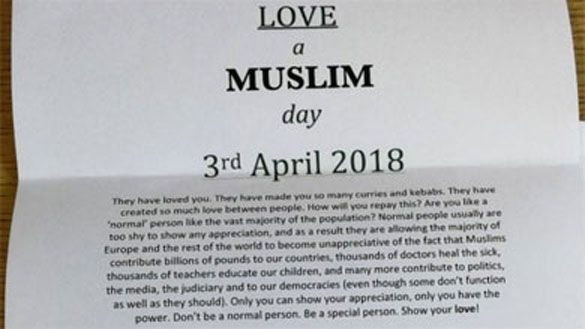 The letter, shared on social media, suggests kind acts including 'buy a Muslim coffee with cake'
----
• 'Love A Muslim Day' In Response to Hate Letter
• Saudi Crown Prince Hiding Mother from King Salman for 2 Years: Report
• Deputy PM Bozdağ: Updating Islam Does Not Mean Reformation
• Stop Muslims from Offering 'Namaz' At Disputed Sites: Shia Waqf Board's New Suggestion to AIMPLB
• Rwanda's Capital Bans Mosques from Using Loudspeakers during Muslim Call to Prayer
• Regional Racism: Sri Lanka and Myanmar Pursue Anti-Muslim Policy
Europe
• 'Love A Muslim Day' In Response to Hate Letter
• Muslims Lament Lack of Solidarity over German Mosque Attacks
• French 'Islamic State executioner' killed, say sources
• French 'Islamic State executioner' killed: sources
• French arrest warrant out for Saudi crown prince's sister
• Ukraine's anti-Russia symbol accused of terror plot
--------
Arab World
• Saudi Crown Prince Hiding Mother from King Salman for 2 Years: Report
• Saudi Arabia to Make Nuclear Bombs If Iran Does So: Crown Prince
• Thousands flee Ghouta rebel enclave as Syria army advances
• Syrian Army Reinvigorates Positions in Homs, Prepared for Imminent Assault on ISIL
• Red Cross aid convoy enters Syria's eastern Ghouta
• Turkey ramps up assault on Kurdish enclave in Syria
• Egypt's Sisi ready to join fight against militants
--------
Mideast
• Deputy PM Bozdağ: Updating Islam Does Not Mean Reformation
• West Hiding Truth about Human Rights in Iran: Iran Human Rights Official
• Israel strikes Hamas, Islamic Jihad positions in Gaza
• Turkey says army to take center of Syria's Afrin 'in very short time'
• Tens of Civilians Killed, Wounded in Turkish Army Offensives against Afrin
• UN gets $100m in new funds for Palestinian aid after US cuts
• Security Council voices concern over worsening humanitarian situation in Yemen
--------
India
• Stop Muslims from Offering 'Namaz' At Disputed Sites: Shia Waqf Board's New Suggestion to AIMPLB
• From Hyderabad to Kashmir: The Story of a Thief Turned Jihadi
• Terrorists holed up in Pulwama house after failed weapon-snatching bid: J&K Police
• 3 terrorists arrested with arms and ammunition in J&K
• J&K: Militants who attacked BJP minister reportedly killed; CRPF personnel injured in gun battle
• Telangana terrorist killed in J&K
• Gujarat HC Junks Plea against Dalit-Muslim Event
--------
Africa
• Rwanda's Capital Bans Mosques from Using Loudspeakers during Muslim Call to Prayer
• CAR: Central African Refugees Message to Peacekeepers - We Want Inclusion
• Armed militants kidnap Libya's military prosecutor
• Military, not Buhari responsible for herdsmen, Boko Haram menace – Afe Babalola
• Nigeria: Boko Haram Planning to Attack Maiduguri Using Car Bombs - Police
--------
South Asia
• Regional Racism: Sri Lanka and Myanmar Pursue Anti-Muslim Policy
• Myanmar Shuttling Buddhists to Repopulate Ex-Rohingya Area
• With Rohingya Gone, Myanmar's Ethnic Rakhine Seek Muslim-Free 'Buffer Zone'
• Afghan hostage shoots Taliban captors, killing seven
• US airstrike leaves 4 ISIS militants dead in Kunar province of Afghanistan
• Afghan Military deploy Special Forces and Warrior Choppers to Faryab
• How Khaleda Zia's arrest makes London the new headquarters of Bangladesh opposition
--------
Pakistan
• No Invite For Peace Conference: Taliban
• Hafiz Saeed's Mili Muslim League Set to Contest July Polls in Pakistan
• Pakistan Providing Secret Support to Taliban: US Army General Votel
• Minister recommends 'Tamgha-e-Azm' for personnel fighting terrorism
• Will Pak-Afghan NSAs meeting prove a diplomatic breakthrough?
• Taliban's silence on talks offer raises peace hopes
--------
Southeast Asia
• Indonesia Makes Criticising Politicians a Crime
• Phones, internet to shut down for Bali Hindu holiday
• Ahead of Polls, Malaysia's Najib Gives Cash to Staff of State-Linked Firm
--------
North America
• Trump Did Not Pressure Two Muslim Federal Judges To Resign, Contrary To Report
• Trump ready to host Crown Prince Mohammed bin Salman
• Money was meant for return to Canada, not to join Daesh, terror trial in Senegal hears
Compiled by New Age Islam News Bureau
URL: https://www.newageislam.com/islamic-world-news/love-muslim-day-response-hate/d/114617
--------
'Love A Muslim Day' In Response to Hate Letter
March 16, 2018
London - The man who created a 'Love a Muslim Day' list in response to letters promoting hateful acts hopes his idea will "bring people together", BBC reported the other day .
It was sparked by reports that 'Punish a Muslim Day' letters had been sent out in several cities, calling on people to verbally and physically attack Muslims. Four MPs from South Asian backgrounds have also received packages containing anti-Muslim letters in recent days. The response , listing acts of kindness, has been widely shared on social media.
Shahab Adris, from Leeds, said he was disgusted at the content of the widely-reported letter and had a "brainwave" on Saturday. "I thought, let's turn this letter on its head, keep the points system and turn it into something lovely," he said.
"Some of the responses I've seen from the Muslim community have been really positive, but the most remarkable thing has been getting responses from people who are not Muslim , saying they will do something with a Muslim colleague."
Mr Adris works for Muslim Engagement & Development, a national charity promoting political and social engagement and countering Islamophobia. His letter rewards an increasing number of points for actions including 'smile at a Muslim', 'buy a Muslim coffee with cake' and 'do a fundraiser for the needy'.
Mr Adris told BBC Radio Leeds: "As a Muslim , we're always wanting to bring people together and love everyone regardless of their background - it could be love a Jew day , love a Christian day , love an atheist day , love a human day ."
The move was backed by Labour MP for Colne Valley Thelma Walker, with others calling it a "perfect response to hate and bigotry".
An urgent question was raised in the House of Commons on Monday by Labour MP Yasmin Qureshi, giving details of the letters that were said to have been received in Bradford, Leicester, London, Cardiff and Sheffield.
Counter Terrorism Policing North East previously said it had received reports of "potentially malicious communications sent to individuals across the UK" and told anyone who had received one to contact their local police force.
https://nation.com.pk/16-Mar-2018/love-a-muslim-day-in-response-to-hate-letter
--------
Saudi Crown Prince Hiding Mother from King Salman for 2 Years: Report
Mar 15, 2018
Saudi Crown Prince Mohammad bin Salman has reportedly been hiding his mother from his father, King Salman, over the past two years, fearing she may seek to use her influence and throw a wrench into his rise to the kingdom's throne.
Citing 14 current and former senior American officials, NBC News reported Thursday that Bin Salman blocked his mother, Princess Fahda bin Falah al-Hathleen, two years ago from meeting his father, and has since kept her away from the king as he moves to consolidate his grip to power.
The officials were speaking on condition of anonymity due to the sensitive nature of the intelligence they shared with NBS News.
They said the 32-year old has been inventing different excuses to justify his mother's mysterious absence and keep her whereabouts secret. He has, on one occasion, told the king that she is abroad for medical treatment.
He kept his mother, King Salman's third wife, under house arrest at a place in Saudi Arabia for an unspecified period, the report added.
According to the report, Bin Salman believes his mother is not happy with how the king replaced the former crown prince, Muhammad bin Nayef bin Abdulaziz Al Saud, with his own favorite son in June 2017.
The report also cites a source close to the royal family as saying that Bin Salman and his mother had a falling out several years ago over her intention to empower the prince's other siblings.
The 82-year-old, the sources said, has told his associates that he misses his wife and apparently does not know her whereabouts or status.
Seen as the real power behind his father's throne, Bin Salman is in charge of a vast portfolio as defense minister, chief of the House of Saud's royal court and chairman of the Council for Economic and Development Affairs, which is tasked with overhauling the country's economy.
The young prince has launched a self-promoting campaign aimed at quelling opposition to his ascension to power.
To that effect, Bin Salman unleashed a crackdown against Saudi royals and businessmen under the guise of fighting corruption.
The campaign, which saw hundreds of high-profile figures detained and tortured, drew widespread criticism from leading rights groups.
The NBC News report could deal a heavy blow to the Saudi crown prince's image, who has tried to present himself as a "reformist" and a defender of women's rights by allowing them to drive and attend sports events.
The Saudi embassy in Washington denied that the princess is under any kind of house arrest or separation from her husband.
http://www.dailymail.co.uk/news/article-5504897/Saudi-Crown-Prince-HIDDEN-mother-King-Salman-2-years.html
--------
Deputy PM Bozdağ: Updating Islam does not mean reformation
Mar 16, 2018
Deputy Prime Minister and government spokesperson Bekir Bozdağ said Thursday that neither the Turkish government nor the Presidency of Religious Affairs (DİB) is trying to reform Islam.
Bozdağ said that DİB will take on a more active role to clear up the confusion caused by some clerics recently.
Speaking to the media in Ankara, alongside DİB President Professor Ali Erbaş, Bozdağ focused on the recent discussions on "updating Islam."
"Islam cannot be reformed and there is no one that can claim Islam needs reformation," he said. "All we are saying is that comments of some preachers that are not based on the primary sources of Islam, the Quran and Hadiths, may need to be updated."
Discussions about "updating Islam" started last week when President Recep Tayyip Erdoğan slammed some preachers, who justified violence against women and defended other forms of misogyny with false references to Islam.
"Recently, some people claiming to be clerics issued statements that are in contradiction to Islam. It is hard to understand. They have no place in our times. They don't know that Islam needs to be updated and is accordingly updated. You can't apply the practices of 15 centuries ago to today. Islam changes and adapts to the conditions of different ages. This is the beauty of Islam," Erdoğan said on March 8.
Deputy Prime Minister Bozdağ also said that they will invite all the religious opinion leaders in the coming days to explain their views and avoid misunderstanding about this issue.
Professor Erbaş, on the other hand, said that they are working to include more women in official positions and women clerics will take on more roles in the coming days.
Reminding of the recent appointment of Professor Huriye Martı as one of his deputies, the highest office ever held by a woman in the directorate, Erbaş said they will select and appoint female deputy muftis in all provinces across Turkey.
"We will select and appoint female deputy muftis in all our provinces as soon as possible," he said, adding that a consultation meeting under the title "Islam and Woman" will be held soon with women theologians.
Erbaş added that his directorate will take a more active role in exposing the real faces of terrorist organizations like the Gülenist Terror Group (FETÖ) and Daesh, which abuse religion.
"Some terrorist organizations like FETÖ and Daesh deceive our people by using Islam. We will organize various events across Turkey and will inform our people about the real faces of these terrorist organizations," he said.
https://www.dailysabah.com/turkey/2018/03/16/deputy-pm-bozdag-updating-islam-does-not-mean-reformation
--------
Stop Muslims from offering 'namaz' at disputed sites: Shia Waqf Board's new suggestion to AIMPLB
Mar 16, 2018
Lucknow: Dr Waseem Rizvi, the UP Shia Central Waqf Board (UPSCWB) chief, has now given a fresh suggestion to the All India Muslim Personal Board (AIMPLB) that Muslim community members should not offer 'namaz' at the disputed religious sites.
In a letter shot off to Maulana Rabe Hasan Nadvi, the AIMPLB chairman, Rizvi claimed that there are at least nine disputed religious places across the country - four in Uttar Pradesh, two in Gujarat, one each in West Bengal, Madhya Pradesh and Delhi.
He urged the board to stop Muslims from offering namaz at these sites since they are disputed.
Dr Rizvi said that there is enough historical evidence to prove that these mosques were constructed forcibly by the Muslim rulers on lands belonging to Hindu temples.
Dr Waseem Rizvi pointed out that Islamic laws do not allow construction of a mosque on a land grabbed by destroying other religious structures. "Prayers offered at such mosques are not accepted under Quran and Sharia," he added.
Rizvi had earlier stalked claim on the disputed land in Ayodhya and offered to surrender the same to Hindus.
The UPSCWB had claimed that several mosques in Mathura, Varanasi and other religious places were built by Muslim rules after destroying temples built there.
The Shia Board chief had urged the Board to surrender nine religious places to Hindus, including Ram Janambhoomi in Ayodhya.
They are Babri mosque in Ayodhya, Keshav Dev Temple in Mathura, Kashi Vishwanath Temple in Varanasi, Atal Dev temple in Jaunpur (All in Uttar Pradesh), Rudra Mahalaya temple in Batna Gujarat, Bhadrakali temple in Ahmedabad Gujarat, Adina Mosque in Pandua West Bengal, Vijaya temple Vidhisha Madhya Pradesh and Mosque Kuvutul Islam Qutub Minar Delhi, he said in his letter.
Significantly, Shia Board made this demand a day after the Art of Living Founder Sri Sri Ravi Shanker made a similar statement in Varanasi and Gorakhpur urging Muslims to hand over Babri mosque land to Hindus.
Sri Sri is mediating with litigants and religious heads of both communities to work out an out of court settlement to vexed land dispute, pending before the Supreme Court.
"Besides these nine mosques, there are scores of other mosques in the country which were built in a similar manner and should be handed over to Hindus as well," demanded Dr Rizvi.
"Will you approve offering of 'namaz' at a mosque which is built on the land of other religion?" Rizvi asked Maulana Nadvi, who is considered as one of the most eminent Islamic scholars in the country.
Earlier, Shia Board had submitted an agreement in the Supreme Court in which it had offered to surrender disputed land in Ayodhya to Hindus for the construction of Ram temple and shifting of the mosque to Hussainabad in Lucknow.
http://zeenews.india.com/uttar-pradesh/stop-muslims-from-offering-namaz-at-disputed-sites-shia-waqf-boards-new-suggestion-to-aimplb-2090287.html
--------
Rwanda's capital bans mosques from using loudspeakers during Muslim call to prayer
Shehab Khan
Mar 16, 2018
The Rwandan government has banned mosques from using loudspeakers during the call to prayer in the capital city Kigali.
The effort to reduce noise pollution is part of a programme of improvement called Kigali City 2040 to make it Africa's top business and tourism powerhouse within the next 22 years.
Reforms to education, business, immigration and the landscape of the city have already altered its appearance.
Many measures have been popular, but the ban on loudspeakers – accused of disturbing residents – has been more controversial.
Muslims have largely complied with the ban but have criticised the move, saying they could have just lowered the volume.
"I have found that they have begun to respect it and it has not stopped their followers from going to pray according to their praying time," Havuguziga Charles, a local official from Nyarugenge, told the BBC.
The efforts are not just focussed on the Muslim community. Last month around 700 churches were closed for failing to comply with building controls and for noise pollution.
The government continues its clampdown on what it deems to be substandard churches across the country citing preachers "deceiving their congregation with misleading sermons" as the primary reason, AFP reported.
The ultimate aim is to transform the country, with Kigali at its centre, into a knowledge-based middle-income country.
Technological advances remain central to the plans and the latest government project, launched in May 2016, has led to extensive fibre-optic infrastructure throughout the capital.
Public transport has also seen dramatic changes with wifi now available throughout the bus network. It is no surprise that the World Bank said Rwanda was the second easiest place on the continent to do business.
Thus far the environmental sustainability of the capital has been lauded as exemplary, with dramatic measures taken by an authoritarian government including a ban on plastic bags and mandatory community clean-ups.
Green funds have also been introduced to turn wetland into urban recreation and tourism parks.
http://www.independent.co.uk/news/world/africa/rwanda-kigali-mosque-loudspeaker-ban-muslim-call-prayer-capital-city-a8257541.html
--------
Regional racism: Sri Lanka and Myanmar pursue anti-Muslim policy
March 15, 2018
Dr Abdul Ruff
Sri Lanka, like Myanmar is now a criminal state targeting minority community by misusing the majority Singhalese criminal elements.
Though it condemns the planned attacks on Muslims and their properties, shops, restaurants, it is the state secret racist policy of Sri Lanka that emboldens the extremist criminal sections of majority Bushiest-Singhalese populations to keep harming the genuine interests of Muslims. The state terror operations in Myanmar also encourages Lankan regime to keep a blind eye on the crimes against Muslims. .
The funny attitude of leaders of Islamic world makes the things worse for Muslims in Myanmar and Sri Lanka, India etc.
Reports say the Sri Lankan PM R. Wickremesinghe has directed the police to take action against those involved in the recent spate of attacks against the Muslim community in the Buddhist-majority country, he knows that the extremist Singhalese are totally racist-fascist with media and government agencies fueling the anti-Muslim mindset to a very dangerous level. That is the deliberate double speaks of Lankan regime is responsible the state of affairs there.
Muslims, who account for around 9% of Sri Lanka's population of 21 million, have blamed the attacks on the Body Bala Sena, or Forces of Buddhist power, an organisation that says the spread of Islam threatens Buddhism as the dominant religion. The minority Muslim community has been complaining of increasing attacks against them. Since mid-April over 30 such incidents had been recorded.
State criminal intolerance
Courts, judiciary, police, media lords and even government officals "share" the logic of Singhalese fanatics to hate Muslims and Tamils. That makes a state policy against humanity.
Yes, it is not only Muslims and Tamils who are the target of Criminalized Buddhist Singhalese but all others are being targeted in Sri Lanka. But Tamils and Muslims are worst affected in the ethnic cleansing of Lanka.
The crime situation in Sri Lanka would never have escalated to such a point without the direct support of the government, which is principally inclined towards the Sinhalese as they are a crucial vote-bank. It is also rumoured that the president's brother Gotabaya Rajapaksa actively supports the BBS.
The police last week reportedly made three arrests after charges that they had turned a blind eye to the incidents purportedly carried out by the BBS. The BBS leader Galagodaatte Gnanasara remains at large despite a police hunt for his arrest over his responsibility to attacks against the Muslims. Recently, he had filed a petition in the Supreme Court to prevent his arrest. Gnanasara is facing contempt of court charges. His failure to attend court is currently being probed as he had cited medical reasons and death threats against him for his failure to attend court.
Last year there were numerous reported attacks by radical Buddhist groups on Christian places of worship, mosques, and even on Buddhists who spoke out against growing religious intolerance in the country. Organized mobs led by radical Buddhist monks also attacked the Assemblies of God Church and Calvary Free Church during Sunday worship services on January 12 in the coastal town of Hikkaduwa. A mob of over 200 men and women including 20 Buddhist monks entered the church while we were worshipping in the morning and damaged the building and destroyed equipment.
Bibles and hymn books were burnt. The group threw stones at the church and damaged the building. Police were unable to control the mob and asked us to leave the church immediately," he said, adding that damages had amounted to about US$6,400.
The attackers stormed in close to midnight, tearing through town with gasoline bombs and clubs before carting away piles of cash and jewelry they stole from Muslim families in this tiny corner of Sri Lanka. The onslaught incited by the Bodu Bala Sena, or Buddhist Power Force, a hard-line group that has gained thousands of followers in recent years, killed at least two Muslims and injured dozens more last month in the worst religious violence Sri Lanka has seen in decades.
Recently, Christians rallied in Colombo to protest against recent attacks on churches and mosques, and called on the Sri Lankan government to guarantee religious freedom for all minority religious communities in the country. "We plead for the freedoms enshrined in the constitution. The freedom of thought, conscience, religion and association should be available to all religious communities," said Anglican Bishop Dhiloraj R. Canagasabey of the Church of Ceylon, who addressed a gathering of more than 2,000 at the Cathedral of Christ the Living Savior in the capital. "We expect the rule of law to be upheld and worry about hate speech and hate mongering against non-majority faith communities," he said. "Christian communities face hardships in educating children in accordance with the tenants of their faith. Many children are compelled to study the majority Buddhist religion, a clear violation of our religious rights."
Christians make up 6.1 percent of Sri Lanka's population, while Muslims make up 9.7 percent, Hindus 12.6 percent and Buddhists 70.2 percent.
Muslims the prime target of Buddhist fanaticism
Sri Lanka perhaps is still deeply scarred by the 1983-2009 civil war between the Buddhist Sinhalese majority and ethnic Tamils, who are largely Hindus. But during the war, Buddhist-Muslim violence was relatively rare. The Singhalese monks leading Bodu Bala Sena have amassed a significant following in recent years, drawing thousands of followers. At raucous rallies, radical monks encourage violence against minorities and implore Sri Lankans to preserve the purity of the Buddhist majority.
Like politics, religion has also been criminalized by Singhalese religious politicians seeking wealth and power.
Muslims are their particular target for self advancement. In order to target Muslims for attacks, the members of the Bodu Bala Sena claim Muslims are out to recruit children and marry Buddhist women. They, like the RSS-BJP criminal duo does in India, even say Muslims are trying to take over the country by increasing their birthrate and secretly sterilizing Buddhists. Even as the country has seen rising instances of hate speech against Muslims and attacks on Muslim-owned businesses, there have been few attacks on people as well.
Rajapaksa's government turned a blind eye to the violence as a way to shore up its core constituency — the Sinhalese Buddhist population — which makes up about 75 percent of Sri Lanka's 20 million people. But the Sirisena government could have easily put down the majority Singhalese community's criminal networks that harm the nation by organized crimes. At the root of the failure of the government to check the violence is electoral politics. But unwillingness on the part of the regime to safeguard Muslims has made the life of Muslims terrible.
Foreign embassies and the U.N. also demanded action. The United States canceled a five-year, multiple-entry visa held by the BBS's general secretary, according to the group's chief executive, Dilanta Vithanage. But he is a "big hero" in Sri Lanka. All attacks by the BBS have gone unpunished and hard-line monks, for the most part, have acted without fear of any legal repercussions.
The Sirisena government is under fire, accused of failing to protect Sri Lanka's tiny Muslim minority and allowing radical Buddhists spewing illegal hate speech to operate with impunity for years.
The government let the Singhalese extremists grow into a monstrous fashion to shamelessly attack other communities exposing themselves as being anti-God and anti-Buddhists.
True believers in any religion won't behave like wild beasts. Without peacefully persuasive strength and with criminal aggressiveness a religion becomes mere nonsense.
Why the Lankan regime is so blind?
A government is duty bound to protect and help advance the genuine interests of every citizen without any animosity being shown against any sections of the society, particularly the minorities. However, most regimes misbehave with minority communities. Most governments pretend to be blind as minority people are being targeted by the majority community's extremist gangs. .
Like India, Sri Lanka also sought to be a big power after getting freedom from UK and they target the minority communities as a matter of revenge for the British era oppressive colonist policies against them.
Apparently, Myanmar, Lanka and India shamelessly have joint agenda against minority populations, particularly against Muslims. Time and again RSS gangs unleash violence on Indian Muslims especially in the north. They desecrate mosques, burn Holy Quran, residential, commercial and industrial units and turn Muslims into penniless. This has been common occurrences and were incidents when Muslim women were stripped naked, paraded in streets and video filmed. Culprits were rarely brought to book even under congress governments. This has been happening to Sri Lankan Muslims ever since violent attacks were unleashed under the defeated President Mahinda Rajapaksa.
The continued violence has raised fears that Sri Lanka could soon see echoes of Myanmar, where Buddhist monks helped incite violence in 2012 and 2013 in which Buddhist mobs slaughtered Rohingya Muslims. Still, many Sri Lankans and human rights workers are alarmed, saying the monks are creating communal divisions and giving Buddhism a bad name.
It is common knowledge that Galagoda Atte Gnanasara Thero, General Secretary of Bodu Bala Sena, a violent anti-Muslim outfit, flourished under Rajapaksa government. He is a man of violence and openly displays his hatred towards Muslims .There are numerous police cases against him. Yet he was seen meeting President Sirisena who promised the nation to bring such people to books. This was an insult to justice and Muslims.
The Singhalese hate politics and anti-Muslim attitude continued as the physical attacks on Muslims in Gintota, Ampara and areas in and around Digana, Teledeniya, Pallekelle, Akurana, Ambatenne and other places causing billions of rupees worth of destruction depriving livelihood of thousands of families who were forced to live in fear and misery.
Should a regime shield the criminal gangs belonging to the majority community?
Sri Lanka, like India and Myanmar, views Muslims as it enemy and not as a part of the new independent nation.
Poisonous nexus of regional and global networks
Nationalist Buddhist monks in Myanmar and Sri Lanka are playing a key role in instigating hatred and provoking violence towards the Muslim minorities in both countries, claiming that such action is necessary in order to protect Buddhist race and culture
More than 655,000 Rohingya have fled to Bangladesh. Medecins Sans Frontieres estimates that at least 6,700 Rohingya died violent deaths, most from gunshots. The racist Burmese government has shown no interest in reckoning with these atrocities. Lankan government shows it is working.
The Hindutva communal government in India, RSS – front BJP, whose PM Narendra Modi was the architect of the genocide of Gujarat Muslims in February 2002 which killed more than 2000 besides burning their properties. Even before this government came to power the Indian RSS established close ties with racist elements here. Thus one cannot rule out their role in the racist attacks on Muslims.
Tensions between Buddhists and Muslims in Myanmar have been high since violence broke out in the state of Rakhine in June 2012, displacing over 1.3 million people. At the time, Human Rights Watch documented the role of the clergy that led mobs of attackers. Deadly riots broke out between Buddhists and Muslims in southern Sri Lanka, killing and injuring the minority Muslims. Bodu Bala Sena (BBS, the Buddhist Strength Force), a nationalist Buddhist group with a notorious reputation, is being blamed for the incident. Galagodaatte Gnanasara Thera, the group's leader, gave a speech around the time of the riots in which he claimed that the Sinhalese Buddhist population was under serious threat from the Muslims. This instigated further violence by large mobs, which attacked mosques and burned down shops and houses in Muslim neighborhoods.
When Rajapaksa government established close ties with Israel many predicted that it is matter of time before Israel uses racist to unleash violence against the island's Muslims and destabilize the country. Today it appears that these fears have come true. President Sirisena and PM Wickremesinghe have opened the country to USA, Israel and India. The connecting bond among these three countries is their common hatred towards Islam and Muslims. Israel's global agenda has been to destroy Islam and slaughter Muslims as they had done, and still doing, in the Middle East
Sri Lanka has become a nation of corruption, crime and intolerance against humanity. Now the question is whether the Maithri-Ranil government has brought to the island the US-UK-Israel and Indian global anti-Muslim campaign.
As time went on the number of attacks on Muslim continue to increase while the government continued to turned blind eye. Muslims took up the matter with President Sirisena, PM Wickremesinghe and even the top policy authorities. Sirisena argues that it is Mahinda Rajapaksa's conspiracy to topple the government and he never uttered a word about enforcing law and order and punishes the majority culprits.
President Sirisena's government, true to its anti-Muslim ideology, has refused to condemn the recent genocide of Rohingya Muslims. Meanwhile there began sporadic attacks on Muslims and the perpetrators were not brought to justice.
Further, the Muslim hopes were dashed as Maithri-Ranil government dismissed their interests and sentiments from the very inception. Their reconciliation rhetoric was a mere stunt to protect and promote criminal Singhalese. The anti-Muslim policy of Sri Lanka endeared itself to western powers too. Sirisena visited Holocaust Museum during his visit to Germany dismissing the sentiments of Muslims. This was followed by the official invitation to British war criminal Tony Blair who, together with US war criminal George Bush, invaded Iraq and destroyed that country besides killing five percent of the Iraqi population.
This is the question arises in view of the refusal of President Maithripala Sirisena and PM Ranil Wickremesinghe to take timely precautionary measures to protect Muslims from the senseless attacks and the damage to the country by racist elements. The government has failed to ensure the security of Muslims and property in Digana and elsewhere even after it was evident that a communal riot was in the making.
Joint criminal exercises
Muslim communities make up about 10 per cent of the total population in Myanmar and Sri Lanka, both of which have a Buddhist majority. The communal clashes in Myanmar have been attributed to the 969 movement, an Islamophobic movement led by Monk Wirathu. Touted as the "Burmese Bin Laden", his hate-filled sermons have called for a boycott of Muslim businesses and have petitioned the government to introduce stricter inter-marriage laws.
These well-planned and executed carnages on the Muslims have all the hallmarks of Rastriya Seva Sangh (RSS) attacks in India since partition in 1947.
Many corporatist foreign governments still refuse to criticize racist crimes in Myanmar and Srilanka. The Australian government has resisted calls to punish the Lankan regime and sanction Burma's military for its ethnic cleansing campaign against Rohingya Muslims.
Many governments have condemned Burma for these atrocities at the United Nations Human Rights Council and General Assembly but have not condemned the Lankan government. .
Human Rights Watch interviewed Rohingya from the village who described in chilling detail how families sprinted to the beach as soldiers swarmed in, firing their weapons. Soldiers rounded up the men, shot and stabbed them to death, and burned the bodies in a massive bonfire on the beach. Soldiers then turned to the women and girls and beat, raped, slashed, burned and killed them.
One should not forget that Sri Lanka today is an active playground for super power politics in view of its strategic location and the ongoing super rivalry in the Indian Ocean. They are all busy manipulating to implement their agendas here often at the expense of the country.
The damage has already been done to Muslims and the island country as a whole. Anti-Muslim violence in Sri Lanka is on the rise and the government must take action before events spiral out of control. The state failure to hold to take action against these groups has only emboldened the Singhalese criminals further and plunged minorities in a deeper state of fear. This is not the first time such horrors have been visited upon the country's Muslim minority. This is not a dispute between Sinhalese and Muslims or Buddhism and Islam. This is sheer bankrupt racist politics.
End majority fanaticism and crimes
Experts reveal that the network of extremist Buddhists is growing across Asia as they collaborate in countries like Myanmar, Sri Lanka and Thailand. Encouraged by the anti-Islam war by USA and NATO, the extremist Buddhists in these countries see Islam as a global force that is backed by powerful countries and money and lot of powerful institutions and covert terrorist organisations.
Former Sri Lankan Ambassador to the UN Dayan Jayatilake insists that the government is not taking concrete measures to curb the activities of extremist Sinhalese Buddhists in the country. Any one of the minor episodes of violence could spiral out of control and that the country could have another cycle of violence.
Analysts are certain that profound damage has been done to relationships in the island nation and that tension will remain for a long time. A high powered task force on religious extremism and violence could help improve the situation only if that is allowed to act, while foreign governments, the UN and other influential international players should be making it very clear to the government of Sri Lanka that the situation cannot continue indefinitely
Still proper condemnation is not forthcoming, but condemnations alone are not enough to end crimes against Muslims. .
Has the collapsing Maithri-Ranil government joined the anti-Muslim United States, Israeli and Indian war mongers axis to implement their evil designs on innocent Muslims in the island?
Sick of this carnage more than 95 percent of Muslims voted for President Maithripala Sirisena who pledged to bring to book all criminals and those who caused communal disharmony. But Sirisena remains a mere Singhalese ruler who takes decision in consultation with former ruler Rajapaksha.
That is the tragedy of minorities of Sri Lanka as well as the nation.
Islam is the genuine religion that beings man closer to God not against any other religions and as such false fear of Islam and Islamophobia stunts only further vitiate the atmosphere to the benefits of anti-religious and essentially atheist criminal gangs and they must end for promoting peace.
Muslims are equal citizens of Myanmar, India and Sri Lanka and have all rights to protection of their property and lives and equal treatment under the law. The governments of these countries need to make that possible.
In the face of the recurring atrocities and denials, unequivocal action from concerned countries is needed. That means targeted sanctions against those responsible, including senior military commanders in charge of the ethnic cleansing campaign, to prevent them from traveling to capitalist countries like USA and Australia, and freezing any assets that they may have here.
Continued silence by UN veto members particularly Russia and China on the genocides of Muslims in these countries would make their self prestige high in any manner.
Unused diplomacy to stop crimes against humanity is as bad as motionless dead nations.
The UN and global governments need to send a strong message to racist and anti- Muslim countries like Myanmar Sri Lanka and India that its response to ethnic cleansing cannot be "business" as usual.
The international community should be saying to the governments of India, Burma and Sri Lanka that they should be trying to shut down the Hindutva and Buddhist terror links across the regional nations.
http://kashmirwatch.com/regional-racism-sri-lanka-myanmar-pursue-anti-muslim-policy/
--------
Europe
Muslims lament lack of solidarity over German mosque attacks
March 15, 2018
BERLIN — Muslim groups in Germany are asking for greater solidarity from officials and the general public over a series of attacks against mosques.
Several recent attacks on Turkish-backed mosques in Germany have been blamed on Kurdish groups angered by Turkey's offensive in northern Syria.
However, far-right extremists are suspected in many other attacks, including a threatening letter containing white powder that prompted the evacuation of the Central Council of Muslims' offices Wednesday.
Its chairman, Aiman Mazyek, told reporters in Berlin on Thursday that "if mosques in our country burn, then our country burns."
Zekeriya Altug, spokesman for the Coordination Council of Muslims in Germany, said "we miss clear sympathy from the public and politicians."
He urged the government to appoint a commissioner to tackle anti-Muslim sentiment like it has for anti-Semitism.
https://www.washingtonpost.com/?utm_term=.4aa0306ebd58
--------
French 'Islamic State executioner' killed, say sources
March 15, 2018
PARIS, March 15 — Maxime Hauchard, a French jihadist sought by French and US authorities since emerging in an Islamic State execution video in Syria, has been killed, sources close to the inquiry told AFP today.
"The date and circumstances of his death aren't yet known, but it appears he died in the summer of 2017," one of the sources said.
Hauchard, who grew up in a village in Normandy before converting from Catholicism to Islam, was just 22 when he was seen holding a knife to the neck of US aid worker Peter Kassig in a gruesome video from November 2014.
The video also showed the execution of 18 Syrians identified as military personnel.
France soon issued an international arrest warrant, and the US State Department added Hauchard to its black list of "specially designated global terrorists".
Investigators later found that Hauchard became radicalised online, joining jihadist forums under the moniker Abu Abdallah al Faransi ("the Frenchman").
He twice travelled to Mauritania between October 2012 and May 2013 for studies in Salafism, the highly conservative branch of Islam.
In August 2013 he left for Syria via Turkey, telling his family he wanted to "help the wounded" in the country's civil war, but in fact he was taken under the wing of IS recruiters.
"To show allegiance, you must first go to a training camp. The first stage lasts around a month. We do some training, we go on operations and after that we return to training. It's not just theory," he told a French TV station in July 2014.
A few months later IS released the video showing the execution of Kassig and the Syrian soldiers, in which Hauchard was shown with his face uncovered.
He emerged again in November 2015, a few days after the Paris terror attacks that killed 130 people, warning on Twitter: "Brazil, you're our next target," a reference to the 2016 Summer Olympics in Rio de Janeiro.
The French government says about 1,700 French nationals have left to fight alongside IS in Iraq and Syria since 2014.
More than 300 French jihadists, including 12 women, have been killed during the fight against IS in Iraq and Syria since then, while about 730 adults and 500 children are still there.
Full report at:
http://www.themalaymailonline.com/world/article/french-islamic-state-executioner-killed-say-sources#D1FXjQLAxLGYEf1f.97
--------
French 'Islamic State executioner' killed: sources
15 March 2018
Maxime Hauchard, a French jihadist sought by French and US authorities since appearing in an Islamic State execution video in Syria, has been killed, sources close to the inquiry told AFP on Thursday.
"The date and circumstances of his death aren't yet known, but it appears he died in the summer of 2017," one of the sources said.
Hauchard, who grew up in a village in Normandy before converting from Catholicism to Islam, was just 22 when he was seen holding a knife to the neck of US aid worker Peter Kassig in a gruesome video from November 2014.
The video also showed the execution of 18 Syrians identified as military personnel.
France soon issued an international arrest warrant, and the US State Department added Hauchard to its black list of "specially designated global terrorists."
Investigators later found that Hauchard became radicalized online, joining jihadist forums under the moniker Abu Abdullah al-Faransi ("the Frenchman").
He twice travelled to Mauritania between October 2012 and May 2013 for studies in Salafism, the radical branch of Islam.
In August 2013 he left for Syria via Turkey, telling his family he wanted to "help the wounded" in the country's civil war, but in fact he was taken under the wing of IS recruiters.
"To show allegiance, you must first go to a training camp. The first stage lasts around a month. We do some training, we go on operations and after that we return to training. It's not just theory," he told a French TV station in July 2014.
A few months later IS released the video showing the execution of Kassig and the Syrian soldiers, in which Hauchard was shown with his face uncovered.
He emerged again in November 2015, a few days after the Paris terror attacks that killed 130 people, warning on Twitter: "Brazil, you're our next target," a reference to the 2016 Summer Olympics in Rio de Janeiro.
The French government says about 1,700 French nationals have left to fight alongside IS in Iraq and Syria since 2014.
More than 300 French jihadists, including 12 women, have been killed during the fight against IS in Iraq and Syria since then, while about 730 adults and 500 children are still there.
Full report at:
https://www.timesofisrael.com/french-islamic-state-executioner-killed-sources/
--------
French arrest warrant out for Saudi crown prince's sister
March 16, 2018
PARIS - The sister of Saudi Crown Prince Mohammed bin Salman is the target of a French arrest warrant for allegedly ordering her bodyguard to beat up a worker at her Paris apartment, legal sources said Thursday.
The warrant against Princess Hassa bint Salman, issued in late December, follows an alleged assault at her apartment on the ultra-expensive Avenue Foch in west Paris in September 2016, sources close to the case told AFP.
The case could complicate Macron's efforts to build up a good relationship with Prince Mohammed, one of the most powerful leaders in the Middle East, who is due to visit Paris in the coming weeks.
The workman says he was hired to carry out some refurbishment at Princess Hassa's apartment and she became angry after he took a photograph of the room where the work was to be done.
He alleges the princess, said to be in her 40s, ordered the bodyguard to beat him, accusing him of taking pictures to sell to the media. Le Point magazine reported that the princess shouted, 'Kill him, the dog, he doesn't deserve to live."
The workman says he was punched in the face, his hands were tied and he was forced to kiss the princess's feet during an hours-long ordeal. His tools were confiscated before he was allowed to leave.
AFP reported at the time of the incident that his injuries were so severe that he was ordered off work for eight days.
The bodyguard was charged on October 1, 2016 with armed violence, theft, issuing death threats and holding someone against their will.
The Saudi information ministry did not respond to requests for comment on Thursday.
Macron held talks with the upstart Prince Mohammed in Riyadh in November and is keen to develop trade ties with the world's leading crude oil exporter.
Although dates for his trip to Paris have yet to be announced, he will most likely fly in some time after his visit next week to the United States.
Known by his initials MBS, 32-year-old Prince Mohammed has shaken up Saudi Arabia and the wider Middle East since he was elevated to crown prince last year.
He has added fuel to the Sunni kingdom's fierce rivalry with Shia Iran - going so far Thursday as to say that if Tehran developed a nuclear bomb, "we will follow suit as soon as possible".
And he displayed his clout back in November when he is widely believed to have pressured Lebanon's Prime Minister Saad Hariri into a shock resignation.
Macron waded into that crisis, inviting Hariri to Paris for talks. Hariri has since withdrawn his resignation.
Widely regarded as de facto leader under his 82-year-old father King Salman bin Abdulaziz Al Saud, Prince Mohammed has presented himself as a champion of 'moderate Islam'.
He has also spearheaded an anti-corruption campaign in which nearly 400 princes, ministers and business moguls were locked up in a deluxe Riyadh hotel and assets worth tens of billions of dollars confiscated.
But his country's involvement in the war in Yemen has earned heavy criticism in the West, with Macron urging the Saudi king in December to lift a blockade that has strangled supplied to civilians.
His sister Princess Hassa keeps a relatively low profile, but she is lionised in the Saudi media for her charity work and women's rights campaigning.
Her arrest warrant is not the first time Saudi royalty have had a brush with the law in France.
Full report at:
https://nation.com.pk/16-Mar-2018/french-arrest-warrant-out-for-saudi-crown-prince-s-sister
--------
Ukraine's anti-Russia symbol accused of terror plot
Mar 15, 2018
Nadiya Savchenko, a Ukrainian lawmaker once hailed as a hero and a symbol of resistance against Russia, has been accused of plotting a terrorist attack against the Kiev parliament, authorities said Thursday.
Ukraine's General Prosecutor Yury Lutsenko told lawmakers in parliament that the investigation had "indisputable evidence" that Savchenko planned a "terror attack" on parliament.
Lutsenko claimed Savchenko had been plotting to destroy the chamber with grenades and mortar launchers and "finish off the survivors with automatic rifles."
He offered no evidence, however.
In 2014, the 36-year-old former combat pilot was captured while fighting against Kremlin-backed separatists in eastern Ukraine and found guilty of involvement in the killing of two Russian journalists in eastern Ukraine.
She spent around two years in a Russian prison and became a symbol of Ukraine's resistance, launching several hunger strikes.
Savchenko returned to a hero's welcome to Kiev in May, 2016 as part of a prisoner swap with Russia.
But her political star has faded since her return to Kiev where she became a lawmaker for former prime minister Yulia Tymoshenko's political party.
She has regularly stirred controversy and contradicted President Petro Poroshenko's policies by supporting direct talks with pro-Kremlin separatists and visiting rebel-held territory.
Full report at:
http://www.presstv.com/Detail/2018/03/15/555543/Ukraine-Parliament-Terror-Attack
--------
Arab World
Saudi Arabia to make nuclear bombs if Iran does so: Crown prince
Mar 15, 2018
The Saudi crown prince, who is in Washington to push for an atomic deal with the United States that could pave the way for the Saudi regime to enrich uranium, says Riyadh will be quick to develop nuclear bombs if Iran does so.
"Saudi Arabia does not want to acquire any nuclear bomb, but without a doubt if Iran developed a nuclear bomb, we will follow suit as soon as possible," Mohammad bin Salman told CBS in an interview that will be aired on Sunday.
In another part of his interview, Bin Salman claimed that "Iran is not a rival to Saudi Arabia. Its army is not among the top five armies in the Muslim world. The Saudi economy is larger than the Iranian economy. Iran is far from being equal to Saudi Arabia."
The White House is set to host the heir to the Saudi throne on March 20.
Earlier this month, high-level Saudi and US officials resumed talks on a lucrative deal for the construction of 16 nuclear reactors in the kingdom over the next 20 to 25 years at a cost of more than $80 billion.
Those talks were frozen under the former American administration over Riyadh's refusal to accept Washington's non-proliferation "gold standard" for civil nuclear cooperation deals.
The standard prohibits the recipient of the nuclear technology from enriching uranium and reprocessing plutonium, which could be used to produce fuel for nuclear weapons.
However, the new US administration is reportedly considering giving in to Riyadh's insistence on bypassing the standard in order to prevent potential contractors from rival countries, including Russia and China, from winning the profitable deal.
Prior to Bin Salman's trip to the US, the Saudi cabinet adopted a national policy for a "peaceful" nuclear program.
Bin Salman's comments come amid warnings that Riyadh's refusal to accept restrictions on uranium enrichment and plutonium extraction means it seeks to keep a nuclear weapons option open.
Many experts have also raised concerns over the potential threats posed by a nuclear Saudi Arabia.
On March 1, the Foreign Policy magazine published a piece, in which it enumerated many reasons why Saudi Arabia should not be given an easy path to nukes.
"Saudi Arabia is neither a stable state nor a benign actor in the Middle East that deserves US coddling," said the piece, warning Washington against standing by Riyadh in its deadly war on Yemen and zeal for confronting Iran.
In an opinion peace in February, the New York Times said signs are growing that the "Saudis want the option of building nuclear weapons to hedge against their archrival, Iran."
Saudi Arabia is a staunch opponent of Iran's 2015 nuclear deal with six world powers, including the US, which puts certain limits on Tehran's nuclear program in exchange for the lifting of the nuclear-related sanctions on the Islamic Republic.
Despite US attempts to kill the deal, the document, officially called the Joint Comprehensive Plan of Action, has been hailed globally as a diplomatic win and testimony to the country's peaceful nuclear activities.
Iran, as a victim of weapons of mass destruction, has repeatedly said it is not after developing such arms. Leader of the Islamic Revolution Ayatollah Seyyed Ali Khamenei has also issued a fatwa (religious decree) against the acquisition, development and use of nuclear weapons.
http://www.presstv.com/Detail/2018/03/15/555550/Saudi-Iran-bin-Salman
--------
Thousands flee Ghouta rebel enclave as Syria army advances
March 16, 2018
ADRA, Syria - Thousands of civilians poured out of Eastern Ghouta on Thursday as the capture of a key town brought Syria's government even closer to retaking the devastated rebel enclave outside Damascus.
Defying expectations and calls to step down, Syria's President Bashar al-Assad was strengthening his grip on power Thursday as the conflict entered its eighth year.
His troops gained new ground in their ferocious assault against Eastern Ghouta , once the opposition's main bastion on the outskirts of the capital.
Regime forces now control 70 percent of the area, a war monitor said, and have split the remaining rebel territory into three shrinking pockets.
After a fierce air and ground assault, regime forces on Thursday captured Hammuriyeh, a town in an isolated southern zone of Ghouta .
The Syrian Observatory for Human Rights, a Britain-based monitor, said Hammuriyeh fell to regime forces after fighters from the Faylaq al-Rahman rebel faction withdrew.
The regime's advance into Hammuriyeh overnight had opened up a corridor through the town into government-controlled territory.
Streams of women and children escaped through that corridor on Thursday, carrying plastic bags stuffed with clothes and pushing strollers piled high with suitcases and rugs.
They reached a regime-held checkpoint in the region of Adra, where ambulances and a group of large green buses were waiting to take them to temporary shelters.
'Largest displacement'
The Observatory said more than 12,000 people fled the enclave on Thursday in "the largest displacement since the beginning of the assault on Ghouta ."
The Russian military, which has backed the offensive on the rebel enclave , said as many as 13,000 people could leave Ghouta by the end of the day.
Eastern Ghouta had been the main rebel bastion on the outskirts of Damascus since 2012 and came under a devastating regime siege the following year.
That left the area's roughly 400,000 residents struggling to secure food and hospitals crippled by shortages of medicine and equipment.
On Thursday, a joint convoy of food supplies for some 26,000 people entered Douma, the largest town in Ghouta and part of a separate rebel-controlled pocket.
"This is just a little of what these families need," said the International Committee of the Red Cross, which was carrying out the delivery alongside the Syrian Arab Red Crescent and the United Nations.
ICRC President Peter Maurer was present with the convoy, the first time he had accompanied such an operation.
Twenty-five trucks were delivering food parcels and flour bags to hunger-stricken residents in Douma when mortar rounds hit nearby. Aid workers were sent scrambling for cover, an AFP correspondent said, but were able to resume delivery shortly afterwards. UN probe accuses Syrian troops of 'systematic' rape
Syrian troops and government-linked militia have systematically used rape and sexual violence against civilians, atrocities that amount to crimes against humanity, a UN-backed inquiry said Thursday.
Rebel fighters have committed similar violations, amounting to war crimes, but at a rate "considerably less common than rape by government forces and associated militia", the Independent International Commission of Inquiry for Syria (COI) said in a new report.
The findings, submitted to the United Nations Human Rights Council, are based on 454 interviews with sources that include survivors, eye witnesses and medical workers. The Damascus government has never granted COI investigators access to Syria.
Overall, the report adds to the overwhelming accounts of hellish suffering endured by Syrian civilians during the conflict that has claimed more than 350,000 lives as it enters its eighth year.
A woman from Syria's third city of Homs told COI investigators that in 2012 "government forces entered her home and raped her daughter in front of her and her husband before shooting the daughter and the father", the report said.
"The mother was then raped by two soldiers," it added, in one of many examples of extreme violence.
Checkpoints controlled by the government or its allies, as well as detention centres, were identified as a main areas where sexual violence was perpetrated.
The COI notes that government troops detained "thousands of women and girls" from 2011 to the end of 2017, the period covered in the report.
Turkey says will take Afrin centre in 'very short time'
Turkey on Thursday said it would oust Kurdish militia from the centre of Afrin in northern Syria "in a very short time", as pro-Ankara forces surrounded the city.
Ankara on January 20 launched a military operation supporting Syrian rebels against the Syrian Kurdish People's Protection Units (YPG) militia in its enclave of Afrin.
Turkey says the YPG is a "terrorist" offshoot of the outlawed Kurdistan Workers' Party (PKK), which has been waging an insurgency inside Turkey since 1984.
"The circle is closing in around the terrorists. We anticipate that the centre of Afrin will be cleared of terrorists in a very short time, God willing in the coming days," Turkish presidential spokesman Ibrahim Kalin said.
The rebels and Turkish troops closed in on the main city on Wednesday.
Kalin told state broadcaster TRT in an interview that the offensive, dubbed operation Olive Branch, had secured 70 percent of the territory of Afrin district.
The US, which has worked closely with the YPG in the fight against militants, has urged restraint and the operation has increased tension between Turkey and its NATO ally.
But following a visit by US Secretary of State Rex Tillerson last month, the two countries said they would work together to solve a dispute over the control of the YPG-held Syrian town of Manbij.
Turkey has repeatedly warned it could extend its Afrin operation to Manbij, where the US military has a presence, and even further beyond that towards the Iraqi border.
Full report at:
https://nation.com.pk/16-Mar-2018/thousands-flee-ghouta-rebel-enclave-as-syria-army-advances
--------
Syrian Army Reinvigorates Positions in Homs, Prepared for Imminent Assault on ISIL
Mar 15, 2018
The Arabic-language al-Watan newspaper quoted a military source as saying on Thursday that the army units have strengthened their positions in regions near al-Mohseh mountains and al-Baredah hills as well as East of the town of al-Quayratayn in Badiyeh (desert) region South-West of Homs province.
The report added that the Syrian army seeks to prevent ISIL's possible attacks against the region and use the reinvigorated positions to launch purging operations in areas still under the ISIL occupation towards the al-Tanf border passageway.
Meanwhile, the Syrian army units engaged in heavy clashes with the ISIL in regions near al-Mohseh in Southeastern Homs.
The Syrian fighter jets pounded the ISIL positions and moves in areas of clashes and near al-Hayl oilfield and al-Mo'ezileh region and East of Hamimeh region, killing and wounding a number of terrorists and destroying their military equipment.
Field sources reported last Saturday that the Syrian army has dispatched a large number of forces and military hardware to Badiyeh of Homs to reinvigorate security of its key positions amid reports on the deployment of more US forces in al-Tanf base in Southeastern Homs.
The sources said that the army has forwarded more troops and equipment from Palmyra (Tadmur) city towards Southern Badiyeh of Homs and near the town of al-Quaryatayn.
The sources further said that the army intends to create a strong security belt around al-Quaryatayn, Hawarin and the Mahin strategic region.
The sources added that the army has widened the buffer zone around al-Quaryatan to 80 km in the Eastern and Southern directions to prevent infiltration of terrorist groups in the region.
Full report at:
http://en.farsnews.com/newstext.aspx?nn=13961224000730
--------
Red Cross aid convoy enters Syria's eastern Ghouta
15 March 2018
The International Committee of the Red Cross (ICRC) said 25 aid trucks have entered Syria's besieged eastern Ghouta on Thursday.
ICRC spokeswoman Iolanda Jaquemet said the convoy, which were waiting at the al-Wafideen crossing into the rebel-held enclave's northern pocket, contained enough food aid for 26,100 people for one month, among other items.
What was the Syrian opposition's largest piece of territory near the capital Damascus has now been split into three encircled pockets by a government offensive that began nearly a month ago.
The aid convoy will head for the town of Douma in the northern pocket, controlled by rebel faction Jaish al-Islam.
It contains 5,220 ICRC food parcels and 5,220 World Food Programme flour bags, Jaquemet said. A parcel can feed a family of five for one month.
Russia said it expected at least 100 civilians to leave eastern Ghouta, where it daily declares a five-hour ceasefire, on Thursday, Interfax news agency reported.
This would be the third successive day on which small groups of civilians have left.
Citing the Centre for Reconciliation in Syria, a body run by Russia's defense ministry, Interfax said eastern Ghouta would receive 137 tons of food as humanitarian aid.
The Syrian Observatory for Human Rights said overnight dozens of air strikes hit the southern pocket of eastern Ghouta, controlled by another rebel faction.
Moscow and Damascus say their forces only target armed militants and seek to stop mortar attacks by insurgents that
Full report at:
https://english.alarabiya.net/en/News/middle-east/2018/03/15/Red-Cross-aid-convoy-enters-Syria-s-eastern-Ghouta.html
--------
Turkey ramps up assault on Kurdish enclave in Syria
15 March 2018
Turkey turned up the heat on Syria's Afrin on Wednesday, as pro-Ankara forces bombarded the Kurdish enclave and closed in on its main city.
The development -- which could redraw the map of northern Syria as the conflict enters its eighth year -- came as Russian-backed regime forces pounded shrinking rebel pockets in Eastern Ghouta near Damascus, killing 31 civilians.
Turkish-led bombardment killed 10 civilians in Afrin city, which lies in the heart of a Kurdish-majority enclave against which neighbouring Turkey launched a deadly ground and air offensive on January 20.
Afrin's encirclement "will have been completed by the evening", a Turkish presidency source said Wednesday, toning down President Recep Tayyip Erdogan's earlier statement saying it would fall by evening.
Before the retraction, Erdogan had told supporters in Ankara he hoped "Afrin will, God willing, have completely fallen by the evening."
A top official in the Kurdish People's Protection Units (YPG), which controls Afrin, laughed off the claim.
"It sounds like Turkish President Recep Tayyip Erdogan is daydreaming when he says Afrin will fall tonight," Redur Khalil told AFP.
Turkish and allied forces have almost encircled Afrin city, from which thousands started fleeing when it became apparent Ankara's goal was nothing short of full capture.
Strike on regime loyalists
On Wednesday, Turkish bombing raids killed 10 fighters loyal to the regime, which last month deployed pro-government forces after the Kurds asked for help.
"The air strikes targeted a checkpoint on the only road leading from Afrin to regime-controlled territory to the southeast," said the Britain-based Syrian Observatory for Human Rights.
Displaced families have swelled the city's population to around 350,000, and officials feared a humanitarian crisis should Turkish forces draw closer.
Shells rained down on Afrin city on Wednesday, killing 10 civilians including four children.
Earlier, dozens of desperate residents were seen lining up outside a bakery distributing free bread.
"Regardless of who will win in the end, as soon as the battle for this small pocket begins, it will mean a massacre against civilians," said YPG media adviser Rezan Hedo.
The Observatory said on Wednesday that Turkey-led forces controlled 70 percent of the wider Kurdish enclave, after seizing several villages.
On the outskirts of Damascus, hundreds of kilometers (miles) south of Afrin, another humanitarian emergency was unfolding in Eastern Ghouta.
For nearly a month, Moscow-backed Syrian government forces and allied militia have waged a devastating air and ground assault that has killed more than 1,220 civilians.
The United Nations has called for urgent medical evacuations for more than 1,000 people who desperately need medical treatment outside the besieged area.
A trickle of evacuations from Ghouta's largest town Douma began Tuesday under a deal with rebels, and more patients were allowed out Wednesday.
Dozens awaiting evacuation gathered at a Red Crescent center in Douma on Wednesday morning, an AFP correspondent reported.
They crowded around buses and ambulances, with Syrian Arab Red Crescent members checking names on a list.
Among them, 18-year-old Omran stood leaning on crutches. Badly wounded two years ago in bombardment on Ghouta, he was missing his left leg, right arm, and left eye.
Red Crescent workers carefully carried a wincing young girl from her wheelchair into an ambulance. On a nearby bus an elderly man clutched his belongings and appeared to be praying under his breath.
"We haven't been able to treat some of these cases for more than a year," said Mohammed al-Marhum, a doctor.
The patients were transported to the government-controlled Wafideen checkpoint on the edges of Ghouta.
An AFP correspondent at Wafideen saw around two dozen civilians arrive, including a wheelchair-bound man being helped by Red Crescent volunteers.
The Jaish al-Islam rebel group that controls Douma said around 35 sick and wounded were to be evacuated Wednesday, along with their companions.
The Observatory said more than 220 people including 60 patients had left the rebel enclave in two days of evacuations.
Deadly raids on Ghouta
The UN Security Council demanded a 30-day truce last month to allow for aid deliveries and medical evacuations from Ghouta. Such evacuations in Syria typically see people taken out of a besieged area for care, and then transported back in after treatment. The Syrian government's assault on Ghouta has split the enclave into three sections, each controlled by different rebels.
The regime has reportedly been pursuing separate tracks of negotiations to secure local truces or evacuations from each zone.
The International Committee of the Red Cross said any evacuations must be carried out "humanely". It said evacuees should be allowed freedom of movement, access to medical care, and a safe return to their homes.
The Russian military said the situation in Douma had "significantly stabilized" and an aid convoy of 20 vehicles was planned to enter the enclave on Thursday.
Fresh regime and Russian bombardment o Wednesday killed at least 31 civilians in an isolated southern zone of Ghouta, the Observatory said.
State news agency SANA said five civilians died of their wounds after shelling on Damascus.
Moscow's strikes also killed a dozen rebels from the Faylaq al-Rahman faction controlling the area, including two top commanders, the monitor said.
Full report at:
https://english.alarabiya.net/en/News/middle-east/2018/03/15/Turkey-ramps-up-assault-on-Kurdish-enclave-in-Syria.html
--------
Egypt's Sisi ready to join fight against militants
Mar 15, 2018
With less than two weeks before elections, Egypt's president says he is prepared to personally join the army and police battling militants in Sinai, vowing he and his security forces would prosecute the fight until the end.
"I swear by God that I am ready to don combat fatigues and fight side by side" with the security forces, said Abdel-Fattah el-Sisi, a general-turned-president. "We either live together, or die together."
The outcome of the March 26-28 election is a foregone conclusion, with Sisi running virtually unopposed. His only challenger is a little-known politician who supports him.
With a landslide win beyond doubt, he and his supporters are urging voters to come out and cast their ballots since a high turnout will accord the vote legitimacy.
Sisi also said he would rather win a third of the vote if the turnout was good than every vote with a low turnout. A good turnout, he said in comments made Wednesday, would contribute to the reinforcement of Egypt's stability and freedom.
Sisi has yet to do any traditional campaigning, such as addressing rallies or appearing in TV ads, apparently opting instead for nationally televised appearances in which he is presiding over official functions.
Egypt's security forces last month launched an all-out offensive against militants, deploying tens of thousands of troops and police backed by fighter-jets, helicopter gunships, navy vessels and tanks in Sinai and in the western desert along the border with Libya.
Full report at:
http://www.presstv.com/Detail/2018/03/15/555579/Egypt-President-Militants
--------
Mideast
West hiding truth about human rights in Iran: Iran human rights official
Mar 15, 2018
The Western media never let the truth of the human rights situation in Iran be known, says the head of Iran's High Council for Human Rights.
Mohammad Javad Larijani, who is in Geneva to attend the 37th Session of the UN Human Rights Council, told Press TV on Thursday that media reports about human rights issues in Iran, from capital punishment to handling of protests, have always been negative and seldom rooted in reality.
"Every day there are, I should say, hundreds of gatherings in Iran," he said. "If it is within the institutions specially universities, mosques and other places, the regulation is simple: they should be given permission by the administration of those places."
As for public protests, Larijani said, the government usually allows such protests to freely take place unless there is a chance that they would turn violent.
"There is plenty [of protests] that are not covered by the Western media but those which get violent… yes, it is the obligation of the government to fight violence," he said, referring to sporadic illegal protests that took place in some Iranian towns last year.
The violent protests, that saw some individuals vandalize public properties and target security forces and public service workers, received widespread coverage in Western media and prompted direct support from US President Donald Trump and heads of a handful of other Western countries.
Iranian security forces let the protests continue for several days but eventually intervened once they get violent.
"Those who incite violence they should be pursued by the law," Larijani said.
Larijani said the West only cares for protests that fit into its own agenda and does not, for example, cover protests by Iranian women against the way they are depicted in the Western media.
Asked about Iran's practice of capital punishment and claims by the UN that the Islamic Republic issues death sentences for persons under 18, Larijani said the issue can be discussed in two levels.
First, he said, it was "philosophically unwarranted" to discuss a complete end to the death penalty and, instead, a rational approach would be to limit it to a certain number of "high crimes" that threatened the society.
"Ninety percent of the death penalties in Iran are stemming from narcotics-related crimes," Larijani said.
He noted that his organization worked five years with the Iranian parliament and other government and judicial institutions to review the laws and make them more efficient in this regard.
On the issue of death penalty for juveniles, Larijani said the judicial system in Iran never gives people under 18 death penalties unless the judge determines that the suspect is "susceptible to carrying the responsibility of his action."
UN Secretary General Antonio Guterres is scheduled to present a new report about Iran at the 37th session of the UN Human Rights Council, which began on February 26 and lasts until March 23.
Tehran has already blasted the report as "flawed both in nature and approach."
http://www.presstv.com/Detail/2018/03/15/555574/iran-human-rights-larijani-un
--------
Israel strikes Hamas, Islamic Jihad positions in Gaza
15.03.2018
Israeli warplanes and artillery struck a number of Hamas observation posts in the northern Gaza Strip on Thursday morning.
According to Anadolu Agency correspondents based in the area, Israeli artillery batteries deployed east of the strip's town of Jabalia targeted several Hamas-linked observation posts situated near the Gaza-Israel border.
The observation posts were also targeted from the air by Israeli warplanes and unmanned aerial drones, correspondents said.
The attacks caused limited damage, they added, although no injuries were reported.
According to Israeli army spokesman Avichay Adraee, the strikes came in response to a series of blasts that occurred along the Gaza-Israel border earlier Thursday.
"A short while ago, several improvised explosive devices were detonated along the [border] security fence in the northern Gaza Strip without causing injuries," Adraee tweeted.
The army had responded, he added, by shelling positions associated with Gaza-based resistance factions Hamas and Islamic Jihad.
He did not provide further details.
Hamas, which remains in de facto control of the blockaded Gaza Strip, has yet to comment on the developments.
In 2014, Israel waged a devastating 51-day military onslaught on the Gaza Strip in which more than 2,300 Palestinians were killed -- the vast majority of them civilians -- and tens of thousands injured.
Full report at:
https://aa.com.tr/en/middle-east/israel-strikes-hamas-islamic-jihad-positions-in-gaza/1089483
--------
Turkey says army to take center of Syria's Afrin 'in very short time'
Mar 15, 2018
Turkey says its military will take the center of Syria's Afrin "in a very short time" and oust Kurdish militants from the region, amid Ankara's ongoing cross-border offensive into the Arab country in a declared bid to eliminate the US-backed Kurdish People's Protection Units (YPG) and other militant outfits in northwestern Syria.
"The circle is closing in around the terrorists. We anticipate that the center of Afrin will be cleared of terrorists in a very short time, God willing in the coming days," said Turkish presidential spokesman Ibrahim Kalin on Thursday, a day after Turkish troops and allied militants from the so-called Free Syrian Army (FSA) closed in on the flashpoint city.
Ankara waged the so-called Operation Olive Branch against the YPG in the volatile region of Afrin in January 20, and has said that the full-scale offensive could extend to Manbij and beyond.
The military intervention came after the US said it would set up a 30,000-strong militant border force at Turkish doorstep. Ankara is wary of the presence of Kurdish militants close to its borders in Syria, and has been opposed to Washington's efforts to train and arm them in the Arab country.
The Turkish government views the YPG as the Syrian branch of the Kurdistan Workers' Party (PKK) "terrorist" group that has been fighting for an autonomous region inside Turkey since 1984. Ankara has said that the operation would also target the Syrian Kurdish Democratic Union Party (PYD), the YPG's political wing and the remnants of the Daesh Takfiri terrorist group.
Kalin, speaking during a live interview on Turkish state television TRT, said that the offensive had secured 70 percent of the territory of Afrin district.
Turkish President Recep Tayyip Erdogan stated on March 9 that 3,171 YPG militants had been "neutralized" since the beginning of the operation. Turkish authorities often use the word "neutralized" to imply the terrorists in question either surrendered or were killed or captured.
The Syrian government has already condemned the Turkish offensive against Afrin, rejecting Ankara's claim about having informed Damascus of the operation.
"Operation Olive Branch" is Turkey's second major military intervention in Syria during the unprecedented foreign-backed militancy that broke out in 2011.
In August 2016, Turkey began a unilateral military intervention in northern Syria, code-named Operation Euphrates Shield, sending tanks and warplanes across the border. Ankara claimed that its military campaign was aimed at pushing the Daesh Takfiri terrorist group from Turkey's border with Syria and stopping the advance of Kurdish militants, who were themselves fighting Daesh.
Full report at:
http://www.presstv.com/Detail/2018/03/15/555546/Turkey-Syria-Afrin-YPG-PKK-PYD-Erdogan
--------
Tens of Civilians Killed, Wounded in Turkish Army Offensives against Afrin
Mar 15, 2018
Local sources in Afrin reported on Thursday that the Turkish army and its affiliated militants targeted several vehicles carrying civilians on the road to the village of Ba'adina in Ma'abatli in Afrin, killing at least 9 civilians and injuring several others.
Reports also said that the Turkish army airstrikes and artillery attacks against Afrin killed 7 civilians, including children, and wounded 25 others.
In a relevant development on Tuesday, Kurdish media outlets reported that tens of Turkish army soldiers and Ankara-backed militants have been killed as their comrades are inching closer to Afrin among intensified clashes.
Hawar News reported that during the Tuesday clashes between the Turkish army and the Kurdish militias in Shieh, Jandriseh, Mabata, Belbeleh, Rajou and Shara 25 Turkish army troops and 46 of their allied forces were killed and one of their armored vehicles was also seized.
Full report at:
http://en.farsnews.com/newstext.aspx?nn=13961224000579
--------
UN gets $100m in new funds for Palestinian aid after US cuts
15 March 2018
The United Nations received pledges on Thursday of nearly $100 million in new funding for the UN relief agency for Palestinians after the US slashed its aid, but it is still facing a nearly $350 million shortfall this year.
UN officials said the countries providing the new financing included Qatar, Canada, Switzerland, Turkey, New Zealand, Norway, Korea, Mexico, Slovakia, India and France.
UN Secretary-General Antonio Guterres said "an important first step was reached" at an emergency donor conference in Rome with the new pledges. But he said "a long way is in front of us" to fully fund the agency, which went into the conference facing a $446 million gap in financing this year - the worst funding crisis in its 68-year history.
"If UNRWA would not exist, if these services were not provided, the security of region would be severely undermined," Guterres told reporters at the conference's conclusion. "Now it is very clear, it is absolutely essential, that the extraordinary unanimity in political support to UNRWA and its activities translates itself into cash."
The agency, the oldest and largest UN relief program in the Middle East, provides health care, education and social services to an estimated 5 million Palestinians in the West Bank, Gaza Strip, Jordan, Syria and Lebanon. They are the refugees or descendants of the hundreds of thousands of Palestinians who either fled or were forced from their homes during the war that led to Israel"s establishment in 1948.
Guterres told the conference that cutting sanitation, health care and medical services in already poverty-wracked and conflict-ridden areas "would have severe impact - a cascade of problems that could push the suffering in disastrous and unpredictable directions."
The Trump administration announced in January it was slashing $65 million this year. But the agency said the actual cut was around $300 million because the U.S. had led the agency to believe it would provide $365 million in 2018.
The US had been UNWRA's largest donor, supplying nearly 30 percent of its budget. In announcing the cuts in January, the US State Department said it wanted reforms at the agency, which Israel has strongly criticized.
Egyptian Foreign Minister Sameh Shoukry, who along with his counterparts from Jordan and Sweden co-hosted the meeting, said the agency had already undertaken reform measures to streamline and rationalize its activities. But he said "there is a limit to its ability to do so" given the enormous sustained needs faced by 5 million people.
Full report at:
https://english.alarabiya.net/en/News/middle-east/2018/03/15/UN-gets-100m-in-new-funds-for-Palestinian-aid-after-US-cuts.html
--------
Security Council voices concern over worsening humanitarian situation in Yemen
Mar 16, 2018
The United Nations Security Council has warned about the worsening humanitarian situation in war-battered Yemen, stating the status quo is having a "devastating" impact on the lives of civilians in the impoverished Arab country.
"The Security Council expresses its grave concern at the continued deterioration of the humanitarian situation in Yemen, and the devastating humanitarian impact of the conflict on civilians," it said in a statement on Thursday.
The statement said the UN estimates that 22.2 million Yemenis are now in need of humanitarian aid, and the number is 3.4 million more than the figure recorded last year.
The statement, which was unanimously approved by the 15-member council, called on all parties involved in the Yemen conflict to "respect and protect schools, medical facilities, and personnel."
"The members of the Security Council reaffirm their strong commitment to the unity, sovereignty, independence and territorial integrity of Yemen," the statement said.
Saudi airstrikes continue unabated
Also on Thursday, Saudi fighter jets carried out three airstrikes against an area in the Iyal Surayh district of Yemen's northwestern province of 'Amran. There were no immediate reports about possible casualties and the extent of damage caused.
Saudi warplanes also pounded a residential neighborhood in the Huth district of the same Yemeni province. No reports of casualties were immediately available though.
About 14,000 people have been killed since the onset of Saudi Arabia's military campaign against Yemen in March 2015. Much of the Arabian Peninsula country's infrastructure, including hospitals, schools and factories, has been reduced to rubble due to the war.
The United Nations says a record 22.2 million people are in need of food aid, including 8.4 million threatened by severe hunger.
A high-ranking UN aid official recently warned against the "catastrophic" living conditions in Yemen, stating that there is a growing risk of famine and cholera there.
"After three years of conflict, conditions in Yemen are catastrophic," John Ging, UN director of aid operations, told the UN Security Council on February 27.
He added, "People's lives have continued unraveling. Conflict has escalated since November driving an estimated 100,000 people from their homes."
Full report at:
http://www.presstv.com/Detail/2018/03/16/555602/Yemen-Saudi-war-Security-Council-
--------
India
From Hyderabad to Kashmir: The story of a thief turned jihadi
March 16, 2018
Mohammad Taufeeq, the terrorist who was killed in an encounter at Jammu and Kashmir was a thief before he became a jihadi. It may be recalled that the terrorist outfit, Ansar Ghazwatul Hind had celebrated his martyrdom and said that Taufeeq hailed from Hyderabad.
Following this, the J&K police had written to their counterparts in Telangana seeking more details on Taufeeq. The preliminary round of inquiry conducted has revealed that Taufeeq had stayed in Hyderabad for a brief period. Before coming to Hyderabad, he had stolen money from his home situated in Kothagudem. Sources said that he had stolen gold and some money before he arrived in Hyderabad. After a brief stay in Hyderabad, he headed to Kashmir, where he joined the terror group affiliated to the Al-Qaeda. The inquiry conducted by the police further revealed that he was involved in four cases of theft in 2007. However, he was acquitted in all case in the year 2009. He was a habitual offender, the police said. He was also rusticated from school after he was caught stealing. He studied at the Atomic Energy School in Aswapuram at the Chandragonda village in Kothagudem between 1994 and 2007. After he was rusticated, his parents enrolled him in a Madrasa in Bhadrachalam. Later on, he joined the KDR Government Polytechnic College. He managed to complete his diploma course. The police suspect that his radicalisation took place at the Madrasa. He stayed there with two persons who had converted to Islam. He turned very religious and was encouraged to understand Islam better. He also participated in a mission to understand the teachings of Islam better. Police sources say that it is not clear when he decided to make it to Kashmir. We are still investigating the matter and trying to find out if he had made it on his own or was tapped by some recruiter in Hyderabad.
https://www.oneindia.com/india/from-hyderabad-to-kashmir-the-story-of-a-thief-turned-jihadi-2659876.html
--------
Terrorists holed up in Pulwama house after failed weapon-snatching bid: J&K Police
Mar 15, 2018
SRINAGAR: Three terrorists were believed to be holed up in a house in Pulwama district of Jammu and Kashmir on Thursday, after a failed bid to snatch the weapon of the personal security officer (PSO) of a BJP leader, the police said.
The terrorists tried to snatch the service rifle of constable Bilal Ahmad, who is the PSO of BJP leader Anwar Khan, at Balhama in Pulwama district, a police official said.
He added that the police personnel accompanying Khan foiled the attempt, during which Ahmad received a bullet injury.
State Director General of Police (DGP) S P Vaid confirmed the incident, saying an operation was going on to flush out the terrorists.
"Three terrorists are trapped in an undisclosed location and engaged in an exchange of fire after an unsuccessful attempt of weapon-snatching from the PSO of a protected person," he said.
Ahmad was rushed to a hospital, where his condition was stated to be stable, a police official said.
Full report at:
https://timesofindia.indiatimes.com/india/terrorists-holed-up-in-pulwama-house-after-failed-weapon-snatching-bid-jk-police/articleshow/63320483.cms
--------
3 terrorists arrested with arms and ammunition in J&K
Mar 15, 2018
SRINAGAR: Security forces on Thursday arrested three terrorists and seized arms and ammunition from their possession in Jammu and Kashmir's Budgam district, police said today.
They had come to Budgam with the intention to carry out some attack, the police said.
Acting on an intelligence input, the police and the Army conducted a joint raid and arrested three terrorists after recovering incriminating material including arms and ammunition from their possession, the police said.
The recoveries included three pistols, four magazines and twelve rounds, the official said, adding the accused were identified as Faizan ul Zaman Bhat, Sajad Ahmad Dar and Miaser Ahmad Dar.
Police has also seized the vehicle used by the three terrorists, he added.
Full report at:
https://timesofindia.indiatimes.com/india/3-terrorists-arrested-with-arms-and-ammunition-in-jk/articleshow/63319952.cms
--------
J&K: Militants who attacked BJP minister reportedly killed; CRPF personnel injured in gun battle
Sameer Yasir
Mar 15, 2018
The militants who attacked a BJP leader on the outskirts of Srinagar, fired upon his personal security officers and attempted to snatch their weapons were likely killed by security forces on Thursday, although no official confirmation was forthcoming.
The attackers fled after they were fired upon by the security personnel accompanying BJP leader Mohammad Anwar Khan, and took refuge in a residential home, which was then destroyed by security forces and reduced to rubble. The bodies of the militants have not yet been recovered and the operation is ongoing, sources said.
Khan's security guard was injured in the initial shootout at Balhama area of Khunmoh, 18 kilometers from Srinagar. Eyewitnesses said the militants attacked Khan at Balhama village in Khanmoh area when he was visiting an educational institution, however, they failed to snatch the weapons of the PSOs.
Kashmir police said in a statement that Khan's PSOs repulsed the initial attack while exhibiting extreme caution to avoid any collateral damage, which led the militants to flee. "In the said incident, PSO Bilal Ahmad sustained minor injuries," the statement read.
A senior police official said joint team of Indian Army, CRPF and Special Operation Group (SOG) of Jammu and Kashmir Police cordoned off the area and launched a man hunt to nab the assailants. As soon as the forces attempted to search the area, they came under fire as they approached a building, he added.
As the gunfight raged, hundreds of people of Balhama village assembled near the encounter site and started pelting stones at the forces. They shouted pro-freedom and anti-government slogans, triggering massive clashes. The government forces retaliated by firing tear gas, using smoke shells and pellets to disperse the protesters. The state government decided to reduce mobile internet speed in police district of Awantipora, where Balhama is located.
The militants, according to police sources, were part of the Zakir Musa's Ansar Ghazwat-ul-Hind, which has been in headlines since its formation in July. On Sunday, three militants from the same group were killed in the Hakoora-Anantnag area in south Kashmir. One of them turned out to be a resident of Hyderabad who was "radicalised into the Islamic State ideology through social media," police said.
The militant killed on Sunday was identified as Mohommad Toufeeq, 26, a resident of Bhadradri-Kothagudem district of Telangana who followed Islamic State ideology and fled to the Valley last year to join militancy.
"It is learned that Mohommad Toufeeq died in an encounter with security forces on the night of 11 and 12 March in Hakoora of Anantnag district along with two other Kashmiri militants. He was radicalised into the Islamic State ideology through social media and went to Kashmir to participate in terrorist activities of Islamic State. He was not wanted in any criminal cases in Telangana state", according to a statement issued by Telangana Police.
The militant group posted a picture with the caption Mohommad Taufeeq with Rehan Khan (Deputy Ameer Ansar Gazwat-ul-Hind). "Mohommad Taufeeq became the first Mujahid in recent history to make hijrah (migration) to Kashmir and began the work of preaching. His jihadi names were Sultan Zabul Al Hindi and Abu Zarrr Al Hindi", a statement issued by Ansar Gazwat-ul-Hind read.
Full report at:
http://www.firstpost.com/india/jammu-and-kashmir-security-forces-kill-three-militants-who-attacked-bjp-leader-crpf-personnel-injured-in-gun-battle-4392025.html
--------
Telangana terrorist killed in J&K
M Saleem Pandit and Mahesh Buddi
Mar 16, 2018
SRINAGAR/HYDERABAD: One of the three militants killed in an encounter with security forces in J&K's Anantnag on Monday was identified as Muhammad Taufeeq of Hyderabad, Telangana, according to the Ansar Ghazwatul Hind, the al-Qaida cell in Kashmir.
On checking, police in Hyderabad found Taufeeq's family had locked their residence in Bhadradri Kothagudem district, and had gone incommunicado a day after he was killed.
Taufeeq's father, Mohammed Razaq, works at Department of Atomic Energy's heavy water plant in Manuguru.
Police said Taufeeq had not been in touch with his family since 2016, when he had gone to Hyderabad to look for a job.His family told police that he had pursued a civil engineering diploma in Wanaparthy town, but Bhadradri Kothagudem district SP Ambar Kishor Jha said they were yet to get confirmation.
Police said Taufeeq had been radicalised by Islamic State terror group ideology through social media and had gone to Kashmir to participate in terror activities. The identity of the third militant was not known until local media quoted on Wednesday an Ansar statement identifying him as Taufeeq of Hyderabad.
A senior police officer involved in counter-insurgency operations in Kashmir said, "Though the Ansar remains a small organisation, it appears to have won some cachet among young Kashmiri Islamists disillusioned with the Hizb-ul-Mujahideen and Lashkar.
Full report at:
https://timesofindia.indiatimes.com/india/telangana-terrorist-killed-in-jk/articleshow/63324489.cms
--------
Gujarat HC junks plea against Dalit-Muslim event
March 16, 2018
The Gujarat High Court Thursday disposed of a Public Interest Litigation (PIL) opposing "Dalit-Muslim Ekta Sammelan" being held on Friday in Shahbpur area in which Independent MLA and Dalit leader Jignesh Mevani is expected to participate. The matter was disposed of after Ahmedabad City police commissioner assured the court that there won't be any law and order problem.
The petitioner, Hitesh S Zapadiya (30), a resident of Bavla in Ahmedabad district, had filed a plea, requesting the court not to allow the event as it may "disturb the peaceful atmosphere of city". His lawyer, Avnesh Vyas, argued that "if the purpose of the event is social unity then its title should have been Hindu-Muslim unity and not Muslim-Dalit".
Vyas said that in the past several similar events based on caste and community turned violent leading to serious law and order issues. He urged the court to direct the government not to give permission to the organisers to hold the event. According to Vyas, the petitioner also belonged to Dalit community.
Following the argument, the Division Bench led by Chief Justice R Subhash Reddy asked the government to respond immediately and kept the matter for further after the recess. Police Commissioner apprised the government pleader's office that "no permission has been granted to the organisers and in case the permission is granted there will be appropriate security arrangement to deal with the situation". The court was informed that there will be nearly 70 police personnel at the event.
The Gujarat High Court Thursday disposed of a Public Interest Litigation (PIL) opposing "Dalit-Muslim Ekta Sammelan" being held on Friday in Shahbpur area in which Independent MLA and Dalit leader Jignesh Mevani is expected to participate. The matter was disposed of after Ahmedabad City police commissioner assured the court that there won't be any law and order problem.
The petitioner, Hitesh S Zapadiya (30), a resident of Bavla in Ahmedabad district, had filed a plea, requesting the court not to allow the event as it may "disturb the peaceful atmosphere of city". His lawyer, Avnesh Vyas, argued that "if the purpose of the event is social unity then its title should have been Hindu-Muslim unity and not Muslim-Dalit".
Vyas said that in the past several similar events based on caste and community turned violent leading to serious law and order issues. He urged the court to direct the government not to give permission to the organisers to hold the event. According to Vyas, the petitioner also belonged to Dalit community.
Following the argument, the Division Bench led by Chief Justice R Subhash Reddy asked the government to respond immediately and kept the matter for further after the recess. Police Commissioner apprised the government pleader's office that "no permission has been granted to the organisers and in case the permission is granted there will be appropriate security arrangement to deal with the situation". The court was informed that there will be nearly 70 police personnel at the event.
More than half of Azamgarh madrasas violate norms: Govt
by Manish Sahu | Lucknow | Published: March 16, 2018
A government physical verification of 675 madrasas in Azamgarh district has revealed that over half of them did not confirm to rules – some did not exist at the address provided, some were violating class norms and some others had private schools operating instead. These madrasas are likely to be de-recognised from the UP Board of Madrasa Education. The verification was conducted by the district minority welfare officer (DMWO) based on details uploaded on the Board's website. Azamgarh DMWO Sahitya Nikash Singh said the inquiry, which began in September 2017, found 304 madrasas placed false details on the portal.
"I have sent a report to the Board in Lucknow on Tuesday recommending cancelling the recognition of 304 madrasas. These madrasas were found not satisfying the Board's standards. In the report, I have mentioned reason why the recognition needed to be cancelled," said Singh. In a bid to check irregularities in madrasas, the UP government had launched the UP Board of Madrasa Education portal in August last year. The government had instructed madrasas to upload pictures of classrooms or total area, number of teachers and employees, their Aadhaar numbers, account details, etc in order to bring "transparency".
In all, details of 18,225 madrasas were uploaded and the Board directed all DMWOs to physically verify the details. When contacted, Board's Registrar Rahul Gupta said a state-wide verification of 18,225 madrasas was ongoing. Of the total madrasas registered, 560 are government-aided, 140 are registered under small industrial technical institutes and 8,550 are attached with Scheme for Providing Quality Education in Madrasa.
Meanwhile, the Board has also been verifying details of the land on which 78 government-aided madrasas were running in the state. Minority Welfare Department Director SN Pandey had formed a three-member committee last month to verify the details and submit a report.
Full report at:
http://indianexpress.com/article/india/more-than-half-of-azamgarh-madrasas-violate-norms-govt-5099568/
--------
Africa
CAR: Central African Refugees Message to Peacekeepers - We Want Inclusion
14 MARCH 2018
New York — In recent months, the crisis in the Central African Republic (CAR) that erupted five years ago has seemed farther than ever from resolution. In 2017, episodes of extreme identity-based violence brought the toll of displaced people in and from CAR recently to over a million people.
The peace agenda stemming from the 2015 Bangui Forum has remained stalled, with national and international authorities forced to ramp up peace-keeping efforts to address the resurgence in violence. A new report by ICTJ, I Am 100% Central African: Identity and Inclusion in the Experience of Central African Muslim Refugees in Chad and Cameroon, offers important insights on how a higher political commitment to inclusion could help transform a volatile rebuilding process into a sustainable peace.
As ICTJ's report highlights, the voices of Muslim and Peuhl refugees from CAR living in Chad and Cameroon have largely been ignored in the peace process. The displaced, many of whose families had lived in CAR for generations, expressed a sense of alienation and frustration.
"We used to eat together but one day they woke up and they told me: 'You are a foreigner, you have to leave.' Do you understand what I mean?" said a 33-year-old man from Bangui who was interviewed for the study.
The current crisis in CAR follows years of political instability and state fragility, whose underlying causes included deep-seated ethnic tensions and long-standing disputes about who is considered Central African. The diffuse and horrific violence among communities, neighbors, and members of the same family led to a deep tearing of its social fabric, unprecedented human rights violations, and growing social and economic exclusion.
The ICTJ study - carried out through qualitative interviews with refugees about their experience of displacement and their concerns regarding return, reconciliation, and justice - aims to draw attention to the need for inclusion to advance effective reconciliation and return policies, said the author, Enrica Picco. It found that a lack of inclusion is the crucial underlying issue for refugees, including concerns over access to state services and jobs closed to those not considered to be truly "Central African," due to their place of origin, ethnicity, or religion.
"To date, the Central African government has said very little to combat hate-filled narratives regarding Muslim and Peuhl communities," said Picco. "These narratives, and the prejudice and hatred they engender, are preventing refugees from considering returning home."
Highlighting the injustice and the state's responsibility and role in the violence, the report also reflected refugees' deep distrust of CAR's national justice system. Opinions varied widely on who should be investigated and how, but there was agreement that mainly former presidents and warlords should be put on trial. In a context of improved security, traditional chiefs could play a role, especially in resolving property and land disputes.
Many persons also expressed a strong desire to be recompensed for the property and businesses unfairly taken from them.
"A politics of inclusion and strong top-down messages affirming Muslim Central Africans are citizens with equal rights would help to put CAR on the path of peaceful coexistence," said Picco.
"In contexts such as the Central African Republic, where ongoing violence and displacement coincide with elements of a transition, it can be very challenging to address justice and reconciliation," said ICTJ's Senior Expert Roger Duthie. "In order for transitional justice to help prevent the recurrence of violations and facilitate sustainable peace and development, victims, including refugees, have to be able to meaningfully participate."
Key recommendations from the report echoed the concerns of refugees hoping to return home and integrate into their communities. Read them below.
Recommendations
Change the narrative of the conflict among national authorities and the international community to acknowledge the role of long-standing tensions underlying the conflict and displacement;
Include refugee voices in discussions and policies on return, reconciliation, and justice;
Promote inclusion through top-down messages and symbolic gestures from state officials;
Launch a national discussion on transitional justice to promote Central African solutions to crimes committed during the conflict;
Include reparations for refugees in the form of compensation for material losses in current peace negotiations;
Improve the legal framework on personal documentation and property and land rights;
Rethink community-based reconciliation programs as a more multilateral, comprehensive approach;
Provide psychological support for refugees; and
Promote durable solutions in countries of asylum.
http://allafrica.com/stories/201803150484.html
--------
Armed militants kidnap Libya's military prosecutor
16 March 2018
A group of unknown armed militants kidnapped Libya's military prosecutor, Masoud Erhouma, on Thursday, the head of the Interrogations Office under the Libyan attorney general said.
According to Libyan media outlets, Erhouma was kidnapped near his house in the Salah el-Din area in Tripoli. This comes just a day after an assassination attempt on the head of the Supreme Council of the State, Abdulrahman al-Suweihli, following an armed ambush on his vehicle.
Erhouma was appointed in accordance with a political agreement, and was part of Libya's national reconciliation government since November 2017. Prior to becoming military prosecutor, Erhouma was the minister of defense in the interim government in eastern Libya, before resigning in 2015 following differences with the army's general command and the parliament.
https://english.alarabiya.net/en/News/north-africa/2018/03/16/Armed-militants-kidnap-Libya-s-military-prosecutor.html
--------
Military, not Buhari responsible for herdsmen, Boko Haram menace – Afe Babalola
March 15, 2018
A foremost Nigerian legal practitioner, Afe Babalola, has 'absolved' President Muhammadu Buhari of culpability in the spate of killings and the state of insecurity around the country.
Instead, he blamed the military for altering the political structure of the country, saying the action had resulted in conflicts occurring in the "forms of herdsmen killings and Boko Haram insurgency".
Mr. Babalola spoke in Ado Ekiti, Ekiti State on Thursday while receiving an award of 'Sir Ahmadu Bello Platinum' by the Northern Youths Council of Nigeria (NYCN).
He said the military coup of 1966, which ushered in a "lopsided unitary system" in the country and abrogated the regional system, was responsible for the "unwholesome scenarios playing out".
"The essence of government is to guarantee the security of lives and property of the people. President Buhari is not to blame for this insecurity but the military," he said.
"Before military took over in 1966, Nigeria was operating regional system with each region growing and developing faster at its own pace.
"These regions were closer to the people. Killings or insurgency were alien to our culture then. Nigerians love one another, though they were divided politically.
"I want to say that if those regions were allowed then, the country would have had a nation or nations that are well developed today."
The proprietor of Afe Babalola University, Ado Ekiti, lamented the state of governance in Nigeria.
"Many pensioners have died having been owed several years of pension arrears," he said. "Even those in the service were owed seven or eight months salary arrears, so just like I said earlier, our leaders have turned us into beggars."
Mr. Babalola also noted that his university has the vision to build the youth into a reliable future leaders.
"There are many rich people in Nigeria who can establish this kind of university with the vision to bring quality education as well as moral and cultural values to the doorstep of Nigerians," he said.
"If we have this kind of university in each of the six geopolitical zones or every state, Nigeria will change for better.
"Go to the North and propagate the ideals which my university stands for. Nigeria must be united at all cost for us to make a headway and overcome all our challenges."
Leading the council to make award presentation, Steven Bidemi, said the award was in recognition of Mr. Babalola's contributions to humanity and the unity of the Nigerian nation.
Full report at:
https://www.premiumtimesng.com/regional/ssouth-west/261912-military-not-buhari-responsible-for-herdsmen-boko-haram-menace-afe-babalola.html
--------
Nigeria: Boko Haram Planning to Attack Maiduguri Using Car Bombs - Police
15 MARCH 2018
By Abdulkareem Haruna
The police in Borno on Thursday issued an alert warning residents of an impending attack by Boko Haram using vehicles loaded with explosives.
The police said should the planned attack succeed, it may result in heavy casualty as the insurgents are suspected to be targeting strategic locations of the city that are densely populated.
There are about four million people currently residing in Maiduguri due to the displacement of most surrounding communities by the ongoing Boko Haram insurgency.
The Borno State Police Command in a statement signed by Ahmed Bello, an assistant commissioner of police, said the forewarned attack could take place in different parts of the city; therefore the security organs in the state have been mobilised to strategic locations to avert its possible occurrence.
"The Borno state police command in collaboration with "Operation Lafiya Dole" high command wishes to draw the attention of the general public that information at the disposal of the theatre command reveals that dislodged and rampaging Boko Haram terrorists have concluded arrangements to attack parts of Maiduguri metropolis notably, populated/crowed areas to maximize casualty through the use of vehicles fully primed with IEDs.
"Consequently, security forces have adequately deployed resources to counter and frustrate this evil plan of the heartless terrorists.
"The command therefore, wishes to call upon Borno people and the public at large to promptly alert security personnel of any suspected person(s), suspicious movement, vehicles, objects, etc for prompt action. Be rest assured that such information and informants would be treated with utmost confidentiality.
"Finally, with the renewed commitment of the theatre command leadership and all security agencies the general public is once again reassured of the determination of security forces to protect lives and property".
Full report at:
http://allafrica.com/stories/201803160087.html
--------
South Asia
Myanmar shuttling Buddhists to repopulate ex-Rohingya area
Mar 16, 2018
Myanmar's government has been shuttling Buddhist nationals to repopulate the north of Rakhine State, which used to be dominated by minority Rohingya Muslims before they were driven out or killed in a campaign of state-sponsored violence.
The Buddhists, ethnic Rakhines from the south of the state, are being transferred to the state's north, where Rohingya villages have already been torched or bulldozed to the ground.
Buddhist flags are now hung on bamboo poles at the entrance to villages.
The Myanmarese military laid siege to northern Rakhine, where the Rohingya were concentrated, in late 2016. Together with Buddhist mobs, soldiers began killing, raping, and torturing the Muslims in what has been described by rights groups as "ethnic cleansing" and possible "genocide." That campaign intensified in August last year.
Thousands of Muslims are believed to have been killed, some execution-style.
Out of the original 1.1 million Rohingya Muslims who lived in Rakhine's north, some 700,000 fled to neighboring Bangladesh. Some 300,000 had already been driven out since the 1970s.
Satellite imagery then showed that the Myanmarese regime was bulldozing what had been left of the villages, many of which had already been torched.
'Like the Israeli settler project'
The regime is now upending the demography of the once majority-Muslim area in a pattern with echoes of "the Israeli settler project in the West Bank," according to Francis Wade, author of "Myanmar's Enemy Within: Buddhist Violence and the Making of the Muslim 'Other.'"
"The military has been engineering the social landscape of northern Rakhine State so as to dilute the Rohingya population since the early 1990s,"said Wade. "I'd expect to see more Buddhists settle there over the coming years. And then we'll forget what the area once was, and that process of erasure will be complete."
On Monday, an international rights organization revealed that Myanmar's military forces were also building army bases in locations where Rohingya Muslims used to live.
Myanmar has consistently denied that any violence has been taking place against the Rohingya, despite numerous witness accounts and other documents, including the satellite images.
Officials have even claimed that the majority of the Muslims remain in north Rakhine.
The United Nations has said it has strong suspicions that "acts of genocide" have taken place against the Rohingya in Myanmar.
Meanwhile, Myanmar has struck a deal with Bangladesh to return the Rohingya refugees, but the implementation of the deal remains unlikely amid continued violence and the reports of Buddhist settlements.
The country's de facto leader, Aung San Suu Kyi — a winner of the Nobel Peace Prize — has tacitly backed the military crackdown.
http://www.presstv.com/Detail/2018/03/16/555609/Myanmar-Rakhine-Buddhist-settlements-engineer-demography
--------
With Rohingya gone, Myanmar's ethnic Rakhine seek Muslim-free 'buffer zone'
16th March 2018
KOE TAN KAUK: Buddhist flags hang limply from bamboo poles at the entrance to Koe Tan Kauk, a "model" village for ethnic Rakhine migrants shuttled north to repopulate an area once dominated by Rohingya Muslims.
The new arrivals are moving to parts of Rakhine state mostly "cleared" of its Rohingya residents, whose villages were bulldozed and reduced to muddy stains on a landscape of lush farmland. The Rakhine migrants, who come from the poor but relatively stable south, are -- for now -- few in number. But they carry great expectations as the pioneers of a donor-led "Rakhinisation" plan to upend the demography of the once majority-Muslim area.
"We were really afraid of those Kalars and didn't plan to come here," Chit San Eain, a 28-year-old who has moved with her husband and toddler into a basic hut in Koe Tan Kauk tells AFP, using a pejorative term for Muslims. "But now that they are no longer here, we have the chance to meet again with our relatives who live up here," she added, the ruins of a Rohingya settlement lying a few kilometres away.
Nearly 700,000 Rohingya have been driven from northern Rakhine into Bangladesh since August 25 last year by a Myanmar army offensive against Muslim militants. Another 300,000 Rohingya were pushed out from the south and centre of Rakhine by army campaigns stretching back to the late 1970s.
The UN has branded last year's military crackdown ethnic cleansing, with a top official saying it carried all the "hallmarks of genocide." Myanmar vigorously denies the allegations and says refugees are welcome to return. But so far it has agreed to allow back only 374 of 8,000 refugees whose names have been put forward for the initial phase of repatriation.
Many traumatised Rohingya in Cox's Bazar camps are also refusing to be repatriated to Rakhine -- where holding camps and hostile neighbours await them. In their absence a blizzard of development projects, government and army-sponsored or privately funded, are transforming northern Rakhine.
Taking space vacated by fleeing Rohingya is an old game in a state seen as the frontline of a Buddhist nation's fight against encroaching Islam.
"The military has been engineering the social landscape of northern Rakhine State so as to dilute the Rohingya population since the early 1990s," says Francis Wade, author of "Myanmar's Enemy Within: Buddhist Violence and the Making of the Muslim 'Other'".
The Muslim minority are denied citizenship and labelled "Bengalis", outsiders who -- the logic runs -- have successfully been pushed back to their country of origin. In a pattern with echoes of "the Israeli settler project in the West Bank" Buddhist communities then move in, altering the "facts on the ground" gradually rubbing out Muslim rights to the land, he added.
"I'd expect to see more Buddhists settle there over the coming years. And then we'll forget what the area once was, and that process of erasure will be complete."
- Rohingya out, Rakhine in -
Chit San Ean is the beneficiary of the Ancillary Committee for the Reconstruction of Rakhine National Territory in the Western Frontier (CRR), a private scheme established shortly after the refugee crisis began. In a zone under a strict army lockdown the resettlement plan could not fly without military consent. Funded by ethnic Rakhine donors, the CRR's ambition is to establish a "Muslim-dry" buffer zone running the nearly 100 kilometres from state capital Sittwe to Maungdaw town, according to Oo Hla Saw, a Rakhine MP who advises the committee.
"All of this area was under the influence of Muslims. After the military operations, they had to flee... so we have to establish this area with the Rakhine population," he told AFP. The CRR will fund jobs and homes "so this little population can grow and grow," he added.
It's a trickle so far, with around 64 households -- some 250 people -- moved by the CRR, with 200 more families on a waiting list. They are among the poorest of the poor, mostly daily wage labourers from Thandwe around 600 kilometres to the south or squatters from Sittwe. Two village tracts, Koe Tan Kuak near Rathedaung and Inn Din near Maungdaw, have been designated for the scheme so far. The army concedes the second site was the scene of extrajudicial killings of Rohingya captives as violence engulfed the region last August.
Koe Tan Kauk was a similarly mixed settlement of Buddhist and Muslim homes. The CRR-sponsored hamlet promises a rudimentary existence. There is little work, no electricity or running water but donors have gifted each family a $450 shack on stilts, made from plywood and metal sheeting. New residents hope to eventually own land, a prospect previously beyond their reach in Myanmar's second-poorest state.
Rakhine nationalists say the CRR is a bulwark against Islam and a means to ensure their ethnic group has a say in development projects driven by the Burmese-dominated central state, who they distrust deeply.
"Who should be given priority other than Rakhines in Rakhine State?" explained Than Tun, General Secretary of the CRR.
- Cronies and soldiers -
For its part, Myanmar's government has enlisted powerful businessmen to rebuild the infrastructure of the battered state. The army is running other projects including beefing up its security apparatus -- in what appears to be a multi-pronged effort to keep out the Rohingya.
An Amnesty International report this week detailed how roads, helipads and security installations are being built, often on top of razed Rohingya settlements. They labelled the activity a massive "land grab" that threatens to erase evidence of alleged atrocities, including at Inn Din.
Across northern Rakhine, abandoned land and rice fields have been commandeered by the army in an area with access tightly controlled to media, investigators and most aid groups. The Rohingya lost their legal status in 1982, under a junta-era Citizenship Law. Now their ancestral lands are being stripped away. That makes return impossible, according to lawmaker Oo Hla Saw.
Full report at:
http://www.newindianexpress.com/world/2018/mar/16/with-rohingya-gone-myanmars-ethnic-rakhine-seek-muslim-free-buffer-zone-1788061.html
--------
Afghan hostage shoots Taliban captors, killing seven
March 16, 2018
KABUL:- An Afghan man taken hostage by the Taliban made a dramatic escape by stealing a gun while his captors were praying and shooting dead seven of them and wounding 18 others, officials said Thursday. Awal Khan and a local police officer were kidnapped Wednesday as they were driving in the eastern province of Paktika, provincial deputy security chief Abdul Rauf Masood told AFP. Paktika is a Taliban stronghold bordering Pakistan. The officer was killed and 36-year-old Awal taken to a Taliban compound in Gomal district where he was held for hours. During afternoon prayers, Awal, who Masood said was handcuffed at the time, grabbed a weapon belonging to one of his captors and opened fire.–AFP
"Awal Khan sprayed bullets on all of them, killing seven and wounding 18 others," provincial governor spokesman Mohammad Rahman Ayaz told AFP.
Taliban spokesman Zabihullah Mujahid confirmed to AFP that the group had kidnapped the two men and that Awal had opened fire on the militants, killing three of them. Awal then fled in a pickup truck belonging to his kidnappers, Ayaz said. His brother, a local police commander, shared details of the incident with authorities.
Full report at:
https://nation.com.pk/16-Mar-2018/afghan-hostage-shoots-taliban-captors-killing-seven
--------
US airstrike leaves 4 ISIS militants dead in Kunar province of Afghanistan
Mar 16 2018
At least four militants affiliated with the Islamic State of Iraq and Syria (ISIS) terrorist group were killed in the latest US airstrike in eastern Kunar province of Afghanistan.
The 201st Silab Corps of the Afghan Military in the East said Thursday that the US military carried out airstrike on ISIS hideout in the past 24 hours using unmanned aerial vehicle.
The source further added that the latest airstrike was carried out in Lechalam area located in Manogi district and as a result four militants have been killed.
According to the Silab Corps of the Afghan National Army, at least one insurgent was also wounded during the same airtrstrike.
In the meantime, the Silab Corps says the airstrike did not inflict any casualty on the local residents and the security personnel involved in ground operations in the area.
The anti-government armed militant and terrorist groups including ISIS militants have not commented regarding the report so far.
This comes as at least fifteen militants affiliated with the Tehrik-e-Taliban Pakistan were killed in a similar airstrike in this province last week.
Full report at:
https://www.khaama.com/us-airstrike-leaves-4-isis-militants-dead-in-kunar-province-of-afghanistan-04662/
--------
Afghan Military deploy Special Forces and Warrior Choppers to Faryab
Mar 15 2018
The Afghan Military has deployed additional Special Operations Forces and Warrior helicopters to northern Faryab province of Afghanistan.
The 209th Shaheen Corps of the Afghan Military in the North said the additional fresh forces and modern military equipment including warrior helicopters belonging to the Special Operations Forces recently arrived to Faryab airport.
The fresh foces and helicopters will be used to conduct counter-terrorism operations against the insurgent and terrorist groups in the North.
This comes as the counter-terrorism and clearance operations are already underway in the key northenr provinces including Faryab where the anti-government armed militant and terrorist groups are attempting to expand their foothold and insurgency activities.
The Ministry of Defense (MoD) spokesman Gen. Dawlat Waziri said Wednesday that two local leaders of the Taliban group were killed during the ongoing operations in this province.
Gen. Waziri further added that the Taliban leaders have been identified as Khetab and Tufan and both were killed in Pashtun Kot district.
He also added that four other insurgents were also killed during the operations in Shamal Gah and Samad Khel areas of Bala Bolok in Farah province.
Full report at:
https://www.khaama.com/afghan-military-deploy-special-forces-and-warrior-choppers-to-faryab-04659/
--------
How Khaleda Zia's arrest makes London the new headquarters of Bangladesh opposition
15 March 2018
Former Bangladeshi Prime Minister Khaleda Zia's imprisonment has virtually turned London – roughly 8,000 km away from Dhaka – into the headquarters of the opposition Bangladesh Nationalist Party ahead of crucial national elections in the predominantly Muslim South Asian nation.
Last month, just before Zia was convicted and jailed in Dhaka on corruption charges, she appointed her London-based son and heir-apparent, Tarique Rahman, as acting chief of the BNP. Rahman has long been designated as Vice Chairman under his mother who is the Chairperson of Bangladesh's principal opposition party. He lives in exile in London ever since United Kingdom granted him political asylum a decade ago.
Sources told Al Arabiya that Rahman is currently running the BNP's day-to-day affairs in faraway Bangladesh from his luxurious residence-cum-office in Kingston upon Thames in suburban London issuing telephonic orders to Secretary General Mirza Fakhrul Islam Alamgir and Joint Secretary General Ruhul Kabir Rizvi amid growing uncertainty over Zia's release on bail.
It seems that Rahman will have to provide long distance leadership indefinitely to his besieged party while his mother languishes in jail. BNP leaders are openly saying that the Prime Minister Sheikh Hasina-led Awami League government is bent on keeping Zia behind bars for as long as possible to weaken the BNP's poll prospects.
They cite the month-long delay in granting Zia bail in the graft case and her simultaneous arrest in the Comilla arson case to keep her in jail at any cost. The government of course insists that the judiciary is independent and the law is taking its own course.
Safe haven
Significantly, London is also a safe haven for Jamaat-e-Islami party, a prominent BNP ally whose top leaders have been hanged by Hasina's government after they were found guilty of war crimes by a tribunal whose bona fides are highly questionable according to many jurists.
Hounded in Bangladesh, Jamaatis liaise freely with Rahman in the safety London guarantees politicians of all hues. Any BNP comeback in Bangladesh will be fuelled by Jamaat cadres – and Rahman knows that too well.
Top Bangladeshi Islamist leaders living in London include Barrister Abdur Razzaq, Jamaat's Assistant Secretary General who hasn't visited Bangladesh since 2014 fearing arrest for defending the accused before the war crimes tribunal, although his two sons practice in Dhaka.
London is also home to Chowdhury Mueen-Uddin who was given the death sentence in absentia by the controversial tribunal. But he is so well integrated with London high society and acknowledged as a British Muslim leader that Dhaka hasn't even tried to get him extradited.
Significantly, the reins of the Jamaat in politically sensitive London where it enjoys a huge following are in the hands of two relatively younger men: Barrister Nazrul Islam and Abu Bakar Molla. They are officially designated as spokespersons and engage regularly not only with Rahman and visiting BNP leaders but British and European Union MPs too.
Bangladesh is sharply polarized between Awami League and BNP but the latter seems to have a big edge among the diaspora in London.
Religious-cum-social nerve centre
Such is the hold of Jamaat-BNP over the East London Mosque – the community's iconic religious-cum-social nerve centre – that those affiliated to the Awami League and even Bangladeshi diplomats posted in London keep a safe distance from the White Chapel institution.
There is no denying that Hasina's government has badly cornered the opposition in Bangladesh but the BNP's UK last month vandalized the Bangladesh High Commission to protest against Zia's arrest.
Apparently, Zia is keen to import her London-based daughter-in-law, Zubaida, to assist her politically as Rahman is still a wanted man in Bangladesh. Zubaida, a qualified doctor, is the daughter of former Navy Chief M. A. Khan and is also related to Awami League Minister for Local Government, Khandker Mosharaf Hussain.
Zia's desire is no longer a secret as the glamorous Zubaida has sought the opinion of her Facebook followers before plunging into politics. Britain has a rather long history of hosting political fugitives from South Asia. Sri Lankan Tamils, Kashmiris, Sikhs and Nagas from India and Pakistani Muhajirs have waged protracted battles against their governments from the safety of London.
Full report at:
https://english.alarabiya.net/en/perspective/features/2018/03/15/How-Khaleda-Zia-s-arrest-makes-London-the-new-headquarters-of-Bangladesh-opposition.html
--------
Pakistan
No invite for Peace Conference: Taliban
Tahir Khan
MARCH 16, 2018
ISLAMABAD: Afghan Taliban have not been invited to an upcoming peace conference in Uzbekistan that will mainly focus on the prospects for reconciliation in Afghanistan, two Taliban officials said earlier in the week.
The conference titled "Peace Process and Cooperation in the field of Security and Regional Cohesion' is scheduled to be held in Tashkent on March 26-27. Representatives from all regional countries, including Pakistan, as well as the United States will attend the conference.
As there is no let up in Afghan war and Daesh is posing a serious threat to Afghanistan's neighbours, Uzbekistan has also stepped up efforts to help in the reconciliation process.
All regional countries are now on same page to press for a political solution as the military option is increasingly being looked at as having failed in defeating the Taliban, besides the emergence of Daesh has further aggravated the situation in Afghanistan and the region.
A Taliban spokesman and a political representative said they have not received any invitation for the Tashkent moot.
"We have not been invited," the Taliban spokesman Zabihullah Mujahid told Daily Times in response to a query posted on his WhatsApp. Taliban's relations with Uzbekistan have been tense because of its support to the anti-Taliban Northern Alliance, according to Taliban leader, who served during the Taliban rule in 1996-2001.
A Taliban political representative also said Uzbekistan has not extended any invitation to the political office, adding that any process without the Taliban will be an exercise in futility. "The Islamic Emirate is a major party to the conflict. How can the Afghan problem be solved without our participation?" he asked, while speaking to Daily Times on Wednesday.
He said meetings for peace in Afghanistan will not produce any result if the Taliban are not invited. Pakistan is likely to be represented by Foreign Minister Khawaja Asif.
Last week, Foreign Office spokesman Mohammad Faisal welcomed Uzbekistan's role for peace in Afghanistan.
"As a neighbour, Pakistan appreciates Uzbekistan's initiative to convene a Ministerial Conference on Afghanistan. We support Uzbekistan in its endeavour to contribute towards bringing lasting peace and stability in Afghanistan," Faisal said earlier this month at his weekly briefing.
"In our view, Afghanistan's neighbours should play an active role in the peace and reconciliation process in Afghanistan. We believe that a regional solution would be the most suitable to settle the conflict in Afghanistan," he further stated.
Uzbekistan Foreign Minister Abdul Aziz Kamilov, leading a four-member delegation, visited Islamabad on February 12, and in a meeting with Foreign Minister Asif conveyed a letter from the Uzbek President, addressed to President Mamnoon Hussain, inviting him for the conference.
The Tashkent conference will be held nearly a month after the second meeting of the Kabul Process in Kabul on Feb 28 that had pressed the Taliban to join the intra-Afghan dialogue. Uzbekistan and Central Asian states were part of the Kabul Process.
The Taliban did not issue any official reaction to the Kabul Process call, but in commentaries on their websites rejected the Kabul Process as a move to 'force them to surrender' and insisted they are ready for direct talks to the US.
The Taliban also ignored President Ghani's dialogue offer in his address to the Kabul Process and a Taliban political negotiator had earlier said Taliban are fighting against foreign invasion and Mr Ghani had not offered a single word about the real problem.
https://dailytimes.com.pk/215501/no-invite-for-peace-conference-taliban/
--------
Hafiz Saeed's Mili Muslim League Set to Contest July Polls in Pakistan
15 MARCH, 2018
NEW DELHI: The Mili Muslim League is a new political party in Pakistan, that at first glance appears a regular political outfit fighting for change. Its website loudly declares its mandate as 'leadership based on merit not wealth' and the need to 'unite Muslims once again, shunning ethnic/religious divide.' The catch, however, is that the MML is backed -- openly -- by terror accused Hafiz Saeed, who is believed to be behind the 2008 Mumbai terror attacks.
The MML was established in 2017, with Saeed inaugurating the party's offices in Lahore in December. The Election Commission of Pakistan (ECP) initially refused to grant the party political recognition. That changed earlier this month, with a high court decision on March 9 approving the party's registration, allowing it to run in national elections scheduled for July.
The fact that a political party openly backed by Saeed is to be allowed to run for national elections is indicative of the deep crisis in Pakistan -- a country which has long been accused of differentiating between "good" and "bad" terrorists. The former refers to terror operations focused across the border in India and Afghanistan, with Saeed -- despite being on the terror watchlist and having a US bounty of $10 million for information leading to his arrest and conviction -- remaining a powerful figure in the country.
The "bad" terrorists then are groups active within the borders of Pakistan, including the Tehreek-i-Taliban Pakistan (TTP). At the time of writing, a teenage Taliban suicide bomber attacked a police check-post near the residence of ousted Prime Minister Nawaz Sharif, killing nine people including five policemen.
The attack comes as Pakistan grapples with US pressure, with CIA Director, Mike Pompeo, vowing to take a harder line against Islamabad if the country fails to show that it's battling terrorism. The US, which has traditionally been a key partner for Pakistan, has spoken out in the past at Islamabad's failure to take concrete measures against all terror groups, including those using its territory as a safe haven but focused on Afghanistan and India. Under the new administration, the US has followed the rhetoric with more action.
"We see the Pakistanis continuing to provide safe harbor, havens inside of Pakistan for terrorists who present risks to the United States of America," Pompeo said earlier this year. "If they fix this problem, we're happy to continue to engage with them and be their partner. But if they don't, we're going to protect America." There is also pressure to add Pakistan to the Financial Action Task Force's terrorism-financing watch list -- a move, which if cleared, can lead to sanctions.
Pakistan has consistently denied that it differentiates between terror groups. The MML's official recognition, however, is further proof that terror outfits continue to receive tacit official support given that valid objections have been raised regarding Saeed's charities being fronts for the militant group Lashkar-e-Taiba. The MML has dismissed the allegations as "propaganda." Post the High Court ruling clearing MML for recognition, Army Chief Qamar Javed Bajwa told reporters he stood by the judiciary and subversion of its rulings will not be allowed.
Additionally, the move to recognise MML has received sharp criticism from New Delhi, which has consistently highlighted the protection accorded by Pakistan to Saeed. Raveesh Kumar, spokesperson for the Ministry of External Affairs, told reporters that it "completely exposes Pakistan's duplicity." "This is an attempt by the Pakistani establishment to mainstream him, to mainstream this system as a political party."
India has been demanding that Saeed stand trial for the Mumbai attacks, but Pakistan has managed to use one pretext or another to prevent trial. In fact, Pakistan denied any role in the 2008 blasts, but following evidence of LeT involvement provided by India, Saeed was put under arrest in September 2009. He was cleared off all charges a month later. In January 2017, he was put under house arrest again -- a move meant to appease the US and India. In December he was released by the Lahore High Court "for lack of evidence."
Full report at:
http://www.thecitizen.in/index.php/en/newsdetail/index/5/13288/hafiz-saeeds-mili-muslim-league-set-to-contest-july-polls-in-pakistan
--------
Pakistan Providing Secret Support to Taliban: US Army General Votel
March 16, 2018
Washington, Mar 16: Pakistan has been providing secret support to the Taliban despite being pressurised and warned by the United States to take a decisive action against the terror groups, revealed United State Army General Joseph L. Votel. Votel was speaking at a Senate Armed Services Committee hearing on Tuesday.
When asked about Pakistan's continuous support to Taliban and other terror organisations, Votel said, "I cannot tell you that we have seen decisive changes in the areas in which we're working, but I remain very well-engaged with my partner to ensure that we are moving forward on this."
On recent increase in Taliban attacks in Afghanistan, Votel said, "Having sanctuary in Pakistan or having support from other actors in the region certainly is an aspect of the Taliban's success here." (Also Read: US Keeping All Options on Table to Deal With Pakistan if it Doesn't Take Decisive Action Against Terror Organisation: White House)
An intelligence source close to the Afghan border region told Washington Post that the Inter-Services Intelligence (ISI) of Pakistan continue to covert support for the Taliban in the border region. "ISI is providing both protection and material support to the Taliban in areas between Quetta and the Afghan border," he said. (Also Read: Trump's Tweet Against Pakistan to Strengthen Ties Between Beijing And Islamabad: Chinese Daily)
He also revealed that ISI has been working with Pakistani Army in Taliban in Pashtun ethnic areas of Balochistan in the country. "In Pashtun areas which are close to Quetta, religious groups are operating madrasas," he said.
"Among these groups, the Jamiat Ulema-e-Islam is most active. Under Sami ul Haq's leadership, madrasas are creating new soldiers for Taliban in Balochistan's Pashtun belt," he added. Taliban leadership are operating from Pashtunabad, Gulistan and surrounding areas, the source said.
Full report at:
http://www.india.com/news/world/pakistan-providing-secret-support-to-taliban-united-state-army-general-2946449/
--------
Minister recommends 'Tamgha-e-Azm' for personnel fighting terrorism
Mar 16, 2018
ISLAMABAD: The Ministry of Defence has recommended that a new Tamgha-e-Azm be instituted in recognition of the sacrifices, resolve, and steadfastness displayed by personnel of the armed forces, paramilitary forces, and the law enforcement agencies against the menace of terrorism.
In a statement issued on Thursday, Defence Minister Khurram Dastgir said that the Tamgha-e-Azm will boost the morale of the armed forces and encourage their resolve to eradicate extremism.
He said the nation continues the battle against extremism with an aim to achieve peace and stability for all Pakistanis.
Full report at:
https://www.pakistantoday.com.pk/2018/03/15/minister-recommends-tamgha-e-azm-for-personnel-fighting-terrorism/
--------
Will Pak-Afghan NSAs meeting prove a diplomatic breakthrough?
Imtiaz Gul
MARCH 16, 2018
Weather permitting, Pakistan's national security advisor Gen (retd) Nasir Khan Janjua will arrive in Kabul on Friday (today) for a tete-a-tete with Hanif Atmar, his Afghan counterpart.
Diplomatic sources say the visit comes on Atmar's personal invitation to Janjua in what is being seen as a crucial link in the current efforts to repair relations.
Both NSAs are expected to explore ways to further cool down tempers on both sides of the border on the way to resumption of formal dialogue between the two countries.
Dr Omar Zakhilwaal, the Afghan ambassador to Islamabad, too, has been actively wooing his government and Pakistani civilian and military leaders for initiating some confidence building measures to gradually rub off the deep-seated mistrust. He has been keen on the use of businessmen from both sides to steer the dialogue through a joint delegation.
General Qamar Bajwa, the chief of army staff, too, recently told a large group of journalists that he was hopeful for the future. The vibes are positive, and we have achieved a breakthrough, Bajwa confided, adding that he was in regular contact with President Ashraf Ghani and his colleagues.
That foreign secretary Tehmina Janjua accompanied the COAS on all of his visits to Kabul is also indicative of the combined civil-military endeavor to ease off tensions.
Efforts – both on official and private level – have been underway to get the official dialogue, particularly the review of the Afghanistan-Pakistan Transit Issues Contract Agreement (APTICA), which Pakistan says has been stuck in Kabul for nearly two years.
During his interactions with the delegates of a Pak-Afghan Track II initiative on February 28 in Islamabad, Janjua had issued a passionate appeal for reconciliation.
"We have fought for each other. We have fed each other. We can share the bread. We can share anything and everything like brothers and sisters do," he said, while adding that Pakistan saw a common future with Afghanistan. He also stated that Pakistani universities, colleges, and schools were all available for Afghan youth, urging them to optimally utilise these educational facilities.
Full report at:
https://dailytimes.com.pk/215499/will-pak-afghan-nsas-meeting-prove-a-diplomatic-breakthrough/
--------
Taliban's silence on talks offer raises peace hopes
March 16, 2018
ISLAMABAD - The Afghan Taliban's silence on the latest offer of unconditional talks by the Kabul government has raised hopes in Islamabad and Washington the insurgent group may be mulling over joining the peace process. Previous offers of negotiations had been promptly rejected, reported Voice of America (VoA) on Thursday.
Pakistani military leaders contend their renewed push to bring insurgents to the table has led to the change in behaviour.
A senior military official with direct knowledge of the developments said a recent open letter from the Taliban seeking direct talks with the United States was also an outcome of Pakistan's fresh push in partnership with other key stakeholders to try to end the Afghan war. He spoke to a group of reporters on condition of anonymity.
The path ahead is "fraught with troubles" and requires all stakeholders to use their respective influences to nudge warring Afghan sides to the negotiating table, he said.
The peace-making effort, he added, is also leading to improvement in Islamabad's relations with Kabul and Washington. The official explained Pakistani civilian and security institutions, including the spy agency ISI, are in contact and talking to Taliban representatives. "We are sincerely trying to persuade them" and their allied Haqqani group to join the Afghan reconciliation process, the military official insisted.
But he cautioned "the matters could not be resolved overnight" because decades of hostilities have led to an "extremely complex situation" in Afghanistan. There are groups in the Taliban and some of them are in contact with Russia, some with Iran and some with Pakistan," the official noted.
Pakistan maintains security forces have eliminated all militant sanctuaries on its soil, but Taliban insurgents use nearly three million Afghan refugees as cover and military operations could result in collateral damage and trigger a violent militant backlash.
"So far, the stance [regarding Afghan President Ghani's offer] has not been shared with me, so I am unable to offer any comments," Taliban spokesman, Zabihullah Mujahid, has said in response to VOA's repeated queries. The Taliban's reaction to past peace overtures by Kabul had been that it would join intra-Afghan talks only after all foreign forces leave Afghanistan.
The insurgent group would also justify its refusal, saying Afghan rulers are "American stooges" and engaging in talks with them would be simply "a waste of time" because they are not authorised by Washington to determine the fate of "foreign occupation" of Afghanistan.
Ghani's proposed peace plan, includes removal of the names of Taliban officials from international blacklists, allowing insurgents to open an office in Kabul to pursue their goals through non-violent means and join the national political process.
General John Nicholson, commander of US and NATO forces in Afghanistan acknowledged Wednesday he is also detecting signs the Taliban do not intend to reject outright Ghani's latest offer that is backed by all international stakeholders.
"We know a lot is going on right now, I mean, this offer , I think, is being considered [by the Taliban]. We haven't seen a public response [to the dialogue offer] which is interesting," the general said in Kabul. Nicholson cited wider diplomatic and battlefield pressure on the insurgents as well as Washington's ongoing intense dialogue at various levels and collaboration with Islamabad. "I think some of the pressure is the US policy putting pressure on Pakistan and that pressure is being felt," the American general noted.
Nicholson described Kabul's peace overture as a "well thought out plan" and stopped short of rejecting US involvement in peace talks with the Taliban while commenting on the group's open letter to Americans. "The idea of talking exclusively to the US is not in our approach to this. We think it is an Afghan-led process," the general reminded.
"It's encouraging that these offers are on the table and that we would appear to be in a point where they could start having a conversation on this," said Nicholson. He cautioned though, peace processes take years to shape up.
Pakistani officials also note an improvement in relations with the Afghan government and speak of a better understanding developing between Army Chief General Qamar Javed Bajwa and President Ghani.
Islamabad's recent diplomatic engagements with Washington have also started paying dividends and allowed the two sides to understand each other's concerns stemming from the protracted Afghan hostilities. Last week, Pakistani Foreign Secretary Tehmina Janjua led a high-level delegation to the United States and held extensive talks with senior Trump administration officials.
Both sides have been tight-lipped about these meetings, though privately Pakistani officials report "significant" progress. They say in return for Islamabad's renewed attempts to help start Afghan peace talks Washington has also begun to accommodate some Pakistani concerns.
Full report at:
https://nation.com.pk/16-Mar-2018/taliban-s-silence-on-talks-offer-raises-peace-hopes
--------
Southeast Asia
Indonesia makes criticising politicians a crime
March 16, 2018
JAKARTA - Indonesians could be jailed for criticising national politicians under a new law which came into force Thursday, in what critics slammed as a major step back for the world's third-biggest democracy.
The vaguely worded bill passed the 560-member house last month but has just become official, over the objections of President Joko Widodo who refused to sign off on the controversial legislation.
Widodo does not have veto power over the bill, although it can be challenged at the Constitutional Court.
The so-called MD3 law opens to the door to pressing charges against anyone who "disrespects parliament or its members" but does not set out possible minimum or maximum jail terms. Indonesia is the third biggest democracy globally behind India and the United States.
Protesters across the Southeast Asian archipelago who blasted the bill could potentially see themselves jailed for such demonstrations in the future, critics said.
"How does the law define disrespect?" said Sebastian Salang from the monitoring group Indonesian Parliament Watchdog.
"It is not clearly explained and could be loosely interpreted as long as it fits the lawmakers' interest to silence critics."
Hundreds of protesters staged a rally outside the Constitutional Court in Jakarta Thursday, calling on it to revoke the legislation.
A spokesman for the court said it had already received three petitions challenging the law, but it could take months before it renders a decision.
Any investigation of a parliamentarian would have to be approved by the House Ethics Council under the new law, which could block probes by Indonesia's powerful Corruption Eradication Commission.
Some observers say the new law would criminalise criticism of the endemic corruption and poor performance among some members of Indonesia's political system.
At least eight lawmakers have been arrested for corruption in recent years, including former house speaker Setya Novanto who is on trial in one of the country's biggest-ever graft scandals.
There have been growing concerns about freedom of speech and human rights during Widodo's tenure.
Indonesia is pushing to clamp down on gay and pre-marital sex as part of a sweeping criminal law overhaul, while the government has used sweeping Internet legislation to arrest people accused of defaming the president and other high-ranking officials online.
Last year, the government issued a decree allowing the country to ban groups that oppose its official state ideology.
Widodo has called for drug dealers to be shot if they resist arrest as the country wrestles with what he has called a drug "emergency".
https://nation.com.pk/16-Mar-2018/indonesia-makes-criticising-politicians-a-crime
--------
Phones, internet to shut down for Bali Hindu holiday
March 16, 2018
Hindu leaders in Bali have won approval from the central government to turn off all internet connections and cellphone coverage for the first time during Nyepi, a Balinese Hindu festival known as the Day of Silence.
It means there will be an almost total 24-hour blackout — hospitals and vital services are exempt — for the annual celebration, which this year falls on March 17 in the tourist hotspot.
Every year the Hindu-dominated province dims the lights and closes its airports for a day as pecalang, or religious police, comb the streets looking for anyone who has defied the ban and strayed outdoors.
On this, a public holiday in Bali, locals are supposed to fast, meditate and practice silence as they symbolically cleanse their souls from 6 a.m. until the same time the following day.
The previous evening, the last day of the year on the local calendar, sees Bali turn into a ghoulish landscape populated by effigies of gods and demons culled from local folklore as eerie parades fill the streets.
The effigies are traditionally burned after Nyepi wraps up.
But modern technology has made enforcing the day's ban on noise, light and television harder as people, especially tourists, are increasingly reluctant to switch off their smartphones, officials say.
I Gusti Ngurah Sudiana, chairman of the Bali chapter of Parisada Hindu Dharma Indonesia, said local Hindu, Muslim, Protestant and Buddhist religious institutions have joined Denpasar Diocese in issuing an appeal to non-Hindus asking them to respect the holy day and exercise religious tolerance.
They also requested people power off their phones for 24 hours.
To make compliance easier, Parisada Hindu Dharma Indonesia petitioned the Ministry of Communications and Information to disable phone and internet services to Bali.
"We don't want any WhatsApp, Line, Google or mobile phone services operating during Nyepi because they are a disturbance," Sudiana told ucanews.com on March 13.
"People should not be taking selfies and posting them on social media on this holy day."
He urged tourists taking photos in public not to do so for their own safety as it could cause clashes with local people sensitive to having their traditions trampled on.
He said episodes of violence have broken out in previous years.
Not everyone was happy with the blackout with some saying 24 hours was too long as some people need to work.
"We have to keep working and communicating with our business partners, so they should only cut it for a maximum of 12 hours," said privately employed Paulus Wera from St. Peter parish in Negara, Bali.
Some hoteliers expressed concern it could cause problems with guests.
Full report at:
https://www.ucanews.com/news/phones-internet-to-shut-down-for-bali-hindu-holiday/81795
--------
Ahead of Polls, Malaysia's Najib Gives Cash to Staff of State-Linked Firm
March 16, 2018
Kuala Lumpur. Prime Minister Najib Razak on Thursday (15/03) announced cash handouts on top of bonuses already paid to staff of Malaysia's largest government-linked asset management firm, as he prepares for a general election that must be held by August.
The scandal-plagued prime minister needs to consolidate support for his coalition from its traditional vote base of civil servants and the majority Malay-Muslims, to stave off an unprecedented challenge from his former mentor turned opposition leader, Mahathir Mohamad.
Najib said each of the more than 1,500 staff of Permodalan Nasional Berhad (PNB), which oversees assets worth about 279 billion ringgit ($71 billion), will get a payment of 2,000 ringgit, in conjunction with the firm's 40th anniversary.
"The ex-gratia [payment] will be made in May this year, so you can celebrate Aidilfitri with joy," he said to thunderous applause at the firm's anniversary celebration.
Malaysia's Muslims will celebrate the holiday of Aidilfitri, or Eid, in mid-June, ending the holy fasting month of Ramadan.
The announcement is Najib's latest effort to win over voters as he faces down financial scandals at a state fund and a government palm oil agency.
Mahathir, who led the country from 1981 to 2003, turned on his former protege more than two years ago, after news broke of a multi-billion dollar scandal involving state fund 1Malaysia Development Berhad (1MDB).
Najib and the fund have denied any wrongdoing.
The prime minister also faces the prospect of losing support from palm oil plantation smallholders operating under state-owned palm oil agency Felda, which has been hit by financial scandals of its own.
In July, Najib offered hundreds of millions of dollars in cash handouts and debt waivers in a bid to win over the agency's more than 600,000 smallholders, a key vote bank for his ruling party.
In October, Najib unveiled a national budget that promised to cut personal income tax for lower-income earners, hand out more to pensioners and spend billions on schools, hospitals and rural services to allay voters' worries.
Earlier, he announced aid running into billions of dollars directed at the mainly Muslim ethnic Malay majority in a bid to neutralize Mahathir's influence.
Full report at:
http://jakartaglobe.id/international/ahead-polls-malaysias-najib-gives-cash-staff-state-linked-firm/
--------
North America
Trump did not pressure two Muslim federal judges to resign, contrary to report
March 15, 2018
President Donald Trump did not pressure two federal Muslim judges to resign, as a story on a conservative website alleges.
The story on the Ladies of Liberty site says the president sent letters to the judges instructing them to quit unless they publicly denounced Sharia law.
The story says Trump was responding to thousands of letters and complaints that the judges were trying to "impose Sharia Law on America." It says both judges ultimately resigned.
A federal courts spokesman declined to comment, beyond saying the story was false. He said he didn't want to comment further for fear of legitimizing the story's contents.
The story identified the judges as Herm ali al Akbahri of the Dearborn, Michigan, court and Judge Mashala Laharalla of the Sixth District probate court.
No individuals by those names are listed in the Federal Judicial Center's repository of judges who served since 1789. And there is no federal judicial presence in Dearborn and no such thing as a federal probate court.
The website does include a disclaimer calling itself "a whimsical playland of conservative satire."
"If you believe that it is real, you should have your head examined," it states.
Ibrahim Hooper with the Council on American-Islamic Relations said on its face alone, the story appears "ridiculous, with fake 'Arab/Muslim' names and other over-the-top nonsense."
Still, such stories tend to trigger a flood of hate messages on social media, Hooper said.
The Constitution stipulates impeachment - not presidential executive orders - as the method for removing federal judges.
Last year, a similar debunked story on other sites claimed Trump had removed another federal Muslim judge from the bench for making rulings allowing Sharia Law to be practiced in Dearborn.
https://www.washingtontimes.com/news/2018/mar/15/trump-did-not-pressure-muslim-judges-resign-ladies/
--------
Trump ready to host Crown Prince Mohammed bin Salman
March 15, 2018
Saudi Arabia's hard-charging young crown prince, in the midst of a bare-knuckle overhaul of his country's social, religious and economic profile while pushing an increasingly hard line against Iran, will make a momentous first visit to the White House next week.
With Riyadh emerging as a linchpin of U.S. policy in the region, President Trump will host 32-year-old Crown Prince Mohammed bin Salman on Tuesday to discuss strengthening the security relationship between Washington and Riyadh, part of a three-day U.S. visit for the prince.
For his part, the crown prince is eager to ensure that Mr. Trump, who broke with precedent to make Saudi Arabia the site of his first foreign visit of his presidency last year, continues to stand with the Kingdom on a range of fronts, including its controversial war against Iran-backed rebels in Yemen and its diplomatic campaign to isolate Qatar.
With Saudi King Salman bin Abdulaziz Al Saud appearing close to fully ceding power to his ambitious son, analysts say Mohammed will try to challenge U.S. perceptions that Saudi Arabia is an unsavory ally suffering from rampant corruption and practicing a severe version of Islam.
The prince, who made a three-day state visit to Britain this week, has emerged as a fierce but polarizing advocate of reforms — promoting a more moderate form of Islam, attacking royal corruption and economic overregulation, paving the way for women to drive, and even loosening restrictions on movie theaters. But many in the West remain wary.
"The iconic image for Americans when it comes to Saudi Arabia remains 9/11," said Steven A. Cook, a senior fellow with the Council on Foreign Relations, noting that 15 of the 19 terrorists who carried out the 2001 attacks were of Saudi origin.
Speaking at an Arabia Foundation event this week, Mr. Cook said that "it's going to take time and a lot of effort on the part of the Saudis" to get past the negative perceptions.
"I do think that they have a good story to tell now," Mr. Cook said. "Internally there is a flicker of hope for the future of Saudi Arabia."
Enter Mohammed, widely known simply as "MBS."
The prince has garnered favorable reviews for his "Saudi Vision 2030" — a blueprint for social and economic modernization designed to diversify and modernize the world's oil superpower in a new world of falling energy prices and rising competition.
But his impatient style has rankled many in his deeply conservative country, while raising doubts abroad about some of his more aggressive moves.
The prince played a central role in the Saudi military intervention in Yemen. While the U.S. government has supported Riyadh's fight against Iran-backed Houthi rebels there, the Saudi-led bombing campaign has stalled while facing fierce criticism from rights groups for heavy civilian casualties and a humanitarian crisis in Yemen contributing to the worst cholera outbreak in history.
The prince also led the push among Sunni Arab states to isolate neighboring Qatar, a diplomatic offensive that has unnerved the Pentagon because Qatar plays host to the most strategic U.S. base in the region.
The prince is also widely credited — and blamed — for a major internal crackdown in Riyadh in November, featuring the arrest of dozens of top Saudi business leaders and royal family members, confined to a luxury hotel in the Saudi capital.
Most have since been released, but the prince said he remains committed to fighting the "cancer of corruption." The extralegal detentions came just months after the prince ousted an older cousin from the crown prince spot last June.
The doubts are clouding another major Saudi priority — the partial sale of stock in the state-owned oil firm Saudi Aramco. New York and London are vying to manage the massive offering, but Reuters has reported that Western investor interest has been sapped by doubts about Saudi Arabia's record on human rights and the rule of law.
Still, U.S.-Saudi bilateral ties are vastly improved under Mr. Trump compared to President Obama, who helped negotiate the Iran nuclear deal in the face of open opposition from Saudi Arabia and other Gulf states.
"The Saudi relationship with the Trump team is closer than with any president since George H.W. Bush and the liberation of Kuwait," according to Bruce Riedel, a former CIA official who heads the Brookings Institution's Intelligence Project.
In an article this week in Al-Monitor, Mr. Riedel said that the recent removal of the top-secret clearance for Jared Kushner, Mr. Trump's son-in-law who was the prince's "most valued interlocutor," could also color the visit.
Full report at:
https://www.washingtontimes.com/news/2018/mar/15/donald-trump-ready-to-host-saudi-crown-prince/
--------
Money was meant for return to Canada, not to join Daesh, terror trial in Senegal hears
March 15, 2018
A former Quebec university student on trial for terrorism in Senegal said a money transfer allegedly intended to get him to Syria was in fact meant for him to return to school in Canada, a court in the Senegalese capital of Dakar heard Thursday.
The criminal trial is the first opportunity that Assane Kamara has had to plead his innocence since he was arrested in January 2016. He was taken into custody at the airport after trying to travel to Tunisia.
Among the discoveries made by police were receipts from Western Union for money transfers worth the equivalent of more than $1,500, according to a report from the trial. One of the friends named by Senegalese officials as having sent Kamara money, Harris Catic, told the Star in 2016 that he sent a simple present through the mail at Ramadan to thank Kamara for having taught him Arabic and verses from the Qur'an.
It was Kamara's mother who brought his case to light. Concerned that he had cut himself off from family members while in Canada, she sought out her son and found him leading prayers at Edmonton's Sahaba mosque. She later forced him to return to Senegal.
She told investigators her son had become radicalized while studying economics at Université de Sherbrooke in eastern Quebec, as well as later while living in Edmonton with three friends from Quebec. The trio — Samir Halilovic, Youssef Sakhir and Zakria Habibi — fled Canada in the following months to join Daesh, also known as the Islamic State.
At his trial Thursday, Kamara admitted his friendship with the three men, but said he was different.
"I did not aspire to violent jihad like them. Jihad is an Islamic principle that allows you to make efforts to improve the practice of your Muslim faith," he said, according to a Senegalese news website covering the trial. "My mother's worries were not justified."
The trial did not hear any evidence of Kamara's Facebook exchange with Halilovic from July 2014 in which he tried to arrange a "prison break" to travel from Senegal to Turkey to meet his friends shortly before they crossed into Syria and joined Daesh, which the Star reported on exclusively in 2016.
Testifying on Kamara's behalf were an older brother as well as his fiancé of several years.
"I don't consider Assane to be a jihadist. He's not a violent person. He's calm. He prays, he fasts. He warns against what is bad and endorses what is good. He has always been determined to marry me. I have faith in him," said his fiancé, Mariama Camara, according to Aliou Diouf, a legal affairs reporter who reported from the courtroom.
Asked by his lawyer, Ousmane Seye, if he had ever considered killing for a cause, Kamara said: "Never."
"I'm not radical. I try to be in conformity with my religion."
Prosecutor Aly Ciré Ndiaye asked the court to find Kamara guilty of being involved in a criminal association with a terrorist group and a terrorist financing charge. He is seeking a five-year prison sentence in the case.
"The crime of financing terrorism occurs even if the money was not used to commit an act," he said, according to Diouf's account of the trial.
Seye, Kamara's defence lawyer, said a person cannot be convicted on the basis of rumours.
"There is the presumption of innocence, but we have the impression that the prosecution would prefer the presumption of guilt," he told the court.
Full report at:
https://www.thestar.com/news/canada/2018/03/15/money-was-meant-for-return-to-canada-not-to-join-daesh-terror-trial-in-senegal-hears.html
--------
URL: https://www.newageislam.com/islamic-world-news/love-muslim-day-response-hate/d/114617
New Age Islam, Islam Online, Islamic Website, African Muslim News, Arab World News, South Asia News, Indian Muslim News, World Muslim News, Women in Islam, Islamic Feminism, Arab Women, Women In Arab, Islamophobia in America, Muslim Women in West, Islam Women and Feminism