New Age Islam News Bureau
30 May 2018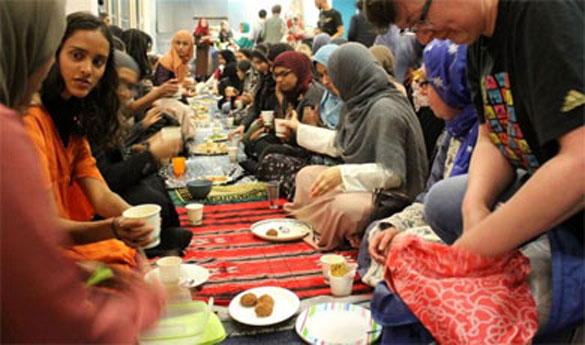 Wherever possible, the food was locally sourced - including the nettles used to make the classic British soup, which grow in the wild, and the home-grown vegetables.PHOTO: FACEBOOK/THE RABBANI PROJECT
----
• London's Muslims Take a Green Bite Out Of Ramadan
• Ankit Saxena's Father to Organise Iftar to Send Message of Harmony
• Iftar At White House: Trump's Recipe for Reconciliation in Ramadan
• Declare Zakir Naik Persona Non Grata and Expel Him
• Islamic Information Centre Dubai Invites Non-Muslims for Iftar
Europe
• London's Muslims Take a Green Bite Out Of Ramadan
• 'Terrorist' Attacker Kills Three in Liege, Gunman Dead
• Erdogan's influence is spreading across Europe
• Muslim animal slaughter must occur in approved abattoirs: EU court
• KSA rejects Macron comment over Hariri 'detention'
• Germany, Turkey mark 1993 neo-Nazi attack
--------
India
• Ankit Saxena's Father to Organise Iftar to Send Message of Harmony
• In This Karnataka District, Hindus and Muslims Pray In the Same Building
• Separatists: Ready for dialogue if Pakistan is part of process
• US state department report says India does not prosecute violence by vigilantes
• PFI taught Jihad to Kerala Muslims: Rashid Abdulla
• India, Pakistan DGMOs hold talks on ceasefire violation and terrorism
• JNU: Why should a course on terrorism be linked to religion?
• AMUSU writes appreciation letter to cop who saved Muslim youth
• If there's terror attack during Ramzan, our jawans' hands are not tied: Rajnath Singh
--------
North America
• Iftar At White House: Trump's Recipe for Reconciliation in Ramadan
• US Officials Question Their State's Af-Pak Narrative
• Pompeo puts religion at heart of US rights agenda
• Can US ensure release of Pakistani doctor who helped CIA reach Osama bin Laden?
• Trump officially nominates new commander for Afghan war
--------
Southeast Asia
• Declare Zakir Naik Persona Non Grata and Expel Him
• Muslim Groups Oppose Local Elections, Fearing More Non-Malays in Power
• Integrity cornerstone of leadership, says Anwar
• Indonesia won't revoke list of approved Islamic preachers
• Clamour sees new Indonesian anti-terrorism bill passed
--------
Arab World
• Islamic Information Centre Dubai Invites Non-Muslims for Iftar
• Syria Takes Rotating Presidency Of UN Conference In Geneva, US Protests
• US-Backed Kurdish Militias Plundering, Smuggling Syria's Crude Oil
• US-Backed Militias, Northeastern Syria Residents Engage in Clashes again
• Terrorist Groups Form New Coalition in Northwestern Syria with Turkey's Supports
• Egypt steps in to avert new war on Gaza
--------
South Asia
• US Report: Ethnic Cleansing Of Rohingya Persists In Myanmar
• Afghan Air Strike Kills 17 Islamic State Terrorists near Pakistan Border
• Interfaith Leaders Pledge To Back Myanmar Peace Efforts
• Flattery of President Trump turns fatal in Afghanistan
• 'Religions for Peace' pledges support for Myanmar's peace effort
• 3 dead, 12 wounded in coordinated suicide attack in Logar
• Taliban suicide bombers kill 3 police, wound 12 in Afghanistan
--------
Mideast
• Erdogan's 'Pious Generation' Goal Drives Islam into Education
• Iranian Celebrities Openly Reject Rouhani's Invitation for a Ramadan Iftar
• Israeli banks funding settlements, helping war crimes against Palestinians: HRW
• Israel hits multiple Gaza targets in response to mortar barrage
• US seeks urgent UN council meeting on anti-Israel strikes
• German FM vows to assist Iran's economy if it adheres to nuclear deal
--------
Africa
• Ivory Coast Muslims Shun Social Networks during Ramadan
• Mozambique 'Jihadists Behead' Villagers
• Sudan says its participation in Yemen war a 'moral obligation'
• Libyan leaders commit to December 10 elections
• Political rivals seek roadmap for lawless Libya
• Nigeria: 132 Boko Haram Members Surrendered in the Last Few Months, Says Military
--------
Pakistan
• Tahir ul Qadri Due on Sunday to 'Forge Electoral Alliance'
• Fazl Says NA Forced Into Approving KP-FATA Merger
• Shehbaz visits Miranshah, expresses solidarity with Pakistan Army
• Popular Sikh leader gunned down in Peshawar
• Parliamentarians denounce attack on Ahmedi worship place in Sialkot
• Shahbaz pays tribute to sacrifices of Pak Army officers, jawans in war against terror
Compiled by New Age Islam News Bureau
URL: https://www.newageislam.com/islamic-world-news/london-muslims-take-green-bite/d/115399
--------
London's Muslims take a green bite out of Ramadan
MAY 30, 2018
LONDON (THOMSON REUTERS FOUNDATION)- Sitting in straight rows on the floor, supping on bowls of soup made from foraged nettles and home-grown vegetable stew, a group of London Muslims are breaking with Ramadan tradition.
The evening meal known as iftar breaks the fast during the Muslim holy month of Ramadan and is often associated with environmentally-unfriendly excess, with tables groaning under the weight of heavy meat dishes.
Here though, the emphasis is on ethically-sourced, seasonal food - no meat and no dairy - while plastic forks and straws and disposable plates are nowhere to be seen.
"This ethical iftar is about looking particularly at key issues around meat consumption during Ramadan, food waste during Ramadan and plastic waste ... We wanted to do an iftar plan that had none of those things," said organiser Jumana Moon.
"It's about trying to reconnect our responsibility to nature as part of our worship not a separate hobby or interest," she told the Thomson Reuters Foundation.
Participants in the event at Rumi's Cave, a London venue that hosts courses for millennial Muslims and open-mic nights, had to bring their own cutlery and crockery, as well as containers for leftovers.
Wherever possible, the food was locally sourced - including the nettles used to make the classic British soup, which grow in the wild, and the home-grown vegetables.
There were readings from the Quran that focused on the importance of caring for the environment, while the seeds from the dates that are traditionally used to break the fast were collected for replanting or composting.
Participant Sohaib Elnahla said the green iftar underscored the importance in Islam of eating food that was sustainable and wholesome.
"If mosques all did a green iftar it would have a massive impact on the practices," said Elnahla, a prayer leader and teacher.
John Parry, a Christian minister who attended the iftar event, said it offered a vital message for people of all faiths.
"We have thought of ourselves as human beings that can do what we want with creation when in fact, we're given god-given responsibilities to look after creation and not to abuse it," he said.
"It's a message that is absolutely vital in this day and age." Piles of left-over food and plastic plates often spill out of bins at the end of iftar meals, said Moon who organised the event with The Rabbani Project, a creative collective, who hoped the event would also raise awareness about limiting food waste.
Traditional practices such as eating from shared plates or with hands to using clay cups and wooden spoons could all be revived, she said.
"I'd love to see us as individuals, families and organisations doing a kind of 'green audit' in our personal lives as well as our public lives."
https://www.straitstimes.com/world/europe/londons-muslims-take-a-green-bite-out-of-ramadan
--------
Ankit Saxena's Father to Organise Iftar to Send Message of Harmony
May 30, 2018
In February, Yashpal Saxena's world came crashing down when he got the news that his son was brutally murdered in broad daylight.
Ankit Saxena, the 23-year-old photographer, was mercilessly thrashed and murdered in a market of west Delhi's Khayala area on February 3.
The young man was killed by his Muslim girlfriend's family who were against the inter-faith relationship.
Nevertheless, despite the hostility and drama, Yashpal Saxena always made sure that his son's murder was not communalised.
Months later, Saxena is planning to host an iftar party on June 3 for promoting communal harmony.
'This is just an attempt to further our cause of communal harmony...We want our son's name to be synonymous with this cause,' Saxena was quoted as saying by The Print.
The local police station and all the officials investigating the ase have also been invited by the family. The Saxenas are also planning to form a trust in their son's name. They want to reach out and help couples who want to or already have married people outside their faith.
The fateful day
Saxena was on his way to meet his girlfriend when her family caught sight of him in Raghubir Nagar and a verbal spat followed. "He was then attacked with a knife. Since the two belong to different communities, police force has been deployed in the area," a senior police officer was quoted as saying.
Saxena's mother was also beaten up when she rushed to the location, and it was her who took him to the hospital in an auto-rickshaw. "There were dozens of people watching my son get beaten up, but none of them dared to save him. My son was a body builder himself, but he was helpless when the killers caught and killed him. The sight of the woman's father wielding a big kukri knife must have scared others," the mother said at the time of the incident.
http://www.dnaindia.com/india/report-after-son-s-brutal-murder-by-muslim-girlfriend-s-family-ankit-saxena-s-father-to-host-iftar-for-communal-harmony-2620043
--------
Iftar At White House: Trump's Recipe for Reconciliation in Ramadan
May 30, 2018
LONDON: Will he or won't he? His predecessors did. The first was as long ago as 1805. But as the 45th president of the United States, Donald Trump is nothing if not a mold-breaker.
Which is why, in 2017, he became the first president for more than 20 years not to host an Iftar during Ramadan or for Eid Al-Fitr.
This year, however, rumour has it that there will be an iftar gathering at the White House "in early June," although official confirmation has so far proved hard to come by.
Relations between the new US administration and Muslims were hardly friendly during Ramadan last year. On the campaign trail in 2015, leading up to the election in November 2016, the president called for a "total and complete shutdown" of Muslims entering the US.
Among the first acts of the new administration was an attempt to restrict entry into the US for citizens from seven predominantly Muslim countries, a policy that is still being challenged and counter-challenged in the courts.
In 2016, CNN reported that the new administration had called for surveillance on mosques, saying: "We have to maybe check, respectfully, the mosques. And we have to check other places. Because this is a problem that, if we don't solve it, it's going to eat our country alive, OK?"
Last year, Ramadan passed with barely a mention from the White House, apart from a statement, signed by Donald and Melania Trump and released at the end of the holy month, which said: "Muslims in the United States joined those around the world during the holy month of Ramadan to focus on acts of faith and charity. Now, as they commemorate Eid with family and friends, they carry on the tradition of helping neighbors and breaking bread with people from all walks of life.
"During this holiday, we are reminded of the importance of mercy, compassion, and goodwill. With Muslims around the world, the US renews our commitment to honor these values. Eid Mubarak."
The statement did not appear on Trump's social media feeds.
Thomas Jefferson, the third US president, was the first to hold an iftar when he delayed the start of a White House dinner on Dec. 9, 1805 until after sunset to accommodate his guest, Sidi Soliman Mellimelli, the envoy from Tunis.
Hillary Clinton revived the practice in 1996, when she was First Lady, hosting a reception to mark Eid Al-Fitr which was attended by about 150 diplomats, legislators and Muslim community leaders. From 1999, the iftar became a fixture on the White House calendar, continued by both George W. Bush and Barack Obama.
President Bush even held one after the Sept. 11 attacks in 2001, insisting that it was more important than ever to show that the White House and the US were inclusive.
"We were at war with terrorist organizations, not with Islam itself," said James Norton, Bush's deputy assistant secretary of homeland security. "President Bush went out of his way to wrap his arms around the Muslim community."
Even the Israelis have celebrated iftar. In 2011, the Israeli ambassador to the US, Michael Oren, hosted an iftar dinner for the first time at his official residence in Washington. Guests broke the fast with dates, apricot juice and soup, and were then served a full halal meal after prayers.
So it is hardly surprising that Trump was widely condemned for not opening up his White House during Ramadan last year. Haroon Moghul, a fellow in Jewish-Muslim relations at the Shalom Hartman Institute, called the decision "the beginning of his hatred of us, rhetoric unfolding into policy."
Reuters reported that the fault lay with Rex Tillerson, then secretary of state, who refused to host a reception, rejecting a recommendation by the office of religion and global affairs in his own State Department. When asked why there was no White House iftar, press secretary Sean Spicer — rarely short of an answer — simply replied: "I don't know."
Others had an answer, though. "The White House has abandoned iftar since the Trump administration is not interested," said Jalil Khan, president of PAKPAC, a Pakistani-American organization which hosted an iftar on May 23 on Capitol Hill for members of Congress.
"Our political action committee took the lead and organized iftar for the second year in a row, and we've been stressing the importance of political activism by Pakistani Muslims living in the US."
This year, however, there appears to be a change of heart. The first signs were the unmistakably warm — some would say conciliatory — greeting from the president at the beginning of Ramadan. It began, rather poetically: "With the rising of tonight's moon, I send my greetings and best wishes to all Muslims" and referred to "the richness Muslims add to the religious tapestry of American life."
On Saturday, Trump wished "all Muslims a joyful Ramadan" on Twitter. He recalled his visit to Saudi Arabia and promised that "America will always stand with our partners against terrorism and the ideology that fuels it. During this month of Ramadan let us be resolved to spare no measure so that we may ensure that future generations will be free of this scourge and able to worship and commune in peace."
Though the official word from the White House is "no update," Ray Mahmood, a prominent developer with long involvement in inter-faith diplomacy in Washington, said he had heard there was to be an iftar.
"I think they are very important to the Muslim community. At least they feel the president at the White House is doing this," he said. The favored date appears to be June 6.
Meanwhile, semi-official events have come and gone. Islamic Relief USA hosted a "grand iftar" on
May 19 and the United Nations Relief and Works Agency hosted an iftar on May 25 for Gaza. The American-Arab Anti-discrimination Committee is holding an "iftar banquet" on
May 31 in Alexandria, outside Washington DC. There are fund-raising iftars, corporate iftars and even an "open mic" iftar by the DC Muslim Writers Collective.
The UAE embassy also hosted an interfaith iftar last Thursday.
But an after-sunset event at the White House will top them all.
http://www.arabnews.com/node/1312116/world
--------
Declare Zakir Naik Persona Non Grata and Expel Him
May 30, 2018
His mission, or "jihad", as apparent in his sermons and lectures, is to glorify Islam while disparaging other religions as being false ones, and to convert the whole world to Islam. Such preaching in any multiracial, multireligious society like Malaysia's amounts to instigating enmity between Muslims (those who are easily influenced by his rhetoric) and non-Muslims.
His listeners who do not have a good knowledge of the religion, of the true teachings of the Prophet that people (of different faiths and beliefs) should live together peacefully and harmoniously, are prone to interpreting his messages as calling on them to rise against non-Muslims and convert them to Islam, even if this is to be done by the sword. We have seen what the Islamic State has done.
He preaches that everyone is born a Muslim, but their parents lead them astray into other religions. So, he very cunningly talks of everyone "reverting" to Islam, not "converting" to Islam. He doesn't care that the Prophet had said, "to you, yours, and to me, mine".
In Jakarta, before the mayoral elections, he told people that a corrupted Muslim who goes to the mosque (because he has "iman") is a better leader of Muslims than an upright non-Muslim who does not go to the mosque. He succeeded in getting Ahok, or Basuki Tjahaja Purnama, ousted and imprisoned.
In Malaysia, he told Malaysians that an Umno/PAS government would be the best. Fortunately, a lot of Muslims in Malaysia did not buy this.
He was given permanent resident status as his political preaching was deemed an asset by the Barisan Nasional government, which was facing mounting discontent even from a large number of Muslims. This was proven by the results of the 14th general election.
His presence in Malaysia is an inspiration to local extremists and racists, and is, therefore, totally untenable.
He should be charged under Chapter XV of the Penal Code for "uttering words, etc, with deliberate intent to wound the religious feelings of any person", and "causing, etc, disharmony, disunity, or feelings of enmity, hatred or ill will, or prejudicing, etc, the maintenance of harmony or unity, on the grounds of religion".
Police reports have been made. Malaysia should follow the example of Singapore, which has banned Muslim and non-Muslim preachers in order to preserve peace and harmony.
Since he is an enemy of the peace and stability of multiracial, multireligious societies, he should be declared persona non grata, and his permanent resident status should be revoked.
It, therefore, behoves the new government to declare him so, and get him escorted to the airport and put on a flight to any country outside Malaysia that he is comfortable going to. – May 28, 2018.
https://www.themalaysianinsight.com/s/50427/
--------
Islamic Information Centre Dubai Invites Non-Muslims for Iftar
Saman Haziq
May 29, 2018
The centre aims to give attendees the pleasure of experiencing fasting and an opportunity to learn about Islam
The UAE is known for its open-mindedness and multiculturalism.
With the objective of bridging gaps between non-Muslims and Muslims in the country, the Islamic Information Centre Dubai is inviting non-Muslims exclusively for a one-of-its-kind Iftar gathering as a part of its Year of Zayed campaign.
To participate in the event, the centre is urging non-Muslims to fast from sunrise until sunset on June 1 and has promised a unique experience for visitors, to understand the life of a Muslim in Ramadan.
The centre aims to give attendees the pleasure of experiencing fasting, an opportunity to learn about Islam and increase their knowledge about the real purpose of fasting during this holy month.
Apart from a sumptuous Emirati buffet, the event to be held at the Dar Al Ber Auditorium will also host doctors, Islamic scholars and new converts who will share their view on fasting and its benefits from their personal experience.
The event will also have dedicated corners for free health checkups as well as photo booths where one can dress up in traditional Emirati clothing and take snaps, a buffet Iftar and dinner, raffle draw and a Virtual Reality (VR) experience of Makkah and Madinah.
Rashid Al Junaibi, director of the Islamic Information Centre, said: "Our centre has always been at the forefront of reaching out to the UAE community and this event is the right opportunity for us to come together to share this blessed feeling of fasting and experience the pleasure it brings."
The unique aspect of this event, titled 'Join us in the pleasure of fasting', is that the attendees are even encouraged to fast that day to get a real-life experience on opening the fast with the community.
"In this part of the world, many non-Muslims fast in Ramadan and there are many more who wish to give it a try. This event is for them," Al Junaibi added.
https://www.khaleejtimes.com/news/general/islamic-centre-invites-non-muslims-for-iftar
--------
Europe
'Terrorist' Attacker Kills Three in Liege, Gunman Dead
May 29, 2018
Liege, Belgium. A man killed two policewomen and a bystander in the Belgian city of Liege on Tuesday (29/05) before being shot dead in a gunbattle at a school in what prosecutors are treating as a terrorist attack.
The man was named by public broadcaster RTBF as a 36-year-old petty criminal who had been let out on day-release from a local prison on Monday. It said investigators were looking into whether he converted to Islam and had been radicalized in jail.
A public prosecutor told a news conference that the man set upon the policewomen from behind with a knife, described as a box-cutter by RTBF, around 10:30 a.m. (0830 GMT) on a boulevard in the center of Belgium's third city, near the German border.
Having stabbed them, prosecutor Philippe Dulieu said, the man then seized one of their handguns and shot both women dead before walking down the street and shooting dead a 22-year-old man who was sitting in the passenger seat of a parked car.
The man then made his way into a high school where he took a woman employee hostage, triggering a major intervention by armed police. Pupils were moved to safety as a gunbattle broke out that sent people in the street racing for cover. Several police were wounded before the attacker was finally killed.
"The event is classed as a terrorist incident," Dulieu said.
The national crisis center, on high alert since past attacks by Islamic State in Paris and Brussels in the past three years, said it was monitoring events but had not raised its alert level.
La Libre Belgique newspaper quoted a police source as saying the gunman shouted "Allahu Akbar" -- God is greatest in Arabic.
Prime Minister Charles Michel, expressing his condolences to the families of the victims, said it was too early to say what had caused the incident. King Philippe visited Liege, the biggest city in Belgium's French-speaking Wallonia region.
An industrial powerhouse on the Meuse river, it was the scene of a mass shooting in 2011, when a man killed four people and wounded over 100 others before turning his gun on himself.
A Brussels-based Islamic State cell was involved in attacks on Paris in 2015 that killed 130 people and on Brussels in 2016 in which 32 died. The Brussels IS cell had links to militants in Verviers, another industrial town close to Liege, where in early 2015 police raided a safe house and killed two men who had returned from fighting with radical Islamists in Syria.
European authorities are deeply concerned about the risks of petty criminals, including those not from Muslim backgrounds, being inspired to Islamist violence while incarcerated.
http://jakartaglobe.id/international/terrorist-attacker-kills-three-liege-gunman-dead/
--------
Erdogan's influence is spreading across Europe
Gavin Mortimer
29 May 2018
Two video clips did the rounds in the French media at the weekend. One went global, that of the heart-warming heroism of Mamoudou Gassama, a migrant who rescued a small boy dangling from a balcony in Paris; the other, being more feel-fear than feel-good, didn't capture the world's attention in quite the same way. This film was shot in the south of France, in a suburb of Avignon, and showed a group of men surrounding a newspaper kiosk. They were there to protest at a large poster advertising the latest edition of the current affairs magazine, Le Point, the front cover of which was adorned with a photograph of the Turkish president Recep Erdogan under the headline 'The Dictator'.
Initially the vendor refused to remove the poster on the grounds of press freedom, but when the mob threatened to burn down the kiosk, he relented. Le Point insisted the next day that the poster be reinstated, and it was, with a police guard. In reporting the story, the magazine described how it had been subjected to a lengthy smear campaign, including alleged bullying, insults and anti-Semitic abuse, because of its report about Erdogan's presidency. A Franco-Turk NGO called Cojep – the Council for Justice, Equality and Peace – has also piled in, issuing a statement accusing Le Point of "irresponsible and hostile journalism" against a man who it describes as "the Nelson Mandela of the 21st Century".
There is growing concern in France that Erdogan is working hard to become the dominant influence among the country's estimated six million Muslims, of whom approximately 620,000 are of Turkish origin. Although only 250 of France's 2500 mosques are Turkish, Erdogan is encouraged in his plan by the accession last summer of Ahmet Ogras to the head of the CFCM, the French Council of the Muslim Faith. Established in 2003 to enhance relations between France and its Muslim population, the CFCM has traditionally had presidents of North African origin. Ogras is the first Franco-Turk to occupy the post and his political ties to Erdogan stretch back more than a decade.
French Muslims of Algerian and Moroccan origin are reportedly working to bring Ogras's two-year presidency to a premature end and the government is also said to be "ill at ease with the presence of a pro-Erdogan figure" at the head of the organisation. Significantly, last year Emmanuel Macron was present at the breaking of a fast during Ramadan as the guest of the CFCM but he hasn't responded to a similar invitation this month. The fact that Erdogan is also manoeuvring to increase Turkey's religious and economic influence in Algeria is another source of anxiety for the French government.
In 2012, Ogras was one of the organisers of a demonstration in Paris that drew 15,000 people of Turkish origin to protest against the passing of a law outlawing the denial of the 1915 Armenian genocide. Two years later he helped organise a rally in Lyon for Erdogan as part of his successful campaign to become president of Turkey. In that address, Erdogan told his audience "not to forget their culture, their traditions and their belief", and then urged them: "Don't assimilate and don't let your children assimilate".
The Turkish president has been promoting a similar message throughout Europe for a while now with little more than murmurs of disapproval from prime ministers, presidents and chancellors. Assiduously cultivating a sense of victimhood among the Turkish diaspora, Erdogan has created a role for himself as the defender of Islam in a Europe rife with Islamophobia, even talking of a "crusade" against Muslims. "What many see in the image of Erdoğan is a strong personality who can challenge European leaders," explained Ayhan Kaya, a professor of political science at Istanbul Bilgi University, in an interview last week. "This strong father figure becomes attractive to those with rather conservative religious backgrounds."
As Le Point reported in its lengthy analysis of Erdogan's regime, more than 120 journalists are in prison in Turkey, ranking the country 155th out of 180 in terms of press freedom. In France, journalists are free from Erdogan's tyranny but the same does not apply to the newspaper vendors, it seems – a fact that drew a sharp response from President Macron on Monday evening. "It is completely unacceptable that the posters of Le Point were withdrawn from newspaper kiosks for the reason that they displease the enemies of freedom in France as well as abroad," he wrote on Twitter. "Press freedom is priceless; without it, it's dictatorship."
Such a response is likely to further deteriorate relations between Turkey and France – a relationship that has already been fraught since the publication last month of a letter signed by 300 prominent figures in France in which they warned of the rise of anti-Semitism and criticised the Koran for encouraging such prejudice. Erdogan was outraged by the letter – in his eyes it was yet another example of Europe's "rampant Islamophobia" – and subsequently 19 Turkish universities have announced they will no longer be teaching French. In contrast, Turkey's schools and universities are receiving government funding to teach Islamic values, creating what Erdogan describes as a more "pious generation". In time he wants these values to be instilled in his compatriots throughout Europe, and that is not all he expects of them. "Have not just three but five children," he told a rally last year. "The place in which you are living and working is now your homeland and new motherland. Stake a claim to it…because you are the future of Europe. It will be the best answer to the vulgarism, antagonism, and injustice made against you."
Full report at:
https://blogs.spectator.co.uk/2018/05/erdogans-influence-is-spreading-across-europe/
--------
Muslim animal slaughter must occur in approved abattoirs: EU court
May 30, 2018
The EU's top court ruled Tuesday that animal slaughter without stunning can only occur in approved abattoirs, saying a ban on temporary slaughter houses does not violate Muslim religious freedom.
In its ruling, the European Court of Justice upheld a 2014 ban in Belgium's Flanders region against temporary abattoirs set up to cope with increased demand during Eid al-Adha, the Muslim feast of sacrifice.
"The Court confirms that ritual slaughter without stunning may take place only in an approved slaughterhouse," the Luxembourg-based court said in a statement.
"That obligation does not infringe freedom of religion as it is only intended to organise and manage the freedom to practise ritual slaughter, taking into account the fundamental rules on the protection of animal welfare and the health of consumers of meat."
Ritual slaughter without stunning is also practised by Jewish communities.
The court said EU laws have reconciled ritual slaughter with guarantees for animal welfare and consumer health.
In 2016, Muslim associations and an umbrella organisation of mosques had challenged the Flemish region on grounds that it breached freedom of religion.
But the court said: "An occasional problem of lack of slaughter capacity in one region of a Member State... is the result of a combination of domestic circumstances which cannot affect the validity of the regulation."
Full report at:
http://www.thejakartapost.com/news/2018/05/29/muslim-animal-slaughter-must-occur-in-approved-abattoirs-eu-court.html
--------
KSA rejects Macron comment over Hariri 'detention'
May 30, 2018
RIYADH - Saudi Arabia on Tuesday rejected French President Emmanuel Macron's comment that Lebanese Prime Minister Saad Hariri had been held against his will in the kingdom in November. Hariri announced on November 4 that he was stepping down in a televised address from Riyadh, only to rescind it the following month after Macron's intervention.
https://nation.com.pk/30-May-2018/ksa-rejects-macron-comment-over-hariri-detention
--------
Germany, Turkey mark 1993 neo-Nazi attack
May 30, 2018
SOLINGEN, Germany - Germany on Tuesday remembered the five ethnic Turkish victims of a murderous neo-Nazi arson attack 25 years ago, amid warnings of resurgent German xenophobia and simmering bilateral tensions ahead of Turkish elections.
In the 1993 attack, one of post-war Germany's most notorious racist hate crimes, four far-right skinheads set fire to a Turkish family's home in the city of Solingen. They killed five women and girls, the youngest just four years old, and injured 14 others.
German Chancellor Angela Merkel and Turkish Foreign Minister Mevlut Cavusoglu attended memorial ceremonies along with Mevlude Genc, 75, who lost two daughters, two granddaughters and a niece, yet strongly urged reconciliation after the attack.
Foreign Minister Heiko Maas made a plea for "tolerance, diversity and humanity within our country and in the world", speaking to German newspapers.
He said it was "shameful" that even today many Turkish immigrants and their descendants "experience discrimination in everyday life".
"I want to tell you: you are not only welcome here, you are part of our country," Maas said, addressing Germany's three-million strong ethnic Turkish community, the largest group of Turks abroad.
The anniversary comes as Germany struggles with a new upsurge of racist attacks and far-right activism, including last year's entry into parliament of the anti-Islam party Alternative for Germany (AfD), following an influx of more than one million asylum seekers since 2015.
AfD co-leader Alice Weidel this month described immigrants as "headscarf girls, welfare-claiming, knife-wielding men and other good-for-nothings" - incendiary comments that earned her a formal rebuke from the parliamentary speaker.
Turkey's foreign ministry Monday voiced concern that "racism, xenophobia and Islamophobia are on the rise" again in the biggest EU country and called on politicians and media there to "use prudent language".
The head of the Turkish Community in Germany, Gokay Sofuoglu, also warned that "right-wing populist arguments are once more setting the tone in the refugee and migration debate".
Referring to the bereaved mother Mevlude Genc, holder of Germany's highest civilian honour for her calls for tolerance and healing, he said she "was never really listened to".
The deadly Solingen blaze was set by four males aged 16 to 23 from the German far-right skinhead subculture that flared in the early 1990s amid an influx of eastern European asylum seekers.
The four juvenile and adult offenders received maximum jail terms of 10 to 15 years, which all ended years go.
The space where the charred remains of the Genc family house once stood is now a vacant lot where five chestnut trees have been planted to honour the victims.
While both Germany and Turkey have stressed their shared sorrow over the tragic deaths, high tensions linger after a deep crisis between the governments of Merkel and President Recep Tayyip Erdogan.
Germany has repeatedly voiced concerns about deteriorating civil rights and media freedoms in Turkey, especially after a crackdown and mass arrests following a failed 2016 coup against Erodgan.
Ankara has been angry over Berlin's decision to bar Turkish politicians from campaigning in Germany, where some 1.4 million ethnic Turks are eligible to vote in their ancestral homeland - a move Erdogan has slammed as a "Nazi-style" ban.
Erdogan and his Justice and Development Party (AKP) are seeking another mandate in snap parliamentary and presidential polls on June 24.
Conservative German politicians have cautioned that Cavusoglu must not misuse the memorial events to campaign for Erdogan's AKP party or deepen divisions in the Turkish-German community.
Maas has stressed the campaign ban applies to all non-EU politicians facing elections within three months, and said he was sure Cavusoglu's speech would "not constitute election campaigning but commemorate the victims of this terrible attack".
Other EU countries, including Austria and the Netherlands, have also sparred with Turkey in recent years.
In France, the popular news magazine Le Point said this week it had suffered harassment and intimidation by Erdogan supporters after it labelled him "The Dictator" on its front cover.
Full report at:
https://nation.com.pk/30-May-2018/germany-turkey-mark-1993-neo-nazi-attack
--------
India
In this Karnataka district, Hindus and Muslims pray in the same building
Vijaya Karnataka
May 29, 2018
CHIKKABALLAPUR: In Mallasandra of Bagepalli Taluk of Chikkaballapur District, Hindu and Muslim gods are worshiped in a single building.
Hindu god Anjaneya and Sufi saint Babaiah are worshipped at the same place, a sign that Muslims and Hindus co-exist peacefully.
The architecture of the building reflects the communal harmony and it is difficult to decide whether the building is a temple or mosque. The structure resembles both a temple and a masjid with minars.
The people her celebrate all festivals. During Ganesh Chaturthi, Muslims do not eat non-vegetarian food, and during Ramzan, the Hindus fast.
"There is no communal discrepancy here from the start. We jointly celebrate Ram Navami and Gowri Ganesha Festival here," said Aboobakar Siddiqui, a villager.
Visitors can pray to Sufi saint Babaiah and then proceed to the statues of Anjaneya and Ram.
Kamal Babu, villager, remarked, Why can't we have all the gods in one place? Anyone can say anything. But our villagers won't hear them. We are all united. No communal violence in this place."
https://timesofindia.indiatimes.com/india/in-this-karnataka-district-hindus-and-muslims-pray-in-the-same-building/articleshow/64368496.cms
--------
Separatists: Ready for dialogue if Pakistan is part of process
by Bashaarat Masood
May 30, 2018
Joint separatist leadership of Syed Ali Geelani, Mirwaiz Umar Farooq and Yasin Malik Tuesday expressed their willingness to join a dialogue on Kashmir if Pakistan was involved in the process. In a joint statement, the separatist leadership said: "…this dispute has three stakeholders — India, Pakistan and people of this land (J&K). The meaningful talks, based on a clear agenda, (and) underlined by sincerity among all the three stakeholders, is an assured and peaceful way to resolve the conflict of Kashmir." "Absence of any one stake holder in the process will not yield any solution."
This comes just days after Home Minister Rajnath Singh said the government was ready to hold dialogue with the Hurriyat Conference if the separatists come forward for talks.
It is also a departure from the stand so far maintained by the separatists — the separatist amalgam have not demanded declaration of Kashmir as "disputed" and withdrawal of troops, as a pre-condition for talks.
The separatists have, however, called the Centre's offer for talks as "unclear and ambiguous". "Let the Government of India give clarity on what it wants to talk about and speak in one language, we are ready to join the process," the joint statement said. Terming the statements from New Delhi "contradictory", it said: "A few days back Rajnath Singh said that they are ready to talks to Pakistan and Hurriyat, to which (External Affairs Minister) Suhsma Swaraj added riders and caveats. Then Amit Shah put out his clarifications… All this ambiguity leaves little room to consider the talk seriously."
Full report at:
http://indianexpress.com/article/india/jammu-kashmir-separatists-ready-for-dialogue-if-pakistan-is-part-of-process-5196469/
--------
US state department report says India does not prosecute violence by vigilantes
May 29, 2018
The US state department said in an annual religious freedom report released on Tuesday that authorities in India "often did not prosecute violence by vigilantes against persons, mostly Muslims", trading in or consuming beef.
"Members of civil society and religious minorities stated that under the current government, religious minority communities felt increasingly vulnerable due to Hindu nationalist groups engaging in violence against non-Hindu individuals and their places of worship," the annual report on the state of religious freedom around the world said.
The report, which excludes the US, said that "while the national government sometimes spoke out against incidents of violence, local political leaders often did not", citing minority community representatives.
The state department publishes reports every year about US view of the state of civil rights and religious freedom around the world, as mandated by US Congress. However, these reports have also raised questions and faced criticism at home for ignoring similar challenges in the US, specially under President Donald Trump — his administration has been under fire for the discriminatory travel ban on people from some Muslim-majority countries.
Secretary of state Mike Pompeo, releasing the report, said the US plans to call a ministerial meeting on religious freedom on July 25 and 26 with government and religious leaders, rights advocates, and civil society from around the world.
On India, the report, based largely on published news accounts and commentary, said: "There were reports of religiously motivated killings, assaults, riots, discrimination, vandalism, and actions restricting the right of individuals to practice their religious beliefs and proselytise.
Full report at:
https://www.hindustantimes.com/india-news/us-state-department-report-says-india-does-not-prosecute-violence-by-vigilantes/story-aApeomdQlAvn75GTENs2GM.html
--------
PFI Taught Jihad to Kerala Muslims: Rashid Abdulla
Prasanth Menon
May 29, 2018
KOZHIKODE: Rashid Abdulla, the leader of the Kerala module of the Islamic State has said that the National Development Front (NDF), the precursor of the Popular Front of India (PFI), was formed to wage Jihad against the oppressors of Muslims including the CPM and the RSS.
In the 70th edition of the voice message, Rashid, however, said the NDF lost the Islamic character after the formation of the political party Social Democratic Front of India (SDPI). Rashid, who hails from Kasargod district, is believed to be operating from Khurasan province in Afghanistan
The IS leader also raised a serious allegation that PFI leadership is doing spy work for the police. "They are identifying IS supporters and possible recruits for the IS to help the Kaffir government," he said.
"The intention of the founders of the NDF was 'Jihad Fi Sabilillah' (fighting in the path of Allah). The content of the NDF classes include the tortures Muslims underwent in various parts of the country, the sacrifice one should suffer after becoming the member of the NDF and oath of allegiance to the organisation," he said.
Rashid said NDF spoke of 'defensive Jihad' while all other Muslim organisations kept silent of the issue. "NDF was the only organisation that spoke about martyrs (Shaheed)," he said.
At one stage of its growth a thought was descended on the outfit to form a political party "to bring Islamic sharia through democracy.' Rashid said that the Islamic character of the NDF was diluted after the formation of the SDPI.
"Earlier it was mandator for the cadres to do Fajr namaz, to remain inside the mosque for 30 minutes a week and fasting once a month. These conditions were lifted once the SDPI was formed and Islamic values were drained from the organisation" he said.
Rashid said an organisation that started as Islamic outfit later held freedom parade on August 15 and even distributed Onam kits to Muslims with an eye on their votes. "When SDPI worker Zainul Abid's body was received the leaders asked the cadres not to shout 'Takbir' as it would affect the political party," he said.
According to Rashid, lots of PFI members have shifted loyalty after the Islamic State came into being. "After realising that more and more cadres are joining the IS, the PFI leadership issued circulars saying that the organisation is returning to the original character," Rashid said.
Full report at:
https://timesofindia.indiatimes.com/india/pfi-taught-jihad-to-kerala-muslims-rashid-abdulla/articleshow/64367951.cms
--------
India, Pakistan DGMOs hold talks on ceasefire violation and terrorism
Rajat Pandit
May 29, 2018
NEW DELHI: In a significant breakthrough after months of cross-border hostilities and firing duels, India and Pakistan on Tuesday agreed to restore peace along the Line of Control (LoC) and International Border (IB) in Jammu and Kashmir by agreeing to honour the ceasefire pact of November 2003.
Indian director-general of military operations Lt General Anil Chauhan and his Pakistani counterpart Major General Sahir Shamshad Mirza decided to "fully implement the 2003 ceasefire understanding in letter and spirit" after the latter sought "a special hotline talk" at 6pm on Tuesday.
Importantly, the two DGsMO agreed that any "issue" will be sought to be resolved through the hotline and border flag meetings. Moreover, the acceptance of the ceasefire does not mean the Indian Army will slacken its robust counter-infiltration measures along the borders, said sources.
The development comes after ceasefire violations (CFVs) in just the first five months of 2018 broke all annual records since 2003, with the two armies regularly using light artillery guns, anti-tank guided missiles and heavy mortars to target each other and civilians getting caught in the middle.
With the ceasefire observed more in breach, the bid to revert to it caught observers by surprise, but follows moves to build confidence over issues like release of Indian and Pakistani fishermen held by either side. The utility of India's decision to retaliate heavily to Pakistan fire has been debated but if the ceasefire proves durable it will be seen as a move that has delivered some results.
The number of CFVs already stands close to 1,300 this year, with 908 of them being recorded along the 778-km LoC and the rest along the 198-km IB. India has lost 36 soldiers and civilians in them, with another 120 being injured, while the number of casualties on the Pakistani side is estimated to be much more.
The number of CFVs recorded in 2016 was 449, but there was a surge in them after Indian Special Forces conducted "surgical strikes" against terror launch pads in Pakistan-occupied-Kashmir in September that year. The CFVs jumped to 971 in 2017, with the action-reaction cycle escalating further this year. Top Hizbul leader Burhan Wani's death in July 2016 also triggered massive protests, supported by Pakistan, and led to a spike in infiltration bids.
Tuesday's pact will come as a major relief for civilians living in border hamlets, thousands of whom have been displaced due to the fierce cross-border firings. It also comes soon after the government declared a unilateral suspension of counter-insurgency operations in J&K during Ramzan.
"The Indian Army DGMO agreed with the proposal to undertake sincere measures to improve the existing situation to ensure peace and avoidance of hardships to the civilians along the borders," said an official statement.
"Both the DGsMO agreed to ensure that henceforth the ceasefire will not be violated by both sides. It was also mutually agreed that in case of any issue, restraint will be exercised and the matter will be resolved through utilization of existing mechanisms of hotline contacts and border flag meetings at local commanders' level," it added.
A senior officer, in turn, said the Army's three-tier counter-infiltration grid to detect and tackle infiltrators will continue as before. "We will not lower our guard. With the ceasefire, the Pak Army will find it difficult to give covering or distracting fire to infiltrators as has been its policy for long," he said.
The 2003 ceasefire initially held for some years as a major confidence-building measure, with the two armies maintaining restraint and holding regular flag meetings. Even then, India had not agreed to formalize the ceasefire understanding into a written agreement with clearly defined modalities and standard operating procedures in order to keep its options open because of Pakistan's continuing support to cross-border terrorism.
But the ceasefire pact had begun to fray in recent years with the Indian Army stressing the Pakistan Army-ISI combine had used the interregnum to bolster its anti-India terror machinery and push as many infiltrators as possible into India.
Full report at:
https://timesofindia.indiatimes.com/india/india-pakistan-dgmos-hold-talk-on-ceasefire-violation-and-terrorism/articleshow/64372018.cms
--------
JNU: Why should a course on terrorism be linked to religion?
Ram Puniyani
May 30th 2018
The world as a whole; particularly West Asia and South Asia; has seen the terrible acts of terror, which killed scores of innocent persons. When 26/11 2008 terror attack occurred in Mumbai, the victims included Hindus as well as Muslims. Benazir Bhutto has been a victim of the same deadly violence, but overall the number of victims of this phenomenon has been more in Pakistan than in India. Victims have been more in West Asia than Europe or America for example. While Indonesia is the biggest Muslim majority country, such mass phenomenon is not seen there as much as in the countries in West Asia i.e. countries in the oil zone.With rise of Al Qaeda and later ISIS, the world witnessed the ghastly phenomenon where Islam has been the mask of the underlying political processes, which are aimed more at 'control of oil wealth' in West Asia at its core. Still the popular understanding of relation of these dastardly acts with Muslims and Islam has been made part of social perceptions. This happened more so after the attack on twin towers of World Trade Center in 2001 (9/11). It was after this attack, which killed nearly 3,000 innocent people, belonging to practically all the countries and to all the religions, that US media in particular coined the phrase 'Islamic Terrorism' and this violence got a cover of religion.All this comes to one's mind once again as there are reports that Jawaharlal Nehru University has recommended an 'Islamic terrorism' course as a part of the National Security Studies Center. Once the news of this course filtered out, many an organisation, including Delhi Minority Commission, have written to the University to reconsider this step. Most of the commentators are pointing out that putting together of such a course will worsen the present perceptions against Muslims prevalent in society and boost the prevalent Islamophobia.While even UN has not been able to come out with a specific definition of terrorism, broadly one can say that killing of innocent individuals or groups for political goals can be called terrorism. Political streams have focused on defining 'act of terror'. We have seen in history that many individuals and groups have resorted to tactics of terror to achieve their political goals. The few of these which one recalls in recent history are Irish Republican Army, ULFA in North East, LTTE in Sri Lanka, and individual bomber of Oklahoma among others.
Most of these had a political agenda for sure; religion has not been in any way on their mind when undertaking these dastardly acts. In case of prevalent IS-ISIS-Al Qaeda clones, let's recall that the seeds of this type of terrorism lie in the indoctrination done in Pakistani madrasas. Faced with the Russian occupation of Afghanistan, US deliberately planned to use a version of Islam, from Saudi Arabia, the one promoted by the rulers of Saudi Kingdom. Few Pakistani madrasas were used to indoctrinate Muslim youth in distorted version of Islam and words like Kafir and Jihad were given intolerant, violent twist. US funded these groups with $ 8,000 million and 7,000 tonnes of armaments. These groups initially joined the anti Soviet forces occupying Afghanistan and later morphed into groups leading to formation of IS in particular. A section of these also entered Kashmir with the sectarian agenda and gave a twist of political Islam to the Kashmiriyat which was the base of dissent.The regular acts of blasts in Pakistan mosques and other places reminds one of Frankenstein's monsters, who after having been created is difficult to wipe out. The game of imperialist forces to control the oil wealth has been the underlying agenda of promoting these groups in the beginning and now these groups have got their own cancerous autonomy and are creating havoc.Similarly, the word 'Hindutva terrorism' also came in to vogue once the terror attacks of Ajmer, Mecca Masjid, Malegaon and Samjhauta Express came to surface. The painstaking investigation of Hemant Karkre showed the links of Sadhvi Pragya Singh Thakur, Lt. Col. Purohit and Aseemanand with the motorcycle used in Malegaon blast. Now most of them have got bail, but two of RSS pracharkas have been given life sentence in case of Ajmer blasts. It was only because word Islamic terrorism was popularised all around that when the involvement of Hindutva groups came to surface many people used the words saffron terror or Hidnutva terror.In universities there is a need to study the phenomenon of terrorism away from the popular perceptions created by media and dominant political powers. The very popularisation of word 'Islamic terrorism' has caused immense misery to the Muslim youth and the community as we recall that in all the cases of Mecca Masjid, Malegaon, Ajmer Ajmer etc. while the majority of victims had been Muslims, the people who were arrested and tried in the first round were Muslim youth. Most of these lost their careers due to such actions guided by misconceptions. The starting of such course with title of 'Islamic terrorism' will intensify Islamophobia and increase the prevalent insecurity in Muslim community. This will act as a fuel to the hatred which is ruling our streets.The representations of different groups opposing this academic course should be taken in a proper spirit. Terrorism as a political phenomenon needs a study in an objective, honest way, away from prevalent biases and stereotypes.
https://www.nationalheraldindia.com/opinion/jnu-why-should-a-course-on-terrorism-be-linked-to-religion
--------
AMUSU writes appreciation letter to cop who saved Muslim youth
TNN | May 29, 2018
Agra: "You have not saved the life of a Muslim youth but have saved humanity. Your act will definitely prove to be a landmark event and go down in the annals of history," read a letter issued by AMU students' union to Gagandeep Singh, the Uttarakhand police officer who took blows on himself to save a Muslim man from the ire of mob that had found him in the company of a girl from a different community.
The letter also says that officers like Singh represent the real India who execute their duty without caring for consequences. Secretary of AMU students' union, Mohd Fahad said, "We will invite him (Singh) to AMU campus to felicitate him."
On May 22, the youth had gone to meet his girlfriend, who belongs to a different community, at Garija Devi temple, about 15 km from Ramnagar in Nainital district. Locals came to know about it, locals reached the temple with to "teach the duo a lesson". On being informed about trouble in the area, Sub-Inspector Singh rushed to the spot, where he found a mob preparing to attack the couple, alleging they had found them in a compromising position.
Full report at:
https://timesofindia.indiatimes.com/city/agra/-amusu-writes-appreciation-letter-to-cop-who-saved-muslim-youth/articleshow/64374032.cms
--------
If there's terror attack during Ramzan, our jawans' hands are not tied: Rajnath Singh
May 29, 2018
Union home minister Rajnath Singh on Tuesday made clear that the security forces would act if there were terror attacks during Ramzan, the period during which the Centre has halted anti-militancy operations in Jammu and Kashmir.
Asked about the continuing violence during the Ramzan "ceasefire", Singh said the Centre had only announced a suspension of operations.
"If there is a terrorist attack, the hands of the jawans are not tied," he added.
On his recent comment on the possibility of talks with Pakistan or the separatists for peace in Kashmir, he said the country has no aversion to dialogue.
Singh, who is also an MP from Lucknow, was addressing reporters on the completion of four years of the NDA government.
He said the Centre was trying to bring petroleum prices under control, saying the hikes were the result of increase in international crude oil rates and the rise in the value of the dollar.
"I accept that problems have emerged because of the rise in dollar and crude oil prices," he said at a joint press conference with Uttar Pradesh chief minister Yogi Adityanath.
The home minister said while 471 terrorists were killed in 2010-13, 619 have been killed in 2014-17.
He said the number of districts affected by Maoists has dropped from 76 in 2013 to 58 in 2018.
"Our crime and criminal tracking network and systems (CCTNS) is winning praise from all over the world," he said.
Lauding the para-military forces, he said,"When a jawan attained martyrdom, Rs 50 lakh to Rs 55 lakh used to be given to his family but now we have decided that the amount should not be less than Rs 1 crore."
Asked about economic offenders leaving the country, the minister said, "I want to ask the Congress people if no one had fled during their government."
He said there was special thrust on infrastructure development under the Narendra Modi government, and by 2040 four to five trillion dollar investment was likely in this field alone.
"It is a fact that during the last four years of the UPA government, on an average, 12 km of highways were constructed on a daily basis, which went up to 27 km in the four years of the present government," he said.
He said road connectivity was a gift from former prime minister Atal Bihari Vajpayee, and the effort has been taken forward by Modi.
Singh stressed that none of the ministers in the Modi goverment faced any corruption charge.
Full report at:
https://www.hindustantimes.com/india-news/if-there-s-terror-attack-during-ramzan-our-jawans-hands-are-not-tied-rajnath-singh/story-SzVWRWw0VszI7gcMK9Xm6I.html
--------
North America
US officials question their state's Af-Pak narrative
Imtiaz Gul
MAY 30, 2018
Nearly four days before Pak-Afghan officials met in Islamabad to continue their revived dialogue under the Afghan Pakistan Action Plan for Peace and Solidarity (APAPPS), most in the local and foreign media missed a unique , though stringing critique – near indictment – of the US-led Nation-Building project in Afghanistan.
It came from none other than- John Sopko, the current US special inspector general for Afghanistan reconstruction (SIGAR), and the four-star General John Rutherford Allen, who commanded 150,000 U.S. and NATO forces (from July 2011 to February 2013) in the war-battered country.
Both Sopko and Allen also – by default – came to the rescue of Pakistan and poked holes in the US-Afghan narrative on Pakistan too.
Here is what John Sopko, who has since 2012 meticulously been laying bare the systemic fraud and lacunas in the US security and development efforts, said when asked about Pakistan's role in the Afghan insurgency.
"We keep referring to Pakistan as being the key problem. But the problem also was that the Afghan government at times was viewed very negatively by their local people and what you really need is to insert a government that the people support, a government that is not predatory, a government that is not a bunch of lawless warlords. That is a key thing and that was one of the things I did not talk about. When we poured so much money into these unstable environments we contributed to the problem of creating more warlords, more powerful people who basically take the law into their own hands. So, in essence, the government we introduced, particularly some of the Afghan local police forces, which were nothing other than warlord militias with some uniforms on, were just as bad as the terrorists before them."
Sopko continued: "the sheer amount of money spent … had no correlation with outcome." He characterised past reconstruction efforts as trying to build 'a diplomatic Norway' that emphasised the construction of 'schools, highways, etc'. The question to be answered should have been, "what were the services the insurgents were providing" that gained the public's trust in a village, district or province and go from there.
General John, the president of the Brookings Institution, who had commanded the US-NATO International Security Assistance Force (ISAF) in Afghanistan (July 2011-Feb 2013) also offered a sobre assessment of the intricacies of US-Pakistan relations.
For a long time, I believed that peace in Afghanistan passed through Islamabad and Rawalpindi. In many respects, I now think that the longterm stability of Pakistan passes not just through Islamabad and Rawalpindi but also through Kabul. So, getting the Pakistanis, the Afghans and the international community to have a similar view that a stable Afghanistan, one that has the capacity both for governmental stability, security to the population, and very importantly, a viable reinvigorated economy, is not just important to Afghanistan it is also important to the long term stability of Pakistan."
General Allen also pointed to another triangular threat that Afghanistan faces i.e. inextricable link between criminality, corruption, and the insurgency.
"In my mind, there was a triangular threat to Afghanistan's future but also, in a military context, you had the ideological insurgency, which we would euphemistically called the Taliban, you had the drug enterprise which fueled an awful lot of insurgent and criminal behaviour and then you had the criminal patronage network. I don't believe we were properly organised frankly to deal with that."
Allen cautioned, "we will fool ourselves to believing we have defeated the Taliban in a particular area only to find out that now we got the criminal patronage networks to work in.
They are deeply embedded in the society and they are well fueled with their drug enterprise."
Coming from two top American officials, these statements are quite instructive, particularly for all those who tend to dump the entire blame at Pakistan's doorstep. They, of course, should not deflect from Pakistan's policy failures and administrative missteps which have only added to acrimony and mistrust between the two countries. Islamabad and Rawalpindi need to act in unison vis-à-vis Afghanistan, also because the latter defines the Indian and the US narrative on Pakistan. APAPPS has created a good momentum and both countries can now build on it to defy the external factors that have been ominously shadowing their bilateral relations.
https://dailytimes.com.pk/246503/us-officials-question-their-states-af-pak-narrative/
--------
Pompeo puts religion at heart of US rights agenda
May 30, 2018
WASHINGTON - Secretary of State Mike Pompeo will host a high-level international meeting on religious freedom, he announced Tuesday, putting the issue at the heart of the US human rights agenda.
The "Ministerial to Advance Religious Freedom" will be held between the chief diplomats of "like-minded governments" in Washington on July 25 and 26. US President Donald Trump's administration has been criticized for downplaying human rights in international relations in favor of seeking America's economic interest. But Christian conservatives in the cabinet, such as Pompeo and Vice President Mike Pence, have been outspoken in support of religious freedom around the world.
"The ministerial will also be my first to host as a secretary of state, and that's very intentional," Pompeo told reporters at the launch of the annual US religious freedom report.
"Religious freedom is indeed a universal human right that I will fight for, one that our team at the department will continue to fight for, and one that I know President Trump will continue to fight for.
"The United States will not stand by as spectators. We will get in the ring and stand in solidarity with every individual who seeks to enjoy their most fundamental of human rights."
The report, compiled every year by US envoys around the world, covers the state of religious freedom in 200 countries and territories around the world.
In announcing its release, the State Department insisted that, while the report itself is meant to be a simple objective account, it does inform US government decisions.
- Watch list -
In particular, it will serve as a guide when Pompeo decides whether and when to update the US list of "Countries of Particular Concern" - those that most egregiously limit freedom of conscience.
Currently those countries are China, Eritrea, Iran, Myanmar, North Korea, Saudi Arabia, Sudan, Tajikistan, Turkmenistan and Uzbekistan - with Pakistan on a watch list.
But, while the United States does protest persecution in these states, the list has not stopped Washington maintaining extremely warm and close ties with Saudi Arabia, for example.
And the US envoy for religious freedom, Ambassador Sam Brownback, was forced to defend America's credibility to issue such a report in the light of Trump's efforts to halt or limit US visas for Muslim travellers.
Rights watchdogs were extremely guarded in their response to the report, concerned that the administration's evident enthusiasm for religious rights in some countries might be used to distract from broader concerns.
"It's clear Secretary Pompeo intends to use this report as a way to elevate the importance of religious freedom, which could be positive as long as doing so does not minimize other rights concerns and truly protects victims of all religious persecution," said Sarah Margon, Washington Director at Human Rights Watch.
And she warned against the administration allowing itself to be "manipulated by ideologues" at home or abroad.
At the launch, special envoy Brownback made particular mention of the fate of Myanmar's Rohingya - a Muslim minority group that he said faced the "ethnic cleansing of a religious minority."
"I don't think you've seen progress taking place there in the country. If anything, the administration there is doubling now its effort," he said of Myanmar's authorities.
Brownback also warned that China's Muslim Uighurs and Tibetan Buddhists are facing persecution, along with the country's Falun Gong and Christian minority groups.
But, while acknowledging that the situation in Saudi Arabia - where non-Muslim worship is illegal - is bad, Brownback said he saw an opening for reform under Washington's ally Crown Prince Mohammed Bin Salman.
Full report at:
https://nation.com.pk/30-May-2018/pompeo-puts-religion-at-heart-of-us-rights-agenda
--------
Can US ensure release of Pakistani doctor who helped CIA reach Osama bin Laden?
29 May 2018
The United States is said to have established high-level contact with Pakistani authorities to secure the release of Shakil Afridi, the doctor who helped CIA confirm whereabouts of Osama bin Laden in Abbottabad, a garrison city in Pakistan's north.
Dr. Afridi has been languishing in jail following a 33-year sentence by a tribunal for ties with terrorists, a charge he has denied. United States had termed Dr. Afridi's conviction as "unjust and unwarranted".
Since then, power corridors in Islamabad are abuzz with the speculations that Pakistan may release Shakil Afridi soonest. An official of Pakistani government confirmed this to Al Arabiya English on Monday.
"Yes, both Pakistan and the US are in touch on the matter relating to Afridi," he said. He said the most recent contact was established sometimes in second week of April this year. Sources also said Pakistan and the US are currently working on a prisoner swap deal.
"It's all about release of Shakil Afridi in exchange of Mullah Fazalullah, Pakistan's most wanted man," said an official source. This correspondent couldn't get official confirmation either by Pakistan or the US.
A fair deal?
However, earlier this month, a spokesperson of Pakistan's Foreign Office said he was not aware of any deal taking shape between the two sides.
"I am not aware of any deal regarding Dr Shakil Afridi," Dr Mohammad Faisal, the ministry spokesperson told reporters during a weekly press briefing. General Pervez Musharraf, Pakistan's former president, recently suggested that Islamabad should release Afridi but as part of a broader agreement.
"Had I been the president now, I would have released Dr. Afridi in a give and take deal," media reports quoted him as saying. Musharraf said Pakistan and the US can improve bilateral relationship by releasing Shakil Afridi striking a fair deal.
"Pakistan can exchange more accommodating stance from the United States… and Afghanistan because we have a terrorist sitting there, Fazalullah," he said. "I suppose the United States also knows that he's there," he added. Government in Islamabad is just taking time to decide as Pakistan seems divided on Afridi's complex case.
Ijaz-ul-Haq, one of Pakistan's influential politician and son of (late) General Zia-ul-Haq has advised the government not to release Shakil Afridi. "Shakil Afridi has violated sovereignty of Pakistan. How can we release him," he said.
A fair deal?
However, earlier this month, a spokesperson of Pakistan's Foreign Office said he was not aware of any deal taking shape between the two sides.
"I am not aware of any deal regarding Dr Shakil Afridi," Dr Mohammad Faisal, the ministry spokesperson told reporters during a weekly press briefing. General Pervez Musharraf, Pakistan's former president, recently suggested that Islamabad should release Afridi but as part of a broader agreement.
"Had I been the president now, I would have released Dr. Afridi in a give and take deal," media reports quoted him as saying. Musharraf said Pakistan and the US can improve bilateral relationship by releasing Shakil Afridi striking a fair deal.
"Pakistan can exchange more accommodating stance from the United States… and Afghanistan because we have a terrorist sitting there, Fazalullah," he said. "I suppose the United States also knows that he's there," he added. Government in Islamabad is just taking time to decide as Pakistan seems divided on Afridi's complex case.
Ijaz-ul-Haq, one of Pakistan's influential politician and son of (late) General Zia-ul-Haq has advised the government not to release Shakil Afridi. "Shakil Afridi has violated sovereignty of Pakistan. How can we release him," he said.
Spy masters' book
The Spy Chronicles, a book written jointly by spy masters of Pakistan and India, has recently revealed that couple of days before Osama Bin Laden was killed, the then Pakistani army chief Kayani met with a leading US official on a ship.
The meeting, if it did take place, appears significant in the context of what happened to Osama bin Laden in Abbottabad. "It seemed like too much of a coincidence because two days later, Osama Bin Laden was bumped off," Amarjit Singh Dulat, former chief of RAW said in the book.
The book has been co-authored by General Asad Durrani, former chief of Pakistan's ISI and AS Dulat, former chief of India's Research and Analysis Wing (RAW). According to Durrani, the Americans asked Kayani to cooperate. "Yes, they [American] said play ball", Kayani says, and the response was "we will do it in this manner, and what do we get in return," the book quoted Durrani as saying.
The book made a startling disclosure that Americans found out Osama Bin laden not only because of Dr Afridi but also a retired Pakistani intelligence officer who helped them track down Osama. Pakistani officer was awarded with as much as $50 million, the book reveals.
Full report at:
https://english.alarabiya.net/en/features/2018/05/29/Can-US-ensure-release-of-Pakistani-doctor-who-helped-CIA-reach-Osama-bin-Laden-.html
--------
Trump officially nominates new commander for Afghan war
May 30, 2018
US President Donald Trump has officially appointed Lieutenant General Austin Scott Miller as commander of the US-led occupying forces in Afghanistan.
The announcement was made in a press release by the US Defense Department on Tuesday.
"Secretary of Defense James N. Mattis has announced that the president has made the following nomination … Army Lt. Gen. Austin S. Miller for appointment to the grade of general, and assignment as commander, Resolute Support Mission, North Atlantic Treaty Organization; and commander, US Forces-Afghanistan," the release said.
The Pentagon announced that Miller would replace General John Nicholson, who has been in charge of the US military intervention in Afghanistan since March 2016.
Nicholson said in November last year that the fight in Afghanistan was "still in a stalemate."
The United States -- under Republican George W. Bush's presidency -- and its allies invaded Afghanistan on October 7, 2001 as part of Washington's so-called war on terror. The offensive removed the Taliban regime from power, but after more than 16 years, the foreign troops are still deployed to the country.
After becoming the president in 2008, President Barack Obama, a Democrat, vowed to end the Afghan war -- one of the longest conflicts in US history – but he failed to keep his promise.
Trump, who has spoken against the Afghan war, has dubbed the 2001 invasion and following occupation of Afghanistan as "Obama's war". But he has also announced to deploy thousands of more troops to the war-torn country, signaling a policy shift.
Back in 2014, the US-led occupying forces in Afghanistan officially announced the end of their combat operations in the country, saying they now had a mission to "train, advise, and assist" Afghan troops.
Full report at:
http://www.presstv.com/Detail/2018/05/30/563317/Austin-Scott-Miller-US-forces-Afghanistan-Defense-Department-
--------
Southeast Asia
Muslim groups oppose local elections, fearing more non-Malays in power
29 May 2018
By Zurairi Ar
KUALA LUMPUR, May 29 — A coalition of Muslim NGOs has opposed Putrajaya's plan to bring back local council elections, claiming such a system would allow more non-Malays and non-Muslims to hold power in the country.
Aminuddin Yahaya, the secretariat chief of Ummah, said giving the public the third vote would allegedly only benefit non-Malays.
"If this happens, then non-Malays will dominate not only city administrations but will have power over all the country's wealth by owning all local councils," he said in a statement.
The vice-president of Islamist group Ikatan Muslimin Malaysia (Isma) pointed to statistics that showed that there were more non-Bumiputera in urban areas compared to Bumiputera.
"The non-Malays already control the economy, and now they will also control finances in cities. Will they then fight for Islam and Malays with the billions of ringgit collected? I am not confident," he said.
He also alleged that having non-Malays as mayors will push the Malays into public housing or squatter areas, or leave them marginalised in suburban areas.
In addition, he suggested that there will be more non-Muslim houses of worship compared to mosques if non-Muslims were to take power in local councils.
Last week, Housing and Local Government Minister Zuraida Kamaruddin said Malaysians can expect local council elections within the next three years.
Malaysia held local council elections during the early years of independence, but they were suspended in 1965 amid the Confrontation with Indonesia.
The suspension, which was never lifted, was made permanent with the Local Government Act 1976.
https://www.malaymail.com/s/1636137/muslim-groups-oppose-local-elections-fearing-more-non-malays-in-power
--------
Integrity cornerstone of leadership, says Anwar
29 May 2018
IPOH, May 29 — Pakatan Harapan (PH) leaders, especially those who are Muslims, should be free from corrupt practices besides putting special emphasis on integrity to ensure smooth operation of the national administration, said PKR de facto leader Datuk Seri Anwar Ibrahim.
He said this was emphasised because it would be an example and a benchmark for the people, especially non-Muslims who have chosen PH as the government.
"If a Muslim on becoming a leader is corrupt, tyrannical and without integrity, how can people respect him? Islam also cannot accept this, what more the non-Muslims.
"But if a Muslim leader is fair, looks out for the people, maintains his integrity and is not corrupt, then he will be an example to all mankind," he said in his address at the Perdana Iftar ceremony here today. Also present was Perak Mentri Besar Ahmad Faizal Azumu .
He said the PH leadership should also be close to the hearts of the people besides resolving all the problems faced by them.
Anwar, who is also former member of Parliament for Permatang Pauh, also promised to continue to protect and uphold Bahasa Melayu as the national language, especially at official events.
Full report at:
https://www.malaymail.com/s/1636206/integrity-cornerstone-of-leadership-says-anwar
--------
Indonesia won't revoke list of approved Islamic preachers
May 30, 2018
Indonesia's Ministry of Religious Affairs has ignored the protests of Muslim groups and continues to list and publish the names of preachers who are qualified to give religious instruction, in a bid to counter rising radicalism.
Mastuki, the ministry's spokesman, told ucanews.com on May 29 that they would not change their policy as it was designed for "the good of Muslims and the nation."
"We will not revoke [it] but will evaluate the mechanism after getting public feedback," he said, adding that it has now placed over 500 preachers on the recommended list.
On May 18, less than a week after a series of suicide bombings targeted three churches in Surabaya, Indonesia's second city, Religious Minister Lukman Hakim Saifuddin released a list of 200 competent preachers.
A few days later, legislators approved a stalled anti-terrorism bill on May 25 which gives police greater powers to arrest suspects.
He said they met the ministry's requirements regarding their understanding of Islamic teachings, preaching experience and commitment to preserving national unity.
He added that the names were then submitted to Indonesia's Ulema Council (MUI), which supports the policy, for certification.
Cholil Nafis, one of the MUI leaders, said this policy could prevent the emergence of preachers who do not really understand Islam, which could ultimately give people a wrong understanding about it.
"The MUI will be responsible for the certification," Nafis told ucanews.com.
He said the council could also remove a preacher from the list if they deviate from the accepted norms of Islamic teaching.
The policy has sparked criticism, especially from two large Muslim moderate organizations, Nahdlatul Ulama and Muhammadiyah.
Said Aqil Siradj, chairman of Nahdatul Ulama, said the ministry should switch its attention instead to blacklisting problematic instructors.
"The government should focus on [listing] radical preachers," he said.
By way of example he cited Muhammad Rizieq Shihab, founder of the Islamic Defenders Front (FPI), a hard-line group.
Danhil Anzar Simanjuntak, chairman of the Muhammadiyah Youth and one of the preachers on the recommended list, disagreed with the initiative, saying it will only further divide Muslim scholars.
"To prevent division and slander, it's better to annul the list because it will still cause various prejudices," Simanjuntak said.
"Outside of the list there are lots of preachers who have a high degree of religious knowledge and a sound sense of morality," he said.
Meanwhile, Lutfhie Assyaukanie, an Islamic scholar and lecturer at Paramadina University, said the government should list the criteria of what makes a good preacher so that Muslims can use this as a reference guide and "choose [the one] of their preference."
"The government does not need to list their names as that will spur conflict," he said.
The move to control Muslim clerics is not a new one.
Full report at:
https://www.ucanews.com/news/indonesia-wont-revoke-list-of-approved-islamic-preachers/82439
--------
Clamour sees new Indonesian anti-terrorism bill passed
May 29, 2018
For Danny Maheu, the recent spate of suicide bombings that killed at least 31 people at three churches and a police station in the Indonesian city of Surabaya, brought back haunting memories of a tragic event that changed the course of his life more than two years ago.
The 51-year-old policeman and father of two was on traffic duty in Jakarta on Feb. 14, 2016 when Islamic State-linked militants struck, killing four innocent people. Among the dead was his colleague. Four of the militants were also killed.
Maheu lost his right leg in an explosion, but he has since returned to work albeit in a limited capacity.
Subsequent terrorist attacks have targeted policemen, including a recent riot by terrorist inmates at a police detention center in Depok, West Java, and on the Surabaya police station, and another in Sumatra's Riau province.
Observers say the police are a target because they are stumbling blocks to terrorists achieving their goal.
However, the sad reality is police have limited powers to fight terrorism, Maheu said.
There are various ways to improve the effectiveness of police, the most powerful being through the law, he added.
This could happen now that Indonesian legislators approved a stalled anti-terrorism bill, on May 25 which gives police greater powers to arrest suspects, the policeman said.
"This new law was needed to prevent more terrorist attacks from happening," said Maheu.
As a policeman he says he was saddened by the fact that, before the bill was passed, police could only arrest terrorists in most cases after something terrible has happened.
The anti-terrorism bill was initially drafted following the attack that disfigured Maheu.
However, it remained in limbo for nearly three years due to conflicting views on several key points, including the maximum period of pre-trial detention allowed and military involvement in counter-terrorism activities.
Supporters say the bill gives police the power to block financial support for extremist groups and individuals, detain suspects for longer periods without trial, revoke passports of Indonesians suspected of undertaking training in terrorism abroad, and enhance the ability to monitor suspects.
According to Al Chaidar, an expert on terrorism from Malikussaleh University in Aceh, said this new law was needed now more than ever with many Indonesian jihadists who joined IS in Syria and Marawi having returned home following their defeats there.
"A firm and strong law is important in fighting terrorism," he said.
He estimated about 1,200 Indonesians joined IS in Syria and around 500 had returned home and were ready to launch attacks.
National Police spokesman Setyo Wasisto recently told media that more attacks are imminent.
"Terrorist cells have awoken from their slumber and are ready to launch bigger attacks," he said.
Nothing much can be done to prevent them because the previous law only had teeth after a crime was committed.
"The 2003 anti-terrorism law prohibited police from arresting and detaining terrorist suspects," Wasisto said.
Nuril Arifin Husein, a moderate Muslim from Nahdlatul Ulama, the biggest Islamic organization in Indonesia with over 90 million members, said the new law would prevent radical groups from growing bigger and committing violence.
According to the Wahid Institute in 2017, about 11 million people among Indonesia's 230 million population were thought to harbor radical views.
Human rights friendly
Father Agustinus Ulahayanan, executive secretary of the bishops' Commission for Ecumenical and Interreligious Affairs said the bishops all wanted this bill passed.
When it was drafted in 2016 he conveyed this message to parliament. But disagreements among different groups had delayed the bill, allowing terrorists to consolidate and move forward.
People have often blamed the police for not doing their job. The fact is the law worked against them, he said.
"[What I know is] the new law is human rights friendly," he told ucanews.com, and people should not be afraid if it enhances the scope of police work in counter-terrorism.
"The police needed a legal umbrella to arrest terrorists. It will protect them from accusations of violating human rights," said Communion of Churches in Indonesia spokesman Jeirry Sumampow.
However, Toni Togar, a former terrorist and member of the Jamaah Islamiyah group, a branch of al-Qaeda in Southeast Asia and the group responsible for the 2002 bomb attacks in Bali, disagreed, saying Indonesia would descend into chaos because of this bill.
"Giving more authority to police and military in fighting terrorism will create more human rights abuses," he said.
Full report at:
https://www.ucanews.com/news/clamor-sees-new-indonesian-anti-terrorism-bill-passed/82398
--------
Arab World
Syria takes rotating presidency of UN conference in Geneva, US protests
May 29, 2018
Syria has taken the rotating presidency of the United Nations (UN)'s Conference on Disarmament in Geneva, prompting disruptive objection by the United States.
The chairing of the Conference on Disarmament (CD) rotates alphabetically among the body's 65 members every four weeks, and Syria's turn came on Monday.
Syrian Ambassador Hussam Edin Aala opened the conference's latest round on Tuesday.
American disruption
The US, opposed to the government of Syrian President Bashar al-Assad, objected to Syria's takeover of the committee's presidency.
"Syria's presence here is a travesty… and it is just unacceptable for them to be leading this body," US Ambassador Robert Wood said just before the session began on Tuesday.
The US delegation — led by Wood — then briefly left the room in protest and returned shortly afterwards.
Back on the floor, Wood voiced Washington's displeasure.
"Let me be clear: we cannot permit 'business as usual' in the CD while Syria presides over this body," Wood said, referring to potential plans to disrupt upcoming meetings. "During the next four weeks, we will be present in this hall to ensure that Syria is not able to advance initiatives that run counter to the interests of the United States, but we will fundamentally alter the nature of our presence in the plenaries."
After making that statement, the US ambassador moved to a seat usually reserved for assistants, apparently in protest.
Ahead of the session, Wood had stressed that his country did not plan to boycott the CD during the four weeks of Syrian presidency.
A number of ambassadors from other countries, including Britain, Australia, and France, echoed Wood's remarks.
He claimed that the US sought to hold Syria to account for its alleged use of chemical weapons.
The Syrian government surrendered its stockpiles of chemical weapons in 2014 to a joint mission led by the UN and the Organization for the Prohibition of Chemical Weapons (OPCW), which oversaw the removal and destruction of the weaponry.
Western governments and their allies, however, have continued to accuse Damascus of having conducted chemical attacks on a number of occasions during the conflict in Syria.
The Syrian government has rejected all allegations of chemical attacks and has pointed to the conclusion of the UN-OPCW mission to make the case that it is no more in possession of chemical armaments.
http://www.presstv.com/Detail/2018/05/29/563261/Syria-UN-Geneva-disarmament-body-US
--------
US-Backed Kurdish Militias Plundering, Smuggling Syria's Crude Oil
May 29, 2018
The Arabic-language website of Russia's state news agency, Sputnik, quoted Head of Damascus Oil Company Ali Mar'ei as reporting that the Kurdish militias have stolen and smuggled almost one thousand billion Syrian lira worth of the country's oil in cooperation with the US forces since occupation of the Eastern bank of the Euphrates River.
He further told the agency that most of the oil-rich regions are on the Eastern bank of the Euphrates River that is occupied by the US Forces and their Kurdish allies, adding that the Kurdish militias extract crude oil from the region and smuggle it to Turkey.
The ISIL terrorists were doing the same before losing the oil-rich regions to the US forces and SDF, Mar'ei told Sputnik.
In the meantime, international energy activists reported that the Syrian crude is transferred to Turkey's Jihan port via a pipeline in Iraqi Kurdistan and later huge tankers carry the crude oil to Israeli waters, adding that a part of Syria's smuggled crude are transferred to Turkey via the pipeline.
The sources said earlier this month that the US forces built a new and advanced military base in al-Omar oilfield in Southeastern Deir Ezzur, adding that they also transferred a large volume of arms and equipment, including missiles, military vehicles and bridge equipment to the regions of their deployment in Koniko oilfield, al-Omar oilfield and al-Jafreh.
Meantime, the Washington-backed SDF sent a number of their forces to the regions near the Syrian army positions in the villages of Jiya, Salehiyeh and al-Tabiyeh.
Moscow had earlier warned the Syrian forces of a possible US assault on their positions.
http://en.farsnews.com/newstext.aspx?nn=13970308000518
--------
US-Backed Militias, Northeastern Syria Residents Engage in Clashes again
May 29, 2018
The SDF arrested a number of young men in the town of Tamar under a forced recruitment plan.
The SDF had captured over 20 civilians in al-Sa'ad Camp too.
In the meantime, local sources in Western Hasaka reported that tensions are underway between the Kurdish militias and residents of al-Nashvah Qarbi neighborhood in Hasaka city for the third day in a row, adding that the Kurds arrested several young men and called on the youth to join them.
The sources further said that a number of Kurdish militia's were killed or wounded in a bomb blast planted by unknown men in Qariwan neighborhood in Hasaka city
Local sources reported on Monday that the refugees in al-Saad Camp in Southern Hasaka were suffering from shortage of drinking water, food stuff and other life necessities.
The sources further said that the camp's residents protested against the militias, asking for drinking water and ice, but, faced the US-backed militias' attack.
A refugee was arrested by the militias, they added.
The sources went on to say that those who run the camp steal humanitarian aids dispatched to the camp and sell them in the black market, adding that the refugee must pay a large amount of money to buy a cube of ice.
Full report at:
http://en.farsnews.com/newstext.aspx?nn=13970308000959
--------
Terrorist Groups Form New Coalition in Northwestern Syria with Turkey's Supports
May 29, 2018
The statement said that the terrorist groups of Faylaq al-Sham, Idlib Free Army, al-Oula al-Saheliyeh, al-Thaniyeh al-Saheliyeh, al-Oula Masha'a, al-Jeish al-Thani, Jeish al-Nukhbah, Jeish al-Nasr, Darayya al-Islam Shohada Liwa, Liwa al-Horiyeh and 23th Group have formed a new coalition in Idlib province.
The statement added that Faylaq al-Sham Chief Commander has been appointed as the commander of the new coalition and Sahib Liyoush, another terrorist commander, has been appointed as the coalition's deputy commander.
In the meantime, militant-affiliated sources reported that the new coalition is directly supported by Turkey, adding that the Turkish army intended to create a new structure of the militants in Idlib similar to the Euphrates Shield in Northern Aleppo.
Field sources said that creation of a new militant coalition came among a fresh round of tensions and assassination operations in Northwestern Syria.
Field sources reported on Saturday that Ankara was trying hard to force Tahrir al-Sham Hay'at (the Levant Liberation Board or the Al-Nusra Front) to dissolve the terrorist group, , adding that some sources believed that Turkey was behind the assassination operations against Tahrir in Idlib province.
The sources said that four members of Tahrir al-Sham were killed and several more were wounded in a suicide attack on Tahrir's base in the town of al-Dana.
Also, four more Tahrir members were killed by unknown raiders' gun fire at their vehicle on Idlib-Ma'arat Mesrin road.
In the meantime, a number of Tahrir terrorists were killed in a booby-trap bomb attack on a road in Darkoush region in Western Idlib.
A bomb, planted on a motorcycle, went off on a road connecting al-Dana to al-Tawameh region, killing two Tahrir militants.
Full report at:
http://en.farsnews.com/newstext.aspx?nn=13970308000753
--------
Egypt steps in to avert new war on Gaza
May 30, 2018
GAZA: Egypt intervened on Tuesday to defuse tension after Israel launched the most devastating attacks on Gaza since the bloody conflict in 2014.
Israeli jets pounded dozens of military targets in the impoverished territory after what it said were cross-border rocket and mortar attacks by Gaza's Hamas rulers and the militant group Islamic Jihad.
The clashes came after hundreds of Palestinians have been killed by Israeli troops during weeks of protests on the Gaza border.
A Palestinian official in Gaza said Egypt was in touch with Hamas, Islamic Jihad and Israel to stop the fighting deteriorating into a wider conflict. Daoud Shehab, an Islamic Jihad spokesman, also said an Egyptian official had been in contact with the group to try to restore calm.
"If Israel abides by calm and ceases all forms of aggression against our people in Gaza, we will also maintain calm," he said.
He said Islamic Jihad did not want the violence to escalate and blamed Israel for the flare-up.
There were no immediate reports of casualties in Gaza. Three Israeli soldiers were wounded by projectiles.
In a rare joint statement, Hamas and Islamic Jihad said the fire was in retaliation for Israeli attacks targeting their positions.
Three members of Islamic Jihad were killed in an Israeli strike on Sunday, and the group vowed revenge.
Early on Tuesday, about 30 mortar shells were fired toward Israel from Gaza. Israel said most were intercepted by its air defense systems.
Prime Minister Benjamin Netanyahu vowed a "powerful" response after the initial mortar barrage.
Shortly after he spoke, Israel's military began its airstrikes. Explosions shook the impoverished territory, which has been blockaded by Israel for more than a decade, and smoke rose from areas hit. At least seven bases of Hamas and Islamic Jihad were struck.
Later in the day, further rockets or mortar rounds from Gaza were intercepted by Israel. The Israeli military said some of the mortar rounds were supplied by Iran.
Israel said it responded by hitting more than 35 "military targets" throughout the day, including a tunnel that stretched under Egypt and into its territory, weapons storage facilities and militant bases.
Israel's military said it was not seeking an escalation, but warned Hamas, with whom it has fought three wars since 2008.
Full report at:
http://www.arabnews.com/node/1312131/middle-east
--------
South Asia
US report: Ethnic cleansing of Rohingya persists in Myanmar
May 29, 2018
WASHINGTON: Ethnic cleansing targeting Rohingya Muslims in Myanmar has not stopped despite growing condemnation from the international community, the Trump administration said Tuesday.
In November, the United States declared that violence against the Rohingya in Myanmar's Rakhine state constituted ethnic cleansing, and the US later imposed sanctions. Ambassador Sam Brownback, the US envoy for global religious freedom, said the violence is continuing.
"I don't think we've seen progress there in that country," Brownback said as he unveiled the State Department's annual report on international religious freedom. The report estimates that about 680,000 people fled Myanmar to neighboring Bangladesh to escape the violence.
Rather than changing course, Brownback said, Myanmar authorities were "doubling down" by opening a new front in Kachin state. A new offensive by Myanmar's government against Kachin rebels who have fought for decades for greater autonomy has raised fears of a humanitarian crisis in Kachin mirroring the one in Rakhine state. The Kachin rebels are a largely Christian minority group.
The report covering 2017 also highlighted other US concerns about religious freedom abroad:
Some 80,000 to 120,000 political prisoners are being held in prison camps in North Korea, some for religious reasons. The report said that prisoners are held "under horrific conditions" in remote areas.
"Hundreds of thousands" of Uighur Muslims in China have been forcibly sent to re-education centers in China.
Saudi Arabia continues to prohibit the public practice of any religion other than Islam, and the report noted a "pattern of society prejudice and discrimination" against Shiite Muslims in the predominantly Sunni Muslim nation. Still, Brownback said he was encouraged by recent comments from Crown Prince Mohammed bin-Salman about plans to expand freedoms.
At least 50 people in Pakistan were imprisoned on charges of blasphemy last year. The report said at least 17 were given death sentences.
Secretary of State Mike Pompeo, speaking as the report was unveiled, announced that the United States will host a global summit on advancing religious freedom on July 25-26. The State Department wouldn't say which countries will be invited to attend.
"International religious freedom deserves to be a front-burner issue," Pompeo said.
https://timesofindia.indiatimes.com/world/south-asia/us-report-ethnic-cleansing-of-rohingya-persists-in-myanmar/articleshow/64372626.cms
--------
Afghan air strike kills 17 Islamic State terrorists near Pakistan border
May 30, 2018
PESHAWAR: An air strike in eastern Nangarhar province of Afghanistan killed 17 Islamic State (IS) militants on Tuesday night. Initial reports suggest that the dead militants include two divisional commanders of the terrorist group.
The air strike targeted IS hideouts in the Hask Mina district. The dead commanders are identified as Qari Esrar and Mullah Hasghar.
The report of the air strikes came after the killing of at least nine civilians in an overnight operation by Afghan security forces outside the Nangarhar provincial capital of Jalalabad. The victims included relatives of the speaker of the Senate, Fazl Hadi Muslimyar, the office of the provincial governor said in a statement.
Eight people were injured, in addition to the nine killed in the operation in Chapahar district. Some local people put the death toll at 12, with 28 wounded. The incident underlines the daily risks Afghan civilians face as fighting has intensified since the Taliban launched its annual spring offensive last month.
The latest figures from the United Nations Assistance Mission in Afghanistan show 763 civilians were killed and 1,495 wounded in the first three months of the year, a similar level to the corresponding periods of the two previous years.
The violence has spread across Afghanistan in recent weeks with heavy fighting in provinces from Badakhshan, Baghlan and Faryab in the north to Farah in the west, where the Taliban briefly threatened to overrun the provincial capital and Ghazni in the centre.
Officials said that a district centre in Uruzgan province, on a key transit route from the drug producing regions of Helmand and Kandahar, was under serious threat. Security forces in Chora district in the middle of the province had abandoned the governor's compound and police headquarters but fighting continued, said Hayatullah Fazli, a member of the provincial council.
Full report at:
https://www.pakistantoday.com.pk/2018/05/29/afghan-air-strike-kills-17-islamic-state-terrorists-near-pakistan-border/
--------
Interfaith leaders pledge to back Myanmar peace efforts
May 29, 2018
Cardinal Charles Bo of Yangon has joined other interfaith leaders in declaring their commitment to peace initiatives in strife-torn Myanmar, a move welcomed by State Counselor Aung San Suu Kyi.
In an open letter to Myanmar's people, Cardinal Bo and 17 other members of a high-level delegation from Religions for Peace International and Myanmar stated their commitment to peace and reconciliation efforts in a country currently experiencing several internal conflicts.
"It is at a crucial moment in the history of this country that we, as Buddhist, Christian, Hindu and Muslim leaders from Myanmar and across the region, come to you in solidarity with hope for peace," began the letter presented to Suu Kyi in capital Naypyidaw on May 25.
The letter rejected the misuse of religion and race to divide the people of Myanmar, which goes against the fundamental tenets of the world's religious traditions and brings hatred, discrimination and violence.
"In our collective efforts to resolve inter-communal conflicts and to advance national reconciliation, as Myanmar national and international religious leaders, we wish to bring your prayers for peace to the Panglong 21st Century Peace Conference," said the letter in relation to local peace initiatives aimed at ending the country's internal conflicts.
The letter went on to say the delegation hoped to help foster the peace and reconciliation process in the country through a series of meetings, suggestions and displays of religious tolerance.
"We are committed to working with the Union Government and other relevant actors to achieve a nationwide ceasefire agreement and sustainable peace with the vision of a democratic federal system in Myanmar," said the letter, which included Norway's Bishop Gunnar Stalsett of Oslo and Venerable Ariya Wun Tha Bhiwun Sa, the abbot of Myawaddy Mingyi Monastery in Mandalay, as signees.
"We are painfully witnessing increasing hostilities and the large displacement of people in Kachin and Shan States, which further weakens the peace and reconciliation process," said the letter, referring to an increase in fighting between Myanmar's military and Kachin rebels that has resulted in the displacement of thousands of civilians.
"We are committed to working with the Union Government and other relevant actors to achieve a nationwide ceasefire agreement and sustainable peace with the vision of a democratic federal system in Myanmar."
The letter also highlighted the crisis in Rakhine State and efforts being carried to resolve the crisis dubbed by the U.N. as ethnic cleansing. More than 670,000 Rohingya have fled Rakhine for Bangladesh since September to avoid an anti-insurgency campaign being waged by Myanmar's military.
"Good and laudable efforts are being advanced, including the agreement between Bangladesh and Myanmar on the return of refugees and the invitation to the United Nations to facilitate this process, urging priority to peace, development, education and human rights for all communities in Rakhine State," said the letter.
The letter also called for "the exploration of global sharing schemes" as ethnic groups battle for Myanmar's limited resources, and suggested an international conference including the U.N. to keep dialogue going.
Suu Kyi welcomed the suggestions for multi-religious cooperation from the delegation during a meeting in Naypyidaw.
She said religious leaders can pave the way for "progress for all" by encouraging their communities to work together and promoting a more inclusive ideology that incorporates those who are "left behind."
The delegation visited Rangoon and Naypyidaw from May 22-25.
Cardinal Bo and several other interfaith leaders also went to strife-torn Rakhine State on May 27 where they visited transit and reception centers while also meeting with Rohingya, Hindu and Mro communities.
Full report at:
https://www.ucanews.com/news/interfaith-leaders-pledge-to-back-myanmar-peace-efforts/82438
--------
Flattery of President Trump turns fatal in Afghanistan
May 30, 2018
KABUL: Flattery of the US president may work in North Korea and Washington, but in Afghanistan it is proving dangerous and even fatal. An Afghan man who admired the president so much that he legally named his son Donald Trump has now said he no longer feels safe and has fled Afghanistan.
That came three days after another Afghan who helped organise the minting of a gold medal thanking President Trump for his support of Afghanistan was killed by the Taliban. A third Afghan, also involved in making the medal, said he, too, would flee the country because he no longer felt safe.
Zabihullah Mujahid, the spokesman for the Taliban, said in a statement on WhatsApp that the insurgents were responsible for the killing of Gul Nabi in revenge for his "criminal" role in making the medal. Shapoor Ahmadzai, a spokesman for the Logar provincial police, said Nabi, a prominent tribal elder in the province, had been killed by a bomb attached to the underside of his car last Friday.
In January, Nabi and his friend Farhad Akbari, an Afghan local police commander in Logar, raised funds to create a medal out of gold to thank Trump for taking a critical stance against Pakistan, something many Afghans have long demanded, blaming that country for providing safe havens to the Taliban. Reached on Sunday, Akbari said he was planning to flee to India because of the attack on Nabi. "I don't want to get killed like my friend, Hajji Gul Nabi," he said. "My life is under threat."
Full report at:
https://timesofindia.indiatimes.com/world/us/flattery-of-president-trump-turns-fatal-in-afghanistan/articleshow/64376818.cms
--------
'Religions for Peace' pledges support for Myanmar's peace effort
May 30, 2018
An international group of inter-faith leaders, including Catholics, have declared their commitment to peace in strife-torn Myanmar, a move welcomed by State Counselor Aung San Suu Kyi.
In a May 24 open letter to Myanmar's people, the Archbishop of Yangon, Cardinal Charles Bo and 17 other members of a high-level delegation from Religions for Peace International and Myanmar pledged their commitment to peace and reconciliation efforts in a country experiencing several internal conflicts.
Religions for Peace, founded in 1970, is the world's largest and most representative multi-religious coalition that advances common action for peace among the world's religious communities.
Letter presented to Suu Kyi
The letter presented by the delegation to Suu Kyi during a visit to the capital Naypyidaw on May 25, rejected the misuse of religion and race to divide the people of Myanmar, which, it said, goes against the fundamental tenets of the world's religious traditions and brings about hatred, discrimination and violence.
Religions for Peace stressed the values of compassion and coexistence of the people of Myanmar, recalling how in the wake of the devastating Cyclone Nargis in 2008, Buddhist, Christian, Hindus, Muslims and other groups joined hands in helping out the affected people.
The inter-faith delegation noted growing hostilities and displacement of people particularly in Kachin, Shan and Rakhine states and denounced the unjust distribution of Myanmar's resources that go to enrich only a few.
More than 670,000 Rohingya, who are mostly Muslim have fled Rakhine for Bangladesh since September to avoid an anti-insurgency campaign by Myanmar's military, which the United Nations has describes as ethnic cleansing.
The representatives of various religions urged the Union Government to make a "thorough and transparent investigation" into crimes perpetrated in Rakhine State and elsewhere.
Suu Kyi's support
Suu Kyi welcomed the delegation's offer to assist with peace efforts and humanitarian aid not only in Rakhine State but also in other parts of the country experiencing ethnic conflicts.
She acknowledged that religious leaders can pave the way for "progress for all" by encouraging their communities to work together and promoting a more inclusive ideology that incorporates those who are "left behind."
Trip into strife-torn territory
Six members of Religions for Peace International, including Cardinal Bo, visited Sittwe and Maundaw in Rakhine State, May 26-28, to better understand the situation of the Rohingya.
During their flight to Maundaw on May 27, the delegation saw hundreds of Rohingya villages that were destroyed during a Myanmar military offensive against Rohingya militants since September last year.
They met Rohingya, Hindu as well as Mro communities in Maungdaw and also visited the town's transit and reception centers.
Father Joseph Mg Win, secretary of Religions for Peace-Myanmar, thought the visit to Rakhine was successful and added that government officials were supportive.
"As religious leaders, the aim of the visit was to learn the truth after closely observing the situation and from that give a true message to the people of Myanmar and to the international community," said Father Mg Win, who is also head of ecumenism and interfaith commission of Yangon Archdiocese.
Along with Cardinal Bo and Father Mg Win were Myint Swe, a leading Buddhist layman from the Ratana Metta Organization, and Muslim layperson Al Haj U Aye Lwin, the chief convener of the Islamic Center of Myanmar.
Full report at:
https://www.vaticannews.va/en/world/news/2018-05/myanmar-religions-peace-reconciliation-bo-suu-kyi-strife.html
--------
3 dead, 12 wounded in coordinated suicide attack in Logar
May 30 2018
At least three people were killed and twelve other were wounded in a coordinated suicide car bombing in central Logar province of Afghanistan.
Provincial police spokesman Shapoor Ahmadzai confirmed that a group of suicide bombers launched a coordinated attack on Police District#1 police station earlier today.
Ahmadzai further added that the suicide bombers initially detonated a vehicle packed with explosives near the police station while three suicide bombers managed to enter the police station and started clashes with the security forces.
He said the suicide bombers were eliminated after a brief exchange of fire by the police forces but the blast left at least three policemen dead.
According to Ahmadzai, at least four policemen also sustained injuries after the car bomb was detonated.
At least eight civilians were also among those wounded, the provincial police spokesman Shapoor Ahmadzai added.
In the meantime, the Taliban group spokesman Zabiullah Mujahid claims that the attack was carried out on a unit of the Quick Reaction Forces.
Full report at:
https://www.khaama.com/3-dead-12-wounded-in-coordinated-suicide-attack-in-logar-05271/
--------
Taliban suicide bombers kill 3 police, wound 12 in Afghanistan
May 30, 2018
KABUL: At least three police officers were killed after a group of Taliban suicide bombers attacked a police station in eastern Logar province, provincial officials said Wednesday.
The slain police included the commander of the police station, another officer and the deputy director of traffic police for Logar's capital of Puli Alim, said Khalid Safi, a spokesman for the provincial governor.
In addition, 12 others including four police and eight civilians were wounded in the Wednesday morning attack, said Shah Poor Ahmadzai, spokesman for the provincial police chief. Two young children were among those wounded, he said.
The attack began when a suicide bomber detonated a vehicle full of explosives close to the police building. Three other suicide bombers then tried to enter into the compound, Ahmadzai said. The three were shot and killed by security forces within five minutes of the gunbattle, he said.
A number of civilian houses were damaged by the car bomb, he said.
Taliban spokesman Zabihullah Mujahid claimed responsibility for the attack.
Full report at:
http://www.arabnews.com/node/1312201/world
--------
Mideast
Erdogan's 'Pious Generation' Goal Drives Islam into Education
May 30, 2018
For the 100th week running, parents stand with protest signs in front of Ismail Tarman, a public middle school that caters to students aged 10 to 14, in the midst of a battle between advocates of religious and secular education in Turkey.
"We are here until the injustice is over" reads one of the signs held by the protesters who have been fighting for two years against the "Islamisation" of their children's school.
The protesters say the highly rated school of 1,100 students in the wealthy Levent area of Istanbul was transformed from secular to religious overnight without the consent of parents.
Those against the change collected 970 parent signatures, demonstrated and pleaded with government officials before eventually applying to a local court to reverse the change. A ruling was expected as this newspaper went to press. "I want to teach my religion to my child. I don't want the government to do it," says Bengu Bozkurt, an activist parent and one of 14 petitioners in the case.
Despite objections, the administrators forged ahead with the changes and now the fifth and sixth grade years, with starting ages of 10 and 11, are studying under an Islamic curriculum at Ismail Tarman with boys and girls segregated. The seventh and eighth grades, with starting ages of 12 and 13, remain under the previous co-ed school system.
Parents backing the religious shift want the protesters banished. Hatice Badem, a stay-at-home mother of three, stands in front of the school after the final bell. Ms Badem says she would like her 12-year-old daughter, who wants to become a pilot, to attend a religious school so that she can learn about Islam as well as science and mathematics. "I don't know why these other parents are turning their backs on religion," Ms Badem adds. "Turkey's 99 per cent Muslim. They should just accept it."
The case is one of several across the country where parents are fighting to stop the creeping transformation of public schools — which have been secular since the republic's birth in 1923 — to imam hatip or "imam preacher" schools. They say the country's basic principle separating state and religion, implemented by its modernist founder Mustafa Kemal Ataturk, is under attack.
But President Recep Tayyip Erdogan has shared his intention to create a "pious generation" that espouses Islamic values alongside Turkish nationalism. Mr Erdogan graduated from an imam hatip school in Istanbul.
The ministry of education declined to comment, but its minister Ismet Yilmaz told CNN Turk TV in April that parents had a choice in sending their children to imam hatip schools, and that while their numbers were growing, they remain a minority. "Is everyone going to imam hatips? That's an exaggeration," he said. "We envision the rate going to imam hatips will be 23 per cent . . . We are not forcing anyone to do anything."
Still, billions of dollars have been poured into religious schools and universities under the Islamist government of the Justice and Development party. The number of students at imam hatip schools has grown fivefold since 2012 to 1.3m, across 4,000 schools, according to Reuters.
Since the foiled 2016 attempt to overthrow President Erdogan, the government seized the private Gulen schools after their exiled spiritual leader, Fethullah Gulen, was accused of masterminding the coup. Hundreds of those have since been turned into imam hatip schools.
Religious schools specialising in one subject, such as science or fine arts, are planned. Despite the investment, imam hatip graduates are lagging behind in academic performance, according to data from the education ministry.
Religious scholars and Mr Erdogan have also expressed outrage at reports that some imam hatip schools have instructed students in deism (the belief in a creator who does not intervene in the universe) instead of Islam, stoking fears of western influence.
Imam hatip schools have been a niche part of Turkey's public education system since the country's founding but graduates were denied opportunities such as working in the military until last year. Previous Kemalist governments shut down imam hatip schools during periods of political unrest.
Imam hatip backers say secular schools are transformed into religious ones when parents request the change in specific neighbourhoods. Halit Bekiroglu, the director of Onder, the oldest imam hatip alumni association, says the curriculum of these religious schools includes critical thinking. "I would be happy if an imam hatip student discusses deism, atheism and different sects of Islam because one of the most important aspects of education is to question everything." He says the model of western education imitated in Turkey is not enshrined in its culture, and also argues that imam hatip schools reduce religious radicalisation.
The 35-hour weekly curriculum for both secular and religious schools beginning in middle school includes the same subjects such as science and literature. But six hours of elective studies in secular schools which may include art, music and physical education, are replaced with Arabic and Islamic lessons in the imam hatip curriculum.
Secular schools include one subject on Islam but students who are not Sunni Muslim can abstain from attending. At imam hatips, there is no such choice. Schools that remain secular are also seeing their curriculum affected. For example, evolution is no longer being taught in most state schools because the government claimed it was too complicated for students to understand.
But Batuhan Aydagul, director of the think-tank Education Reform Initiative at Sabanci University, says the influence of imam hatip schools may be overplayed. "We have no evidence to assert that the government has been successful in creating a pious generation," he says. "However, the 'pious generation' discourse has caused more damage by further politicising and polarising education and by derailing or delaying policies to tackle education [problems]." He says the focus of the debate should be on "increasing learning outcomes, expanding early childhood education, reducing inequalities between schools and empowering teachers."
The protesting parents' lawyer Arzu Becerik shows a map of schools in the Levent district which has, within a 7km radius, 13 religious schools and only four secular ones. She says parents were spending their life savings on private schools to avoid religious schooling.
After school, a group of boys and girls from fifth and sixth grade play and laugh as they walk home. One boy says he likes his Islamic courses because he is learning Arabic and becoming a "hafiz," meaning one who has memorised the Koran. He takes out a copy from his backpack and recites a verse in front of his friends. "Seventy other people will be saved, and they and I'll go to heaven because I've become a hafiz," the boy says, beaming.
https://www.ft.com/content/83328a4e-4317-11e8-97ce-ea0c2bf34a0b
--------
Iranian celebrities openly reject Rouhani's invitation for a Ramadan Iftar
30 May 2018
A number of Iranian celebrities and artists declined President Hassan Rouhani's invitation for Iftar in solidarity with popular protests against rising prices and deteriorating living conditions.
Anahita Hamati, Mehnaz Afshar, Parviz Parastui, Chila Khodadad, Barzoo Arjmand, Ehsan Karami and Flor Nazari were among the famous celebrities who publicly declined the Iftar invitation.
Anahita Hamati was one of the first celebrities to decline Hassan Rouhani's invitation by posting a picture of the official invite that she received on her Instagram page where she wrote about the poor economic situation of the people and people's Iftar tables that are "becoming emptier, day after day."
Hamati stated that her recent absence from Iranian television was caused by the fact that "television no longer displays the real life of people."
In her open letter to Rouhani, the actress criticized the growing percentage of poverty and the government's lack of interest in solving the country's problems while suppressing any protest movement. "The iron fist has been grabbing our necks for years and we have been suffocating," she said.
Mehnaz Afshar, another artist who refused Hassan Rouhani's invitation, said that Athena Daimi should be the one to receive such an invitation to attend the president's Iftar table. Daimi is currently serving a seven years prison sentence for "propagating against the regime, collusion against national security, insulting the leadership and insulting the founder of the Islamic Republic."
For his part, the famous actor Perviz Parastui refused to accept the invitation of the president's Iftar table saying in a statement he posted on his Instagram account that "given the poor economic situation of the people, there is no need to spend a lot of money on celebrations."
Iranian social media users launched the hashtag 'we will not attend your Iftar' condemning Rouhani for failing to live up to his promises after five years of rule. Social media users cited deteriorating living conditions, suppression of freedoms and increased human rights abuses during Rouhani's presidency.
Full report at:
https://english.alarabiya.net/en/News/world/2018/05/30/Iranian-celebrities-openly-reject-Rouhani-s-invitation-for-a-Ramadan-Iftar.html
--------
Israeli banks funding settlements, helping war crimes against Palestinians: HRW
May 30, 2018
Human Rights Watch (HRW) says Israeli banks are financing the regime's "unlawful" settlement construction activities on the occupied territories, contributing to serious human rights violations and war crimes against Palestinians.
In a 41-page report published on Tuesday, the New York-based rights group said Israel's seven largest banks provide services to settlements and facilitate their expansion, thus abetting unlawful population transfers.
"The transfer by the occupier of members of its civilian population into the occupied territory, and the deportation or transfer of members of the population of the territory, are war crimes," the HRW said.
The report, entitled "Bankrolling Abuse: Israeli Banks in West Bank Settlements," stressed that in addition to construction projects, Israeli banks provide loans to settlement authorities and buyers and operate bank branches there.
"Israeli banks are partnering with developers to build homes reserved exclusively for Israelis on Palestinian land," said Sari Bashi, Israel and Palestine advocacy director at the HRW, adding, "The projects these banks underwrite contribute to displacing Palestinians unlawfully."
The report also warned that the Israeli settlements contribute to "a discriminatory regime in which Israeli authorities restrict and stunt Palestinian economic development."
"Settlements inherently contribute to serious human rights abuses. Companies that conduct business in or with settlements cannot mitigate or avoid contributing to these abuses, because the activities they conduct take place on unlawfully seized land, under conditions of discrimination, and through a serious violation of Israel's obligations as an occupying power," it added.
The HRW called on the Israeli banks to cease doing businesses in or with Israeli settlements.
"Banks cannot do business in settlements without contributing to discrimination, displacement, and land theft," Bashi said. "To avoid this outcome, they should end their settlement activities."
Palestine vows action on Israeli banks
Responding to the report, Saeb Erekat, secretary general of the Palestine Liberation Organization (PLO), said that the Palestinian Authority would take necessary measures against Israeli banks for abusing the Palestinian people's rights.
He said in a statement that the HRW report had clarified the banks' role in "the Israeli colonial-settlement enterprise" in the occupied Palestinian lands.
"This is not a novel, new, or an isolated case: there are several Israeli and international companies that profit from the apartheid system imposed by Israel. Yet, several countries that claim to support the two-state solution continue to allow their companies to take part in this illegal enterprise," Erekat pointed out.
He further emphasized that the Palestinians "will take all necessary legal and political measures against those who contribute to the systematic denial of our rights."
About 600,000 Israelis live in over 230 settlements built illegally since the 1967 occupation of the Palestinian lands.
The Tel Aviv regime has been emboldened by the all-out support of US President Donald Trump, stepping up its settlement construction activities in the occupied territories in defiance of United Nations Security Council (UNSC) Resolution 2334.
Full report at:
http://www.presstv.com/Detail/2018/05/30/563326/HRW-Israel-banks
--------
Israel hits multiple Gaza targets in response to mortar barrage
MAY 30, 2018
Israel said it hit dozens of military targets in Gaza on Tuesday in response to a barrage of mortar and rocket fire from the strip's Islamist rulers Hamas and allies Islamic Jihad, in the worst flare-up since a 2014 war.
Late Tuesday a spokesman for Jihad said a ceasefire agreement had been reached to restore calm, though the Israeli army declined to comment on the claim.
Explosions continued until late Tuesday, with the Israeli army reporting sirens being triggered in a number of locations near the border.
Tuesday's exchange of fire came after weeks of deadly unrest along the border between Israel and the blockaded Palestinian enclave.
Three Israeli soldiers were wounded by projectiles fired from Gaza, one moderately and two lightly, said the army. There were no immediate reports of any casualties in the strip.
In a rare joint statement, Hamas and Islamic Jihad declared shared responsibility for the attacks, saying it was in retaliation for Israeli attacks targeting their positions.
Three members of Islamic Jihad were killed in an Israeli strike on Sunday, with the group vowing revenge.
Early Tuesday, some 28 mortar shells were fired toward Israel from the Gaza Strip, with Israel saying most were intercepted by its air defence systems but leaving residents in the area on high alert and remaining close to bomb shelters.
One mortar shell exploded near a kindergarten building, a military spokesman said, causing damage to the structure. No children were present at the time.
It was the largest barrage fired from Gaza targeting Israel since a 2014 war, and Israel's response would also be the biggest since then.
The UN Security Council is expected to meet Wednesday to discuss the attacks on Israel, following a request by the United States for an urgent meeting.
"The Security Council should be outraged and respond to this latest bout of violence directed at innocent Israeli civilians," US ambassador Nikki Haley said.
Kuwait, a non-permanent council member that represents Arab countries, circulated a draft UN Security Council resolution calling "for the consideration of measures to guarantee the safety and protection of the Palestinian civilian population" in the occupied Palestinian territories and the Gaza Strip.
– Explosions shake enclave –
Prime Minister Benjamin Netanyahu said that the country's army would "respond to these attacks powerfully."
Shortly after he spoke, Israel's military began carrying out air strikes in Gaza. Explosions shook the Palestinian enclave and smoke rose from areas hit.
At least seven Hamas and Islamic Jihad bases were struck, security sources in Gaza said.
Later in the day, further rockets or mortar rounds were intercepted by Israel from Gaza, the army said. It alleged some of the mortar rounds fired throughout the day were supplied by Iran.
Israel's military said it responded by hitting more than 35 "military targets", including a tunnel that stretched into its territory, weapons storage facilities and militant bases.
Israel's military said it was not seeking an escalation, but warned Hamas, with whom it has fought three wars since 2008.
"They have the ability, the control and the power to escalate or to deescalate the situation, to rein in the Palestinian Islamic Jihad and their own extremist factions in Hamas or to escalate the situation," said military spokesman Jonathan Conricus.
Islamic Jihad is the second-largest armed group in Gaza after Hamas, which controls the enclave.
Hamas said in a statement "what the resistance carried out this morning comes within the framework of the natural right to defend our people".
"The Israeli occupation bears full responsibility for any upcoming escalation."
Separately in the morning, Palestinians launched boats from Gaza to protest Israel's blockade in what they said would be a peaceful demonstration.
Israeli forces later stopped and seized the main protest boat as it approached the blockade limit at nine nautical miles, while others were said to have turned back.
– 'Gazans are fed up' –
Tuesday's incidents came after weeks of deadly demonstrations and clashes along the Gaza-Israel border, beginning on March 30.
The protests have called for Palestinians who fled or were expelled in the 1948 war surrounding Israel's creation to be allowed to return to their former homes now inside Israel.
They peaked on May 14, when at least 61 Palestinians were killed as tens of thousands of Gazans protested and clashes erupted on the same day of the US transfer of its embassy in Israel from Tel Aviv to Jerusalem.
Demonstrations and clashes have continued at a low level since then. At least 121 Palestinians have been killed by Israeli fire in the unrest.
Israel says its actions are necessary to defend its borders and accuses Hamas of encouraging thousands of Palestinians to break through the border and attack Israelis.
But Israel has faced international criticism and calls for an independent investigation over its use of live fire during the protests and clashes along the border.
No Israelis have been killed.
Full report at:
https://dailytimes.com.pk/246583/israel-hits-multiple-gaza-targets-in-response-to-mortar-barrage/
--------
US seeks urgent UN council meeting on anti-Israel strikes
30 May 2018
The UN Security Council will meet Wednesday at the request of the United States to discuss Palestinian rocket and mortar attacks on Israel, diplomats said.
The United States circulated a draft statement Tuesday calling on the council to condemn "in the strongest terms the indiscriminate firing of rockets by Palestinian militants in Gaza" toward Israel, according to a copy of the text seen by AFP.
The council is expected to meet Wednesday to discuss the attacks from the Gaza Strip that were claimed by Hamas and Islamic Jihad, prompting Israel to respond with air strikes on bases of the militant Palestinian groups.
"Mortars fired by Palestinian militants hit civilian infrastructure, including a kindergarten," US Ambassador Nikki Haley said in a statement.
"The Security Council should be outraged and respond to this latest bout of violence directed at innocent Israeli civilians, and the Palestinian leadership needs to be held accountable for what they're allowing to happen in Gaza."
Israel's military has said it was not seeking an escalation, but warned Hamas, with whom it has fought three wars since 2008, to rein in its fighters.
The exchange of fire followed weeks of deadly demonstrations and clashes along the Gaza-Israel border.
Dozens of Palestinians have been killed by Israeli fire in the unrest.
The US request came as council diplomats are negotiating a draft resolution, put forward by Kuwait, that calls for an "international protection mission" to be deployed for the Palestinians.
Full report at:
https://english.alarabiya.net/en/News/middle-east/2018/05/30/US-seeks-urgent-UN-council-meeting-on-anti-Israel-.html
--------
German FM vows to assist Iran's economy if it adheres to nuclear deal
May 29, 2018
German Foreign Minister Heiko Maas says Berlin is prepared to help Iran improve its economy and business ties while Tehran remains committed to a landmark nuclear agreement it signed with major powers in 2015.
"We will continue to make efforts to fulfill Iran's hopes for economic recovery and good trade relations as long as Iran is ready and able to prove that it adheres to its obligations under the nuclear deal," Maas said on Tuesday.
He was speaking at the Global Solutions Summit in Berlin three weeks after the United States pulled out from the landmark nuclear accord, officially known as the Joint Comprehensive Plan of Action (JCPOA).
US President Donald Trump announced on May 8 that Washington was walking away from the nuclear agreement, which was reached between Iran and the five permanent members of the UN Security Council - the US, Britain, France, Russia and China - plus Germany.
Trump also said he would reinstate US nuclear sanctions on Iran and impose "the highest level" of economic bans on the Islamic Republic.
Since the US president pulled Washington out of the historic nuclear deal, other signatories, including Germany, have been scrambling to ensure that Iran gets enough economic benefits to persuade it to stay in the deal.
Speaking to reporters in Brussels on Monday ahead of a meeting of EU foreign ministers, the European Union's foreign policy chief Federica Mogherini said the bloc is determined to save the JCPOA despite the United States' move to withdraw from the deal.
She added, "You know that we have been acting already at European Union level to put in place a set of measures to make sure that the nuclear agreement is preserved and the economic investments from the European side, but also from other sides in the world are protected."
German EU Affairs Minister Michael Roth also said on Monday Iran's commitment to the JCPOA was "indispensable" and pledged that the EU would "support Iran financially and economically on the basis of the agreement."
"Today, we have to send out a clear signal that the European Union is standing behind the nuclear deal. It is in our most personal security interest that this deal has a future," Roth added.
In a meeting with US National Security Adviser John Bolton on Wednesday, the German foreign minister said Europe is still "very, very united" on continuing to support the Iran nuclear deal.
Full report at:
http://www.presstv.com/Detail/2018/05/29/563279/Germany-Heiko-Maas-Iran-JCPOA-Global-Solutions-Summit
--------
Africa
Ivory Coast Muslims shun social networks during Ramadan
30.05.2018
Certain Muslims in the Ivory Coast have decided to deprive themselves of social media networks so as to devote more time to religious rites during the holy month of Ramadan.
Members of the Muslim community say they prefer to spend their free time in prayer and reading the Quran rather than on social networks.
Facebook, Instagram, Snapchat, and Twitter are popular platforms in the West African nation.
In 2017, Internet access recorded more than 17 million subscriptions, compared to 10 million in 2016 and 200,000 in 2011, according to figures taken from Ivorian media reports.
Fatou Diallo, an Ivorian in her 30s, who is always active on social media networks decided to cut off from the services since the beginning of Ramadan.
"I have disconnected from social networks because it takes time. I realized that I had a tendency to easily get into an argument [...] I completely disabled my Facebook account and others. I even uninstalled it from my phone," she said with a smile.
She now uses her free time for religious activities.
"The time I took to read the news on Facebook is time lost. Now, I spend this time reading the Quran so I can finish it during this month," Diallo said. "Outside the networks, I have my phone that is still working and friends who want to reach me can do it."
Abu Sylla, 32-year-old salesman, who has been very active on the Internet also deprived himself from the social media networks. This challenge, he says, is of spiritual benefit to him and it also allows him to maintain good health.
"I feel less tired when I wake up. I do not have as many headaches as when I stayed connected all the time," Sylla, a father of two said.
Social networks at the service of faith
Unlike Fatou and Sylla, other Muslims continue to use social networks, but for religious purposes.
Hamed Cissoko, an accountant who is always on the Internet for his job said that since the beginning of Ramadan, he navigates as little as possible.
"I do not go on all the pages, I visit the sites specialized in the teaching of Islam, I watch only religious films," he confessed.
Some Muslim associations are not left out. They use networks to make calls for charity and donations.
The Muslim radio Al Bayane has called for donations on its Facebook page. The radio said they need 1 billion CFA francs ($1.8 million) for a Muslim television TV AL Bayane.
Muslims account for 43 percent of the total population of 23.7 million, according to figures from the last 2014 census.
https://www.aa.com.tr/en/africa/ivory-coast-muslims-shun-social-networks-during-ramadan/1160328
--------
Mozambique 'jihadists behead' villagers
29 May 2018
At least 10 people have been beheaded in northern Mozambique by suspected Islamist militants, officials say.
Children are reported to be among those targeted in the attack on Monjane village in Cabo Delgado province, a hub for mining and petroleum exploration.
An Islamist militant group has carried out sporadic attacks in the region in the last year.
It is believed to be making millions of dollars from selling timber and rubies.
Known locally as al-Shabab, the group was formed in 2015 as a religious organisation and has no known links to the Somali jihadist group of the same name.
One of the victims of the weekend attack was the leader of Monjane village, a local resident told the AFP news agency.
"They targeted the chief as he had been providing information to the police about the location of al-Shabab in forests," he is quoted as saying.
Recent academic research, included in this week's Mozambique News Reports and Clippings newsletter, found that early members of the group, sometimes also called al-Sunna, were followers of a radical Kenyan preacher who was killed in 2012.
His followers moved south and settled in Kibiti in southern Tanzania, near the border with Mozambique.
Police have arrested more than 200 people in connection with the Islamist militant attacks, which began last October.
Last week, the authorities reopened six mosques closed in the wake of the attacks after they broke links with armed groups.
Alvaro Junior, director of justice in in Cabo Delgado, said seven other mosques believed to have been owned by fundamentalist groups, had been destroyed by the authorities.
Full report at:
http://www.bbc.com/news/world-africa-44289512
--------
Sudan says its participation in Yemen war a 'moral obligation'
29 May 2018
Sudanese Defense Minister Awad Ibn Ouf said on Monday that it was Sudan's "moral obligation" to participate in the Yemen war alongside the Arab coalition.
Sudan has been a part of the Arab coalition since 2015, in an effort to support Yemen's legitimate President Abdrabbu Mansour Hadi, after Iranian-backed Houthi militias exiled him from Sanaa.
Ibn Ouf discussed the possibility of further cooperation with Saudi Arabia with the kingdom's ambassador to Khartoum Ali bin Hassan Jaafar, according to the Sudan Tribune.
Full report at:
https://english.alarabiya.net/en/News/middle-east/2018/05/29/Sudan-says-participation-in-Yemen-war-moral-obligation-.html
--------
Libyan leaders commit to December 10 elections
29 May 2018
Four senior Libyan leaders committed at a Paris peace conference Tuesday to holding elections in the fractured and war-wracked country on December 10, a joint statement said.
"The parties have committed to set the constitutional basis for elections and adopt the necessary electoral laws by September 16, 2018, and hold parliamentary and presidential elections on December 10, 2018," it said.
French President Emmanuel Macron, who hosted the conference, has been pushing the rival Libyans and other representatives from regional powers to agree a political roadmap to stabilize the oil-rich North African state.
The Libyan signatories were Prime Minister Fayez al-Sarraj, head of the UN-backed unity government in Tripoli, and 75-year-old military strongman Khalifa Haftar, whose rival Libyan National Army dominates the country's east.
Aguila Saleh Issa, the parliament speaker based in the eastern city of Tobruk who opposes the UN-backed administration, as well as Khalid Al-Mishri, the newly-elected head of the High Council of State, also signed the statement after around four hours of talks in Paris.
Posing for a group photo, Macron asked his guests to verbally commit to the agreement -- which they did.
"So we are all working on this common basis, bravo!" he said.
Full report at:
https://english.alarabiya.net/en/News/north-africa/2018/05/29/Libyan-leaders-commit-to-December-10-elections.html
--------
Political rivals seek roadmap for lawless Libya
May 29, 2018
Libya's rival leaders have met in the French capital, Paris, to agree on a political roadmap in an effort to bring order to chaos gripping the North African country.
The talks at the Elysee Palace on Tuesday brought together Prime Minister Fayez Sarraj, head of Libya's UN-backed government in Tripoli, and General Khalifa Haftar, whose forces dominate eastern Libya.
Representatives of Egypt, Russia and the United Arab Emirates (UAE), which have backed forces loyal to General Haftar attended the conference.
The rival leaders tentatively agreed on a political roadmap leading to parliamentary and presidential elections on December 10.
In the eight-point declaration that closed the conference, the Libyan leaders committed to accepting electoral results and ensuring funds and "strong security arrangements" for the vote.
They also committed to working on "phasing out parallel government" and on "the unifying of the Libyan Central Bank and other institutions."
The agreement, however, said little about what could prove to be the biggest challenge to holding elections and reuniting the country.
An official at the French presidency said ahead of the conference that some Libyan groups are opposed to the process.
"Of course there are Libyans who are opposed to this political process, others who are for a 'status quo' because they have an interest in it, others who are for disorder and instability. So we must not close our eyes," the official said. "They are a minority."
The UN special envoy, Ghassan Salame, suggested that Tuesday's agreement was a step forward. "This is a historic meeting. We do not speak in place of the Libyans. It's the Libyans who agree all together in our presence. This is crucial."
France is trying to play the peacemaker's role in a country where years of efforts by the United Nations have failed to bring stability.
The International Crisis Group, an NGO on conflict resolution, warned in a statement on Monday that the Paris conference might unintentionally undermine the UN-led peace process. "French organizers should avoid imposing too rigid a framework." It also called for "a broader declaration of principles on political, security and economic steps that would help stabilize and unite the divided country."
Libya is split between rival governments in the east and west, each backed by an array of militias. The country slid into chaos after a NATO-backed uprising that toppled and killed longtime dictator Muammar Gaddafi in 2011. France was at the forefront of airstrikes carried out along with the United States and others in the NATO operation.
Full report at:
http://www.presstv.com/Detail/2018/05/29/563297/Libya-Elysee-Palace--France-Paris-Gen-Haftar
--------
Nigeria: 132 Boko Haram Members Surrendered in the Last Few Months, Says Military
29 MAY 2018
By Michael Olugbode
Maiduguri — The Nigerian military has said it is expecting more Boko Haram terrorists to lay down their arms and embrace peace within the next few weeks.
The military equally revealed that 132 members of the terrorist group voluntarily surrendered to the Nigerian troops after dropping their weapons in the last few weeks.
Parading before journalists, five of the 17 insurgents who surrendered at Kala Balge and Kumshe areas to the military in the last one week, the head of the military counter-insurgency operation in the Northeast (Theater Commander, Operation Lafiya Dole), Major General Rogers Nicholas, said within the last few weeks, about 132 Boko Haram terrorists voluntarily surrendered to the Nigerian armed forces in Bama, Monguno, Kala Balge, Damboa and Kumshe axis.
He also appealed to those that are still members of the group to come out from their hiding and surrender to the Nigerian military.
Nicholas asked that they should surrender their weapons to the nearest military camps and formations closer to them.
He promised that the Nigerian military windows are opened anytime for any member of the Boko Haram that is willing to lay down their arms and embrace peace.
Nicholas said there is no truth in the speculation making the round that Nigerian military is rather killing any member of the Islamic sect that lays down his arm, adding that the military has been applying the human rights laws by providing medical and welfare services to those who surrender.
The Theater Commander assured them that the military would continue its operations and its doors are opened to welcome any Boko Haram member who will surrender on his or her own to the security for medical treatment, rehabilitation, deradicalisation and reintegration while appealing for more terrorists to surrender to the military
One of the surrendered terrorists that spoke to journalists, Hassan Dahiru, said initially they were forcefully conscripted into the terrorist group but later realised that the activities of the group were not Islamic and against the religion of Islam by all ramifications.
Dahiru, who spoke for four others, said: "We have highly regretted our actions, especially the killings and destructions," noting that what Boko Haram has been doing is cruel and inhumane actions against humanity.
Full report at:
http://allafrica.com/stories/201805290529.html
--------
Pakistan
Tahir ul Qadri Due on Sunday to 'Forge Electoral Alliance'
May 30, 2018
LAHORE: Pakistan Awami Tehreek (PAT) chief Tahirul Qadri is set to return to Pakistan on Sunday (June 3) for overseeing his party's preparation for the next general elections and seek alliances with the Pakistan Peoples Party and the PML-Q.
According to the party sources, the PAT is already negotiating with the PPP and the PML-Q and exploring the possibility of contesting elections on a joint election symbol in Punjab, at least.
When reminded that the PPP is retrieving its old symbol - sword - and PML-Q wants to replace bicycle with tractor, how would these parties jettison their hard-won election symbols to context on new symbol, PAT spokesman Noorullah Siddiqui claimed: "The PPP can contest on whatever symbol it wants in Sindh or any other province, but PAT is asking it to field joint candidates on a joint symbol and the PPP is listening. Similarly, the PML-Q is striving hard to gather all splinter factions of Muslim Leagues and some other religious groups, it was also talking to PAT for an umbrella alliance, covering all its sub-alliances. The talks are inching towards consensus and that is why the PAT chief is arriving."
When asked about the possible alliance with the PTI, he said Tehreek-Insaf, of late, has grown too big, or at least it perceives itself to be, to seek alliance, even seat adjustment. So, the PAT is exploring the possibility where it seems more realistic.
About the usual thunder that has accompanied his previous such arrivals, Siddiqui denied such plans. "The PAT had two major demands: making the Justice Baqar Najfi report public and justice for Model Town massacre. The report has been made public and the court is hearing the case on a daily basis now after a suo motu. The party thus has no issue to agitate at its previous level."
The only issue that it feels left is refining and reforming the electoral system to ensure transparent and fair elections. But it is more of a general issue, and the party and its chief, would continue to agitate it softly through talk shows and through other means. But there is nothing to protest about, he said.
About the span of the stay, Noorullah said it all depends how political situation matures in the next two months. "If alliance with other parties matures and contest becomes a single symbol affair, Tahirul Qadri would become part of the election campaign and stay till elections. If it is only seat adjustments and all parties contest on their individual symbols, the PAT chief might decide to leave early. The PAT is going to put up its own candidates on selective seats (and their details cannot be diverged at this stage) and cooperate with others on the rest of the seats," he said.
https://www.dawn.com/news/1410925/tahirul-qadri-due-on-sunday-to-forge-electoral-alliance
--------
Fazl says NA forced into approving KP-FATA merger
May 30, 2018
Jamiat Ulema-e-Islam-Fazl (JUI-F) chief Fazlur Rehman on Tuesday said the matter of Federally Administered Tribal Areas' (FATA) merger with Khyber Pakhtunkhwa (KP) should be presented before a tribal jirga, alleging that "the decision was not taken by the National Assembly (NA); it was forced into doing so".
Talking to newspersons at his residence, the JUI-F leader said that the public's reaction has started to become evident. He warned against conspirators who were aiming to use the people of FATA as fuel in the future.
"This is not a decision which has been made by the NA. It has been forced into doing so by the 'forces' which have wrung the parliament's neck into submission," Fazl declared.
He said that there was still time to take the people's opinion on the merger and to "consider their wishes".
Referring to the Pakistan Tehreek-e-Insaf's (PTI) sit-in staged in Islamabad, he remarked that "those who staged a sit-in for 120 days in the federal capital could not tolerate our protest for a single day; they ordered a baton charge against our party members".
Fazl said that the stance on the KP-FATA merger "will spell negative outcomes for Pakistan's future".
He called attention to the fact that the government and ministers have admitted that the decision was taken against their advice. "They themselves have acknowledged that the land rights are those 'which Fazl has been saying all along,'" the JUI-F chief argued.
He said Prime Minister Shahid Khaqan Abbasi and Abdul Qadir Baloch had provided assurances that a merger will not take place and that work on the Riwaj Act will be halted.
In January this year, Fazl had also criticised adoption by the NA of a bill extending the jurisdiction of the Supreme Court and Peshawar High Court (PHC) to FATA.
He said this was the reason why the people of the Provincially Administrated Tribal Areas (PATA) are holding their representatives responsible for this merger's decision.
He claimed that the bill, instead of being included in the amendment, was hidden behind resolutions. The JUI-F chief observed that Frontier Crimes Regulation (FCR) was put to an end in FATA but a new system has not been put in its place.
Fazl said that he had put his proposals forth behind closed doors as well as openly in front of everyone.
"I warned Chief of Army Staff (COAS) General Qamar Bajwa as well as the prime minister that we may experience difficulties when it comes to Afghanistan and within 24 hours we saw their reaction to the merger," he pointed out.
"We have hardly managed to free ourselves from Western disputes and are now inviting trouble from the Eastern front," he said. He observed that "in the coming days if anyone will be considered fuel for the fire it will be the people of FATA".
"Do the people of the tribal areas only exist for this purpose?" he questioned.
He also called into question how FATA can be considered backward when southern Punjab itself is underdeveloped. "They demand a new province for southern Punjab to bring development and progress in the region. But when it comes to FATA, they end up deciding to merge it. We will continue to fight for the rights of the people of FATA," he asserted.
Full report at:
https://www.pakistantoday.com.pk/2018/05/29/fazl-says-na-forced-into-approving-kp-fata-merger/
--------
Shehbaz visits Miranshah, expresses solidarity with Pakistan Army
MAY 30, 2018
LAHORE: Punjab Chief Minister Muhammad Shehbaz Sharif visited Miranshah area of North Waziristan to show solidarity with the officers and jawans of Pakistan Army on Tuesday.
He visited the Pak-Afghan border area as well as the 7th Division Headquarters where he was briefed by General Officer Commander Major General Azhar Abbasi. He laid a floral wreath at the monument of the martyrs and offered fateha for the departed souls. The Punjab chief minister paid rich tributes to the great sacrifices of martyrs who laid down their lives for the beloved motherland. He also went to Katoon area falling at the fringe of Pak-Afghan border where he was briefed about management of the international border between Pakistan and Afghanistan and its fencing.
During the visit, the CM also went to Younis Khan Sports Complex. Talking on the occasion, he said that fencing of Pak-Afghan border has helped to overcome the incidents of terrorism. Punjab government has extended its support for fencing in past and will also do the same in future.
The CM said that he has come to Miranshah and at the border area to show solidarity with the brave officers and jawans of Pak Army. The history of most daring examples of success in war against terrorism has been written with the blood of our brave sons, he said. He said that there is no other example of such great sacrifices in the history of the nations and the historic efforts put forth by the Pak Army will never be forgotten by the nation. In fact, the role of Pak Army will be written with golden words for overcoming the menace of terrorism from the beloved motherland. The whole nation is standing shoulder to shoulder with the Armed Forces of Pakistan. War against terrorism is the struggle of national survival and we have to won it at every cost. He said that success of operation Radul Fasad after Zarb-e-Azb is the triumph of the whole nation and added that he salutes the officers and jawans over their bravery and courage. In fact, such a war has never been fought in the history of the nations and the unforgettable role played by the Armed Forces will never be forgotten by Pakistani nation, concluded the CM.
Senator Mushahid Hussain, Pakistan Muslim League-Nawaz Khyber Pakhtunkhwa President Ameer Muqam and Punjab government spokesman Malik Muhammad Ahmed Khan also accompanied the CM.
Full report at:
https://dailytimes.com.pk/246411/shehbaz-visits-miranshah-expresses-solidarity-with-pakistan-army/
--------
Popular Sikh leader gunned down in Peshawar
BY SHAMIM SHAHID
May 30, 2018
PESHAWAR: Sardar Charan Jeet Singh, an active leader of the Sikh community in Peshawar, was shot dead by unknown assailants in his shop near the Kohat General Bus Stand, Kohat Road on Tuesday.
A police official said that Sardar Charan Jeet Singh was present in his shop when unknown motorcyclists opened fire at him, killing him instantly. The assailants succeeded in escaping unharmed, the official added.
The Peshawar police have registered a case and started investigation into the matter.
On the other hand, leaders of the Sikh community, Radesh Singh Tooni and Sardar Jitendra Singh, have confirmed the killing and termed it an act of terror. Radesh Singh said that it is astonishing that on the second day of the democratic government's end, an active and popular leader of Sikh community had been shot dead.
Jitendra reminded that Charan Jeet was not only a leader of the Sikh community, he was also very popular and respectable amongst the Muslim community throughout Khyber Pakhtunkhwa. He was an active member of different groups engaged in creating and promoting religious harmony and used to discourage militancy and terrorism.
After knowing about the assassination of their leader, a large number of Sikhs assembled at Lady Reading Hospital and Jogewara Temple in Peshawar.
Full report at:
https://www.pakistantoday.com.pk/2018/05/29/popular-sikh-leader-gunned-down-in-peshawar/
--------
Parliamentarians denounce attack on Ahmedi worship place in Sialkot
May 30, 2018
ISLAMABAD: The parliamentarians on Tuesday denounced the attack on Ahmedi worship place in Sialkot, saying the rights of minority communities should be protected.
On Thursday, a mob— allegedly comprising members of Tehreek-e-Labbaik Ya Rasool Allah (TRLY) and Pakistan Tehreek-e-Insaf (PTI)— in connivance with the Tehsil Municipal Administration (TMA) and police officials attacked an Ahmedi place of worship and a sacred site in Sialkot.
During the session, Jamiat Ulema-e-Islam-Fazl (JUI-F) Member National Assembly (MNA) Asiya Nasir, condemning the incident, said that the non-Muslims are equal citizens of Pakistan.
Expressing surprise at the decrease in population of non-Muslims in the recent census, she demanded an increase in the seats of non-Muslims in the parliament.
Pakistan People's Party's (PPP) Shazia Marri also "strongly" condemned the Sialkot attack.
Full report at:
https://www.pakistantoday.com.pk/2018/05/29/parliamentarians-denounce-attack-on-ahmedi-worship-place-in-sialkot/
--------
Shahbaz pays tribute to sacrifices of Pak Army officers, jawans in war against terror
May 30, 2018
Chief Minister Punjab Muhammad Shahbaz Sharif visited Miranshah area of North Waziristan to show solidarity with the officers and jawans of Pakistan Army, reported by Radio Pakistan.
He visited Pak-Afghan border area as well as the 7th Division Headquarters where he was briefed by General Officer Commanding Major General Azhar Abbasi.
He laid floral wreath at the monument of the martyrs and offered Fateha for the departed souls.
Shahbaz Sharif paid rich tributes to the great sacrifices of officers and jawans of Pak Army in war against terrorism and said there is no other example of such great sacrifices in the history of the world.
https://nation.com.pk/30-May-2018/shahbaz-pays-tribute-to-sacrifices-of-pak-army-officers-jawans-in-war-against-terror
--------
URL: https://www.newageislam.com/islamic-world-news/london-muslims-take-green-bite/d/115399
New Age Islam, Islam Online, Islamic Website, African Muslim News, Arab World News, South Asia News, Indian Muslim News, World Muslim News, Women in Islam, Islamic Feminism, Arab Women, Women In Arab, Islamophobia in America, Muslim Women in West, Islam Women and Feminism