New Age Islam News Bureau
1 Jun 2013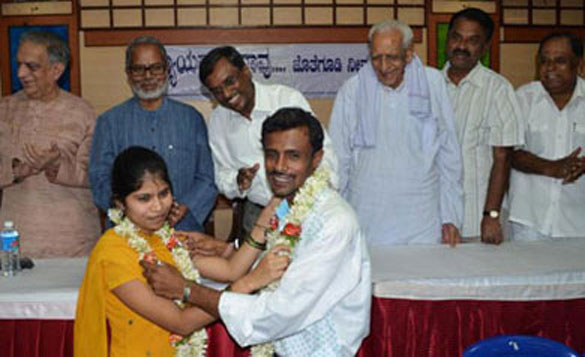 Veena Virupakshappa Hebbali and Imran Hussain get hitched in the presence of eminent personalities such as G.K. Govinda Rao, K. Marulasiddappa, Indudhar Honnapur, H.S. Doreswamy, Pattanagere Jayanna and N.V. Narasimhaiah in Bangalore on Friday. Photo: Nithish P. Byndoor
----------
India
• Man Beheads Christian Son-In-Law for Not Converting To His Tribal Faith
• Team of top scientists predict more Lashkar-e-Taiba attacks
• Hindu-Muslim couple fear for their lives
• Rotary India offers help to Pakistan for polio vaccination
• IPS officer says intelligence input was cooked up in Ishrat Jahan encounter case: CBI
• Al-Umma cadre top among inmates
• Saudi Arabia a home to Indians for over 40 years
• Zubair, the scion of a legendary Afghan military family, graduates from NDA
• Haven't yet decided on Pak invitation, says Manmohan
Arab World
• Top Muslim cleric Al-Qaradawi urges Sunnis to join Syria war
• Ethiopia dam is 'declaration of war': Al-Gamaa Al-Islamiya
• 'Murderers' of Egyptian revolution's icon, Khaled Said are released
• New case on banning porn websites in Egypt adjourned
• From Acton to Aleppo: how one British Muslim's quest to Syria ended in death
• My friend wanted to restore his sense of Syrian honour by sacrificing himself
• Saudi prisoner may have been executed in Iraq
• Lebanon should stay out of Syria conflict: PM
• Iraq to finish Kuwait war reparations in 2015
• Qataris wants mosques left open after prayers
• Balance of power in Syria shifting Assad's way
• Qatar seeks Indian help to set up IIT, IIM
Pakistan
• Two security forces, 23 militants killed in Khurram
• Peace talks: PML-N, PTI undeterred by Taliban volte-face
• Pakistan's new Parliament sworn in
• Pak, US hold another round of strategic talks
• Bleak future for President Zardari in new Parliament
• Young Einsteins: Pakistani students tackle national problems at Insef
• Tackling drones: Nawaz 'disappointed' by latest US attack
• PPPP wins Jacobabad PS-14 seat after recount
• MQM worker among two killed in Karachi
• Mumbai attack case: Trial of Pak suspects adjourned till June 15
• Pak judge hearing cases against Sharif transferred
North America
• New FBI Director Set to Preserve "'War on Terror' Mentality"
• American Muslim sues FBI, saying he was tortured at their behest in Mideast
• Al-Qaeda's Inspire magazine celebrates Boston bombings
• Pak will remain major player in Afghanistan: US
• US may need larger force in Afghan: ex-commander
• NATO summit to enshrine Obama's war-ending legacy
• U.S. Targets Iran's Petrochemical Industry
• Kerry Castigates Russia over Syria-Bound Missiles
• Cuba is hardly a 'state sponsor of terror'
Europe
• Hague judges say Libya must hand over Gaddafi's son
• Muslims in UK jails three times more than 15 yrs ago
• Russian FSB describes its Tsarnaev letter to FBI
• Chechen lunged at agent with metal stick before being shot, officials say
• UN: More Than 1,000 Iraqis Killed in May Violence
• Woolwich attack: Scotland Yard to question second terror suspect
• Left-wing policies have promoted the rise of barbarism
Mideast
• Yemen air raids kill 7 'Qaeda' members: Local official
• Home-made alcohol kills 4, poisons 298 in Iran
• Palestinian victims of 1948 war found in mass grave
• Tehran says United States sponsors terrorism in the Middle East
• Iran nuclear impasse to dominate IAEA board meeting
Australia
• National University introduces "blasphemy law" for fear of Muslim violence
• Inquiry demanded into ASIO terrorist 'error'
South Asia
• Radical monks, prejudice fuel Myanmar violence
• Afghan attacks put aid groups in line of fire
• Two NATO troops, one civilian killed in Afghan attacks
• 24 BNP, Jamaat men held in Noakhali
• 4 Bangladeshi peacekeepers get awards posthumously
• Vice President Waheed Deen meets Nigerian counterpart during INIA stopover
• Taliban Deny Responsibility for Attack on Red Cross
Southeast Asia
• Govt Must Back UN Resolution on Rohingya
• Judicial graft dents faith in rule of law in Indonesia
• Najib says to focus on boosting good governance, integrity
• Nurul Izzah rubbishes claims of planned Sabah protest
• Six killed in Manila blast
Africa
• Libya Becomes 'The New Mali' As Militants Shift In Sahara
• Nigerian Islamist Militants Return from Mali with Weapons, Skills
• A Sketch of Jemal Oukacha, New Commander of AQIM in the Sahel and Sahara
• To people in Niger, Libyan 'El Dorado' is now a threat
• Malian Refugees Feel 'Lost' in Their Own Country
Compiled by New Age Islam News Bureau
URL: https://newageislam.com/islamic-world-news/libya-becomes-'the-new-mali'/d/11850
--------------
Libya Becomes 'The New Mali' As Militants Shift In Sahara
June 1, 2013
BAMAKO – Suicide attacks on a French-run mine and a military base in northern Niger have shown how a militant threat is spreading across the weak nations of the Sahara, meaning France may be tied down there for years to come.
Regional rivalries are aggravating the problem for Paris and its Western allies, with a lack of cooperation between Saharan countries helping militants to melt away when they come under pressure and regroup in quieter parts of the vast desert. Security officials say lawless southern Libya has become the latest haven for Al-Qaeda-linked fighters after French-led forces drove them from strongholds in northern Mali this year, killing hundreds.
"The south of Libya is what the north of Mali was like before," said a senior adviser to Mali's interim President Diouncounda Traore, asking not to be named.
Niger has said last week's suicide raids, which killed 25 people at the army base and desert uranium mine run by France's Areva, were launched from Libya. Amid growing tensions between the two countries, Libya has denied this.
Chad, which played a leading role in the Mali campaign, said a man was shot dead in an attack on its consulate in the Libyan Desert town of Sabha at the weekend.
Smugglers have long used Libya's poorly patrolled south – a crossroads of routes to Chad, Niger and Algeria – for trafficking drugs, contraband cigarettes and people to Europe. But the overthrow of Muammar Gaddafi in 2011 flooded the Sahara with pillaged weapons and ammunition. Tuareg separatists used them to seize power in northern Mali, only to be ousted by even better-armed militants who set up training camps and imposed harsh Islamic law until the French forces arrived. The militants have also exploited Libya's weakness. Veteran Al-Qaeda commander Moktar Belmokhtar bought weapons there after Gaddafi's fall and his fighters passed through southern Libya to carry out a mass hostage-taking at an Algerian gas plant in January, in which 37 foreigners died.
A spokesman for the MUJWA, an Al-Qaeda-linked group which controlled parts of Mali last year, told Mauritania's Al-Akhbar news site that the Niger attack was not prepared in southern Libya. But Belmokhtar's group said it also took part. With no effective national army, Libya relies on local brigades to police its southern border region where at least 100 people died in ethnic violence last year. Tripoli's failure to restore security there may be encouraging permanent Islamist camps and weapons stores, security officials say.
France, which relies on neighboring Niger for one fifth of the uranium powering its nuclear reactors, has urged regional powers to cooperate to tackle the threat from Libya.
"We're extremely concerned that what's happening in southern Libya could replicate what happened in Mali," a French diplomatic source said, adding that the defense minister had raised the issue on a recent visit to Washington and London. "Dealing with that problem needs to be fast-tracked." Paris is keen to cut its troop numbers in the region. But, amid persistent bickering and mistrust among regional powers, President Francois Hollande admitted last week that French forces may have be used elsewhere in the Sahel.
Alarmed European governments also approved a 110-man mission this week to improve border security by training Libyan police and security forces. But Paris feels this is being deployed too slowly, given the urgency of the situation. "As much as the West may wish to leave the problem to Africans, it cannot," said Vicki Huddleston, a former US ambassador to Mali.
Borders often have little meaning in a desert where militants can blend in with nomads, and hunting militants requires states riven by mutual suspicion to work together.
Algeria, the Sahara's main military power, has long bristled at the idea of outside intervention in the region, particularly one led by its former colonial ruler, France.
It allowed French war planes operating in Mali to fly over its territory. But the Malian official said Algeria had to be more active, whether by arresting militants or preventing the flow of fuel that allows them to cover vast desert distances - the northern Mali town of Gao lies about 1,500 km (930 miles) from the border of southern Libya. "Algeria's cooperation is essential but they are not on the frontline," he said.
Mauritania also needed to do more because of its strategic location on the western edge of the Sahara, the high number of its citizens who are senior militants, and its experience in tackling militants at home, he said. US officials said efforts to tackle the spreading influence of Al-Qaeda's Sahara branch had been beset by long-standing rivalries, notably between Morocco and Algeria, and a lack of trust and communication between regional capitals.
Plans to set up a Saharan anti-terrorist command center in southern Algeria never materialized. A low point, officials in Mali's interim government say, was reached in 2011 when senior figures in the previous administration leaked the positions of Mauritanian troops attacking Al-Qaeda bases in Mali.
Relations between Mali and Mauritania had already soured in 2010 when Bamako released a Mauritanian Al-Qaeda commander in return for a kidnapped hostage, prompting Nouakchott to recall its ambassador. The changing face of militancy creates particular problems for governments. For years Al-Qaeda's North African wing AQIM relied largely on Algerians but they were joined last year by gunmen from across northern and parts of West Africa.
The MUJWA group includes more black Africans better able to drift unnoticed between West African nations since France's onslaught. "They have deployed to other theaters," said Soumeylou BouBeye Maiga, a former Malian foreign minister and security chief. "They will take on France elsewhere as there is a concentration of forces here." Niger's long border with Mali, tough line on tackling the militants and role as a supplier of uranium to France have long made it a target. U.S. troops are training the army and Niamey has stepped up security in the north, where French Special Forces went this year to protect mines. Four French mine workers seized in Arlit in 2010 are still being held.
http://www.saudigazette.com.sa/index.cfm?method=home.regcon&contentid=20130601168085
---------
India
Man Beheads Christian Son-In-Law for Not Converting To His Tribal Faith
Samudra Gupta Kashyap
Jun 01 2013
Guwahati: In a shocking incident, a man beheaded his son-in-law in Teliamura, Tripura's West district, allegedly because the latter had refused to convert into the local faith despite having married his daughter a few years ago.
The police said Tapas Bin (35), a Christian, had refused to convert to the local tribal faith despite repeated requests by his father-in-law Gobinda Jamatiya. Following Tapas's refusal, Jamatiya beheaded him with the help of a local Ojha (shaman) and dumped the body into a rivulet. While the incident had occurred on Saturday evening, the body of the beheaded person was fished out on Wednesday morning.
Police meanwhile picked up four persons in connection with the crime. Of these, two have been placed under arrest. Those arrested and remanded in custody include Krishnapada Jamatiya (42), who is said to have performed some tribal rituals after Gobinda and another accomplice had reportedly tied down Tapas. Giving details based on the interrogation of the four persons, the police officer said Tapas Bin was a private tutor of Gobinda's daughter before he married her about three years ago.
http://www.indianexpress.com/news/tripura-man-beheads-soninlaw-for-not-converting-to-his-faith/1123611/
--------------
Team of top scientists predict more Lashkar-e-Taiba attacks
Sanjib Kr Baruah
May 31, 2013
There seems to be a scientific pattern in terror attacks too, if a team of top-notch computer scientists from the University of Maryland is to be believed.
The team has predicted that Lashkar-e-Taiba (LeT) will attack on professional security forces and/or public, symbolic, transport and tourist targets, in the next four months.
The predictions are based on a set of models devised by a team led by Prof VS Subrahmanian which are constructed on the basis of data of the terror group that were collected for 25 years, from 1985 to 2010.
"The data is recorded on a monthly basis and includes the values of approximately 770 variables for each month," Prof Subrahmaniam told HT.
The models describe conditions under which LeT took various actions with the conditions acting as predictors of when they will take similar actions in the future.
The attack predictions made in May 2012 at a Washington DC conference, were claimed to be largely correct.
With counter terrorism as the goal, the scientists have attempted to forecast what LeT will resort to under a set of given 'environmental' and 'action' variables.
While 'environmental' variables relate to social, cultural, economic, military aspects in which LeT is operating, including state responses to terror, 'action' variables relate to actions that LeT took.
While maintaining that there is no policy that will mitigate all of LeT's deadly attacks, Subrahmaniam insists that strategies that foster dissent within the organisation show greater effectiveness in reducing such attacks, besides taking recourse to cyber-operations as a means of spreading such information which is most likely to lead to increased paranoia among the top LeT leadership and the mid-level echelons.
"Among such strategies, exposing unfavourable information about LeT leaders, particularly financial corruption, is the most effective one," Subrahmanian said.
"Historically, when terrorist groups are under pressure, splinter groups like the Indian Mujaheedin carry out some of the deadliest attacks," he said.
"Evidence from the testimony of David Coleman Headley indicate that tension within LeT over its acceptance to the Pakistani government's alliance with the US, laid the seeds for the Mumbai Assault," the scientist added.
http://www.hindustantimes.com/India-news/newdelhi/Team-of-top-scientists-predict-more-Lashkar-e-Taiba-attacks/Article1-1069100.aspx
--------------
Hindu-Muslim couple fear for their lives
Jun 01 2013
Thrashed back home for falling in love, they ran away to Bangalore to tie the knot
"Appa, I'm married now," she said in a quivering voice.
"Cancel it," boomed her father's voice at the other end of the line. "I can't. It's a registered marriage. And I won't because I love him."
A long beep announced the end of the phone call; her grip on husband Imran Hussain's wrist tightened.
"They will kill us," said Veena Virupakshappa Hebbali with a pleading look at activists of Nyayakkaagi Naavu.
Minutes earlier, she and Imran were married in the presence of freedom fighter H.S. Doreswamy, progressive thinker G.K. Govinda Rao, CPI (M) leader G.N. Nagaraj and Agni Sridhar on Friday.
Veena is an M.Sc. student in Hubli and Imran a cable operator in Gadag.
Runaways
Assaulted and harassed by Veena's family and the Hubli police, the couple ran away from home and reached Bangalore a few days ago along with Imran's cousin Zeba Tarannum. "We went straight to the Press Club [of Bangalore] where we found some activists [of Nyayakkagi Naavu]. They assured us of protection," said Zeba.
The activists arranged for a wedding, feast and all, in the presence of the media on Friday afternoon. "Our hope is that the media coverage will deter those opposed to the marriage from causing the couple any harm," explained Agni Sridhar.
But Veena, Imran and Zeba are not so confident about their safety as they proceed to tell us their love story that started with an SMS that reached the wrong inbox in the summer of 2011.
"I wanted to send an SMS to my friend but it accidentally reached Imran's inbox. [My friend's] number ended with 450 but I typed 150 by mistake," said Veena. When she realised the mistake, she apologised to Imran and thought the matter would end there. But he was curious and called her. "She had such a sweet voice. I fell in love with her voice," he said. They exchanged messages and calls for the next month and then she asked to meet him.
"I was so scared to meet her. I told her that I am not very good-looking or well built. Kaala hoon na (I am dark skinned)," he said.
"The first time I met him I was struck by his shy nature. He seemed nice. Looks are not important for me," she laughed. Six months later, he proposed; she said agreed.
Trouble begins
And that's when their troubles began.
"In April this year, my brother and his friends waylaid the bus we were travelling in. They beat Imran with sticks and dragged him to the police station," she said.
"They took her home where her brother, her uncle and his son assaulted her. They broke her teeth and she had blood all over," he said.
Veena's uncle, said the couple, is an activist of the Rashtriya Swayamsevak Sangh and played a key role in influencing the police. "The Police Sub-Inspector of the Vidya Nagar police station (in Hubli) severely tortured me. They even assaulted my family members and seized my motorbike. That's when my family turned against our relationship," said Imran.
With nobody to support them, the couple decided to commit suicide. "When I learnt this, I rushed with my father (Imran's uncle) and rescued them. Then, we brought them to Bangalore," said Zeba.
Annoyed by her intervention, the police allegedly started harassing Zeba's family and friend Syed Sanaullah, a shopkeeper in Sagar who helped the couple escape. "For the last four days, he hasn't opened his shop out of fear," she said.
Now, the couple doesn't know what to do next. "I want to go back and complete my studies. I am a good student," said Veena. "I want to go back home and start working. I have no money," said Imran.
But they both fear great harm will be done to them if they return.
http://www.thehindu.com/news/cities/bangalore/hindumuslim-couple-fear-for-their-lives/article4769874.ece
--------------
Rotary India offers help to Pakistan for polio vaccination
Jun 01 2013
Lucknow : After the recent killing of a polio vaccinator in Pakistan's Peshawar city that forced WHO to temporarily suspend the vaccination campaign in the city, Rotary International's India National Polio Plus Committee has offered to take Muslim Ulamas from Uttar Pradesh to Pakistan to convince people and advocate polio vaccination.
On Tuesday, a female polio vaccinator was killed and another injured when two gunmen opened fired at the vaccinators on the outskirts of Peshawar —- the capital of Khyber-Pakhtunkhwa province of Pakistan. The vaccinators were administering polio drops to children in the region.
Ashok Mahajan, former Director of Rotary International and chairperson of Rotary International's Muslim Ulama Committee, said he had asked Pakistan's national polio committee chairperson if the country needed any assistance from the Ulama committee for advocacy of polio in the light of recent events. Mahajan assured the chairperson that if needed, Ulamas from Uttar Pradesh are ready to travel to Pakistan and stand up for the cause of polio eradication in Pakistan.
http://www.indianexpress.com/news/rotary-india-offers-help-to-pakistan-for-polio-vaccination/1123625/
-----------
IPS officer says intelligence input was cooked up in Ishrat Jahan encounter case: CBI
Jun 01 2013
Ahmedabad : Girish Singhal, the IPS officer who was arrested and recently released on bail in the Ishrat Jahan encounter case, is learnt to have told the CBI that the intelligence input generated ahead of the June 2004 killing was tailored to cover up the illegal encounter at the behest of Rajinder Kumar, the then joint director of Intelligence Bureau based in Gujarat, then DCP of Ahmedabad crime branch D G Vanzara, and then joint police commissioner P P Pandey.
Full report at:
http://www.indianexpress.com/news/IPS-officer-says-intelligence-input-was-cooked-up-CBI/1123604/?india_top
----------
Al-Umma cadre top among inmates
S. VIJAY KUMAR
Jun 01 2013
Three cadre of Al-Umma, a banned Muslim fundamentalist organisation, serving life sentences in different central prisons across the State have topped amongst inmates, in the SSLC examinations.
According to sources in the prison department, life convicts Seeni Nainar Mohammed, presently lodged at Puzhal Central Prison, scored 419 out of 500 and stood first among the prisoners who took the examination.
Full report at:
http://www.thehindu.com/news/national/tamil-nadu/alumma-cadre-top-among-inmates/article4770003.ece
--------
Saudi Arabia a home to Indians for over 40 years
Mir Ayoob Ali Khan, TNN | Jun 1, 2013
HYDERABAD: The deadline - of July 3 - for Indians and other expatriates to either meet legal requirements to continue staying in the oil rich Kingdom of Saudi Arabia or exiting is fast approaching. There are no indications about an extension.
Of the total of about 2 million Indians in Saudi Arabia (who contributing to its development process) at least 100,000 are counted as 'illegal aliens' living in contravention of immigration and labour laws. There are reports of long queues of workers outside the Indian diplomatic missions in Saudi Arabia who have come to seek relief braving the scorching desert sun.
Full report at:
http://timesofindia.indiatimes.com/city/hyderabad/Saudi-Arabia-a-home-to-Indians-for-over-40-years/articleshow/20375557.cms
---------
Zubair, the scion of a legendary Afghan military family, graduates from NDA
Jun 01 2013
Pune : A decade-and-a-half ago, his legendary uncle had stood like a rock against the waves of Taliban fundamentalism sweeping through his motherland. On Friday, Ahmad Zubair Massoud, nephew of Ahmad Shah Massoud, earned his first formal military qualification — and vowed to put it to use in a manner that the Lion of Panjshir himself would have applauded.
Soon after Zubair graduated from the National Defence Academy (NDA), his sister Nilofar tweeted Friday, "Congrats to the youngest member of our family @ZubairMassoud to graduate from the military academy!" Zubair's bio on his own Twitter profile reads, "Currently studying in the National Defence Academy, India. Soon to be an Officer in the ANA Afghan National Army".
Full report at:
http://www.indianexpress.com/news/zubair-the-scion-of-a-legendary-afghan-military-family-graduates-from-nda/1123646/?india_top
----------
Haven't yet decided on Pak invitation, says Manmohan
Jun 01 2013
On board PM'S aircraft : Prime Minister Manmohan Singh on Friday indicated that he was still considering a visit to Pakistan but no dates had been fixed as neither side had taken any firm decision yet.
"I rang up Prime Minister Nawaz Sharif on the very first day when election results were coming out. I conveyed my congratulations to him and I reciprocated his sentiments that India-Pakistan relations should move forward. I also invited him to visit India, he also invited me to visit Pakistan," said Singh.
Full report at:
http://www.indianexpress.com/news/havent-yet-decided-on-pak-invitation-says-manmohan/1123515/
----------
Arab World
Top Muslim cleric Al-Qaradawi urges Sunnis to join Syria war
1 Jun 2013
Influential Muslim cleric Yusuf al-Qaradawi has called on Sunni Muslims to join the rebels fighting the Syrian regime, as he lashed out at Shiite group Hezbollah for sending its men to fight the mostly-Sunni insurgents in Syria.
Qaradawi, a controversial figure in the West but who has millions of supporters, mostly from the Muslim Brotherhood, also hit out at Iran for backing the Syrian regime of President Bashar al-Assad.
"Every Muslim trained to fight and capable of doing that [must] make himself available" to support the Syrian rebels, the cleric said at a rally in Doha late Friday.
"Iran is pushing forward arms and men [to back the Syrian regime], so why do we stand idle?" he said, branding Lebanese militant group Hezbollah, which means the party of God in Arabic, as the "party of Satan".
Full report at:
http://english.ahram.org.eg/NewsContent/1/64/72857/Egypt/Politics-/Top-Muslim-cleric-AlQaradawi-urges-Sunnis-to-join-.aspx
--------------
Ethiopia dam is 'declaration of war': Al-Gamaa Al-Islamiya
June 1, 2013
Ethiopia's Renaissance Dam and the diversion of the Blue Nile is a declaration of war on Egypt, Sheikh Abdel-Akher Hammad of Al-Gamaa Al-Islamiya said on Wednesday.
On Tuesday, Ethiopia began diverting the course of the Blue Nile, one of the Nile River's two major tributaries, as part of its project to build a dam for electricity production.
Speaking on Al-Arabiya satellite channel, Hammad claimed the move would reduce Egypt's water supply and damage national security.
Full report at:
http://english.ahram.org.eg/NewsContent/1/64/72730/Egypt/Politics-/Ethiopia-dam-is-declaration-of-war-AlGamaa-AlIslam.aspx
--------------
'Murderers' of Egyptian revolution's icon, Khaled Said are released
1 Jun 2013
Alexandria Criminal Court adjourned on Saturday the retrial of the policemen accused of killing Khaled Said - an iconic face of Egypt's revolution - to 6 July and ordered their release.
The court explains they must release them according to Article 143 of law 145, which sets a detention cap of 18 months.
The retrial, which began on Saturday, comes after the two defendants, Mahmoud Salah Mahmoud and Awad Ismail Soliman (both lower-ranking police officers) filed an appeal in December, arguing particular witnesses were 'dealt with lightly,' according to Reuters and are asking to repeal their seven-year jail sentences given by the Alexandria Criminal Court on 26 October.
Full report at:
http://english.ahram.org.eg/NewsContent/1/64/72852/Egypt/Politics-/Murderers-of-Egyptian-revolutions-icon,-Khaled-Sai.aspx
--------------
New case on banning porn websites in Egypt adjourned
1 Jun 2013
A case filed by lawyer Ibrahim El-Salamony against President Mohamed Morsi demanding that pornography websites be banned in Egypt was adjourned Saturday to 2 July.
El-Salamony filed the case arguing that marriage burdens and high unemployment in recent years has led many young men to turn to pornographic websites. Banning such websites, the lawyer said, would protect society.
The lawyer claimed that banning the websites would cost LE7-8 million, responding to claims that it would be too costly to implement such a ban. El-Salamony went on to accuse the president and his government of ignoring the issue.
Full report at:
http://english.ahram.org.eg/NewsContent/1/64/72860/Egypt/Politics-/New-case-on-banning-porn-websites-in-Egypt-adjourn.aspx
--------------
From Acton to Aleppo: how one British Muslim's quest to Syria ended in death
Ali Almanasfi, who was killed along with a US woman and third westerner, hoped to atone for a wrong by fighting with rebels
Luke Harding
31 May 2013
After five months fighting in Syria with the rebels, Ali Almanasfi's luck finally ran out. On Wednesday the 22-year-old Briton took a wrong turn and drove into a government checkpoint near the city of Idlib. Syrian soldiers immediately opened fire. They killed Almanasfi together with his two fellow passengers: an American woman and Islamic convert, Nicole Mansfield from Michigan, and a third, so far unidentified man, possibly Canadian.
Syrian TV showed the bloody aftermath of this one-sided encounter: a black VW Golf riddled with bullets and a haul of Kalashnikovs. Also visible was Almanasfi's maroon British passport. It gave his place of birth – London – and date of birth, June 1990.
Full report at:
http://www.guardian.co.uk/world/2013/may/31/acton-aleppo-briton-syria-death
--------------
My friend wanted to restore his sense of Syrian honour by sacrificing himself
Tam Hussein describes his friendship with Ali Almanasafi, the 22-year-old Briton who was killed near Idlib in Syria
Tam Hussein
31 May 2013
I knew Ali Almanasfi not as a terrorist but as someone who wanted to repent for his past. Earlier this year I went to Syria to report on the Islamist brigades, and he asked if I would take him over the border. I refused as he was out on parole. I wasn't going to help him break the law again, especially as his mother was sick and he was doing so well.
He said he wanted to do something about Bashar al-Assad, who was an oppressor who had massacred children in Darayya, where Ali's mother owned a flat. Above all, he wanted to make amends for his past. He wanted to restore his sense of Syrian honour, or sharaf, by sacrificing himself for the rebel cause. He went to Syria just like many went to Spain in the 1930s, full of conviction that his cause was just.
Full report at:
http://www.guardian.co.uk/world/2013/may/31/acton-aleppo-ali-syria-sacrifice
--------------
Saudi prisoner may have been executed in Iraq
June 1, 2013
RIYADH – Abdulrahman Al-Jurais, the lawyer in charge of Saudi prisoners in Iraq, was quoted as saying that Saudi prisoner Ali Fadel Al-Shehri may have been executed on Thursday.
The lawyer told Al-Watan daily that an Iraqi source had told him the death row prisoner, who was held at Al-Nasriya Prison, was taken to an unknown location on Thursday morning.
Al-Jurais said he feared that Al-Shehri had been executed following the recent increase in sectarian violence in Iraq.
Full report at:
http://www.saudigazette.com.sa/index.cfm?method=home.regcon&contentid=20130601168071
--------------
Lebanon should stay out of Syria conflict: PM
June 1, 2013
PARIS – Lebanon should stay out of the Syria conflict and Hezbollah's involvement is "not helping matters", Lebanese Prime Minister Tamman Salam told French daily Le Figaro in an interview published Friday.
The Lebanon-based Shiite movement Hezbollah has sent its fighters to help Syrian President Bashar Al-Assad troops recapture the key town of Qusayr near the border with Lebanon.
"Lebanon has all the more need to keep its distance from what is going on in Syria given that the situation there is so heated," he told the paper.
Full report at:
http://www.saudigazette.com.sa/index.cfm?method=home.regcon&contentid=20130601168087
--------------
Iraq to finish Kuwait war reparations in 2015
May 31, 2013
Baghdad: Iraq estimates that it will complete reparations payments to neighbouring Kuwait in 2015 for Saddam Hussain's 1990 invasion, Foreign Minister Hoshyar Zebari said Thursday.
Kuwait has received about $30 billion in war reparations, out of about $41 billion, a figure decided by a United Nations body after Iraqi troops were driven out of Kuwait in 1991 following a seven-month occupation.
Full report at:
http://gulfnews.com/news/region/iraq/iraq-to-finish-kuwait-war-reparations-in-2015-1.1190919
--------------
Qataris wants mosques left open after prayers
By Habib Toumi
May 29, 2013
Manama: Qataris have urged their religious authorities to reconsider a recent decision not to leave the mosques open after prayers.
"Closing the mosque doors immediately after prayers does not make sense," Mohammad Al Muhannadi, a Qatari national, said. "Prayers hold a highly significant place in the lives of all Muslims and mosques should remain open to perform prayers at all times. We understand that the religious authorities overseeing mosques in the country are keen on making sure that the sites are not abused in any way, but there are other ways to protect them from vandalism or theft," he said, quoted by local daily Al Sharq on Wednesday.
Full report at:
http://gulfnews.com/news/gulf/qatar/qataris-wants-mosques-left-open-after-prayers-1.1189848
--------
Balance of power in Syria shifting Assad's way
AP | Jun 1, 2013
BEIRUT: As hopes for a Syrian peace conference fade and the opposition falls into growing disarray, President Bashar Assad has every reason to project confidence.
Government forces have moved steadily against rebels in key areas of the country over the past two months, making strategic advances and considerably lowering the threat to the capital, Damascus.
With army soldiers no longer defecting and elite Hezbollah fighters actively helping, the regime now clearly has the upper hand in a two-year civil war that has killed more than 70,000 people.
Full report at:
http://timesofindia.indiatimes.com/world/middle-east/Balance-of-power-in-Syria-shifting-Assads-way/articleshow/20378034.cms
---------
Qatar seeks Indian help to set up IIT, IIM
PTI | May 31, 2013
NEW DELHI: India's prestigious IIT and IIM could mark their international debut with the government considering a proposal to set up one such institution in Qatar.
To take this proposal forward, HRD minister M M Pallam Raju is expected to meet Prime Minister Manmohan Singh tomorrow.
Full report at:
http://timesofindia.indiatimes.com/world/middle-east/Qatar-seeks-Indian-help-to-set-up-IIT-IIM/articleshow/20371453.cms
---------
Pakistan
Two security forces, 23 militants killed in Khurram
June 1, 2013
PARACHINAR: Twenty-three militants and two security personnel were killed and five others were injured in a clash in northwest Pakistan's Khurram tribal region on early Saturday.
According to security forces, following the clash in central Khurram, security forces bombed militant positions, killing 23 insurgents. A number of hideouts were also destroyed in the action.
A military operation has been ongoing in central Khurram for past three weeks.
Khurram, which is close to the Pakistan-Afghanistan border, is one of the seven regions in Pakistan's Federally Administered Tribal Areas (Fata), governed by tribal laws. An extremist insurgency led by the Pakistani Taliban plagues the region while the area is known to be infested with militants, including those from Al Qaeda, Taliban and several other armed extremist organisations.
http://beta.dawn.com/news/1015372/two-security-forces-23-militants-killed-in-kurram
--------------
Peace talks: PML-N, PTI undeterred by Taliban volte-face
June 1, 2013
ISLAMABAD: The Tehreek-e-Taliban Pakistan's decision to withdraw its offer for peace talks with the incoming government will not alter PML-N and PTI's position, the two leading parties that have advocated peace negotiations with the militants.
This is the view of Raja Zafarul Haq, chairman of PML-N. Haq said, "Ups and downs are part of such an exercise. We will continue our efforts for a politically negotiated settlement to the conflict." He admitted though that talks were only possible if both sides were willing.
However, PTI spokeswoman Dr Shireen Mazari said TTP's decision would 'fulfill America's designs'.
Full report at:
http://tribune.com.pk/story/557313/peace-talks-pml-n-pti-undeterred-by-taliban-volte-face/
--------------
Pakistan's new Parliament sworn in
June 01, 2013
Fourteen years after his last stint as a parliamentarian, Prime Minister-designate Nawaz Sharif today returned to Pakistan's National Assembly, taking oath with other lawmakers in the first democratic transition of power in the country's 66-year history.
Sharif along with the parliamentarians was administered the oath by outgoing National Assembly Speaker Fehmida Mirza shortly after noon as the new National Assembly gathered for its first session amidst tight security.
The PML-N chief flew from Lahore to Rawalpindi with close aides before driving to the capital to join the session of the new National Assembly that is set to anoint him as Prime Minister for a record third term.
Full report at:
http://www.hindustantimes.com/world-news/pakistan/Pakistan-s-new-Parliament-sworn-in/Article1-1069299.aspx
---------
Pak, US hold another round of strategic talks
BAQIR SAJJAD SYED | FROM THE NEWSPAPER
June 1, 2013
ISLAMABAD: Pakistani and American officials held yet another session of strategic talks in Washington on Friday, but much like previous such meetings made no headway except keeping lines of communication open.
"The delegations had a cordial and productive exchange of views on issues of mutual importance, including international efforts to enhance nuclear security and peaceful applications of nuclear energy," a joint statement issued after the fifth round of talks of Working Group on Security, Strategic Stability, and Non-Proliferation (SSS&NP) noted.
Full report at:
http://beta.dawn.com/news/1015223/pak-us-hold-another-round-of-strategic-talks
--------------
Bleak future for President Zardari in new Parliament
June 1, 2013
ISLAMABAD: Pakistan's new National Assembly will be sworn in Saturday, completing the country's first ever democratic transition of power, but for President Asif Ali Zardari the political future looks bleak.
Pakistan's 65-year history has been punctuated by three periods of military rule and Zardari was credited with steering the country to its democratic milestone by holding together the fractious coalition government led by his Pakistan People's Party (PPP) for its full five-year term.
Full report at:
http://beta.dawn.com/news/1015158/bleak-future-for-president-zardari-in-new-parliament
--------------
Young Einsteins: Pakistani students tackle national problems at Insef
June 1, 2013
PHOENIX: Seventeen-year-old Muhammad Ahsan Nawaz isn't one to let a few hurdles slow him down.
He struggled with school, dropped out for four years, and still made it to the list of finalists at the world's largest pre-college science competition.
Nawaz was one of 10 Pakistani students selected for the Intel International Science and Engineering Fair (Isef), held in the American city of Phoenix, from May 12 to May 17. Isef brings together the research of 1,600 teenage scientists from 70 countries, territories and regions across the world.
Full report at:
http://tribune.com.pk/story/557348/young-einsteins-pakistani-students-tackle-national-problems-at-insef/
--------------
Tackling drones: Nawaz 'disappointed' by latest US attack
June 1, 2013
ISLAMABAD / LAHORE: Incoming Prime Minister Nawaz Sharif voiced dismay and disappointment on Friday over this week's US drone attack – the first one since the May 11 election and days after US President Barack Obama revised his government's policy on the use of unmanned aircraft.
Nawaz said the drone attack – which incidentally killed Tehreek-e-Taliban Pakistan's deputy chief – was not only a violation of the country's sovereignty and territorial integrity, but also an action that has been declared a violation of international law and the UN Charter.
Full report at:
http://tribune.com.pk/story/557351/tackling-drones-nawaz-disappointed-by-latest-us-attack/
--------------
PPPP wins Jacobabad PS-14 seat after recount
June 1, 2013
SUKKUR: Pakistan Peoples Party Parliamentarians' (PPPP) candidate Sardar Muqeem Khoso, who earlier lost the PS-14 seat from Jacobabad, emerged victorious after recounting at polling station no.38 on Saturday.
According to the May 11 election results, Pakistan Muslim League – Nawaz's (PML-N) candidate Aslam Abro had earlier won the seat. Khoso, who was not satisfied with the results, moved the Sindh High Court which ordered recounting at polling station no.38 set up at Government Primary School Hawaldar Brohi.
Full report at:
http://tribune.com.pk/story/557455/pppp-wins-jacobabad-ps-14-seat-after-recount/
--------------
MQM worker among two killed in Karachi
June 1, 2013
KARACHI: Two people, including a political worker, were gunned down while dead bodies of two others were recovered here of Friday. A worker of Muttahida Qaumi Movement (MQM) was shot dead in a targeted attack at Sachal Goth within the limits of Sachal police station. SHO Munir Marwat said that deceased Ghulam Haider, 35, son of Muhammad Rahim Sindhi, worked at a petrol pump as a security guard.
Full report at:
http://www.dailytimes.com.pk/default.asp?page=2013\06\01\story_1-6-2013_pg7_16
--------------
Mumbai attack case: Trial of Pak suspects adjourned till June 15
PTI | Jun 1, 2013
ISLAMABAD: The trial of seven Pakistani suspects, including Lashkar-e-Taiba commander Zakiur Rehman Lakhvi, charged with involvement in the Mumbai attacks was on Saturday adjourned till June 15 as the government is yet to appoint a chief prosecutor to handle the case.
Judge Chaudhry Habib-ur-Rehman of the Rawalpindi-based anti-terrorism court adjourned the case for a fortnight without any proceedings during Saturday's hearing.
Full report at:
http://timesofindia.indiatimes.com/world/pakistan/Mumbai-attack-case-Trial-of-Pak-suspects-adjourned-till-June-15/articleshow/20382165.cms
---------
Pak judge hearing cases against Sharif transferred
June 01, 2013
A Pakistani anti-corruption court judge who was hearing three cases against Prime Minister- designate Nawaz Sharif and members of his family has been transferred, days before the formation of the new PML-N government. Lahore High Court Chief Justice Umar Ata Bandial transferred Judge Abdul Khaliq of the accountability or anti-corruption court in Rawalpindi.
Khaliq was asked to report to the High Court, officials said today.
The sudden transfer of Khaliq is believed to have been made at the behest of the incoming PML-N government that does not want any "progress" in the cases against the Sharifs, sources told PTI.
Full report at:
http://www.hindustantimes.com/world-news/pakistan/Pak-judge-hearing-cases-against-Sharif-transferred/Article1-1069304.aspx
---------
North America
New FBI Director Set to Preserve "'War on Terror' Mentality"
Jun 01, 2013
WASHINGTON - NPR reports: "Former Justice Department official James B. Comey is in line to become President Obama's choice as the next FBI director, according to two sources familiar with the search. … Another source told NPR it could be several days before Obama makes a formal announcement."
COLEEN ROWLEY, rowleyclan at earthlink.net
Rowley is a former FBI special agent and division counsel whose May 2002 memo described some of the FBI's pre-9/11 failures and was named one of Time Magazine's "Persons of the Year" in 2002. She said today: "James Comey was likely selected as new FBI director to preserve the post 9-11 status quo. What's needed is real change away from the 'war on terror' mentality.
"I never got too excited about the calls that periodically arose since 9/11 for Robert Mueller to step down as FBI director after various FBI scandals came to light and after his ten-year appointment term was over. It wasn't because I had met him that one time in June 2002 before I testified to the Senate Judiciary Committee about endemic problems facing the FBI and it wasn't because Mueller didn't fire me after my 'whistleblower memo.' I pointed instead to how forcing Mueller's resignation would only serve to most likely put someone worse in that position, especially recalling how John Ashcroft, as bad as he was, was replaced by Alberto Gonzales and then Michael Mukasey, each one worse than their predecessor. Full report at:
http://www.commondreams.org/newswire/2013/05/31-9
--------------
American Muslim sues FBI, saying he was tortured at their behest in Mideast
May 31, 2013
PORTLAND, ORE. – An American Muslim who says he was beaten with batons by prison interrogators while held in solitary confinement overseas for more than three months has sued the FBI and State Department, claiming the torture was done at their behest.
The lawsuit filed Thursday in U.S. District Court in Oregon seeks $30 million and several injunctions against the U.S. government concerning its treatment of citizens overseas.
Yonas Fikre said he was held for 106 days in the United Arab Emirates after refusing to cooperate with Portland, Ore.,-based FBI agents in an interview in Sudan. The State Department has confirmed previously that Fikre was held in Abu Dhabi "on unspecified charges," but said he was visited by State Department officials and showed no signs of mistreatment.
Full report at:
http://www.foxnews.com/us/2013/05/31/apnewsbreak-american-muslim-sues-fbi-saying-was-tortured-at-their-behest-in/
--------------
Al-Qaeda's Inspire magazine celebrates Boston bombings
By Caitlin Dewey
May 31, 2013
The latest issue of the al-Qaeda magazine Inspire is out, and it devotes almost all of its 40-odd pages to glorifying what it calls the "BBB" — the "Blessed Boston bombings." It's an unsurprising, if stomach-turning, move for the glossy, English-language propaganda magazine, which has previously run articles celebrating 9/11 and instructing readers on the intricacies of building bombs.
The issue opens with a threatening "Letter from the Editor" and goes on to chronicle the attacks, the reaction from public figures, and the small role that Inspire itself played in the bombings. One article, "Inspired by Inspire," is illustrated by a flaming iPad with a copy of the magazine on its screen. Another consists of a series of media passages that mention the magazine.
Full report at:
http://www.washingtonpost.com/blogs/worldviews/wp/2013/05/31/al-qaedas-inspire-magazine-celebrates-boston-bombings/
--------------
Pak will remain major player in Afghanistan: US
June 01, 2013
Pakistan is and will remain a major player in the final outcome in Afghanistan, an American think-tank has said, asserting that economic incentives can be given to Islamabad if it takes steps to restrain the Taliban operating from sanctuaries on its soil.
"The truth is still this:
Pakistan is, and will remain, a major player in the final outcome in Afghanistan, and Washington's approach in this situation should be to continue to work on interpersonal relationships among key leaders, as well as coordination and cooperation along borders where enemies of one country or the other often cross," a Center for a New American Security (CNAS) report has said.
Full report at:
http://www.hindustantimes.com/worldsectionpage/chunk-ht-ui-worldsectionpage-pakistan/Pak-will-remain-major-player-in-Afghanistan-US/Article1-1069203.aspx
---------
US may need larger force in Afghan: ex-commander
June 01, 2013
The former NATO commander in Afghanistan said Friday the United States may need to keep a larger force in the country than initially planned after 2014 to help Afghans build up their military.
His suggestion, endorsed by a former senior official at the Pentagon, would expand the potential US military commitment to Afghanistan beyond next year and appeared to contradict President Barack Obama's stated policy on the war.
Full report at:
http://www.hindustantimes.com/world-news/northamerica/US-may-need-larger-force-in-Afghan-ex-commander/Article1-1069197.aspx
---------
NATO summit to enshrine Obama's war-ending legacy
AFP | Jun 1, 2013
WASHINGTON: US President Barack Obama will use a NATO summit next year to write the "final chapter" of America's longest war, in Afghanistan, hoping to cement a legacy rooted in ending foreign conflicts.
Obama announced that alliance leaders would meet next year at a time and place to be named, to consider the limited training and assistance mission due to roll out once NATO combat troops leave at the end of 2014.
But, after meeting NATO Secretary General Anders Fogh Rasmussen for talks on ending the Afghan war, Obama dodged questions about Syria, as he seeks to keep his nation out of another costly venture in the Muslim world.
Full report at:
http://timesofindia.indiatimes.com/world/us/NATO-summit-to-enshrine-Obamas-war-ending-legacy/articleshow/20375935.cms
---------
U.S. Targets Iran's Petrochemical Industry
By RICK GLADSTONE
June 1, 2013
The Obama administration on Friday escalated efforts to isolate Iran economically, blacklisting Iranian companies in the petrochemical industry for the first time and punishing five businesses in four other countries for conspiring to evade American sanctions aimed at restricting Iranian oil sales and air transportation.
The new steps came a day after the administration issued sanctions against a top aide of Iran's supreme leader, Ayatollah Ali Khamenei, and more than 50 other Iranian officials for what it called their efforts to repress dissent and free speech in Iran, where presidential elections are scheduled in two weeks.
Full report at:
http://www.nytimes.com/2013/06/01/world/middleeast/us-targets-irans-petrochemical-industry.html?ref=middleeast&_r=0
--------------
Kerry Castigates Russia Over Syria-Bound Missiles
By STEVEN LEE MYERS and MICHAEL R. GORDON
June 1, 2013
WASHINGTON — Secretary of State John Kerry on Friday strongly criticized Russia's pledge to sell advanced antiaircraft weapons to Syria, suggesting that along with the growing involvement of Iran and Hezbollah in the fighting, the sale threatened to disrupt efforts to negotiate a political settlement and could destabilize the region.
Russia's confirmation this week that it planned to sell S-300 missiles to Syria — and President Bashar al-Assad's defiant boasts on Thursday about Russian arms aimed at Israel — have added a dangerous new dimension to the civil war in Syria. They have also complicated efforts to organize an international conference in Geneva in the hope of ending a war that has killed tens of thousands of Syrians.
Full report at:
http://www.nytimes.com/2013/06/01/world/middleeast/kerry-castigates-russia-over-syria-bound-missiles.html?ref=middleeast
--------------
Cuba is hardly a 'state sponsor of terror'
The US government continues to put Cuba on its international terrorism list because of flawed rationale and historical prejudice
Keith Bolender
31 May 2013
While an attentive US audience watched President Obama outline his plan to wind down America's long war on terror last week, officials in Havana were shaking their heads in bewilderment and anger over how the issue of terrorism continues to be cynically manipulated against the island nation. What raised their ire was the recent announcement that Cuba would remain on the State Department's controversial list of states that sponsor terrorism.
Full report at:
http://www.guardian.co.uk/commentisfree/2013/may/31/cuba-us-terror-sponsors-list
--------------
Europe
Hague judges say Libya must hand over Gaddafi's son
Reuters | Jun 1, 2013
THE HAGUE: Judges at the International Criminal Court (ICC) ruled on Friday that Libya must hand over the son of slain dictator Muammar Gaddafi to the court, which wants to try him for alleged crimes committed during the revolution that toppled his father.
Libya had challenged the ICC's right to put Saif al-Islam Gaddafi on trial on the grounds that since Libya was planning its own proceedings, the ICC had no jurisdiction under the principle that it only intervenes if the local legal system is not up to the job.
But judges rejected Libya's claims, saying Libyan government lawyers had not proved their authorities were investigating the same crimes as the ICC's prosecutors.
Full report at:
http://timesofindia.indiatimes.com/world/europe/Hague-judges-say-Libya-must-hand-over-Gaddafis-son/articleshow/20376414.cms
---------
Muslims in UK jails three times more than 15 yrs ago
Jun 01 2013
London, June 1 (ANI): Three times as many Muslims are in prison than 15 years ago in the UK.
The number could spark fears that jails could become a hotbed of radicalization.
According to the Sun, the number rocketed from 3,700 in 1997 to 11,250 last year.
The rate of increase is eight times faster than that of the overall prison population, meaning that 13 percent of prisoners in jails in London are now Muslim, compared to just six percent in 1997, the report added. (ANI)
http://in.news.yahoo.com/muslims-uk-jails-three-times-more-15-yrs-081413137.html
----------
Russian FSB describes its Tsarnaev letter to FBI
By Kathy Lally
Jun 01, 2013
MOSCOW — Russian security officials told a congressional delegation this week that the Boston Marathon bombing could have been prevented if the United States had acted on information Moscow had provided, one of the congressmen said Friday.
The six congressmen met with senior Federal Security Service (FSB) and counterintelligence officials Thursday, Rep. William R. Keating (D-Mass.) said Friday, and saw a copy of a letter Russian officials said they sent to the FBI in March 2011 that provided details about Tamerlan Tsarnaev, one of the bombing suspects.
Full report at:
http://www.washingtonpost.com/world/europe/russia-calls-boston-bombings-
--------------
Chechen lunged at agent with metal stick before being shot, officials say
By Peter Finn and Sari Horwitz
Jun 01, 2013
Ibragim Todashev, the Chechen acquaintance of one of the accused Boston bombers, was shot roughly a half-dozen times in several seconds by an FBI agent after he twice lunged at the officer with a metal stick, according to senior federal law enforcement officials.
The description of events follows a series of unofficial and contradictory accounts that surfaced after the shooting in Todashev's Orlando apartment May 22, including early reports — later said to be inaccurate — that he attacked the agent with a knife.
Full report at:
http://www.washingtonpost.com/world/national-security/chechen-lunged-at-agent-with-metal-stick-before-being-shot-officials-say/2013/05/31/bba0b518-ca31-11e2-8da7-
--------------
UN: More Than 1,000 Iraqis Killed in May Violence
June 1, 2013
BAGHDAD — The United Nations mission to Iraq says more than 1,000 people were killed in violence in the country last month — the highest monthly death toll in years.
The figures released Saturday showed 1,045 civilians and security personnel killed in May. That surpassed the 712 killed in April, the deadliest month recorded since June 2008.
More than half of those killed were in the capital district of Baghdad.
Tallies of Iraq casualties have long been the subject of debate, and the UN total is considerably higher than that reported by news agencies in the country. The Associated Press counted at least 578 Iraqis killed in May, based on reports from Iraqi officials.
The UN says its totals are based on direct investigation and accounts from credible outside sources.
http://www.nytimes.com/aponline/2013/06/01/world/middleeast/ap-ml-iraq.html?ref=middleeast
--------------
Woolwich attack: Scotland Yard to question second terror suspect
June 01, 2013
Scotland Yard is set to question the second suspect shot at the scene of last week's terror attack which resulted in the murder of soldier Drummer Lee Rigby in south-east London. Michael Adebolajo, 28, spent his second day in custody at a London police station on Saturday after being discharged from hospital on Friday.
He is also being held on suspicion of attempting to murder a police officer in relation to the attack in Woolwich on May 22.
His suspected accomplice, 22-year-old Michael Adebowale, has been charged with the soldier's murder and appeared before Westminster magistrates on Thursday.
Both Londoners of Nigerian descent, believed to be Islamist extremists, were shot and arrested at the scene of the killing and were being held under police guard at different London hospitals.
Full report at:
http://www.hindustantimes.com/world-news/europe/Woolwich-attack-Scotland-Yard-to-question-second-terror-suspect/Article1-1069416.aspx
---------
Left-wing policies have promoted the rise of barbarism
By: Leo McKinstry
May 30, 2013
But in the aftermath of the Woolwich atrocity, the malign consequences of this strategy are all too clear. Far from bringing harmony and compassion, the politically correct state has achieved the very opposite. The transformation of our social fabric has led to segregation rather than integration, distrust instead of unity, fear in place of freedom.
Multi-cultural diversity might be portrayed as a liberal policy but in practice it has led to discrimination, misogyny and oppression across our urban areas, while encouraging the growth of extremism.
Full report at:
http://www.express.co.uk/comment/columnists/leo-mckinstry/403531/Left-wing-policies-have-promoted-the-rise-of-barbarism
--------------
Mideast
Yemen air raids kill 7 'Qaeda' members: Local official
1 Jun 2013
Two air strikes that targeted two vehicles in south Yemen on Saturday killed seven suspected members of Al-Qaeda and wounded two more, a local official said.
The attacks by the Yemeni air force hit the vehicles on the outskirts of the town of Mahfad in Abyan province, the official said, speaking on condition of anonymity.
http://english.ahram.org.eg/NewsContent/2/8/72862/World/Region/Yemen-air-raids-kill--Qaeda-members-Local-official.aspx
--------------
Home-made alcohol kills 4, poisons 298 in Iran
June 1, 2013
Tehran: Four people have died after drinking home-made alcohol in southern Iran and 298 others were poisoned, the ISNA news agency quoted a local health official as saying on Friday.
"Nine of the victims are in a coma and have lost their vision," said Hamid Najmeddin, adding that 100 of the victims were on dialysis after drinking the alcohol on Wednesday.
He said the victims were admitted to local hospitals in and near the city of Rafsanjan in the southern province of Kerman.
Full report at:
http://gulfnews.com/news/region/iran/home-made-alcohol-kills-4-poisons-298-in-iran-1.1191254
--------------
Palestinian victims of 1948 war found in mass grave
1 June 2013
The remains of dozens of Palestinians killed by Israelis in fighting following the 1948 foundation of the Israeli state have been found in a mass grave in Tel Aviv's Jaffa district.
An official at the Muslim cemetery there told AFP that the grisly find occurred on Wednesday when ground subsided as workers carried out renovations, revealing six chambers full of skeletons.
Full report at:
http://english.alarabiya.net/en/News/middle-east/2013/05/31/Palestinian-victims-of-1948-war-found-in-mass-grave-.html
--------------
Tehran says United States sponsors terrorism in the Middle East
1 June 2013
Saturday,Slamming a U.S. State Department report linking Iran to a series of international terror attacks, Tehran on Friday said the United States backs terrorists in the Middle East.
"It should be mentioned that the U.S. government has no merit to label other nations of sponsoring terrorism as it has along ... record (of) supporting terrorist groups in our region as well as Israeli state terrorism," Alireza Miryousefi, spokesman for Iran's U.N. mission, told Reuters news agency.
Full report at:
http://english.alarabiya.net/en/News/middle-east/2013/06/01/Tehran-says-United-States-sponsors-terrorism-in-the-Middle-East.html
--------------
Iran nuclear impasse to dominate IAEA board meeting
June 01, 2013
Iran's defiant expansion of its nuclear programme and 10 failed meetings with the IAEA will dominate a gathering of the UN body's board starting Monday, diplomats and analysts said.
The 35 nations that make up the Vienna-based International Atomic Energy Agency's rotating board of governors were expected to refrain however from passing a resolution condemning the Islamic republic.
The IAEA's latest quarterly report, circulated on May 22, showed that despite numerous IAEA board and UN Security Council resolutions calling for a suspension, Tehran has continued to expand its nuclear activities.
Full report at:
http://www.hindustantimes.com/world-news/europe/Iran-nuclear-impasse-to-dominate-IAEA-board-meeting/Article1-1069196.aspx
---------
Australia
National University introduces "blasphemy law" for fear of Muslim violence
The Australian National University has banned the satirisation of Islam after a student newspaper published a Quranic passage as a "rape fantasy"
31 May 2013
The Australian National University (ANU) has apparently banned the satirisation of Islam for fear of inciting violence and creating a backlash.
The Australian newspaper reported this week that the ANU cited international violence in the wake of the Danish cartoons and Innocence of Muslims film to justify its decision to force student newspaper Woroni to pulp a satirical info graphic which described a passage from the Qu'ran as a "rape fantasy".
The university also reportedly threatened student authors and editors of the info graphic with disciplinary action, including academic exclusion and the withdrawal of the publication's funding. Critics have argued that the university is effectively introducing a "blasphemy law" seeking to protect Islam from criticism.
Full report at:
http://www.thecommentator.com/article/3669/university_introduces_blasphemy_law_for_fear_of_muslim_violence
----------
Inquiry demanded into ASIO terrorist 'error'
BY:BEN PACKHAM AND PAUL MALEY
May 31, 2013
THE Coalition has demanded an independent inquiry into the entry into Australia of a convicted terrorist who spent five months in low-security detention.
The man, understood to be 42-year-old Maksoud Abdel Latif, is accused of being a member of terror group Egyptian Islamic Jihad and of "premeditated murder". He arrived in Australia by boat on May 9 last year.
On July 5, Latif was cleared for release into community detention after ASIO conducted a limited assessment, which appeared to involve simply checking his details against its existing intelligence holdings.
Full report at:
http://www.theaustralian.com.au/national-affairs/immigration/inquiry-demanded-into-asio-terrorist-error/story-fn9hm1gu-1226654272133
-----------
South Asia
Radical monks, prejudice fuel Myanmar violence
AP | Jun 1, 2013
LASHIO (MYANMAR): When a huge mob of Buddhist thugs crawled on the roof of Ma Sandar Soe's shop, doused it with gasoline and set it ablaze, the Buddhist businesswoman didn't blame them for burning it to the ground despite seeing it happen with her own eyes.
Instead, her wrath was reserved for minority Muslims she accused of igniting Myanmar's latest round of sectarian unrest.
"This happened because of the Muslims," she declared, sifting through charred CDs in the ruins of her recording studio.
As Myanmar grapples with its transition to democracy, its Muslim minority is experiencing its perils in vivid, bloody fashion. Hundreds have died since last year as victims of sectarian strife.
Full report at:
http://timesofindia.indiatimes.com/world/rest-of-world/Radical-monks-prejudice-fuel-Myanmar-violence/articleshow/20377972.cms
---------
Afghan attacks put aid groups in line of fire
June 1, 2013
KABUL — After two attacks on humanitarian organizations in Afghanistan in less than a week, aid groups are facing the prospect of a new and ruthless stage in the 12-year Taliban insurgency in which nothing is off-limits.
The targeting of the International Committee of the Red Cross (ICRC) and the International Organization for Migration (IOM) by gunmen and suicide bombers indicates that no group can assume it is safe.
The IOM admitted it was "mystified" why its low-key compound in Kabul was stormed by Taliban fighters last Friday, triggering a battle with security forces that lasted several hours as the city shook with explosions and gunfire.
Full report at:
http://www.saudigazette.com.sa/index.cfm?method=home.regcon&contentid=20130601168026
-----------
Two NATO troops, one civilian killed in Afghan attacks
Jun 01 2013
Two soldiers and a civilian with the NATO-led military alliance in Afghanistan died on Saturday in two separate attacks in the country's east.
The NATO-led International Security Assistance Forces (ISAF) in a statement said one soldier and "one ISAF civilian" were killed during a "direct fire attack." Separately, another soldier was killed in a roadside bomb blast in the same region, according to allied troops.
The NATO troops did not give further details about the incident.
In May, 26 foreign soldiers were killed in Afghanistan, making it the deadliest month since the beginning of this year.
http://www.thehindu.com/news/international/south-asia/two-nato-troops-one-civilian-killed-in-afghan-attacks/article4772536.ece
----------
24 BNP, Jamaat men held in Noakhali
June 1, 2013
Police arrested 24 activists of BNP, its key ally Jamaat-e-Islami and the latter's student wing Islami Chhatra Shibir in Noakhali Friday night on charge of plotting sabotage.
The law enforcers conducted the drive in different parts of the district after receiving information that they were planning to carry out sabotage, reports our Noakhali correspondent quoting Zaidul Karim, officer-in-charge of Sudharam Model Police Station.
District Jamaat activists Golam Kuddus, a lecturer of Bulua Degree College, and Maulana Shamsuddin, an Imam of a local mosque in the town, were among the arrestees, he added.
http://www.thedailystar.net/beta2/news/24-bnp-jamaat-men-held-in-noakhali/
-----------
4 Bangladeshi peacekeepers get awards posthumously
June 1, 2013
Four Bangladeshi peacekeepers, who were killed while performing peacekeeping duties last year, have been awarded for their contribution to the world peace.
They were wing commander M Abdul Haris, sub-inspector M Shah Alam, constable M Abdul Hakim and constable M Asgar Ali.
The awards were given at a ceremony held at the UN Headquarters marking the International Day of Peacekeepers.
Full report at:
http://www.thedailystar.net/beta2/news/4-bangladeshi-peacekeepers-get-un-awards/
-----------
Vice President Waheed Deen meets Nigerian counterpart during INIA stopover
By Minivan News | June 1st, 2013
Vice President Mohamed Waheed Deen met with his Nigerian counterpart Namadi Sambo at Ibrahim Nasir International Airport (INIA) on Thursday (May 30).
During a stopover en route to China, Sambo held discussions with Deen on issues including extending cooperation in addressing concerns over piracy, security and terrorism, according to the President's Office website.
As part of wider talks on bilateral relations between the two countries, the two vice presidents also spoke on issues of tourism, agriculture and energy. Vice President Sambo departed for China the same day following the meeting.
http://minivannews.com/category/news-in-brief
-----------
Taliban Deny Responsibility for Attack on Red Cross
By AZAM AHMED and MATTHEW ROSENBERG
June 1, 2013
KABUL, Afghanistan — Days after being roundly condemned for targeting the International Committee of the Red Cross, the Taliban on Friday denied any role in this week's suicide assault against the humanitarian agency, emphasizing that they respected the group's neutrality.
Full report at:
http://www.nytimes.com/2013/06/01/world/asia/taliban-deny-responsibility-for-attack-on-red-cross.html?ref=asia&_r=0
----------
Southeast Asia
Govt Must Back UN Resolution on Rohingya
June 1, 2013
A leading Indonesian human rights organization has urged the government to actively support a United Nations initiative for a resolution on the plight of the Rohingya ethnic minority currently facing persecution in Myanmar.
In a statement issued on Friday, the Human Rights Working Group said it was crucial that Indonesia support the initiative at the UN Human Rights Council meeting that began in Geneva on Monday and runs through June 14.
Muhammad Choirul Anam, the HRWG deputy director, said in the statement that there were several reasons for Indonesia backing the proposed resolution, which would call for opening a UN Human Rights Council representative office in Myanmar, among other things.
Full report at:
http://www.thejakartaglobe.com/news/govt-must-back-un-resolution-on-rohingya/
-----------
Judicial graft dents faith in rule of law in Indonesia
Margareth S. Aritonang and Ina Parlina
June 01 2013
Fifteen years into the reform era, the public still have little faith in the rule of law in the country, according to a recent study.
The study, conducted by the Indonesian Legal Roundtable (ILR), found that on a scale of one to 10 the country only scored 4.5 when it came to law enforcement.
The biggest problem the country faces is judicial corruption. The study found the judiciary was perceived to be the most corrupt institution, leading to the perception that the rule of law is not being upheld.
Full report at:
http://www.thejakartapost.com/news/2013/06/01/judicial-graft-dents-faith-rule-law.html
-----------
Najib says to focus on boosting good governance, integrity
June 1, 2013
KUALA LUMPUR, June 1 — Datuk Seri Najib Razak said today upgrading the quality of governance and integrity across all segments are among new focus areas of the government.
The prime minister also said the government will intensify efforts in fighting corruption and abuse of power.
Najib (picture) said to prove the government's seriousness in addressing governance, integrity and corruption, it has developed a comprehensive integrity plan that cross borders.
"I will announce the details of the implementation of this plan soon," he said in his speech to congratulate Yang di-Pertuan Agong, Tuanku Abdul Halim Mu'adzam Shah in conjunction with his birthday and presentation of federal awards and medals at Istana Negara.
Full report at:
http://www.themalaysianinsider.com/malaysia/article/najib-says-to-focus-on-boosting-good-governance-integrity/
-----------
Nurul Izzah rubbishes claims of planned Sabah protest
June 1, 2013
KOTA KINABALU, June 1 — Federal lawmaker Nurul Izzah Anwar, barred from entering Sabah on Thursday, described allegations that PKR planned to have a demonstration at KDCA "as fabricated and utterly ridiculous".
"The allegations are meant to tarnish my character and justify the unjustifiable deportation of BN dissenters," she said in a brief message.
"I deplore the fact that the Sabah Barisan Nasional government is repeating such fabrication without an ounce of responsible fact-finding," she added.
Full report at:
http://www.themalaysianinsider.com/malaysia/article/nurul-izzah-rubbishes-claims-of-planned-sabah-protest/
-----------
Six killed in Manila blast
June 01, 2013
Six people were killed when a powerful explosion tore through a luxury apartment block in the Philippine capital, officials said on Saturday, with the cause of the blast still under investigation.
A further five people were injured when the blast occurred late Friday in a fifth
floor condominium unit in "the Fort", a high-end residential district in the Manila suburbs.
The National Disaster Risk Reduction and Management Council said in a statement that the dead included "three unidentified male victims from Room 501 of Serendra Condominium".
Three other people were killed when the delivery van they were in was crushed by a wall knocked out by the explosion, which sent huge chunks of rubble hurtling to the street below.
Full report at:
http://www.hindustantimes.com/world-news/restofasia/Six-killed-in-Manila-blast/Article1-1069205.aspx
---------
Africa
Nigerian Islamist Militants Return from Mali with Weapons, Skills
By Sudarsan Raghavan
Jun 01, 2013
Maiduguri, Nigeria — The Islamist insurgency in northern Nigeria has entered a more violent phase as militants return to the fight with sophisticated weapons and tactics learned on the battlefields of nearby Mali, Nigerian officials and analysts say.
Hundreds of people have died this year in bombings, shootings and clashes with security forces in this vast region of the country, where the militant group Boko Haram seeks to overthrow the government and install an ultraconservative brand of Islam.
Full report at:
http://www.washingtonpost.com/world/africa/nigerian-islamist-militants-return-from-mali-with-weapons-skills/2013/05/31/d377579e-c628-11e2-9cd9-3b9a22a4000a_story.html
--------------
A Sketch of Jemal Oukacha, New Commander of AQIM in the Sahel and Sahara
Jun 01, 2013
Jemal Oukacha (a.k.a. "Yahya Abu al-Hammam") is a new commander of al-Qaeda in the Islamic Maghreb (AQIM). As the "Emir of the Sahara," Oukacha has control over a brigade of AQIM fighters responsible for an area stretching from the Azawad region of northern Mali to the region of Ghardaia in southern Algeria (Ennahar TV [Algiers], March 24). He is a high value target for Western and West African security services, with a long history of participation in the transnational West African jihadist movement, including the planning and execution of attacks against embassies and military buildings as well as the kidnapping and killing of civilians (France 24 [Paris], September 23, 2010). The Department of State designated Oukacha as a terrorist under U.S. Executive Order 13224 in February (U.S. Department of the Treasury, February 14).
Full report at:
http://mlm.jamestown.org/feature-single/?tx_ttnews%5Btt_news%5D=40764&tx_
--------------
To people in Niger, Libyan 'El Dorado' is now a threat
1 June 2013
Libya, considered an El Dorado for jobs and money when Moammer Qaddafi was its "Guide", has become a terrorist threat in the eyes of people in northern Niger after two suicide bombings.
"Libya is no longer the country that fed us. It has turned into a real threat to our peace," Iliassou, a motorcycle taxi driver, told AFP in the main northern town of Agadez.
On May 23, a suicide attack on a large military base in the desert town killed about 20 people, mostly soldiers. At almost the same moment, a Nigerien employee was killed in another attack against the French nuclear giant Areva, where it mines uranium in Arlit, 200 kilometres (125 miles) further north.
Full report at:
http://english.alarabiya.net/en/perspective/features/2013/06/01/To-people-in-Niger-Libyan-El-Dorado-is-now-a-threat-.html
--------------
Malian Refugees Feel 'Lost' in Their Own Country
BY KATRIN GäNSLER, 29 MAY 2013
Out of fear of rebels, Islamists and terrorists some 475,000 Malians have fled northern Mali within a year. But far away from their home, life has become a daily struggle. Now many of them are considering a return.
Aisha Yattara's two-month-old son starts to cry as his young mother tries to calm him. It only seems to work for a minute, and then the crying continues.
"The child is sick today" Aisha says. She knows she is in dire need of a doctor, but she lacks the money. Her last hope is her elder sister. "If she comes and brings money, then we can go to the doctor and have the little one checked."
Full report at:
http://allafrica.com/stories/201305301362.html?viewall=1
--------------
URL: https://newageislam.com/islamic-world-news/libya-becomes-'the-new-mali'/d/11850